I used to be more spontaneous before I started this blog. But ever since I began writing these travel and food guides, I've become more of a planner. That holds especially true for meals.
To find the best places to eat on our trips, restaurants are meticulously researched and planned beforehand. I read blogs and review sites and sometimes post queries on TripAdvisor asking people for suggestions. Having never been to a new place, how else could we come up with a half decent list of must-eat restaurants to recommend? We need to back it up with solid research so walking in to just any random restaurant isn't good enough.
But if there's anything this unagi restaurant in Nagasaki taught me, sometimes, the best experiences can come when you don't plan for them.
Unagi at Izumiya
I was looking for a foreign exchange machine in a shopping arcade near Nagasaki's Chinatown when I came across this restaurant in an alley. Those two posters stopped me in my tracks. Ren and I both love unagi but we had never eaten at an unagi specialty restaurant before. The signs were all in Japanese so we couldn't check the restaurant's reviews, but it didn't matter. We HAD to eat here. I mean, just look at those pictures! 😯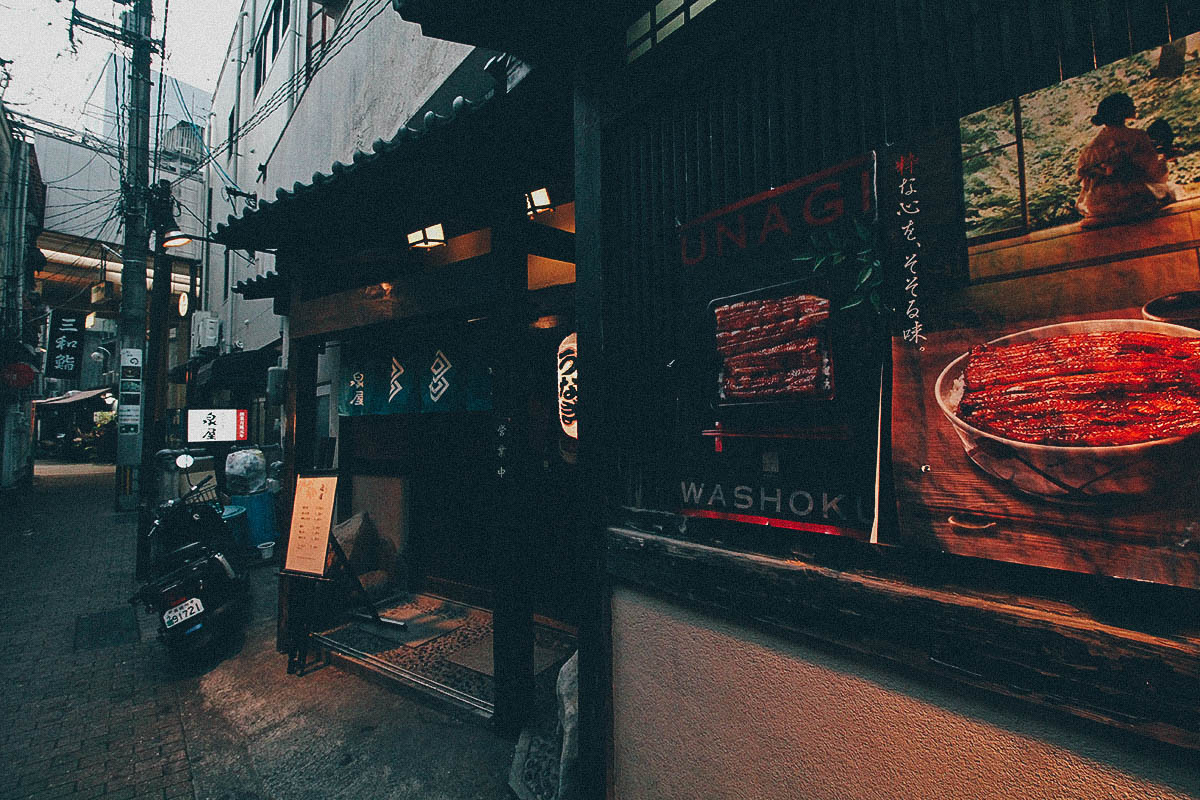 It was obvious that this restaurant was some type of family business. We were met by a cute elderly Japanese couple who must have been in their 80s. The woman had difficulty walking and the man mistook us for Chinese because he kept saying "xie xie". They worked the front of the restaurant while their sons (?) prepared our food in the kitchen. We weren't actually sure they were their sons, but it was clear from the way they spoke to each other that they were related. As you can tell from this picture, the place was a little old and run down. Ren kept wanting to fix that lamp in the corner. 😆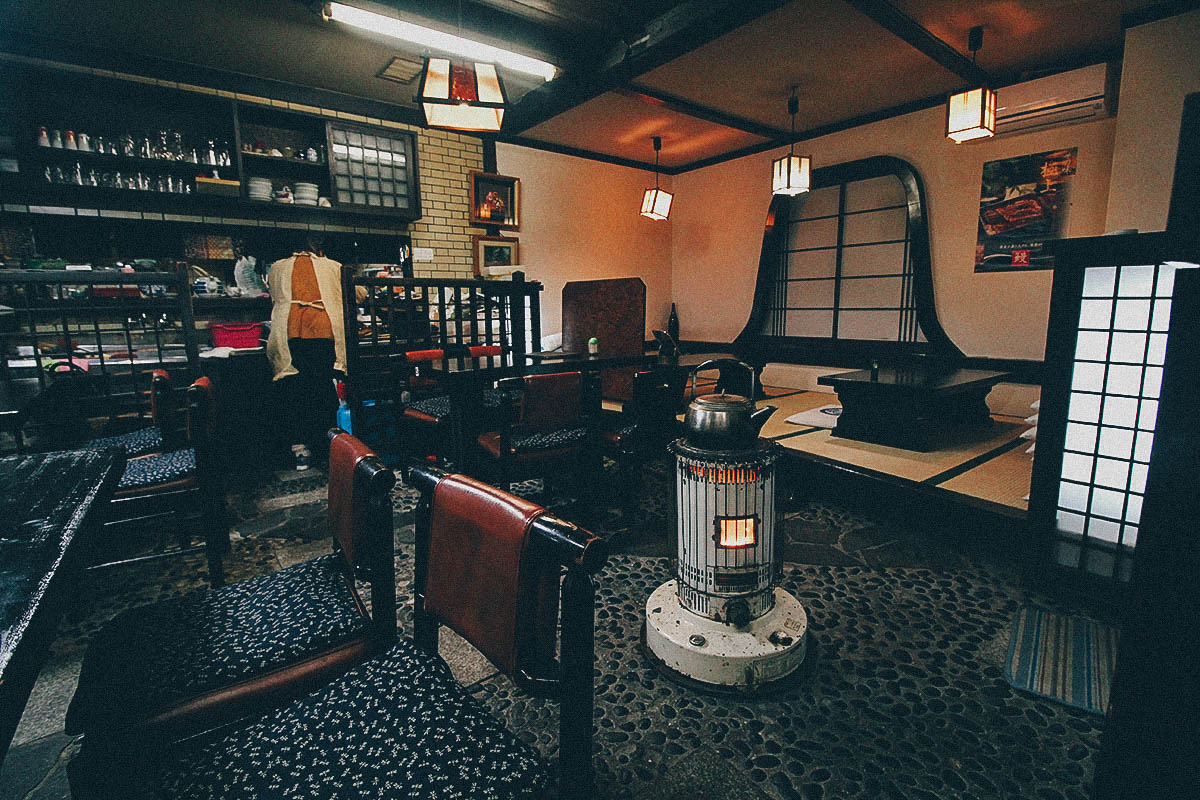 The menu was entirely in Japanese but it was clear this was an unagi specialty restaurant. Whatever we ordered, we knew we'd wind up with unagi so we picked the middle item which cost JPY 2,900. After our trip, I showed the menu to my Japanese friend and he told me the choices were regular, premium, and super premium. We shared the premium set which came with everything you see below.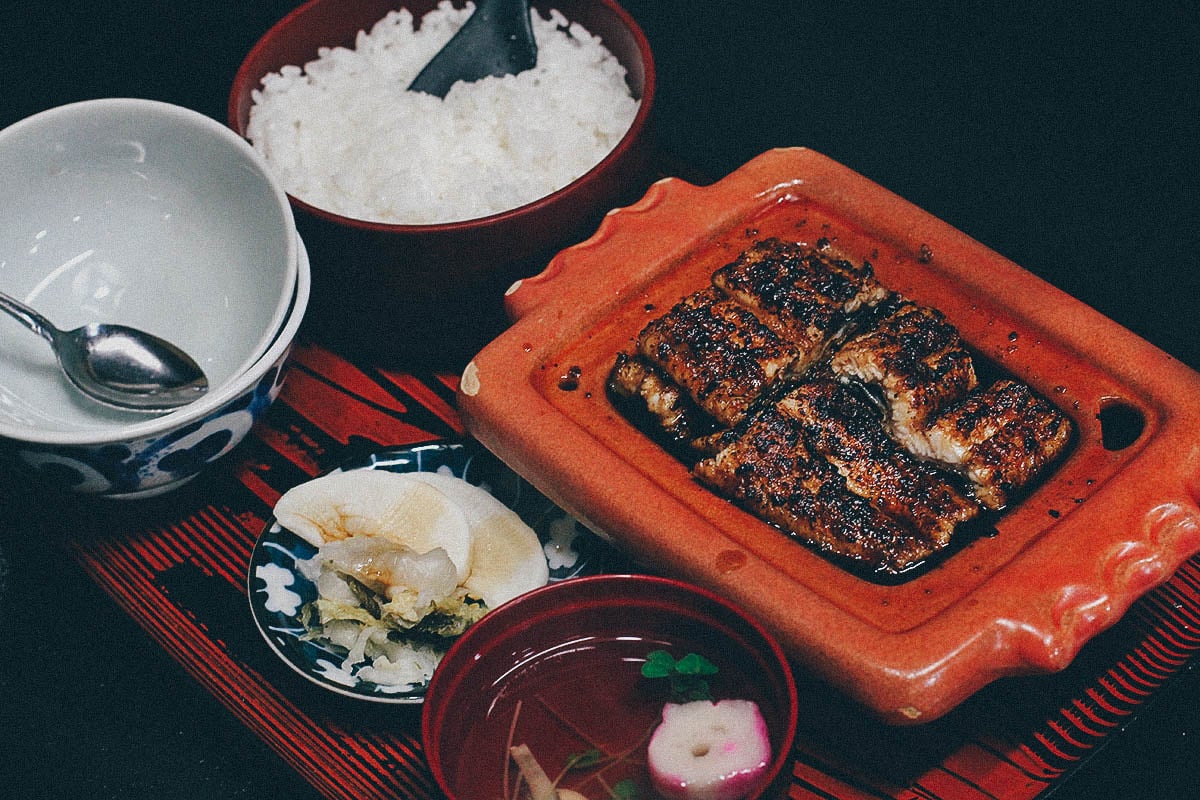 I fell in love with unagi the first time I tasted it and it's become one of my favorite Japanese foods. I've had it in many places but this was hands down the best unagi I have ever eaten in my life. Charcoal-grilled and without the usual glaze, it was served with a thin, lightly sweetened sauce that we would drizzle onto our rice. It was so good, especially with those charred bits on top! ♥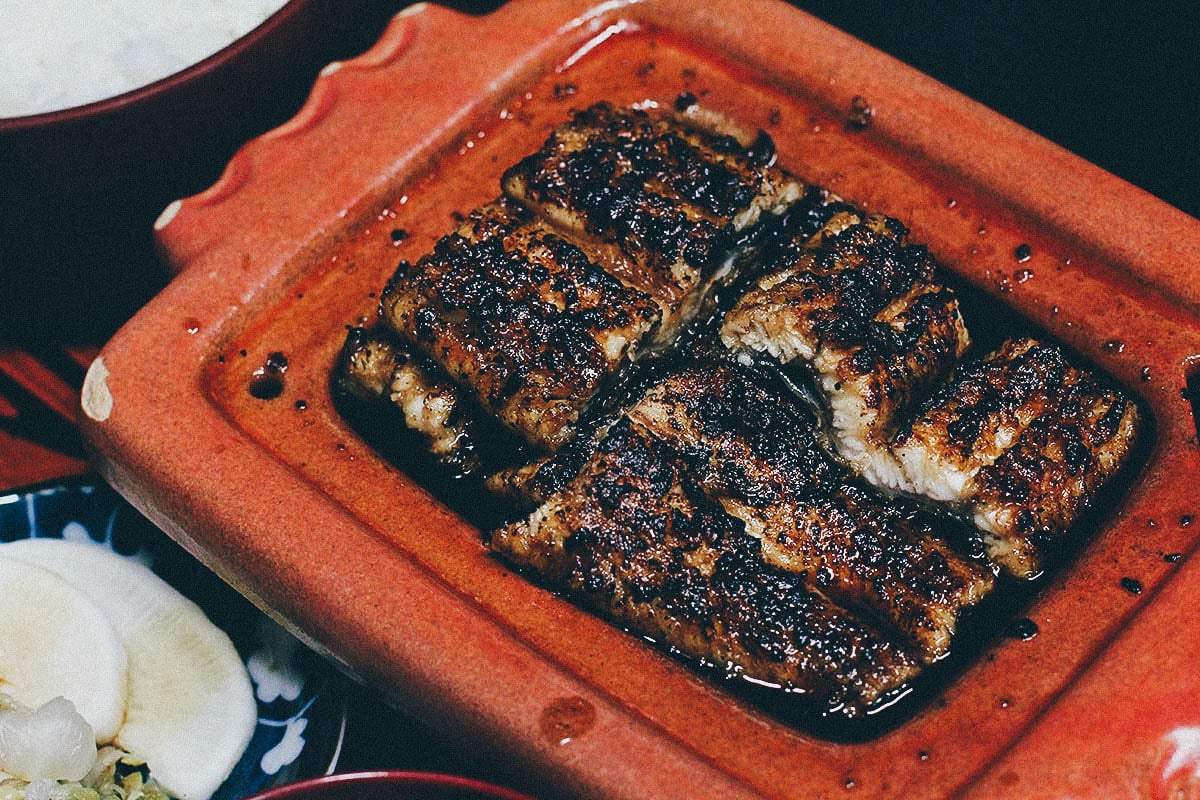 It wasn't until after our trip that I found out what this restaurant's name was – Izumiya. I did some digging and was shocked to learn that this little restaurant has been in business for over 160 years. 160 years! I couldn't wrap my head around that number at first. If that's true, then it means this restaurant has been serving unagi since 1855. It actually survived World War II despite the original branch being destroyed by the atomic bomb in 1945. WOW.
In spite of its mind-numbing longevity, I found just four reviews on Izumiya, all from the Japanese restaurant review site tabelog.com. To my surprise, it had a lukewarm rating of just 3/5 stars. I was disappointed by that at first but I remembered noticing how Japanese reviewers in general tend to be stingier in their restaurant reviews. Whether on TripAdvisor or Tabelog, they seem less inclined to give high marks.
Case in point, Iroha, a one-star Michelin restaurant in Osaka, has a rating of just 3.03 stars on Tabelog. The Japanese have exceedingly high standards so the unagi at Izumiya may be average to the few that reviewed it, but it was pretty awesome for us. Like I said, it was the best unagi I've ever had and if this is what the Japanese would call a 3-star unagi, then I can't wait to see what a 5-star unagi would taste like.
If you ever find yourself near Nagasaki's Chinatown, then I suggest giving Izumiya a try. 3-stars or not, 160+ years counts for something.
Izumiya, Nagasaki, Japan
8-25 Hamamachi, Nagasaki-shi, Nagasaki-ken 850-0853, Japan
Tel: +81 95-822-0333
Operating Hours: Mon-Sun, 11AM-9:30PM
What we paid: JPY 2,900 for one premium unagi set (shared)
HOW TO GET THERE:
Take the tram to Shianbashi station. Walk north into the shopping arcade. Turn left onto the main street of the arcade then turn right into the first alley. Izumiya will be on your right. CLICK HERE to see exactly where it is on Google Maps.
Disclosure
The TripAdvisor links in this post are affiliate links, meaning we'll get a small commission if you make a purchase or reservation at NO extra cost to you. We really appreciate your support as this helps us keep this website going. Thank you!
For travel tips to Nagasaki, check out our First-Timer's Travel Guide to Nagasaki, Japan