Taiwan is a small country with an efficient rail system so you can easily explore the entire country on your own. That's exactly what we did on our last trip when we spent two weeks hopping from city to city, experiencing the best that this island nation has to offer.
Following this itinerary will take you on a loop from Taoyuan International Airport down the western side of the country to Taichung, Sun Moon Lake, Qingjing Farm, Alishan Forest, Tainan, Kaohsiung, and Kenting. You'll then go up the eastern coast to Hualien before winding up in Taipei where you'll be spending the most number of days, both to explore the capital city and use it as a base for day trip excursions to notable areas like Tamsui, Beitou, Shifen, and Jiufen.
For me, figuring out how many days to stay at any stop is the hardest part of planning a trip like this. To make it easier for you, I've broken it down by day, giving suggestions on how long you should stay at each destination and why. If you have two weeks to spare and want to experience the best of Taiwan, then I hope this 14-day itinerary can help you plan your trip.
TAIWAN ITINERARY QUICK LINKS
To help make your trip to Taiwan as enjoyable as possible, we've put together links to various travel-related services here.
Save This on Pinterest!
No time to read this Taiwan itinerary now? Click on the save button and pin it for later!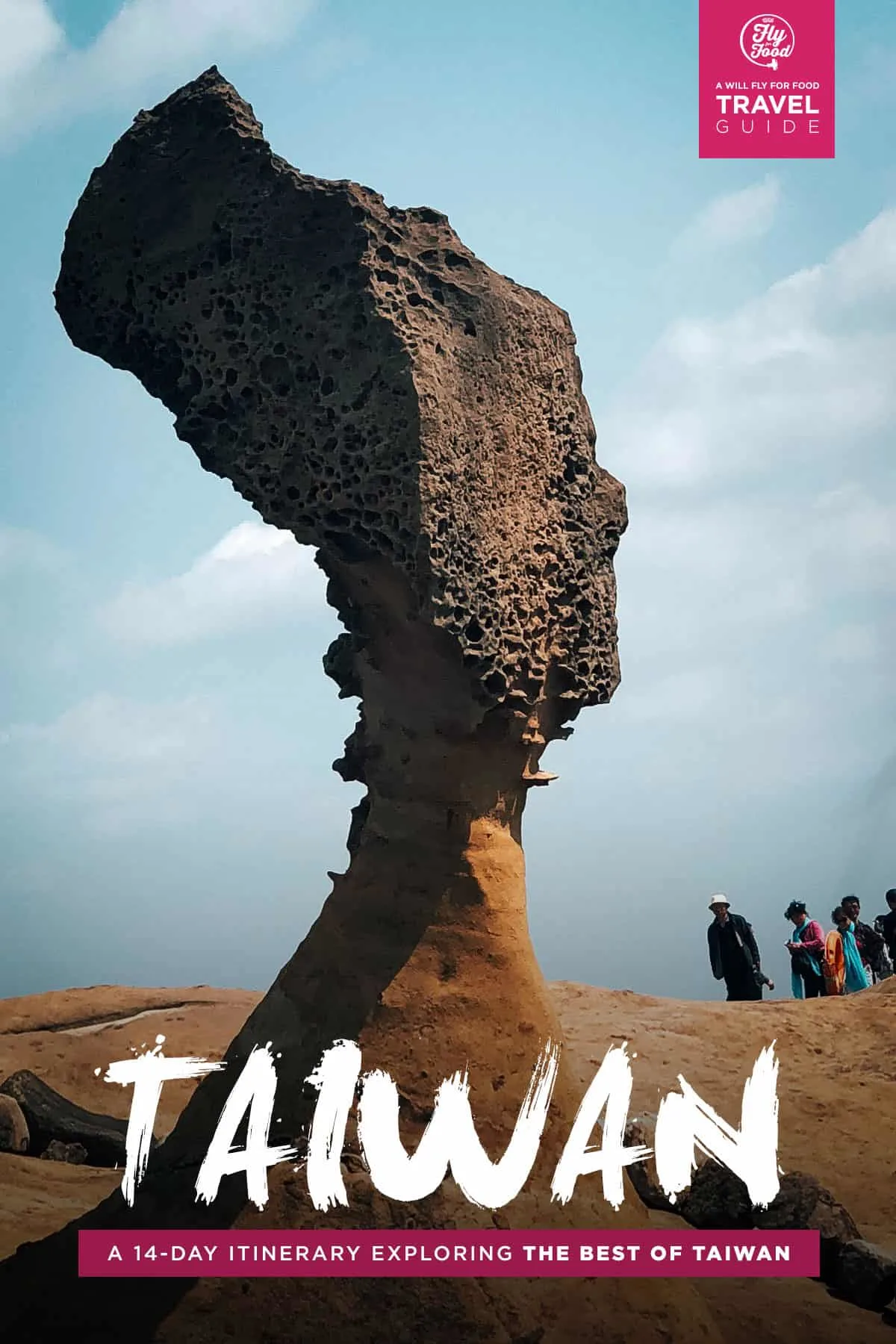 GUIDE TABLE OF CONTENTS
TWO-WEEK TAIWAN ITINERARY
DAY 1-2
TAICHUNG
Taichung is one of our two favorite cities in Taiwan. It's considered the arts and cultural center of the country, home to interesting museums and cultural venues like the Museum of Natural Science, the Taiwan Museum of Fine Arts, the National Theater, and the Taiwan Symphony Orchestra.
We wanted to leave Taipei for last so we took a bus straight to Taichung from the basement of Taoyuan International Airport. The trip takes about two and a half hours on Ubus 1623.
I've allotted two days to Taichung so on your first day there, I suggest exploring the neighborhoods surrounding Calligraphy Greenway. It's a 3.6-kilometer-long green open space, around which are many shops, restaurants, museums, and cafes.
Calligraphy Greenway is an interesting and pleasant space so you can easily spend a whole day visiting its museums and getting lost in its many artsy neighborhoods. You can check my article for more information on Calligraphy Greenway and what you can find there.
On day two, you can venture farther away from downtown Taichung to visit a couple of its most popular attractions – Rainbow Village and Gaomei Wetlands. They're a little hard to get to on your own so it's easiest to go on a guided day tour. That's what we did.
Klook's Gaomei Wetlands and Rainbow Village Tour starts at 1:30PM and takes you to both places before dropping you off at Fengjia Night Market – Taiwan's biggest night market and a must-visit in Taichung.
If you do go on Klook's tour, then that'll leave you enough time in the morning to visit the 921 Earthquake Museum. Just be sure to be at the meeting point by 1:30PM.
TAICHUNG TRAVEL GUIDE: You can refer to our detailed travel guide to Taichung to help you plan this leg of your trip.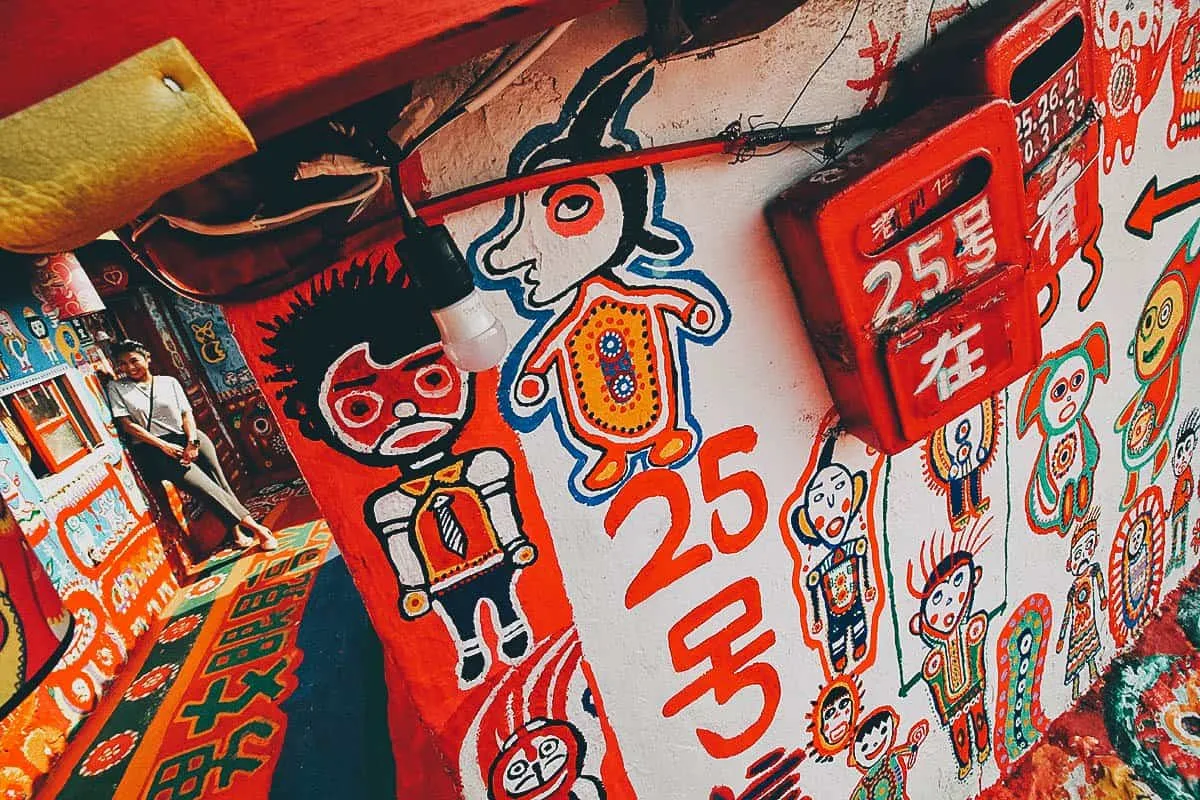 WHERE TO STAY IN TAICHUNG: Since you'll be traveling by train from city to city, it's best to stay by the TRA train station. We stayed at Shin Sei Bashi Hotel which is a cute boutique hostel across the street from Miyahara and about a 5-minute walk from the train station. You can book a room there on Booking.com or Agoda. Click on these links for other listings in Taichung: Booking.com | Agoda.
DAY 3
SUN MOON LAKE
Taichung is a gateway to Taiwan's mountainous interior so you can use it as a base to do day trips to Sun Moon Lake and Qingjing Farm on days three and four.
Sun Moon Lake in Nantou County is the largest body of water in the country. It's designated as one of thirteen national scenic areas in Taiwan. You can explore the lake by boat or by bus, but the most fun would be to rent bicycles and ride around its perimeter.
It's an easy and picturesque ride that was once named by CNN as one of the most breathtaking cycling routes in the world. Be sure to sample the street food along Ita Thao Street and ride the ropeway to get breathtaking aerial views of the lake.
Sun Moon Lake is about two hours by bus from Taichung so it's easily doable as a day trip. You can catch the Nantou Bus from Gancheng Station which is a few minutes' walk from Taichung TRA Station. If you'd rather go on a guided tour, then you can do so with Klook. Click on the link for more information and to book tickets to the Sun Moon Lake Tour with Klook.
SUN MOON LAKE GUIDE: You can refer to our detailed travel guide to Sun Moon Lake to help you plan this leg of your trip. It includes details about Sun Moon Lake passes which you can purchase at the bus station to save on the overall cost of your visit.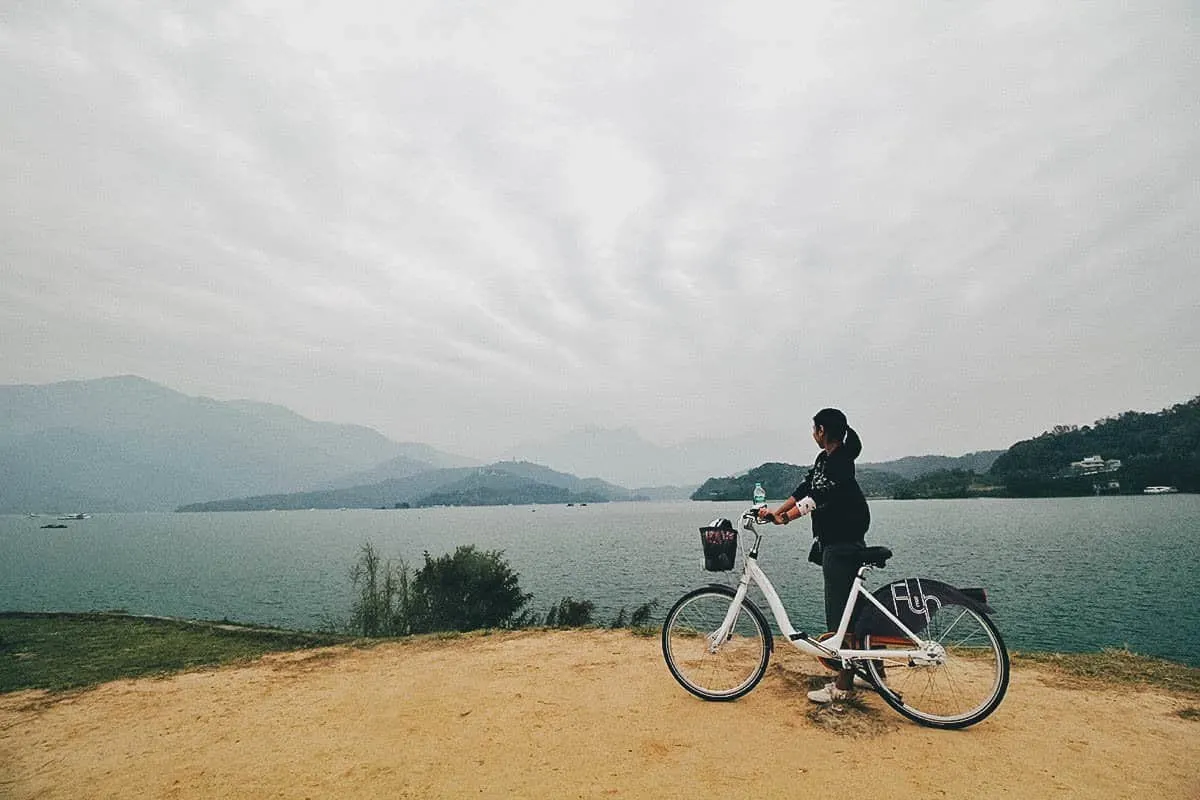 DAY 4
QINGJING FARM
A visit to Qingjing Farm is another popular day trip you can make from Taichung. Situated high up in the mountains of Ren'ai Township in Nantou County, Cingjing Farm is an idyllic farm renowned for its clean air, its picturesque hills, and fields of flowers. Many tourists flock to Qingjing Farm to enjoy its mountain atmosphere and interact with its many farm animals.
Like Sun Moon Lake, Qingjing Farm can be reached by Nantou Bus from Gancheng Station. It's about two and a half hours away and you can purchase Qingjing Farm passes to save on the cost of the trip.
Like Sun Moon Lake, it's easy enough to visit Qingjing Farm on your own, but if you'd rather go on a guided tour, then you can do so with Klook. Follow the link for more information and to book a voucher for the Cingjing Farm Day Tour with Klook.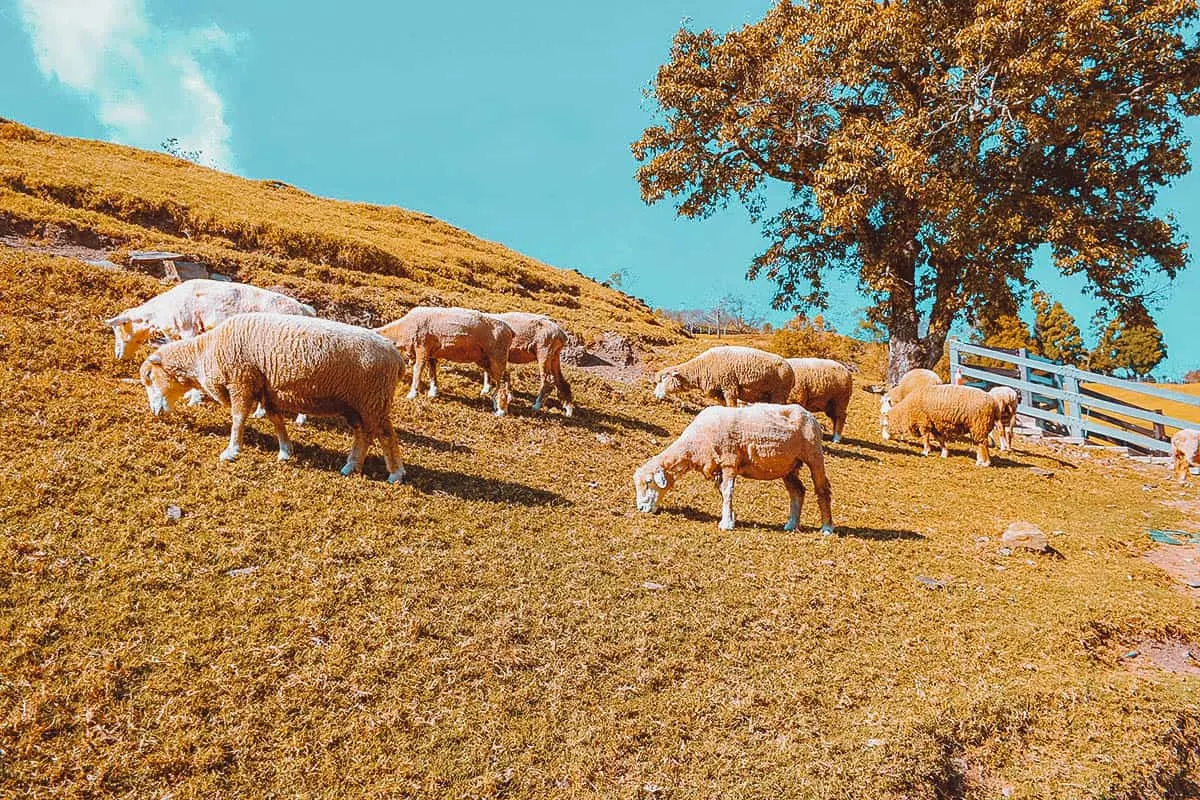 Photo by MrB11 via Shutterstock
DAY 5
ALISHAN FOREST
The Alishan National Scenic Area is a forest reserve located in Chiayi County, about three hours south of Taichung. It covers an area of 41,500 hectares and is renowned for its lush forests, waterfalls, and many hiking trails. One of its most popular attractions is the Alishan Forest Railway – an 86-kilometer railway network that takes you on a scenic train ride through the mountain reserve.
From Taichung, you can go to Chiayi by TRA or HSR train. TRA trains are cheaper but HSR trains are twice as fast, getting you into Chiayi in under half an hour. The journey by TRA train will take about an hour and fifteen minutes.
Regardless of which train you take, you'll need to catch a bus to Alishan from either station. Buses between Chiayi TRA station and Alishan run more frequently so there are pros and cons to each. Please see details below.
BY HSR TRAIN: From Taichung, take the HSR train to Chiayi, then take Bus 7329 to Alishan. The bus ride will take about two and a half hours. It's important to note that there are only four bus trips between Chiayi HSR Station and Alishan, so you'll need to be aware of train and bus timings. If you can get to Chiayi HSR Station in time for the 9:30AM bus, then you'll arrive in Alishan by around noon. The last bus back to Chiayi HSR Station leaves Alishan at 4:40PM, giving you about 4 hours or so to explore the reserve. If you decide to take the HSR train from Taichung to Chiayi, then you can save on the ticket cost by purchasing it through Klook.
BY TRA TRAIN: From Taichung, take the TRA train to Chiayi, then take Bus 7322C to Alishan. This bus ride will also take about two and a half hours. The TRA train may be slower but it'll give you more flexibility because there are ten bus trips between Chiayi TRA Station and Alishan. The last bus back to Chiayi TRA Station departs at 5:10PM.
If you're traveling with large suitcases, then you may want to store it in Chiayi first so you don't have to carry it around with you in Alishan. According to the Chiayi HSR Station map, there's a locker storage facility on the first floor.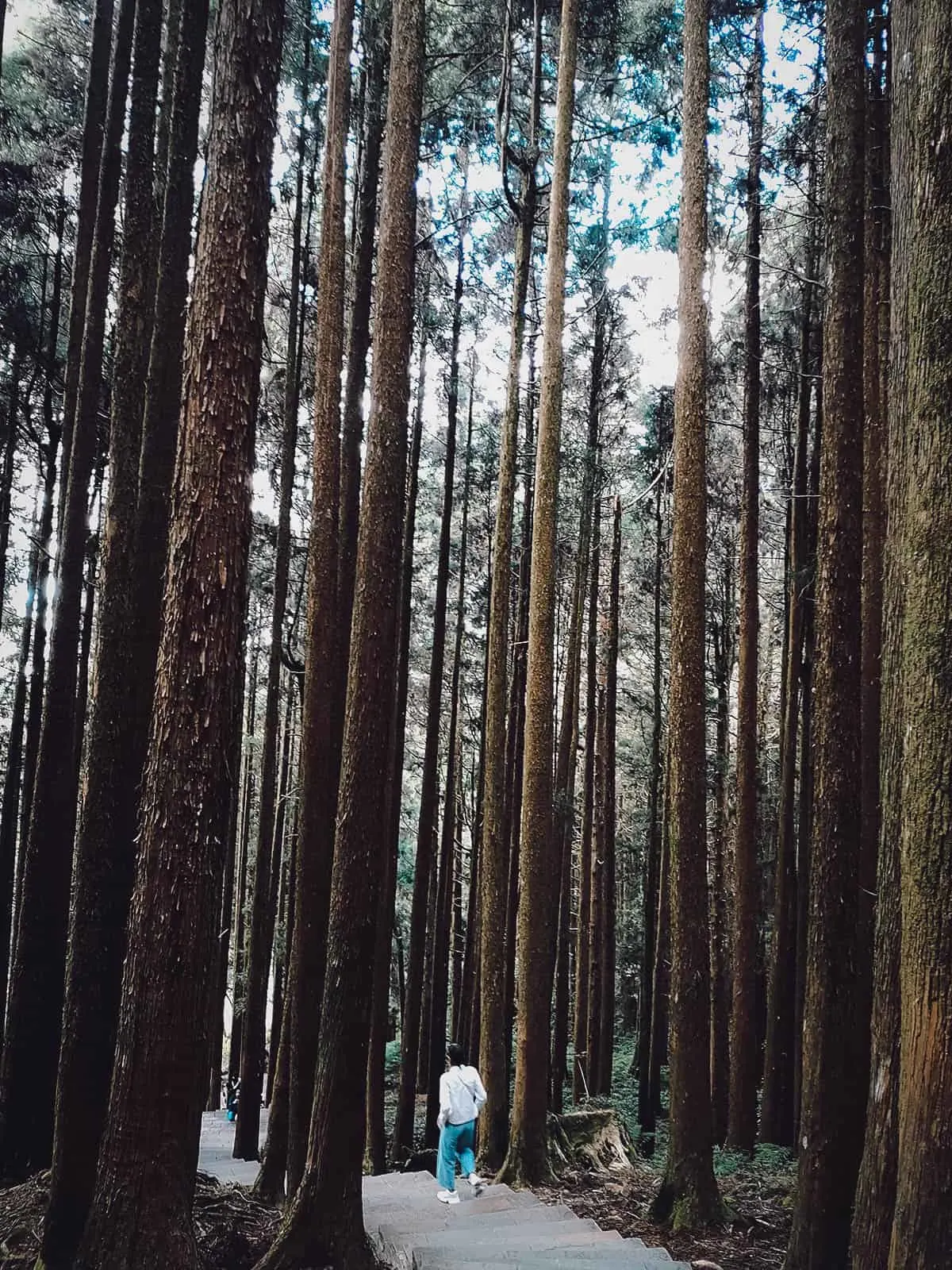 After exploring Alishan, you can either stay the night in Chiayi or take the train to Tainan, the next stop on this itinerary. Tainan is less than 20 minutes from Chiayi by HSR train or about an hour by TRA train, so I suggest going straight to Tainan.
You've already seen the best of Chiayi County anyway at Alishan Forest. Scroll down to the next section for hotel recommendations in Tainan. If you decide to take the HSR train from Chiayi to Tainan, then you can save on the ticket cost by purchasing it through Klook.
DAY 6
TAINAN
Tainan is the oldest city in Taiwan. Unlike Taipei and Taichung, Tainan feels like an ancient city, harkening back to its 200-year history as Taiwan's former capital. At its historical heart is Anping District, the oldest urban area in the country and home to some of the city's most popular attractions like Anping Tree House, Anping Old Street, and Fort Zeelandia.
If you like the arts, then be sure to check out Blueprint Cultural & Creative Park and Ten Drum Rende Creative Park. You can end your one-day visit to Tainan by stuffing your face silly at Flower Night Market. Open only on Thursdays, Saturdays, and Sundays, it's one of Taiwan's biggest and most famous night markets.
TAINAN TRAVEL GUIDE: You can refer to our detailed travel guide to Tainan to help you plan this leg of your trip.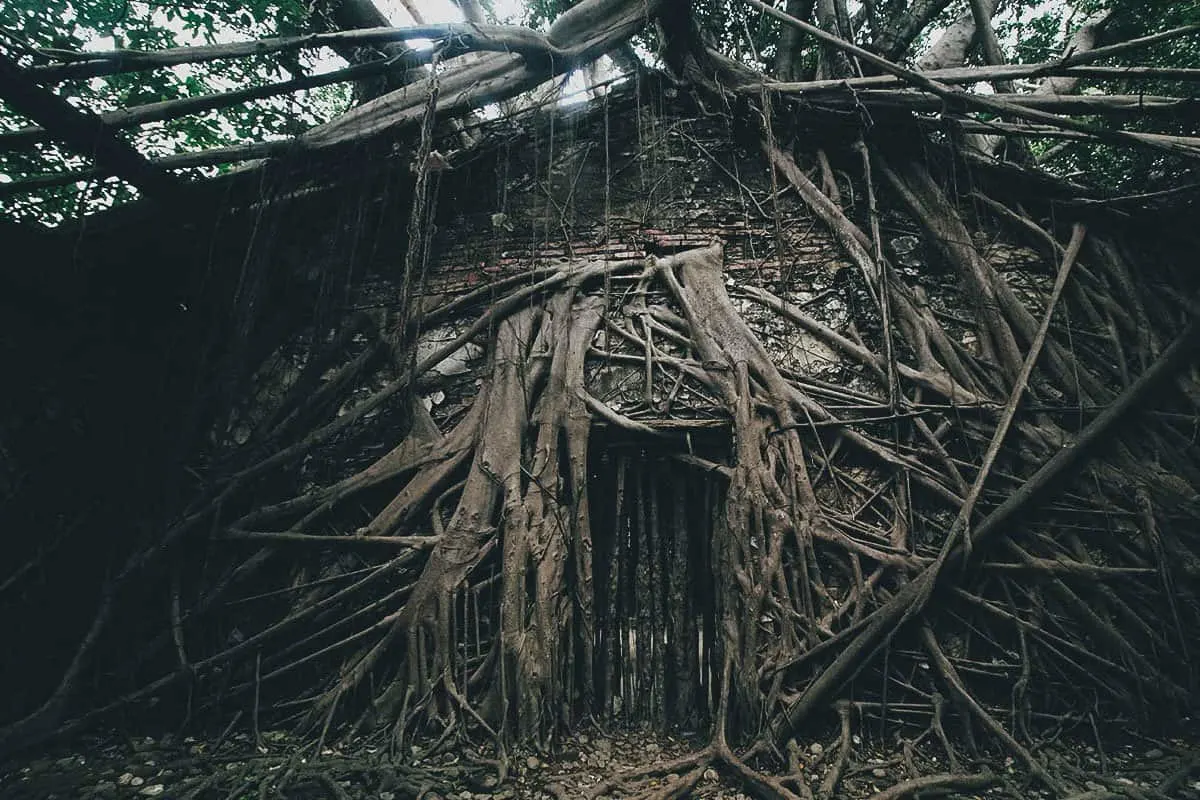 WHERE TO STAY IN TAINAN: As advised, we stayed near the TRA train station in every city we visited. Click on these links for a list of accommodations in Tainan: Booking.com | Agoda.
DAY 7
KAOHSIUNG
Remember when I said that Taichung is one of our two favorite cities in Taiwan? Kaohsiung is the other. It's got a great laid-back vibe that really resonated with us.
Located in the southern part of the country, Kaohsiung is often referred to as Taiwan's Harbor Capital because of its connection to the ocean and its reputation for being one of the world's largest cargo-container seaports. It's one of the country's most bike-friendly cities as well, and the only other Taiwanese city other than Taipei to have its own metro system.
Kaohsiung is less than 15 minutes south of Tainan by HSR train or just under an hour by TRA train. We weren't in a rush so we took the TRA train. If you'd rather go from Tainan to Kaohsiung by HSR train, then you can get a discount on the ticket cost by purchasing it through Klook.
Be sure to visit the Dragon and Tiger Pagodas, Pier-2 Art Center, Fo Guang Shan Monastery, and the Dome of Light. If you start the day early enough, then maybe you can squeeze in Cijin Island as well. It's a great place to ride bikes and enjoy the ocean view.
Kaohsiung is home to two great night markets as well – Ruifeng Night Market and Liouhe Tourist Night Market. Ruifeng was our favorite night market in Taiwan.
KAOHSIUNG TRAVEL GUIDE: You can refer to our detailed travel guide to Kaohsiung to help you plan this leg of your trip.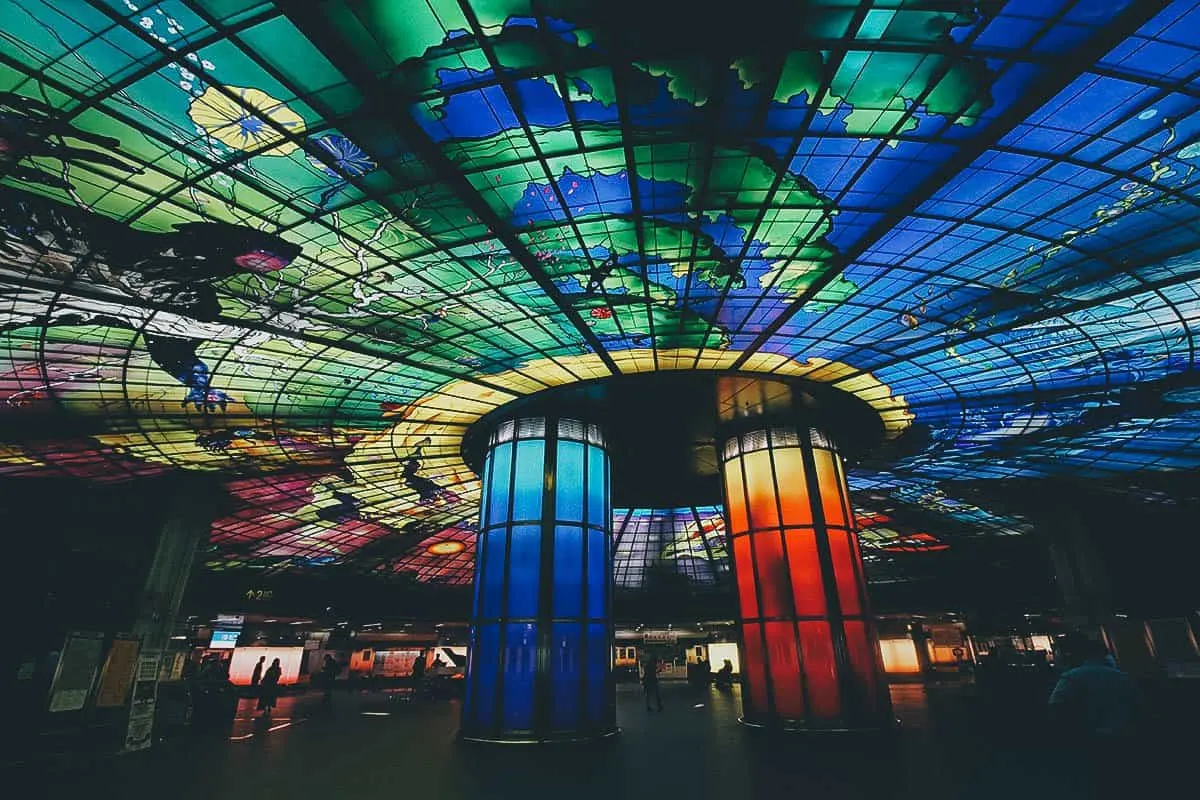 WHERE TO STAY IN KAOHSIUNG: We booked a big homestay in a building right next to the Kaohsiung TRA and MRT stations. It was super convenient and it even had a washer and dryer inside the room. Click on these links for a list of accommodations in Kaohsiung: Booking.com | Agoda.
DAY 8
KENTING
We opted to stay in Kaohsiung to explore Cijin Island, but if you want to cover as much ground as possible, then you may want to take a day trip to Kenting National Park using Kaohsiung as a base. Kenting is Taiwan's oldest national park, famous for its picturesque beaches and clear ocean views.
Kenting is located about two hours south of Kaohsiung so the easiest way to visit would be by private car charter. You can book a Kaohsiung-Kenting private car charter through Klook.
If you're traveling with enough people, then a private car charter may be worth the cost. You'll have the car and driver for 10 hours, giving you about 6 hours in Kenting. This will be the most convenient option as it isn't as easy to get around in Kenting. Many people do so on rental scooters.
If the private charter is too expensive, then an alternative would be to go by shuttle bus. Klook offers tickets to the Kaohsiung-Kenting shuttle bus which runs every hour on the hour from 9AM-5PM, giving you a maximum of about 6 hours to explore Kenting.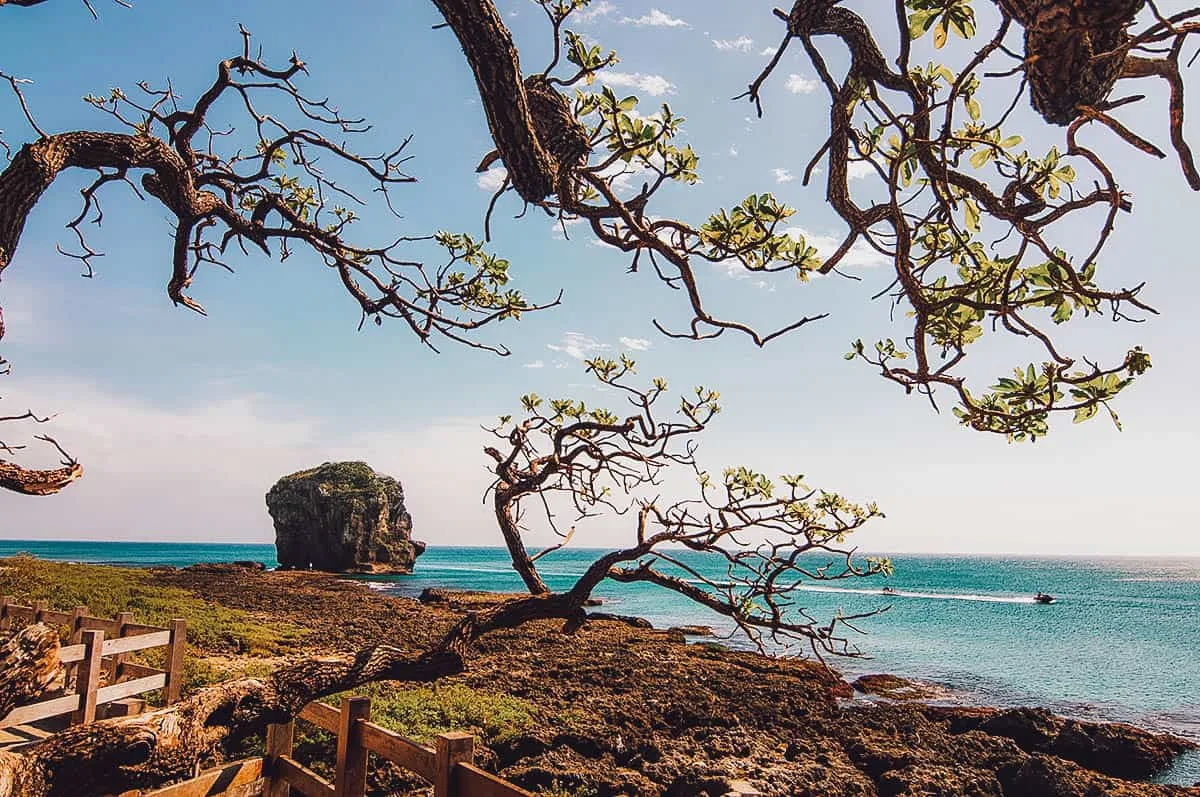 Photo by Hang Dinh via Shutterstock
DAY 9-10
HUALIEN
This is was one of our favorite places in Taiwan. Hualien on the eastern coast of Taiwan is home to Taroko National Park, one of nine national parks in Taiwan. Covering an area of over 92,000 hectares, it features many natural wonders like mountains, gorges, rivers, and cliffs. Many local Taiwanese feel that the eastern half of Taiwan is the country's most beautiful, and Taroko Gorge has a lot to do with that.
HSR trains only run on the western half of the country so your best option would be to do the 5-hour TRA train ride from Kaohsiung to Hualien. The first train departs at 7:21AM so the earliest you can get in to Hualien is just before noon.
I allotted two days to Hualien because there's so much to see in the park that you'd be selling yourself short if you only stayed for one night. The quickest and most foolproof way of seeing Taroko Gorge is by guided tour, but those start at around 8AM so it isn't possible if you're arriving at noon. For that reason, I suggest staying two nights in Hualien.
There are three ways to explore Taroko Gorge – by guided tour (which is what we did), private car charter or public bus. I explain in detail the differences, advantages and disadvantages for each in my article about Taroko National Park.
Other than Taroko Gorge, other popular things to do in Hualien are to visit Qixingtan Beach, go night river shrimping, dolphin and whale watching, and paragliding. Hualien is all about natural beauty so pretty much all the activities here involve the outdoors.
At the end of the day, you can chow down at Dongdamen Night Market which is also one of our favorite night markets in Taiwan.
HUALIEN TRAVEL GUIDE: You can refer to our detailed travel guide to Hualien to help you plan this leg of your trip.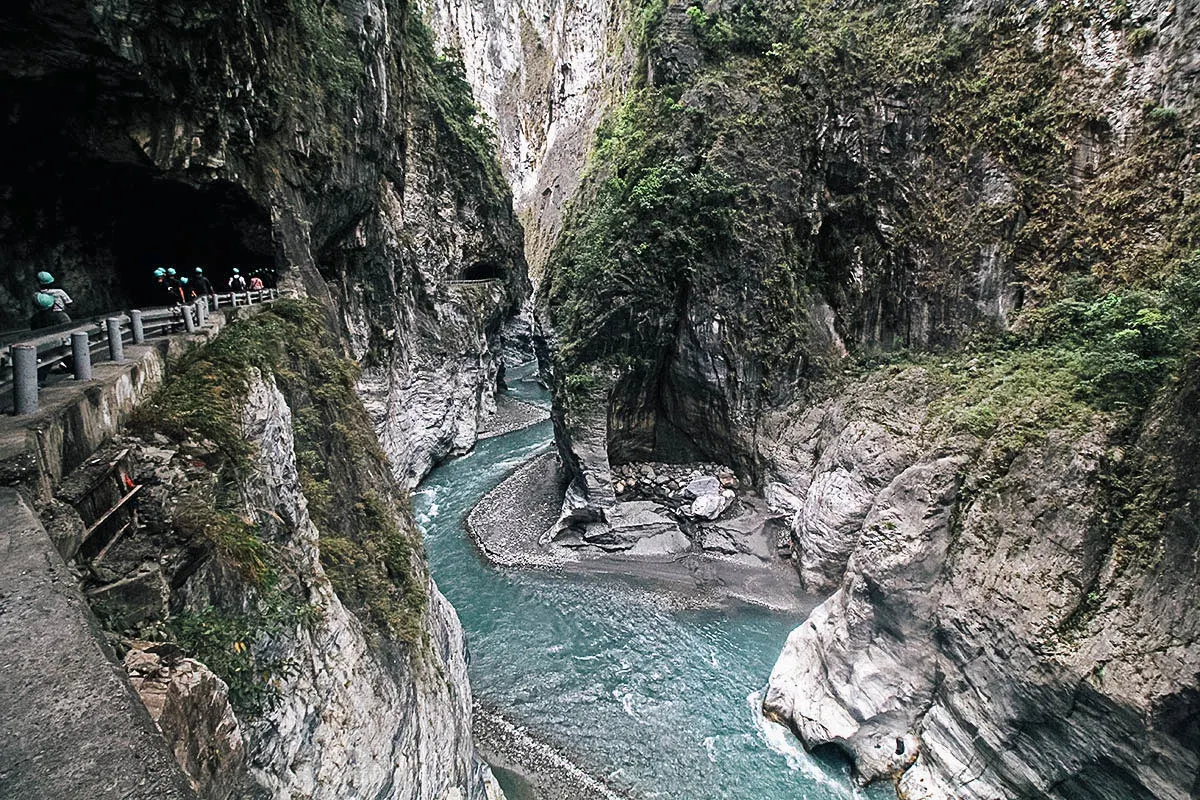 WHERE TO STAY IN HUALIEN: We booked a big room at a boutique hotel in Hualien. We were perfectly happy with it, though in hindsight, I would have loved to have rented a car and stayed one night in Taroko National Park. It's pricier than Hualien City, but the experience of staying in the park overnight would have been worth it. You can search for accommodations in Hualien on Booking.com or Agoda. If you'd like to stay in Taroko Gorge, then you can either stay at one of the few hotels in the park or go camping.
DAY 11
TAIPEI
We were allocating the most number of days to Taipei which is why I left it for last. Four days is a good amount of time to spend in the capital city. It'll give you enough time to see its highlights and use it as a base to make a couple of easy day trips.
The easiest way to get to Taipei from Hualien is by TRA train. The trip takes about 2 hours and 15 minutes. If you catch the 8:39AM train, then you can be in Taipei before 11AM.
I've allotted two days to Taipei City. The fastest and most convenient way to see its top attractions is to go on a Hop On Hop Off tour.
These double-decker buses ply set routes that will take you to the city's highlights like Chiang Kai-shek Memorial Hall, Taipei 101, Taipei Fine Arts Museum, National Palace Museum, and Shilin Night Market. You can hop on and off as often as you want for the duration of your pass.
There's much more to see in Taipei but these attractions will already fill up an entire day so we'll leave the rest for your second day.
TAIPEI TRAVEL GUIDE: You can refer to our detailed travel guide to Taipei to help you plan this leg of your trip.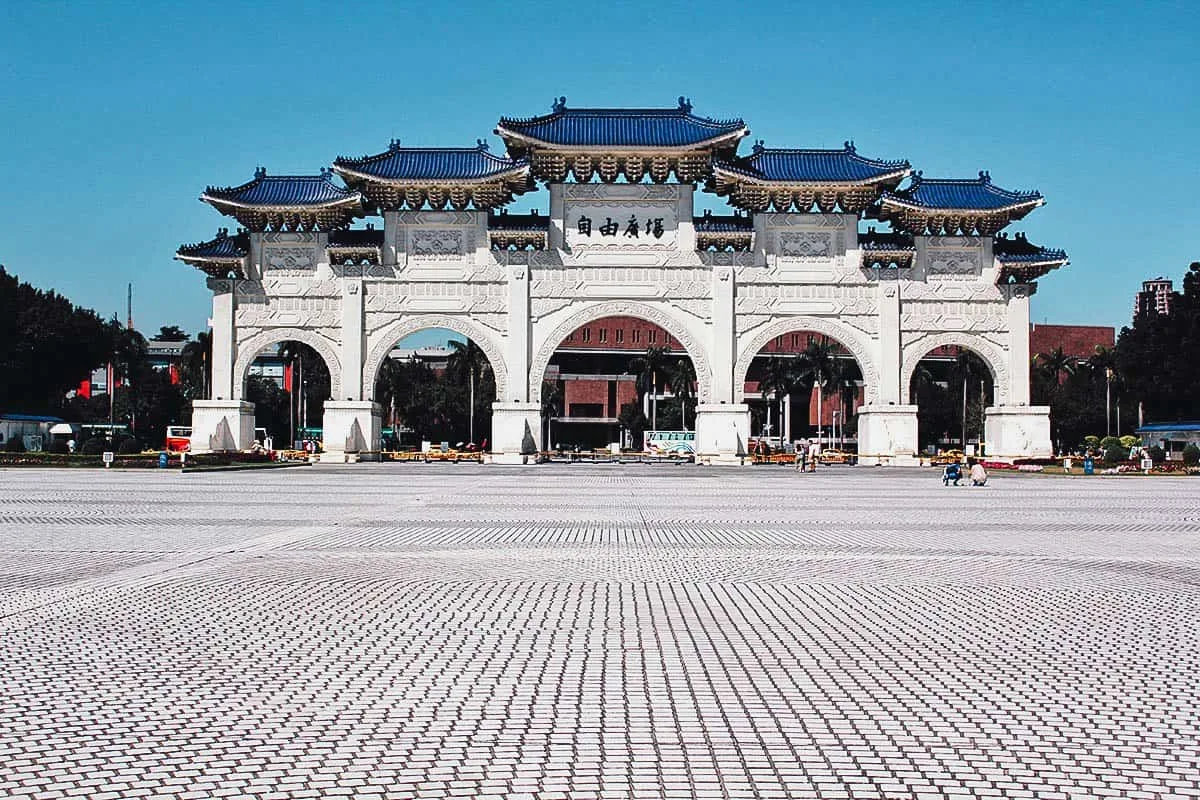 WHERE TO STAY IN TAIPEI: There are many good neighborhoods to stay in Taipei, but for me, there's no better place then Ximending. It's a fun and lively neighborhood in Wanhua District with lots to see and do. We rented a big studio apartment in Ximending that served as our base in Taipei for several nights. You can check these sites for listings in Taipei: Booking.com | Agoda.
DAY 12
TAMSUI / BEITOU
Tamsui and Beitou are accessible by MRT, making them one of the easiest day trips you can make from Taipei. Conveniently, they're both located along the Red Line (Tamsui and Beitou Stations) so you can visit one after the other. Tamsui is a seaside district famous for its street food while Beitou is one of the most popular hot spring destinations in Taiwan.
You can visit either place first, but if you plan on soaking in a hot spring in Beitou, then you may want to save that for last. After a long day exploring Tamsui and Beitou, it was nice to get off our feet and relax in a hot tub before heading back to Taipei and calling it a night.
Tamsui is the last stop on the Red Line while Beitou is six stops before it. From Beitou Station, you'll need to transfer to the pink line and go one stop to Xinbeitou. That's where all the hot springs and attractions are.
In Tamsui, you can try the street food along Tamsui Old Street. They have a few interesting regional specialties like ah-gei, fish ball soup, and iron eggs. Other highlights include Lover's Bridge at Fisherman's Wharf and Fort San Domingo.
Aside from its hot springs, Beitou has a few notable attractions like its library, Plum Garden, the Hot Spring Museum, and Hell Valley. But its premier attractions of course are its hot springs. You can either go to a public bath or pay more to use a private facility.
We went to Beitou Hot Spring Resort and rented a private room for a 90-minute hot spring session. It was awesome and much more relaxing than sharing a tub with a bunch of strangers.
But even if you aren't interested in bathing in a hot spring, Beitou is still very much worth visiting for its atmosphere alone. It was developed into a tourist destination during the Japanese occupation so it looks and feels very much like a Japanese onsen town. You'll feel like you're in Japan when you're there. The central Beitou Hot Spring Park is beautiful and serene and a great place to just sit and enjoy the day.
TAMSUI & BEITOU TRAVEL GUIDE: You can refer to our detailed travel guide to Tamsui and Beitou to help you plan this leg of your trip.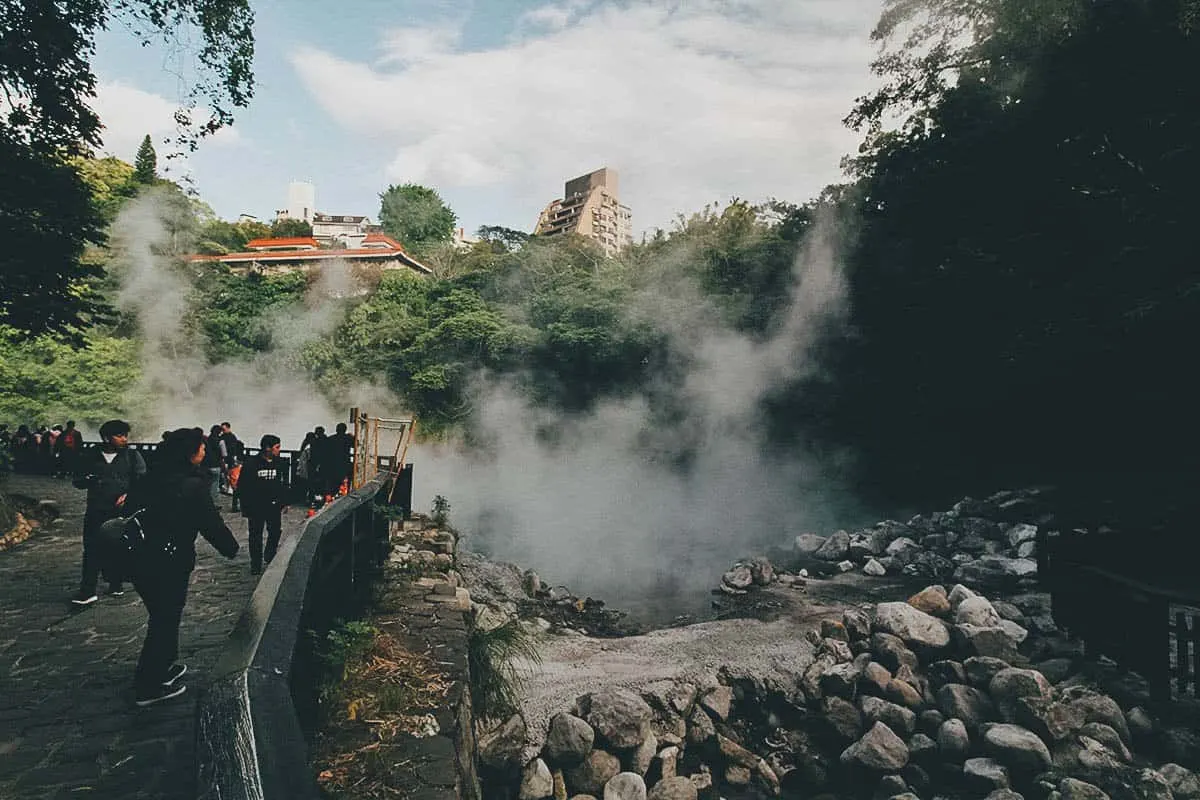 DAY 13
SHIFEN / JIUFEN
This is one of the most popular day trips you can make from Taipei. Shifen and Jiufen are both small towns in New Taipei City, about an hour east of Taipei. Tourists flock to Shifen to make wishes and release paper lanterns into the sky, while Jiufen is a former mining town that draws visitors to its cool mountain atmosphere and abundance of Taiwanese street food.
From Taipei, it's best to go to Shifen first before continuing on to Jiufen. You can go using public transportation but if you'd rather go on a guided tour, then you can book one through Klook.
We went on a Yehliu, Shifen, Jiufen tour from Taipei which also took us to Yehliu Geopark and its fascinating hoodoo stones. Yehliu is a little harder to get to on your own, especially if you're pressed for time, so you may want to consider booking a tour. It's the most hassle-free way of seeing all three places.
If you go to Shifen and Jiufen on your own, be sure to check out Shifen Waterfalls as well. It's a beautiful cascading waterfall that's often referred to as the "Little Niagara of Taiwan". You can walk to the falls after releasing your sky lantern along the railway tracks of Shifen Old Street.
We wanted to get the full Jiufen experience so we decided to stay the night there. Jiufen is the last stop on the guided tour so you'll be given the option of staying there and making your way back to Taipei on your own. It's just an hour away by bus so it's pretty easy.
I'm glad we decided to stay the night in Jiufen because we had no idea how crowded it gets during the day! The place gets absolutely packed with tourists so it was nice to see it empty late at night and early in the morning. As described, Jiufen is known for its street food so you may want to refrain from eating too much until you get to Jiufen.
SHIFEN & JIUFEN TRAVEL GUIDE: You can refer to our detailed travel guide to Shifen and Jiufen to help you plan this leg of your trip.
WHERE TO STAY IN JIUFEN: You can search for accommodations in Jiufen on Booking.com.
DAY 14
TAIPEI
We took an early morning bus from Jiufen and got back to Taiwan before noon to enjoy our last day in Taipei. You'll probably be pretty tired at this point so you may want to just relax and take it easy. But if you have the energy to do more sightseeing, then there's still plenty left to explore in Taipei.
Other popular attractions include Longhsan Temple, Bopiliao Historical Block, the Museum of Contemporary Art (MOCA), Huashan 1914 Creative Park, Songshan Cultural and Creative Park, and Raohe Night Market.
If you're in the mood to go shopping, then you'll find plenty of trendy shops and boutiques in Ximending, which is often referred to as the "Harajuku of Taipei". Be sure to end the day at Raohe Night Market as its one of the best and most popular night markets in Taipei for food.
And that's about it! If you follow this Taiwan itinerary, then you'll get to experience the best of this beautiful country in 14 days. It can be tiring but it's fun and super worth it. Taiwan is a fascinating country with great infrastructure so it's easy to explore. Be sure to check out the map and our travel tips below for more help in planning your trip.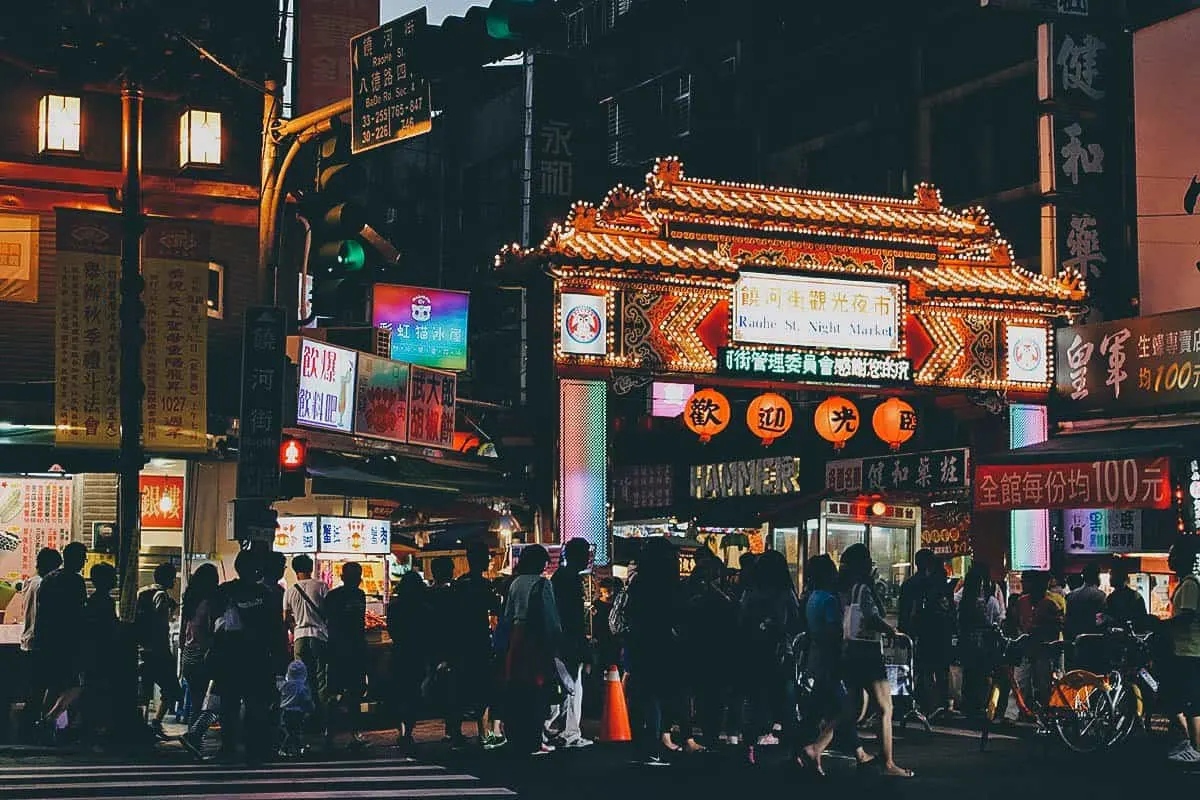 TAIWAN TRIP MAP
These are all the places you'll be covering if you follow this 2-week Taiwan itinerary. Click on the link for a live version of the map.
TAIWAN TRAVEL TIPS
1. Avoid the Rainy Season
The climate varies slightly from city to city but the seasons are typically consistent throughout the island. Just know that April to September is generally the hottest, wettest, and most humid time of the year so it may not be the best time to go. Many night markets won't open at all when it rains and you don't want that. June till August is the height of typhoon season.
If you can, plan your visit anytime between October and March. This is the driest time of the year with relatively mild temperatures. If you'd like to catch the cherry blossoms, then shoot for around February till mid-March. I think April might be too late.
2. Plan your Trip with Sygic Travel
I've been using this free trip planning app for about five years now. For a countrywide trip like this, it'll come in very handy. What it does is allow you to pin points of interest on a map – things like your hotel, attractions, restaurants, train and bus stations – so you can see exactly where they are. You can then group places together by day to create the most efficient itinerary. Check out my article on the Sygic Travel app for more information.
3. Stay Connected
If you're planning on exploring many cities in Taiwan like we did, then having a steady connection to the internet is essential. It'll allow you to check train and bus timings, do research, find places to stay, things to do, etc. Personally, I wouldn't think of traveling in a foreign country now without a reliable wifi connection.
You can connect to the internet in Taiwan by renting a pocket wifi device or buying a sim card. We prefer pocket wifi devices but either way is fine. You can rent a pocket wifi device or buy a sim card through Klook. You can pick them up at various airports throughout Taiwan.
4. Exchange Your Currency at Big Banks
Taiwan's unit of currency is the New Taiwan Dollar (NTD or TWD). Changing currency is less stressful in Taiwan because currency exchange services are strictly regulated by the government. There aren't any independent money changers in Taiwan so you'll need to exchange your currency at banks.
Any bank will do though smaller banks may charge you a fee for the service. For that reason, I suggest exchanging your currency at big local banks like Bank of Taiwan, China Trust Bank, or South China Commercial Bank.
Alternatively, you can also withdraw NTD from an ATM. The rates are comparable, some say even better. Just be sure to advise your local bank you'll be using your ATM card overseas so you don't run into any problems. In my experience, my ATM card works in some machines but not in others.
5. Know the Differences Between the TRA and HSR Trains
As previously described, HSR trains are faster but TRA trains are cheaper. But that's not the only difference between the two. To know which type of train is best for you, it's important to understand how they differ.
TRA trains are slower. Travel times are about twice as long as HSR trains.
TRA trains may be slower but they're about half the price of HSR trains. With that said, you can get discounts on HSR train tickets if you book them early enough or buy them through Klook.
TRA tickets can be purchased only as early as 2 weeks in advance. HSR tickets are available 4 weeks ahead.
TRA trains travel throughout the country, but HSR trains only service cities in the western half of the country at this time.
TRA train stations are closer to city center so they're more conveniently located. The majority of HSR stations are located a little outside of the city, so you'll probably need to catch a bus or arrange for transfers to your hotel.
It was important for us to be centrally located and be close to the train station so we took TRA trains the entire trip. If you'd like to take HSR trains, then you can get up to 35% off on the ticket cost if you purchase it in advance or travel during off-peak hours. You'll see what I mean when you do a route search on the HSR website.
You can also save on the cost of HSR tickets if you purchase them through Klook. They offer discounted single-journey HSR tickets from different cities throughout the country.
6. Invest in a Transportation Card
A transportation card like the Easycard or iPass will be a great investment in Taiwan, especially if you'll be spending enough time in Taipei or Kaohsiung. Not only will they give you a discount on MRT rides, but they'll eliminate the hassle of having to buy single journey tokens every time.
We went with the EasyCard and it gave us a 20% discount with every ride on the Taipei MRT and 15% off on the Kaohsiung MRT. From what I understand, the EasyCard and iPass offer similar benefits. They're just operated by two different companies.
On top of discounts on the Taipei and Kaohsiung MRT, the EasyCard works on most city bus systems and several inter-city buses in Taiwan as well. I read you can get discounts and free rides in some cities, but what I really like about it is that it eliminates the need to pay in exact change. Bus drivers can't give you change so you don't have to worry about scrounging up exact amounts every time.
We never used it for anything but transportation but you can use it for other things as well like taxis, ferries, TRA convenience stores, etc. Follow this link to see the full scope of use of an EasyCard.
You can purchase an EasyCard from any MRT station for a non-refundable NTD 100. You can then top it up at any station in multiples of NTD 100. You can use it throughout Taiwan so if you bought it in Kaohsiung like we did, then you can use it on the Taipei MRT as well and vice versa.
At the end of your trip, any unused amount can be refunded minus a service charge of NTD 20. You can refer to the EasyCard website for more information.
7. Check for Taiwan Travel Deals
If you're looking for deals on tours, airport transfers, pocket wifi rental, etc, then I suggest searching through Klook. They're a reputable e-commerce travel platform that offers a wide selection of tours and other travel-related services at great prices.
Check out Klook for a list of deals in Taiwan. You can do a search by city to narrow it down. I often find interesting activities that I wouldn't normally think of myself, so it's always fun to look.
8. Get Travel Insurance
We bought travel insurance for our trip to Taiwan because we planned on riding bikes and going hiking, but we don't always get travel insurance before every trip. It depends on where we're going and what we'll be doing.
If you're only going on a quick trip and don't plan on doing anything physical, then you may not need travel insurance as much, especially if you have a credit card that comes with free (but limited) travel insurance. But if you plan on doing outdoorsy things like bungee jumping or battling with dragons, then it's a good idea to pick up a policy.
We buy travel insurance from SafetyWing. They're a popular travel insurance company used by many long-term travelers. Click on the link to get a free quote from SafetyWing.
9. Bring the Right Power Adapter
Taiwan has Type A and Type B electrical outlets so be sure to bring the right power adapters for your devices. Electrical voltage is 110V and the standard frequency is 60Hz.
Have Fun!
As much as I love Taiwan, I'm hardly an expert but I do hope you find this guide useful. I'm only sharing some of the things I learned from our trip. If you have any questions or comments, then please feel free to leave them in the comment section below. You're welcome to join our Facebook Travel Group as well.
Thanks for stopping by and have fun exploring Taiwan!
OUR GEAR
These are some of the things we brought with us to Taiwan. Have a look inside our backpack to see what other gear we use. (NOTE: The following links are Amazon affiliate links.)
Disclosure
Some of the links in this Taiwan itinerary are affiliate links, meaning we'll earn a small commission if you make a booking at no added expense to you. We only recommend products and services that we use ourselves and firmly believe in. We really appreciate your support as this helps us make more of these free travel guides. Thank you!
FEATURED PHOTO: "2014-new-year-taipei-101-fireworks" by Sinchen.Lin, used under CC BY 2.0 / Processed in Photoshop and Lightroom, added text