We spent two weeks in Taiwan in 2018 and visited every major tourist destination in the country. Well, almost.
The most glaring omission from our itinerary was Alishan Forest in Chiayi County, a picturesque mountain retreat known for its forest wilderness and network of vintage railways.
We recently spent the holidays in Chiayi City chasing after the eateries featured on the Taiwan episode of Street Food on Netflix. Chiayi is the most convenient jumping-off point to the Alishan Scenic Area so we weren't about to leave it off our itinerary a second time.
At first, I wasn't sure how to tackle Alishan Forest. There are a few ways to get there, the most appealing being to go on our own by train, then staying the night so we could experience Alishan's much-hyped sunrise.
However, for a number of reasons I won't get into here, we decided that the best thing for us to do on this trip was to go on a day tour. It may not be the best or the cheapest, but it's definitely one of the easiest and most hassle-free ways of experiencing Alishan Forest.
If you're spending time in Chiayi, then you may be interested in this 10-hour day tour that takes you to Fenqihu and the Alishan National Scenic Area.
VISIT ALISHAN FOREST QUICK LINKS
To help you plan your trip to the Alishan National Scenic Area, I've compiled links to recommended tours and other travel-related services here.
TOURS
OTHER SERVICES
Save This on Pinterest!
No time to read this article on the Alishan National Scenic Area? Click on the save button and pin it for later!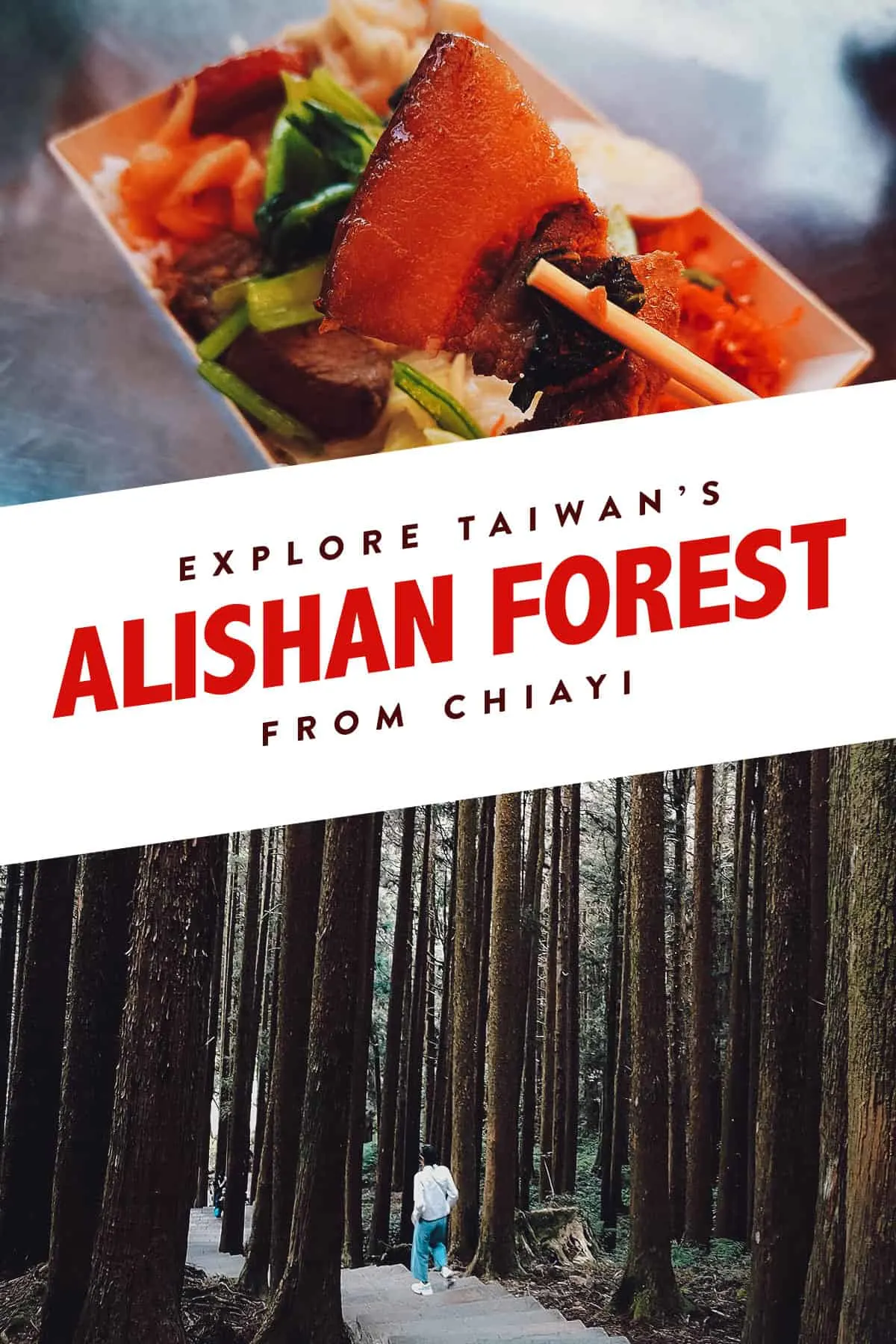 WHAT IS THE ALISHAN NATIONAL SCENIC AREA?
Also referred to as "Alishan National Park", "Alishan Mountain", or "Alishan Forest Recreation Area", the Alishan National Scenic Area is a 415 sq km mountain reserve in Chiayi County. Along with Taroko National Park and Sun Moon Lake, it's one of Taiwan's most visited natural attractions, famous for its railway network, scenic hiking trails, and vast mountain wilderness.
The Alishan area was originally settled by the Tsou aboriginal tribe before being inhabited by Han Chinese settlers in the late 18th century. After Taiwan was ceded to Japan at the end of the First Sino-Japanese War, expeditions to the area revealed an abundance of cypress. This led to the development of the area's logging industry and a network of railways to facilitate transport of lumber from the mountains to the plains.
Today, a portion of that railway network continues to operate as the Alishan Forest Railway. It's one of Taiwan's most popular tourist attractions, consisting of 86 km of narrow gauge railways running up and throughout the Alishan mountains.
ALISHAN & FENQIHU DAY TOUR FROM CHIAYI
As described, I would have preferred to go to Alishan on our own and stay the night as it would have given us the most freedom to explore the area. However, going on an organized day tour solves a lot of logistical problems which is a big reason why we decided to book this tour.
Klook offers a few Alishan tours from Chiayi. We chose this tour because it included a bento box lunch in Fenqihu. It comes with lunch, entrance fees, and transportation during the tour. It doesn't come with a guide so you'll be left to explore on your own at every stop, which we preferred. You can book it on Klook.
If you're coming from a different city in Taiwan or would like to book a different tour from Chiayi, then you can search through Klook's list of Alishan Forest tours. Some include overnight stays.
Chiayi Forest Railway Garage Park
This tour starts at 8:15AM at a travel agency directly behind the Chiayi TRA Station. You'll be given a brief synopsis of the tour's itinerary before being driven in a van to your first stop – Chiayi Forest Railway Garage Park in Chiayi City.
Our driver spoke limited English but we were on the tour with a lovely Singaporean family who was happy to translate for us. If I understood correctly, this is a railway repair shop that also serves as a mini-museum. There isn't much to see here except for a few parked railway cars so you'll spend no more than 15-20 minutes at the park before moving on to the next stop.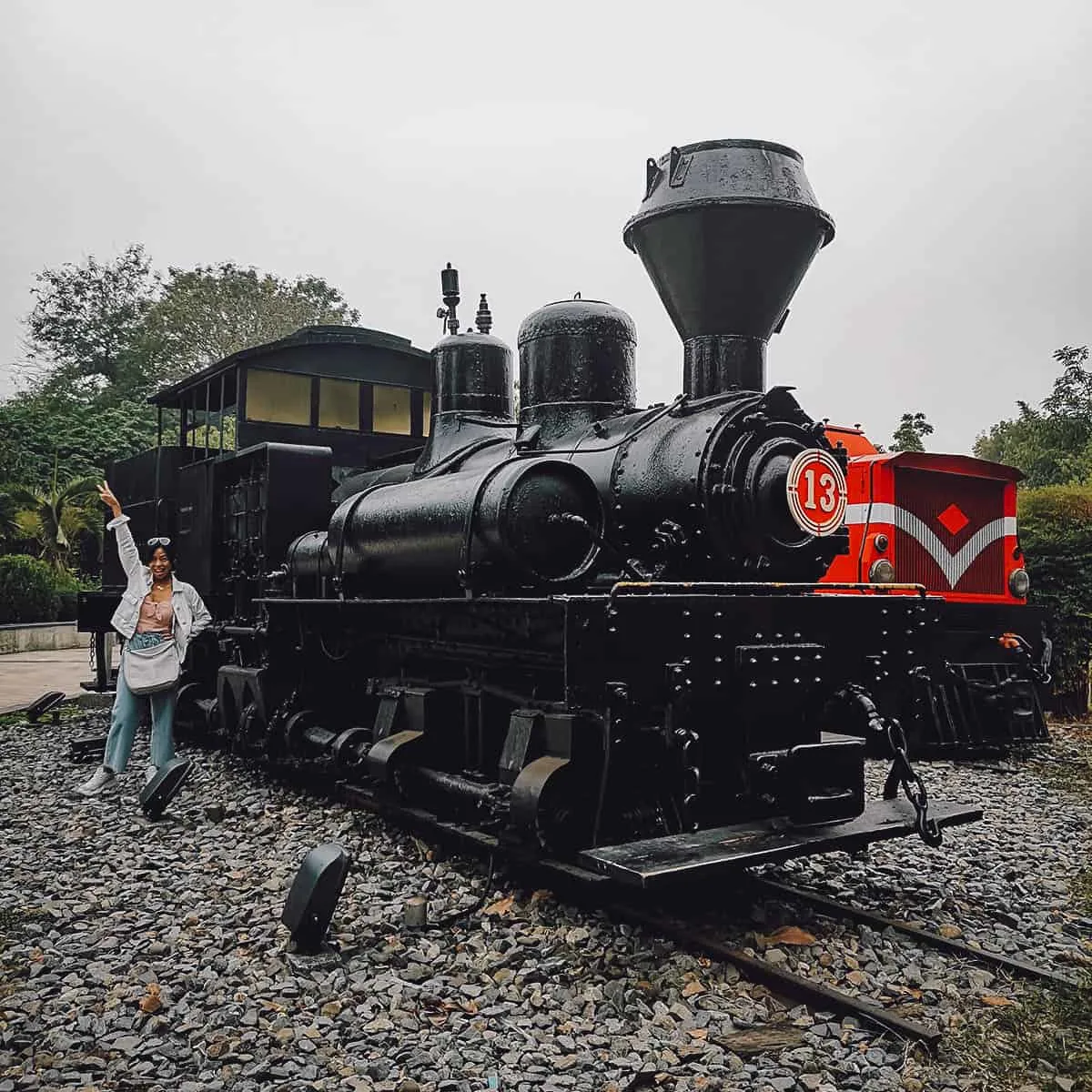 Hinoki Village
Located in Chiayi City, this was meant to be the last stop on our tour. We were supposed to visit Hinoki Village after driving back from Alishan Forest but our driver decided to take us here first. According to him, he wanted to delay our trip to Alishan so we could experience sunset in the forest. Good call.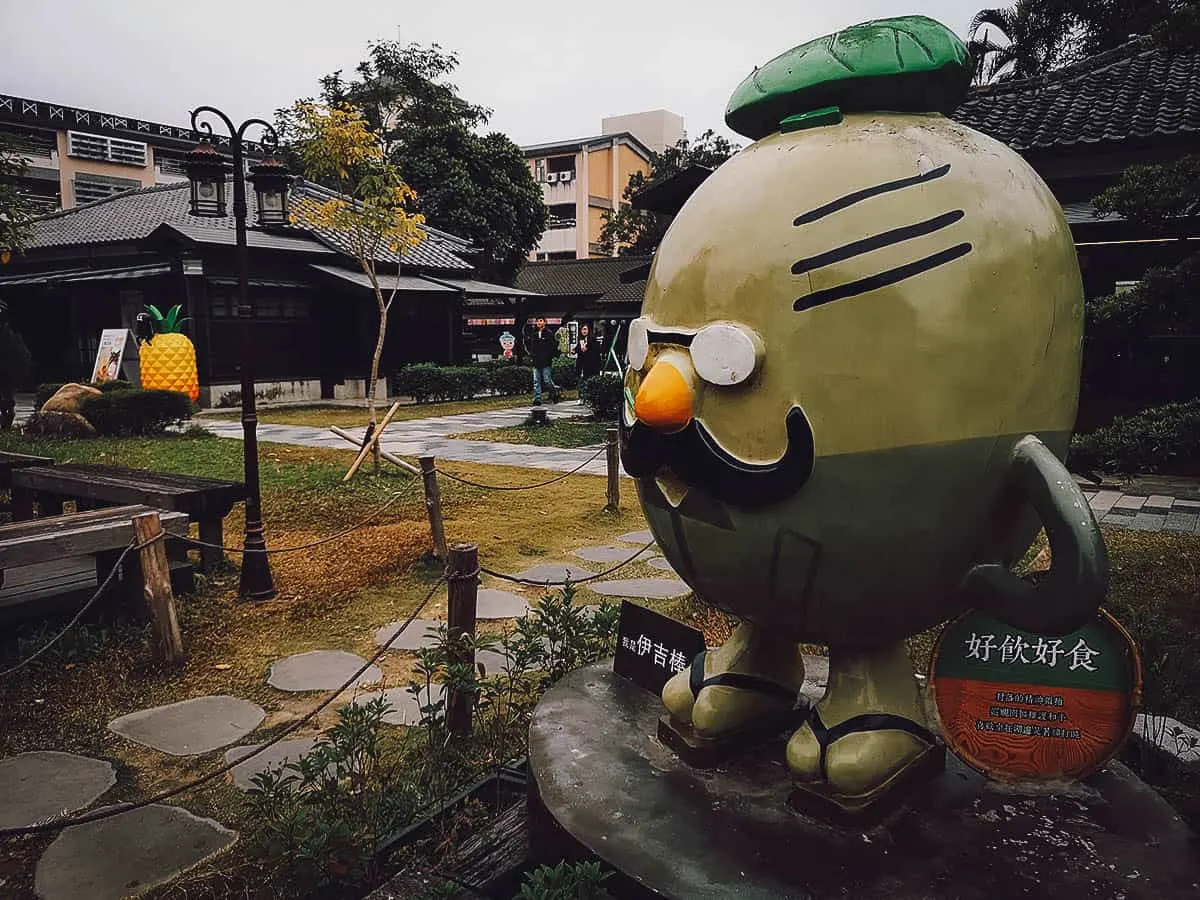 Hinoki Village was originally the dormitories of the Chiayi Forest division during the Japanese occupation of Taiwan. It's a charming village of 28 Japanese-style wooden buildings that now functions as a tourist attraction in Chiayi City. Hinoki in Japanese means "cypress".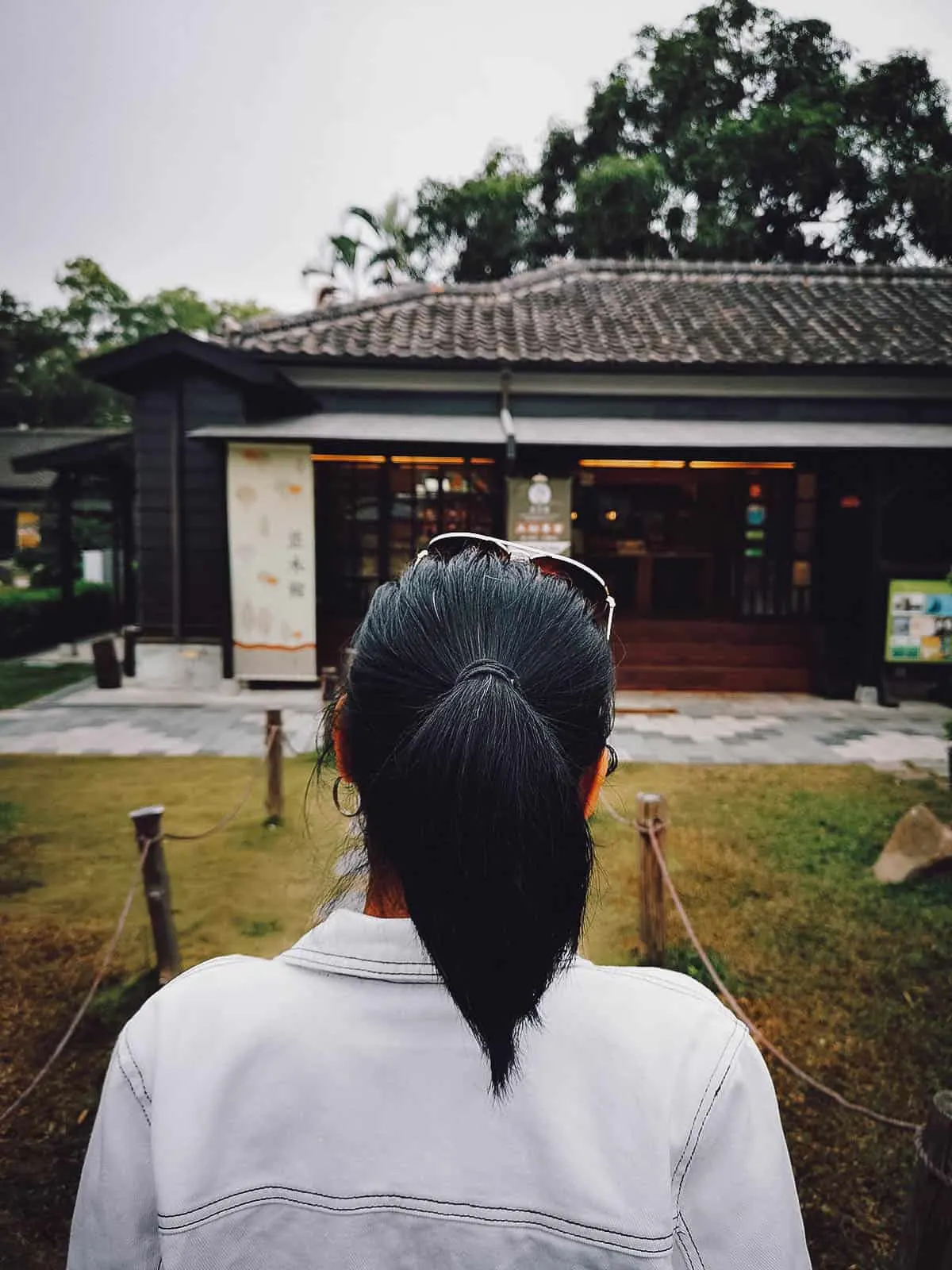 Our driver gave us about an hour to explore the village on our own. It's a picturesque enclave of one-story houses built using cypress wood from Alishan forest. They have roofs made with what I believe are called Japanese kawara tiles, so when you're here, it looks and feels like you're in Japan.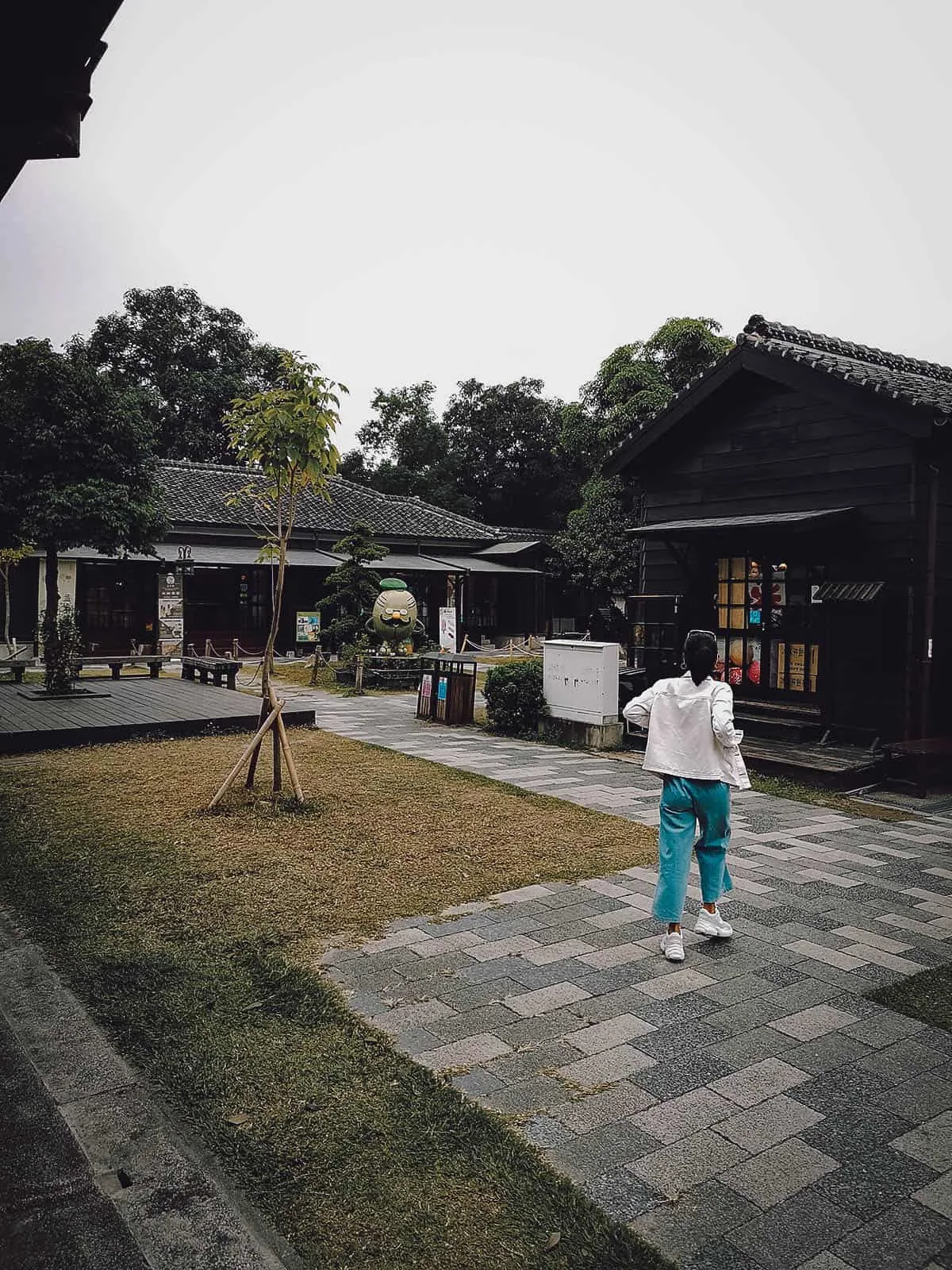 We were busy taking pictures and video so we didn't go into any of the buildings, but a few of them had shops and perhaps a few exhibits about Alishan's logging industry.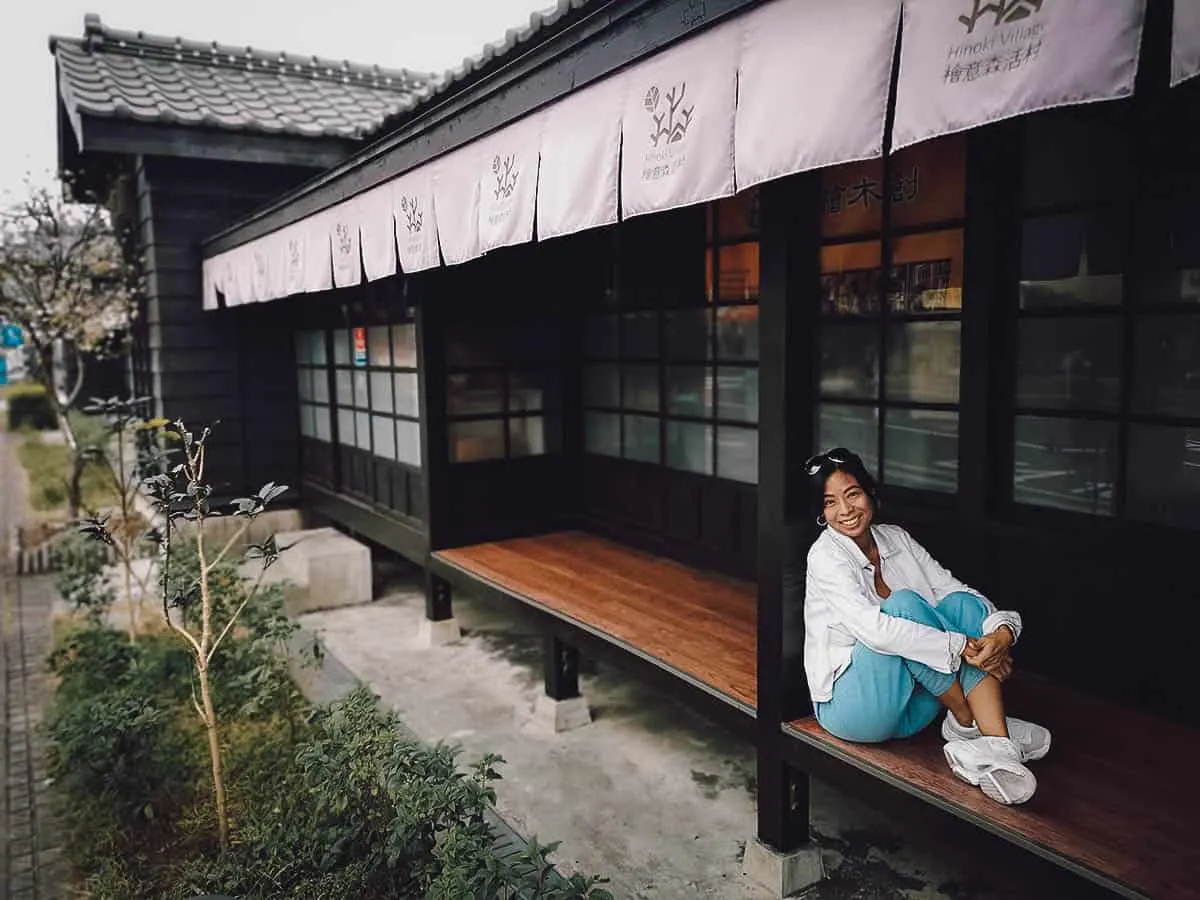 Hinoki Village is located in the heart of Chiayi City so it's easy to explore on your own. Entrance is free and you can easily blitz through the place in about half an hour.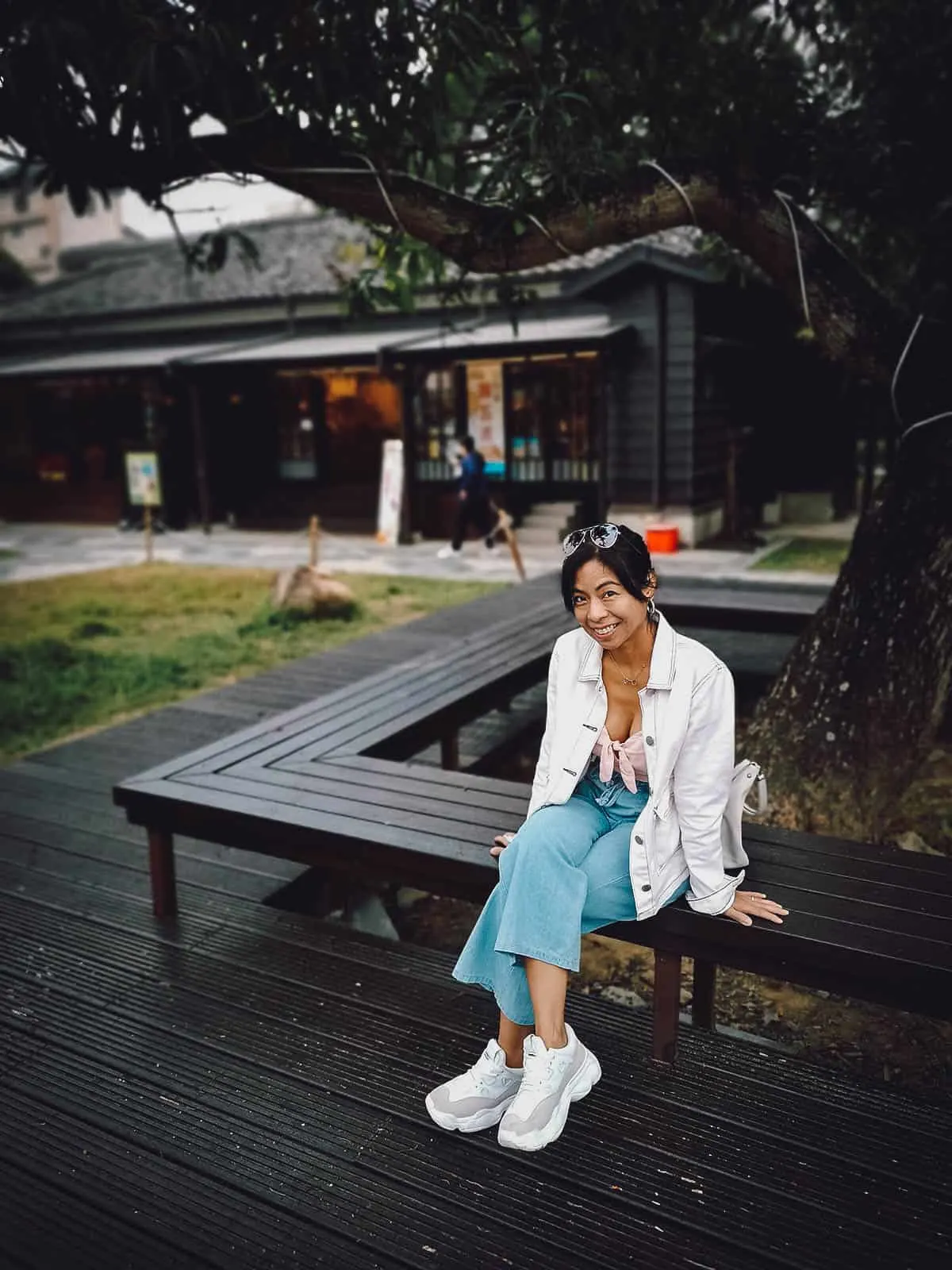 Located a short walk from Hinoki Village is Beimen (or Peimen) Station. Built around 1910-1912 using the same Formosan cypress wood, I believe it's the first stop from Chiayi train station to Fenqihu.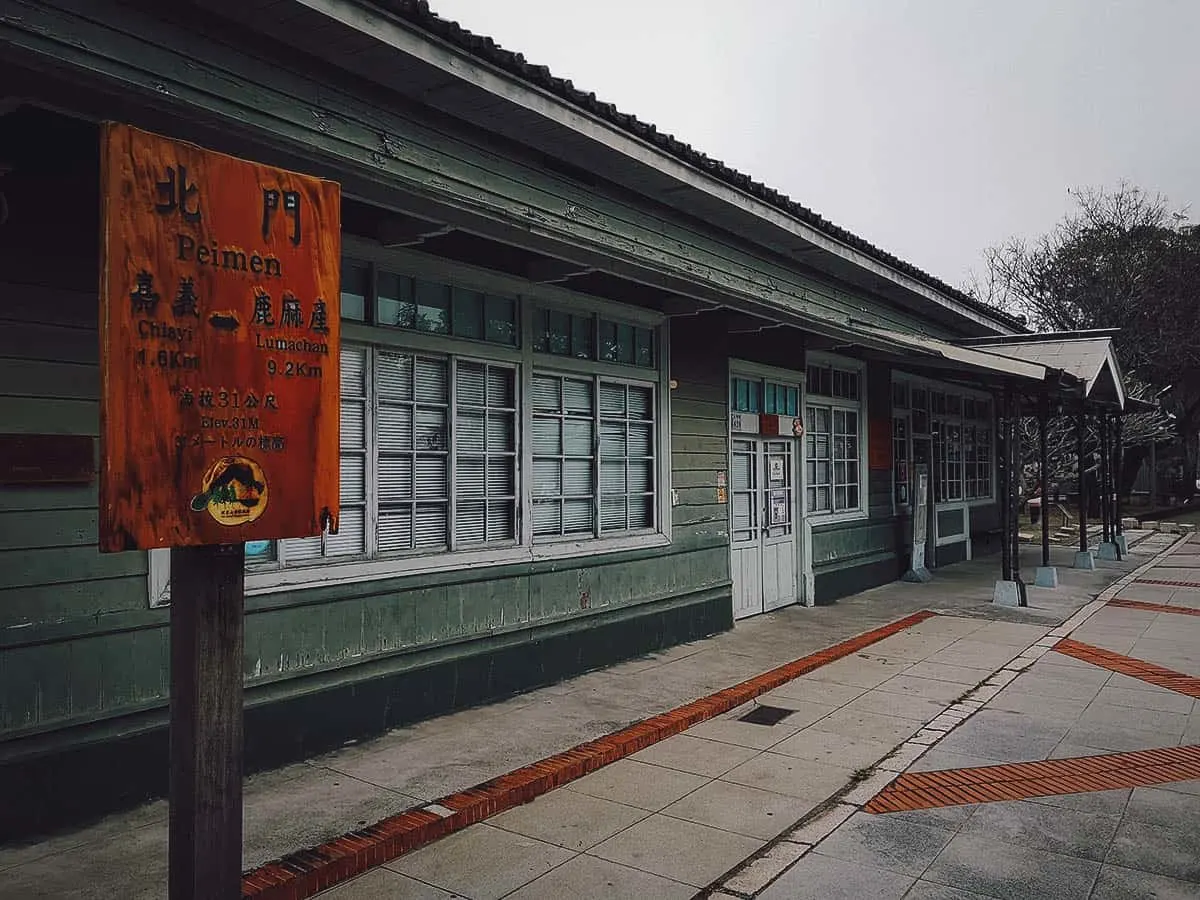 Fenqihu
From Hinoki Village, it's about an hour drive to the tiny village of Fenqihu (also spelled Fenchihu). It's a twisty ride up the mountain so if you're prone to motion sickness, then you may want to take medication before the trip.
Fenqihu started as a small encampment for timber logging but it now functions mainly as a stop for tourists en route to the Alishan Scenic Area.
There's a railway station in Fenqihu which I believe is the last stop on the line from Chiayi to Alishan. From what I understand, it used to go all the way to Alishan but parts of the railway were severely damaged by a typhoon in 2009 and shut down.
People traveling by train need to get off at Fenqihu then complete the journey to Alishan by bus.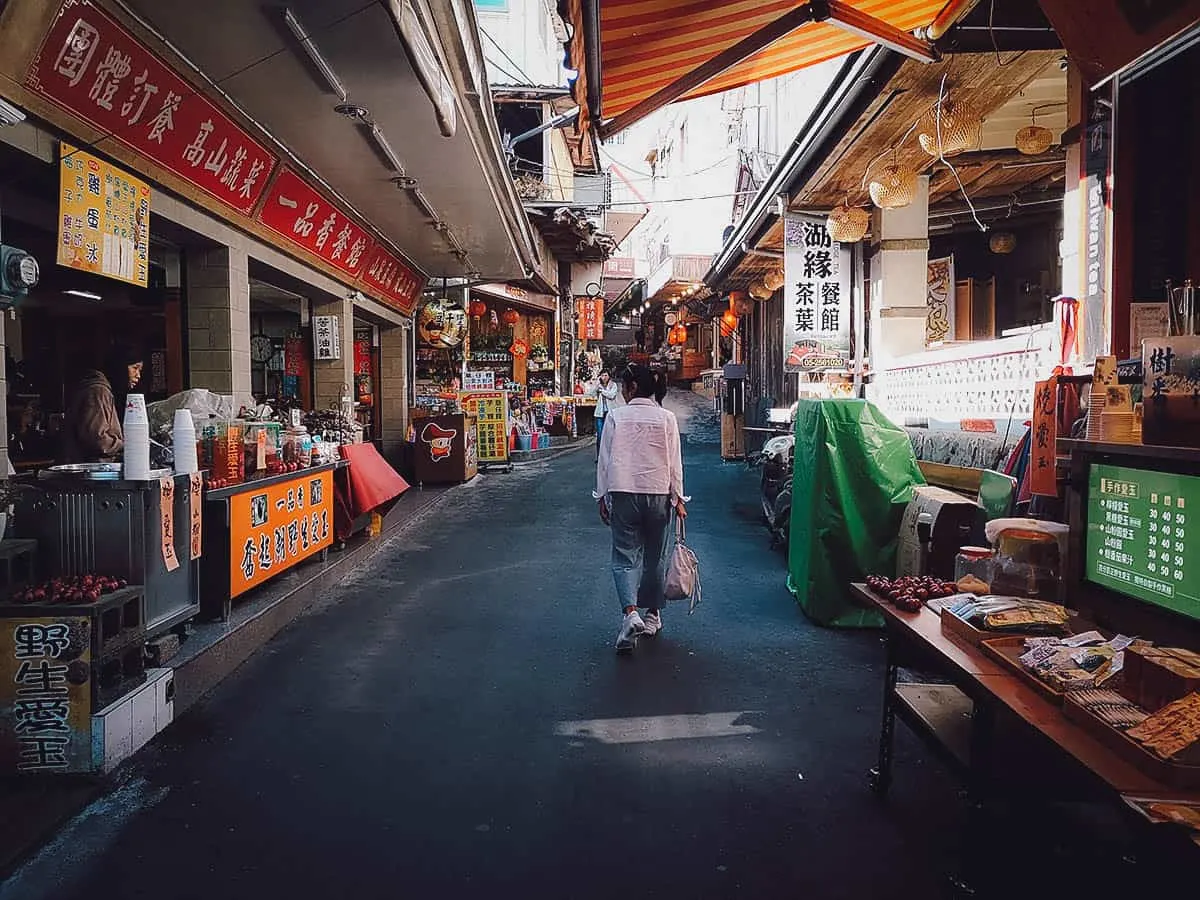 Fenqihu is smaller and less busy but it feels a lot like Jiufen in northern Taiwan. Like Jiufen, you'll find an old street running through the center of town with shops on either side selling Taiwanese food, snacks, tea, and souvenirs.
The Alishan area is known for its cultivation of tea and wasabi so you'll find many food items made from those products.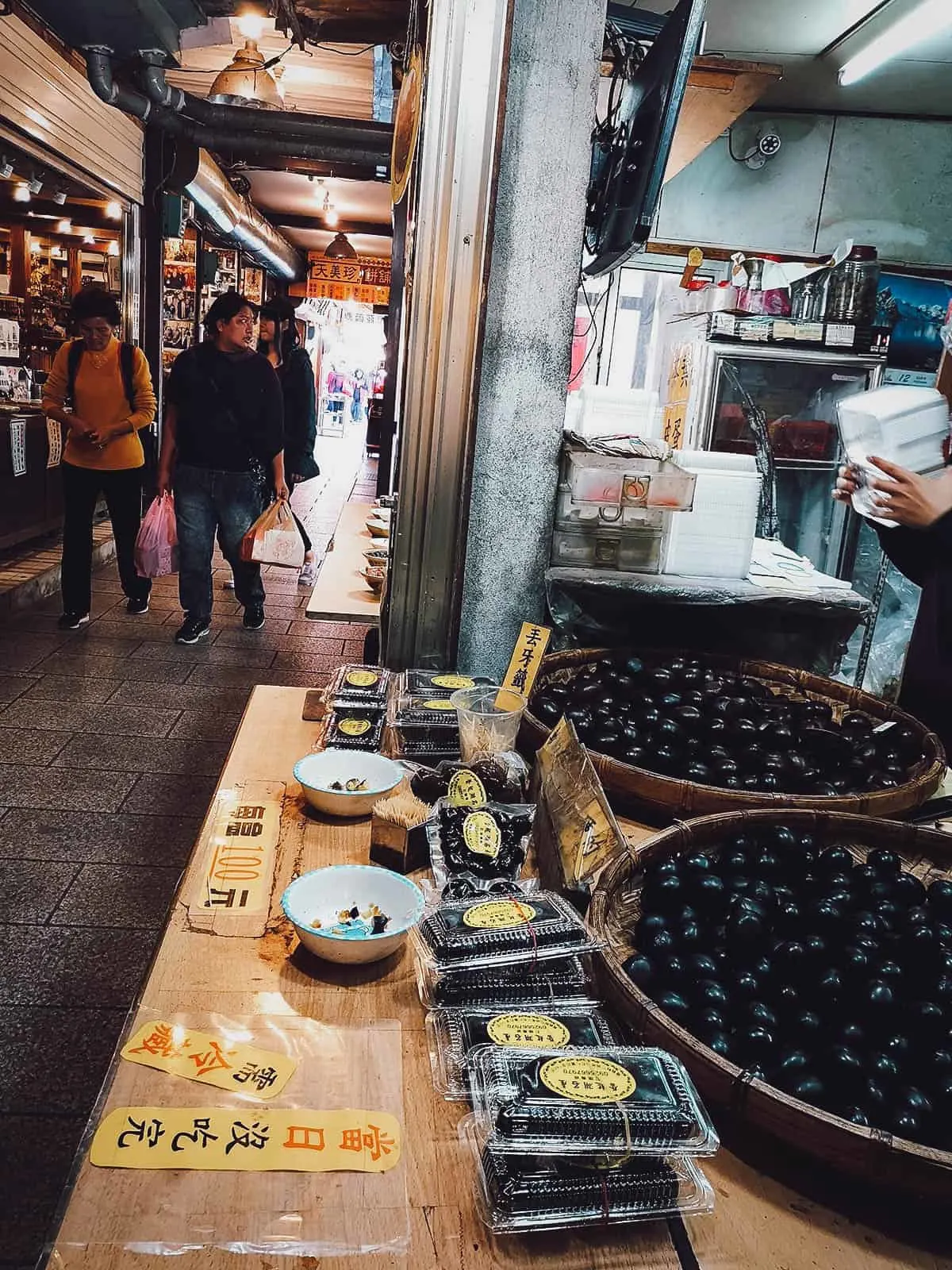 As described, we chose this tour because it included a bento box lunch in Fenqihu. This village is known for these packed box lunches that were traditionally sold to railway passengers arriving in Fenqihu at noon. Passengers could purchase packed lunches from the train, passing food and payment through the train windows.
We were given these vouchers to exchange for bento boxes. I thought we'd be having them here, at this restaurant famous for their round packed lunch tins, but our vouchers were for a different place. There are many bento box restaurants in Fenqihu so I'm not sure if this tour offers vouchers to the same place every time. Bento box lunches go for about NTD 120 a la carte.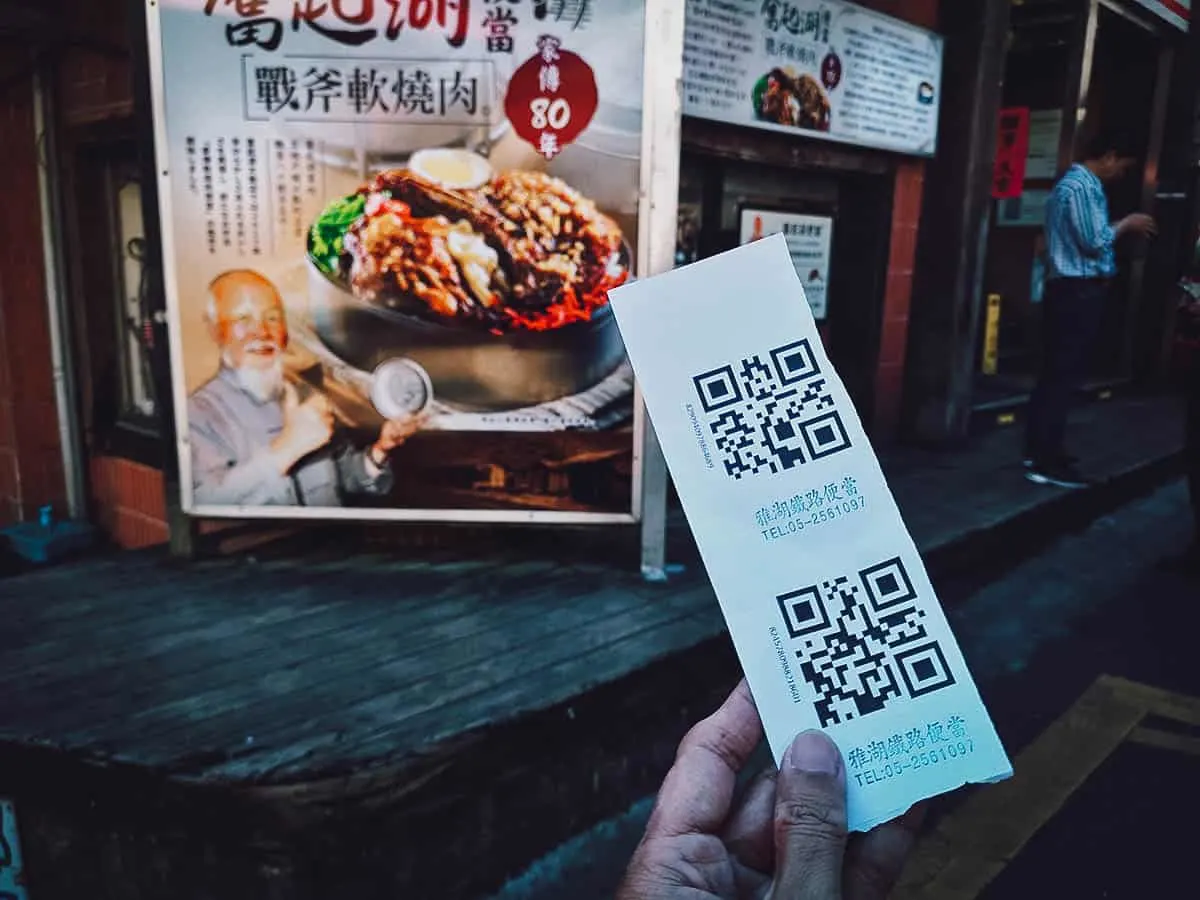 The restaurant we went to offered bento boxes with either fried pork chop, braised chicken leg, or braised pork. We went with the fried pork chop and braised pork. Known in Chinese as tie lu bian dang, these bento box lunches typically consisted of pork, rice, and a mix of different vegetables. Aren't they pretty?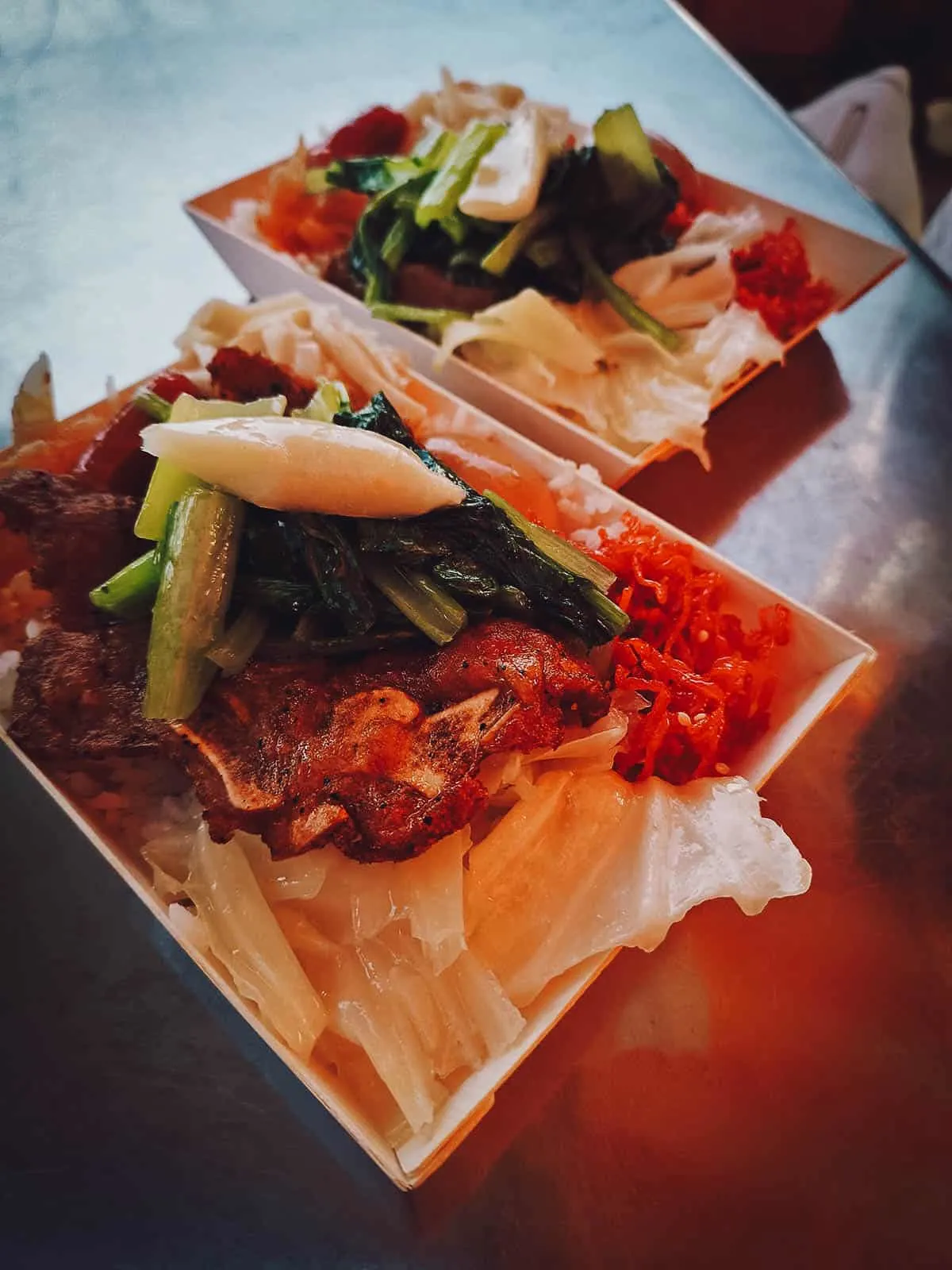 Here's a closer look at my fatty hunk of braised pork belly. Our boxes came with rice, cabbage, bamboo shoots, sausage, tea egg, greens, and other goodies. The bento box lunches at this place were decent but not as good as we expected them to be. Perhaps the restaurant with the round tins is better.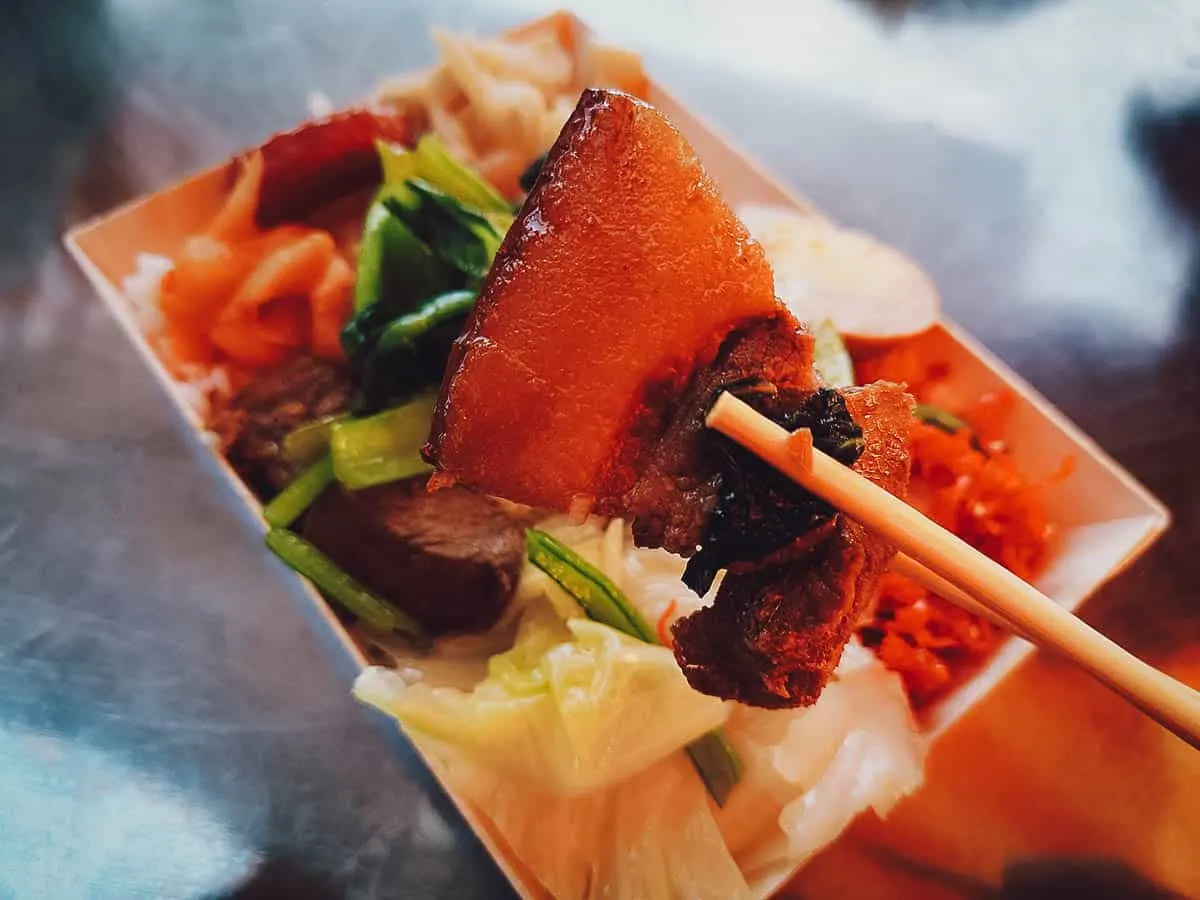 Alishan National Scenic Area
Fenqihu is the midway point between Chiayi and Alishan so it's another 40-minute drive to Alishan Forest Railway Station. Along the way, our driver would stop at lookout points so we could get out and take pictures. Alishan is known for its tea production so you'll find rolling hills with plantations like this one on the sides of the road.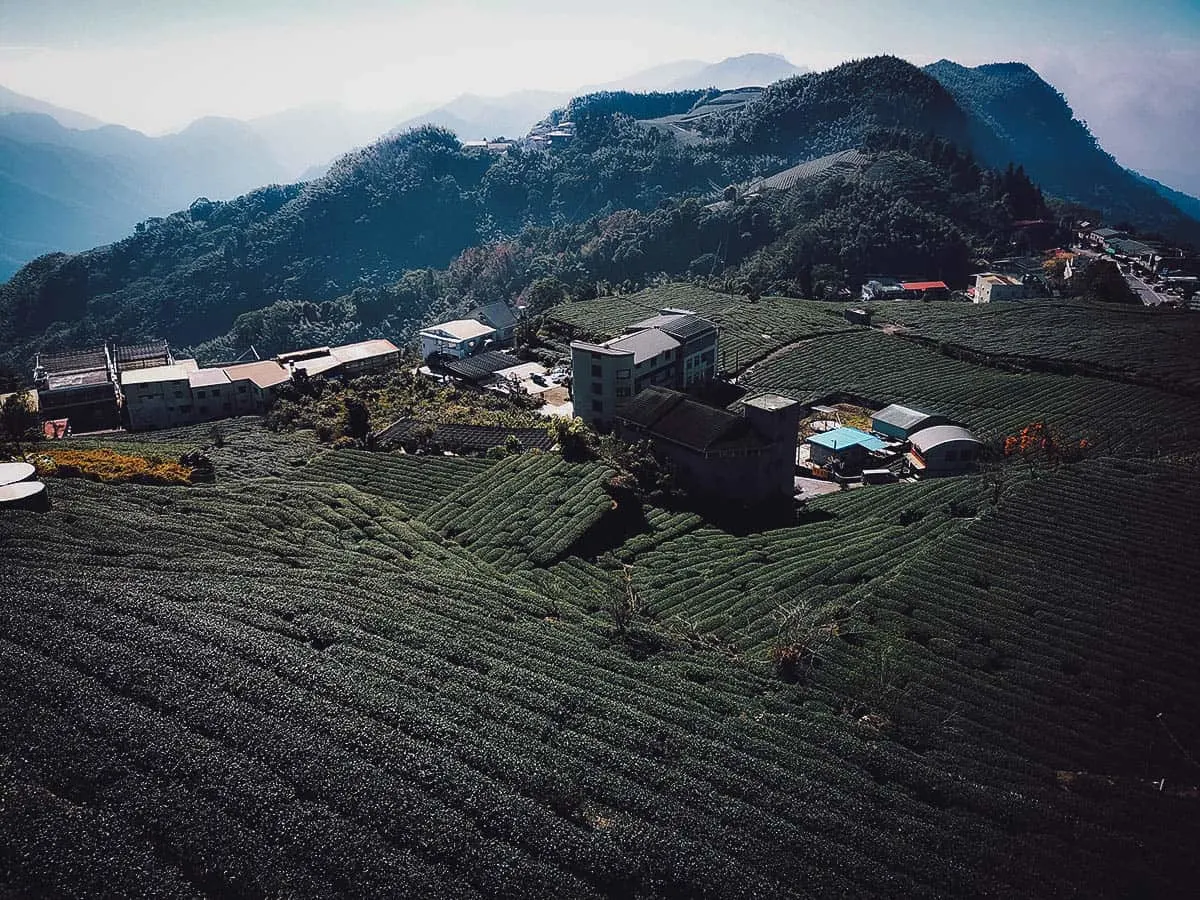 Our driver would drop us off at Alishan train station to catch a short train ride to Zhaoping Station. The ride is only about 7-8 minutes long but it'll give you a feel for what riding in these vintage trains is like. The scenery is beautiful so it made me wish I had done the entire journey by train. Next time for sure.
This tour includes roundtrip train transfers so our driver gave us our return journey tickets before we boarded the train. After arriving at Zhaoping Station, we had about an hour and a half to hike along the trails at our own pace before catching the 4PM train back to Alishan Station.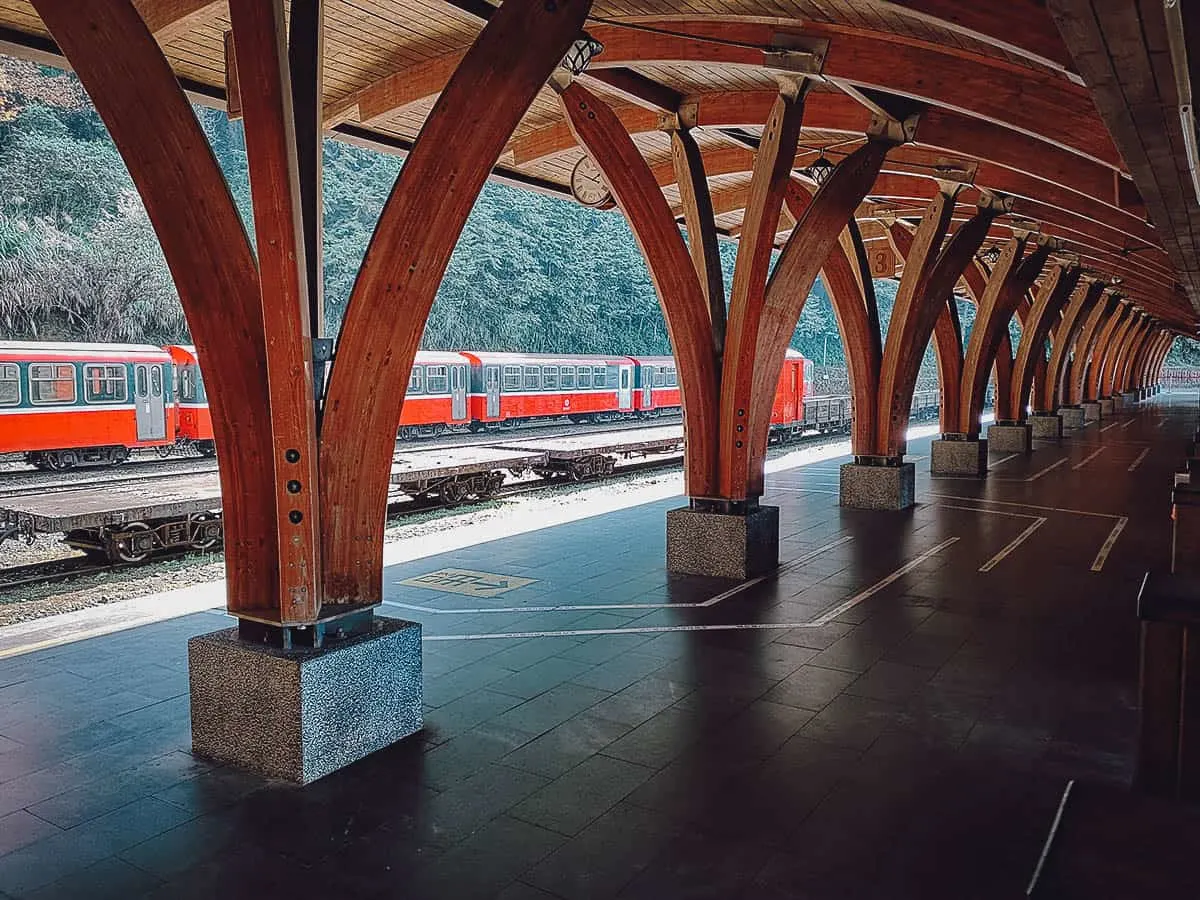 Here's a shot of a giddy Ren shortly after arriving at Zhaoping Station. The Alishan Forest Railway consists of 86 km of narrow gauge railways with over 50 tunnels and 77 wooden bridges.
According to Wikipedia, diesel railcars and steam engines used to power these passenger trains before being replaced by diesel-hydraulic locomotives in the 1980s.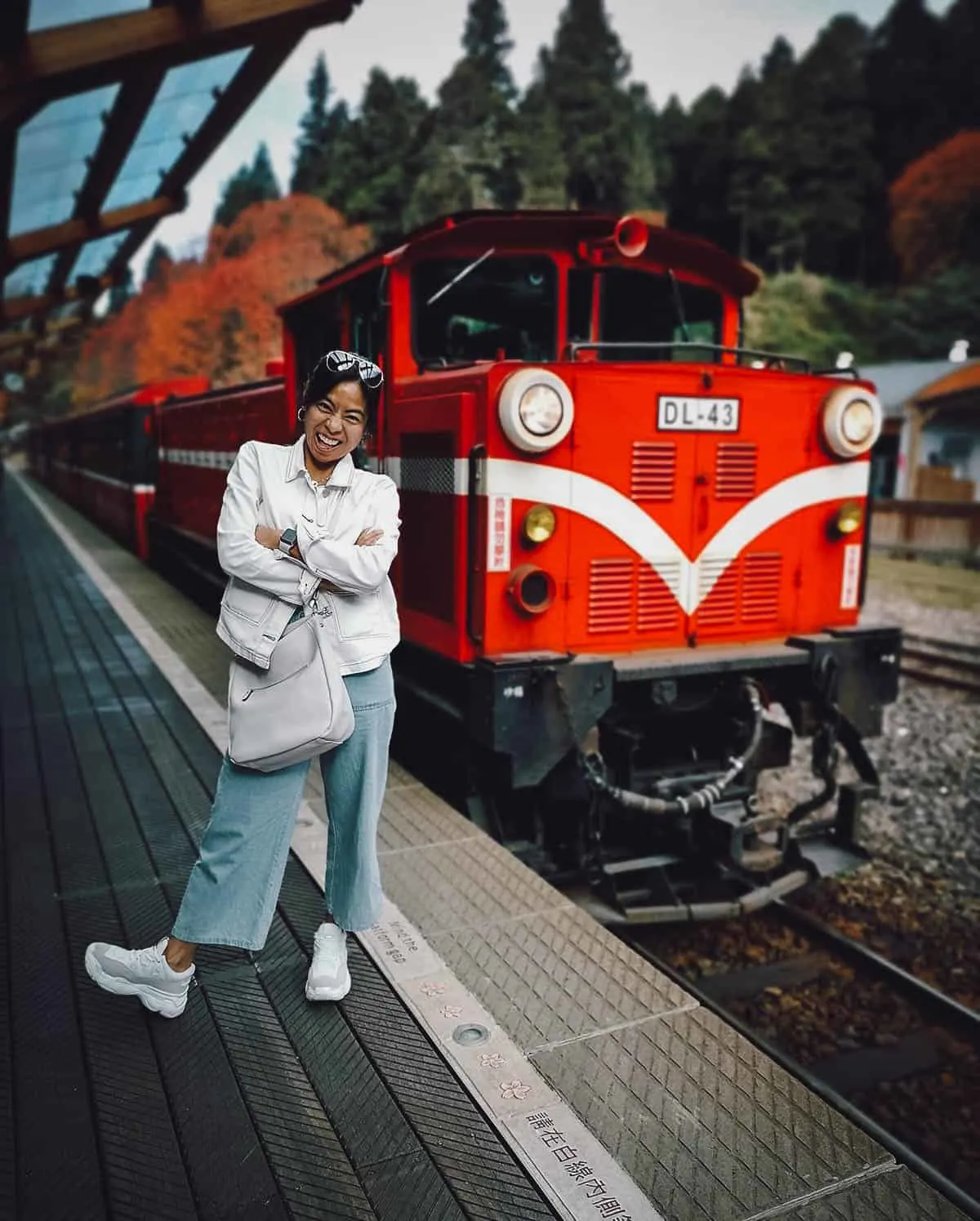 The passenger cars are quite narrow with benches on either side facing each other. I'm not sure if they use the same cars on the longer journey between Chiayi and Fenqihu. Probably not.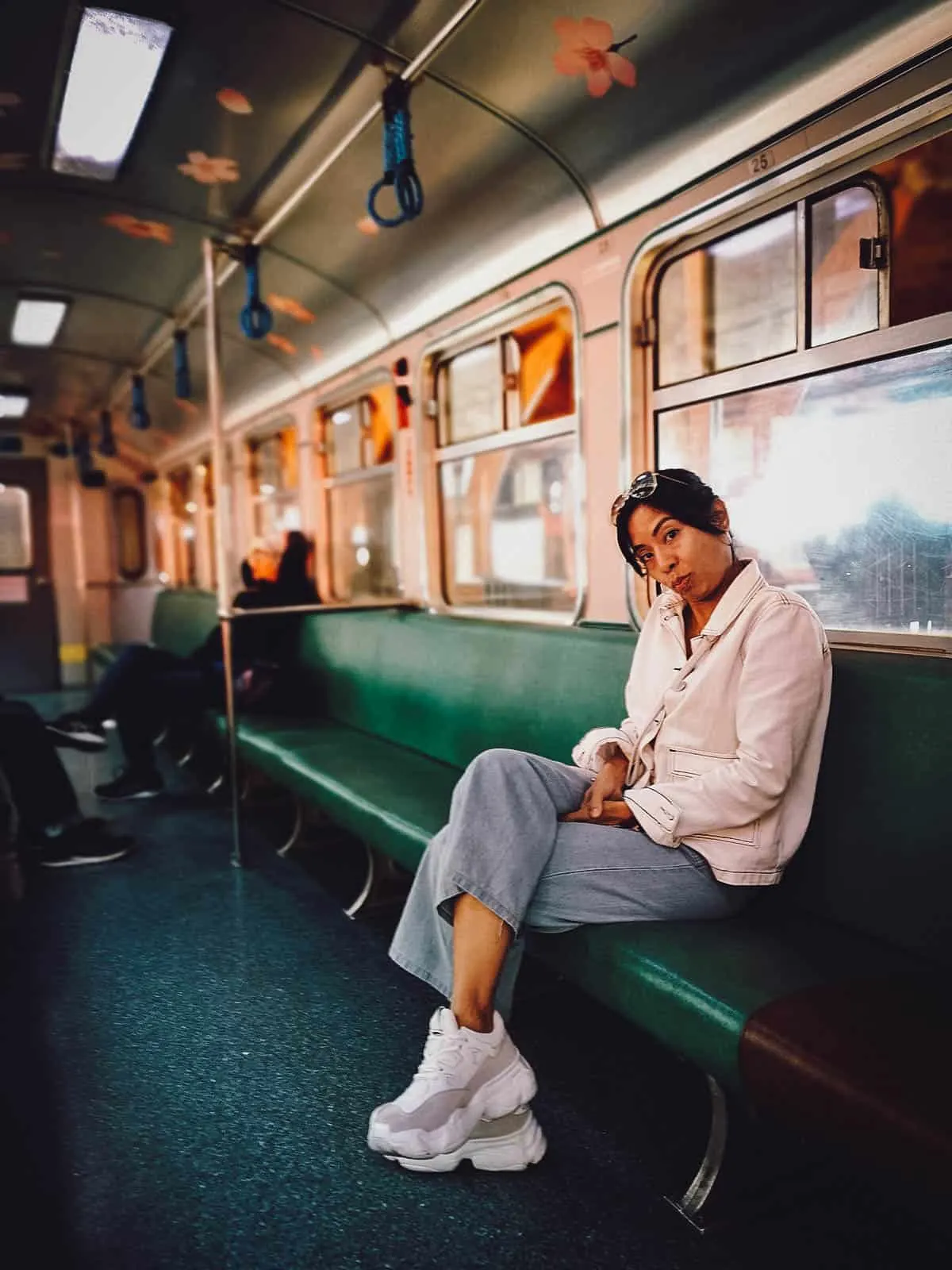 After disembarking at Zhaoping Station, you'll have about an hour and a half to make your way to Sacred Tree Station to catch the train back to Alishan Station. It's less of a hike and more of an easy stroll through paved nature trails with giant trees (cypress?) on either side.
The trains are cute but this is why you need to visit Alishan. The forest is peaceful and achingly beautiful.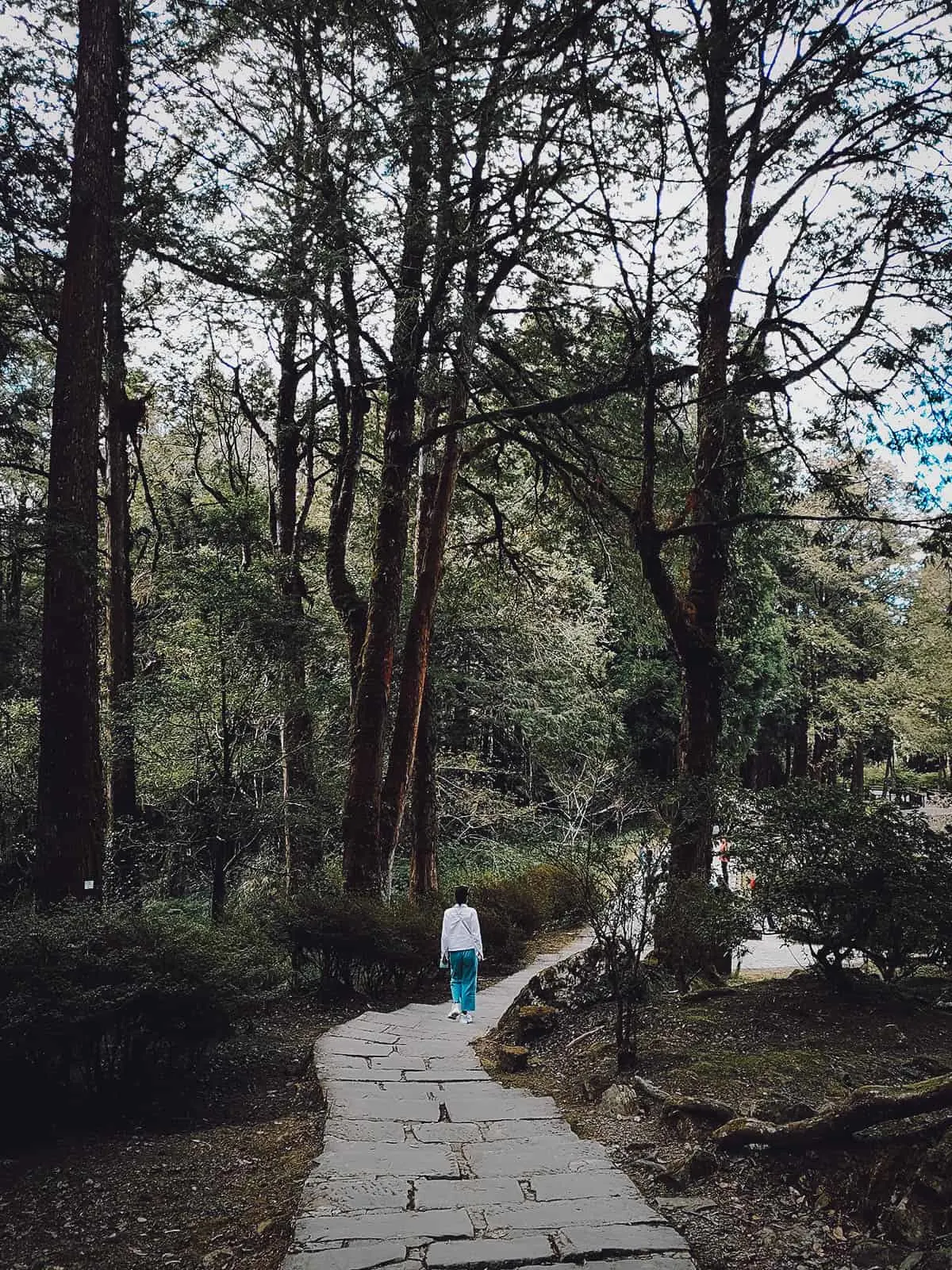 There are many picturesque spots along the trail, one of my favorites being this twin pair of ponds called Sister Ponds. They're two connected ponds with a sad story. According to legend, a pair of aboriginal Tsou sisters fell in love with the same man. Not wanting to hurt the other, they ended their lives by jumping into the pools.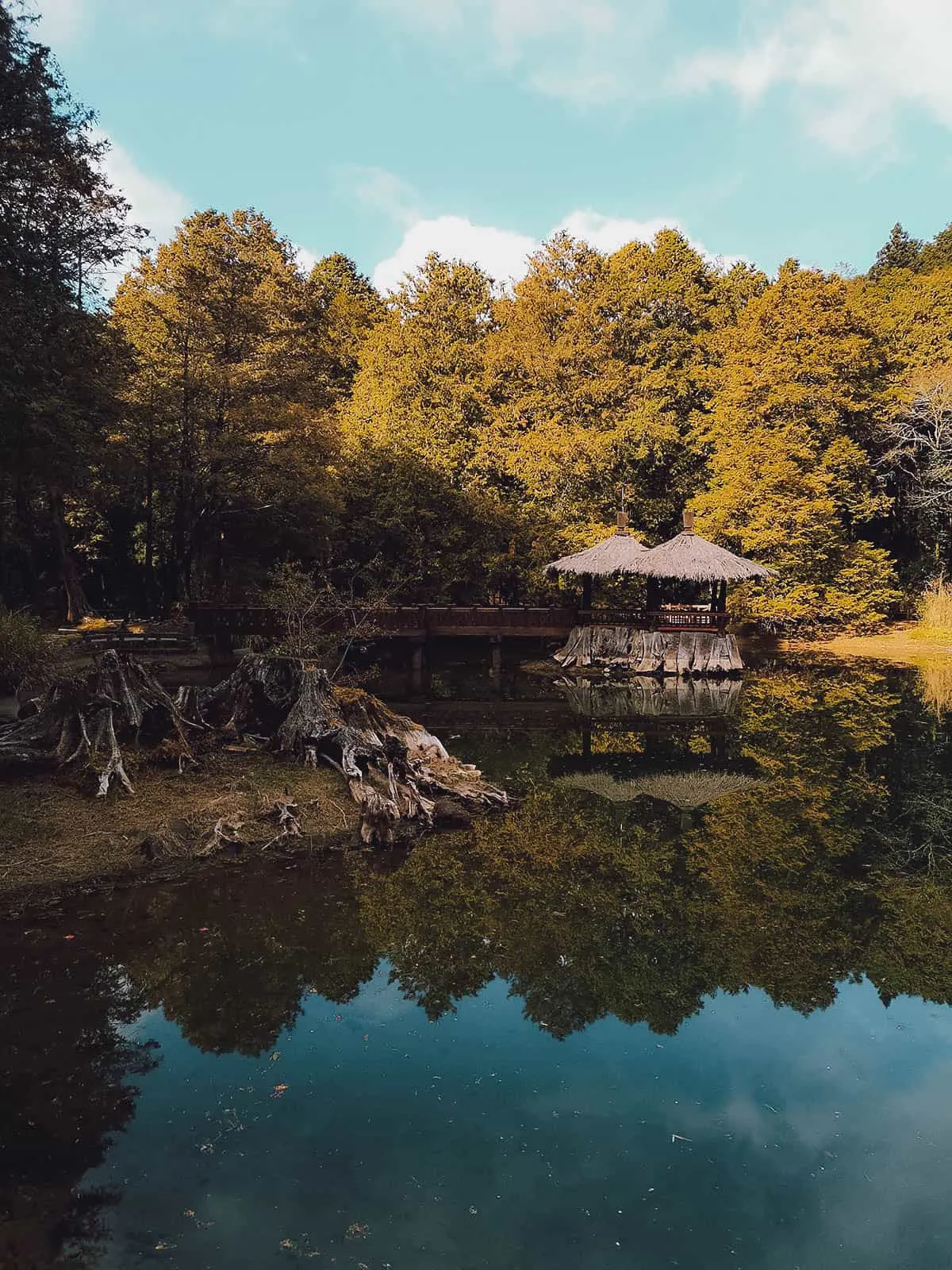 Taroko Gorge is still the most beautiful place we've visited in Taiwan but Alishan Forest is a close second. It's about half the size of Taroko National Park but it's much easier to navigate and just as fun to explore. As popular as it is, it felt at times like we were the only people on the trails.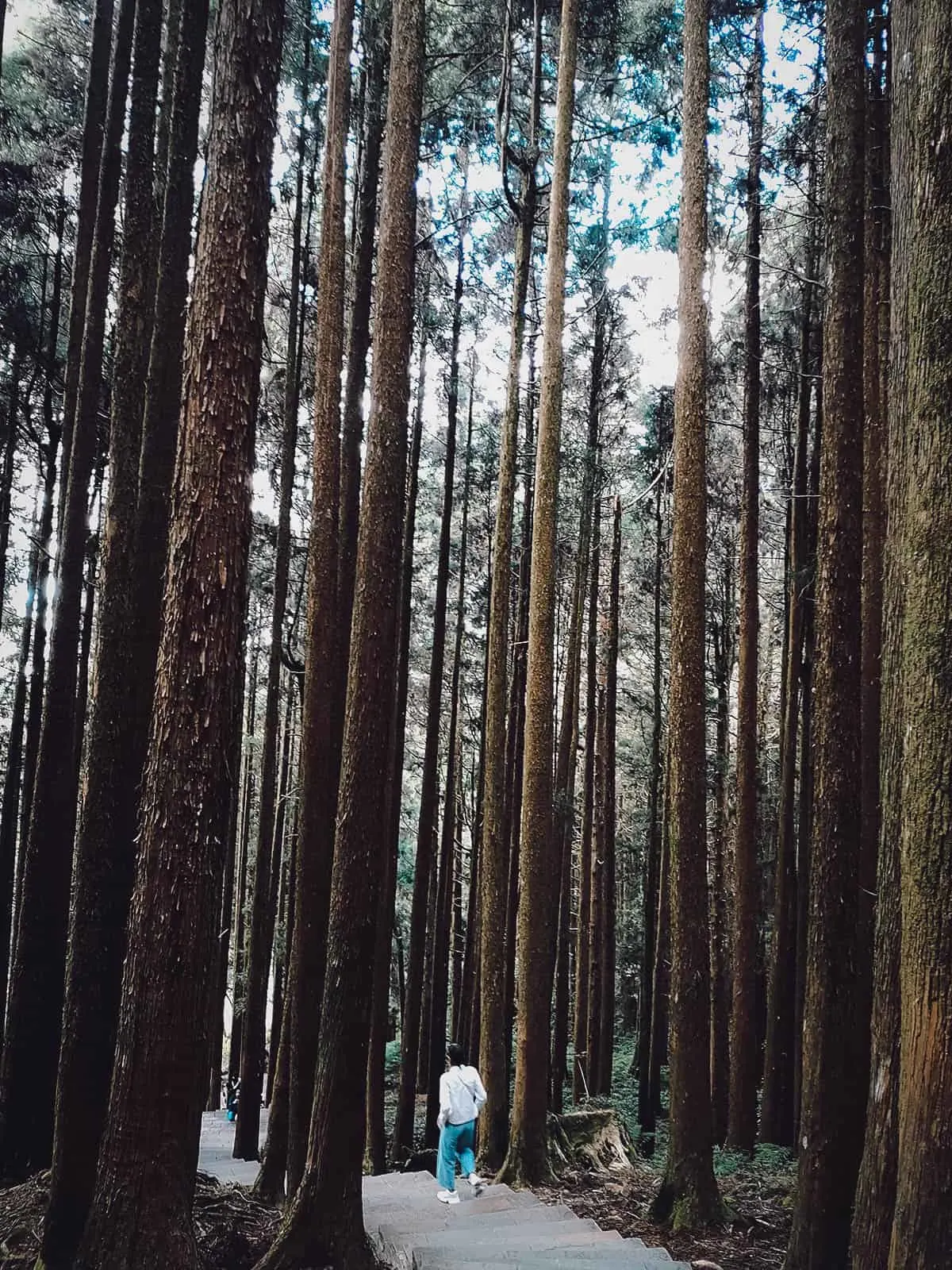 One and a half hours is plenty of time to make it to Sacred Tree Station but I would have loved more time in the forest. It would have been fun to get off the main path and explore the smaller trails. It just felt good being here.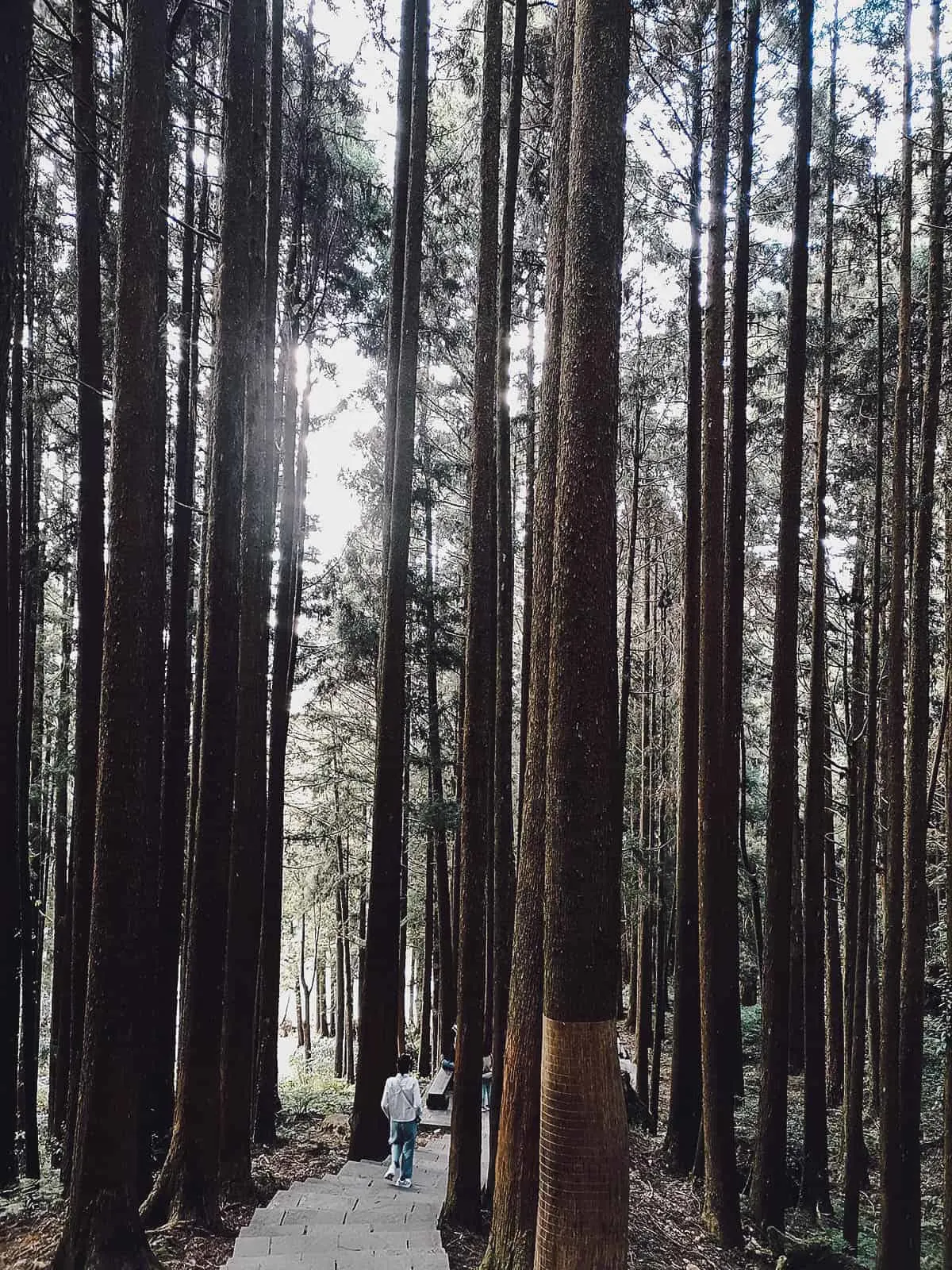 You'll know you're closing in on Sacred Tree Station when you reach Shouzhen Temple, the largest temple in Alishan. By the temple is a square with snack and souvenir shops. You can rest here before completing the walk to Sacred Tree Station.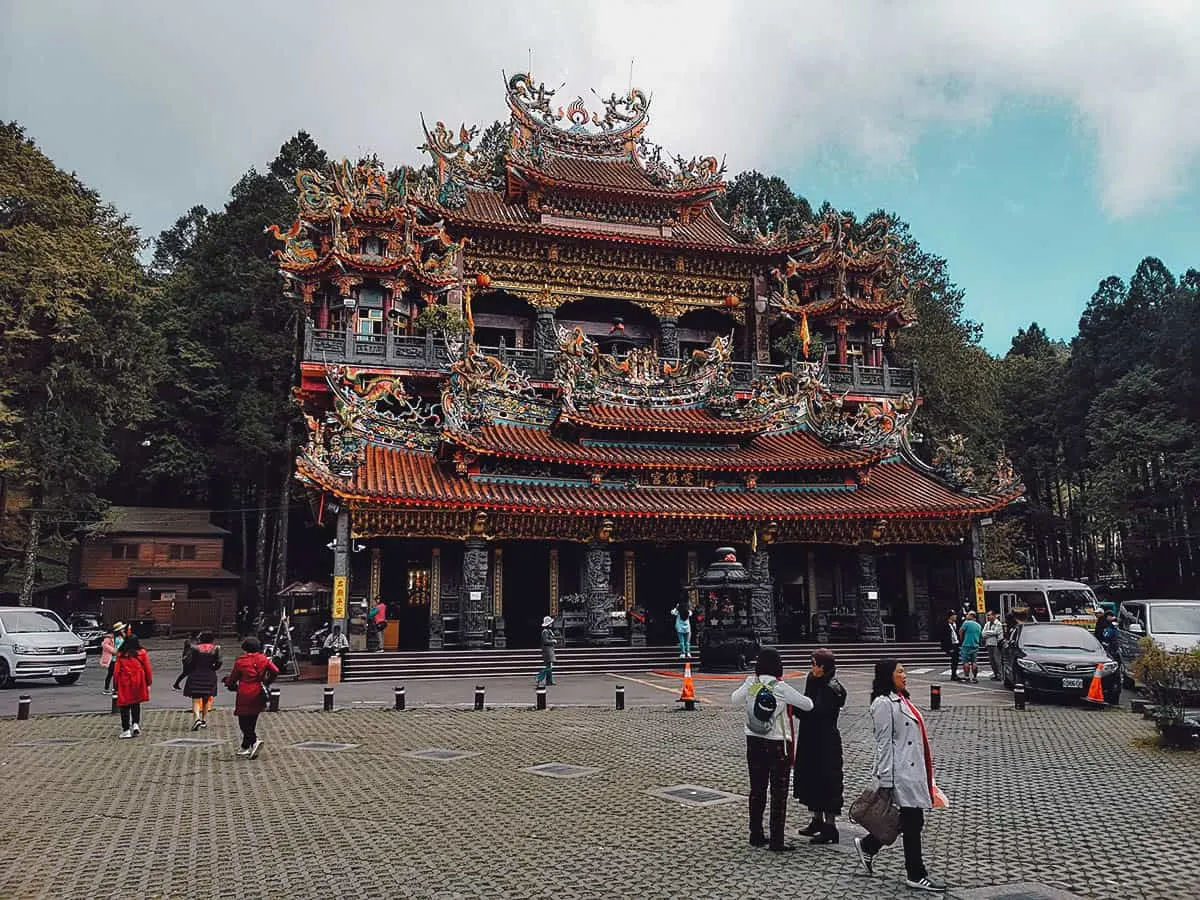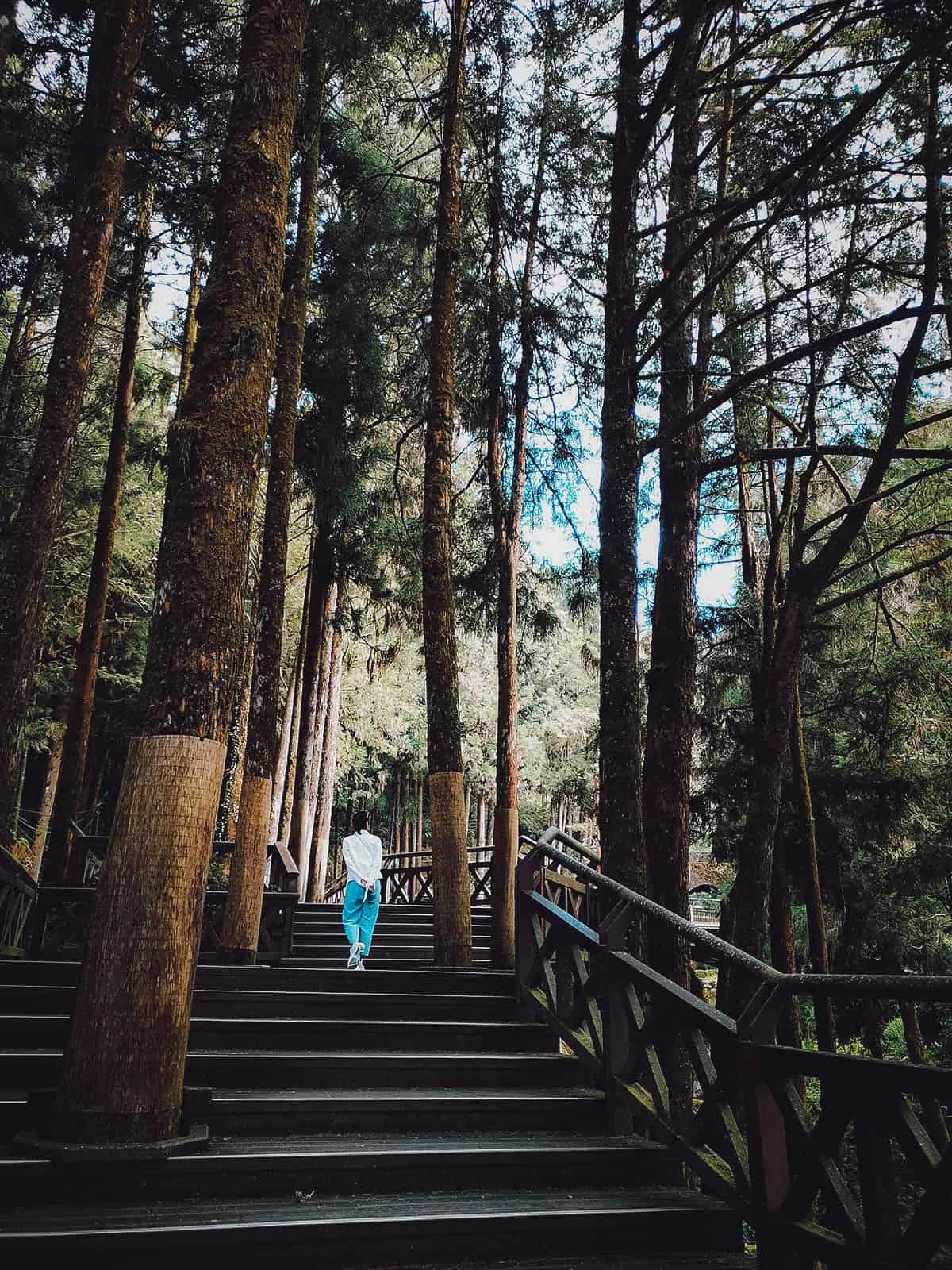 Near Sacred Tree Station is this colossal 43.5 meter (142.7 ft) cypress tree. It's over 2,000 years old and has a circumference of 13.1 meters (43 ft). I'm not sure if the station is named after this tree because there was an even bigger (53 m) and older (3,000+ yrs) sacred tree that was struck and burned by lightning.
We'd board the train back to Alishan Station then make the nearly 2-hour drive down the mountain to Chiayi.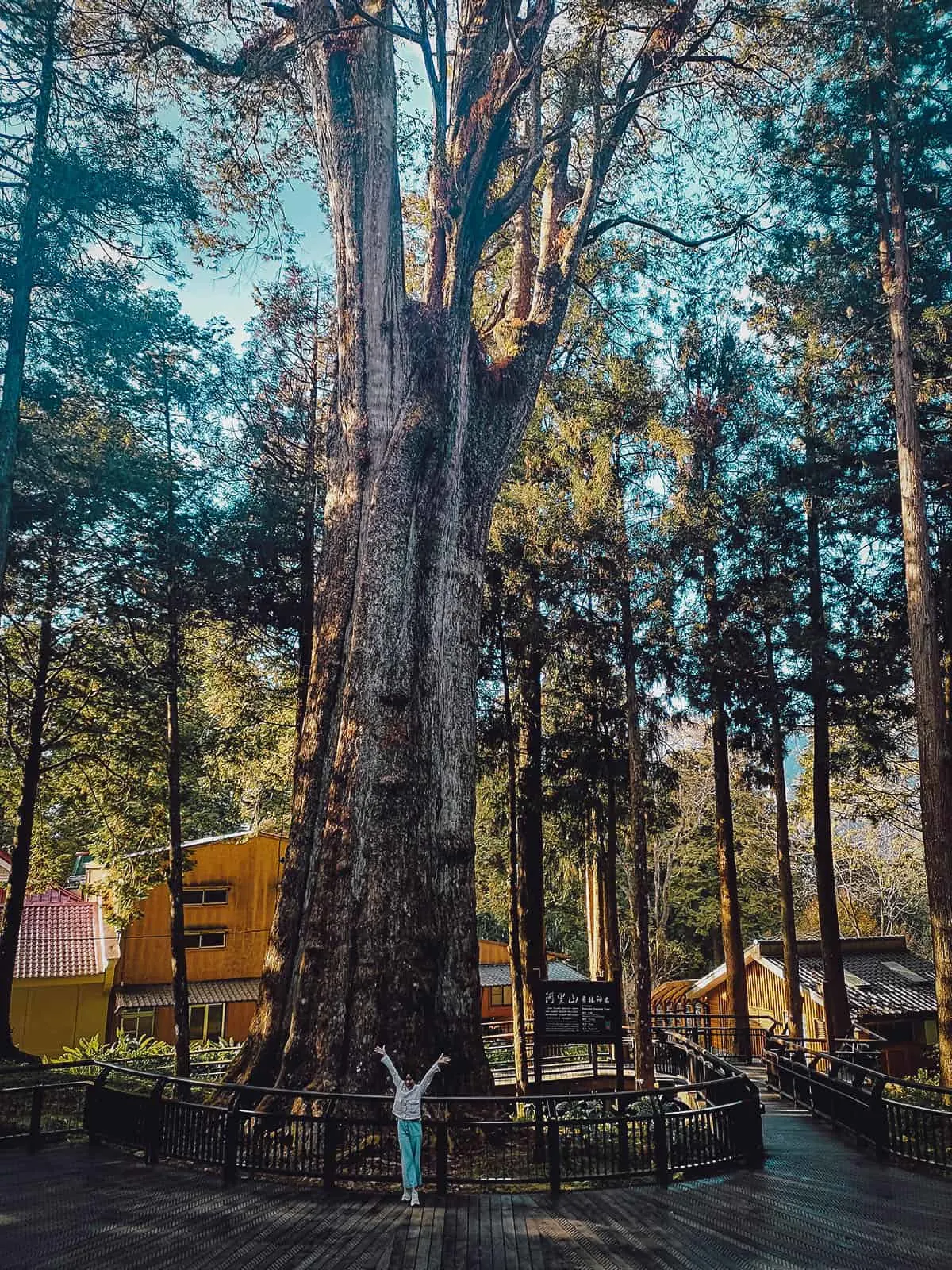 On the way down, our driver stopped by the side of the road so we could take pictures of this magnificent sunset. Have you ever seen anything so beautiful? We're from the Philippines where we have some pretty epic sunsets but this was one of the prettiest I've ever seen. I felt like I was in a movie.
It isn't as obvious in this picture but can you see how the sun is setting over a sea of clouds in the distance? Alishan is famous for its sun rising and setting over an ocean of clouds. Next time we go to Alishan Forest (and there will definitely be a next time), we're going by train and staying the night so we can experience its famous Alishan sunrise. Looking at this, I can only imagine how beautiful it must be.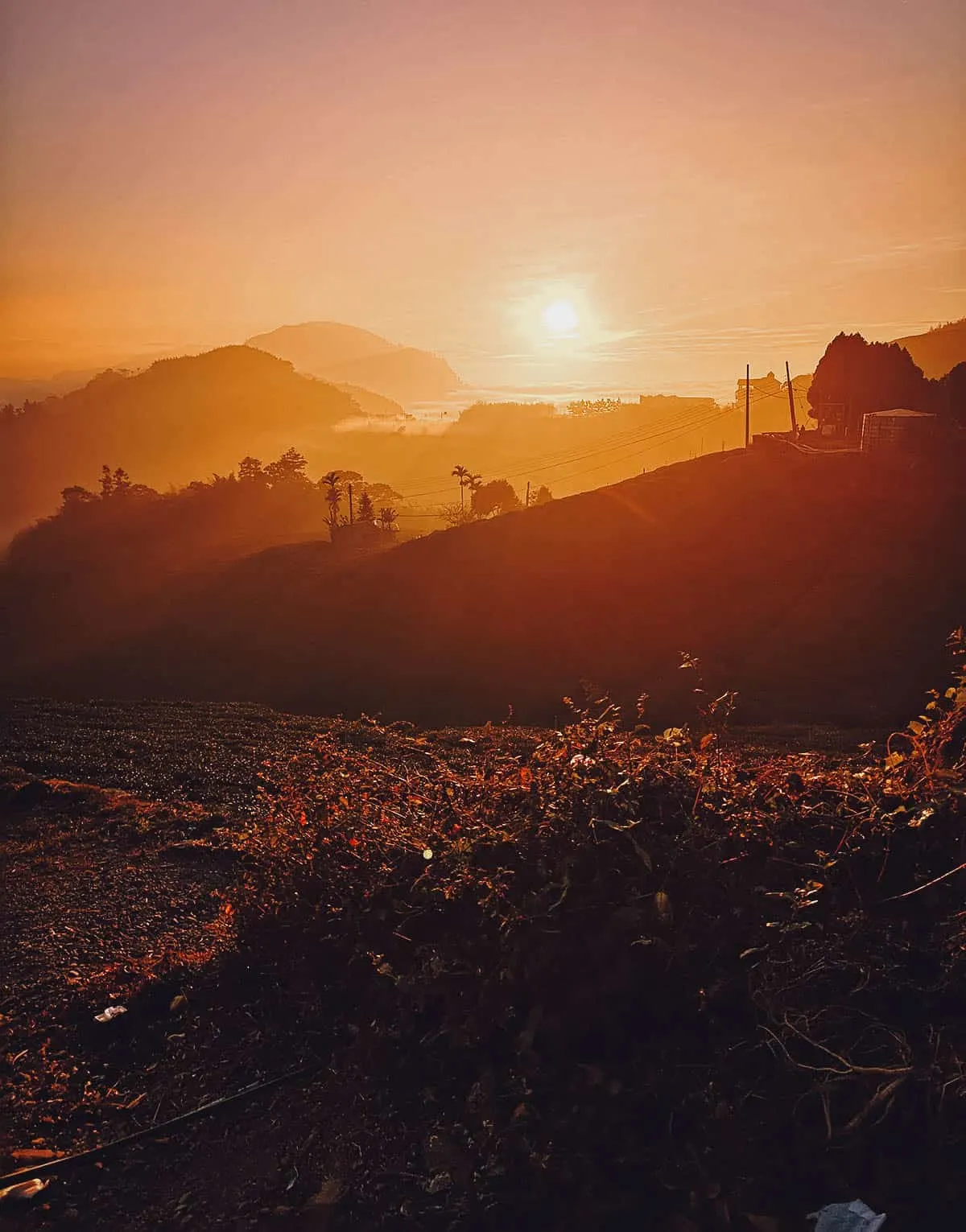 FINAL THOUGHTS ON THE ALISHAN NATIONAL SCENIC AREA
As described, I would have loved to explore Alishan Forest on our own and stay the night to experience its sunrise. Trains running between Chiayi City and Alishan are limited, making day trips feel a bit rushed and impractical.
The best way to enjoy Alishan Forest is to stay overnight in one of the few hotels in the area, like the often recommended Alishan House. You'll have plenty of time to go hiking and it's the only way you can experience its legendary sunrise.
I'm not qualified to write a comprehensive DIY guide at this time but I will after my next visit. Based on this experience, I definitely recommend staying overnight if you have the time.
Regardless of how you go, Alishan Forest, at any dose, is worthy of a spot on your Taiwan itinerary. Like Sun Moon Lake and Yehliu Geopark, it's one of the most beautiful places we've visited thus far in Taiwan. Don't miss it.
Disclosure
Some of the links in this article on the Alishan National Scenic Area are affiliate links, meaning we'll get a small commission if you make a purchase at NO extra cost to you. We really appreciate your support as it helps us keep this free website going. Thank you!