I didn't know what to make of him. It didn't look like he belonged at first, but in a strange way, he did.
Strumming away on his acoustic guitar, he was dressed from head to toe in an acid trip of bright colors. His Chuck Taylors were awash in oranges and yellows and he was singing behind an Iron Man mask. Yes, Iron Man. His song was in Chinese so I couldn't understand a word he was saying, but it didn't matter. The sound of his voice and guitar were enough to set the tone for the light show we were about to see.
Carried by the wind, I could still hear his song as I walked farther out onto the boardwalk. It was an odd experience, listening to Iron Man sing in Chinese with the sun setting behind a row of giant, slow-spinning turbines. Basking in the golden light of this vast, seemingly endless wetland, it was like we were watching the closing credits of a movie – a movie that started in a colorful village and ended with an equally colorful sunset, and superhero. You can't make this stuff up.
Rainbow Village and Gaomei Wetlands are two of the more vibrant attractions in Taichung, both of which you can visit on this half-day tour with Klook.
Save This on Pinterest!
No time to read this now? Click on the red save button and pin it for later!
Taichung Gaomei Wetlands and Rainbow Village Tour
Klook offers a few versions of this tour. Follow the link for more information and to book the Gaomei Wetlands and Rainbow Village tour through Klook.
National Taichung Theater
This was the first stop on our half-day tour. National Taichung Theater is an opera house located in Xitun District, just a short Uber ride from Calligraphy Greenway. Other than the performances it stages, what's remarkable about the theater is the building itself. It was designed by Japanese architect Toyo Ito and resembles a whirlpool with its curved walls and ripple-like features.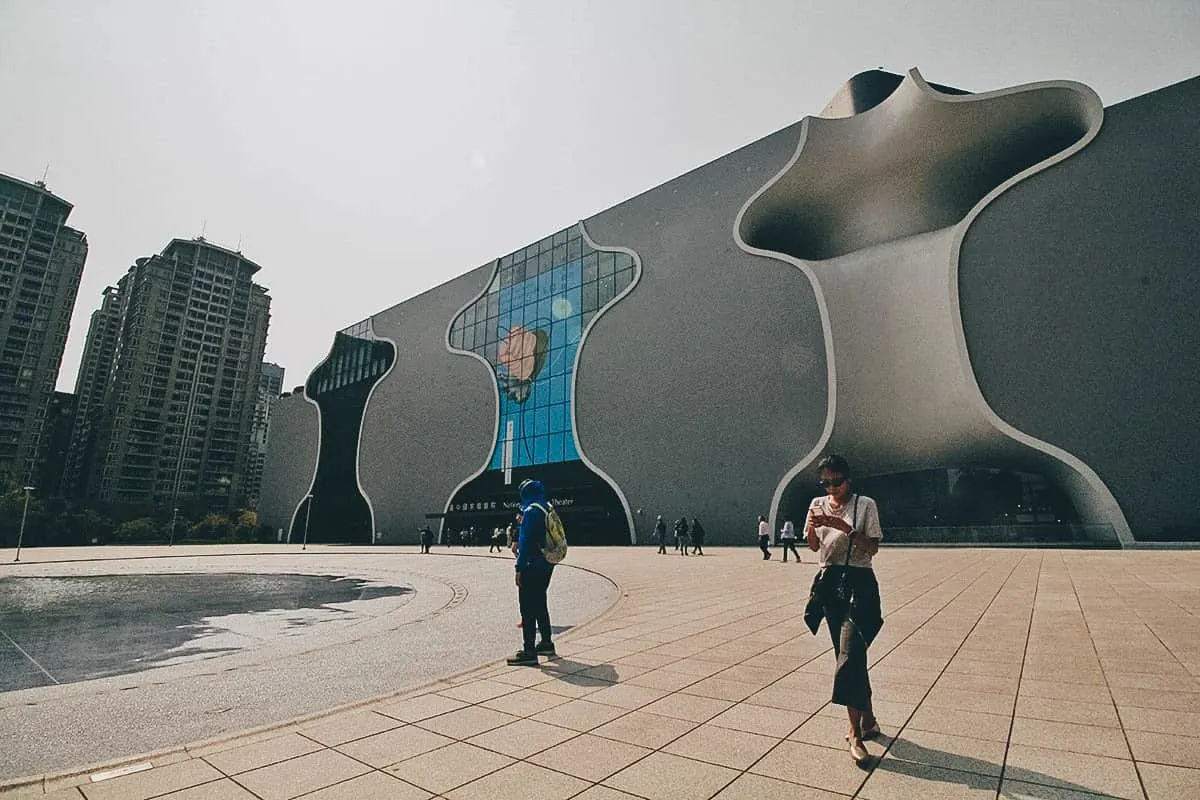 The building's interior is similar to the belly of a large cave. Perfectly smooth and without edges, the curved walls flowed into the ceilings with no clear boundaries defining them.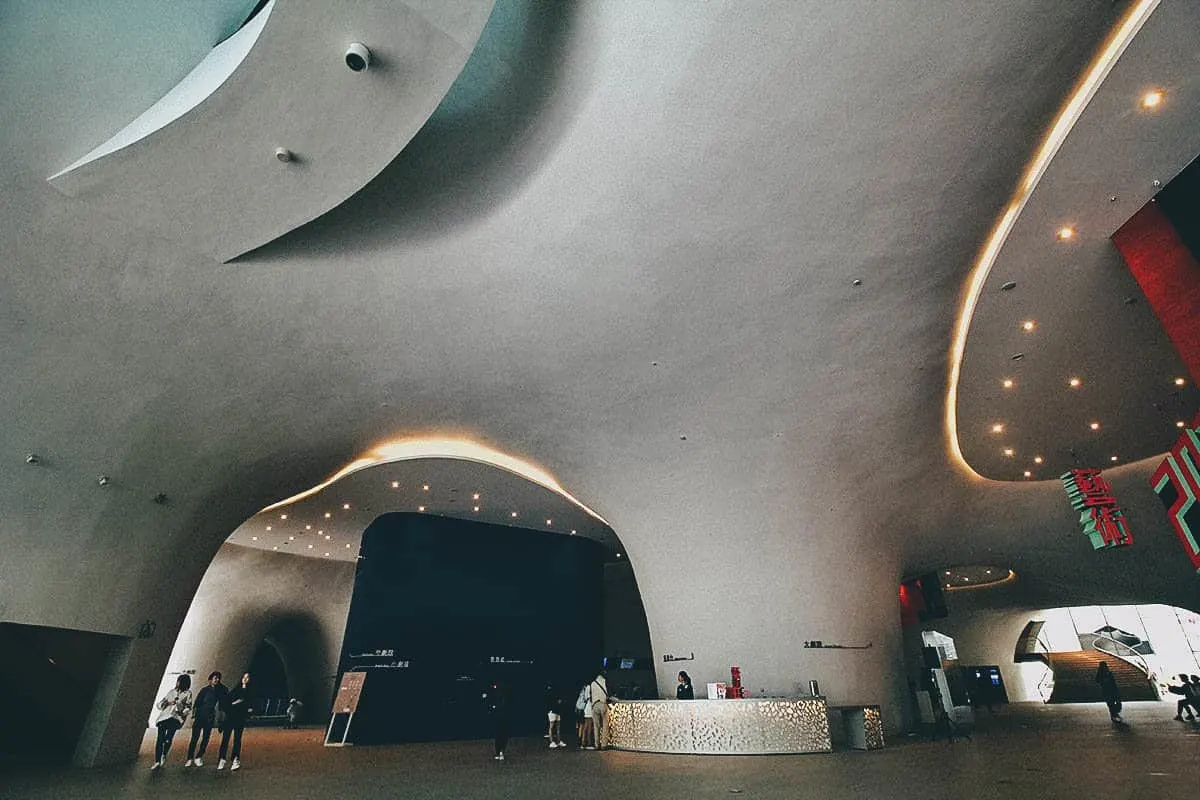 We only had about twenty minutes to spend here so I made a quick trip to the Sky Garden on the building's roof. There you'll find several of these smooth blowhole-like structures jutting out from patches of grass. It looks like the Sky Garden may be used as a venue for outdoor performances or concerts.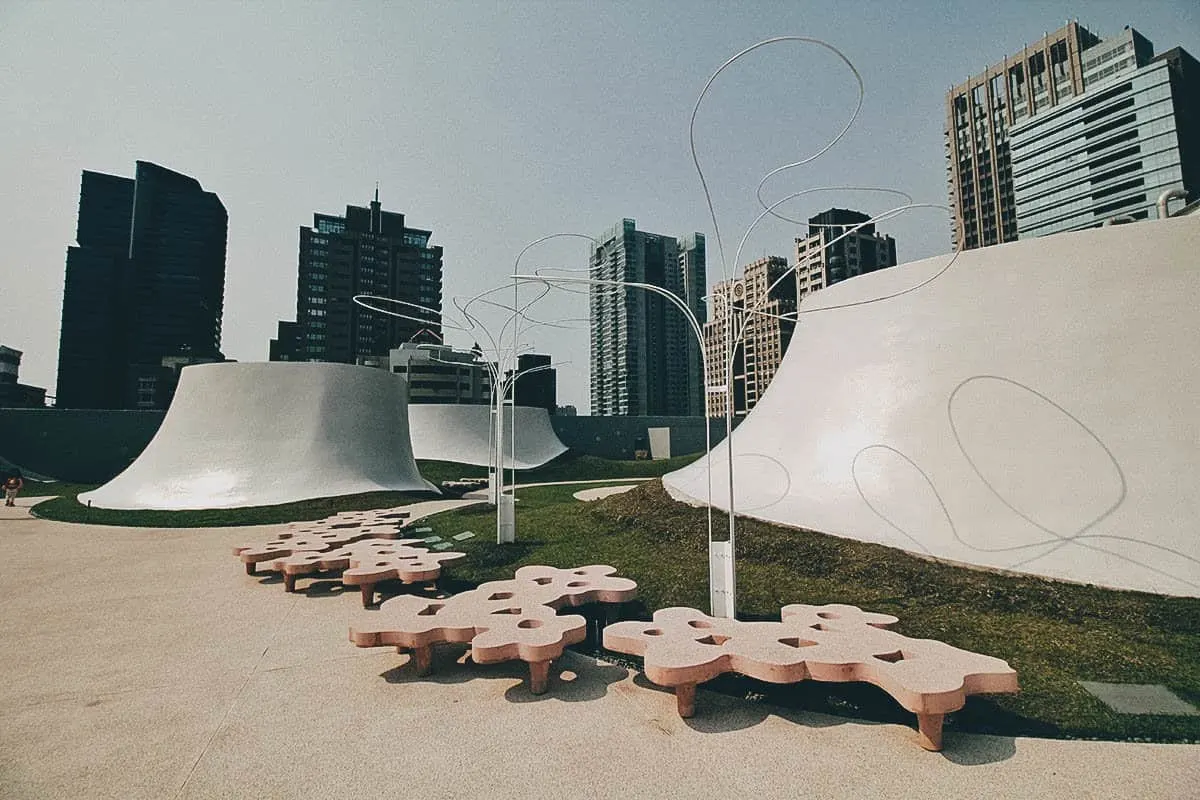 National Taichung Theater
Address: No. 101號, Section 2, Huilai Road, Xitun District, Taichung City, Taiwan 407
Tel: +886-4-2251-1777
Facebook: npac.ntt
Twitter: NTT_Taichung
Instagram: nationaltaichungtheater
YouTube: National Taichung Theater
Operating Hours: 11:30AM-9PM, Sun-Thurs | 11:30AM-10PM, Fri, Sat, and National Holidays
Admission: FREE
Rainbow (Caihongjuan) Village
Next up was Caihongjuan Village, otherwise known as Rainbow Village. It's one of the more popular tourist attractions in Taichung and one you'll often find recommended in blog posts.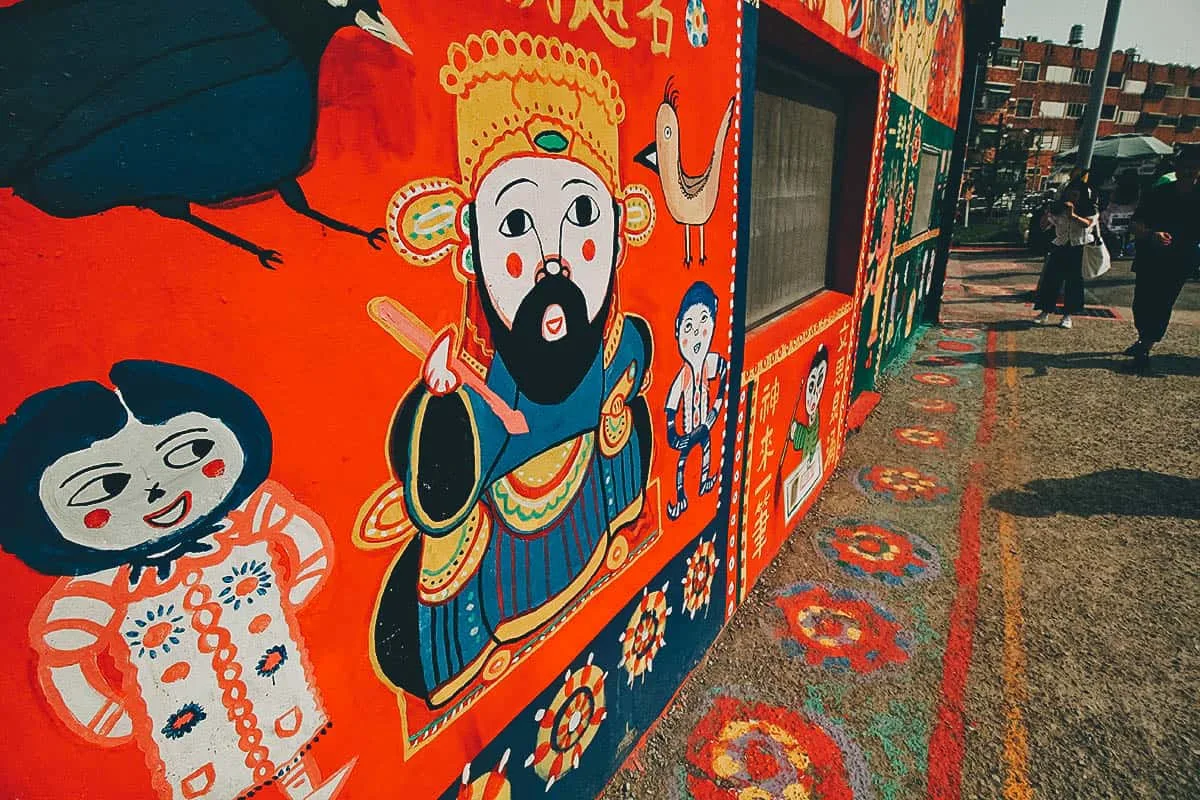 The village has an interesting story. It was created by Huang Yung-Fu, a former soldier of the Nationalist Kuomintang Army. After the Nationalists were defeated in 1929, many of these soldiers fled to Taiwan with Chiang Kai-shek and were given temporary housing in hundreds of dedicated military villages across the island. Caihongjuan Village was one of those military villages.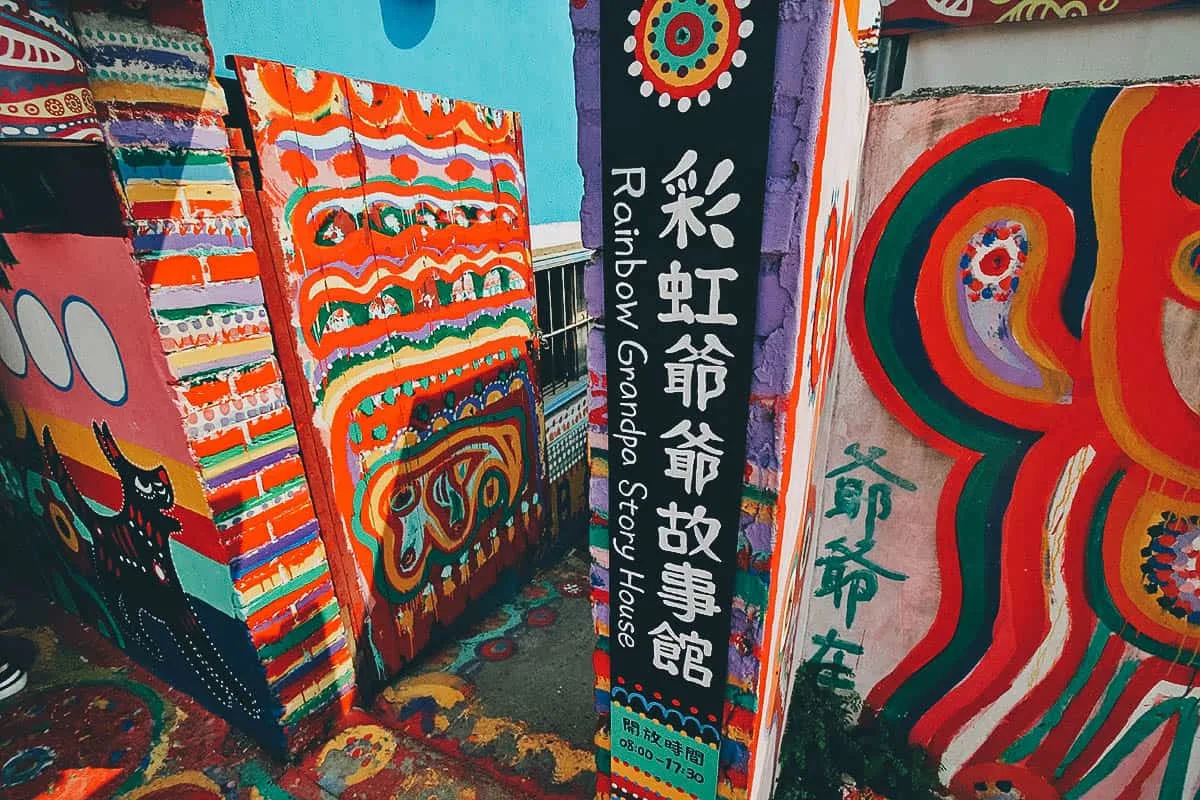 Over time, Caihongjuan Village became run down and developers began buying up the land for redevelopment. Residents were offered compensation to move out but Huang stayed, even after only eleven homes remained and he was the only resident left in the village. Bored, he painted a bird inside his home and the artwork grew from there.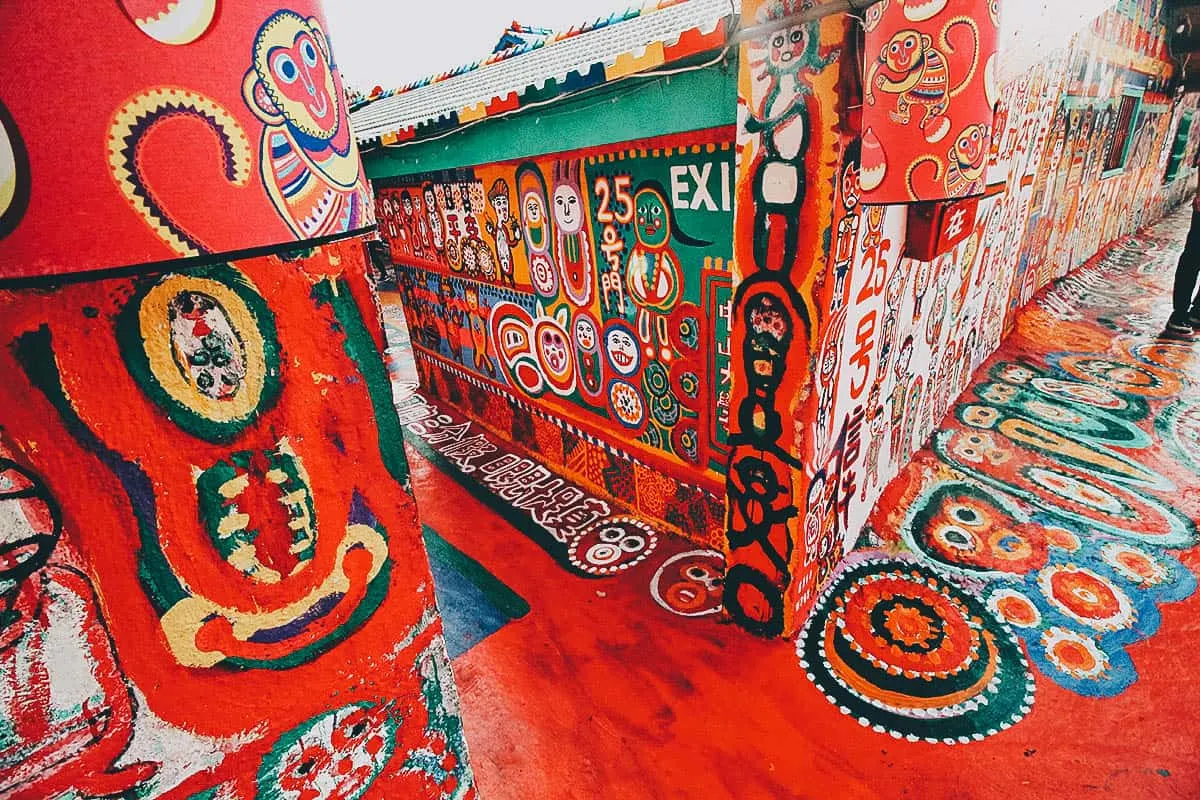 In some accounts of the story, people claimed that Huang began painting murals in an effort to save the village, but that doesn't seem to be the case. It looks like he was just bored! University students chanced upon his murals and began campaigning for the village to be saved, and it was.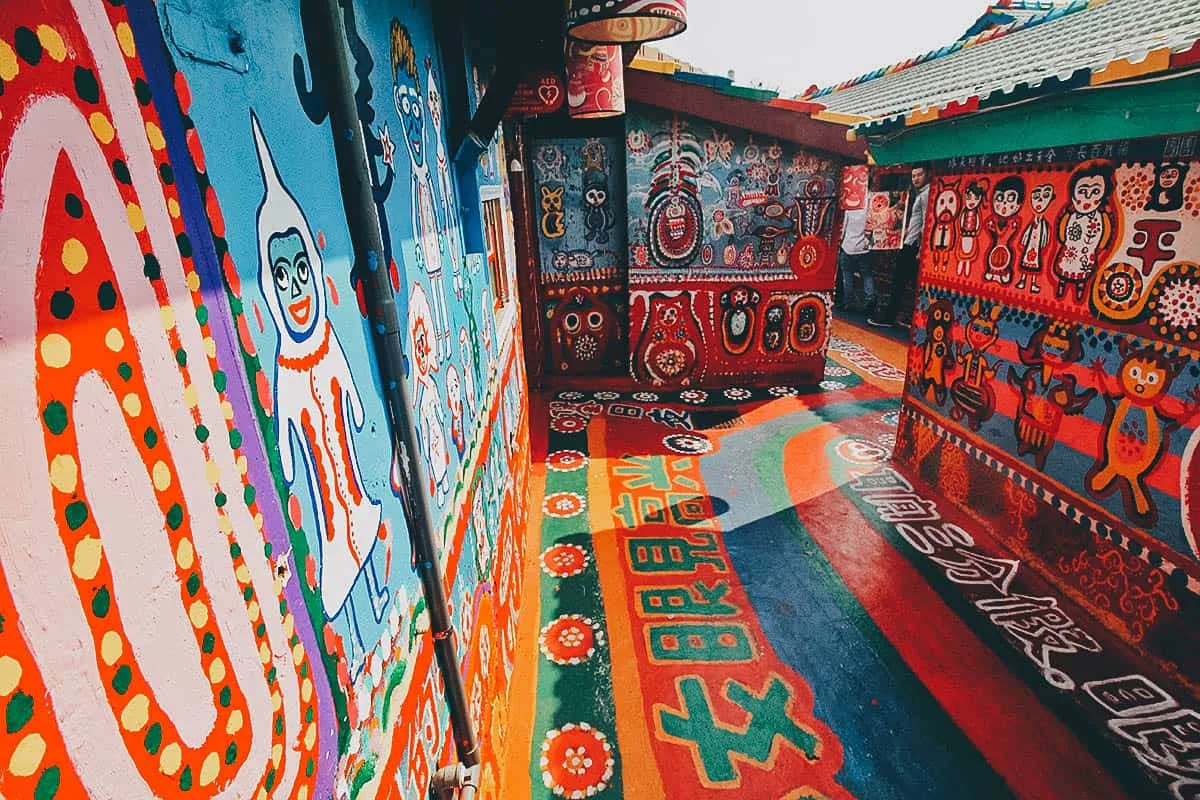 Today, it's become one of Taichung's most visited attractions, receiving over one million visitors annually.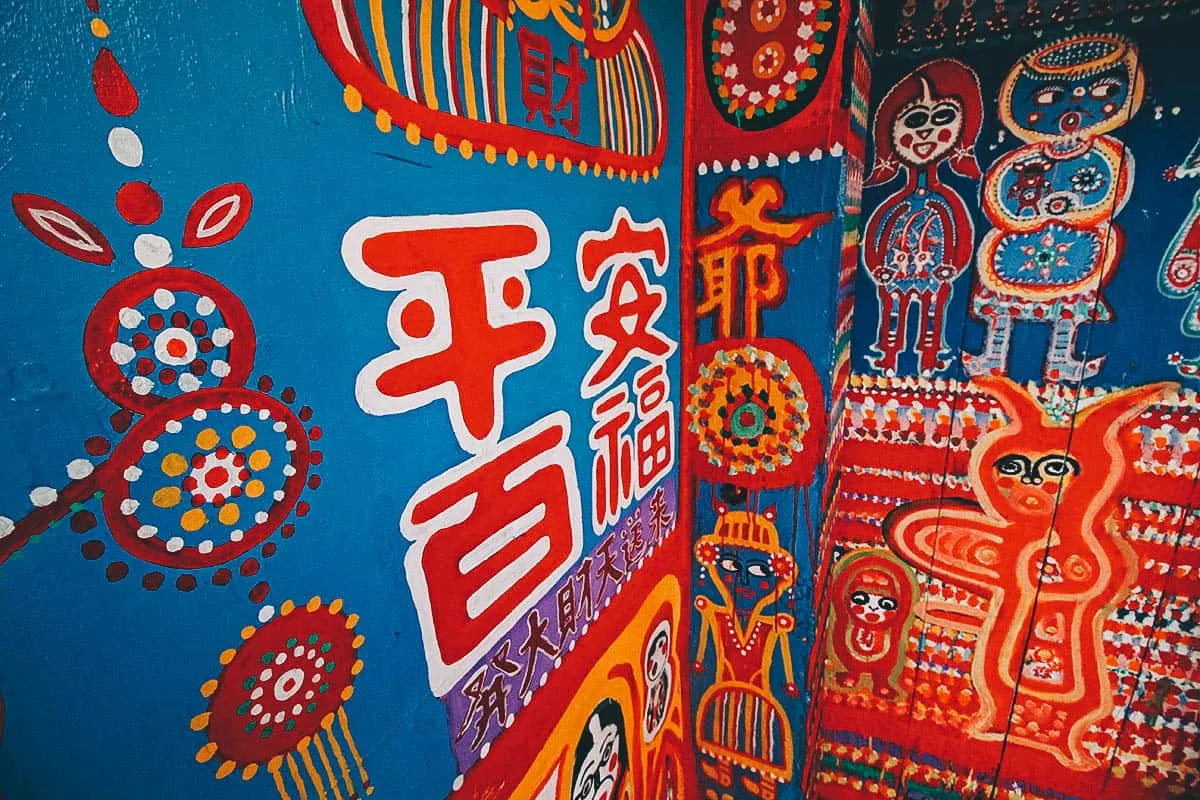 Rainbow Village is small, comprised of just a few alleys so you'll spend no more than thirty minutes or so here. Can you spot Ren?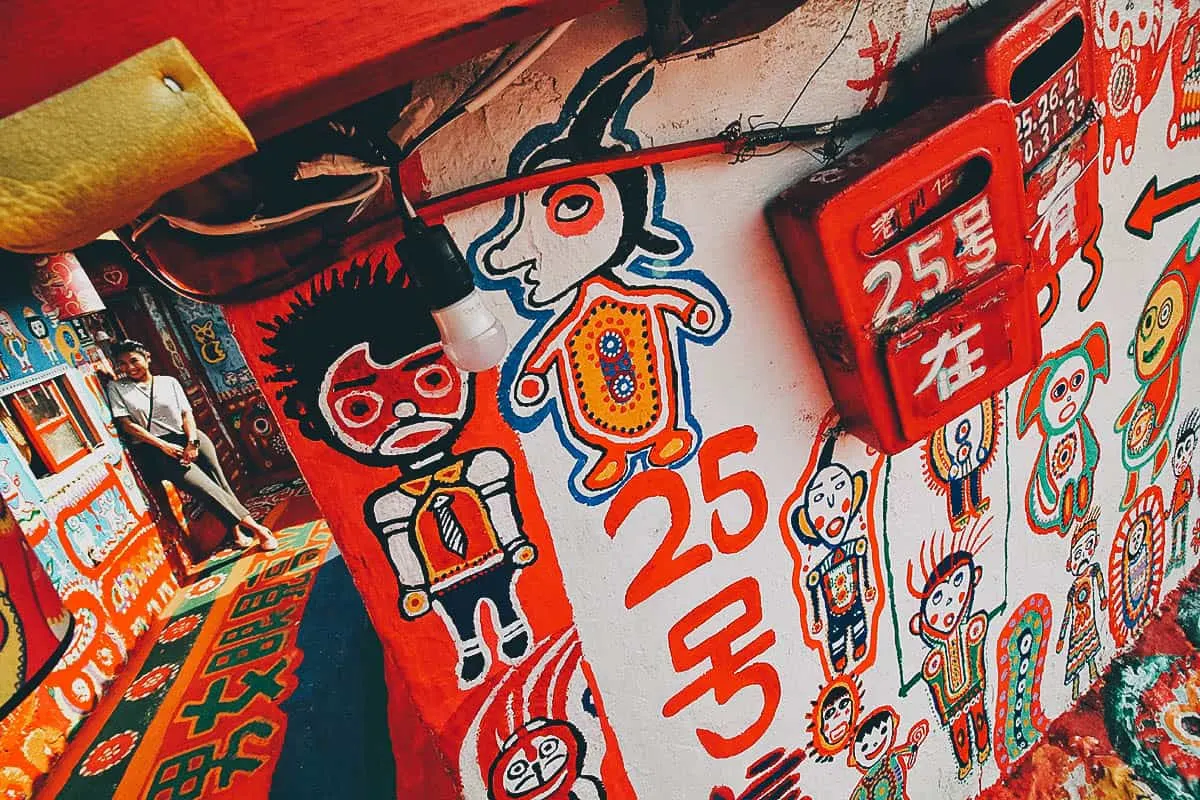 There she is! Instagrammers will love Rainbow Village. It gets pretty crowded so you'll need a bit of patience to get a clean shot like this.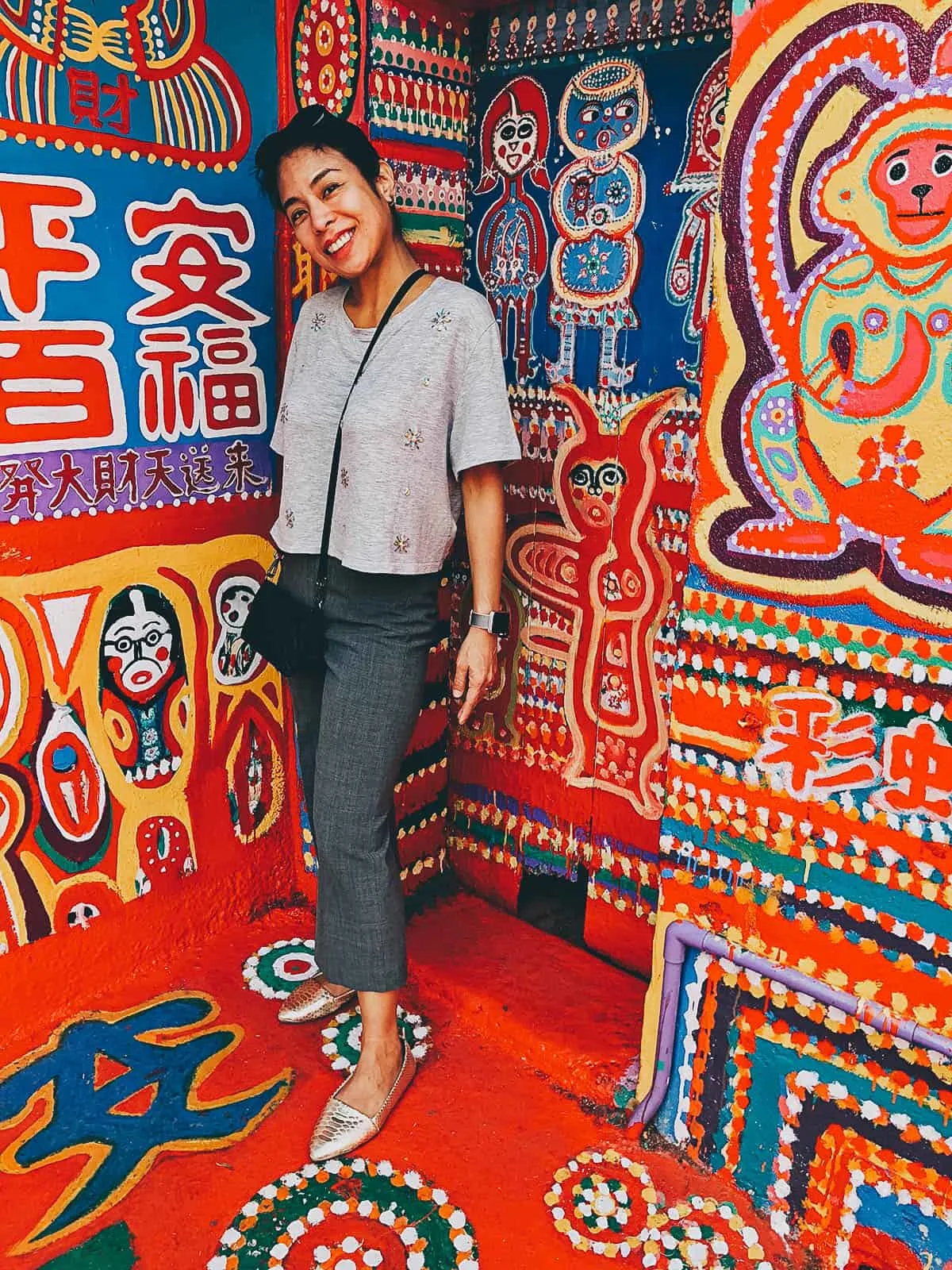 Rainbow (Caihongjuan) Village
Address: No.56, Chun'an Road, Nantun District, Taichung 408, Taiwan
Tel: +886 920 162 888
Website: 1949rainbow.com.tw
Facebook: 1949rainbow
Email: [email protected]
Operating Hours: 8:30AM-6PM
Admission: FREE
Da Jia Zhen Lan Temple
Before continuing on to Gaomei Wetlands, we make a quick stop at Da Jia Zhen Lan Temple. It's a temple dedicated to Mazu, the Chinese goddess of the sea.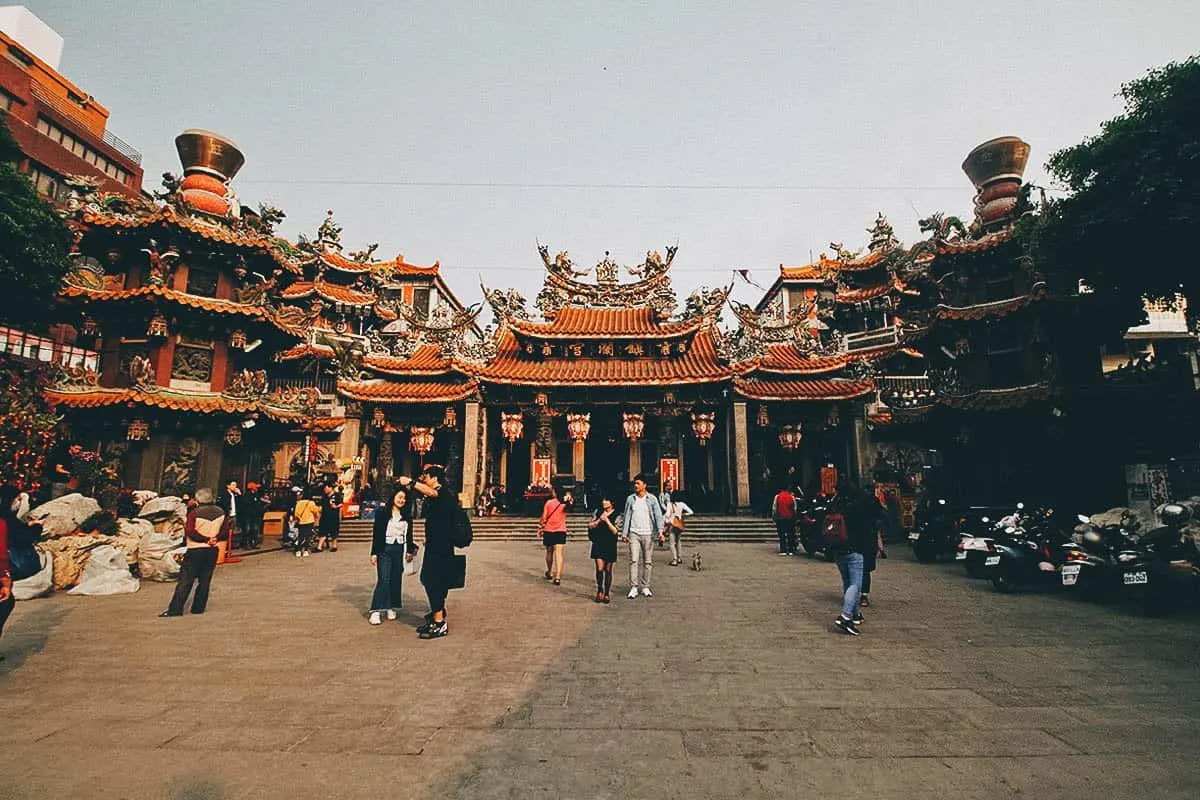 I didn't realize this at the time but Da Jia Zhen Lan Temple is apparently the most famous temple dedicated to Mazu in Taiwan. There were plenty of pilgrims rushing in and out of the temple whispering prayers and leaving offerings.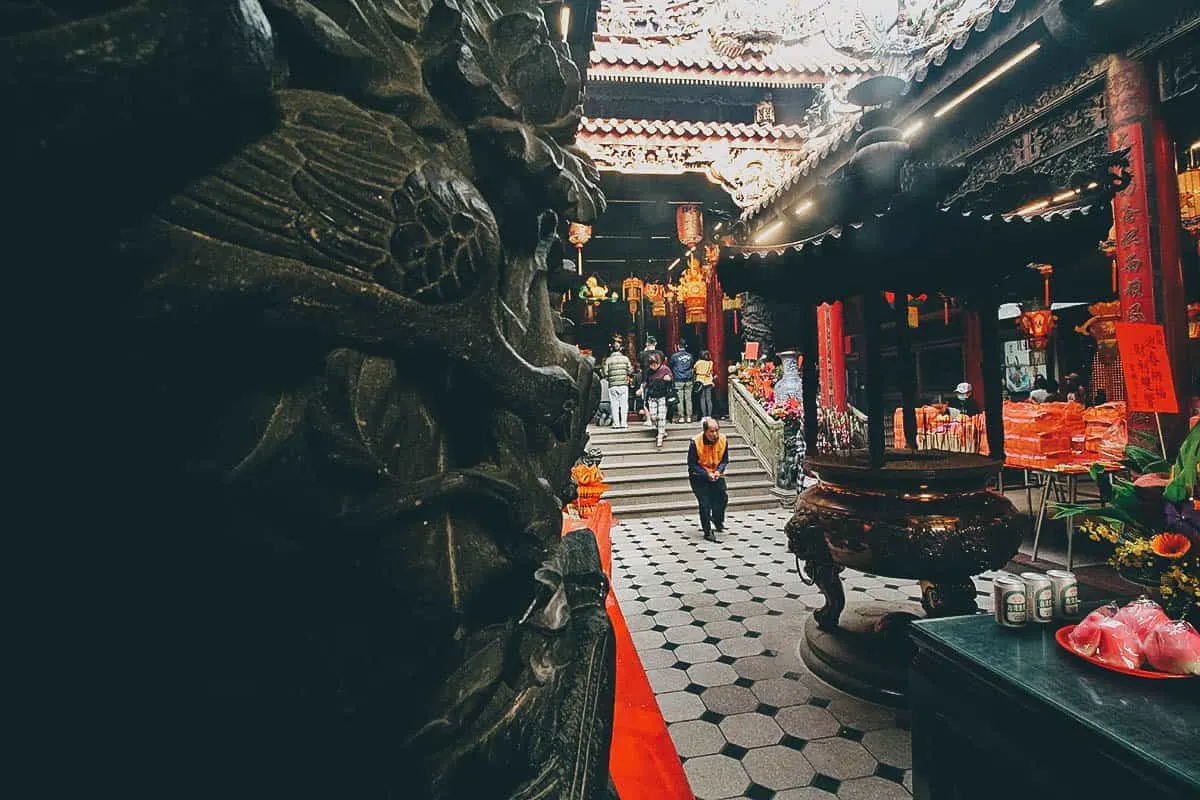 I wasn't sure what this room was so I looked it up. Filled with columns of small lights, it's a room where temple donors are acknowledged. Each light-bearing niche represents a donor.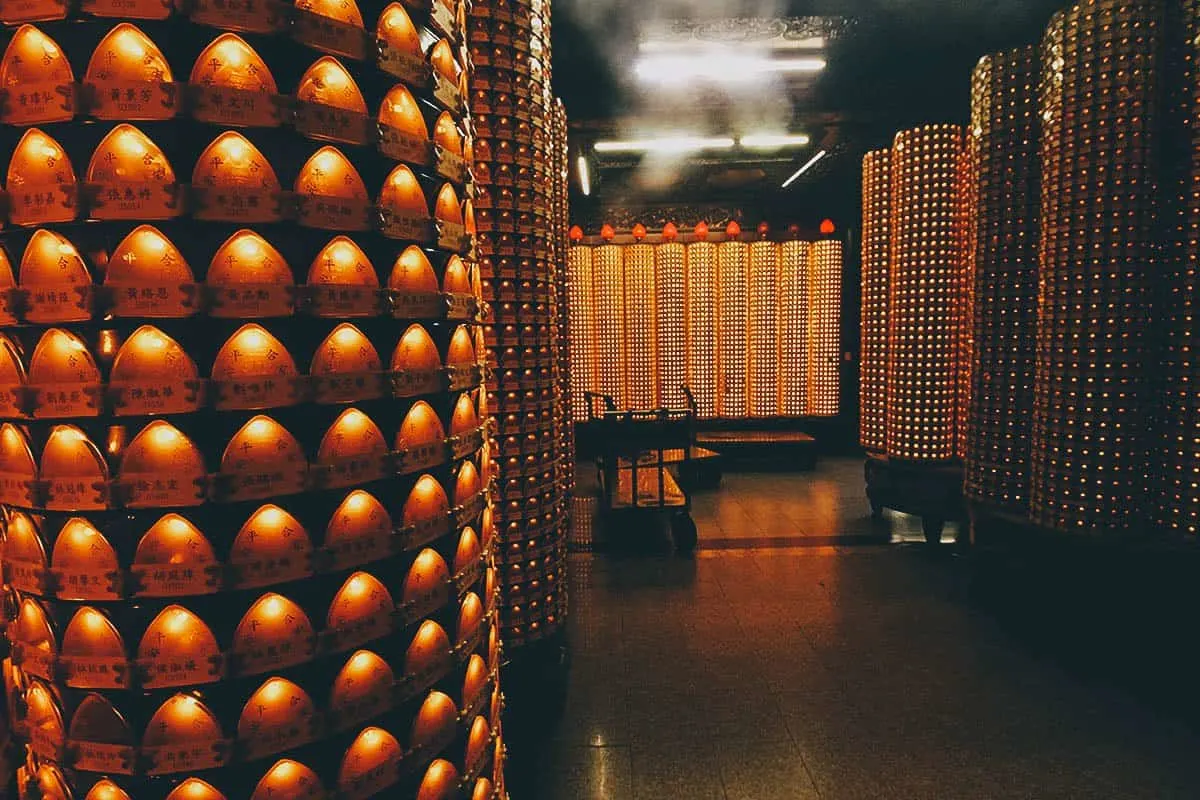 Da Jia Zhen Lan Temple
Address: No. 158, Shuntian Road, Dajia District, Taichung City, Taiwan 437
Tel: +886 4 2676 3522
Website: dajiamazu.org.tw
Admission: FREE
Gaomei Wetlands
This is what I was most looking forward to on this tour. Spanning over 300 hectares, Gaomei Wetlands is one of the most well-preserved wetland habitats in Taiwan. It's a protected environment that's home to a diverse array of plants and animals like birds, mud-skippers, and crabs.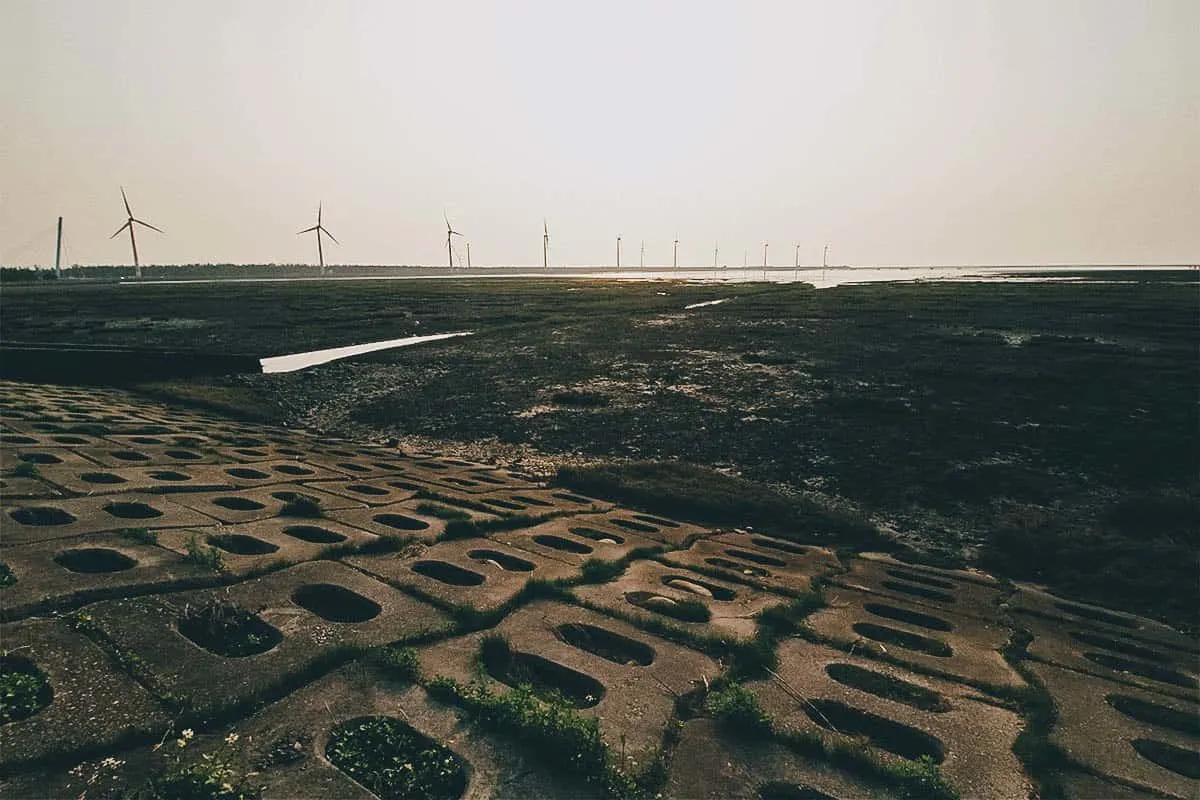 Gaomei Wetlands is characterized by a row of wind turbines and patches of thriving sedge grass. Sedge grass is one of the few plants that can survive water with high salt content.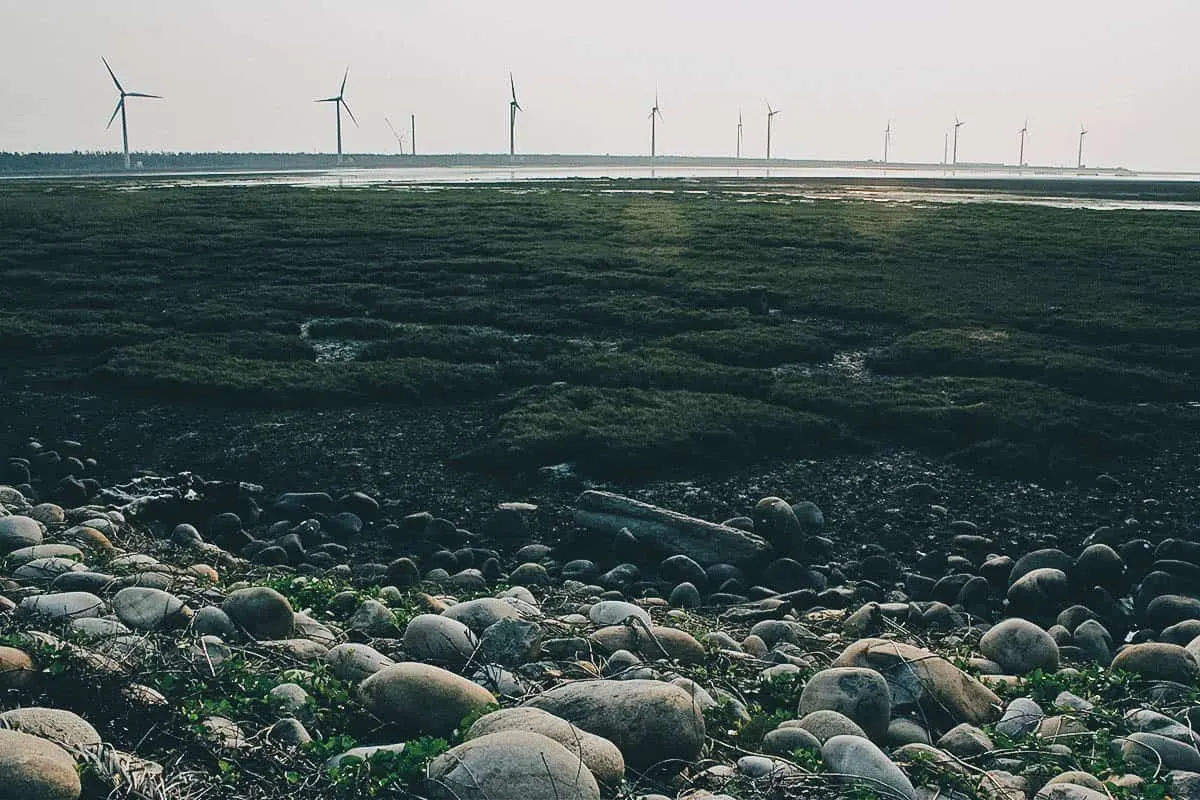 Extending for 800 meters out into the wetlands is a curved boardwalk. In the waning light of sunset, it's a dramatic sight with the row of slow-spinning turbines in the distance. I was itching to fly my drone here but I read that it's now forbidden because UAVs are a potential hazard to migrating birds. Bummer.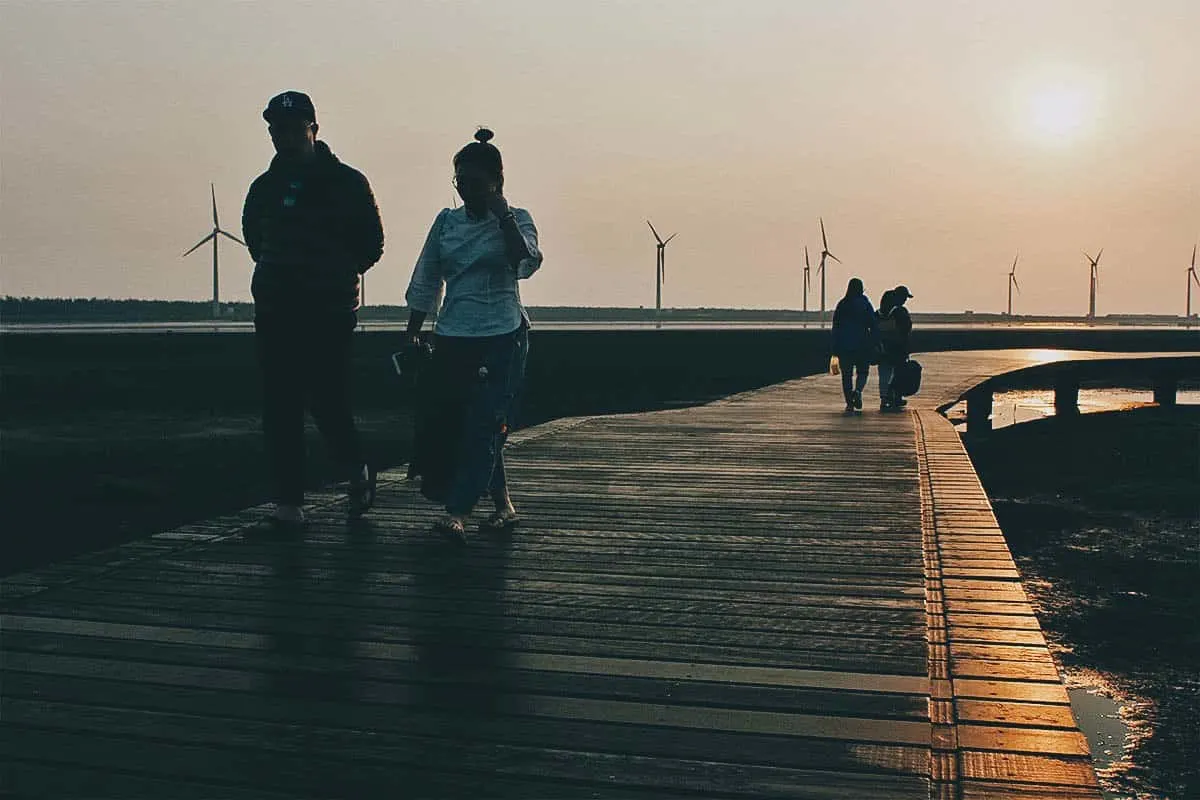 This man was probably looking for crabs. Stop and stare at any patch of muddy sand and you're likely to find fiddler crabs waving their hefty claws to and fro. I didn't do it but you can walk all the way to the end of the boardwalk and take your shoes off to walk on the soft muddy sand.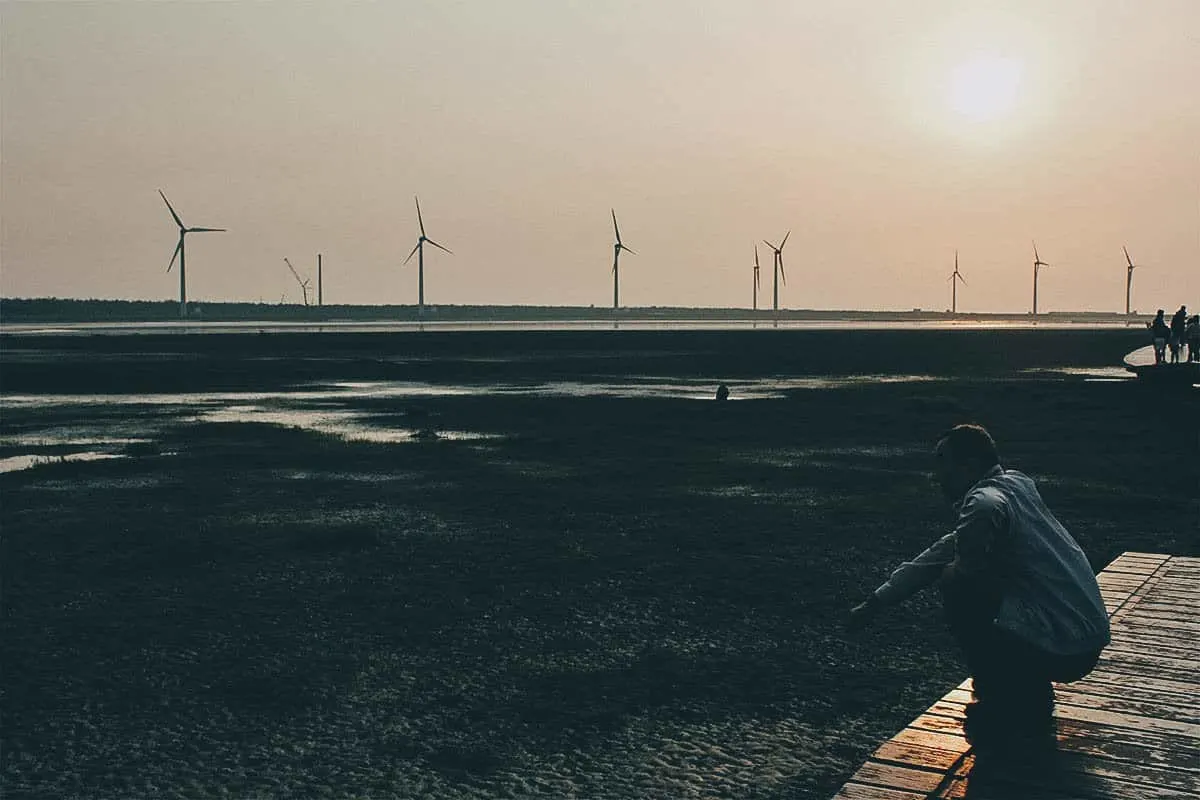 As if wind turbines in a wetland habitat wasn't a unique enough sight, here's the previously described Iron Man serenading the ladies with his guitar! Like I said, you can't make this stuff up.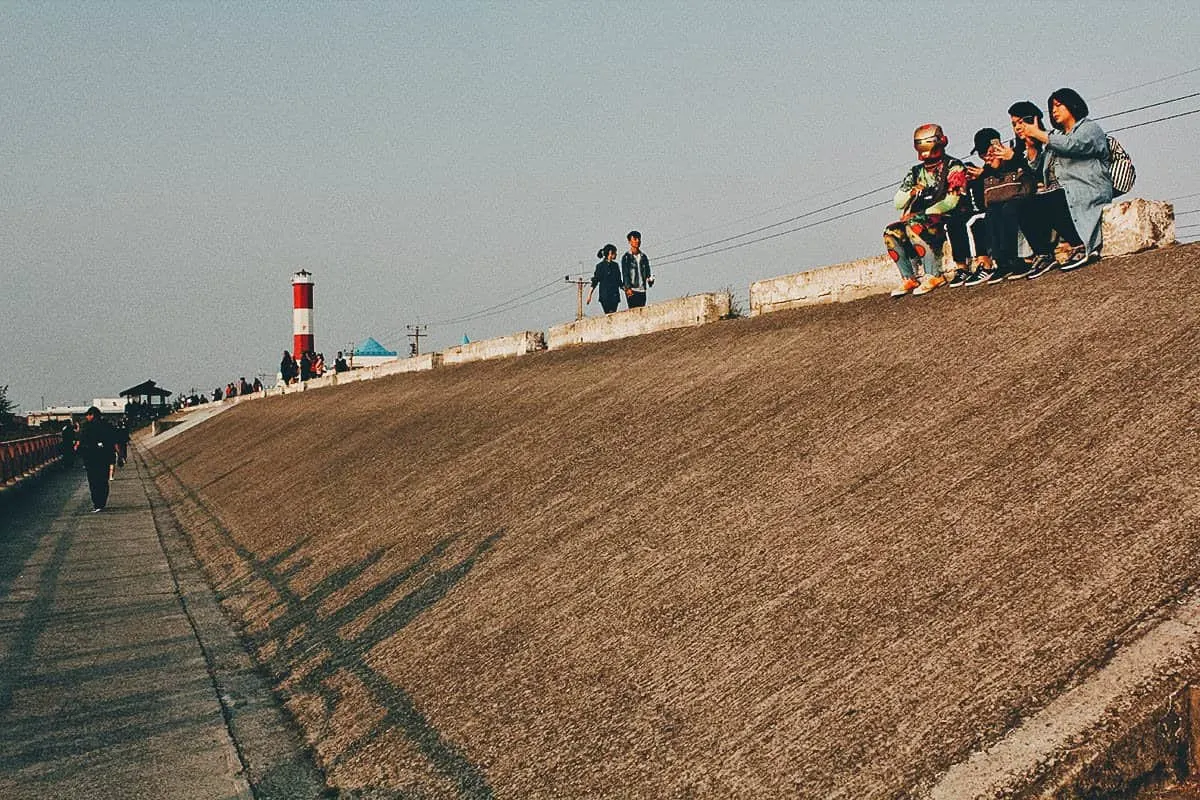 It's a tall task to outshine giant turbines in an environment like this, but this guy did it. Keep doing you Taiwanese Iron Man.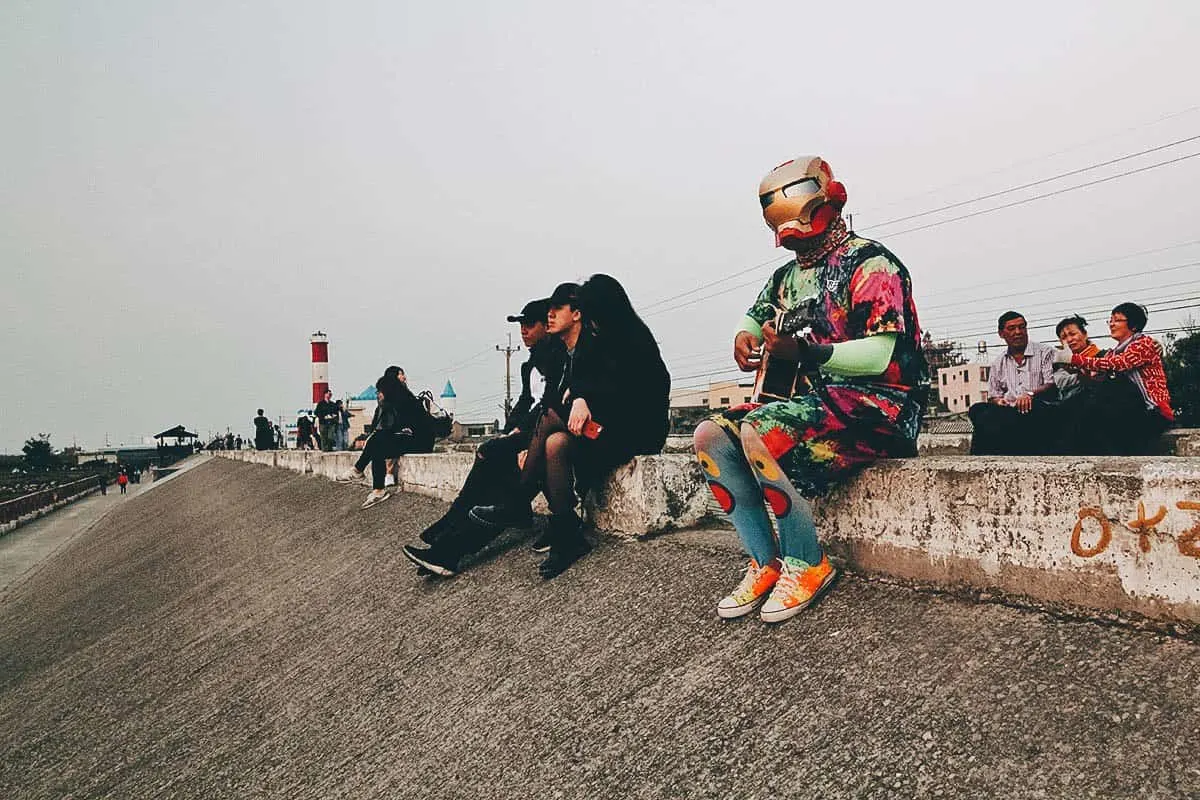 Gaomei Wetlands
Address: Meidi Street, Qingshui District, Taichung City, Taiwan 436
Tel: +886 988 628 601
Website: gaomei.com.tw
Facebook: gaomei.com.tw
Twitter: gaomeiwetland
Operating Hours: 24 hours
Admission: FREE
Fengjia (Feng Chia) Night Market
After driving back to Taichung, you'll be dropped off at Fengjia Night Market which is said to be the biggest night market in Taiwan. We visited many night markets throughout Taiwan and Fengjia does seem to have one of the best selections of Taiwanese street food. As you can see below, it can get pretty crowded.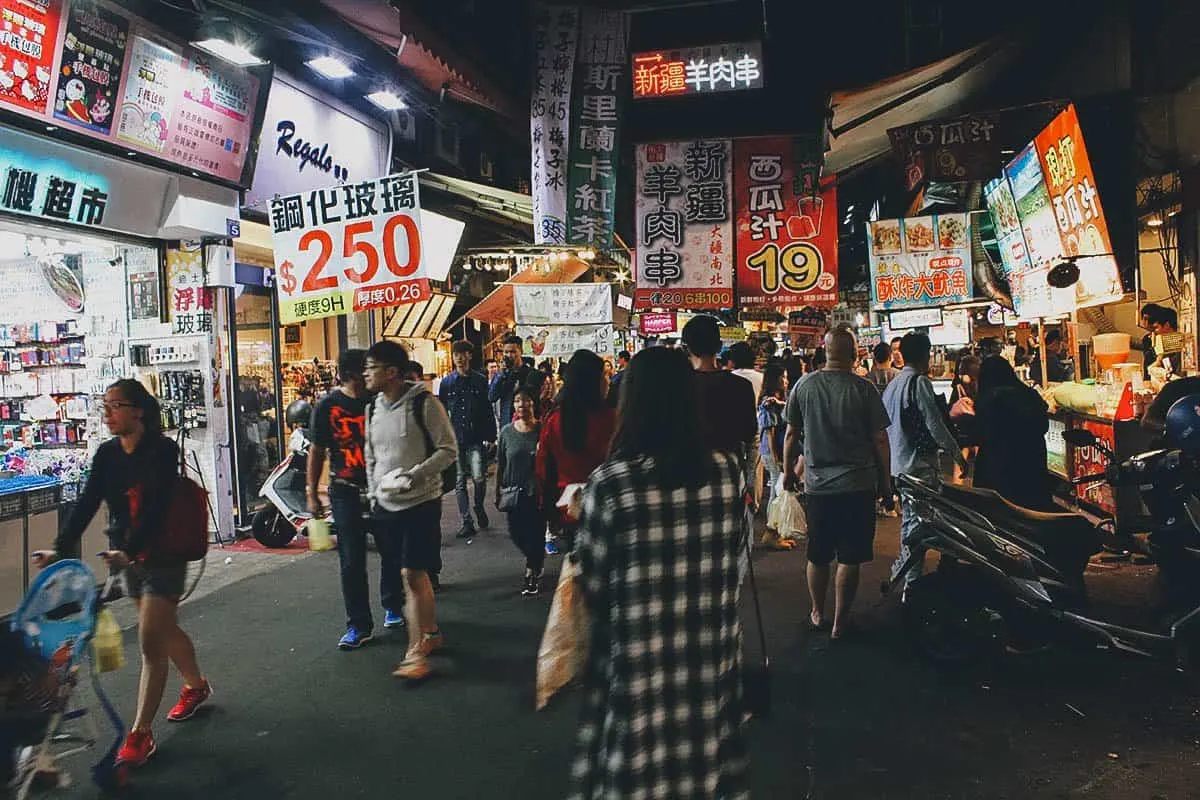 I love seafood so I naturally gravitated to things like scallops…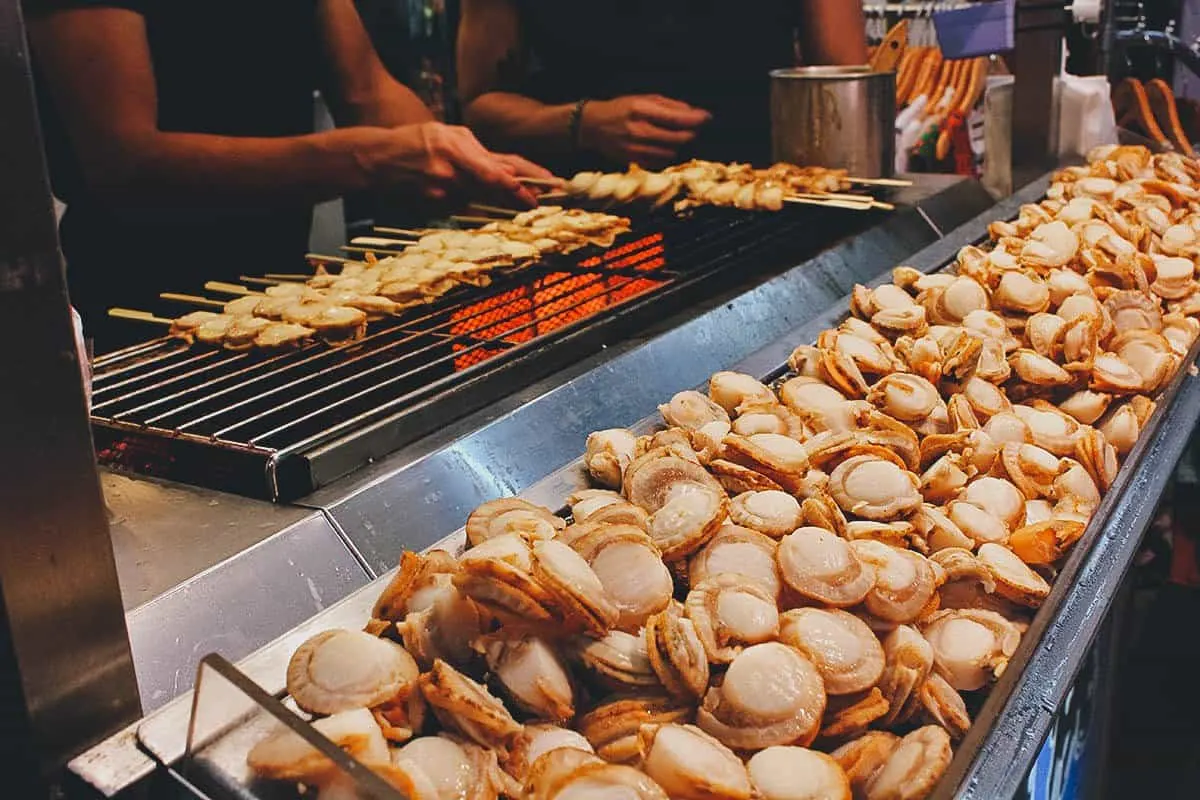 …oysters…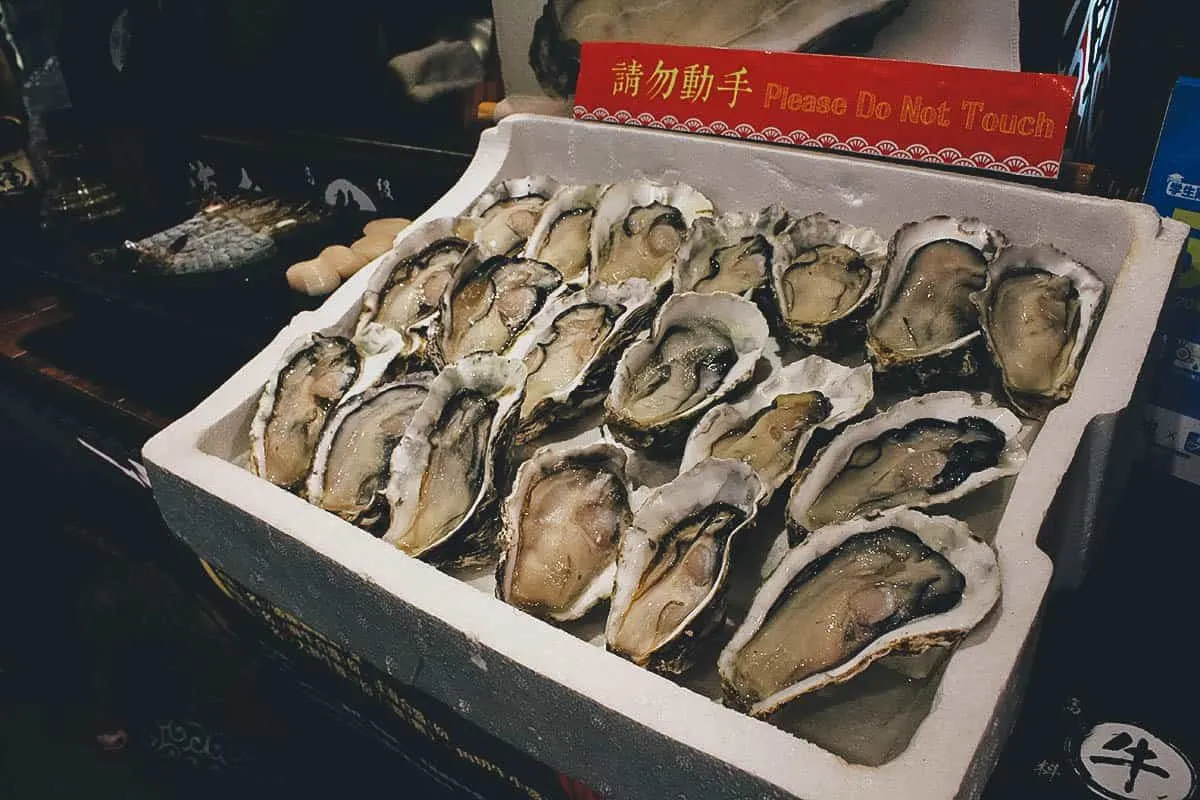 …and abalone. Not to worry though, if seafood isn't your thing then there are plenty of non-seafood dishes as well like giant chicken chops, wagyu beef cubes, sausages, and stinky tofu. Check out our list of 45 things to eat in Taiwan for more food suggestions.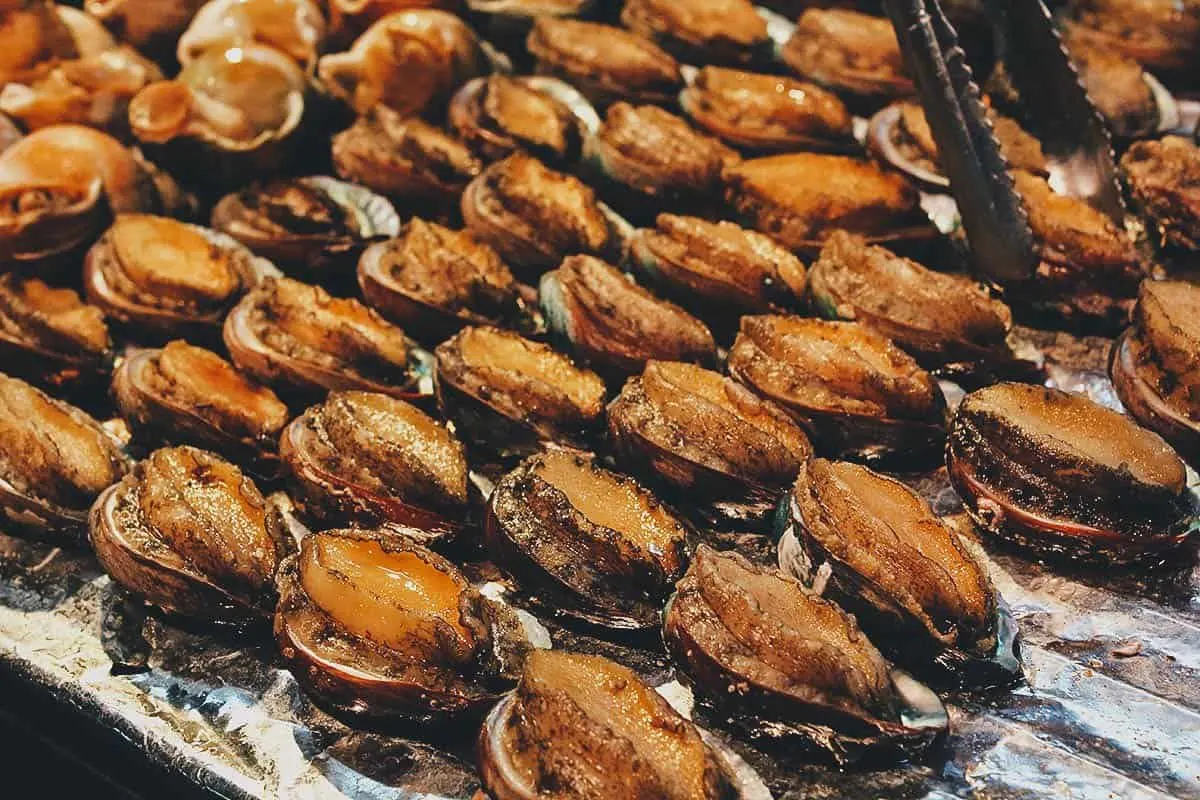 Fengjia Night Market
Address: Wenhua Road, Xitun District, Taichung City, Taiwan 407
Tel: +886 4 2451 5940
Website: fcyes.ehosting.com.tw
Facebook: fcyes
Operating Hours: 4PM-1:30AM, daily
Admission: FREE
Conclusion
As you can probably tell from the name, Rainbow Village and Gaomei Wetlands are the highlights of this tour. Both attractions are worth visiting but they're often overlooked, especially Gaomei Wetlands, because they're more difficult to get to on your own. You can visit them via public transportation but it will take you longer to get there. If you'd prefer to do that, then you can navigate using the Google Maps app (iOS | Android). It'll tell you how to get to either place using public transportation from wherever you are.
Otherwise, you can go on an organized day tour with Klook. It's the easiest and most hassle-free option. You won't have as much time at any given stop, but these aren't the types of places where you'll need to spend a lot of time anyway. I often feel rushed on these guided tours but the amount of time they give you on this one is just fine.
Follow the link to book this tour on Klook.
For travel tips to Taichung, check out our First-Timer's Travel Guide to Taichung, Taiwan.

Disclosure
Some of the links in this post are affiliate links, meaning we'll get a small commission if you make a purchase at NO extra cost to you. We really appreciate your support as it helps us keep this website going. Thank you!