The Taiwanese have a thing with shrimp. Or should I say, with shrimping.
When we first visited Taipei four years ago, I learned about this Taiwanese phenomenon called urban shrimping. Locals, mostly men, would sit around concrete indoor pools and cast lines into murky water filled with large, freshwater shrimp. They'd keep an eye on their line's float, waiting for the slightest hint of a bite, whilst taking swigs from can after can of Taiwanese beer. From the looks of it, it's an all-day pastime that often leads to baskets brimming with live shrimp which are then skewered and salted before being grilled on the premises.
We tried our hand at urban shrimping on that trip and had the best time, so when I saw this Hualien night shrimping tour on Klook, I didn't give it much thought. Urban shrimping is fun, but this time, we'd be doing it for real in an actual river. Awesome!
Night River Shrimping
The night shrimping tour in Hualien lasts about three hours. You'll be picked up from your hotel before 7PM and taken to a river on the outskirts of town. It's pitch black there so you'll be given a headlamp along with a net and a basket to hold any shrimp you might catch. They'll provide you with booties as well.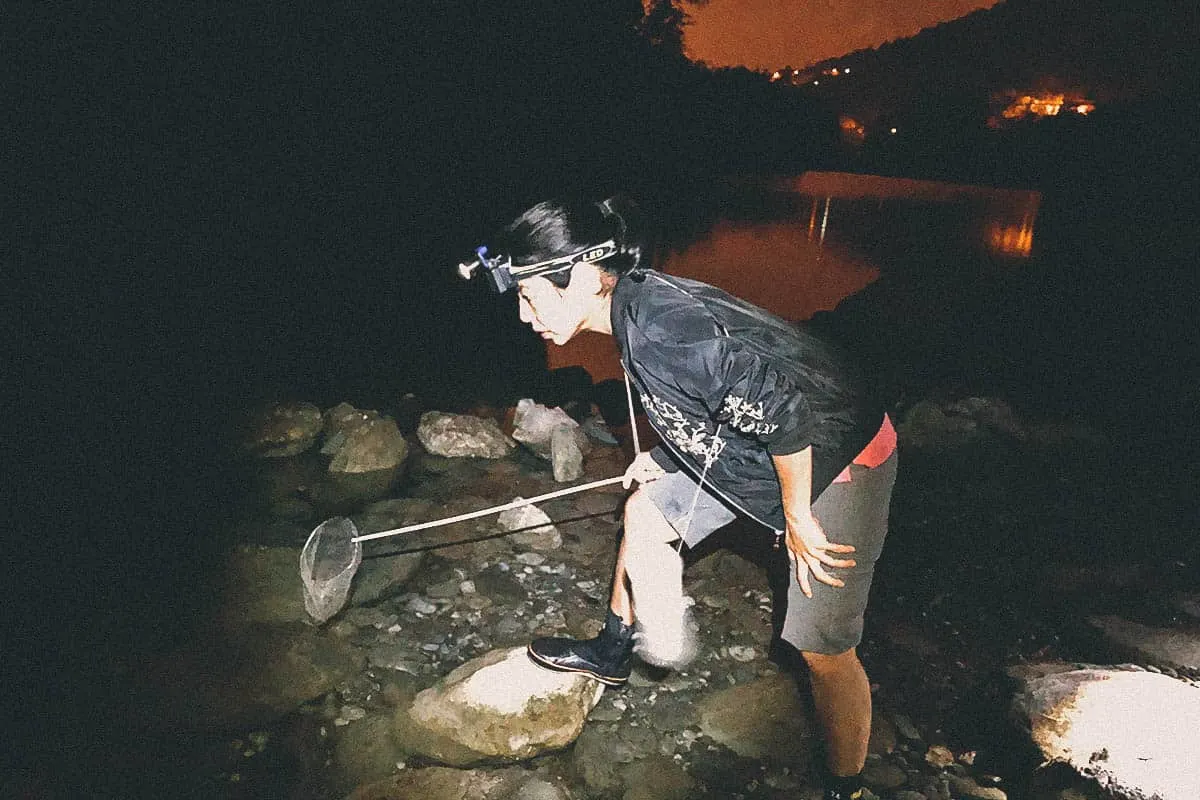 Our tour guide Joe gave us a quick demo before letting us loose to do our thing in the river. You have to wade slowly and carefully whilst shining the light from your headlamp into the water. The light reflects off of the shrimp's eyes so you need to look out for two beads of light staring back at you from the water.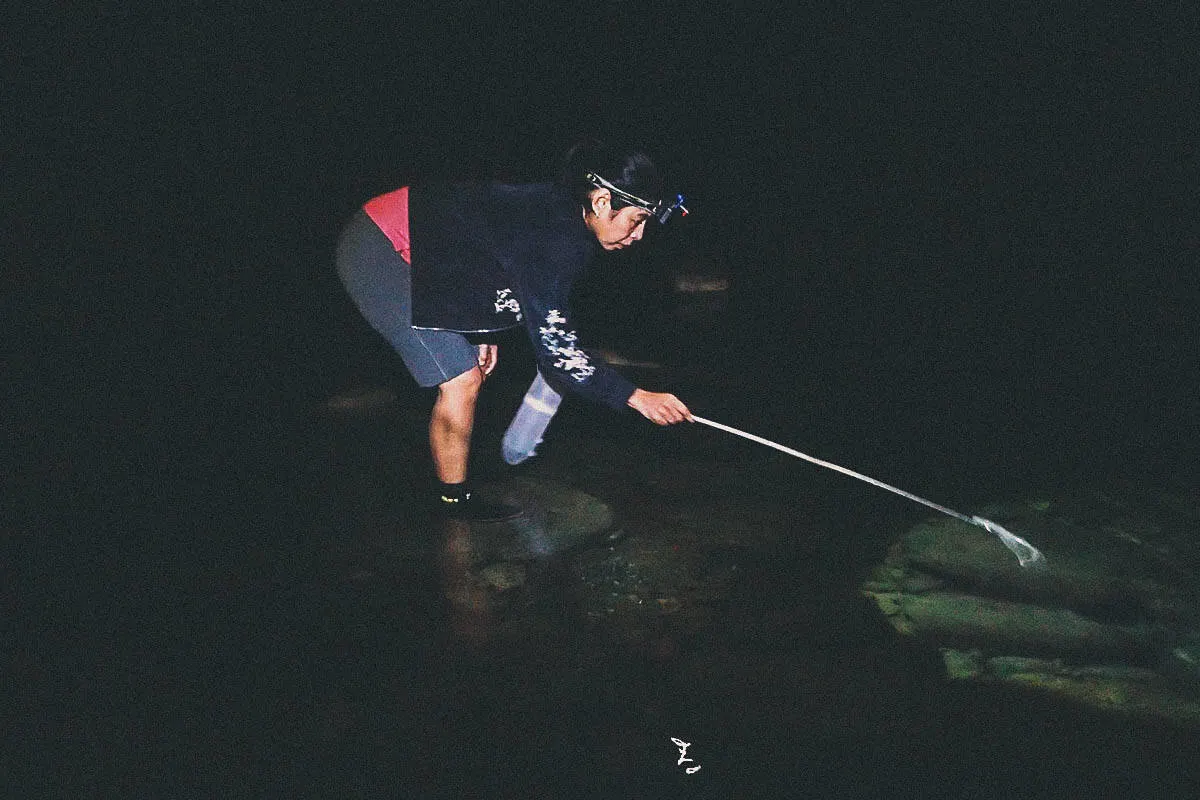 After a few minutes, I caught one! As Joe explained, shrimp dart backwards in retreat so you have to hold your net above and behind them at the same time. The trick is to get them to dart back and swim into your net. It's harder than it sounds because most of the time, they're hiding beneath big rocks.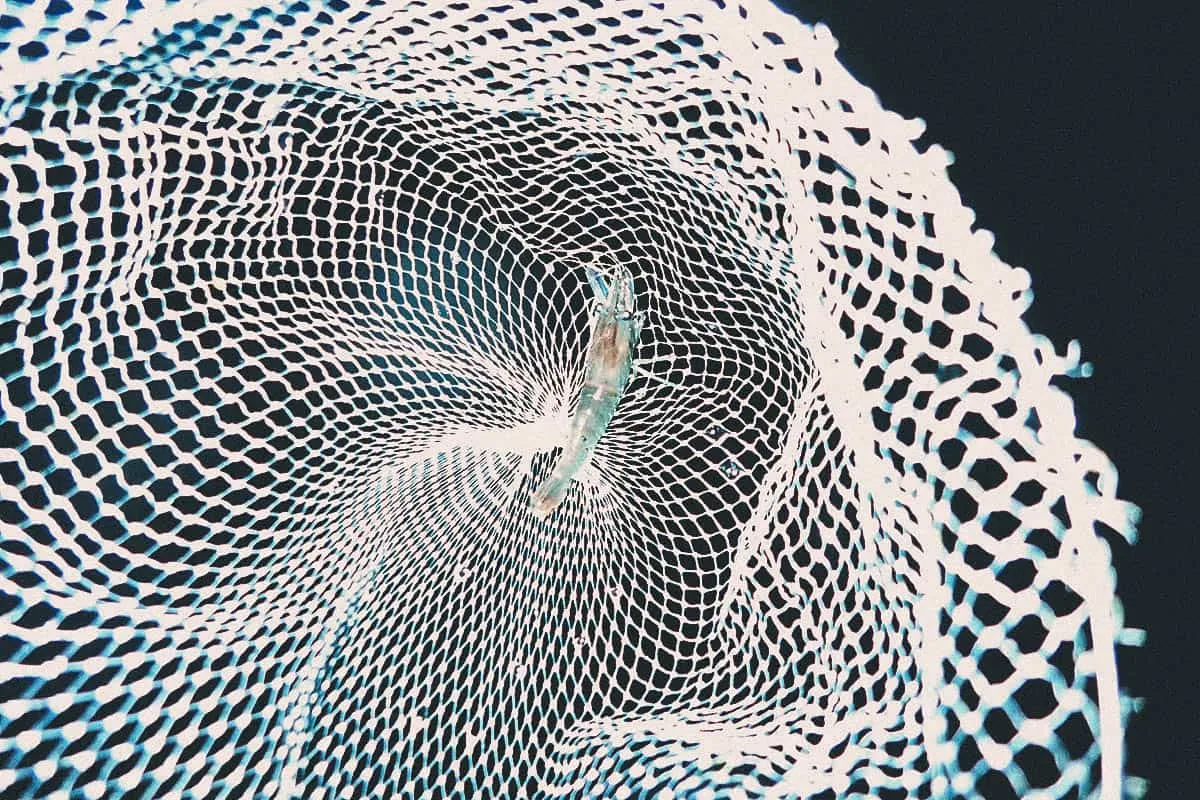 The shrimp here are nowhere near as big as the ones you can catch in urban shrimping pools. They're only about a third of the size, most even smaller. At first, I didn't want to catch the tiny shrimp but as it turns out, you don't actually eat anything you catch. You release them back into the water unharmed before digging into your real dinner of hotpot (2-5 people) or surf n' turf BBQ (6 or more), which your guide prepares while you're shrimping. Awesome!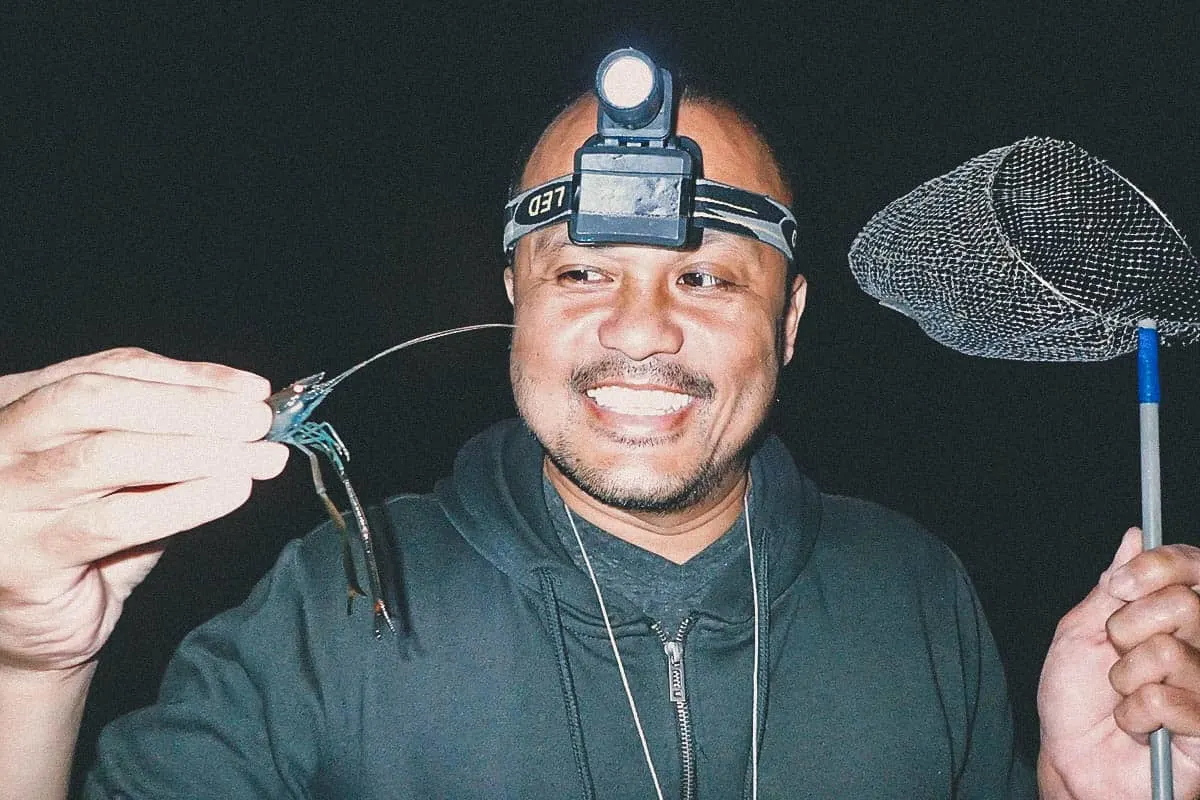 Stare into my eyes hooman. You will put me back in the water and walk away hooman. Yes, walk away.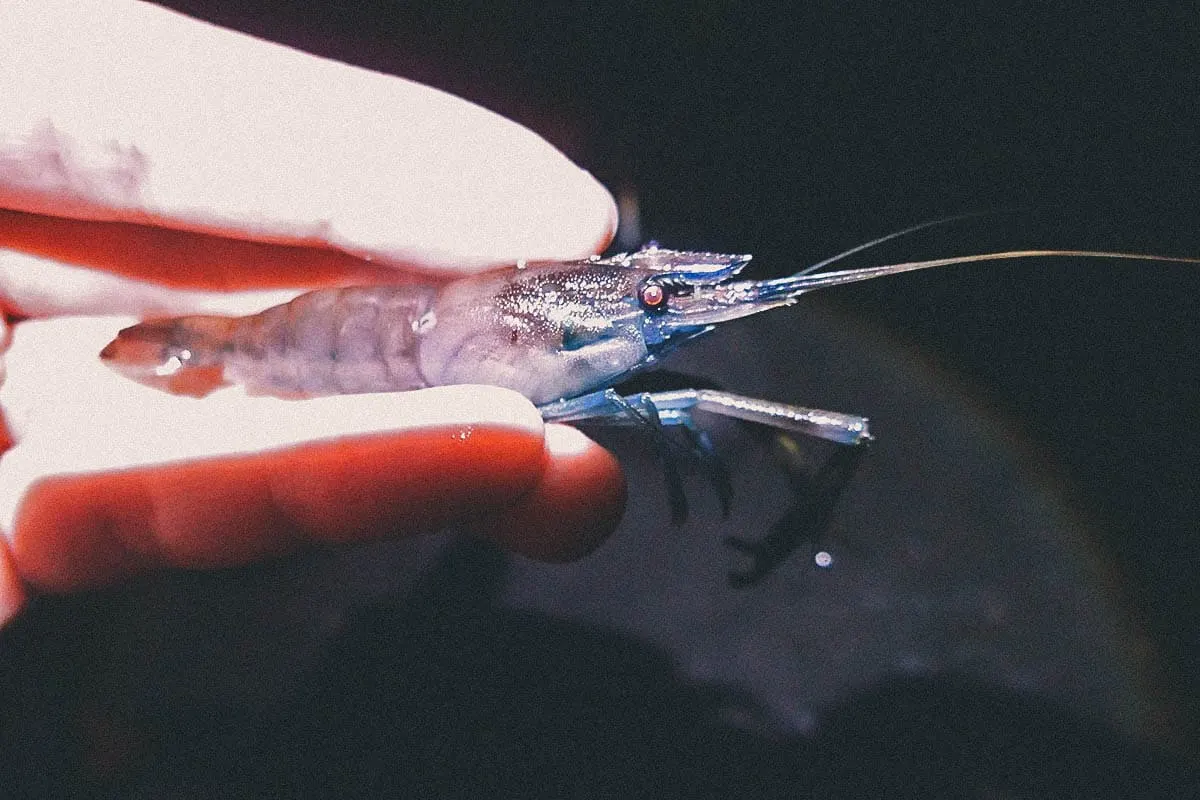 The night's catch. Thank god we had something more substantial for dinner!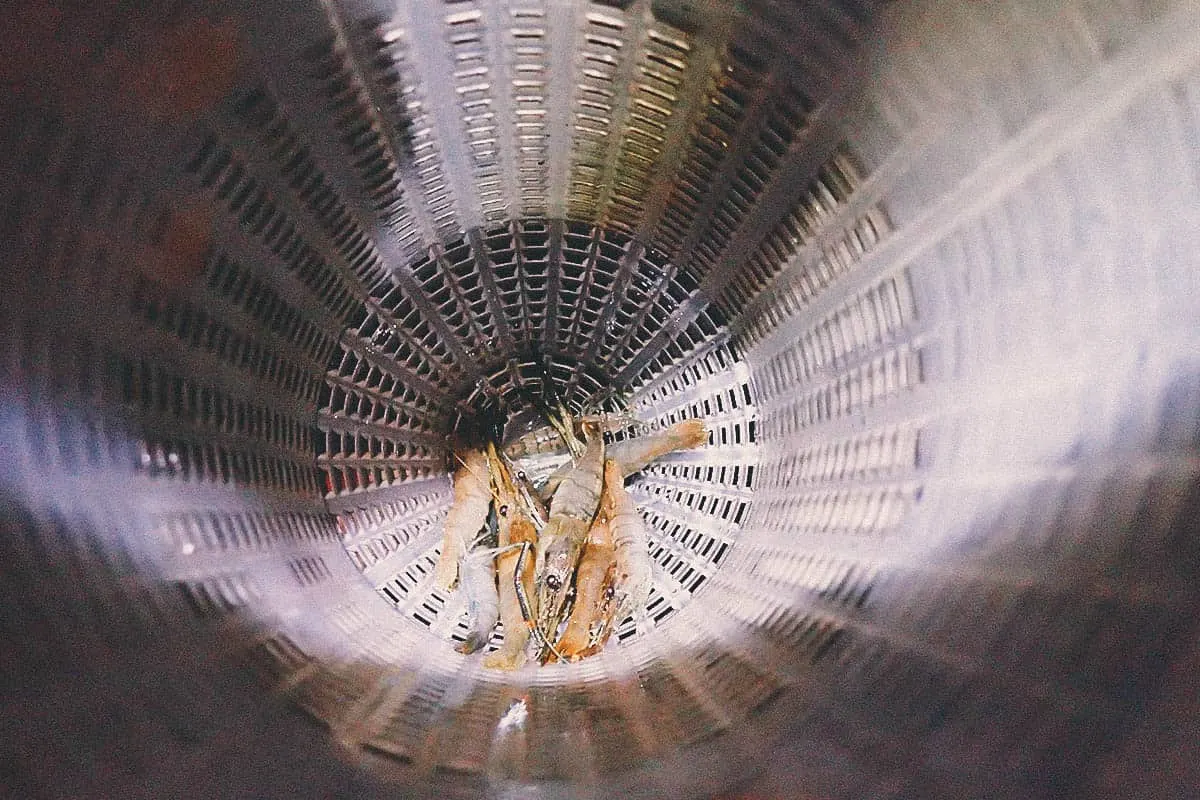 The Traveleaters and their shrimp. It's a good thing the River King makes you release the shrimp back into the river. Otherwise, this probably wouldn't be a sustainable practice.

That's not a frog Renée and no, it won't turn into a prince. #rollseyes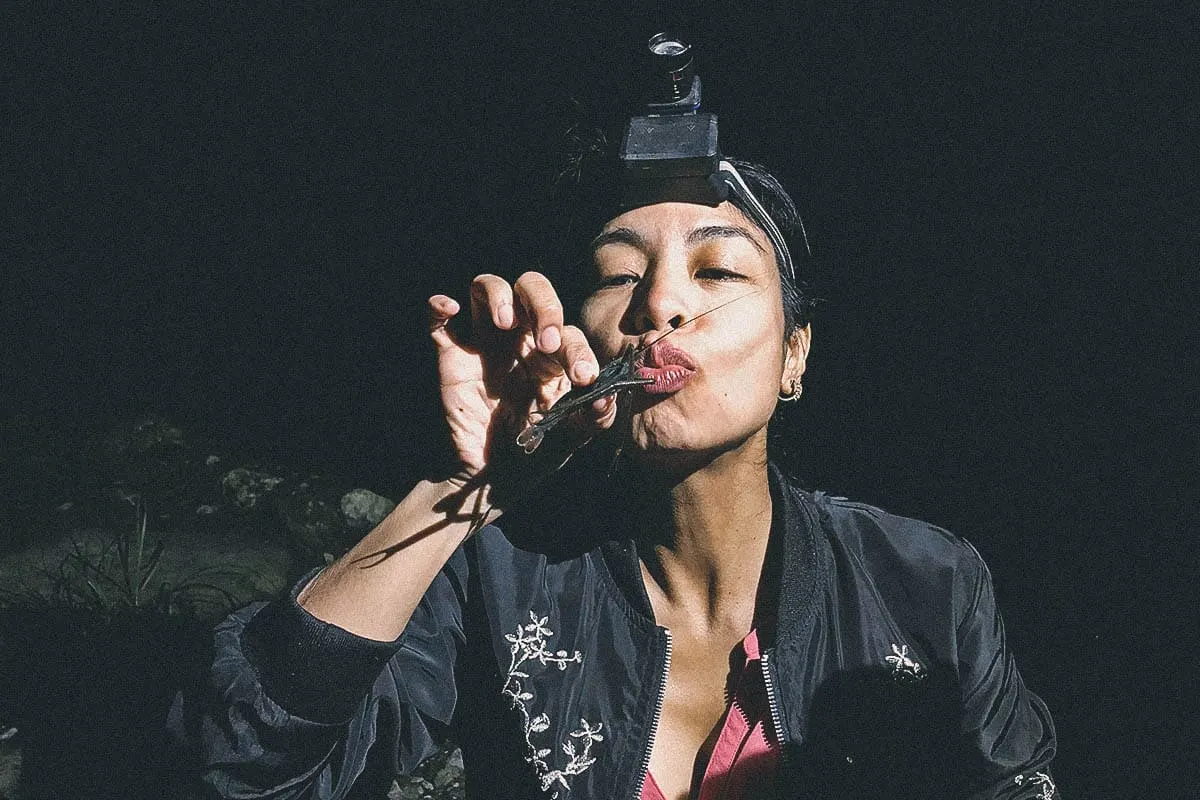 There's me in my DIY hot pants, releasing tonight's catch back into the river.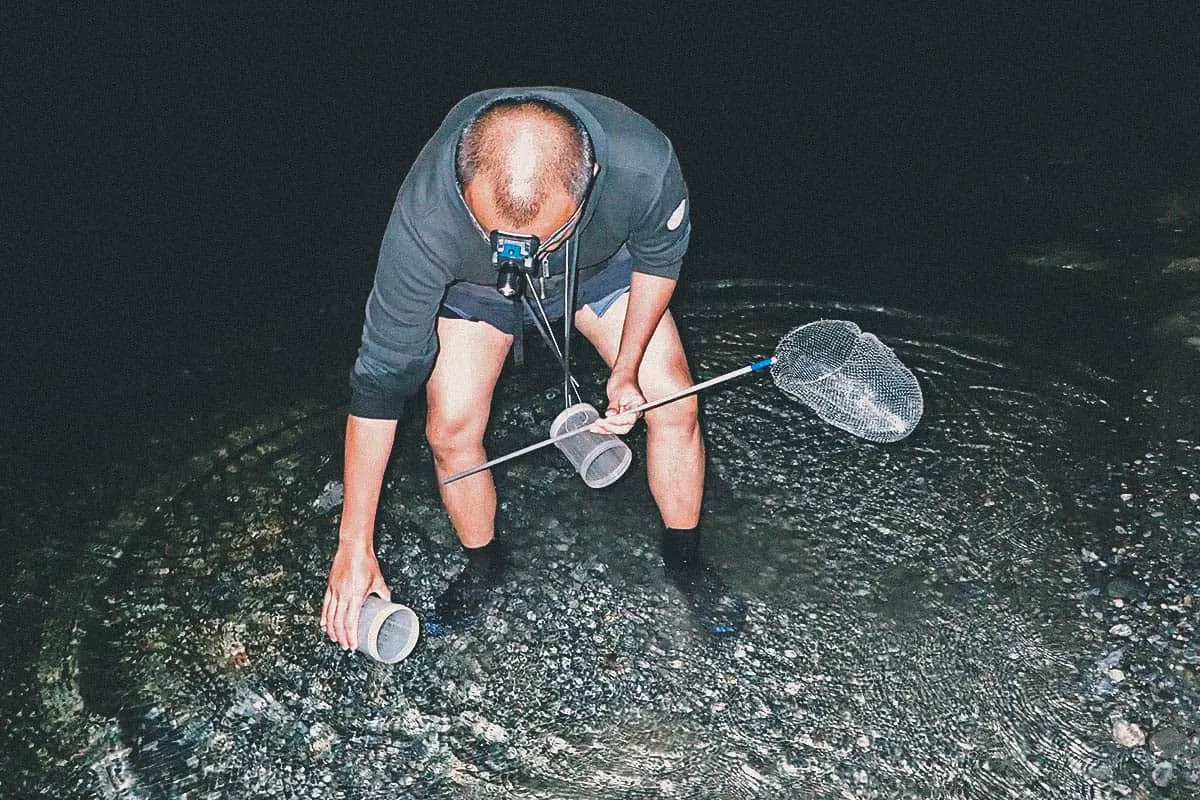 Swim away shrimpies, swim away!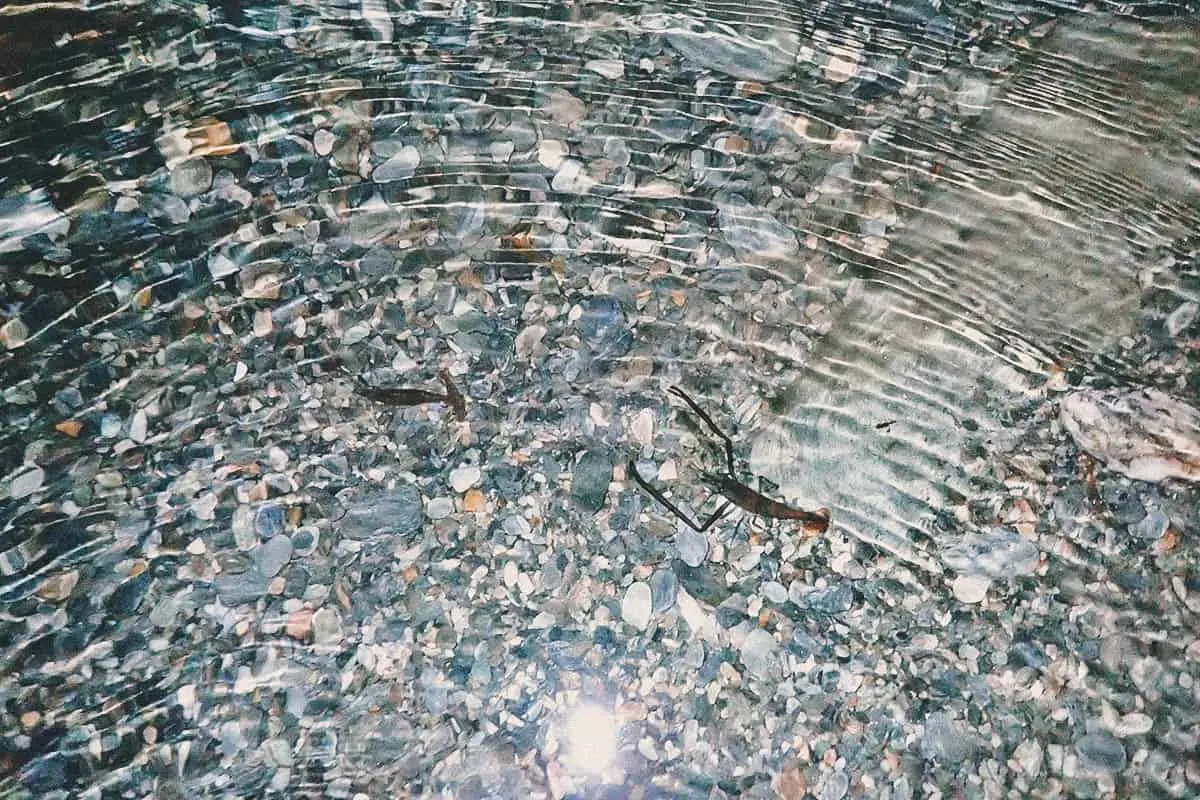 Since there were just two members on the Filipino shrimping team, Joe prepared us this delicious Taiwanese hotpot dish. We probably spent about an hour shrimping before dinner was ready.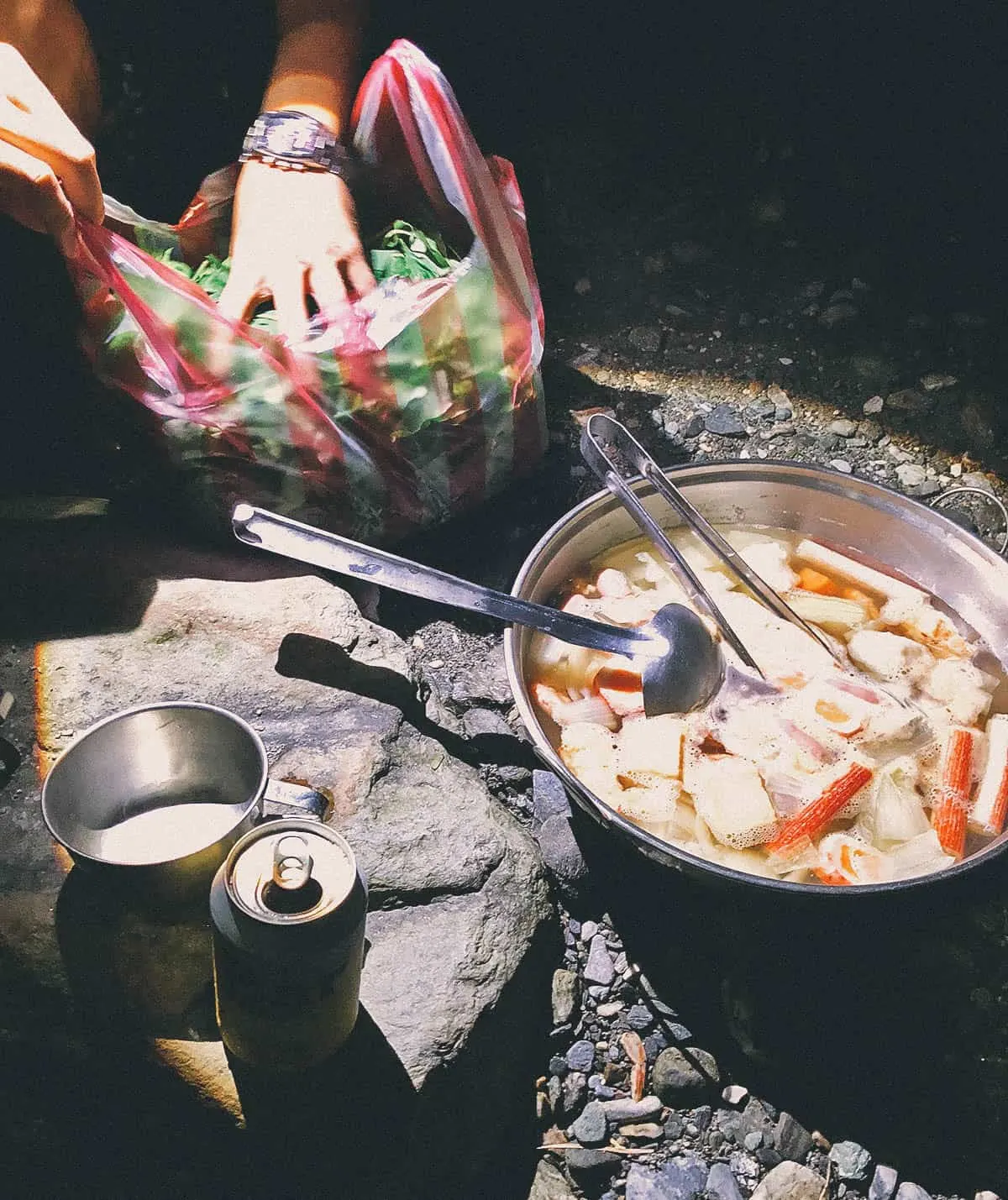 You like veggies? I got lots! None of us knew what these leafy green vegetables were but they were great.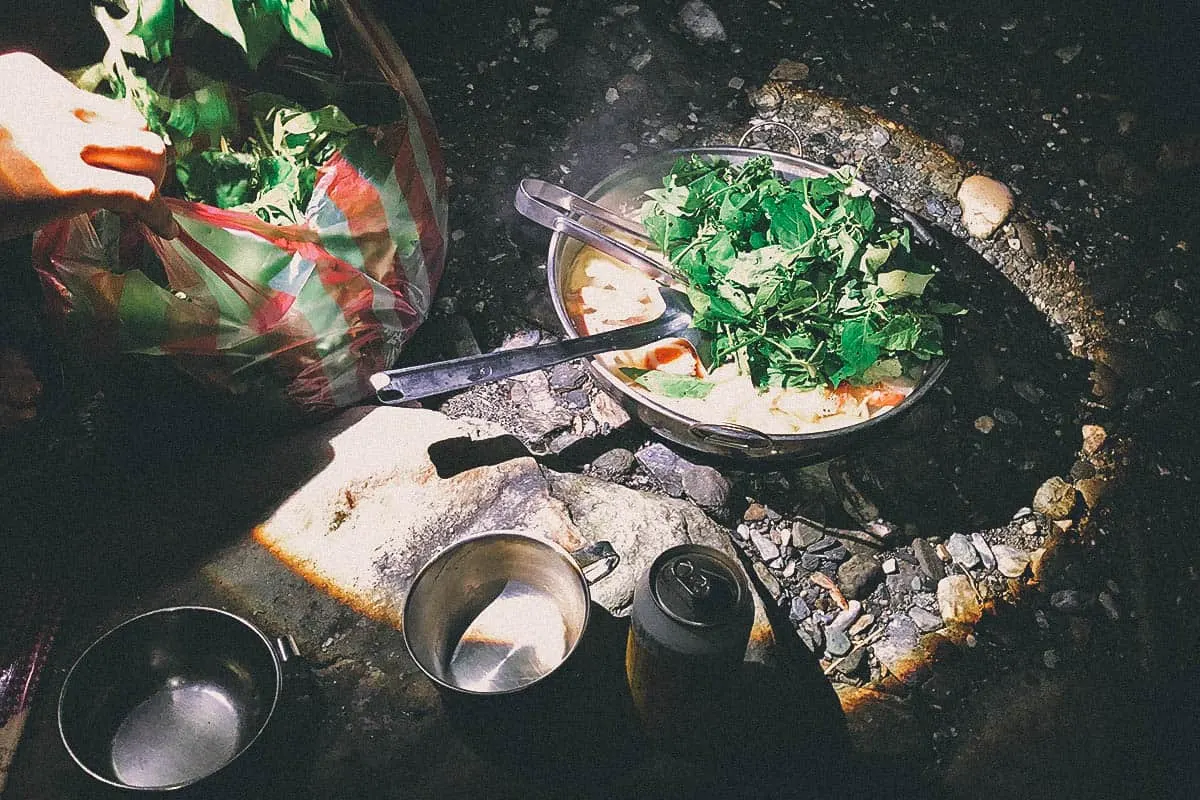 The Traveleaters doing what they do best, traveleating! Let's dig in!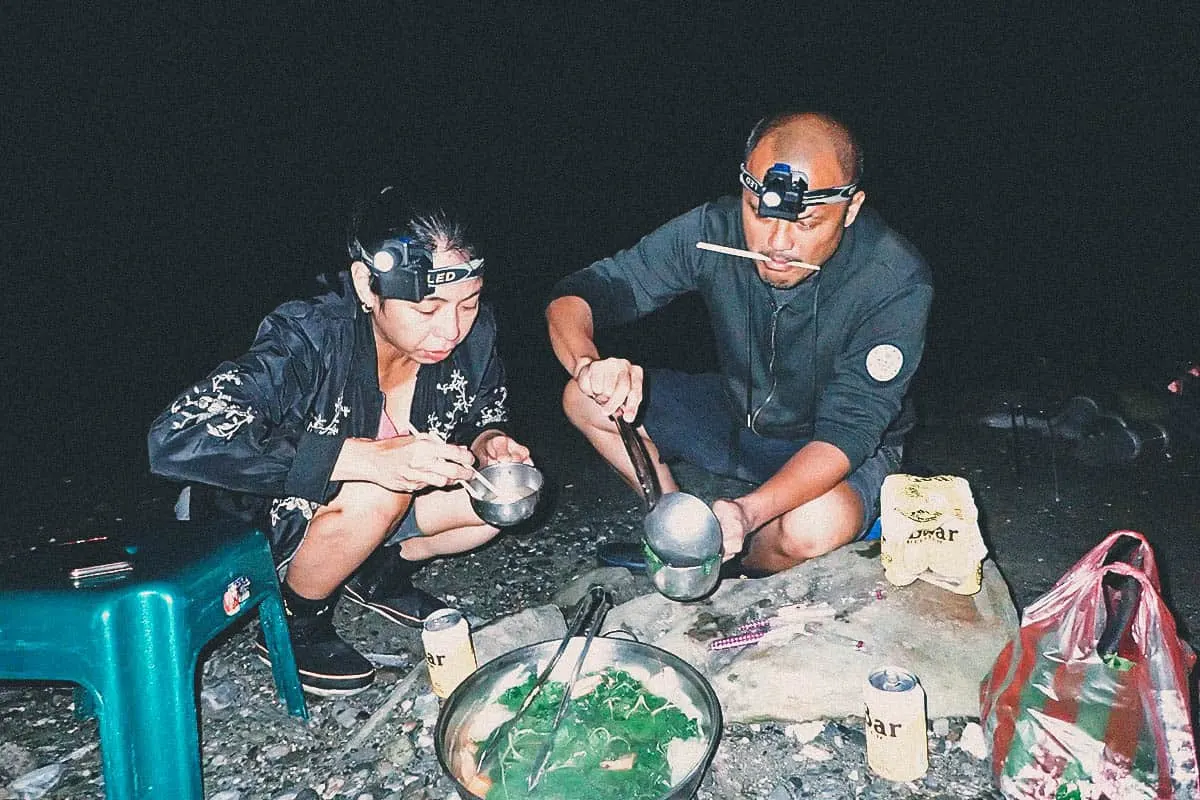 Tonight's hotpot was filled with all kinds of fish balls and cakes, crab sticks, vegetables, and of course, shrimp from the market. Everything was delicious.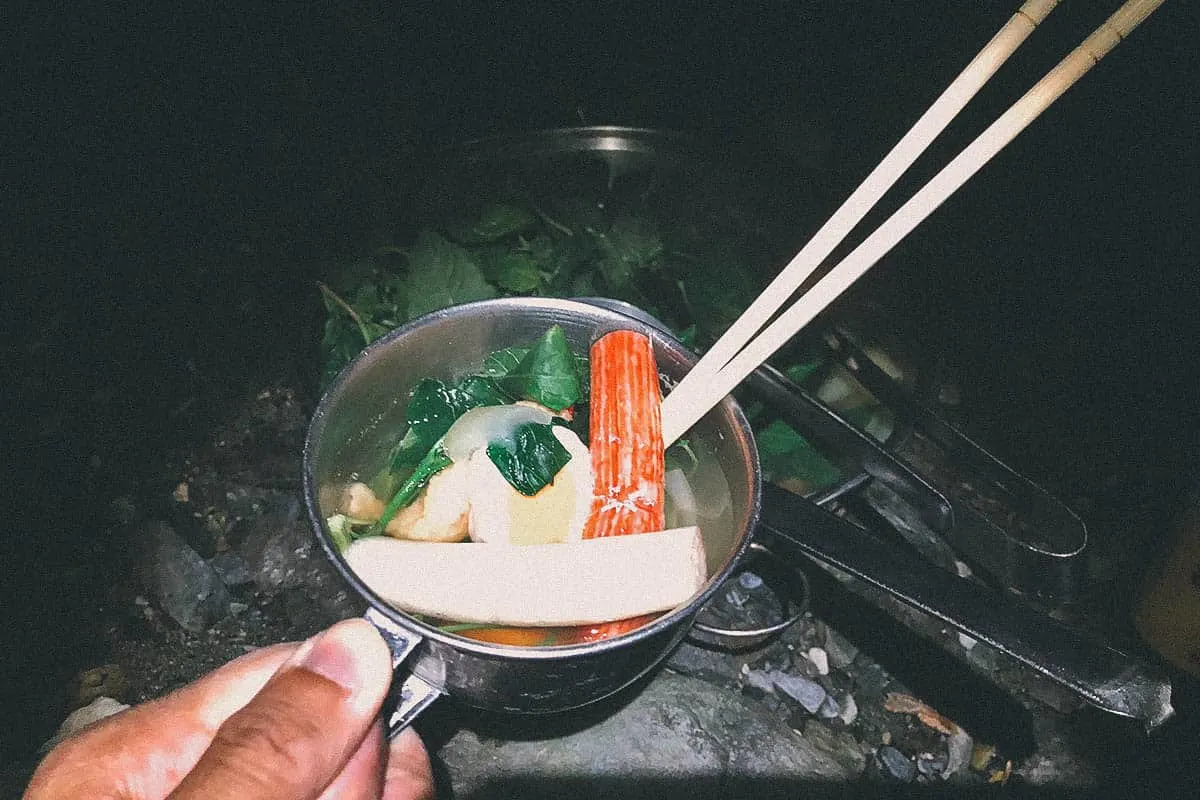 Renée giving her Traveleater stamp of approval. Awesome job Joe!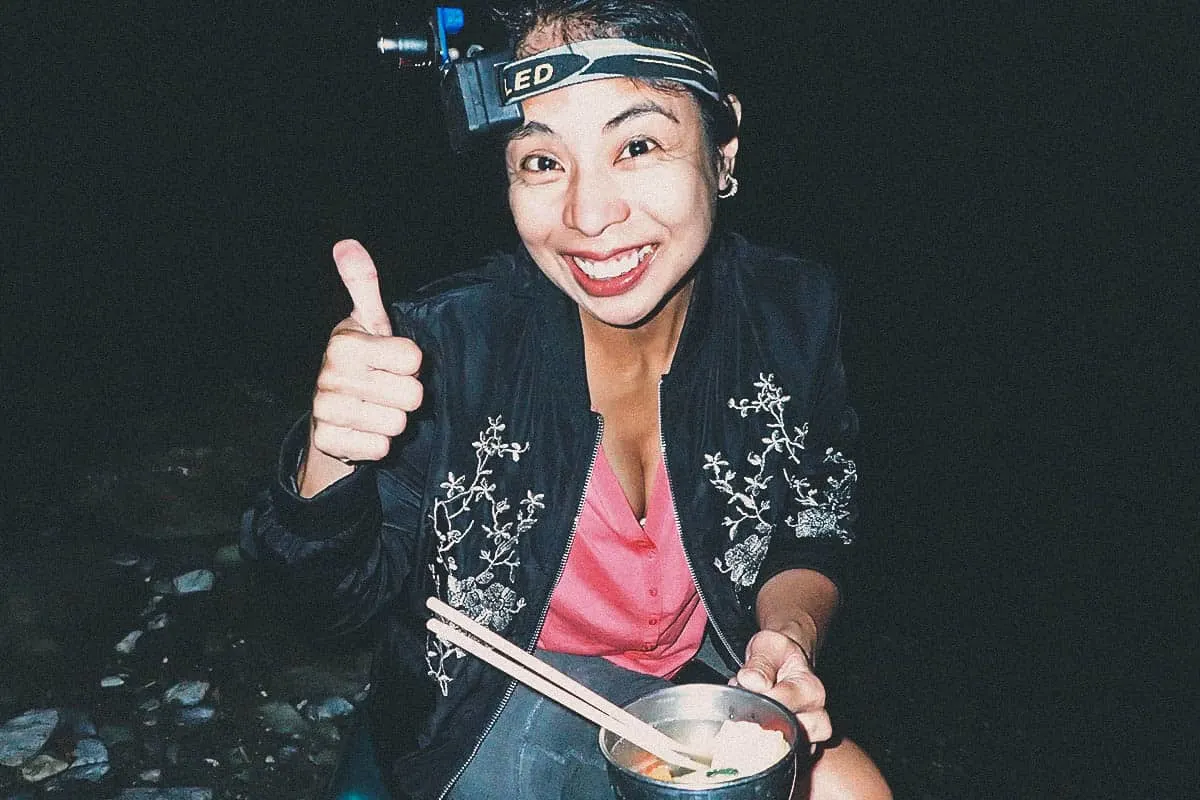 Shrimping and beer seem to go hand in hand in Taiwan. Shortly after Joe picked us up, we made a quick stop at a 7-Eleven to buy some water and a six-pack of beer. Night shrimping in the river with cold beers and Taiwanese hotpot – can life get any better than this?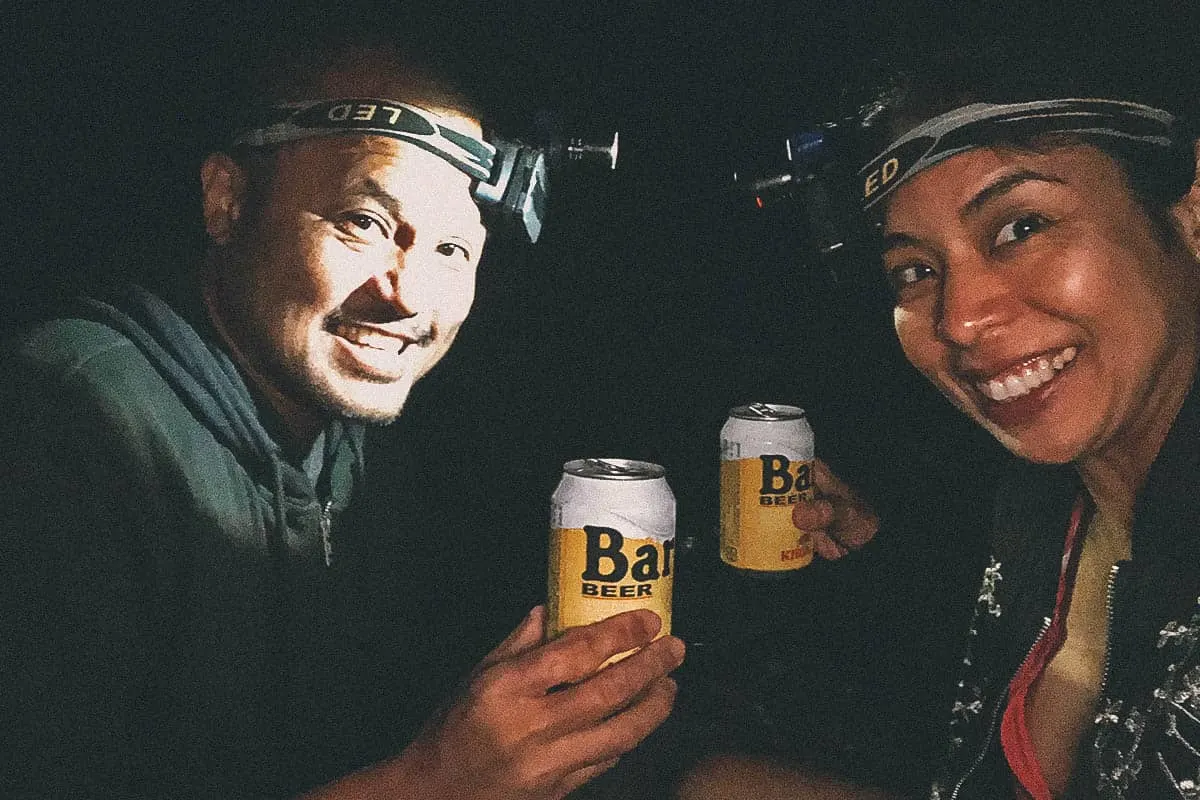 There's the shrimping master Joe with the Traveleaters. Thanks for teaching us how to shrimp and preparing that delicious hotpot my friend!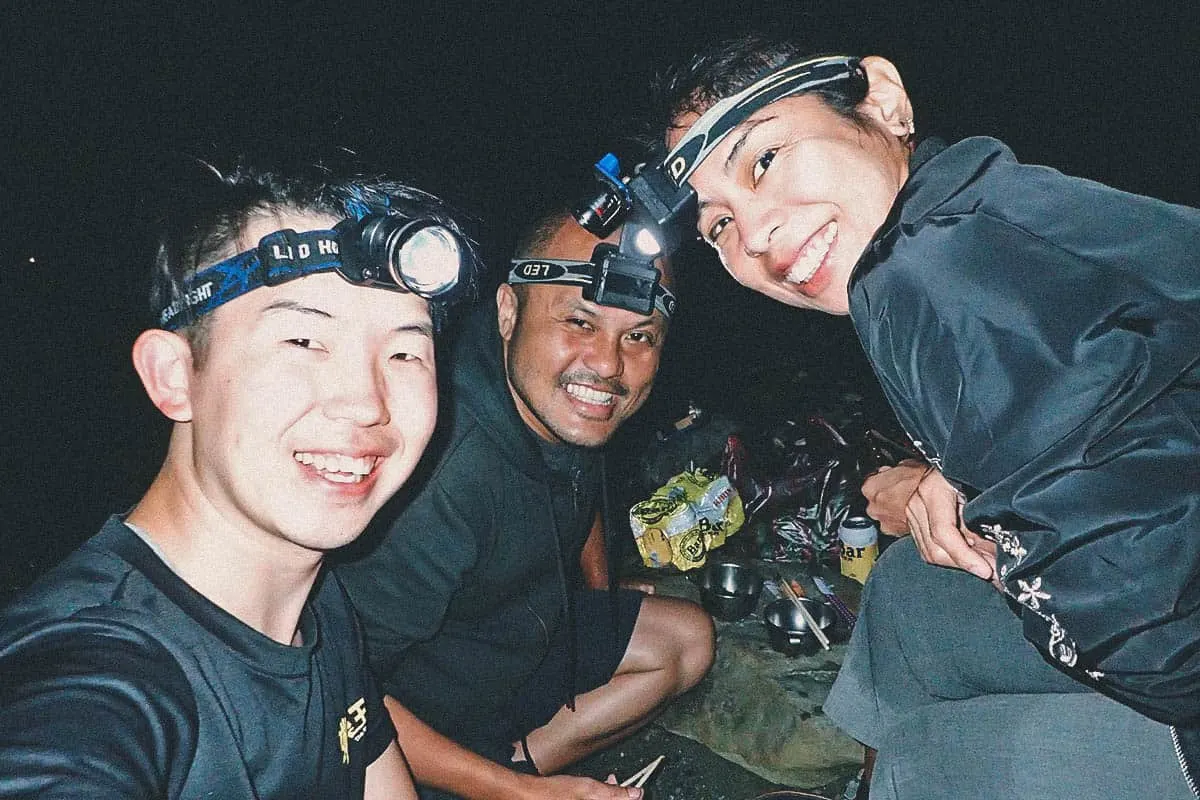 Portrait of a shrimper. You like my shorts? I waded into knee-deep waters chasing after shrimp so I had to hike my shorts up as high as I could!
Before we were picked up, they advised us not to bring any valuables like wallets or phones. There's a good chance these things will get wet so it's best to leave them at your hotel or in a bag by the riverbank. If you want to take pictures, then it's best to bring a waterproof camera. No worries if you don't have one because your guide will take pictures and post them on the River King's Facebook page. Also, be sure to wear clothes that can get wet because there's a good chance of you slipping and falling into the water. For that reason, you may want to bring a change of clothing as well.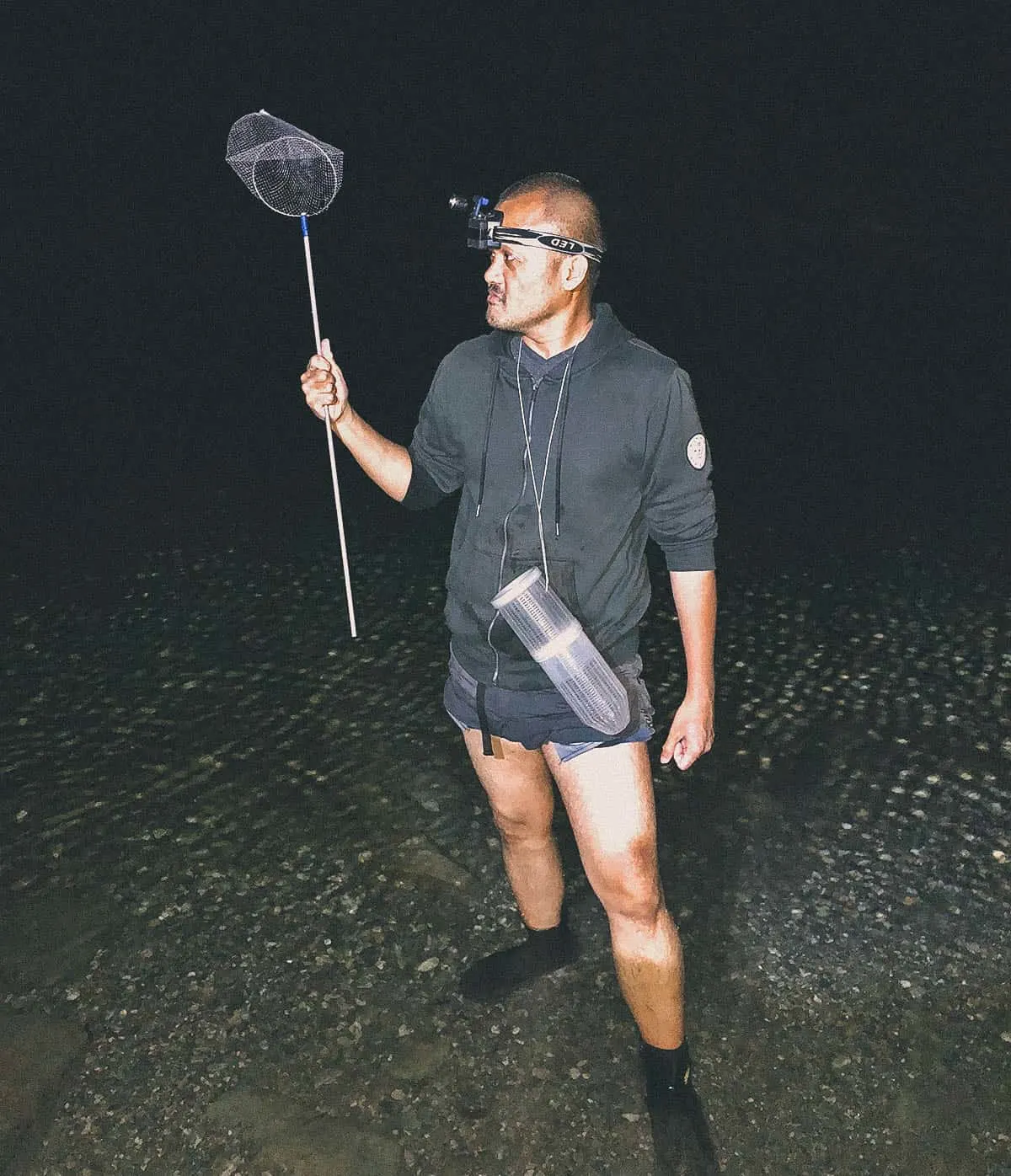 Like urban shrimping in Taipei, night shrimping in Hualien was loads of fun. As you'd expect, it's a completely different experience. With urban shrimping, you catch shrimp with rods and bait but here, you catch them with a net. I'm not sure which was harder. Neither is particularly difficult but not as easy as they seem either.
Being out there in the elements wading for crustaceans in cold night waters made for a pretty awesome experience, especially if you like doing less conventional things. I highly recommend you do this on your next trip to Hualien. Unlike bigger, more cosmopolitan cities like Taipei and Taichung, there isn't as much to do at night in Hualien so this will keep you entertained for a good few hours. As much as we enjoyed it, I can imagine this being even more fun with a bigger group of people.
As described, you can book this river shrimping tour through Klook.
The River King
No.231, Jixing 2nd St., Ji'an Township, Hualien County 973, Taiwan
Tel: (+886) 03-8530222
Mobile: (+886) 0980-576000
Fax: (+886) 03-8530228
Website: riverking.com.tw
Facebook: theriverking0980576000
Email: [email protected]
For more Hualien travel tips, check out our First-Timer's Travel Guide to Hualien, Taiwan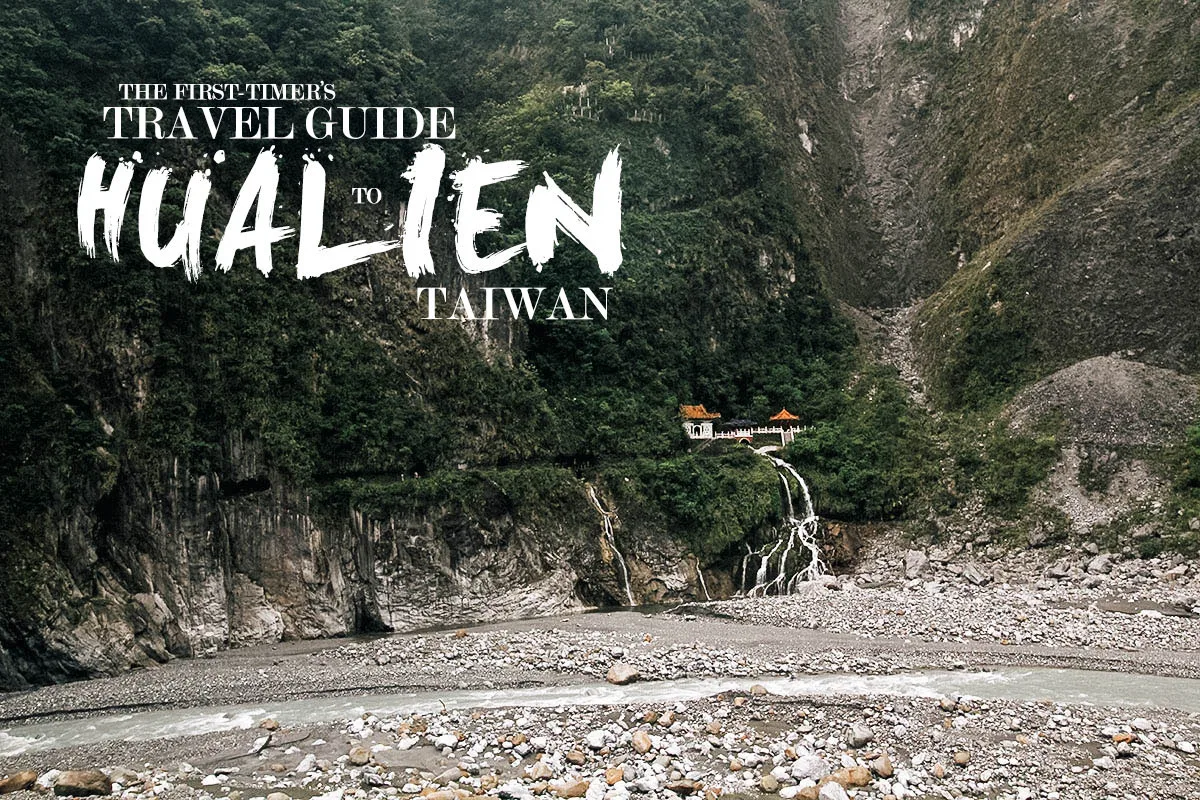 Disclosure
Some of the links in this post are affiliate links, meaning we'll get a small commission if you make a purchase at NO extra cost to you. We really appreciate your support as it helps us keep this website going. Thank you!