We went night shrimping in Hualien and our tour guide Joe told us he's been doing this for six years. He's originally from Taipei but he fell in love with Hualien after his first visit. Returning to Taipei, he told his parents that he wanted to move to Hualien, so he did. He's been working as a tour guide here ever since.
"I love my job" he told us, his face beaming with joy. He takes tourists on shrimping and river tours almost everyday. Looking at all the natural beauty surrounding us, it's easy to see why he loves his job so much.
Before our trip, I read that Taiwan's east coast is near and dear to the hearts of many Taiwanese. For them, it's a special place, perhaps the most beautiful in all of Taiwan. That's saying a lot considering how Taiwan's former name – Formosa – means "sublimely beautiful" in Portuguese.
We went on a day tour of Taroko Gorge National Park and our guide Tony said it's one of the only places in the country where you can enjoy the mountains and ocean all at once. It's a breathtaking place, and like Joe, we only had to visit once to fall in love with it.
VISIT TAROKO NATIONAL PARK QUICK LINKS
To help you plan your trip to Taroko Gorge National Park and Hualien, I've compiled links to recommended hotels, tours, and other services here.
HOTELS
Top-rated hotels near Hualien Railway Station, one of the most convenient areas to stay for first-time visitors to the city.
TOURS
OTHER SERVICES
HUALIEN TRAVEL GUIDE
If you're visiting Hualien for the first time, then be sure to check out our detailed Hualien travel guide. It'll tell you everything you need to know – like when to go, what to do, where to eat, etc. – to help you plan your trip.
Save This on Pinterest!
No time to read this article on Taroko Gorge National Park? Click on the save button and pin it for later!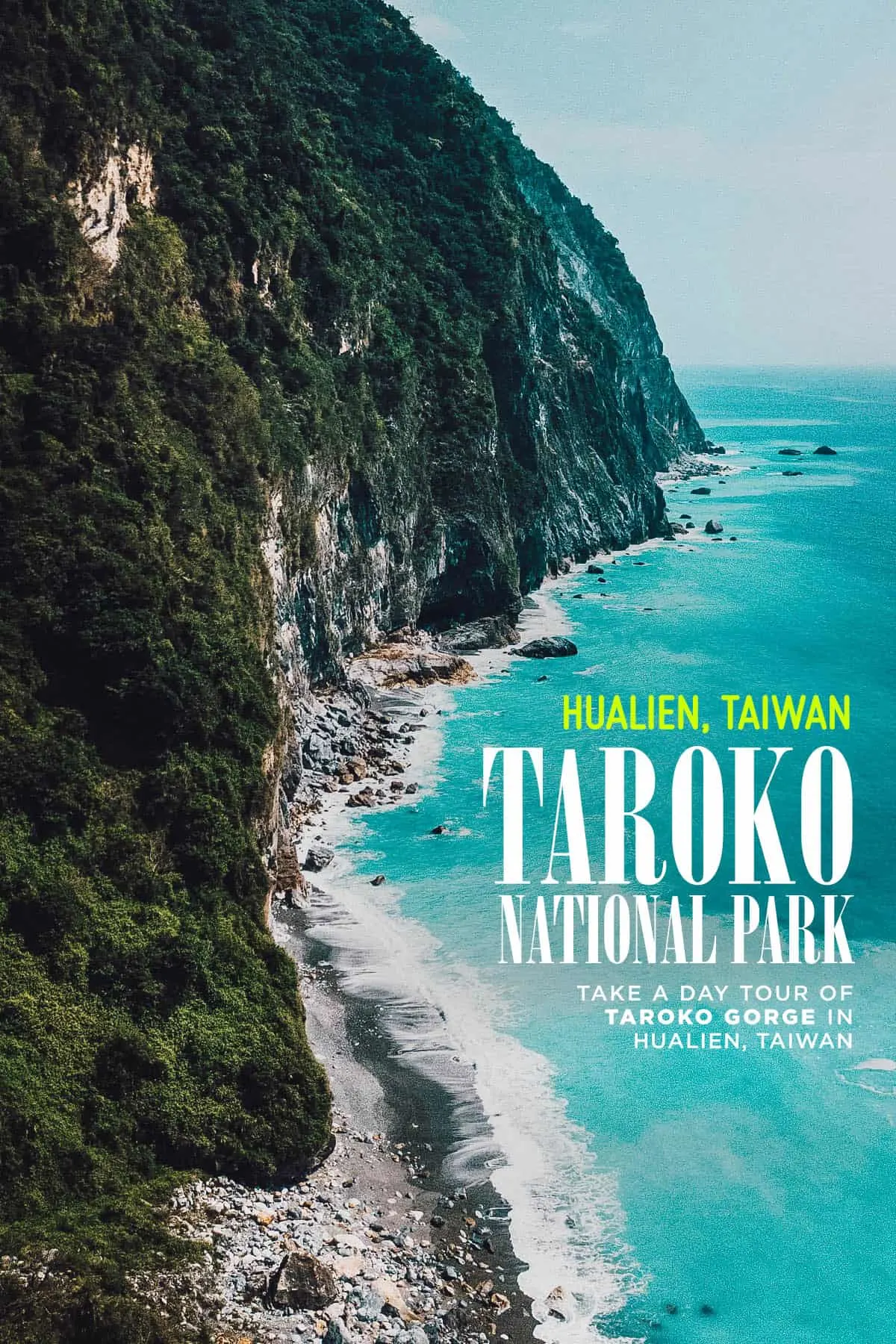 WHAT IS TAROKO NATIONAL PARK?
Taroko Gorge National Park is one of nine national parks in Taiwan. It's a massive reserve in Taiwan's central mountain range that spans Hualian, Taichung, and Nantou counties in the eastern part of the country. Covering over 92,000 hectares, it features many natural wonders like gorges, rivers, and cliffs. At its peak, its highest mountain stands over 3,000 meters above sea level.
The park gets its name from the gorge carved over the centuries by the Liwu River. Taroko Gorge is known for its abundant supply of marble, hence its nickname "The Marble Gorge". Taroko National Park is synonymous with Taroko Gorge and is often referred to as such. I'll be using both names interchangeably in this guide.
HOW CAN I VISIT TAROKO NATIONAL PARK?
Group Tour
This is the easiest and most popular way of visiting Taroko National Park. You'll be picked up from your hotel and taken on a one-day guided tour of the park's most visited attractions. You can book a Taroko Gorge tour through Klook.
The day tour is great though some people may find it a little short. As with all guided tours, you'll have limited time at each attraction. The longest time we spent at any one spot was about an hour and a half.
We fell in love with Taroko National Park and wished we could have stayed longer. The place is massive so a day tour will only give you a glimpse of it. If you enjoy hiking and/or doing things at your own pace, then you may want to visit and explore Taroko National Park on your own.
Self-Guided Tour by Private Car Charter
If you want a little more freedom when exploring Taroko Gorge, then this may be the better option for you. Klook offers half-day or full-day chauffeured private car charters that allow you to explore Taroko National Park on your own. Visit Klook for more details.
Self-Guided Tour by Rental Car
This is what we want to do on our next trip to Hualien. Now that we've gotten a taste of Taroko Gorge, we want to rent a car and stay overnight so we can explore the park at our own leisure. I want to do some hikes and fly my drone* as well without having to worry about keeping schedule.
Visiting the park on your own isn't as convenient as a guided tour, but it isn't difficult either. First, you'll need to rent a car. You can do so through Rentalcars.com.
You can explore the park just for the day, but you may want to stay the night to get an immersive experience. I asked our guide Tony about camping options and he said you can camp out in designated areas for around NTD 300 per tent.
If you'd rather not go camping and prefer to stay in a hotel room instead, then you can search for accommodations on Booking.com and Agoda. Be sure to find a hotel that's located in Taroko National Park and not Hualien City.
*You can fly drones in Taroko Gorge with park permission. More details in the TRAVEL TIPS section of this guide.
Self-Guided Tour by Bus
If you'd rather not rent a car, then you can take the Taroko Tourist Shuttle Bus (1133A) from Hualien. For just NTD 250 for a 1-day pass or NTD 400 for a 2-day pass, it's considerably cheaper than renting a car.
The Taroko Tourist Shuttle Bus leaves from a bright orange building next to Hualien Train Station and will take you all the way to Tianxiang in about one and a half hours. It makes multiple stops at scenic areas in Taroko Gorge along the way. You can hop on and off at your own leisure, and take the same shuttle bus from Tianxiang back to Hualien Train Station.
Based on the timetable, bus 1133A runs every hour or so from Hualien to Tianxiang from 7AM till 3:10PM. From Tianxiang back to Hualien, it runs from 8:40AM till 5PM. If you plan on staying the night in Tianxiang, then the 2-day shuttle bus pass is a good option for you.
Here's a quick rundown of all the stops this shuttle bus makes. Note that the stops vary slightly between the inbound and outbound routes.
Hualien-Tianxiang:
Hualien Station – Qixingtan – Xincheng Station – Taroko Arch Gate – Taroko Visitor Center – Shakadang Trail – Buluowan – Yanzikou (Swallow Grotto) – Lushui – Tianxiang
Tianxiang-Hualien:
Tianxiang – Lushui – Yanzikou (Swallow Grotto) – Eternal Spring (Changchun) Shrine – Taroko Visitor Center – Taroko Arch Gate – Xincheng Station – Qixingtan – Hualien Station
TAROKO GORGE DAY TOUR FROM HUALIEN
Qixingtan Beach
This was the first stop on our tour though it isn't actually part of Taroko National Park. Qixingtan Beach is a scenic crescent-shaped beach located in Xincheng Township, at the north end of Hualien City just behind the airport. We spent about half an hour here taking pictures before proceeding to the park.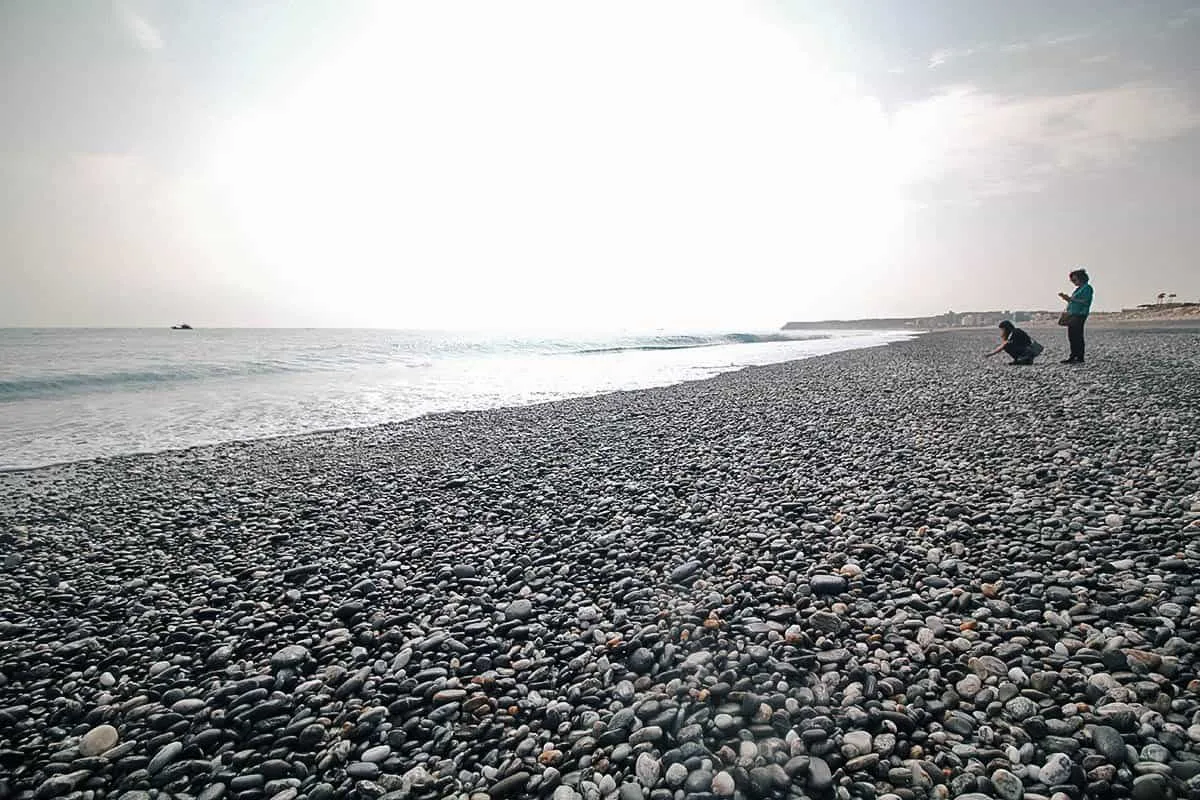 Instead of sand, Qixingtan Beach is covered in black and white pebbles that are perfectly smooth to the touch.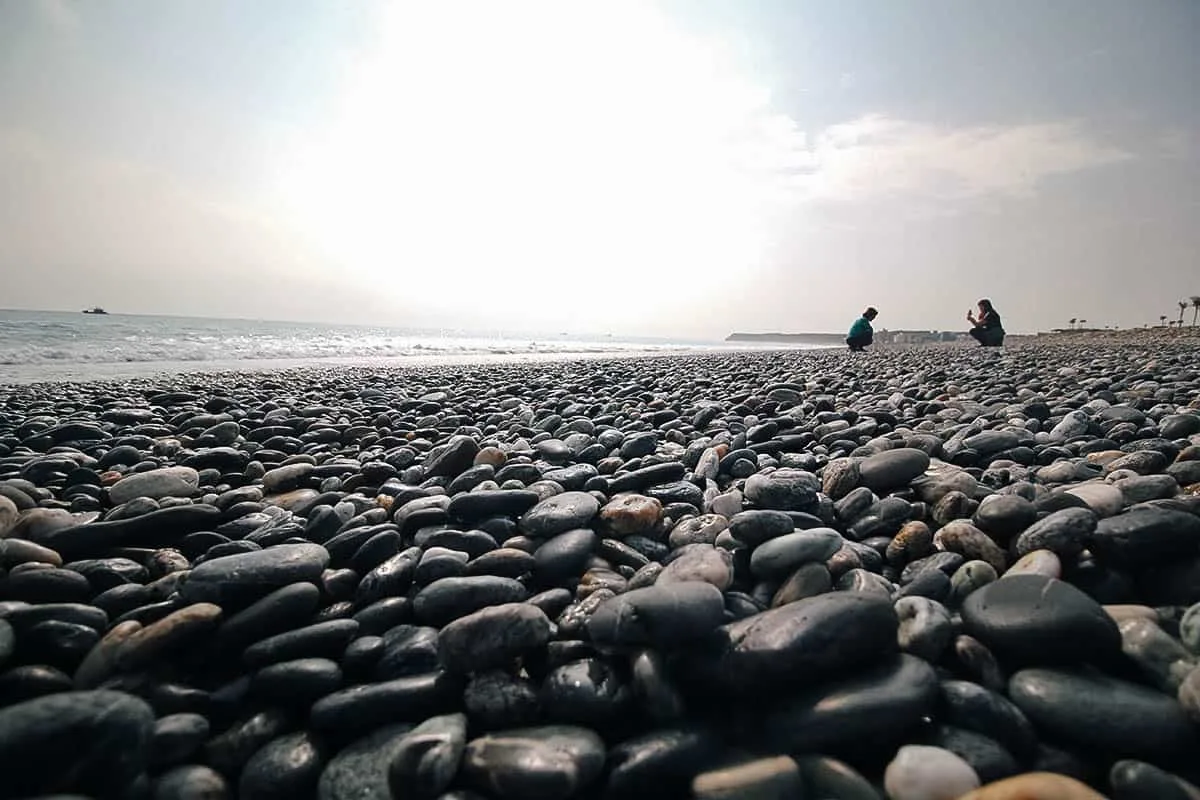 The beach and surrounding areas are beautiful. Open manicured grasslands make it ideal for picnics. I read that the area is far enough away from the city's lights making it a great place to go stargazing at night. With more time, it would have been cool to rent bikes and ride along the 15 km coastal bike trail that goes from Hualien to Qixingtan.
If you'll be exploring Taroko Gorge by the 1133A shuttle bus, then you can make a quick stop here en route to (or returning from) the park. It'll be the first stop from Hualien Station.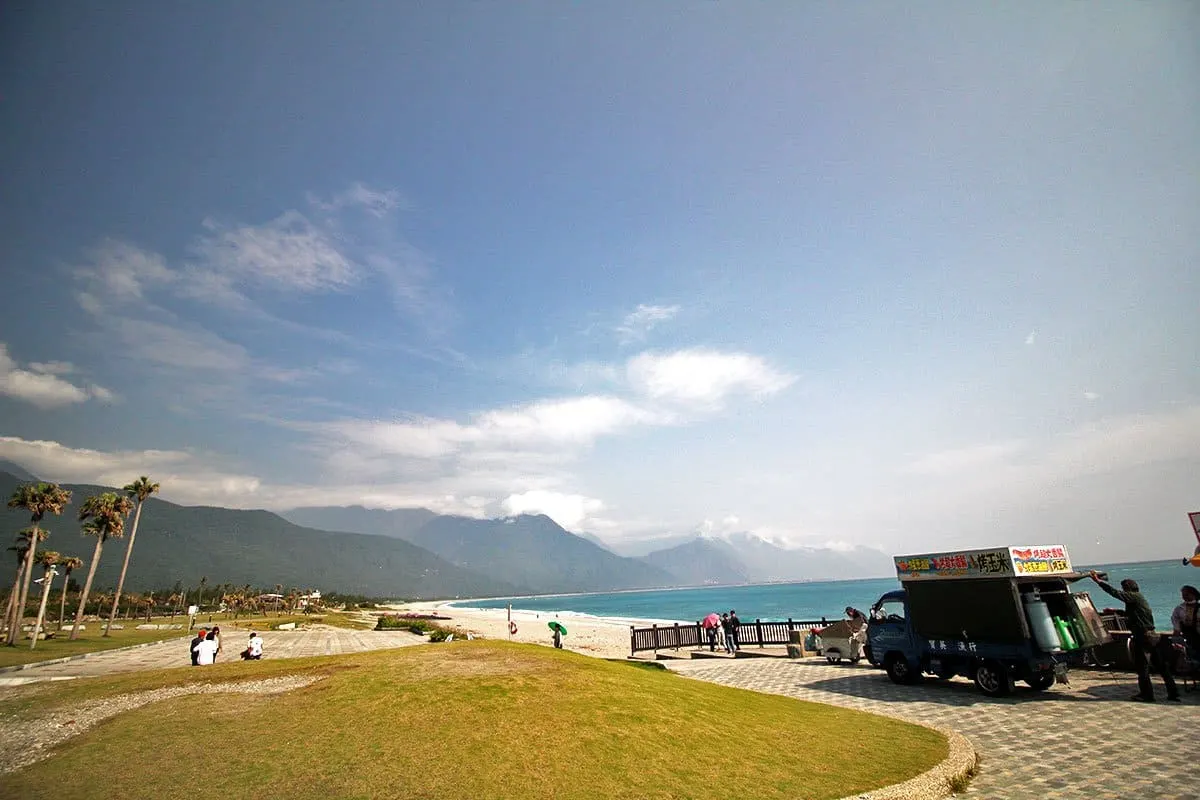 Qingshui Cliff
Qingshui Cliff is one of the most beautiful sights at Taroko National Park. It's a 21 km stretch of sheer coastal cliff that looks like it's dropping vertically into the Pacific Ocean. It looked gorgeous in pictures but I was stunned to find that it looks even better in person. The blues from the ocean were unreal!
There's an observation deck here that's a good vantage point for pictures, but I took this one using my Mavic Pro fitted with an ND8 filter. Isn't it gorgeous? As described, drone flying is allowed in the park as long as you have permission. Jump to the TRAVEL TIPS section of this guide for details on how to secure a permit.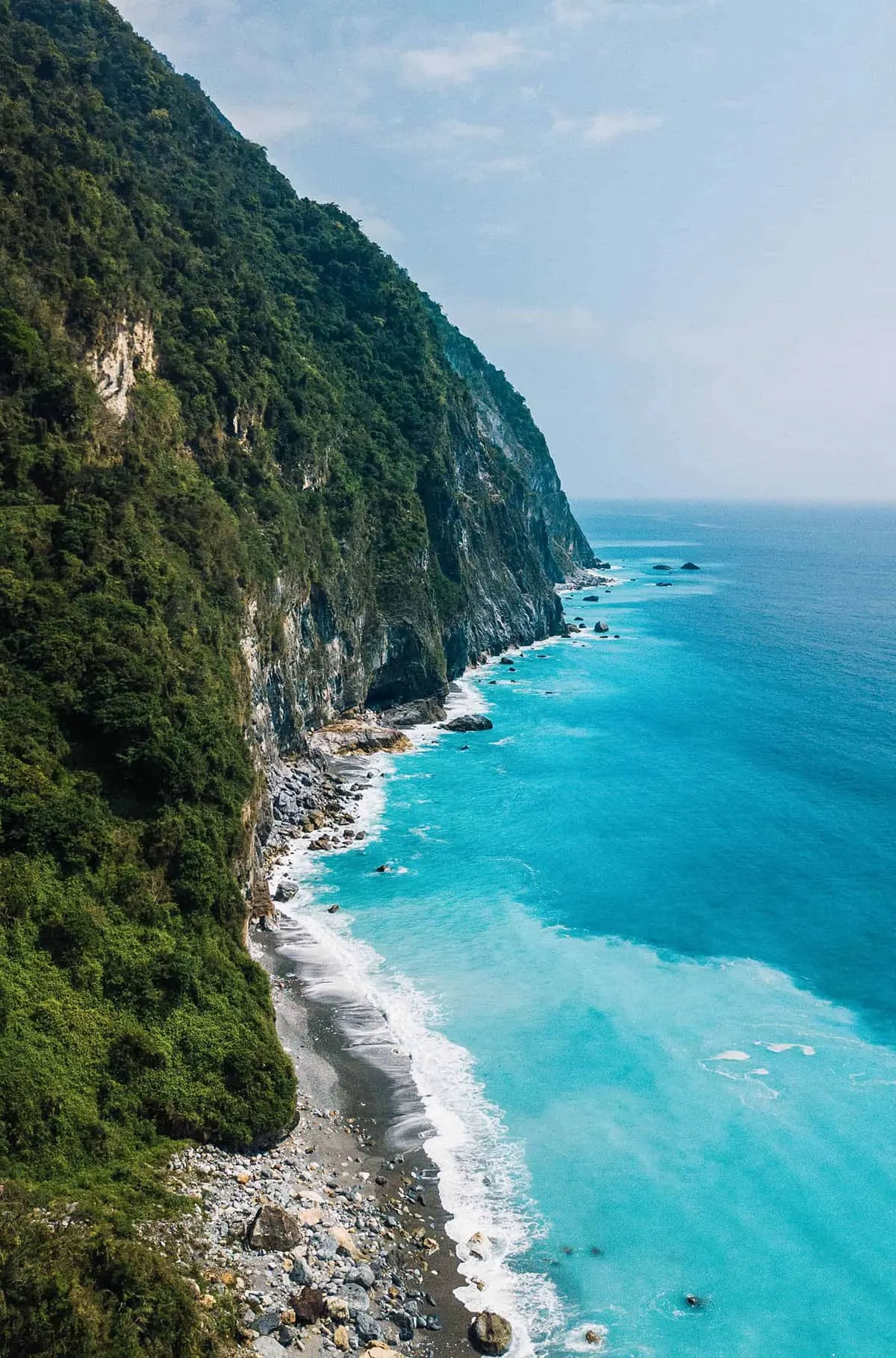 Taroko Arch Gate
Taroko Arch Gate is the first thing you'll see when entering the park. I asked our guide Tony and that writing on the rock says something like "Welcome to Taroko National Park".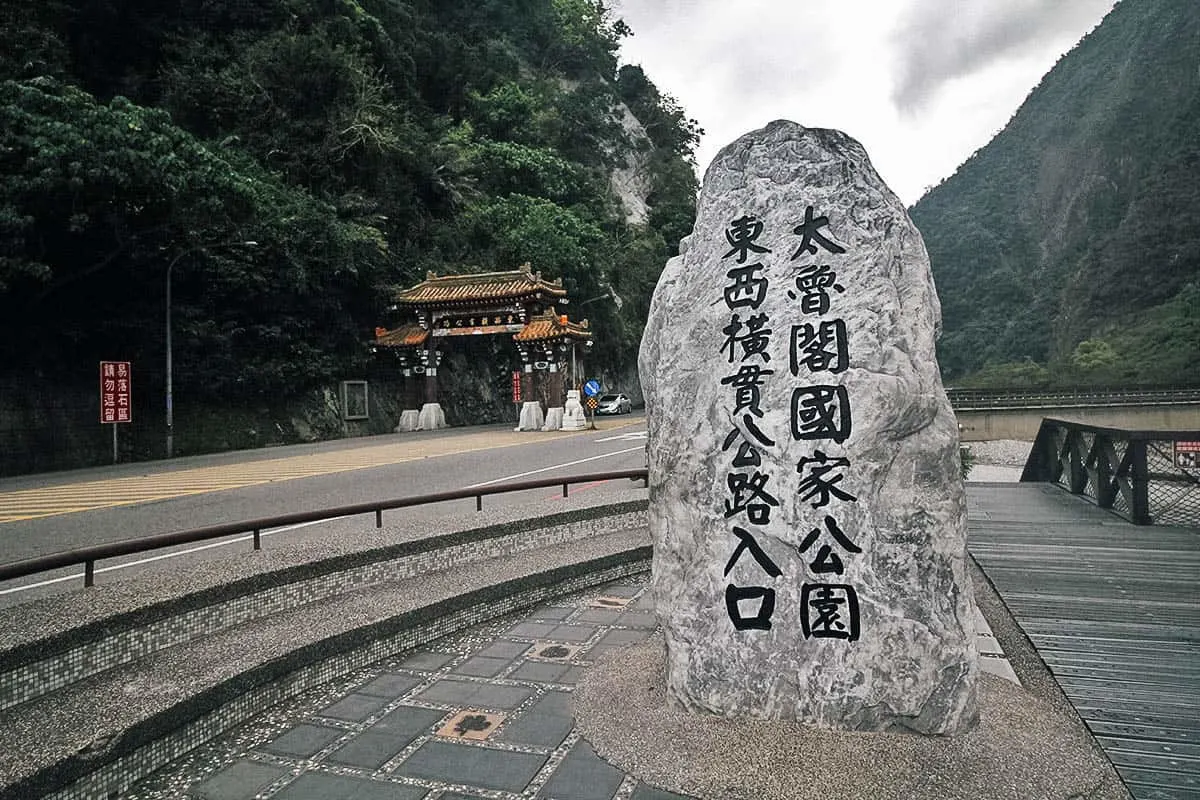 There's Ren taking a selfie with the gate while her goofy photobomber husband crosses the street.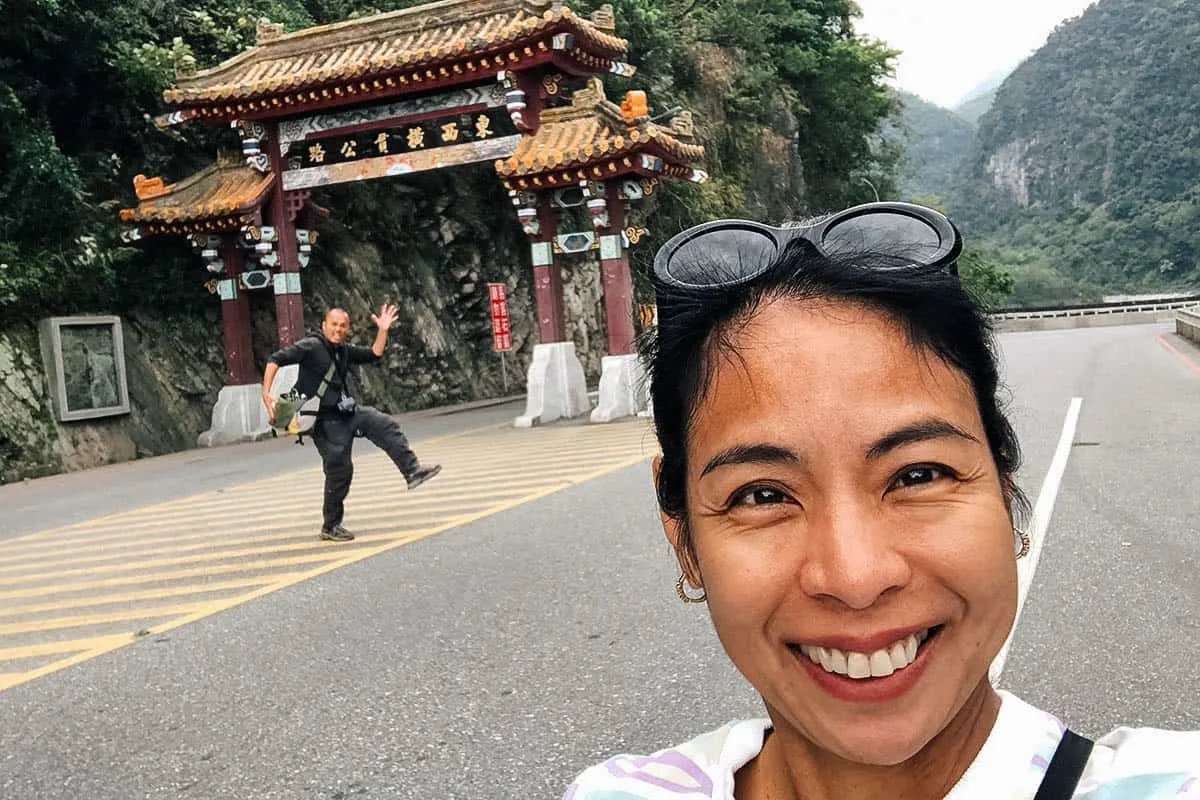 Leader Village Hotel
After a stop at the visitor's center where Tony talked to us in detail about the history and features of Taroko Gorge, we proceeded to Leader Village Hotel for lunch.
Tony explained that every staff member at this hotel and restaurant is a member of an aboriginal tribe (Truku?) that still lives in Taroko Gorge. And if I understood correctly, the lunch we had today was aboriginal Taiwanese food. It was delicious and way better than I expected!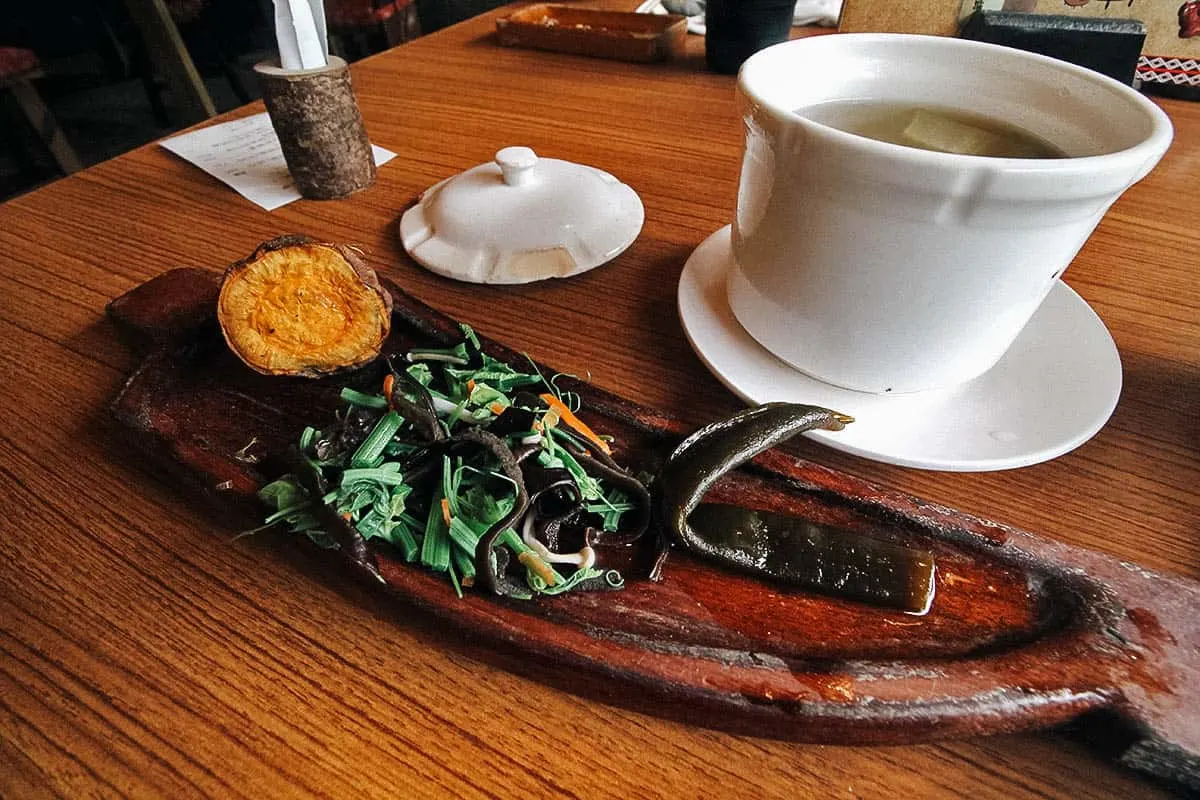 I went with the stewed beef and rice set meal which came with a bunch of interesting side vegetables. Everything was tasty and delicious. Drinks are self-serve so you can help yourself to as much coffee, tea, and plum juice as you wanted.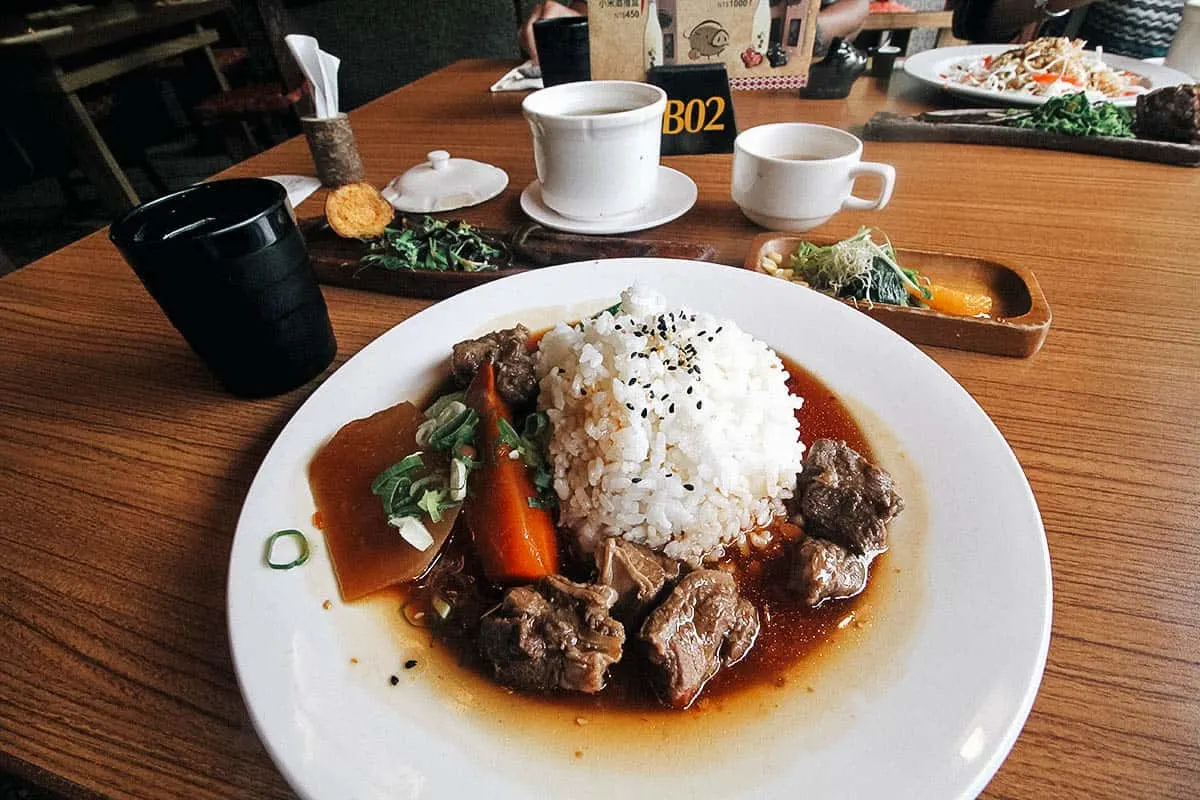 Ren went with this pork and fried rice meal which was every bit as good as mine. They offer bigger set meals as well which cost around NTD 500-600+. This is a hotel restaurant in a touristy area so prices are high, but the food is interesting and really good.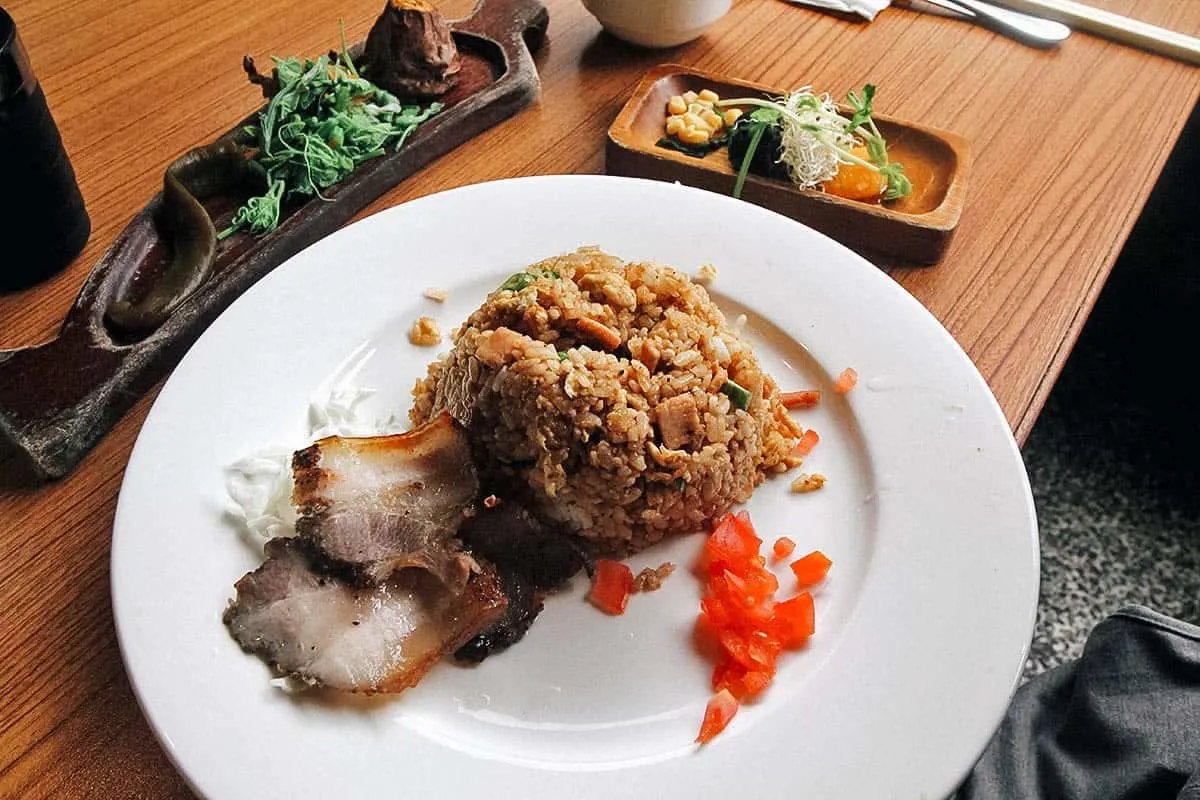 Meander Core Scenic Trail
After lunch, we make a quick stop at this viewing platform near Leader Village Hotel.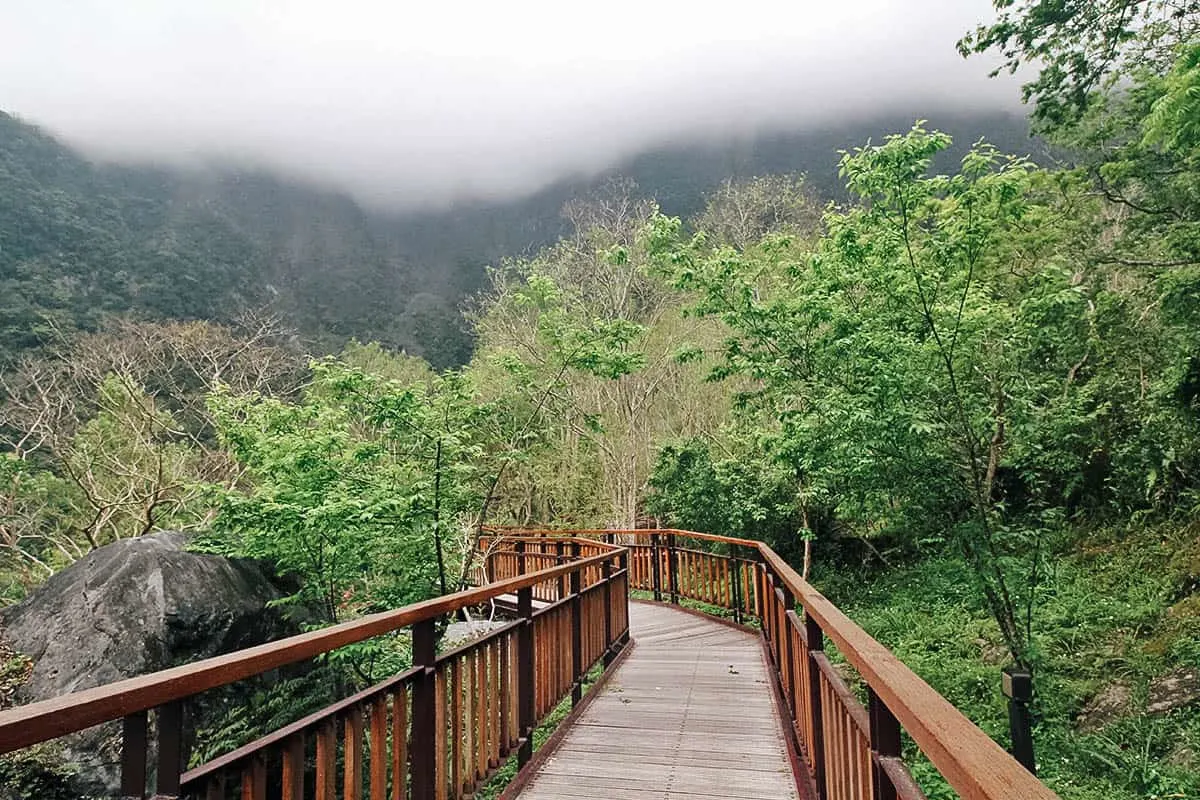 You can get stunning views of the gorge from up here.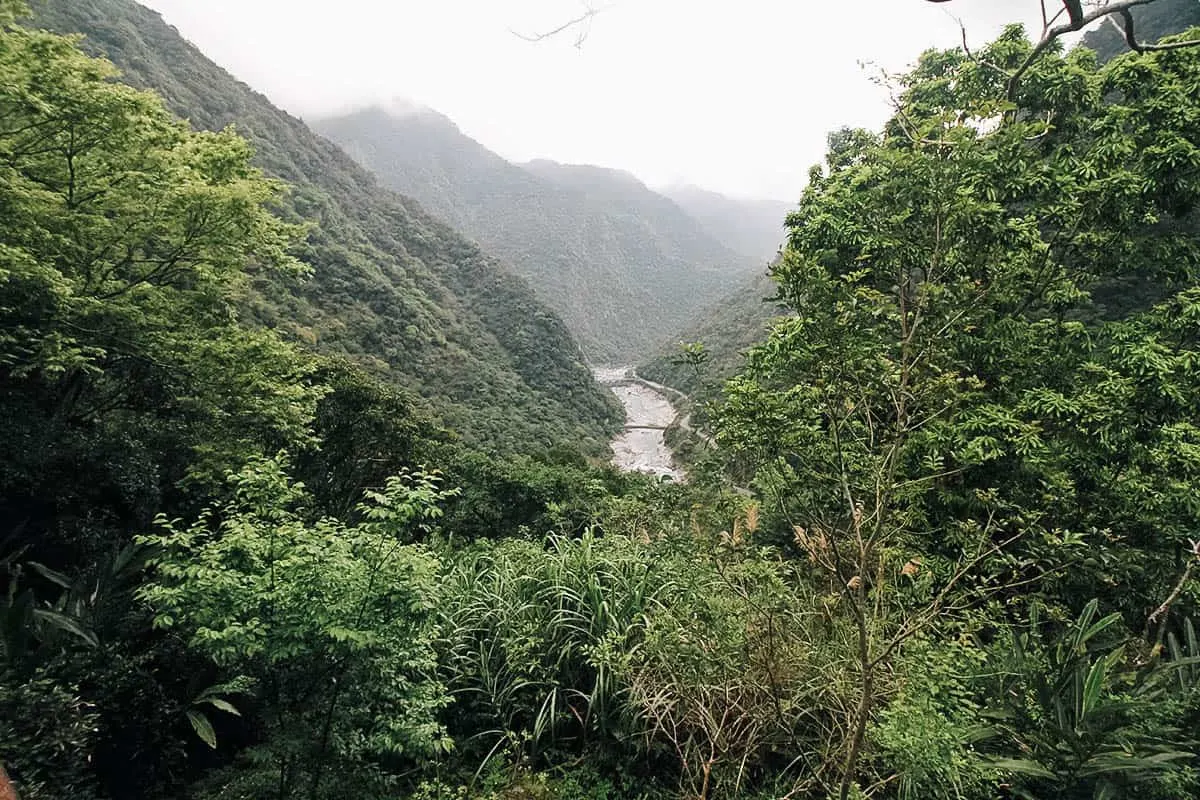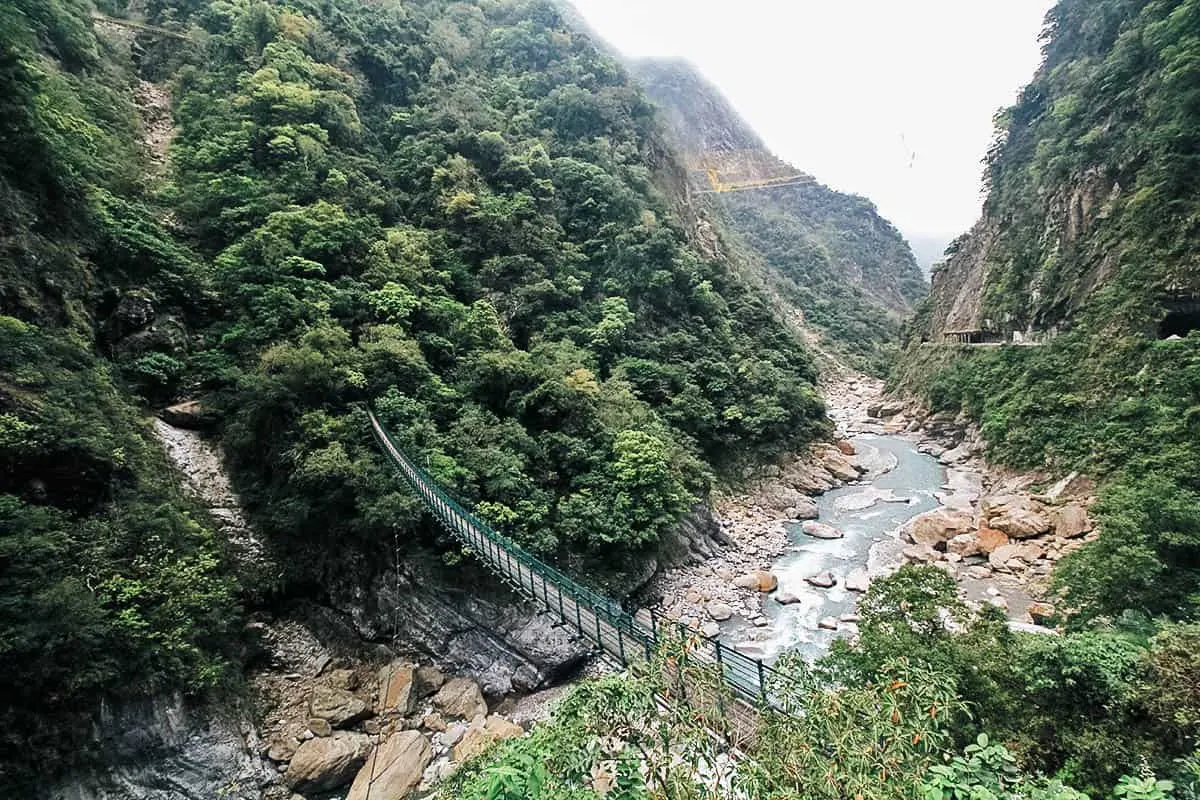 Like the Grand Canyon, it's amazing to think how that river was responsible for carving out this landscape. Nature is incredible!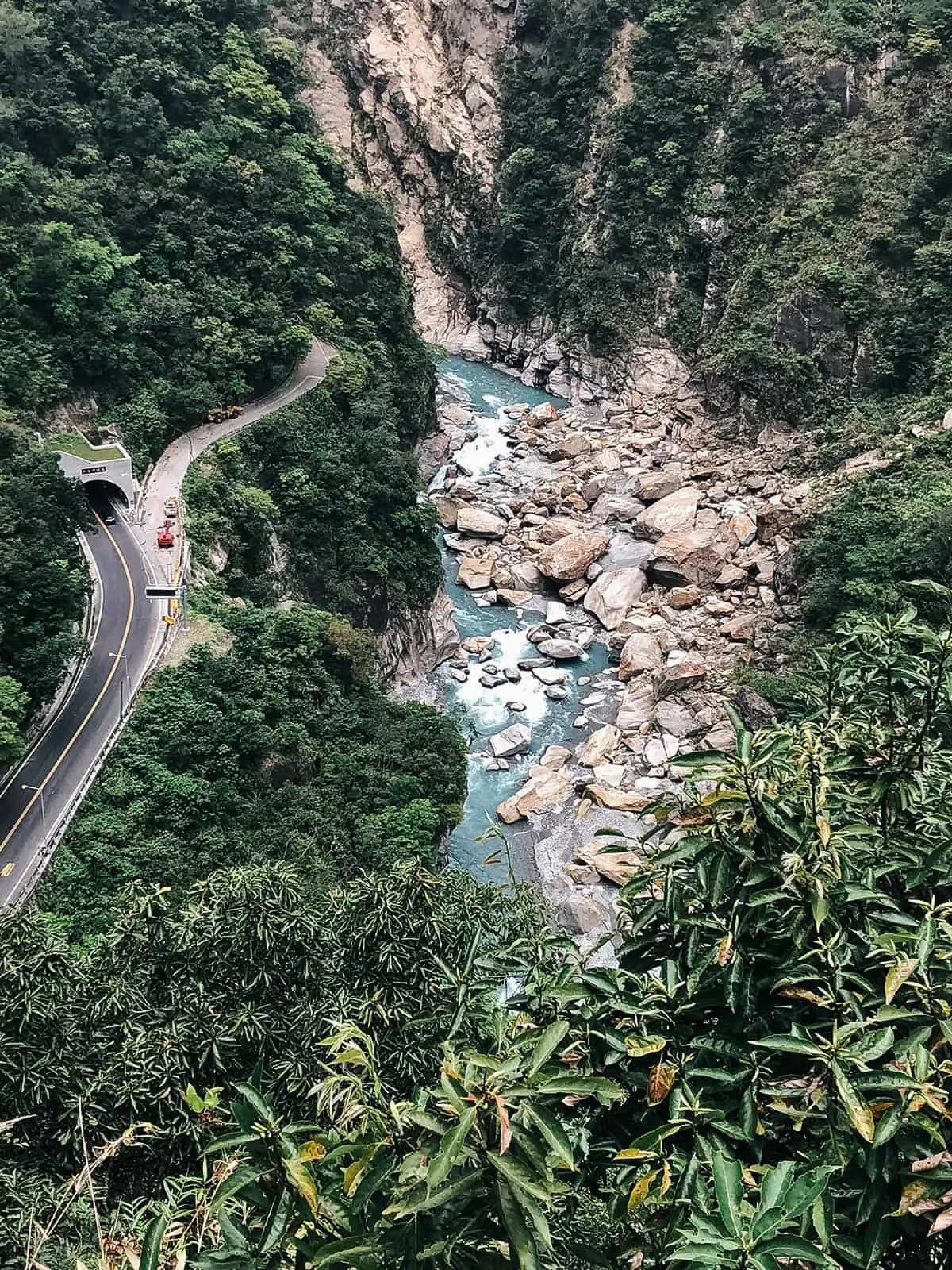 Swallow Grotto
This was our favorite part of the tour. Swallow Grotto is the narrowest portion of Taroko Gorge and where the flow of the river is strongest. Here you can almost feel the river carving its way through the rock.
The grotto is best appreciated on foot so our van dropped us off at the start of a walkway that runs along the side of the road. It takes about twenty minutes to walk from one end to the other.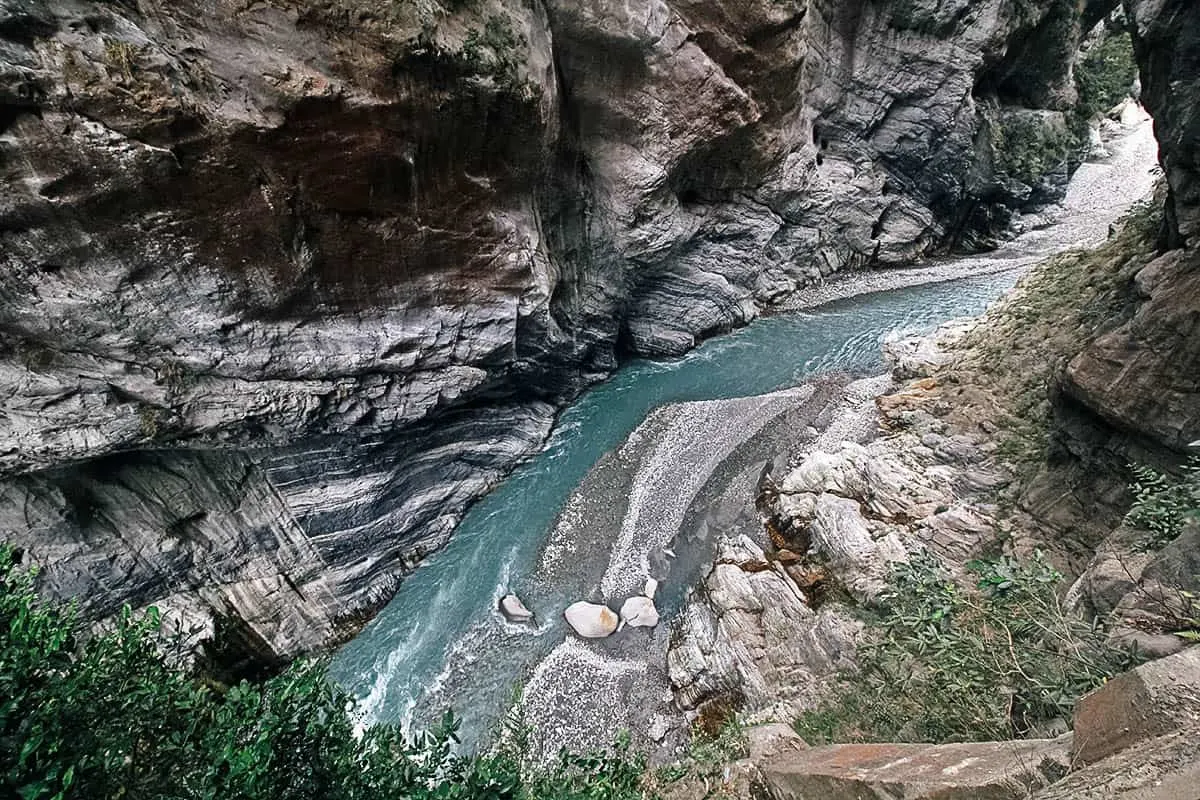 The walkway overlooks the grotto and goes through this tunnel, which I believe is called the Tunnel of Nine Turns. The walls of the grotto contain caves that form natural nesting places for spring swallow birds, hence the name "Swallow Grotto".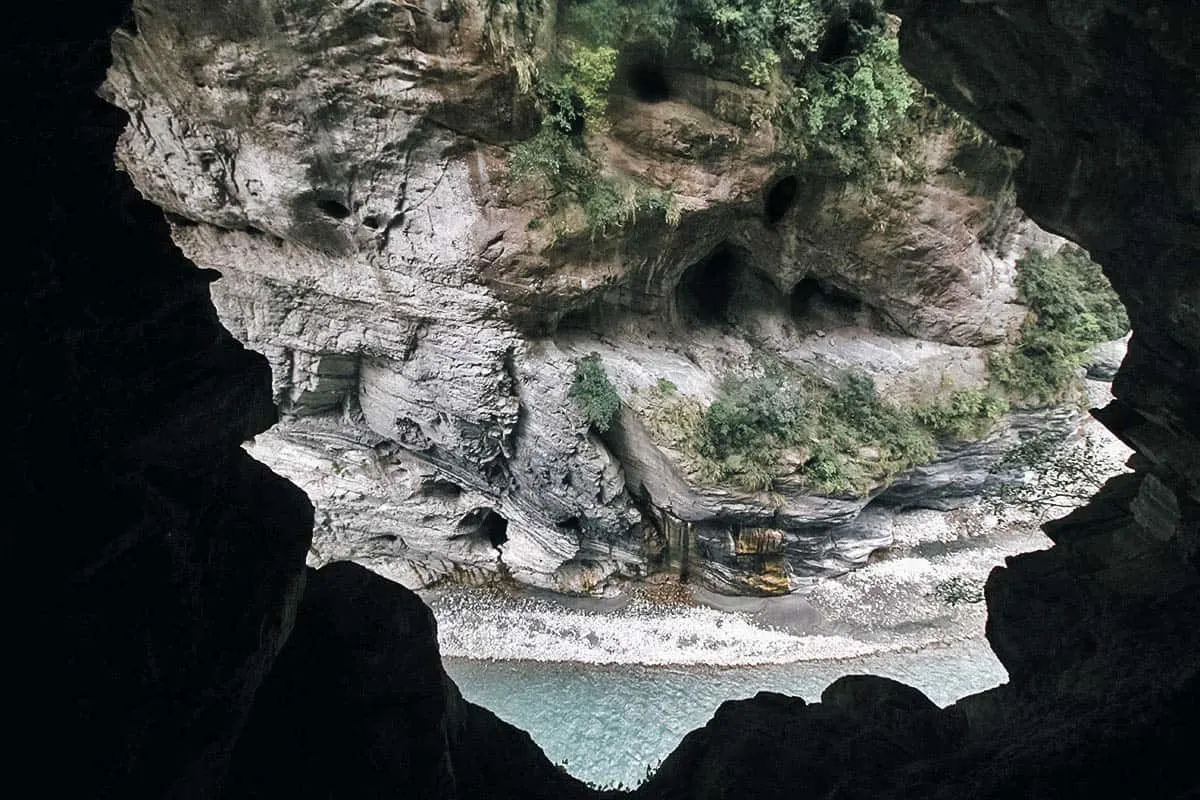 Isn't it beautiful?! This place is so gorgeous they decided to give it the nickname "Taroko Gorge". Just kidding.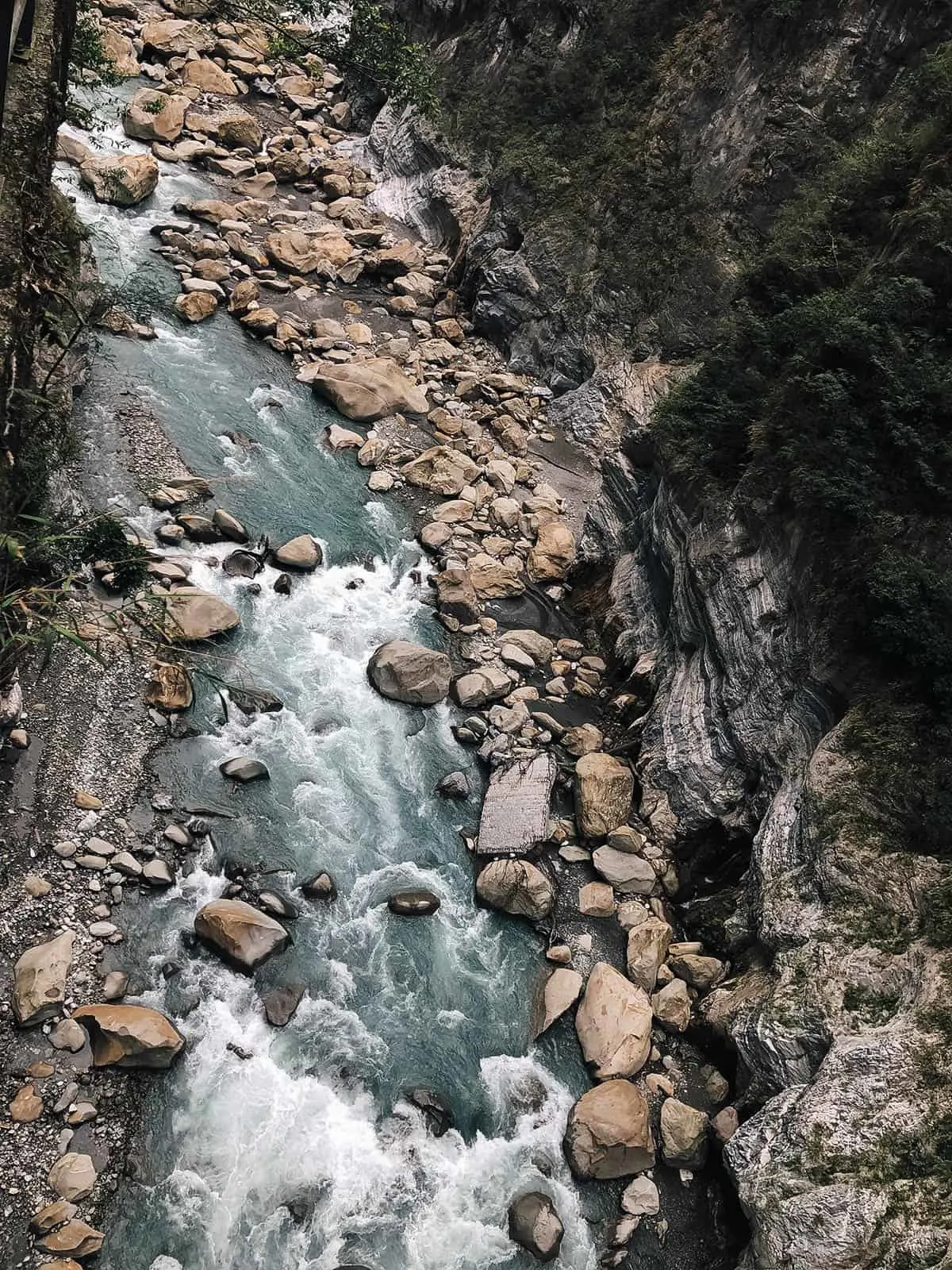 Here you can get a good view of the Swallow Grotto walkway. There's a hiking trail that starts here called Yanzikou Trail (or Swallow Grotto Trail), which guests can access with a permit. Details in the TRAVEL TIPS section of this post.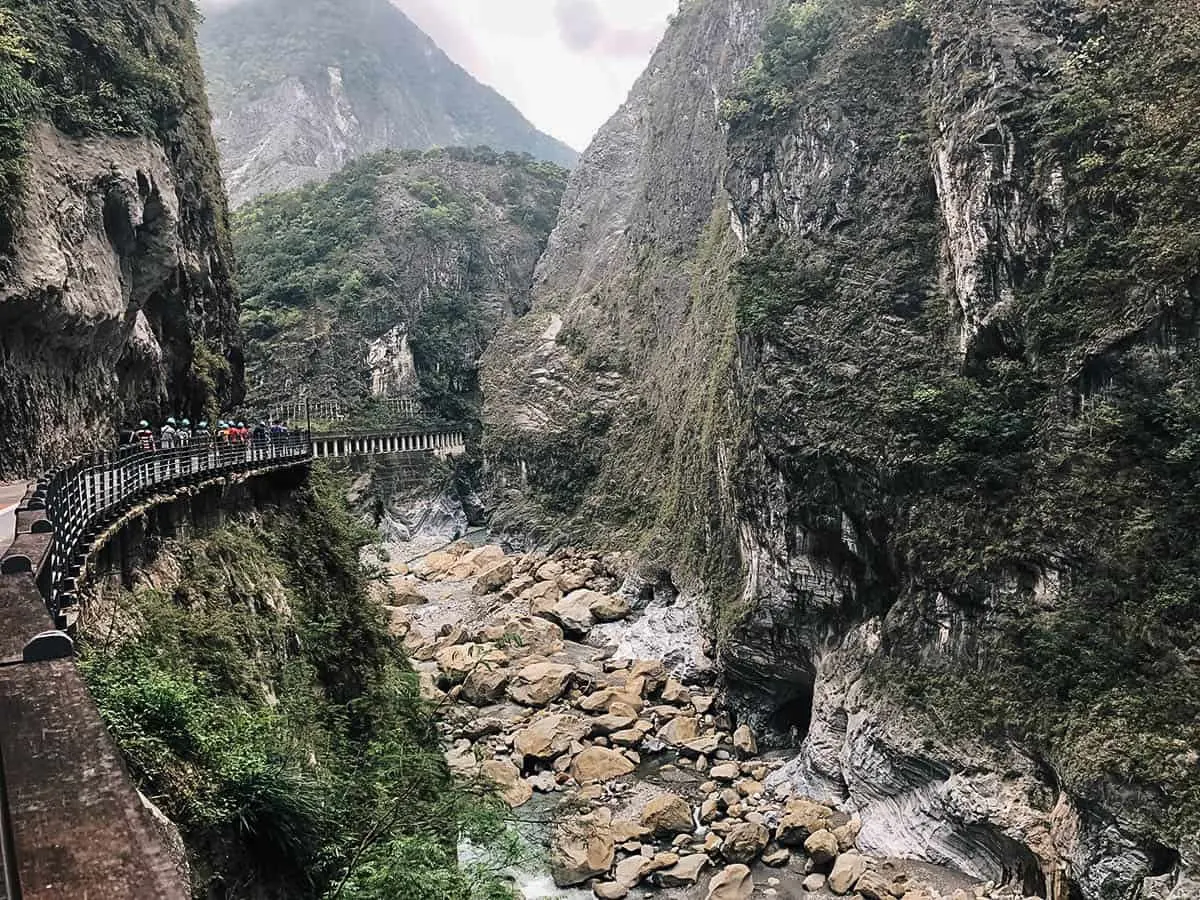 Just before the tunnel, you can see all the tour buses and vans waiting for everyone to make it to the other side.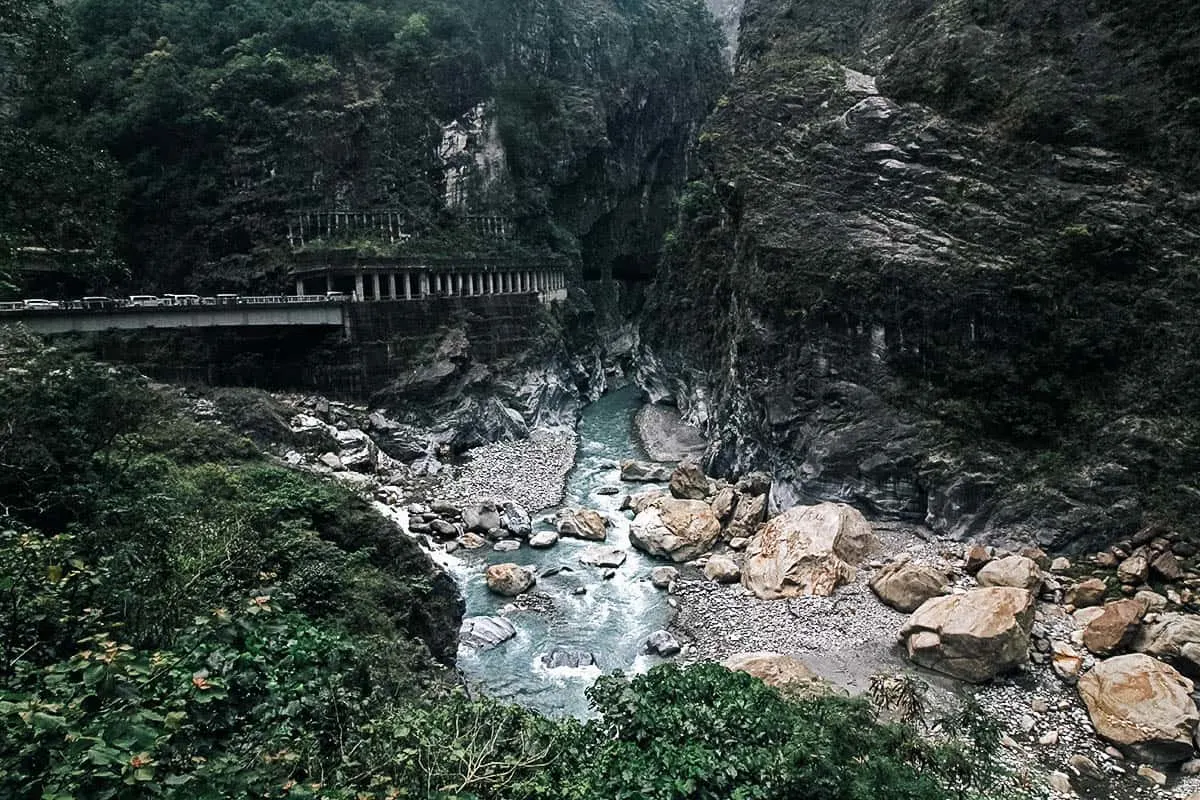 One of the rock formations in this picture is called "Chieftain's Profile Rock". Can you spot it? Scroll down if you can't.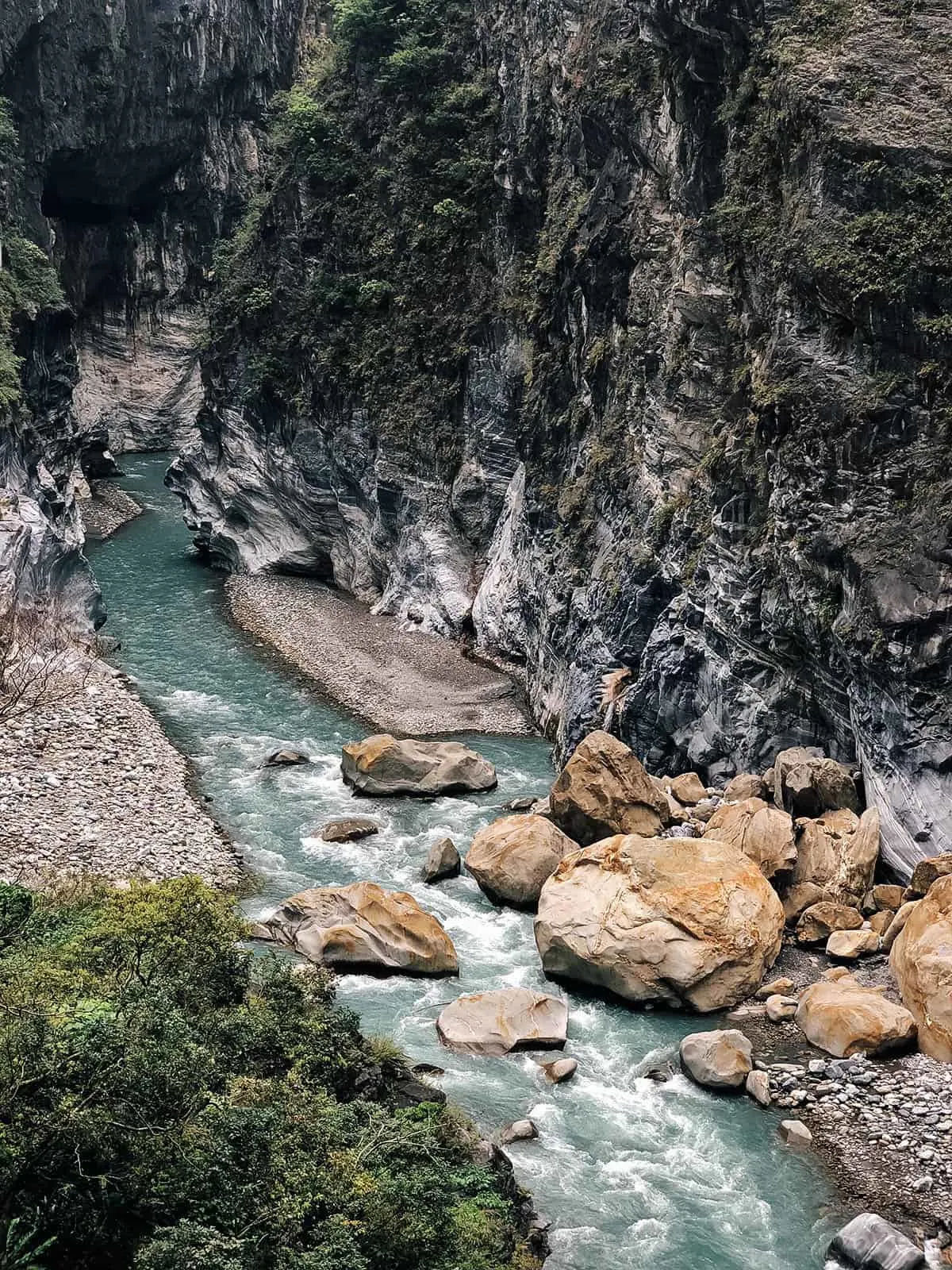 There he is!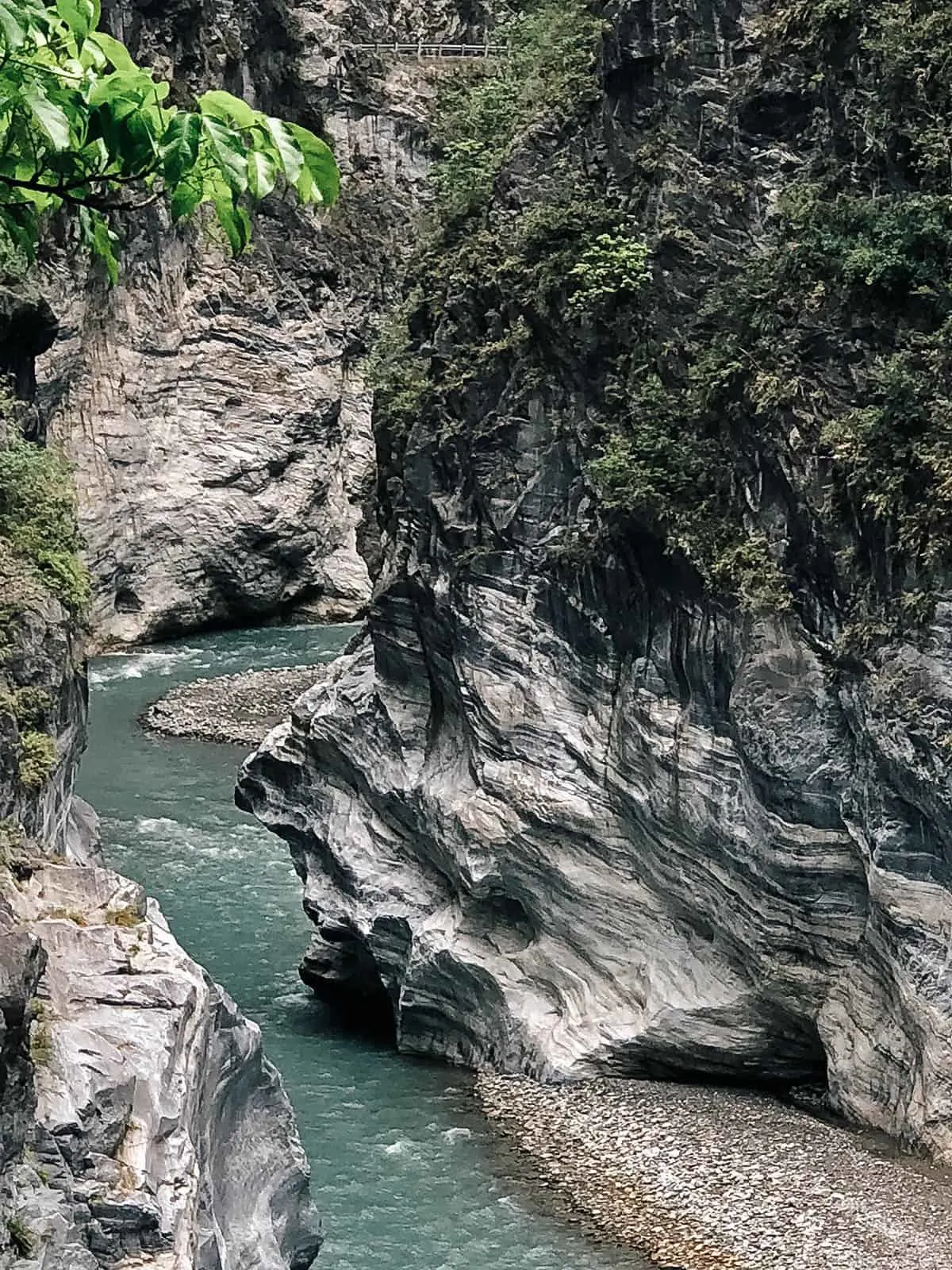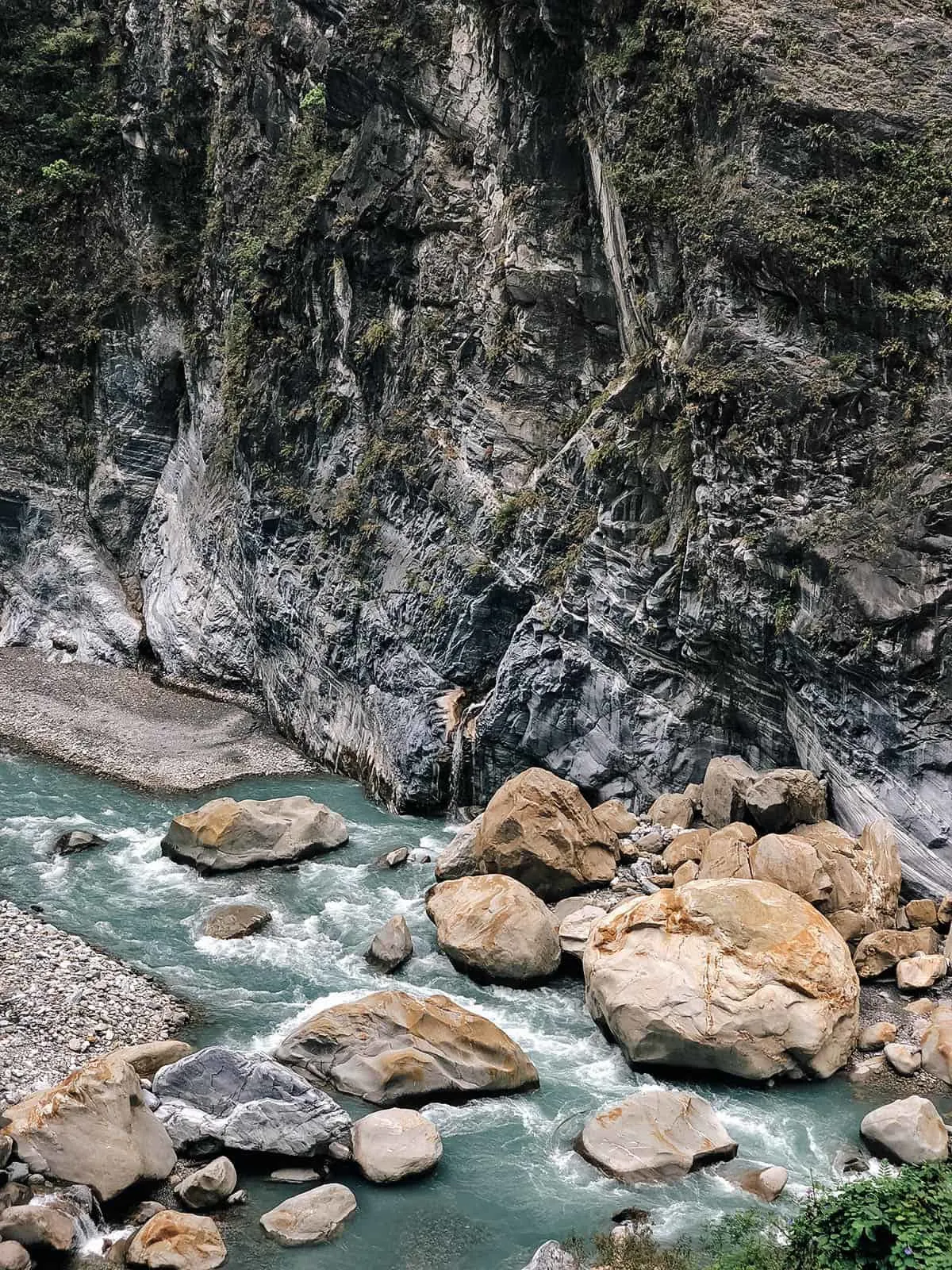 Can you see the people in the distance? Everyone is required to wear helmets here because of the danger of falling rocks.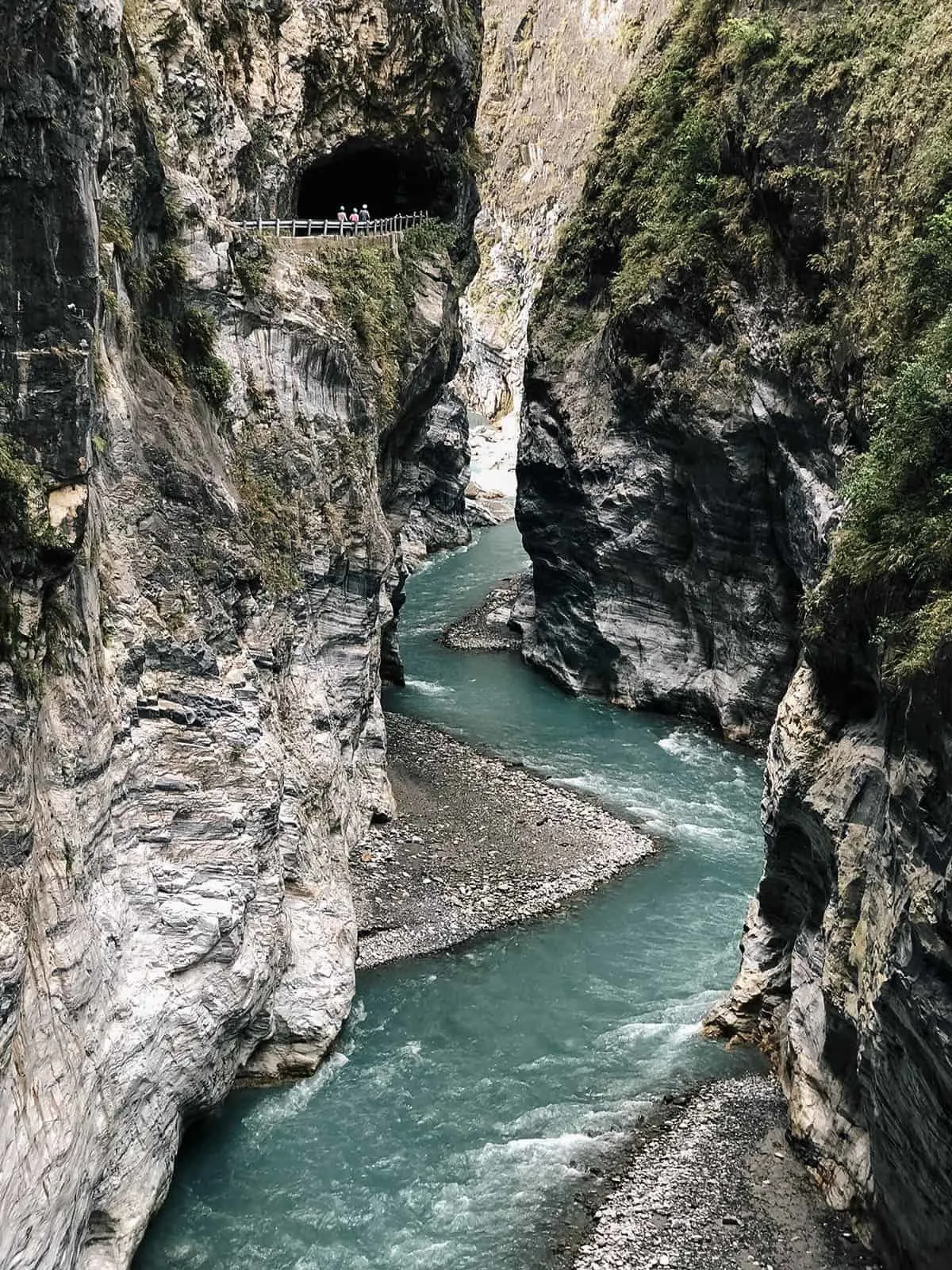 Shakadang Trail
After hopping back into the van, we proceeded to Shakadang Trail or "Mysterious Valley Trail". You walk along that red bridge and descend to the bottom to access the trail. We would spend the longest time here, about one and a half hours if I remember correctly.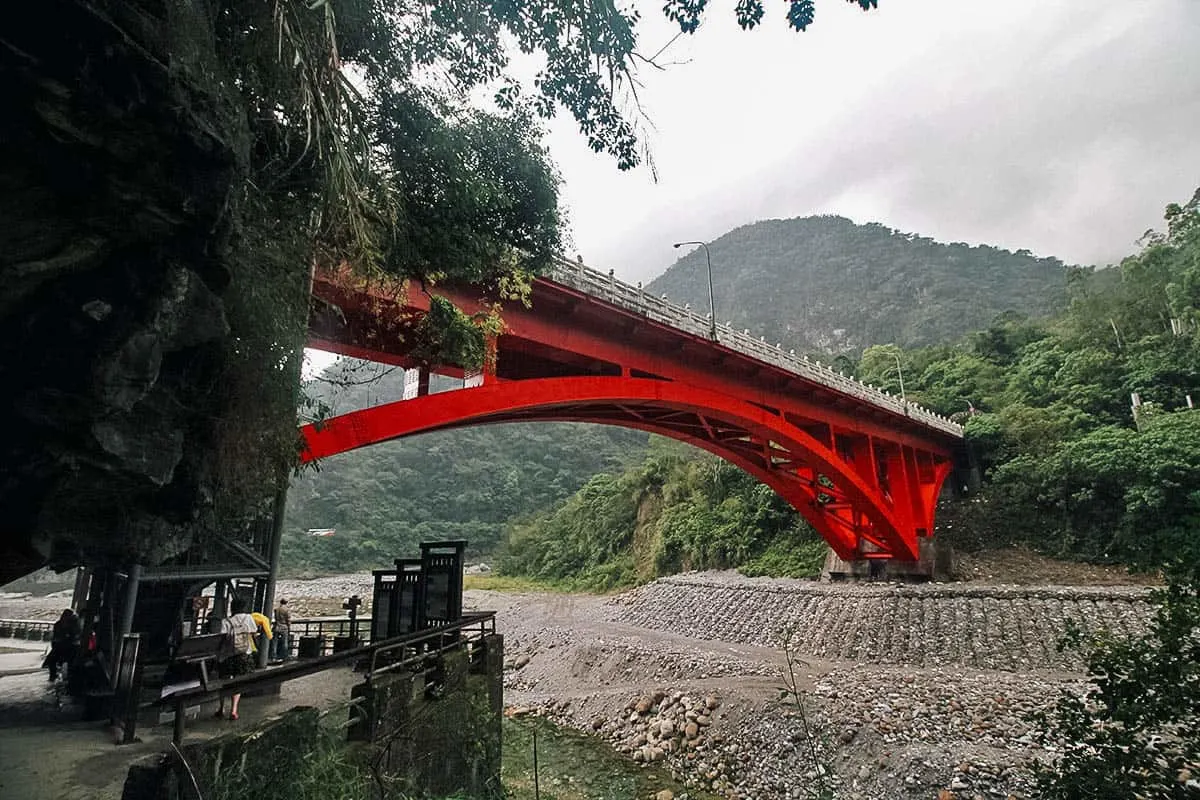 The entire Shakadang Trail is 4.5 km long but we would only go as far as 1.5 km before heading back.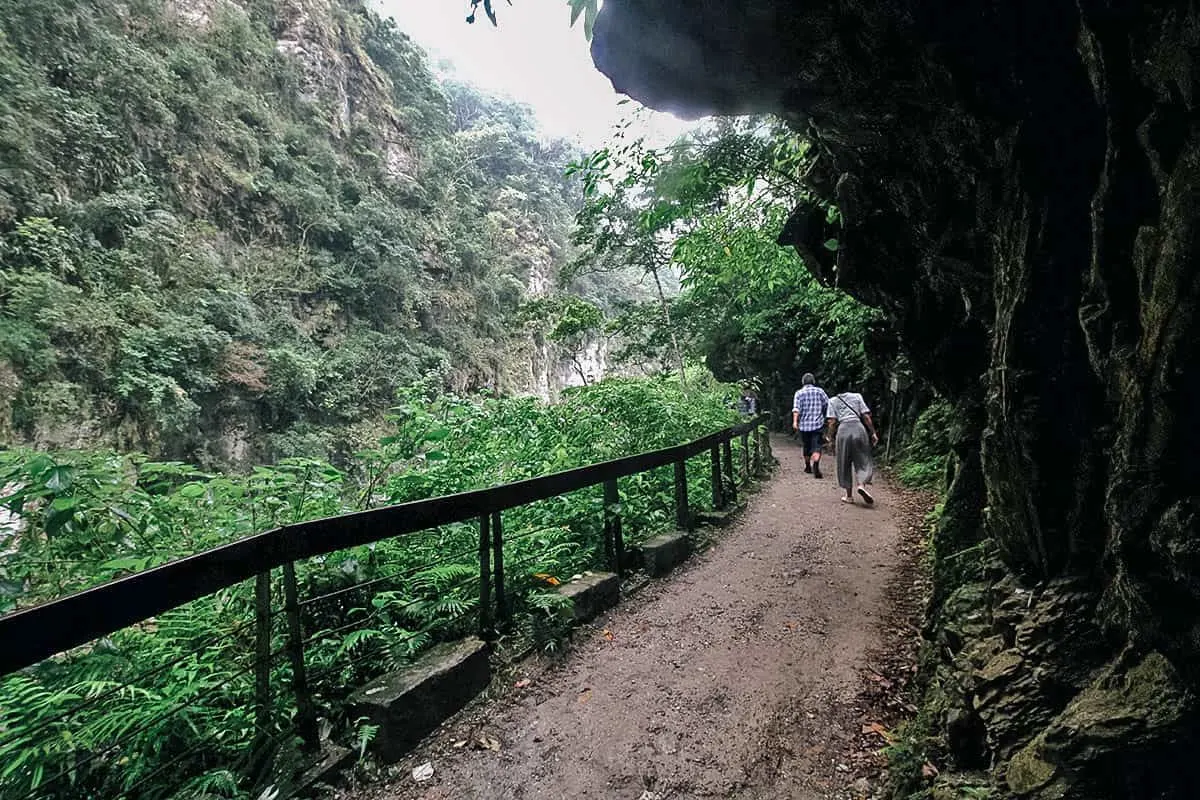 The trail runs along the side of a mountain by the Shakadang Stream. It's an easy walk with few elevation changes.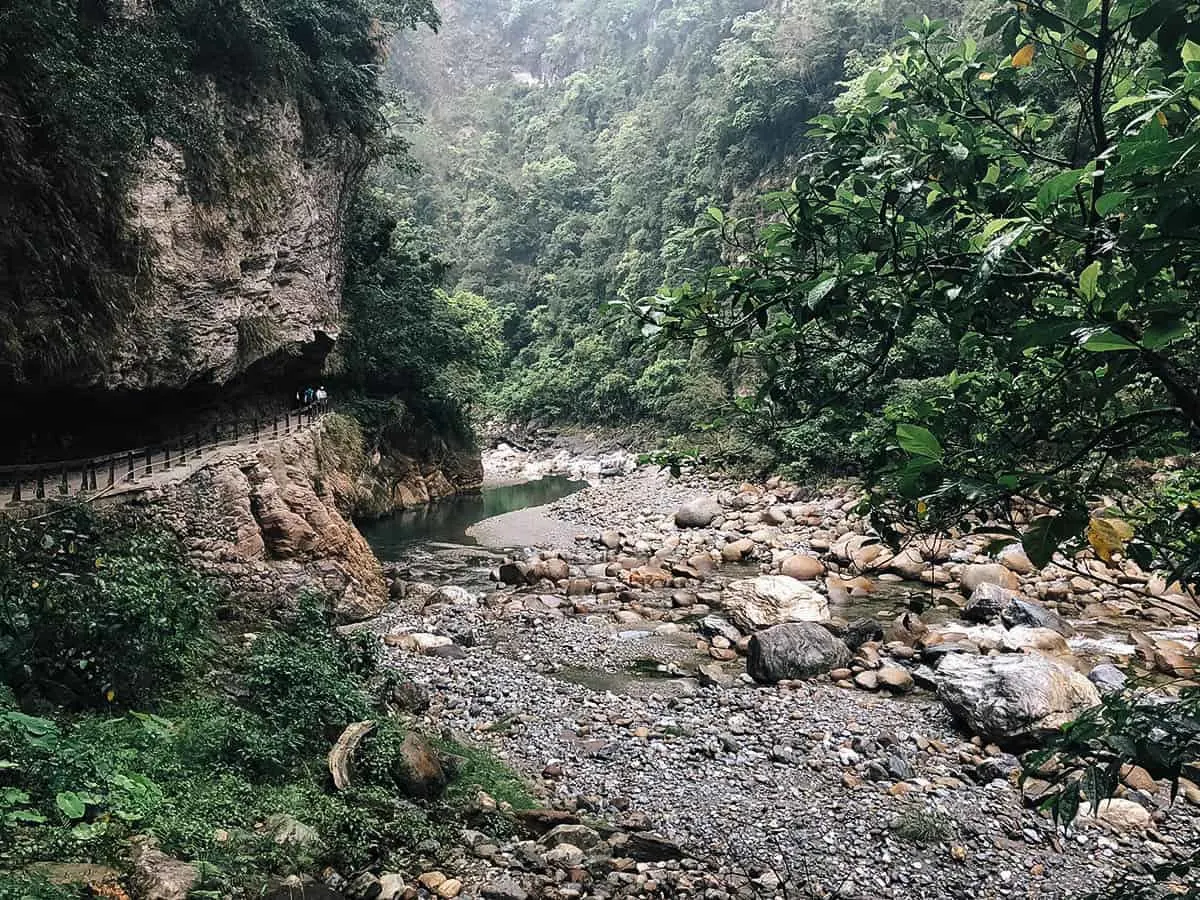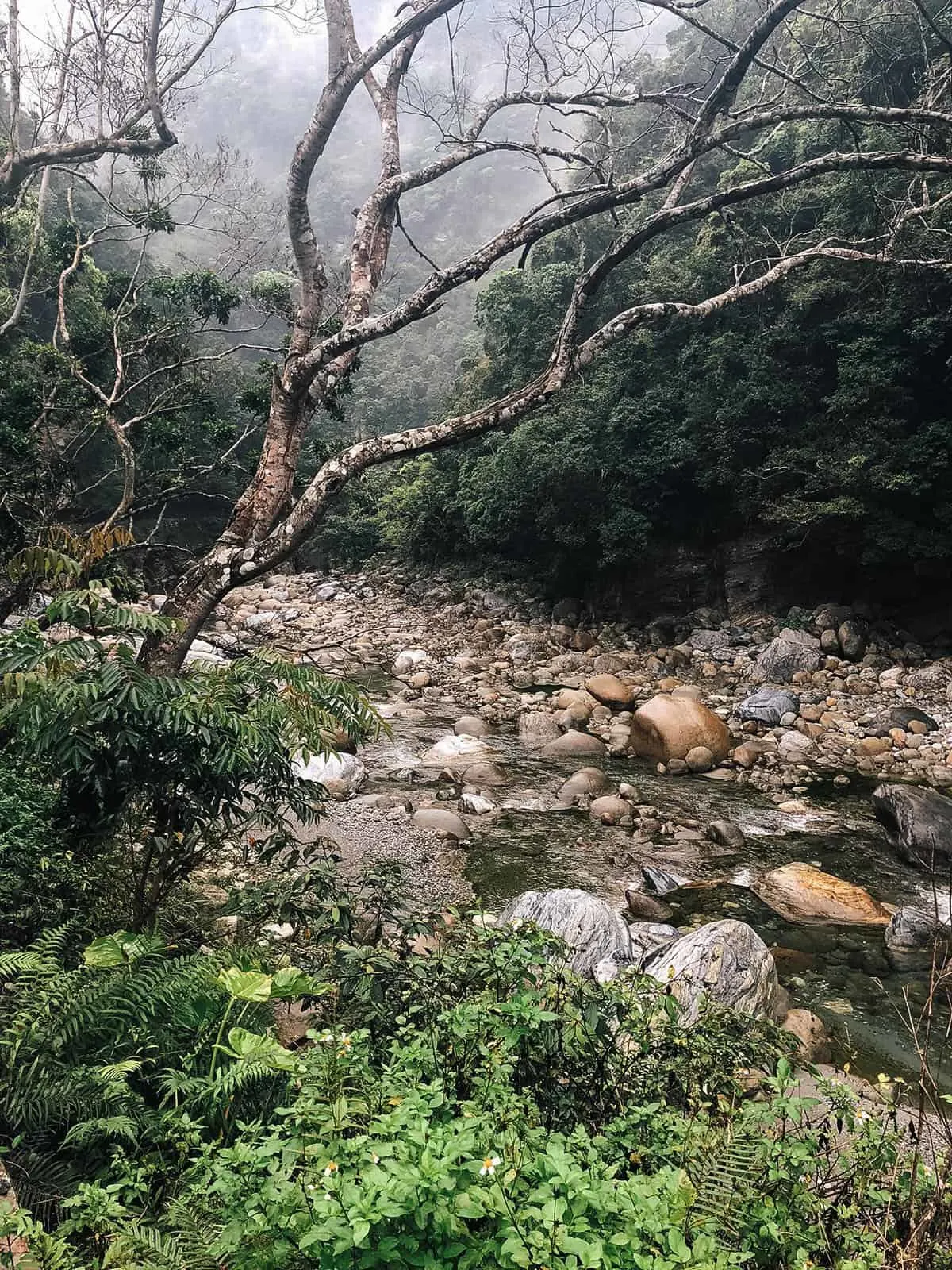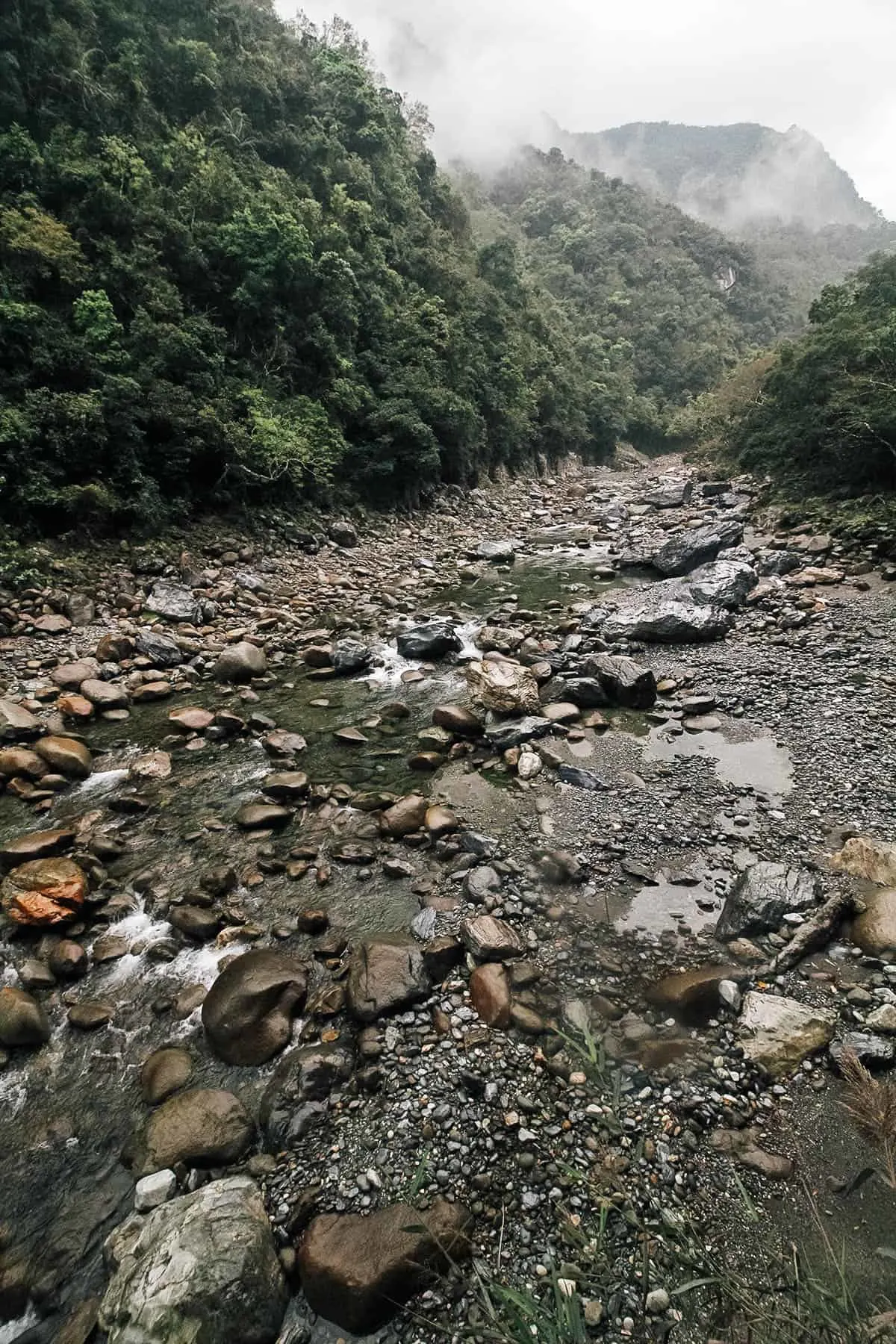 The inviting emerald green waters of Shakadang Stream. The waters here are much calmer than the Liwu River so guests are free to swim if they like. Just be careful because there are no bodyguards to save you here. This isn't Baywatch!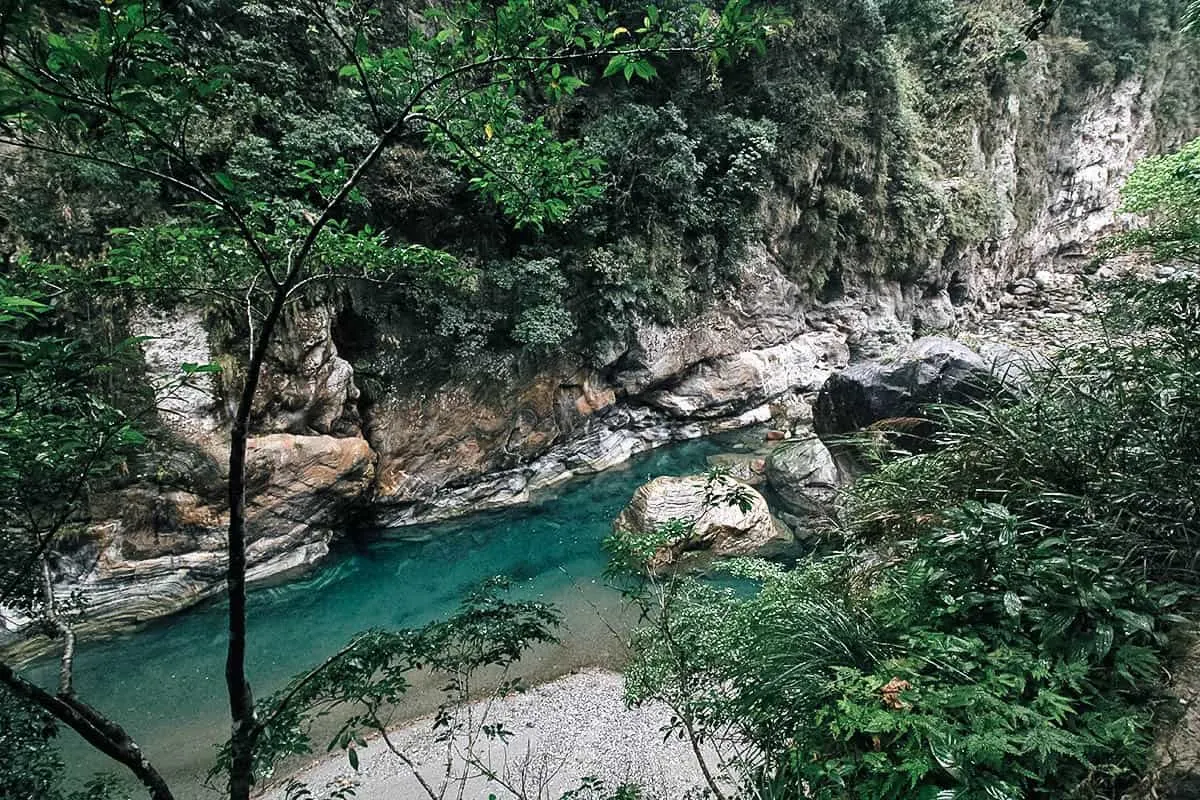 Eternal Spring Shrine
For our last stop, we make our way to Eternal Spring Shrine which is one of the most recognizable structures at the park. Also known as Changchun Shrine, this shrine complex was built to commemorate the lives of the 212 people who died during the construction of the Central Cross-Island Highway.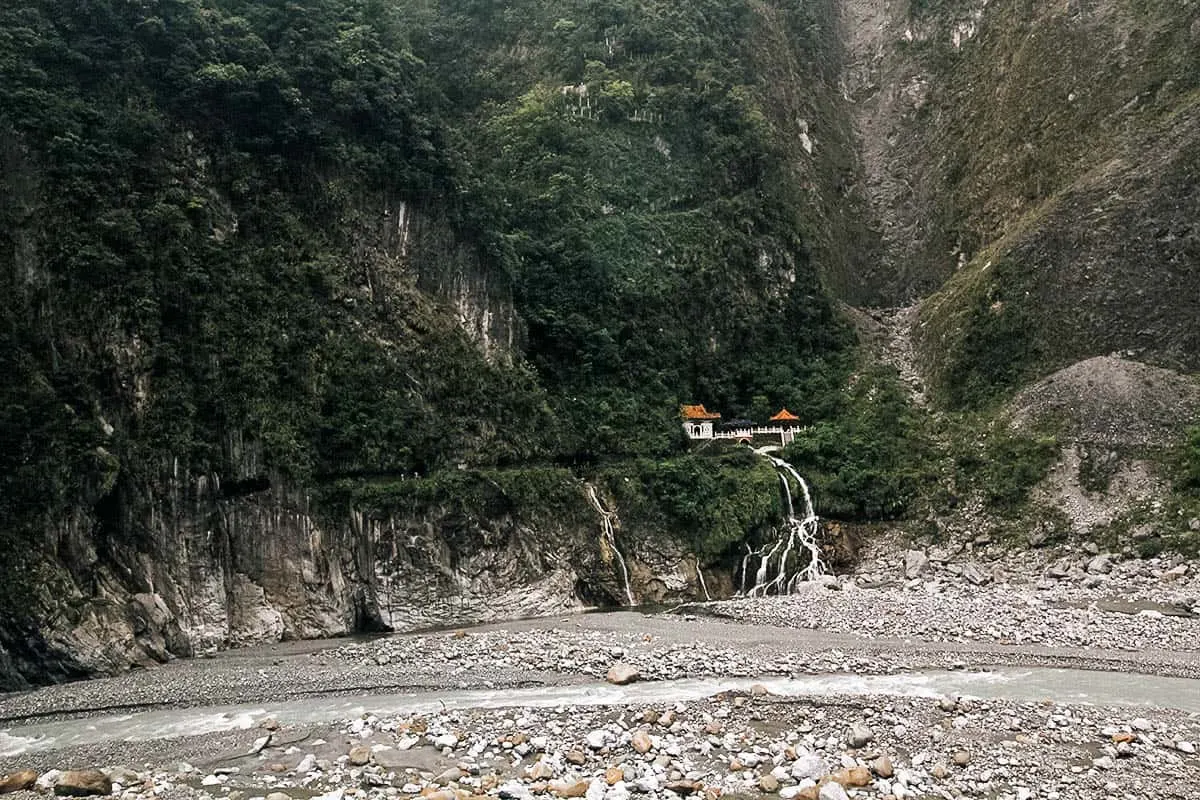 The memorial shrine was built above Changchun Falls which never stops flowing, hence the name "Changchun Shrine" or "Eternal Spring Shrine".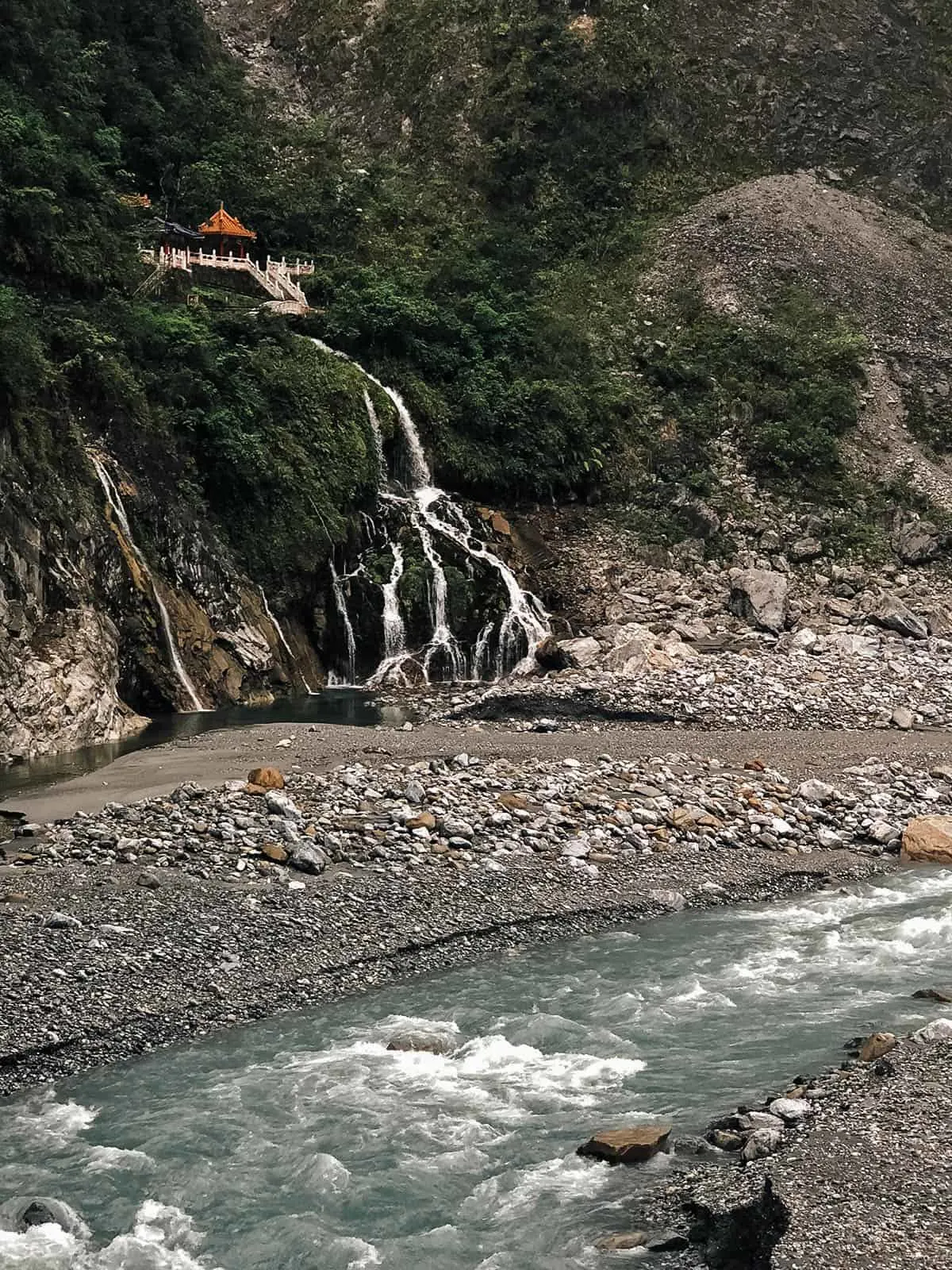 There's a path along the side of the mountain that takes you close to Changchun Shrine, but I chose to stay right here so I could fly my drone. Can you spot it in this picture?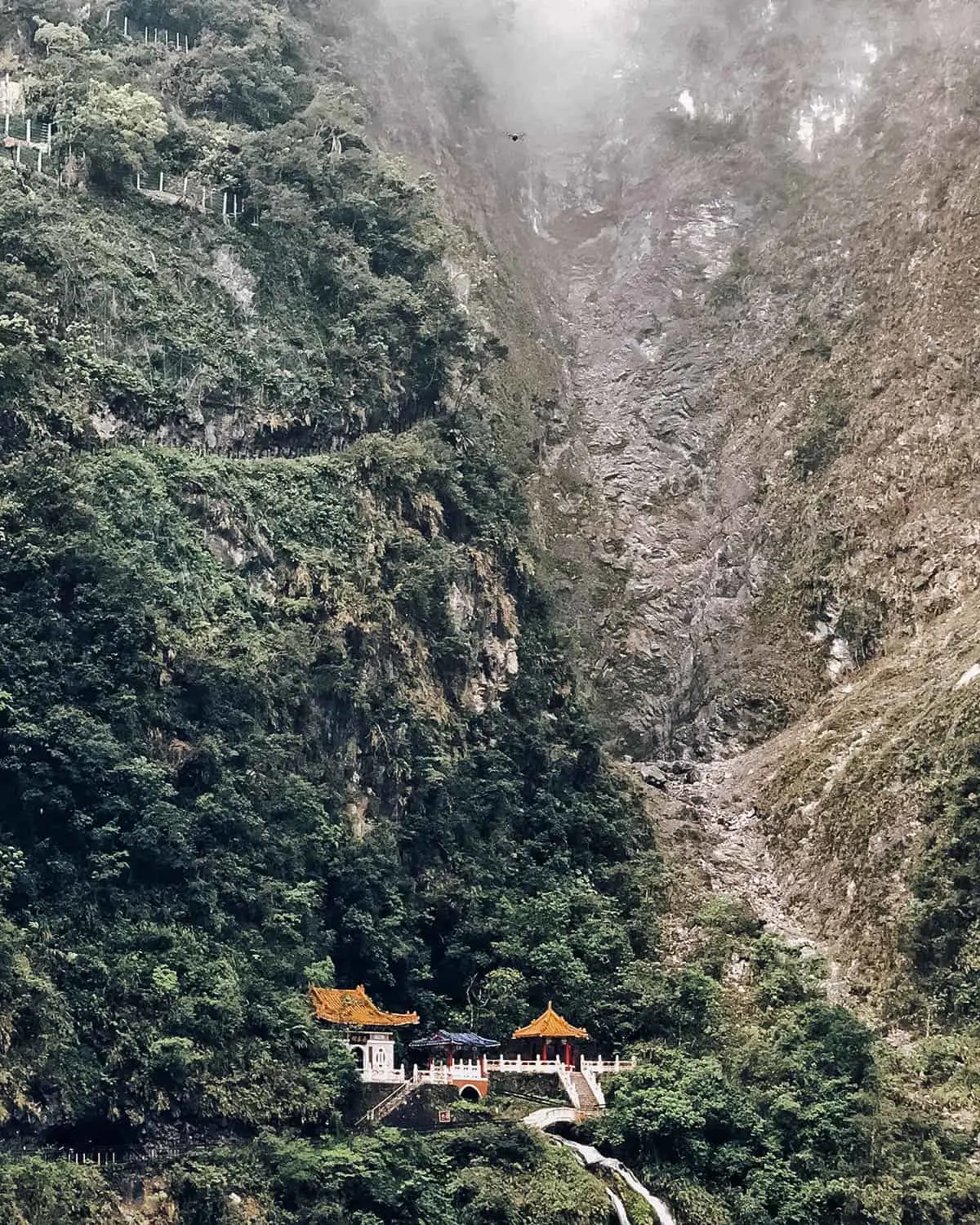 FINAL THOUGHTS ON TAROKO NATIONAL PARK
This day tour to Taroko Gorge was one of the highlights of our two-week trip to Taiwan. I knew the park would be beautiful but it well exceeded my expectations.
Taroko National Park is a stunning reserve that's without question one of the most beautiful places you can visit in Taiwan. As described, we enjoyed the park so much that we're already planning a return trip back. And next time, we'll stay overnight to do some exploring on our own.
If you're spending enough time in Taiwan, then I'd say a trip to Hualien to visit Taroko Gorge is a must. It's less than two and a half hours from Taipei and easily accessible by train. If you can't spend a night or two in Hualien, then you at least have the option of visiting Taroko Gorge on a day tour from Taipei. We can't recommend it enough.
In my opinion, it's best to book a private car charter or rent a car so you can visit Taroko Gorge on your own. But if that isn't feasible or you'd rather go on a guided tour, then you can follow the link to book a Taroko Gorge tour on Klook.
TRAVEL TIPS TO TAROKO NATIONAL PARK
1. Stay Connected
Having a constant and strong wifi connection is a must when traveling these days. You'll need it to navigate, do research, or in the case of Taroko Gorge where you might find yourself in remote areas, send SOS signals.
We rented a 4G pocket wifi device for around NTD 110 a day. You can pick it up and drop it off at Taoyuan, Songshan, or Kaohsiung International Airports. It gave us a strong wifi signal no matter where we were in the park. Click on the link to rent a pocket wifi device or buy a sim card in Taiwan.
2. Bring a Raincoat or an Umbrella
Though the rain never got strong enough to derail our trip, it would drizzle on and off throughout the day. That was in March too which is supposed to be one of the least rainy months in Hualien county.
If it isn't too much trouble, then you may want to bring a light raincoat or small foldable umbrella just in case, especially if you'll be carrying expensive camera equipment.
3. Get a Permit for the Swallow Grotto (Yanzikou) Trail
This is one of the main reasons why we want to go back to Taroko Gorge on our own. When we visited Swallow Grotto, Tony pointed out this beautiful trail that requires a permit to access.
This scenic but challenging 10 km long trail begins at the Cimu Bridge and reaches heights of 500 meters above the Liwu River. Visitor count per day is limited so be sure to acquire a permit weeks before your trip.
4. Request for Permission to Fly Your Drone
Flying of drones in Taroko National Park is allowed as long as you have a permit. I applied for one before our trip and was granted a PDF permit in seven days. Fines for illegally flying drones in Taiwan can be hefty so I wouldn't do it without getting permission first.
Be careful when you fly here as well. I don't know if it happens all the time but aside from Qingshui Cliff, the GPS signal on my Mavic Pro was weak. It went into Atti Mode a few times which sent me into a near panic.
5. Hike with Care and Watch for Falling Rocks
When we were walking along Shakadang Trail, a rock about the size of my head fell from the cliff face and onto the path about 20 ft in front of me. It gave me a good scare and reminded me that nature is often unpredictable.
There are no lifeguards here either should you decide to go swimming anywhere. Be mindful of where you are at all times and always proceed with caution. The park is huge so there may not be anyone to help you should you get into any kind of trouble.
6. Follow the Rules
Even though admission is free, exploring Taroko National Park is a privilege, not a right. Respect nature, follow the rules and regulations, and don't forget to pick up after yourselves. Kapish?
Taroko National Park
Taroko National Park 291, Fushi Village, Xiulin Township 97253 Hualien County Taiwan, R.O.C.
Tel: +886 3-8621100 (to 6)
Fax: +886 3-8621497
Facebook: TarokoNationalPark
YouTube: Taroko National Park
Flickr: tarokonp
Email: [email protected]
Disclosure
Some of the links in this article on Taroko National Park are affiliate links, meaning we'll get a small commission if you make a purchase at NO extra cost to you. We really appreciate your support as it helps us keep this free website going. Thank you!