Ivan Man Dy has become somewhat of a local celebrity, his name synonymous with this Binondo Food Wok.
So synonymous in fact, that when Anthony Bourdain came to Manila for that Philippine episode of No Reservations, Ivan was one of his guides. I remember that segment well. Ivan took Anthony to make tusok tusok the fishballs in Manila, before taking him to a lunch of crab and pinakbet at the Farmer's Market dampa in Cubao.
So popular has this food tour become that it's shot up to number eight on TripAdvisor's list of best things to do in Manila. Ren and I have been wanting to do this tour for quite some time now, so when I found out that my brother and sister-in-law would be spending the holidays here, I booked our slots right away.
A three-and-a-half hour food-centric tour that takes you through the heart of Manila's Chinatown, I couldn't think of a better way to entertain a pair of visiting gourmands than this.
Old Manila Walks
The tour starts at 9 AM from the lobby of Binondo Church. Luckily for us, it was a beautiful sunny day.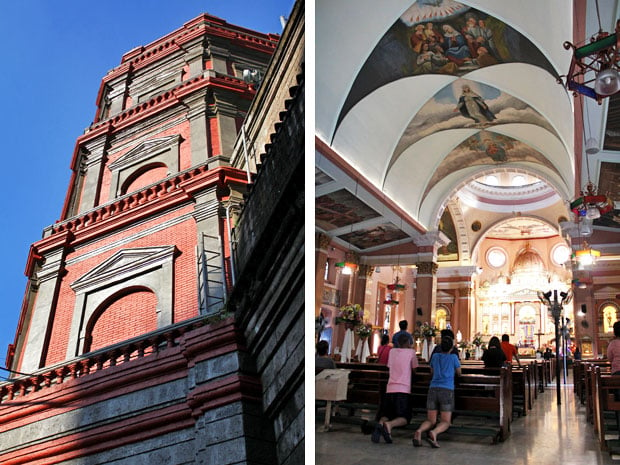 We arrived early so I had time to snap a few shots.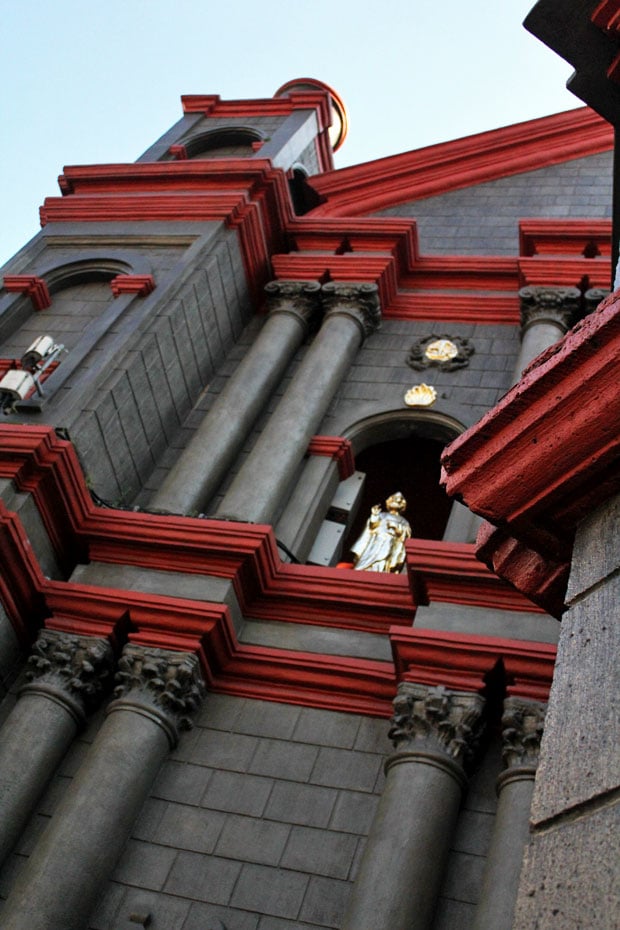 Ivan arrives on schedule wearing his blue and yellow Old Manila Walks shirt. The tour promptly begins at 9 AM so please be sure to arrive on time. Otherwise, you'll need to catch up with the rest of the group.
Ivan kicks off the tour by giving us a brief history on the love-hate relationship between Binondo and Intramuros, the Chinoys and the Mestizos.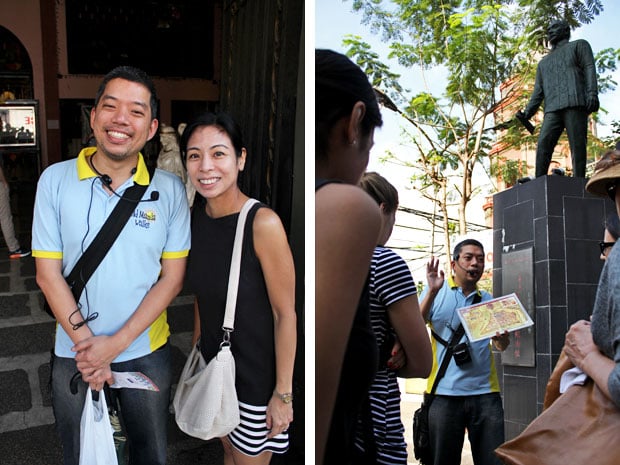 FIRST COURSE: LUMPIA
Sitting down at our first food stop, Ivan tells us that the vast majority of Chinese immigrants to the Philippines came from just one region in China. I didn't know that.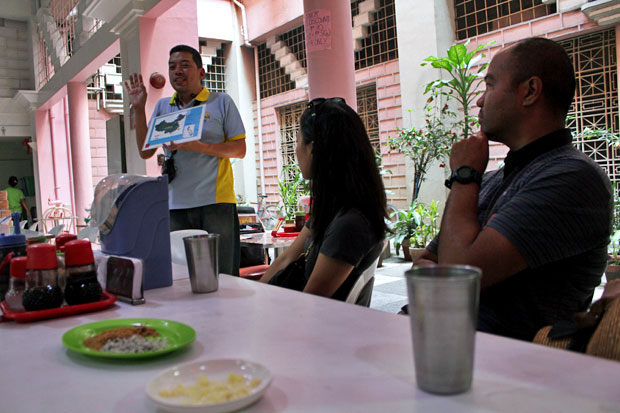 The first thing we tried today was this delicious pork and vegetable fresh lumpia. If you don't know what a lumpia is, it's a type of Chinese spring roll that's served either fresh or fried. Tasty on its own, you can add ground peanuts, seaweed, garlic in vinegar, and a duo of sweet and spicy sauces to add even more depth of flavor. Yum!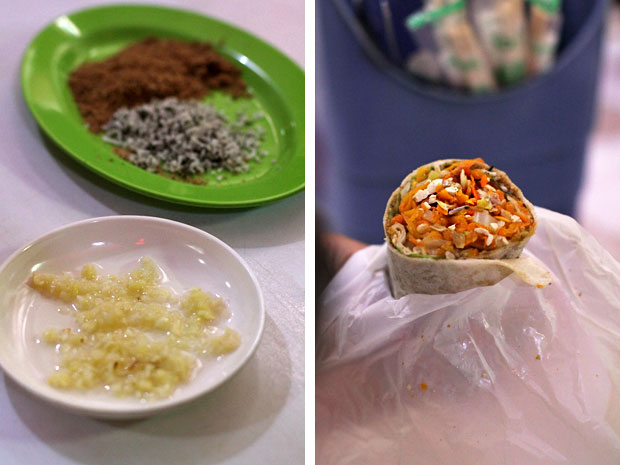 Meticulous to prepare, it takes an entire day just to chop up all the vegetables!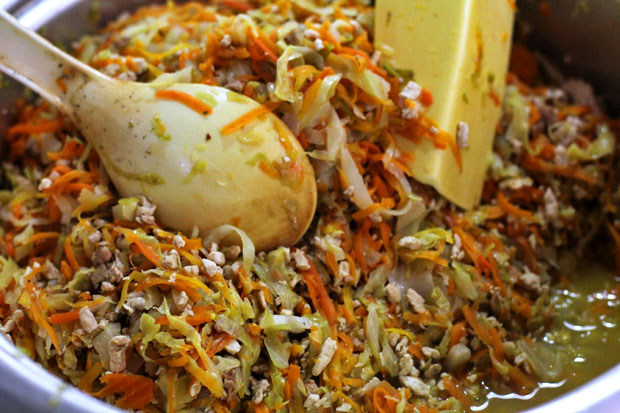 There's Ivan demonstrating how to prepare the lumpia, with my brother Erwin following suit.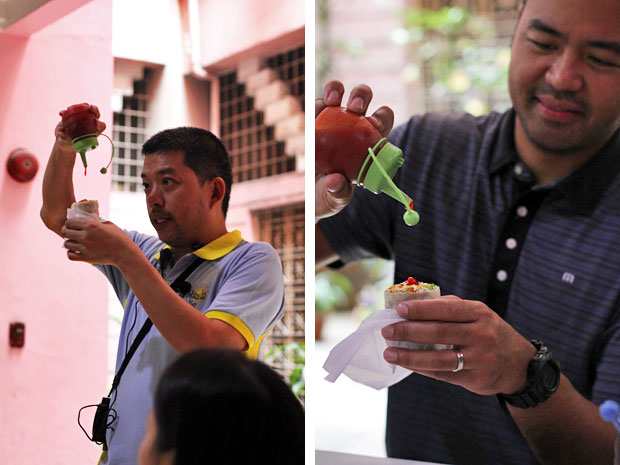 SECOND COURSE: TOFU, PANCIT, EMPANADA
For our second course, we entered this narrow alley to enjoy a 3-dish "breakfast" at this hole-in-the-wall (unit 637, 639). An institution that's been open for nearly fifty years, this nondescript restaurant is nearly invisible to tourists. How cool!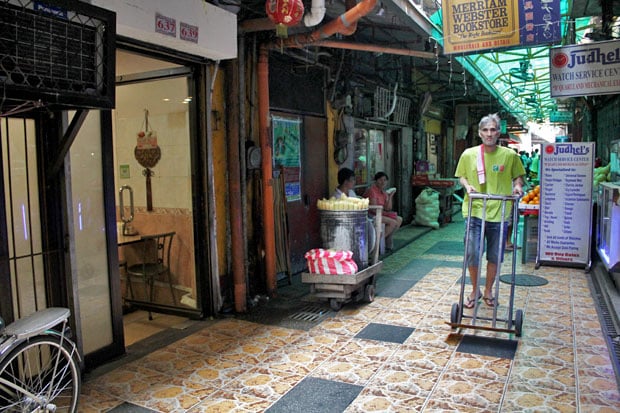 The first of three dishes was this fried tofu with cilantro and cucumbers in a sweetened soy sauce. It's fondly referred to as "Ama Pilar's Tofu" in honor of the late woman who invented it and opened this restaurant. Absolutely delicious with its crisp skin and layers of flavor, this was one of my favorite dishes from today.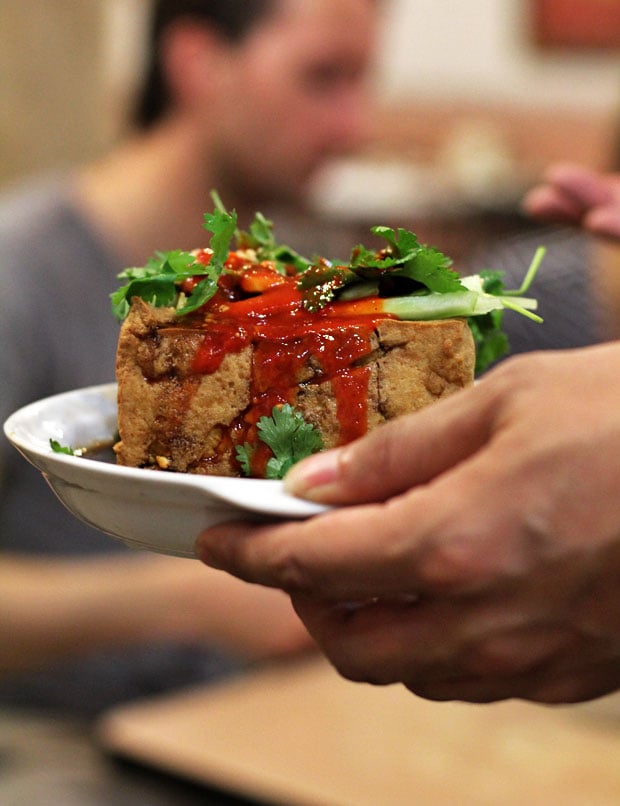 Next up were these tasty little pork empanadas. These are different from your usual empanadas because the crust, as Ivan likes to say, is a little "sweet-ish". Very nice!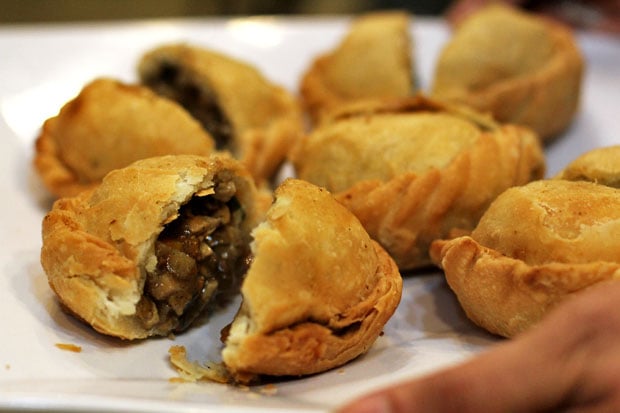 The third and final dish was this pancit with crunchy kangkong. Pancit means noodles and kangkong is a type of water spinach. Really good too.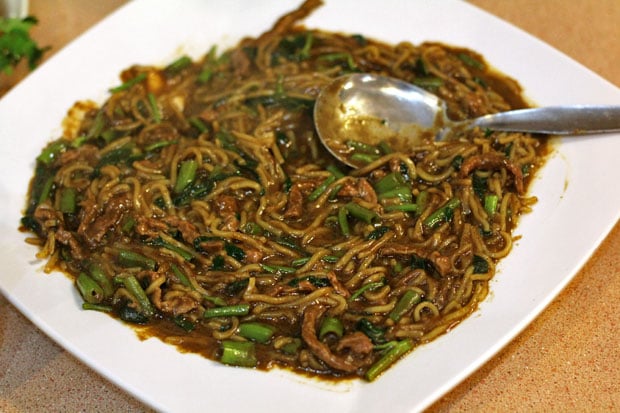 En route to our third stop, we passed this vendor selling sea cucumbers…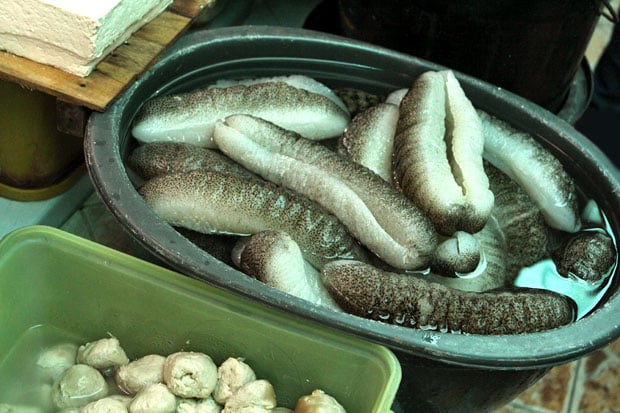 …and litid (beef tendon).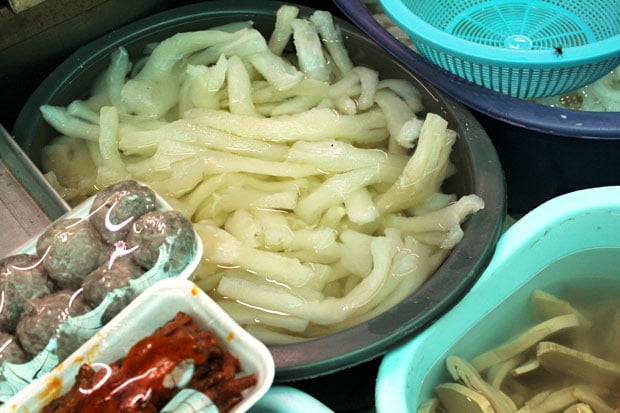 THIRD COURSE: DUMPLINGS, FRIED PANCAKES
This tiny dumpling restuarant was awesome. As it turns out, most of the Chinese restaurants in Manila offer dishes only from a certain region in China. This one serves northen Chinese cuisine, a rare treat even for local Chinese.
Here are the dumpling elves toiling away, making pork dumplings all day.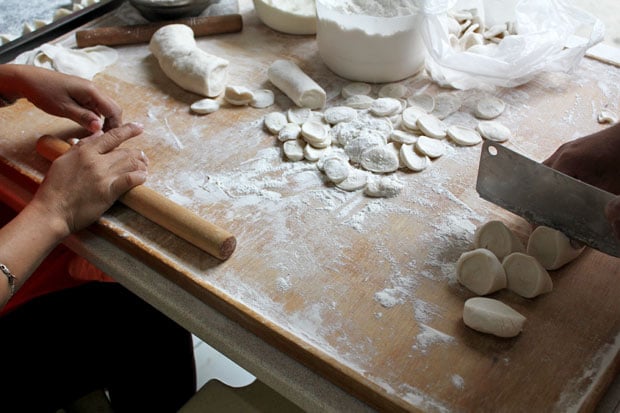 Don't scrimp on that pork now!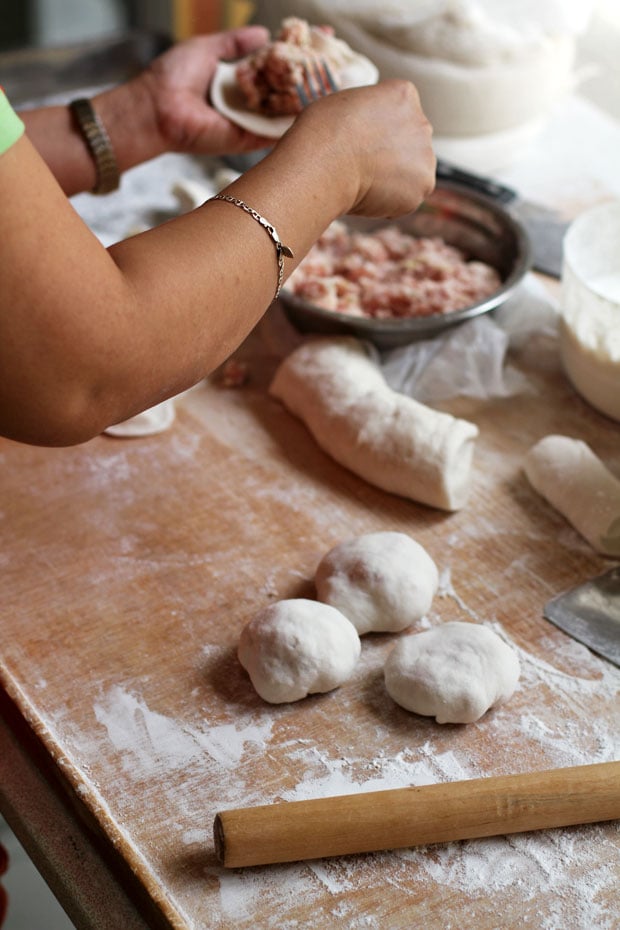 Chopping up kuchay or Chinese leeks for…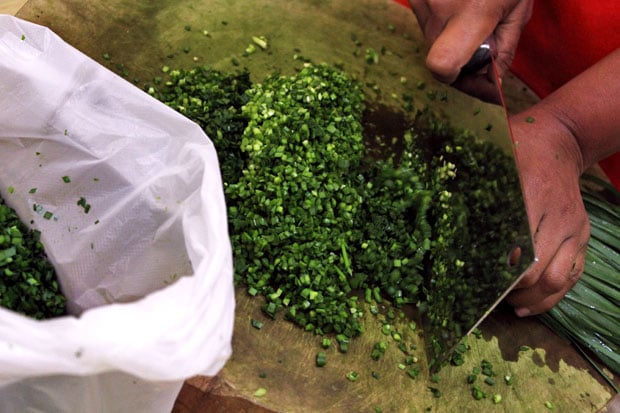 …these delicious kuchay dumplings.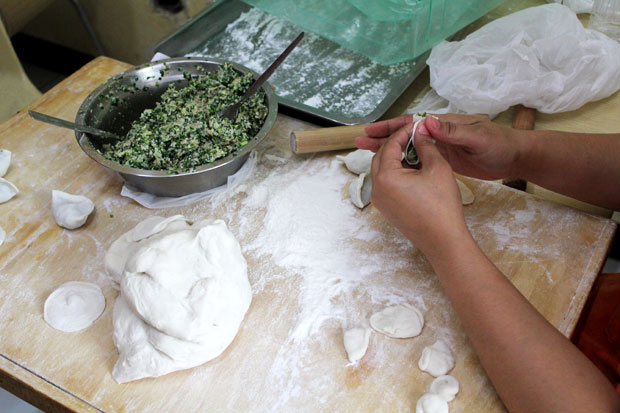 So much work goes into making these things!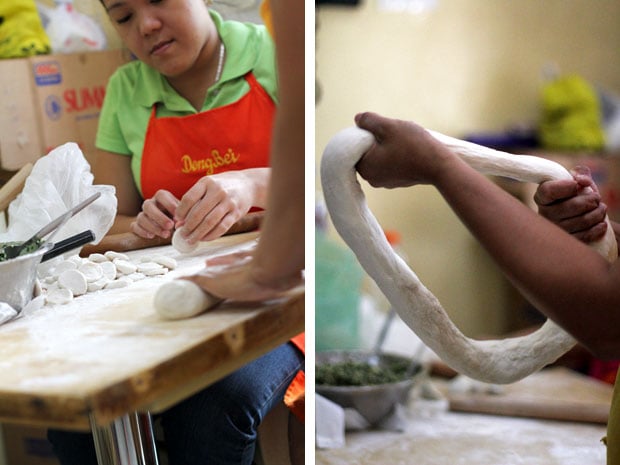 But it's all worth it in the end. These freshly made kuchay dumplings were delicious.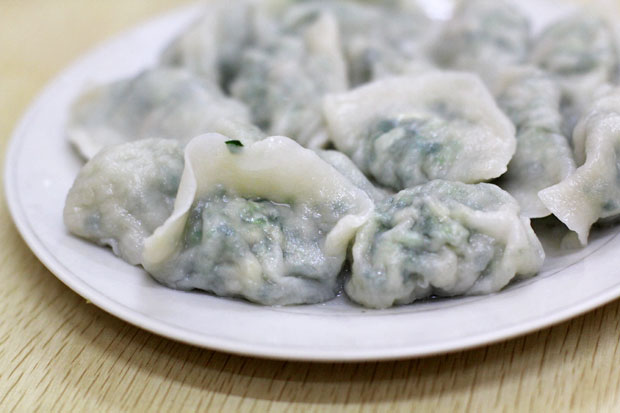 As good as the dumplings were, these fried pork pancakes were even better. These, together with Ama Pilar's tofu, were my favorite dishes from today's tour.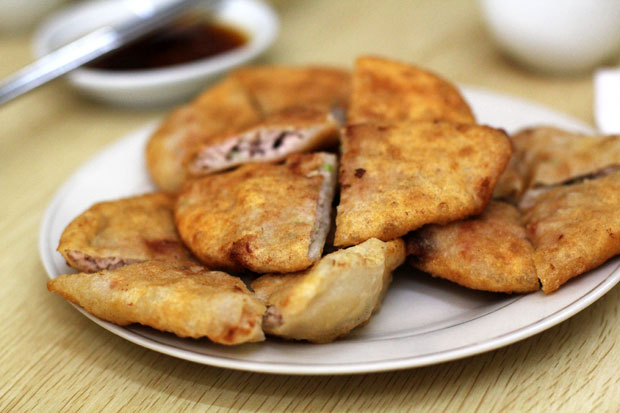 En route to our fourth restaurant, we make the only non-food stop of the tour. Climbing up to the top floor of this residential building with art deco details…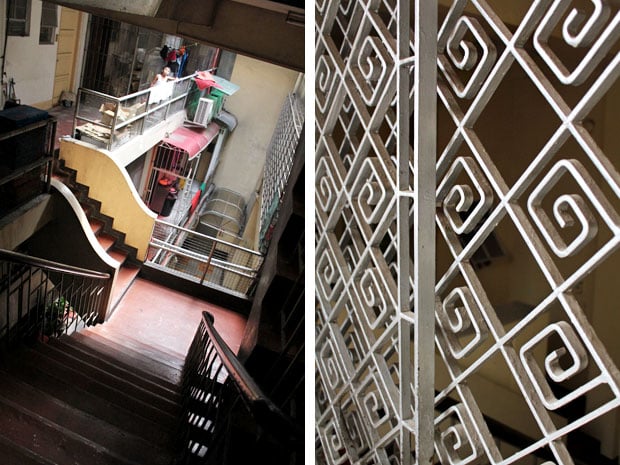 …led us to the main hall of one of Binondo's many family associations. These are basically male-only clubs or fraternities that are open to members of the same clan — ie the Tan association can only be joined by Tans, the Chua association by Chuas, etc.
Ren: "No women?! But, but…it's 2014!"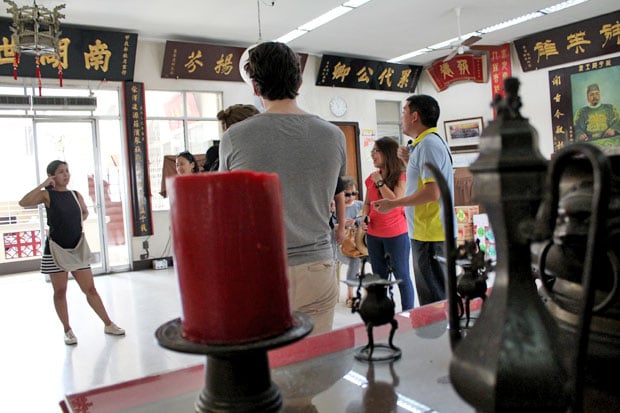 The sights, sounds, and smells of Chinatown. The produce here was so fresh and cheap!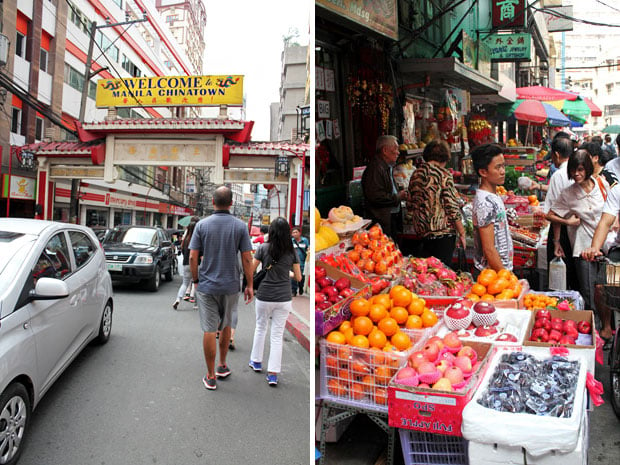 FOURTH COURSE: CUSTARD BUNS, MANGO TAPIOCA
For the first of two dessert courses, we had these custard buns and mango tapioca. One served hot and the other cold, they went extremely well together.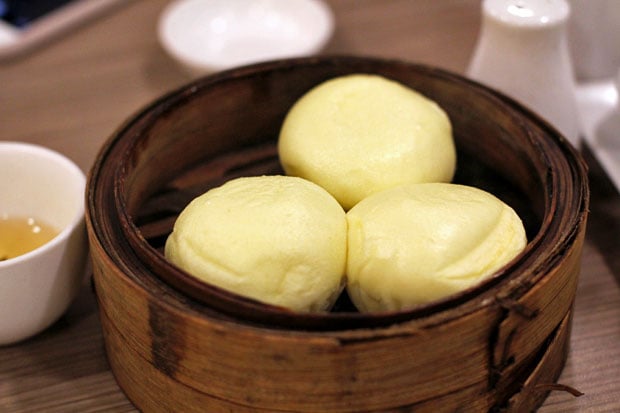 Ivan had us guess what the custard bun filling was made from and of course, Ren got it instantly — salted duck eggs. Sweet, salty, and with the texture of pureed egg yolk, it was delicious.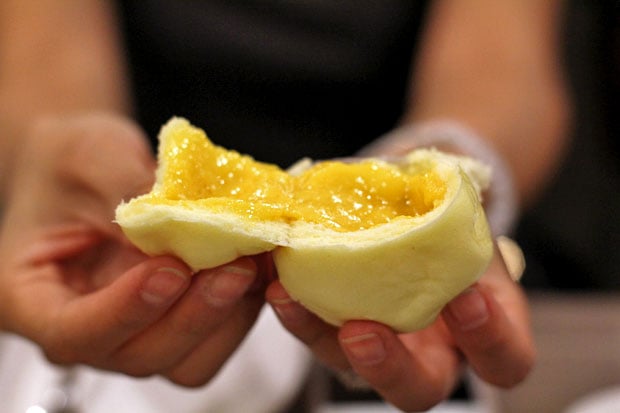 The most refreshing mango tapioca. This was made from pureed whole mangoes, not mango juice.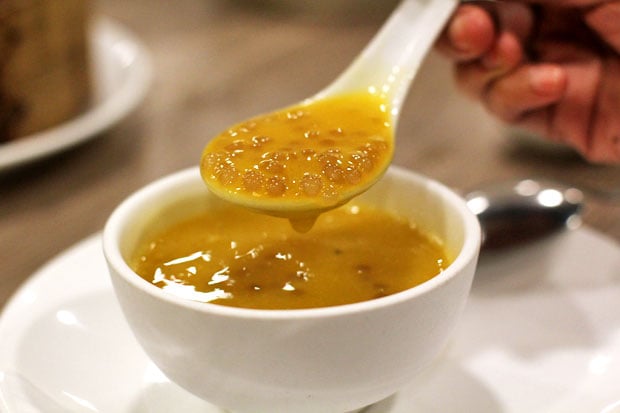 Before getting up to move on to our next stop, Ren asked Ivan her favorite question — "What's your hypothetical last meal?" Without giving it too much thought, he rattled off "lumpia, sinigang na hipon (shrimp sour soup), laman loob (innards), and Kapampangan sisig with utak (pork dish with brains), among other Chinese delicacies."
Very interesting. 🙂
PALATE CLEANSER: PRESERVES
Before moving on to our fifth and final stop, Ivan had us sample a few of these preserved goodies, or "not-so-goodies", depending on your perspective.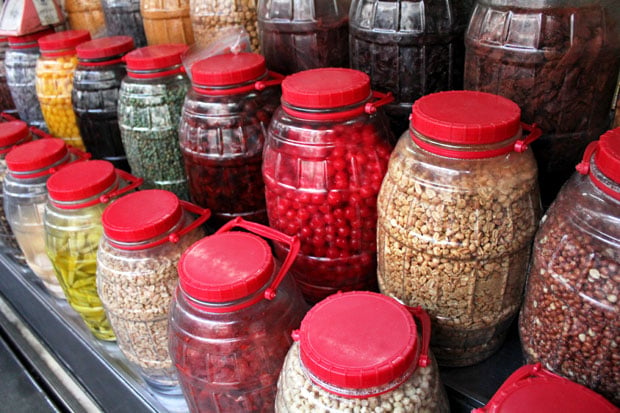 He had us try preserved ginger, plums, dilis (anchovies), squid, pork, and corn nuts. Needless to say, some were more palatable than others.

L: This preserved ginger DID NOT sit well with most. Check out Ren's face. 😆
R: I was impressed by how adventurous these two Dutch tourists were. They were willing to try everything!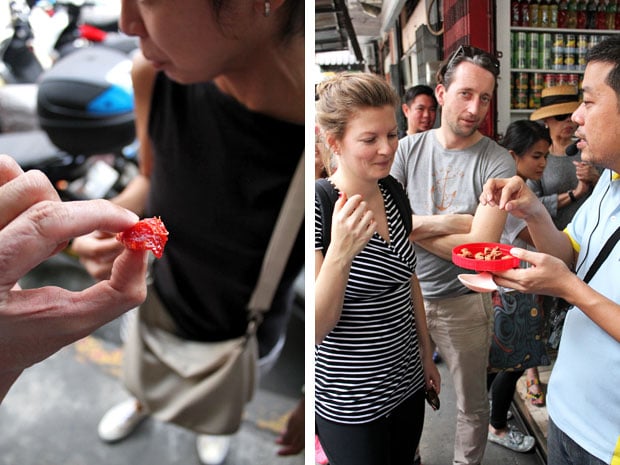 FIFTH COURSE: HOPIA
After over three hours nibbling our way through Binondo, the final stop brought us to Ho-Land Bakery, purveyors of some of Manila's finest hopia. If you've never heard of hopia before, it's a Chinese pastry traditionally filled with munggo or mung beans. The word "hopia", in Chinese, is a combination of two words — Ho which means "good", and Pia which means "cake" or "pastry".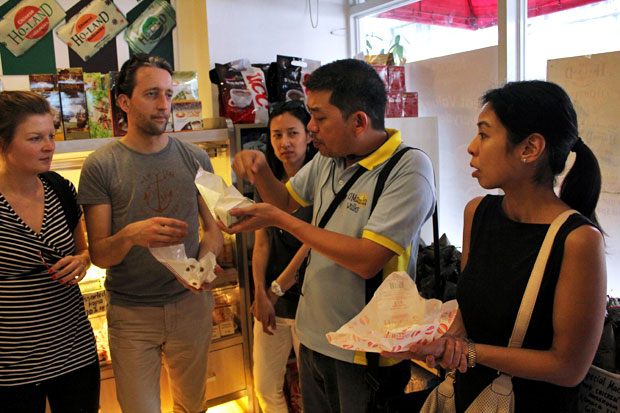 Though mung beans are the traditional hopia filling, they're now filled with everything from ube (taro), to langka (jackfruit), to pandan, to wintermelon, to pork. As with every stop on this tour, we were free to sample as much of it as we wanted. How cool was that? 😉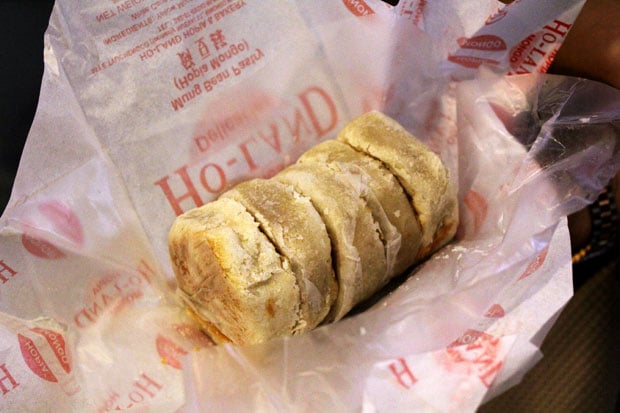 Each of us stuffed at this point, it was here where we concluded our tour and said goodbye to Ivan. Elated with the experience, Ivan made it even better by giving us copies of his newly published "Big Binondo Food Wok Map". It details every stop on this tour including many others.
Before our tour began, I told Ren that I wouldn't post the names of the places we visited out of respect for Ivan and his tour. It's apparent from this map though that Ivan doesn't really care. He's happy to share the information, which is probably why his tours are so engaging. Clearly, he LOVES doing this, and he loves Binondo. He's been doing these tours for ten years now but his passion and enthusiasm are still there. You feel it during those three and a half hours which fly by, just like that.
With that said, I'm still not going to tell you where we went. Not that I don't want to share, I just want you to get the full experience. Sure, you can go on your own and the food will taste just as good, but the experience won't be the same. The tour may be called a Food Wok, but it clearly isn't just about food. It's about Binondo, her colorful story told through the eyes and stomach of a proud local. It was fascinating to see Binondo in this light. It certainly changed my perspective.
If you have a morning to spare, then I strongly urge you to do Ivan's Binondo Food Wok. It's one of the best tours you can take in Manila.
You can book directly through the Old Manila Walks website or through Klook.
Old Manila Walks: Binondo Food Wok
Tel: 711-3823
Mobile: 0918-9-MANILA (0918-962-6452)
Website: oldmanilawalks.com
Facebook: Old-Manila-Walks
Email: [email protected]
Tour Cost: PHP 1,400 per person, inclusive of food
Tour Schedule: 9AM-12:30PM (3.5 hrs)
Disclosure
Some of the links in this post are affiliate links, meaning we'll get a small commission if you make a purchase or reservation at NO extra cost to you. We really appreciate your support as this helps us keep this website going. Thank you!