Next to Star Wars, Willy Wonka and the Chocolate Factory was the most iconic film of my childhood. Oompa Loompas, the Everlasting Gobstopper, these were things that mesmerized me so much as a kid.
No scene in the movie captivated children's imaginations more than the Land of Candy. The thought of being let loose in a forest made entirely of candy and sweets was every kid's dream. I remember those scenes well. The whipped cream in the red mushroom caps, the chocolate river, Gene Wilder sipping from a buttercup teacup then taking a bite out of the cup. It was all so magical! Like light sabers and speed bikes, those scenes defined my childhood and sent my imagination soaring as a child.
I'm 43 now but when the candy-colored hues of this newly opened Dessert Museum in Manila showed up on my Facebook feed, it was like I was 5 years old again. I forwarded the post to Ren and just like that, we had our tickets. We may not be kids anymore but the prospect of running amok in our own Land of Candy was just too sweet to pass up.
Save This on Pinterest!
No time to read this now? Click on the red save button and pin it for later!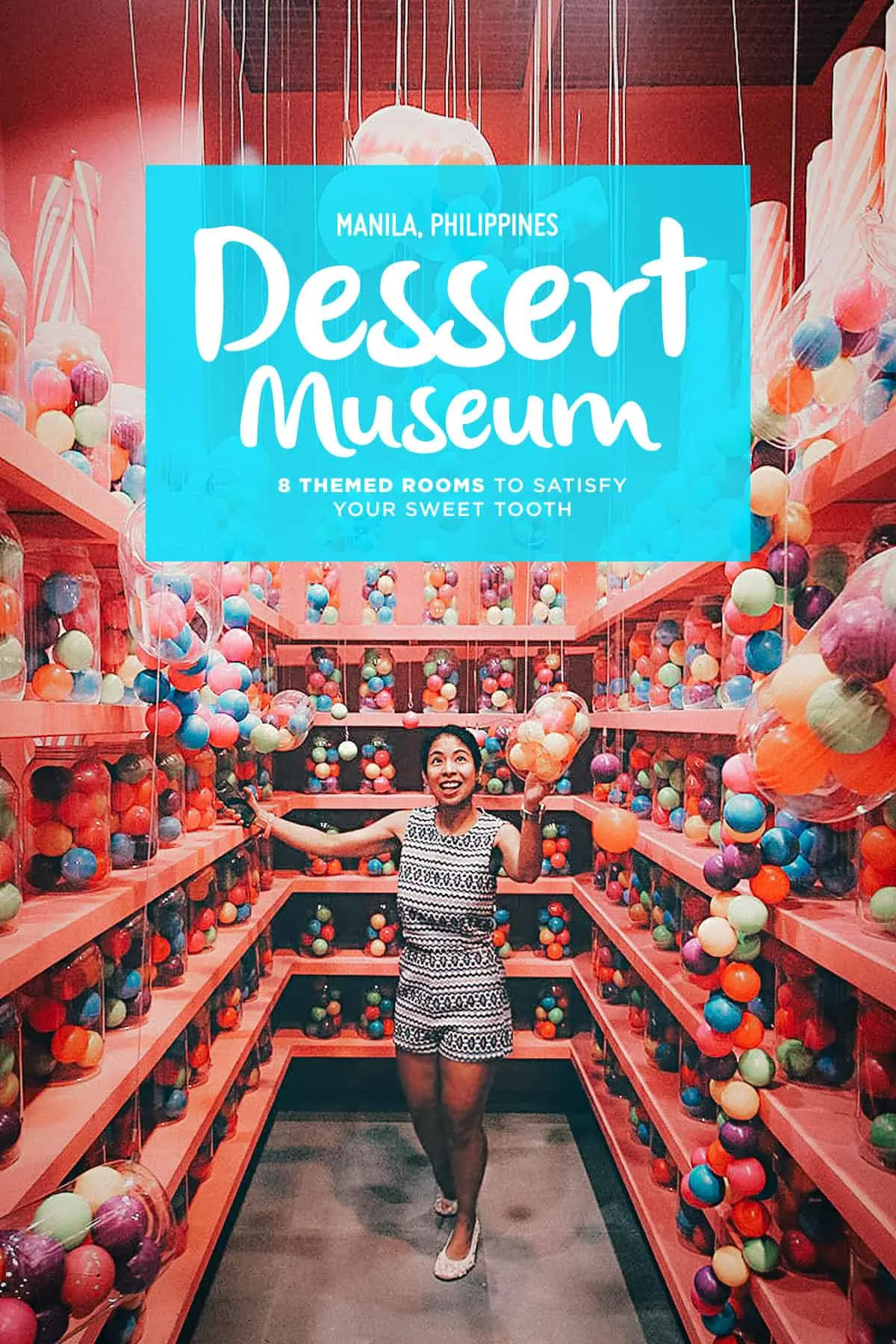 WHAT IS THE DESSERT MUSEUM?
The Dessert Museum isn't really a museum but a pastel-hued attraction dedicated to candy and sweets. Located in swanky S Maison Mall at the base of Conrad Hotel Manila, it opened its doors on 10 February 2018 and boasts eight themed rooms, each inspired by a different confection like donuts, marshmallows, and gummy bears. For PHP 799 (PHP 699 if you purchase tickets online), tour-goers get a two-hour curated tour of the museum along with up to 6 free desserts.
It's a novel and fun concept driven not just by a passion for sweets, but by the popularity of social media platforms like Instagram. As promised on their website, not only will you be treated to free desserts, but you'll also get the "most likes you've ever had on your Instagram photo." For the sweetest pictures, be sure to come in your cutest #ootd.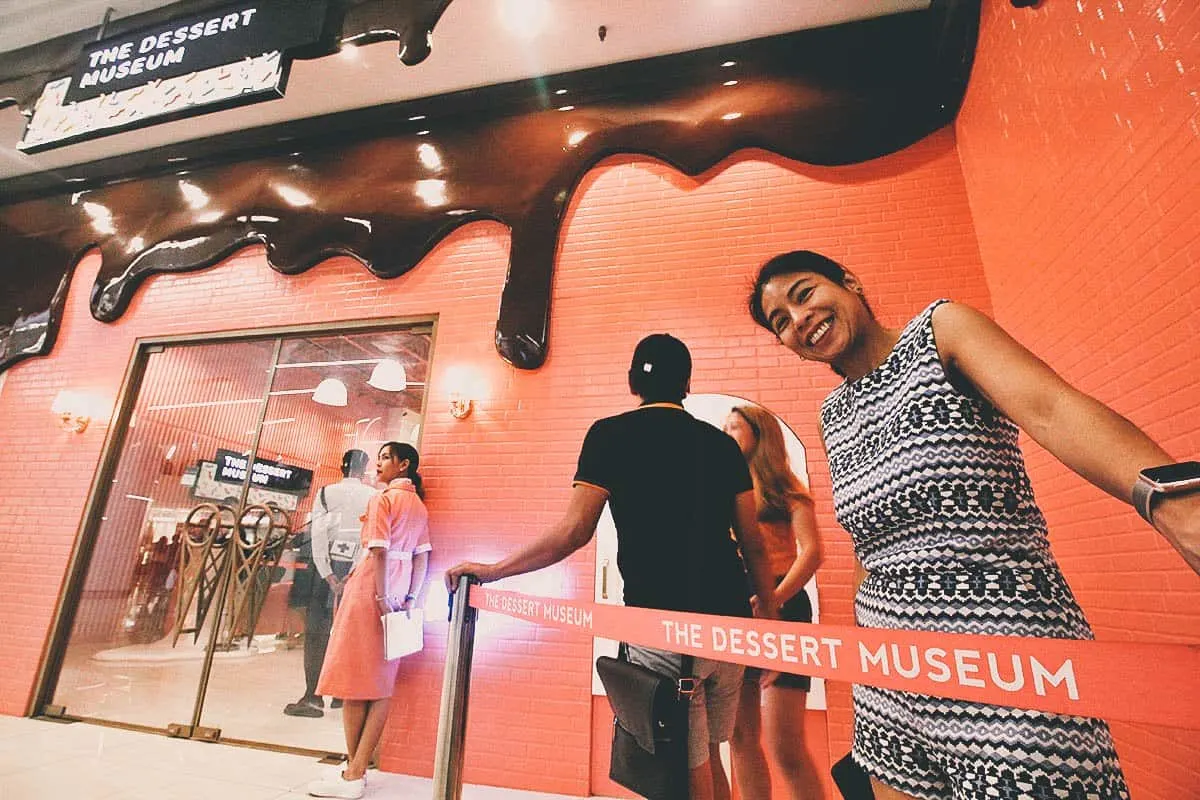 Your journey to the land of candy begins when you descend down that donut hole. When you purchase tickets online, you'll be asked to choose a specific time slot which allows a maximum of 20 people each. To move things along, every group gets just 15 minutes in each room before being ushered into the next. It's a smooth and controlled process which keeps things moving and prevents too many people from clogging up any one room.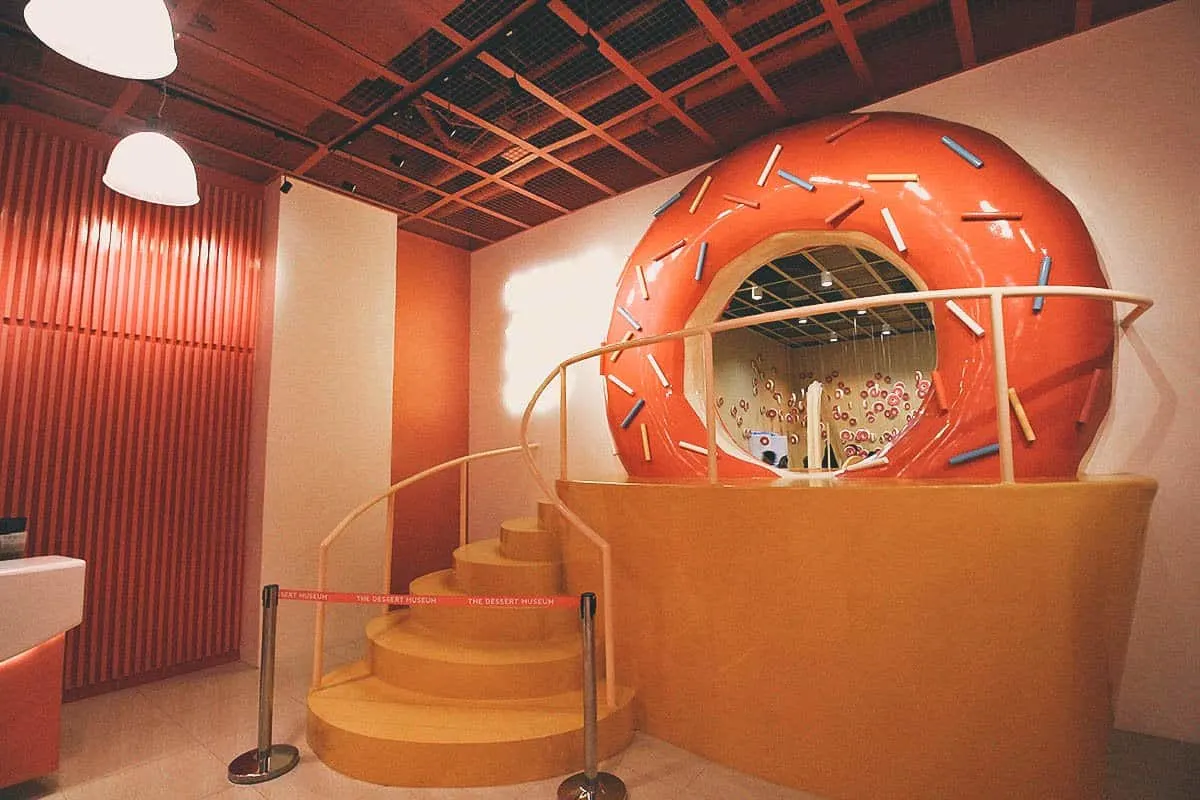 8 DESSERT THEMED-ROOMS
1. Donut Room
The first room for me was one of the museum's most impressive. You can either walk down the steps or slide into a sugar rush like these two hyperactive brothers.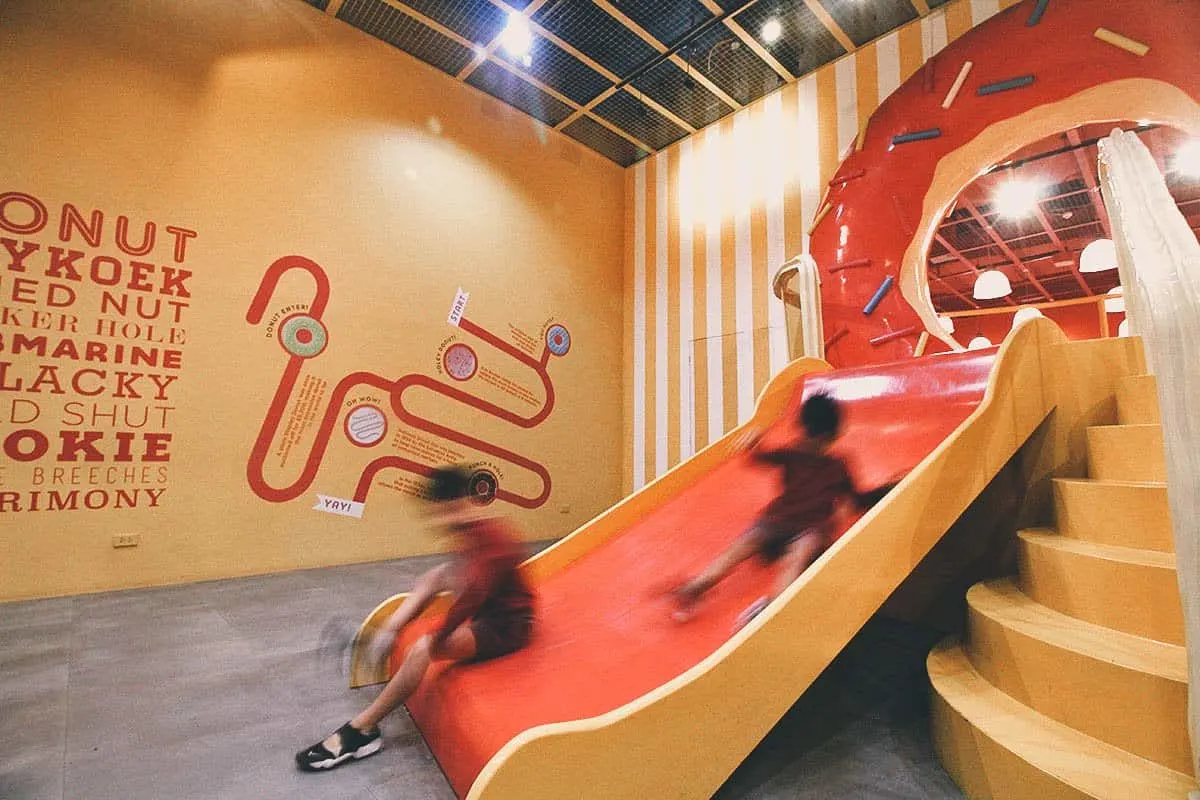 Hundreds of candy-sprinkled glazed donuts hang from this room's ceiling. I kept thinking of Homer Simpson when I was in here.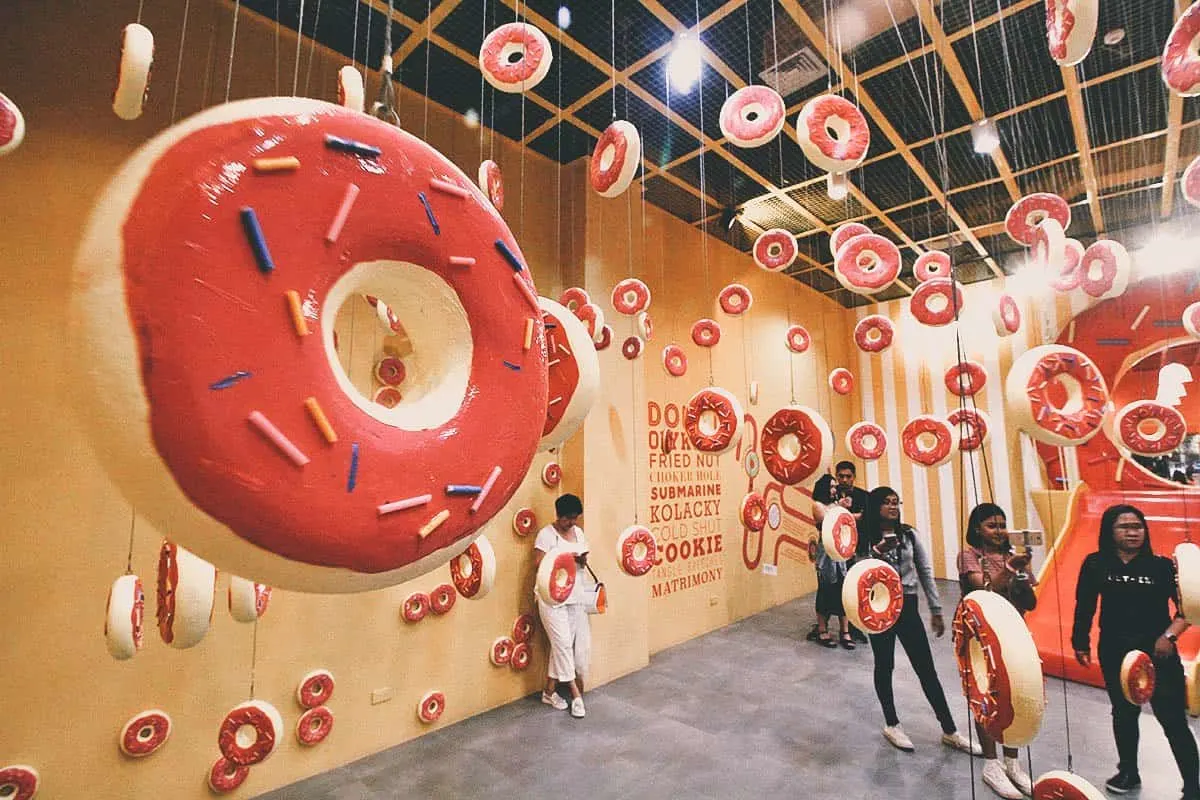 Right away, you'll see that this place was made for Instagram and that's exactly why everyone is here. Some people in our group looked like they got themselves all dolled up just for this!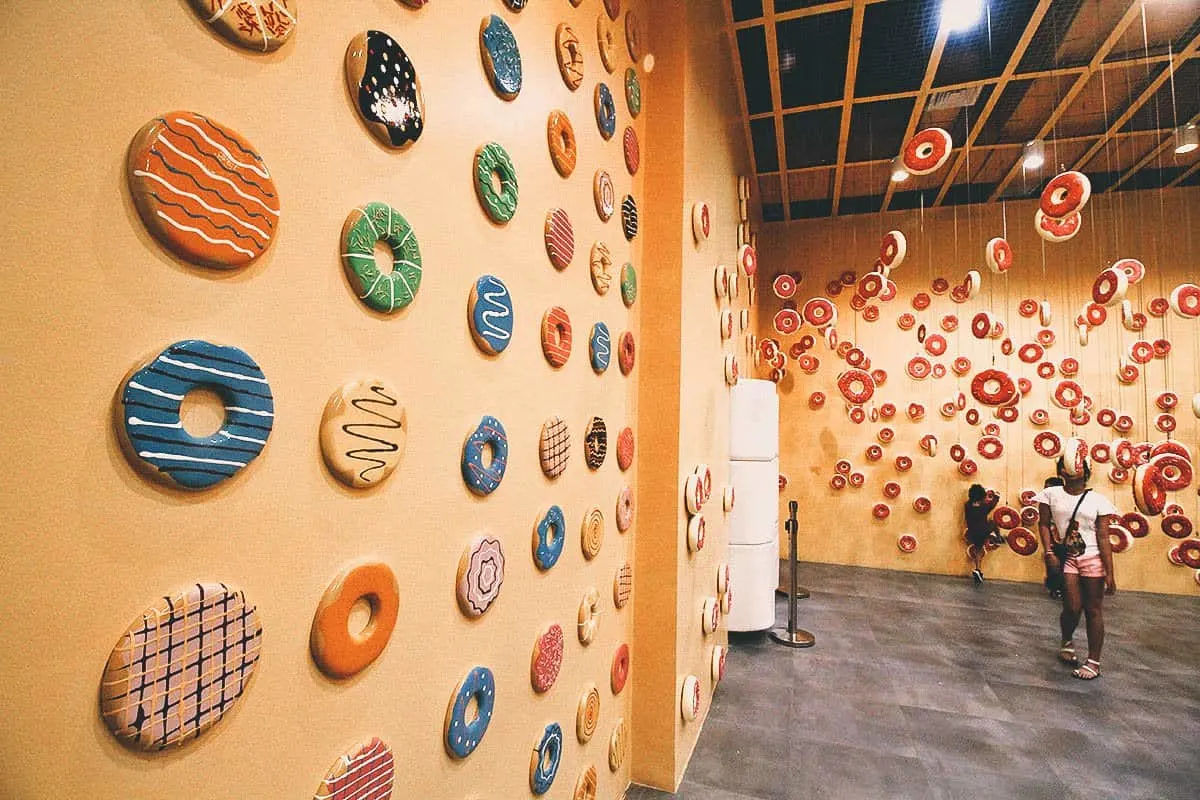 I guess this is why they call themselves a museum. In each room is a colorful infographic with fun facts about the dessert that inspired it.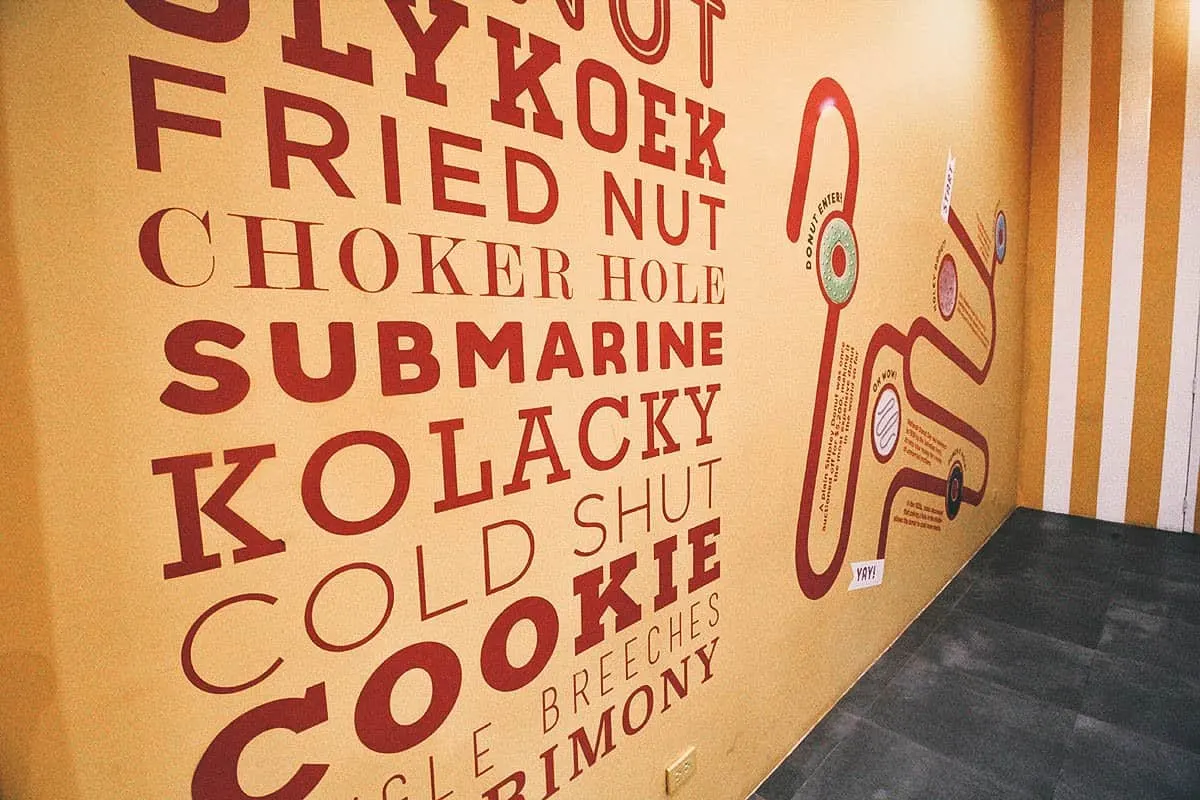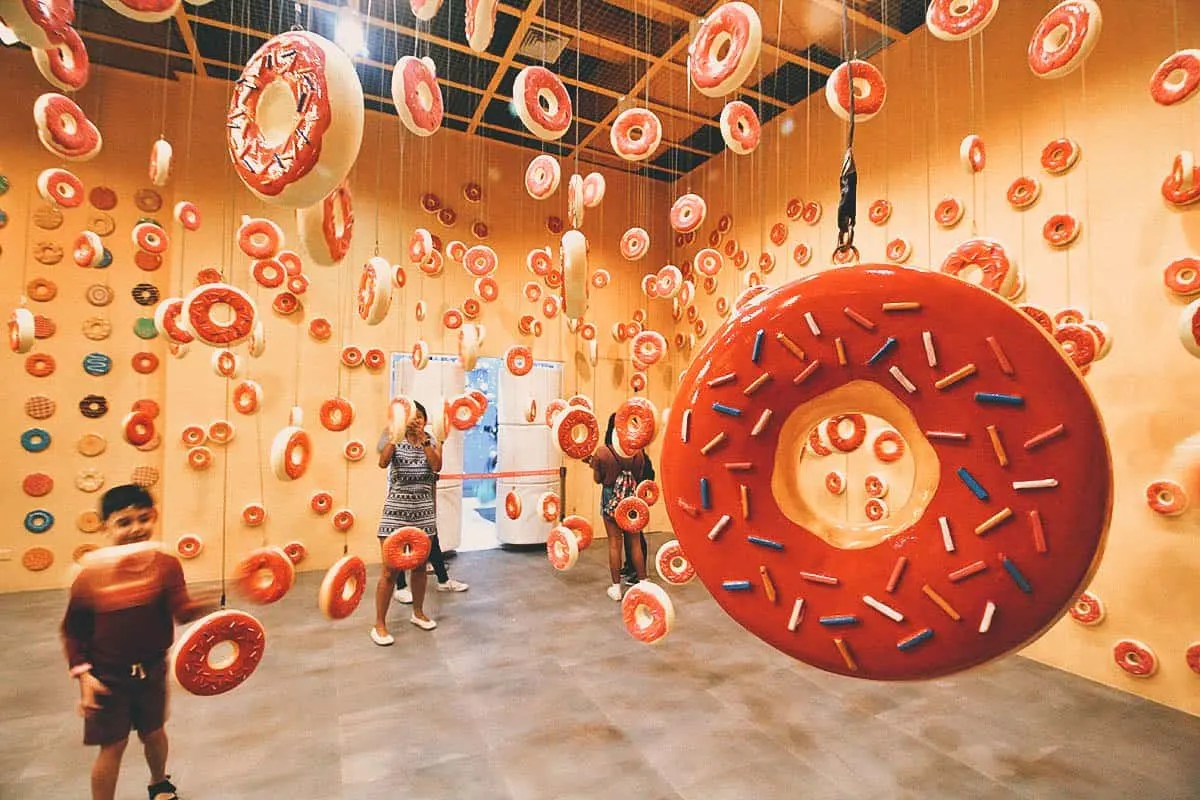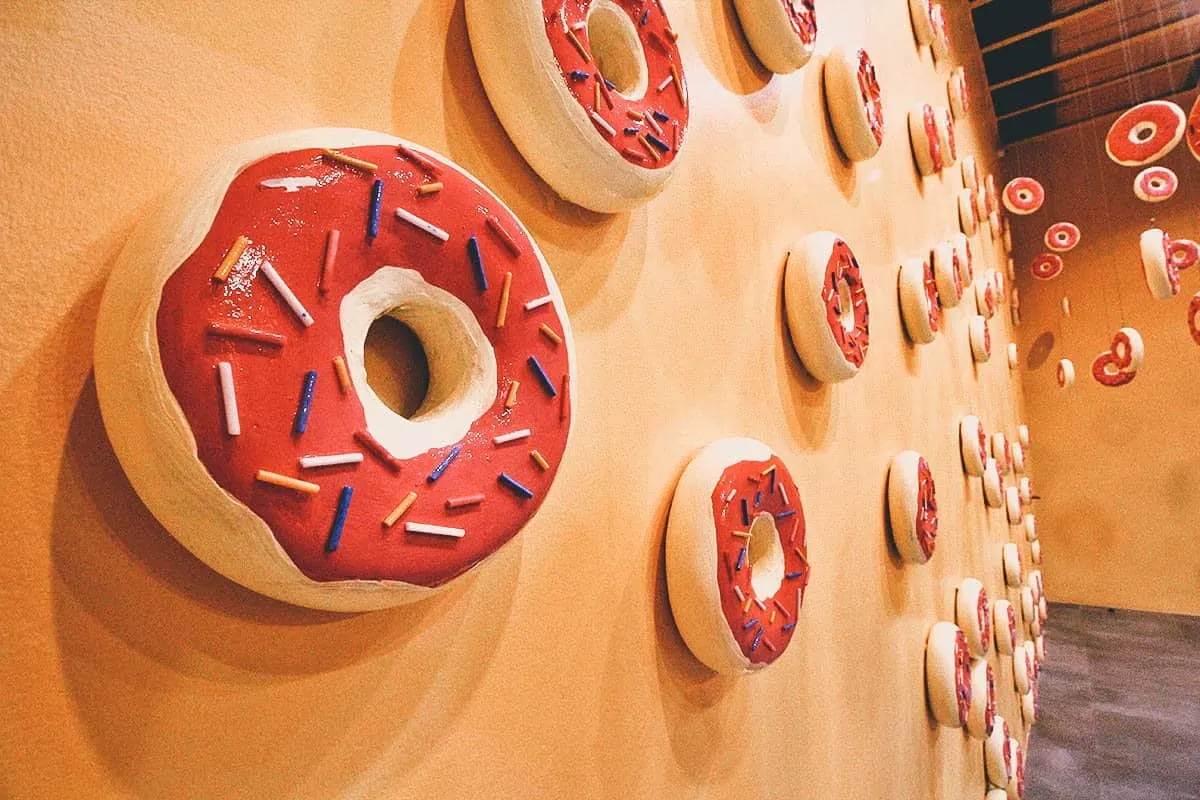 2. Marshmallow Room
Next up was the marshmallow room and its thousands of imitation marshmallows hanging from the ceiling.

Isn't it pretty? It looks almost like snow or a bunch of white fat fairies.

Here we got the first of our 6 desserts. When you check in at the front desk, they'll strap a pink RFID bracelet around your wrist. You hold it up to the scanner to claim each of your desserts.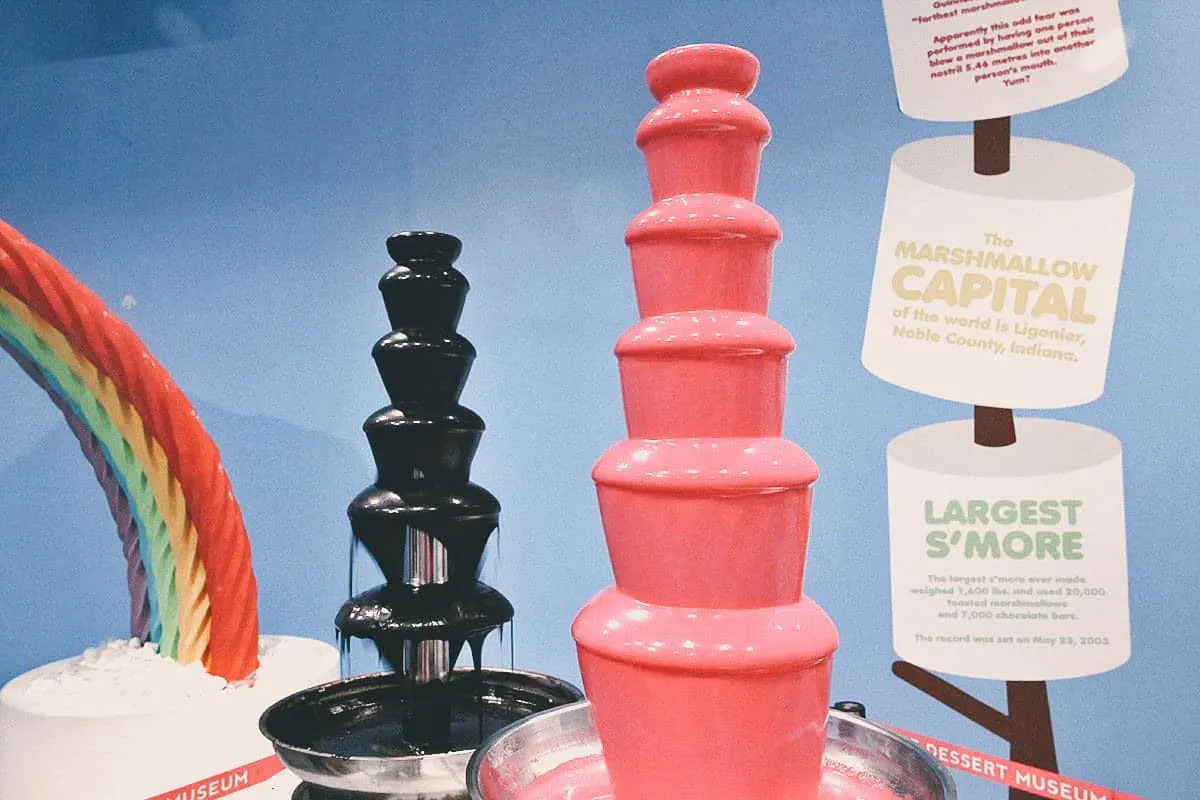 In this room, they'll give you one jumbo marshmallow which you can have coated in either chocolate or strawberry syrup.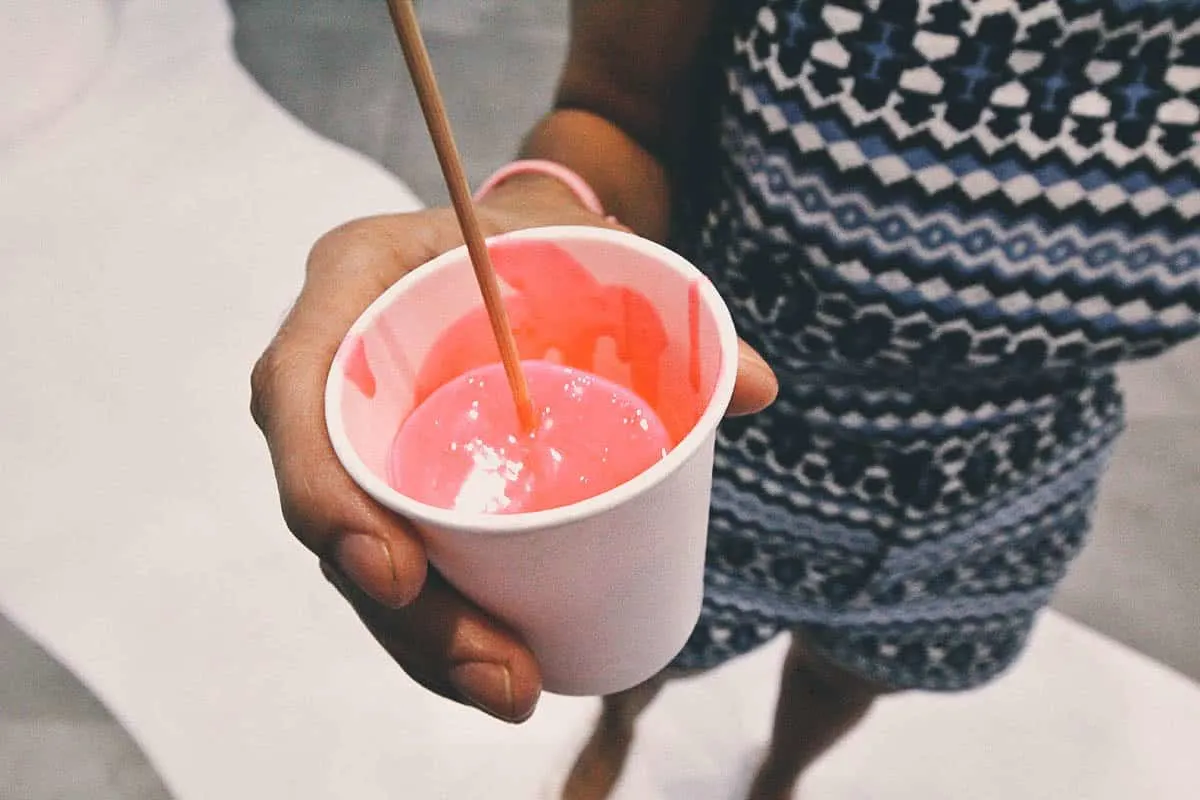 3. Candy Cane Room
This room for me was one of the prettiest and most imaginative at the museum. Before entering, you'll be asked to go through one of two doors – naughty or nice. They lead you through a corridor of either pink or mint green candy canes, but you'll all wind up in the same room.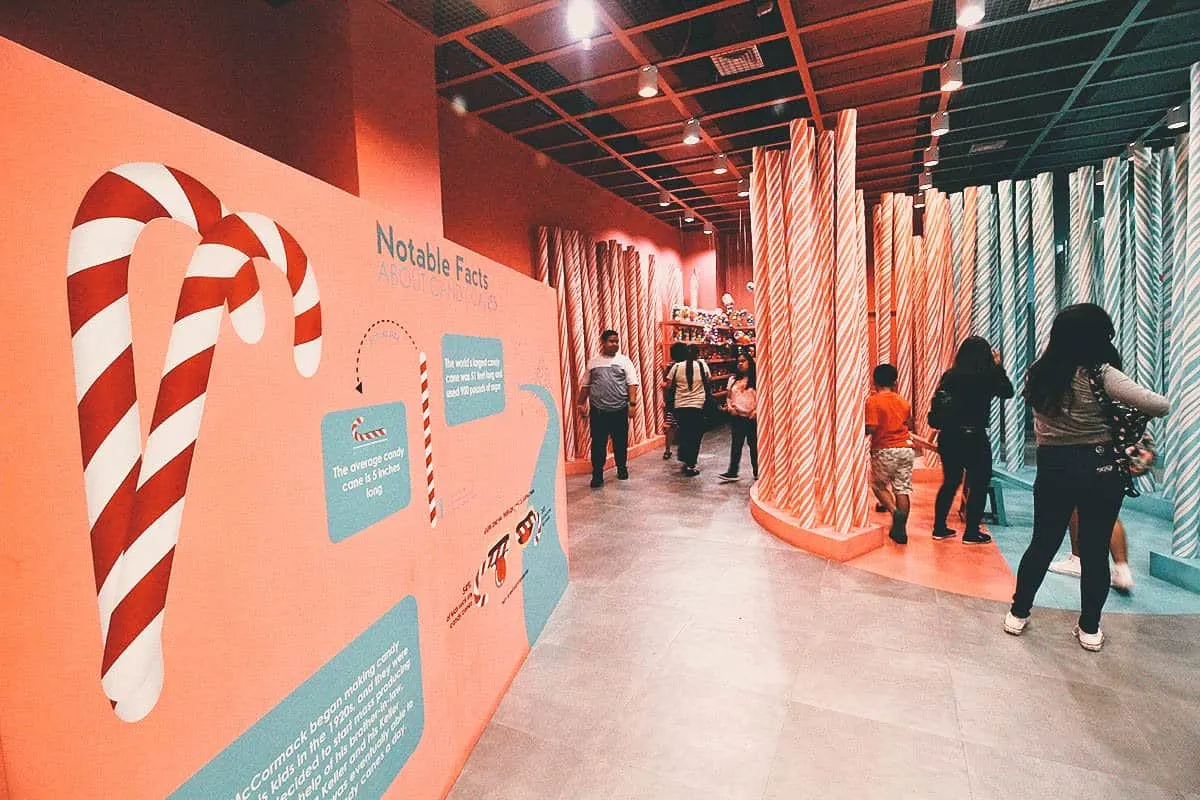 Like Ren, one side is naughty, the other is nice.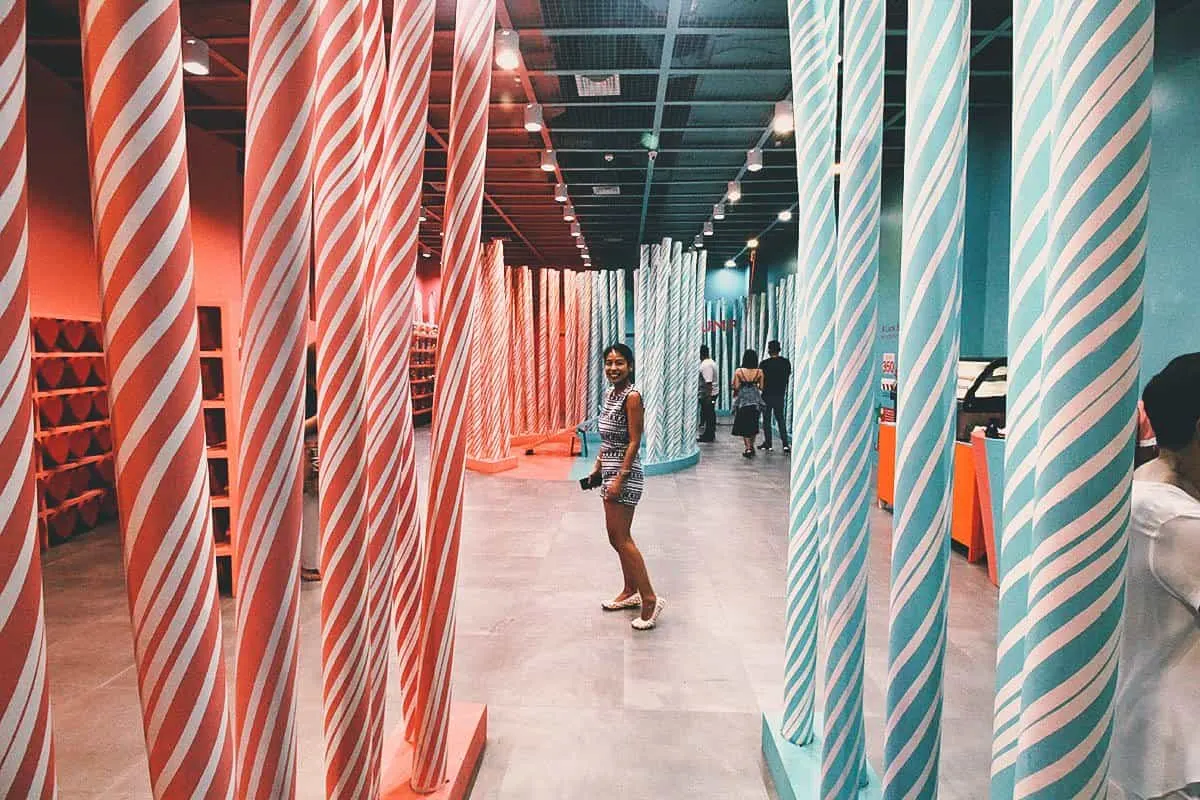 Ren sulking cause no one will go seesaw with her.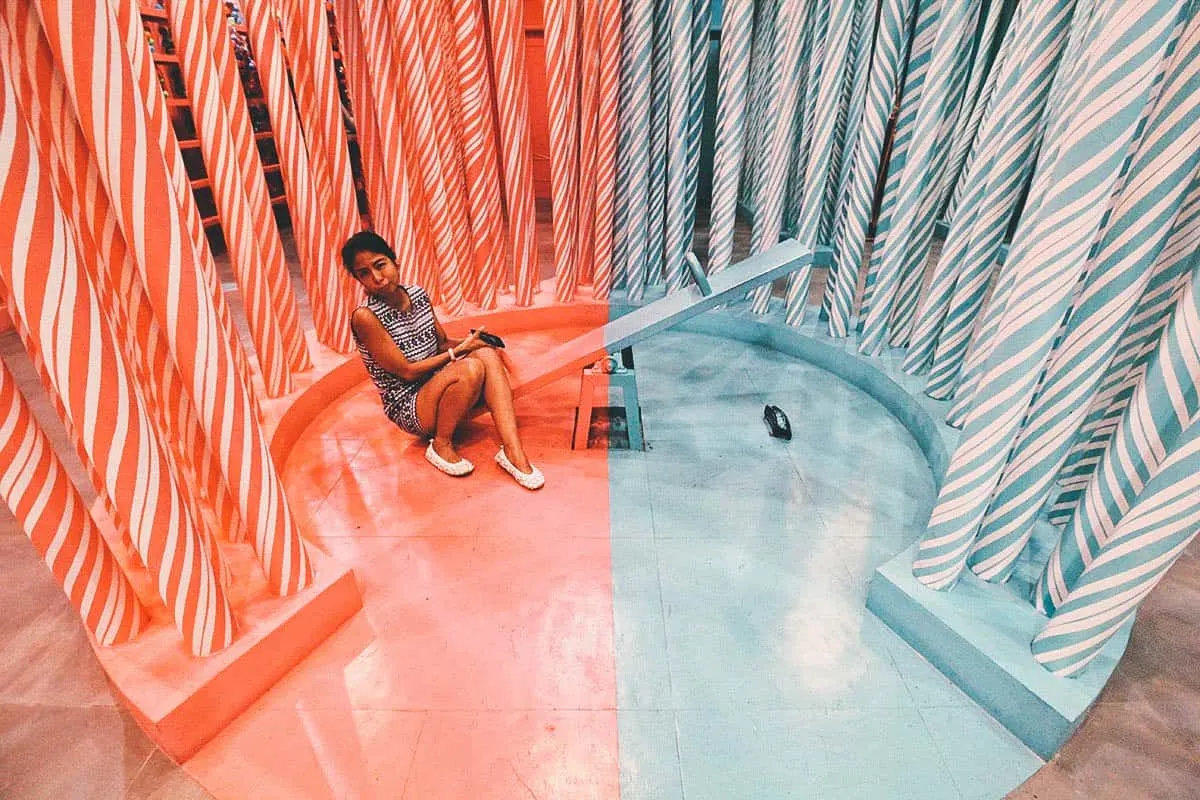 Jump!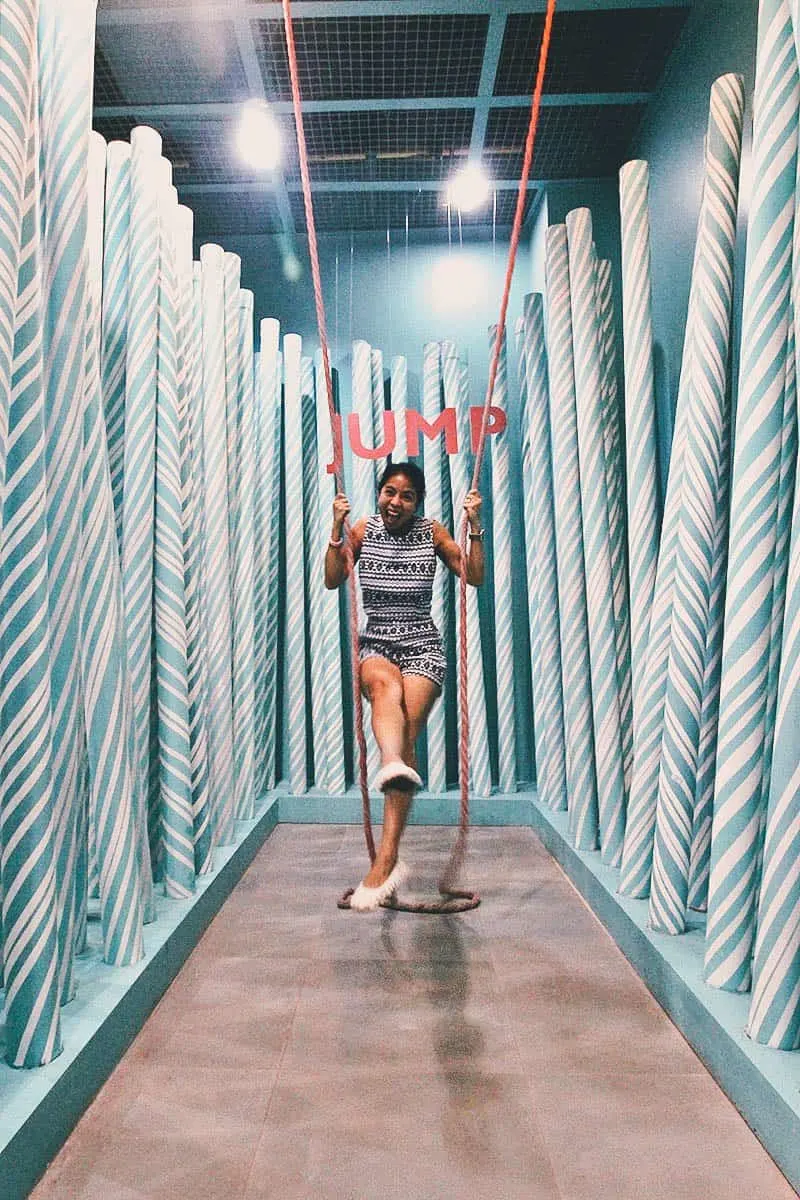 Inside the candy cane room are these themed nooks that make for great photos. Here's one with colorful balls.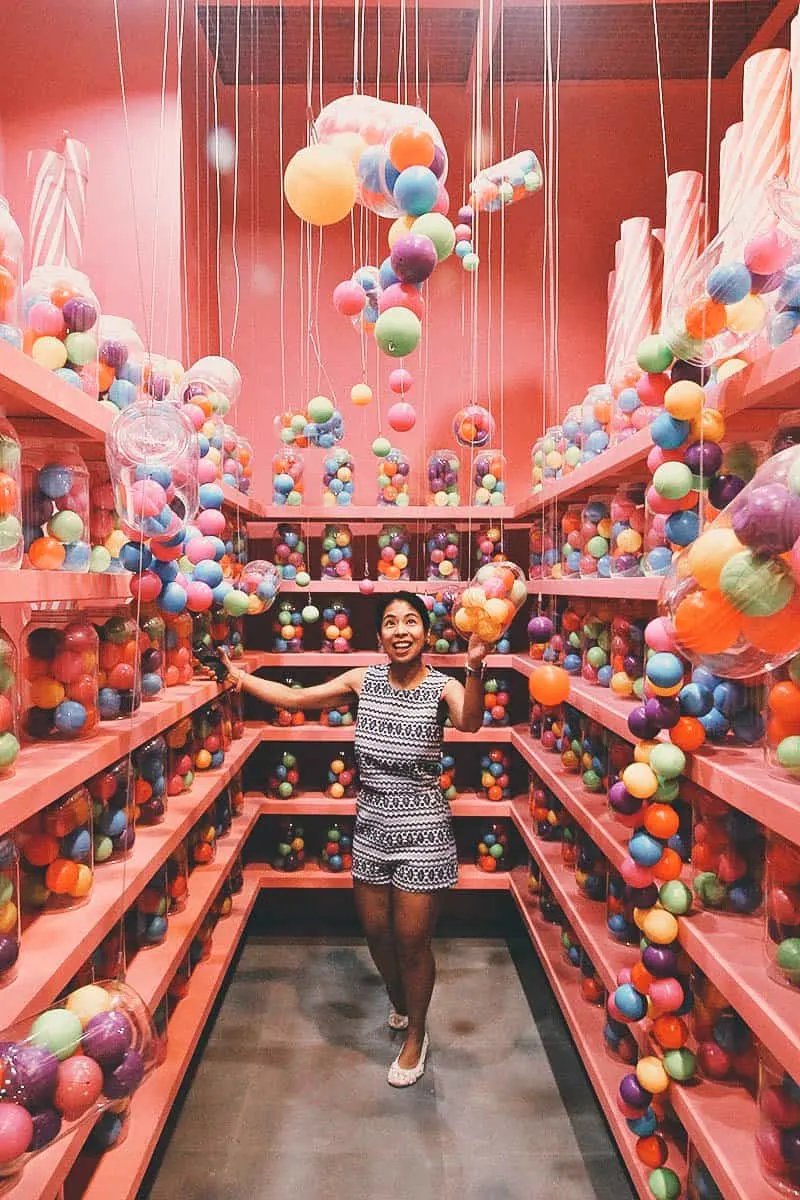 And another with hearts. ♥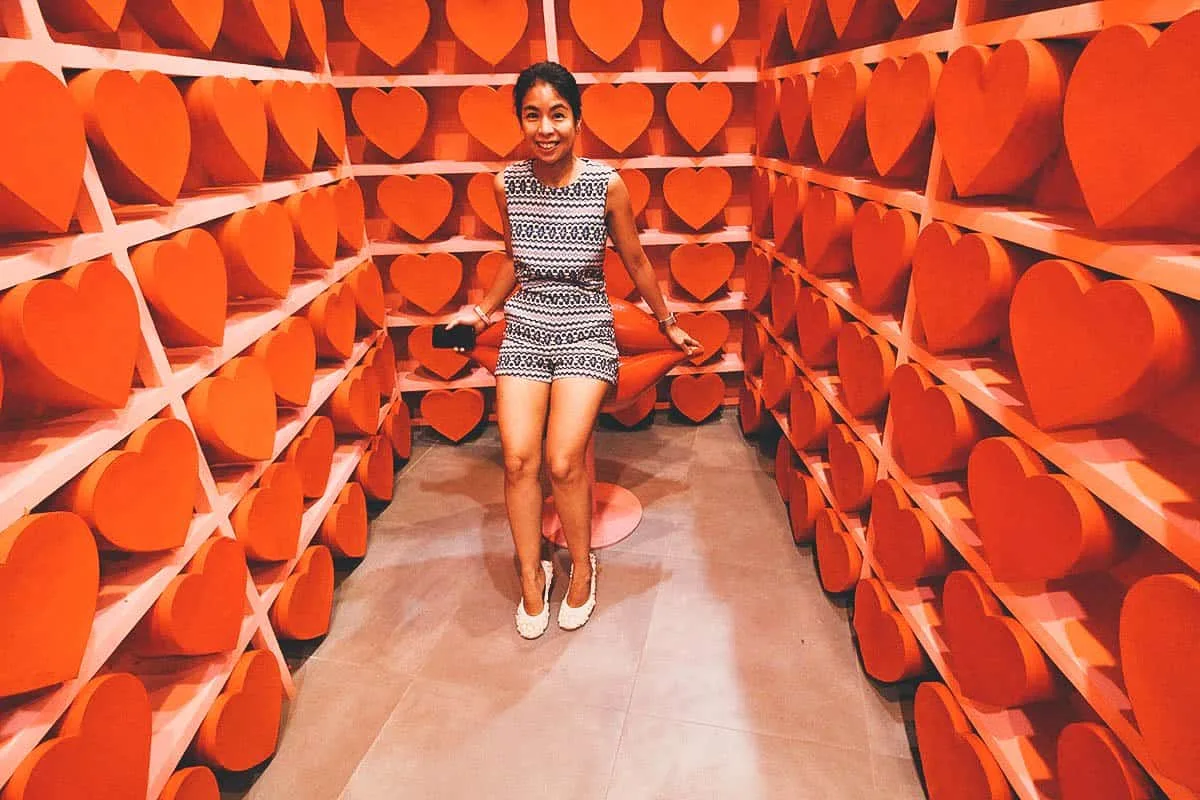 Naturally, we were expecting candy canes in this rom but we were given French macarons.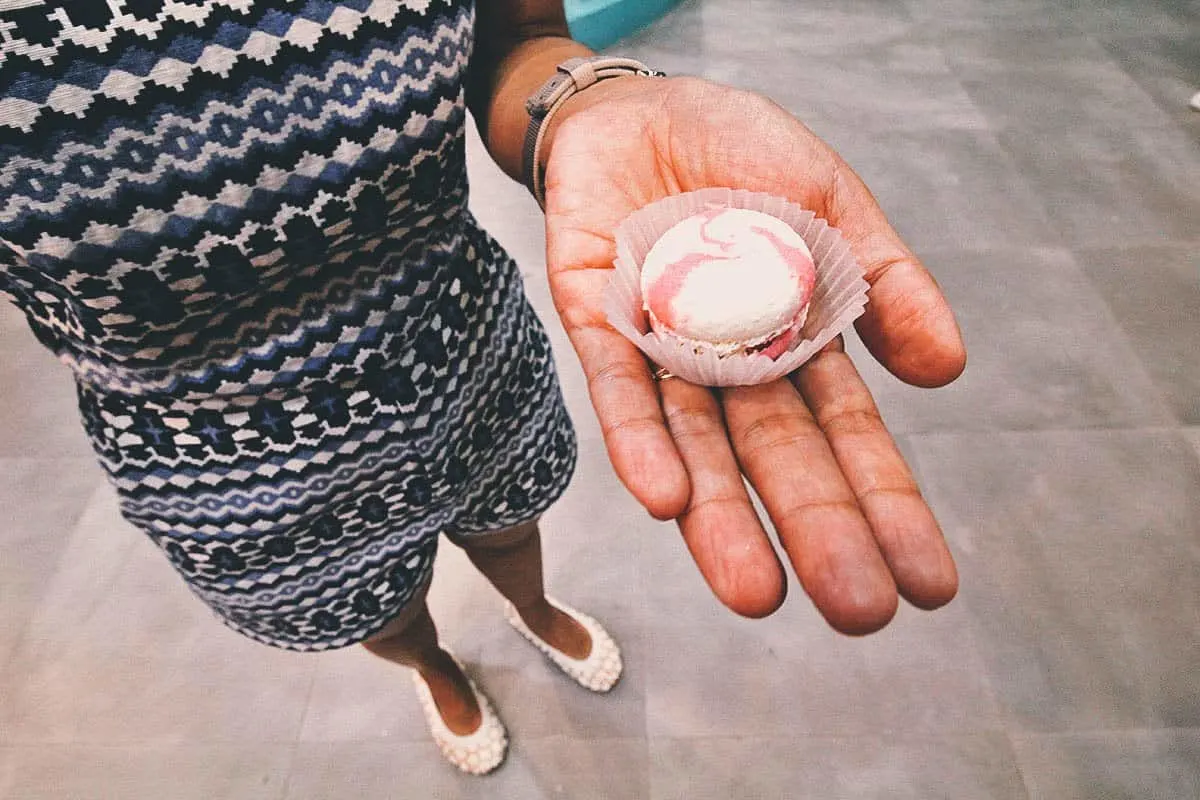 4. Ice Cream Room
This was by far the most disappointing of all the rooms. It looked sparse and unfinished compared to the others, especially for a theme as colorful as ice cream.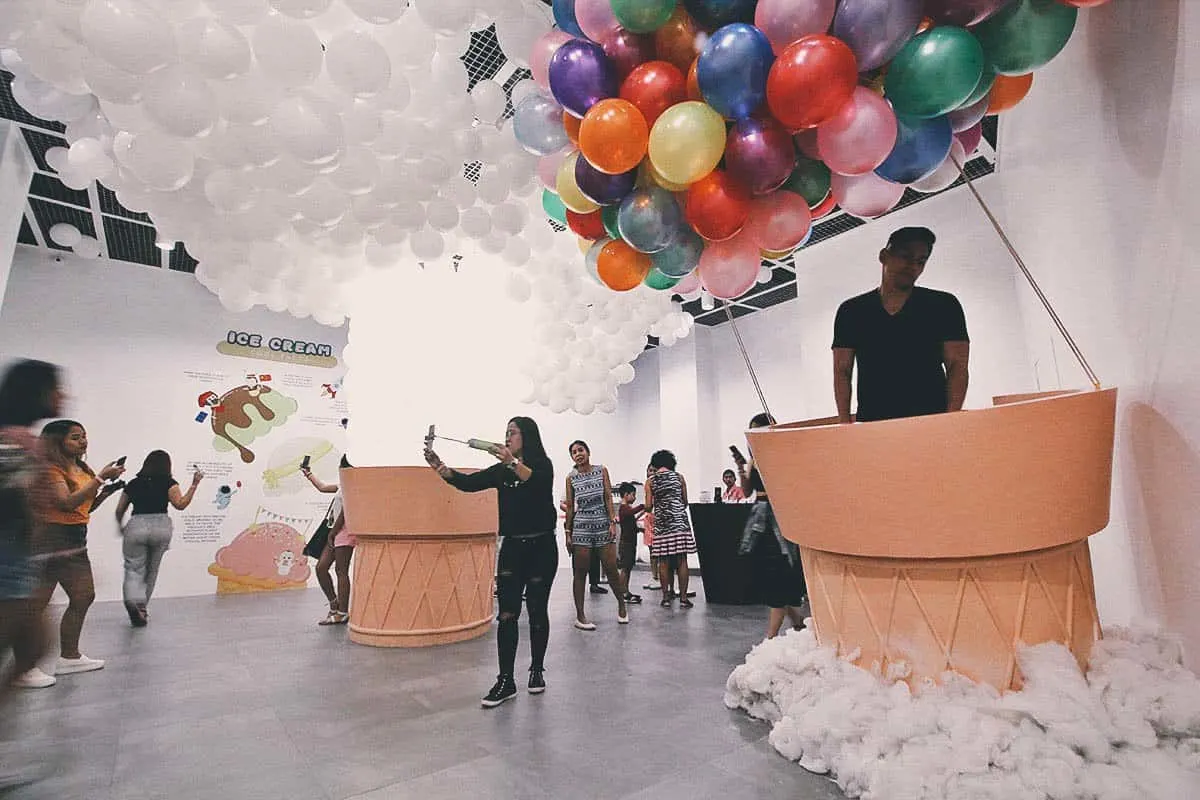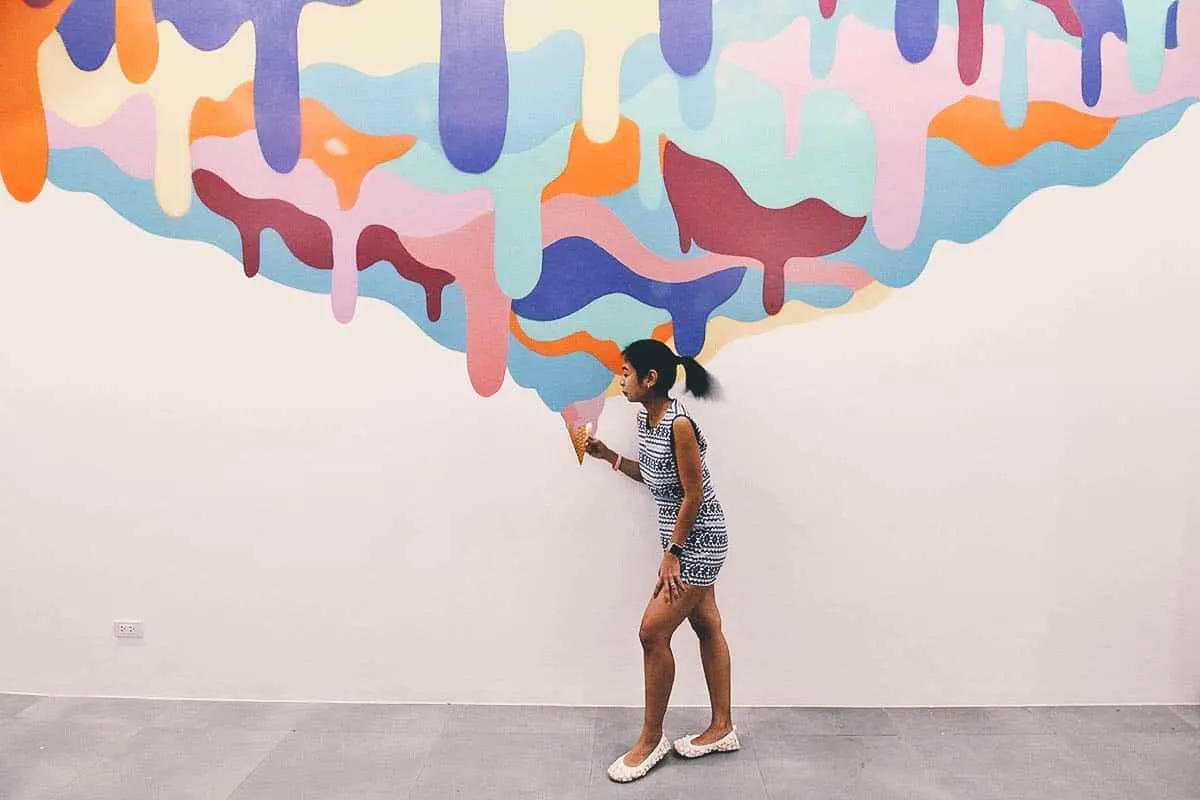 They did offer the best dessert in the house though. You could choose one from several flavors of ice cream popsicles.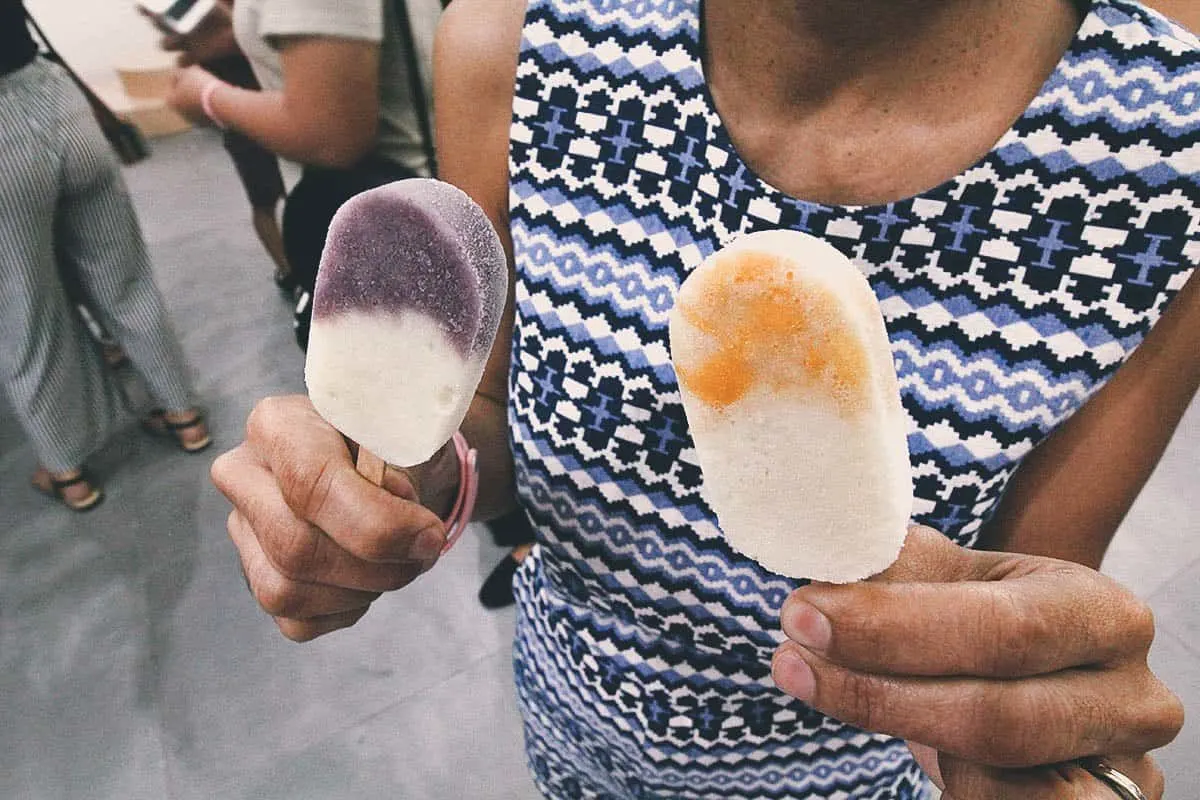 5. Bubble Gum Room
Kids will probably enjoy this room the most. At its center is this giant replica of a bubble gum machine. Fans inside the dispenser's base send those balloons in a frenzy with you in the middle of all of it.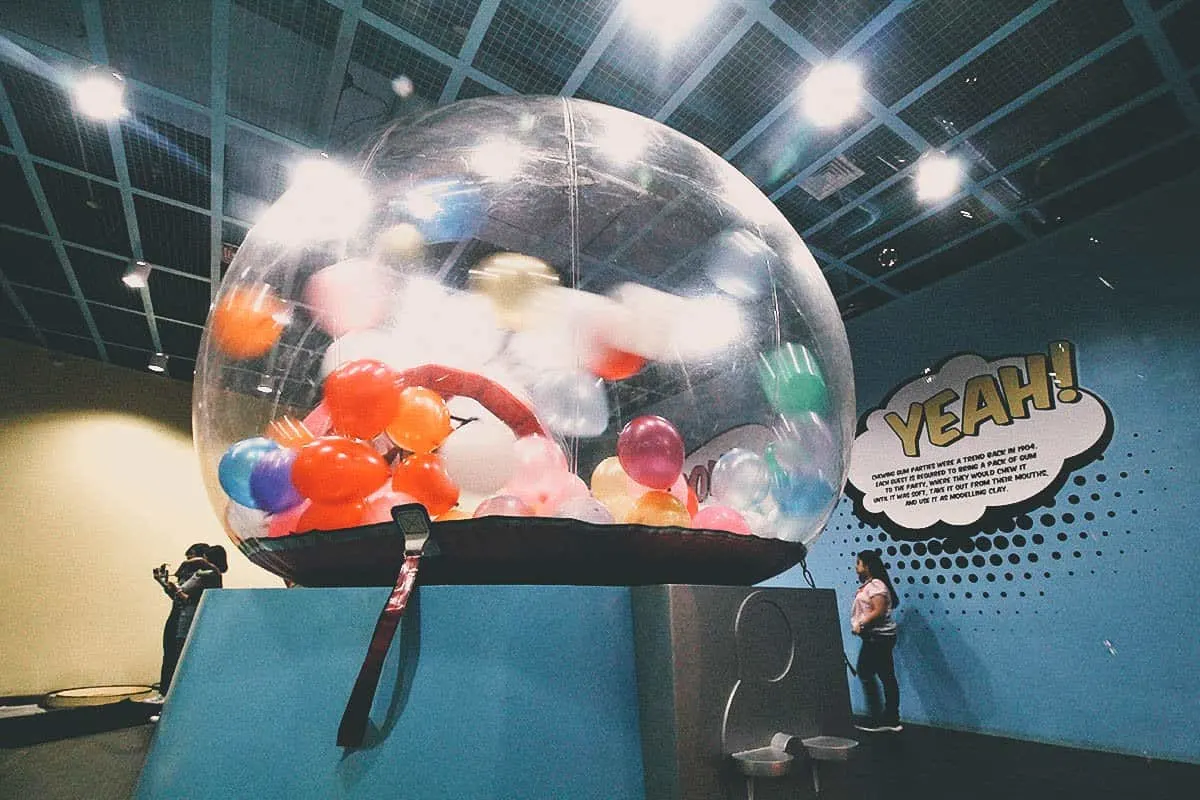 They also have these platforms for guests to stand on while a guide creates a giant soap bubble around you. Pop!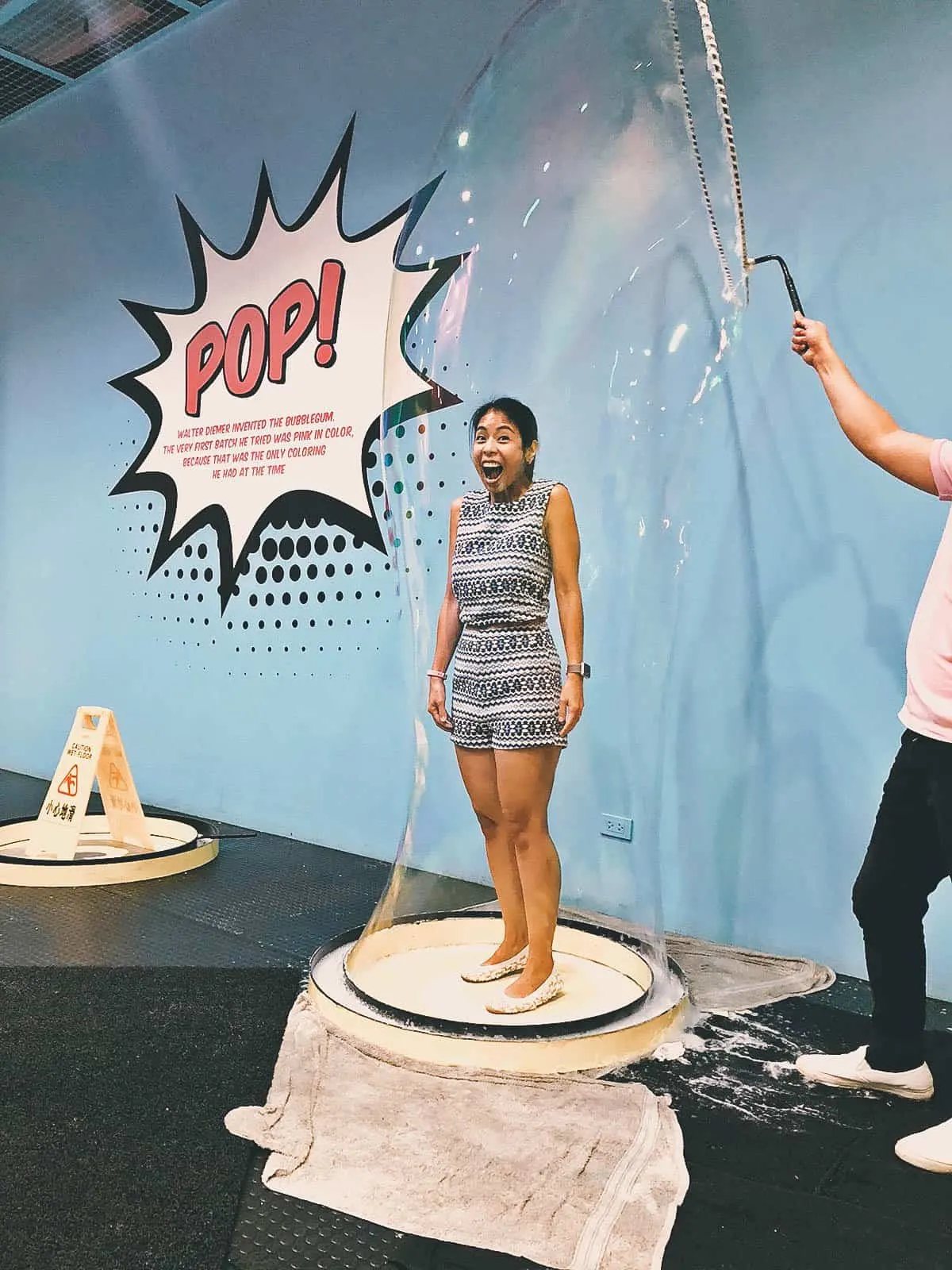 6. Gummy Bear Room
I'm a fan of gummy bears so I looked forward to this room the most.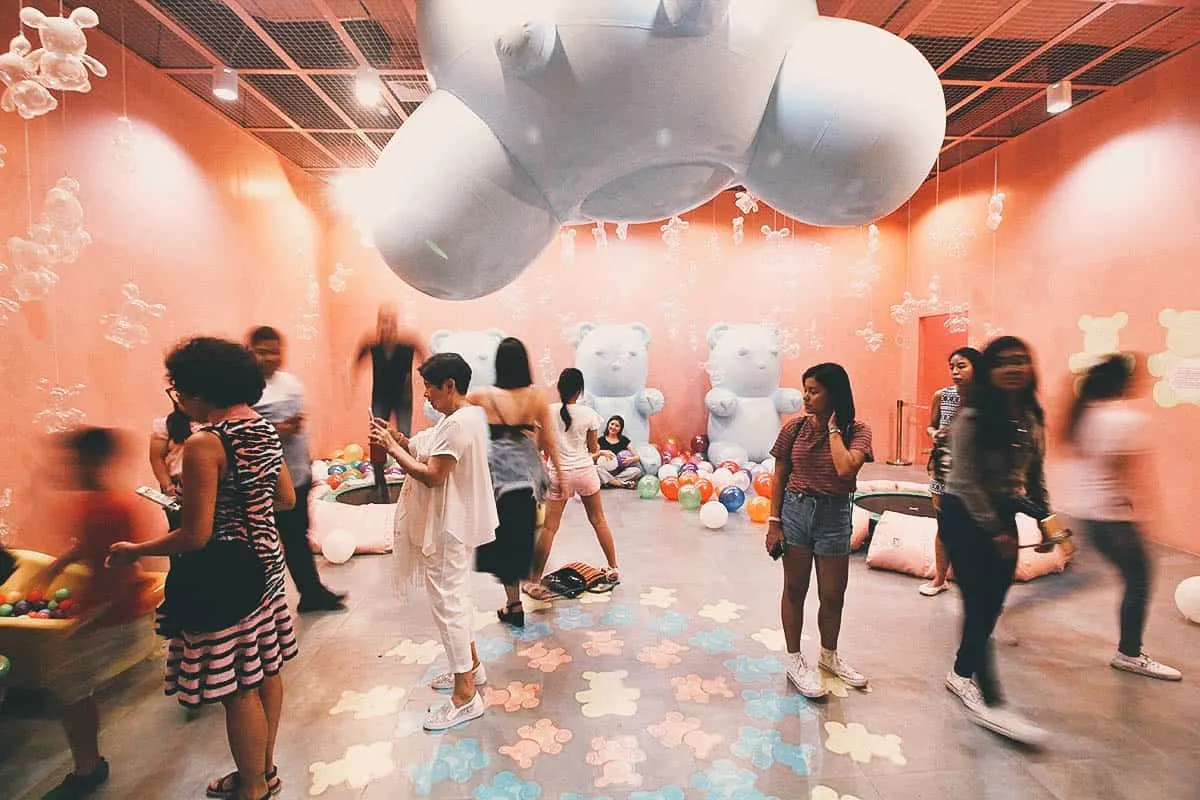 Apart from these giant inflated gummy bears, they also have mini trampolines and bathtubs filled with colorful balls and toys. Like I said, this place was made for Instagram.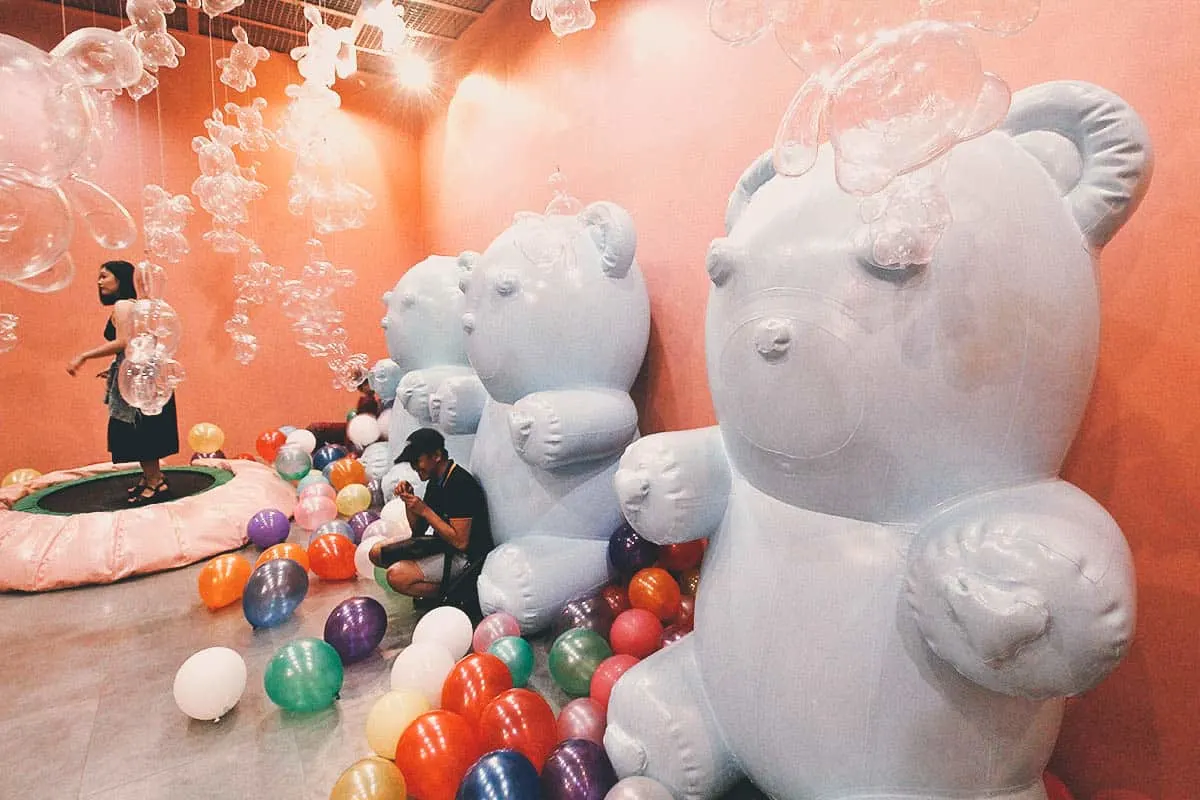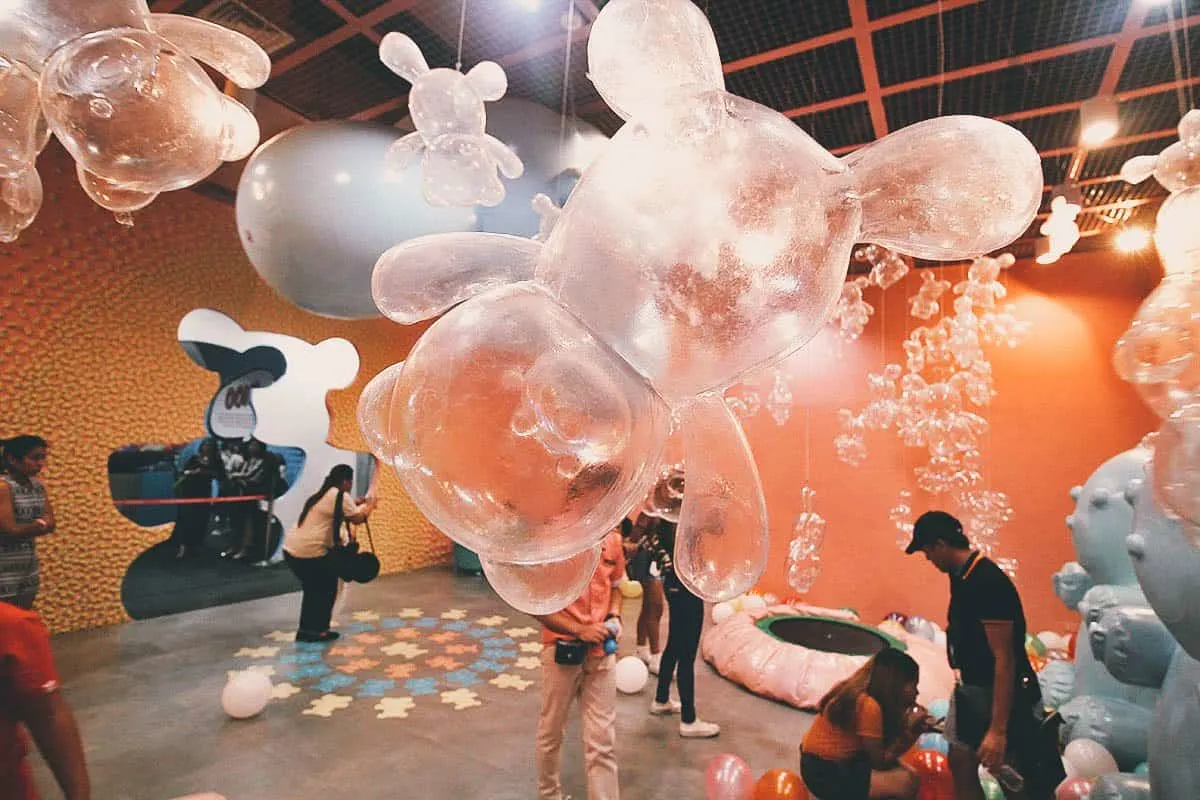 Gummy bears everywhere…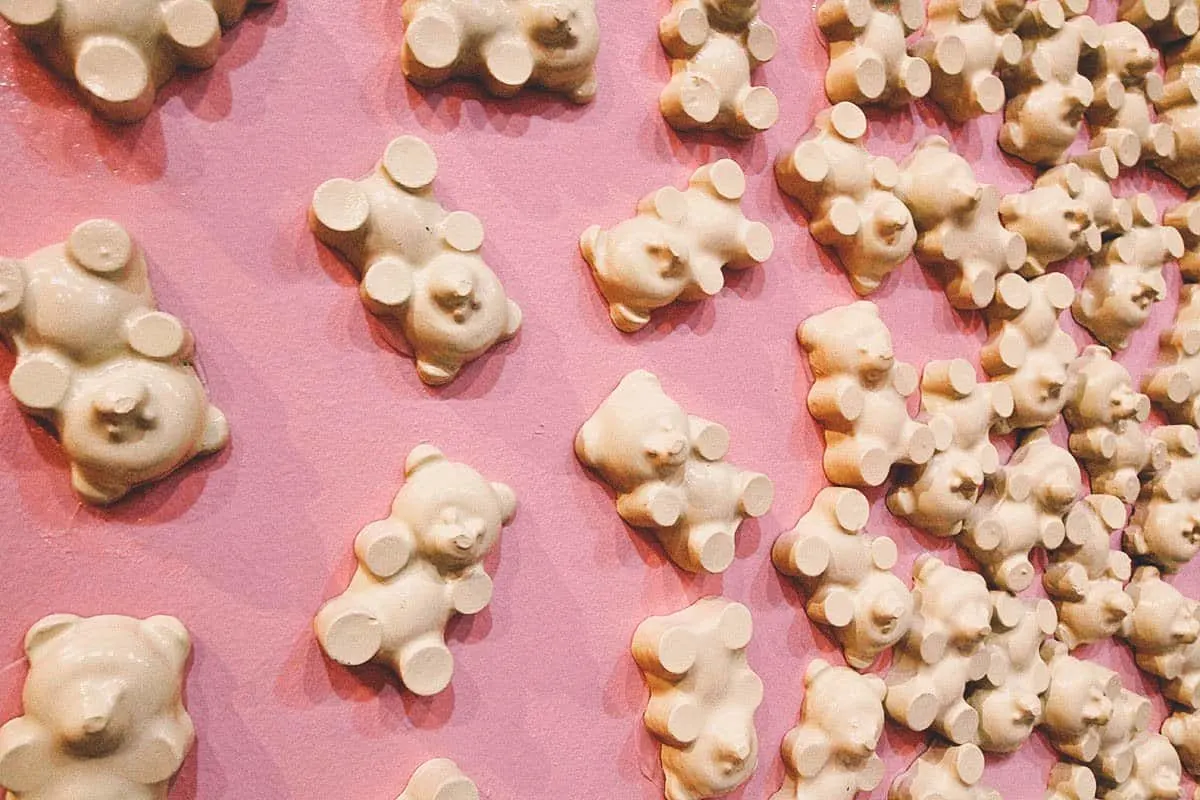 …except where it mattered the most. They only give each guest 5-6 gummy bears. Boo!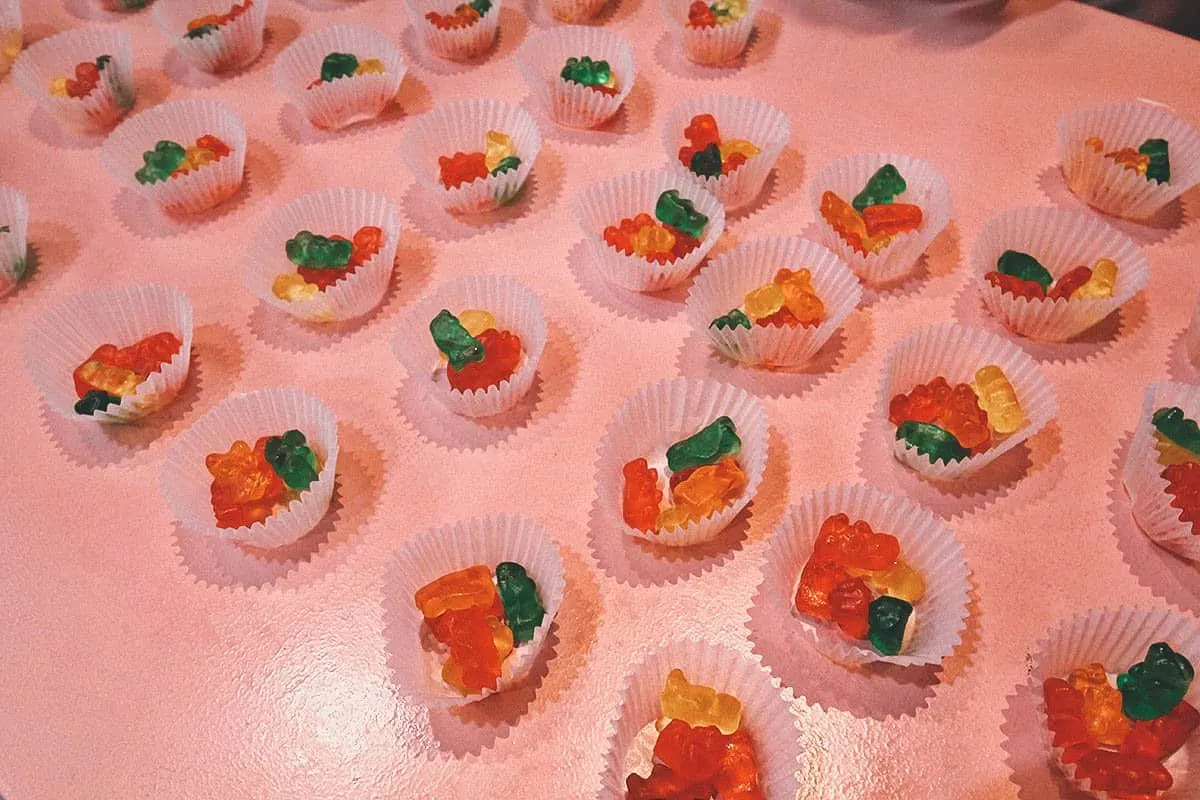 7. Cotton Candy Room
This was probably one of the dreamiest rooms at the museum. They had these giant pink cotton balls made to look like cotton candy trees and clouds. The decor here is more fragile than in other rooms so they ask you not to touch anything. Many people don't listen.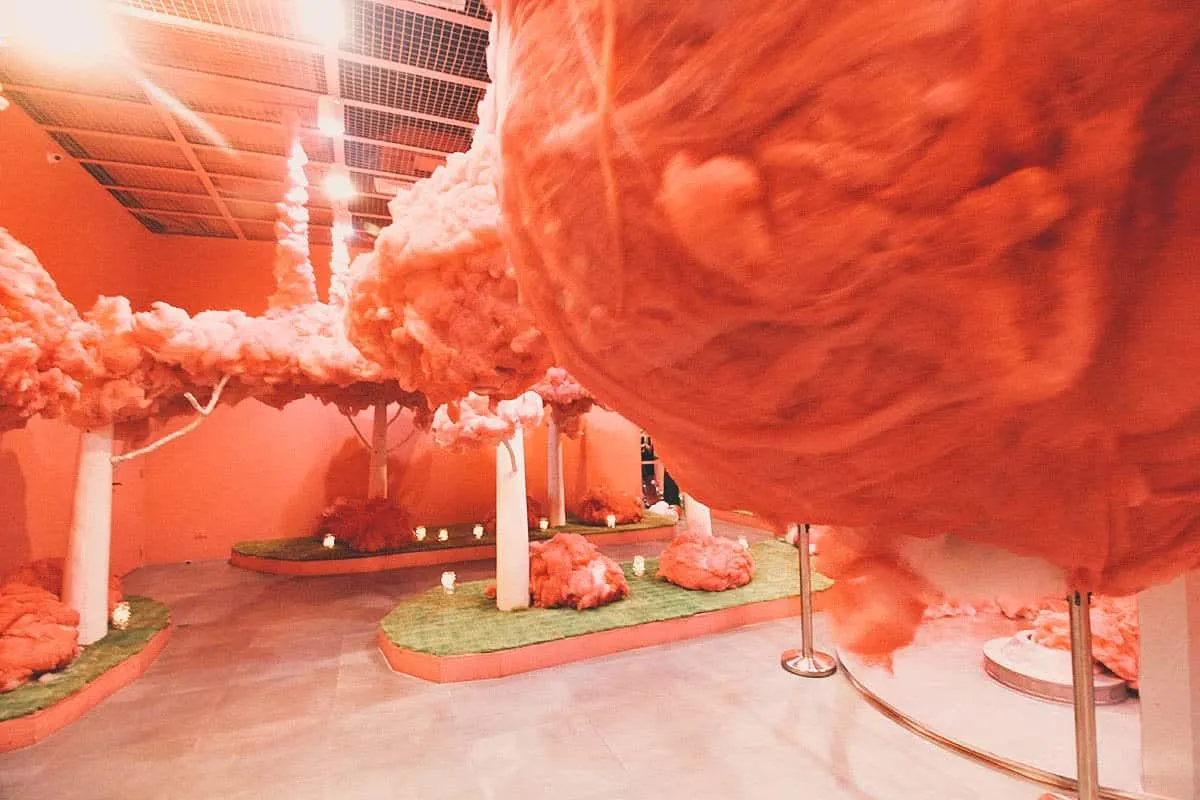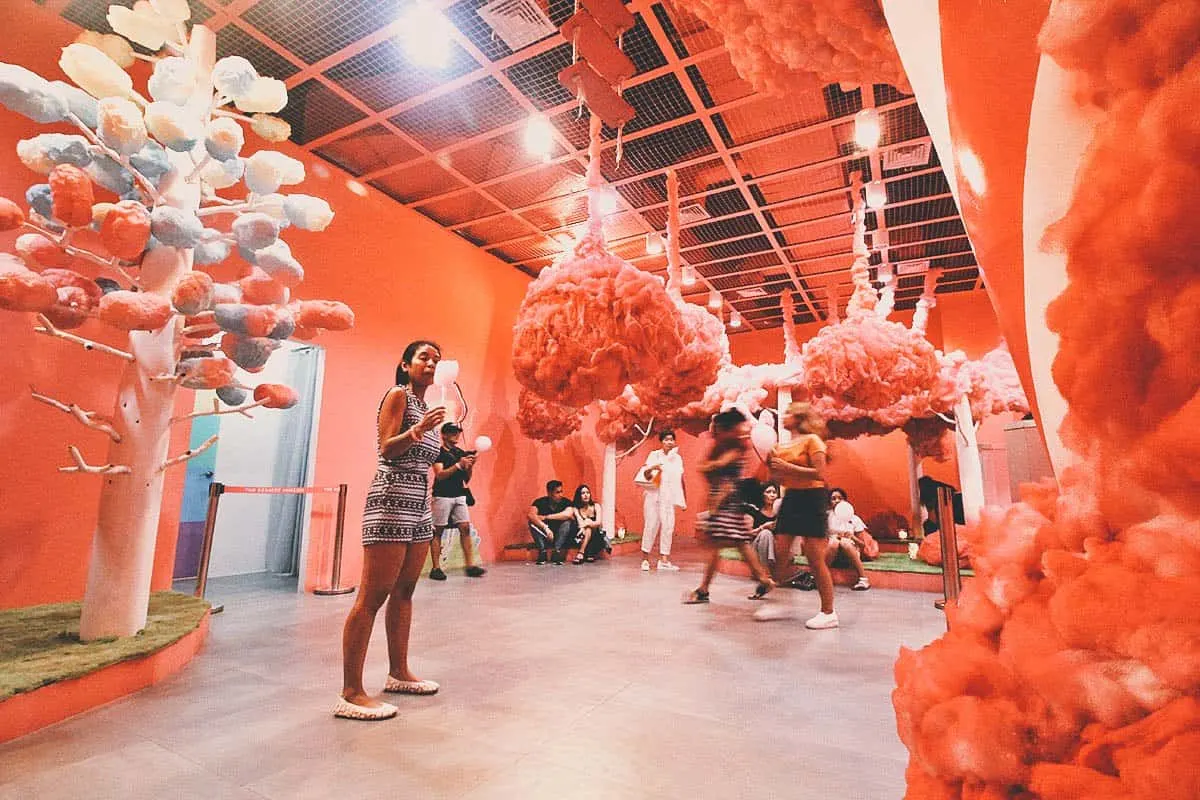 I think this was my first time to have cotton candy in decades. The last time I had cotton candy, I think I was still wearing short pants for school!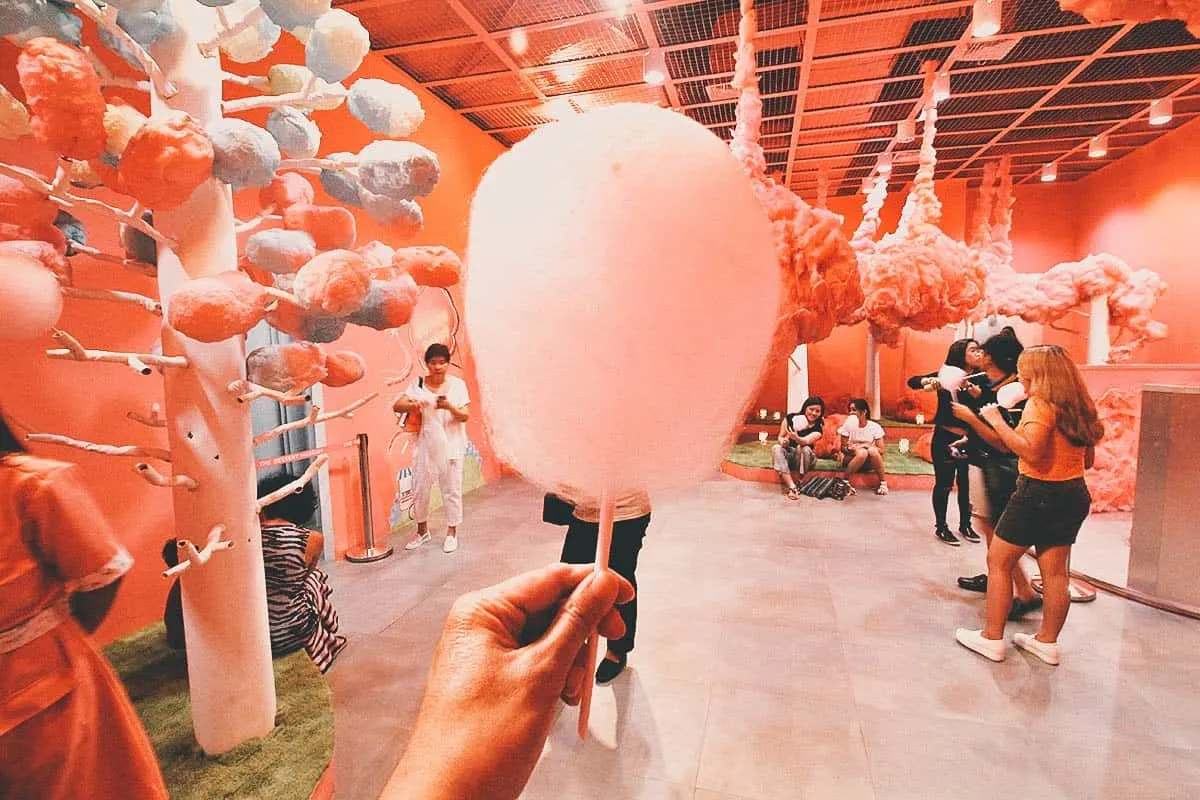 8. Cake Pop Room
Last but not least, we have the cake pop room. This room was pretty fun too. You can do a Miley Cyrus on those giant cake pops in the back or shoot free throws with fluffy basketballs.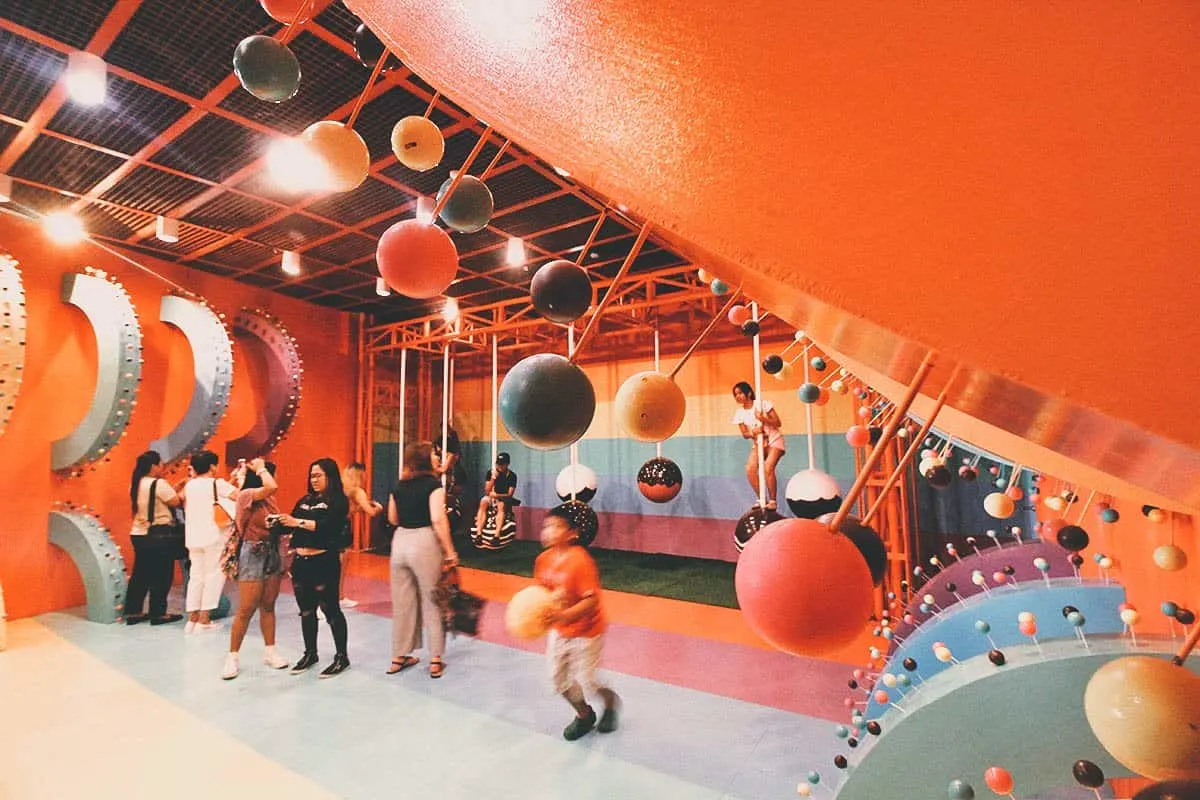 And of course, you get a cake pop for dessert. Before you exit, they'll give each guest a souvenir balloon with another dessert inside. We haven't popped ours yet but I think it's chocolate.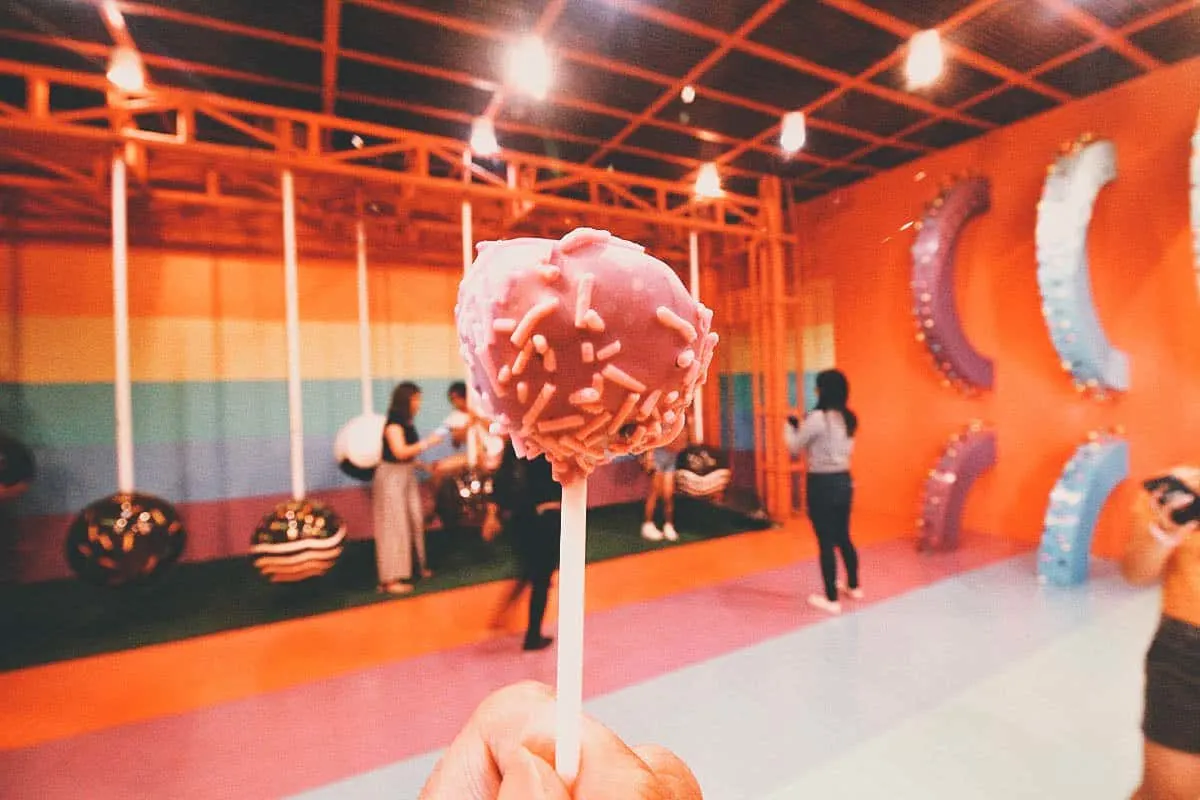 CONCLUSION
Within the first half hour, we realized that the Dessert Museum is no Chocolate Factory. Far from it to be honest. It's a cute concept, but the rooms weren't as meticulously decorated as we hoped they'd be. Some, like the ice cream room, looked flat and uninspired. Disappointing considering what a novel idea this is. The desserts weren't anything to scream about either.
Nonetheless, it makes for an entertaining couple of hours, especially if you're really into photo sharing platforms like Instagram or Snapchat. Before going, I thought this place would be mainly for young kids but I think it caters more to snap-happy millennials. If you look at the museum's Instagram feed, you'll see that some guests take their visits seriously. Some people get really made up for this! It's definitely an attraction designed for Instagram, which is a good thing because in our opinion, it often photographed better than it actually looks. It's similar in feel and appeal to those Trick Eye Museums.
The good thing is, with a theme as fun and universally appealing as desserts, it's easy to update the rooms to keep the concept fresh. Maybe after a year or so, they can change it up to brownie- or pie-themed rooms. Maybe even a jellybean room! The possibilities really are limited only by the imagination, which is part of the reason why a place like this holds so much promise.
As described, walk-ins pay PHP 799 for a two-hour curated tour with up to 6 desserts, but you can get in for just PHP 699 if you purchase tickets in advance through Klook.
The Dessert Museum
Unit 124, 126, 127a, Coral Way, S Maison Mall, Conrad Hotel Manila, Mall of Asia Complex, Pasay City
Website: thedessertmuseum.com
Facebook: thedessertmuseum
Twitter: dessertmuseumph
Instagram: DessertMuseum
Email: [email protected]
Operating Hours: 10AM-10PM
Disclosure
Some of the links in this guide are affiliate links, meaning we'll get a small commission if you make a purchase at NO extra cost to you. We only recommend products and services that we use ourselves and firmly believe in. We really appreciate your support as this helps us make more of these free travel guides. Thank you!