Like most travelers, we tend to look for the same things when choosing a hotel. It has to be clean, conveniently located, and reasonably priced. It needs to have a good rating on TripAdvisor. If it doesn't, then no way are we staying there. I'm drawn to quirky, unique places too so if it's got personality, then that's a plus. Z Hostel has all of those.
We looked at a few places before booking a room here but obviously, something just drew us to this place. I like to think of it as the Z factor. 😉
Hotel Lobby
Time zones and stripper pole. Simple and clean with natural colors and wood accents, there's a calming Zen-like feel to the hotel. The only splash of color is the green astroturf out front and on the roofdeck.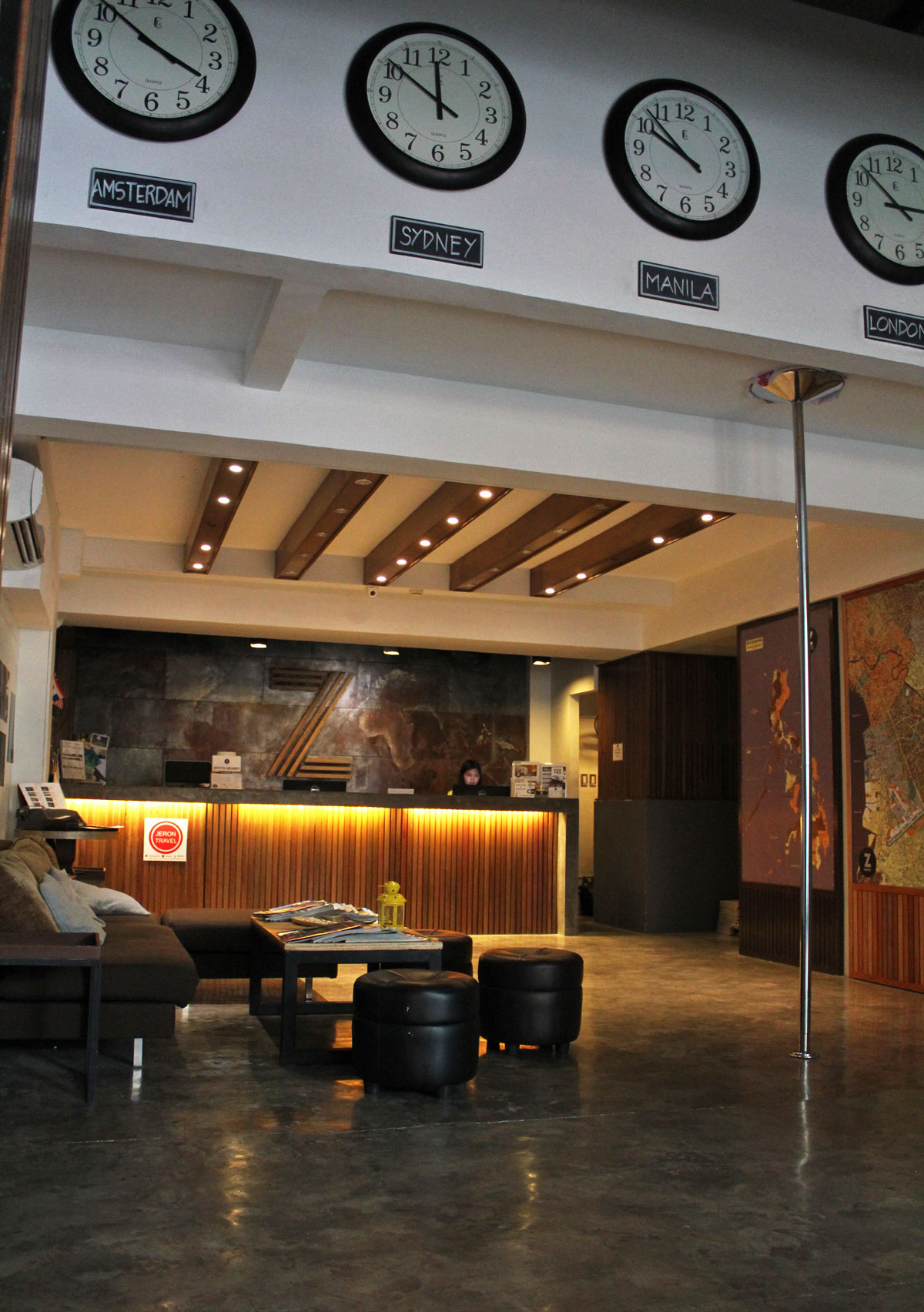 Two desktop computers for guests. There's free wifi throughout the hotel.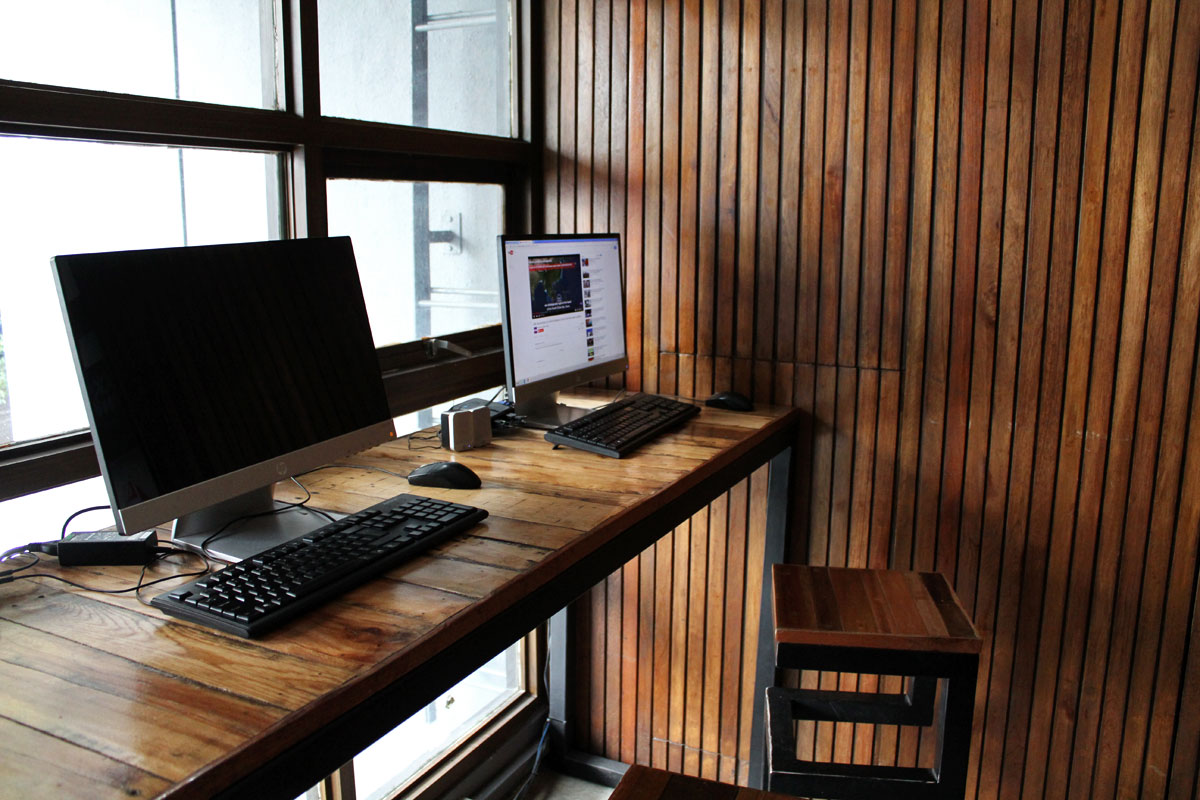 Sharing is caring.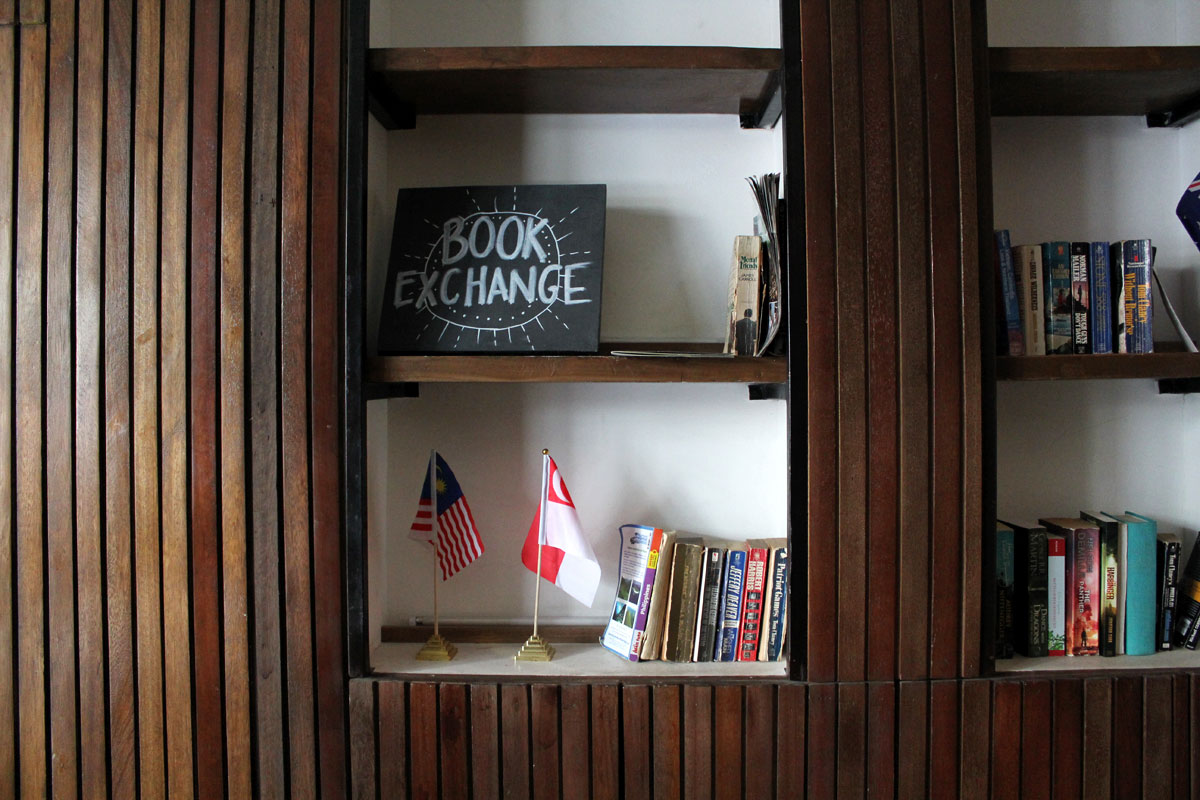 Private Rooms
Though Z Hostel caters mainly to backpackers with their dorm-style accommodations, they do have a few private rooms at the top floor. The published rate for private rooms is PHP 2,430 a night with breakfast for two.
As clean and comfortable as these private rooms are, they do have one major drawback. More on that later.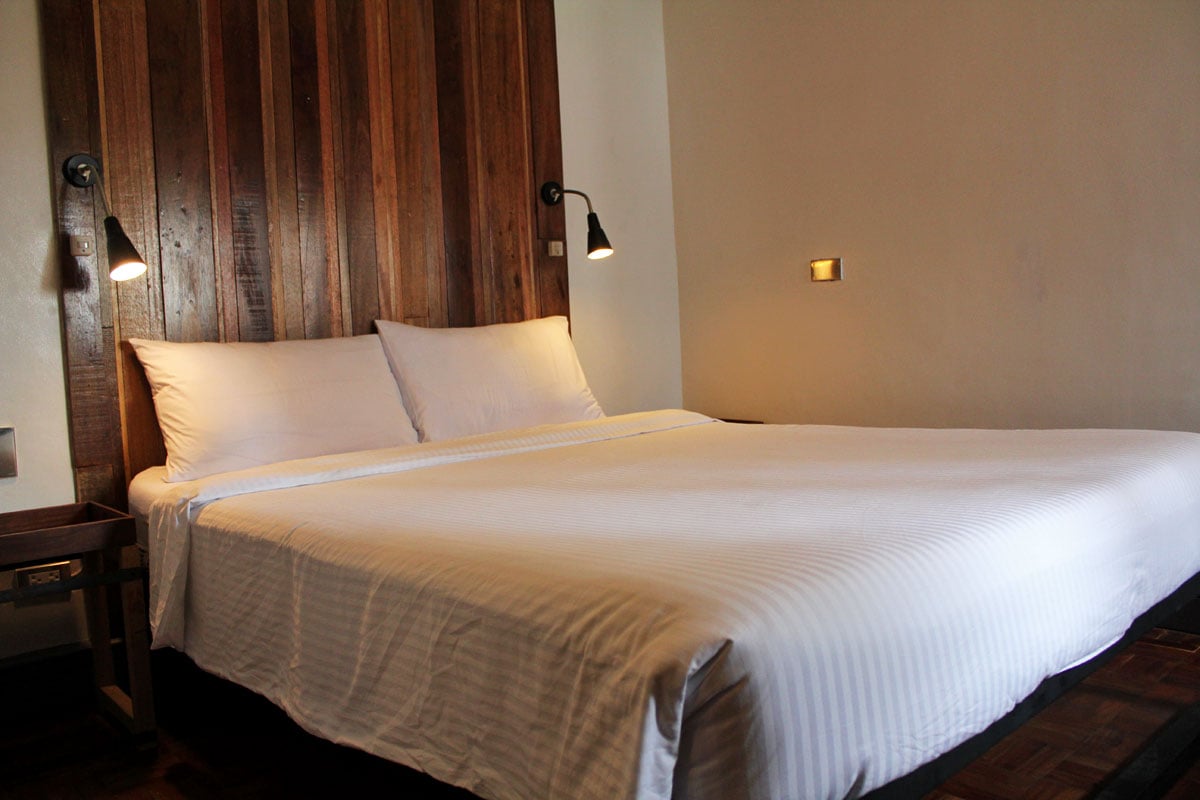 I love how spacious this workstation is, but no chair? The room didn't have a TV either. I know Z Hostel caters to backpackers and group travelers but it would have been nice to have TVs in the private rooms I think. A mini refrigerator would have been cool too.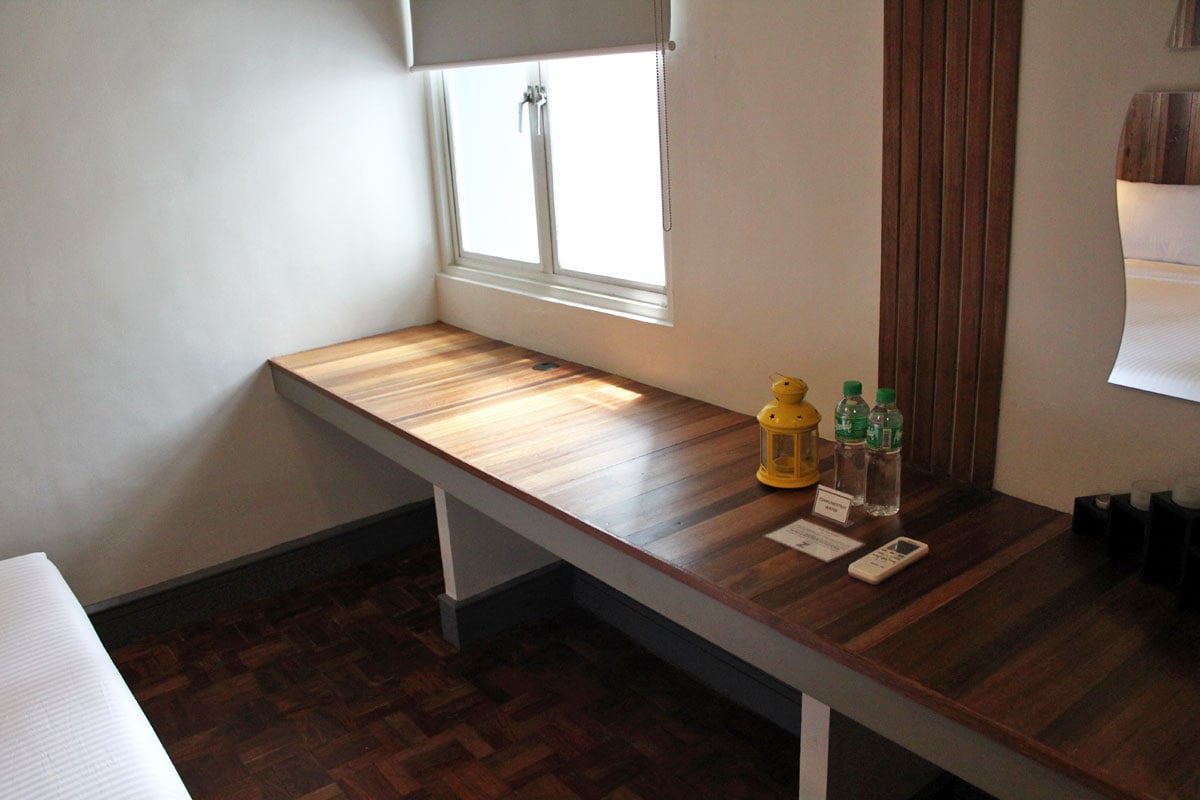 Spartan but clean bathroom. Not a fan of that fugly green tile and shower curtain though.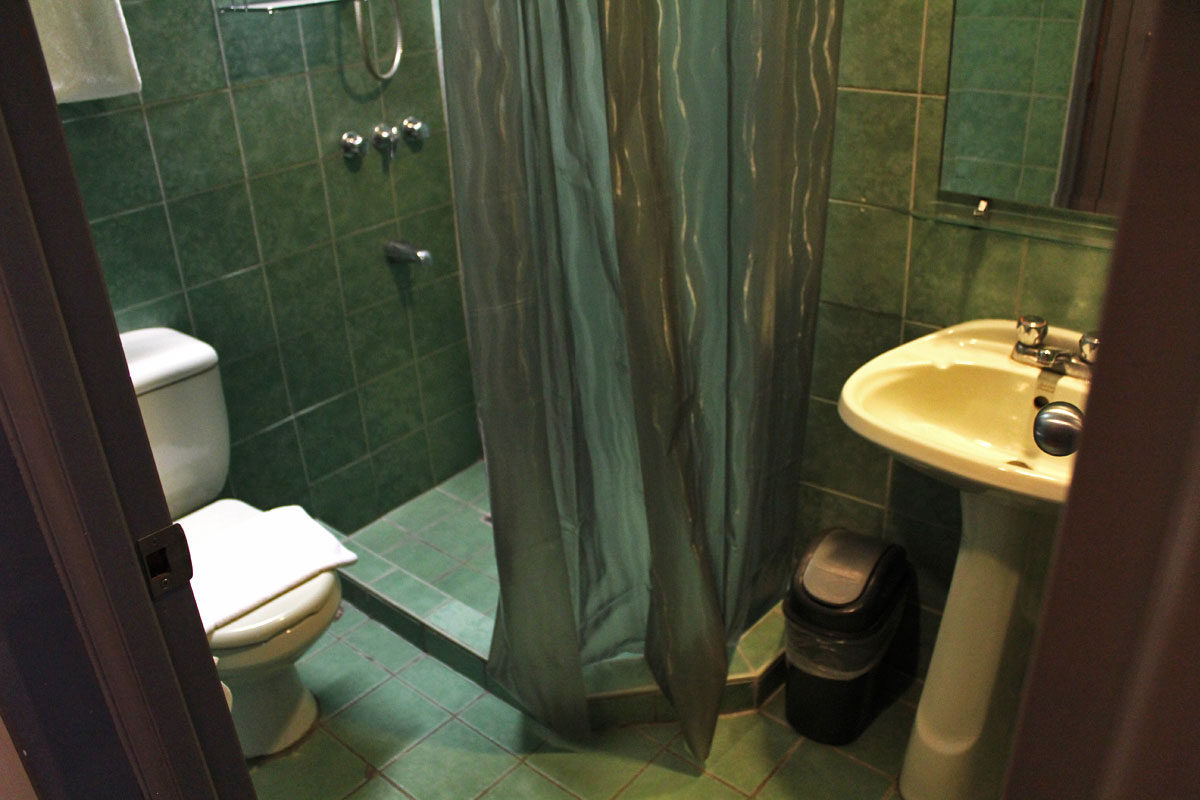 Dorms
Z Hostel has mixed and all-female dorm rooms. All with bunk beds, mixed dorms can accomodate up to 4, 6, or 8 people while all-female dorms can sleep up to 6. Non-discounted dorm rates include breakfast and are indicated at the bottom of this post.
Each bed is equipped with its own electric socket, reading lamp, and towel rack. You'll also have a locker big enough to fit a 50L backpack with its own electric socket and enough space to safely charge your gadgets. All-female dorm rooms have the added luxury of a dresser with vanity mirror. They have bigger lockers as well.
Check out Z Hostel's website for pictures of their dorm rooms.
Restaurant
Stylish eh? I love how the wood panels carry over throughout the entire hotel. It was closed at the time but those stairs lead up to a game room. They want you to "clean as you go" here, meaning you put away your dishes in bus tubs when you're done.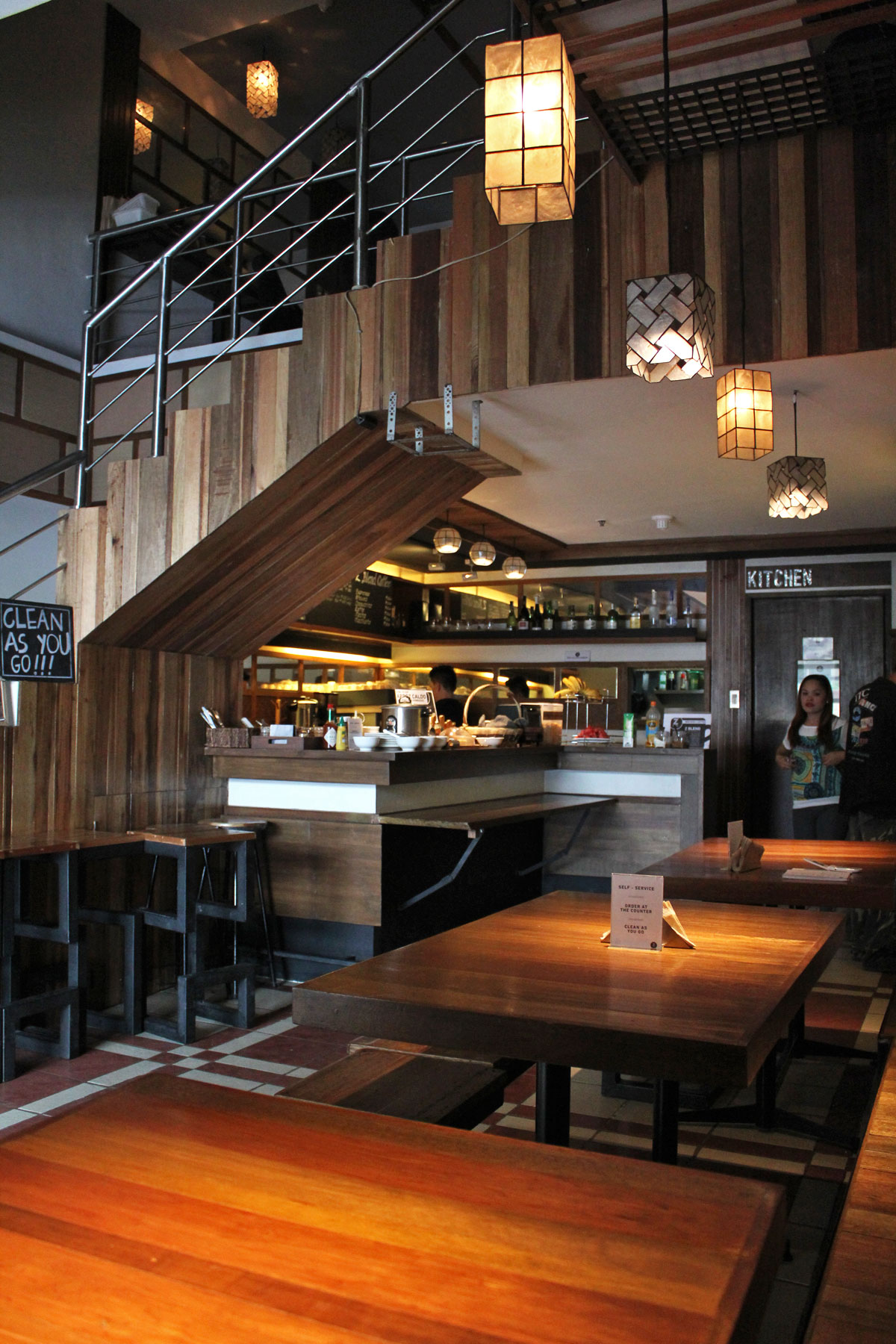 Self-serve breakfast of congee, cheese, bread, and jam. They also have different types of omelettes that they cook on the spot for you.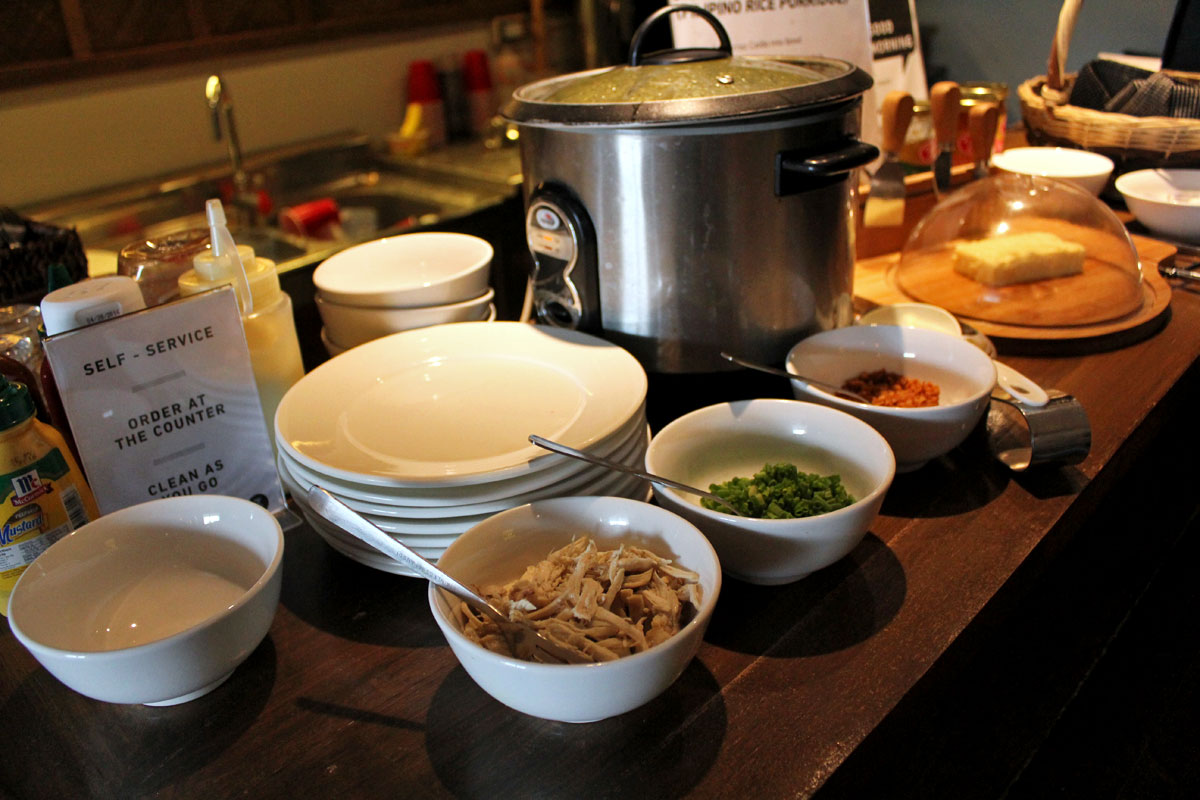 Ren got the broccoli and mushroom omelette…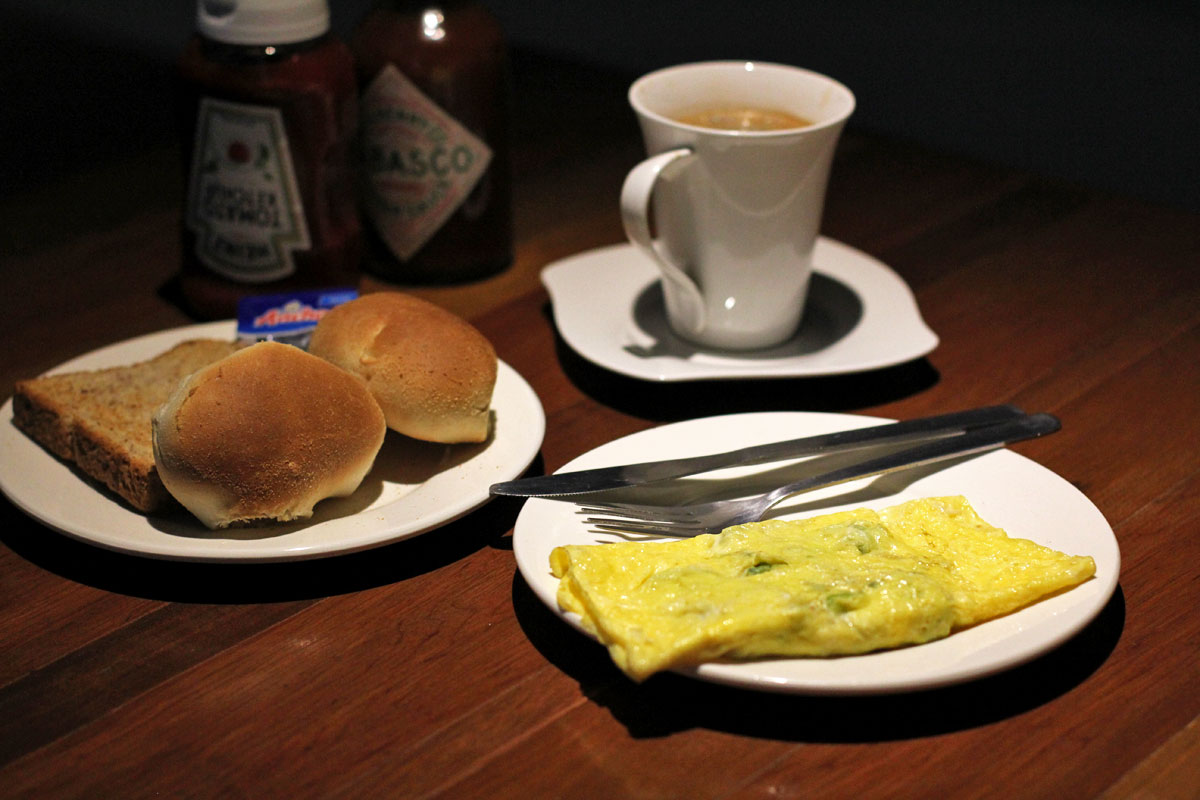 …while I got the German omelette with a side of chicken sausages. Dee-licious! The coffee was pretty good too.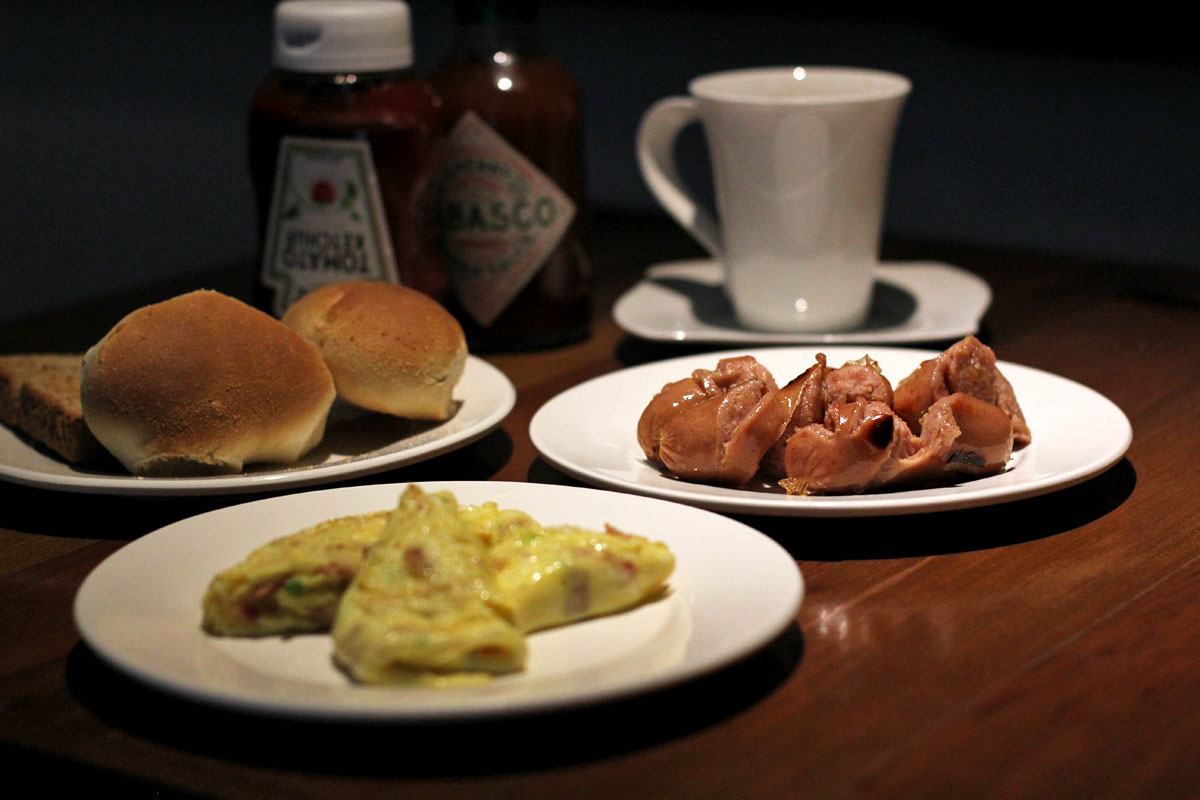 Roofdeck Bar
On the roof is this cool little roofdeck bar. It's actually two small roofdecks connected by a bar. A great way to meet and mingle with other travelers, they host parties here on weekends with DJs and bands. I think this roofdeck is one of the reasons why Z Hostel is so popular among backpackers.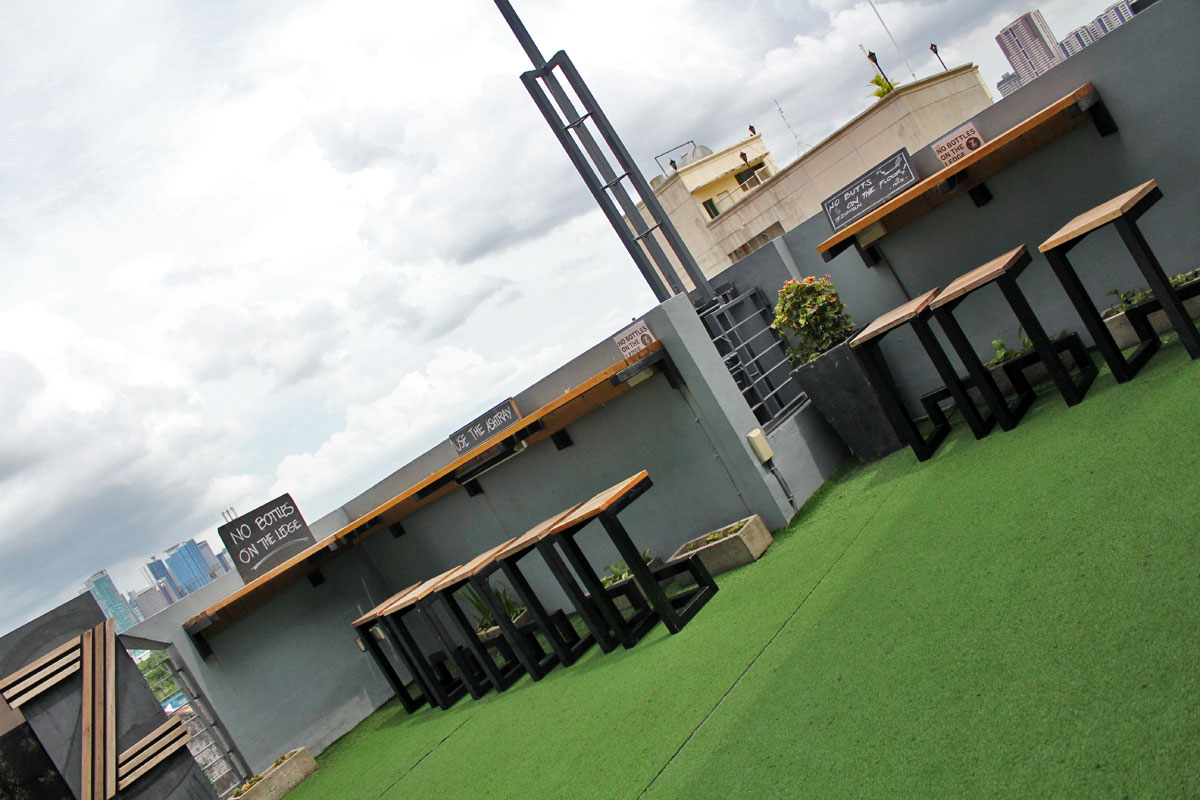 Remember the drawback I previously mentioned when staying in a private room? The private rooms are located just one floor below the roofdeck so it can get pretty noisy when there's an event going on. I sleep like a log so the noise didn't bother me much, but I can see how this would be a problem for light sleepers. To their credit, the hotel did warn us of this before we booked. They offer ear plugs at the front desk for anyone who needs them. Luckily, these parties are held only over the weekends so it's a non-issue if you're staying during the week.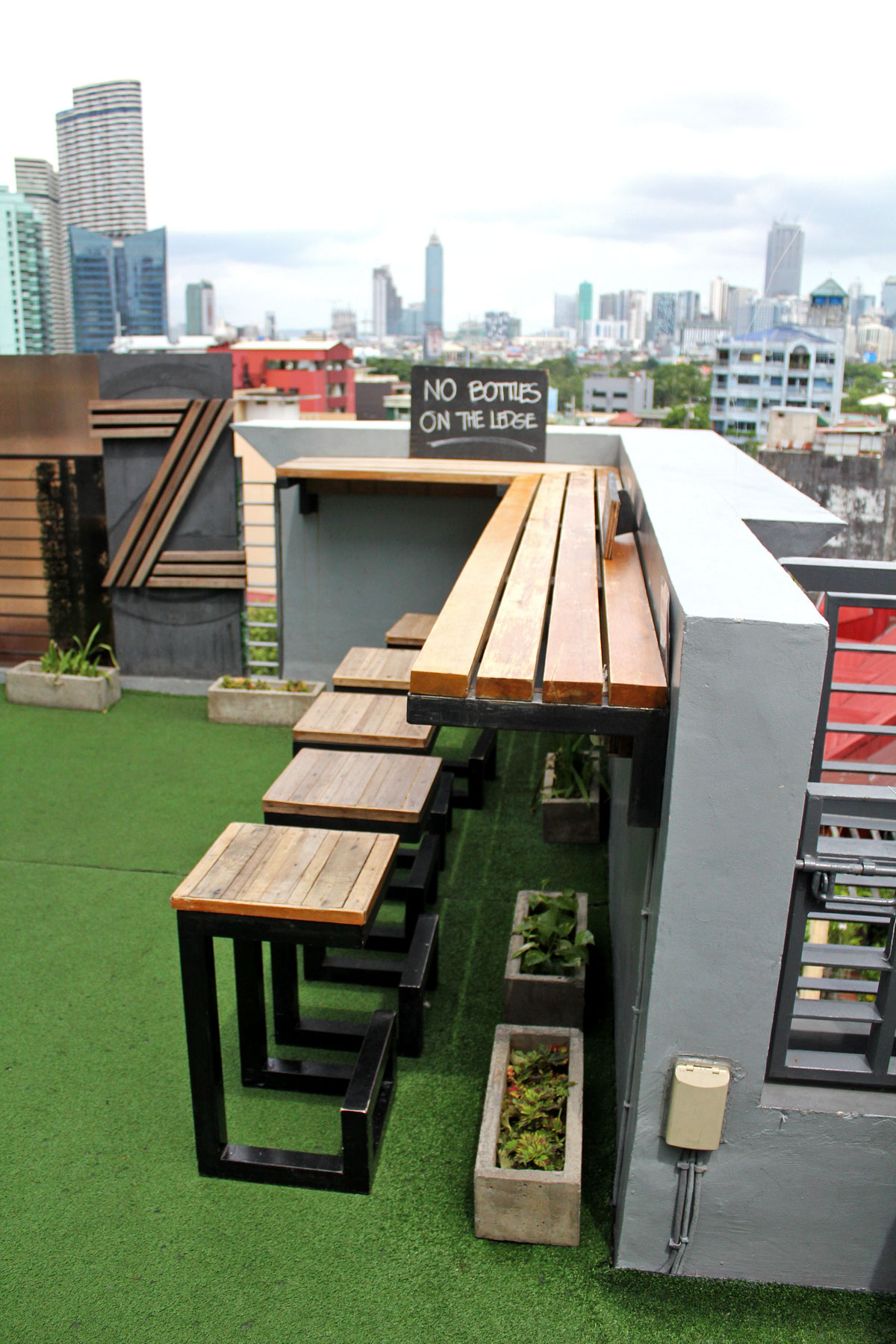 No bottles on the ledge please, lest you want it to smash over someone's head seven stories down. The roofdeck bar is a cashless establishment. You'll need to register at the front desk and they'll give you a microchip wristband loaded with whatever amount you want. You can then use it to purchase booze and food. It's a brave new world.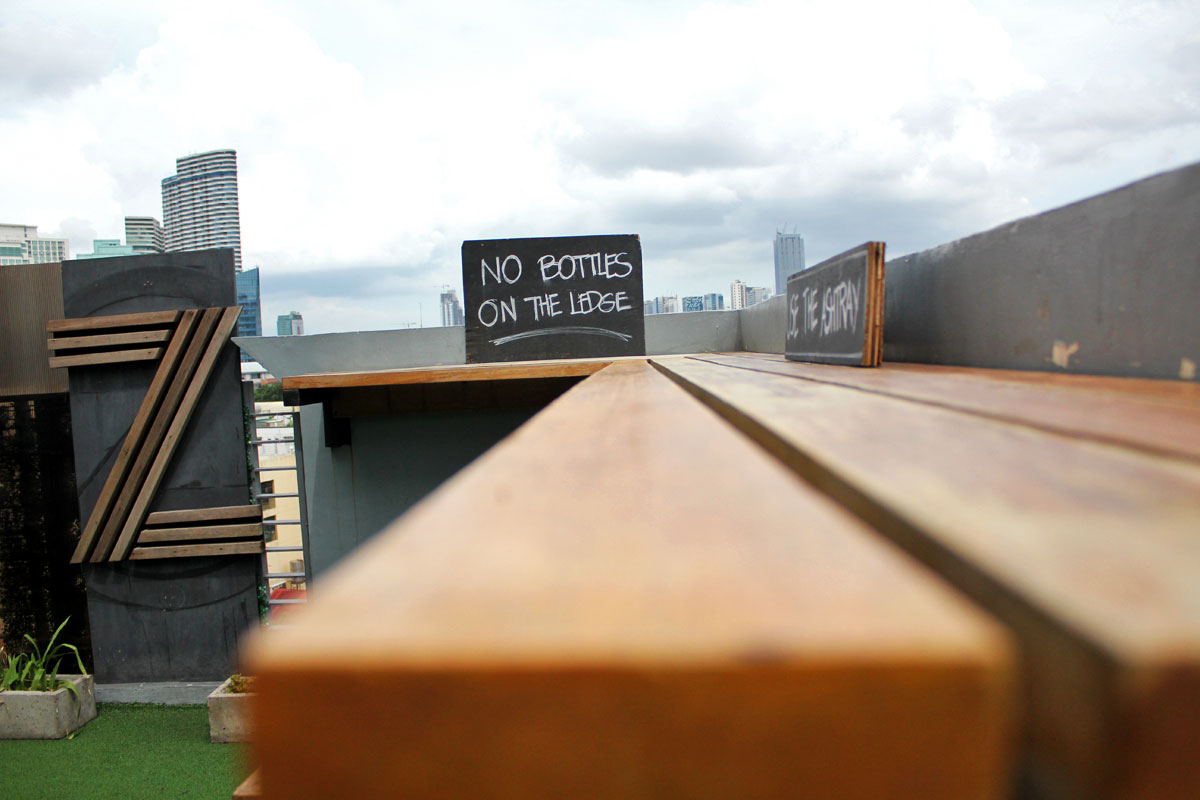 Ztaycation? Teddy approves. #zhostelph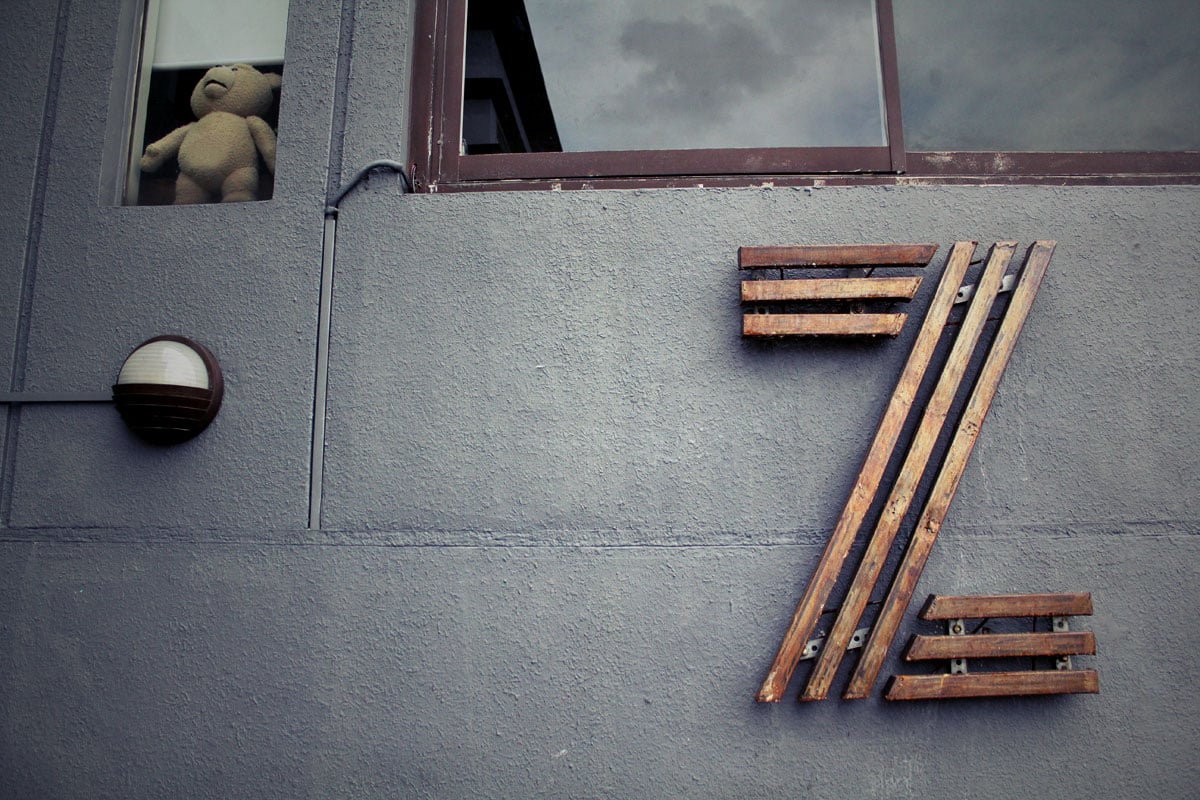 Without question, Z Hostel is a great place to stay at in Manila. As described up top, it's clean, reasonably priced, and centrally located. The staff is courteous and well-trained, plus it's got an awesome vibe. It's clear they want travelers to socialize here. The place just feels hip and fun.
Sure, it isn't perfect. The private rooms do get noisy over the weekends and they don't have cable TVs. I realize it's probably because they want guests to mingle, but there's a reason why some travelers choose to stay in private rooms. Being somewhat near to the red light district (across Kalayaan Ave), the area isn't the most picturesque but it is super convenient with its proximity to restaurants, bars, convenience stores, and shopping malls. And most importantly, it feels safe. Poblacion is a residential / commercial area so you do feel safe here even at night.
I can't recommend this place highly enough for backpackers and group travelers, especially those who like to party. You'll love the roofdeck bar. For older couples or families who want peace and quiet, Z Hostel may not be the perfect place for you, but it does have a surplus of positives that's tough to overlook. We'd stay here again.
You can make a reservation through Booking.com or Agoda. Be sure to check both sites to find the best deal.
Z Hostel, Poblacion, Makati, Philippines
5660 Don Pedro Street, Makati, Philippines
Tel: 856-0851
Mobile: 0927-965-2692
Website: zhostel.com
Facebook: ZHostelph
Twitter: zhostelph
Email: [email protected] / [email protected]
Check-in: Starts at 2PM
Check-out: Until 12NN
PUBLISHED ROOM RATES: (as of Oct 2017)
Private Room – PHP 2,430 a night
All-Female Dorm – PHP 899 per person a night
8 Pax Mixed Dorm – PHP 749 per person a night
6 Pax Mixed Dorm – PHP 849 per person a night
4 Pax Mixed Dorm – PHP 949 per person a night
HOW TO GET THERE:
From NAIA, go to the Grab booth and tell the dispatcher you'd like to go to Z Hostel in Makati.
MAKE A RESERVATION: Booking.com | Agoda
Disclosure
Some of the links in this post are affiliate links, meaning we'll get a small commission if you make a purchase or reservation at NO extra cost to you. We really appreciate your support as this helps us keep this website going. Thank you!