Toyo, in Filipino, means "soy sauce", but I didn't catch the reference until we ate here.
Toyo Eatery sounded like a strange name to me, something I wouldn't normally associate with a fine dining establishment. It sounded more like a carinderia (informal Filipino eatery) so I didn't know what to make of it at first. Was is it a Japanese restaurant? Toyo, after all, sounded Japanese.
We celebrated our wedding anniversary here and only then did I come to understand what Toyo Eatery was all about – inventive contemporary Filipino food the likes of which I had never seen before in Manila.
It blew me away.
Save This on Pinterest!
No time to read this now? Click on the red save button and pin it for later!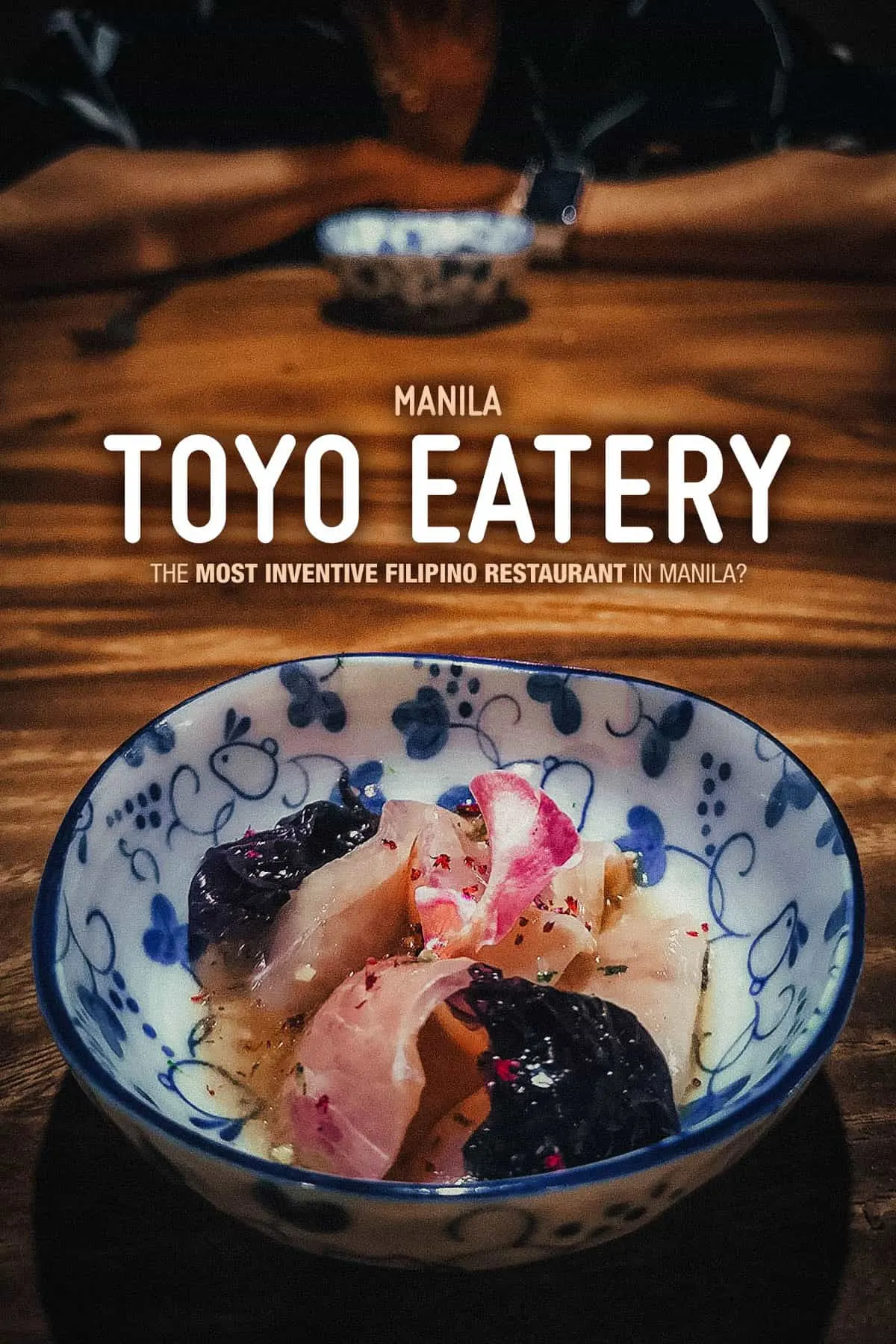 What is Toyo Eatery?
As described, Toyo Eatery is a contemporary Filipino restaurant tucked away in a corner of Chino Roces Avenue in Makati. It's helmed by Chef Jordy Navarra, who had previously trained at The Fat Duck in the UK and Bo Innovation in Hong Kong before opening Toyo Eatery in March 2016.
Nationalistic in his cooking approach, Chef Navarra is known for his playful and inventive takes on classic Filipino dishes like lugaw (rice porridge), relyenong pusit (stuffed squid), and pork bbq. His presentation may be contemporary but the dishes themselves – and ingredients used – are staunchly Filipino.
Case in point, the macaron-like tomato meringue looks nothing like Filipino food, but put it in your mouth and it collapses to reveal the familiar taste of langka (jackfruit) and coconut. The garden vegetable course – Toyo Eatery's defining dish – creatively dehydrates eggplant and peanuts to mimic soil. Mix it up and you'll find all eighteen vegetables mentioned in the lyrics of the popular Tagalog children's folk song, "Bahay Kubo".
Chef Navarra's way of drawing inspiration from the local culture and heritage to create contemporary, often playful interpretations of Filipino cuisine is what Toyo Eatery is all about.
Just three short years after its opening, Toyo Eatery was recognized as one of Asia's 50 best restaurants. It's an honor well-deserved.
Chef Jordy's Bahay Kubo
Isn't this logo cool? I didn't notice it at first, but if you read the symbols clockwise starting from the upper left, the restaurant's ambigram logo spells "TOYO".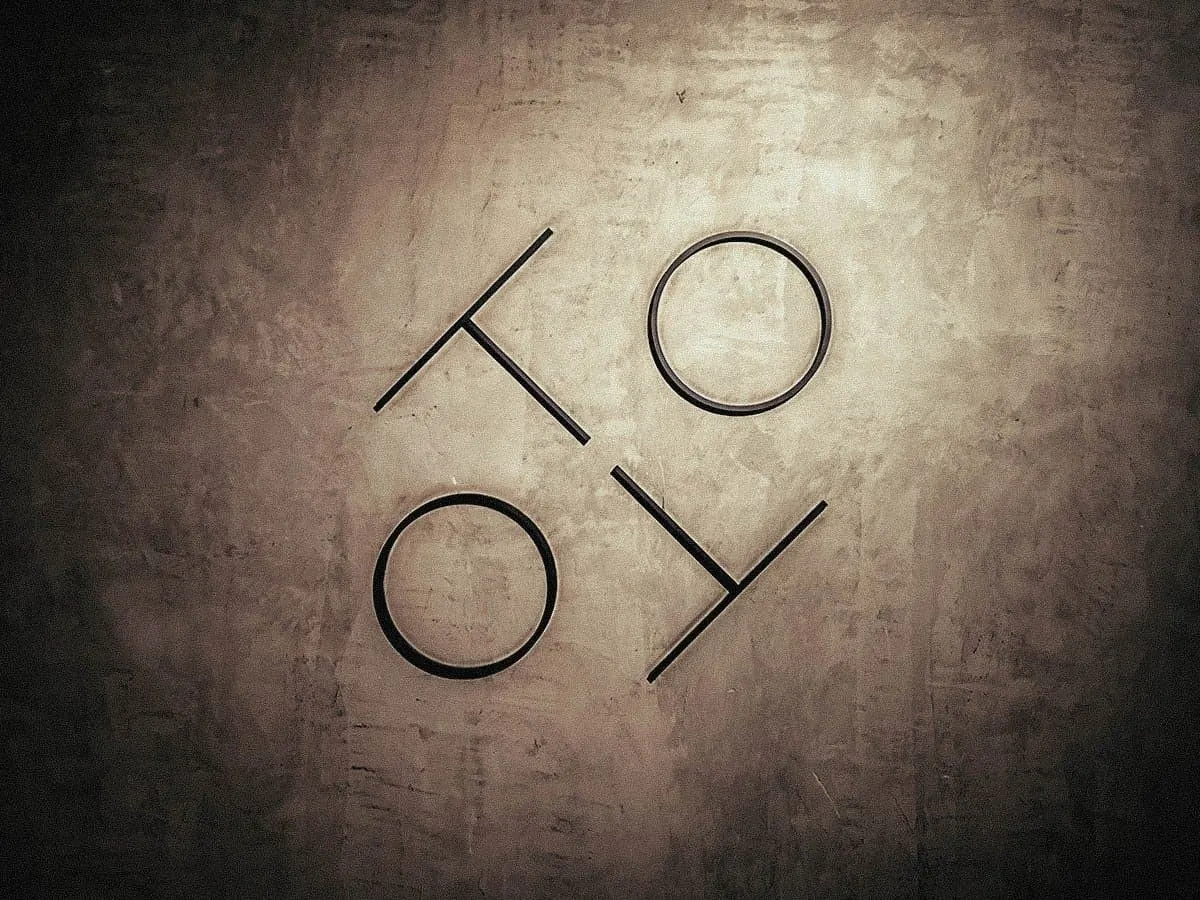 Toyo Eatery sits in a beautiful space with unfinished concrete floors and heavy acacia tables. The space feels sleek but relaxed. Through the divider you can see the large open kitchen and stairs leading up to the second floor dining area.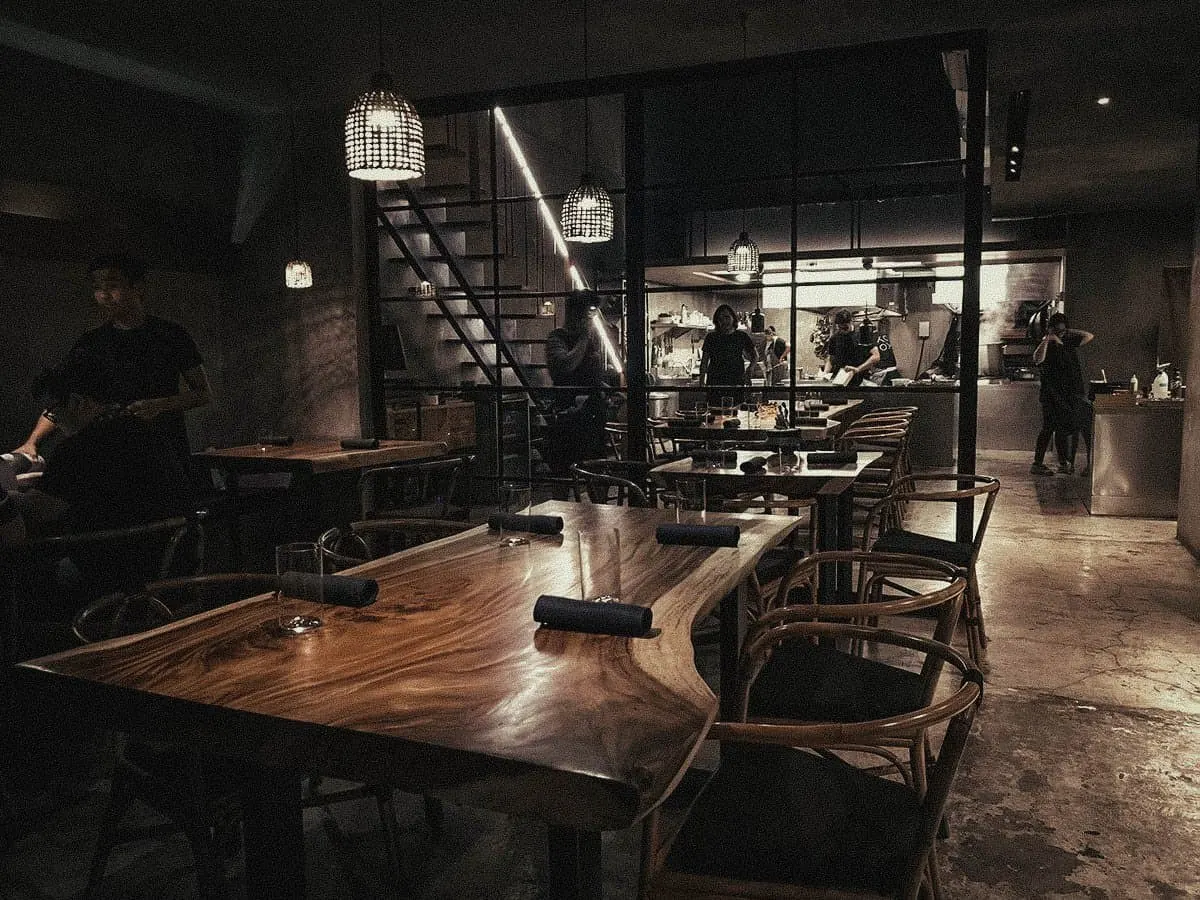 Here's a look at the dining room on the second floor. Larger groups are seated here. If the room hasn't been pre-booked, then multiple smaller groups can be seated here as well. It's evocative of the Filipino spirit of salu-salo or communal dining.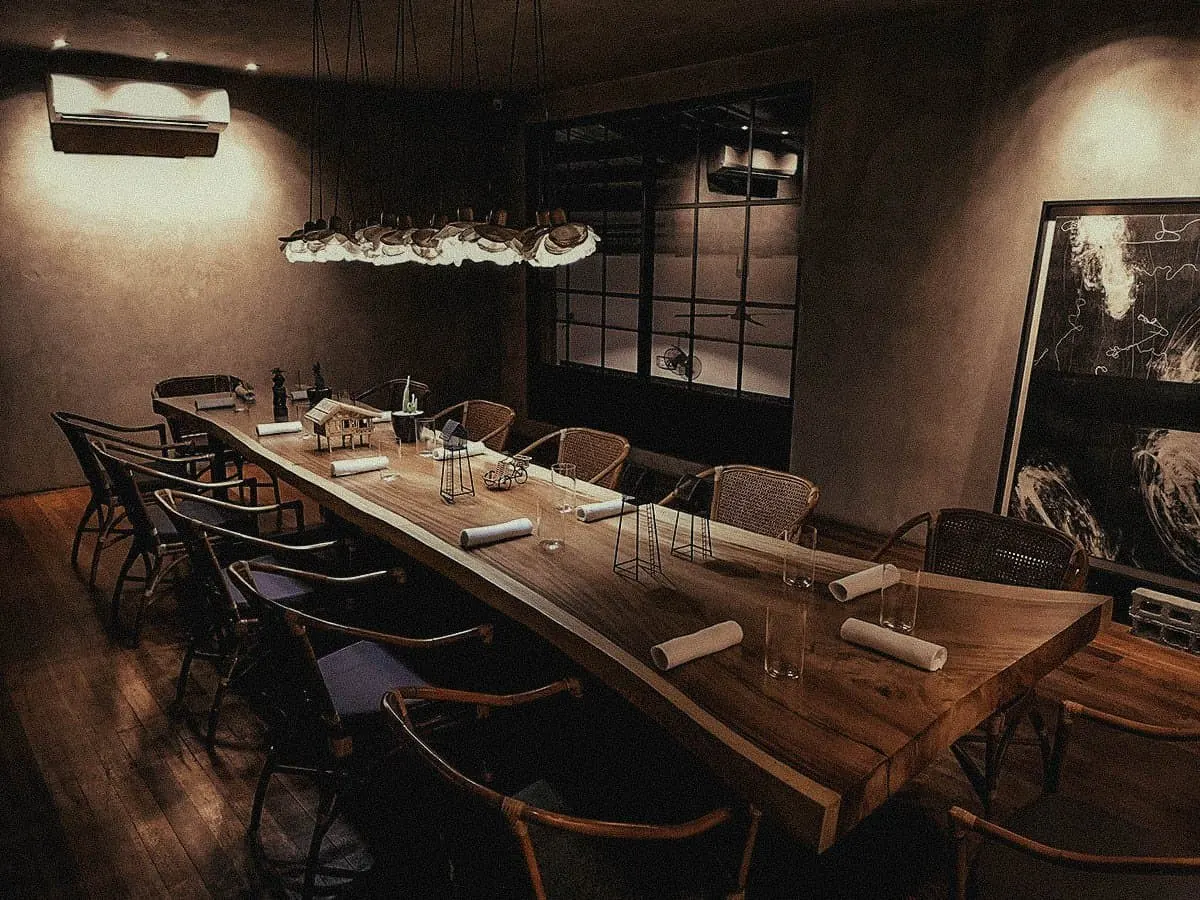 Reminiscent of Chef Navarra's contemporary approach to Filipino food, on the table are these modern interpretations of the bahay kubo – a traditional Filipino stilt house made with bamboo and dried coconut leaves.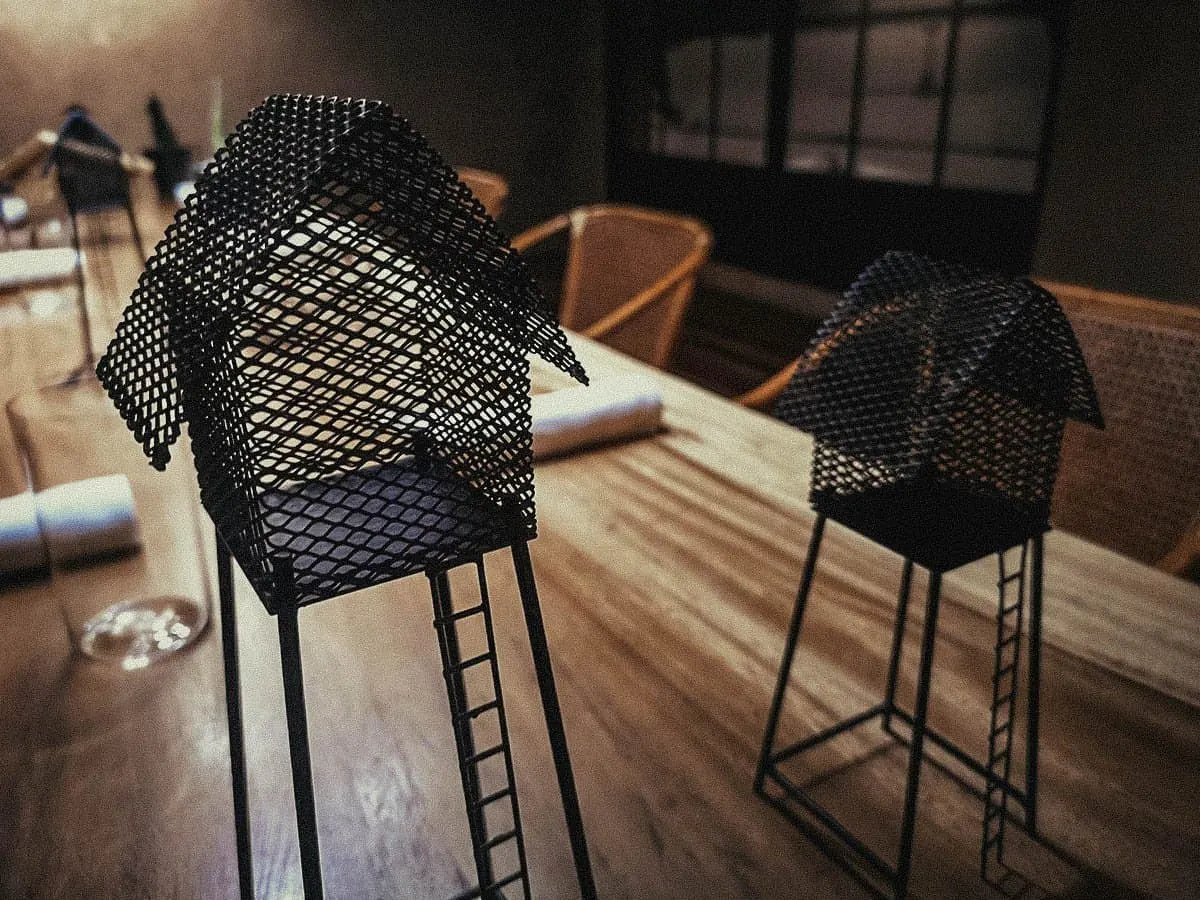 Beautiful capiz lamps illuminate the table, at the center of which is a more traditional-looking bahay kubo. Bahay kubo literally means "cube house", in reference to its box-like shape.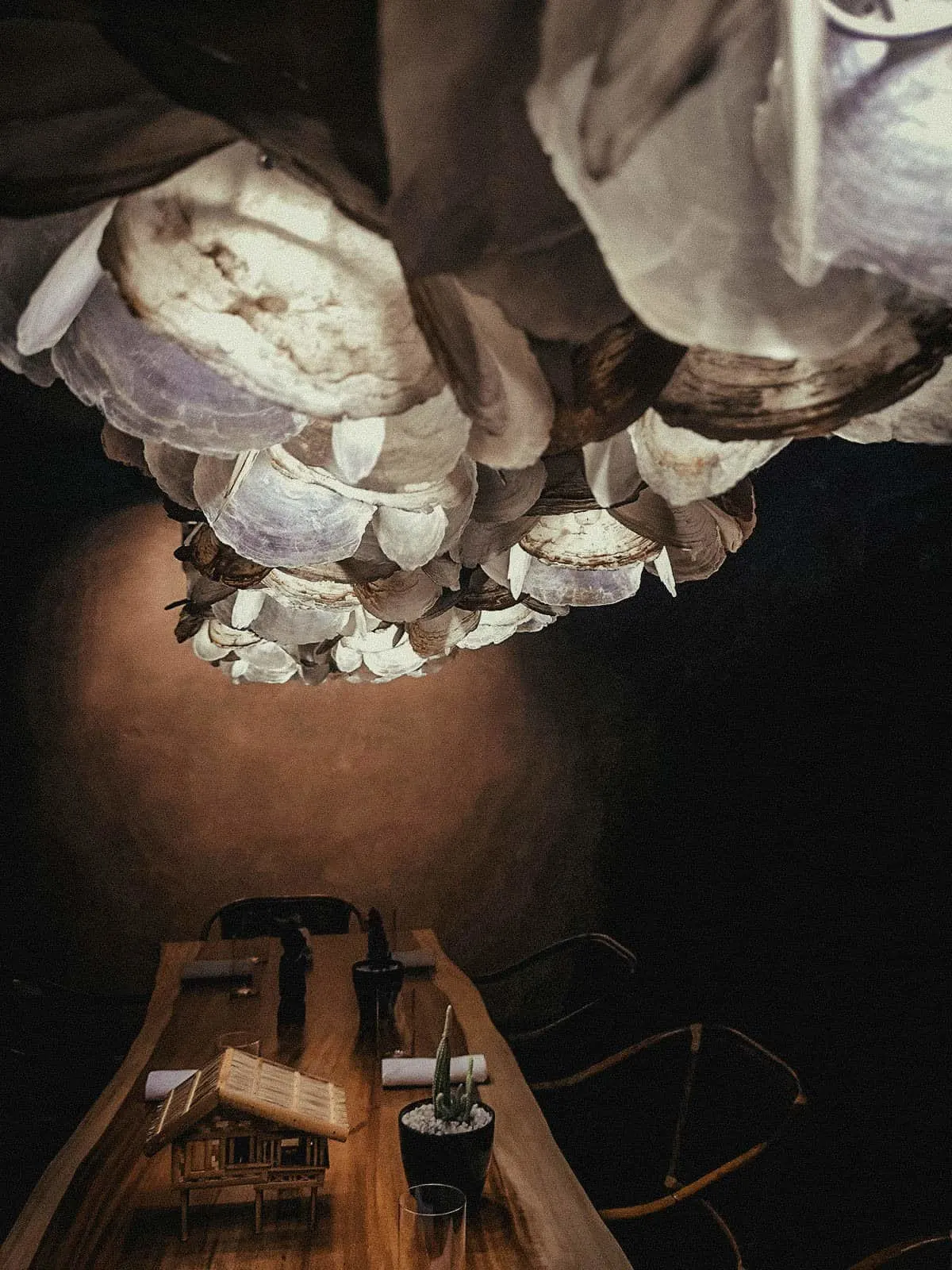 Full Course Tasting Menu
Toyo Eatery offers both ala carte and tasting menu options. Chef Navarra's tasting menus are reasonably priced at PHP 1,000 for the 3-course and PHP 2,900 for the 11-course. We wanted the full Jordy Navarra experience so we went with the 11-course tasting menu.
I don't cook so I'm not well-versed in ingredients or cooking techniques, but I'll try to describe each dish as best I can.
For tonight's first course, we were served this tomato meringue with ginataang langka amuse bouche. Reminiscent of a French macaron, it dissolves in your mouth to reveal the Filipino flavors of ginataang langka or jackfruit cooked with coconut milk. It was delicious and surprising, this playful balance between the foreign and familiar setting the tone for tonight's meal.
The term "ginataan" refers to any dish cooked with coconut milk. It's a common cooking method in Filipino cuisine used to prepare meats and vegetables.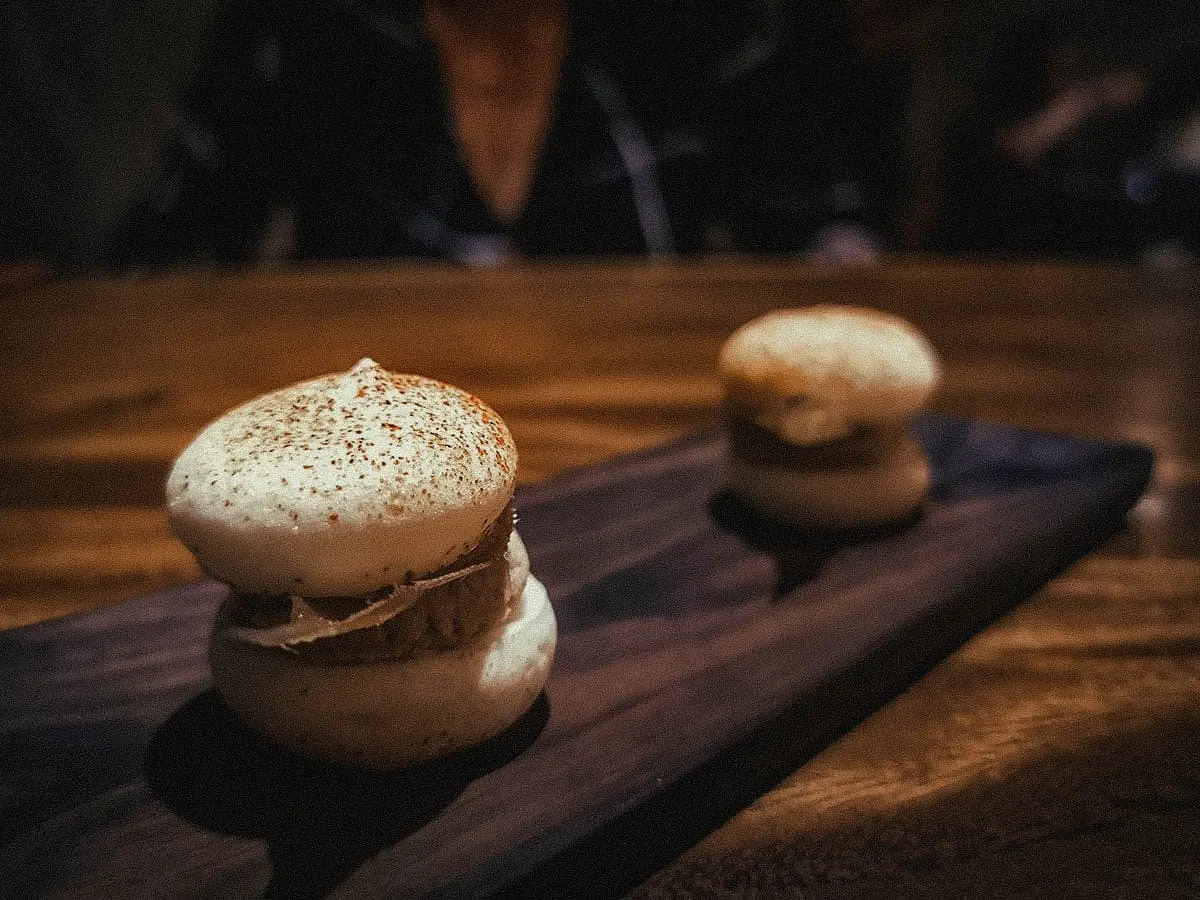 This amuse bouche topped with a butterfly pea flower petal wasn't on the menu, so we were actually served twelve courses tonight. Unfortunately, I don't remember what it was but it tasted very good. I think it may have contained uni or sea urchin.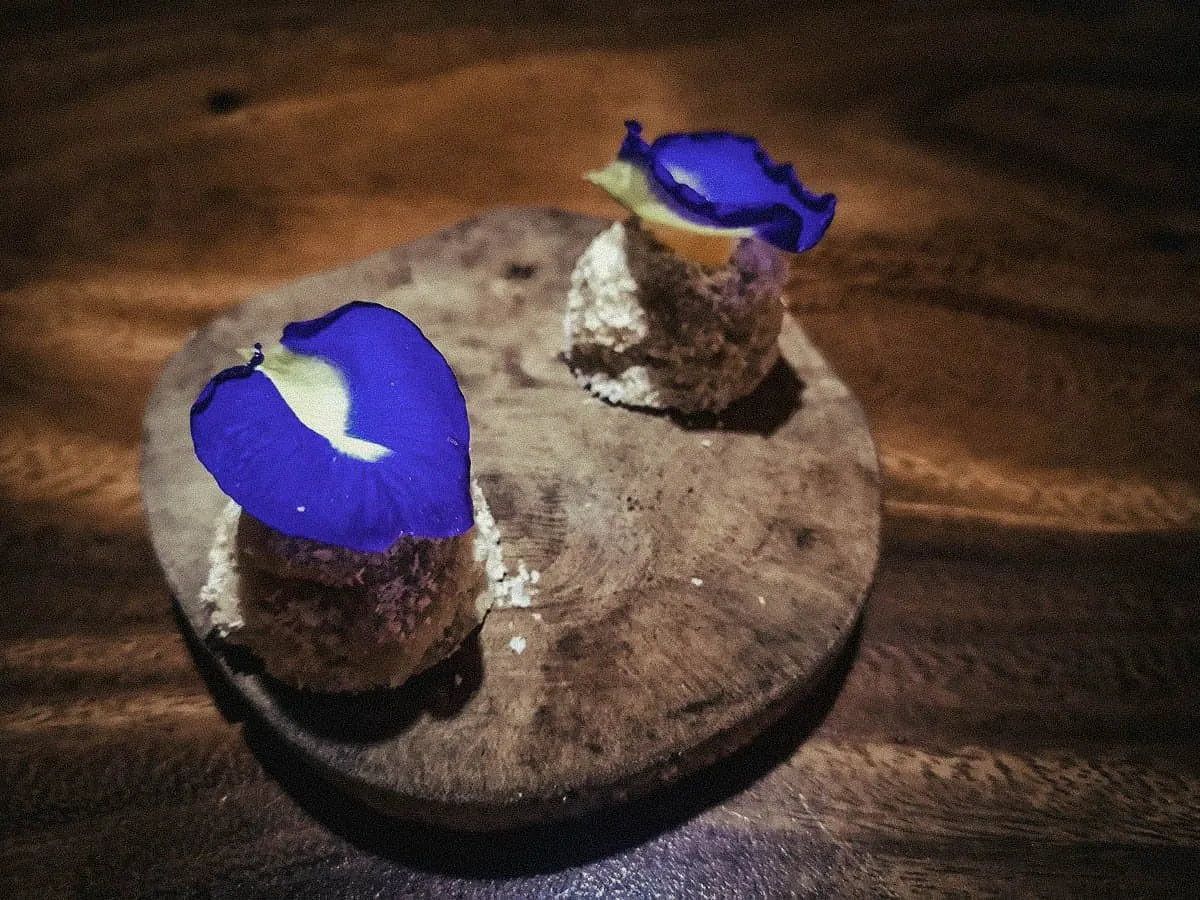 This kilaw of wild talakitok, lime, and sesame was fantastic. It's basically Filipino fish ceviche. Kilaw is a method of food preparation similar to ceviche while talakitok refers to a family of saltwater fishes commonly used in Filipino cuisine.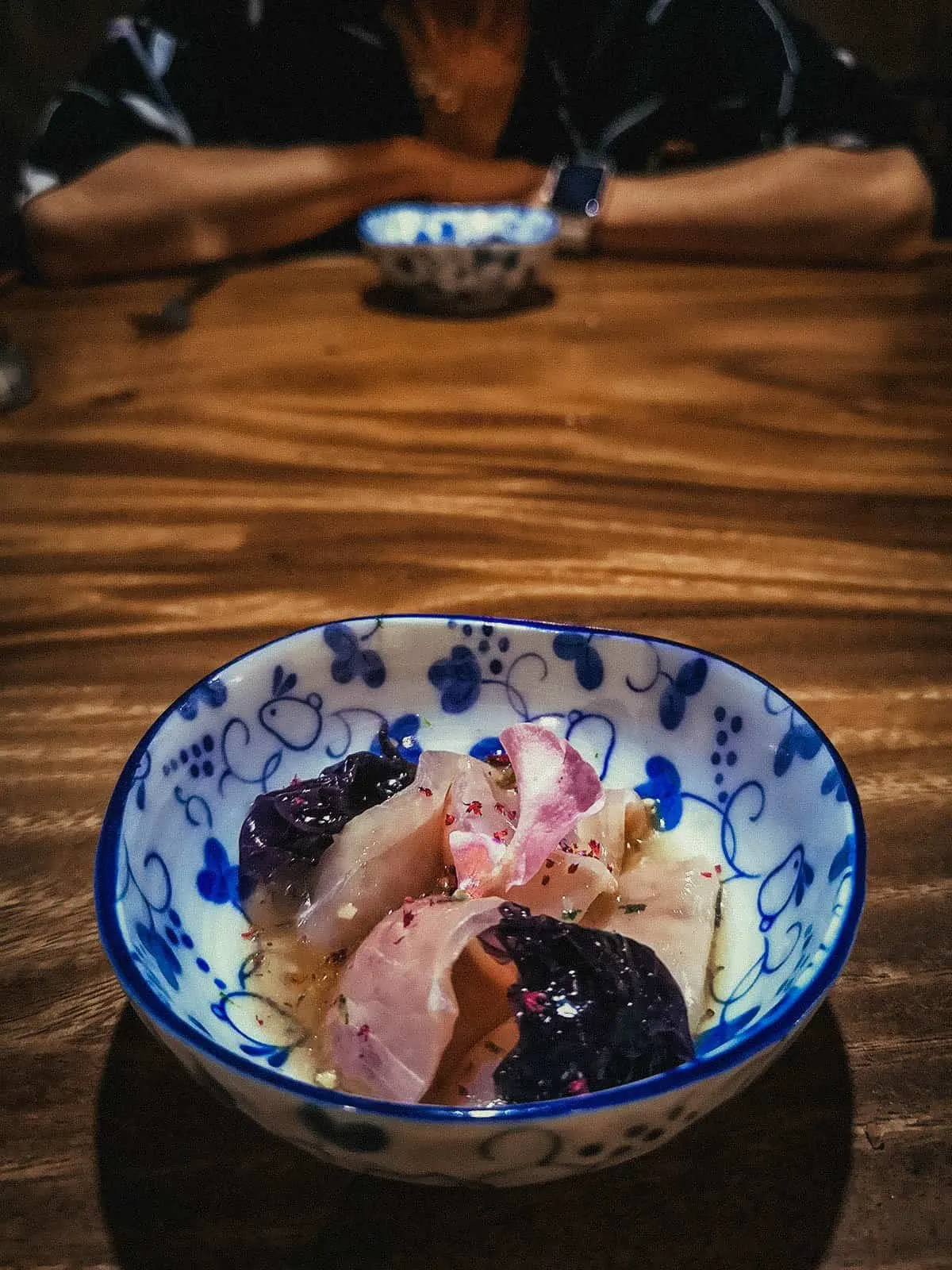 A dish of tamban, malunggay, young corn, and sichuan. Tamban refers to herring or sardines while malunggay is the Filipino word for moringa. Both were deep-fried and crunchy and dusted with finely ground sichuan peppercorns.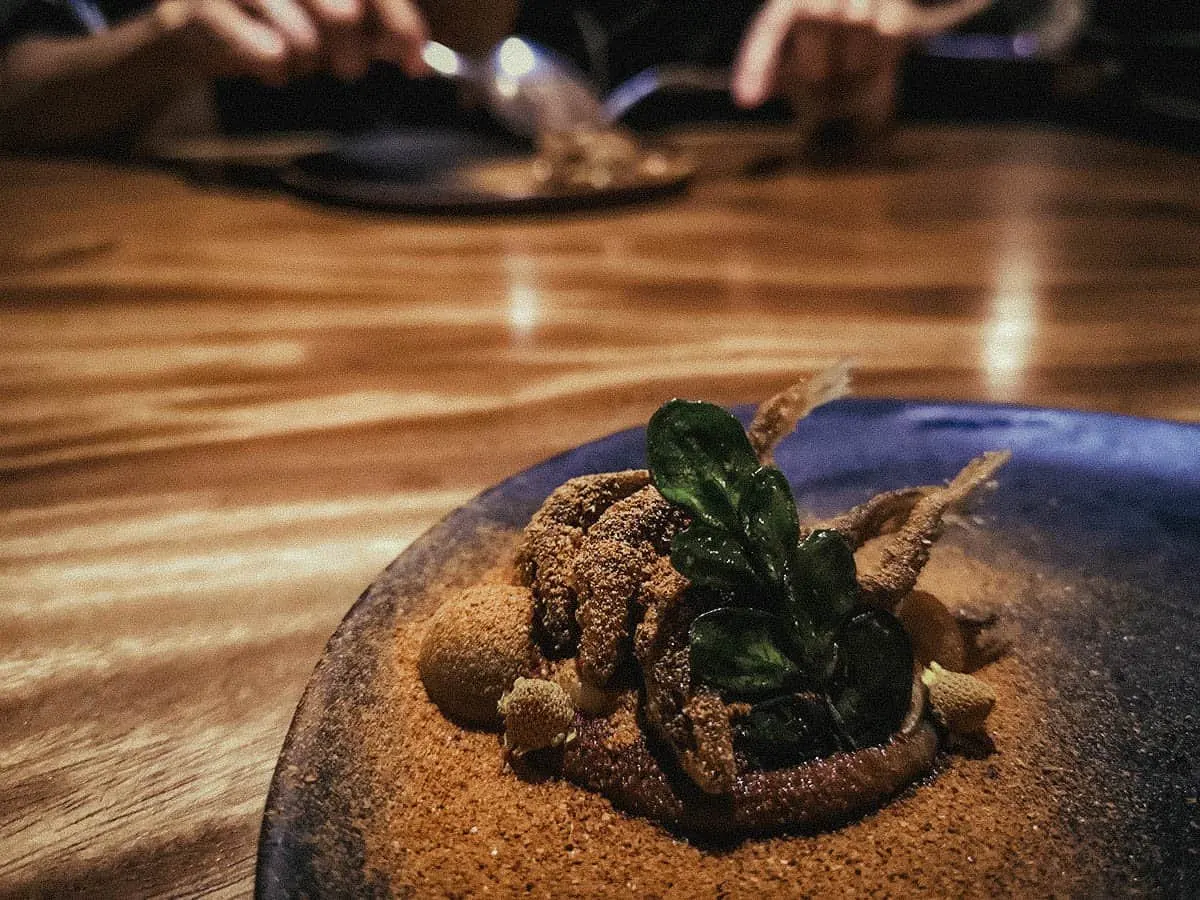 This dish of "relyenong" pusit with mustasa refers to stuffed squid made with mustard greens. It was coated with a slick black paste, made perhaps with squid ink?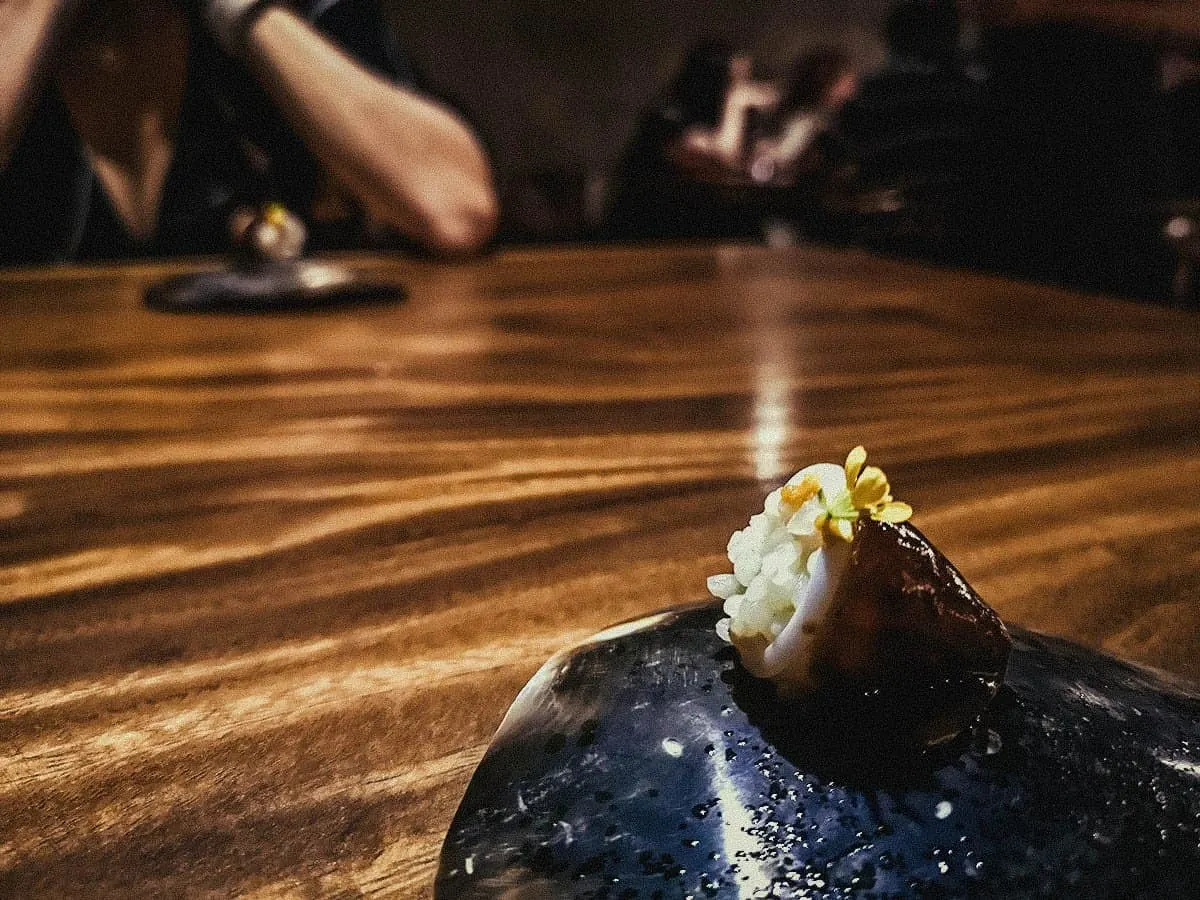 Chef Navarra's take on classic Filipino lugaw was one of my favorite dishes from tonight's meal. Lugaw is rice porridge or congee, but he makes it with crab Roe and burnt kalabaza (squash) with coconut vinegar. It was so flavorful and delicious.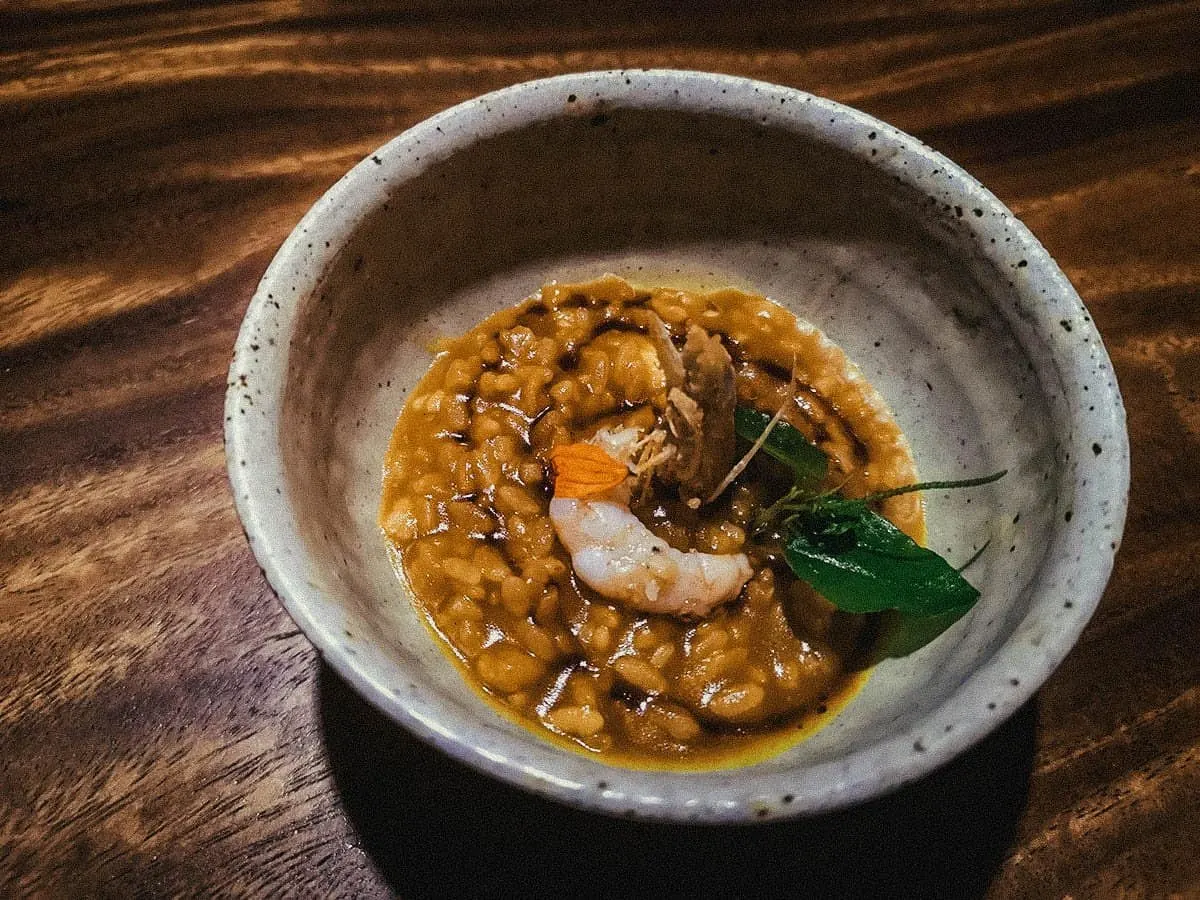 This is the aforementioned bahay kubo dish of garden vegetables. See what I mean? Eggplant and peanuts are dehydrated to mimic the appearance of soil. I believe this was the first dish ever created at Toyo Eatery.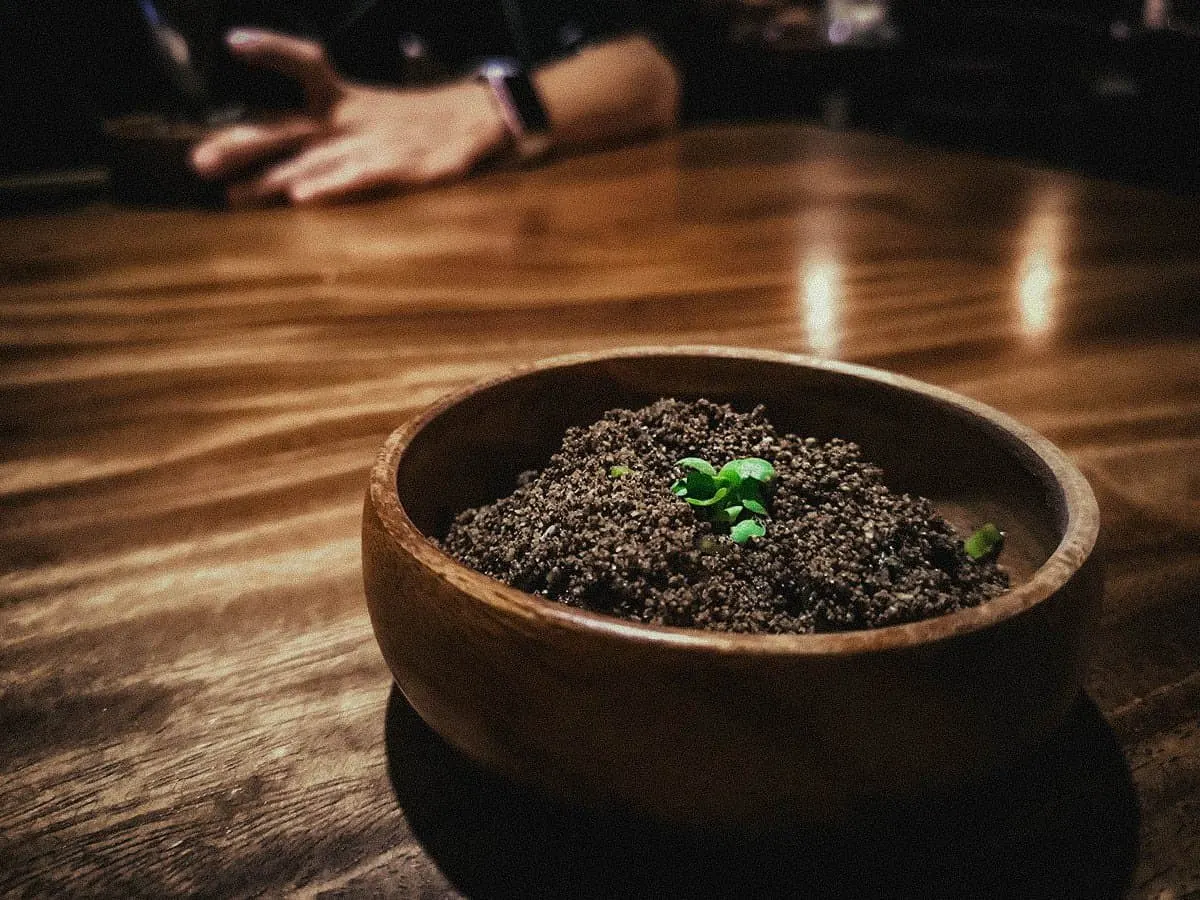 Dig through the "soil" to reveal all eighteen vegetables mentioned in that popular folk song – namely singkamas (jicama), talong (eggplant), sigarilyas (winged bean), mani (peanut), sitaw (long bean), bataw (hyacinth bean), patani (lima bean), kundol (ash gourd), patola (sponge gourd), upo (bottle gourd), kalabasa (squash), labanos (radish), mustasa (mustard), sibuyas (onion), kamatis (tomato), bawang (garlic), luya (ginger), and linga (sesame). How fun!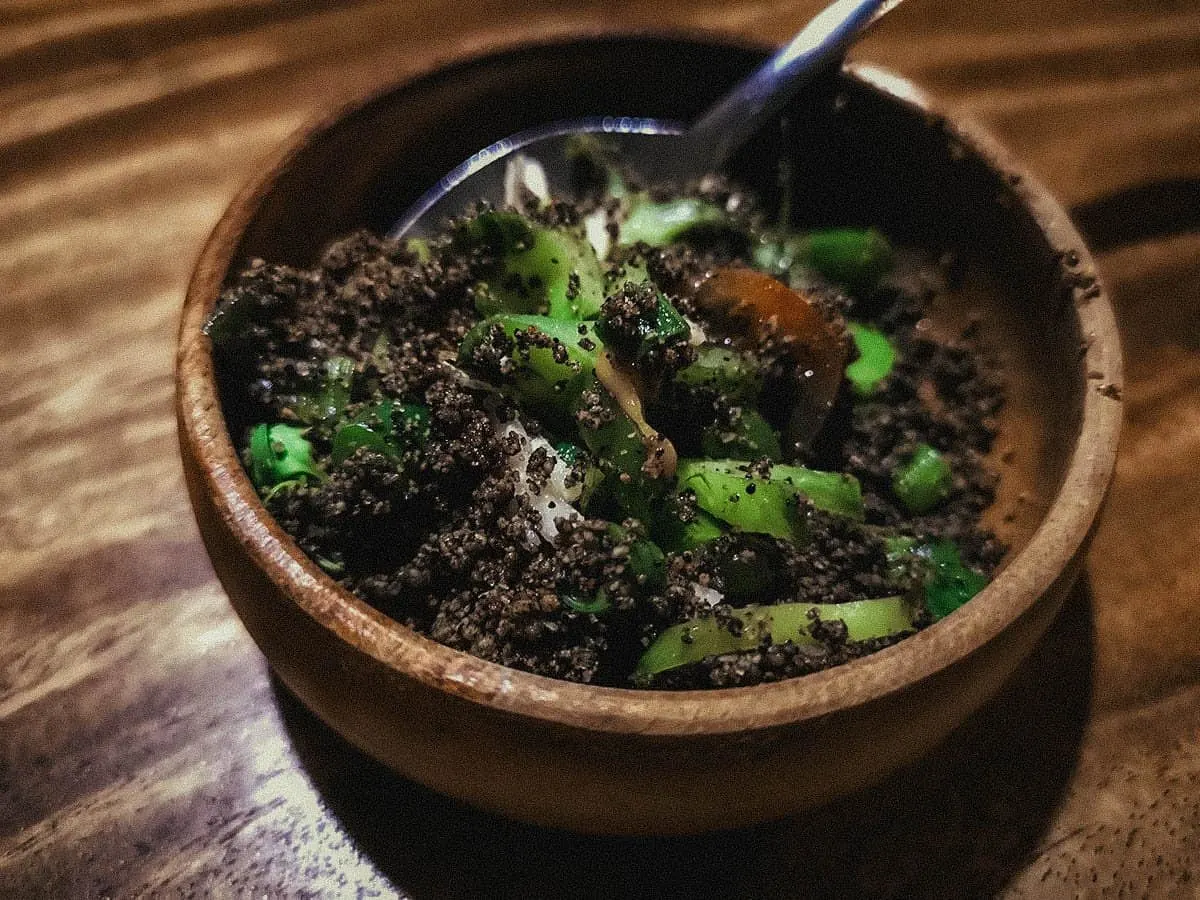 Isn't this dish pretty? It's a lightly grilled mackerel with semi-ripe guava and kamias (bilimbi).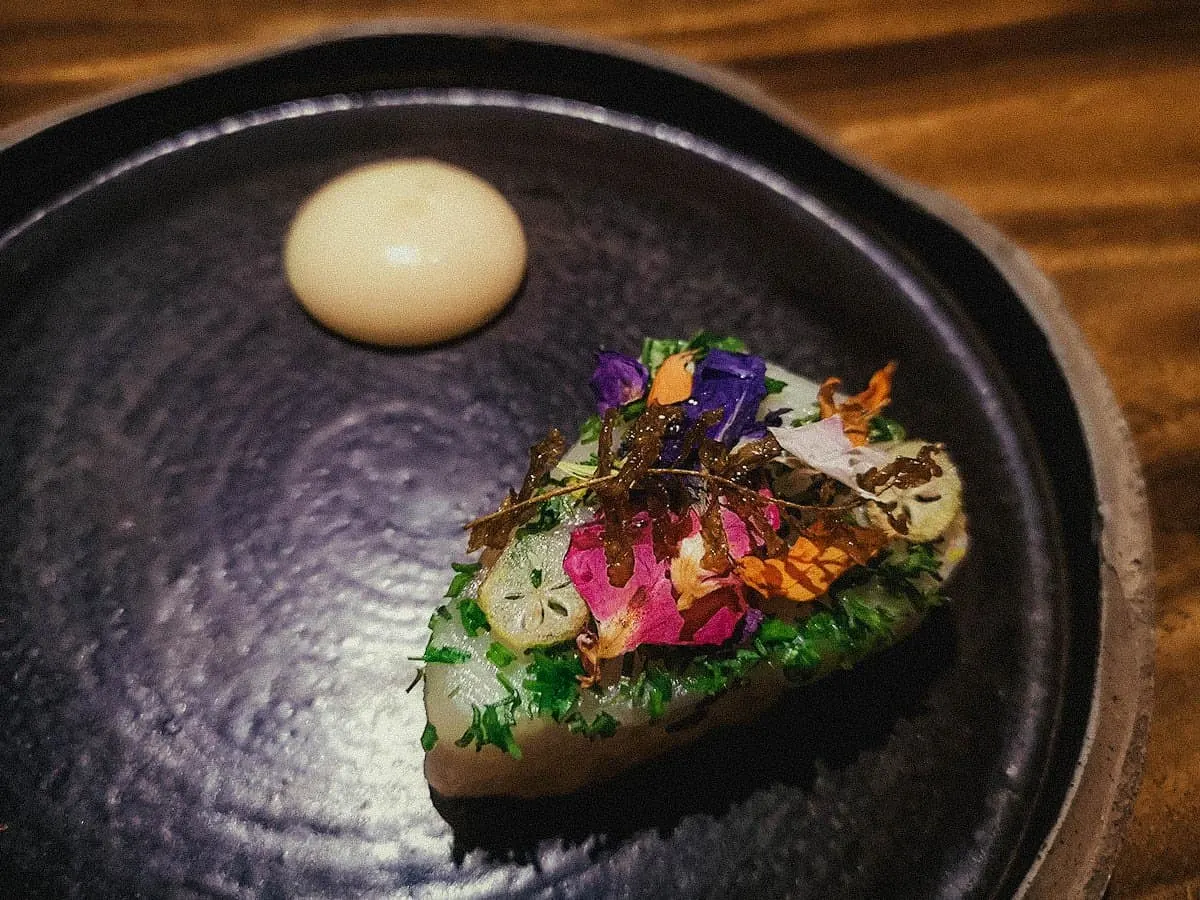 For your main course, you can choose between one of two dishes. The first dish is this three-cut pork bbq, which like the bahay kubo dish, is one of Toyo Eatery's defining dishes. It's made with three cuts of pork – shoulder, belly, and butt – cooked over charcoal and wood before being finished in a pork bone broth. I read that the entire process takes about twelve hours.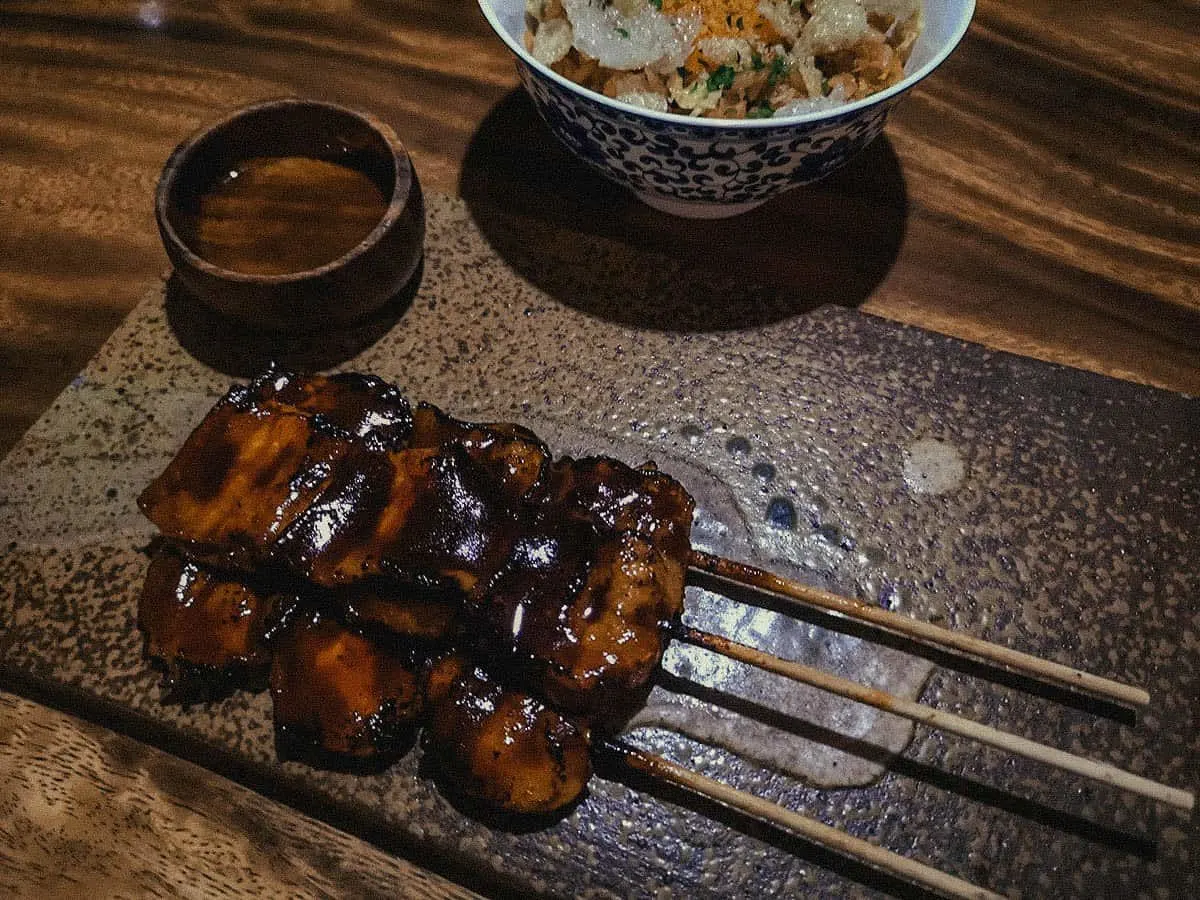 Both mains are served with a bowl of Toyo Eatery's silog. Silog is a portmanteau word for sinangag (garlic fried rice) and itlog, and refers to a family of Filipino breakfast dishes served with some type of meat like cured beef, pork fatback, or Filipino sausage. Instead of meat, Toyo Eatery tops it with what I believe to be pork cracklings or fish skin, depending on which main you choose.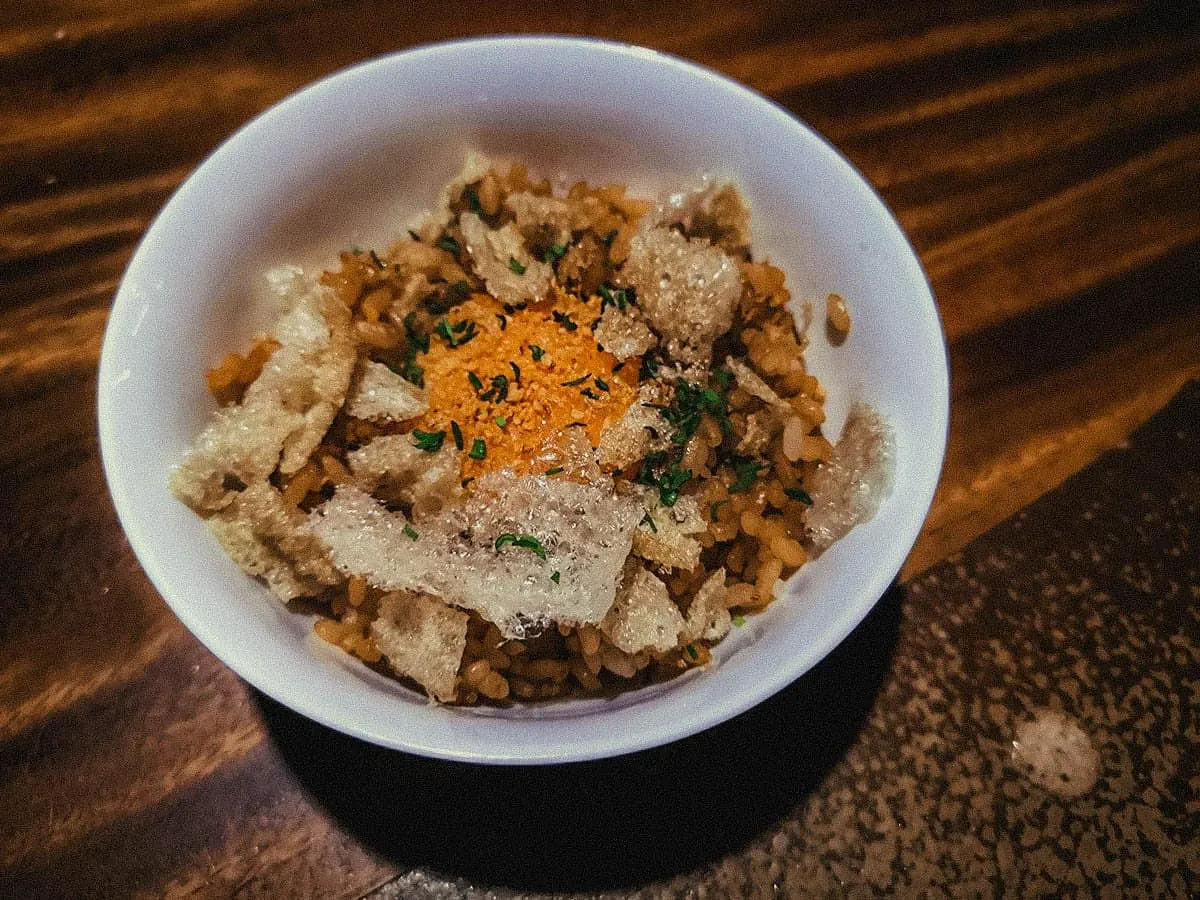 Delicious runny yolk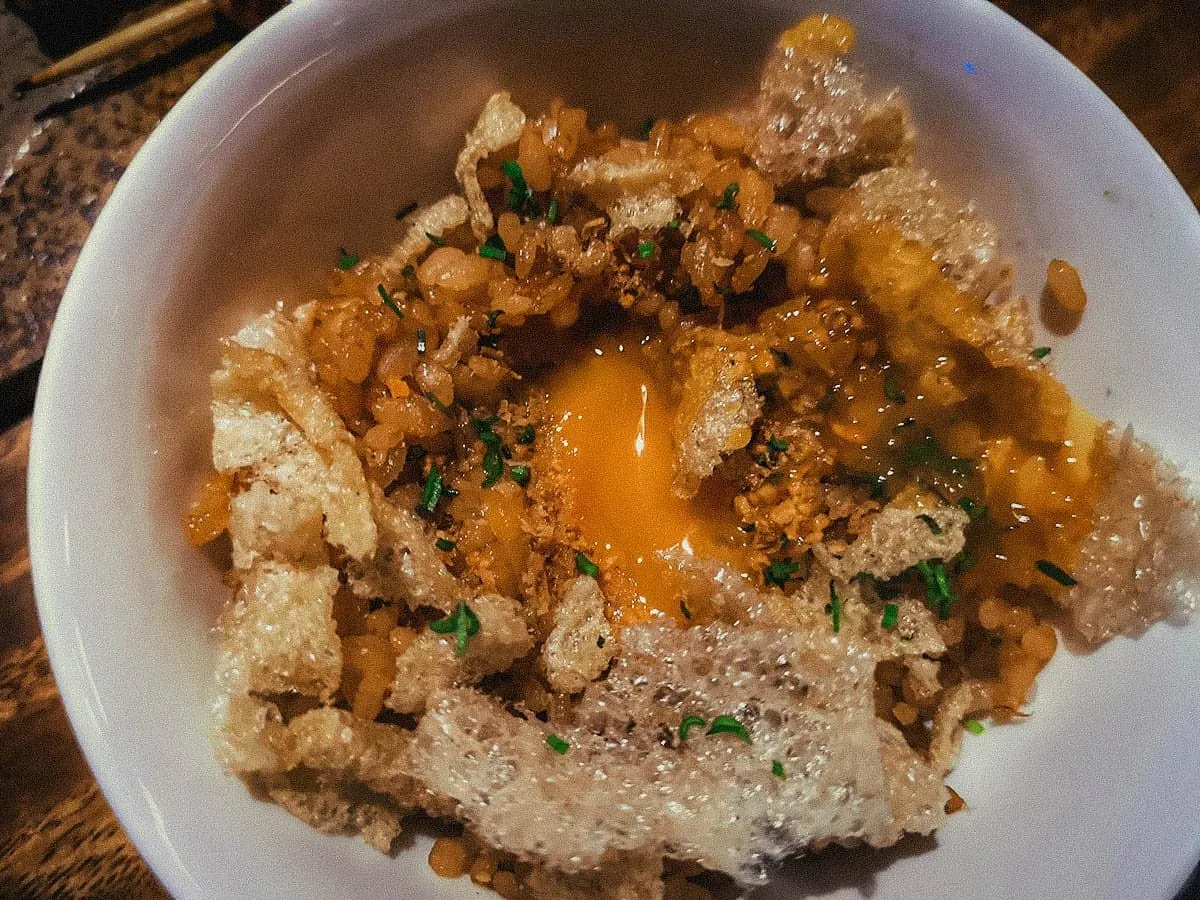 Tonight's other choice of main was this grilled loin of bangus (milkfish), kangkong (water spinach), and bangus belly.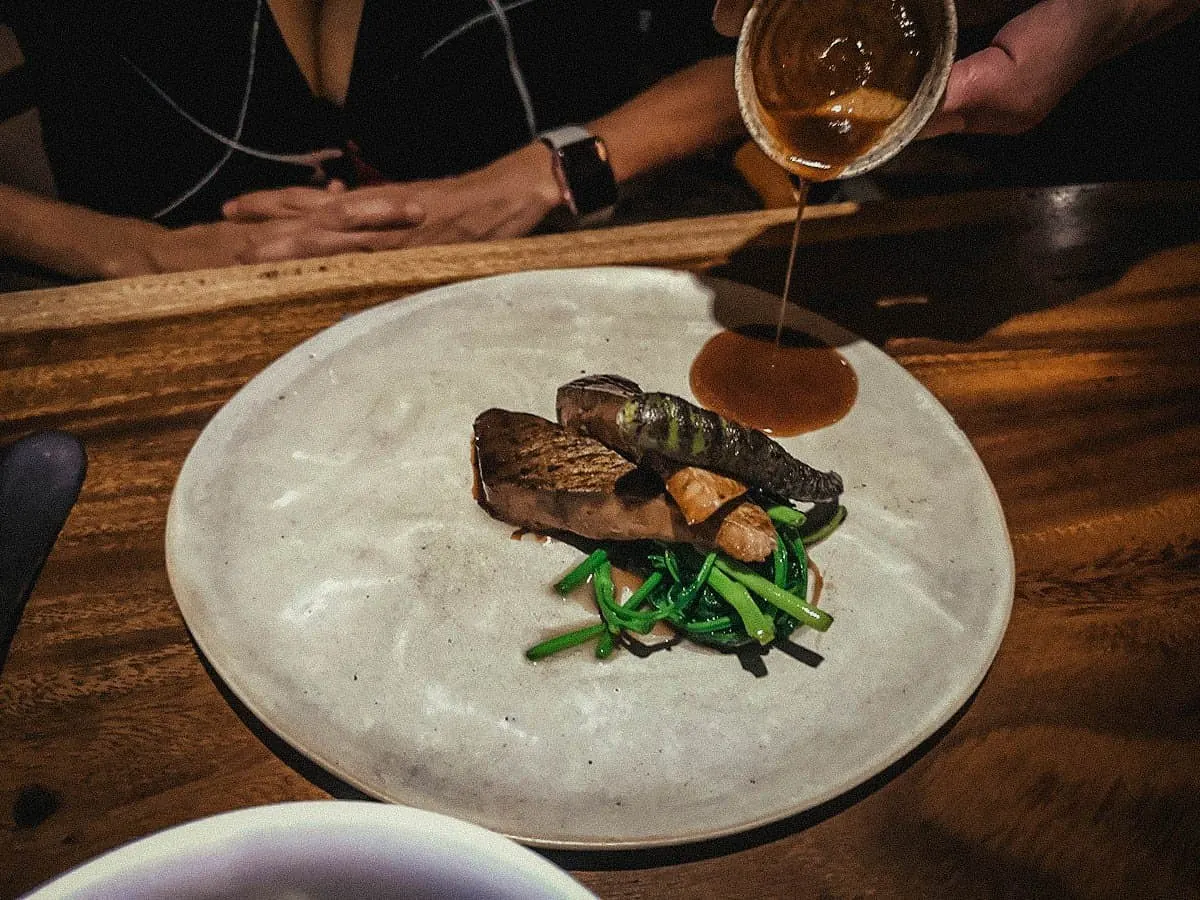 Here's the Toyo Eatery silog topped with what look like fish skin crackers.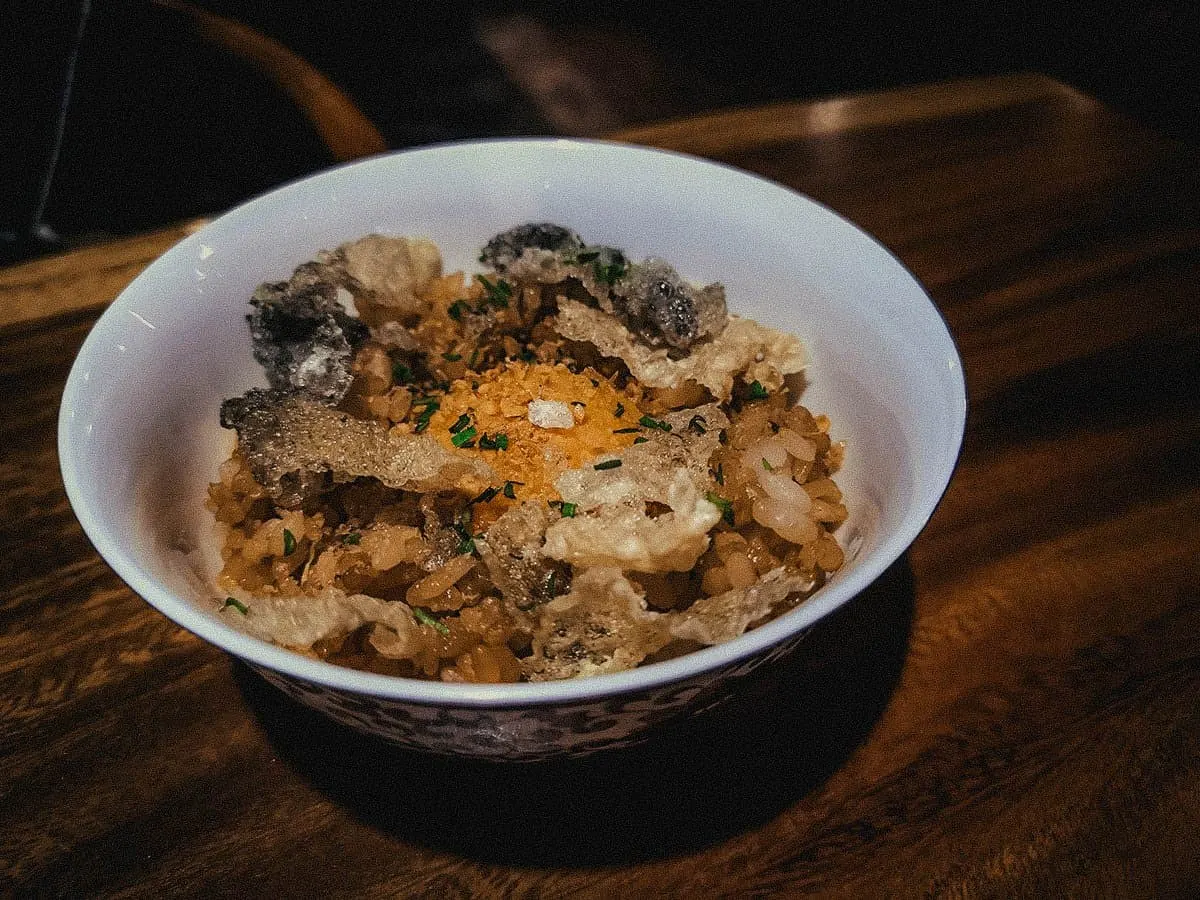 Before the dessert courses, we were given this palate cleanser of salted pineapple, kulawo, and Don Papa rum. I had never heard of kulawo before so I googled it. Apparently, it's a method of food preparation similar to ginataan, but with a smokey twist. Meats and vegetables are cooked in coconut milk containing coconut strands burnt from charcoal, giving the dish a wonderful and deep smokey flavor.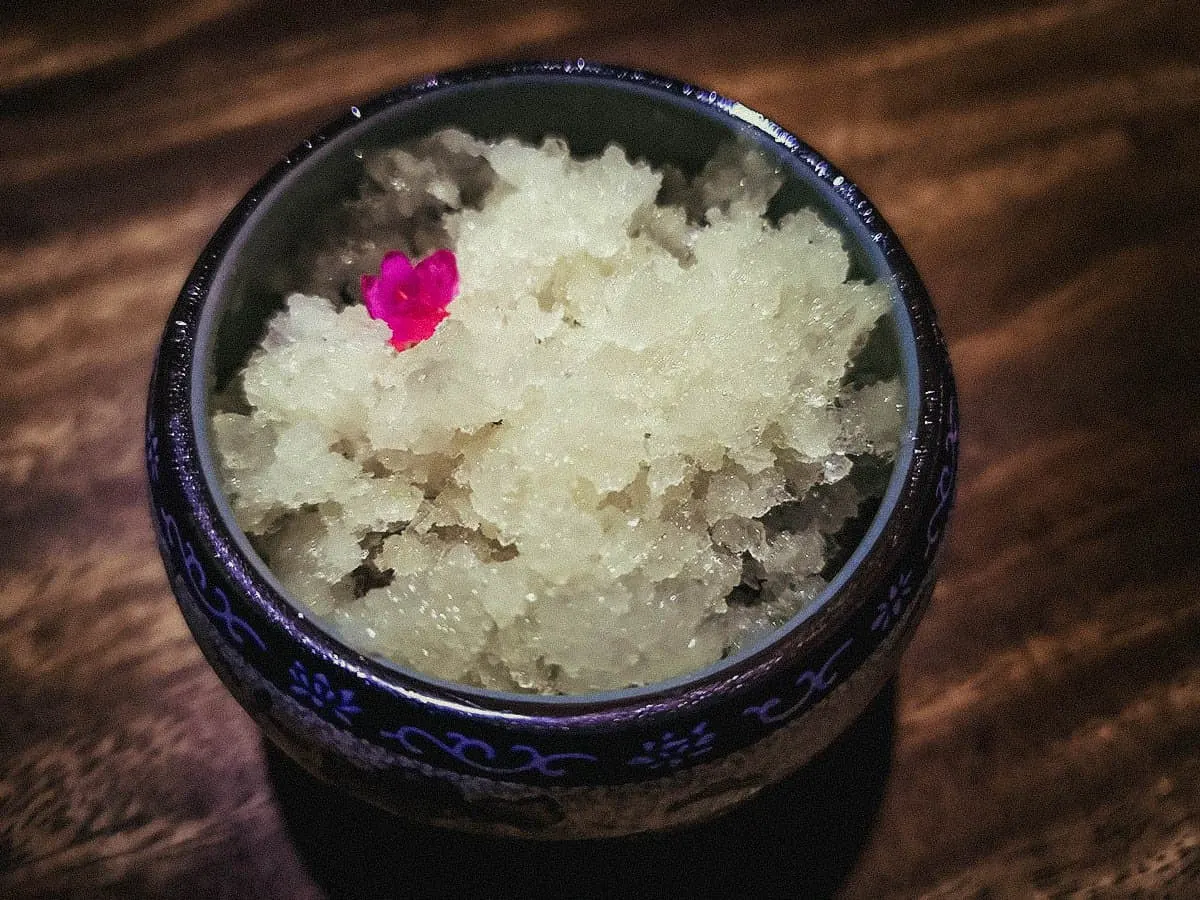 I'm not sure which component was cooked using the kulawo method, but the entire thing was delicious.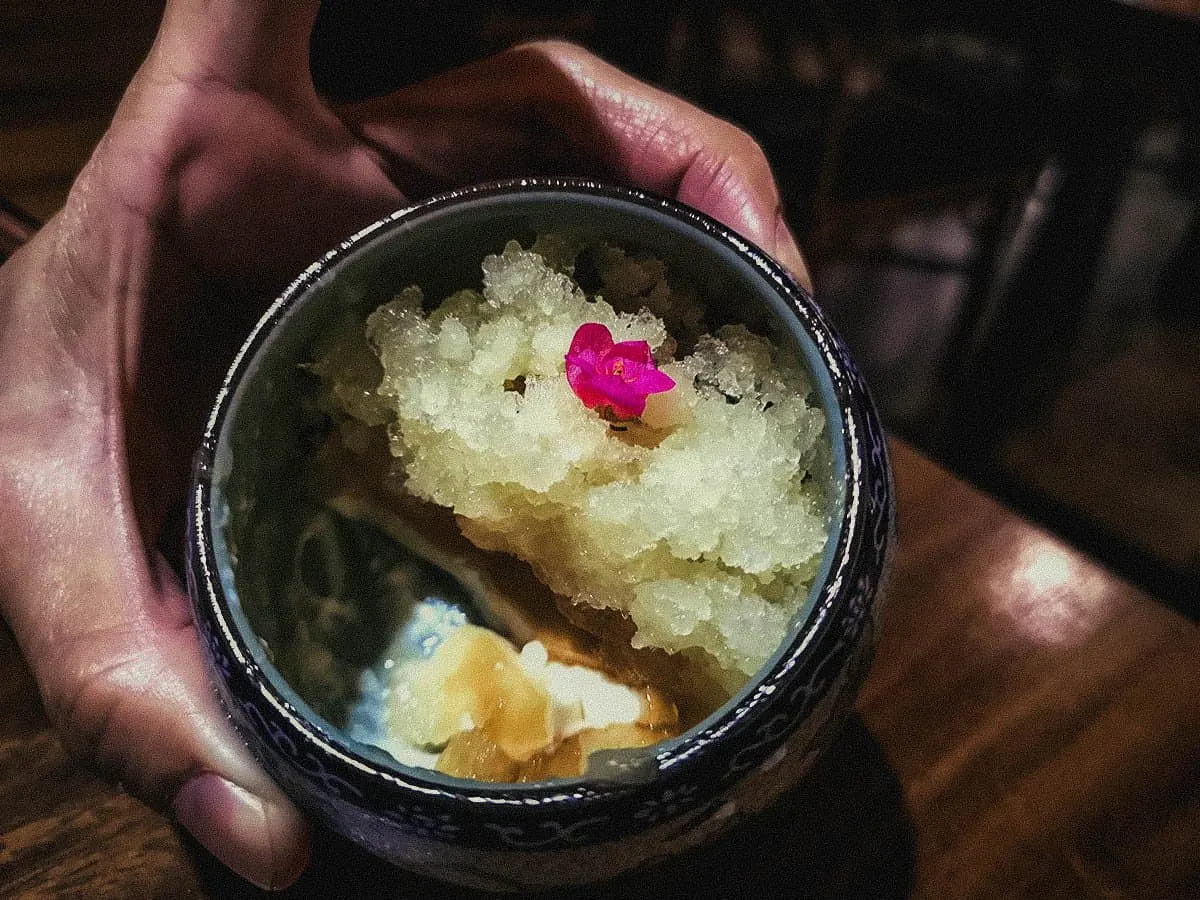 We were served multiple dessert courses to end our meal, the first being this piece of chocolate with preserved calamansi. You get a big burst of calamansi flavor when you bite into the chocolate.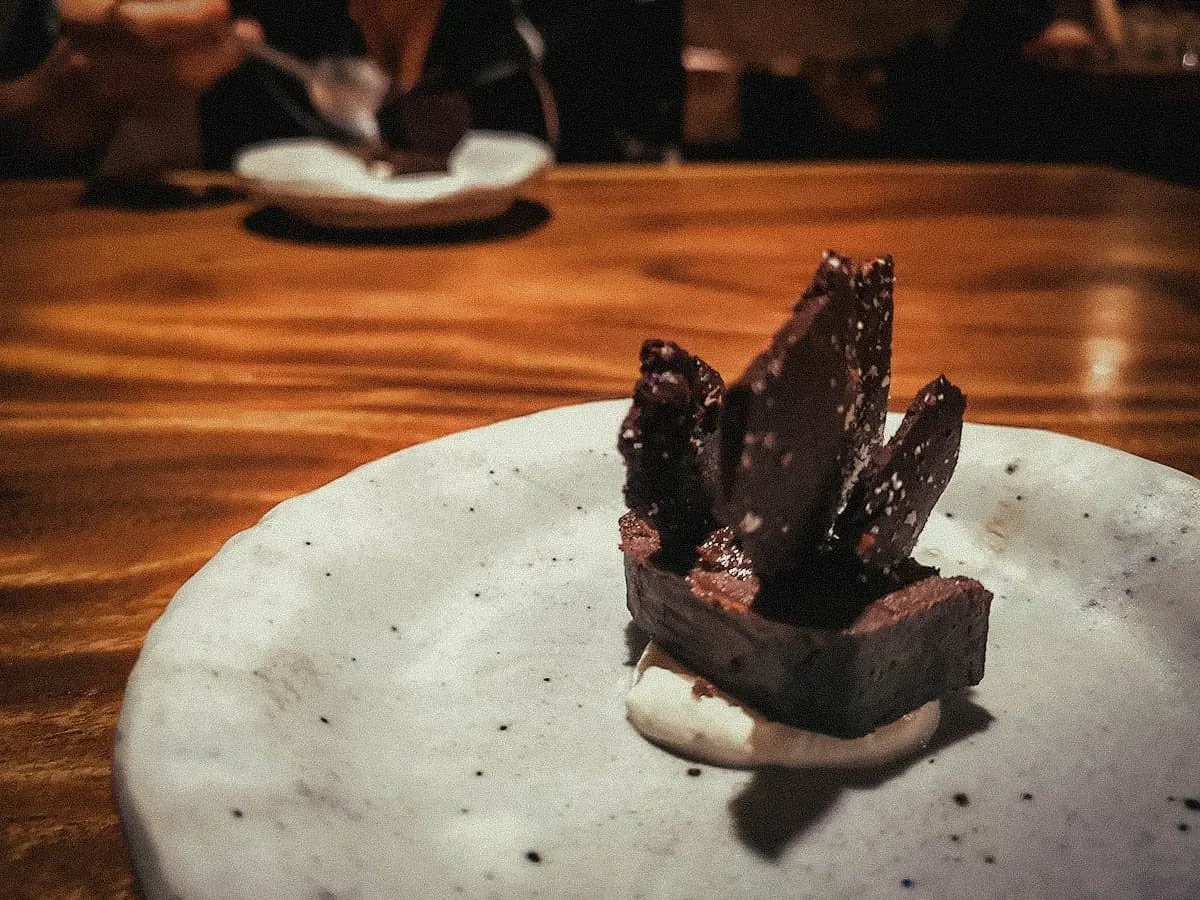 A set of petit fours to round out a fantastic meal. Sorry, I don't remember what each one was, but the purple one was definitely made with ube.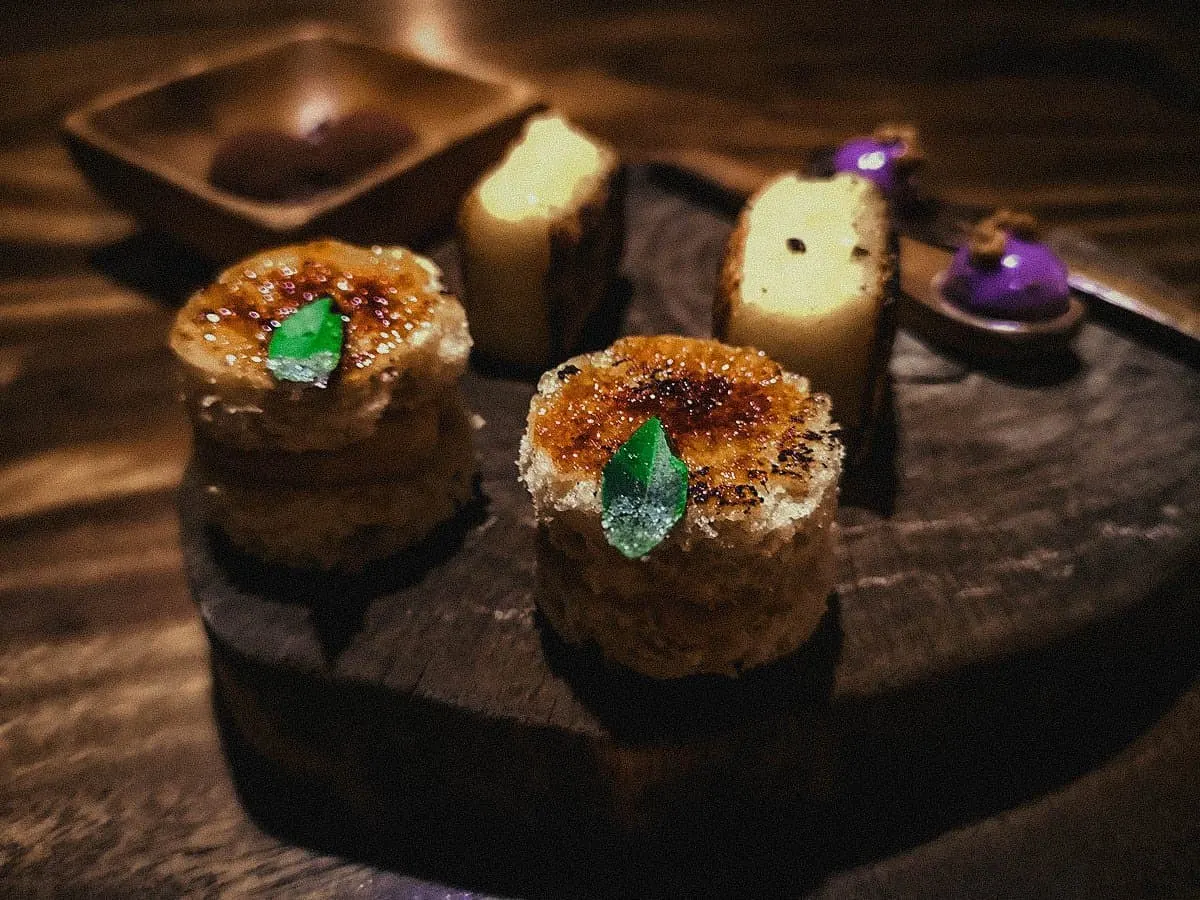 Chocolate petit four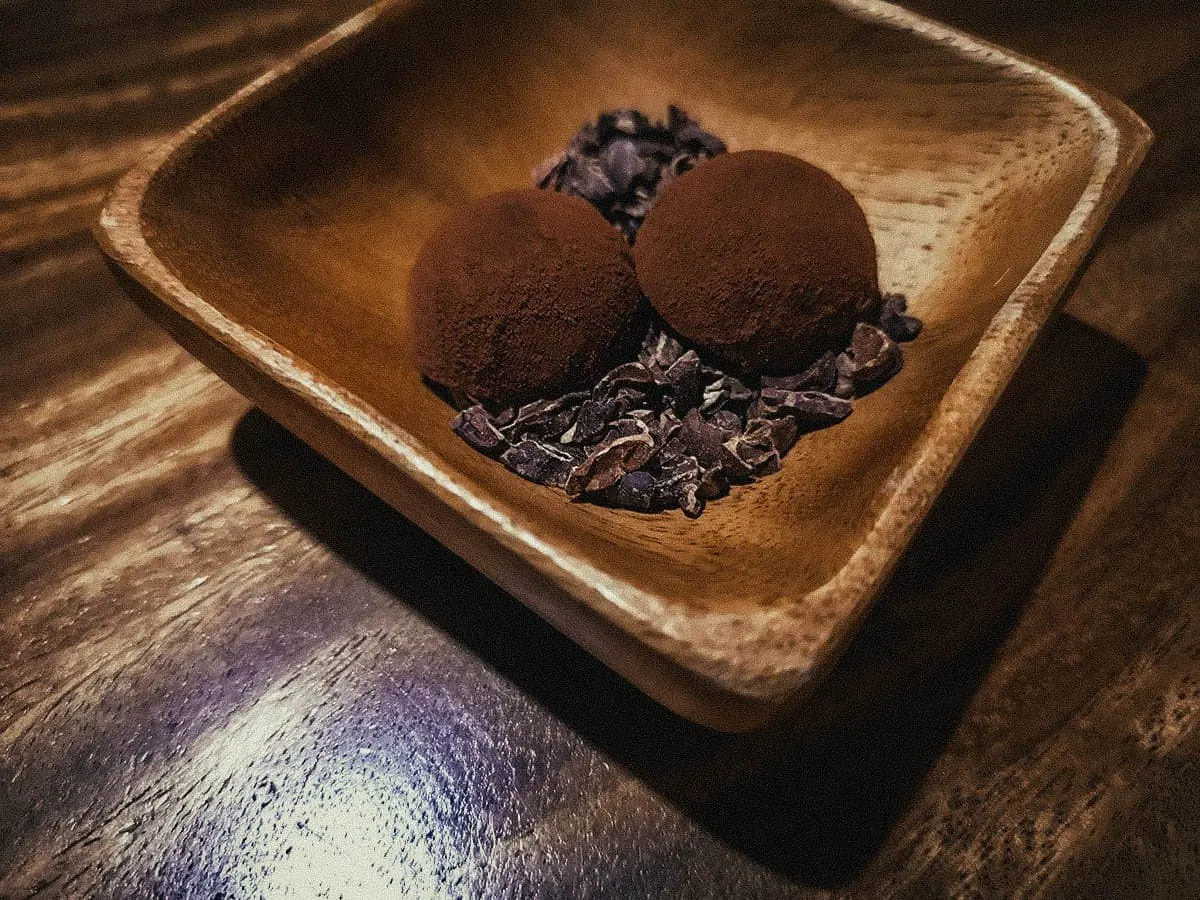 Panaderya Toyo
Before we left, our waiter was kind enough to gift us with a couple of loaves of bread from Panaderya Toyo, a bakery owned by the same group located just a few doors down. I guess he sensed we were here for a special occasion? In any case, thank you!
Like Toyo Eatery, Panaderya Toyo is known for putting its own creative spin on classical bread recipes like pan de sal. We haven't tried it but some of their more interesting creations include the purple rice sourdough and tocino bread. Next time for sure.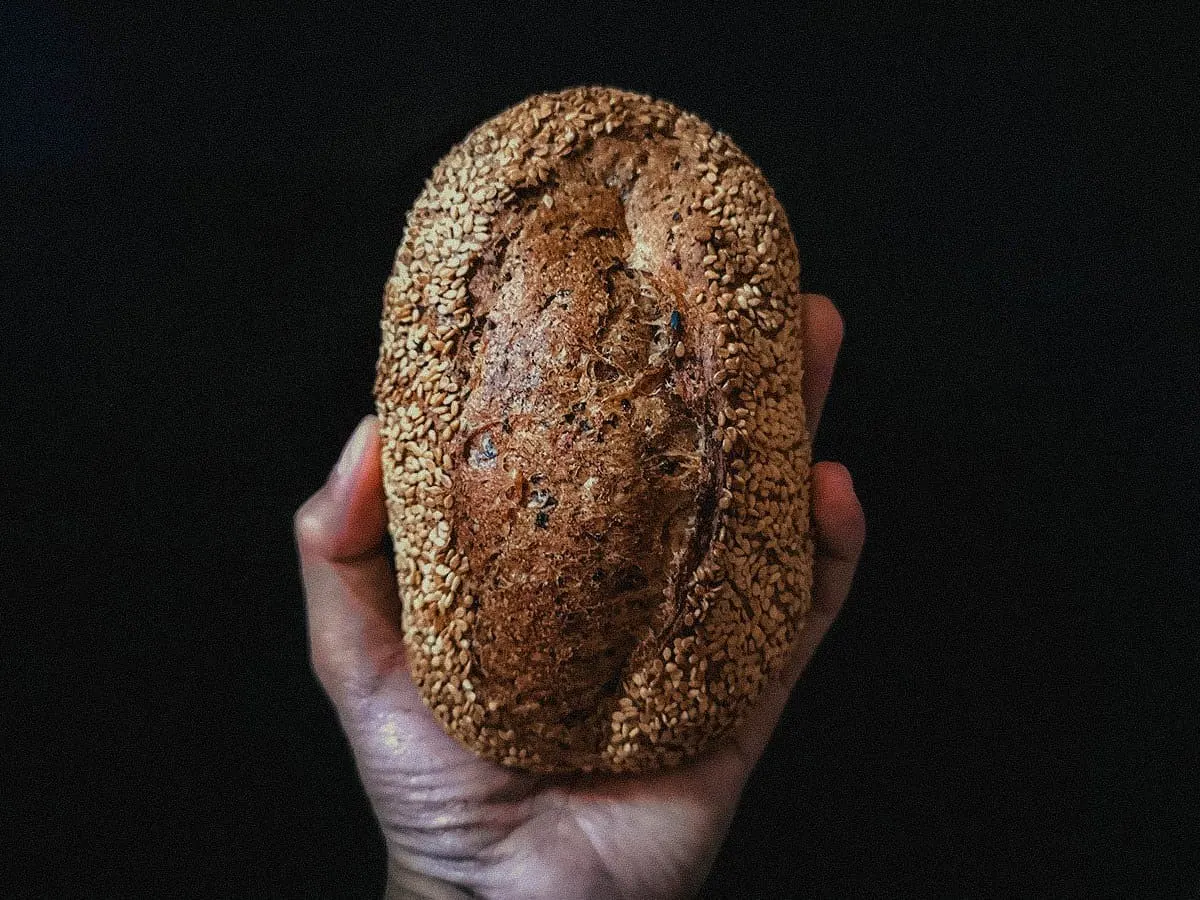 Conclusion
Toyo Eatery is my new favorite Filipino restaurant in Manila. As far as I know, there isn't a place like it.
I've been waiting for a contemporary Filipino restaurant for some time, something I could proudly show off to my foreigner foodie friends. They've experienced the boodle fights and the ihawans (grill restaurants), the inasalans and the more upscale Filipino restaurants. I wanted them to experience a more contemporary approach to Filipino food, a place that used modern techniques but remained faithful to our ingredients and flavors.
Toyo Eatery is that place.
I don't know much about cooking techniques but one thing to me is clear – Chef Jordy Navarra is a terrific talent who stayed true to his roots. In spite of his training at highly regarded restaurants around the world, he is still very much a proud pinoy at heart. You can taste it in his food. We haven't met him but it's apparent he wants nothing more than to cook Filipino food, elevated Filipino food, the likes of which we hadn't seen before in Manila.
This list of Asia's 50 best restaurants is my de facto bible for finding the best places to eat in the region. I am so, so happy and proud to finally see Toyo Eatery on that list.
Toyo Eatery
The Alley at Karrivin Plaza, 2316 Chino Roces Ave, Makati, 1231 Metro Manila
Tel: 0917 720 8630
Operating Hours: 6-11PM, Tue-Sat (closed Mon-Sun)
Facebook: toyoeatery
Expect to Pay: PHP 2,900 per person for the full-course tasting menu
HOW TO GET THERE: Toyo Eatery is located at Karrivin Plaza along Chino Roces Avenue. From EDSA, veer right then drive to the left side of Chino Roces Avenue. Drive straight and you'll see the sign for Karrivin Plaza on your right.