This bed and breakfast first caught my eye in 2015. We were staying at nearby Z Hostel when I had to walk over to our car parked across the street from this place. During the day, it looked like any other old Filipino house. But when I saw it again early that evening, it looked transformed. As hip as Poblacion is, it isn't the most polished of neighborhoods so this house didn't look like it belonged.
The front door and windows were flung open so I could see the house's interior. Based on its architectural style and vintage furnishings, the house was clearly old but it looked fresh and new, like it had just been renovated. A warm, yellow light emanated from the living room so it looked like the house was glowing against the muted blue of early evening. I couldn't see anyone inside but it sounded like the someone was entertaining guests. A tray with a pitcher of pandan ice water and a set of clean glasses seemed proof of that. There was a man loitering outside so I asked him what this place was. Was it a hotel? No, he answered, it's just a residence. I walked away thinking that was the end of it, but it wasn't.
A few months later, I was surprised to find this very house pop up on a friend's Facebook feed. I recognized it instantly. As I suspected, it was an old house that was recently renovated and converted into a bed and breakfast called La Casita Mercedes. I knew then and there we were coming back.
Save This on Pinterest!
No time to read this now? Click on the red save button and pin it for later!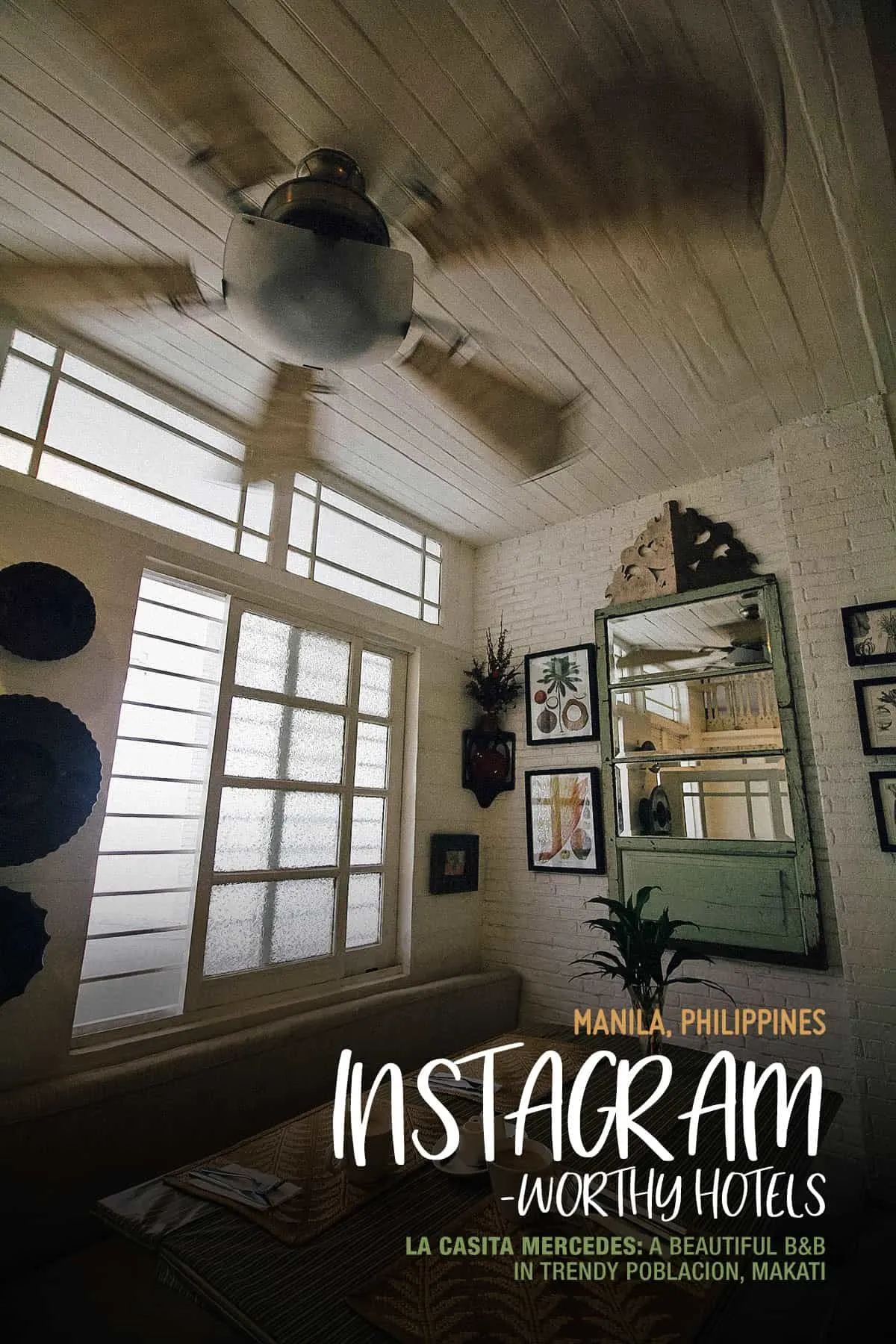 Vintage Chic at La Casita Mercedes
Originally built as a private residence in 1939, La Casita Mercedes went through a two-and-a-half year renovation before reopening as a bed and breakfast in 2015. You can book a room here through Booking.com or Agoda. We paid PHP 1,894 per night in July 2017.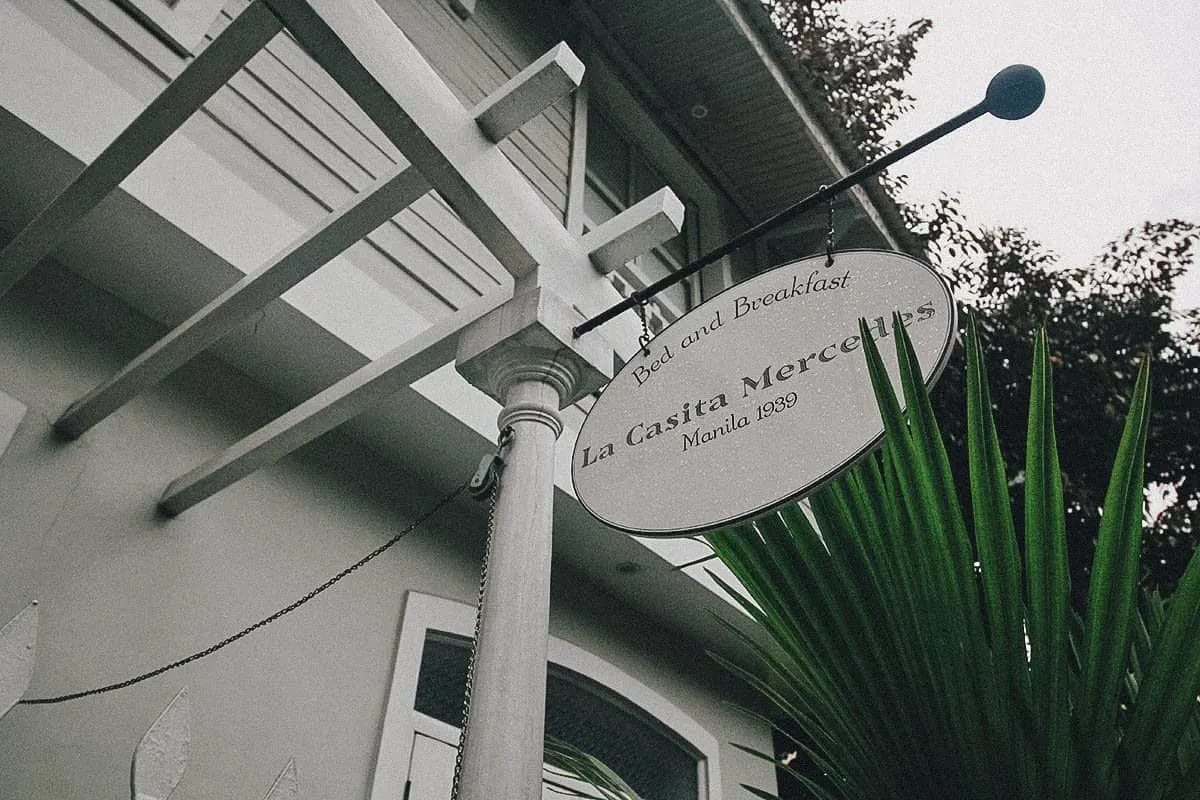 It's located in the resurgent Poblacion neighborhood of Makati, which is home to an increasing number of trendy bars and restaurants. It reminds me of what Malate in Manila used to be. La Casita Mercedes is walking distance to bigger hotels and commercial shopping areas like A Venue, Century City Mall, and Rockwell Center.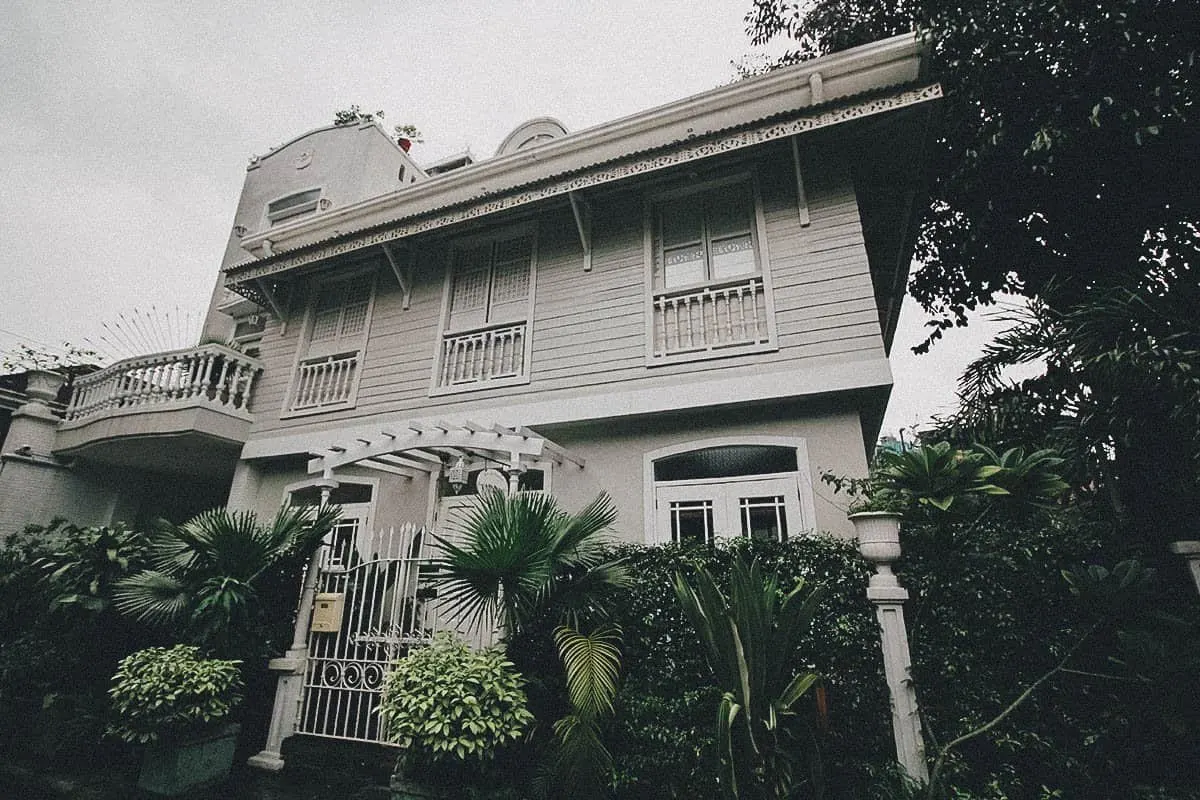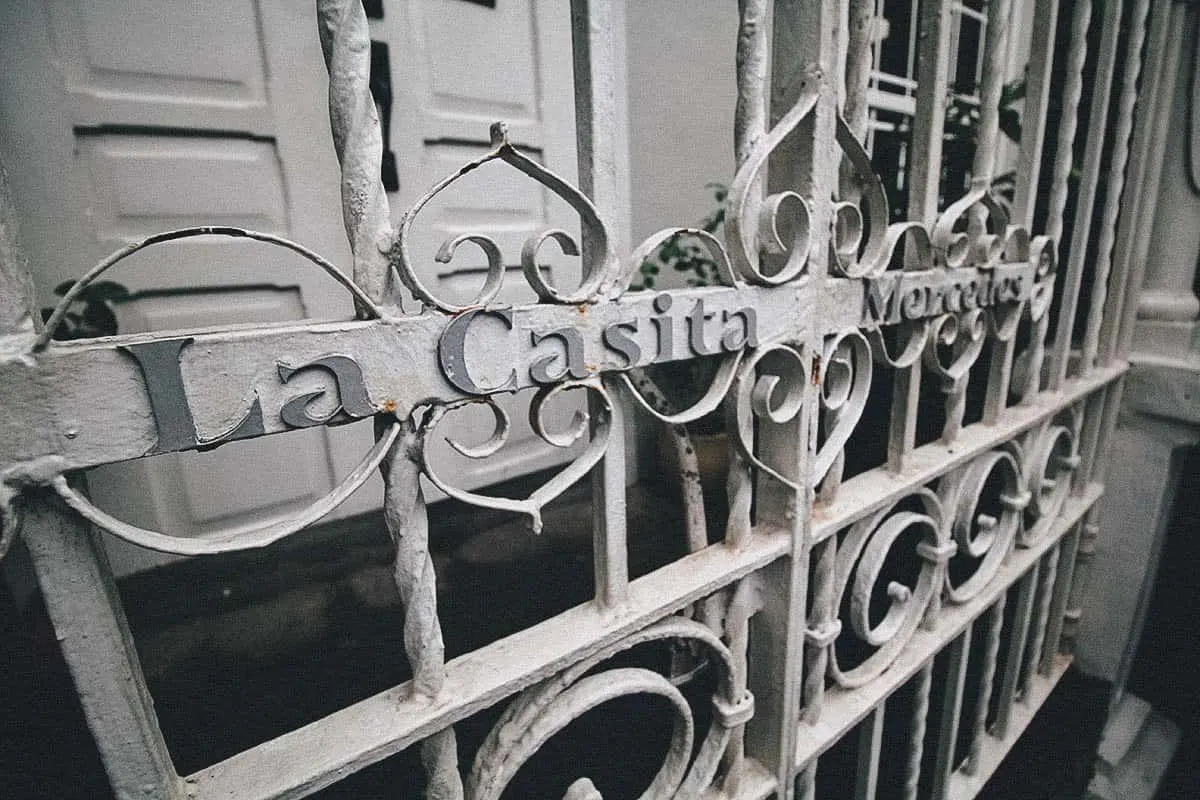 The living room / reception area

The office and reception desk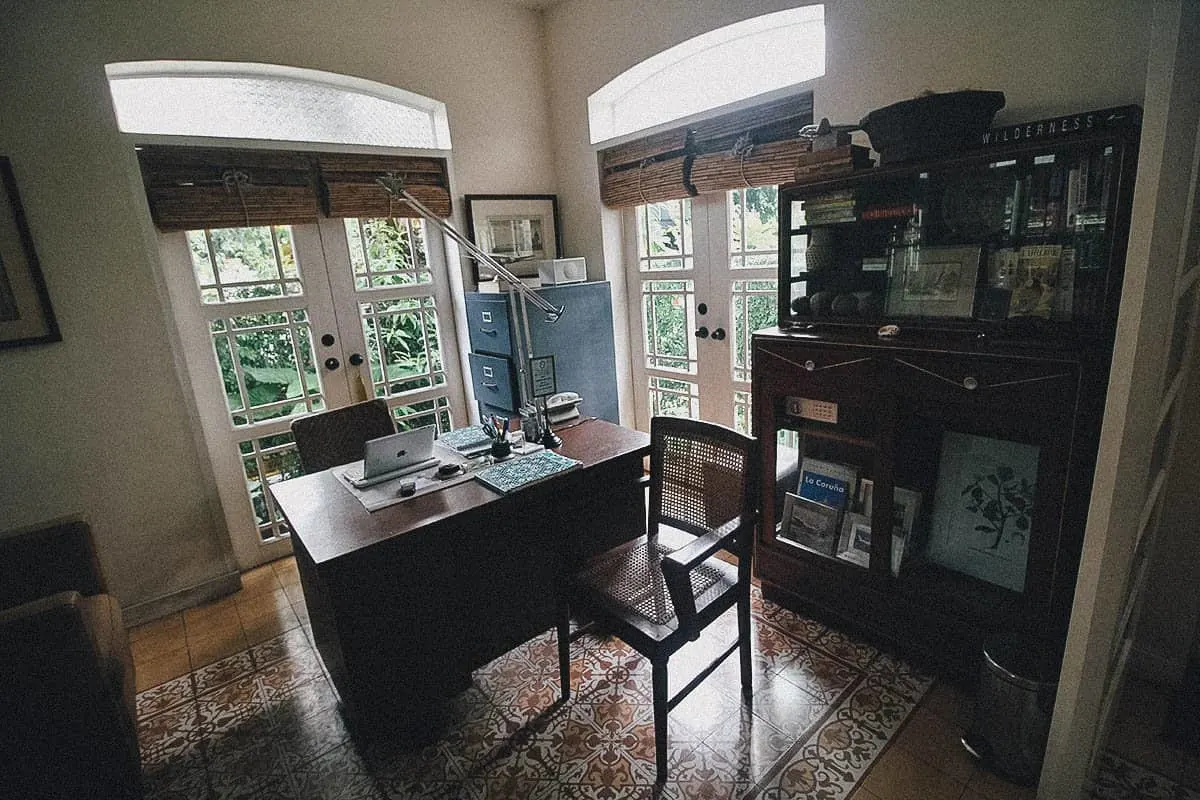 I loved these tiles.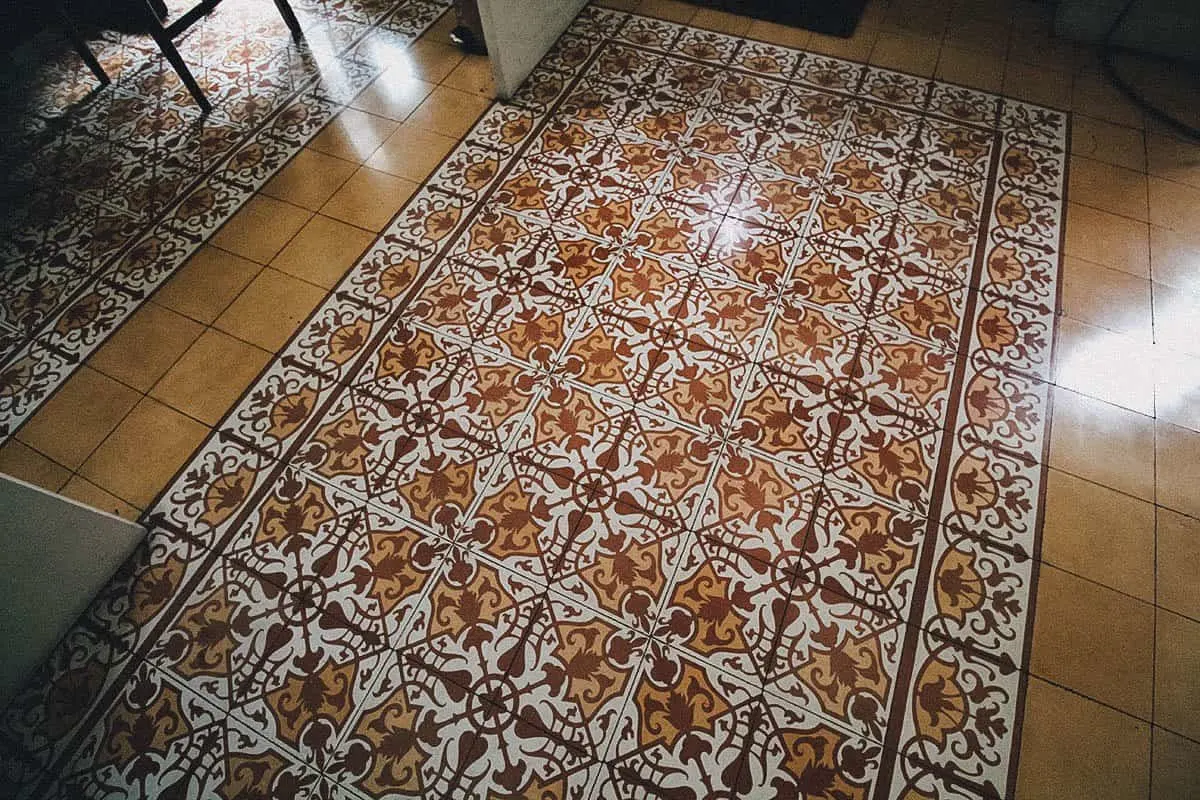 These sliding barn doors were cool too. They had the same sliding doors in the kitchen leading out to the courtyard.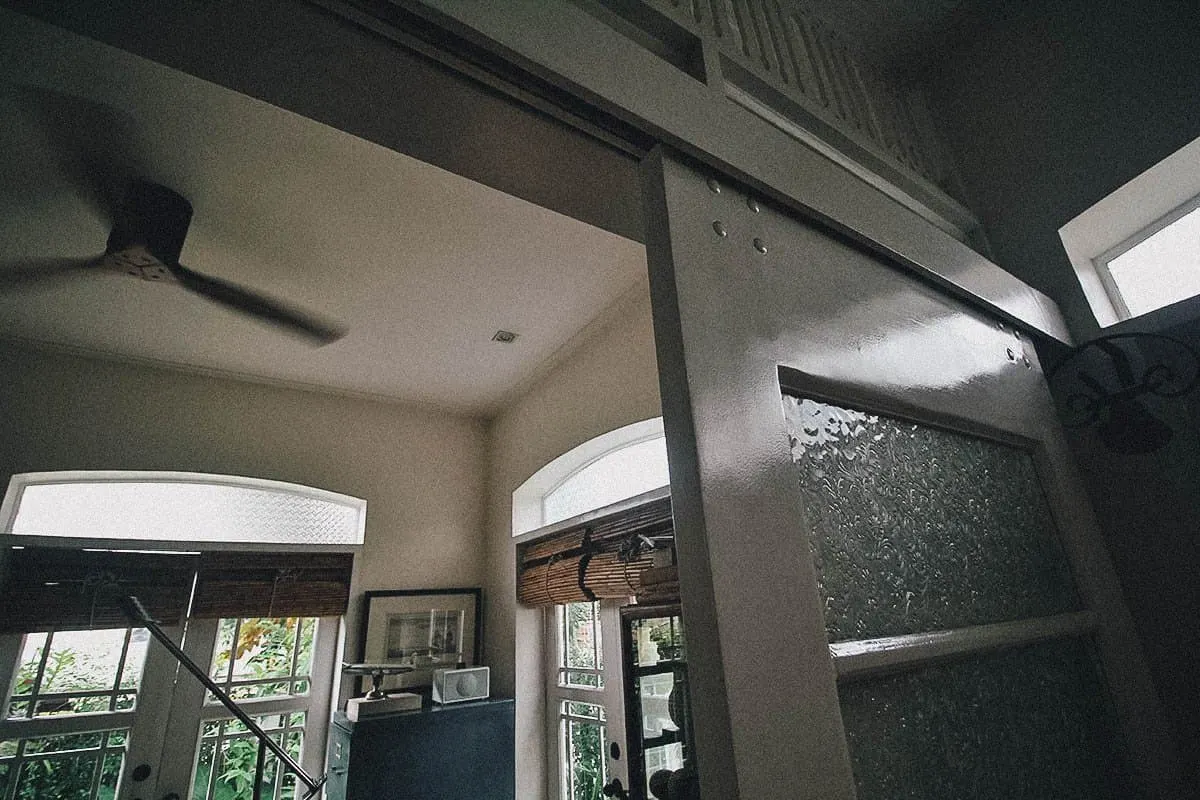 Here's the main stairwell to the second and third floors. One of the first things you'll notice is how immaculately clean this place is. Like the exterior, much of it is white or light-colored but they keep it spotlessly clean.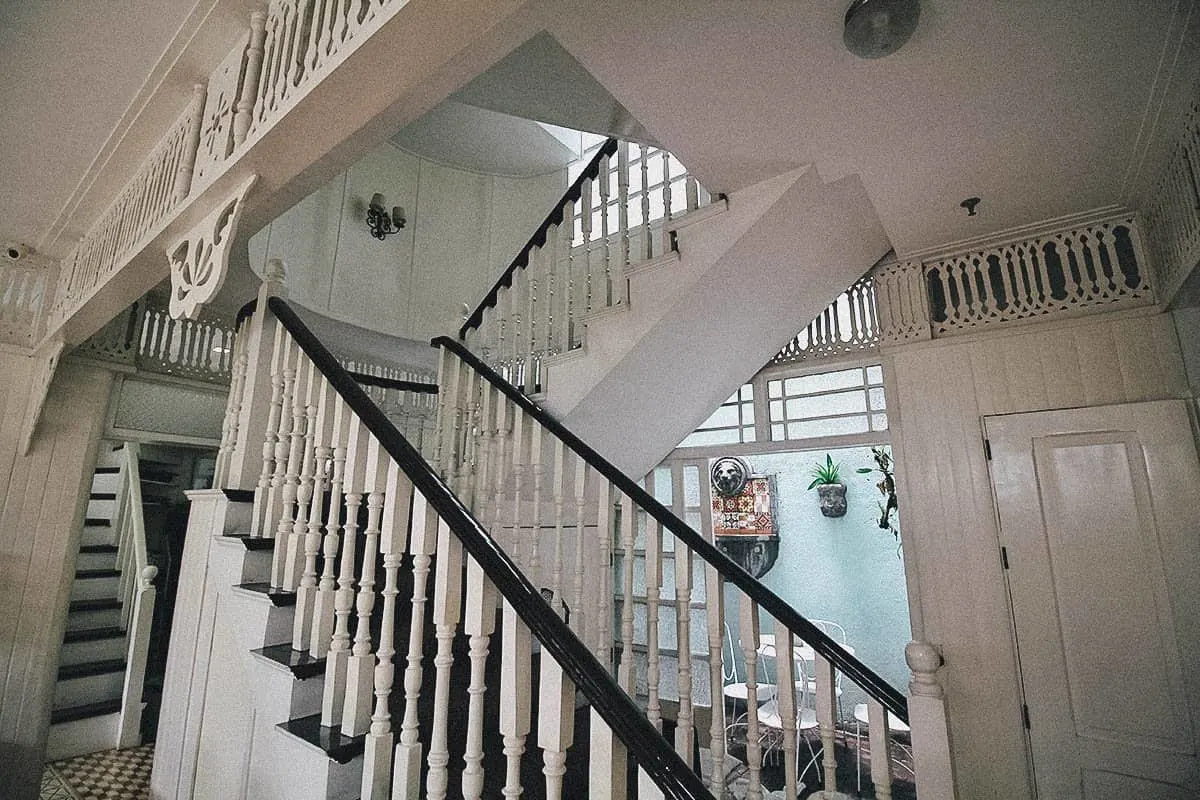 This was where we had breakfast every morning. Isn't that ceiling fan cool?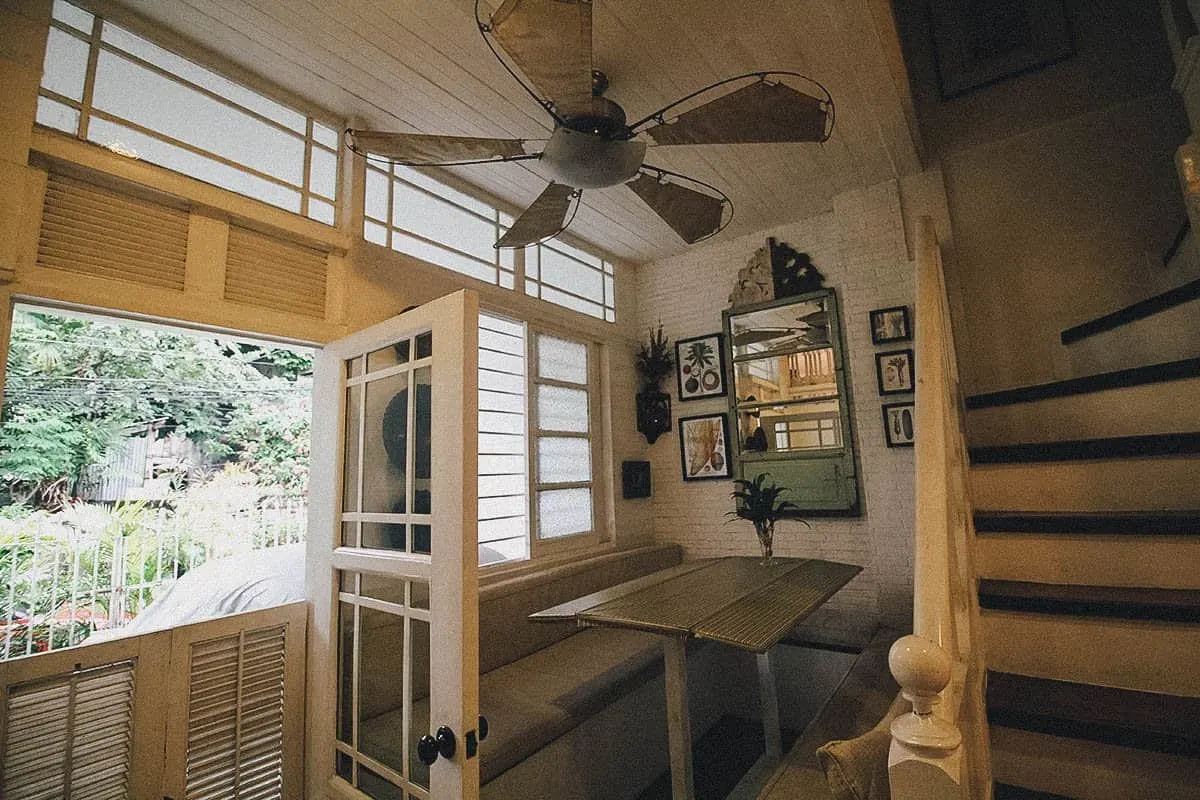 This must still be the home's original gate. I learned that ironwork pieces from that time period weren't welded together. Instead, they were held together by metal clasps, like the ones you see on this gate. It's little details like this that make this place special.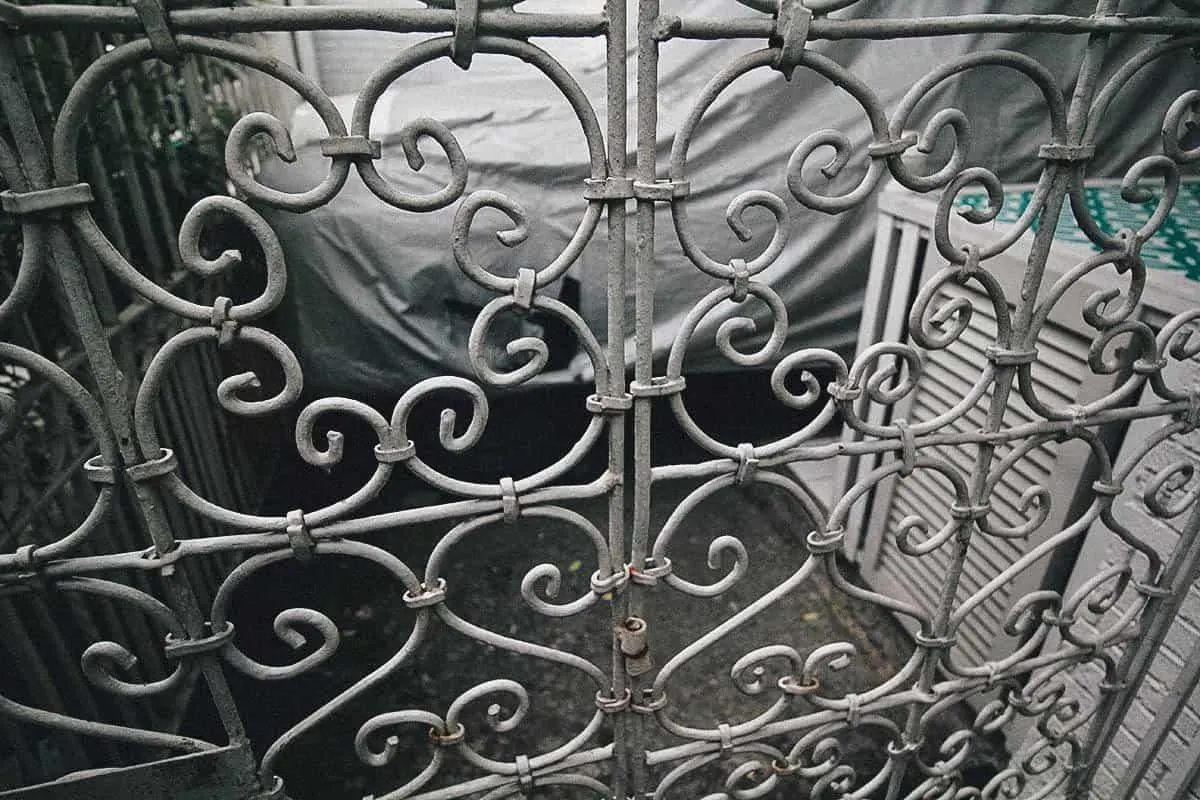 Kitchen area and island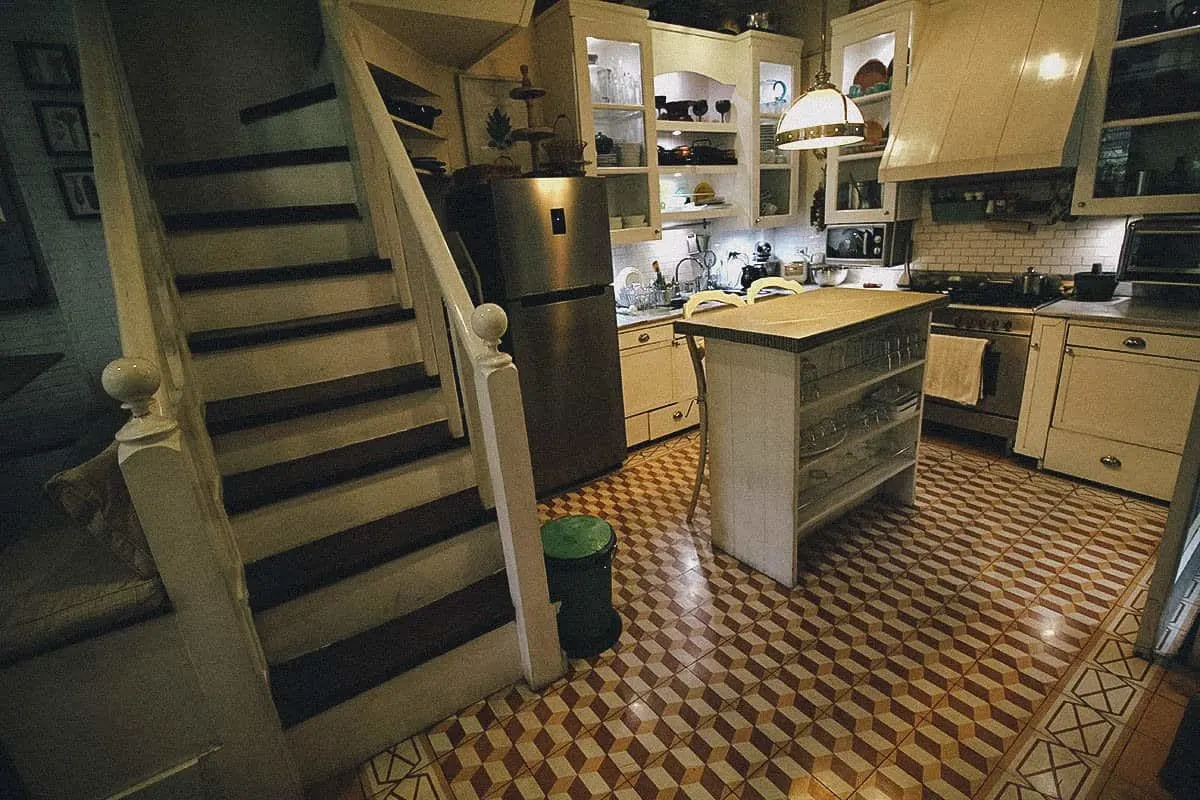 More tiles to love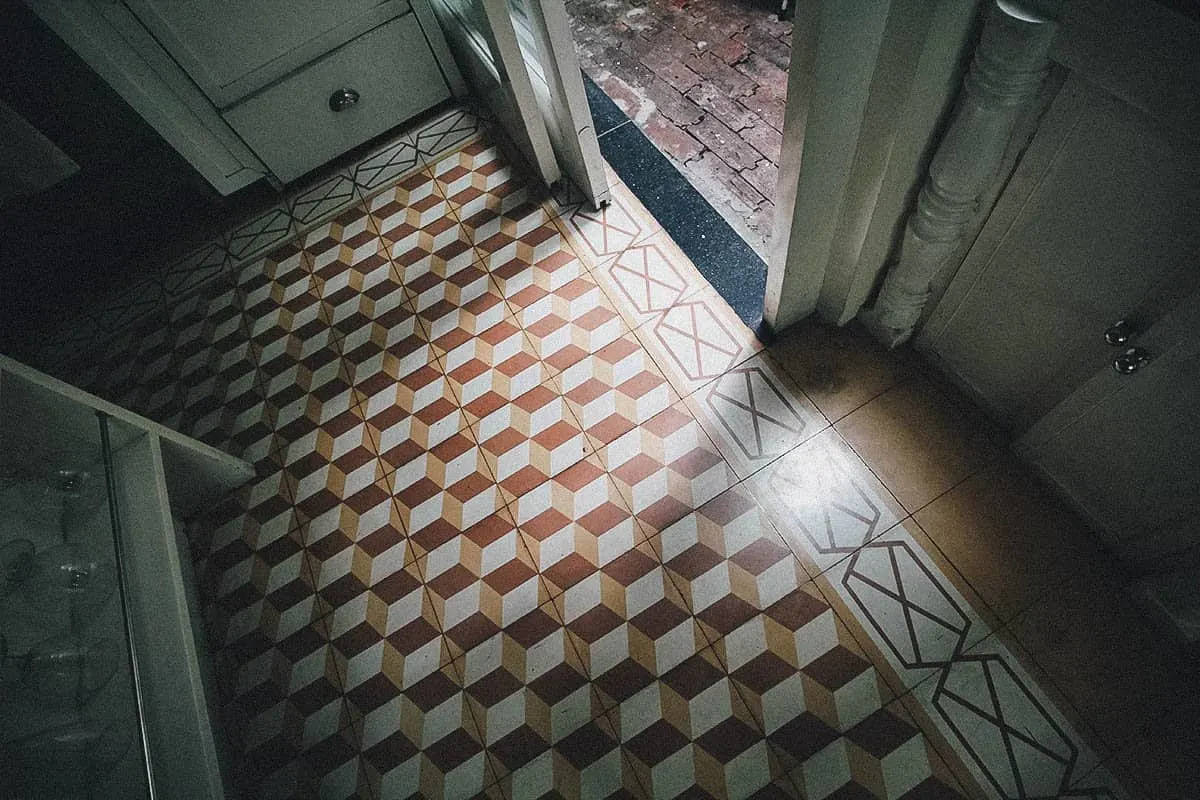 Mini courtyard with two tables and a fountain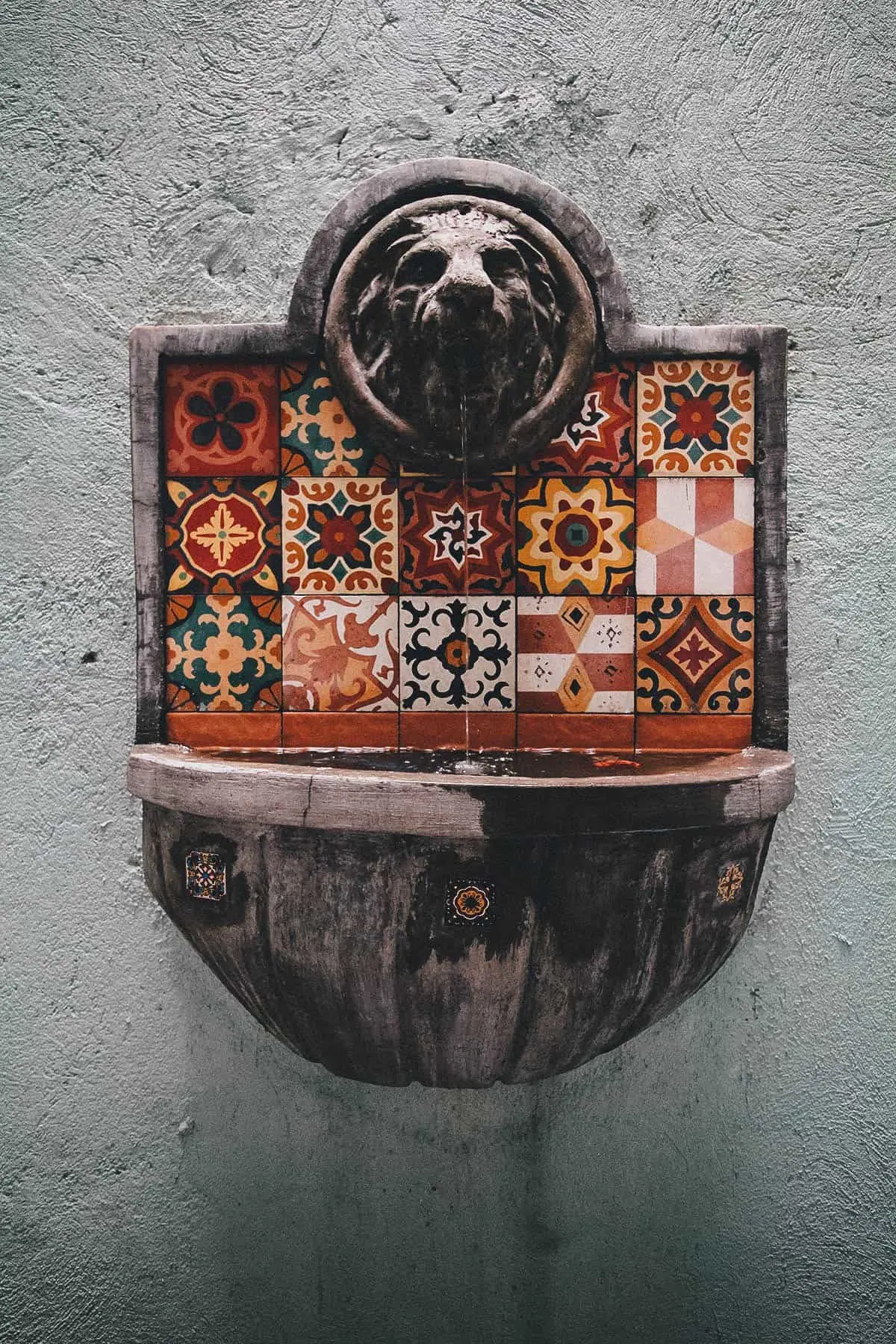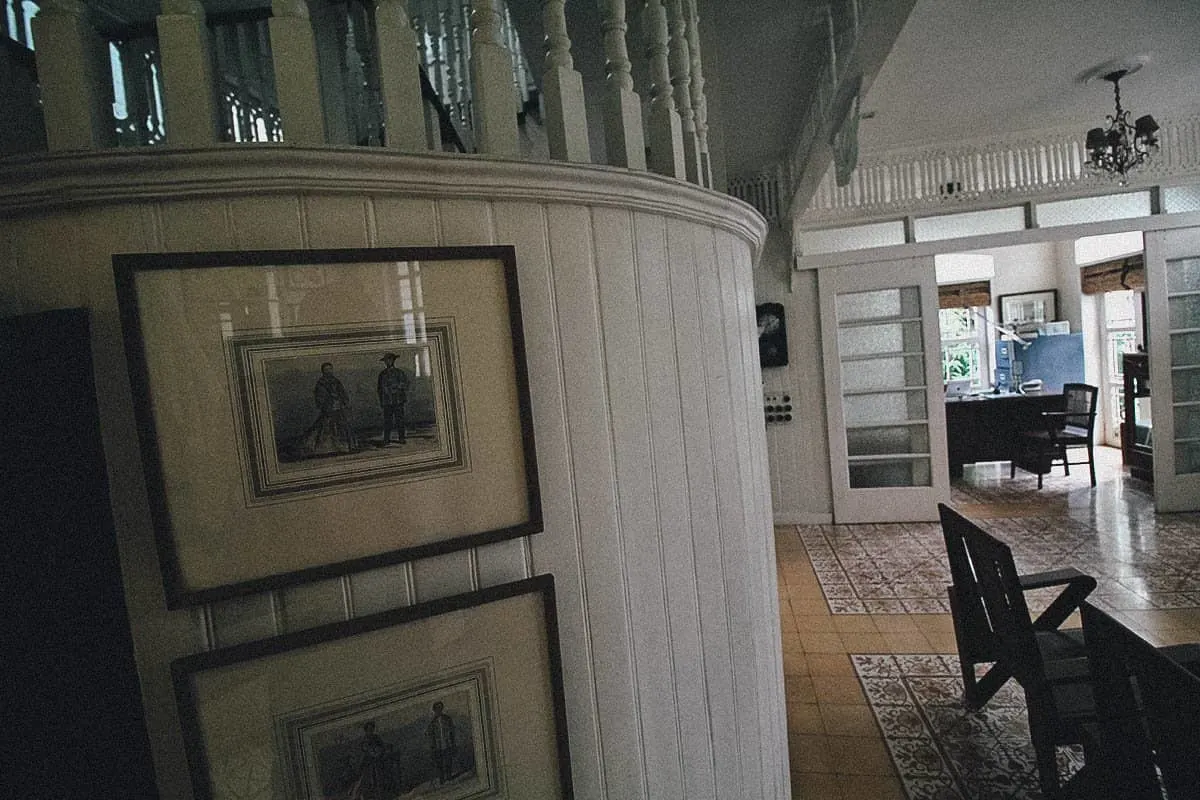 The owner has a keen eye for detail. He used these vintage light switches all throughout the house. Cool right?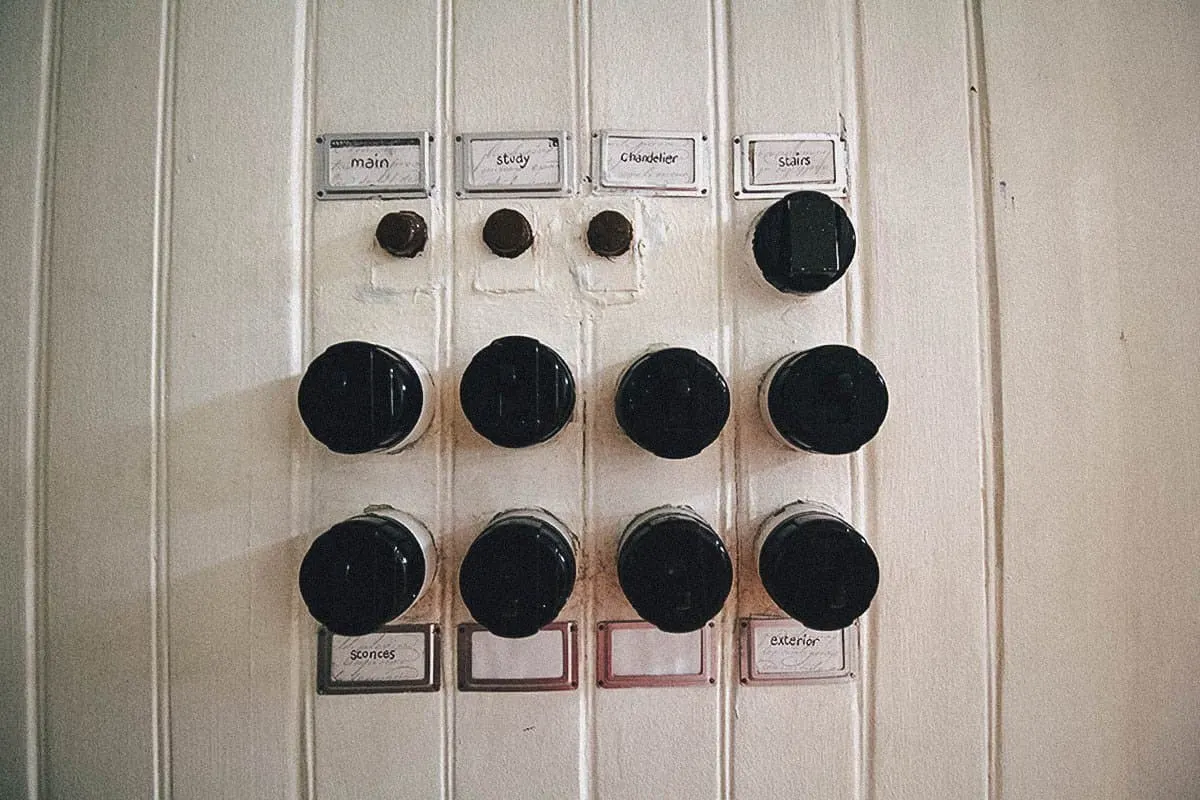 Let's go upstairs and check out our room. La Casita Mercedes has seven rooms – one on the first floor, five on the second, and one on the third.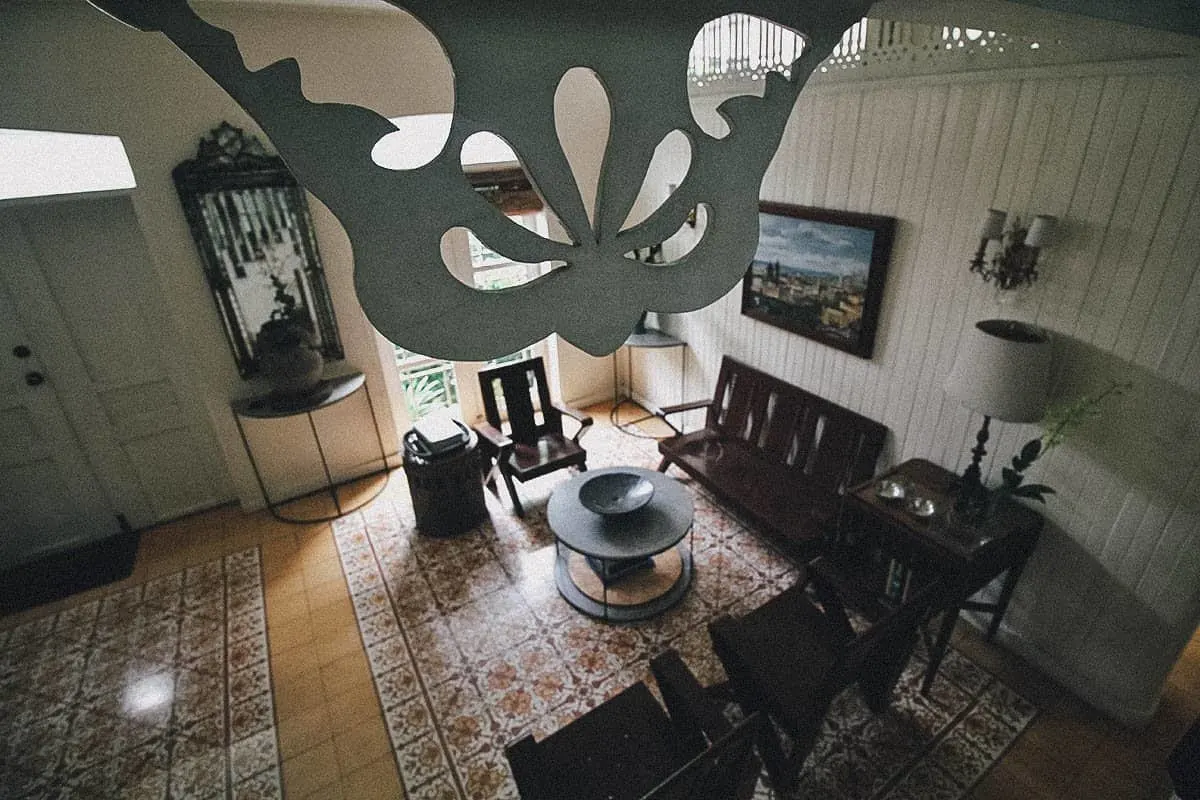 A tale of two tiles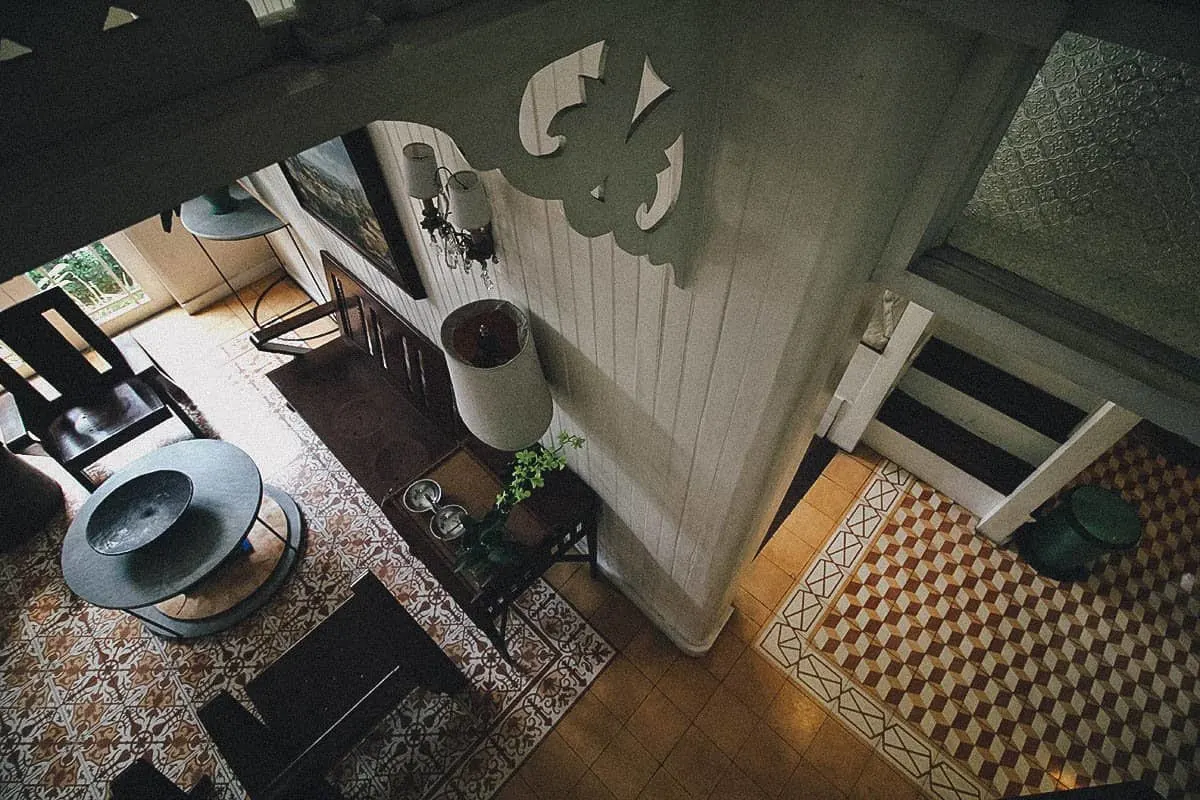 Even the stairs were cool. The steps were covered in some type of coarse, rope-like material.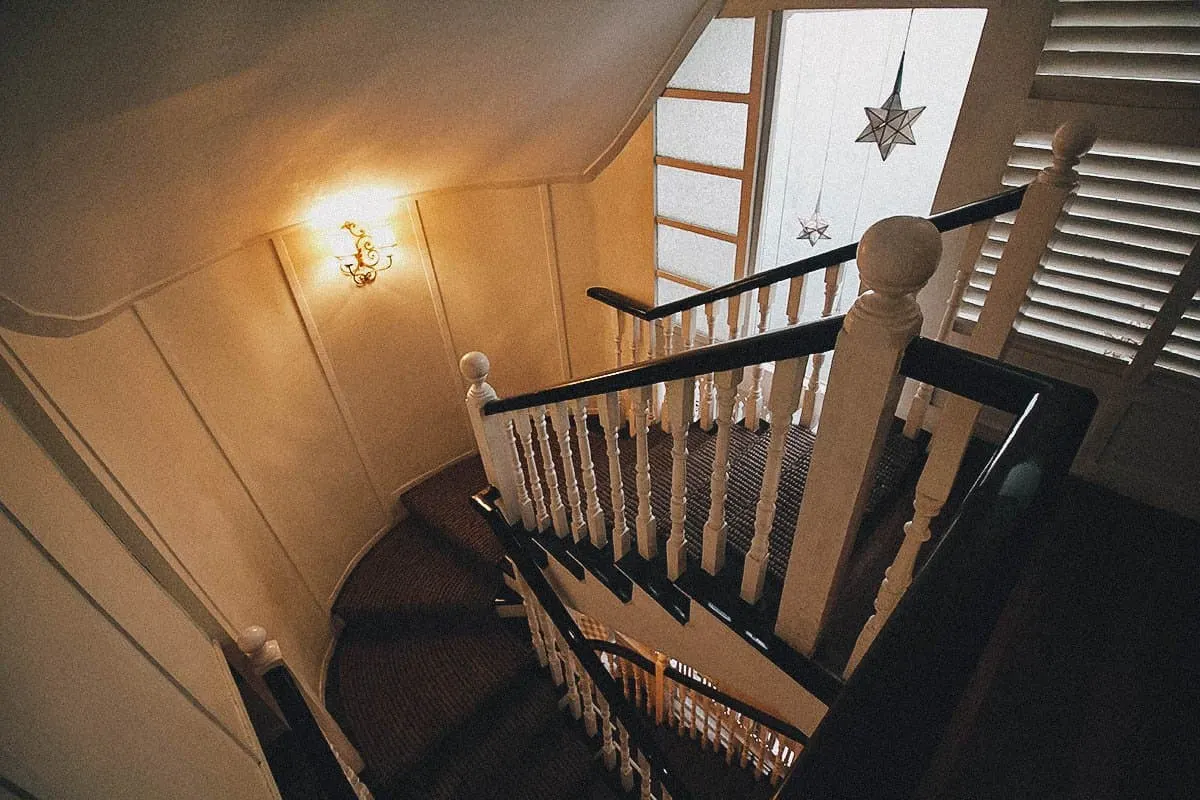 We had the entire third floor to ourselves.

Aerial view of the courtyard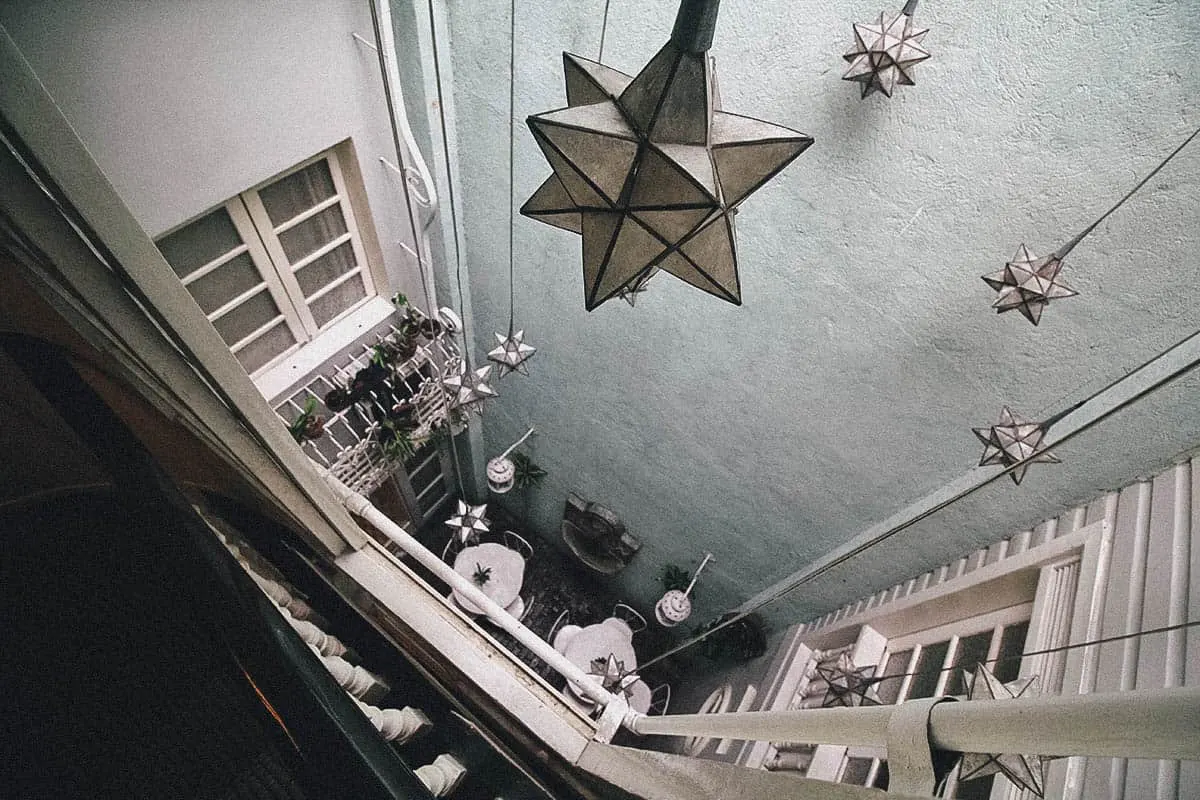 The Room
Here's our attic room. Nice right? I love attic rooms because of the often odd shape of the ceiling.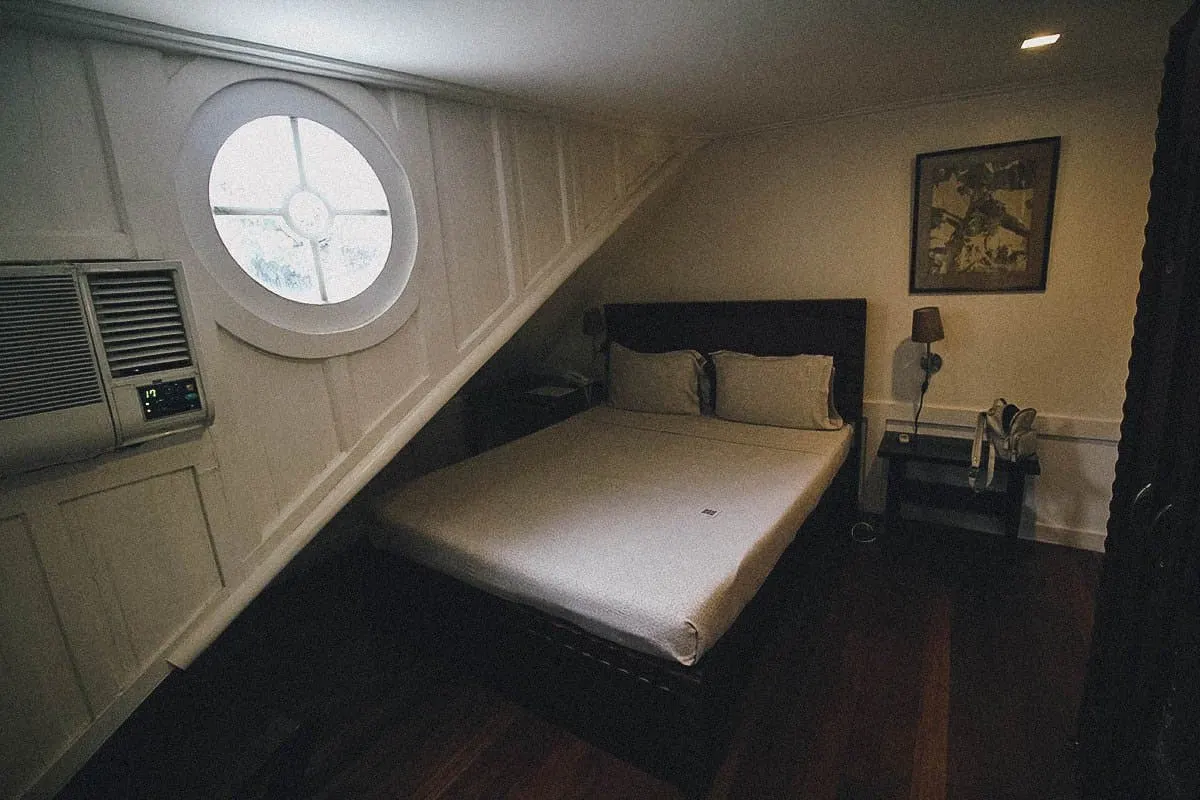 The one thing missing from the room is a television set. We're out most of the day so we didn't really mind, but if you do, then please be advised that none of the rooms at La Casita Mercedes have TVs.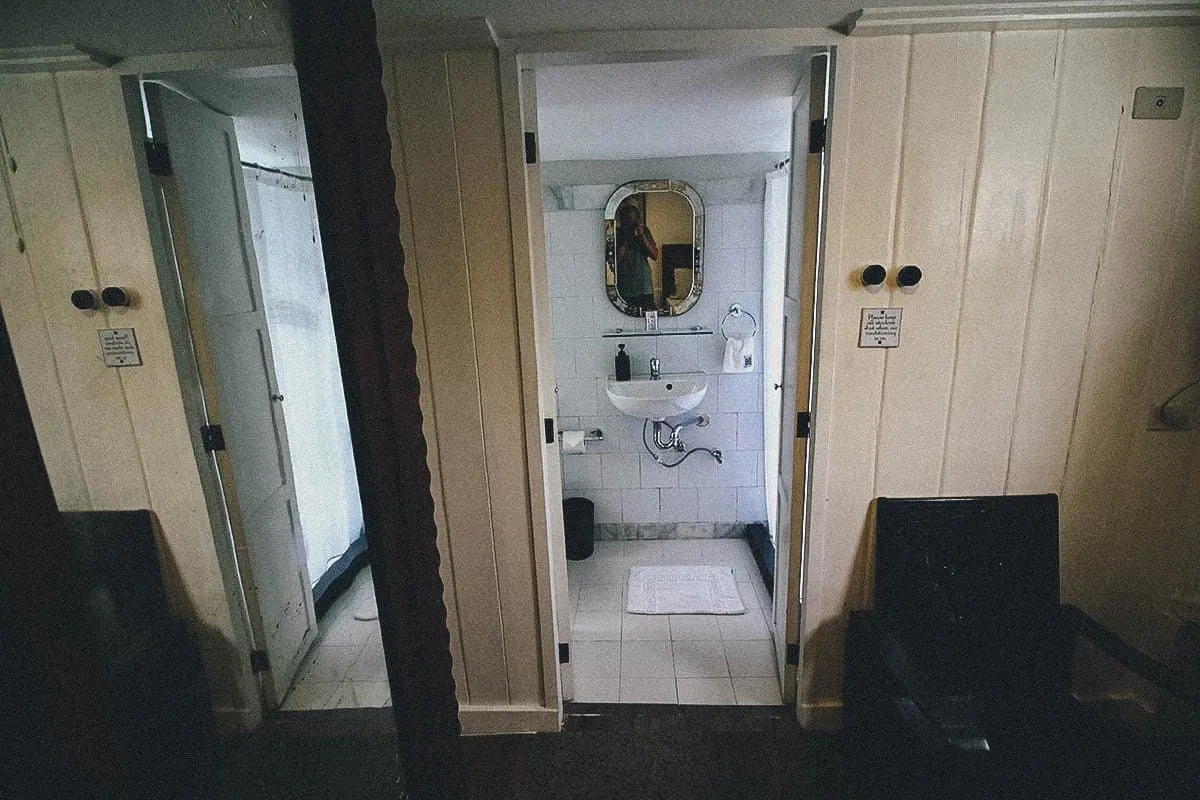 Spotlessly clean all-white bathroom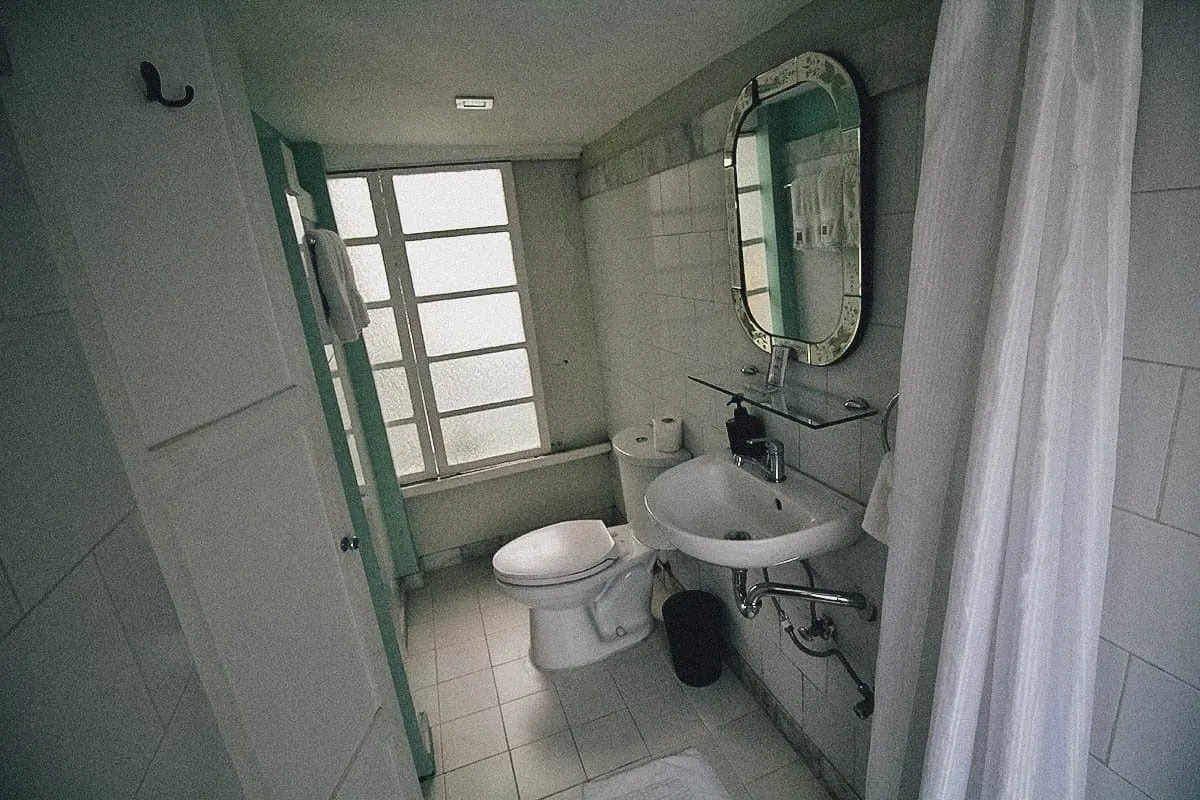 I love that vintage armoire. See what I mean about the light switches?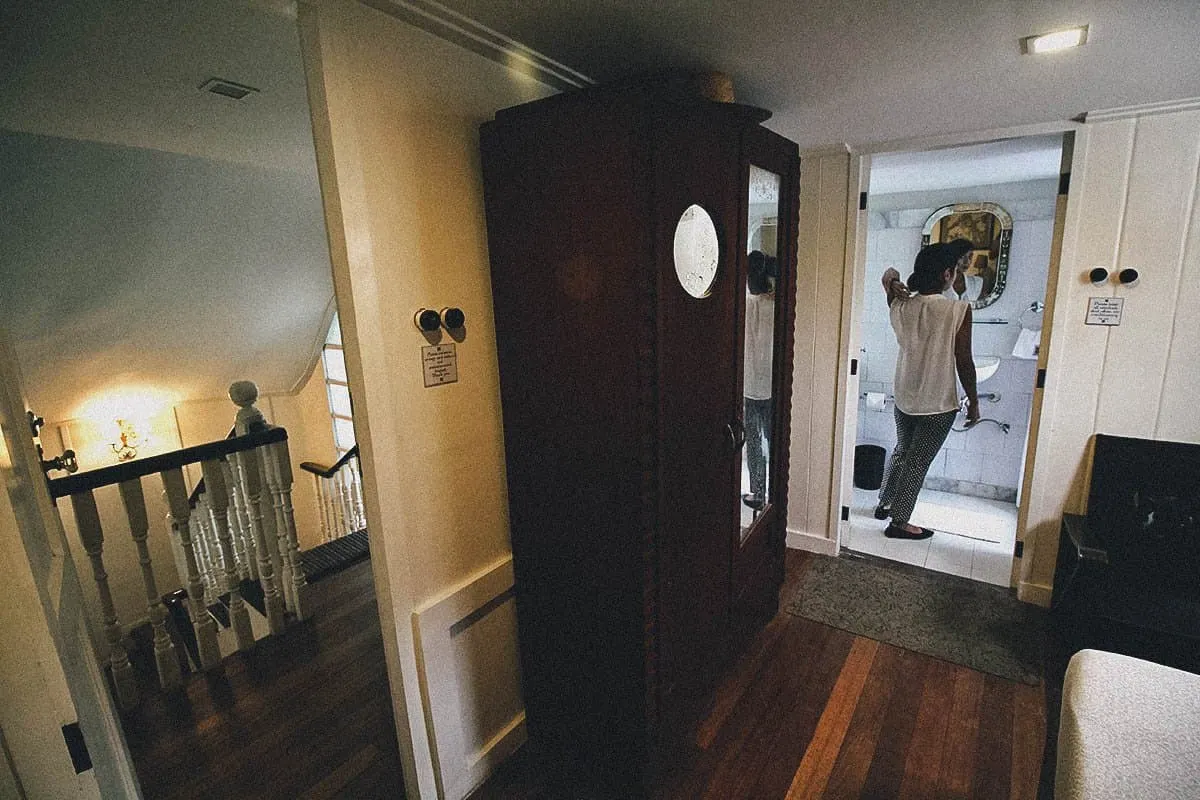 Breakfast
Every morning the multitasking Jen would cook us up a delicious breakfast. If I remember correctly, you could have either an omelette or banana pancakes.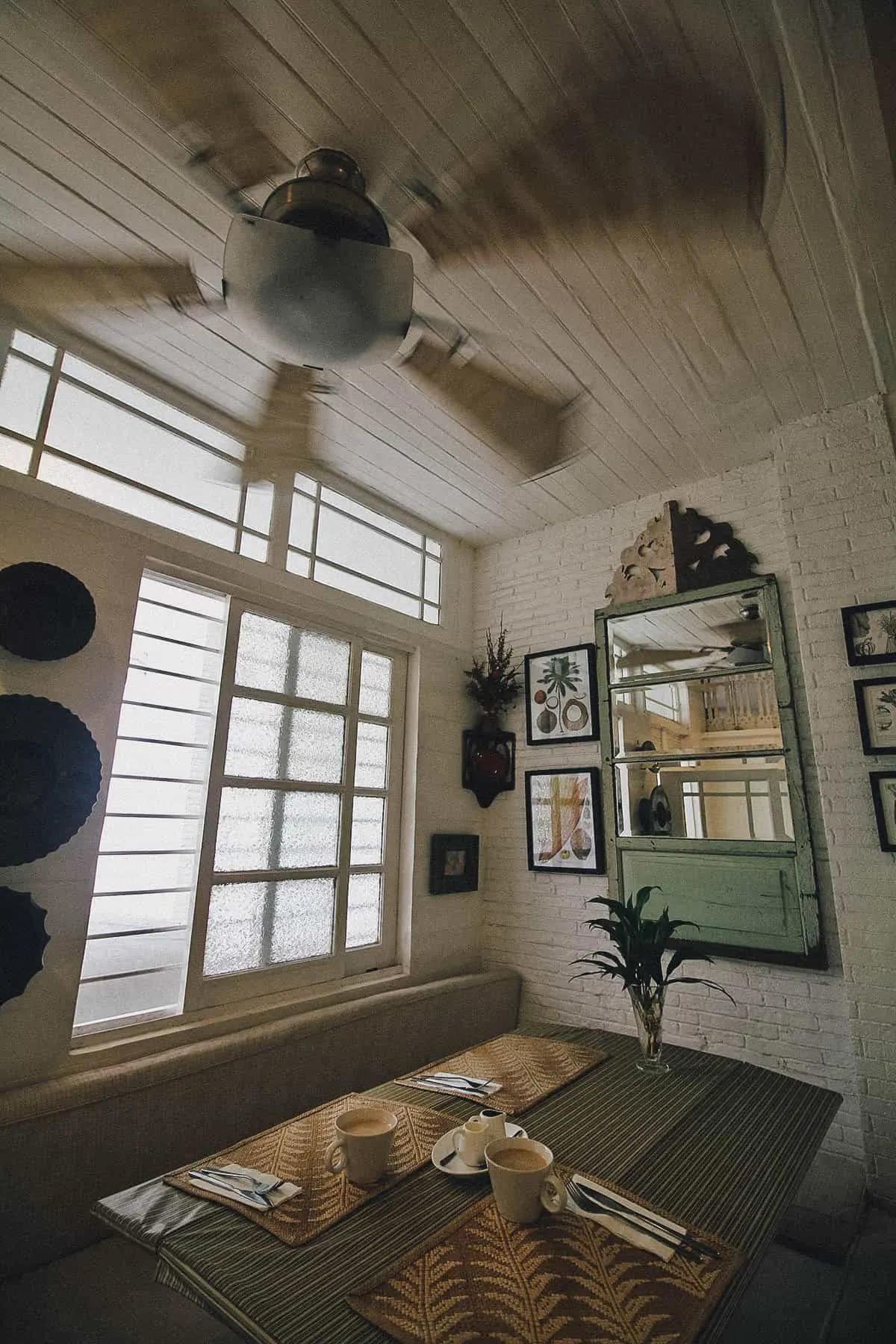 My tasty omelette and black coffee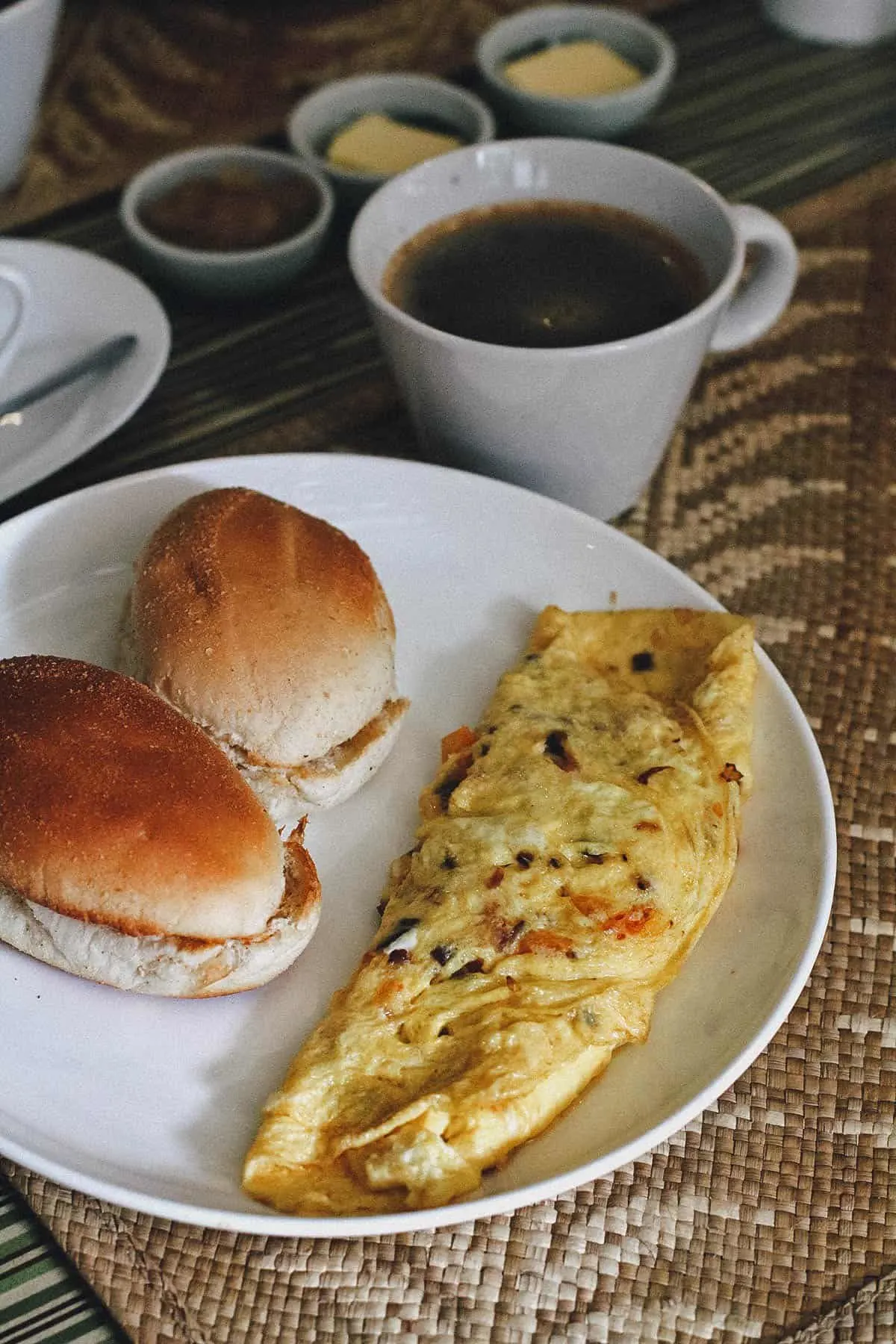 Ren's fluffy pancakes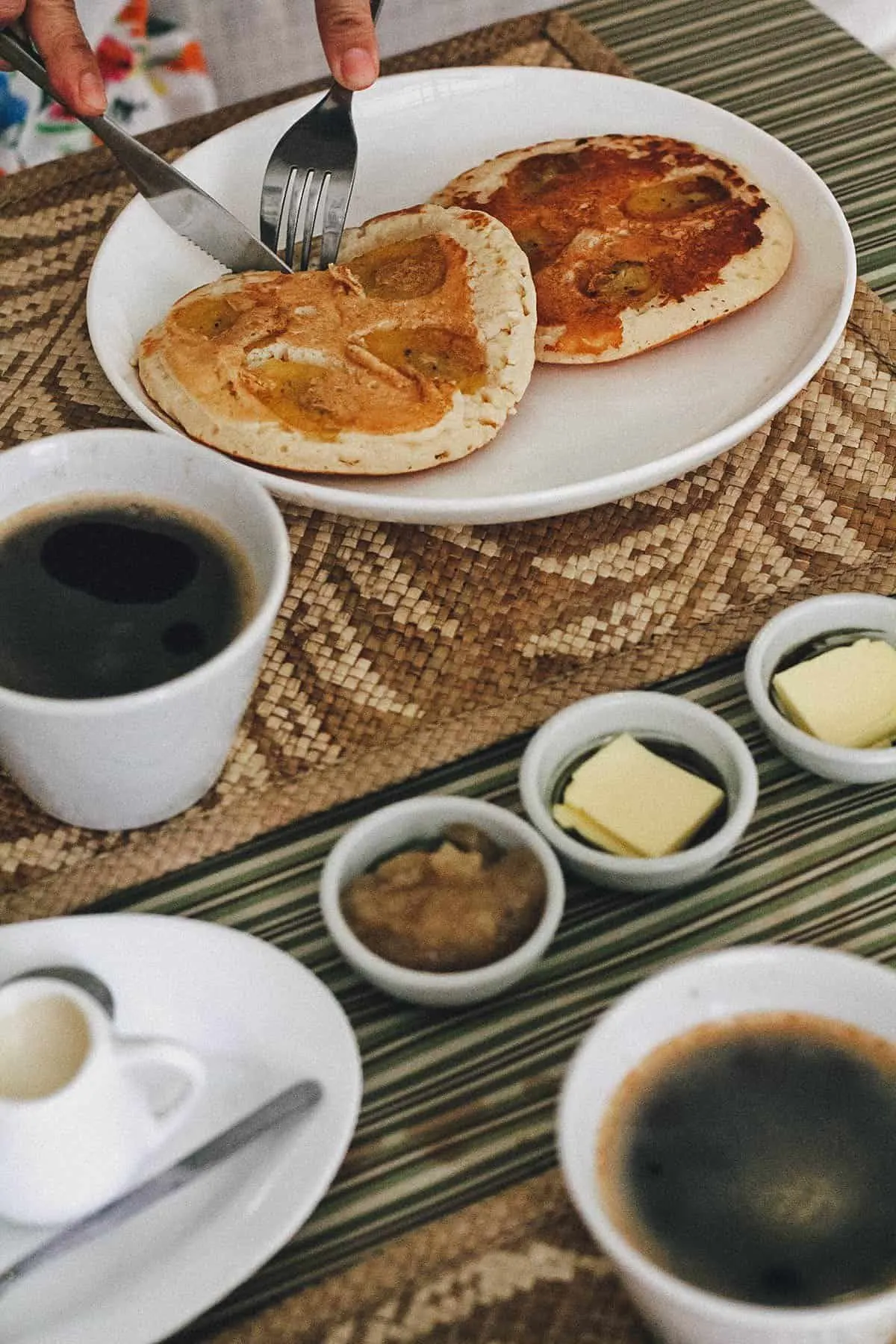 La Casita Mercedes' resident Golden Retriever Sam. Isn't he handsome? He's well-mannered too. He'd accompany us every morning for breakfast without begging. ♥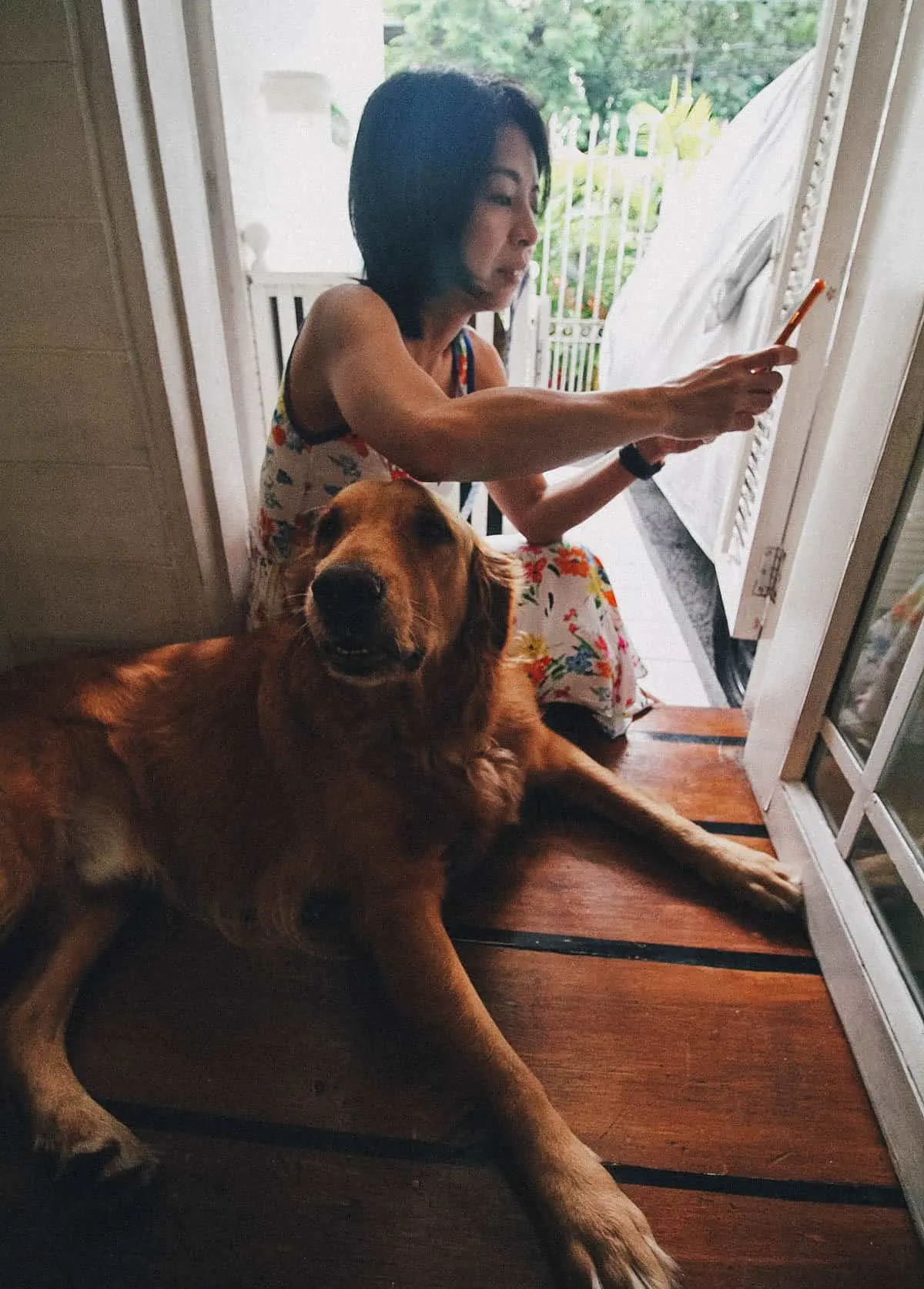 Ren and I prefer boutique hotels over large chains which is why I was instantly drawn to La Casita Mercedes. It's exactly the type of place we look for on our travels. It's quaint, it has character, the staff is friendly and well-trained, and the location is ideal. As advised, rooms don't have a TV. If you need a TV in your room, then this isn't the place for you. Otherwise, I think it's perfect.
As described in our Manila travel guide, I think the Poblacion neighborhood is the best place to stay in the city. It's quiet and (relatively) safe. There are many interesting restaurants in the area and it's near Makati's major commercial hubs. On top of that, the area has seen a resurgence in recent years and has now become one of the trendiest neighborhoods in Manila. And it will only get better too.
There's a budding art and food scene here that's often the subject of many local travel shows and blog posts. We went on a Poblacion food crawl which I'll describe in an upcoming post. If you travel for food like we do, then you'll find plenty of reasons to stay here.
As previously described, you can book a room here through Booking.com or Agoda. Prices often vary so be sure to check both sites to find the better deal.
La Casita Mercedes, Makati, Philippines
5956 Enriquez cor. Fermina Streets, Poblacion, Makati City
Tel: +632 887-4385
Mobile: +63 977-726-0440
Facebook: lacasita.mercedes
Instagram: lacasitamercedes
Email: [email protected]
Approximate Room Rate: PHP 1,894 (As of July 2017, breakfast included)
HOW TO GET THERE:
From NAIA, go to the Grab booth and tell the dispatcher you'd like to go to La Casita Mercedes in Poblacion, Makati.
MAKE A RESERVATION: Booking.com | Agoda
Disclosure
The hotel links in this post are affiliate links, meaning we'll get a small commission if you make a purchase or reservation at NO extra cost to you. We really appreciate your support as this helps us keep this website going. Thank you!