EDITOR'S NOTE: Please be advised that this Sagada travel guide hasn't been updated to reflect 2023 prices and travel guidelines. We'll update it as soon as we can. Thanks for your patience.
I've been to Sagada a total of six times. The first was in 2002, and the most recent was in December of 2018.
Much has changed over those sixteen years. I remember visiting Sagada in 2015 and noticing how much more developed it was compared to my previous trip from ten years before. Though it still looked and felt like a remote mountain town, it's tourism infrastructure had come a long way. There were more guesthouses and restaurants, and steep trails that were once dirt paths were now paved and made more tourist-friendly with steps and metal railings. Clearly, Sagada wasn't just for hikers and hippies anymore. It was for everyone.
I won't lie. I do miss the old Sagada. It had an allure unique to places that are left untouched. But as much as it's changed over the last two decades, one thing remains the same – it's still the blissful mountain enclave that made me want to escape to it so many years ago. I still do.
Save This on Pinterest!
No time to read this now? Click on the red save button and pin it for later!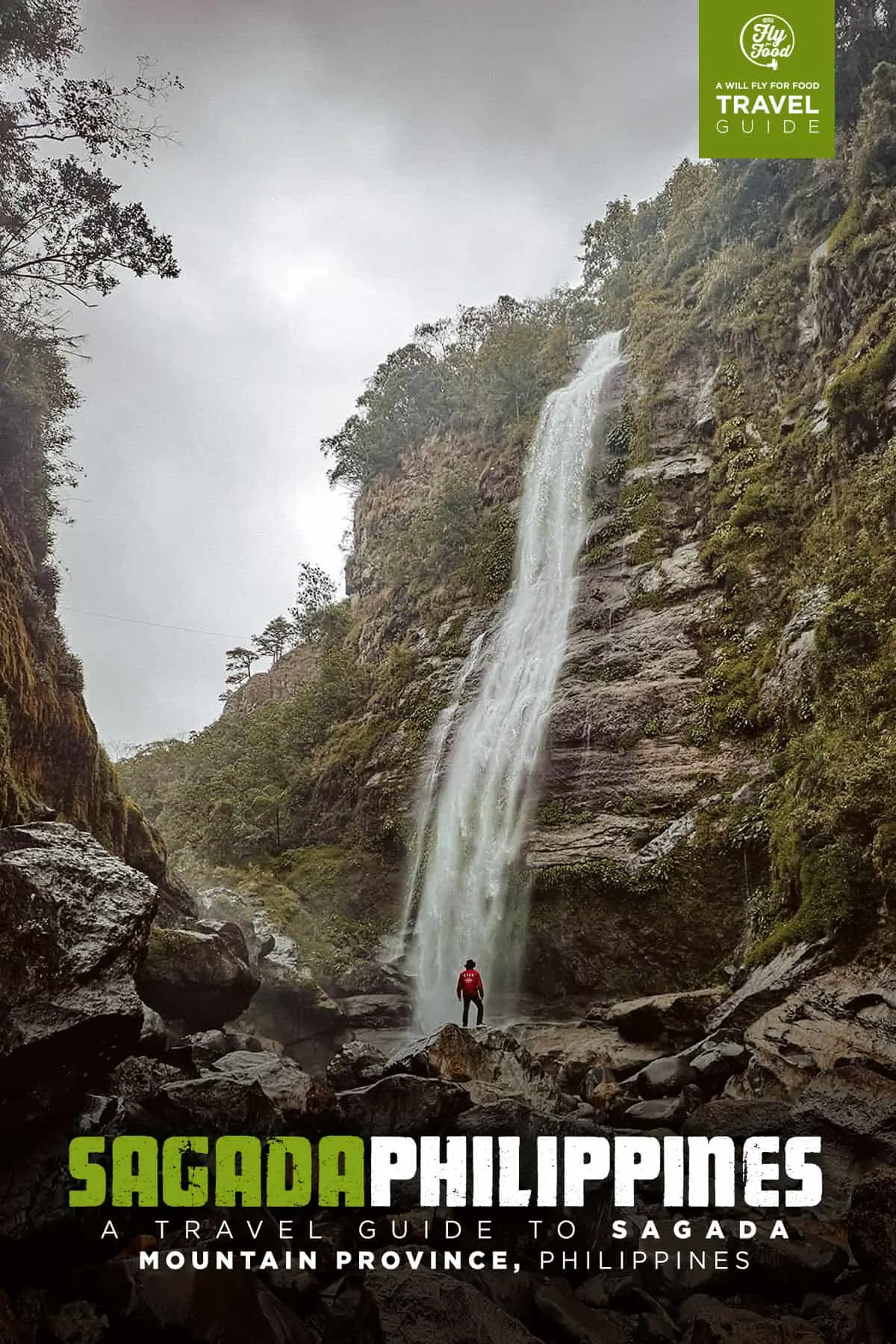 GUIDE TABLE OF CONTENTS
TRAVEL RESTRICTIONS
Because of the current global situation, travel guidelines have been changing very often. Our friends at SafetyWing created a website that lists detailed information on travel restrictions around the globe.
Before planning a trip to Sagada, be sure to check the Flatten the Curve website for information on travel restrictions to the Philippines.
WHAT'S IN SAGADA?
Sagada is a municipality in Mountain Province, Philippines. Apart from its hanging coffins, it's known for its caves, waterfalls, limestone mountains, and hill-tribe atmosphere. Due in part to its remote location in the Central Cordillera Mountains, it was left relatively untouched by conquistadores during the Spanish era. A Spanish mission wasn't founded in Sagada until 1882, resulting in one of the few places in the Philippines that's preserved its indigenous culture with little Spanish influence.
BEST TIME TO VISIT SAGADA
Like the rest of the Philippines, Sagada has two seasons – rainy (May-Oct) and dry (Nov-Apr). Being a mountain town, it enjoys milder weather with year round temperatures at around 18°C (64°F).
NOV-FEB: The best time to go to Sagada is from November to February. The weather is cool and dry with average temperatures at around 15-17°C (59-63°F). However, December is also peak season. We were there in late December 2018 and the crowds (and traffic) would become unbearable at times. For that reason, it may be better to go in November or January.
MAR-APR: From March to April is when the rice terraces in Sagada are at their greenest. However, it also gets warm and dusty during these months. Like anywhere in the Philippines, Holy Week is the busiest time in Sagada so avoid that time if you dislike crowds. On top of that, Sagada has been known to experience water shortages during dry and peak seasons.
MAY-JUL: Though it isn't hot compared to the rest of the Philippines, these are the warmest months of the year in Sagada with average temperatures at about 19°C (66°F). The rains begin to fall more regularly during this time as well. Typhoon season in the Philippines typically begins in June.
AUG-OCT: From July to August is the height of typhoon season in the Philippines. Landslides are more frequent at this time so it's best to avoid these months if you can. On top of that, it would be dangerous to enter Sumaguing Cave during rainy season since water levels can rise very quickly during a storm. Typhoons become less frequent in September and October though the rain doesn't taper off until November.
I've been to Sagada several times. I've been there more than once in January and also in May and December. Unless it's peak or typhoon season, there's really no bad time to go to Sagada in my opinion. With that said, I do believe that November, January, and February are ideal. Sagada is a mountain town so its best to experience it when it's cool and tranquil.
Climate: Annual Monthly Weather in Sagada
I created the average temperature and annual rainfall graphs below to help you better understand the weather in Sagada. Suggested months to visit are highlighted in orange.
Average Temperature


Annual Rainfall


HOW TO GET TO SAGADA FROM MANILA
Sagada isn't the easiest place to get to. It entails going on long bus rides on mountain passes that are twisty and often very bumpy.
Up until a few years ago, there weren't any direct buses to Sagada so travelers had to go through either Banaue or Baguio to get there, which is fine because Sagada is often paired with trips to those destinations as well. The entire trip will take around 11-13 hours.
This guide assumes you'll be coming from either Manila, Banaue, or Baguio, but if you're coming from somewhere else, then you can check Bookaway for route options available to you. You can click on the link or use the widget below.
To help you get your bearings, I've included the map below borrowed and edited with permission from the Bisayang Manlalakbay blog.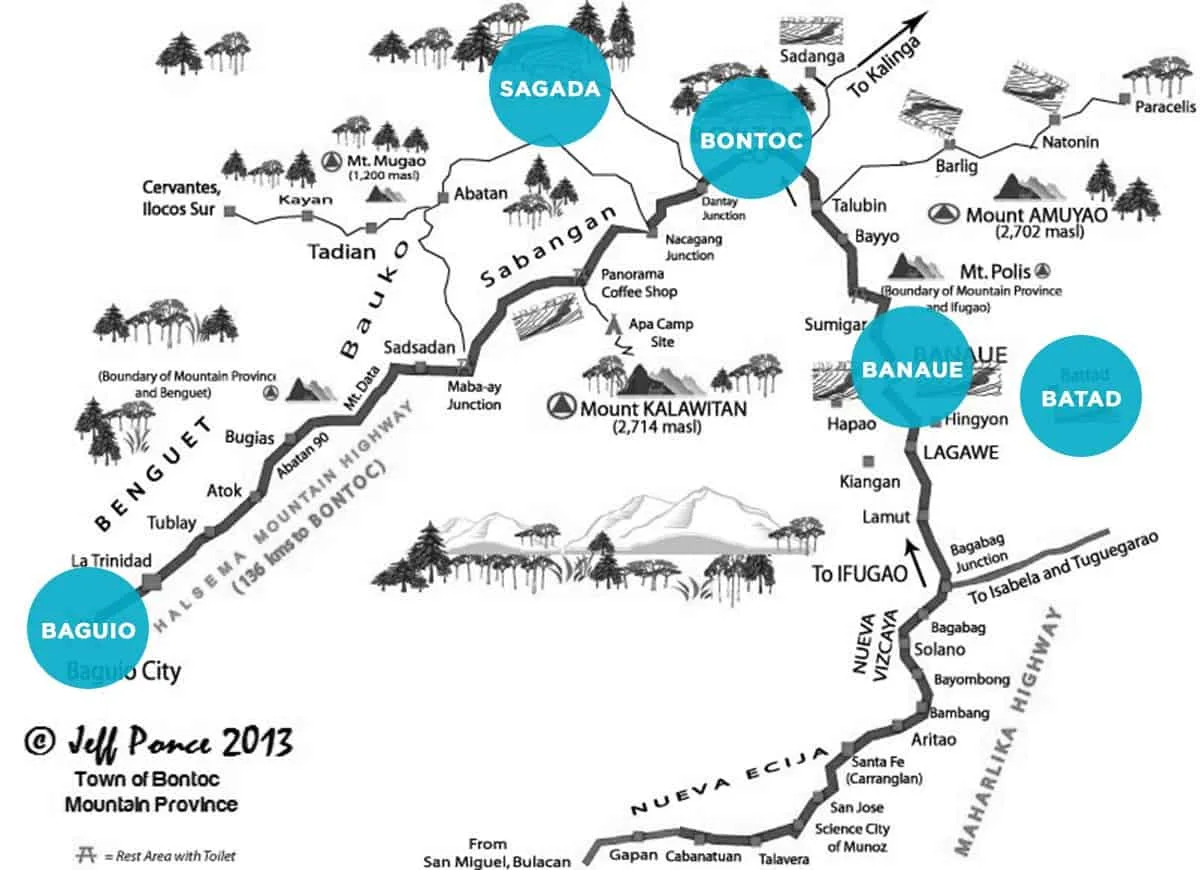 Direct from Manila
Thanks to Coda Lines, trips to Sagada are now much easier. As far as I know, they're the only bus company offering direct trips to Sagada from Manila and back. You can book your ticket through Bookaway. It's a popular transportation website that services many destinations in Southeast Asia.
Via Banaue
If you'd like to visit Banaue first before continuing on to Sagada, then the first leg of your trip will be a 9-10 hr overnight Ohayami Trans or Coda Lines bus to Banaue. You can book tickets through Bookaway as well.
From Banaue, you have three options to get to Sagada (ranked from cheapest to most expensive):
OPTION 1: You can take a 2-hr van to Bontoc for PHP 150. I've only done the opposite route (Sagada-Bontoc-Banaue) so I don't know what time and from where the van leaves in Banaue, but you can ask around and people will direct you to the stop. From Bontoc, you can then take a public jeep to Sagada. The 45-min ride costs PHP 45 each way with jeeps leaving every half hour or so from 8:30AM until 5:30PM.
OPTION 2: I've read that there are vans which take you directly to Sagada from Banaue. Soon as you arrive in Banaue, you'll be approached by locals asking if you're interested in van transfers to Sagada. The van leaves at 9AM near the Banaue Tourism Office and the fare costs PHP 300 each way. I believe the van makes quick stops at one (maybe more) tourist spots along the way.
OPTION 3: If there are enough people in your group, you can hire an entire jeep to take you straight to Sagada from Banaue. I did this over 10 years ago and it cost PHP 4,000 to rent the entire jeep. I believe it still costs PHP 4,000 today. A straight 3-hr journey, this is the fastest and most convenient way to go if you can divide the cost between enough people.
If you'd like to go back to Banaue from Sagada, then please refer to my Batad Travel Guide for more information.
Via Baguio
Many bus companies take you to Baguio from Manila, but I prefer Victory Liner. They have buses leaving for Baguio throughout the day from their four terminals in Manila (Manila, Pasay, Cubao, Caloocan). It's about a 4.5 hr trip. Buses get full, especially during peak seasons, so be sure to reserve your ticket in advance to guarantee yourself a seat. You can visit the Victory Liner website for terminal and reservation information.
From the Victory Liner station, take a taxi to the GL Liner Station in Baguio Dangwa Terminal. The taxi fare should run you around PHP 70. Be sure to tell the driver that you're taking a bus to Sagada in case the terminal has moved.
Buses to Sagada leave every hour from 6:30-11:30AM, with the last bus departing at 1PM. Roughly a 6-hr ride, the fare is PHP 220 each way. If you can catch the 6:30AM, then you should arrive in Sagada in time for lunch.
To go back to Baguio from Sagada, you can catch the bus from the lot near St. Mary's Church. Buses depart every hour on the hour from 5AM till 10AM, with the last buses leaving at 1PM and 5PM. Please be advised that bus schedules are subject to change without prior notice so it's best to confirm departure times soon as you arrive.
Self-Drive
Though the roads to and from Sagada have improved greatly over the years, it's still a long and tiring drive. I wouldn't recommend it unless you have an SUV or truck and have a lot of experience driving in the Philippines. You can use Waze to find the quickest route to Sagada from Manila.
On our most recent trip, we hired two large vans with drivers from Aero Global Travel & Tours. Each van could fit up to thirteen people. This may be an option if you'd like to go in a private vehicle but would prefer not to drive. You can contact them via their Facebook page for more information.
WHERE TO STAY IN SAGADA
As described, I've been to Sagada many times. These are the hotels I can recommend based on my previous travel experiences. None of them seem to be listed on Booking.com or Agoda so you'll need to contact them directly via the links provided.
If you'd rather book a hotel through one of those big hotel booking platforms, then you can check these links for alternate listings in Sagada: Booking.com | Agoda. Be sure to check both sites to find the best deal.
St. Joseph's Resthouse
Much may have changed in Sagada but there's one constant – St. Joseph's Resthouse. As far as I know, it's the oldest guesthouse in Sagada. We were looking at a map of the area drawn up in the 60s and St. Joseph's was already there. It's the first place I ever stayed at in Sagada and it's where my family and I booked accommodations this past December 2018. Prices have gone up over that time, but everything still looks pretty much the same, which is a good thing.
St. Joseph's isn't the trendiest guesthouse in Sagada but it's the most convenient, located right at the intersection of the town's two main streets. It's also one of the biggest and most pleasant in terms of area and atmosphere. You'll see what I mean in the next picture.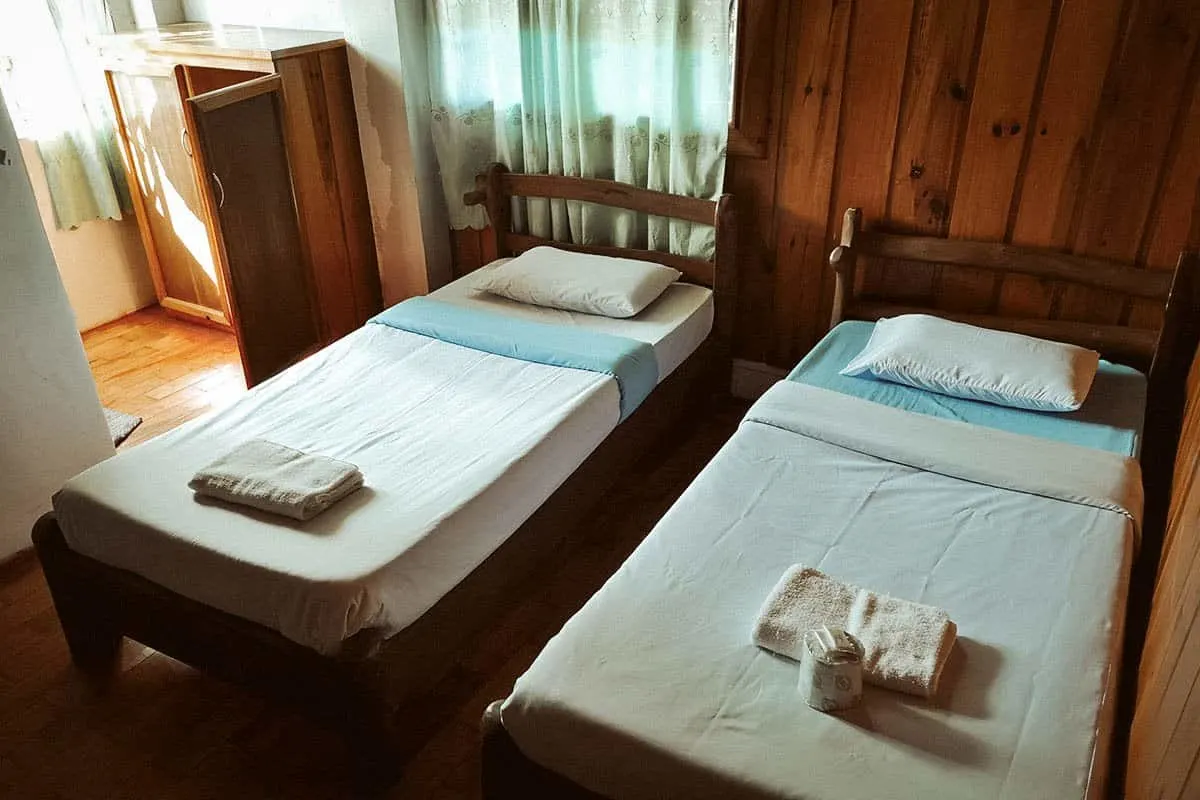 What sets St. Joseph's apart are its manicured gardens. Unlike most other guesthouses in Sagada which are basically just standalone buildings, St. Joseph's is comprised of several buildings and cottages set in an oasis of well-maintained lawns and flower beds. Set on a hill, it's the closest thing to a resort you can find in Sagada. It also has its own parking lot, making it one of the most convenient places to stay if you're bringing a car. Parking in the area is limited so it can be expensive, around PHP 50 an hour if I remember correctly.
Follow the link for for more information and to book a room at St. Joseph's Resthouse.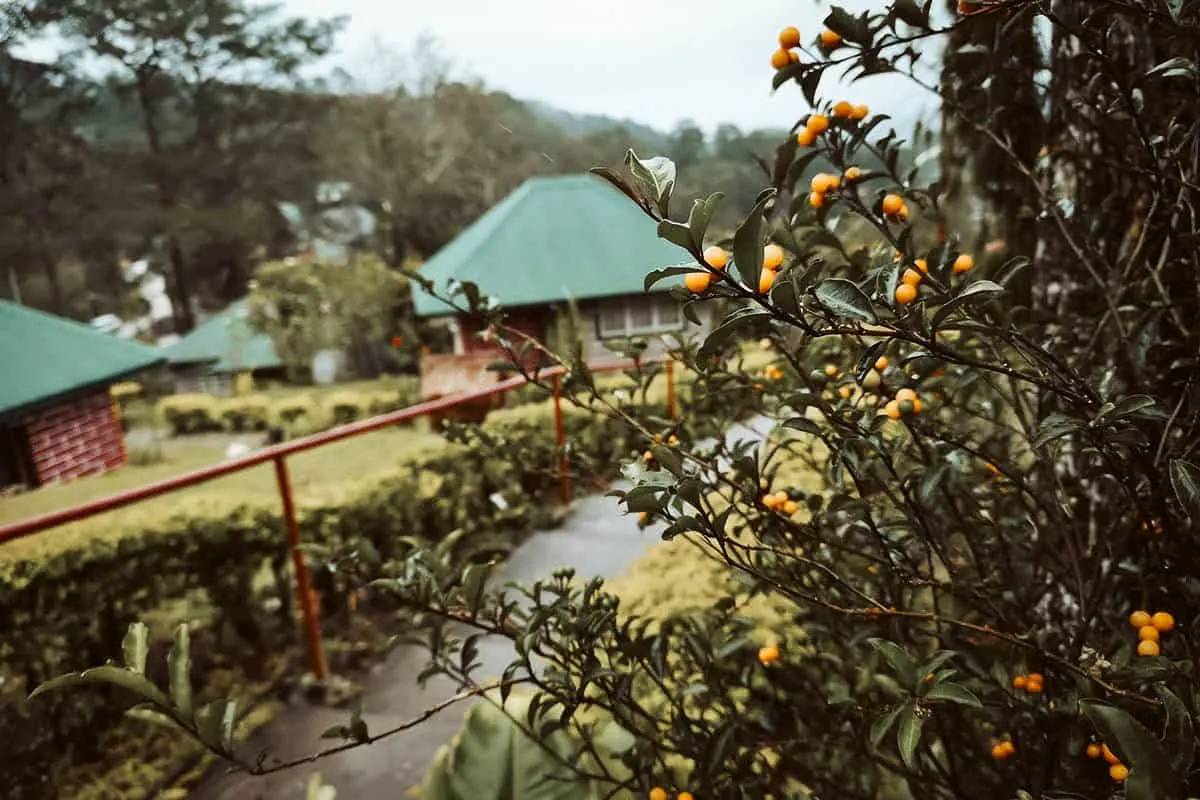 Misty Lodge & Cafe
I haven't stayed here but we were so impressed with this place that we'll definitely be staying here on our next trip to Sagada. Aside from being relatively fresh and new, they also serve the best food I've ever had in Sagada. More on that in the WHERE TO EAT section of this guide.
The only drawback to Misty Lodge is that it's a little bit away from the center of town. It's about a twenty minute walk from the heart of town so if you don't have a car and prefer not to walk, then you may want to stay elsewhere. For us, the food, vibe, and log cabin feel of the place make it absolutely worth it. You can check their Facebook page for more information and to book a room.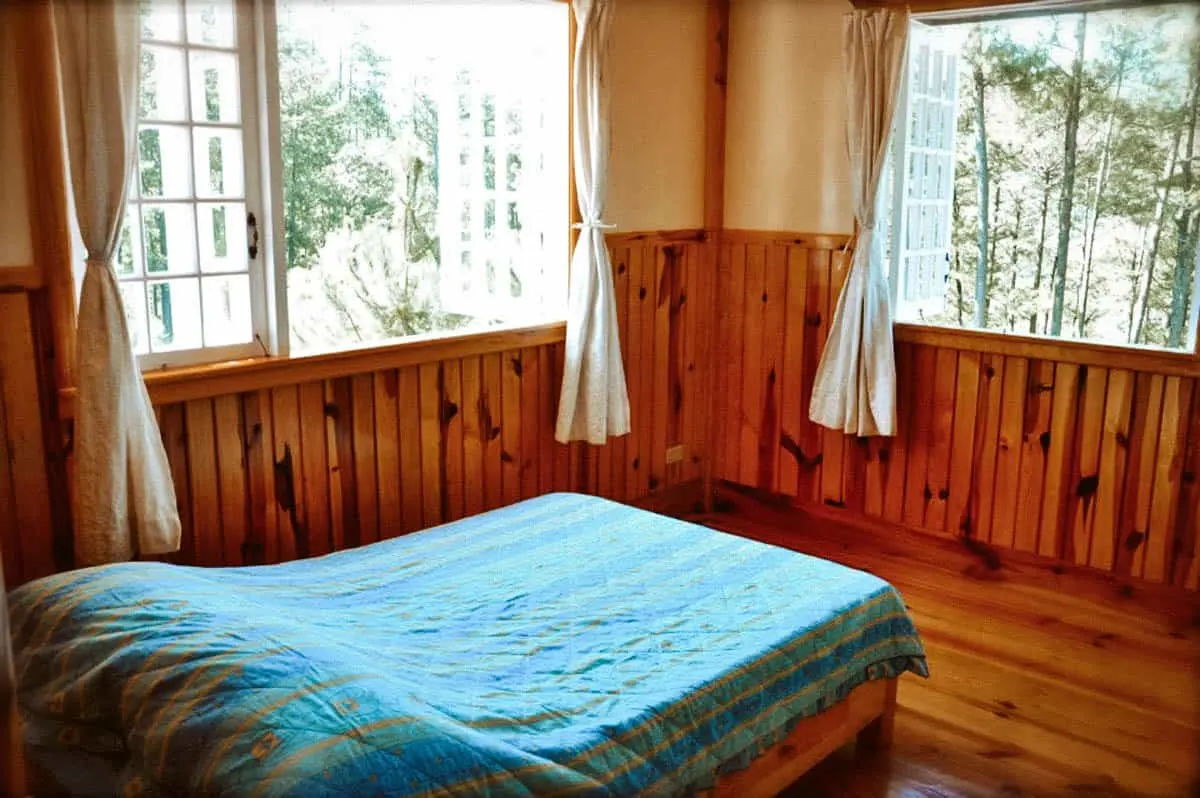 Pictured borrowed from the Misty Lodge and Cafe Facebook page
Lodge Labanet
This is where I stayed when I visited Sagada in 2015. It wasn't completely built at the time so it's still one of the newest guesthouses in the area. Conveniently located between the tourist center and Sumaguing Cave, it's right at the heart of town and near many restaurants, shops, and cafes. The rooms are pretty big too, each with its own balcony if I remember correctly. You can check their Facebook page for more information and to book a room.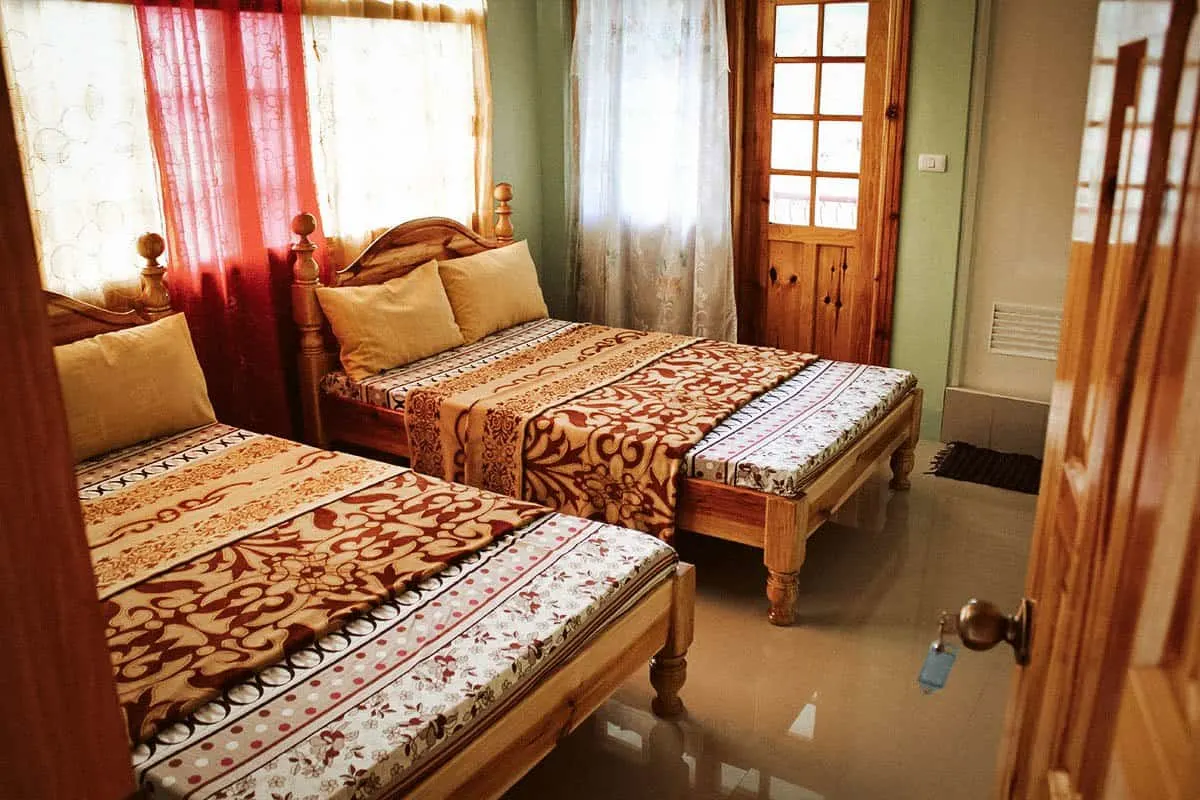 THINGS TO DO IN SAGADA
Soon as you arrive in Sagada, the first thing you should do is register at the tourism office and pay the PHP 50 environmental fee. They'll give you a receipt which you should keep with you during your entire stay in Sagada. You may be asked to present it before entering any of the sites listed below.
Listed below are the most popular activities in Sagada. For the complete list of attractions with guide and transportation fees, then you can check out this list of Sagada tours borrowed from the Sagada Tourism Facebook page.
1. Go Spelunking in Sumaguing Cave
Far and away the most frequented destination in Sagada, Sumaguing Cave is an awe-inspiring cave system that will simultaneously amaze and test you. Popular for its stunning rock formations and promise of danger, this cave is an absolute must-do for any first-time visitor to Sagada.
Sumaguing Cave is a lot of fun but be warned that it can be dangerous so it should NEVER be attempted without a guide. It's pitch black and many of the rocks are very slippery. Losing your balance and hurting yourself is a real possibility. Apart from keeping your balance and watching your step, it isn't physically demanding but it does have its challenges (ie rapelling up and down a 10-ft rope).
To go, register at the tourism office and hire a guide for PHP 500 (up to 4 pax). The entire caving experience will take at least 2 hrs. You'll be wading through chest-high waters so be prepared to get wet. Flip-flops are recommended.
For the more adventurous and physically fit, you can do the advanced Lumiang-Sumaguing cave connection route for PHP 800 (up to 2 pax, +PHP 400 for each additional guest). This is a 4-5 hr test of endurance and flexibility that will take you much deeper into the cave system.
Check out my post on Sumaguing Cave in Sagada for more information.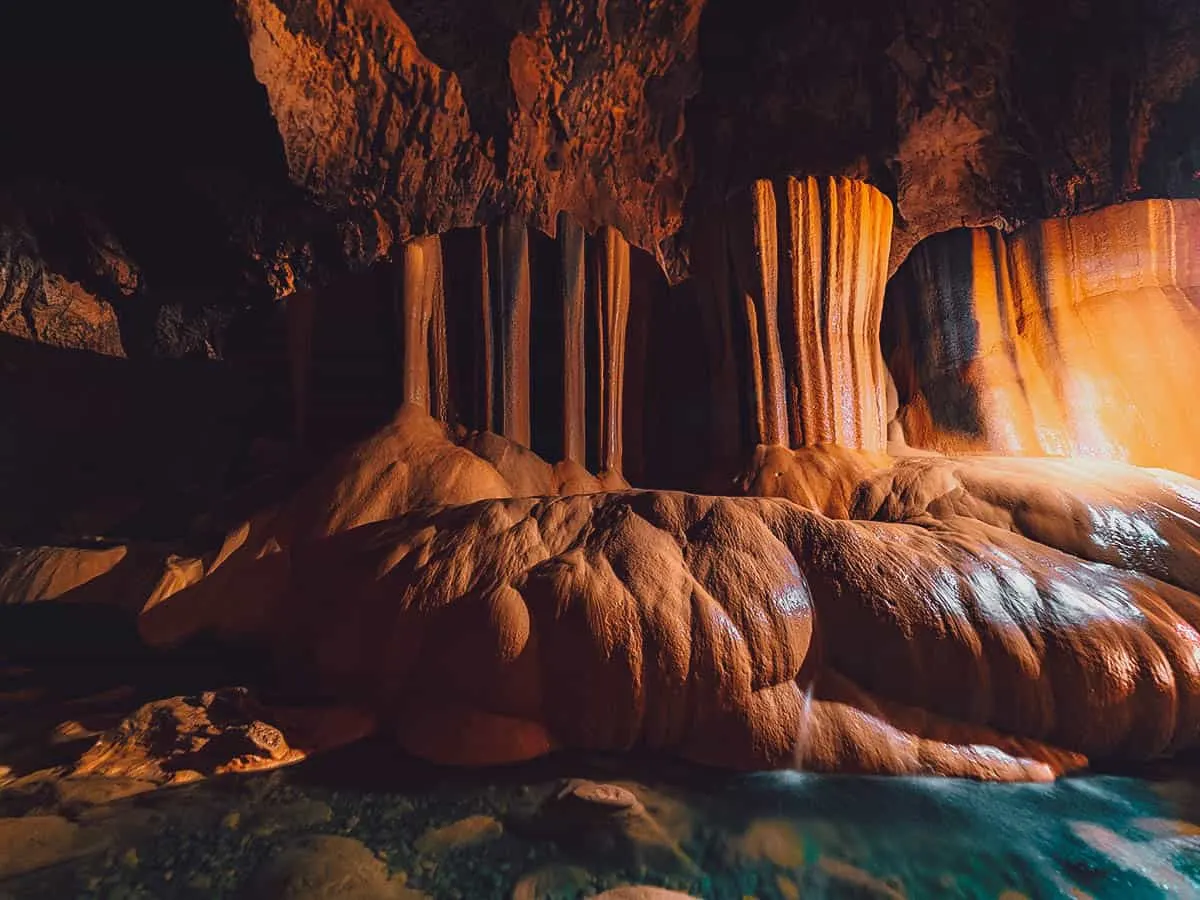 Estimated Time Needed: 1.5 – 2 hrs / Fitness Level: Moderate / Guide Fee: PHP 500 (up to 4 pax)
2. Visit the Hanging Coffins of Echo Valley
After Sumaguing Cave, the hanging coffins are the second most popular attraction in Sagada and another must-do for first-time travelers. It's pretty amazing to see them up close, especially the ones perched high up on the side of the rock!
You used to be able to visit the hanging coffins on your own, but now you have to go with a guide arranged through the tourism office. If all you want to do is see the hanging coffins from up close, then the cost is PHP 200 for up to 10 pax plus a small PHP 10 environmental fee per person.
Check out my post on Echo Valley and the Hanging Coffins of Sagada for more pictures and information.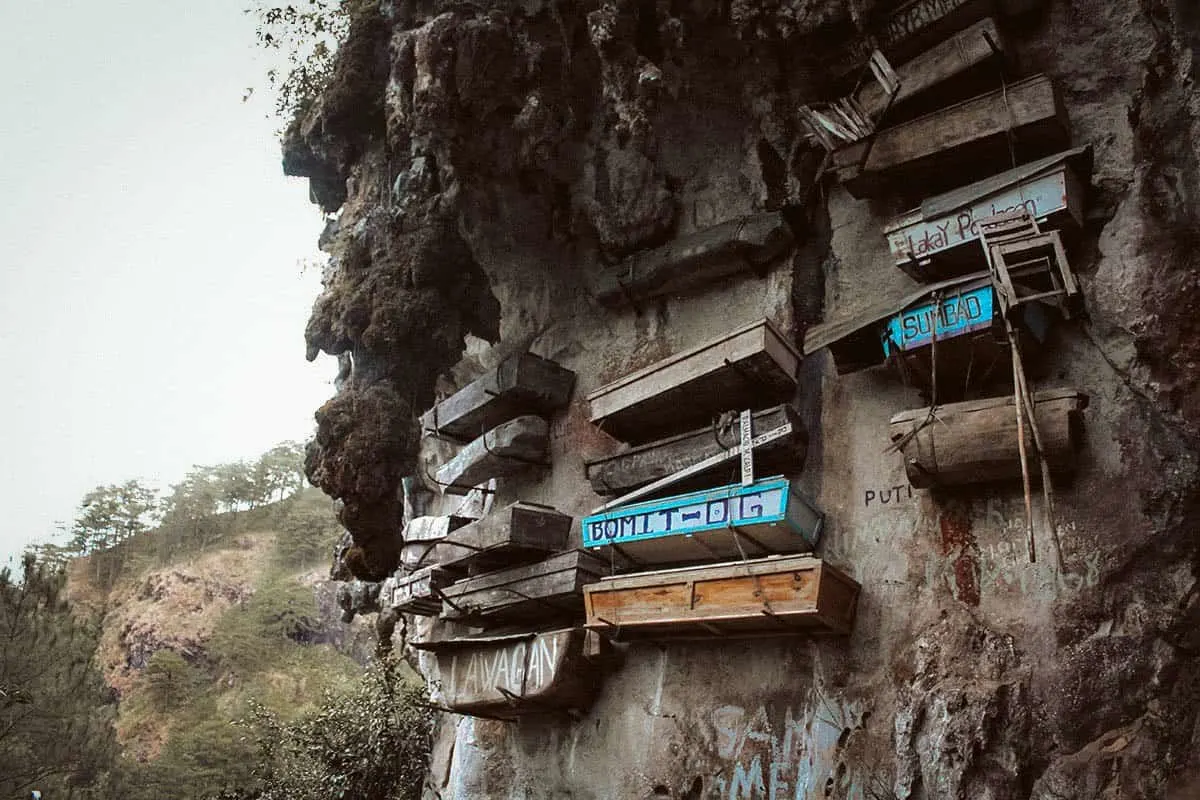 Estimated Time Needed: 45 mins – 1.5 hrs / Fitness Level: Low / Guide Fee: PHP 200 (up to 10 pax)
3. Go on an Echo Valley Trek
If you want to trek deeper into Echo Valley after visiting the hanging coffins, then you can go on one of two walking tours. To be honest, I don't know what the difference is between the two but we went on the Adventure Trail tour. It's a 3-hr trek that takes you to St. Mary's Church, the hanging coffins, the underground river, and Bokong Waterfalls.
The guide fee is PHP 1,000 for up to 10 pax, but there were 13 of us so we wound up paying PHP 1,600 for two guides. You can check this list of Sagada tours for more information.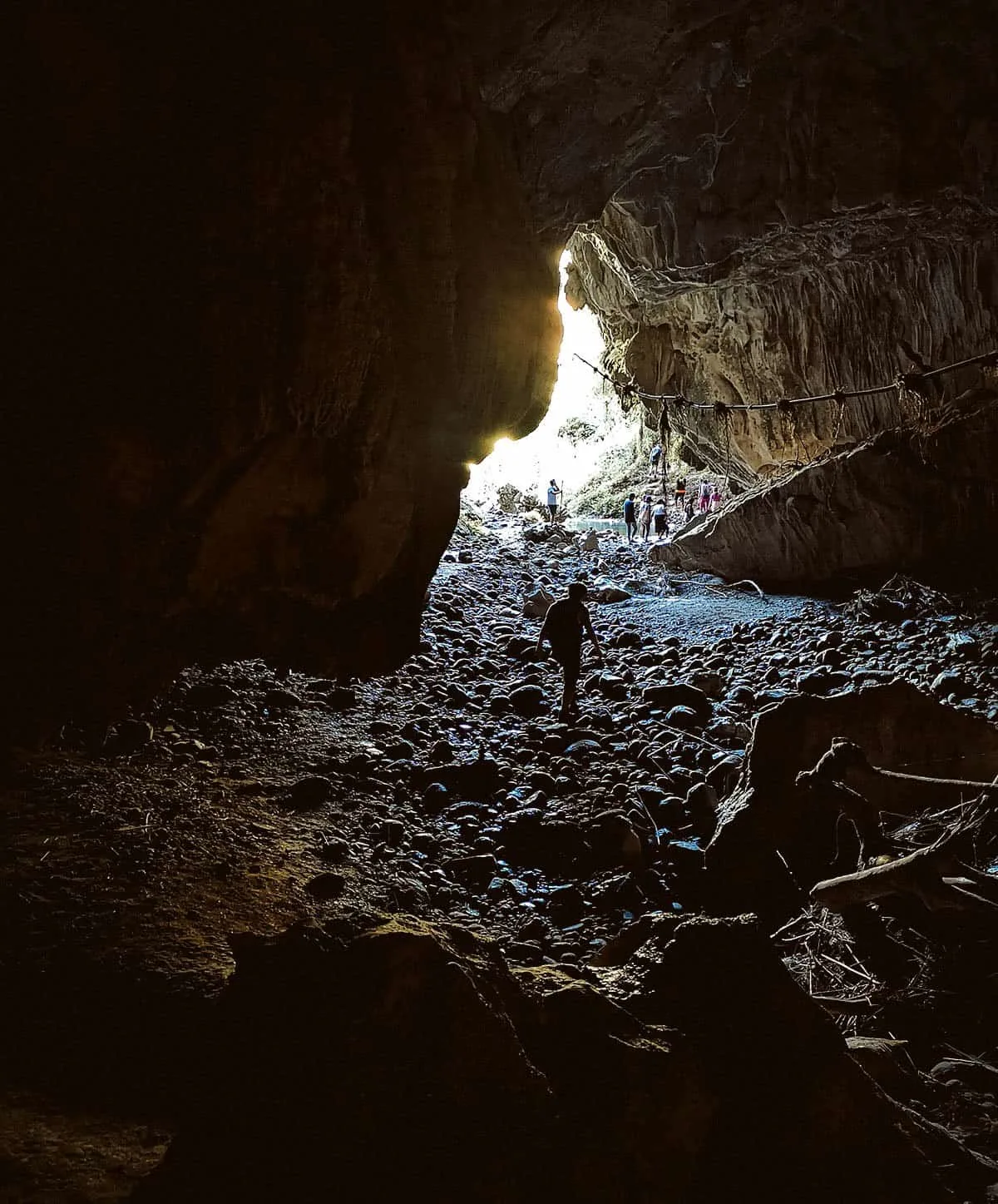 Estimated Time Needed: 3-4 hrs / Fitness Level: Moderate / Guide Fee: PHP 1,000 (up to 10 pax)
4. Go for a Swim at Bomod-ok Waterfalls
Bomod-ok Waterfalls is awesome and in my opinion, another must-visit in Sagada. Known locally as the "Big Falls", you need to first make your way to the information center in Barangay Banga-an. You can either walk there (about an hour) or arrange for a van at the tourism office for PHP 500 round trip.
Once you reach the Banga-an information center, you'll need to hire a guide for PHP 500 (up to 10 pax) and pay an environmental fee of PHP 10 per person. You'll then begin the hour-long trek down to the falls where you can go for a swim if you like.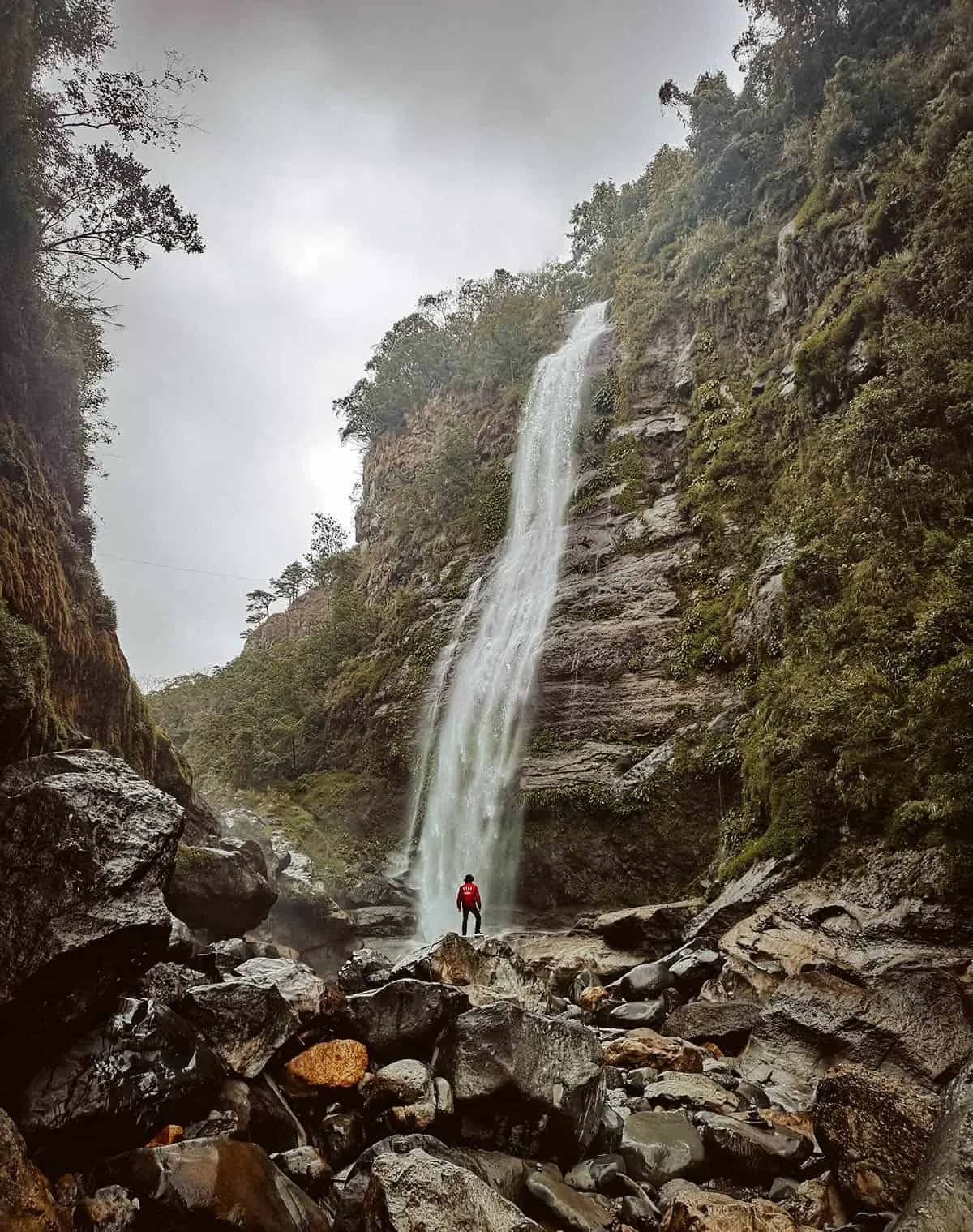 Estimated Time Needed: 4-6 hrs / Fitness Level: Moderate / Guide Fee: PHP 500 (up to 10 pax) / Transportation: PHP 500 roundtrip (optional)
5. Watch the Sunrise at Kiltepan Viewpoint
Kiltepan Viewpoint is a terrific way to start your day in Sagada. The highest point in the area, it's known for its breathtaking views of the sun rising from behind the Cordillera mountains over an ocean of clouds. The spot was made famous by a local movie so it's been flooded with tourists in recent years.
For that reason, this may be an activity best enjoyed during the off or shoulder seasons. Around 4 km from town, vans can be arranged at the tourism office for PHP 500 round trip. They'll pick you up from your hotel at 4:30AM.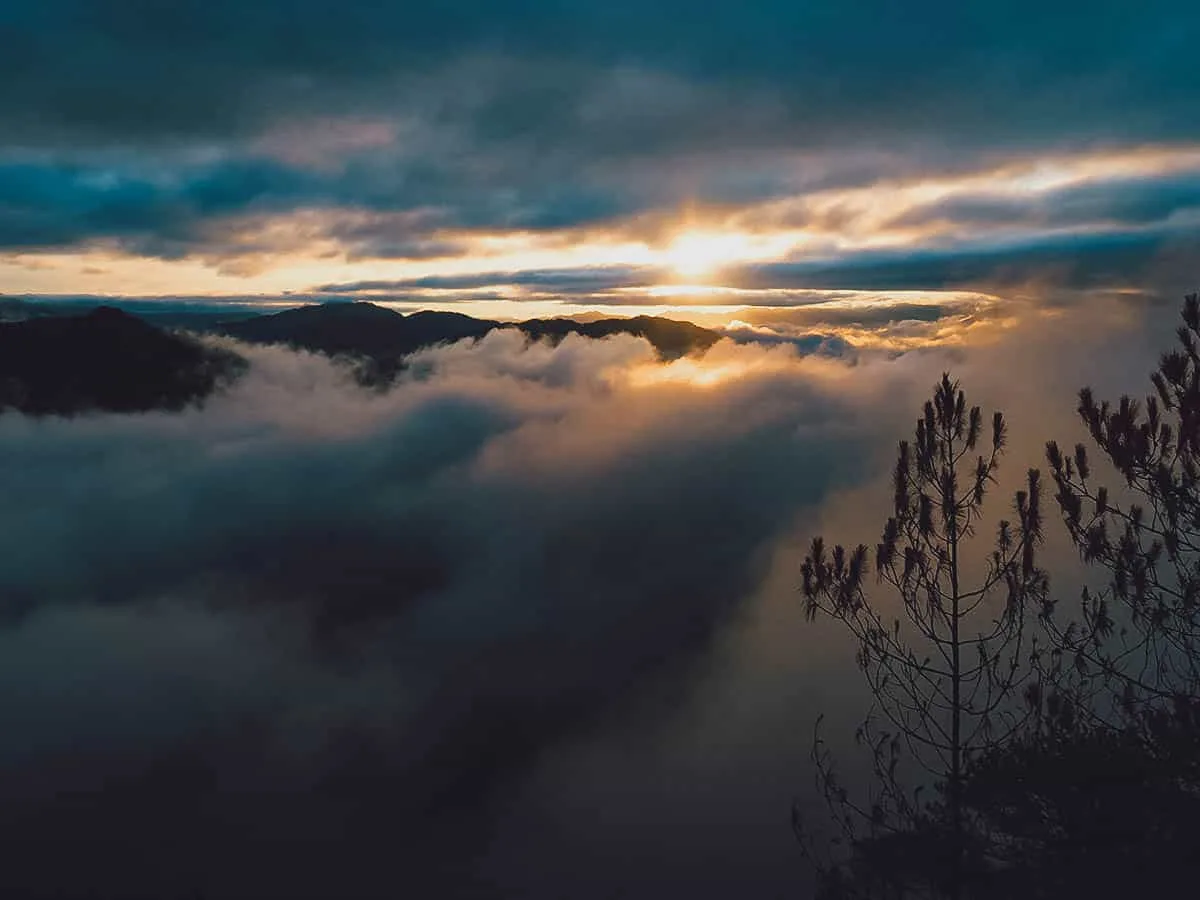 Estimated Time Needed: Around 2-3 hrs / Transportation: PHP 500 roundtrip (up to 10 pax)
Photo by Kamille Stanger via Shutterstock
NOTE: Kiltepan Viewpoint was closed till further notice in December 2018. According to the people at the tourist center, it's because a building in the area burnt down. They didn't give an estimate on when it'll be open to tourists again.
6. Go Hiking at Marlboro Hills
We haven't done this but I've heard it's one of the most scenic hikes you can do in Sagada. It's a 4-5 hr hike that takes you through a landscape of lush forests, rice terraces, and limestone formations. During the hike, you'll trek through a hilly area with copper-sulfate-rich soil, turning it a unique bluish green color that intensifies with the rain.
When we were there in December 2018, many people were making arrangements for sunrise trips to Marlboro Hills, presumably because Kiltepan Viewpoint was closed. Sunrise there must be beautiful so this is something we'll definitely do on our next trip to Sagada. The guide fee is PHP 1,800 for up to 3 pax with a roundtrip transport fee of PHP 1,350.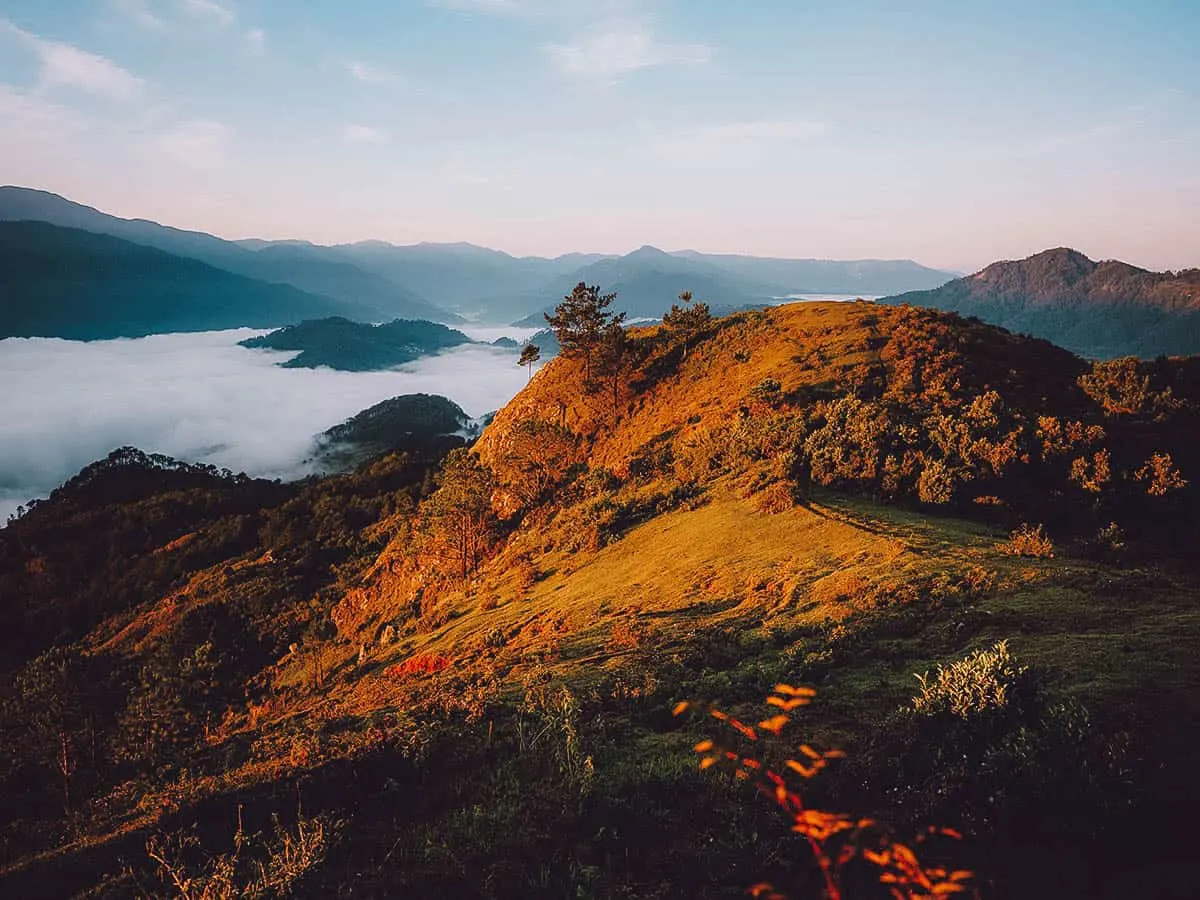 Estimated Time Needed: Around 4-5 hrs / Guide Fee: PHP 1,800 (up to 3 pax) / Transportation: PHP 1,350 roundtrip
Photo by SNUduwela via Shutterstock
7. Play Tomb Raider at Lumiang Burial Cave
Lumiang Burial Cave is located just a few meters before Sumaguing Cave. At its mouth is a pile of stacked coffins that are different from the ones you see hanging in Echo Valley. Apart from the big pile on the ground, many are wedged high up in cracks that run along the cave's walls. It makes you wonder how on earth the locals got them up there!
As mentioned earlier, there's a more advanced spelunking route called the Lumiang-Sumaguing cave connection that starts here.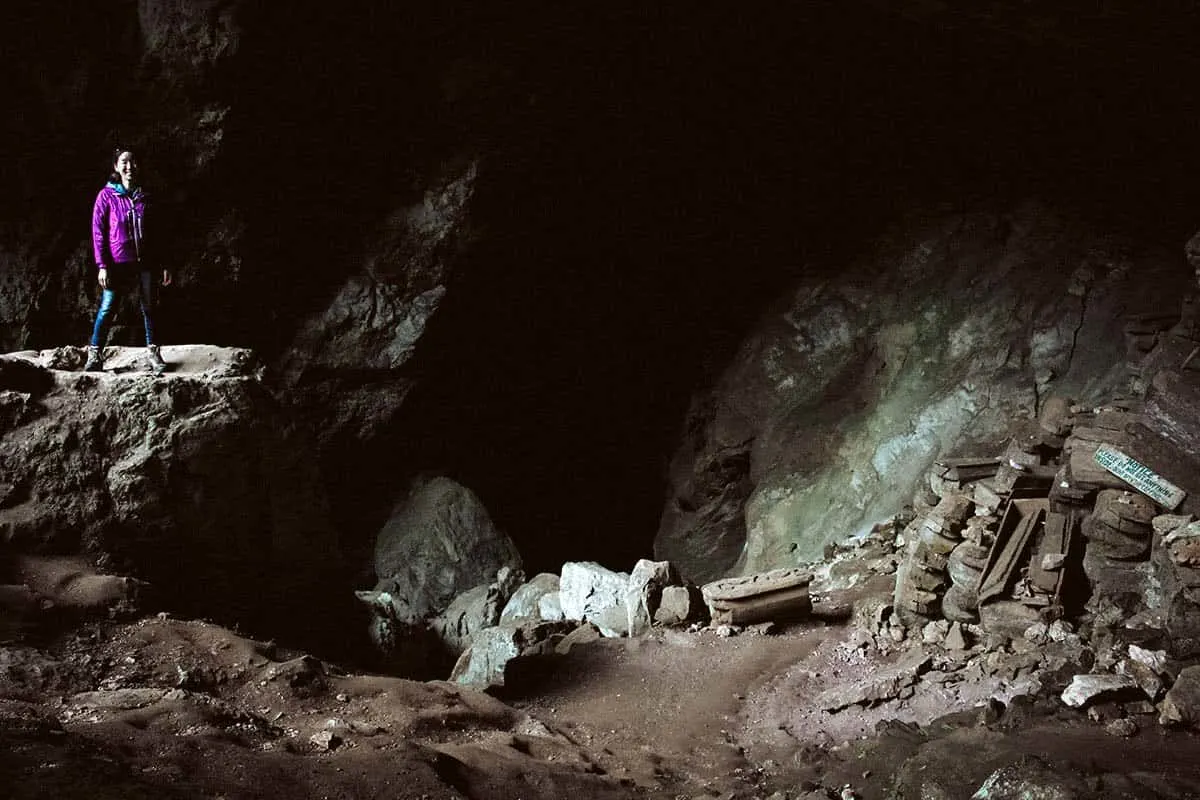 Estimated Time Needed: 30 mins – 1 hr / Fitness Level: Low / Guide Fee: None
8. Go Orange Picking at Rock Inn
Orange picking at Rock Inn & Cafe is another popular activity in Sagada. From September to February, you can pick and eat as many oranges as you like within 30 minutes for PHP 50.
If you want to bring them home, then you can do so for PHP 60 per kilo. The oranges are said to be at their best in December so we wanted to do it on our last trip. Unfortunately, orange growth was stunted by two recent typhoons so we decided against it. Bummer.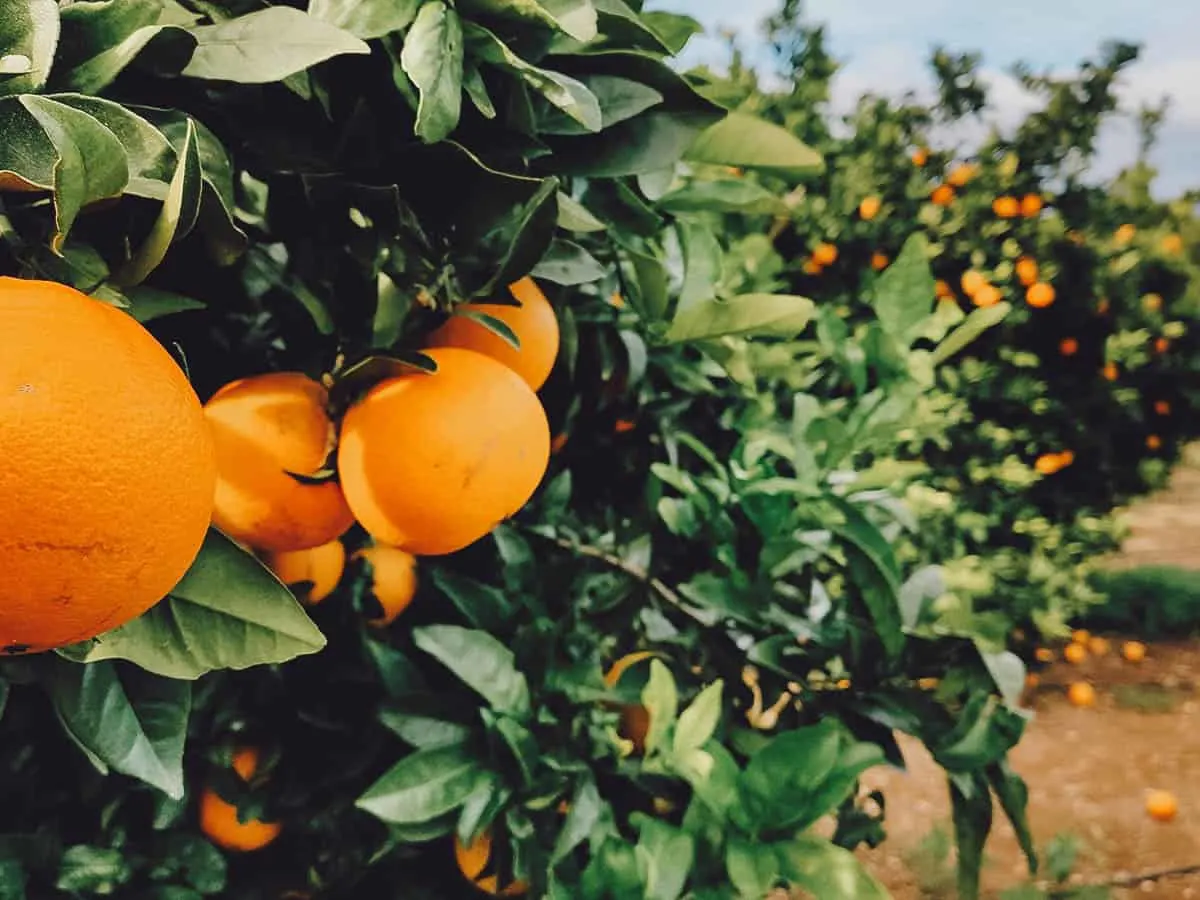 Estmated Time Needed: 30 mins – 1 hr / Cost: PHP 50 (30 mins)
Photo by patsrg via Shutterstock
9. Watch Weavers at Work at Sagada Weaving
Products made from handcrafted local textiles like bags and purses are among the best souvenirs you can bring home from Sagada. Sagada Weaving has been crafting quality products since 1968, making them a pioneer in the industry. Behind the shop is this building where you can watch weavers create colorful indigenous fabrics using these wooden machines. If you're looking to buy souvenirs in Sagada, then this is one of the best places to do it.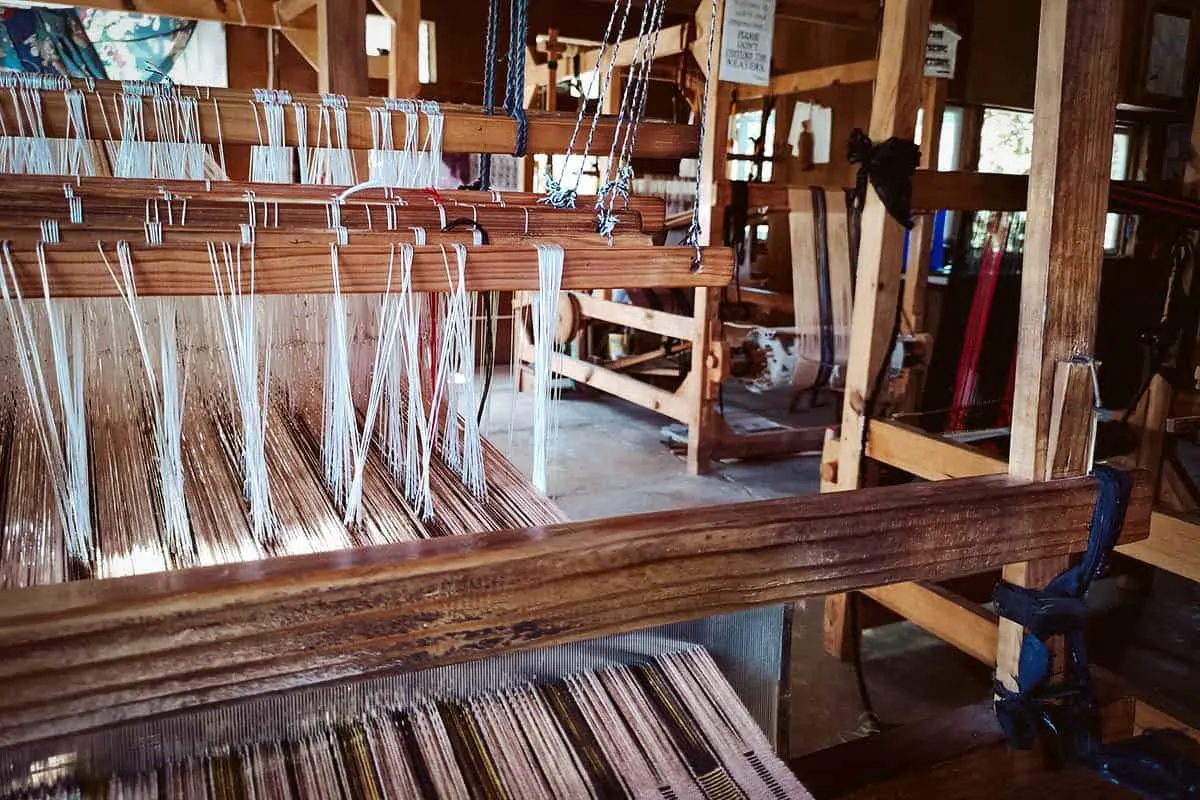 WHERE TO EAT IN SAGADA
With Sagada being so remote, supplies are limited. Many of the restaurants offer the same things so don't expect too much variety. With that said, food is cheap and decent, and often served in big portions to satisfy hungry trekkers. Expect to spend around PHP 300 per meal with drinks.
If you want to try a local delicacy, then I suggest trying etag. Etag is an indigenous dish of smoked or sun-dried salted pork. A slab of pork is cured in salt for about a week or longer, then air-dried or smoked for several weeks, even months. Almost every restaurant we went to served some sort of etag dish. Follow the link to read more about etag.
1. Misty Lodge & Cafe
Misty Lodge & Cafe is hands down the BEST restaurant in Sagada. We enjoyed their food so much we wound up eating here three times in four days. Everything we had from the pizza to the burgers to the breakfast food, yogurt, and coffee was absolutely delicious. In my opinion, this place is so good they'd probably do well anywhere in the Philippines, even Manila. Don't miss it.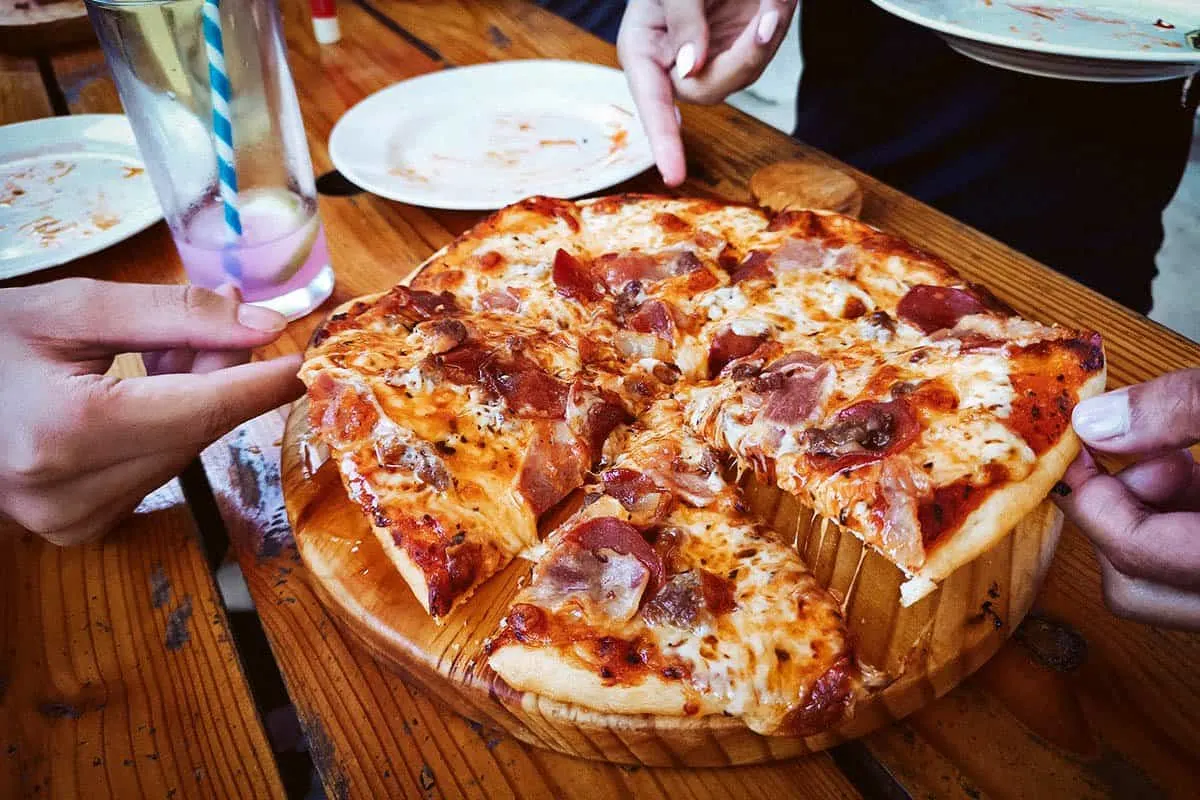 2. Coffee Heritage House
Coffee Heritage House is another gem. They serve award-winning coffee and some of the best yogurt in Sagada. Unfortunately, we only had coffee and dessert here after having lunch at Misty Lodge and Cafe, but many of their savory items look delicious too like their handmade pizzas, pasta, and breakfast dishes. They even have danggit lamayo (sun-dried, butterflied rabbitfish) which is one of my all-time favorite breakfast dishes! Be sure to try the affogato for dessert.
The only drawback to Coffee Heritage House is that it's pretty remote and difficult to get to. If you check the area map below, you'll see that it's well away from the center of town and accessible only if you have your own car. You might want to contact them through their website and ask how to get there by public transportation. It's definitely worth the effort.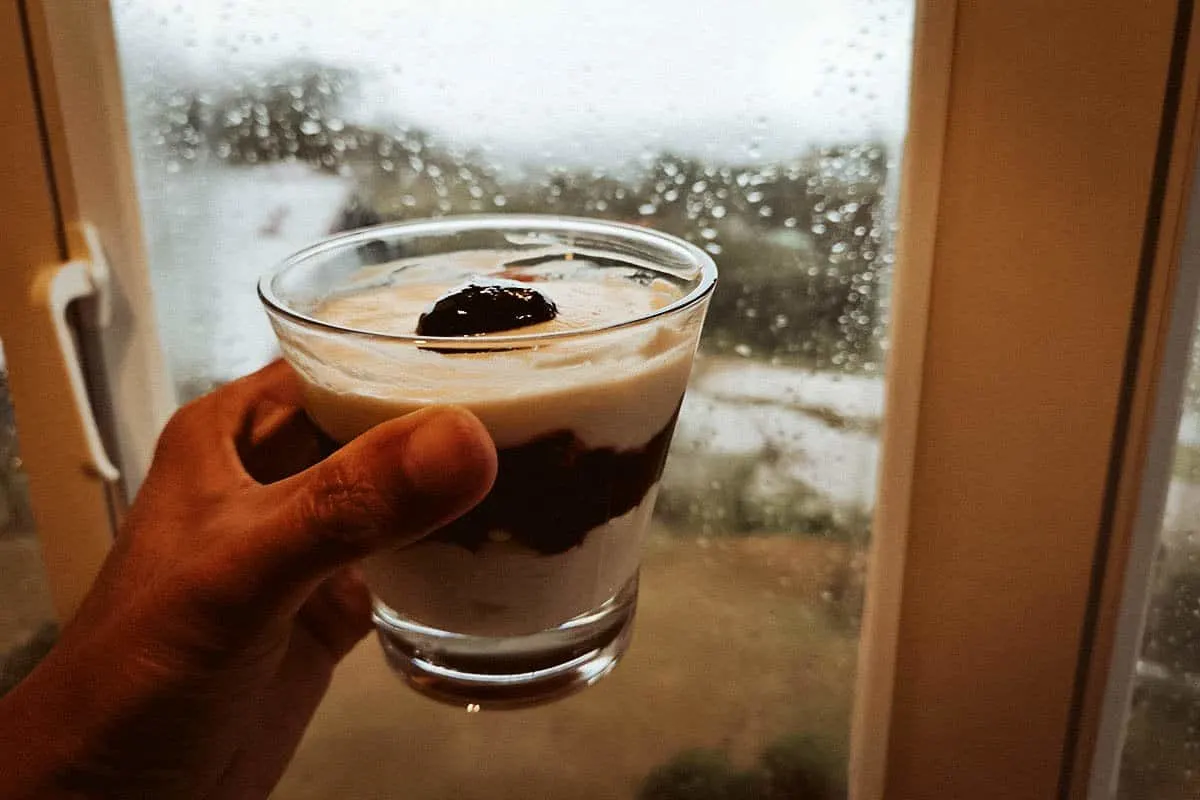 See that building with the red roof through the trees? That's Coffee Heritage House. It's difficult to get to but it's remoteness is part of its appeal. It's a hostel as well so if you want peace and quiet and don't mind staying far from the center of town, then this may be a good option. You can book a room here through Booking.com or Agoda.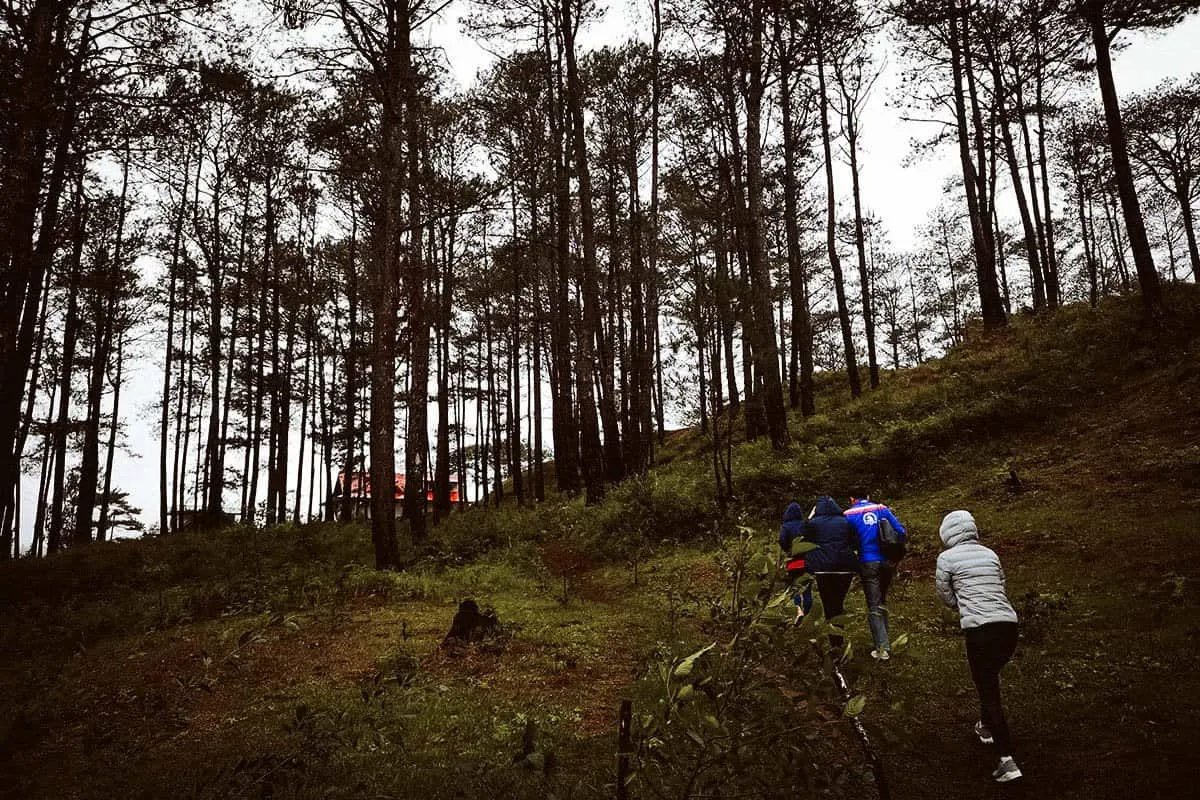 3. Yoghurt House
Yoghurt House is one of the pioneering restaurants in Sagada. I used to love hanging out here when it was still a one-story hippie hangout playing the same Bob Marley CD throughout the day. It may have grown into a proper two-storey establishment and lost some of its charm, but it's still one of the best and most popular restaurants in Sagada. If you can, come soon as they open at 8:30AM and have breakfast on the second floor balcony. Their lassis, yogurt, and breakfast dishes are very good. I had the farmhouse omelette made with etag and it was delicious!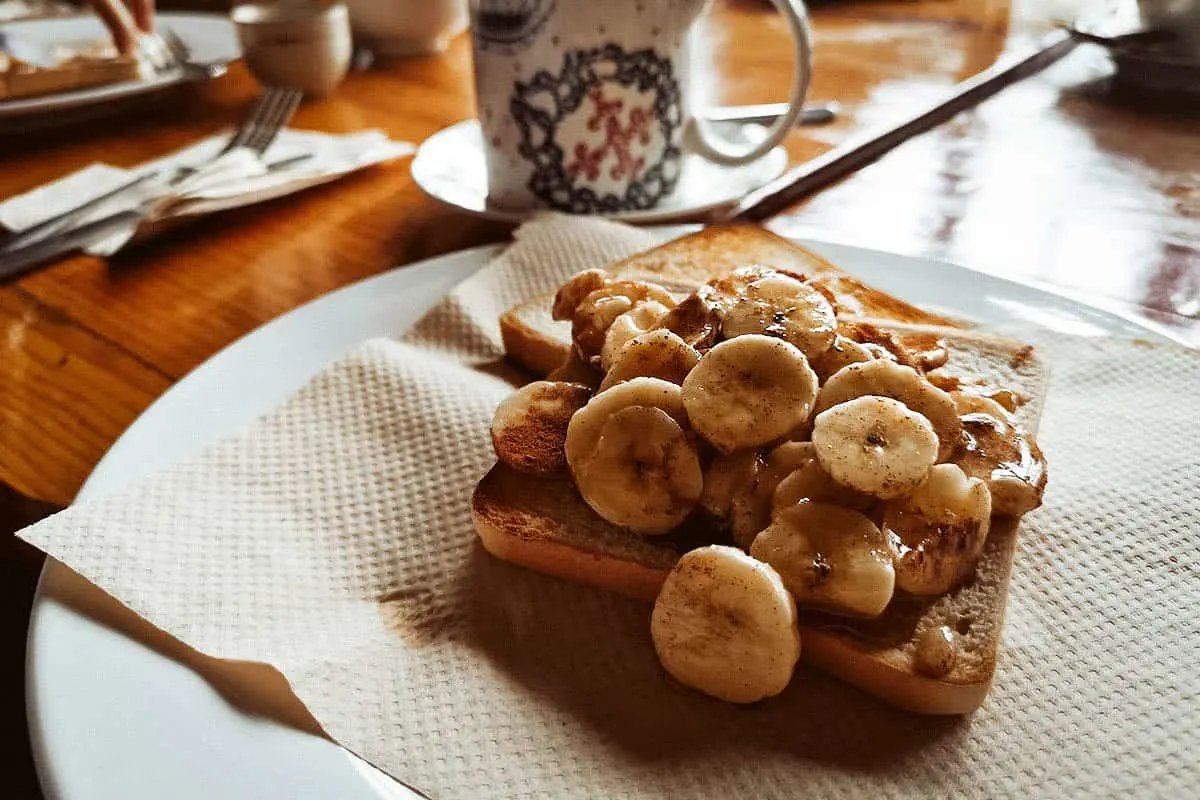 4. Log Cabin
Log Cabin is another long-time restaurant in Sagada and one of its most charming. Located on the road leading up to St. Joseph's Resthouse, it really does look like a log cabin. We enjoyed it for its rustic charm and focused menu, featuring excellent Western breakfast platters and hearty dishes like roast chicken and pork.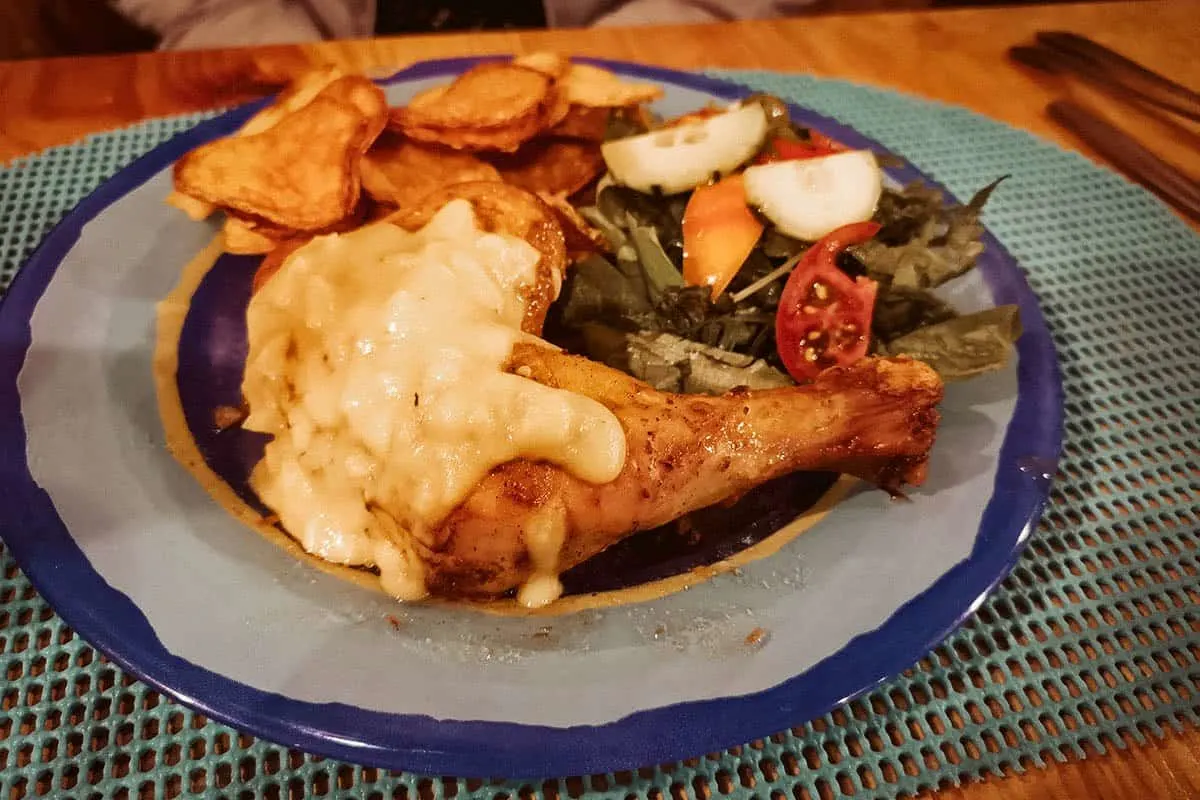 5. Salt & Pepper Diner
Salt & Pepper Diner is another popular restaurant in Sagada. Located on the second floor, we had dinner here in December 2018 and it was absolutely packed with people. They're known for serving good Filipino breakfast and other local specialties like sinarabasab (marinated pork), etag, and inutom (pan-roasted chicken). Pictured below is a tasty plate of etag sisig (marinated in a sour liquid, then seasoned and served on a sizzling plate). As described, many restaurants in Sagada serve etag dishes but Salt & Pepper Diner offered the most. Aside from etag sisig, they also have etag longganisa (sausage), etag guisado (ground), and etag sarsiado (with tomato and egg).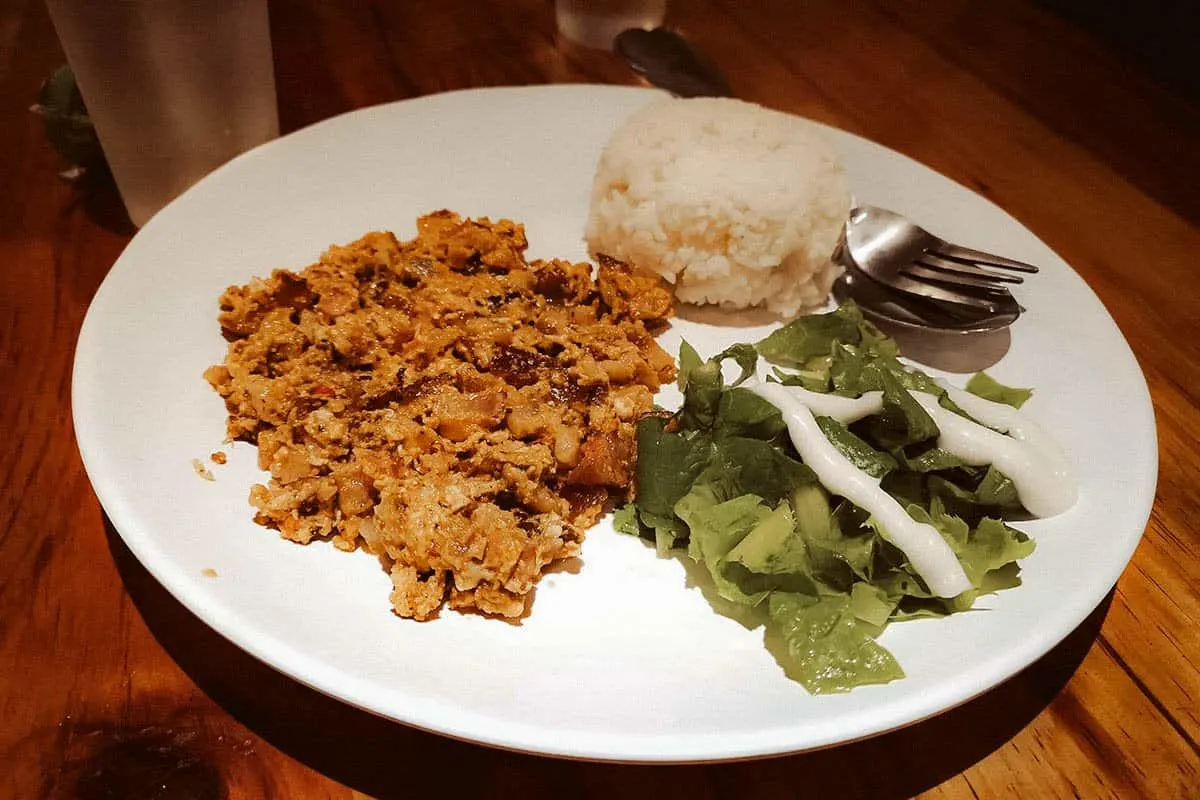 6. Masferre Country Inn & Restaurant
Like Yoghurt House and Log Cabin, Masferre is another Sagada dinosaur. It's been around forever, serving a variety of dishes both local and international. They bake their own breads here so I find the sandwiches to be particularly good. They even sell different types of pizza pretzel bread in the deli section of the restaurant. If you come in a large group, they offer set meals good for 5-6 people featuring local favorites like lechon kawali (deep-fried pork belly), pork barbecue, and fried tilapia.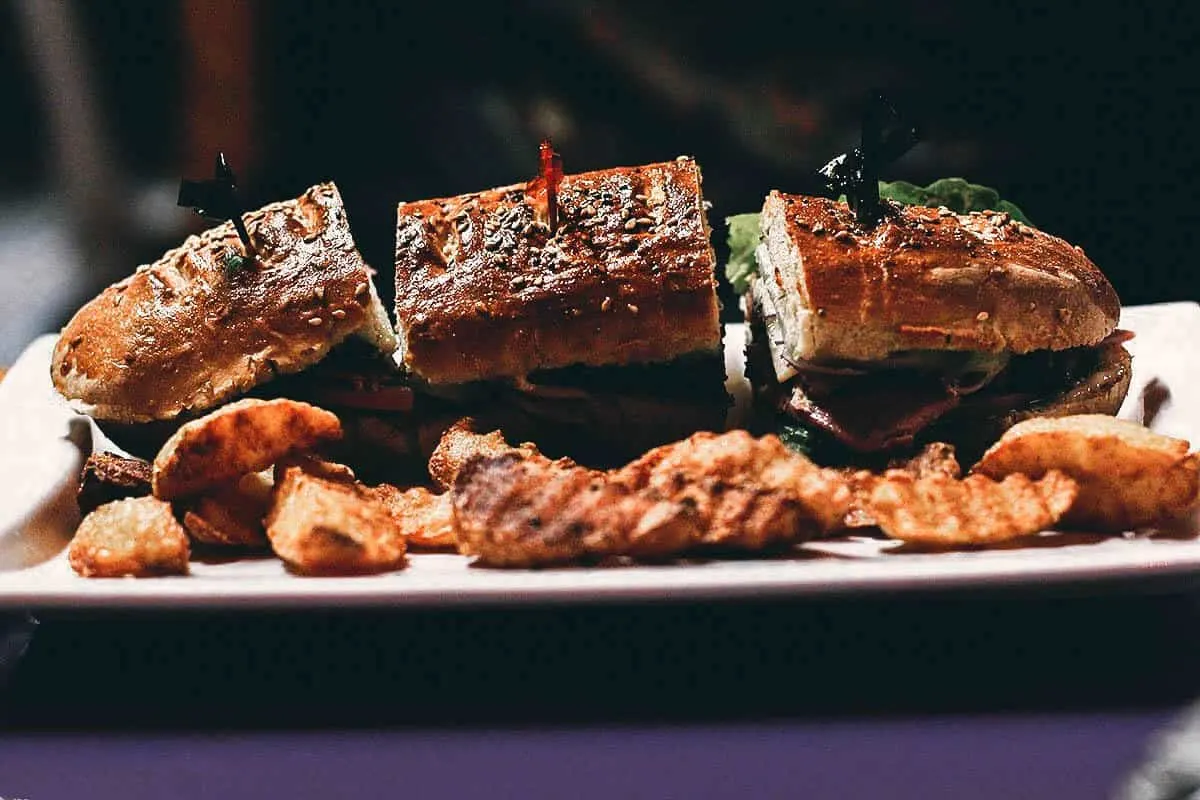 7. Sagada Grill
This is one of the newer restaurants in Sagada. It's located along the road to Bomod-ok Waterfalls so it's a bit far from the center of town, maybe around half an hour by foot. We had dinner here because we heard they offer shawarma, burritos, and New York style pizzas. Unfortunately, they only offer those dishes till 6PM so we settled for the pork sisig and liempo (grilled pork belly). The liempo (pictured below) was particularly good so be sure to try that. They had just served the last plate when we got there, but the ribs looked really good too.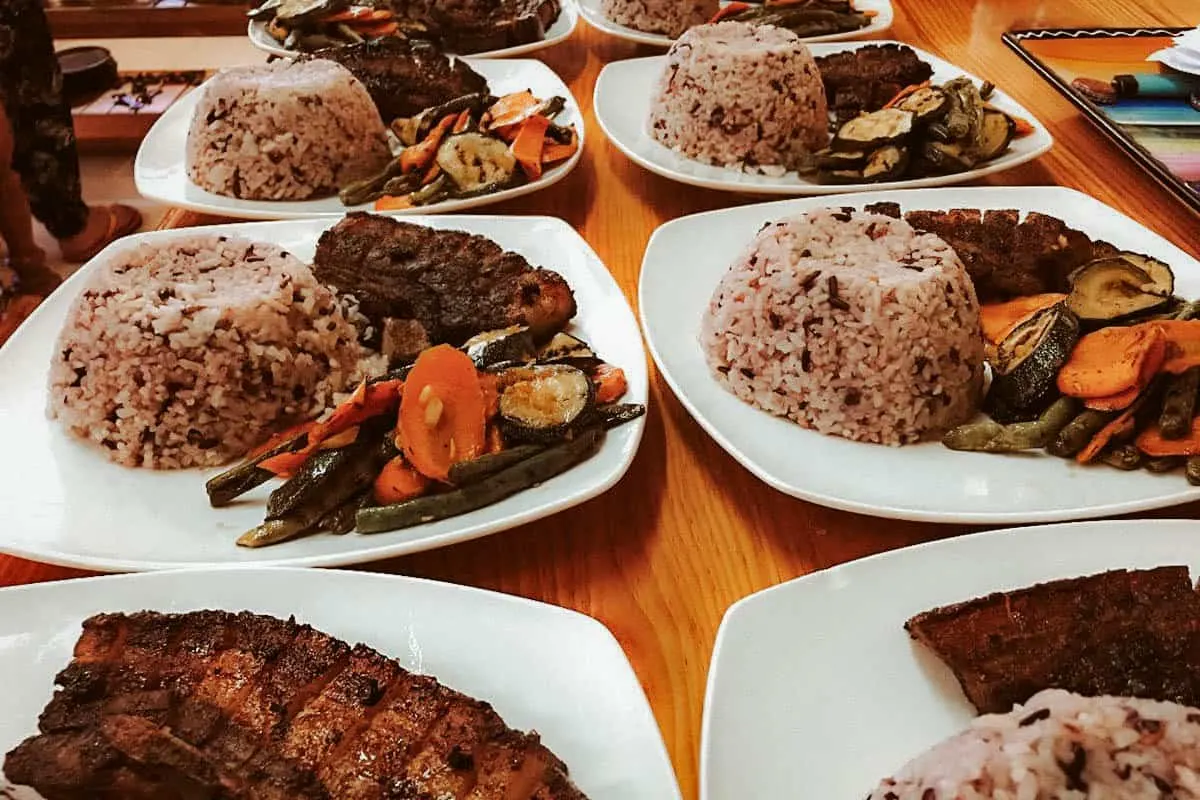 8. Moon House
As far as I know, Moon House is the only bar in Sagada. It's located on the same road as Yoghurt House, not too far from the tourist center. It's got a great hippy-ish, artsy vibe that's reminiscent of what Yoghurt House used to be. They offer a full menu of cocktails and shooters, though don't expect to drink here through the night. They close at 9:30PM just before curfew.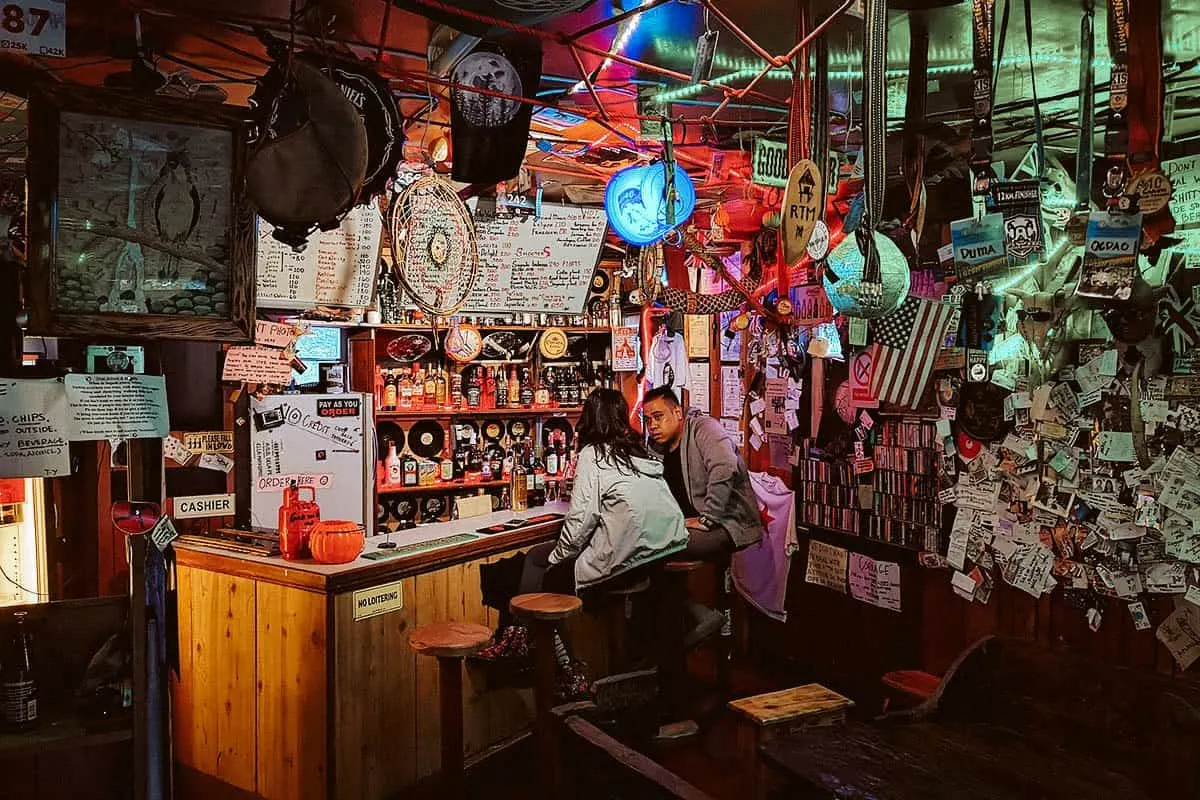 POINTS OF INTEREST IN SAGADA
I created the map below to help you visualize where everything is. All of the places recommended in this guide are pinned on this map.
HOW TO GET AROUND SAGADA
Sagada is a tiny town with just two main streets so it's easy to get around on foot. Some of the more remote sites like Marlboro Hills and Bomod-ok Waterfalls can be accessed by van which you can arrange for at the tourist center. With the roads into town getting better, more and more people seem to be driving to Sagada. This has been causing much traffic, particularly during peak seasons. If you can, try to get around on foot as much as possible. It's a hiking destination anyway.
HOW MANY DAYS TO STAY / SAMPLE ITINERARY
Though you'll only need a few days to visit all of its attractions, Sagada is one of those places where you can stay for weeks doing little more than soaking up the cool mountain air. It's inexpensive, even by Philippine standards, so you can pretty much stay as long as you like. I stayed for a week and a half once just reading and aimlessly walking around. I enjoyed every minute of it.
If you don't have a lot of time, then 4 days is enough to see the major sights at a leisurely pace. As previously mentioned, Sagada is often paired with a trip to Banaue, Baguio, or Bontoc, so you may want to plan your trip with those other destinations in mind.
Here's a sample 4D/3N Sagada itinerary to help you plan your trip.
DAY ONE
Around 11AM – Arrive in Sagada. Register at the tourism office and check in to your hotel.
12NN-1PM – Have lunch.
1:30-4:30PM – Make a quick stop at Lumiang Burial Cave en route to Sumaguing Cave. Be sure to hire a guide at the tourism office before entering Sumaguing Cave.
6-7PM – Have dinner and relax in the evening.
DAY TWO
5-6:30AM – Go to Kiltepan Viewpoint to watch the sunrise. Be sure to arrange for pickup and transportation the day before.
7:30-8:30AM – Have breakfast.
9-10AM – Go orange picking at Rock Inn.
12NN-1PM – Have lunch.
1-5PM – Visit Bomod-ok Waterfalls. Be sure to ask first if the waterfalls are open to the public.
6-7PM – Have dinner and relax in the evening.
DAY THREE
5-10AM – Go to Marlboro Hills at sunrise. Be sure to arrange for pickup and transportation the day before.
11AM-12NN – Have a late breakfast / early lunch.
1-4PM – Visit the hanging coffins and do an Echo Valley trek.
6-7PM – Have dinner and relax in the evening.
DAY FOUR
7-8AM – Have breakfast. Say goodbye to Sagada.
BUDGET / SUMMARY OF EXPENSES
As mentioned above, Sagada is cheap. If you're traveling with one other person, then you'll be fine with a budget of around PHP 1,500-2,000 per day. This takes into account your hotel, guide and transportation fees, three daily meals, and pocket wifi rental. The more people in your group, the cheaper it will be since the guide and transportation fees will be divided between more people. Here's a quick breakdown of expenses:
ACCOMMODATIONS
As described, accommodations in Sagada are cheap. Assuming you're traveling with one other person, then you can expect to spend at least PHP 250 a night on accommodations.
MEALS
Food is pretty cheap as well. Expect to spend around PHP 800-900 a day on meals and drinks.
GUIDE & TRANSPORTATION FEES
This is where the brunt of your spending will go. Assuming you'll be following the sample 4D/3N itinerary and splitting the cost with just one other person, then you'll be paying a total of around PHP 2,920 each in guide, transportation, and environmental fees. Not bad considering that covers your entire 4-day stay and includes more expensive activities like treks to Marlboro Hills and Echo Valley. Feel free to adjust based on your interests.
POCKET WIFI RENTAL
If you're sharing the cost with one other person, then you'll be paying PHP 225 per day.
TOTAL


If you do all the activities in the sample 4D/3N itinerary, then you can expect to spend around PHP 2,000 a day in Sagada. This is just for daily expenses and not inclusive of roundtrip transportation from Manila. I suggest budgeting an additional PHP 500 per day, especially if you plan on buying souvenirs. Sagada is a cash only town with just one ATM (as far as I know) so it's good to have a little extra just in case.
TRAVEL TIPS
1. Rent a Pocket Wifi Device
If you're a foreigner traveling through the Philippines, then having a steady wifi connection will be very helpful. You'll need it to navigate, check email, and do last minute research. Many public places have wifi but the connection isn't as good nor as stable. Plus, it's good to be able to connect to the internet whenever you need to.
You can stay connected in the Philippines by getting a sim card or renting a pocket wifi device. Personally, we prefer the latter but either way is fine. Between the two, buying a sim card is cheaper. Assuming you'll be entering the Philippines through Manila, you can arrange for either in advance and pick them up from Ninoy Aquino International Airport or have them delivered to your hotel. Follow the links to buy a sim card or rent a pocket wifi device through Klook.
2. Get Travel Insurance
If you're a non-Filipino, then I think it's a good idea to get travel insurance before your trip to the Philippines, especially if you'll be visiting less developed places like Sagada or Batad. The fact is, you never know what can happen. In Sumaguing Cave for example, you can easily lose your footing and hurt yourself so having travel insurance will be a godsend.
We get travel insurance from SafetyWing. They're a popular travel insurance company used by many digital nomads. You can follow the link to get a free quote from SafetyWing.
3. Register & Hire Guides Only from the Tourism Office
As previously advised, the first thing you should do upon arriving in Sagada is to register at the tourism office and pay the one-time environmental fee of PHP 50. This will go towards the preservation of the environment.
By law, tourists are required to hire guides only through the tourism office. That way they have a record of where you are to better ensure your safety. If I understand correctly, the guides here are on a rotation basis to make it fair for everyone. Don't mess up their system and put yourself in danger by hiring unregistered guides. Because if something happens to you, then they may have no way of helping you if they don't have a record of your whereabouts.
4. Bring Enough Cash
Sagada is a small town with no money changers and just one ATM. As far as I know, no establishment accepts credit cards so be sure to bring enough cash to last you for the duration of your trip.
5. Prepare Properly for Sumaguing Cave
Do not, I repeat DO NOT, enter Sumaguing Cave unguided. As described earlier in this post, it's very dangerous to attempt on your own so be sure to register and get a guide at the tourism office. You'll definitely get wet so wear flip-flops and shorts. Anything valuable like your wallet or cellphone should be kept in a Ziploc bag so they don't get wet. For your safety, it's best to have both hands free since many parts of the cave are slippery.
6. Be Back Before Sunset
Be sure to start your treks as early as possible so you can make it back before nightfall. Curfew in Sagada is at 10PM. There are no lightposts along these roads and trails, making them difficult and even dangerous to walk on at night.
7. Please Don't Eat Pinikpikan
A Cordillera delicacy, the word pinikpikan stems from the Ilocano word pikpik, which means "to hit repeatedly". It entails slowly beating a live chicken with a stick to break its bones and clot its blood before dismemberment. Known colloquially in English as "killing me softly" chicken, the practice is said to tenderize the meat and make it tastier.
I went camping with a pair of Thai filmmakers I had met in Sagada once, and this was one of the dishes that their local guides prepared. To me, it tasted no different than regular chicken. I understand that pinikpikan is a local custom, but it's also a brutal practice that inflicts much suffering to the animal. I'm an advocate for the humane treatment and killing of animals for food, so tradition or not, this isn't a dish that I can easily stomach.
8. Be Respectful, Don't Litter, Do Conserve Water
When visiting the hanging coffins, caves, or waterfalls, please keep your voices down and pick up after yourselves. Many of these sites are sacred to the locals so always be respectful. And speaking of the locals, don't take pictures of anyone without their permission. They aren't animals in a zoo. Duh.
Sagada has seen a massive influx of local tourists since that Tadhana movie. While great for the local economy, it hasn't been so good for the environment. It's heartbreaking and infuriating to see how many tourists just leave their trash everywhere, even inside Sumaguing Cave! Enjoy Sagada but please do so respectfully and responsibly. We Filipinos need to start taking better care of our environment.
Lastly, water is often scarce in Sagada, especially during dry and peak seasons. If you're visiting during that time, or any time for that matter, then please be mindful of the water situation and use only what you need.
Have fun!
I've been to Sagada many times but I still don't know everything. I'm only sharing the things I've learned from all of my trips there. If you have any suggestions, then please feel free to let us know in the comment section below. You're welcome to join our Facebook Travel Group as well.
Thanks for stopping by and I hope you fall in love with Sagada, much like I did sixteen years ago.
Disclosure
This guide contains affiliate links which will earn us a small commission if you make a booking at no additional cost to you. We only recommend products and services that we use ourselves and firmly believe in. We really appreciate your support as this helps us make more of these free travel guides. Thank you!