A friend of mine once told me: "How I wish I were blessed with artistic talent so I don't have to work hard anymore!"
I understand what she was driving at, but she didn't have a clue. Many people seem to think that way but nothing could be further from the truth.
I was sketching at the San Francisco Botanical Gardens when this elderly couple walked over to my bench to watch me draw. They stood there for several minutes, just quietly observing.
Leaves on bushes, flowers, the texture of bark, blades of grass, shallow pond ripples from the breeze — I patiently sketched the scene before me while they stood peering over my shoulder the entire time. When they (finally) went on their way, I heard the man remark to his wife: "That's a gift. To be able to sit there for that long and just draw."
He was right.
I've always believed that the desire to draw was far more important than the ability to draw. Talent can only take you so far, but desire can get you anywhere.
When I see masterpieces like the Spoliarium by National Artist Juan Luna, my immediate thought isn't "wow, this guy was really talented" or "this person was blessed with so much painting ability." No, I think about how much time, devotion, loneliness, frustration, sacrifice, self-doubt, and perseverance it took to complete something like that, and it's awe-inspiring. Not to mention humbling.
Contrary to what my friend believed, art IS hard work.
I learned soon after that day in San Francisco that this life of self-imposed isolation wasn't for me, so I got off the bench. It's clear though from looking at the stellar work on display here today, that the best artists never do.
The National Art Gallery
The National Museum went through a major renovation in 2012 so much of the building looks and feels brand new. If you haven't been lately, then you really should go. Entrance is free!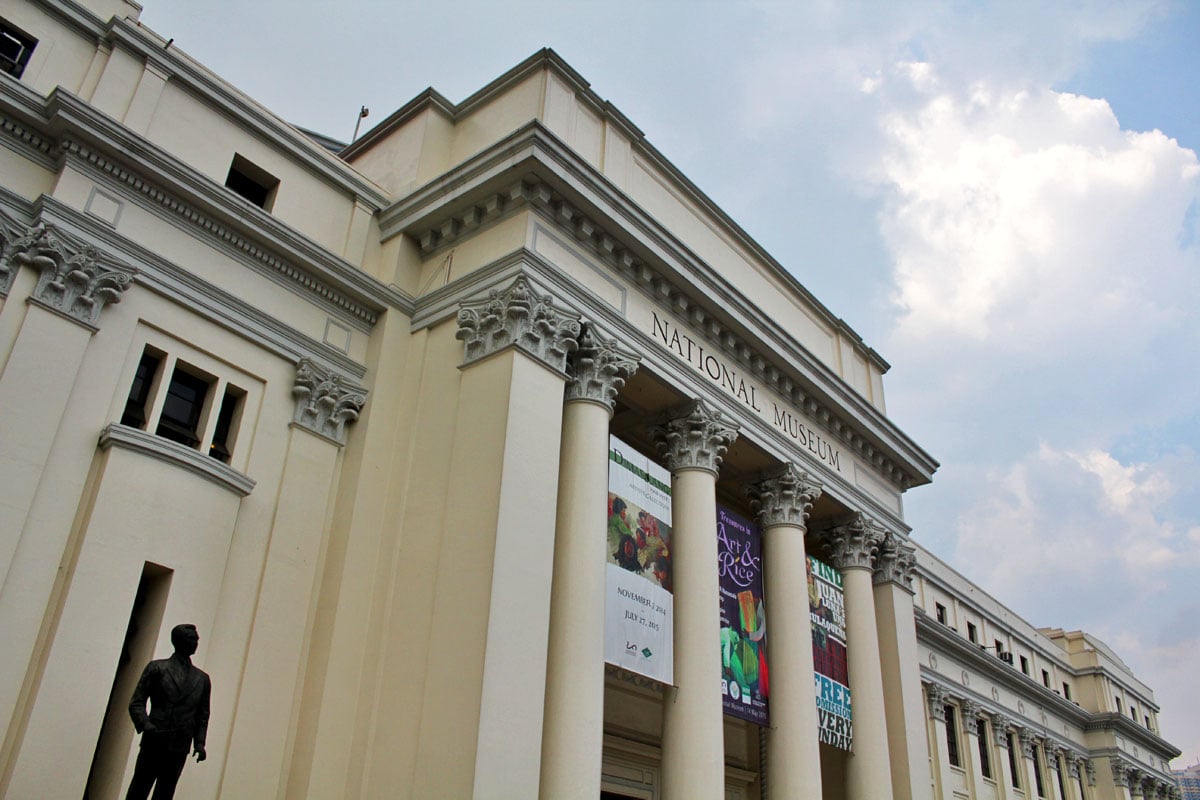 The Old House of Representatives Session Hall
Site of the 1934 Constitutional Convention, this is the main hall and home to Juan Luna's Spoliarium. A central hall on the House Floor (level two), it's the first room you'll see when you enter the National Gallery from Padre Burgos Avenue.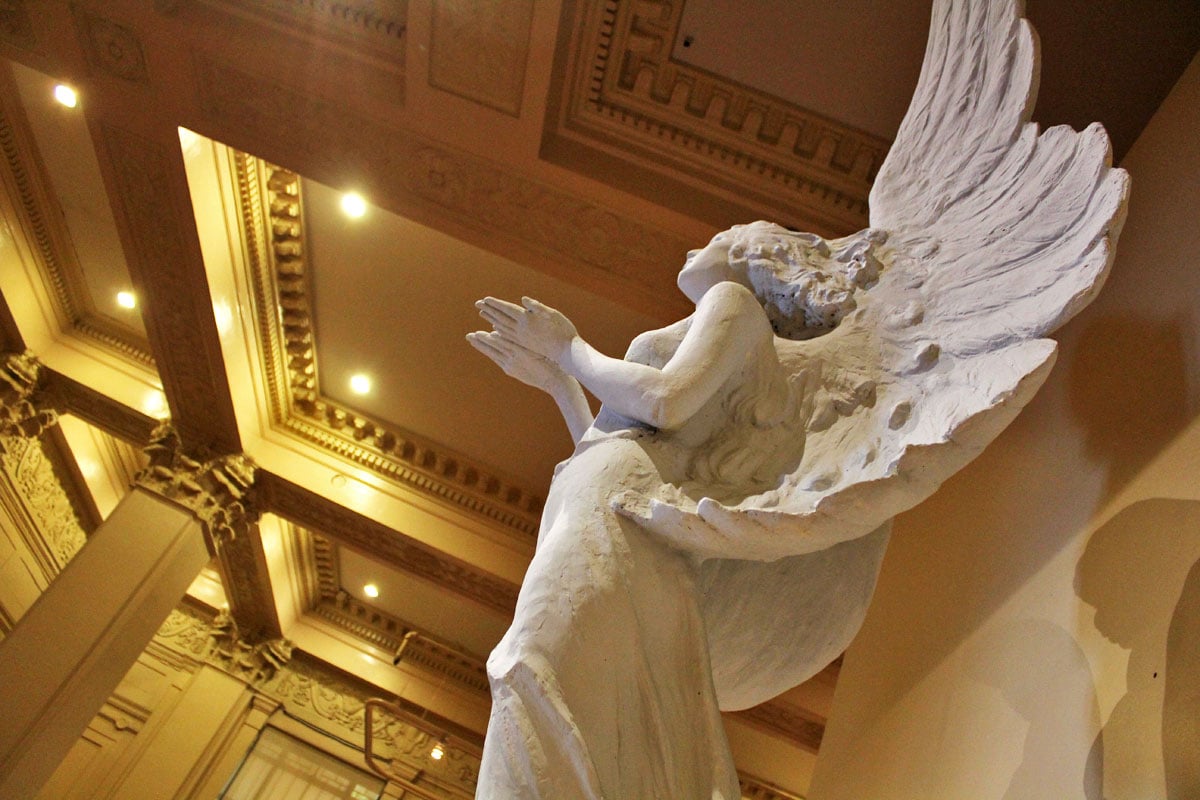 L: Untitled (Diwata), Guillermo E. Tolentino, Reinforced concrete, circa 1950s
R: El Asesinato del Gobernador Bustamante, Felix Resurreccion Hidalgo, Oil on canvas, 1853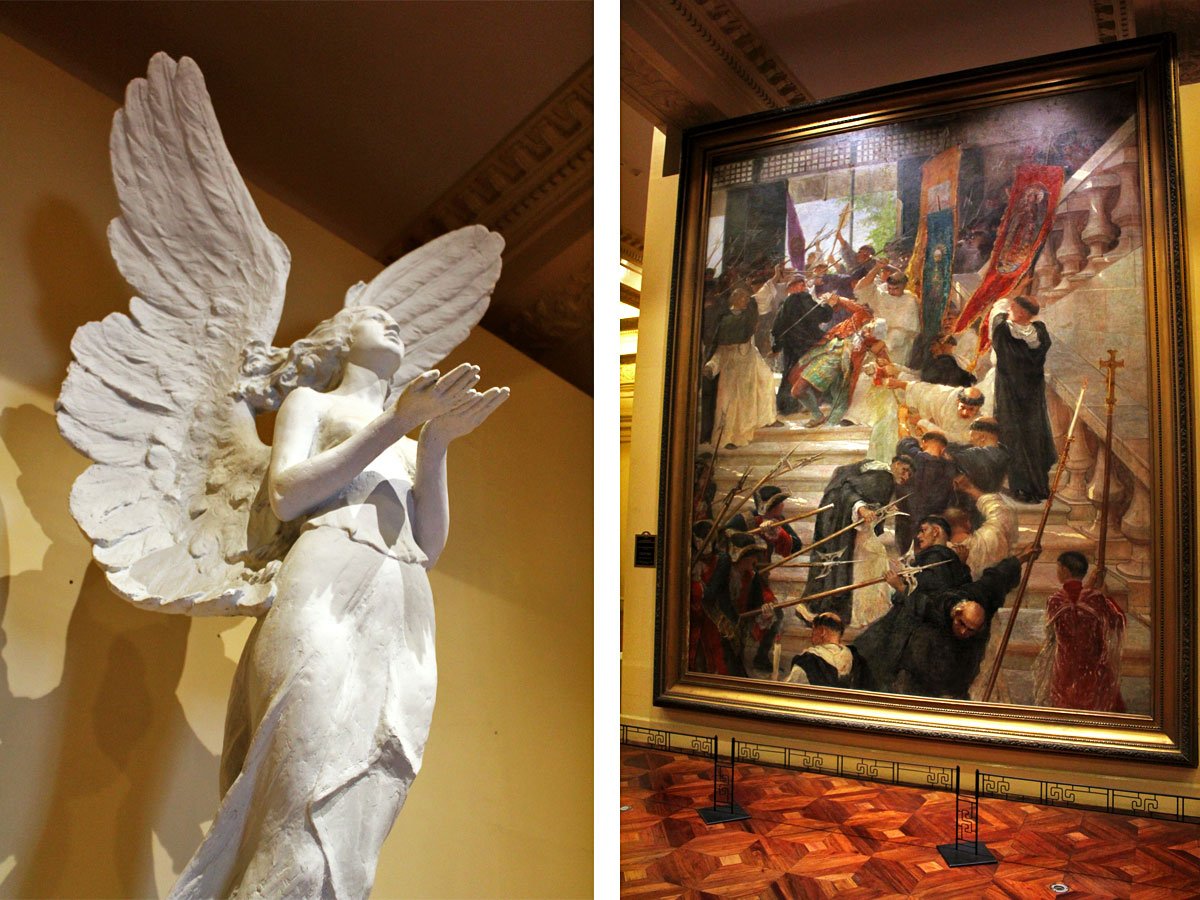 Can you guess what everyone's taking a picture of?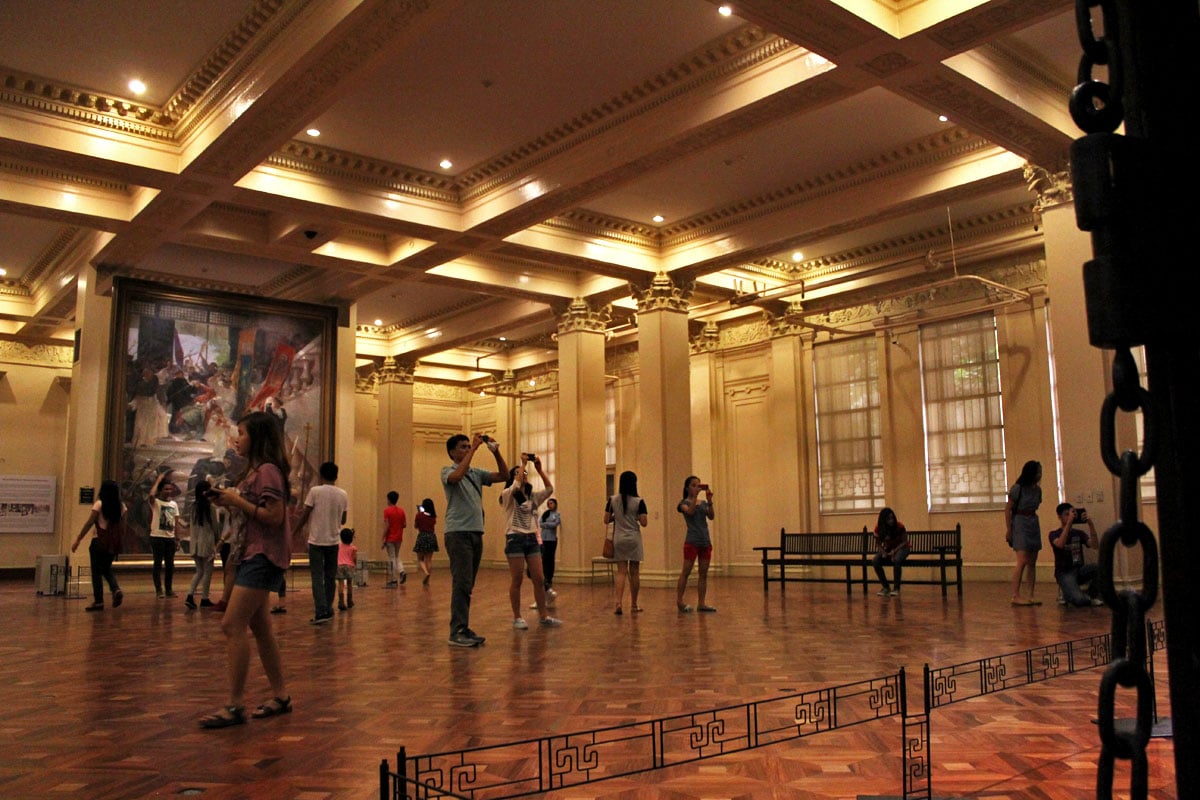 Behold, Spoliarium! A massive painting depicting dying gladiators, this renowned painting won the gold medal at the Madrid Exposición Nacional de Bellas Artes in 1884. It took Juan Luna eight months to paint this.
Spoliarium, Juan Luna y Novicio, Oil on canvas, 1884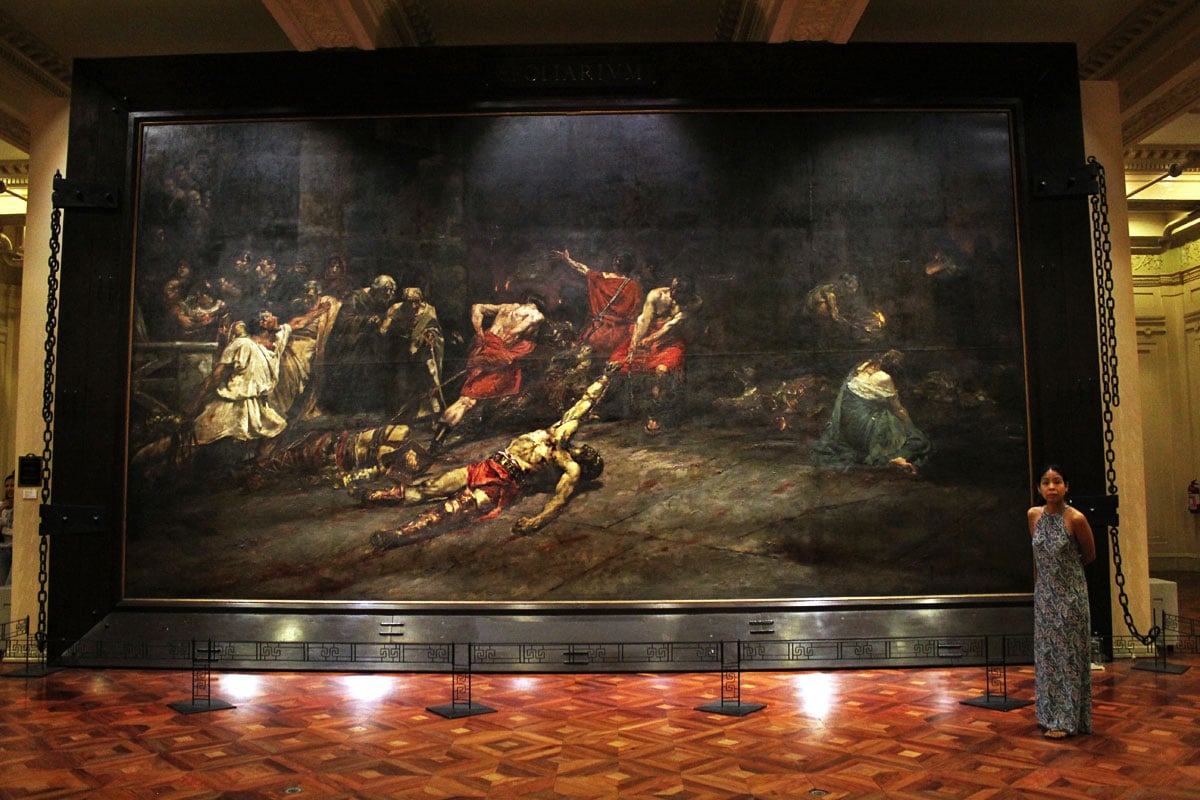 A closer look at the central figure. This was my first time seeing Spoliarium in person. Needless to say, it's impressive.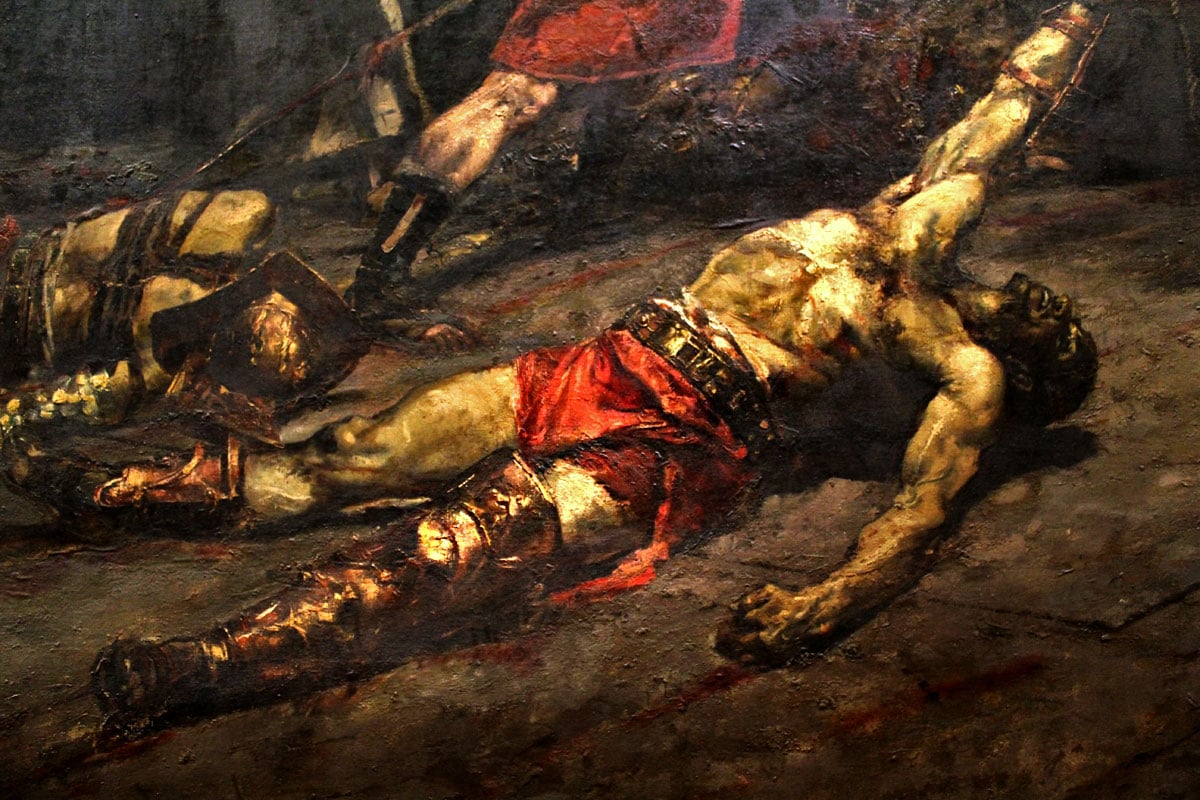 There's no clear path to take so I just listed the galleries down in the order that we visited them. Exhibits on the House Floor cover Philippine art from the 17th to the 20th centuries.
Gallery VI
Features Philippine art from the early 20th century, most notably from Fernando Amorsolo. Together with Juan Luna, Amorosolo is one of my favorite Filipino artists. He was known for his portraits and paintings depicting rural Philippine landscapes.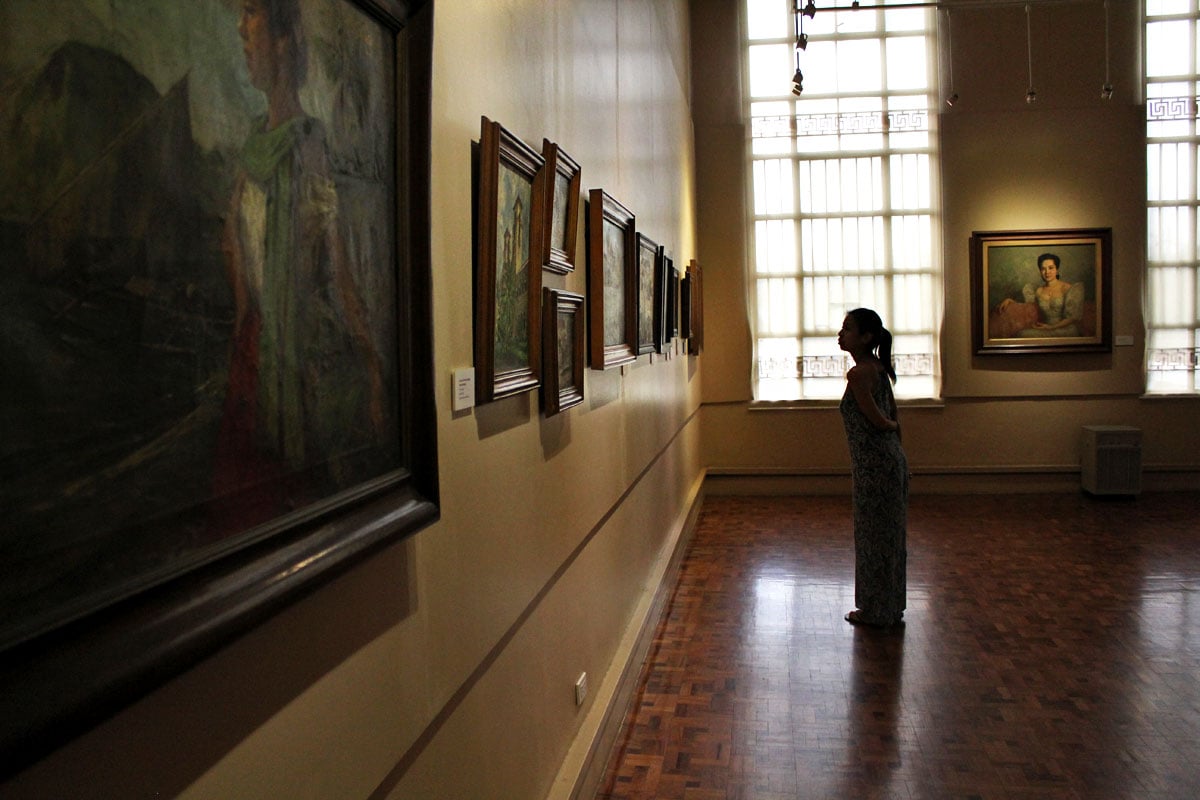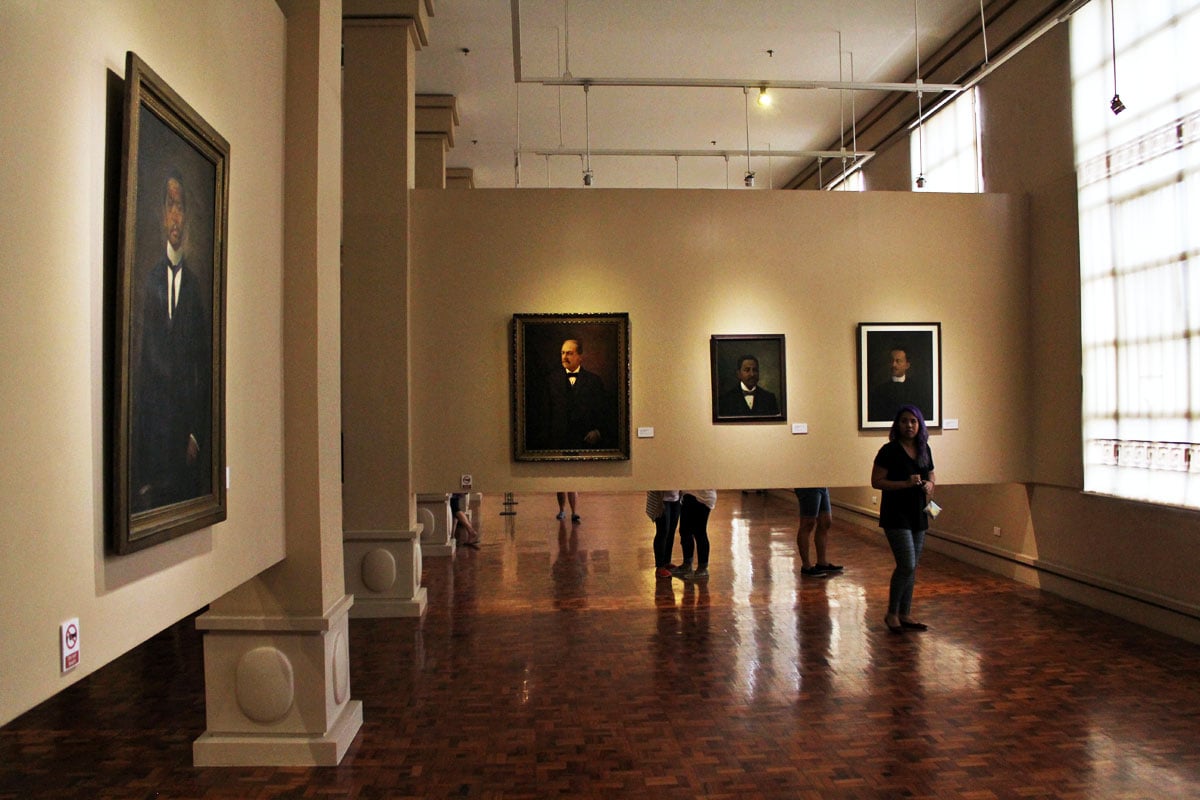 Portraits by Fernando Amorsolo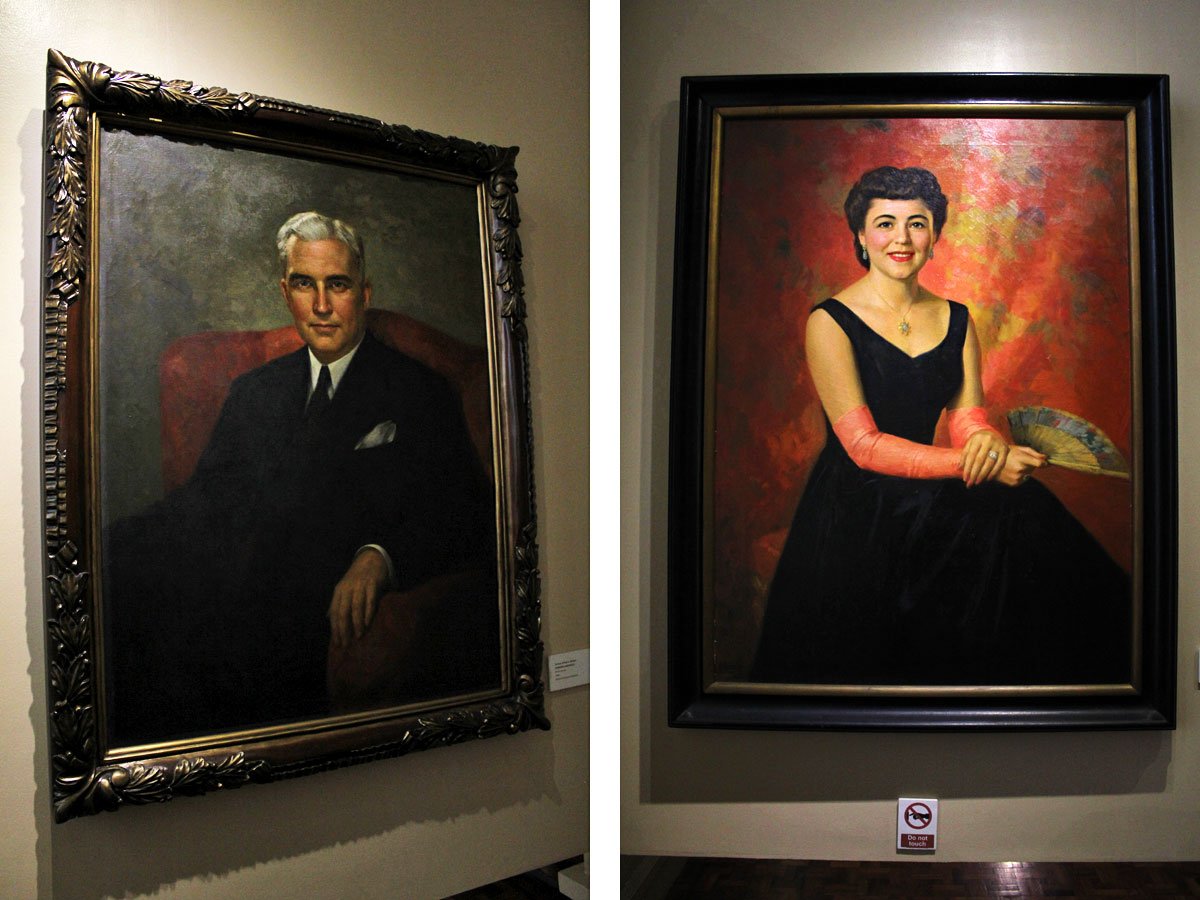 Gallery V
Gallery honoring Philippine national hero, Dr. Jose Rizal.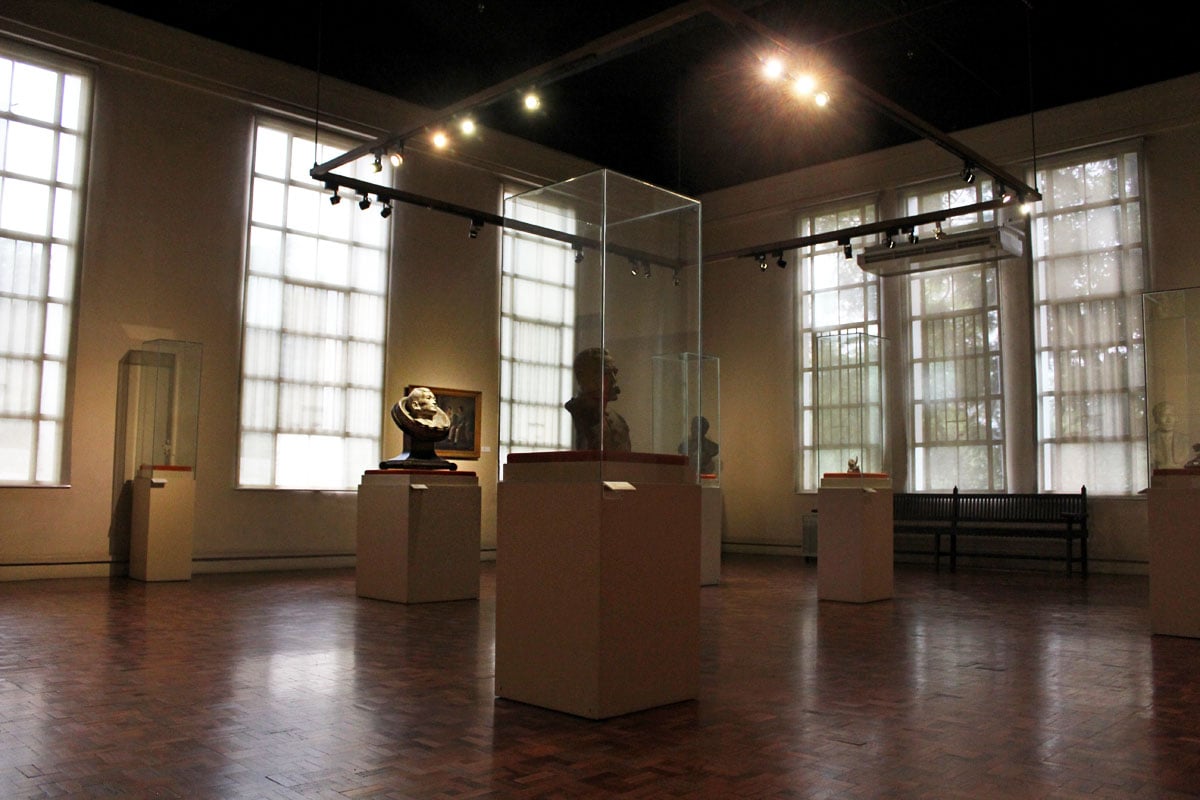 Executed in 1896 by the Spanish army, Dr. Jose Rizal was a nationalist, novelist, poet, artist, opthalmologist, journalist, and revolutionary. Author of Noli Me Tangere and El Filibusterismo, he is widely considered as one the Philippines' greatest heroes.
Portrait of Dr. Jose Rizal, Isabelo L. Tampinco, Plaster cast, ca. 1900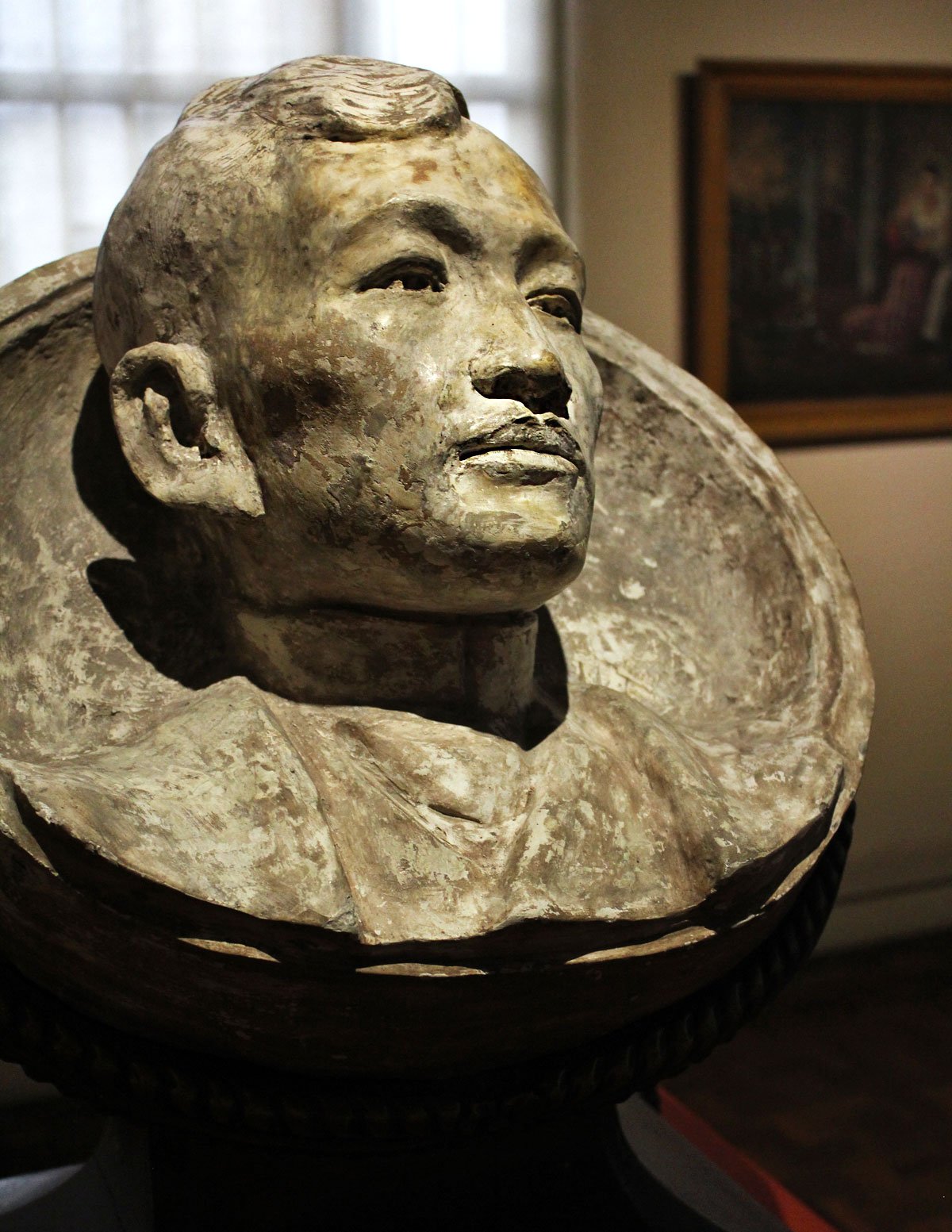 Most Filipinos know Rizal as a novelist, but did you know that he was an artist as well? I had seen his sketches before but this was my first time seeing his sculptures.
L: El Ermitaño, Dr. Jose Rizal, Terra cotta, 1893
R: Mother's Revenge, Dr. Jose Rizal, Terra cotta, 1894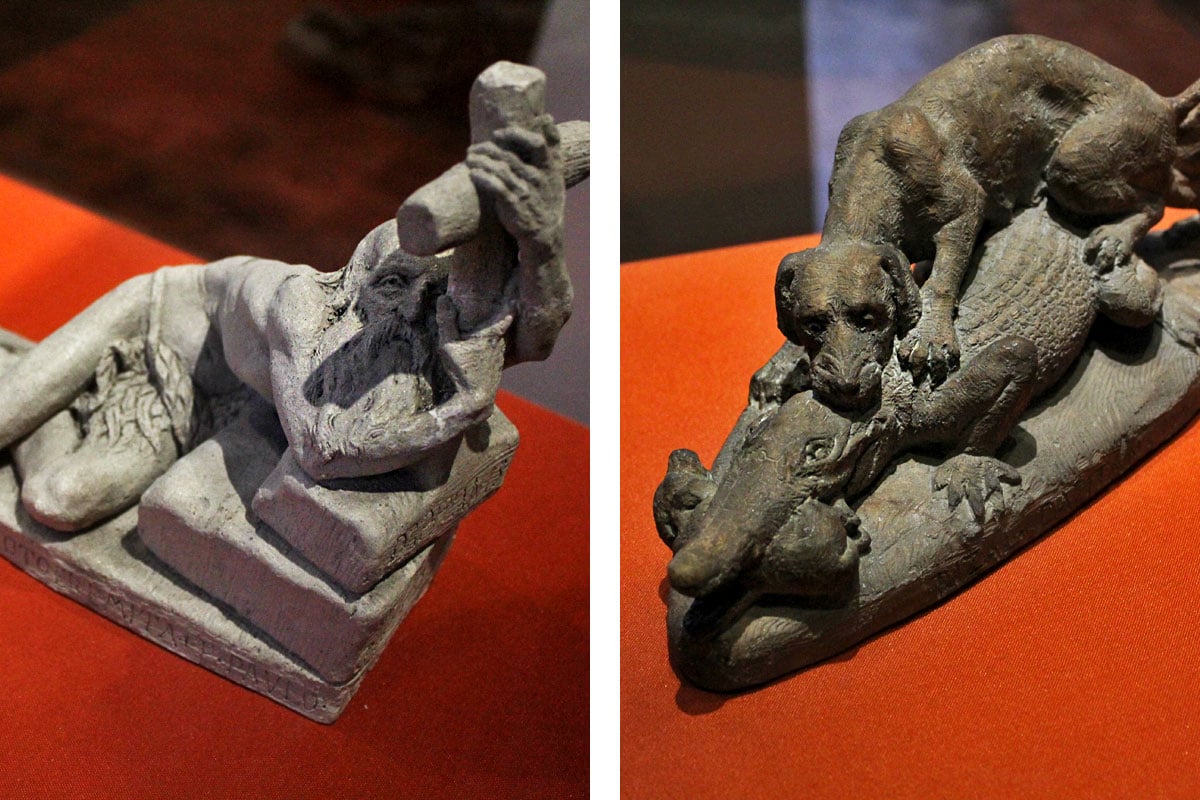 Gallery III
Featuring Philippine art from the academic and romantic period, particularly from the last three decades of the 19th century. Most notable works are from Juan Luna and Felix Resurreccion Hidalgo.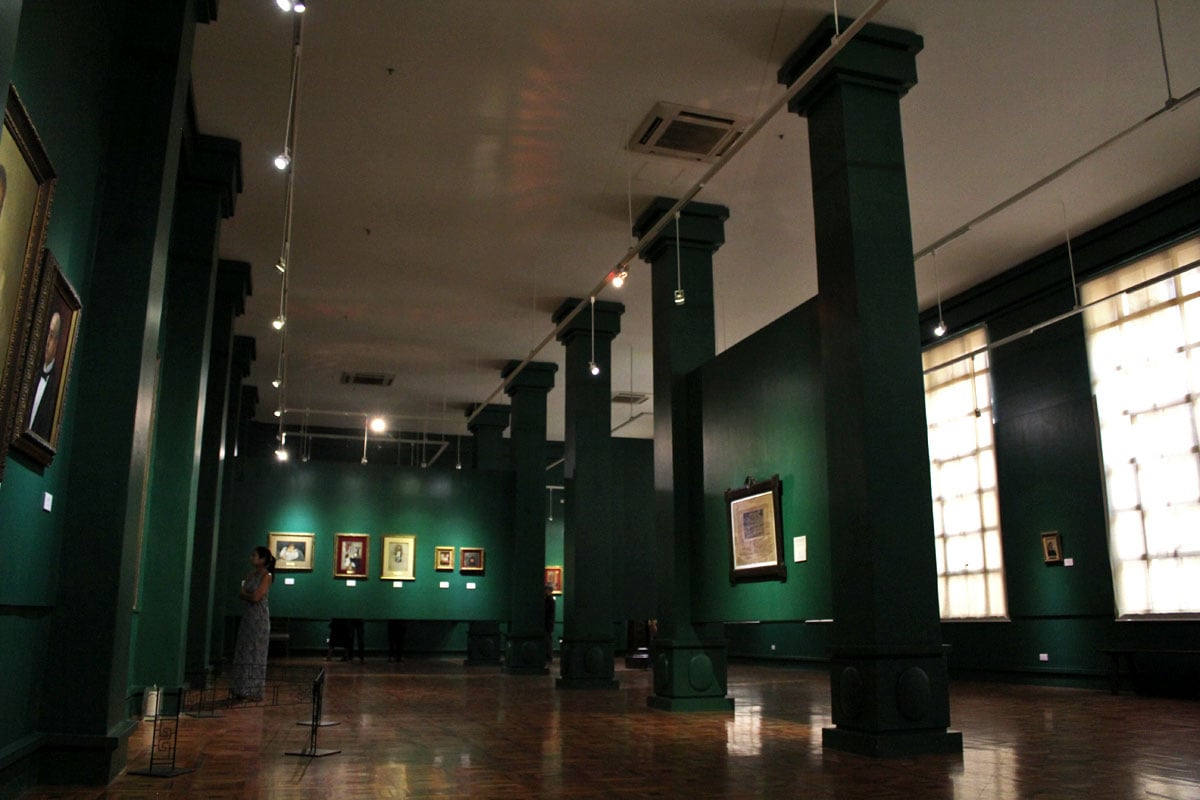 Governor Blanco and his Troops, Felix Martinez, Oil on canvas, 1895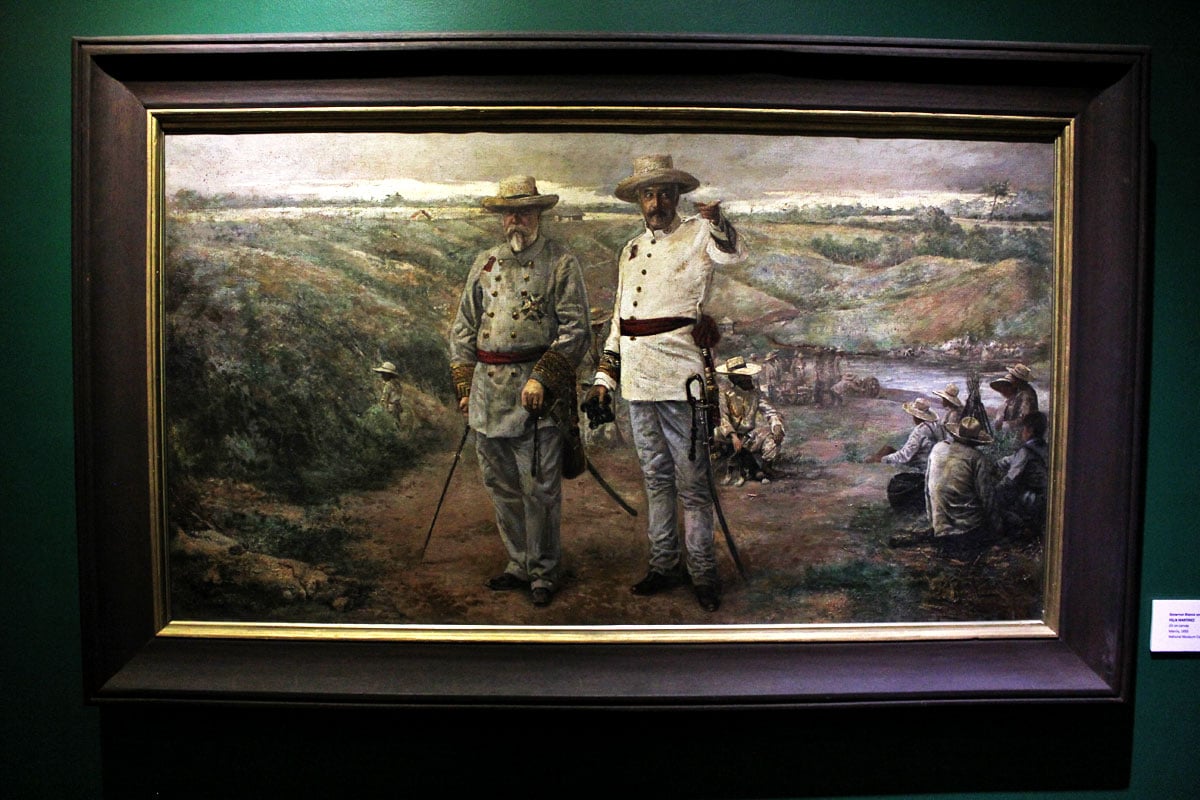 Padres Dominicos, Juan Luna y Novicio, Oil on panel, 1894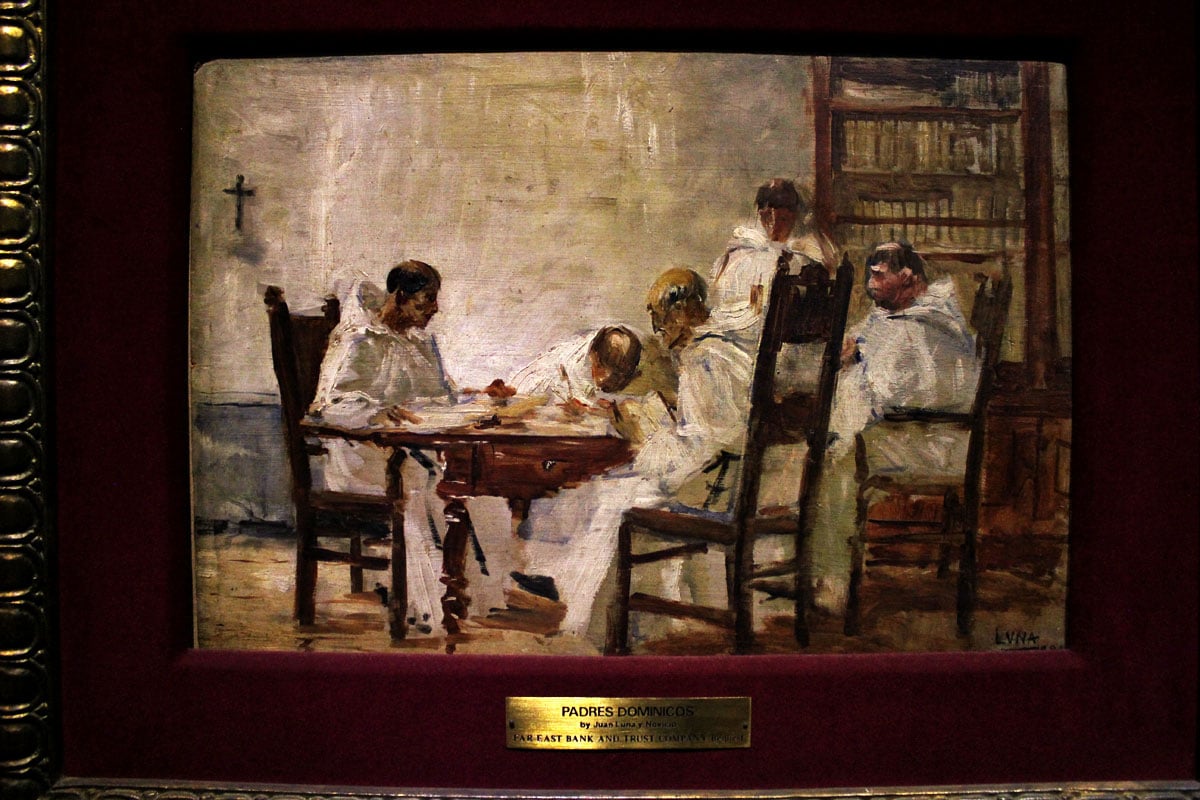 Another renowned Luna painting, I was mesemrized to see this in person. It always reminds me of John Singer Sargent's Lady Agnew of Lochnaw.
Portrait of a Lady, Juan Luna y Novicio, Oil on wood, undated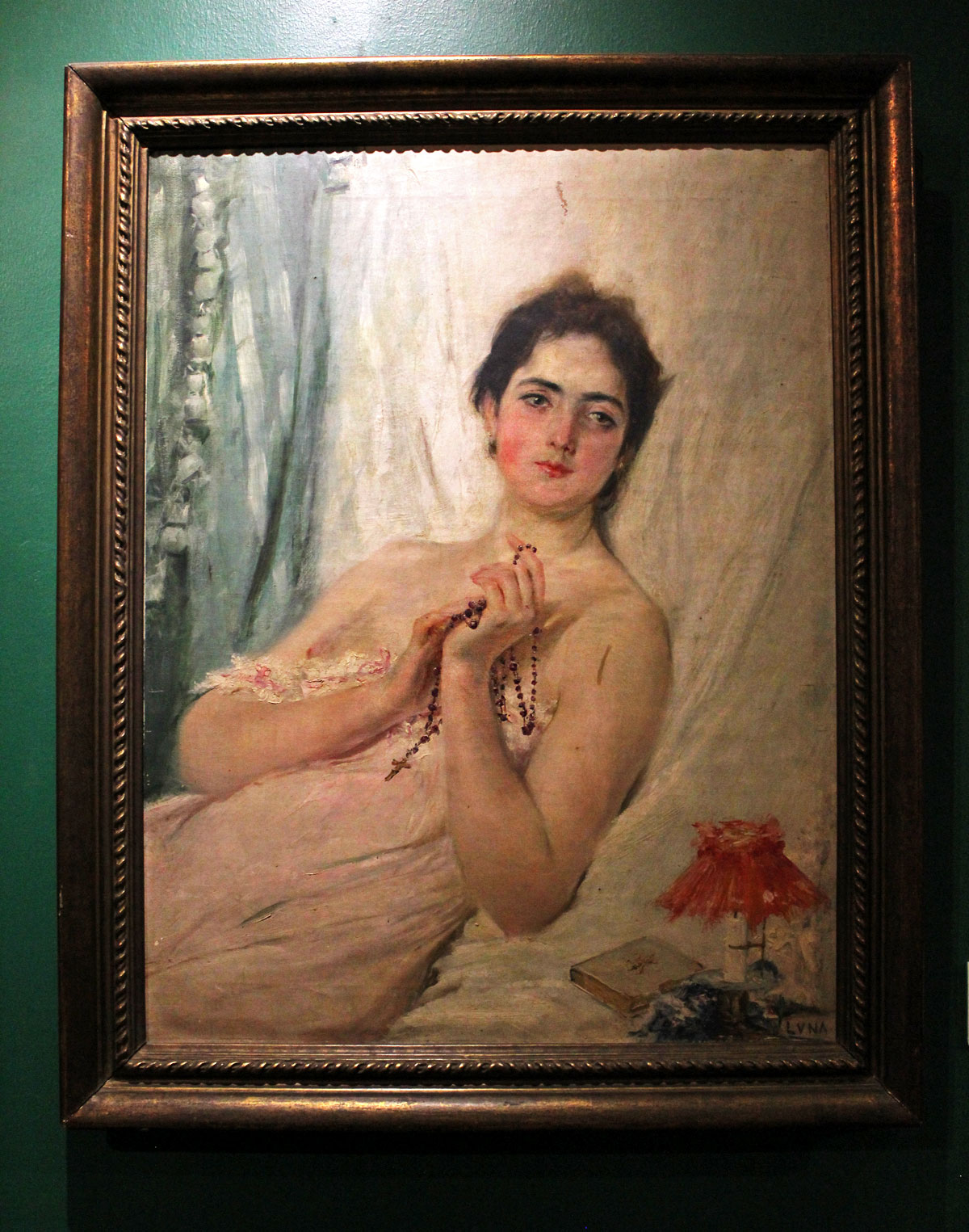 Don Luis Perez Dasmarinas, Felix Resurreccion Hidalgo, Oil on canvas, 1896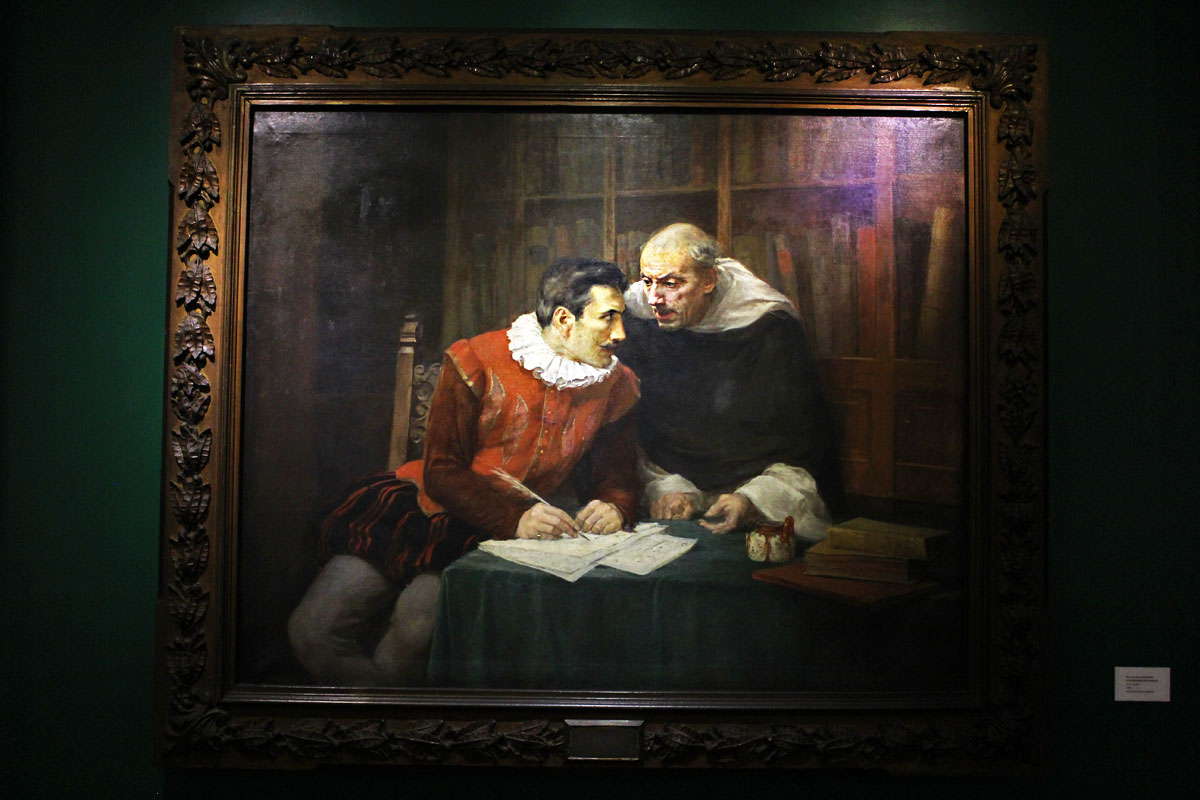 Gallery IV – Fundacion Santiago Hall
Featuring the works of Isabelo L. Tampinco, one of the Philippines' most celebrated sculptors.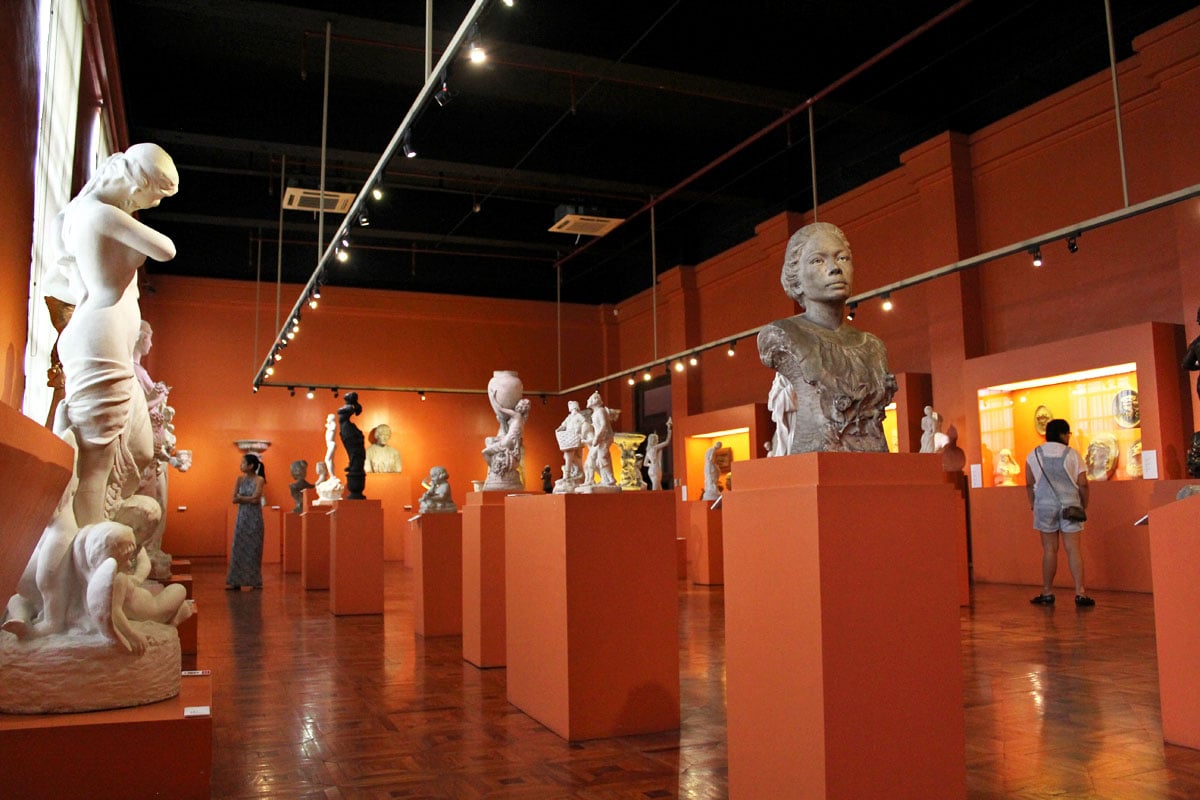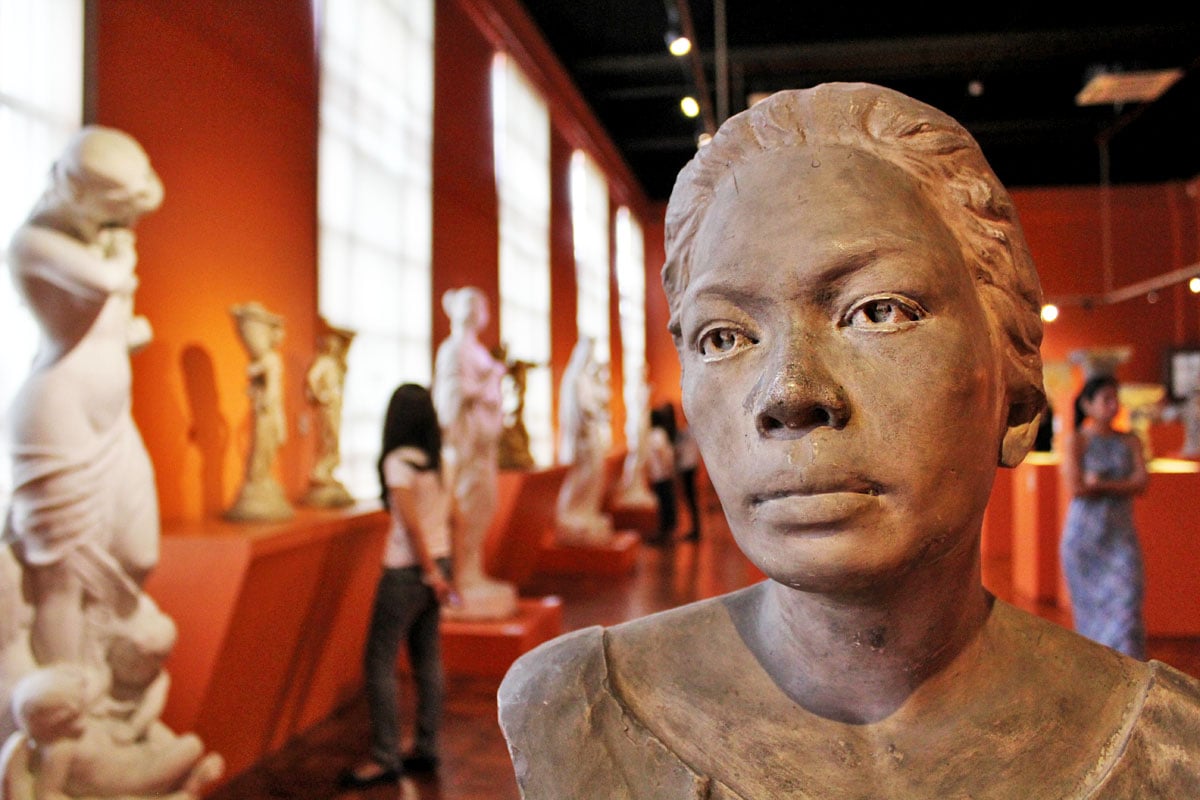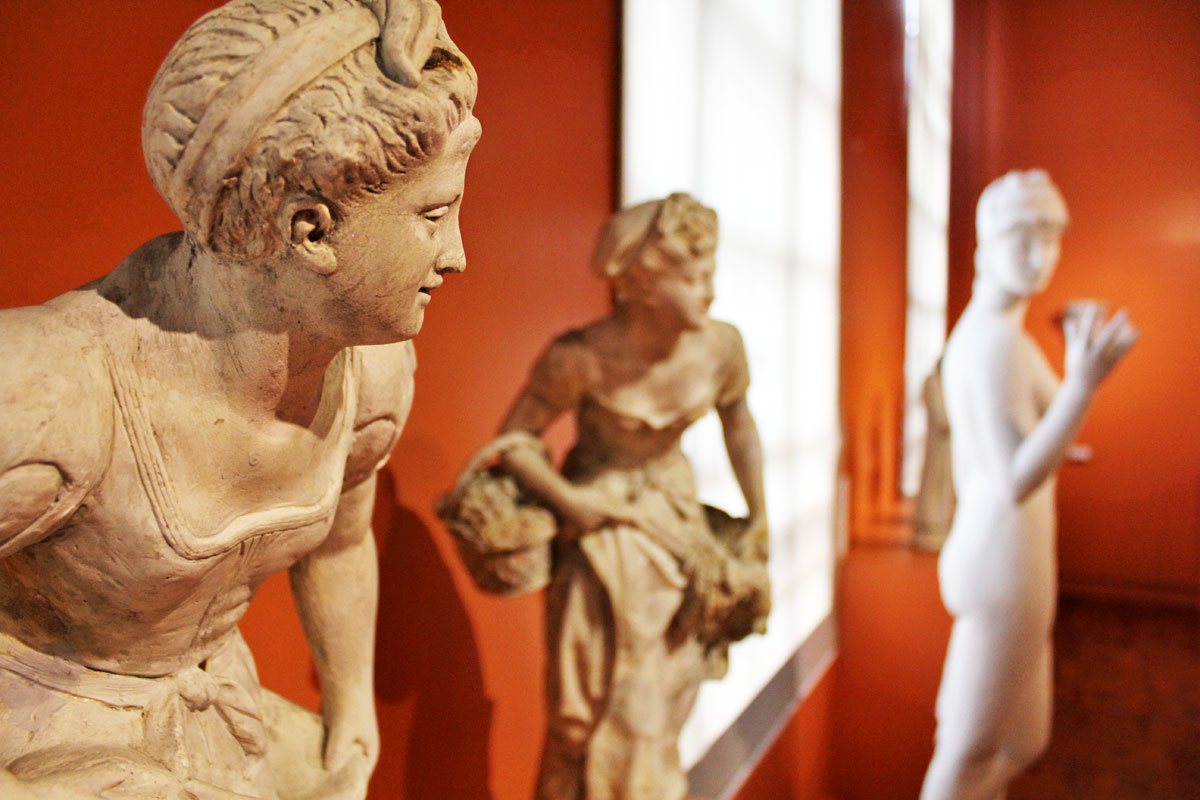 Gossiping statues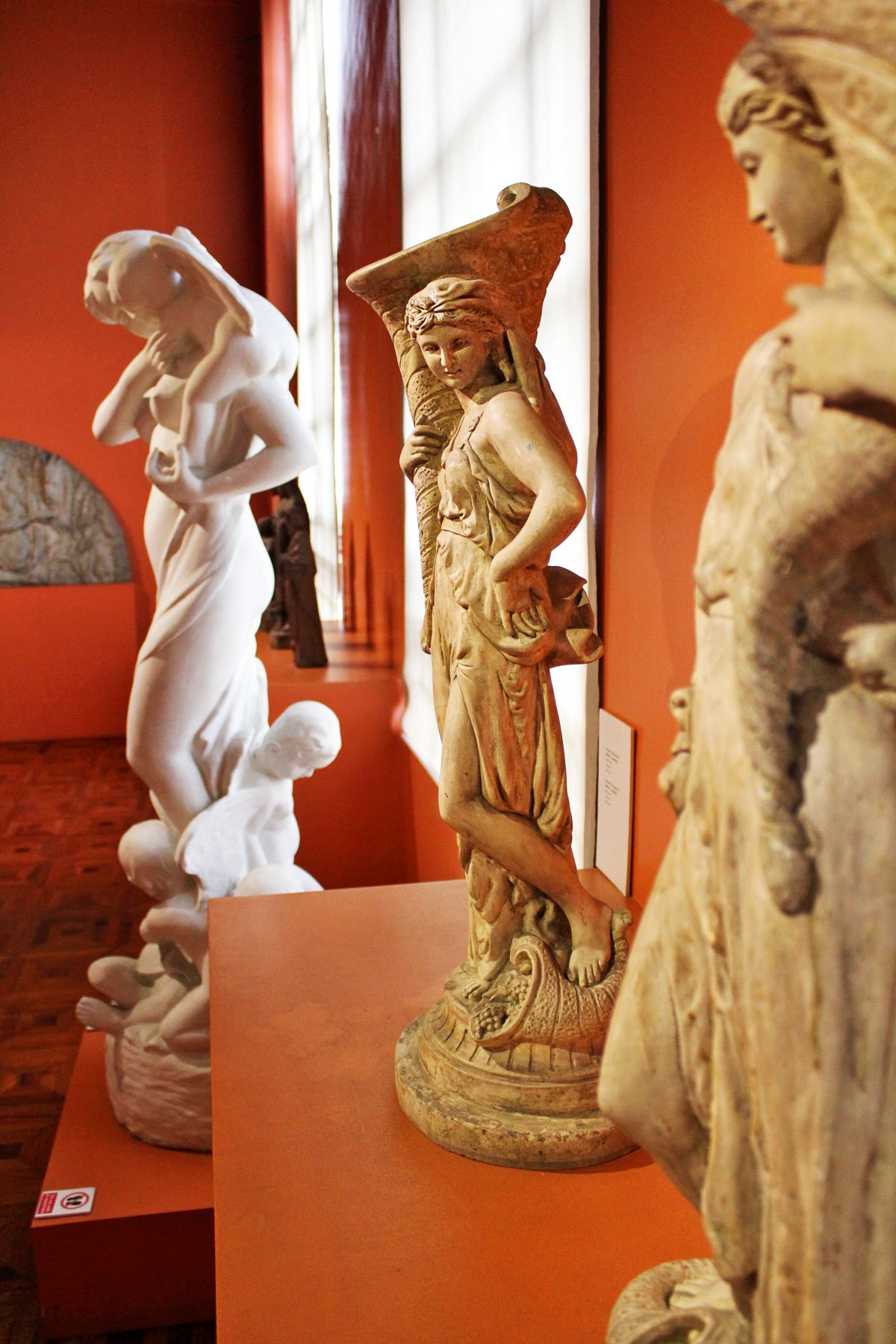 Gallery II – FCCP Hall
Featuring botanical drawings of Philippine plants previosuly held at the Royal Botanical Garden in Madrid.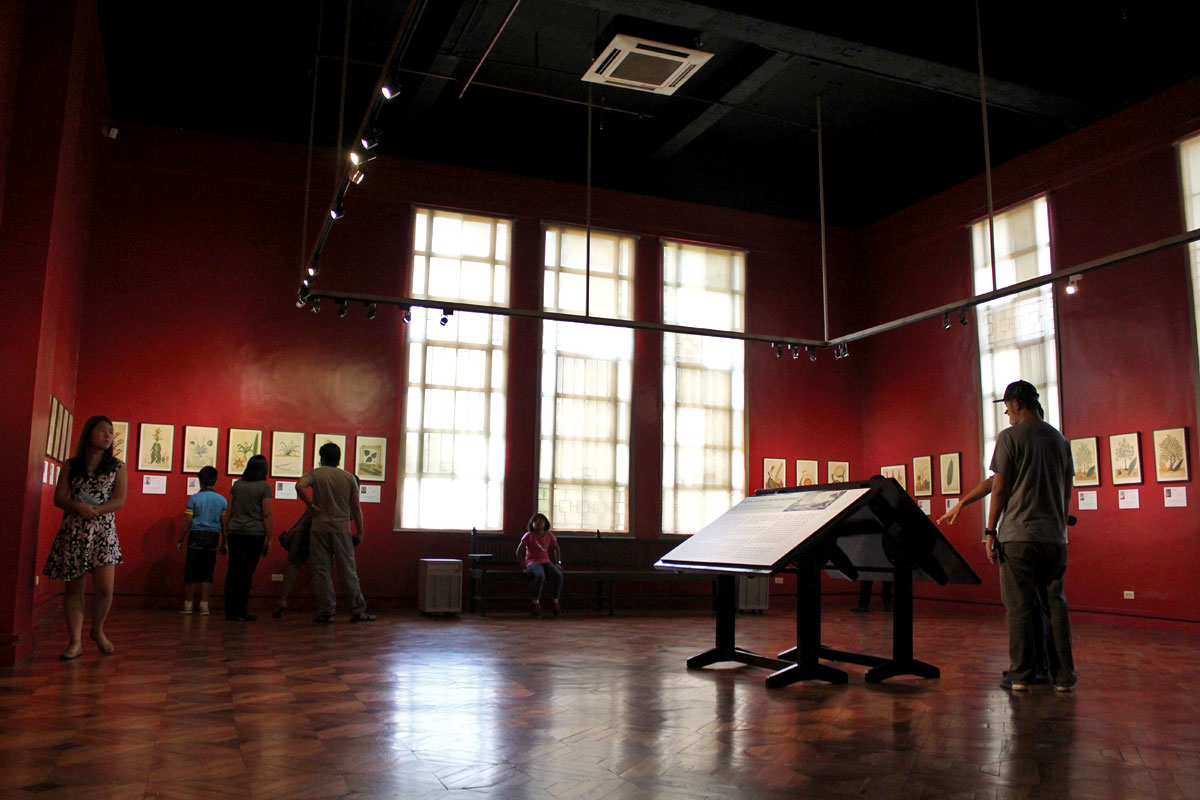 Gallery I – Luis I. Ablaza Hall
Featuring Christian themed art from the 17th-19th centuries.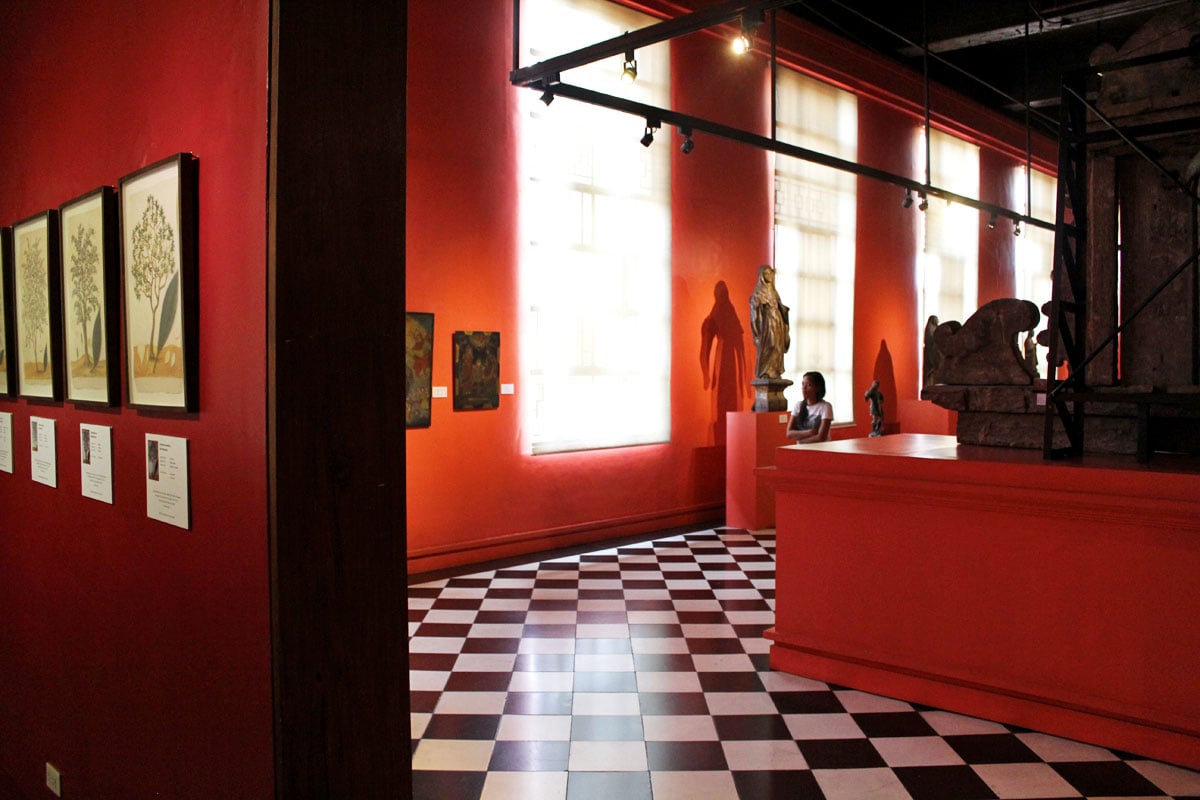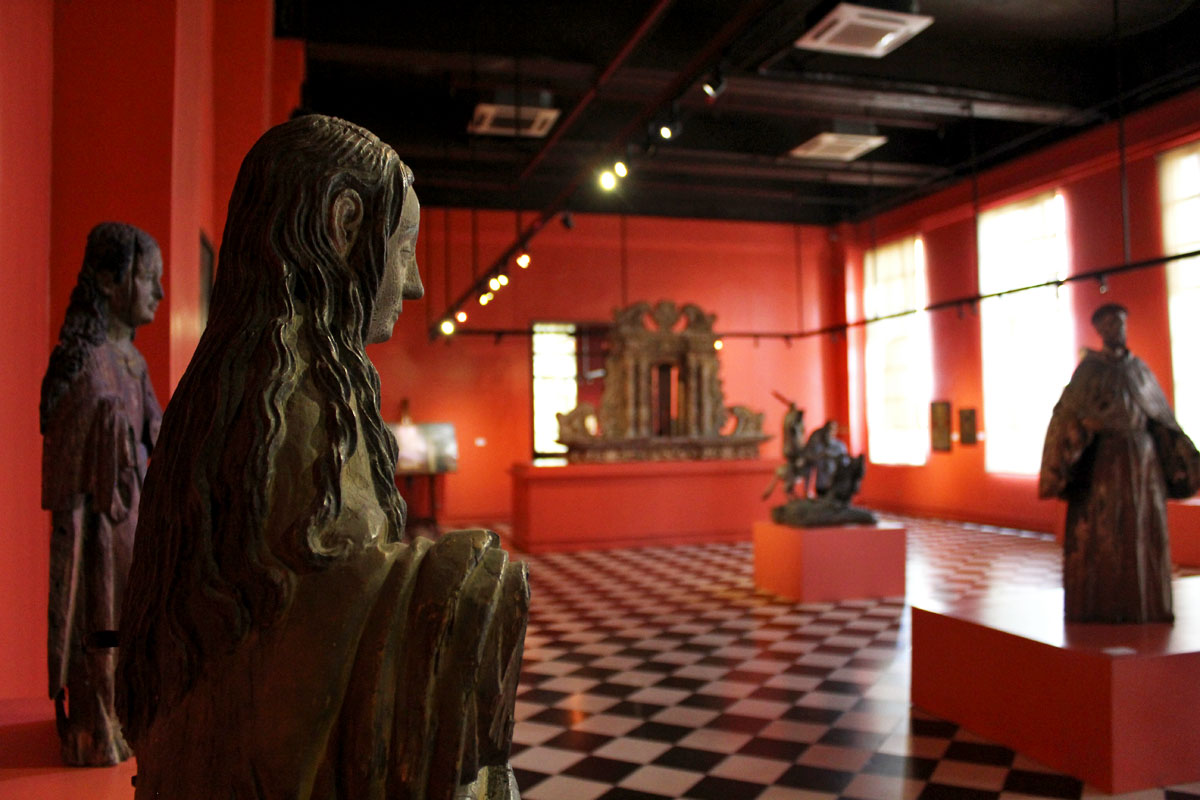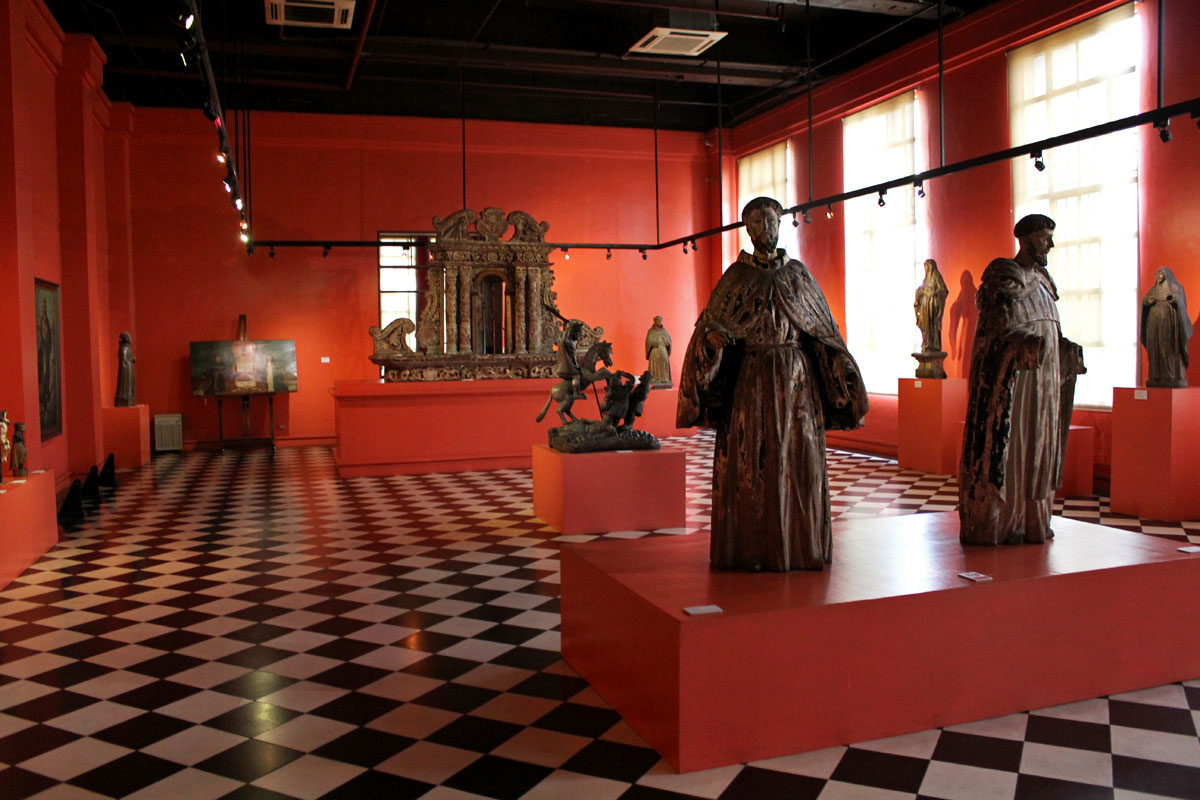 Gallery XII – Security Bank Hall
Featuring the work of sculptor Guillermo E. Tolentino.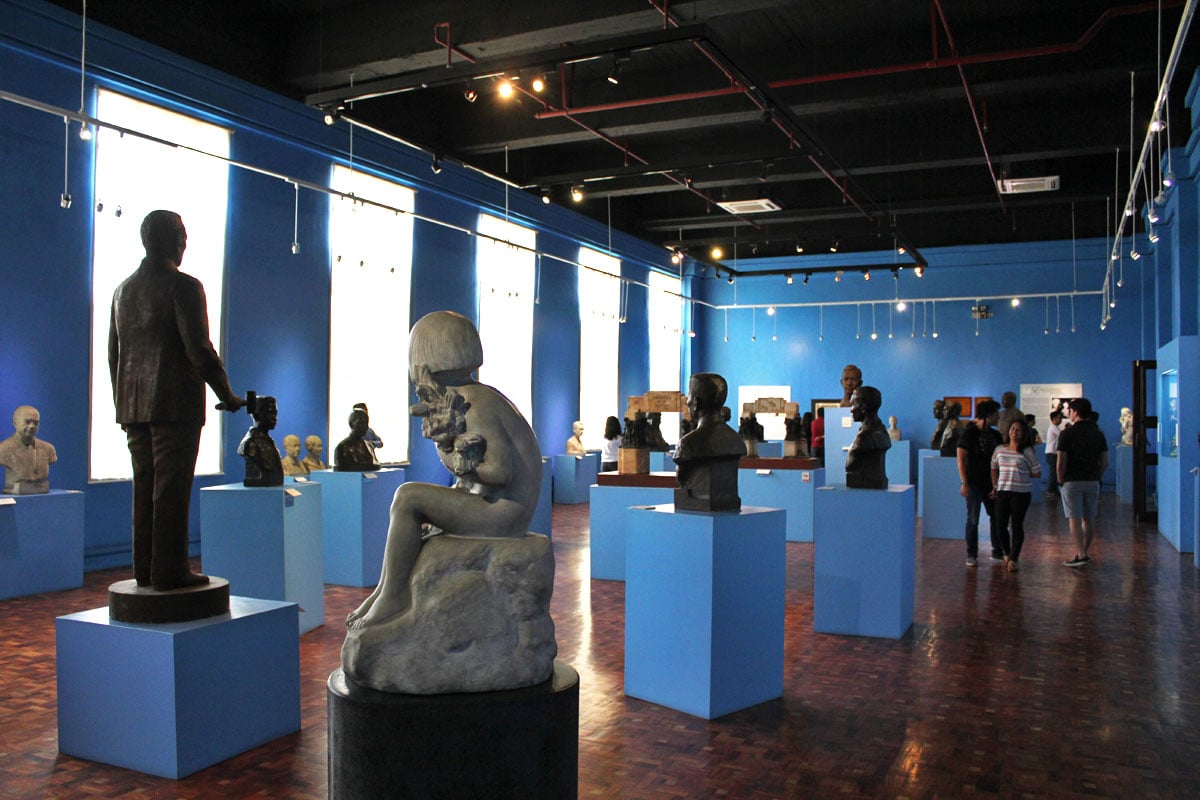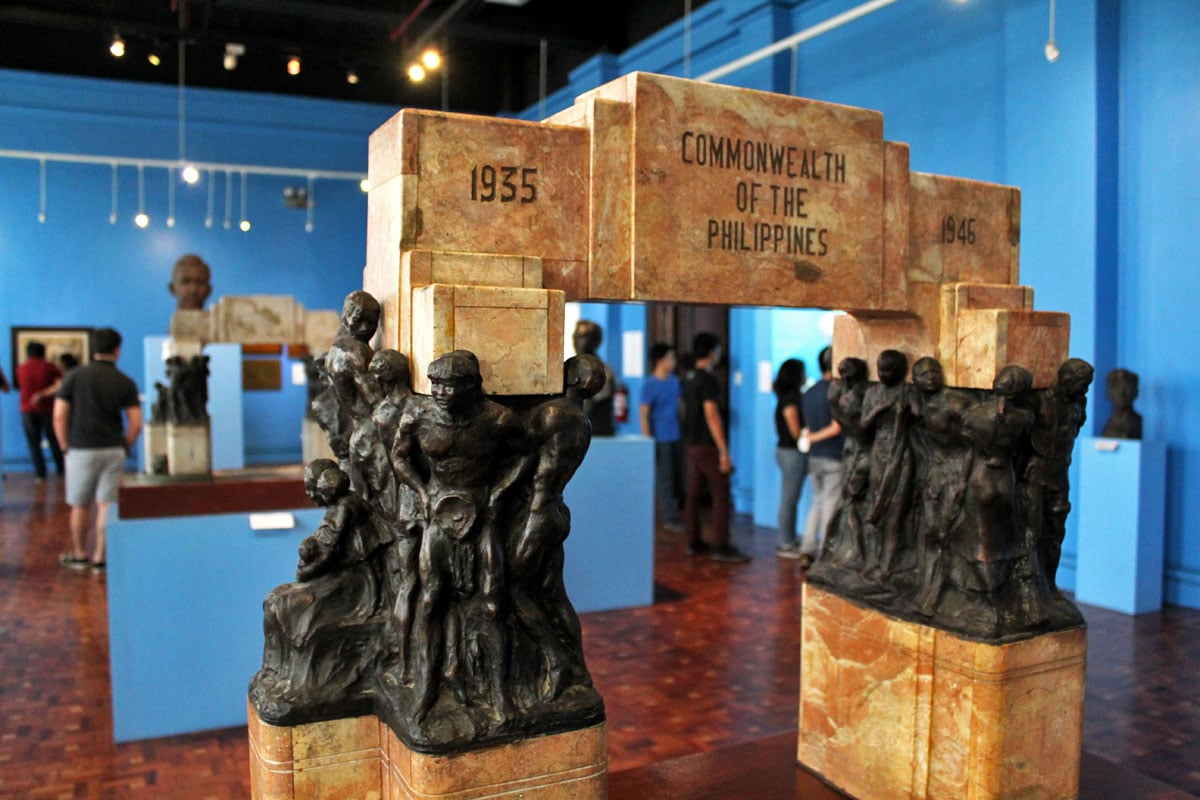 Gallery XI – SPPC Hall
Featuring sketches by Fernando Amorsolo. I LOVE Amorsolo's sketches. His gestures are dynamic and reverberating with energy.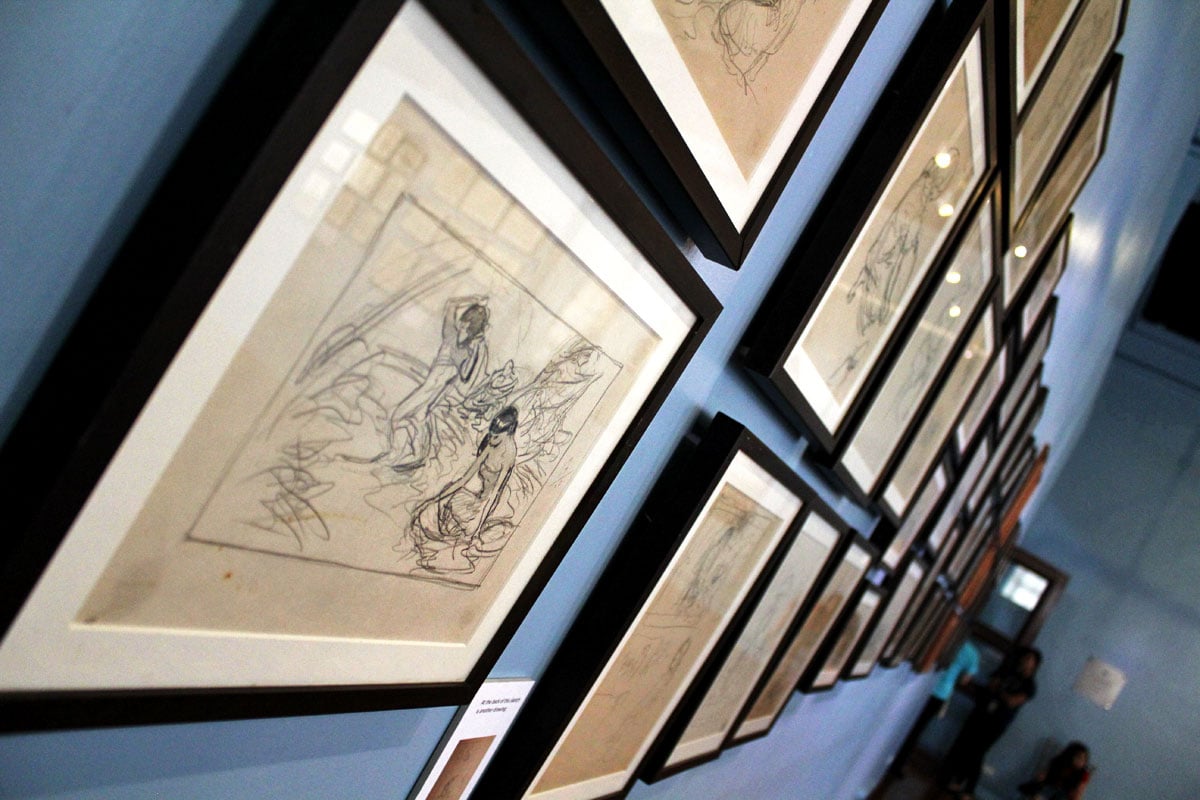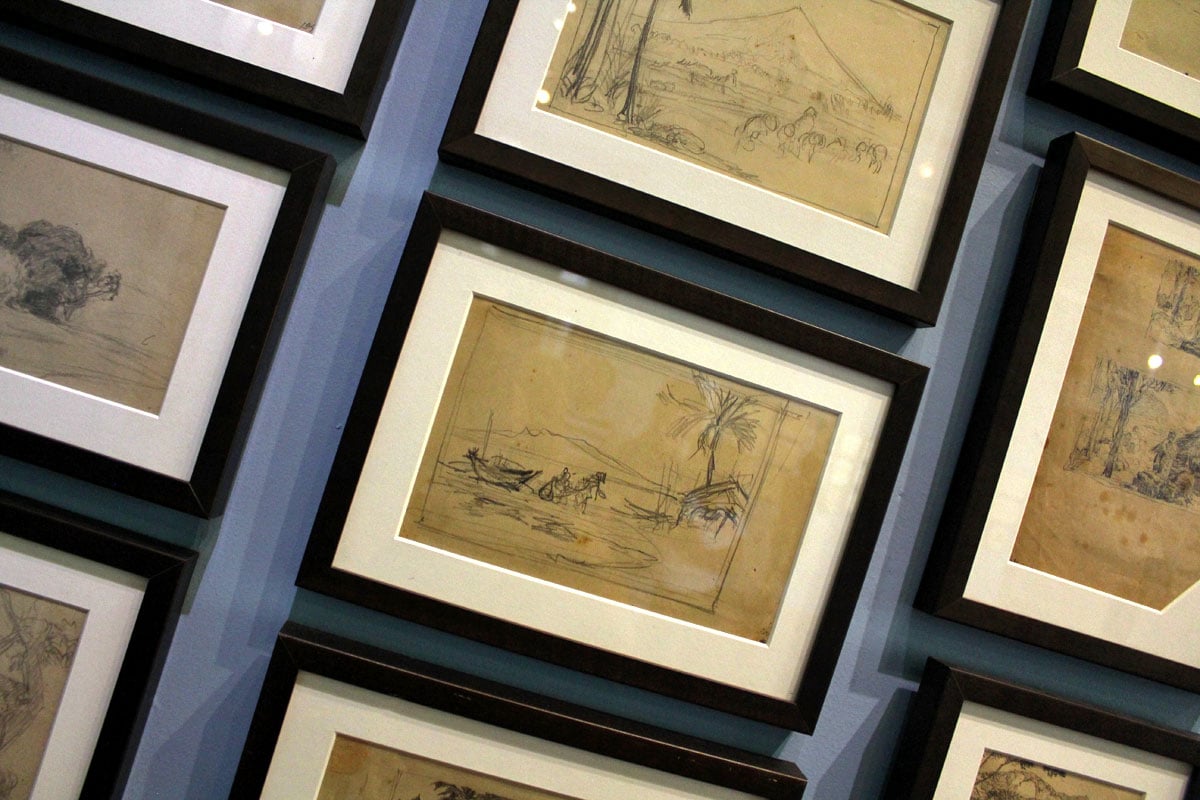 Gallery X – MFP Hall
Gallery dedicated to The Progress of Medicine in the Philippines series of paintings by Carlos "Botong" V. Francisco.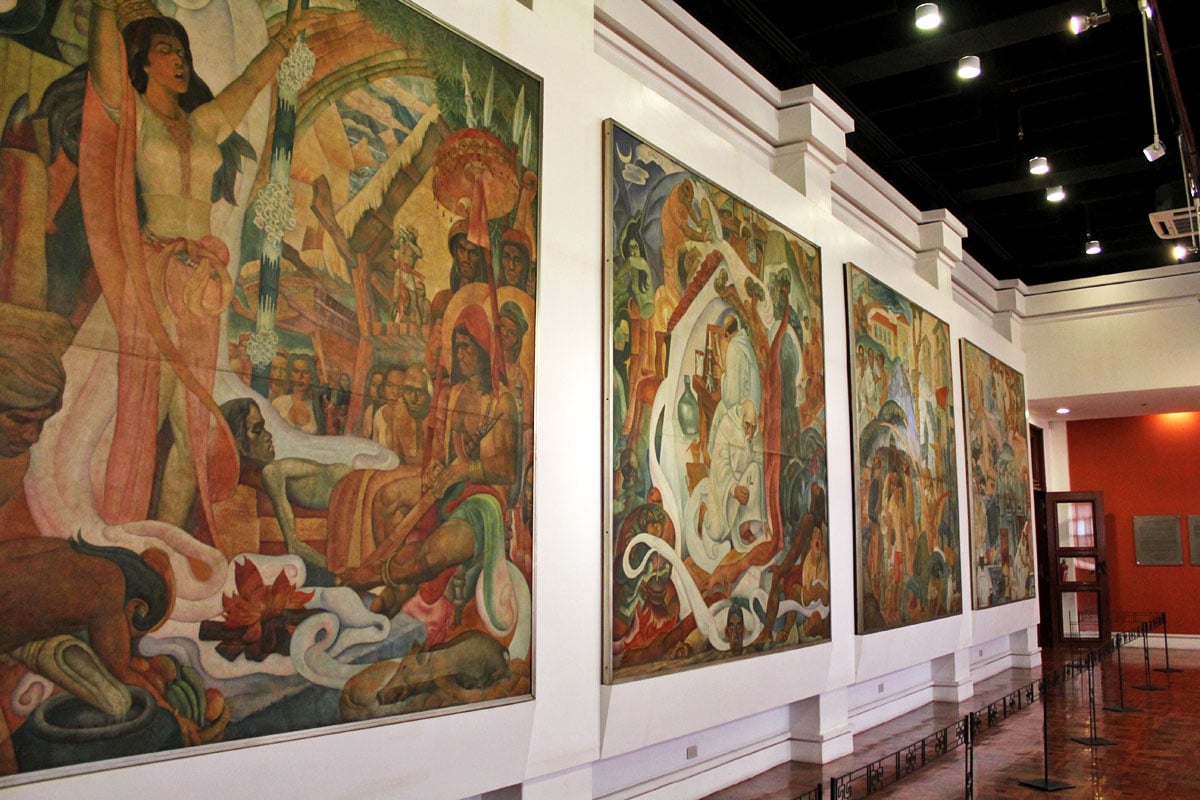 A work of art in itself, the spiral staircase to the third level or Senate Floor. Isn't is beautiful?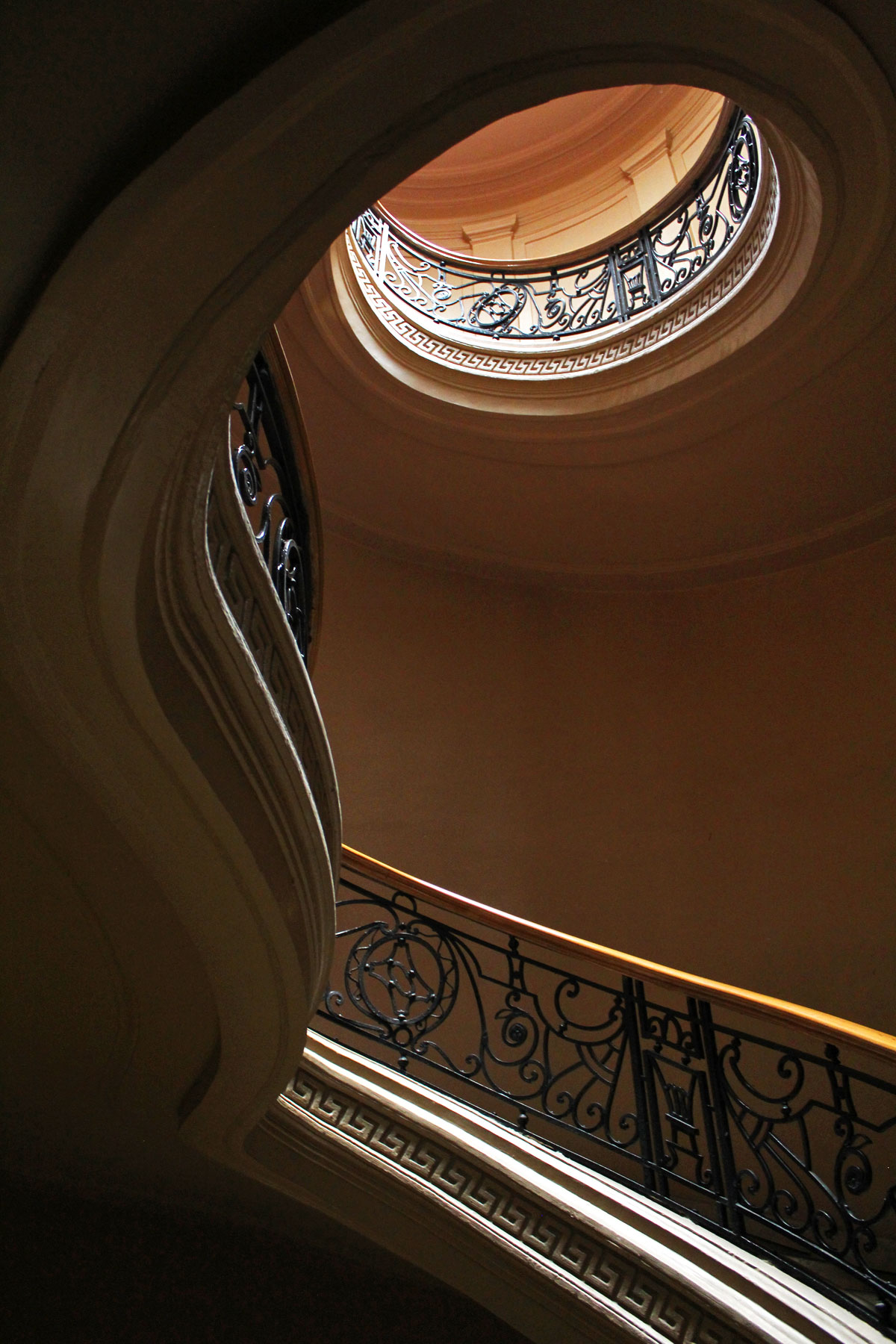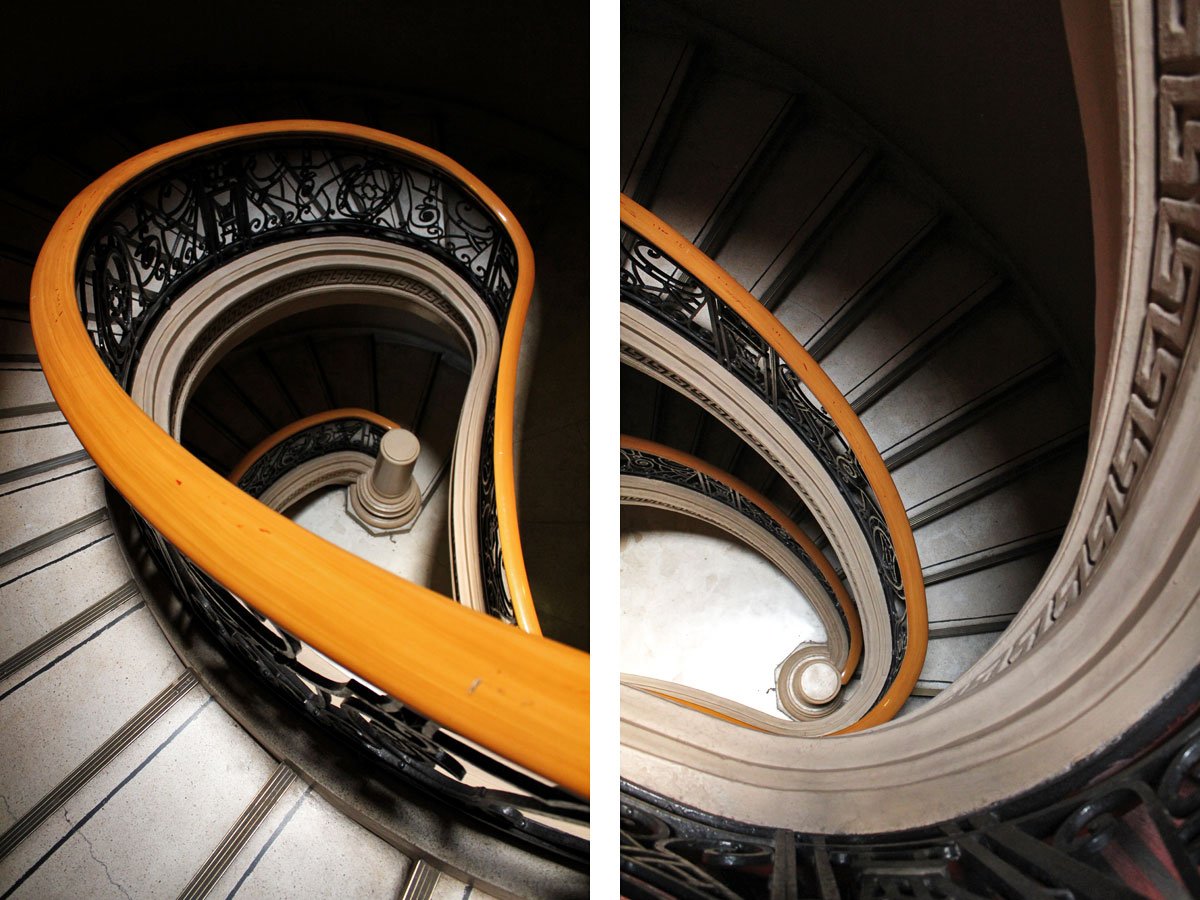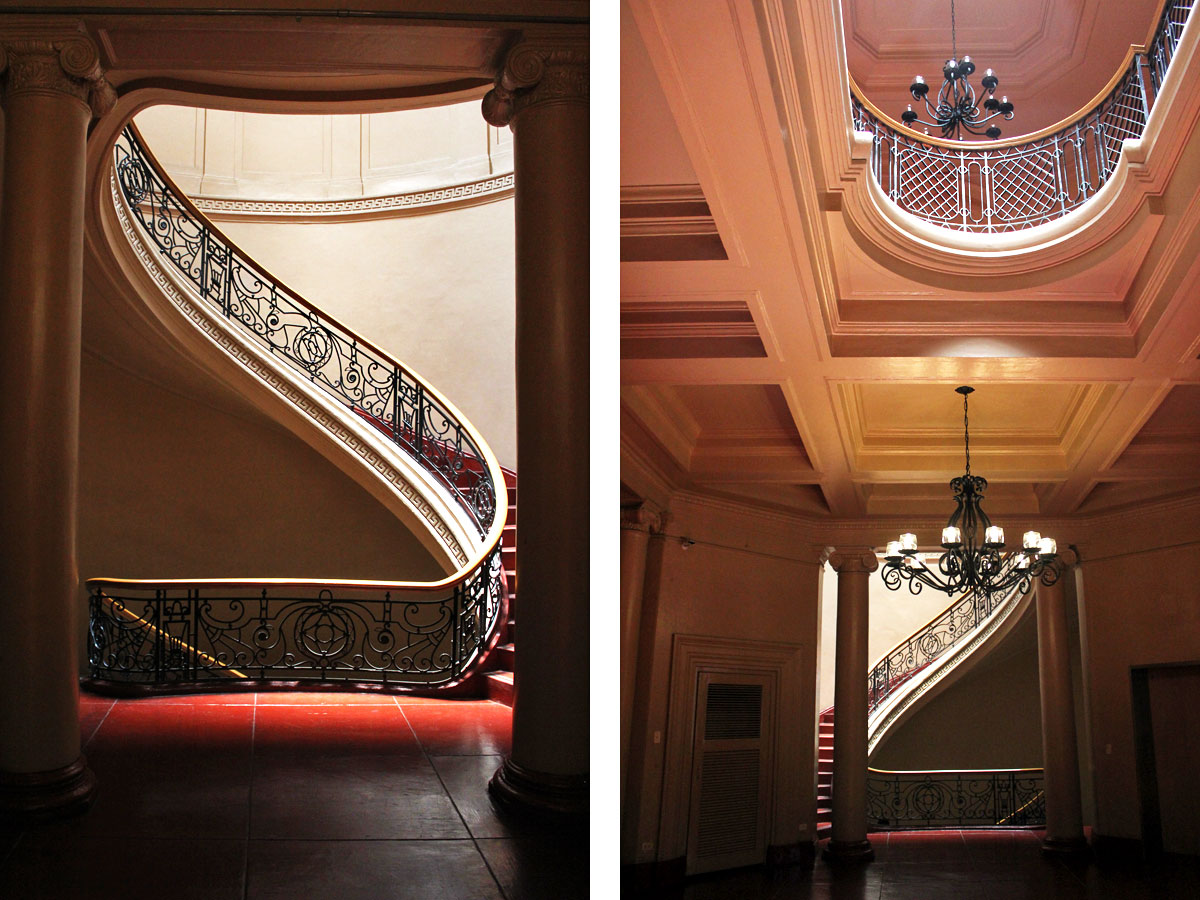 Old Session Hall of the Senate of the Philippines
All the ornamentation and decoration in this Hall was done by Isabelo Tampinco. Can you see his figurative sculptures just below the ceiling?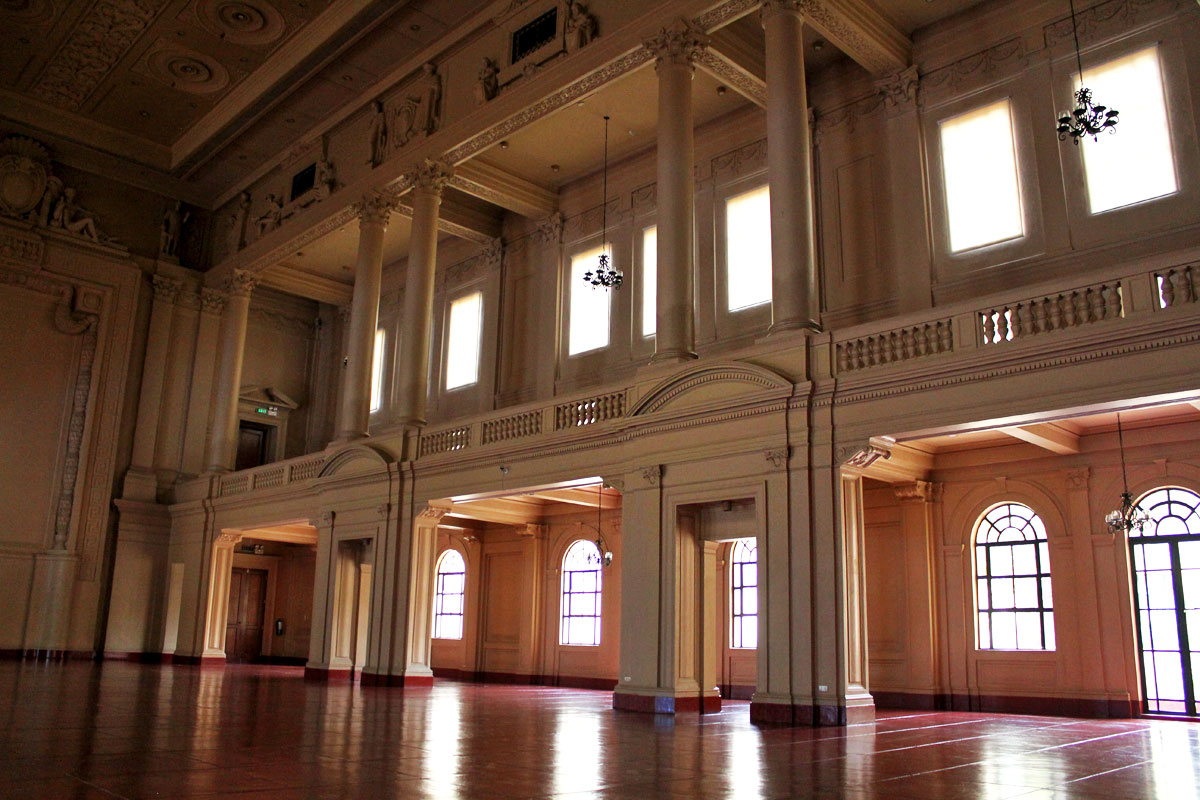 Exhibitions on the Senate Floor feature modern and contemporary Philippine art from the 20th to the 21st centuries.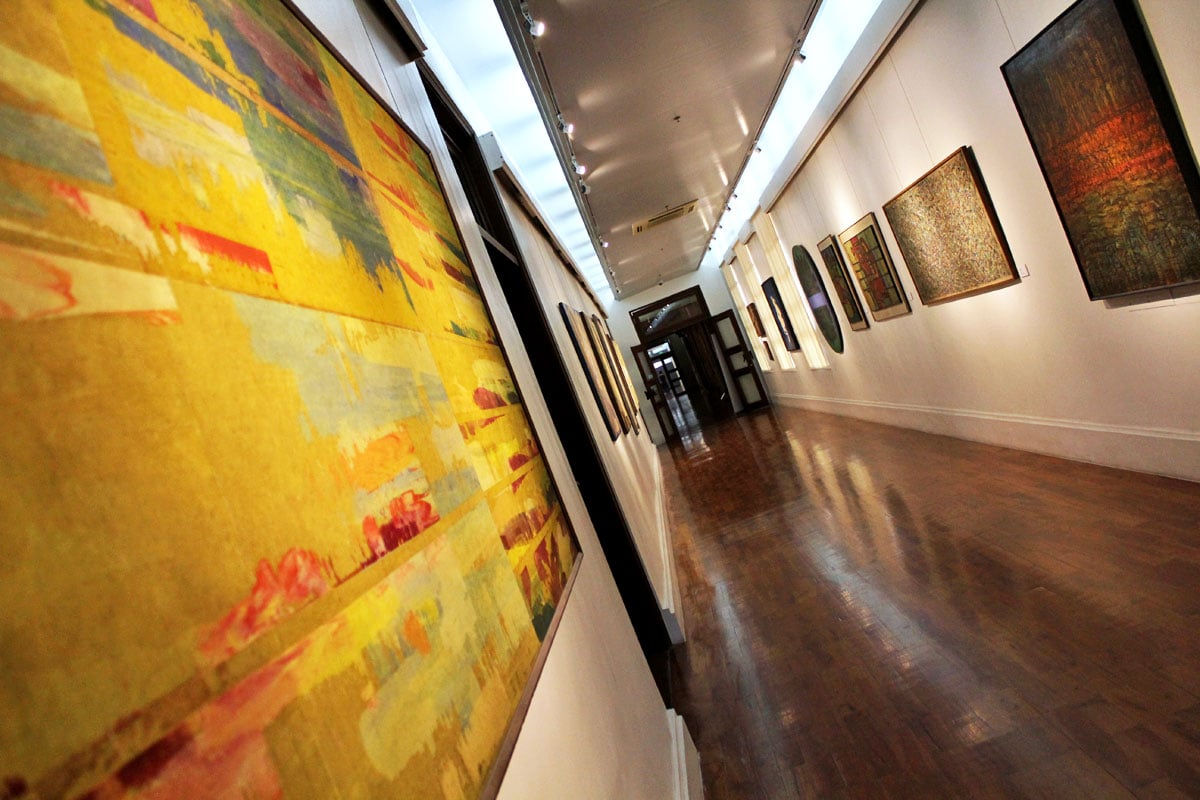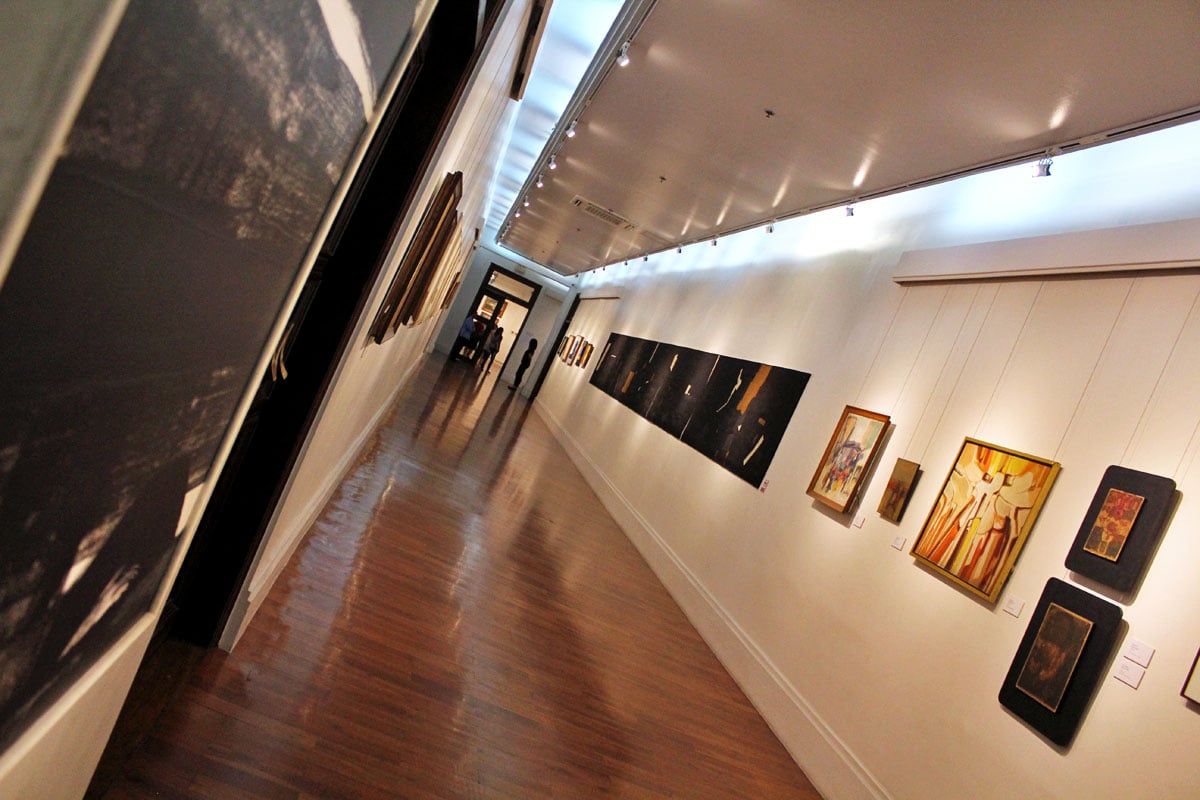 Gallery XIV – Pillars of Philippine Modernism (1)
Featuring Philippine modern art from the 1920s-1970s, most notably from Victorio C. Edades.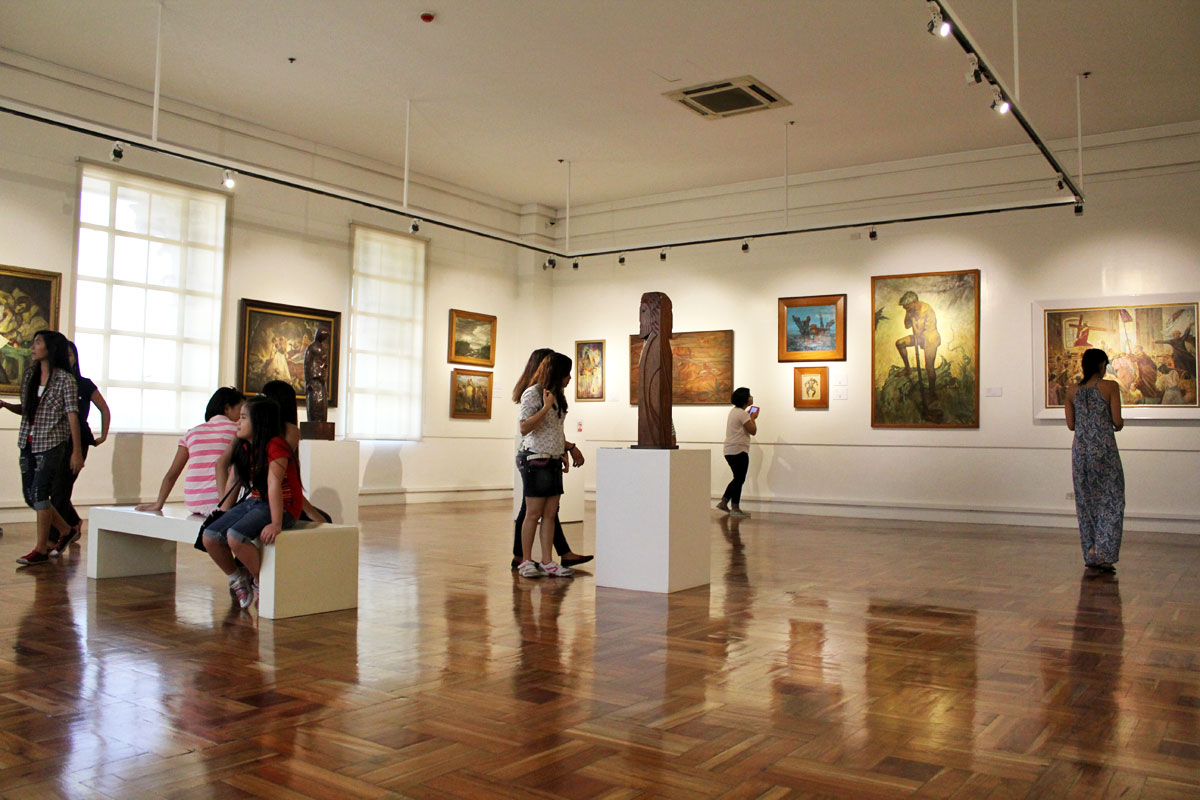 Gallery XV
Temporary exhibit featuring the work of a group of artists from Dimasalang Street in Manila. Exhibit runs until 27 July 2015.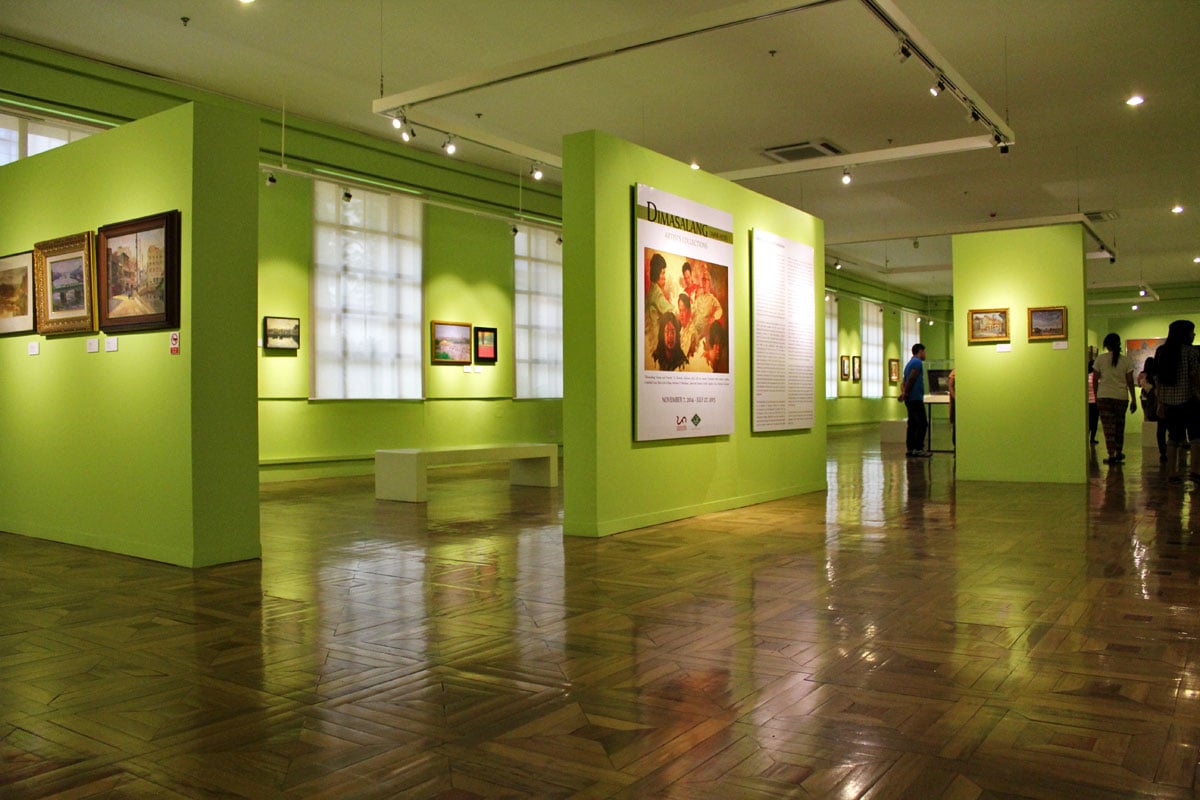 Gallery XVIII – Pillars of Philippine Modernism (4)
Featuring Philippine modern art from the 1940s-1980s, most notably from Jose Joya and Cesar Legaspi.
Fishes, Abdulmari Asia Imao, Bronze, 1976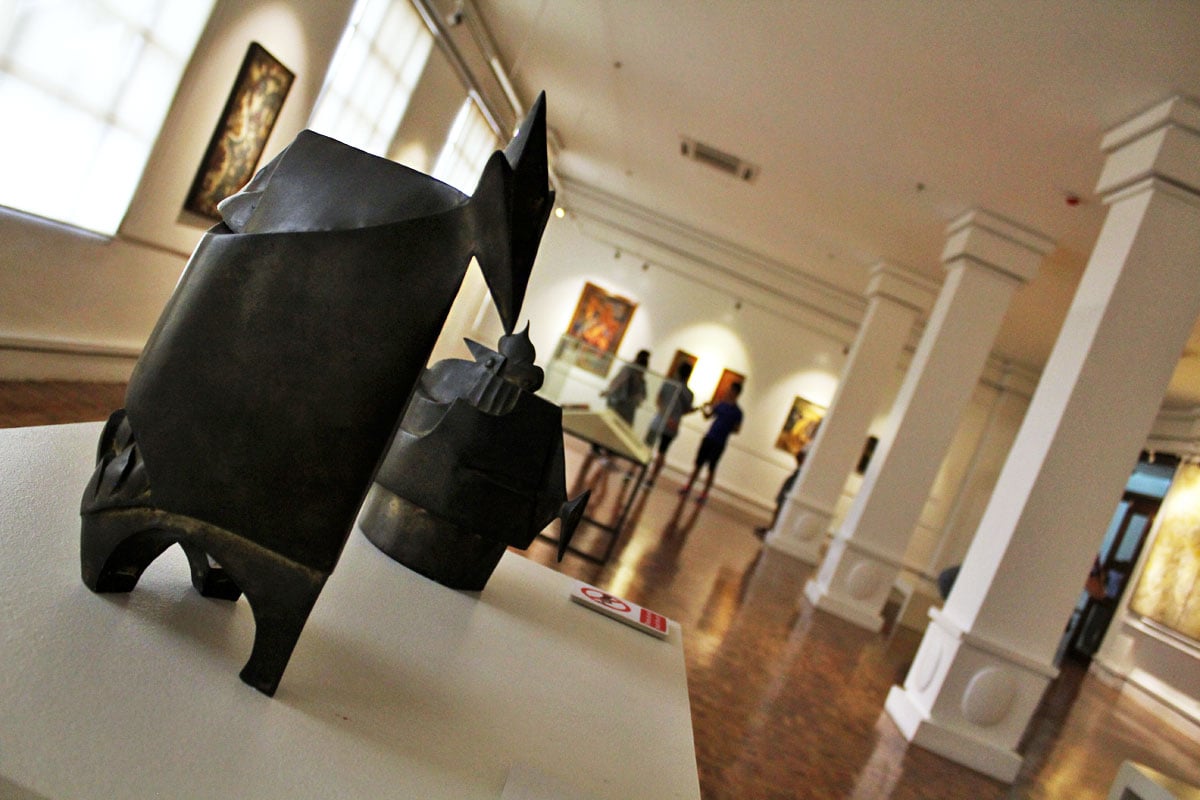 L: Superstition, Cesar T. Legaspi, Oil on canvas, 1982
R: Ethereal Aura, Jose T. Joya, Acrylic on canvas, 1977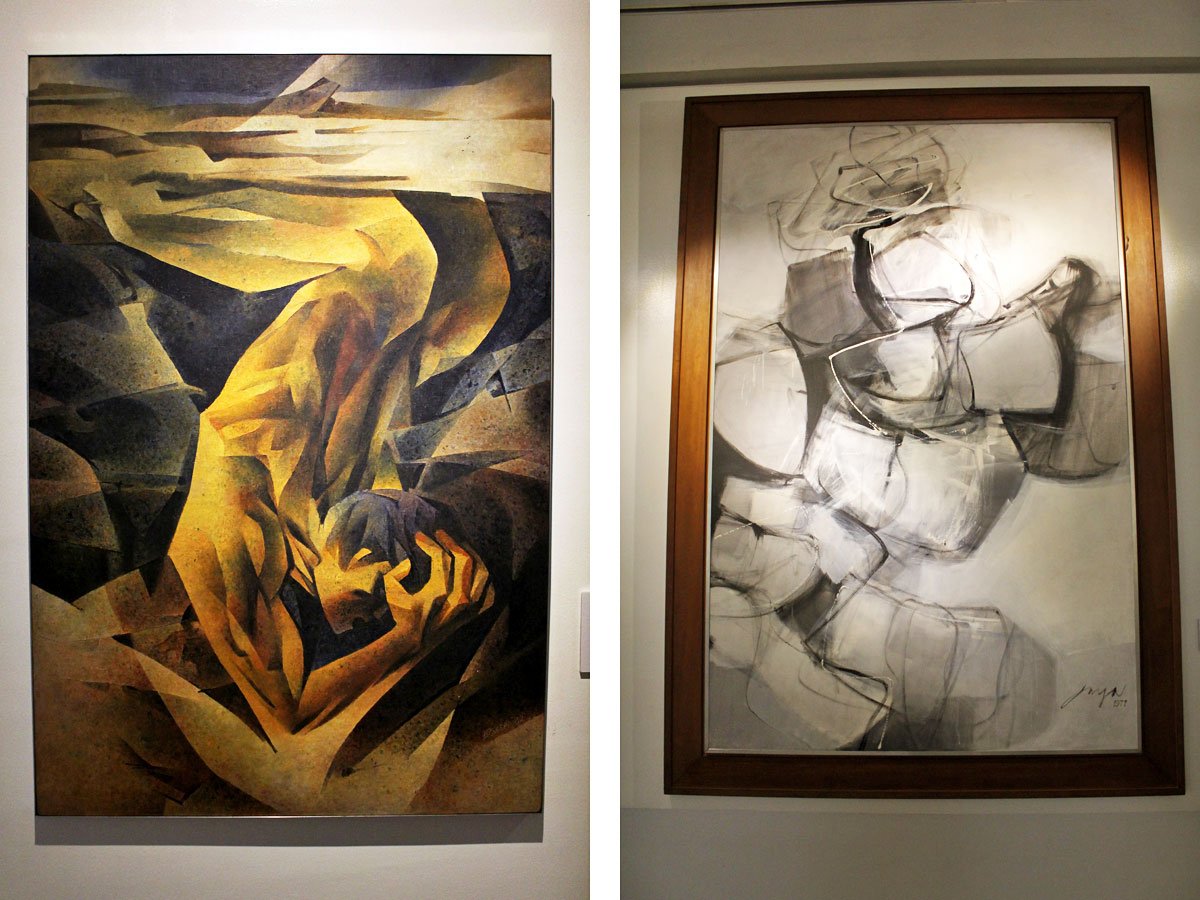 Hills of Nikko, Jose T. Joya, Oil on canvas, 1964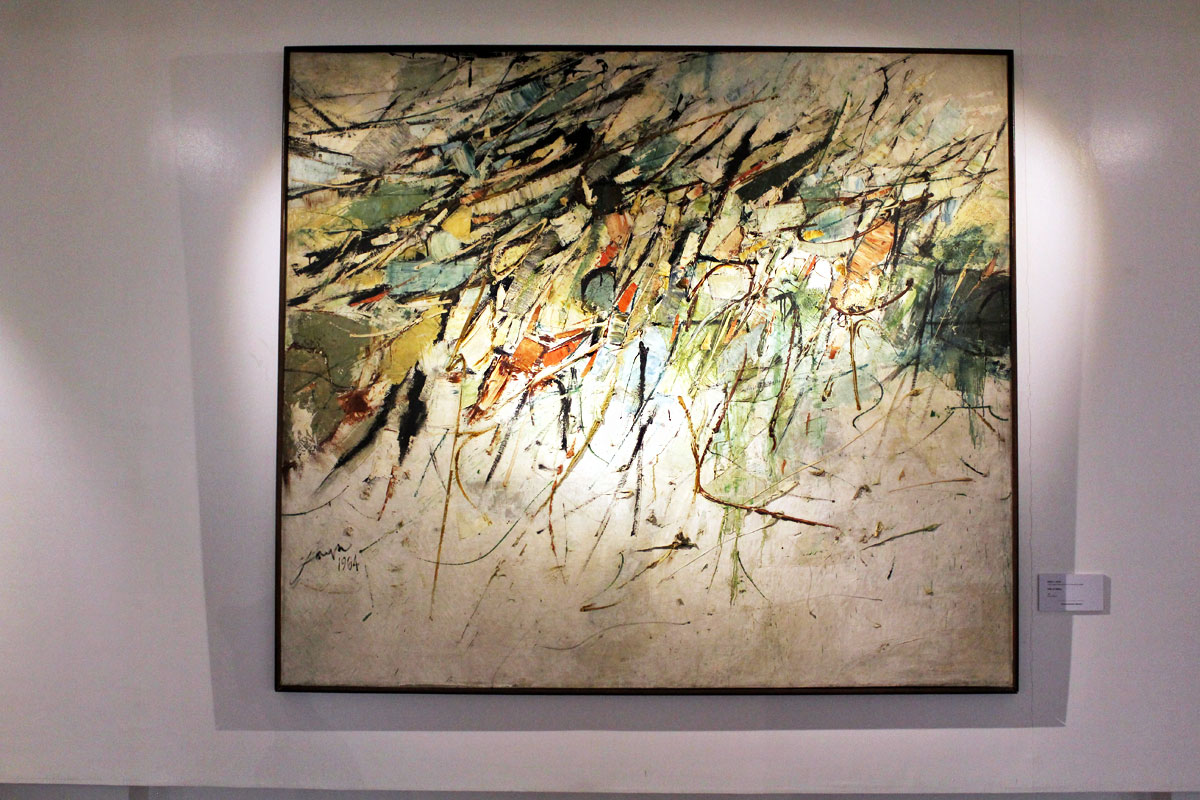 Gallery XIX – Pillars of Philippine Modernism (5)
Featuring Philippine modern art from the 1950s-1970s, most notably from Hernando R. Ocampo and Benedeicto "BenCab" Cabrera.
Paintings by Hernando R. Ocampo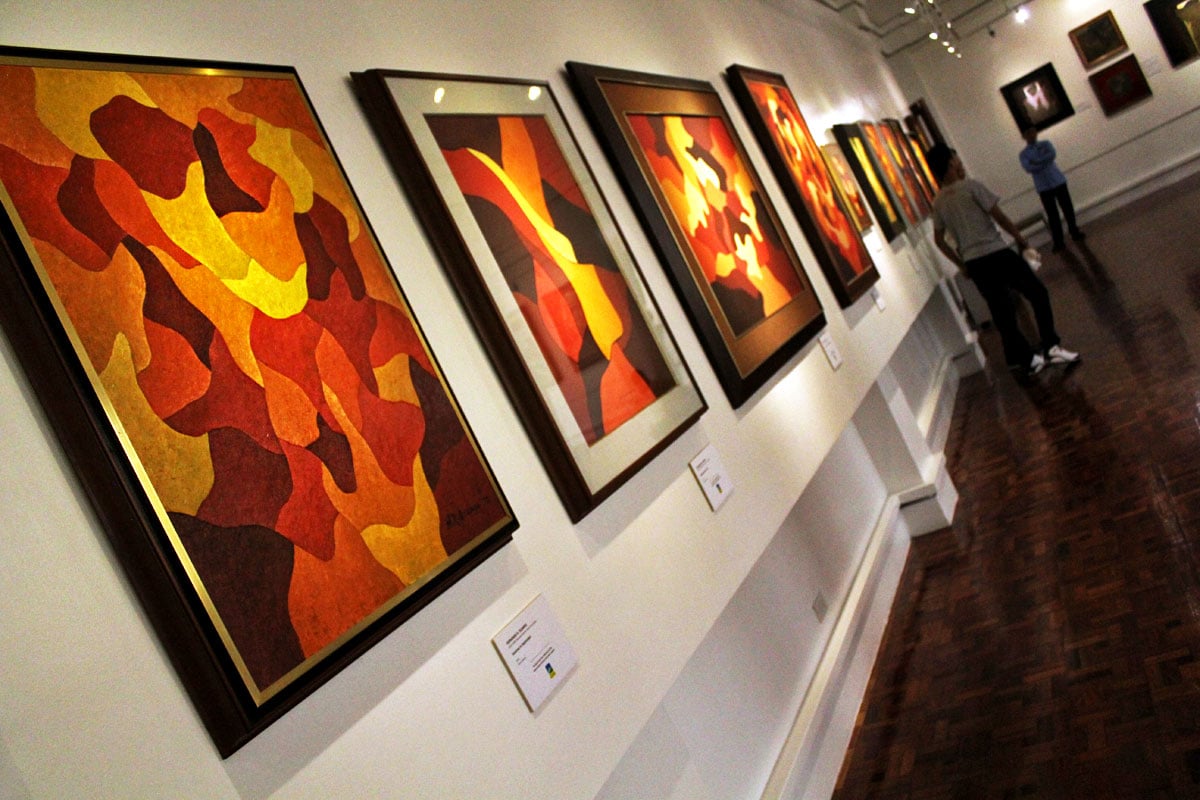 BenCab is another personal favorite. I like his paintings, but I adore his sketches.
L: Woman in Distress, Benedeicto "BenCab" Cabrera, Acrylic on canvas, 2007
R: Sabel, Benedeicto "BenCab" Cabrera, Oil on canvas, 2008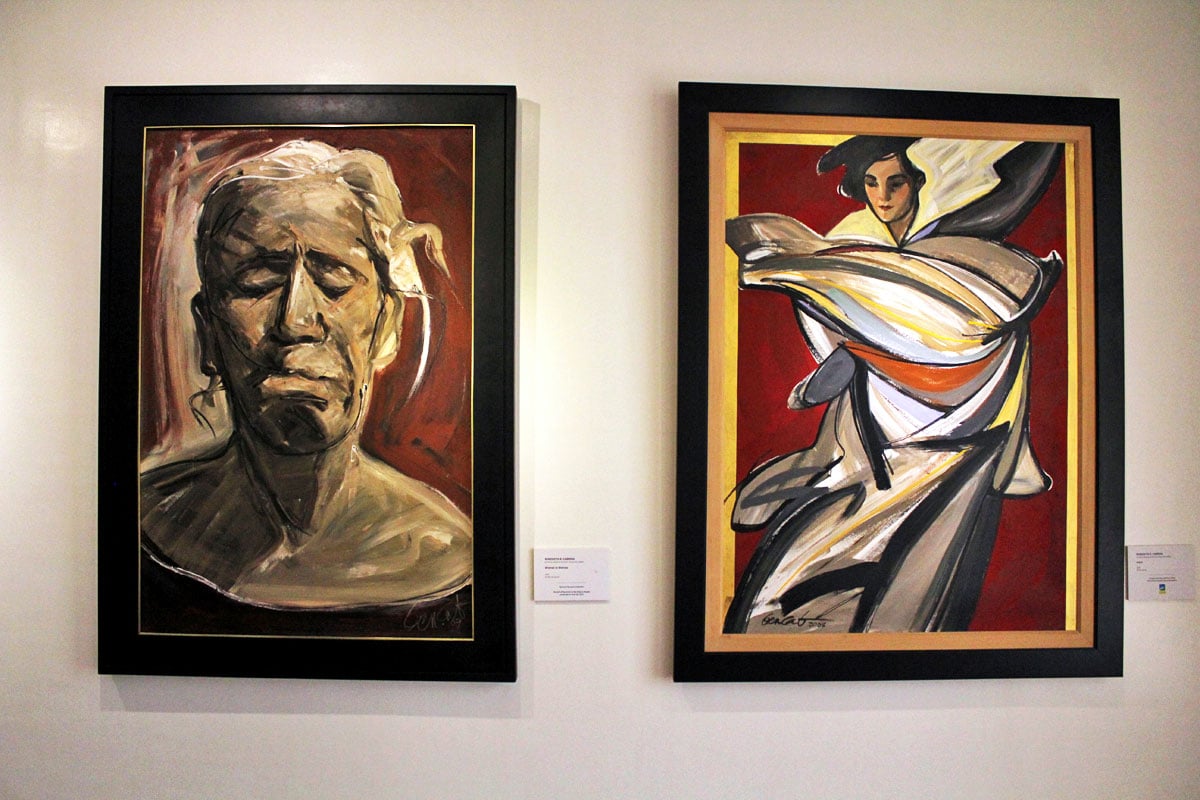 See what I mean? The sketch on the left reminds me of Egon Schiele. I love the nervous but confident energy of BenCab's line work.

Gallery XX – GSIS Northeast Hall
Treasures of the GSIS — featuring Parisian Life by Juan Luna and several paintings by Fernando Amorsolo. This was easily my favorite gallery in the entire museum. Seeing Spoliarium was incredible, but collectively, the works in this room blew me away. I've long admired these paintings in books so to finally see them up close, so close in fact that I could actually touch them, was something else.
The painting below is one of Juan Luna's most celebrated works. It depicts Luna himself, Jose Rizal, and Ariston Bautista Lin having a discussion about the Philippines at a cafe in Paris. WOW.
Interior d'un Cafe (Parisian Life), Juan Luna y Novicio, Oil on canvas, 1892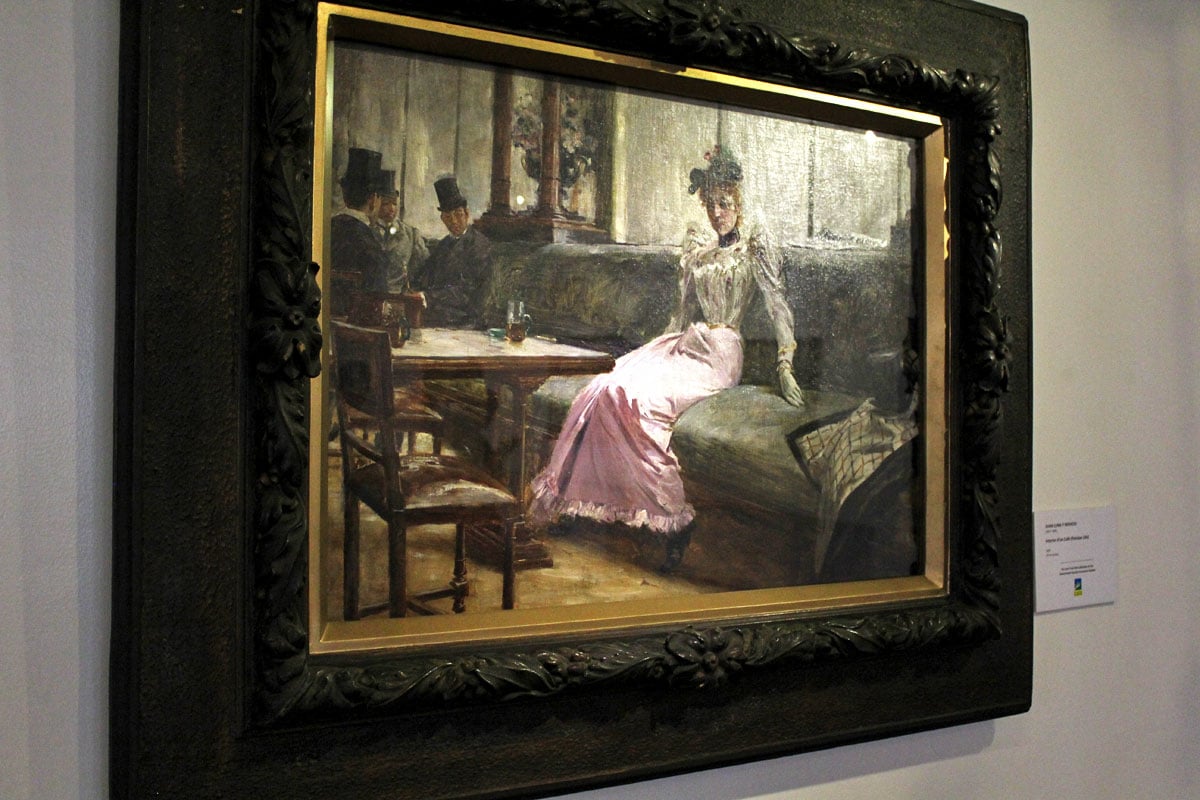 Fernando Amorsolo was a master illustrator. He was adept at depicting the human figure and using light as a means of establishing a clear focal point.
Tinikling, Fernando Cueto Amorsolo, Oil on canvas, 1950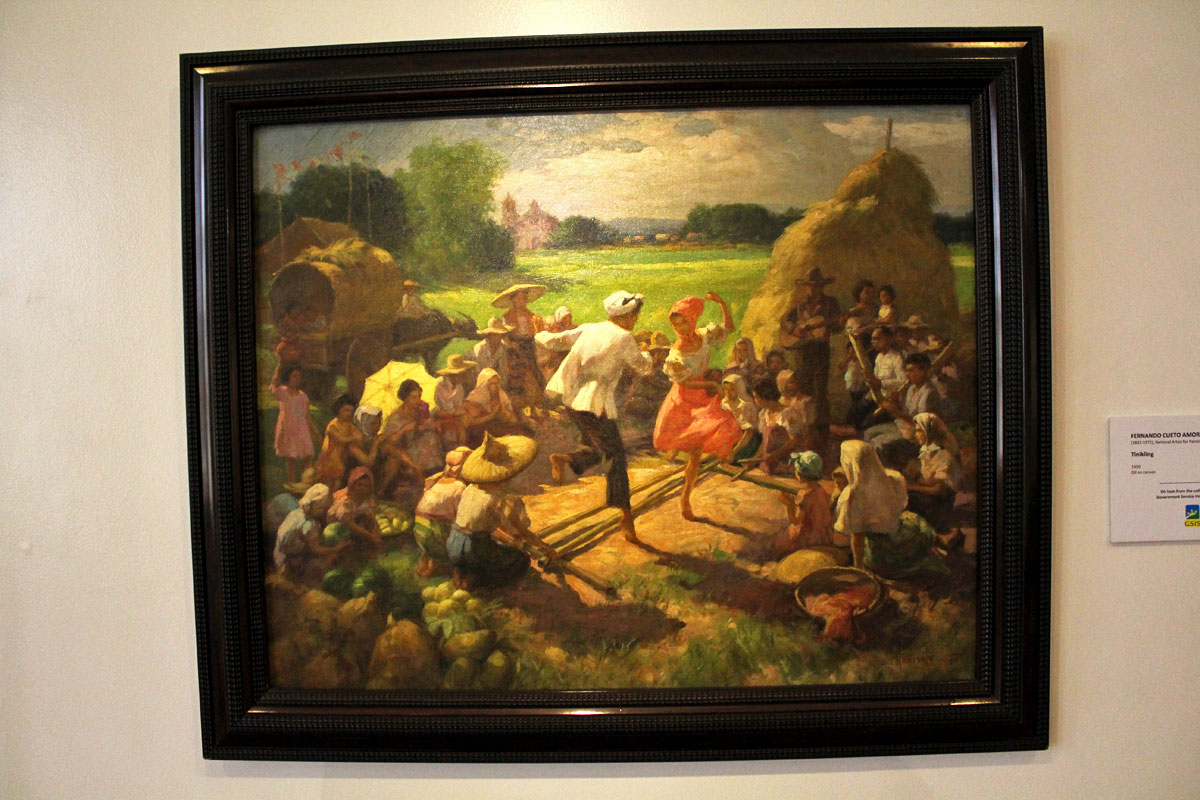 Under the Mango Tree, Fernando Cueto Amorsolo, Oil on canvas, 1935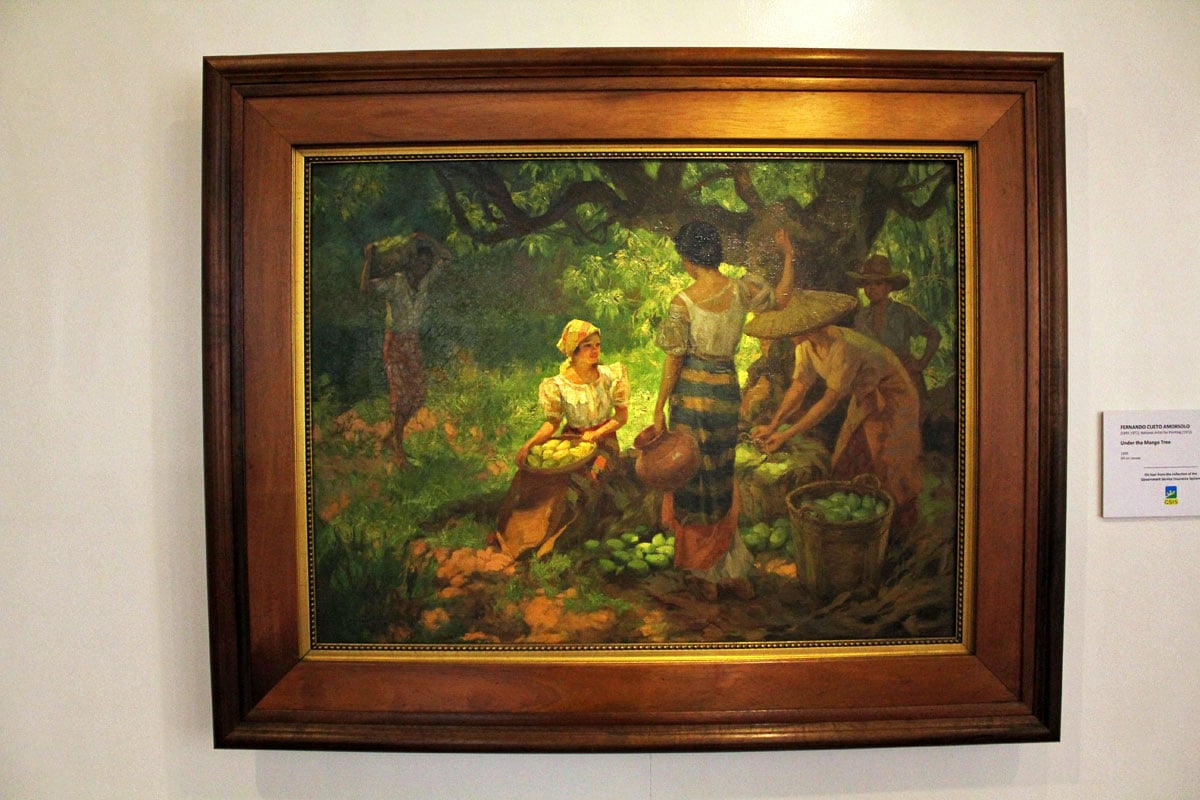 Oracion, Fernando Cueto Amorsolo, Oil on canvas, 1959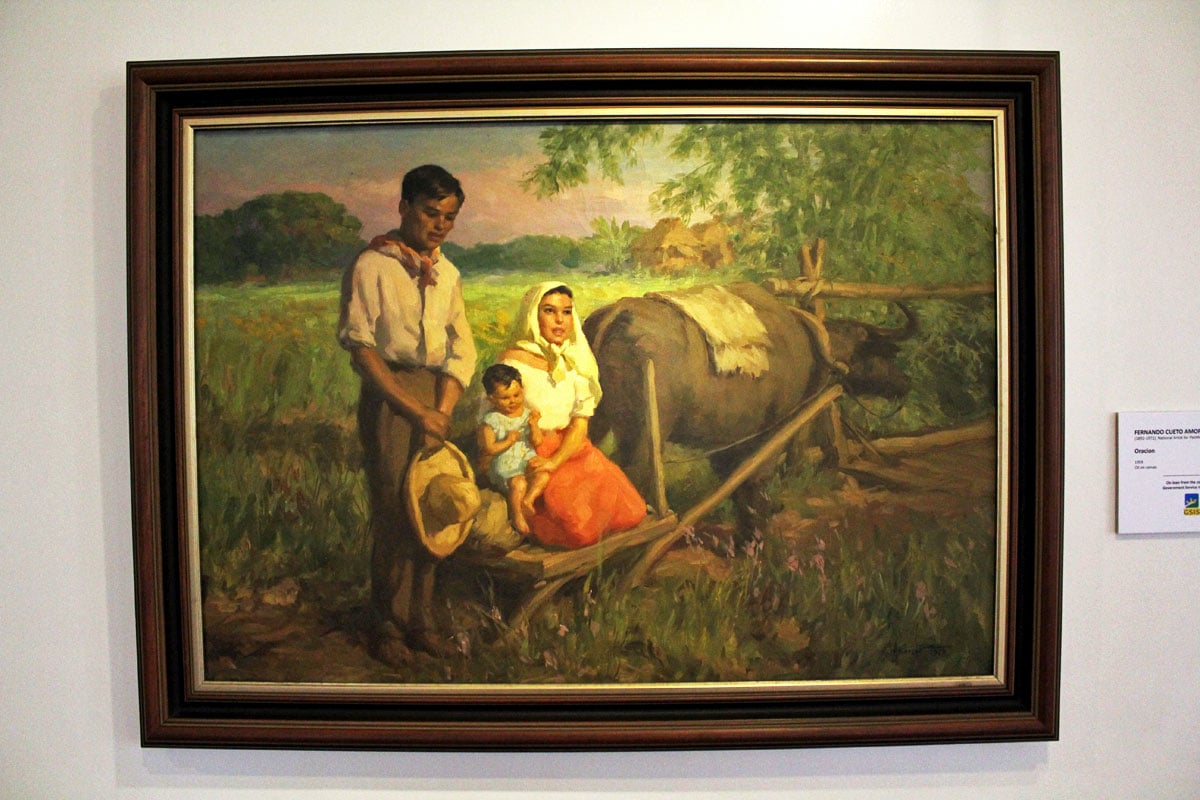 Hallway dedicated to the works of Federico Aguilar Alcuaz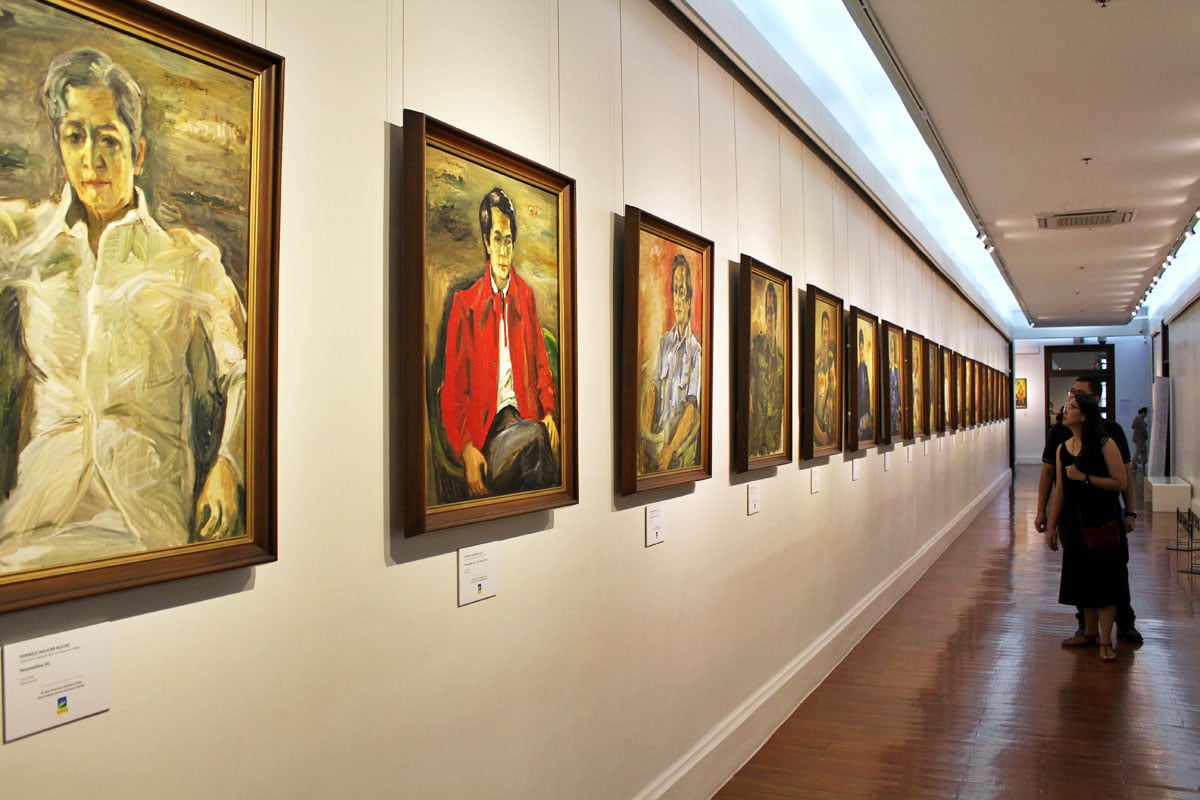 Gallery XXV (Philam Life Hall) – Pillars of Philippine Modernism (8)
Featuring the work of Vicente Manansala, another favorite of mine. His compositions and colors are extraordinary.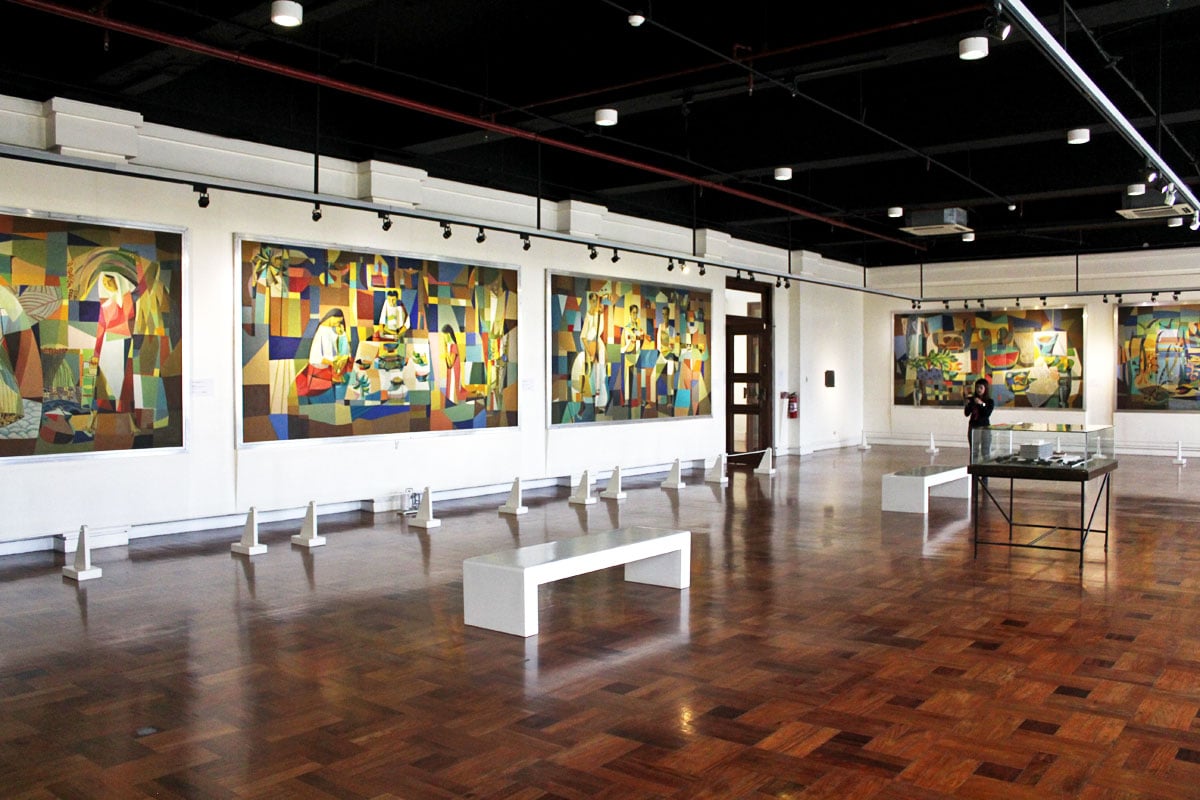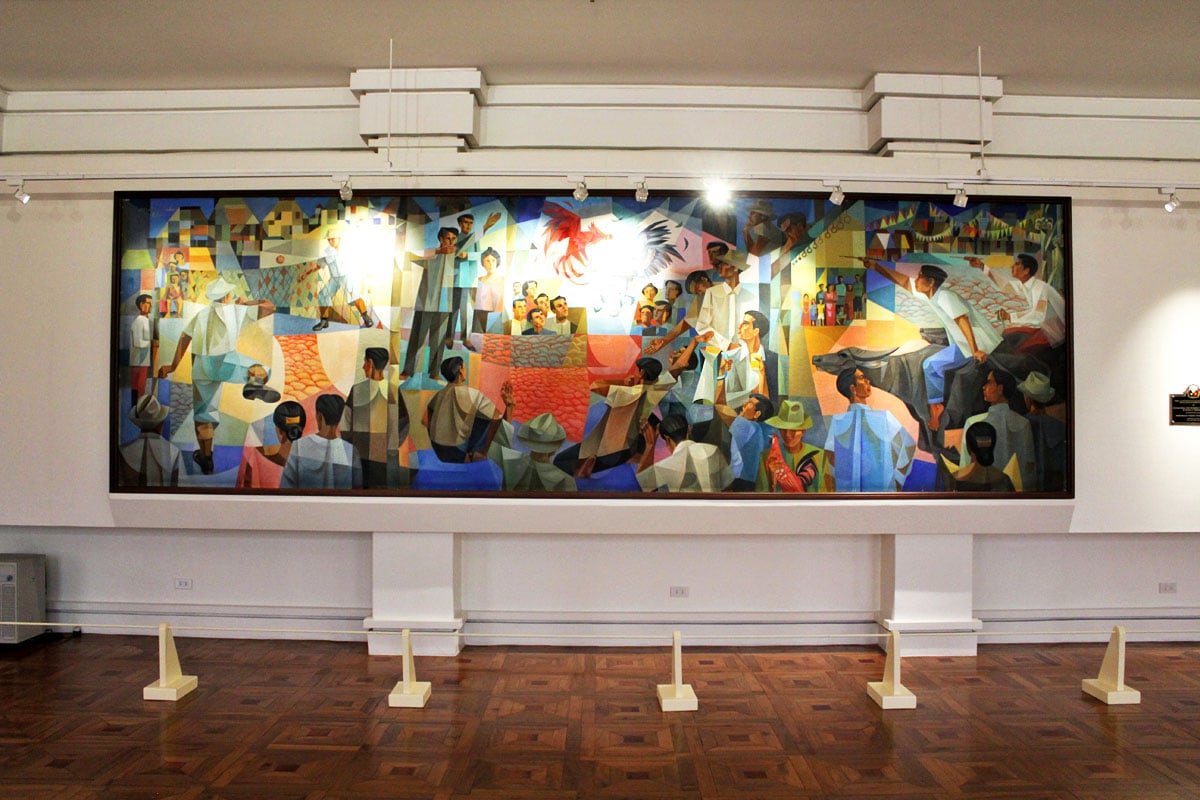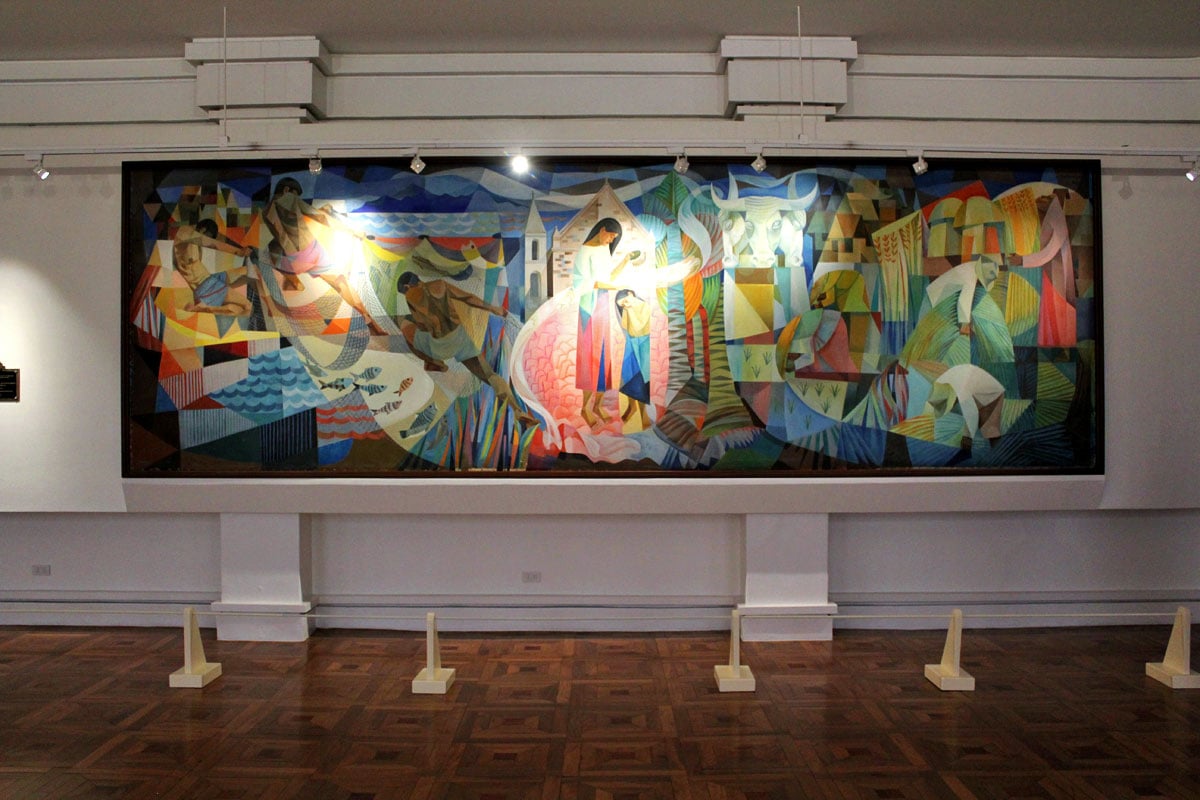 Satisfied with a morning of art appreciation, here's Ren basking in the glow of a Manansala. Now let's go get something to eat. 😆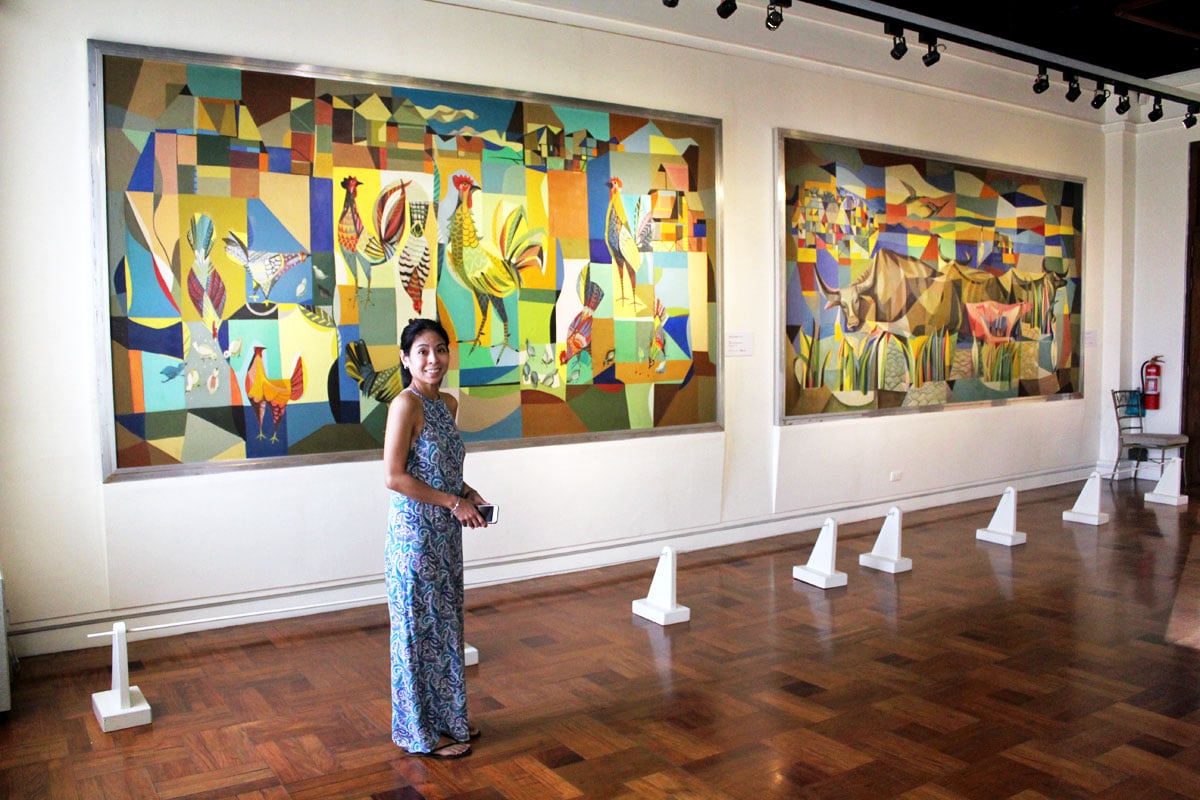 Museum goers will be pleased to know that the National Gallery is just one of three entities that comprise the National Museum of the Philippines. The second part is the Museum of the Filipino People which houses important historical artifacts, and the third is the Planetarium. Both are a short walking distance from here. If you have the time, then I suggest visiting all three.
The National Museum of the Philippines, Rizal Park, Manila
P. Burgos Drive, Rizal Park, Manila
Telefax: 527-0278
Website: nationalmuseum.gov.ph
Email: [email protected]
Hours of Operation: Tue-Sun, 10AM-5PM
Suggested Length of Visit: 2-3 hrs
Entrance: FREE