I've written restaurant guides to many cities around the world but we've never done one for Manila, the city we both grew up in. Sometimes, we tend to take for granted the people and places closest to us which is never a good thing.
Anyway, we were recently back on a quick trip to Manila to take care of a few things. While there, we visited some of our favorite restaurants to create this guide and show some long-overdue love to the capital city of the Philippines and its vibrant restaurant scene.
If you've been to the Philippines, then you know how important food is to Filipino culture. Filipinos LOVE to eat, which helps explain the countless restaurants serving both Filipino food and global cuisines from nearly every corner of the planet. When you're hungry in Manila, you never have to go too far to find something good to eat.
Manila is a cosmopolitan city with many restaurants serving every cuisine you can think of. Aside from one or two fine dining establishments, I didn't want to include too many restaurants offering international cuisine. Instead, I wanted to focus on local restaurants that serve excellent Filipino food.
No matter what your budget may be, if you're craving for Filipino cuisine in Manila, then this guide to the best restaurants in Manila has you covered.
MANILA RESTAURANTS QUICK LINKS
To help you plan your trip to Manila, we've compiled links to recommended hotels, tours, and other travel-related services here.
HOTELS
Top-rated hotels in Makati, one of the best areas to stay for first-time visitors to Manila.
TOURS
OTHER SERVICES
Save This on Pinterest!
No time to read this guide to the best restaurants in Manila? Click on the save button and pin it for later!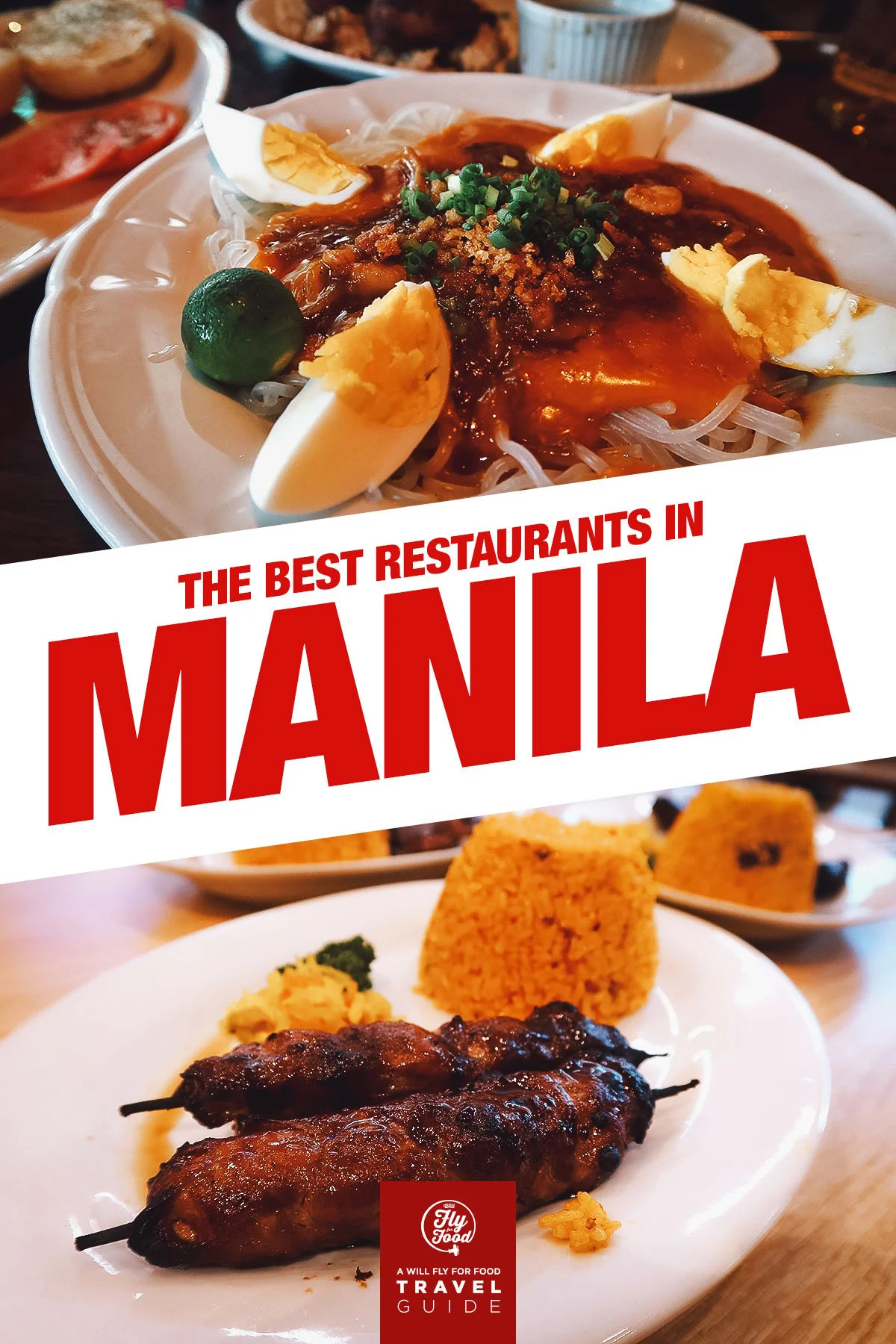 WHERE TO GO FOR THE BEST FILIPINO FOOD IN METRO MANILA
I've arranged this list of the best restaurants in Manila by budget to make it easier to go through. Click on a link to jump to any section of the guide.
FINE DINING
1. Toyo Eatery
As of this writing, there's no Michelin Guide in Manila but if there were, then this restaurant should be on that list.
Helmed by Chef Jordy Navarra, who trained at the Fat Duck in the UK and Bo Innovation in Hong Kong, Toyo Eatery is one of the top fine dining restaurants in Manila. It was named the Best Restaurant in the Philippines in 2023 and currently sits at number 42 on the list of Asia's 50 Best Restaurants.
Nationalistic in his cooking style, Chef Navarra is known for his playful and innovative takes on Filipino cuisine. Go for one of his tasting menus and you're in for an unforgettable dining experience in Manila.
These pictures were from a tasting menu we enjoyed a few years ago but expect something of this caliber when you book a table at Toyo Eatery. What you're looking at below is his take on kilaw (Filipino ceviche) made with wild talakitok (saltwater fish), sesame, and lime.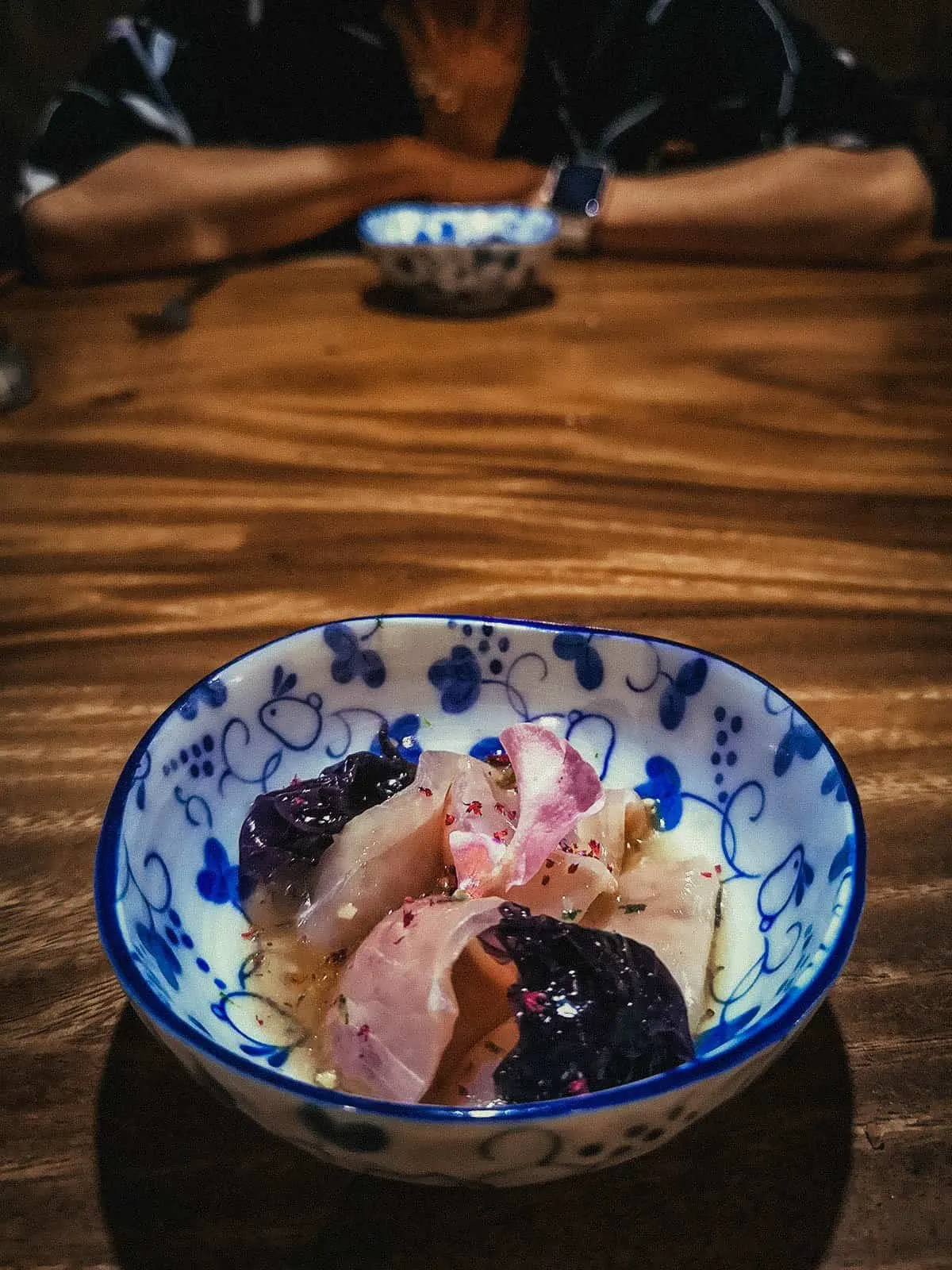 I loved this garden vegetable dish. It's Chef Navarra's homage to a popular Filipino folk song called "Bahay Kubo". Bahay kubo refers to a traditional Filipino bamboo house on stilts. It's the type of house you'd typically find in rural areas of the Philippines.
The Bahay Kubo song describes the many different vegetables grown in a stilt house's garden. Chef Navarra dehydrated eggplant and peanuts to look like soil. Push the soil aside and you'll find all eighteen vegetables referenced in the song buried underneath. How creative and fun!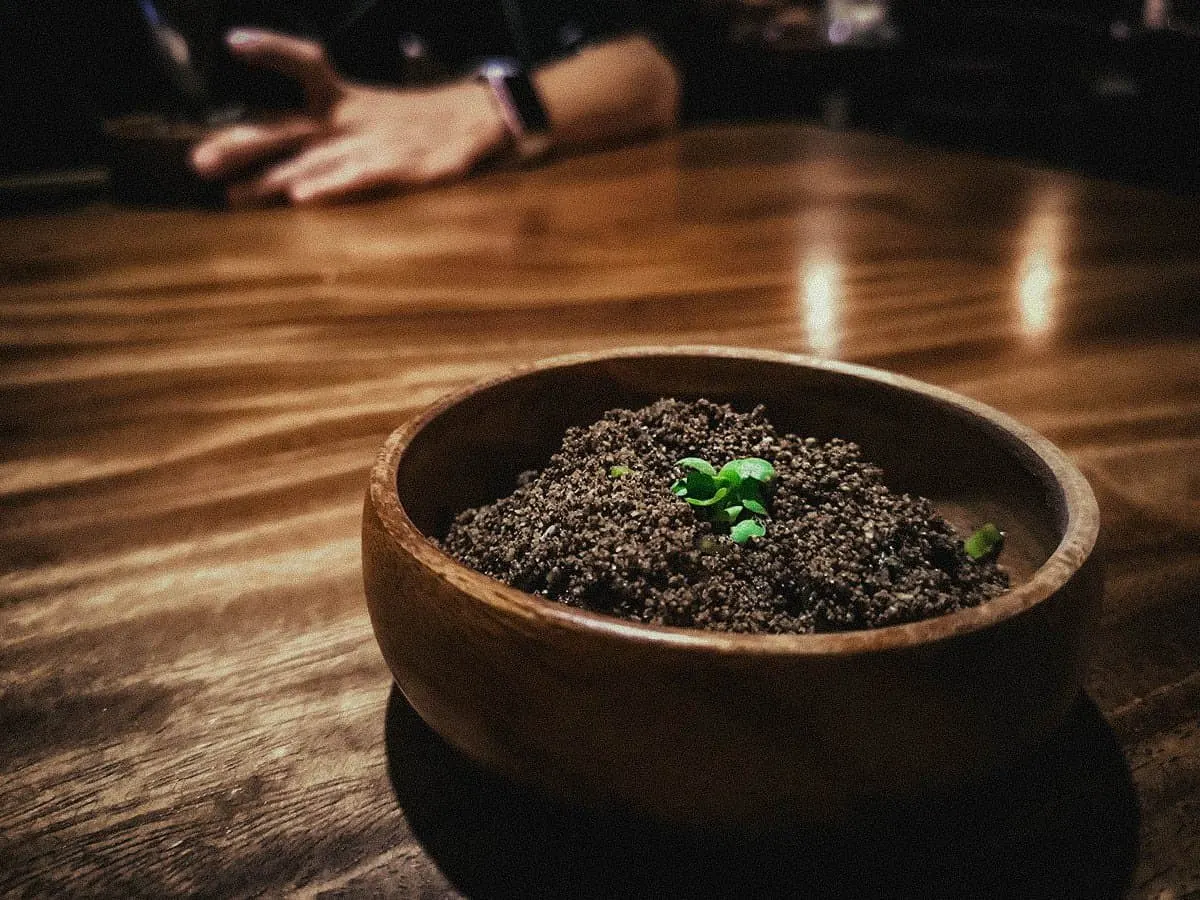 The garden vegetable dish was clever but not much to look at. This lightly grilled mackerel with semi-ripe guava and kamias (bilimbi) was much prettier and just as delicious.
You can refer to my article on Toyo Eatery for more pictures of this fabulous meal.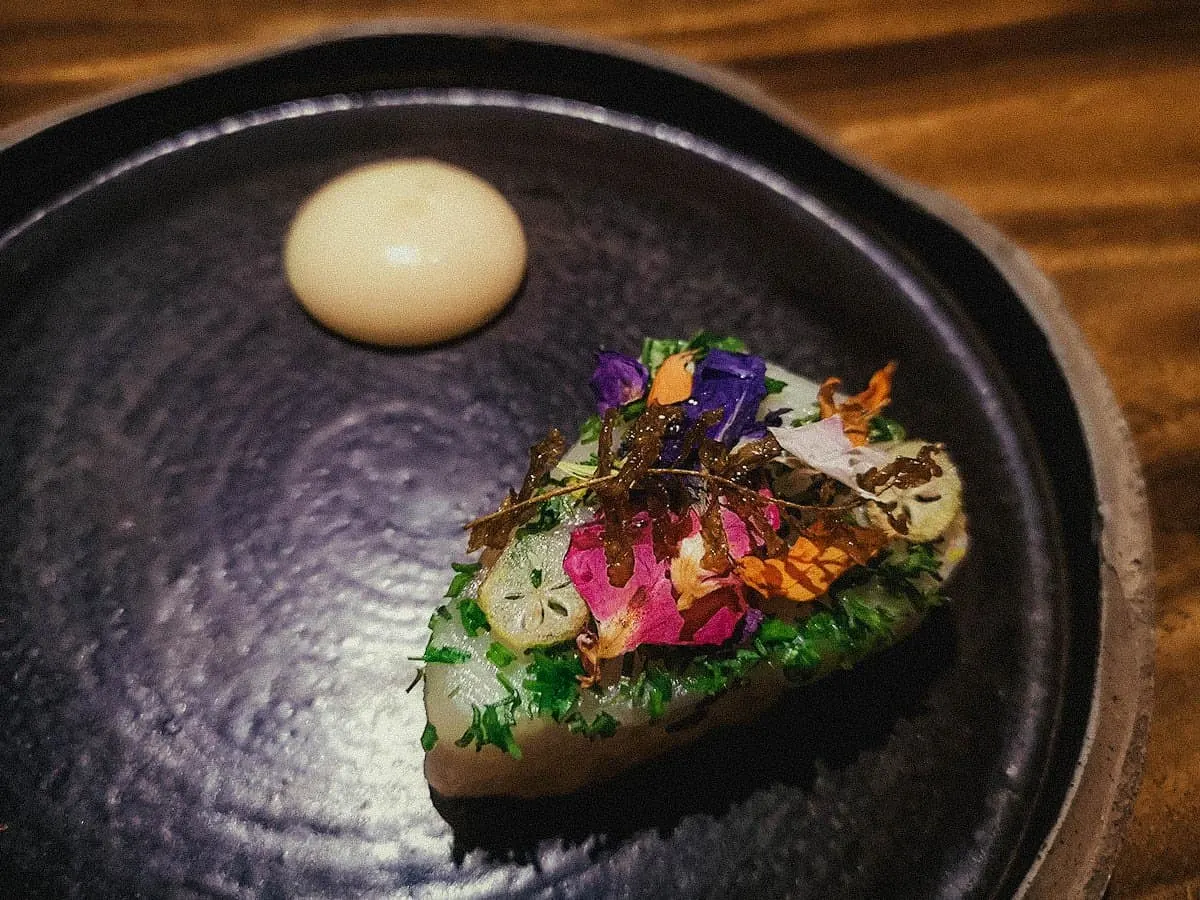 If tasting menus are your thing, then you need to book a table at Toyo Eatery. You can do so on their website.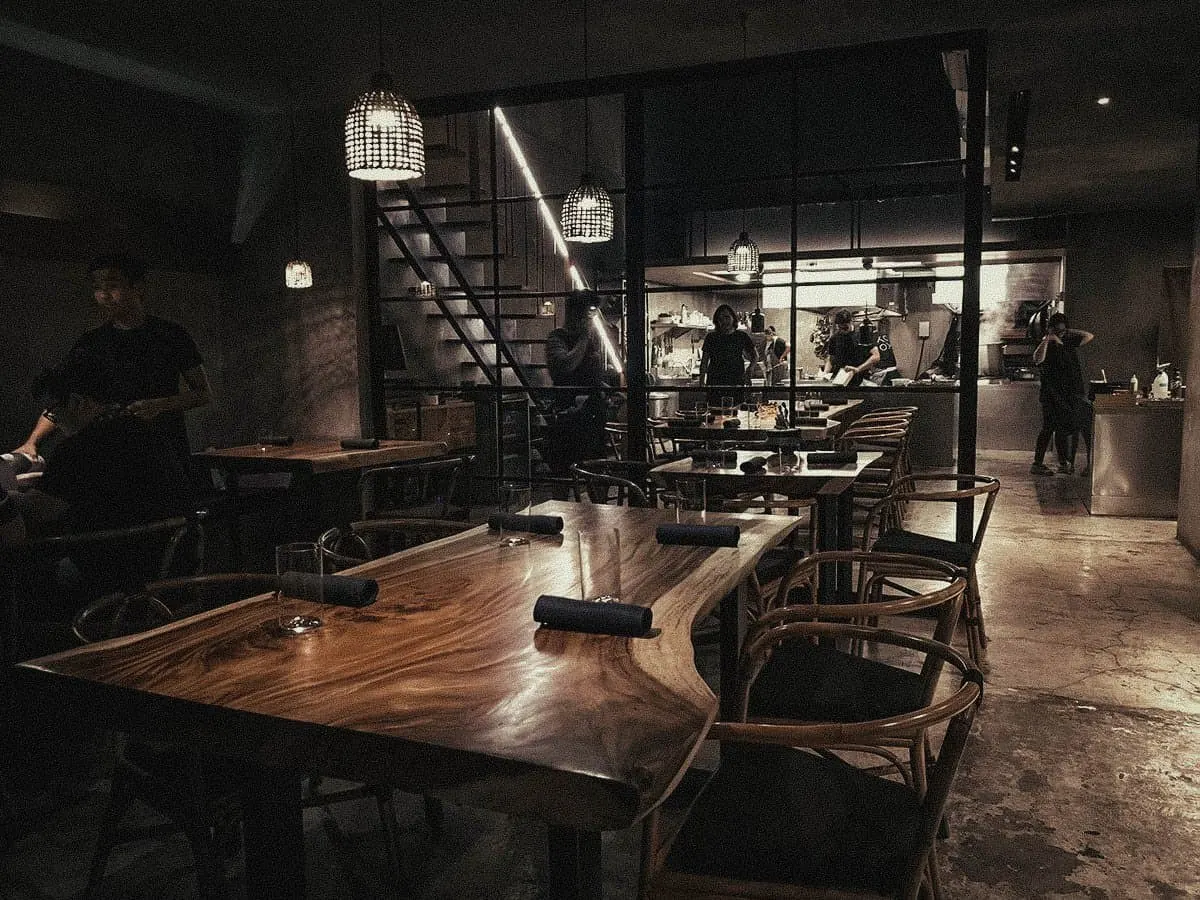 Toyo Eatery
Address: 2316, The Alley at Karrivin, Karrivin Plaza, 1231 Chino Roces Ave Ext, Makati, Metro Manila, Philippines
Operating Hours: 6-10PM, Tue-Sat (closed Sun-Mon)
What to Order: Degustation menus
2. Balai Palma
Balai Palma is one of the newer Filipino restaurants offering inventive tasting menus. Located along Palma Street in trendy Poblacion, Makati, it features an interesting private dining experience courtesy of Chef Aaron Isip. The word balai means "house" in Ilonggo, the Filipino dialect spoken where his mother is from.
Before opening Balai Palma in August 2022, Chef Isip was Chef de Cuisine at Dix-Huit, a Parisian restaurant that was named one of the best restaurants by Le Figaro in 2014. In 2015, he received the Trophée Espoir for the Île de France region from renowned restaurant guide Gault et Millau. Unless I'm mistaken, he's the only Filipino chef to have received that award.
Chef Isip's French culinary training is on full display at Balai Palma, where he creates complex technique-driven dishes like this ube in three textures. It consists of ube prepared in three ways with halaan clams, Oscietra caviar, and clam emulsion.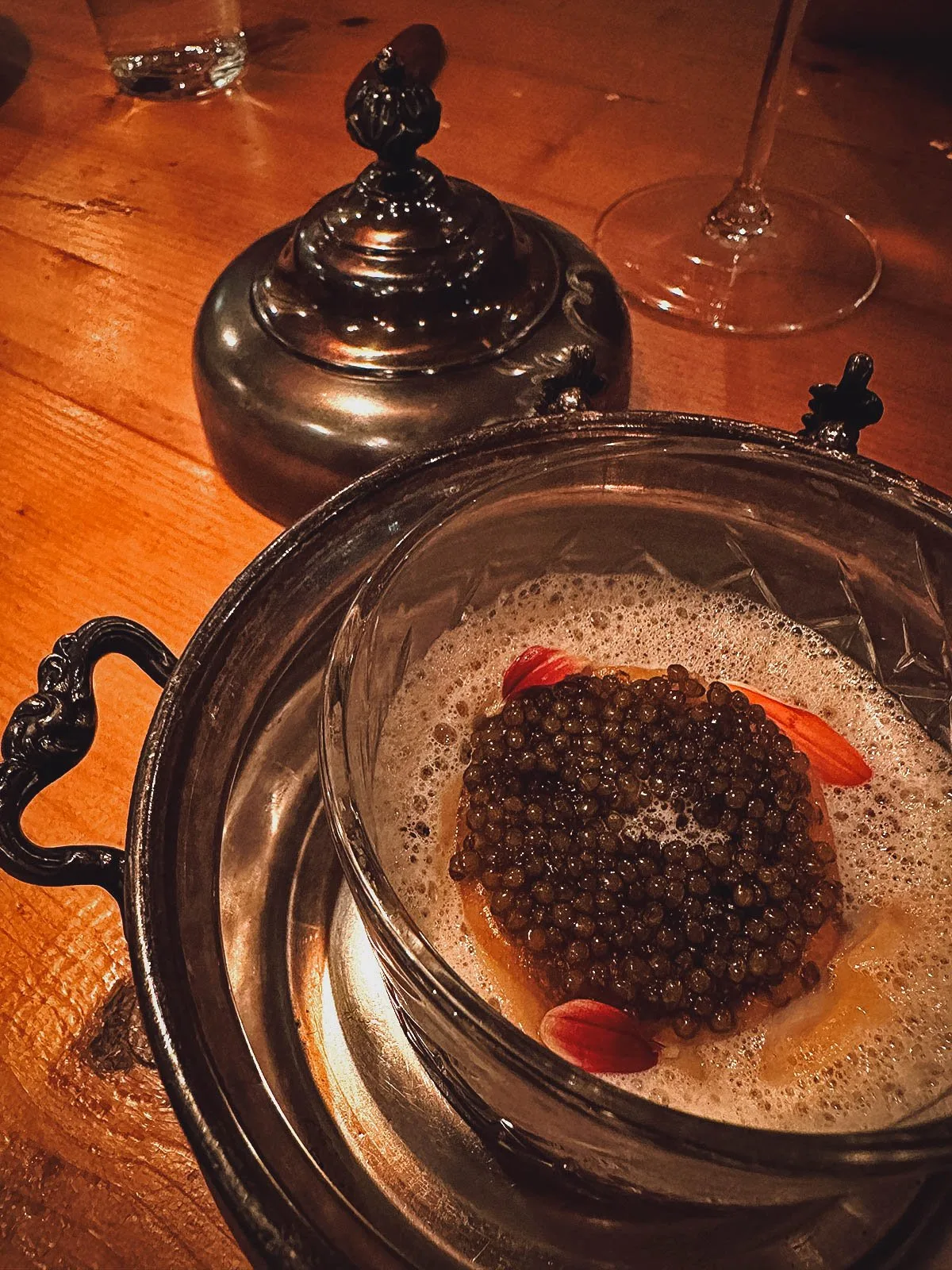 What you're looking at below is one of his signature main courses – giant mangrove crab cold somen. Served in a crab shell, it consists of cold somen noodles tossed in an aligue (crab roe) and tarragon sauce. Sitting on top of the noodles are Chilean uni and fried soft shell crab.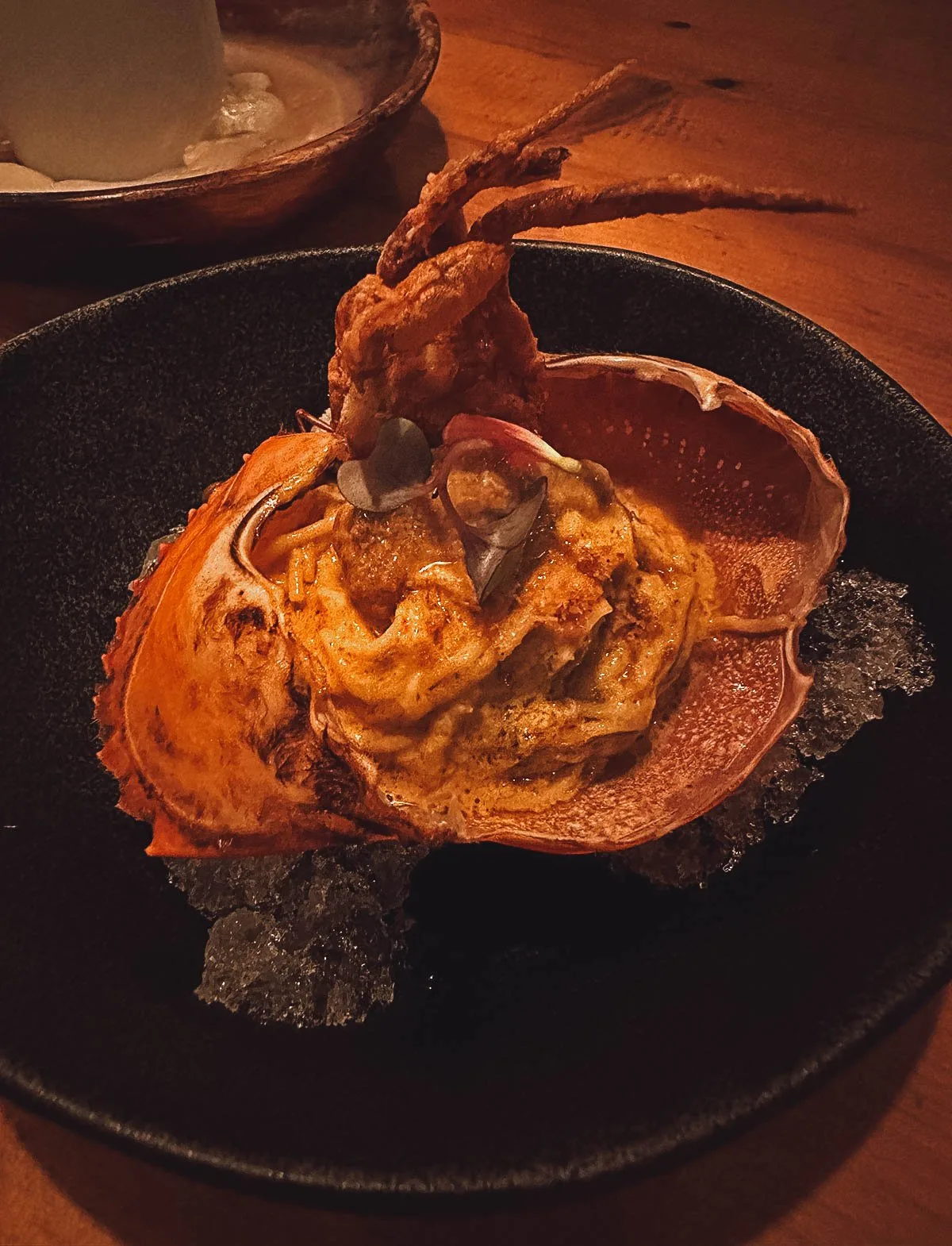 This next main course – boudin noir soup in cuttlefish ink – was every bit as delicious and inventive as it was beautiful.
A play on Filipino dinuguan, this striking dish was made with sauteed squid, pork chicharron, sigarilyas (wing beans), and white beans served in a bowl with cuttlefish ink and a side of puto (rice cakes). Unless I'm mistaken, the tuile was also made from cuttlefish ink.
Be sure to check out my article on Balai Palma for more pictures and information on Chef Isip and his fantastic restaurant.
Aside from the food, what makes a meal at Balai Palma even more special is the venue itself. The restaurant is set in Chef Isip's townhouse, which he continued to live in at the time of our visit.
Reservations at Balai Palma are a must and can be made through their Instagram page.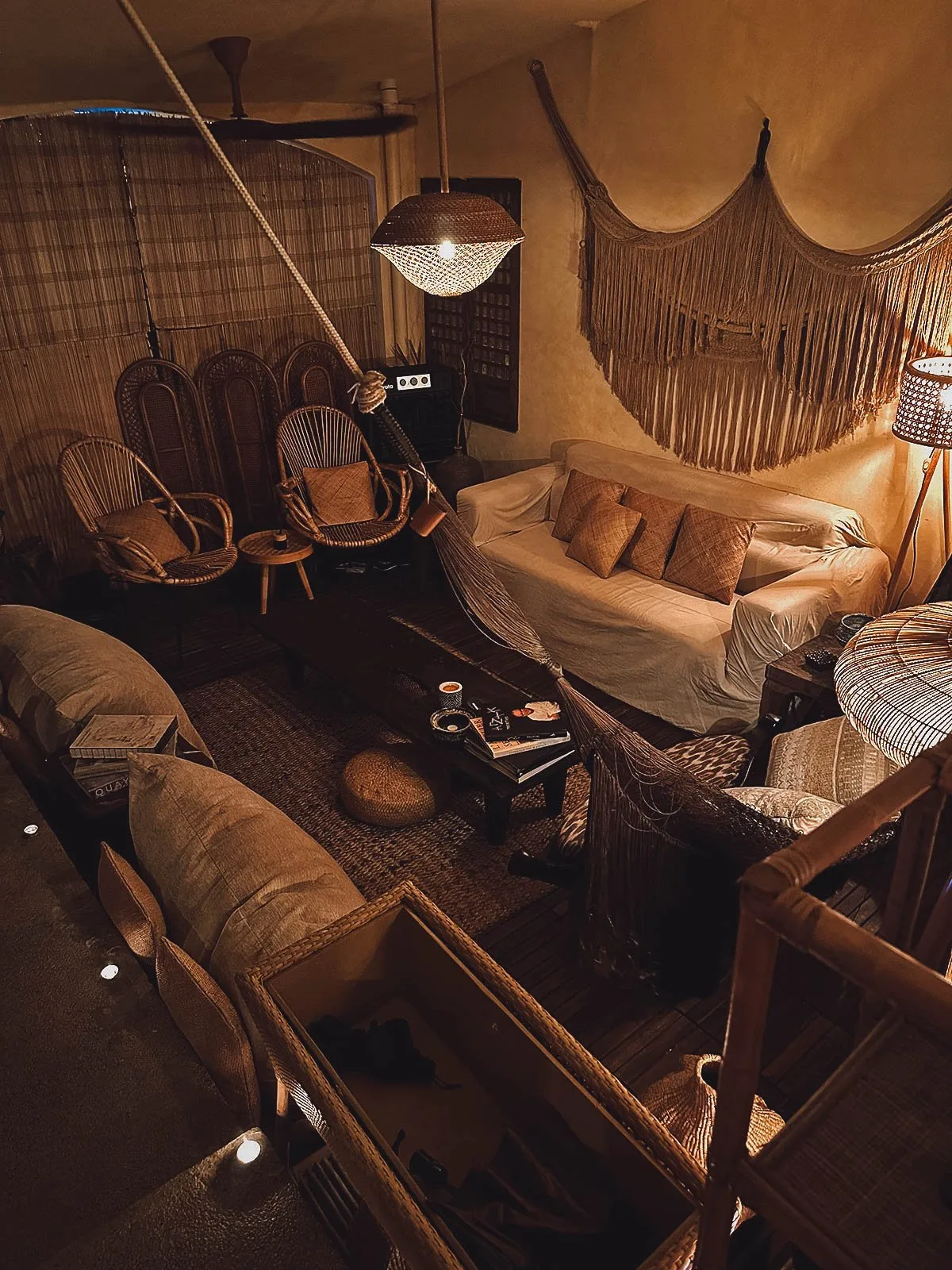 Balai Palma
Address: 6081b R Palma, Makati, Metro Manila, Philippines
Operating Hours: 7PM-1AM, Thurs-Sat / 4PM-1AM, Wed (closed Sun-Tue)
What to Order: Degustation menus
3. Gallery by Chele
It's been a few years since we enjoyed this meal at Gallery by Chele, one of the best fine dining restaurants in Manila. It's helmed by Spanish Chef Chele Gonzalez of Gallery VASK fame. Now closed, Gallery VASK was his award-winning restaurant that ranked as high as number 35 on the list of Asia's 50 Best Restaurants.
Born in northern Spain, Chef Chele worked at some of the world's best restaurants like El Bulli, Mugaritz, and El Celler de Can Roca before moving to Manila and opening Gallery VASK in 2013. He would shutter that restaurant in 2017 before revamping and reopening it as Gallery by Chele in May 2018.
Being from Spain, Chef Chele's roots are in Spanish cuisine but he aims to celebrate Filipino food by applying modern techniques to local ingredients and presenting them in a more contemporary way.
These pictures were from 2018 so I don't know if he still makes these dishes, but the perfect example of Chef Chele's cooking concept is this fun dish called Breakfast. Made with longganisa (Filipino sausage), quail egg, and pickled papaya served in a crunchy adlai millet shell, it's the chef's whimsical take on the classic Filipino breakfast dish called longsilog.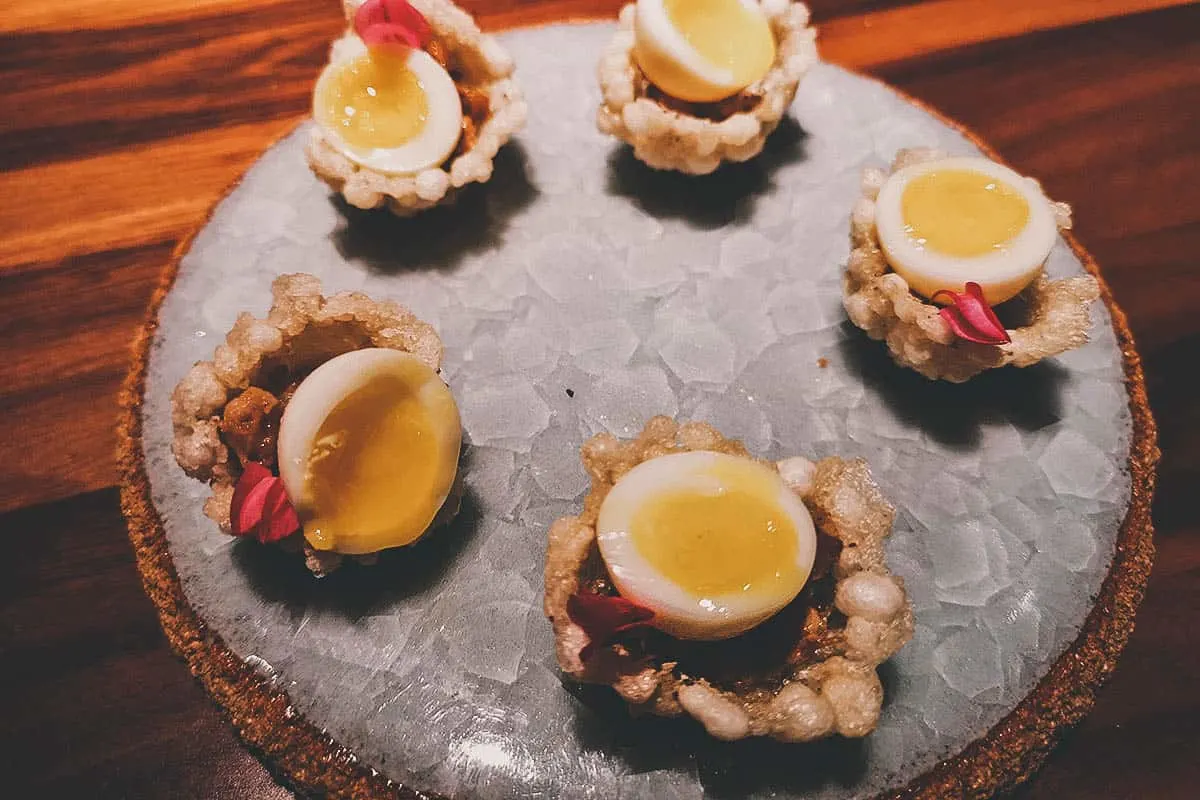 This next dish was an interesting representation of Chef Chele's position as a Spanish chef cooking Filipino food. Called Dual Citizen, it consists of squid prepared in two ways – one drawing techniques from Filipino cuisine and the other from Spanish food.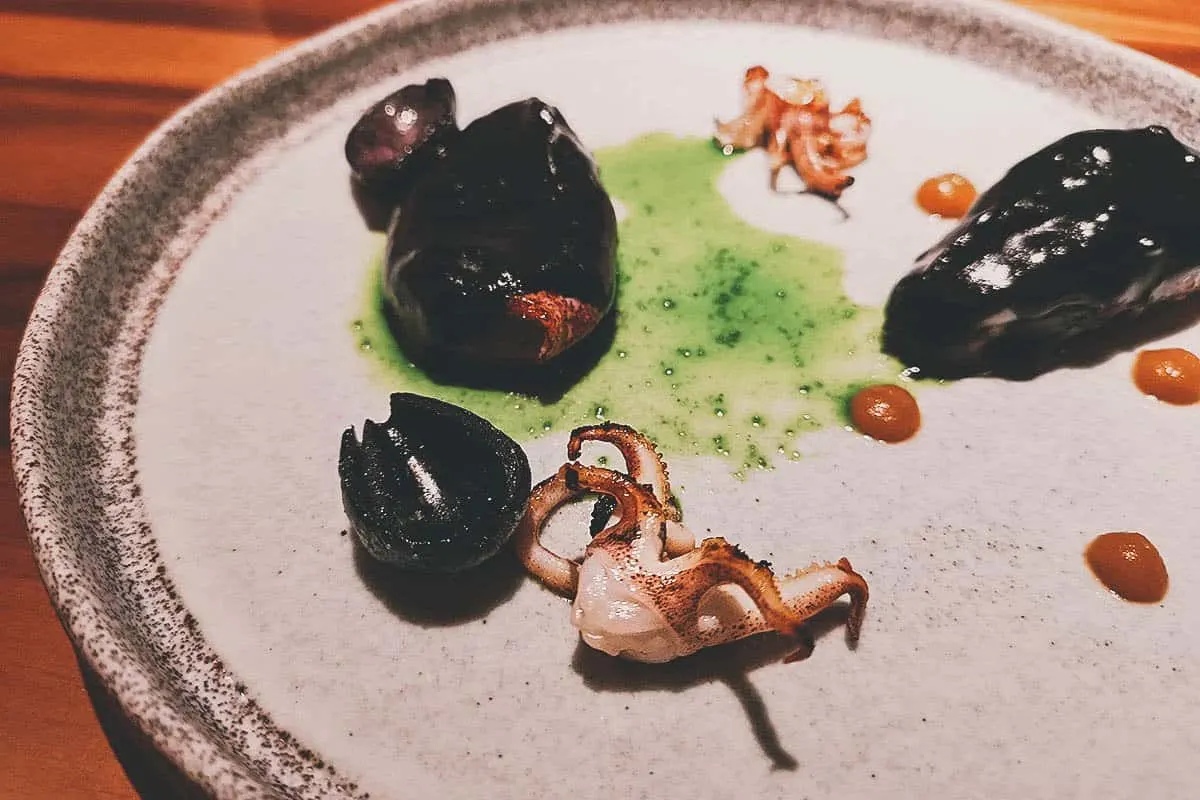 This beautiful and delicious dessert made with papaya and mustard leaves was called Pa-yaya. It had an interesting aromatic, almost spicy flavor, perhaps from the mustard leaves.
As described, these pictures are from 2018 but you can refer to my article on Gallery by Chele for more on what you can expect from this restaurant.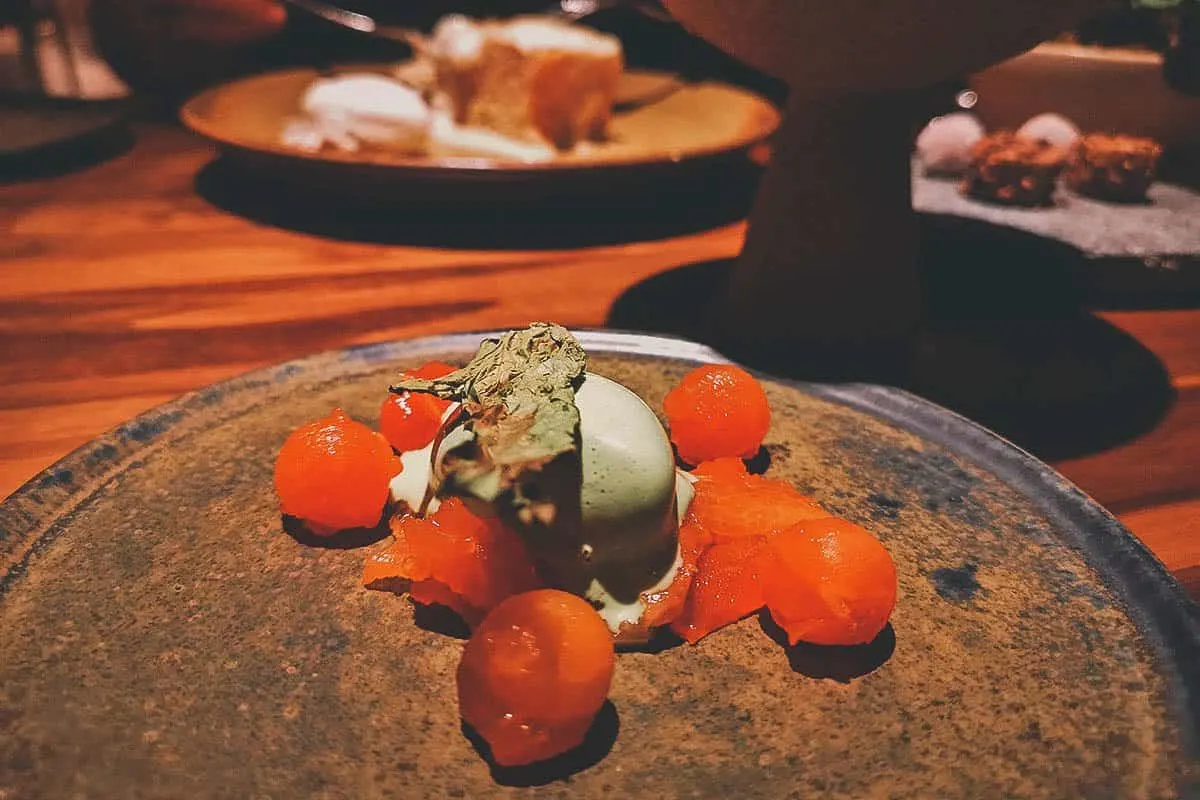 It's been a while since our last meal at Gallery by Chele but based on its recent reviews, the restaurant is as good as ever. As with all restaurants offering tasting menus, reservations are a must.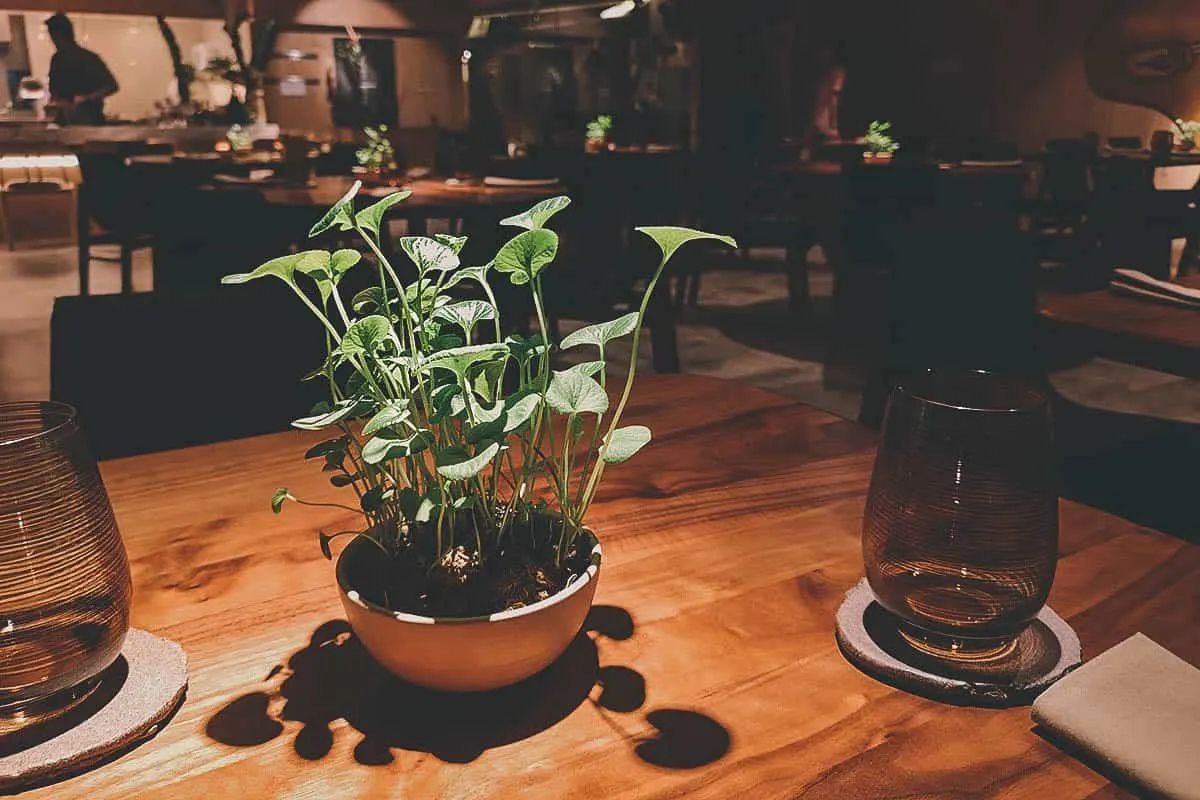 Gallery by Chele
Address: 5/F Clipp Center, 11th Avenue corner, 39th St, Taguig, Metro Manila, Philippines
Operating Hours: 12NN-10PM, Tue-Sun (closed Mondays)
What to Order: Degustation menus
MID-RANGE
4. Cafe Adriatico
To be honest, I prefer comfort food and street food over fine dining so I gravitate more towards restaurants like Cafe Adriatico. One of the most iconic Filipino restaurants in Manila, this Malate institution has been serving delicious food for decades, and they're showing no signs of slowing down anytime soon.
Cafe Adriatico serves a full menu of Filipino dishes and almost everything we've ordered through the years has been delicious. Today, we started with this quesong puti tostado made with baked Laguna cheese on Filipino pan de sal bread.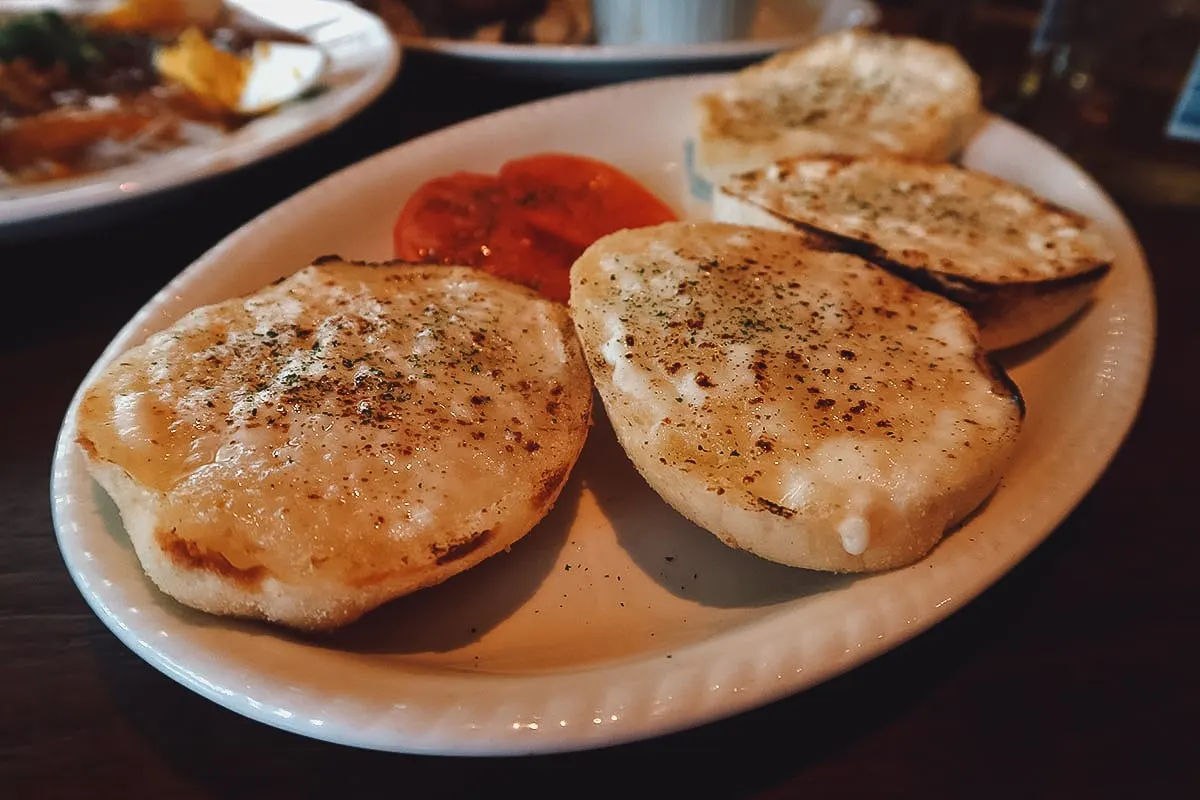 There are many must-try dishes at Cafe Adriatico, but one of the most popular is their famous pancit palabok.
Pancit refers to a family of Chinese-inspired noodle dishes made with rice noodles and different types of meat, seafood, and vegetables. There are many kinds of pancit but pancit palabok refers to a specific type made with noodles smothered in a thick shrimp-based sauce. It's topped with slices of hard-boiled egg, shrimp, tinapa flakes (smoked fish), chicharron bits, and chopped green onions.
Cafe Adriatico's pancit palabok is incredibly tasty and one of my favorite versions of this classic Filipino dish.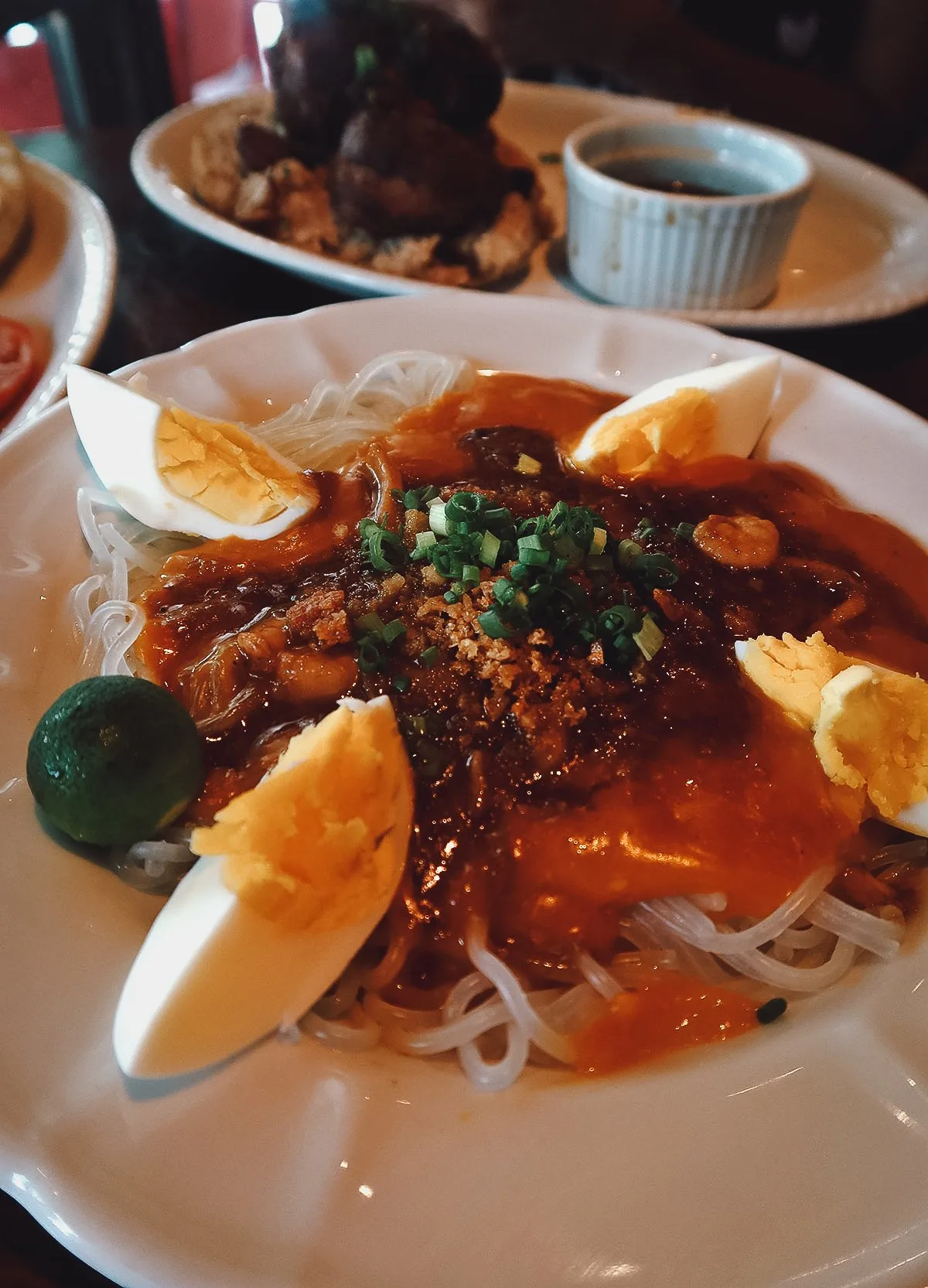 We usually try one or two new dishes on every visit but Cafe Adriatico's version of adobo is something I need to have every time.
Called Lola Ising's Adobo Rice, this take on the Filipino national dish, made with fried pork belly over adobo rice, is my single favorite thing to order at this restaurant. It's Filipino comfort food at its most delicious.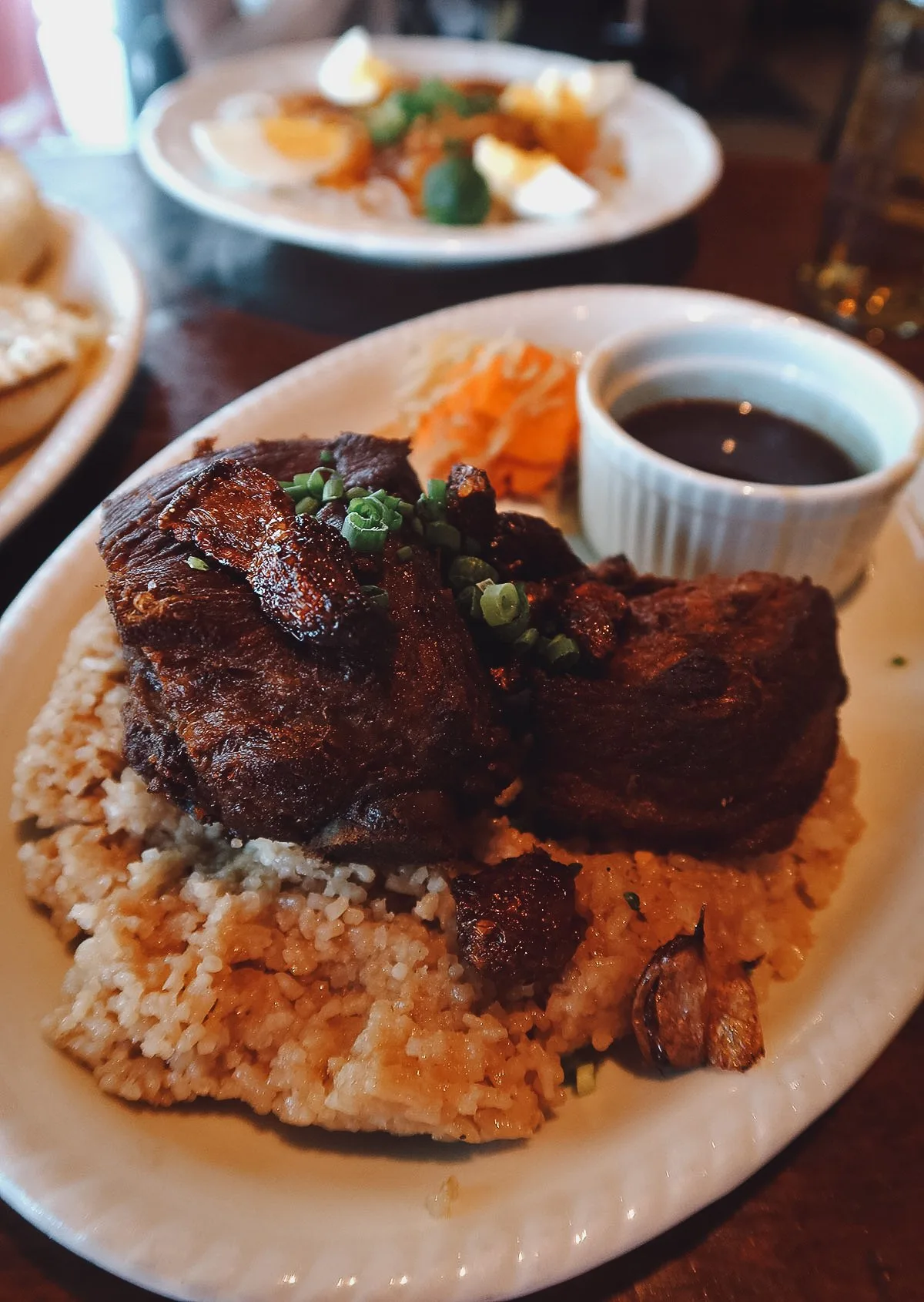 There are a few Cafe Adriatico branches in Manila but this outlet along Adriatico Street is the most well-known. Go there if you can.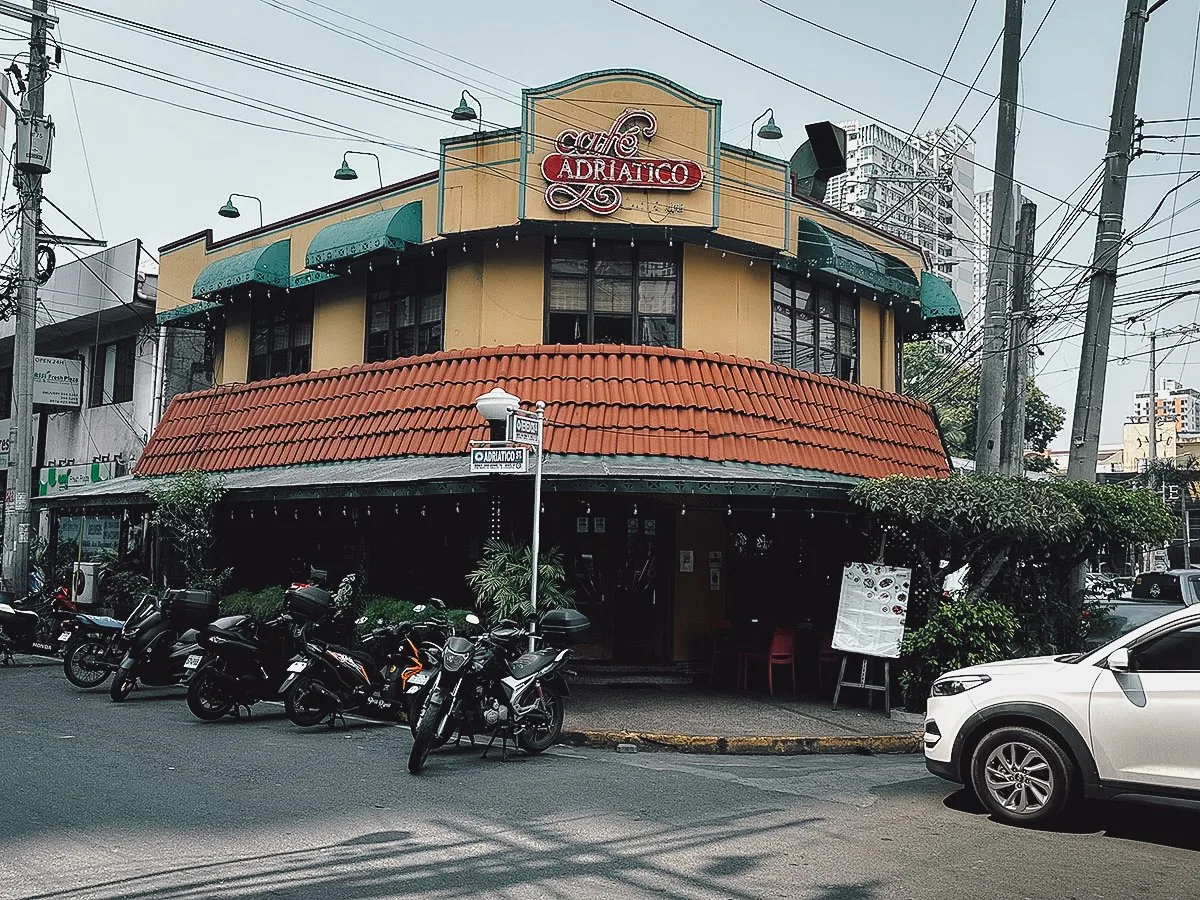 Like its simple but classic interior, Cafe Adriatico is a timeless restaurant that will continue to serve amazing Filipino cuisine for many years to come.
Cafe Adriatico is the flagship restaurant of the LJC Restaurant Group, one of the most well-respected restaurant operators in Manila. It was founded by Larry J. Cruz (now deceased) after finding an enormous amount of success with the opening of this very restaurant in 1979. When you hear that a restaurant is owned and operated by the LJC Group, then chances are, it's going to be good.
Other successful restaurants in Manila under the LJC umbrella include Abe, Cafe Havana, Lorenzo's Way, and Fely J's Kitchen, just to name a few.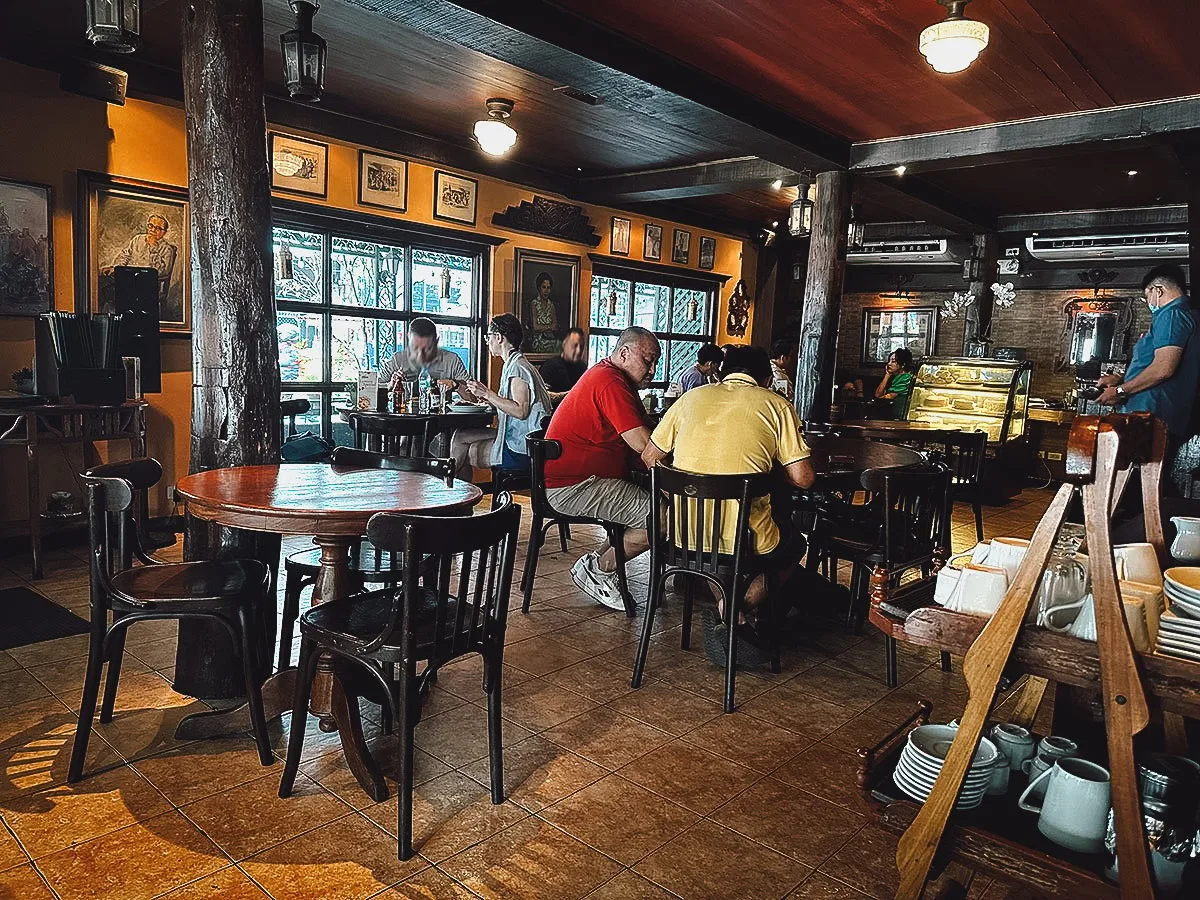 Cafe Adriatico
Address: 1790 M. Adriatico St, Malate, Manila, 1004 Metro Manila, Philippines
Operating Hours: 7AM-10PM, daily
What to Order: Lola Ising's adobo rice, pancit palabok
5. Romulo Cafe
Romulo Cafe is another must-visit restaurant in Manila for authentic Filipino cuisine. It was started by the grandchildren of Carlos P. Romulo, a former Filipino diplomat, soldier, journalist, and author who once served as the president of the United Nations General Assembly.
The Romulo grandchildren opened the restaurant to commemorate their grandfather's life and career through heirloom family recipes like their grandmother's chicken relleno and their uncle's kare-kare. It's an admirable concept and tribute that was executed very well.
Like Cafe Adriatico, Romulo Cafe features a full menu of classic Filipino dishes. Today, we started with one of my favorite dishes – baby squid sauteed in olive oil and garlic. Serious yummers.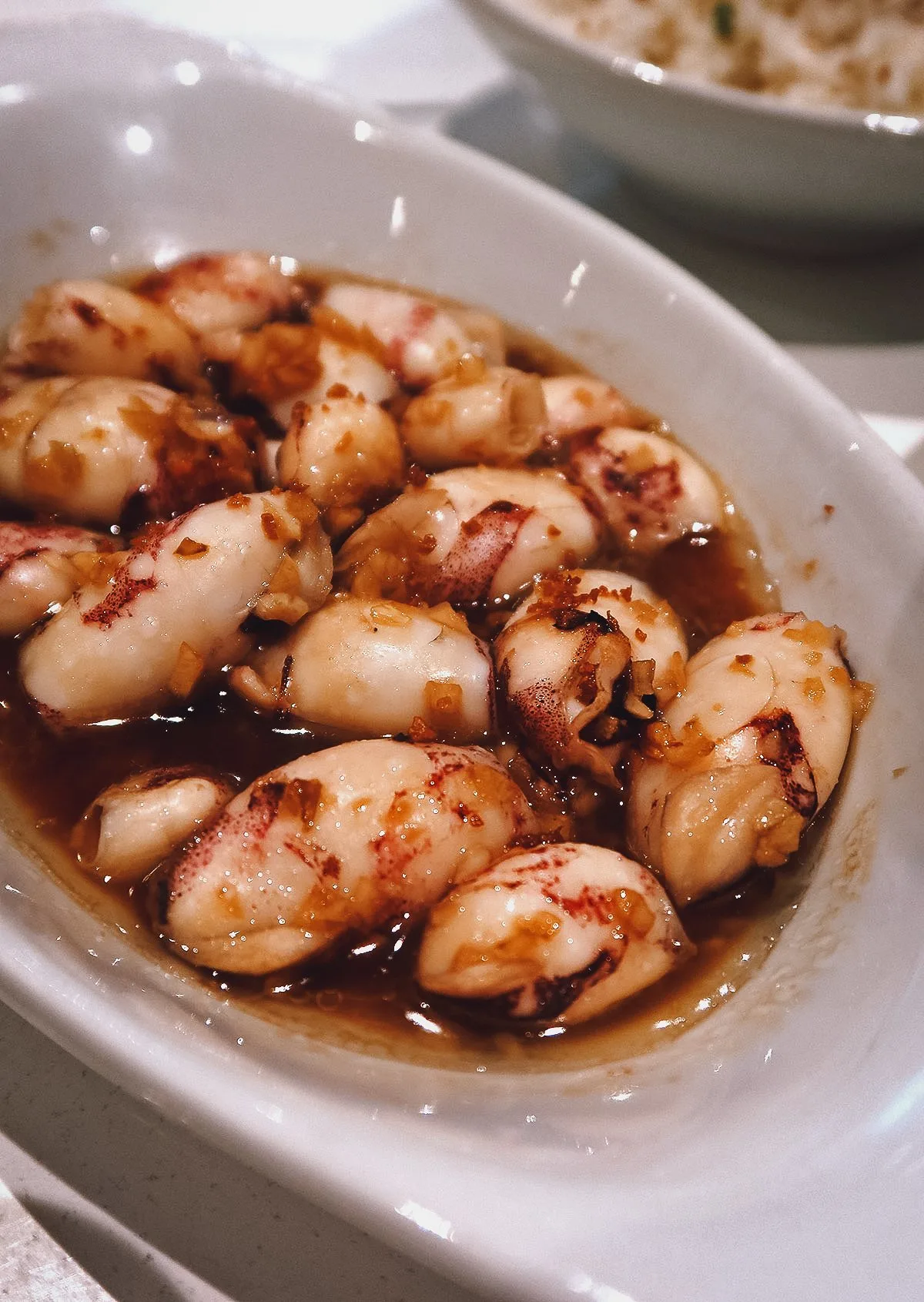 If you want to taste the best local dishes in the Philippines, then you should definitely try kare-kare. It's an interesting curry-like stew of meats and vegetables served in a savory peanut-based sauce.
I love kare-kare but lesser restaurants in the Philippines often make it too thick and sweet. Romulo Cafe's version – called Tito Greg's Kare-Kare – is one of the best I've had at any restaurant in Manila. In my humble opinion, this kare-kare is as good as it gets.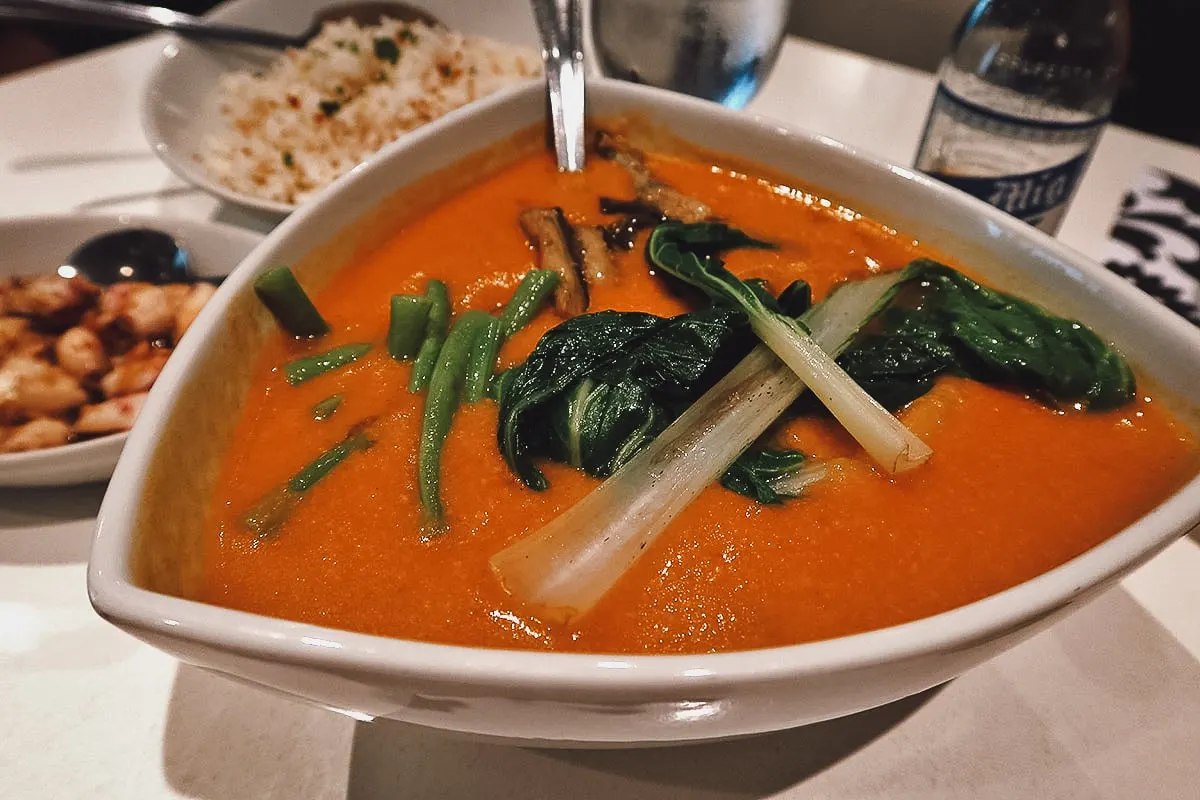 Kare-kare can be made with different cuts of meat like oxtail, pork hock, tripe, and pork trotter. Tito Greg makes it with oxtail, tripe, steamed vegetables, and housemade bagoong (shrimp paste).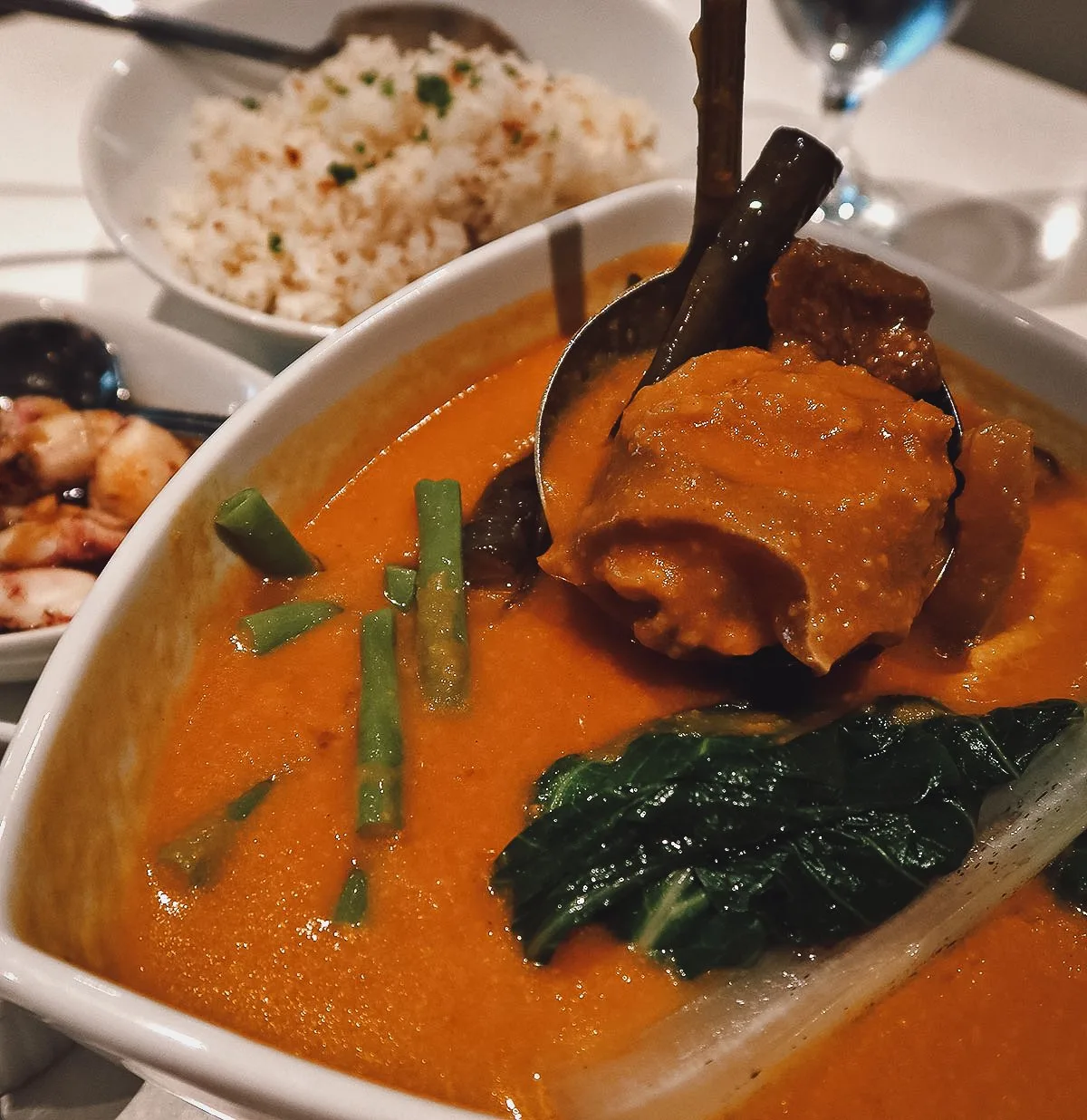 You can't have kare-kare without the bagoong! Bagoong refers to a sweet-savory paste or sauce made from fermented shrimp or krill. Depending on who made it, it can be extremely pungent but Romulo Cafe's version is just right.
Bagoong has a strong flavor so be sure to use it sparingly with your kare-kare. A little goes a long way.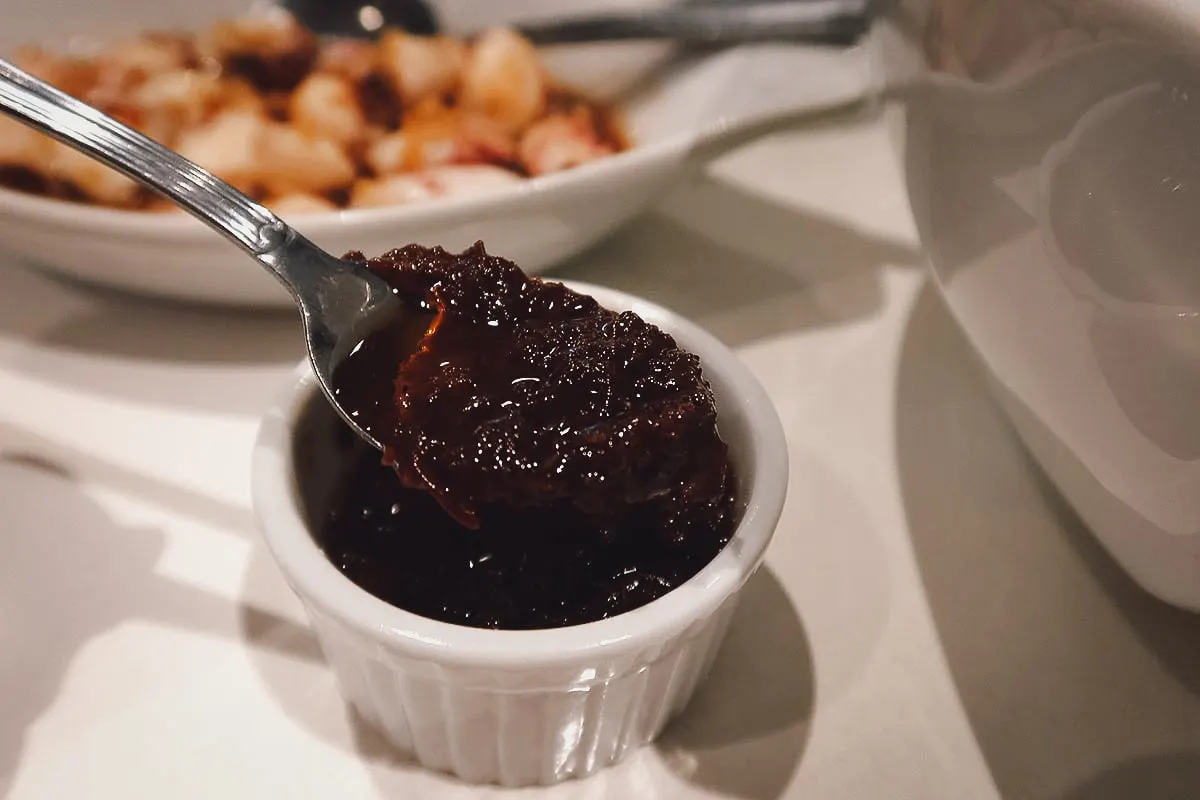 No Filipino meal is truly complete without sinangag or garlic fried rice.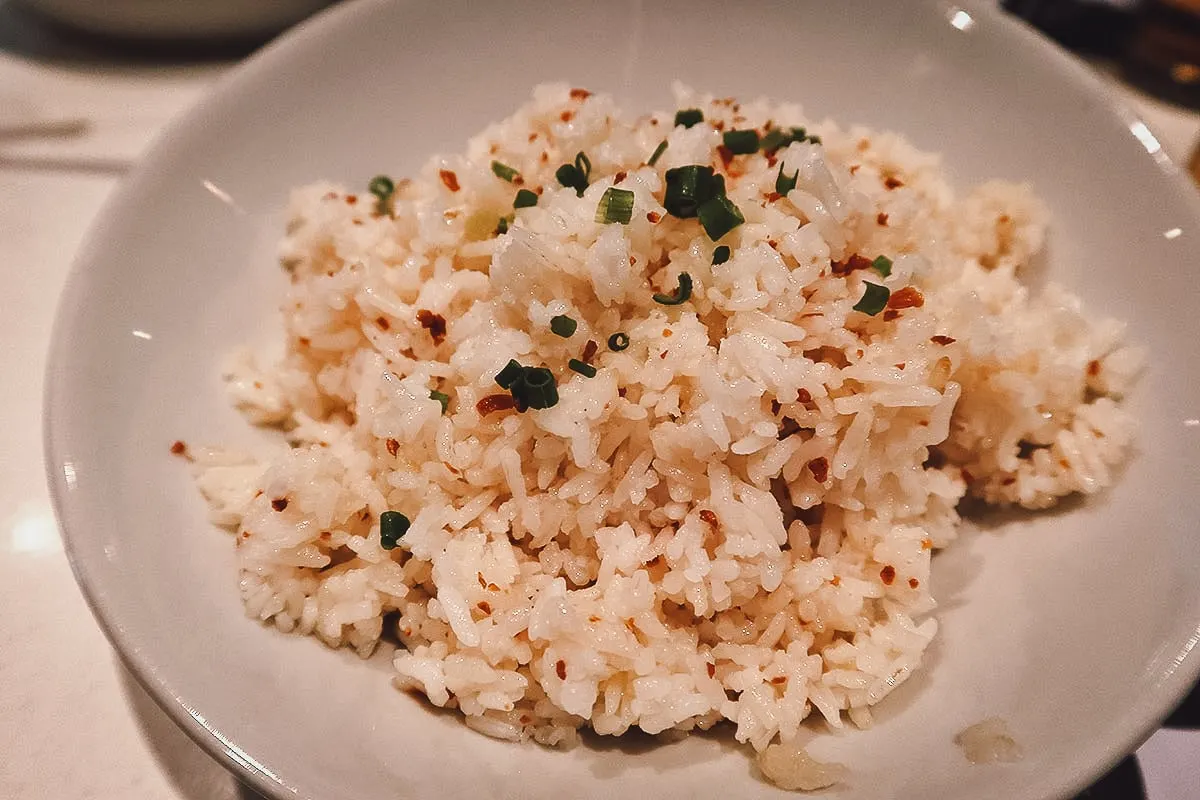 We always go to the outlet in Quezon City but Romulo Cafe has a few branches in Manila. You can refer to the location map at the bottom of this post to find the restaurant nearest you.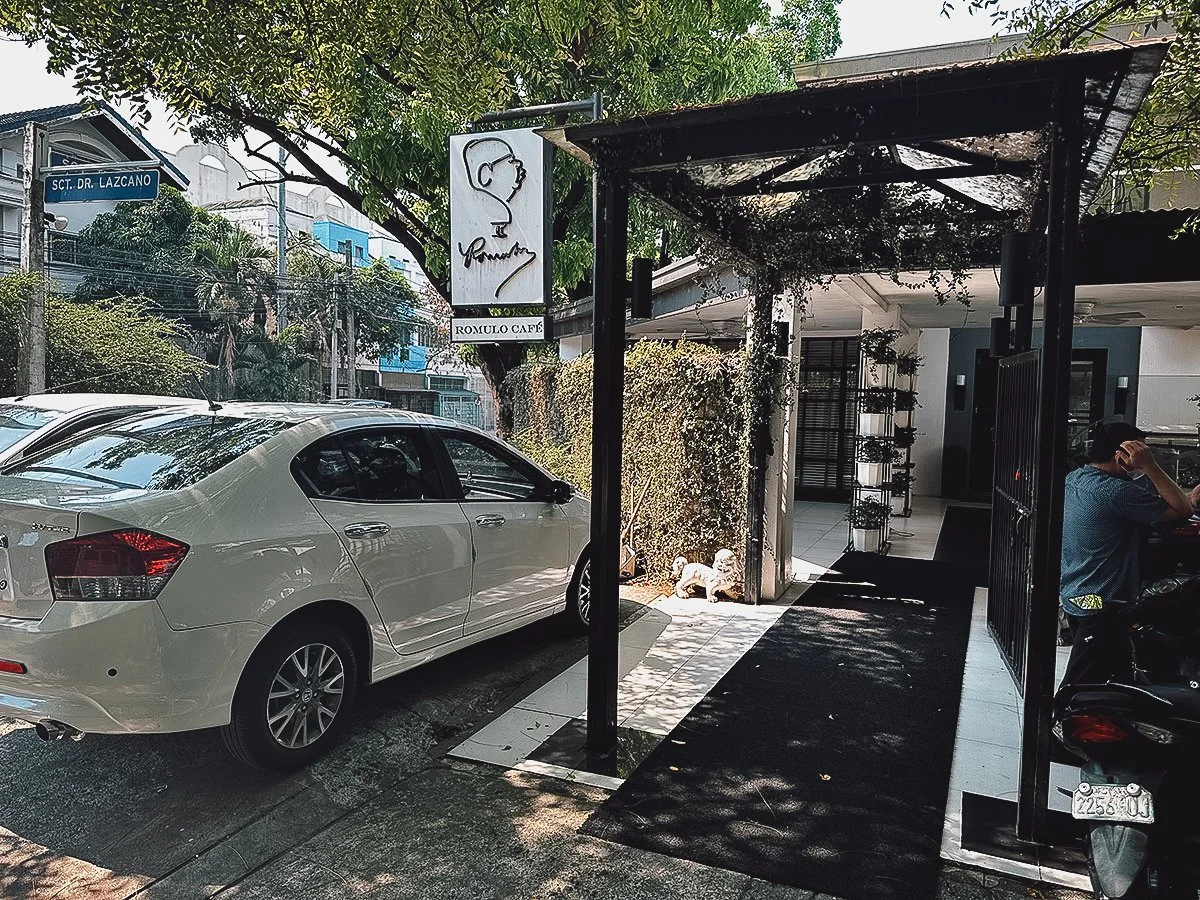 I don't know about the other restaurants but the QC branch is in an old converted home. It adds to the restaurant's appeal because it feels like you're enjoying these heirloom recipes as a guest in the Romulo family home.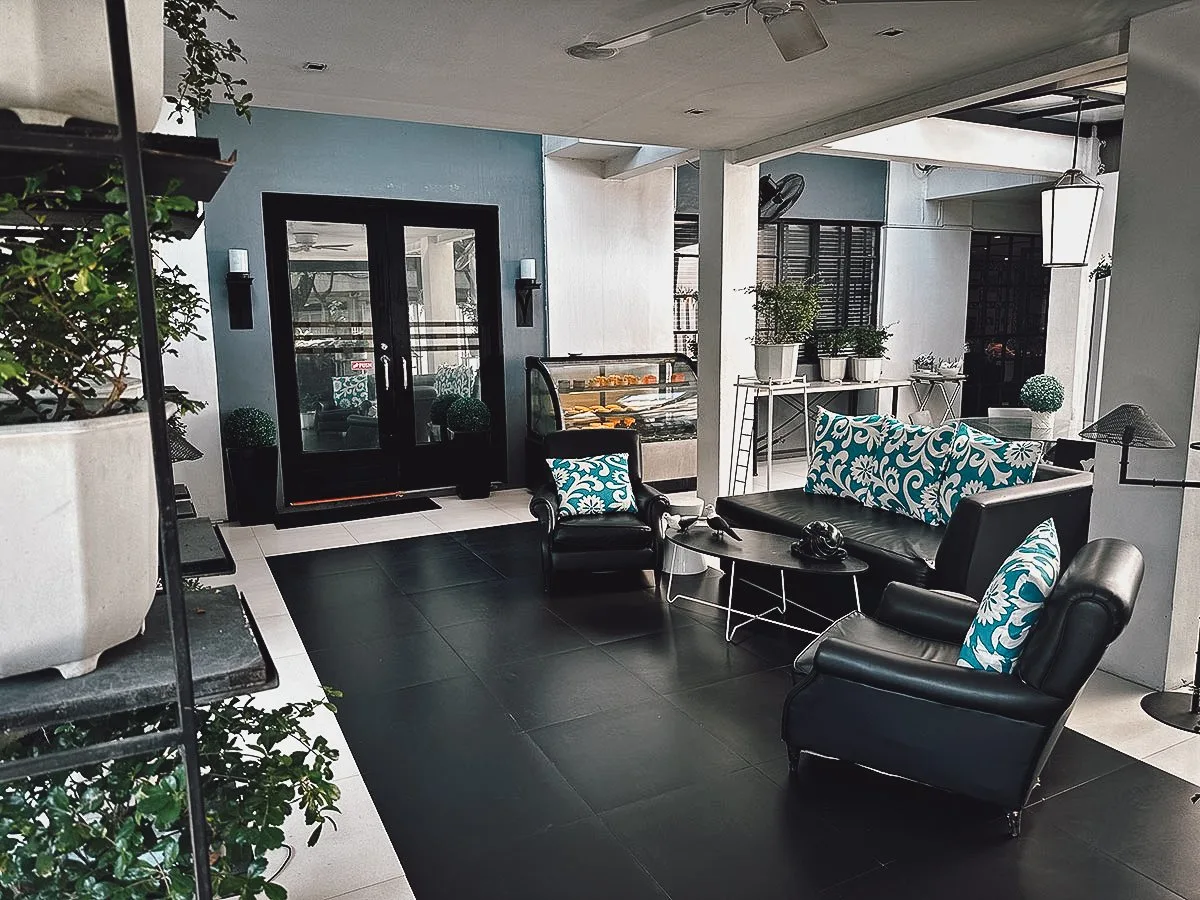 The pictures of Carlos P. Romulo hanging on the restaurant's walls make the experience of dining here even more memorable.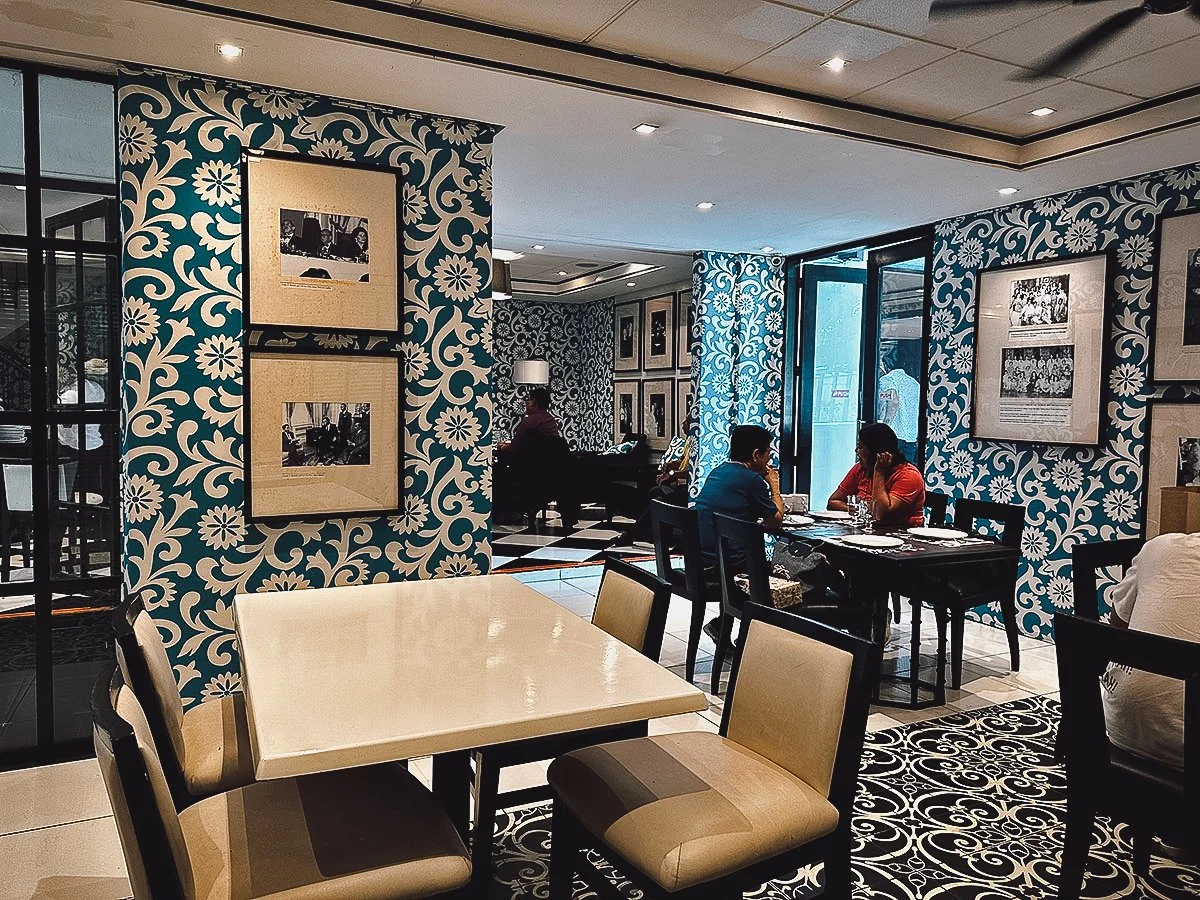 Romulo Cafe
Address: Lazcano cor., Sct. Tuazon Brgy. Tomas Morato, 32 Sct. Dr. Lazcano St, Diliman, Quezon City, Metro Manila, Philippines
Operating Hours: 11AM-3PM, 6-10PM, daily
What to Order: Lola Virginia's chicken relleno, Tito Greg's kare-kare, beef kaldereta with queso de bola
6. Livestock (Quezon City Branch)
If you like fried pork, then you're going to love this restaurant. Livestock serves many Filipino dishes but the one thing that made them famous is their crispy pata. More on that later.
We started our feast with this platter of deep-fried chicharron. It contains three types of chicharron – chicharron bulaklak (mesentery), chicharron bituka (intestine), and chicken skin. Not the healthiest dish but definitely delicious!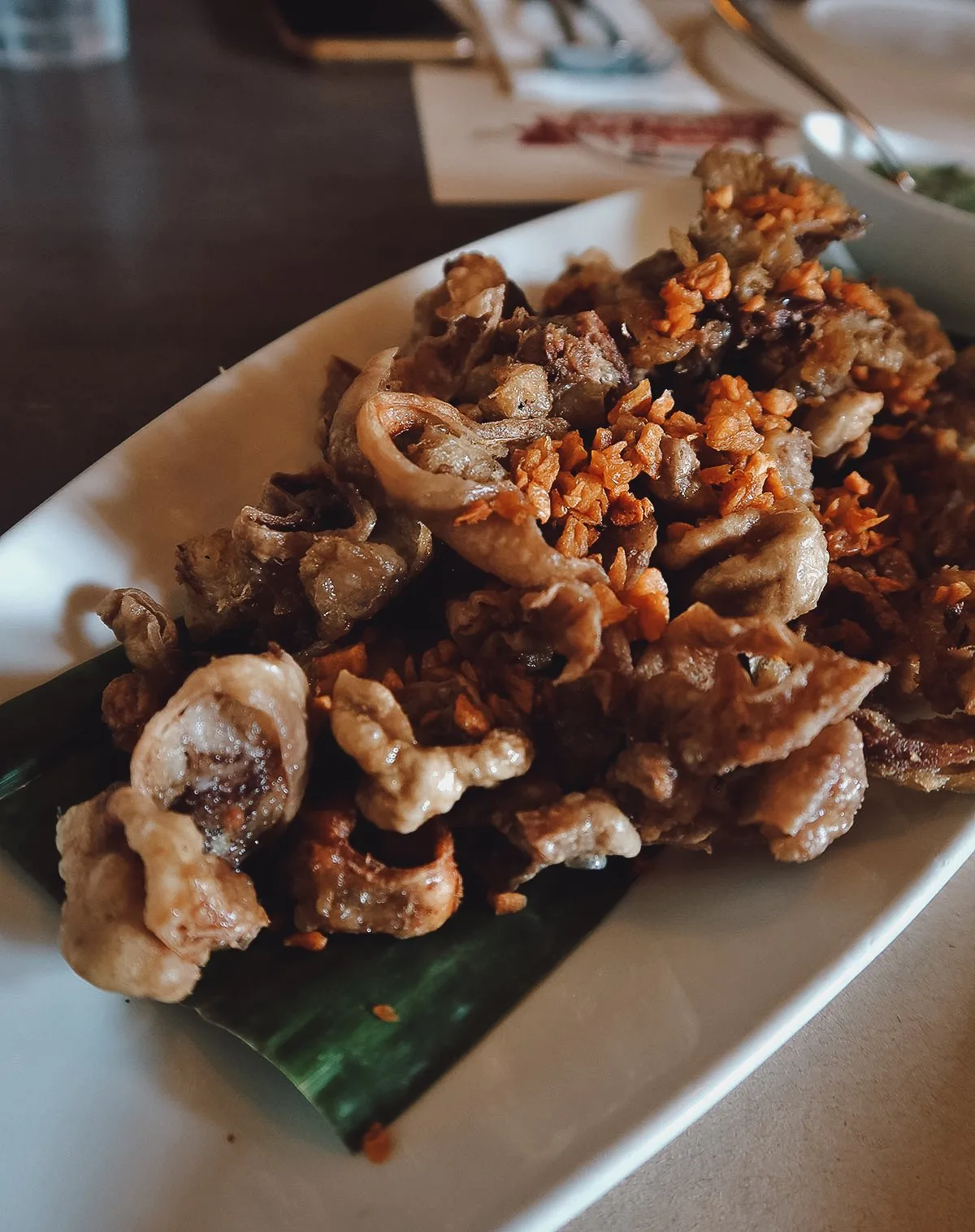 To help offset the guilt, you can pair your chicharron with something leafy and green like this platter of spinach and mushrooms. It's made with browned shiitake and button mushrooms and wilted spinach in espagnole sauce.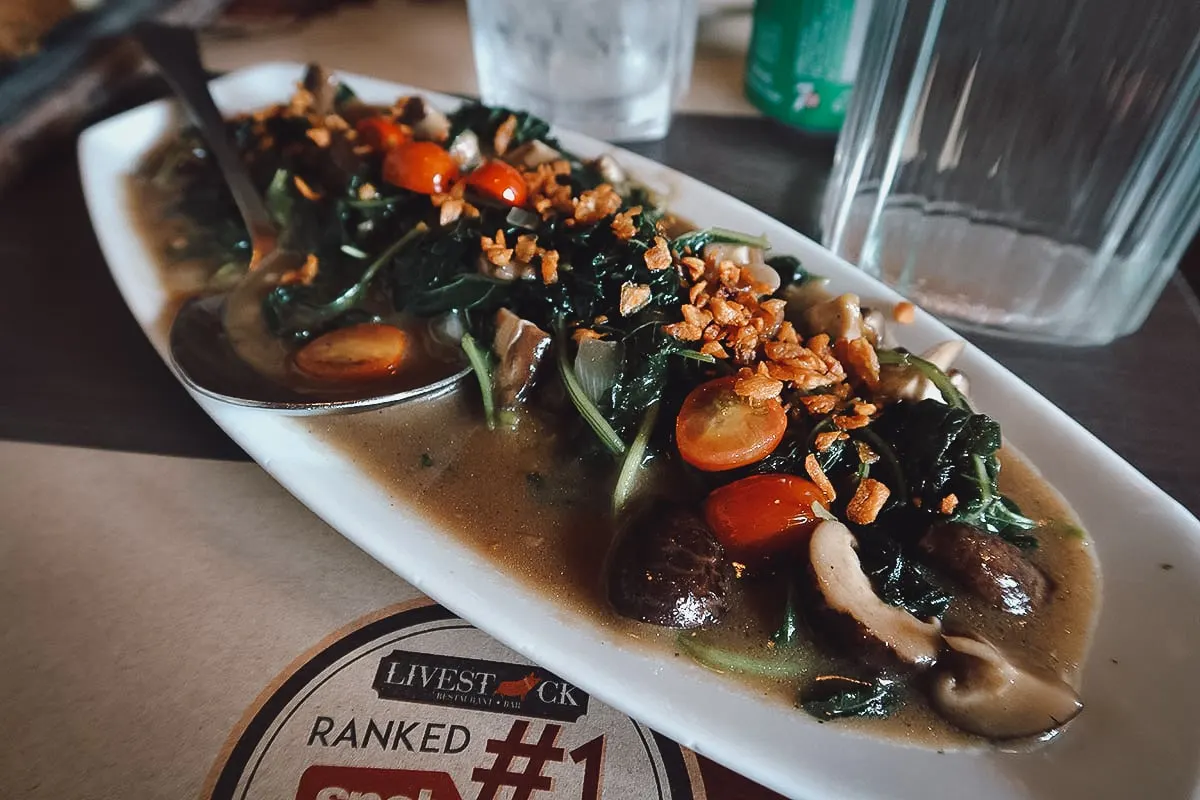 I'm a simple guy. If I see baby squid sauteed in garlic and olive oil on a restaurant's menu, then I'll order it. Always.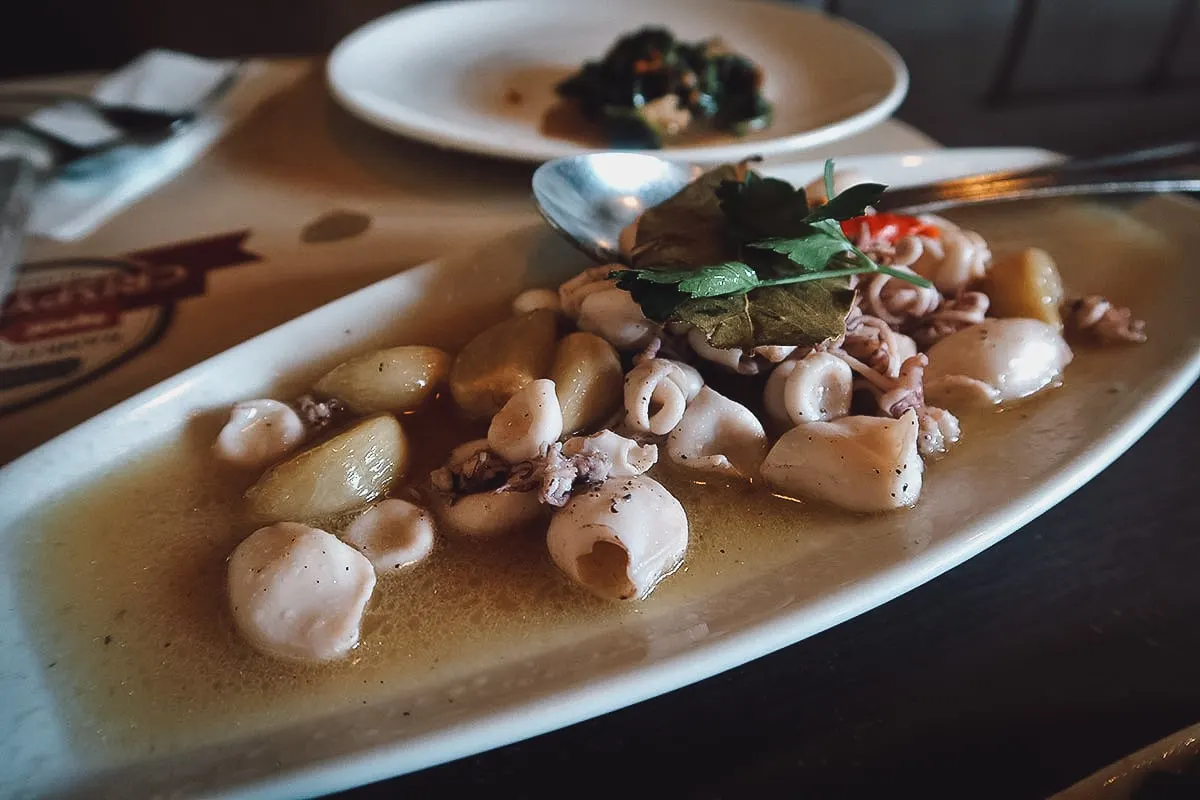 Everything we had leading up to this was delicious but this is the one dish that made Livestock what it is today. It's their incredibly tender version of crispy pata or deep-fried pork trotter (or knuckle) served with a dipping sauce made from vinegar, soy sauce, onions, garlic, ground black pepper, and sugar.
Once featured in an episode of Bizarre Foods: Delicious Destinations with Andrew Zimmern, Livestock's Melt-in-Your-Mouth Crispy Pata is so tender that you can actually cut it up with zero effort using a popsicle stick. It's incredibly delicious and easily my favorite version of crispy pata in Manila.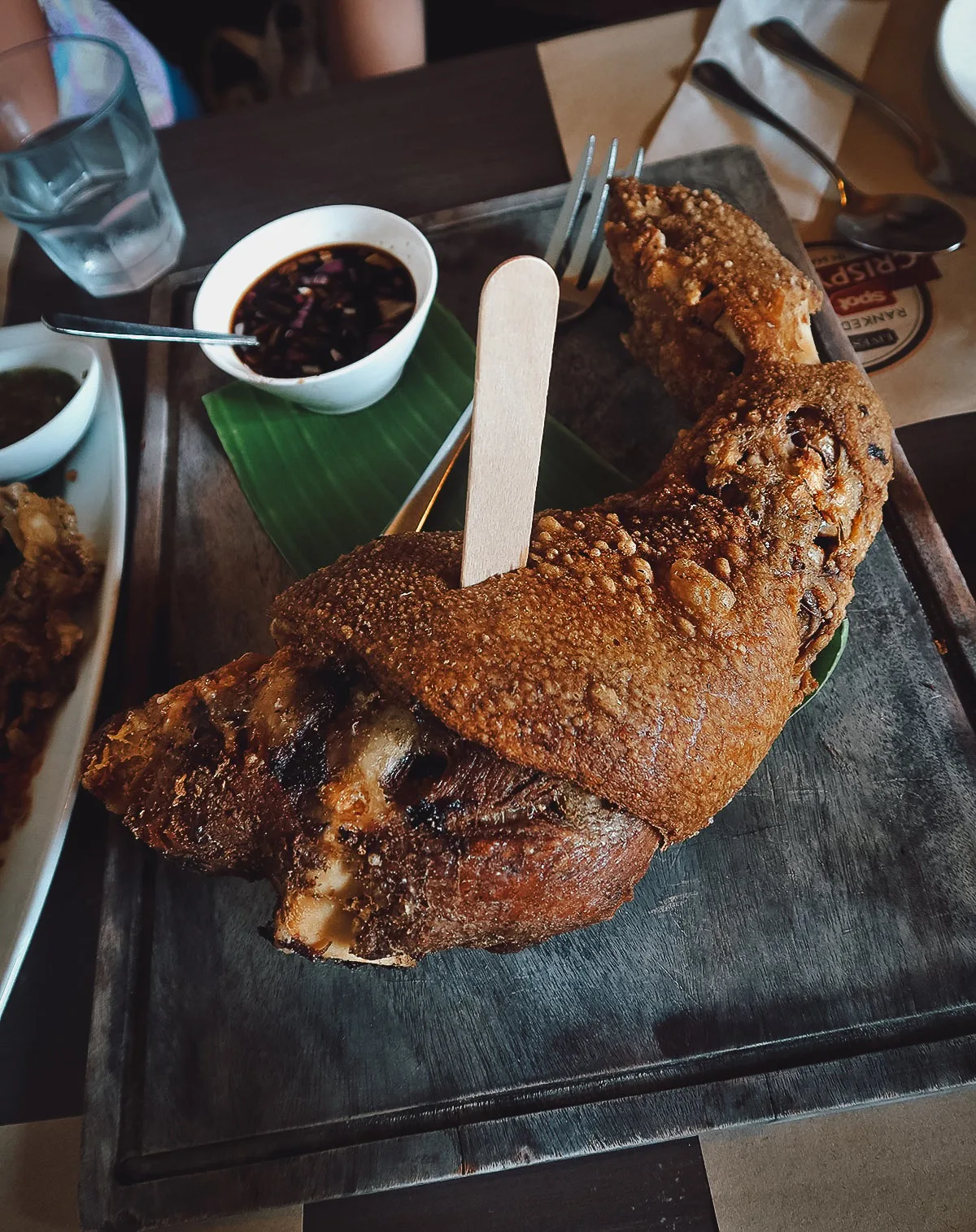 As advised, you can't enjoy a Filipino meal without garlic rice. Check out all those crunchy bits of fried garlic!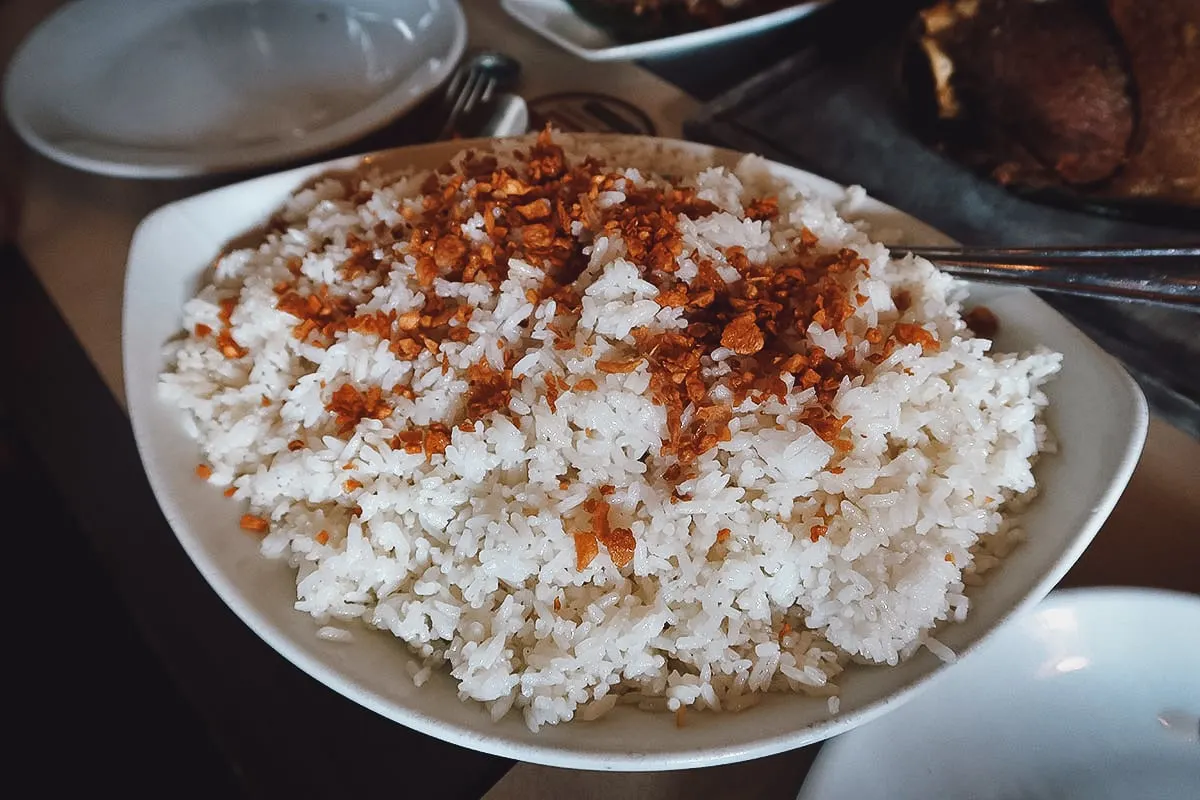 Livestock has two outlets in Manila but we recommend going to their Quezon City branch. It's the original branch and in our experience, better than their restaurant in BGC.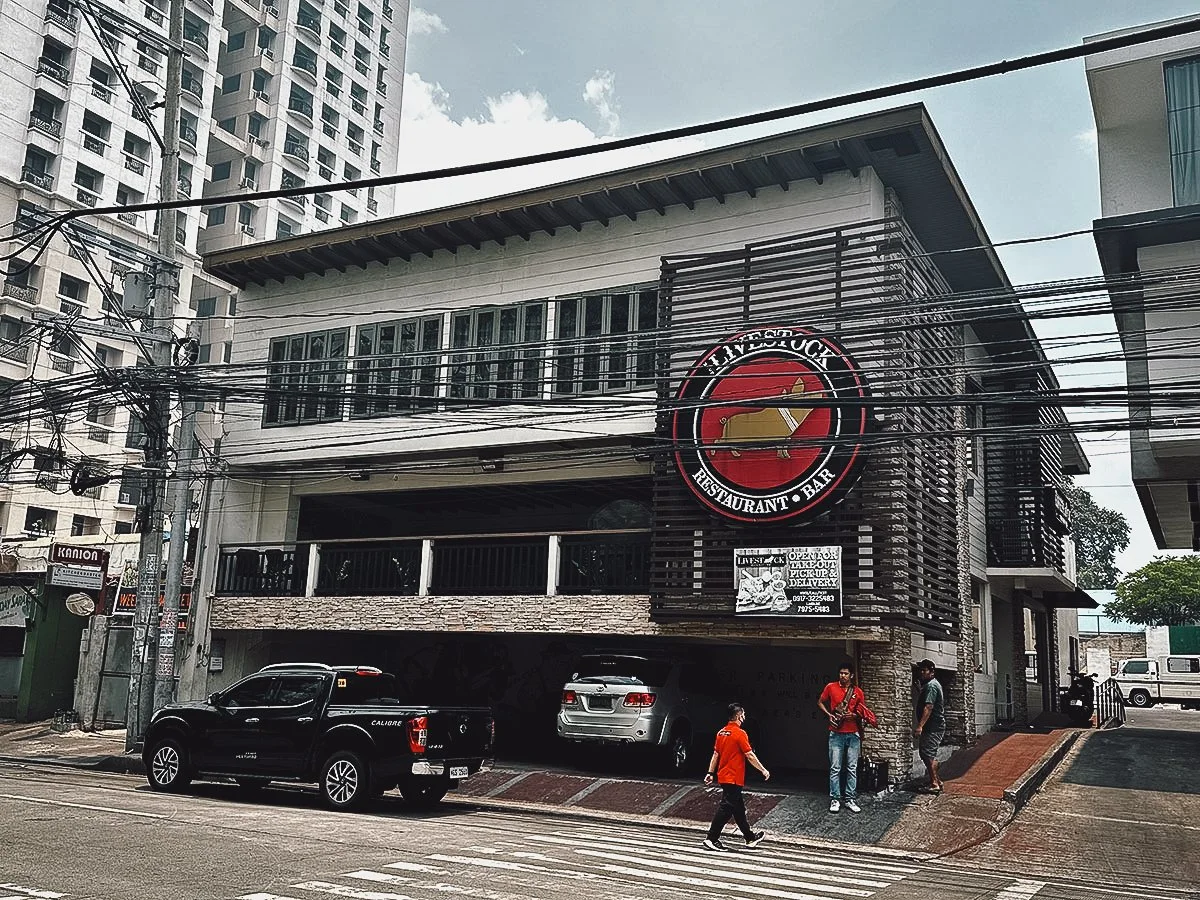 The thought of eating crispy pata at Livestock never fails to put a smile on my face. It's one of my go-to restaurants for entertaining foreign guests in Manila.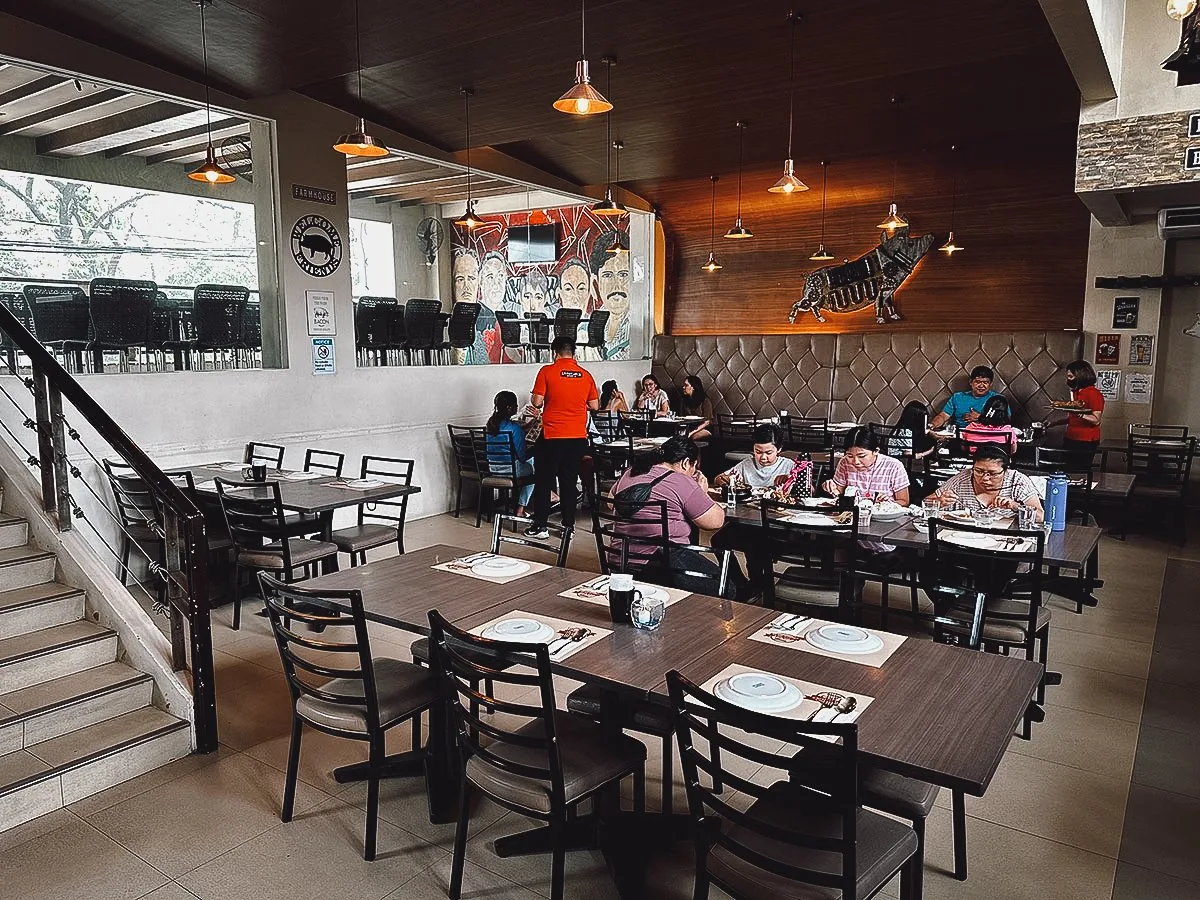 Livestock
Address: El Jardin Del Presidente 1, 41 Sgt. Esguerra Ave, Diliman, Quezon City, Metro Manila, Philippines
Operating Hours: 11AM-11PM, daily
What to Order: Crispy pata
7. Manam
Manam has been one of the hottest restaurants in Manila for a few years now. They serve delicious food all around, but the one dish on everyone's lips is this never-before-seen version of pancit palabok.
Before we get into Manam's dishes, I wanted to talk briefly about the restaurant itself. Manam is one of the brands of Moment Group, another highly successful group of restaurant operators in Manila. While the LJC Group is known for restaurants that serve traditional Filipino food, restaurants under the Moment Group are more contemporary and serve a wider array of international cuisine.
I'll recommend more Moment Group restaurants later but for now, let's get back to this delicious and hugely popular dish Manam calls crispy pancit palabok. You already know what traditional pancit palabok is, but what makes Manam's version so unique is that it's served with a tall mound of crispy fried noodles.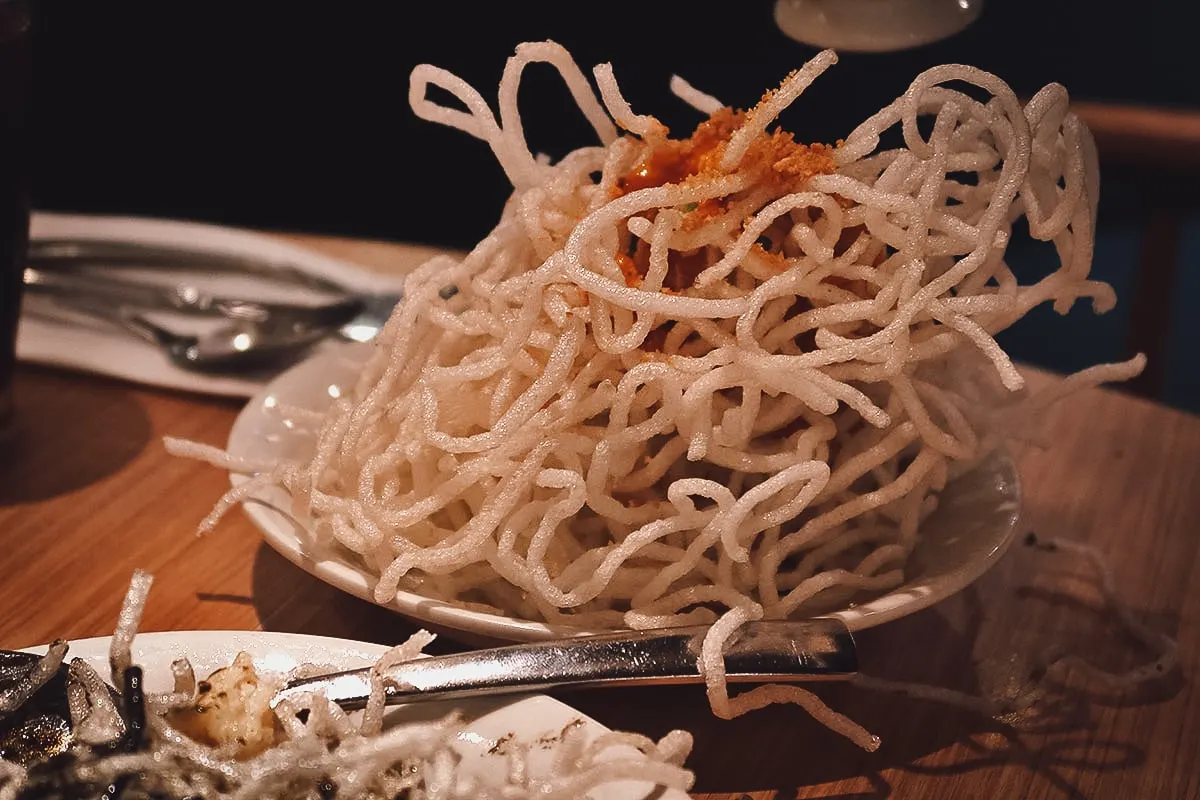 After setting the plate of fried noodles on your table, the waiter then pours the savory shrimp sauce over them. This instantly rehydrates the glass noodles and gives them the texture every Filipino is familiar with. Aside from being delicious, it's a unique moment of tableside theater never before seen with pancit palabok.
Everyone gets the crispy palabok but you can order the traditional version as well. This is another concept that makes a meal at Manam so interesting. They offer two categories of Filipino dishes on their menu – one traditional and the other with a twist. How cool is that?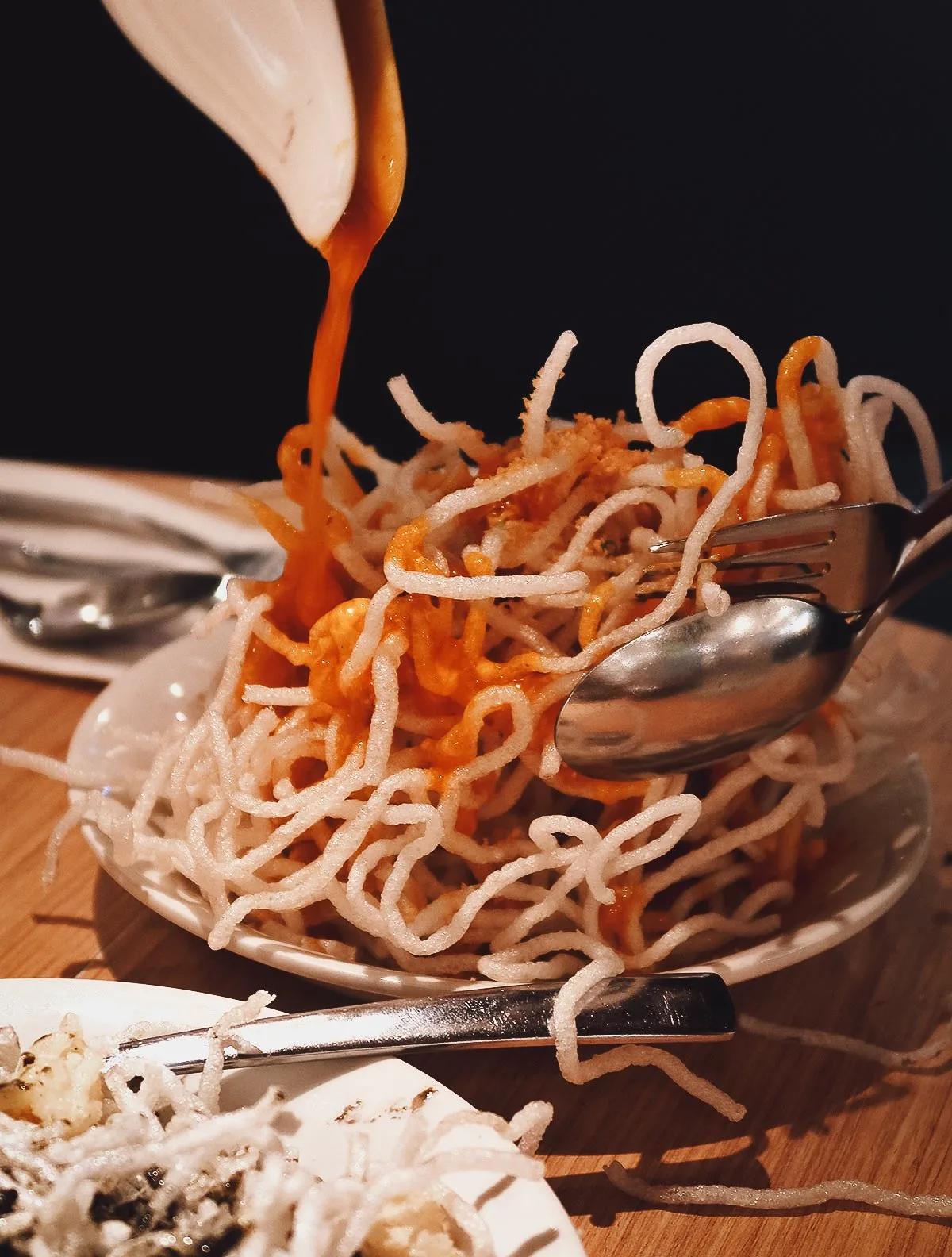 Here's another version of the crispy pancit palabok, but this time with a sauce made from squid ink. Yum!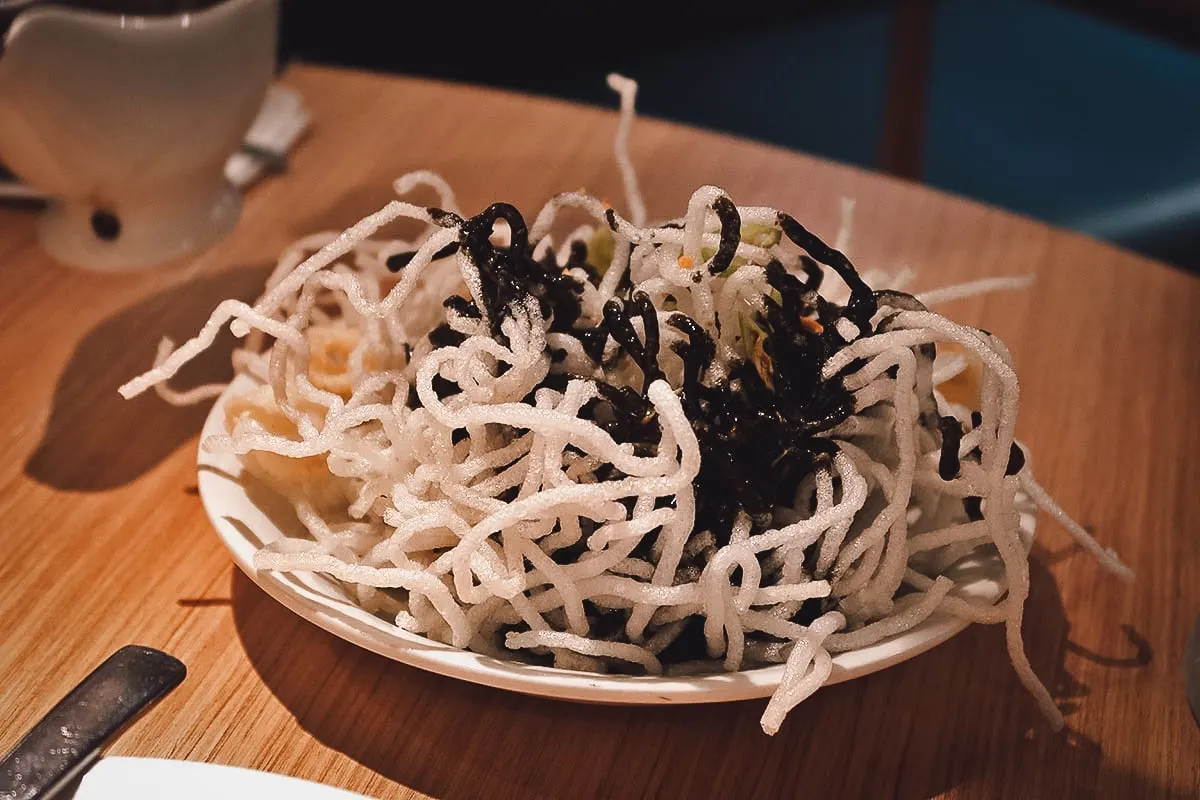 This sizzling crispy sinigang is another innovative dish that falls under the "Twists" category. One of the most beloved dishes in Filipino cuisine, sinigang is a sour Filipino soup or stew but this version is served sizzling on a cast iron plate.
We didn't order it because we like our sinigang sour, but another much-talked-about dish at Manam is their watermelon beef sinigang. Called sinigang na beef short rib and watermelon, it's an interesting take on the classic Filipino dish that's more sweet than sour.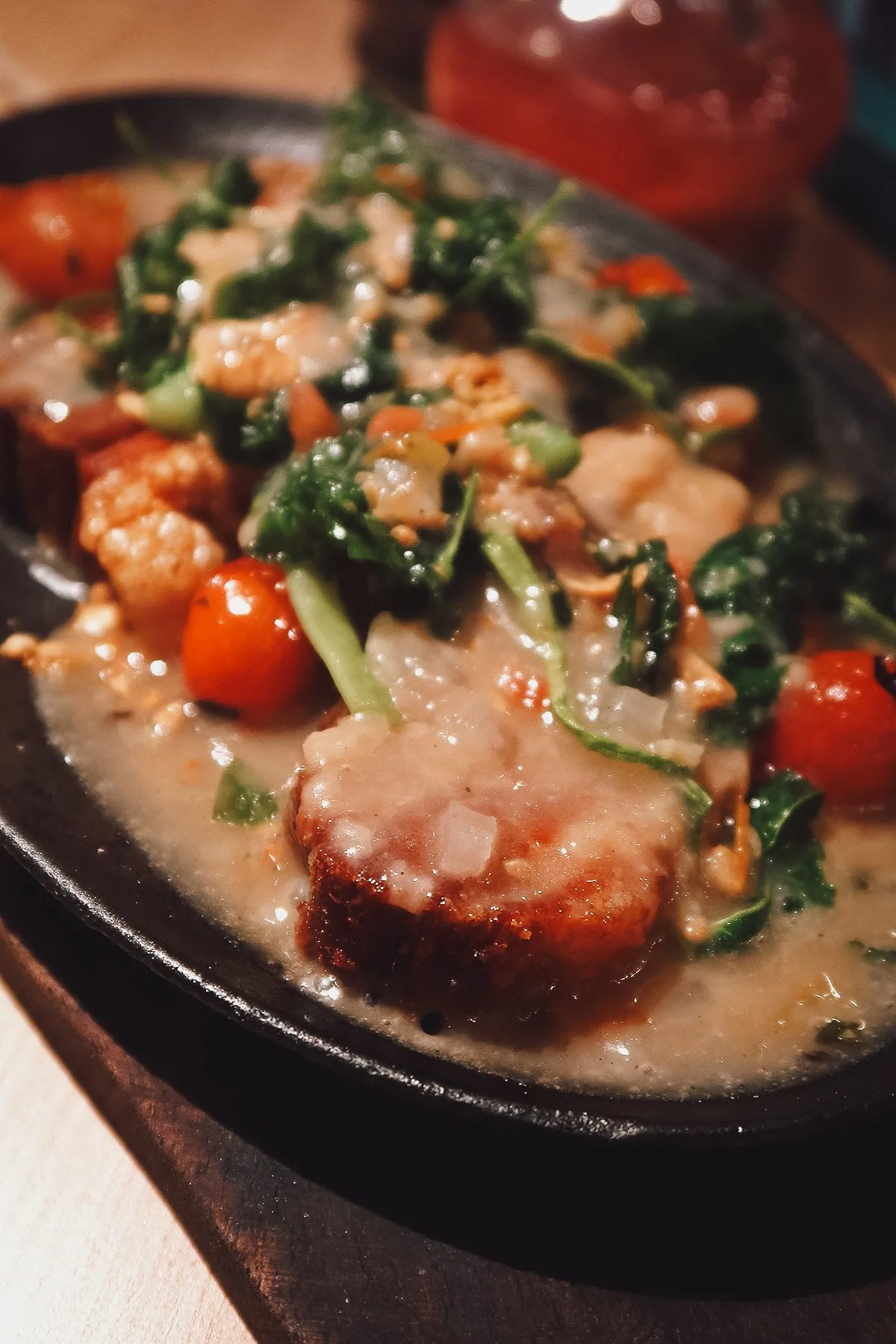 There's no shortage of classic and inventive sinigang dishes at Manam's. This version is called sinigang na salmon head sa miso at guyabano (soursop).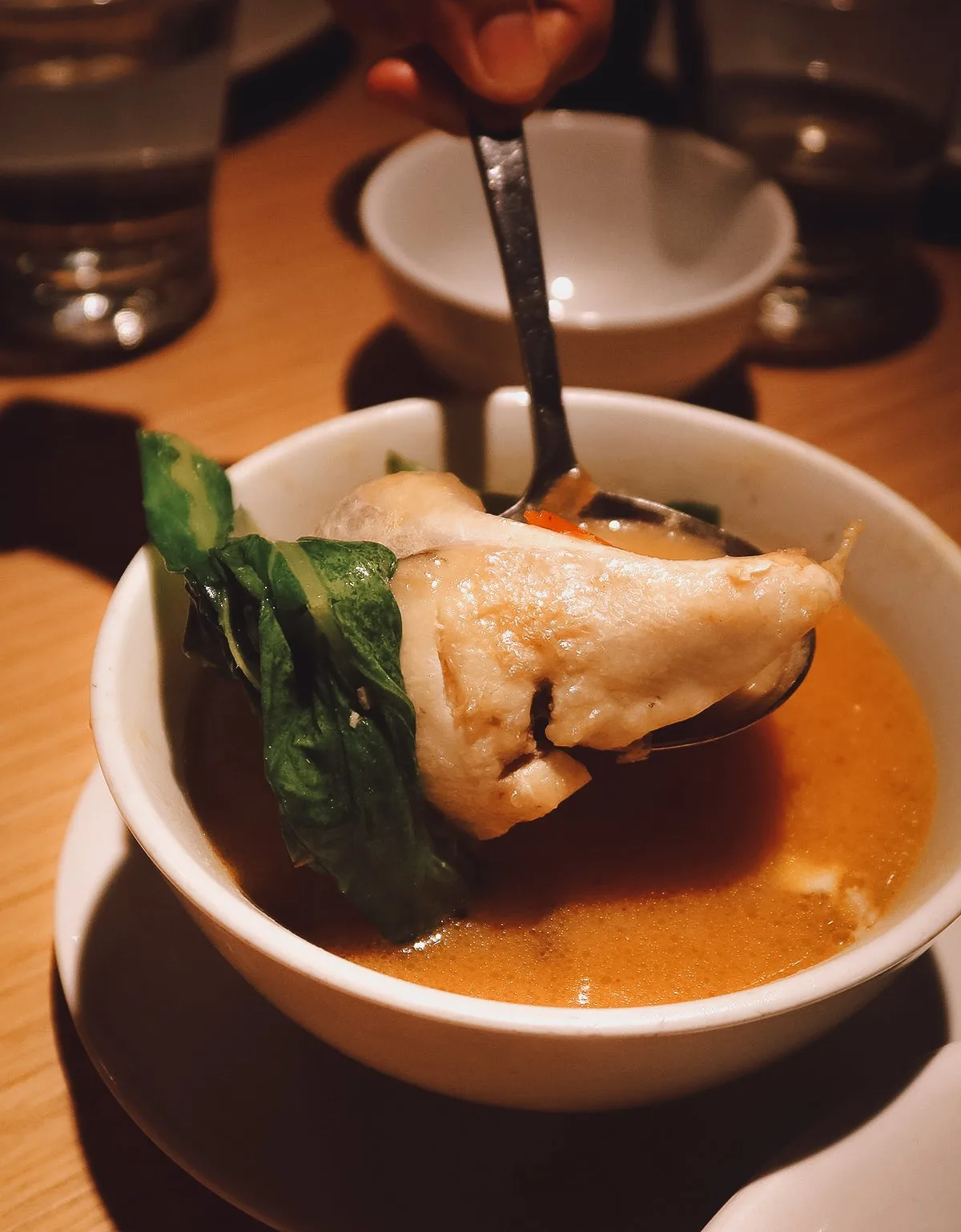 Surprise surprise, a delicious plate of baby squid sauteed in olive oil and garlic makes it to our table.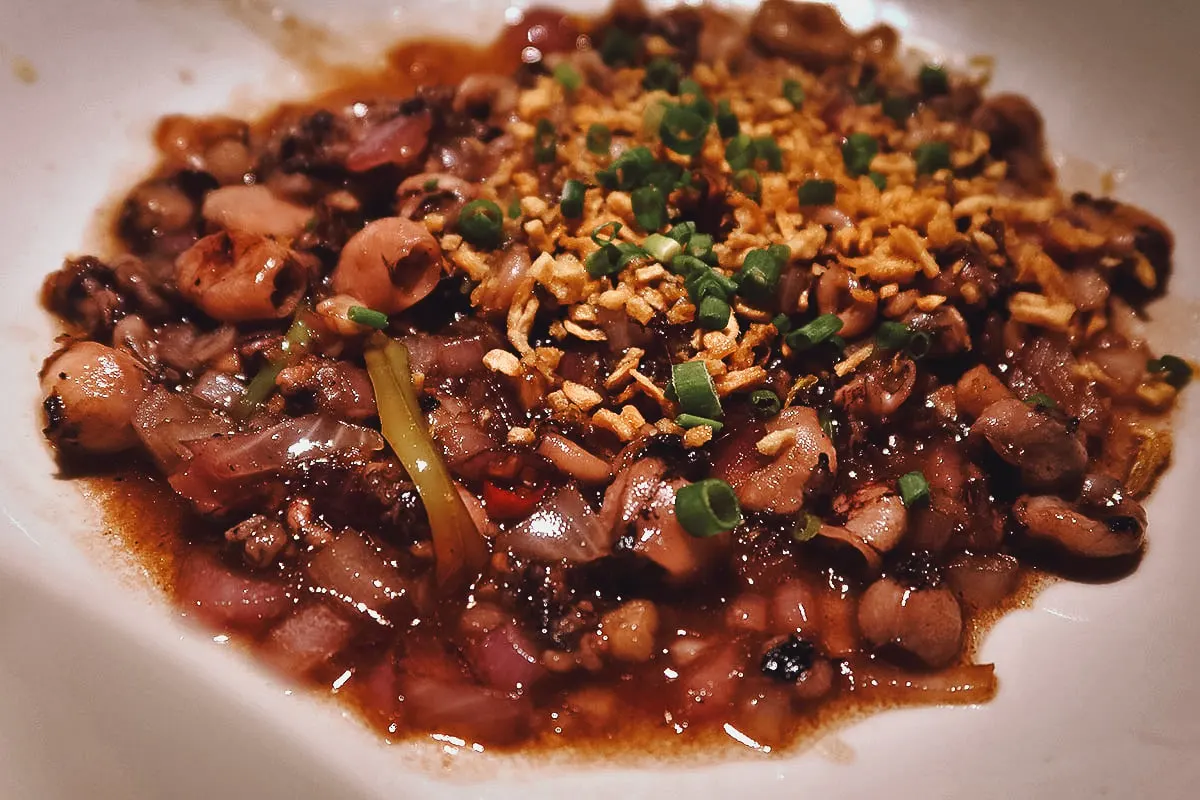 No twists needed here – this classic inihaw na pusit or grilled squid is delicious any way you make it.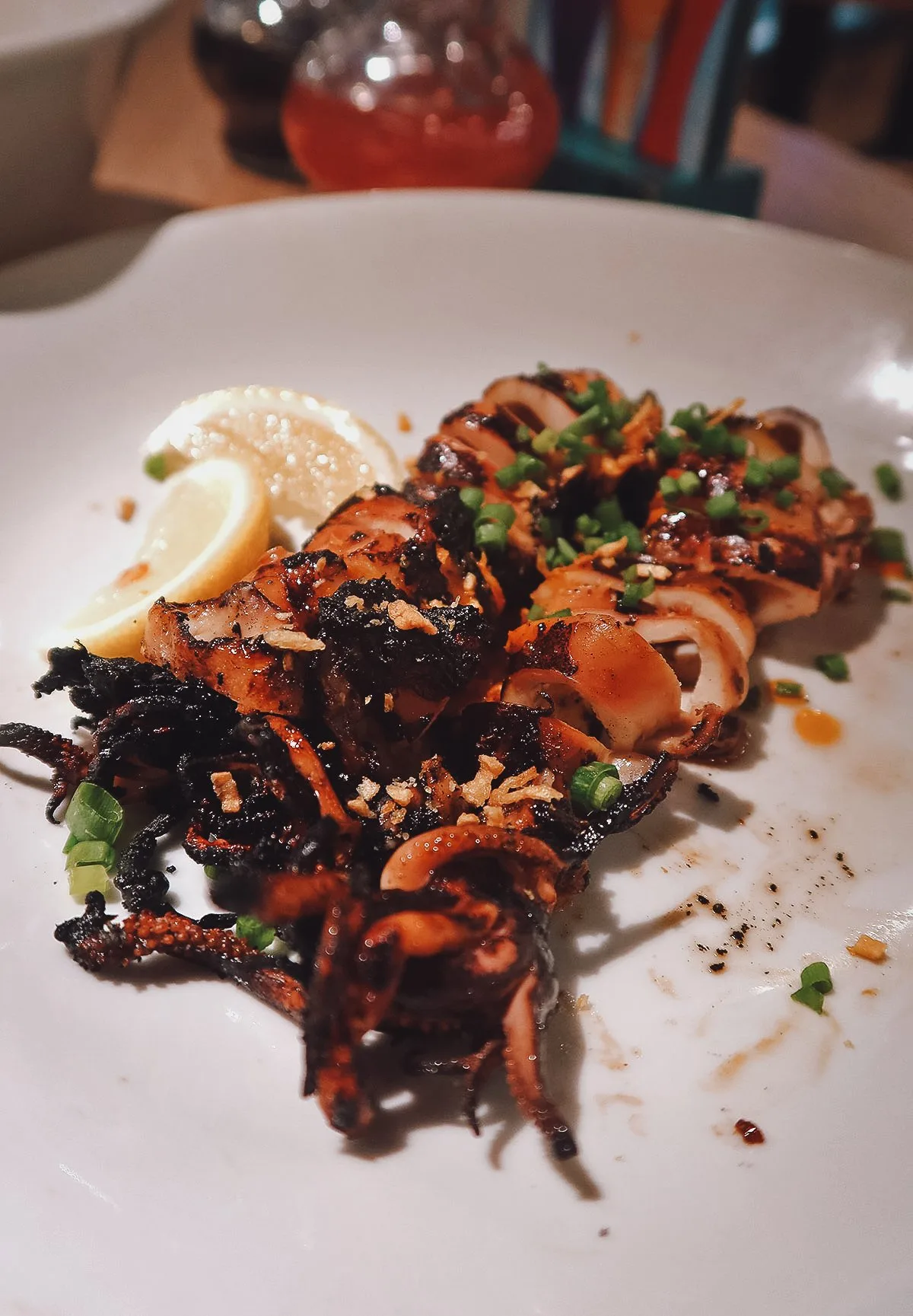 If you prefer grilled pork belly to squid, then you may want to try this inihaw na baboy. No reinvention here but it was absolutely delicious.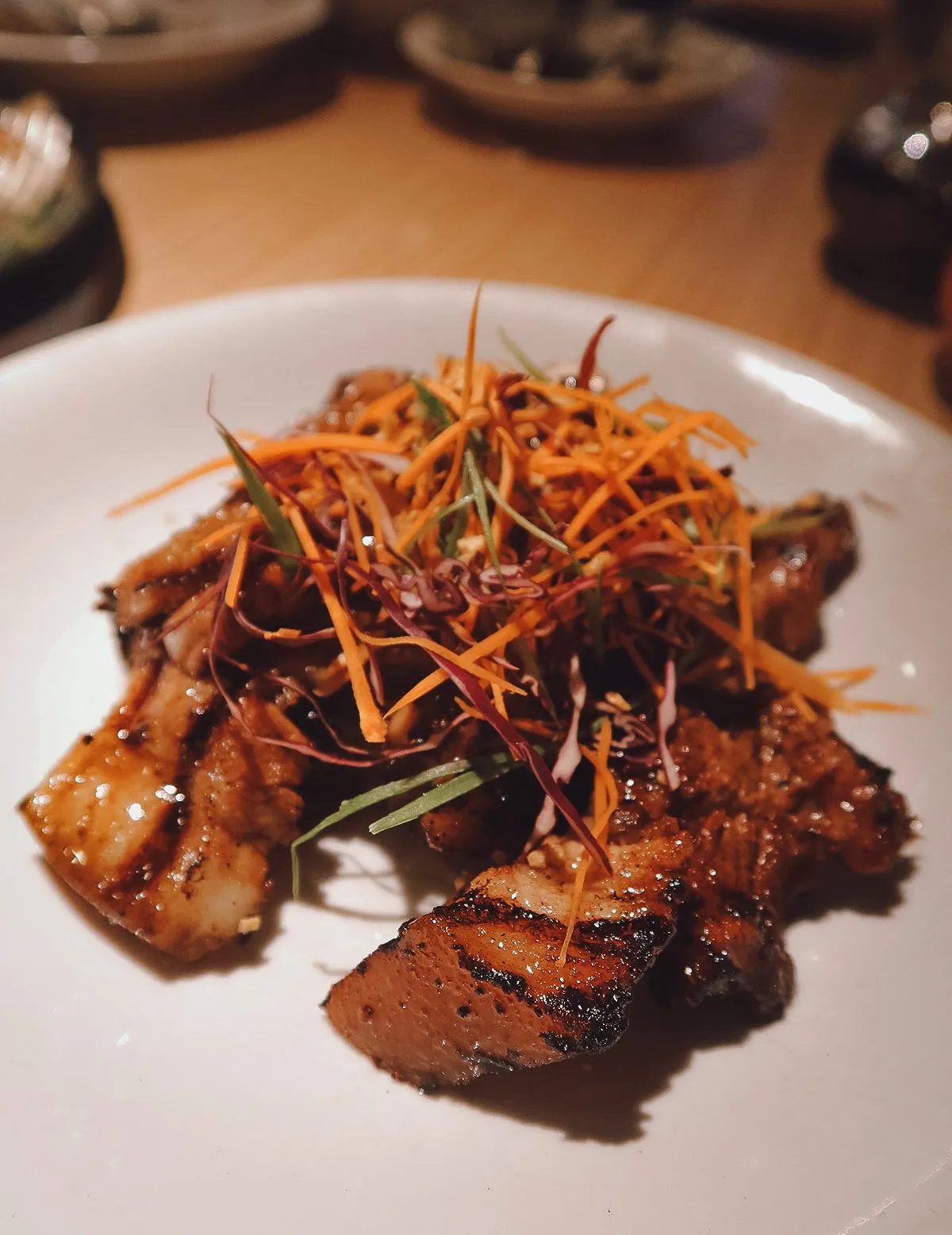 Twist or not, Filipino food is always best with garlic fried rice.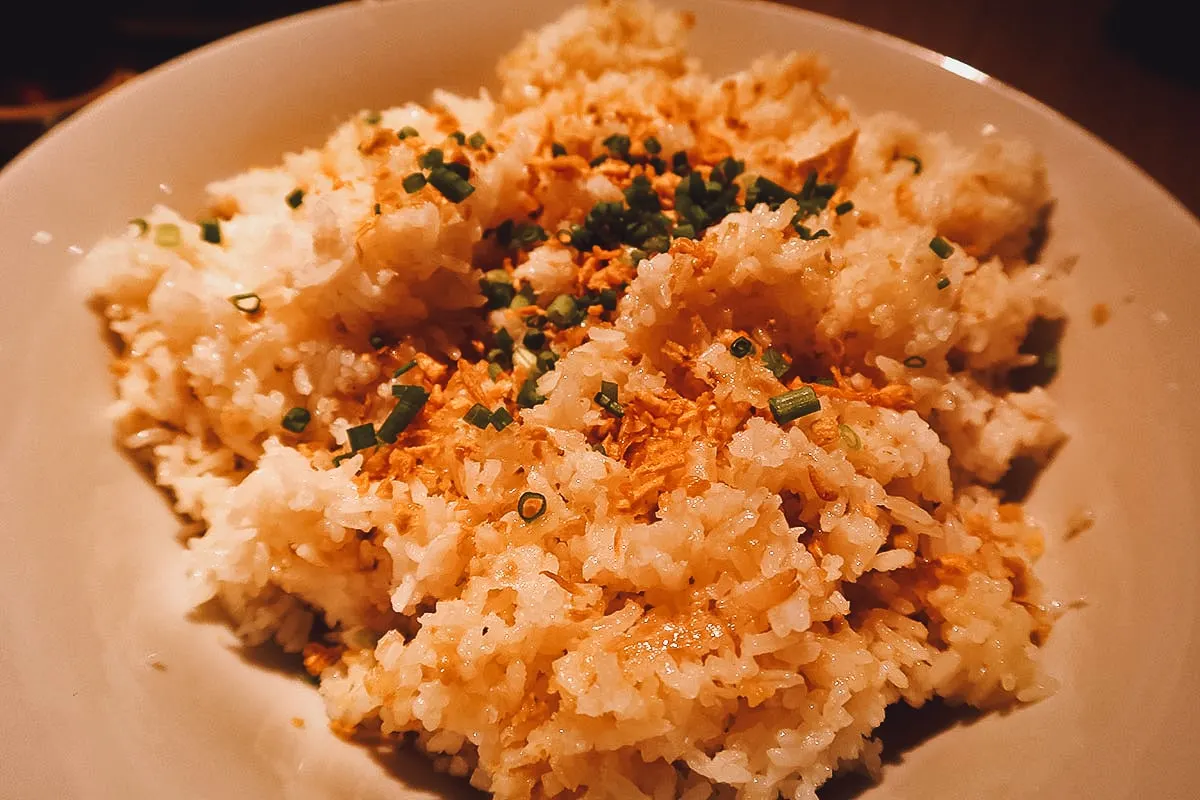 Manam serves a few fun shakes as well. This ube and sago shake was refreshing and delicious.
On our next visit, I'll try the Choc-nut shake. Choc-nut is an iconic Filipino candy bar made with peanuts and cocoa powder.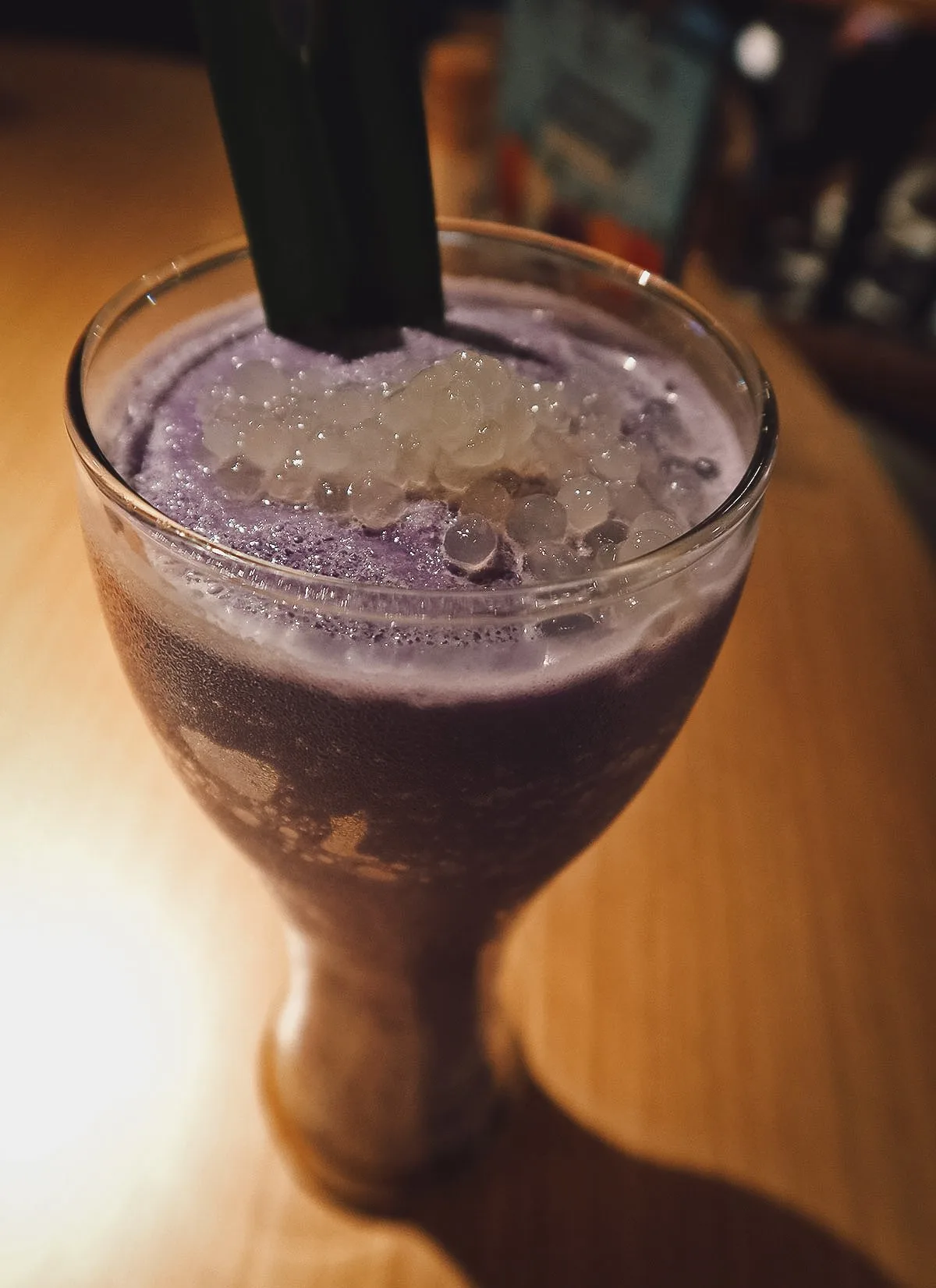 Being such a successful brand, Manam has branches everywhere. Pictured below is the Robinson's Magnolia branch but you should be able to find one in every major shopping mall in Manila.
Aside from Manam, other popular Moment Group restaurants include 8 Cuts Burgers, Ooma, and Mecha Uma. They have a speakeasy as well called Bank Bar. You really can't go wrong with anything put out by the Moment Group.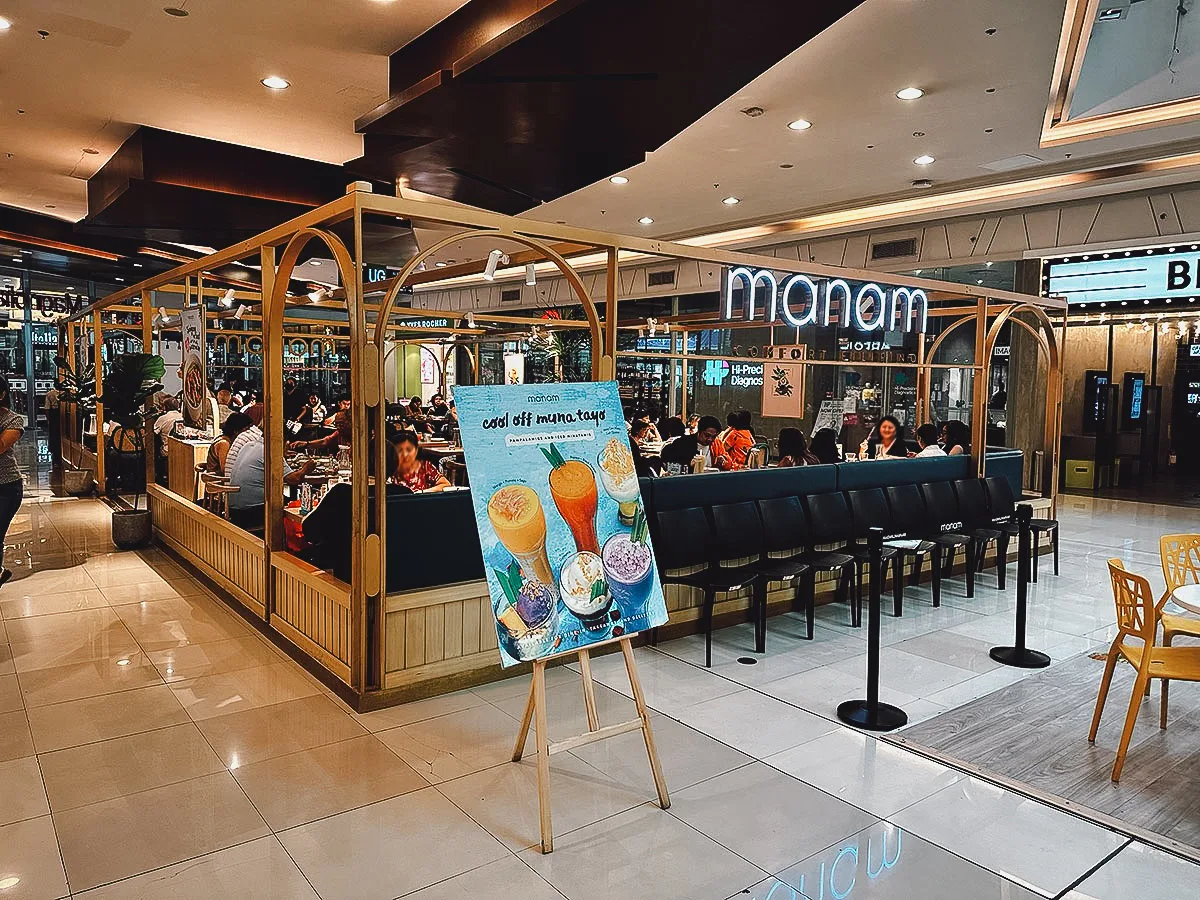 Manam
Address: Multiple outlets
Operating Hours: Varies per branch
What to Order: Crispy pancit palabok, sinigang na beef short rib and watermelon
8. Seaside Market on Macapagal Boulevard (Dampa Seaside Market)
Did you ever see that 2008 Philippines episode of No Reservations where the late great Anthony Bourdain was taken to Farmer's Market in Cubao by local tour guide Ivan Man Dy?
Farmer's Market is home to a famous dampa in Manila. The term dampa literally means "hut" in Tagalog but it's used to refer to a wet market where diners can buy fresh seafood and then have it cooked any way they like at a restaurant.
The dampa at Farmer's Market is iconic but in this guide, I'm recommending the dampa seaside market along Macapagal Boulevard instead. It's close to Manila Bay and in my opinion, offers a more pleasant experience than the dampa in Cubao.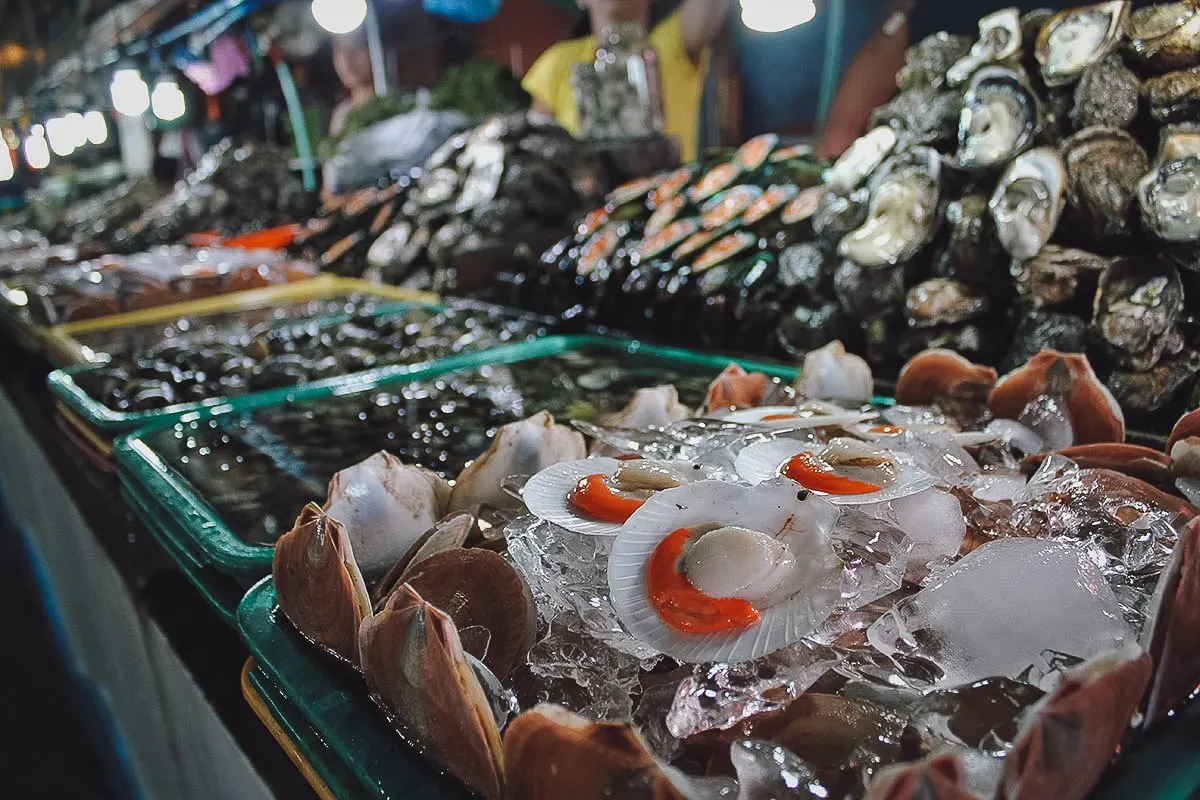 Wet markets are often chaotic, dirty, and smelly so they may not be for everyone, but if you'd like to immerse yourself in the local culture, then visiting a wet market is a great way to do that. If you're a seafood lover, then enjoying a meal at a dampa is a must.
The dampa along Macapal Boulevard has exploded in popularity in the last decarde or so and has been my family's go-to place for this type of dining experience. Comprised of dozens of market stalls and restaurants, it's a big dampa selling virtually every kind of seafood available in the Philippines.
Pictured below are bins of live mud crabs and a bucket of fresh crab claws. Fried crab with salted egg is one of my mother's favorite dishes to eat at this dampa.
If mud crabs aren't exciting enough for you, then perhaps you'd like to try curacha instead. Curacha is the local term for "spanner crabs" or "red frog crabs", a type of crab common in the waters of Sulu, Zamboanga, and Bataan provinces.
The specimens below aren't cooked. Curacha crabs have that red-orange color even when alive.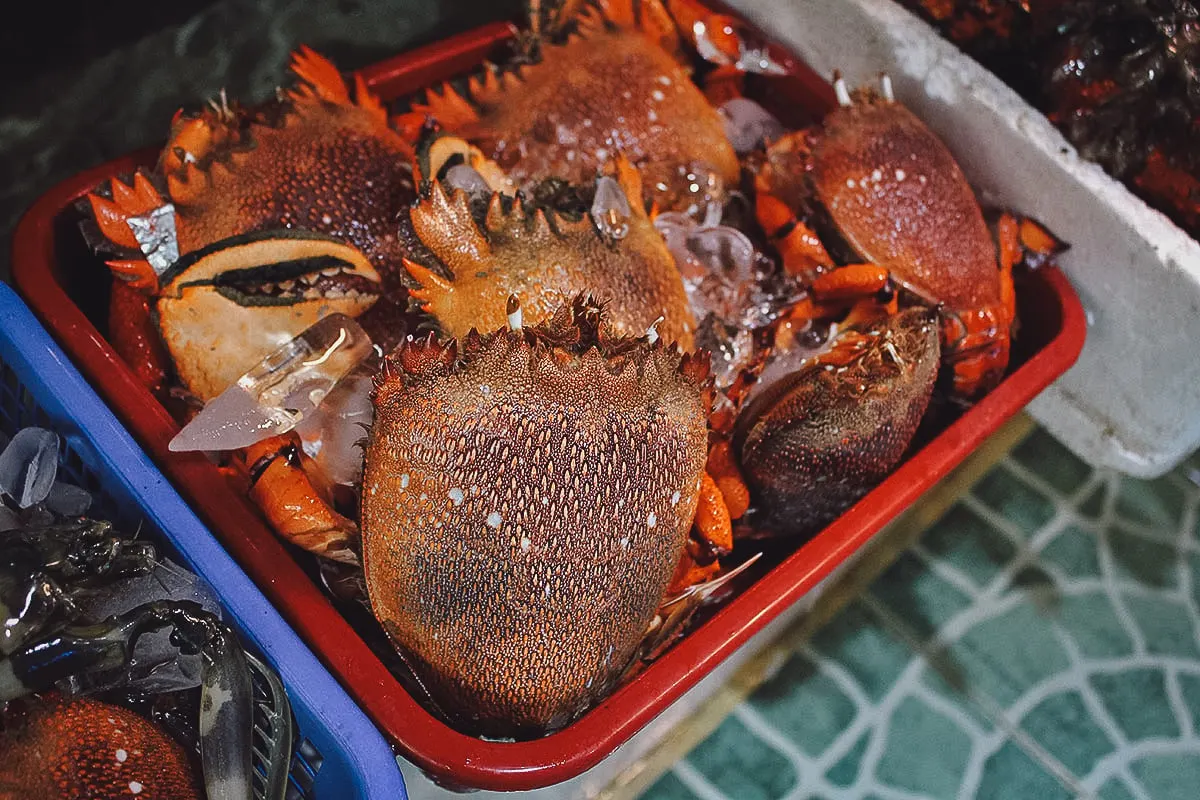 Fancy whole fish or squid? You'll have lots to choose from at this dampa.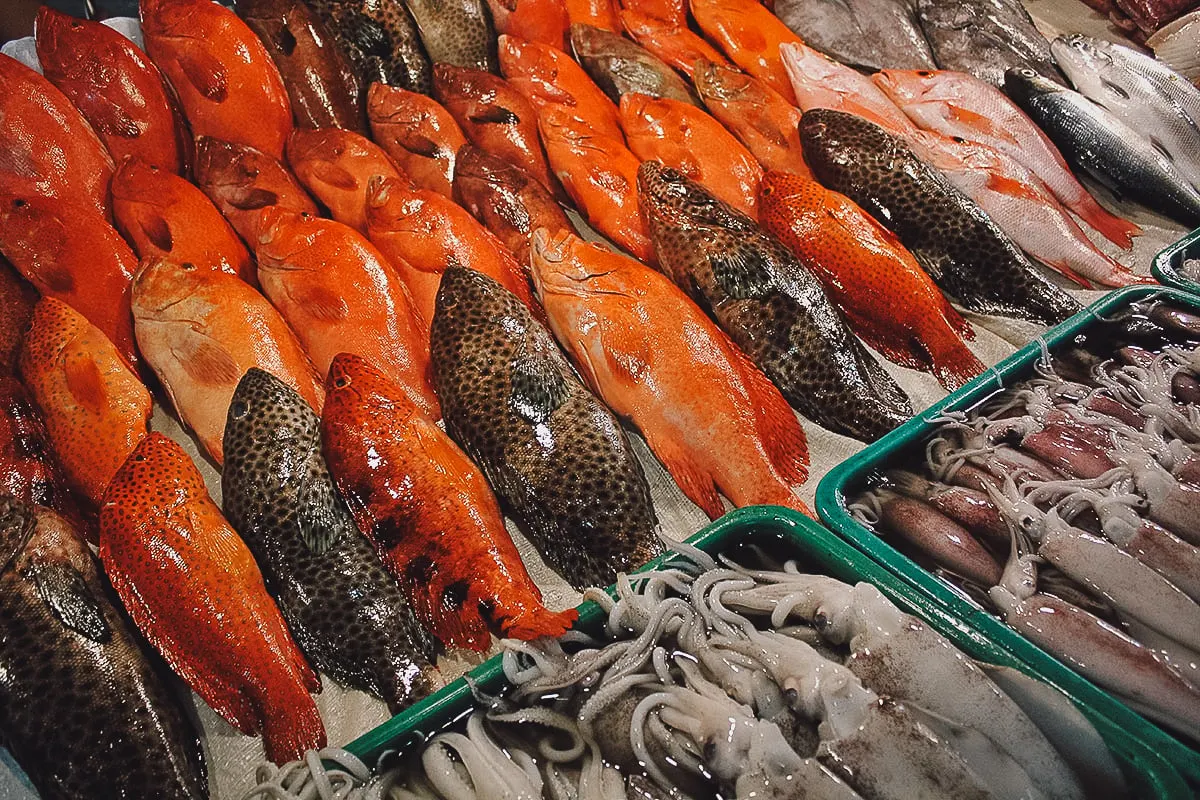 Do you know what these are? If you thought they looked like the love child of a praying mantis and shrimp, then you're not alone.
Called mantis shrimp, these carnivorous crustaceans have appendages that can strike prey with a force equivalent to a .22 caliber bullet. Stir-fried with loads of garlic, they taste quite good.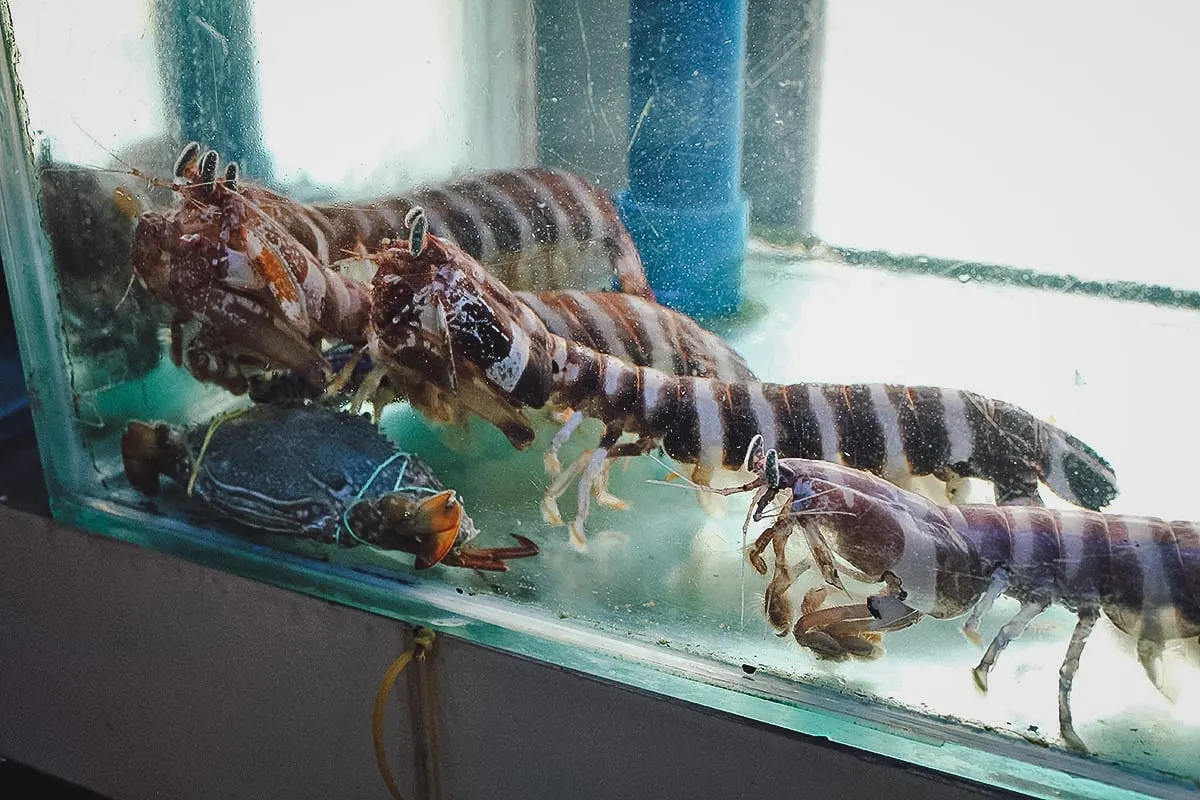 After you've purchased all your seafood, you can have it cooked at one of the many restaurants in the dampa. Every restaurant offers similar ways of cooking your seafood, but not all are created equal. Personally, we always go to Hong Kong Master Cook or Huey Ying.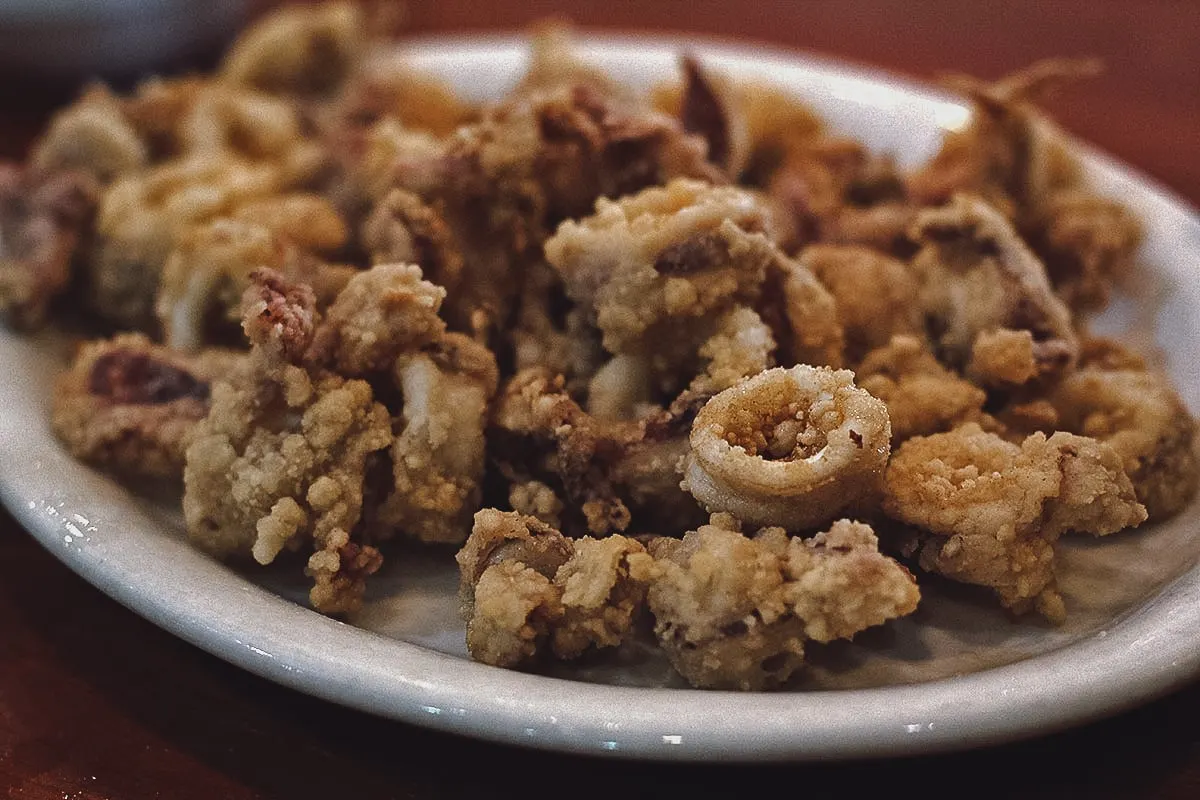 Scallops baked with cheese are a popular choice in the Philippines.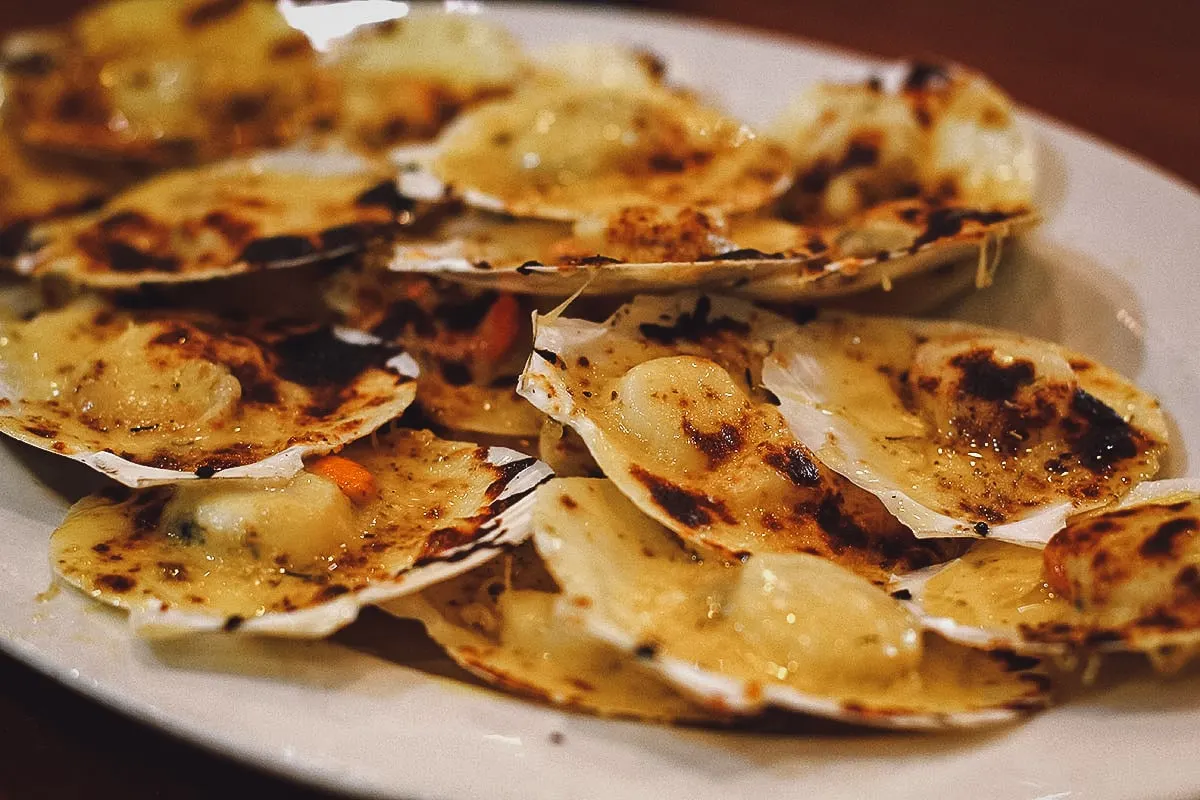 Located close to Manila Bay, the Macapagal dampa is a stone's throw from Mall of Asia so you can spend the afternoon at one of Asia's biggest shopping malls after your seafood feast.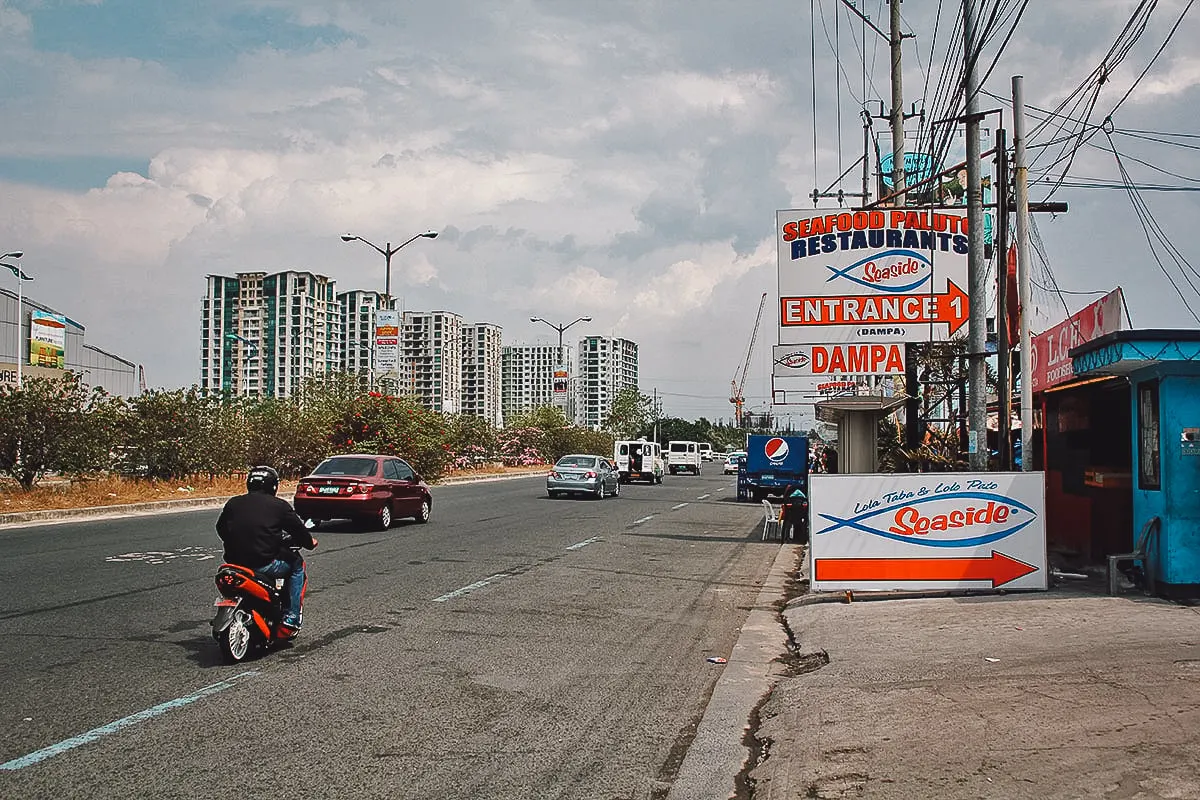 The Macapagal dampa is a U-shaped facility with the wet market at the center and all the restaurants surrounding it. Many of the establishments are Chinese restaurants, including the two I recommended earlier. If you want authentic Chinese cuisine, then either would be an excellent choice.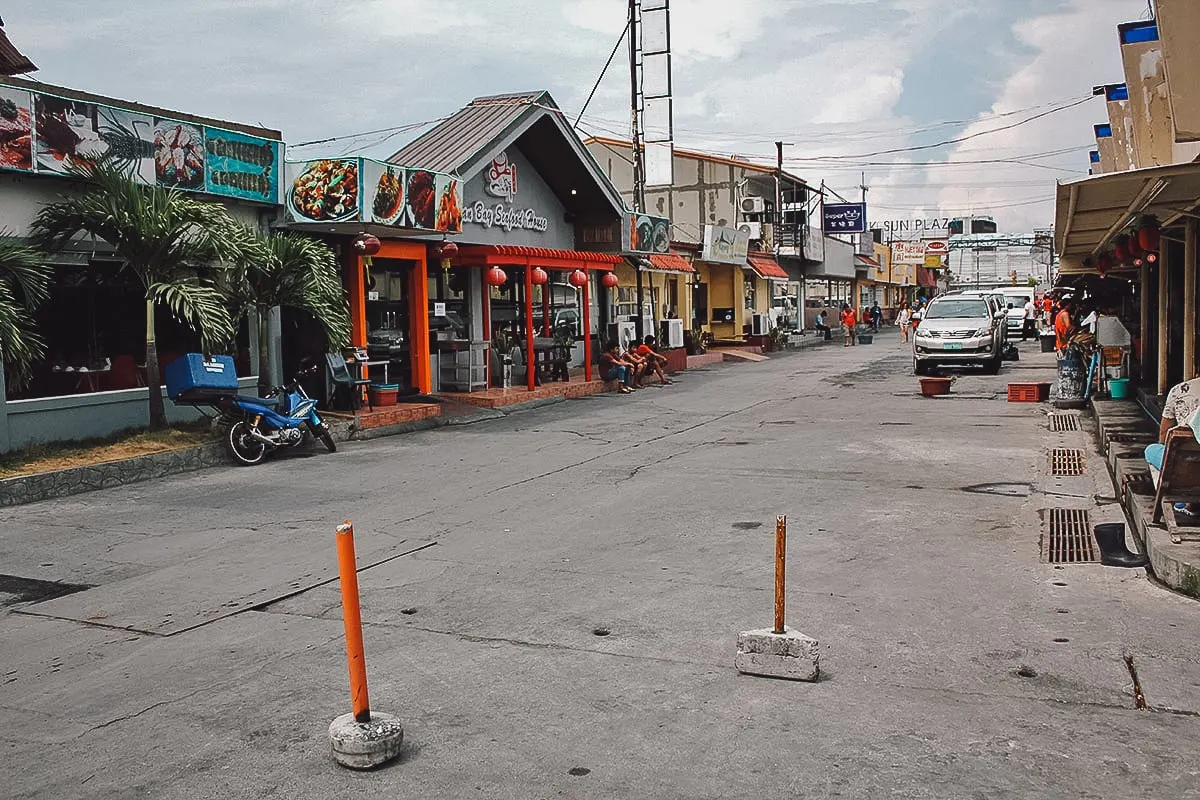 Seaside Market on Macapagal Boulevard
Address: GXWP+2RJ, Diosdado Macapagal Blvd, Pasay, Metro Manila, Philippines
Operating Hours: 10AM-10:30PM, daily
What to Order: Fresh seafood
CHEAP EATS
9. Bacolod Chicken Parilla
Like many people, fried chicken is my favorite preparation of chicken but this is the one restaurant that can challenge that. Bacolod Chicken Parilla specializes in inasal, a method of charcoal-grilling chicken that originated in Bacolod City and the western Visayas region.
Chicken inasal is made with chicken that's marinated in annatto, calamansi, vinegar, and pepper. The marinated chicken is then grilled over charcoal while being basted with the marinade. It's a delicious way of grilling chicken that's become extremely popular in Manila and the rest of the Philippines. You can get it with different cuts of chicken like the leg, wing, breast, and butts.
We've eaten at many insasal restaurants in Manila and Bacolod Chicken Parilla is our hands-down favorite. We've been going here for years.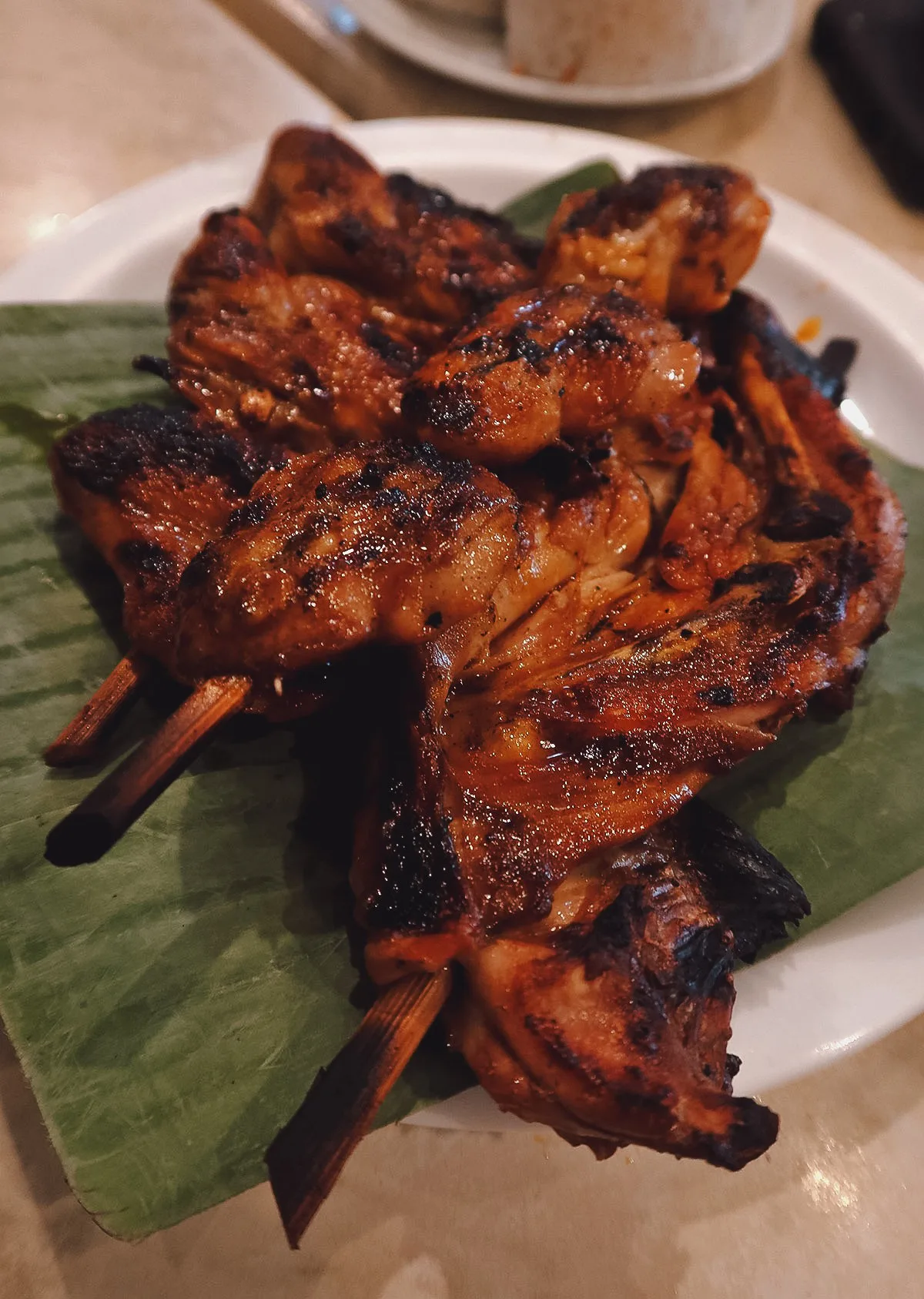 Bacolod Chicken Parilla's specialty is inasal but for me, they serve one of the best pork sisig in Manila as well. Originally from Pampanga, it's a hugely popular bar chow dish made with chopped pig face, ears, and chicken liver served on a sizzling cast iron plate.
There are many versions of sisig in Manila. Many Filipinos enjoy the house crispy sisig with chicharron at a place like Gerry's Grill but I prefer versions like this one. It's made with more vinegar and tastes truer to the Kapampangan original.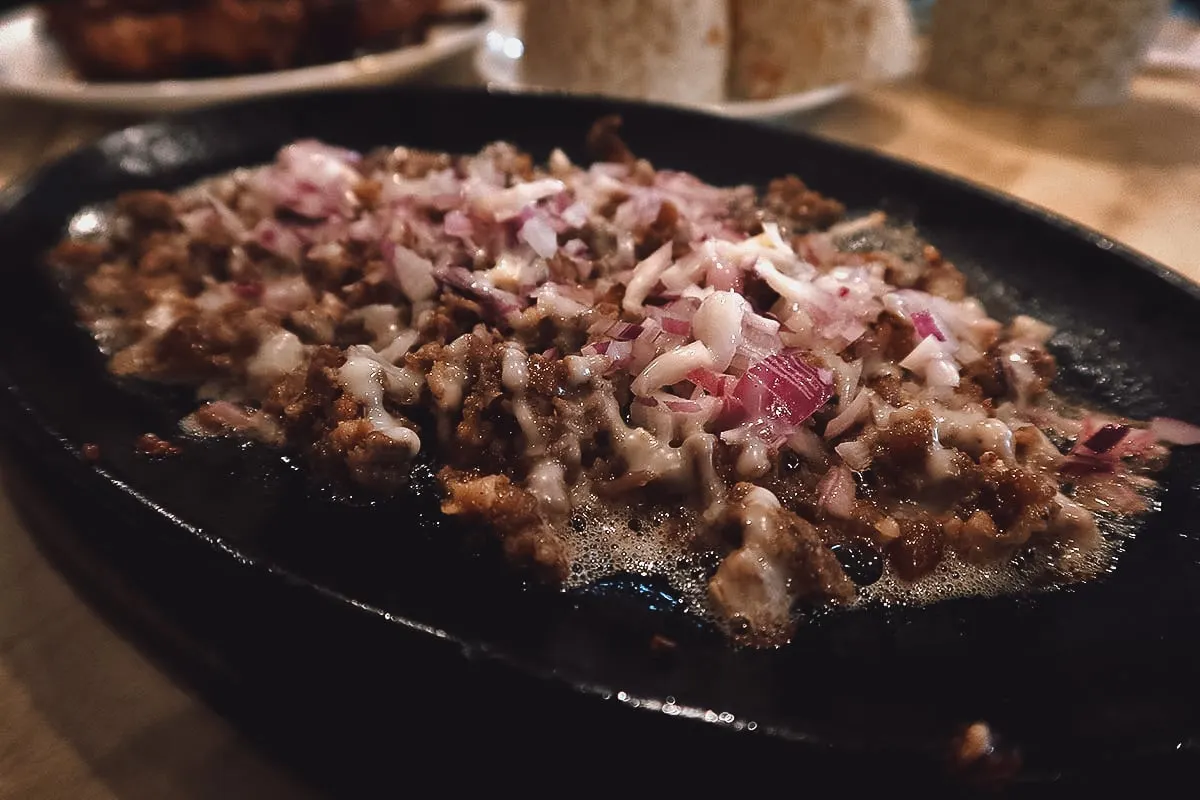 Apan-apan is my go-to vegetable dish at Bacolod Chicken Parilla. It consists of kangkong (water spinach) cooked adobo-style with bits of fried pork.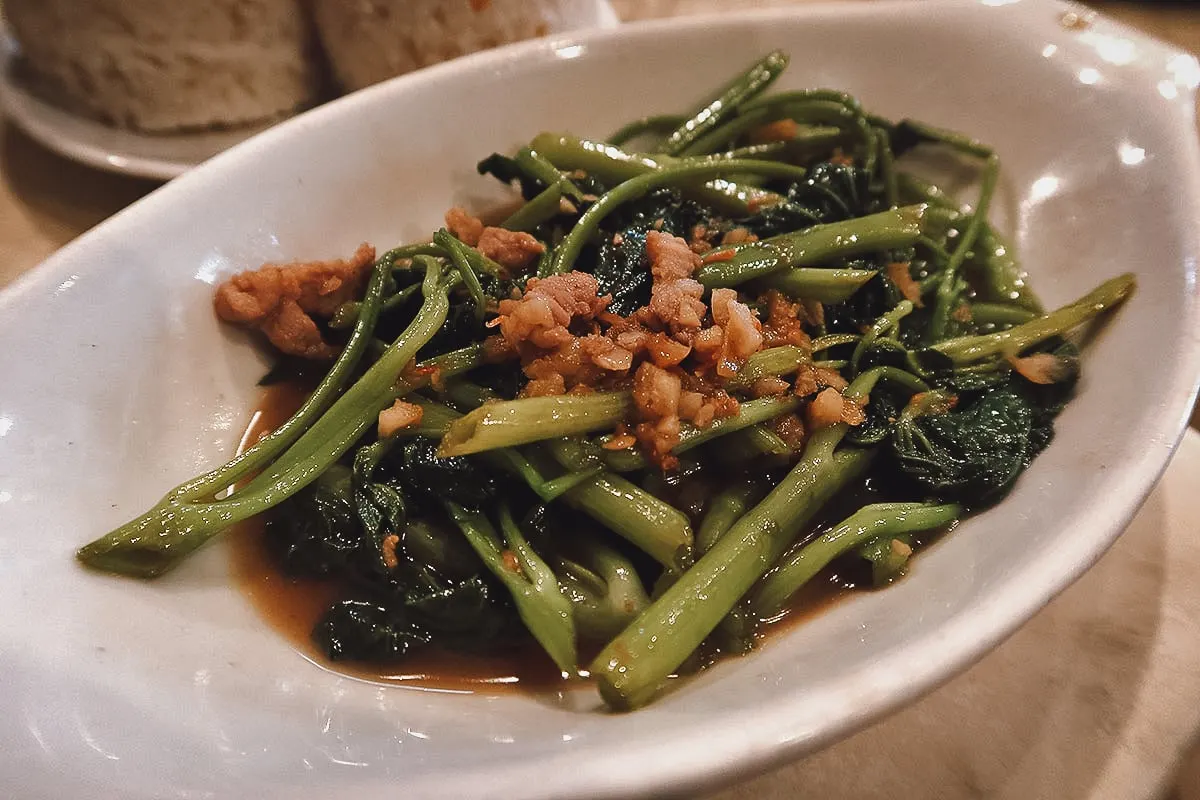 And of course, you can't forget the garlic rice.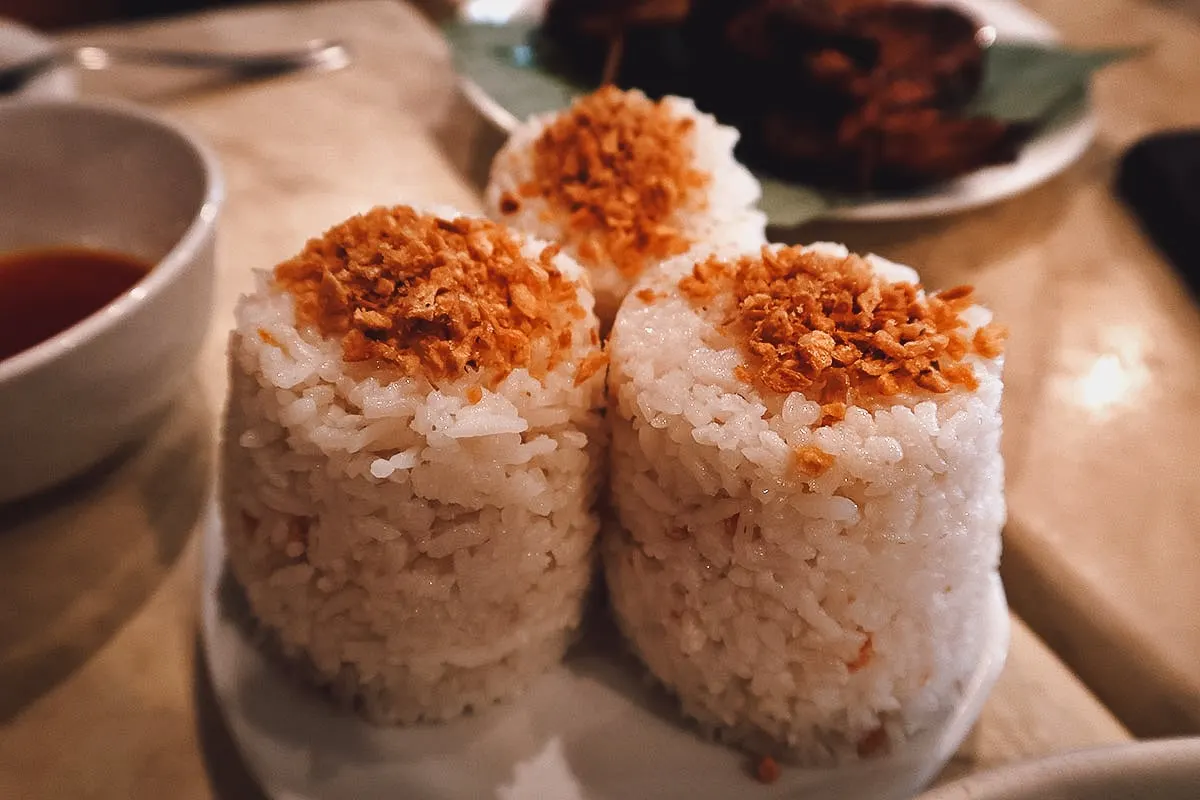 Bacolod Chicken Parilla
Address: 93 Sct. Reyes St, Diliman, Quezon City, Metro Manila, Philippines
Operating Hours: 11AM-11:30PM, daily
What to Order: Chicken inasal, pork sisig, apan-apan
10. The Aristocrat
We like to ask people we meet what their hypothetical last meal would be. Some Filipinos say sinigang, others say pork barbecue. Whatever it is, it's usually a dish that gives them comfort and reminds them of their childhood. Open since 1936, more than one Filipino we've asked has said the chicken barbecue at The Aristocrat.
The Aristocrat is an iconic restaurant that started from the back of a Studebaker van. Today, it remains one of the most beloved Filipino comfort food restaurants in Manila, and it's all because of their chicken barbecue and housemade java sauce.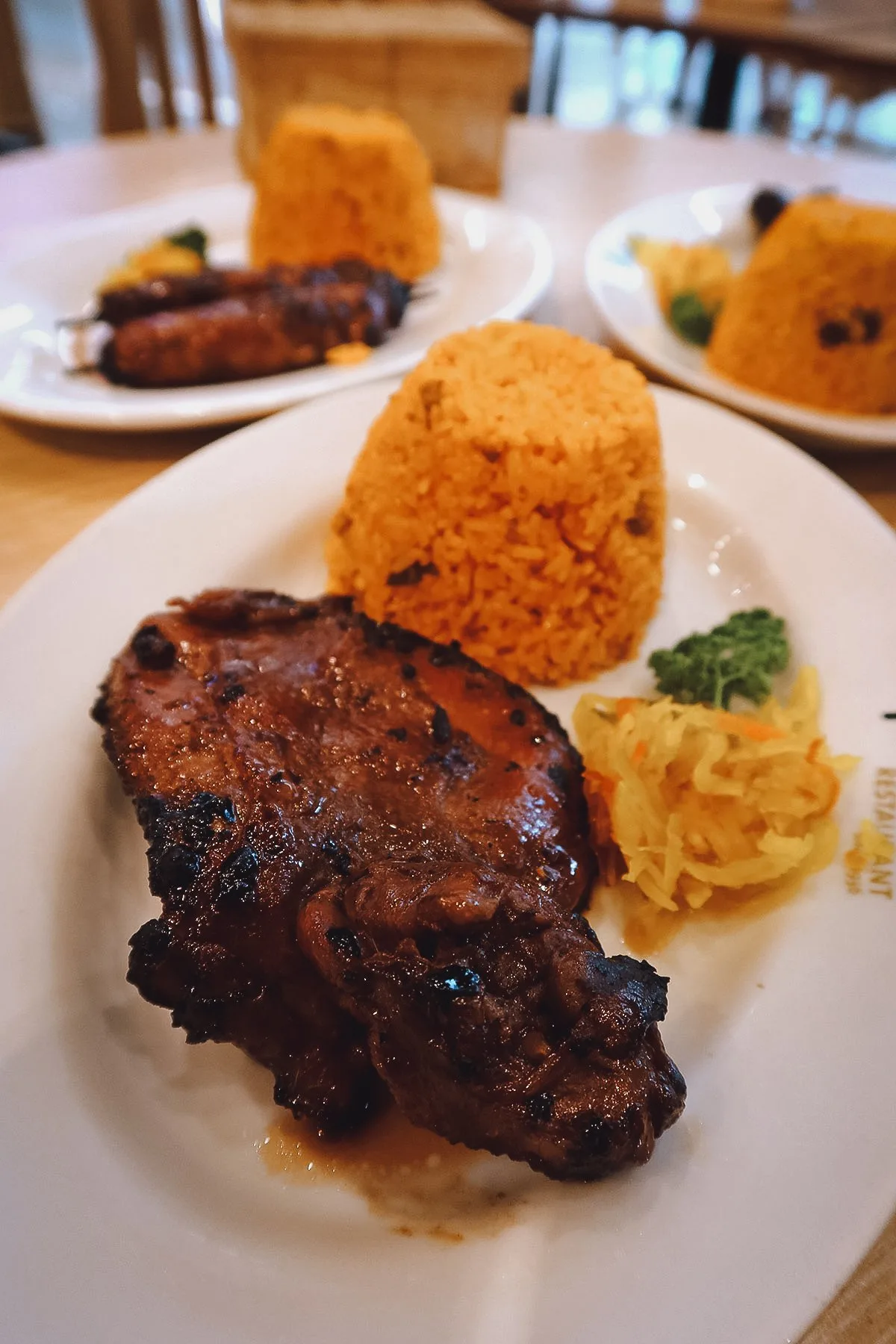 Chicken barbecue is The Aristocrat specialty but their pork barbecue is delicious as well. No matter what type of barbecue you order, it'll come with a cup of their delicious java rice.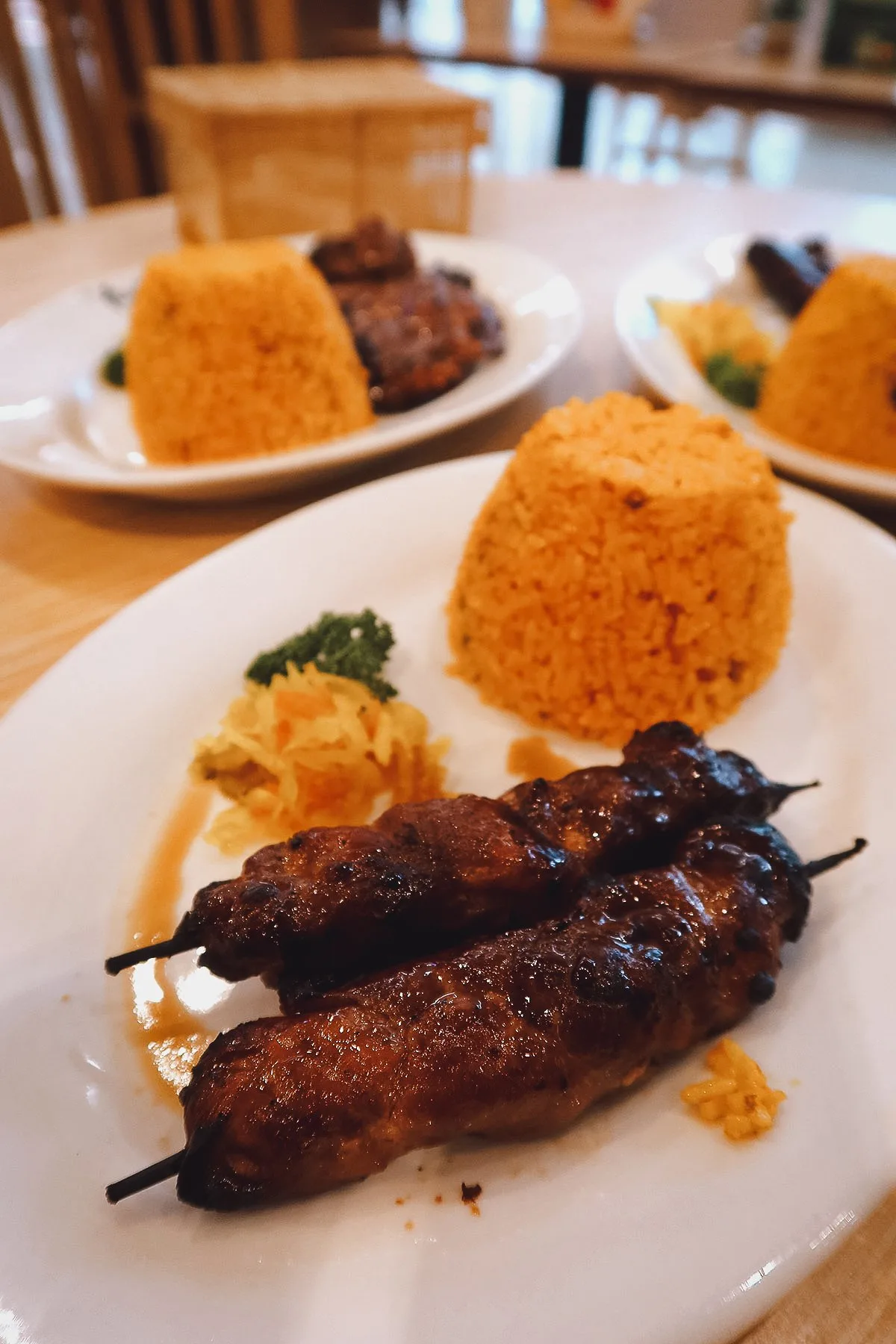 If the chicken barbecue and pork barbecue aren't enough for you, then perhaps you'd like to try the pork spareribs as well. Bottom line, if it's barbecued and served with their famous java sauce, then it's going to be good.
The barbecued meats are already coated in the java sauce but it isn't enough. They give you extra packs for good measure. This stuff is gold so we always bring home the extra sachets to use at home.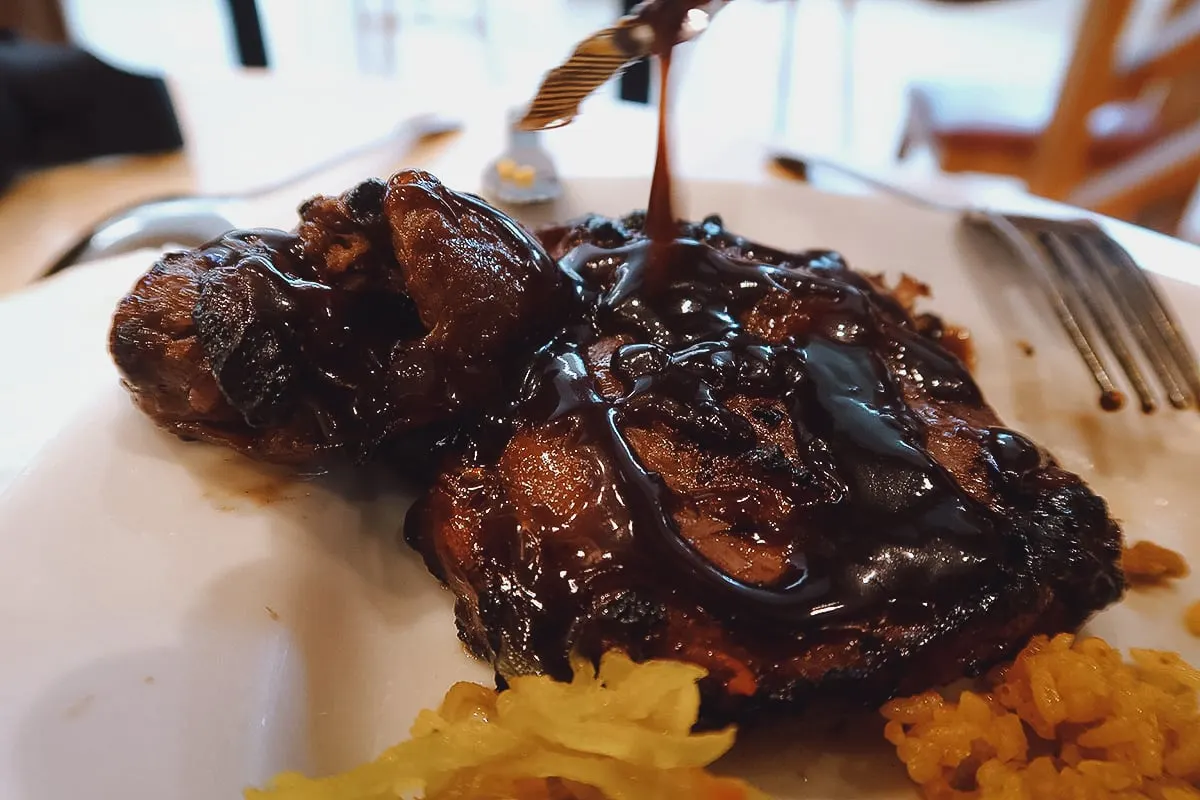 If you want something interesting to wash down your barbecued chicken, then you may want to try a glass of this sago at gulaman. It's a refreshing Filipino drink made with tapioca pearls (sago), gelatin (gulaman), brown sugar, and water.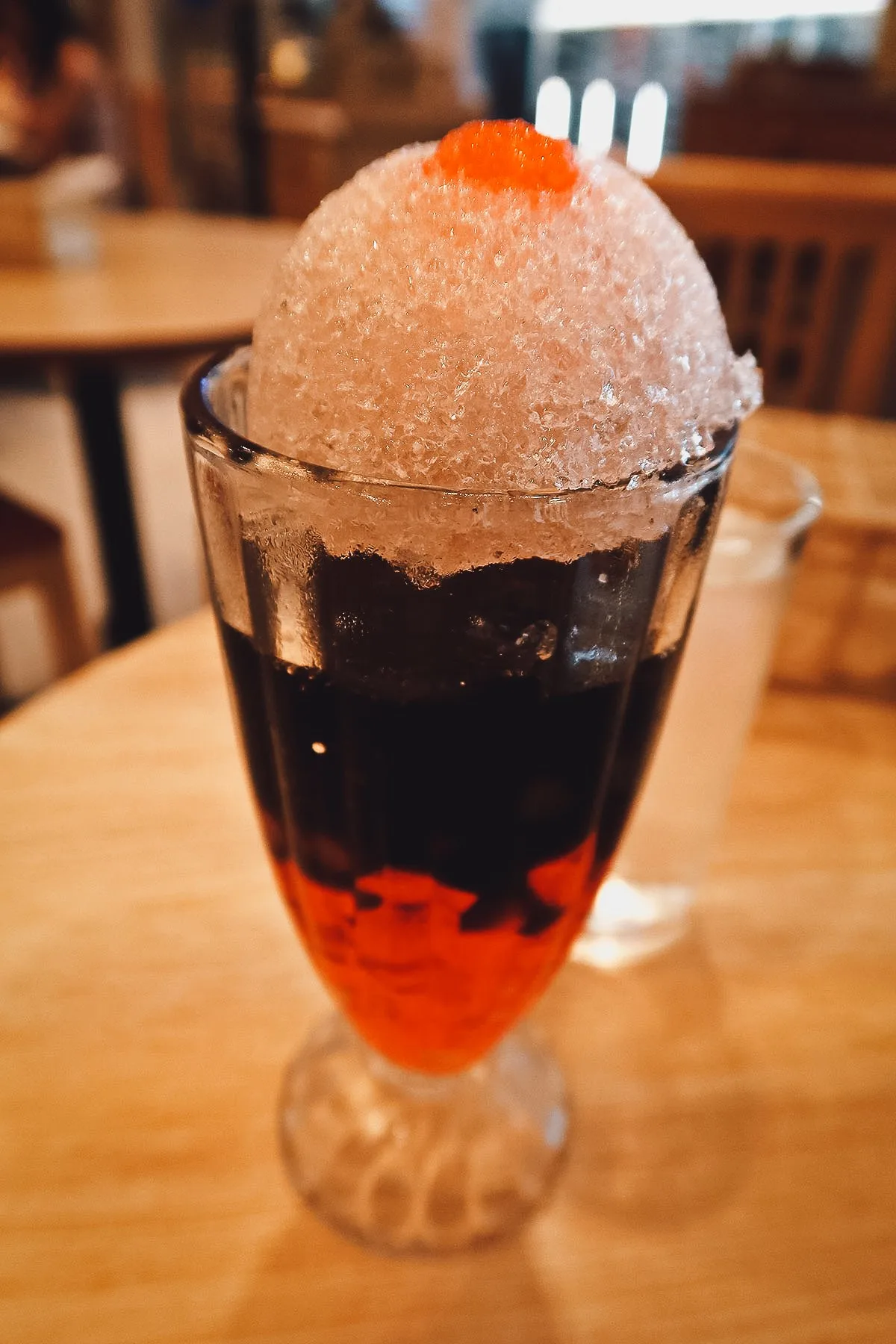 When thinking of the best Filipino desserts, the first thing that comes to most people's minds is halo-halo. It's a refreshing dessert made with shaved ice, sweetened condensed milk, and a mix of different ingredients like ube, coconut strips, sweetened beans, lechen flan, and more.
Usually, halo-halo is extremely colorful but this halo-halo blanca is made with a more restrained selection of ingredients. Traditional halo-halo is eye-catching but I prefer versions made with fewer and a more thoughtful mix of ingredients like this one.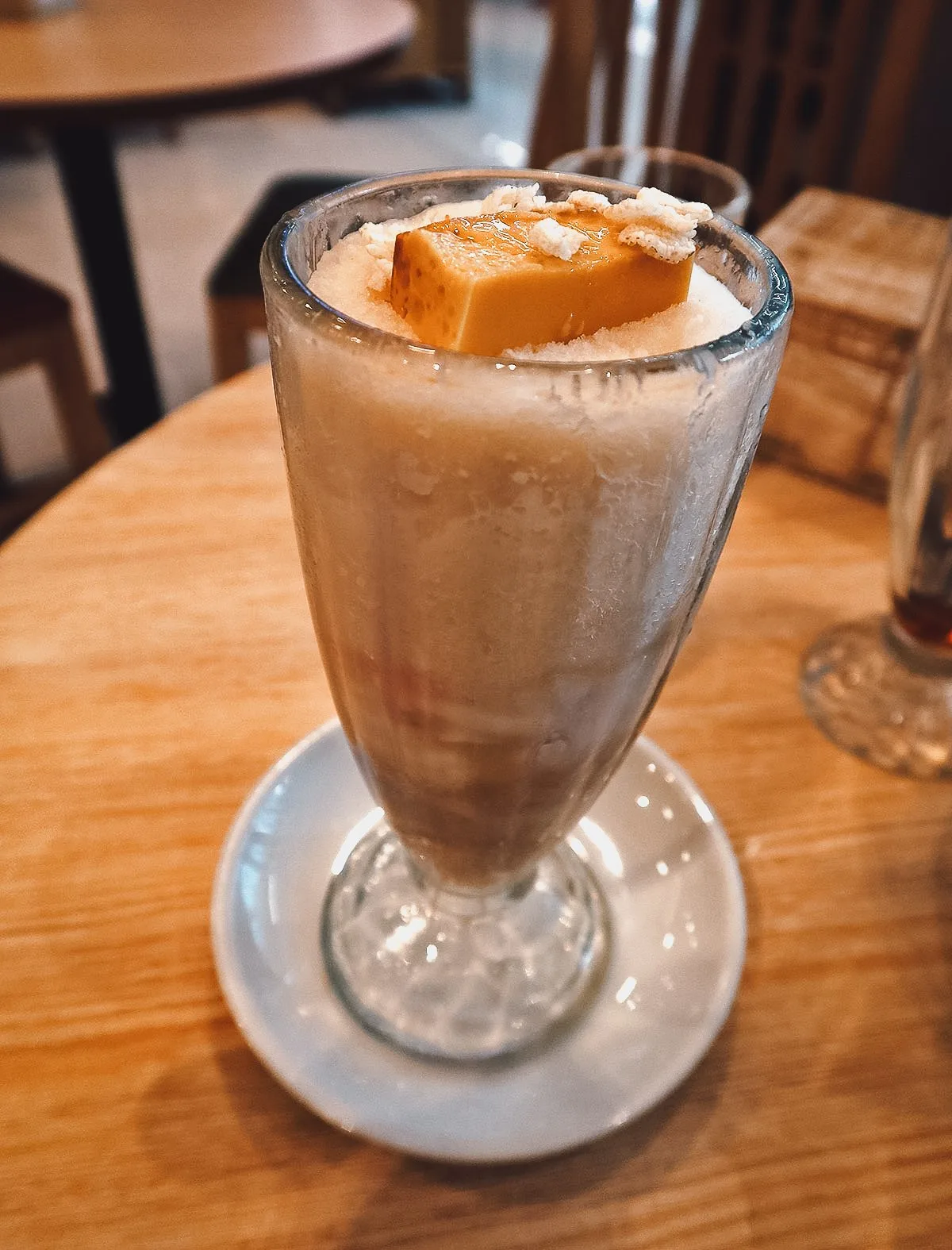 The Aristocrat is an iconic restaurant brand so you'll probably find a branch at every shopping mall in Manila, but the main restaurant is located along Roxas Boulevard fronting Manila Bay.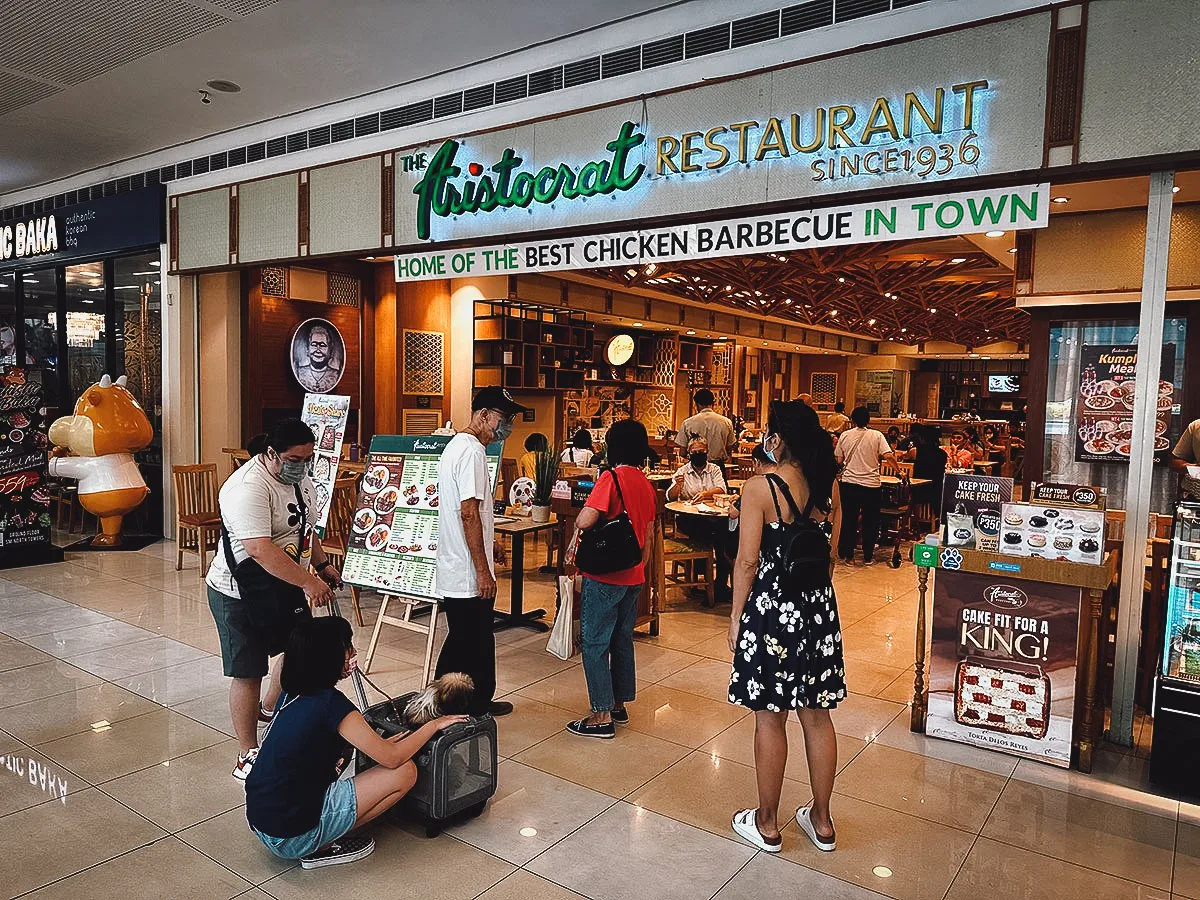 Aristocrat
Address: 432, 1004 San Andres St, Malate, Manila, 1004 Metro Manila, Philippines
Operating Hours: 6AM-12MN, daily
What to Order: Chicken barbecue, pork barbecue
11. Trellis
As described, pork sisig is originally a Kapampangan dish but it can now be found in nearly every Filipino restaurant and bar in the Philippines. The Trellis restaurant may not have invented the dish but as far as I know, they were the first restaurant to serve it in Manila. The rest is history.
Trellis is owned by the renowned Tayag family from Pampanga. If you watched it, then you may remember Chef Claude Tayag from the same Philippines episode of No Reservations with Anthony Bourdain.
Trellis serves many delicious Filipino dishes but the one dish that they're still most famous for, even after all these years, is their pork sisig.
Like I said, there are many variations of sisig in Manila but if you want to try one that's closest to the Kapamangan original, then this is it. Personally, it's my favorite version of pork sisig in Manila.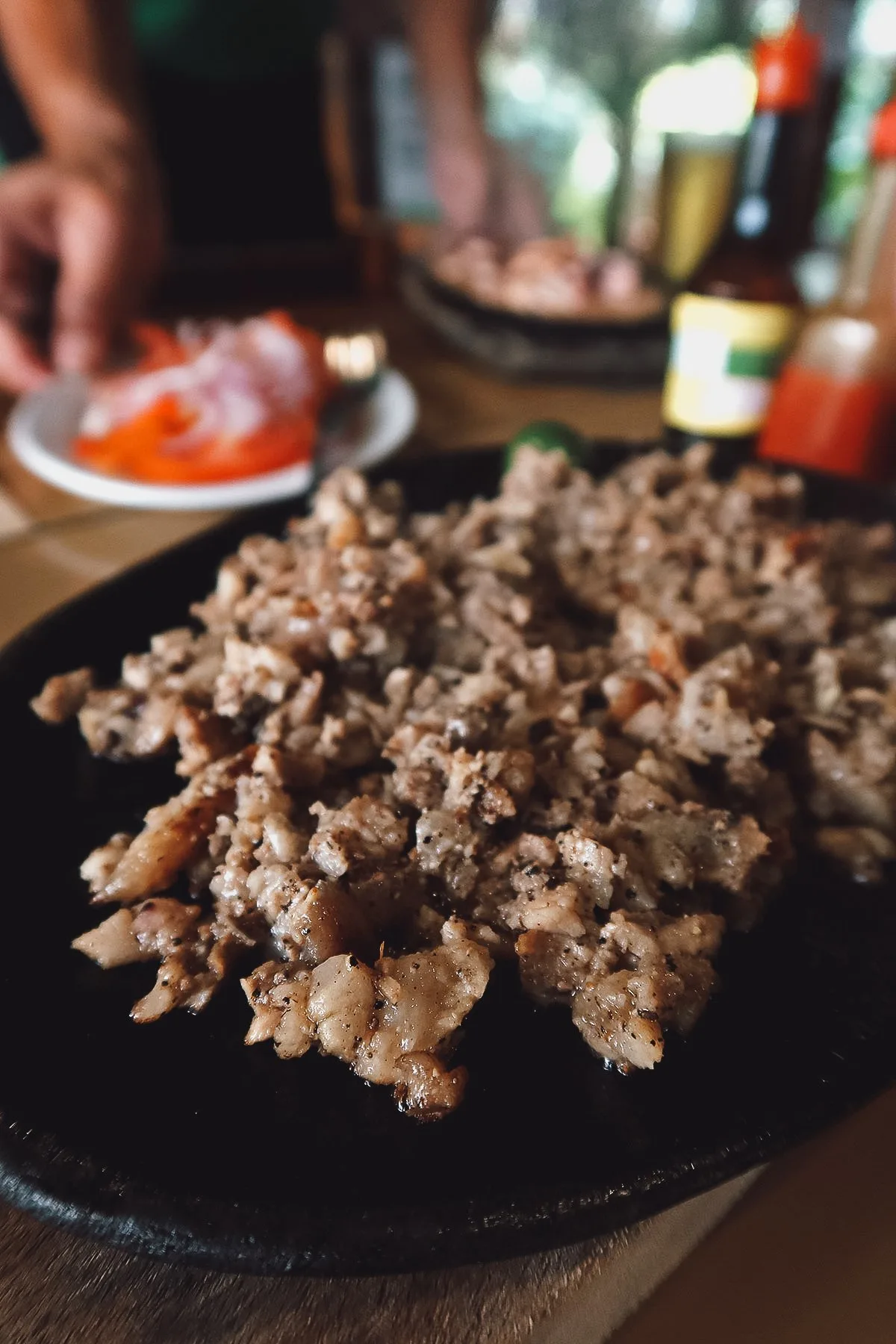 Sizzling sisig is the house specialty but I always order the sizzling pusit (squid) as well.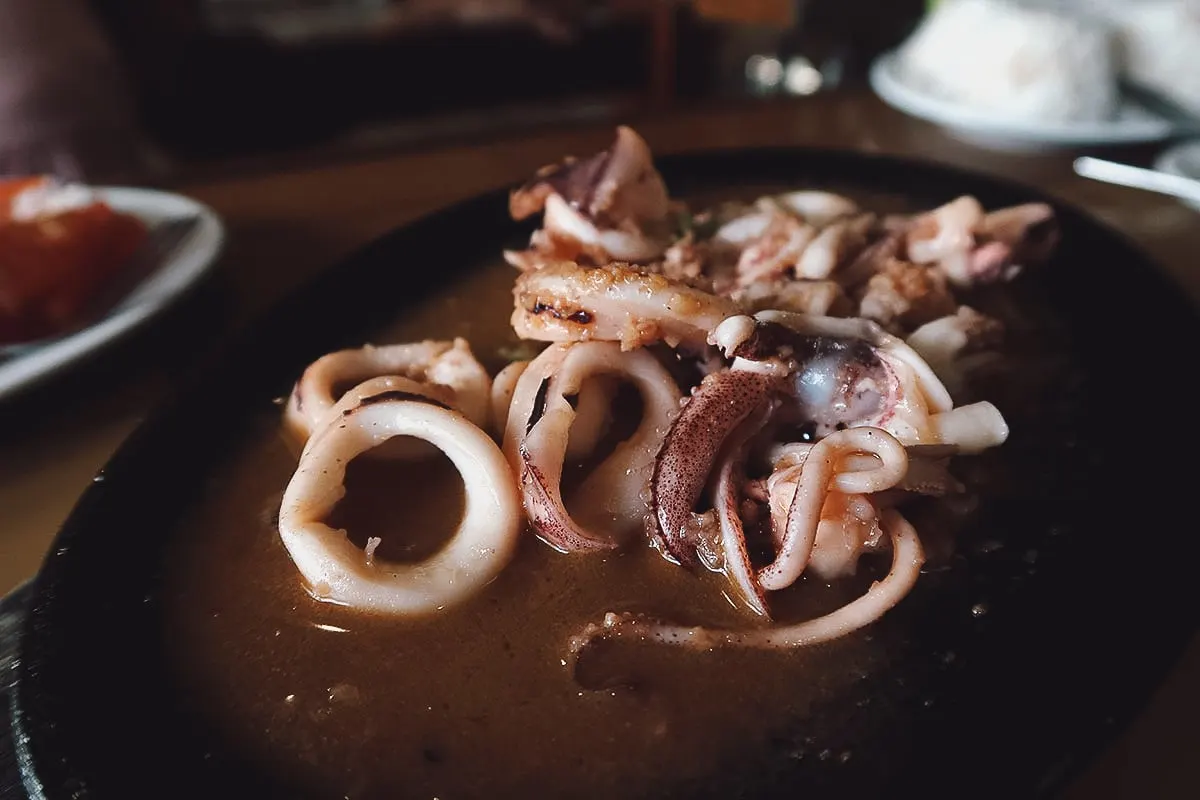 The crackling liempo, which is basically deep-fried pork belly, is another Trellis bestseller. It's served with a side salad of tomatoes, onions, and bagoong balayan.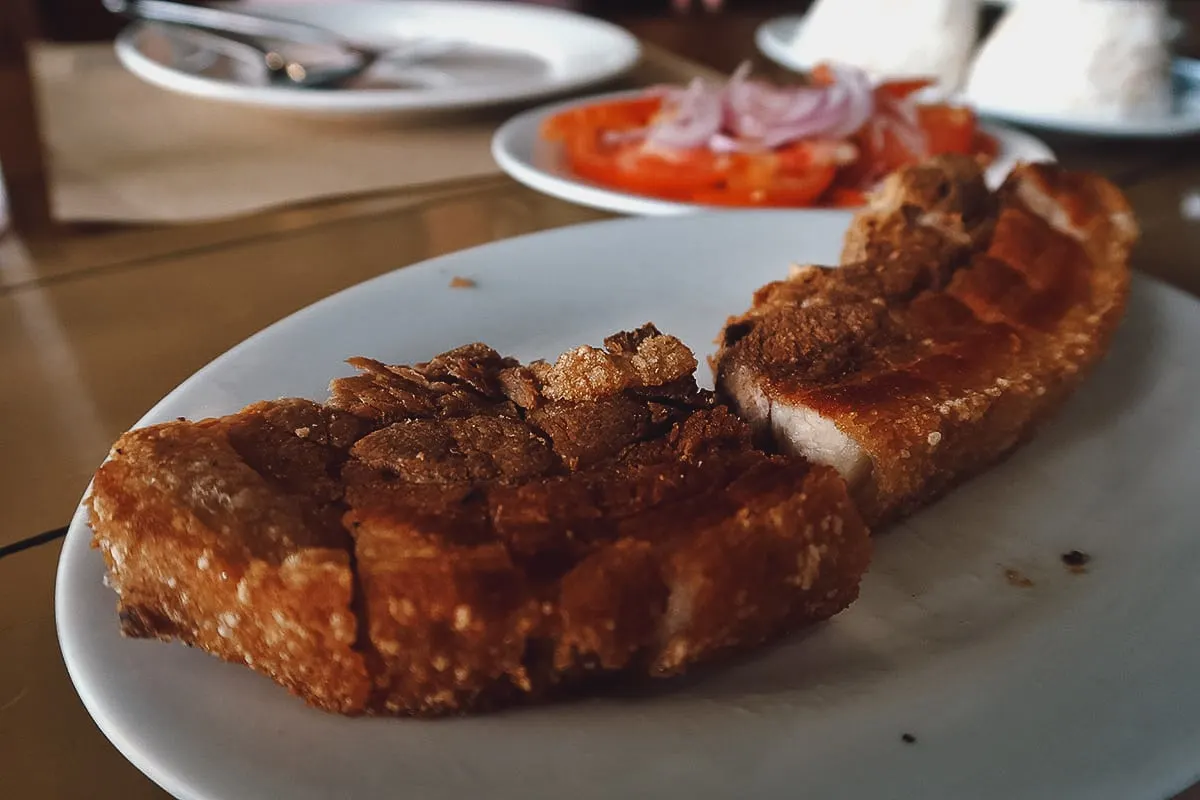 If you like the taste of unripe green mangoes, then you need to try this salad called Mango KBS. It consists of diced green mangoes served with tomatoes, onions, and bagoong.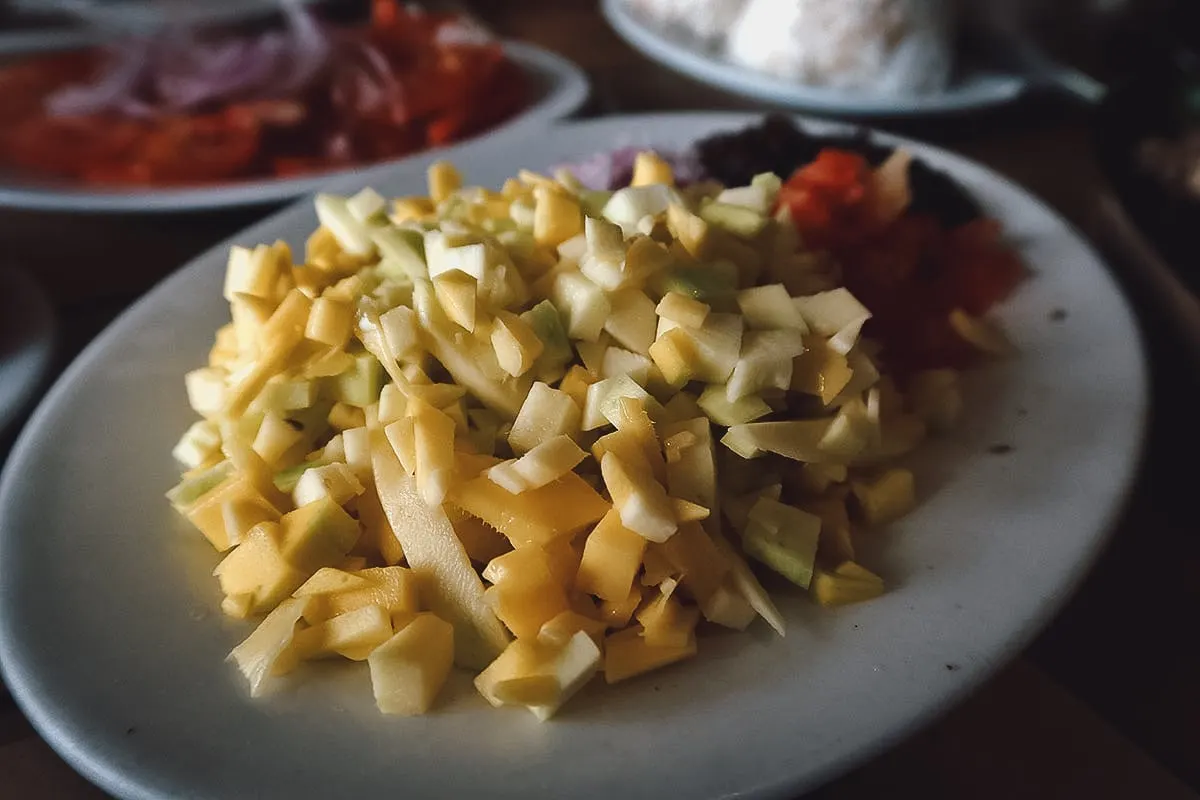 What goes best with Filipino dishes? Garlic rice of course!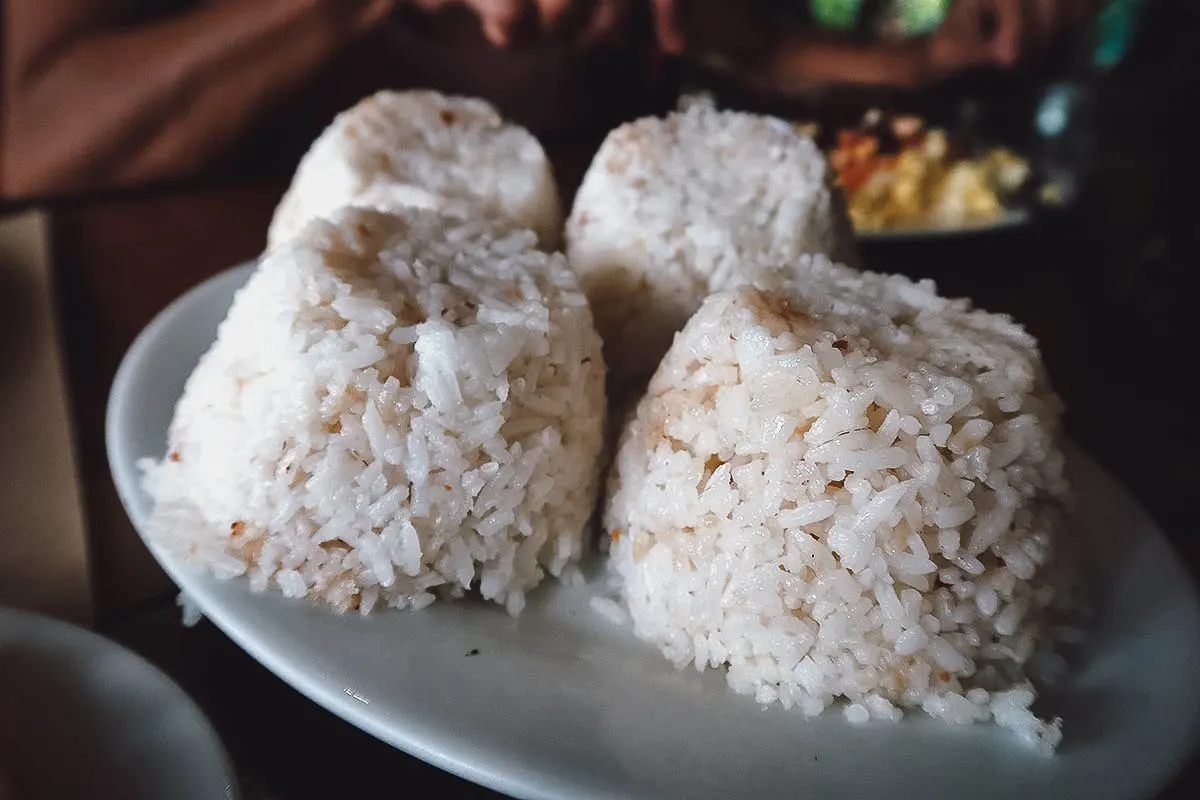 Trellis is an iconic restaurant in Quezon City. It's a bit of a trek from Makati but if you travel for food like we do, then it's well worth the trip.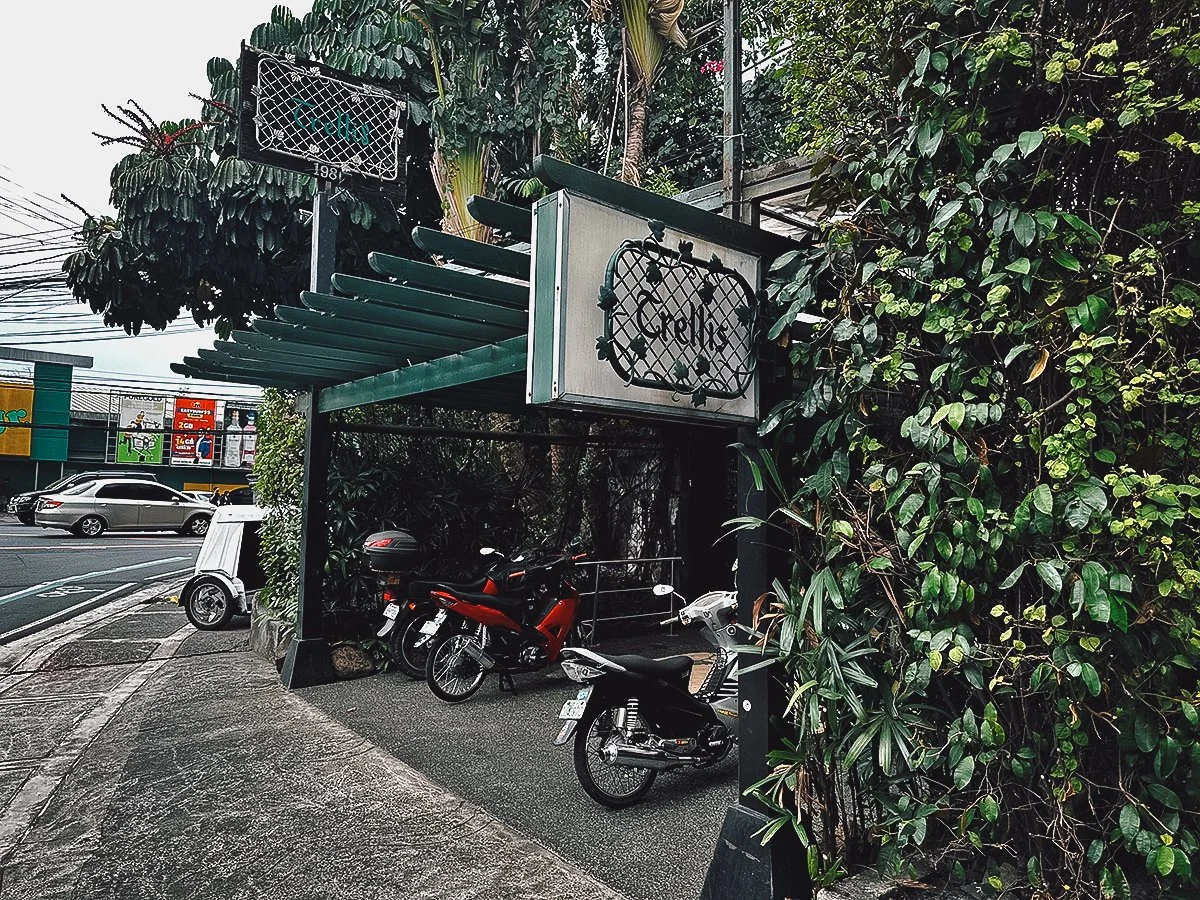 No frills, nothing fancy. Just a humble restaurant that serves delicious food.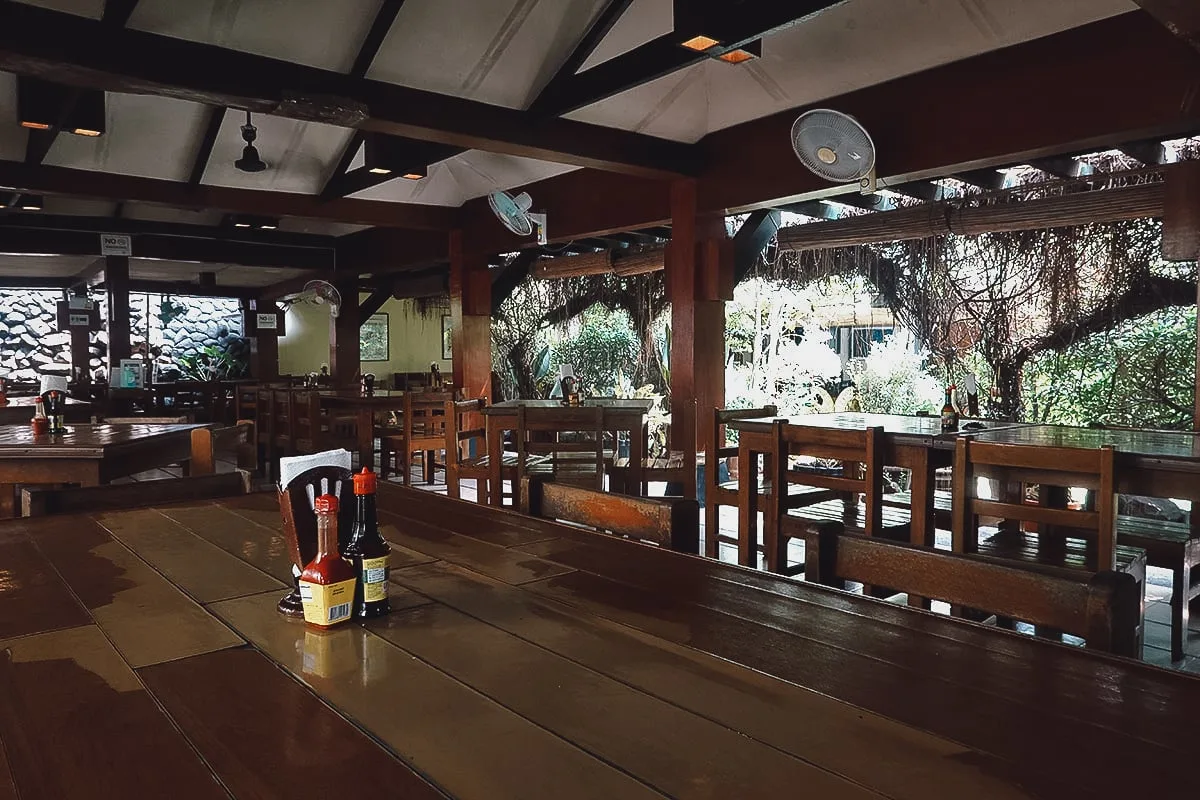 Trellis
Address: J3W3+44F, Kalayaan Ave, Diliman, QC, Metro Manila, Philippines
Operating Hours: 11AM-10PM, daily
What to Order: Pork sisig, sizzling pusit, mango kbs, burong hipon "balo-balo"
12. Pares Retiro
There are many affordable restaurant chains in Manila. Some of the most popular include Mang Inasal, Goodah, Tapa King, and Dencio's. One of my favorites is Pares Retiro, a chain that specializes in beef pares.
Beef pares is a savory-sweet Filipino braised beef stew. The term pares translates to "pairs" and refers to the practice of pairing the beef stew with garlic rice and a bowl of clear soup. Made with meltingly tender hunks of beef, it's a delicious dish that's often eaten for breakfast in the Philippines.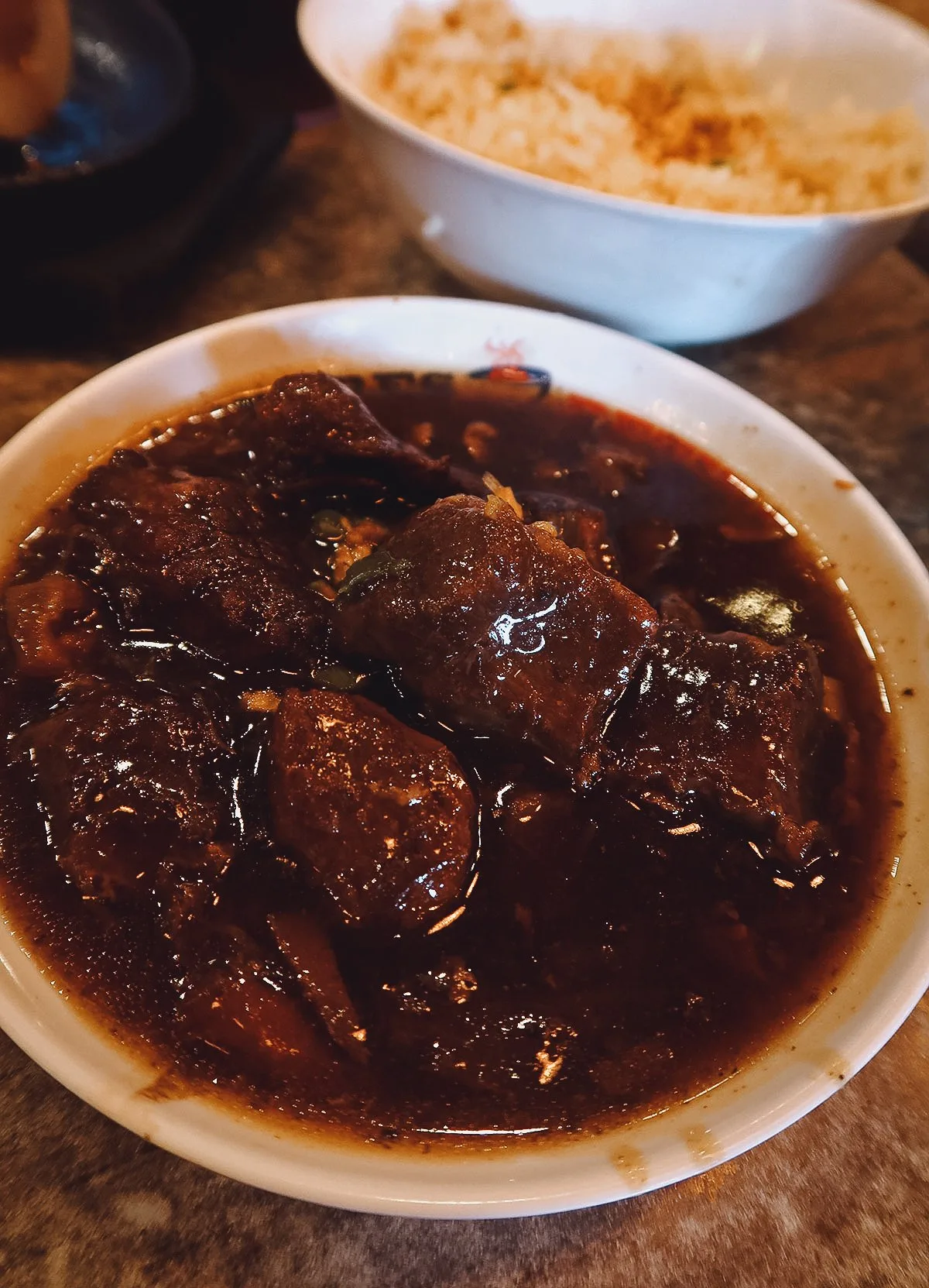 Classic beef pares is served in a plate but you can also get a sizzling version served on a castiron skillet with beef tendon and a fried egg. If you're oblivious to the joys of beef tendon, then you need to order this.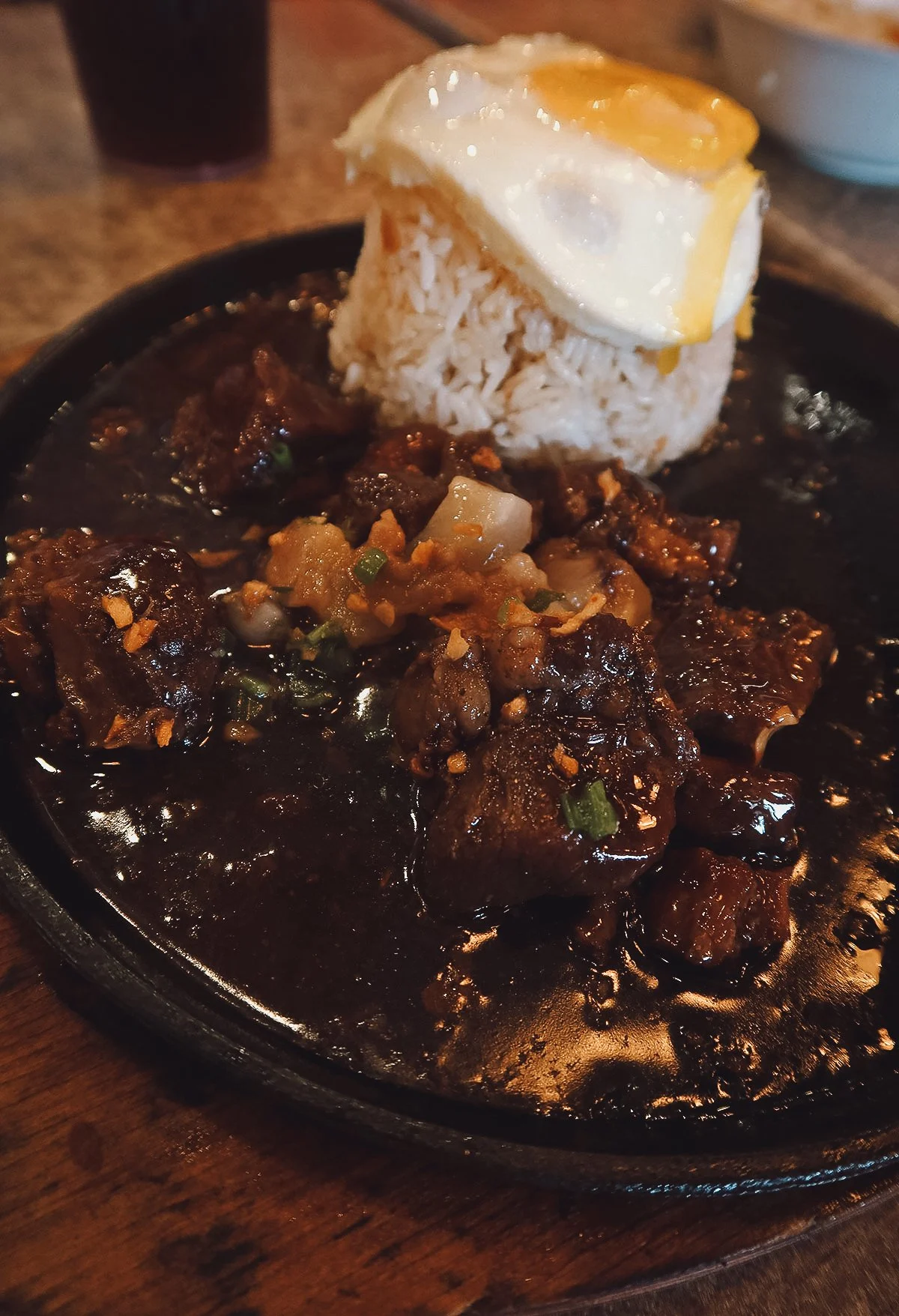 In my opinion, longsilog is one of the greatest breakfast dishes in the world. Aside from longsilog, you can get many other versions of silog at Pares Retiro like tapsilog, tocilog, bangsilog, and lechonsilog.
If you're unfamiliar with these popular and supremely deliclious breakfast dishes, then you can read more about them in my article on Filipino silog meals.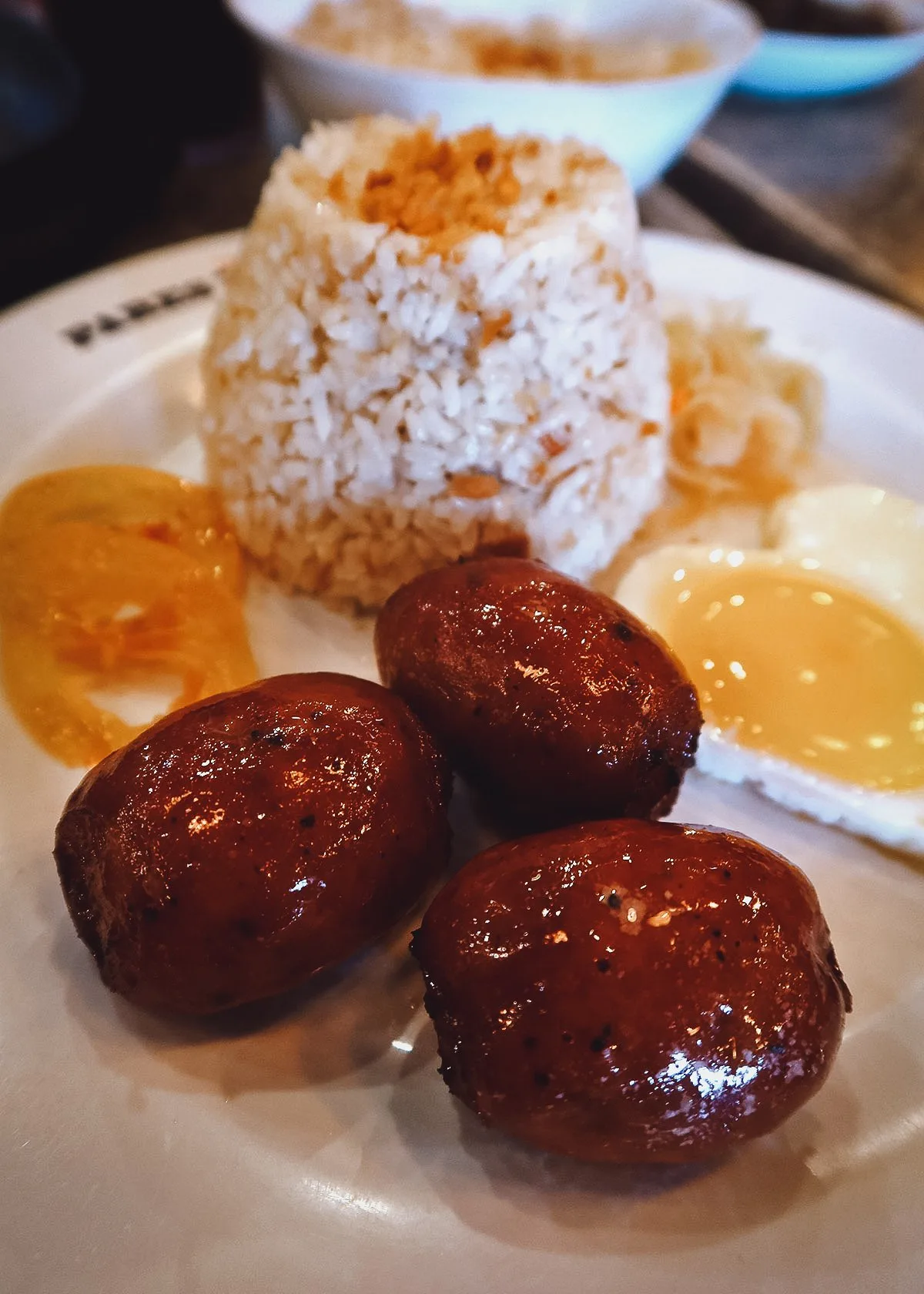 Aside from their tasty beef pares, this is another reason why I love Pares Retiro. What you're looking at is bone marrow. It's a regular item at this restaurant which you can get in regular or spicy versions in small, medium, and large sizes. Pictured below is the medium which was more than enough for the two of us.
Bone marrow is a sinfully delicious dish that's nice to enjoy once in a while. Luckily, you can get it anytime you want at Pares Retiro.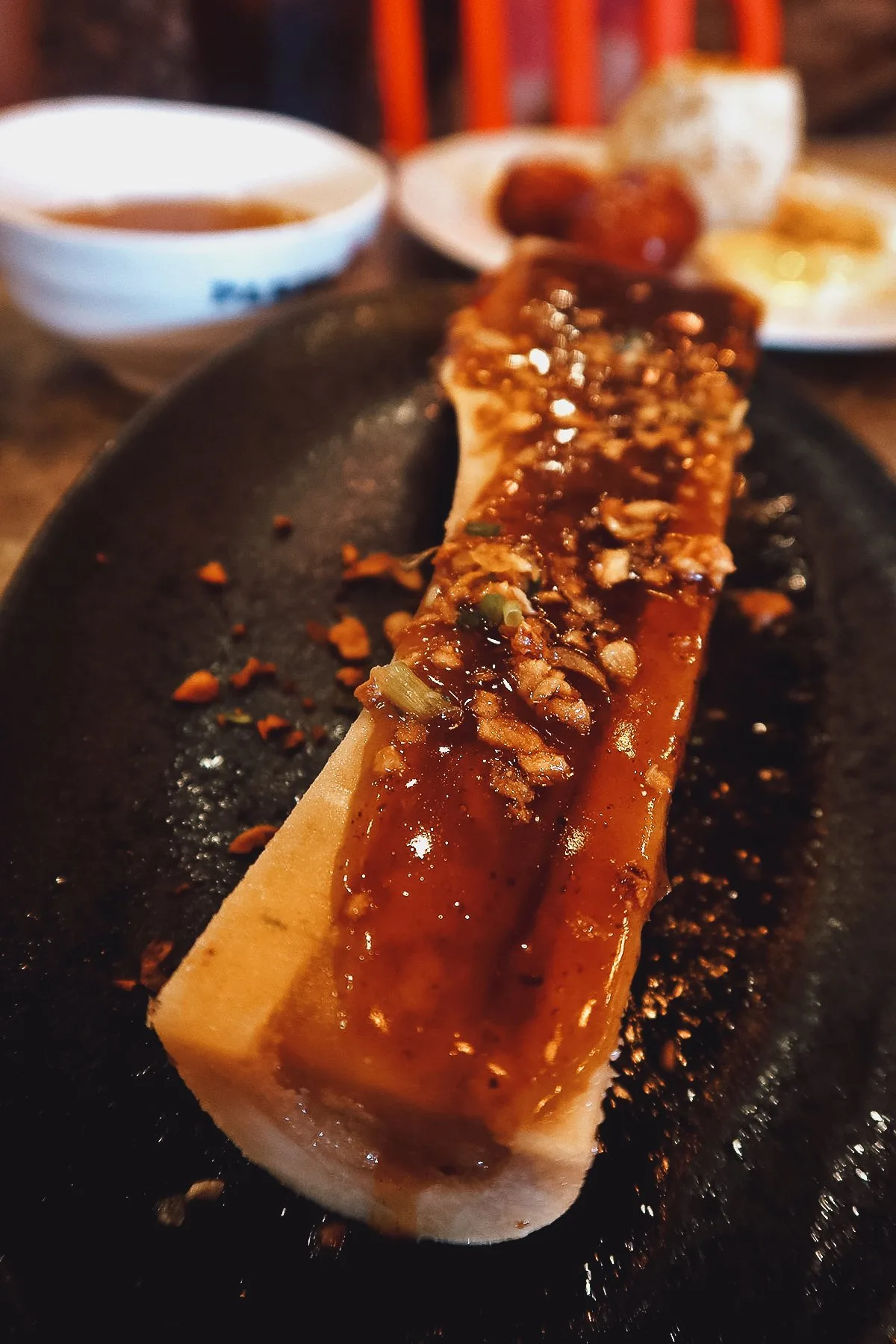 To help wash down all that bone marrow, we enjoyed a classic (and colorful) version of Filipino halo-halo.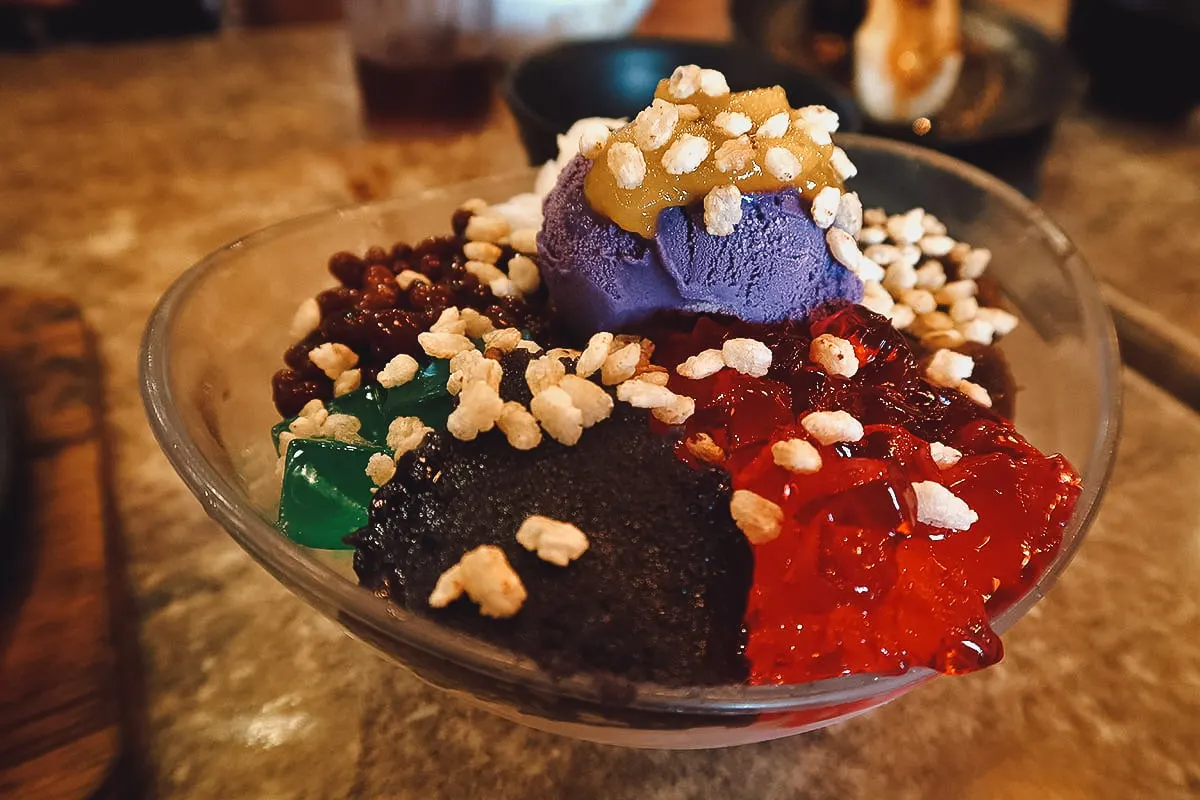 We always go to the branch along Tomas Morato in QC but there are several branches of the Pares Retiro restaurant in Manila.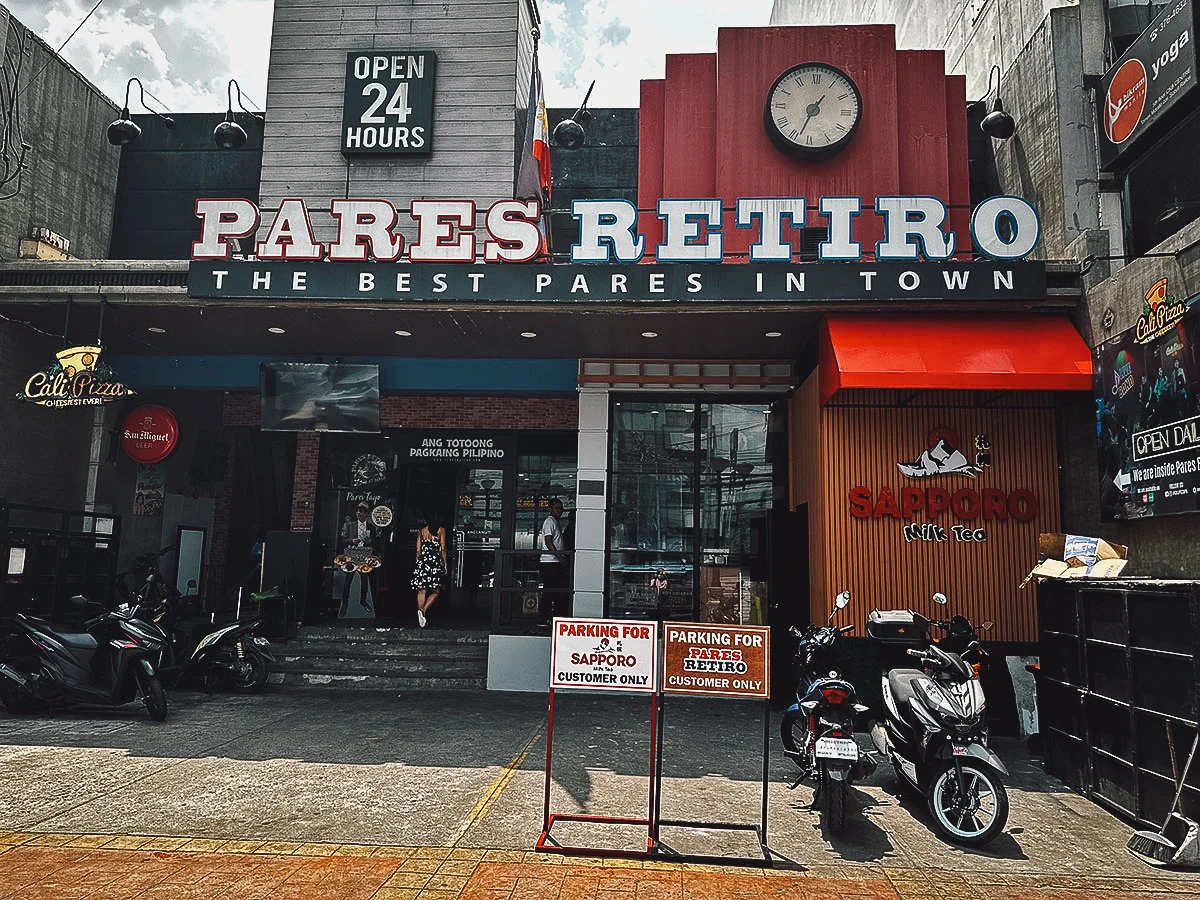 Pares Retiro
Address: Multiple branches
Operating Hours: Varies per branch
What to Order: Beef pares, bone marrow
LOCATION MAP
To help you navigate to these restaurants in Manila, I've pinned them all on the map below. Click on the link for a live version of the map.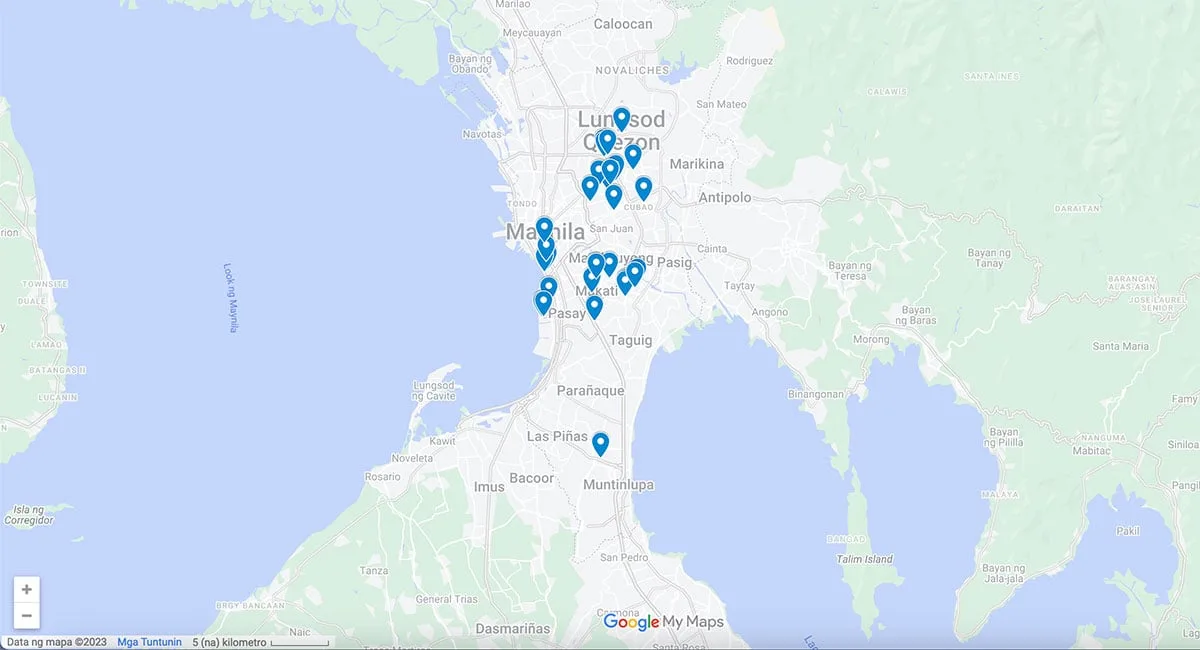 FINAL THOUGHTS ON FILIPINO CUISINE AND THE BEST RESTAURANTS IN MANILA
We don't live in the Philippines anymore but we still consider Manila home. Our families still live there so we plan to go back and visit at least once every two years or so. Whenever we do, I'll be sure to visit more of our favorite restaurants and discover new places to add to this guide.
Until then, I hope we've given you enough to go on so you can enjoy some of the best Filipino cuisine in Manila. Thanks for reading and enjoy your trip to the Philippines!
Disclosure
Some of the links in this article on the best restaurants in Manila are affiliate links, meaning we'll earn a small commission if you make a booking at no extra cost to you. We really appreciate your support as it helps us make more of these free travel and food guides. Salamat!