We rarely accept sponsored hotel stays but we had to make an exception for this one. It was a good fit for our Manila travel guide.
Ren and I never spend too much on accommodations so a 4-star hotel like City Garden Grand Hotel wouldn't normally be on our radar. Instead, we usually go for boutique hotels in the USD 50 a night range. I recommended Z Hostel in our travel guide because it's a conveniently located hostel with dorm rooms for backpackers and a few private rooms for married travelers like us. If you're on a budget, then Z Hostel is a great choice.
But just because a 4-star hotel doesn't cater to our niche doesn't mean I shouldn't recommend it. The fact is, not all travelers to Manila are backpackers. Many are here on business, which is why I decided to add City Garden Grand Hotel to our guide as well. Apart from being a fairly priced business and leisure hotel, it's also located in the same area as Z Hostel. A good fit indeed!
Hotel Lobby
City Garden Grand is conveniently located at the corner of Makati Avenue and Kalayaan Avenue. It's near commercial centers and restaurants and just a Grab ride away from the central business district.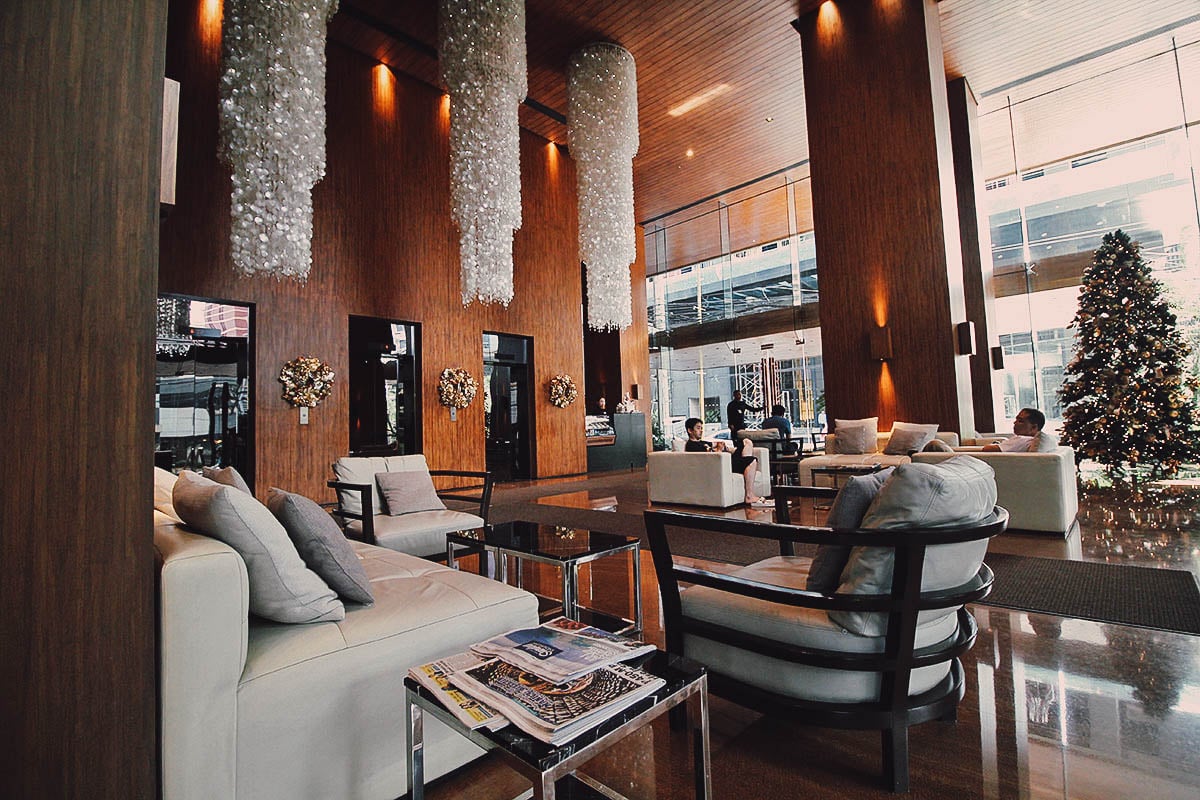 Simple but classy lobby. It feels warm and cozy with all the wood paneling. Of course, with this being the Philippines, it's already Christmas in November. 🙂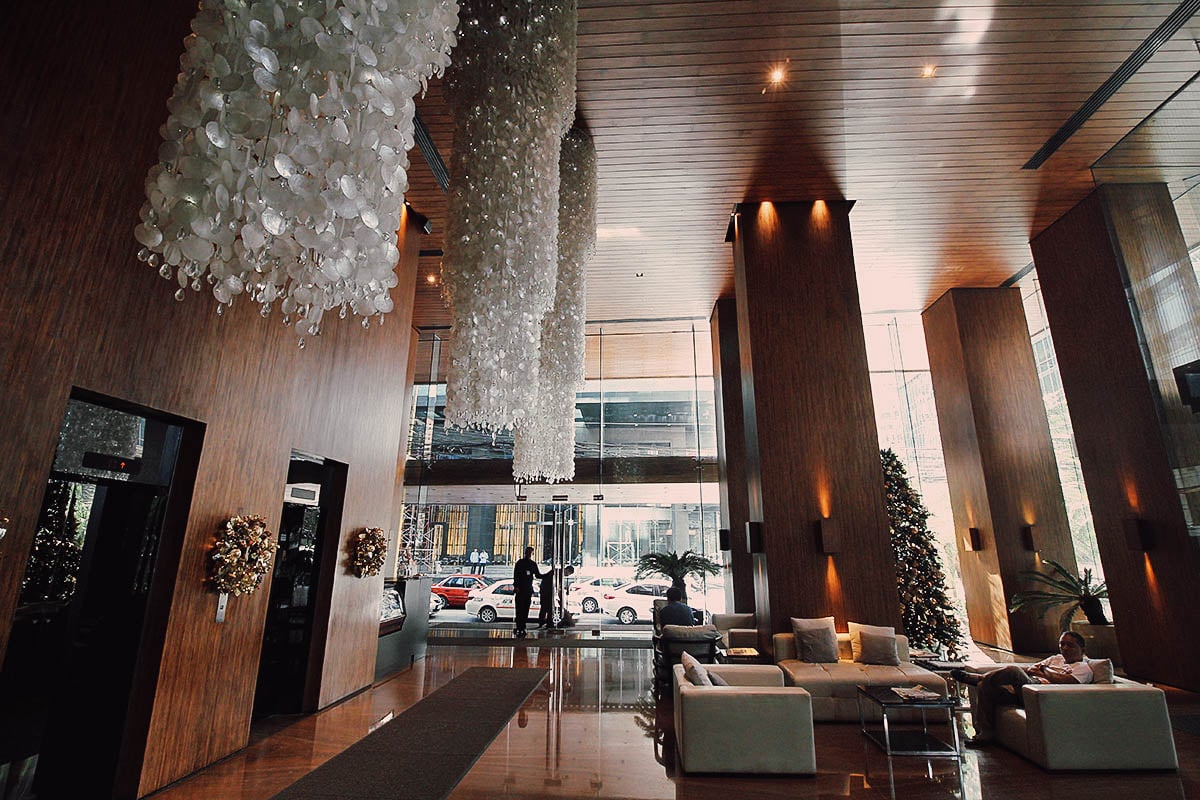 Deluxe King Room
Our big beautiful room. As mentioned up top, we never stay at big hotels when traveling so this was a welcome treat. I like how the rooms match the warmth of the lobby with all the wood and earthy textures.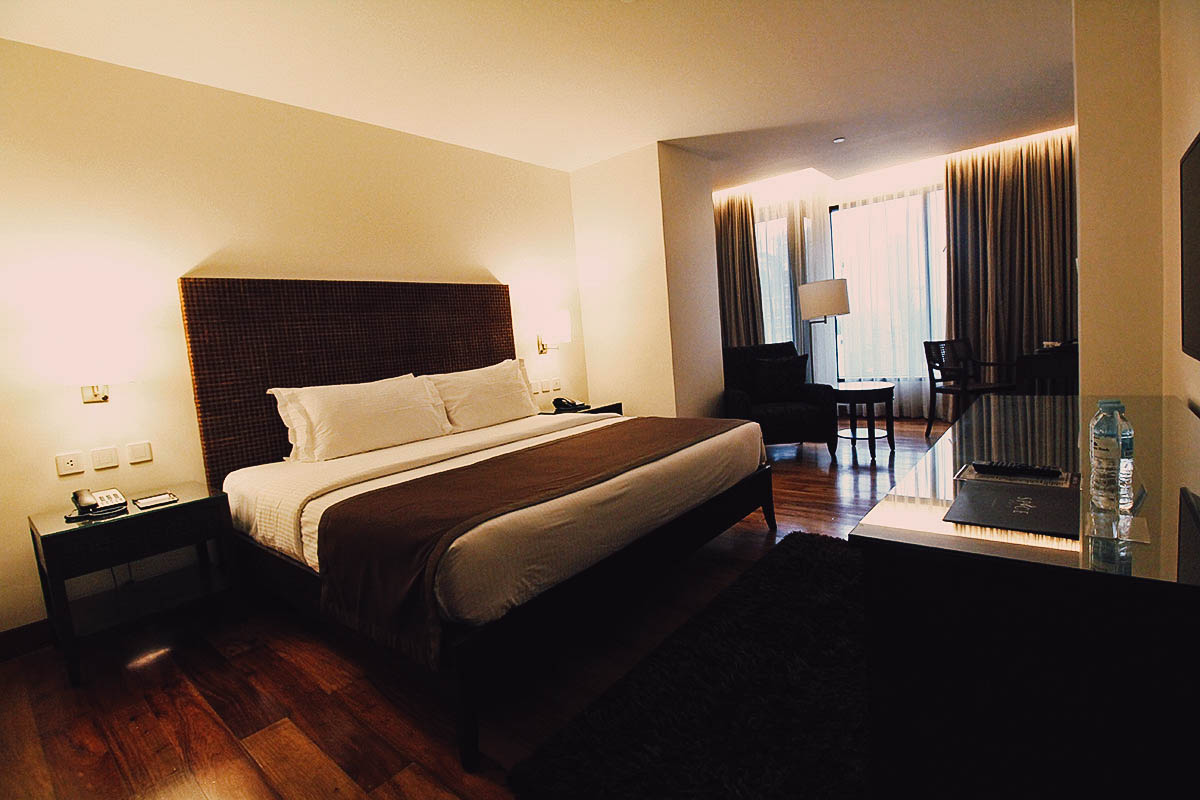 This bed was a godsend. ♥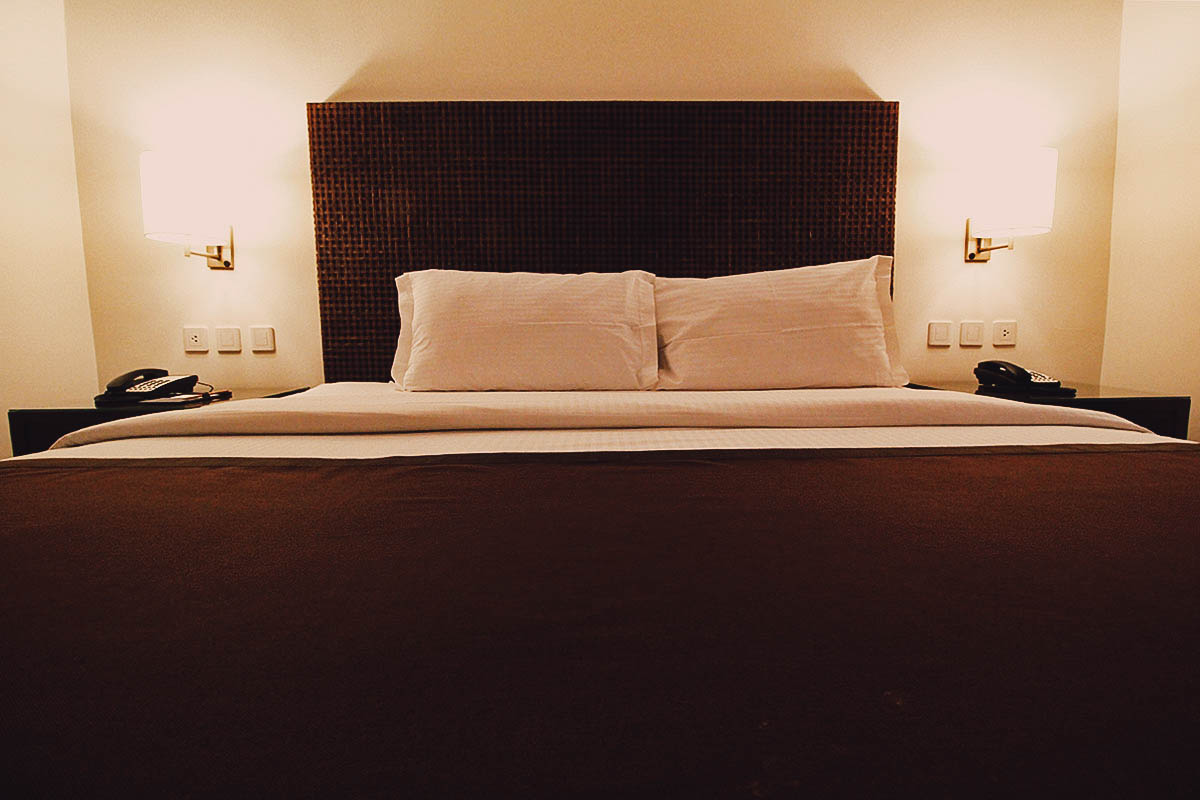 Sofa chair and work desk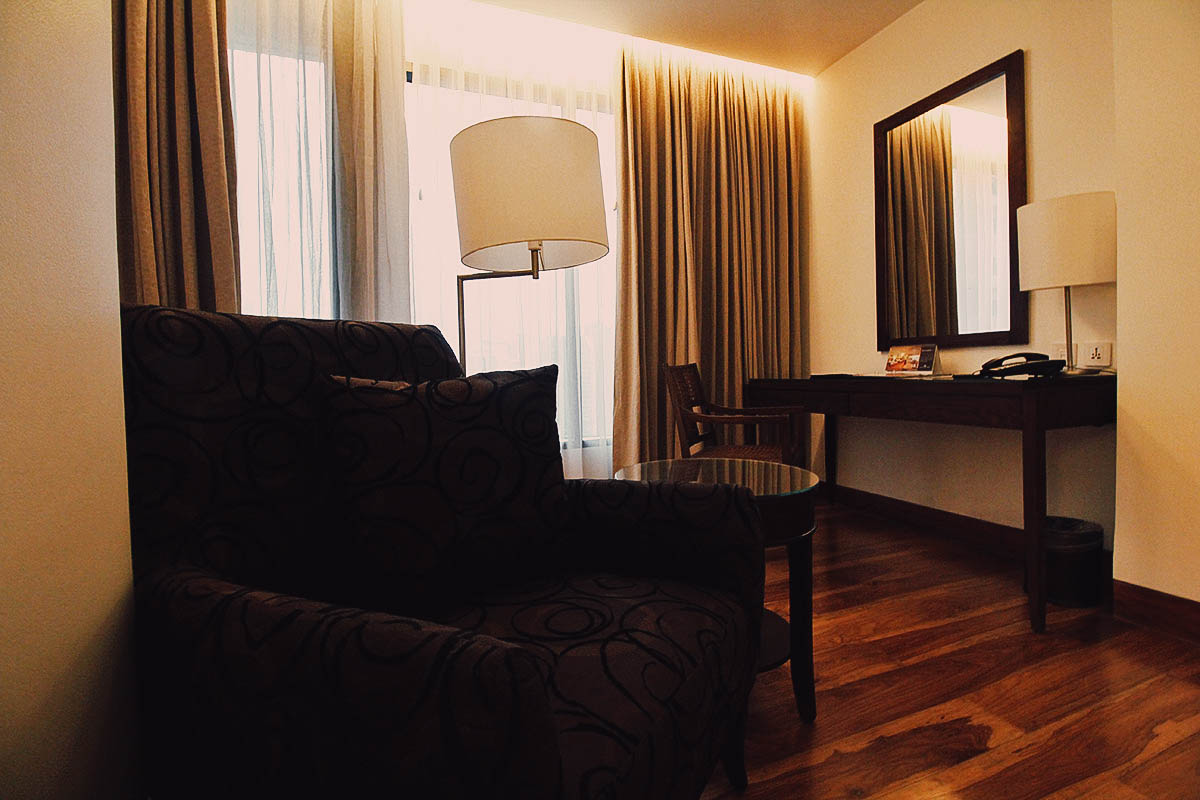 Ren made this her official Instagram chair. 😛 Wifi throughout the hotel was fast.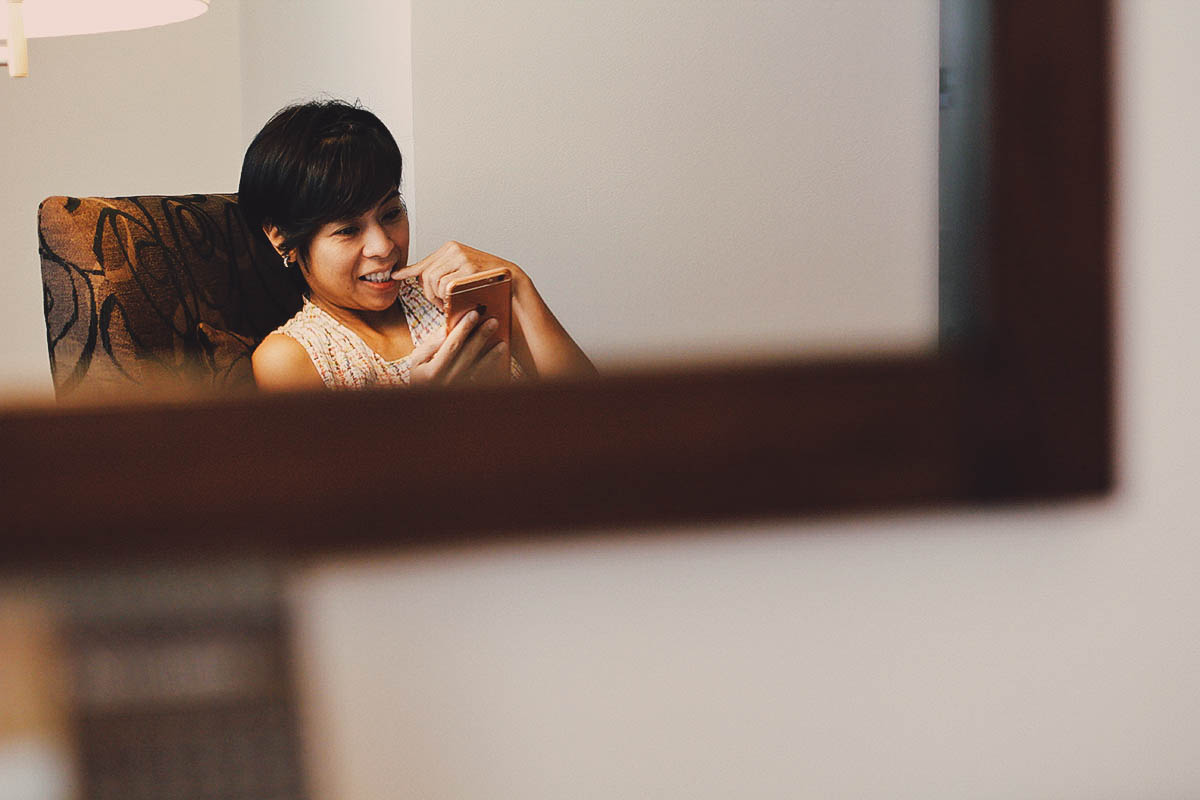 Great view of Makati from the 26th floor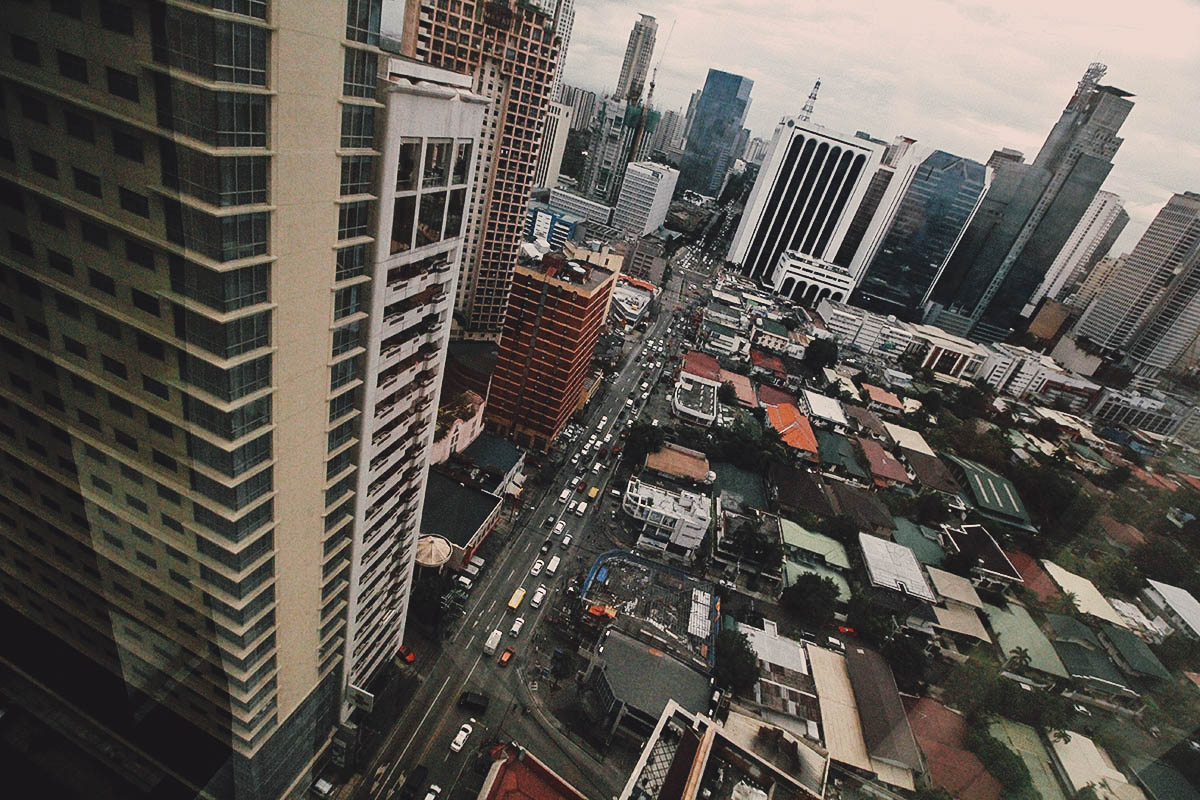 A better look at the room and all its dark textures. I love that headboard. We usually stay in much smaller rooms than this so to have all that table space to lay out my gear was awesome. 😆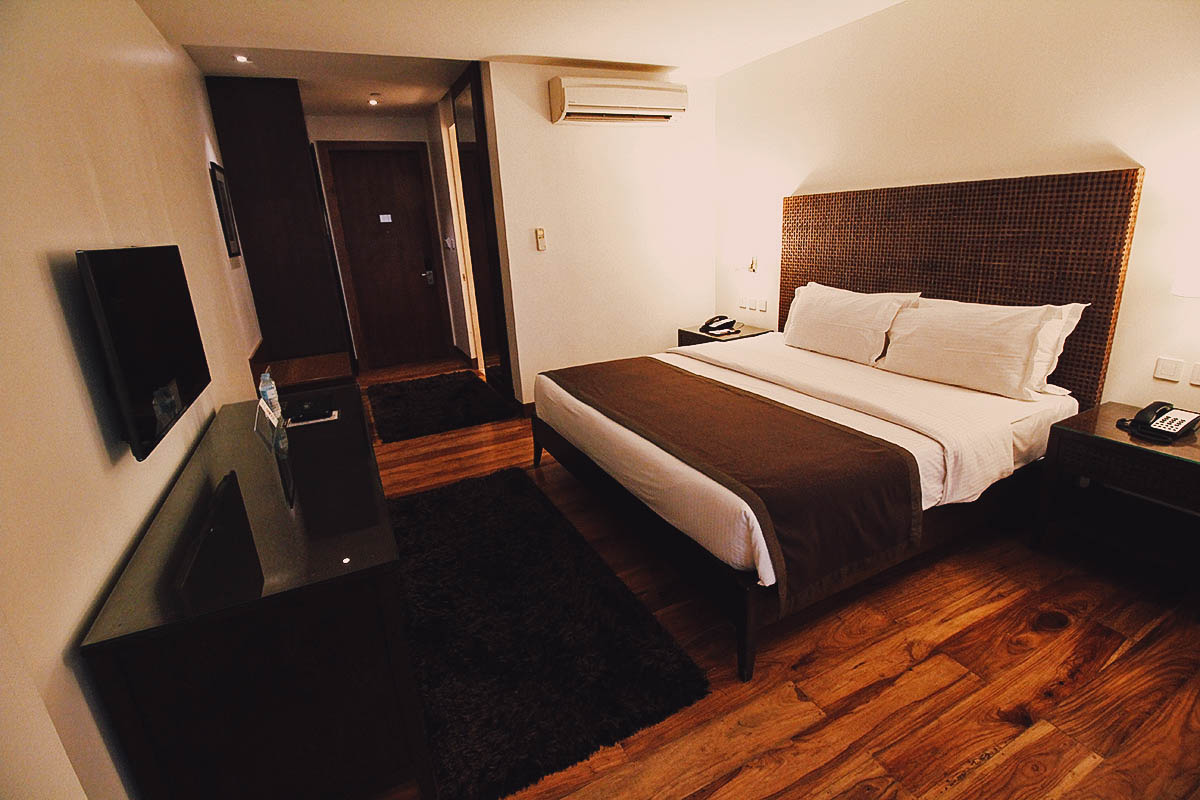 Big marble bathroom with tub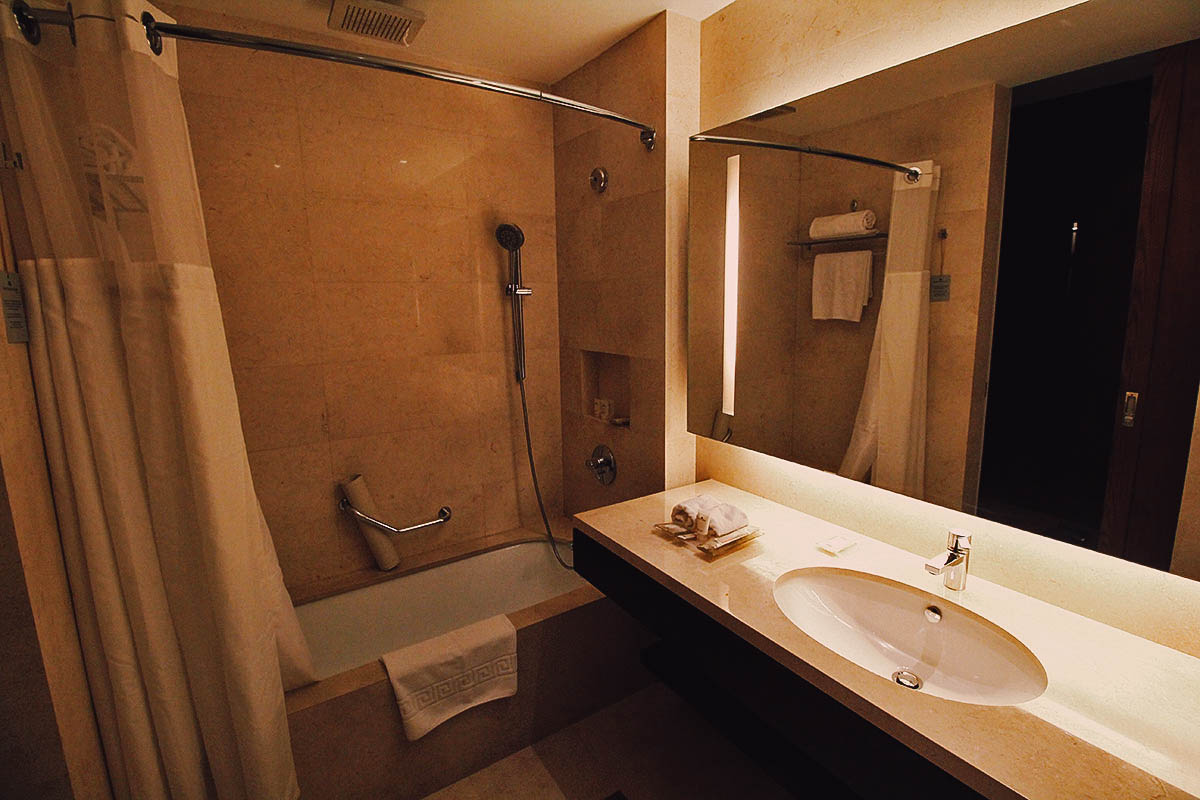 Toiletries and amenities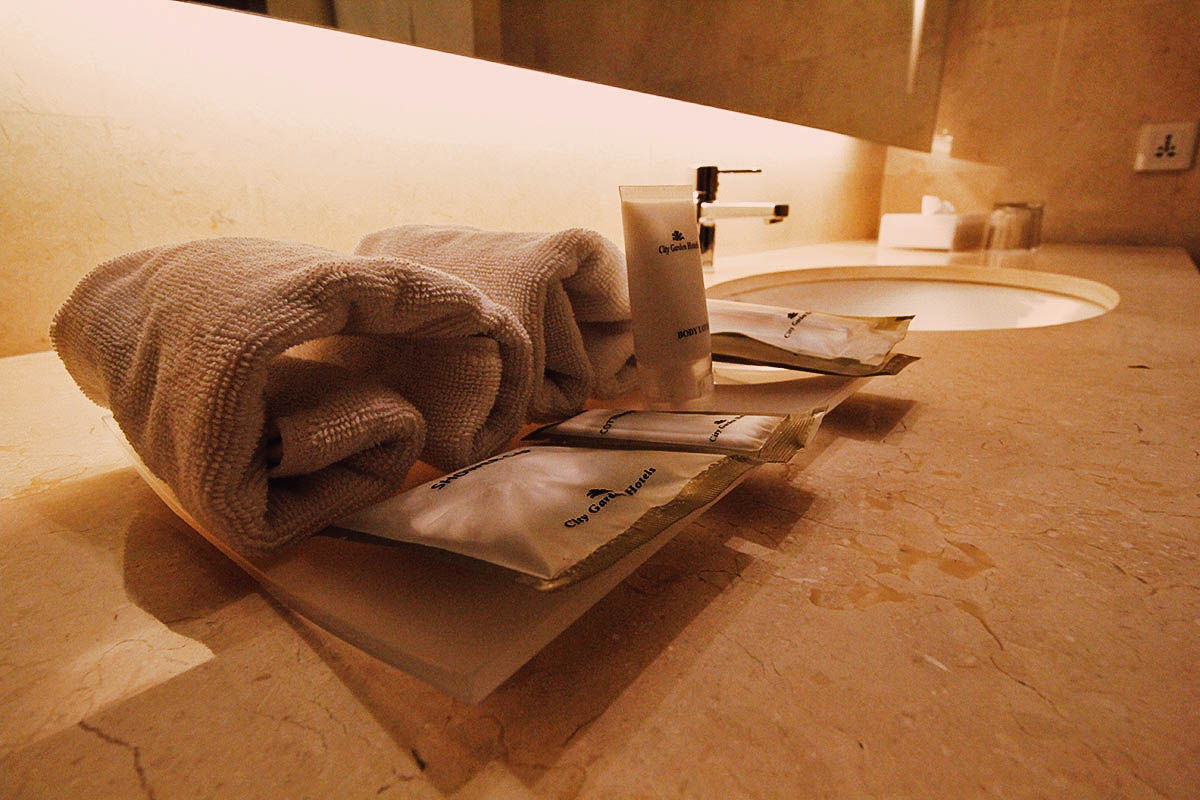 Large closet space with safe, robe, and ironing board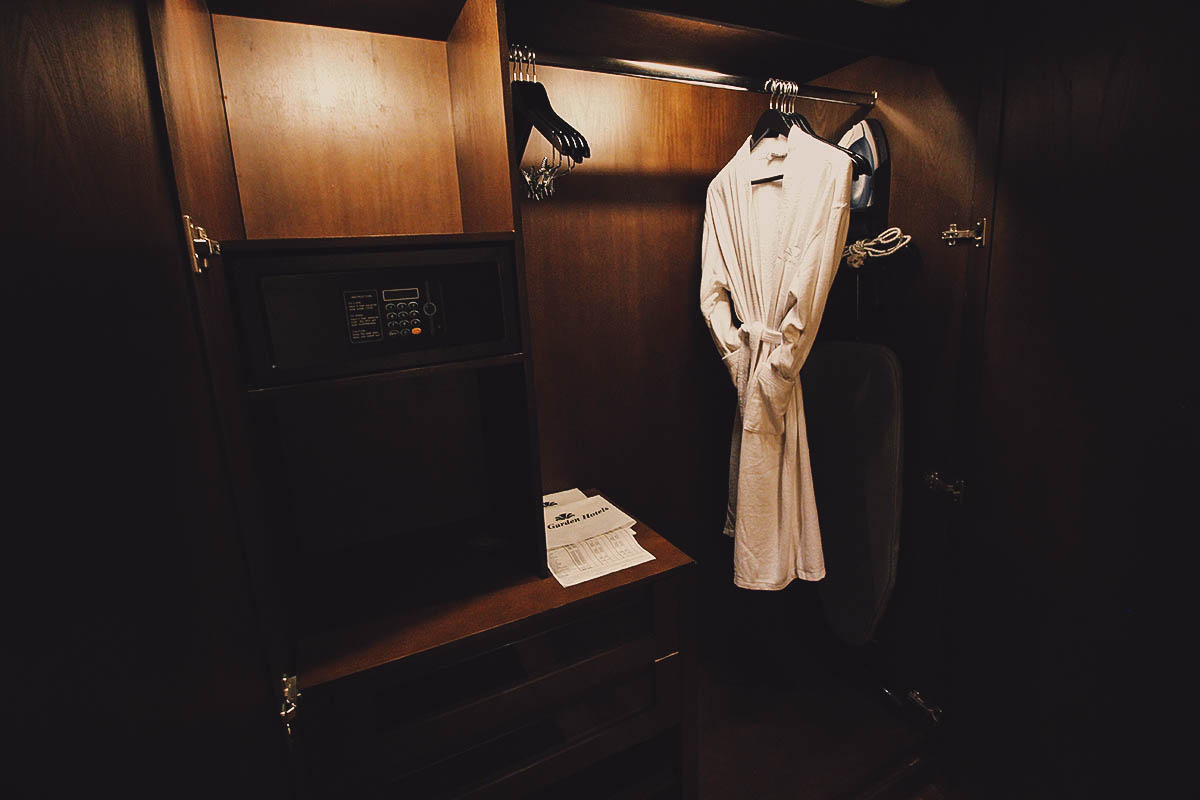 Complimentary Filipino fruit platter. Thank you City Garden Grand! 🙂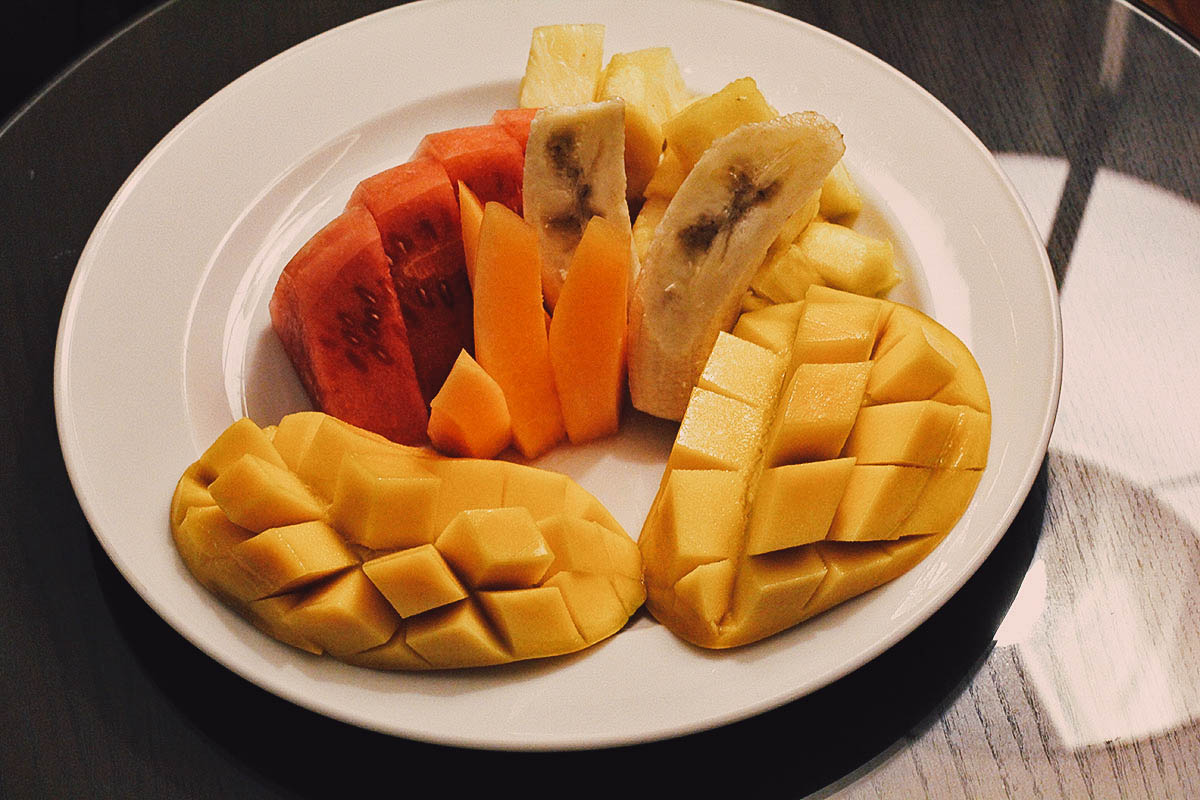 Spice Cafe
Located on the 7th floor, we ate at Spice Cafe twice — once for dinner and a second time for breakfast the following morning.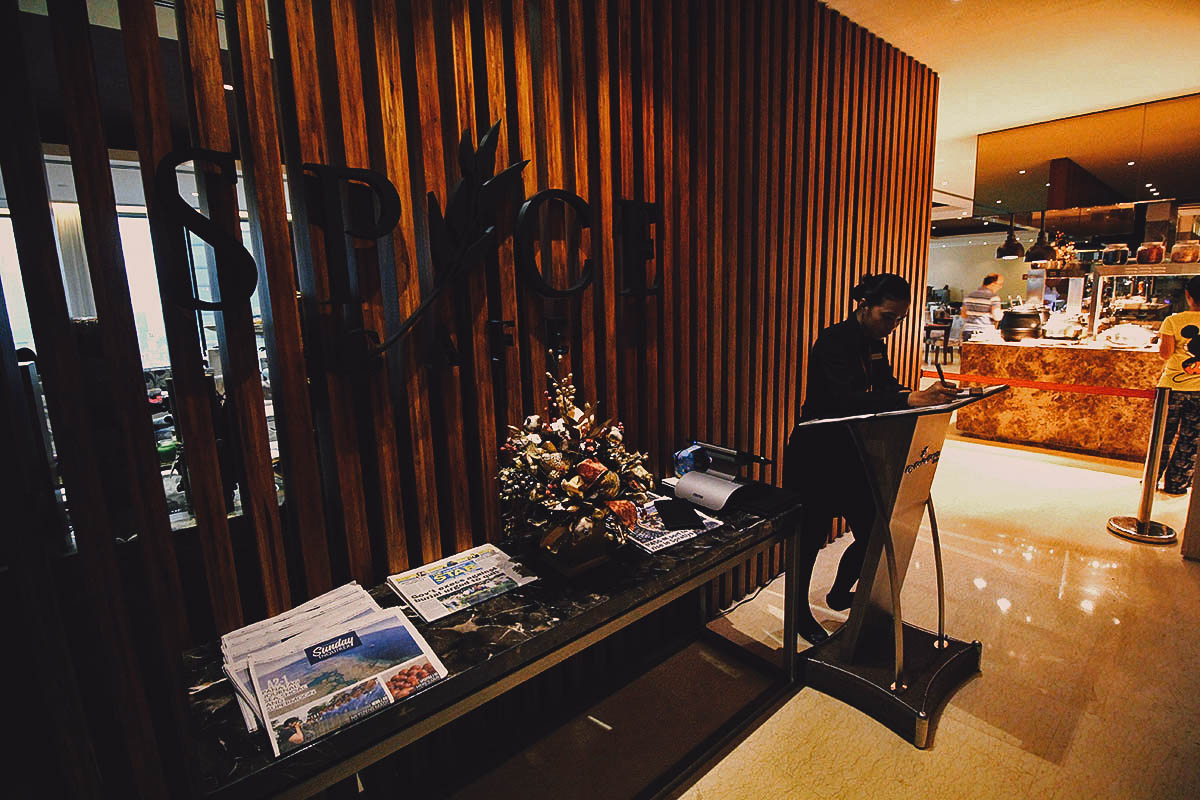 Spice Cafe is the hotel's main restaurant so it's pretty big. Breakfast buffet is served from 6-10AM daily and included in the room rate.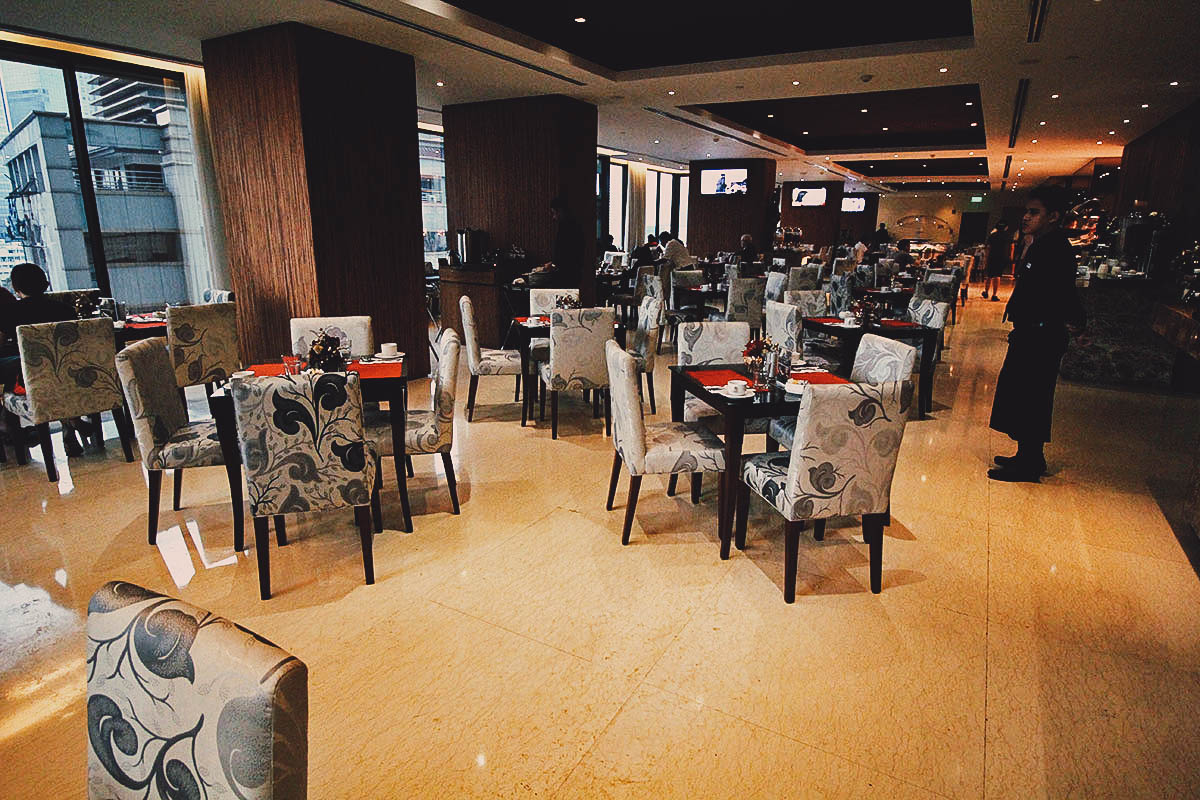 Cute yogurt bottles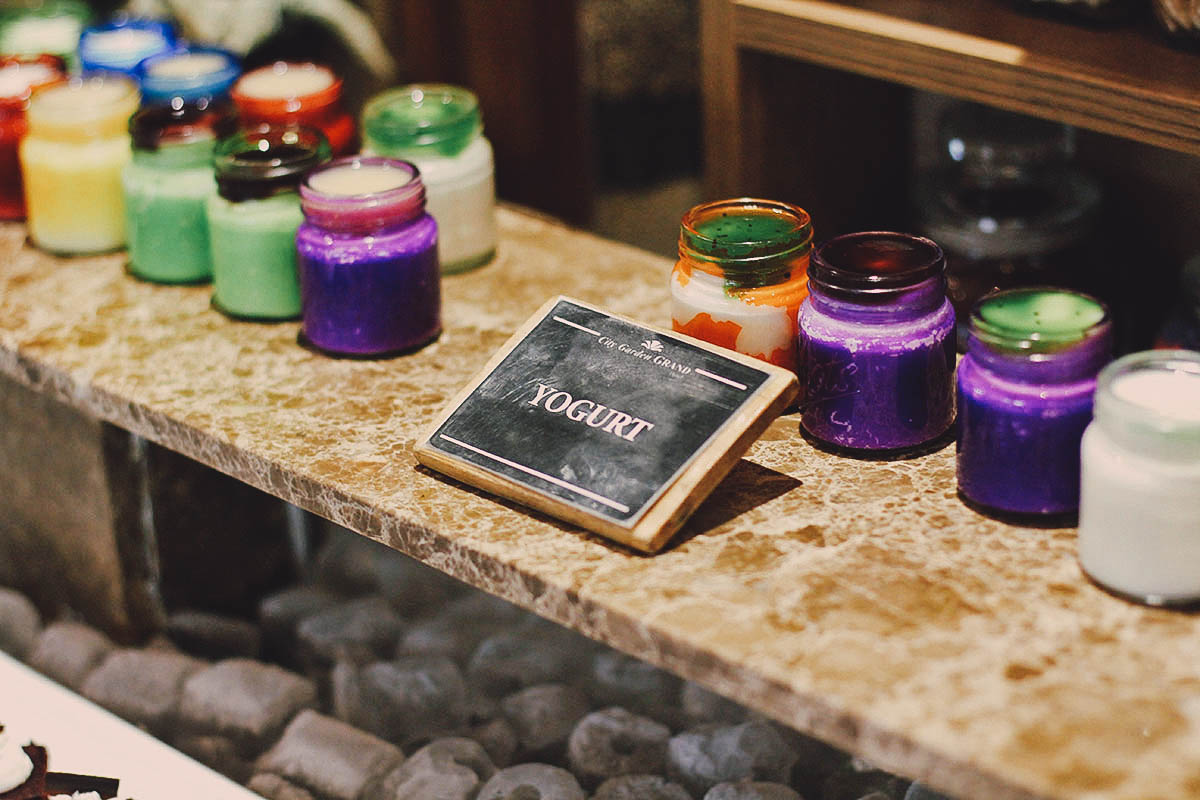 Dimsum and sushi for breakfast because why not? 😆 Not sure why, but they were serving non-breakfast dishes like pasta and salad at 7AM. In fact, most of the buffet consisted of lunch or dinner fare with just a small station offering breakfast food. We found that a little odd.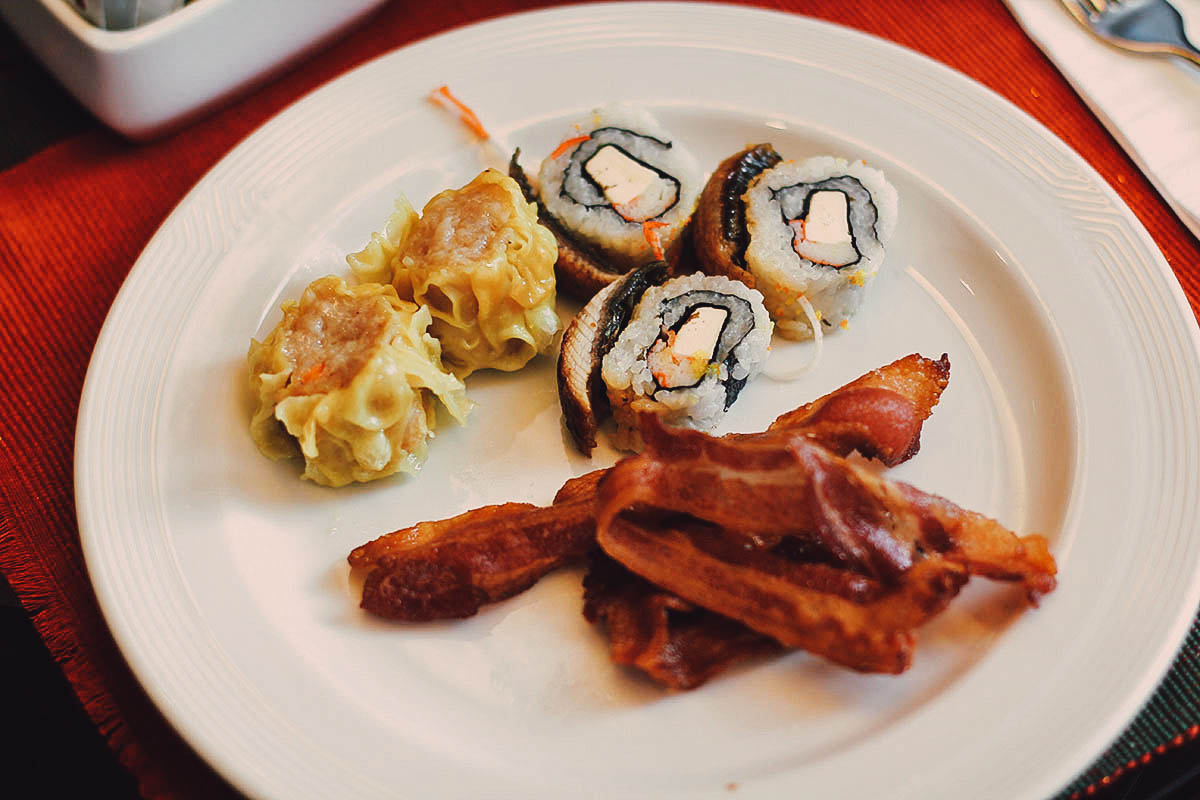 Delicious omelette made specially for me. Ren and I rarely eat bacon at home so I made sure to load up here.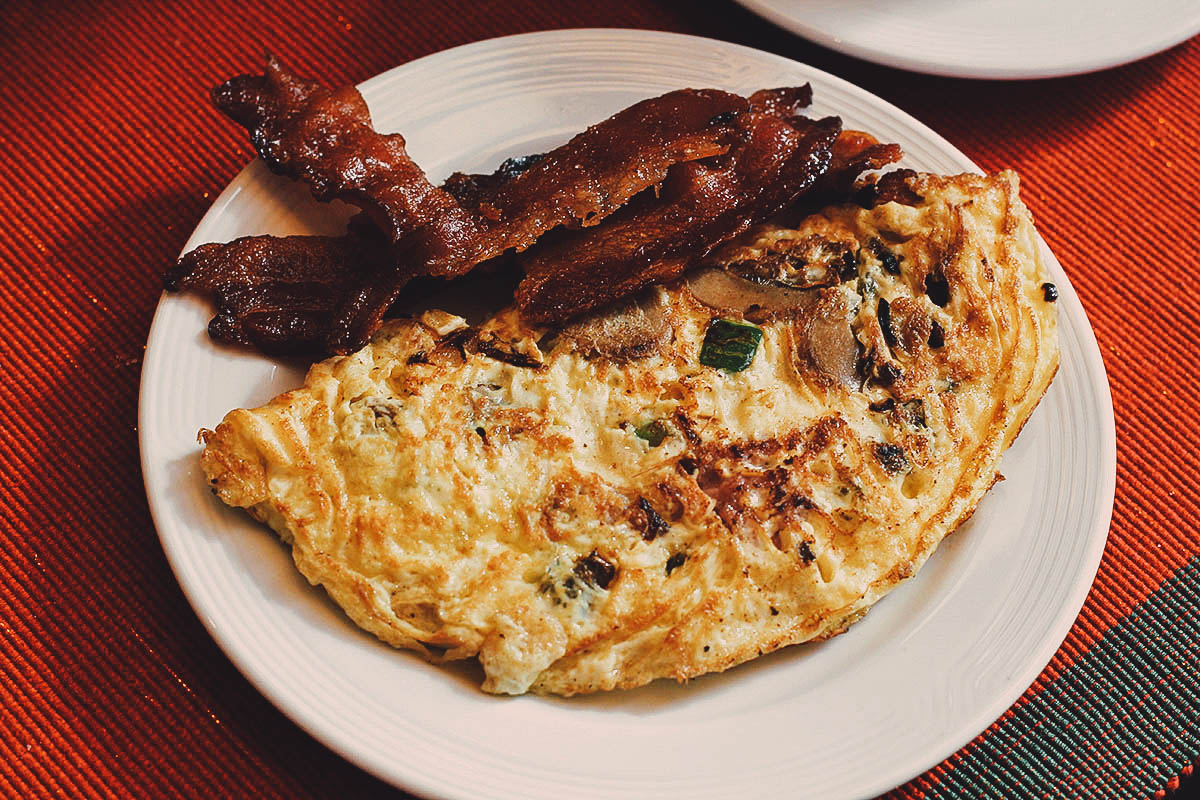 Complimentary cappuccino and rainbow latte to perk up our day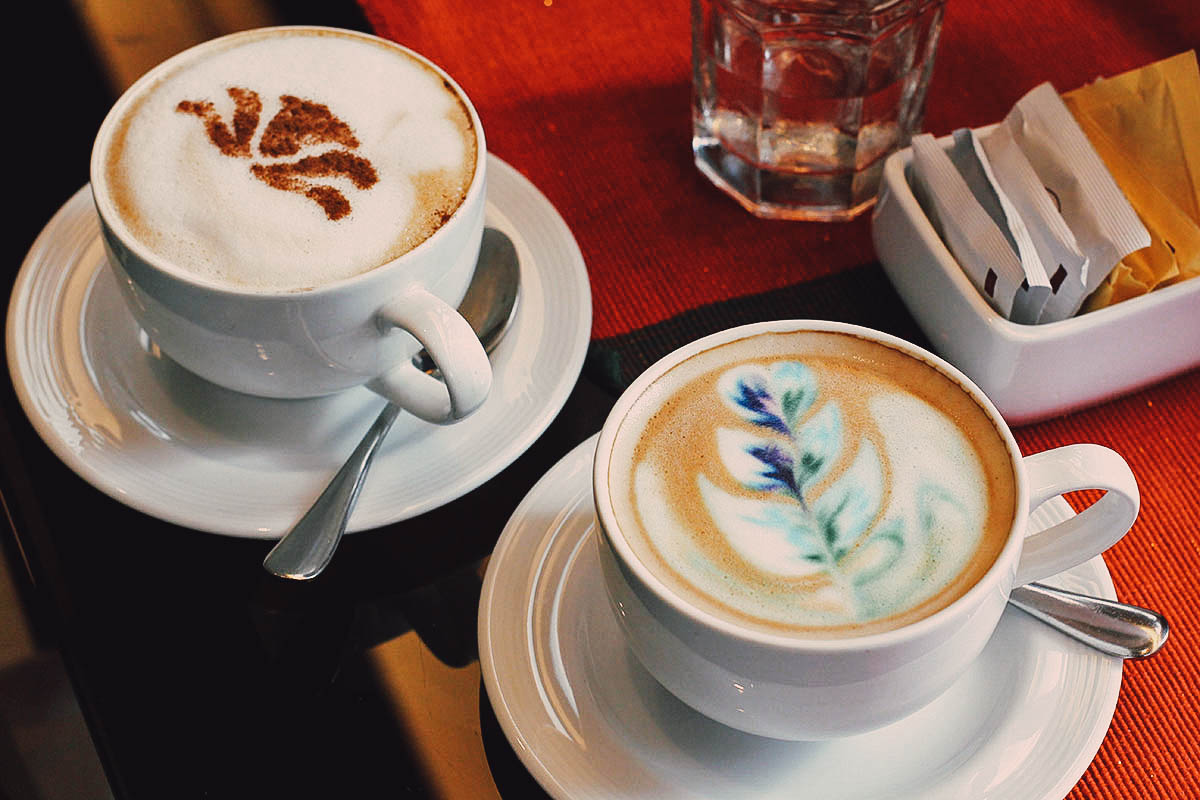 Refreshing house blend iced tea. The next four pictures were from our ala carte dinner the night before.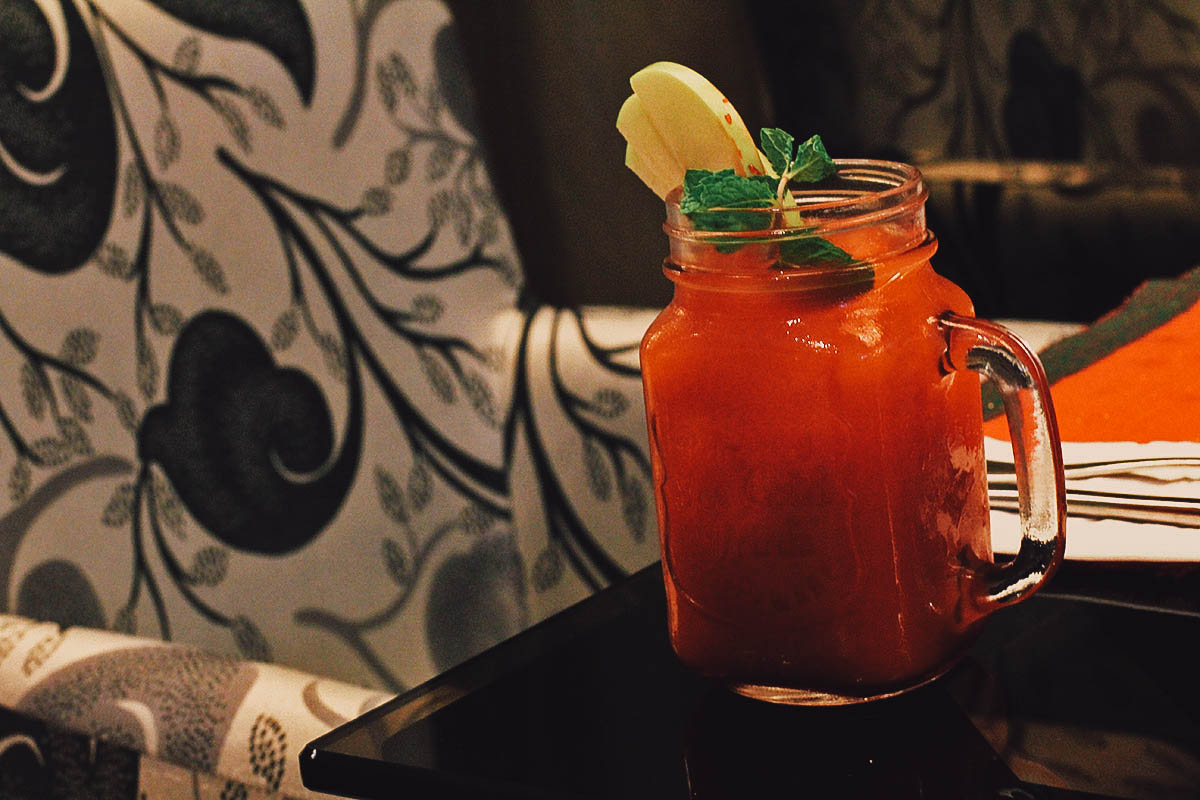 Roasted watermelon salad. I've never had roasted watermelon before so I was pleasantly surprised by the flavor combination. It was really good.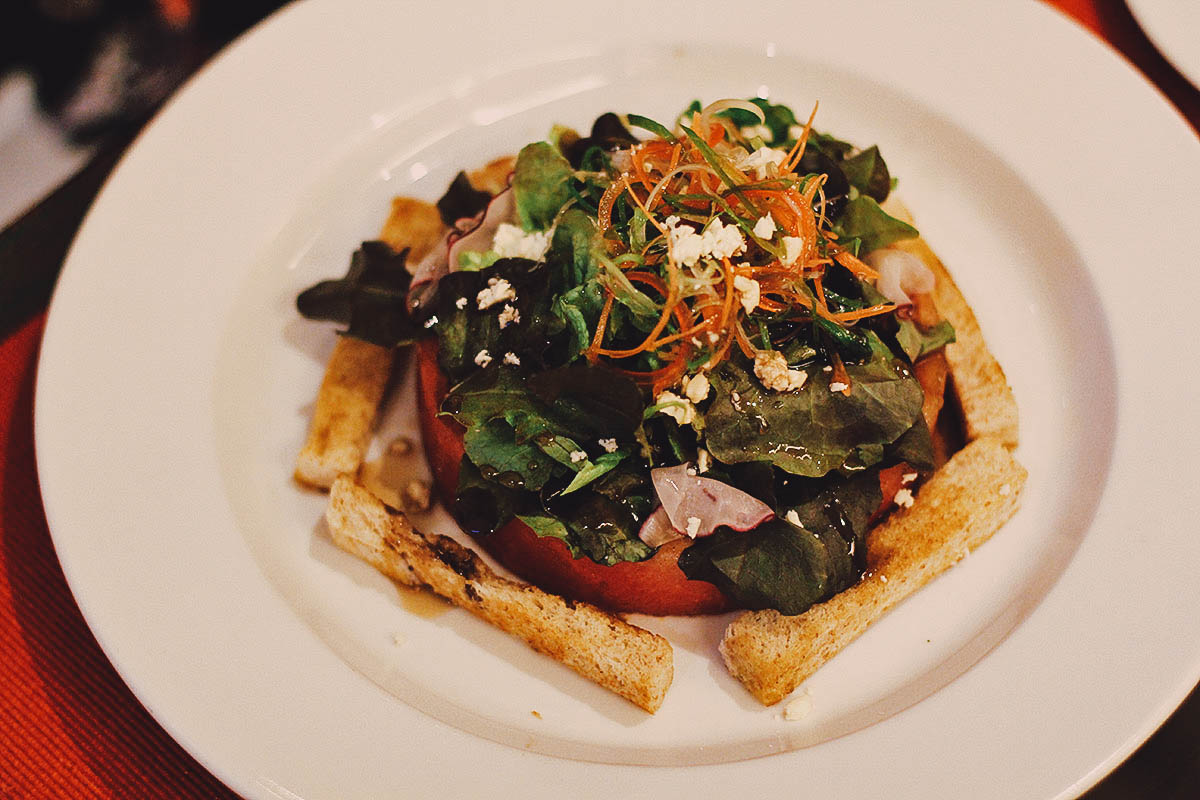 Pumpkin and prawn bisque. If you're like Anthony Bourdain and enjoying sucking on prawn heads, then you'll love this bisque. It's packed with that umami prawn head flavor.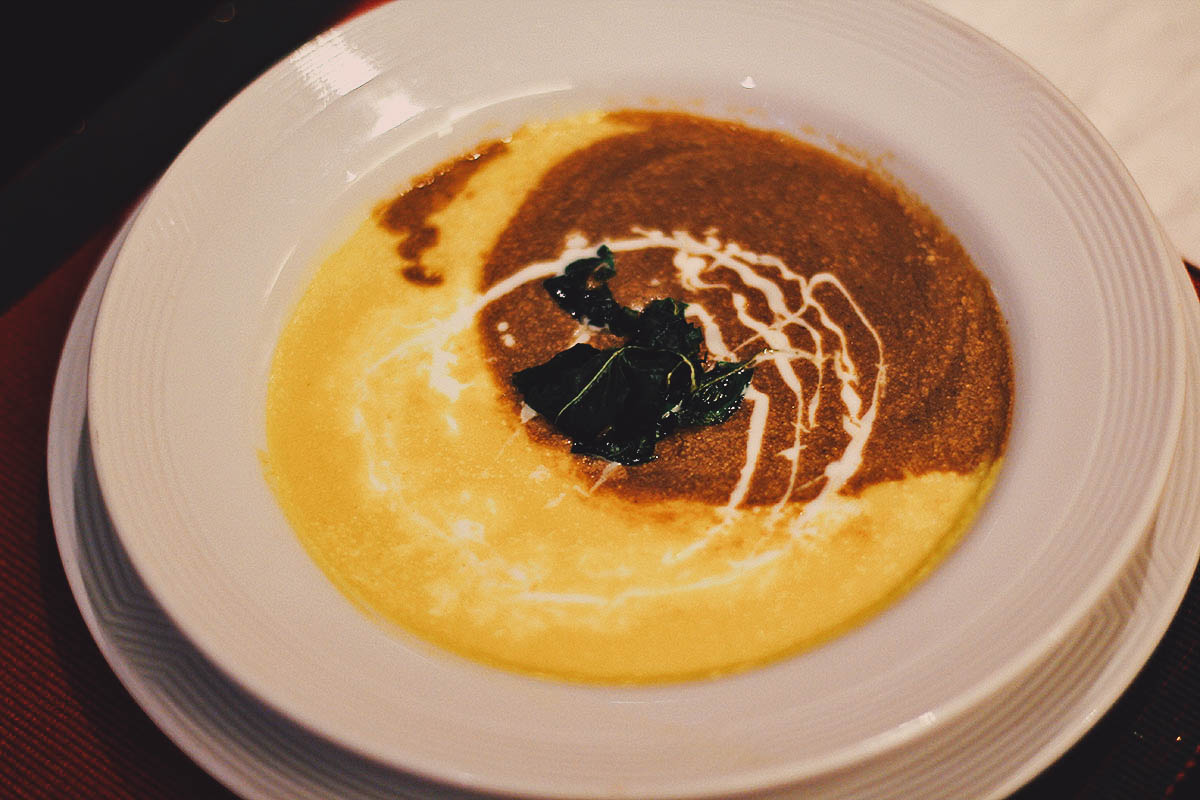 These baby back ribs came highly recommended. They have a wide menu selection here and their prices are reasonable, especially for a 4-star hotel.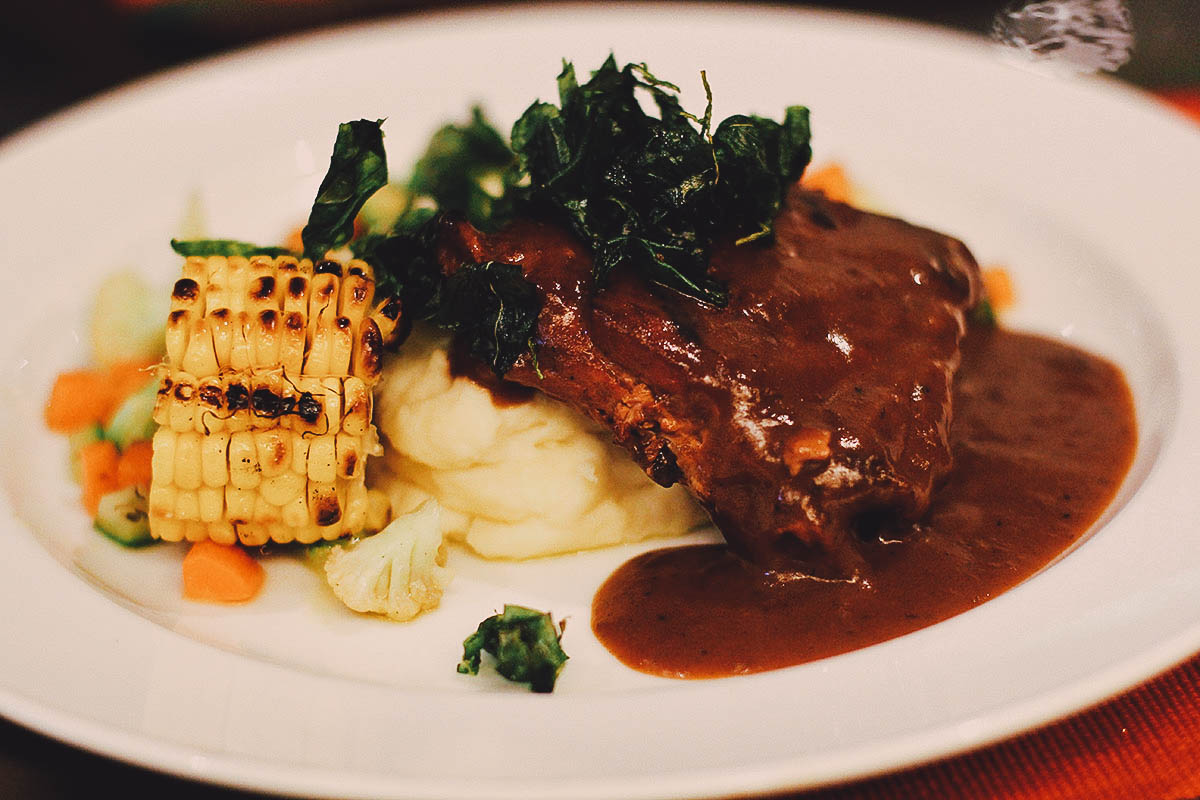 Swimming Pool
On the 32nd floor is this outdoor swimming pool and jacuzzi. Nice eh?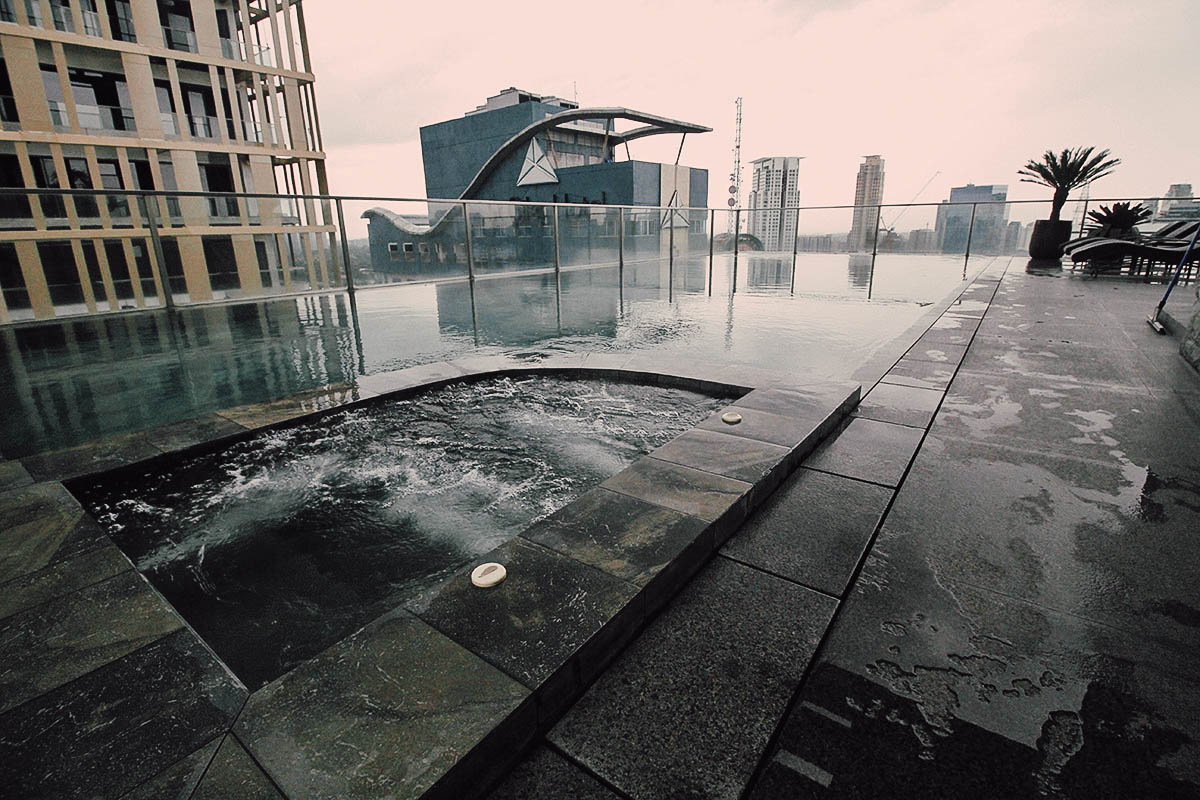 Too bad we didn't have enough time to swim.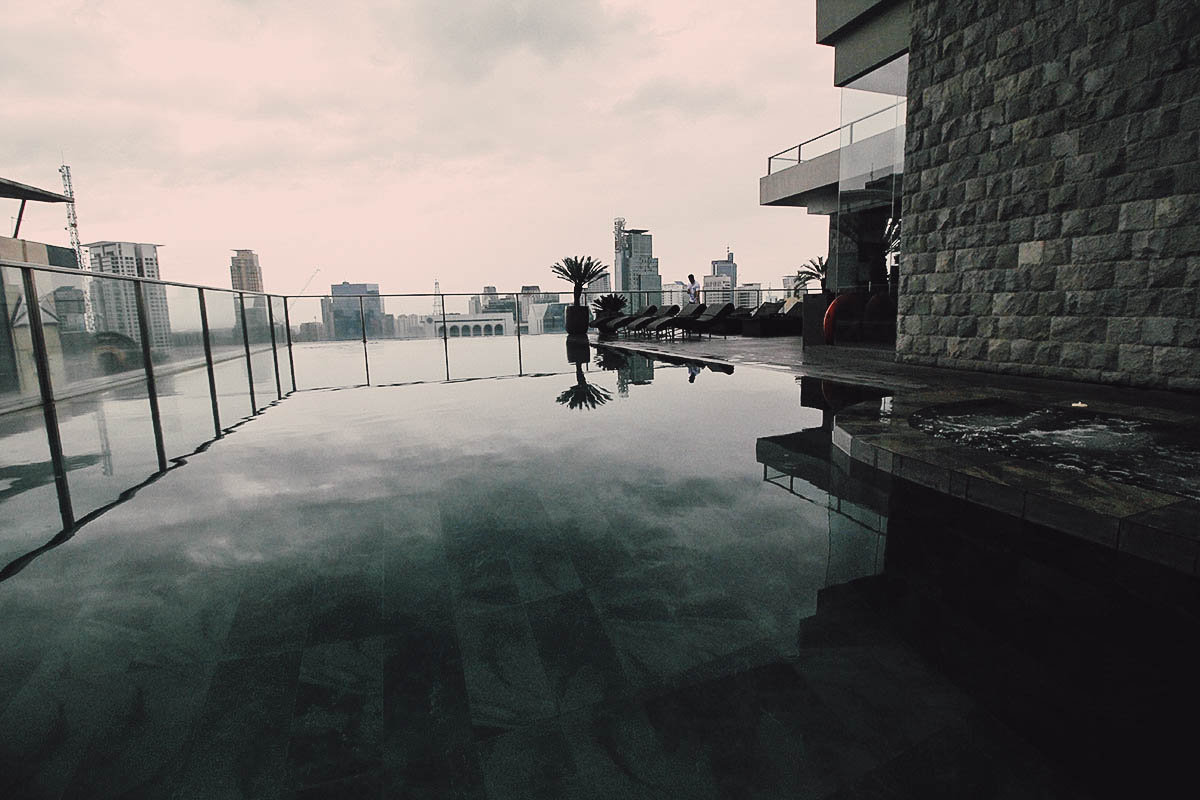 Firefly View Deck
Also on the 32nd floor is the open-air Firefly View Deck, the hotel's other F&B establishment. It's basically a bar that offers nightly buffets and live acoustic music on weekends.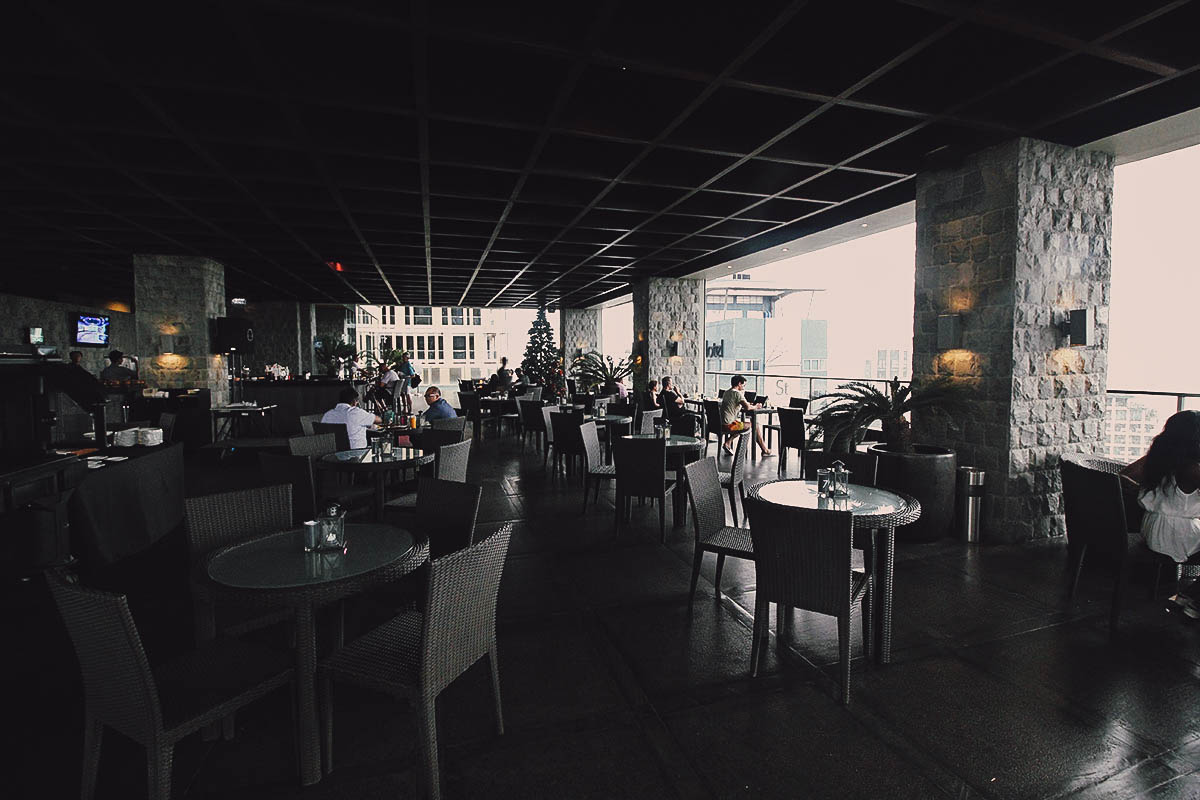 The view from up here is killer.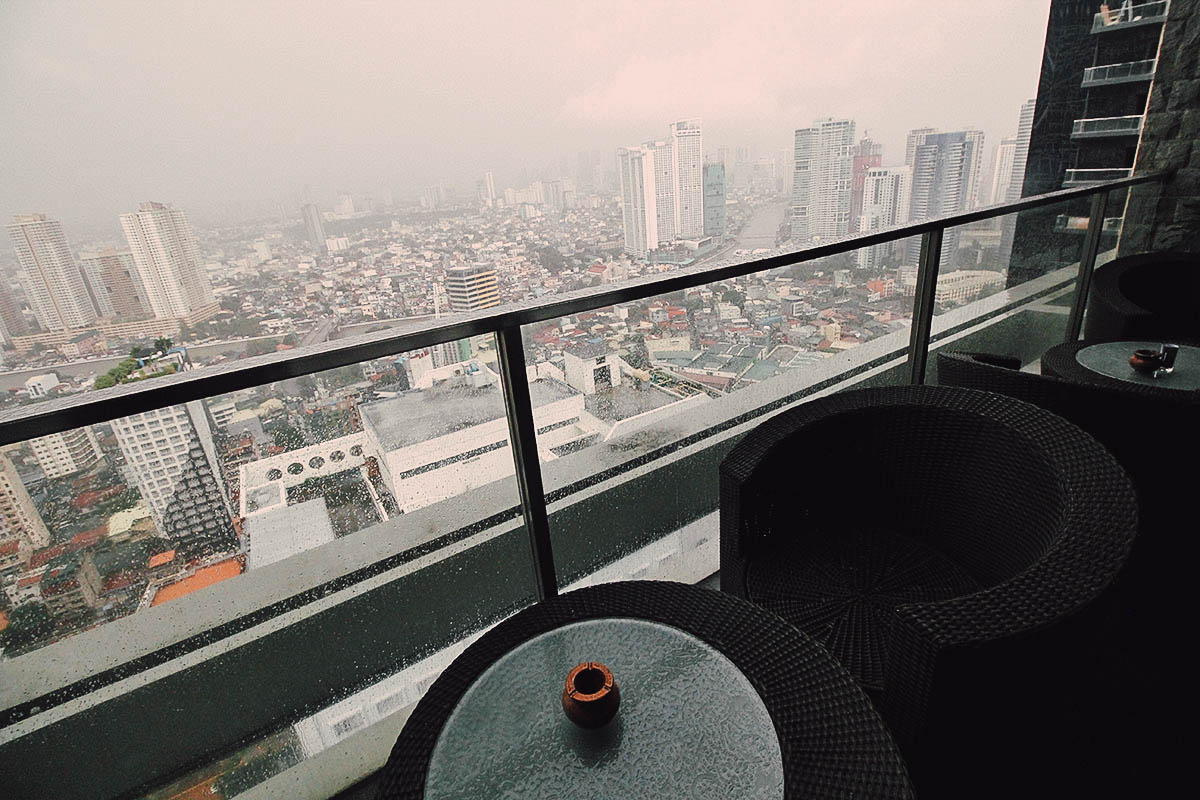 Check out Ren's RAWR face. I can't tell if she's looking at me or the beer.
As described, food and drinks at City Garden Grand aren't that expensive. Bottles of San Mig Light are just PHP 99 each, which is really good for a 4-star hotel. That's about how much you'd pay at a restaurant in Makati. We've been to hotels in Manila that charge over PHP 200 per beer!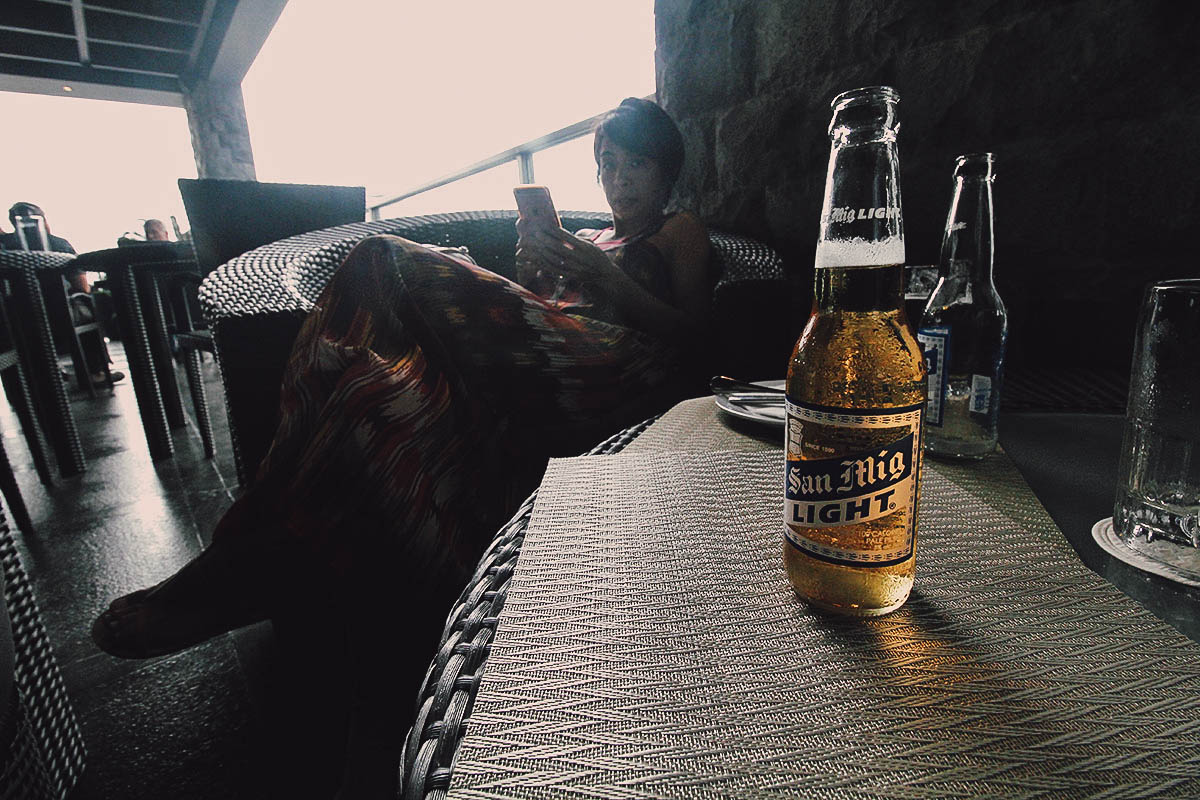 They have an ala carte menu here as well so we ordered this quesadilla to go with our beers.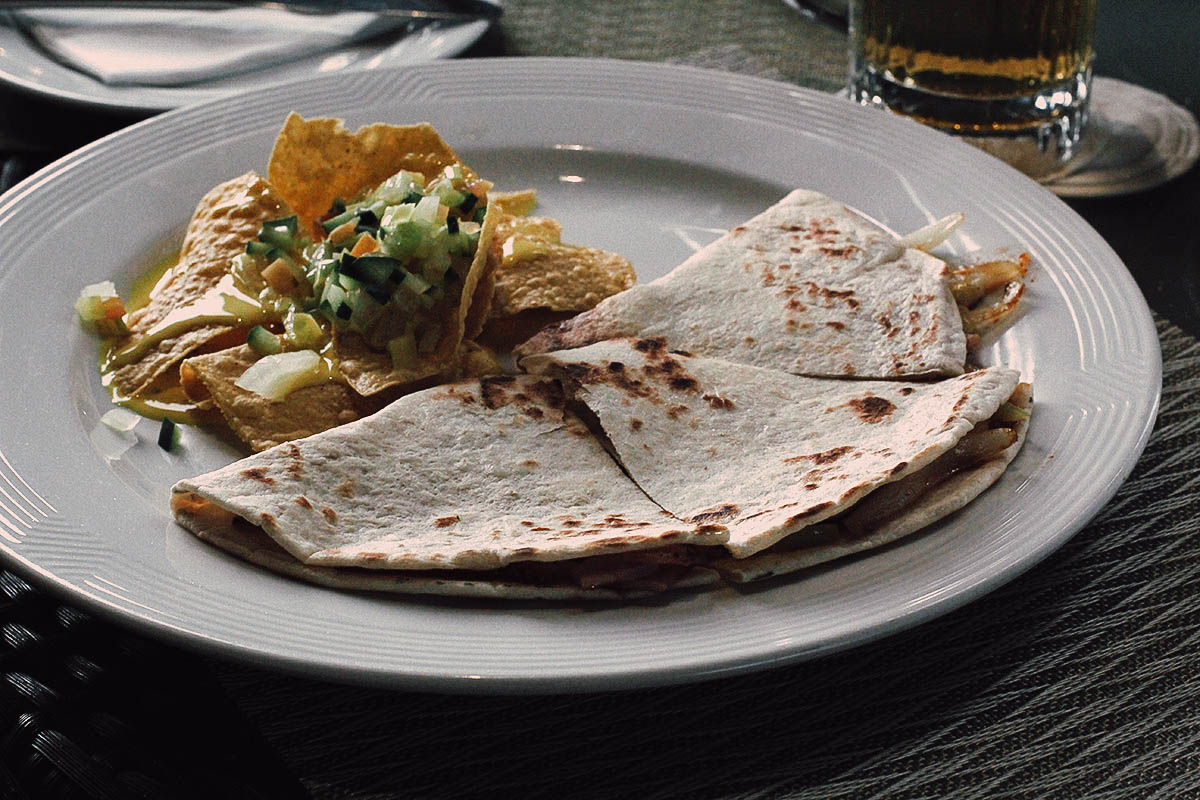 Think the view's nice during the day? Check it out at night!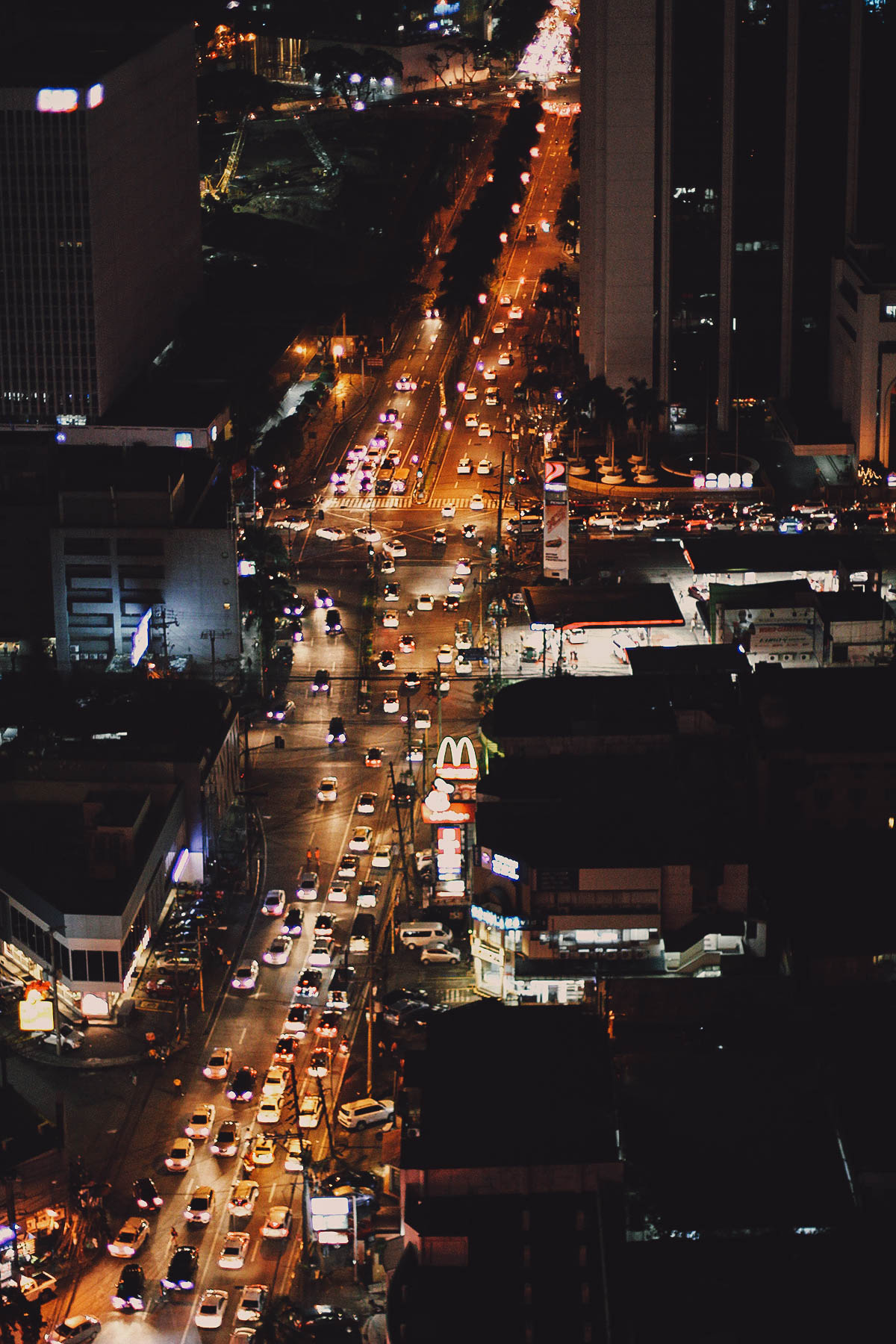 Lights as far as the eye can see

We were here on a Saturday night so we got to see former Voice Philippines contestant Hans Dimayuga perform. This guy's voice is amazing. He sounds like Hootie from Hootie and the Blowfish. You can catch him live every Friday and Saturday night.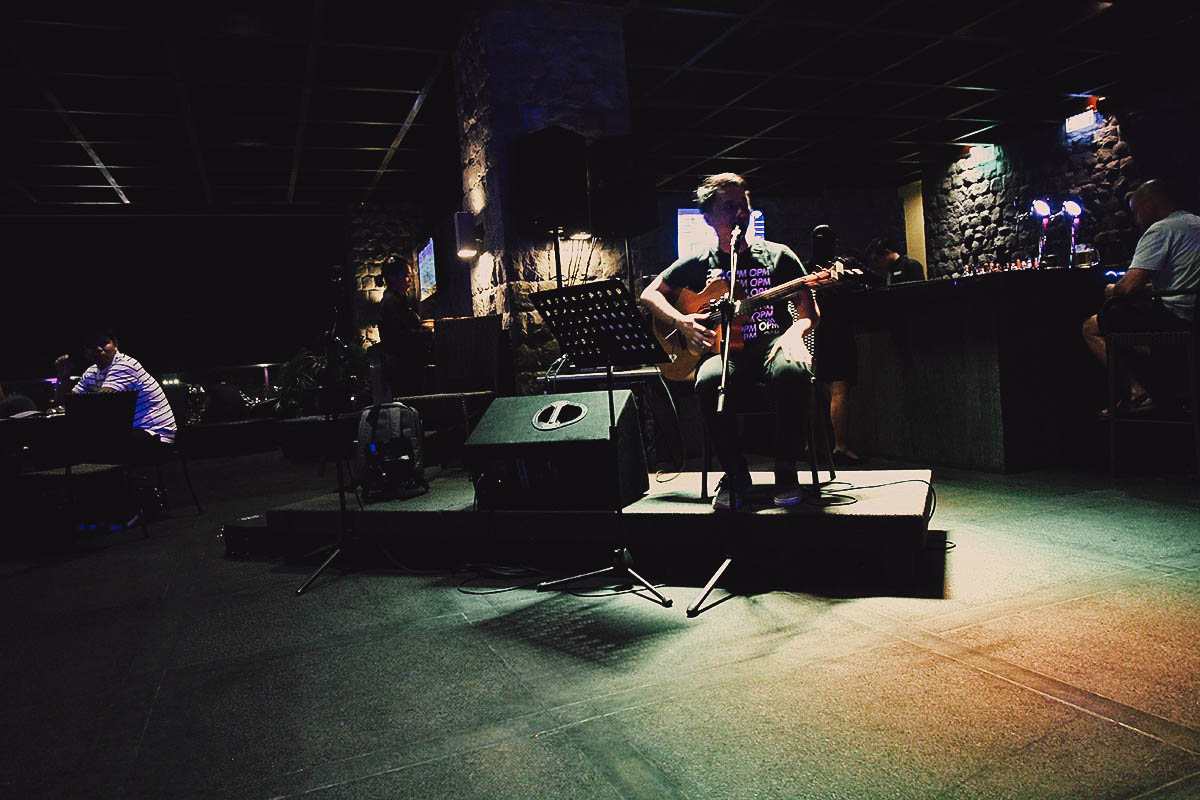 Dinner buffet at Firefly View Deck costs PHP 799 per person and includes a Mongolian station. If you've never had it before, a Mongolian buffet features a spread of ingredients like veggies, rice, noodles, raw proteins, and different sauces. You pile whatever you want in a bowl and hand over to the chef to cook. It's fun!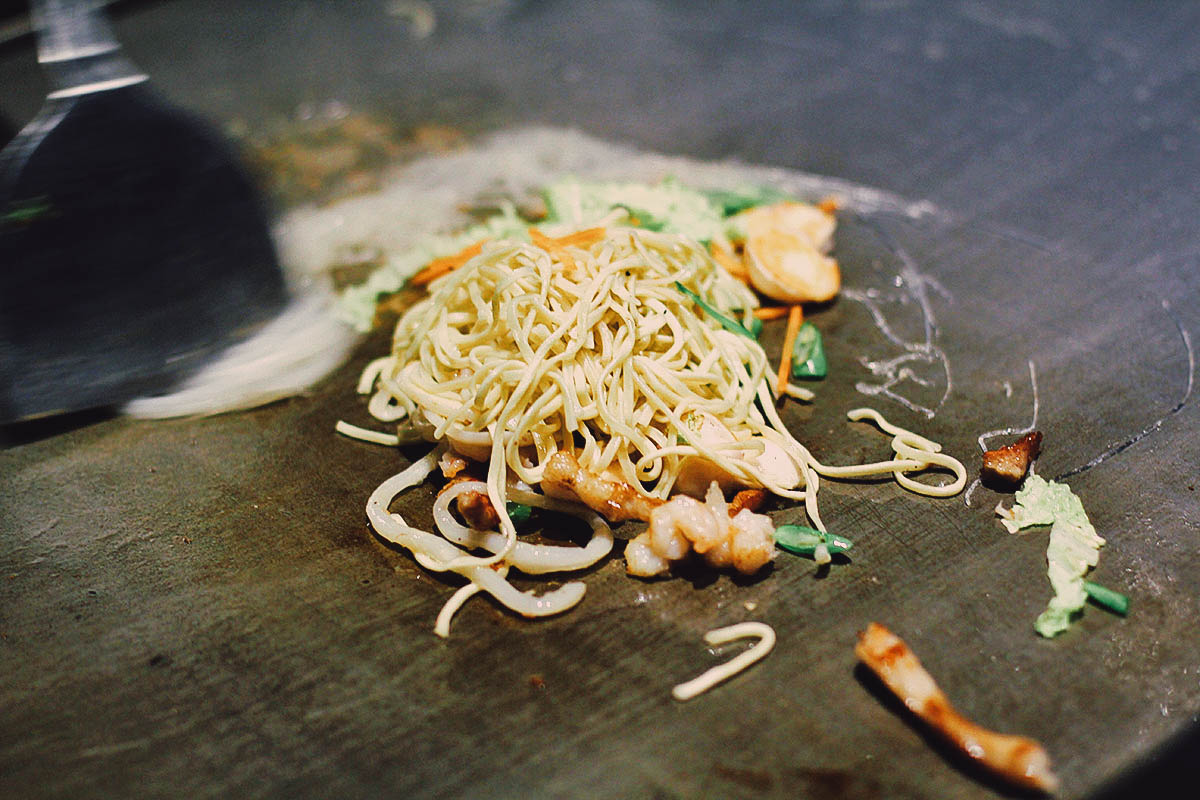 We don't stay at hotels like this often so I'm not an expert, but I don't really have anything negative to say about City Garden Grand Hotel. The hotel is conveniently located, the rooms are big and cozy, and the staff is well-trained. If I had to nitpick, I'd say that the breakfast buffet was somewhat disappointing. As described, it consisted mostly of lunch or dinner fare which was a little weird. It would have been nice to have a huge selection of breakfast food to choose from.
Without question, the room rates here are excellent, especially considering that this is a 4-star hotel. We stayed in a Deluxe King which goes for PHP 5,600 a night, but Standard rooms can be had for just PHP 3,584. To put that in perspective, We paid PHP 2,700 for a private room at Z Hostel. That's a difference of just PHP 900 pesos! We didn't get to see the Standard room but I'm pretty sure it's much bigger and nicer than the private rooms at Z Hostel. This hotel really is a great value and a good choice for business and leisure travelers to Manila.
You can make a reservation at City Garden Grand Hotel through Booking.com or Agoda. It's a good idea to check both sites to find the best deal. For corporate rates, please contact the hotel directly.
City Garden Grand Hotel, Makati, Philippines
8008 Makati Ave. cor. Kalayaan Ave., Makati, Philippines
Tel: +632 888-8181
Fax: +632 890-1250
Website: citygardengrandhotel.com
Facebook: CityGardenGrandHotel
Email: [email protected]
Check-in: Starts at 2PM
Check-out: Until 12NN
PUBLISHED ROOM RATES: (all prices net, breakfast buffet included)
Standard – PHP 3,584
Superior – PHP 4,484
Deluxe – PHP 5,600
Premier – PHP 6,272
Junior Suite – PHP 11,200
Presidential Suite – PHP 39,200
HOW TO GET THERE:
From NAIA, go to the Grab booth and tell the dispatcher you'd like to go to City Garden Grand Hotel in Makati.
MAKE A RESERVATION: Booking.com | Agoda
Disclosure
We were guests of City Garden Grand Hotel and were given a free one night's stay with full board. As always, all media, words, and opinions on this post are mine and mine alone. Some of the links in this post are affiliate links, meaning we'll get a small commission if you make a purchase or reservation at NO extra cost to you. We really appreciate your support as this helps us keep this website going. Thank you!