I've been wanting to visit this place since they first opened in late 2015. I don't remember exactly how I first heard about it. I think a friend may have shared their website on Facebook or some ad popped up on my feed. But whatever the source, I do remember one thing clearly – I became enamored with the place the moment I first saw it. It just looked so damn cool.
Masungi Georeserve has made its rounds on social media so you may be familiar with it. If you aren't, it's a geological park and conservation area in Baras, Rizal about an hour-and-a-half away from Manila. There you'll find a hiking trail featuring rope walls, hanging bridges, and unique viewing platforms suspended over limestone karsts and overlooking a lush tropical rainforest. But if you think Masungi is just another mountain with nature trails for hiking, it isn't. It's so much more than that. It's a fusion of nature and human engineering that's become one of the most unique trekking experiences in the country. To me, it feels almost like an adult jungle gym built seamlessly into the landscape.
As much as I've been wanting to visit Masungi Georeserve, it's been hard to meet the group minimum of 7 people, especially during the week when it's cheaper and there are fewer park-goers. Thankfully, I got my chance this month after one-and-a-half years and I couldn't have been more excited.
Save This on Pinterest!
No time to read this now? Click on the red save button and pin it for later!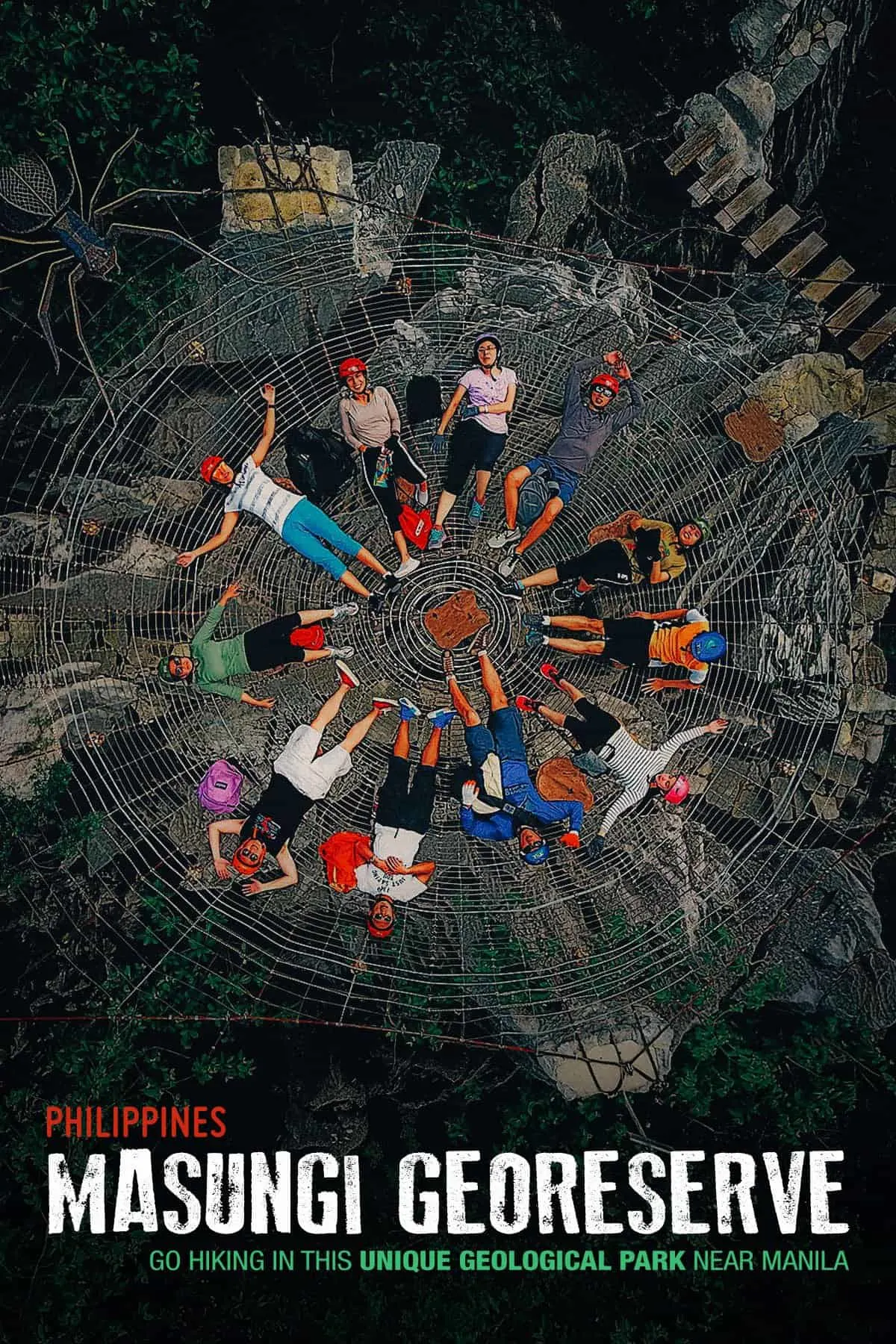 BEFORE YOU GO
1. Make Advanced Reservations
Masungi Georeserve is popular so you'll need to put in a trail visit request ahead of time, especially if you plan on going over the weekend. It costs PHP 1,500 per person during the week and PHP 1,800 over the weekend. There's a minimum of 7 people per group and a maximum of 14. If you can't get at least 7 people together, you can still go but you'll need to pay the cost for 7 guests regardless of how many people you have in your group. A minimum of 50% down payment is required to secure your slot and you must pay the remaining balance 4 banking days before your scheduled visit. Payments are made via BPI bank deposit or PayPal.
If you'd like to have lunch at Silayan Restaurant, then you'll need to make advanced reservations as well. It costs PHP 600 per person for a set meal. No down payment is required. You can visit the Masungi Georeserve website to put in a trail visit request and make a reservation at Silayan. Remember that trail visit requests can only be made through the Masungi website so any third parties selling you tickets are NOT legitimate. Don't be fooled!
2. Don't Be Late
Every group will go through a briefing before the trail visit so you're advised to arrive 30 minutes before your scheduled time slot. The day's slots are usually full so they can't push yours back should anyone in your party arrive late. Doing so would cause a bottleneck since everyone goes through the same trail. If your trail visit is scheduled for 7:20AM, then it will start at 7:20AM. In our case, three people arrived late so they had to catch up to the rest of the group with the help of a Masungi staff member. It's important that trail visits are kept on schedule so please be considerate and arrive on time.
3. Rain or Shine
I asked what would happen if it rains and they said that trail visits will push through even in the event of rain. Ponchos will be provided to all guests should it start to rain. Only under extreme weather conditions will your visit be canceled or rescheduled. Keep that in mind if you plan on bringing electronics like a DSLR, drone, or GoPro. I didn't want to take any chances with my gadgets so I brought a separate waterproof bag with me just in case.
4. Bring a Water Bottle
I underestimated how thirsty I would get so I regretted not filling my water bottle all the way. The trail visit lasts between 3-4 hours, much of it under the hot sun, so it's important to keep yourself hydrated. There are no water stations along the trail so be sure to bring a big enough water bottle and fill it all the way before beginning your trek. You'll need it.
5. Dress Appropriately & Bring a Change of Clothes
This should go without saying. You'll be climbing rocks and going through trails for 3-4 hours so it's important that you wear hiking boots or sneakers and clothing appropriate for trekking. Don't do a Lady Gaga and show up rocking a crop top and maxi skirt with Louboutin pumps. 🙄 You'll be all sweaty after your trail visit so you may want to bring a change of clothing too.
6. Acrophobes Beware
Masungi Georeserve will test your fear of heights. I'm an acrophobe myself and I had to tell my mind to stop crying like a little girl on many parts of the trail. Not to scare you, the trail isn't difficult but it is possible to fall. As long as you tread carefully and don't panic, then you should be fine. You can ask your park ranger to help you if you have trouble crossing anything.
7. Hang On to Your Valuables
Be careful when you take that selfie. If your iPhone falls, then there's a good chance you will never see it again. You're literally trekking over a canopy of trees and limestone karsts so if something falls from your hand or out of your pocket, then it's probably lost forever. This is why it's important to have a small backpack or sling bag with you, so you can safely and securely carry your valuables and water bottle. It'll help keep your hands free as well in case you need to catch yourself during the trek. If you don't bring your own bag, then Masungi will provide you with one.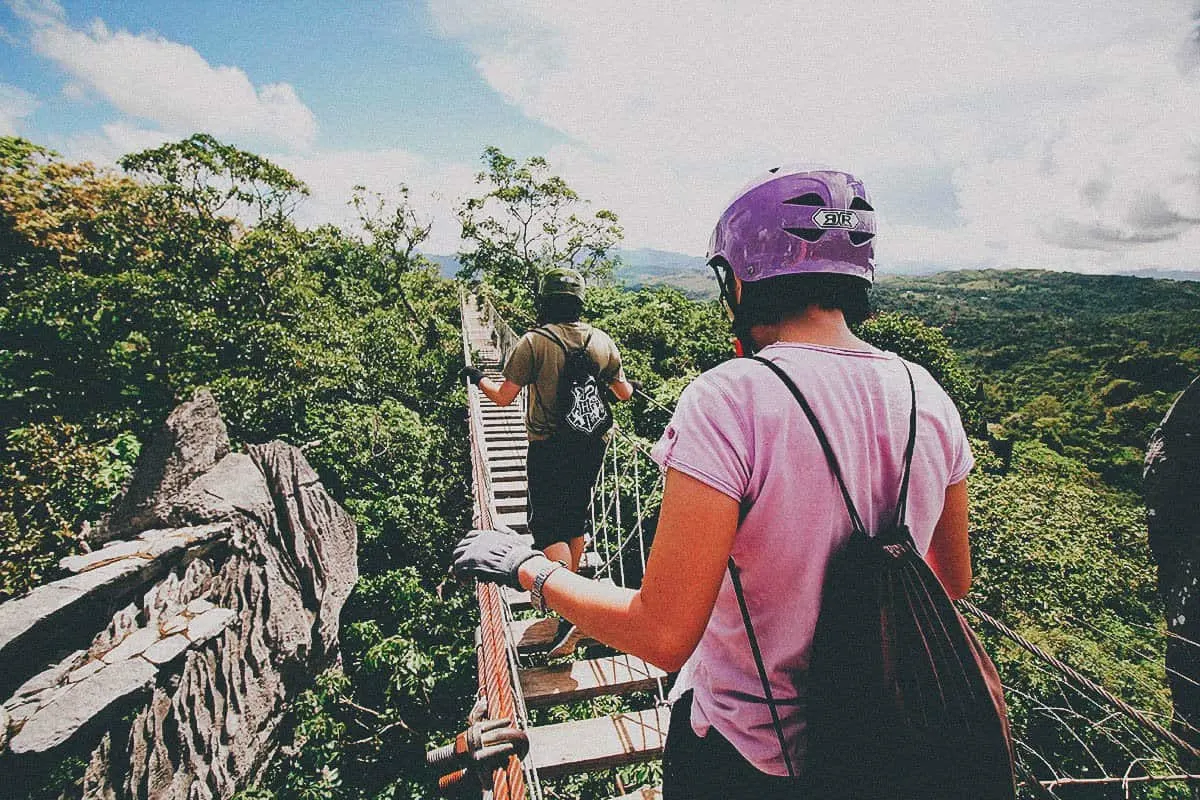 8. No Bathrooms
There are no bathrooms along the trail so be sure to do your business before starting the trek. I had diarrhea for a couple of days before our trail visit so I made sure to plug it up with some Imodium the night before. 😆
9. Bring Gloves
Many blogs suggest that you wear gloves during the trek to protect your hands from the sharp rocks. They do help but I don't think they're absolutely necessary. I brought gloves with me but I didn't wind up using them. You may want to bring a pair though just in case. They don't have to be too thick. A cheap pair of knit or gardening gloves will do.
10. No Tipping, Smoking, or Littering
Masungi Georeserve has a no tipping policy to ensure that all guests have a consistent park experience. You can't smoke or leave any kind of refuse along the trail either. Bravo!
HOW TO GET THERE
Masungi Georeserve is about 1.5 hours away from Makati. The easiest way to get there is by private transportation. If you're a group of foreign tourists and don't have your own vehicle, then you can hire a chauffeured car for the day. If not, then you can refer to the public transportation directions below. Keep in mind that public transportation will take longer so you'll need to leave earlier to make your trail visit time.
By Private Vehicle
Make your way to Marcos Highway.
Keep going on Marcos Highway. You'll pass Masinag, Cogeo, Boso-Boso Resort, Foremost Farms, and Palo Alto.
Slow down when you see Garden Cottages. You'll soon see the Masungi Georeserve logo on your right (pictured below).
By Public Transportation
From Cubao, take a jeepney or FX bound for Padilla/Cogeo Gate 2.
From Gate 2 near the market, take a jeepney bound for Sampaloc, Tanay.
You'll pass Masinag, Cogeo, Boso-Boso Resort, Foremost Farms, and Palo Alto.
Get off at Garden Cottages and walk to the entrance of Masungi Georeserve (pictured below).
We finally made it! Woohoo!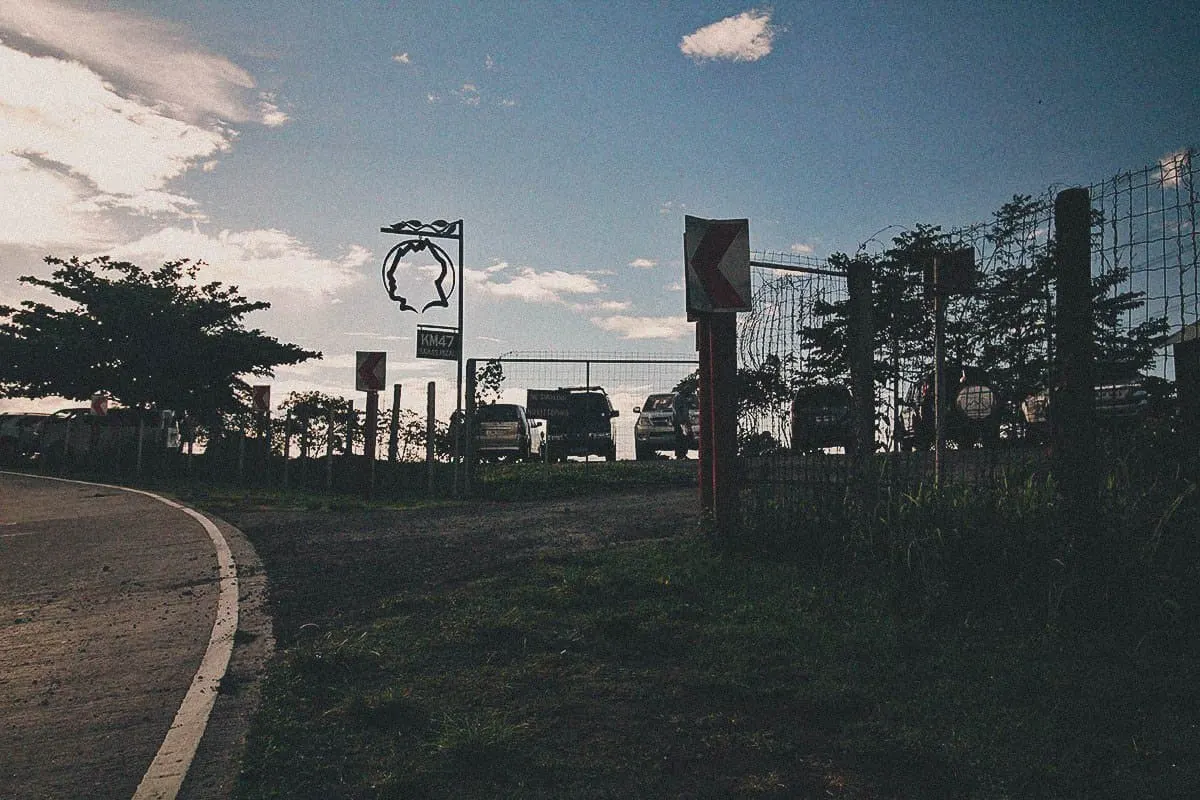 We booked the 8:20AM time slot but we got here before 7AM. Excited much?! 😆 The earliest time slot is at 5:30AM which is ideal for catching the sunrise. The last is at 1:30PM. It takes about 3 hours to go through the entire trail, 4 if you stop to take a lot of pictures.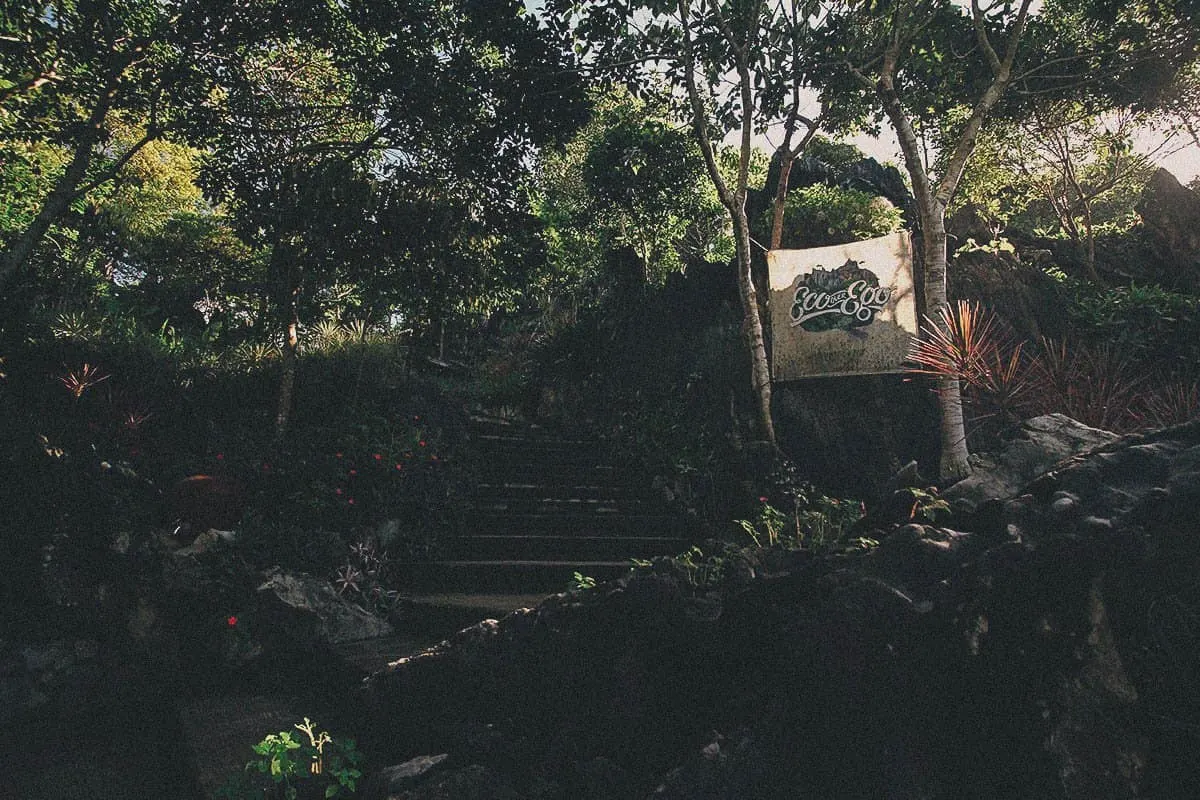 Every part of Masungi Georeserve is beautiful and fits perfectly with the environment.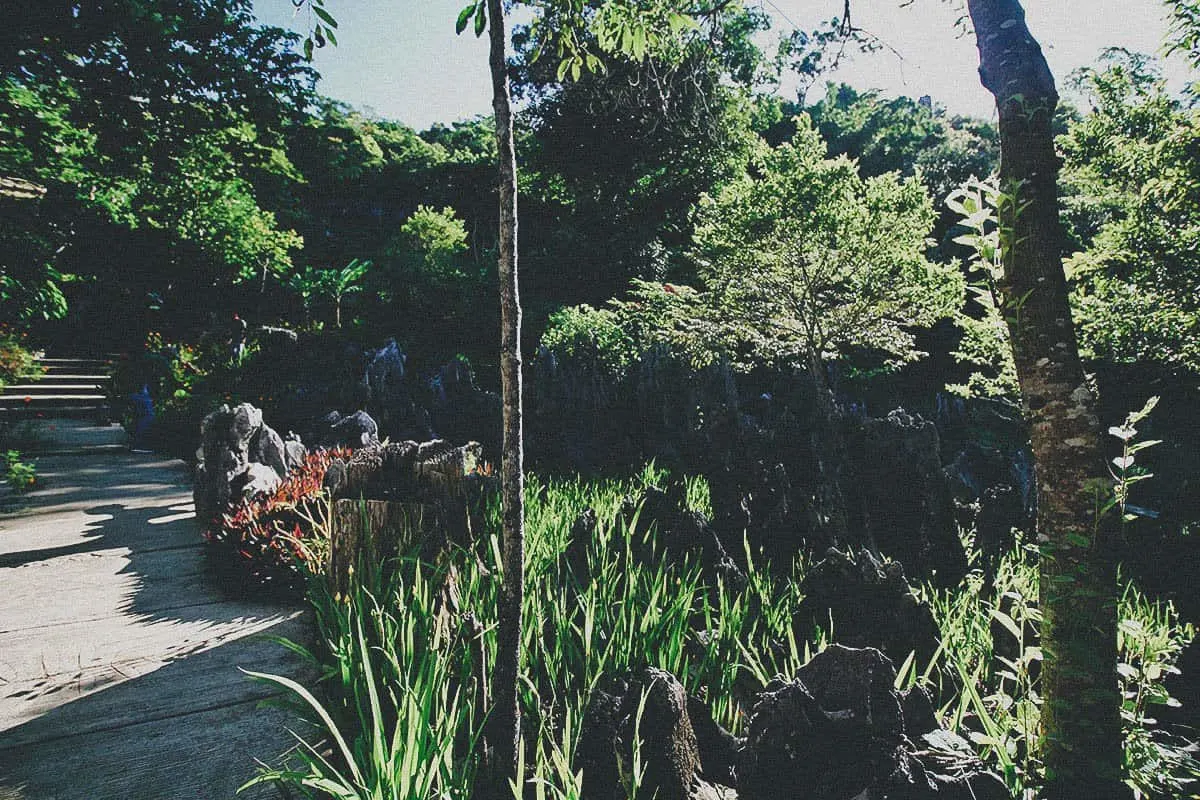 Here's an example. Plastic water coolers would be an eyesore so they use these clay vats instead. Filled with purified drinking water, you can fill up your water bottles from these.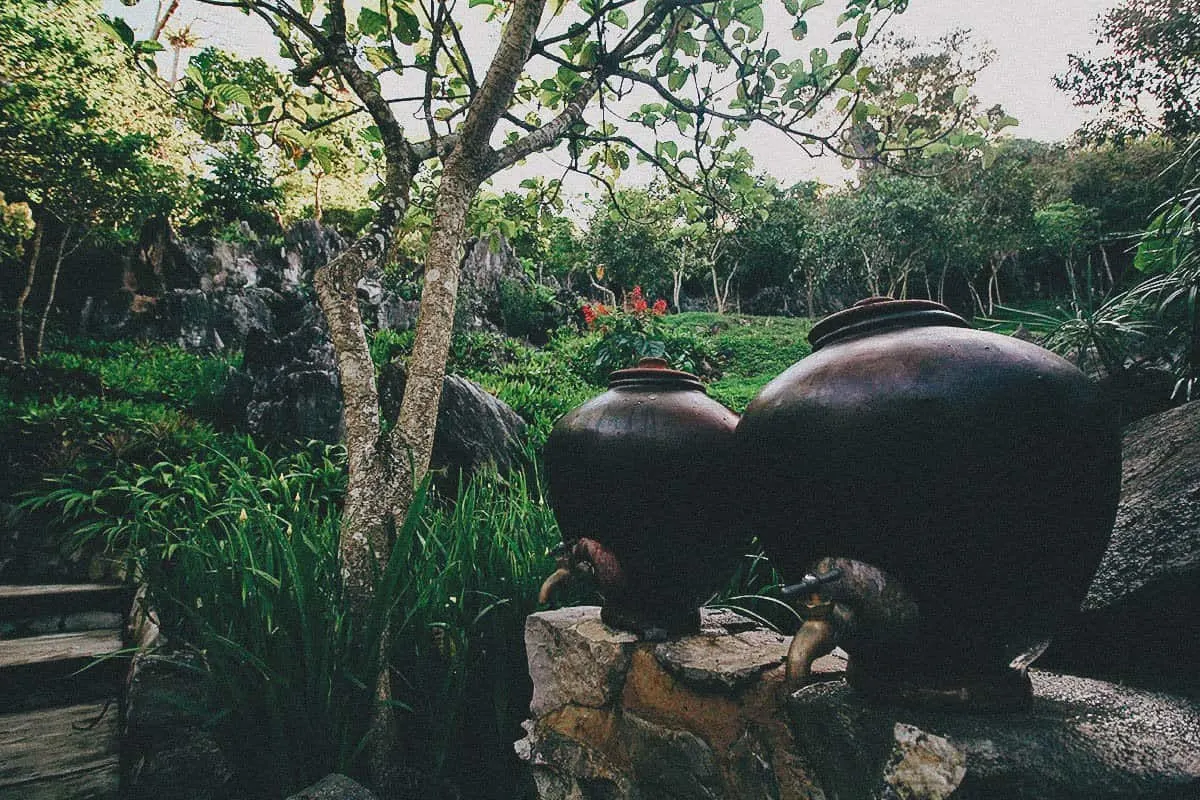 To the left there is a waiting shed where guests are briefed before their trek.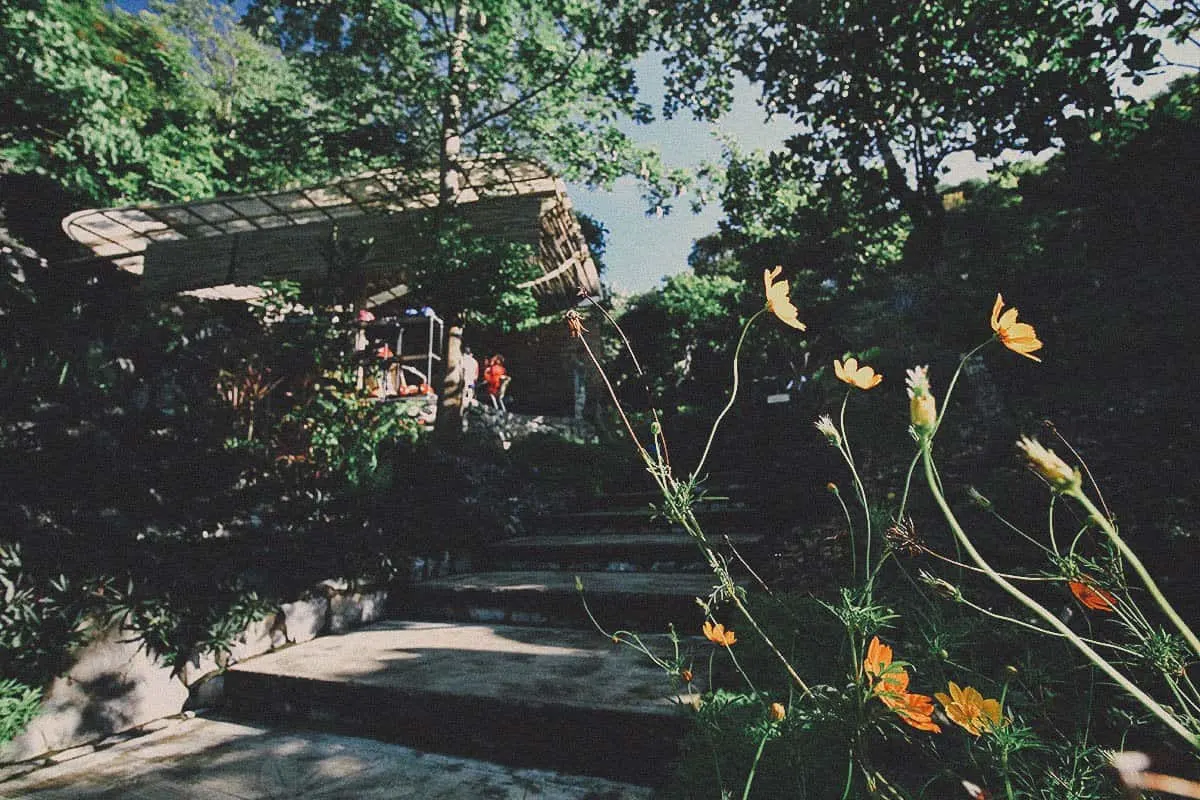 SILUNGAN
Silungan means "shelter". There are 3 or 4 of these in the receiving area.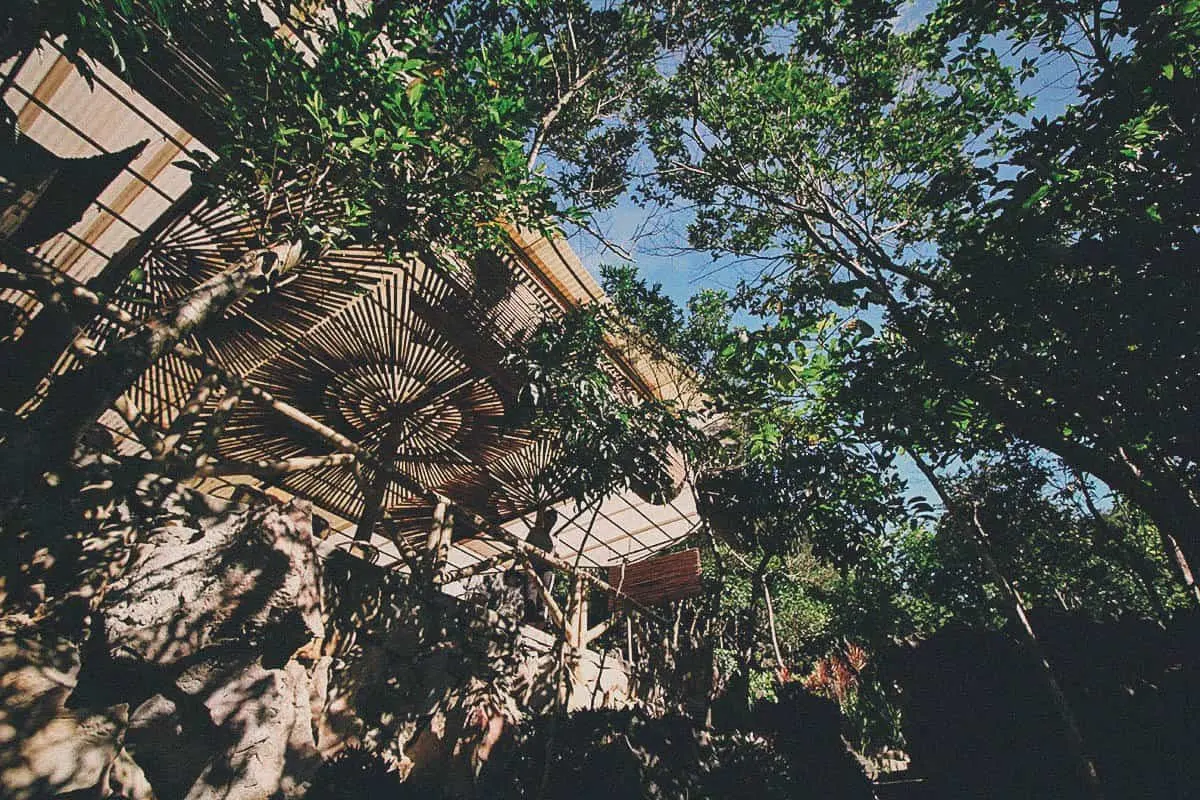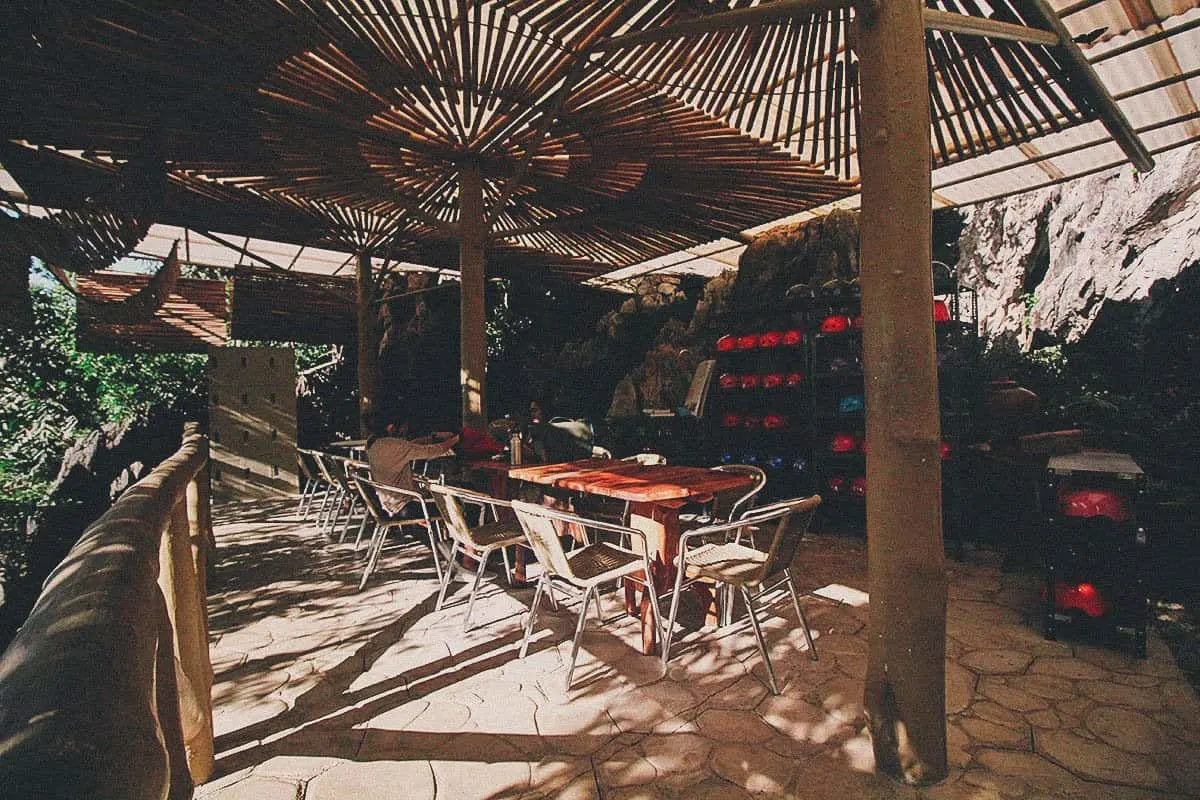 Helmets are essential during the trek. You'll often need to duck down to enter caves and avoid low lying branches so you'll need to keep a helmet on at all times.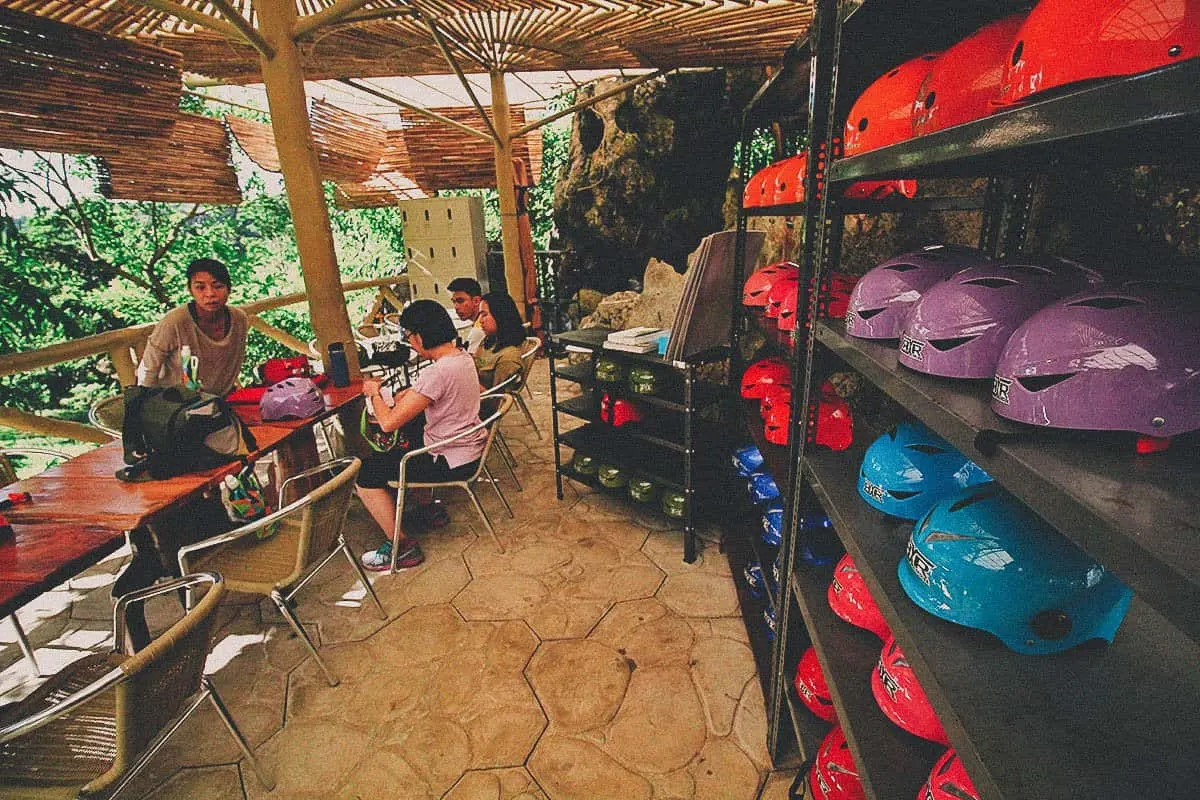 Even the bathrooms are beautiful and made to fit with the environment as naturally as possible.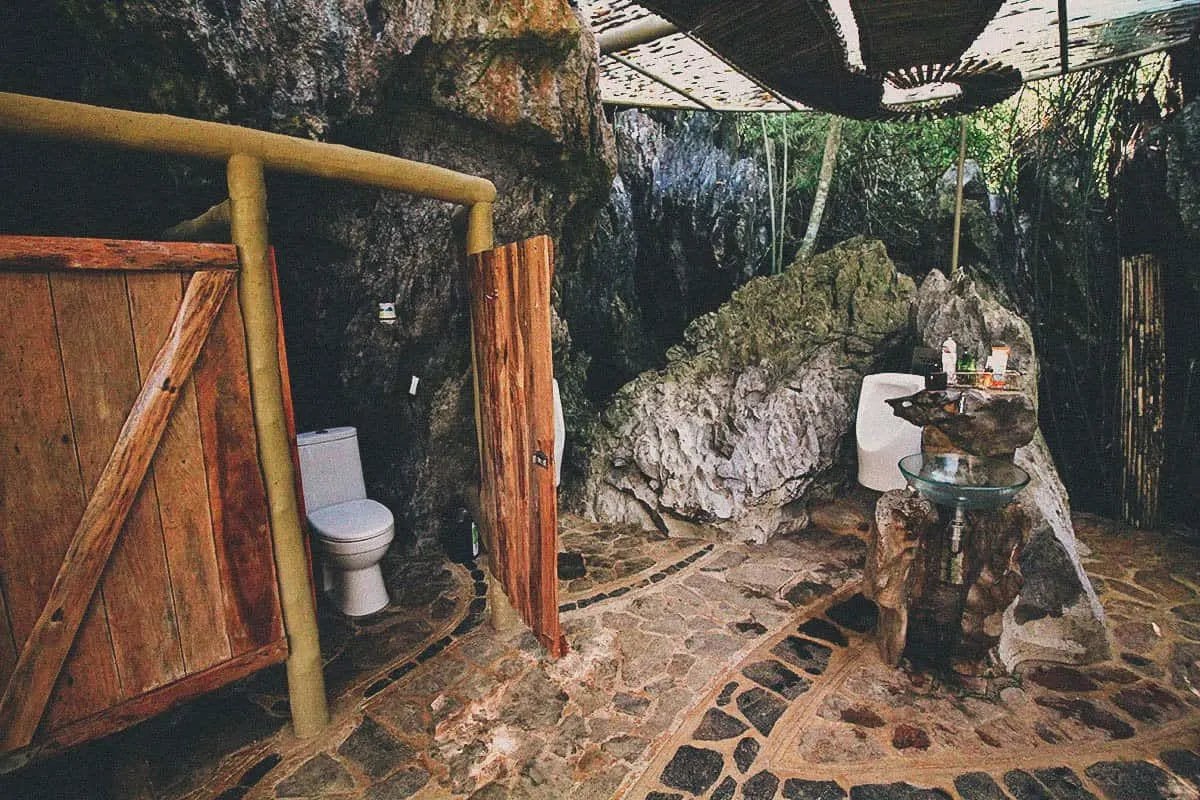 TRAIL
Once your party is complete and you've been briefed, one park ranger is assigned to your group and you're off! There's our park ranger Jun-Jun taking us to the day's first obstacle, a short rope climbing wall.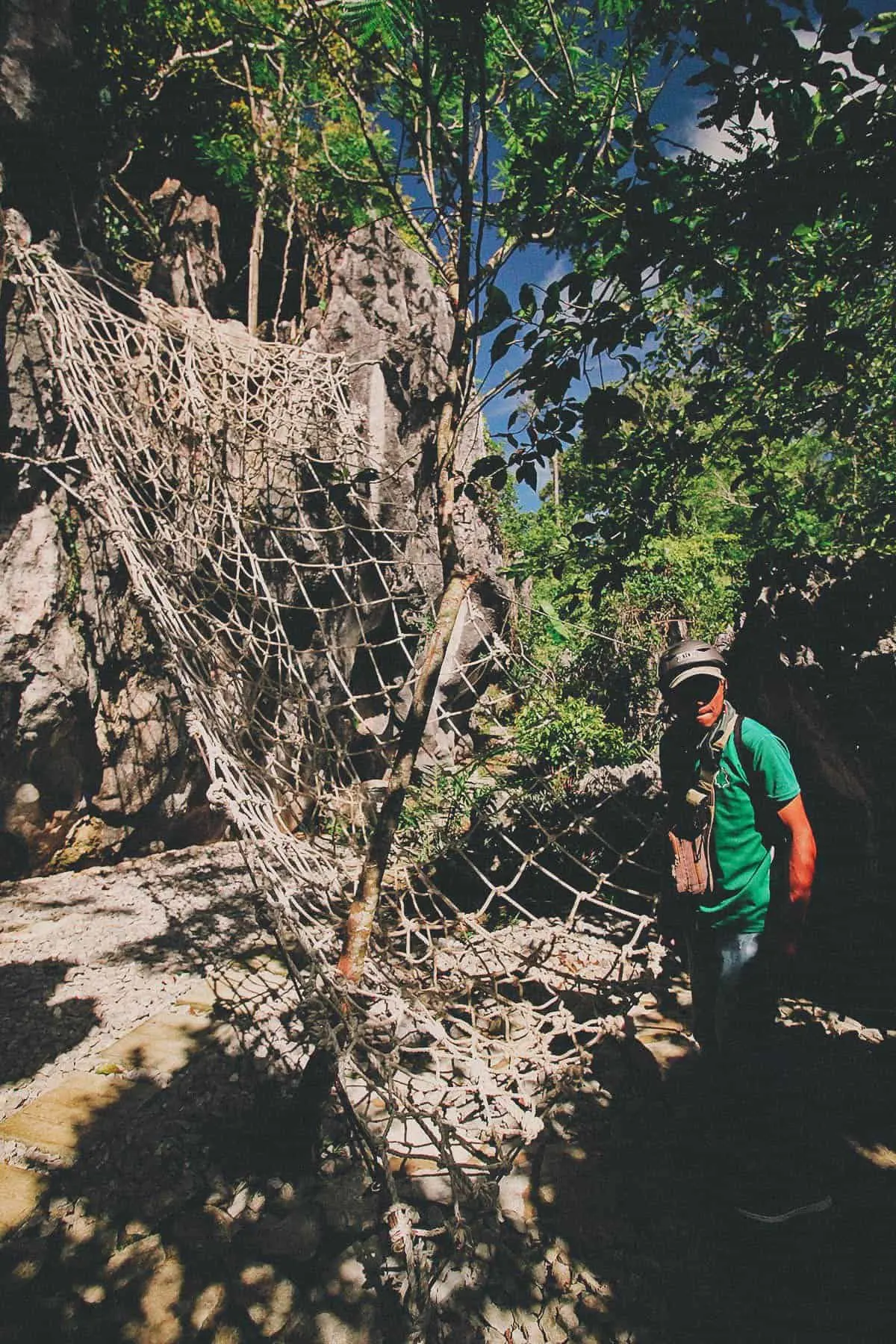 At many of these obstacles, you'll find these washing stations with brushes where you can clean the soles of your shoes. They really did think of everything here.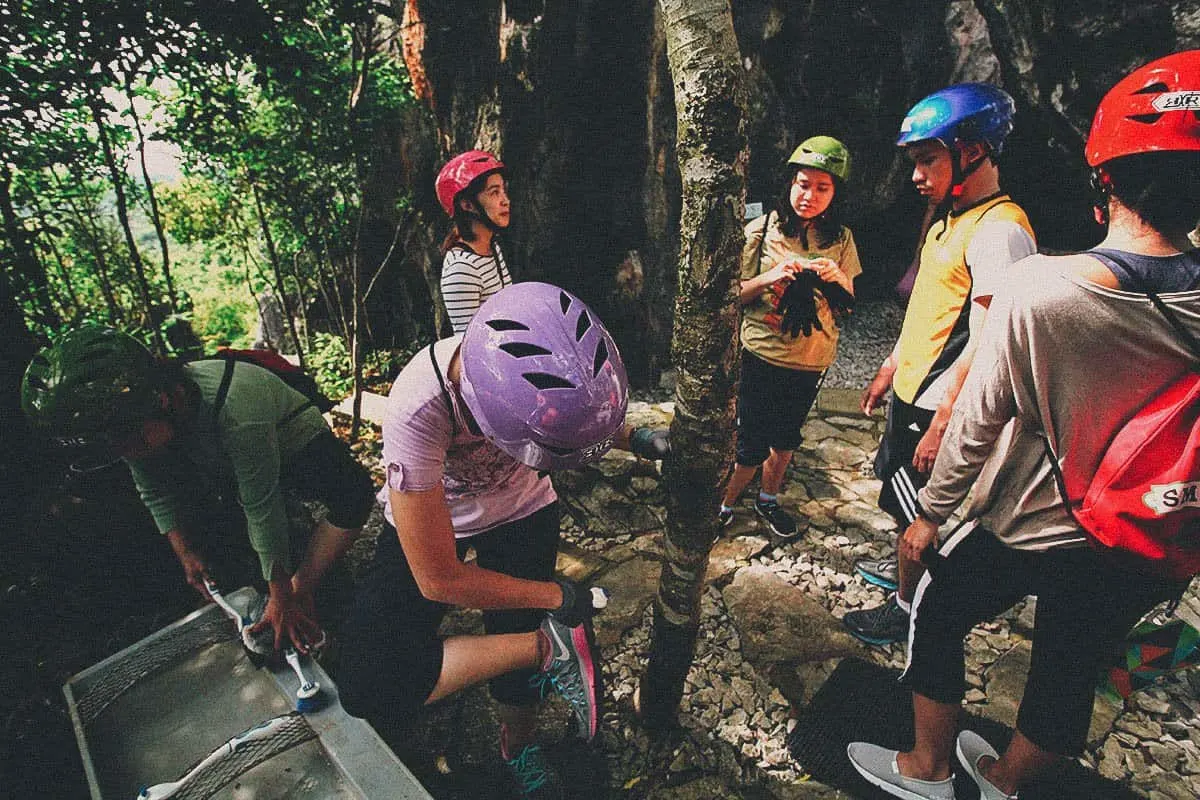 And up we go! This was the shortest of the rope walls that we would traverse today.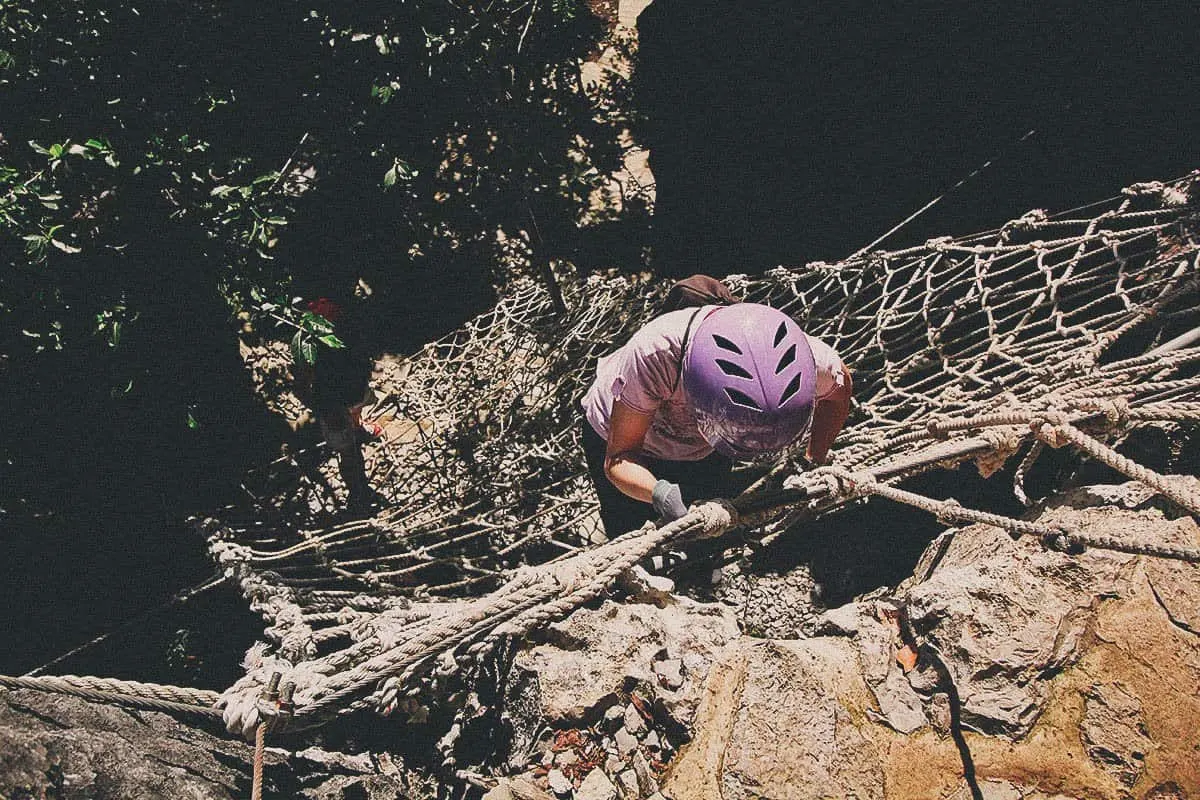 There's only one trail at Masungi and you never cross the same area twice.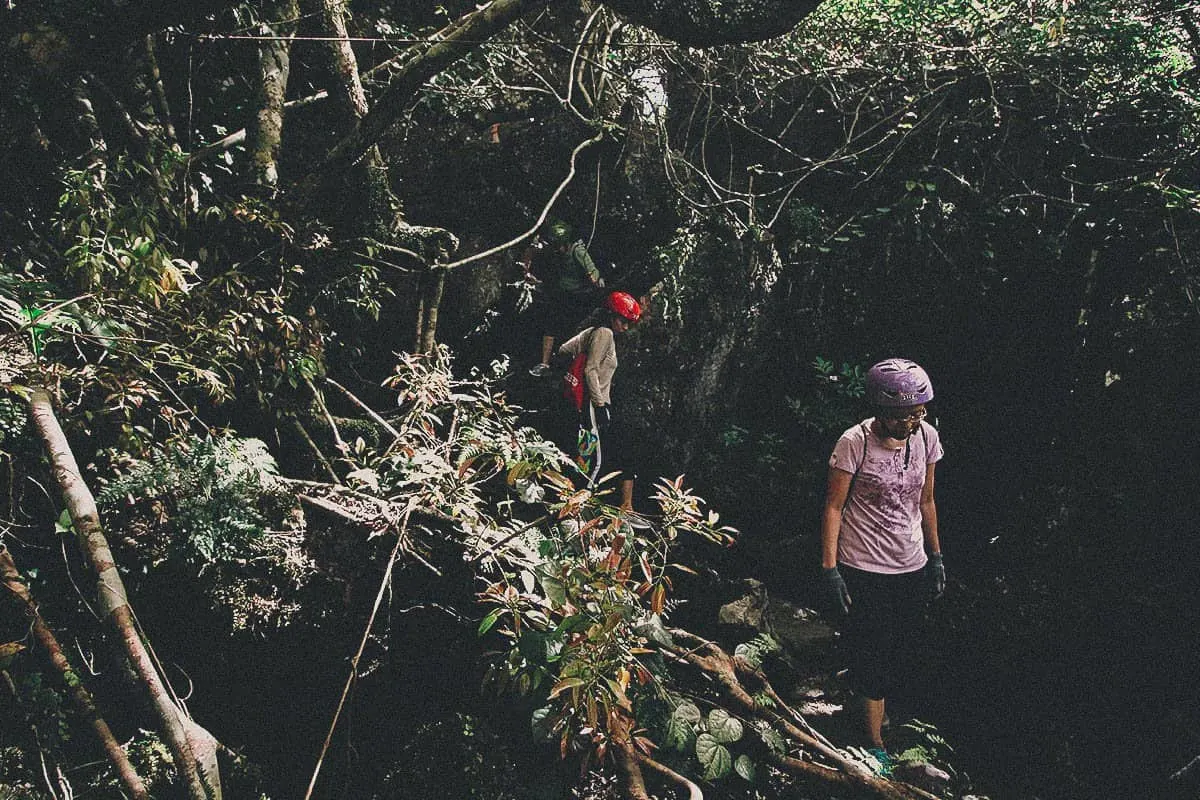 Jun-Jun would stop at certain points to talk about the different plants and rock formations we'd pass along the trail. The reserve is home to many species of animals like snakes, monitor lizards, and monkeys. Most are nocturnal though so we didn't spot any during our visit.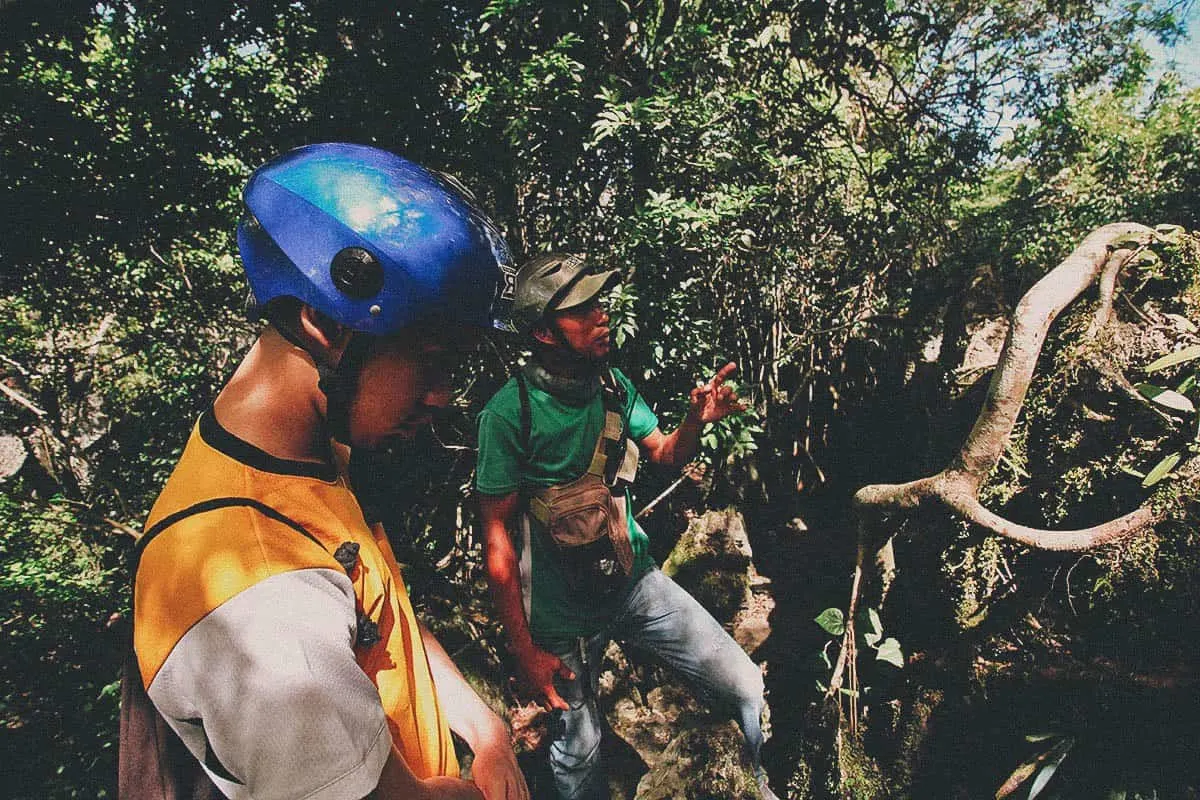 Sapot
Sapot means "spider web". This unique viewing platform is one of the most Instagrammed features of Masungi Georeserve. You can get great views of Laguna de Bay from here.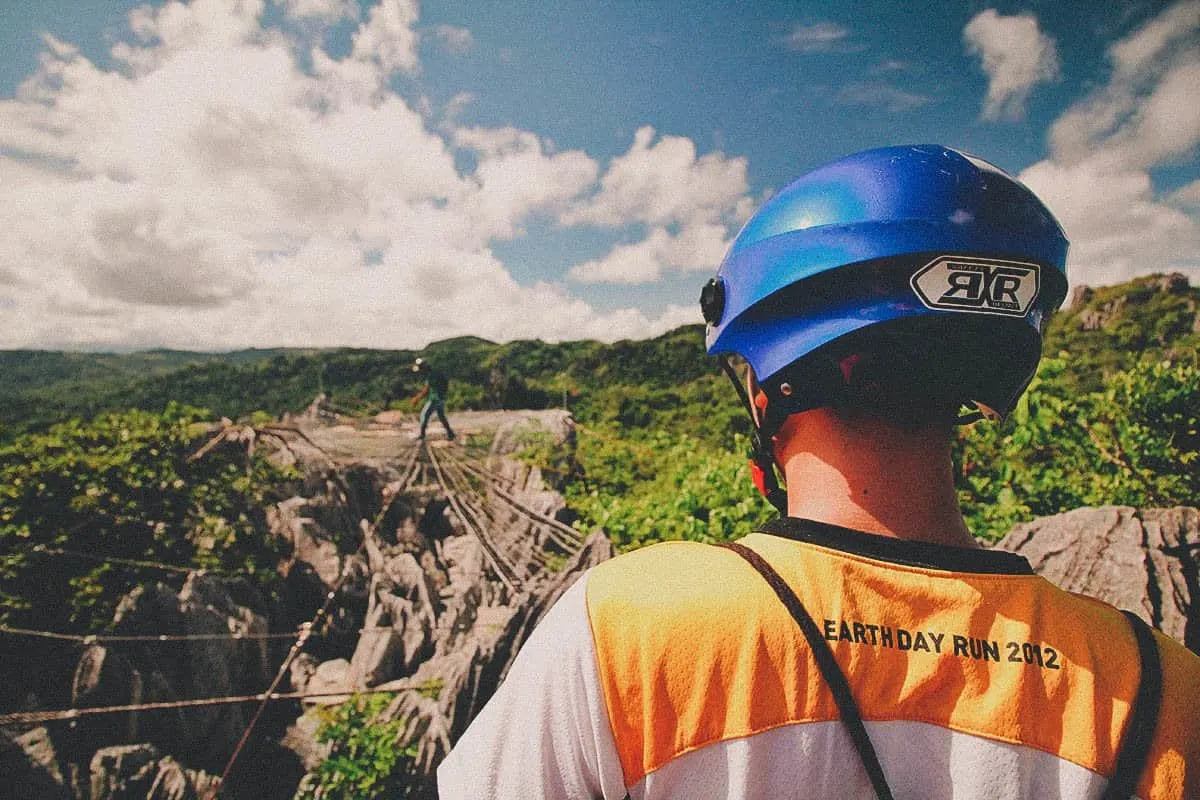 How frikking cool is this?! You're literally above the canopy of trees and karsts on a giant manmade spider web. The design and engineering that went into making this and the park's other features is pretty incredible. How the heck did they build these things?
Hey Instagrammers! Don't even think about doing jump shots here. I was shocked when Jun-Jun told us "no jump shots" because I would imagine that goes without saying. Not only will you risk serious injury, but repeatedly jumping on a structure like this could weaken its foundation and make it potentially unsafe for future hikers. Don't endanger your life and the lives of others by doing something stupid for attention. Find some other way to look cool.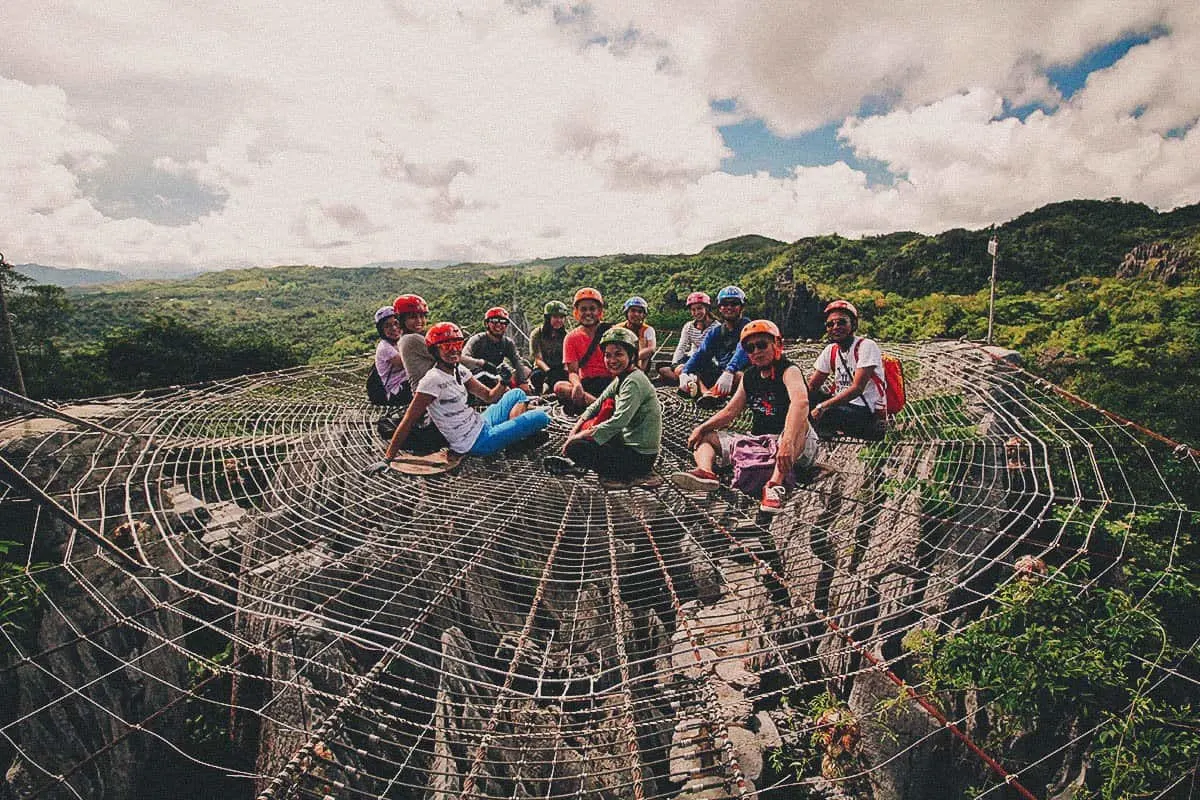 I flew my drone to take this aerial shot of our group chilling on Sapot. See the giant spider on the upper left? You can watch my drone footage in the video at the bottom of this post.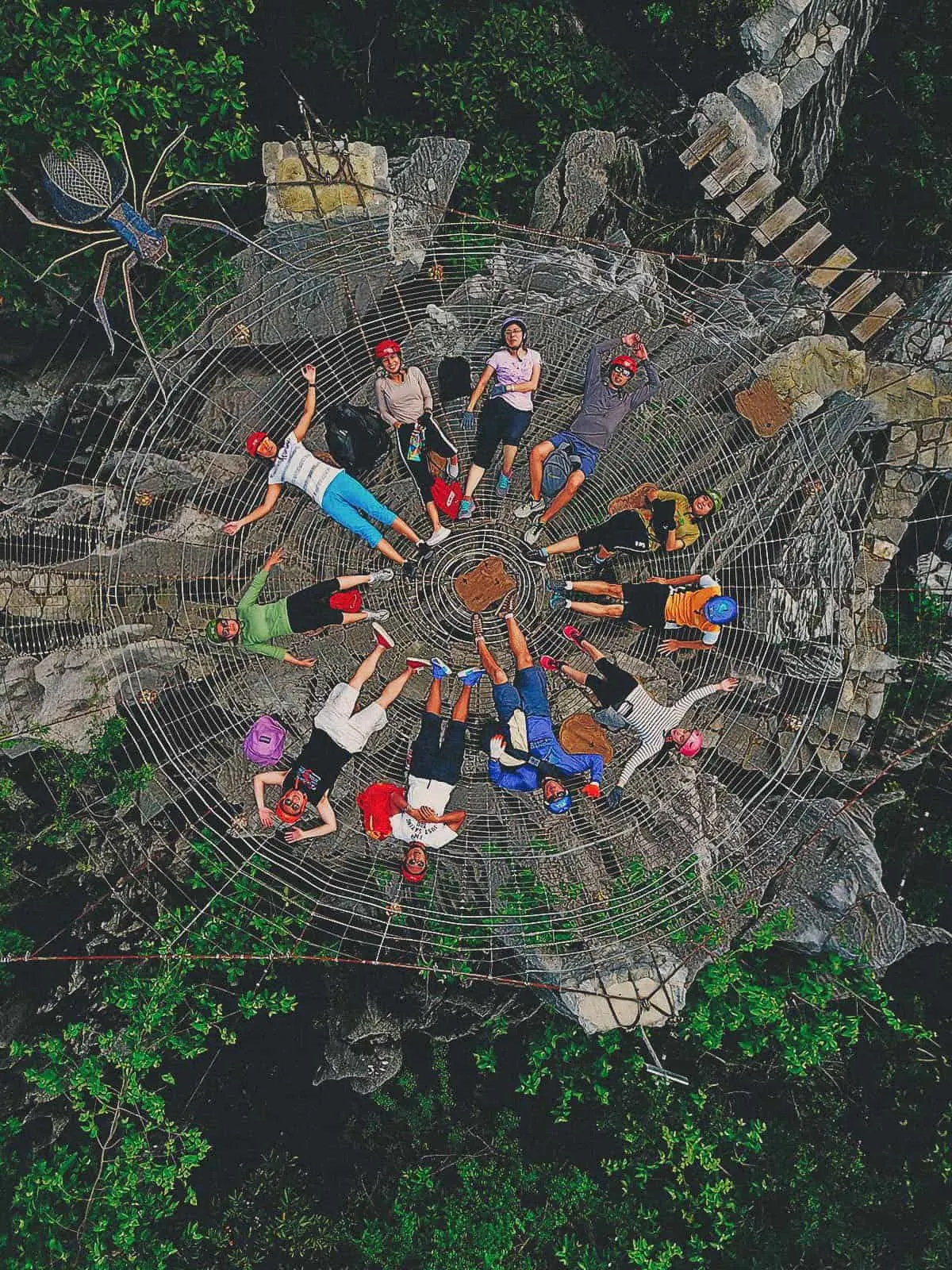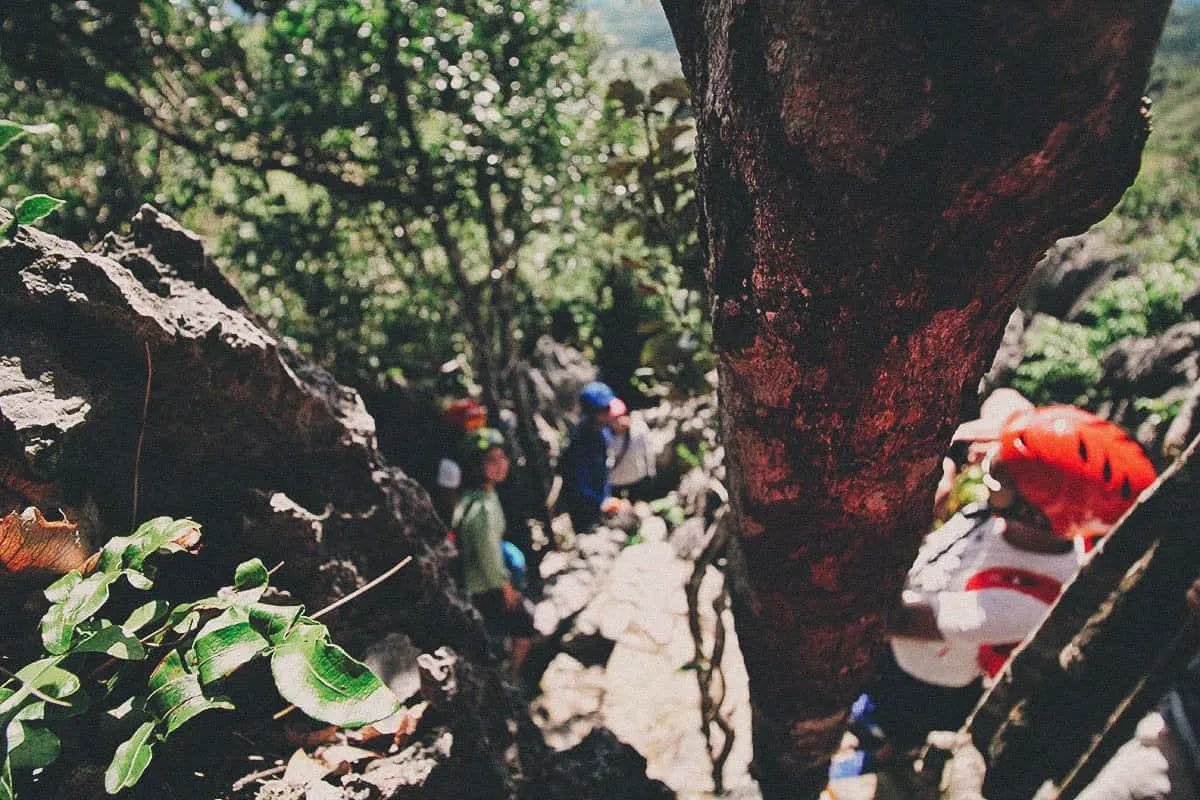 I thought the Masungi logo was a stylized rendering of karsts to make it look like a man's profile, but as it turns out, it's an actual rock formation. Isn't that cool?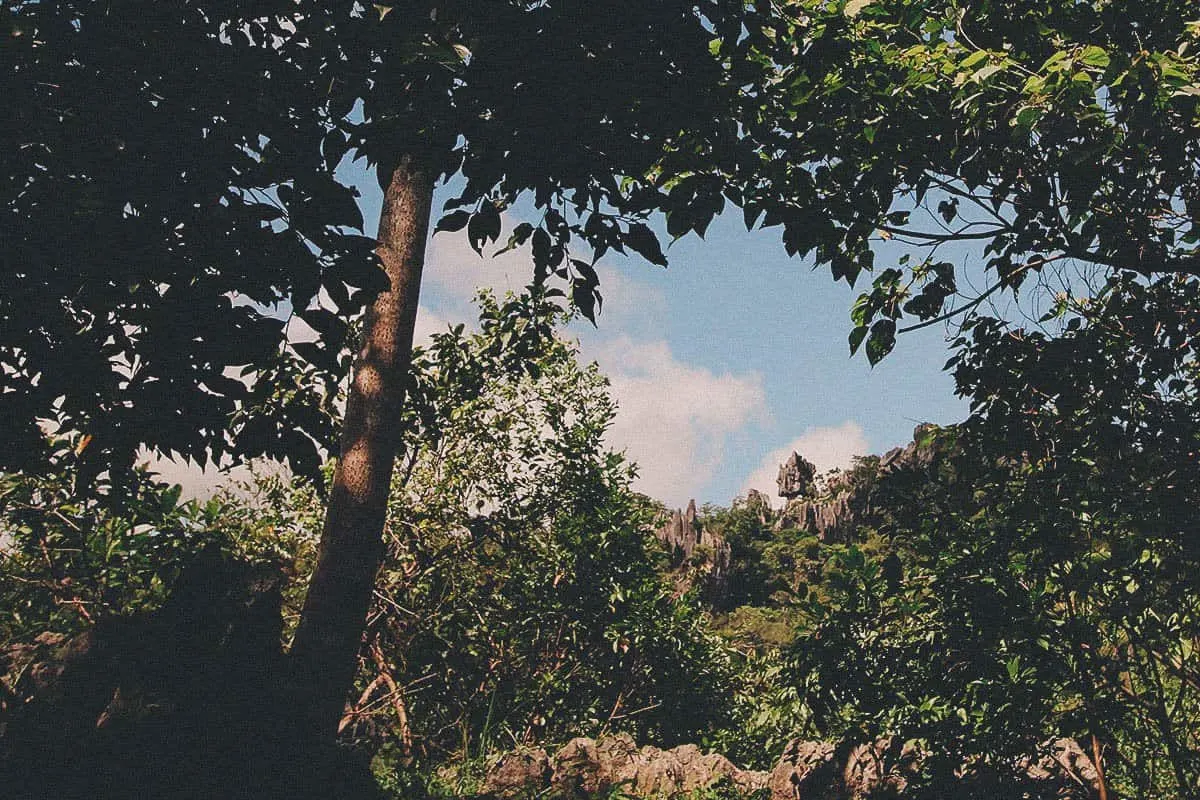 Throughout the trail are rest areas with benches and hammocks. Some even have these funky-stylish swings. Seriously, nothing at Masungi looked ordinary.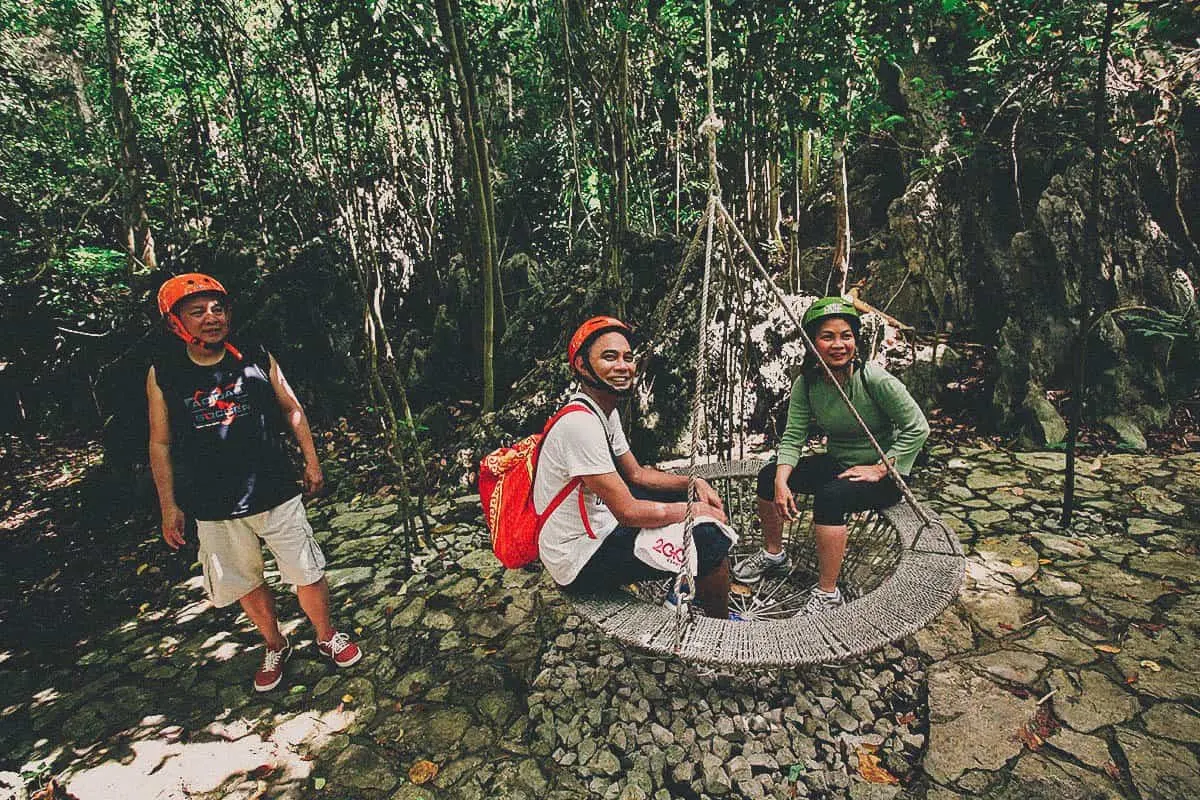 A pair of hammocks for chilling. There must have been 5 or 6 areas with hammocks like these along the trail.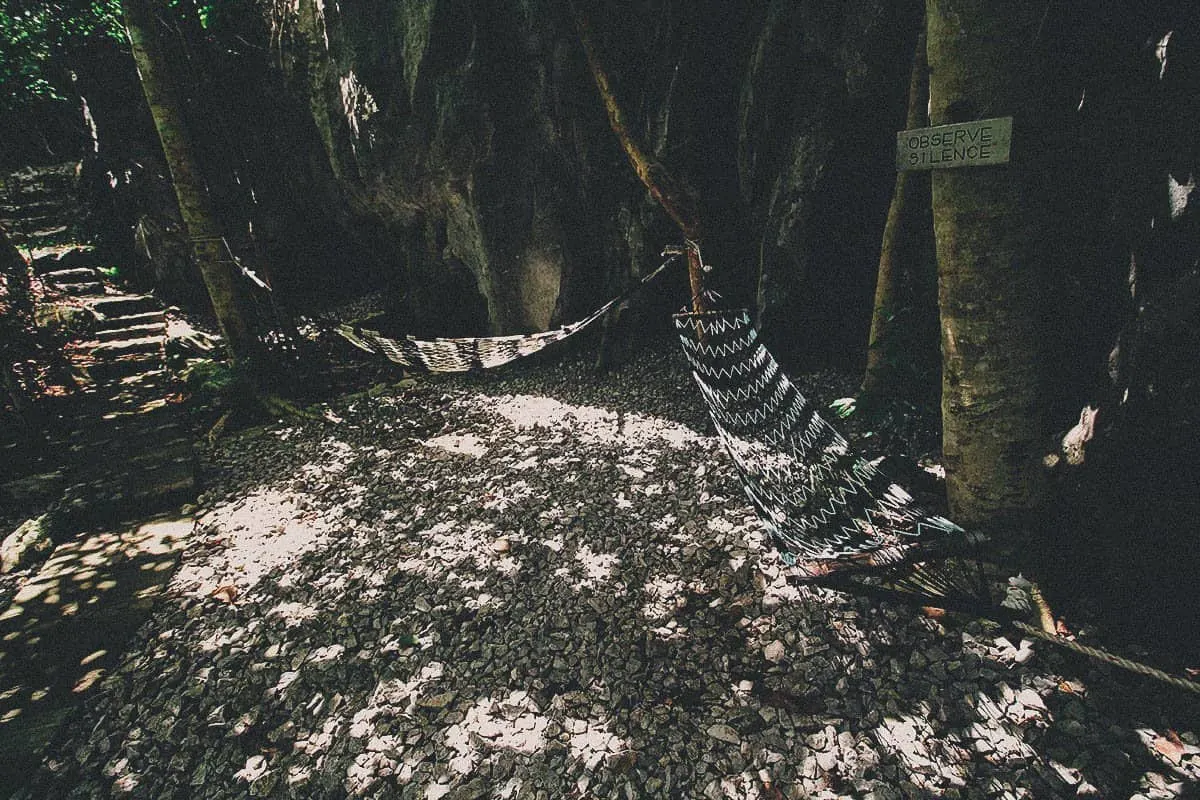 Rest area with fire pit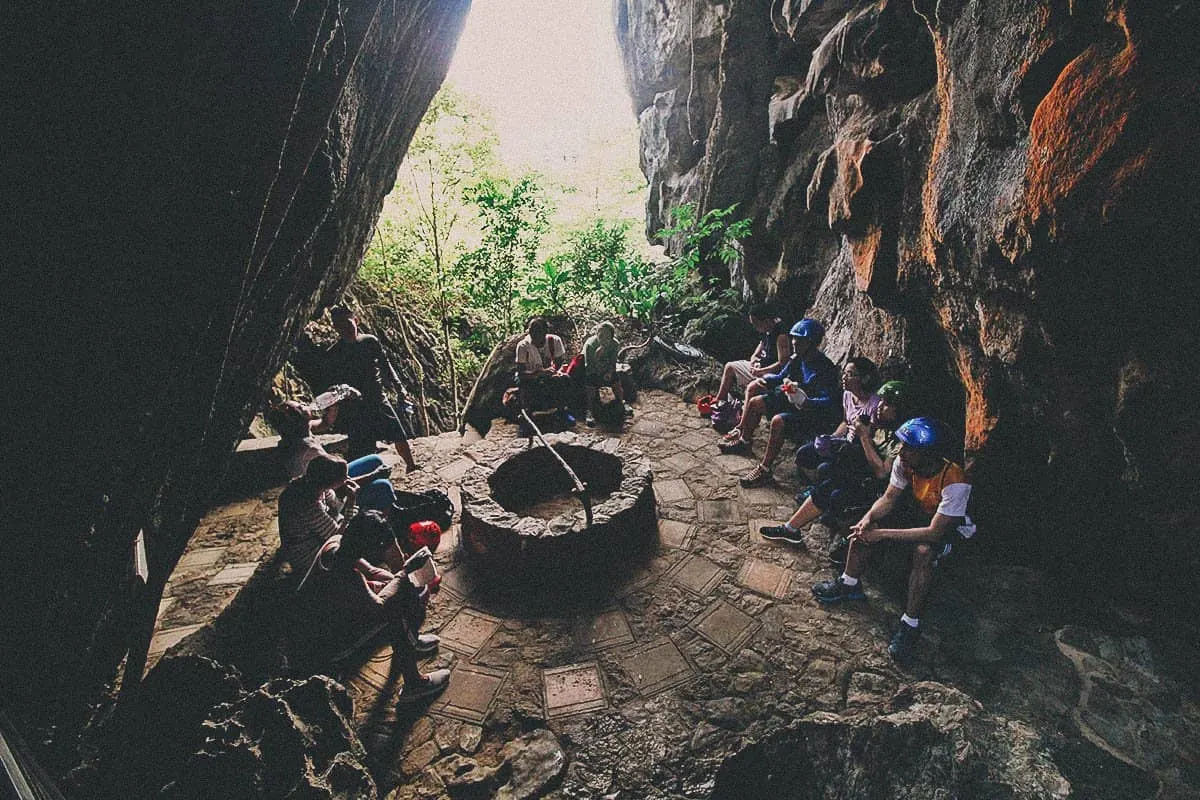 Monkey cave. According to Jun-Jun, monkeys would seek shelter in this cave whenever it rains.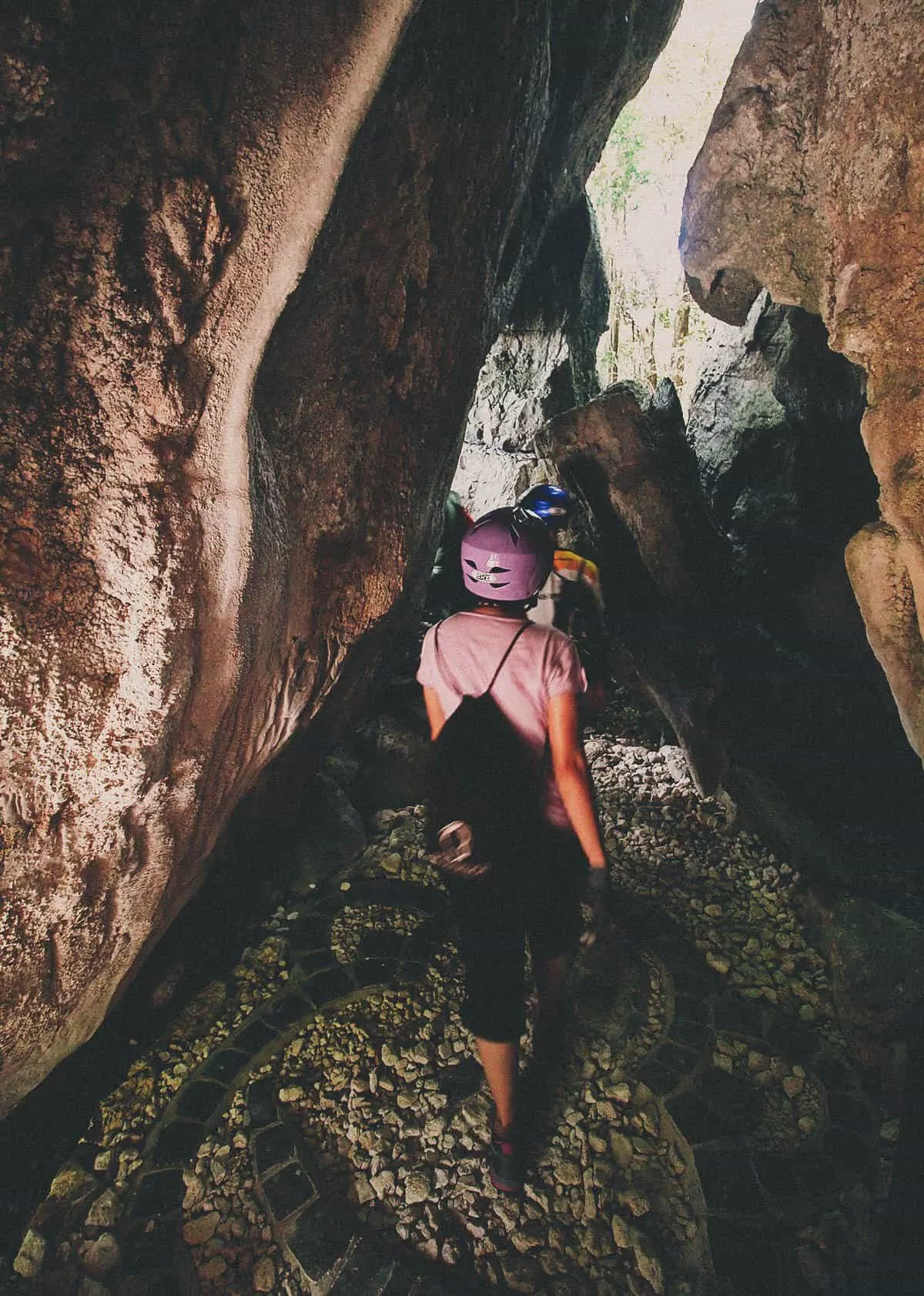 Cactus garden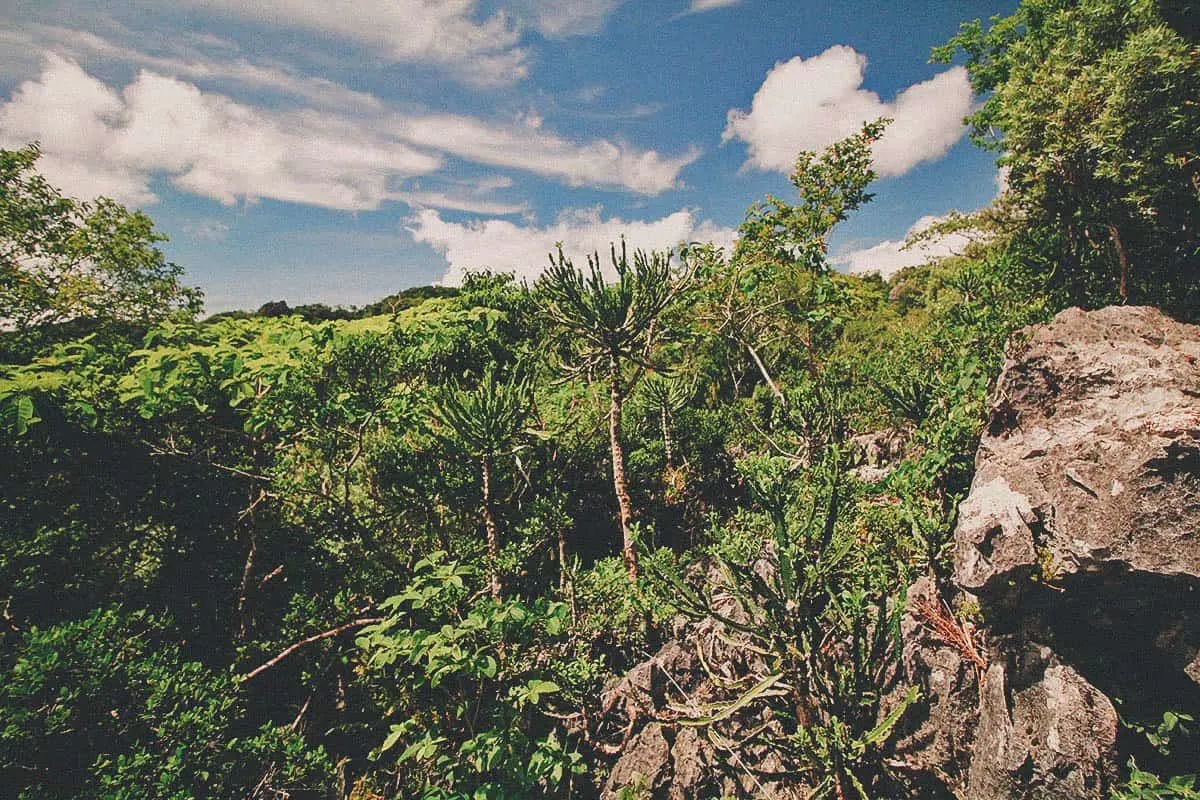 Ditse, Patak, at Duyan
This hanging bridge takes you to the air house, which I guess is like a tree house minus the tree.

This air house is like an uber stylish hanging rest stop.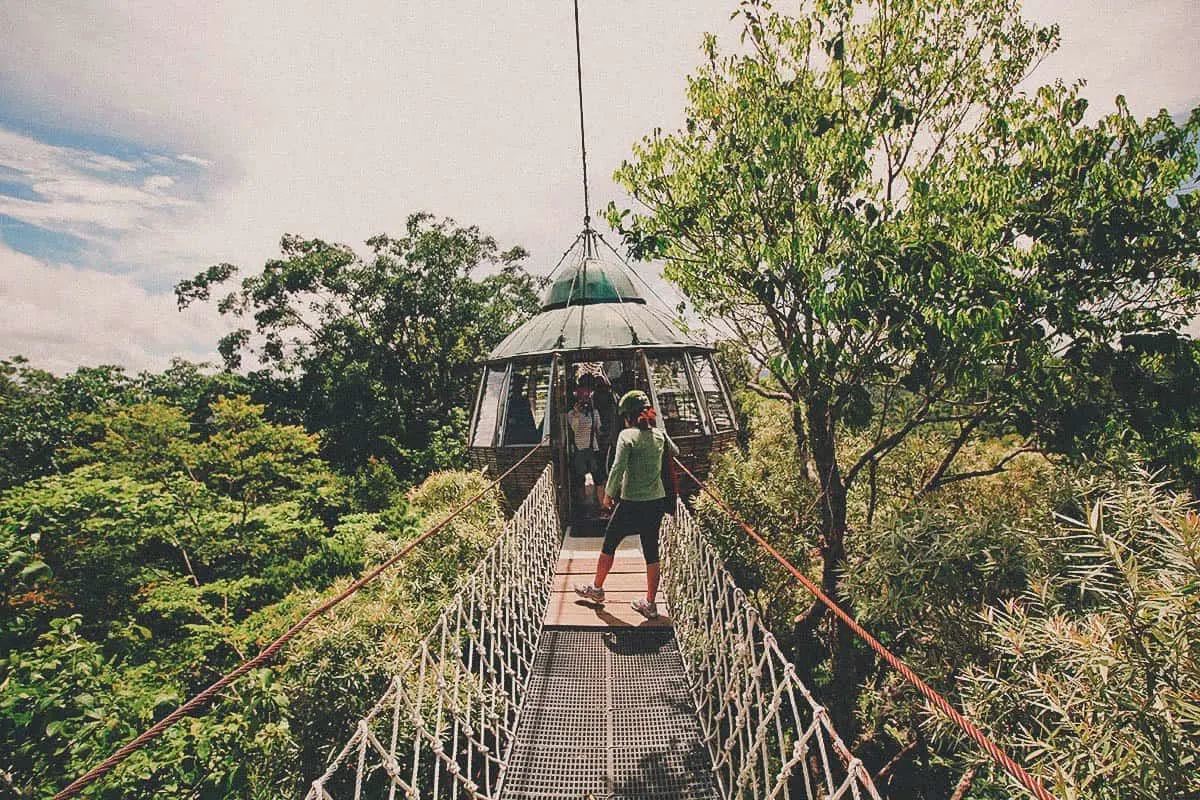 The ceiling of the air house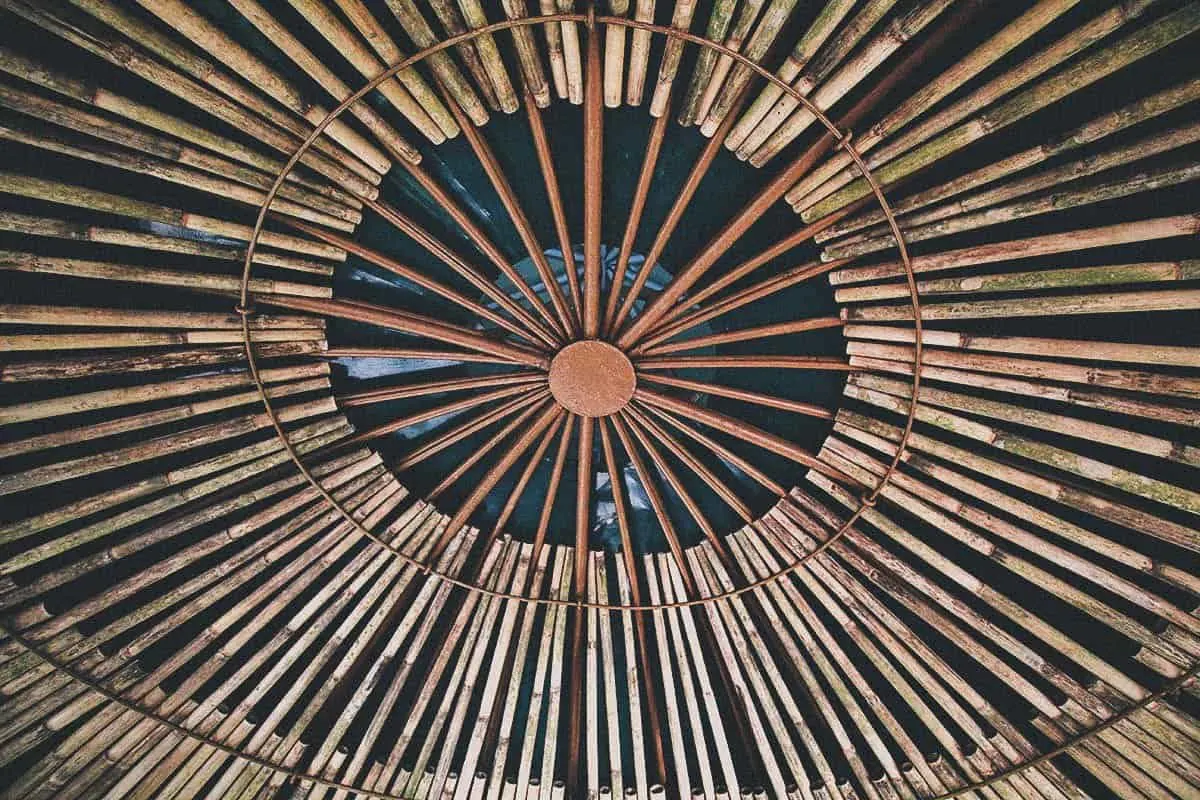 Instead of chairs, they have swings! This place is so damn cool. Like Sapot and many of the park's other features, this air house isn't stationary. It's suspended in the air and held securely by cables so it moves and sways (slightly) every time someone takes a step.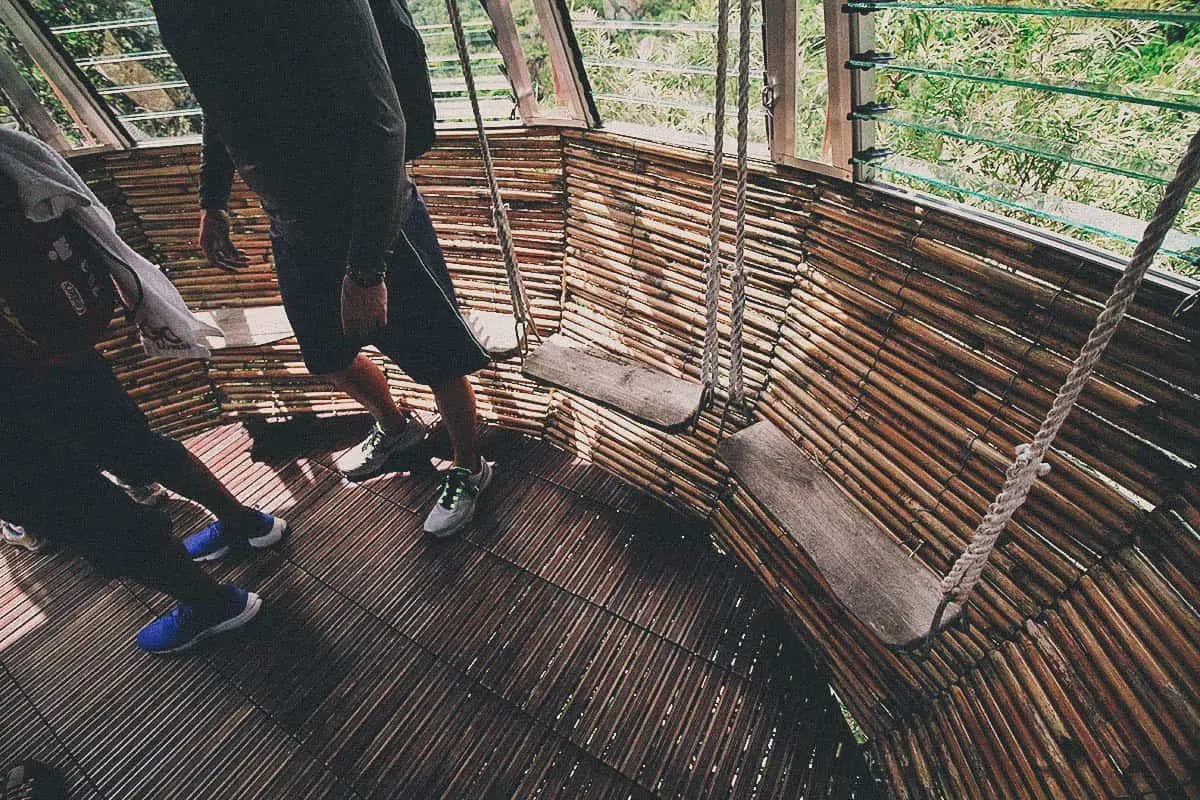 Here's a rope climbing wall which takes you up and down to another of the park's most iconic features – Duyan.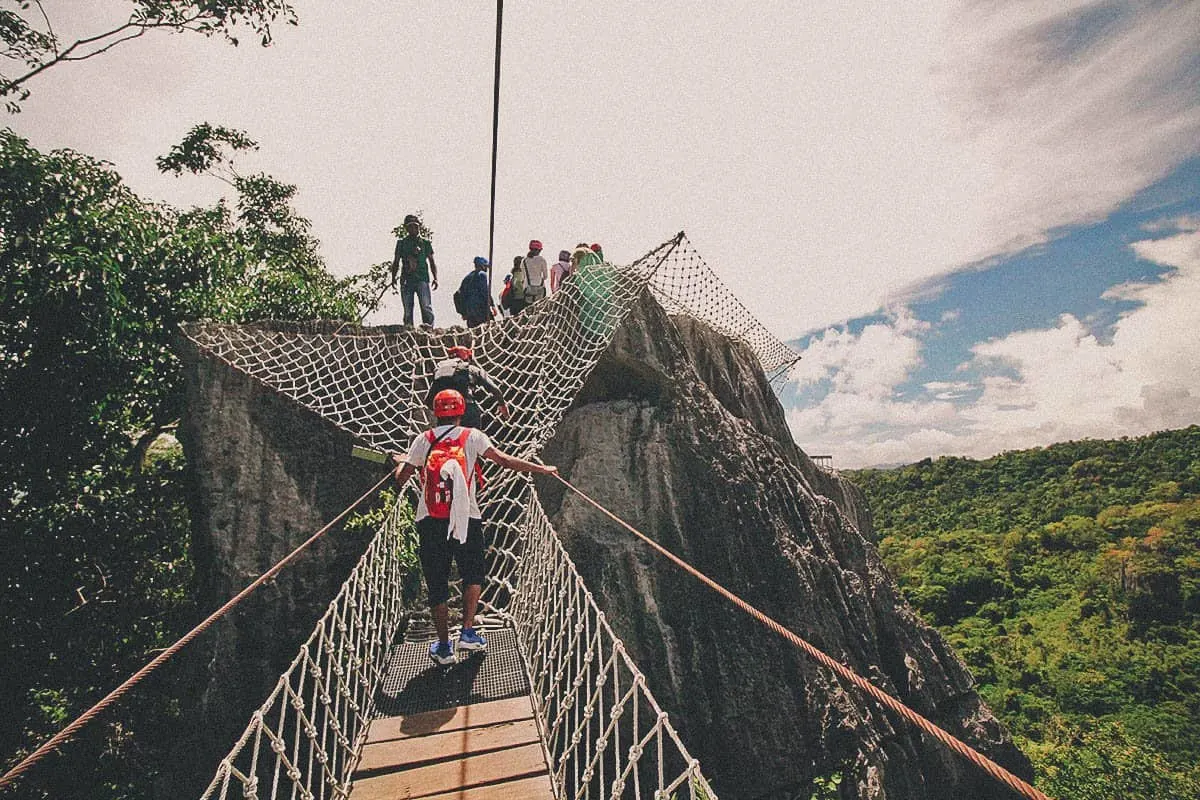 Here's a view of the air house from the top of the rock.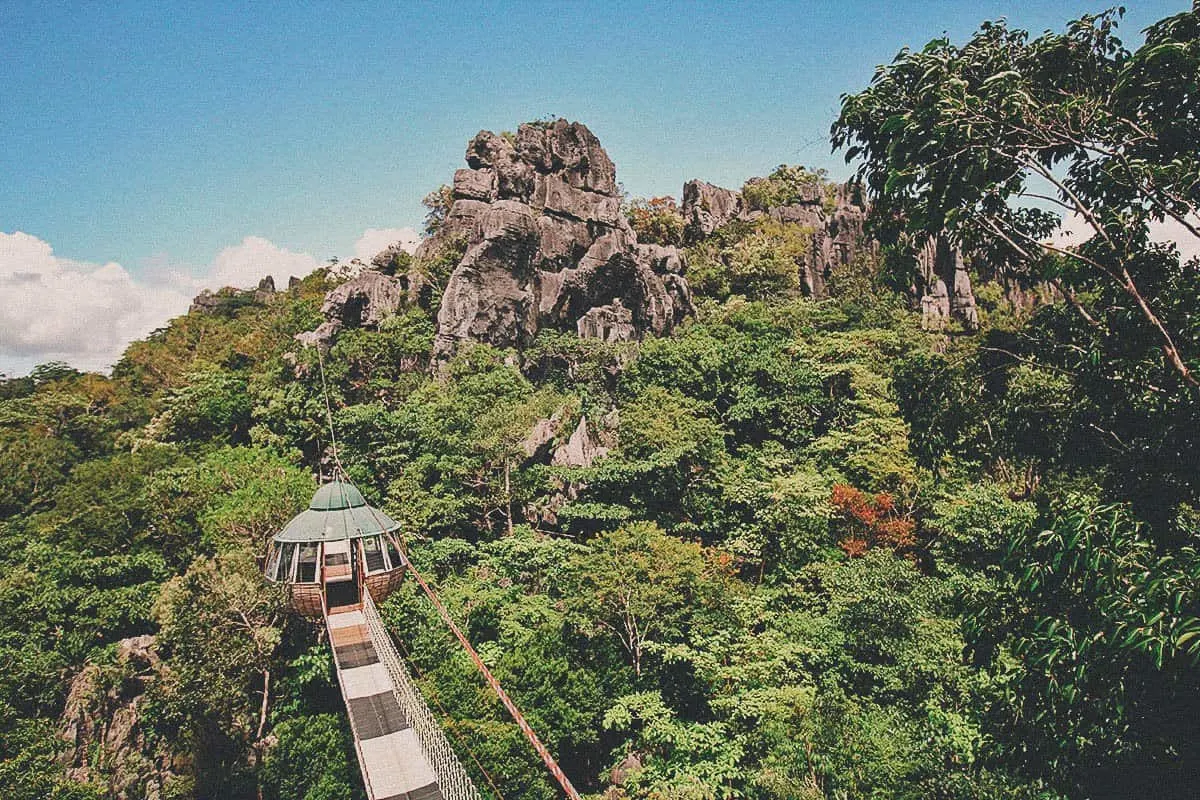 As mentioned earlier in this post, I have acrophobia and this was one of the spots where I was most afraid. It isn't that wide of a platform and there were 13 of us standing here. There are no barriers to keep you from falling if you slipped or got bumped so I had to sit down to steady my quaking knees. 😆 From here, you climb down a rope wall onto Duyan.

Here's the view from the top.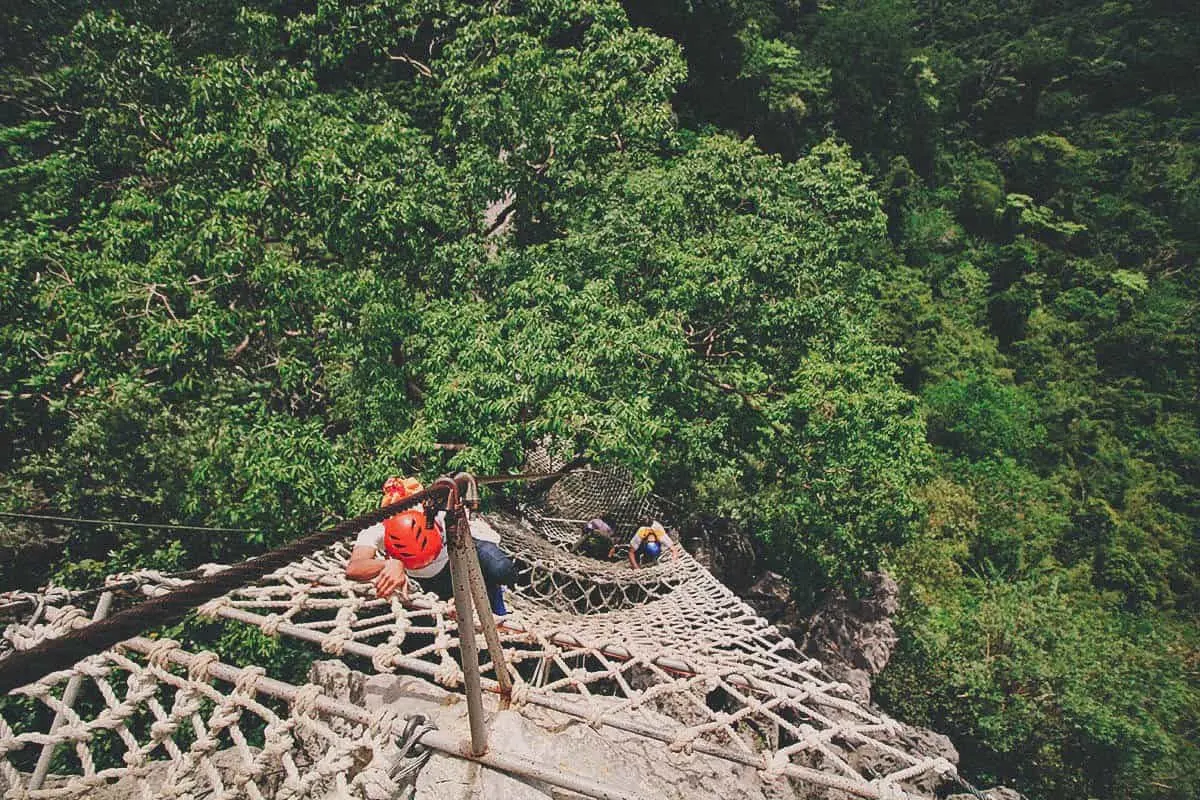 Midway down, I stop and take a quick picture of Jun-Jun still sitting on the rock.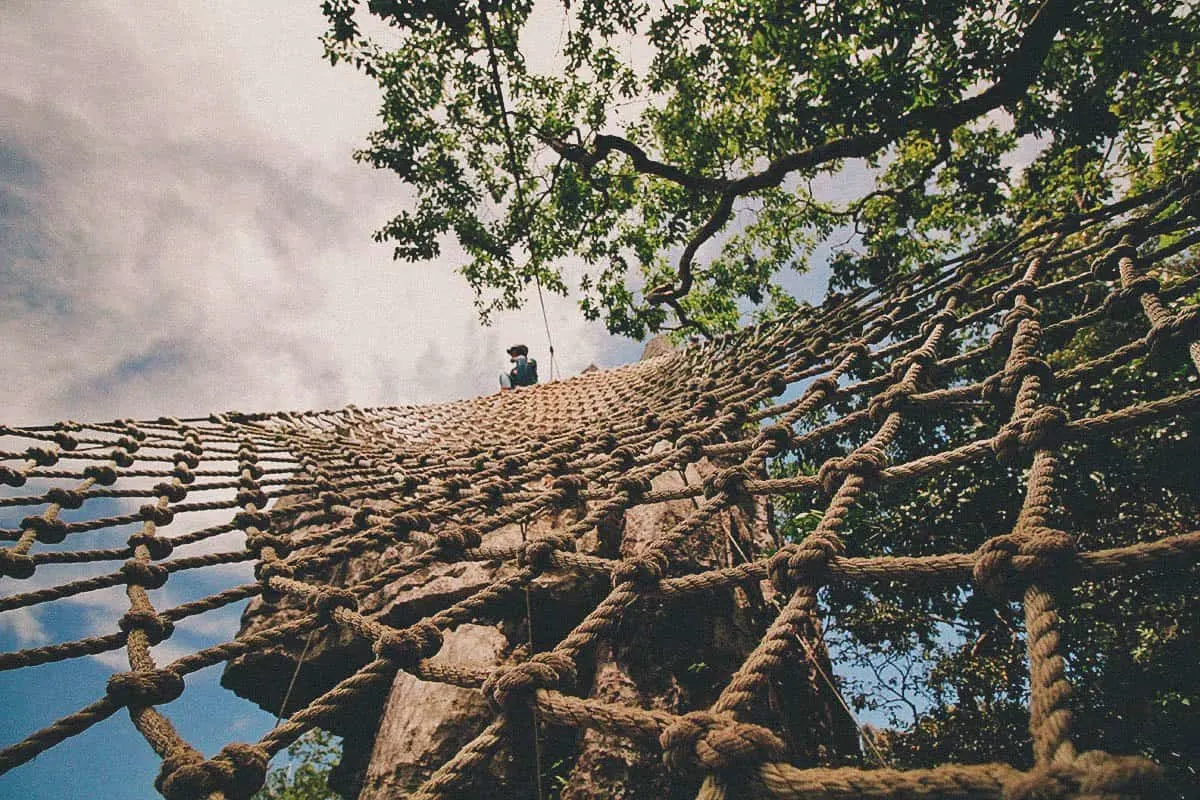 Aaaaaand we're on Duyan. Duyan means "hammock" which is exactly what this is – a giant hammock suspended in the air over a canopy of trees and limestone karsts. Have I already said how cool this place is?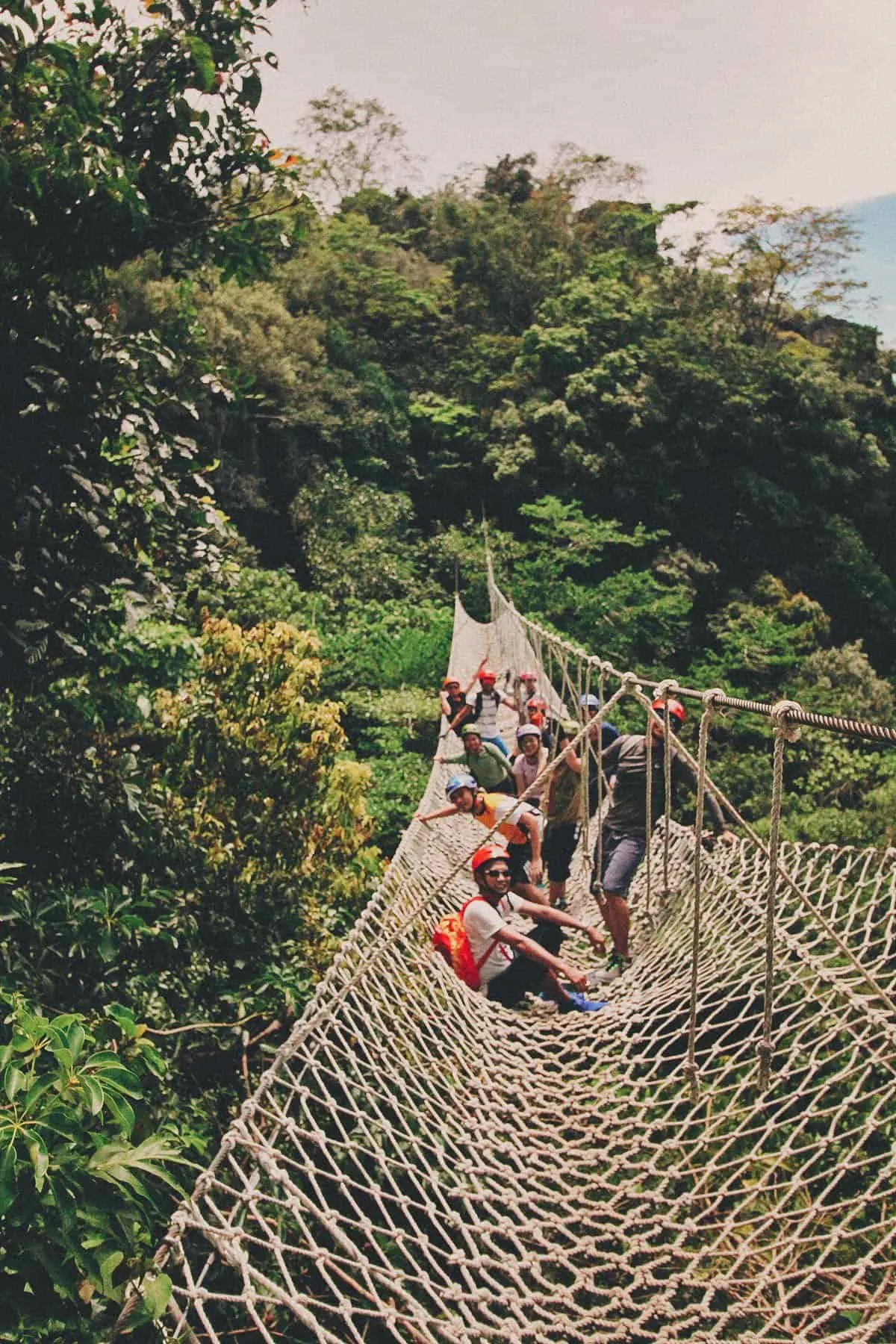 You make your way through Duyan by grabbing one rope after another.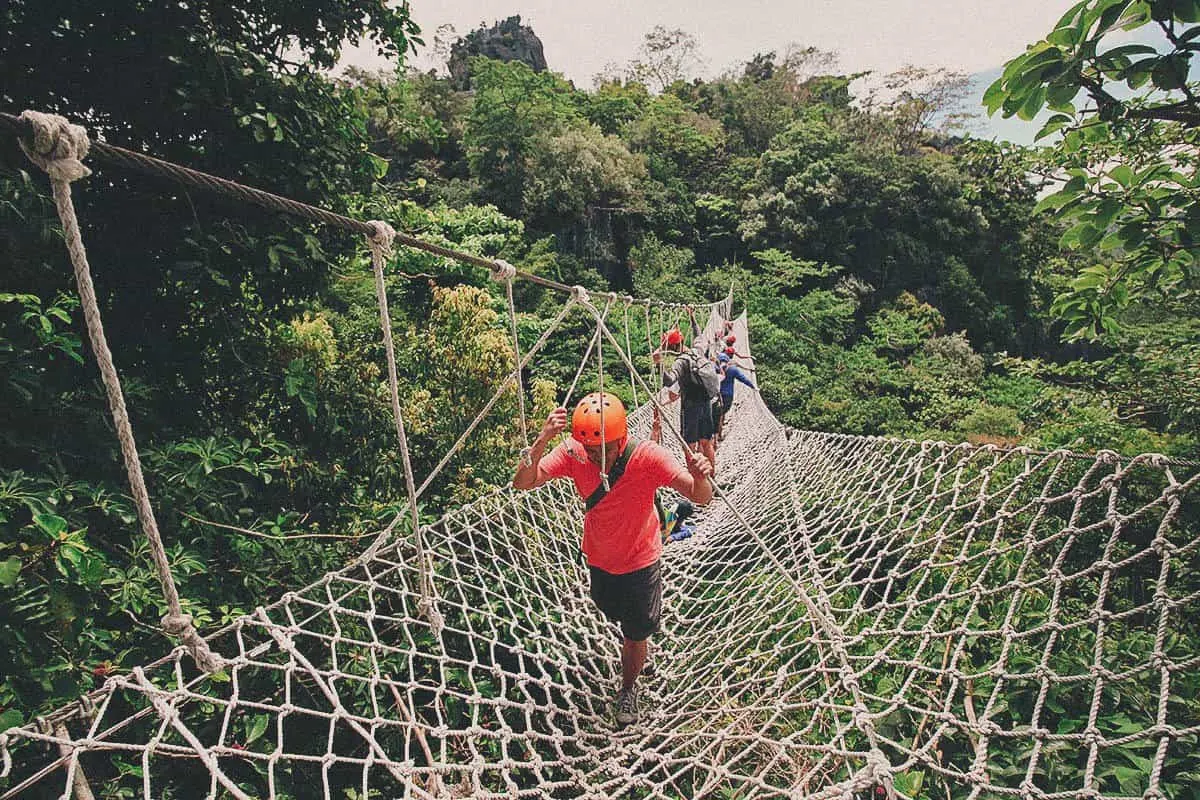 Like Sapot, Duyan is one of the most Instagrammed features of Masungi Georeserve. As advised, be very careful with your smart phone when taking pictures. If it falls, it's gone.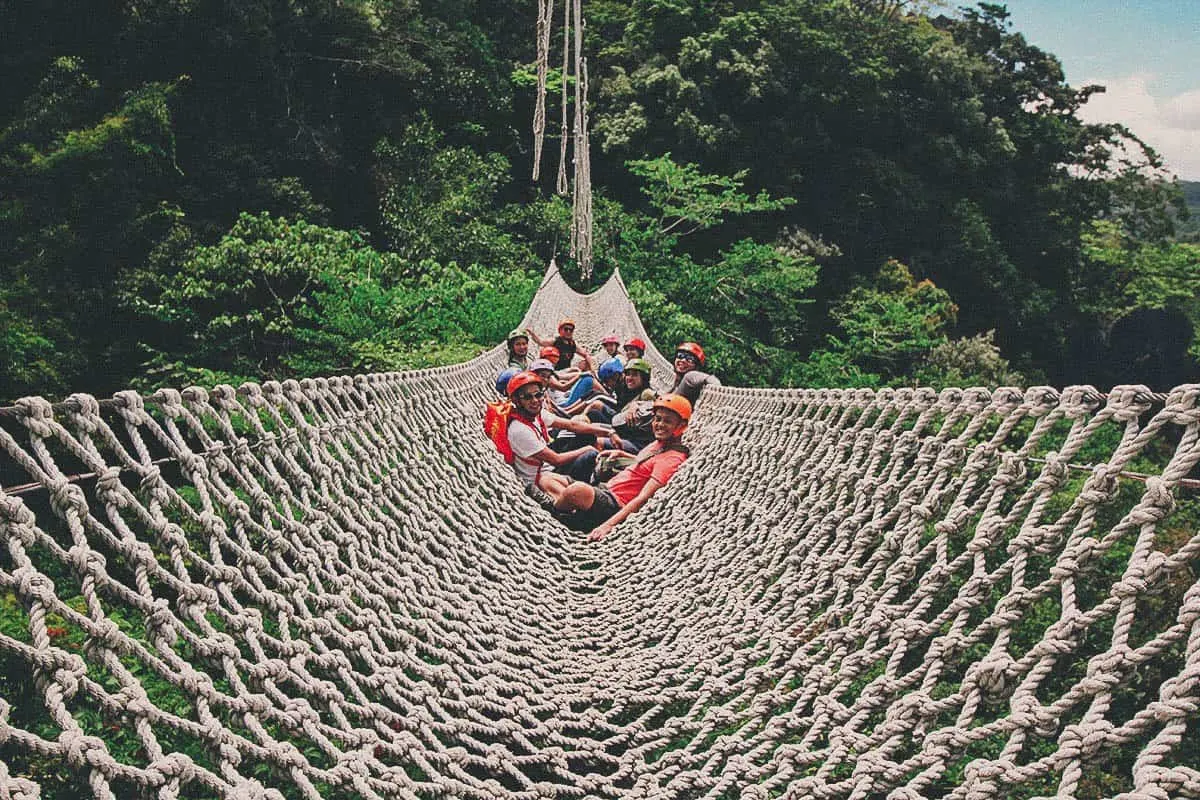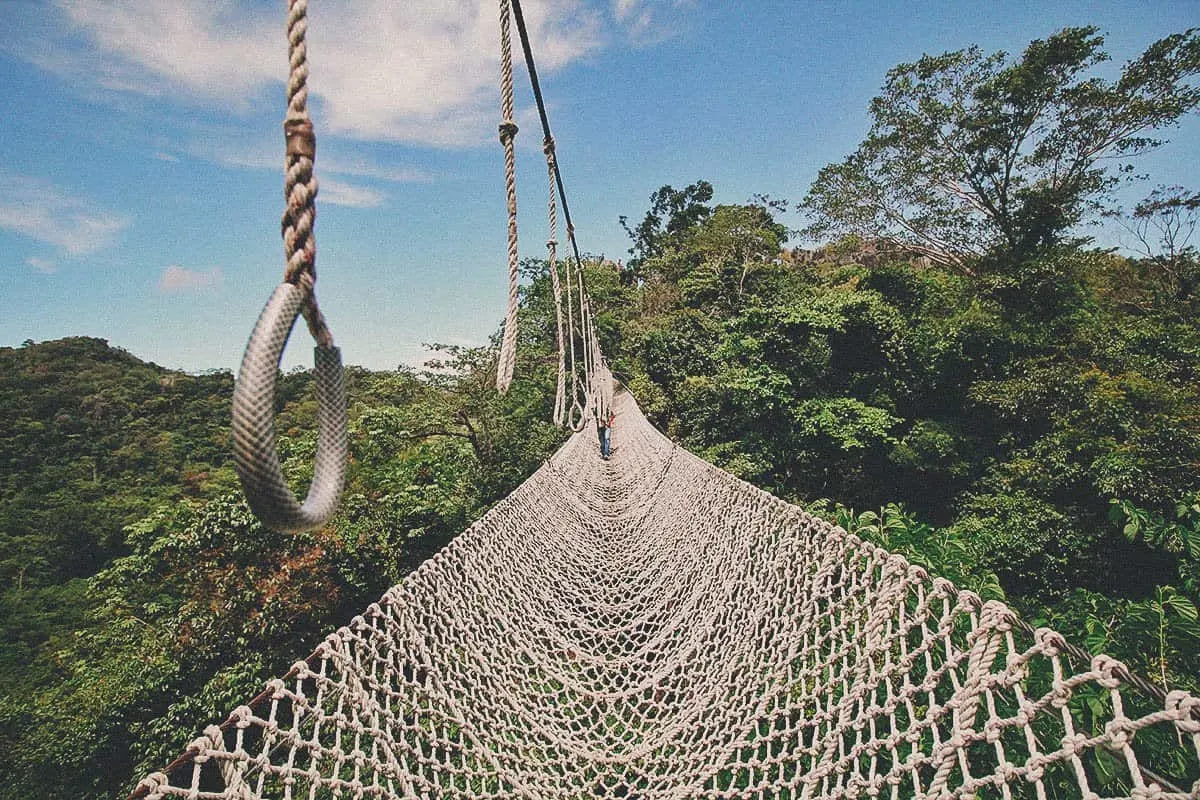 Later Duyan. You were awesome.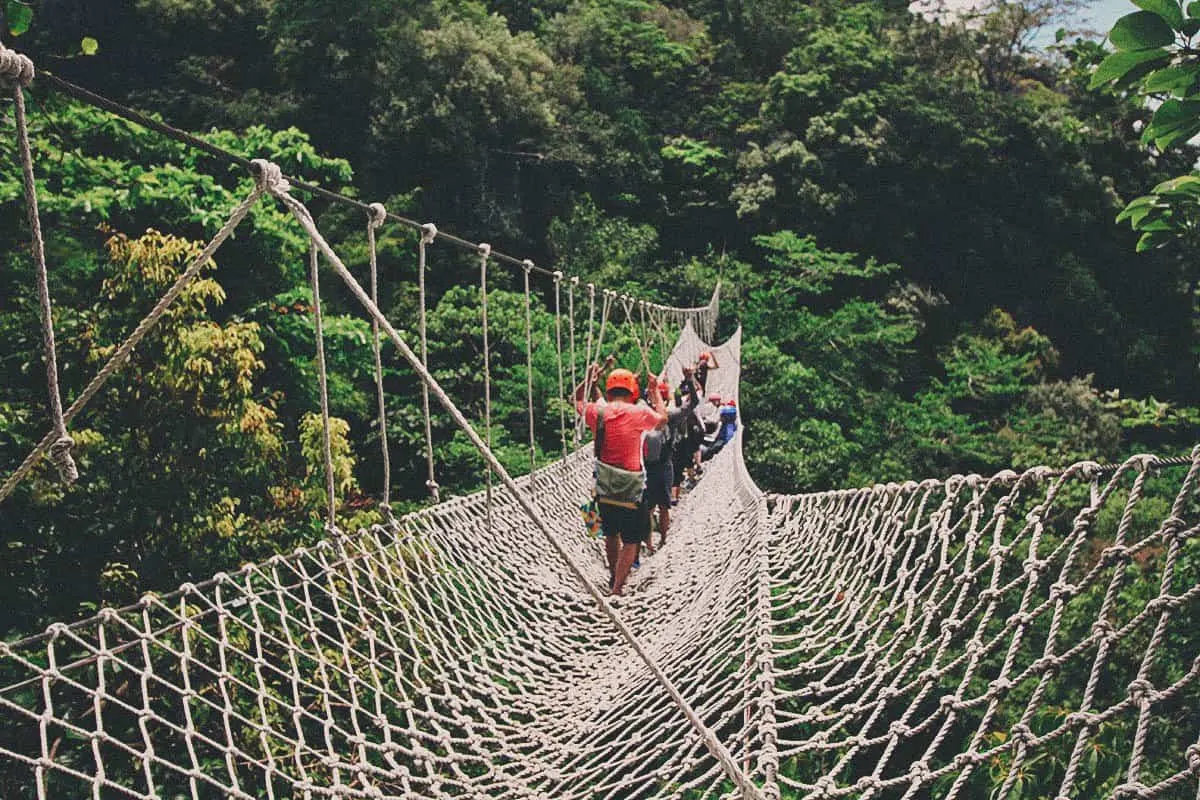 Yungib ni Ruben
Yungib means "cave" and Ruben was the person who discovered it, so Yungib ni Ruben means "Cave of Ruben". This was the biggest cave along the trail.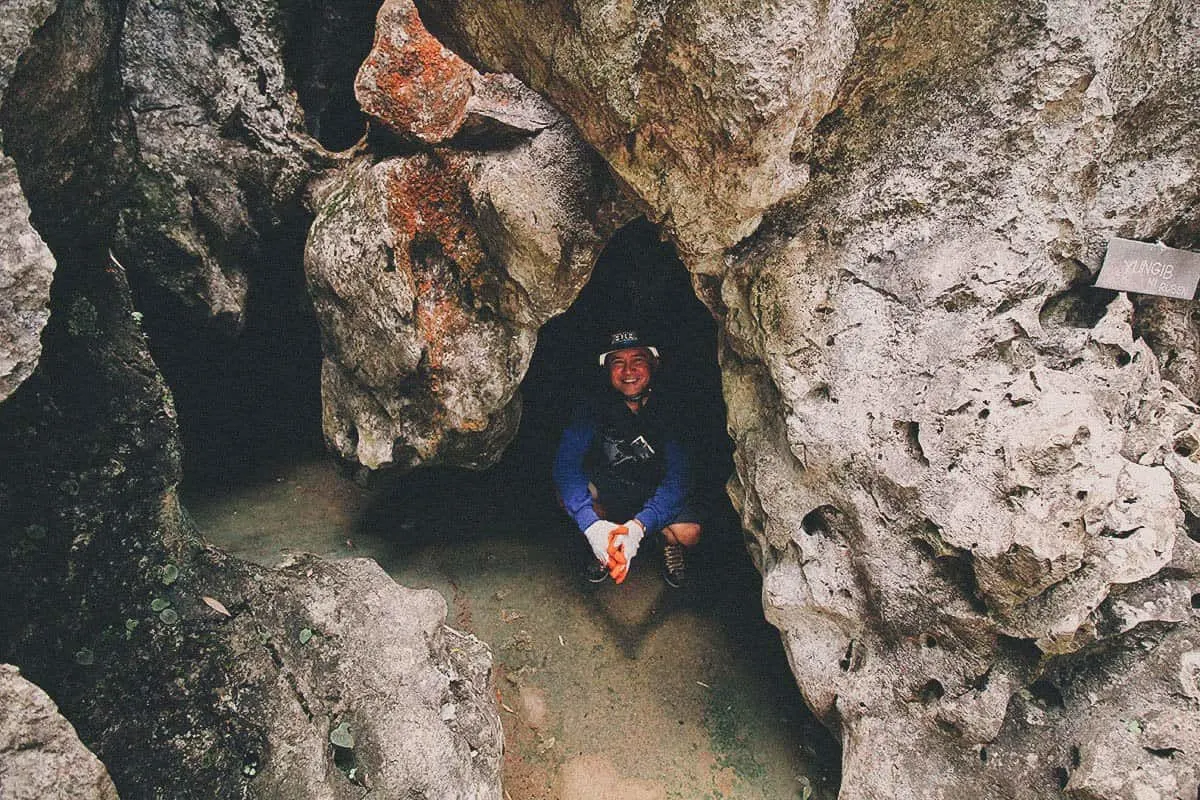 Hiphop is life.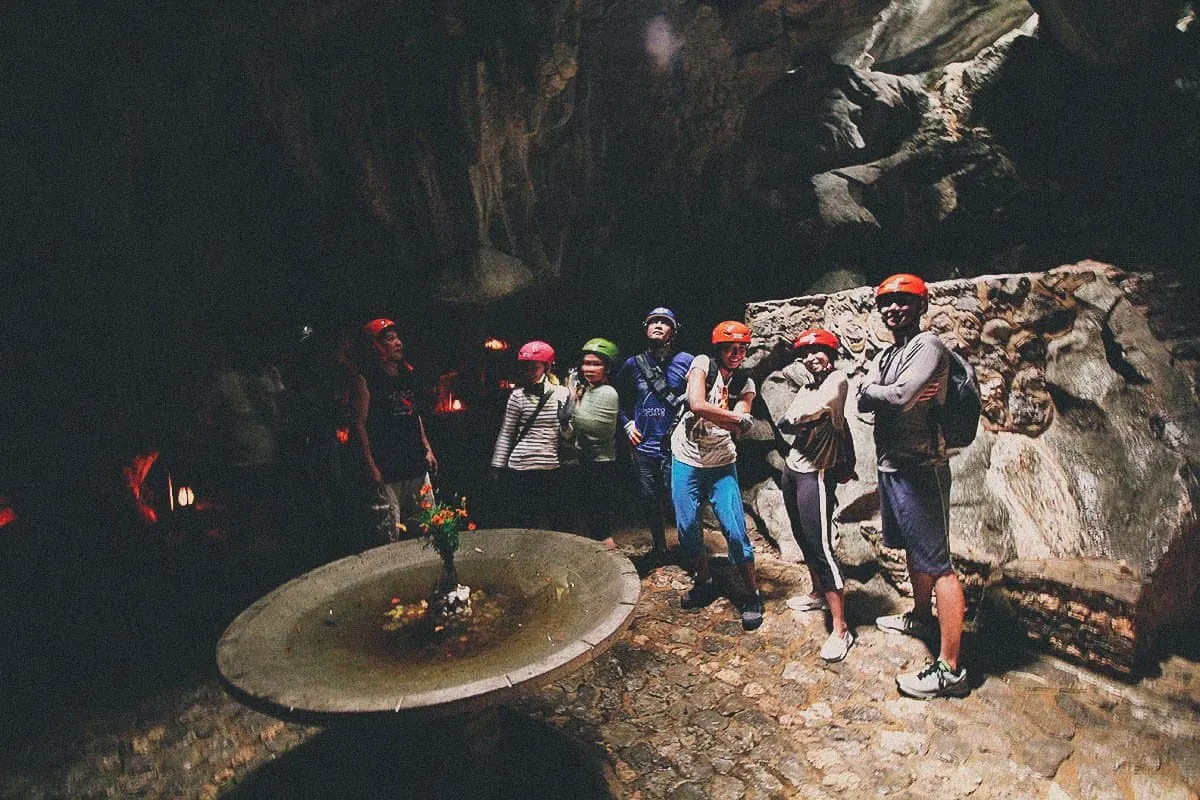 Tatay
The Traveleaters on Tatay, which means "father". If I remember correctly, it's the highest viewing point along the trail. I wanted to fly my drone from here as well but the wind was too strong.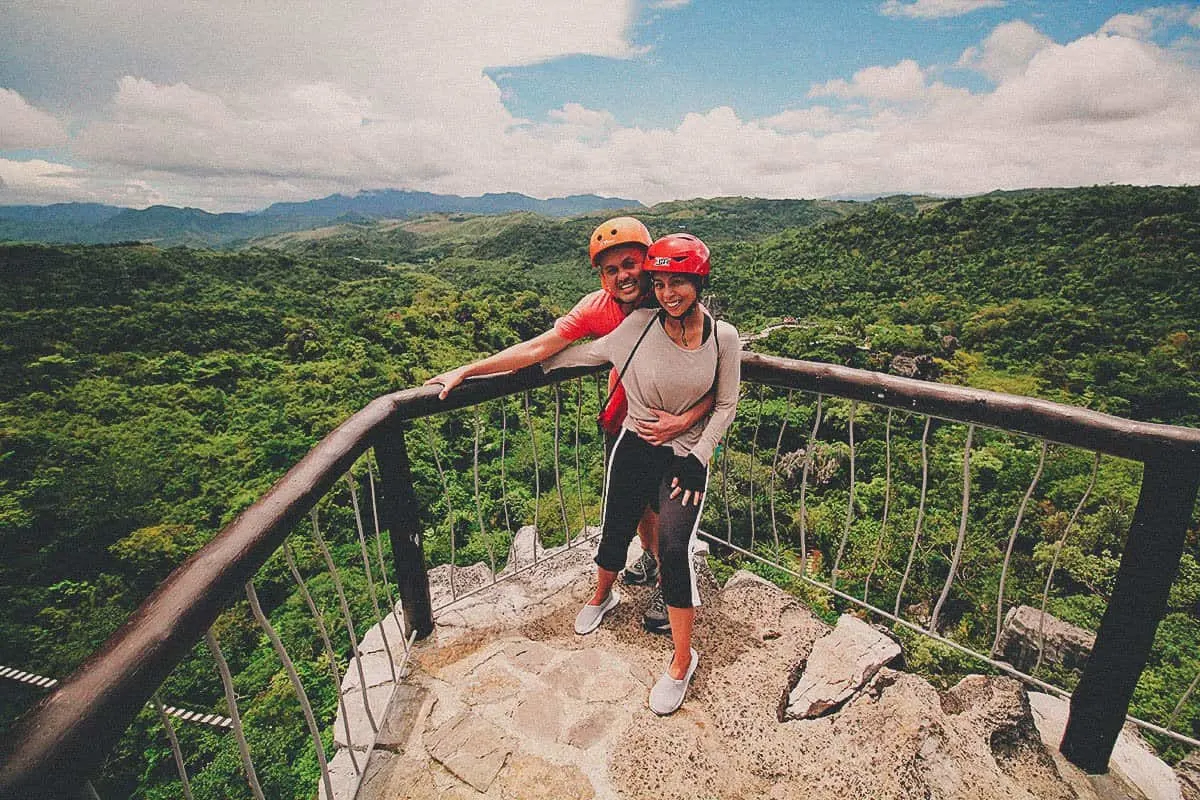 If there's a Tatay, then there's gotta be a Nanay, which means "mother". She's the next stop on the trail.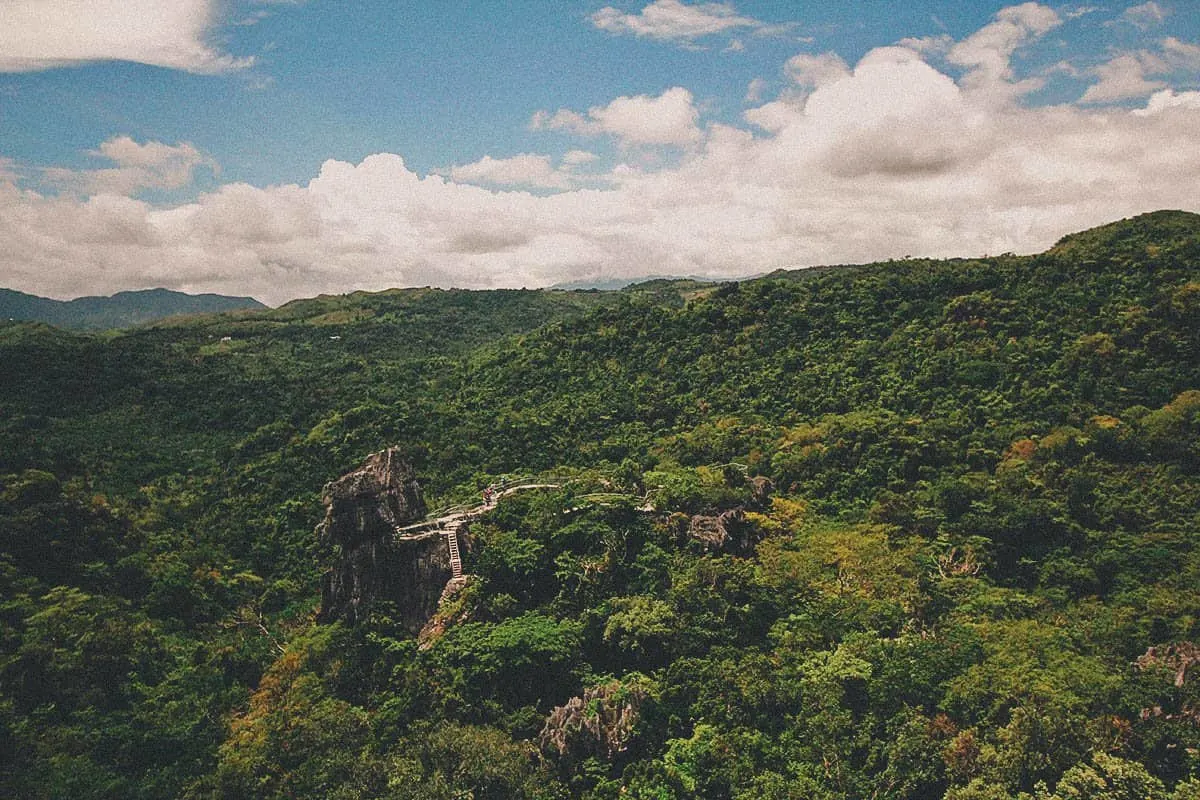 Another view from Tatay. Look how high up we were! We'll be walking on that hanging bridge shortly.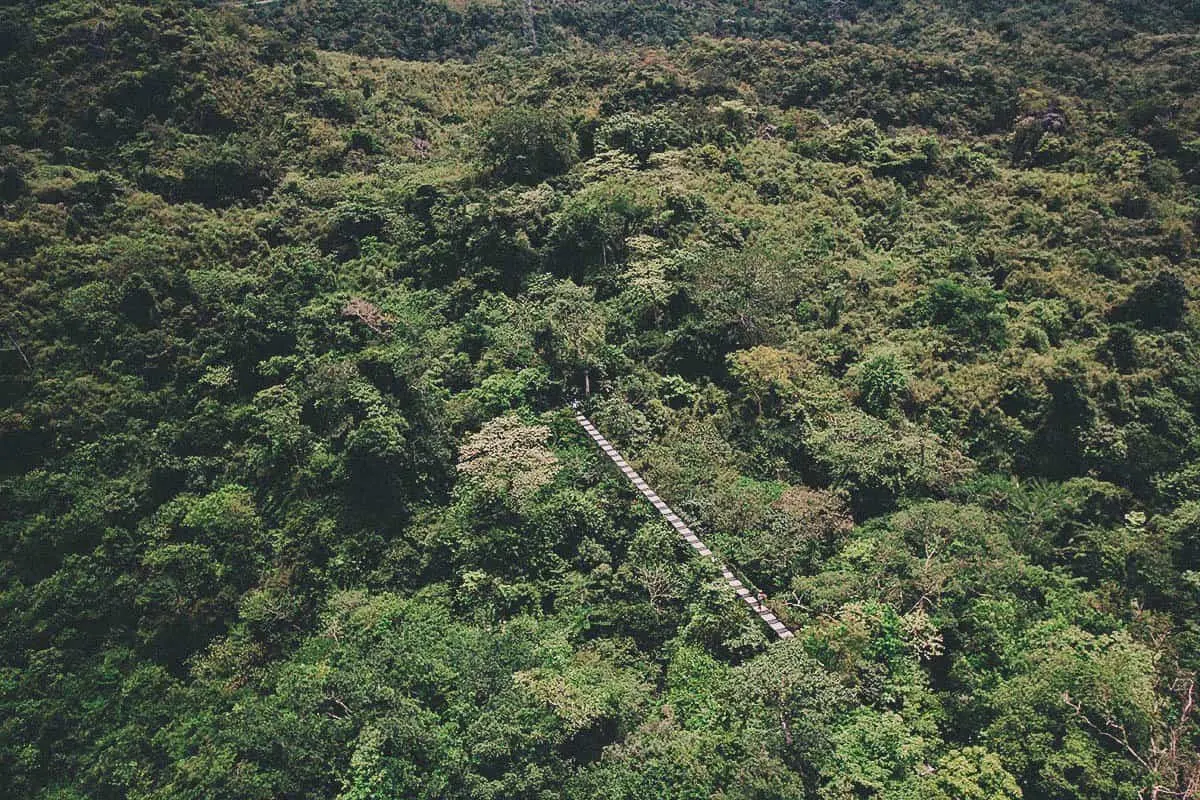 Nanay
Nanay looked so far away from Tatay but we got here in about 10-15 minutes of easy walking. It features 5 rock peaks interconnected by bridges.

There's Ren taking a much needed breather. Check out that view! #hammockgoals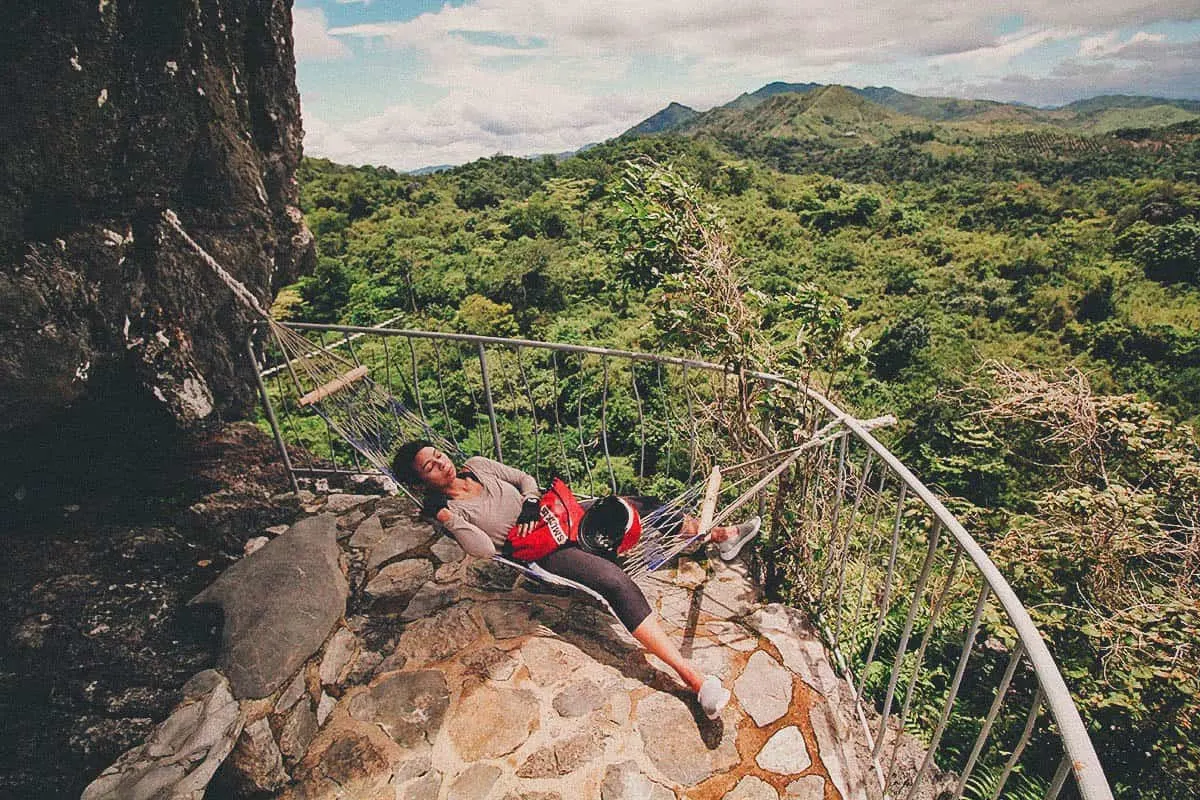 Here's the hanging bridge I photographed earlier from Tatay.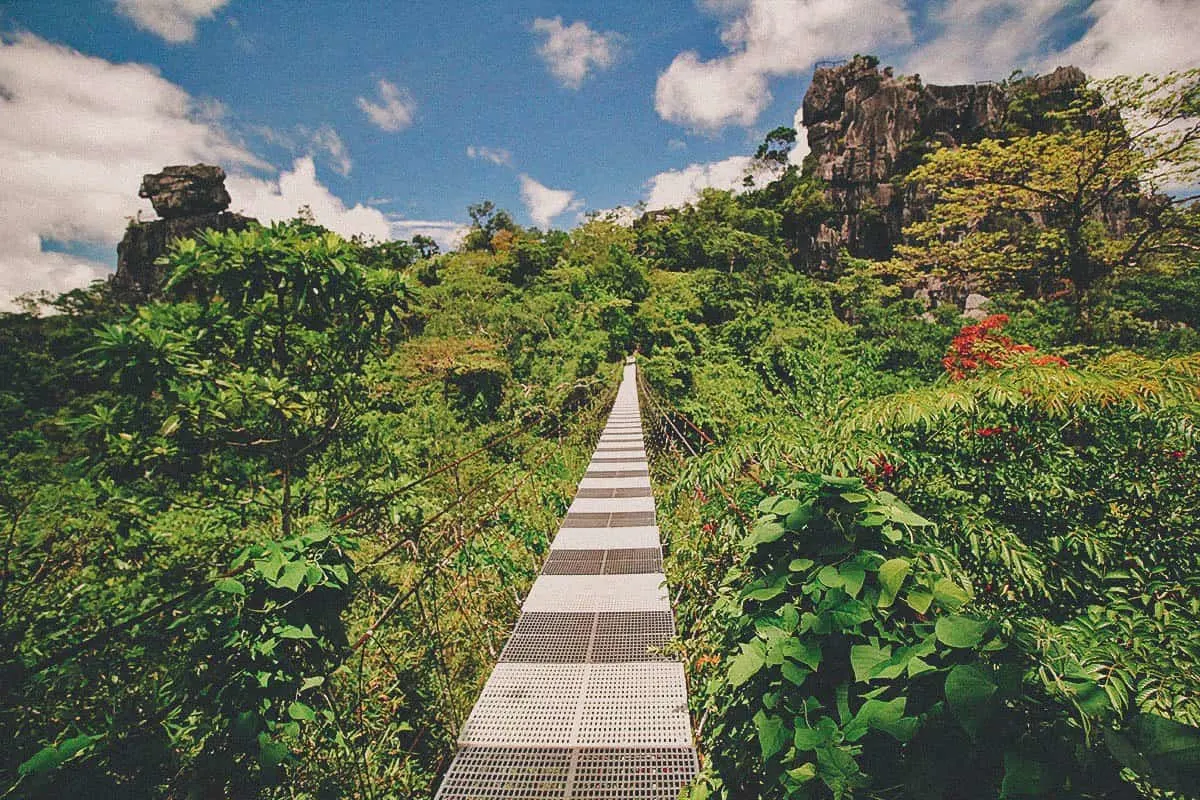 Know what type of flower this is? It's a corpse flower and a relative of the much larger Rafflesia. It wasn't in full bloom so it didn't stink yet. It's said to smell like a rotten corpse, hence its name.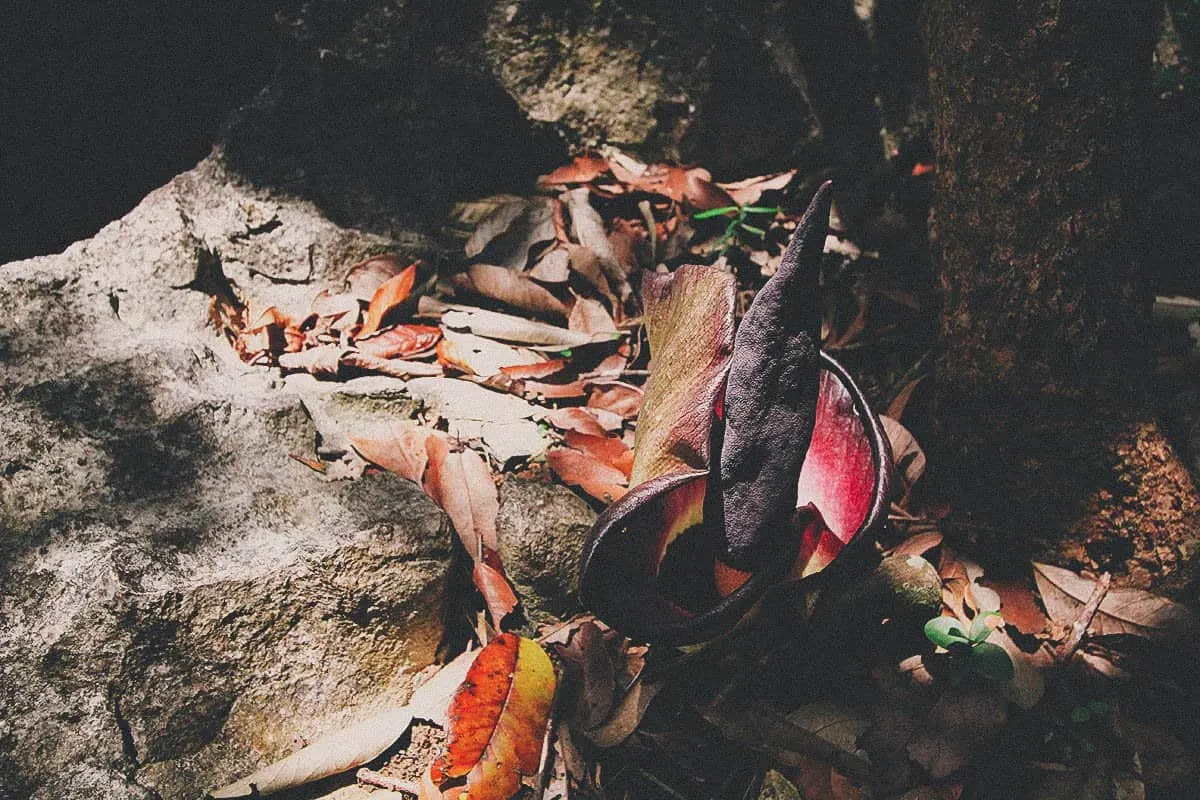 In the distance is Sawa, which is a hanging bridge and one of the newest features at Masungi. Sawa means "snake". You'll see why below.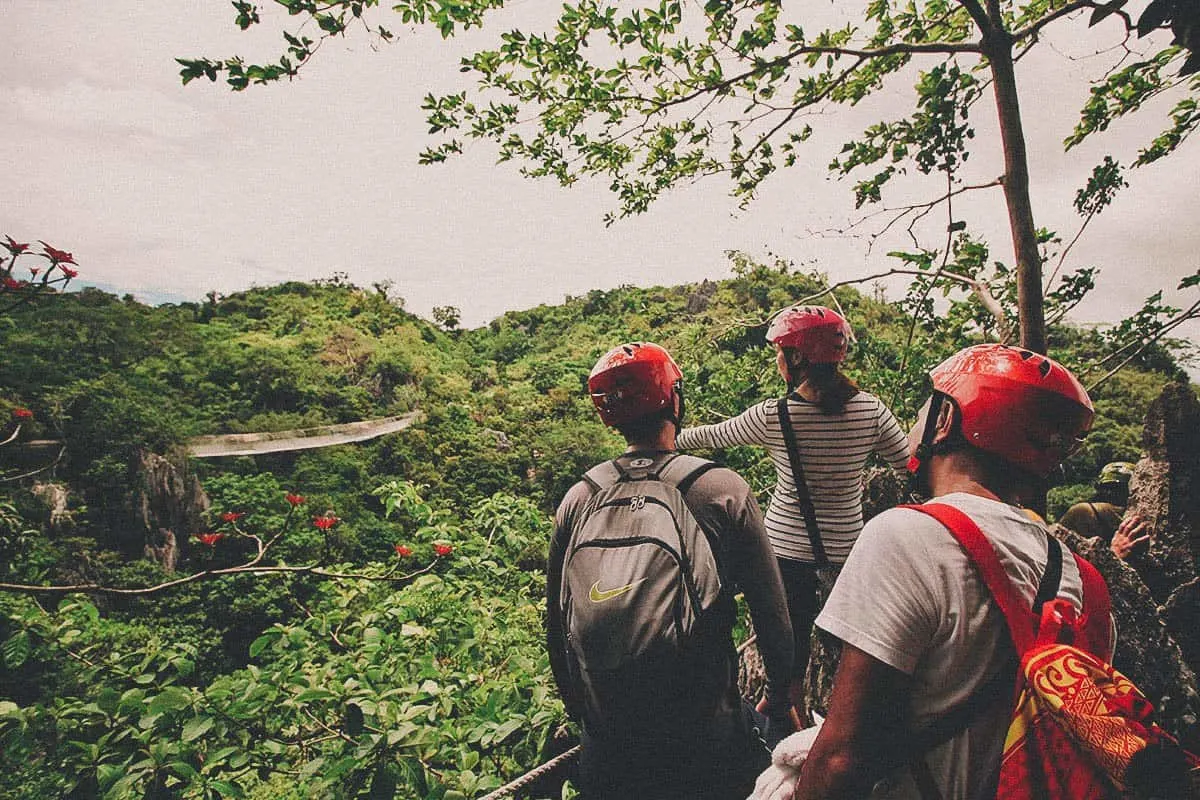 To get to the visitor's shed, we make our way down the longest rope climbing wall at the park. It starts off as metal stairs before transitioning to a rope wall. I was pretty terrified here too so I told everyone to go ahead under the pretense that I was "taking their pictures". But in reality, I just wanted to be last so I could take my time and not feel pressured to climb down faster than I wanted to. 😆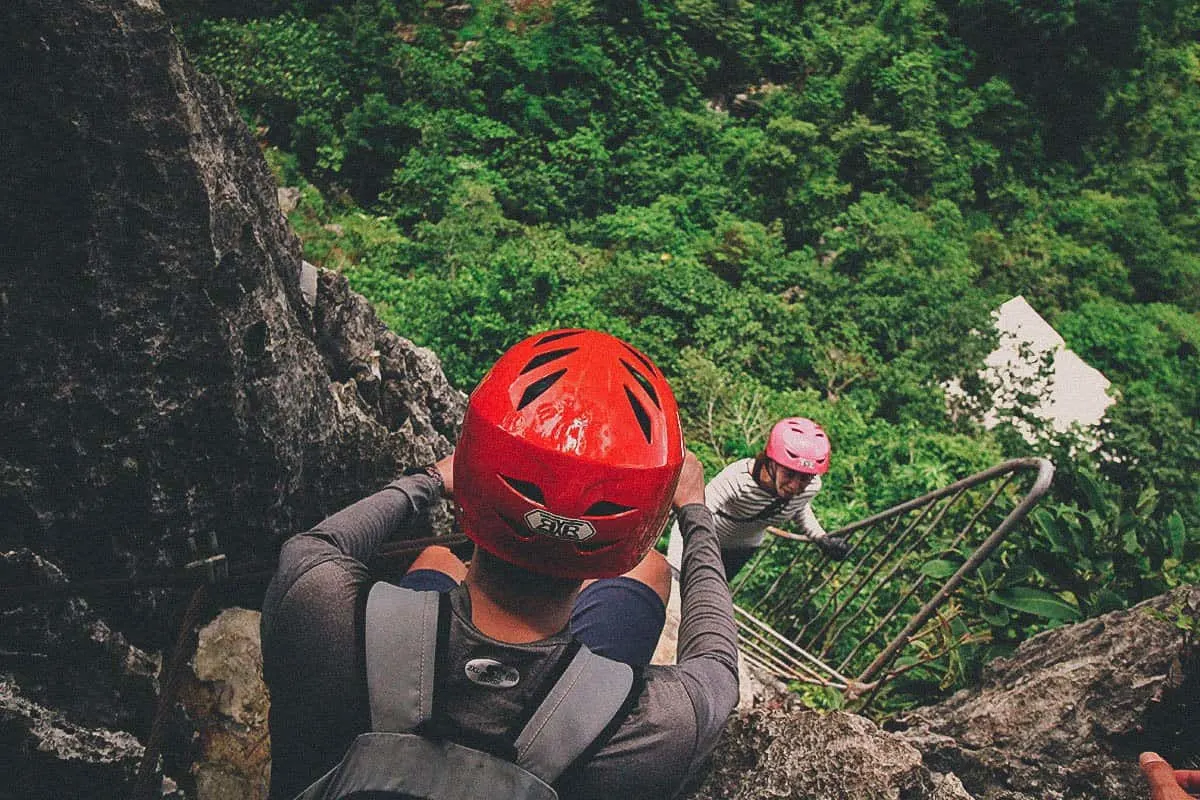 At the bottom you'll find a playground of funky hammocks.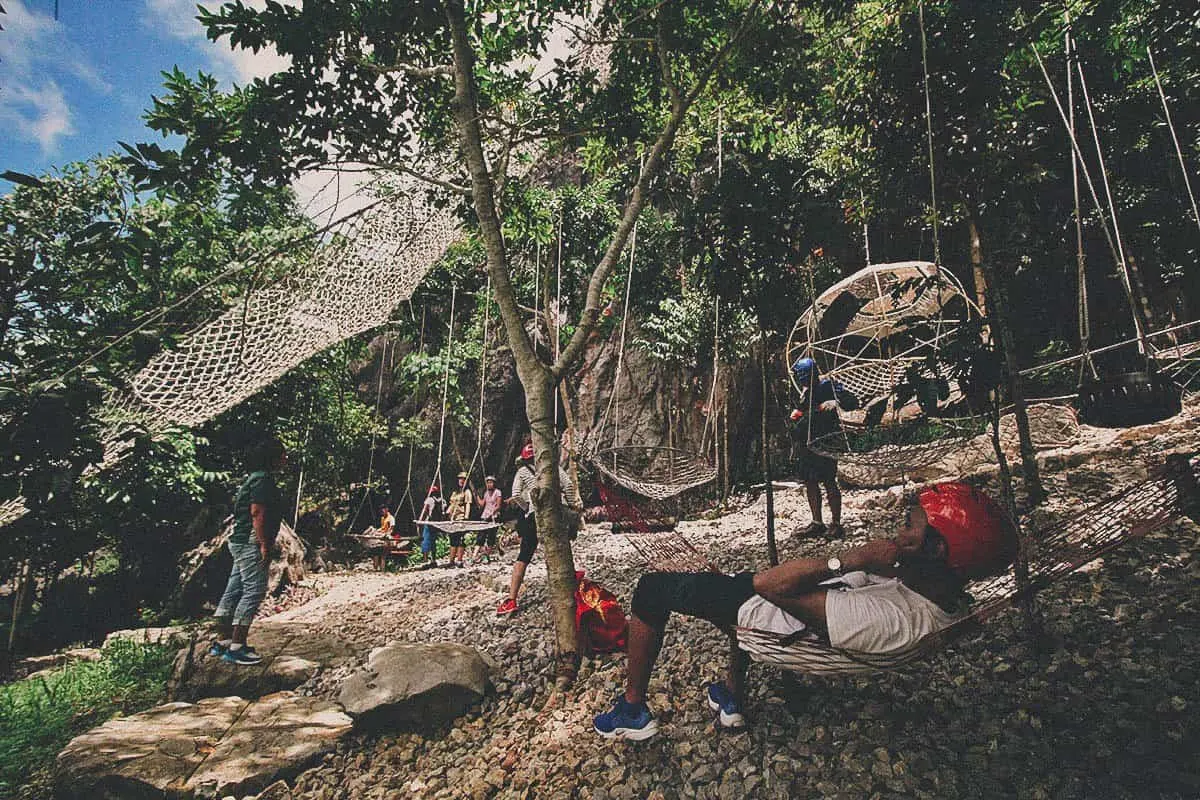 Check this one out. Cool huh? It's big and can fit several people.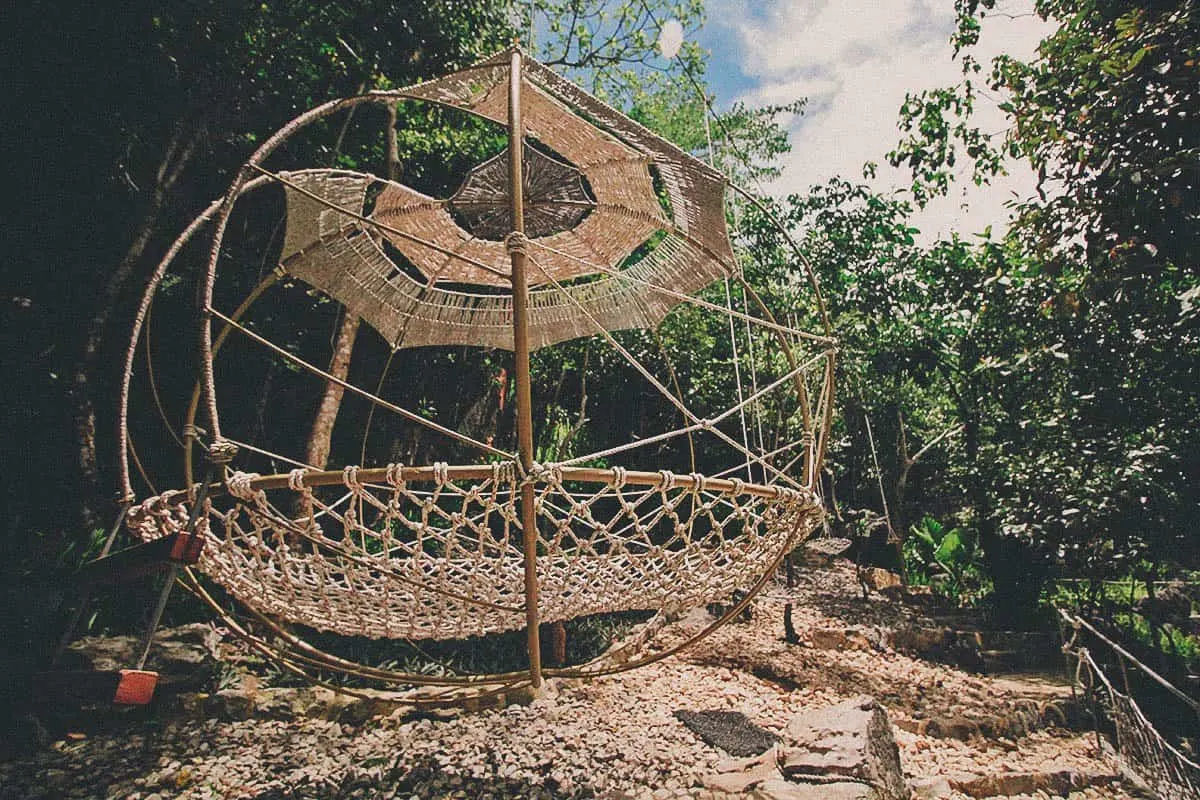 Visitor's Shed
Aaah, the visitor's shed. Sandwiches and juice are part of your trail fee and they'll be waiting for you here. After 4 hours of trekking in the sun, that calamansi juice tasted like the best damn thing in the universe.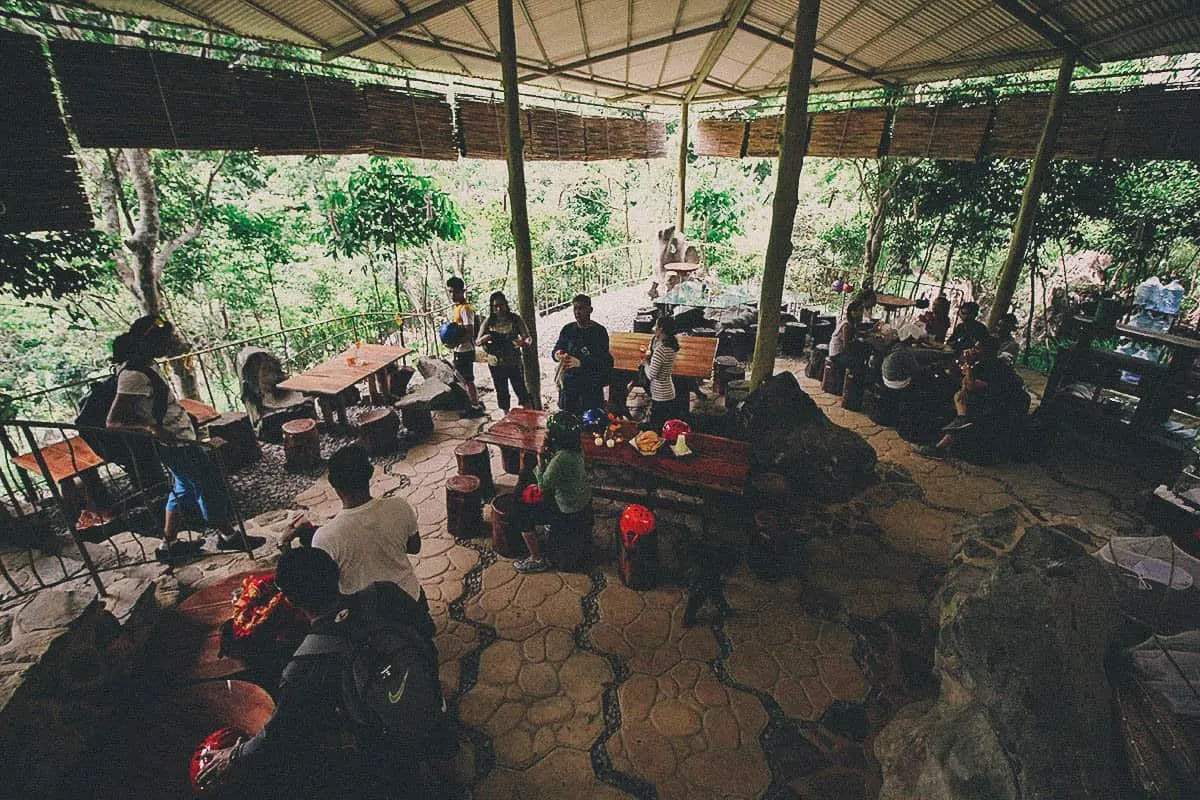 Sawa
Here's the mouth or entrance to Sawa. As you probably guessed, it's called Sawa because it was made to resemble a snake. See one of its eyes there on the left side?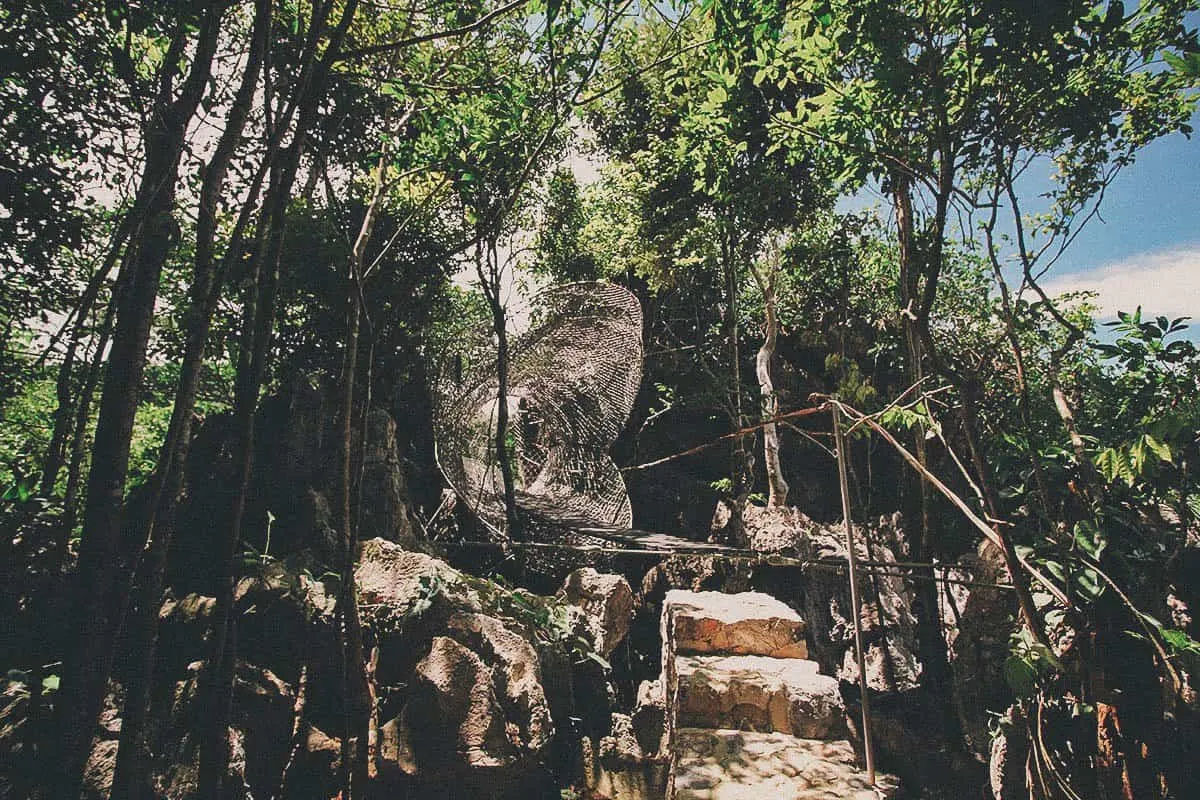 Into the snake's belly we go.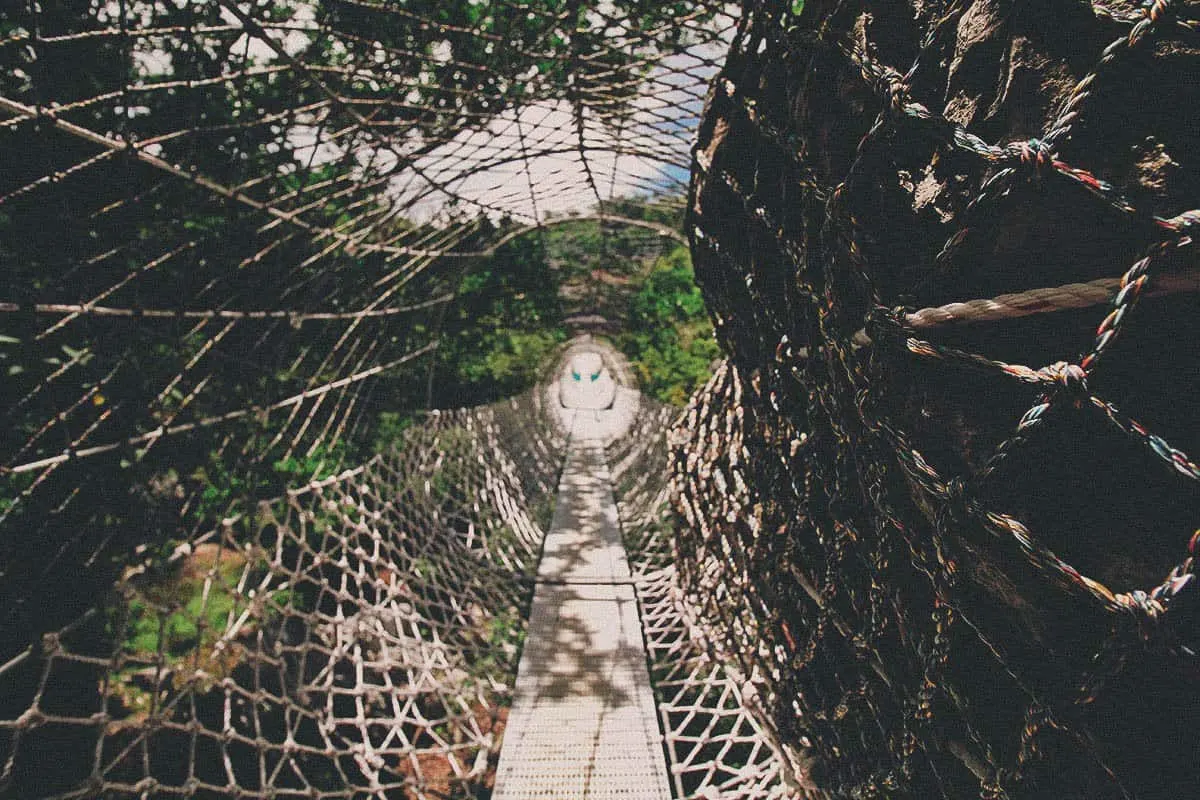 Unlike the other hanging bridges, you couldn't hold on to anything here so it was a little scary to have it rock back and forth as you walked. Going through Sawa takes you back to the receiving area where it all started. We survived! 😀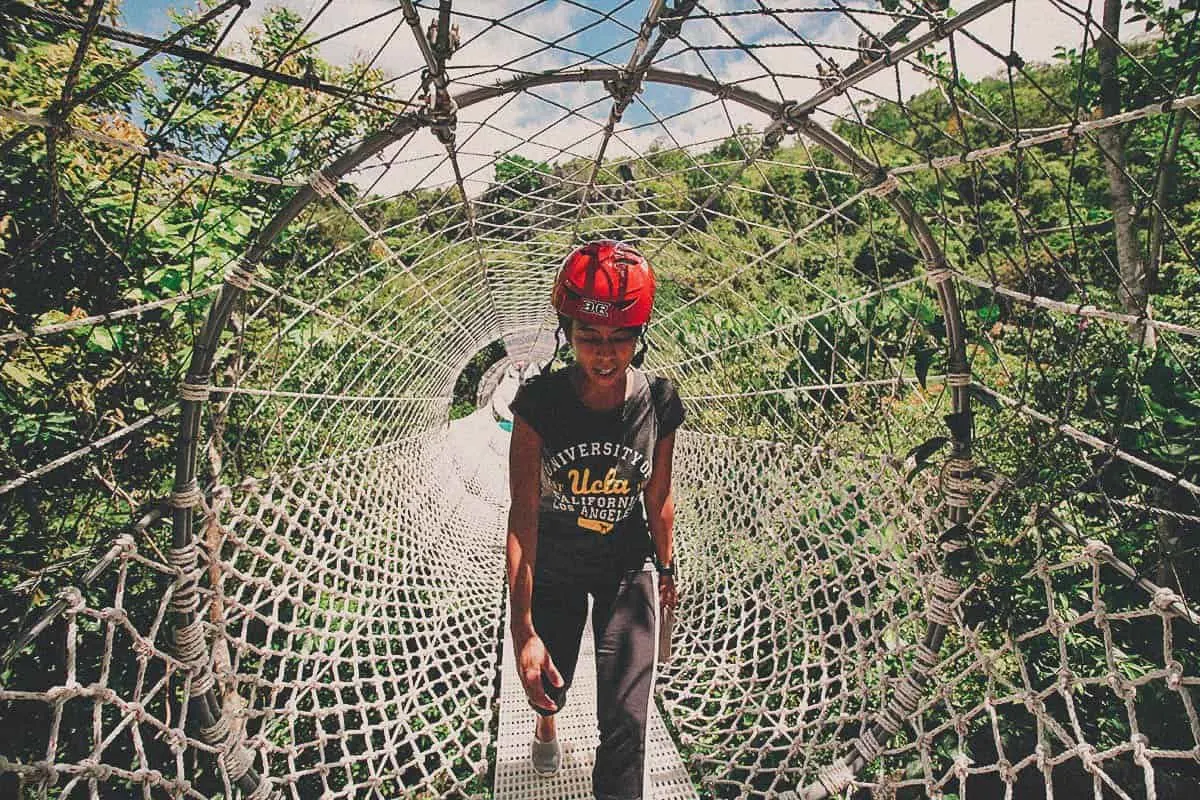 SILAYAN RESTAURANT
Silayan is the recently opened restaurant of Masungi Georeserve. Though it's within park grounds, it's a little far from the receiving area so it's best to go in a car. I'm not sure if the park can shuttle you there if you arrived using public transportation.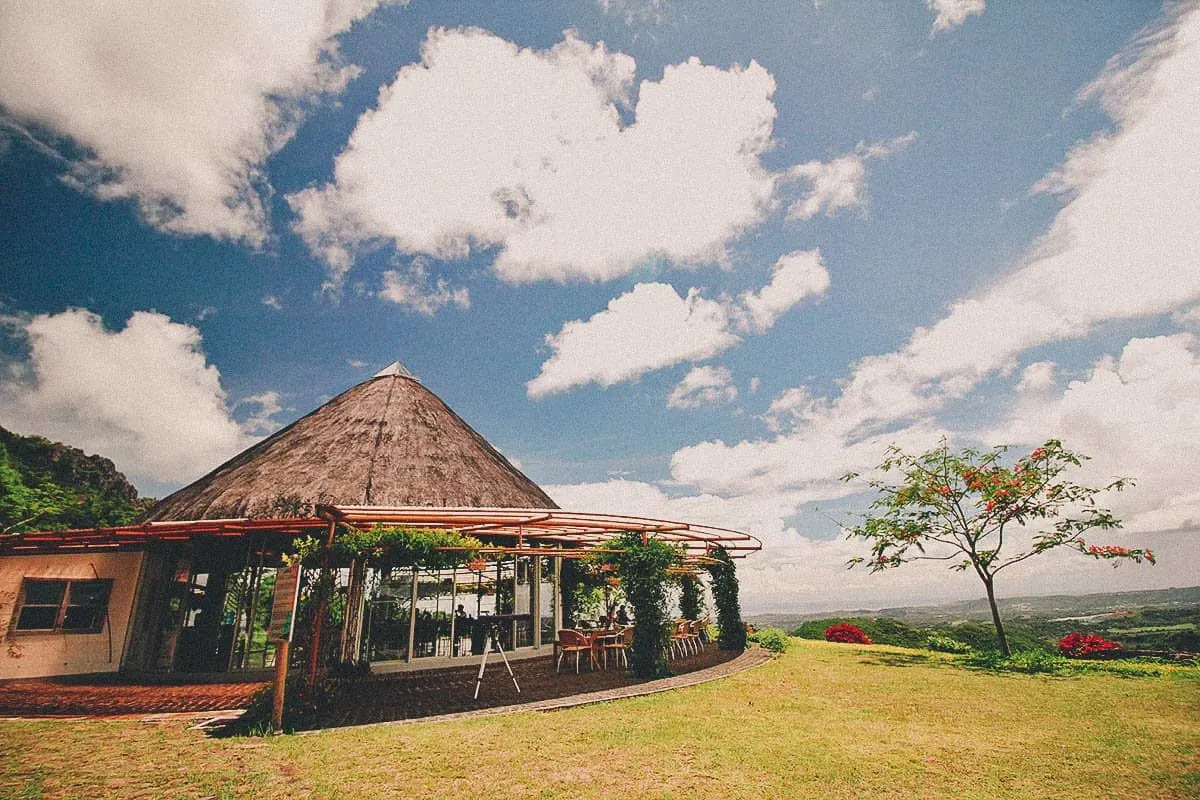 As described, a set lunch here costs PHP 600 per person. There's no a la carte menu except for non-alcoholic beverages. I believe they change their set menu every month.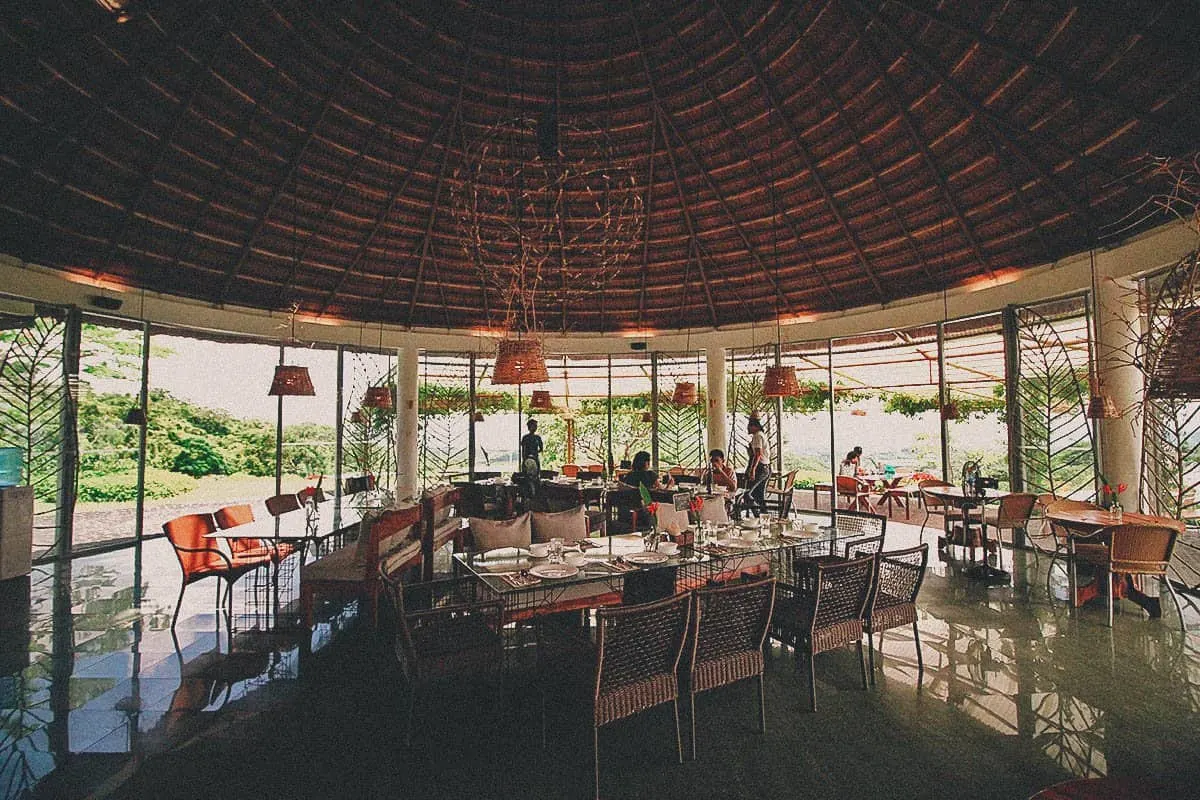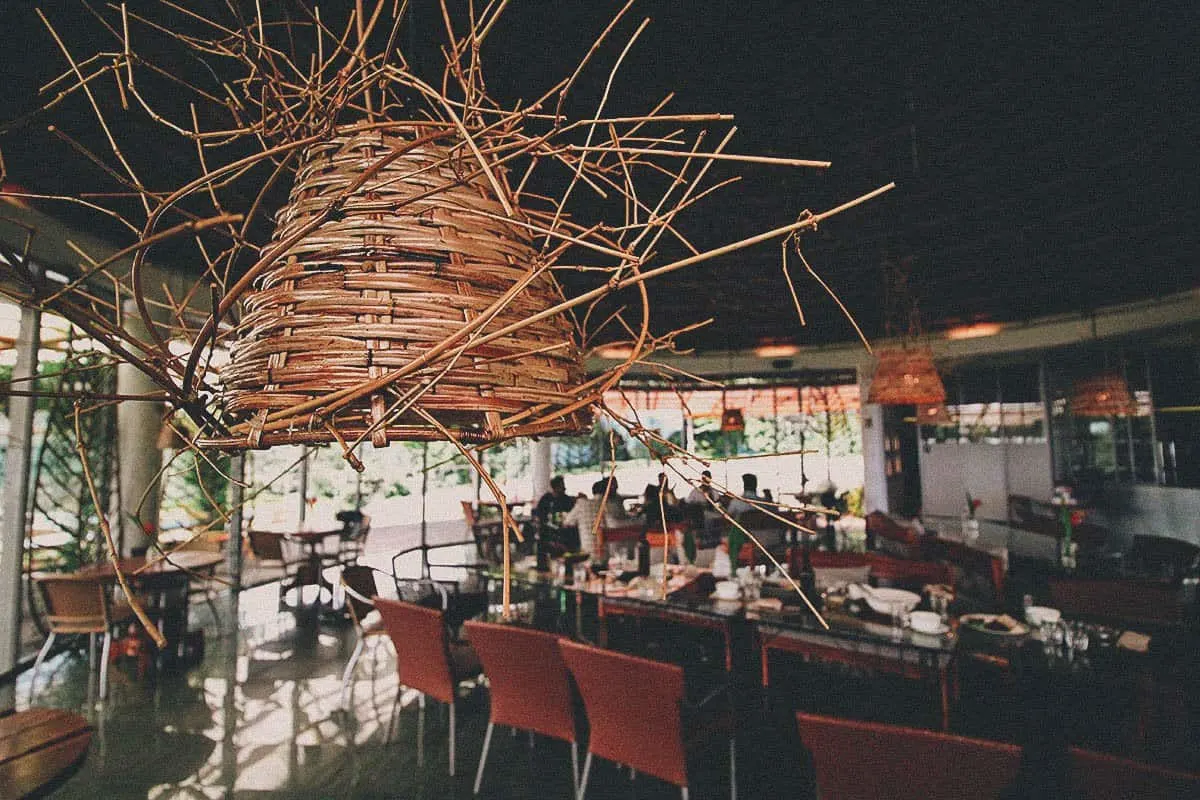 They started us off with this salad topped with blue nasturtiums. Every course was presented beautifully.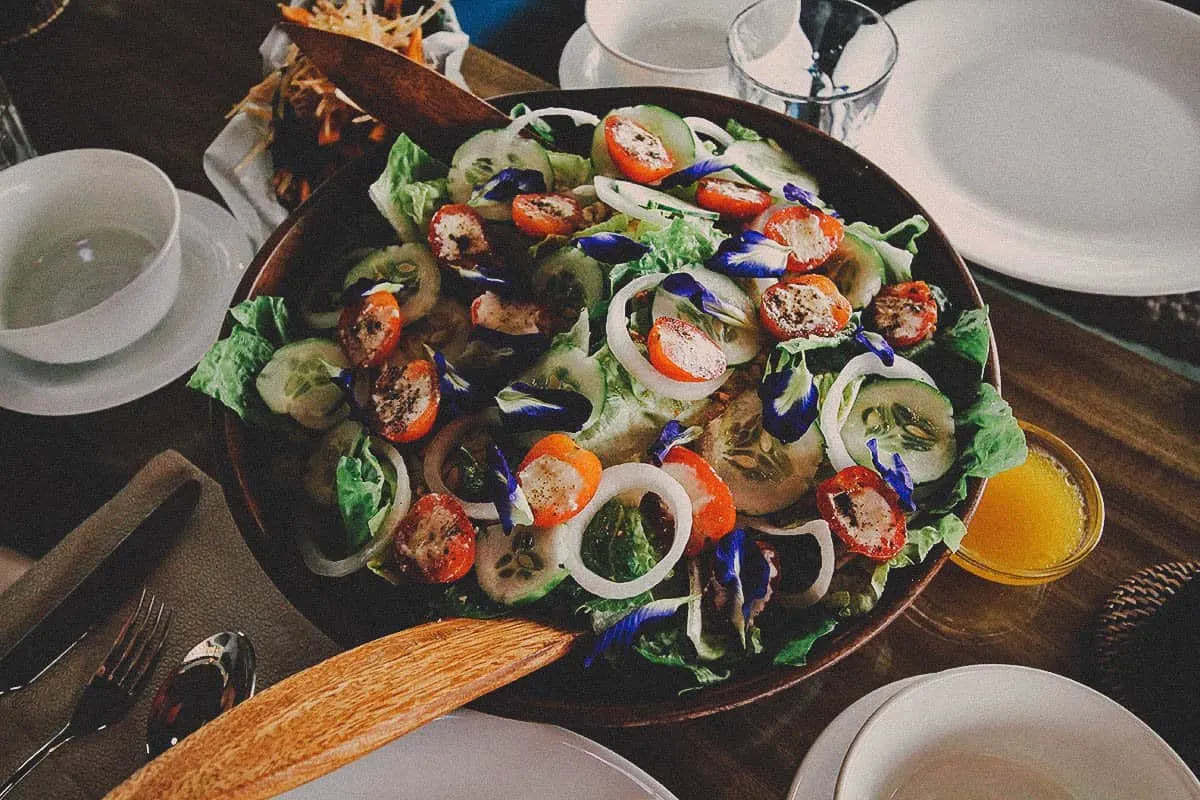 Kamote (sweet potato) wedges with crispy potato strings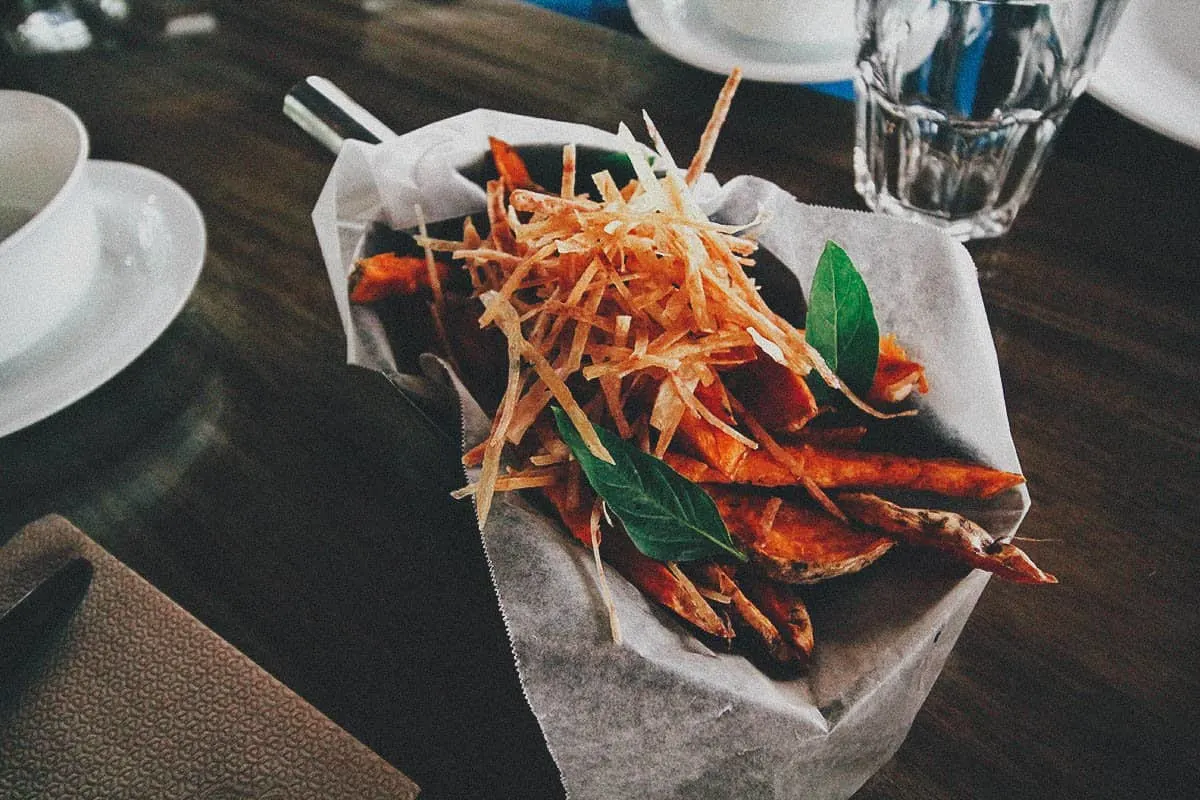 Red organic heirloom rice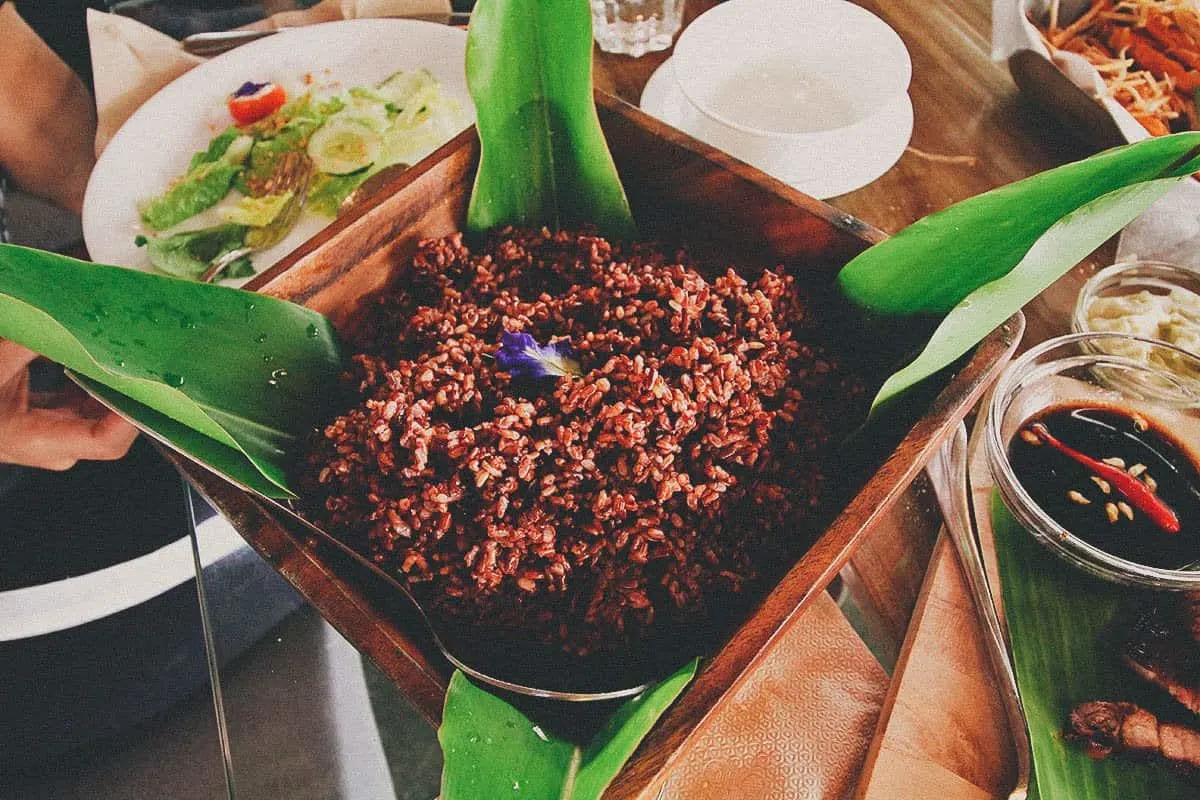 Pork liempo (belly) with green beans and roasted tomatoes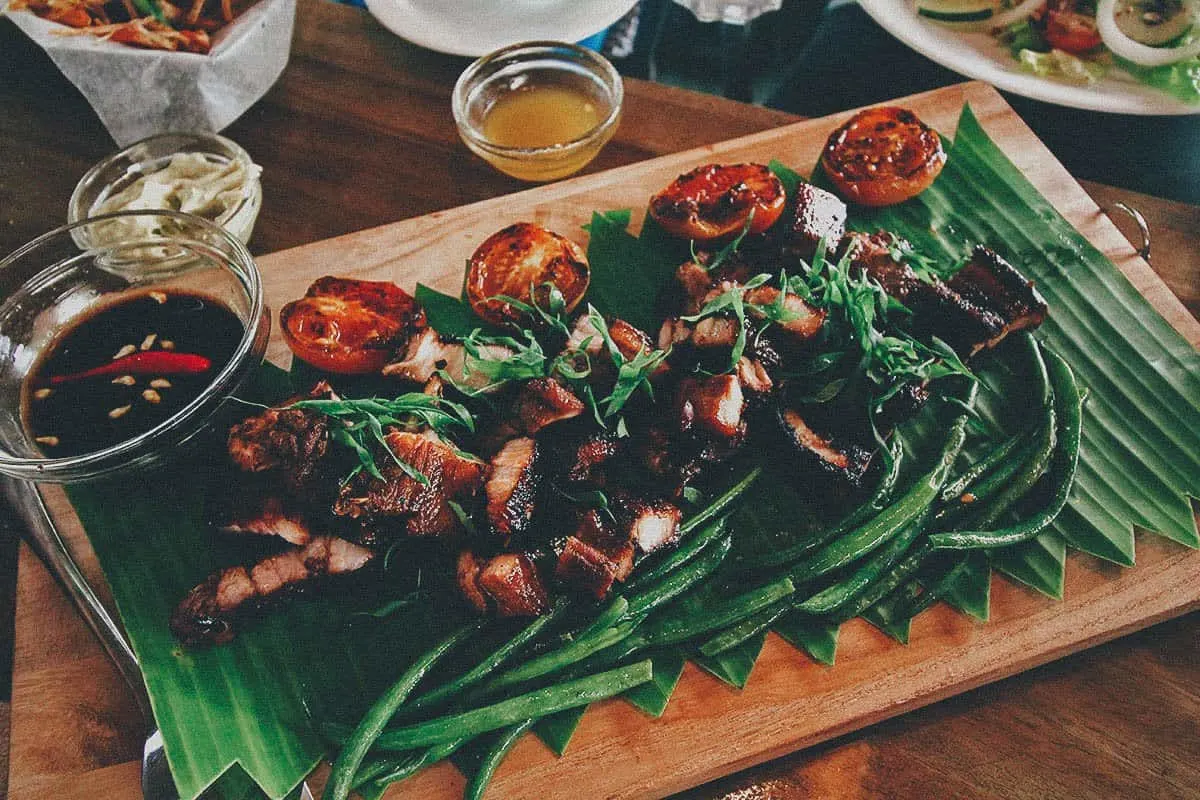 Chicken wrapped in pandan leaves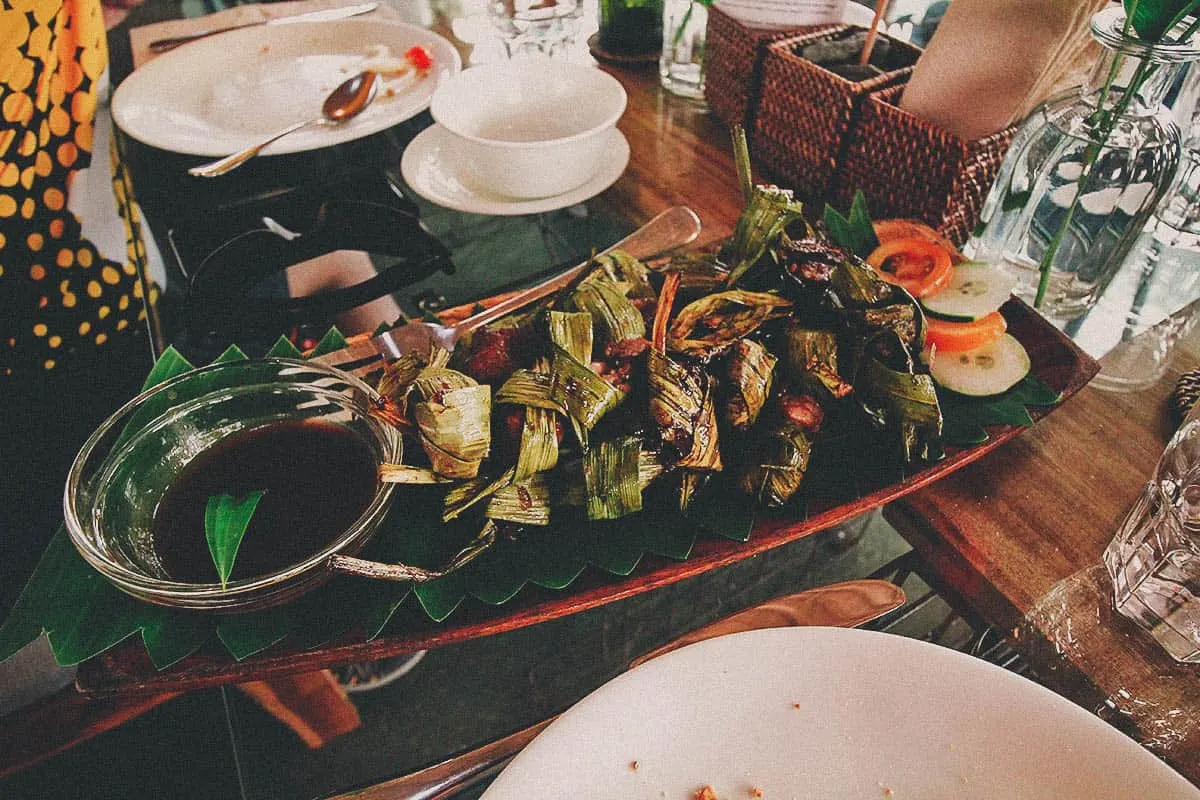 Sinigang na baboy sa prutas ng katmon (Sour pork soup with elephant fruit). This was the first time any of us tried sinigang made with katmon. The katmon tree is endemic to the Philippines and produces an acidic fruit known as the elephant apple.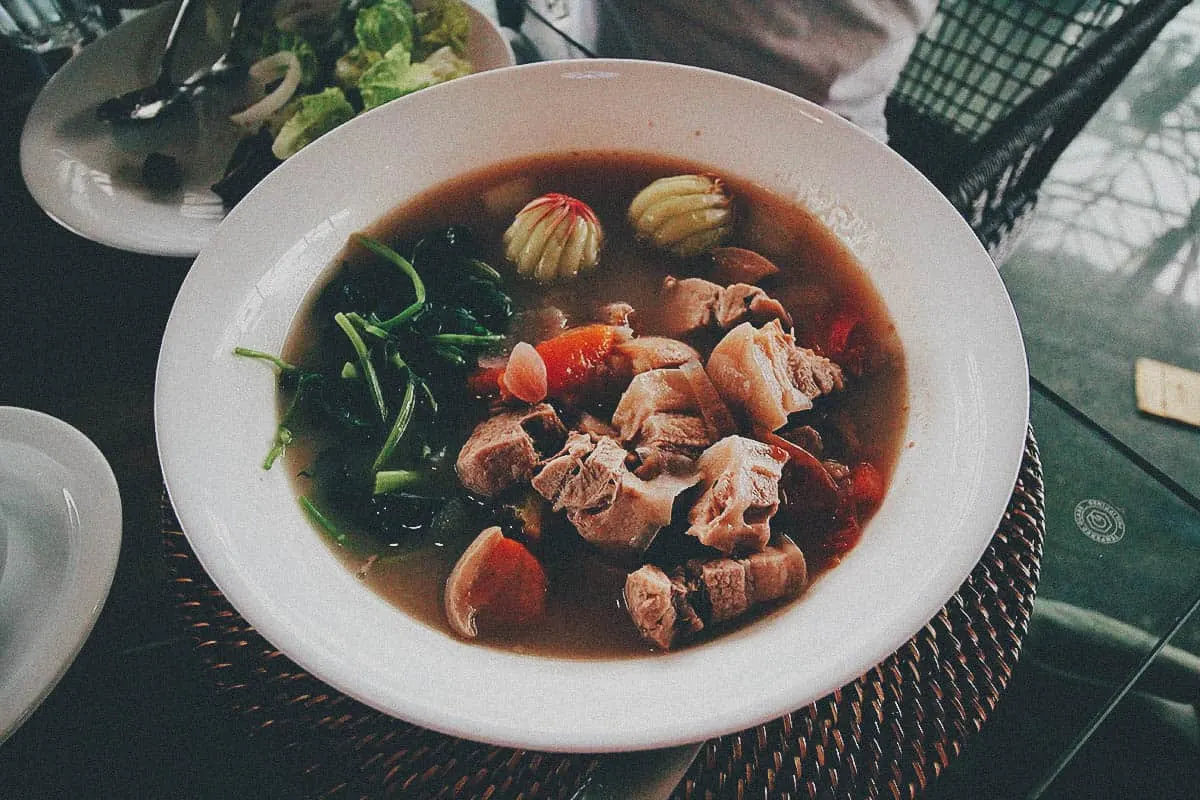 A closer look at the elephant apple. It was good – fleshy and a little sour. Everything we had today was delicious, but we all felt the servings weren't big enough, at least not at PHP 600 per person.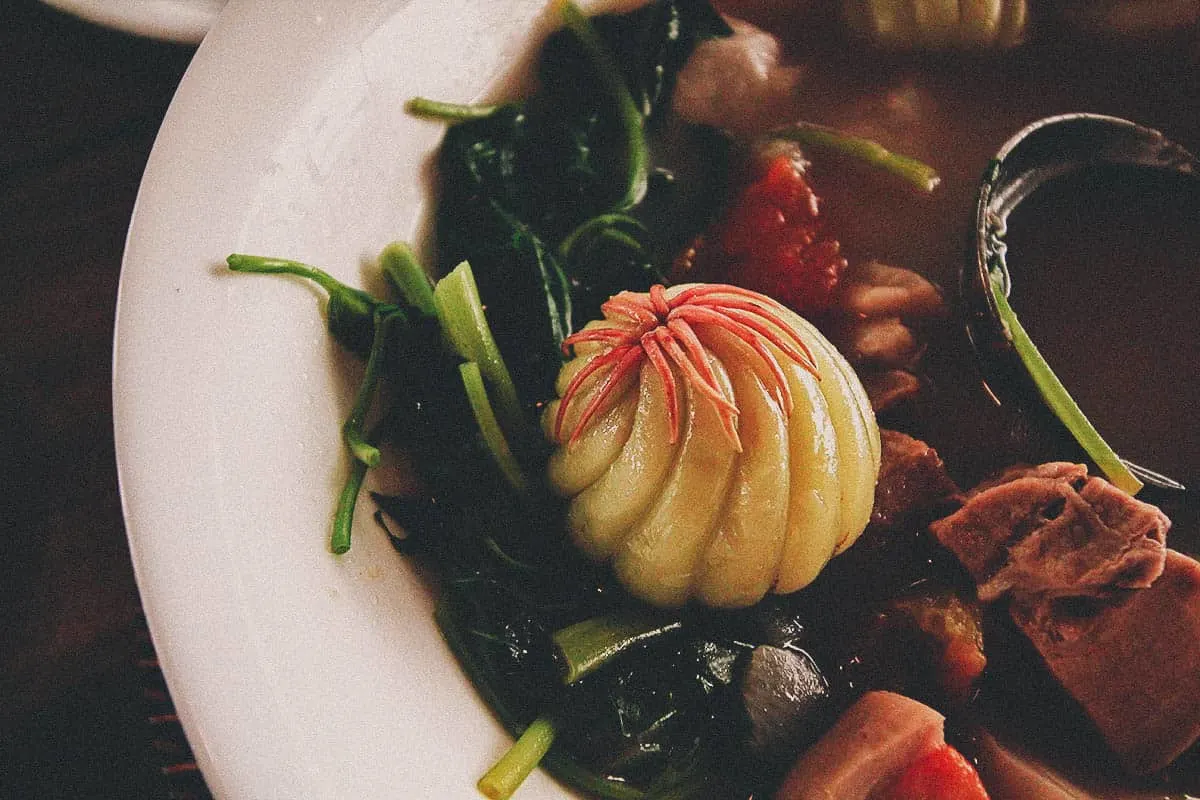 After our lunch, we enjoyed coffee and fruits on the veranda.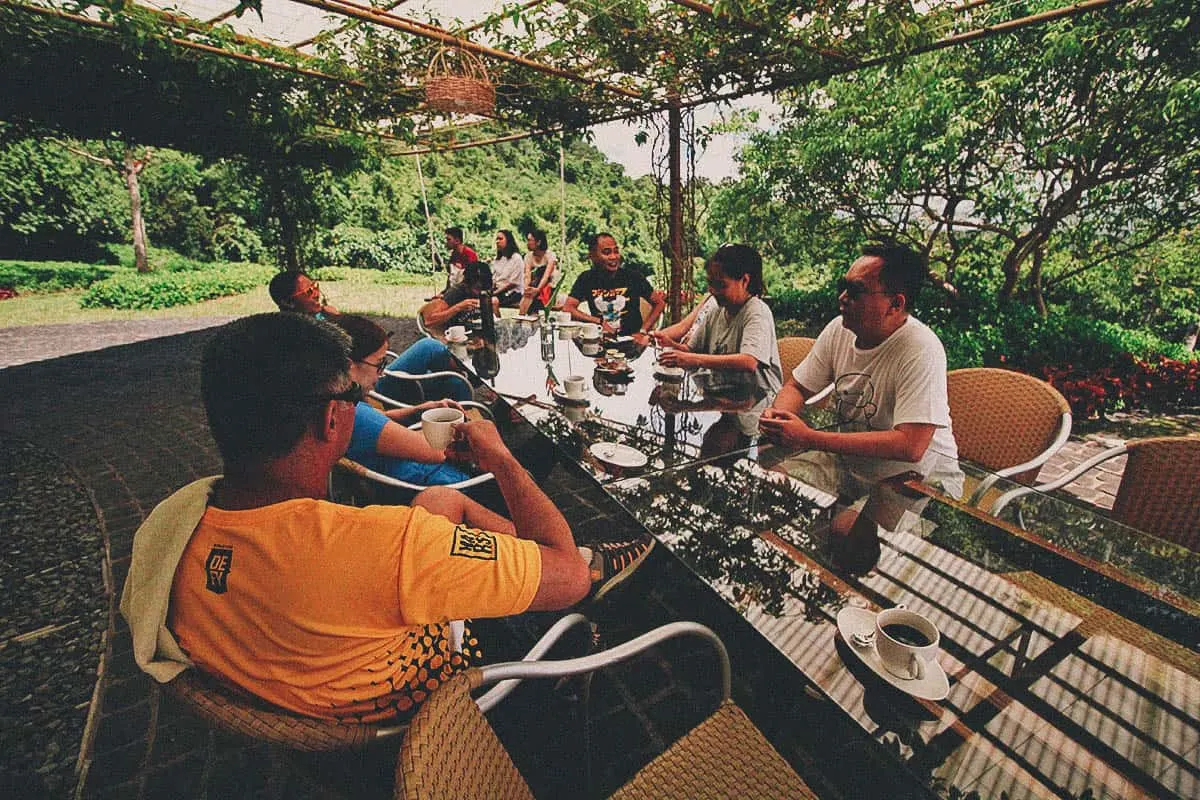 Delicious fruit platter. Everything here was super sweet.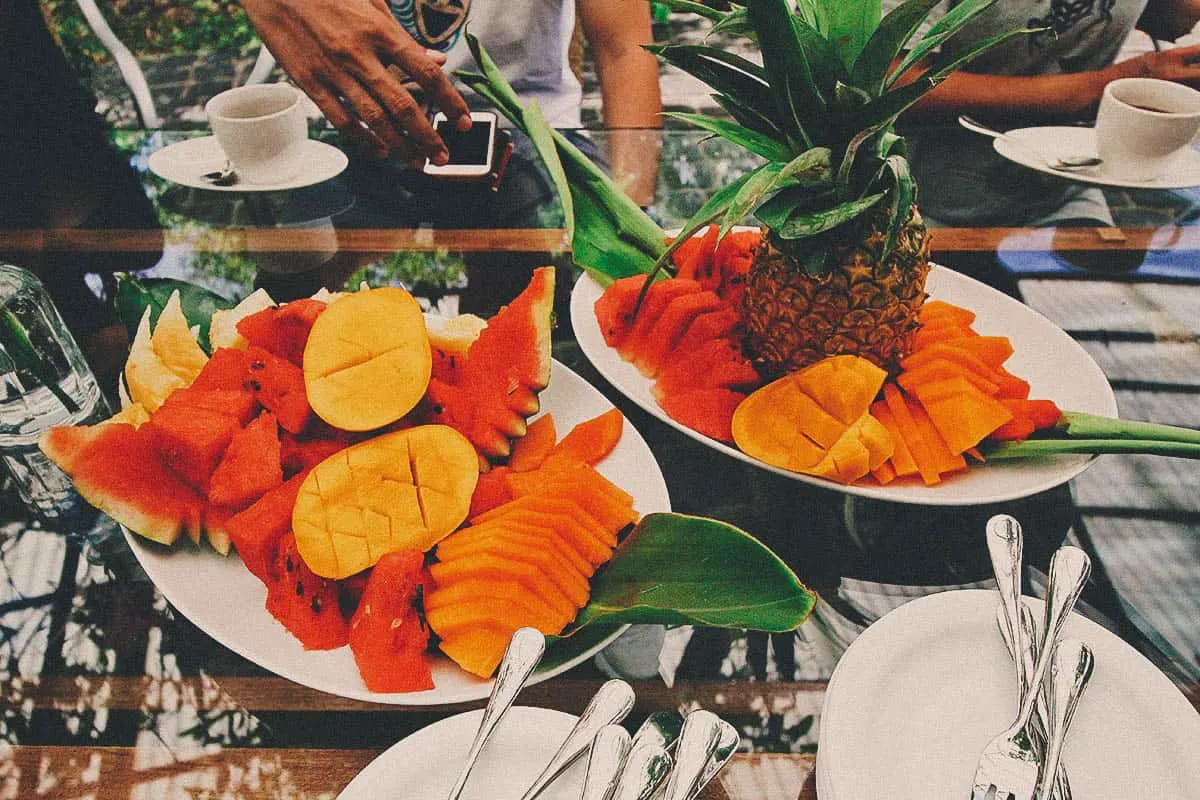 To be honest, I was a little nervous about today because I had no idea how difficult the trail would be. I haven't done any serious exercise in years so I wasn't sure if I could handle it, especially since I had to carry a bag with moderately heavy camera equipment. But as it turns out, it's a beginner level trail that anyone with a decent level of fitness can do. It was designed for everyone so you don't have to be a mountaineer to get through it.
Apart from how much easier the trail turned out to be, there are two things that surprised me about Masungi. One, it's even cooler than I thought it would be. I mean that sincerely. Things like Sapot, Duyan, and Sawa are obviously amazing. But what was even more remarkable for me, was how they designed that trail to be so easily accessible, even to people with little hiking experience. Mind you, they weren't working with flat ground here. They had to incorporate steps, bridges, and pathways in and between jagged rocks so ordinary people like you and me could get through it without much effort. And they did it without compromising the landscape. The amount of engineering that went into this place is impressive. You have to go through it to fully understand what I'm saying.
And the second thing that surprised me about Masungi? You can die here. I'm not saying that to frighten you, but it's true. It isn't like a first-world attraction where everything is baby-proofed so there's virtually no chance of you getting hurt. Masungi is more like Sumaguing Cave in Sagada. You can get injured here, or worse, which is why they ask everyone to sign a waiver before the trek. But if you watch your step and tread carefully, then you should get through it just fine. So far, everyone has. That rawness and potential for danger is part of what makes Sumaguing Cave so exciting. It's the same feeling here.
If you enjoy hiking and haven't been to Masungi yet, then you really should go. It's easy for beginners and unique enough to pique the interest of seasoned mountaineers. A world-class facility with a world-class approach to conservation, Masungi Georeserve is something we Filipinos can really be proud of. ♥
Masungi Georeserve, Rizal, Philippines
Kilometer 47, Marcos Highway, Baras, Rizal, Philippines
Website: masungigeoreserve.com
Facebook: masungigeoreserve
Instagram: masungigeoreserve
Email: [email protected]
Cost: PHP 1,500 per person on weekdays / PHP 1,800 on weekends