UPDATE: (9 June 2023) According to a reader, the street food market has relocated to Ben Nghe Ward. You can check their Facebook page for more details.
It's funny, Ren and I love street food when traveling. We don't shy away from it. But when we're home in Manila, we never touch the stuff. We do eat street food fare all the time like taho (tofu snack), turon (banana spring roll), and balut (duck embryo), we just never eat them on the street.
I guess it's because we grew up in Manila so we've heard all the stories. As a kid, I remember my sister telling me how her friend's cousin's brother's classmate's sister (or something like that) bit into a fish ball and wound up gagging on the vendor's toenail clipping. I don't know how much truth there is to that urban legend, but I believed it and have largely stayed away from street food ever since. In my mind, it's dirty.
I didn't have those fears or biases on our recent trip to Vietnam. We enjoyed all the eateries on our itinerary, many of which were street food vendors, and not once were we concerned about finding toenails in our food. Like the Manila version of me, I understand not all travelers have that same carefree attitude when it comes to street food. If you're curious about Vietnamese street food but are worried about hygiene, then Ben Thanh Street Food Market in Ho Chi Minh City was made for you.
Vietnamese Street Food for Hipsters
Ben Thanh Street Food Market is a trendy food hall just a stone's throw away from Ben Thanh Market in Saigon. See where those motorcycles are headed? At the end of the block is Ben Thanh Market.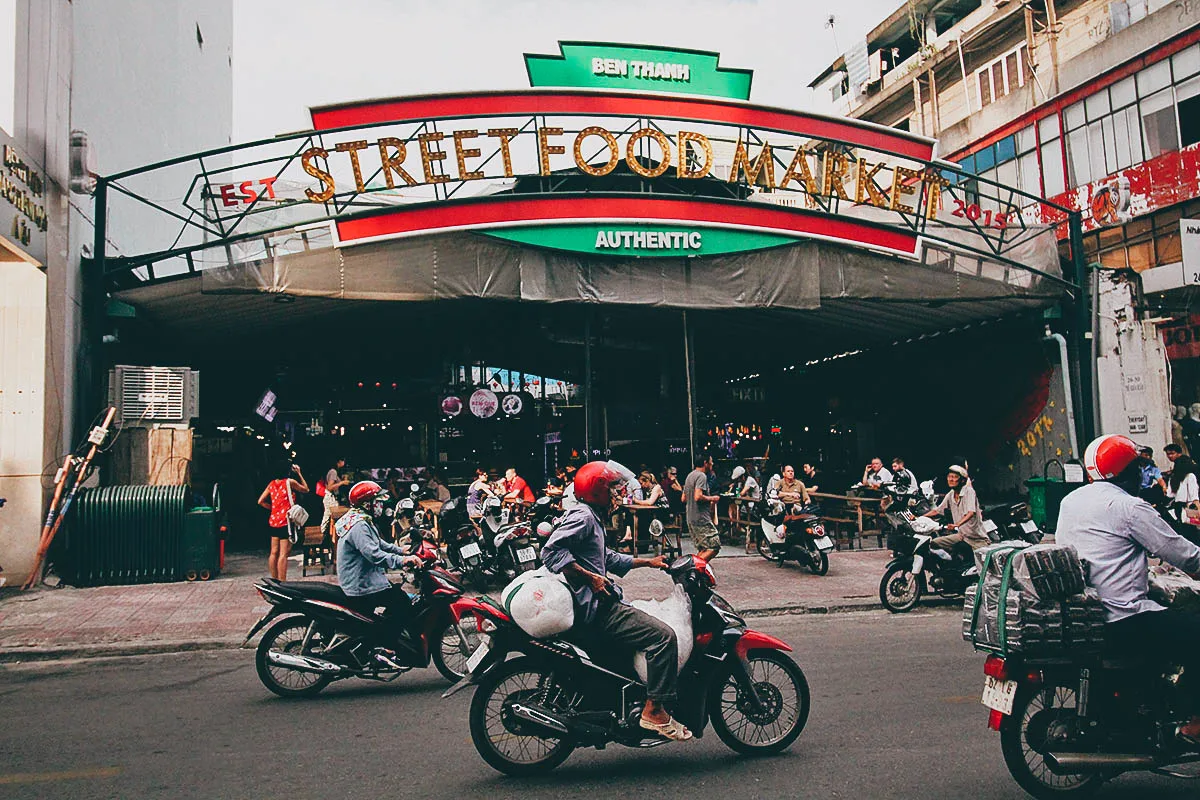 Stylish food halls like this one have been all the rage in Manila the last few years. It's a fun concept. Take a bunch of eateries and put them all in one place to give diners more options.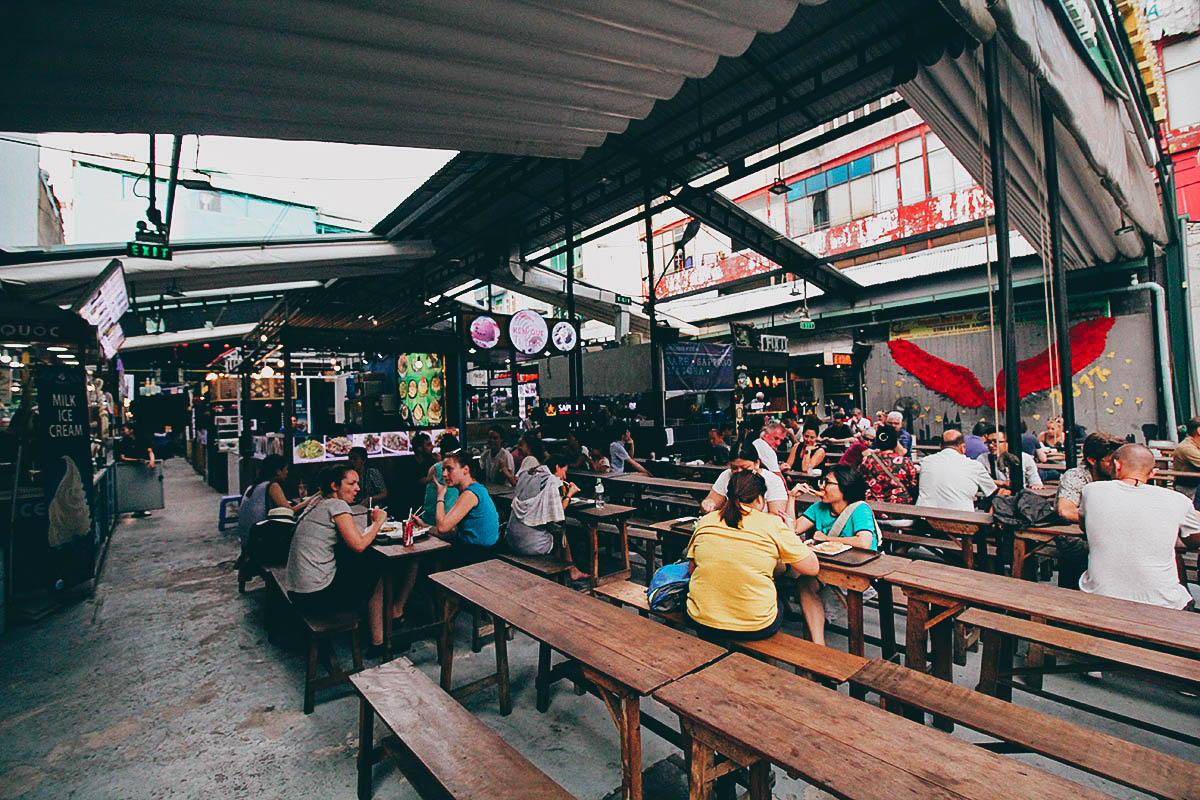 Not sure what this makeshift stage was for. Live bands maybe?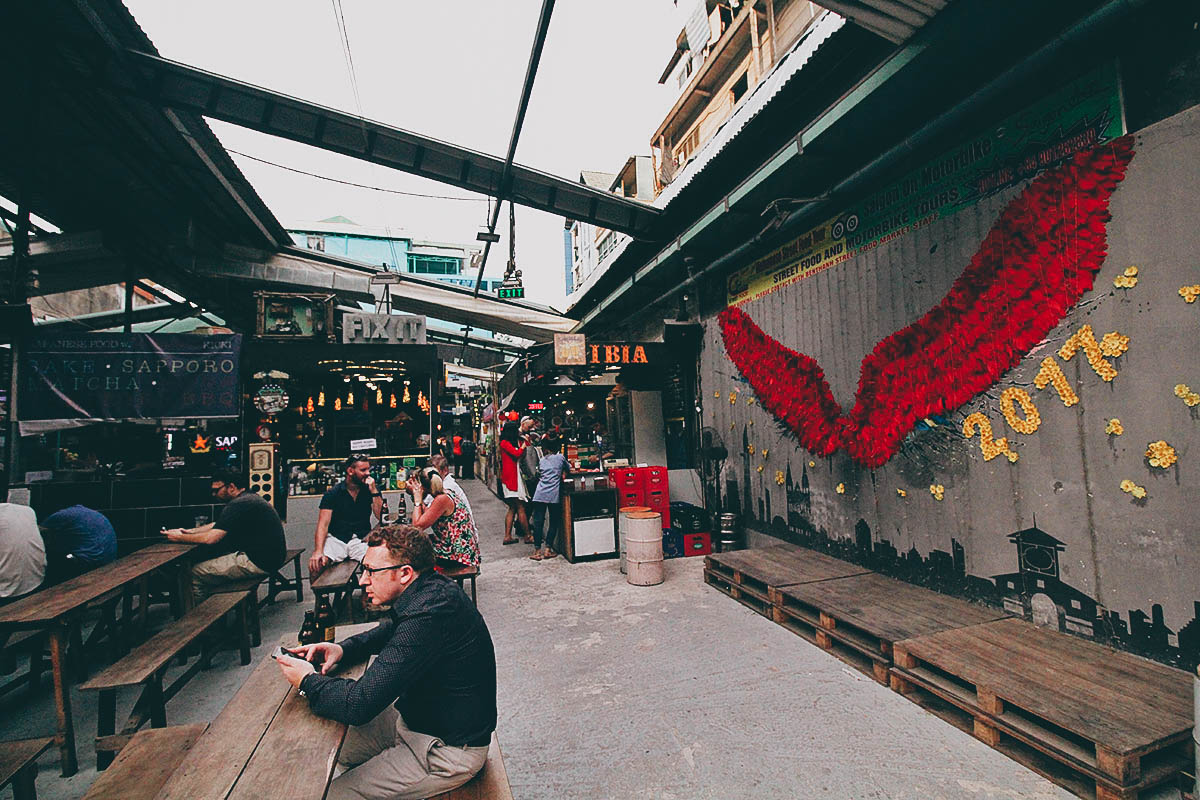 I didn't count but I'm guessing there are 20-25 vendors here selling all kinds of Vietnamese food. There's a stall selling many types of beer as well.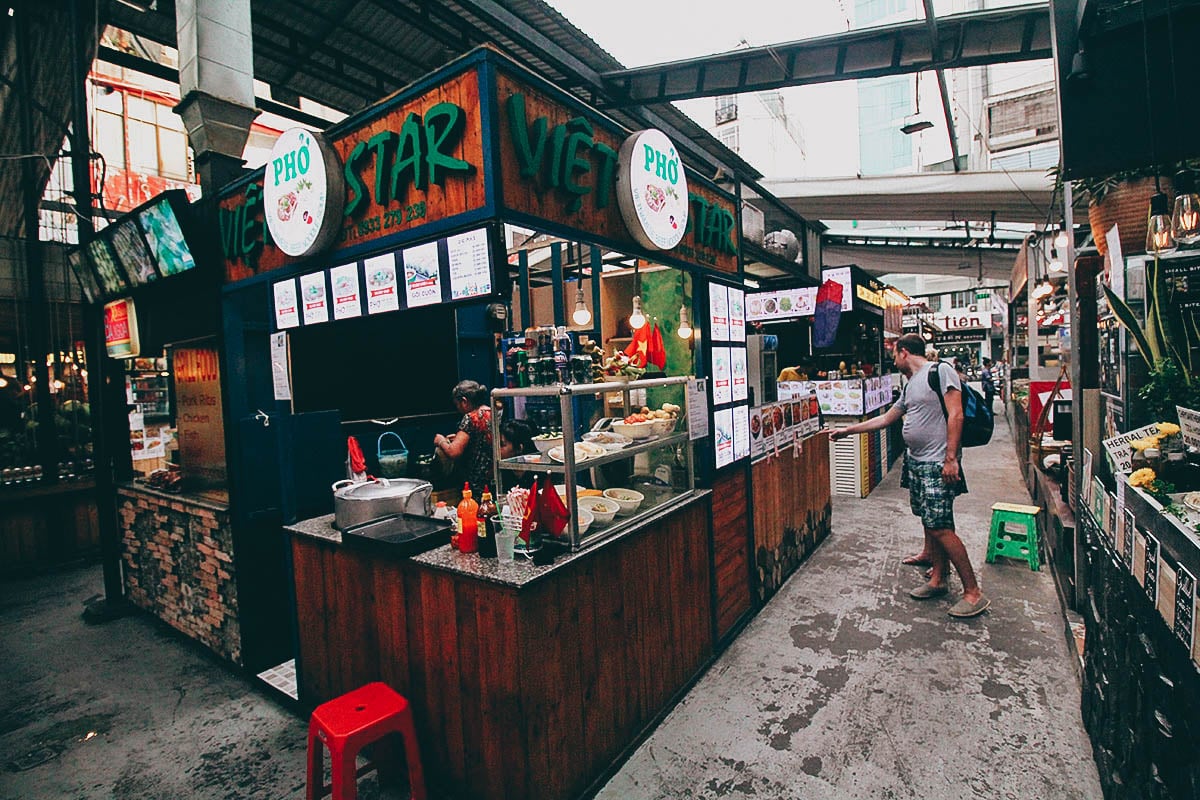 There are bench-style tables at the front and back of the market. If I remember correctly, they have evaporative air coolers at the back so it feels cooler to sit there.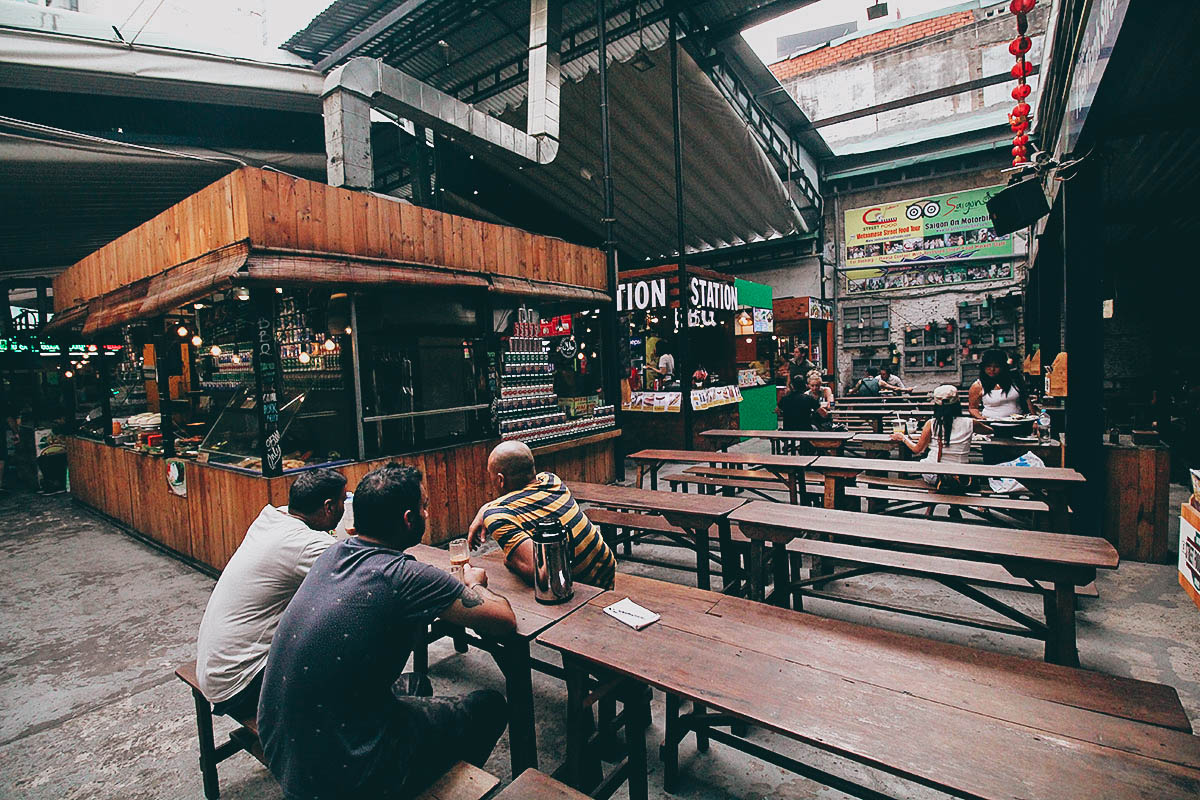 See the speaker? They were playing top 40 music at the market so we were bobbing to Ben Sheeran over beers and bowls of bún thịt nướng.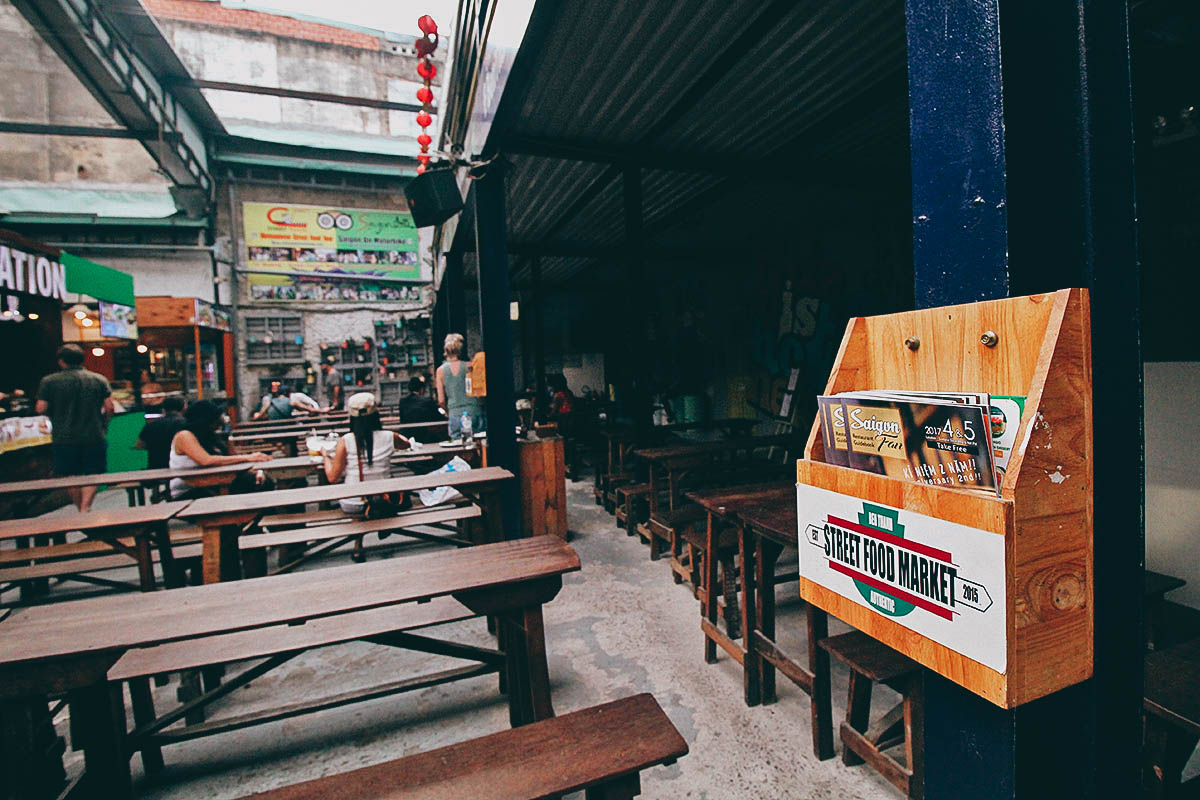 Funky mural. I forgot to take pictures but the bathrooms were stylish too. They used painted barrels as sinks and had graffiti-type art all over the walls. Like many establishments these days, Ben Thanh Street Food Market was made for Instagram.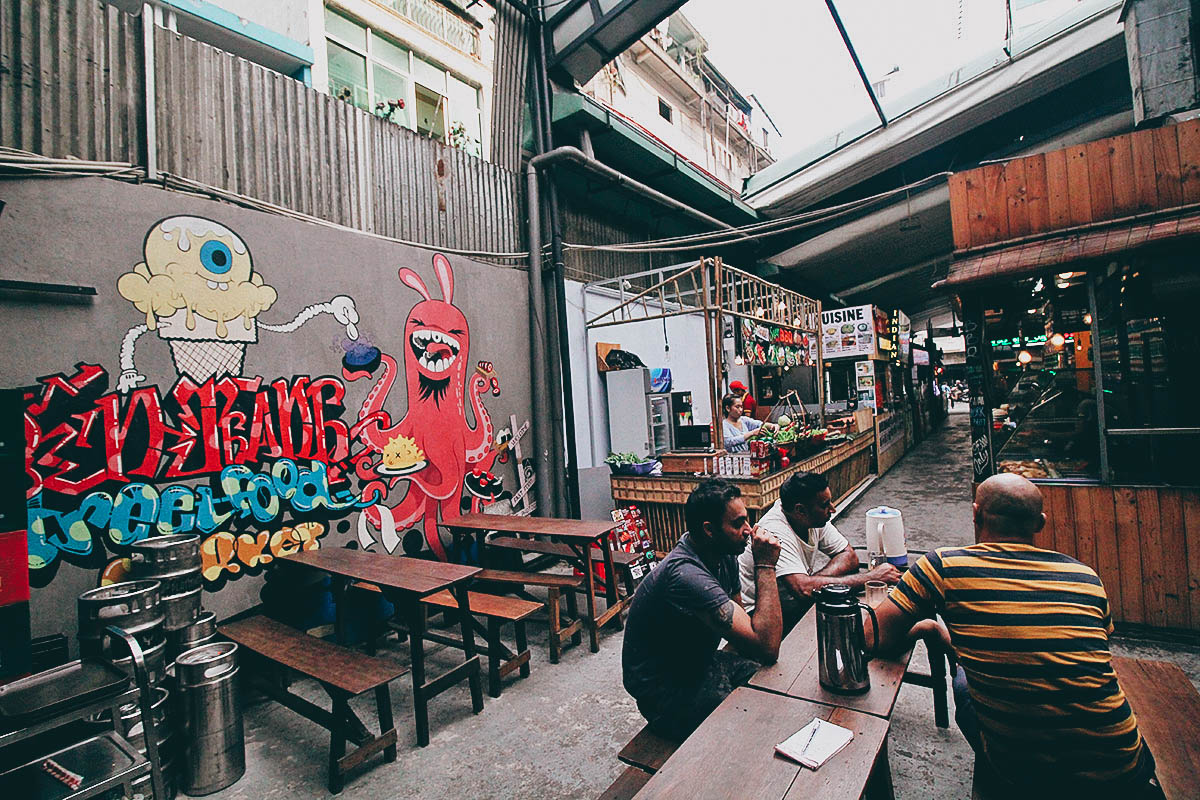 I read that Ben Thanh Street Food Market was created specifically for tourists. Many tourists are afraid of eating street food so they opened this place to make it more hygienic and appealing to foreigners. When we were there, nearly all the customers were non-Vietnamese.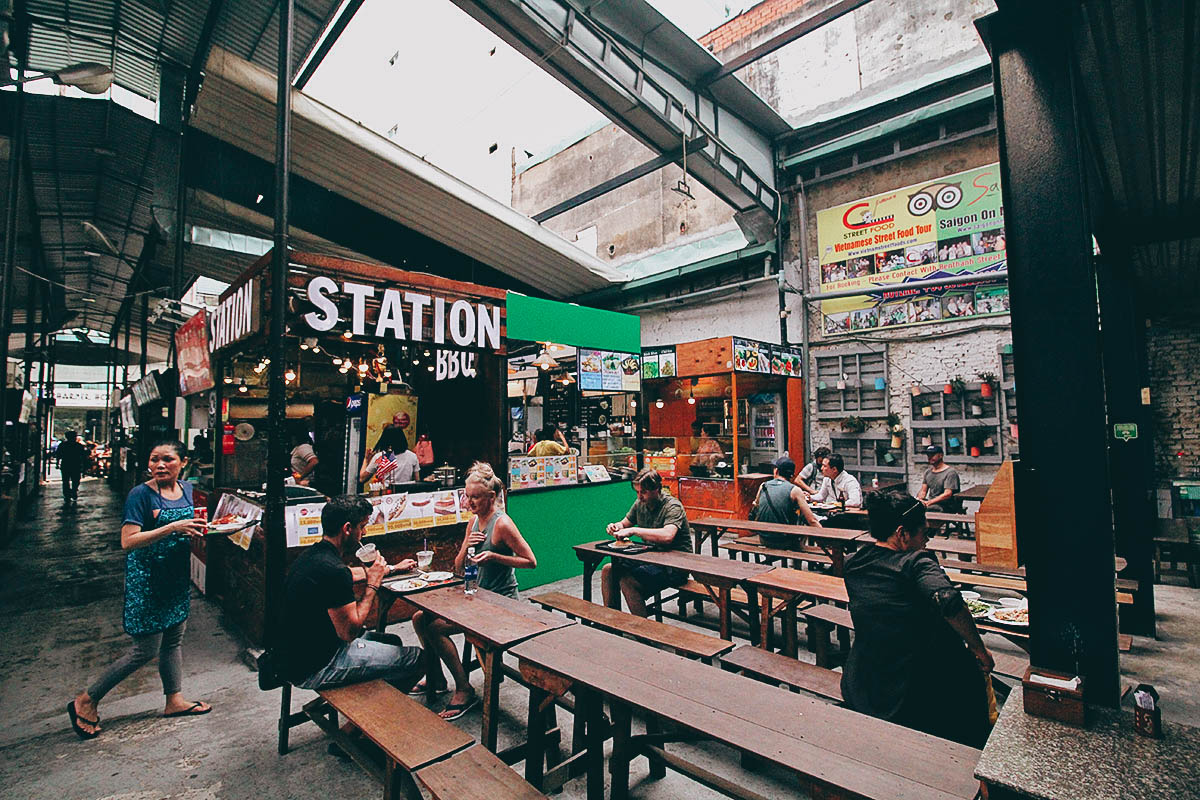 See those open panels in the ceiling? Those parts were retractable, like a car's sun roof, to let in more light and air on sunny days.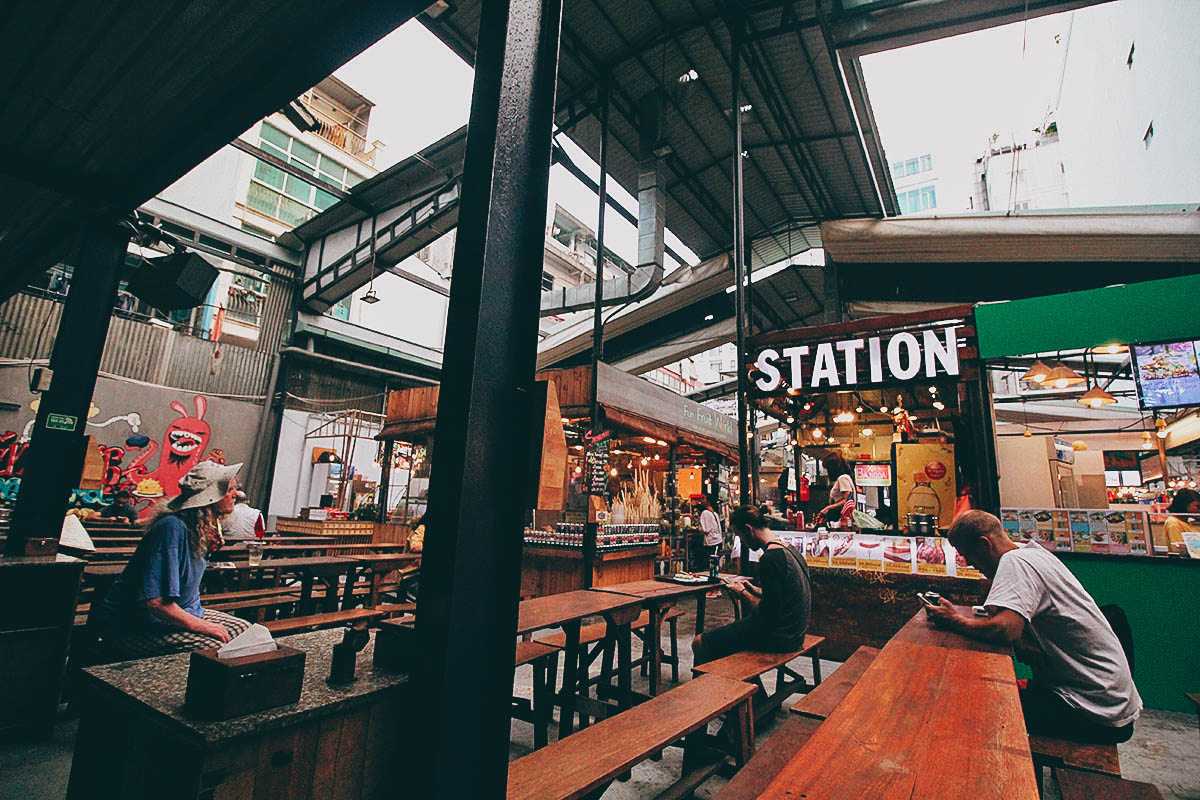 There's the lady vendor preparing our bowl of bún thịt nướng. Bún thịt nướng is a cold rice-vermicelli noodle dish topped with grilled pork, fresh herbs, and vegetables, then drizzled with fish sauce.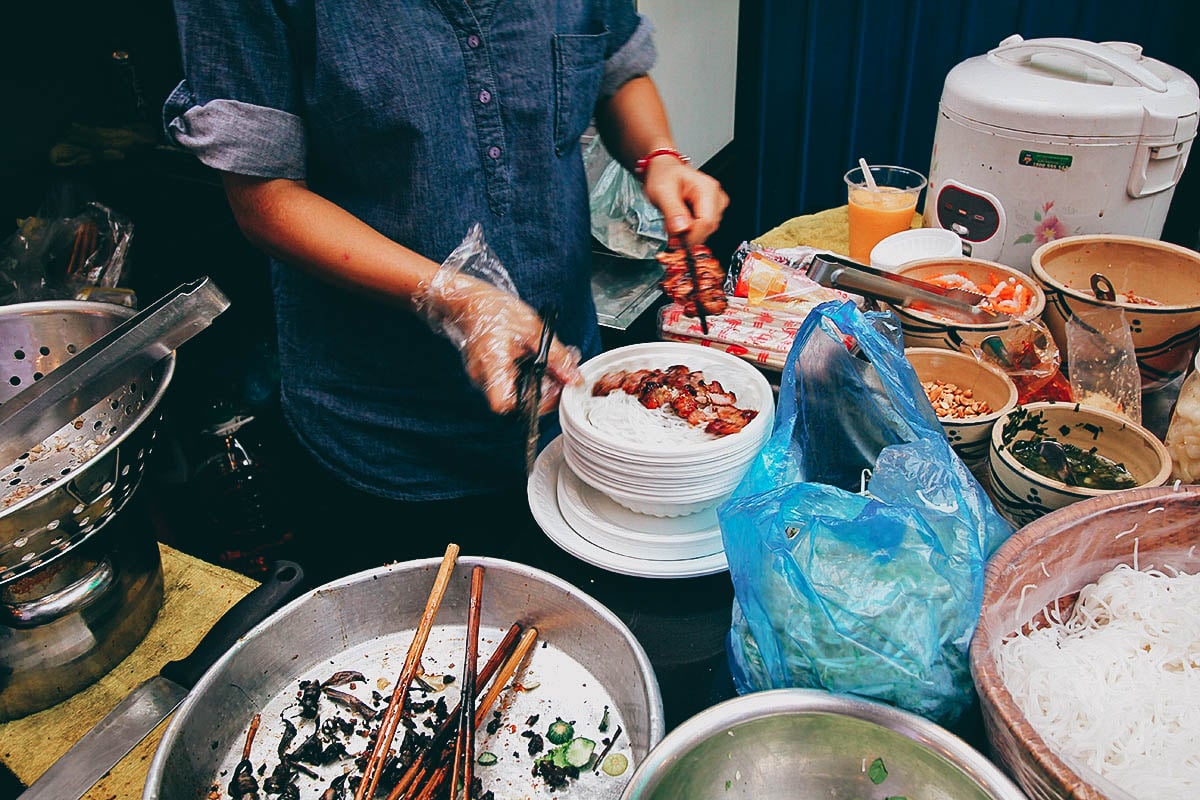 I'm not an expert on Vietnamese food so I don't know how authentic this is, but it was delicious. We paid VND 60,000 for this bowl which does seem pricier than its counterparts on the street. This street food market caters to tourists and there's more overhead so the elevated prices were expected.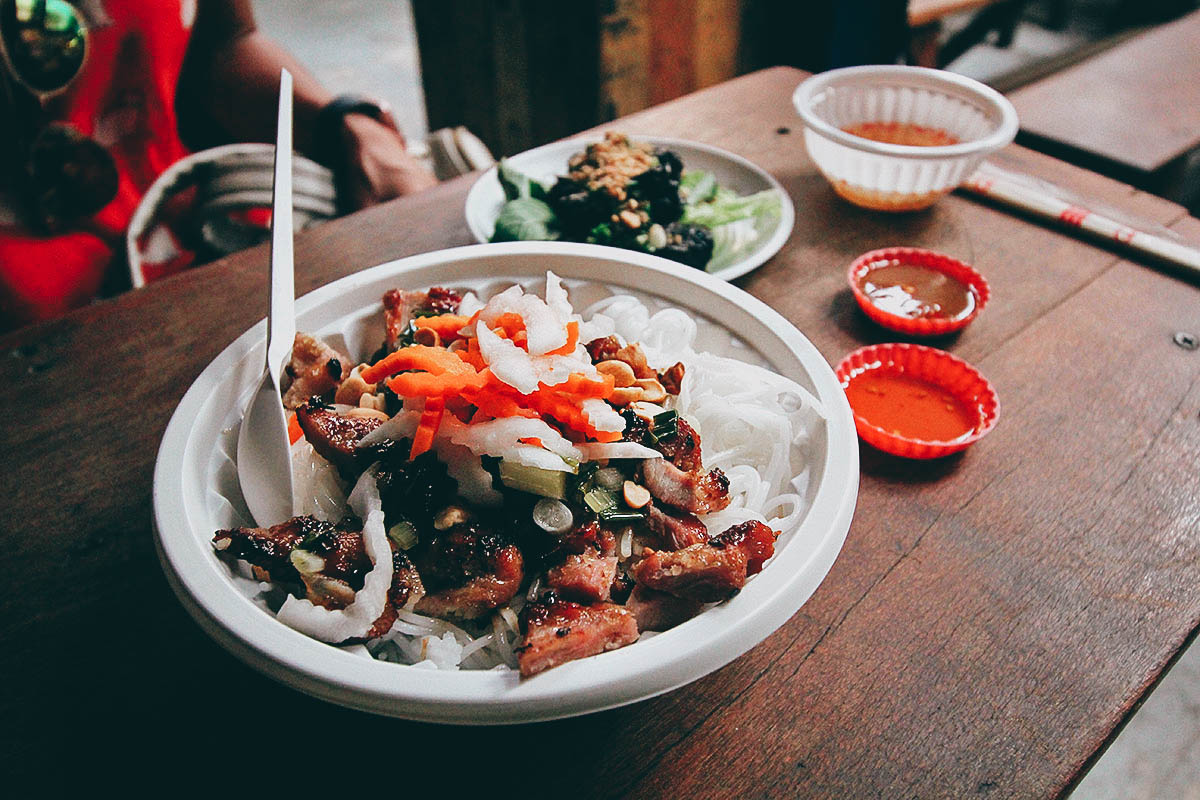 A plate of Thịt bò nướng lá lốt which is grilled beef wrapped in betel leaves.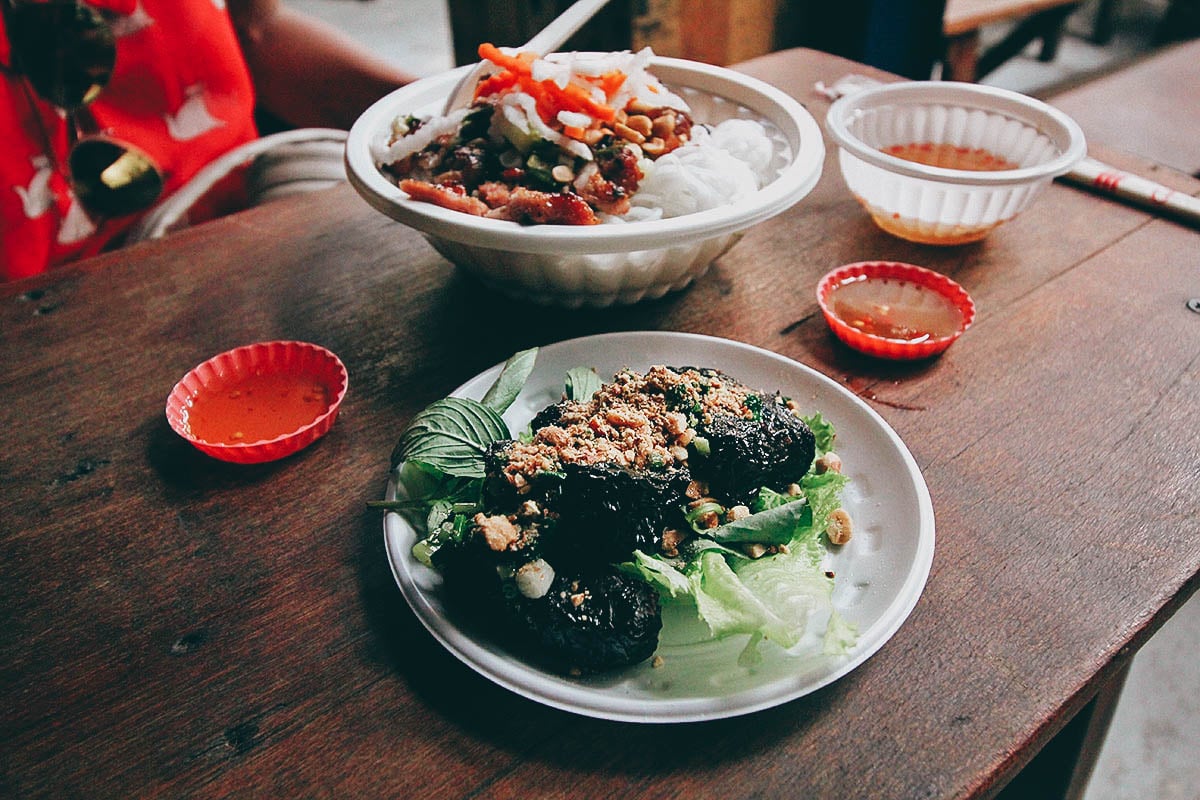 Rolled in bite-sized pieces, these are great to munch on with beer. We paid VND 50,000 for this plate of 5 or 6 pieces.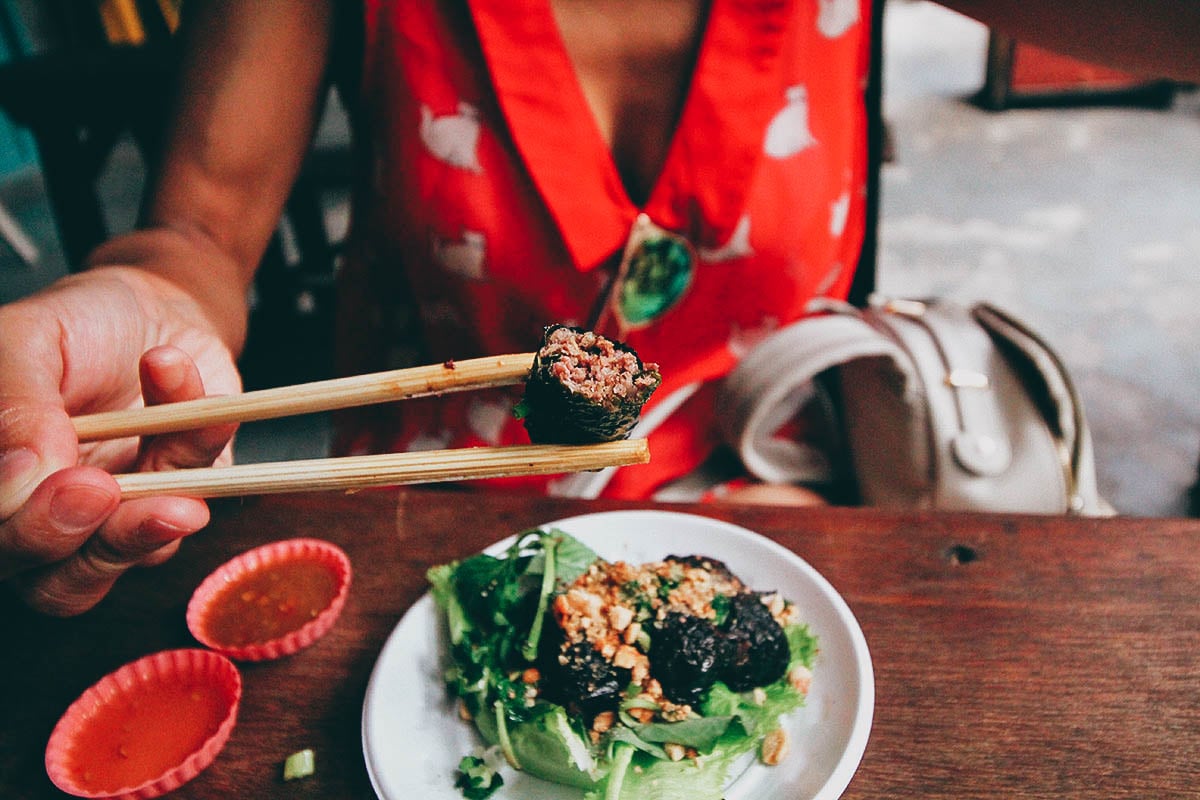 You'll notice we didn't order too many dishes here. We enjoyed the place but we had an itinerary of well-known street food eateries to get to so we couldn't afford to overeat. As described above, I'm not sure how authentic the offerings are at a place like this. Like heritage hawker stalls in Singapore or Penang, nothing beats street food vendors that have been around for decades. I'll be writing a Vietnamese food guide so we needed to find the best and most authentic places. Ben Thanh Street Food Market is nice, but it caters to tourists.
With that said, unless you're Vietnamese and eat these dishes everyday, then you probably won't know the difference between authentic and touristy examples of Vietnamese food. Or you won't mind it as much. Compared to typical street food eateries, Ben Thanh Street Food Market is pleasant and comfortable. You can easily spend a few hours there just drinking beers and whiling away the time. You wouldn't think of doing that sitting on those tiny plastic stools by the sidewalk. 😆
Ben Thanh Street Food Market, Ho Chi Minh City, Vietnam
26-28-30 Thủ Khoa Huân, Hồ Chí Minh 700000, Vietnam
Tel: +84 90 688 17 07
Facebook: BenThanhstreetfoodmarket
Email: [email protected]
Operating Hours: Mon-Sun, 6AM-12MN
HOW TO GET THERE:
Ben Thanh Street Food Market is right next to Ben Thanh Market. CLICK HERE to see exactly where it is on a map.