We were walking from our hotel in Hoi An to the Ancient Town when I saw a man pushing his way down the street in what looked like a roadster. Clearly disabled, he had his thin frail legs tucked beneath him while riding in a contraption that looked closer to a race car than a wheelchair. "He must have polio" I thought. With little use of his legs, his special wheelchair wasn't equipped with pedals. Instead, he could rock the steering wheel back and forth to propel himself forward.
I had never seen anything like it so I pointed it out to Ren and said: "Look, check out his wheelchair. Isn't it cool? It makes it so much easier for him to get around." I thought it was a unique design made just for him.
It wasn't until a visit to this museum in Ho Chi Minh City a few days later did I realize what that "wheelchair" really was, and what it meant.
Remnants of War
The Vietnam War played a big role in American pop culture, which is probably a big reason why the War Remnants Museum is one of the most visited attractions in Ho Chi Minh City. Entrance to the museum is a nominal VND 40,000.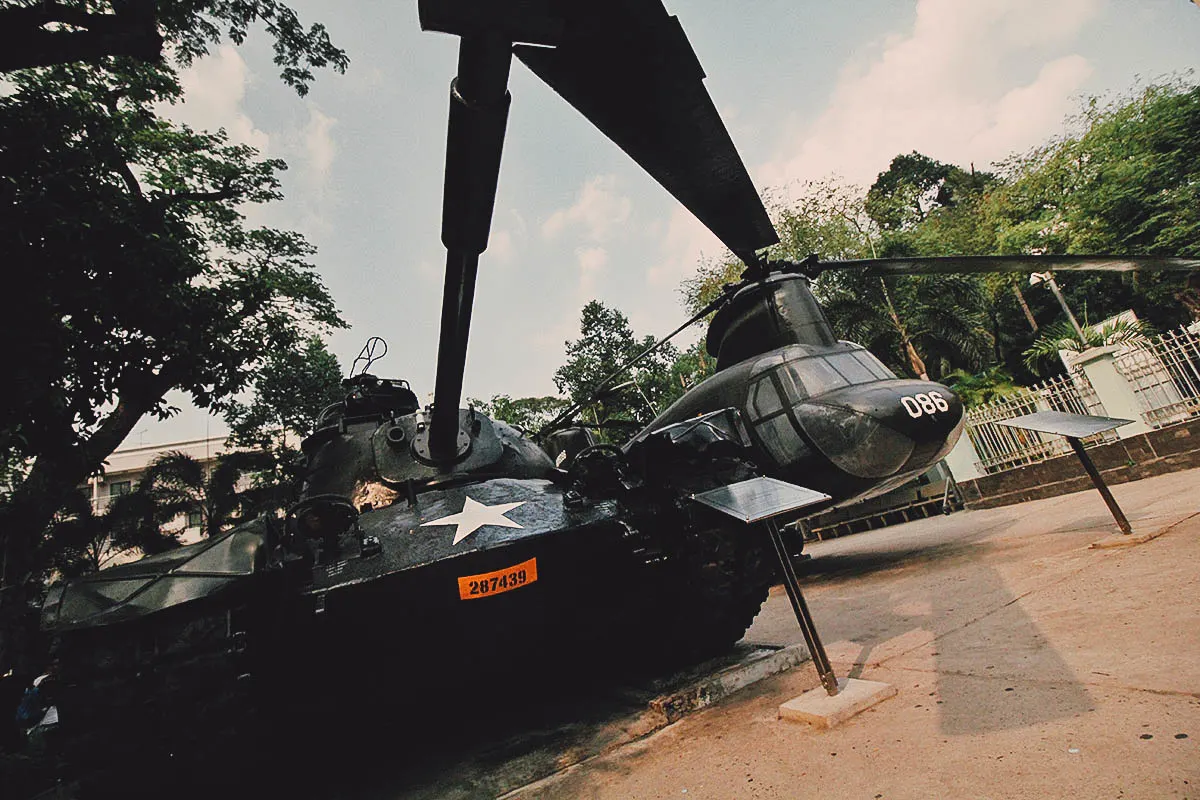 All around the museum are vehicles of war like tanks, choppers, even fighter jets.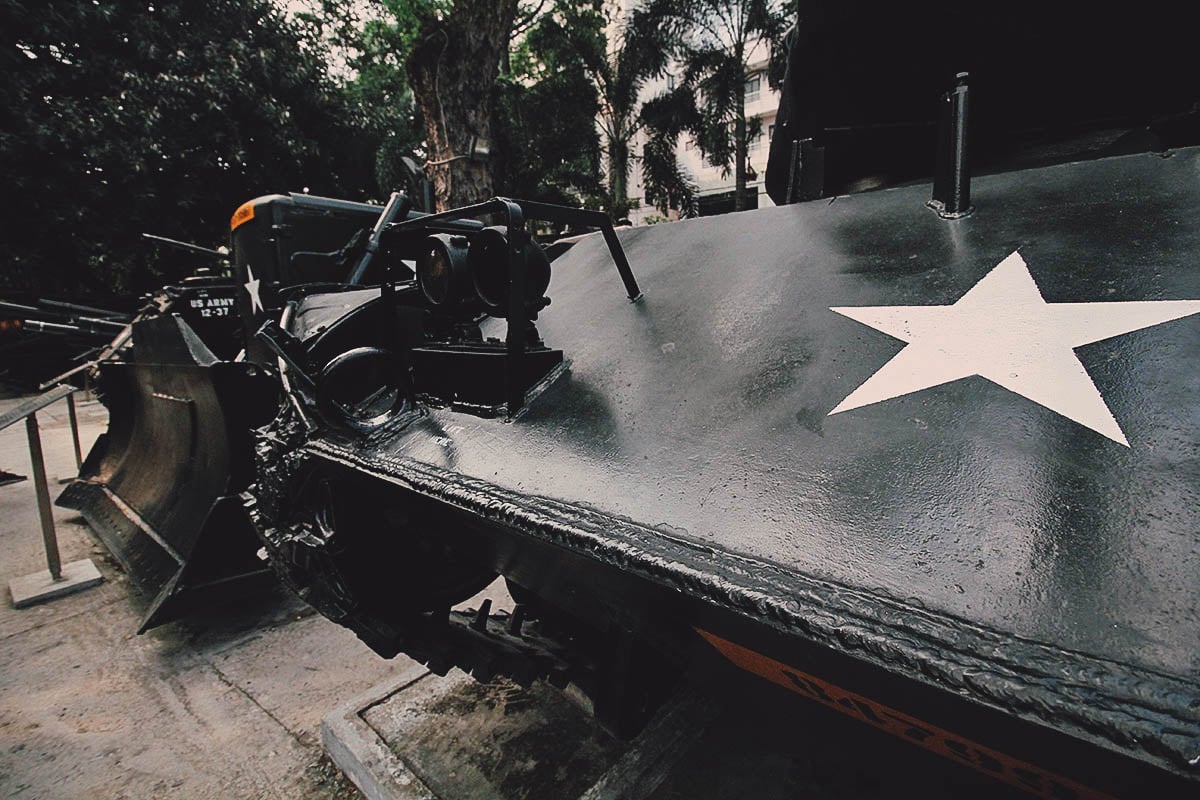 I think this is a Chinook helicopter used for transport.

American bulldozer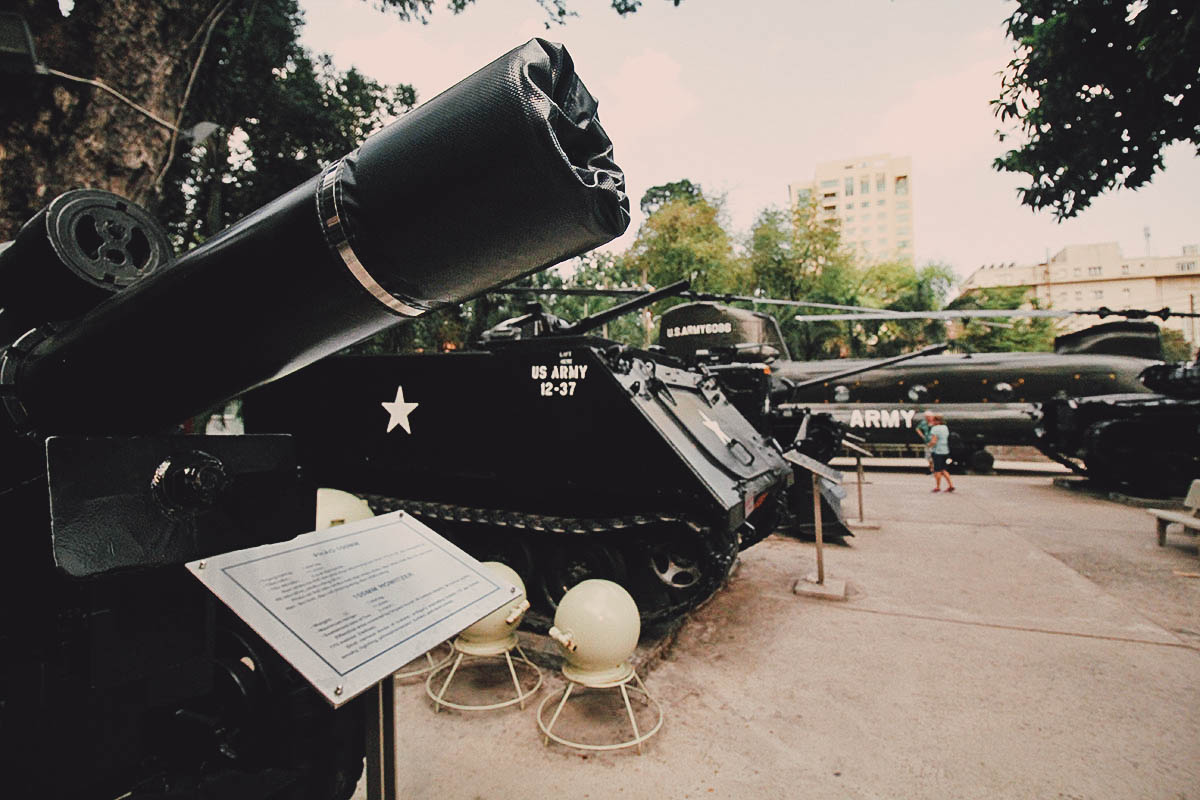 War machines make good photography subjects.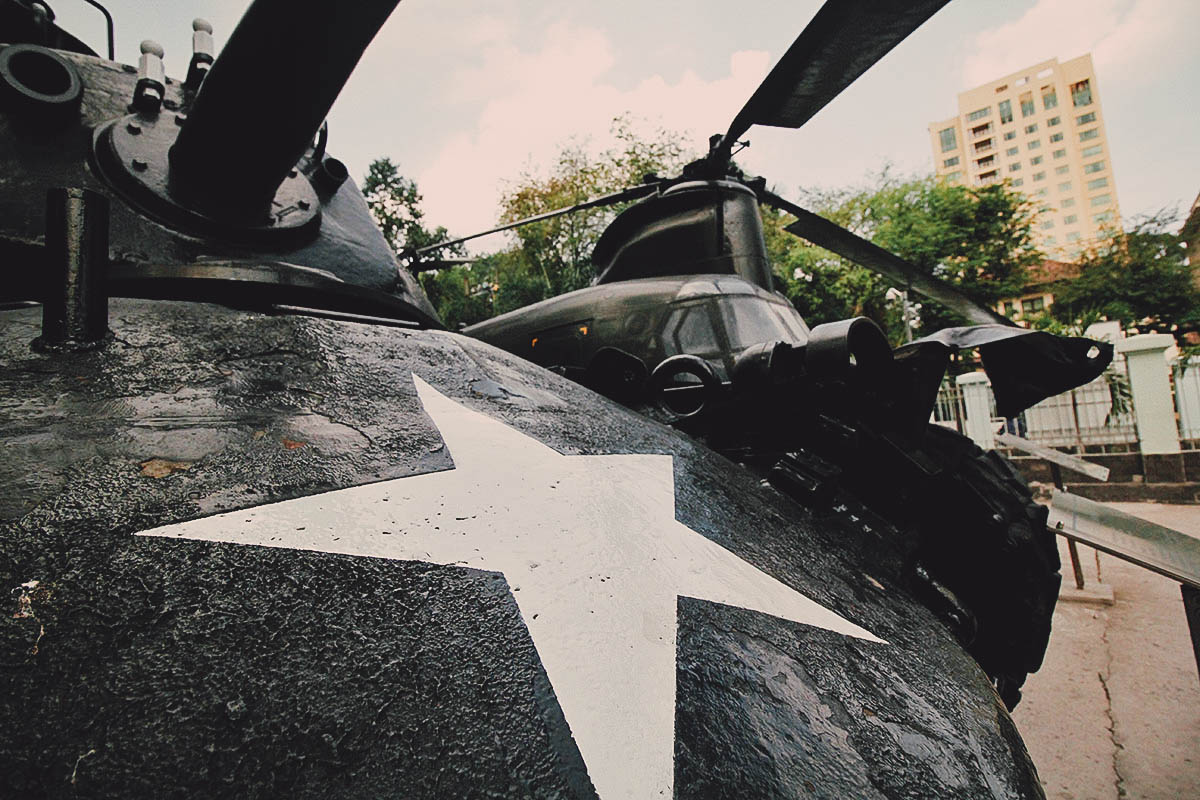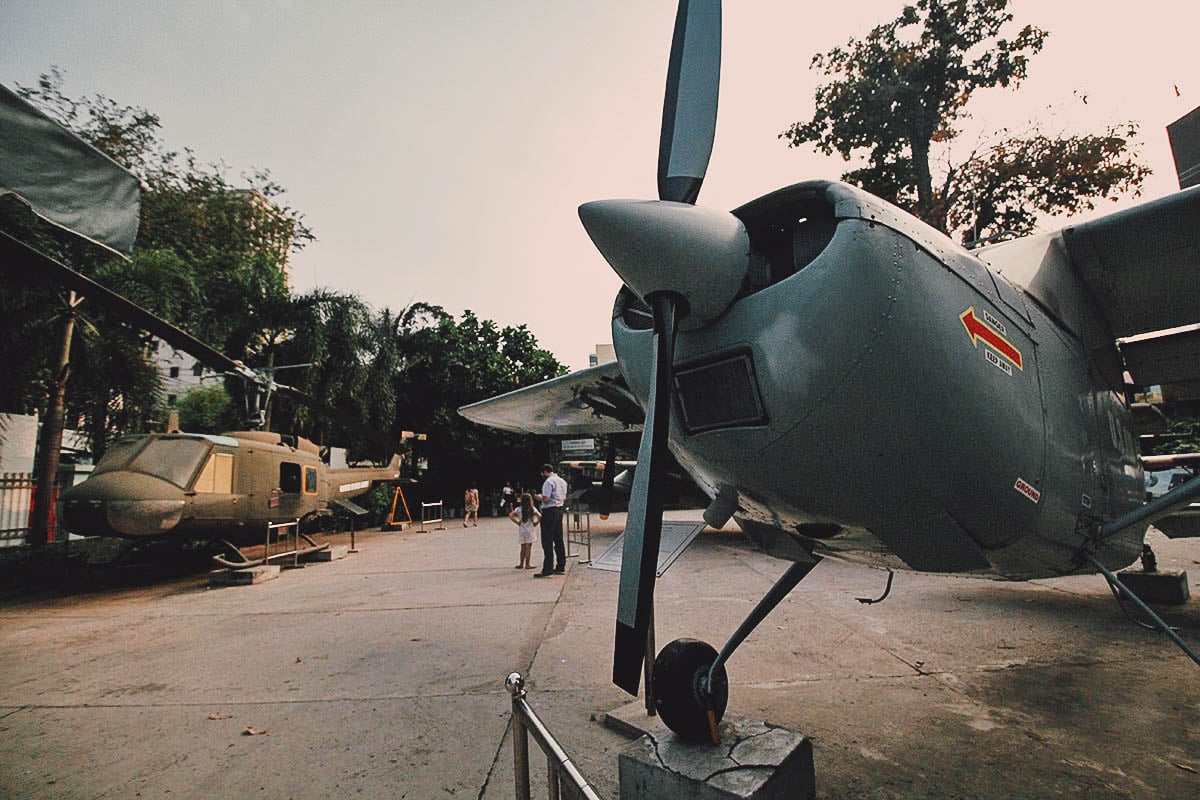 Propeller aircraft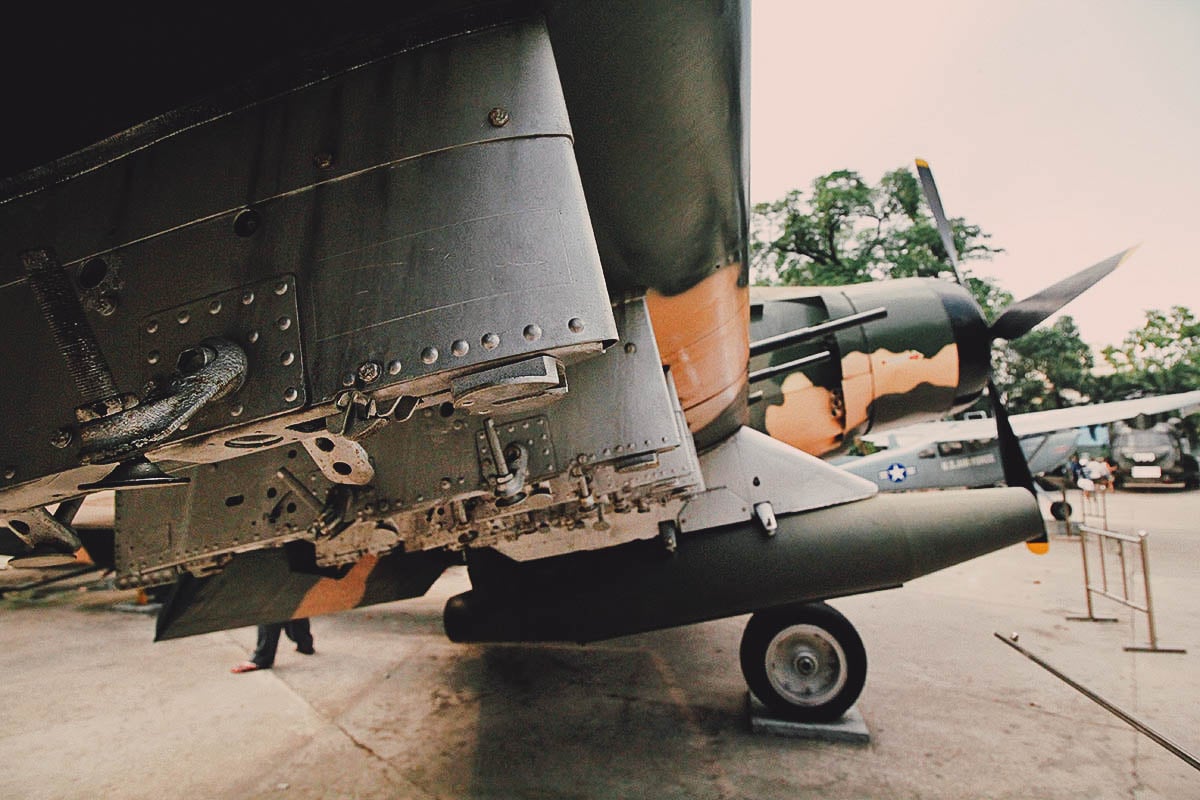 This French guillotine was allegedly used to decapitate convicted Viet Minh nationalists during the French counterinsurgency of 1946-54. The Vietnam War started in 1955 so I'm not sure if this guillotine was used during the war.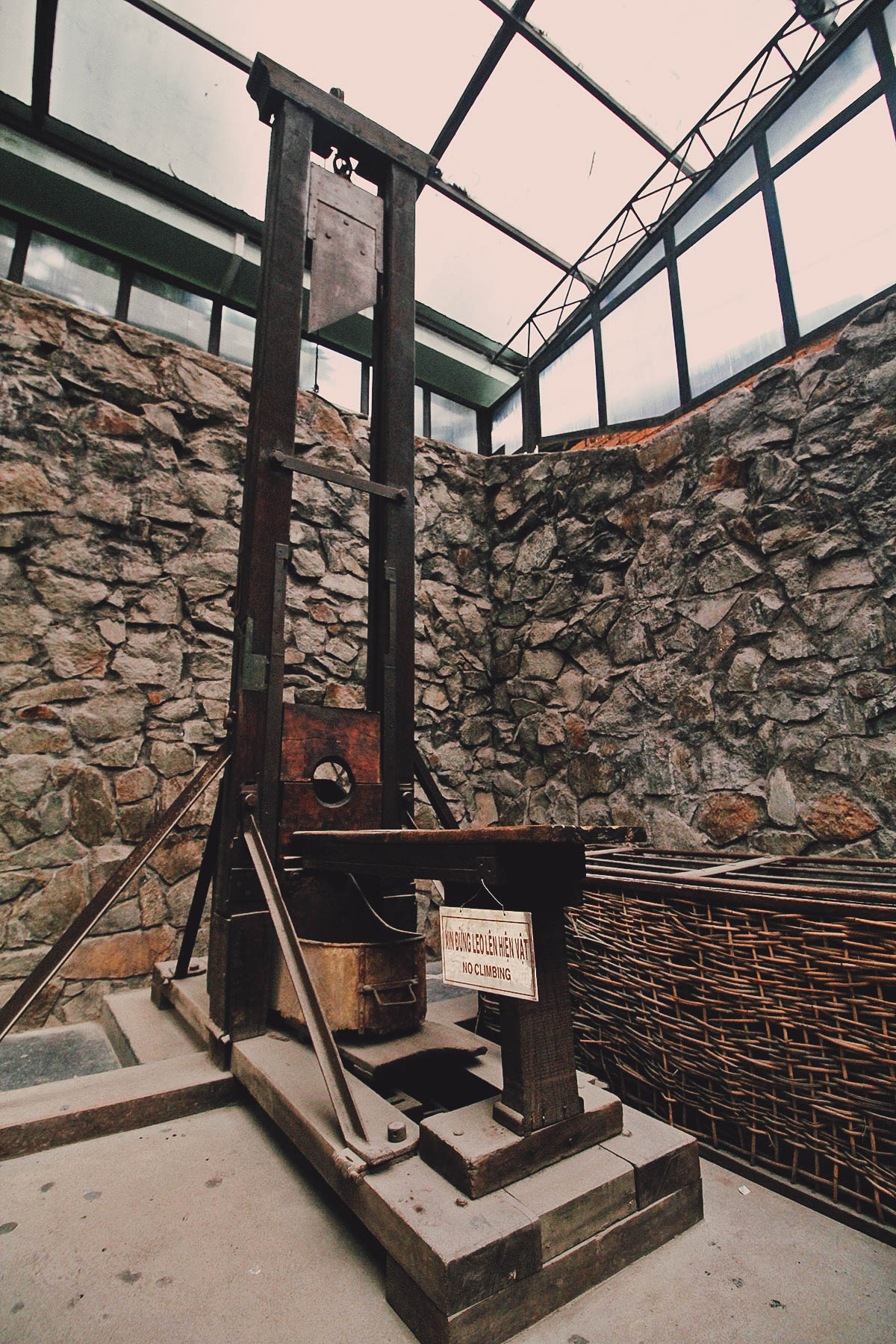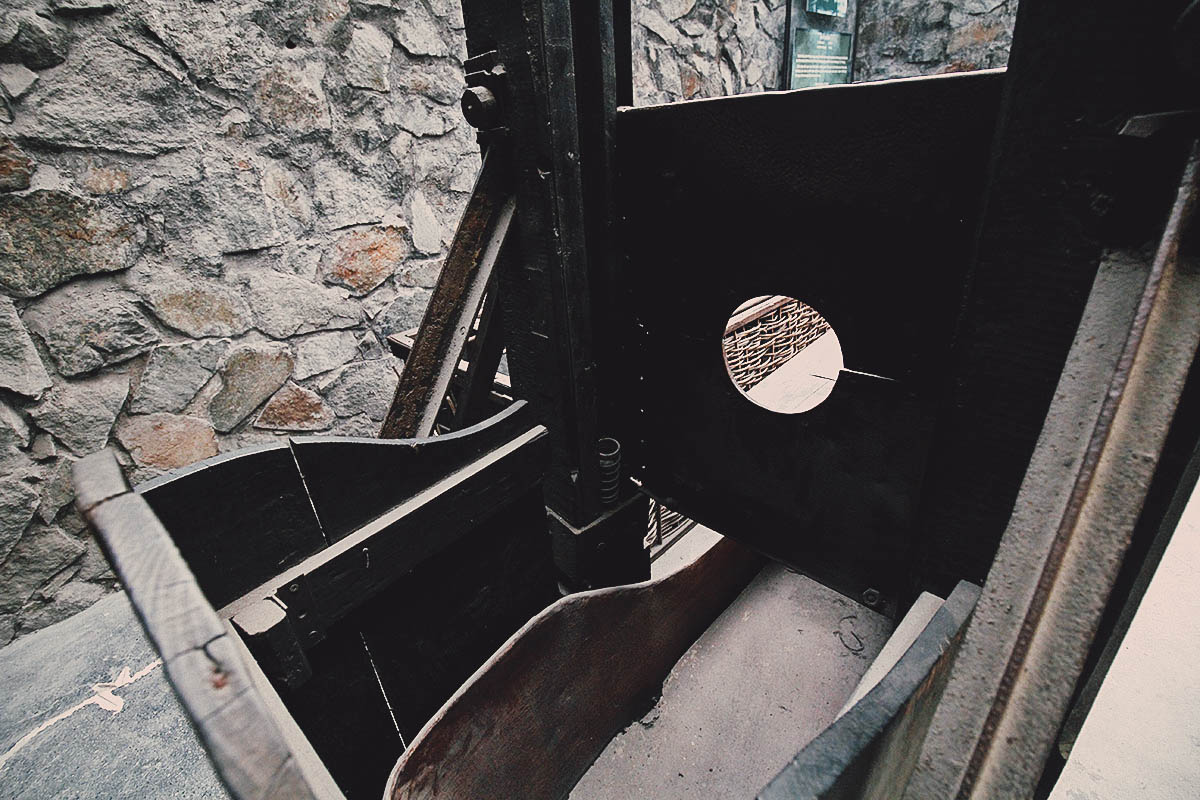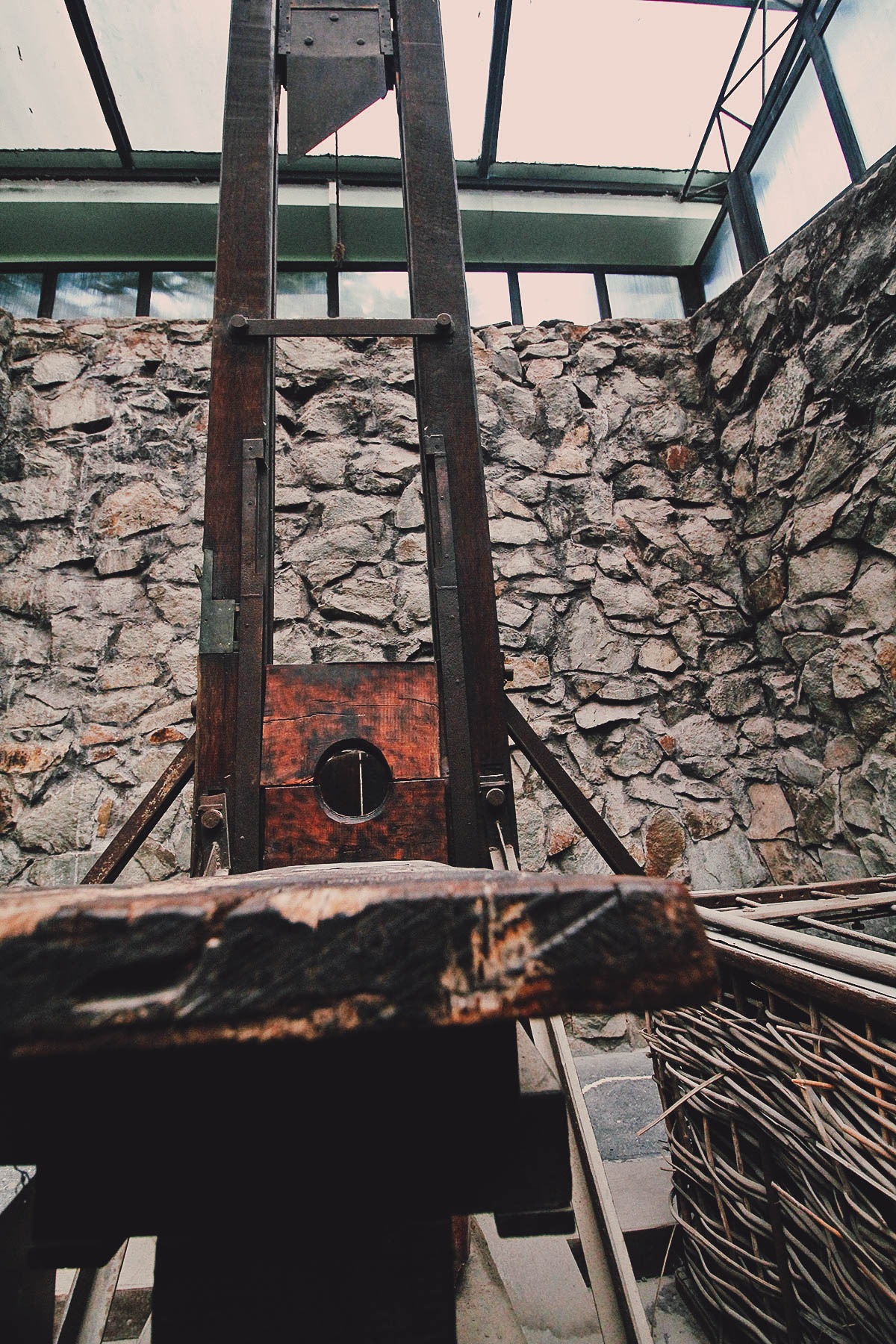 These were horrific. Called "tiger cages", they were used to keep captured Viet Cong and North Vietnamese soldiers under the scorching sun at Phu Quoc prison. It looks like the slightly taller one at the back allowed prisoners to at least sit up, albeit hunched over, but the one in front left them little choice but to lay flat on the ground. Prisoners were said to have been left physically deformed, blind, or psychologically disturbed after being released from these cages.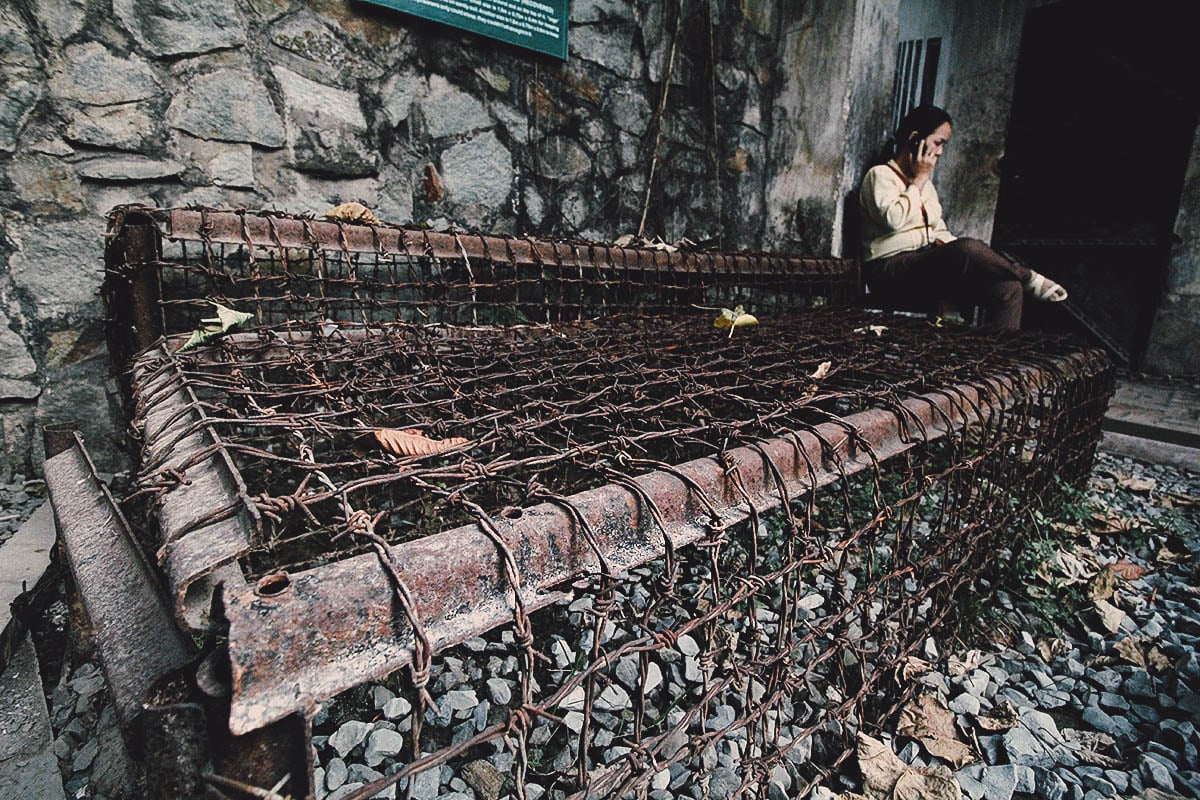 Aerial view of a cell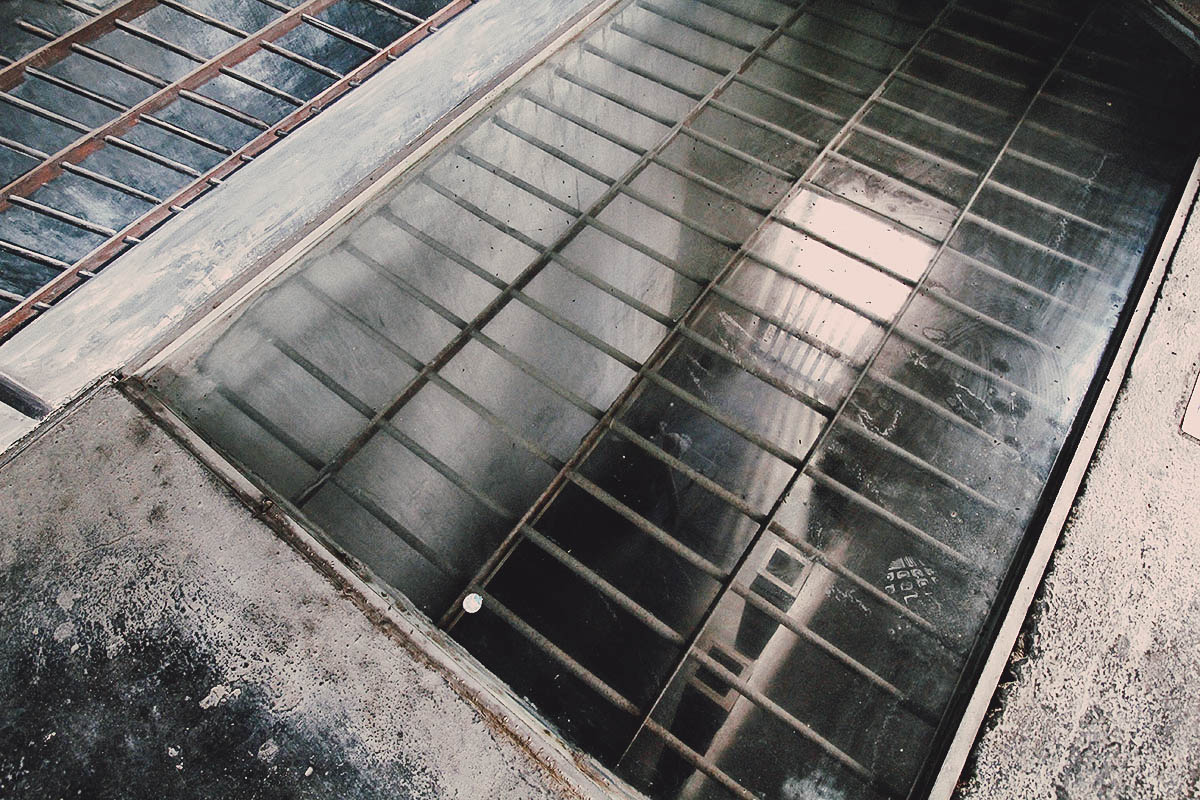 A shackled prisoner inside the cell. On a wall just outside this cell was a board recounting various torture techniques too gruesome to describe here. I could only manage to read through the first few.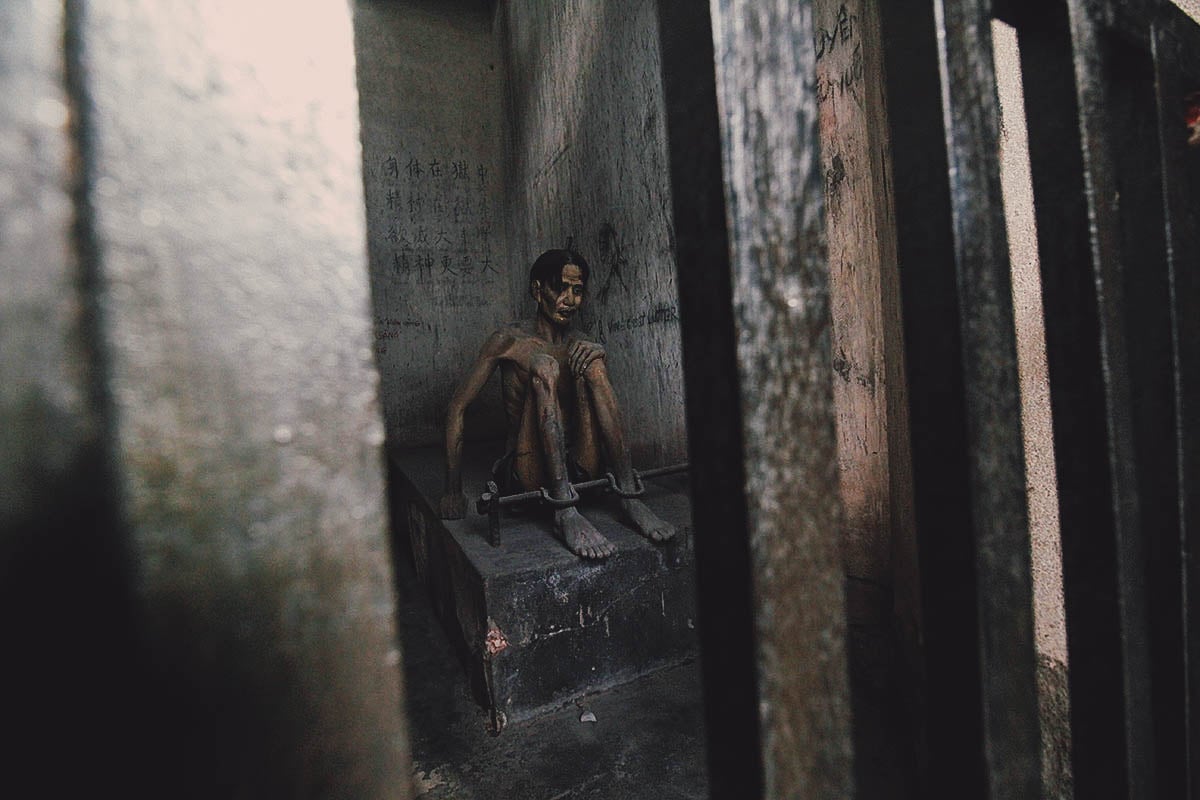 The actual museum is comprised of three floor of exhibits.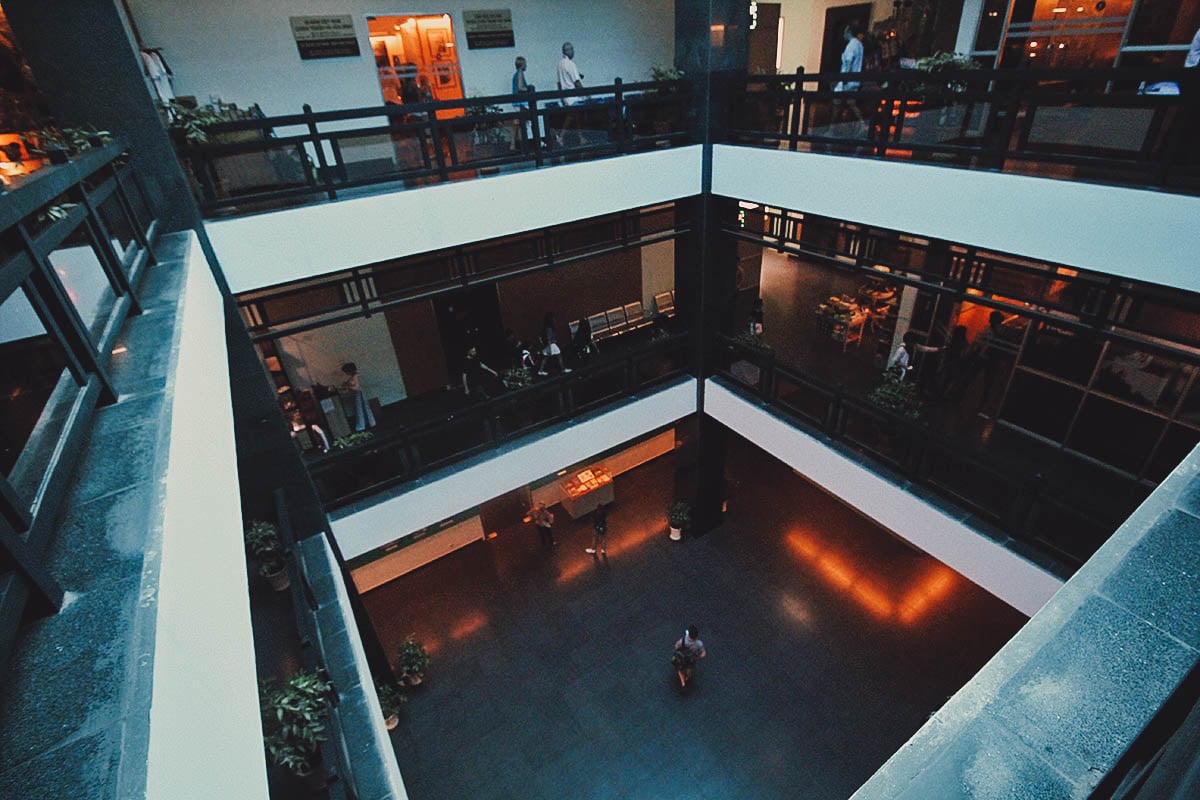 Bomb shrapnel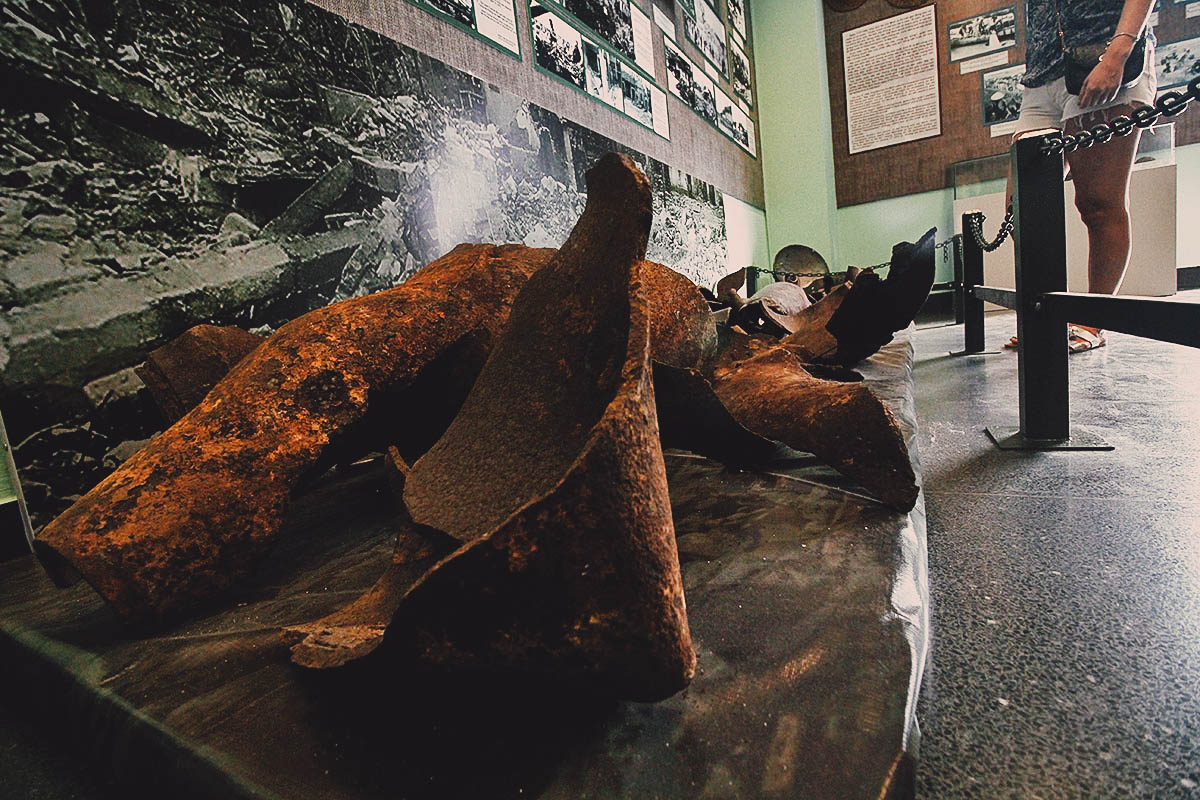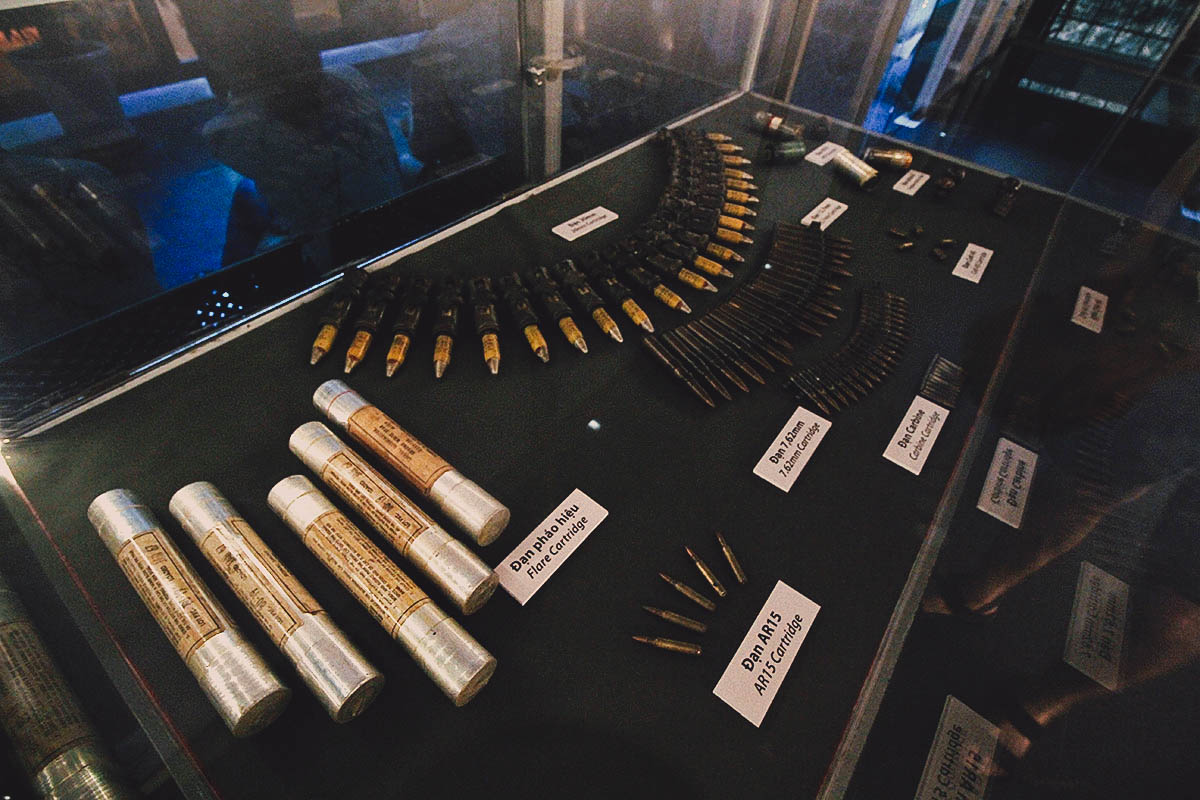 I don't know what gun fired these bullets but they were almost as big as my forearm.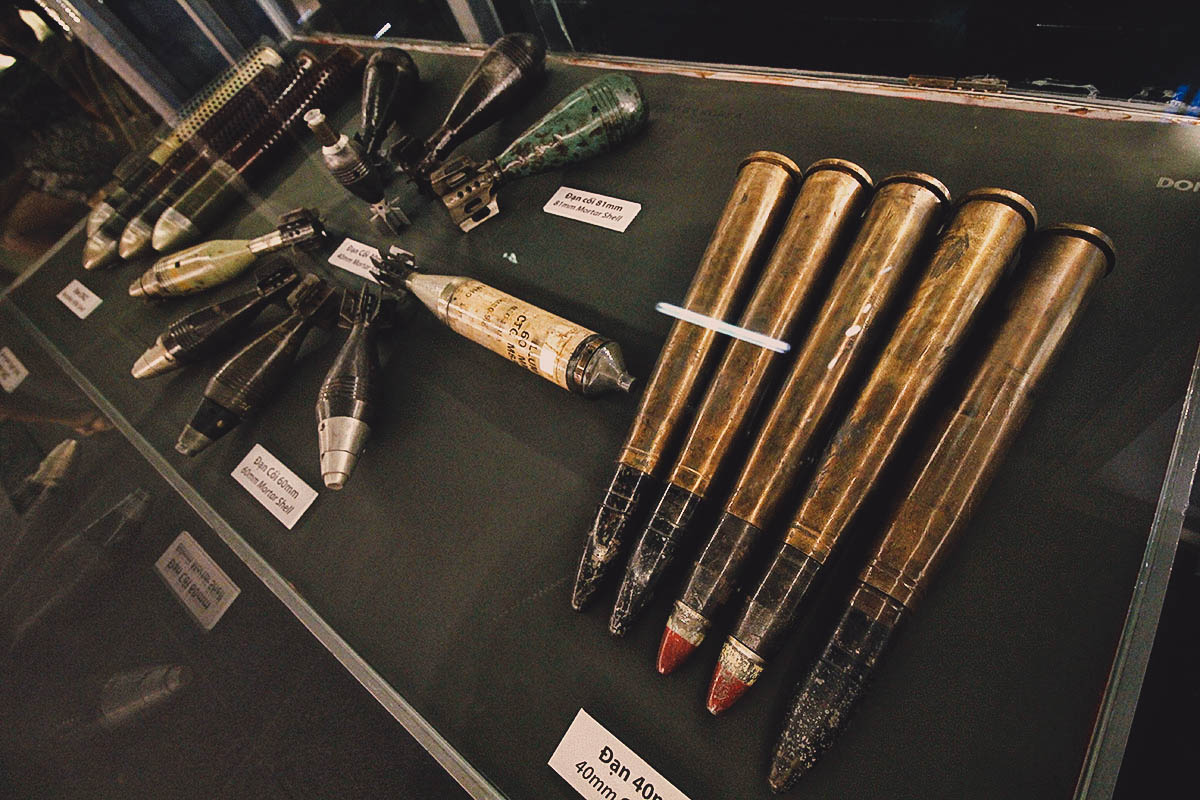 Display cabinets with different types of guns and assault rifles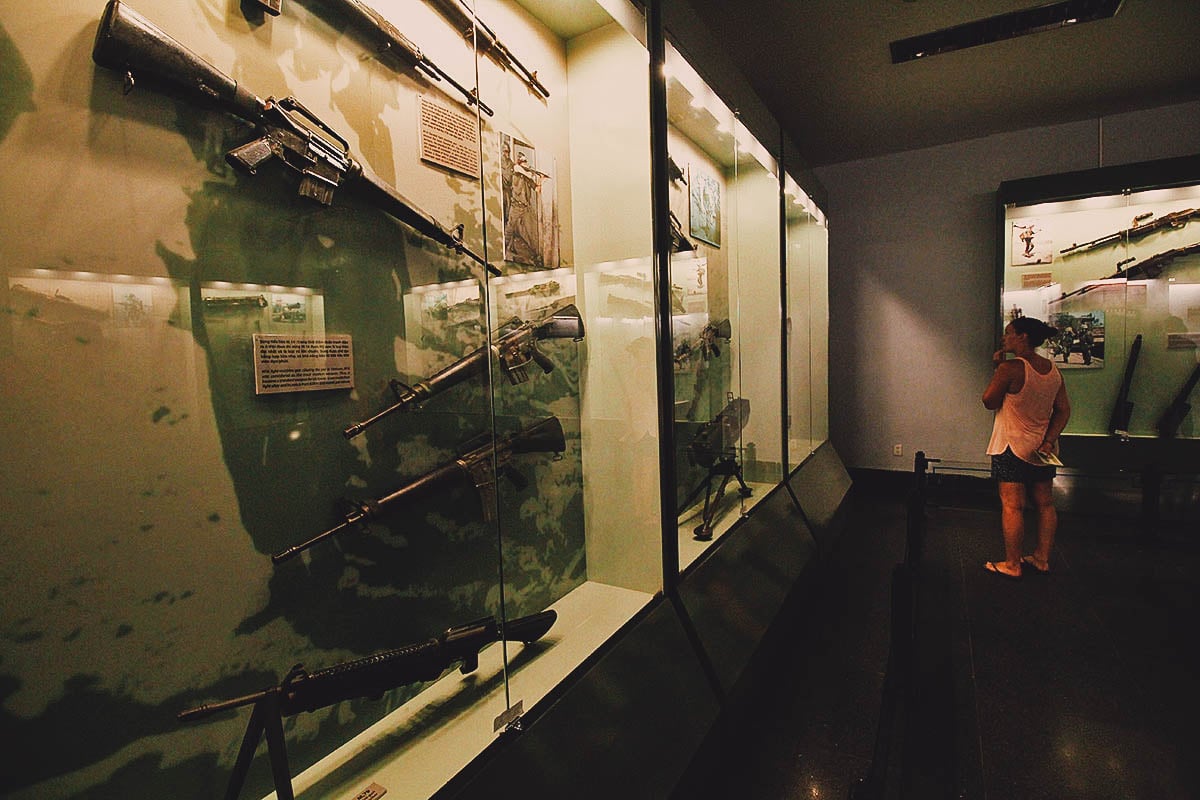 Bombs in all shapes and sizes

Several of the rooms held photography exhibits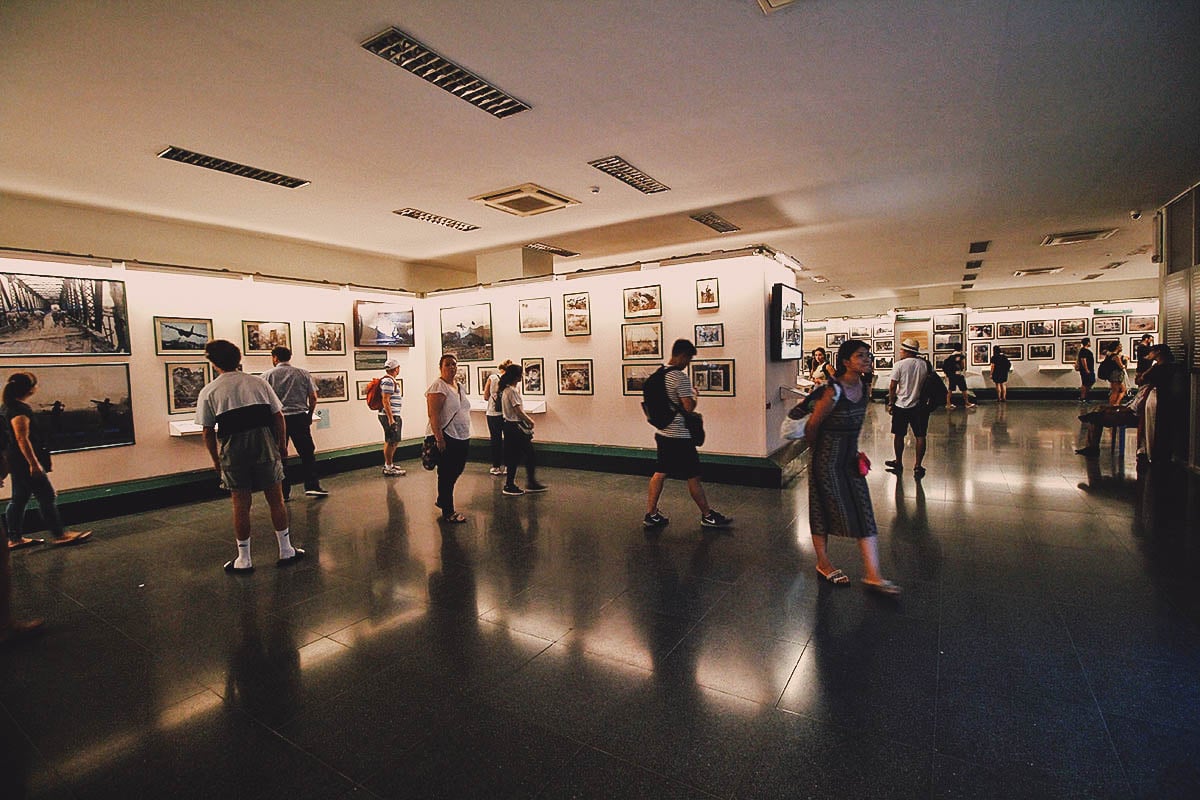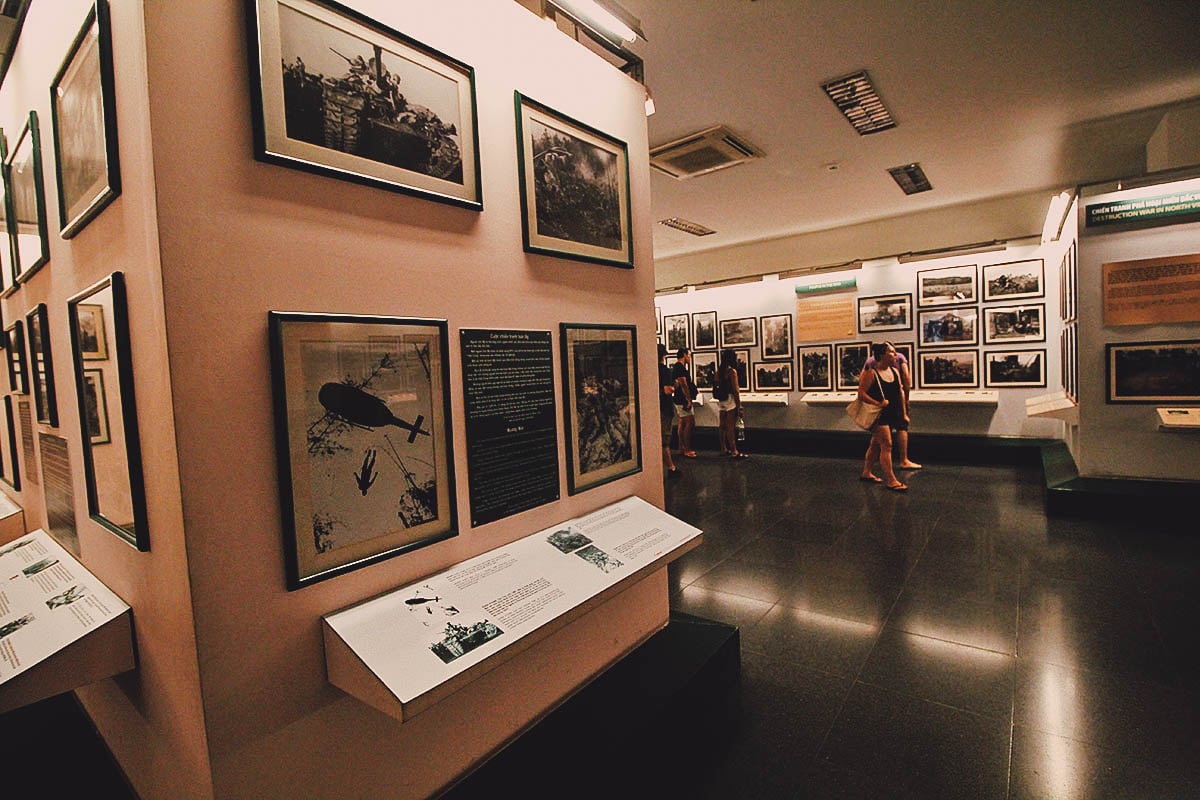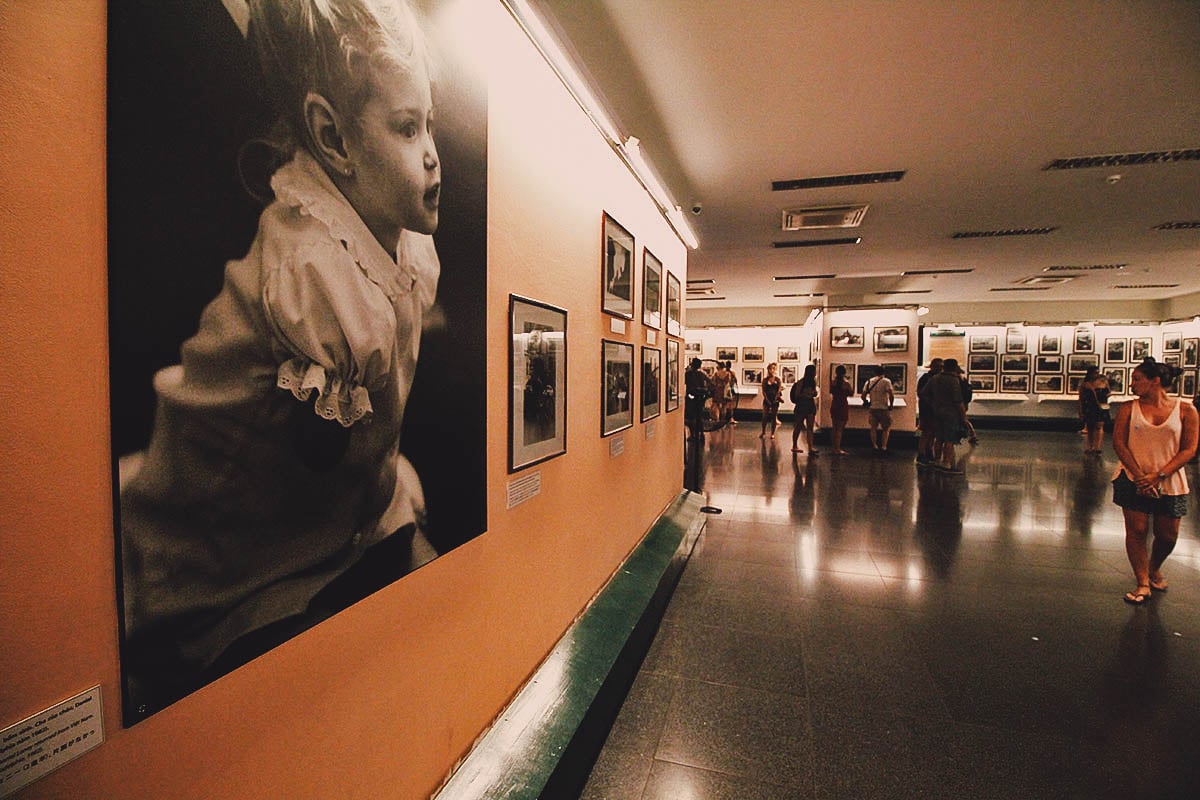 Not sure what these were. Bazookas maybe?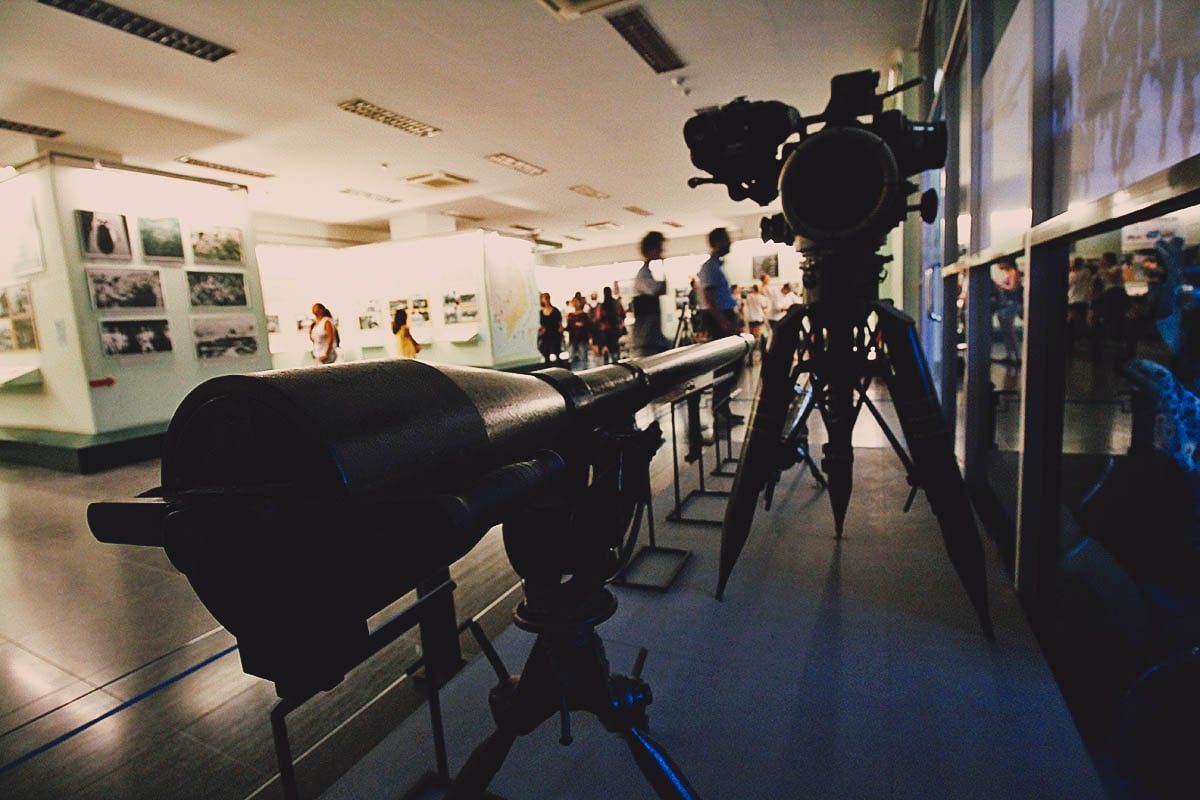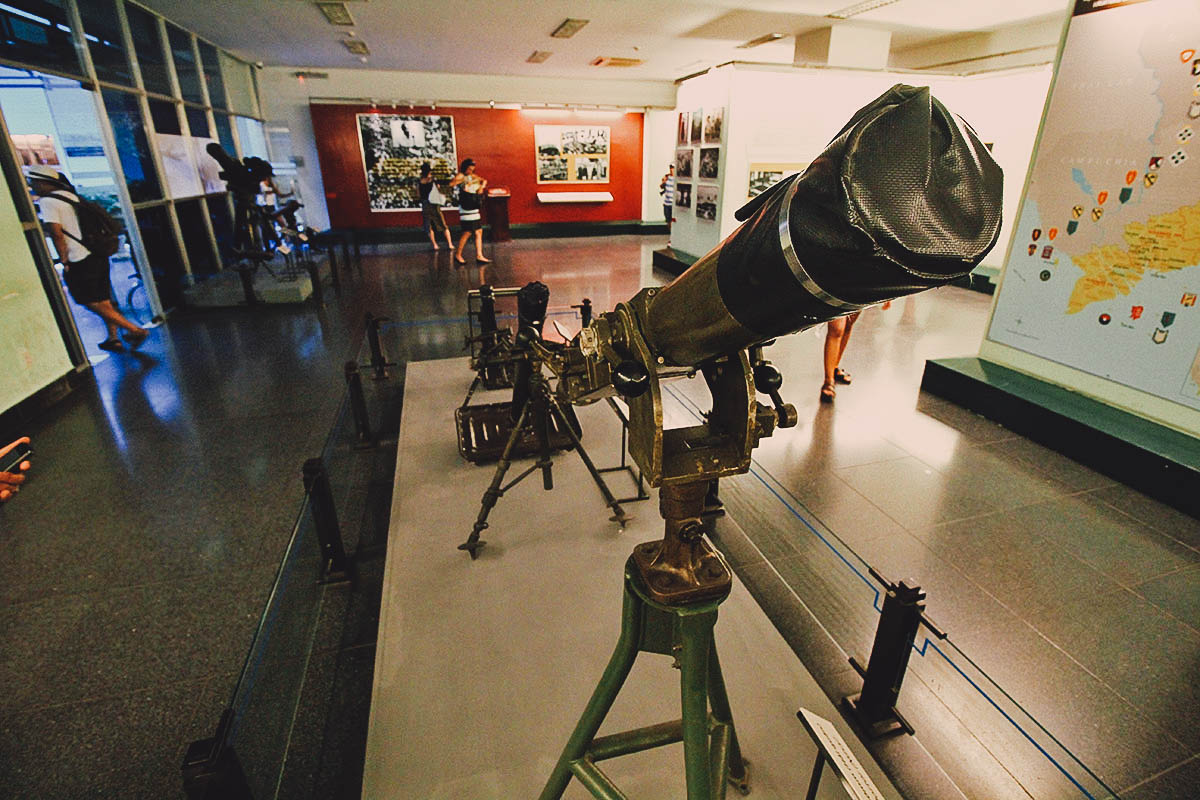 This room was the most gut-wrenching of all the exhibits at the museum. Can you guess what it's dedicated too? The color of the walls is a clue.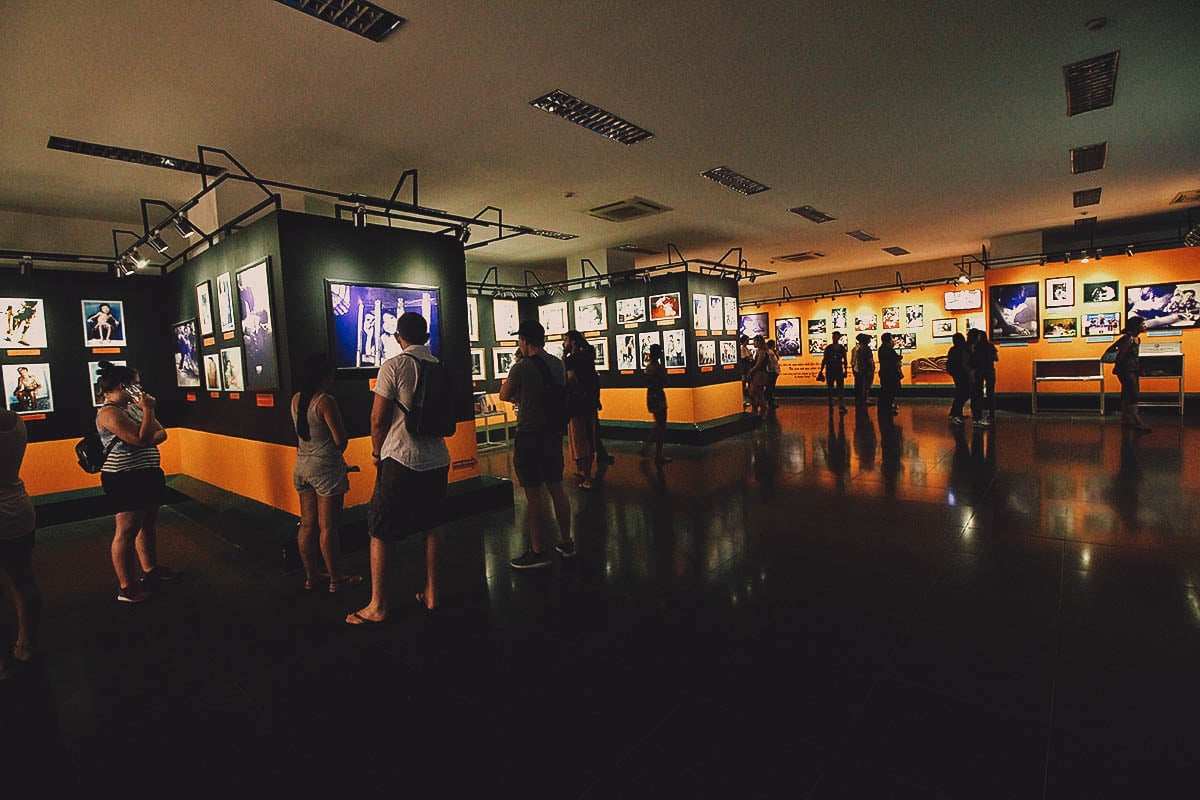 Agent Orange. This room contains images documenting the effects of dioxin poisoning on Vietnam and the Vietnamese people during and after the war. Remember that wheelchair I described at the top of this post? Only after looking at the pictures in this room did I realize that the man I saw in Hoi An didn't have polio. He, like nearly a million Vietnamese, was born with genetic defects because of dioxin poisoning.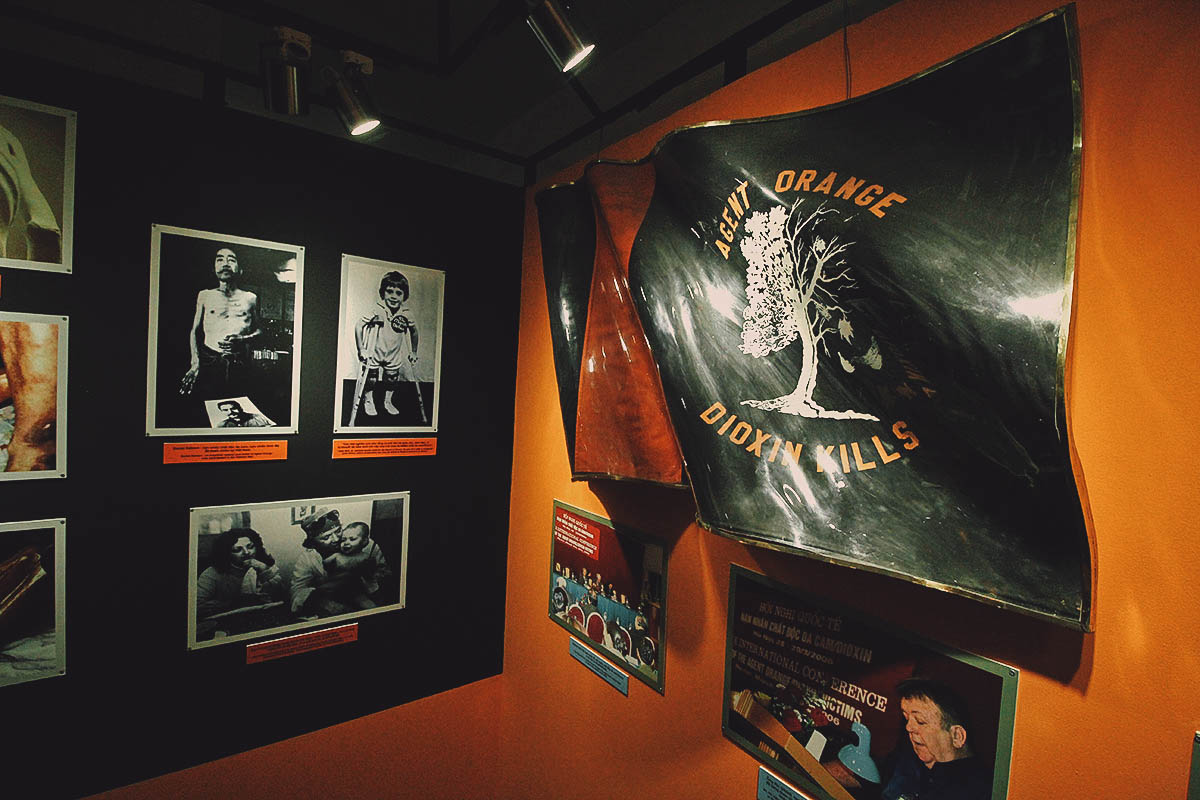 The Red Cross estimates that up to one million Vietnamese people living today are either disabled or have health problems because of Agent Orange. Children birthed in areas where the chemical was sprayed were born with numerous health problems, including cleft palates, mental disabilities, hernias, and extra fingers and toes. A Vietnamese woman standing close to me was brought to tears looking at these images. I'm an emotional guy so I couldn't help but quietly wipe away a few of my own. It was heartbreaking. 😥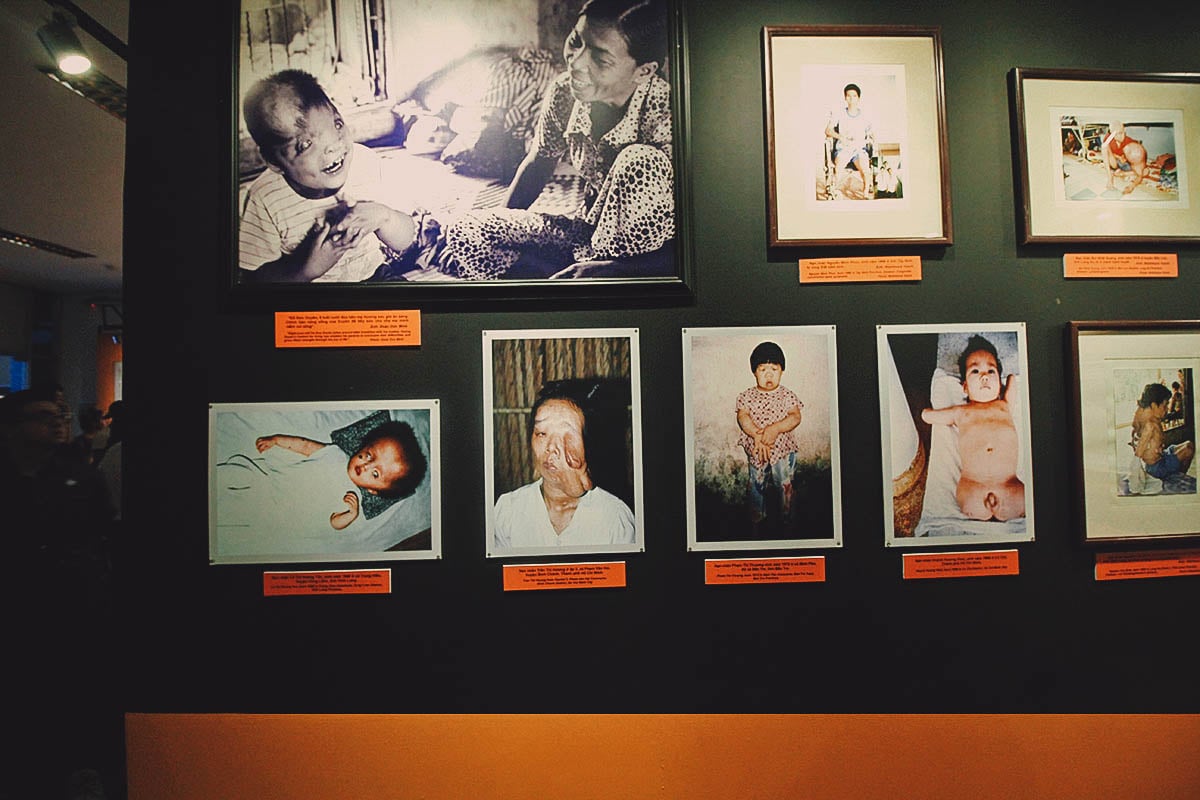 There was one picture in the Agent Orange exhibit that I will never forget. It was of a young girl, about 13 years old or so, kept in a wooden cage. She was smiling behind crazed eyes and reaching out to someone I couldn't see because he was out of the frame. According to the caption, she had recognized her father and was reaching for him. She had to be kept in a cage because anything she could get her hands on she would chew and try to swallow. She had to be kept confined like that for the rest of her life.
I don't know much about the Vietnam War but I do understand it's a complicated and sensitive subject. I know too little to offer any kind of opinion on it. All I know is that I went to school and spent a good portion of my life in the US, so all I ever heard up to this point was the American side of the story. The American textbooks we were made to read in school, the Hollywood propaganda, the contention that the Southern Vietnamese wanted the US there to "save" them from communism. I accepted it all as fact and never once questioned it.
After a trip to this country and museum, I realize now how very one-sided it all was.
War Remnants Museum, Ho Chi Minh City, Vietnam
28 Vo Van Tan, Ward 6, District 3, Ho Chi Minh City, Vietnam
Tel: +84 8 3930 5587 / +84 8 3930 6664
Fax: +84 8 3930 2340
Website: warremnantsmuseum.com
Email: [email protected]
Operating Hours: Mon-Sun, 7:30AM-12NN / 1:30-5PM
Entrance: VND 40,000 person