I've only gone skiing a handful of times in my life but I love it, which is kinda strange considering I was born and raised in a tropical country. With some of the world's best beaches in my backyard, you'd think I'd enjoy beaches and scuba diving more, but I don't. I prefer skiing. The feeling I get when gliding down that mountain is unlike anything I've ever experienced. You really do feel like you're flying. If we lived near a ski resort, then I would probably go skiing everyday.
Ren and I had a blast skiing in Sapporo in February of this year. Since moving back to the Philippines in the early 2000s, it was the first time either one of us had gone skiing in over twenty years. After getting over the initial jitters, we learned that skiing is a lot like riding a bike – you never really forget. We had such a good time that we vowed to go skiing at least once every year from now on, or at least for as long as our middle-aged bodies let us.
Living in Southeast Asia without a trust fund, that meant either Japan or Korea. The opportunities are few and far between which is why we find ourselves here today on the very last day of our Seoul December trip. It's time to go skiing dude! Woohoo!
Save This on Pinterest!
No time to read this now? Click on the red save button and pin it for later!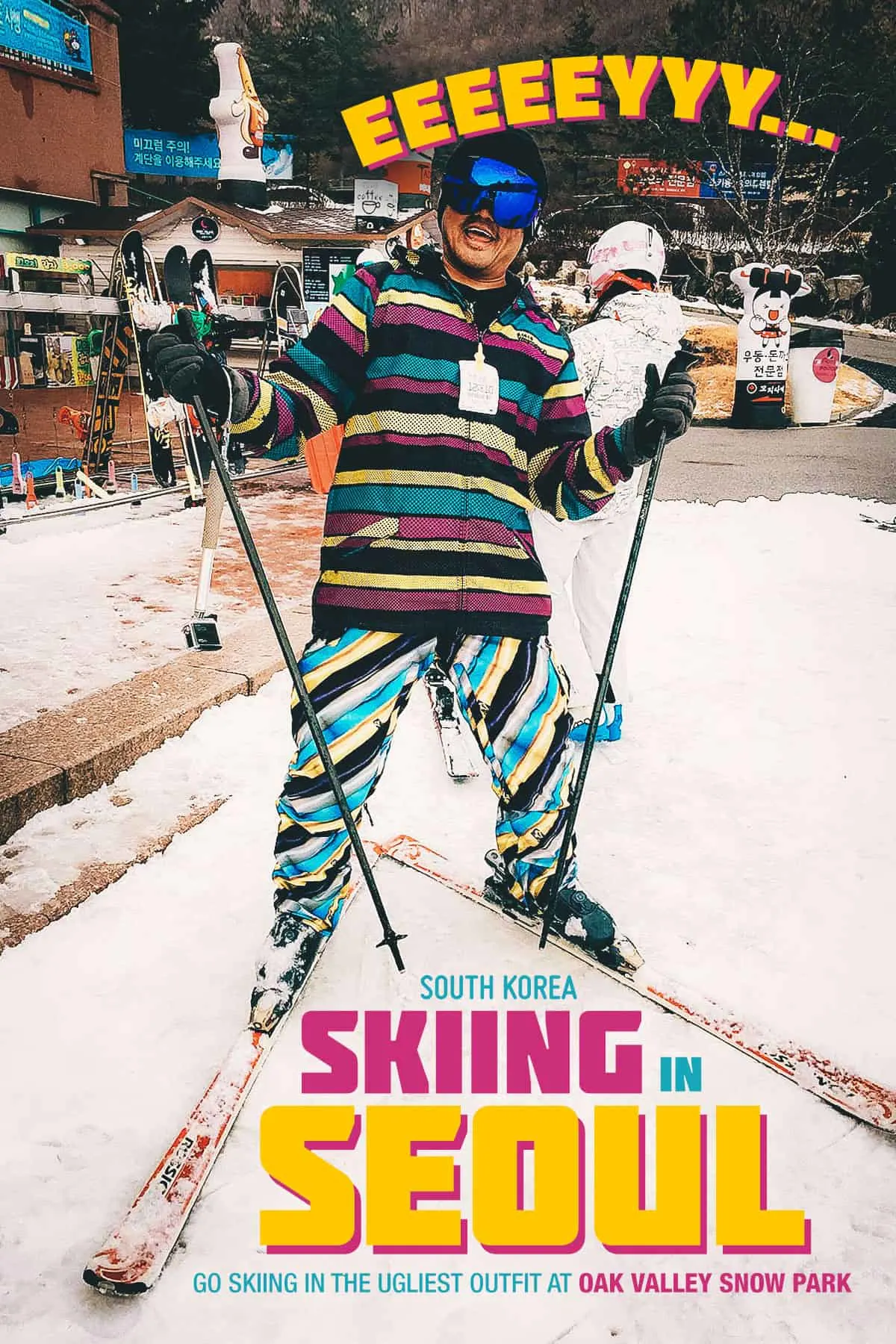 Oak Valley Snow Park Trails
Oak Valley Snow Park is a ski resort in Gangwon province, about one-and-a-half hours away from Seoul. It has 3 ski lifts and is home to 9 slopes – 2 green (beginner), 5 blue (intermediate), and 2 red (aka black, advanced) lines. There's a small bunny hill for people who want to go sledding as well.
Oak Valley Snow Park
It's time to go skiing! Based on what I've read online, Oak Valley Snow Park has a reputation for being a family-friendly resort that doesn't get as crowded as other ski resorts near Seoul.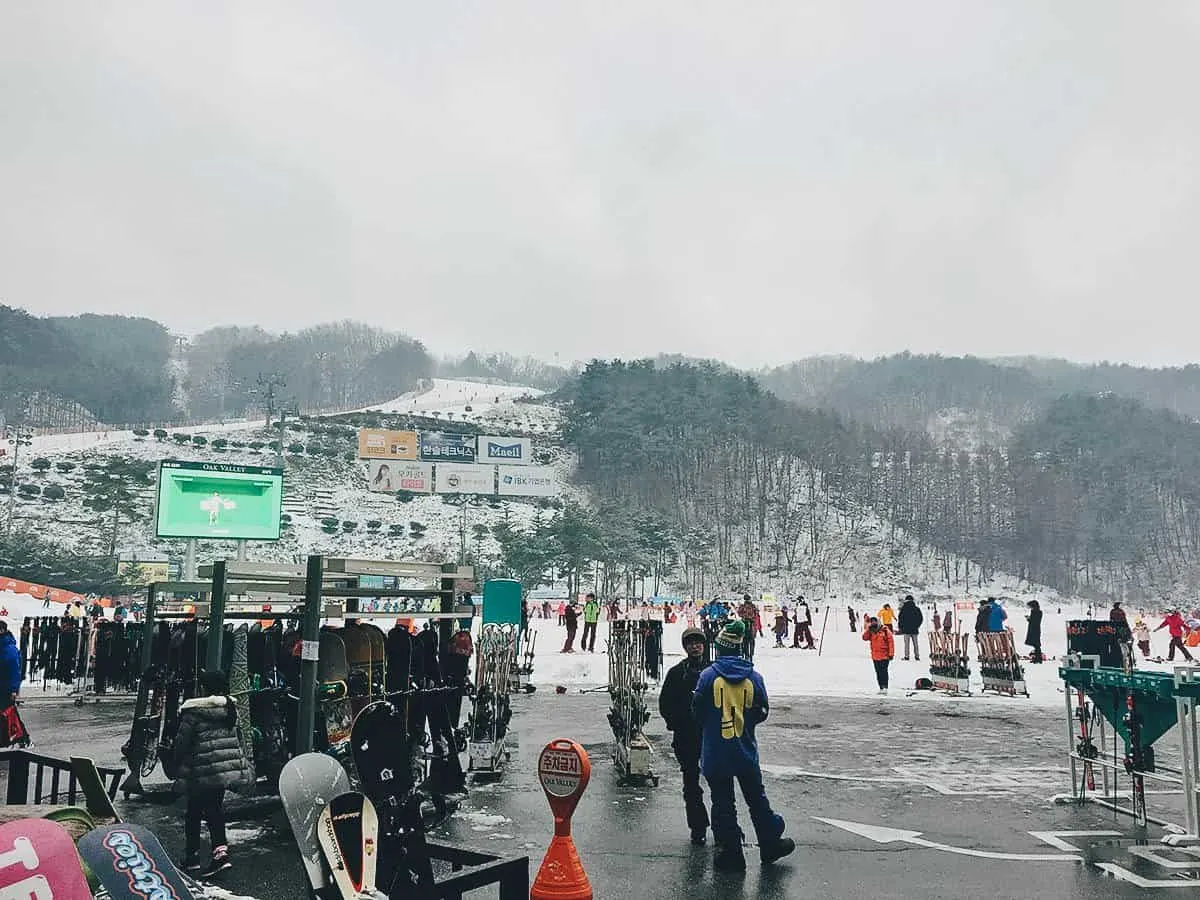 The leftmost ski lift takes you up to the top of the two green lines. There seemed to be a lot of beginner skiers here today so this was the busiest lift of the three. The other two take you up to only blue and black lines. Ren was apprehensive about going down one of the blues right away so we tried this one first.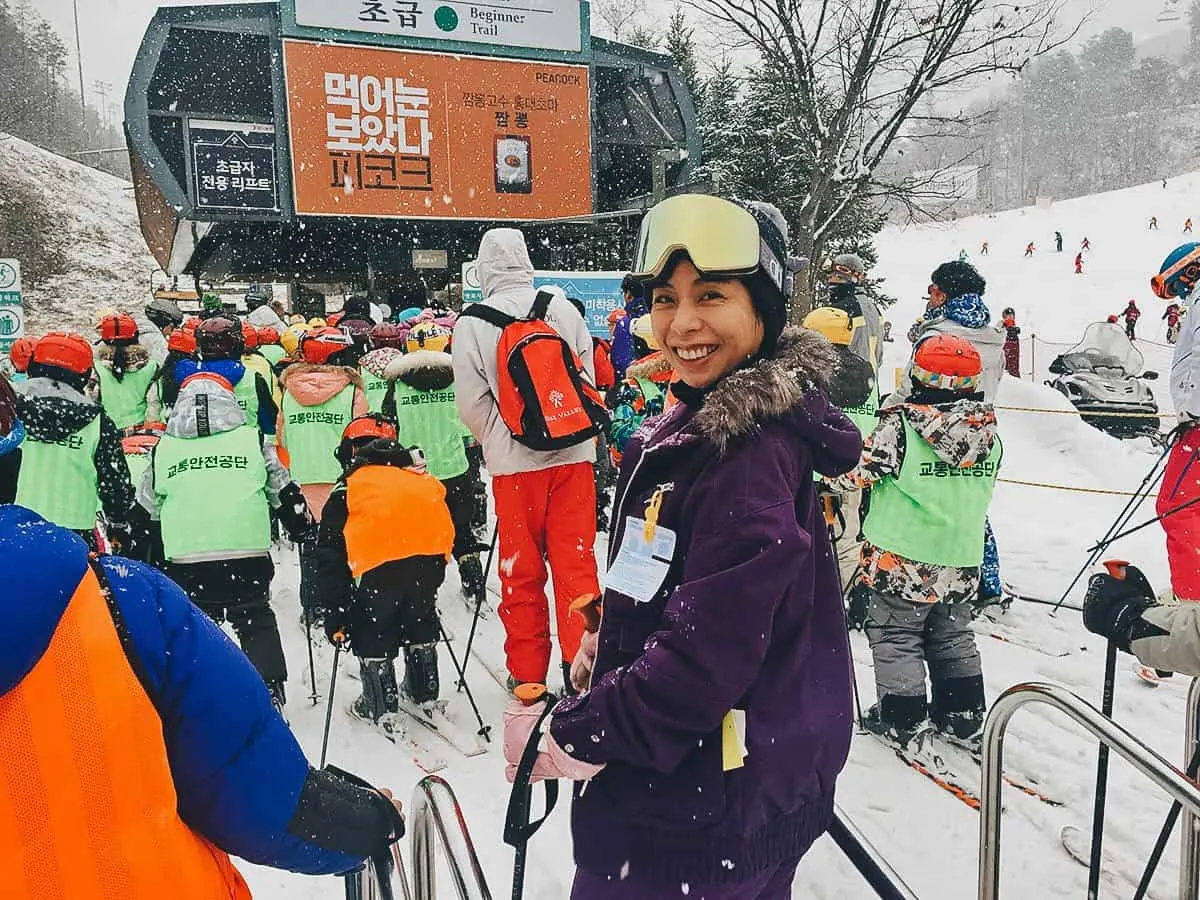 A sneak peek at my styling ski outfit. More on that later. 😆 We booked the All Inclusive Ski Package through Klook which costs KRW 75,000 per person. It includes roundtrip transportation from Seoul, a day lift pass, and ski equipment rental (jacket, pants, gloves, skis, poles, and boots). You can also rent googles for an additional KRW 5,000 each.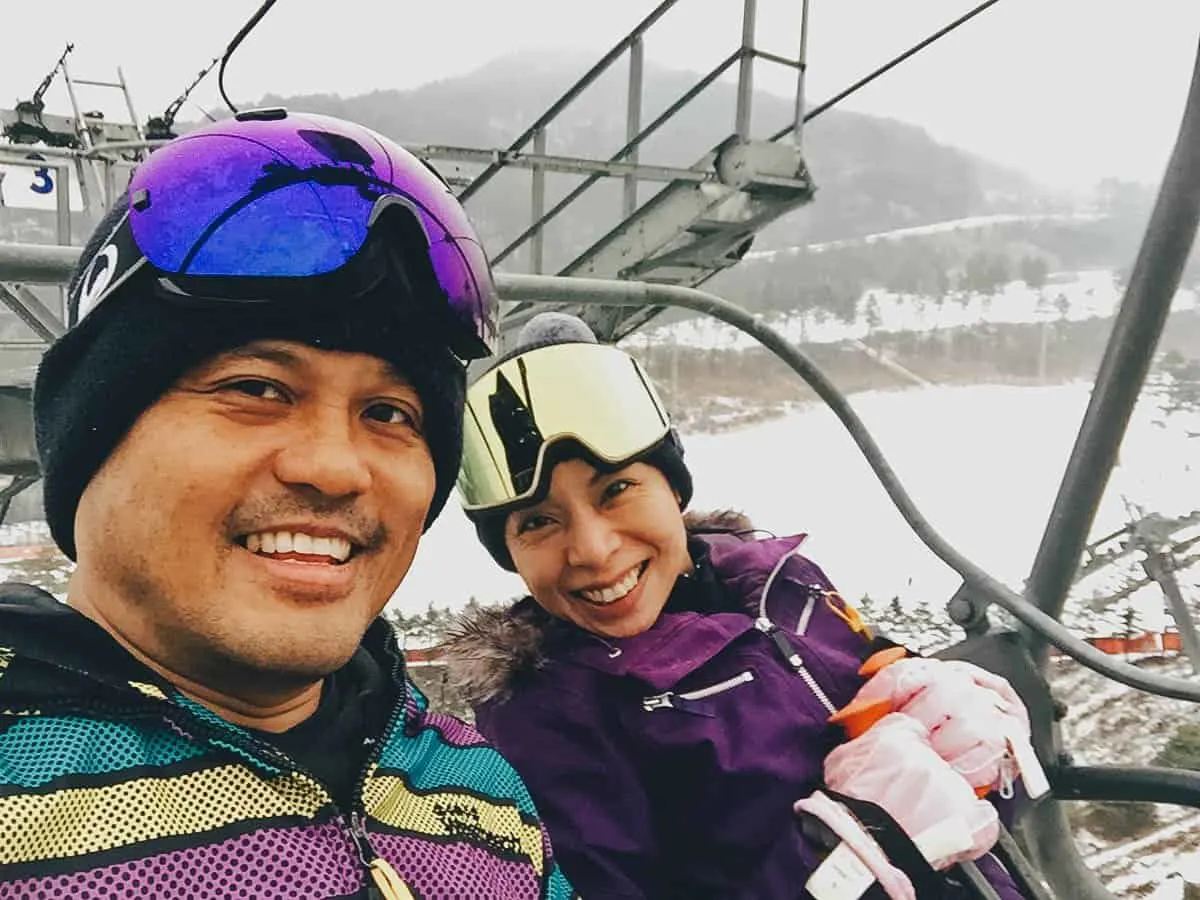 We got to choose our ski jacket and pants so Ren went with this lovely all-purple ensemble.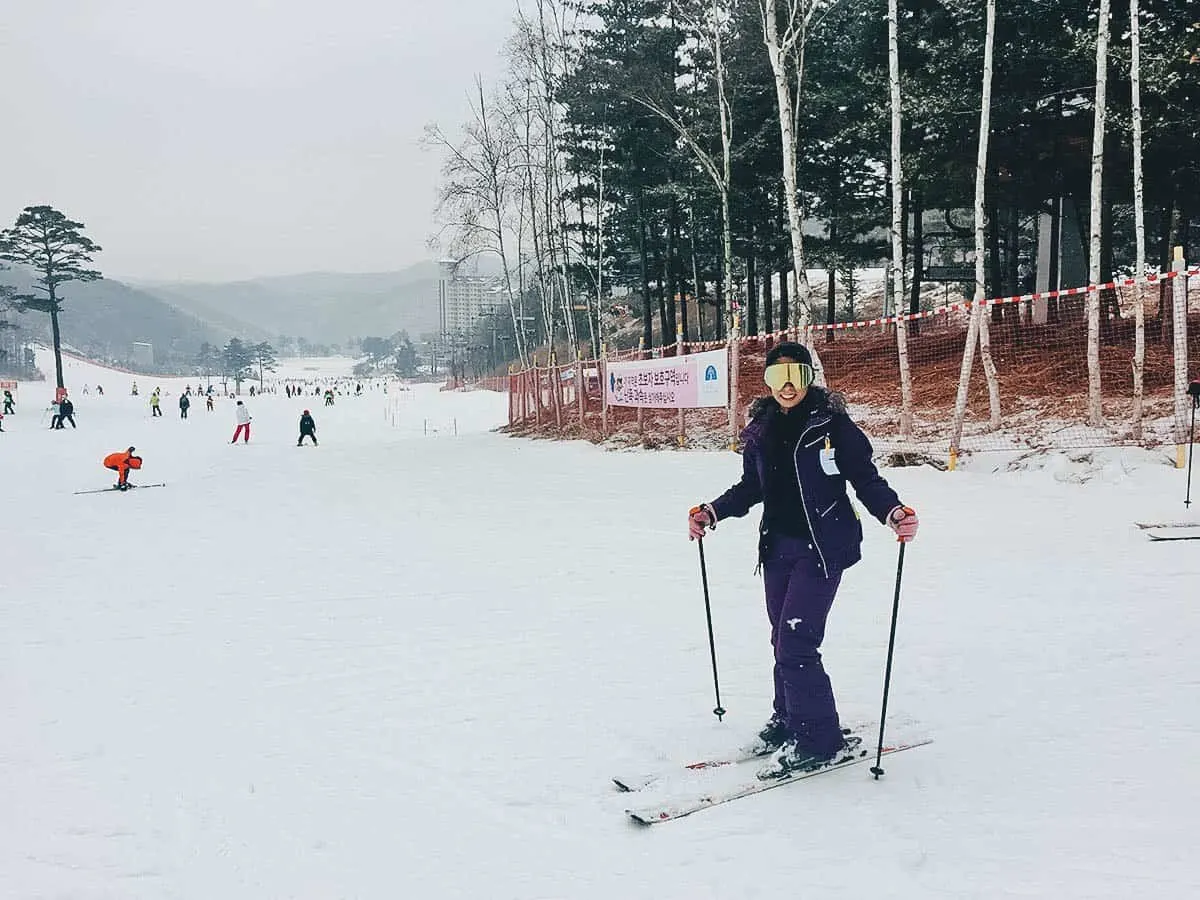 Who let this clown on on the slopes?! There were so many ugly pants and jackets at the shop that I wanted to put together the fugliest outfit I could find. How do I look? 😆 Ren burst out laughing when I walked out of that dressing room, but I think she was embarrassed to be seen with me the rest of the day. Ha! As a good husband, it's my sworn duty to act the fool and embarrass my wife as often as I can.

This is one of the only two green lines at Oak Valley. The other one is actually right next to this one, to its left, so they're technically part of the same slope. This is a wide, nearly flat slope so it's ideal for people just learning how to ski or snowboard.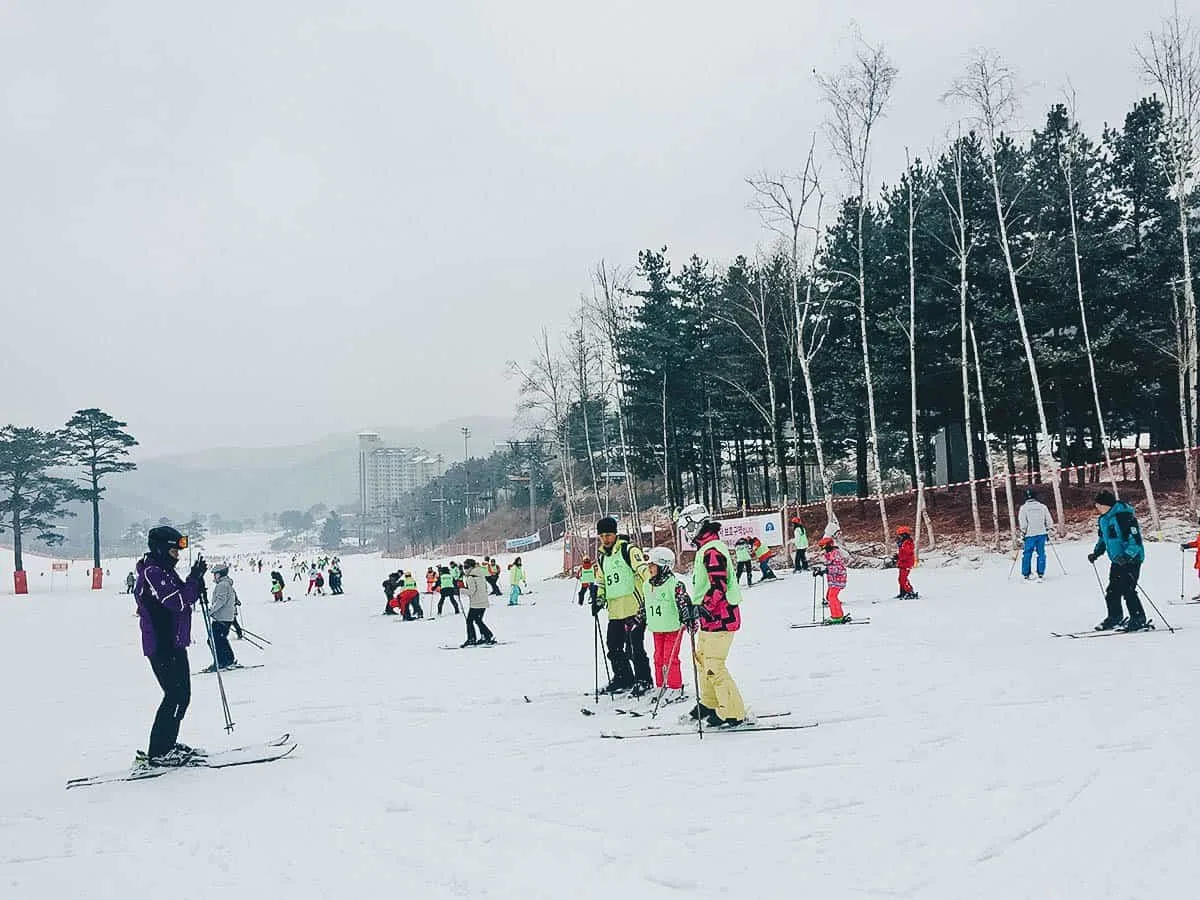 It snowed during the night and in the morning so we were skiing on fresh powder the whole day. Awesome!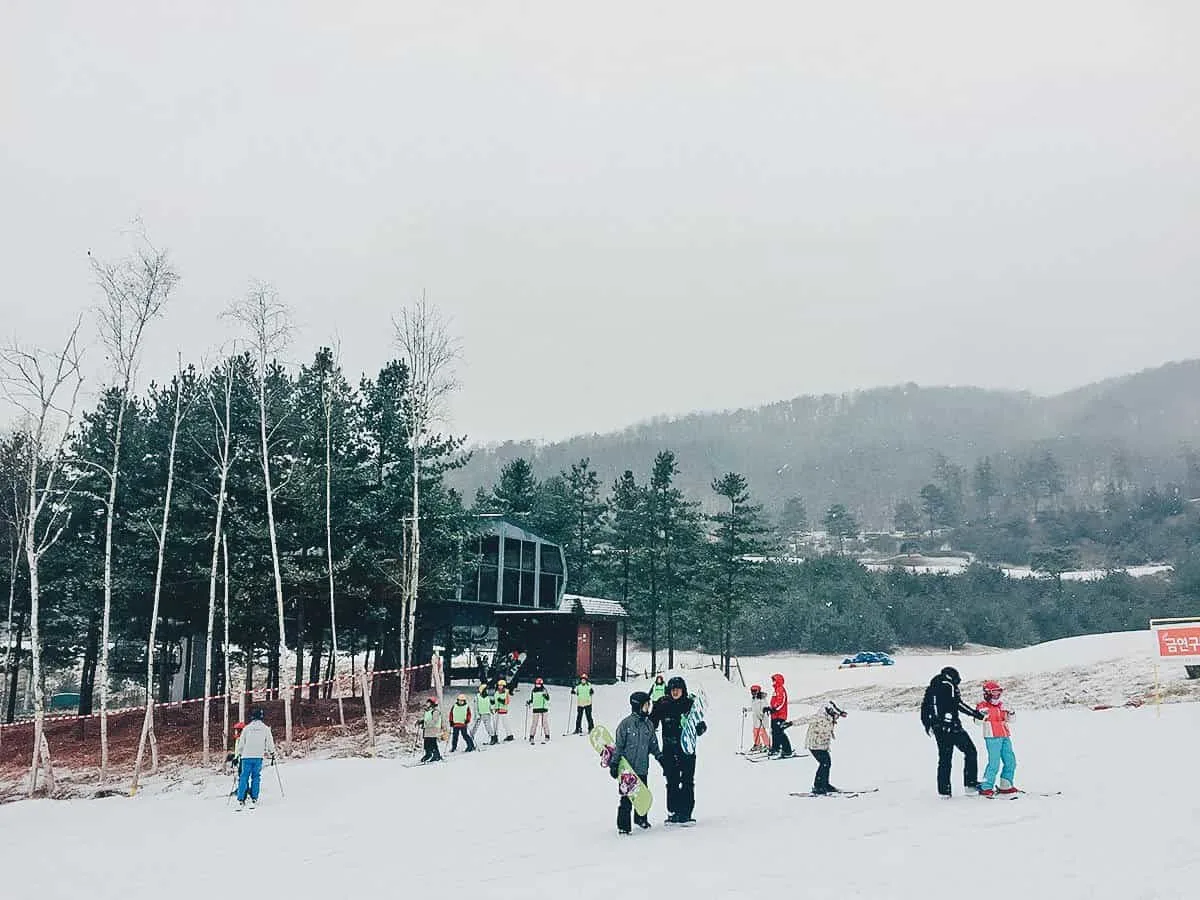 Notice the snow falling there against the trees? Fresh powder is awesome. This is still that same green line. See what I mean by how flat and wide it is?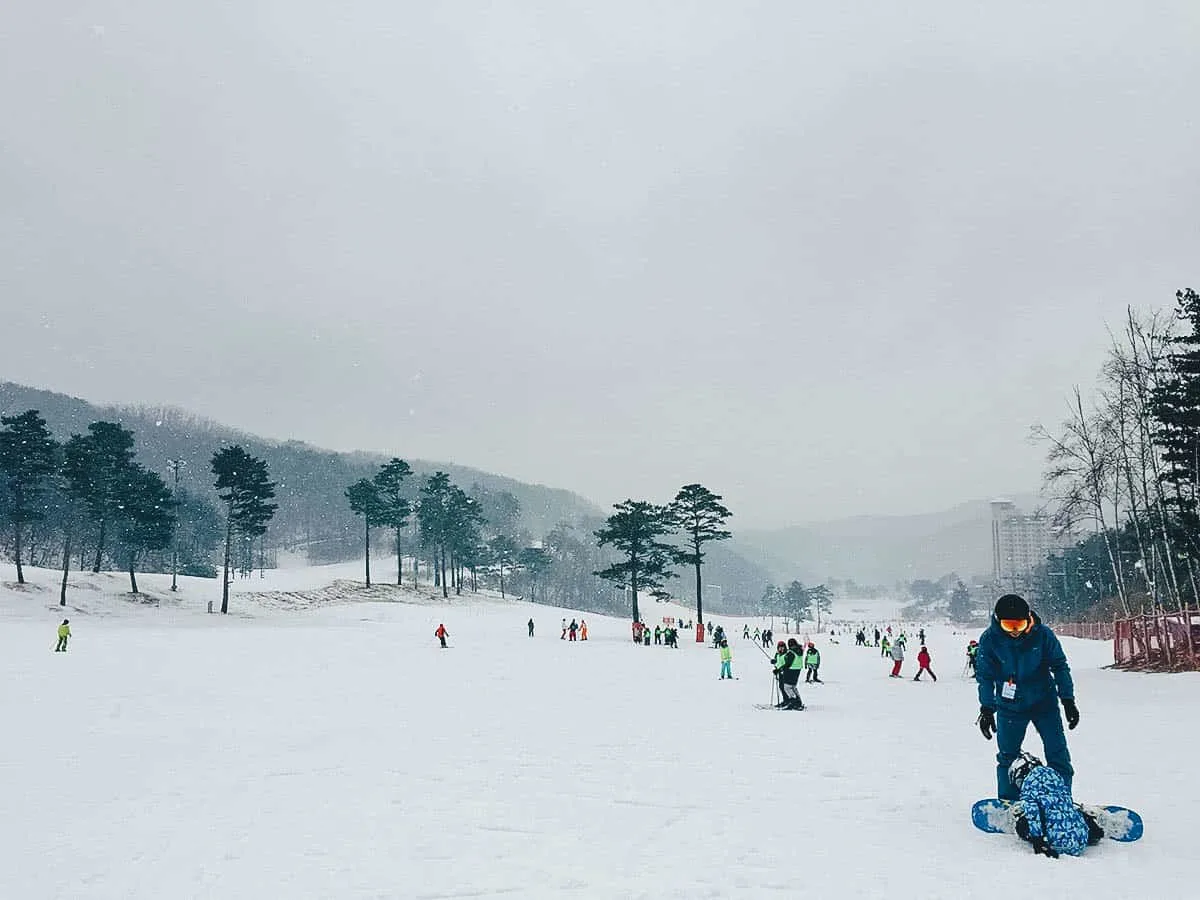 After a couple of runs, Ren and I took a break for lunch where I had this soul-warming bowl of ramyeon with mandu dumplings and sausages. Ramyeon is Korean instant ramen and one of the most beloved dishes in Korean cuisine. In fact, it's considered by many to be a Korean national dish.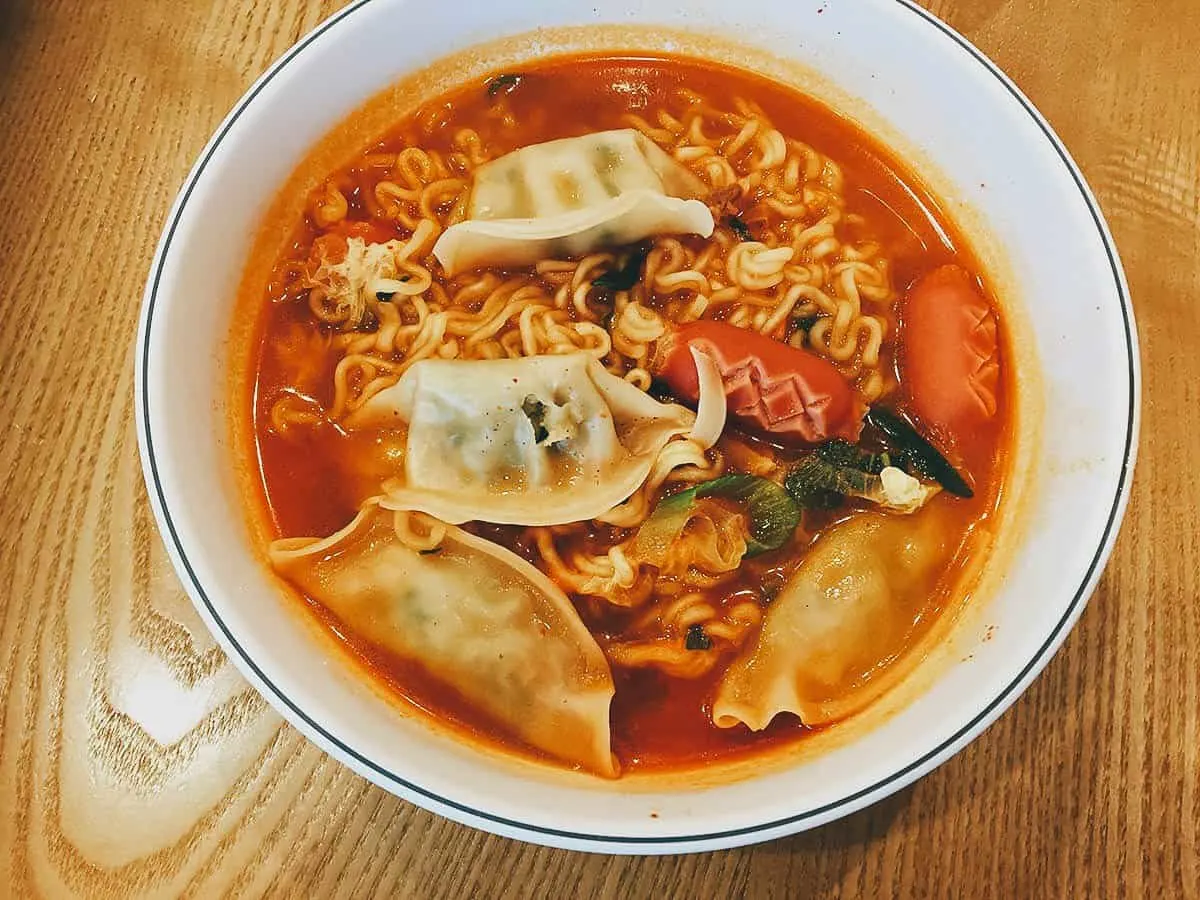 Now back to the slopes! The middle ski lift takes you to the very top of the mountain and gives you access to the resort's two black lines. Unfortunately, the black and blue lines around the middle of the mountain were closed. It was barely a week into snow season when we went, so it didn't look like there was enough snow yet. Only three of the resort's nine slopes were open today. Bummer.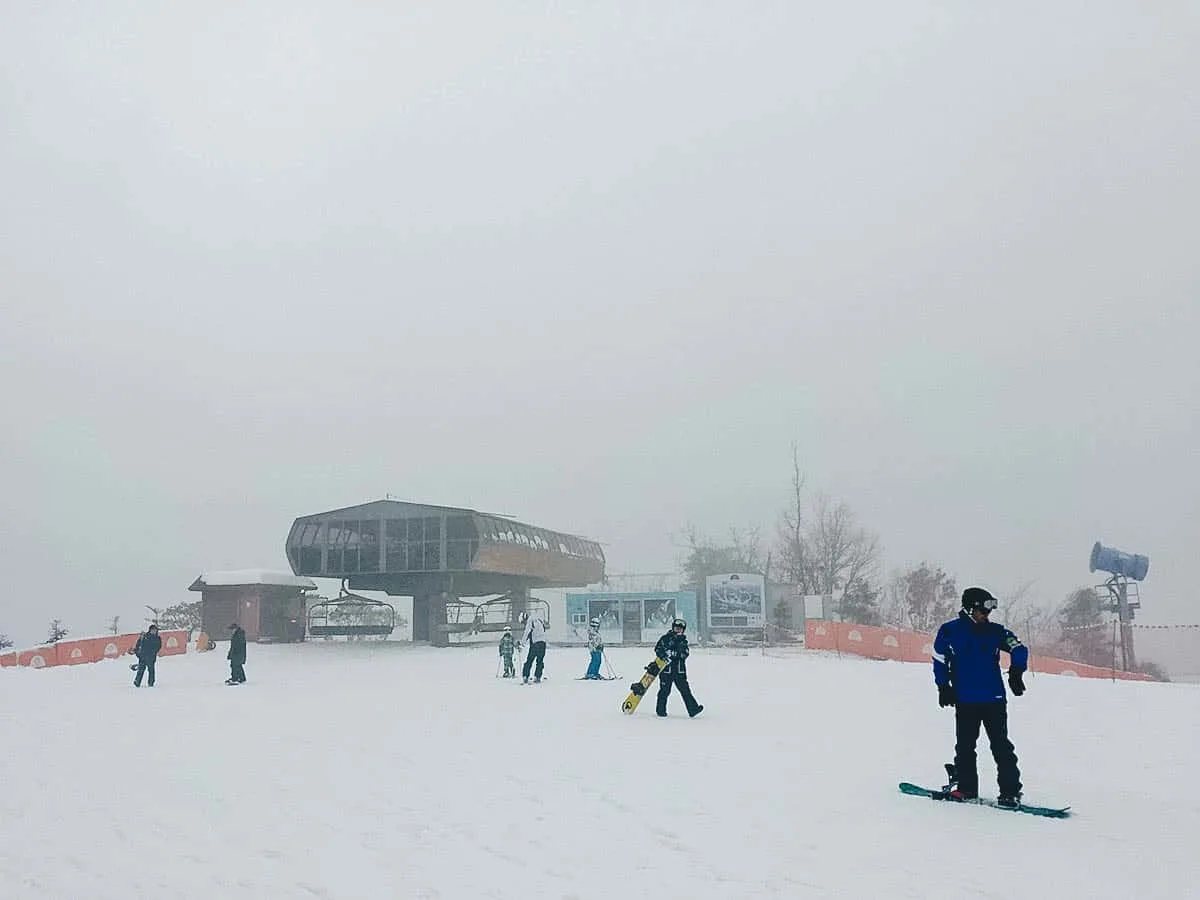 This blue line may have been the longest run at Oak Valley. I think it's just a little over 1,600 meters long. Aside from a few icy patches, it was pretty much powder throughout.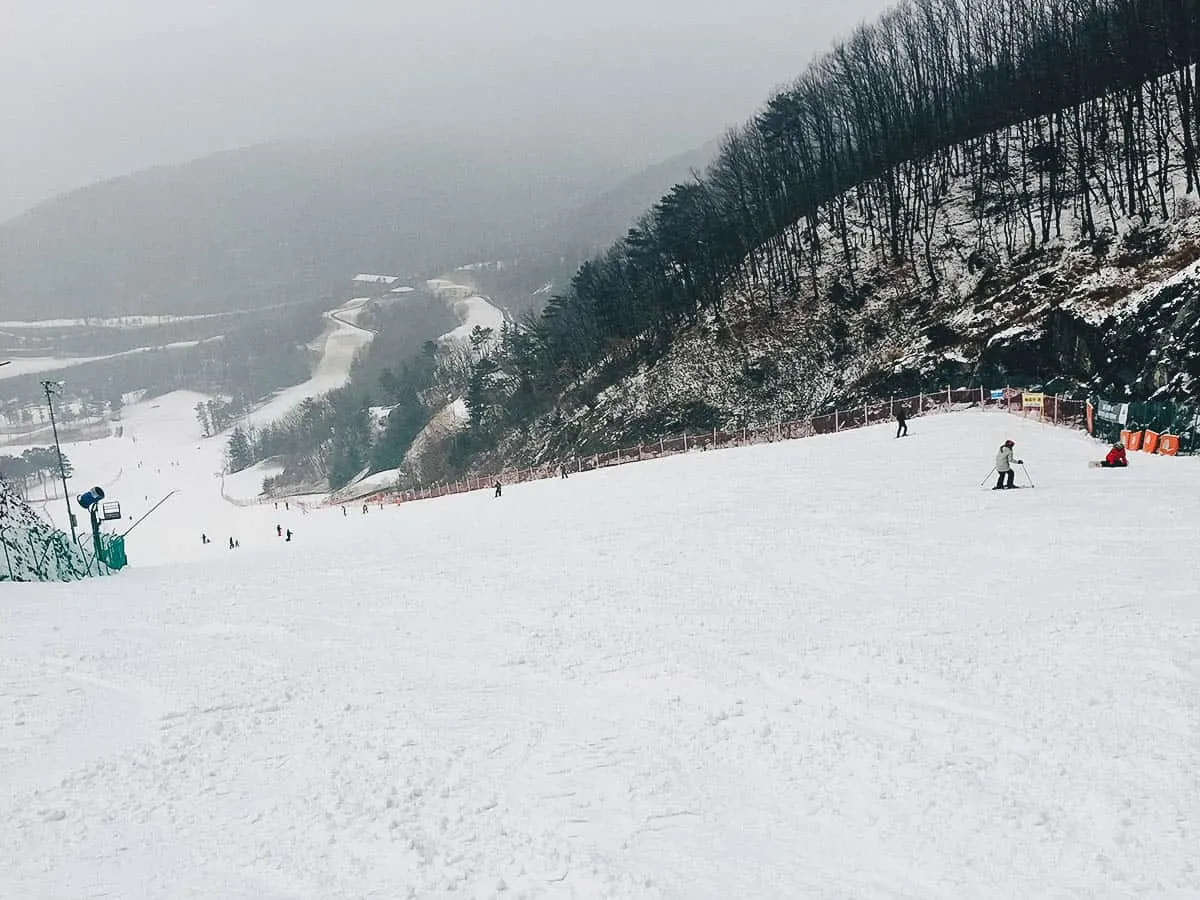 I'm not an expert skier by any stretch but I'm proud to say I have no trouble getting down a blue line. The blue lines here are pretty easy, making it an ideal place to jump from beginner to intermediate.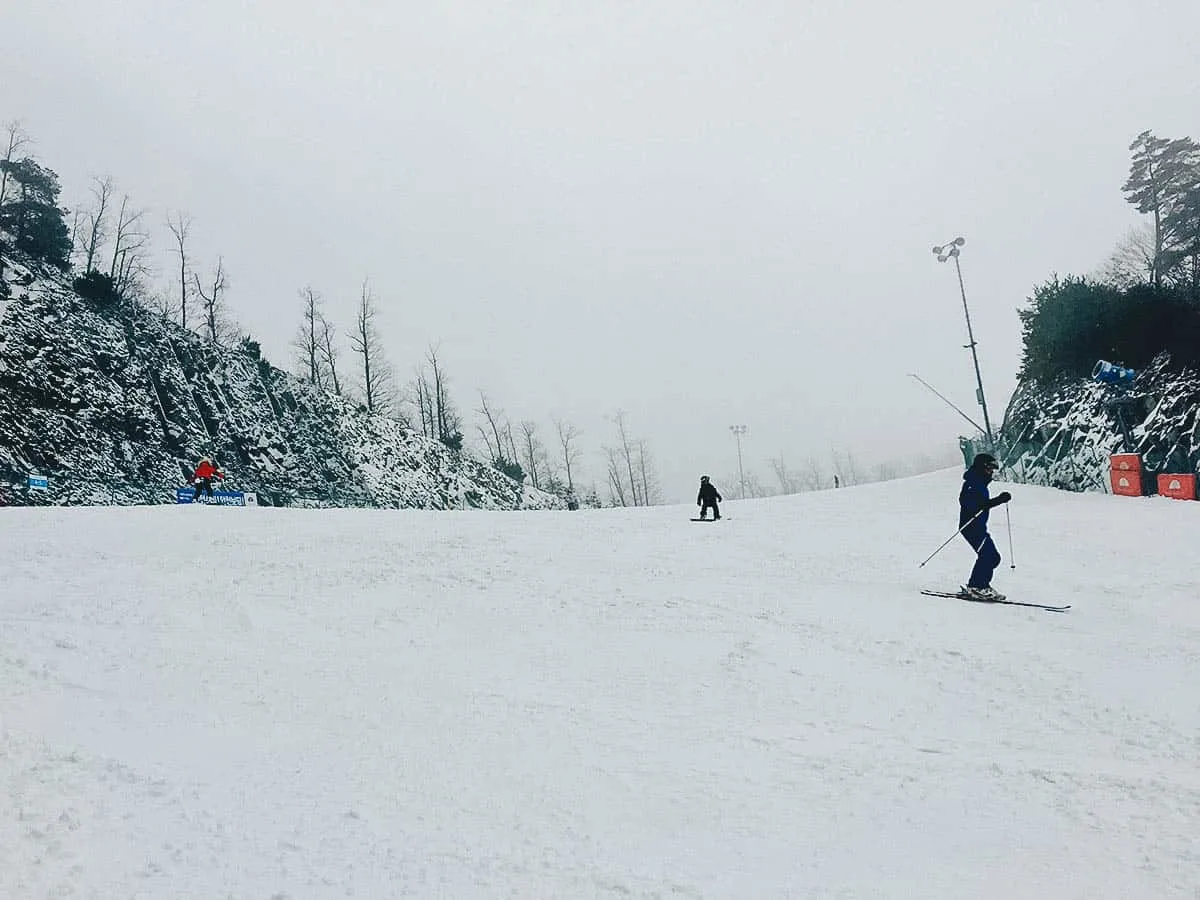 Skiing is so therapeutic. I love it. ♥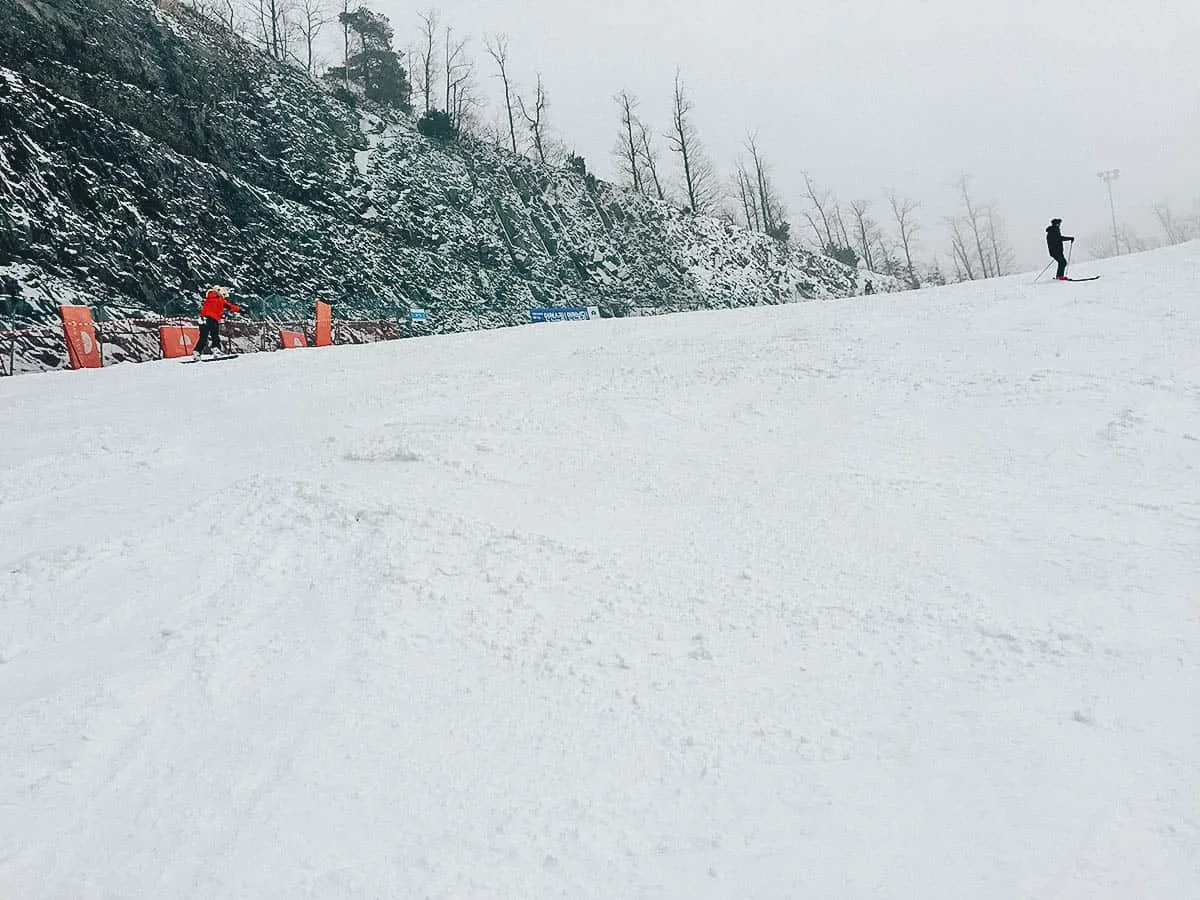 Because only a few lines were open today, the slopes may have been a little more crowded than usual. I kept looking left and right, worried about impaling someone with my skis.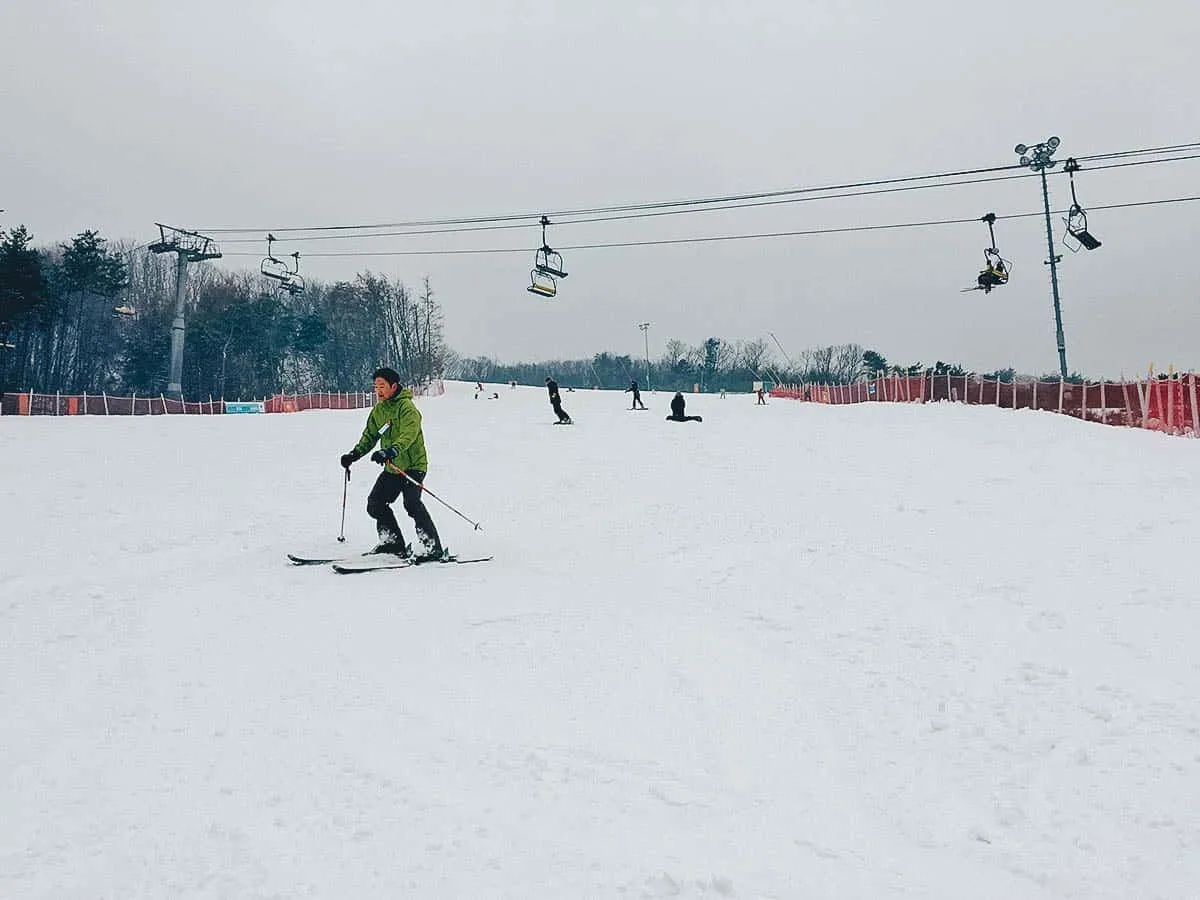 The long blue line ends where the green lines begin. Hello flatness.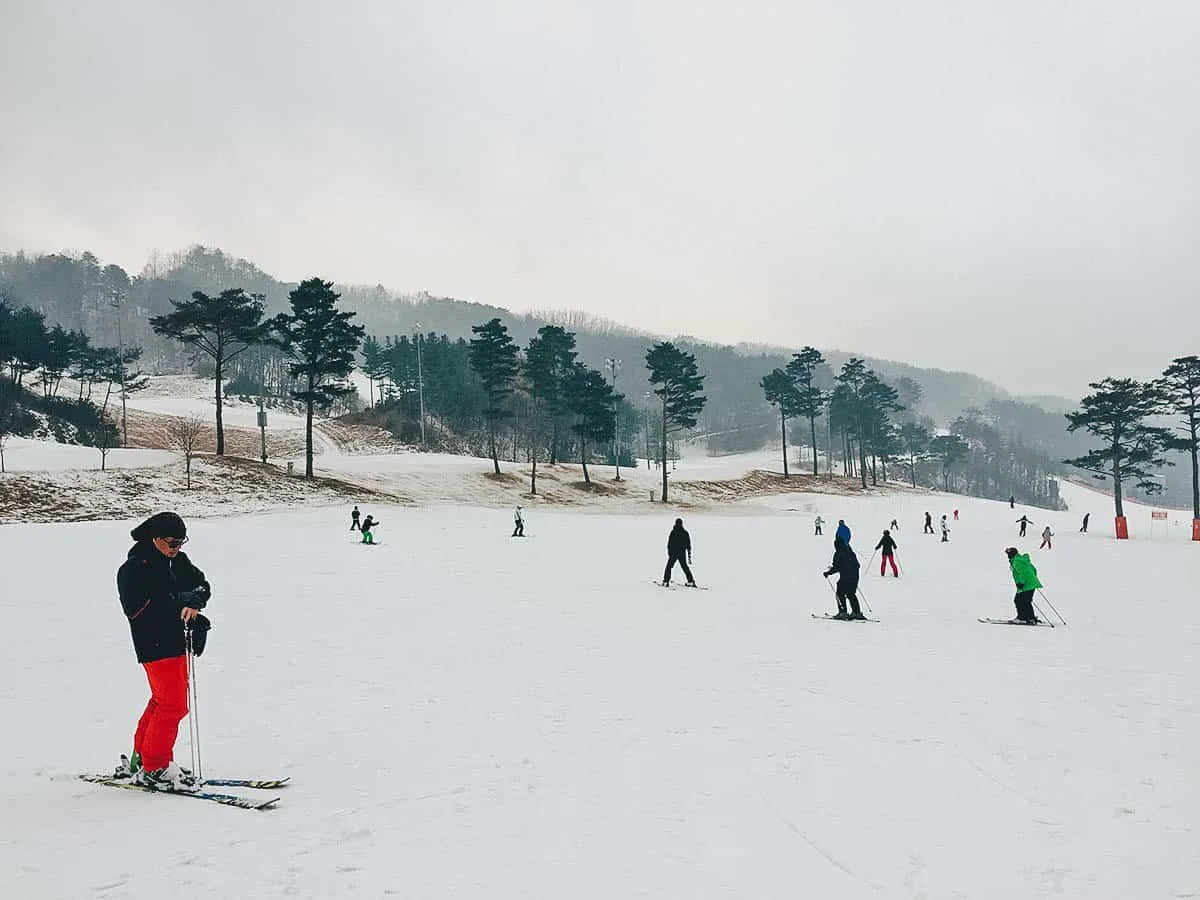 Ren got bored going up and down the green lines so she finally agreed to join me on the blue. She used to ski down blue lines in California but as described, that was over twenty years ago so she's lost the confidence. She eventually found her groove and did awesome. 🙂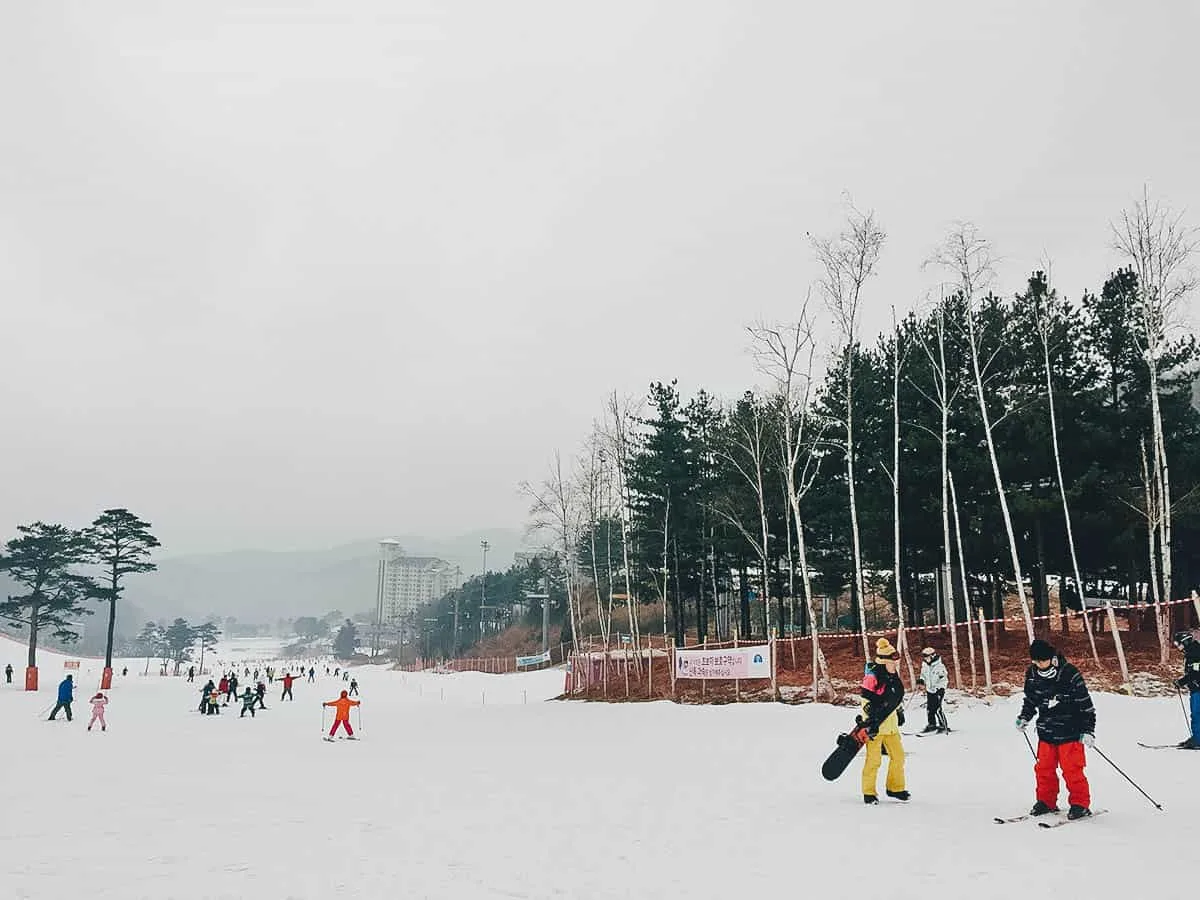 Eeeeeeyyy! It's ski season in Korea! I think this is pretty much the last time Ren lets me dress myself. 😆 I couldn't see how ridiculous I looked so it was far less embarrassing for me than it was for Ren. At least she had no trouble finding me on the slopes. #ucanttouchthis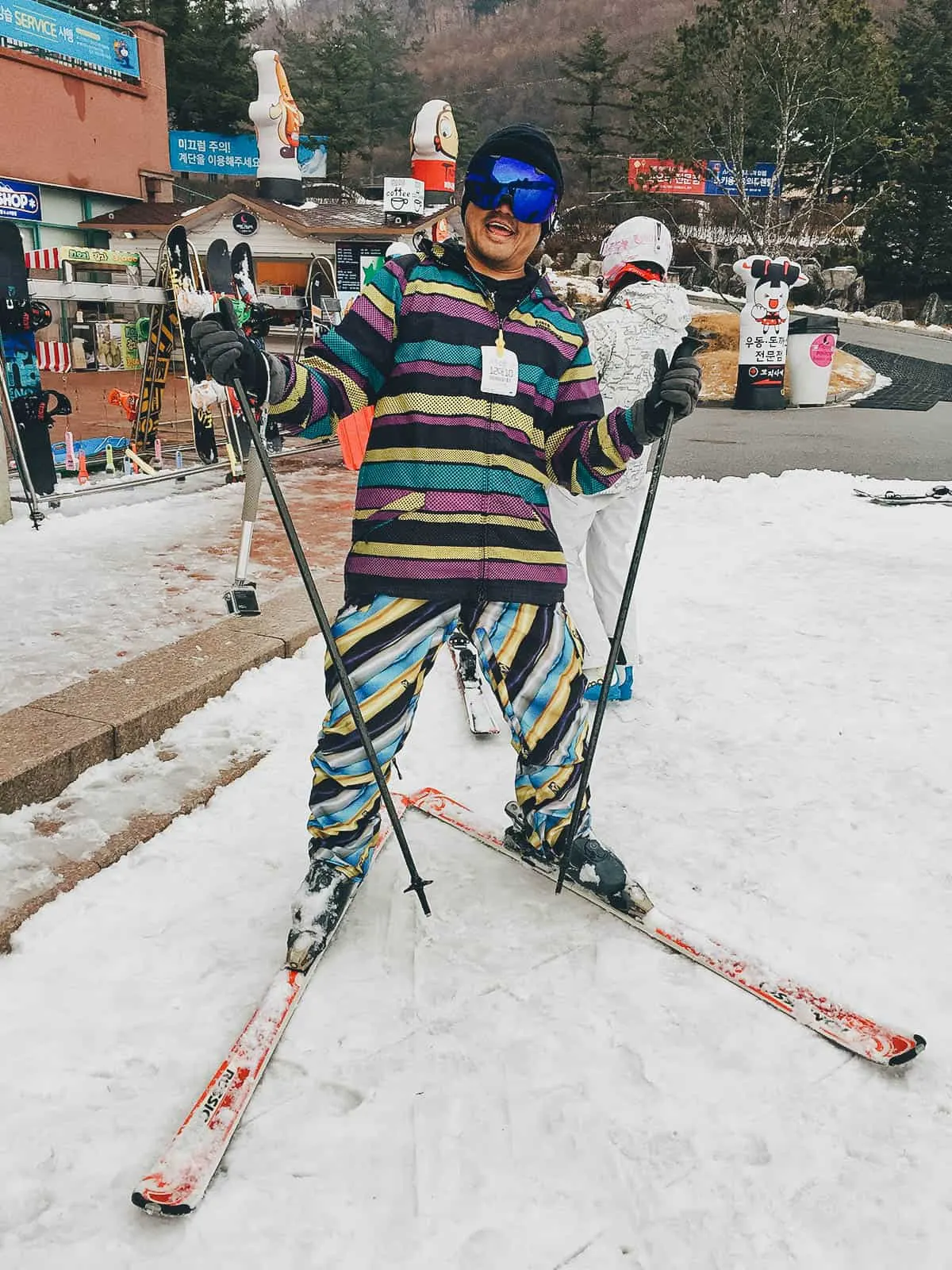 Ren and I had fun at Oak Valley Snow Park in spite of the limited runs. Hailing from a tropical country like the Philippines, we're grateful for any opportunity to ski.
Oak Valley is a small ski resort that's ideal for entry level skiers or snowboarders. If you're an experienced skier, then you may get bored here as it doesn't seem to have enough to keep you interested. The blue lines I went on are pretty easy and they only have two black lines. They don't have those long meandering green lines either that take you on a scenic trip down the mountain. I really enjoy those so I was bummed not to find that here. The two green lines they do have are basically glorified bunny slopes.
As described, we booked the All Inclusive Ski Package through Klook for KRW 75,000 each. It included roundtrip transportation from Seoul, a day lift pass, ski clothes (jacket, pants, gloves) and equipment rental (skis, poles, and boots). You can also rent googles for an additional KRW 5,000 each.
Klook offers other packages to Oak Valley Snow Park as well, like snowboarding, ski lessons, or a transportation only option. Click on the link to see all the available packages.
Oak Valley Snow Park
66, Oak Valley 1-gil, Wolsong-ri, Jijeong-myeon, Wonju-si, Gangwon-do, Republic of Korea
Fax: 033-730-3507
Website: oakvalleykorea.com
Email: [email protected]
HOW TO GET THERE:
Roundtrip transportation to Oak Valley Snow Park from Seoul is included in the Klook package. Meet up times are at 7AM at Hongik University Station or 7:30AM at Myeongdong Station. You'll get back to Seoul at around 6PM.
For travel tips to Seoul, check out our First-Timer's Travel Guide to Seoul, South Korea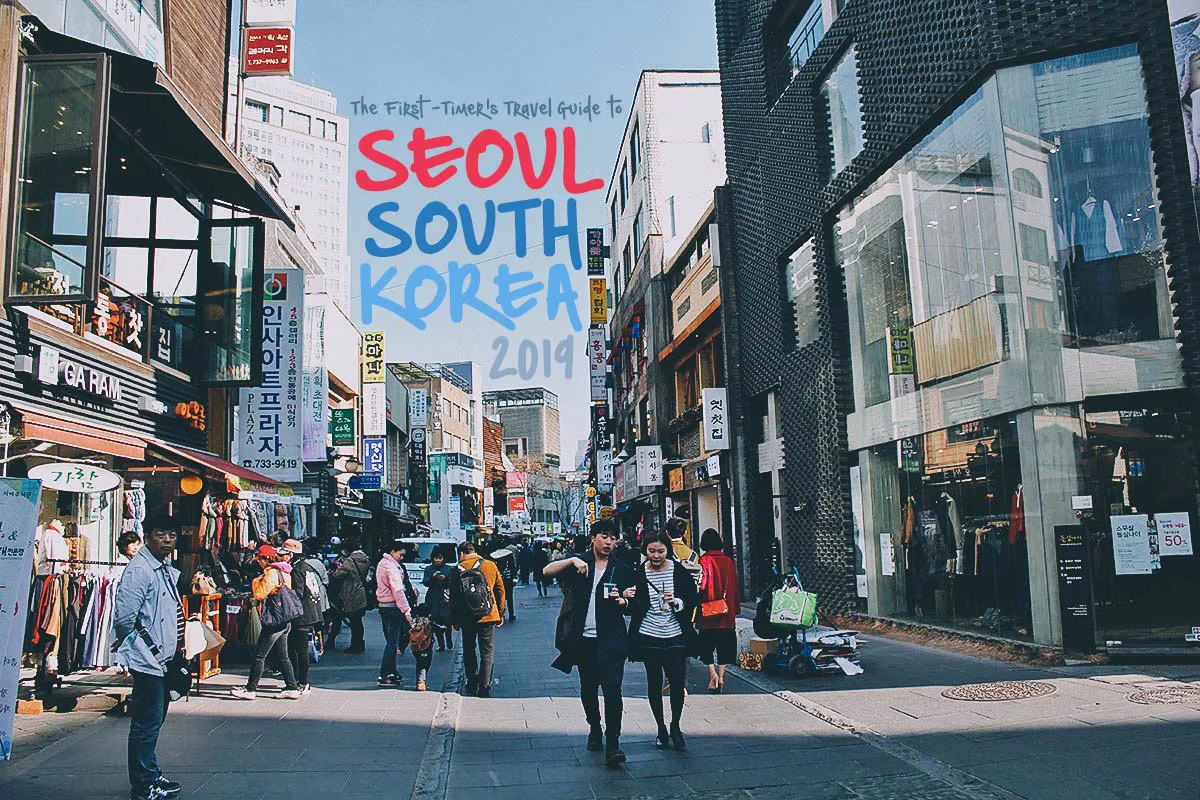 Disclosure
Klook sponsored our day ski trip to Oak Valley Snow Park in exchange for an honest account of the experience. They didn't ask us to do this. I went through their site and chose this one on my own volition. As always, all words and opinions expressed in this post are mine and mine alone.
The Klook links in this post are affiliate links, meaning we'll get a small commission if you make a purchase at NO extra cost to you. We really appreciate your support as it helps us keep this website going. Thank you!