UPDATE: Hole in the Wall permanently closed its doors on 18 November 2020.
This place blew me away. When people were raving about this new food court on social media, I was expecting something along the lines of a typical food court. You know, those ubiquitous, bland-looking food courts that you see in every shopping mall. From the pictures, I thought that maybe it would be just a little bit nicer. I wasn't expecting it to be this stylish.
Located on the 4th floor of Century City Mall in Poblacion, Makati, Hole in the Wall is an ultra hip food court with 12 eateries that are every bit as diverse and interesting as its interior. They range from Modern Chinese to Fil-Mex to Persian to Vietnamese-American. There's even a place that sells savory eclairs and puffs! We've tried a few of the eateries here and so far, all have been good.
So nice and Instagram-worthy is this place that the term "food court" doesn't do it justice. Like "third wave" to describe artisanal coffee, "food hall" would be more appropriate. 😉
Hole in the Wall
Step inside the hippest food hall in the Philippines. Seriosuly, this place is so stylish you'd think you were in Singapore or something.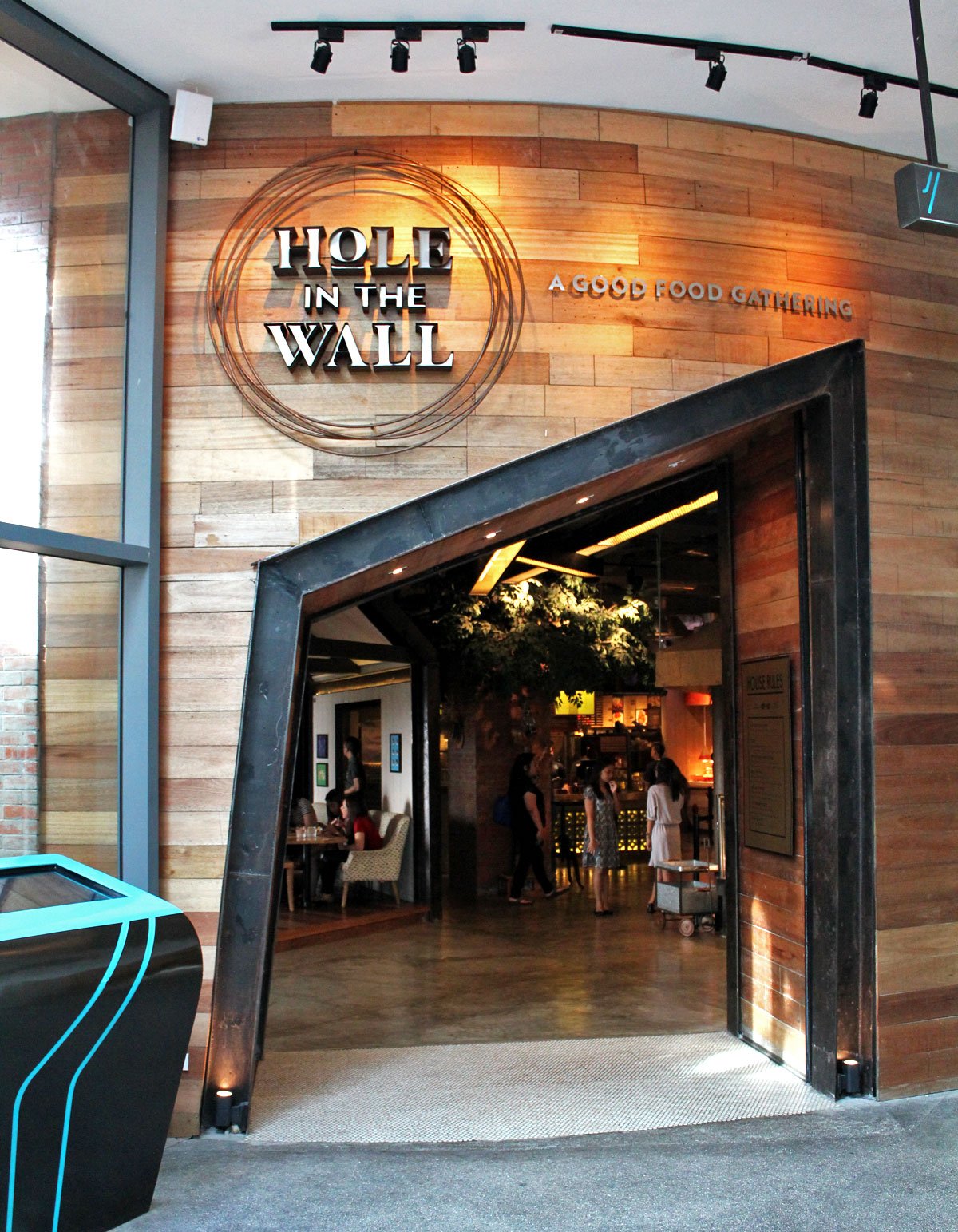 Shadowplay. Love those tiles.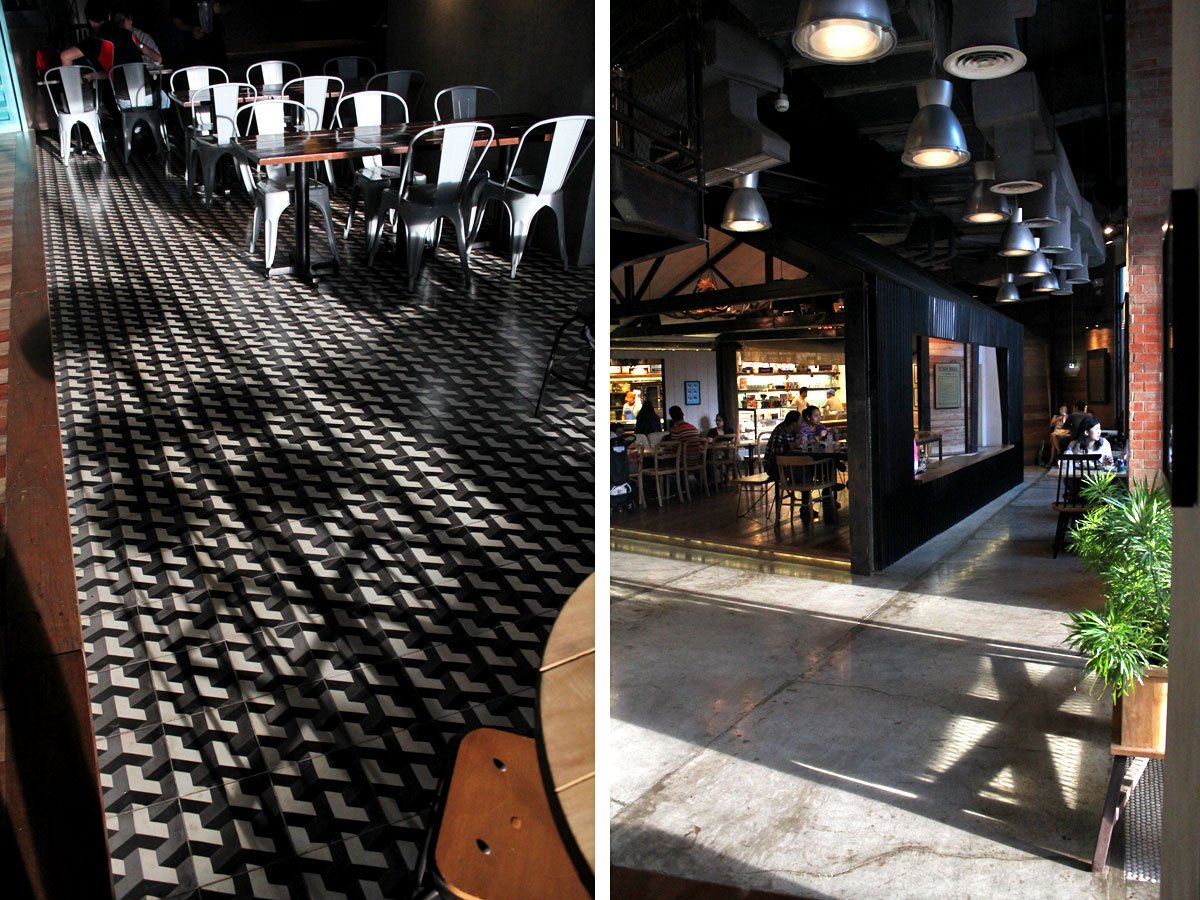 Every dining section is different, each has its own personality. The attention to detail here is remarkable.

There's also a seating area on the second floor that opens at night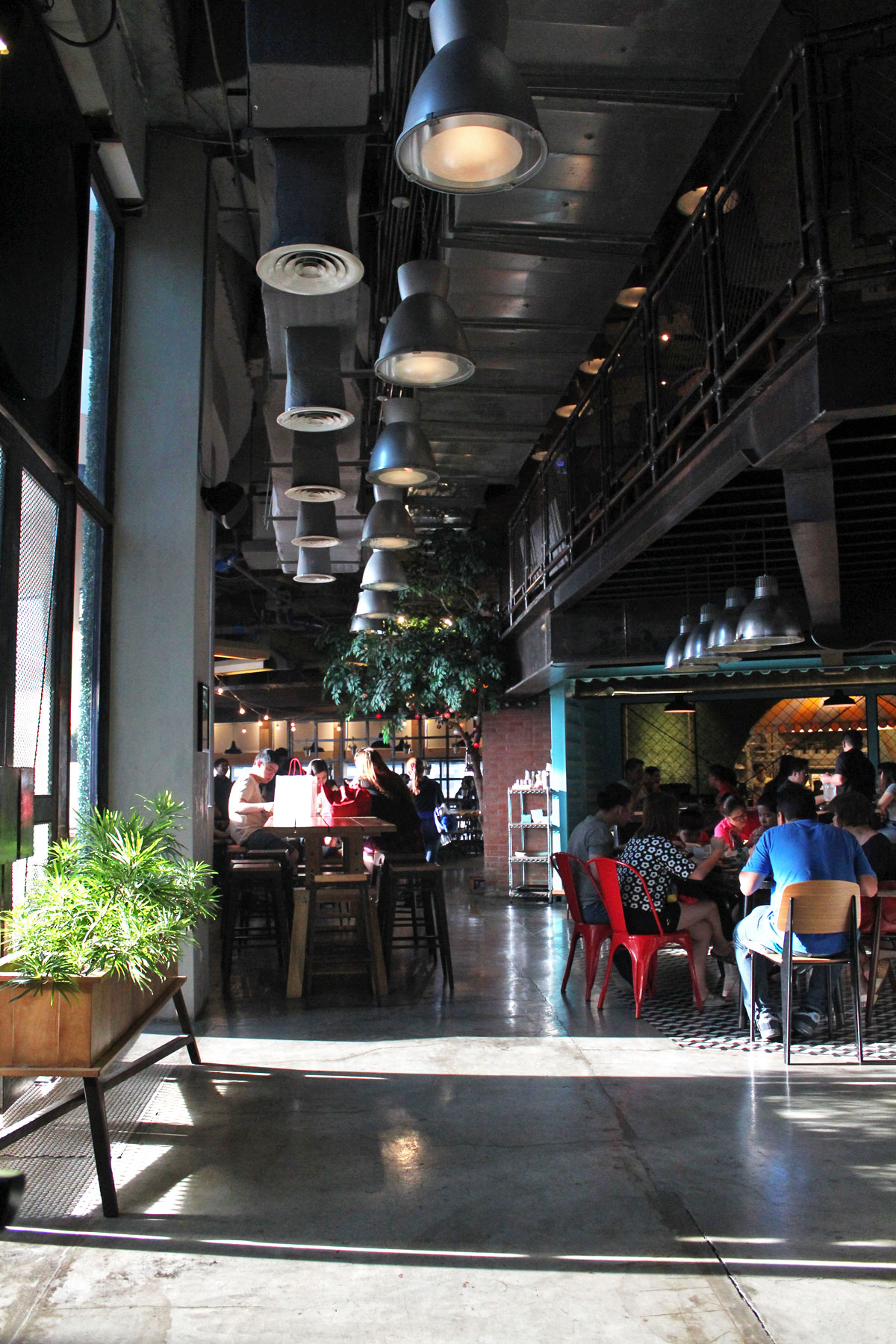 Mr. Delicious
WHAT THEY SERVE: Smoked meats and sandwiches
EXPECT TO SPEND: Around PHP 450
We've eaten here before and their sandwiches, like their name, are delicious. Try their corned beef or pastrami reuben. Their BLT is damn good too. It's made with seriously thick slabs of bacon.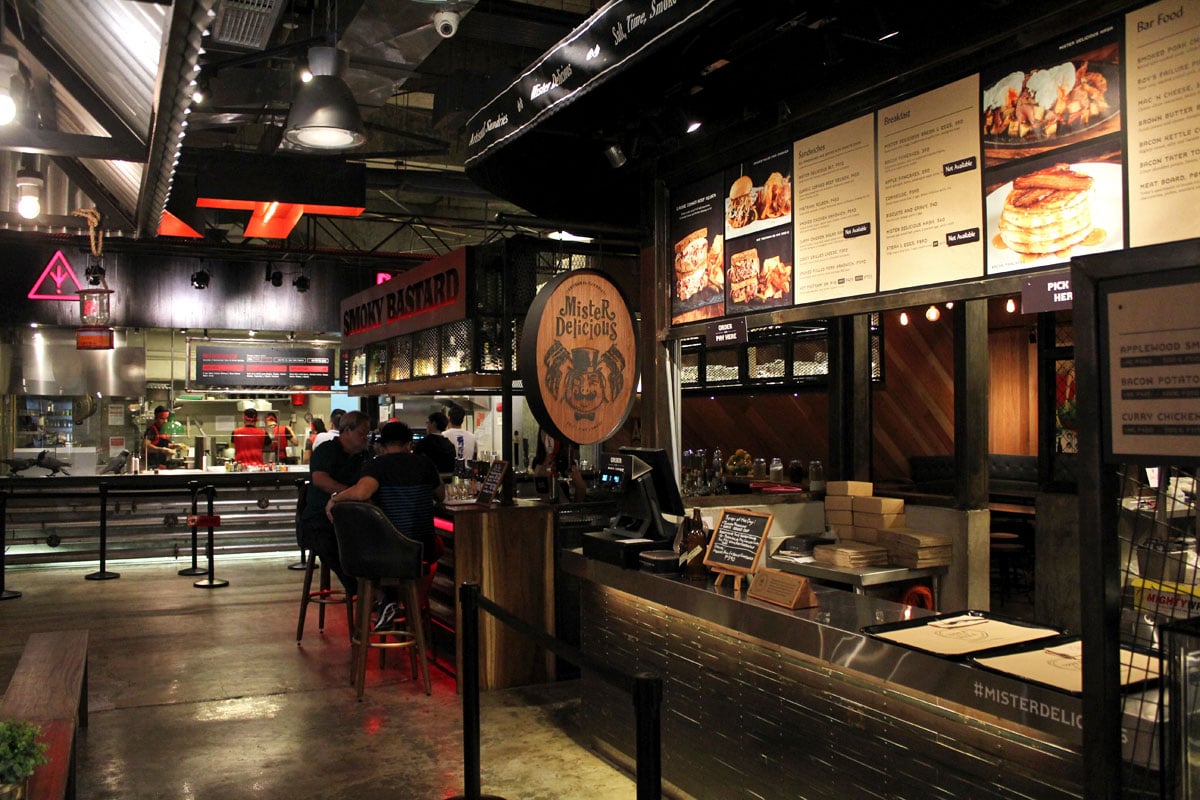 An homage to the jeepney.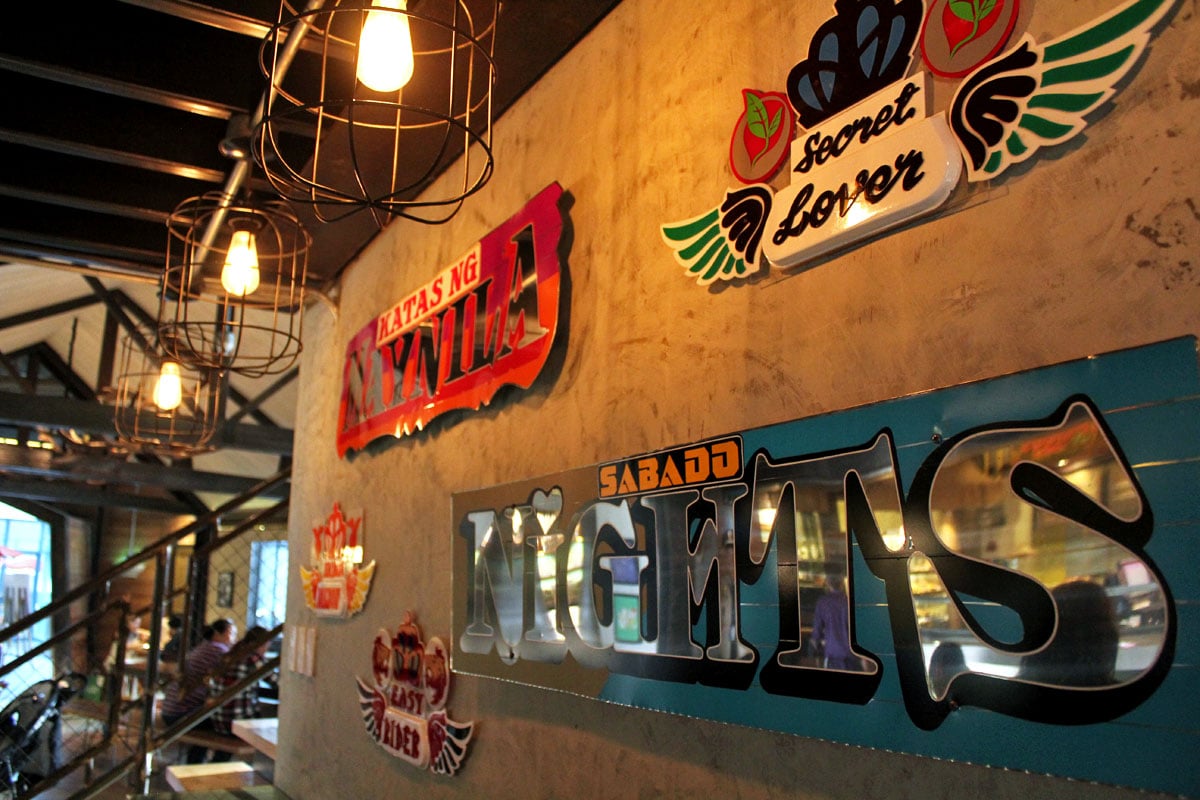 Liberation Shawarma
WHAT THEY SERVE: Shawarma
EXPECT TO SPEND: Around PHP 350
We haven't eaten here but it's owned by Chef JP Anglo of Sarsa fame so it must be good. He's one of the most innovative Filipino chefs right now. Liberation offers beef, pork, and falafel shawarmas.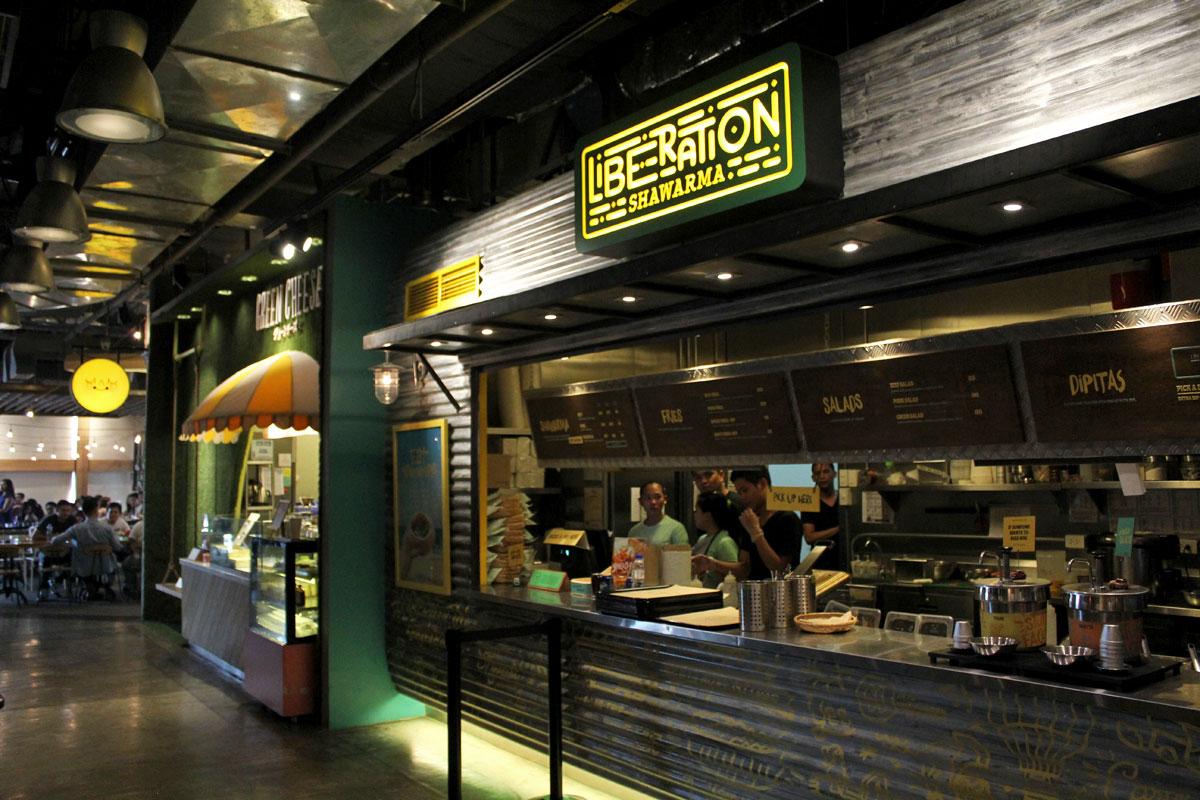 Bad Bird
WHAT THEY SERVE: Fried chicken
EXPECT TO SPEND: Around PHP 350
Arguably the most popular eatery at Hole in the Wall. Lines can get pretty long here and it's not surprising why. Their fried chicken and waffles are delicious.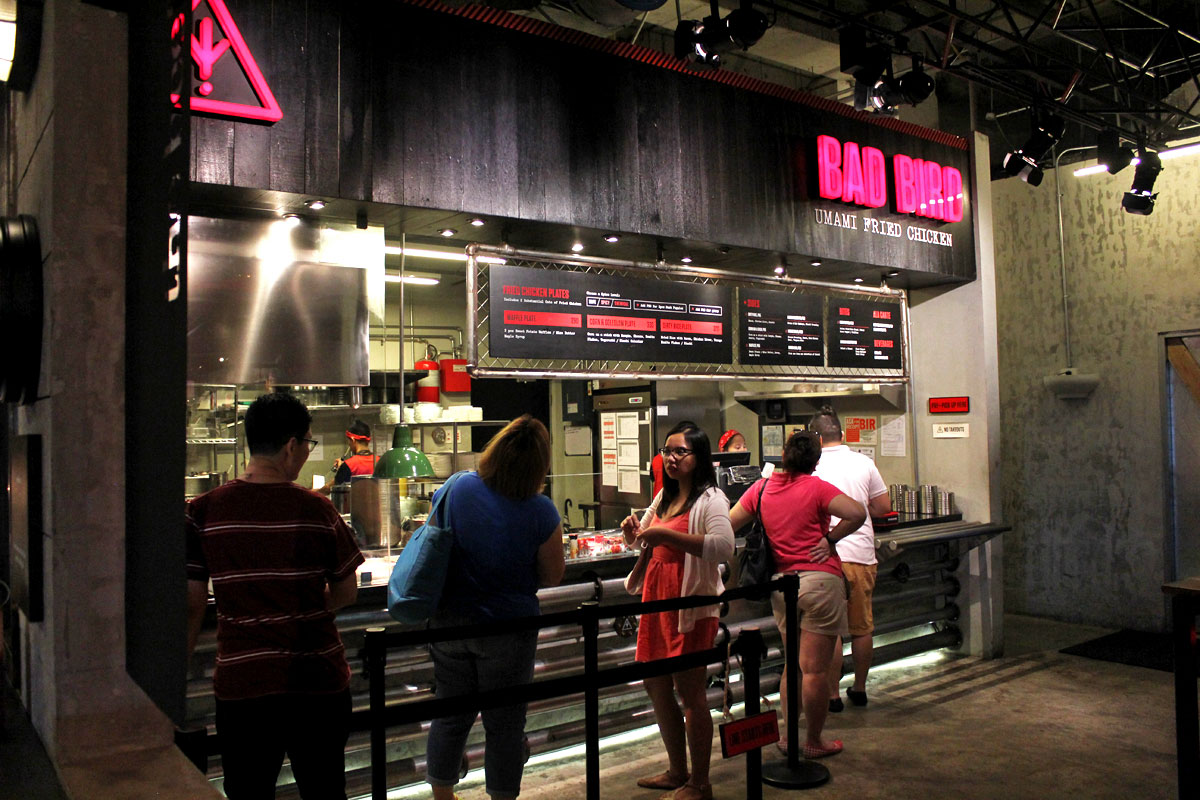 Fried chicken with sweet potato waffles. You can get your chicken safe, spicy, or chemical. 😈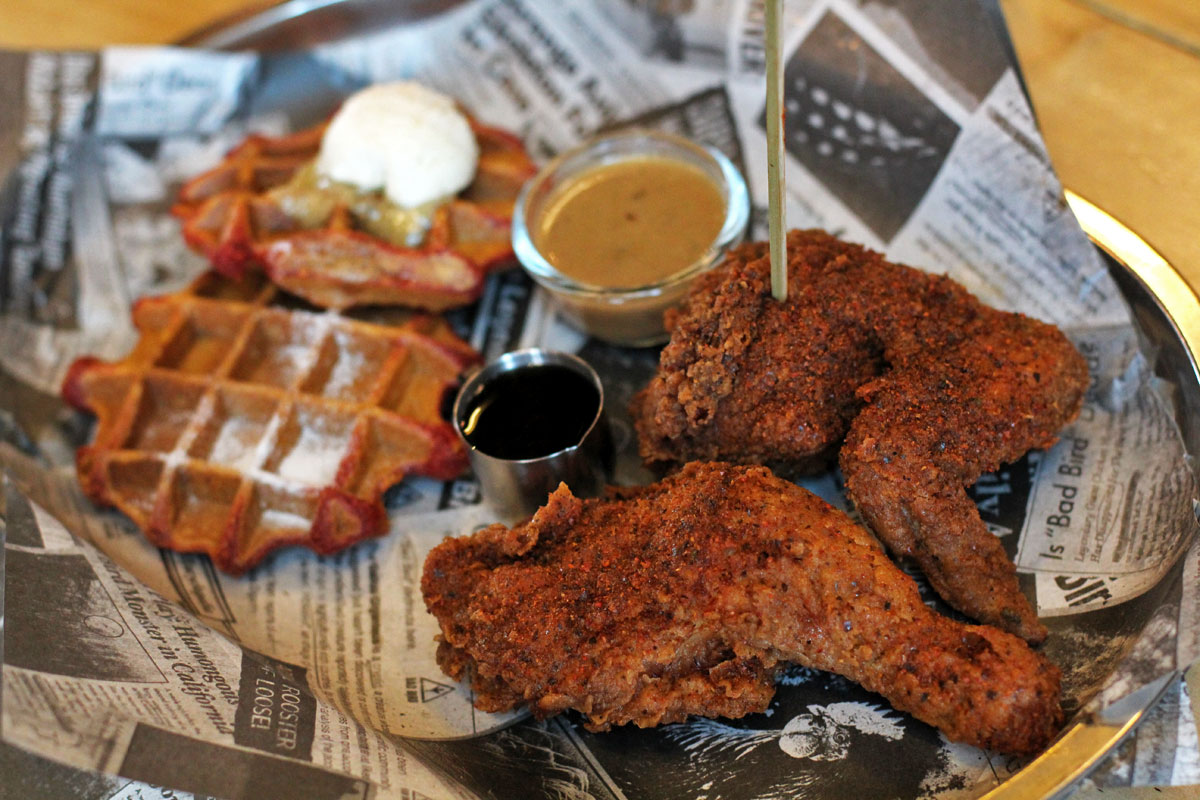 Container van with chain link dining area. So hipster industrial.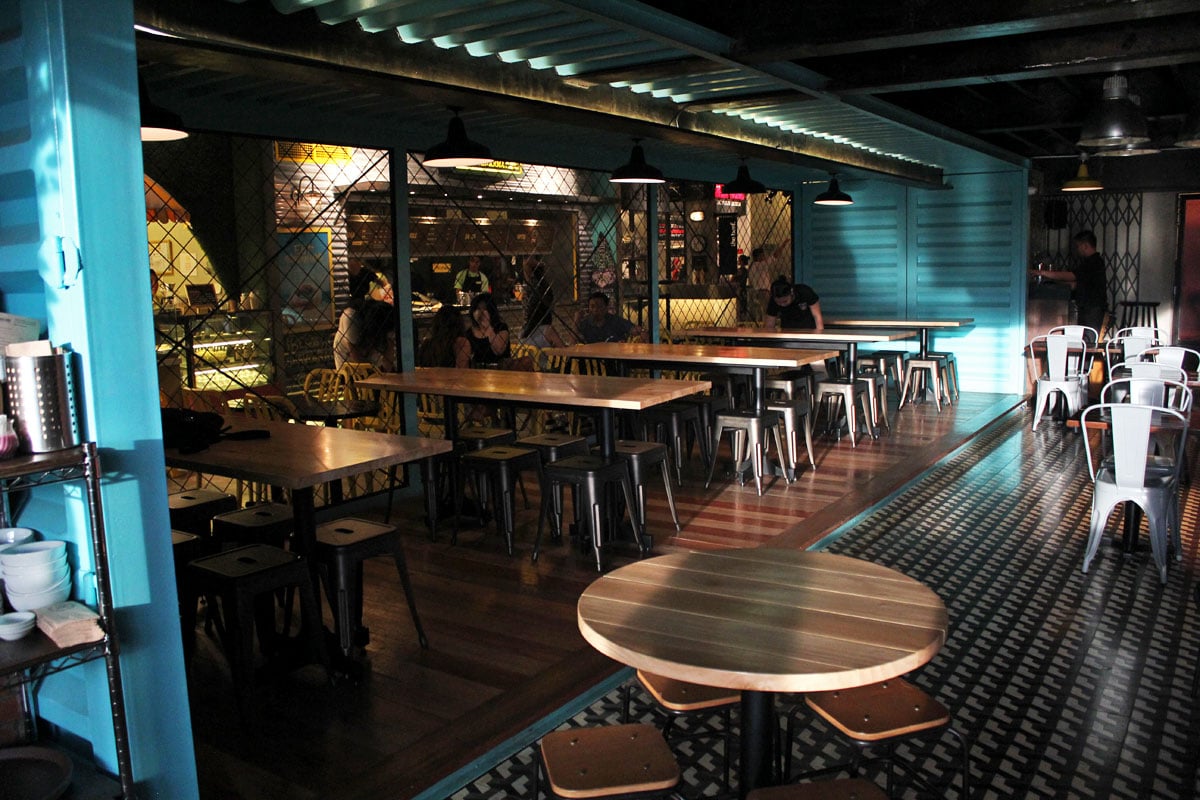 Love how the racecar yellow looks against that turquoise container van.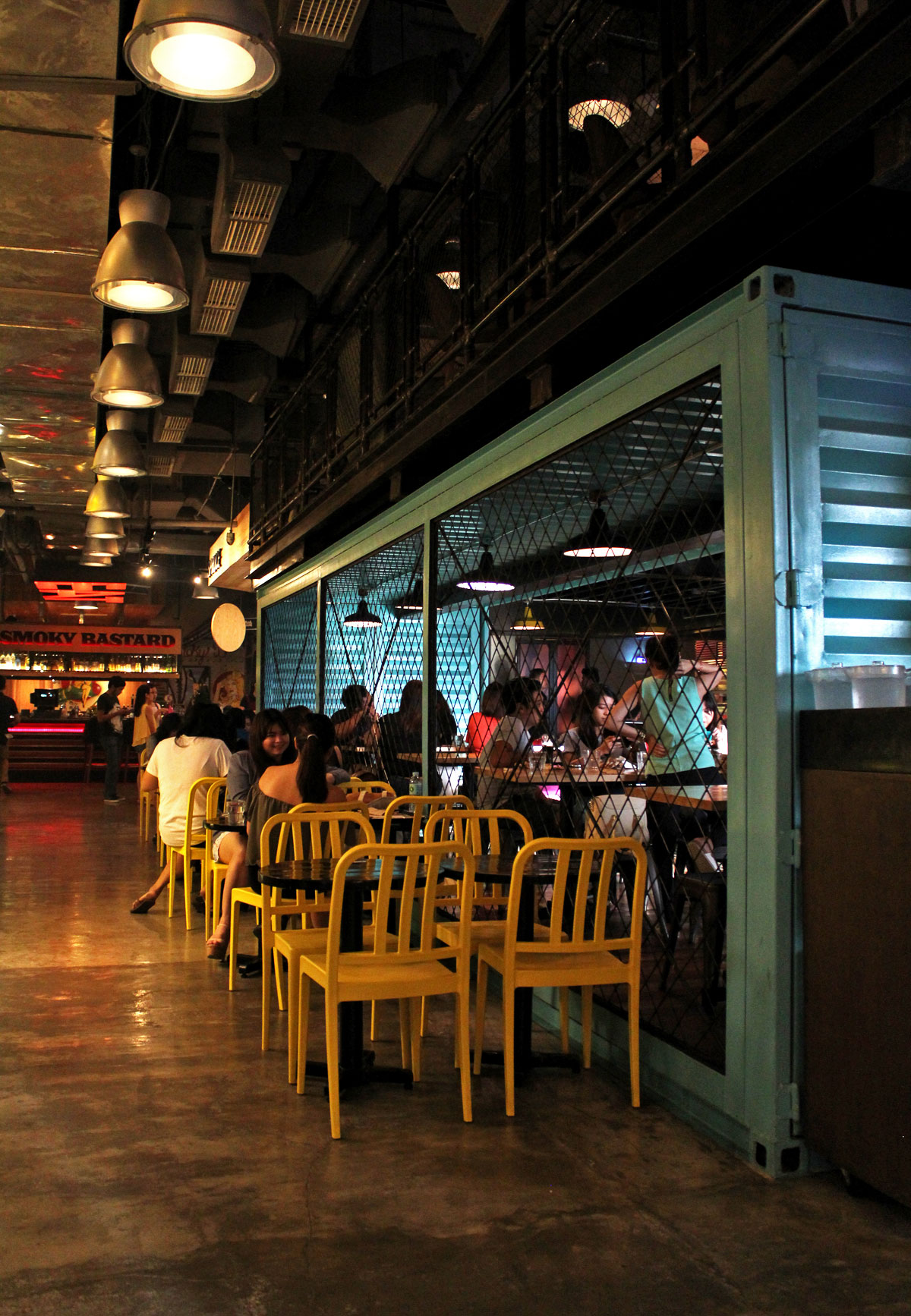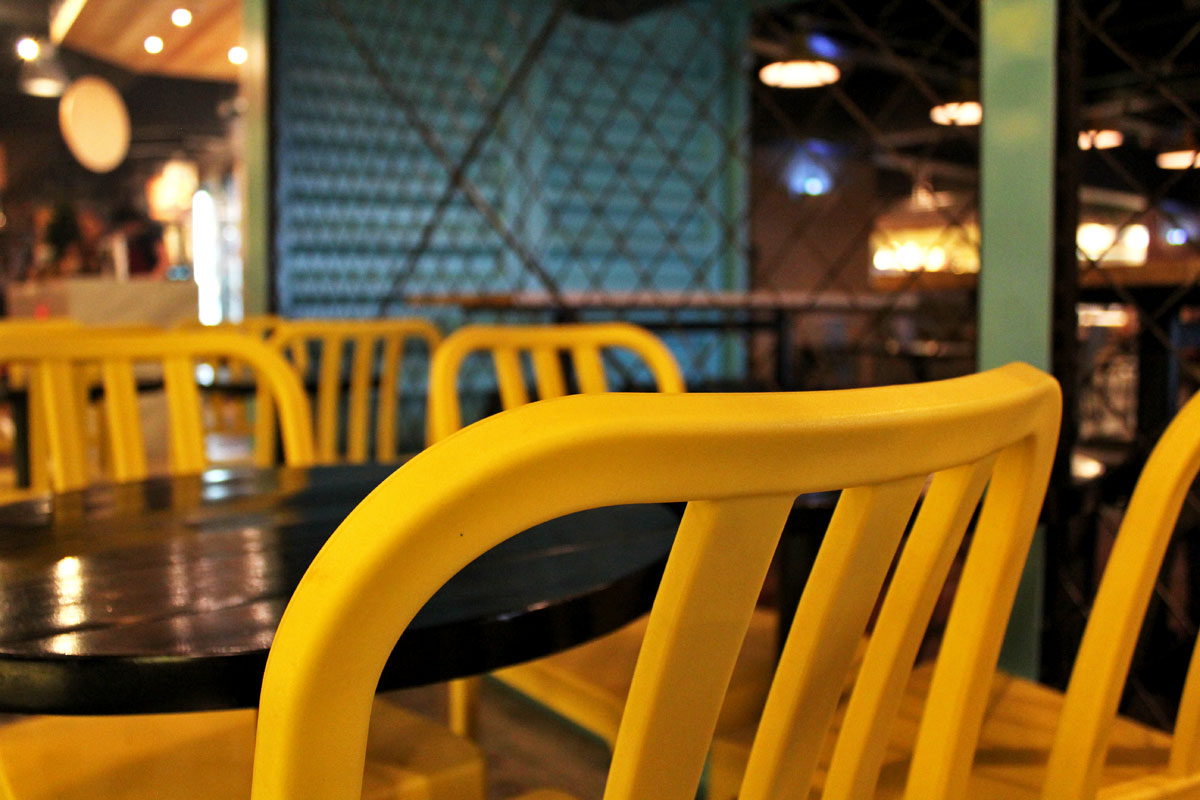 Kwong's Provisions
WHAT THEY SERVE: Chinese
EXPECT TO SPEND: Around PHP 300
Kwong's offers noodle soup, rice plates, cua pao, and dimsum on their menu.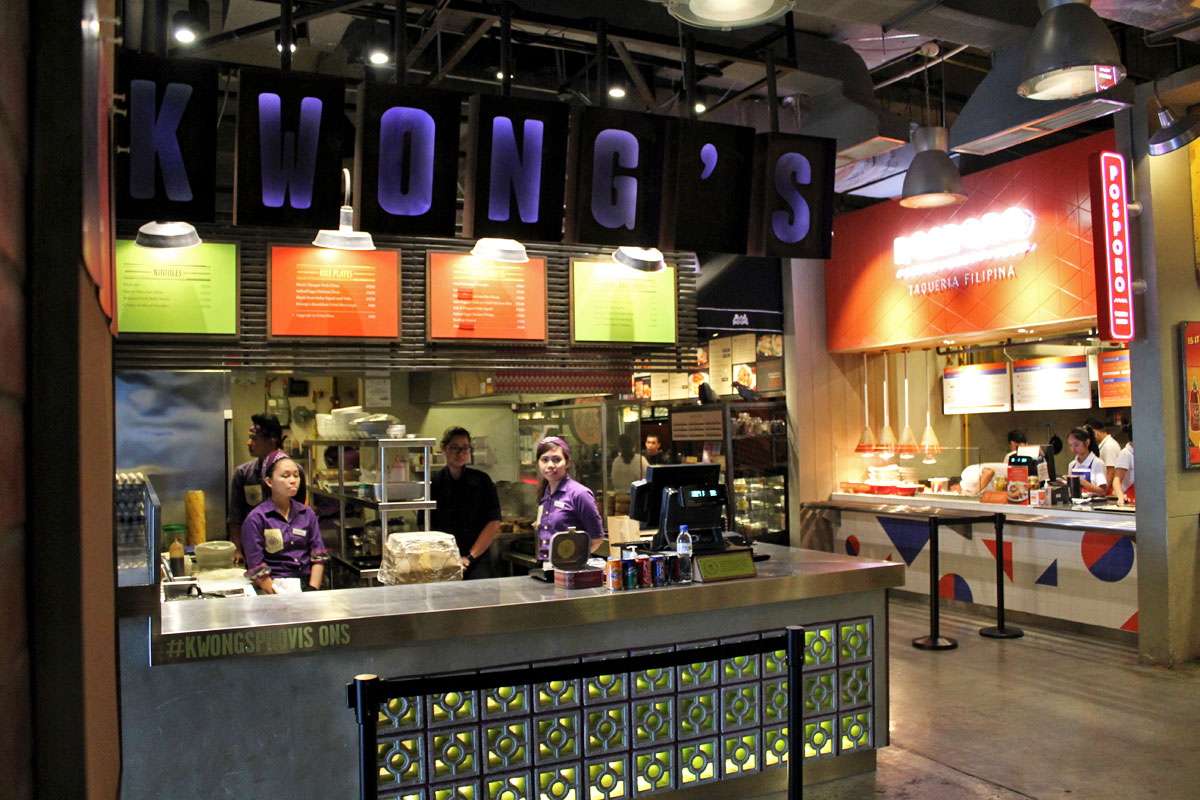 The Beef
WHAT THEY SERVE: Hamburgers
EXPECT TO SPEND: Around PHP 375
The Beef serves good old-fashioned, no-nonsense burgers.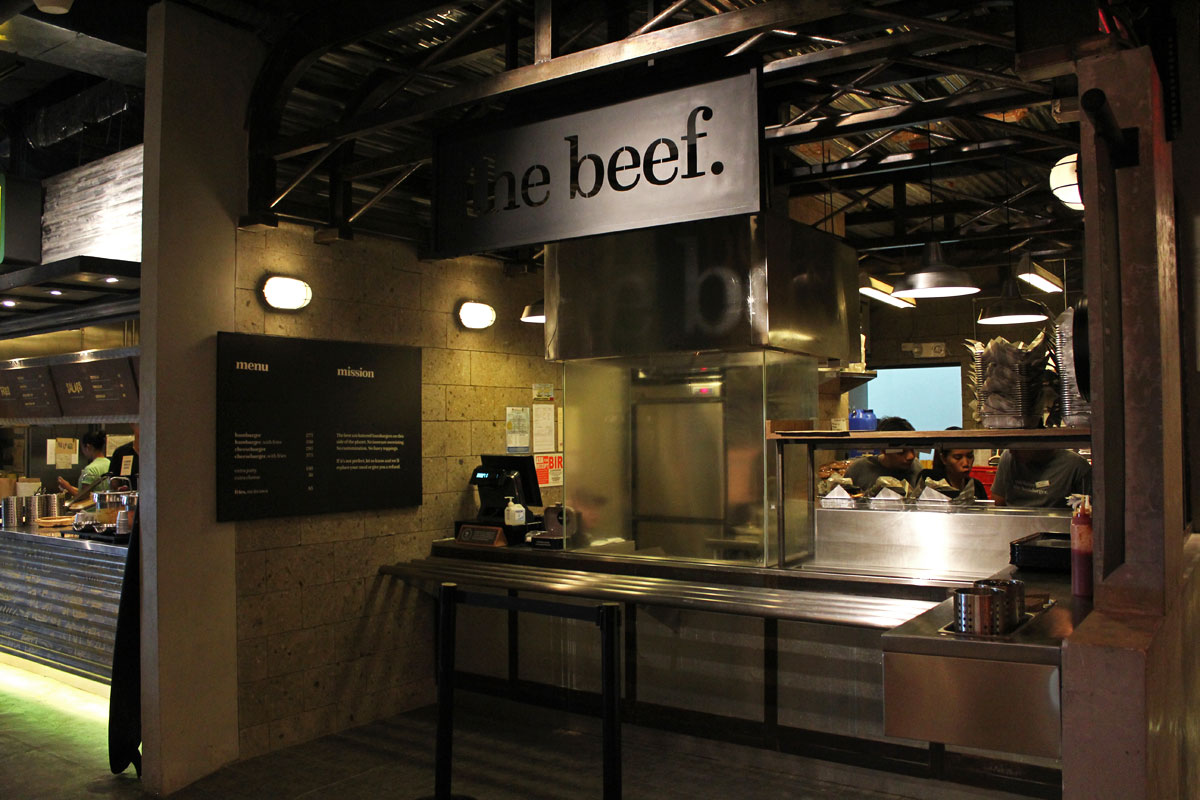 Phobobo
WHAT THEY SERVE: Vietnamese-American noodle soup and banh mi
EXPECT TO SPEND: Around PHP 300
As their sign says, Phobobo serves pho-king delicious beef noodle soup. 😉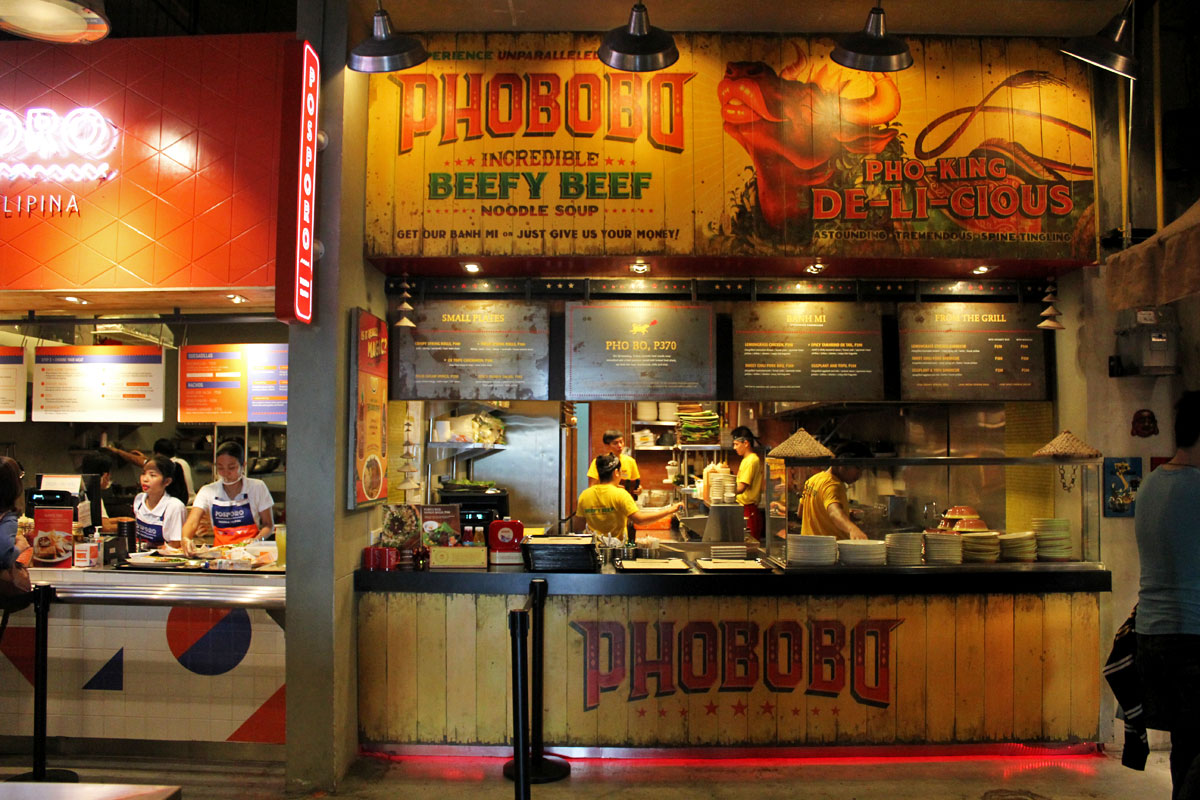 We weren't in the mood for pho today so we went with this tasty spicy tamarind ox tail banh mi instead.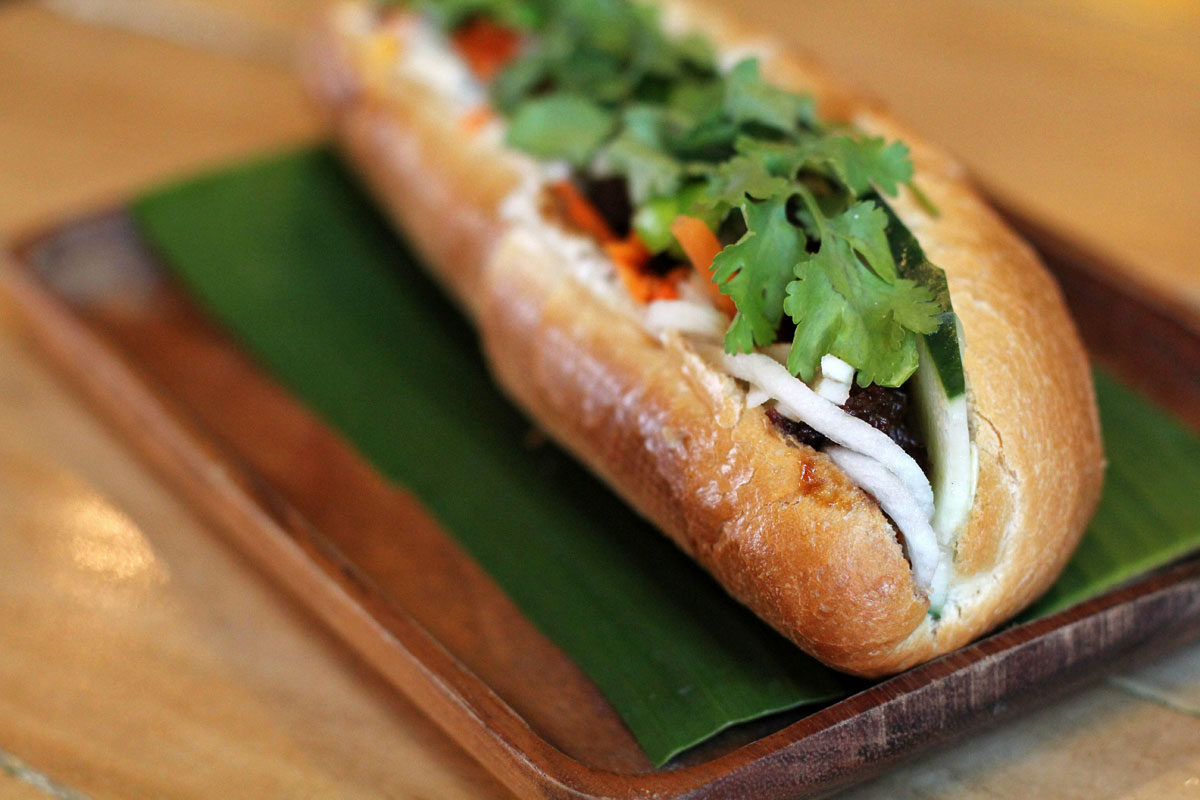 Posporo
WHAT THEY SERVE: Filipino-Mexican tacos and burritos
EXPECT TO SPEND: Around PHP 300
A Fil-Mex fusion taqueria that incorporates disctinctly Filipino ingredients like chicken inasal, pork sisig, tocino, atchara, and kesong puti into their tacos and burritos. Interesting.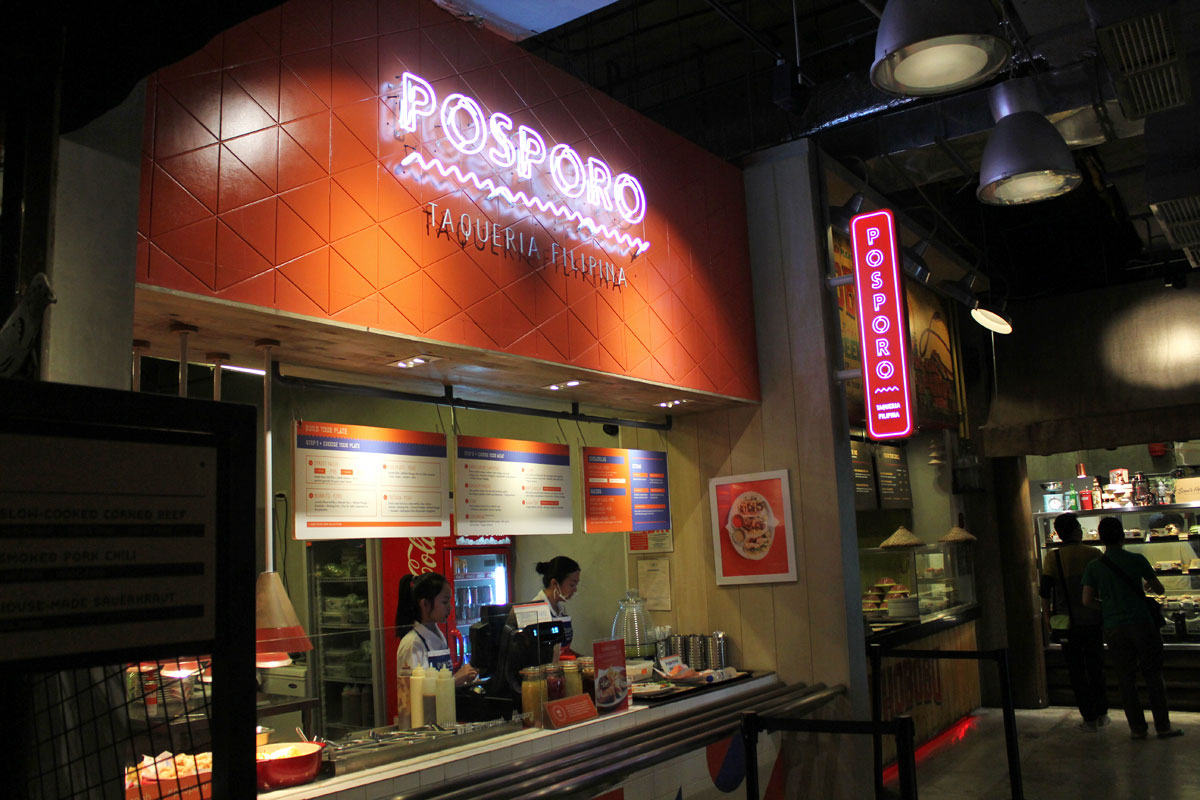 Skateboard art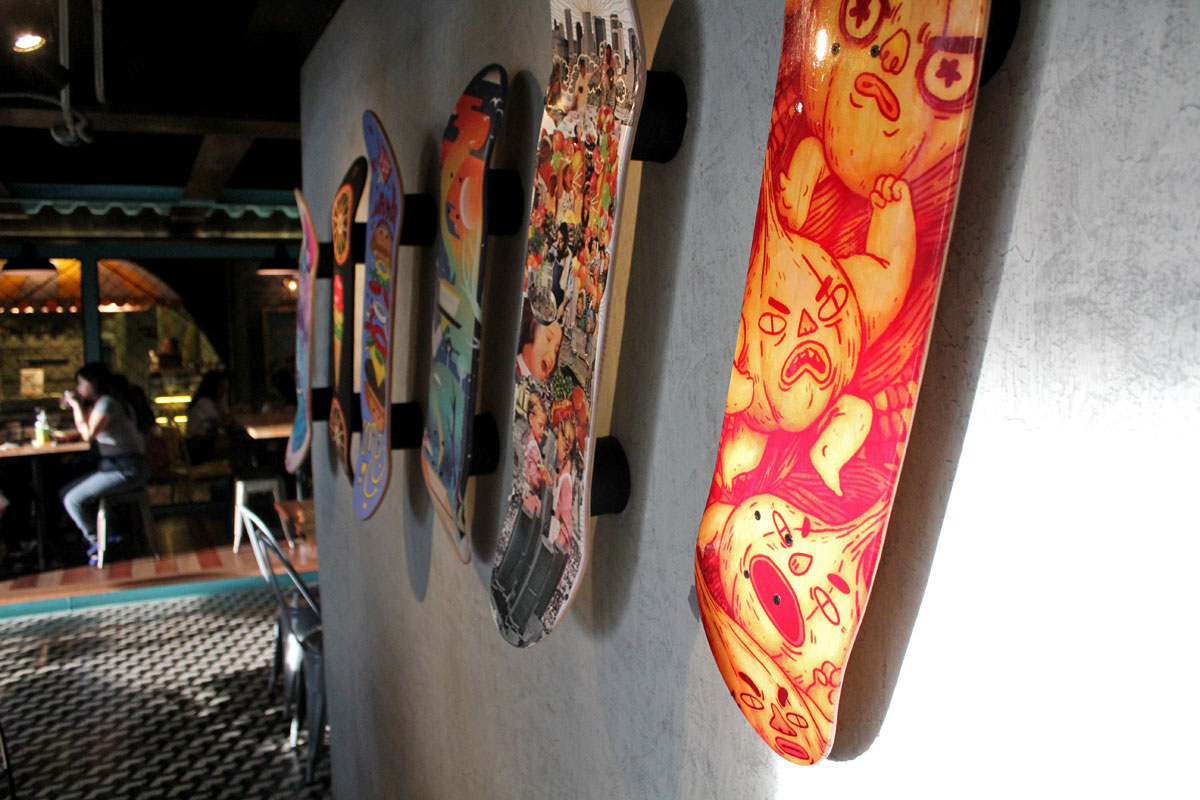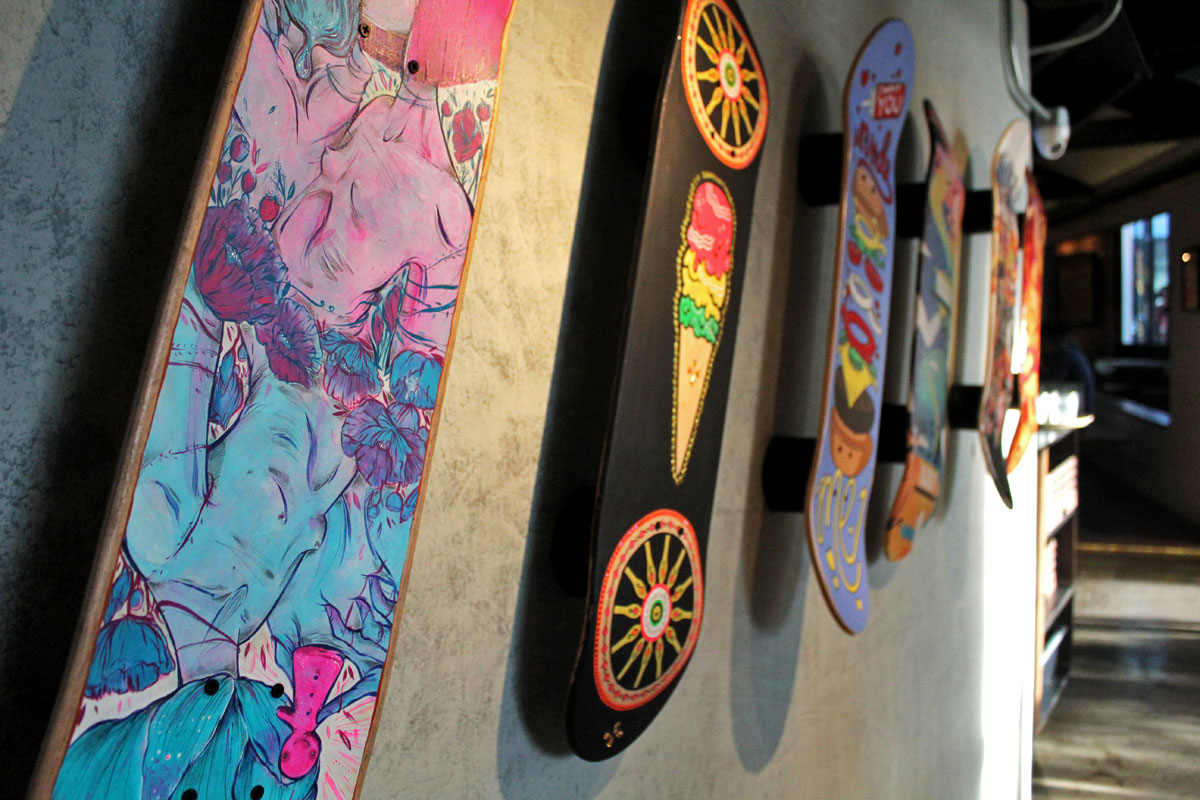 Smoky Bastard
WHAT THEY SERVE: Craft beer and cocktails
EXPECT TO SPEND: Around PHP 250 per craft beer, PHP 340 per cocktail
The place to get your drink on at Hole in the Wall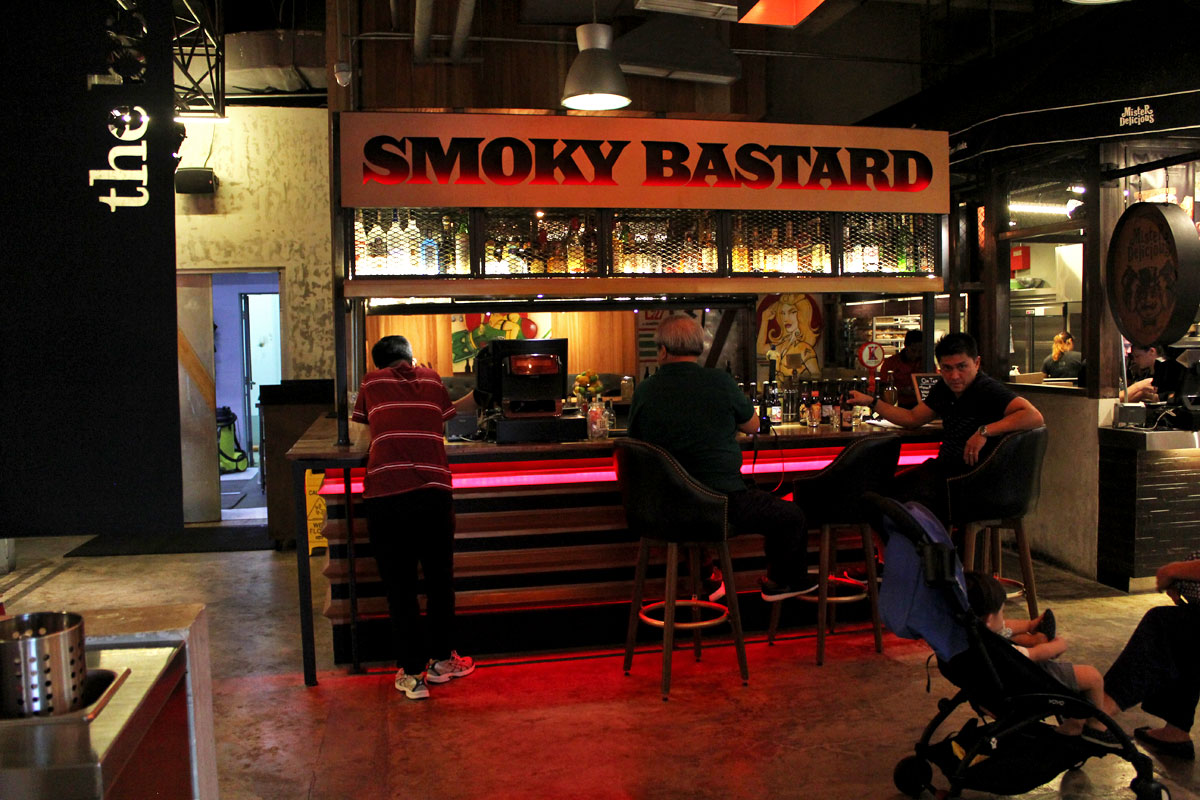 Spruce
WHAT THEY SERVE: Cold-pressed juice
EXPECT TO SPEND: PHP 250 per bottle
For the health conscious, Spruce specializes in cold-pressed juice blends.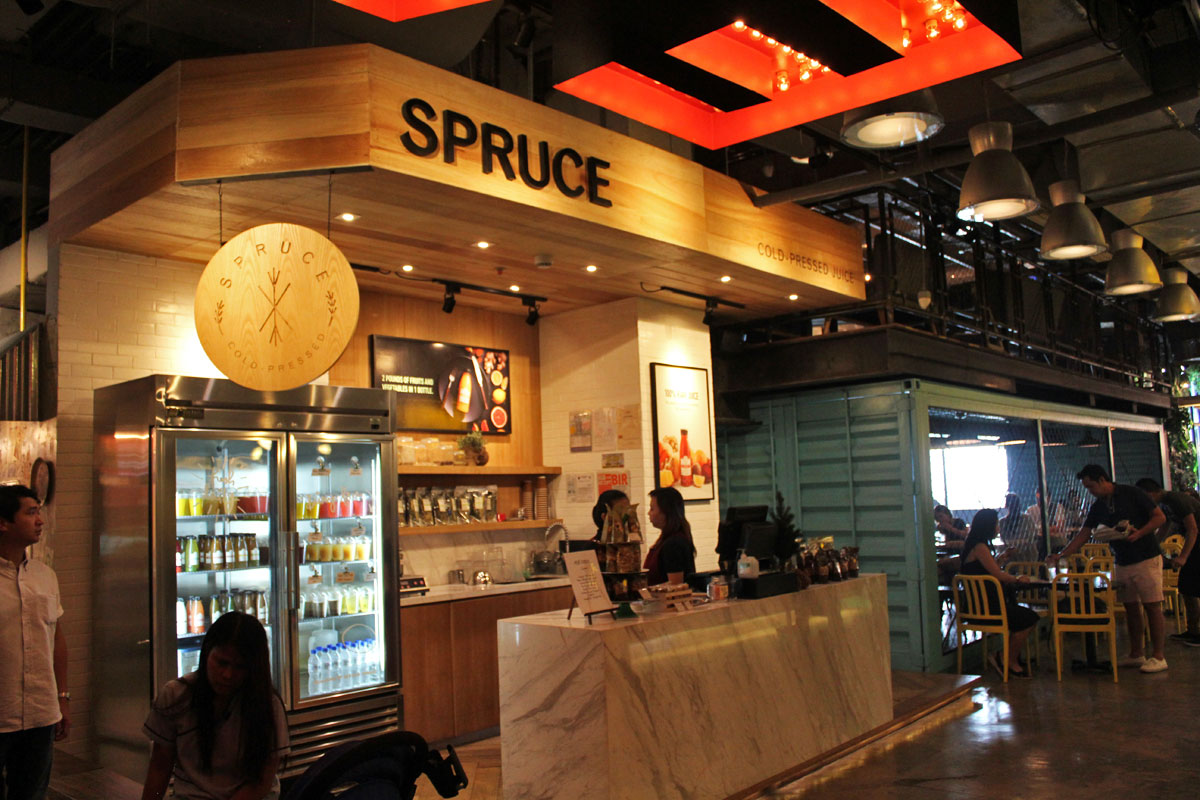 I will!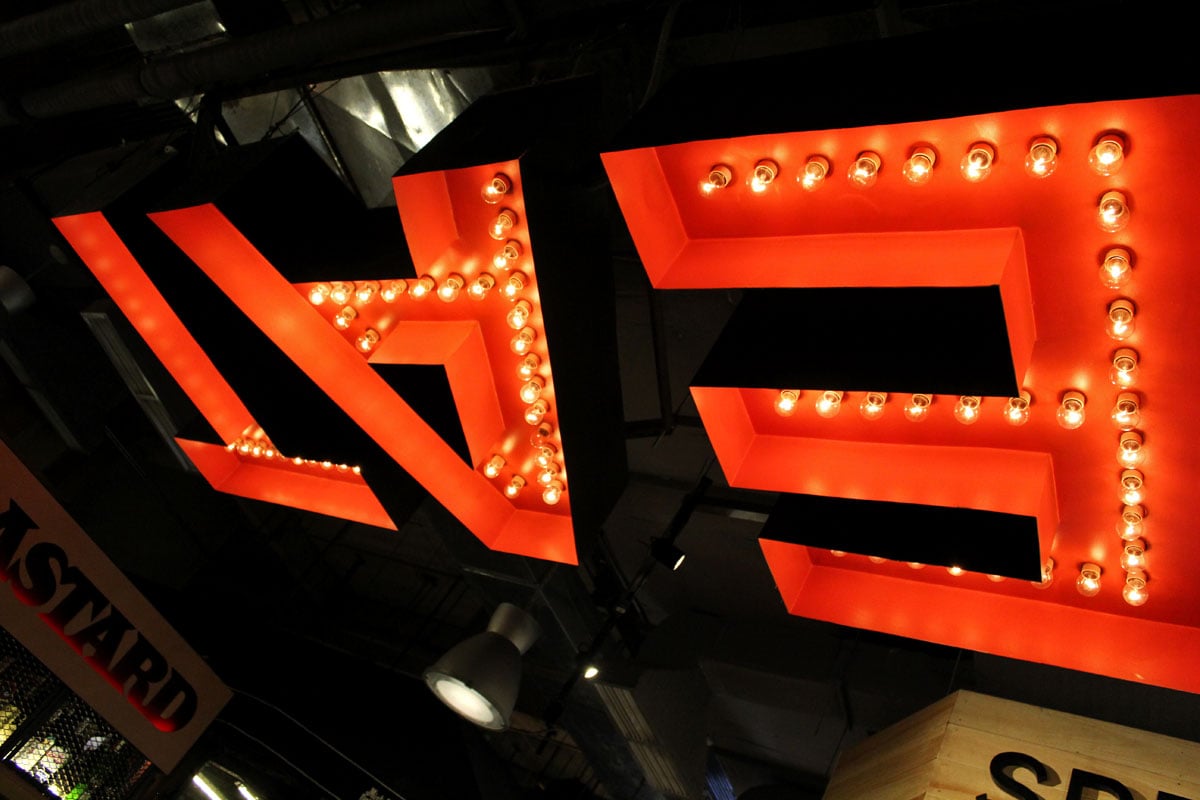 Scout's Honor
WHAT THEY SERVE: Craft cookies
EXPECT TO SPEND: Around PHP 320 per set
Scout's Honor makes beautiful craft cookies. You can get them in "sets" — with milk or coffee and a scoop of ice cream.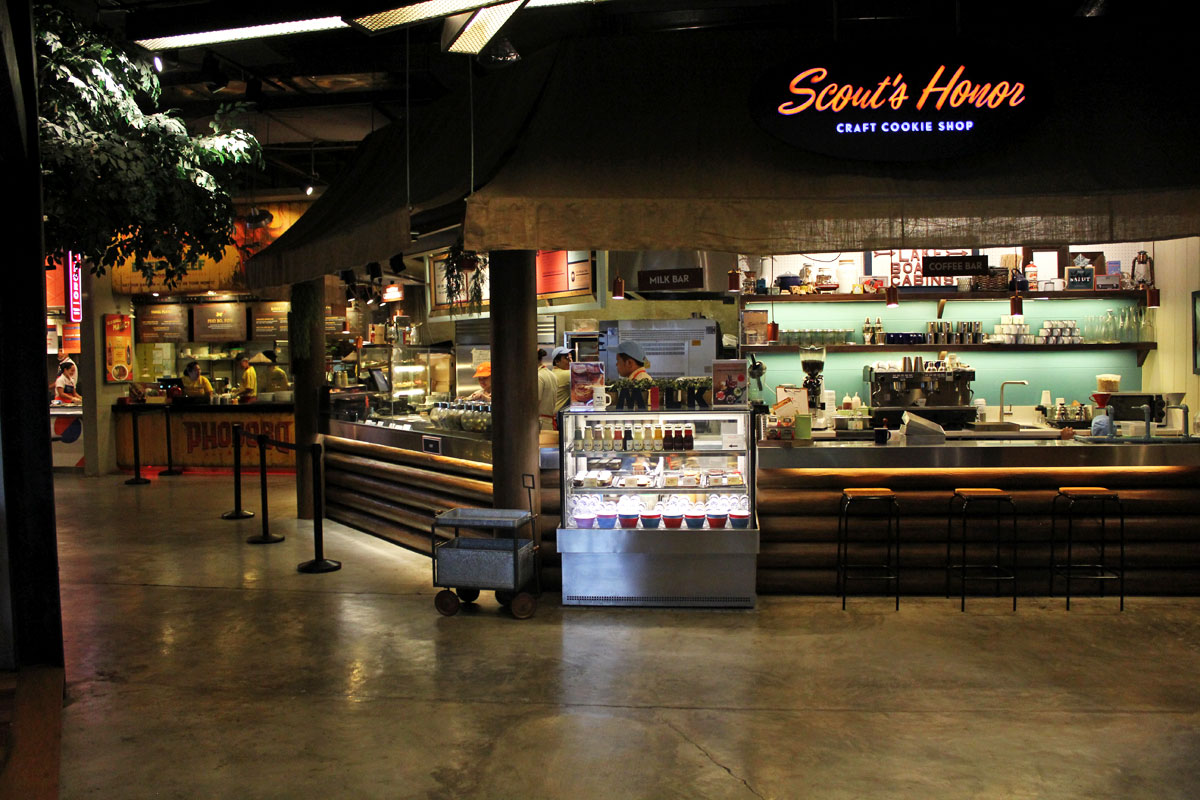 How good do these look?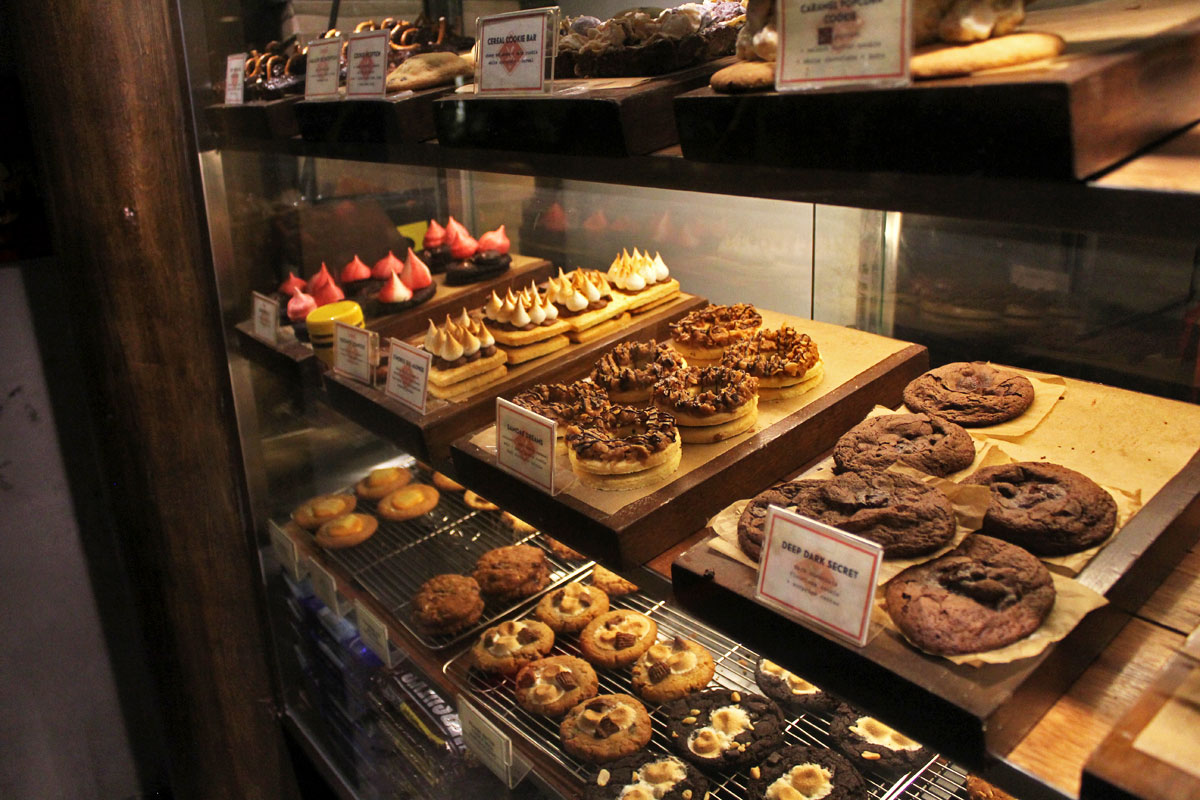 Green Cheese
WHAT THEY SERVE: Japanese cheesecakes and matcha
EXPECT TO SPEND: Around PHP 150 per slice with matcha latte
These guys specialize in Japanese cheeseckaes, smoothies, and lattes made with matcha.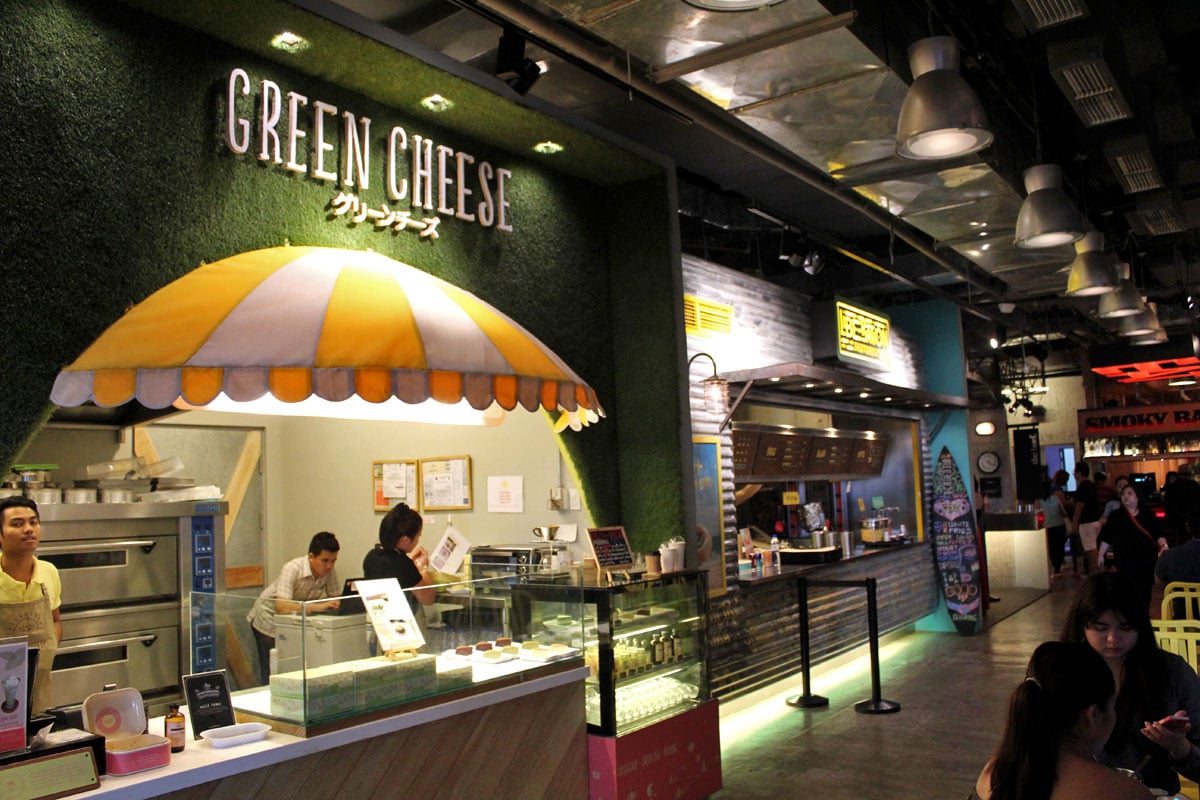 Matcha lava cake a la mode with black coffee. Seriously YUM.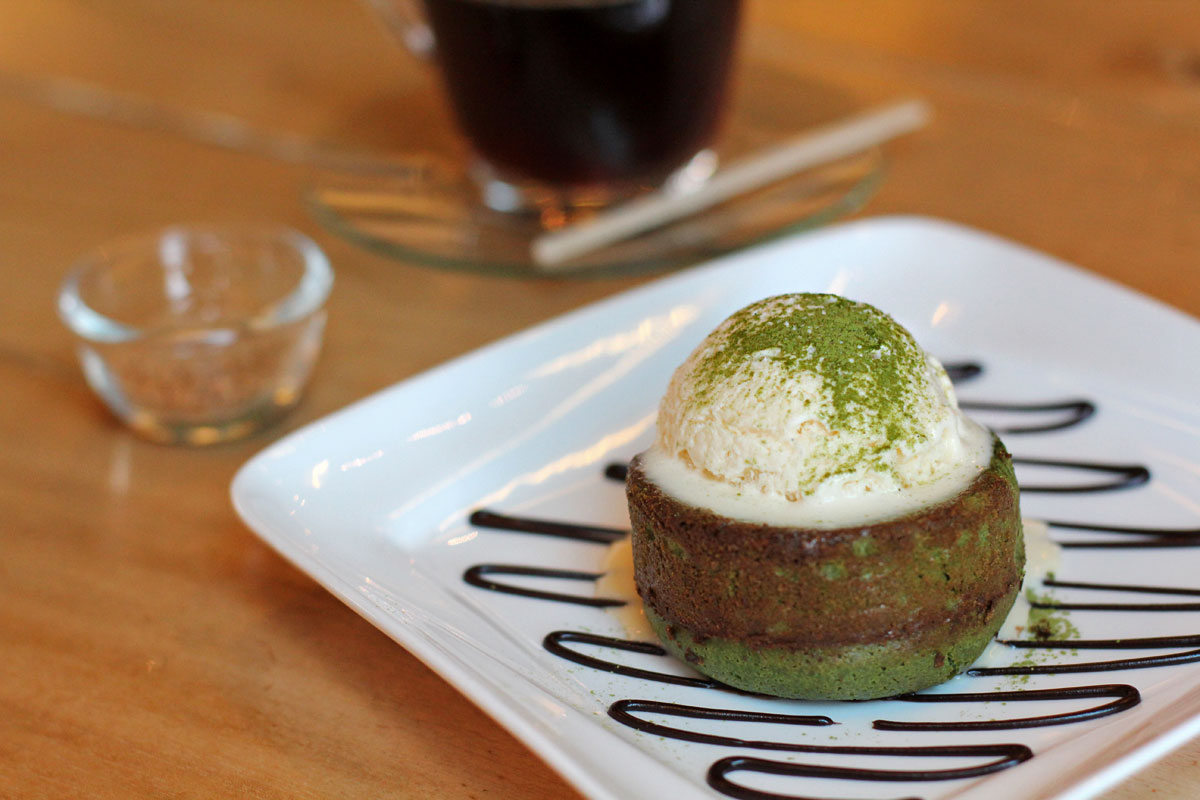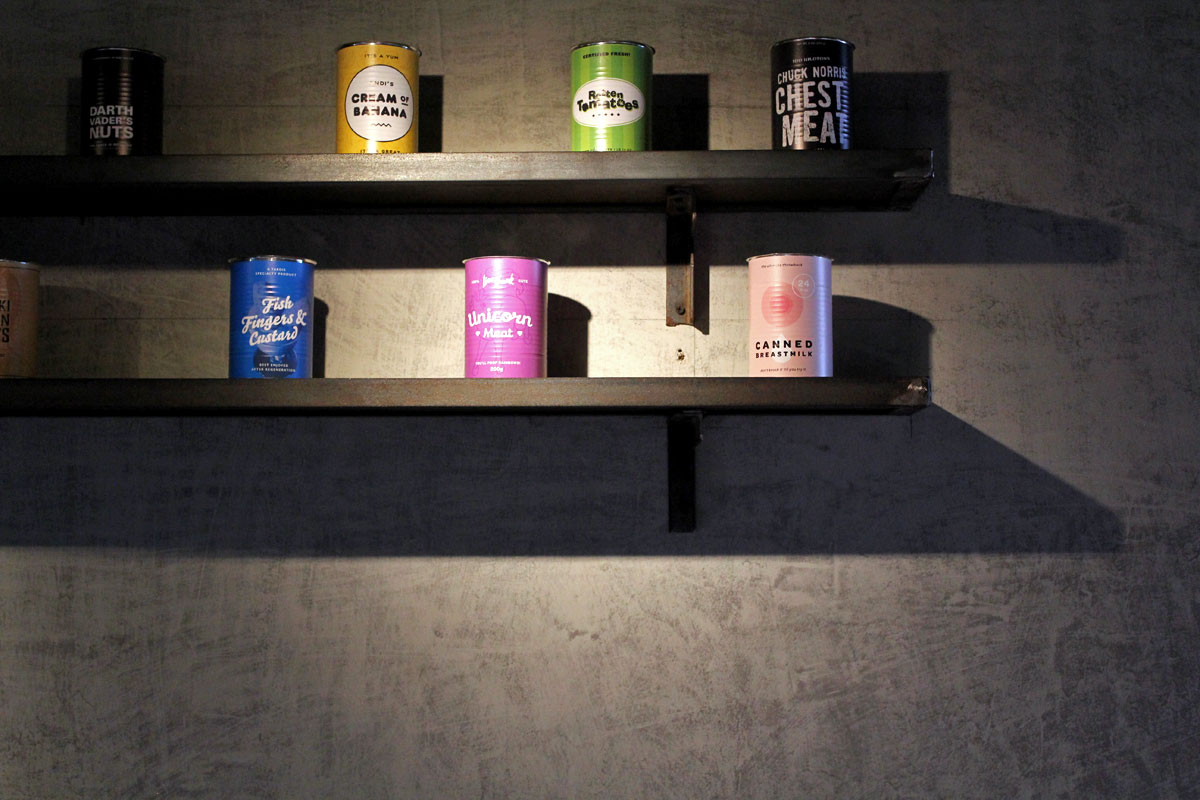 Tiny Duchess
WHAT THEY SERVE: Sweet and savory eclairs
EXPECT TO SPEND: Around PHP 60 per eclair/puff
Most of us know eclairs and puffs to be sweet, but have you ever had them savory? Tiny Duchess makes them with savory ingredients like mushroom, smoked salmon, and goat cheese. Interesting.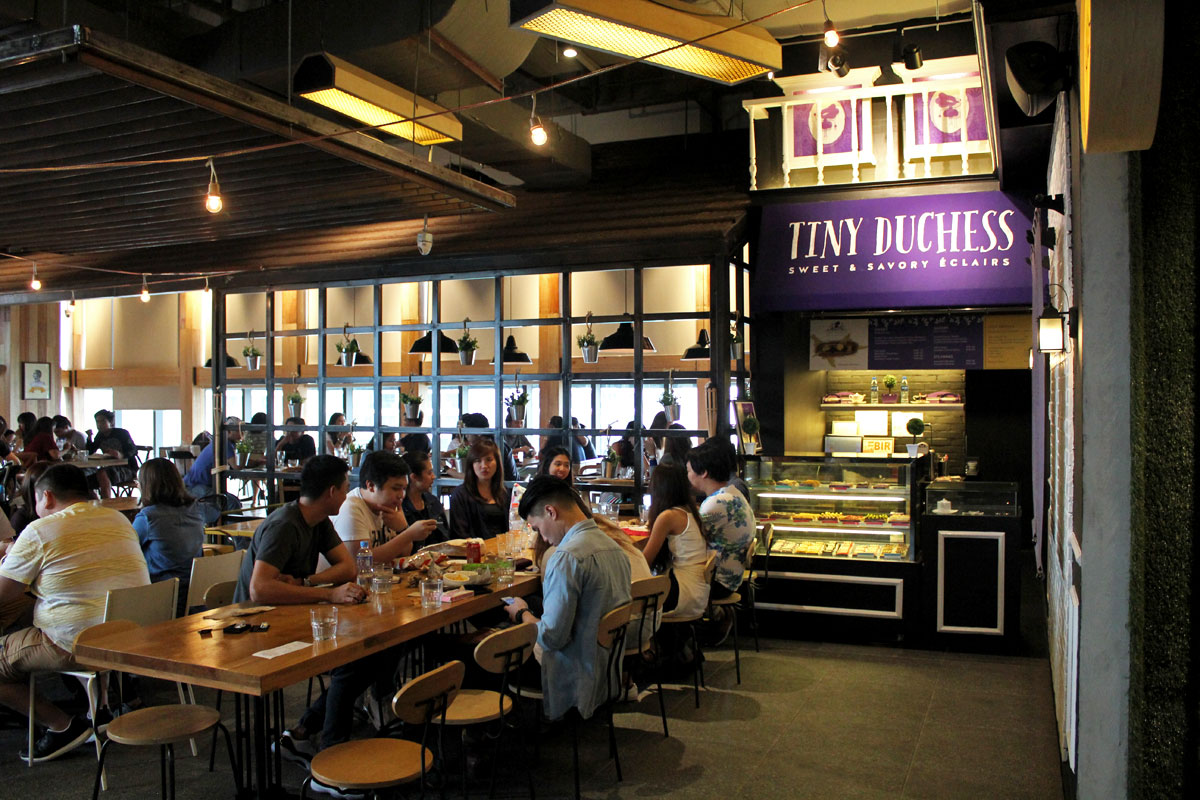 The main dining area. Notice how the chairs are all different? Check out how the lights are strung up too. So cool this place.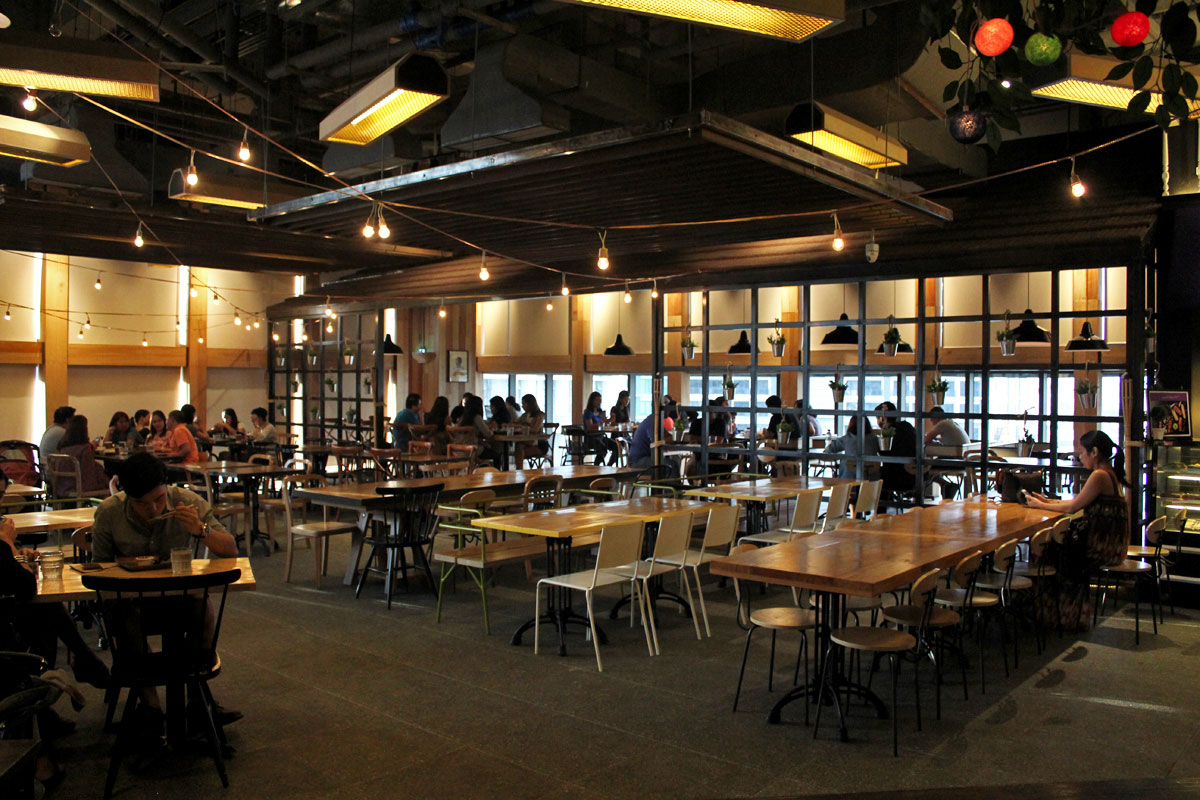 If you're visiting Hole in the Wall for the first time, I suggest going for the chicken and waffles from Big Bird or one of Mr. Delicious' reuben sandwiches. As far as I know, not many places in Manila offer these and theirs are top notch.
Hole in the Wall, Century City Mall, Makati, Philippines
4th Floor Century City Mall, Kalayaan Avenue, Barangay Poblacion, Makati
Tel: 801-1230
Mobile: 0917-580-2558
Website: holeinthewall.ph
Facebook: holeinthewallPH
Instagram: holeinthewallph
Email: [email protected]
Operating Hours: Sun-Thurs, 11AM-11PM / Fri-Sat (11AM-1AM)
For more Manila travel tips, check out our First-Timer's Travel Guide to Manila, Philippines (from a local)