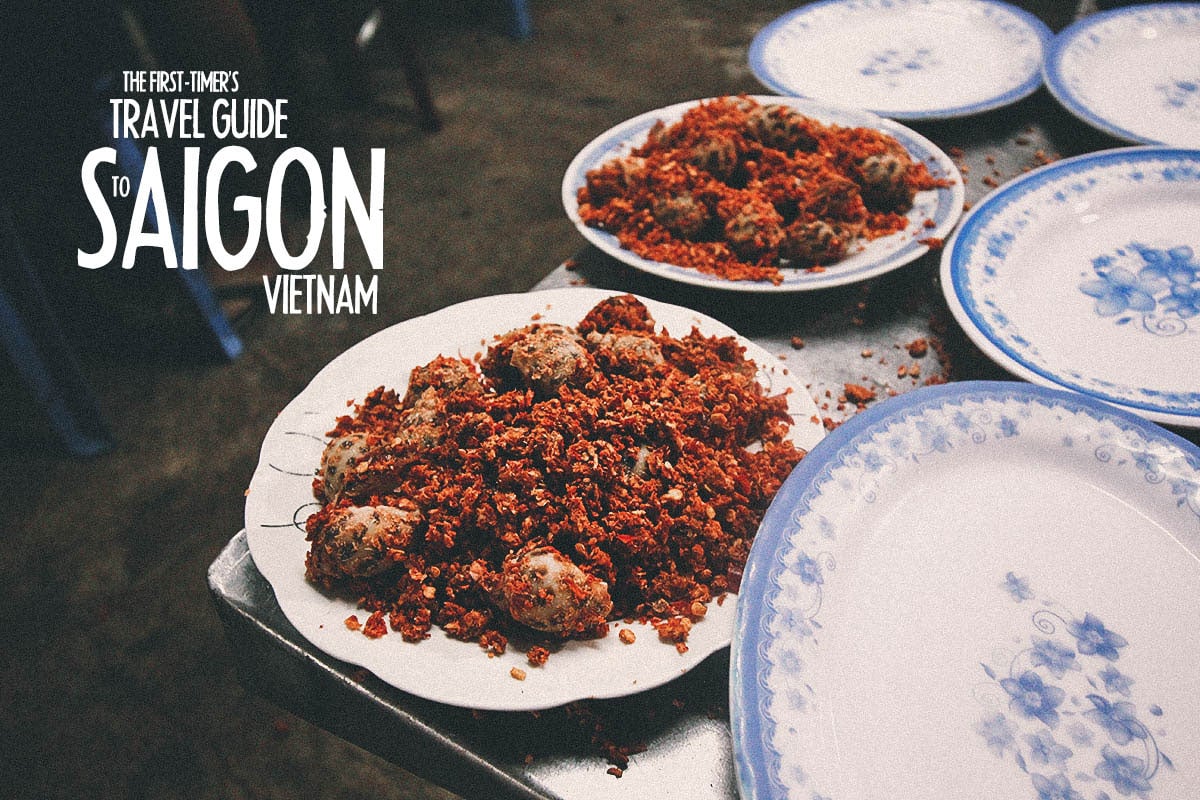 The First-Timer's Travel Guide to Ho Chi Minh City (Saigon), Vietnam
Ho Chi Minh City was the last leg of our two week trip to Vietnam. It was also the shortest.
When planning our trip, I had read that Saigon was like your typical modern Southeast Asian city. Like Manila in my native Philippines, many travelers treated it more like a stopover than a destination. They suggested spending no more than one or two days in the city, which is what we did.
Truthfully, it did remind me a lot of Manila. It lacked the old world charm of Hanoi and felt more like a modern metropolis with trendy bars and a pulsating nightlife. Younger travelers would probably enjoy that, but Ren and I are closer to 50 than we are to 30 so those things don't appeal to us anymore.
What we did find appealing however, was Saigon's vibrant street food culture that was the best among all the stops we made in Vietnam. Despite spending little more than two full days here, we left with the most memorable dining experiences of our trip. It's been over four months since we left Saigon and I still find myself often thinking about "waterfall chicken" and "seafood street".
Compared to more exotic destinations like the Mekong Delta, Ho Chi Minh City may not be as interesting to many tourists, but if you travel for food like we do, then you'll find that this city has a lot to offer.
GUIDE TABLE OF CONTENTS
SAIGON AT A GLANCE
Located in the southern region of the country, Ho Chi Minh City is the biggest city in Vietnam by population, but it isn't the capital. That distinction goes to Hanoi in the north. Formerly known as Saigon, it was merged with surrounding Gia Định Province in 1976 and renamed Ho Chi Minh City in honor of the communist revolutionary leader credited for uniting the country at the end of the Vietnam War.
Today, the city is still informally known as Saigon. Being shorter, the name Saigon is used more often in daily speech, particularly by the Southern Vietnamese. The locals we interacted with did in fact refer to their city as Saigon rather than Ho Chi Minh City. I'll be using both terms interchangeably in this guide.
BEST TIME TO VISIT
Unlike Hanoi in the north that sees climate changes akin to the four seasons, Saigon only has two seasons – dry (Dec-Apr) and wet (May-Nov). It stays warm throughout the year with an average temperature of about 28°C (82°F).
DRY SEASON: Ho Chi Minh City's dry season is from December to April. It's considered the best time of the year to visit Saigon even though it's also the warmest. Vietnam is largely a Buddhist country but they do celebrate Christmas and New Year, making December to January a festive time to visit the city.
WET SEASON: The wet season in Saigon is from May until November. Humidity is at its highest and tropical storms are more frequent. Unless you like rainy and sticky weather, then it's probably best to go during the dry season.
We visited Saigon in late April and the weather was pretty good. It was hot but it wasn't too humid, which was fine by me. I'll take hot over humid any day. Weather-wise, January to March seems like the best time to visit Ho Chi Minh City. The skies are clear, temperatures are relatively mild, and humidity is at its lowest.
Just be mindful of the Tet holiday (Vietnamese New Year) which happens sometime between the end of January and early February. Many establishments will be closed during that time and accommodations will be at their most expensive.
HOW TO GET THERE
We flew in to Ho Chi Minh City but there are many ways to get there depending on where you are. Assuming you'll be flying in to the city like we did, then you'll be arriving at Tan Son Nhat International Airport which is about 30-45 minutes from downtown Saigon.
BY PRIVATE TRANSFER: Private transfers are the easiest way to get to your hotel from the airport, though they won't be the cheapest. You can probably arrange for one through your hotel, but if not, then you can book a private transfer through Klook.
BY UBER/GRAB: We took Grab going in to Saigon from the airport and Uber on our way out. If I remember correctly, we paid around VND 65,000 for Grab. The total was actually VND 53,000 but our driver charged us extra for toll/parking fees or something like that. To go back to the airport from our AirBnB rental, we paid VND 73,000. Traffic was heavier at that time though hence the surge pricing. In general, Uber or Grab are the best ways to get around Saigon.
BY TAXI: A taxi from Tan Son Nhat to your hotel in District 1 should cost you between VND 150,000-170,000. I read that some taxis may try to rip you off so it's best to go with the two most reliable companies – Mai Linh (white and green) and Vinasun (white). Ignore any other taxi companies and be sure to get metered taxis because fixed rates will be higher. To avoid the hassle, get an Uber or Grab instead. Not only are they more reliable, they're cheaper too.
BY BUS: If you're on a budget, then you can take the Yellow Bus 109 to get to the city. They run every 15-20 minutes from 5:30AM till 1:30AM and cost VND 20,000 each way. It will run through the city center and make its final stop at Pham Ngu Lao street. Another option is Yellow Bus 49 which will take you directly to your hotel for VND 40,000. You can follow this link on Saigon airport shuttle buses for more information.
We flew into Saigon but there are other ways to get there depending on where you are. I suggest checking 12Go Asia to find route options available to you. You can click on the link or use the widget below. 12Go Asia is a popular transportation website that services Singapore, Cambodia, Thailand, Malaysia, Vietnam, Laos, and the Philippines.
HOW LONG TO STAY
Like Hanoi, Saigon is a stopover for many travelers. They'll stay here maybe one or two days before moving to less urban destinations like the Mekong Delta or Da Lat. Assuming you only want to see the best of Ho Chi Minh City before moving on to other parts of the country, then one full day is enough, two if you don't want to rush. If you plan on taking a day trip to the Cu Chi Tunnels, then I'd say two full days in Saigon is ideal.
HOW MUCH MONEY TO BRING
The unit of currency in Vietnam is the Vietnamese Dong (VND). Vietnam is an inexpensive country even by Southeast Asian standards. It's about the same as Cambodia, maybe even cheaper. Assuming you'll be sharing a hotel room with one other person and staying only in Ho Chi Minh City for a couple of days, then a budget of around VND 700,000 per day should be plenty. This takes into account your hotel room, meals, transportation, pocket wifi rental, museum entrance fees, and some light shopping. If you plan on doing any guided tours, then please take that into account when setting your budget.
Giving budget suggestions is always tricky because everyone's travel habits are different. Some people prefer dorms, others need to stay in private rooms (like us). Some like to shop, others like to eat (again, like us). With that said, VND 700,000 is a good baseline which takes into account the essentials. Please feel free to adjust based on your own personal travel habits.
WHERE TO EXCHANGE CURRENCY
The best places to exchange currency in Vietnam are at banks and gold/jewelry shops. We exchanged currency at a gold shop in Hanoi and at a bank in Saigon and rates from both were excellent. I think the gold shop may have been better but not by much. In Saigon, the gold/jewelry shops around Ben Thanh Market are said to offer the best rates.
I've read that you can exchange currency at some hotels as well, but the rates generally aren't good or they charge you an additional fee for the service. Same goes for the airport. If you'll be arriving at Tan Son Nhat Airport and need to exchange currency, then change a small amount there, just enough to get you into the city, and change the rest at a bank or gold shop.
Alternatively, you can also withdraw VND from an ATM. The rates are competitive. Just be sure to advise your bank you'll be using your ATM card overseas so you don't run into any problems. In my experience, my ATM card works in some machines but not in others.
WHERE TO STAY: M2C+ Cafe
District 1 around Ben Thanh Market is considered the best and most convenient place to stay in Saigon. We stayed at this AirBnB rental in the area bordering Districts 1 and 3. It was a short walk to Ben Thanh Market and the War Remnants Museum from here.
Staying at a place like this was a first for us. It isn't a hotel or a true BnB but an actual cafe. The owners of M2C+ Cafe own the building and they have a couple of rooms available for rent on AirBnB. The cafe occupies the first two floors of the building while this room is on the top floor. I believe they're opening a nail spa on the third floor as well. Check out my post on M2C+ Cafe in Saigon for more pictures and information.
You can book a room there through AirBnB. If M2C+ Cafe isn't the ideal place for you, then you can search through their list of Saigon accommodations. If you're new to the site, then you can get USD 31 free travel credit via THIS LINK. Alternatively, you can book a hotel room in Saigon through Booking.com or Agoda as well.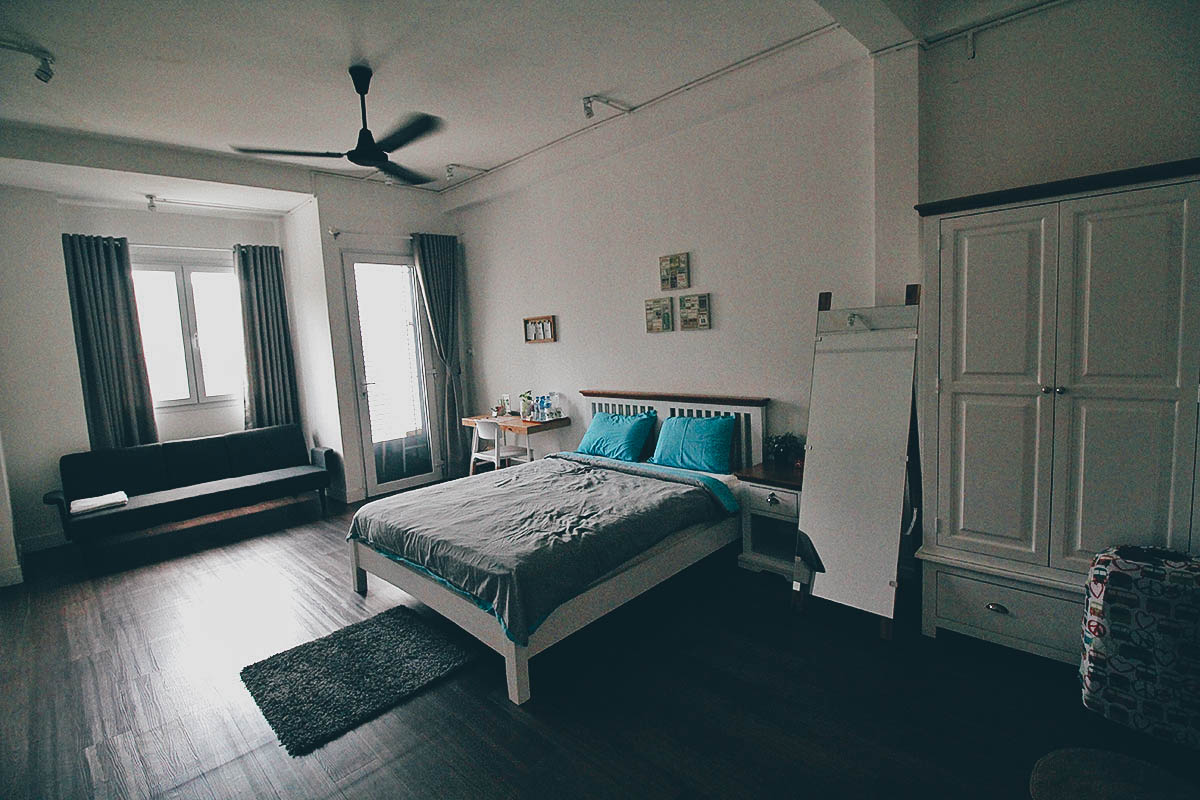 Approximate Room Rate: Around USD 38 per night (as of April 2017, with breakfast)
WHERE TO GO / WHAT TO DO
1. Take a City Tour of Saigon
What better way to become acquainted with Saigon than with a city tour? Explore on your own or go on guided tours to see the city's highlights like Saigon Central Post Office (pictured below), Notre Dame Cathedral, Thien Hau Temple, and Reunification Hall. If you'd prefer to go on a guided tour, then you can book full or half day tours of Ho Chi Minh City through Klook or Kkday. We went on a city tour a few years ago and we were driven around in bicycle rickshaws for a portion of the tour. Fun!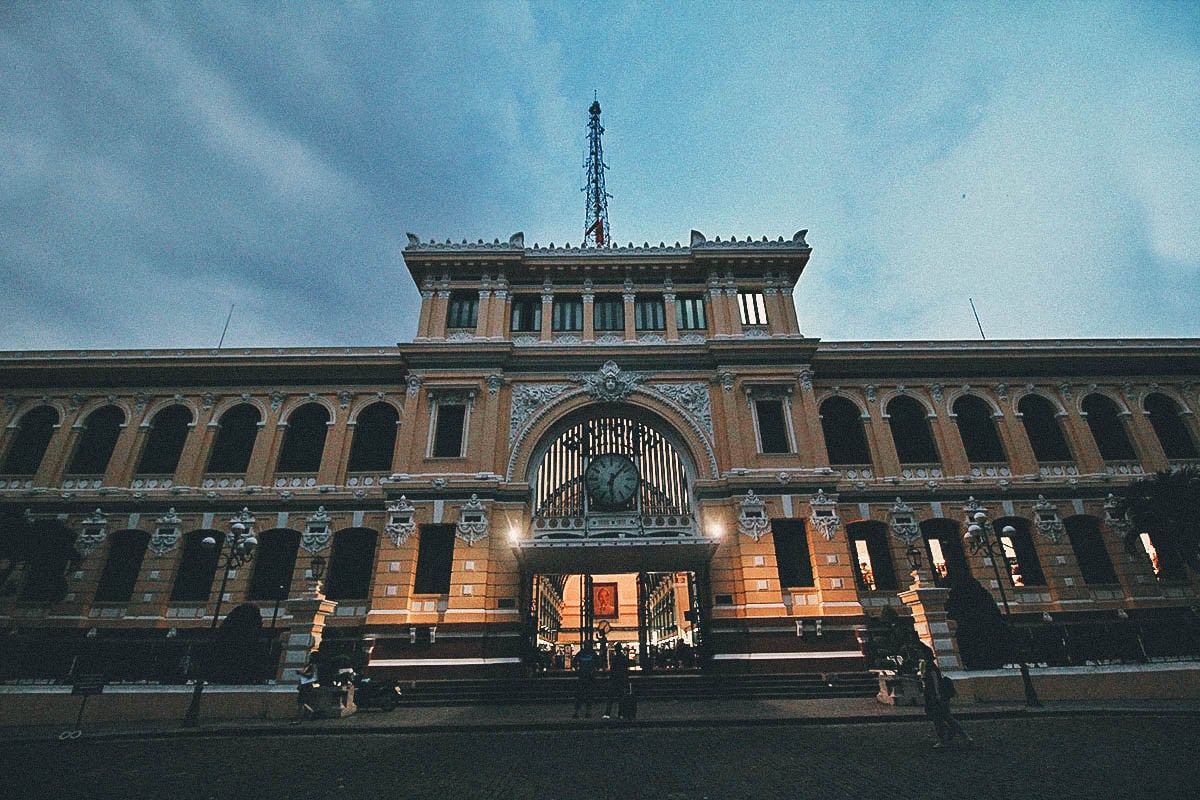 Length of Tour: Half or full day / Admission: Starts at around USD 10 per person for half day group tours
2. Visit the War Remnants Museum
If you're going on a Saigon city tour, then the War Remnants Museum may be one of the stops. If it isn't, then you may want to visit this place on your own. On display here are photographs, memorabilia, and vehicles of war like tanks, helicopters, even fighter jets. This museum is a little depressing, especially the exhibit on Agent Orange, so it may not be for everyone. But if the Vietnam War played a prominent role in your upbringing like it did in mine (ie Rambo), then you should definitely make a stop here.
Check out my post on the War Remnants Museum in Saigon for more pictures and information.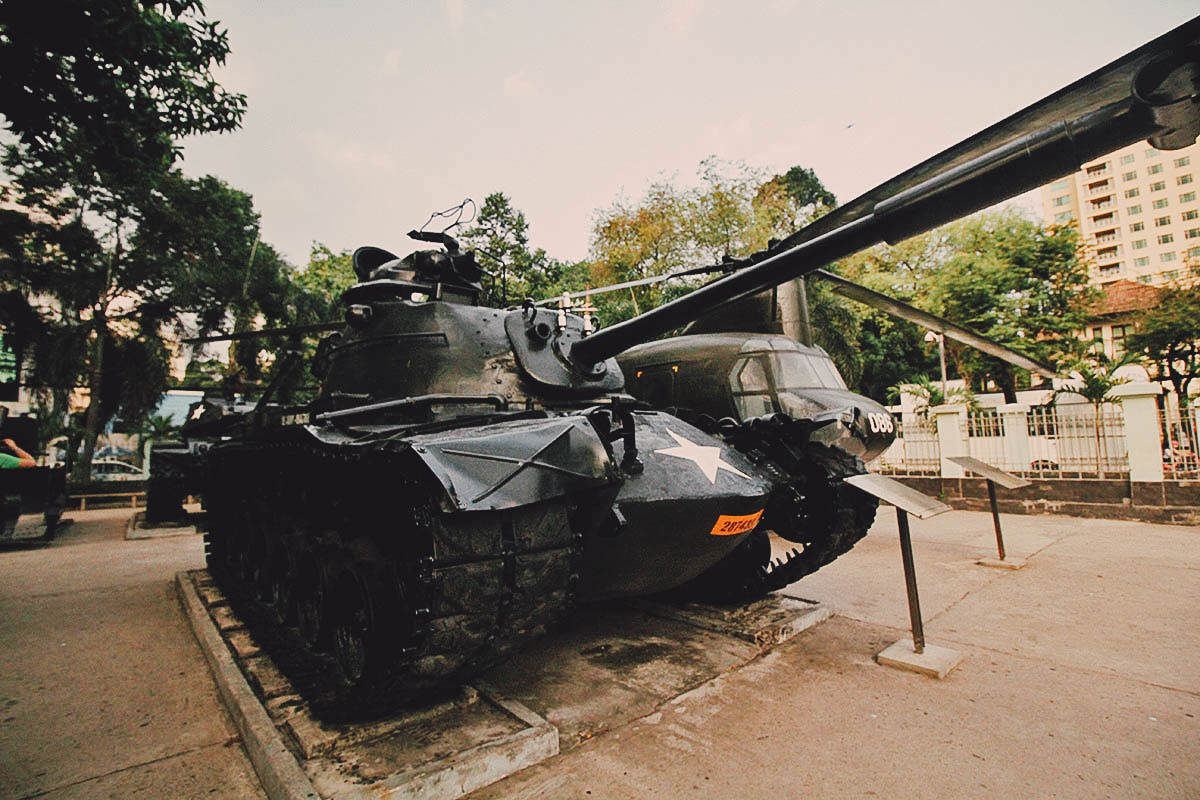 Length of Tour: Around 1-2 hrs / Admission: VND 15,000 per person
3. Crawl through the Cu Chi Tunnels
A Cu Chi Tunnels tour is probably the most popular day tour you can do from Ho Chi Minh City. It takes you through a curated tour of the Cu Chi jungle to show you what subterranean life was like for the Viet Cong during the Vietnam War. Tour highlights include a crawl through the famed tunnels as well as a chance to fire weapons used during the war. I got to fire ten rounds from an AK-47!
Check out my post on the Cu Chi Tunnels for more pictures and information.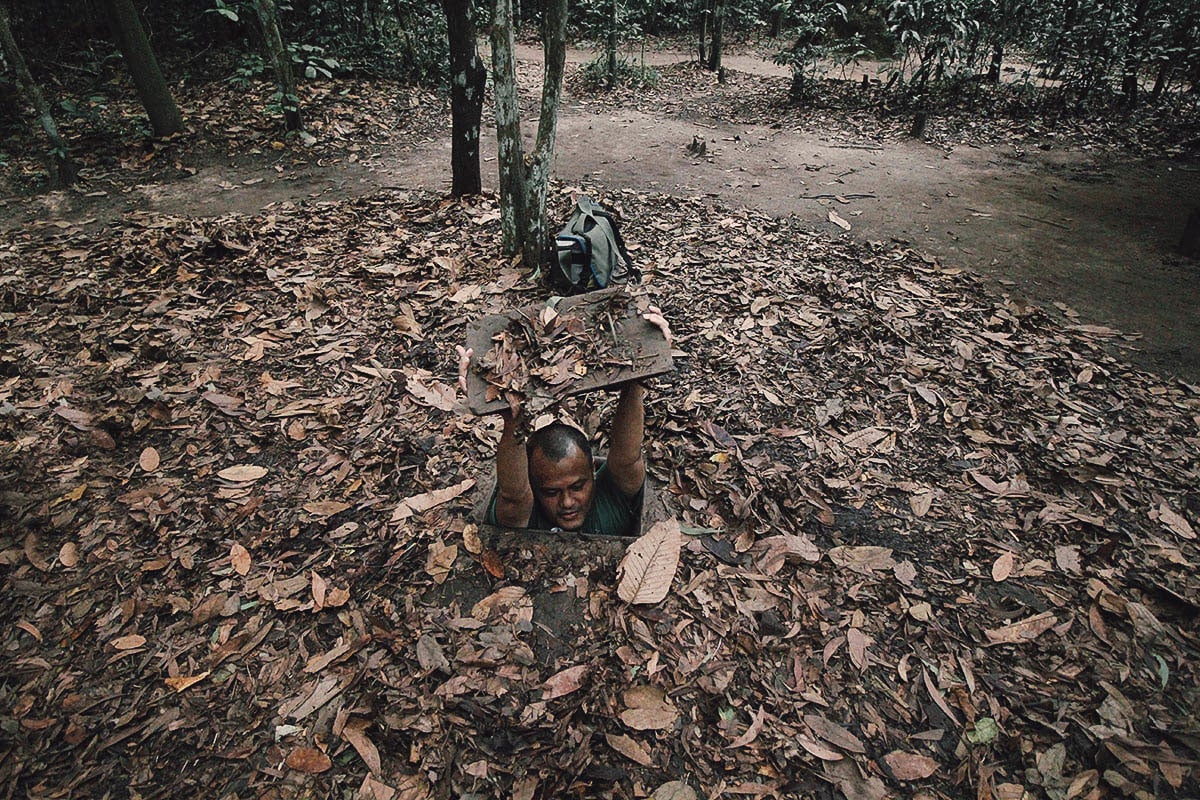 Length of Tour: Around 5 hrs / Cost: USD 26 per person
4. Take a Day Trip to the Mekong Delta
A visit to the Mekong Delta is another popular day trip you can make from Saigon. Considered Vietnam's "rice bowl", the delta is a fertile agricultural area that produces more than a third of the country's annual food crop. Rice is the staple crop here but coconut palms, fruit orchards, and sugar-cane groves also thrive in the region's nutrient-rich soil. The delta is home to thousands of animal species making it one of the most biologically diverse areas in the world.
We didn't have time to go to the Mekong Delta on this trip, but you can book a tour through Klook or Kkday. Visits to floating markets and a river cruise through the palm groves seem to be highlights of these tours.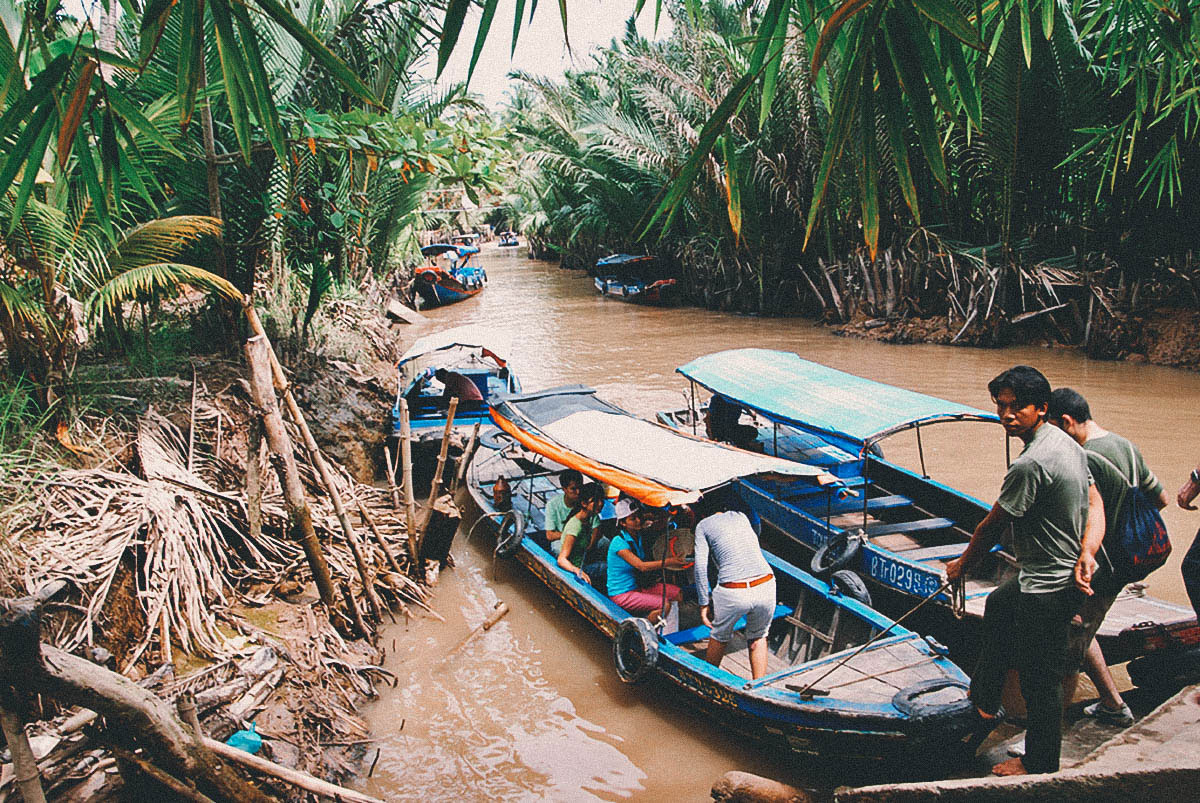 Length of Tour: Full day / Cost: Starts at around USD 12 per person (group tour)
"SAIGON – Mekong Delta" by William Cho, used under CC BY-SA 2.0 / Processed in Photoshop and Lightroom
5. Hire a Private Tour Guide
If you have something specific you'd like to do in Saigon, then you may want to hire a private guide. We told Alex, the founder of Inspitrip, that we wanted to experience authentic street food in Saigon so that's exactly what we did. He took us to several street food stalls and restaurants frequented mostly by locals, including Oc Oanh along Vinh Khanh Street which turned out to be one of the best meals of our trip.
Check out my post on experiencing Saigon like a local with Inspitrip for more pictures and information.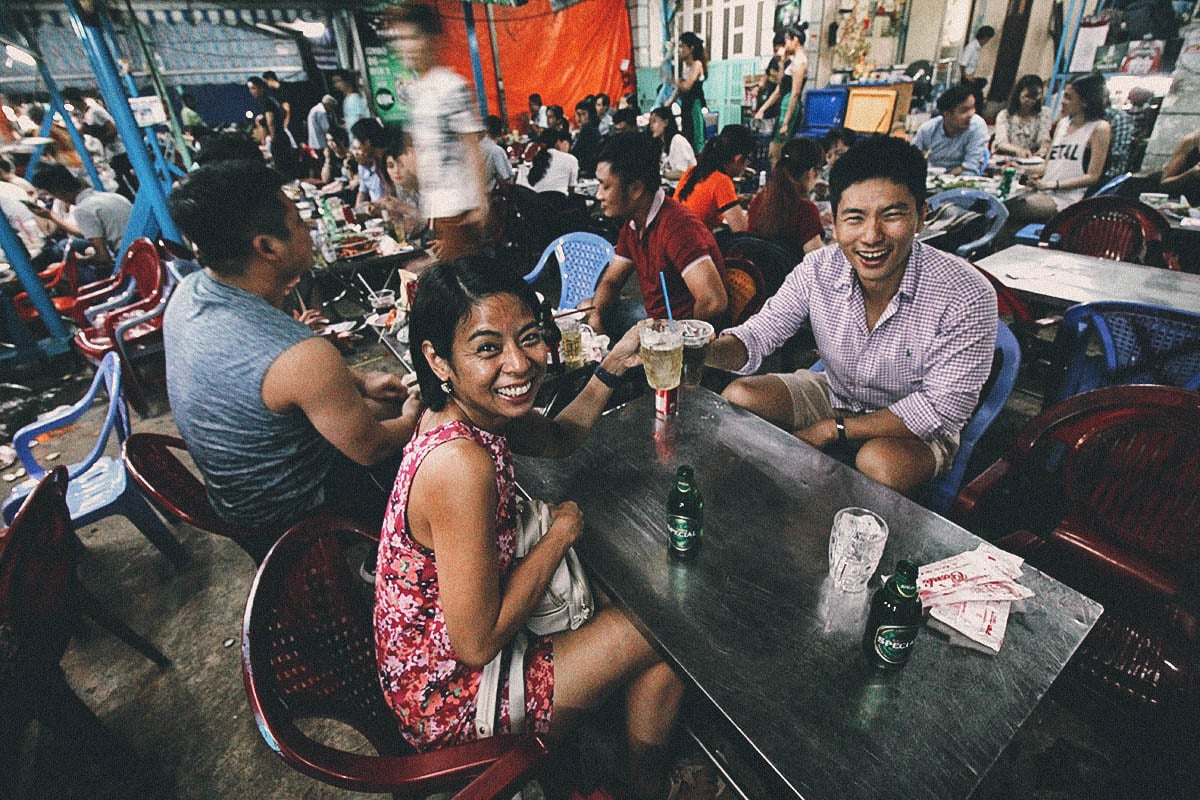 Length of Tour / Cost: Varies
THE ULTIMATE VIETNAMESE FOOD GUIDE
Vietnamese food won me over. I wasn't the biggest fan before our trip, but after spending two weeks exploring over fifty different dishes across the country, I left Vietnam with a newfound fascination and respect for the cuisine.
Vietnamese food is all about balance. It aims to achieve harmony in different aspects of cooking like taste, nutrients, and presentation. Fried foods are tempered with fresh greens, soft noodles with crunchy vegetables, warm pork with cold vermicelli. Phở and bánh mì may be the most popular dishes, but you'll see after reading our Vietnamese Food Guide that the cuisine has so much more to offer than that. From bánh cuốn in the north to cao lầu in Central Vietnam to cơm tấm in the south, you'll be pleased to find that Vietnamese food is every bit as diverse as its landscape.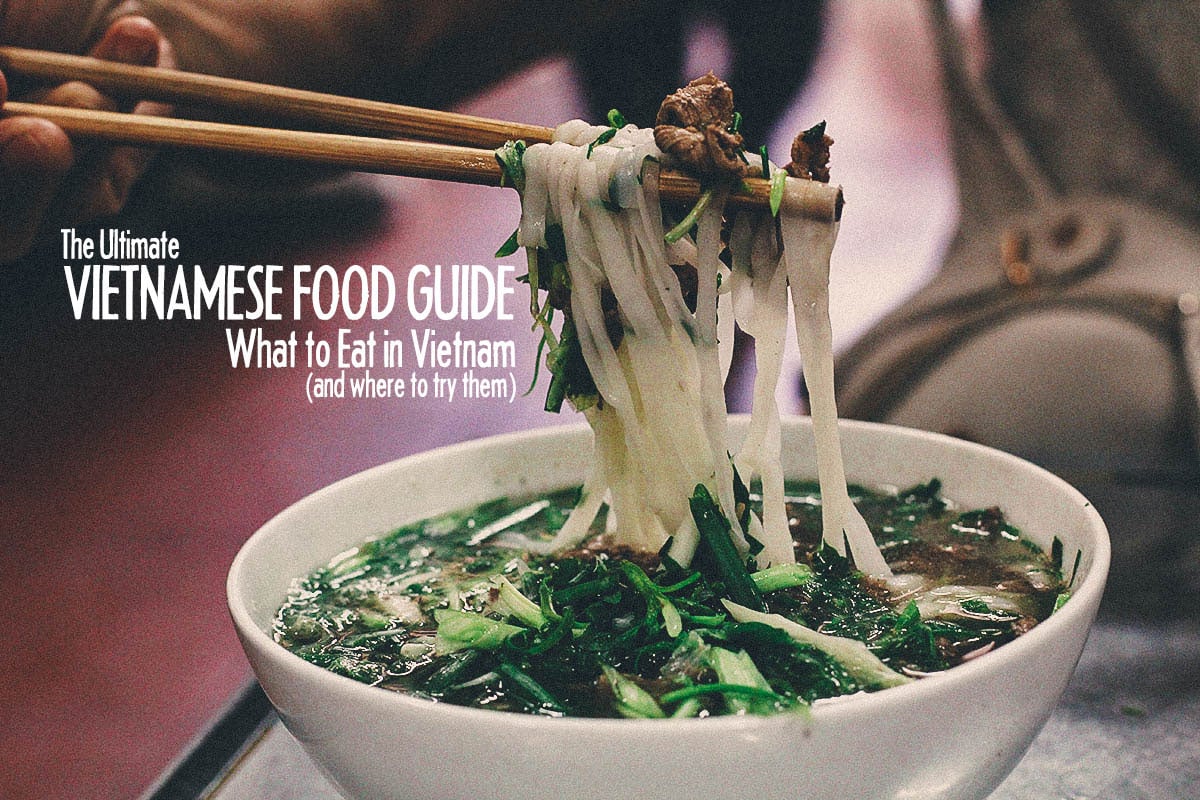 WHERE TO EAT IN SAIGON
10 Must-Try Vietnamese Restaurants & Street Food Stalls
While the link above takes you to a general Vietnamese food guide, this one focuses on must-try Vietnamese restaurants and street food stalls in Saigon. Ren consulted respected food blogs and crowd review websites to come up with a list of 10 must-eat places in Ho Chi Minh City. From nationwide favorites like phở and bánh mì to southern specialties like cơm tấm, this list will show you where to find some of the best places to eat in the city.
Most of the street food stalls we visited in Saigon were featured in Luke Nguyen's show, Street Food Asia. Turns out we were right to listen to him. Listed below this picture are our 5 favorites, 4 of which we learned about from his show. Be sure to click into the complete list of must-eat restaurants in Saigon to know where they are.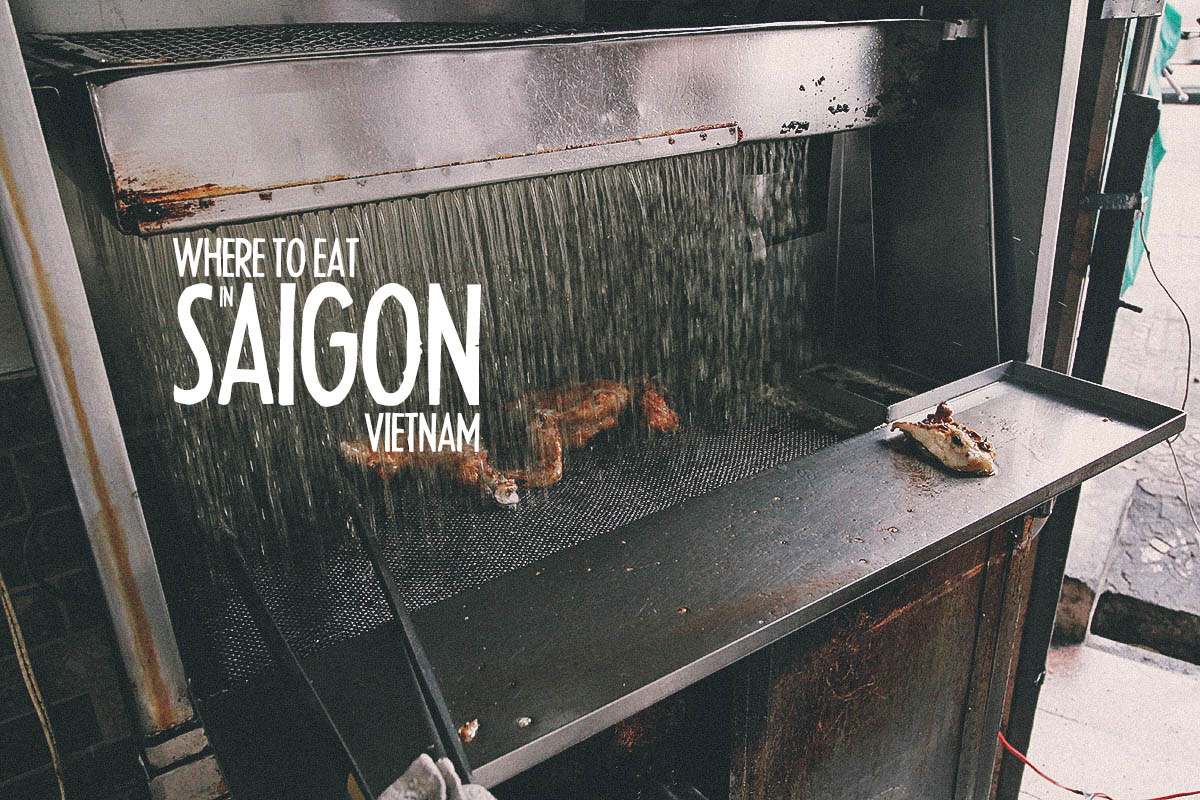 1. Bánh Mì Hòa Mã
Bánh Mì Hòa Mã is a street food stall that serves banh mi op la, a Vietnamese breakfast consisting of a baguette, sunny side up eggs, pate, and charcuterie. Open from 5-10AM, they serve your food in personal-sized skillets in an alleyway by the side of a building. I was busy crawling through the Cu Chi Tunnels so I couldn't go, but Ren said it was one of the best breakfasts she had in Vietnam. Be sure to come early because the place is popular and they've been known to run out of food.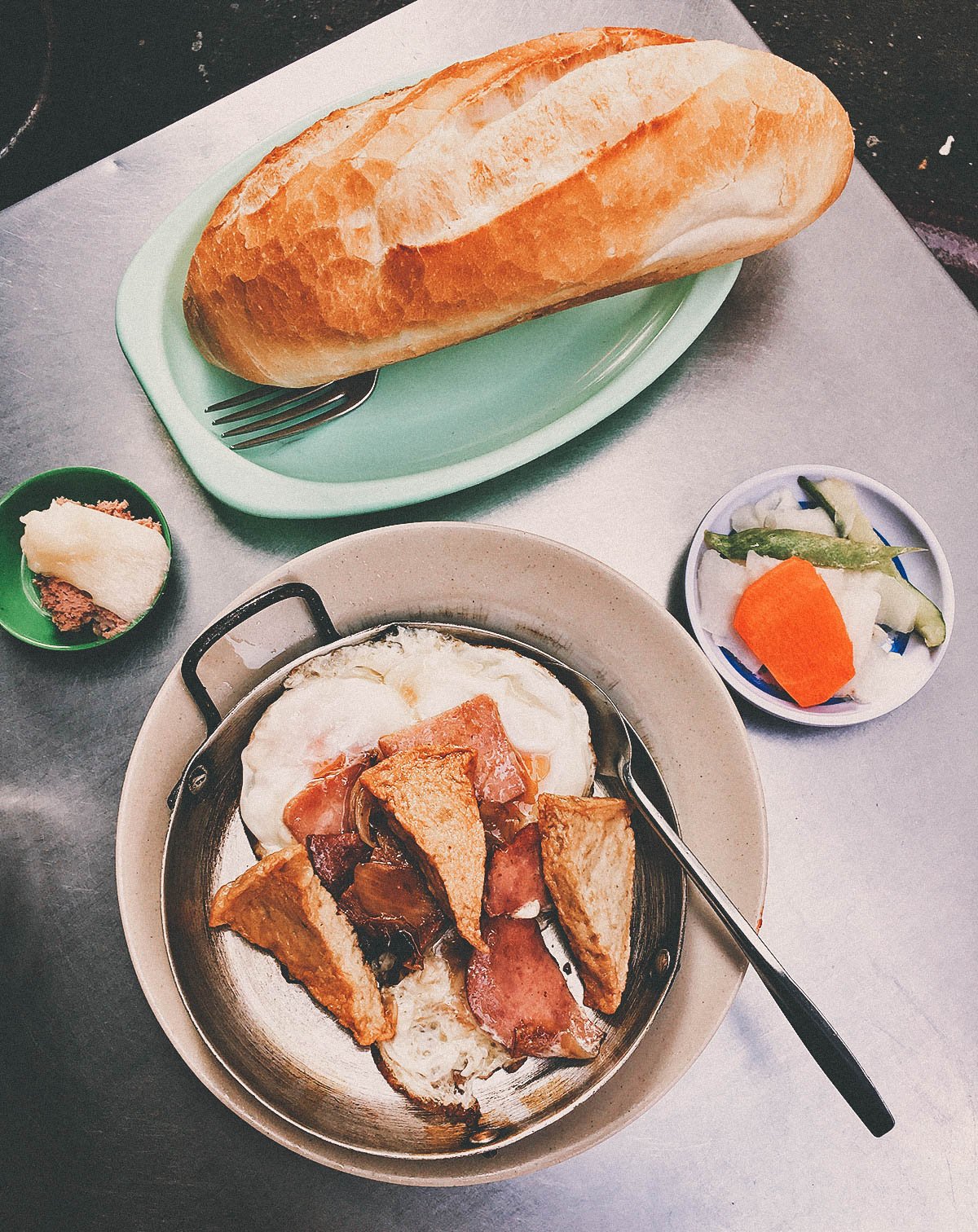 Expect to Pay: VND 50,000 per order of banh mi op la
2. Bánh Mì Huỳnh Hoa
We ate bánh mì everywhere in Vietnam but this one may have been my favorite. Opened over 30 years ago by a lesbian couple, the place is known locally as Banh Mi O Moi which basically translates to "lesbian banh mi". They're widely recognized as the best place to have bánh mì sandwiches in Saigon. I don't remember which one we ordered but it was delicious and loaded with ingredients like cold cuts, terrine, pork floss, and pickled veggies. Bánh Mì Huỳnh Hoa is hugely popular so be prepared for a wait. It's worth it.

Expect to Pay: VND 35,000 per banh mi
3. Phở Lệ Nguyễn Trãi
This was the only place in this short list of 5 that wasn't featured on Luke Nguyen's show. Instead, it was recommended to us by two locals – the food-loving owner of our AirBnB rental and Alex the founder of Inspitrip. As expected, the food was delicious. Their phở bo (beef pho), served with beef tendon, was the best phở I had on this trip. It was really good, much more flavorful I thought than northern phở.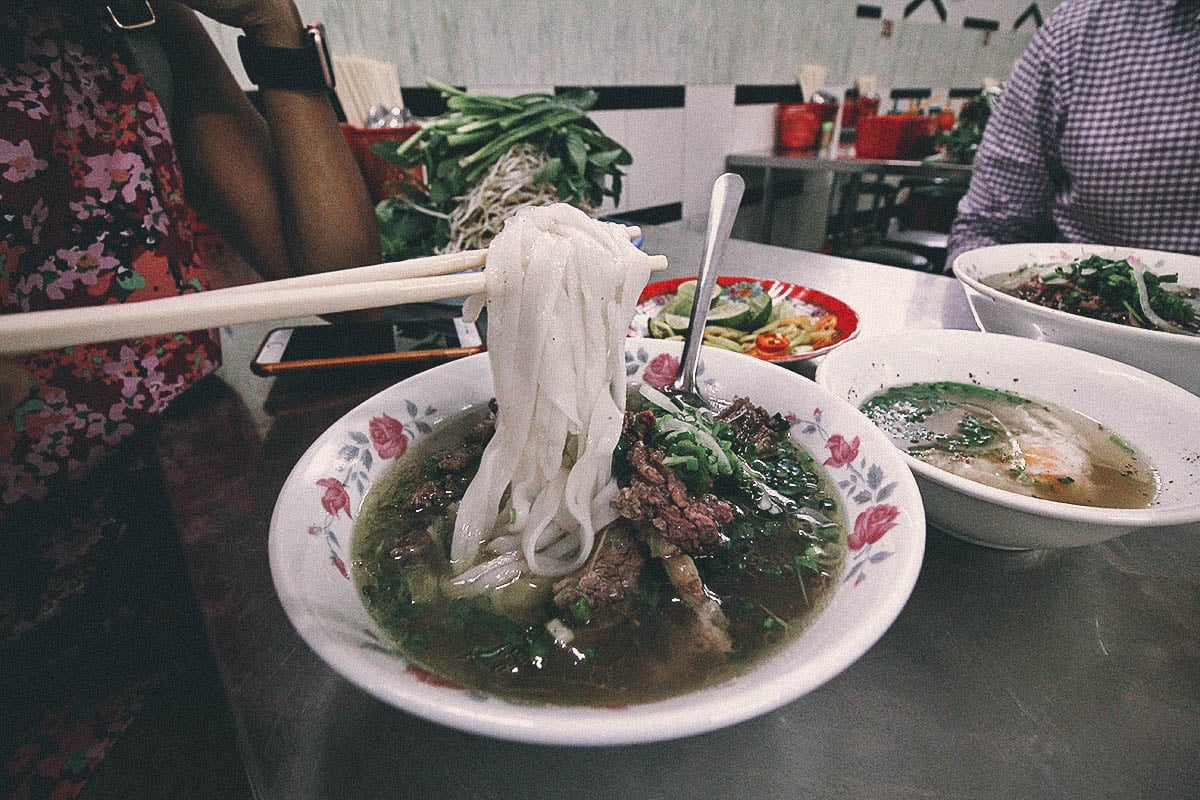 Expect to Pay: Around VND 50,000 per bowl of pho
4. Cơm Gà Xối Mỡ Su Su
We enjoyed many good meals in Vietnam but this dish may have been my favorite. Many places serve cơm gà xối mỡ or fried chicken and rice but what makes this place special is how they cook the chicken. Poached in a master stock, they bathe chicken thighs or wings under a waterfall of hot oil for a few minutes to crisp up the skin. The result is the crispiest fried chicken I have ever tasted in my life. It's so good, especially when dipped in that dark, savory-sweet homemade sauce. Be sure to check our Saigon food guide for a video of the waterfall machine in action. It really is quite cool.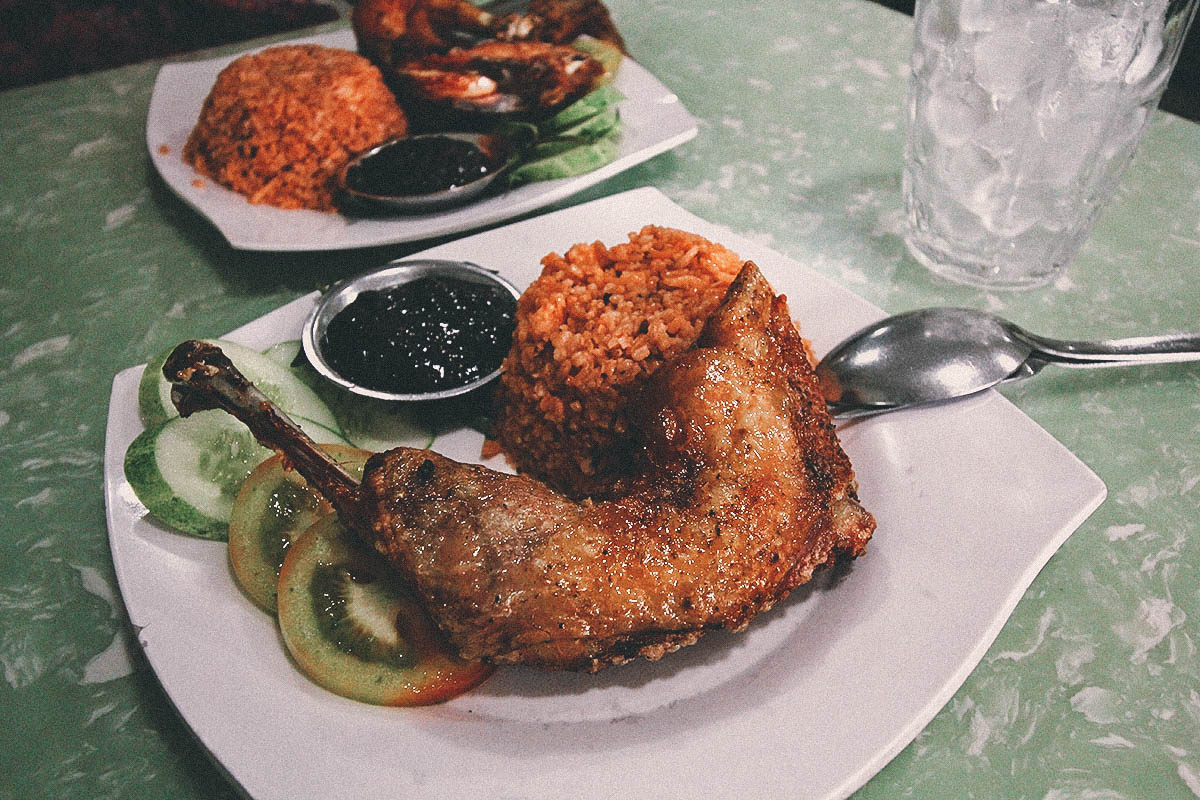 Expect to Pay: VND 42,000 per order of chicken rice
5. Ốc Oanh
The "waterfall chicken" above may have been my favorite meal but this was probably my favorite dining experience. Nicknamed "seafood street", Vinh Khanh in District 4 is known for its many street food restaurants offering different types of seafood like snails, crab, scallops, fish, and octopus. Snails are a hugely popular delicacy in Vietnam and one of the best places to have it is here at Ốc Oanh restaurant along Vinh Khanh street. We enjoyed the atmosphere and seafood here so much that we ate here twice on consecutive nights.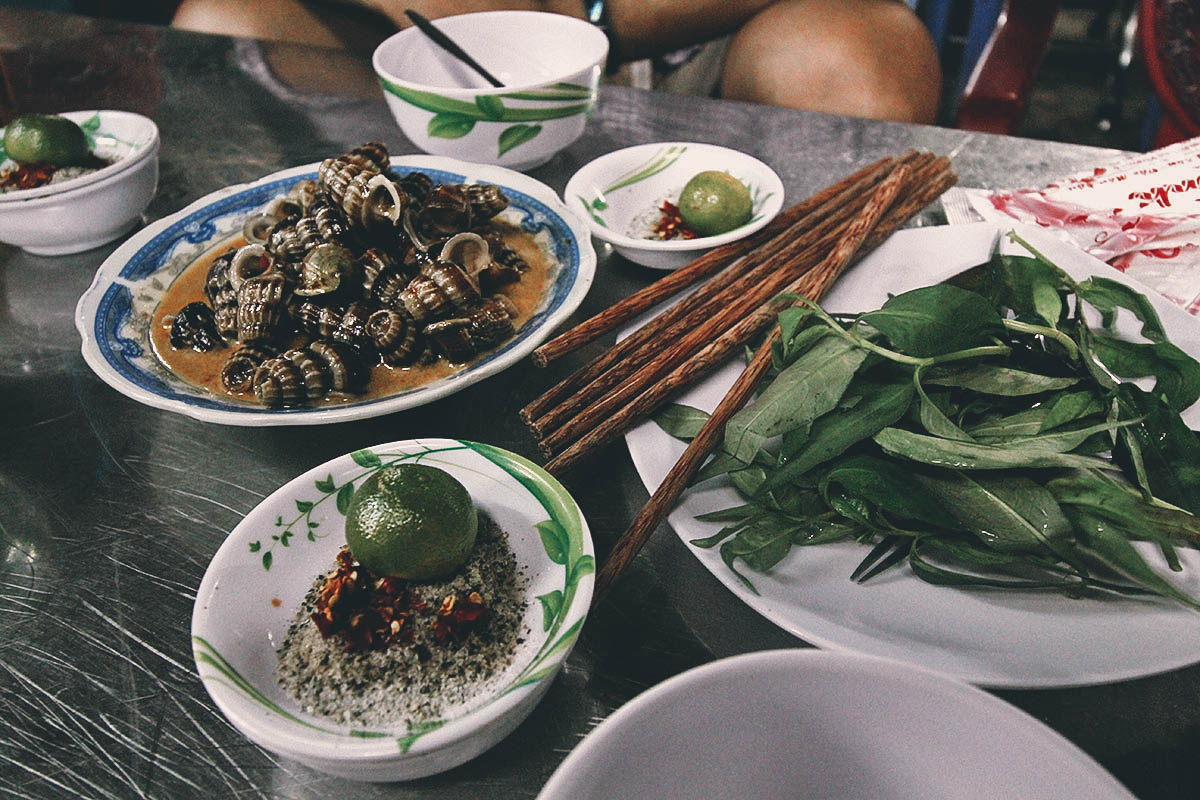 Expect to Pay: Varies, depends on seafood ordered
TRAVEL TIPS
1. Rent a Pocket Wifi Device
A constant wifi connection is a must when traveling these days. You'll need it to do research, convert currencies, use ride-sharing apps, stay connected on social media, etc. We never go anywhere now without renting a pocket wifi device first.
We rented a 3G pocket wifi device from Klook for USD 5 a day. We had it delivered to our hotel in Hanoi and left it for pickup two weeks later at our AirBnB rental in Saigon. It gave us reliable internet access throughout the country. If I remember correctly, the only time the signal was poor was when we were on a cruise in Ha Long Bay. We were out in the middle of nowhere though so that was just the nature of connectivity in the area and not because of the device. Even the ship's onboard wifi was virtually nonexistent.
I won't get into details but we had an issue with the device mid-trip which StarTelecom, the Vietnamese company that rents out the device, quickly resolved within 24 hrs. I was super impressed with how they handled it which is why I can't recommend them enough. If you rent a pocket wifi device from StarTelecom (via Klook), then you can pick it up and drop it off in Hanoi, Saigon, Da Nang, and Hoi An.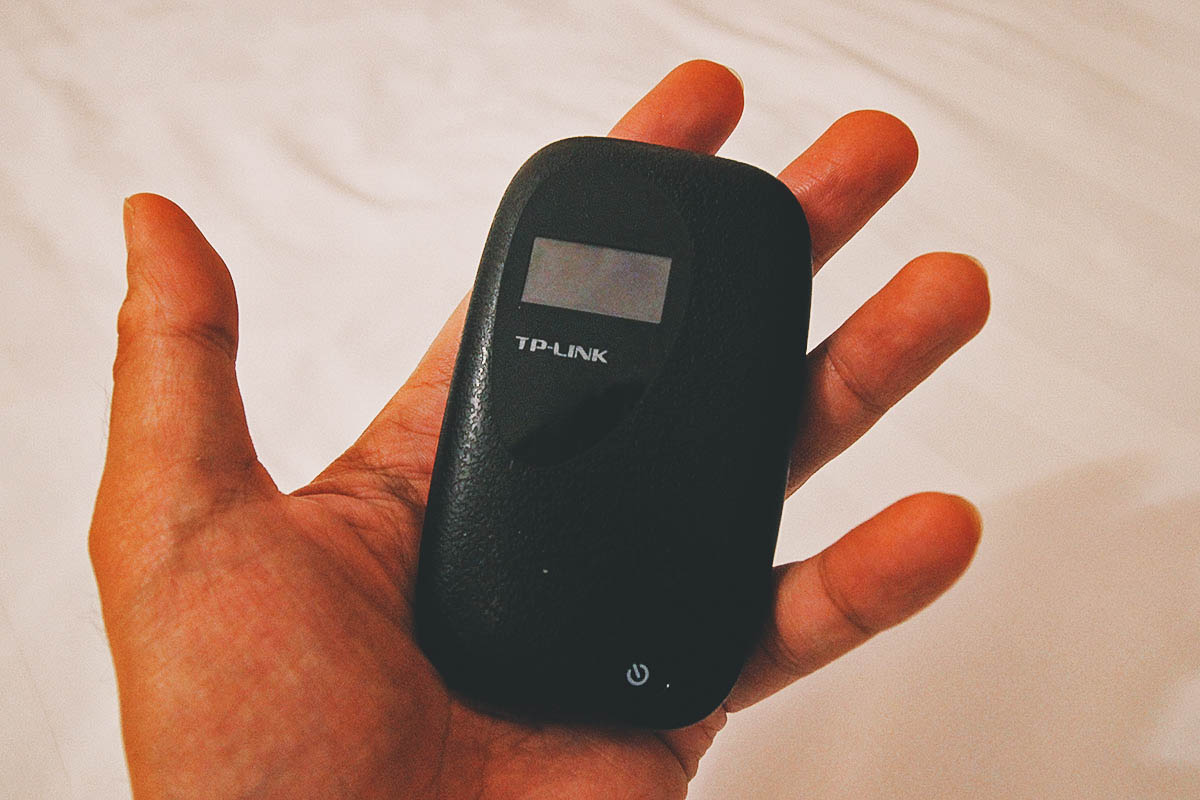 2. Plan your Trip with Sygic Travel (formerly Tripomatic)
I love this app. Sygic Travel is a free app that allows you to plot points of interest on a map, including your hotel, so you can see how far you need to travel between points. It shows you which attractions are close to each other so you can plan strategically and minimize travel time. With pocket wifi, it can turn your mobile phone into a GPS tracking device so people with a poor sense of direction (like me) never get lost again. Pretty cool right? Check out my post on the Sygic Travel app for more information.
Follow this link to check out our 2-day Saigon itinerary on Sygic Travel. You can also download a copy of our 2-week Vietnam itinerary in editable Word format from our EAT-ineraries page. It goes north to south and covers Hanoi (including Ha Long Bay), Hoi An, and Saigon.
3. Check for Discount Tickets
There are many websites that offer discount passes to tours and services. The websites I've used the most are Klook and Kkday. They offer deals in many cities around the world, including Ho Chi Minh City. On this trip, we bought three deals from Klook. We got vouchers for pocket wifi rental, a Hoa Lư and Tam Cốc day trip from Hanoi, and an overnight luxury Ha Long Bay cruise. We were happy with all of them. Follow these links for a complete list of Saigon deals on Klook and Kkday. You'll often find interesting activities that you wouldn't normally think of yourself so it's definitely worth a look.
Another good website to look through is Viator. I haven't used it as much (probably because of the less pleasing interface) but they're actually one of the leading online providers of tours and activities. They're owned by TripAdvisor so you know they're solid. I purchased the voucher for my Cu Chi Tunnels tour from Viator. You can follow this link to search through tours and activities in Ho Chi Minh City on Viator.
4. Get Travel Insurance
To be honest, it was only recently when we started buying travel insurance. Back when we traveled just once or twice a year, travel insurance felt more like an added expense, one we could do without. But now that we travel more often, I understand how important it is. The fact is, you never know what might happen on the road. It's one of those things that you hope you never have to use, but if you do wind up needing it, then you'll be thanking the gods that you had it. Or cursing them if you didn't.
Though I do find it more necessary now, it's still up to you if you think you need it. A 3-day trip to Singapore for example just shopping and eating may not call for it as much but if you plan on doing more active things like snowmobile riding, kayaking, or even going on a city bike tour, then I'd say travel insurance is a must.
We buy travel insurance from World Nomads because every long-term traveler I know recommends it. From the sound of it, they're the best in the industry by a mile. Not only do they provide a high coverage limit for medical expenses (up to USD 5 million with the Standard package), they also cover things like trip delays, missed flight connections, theft/loss of passport and luggage, etc. Follow the link or use the widget below to learn more and get a free travel insurance quote from World Nomads. It's super quick and easy.
5. Let Motorbikes Avoid You
Motorbike traffic in Saigon is insane. It's a continuous flow of two-wheeled vehicles flying down the roads. If you're tentative, then you'll never cross the street.
But as a local explained to us, the secret to crossing the road in Saigon is surprisingly simple – let them avoid you. I know it sounds easier said than done but it actually works. Walk slowly and steadily, don't do anything unexpected, cross with confidence, and let the motorists avoid you. As Alex of Inspitrip explained, motorists in Vietnam have their eyes forward at all times. They never look to the left or right so they can quickly react to anything directly ahead of them, whether it be another motorbike, a stray dog, or you.
We tried it a couple of times and as nerve-wracking as it is, it really does work. The Vietnamese I think are trained from a young age to expertly navigate traffic and avoid pedestrians like this. By no means am I saying this is a foolproof method, but unless you grow a pair in Vietnam, then you'll forever be stuck on the curb. On some streets, the flow of traffic is literally non-stop. Just find the best place to cross, wait for the right time, and proceed with caution. As long as you don't do anything stupid or reckless, then you should get to the other side in one piece.
6. Pay Only in VND
I read how some establishments like hotels, restaurants, and shops will accept payment in USD. Don't do it. You're losing money every time since the rates they give you are less favorable. As much as possible, if something is quoted in VND, then pay in VND. As described earlier in this guide, banks and licensed money changers are the best places to exchange currency in Hanoi.
7. Don't Be Confused by the Currency
Vietnamese currency can be very confusing. The multiple zeros on banknotes are confusing enough, but some denominations look very similar to each other. VND 100,000 banknotes for example, have a similar greenish hue as VND 10,000 bills. I'm very careful with money but I often had to look really closely at the notes before handing them over to the vendor.
Tourists overpaying in Vietnam because of banknote confusion isn't uncommon. In fact, it happened to a woman who was on a Hoa Lư and Tam Cốc tour with us in Northern Vietnam. If I heard correctly, she meant to give a VND 50,000 note to pay for a soda but mistakenly gave a similarly red VND 200,000 bill instead. Not realizing her mistake until it was too late, she called it the most expensive can of Coke she's ever paid for.
I don't mean to make generalizations but a Vietnamese-American tourist on the same tour said that Vietnamese vendors won't correct you should you make that mistake. So unless you want to overpay for a can of Coca-Cola, then be sure to check your money carefully before handing it over.
8. Bring the Right Power Adapter
Vietnam has Type A, Type C, or Type F electrical outlets so be sure to bring the right power adapters for your devices. Electrical voltage is 220V and the standard frequency is 50Hz.
HOW TO GET AROUND
As of this writing, there is no metro system in Saigon. The easiest and most convenient way to get around the city is by ride sharing app. Uber and Grab are cheap in Vietnam. We used Uber to go everywhere and if I remember correctly, a 20 minute ride from District 1 to District 4 cost about VND 45,000. Even the locals recommend it over taxis. We didn't do it but our AirBnB host even suggested Grab motorbikes as a great way of touring the city.
For Filipinos
VISA INFORMATION
Philippine passport holders don't need a tourist visa to Vietnam for stays of up to twenty-one (21) days.
HOW TO GET CHEAP AIRLINE TICKETS
Ever since I scored my first piso fare from Cebu Pacific, I've been hopelessly addicted to cheap airline tickets. Our tickets to Hanoi with a shared 20 kg baggage allowance came out to just under PHP 7,000 each roundtrip. Not bad right?
These piso fare tickets are limited and sell fast, so you have to be quick. To give yourself an advantage, I suggest liking their Facebook page and following them on Twitter to quickly find out about these seat sales. If you check off "Get notifications" on Facebook, then you'll receive instant alerts every time they post something new.
Aside from Cebu Pacific, the only other airline I know of that offers direct flights from Manila to Ho Chi Minh City is Philippine Airlines.
Have fun!
I'm not an expert on Ho Chi Minh City but I do hope that you find this guide useful. I'm only sharing some of the things I learned from our trip. If you have any suggestions or simply want to share your own experiences, then please feel free to do so in the comments section below. You're welcome to join our Facebook Travel Group as well. We'd love to hear from you.
Thanks for stopping by and have an awesome time in Saigon!
OUR GEAR
These are some of the things we brought with us to Saigon. As you can tell, I document a lot of content for this blog so most of the things I bring are photo and video equipment. 😆 If you'd like to see what other gear we use, then you can check out our "What's in Our Backpack?" post. (NOTE: The following links are Amazon affiliate links.)
Disclosure
Some of the links in this guide are affiliate links, meaning we'll get a small commission if you make a purchase at NO extra cost to you. We only recommend products and services that we use ourselves and firmly believe in. We really appreciate your support as this helps us make more of these free travel guides. Thank you!