Spiral is located at Sofitel Luxury Hotel, Philippine Plaza Manila, CCP Complex, Roxas Boulevard, Pasay. Tel: 832-6988 / 551-555 loc. 6988.
Is it possible to be both overwhelmed, and underwhelmed, at the same time? Because that's exactly how I felt after tonight's dinner at Spiral, advertised as "the ultimate buffet experience in Manila", and "the most dynamic interactive dining experience in Asia."
Bold statements indeed, and well-deserved I would say, based purely on the size and sheer lavishness of the spread. Comprised of twenty-one ateliers (stations) circling the base of the opulent spiral staircase and sculpture, it is without question a dramatic and remarkable sight, overwhelming in its extravagance and beyond compare with any other hotel buffet we've tried in Manila.
After the original Spiral was devastated by a storm in September of last year, Sofitel has spent the last thirteen months renovating and reconceptualizing its flagship restaurant with a purported budget of over PHP 800 million, and it shows. From the cathedral-like ceiling, to the posh dining areas, to the mobile, premium wine selection, to the designer-dressed servers, to the climate-controlled cheese and charcuterie room, everything about this place screams luxury. On that alone, Spiral cannot be beat.
The food however, coupled by the exorbitant prices, told a different tale, at least for me. Disappointingly, I found it too often underwhelming. Basically hit or miss, some stations, like the aforementioned cheese room, were sublime, while others, like the seafood bar and Korean station, were subpar to downright awful. I hate to use the word "awful" to describe a place that's so highly revered, but that's exactly how I felt about some of the things I ate here tonight. Yipes. 😯
The Buffet
First off, my sincere apologies for the gaping lack of photos in this post. I barely finished photographing the sushi station when the resident meathead asked me to stop. Apparently, photos aren't allowed here, at least from DSLRs.
I learned from Our Awesome Planet that despite their no tolerance policy for DSLRS (unless you have a permit), they do seem to allow smaller point-and-shoots as well as phone cams, which makes absolutely no sense to me whatsoever. If you're going to ban picture-taking, then ban it for all. Don't discriminate based on camera size. Ever heard of EVIL cameras? DUH. And besides, most people toting DSLRs these days aren't professional anyway. Many of them, including myself, are "bloggers lang" according to our esteemed Senator Sotto, so what's the worry? 😛
Anyway, my apologies again for the lack of photos and side rant, but I was truly disappointed for not being allowed to photograph the entire spread, especially since so much of it really was picturesque. Though I have been stopped from taking photos at a hotel buffet before (ie Market Cafe at Hyatt Manila), this was the first time that it happened at the very beginning, leaving me with practically nothing to show you except for the food on my plate. Bummer.
For photos of the entire opulent buffet, which you really need to see to appreciate, especially the peerless L'Epicerie, please check out Our Awesome Planet. From that blog I also got the following list of operating hours and buffet prices. Please note that we went on a Thursday, for dinner.
Operating Hours and Buffet Net Prices (As of November 2012)
BREAKFAST (6:30 AM – 10:30 AM)
Monday – Friday: PHP 1,719.55 (Adult) / PHP 982.60 (Child)
Saturday – Sunday: PHP 1,965.20 (Adult) / PHP 1,105.43 (Child)
LUNCH (12 noon – 2:30 PM)
Monday – Saturday: PHP 2,431.94 (Adult) / PHP 1,351.08 (Child)
BRUNCH (12 noon – 3 PM)
Sunday: PHP 3,046.06 (Adult) / PHP 1,596.73 (Child)
DINNER (6:30 PM – 11 PM)
Sunday – Thursday: PHP 2,800.41 (Adult) / PHP 1,596.73 (Child)
Friday and Saturday: PHP 3,046.06 (Adult) / PHP 1,596.73 (Child)
Sushi rolls. Being the sushi enthusiast that I am, there wasn't nearly enough here to thrill me, unlike the palatial spread at Viking's.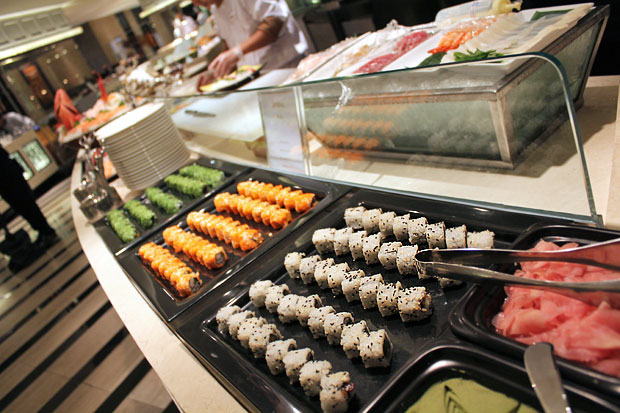 Nigiri sushi and sashimi. Just the usual suspects of tuna, salmon, ika, and ebi, with the notable inclusion of my beloved unagi. No uni though. 🙁



Oysters in my favorite form, just raw and on the half shell. They were nice and fat too, comparable to the sizable specimens at Via Mare Oyster Bar.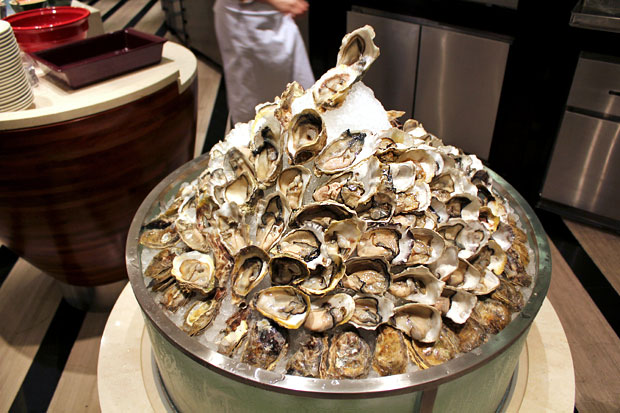 Well, there you have it. Those three are pretty much all the pictures that I was able to take before getting a slushy thrown into my face. I know, right? 😆
Anyway, bygones. As mentioned above, please check out Our Awesome Planet for pictures of all the ateliers, general dining area, and private rooms. He did a commendable job in documenting nearly everything.
My Bounty
A beautiful loaf of crusty, artisan bread, served right at your table. Having never experienced this at any other buffet, it was a nice, classy touch I thought, and a smart move on management's part as well, to try to get you as full as possible on lower cost bread before you ate all their steak. 😆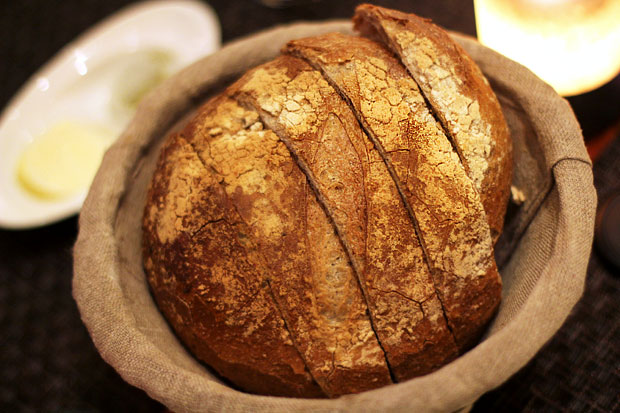 ROUND 1 – Sushi
Ever predictable, sushi, as always, finds its way to my first buffet plate. The sushi selection here was pretty pathetic though, seriously paling in comparison to the majestic spread at Viking's. However, they did have one item that I had never seen before at any all-you-can-eat sushi spread, and that was unagi nigiri. Filled with glee as I was to see it, my excitement was short-lived as it turned out to be a subpar cut of fish, rubbery without a drop of unagi sauce. The rest of the sushi was just ok, nothing extraordinary.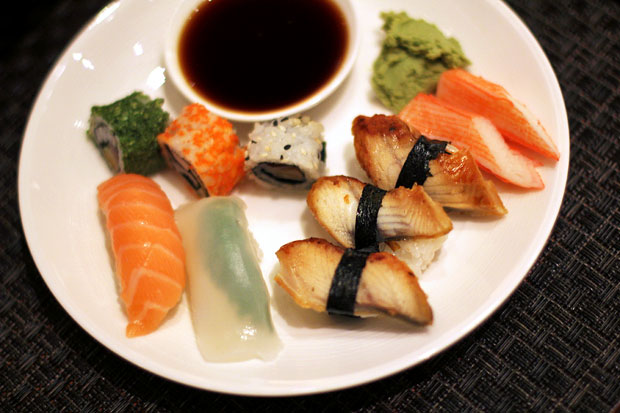 ROUND 2 – Cheese and charcuterie
In a word, superb. The aforementioned cheese and charcuterie room, which they call L'Epicerie, is arguably the single best station at Spiral. Unlike anything I've ever seen before at any buffet, there's actually a small, climate-controlled room where you can help yourself to as much artisan cheese and charcuterie as you liked. They even had Manchego and Jamon Iberico! Also available were jar upon jar of condiments like olives, nuts, dried fruit, herbs, and sauces, including an exquisite truffle honey that had my lovely wife doing the jig, all night long. 😆
If you're a fan of premium cheese and aged meats, then this room alone will be worth the price of admission. It was spectacular.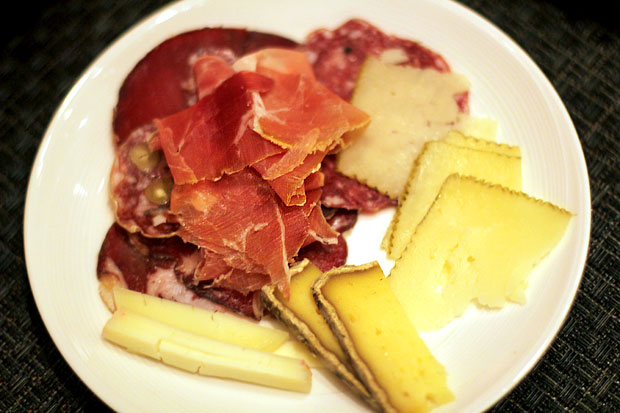 ROUND 3 – Foie gras
Another reason why we were so excited to dine at Spiral. Though we had previously heard that you can have as much foie gras here as you liked, we almost wound up with none. According to our server, their supplier failed to make a delivery today, so all that was left were bits of foie gras meant for the risotto. Initially distraught, Ren flashed her cutest smile and magically procured for us a few pieces, reminding me in the process to never, ever, underestimate the power of a gorgeous woman's smile, or cleavage.
Booby talk aside, our elation from this little score, like in the case of the unagi, was fleeting. The foie gras was of disappointingly poor quality. It hardly melted in your mouth, and could even be described as *gasp* slightly chewy.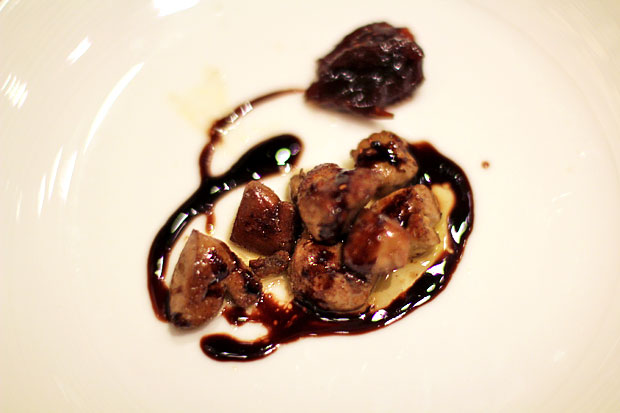 ROUND 4 – Mollusks and crustaceans
I love seafood and was extremely excited about this station. Sadly however, it turned out to be the biggest disappointment of the evening. The only thing good on this plate was the oysters, but how can you fuck up raw oysters right?
The slipper lobsters weren't good at all. Pre-cooked then chilled on ice, they tasted overcooked and way too cold. Unenjoyable as they were, the crab was even worse. Similarly pre-cooked then chilled, it too was unpleasantly cold and overcooked to the point of having a mushy, grainy consistency, like wet sand. Ren and I watch a lot of cooking shows, and I always cringe whenever a mercurial judge like Joe Bastianich calls a dish "inedible", then throws it in the trash. With all the hunger in the world, how bad can a dish possibly be, to be described as "inedible"? Pretty damn awful I would imagine, and this crab wasn't far from that.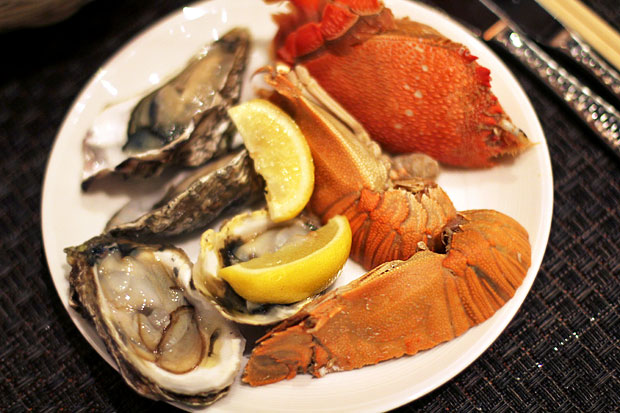 ROUND 5 – An assortment of dishes from the Asian section with some roast beef from the Churrasco.
This plate perfectly exemplifies what I said earlier about this buffet being "hit or miss." That fried prawn was good, as was the stir-fried beef. The roast beef from the churrasco was damn delicious. The chili crabs however, were too sweet for my liking, and the spicy Korean squid was unpalatably fishy. In fact, much of the items from the Korean section looked old to me, like they had been sitting there on display for hours. Not at all appetizing.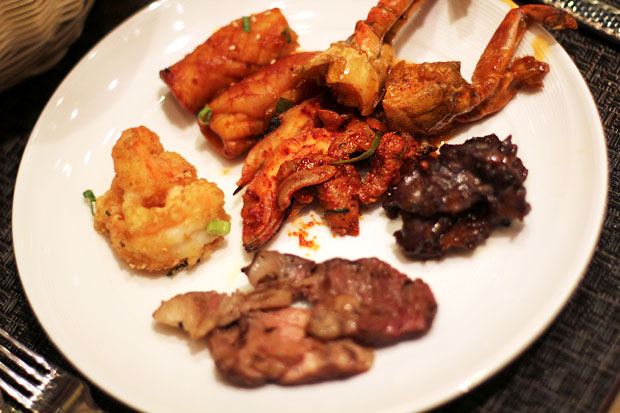 ROUND 6 – Tempura and yakitori
Unlike the previous plate, everything on this one was perfect. The bacon-wrapped enoki mushrooms were terrific, as were the ebi and soft shell crab tempuras. Ren always gets an allergic reaction from shellfish that isn't fresh, but she got none whatsoever from these. Absolutely dee-licious.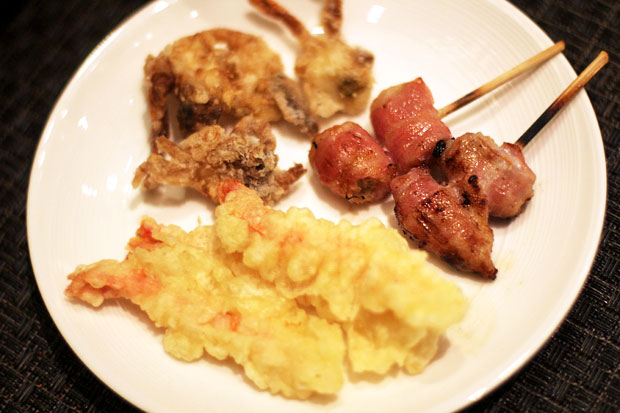 ROUND 7 – Desserts
Divine, divine, DIVINE. Collectively speaking, the desserts here at Spiral were among the very best that we've enjoyed at any buffet. Everything tasted freshly made. The eclairs were terrific, as was the French macaroon, but the star on this plate was undoubtedly the vanilla milk rice pudding with caramel sauce, charmingly served in that jar on the left. Rich and creamy with the deep, intense flavor of toasted caramel, it's apparently their most popular, which was unsurprising because it's disgustingly delicious.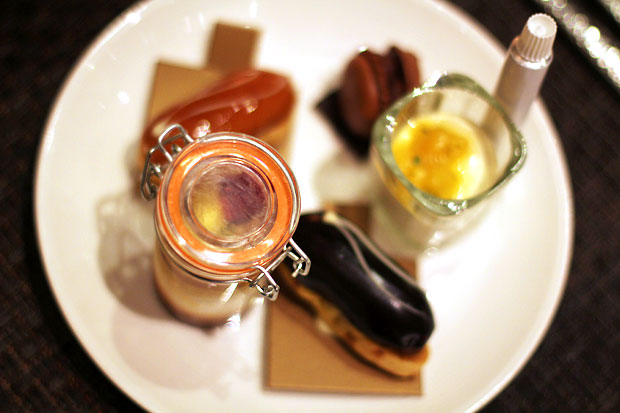 This was interesting. If I remember correctly, it was vanilla fruit pudding served with a tube of raspberry sauce. Almost as good as the rice pudding, this dessert gets extra points for uniqueness and interactivity. 😉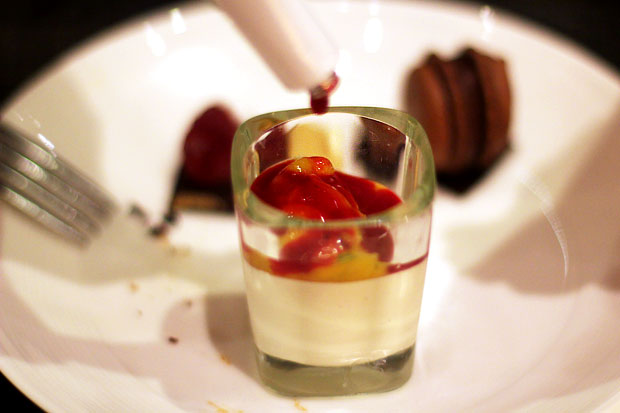 ROUND 8 – Sugar-free cappuccino ice cream
Rich and creamy, this cup of artisan ice cream went smashingly well with my cup of black java. A terrific end to our meal I must say. 🙂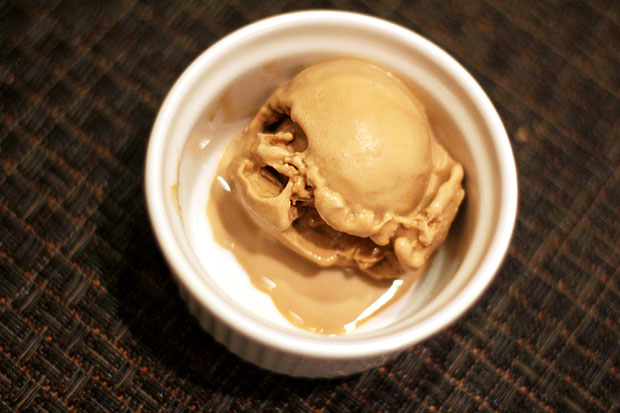 With our first Spiral experience now in the books, I guess the 3,000 peso question is, would we come back? My answer to that, unfortunately, is a resounding NO. And I have several reasons for that.
First, apart from the unparalleled L'Epicerie and heavenly dessert station, I wasn't wowed by the experience, at least not as a whole. The food, as you can read from my descriptions above, was hit or miss. In my unfortunate experience, it turned out to be more of the latter. Had I known beforehand which sections to go for and which ones to avoid, then I probably would have fared better. But the reality is, I didn't, which is why I'm not particularly keen about coming back anytime soon.
Second, it's just too damn expensive. PHP 3,000 per person? Seriously? If I'm going to shell out over PHP 6,000 for an evening's meal, then it better be damn good. Why would I spend that amount on a hit or miss buffet, when I can be guaranteed of a vastly superior meal at a 5-star restaurant like Antonio's in Tagaytay, Lolo Dad's, Aubergine, or The Goose Station? Enjoying a gourmet, cooked-to-order meal by a proven, top-tier chef sounds like money better spent to me.
Third, a weekend dinner at Spiral is nearly three times the cost of a weekend dinner at Viking's. Is it three times better though? Hardly. The surroundings and venue may be, but the food certainly isn't. In fact, I found many of the stations at Viking's superior to its counterparts here at Spiral. Purely in terms of food quality, I would venture to say that Market Cafe at Hyatt Manila was better as well. Plus, Viking's and Market Cafe gives you unlimited beer and drinks, while Spiral does not.
Lastly, I realized after tonight that I really don't care all that much about the sheer magnitude of a buffet, which ironically, is largely what drew us here in the first place. It may be bigger than all its competitors, but that in itself doesn't make it better or worth the extra moolah, at least by my standards. Sure, there's a lot more food to choose from, but as described above, they aren't all spectacular, and the lack of focus can often lead to confusion, thereby detracting from the overall experience. Most importantly, my appetite is the same size here as it is anywhere else. My stomach doesn't magically expand when I walk down that spiral staircase, so I can't personally justify the extra cost with more plates of food. If you're a growing boy, or an elephant, then you may feel otherwise, but unfortunately, I'm neither.
At the end of the day, I think I'm just not that into buffets anymore, so it has to be pretty darn spectacular, or justifiably priced, for me to gush about it. Regrettably in this case, it was neither.
Anyway, that pretty sums up my first and likely only Spiral experience. As always, everything I've said above is just my opinion and nothing more. I'm not an expert, I'm not even a professional food critic. I'm just an average joe, who like most of you, loves to eat. Food is a subjective experience, so I encourage you to try Spiral anyway, provided that the astronomical price isn't a dealbreaker for you. Their reputation alone certainly merits a visit. And who knows? Your experience might turn out to be vastly different from mine. 😉
JB is one half of Will Fly for Food and its chief itinerary maker.  He's the one to blame for all the crappy photos and verbal diarrhea on this blog.  Don't listen to him.
Latest posts by JB Macatulad (see all)