There are plenty of things to do in Takayama. It's a small city compared to Tokyo and Osaka but it's a destination that oozes with character. When you're in Takayama, you'll feel like you're in a time capsule.
Personally, we visited Takayama as a base to explore Shirakawa-go but the town itself offers plenty for first-time visitors. It's beautifully preserved old town dates back to the Edo period and serves as an ideal backdrop for one of Japan's most beautiful festivals – the Takayama Matsuri festival.
Often referred to as Hida Takayama to differentiate it from towns of the same name, the city is located in the mountainous region of Gifu prefecture, making it a prime jumping-off point into the northern Japan Alps.
As charming as it is, Takayama is small so you won't need more than a day or two to explore it. Whether you're attending the festival or just passing through, listed below are ten of the most popular things to do in Takayama.
TAKAYAMA ATTRACTIONS QUICK LINKS
To help you plan your trip to Hida Takayama, I've compiled links to popular tours and activities here.
TOURS
OTHER SERVICES
Save This on Pinterest!
No time to read this guide on the best things to do in Takayama? Click on the save button and pin it for later!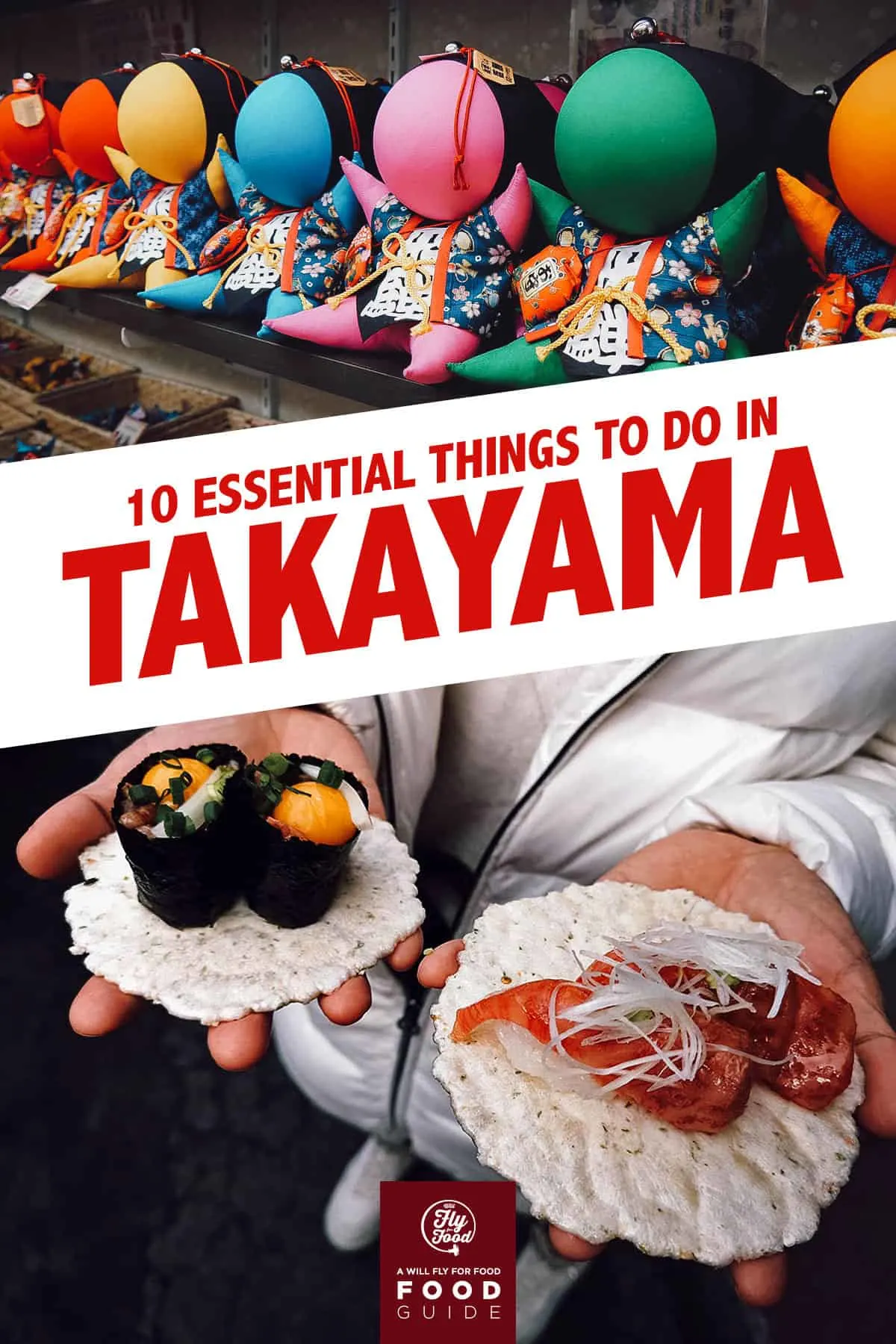 THINGS TO DO IN TAKAYAMA
1. Explore Sanmachi Suji
Exploring Sanmachi Suji is on of the most fun things to do in Takayama. When people think of Hida Takayama, the first image that comes to mind is of Sanmachi Suji. It refers to a network of three streets located in the heart of Takayama's historical district.
Sanmachi Suji is characterized by remarkably well-preserved cypress and cedar merchant houses, some dating back to the early 17th century. It's regarded as one of the most beautifully preserved Edo period districts in Japan.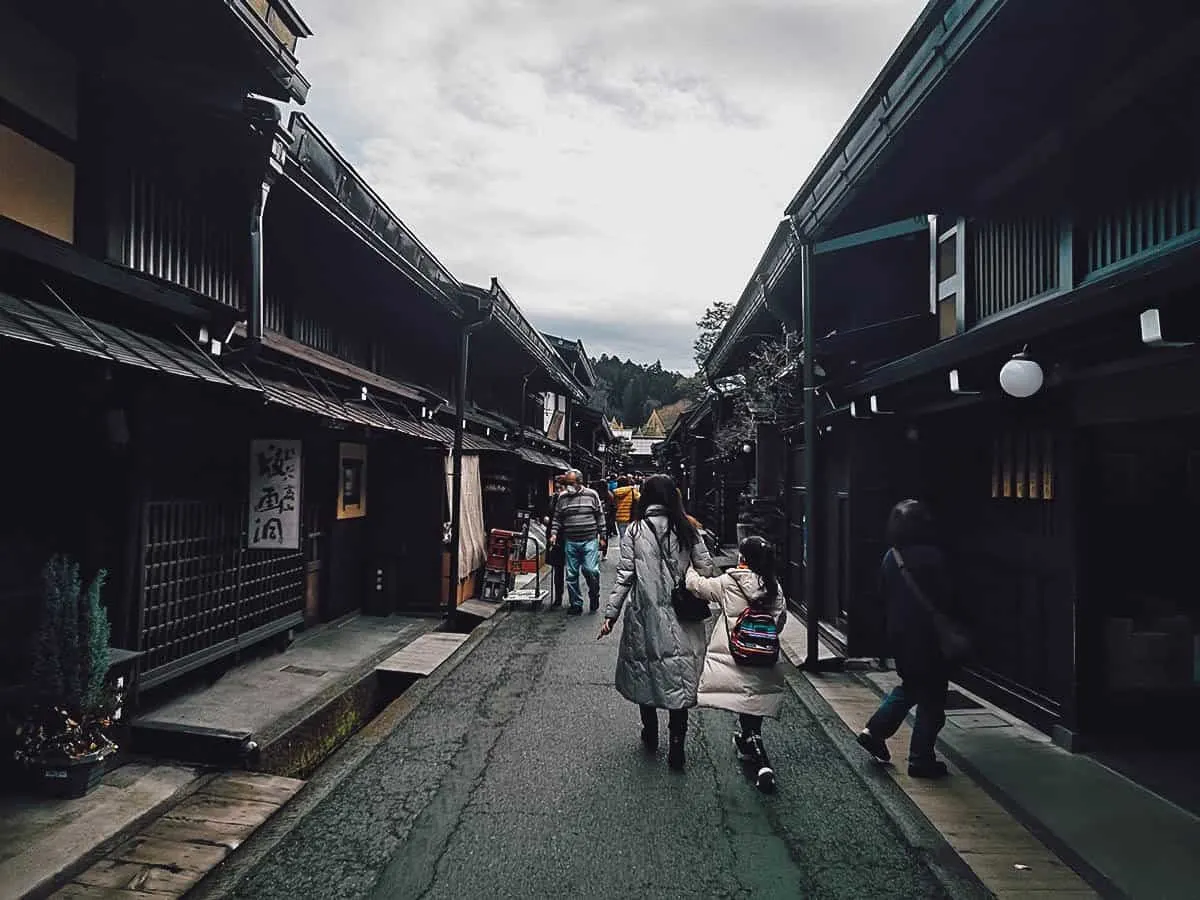 Along Sannomachi are many shops, restaurants, teahouses, and sake breweries, some of which have been open for centuries.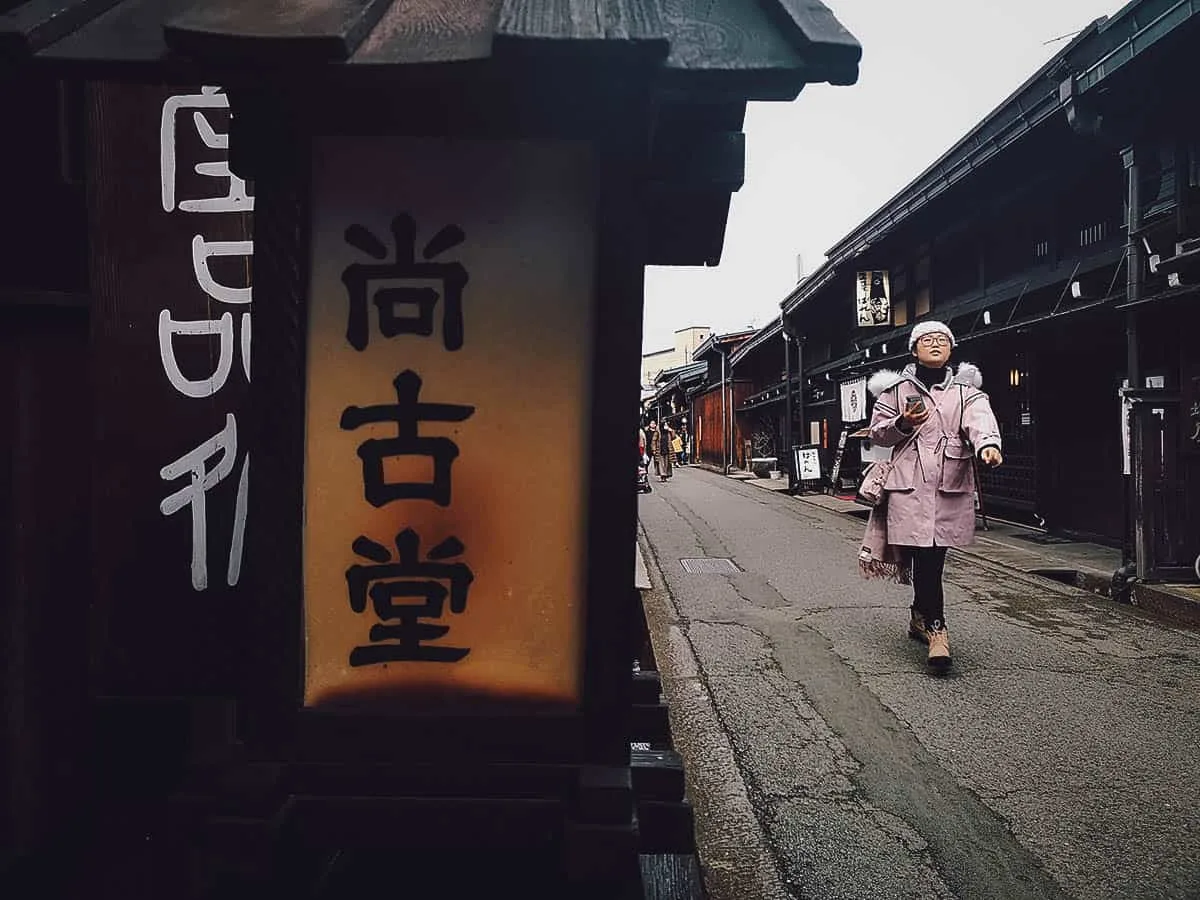 Many of the buildings in Takayama old town date back to the dawn of the 17th century. They harken back to a time when Takayama thrived as a town of wealthy merchants.
Walking around town, you'll find that most of the buildings are painted in dark brown colors, almost black, to replicate how they looked during the Edo period. Some of the buildings in Sanmachi Suji are over 400 years old but you wouldn't know it from their remarkable state of preservation.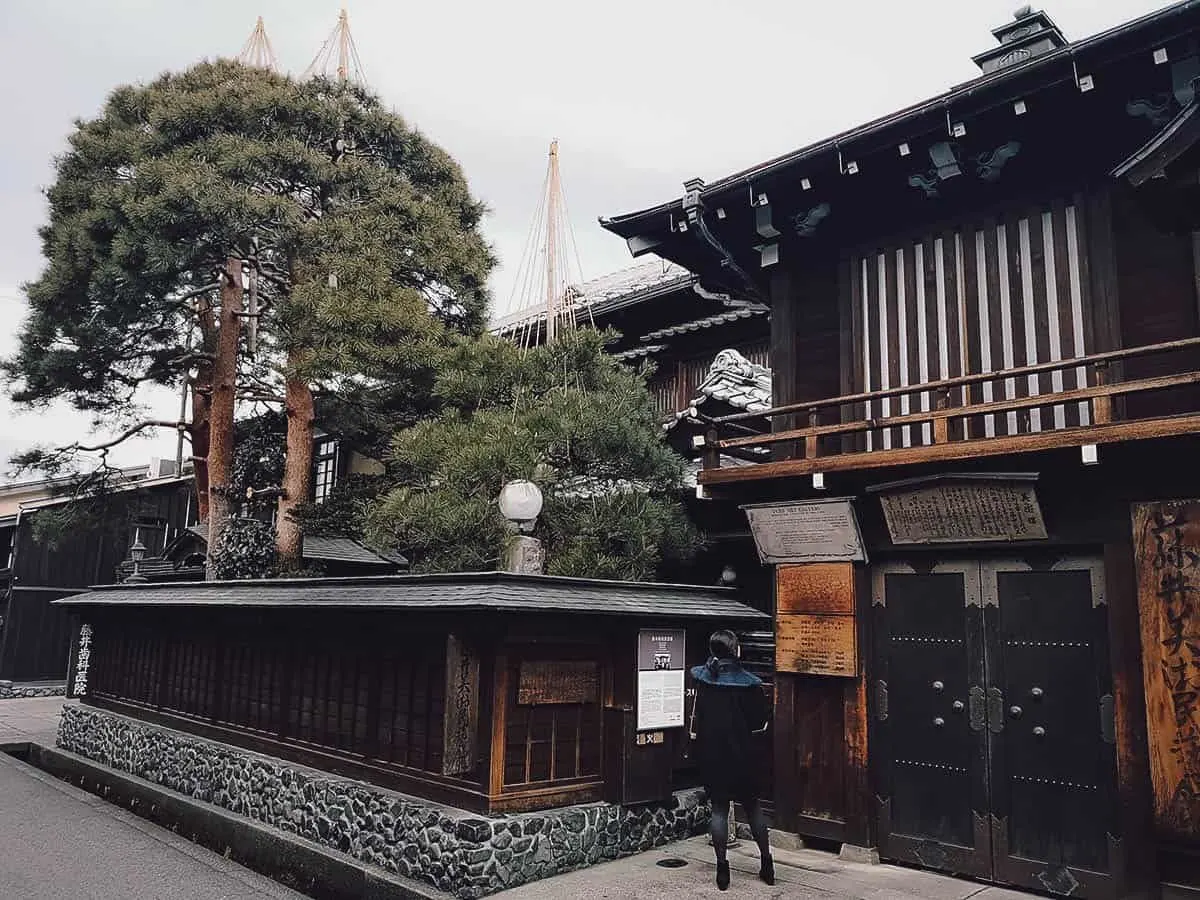 Sanmachi Suji is the heart of the old town and a popular tourist hotspot, but venture away from the area and you'll find that much of Takayama looks like this.
I don't know how the city is divided but I was walking to Sakurayama Hachimangu Shrine and came across this lovely neighborhood called the Houmeitaigumi Preservation Area. Like Sanmachi Suji, many of the houses in this neighborhood are probably over 400 years old.
You won't find many shops or restaurants outside the Sanmachi Suji area but you won't find any tourists either. As beautiful as it is, Sannomachi can get annoyingly crowded so don't be afraid to venture farther and explore on your own.
Exploring some of these more deserted pockets of town, I felt like I truly was in Edo period Japan.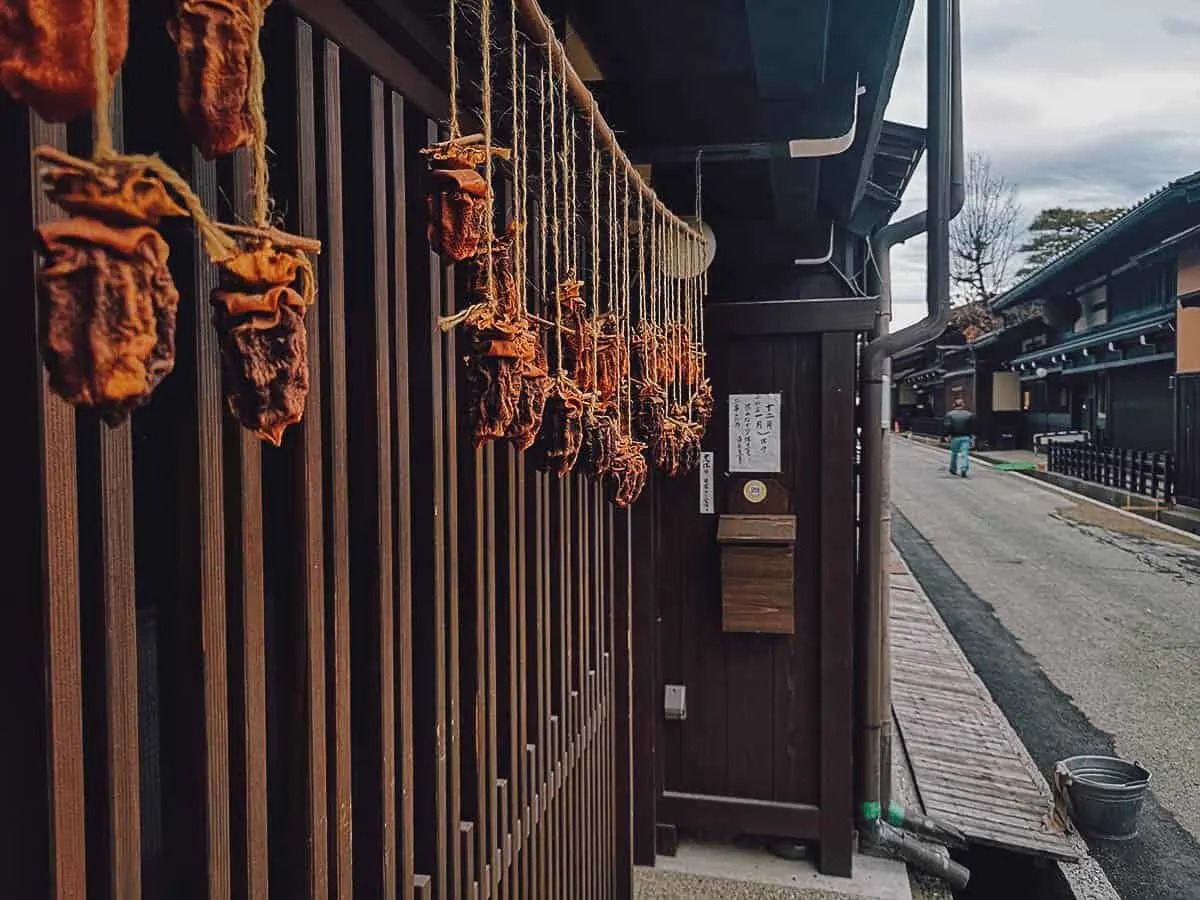 2. Eat Hida Beef
Walking around Sanmachi Suji, you'll quickly realize what the town's specialty is – Hida beef. Every restaurant it seems advertises some form of Hida beef, whether it be Hida beef skewers, Hida beef croquettes, or my personal favorite, Hida beef sushi.
Hida beef refers to wagyu produced from black-haired Japanese cattle raised in Gifu prefecture. To bear the Hida beef brand, cattle needs to be fattened for at least fourteen months and earn a meat quality grade of 3, 4, or 5 from the Japan Meat Grading Association.
Like Kobe beef, Hida beef is considered one of the most prized beef brands in Japan, revered for its intense marbling and juiciness. Compared to Kobe beef which tends to be more balanced in its meat and fat distribution, Hida beef has more of the latter, giving you a truer melt-in-your-mouth experience.
We enjoyed Hida beef in various forms like croquettes, rice balls, steamed buns, and sausages, but our hands down favorite was the sushi.
Served raw as nigiri (about JPY 800 for two), it was absolutely sensational and one of the best things we've eaten in Japan. They weren't kidding when they said it melts in your mouth. Wow!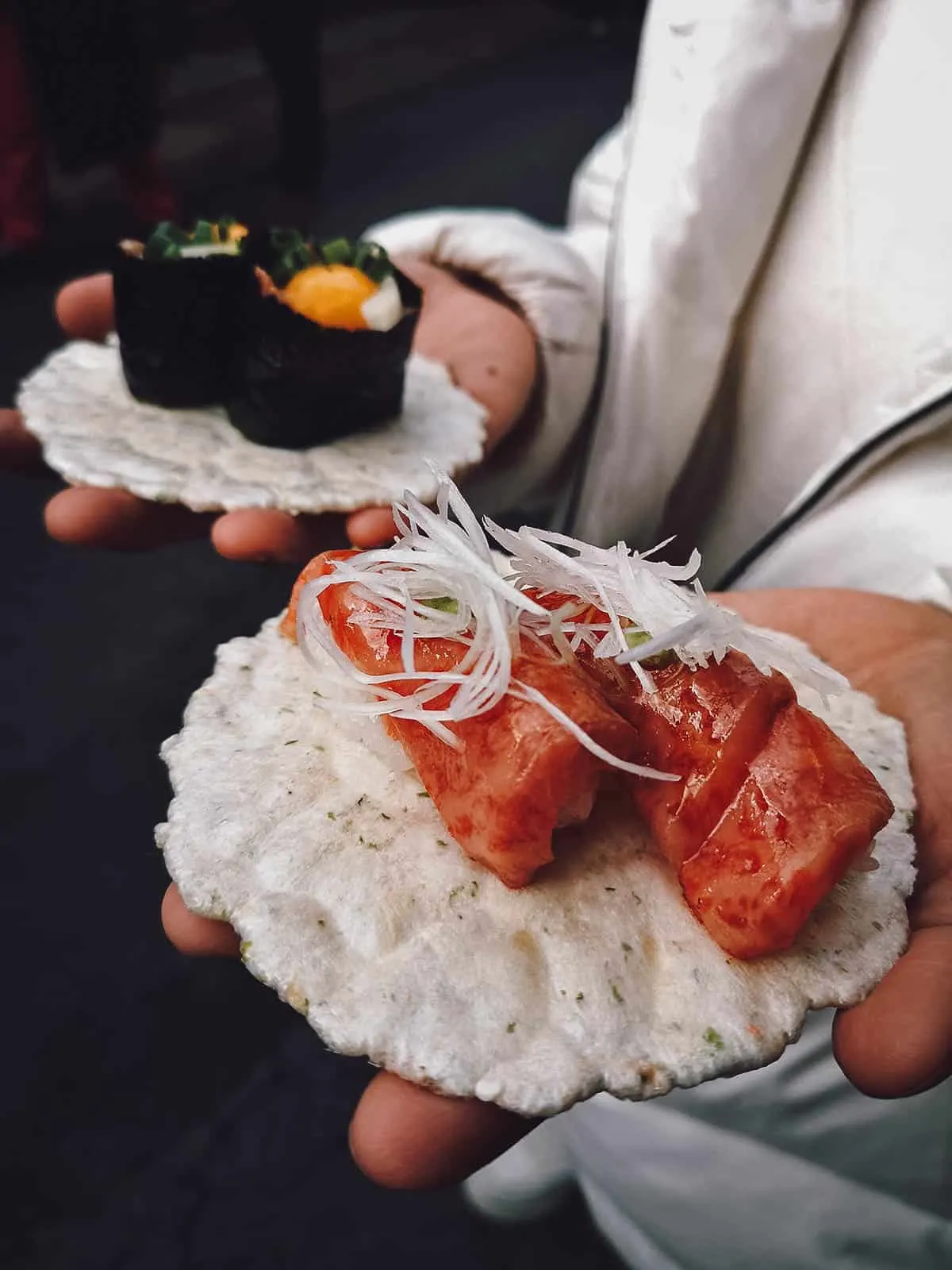 A distant second would be this grilled skewer of A5 grade chuck eye roll (about JPY 1,000). It was smokey, tender, and supremely delicious but the Hida beef sushi was just that good.
If you'd like to try Hida beef in a burger, then check out Center4 Hamburgers on Ichinomachi Street. You won't appreciate the beef's marbling as much but they do make some tasty burgers.
Regardless of how you like your beef, trying Hida Beef is one of the absolute best things to do in Takayama if you travel for food like we do. One bite and you'll probably want to have it as often as you can.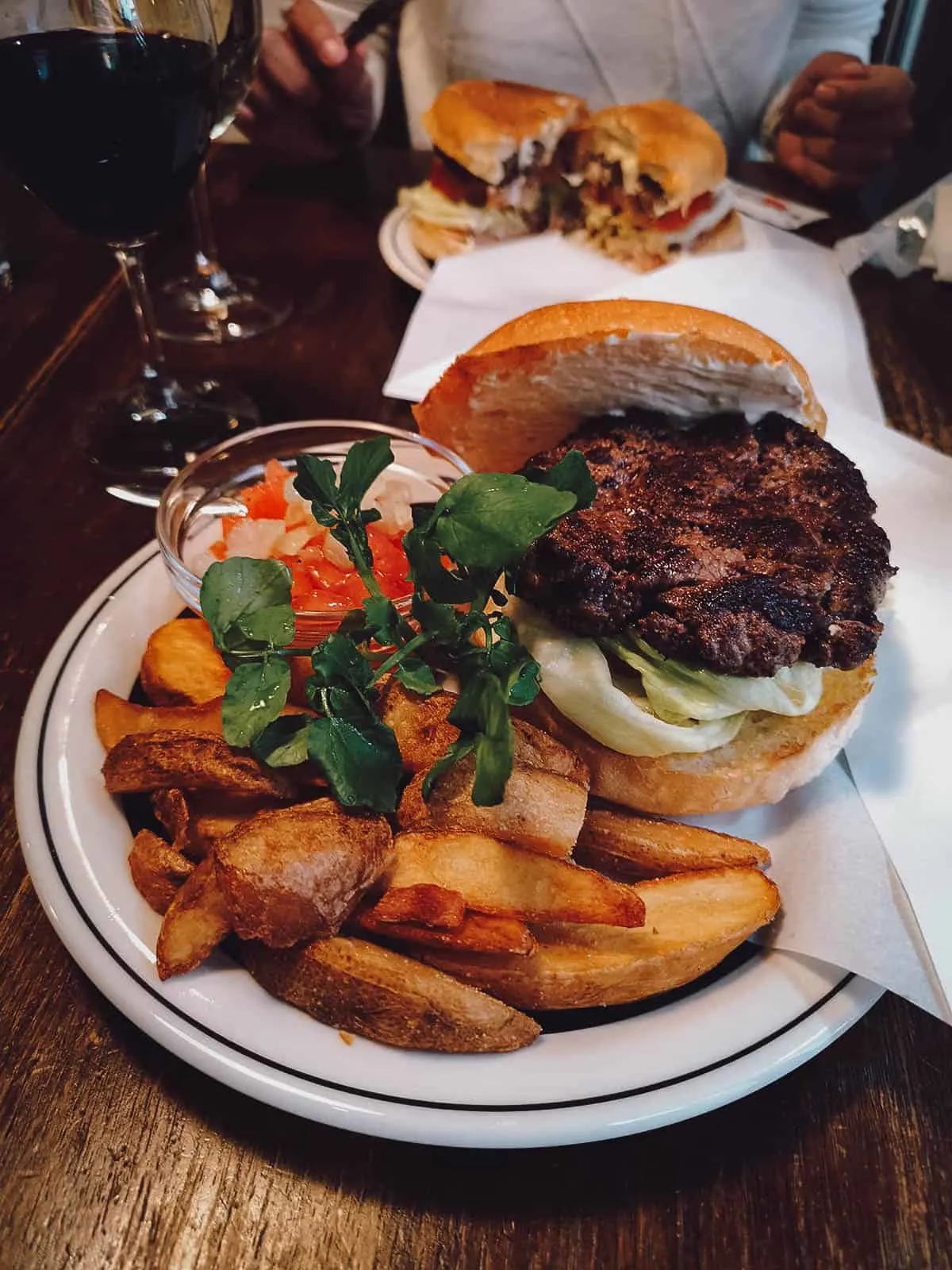 Operating Hours: 11AM-2:30PM, 6-9:30PM, daily
Admission: About JPY 2,700 for a Hida beef burger
3. Visit Sakurayama Hachimangu Shrine
Located in the northern part of the old town, Sakurayama Hachimangu is a top Takayama attraction and the oldest Shinto shrine in the city. It's said to date back to as early as the 4th century, to the reign of Emperor Nintoku who was the 16th emperor of Japan.
Sakurayama Hachimangu Shrine is in a quiet wooded area that's much more peaceful than Sanmachi Suji, but in autumn, it becomes the most festive part of Takayama.
Every October, the shrine plays host to the Takayama Autumn Festival which is the second of two annual festivals that constitute Takayama Matsuri. Together with Chichibu Yomatsuri and Gion Matsuri, it's considered one of the three most beautiful festivals in Japan.
Both the spring and autumn Takayama festivals feature about a dozen large and heavily decorated yatai or festival floats. I read that up to a million people visit Sakurayama Hachimangu Shrine during festival time, but you can see replicas of the floats at Matsuri No Mori or Takayama Matsuri Yatai Kaikan at any time of the year.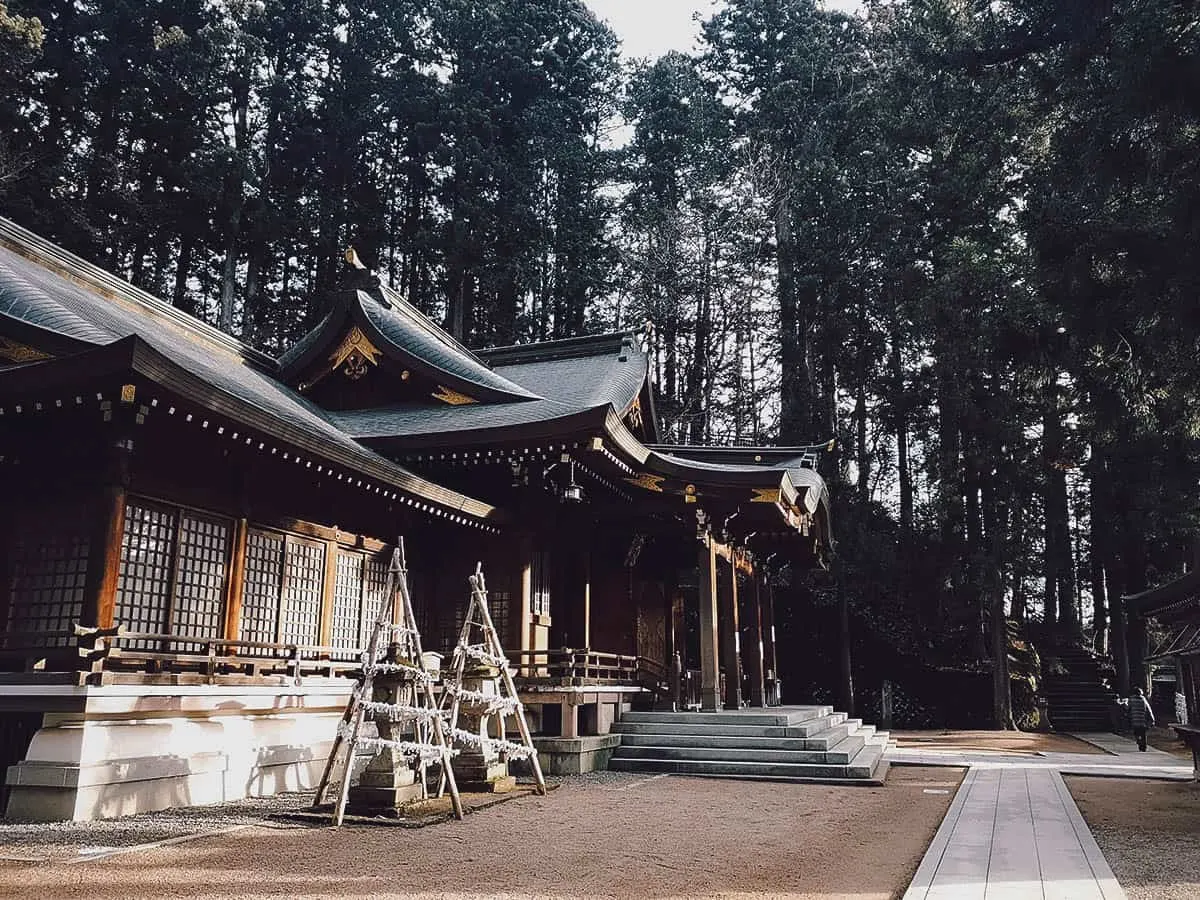 Operating Hours: 24 hrs
Admission: FREE
4. See the Floats at Matsuri No Mori or Takayama Matsuri Yatai Kaikan
If you'd like to see the Takayama Matsuri floats but can't visit in the spring or fall, then you can see replicas on display year-round at Matsuri No Mori and Takayama Festival Floats Exhibition Hall.
I didn't go to either one but based on pictures, the Matsuri No Mori museum looks to be the more impressive of the two. Not only will you find life-sized replicas of festival floats, but also on display are karakuri puppets and several huge taiko drums, both of which play key roles during the festival.
Matsuri No Mori looks more interesting but it's harder to get to. It's located about 15 minutes south of Takayama Station by bus, so if you'd rather not make the trip, then you can visit Takayama Matsuri Yatai Kaikan instead.
Located right next to Sakurayama Hachimangu Shrine, on display are four of the eleven floats used during the autumn festival along with miniature models of Nikko's Toshogu Shrine.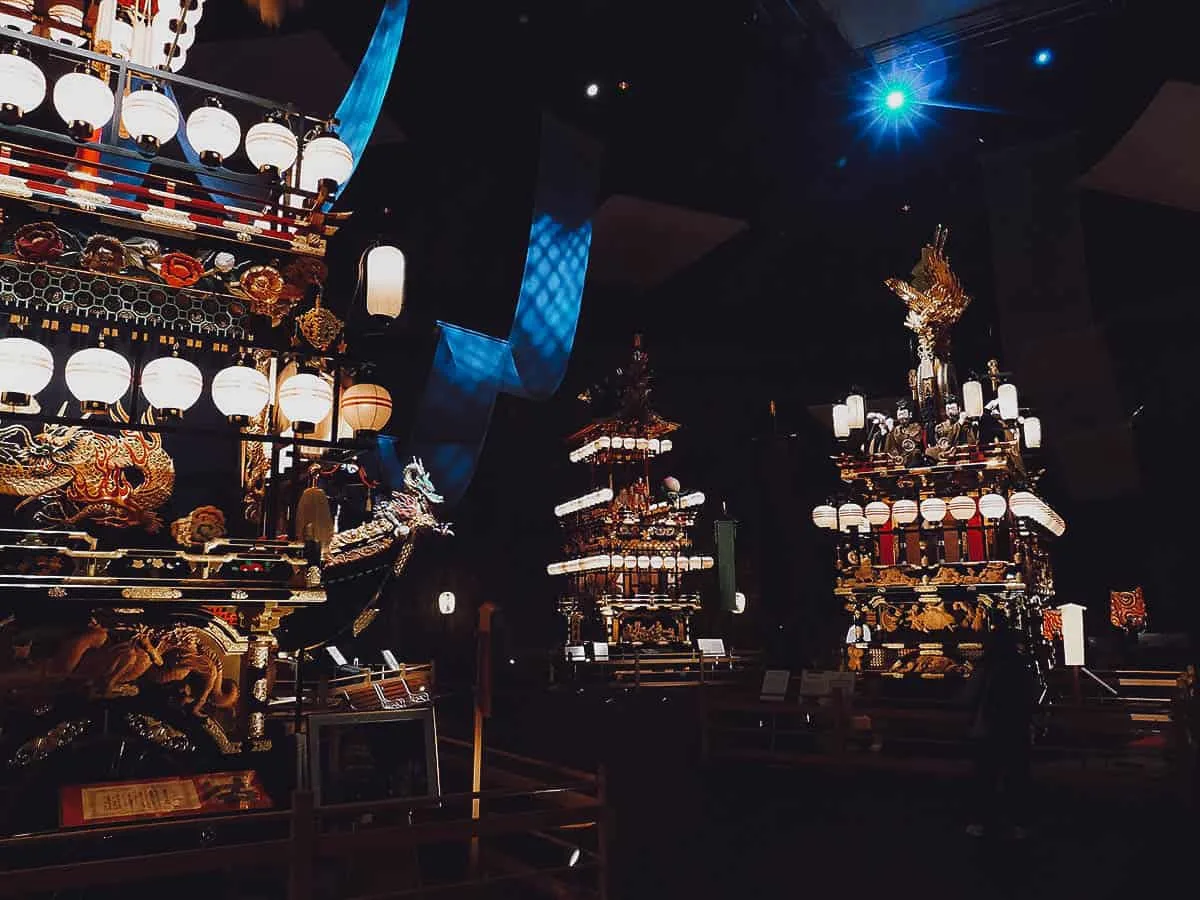 Photo by Pop Navy via Shutterstock
Operating Hours: 9AM-5PM, daily (both museums)
Admission: JPY 1,000 (each museum)
5. Visit Takayama Jinya
Takayama Jinya is another historical attraction in Takayama. It refers to a surviving Edo period jinya that served as the government headquarters for Hida province under the Tokugawa Shogunate.
A jinya referred to the administrative headquarters of smaller domains. Similar to castles, they served as the residence of administrative heads though were much smaller in scale. Larger domains had castles while smaller domains, like Hida province, had jinyas.
Takayama Jinya was declared a National Historic Site in 1929 and opened to the public as a museum in 1969. Inside are a series of well-maintained tatami mat rooms that once served as offices, conference rooms, and residential spaces for Edo period officials.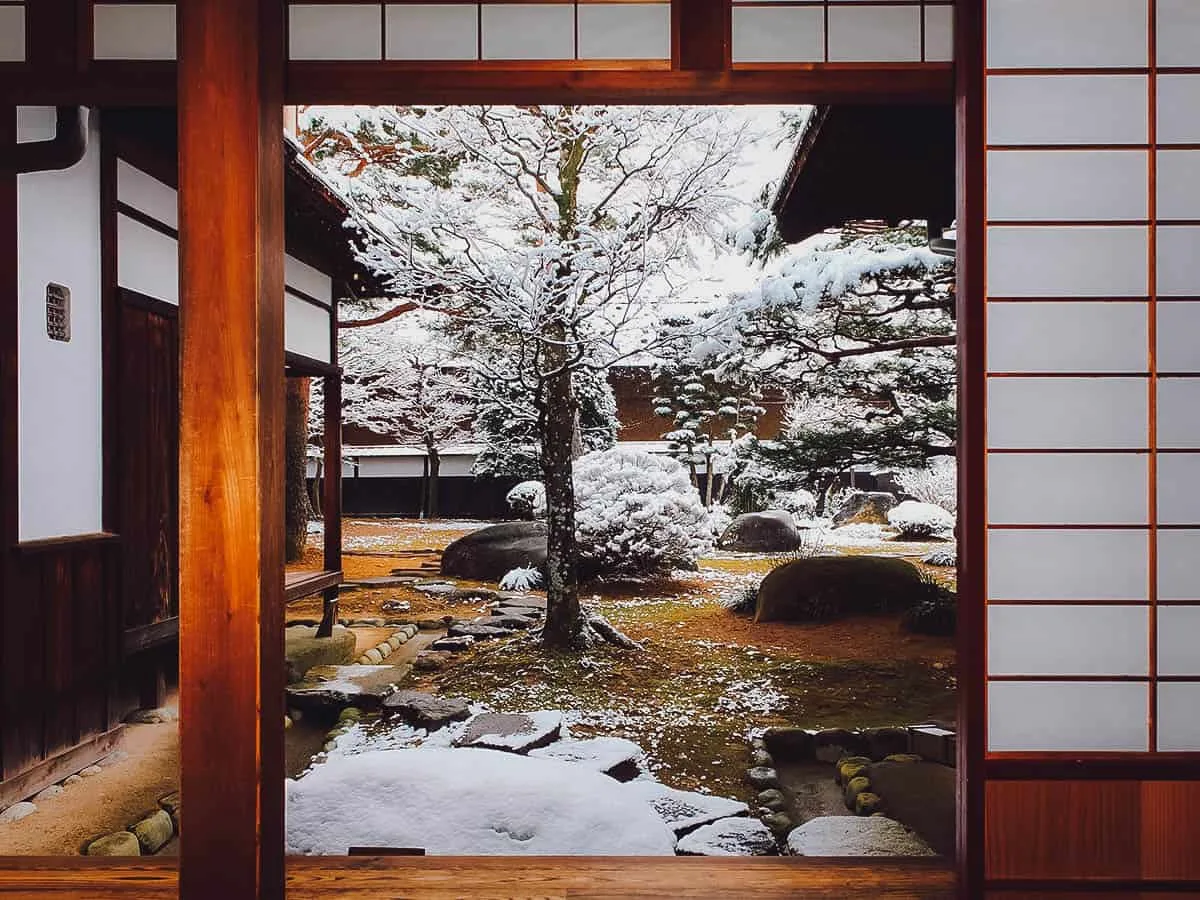 Photo by cowardlion via Shutterstock
Operating Hours: 8:45AM-5PM, daily
Admission: JPY 440
6. Go Shopping at a Morning Market
If you like markets, then you'll want to get up for these two morning markets that are held every morning from 7AM till around 12NN.
The Miyagawa Morning Market is set up along Miyagawa River while the Jinya-mae Morning Market is held in front of Takayama Jinya. On sale at these markets are locally made crafts, flowers, snacks, and fresh produce like fruits and vegetables.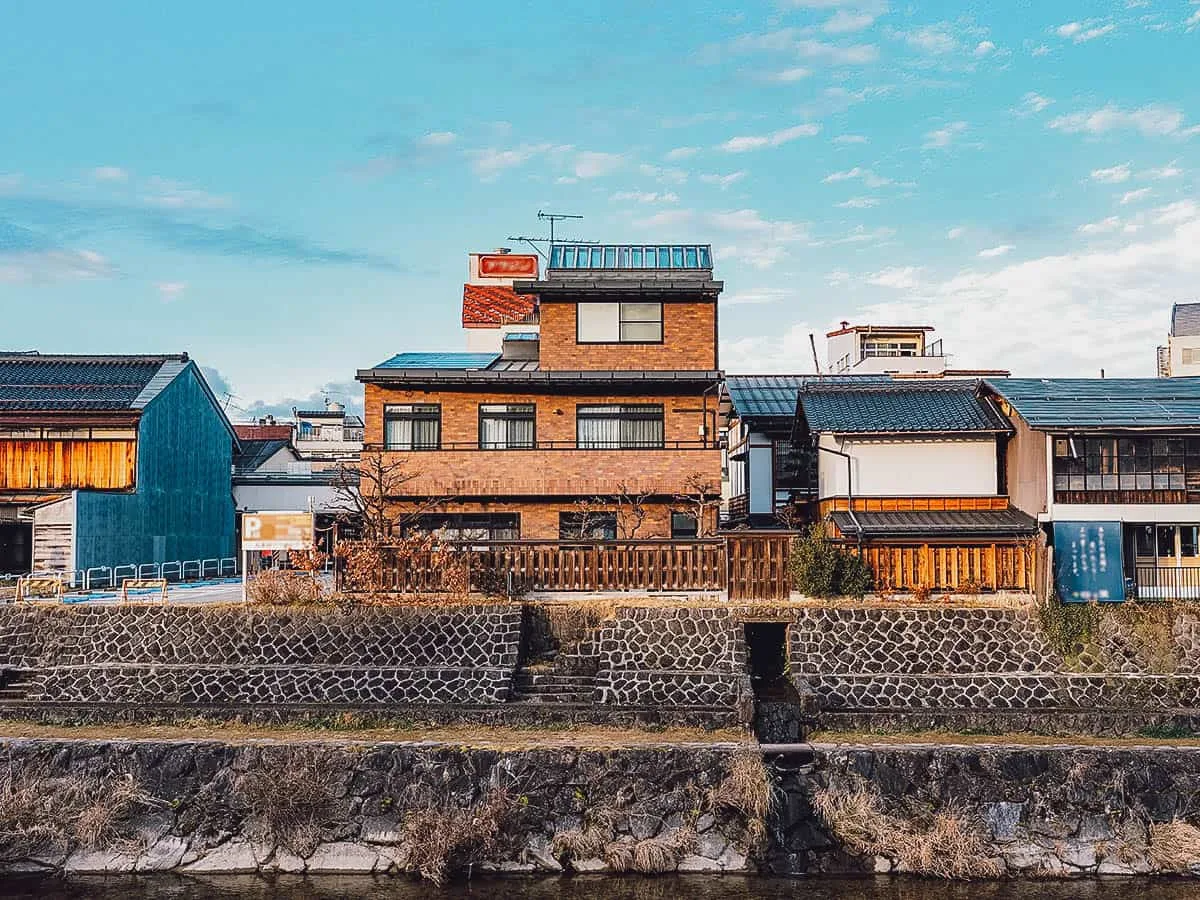 Photo by NavinTar via Shutterstock
Operating Hours: 7AM-12NN, daily
7. Buy Sarubobo Dolls
I brought home three small versions of these cute and colorful sarubobo dolls. A sarubobo is a human-shaped but faceless doll associated with Takayama.
The word sarubobo literally means "baby monkey". They're traditionally made by grandmothers who give them to their grandchildren as dolls for protection, or by mothers who give them to their daughters as good luck charms before marriage.
Sarubobo were traditionally made in red but they're now available in a variety of colors and sizes, each color representing a different wish like good health, love, fertility, and money.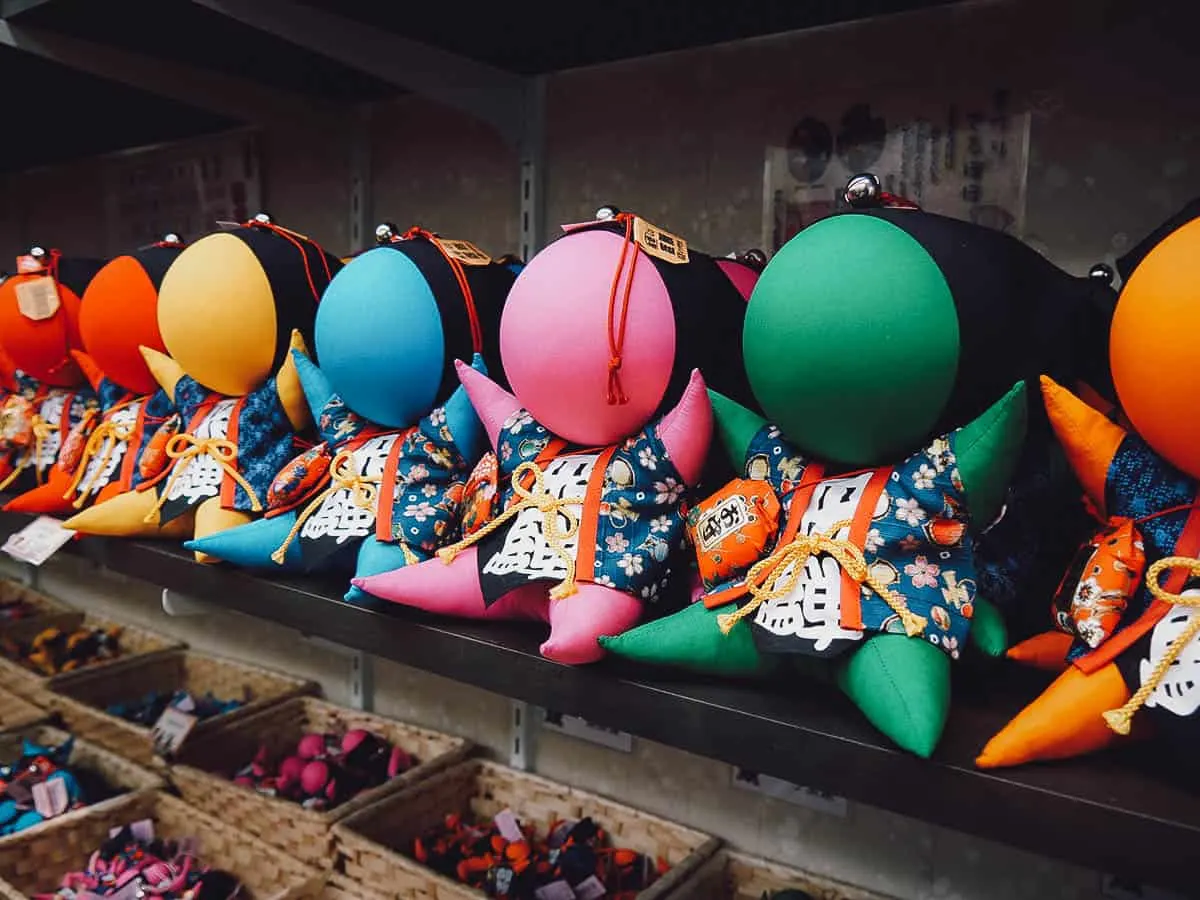 Photo by Ear Iew Boo via Shutterstock
8. Spend the Day in Shirakawa-go
If you're planning a trip to Takayama, then you probably know about Shirakawa-go. It's a UNESCO World Heritage Site famous for its traditional gassho-zukuri farmhouses.
Shirakawa-go is often visited on a day trip from various Japanese cities in the central region, but one of the easiest and closest jumping-off points is Takayama. From Takayama bus terminal, it's less than an hour to Shirakawa-go.
You can refer to our comprehensive Shirakawa-go travel guide to help you plan your trip. If you'd like to go on a guided tour, then you can book one through Get Your Guide or Klook.
Personally, I've been to Shirakawa-go twice – the first time on our own and the second time on a press trip using a Takayama Hokuriku Pass. If you're planning on exploring Takayama, Shirakawa-go, and the rest of the Chubu region, then a Takayama Hokuriku Pass may be a good investment. Check out our 5-day Chubu itinerary to help you plan your trip.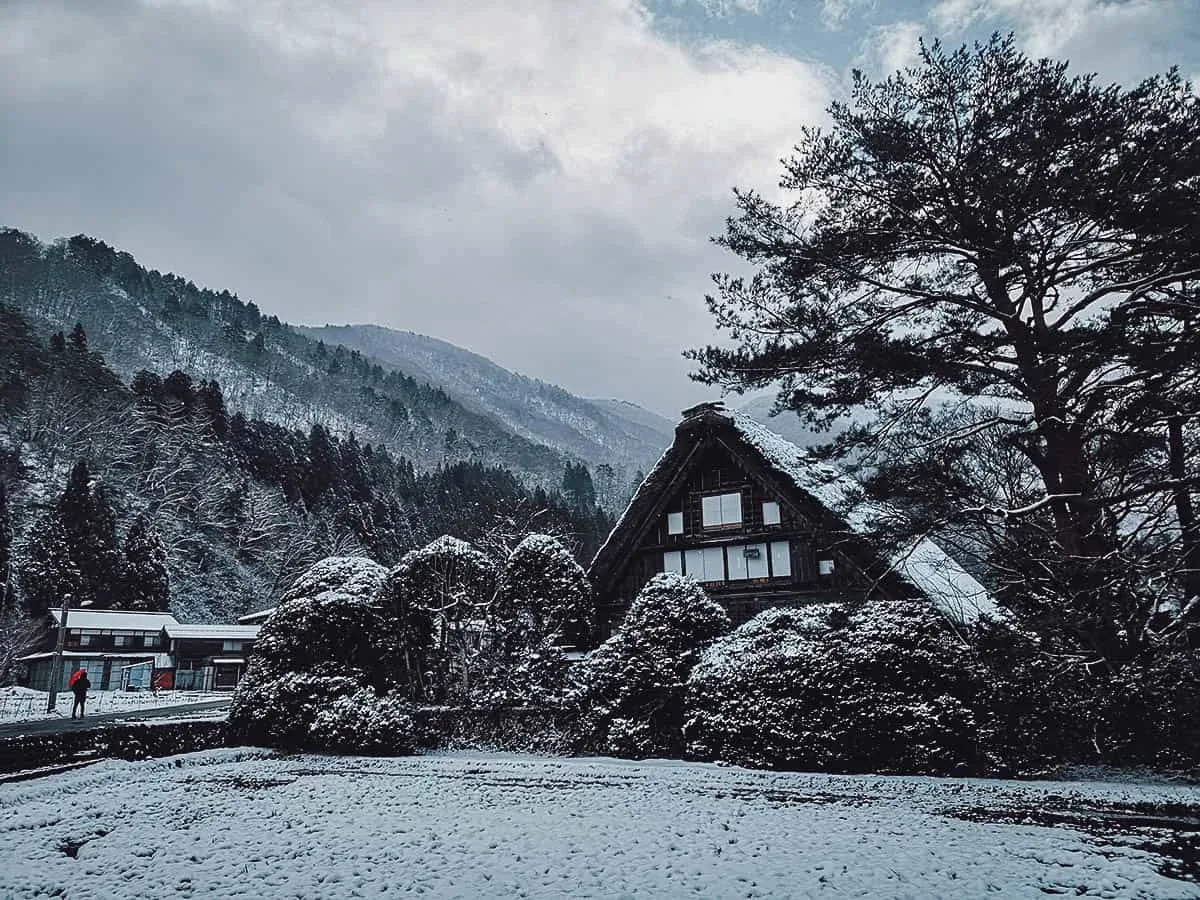 9. Visit Hida Folk Village
If for some reason you can't visit Shirakawa-go, then you may be interested in going to Hida Folk Village instead. It's an open air museum with over thirty traditional houses that showcase the architecture of the Hida region.
It's important to note that the houses in Hida Folk Village weren't constructed for the museum. They were functioning houses built during the Edo period and relocated from their original locations to create the museum in 1971. It features logging huts, storehouses, and a number of gassho-zukuri farmhouses, all of which you're free to enter and explore.
Hida Folk Village is located about 2.5 km southwest of Takayama Bus Terminal. It'll take you about 30 minutes to get there on foot or 10 minutes by bus. If you'd like to join a guided tour, then you can book one through Klook.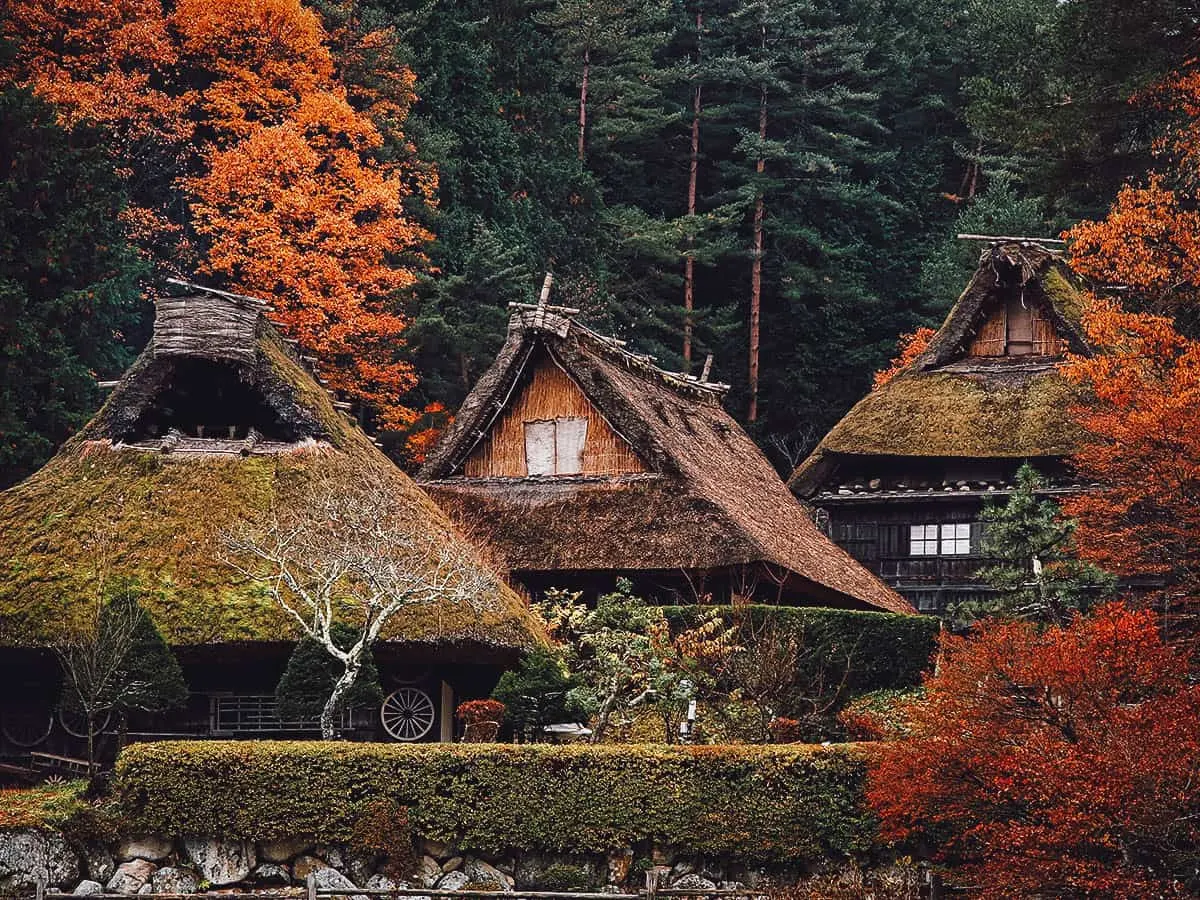 Photo by Various images via Shutterstock
Operating Hours: 8:30AM-5PM, daily
Admission: JPY 700
10. Explore Hida Furukawa
Accessible via a quick 15-minute train ride from Takayama, Hida Furukawa is a small town with a similarly traditional feel. Like Takayama, it became prosperous because of the high-quality timber found in the region.
Compared to Takayama, Hida Furukawa receives far fewer tourists and is much quieter. When we were there, it felt like we were the only tourists in town. In some ways, it's more pleasant than Takayama and makes for an easy side trip.
Like Takayama, Hida Furukawa hosts an annual festival which features large drums and elaborate floats. The Furukawa Festival is held a week after the Takayama Spring Festival so you could conceivably visit both on the same trip.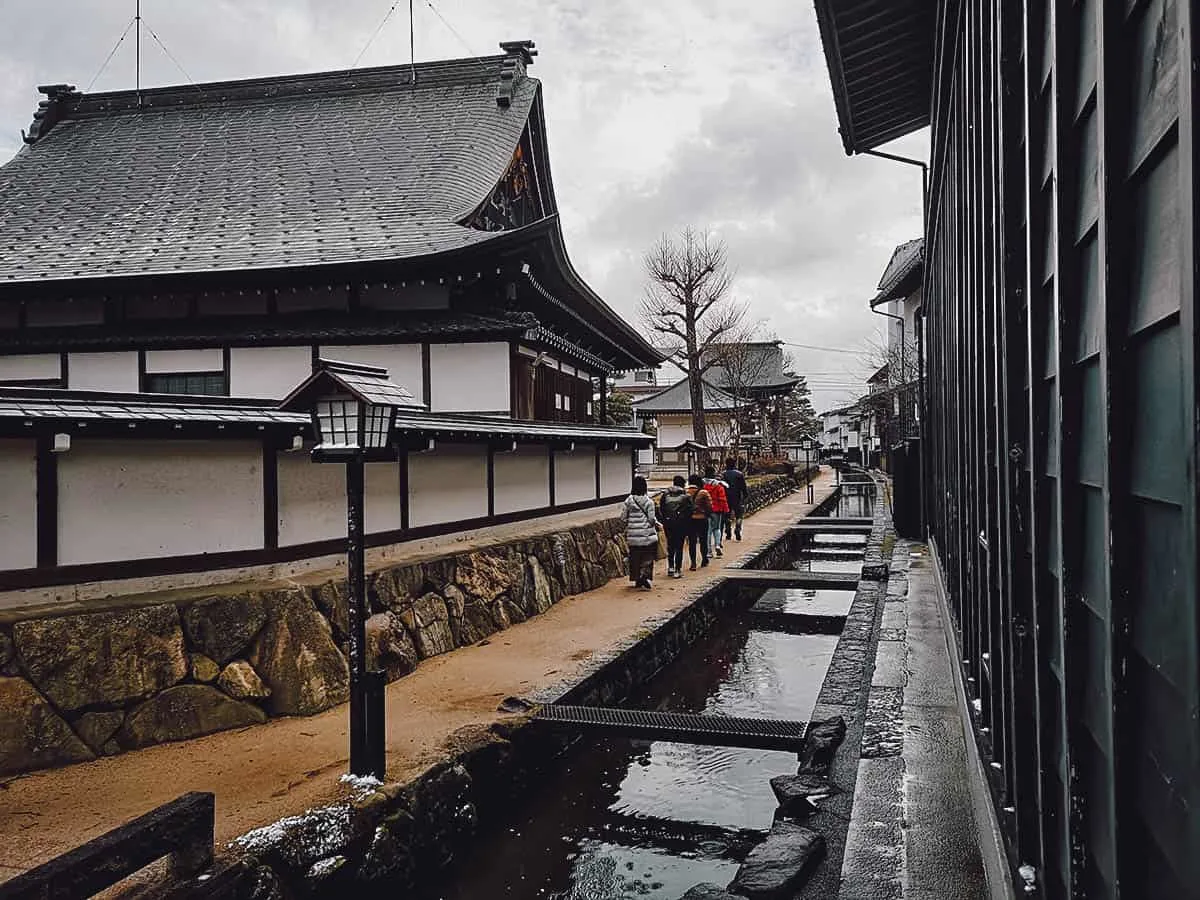 What look like ordinary train tracks to you and I may have significant meaning to fans of anime. If you've seen the hit anime film Kimi no Na wa, then you may recognize these tracks from the movie.
Fans of Kimi no Na wa will be pleased to learn that a few sequences from the film were based on actual locations in Hida Furukawa. If I remember correctly, we visited four stops that inspired scenes in the movie.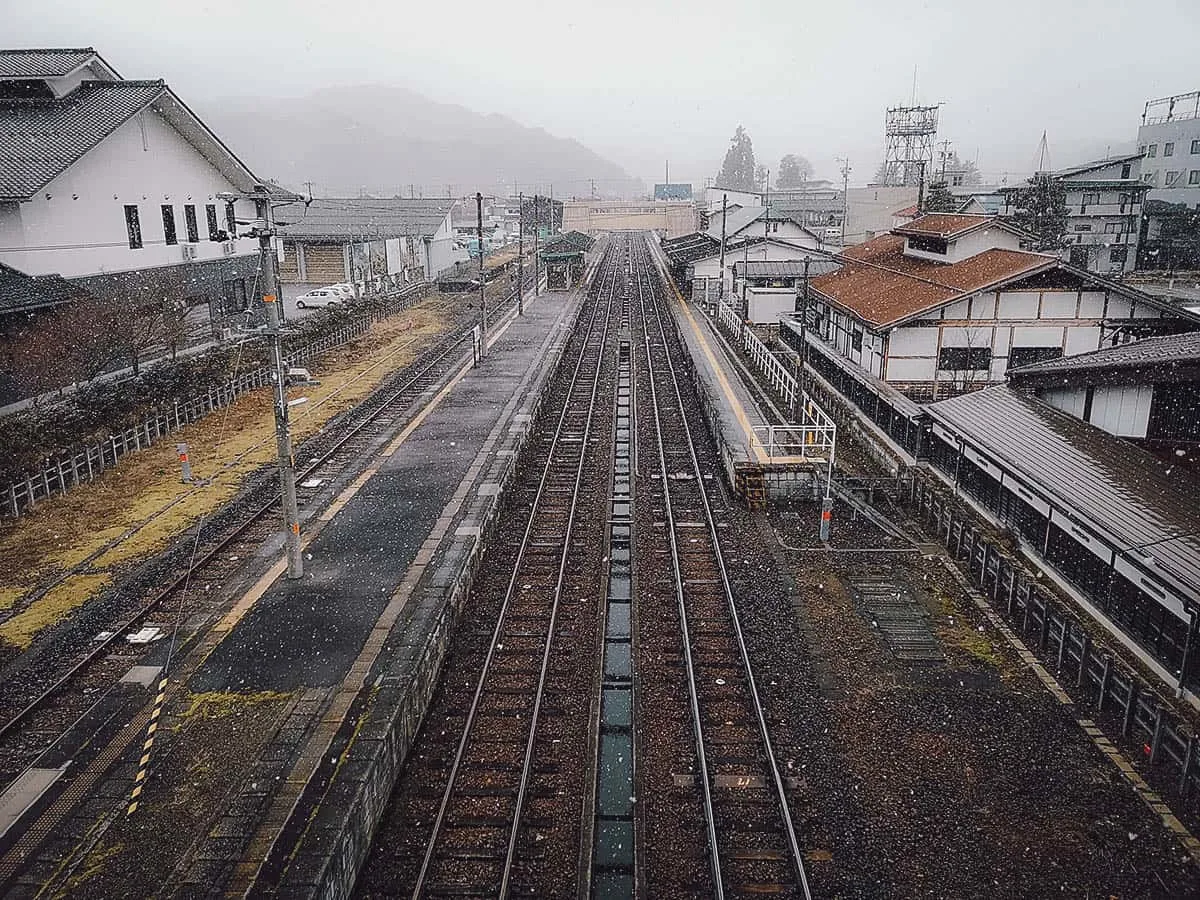 FINAL THOUGHTS ON THE BEST THINGS TO DO IN TAKAYAMA
One of the things I love most about Japan is its dichotomy of the ultramodern and the traditional. One day you could be interacting with robots in Tokyo then on the next day find yourself lost in an Edo period town like Hida Takayama.
It's an intriguing contrast that makes Japan the endlessly fascinating culture that it is. They're always moving forward and innovating while simultaneously preserving tradition and culture.
No matter how many times we've been, we can't get enough of Japan, and much of that has to do with time capsule towns like Takayama.
Thanks for reading and I hope this guide on the best things to do in Takayama helps you plan your trip. Have an amazing time in central Japan and the Japanese Alps!
Disclosure
This article on the best things to do in Takayama contains affiliate links, through which we'll earn a small commission if you make a purchase or booking at no additional cost to you. As always, we only recommend products and services that we use ourselves and firmly believe in. We appreciate your support as it helps us make more of these free travel guides. Thank you!