Everyone has a list of their favorite destinations. Every city or town is unique and special in its own way, be we all have a short list of places that are just a little bit more special than the others. For us, one of those places is Ubud.
We first visited this Balinese town in 2009. Ren and I aren't beach people so we skipped the coastal areas of southern Bali and went straight to Ubud. It was late at night and I'll never forget the feeling I had when we first drove into town.
We turned the corner past the sacred monkey forest to find a constellation of colorful lanterns hanging from trees and quaint shopfronts on either side of the road. We both gasped and released a collective "wow"! It was such a beautiful sight, and one we didn't expect knowing so little about this town.
We stayed in Ubud for over a week and fell in love with every facet of this inland retreat, from its artsy shops to its cute bungalows to its Hindu temples and its delicious Balinese food. We knew then that we'd find our way back to Ubud at some point.
To be honest, I wasn't sure how we'd feel about Ubud the second time around because your first time is usually the best. But that wasn't the case here.
Ubud may be more developed now than it was ten years ago, but it's still just as magical a place as ever.
VISIT UBUD QUICK LINKS
This Ubud travel guide is long. For your convenience, I've compiled links to hotels, tours, and other services here.
HOTELS
Here are a few of the top-rated hotels in Ubud.
TOURS
OTHER SERVICES
Save This on Pinterest!
No time to read this Ubud travel guide now? Click on the save button and pin it for later!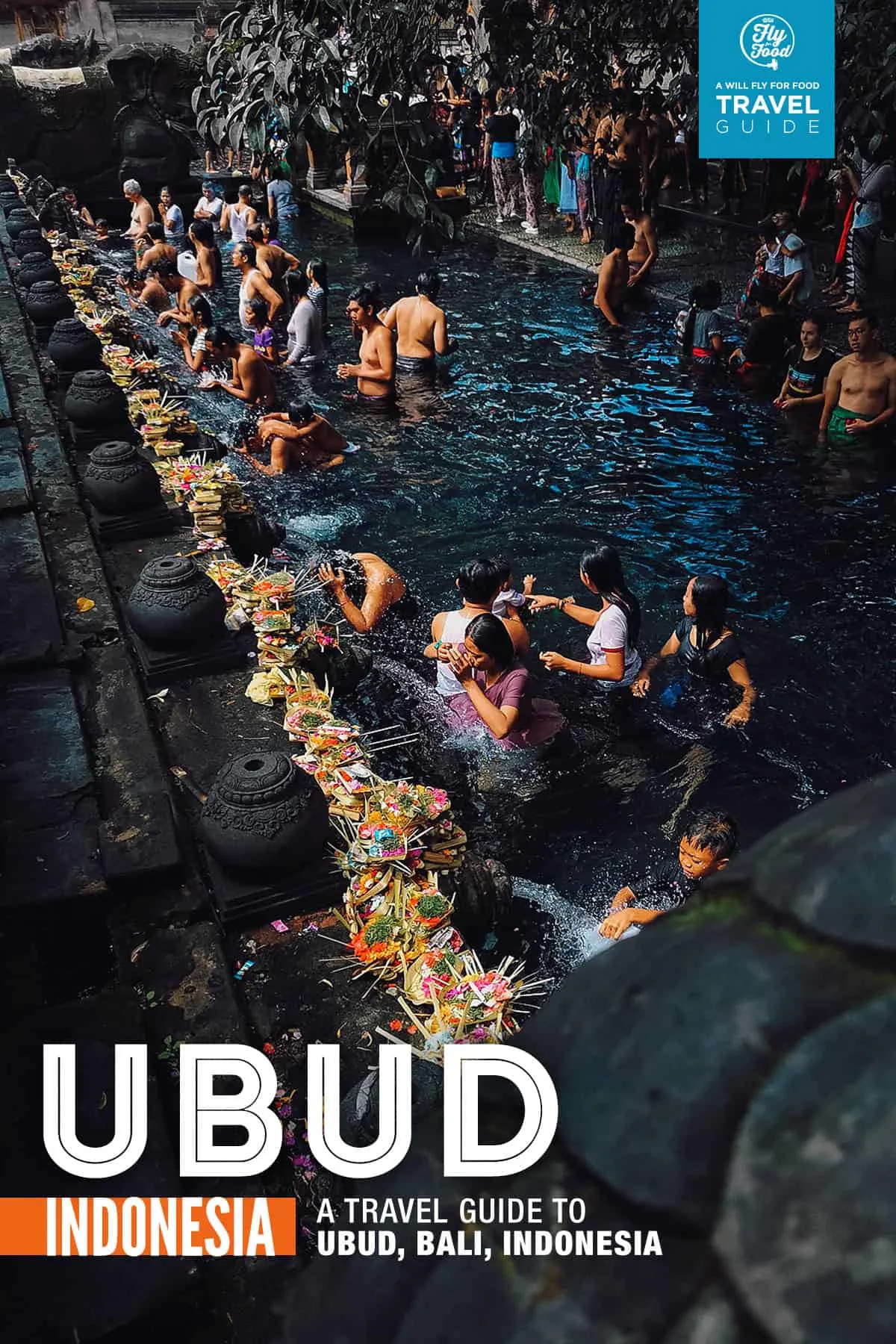 GUIDE TABLE OF CONTENTS
UBUD TRAVEL RESTRICTIONS
Because of the current global situation, Bali and Ubud travel guidelines change frequently. Our friends at Booking.com created a website that lists detailed information on travel restrictions around the globe.
Before planning a trip to Ubud, be sure to check Booking.com for information on travel restrictions to Indonesia. If you do decide to visit Ubud, then you may want to seriously consider getting travel insurance with COVID coverage.
INDONESIA VISA
Depending on your passport, you may need a visa and other documents to visit Ubud and Bali. Check out iVisa.com to learn about the requirements and to apply for a visa (if necessary).
UBUD AT A GLANCE
Ubud is a town in the central foothills of Bali island in Indonesia. Located inland about an hour and a half north of the airport, it's known as a quieter and more cultural destination compared to the fun but often raucous atmosphere of Seminyak and Kuta in southern Bali.
Being inland, there are no beaches in Ubud. Instead, you'll be enveloped by verdant rice paddies and a dense tropical jungle. Hindu temples abound here, as do art galleries, museums, and one-off boutiques selling handcrafted goods like jewelry and wood carvings.
Within the last two decades, Ubud has become an important destination for yoga practitioners thanks to its closeness to nature and the culture's intrinsic spirituality. Brimming with yoga studios, wellness retreats, and vegetarian/vegan restaurants, many people now regard Ubud as the holistic heart of Southeast Asia.
For us and the over three million foreign tourists who visit this town every year, Ubud is one of the most interesting destinations on the island and a must-visit in Bali.
BEST TIME TO VISIT UBUD
Like most destinations in Southeast Asia, Ubud has two seasons – wet and dry. The wet season is typically from November till March while the dry season is from around April till October. Temperatures vary little throughout the year so going in the dry season is best. July and August generally experience the best weather though they're also peak months in Bali. For that reason, I think April-June and September-November would be best.
We've been to Ubud twice – the first time in April and the second in July. Both months were great weather-wise, but I didn't enjoy the much heavier crowds in July. Traffic gets pretty bad too.
APR-OCT: As described, this is generally the dry season in Ubud. July and August are the driest months though it can still rain any day of the year. On our first trip, I remember it raining pretty hard one afternoon in April. The rain was heavy and it came suddenly, but it was short-lived. We enjoyed mostly sunny days the rest of the time.
NOV-MAR: This is the wet season in Ubud with the most rain falling from December till February. The holiday months of December and early January are also peak times on the island, so it's probably not the best time to go if you're looking for a quiet holiday. Hotel prices will probably be at their highest as well.
Climate: Annual Monthly Weather in Ubud
To help you better understand the climate in Ubud, I've created the average temperature and annual rainfall graphs below. Suggested months to visit are highlighted in orange.
Average Temperature

Annual Rainfall

TRAVELING TO UBUD
Whether you're coming from overseas or from somewhere within Indonesia, most visitors to the island of Bali will be flying into Ngurah Rai International Airport. We were in Yogyakarta so we took the 1 hr 30 min flight into Bali. There are a few ways you can get to your hotel in Ubud from the airport.
BY PRIVATE TRANSFER: This is the most convenient and probably the best option. You can arrange for a transfer from the airport either through your hotel in Ubud or through Get Your Guide. I inquired with our hotel but their rates were higher so I booked with Get Your Guide. You can also book a transfer through Klook.
BY TAXI: You can also take a taxi from the airport to your hotel but based on what I've read online, it will probably be more expensive. Be sure to book your taxi at the official taxi counter inside the airport. They'll quote you a fixed price after you give them your destination.
BY BUS: This will probably be the cheapest option but not the most convenient. The Kura Kura Bus can take you from Kuta to Ubud. However, the bus stop is about 4 km north of the airport so you'll need to take a taxi there first. You can book Kura Kura Bus tickets on Klook. Please note that departure times are limited and there's a maximum luggage allowance per passenger.
The information above assumes you're flying into Bali, but there may be other ways to get there depending on where you are. You can check Bookaway to find route options available to you. You can click on the link or use the widget below.
WHERE TO EXCHANGE CURRENCY
The unit of currency in Indonesia is the Indonesian Rupiah (IDR).
We didn't need to exchange currency in Bali but based on what I've read, there are plenty of reputable currency exchange offices in Ubud so you shouldn't have any problems.
The bigger offices along Monkey Forest Road seem like good options. Just be sure to compare exchange rates and ask if they charge a transaction fee. If you're going straight to Ubud after landing, then I suggest changing a small amount at the airport, just enough to pay for your transfer.
Some travelers may not be comfortable bringing large sums of cash into Indonesia, so another option is to withdraw IDR from an ATM. Rates are competitive, some say even better. Just be sure to let your bank know that you plan on using your ATM card abroad so you don't run into any issues. In my experience, my card works in some machines but not in others.
NOTE: Some ATM machines may ask if you'd like to proceed with or without conversion. Always proceed WITHOUT conversion. That way your local bank can do the conversion for you. If you choose WITH conversion, then that authorizes the foreign bank operating the ATM to perform the conversion, often at horrendous exchange rates. According to this article on Medium, the difference in exchange rates can be as high as 10%.
BEST AREAS TO STAY IN UBUD
Unless you're going to a wellness retreat or want to be in complete isolation, then the most convenient place to stay would be in central Ubud. It's a relatively small town so it shouldn't matter as much where you stay. We've stayed in two hotels in different areas so far and haven't had any problems getting around on foot.
NEAR UBUD MARKET
We stayed at Peacock Inn on our most recent trip to Ubud. Peacock Inn is a lovely 3-star hotel towards the north side of town, near Ubud Market, Ubud Palace, and Saraswati Temple.
The hotel looks like a two-story colonial-style mansion with big rooms/bathrooms and an outdoor swimming pool. Our room rate included breakfast for two which was delivered to our room every morning. You can book a room at Peacock Inn on Agoda.
NEAR MONKEY FOREST
We stayed at Ubud Bungalows on our first trip to Ubud. From their stellar reviews and 9.2 rating on Booking.com, it looks like they've maintained the quality of the place which is nice to see because this really is a lovely hotel.
Ubud Bungalows is closer to the Sacred Monkey Forest and features roomy standalone bungalows with patio seating in a lush heavily planted environment. They have a pool and room rates include breakfast as well. You can book a room here on Agoda.
Other Hotels
To be honest, there's so much competition in Ubud (and in Bali in general) that it shouldn't be hard to find a beautiful hotel room at a decent price. If you want 5-star accommodations, then there are plenty of those as well. If neither of the above two hotels is exactly what you're looking for, then you can check out alternate listings on Booking.com or Agoda. Here are some of the top-rated hotels in Ubud:
You can also book hotels and homestays in Ubud using the handy map below.
THINGS TO DO IN UBUD
1. Visit Saraswati Temple and Ubud Palace
As a first-time visitor to Ubud, one of the first things you might notice is the architecture. It's hard not to as ornate and eye-catching as Balinese architecture is!
Of all the architectural eye candy in Ubud, two of the most important structures are Pura Taman Saraswati (pictured below) and Puri Saren Agung. The former is a water temple dedicated to the Hindu goddess of wisdom and art called Dewi Saraswati, while the latter is the palace of the royal family.
Both attractions are free to visit and located within minutes of the Ubud Art Market. From what I've read, cultural dance performances are held at both venues in the evenings as well.
Saraswati Temple and Ubud Royal Palace may be the most noteworthy but there are plenty of interesting buildings in Ubud. I suggest taking a walk without having any real plan. Balinese architecture is fascinating and fun to photograph.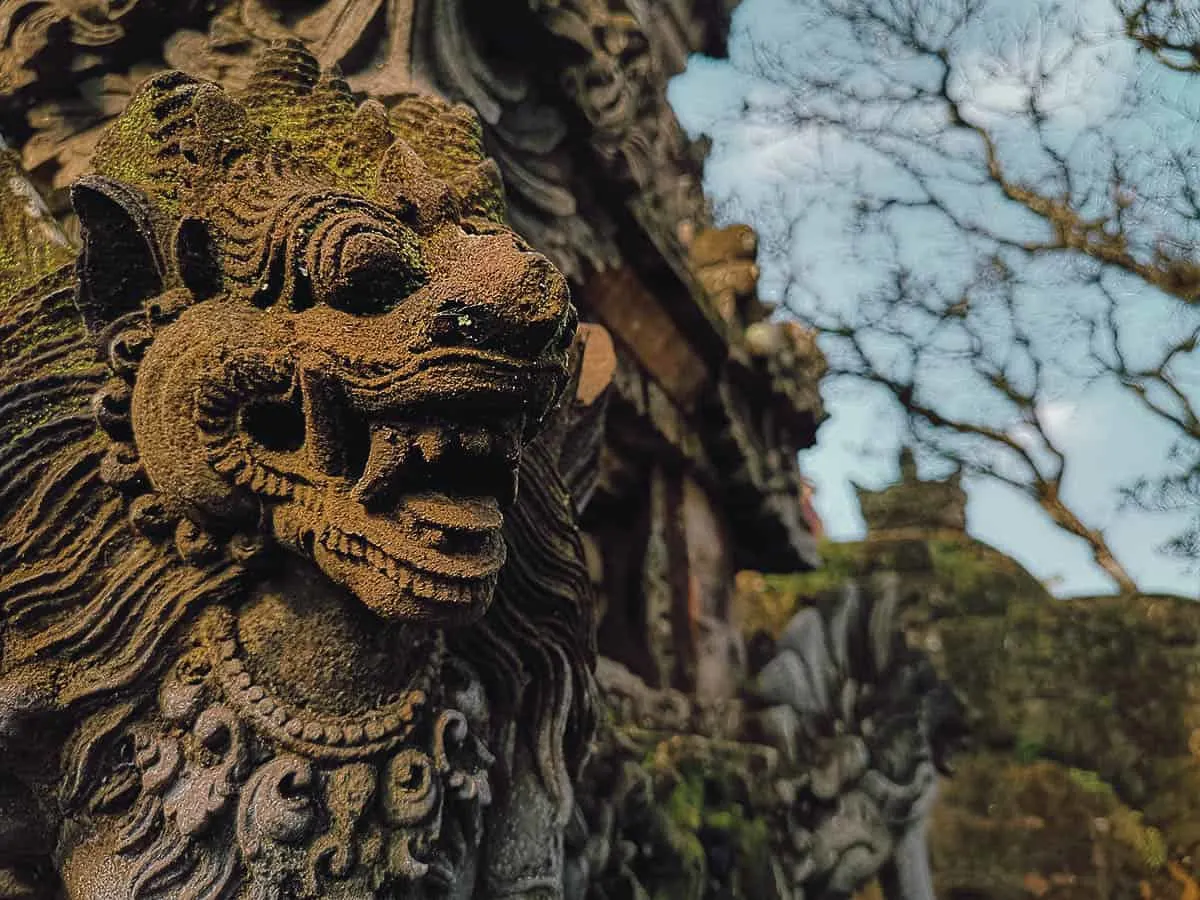 These ornately decorated split gates are called candi bentar and are a common sight in Bali.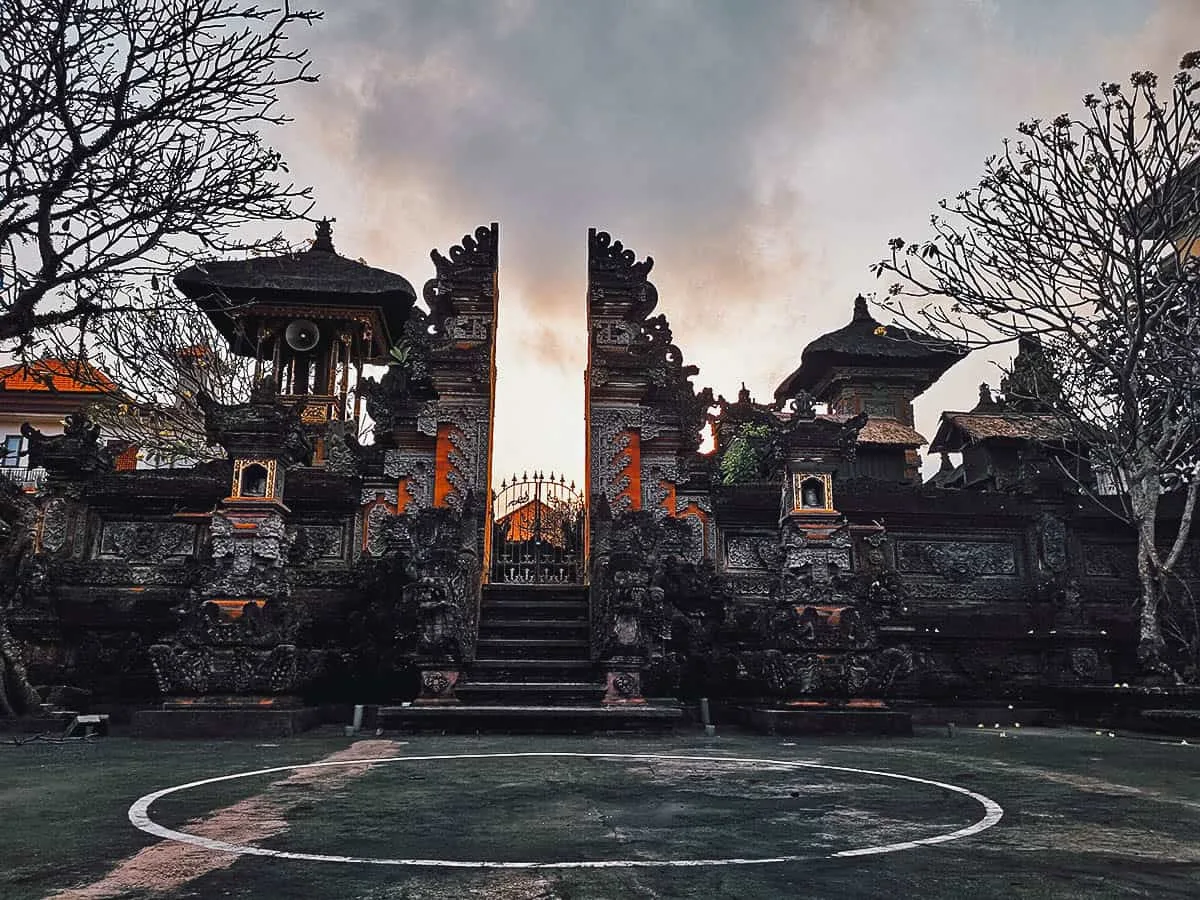 Estimated Time to Spend: 2-3 hours
Admission: FREE
2. Observe Monkeys at the Sacred Monkey Forest Sanctuary
The Sacred Monkey Forest is one of the most visited attractions in Ubud. It's a lush forest sanctuary that's home to over a hundred grey long-tailed macaques. They're free to roam the park so you'll find them walking along paths in troops or gorging on fruit at designated feeding stations such as this one.
They're cute and tempting to interact with, but they're still wild animals so you're advised to keep your distance. They've been known to snatch loose bling and escape into the forest canopy.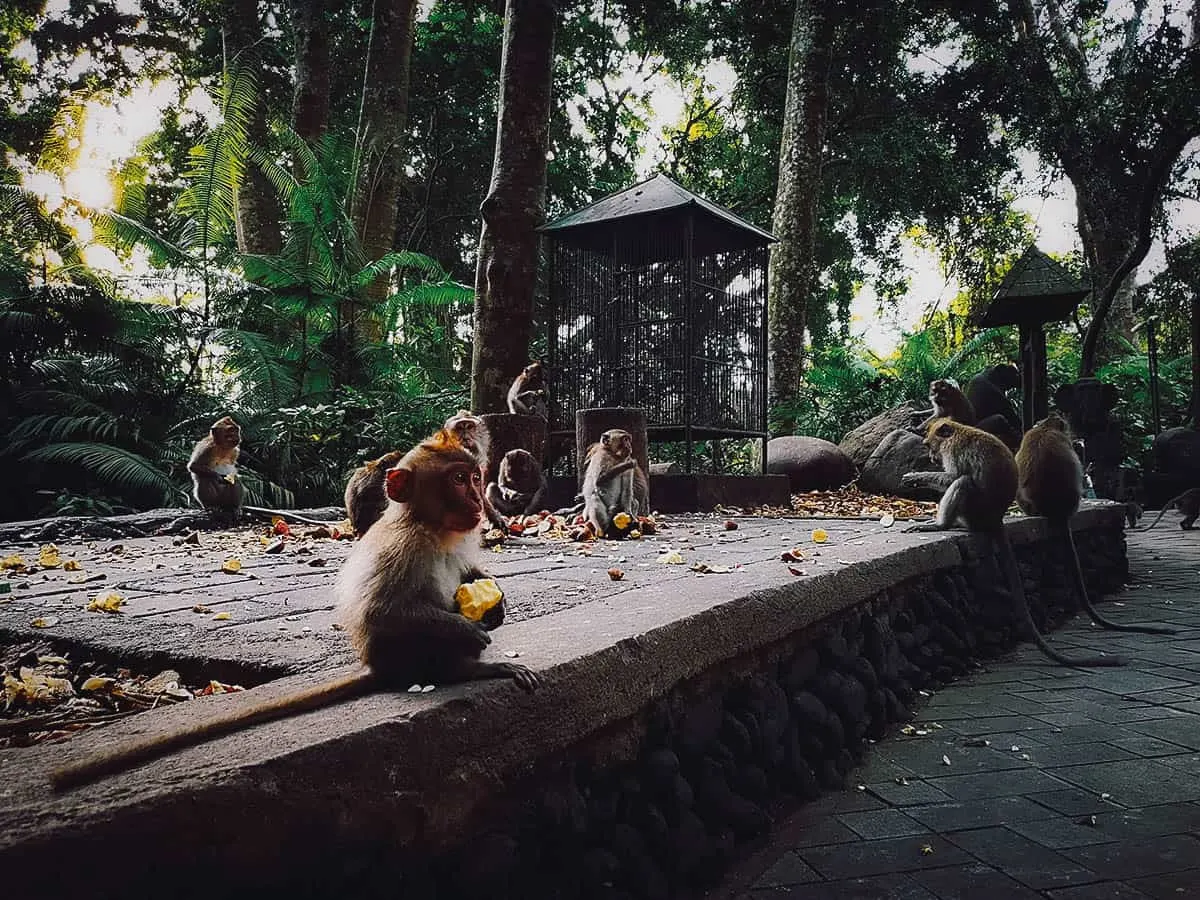 The macaques may be the main draw at the monkey forest but I may have enjoyed the sanctuary itself even more. It's a heavily wooded area with several walking paths and a stream at the bottom. There are a few moss-covered temples inside the forest as well.
I explored the monkey forest on my own but if you'd like to go as part of a guided Ubud tour, then there are several you can book on Get Your Guide.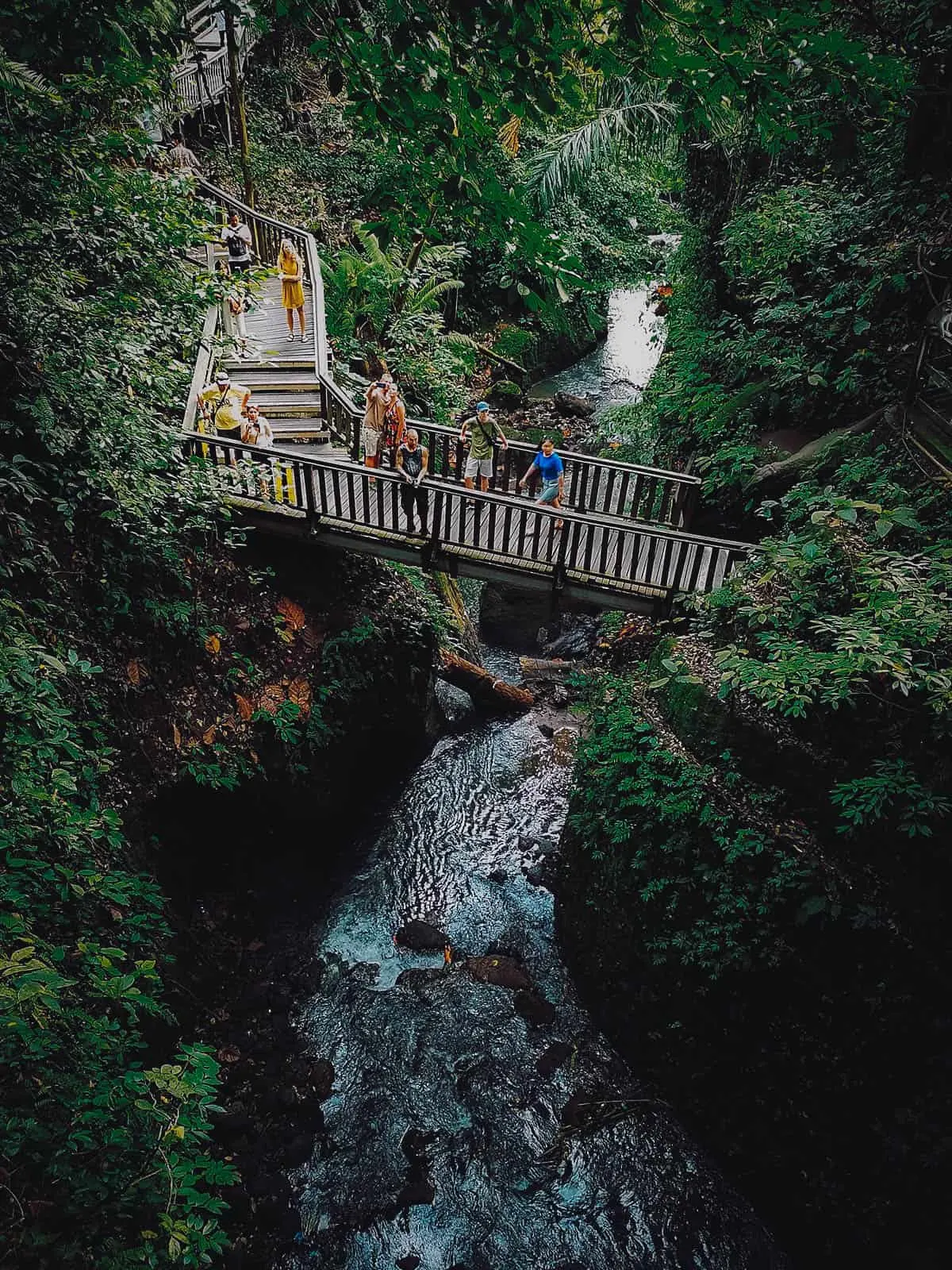 Estimated Time to Spend: 1-2 hours
Admission: IDR 80,000-100,000 for adults, IDR 60,000-80,000 for kids (ages 3-12)
3. Shop at the Ubud Art Market
If you're looking for gifts or souvenir items in Ubud, then this is probably the best place to get them. Located near Ubud Royal Palace, Ubud Art Market is a vibrant network of stalls selling a wide range of products like jewelry, scarves, fabrics, bags, hats, and handcrafted goods. I've read that this is the best place on the island to buy these types of products.
The art and souvenir section of the market is geared towards tourists but if you're interested in seeing a more local side to Ubud, then you may want to check out the wet market section as well. Liveliest early in the morning, there you'll find vendors selling typical market produce like meats, fish, and vegetables. We made a stop there on the way to a fun cooking class at Paon Bali.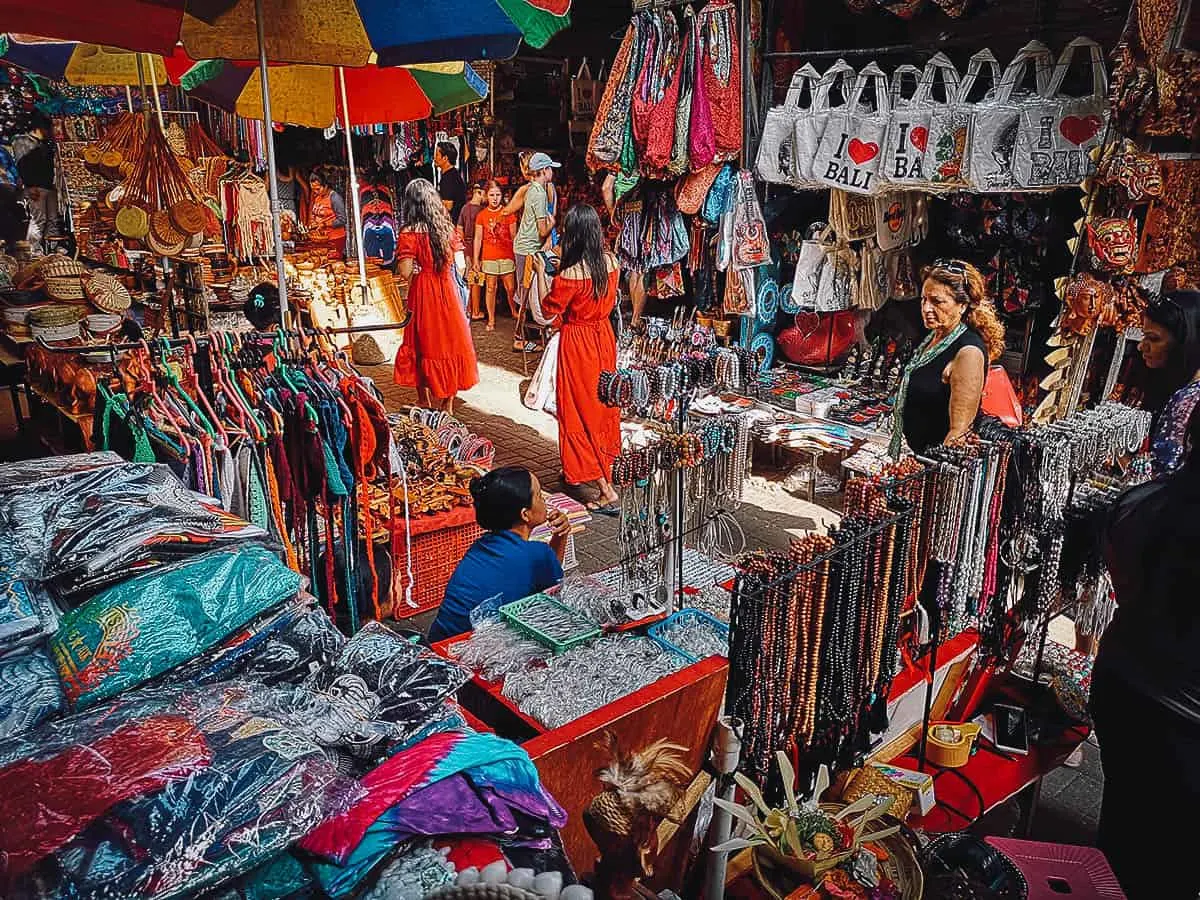 4. Visit an Art Museum or Gallery
There are plenty of museums and galleries in Ubud featuring art ranging from the traditional to the more contemporary. This was one of the things that surprised me most about Ubud when we first visited. I'm used to seeing kitschy folk art made for tourists in similar island destinations, but in Ubud, there's a serious arts community producing thoughtful contemporary art.
Take a walk around town and you'll find plenty of museums and galleries to eat up your time. Some of the most notable include the Blanco Renaissance Museum, Neka Art Museum, Museum Puri Lukisan, and Agung Rai Museum of Art.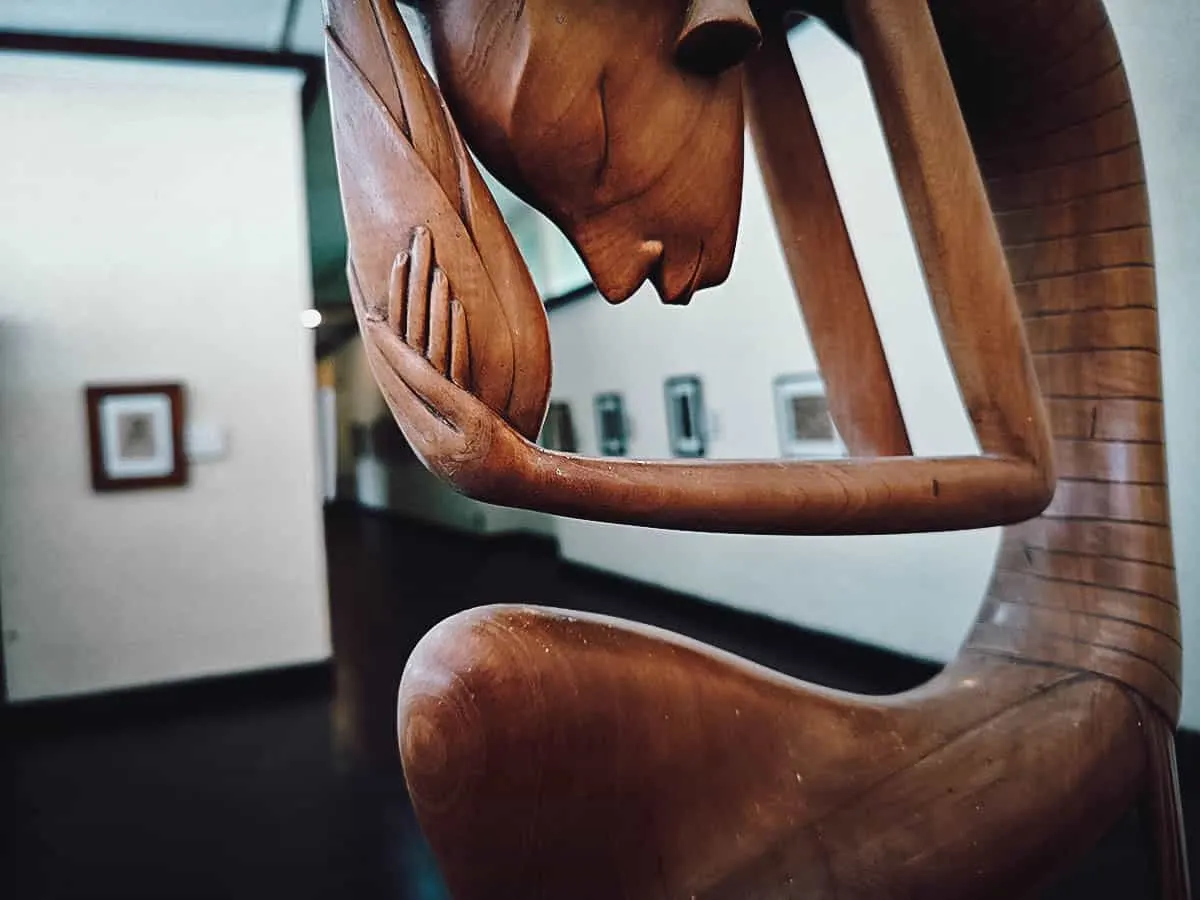 Estimated Time to Spend: 3-4 hours
Admission: Varies
5. Escape the Chaos at Campuhan Ridge Walk
This was one of my favorite places in Ubud, simply because it gave me brief respite from the crowds of tourists that flock to Ubud in July.
Campuhan Ridge Walk is exactly as it names suggests – a paved trail at the crest of a hill. The trail starts just off busy Jalan Raya Ubud and gives you uninterrupted views for about 9 km.
It's an easy walk but there's no cover so it's best to go early in the morning or just before sunset, lest you enjoy baking in the scorching heat of Bali's midday sun.
Here's me standing in a rice paddy field and saying hello to aliens. Campuhan Ridge Walk is a great place to fly your drone. I went on my own but if you'd like to go on a guided walking tour, then you can book one through Get Your Guide.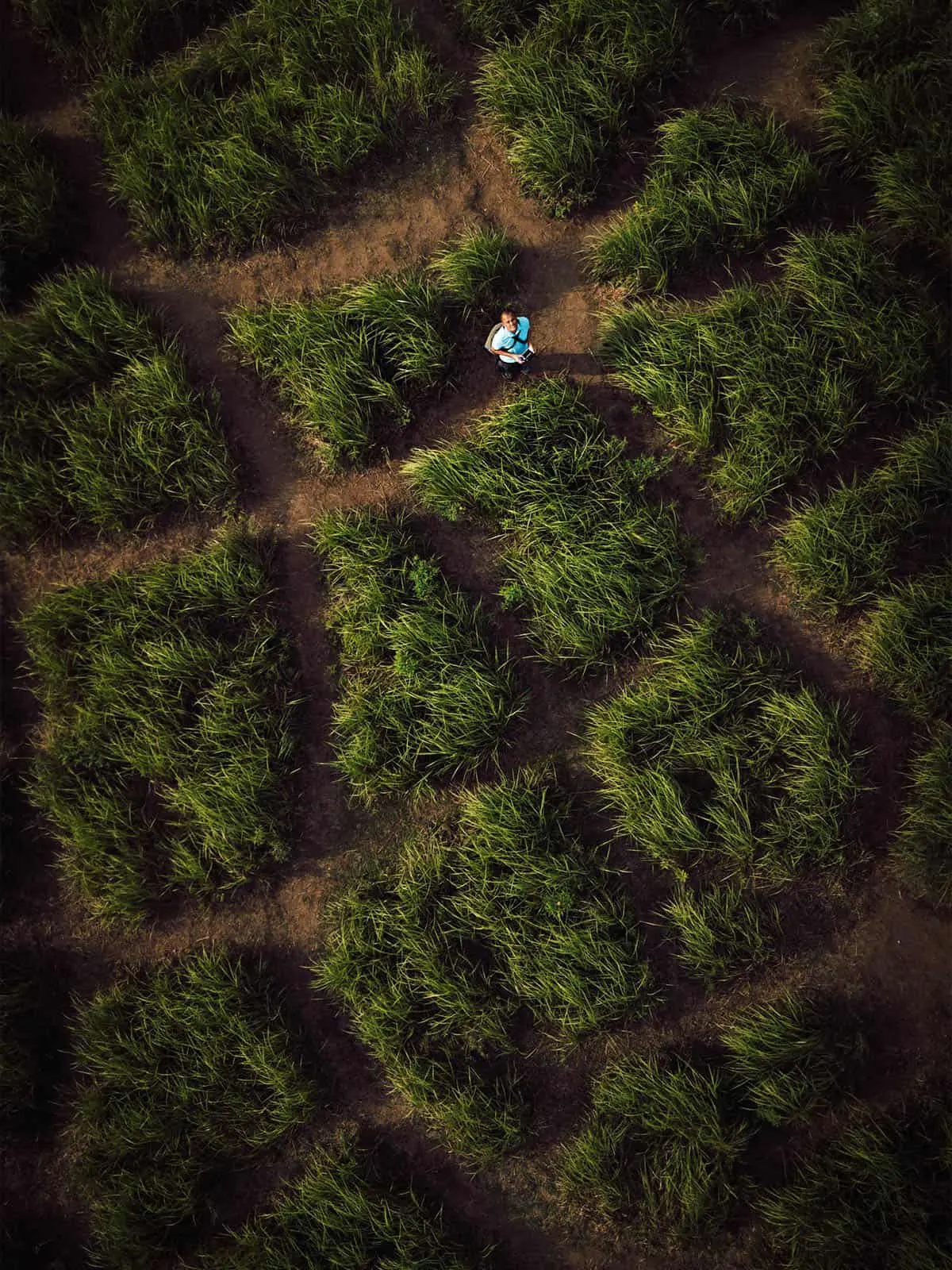 Estimated Time to Spend: 2-3 hours
Admission: FREE
6. Go on an Instagram Tour
Ubud is an Instagrammer's paradise. If you're active on IG, then I'm sure you've seen dozens of ethereal travel photos shot in Ubud and Bali. What you see isn't trickery. It really is that beautiful.
If you really ant to spruce up your feed, then you may want to go on this Instagram highlights tour. It'll take you to popular photography spots like the Gates of Heaven (pictured below), Tirta Gangga, and the Ubud rice terraces and jungle swings.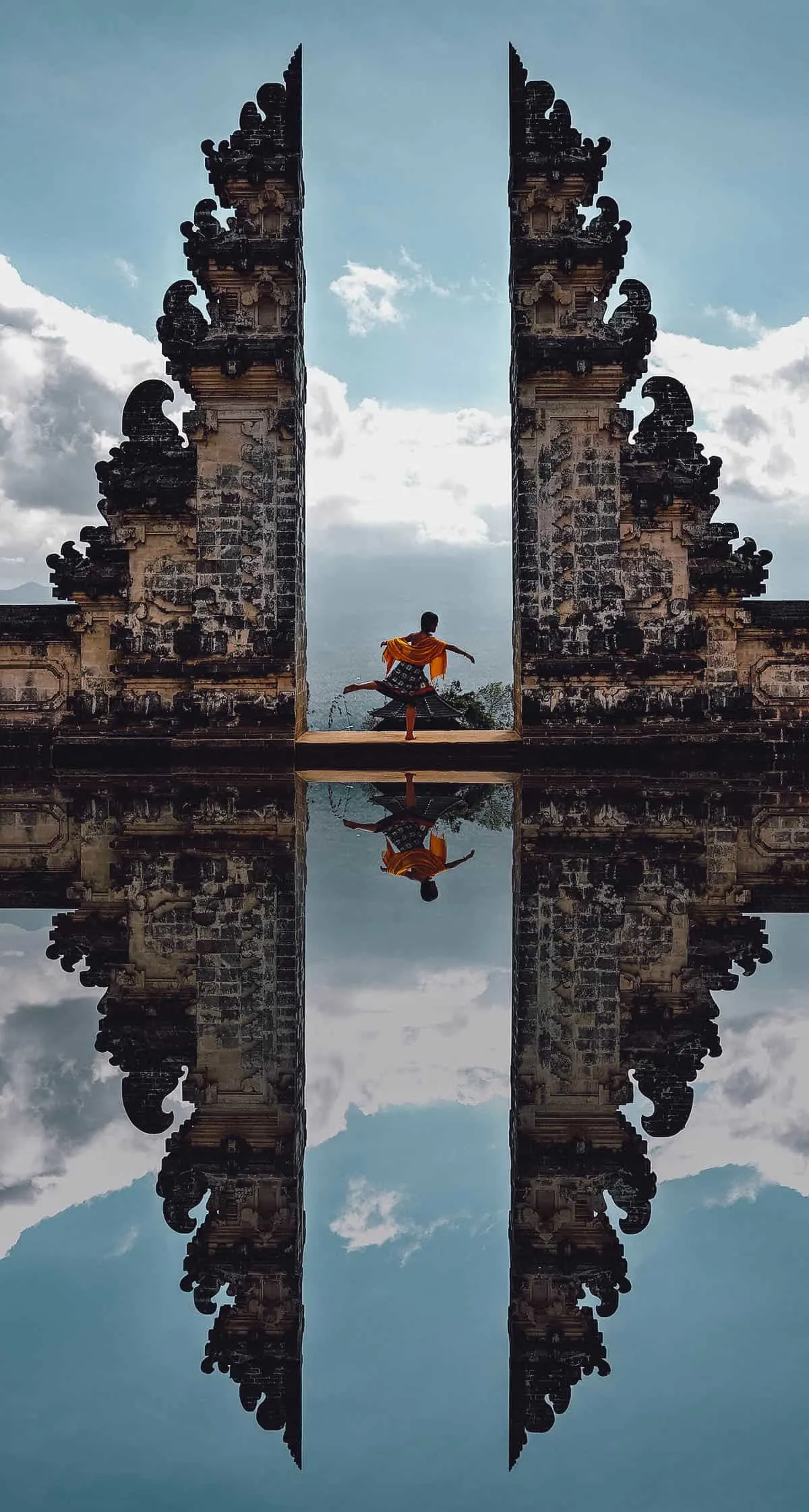 PHOTO: "Gate of Heaven" by Enrico Strocchi, used under CC BY-SA 2.0 / Processed in Photoshop and Lightroom
7. Take a Cooking Class
Ren's a great cook so we try to make time for one cooking class on every trip. In Ubud, we took this excellent cooking class at Paon Bali Cooking School where we learned how to make classes Indonesian dishes like sate, gado-gado, and pepes ikan. For me, there's no better way to learn about a new cuisine than to take a cooking class. It's like looking under a cuisine's hood.
If you're interested in taking a cooking class in Ubud, then you can check out this list of Ubud cooking classes on Cookly.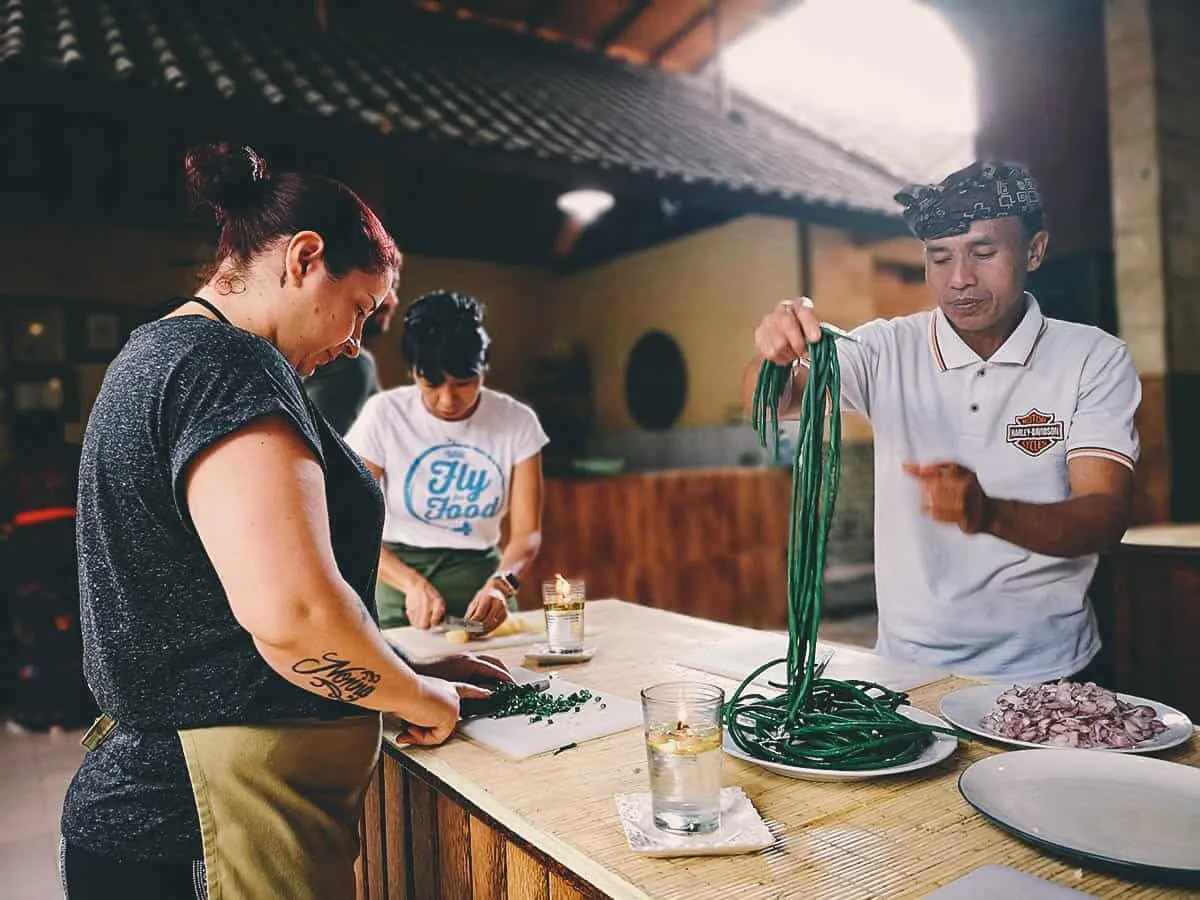 8. Get a Massage
One of the best things you can do at an island destination like Bali is to disconnect and relax, and what better way to get you in a relaxed state than a massage? Every time I get a massage I almost instantly fall asleep, which is perfectly fine in a place like this.
We had time to kill before our lunch reservation at Locavore so we randomly walked into a reflexology center nearby and got a foot message. There are plenty of massage centers in Ubud, but you can probably get a better one at a proper spa. You can choose from several options on Klook (Option 1 | Option 2) and Get Your Guide.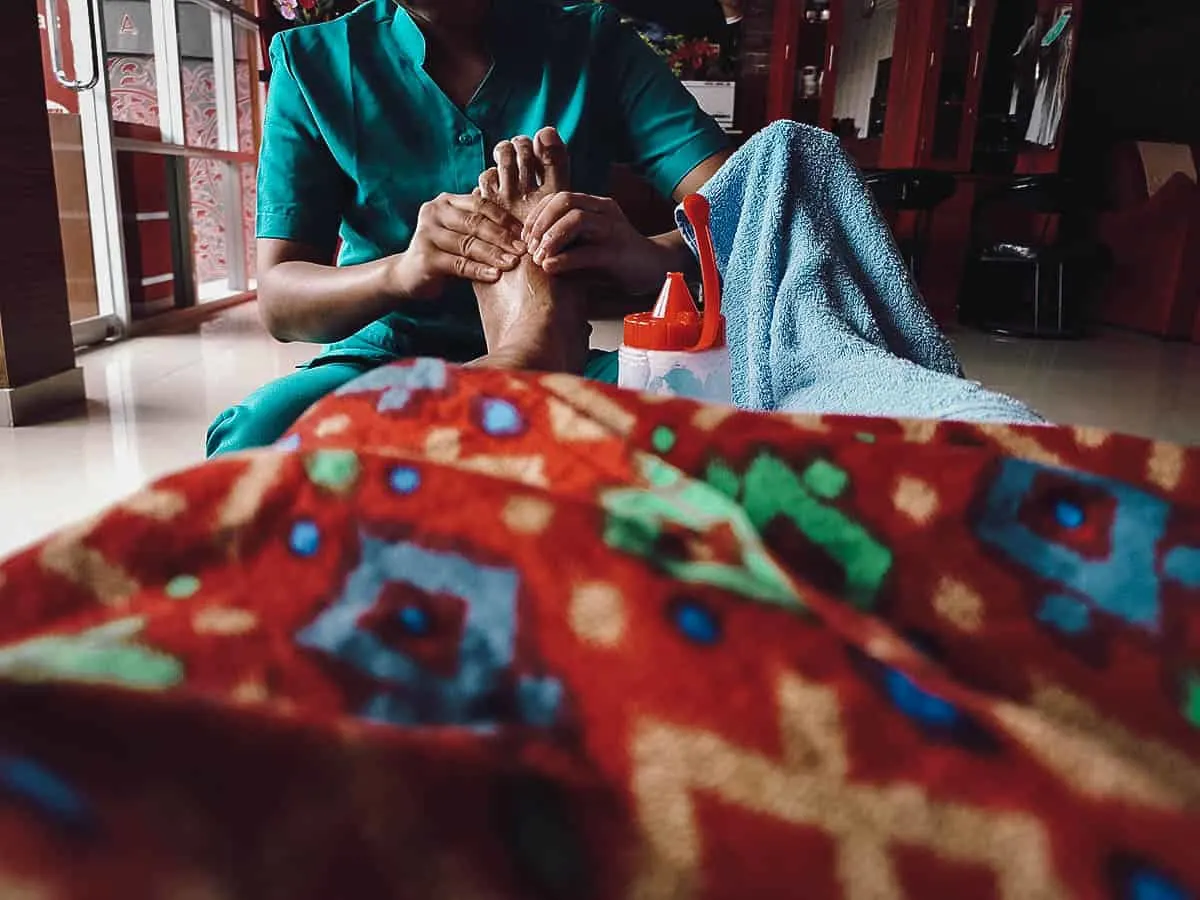 9. Do Yoga
As described, Ubud has become a mecca for yoga in Southeast Asia. If you have even the slightest interest in yoga, then you'll probably want to do it here. Check out this excellent article on all things yoga in Ubud for recommendations and insider tips.
If you'd like to book a wellness retreat with yoga, then you can do so through Get Your Guide.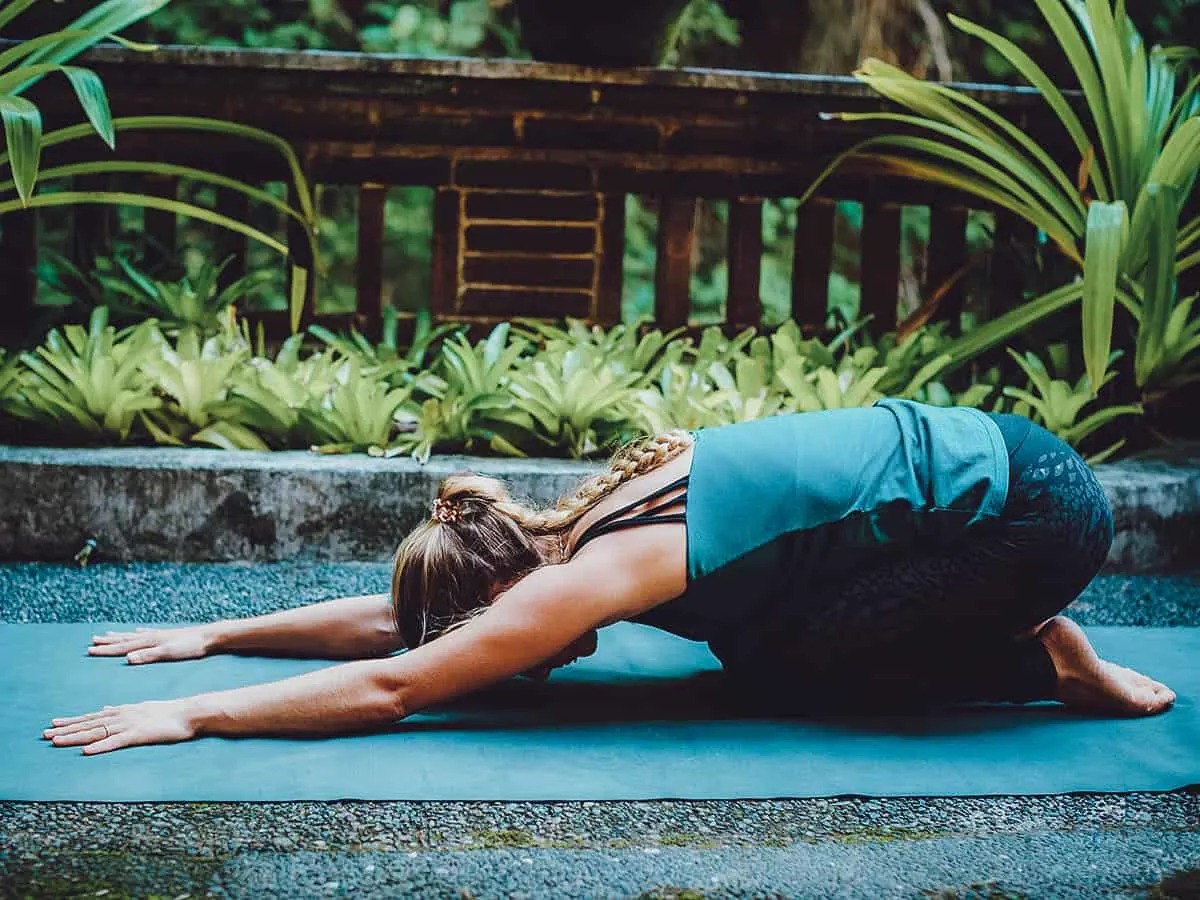 Photo by Boiarkina Marina via Shutterstock
DAY TRIPS FROM UBUD
There are several places you can visit on a day trip from Ubud. The biggest problem is how to get there. To maximize our time and resources, we booked a 10-hr private car charter with driver on the same day we were leaving Ubud and moving to southern Bali.
After picking us up and our luggage from Peacock Inn, our driver took us to all the places on our itinerary (listed below) then dropped us off at our hotel in Seminyak. So we basically used the car charter for a private tour and transfer. We booked it through Get Your Guide but you can book it on Klook as well. Both are reputable companies so be sure to check both sites to find the car charter that works best for you.
If you'd rather go on a guided tour, then there are many to choose from on Klook and Get Your Guide. Just remember to check each tour's details – stops, pick-up points, timing, etc – to find the most suitable one for you.
1. Elephant Cave (Goa Gajah)
Goa Gajah means "elephant cave" and refers to one of the most visited Hindu temples in Bali. Most if not all write-ups on Goa Gajah show only this main cave with the intricate carvings and gaping mouth entrance, but it's actually a large temple complex with bathing pools, stone shrines, and a large open area with steps leading down to a stream. It's a beautiful and tranquil environment with plenty of plants, trees, and moss-covered boulders.
The most distinctive feature of Goa Gajah is the main temple cave which dates back to the 11th century. Upon entering the mouth entrance, a tunnel opens up to a larger chamber with two shrines situated at either end of the cave. It isn't a large cave so you won't need more than a few minutes inside. Just remember that this cave is still used for Balinese Hindu rituals so it's important to be respectful when you visit.
Located about a 10-minute drive east of Ubud town, we visited Goa Gajah on our own but if you'd like to go on a guided tour, then you can book one on Klook or Get Your Guide. They offer a few that make stops at Elephant Cave and other key attractions in central Bali.
Suggested Length of Visit: 1 hour
Admission: IDR 50,000
2. Tirta Empul Temple
Tirta Empul is a Hindu temple that's one of the most visited attractions in central Bali. Located about a 40-minute drive north of Ubud town, it's a water temple known for its ritual purification pools used by pilgrims and devotees.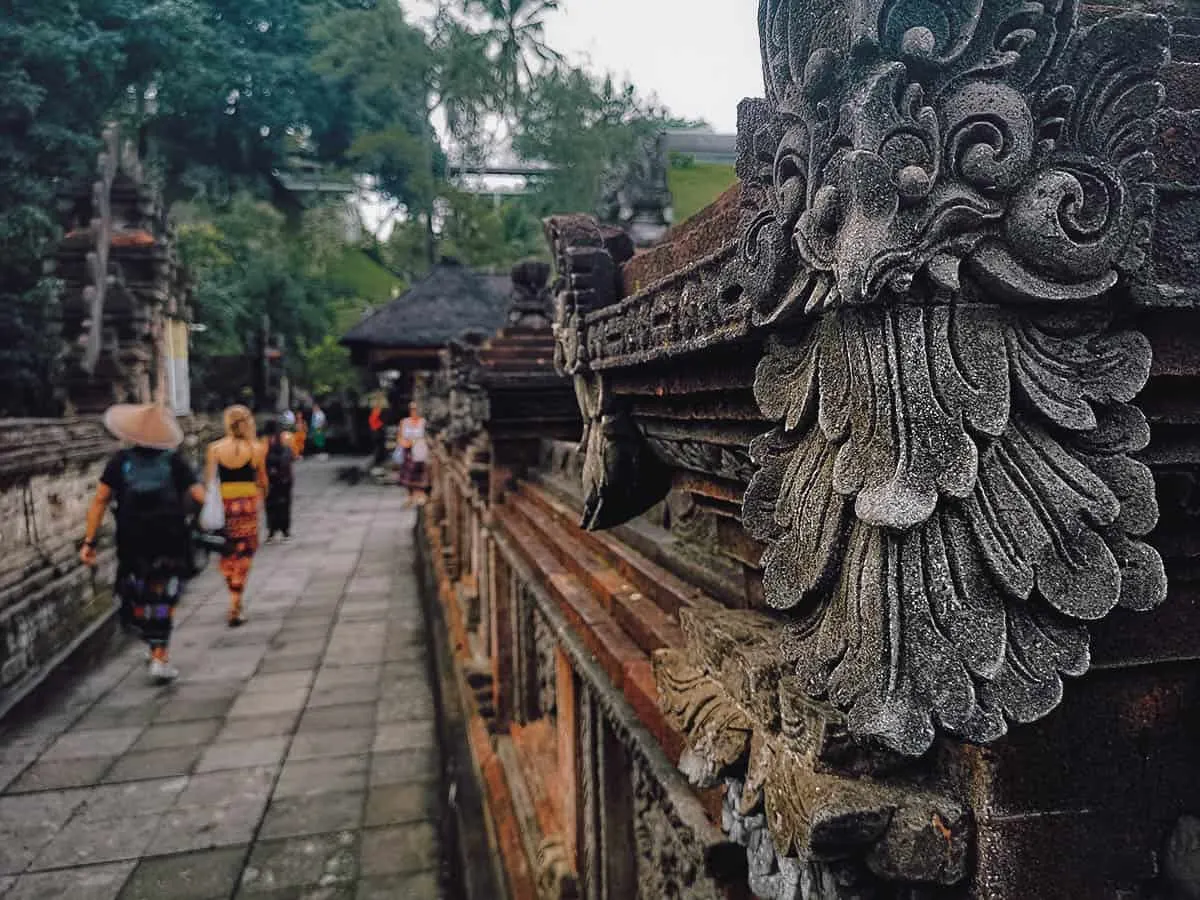 It was fascinating to see these long lines of bathing devotees waiting to dip their heads beneath the water spouts. The water in these pools is believed to have magical purifying powers. I'm not sure if foreigners can bathe in these pools, but I think it should be left for devotees only.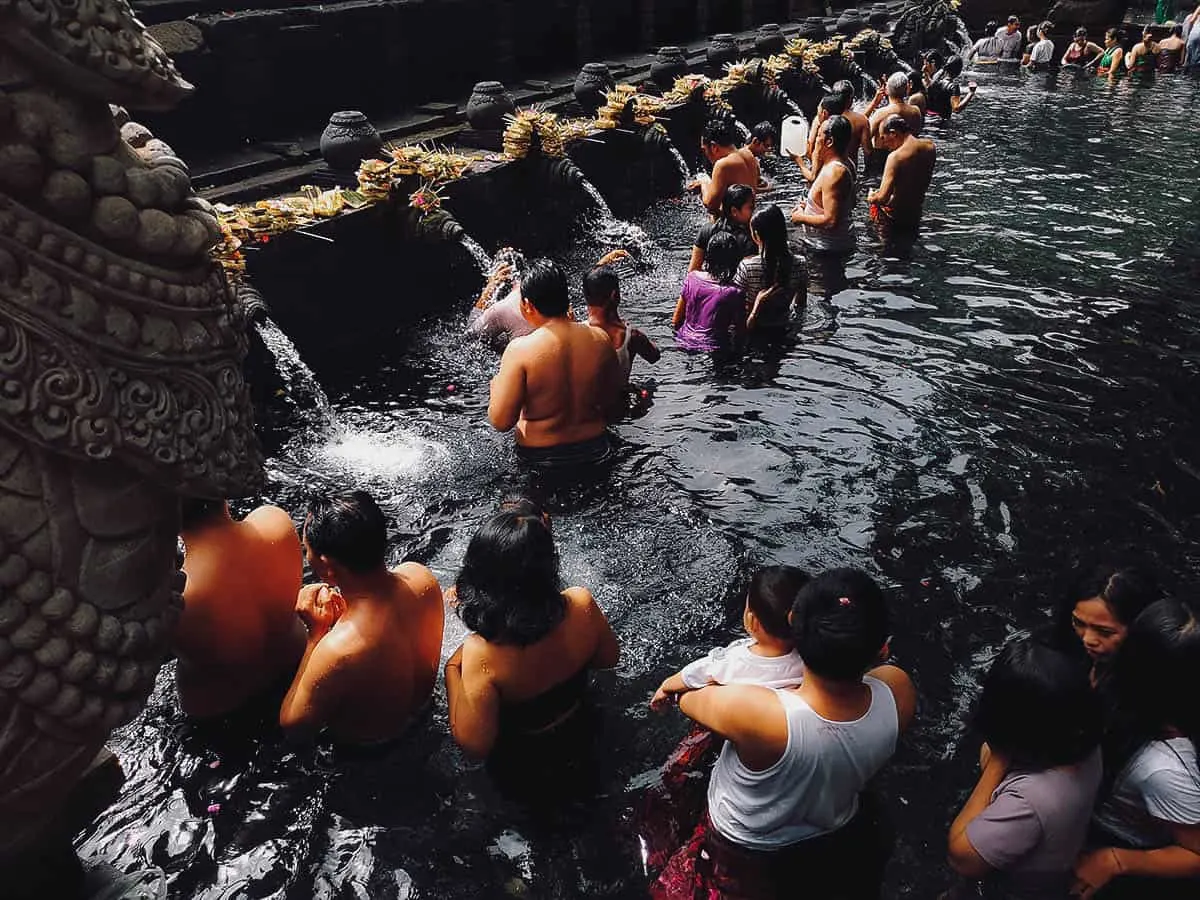 There are two of these bathing pools at the temple with a total of thirty water spouts. Devotees will start at the first spout in the pool on the left. After dipping their heads beneath the first spout, they'll move to the next until they've cleansed themselves under each of the thirty spouts. It's a captivating ritual that seems random but it isn't.
You can visit Tirta Empul on a private car charter like we did, or you can go as part of a guided tour. Klook and Get Your Guide offer a few tours that take you to Tirta Empul Temple. They even have tours inspired by the Eat Pray Love book/movie (Klook | Get Your Guide).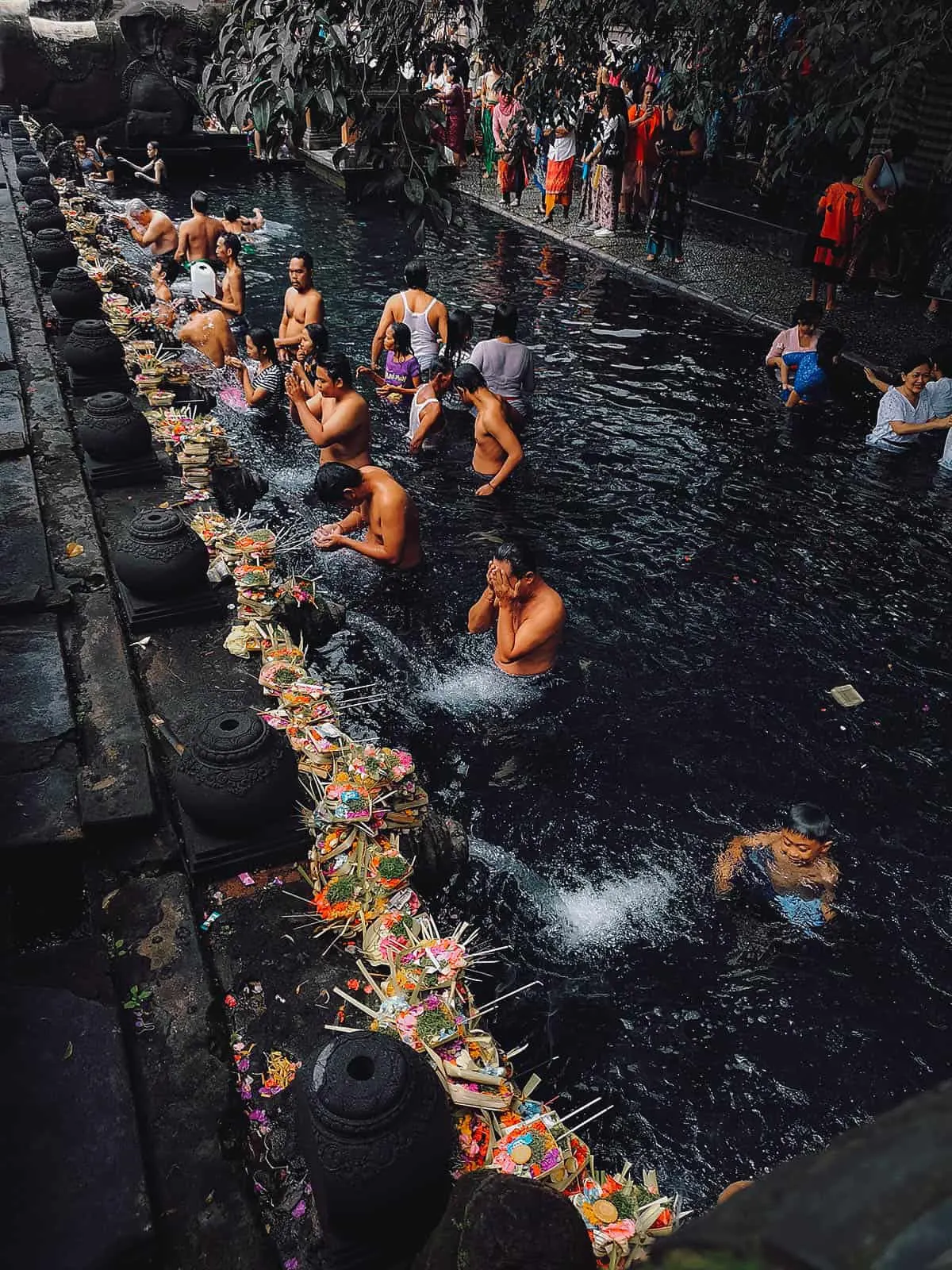 Suggested Length of Visit: 1-2 hours
Admission: IDR 50,000
3. Gunung Kawi Temple
Gunung Kawi is an ancient rock temple known for these large relief shrines carved into the cliff face. There are ten in all at the temple, each measuring about 7 meters (23 ft) tall.
Legend has it that these shrines are the memorials for the Balinese King Udayana, his family, and concubines. It's an impressive sight that makes for interesting photographs. Like Goa Gajah, there's more to the temple than these shrines so be sure to spend enough time exploring the grounds.
Gunung Kawi Temple is about a half-hour's drive north of Ubud town. It's easiest to go there by private car charter or on a guided tour.
NOTE: I was confused by this as there's a similarly named temple called Gunung Kawi Sebatu Temple. I initially thought they were one and the same but they're two distinct temples about 4.5 km apart. Gunung Kawi Sebatu Temple is a beautiful water temple that's off the tourist trail. If you have time or don't want to deal with the crowds at Tirta Empul Temple, then you may want to go there as well.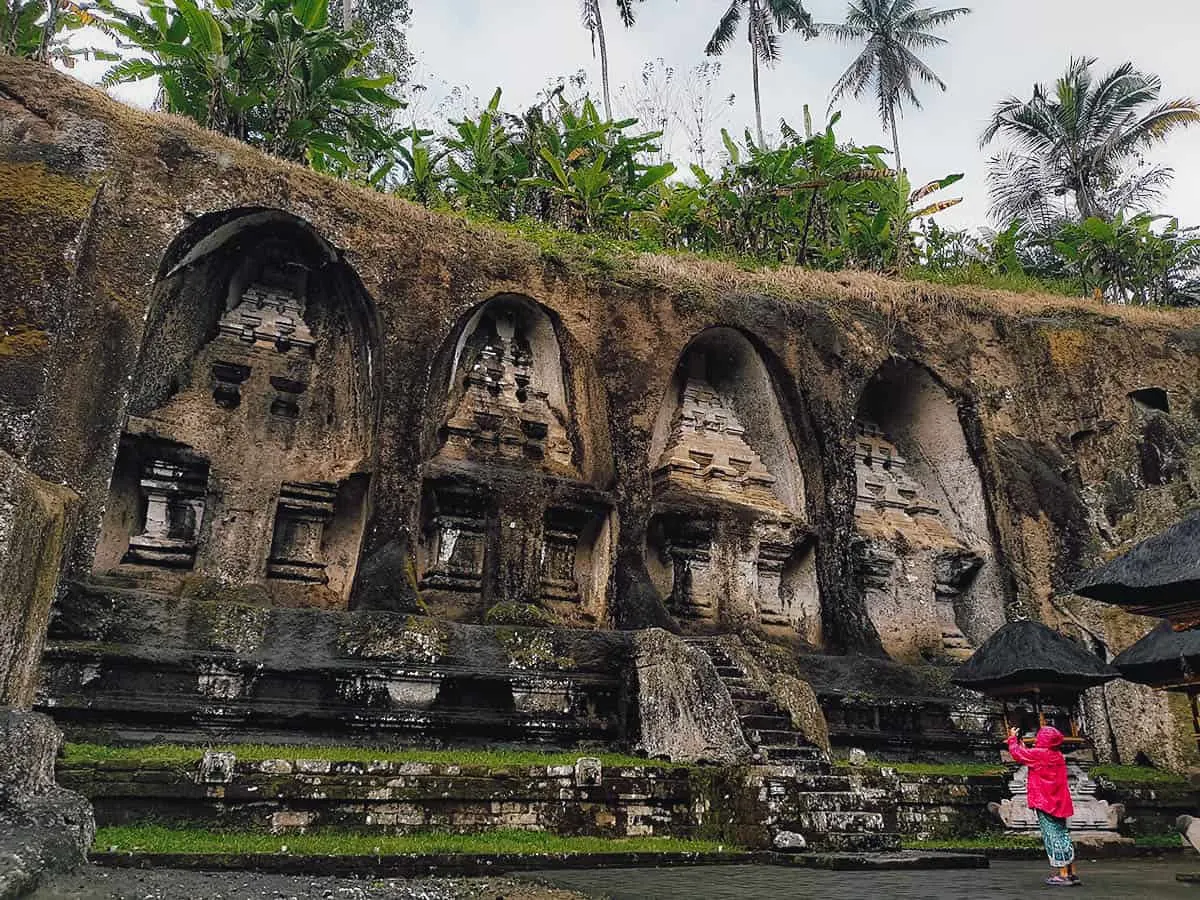 Suggested Length of Visit: 1-2 hours
Admission: IDR 50,000
4. Tegallalang Rice Terraces
These rice terraces are among central Bali's most visited attractions. They've become even more famous in recent years thanks to those giant swings that have invaded social media. But swing or no swing, these rice terraces offer some of the most beautiful inland views in Bali and really do make a terrific backdrop for photos.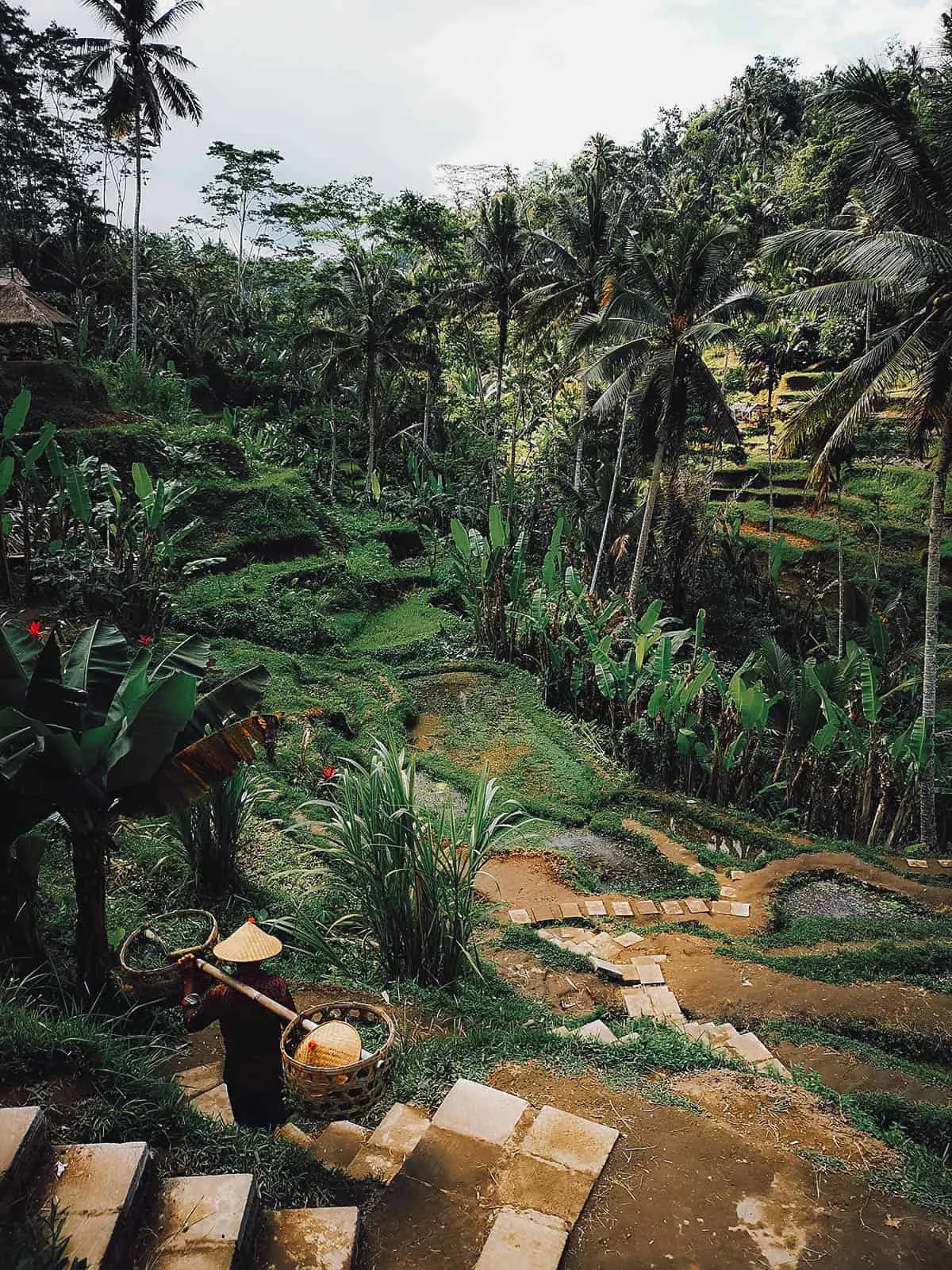 You can descend into the valley and cross over to the other side. There are many great photo opportunities here, especially if you arrive early enough to catch sunrise and there are fewer people around. It's a great place to fly your drone as well.
We didn't do it but many tourists who visit Tegallalang Rice Terraces want to get their pictures taken on a giant swing. There are several giant swing operators here, each offering their own tourist packages. I checked on Klook and Get Your Guide and they both offer many tours that include a giant swing ride in Tegallalang and at other venues in Bali.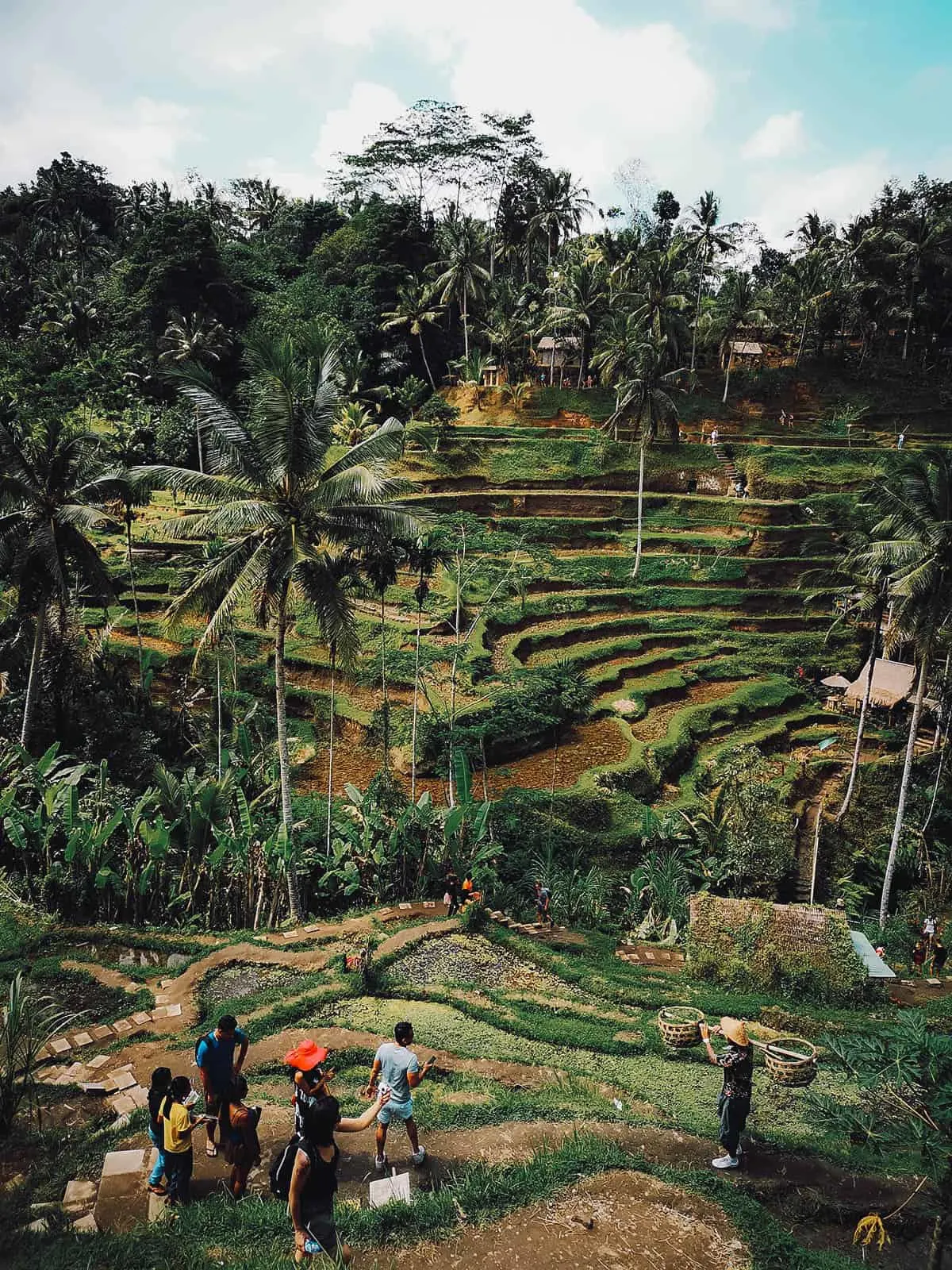 Tegallalang has become so popular with tourists that all along the road are restaurants and cafes offering valley views. It's a great place to just sit and enjoy the scenery over a cold drink. Tegallalang rice terraces is located about half an hour north of Ubud town by car.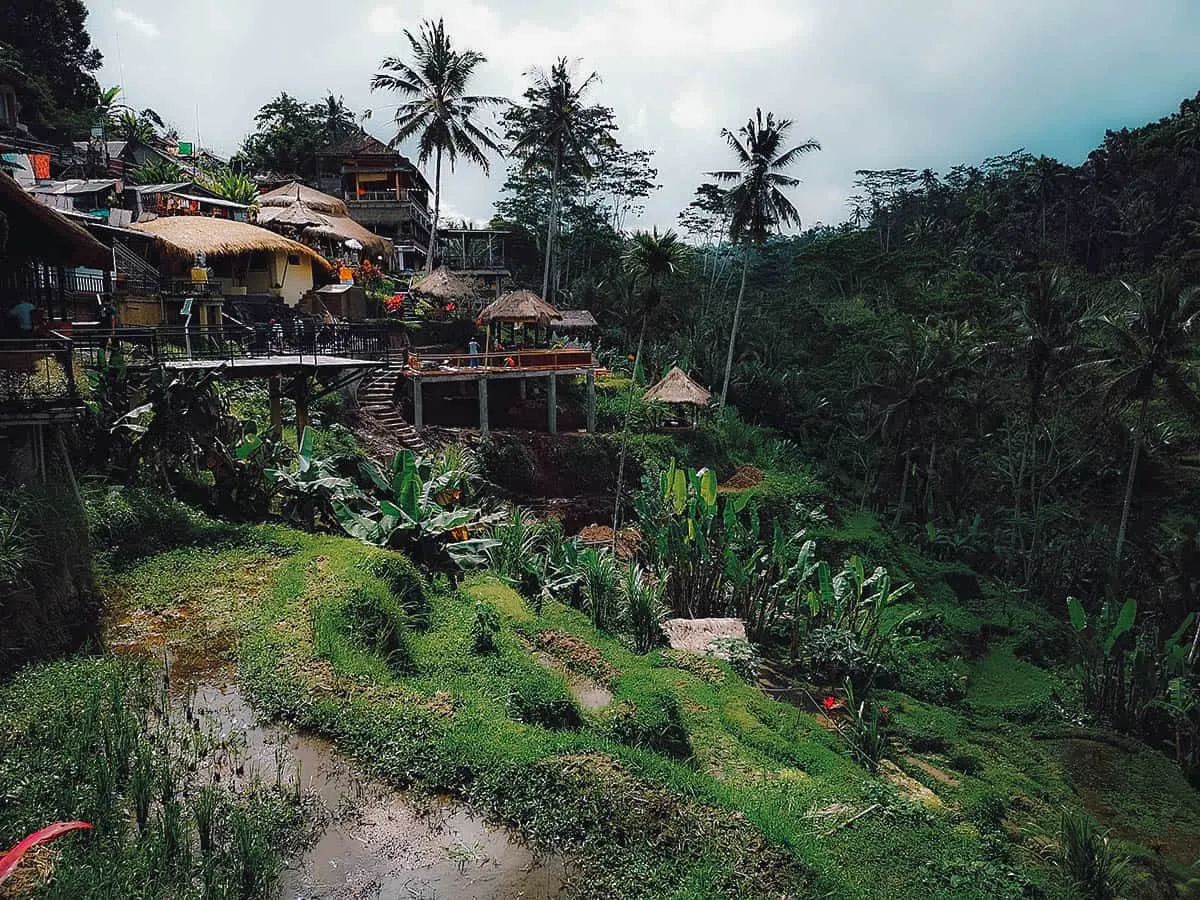 Suggested Length of Visit: 1-2 hours
Admission: IDR 15,000
5. Mount Batur
Mount Batur is an active volcano about 40 km (25 miles) north of Ubud. It's Bali's most emblematic mountain and a popular spot to go hiking, especially at sunrise.
If you're willing to get up early and hike to the summit for unrivaled views of the island and ocean, then you can book a hiking tour through Klook or Get Your Guide. You'll find a few options for jeep and bike tours as well.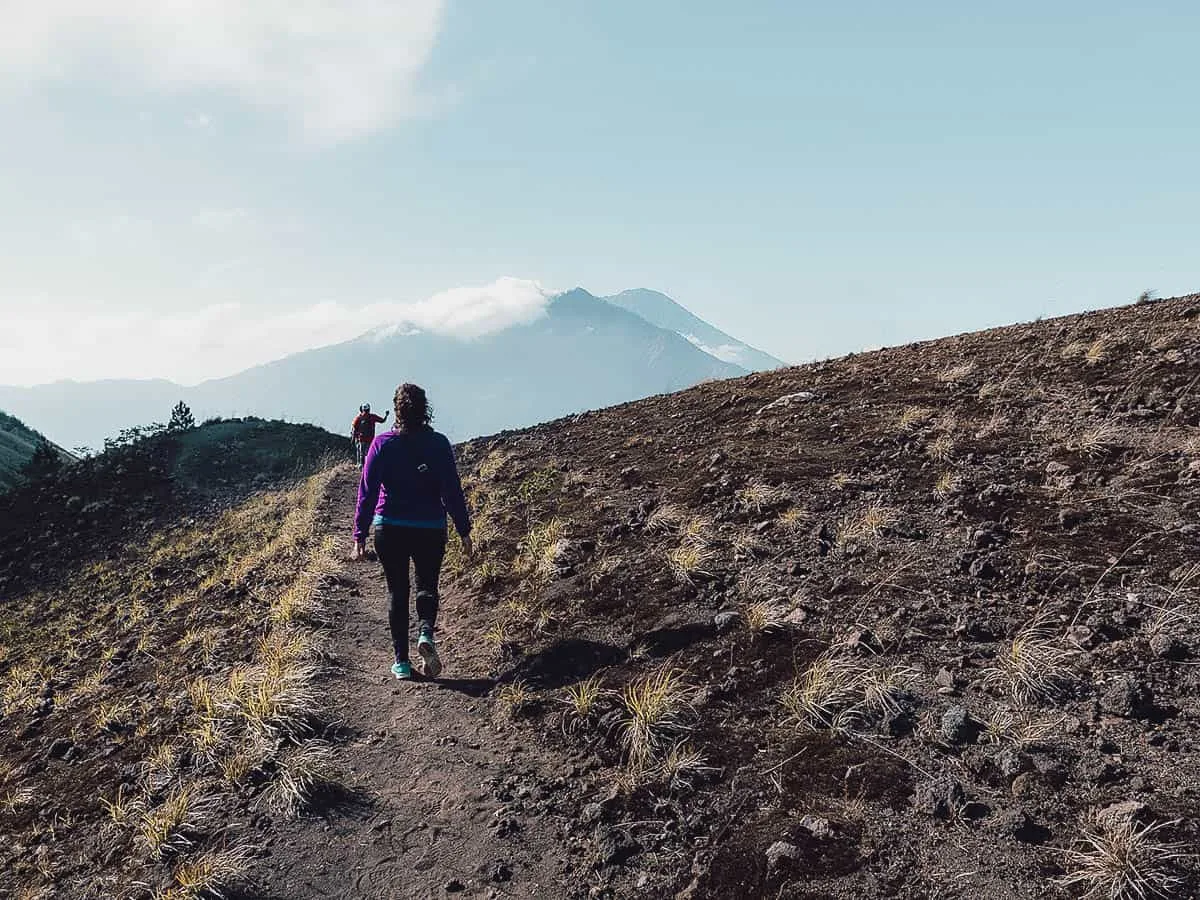 PHOTO: "Mount Batur walk" by Henrik Sommerfeld, used under CC BY 2.0 / Processed in Photoshop and Lightroom
6. Tegenungan Waterfalls
Tegenungan Waterfalls is one of the most visited waterfalls in Bali, not necessarily because its the most beautiful, but because its one of the most accessible. Located about a half-hour's drive south of Ubud town, you'll need to walk down a series of steps through lush foliage and smooth river rocks to get to the falls. You can reward yourself with a plunge in the waterfall's pool if you like.
This was our last stop en route to Seminyak but you can visit the falls on a guided tour as well. Klook and Get Your Guide offer a few tours that include Tegenungan Waterfalls.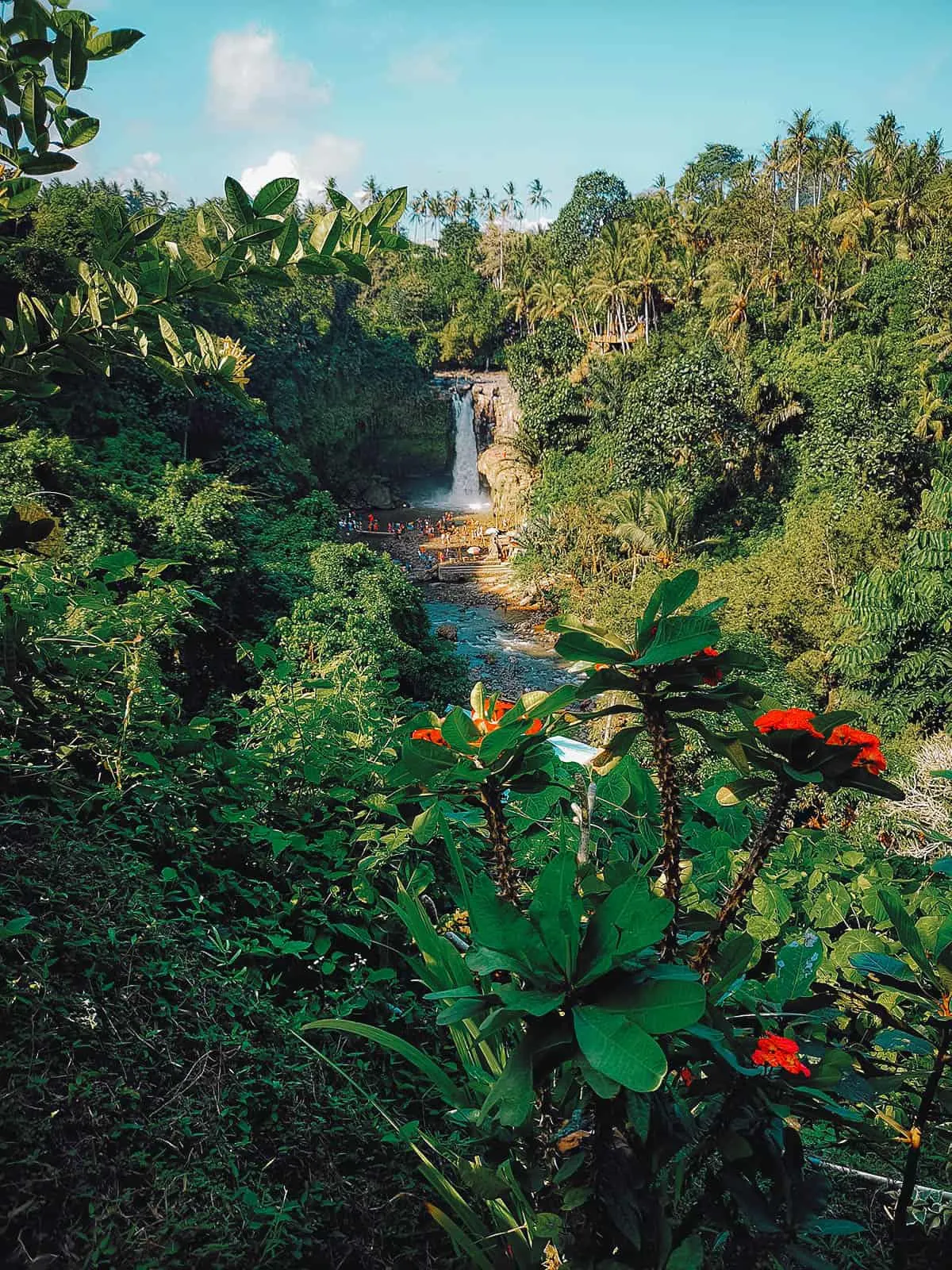 I made the trek to Tegenungan Waterfalls because I wanted to take this long exposure shot with my drone.
Like many places in Bali, Tegenungan Waterfalls gets super crowded. I was there around 4-5PM and the place felt like a mirror ball away from being a waterfall disco. If you'd prefer one that's more secluded, then you can check out this article on hidden waterfalls in Bali.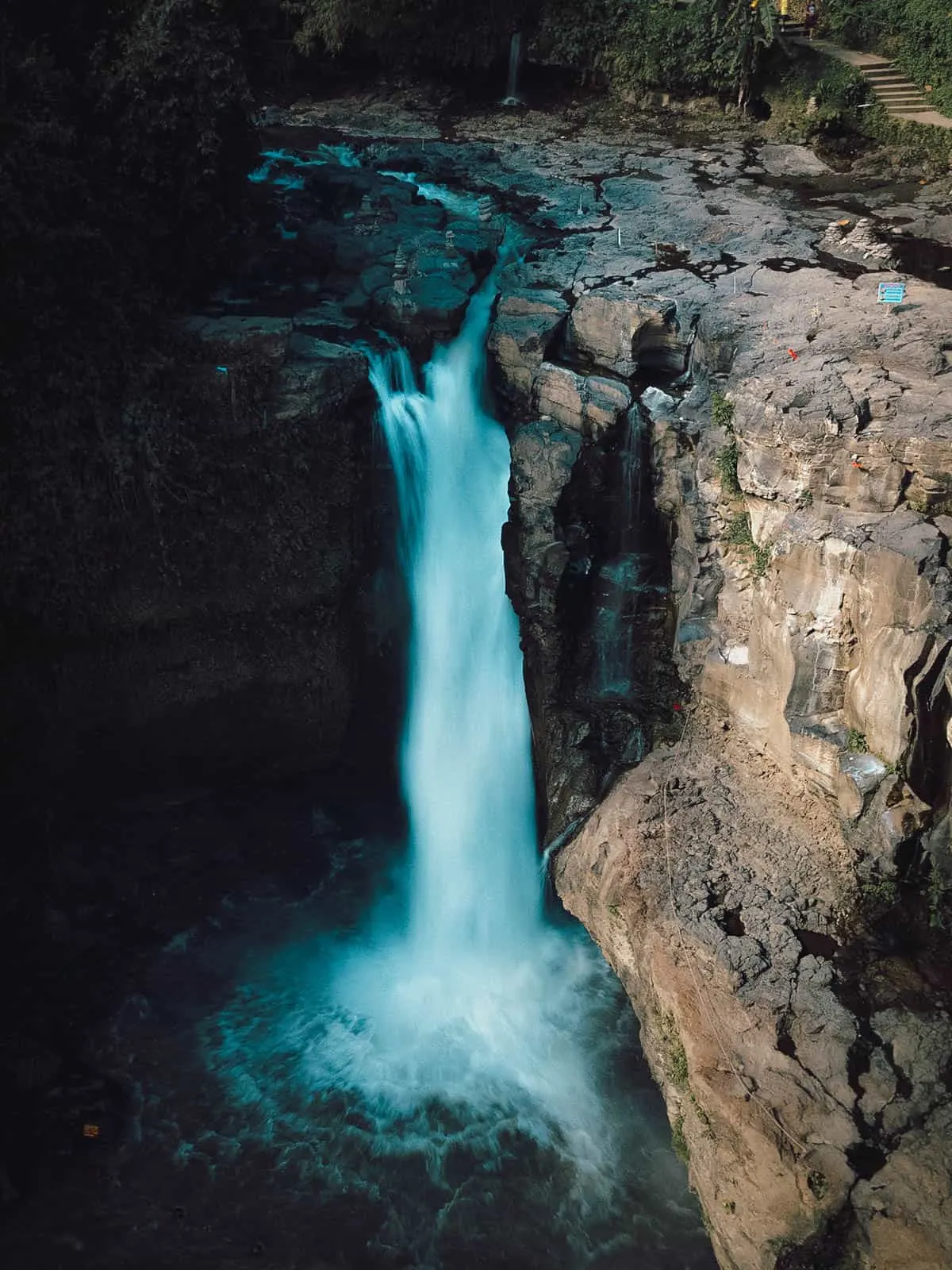 Suggested Length of Visit: 1-2 hours
Admission: IDR 15,000
INDONESIAN FOOD GUIDE
If you're unfamiiar with Indonesan cuisine but want to experience the most interesting traditional dishes, then check out our Indonesian food guide for a list of some of the best dishes to look for in Bali and Indonesia. If you have a taste for the sweeter things in life, then you'll definitely want to check out our guide to the most delicious Indonesian desserts as well.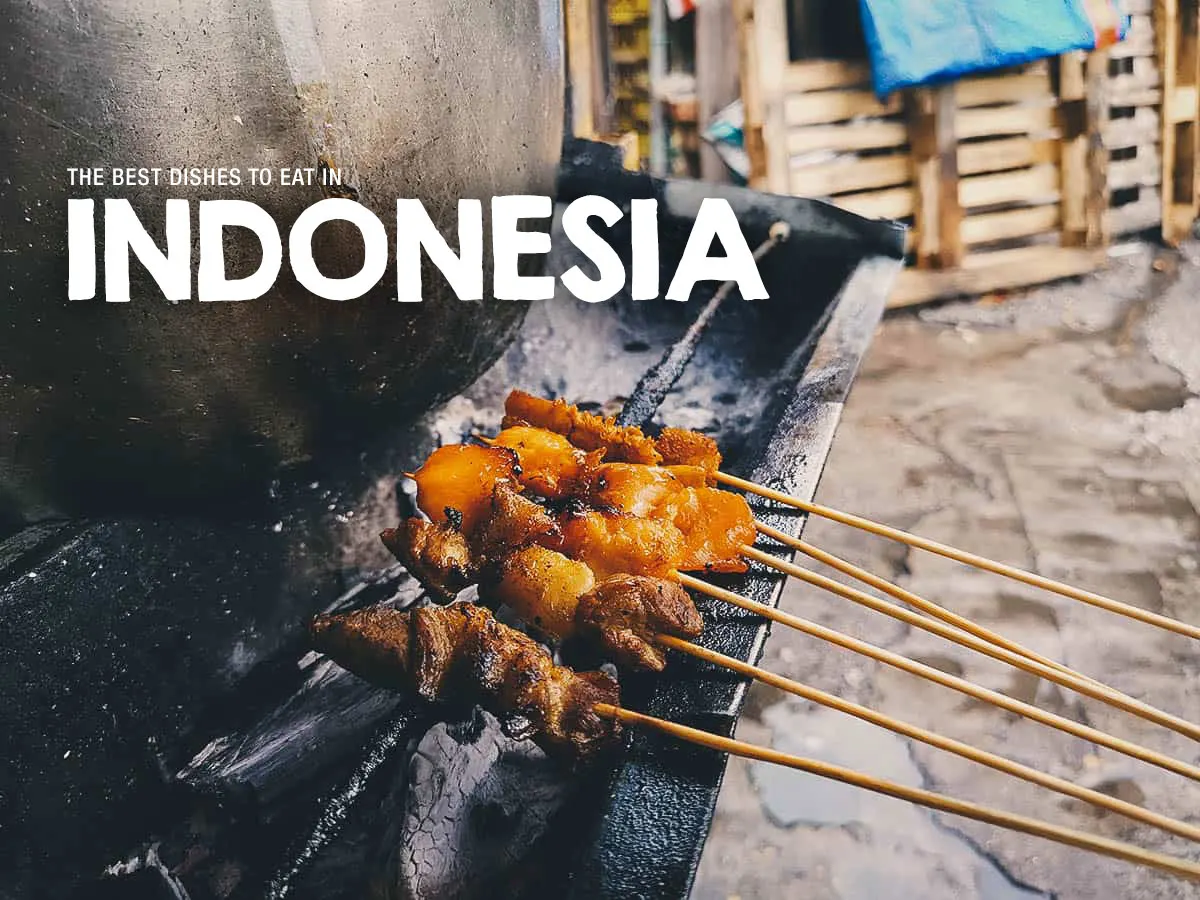 WHERE TO EAT IN UBUD
There are so many good restaurants in Bali. It's become an island foodie paradise unlike anything we've seen in Southeast Asia. You'll be spoilt for choice with its plethora of restaurants serving both local and international cuisine. To help you navigate, we've compiled this Bali food guide which includes several recommended restaurants in Ubud.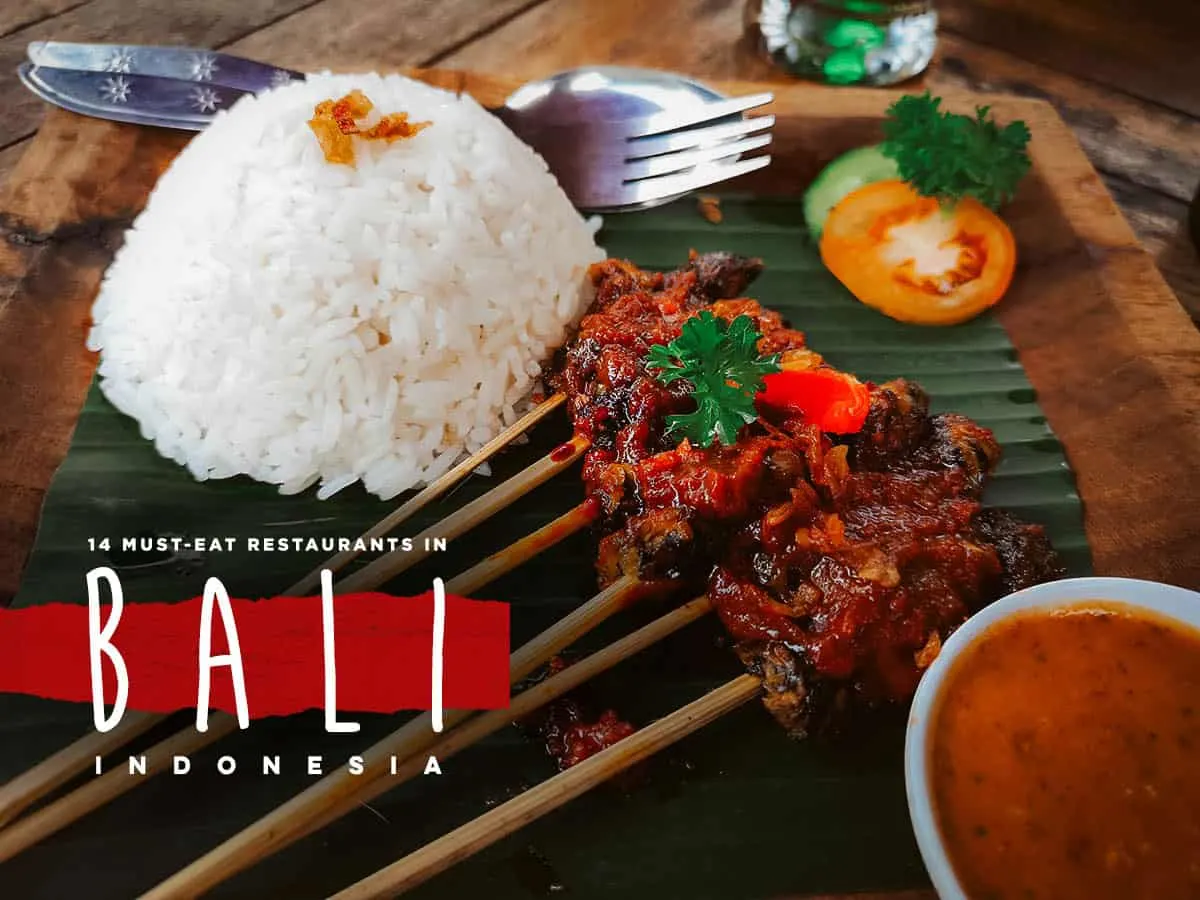 If you aren't staying long in Ubud and only have time for one or two restaurants, then we recommend starting with any of these three.
1. Warung Biah Biah
If you're in the mood for good Indonesian food, then we recommend Warung Biah Biah. It's one of the most popular local restaurants in Ubud.
They serve many traditional Indonesian dishes like nasi goreng and this beautiful platter of nasi campur, which is a classic Indonesian dish of white rice served with a variety of sides.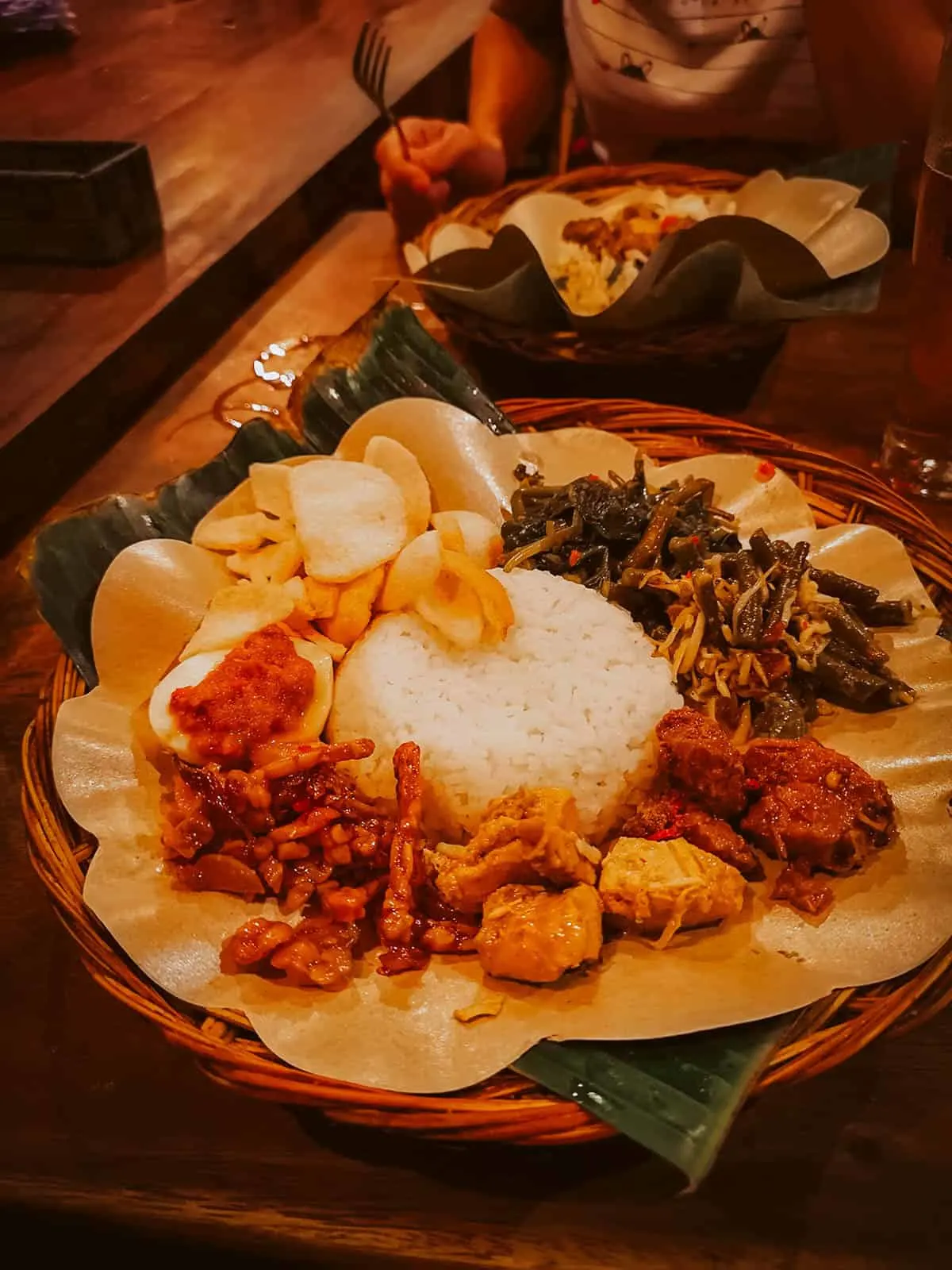 2. Locavore
If you're looking for a truly special meal in Ubud, then Locavore is the place to go. They're an Indonesian-European restaurant known for serving modern cuisine using sustainably sourced local ingredients.
Locavore is consistently ranked among the top 50 restaurants in Asia and the very best not just in Bali, but in all of Indonesia. Check out our article on Locavore for more pictures and information.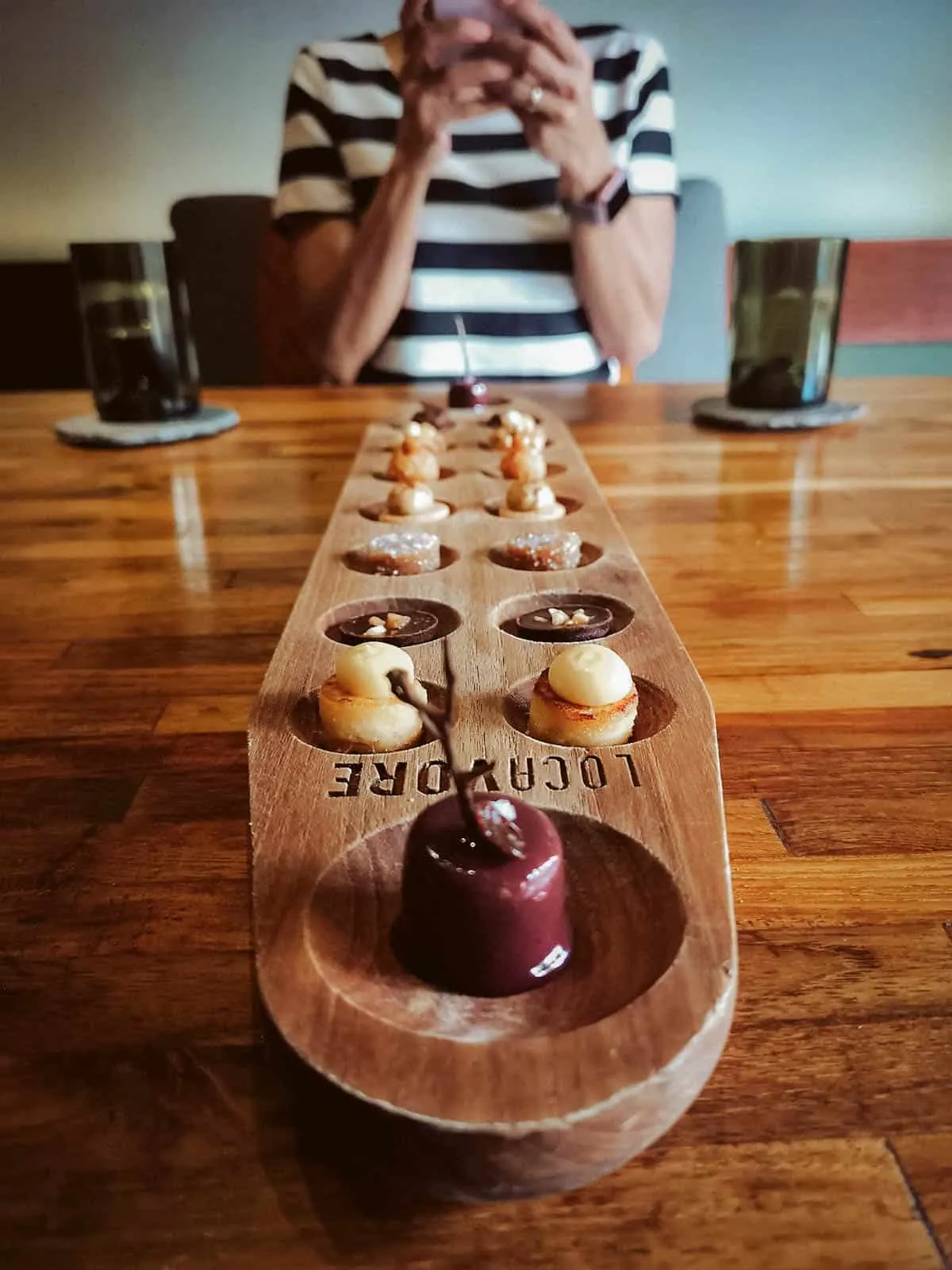 3. Ibu Oka
Babi guling is one of the best dishes you can have in Bali. It's a sumptuous dish of roast suckling pig served over rice with a variety of sides like pork sate, blood sausage, lawar (vegetables with coconut), and pork skin.
Every local has an opinion on which restaurant serves the best, but only Ibu Oka has the distinction of being featured by the late great Anthony Bourdain on the Bali episode of "No Reservations".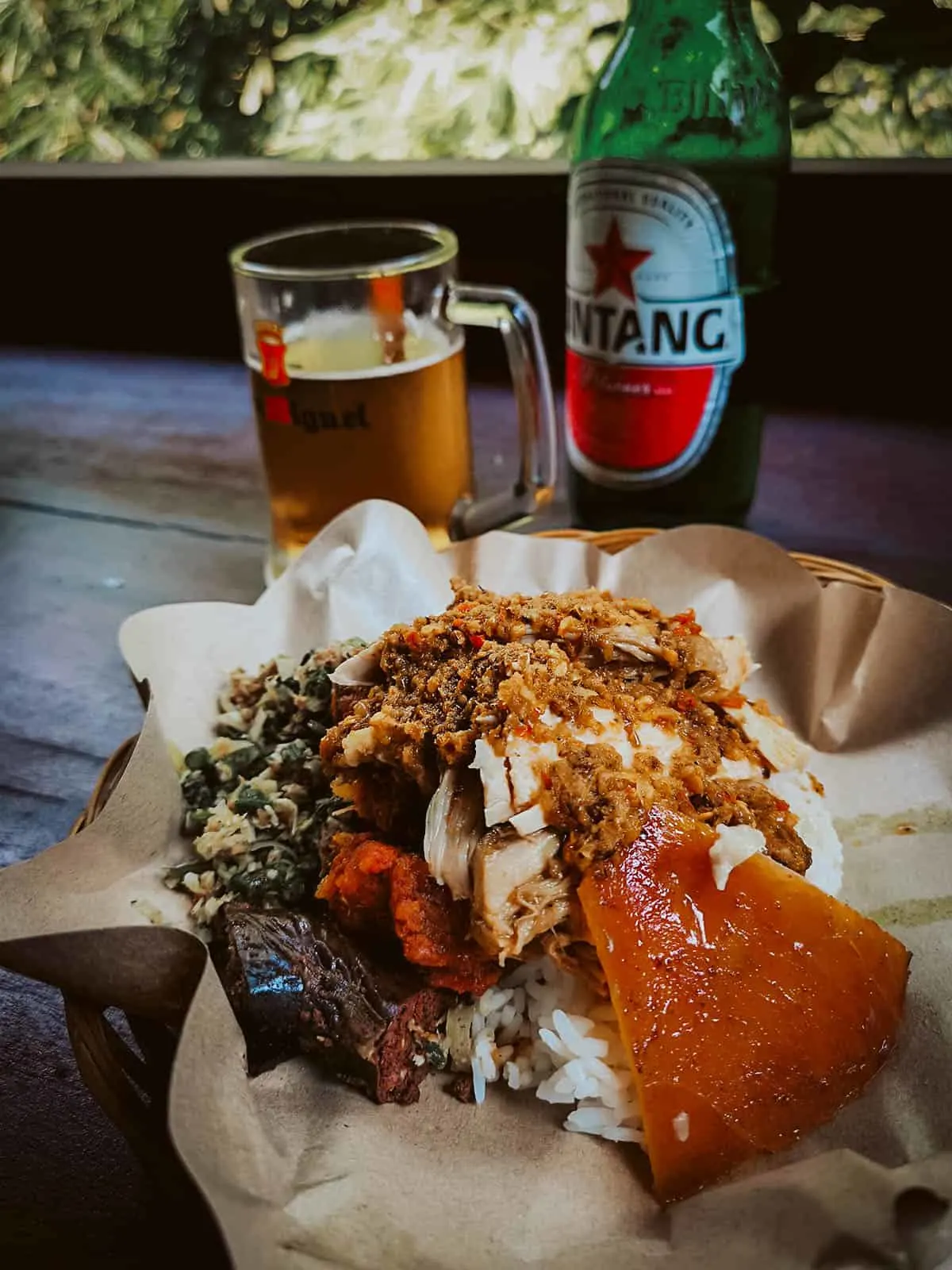 POINTS OF INTEREST IN UBUD, BALI
To make it easier for you to understand Ubud and see where everything is, I've pinned all the places recommended in this guide on this map. It includes all the points of interest we visited in Seminyak and southern Bali as well. Click on the link for a live version of the map.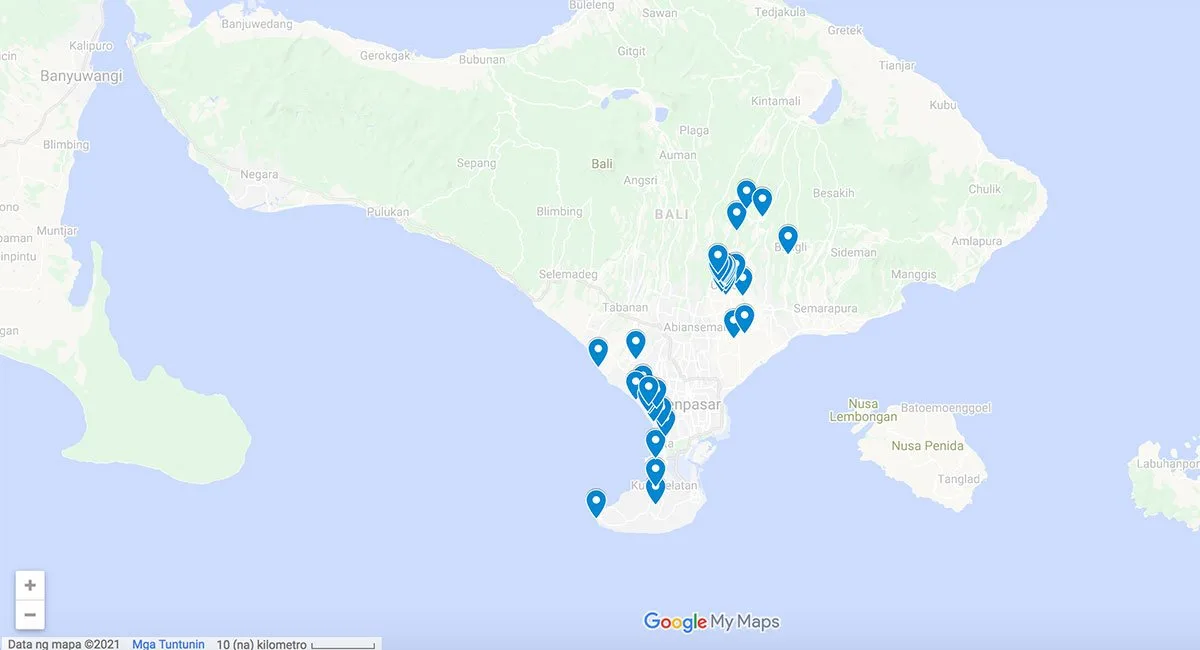 HOW TO GET AROUND IN UBUD
If you don't have any mobility issues, then getting around Ubud shouldn't be a problem. You may have to do a lot of walking but major points of interest within Ubud town are accessible on foot.
Getting around Bali island is more difficult. Based on what I've read, there isn't a developed public transportation system on the island. We didn't take it but there's a network of pubic minibuses called bemo. It may not be the safest nor most comfortable but it'll definitely be the cheapest.
A better option might be the newer Kura Kura shuttle buses. A fleet of air-conditioned minibuses ply set routes throughout the island, stopping at key locations like Seminyak, Kuta, Sanur, Nusa Dua, and Ubud. They won't be as cheap as the bemo but they'll be safer, more reliable, and much more comfortable. You can purchase Kura Kura tickets on Klook.
For the most flexibility, you can get a private car charter like we did. We did it twice in Bali – the first time to get around central Bali and the second to explore the south. If you're traveling with enough people to split the cost, then this will be your most convenient option. As described, you can get a private car charter with driver through Klook or Get Your Guide.
Other ways to get around are by taxi, Grab, Go-Jek, or rental motorcycle/scooter. We used Grab Bike a couple of times and it was a lot of fun. It's cheaper than cars too.
Regardless of how you choose to get around, I recommend using the Google Maps app (iOS|Android) to navigate. It's a super useful app that tells you how to get from point A to point B in any city using public transportation.
You can also check out this useful article on how to travel around Bali for more tips and suggestions.
HOW MANY DAYS TO STAY / UBUD ITINERARY
Ubud is one those destinations that demands longer-term stays. People stay here for weeks, even months at a time. In fact, the Australian woman staying in the room next to us at Peacock Inn was in Ubud for her 17th time. It's that kind of place.
If you don't have much time, then a stay of two full days should be enough. It'll be a bit hectic but it'll give you enough time to see all the major attractions within Ubud and in the surrounding areas. But if you can stay longer, then definitely stay longer. Ubud isn't the type of destination you'll want to rush through. Here's a sample 2D/2N Ubud itinerary to help you plan your trip.
DAY ONE
• Sacred Monkey Forest
• Ubud Market
• Puri Saren Agung
• Pura Taman Saraswati
• Museum Puri Lukisan
• Don Antonio Blanco Museum
• Campuhan Ridge Walk
DAY TWO
• Goa Gajah
• Tegallalang Rice Terraces
• Gunung Kawi Temple
• Tirta Empul Temple
• Gunung Kawi Sebatu Temple
• Tegenungan Waterfalls
UBUD TRAVEL TIPS
1. Plan your Trip with Sygic Travel
I've been using this free app to create all our travel itineraries for many years now. It allows me to plot all points of interest on a map so I can see exactly where everything is in relation to one another. That way I can group attractions by day so we waste as little time as possible going from one place to the next. It helps me build the most efficient itinerary. Check out my post on the Sygic Travel app for more information.
You can view our Bali itinerary on Sygic Travel or download it in editable Word format from our EAT-ineraries page. It covers Bali, Yogyakarta, Jakarta, and Bandung.
2. Rent a Pocket Wifi Device
I would never go anywhere now without a reliable wifi connection. It just makes traveling so much easier, and safer too. Without it, I wouldn't be able to do research or navigate. I have a terrible sense of direction so I'm 100% reliant on Google Maps when we're in a foreign city. That alone makes having a steady wifi connection a must.
We spent over a week in Java before Bali so we rented a device through Java Mifi. But if you're going directly to Bali via Ngurah Rai International Airport, then you can reserve a pocket wifi device or sim card in advance through Klook.
3. Get a Private Car Charter
I've suggested it often in this guide, but if you're traveling with enough people and it's your first time in Ubud, then I recommend getting a private car charter. It's the most convenient, most stress-free way of touring the island. You can create your own itinerary and explore central Bali at your own pace.
4. Anticipate Traffic
If you visit this island during peak seasons, then expect traffic. Our last trip was in July and we found ourselves stuck in traffic more often than we expected. I anticipate traffic in cities like Bangkok, Manila, and Jakarta, but not at an island destination like Bali. It was surprising and a little sad, and goes to show just how much this island has (over)developed through the years.
5. Ubud First, South Bali Second
If you're visiting Ubud, then I'm assuming you're going to other places in Bali as well. If you plan on spending time in southern Bali, then I recommend doing Ubud first, simply because the airport is in the south of the island. I think it's wise to be as close to the airport as possible on the day of your outbound flight, especially with how bad traffic on the island has gotten.
We were staying in Seminyak which is just 10 km north of the airport, but my driver advised me to leave no later than 2 hrs before my flight in case of bad traffic. You don't want to be catching a flight all the way from Ubud.
6. Get ready to Walk
Even though a car charter is the most convenient way to get around, it can only get you to the entrance or near the entrance of any attraction. You still need to walk to get to the most interesting parts of the site. Among the places recommended in this guide, this is especially true for Goa Gajah, Gunung Kawi Temple, and Tegenungan Waterfalls. If you have mobility issues or don't enjoy too much walking, then you may want to skip those places.
7. Foreigners Pay More
Don't be surprised if the official admission fees are higher for foreigners than they are for locals. This is standard throughout Indonesia. We experienced it in Bandung and Yogyakarta as well. I know it isn't fair and it doesn't really make sense, but that's the way it is so we can either accept it and pay, or not go.
8. Check for Ubud Travel Deals
I buy vouchers to things like tours, transfers, and pocket wifi rental from several websites. For Bali, the two sites I looked through the most were Klook and Get Your Guide. We didn't go on any tours but I did get vouchers for airport transfers and private car charters.
If you want to find deals on tours, transportation, and pocket wifi rental, then you can search through these lists of Ubud attractions on Klook and Get Your Guide. I often find deals on activities I wouldn't normally think of myself so it's always worth a look.
9. Get Travel Insurance
The older we get, the more often we get travel insurance, which feels pretty much like every trip now. The fact is, you never know what can happen on a trip so it's always good to be safe.
We follow this basic formula when it comes to buying travel insurance. If we plan on doing anything physical on a trip, things that could get us injured like bike riding or skiing, then we'll definitely get it. But if all we'll be doing is taking a quick 3-day trip to go traveleating in Taipei, then we probably won't. Buying our airline tickets with our credit cards entitles us to free basic insurance anyway.
When we do decide to get it, we buy insurance from SafetyWing or Heymondo. They're popular travel insurance providers used by many long-term travelers. Click on the links to get a free quote from SafetyWing or Heymondo. Get 5% off on Heymondo if you pick up a policy using our link.
10. Bring the Right Power Adapter
There are Type C or Type F electrical outlets in Indonesia so be sure to bring the right power adapters for your devices. Electrical voltage is 220/110V and the standard frequency is 50Hz.
Have Fun!
No way am I an expert on Ubud but I do hope that this travel guide helps you plan your trip. I'm only sharing some of the things I learned from our visits there. If you have any suggestions, then please feel free to let me know in the comment section below. You're welcome to join our Facebook Travel Group as well.
Thanks for stopping by and have a wonderful time in Ubud!
OUR GEAR
These are some of the things we brought with us to Ubud. If you'd like to see what other gear we bring with us on trips, then you're welcome to have a look inside our backpack. (NOTE: The following links are Amazon and other affiliate links.)
Disclosure
This travel guide to Ubud contains affiliate links, meaning we'll earn a small commission if you make a booking or purchase at no additional cost to you. We only recommend products and services that we use ourselves and firmly believe in. We really appreciate your support as this helps us make more of these free travel guides. Thank you!