There's something about Bohol. My sister and her husband live in Shanghai but they spend a week in that Central Visayan province every year. They have no ties there. No businesses to oversee, no friends or relatives to visit. They go because they love it and they've been doing that for several years now.
The Philippines is an archipelago consisting of 7,641 islands. With so many islands to choose from, you'd think they'd get bored visiting the same place year after year, but they don't. And I can understand why.
Because apart from Bohol being one of the Philippines' most picturesque provinces, it's also one of its most intriguing, boasting an array of attractions that you can't find anywhere else in the country. As my sister and brother-in-law can tell you, it's a captivating destination with much to see and do.
If you're visiting Bohol for the first time, then I hope this Bohol travel guide can help you plan your trip. Like them, it might be the first of many.
VISIT BOHOL QUICK LINKS
This travel guide to Bohol is long. For your convenience, I've compiled links to hotels, tours, and other services here.
HOTELS
Top-rated hotels on Panglao Island, the best place to stay for first-time visitors to Bohol.
TOURS
OTHER SERVICES
Save This on Pinterest!
No time to read this Bohol travel guide now? Click on the save button and pin it for later!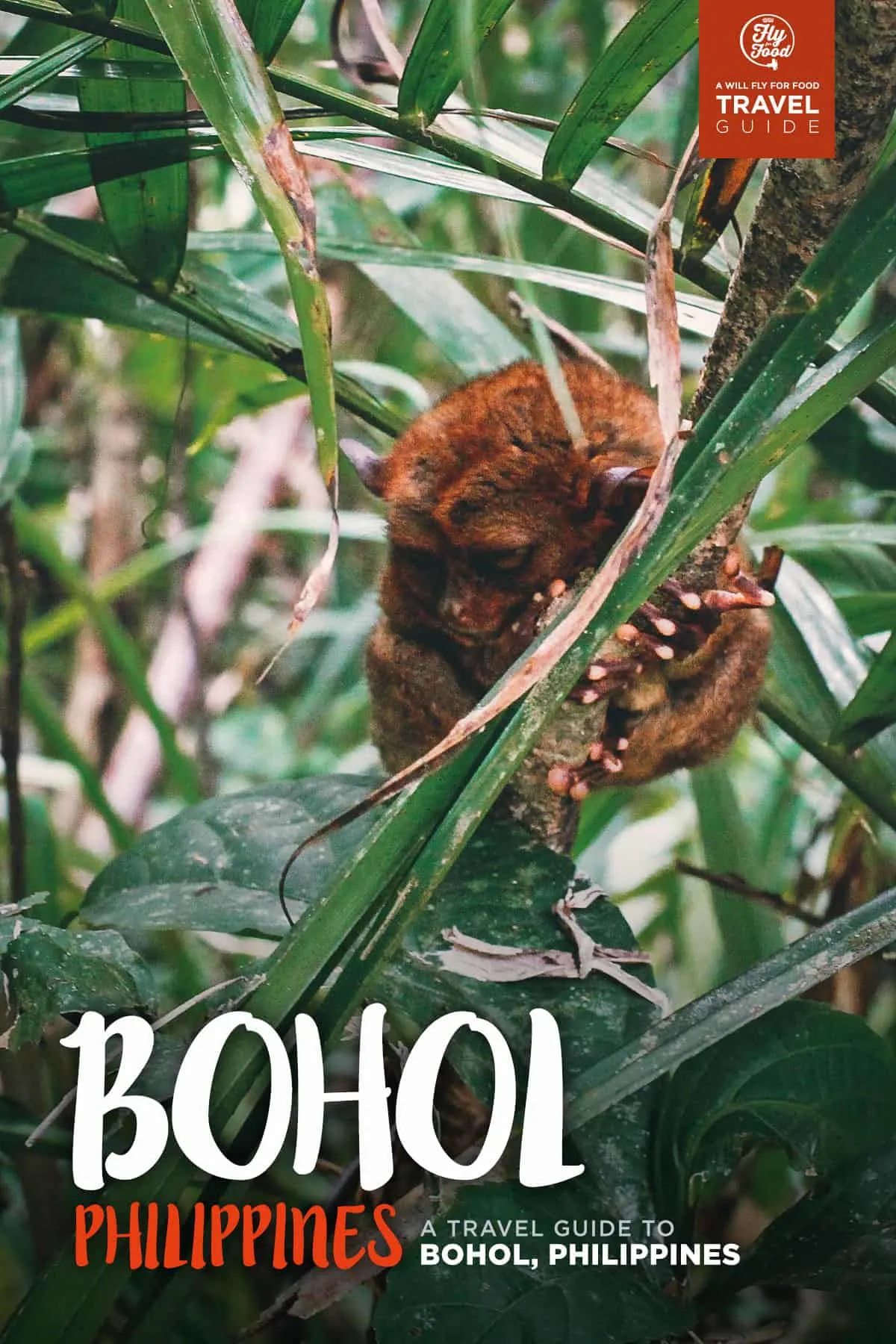 GUIDE TABLE OF CONTENTS
BOHOL TRAVEL RESTRICTIONS
Because of the current global situation, Bohol travel guidelines can change often. Be sure to check Booking.com for information on travel restrictions to the Philippines.
If travel is possible for you, then you may want to seriously consider getting travel insurance with COVID coverage.
PHILIPPINES VISA
Depending on your passport, you may need a visa and other documents to visit the Philippines. Check out iVisa.com to learn about the requirements and to apply for a visa (if necessary).
BOHOL AT A GLANCE
Bohol, for me, is one of the Philippines' most interesting and diverse destinations. If I had friends visiting from other countries and could take them to just one place, then Bohol would be on my short list.
As beautiful as the Philippines is, many destinations offer mostly sand and surf. But not Bohol. Apart from its many white sand beaches and world-class dive sites, Bohol is known for unique attractions that you can't find anywhere else in the Philippines.
Curiosities like the Chocolate Hills and the Philippine Tarsier come foremost to mind. You like churches? Bohol has plenty, some dating back to the early years of Spanish colonization.
If you're an animal lover like I am, then you'll be pleased to know that the seas around Pamilacan Island are a main migration route for cetaceans like spinner dolphins and Bryde's whales.
If adventure's your thing, then you can go stand up paddleboarding on the Loboc River or go cycling on a steel cable 150 feet off the ground.
The Philippines has some of the best beaches in the world so if all you want to do is lay on the sand catching rays, then there's no shortage of islands to choose from. But if you want a place that offers that and more, then come to Bohol.
BEST TIME TO VISIT BOHOL
Like most regions in the Philippines, Bohol is hot year-round and sees little fluctuation in temperature. What matters more when planning a trip to Bohol is the amount of rainfall and knowing when peak seasons are.
June to November are the rainiest months so you may want to avoid that stretch if your goal is to catch as much sun as you can. Late December and Holy Week are peak seasons for locals so I'd say the best time to go would be from January to around Mid-March. The weather is ideal and there are fewer tourists.
DEC-MAR: High season in Bohol is from December till late March when it isn't as hot (yet) and the weather is dry. Temperatures around this time range from 28-32°C (82-90°F) during the day and drop to 25°C (77°F) at night. As described, the period around Christmas and Holy Week are peak seasons for locals so be prepared to compete for the best real estate on the beach.
APR-JUL: If you're allergic to people, then anytime after Easter weekend until July would be a good alternative. It's hot, with temperatures rising to 38°C (100°F) during the day, but it also starts raining more so that may help to offset the scorching heat. Being summer, it's also the best time to see the Chocolate Hills in their brown chocolate-y color.
AUG-NOV: August to November is considered the wet season so you may want to avoid this time as the rains become heavier and more frequent.
Climate: Annual Monthly Weather in Bohol
To help you better understand the climate in Bohol, I've included average temperature and annual rainfall graphs below. Suggested months to visit are indicated in orange.
Average Temperature

Annual Rainfall

TRAVELING TO BOHOL
Bohol is about an hour and a half south of Manila by plane. We always fly to Bohol from Manila but you can get there by ferry as well if you're already in Cebu or Dumaguete.
Most travelers to Bohol will stay on Panglao Island. Bohol–Panglao International Airport (TAG) was inaugurated in late 2018 so you can now fly directly to Panglao from Manila. Before then, flights would arrive in Tagbilaran City which is about half an hour away from Panglao.
Tourists traveling to Bohol by ferry from Cebu or Dumaguete will arrive at the Seaport in Tagbilaran City. You can book a transfer in advance through your hotel or Klook.
This guide focuses on how to get to Bohol from Manila, Cebu, or Dumaguete, but there may be other ways to get there depending on where you are. You can go to Bookaway to search for routes available to you.
From Manila
Airlines that fly direct from Manila to Panglao are Cebu Pacific, Philippine Airlines, and Air Asia. Be sure to check all three airlines to find the best deal.
From Cebu
If you're already in Cebu, then you can go to Tagbilaran by fast ferry. The trip takes about two hours and there are several departures daily. You can book fast ferry tickets from Cebu to Tagbilaran on Bookaway.
From Dumaguete
If you're already in Dumaguete, then you can travel to Tagbilaran by fast ferry. You can purchase tickets through Bookaway.
WHERE TO EXCHANGE CURRENCY
The unit of currency in the Philippines is the Philippine Peso (PHP).
Being from Manila, we don't need to exchange currency but there are a few money changers around Alona Beach on Panglao Island. Some hotels will exchange your currency as well. However, I've read that the rates aren't as favorable on Panglao and you can can get better rates in Tagbilaran.
Assuming you're coming from a bigger city like Manila or Cebu, then you're better off exchanging your currency there before traveling to Bohol. The exchange rates will most likely be better.
Alternatively, you can also withdraw Philippine Pesos (PHP) from an ATM. The rates are competitive. Just be sure to advise your bank you'll be using your ATM card overseas so you don't run into any problems.
WHERE TO STAY IN BOHOL
Panglao Island is where you want to be in Bohol. It's where you'll find all the best beaches, resorts, restaurants, and bars in Bohol.
Panglao Homes Resort & Villas
If it isn't important for you to be right on the beach, then Panglao Homes Resort & Villas is a great choice of hotel. Located about 2 km from Alona Beach, it's a secluded boutique resort with clean spacious rooms and a nice swimming pool. The distance from the beach didn't bother us at all since they offer free one-way shuttle service to Alona beach five times a day.
We booked a room here through Booking.com, but you can make a reservation through Agoda as well. If Panglao Homes isn't the right resort for you, then you can check these links to find alternate listings: Booking.com | Agoda. Check out some of the top-rated hotels on the island:
You can also book hotels and homestays in Bohol using the handy map below.
THINGS TO DO IN BOHOL
1. Visit Bohol's Top Tourist Attractions on the Countryside Tour
Bohol has many interesting tourist attractions like the Chocolate Hills in Carmen, the tarsier sanctuary in Corella, and the Loboc River. The problem is, they're spread out across the island so it can be a challenge to visit them on your own.
The Countryside Tour — a chauffeured tour that takes you to all of Bohol's top sights in one day — makes it easy. Check out my post on the Countryside Tour in Bohol for more pictures and information.
We arranged for our own private car rental with driver to visit all these sites, but you can book this Bohol countryside tour through Klook or Get Your Guide.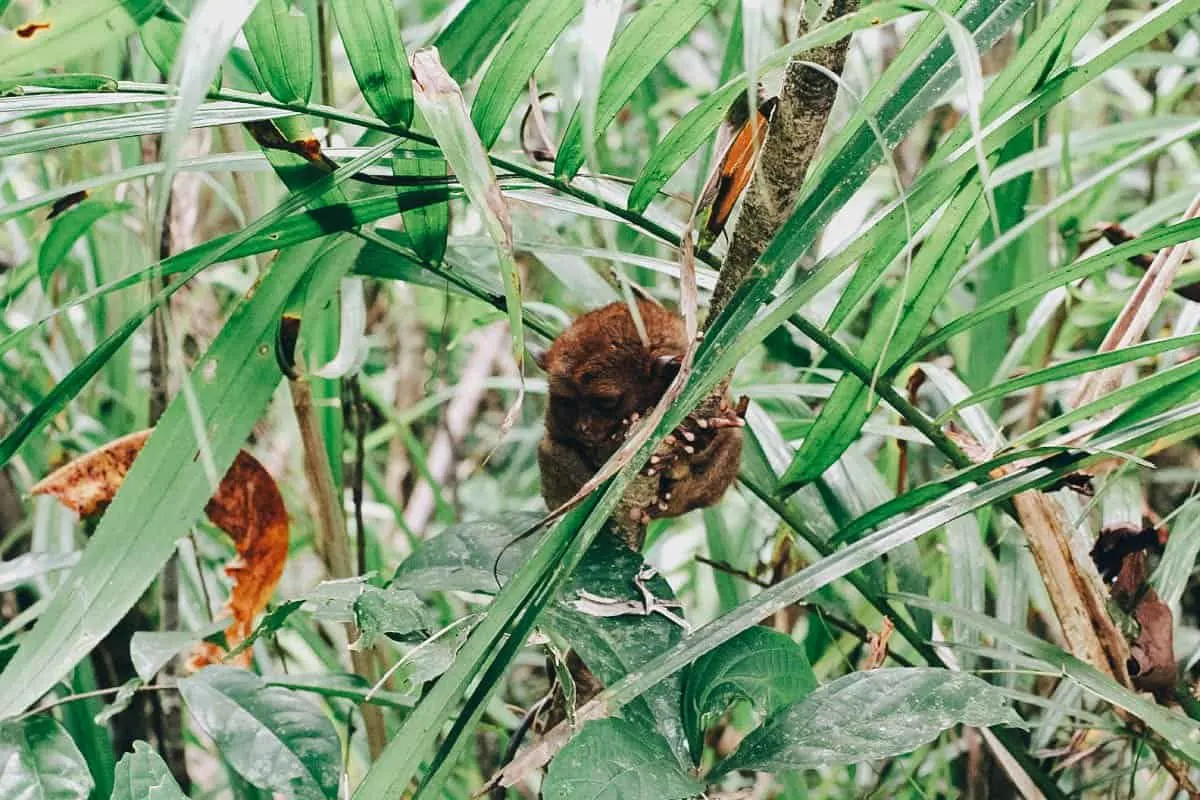 Tour Duration: Around 7-9 hrs
2. Go Dolphin Watching and Snorkeling at Balicasag Island
Like the Countryside Tour, dolphin watching and island hopping / snorkeling is another popular excursion in Bohol. You'll set off at dawn to go dolphin and whale watching before spending a few hours snorkeling around Balicasag Island.
There you'll come face to face with a spectrum of marine wildlife like fish, turtles, and giant clams. Check out my post on Dolphin Watching and Snorkeling at Balicasag Island for more pictures and information.
Like the countryside tour, we made our own arrangements for boat rental but you can book an island hopping tour with Klook.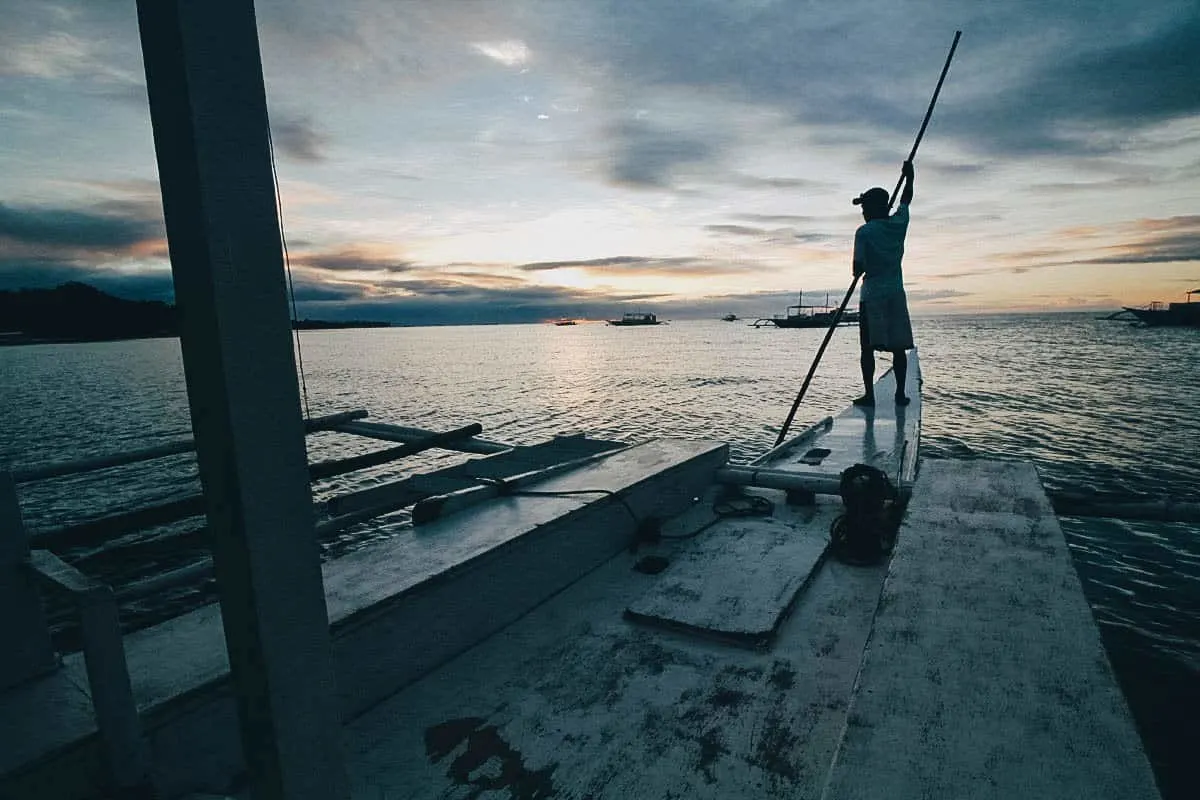 Tour Duration: Around 11 hrs
3. Go Stand Up Paddleboarding and Mountain Biking at Loboc River
If you like action sports, then you'll love this. What better way to enjoy the Loboc River than to ride along its banks in the morning then dive in from your paddleboard in the afternoon?
It's loads of fun and a great way to beat the summer heat. Check out my post on Stand Up Paddleboarding and Mountain Biking at Loboc River with SUP Tours for more pictures and information.
We booked both activities directly with SUP Tours, which was the first company to offer these stand up paddleboard tours on Loboc River. I'm not sure if this is the same company but you can book the mountain biking and stand up paddleboarding activities through Klook as well.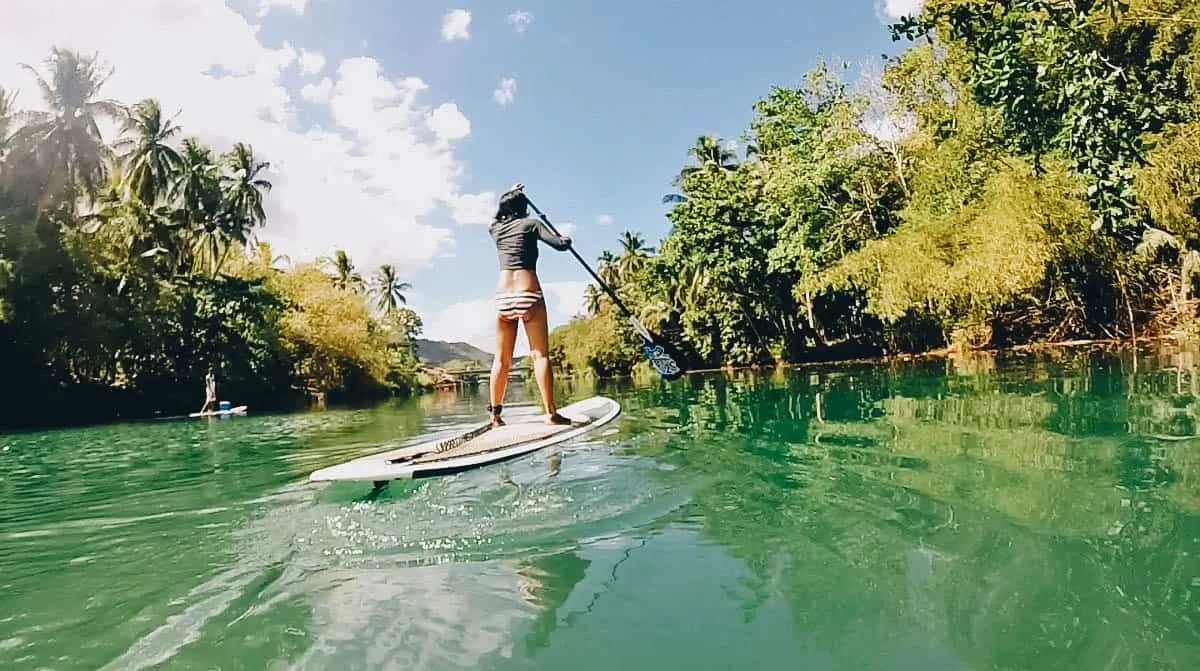 Activity Duration: Around 1 hr each
4. Bike on a Zipline at Chocolate Hills Adventure Park
We did this at Eden Nature Park in Davao and had a lot of fun with it. You're basically riding a bike with specialized wheels that wrap around the cable. You're attached to a safety harness while a metal bar tethers your bike to an overhead cable, so there's no chance of you falling off. I hope.
We haven't been to Chocolate Hills Adventure Park but a friend of ours told us it's in the midst of the Chocolate Hills so you'll be treated to some pretty spectacular views.
Aside from this bike zipline, Chocolate Hills Adventure Park offers plenty of other attractions as well like a surf zipline, treetop rope challenges, wall climbs, and zorbing. It looks like a lot of fun so you'll probably want to save a whole day for this.
Check out their website for a list of attractions and rates, including transportation. You can also purchase a discounted admission ticket to the park through Klook.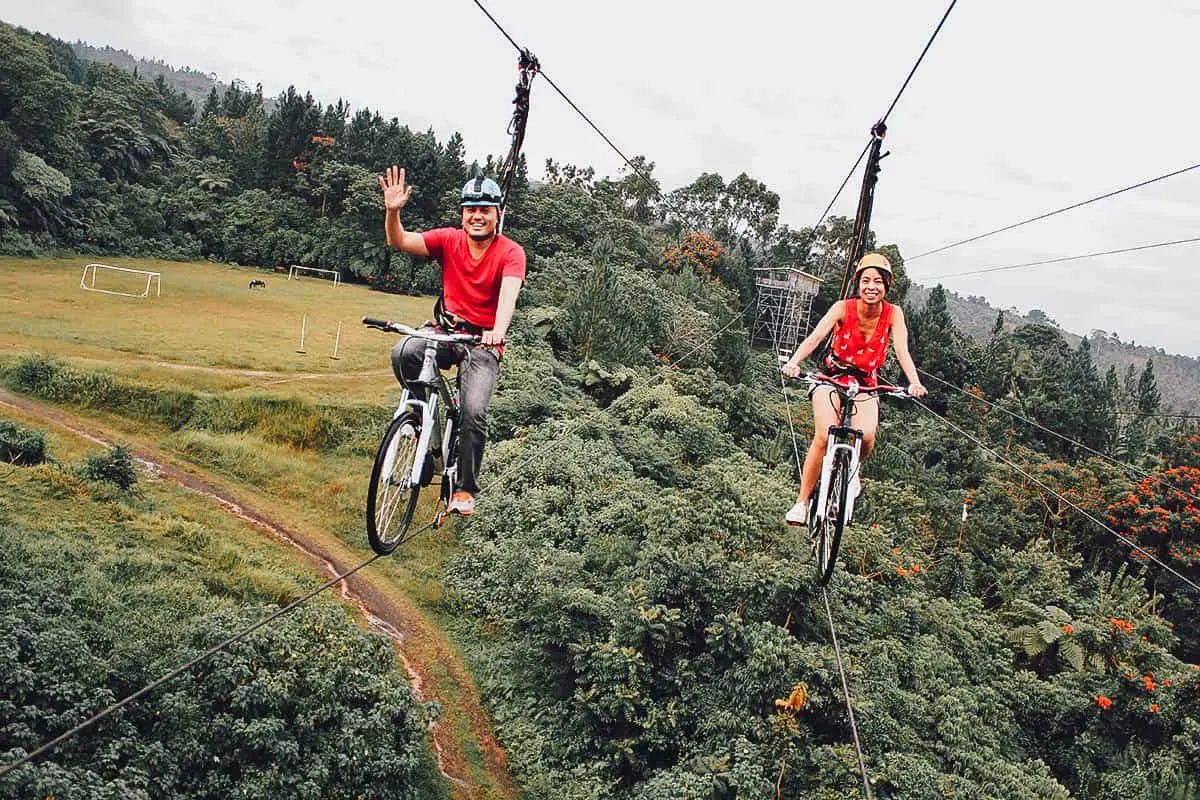 Activity Duration: About 1 hr for the bike zipline
FILIPINO FOOD GUIDE
Thanks to social media and the global expansion of fast food giant Jollibee, Filipino food has become more mainstream over the years. There are many delicious things to eat in my country but in my opinion, these are the dishes that you need to try.
Click on the link for a list of the best dishes to try in the Philippines, many of which you can probably find in Bohol.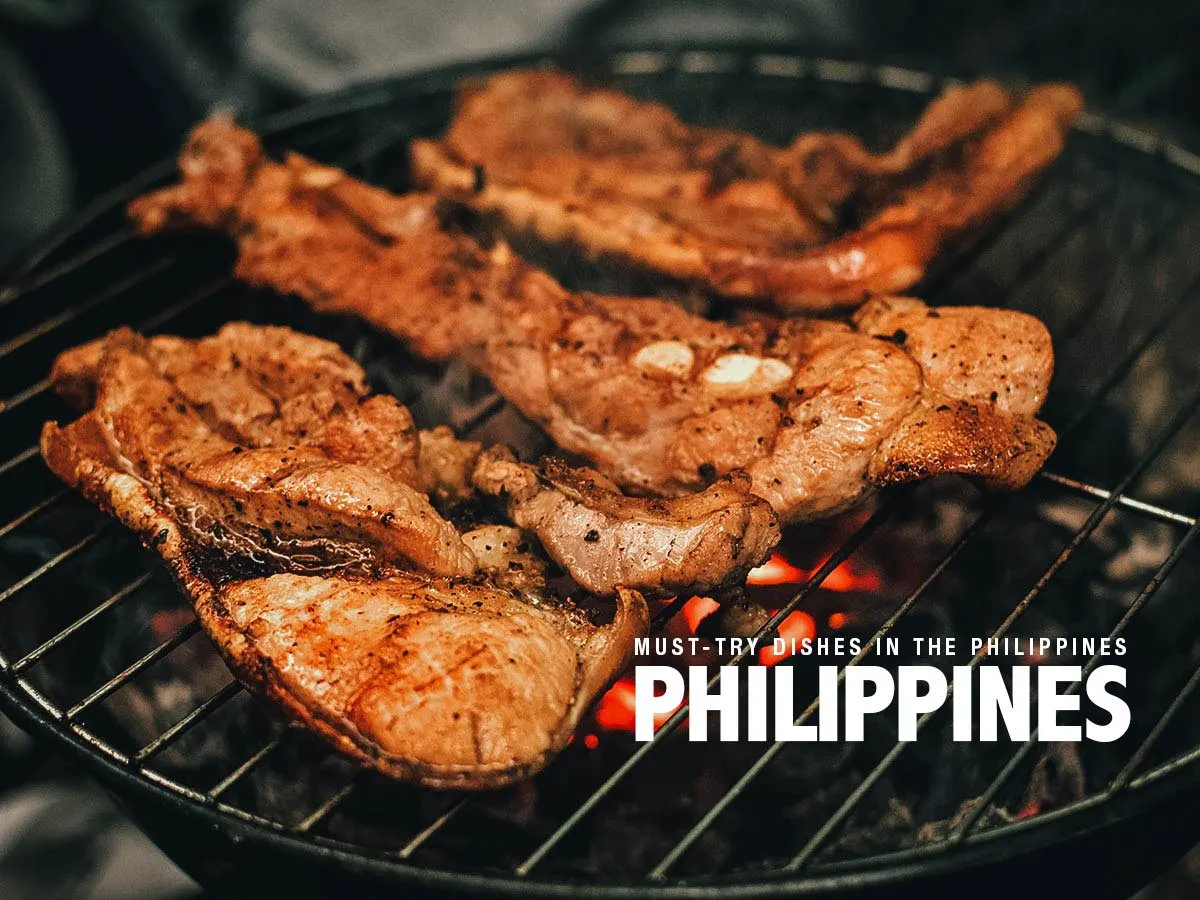 Photo by MikeEdwards via Deposit Photos
FILIPINO DESSERTS
Delicious Filipino desserts like halo-halo and leche flan are among the best things about Filipino cuisine. If you have a sweet tooth, then check out our article on Filipino desserts for more sweet suggestions in the Philippines.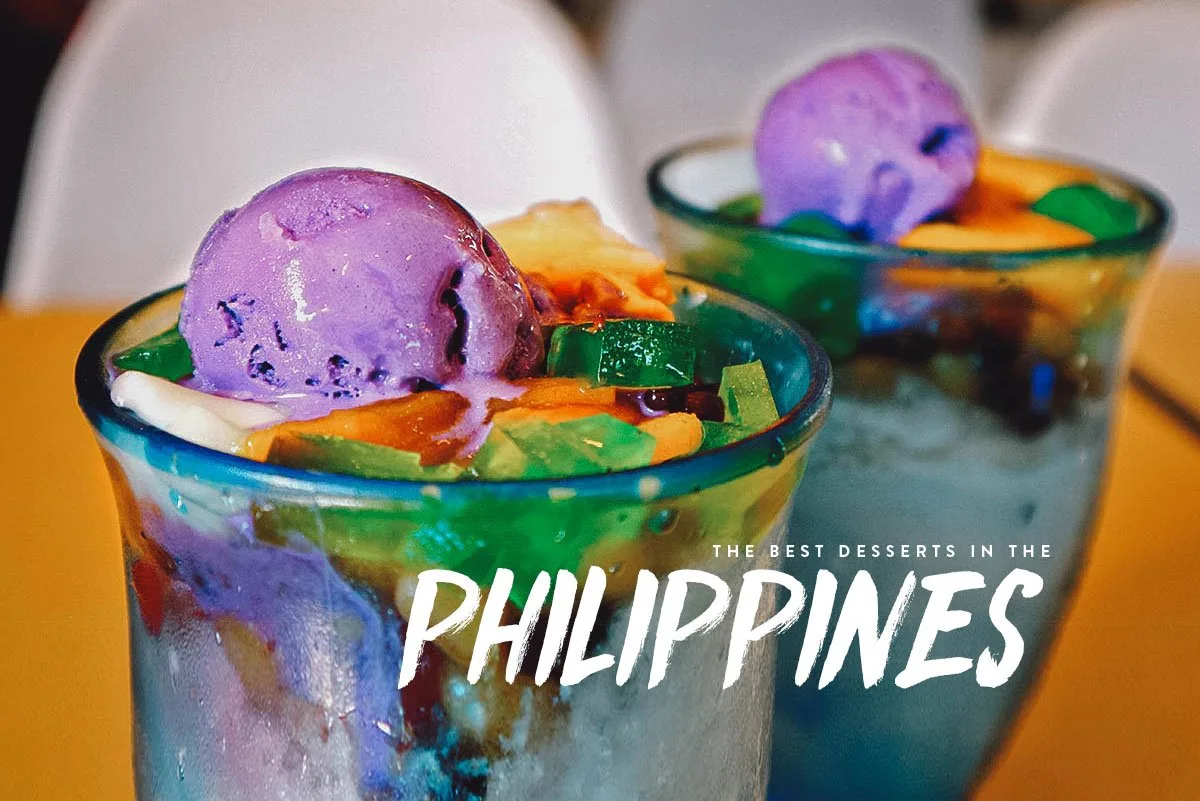 Photo by junpinzon via Deposit Photos
WHERE TO EAT IN BOHOL
With so many local and international tourists flocking to Bohol, there's no shortage of delicious food on the island. Listed below are a few of our favorites but be sure to check out the full guide for a list of the best restaurants in Bohol.
1. Bougainvillea
Bougainvillea is hands down the best restaurant we've visited in Bohol thus far. It's a tapas and paella restaurant owned and operated by two Spanish nationals.
A gem of a restaurant, some Spanish reviewers have called Bougainvillea the best Spanish restaurant they've been to outside of Spain. Need I say more?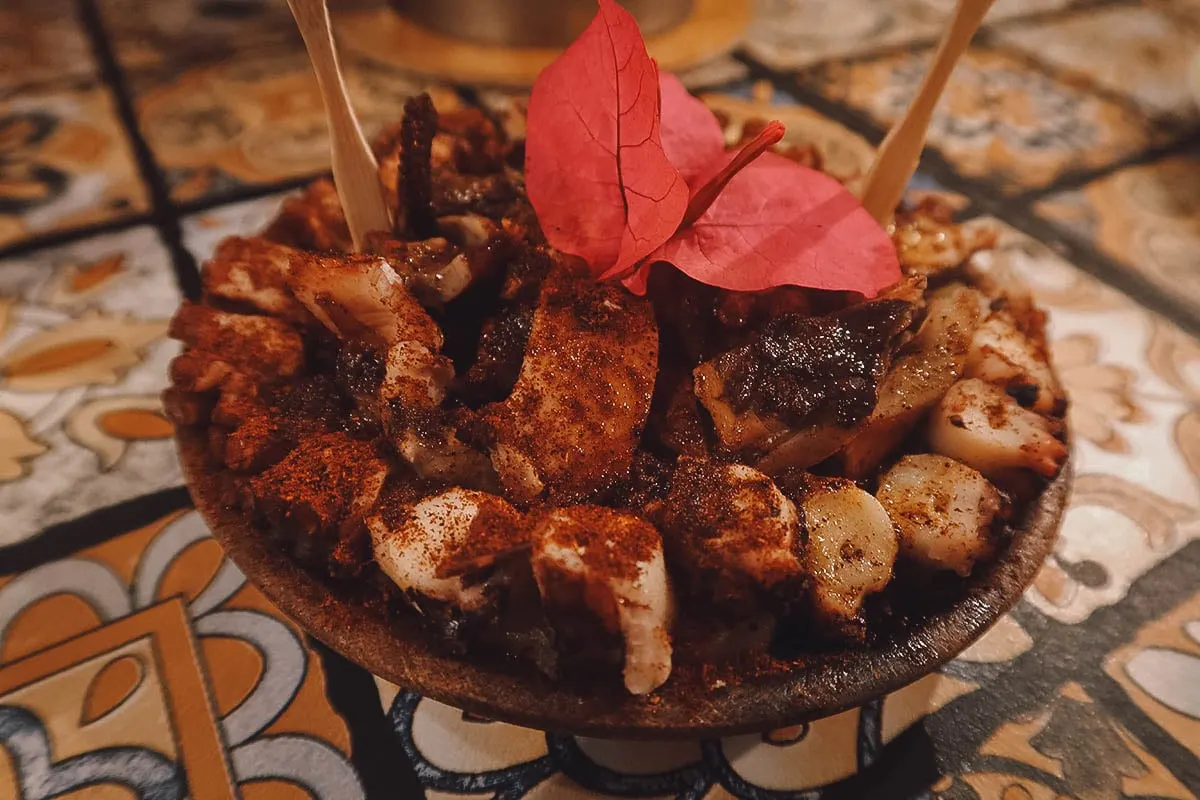 2. Giuseppe Pizzeria & Sicilian Roast
Giuseppe Pizzeria & Sicilian Roast is one of the best Italian restaurants we've been to not just in Bohol, but in all of the Philippines. It's owned and operated by Italian Chef Giuseppe Genco who's worked at premier hotels like the Hilton, Manila Peninsula, and Shangri-la.
Check out my post on Giuseppe Pizzeria & Sicilian Roast in Bohol for more pictures and information.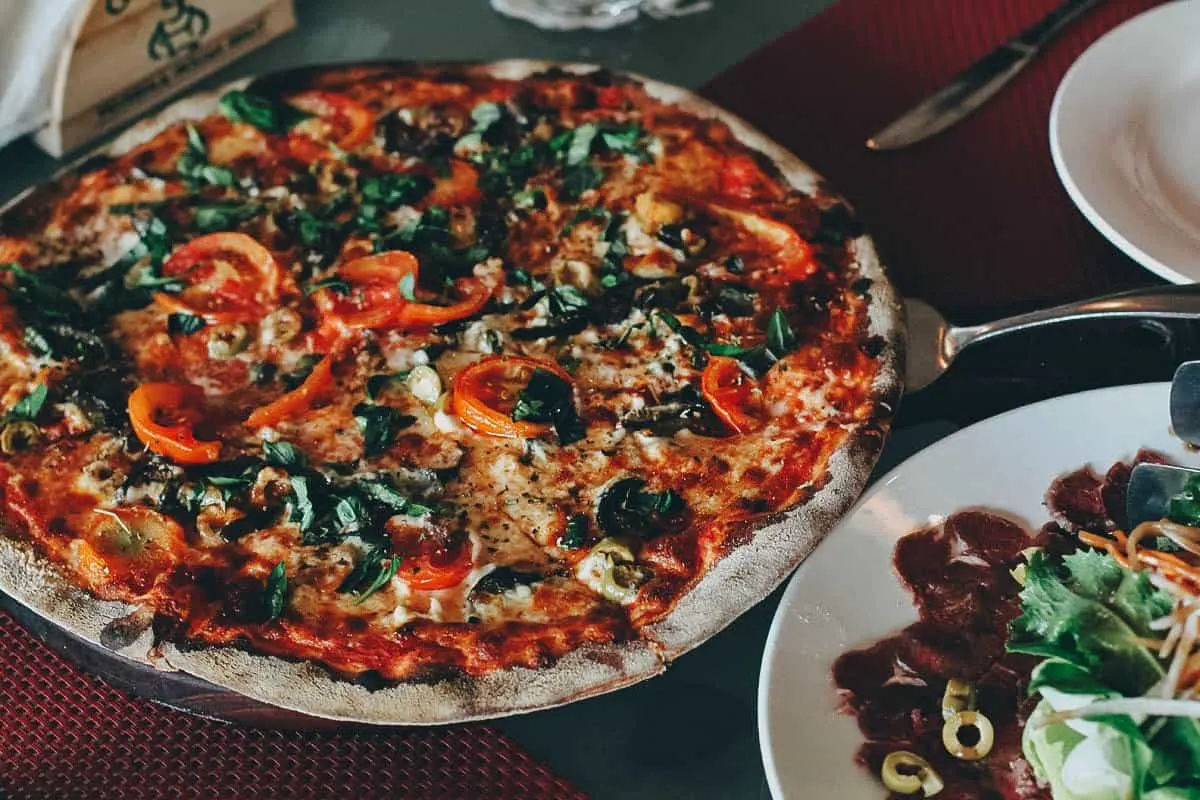 3. Sisa Bistro
If you're craving for good Filipino food, then head on over to Sisa Bistro. In our opinion, it's the best Filipino restaurant in Bohol. This place is absolutely delicious and would do well even in Manila.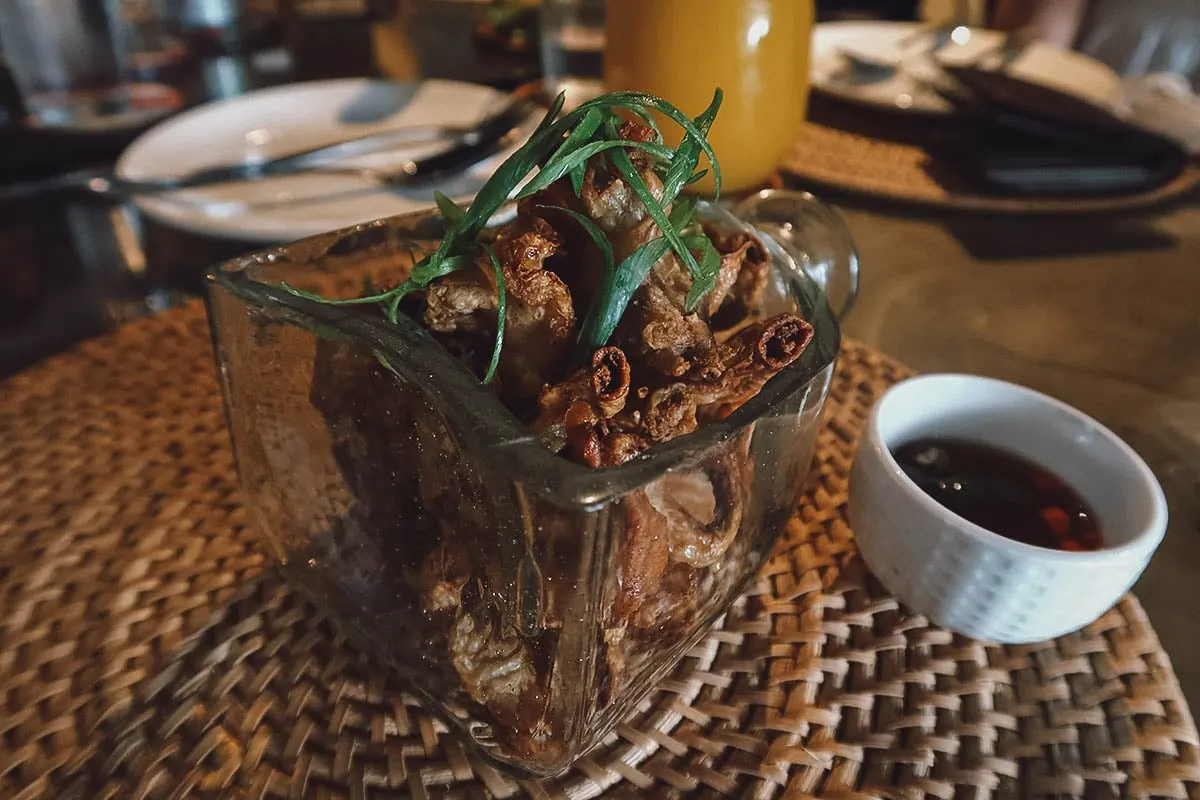 POINTS OF INTEREST IN BOHOL
To help you get your bearings, I've created this map so you get a better sense of where everything is. Click on the link for an interactive version of the map. All the places recommended in this guide are pinned on this map.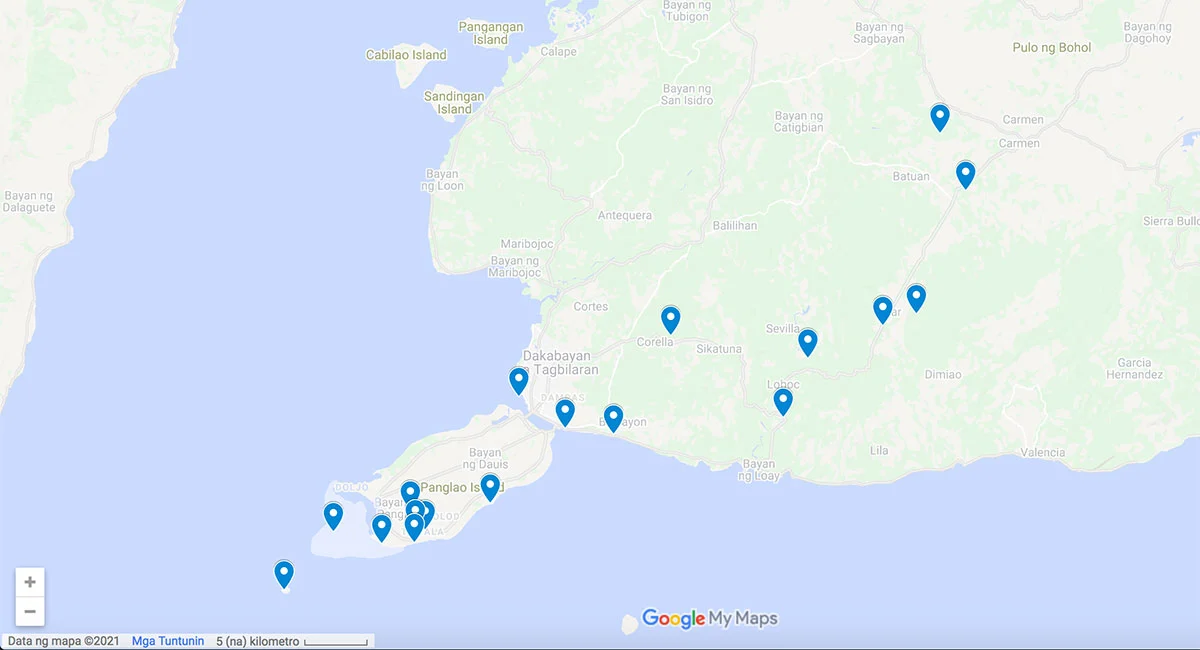 HOW TO GET AROUND IN BOHOL
The majority of travelers to Bohol stay on Panglao Island. You can get around by tricycle/habal-habal (motorcycle taxi) or by renting your own motorbike.
Tricycles don't have meters and charge per destination, but PHP 80-100 for every 2 km (for up to 3 people) seems a good rule of thumb. Motorbike rentals may vary from resort to resort but you can expect rates similar to these: PHP 550 per day (1-3 days) / PHP 450 per day (4-7 days) / PHP 400 per day (8+ days).
If you rent a motorbike, then you probably intend to visit Bohol's tourist attractions on your own. If so, then you can refer to the map above or ask your hotel for detailed directions. If you're going on the countryside tour, then you'll be picked up and driven around in an air-conditioned car/van.
HOW MANY DAYS TO STAY / BOHOL ITINERARY
Like many destinations in the Philippines, Bohol is one of those places where you can stay for weeks doing little more than laying on the beach. But if you don't have weeks, then four full days should be enough. It'll give you enough time to do everything in this guide.
Here's a sample 4D/3N Bohol itinerary I put together to help you plan your trip.
DAY ONE
COUNTRYSIDE TOUR:
• Blood Compact Shrine
• Baclayon Church
• Man-made Forest
• Chocolate Hills
• Simply Butterflies Conservation Center
• Loboc River Lunch Cruise
• Corella Tarsier Sanctuary
DAY TWO
ISLAND HOPPING:
• Dophin and whale watching
• Virgin Island
• Balicasag Island Marine Sanctuary
• Relax on the beach
DAY THREE
• Mountain biking
• Stand up paddleboarding
• Get a massage on Alona Beach
DAY FOUR
• Chocolate Hills Adventure Park
BOHOL TRAVEL TIPS
1. Plan your Trip with Sygic Travel
This has been my go-to trip planning app for many years now. I've been using it ever since it helped me plan our first trip to Osaka.
What it does is allow you to visualize all the places you want to visit on a map so you can see exactly how far they are from each other. That way you can easily group attractions and restaurants by day to come up with an efficient itinerary. Check out my post on the Sygic Travel app for more information.
2. Rent a Pocket Wifi Device
Aside from my passport, the three most important things for me when I travel are money, my smartphone, and a pocket wifi device.
Being able to access the internet whenever you need to is so important these days, especially when you're in a foreign country. You'll need it to navigate, convert currencies, and stay connected to the people back home.
You can secure a constant wifi connection by buying a sim card or renting a pocket wifi device. I find pocket wifi devices to be simpler so I prefer that in spite of the added cost, but either one is fine.
Assuming you'll be going to Bohol by way of Manila, then you can rent a pocket wifi device or get an eSIM. Click on the links for more details.
3. Check for Bohol Travel Vouchers
There are many websites that offer discount passes to tours and services. Two of my favorites are Klook and Get Your Guide. They offer deals to many destinations around the world, including Bohol.
If you're looking for deals on tours, transfers, activities, etc, then you may want to search through the Klook or Get Your Guide websites for a list of Bohol attractions.
4. Get Travel Insurance
If you're a foreigner traveling through the Philippines, then you may want to get travel insurance. The Philippines is a little "rough" around the edges and you never know what can happen.
Personally, we get travel insurance if we plan on doing anything physical on a trip. In the Philippines, I assume you'll be doing a lot of outdoorsy stuff so I think getting travel insurance is a good idea.
We buy travel insurance from SafetyWing or Heymondo. They're both popular travel insurance companies used by many digital nomads. Click on the link to get a free quote from SafetyWing or Heymondo. Will Fly for Food readers get 5% off on Heymondo when using our link.
5. Bring the Right Power Adapter
Electrical outlets in the Philippines typically feature two-pronged flat sockets, either Type A or Type B. Be sure to bring the right power adapters for your devices. Electrical voltage is 220V and the standard frequency is 60Hz.
Have Fun!
I've been to Bohol many times but I still don't consider myself an expert. Nonetheless, I hope you found this guide useful. I'm only sharing some of the things that I learned from our trip.
If you have any questions or comments, then please leave them in the comment section below. You're welcome to join our Facebook Travel Group as well.
Thanks for stopping by and remember to keep your voices down when saying hi to the tarsiers!
OUR GEAR
These are some of the things we brought with us to Bohol. Aside from my photo and video equipment, we did a lot of outdoorsy things so I brought gear suited for that.
If you'd like to see what other gear we use, then you're welcome to have a look inside our backpack. (NOTE: The following links are Amazon affiliate links.)
Disclosure
This Bohol travel guide contains affiliate links. That means we'll get a small commission if we make a sale at no additional cost to you. We only recommend products and services that we use ourselves and firmly believe in. We really appreciate your support as this helps us make more of these free travel guides. Thank you!