We've all had that feeling before, that we were meant to do or experience something. Coincidences happen all the time and we usually don't think anything of it. But sometimes, the planets align a little too perfectly for things to be chalked up as mere happenstance.
I'll tell you later why I think we were destined to have our last meal in Europe here at Ponto Final, but in the meantime, check out these photos from what has to be one of the most unique and memorable restaurants in Lisbon.
We learned about Ponto Final from the very entertaining Lisbon episode of Somebody Feel Phil on Netflix.
Save This on Pinterest!
No time to read this now? Click on the red save button and pin it for later!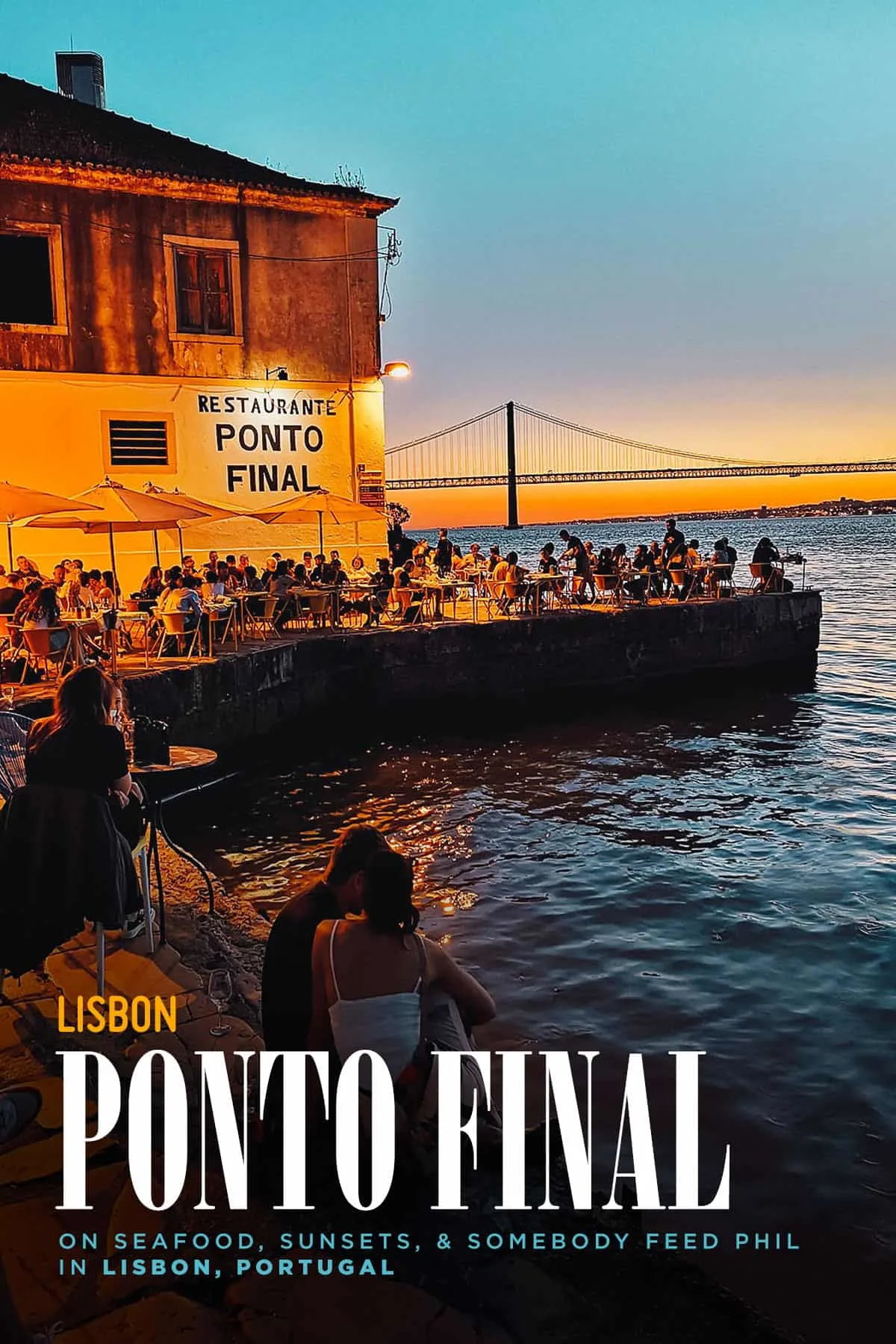 WHAT IS PONTO FINAL?
Ponto Final is a Portuguese waterfront restaurant in Almada, just across the Tagus River from Lisbon. To get there, you'll need to take a 20-minute ferry ride from the Cais do Sodré ferry terminal in Lisbon.
After disembarking the ferry at Cacilhas terminal, you'll need to walk about a kilometer along a pier by a row of what look like abandoned warehouses. Unless you already know about this place, then there's no way you'd ever think there'd be a restaurant at the end of that pier. Its odd location definitely adds to the experience.
If I remember correctly, we started the walk around 6PM, just when the sun was starting to set but it was still brutally hot. There's no shade so be prepared to reach Ponto Final a little darker than when you started.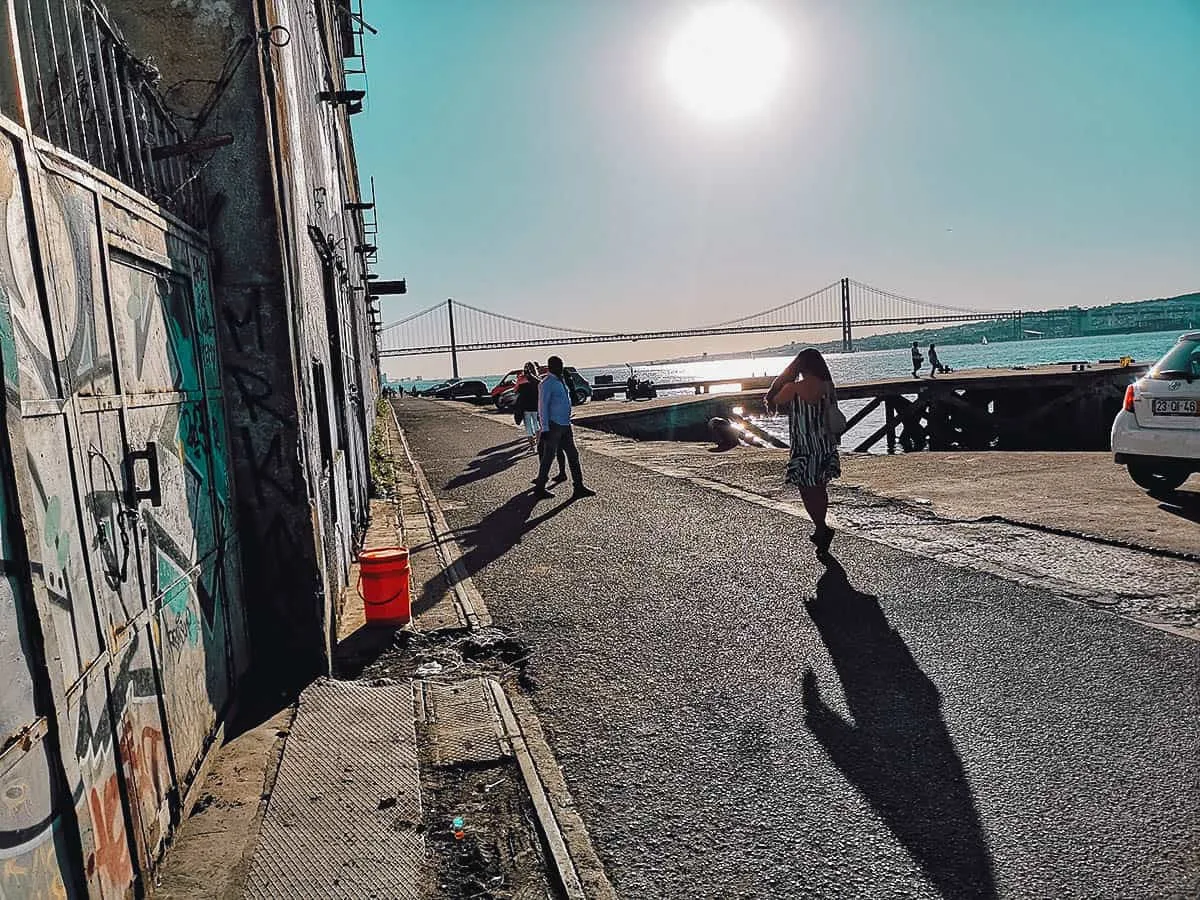 On the walls of the abandoned buildings are some pretty great examples of street art. It was way too hot for us to appreciate them so we enjoyed them on the walk back. When it's that hot, one kilometer feels more like ten.
It's worth noting that one diner told us how she was fearful of falling into the water while walking to the restaurant. Personally, aside from the heat, we never felt uneasy but the path does narrow in parts and there's no handrail or barrier. That may be something to remember if you'd like to dine at Ponto Final.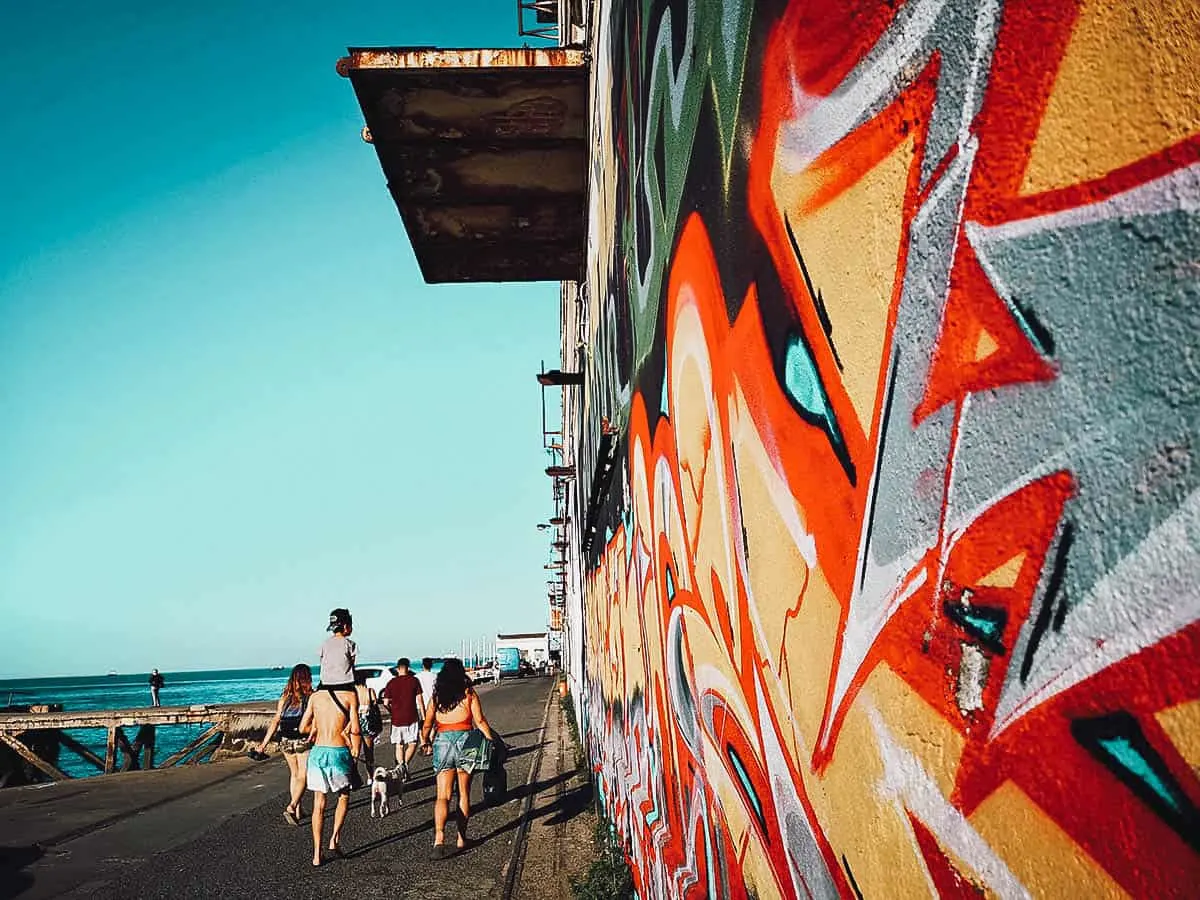 Just when it feels like you've been walking forever, you'll turn a corner and spot the restaurant with this small patch of sandy beach just before it.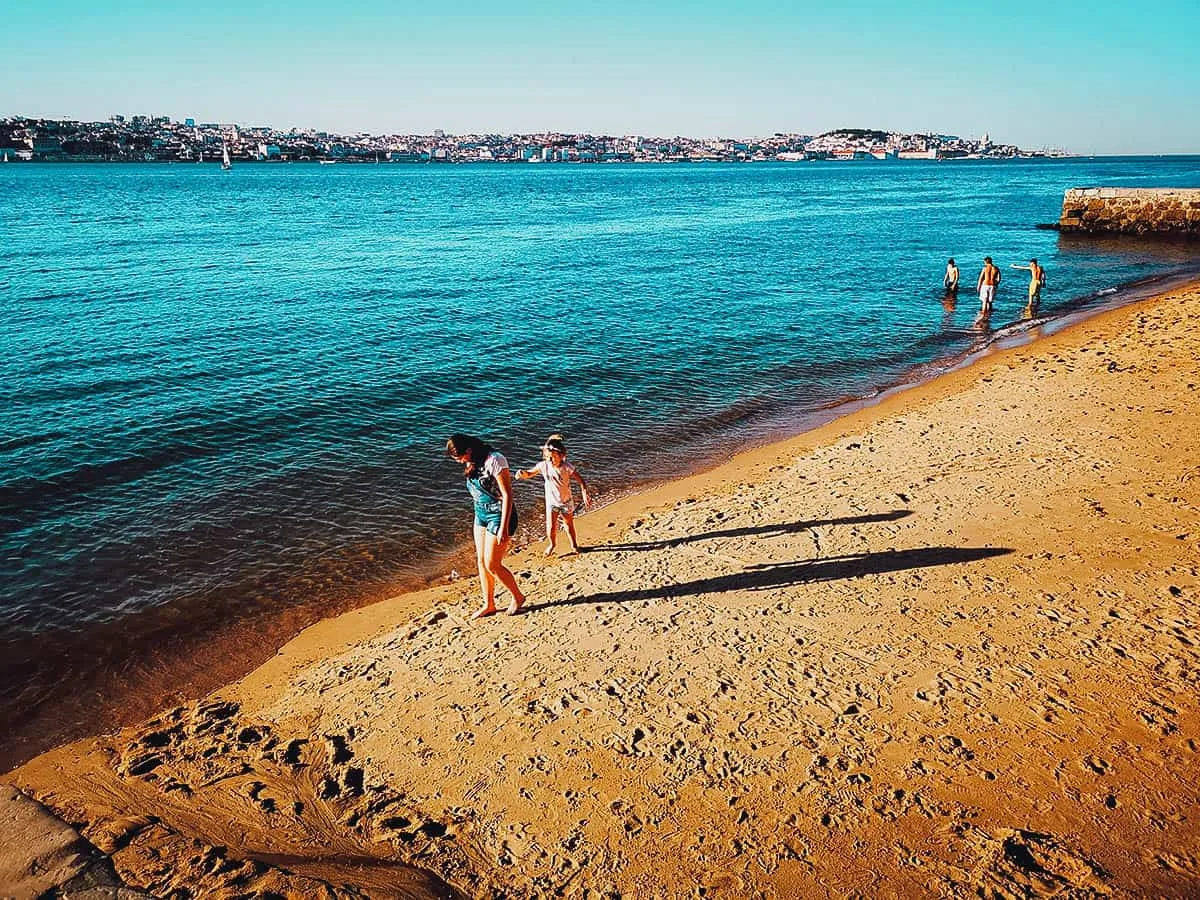 MONKFISH STEW & A KILLER VIEW
And there she is, Restaurante Ponto Final with its distinct platform seating and banana yellow chairs. Diners lucky enough to get a table outside can enjoy the most spectacular views of the 25 de Abril Bridge and Tagus River. Lisbon's waterfront districts are clearly visible from across the river, and you'll be treated to a steady stream of sailing yachts and planes flying into Portela Airport. It's an incredible setting, especially at sunset.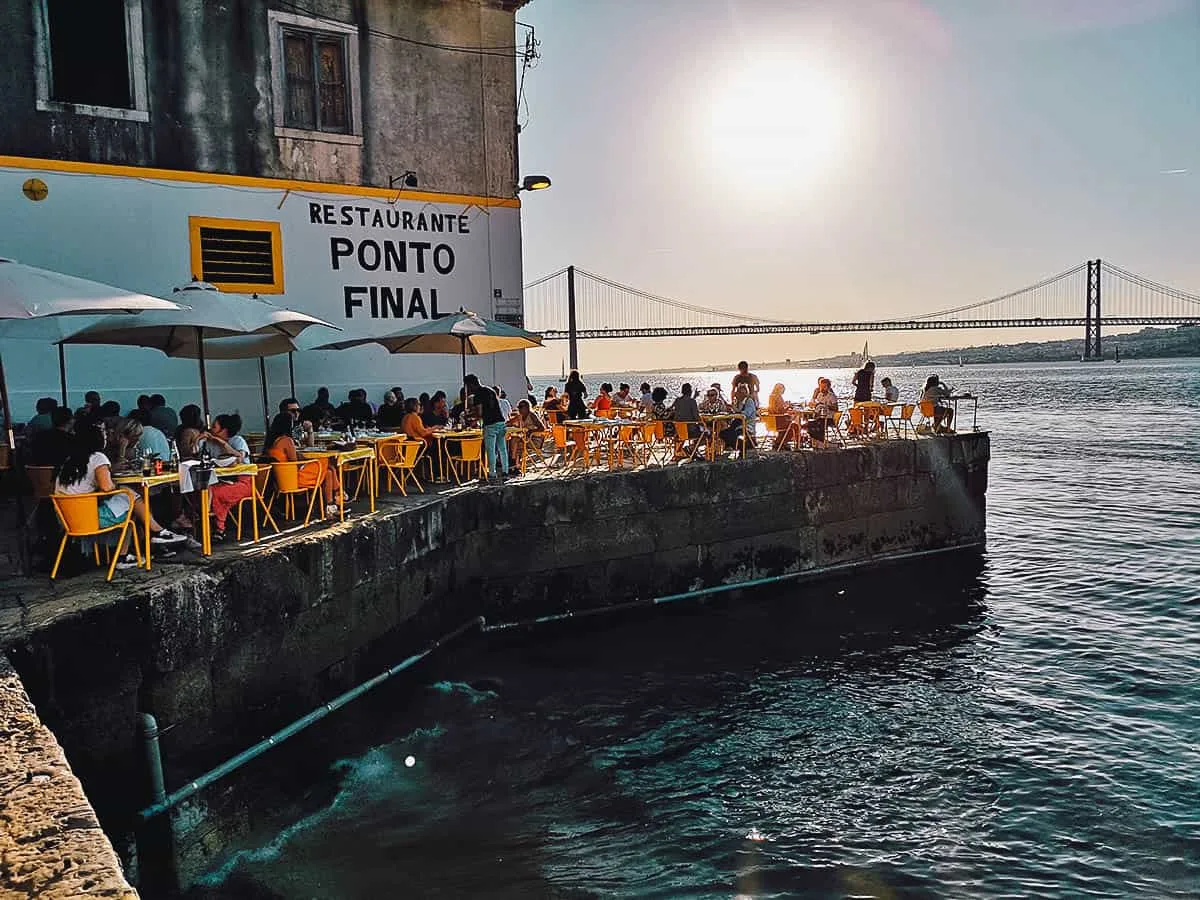 I'll tell you the story at the bottom of this post, but we weren't hopeful of getting a dinner table at Ponto Final. With this place being as popular as it is, we were planning on just stopping by and taking a few pictures before hopping on the ferry back to Lisbon.
As we expected, the host advised us of a two-hour wait for a table outside. Yet here we are, giddy beyond words just a few minutes later after being seated at one of the best tables in the house. We couldn't believe it. Some things are just meant to be!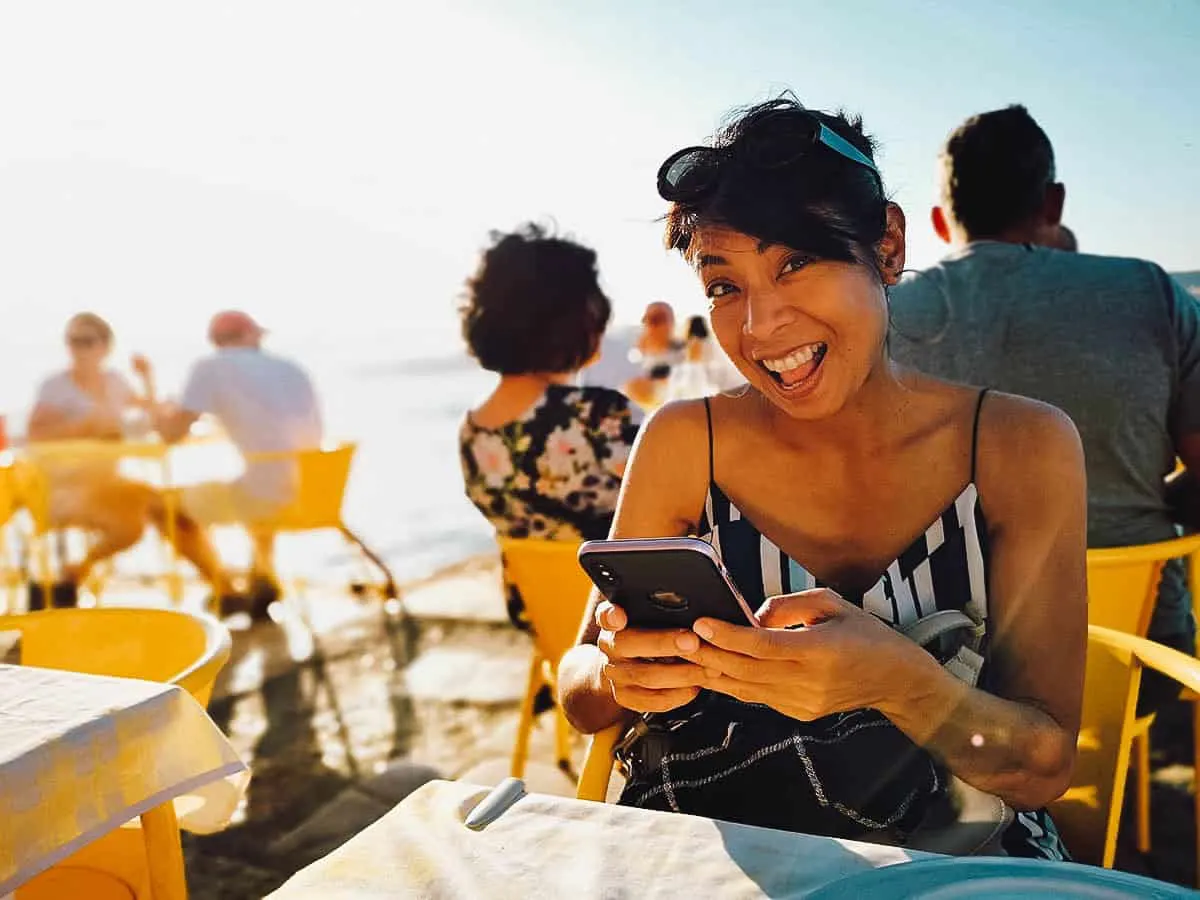 The light at this time of day is spectacular so don't be surprised if you finish dinner with over 500 photos in your phone. I did. I'm not exaggerating. I had 567 photos from tonight's dinner if I remember correctly.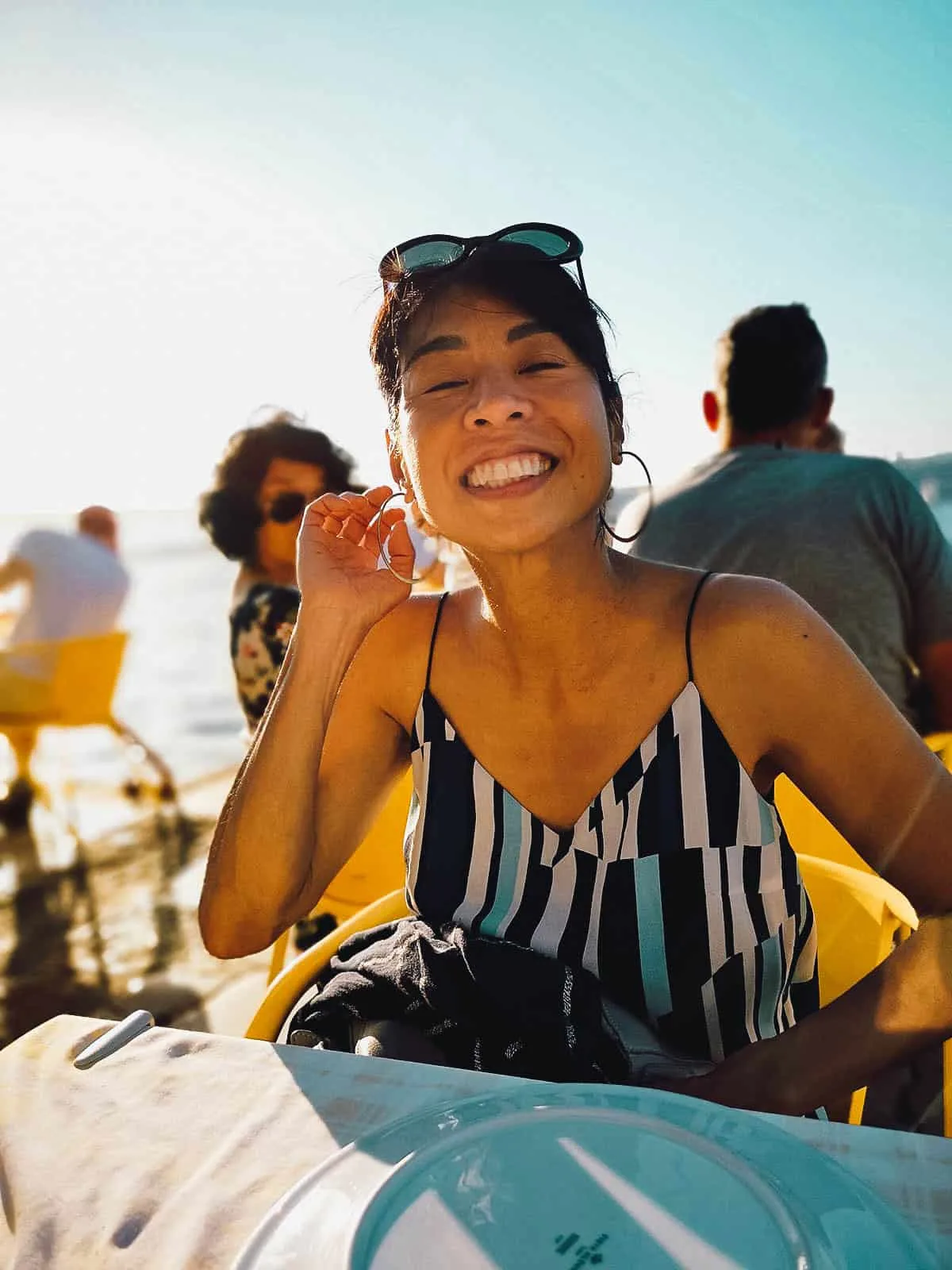 With this being our last meal in Portugal, we ordered a bottle of vinho verde to enjoy with our meal. Vinho verde refers to wine produced in the Minho province of northern Portugal.
The term vinho verde literally means "green wine". It's in reference not to the color, but to how young the wine is. Vinho verde wines are typically consumed just 3-6 months after the grapes are harvested.
If you're wondering why our bottle of vinho verde appears to be suspended over water, it's because it is. Keep scrolling to see what I mean.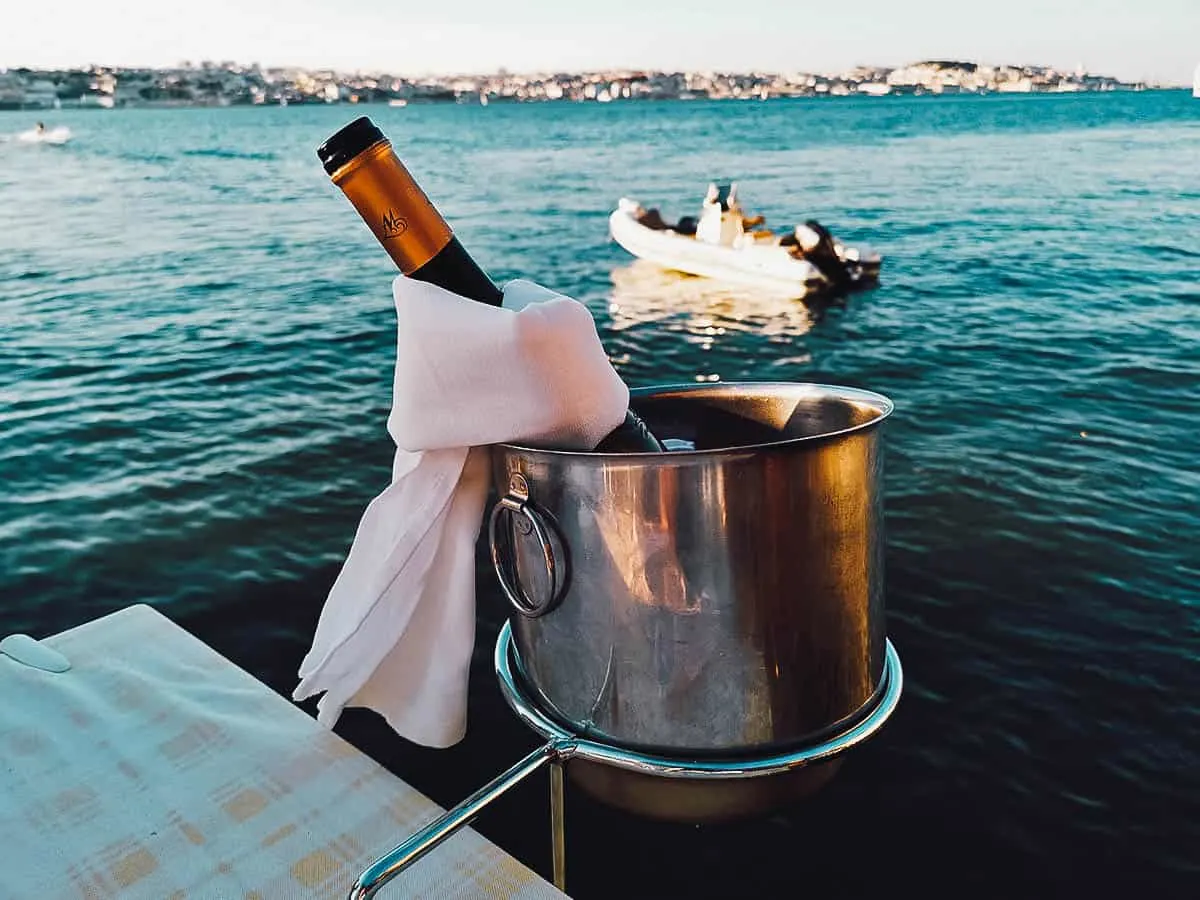 As we saw on Somebody Feed Phil, tables and chairs at Ponto Final are just inches away from the platform's edge. One wrong move and into the drink you go!
I know it looks dodgy but it really isn't. I don't know if anyone's ever fallen into the river but being so close to the edge like that makes you extra careful. Coupled with the food and view, it's this element of precariousness that helps set this dining experience apart.

In clear view across the river is Lisbon's trendy Cais do Sodré district. It was a perfect day today – crisp blue skies and not a cloud in sight. I don't think I've ever had dinner in a setting as cool as this.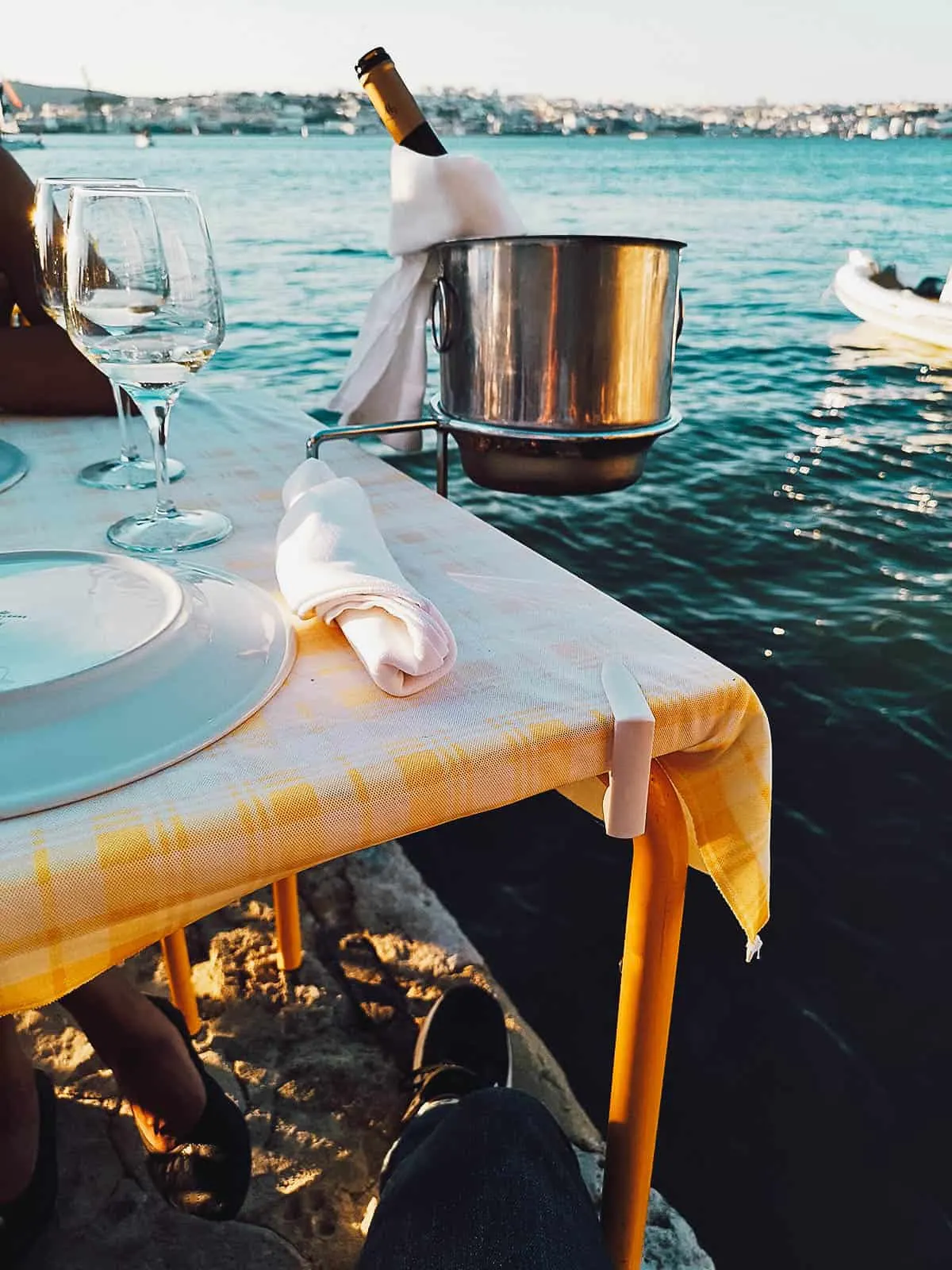 Here's a look at that kilometer-long walk you have to make to get to Ponto Final. As described, this place is popular so there was always a crowd of people waiting for a table. No one seemed anxious though. Everyone looked calm and relaxed and just taking in the view.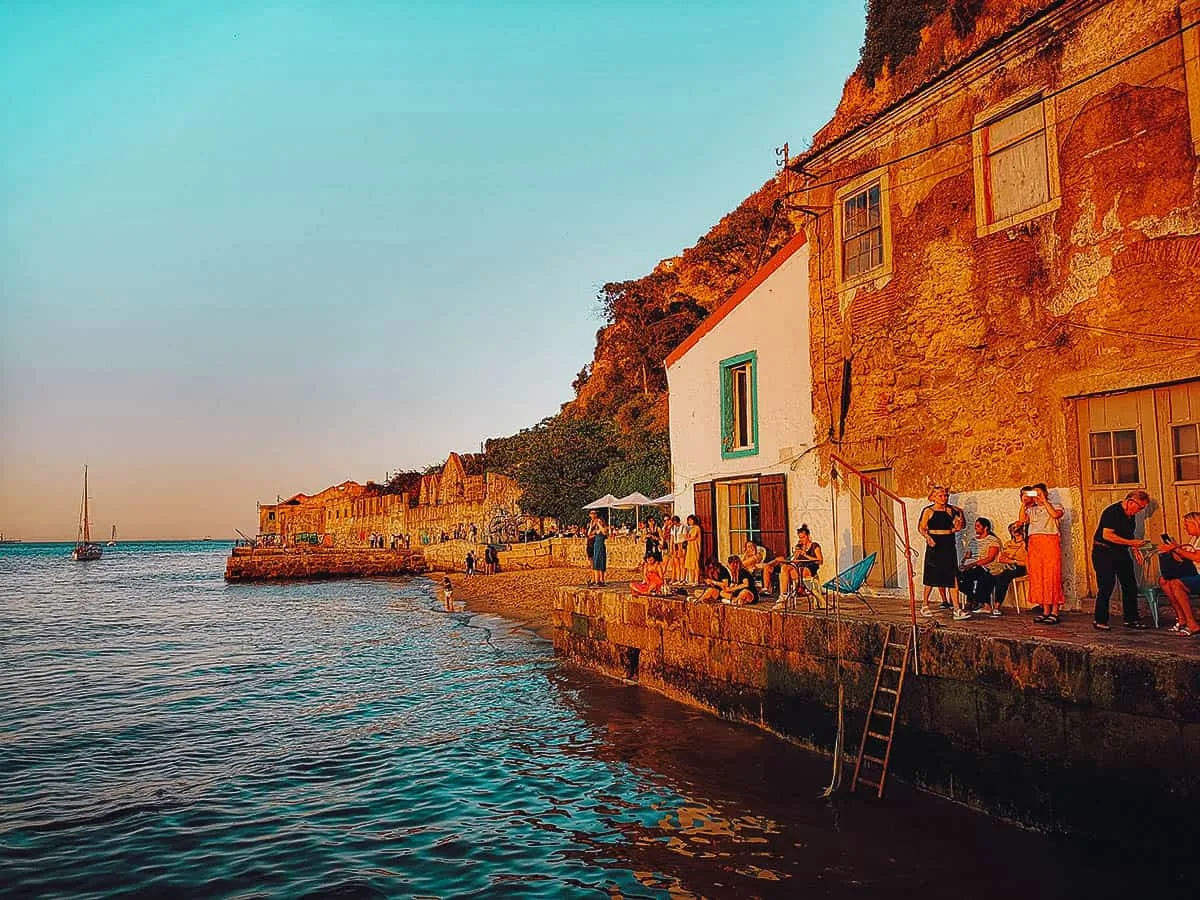 We knew exactly what we wanted without looking at the menu – monkfish stew with rice. This is what Phil had and raved about on the show. Known locally as arroz de tamboril, each order is good for two and brought bubbling hot to your table.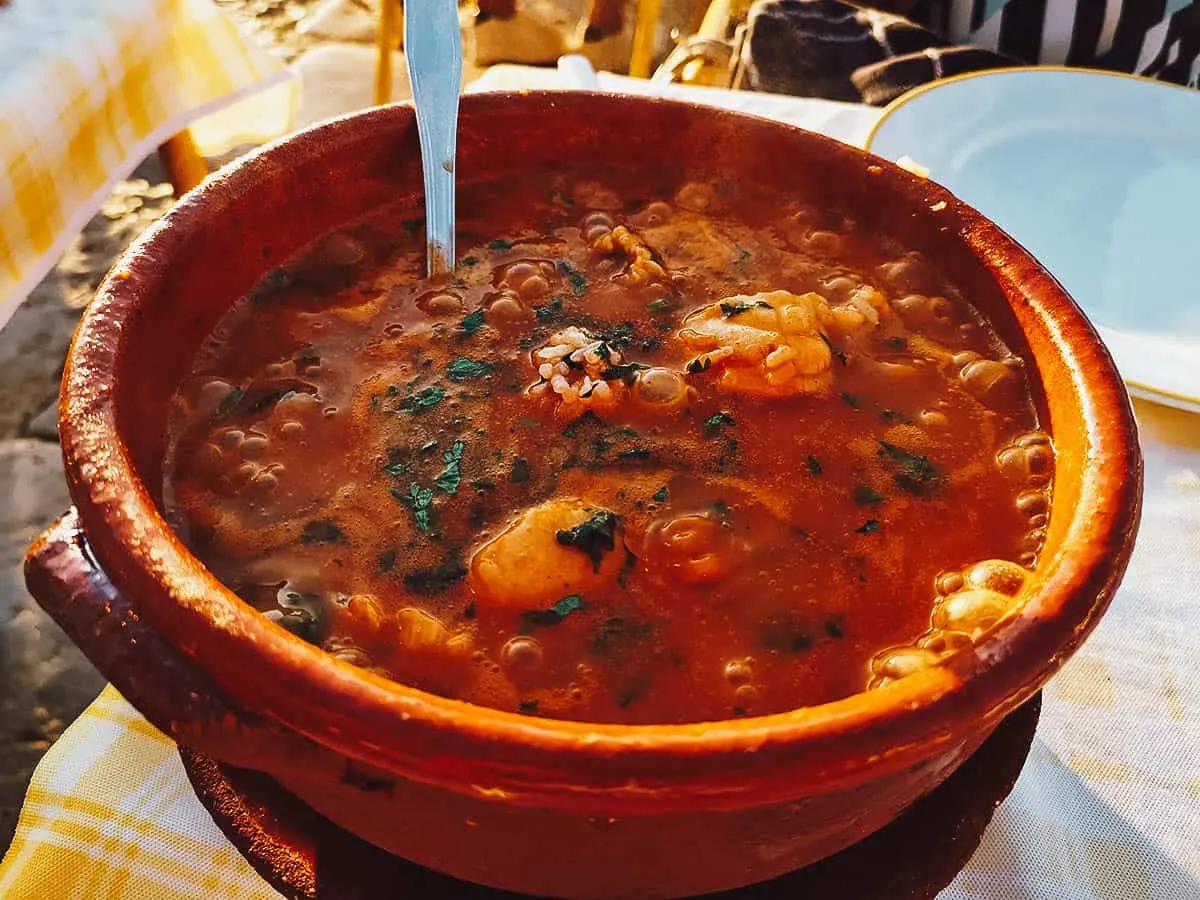 Arroz de tamboril is a classic Portuguese dish made with rice, monkfish, tomato, onion, garlic, chili, and coriander. Thick and hearty, it's absolutely delicious and one of my favorite things to eat in Portugal.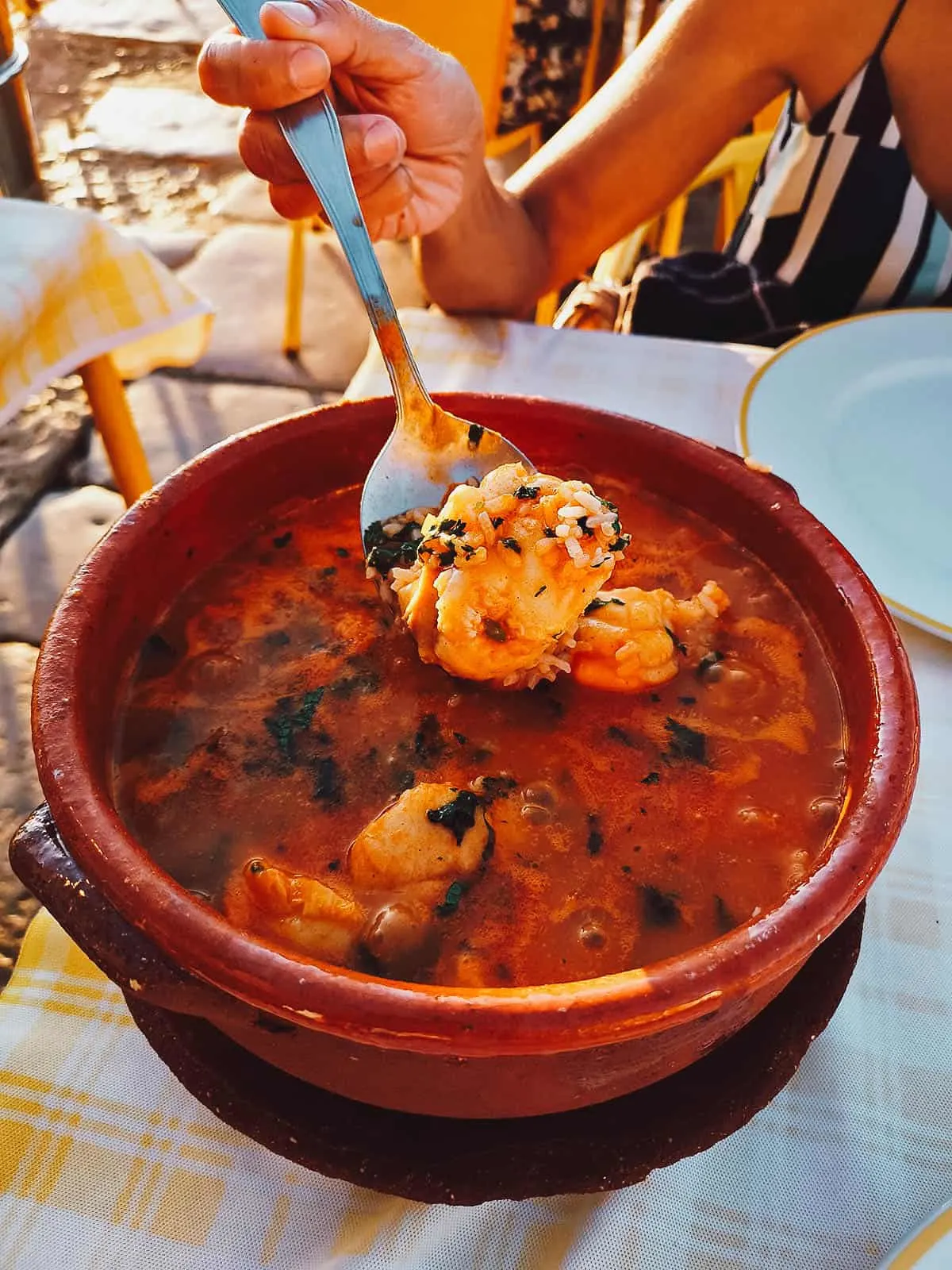 This was our first time trying monkfish which is a type of anglerfish found in the Atlantic and Indian oceans. Characterized by a broad flat head and jaws armed with bands of long, inward-pointing teeth, what it lacks in good looks it more than makes up for in taste and texture.
Monkfish is unlike any fish I've ever had before. It isn't flaky like most fish. Instead, it's meatier and closer in texture to lobster. In fact, if it weren't for the bones running through the flesh, I really would have thought I was eating some type of lobster. Monkfish is my new favorite fish. I LOVED this dish.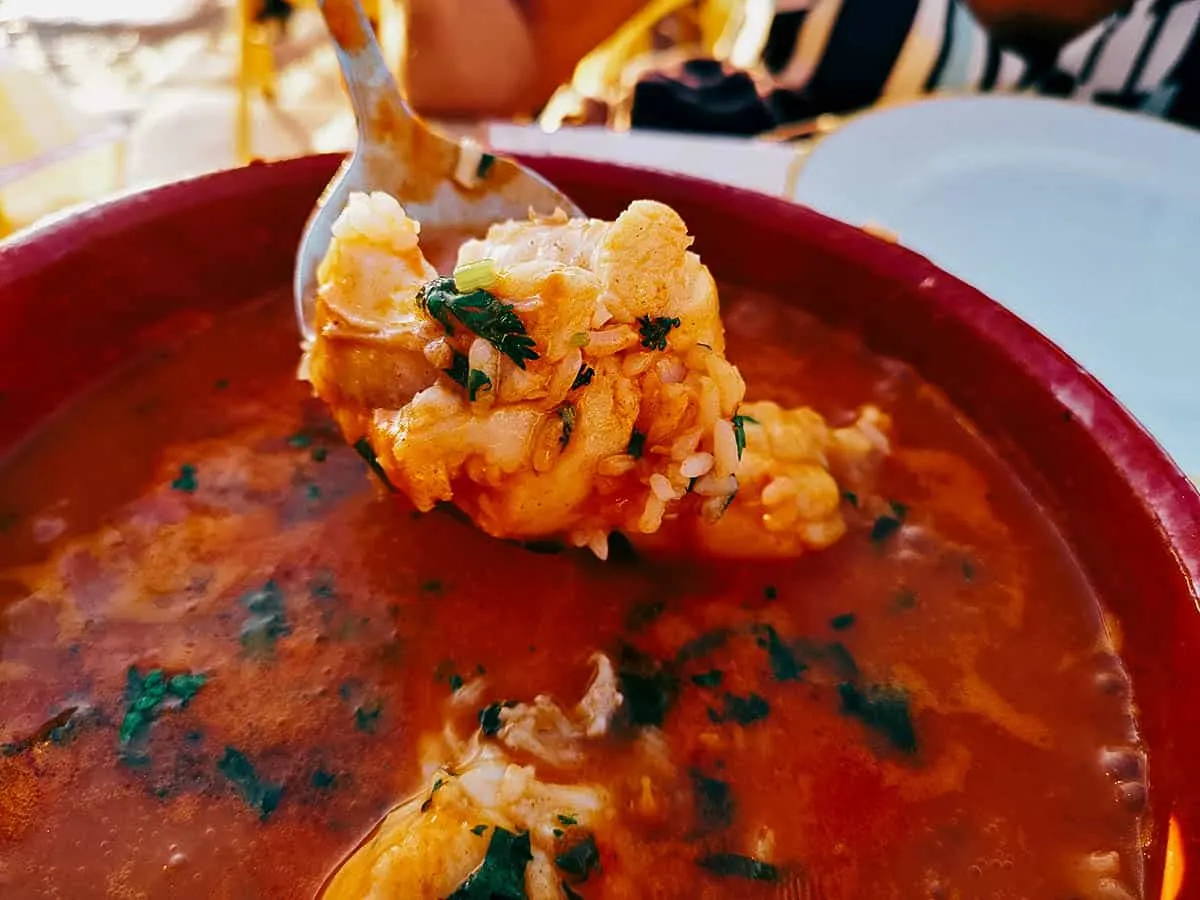 Our server was surprised to find out we were from the Philippines. I guess not as many Filipinos make it out here. He asked how we found out about Ponto Final so we told him about the Lisbon episode of Somebody Feed Phil. "Aaaaaah" he said, "We get a lot of Americans and Australians because of that show."
Somebody Feed Phil may have introduced a new audience to Ponto Final, but it's a TripAdvisor Certificate of Excellence awardee on its own merits with a solid 4-star rating.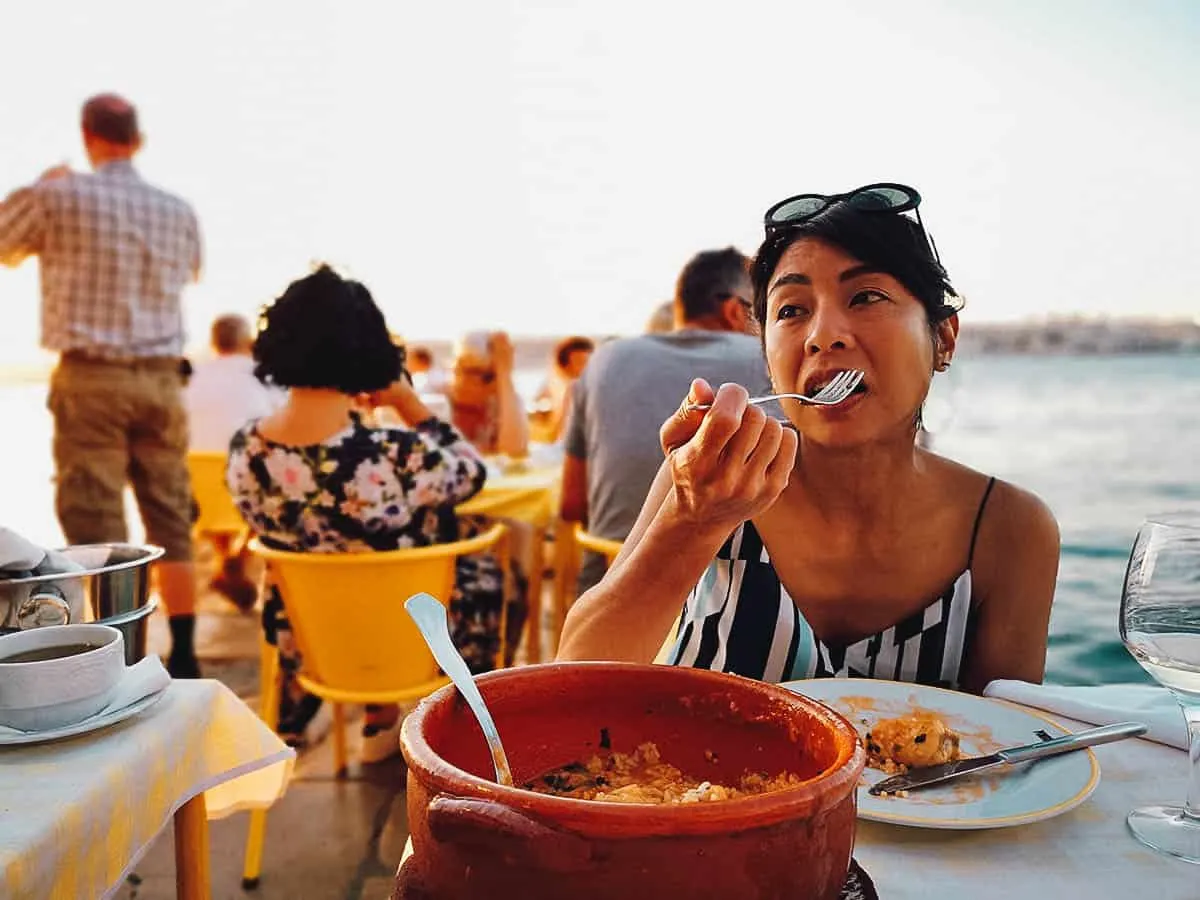 With that said, be careful what you order. Our monkfish stew was great but according to their TripAdvisor reviews, their dishes seem to be hit or miss. Ren's cousin ate here the night before and didn't enjoy her meal as much as we did.
If you decide to eat here, which I think you definitely should, then I suggest sticking to the dishes Phil's Portuguese companion ordered for them when they were here. Aside from the monkfish stew, they also had the piri-piri prawns (gambas com piri-piri) and grilled sardines (sardinhas assadas).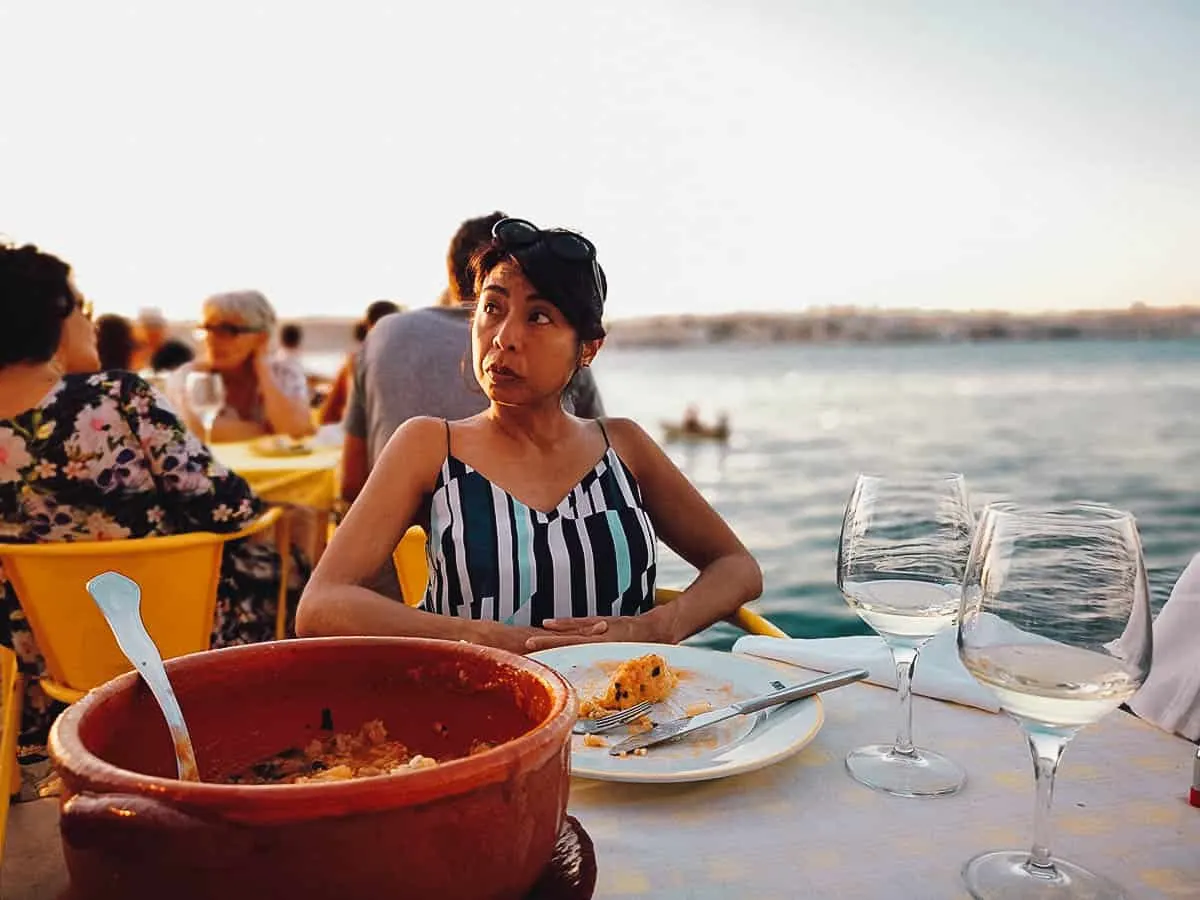 In spite of the place's popularity, we didn't feel any pressure to hurry up with our meal. There was still light out after finishing our meal so we lingered for a few minutes to soak up the atmosphere. It was our last night in Portugal after all.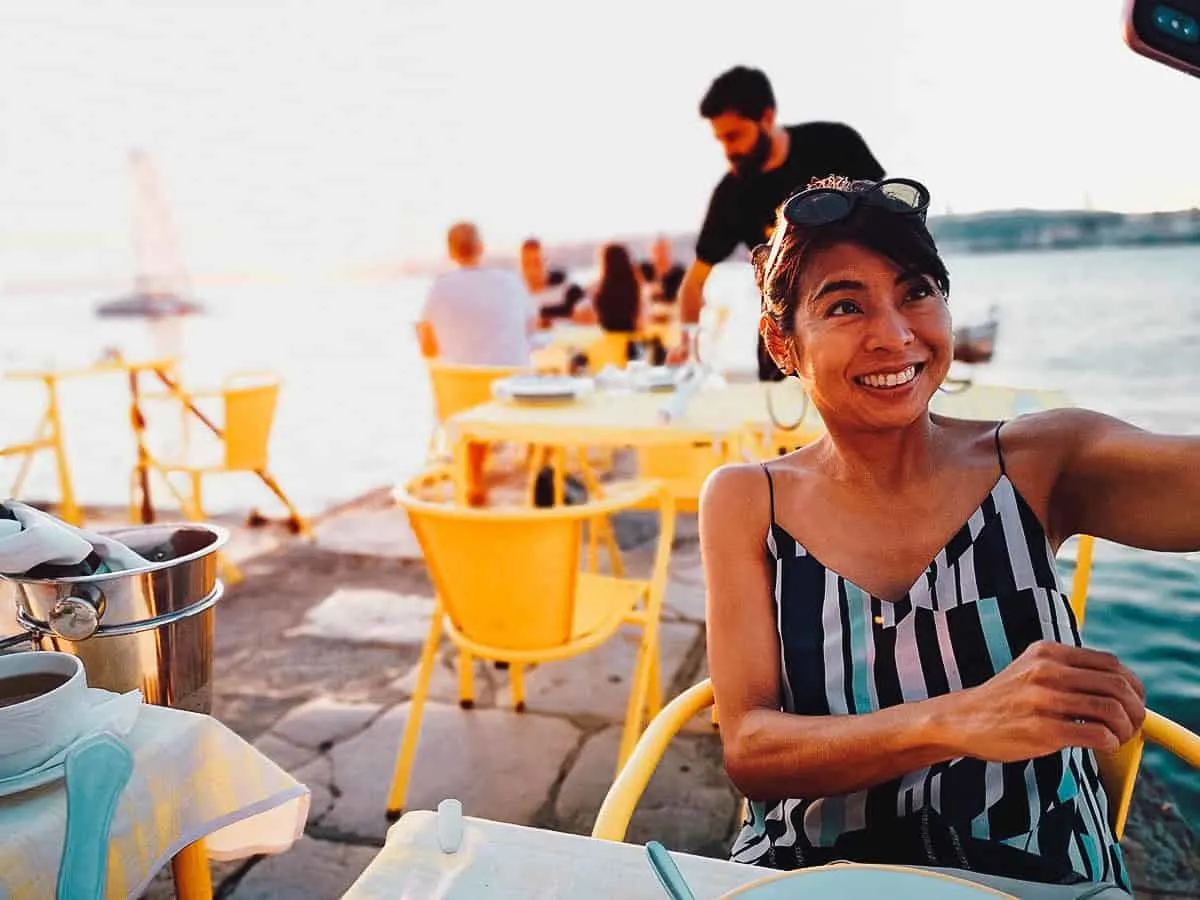 A quick tip, they'll serve you an unsolicited set of appetizers at the start of your meal, things like octopus salad, bread, cheese, and olives if I remember correctly. Not sure if this is a cultural thing but it happened to us twice in Lisbon. They'll tell you that you can eat it if you want but what they don't mention, is that they aren't free. You'll notice them surreptitiously added to your bill at the end of your meal.
We sent ours back but the pair of gentlemen seated next to us shortly before we left were too nice to do the same. They clearly didn't want it, even joking with the server that they were someone else's leftovers. In the end, they barely touched it. If you don't want them, then don't be afraid to send them back.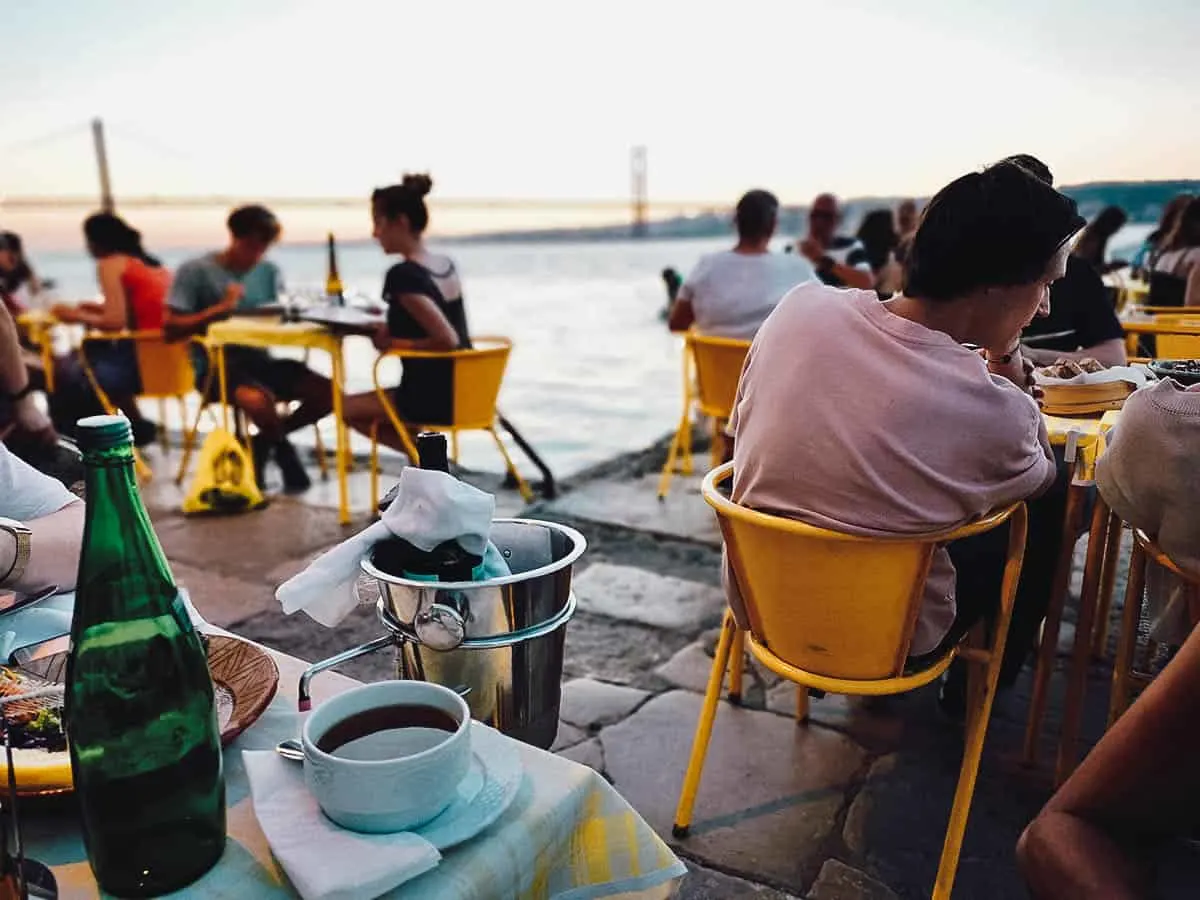 The sun had almost completely set at this point but the diners still kept pouring in. As described, this place is popular so you're advised to make reservations. You can do so via email – [email protected].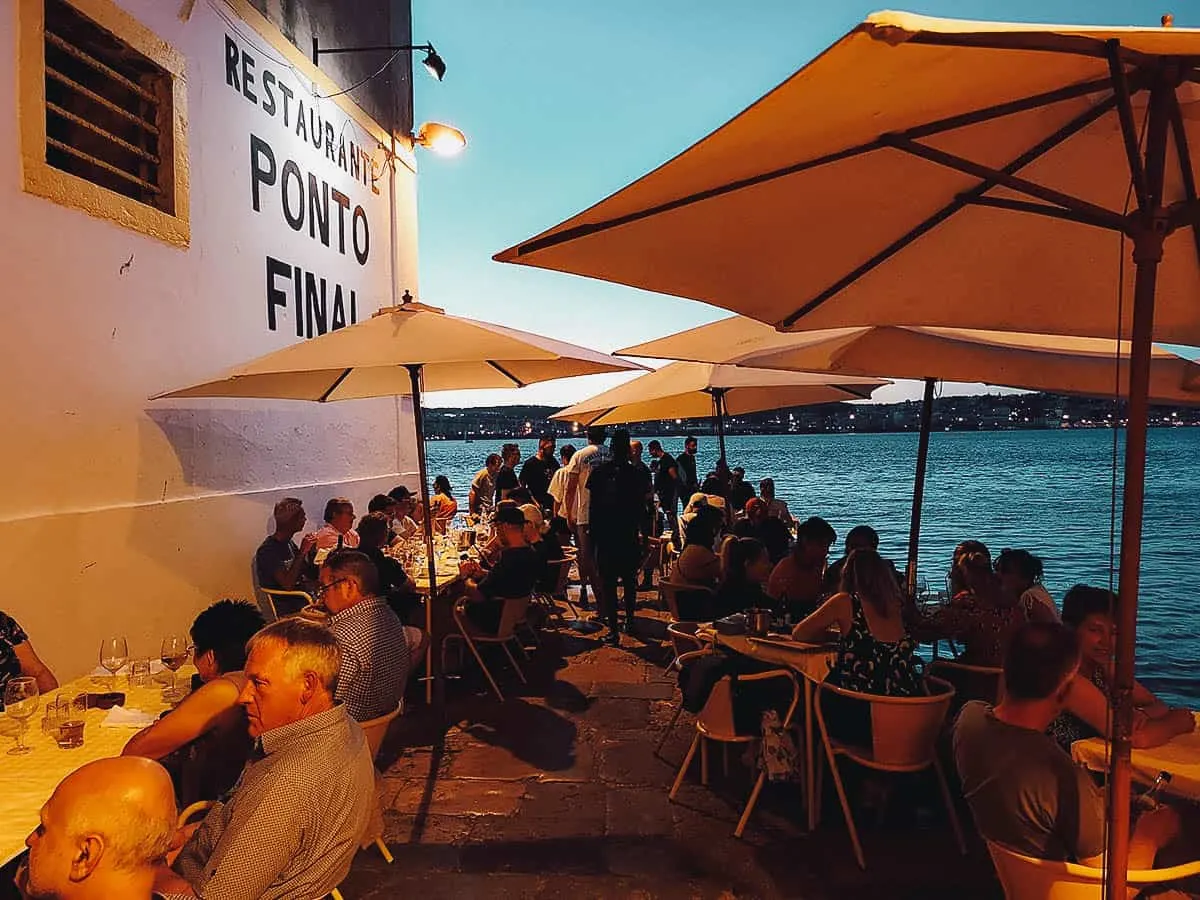 One final look at Ponto Final before making the walk back to the ferry terminal.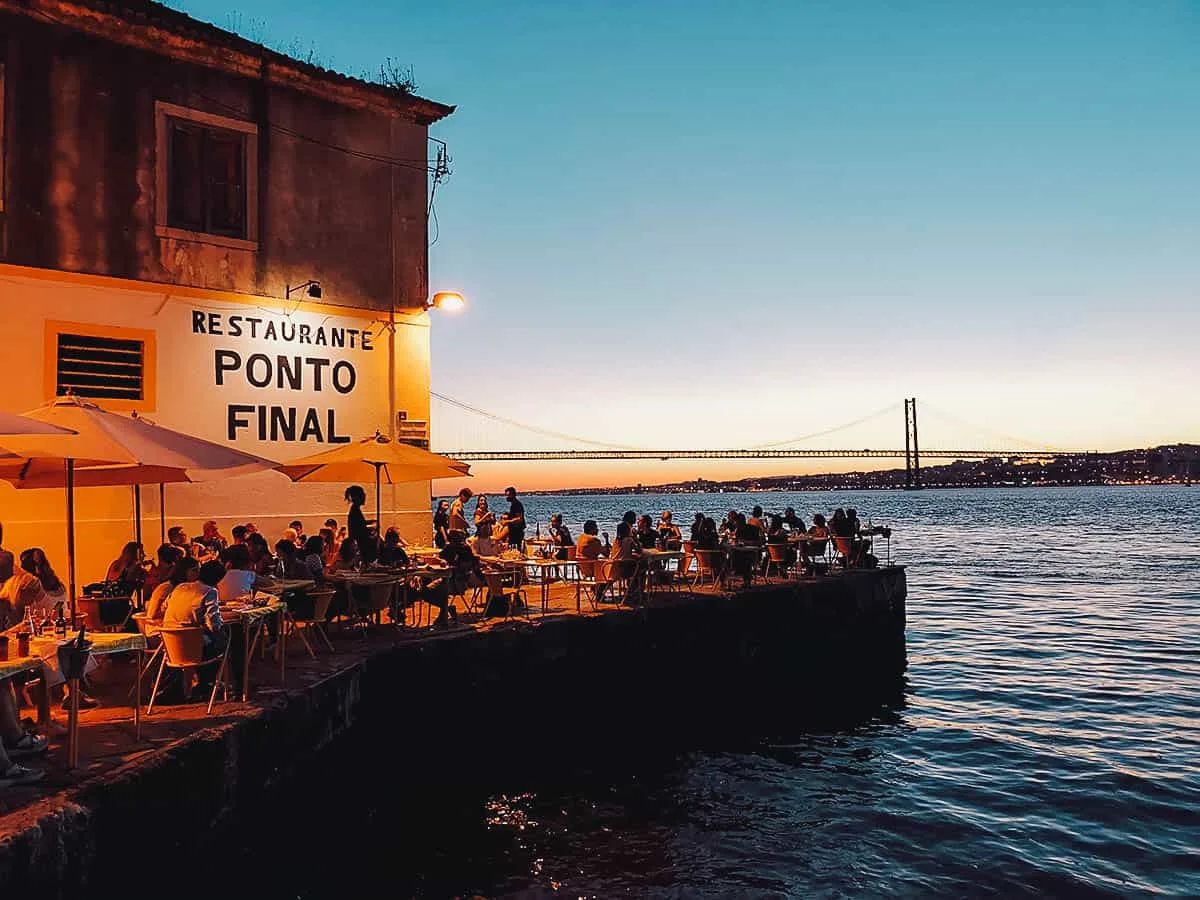 Isn't she a beauty? The 25 de Abril Bridge is a lovely suspension bridge and looks very much like the Golden Gate in San Francisco. It's even a similar reddish color.
I lived for a few years in the city by the bay and Lisbon reminded me so much of San Francisco. The bridge, the bay, the hilly streets, the cable cars – it's like the San Francisco of Europe. Or should I say San Francisco is the Lisbon of North America?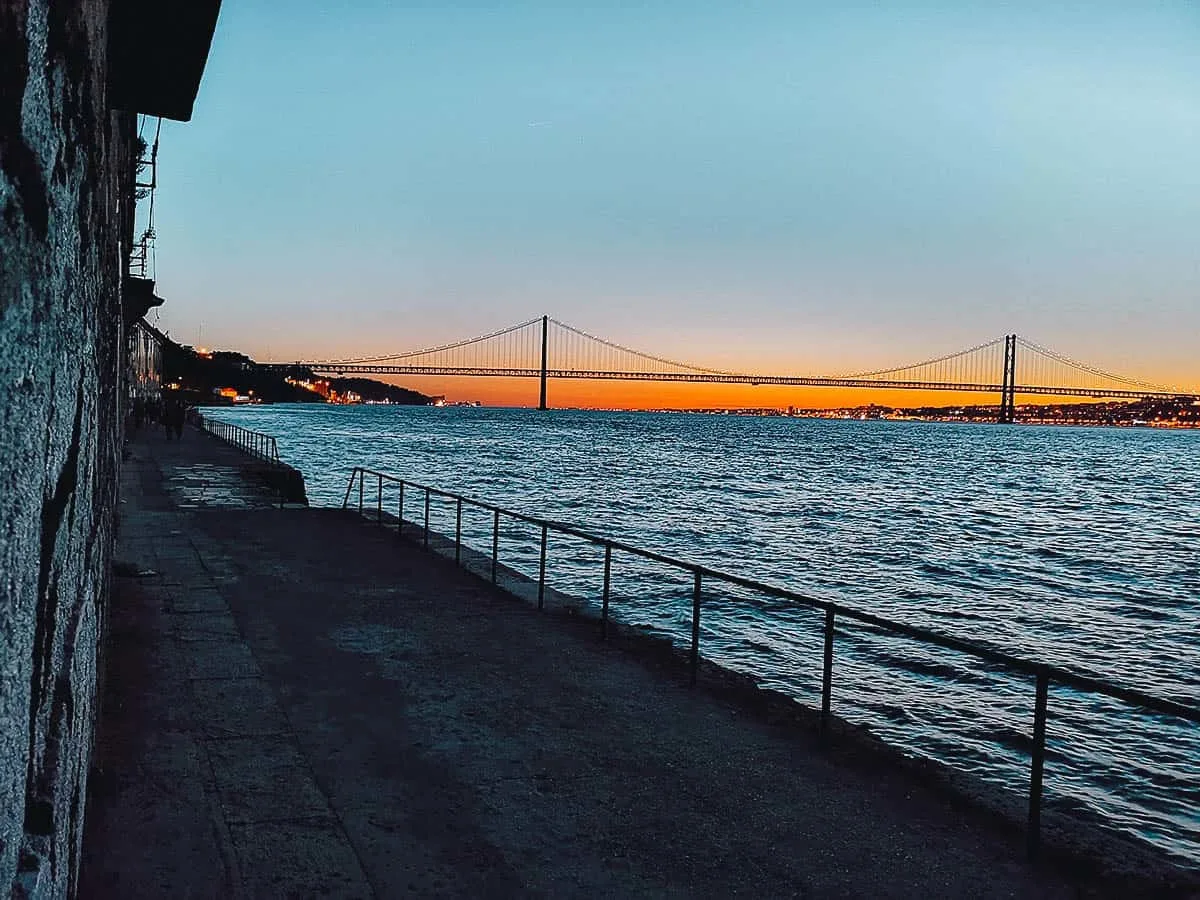 STREET ART AT RUA DO GINJAL
It was too hot to stop and appreciate them, but all along the pier are some fantastic examples of street art.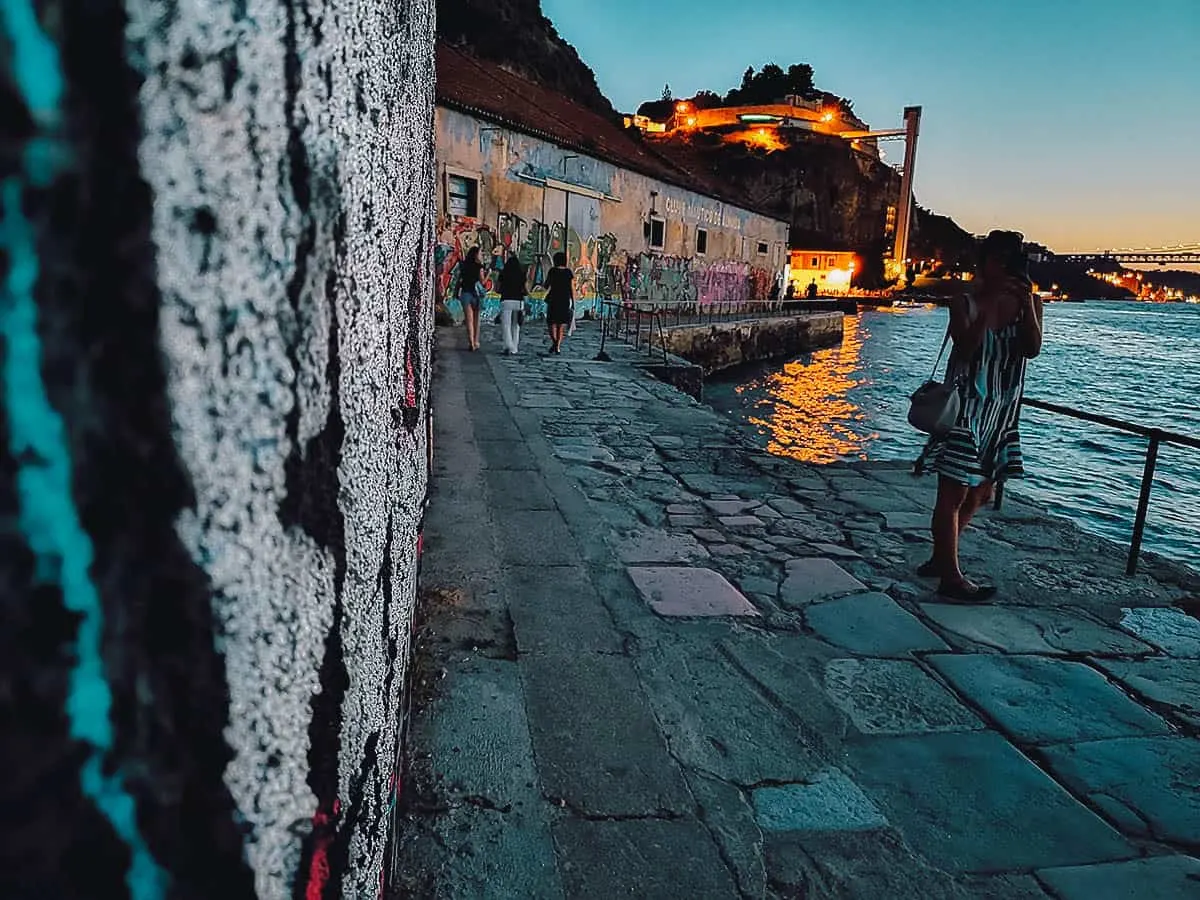 Particularly great this one is, agree you would?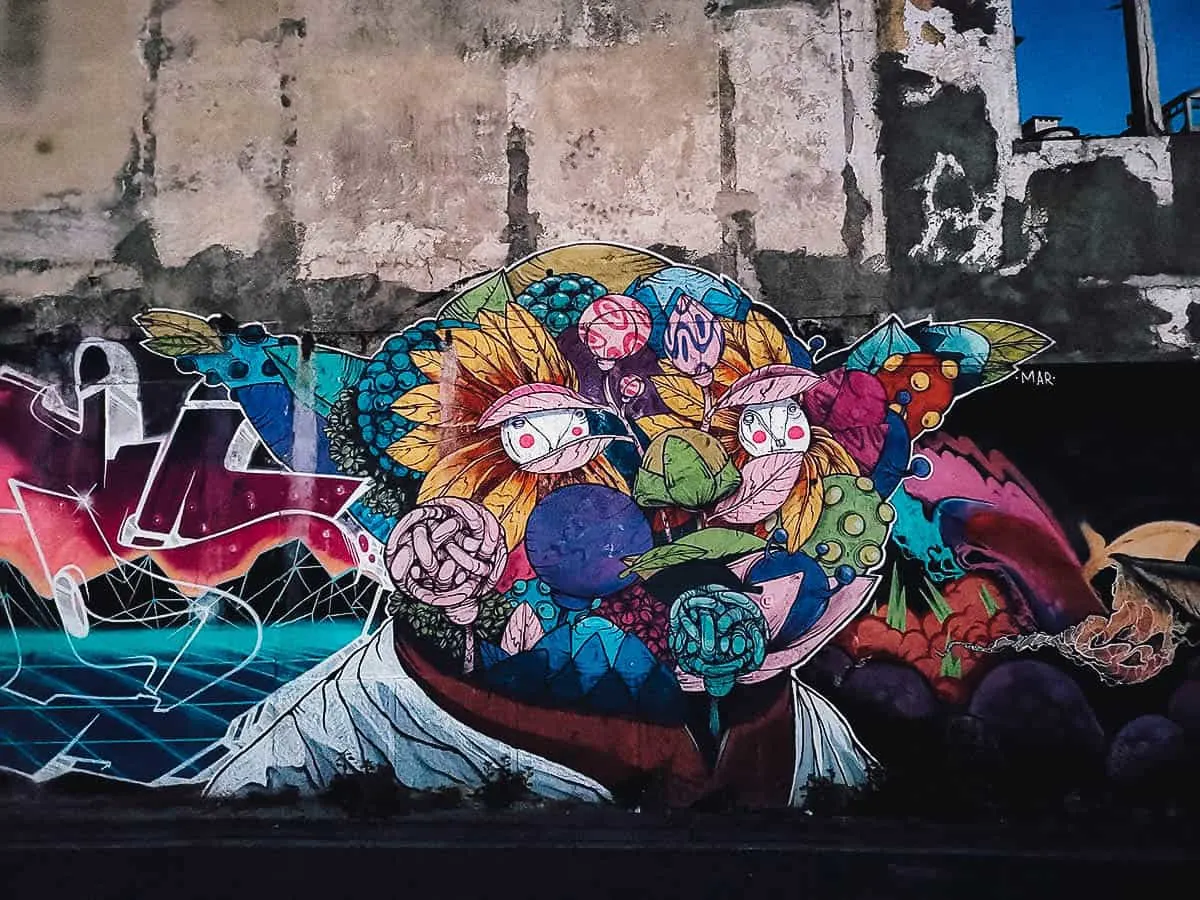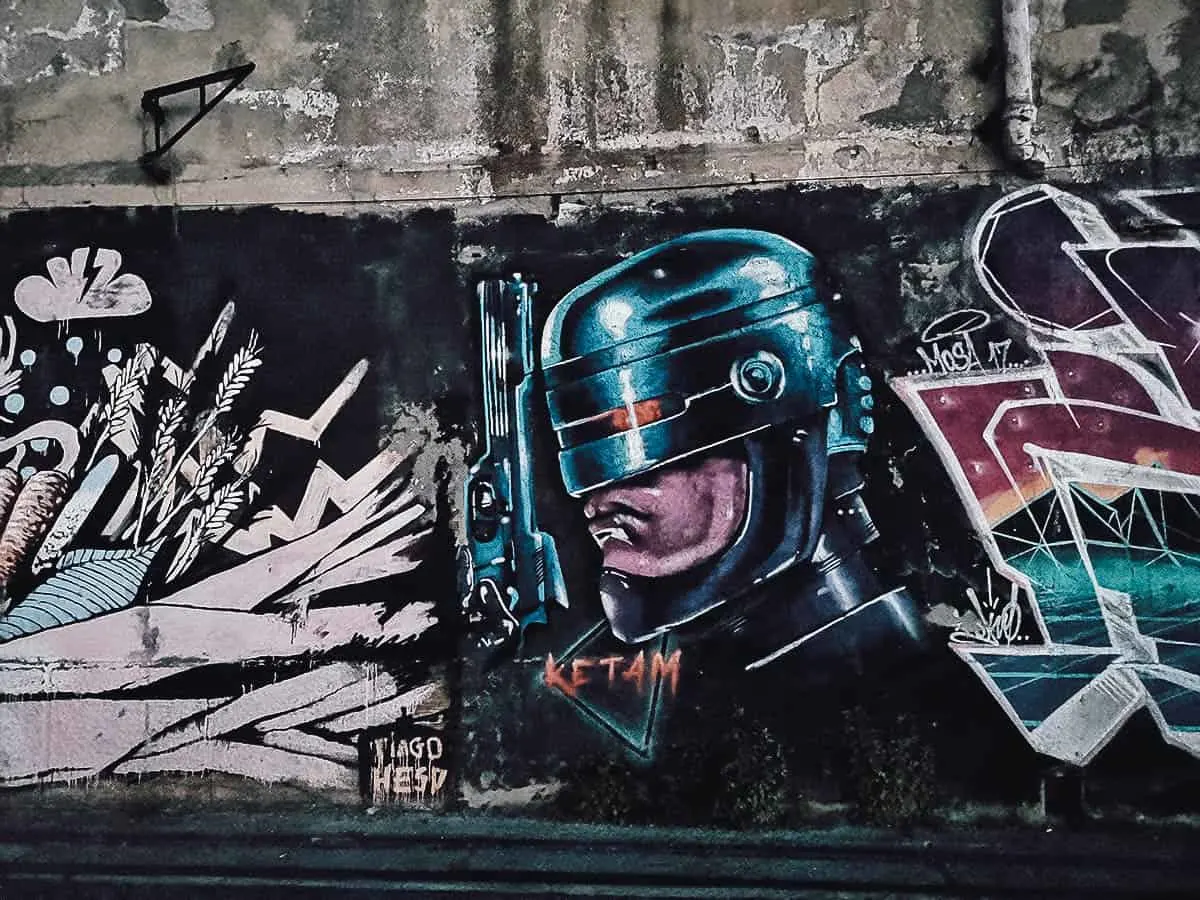 I don't know if there's a cafe or bar nearby, but just before reaching the ferry terminal was this cluster of sofas and tables with young locals hanging about. Some were playing guitar and singing while others were just chatting and enjoying the evening atmosphere.
Our hearts and bellies full from tonight's experience, we lingered for a few minutes and enjoyed this impromptu musical performance by the river before boarding the ferry back to Lisbon.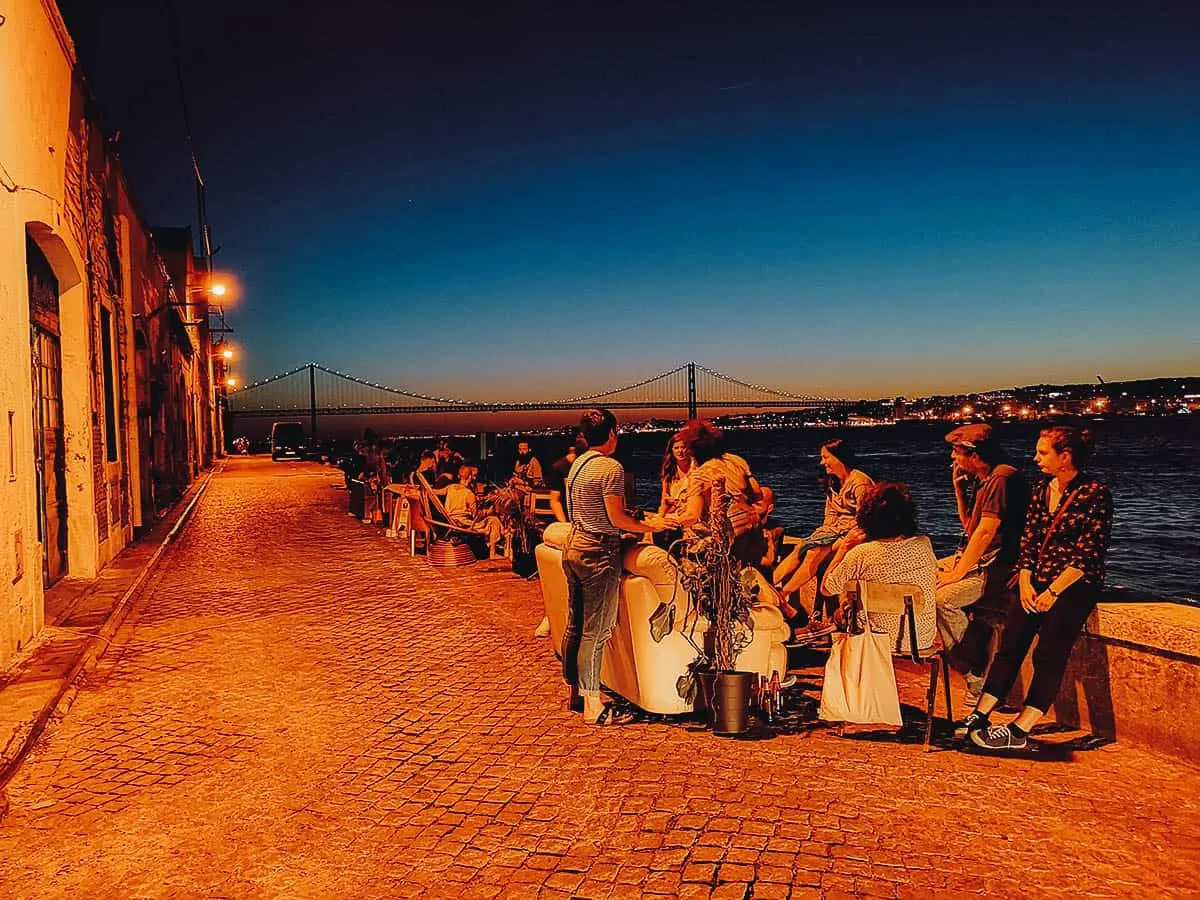 DUMB LUCK OR DIVINE INTERVENTION?
As described, we weren't hopeful we could get a table here.
I made lunch reservations for the same day weeks before our trip to Portugal. It looked so lovely on Somebody Feed Phil that it seemed the perfect way to end our 5-week trip through Europe.
We were in Lisbon with seven other people so I made reservations for nine. With such a big group, the person responding to my email advised that they'd be able to seat us outside, but not on the platform like we wanted because those are limited to groups of just 2-4 people. That was fine.
This was probably the one meal I was most looking forward to in Europe. The thing is, Ren's cousin who couldn't join us for lunch on the intended day decided to eat here on her own the night before. She wound up ordering the wrong things and was underwhelmed by the food so she advised the group not to go. Needless to say, it put a major damper on things. I didn't want to be blamed for a subpar experience so I emailed the restaurant to cancel on the morning of our reservation.
Ren and I were super bummed because we were really looking forward to eating at Ponto Final. In the end, we decided to take the ferry out to Almada on our own. We'd walk around town and enjoy our last day in Portugal before making a quick stop at the restaurant just to see the place. We knew it'd be impossible to get dinner reservations on such short notice, and we were right.
When we got there, the host advised us of a two-hour wait for a table outside. We would have been seated immediately had we agreed to a table inside but we were there for the view, not just the monkfish stew!
I was about to snap a few photos before leaving when minutes later, the host approached us and told us that someone had just cancelled via email. Did we want the table?
I'm not exaggerating, but no more than five minutes must have elapsed from the time we approached the host and the moment we were seated at the platform table we always wanted. A cancellation at that precise moment? And why did he offer it to us instead of all the people already on the list? We didn't bother asking questions and just chose to look at it as a mini miracle.
Ren's mother passed away last year and we like to think she had something to do with this. They were super close and Ren spent the last four years dutifully caring for her. Every time something good like this happens, she's convinced her mother has something to do with it. I like to look at it that way too.
Chalk it up to divine intervention or just dumb luck, but thanks to the events leading up to tonight, Ren and I got to enjoy the perfect meal at the place and setting we always wanted. For dinner, outside, at sunset, just the two of us.
I honestly couldn't have scripted a better ending to our Europe trip than this.
Ponto Final
R. do Ginjal 72, Almada, Portugal
Tel: +351 21 276 0743
Operating Hours: 12:30-4PM, 7-11PM, Wed-Mon (closed Tuesdays)
Email: [email protected]
Expect to Pay: EUR 41.50 for the monkfish stew (good for two)
HOW TO GET THERE: Make your way to Cais do Sodre Ferry Terminal. Take the ferry to Cacilhas (EUR 1.25 each way). Make a right after exiting the terminal and walk the entire length of the pier to Ponto Final.
Disclosure
The TripAdvisor links in this post are affiliate links, meaning we'll earn a small commission if you make a purchase or booking at no extra cost to you. We really appreciate your support as this helps us keep this website going. Thank you!