Sunday morning rain is falling. Steal some covers, share some skin. Clouds are shrouding us in moments unforgettable, you twist to fit the mold that I am in.
I love that. The opening lyrics to Maroon 5's hit song, could there be a better way of describing the perfect Sunday morning? Hazy, a little drizzly, no sense of urgency, no compelling reason to get out of bed. Punching in my share of rat race hours during the week, these "nothing" moments are what I truly work for.
A slave to my email most of the time, Sunday is the only day when I can disconnect and do nothing. By "nothing", I don't actually mean nothing, because I usually do something. It's always just something that I want to do. Like taking a day trip with Ren somewhere. Or spending all day blogging without feeling rushed or guilty about it. Or drinking beer over lunch while watching a live boxing or UFC match. Whatever it is, Sunday is always a sacred day, a we day, a day to reward and recharge, a day to do absolutely nothing.
Today, Ren and I enjoyed another Sunday doing nothing, by having brunch at the recently opened branch of La Creperie along Broadway Avenue. French crepes and coffee on a carefree, Sunday morning. Isn't that something?
La Creperie New Manila
The newest of five, the New Manila branch of La Creperie is located just off E. Rodriguez Sr. Avenue on Broadway, almost directly across the street from McDonald's.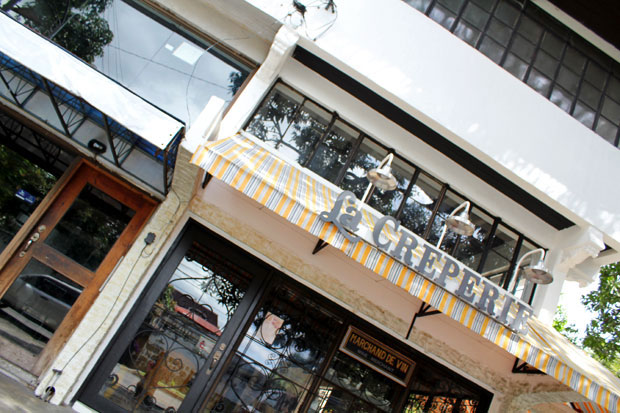 Bright and cheery with tables best-suited for two, the first floor can fit around 15-20 comfortably, maybe more. I'm not sure how many the second floor can seat because it wasn't open at the time.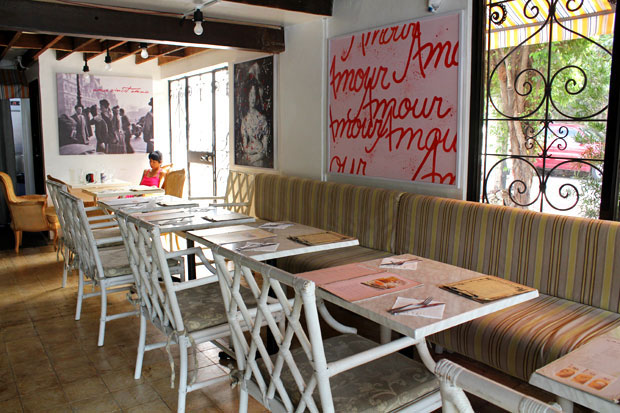 Charming, rustic, and unpretentious, the way a neighborhood breakfast place should be. I'd feel just as comfortable coming here in cargo shorts and sandals as I would in pressed khakis and loafers.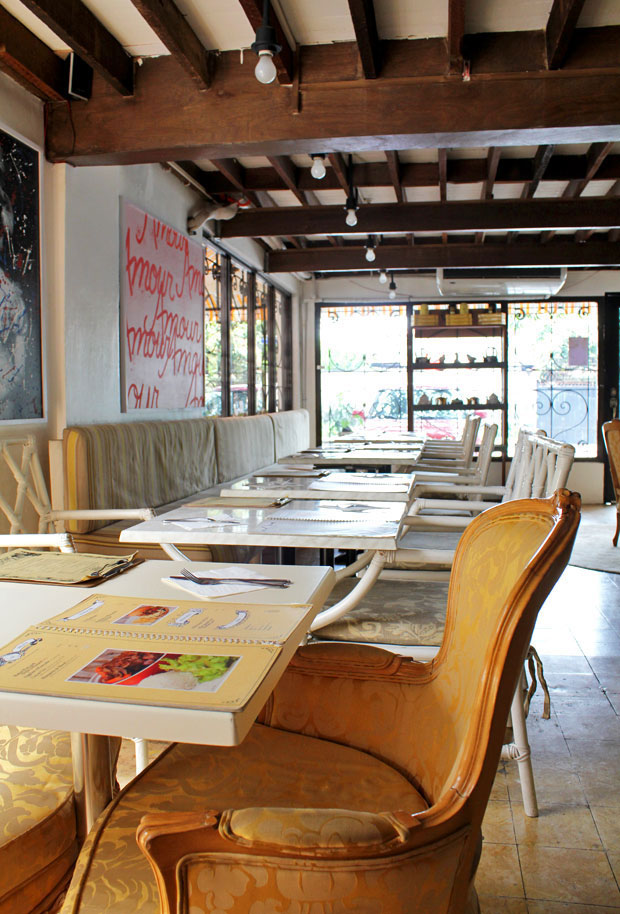 Chorizo, Herbed Cheese & Tomato Tartine – PHP 245 – Open-faced sandwich made with French bread and served with a side salad
Smokey chorizo, creamy cheese, diced tomatoes, and a runny, perfectly poached egg on top of good, crusty, chewy French bread. What's not to love in this picture?! The salad was a nice accompaniment as well, its vinaigrette cutting the richness of the yolk beautifully.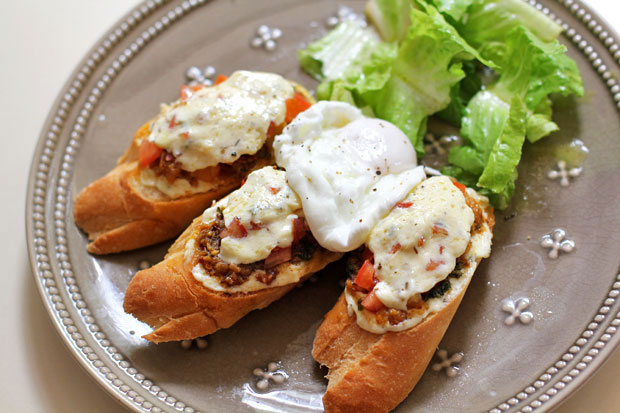 Savoyarde Galette de Sarrasin – PHP 395 – Raclette cheese, Hungarian sausage, bacon, marbled baby potatoes, cornichons, and pickled onions on buckwheat crepe
Though I haven't had it in a while, I love raclette, and this crepe reminded me of just how much. Carefully preparing a perfect bite each time, the combination of flavors and textures of the raclette cheese, buckwheat crepe, baby potatoes, gherkins, and pearl onions was intoxicating. The sausages and lardon were good too, though I would have been just as happy without them. So fucking good.
That's it, I want a raclette grill at home. 😈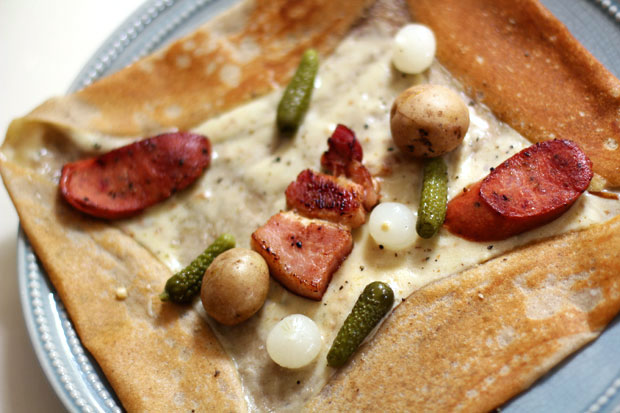 Banana Foster Crepe – PHP 155 – Bananas stewed in rum, butter, and sugar, then topped with vanilla ice cream
Of course, you can't leave a creperie without enjoying a sweet crepe. For dessert, we had this delicious banana foster topped with a scoop of vanilla ice cream. Perfect with our Caffè Americano, it was a fitting end to a splendid Sunday morning doing nothing.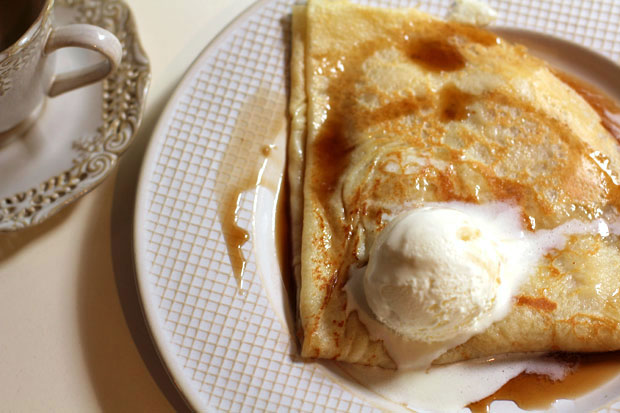 My fingers trace your every outline, paint a picture with my hands. And back and forth we sway like branches in a storm, change of weather, still together, when it ends. ♥
Thank you Sunday. I'm officially ready for the week. 😉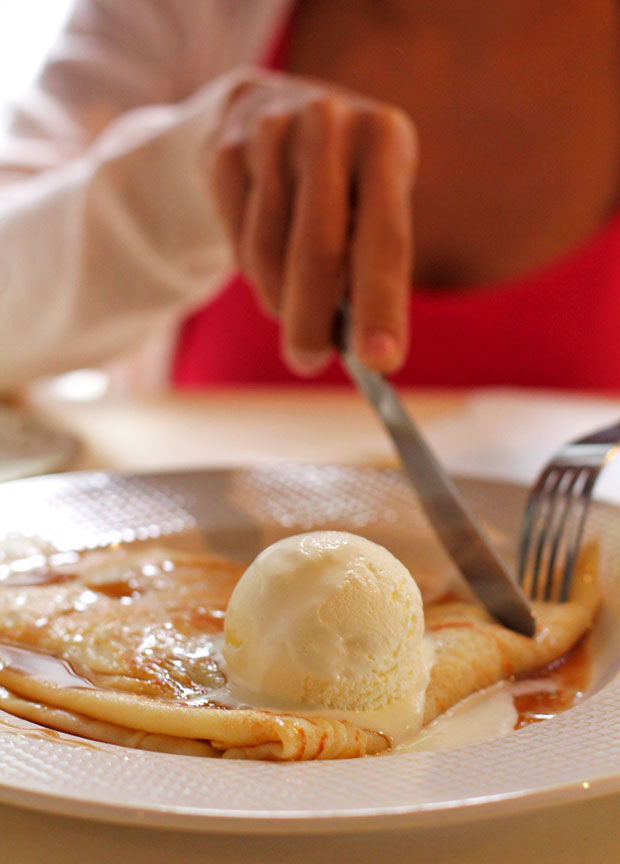 What about you? What are some of your favorite Sunday nothing pleasures? 🙂
La Creperie New Manila
Broadway Avenue corner 14th Street, New Manila, Quezon City
Tel: 705-7100 / Mobile: 0943-517-7041
Facebook: LaCreperiePH
Email: [email protected]
Operating Hours: Mon-Sun 11AM-10PM
La Creperie Little Baguio
403 F Calderon St, Little Baguio, San Juan
Tel: 570-1788
Operating Hours: Mon-Thurs 8AM-10PM / Fri-Sun 8AM-11PM
La Creperie Eastwood Mall
Second Floor, Eastwood Mall, Libis, Quezon City
Tel: 709-2446
Operating Hours: Sun-Thurs 11AM-10PM / Fri-Sat 11AM-11PM
La Creperie Robinsons Galleria
Level 2, Robinsons Galleria, Ortigas, Quezon City
Tel: 477-7089 / Mobile: 0932-404-0863
Operating Hours: Sun-Thurs 10AM-9PM / Fri-Sat 10AM-10PM
La Creperie Shangri-La Plaza Mall
Floor 2, Shangri-La Plaza, Ortigas Centre, Mandaluyong City
Tel: 584-6540 / Mobile: 0933-549-0068
Operating Hours: Mon-Thurs 11AM-9PM / Fri 11AM-10PM / Sat 10AM-10PM / Sun 10AM-9PM