It's been ages since I last ate at a dampa*. Before today, my last dampa experience was in Greenhills over two decades ago, in a structure across Unimart where that huge, gaudy Gloria Mari's now stands. Popular in the mid-80s, it wasn't even a true dampa, but more a restaurant with a dampa concept, where diners would take their shopping cart, peruse the many tanks of live seafood, then have their purchases cooked in any number of ways. I remember always asking for an eel, cooked with teriyaki sauce, unagi-style. Yum. 🙂
Ever since I started this blog, I've been meaning to visit Farmer's Market in Cubao, but I just haven't found the time. Thanks to Ren's brother Randy visiting from California, I got my wish today, finally getting the opportunity to photograph the wet market whilst indulging in this grand seafood feast fit for a king.
It's funny. Before this blog, I would never have been caught dead at a wet market. It's crowded, filthy, stinky, and disgustingly wet. Not exactly the kind of place where a bachelor, who doesn't cook, would want to spend a Friday afternoon. Today, with my DSLR in hand and this blog in my thoughts, exploring a wet market has become as much fun for me as window shopping at the mall. Now if I can only find that eel…
*For the uninitiated, a dampa is basically a wet market with a restaurant that can cook the fresh meat or seafood for you in different ways.
The Feast
With a choice of proprietors who will do the marketing and cook the food for you, we took one of the private, air-conditioned function rooms upstairs and ordered everything conveniently from there. We chose Amolar's Seafood Paluto, who showed us the live, freshly marketed seafood first, before cooking them up. I didn't catch how much the seafood cost per kilo, but everything you see below, with marketing charges, came out to around PHP 4,800. The entire meal, with paluto (cooking) fees, amounted to just over PHP 7,000. For an all-seafood feast boasting six whole crabs, that's pretty damn good I would say. 🙂
The private function rooms with karaoke machines cost a little extra, the charges for which are detailed below. (click to enlarge)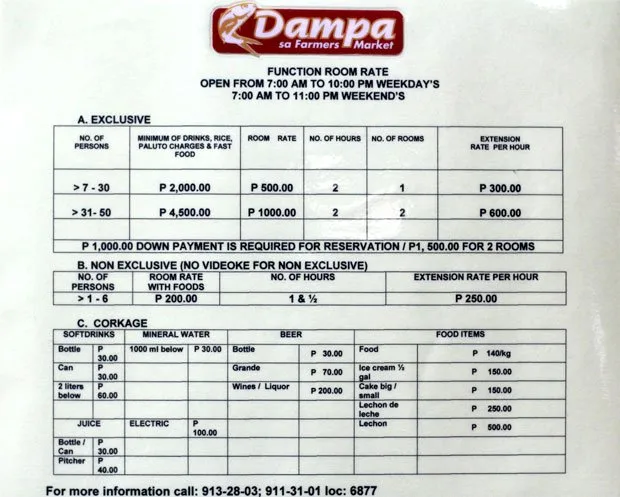 Clams
A tub of clams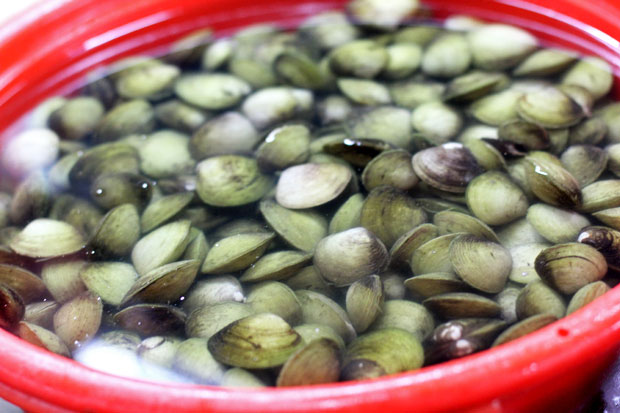 Halaan (Clam) Soup – PHP 95 per 1/2 kilo / PHP 130 per kilo (paluto charge)
Clams are one of my least favorite bivalves, though they do make a tasty soup.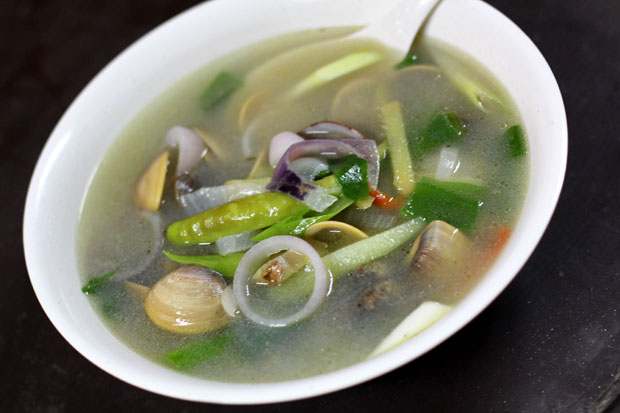 Crab
♥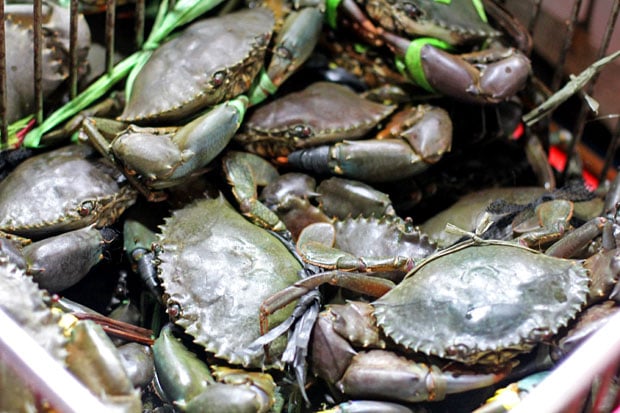 Deep-Fried – PHP 95 per 1/2 kilo / PHP 160 per kilo (paluto charge)
I LOVE crabs, especially when they're just deep-fried like this. Fresh as can be, the flesh was so sweet and succulent, with many of the crabs bursting with aligue (crab roe). I don't know what it's called, but I love that thin, transparent sheet of membrane stuck to the inner lining of the shell as well. Dee-licious!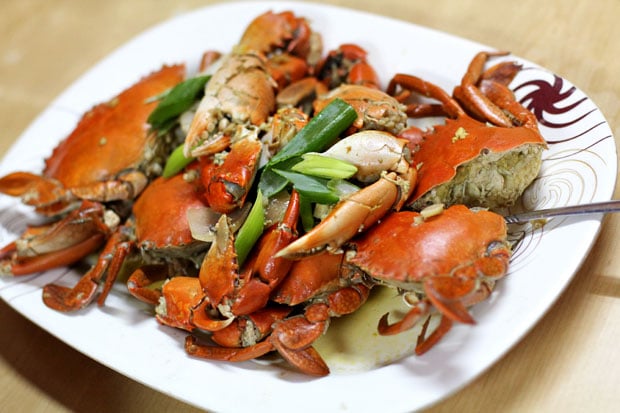 Ginataan (Cooked with coconut milk) – PHP 95 per 1/2 kilo / PHP 150 per kilo (paluto charge)
As mentioned above, I prefer roast or deep-fried crab so I didn't touch this. I tasted the veggies in coconut milk though and they were really good. Very rich and creamy. If I remember correctly, this was one of the dishes that Ivan Man Dy ordered for Anthony Bourdain on that Philippine episode of No Reservations, filmed in part, if I'm not mistaken, at this very dampa.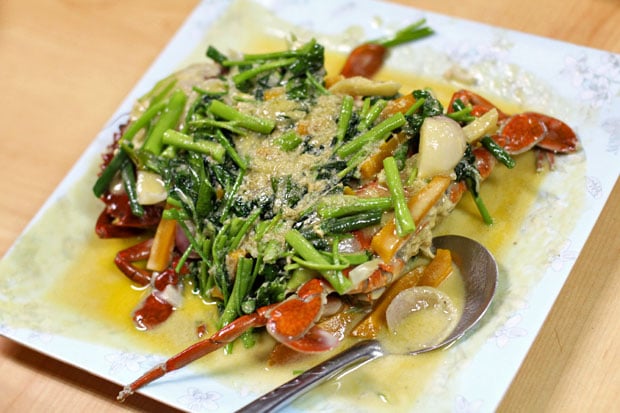 Prawns
Sweet, sweet suahe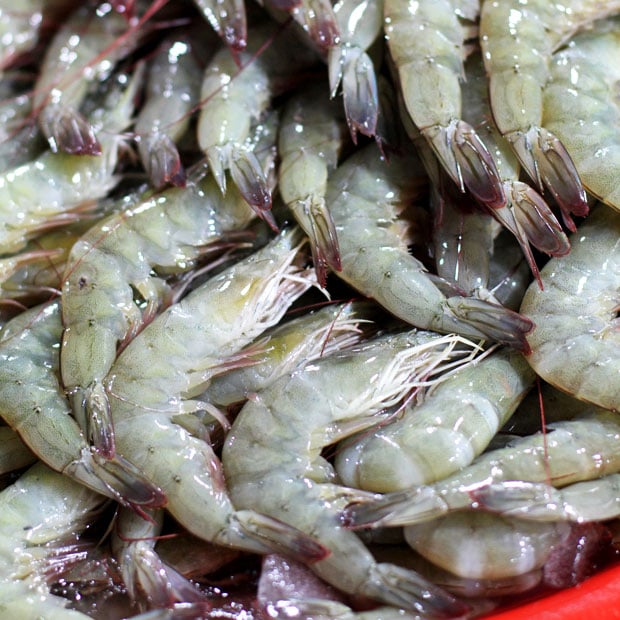 Halabos (Steamed) – PHP 95 per 1/2 kilo / PHP 150 per kilo (paluto charge)
Sweet, succulent, and perfectly steamed, these were so so good, especially when dipped in a chili soy concoction. ♥

Lapu-Lapu
Unless it's a shark, I can't identify fish to save my life. I think the steamed, reddish-scaled fish below is Lapu-Lapu, but I'm not sure.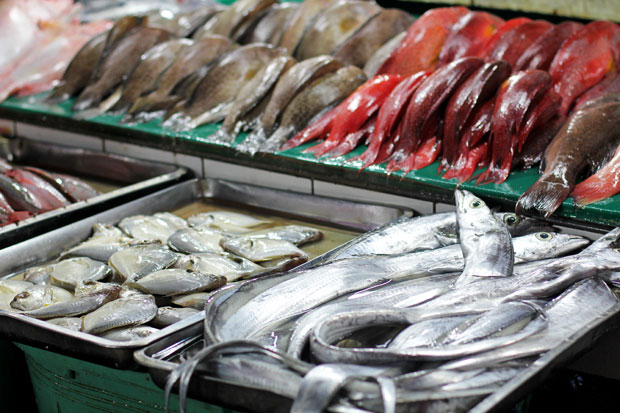 Steamed with Mayo and Tausi – PHP 95 per 1/2 kilo / PHP 160 per kilo (paluto charge)
This was pretty good, soft and succulent, though I'm not a fan of mayo so I was happy with just one bite.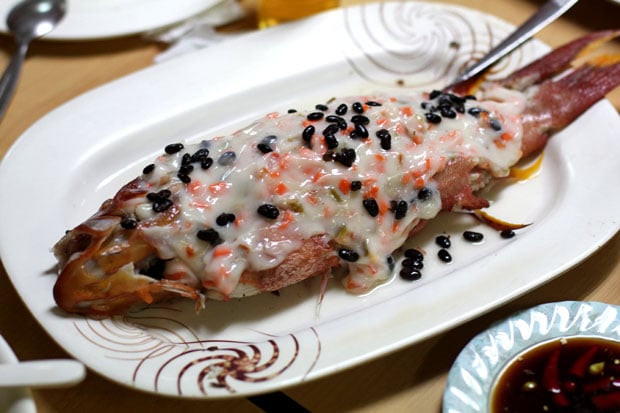 Scallops
The shape of the shell looks a little different, so I'm not sure if these were the same scallops that we ate, but they're close enough.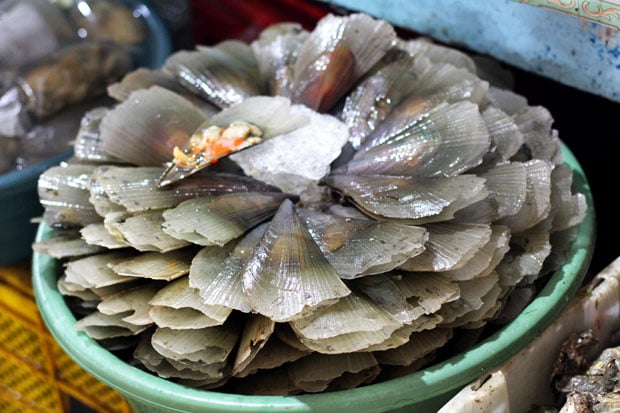 Baked with Cheese Sauce – PHP 100 per 1/2 kilo / PHP 170 per kilo (paluto charge)
Sobraaaaaang cheeeeeesyyyyyy! 😀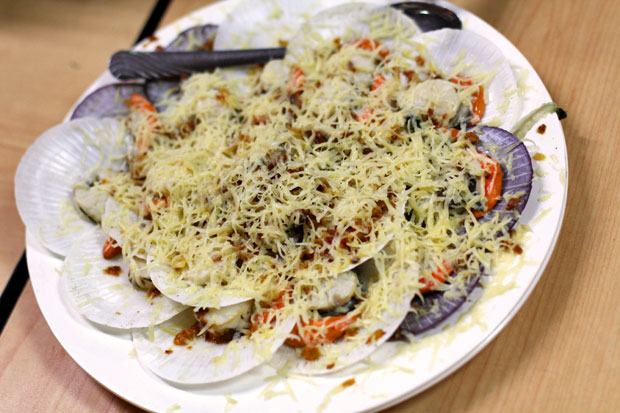 Squid
Architeuthis, is that you?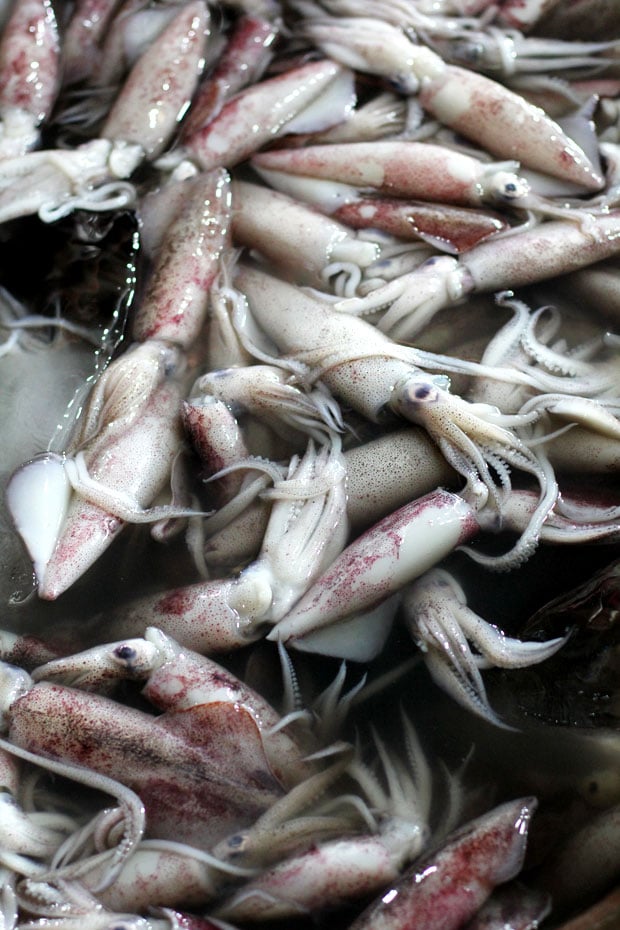 Stuffed – PHP 95 per 1/2 kilo / PHP 160 per kilo (paluto charge)
When properly cooked and tender, squid and octopus are among my favorite foods. Stuffed with tomatoes and onions, this was no exception.

Catfish
Along with tilapia, these catfish would make a terrific candidate for aquaponic gardening.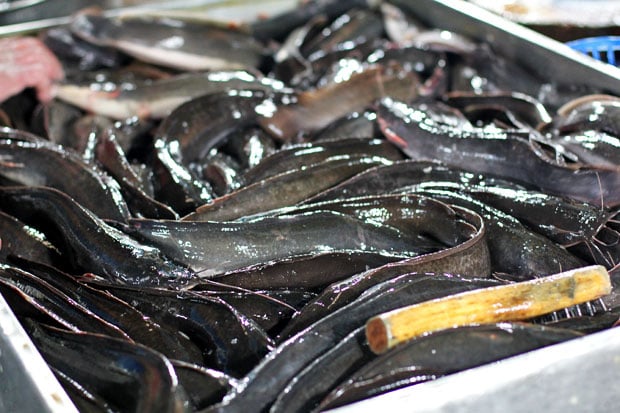 Inihaw (Grilled) – PHP 95 per 1/2 kilo / PHP 130 per kilo (paluto charge)
I don't eat catfish very often but I really enjoyed these. Soft with that characteristic catfish texture, they seemed to have been basted with a mildly sweet glaze. Very nice.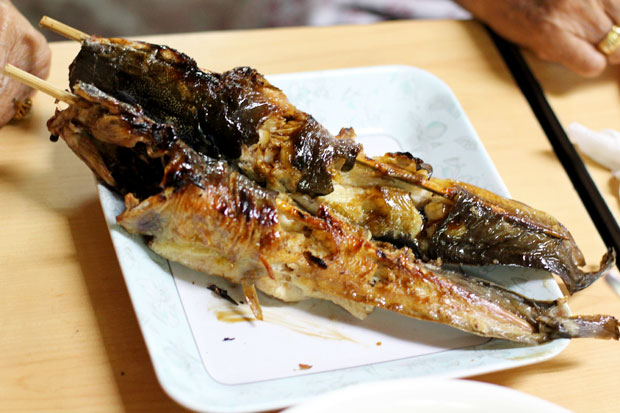 Tanigue (Mackerel)
Again, I can't tell my tanigue from my tang-ina, so it may or may not be in this picture.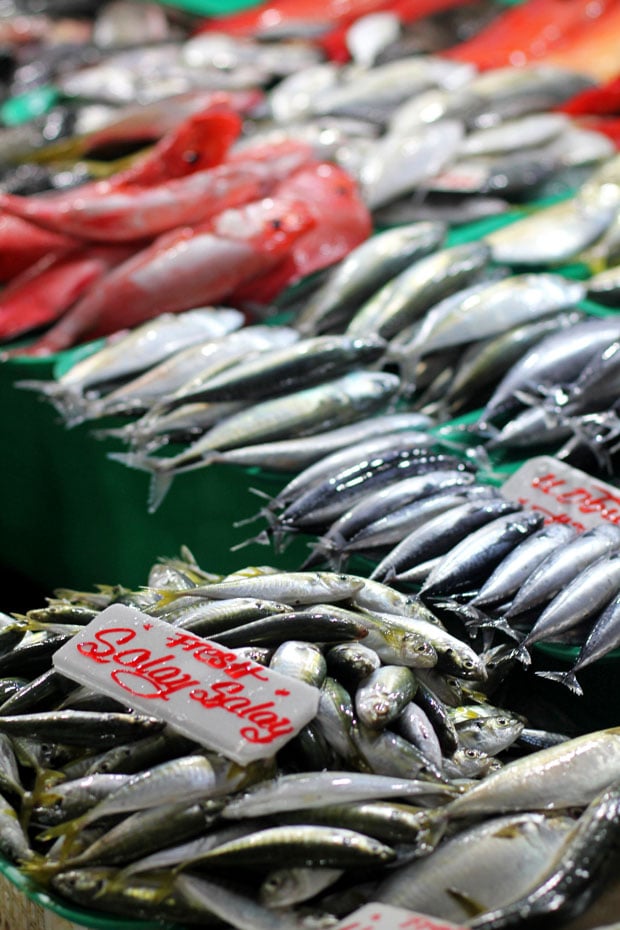 Steak – PHP 100 per 1/2 kilo / PHP 160 per kilo (paluto charge)
These were ok. I'm not a fan of fish steaks because I often find the flesh dry and overcooked, as was the case again here.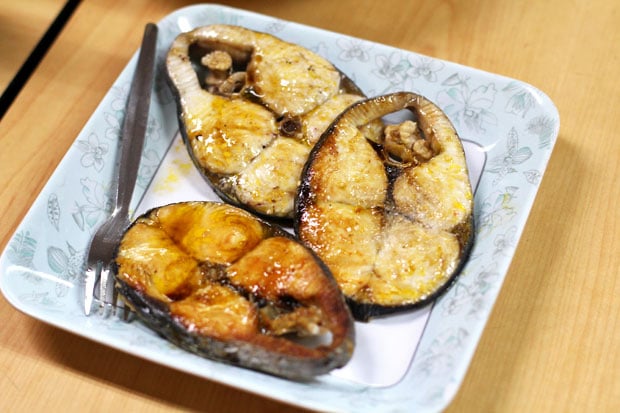 Alamang (Tiny Shrimp)
Eensie weensie shrimp used to make bagoong (fermented shrimp paste).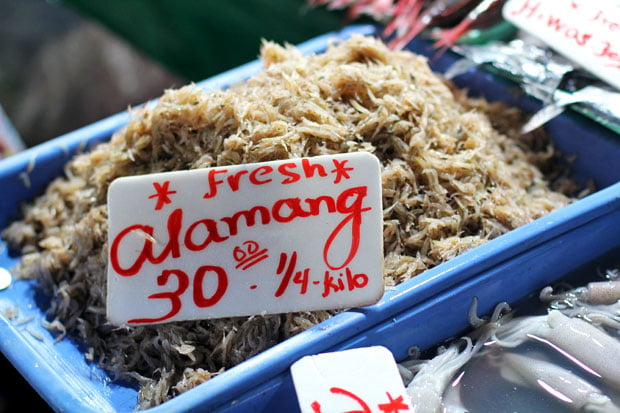 Obviously, they didn't make the bagoong with fresh alamang on the spot, so there are no paluto charges for this.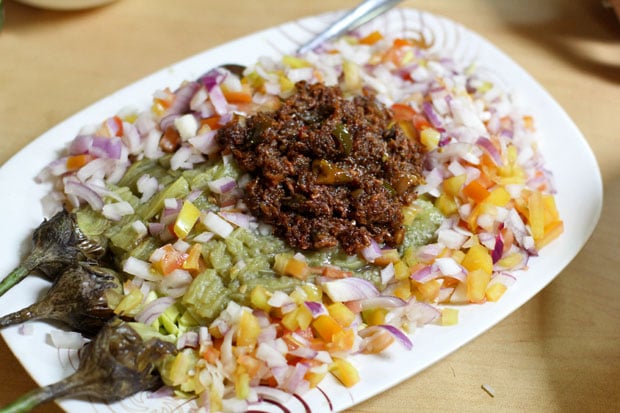 Though I didn't find my eel this time (nor fresh uni), I enjoyed this meal and experience tremendously. I love seafood, preferring it to land-based proteins, so this is the type of meal that really gets me excited. Most everything was sensational, though I especially enjoyed the succulent, deep-fried crab. It was so, so good, and I literally could have eaten it all day long. Seriously, what better place to get a variety of fresh, more affordable seafood than a dampa?
Anyone? 😀
Dampa sa Farmer's Market
Farmer's Market, Araneta Center, Cubao, Quezon City
Tel: 913-2803 / 911-3101 loc. 6877
Amolar's Seafood Paluto
#7 Dampa sa Farmer's Market, Araneta Center, Cubao, Quezon City
Tel: 437-2853
Mobile: 0909-902-3803 / 0909-468-9069
Email: [email protected]