As much as we love street food, we like to leave room for one fancy restaurant whenever we travel. It's our way of rewrading ourselves for all the hard work we do. There's nothing fancier than a restaurant with 3 Michelin stars and in Hong Kong, we had six places to choose from.
Number 28 on the 2016 list of Asia's 50 Best Restaurants, Bo Innovation is known for serving modern interpretations of Chinese cuisine. It's helmed by Chef Alvin Leung who likes to call himself "The Demon Chef". A self-styled rockstar chef known for his trademark sunglasses and tattoos, he uses molecular gastronomy techniques to blend Chinese cooking with Western ingredients to come up with a style of cooking known as "X-treme Chinese Cuisine."
When it comes to food, nothing assures you of quality like 3 Michelin stars. In a serious food city like Hong Kong, that's a lofty achievement so we went in today with the highest of expectations.
Save This on Pinterest!
No time to read this now? Click on the red save button and pin it for later!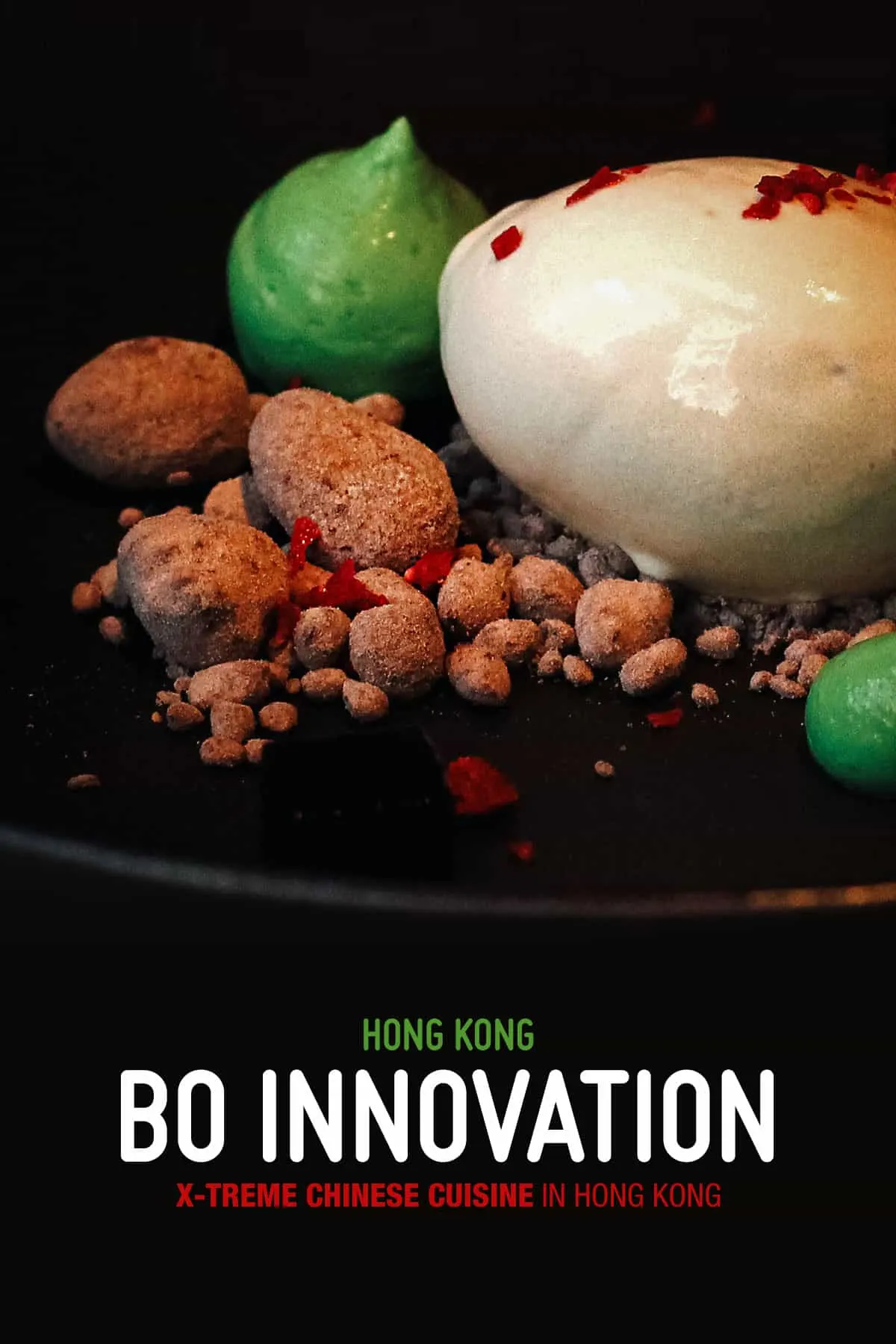 X-treme Chinese Cuisine
Bo Innovation is located on the second floor of the J. Senses building in Wan Chai. Don't be confused by that "1/F" in the sign. 1/F means second floor in Hong Kong. 😉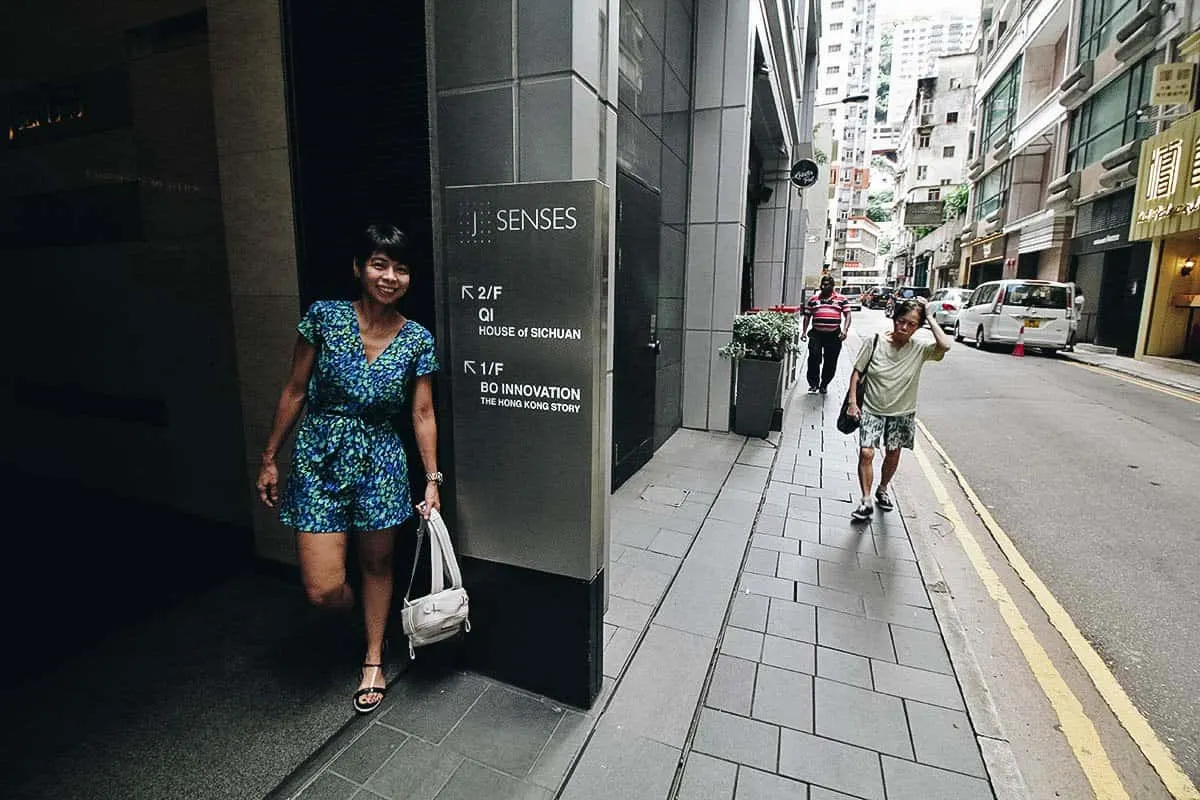 Soon as the elevator doors open, you'll be greeted by this neon MTR map.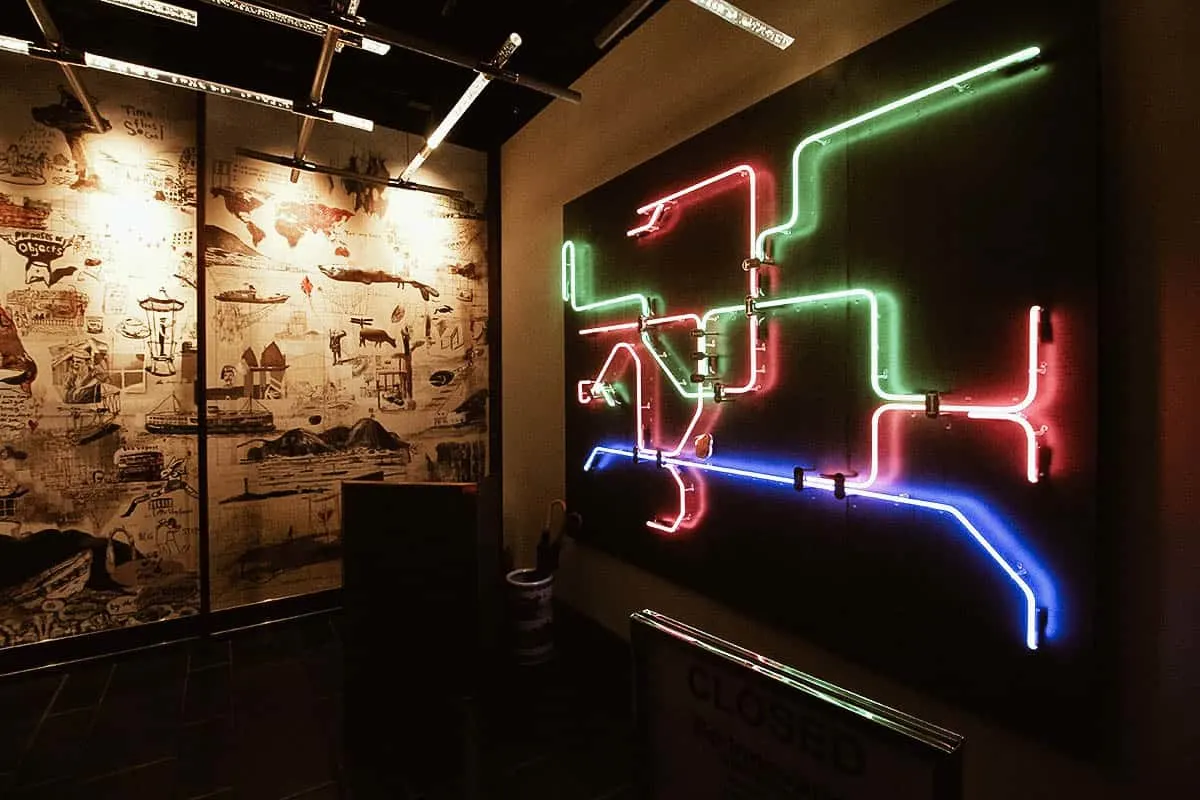 Interesting wallpaper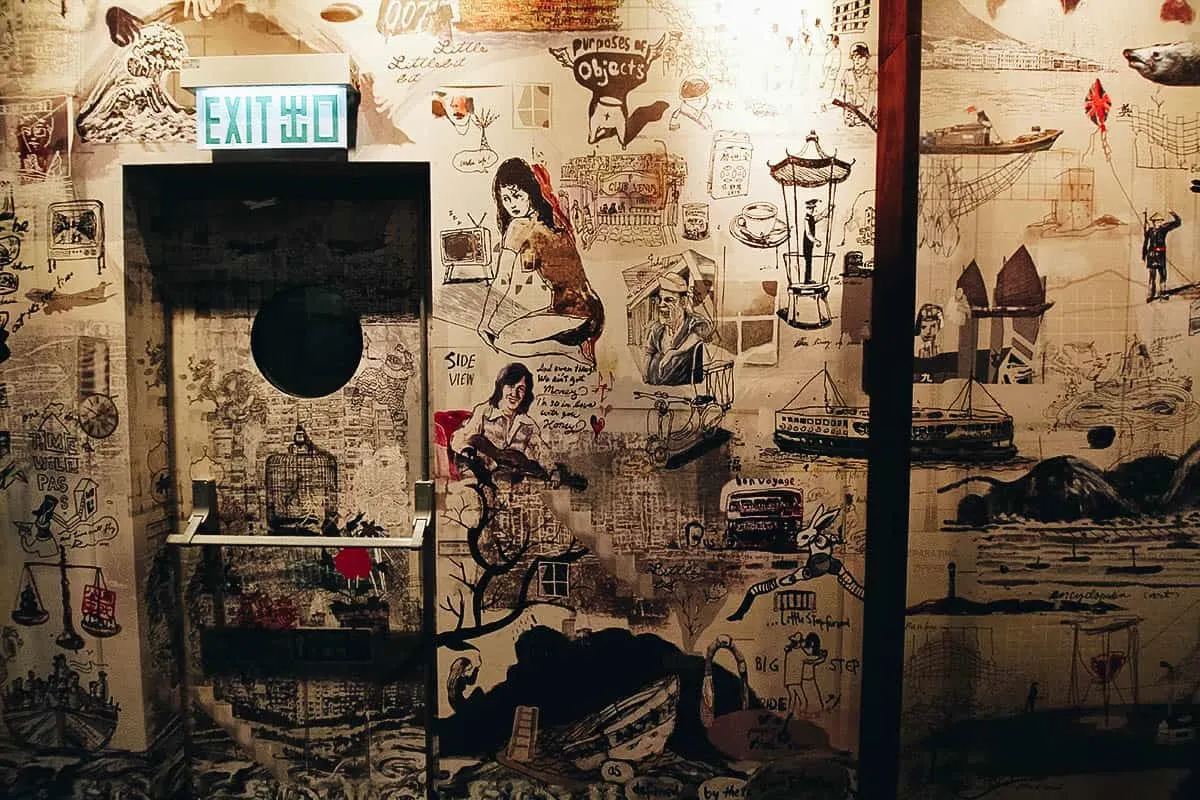 The restaurant has simple interiors with a partially open kitchen. There's Ren with her cousin Brooke.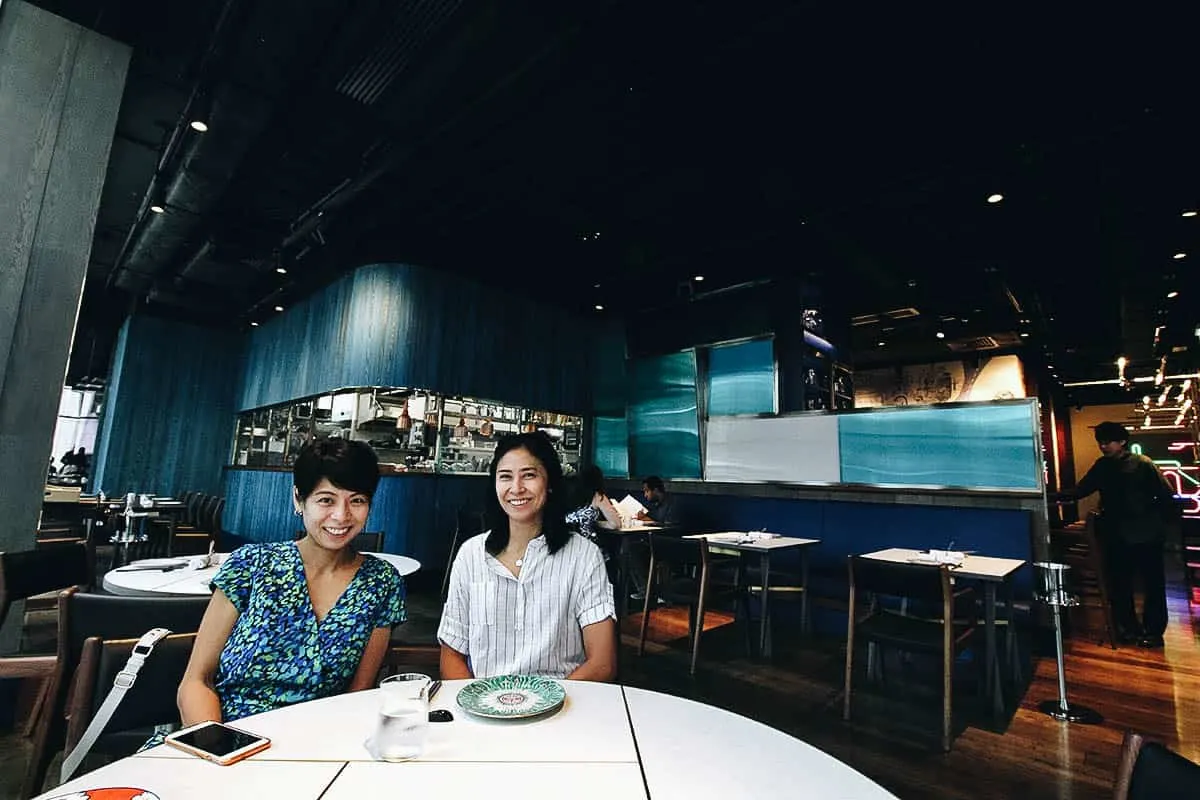 To start us off, they served us this appetizer which is a play on Hong Kong egg waffles. It's filled with Iberico ham and spring onion and made to resemble egg waffles though the texture is crisp like papadum. It's a fun appetizer presented in a cute way but none of us really liked it.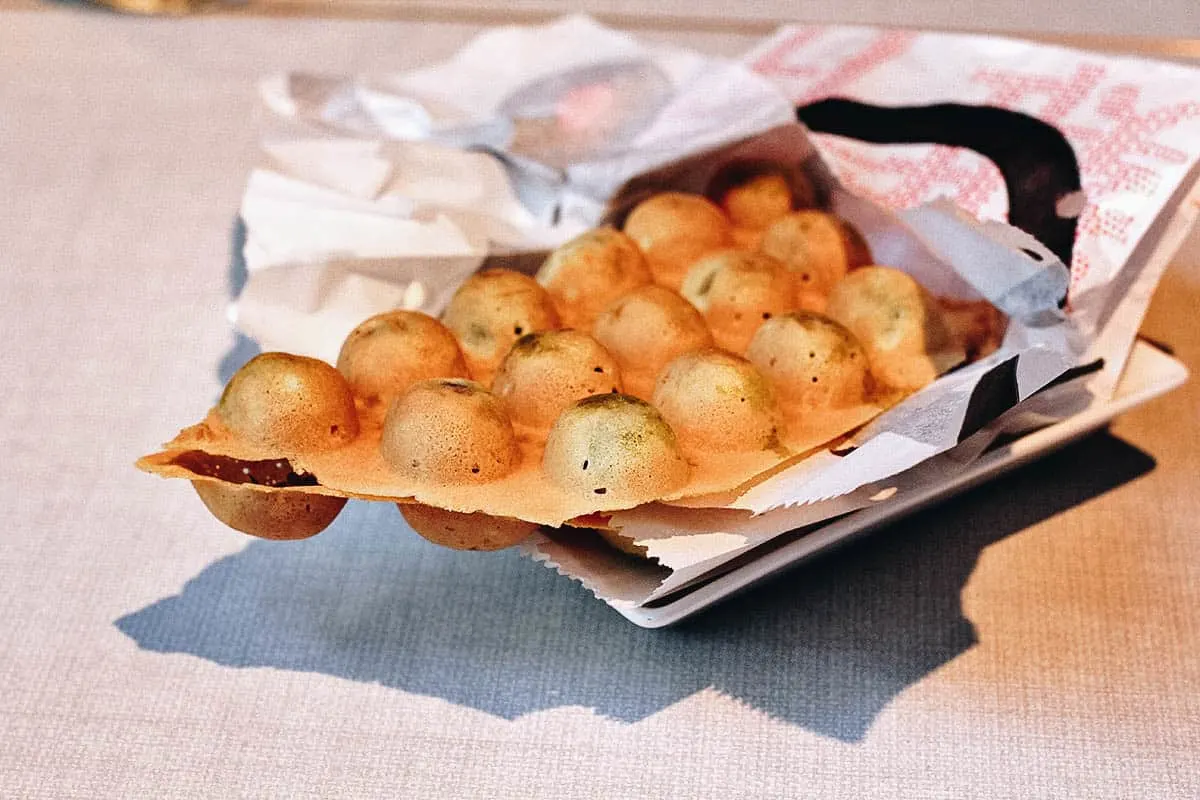 Molecular "xiao long bao" — HKD 90 each
One of their signature dishes, this molecular xiao long bao isn't part of the Lunch Set Menu but you can order it separately. If you've never had the traditional version, xiao long bao is a classic soup and pork filled dumpling. Instead of the usual dumpling wrapper, Bo Innovation uses algae jelly topped with a strip of preserved ginger to create their molecular version.
Ren and Brooke each had one and they said it burst easily and was filled with the same soup broth minus the pork. It's an interesting take on xiao long bao but apart from its novel concept, neither of them seemed particularly impressed by it. They both said they prefer the traditional version. At HKD 90 each, it's pretty pricey as well so I suggest just skipping this and sticking to the set menu.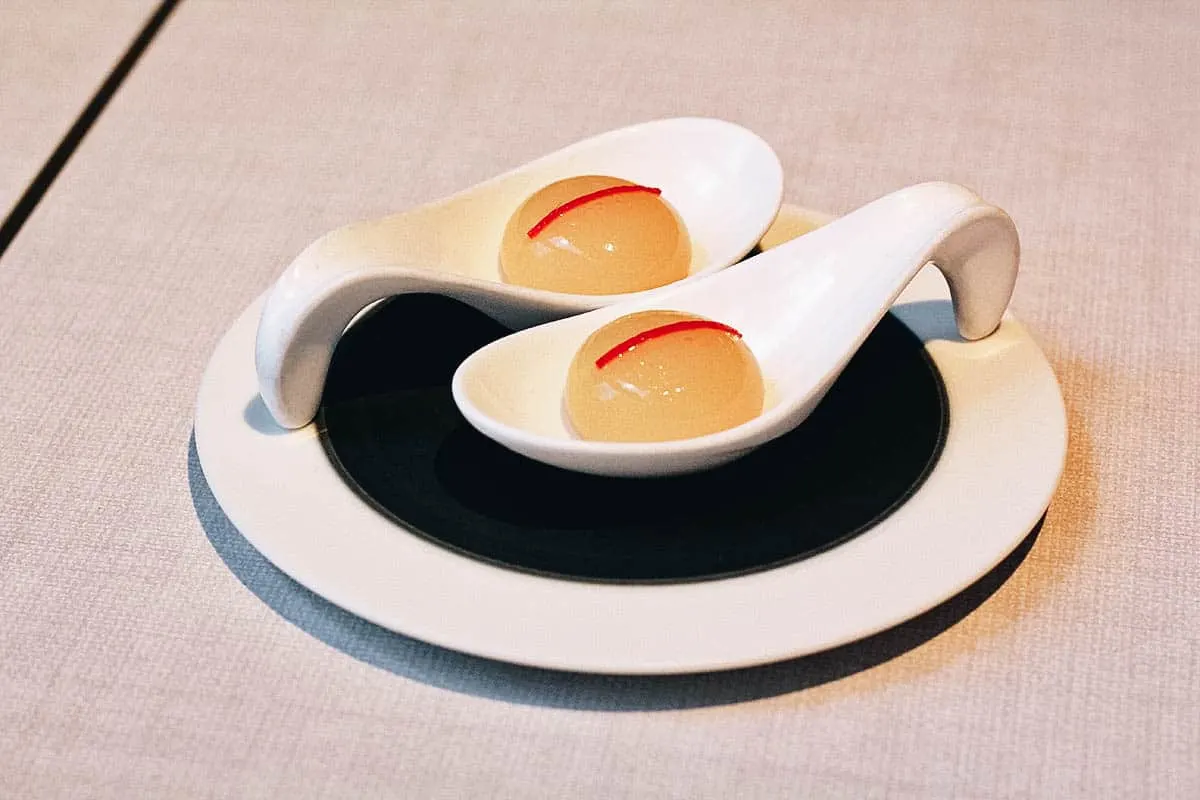 Cheers! (Doing the xiao long bao toast)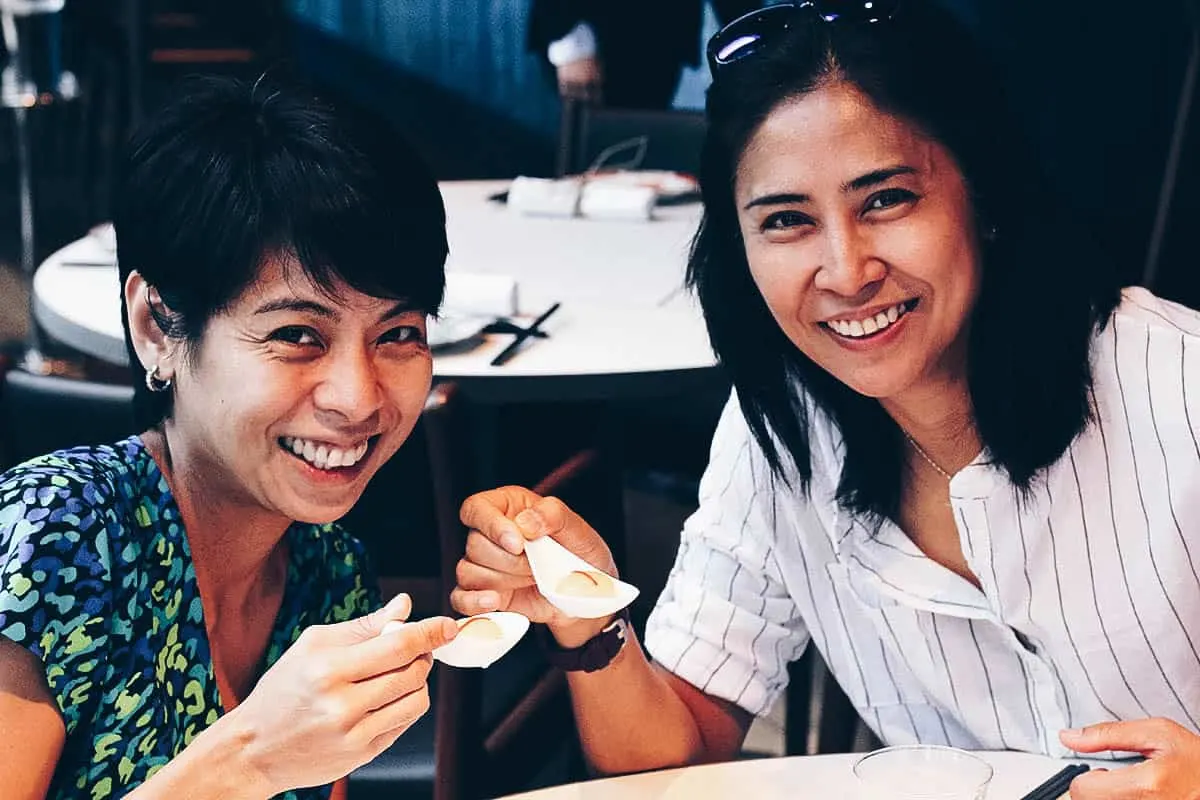 Lunch Set Menu
We may have been underwhelmed by the egg waffle starter and molecular xiao long bao but the set menu was very good. We went with the Lunch Set Menu which at the time cost HKD 480++. As of June 2018, it costs HKD 750++ while the Lunch Tasting Menu goes for HKD 900++. Follow the link to check out Bo Innovation's lunch and dinner tasting menus.
For the Lunch Set Menu, you have a choice of starter and main course and one dessert. There are several choices of starter and main course so we each went with a different one so we could sample as many as we could.
ENTREES (Starters)
Foie Gras — "Mui choy" caramel ice-cream, green apple, ginger bread
This was really good. I had never heard of mui choy before so I googled it. Apparently, they're preserved mustard greens. In this dish, it was presented in ice cream form together with green apple foam and ginger bread to impart a punch of umami, acidity, and texture to the foie gras. Delicious!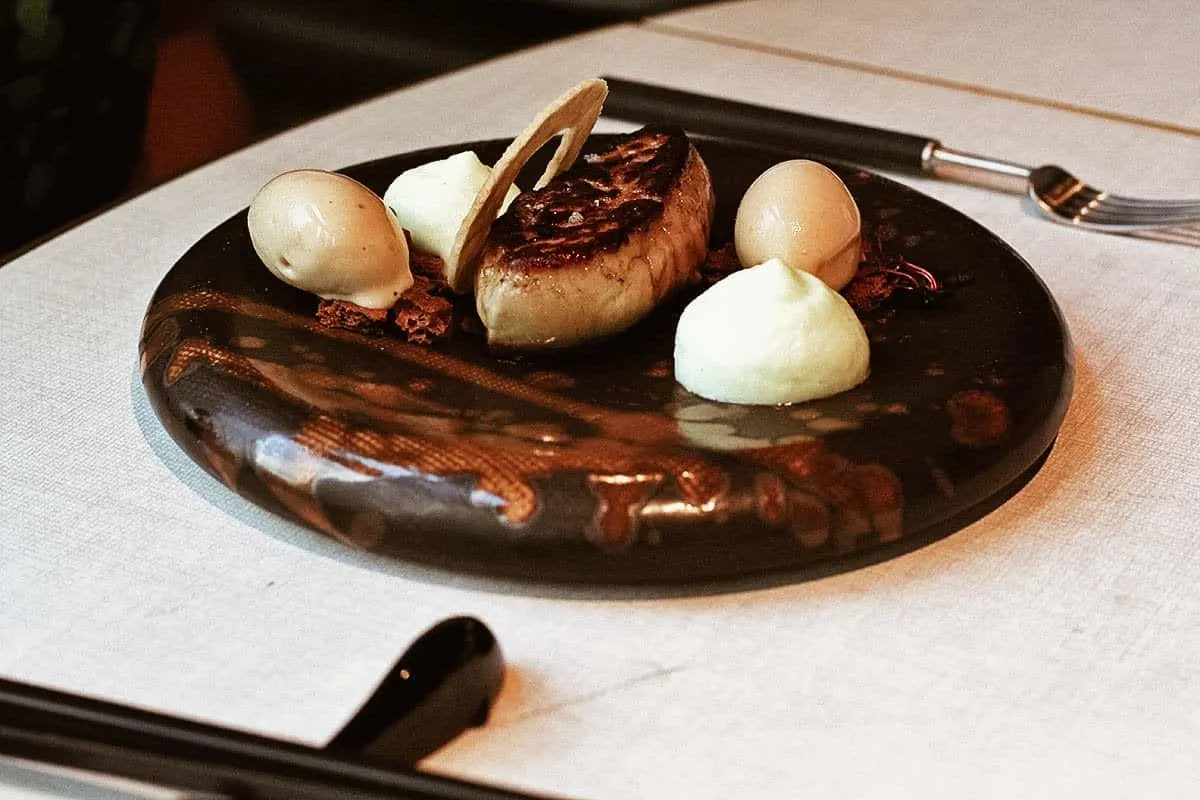 Scallop Ceviche — Shanghainese "jolo", woba, sugar snap peas, avocado, lemon
This was delicious too. It's made with lightly seared Hokkaido scallops marinated in jolo sauce, which is a fermented red rice vinegar. It's served with crisp rice puffs (woba), sugar snap peas, avocado, and lemon sour cream.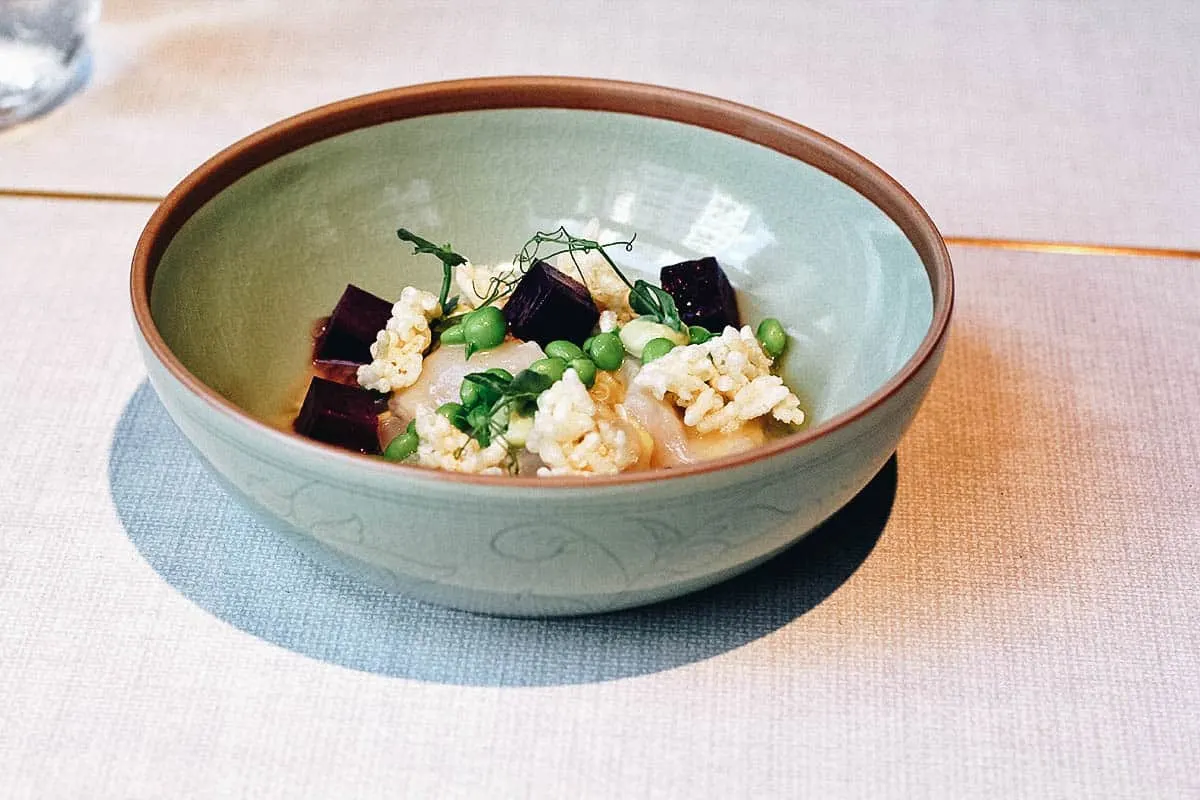 Langoustine (additional HKD 80) — Black truffle, cauliflower risotto, salty duck egg sauce, pickled cauliflower, english mustard foam, duck jus
I've been wanting to try langoustine for the longest time so I was happy to pay an additional HKD 80 to get it. It was everything I expected it to be and was my favorite dish of the meal. It tasted similar to lobster and was served with black truffle puree, cauliflower, mustard foam, salted duck egg sauce, and duck jus. The flavors were intense!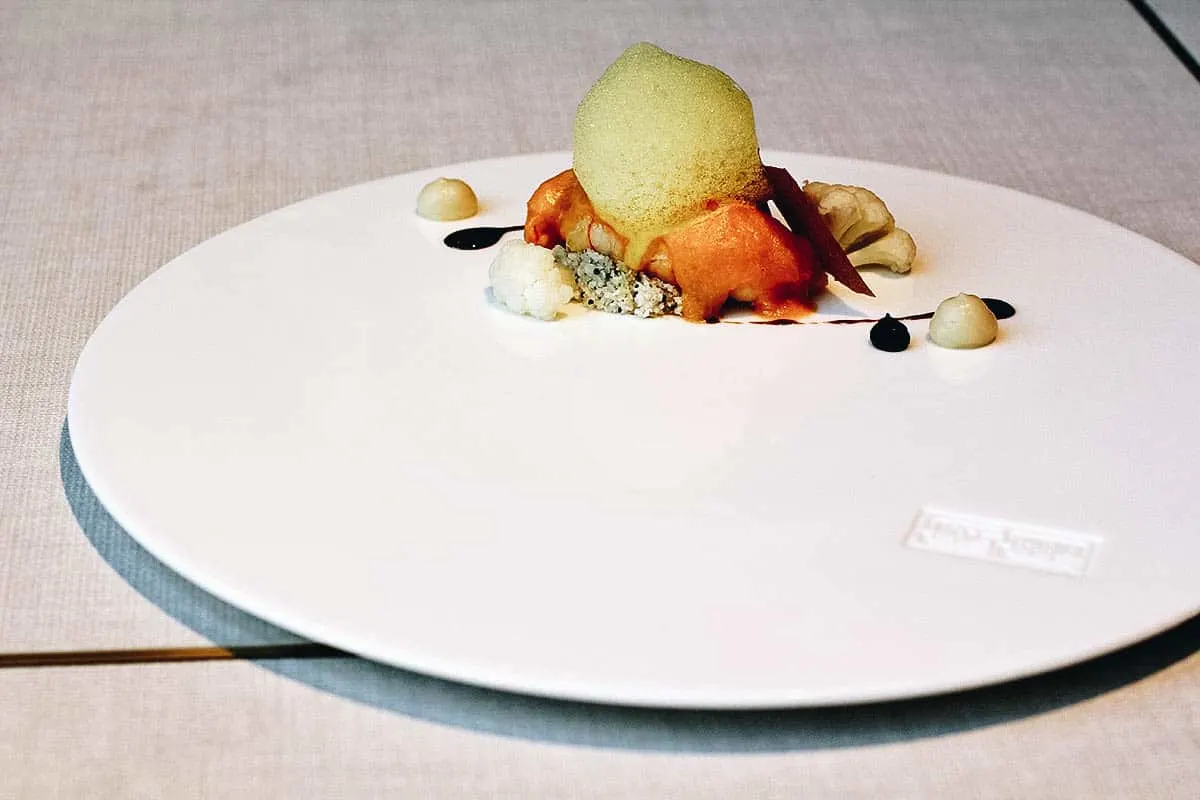 MAIN COURSES
Suckling Pig — Roasted sichuan pineapple, pork jus
Brooke likes pork so it didn't take her long to call dibs on this one. 😆 The skin was ultra crisp and the meat went really well with the roasted pineapple.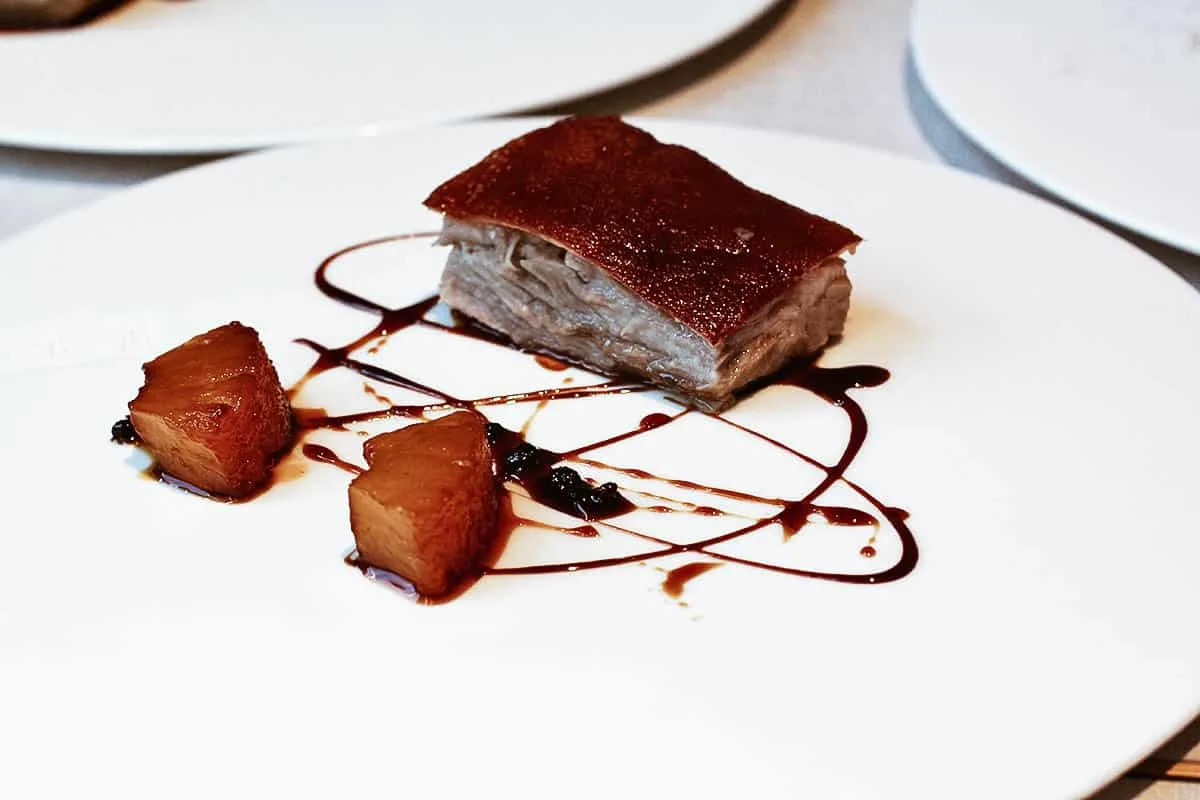 Pigeon — Shiitake mushroom cake, black carrot, sour plum pigeon jus
This dish was delicious and probably my favorite main course. If I remember correctly, it's French-style pigeon served with black carrot, shiitake mushrooms, and pigeon jus made with sour plum. The meat was nice and juicy and the jus imparted welcome sourness to the dish.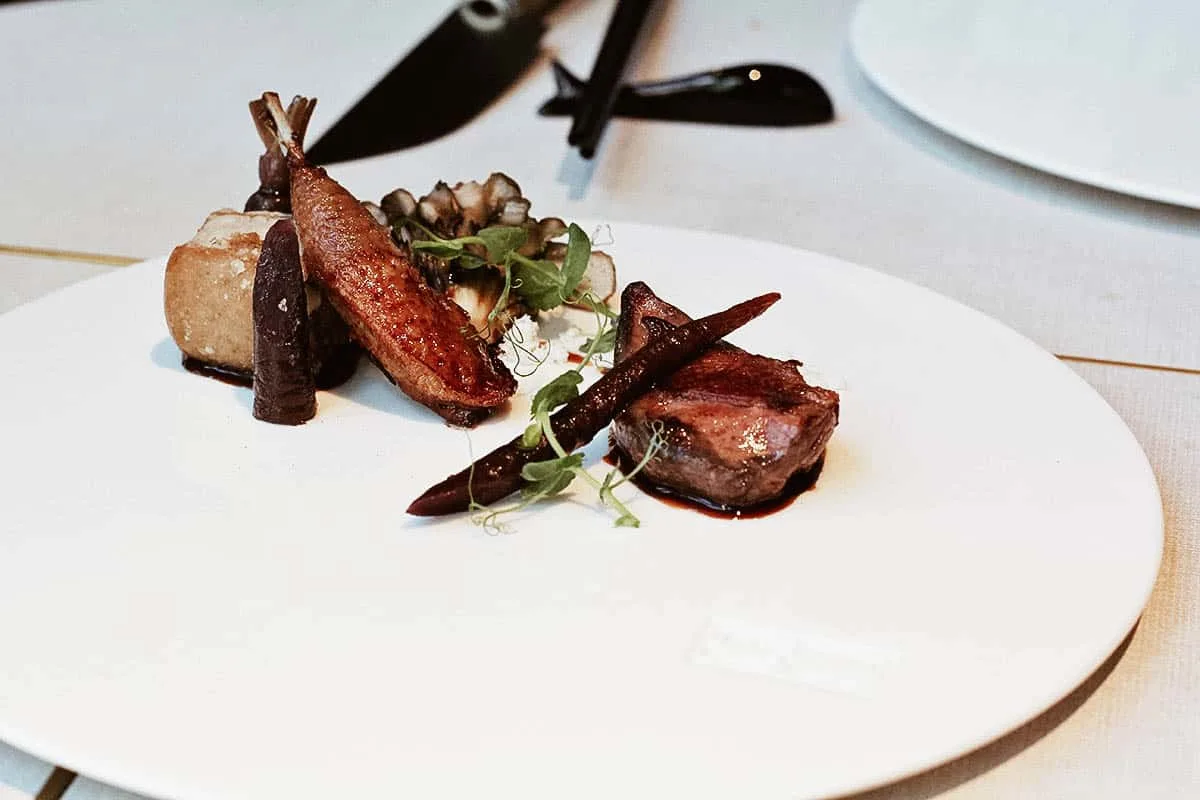 Red Mullet — Black bean, black garlic, yuzu, pepper, mullet roe, wild mushroom
This was really good too. The fish was perfectly cooked with ultra crisp skin served with wild mushrooms, mullet roe, and a bell pepper dusted with black bean powder.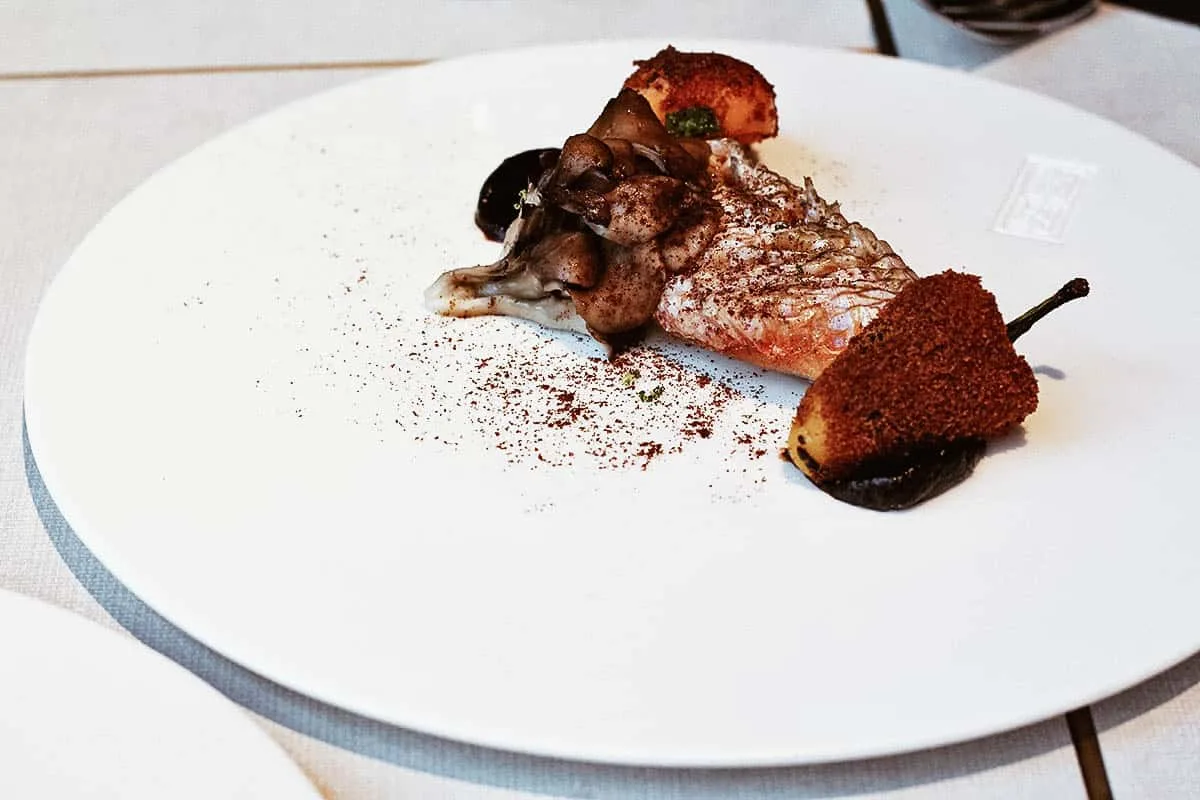 DESSERT
Coconut — Palm sugar, desiccated coconut chocolate, piña colada, cherry, pandan avocado
For dessert, we each had this dish of coconut ice cream with palm sugar, cherry, and pandan avocado. Before you could dig in, the server would come around and pour "piña colada snow" into your bowl for a little tableside theater.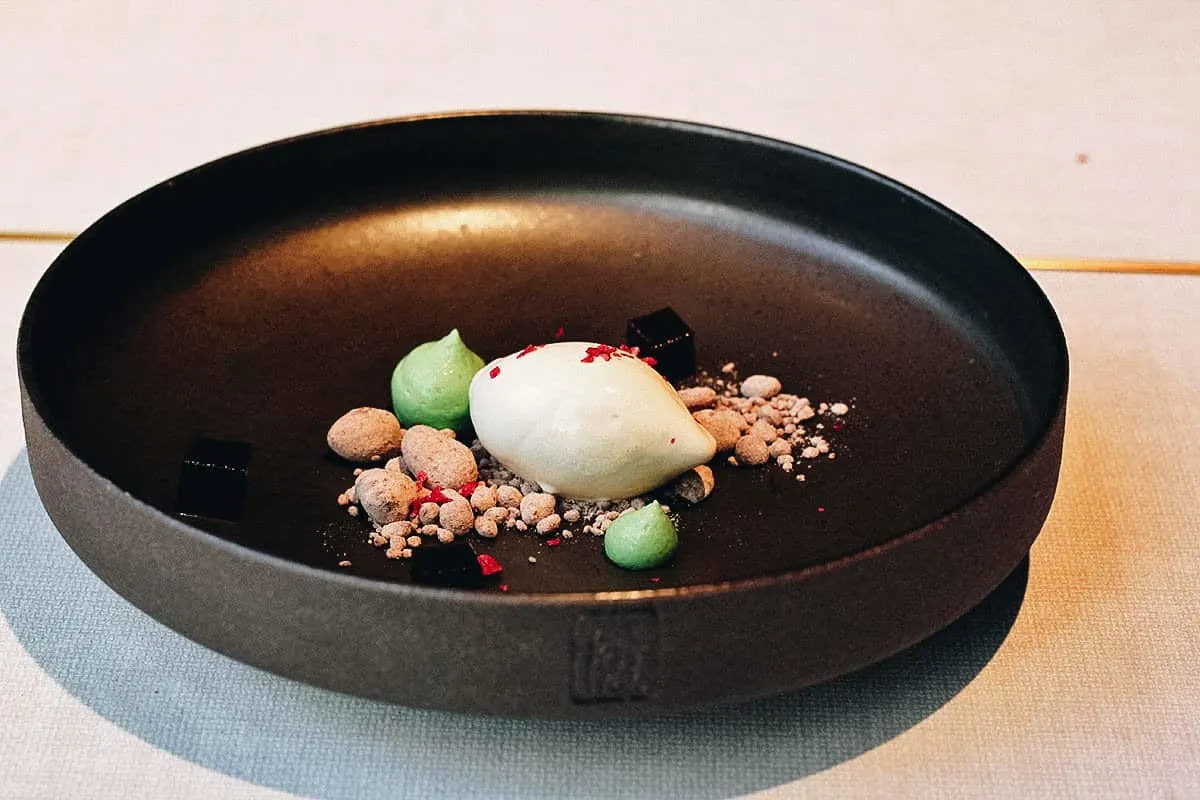 Here comes the piña colada snow!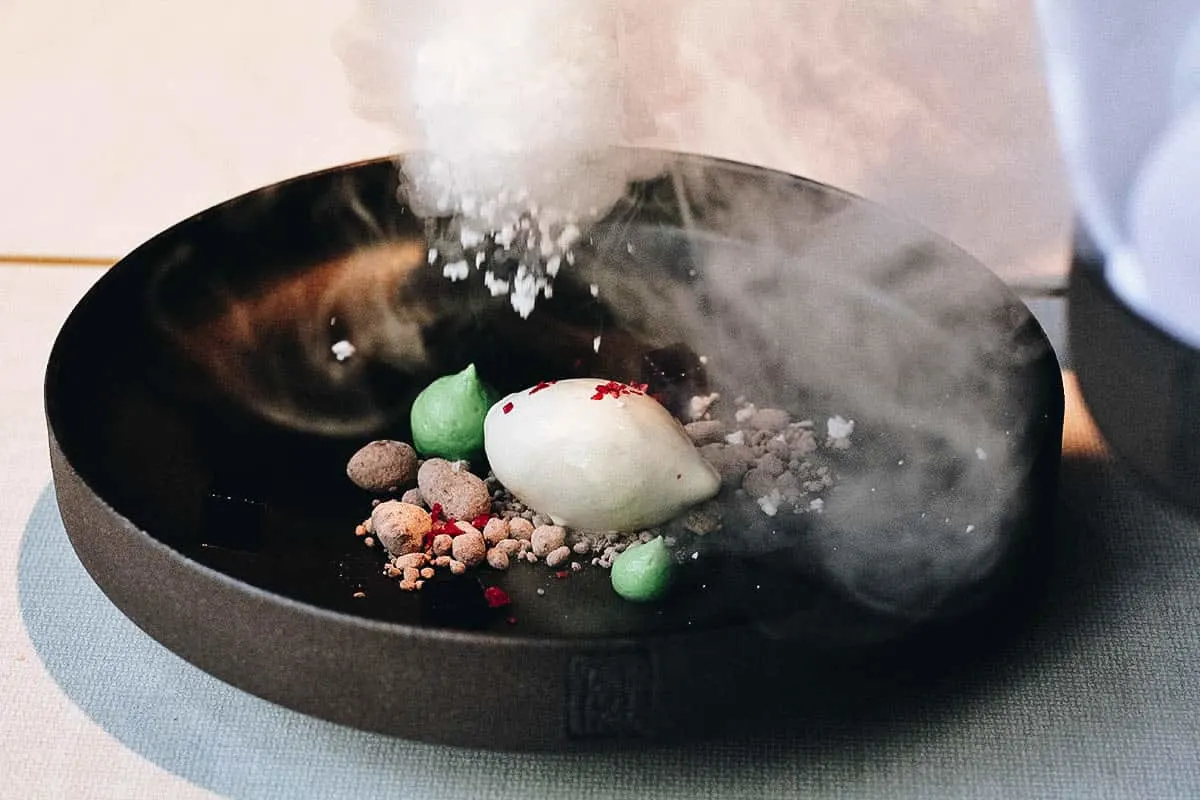 Watch your dessert go foggy for a few seconds…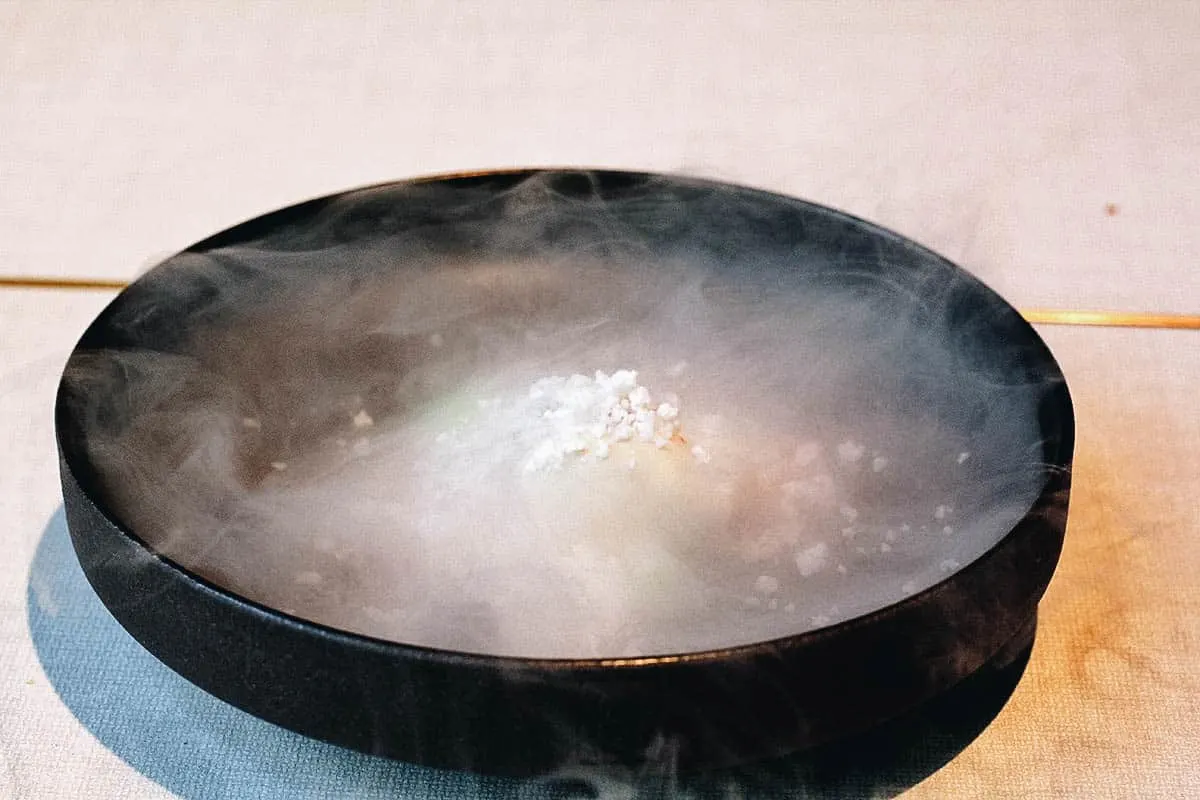 …and voila! A delicious dessert to end an impressive meal at Bo Innovation.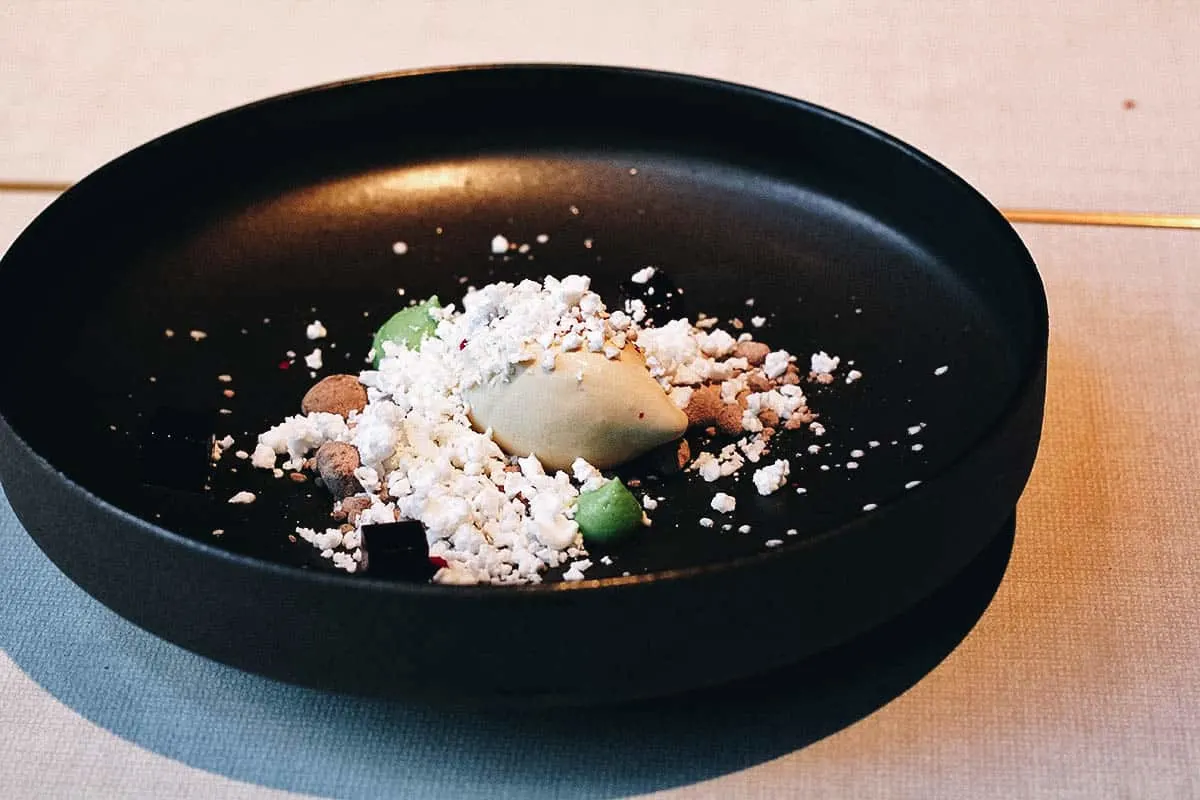 The food at Bo Innovation is delicious and beautifully presented but to be perfectly honest, we left a little underwhelmed. We had only eaten at one other 3-star Michelin restaurant before, at Fujiya 1935 in Osaka, and we were thoroughly wowed by that meal. We weren't as wowed by this one.
I don't know what it was. Overexpectation perhaps? Lackluster service? Compared to Fujiya 1935, the servers at Bo Innovation did a poor job in explaining the dishes. On top of that, I felt that our server was trying to sell us on the more expensive items on the menu which I found off-putting to say the least. That wasn't something I expected from a 3-star Michelin restaurant.
Or maybe the luster of molecular gastronomy had simply worn off? I did tell Ren as early as a couple of years ago that molecular gastronomy, as cool as it once was, didn't have the wow factor it once did. It felt gimmicky and lacking in soul, which at the end of the day is what the best food is all about. At least for me.
I don't know. Maybe I'm just overanalyzing here, but I did leave Bo Innovation thinking that I could have gone without it. I didn't feel that way after Fujiya 1935. But as always, dining experiences are subjective so if you have money to burn, then a meal here may be in order. To be clear, the food is very good. I just wasn't as impressed with the experience as I wanted to be.
Bo Innovation, Wan Chai, Hong Kong
Shop 8, 1/F The Podium, J. Senses, 60 Johnston Road, Wan Chai, Hong Kong
Tel: +852 2850 8371
Fax: +852 2851 0113
WeChat/WhatsApp: +852 9805 3047
Website: boinnovation.com
Facebook: BoInnovation
Email: [email protected]
Operating Hours: Lunch (Mon-Fri): 12NN-2PM / Dinner (Mon-Fri): 7PM-12MN, Sat: 6PM-12MN
Expect to spend: At least HKD 750++ per person
HOW TO GET THERE:
Take the MTR to Wan Chai station (Exit A3). Walk south on O' Brien Rd and make a right on Johnston Rd. Walk along Johnston Rd then make a left on Ship St. The elevator to Bo Innovation will be on your left.
Check out our Hong Kong food guide for more food recommendations.