Ren had been wanting to eat at Gallery VASK for the longest time. But as with many things on our to-do list, it got put off and put off and put off, until finally, the restaurant announced they were closing. Boo!
Luckily for us, they weren't closing for good. Instead, Chef Chele Gonzalez was only revamping the restaurant and coming up with a fresh new concept in Manila called Gallery by Chele. Building on the success of his first Philippine restaurant, it's basically VASK 2.0. It's even located in the exact same space, on the fifth floor of the Clipp Center in Bonifacio Global City.
We learned from our previous mistake so here we are, a mere month after they announced the opening of Gallery by Chele, eager to try the food we've been putting off for five years. We weren't waiting any longer.
Save This on Pinterest!
No time to read this now? Click on the red save button and pin it for later!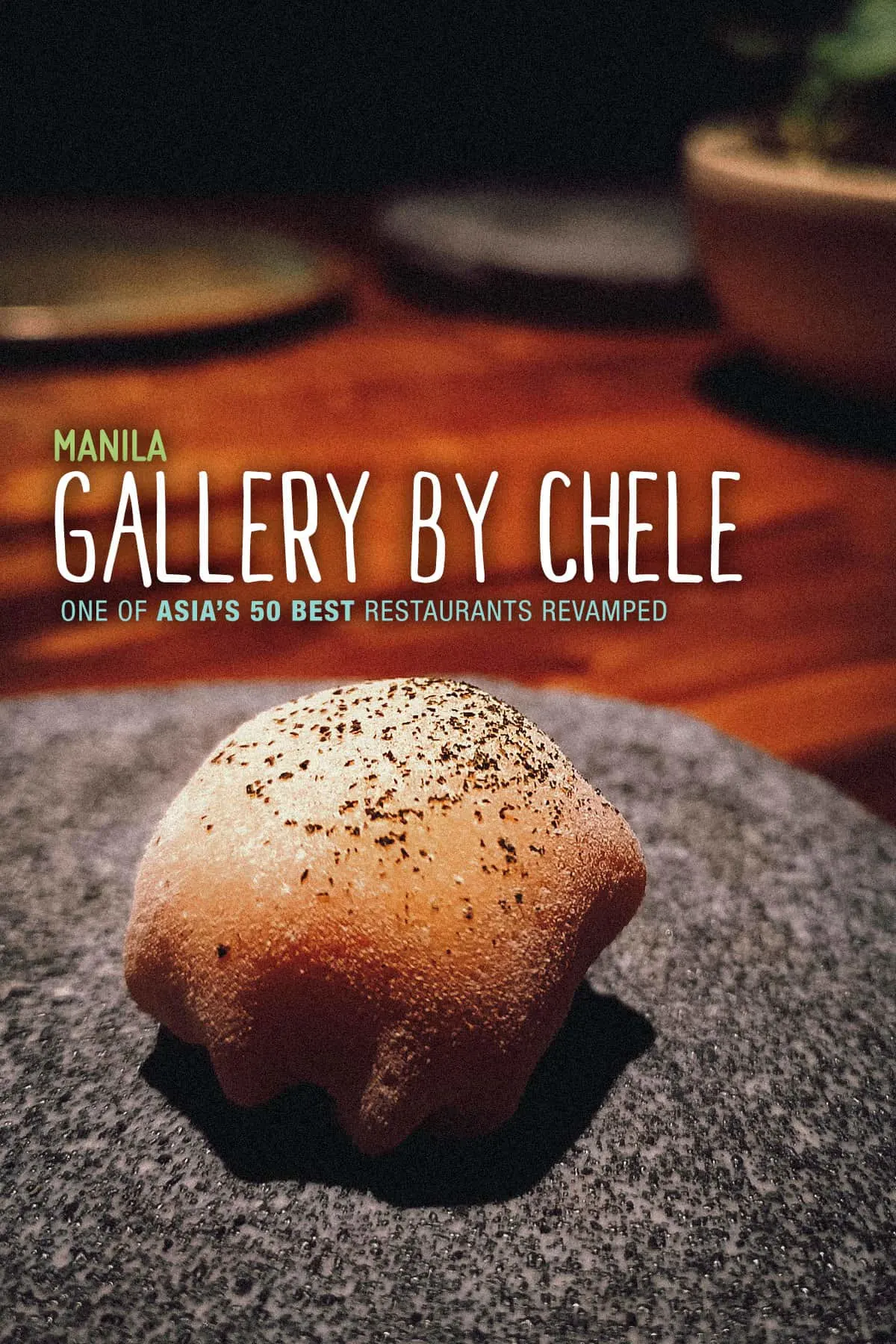 What is Gallery by Chele?
Gallery by Chele is Chef Chele Gonzales' newest restaurant concept in partnership with Chef Carlo Villaflor. In many ways, you can look at it as the second coming of Gallery VASK, Chef Chele's award-winning restaurant that was ranked as high as number 35 on this list of Asia's 50 Best Restaurants.
Like its predecessor, Gallery by Chele aims to celebrate the flavors and culinary customs of the Philippines by applying modern cooking techniques to local ingredients and presenting them in a more contemporary way.
Who is Chef Chele Gonzalez?
Born in Torrelavega in Northern Spain, Chef Chele Gonzalez received his culinary degree from Arxanda, Bilbao. He worked at some of the world's best restaurants like El Bulli, El Celler de Can Roca, and Mugaritz, before moving to the Philippines to open Gallery Vask in 2013.
He routinely tours the Philippines in search of local ingredients, learning the culture and traditions behind them and weaving them into his final dishes. This anthropological approach to cooking was evident in many of his creations tonight, from his breakfast longganisa bites with quail egg to his adlai soup to his octopus prepared "inasal-style".
Gallery VASK 2.0
I'm more a burger and street food kinda guy but I do enjoy treating myself and Ren to these fine dining experiences once in a while. I don't mind spending for it because to me, it's an experience. From top chefs like Gaggan Anand or Chele Gonzalez, it's an experience you won't soon forget.
What I do mind though, is the pretension that often comes with these fine dining experiences, which is why I appreciate restaurants in Manila like Gallery by Chele and RAW in Taipei. They offer haute cuisine minus the pretentious environment. Like RAW, I believe Gallery by Chele offers bistronomy cuisine – a culinary movement characterized by locally sourced, seasonal ingredients that are prepared using gastronomy techniques presented in a less intimidating, bistro-like fashion. In other words, it's unpretentious fine dining.
In fact, when we walked into this restaurant, that's exactly what we noticed. From its wood-heavy decor to its farm-to-table philosophy on food, it reminded us very much of André Chiang's RAW in Taipei. We knew we were in for quite the evening, and meal.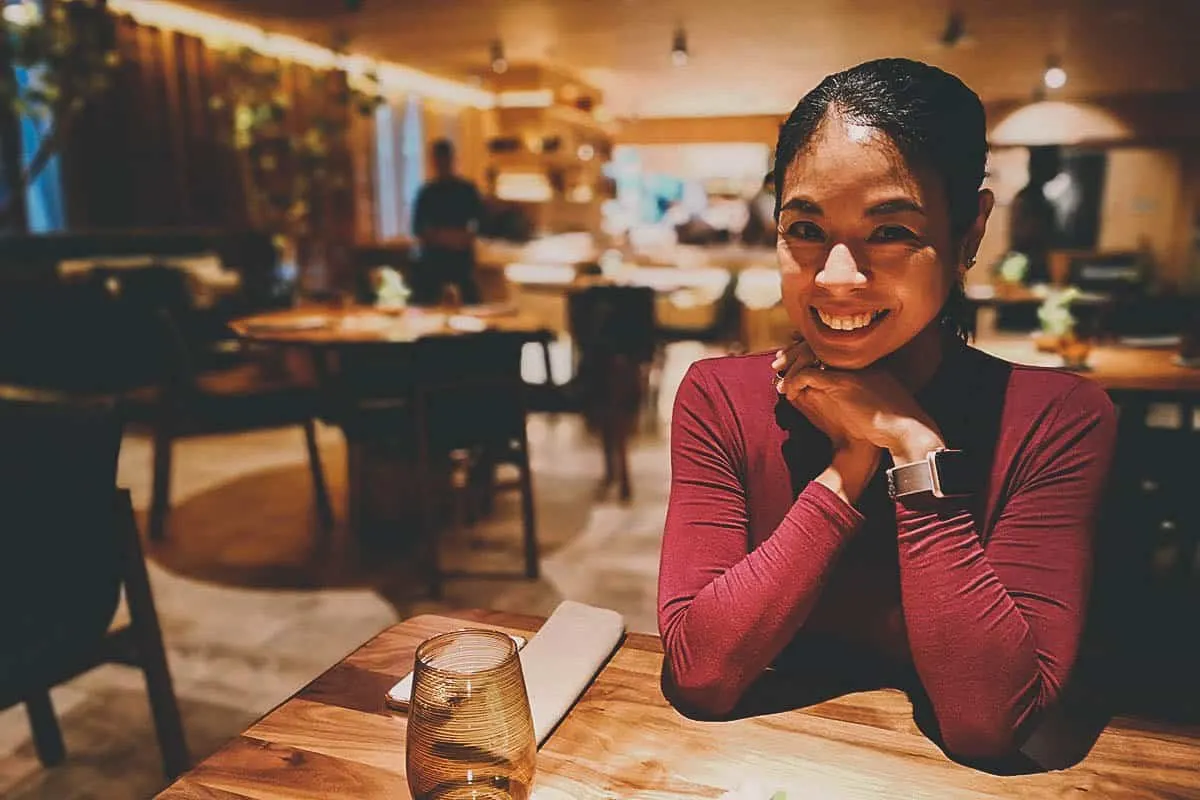 These potted plants were interesting. They were on every table at the restaurant so we thought they were purely ornamental. But as it turns out, they're the cornerstone of Chef Chele's cooking.
Known as gotu kola, this medicinal herb that's purported to have many health benefits is used to prepare nearly every Gallery by Chele dish. They even have a garden at the terrace which our server was kind enough to show us after our meal. We had never heard of it before but gotu kola is also referred to as centella or Asiatic pennywort.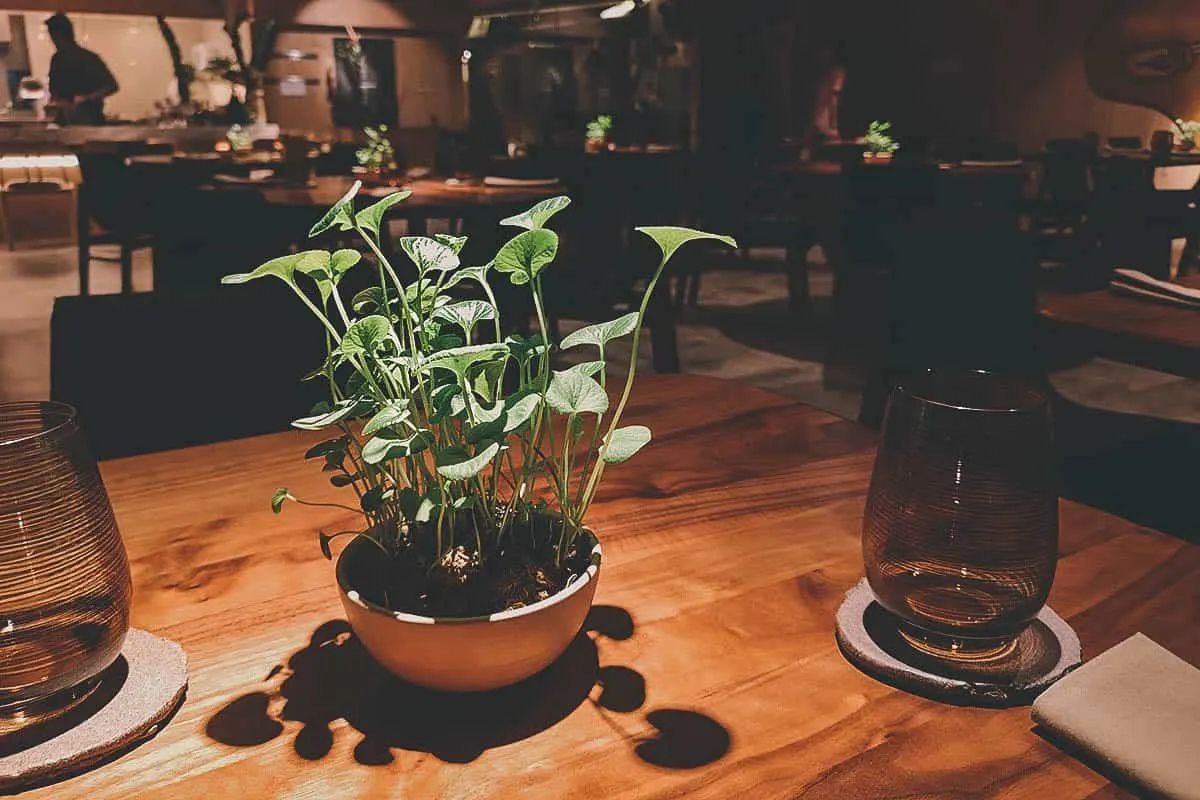 To kickstart our meal, we were served ube pan de sal with some type of coconut cream spread.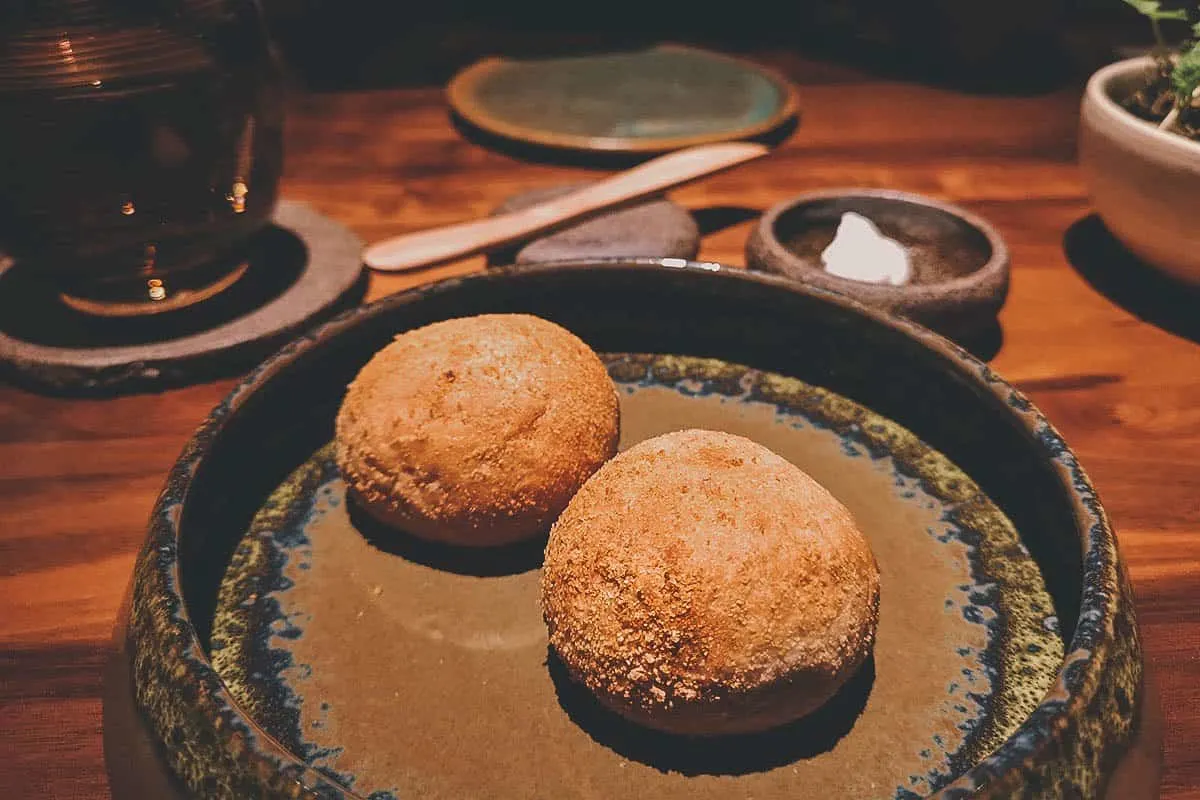 There's the ube!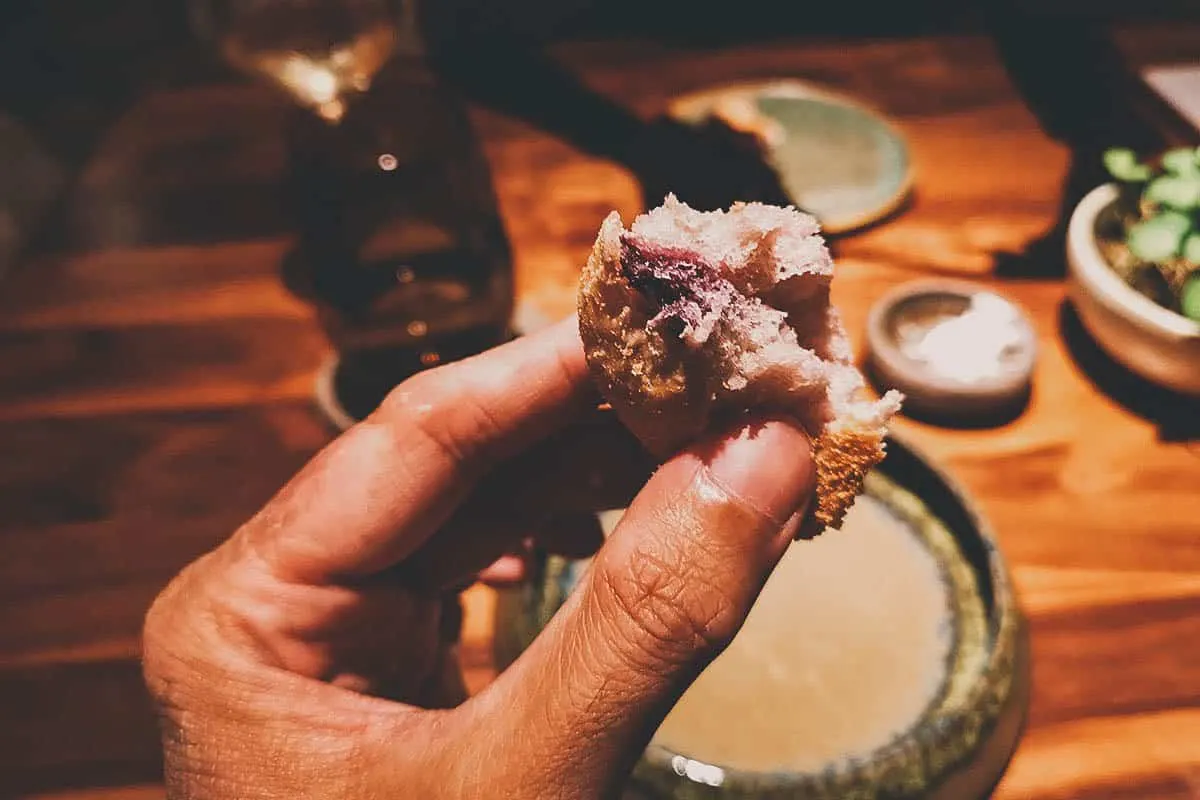 8-Course Tasting Menu with Innovations
Gallery by Chele offers both tasting menus and an a la carte menu. They have 3-, 5-, and 8-course tasting menus priced at a very reasonable PHP 1,500, PHP 1,950, and PHP 2,900 respectively. They also offer 3- and 5-course vegetarian tasting menus for PHP 1,000 and PHP 1,500.
The 8-course tasting menu gives you the option of adding 2 more starters – called "Innovations" – and making it a 10-course meal for an additional PHP 600. I wanted the full Gallery by Chele experience so that's what I got. Ren ordered from the a la carte menu which I'll describe in the A La Carte of this post.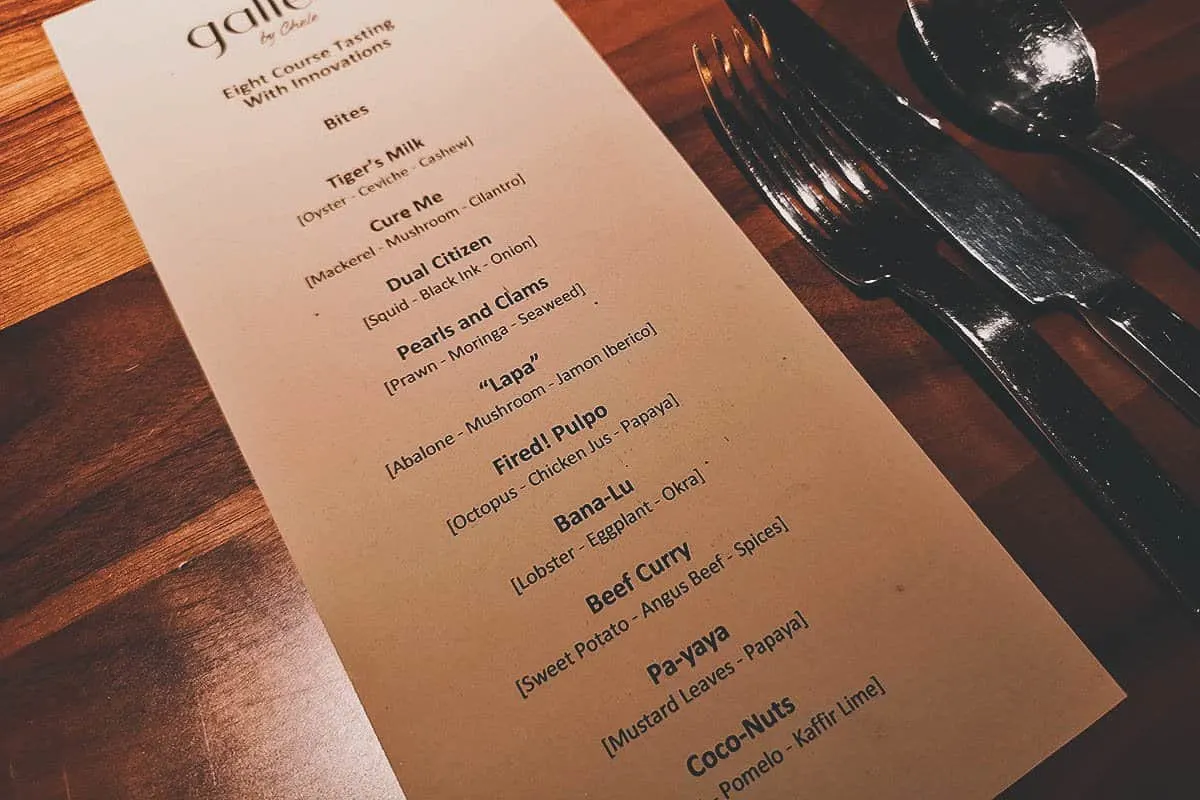 Bites
I'm not sure if this is part of every tasting menu but I was started off with this 6-pc amuse-bouche set called Bites Omakaze. You can order the same 6-pc set from their a la carte menu for PHP 350, which is what Ren did. You can also order each individual "bite" on its own, which comes with five pieces instead of one. You'll see what I mean in the A La Carte of this post.
The first bite was this Tomato Mochi (cheese, basil). It has the soft chewy texture of mochi and it gives you a refreshing burst of tomato and basil flavor when you bite into it. Delicious!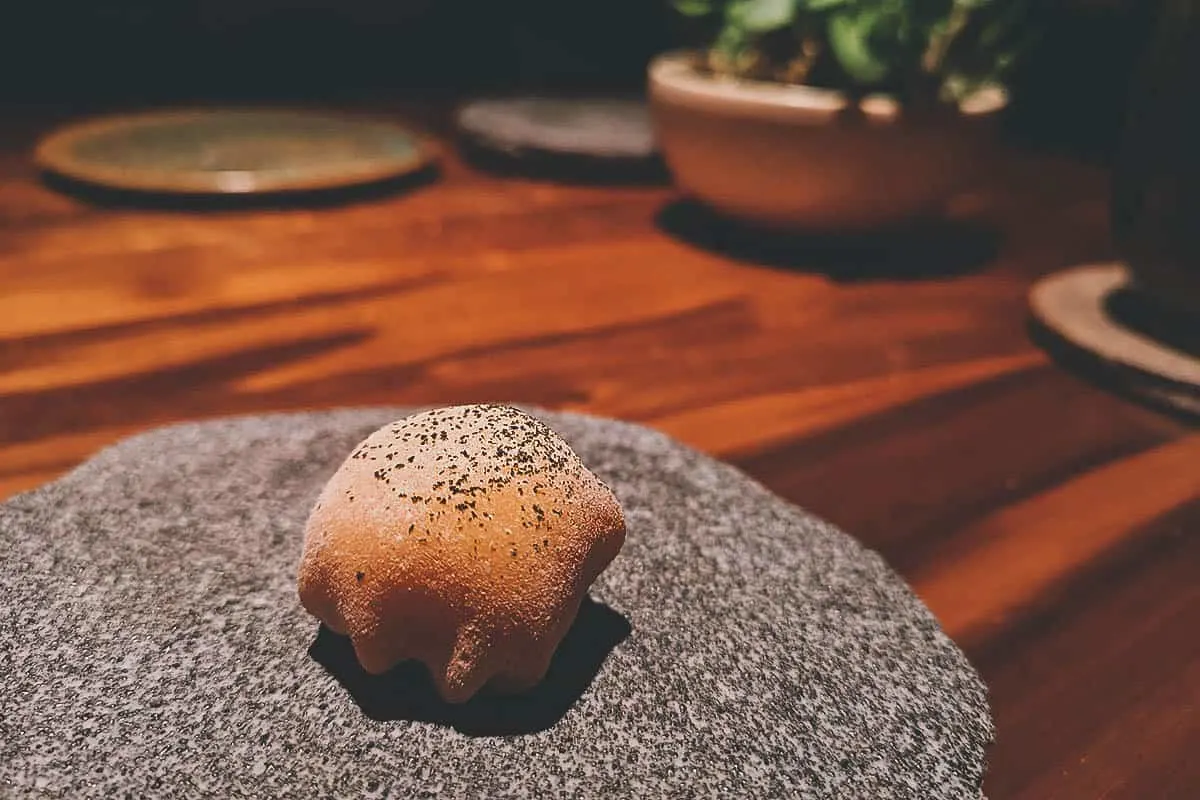 The bite in the lower right corner is referred to as Black Blinis (salmon roe, sour cream, blood rice cake). Instead of a blini, they use puto or Filipino steamed rice cake. This was really good too – sweet, briny, and sour all in one tiny bite.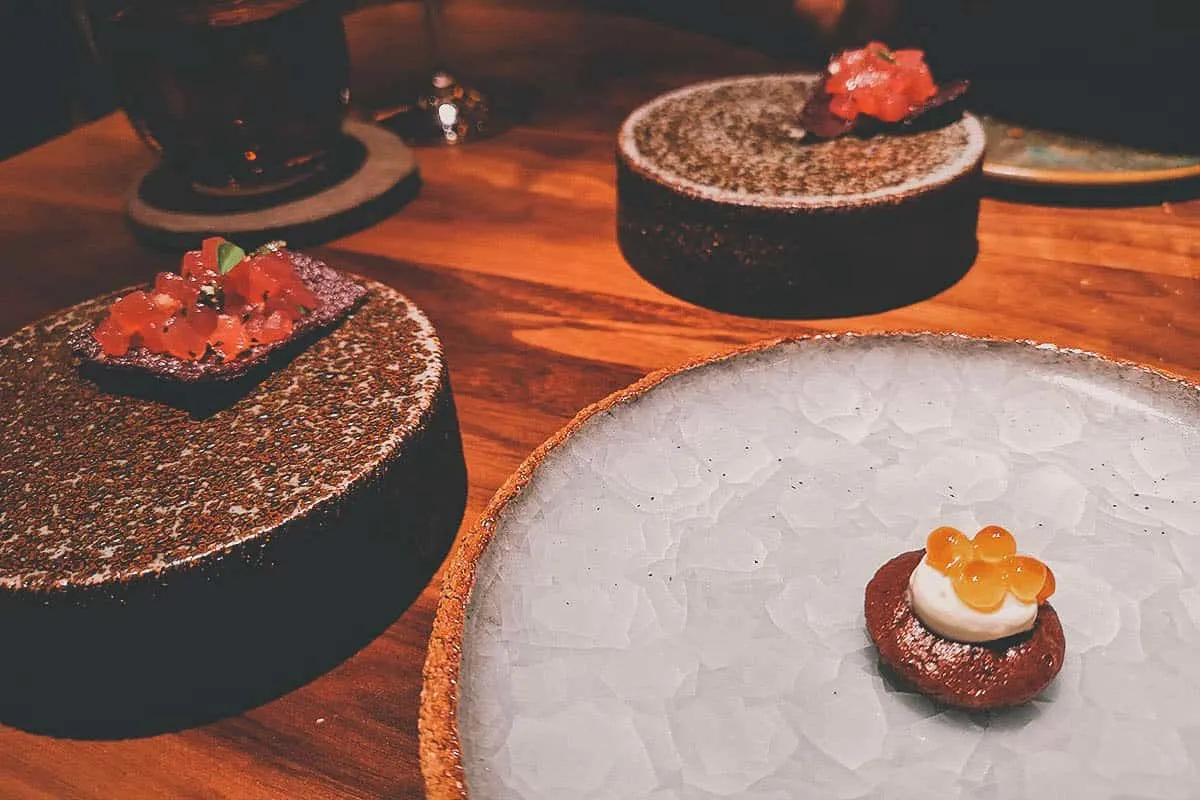 Called Purple Cracker (tuna tartare, aromatics), this is tuna tartare on a crunchy purple cracker made from Filipino heirloom rice.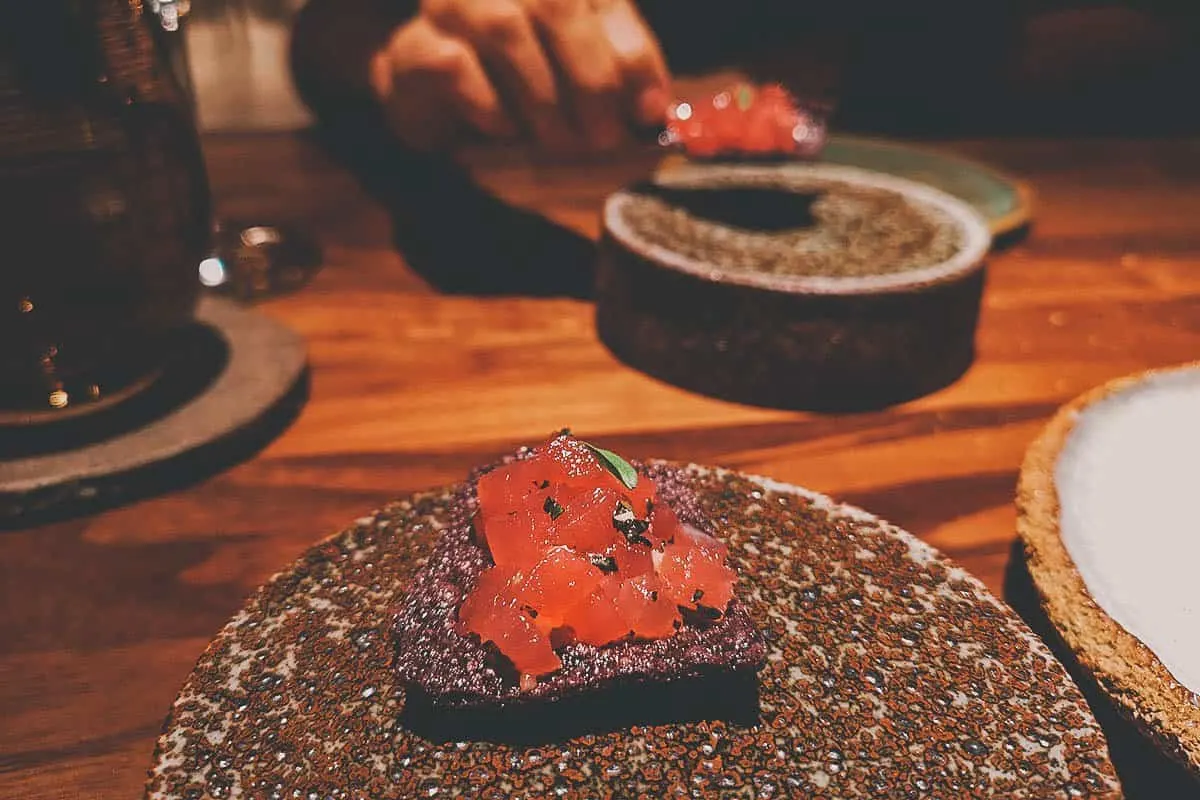 Similar to the Purple Cracker, this Black Crisp (uni mousse, corn, celery) had uni mousse served on a crunchy chip. The dark cracker is actually the restaurant's take on ukoy or Filipino shrimp fritters! It was delicious and really did taste of uni.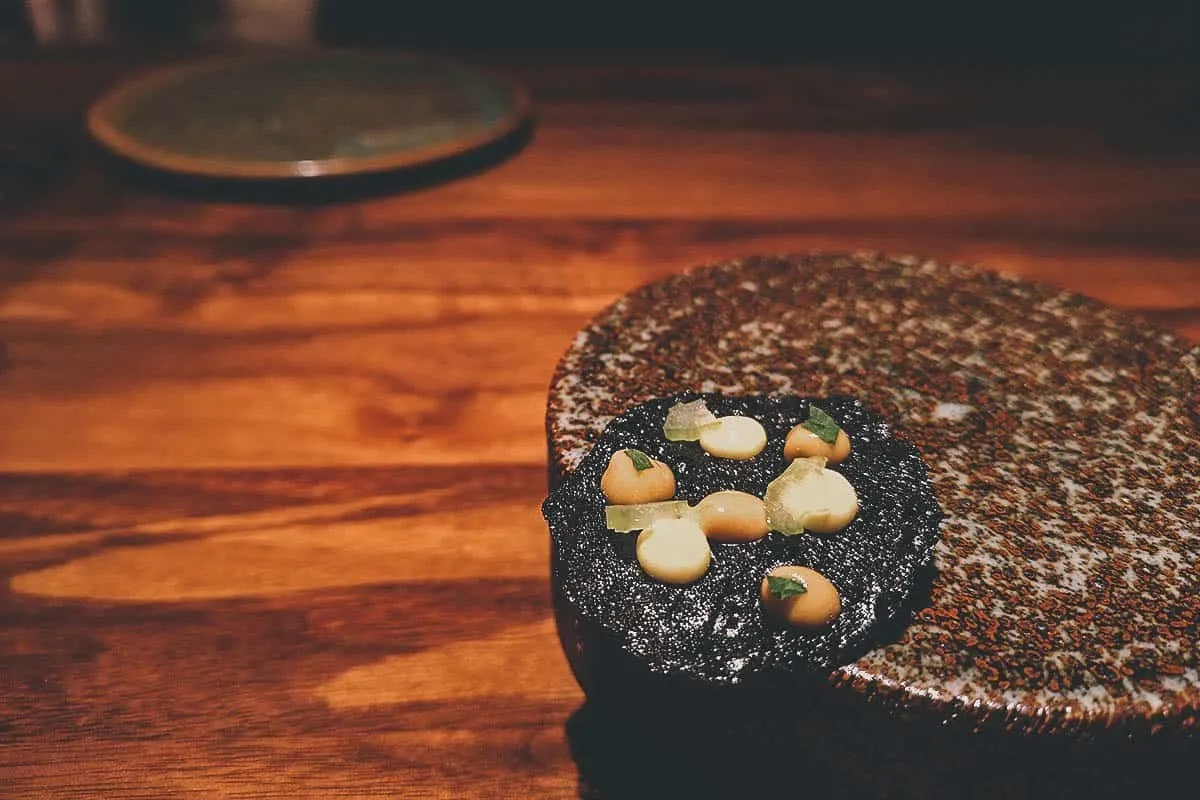 This Meringue de Sal (chicken, soy, mousse) practically dissolves in your mouth.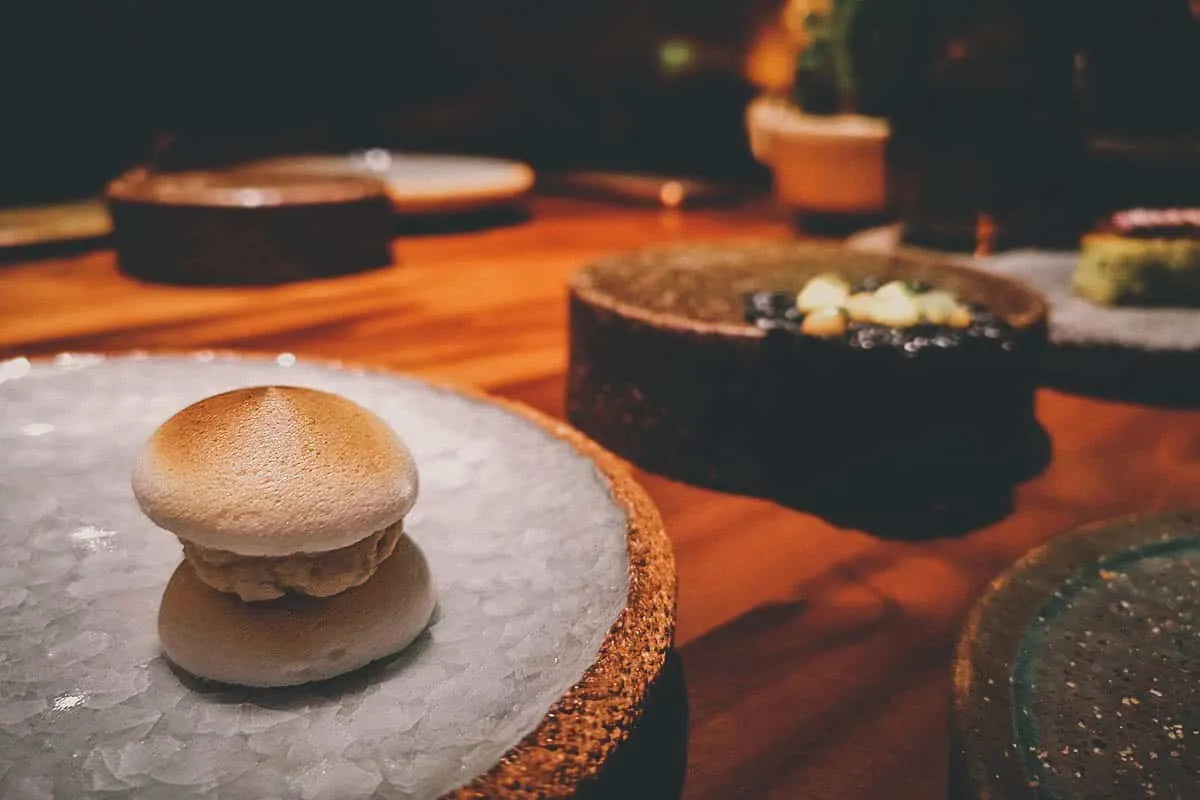 This Moringa Toast (brioche, bone marrow, corn) is comprised of three components or layers. Its made with a malunggay or moringa brioche bread topped with purple corn. In the middle, sandwiched between the two, is bone marrow. I'll leave it at bone marrow.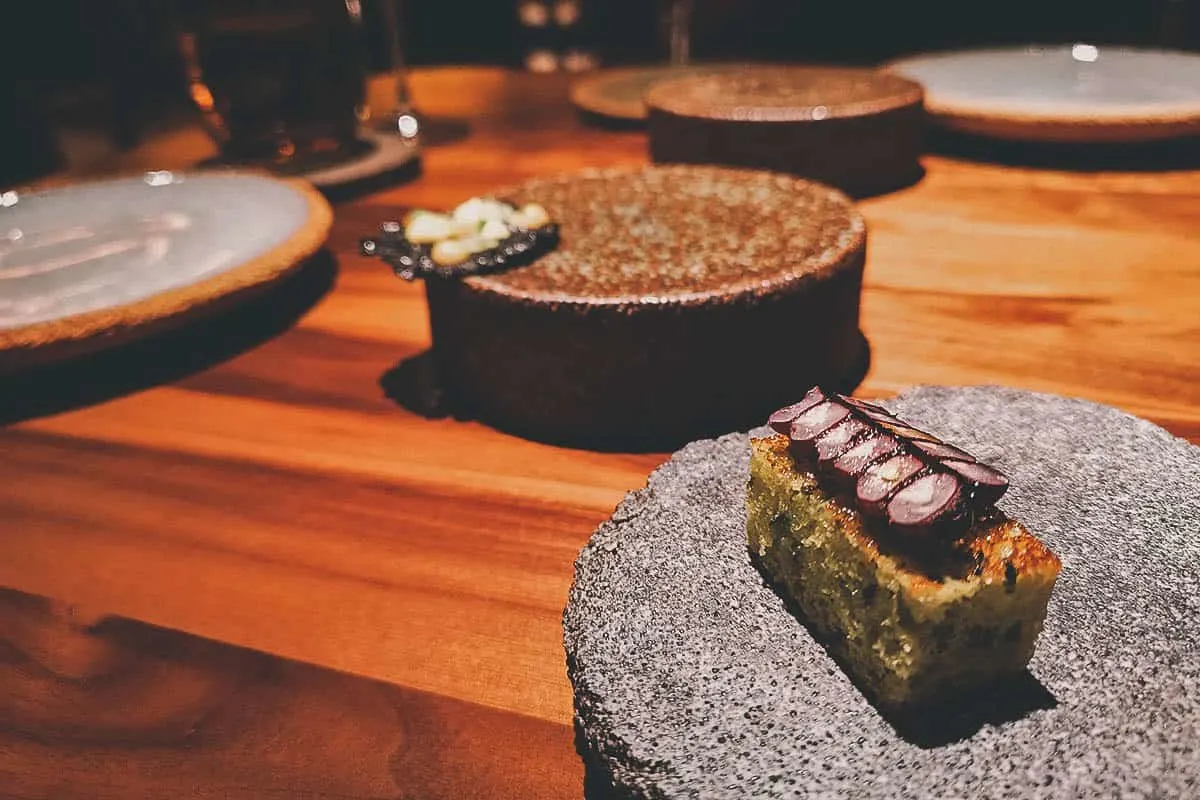 Starters
The 8-course Tasting Menu with Innovations is comprised of seven starters, beginning with this dish called Tiger's Milk (oyster, ceviche, cashew) which is an oyster ceviche made with cashews.

I really enjoyed the texture of this one. Called Cure Me (mackerel, mushroom, cilantro), it consists of cured mackerel served with mushroom and cilantro in a light broth.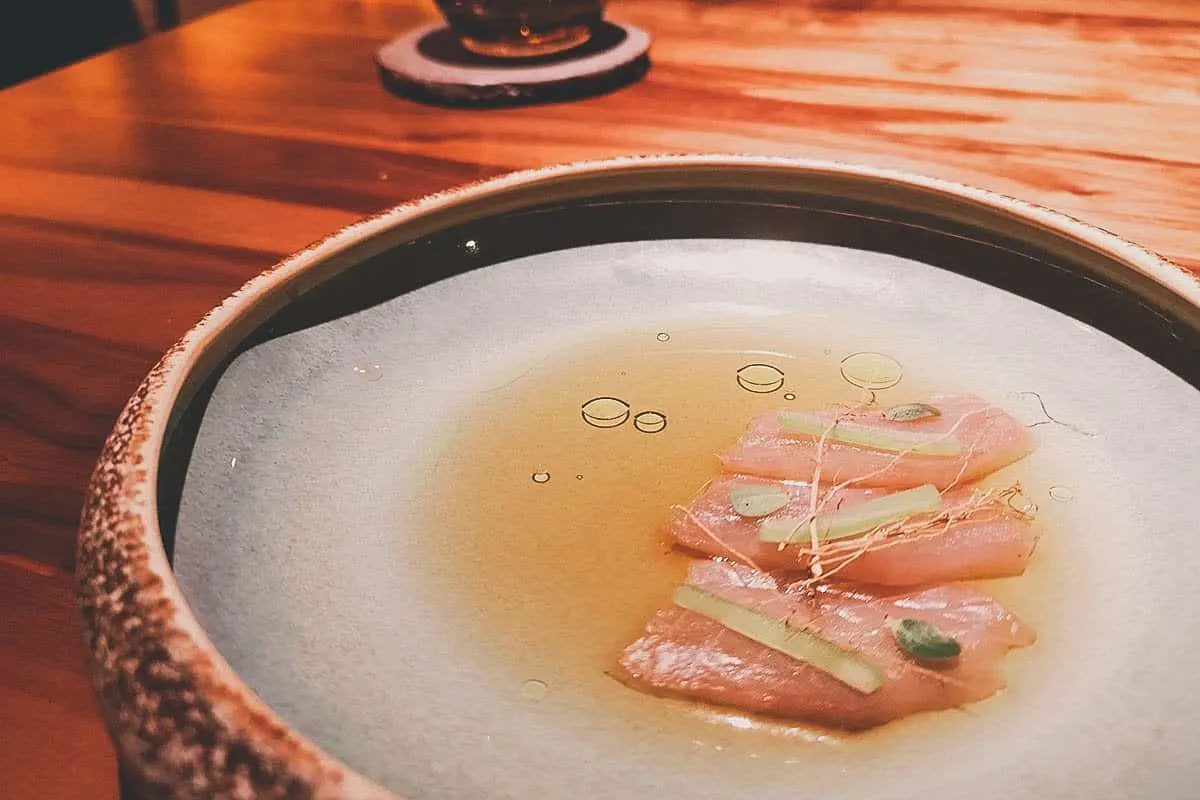 This was one of my favorite dishes from the night. Called Dual Citizen (squid, black ink, onion), it's squid prepared two ways. I don't remember our server's explanation but one preparation is representative of the Philippines while the other is reminiscent of Spain. Both were fantastic. This starter is the first of two dishes from the Innovations upgrade.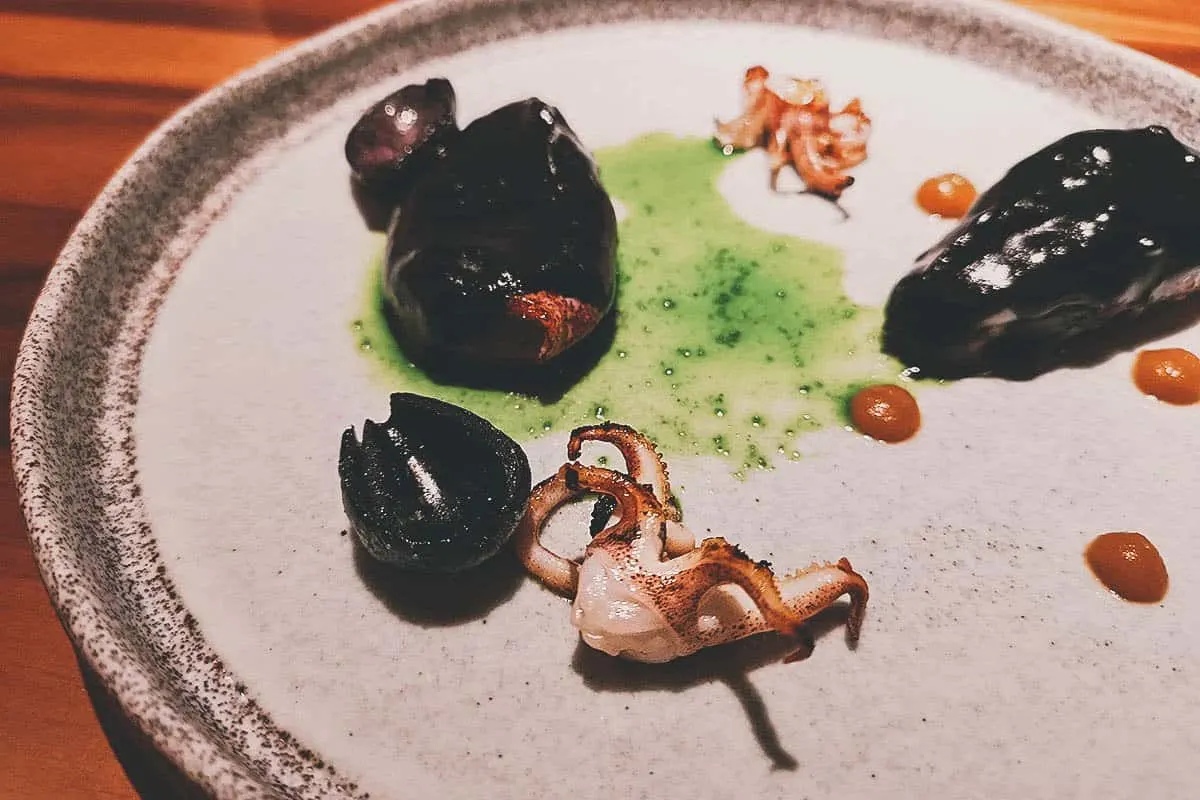 This is one of Gallery by Chele's more playful dishes. Known as Pearls and Clams (river prawn, moringa, seaweed), it consists of the most succulent, perfectly cooked pieces of river prawn (ulang) and clam, topped with moringa powder, seaweed, and fried chili leaves on a bed of "risotto." But instead of rice, the risotto is made with tapioca pearls for a softer, chewier texture. Interesting!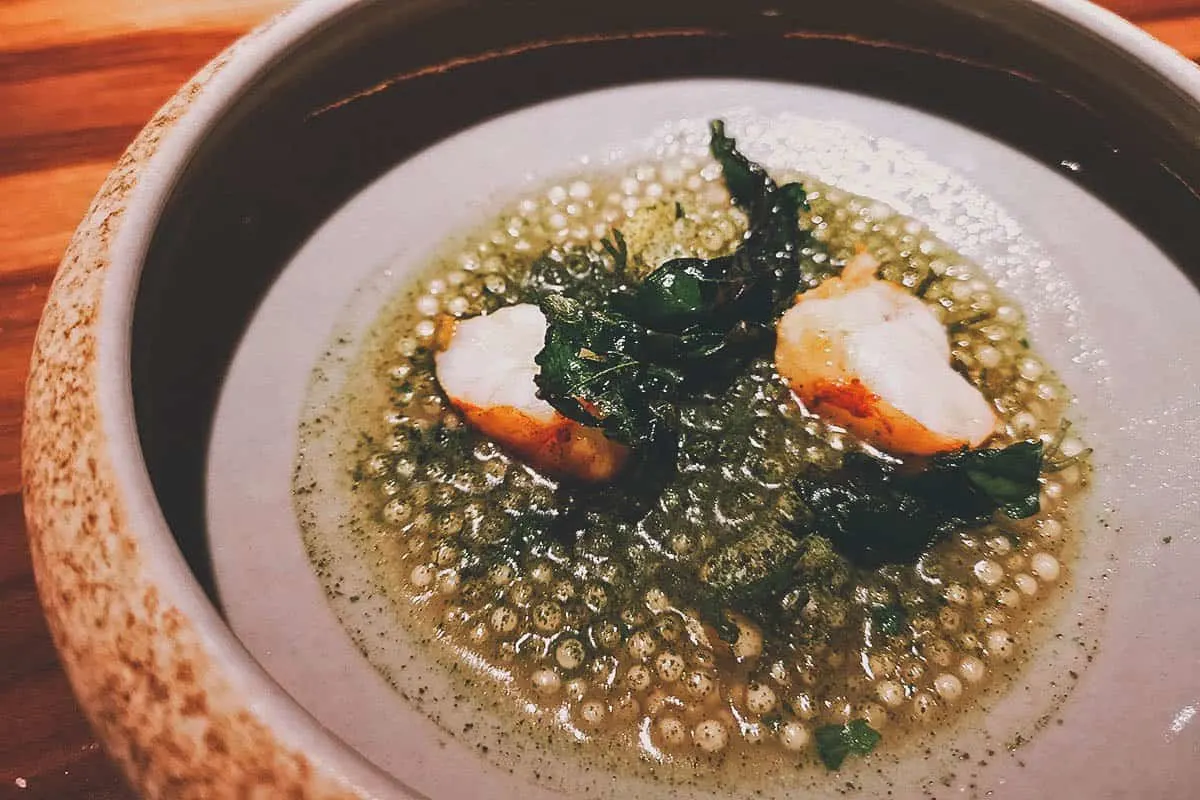 This "Lapa" (abalone, mushroom, jamon Iberico) is the second dish from the Innovations upgrade. It consists of abalone with mushroom, both in sliced and chip form, and jamon Iberico foam. It was delicious and really did taste like jamon Ibreico.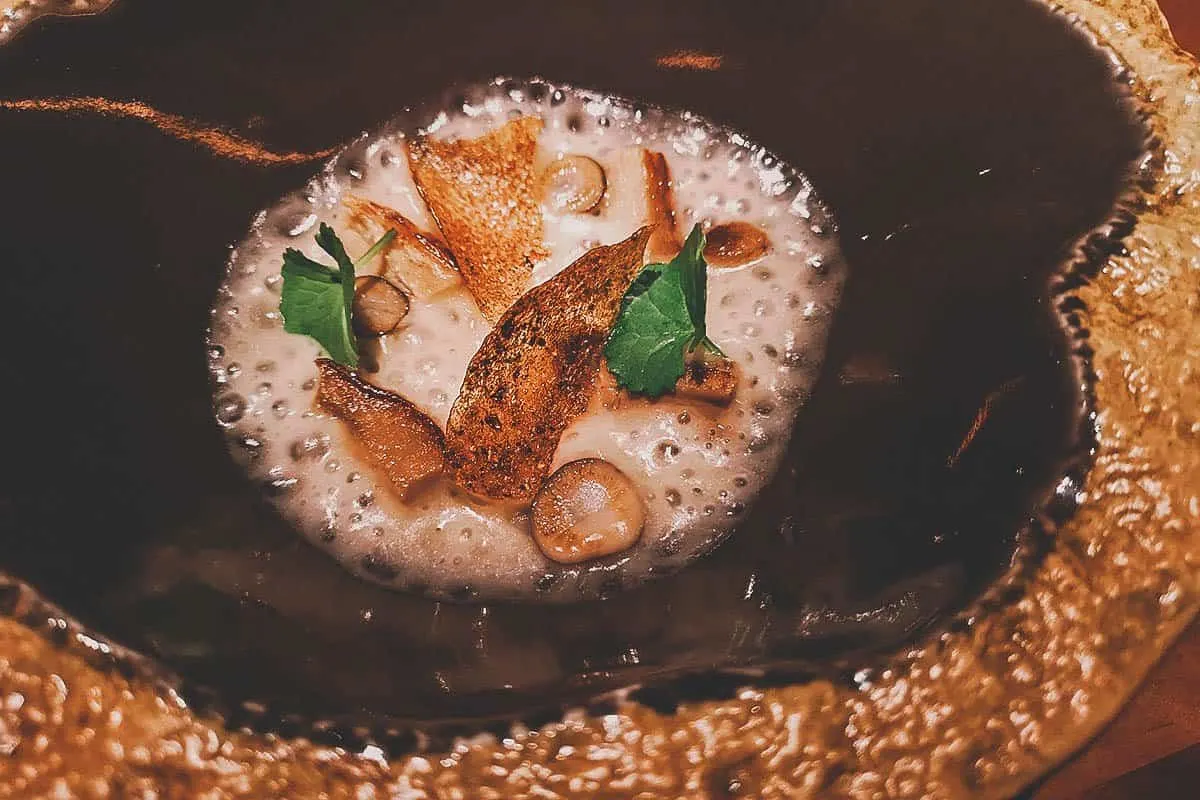 This was another fun and interesting dish. Called Fired! Pulpo (octopus, chicken jus, papaya), it's the restaurant's take, believe it or not, on chicken inasal. The octopus is swimming in a broth of chicken jus with achuete or annatto oil and topped with slivers of pickled papaya that function as the dish's atchara or relish. Inventive!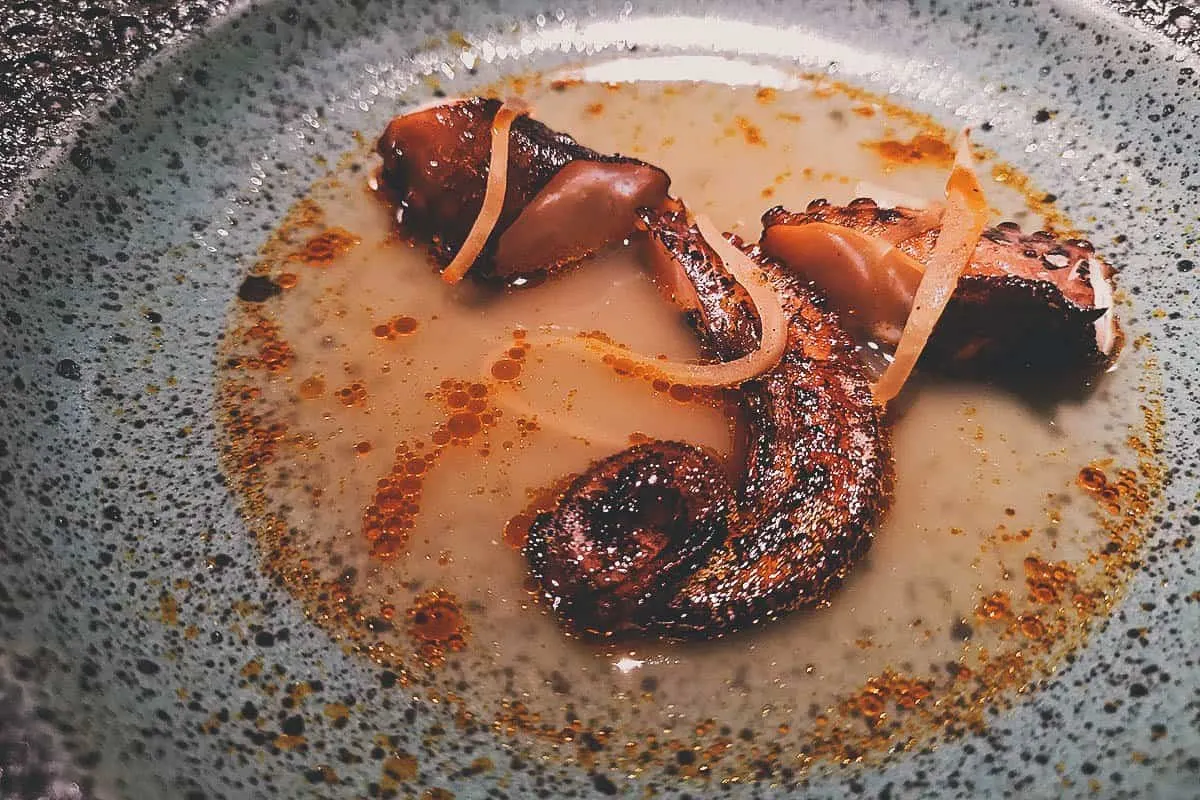 For the last starter, I was given this succulent lobster dish called Bana-Lu (lobster, eggplant, okra). It consists of the most perfectly cooked piece of lobster served with okra, eggplant, and a dark broth swimming with okra seeds.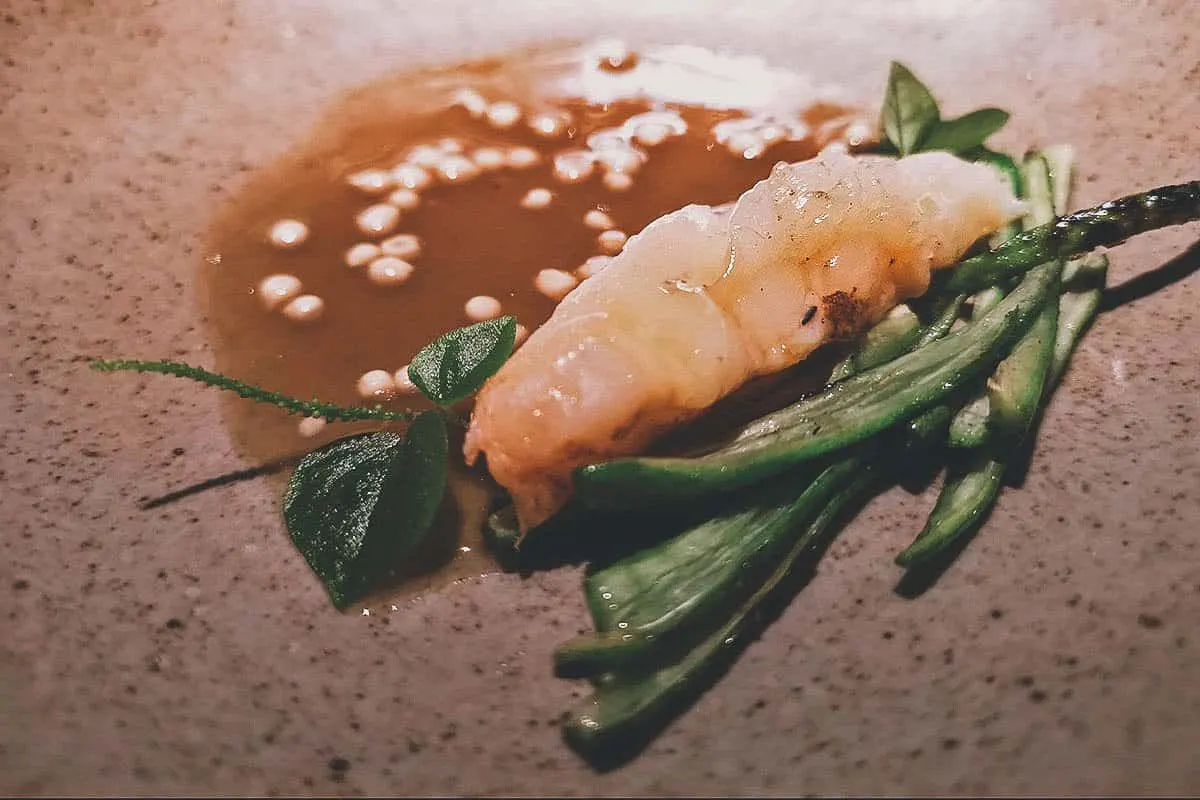 Mains
For my main dish, I was served this fantastic Beef Curry (sweet potato, angus, spices) which according to Chef Chele was inspired by his dear friend Chef Gaggan Anand! The beef is low-cooked and charcoal-grilled and drowned in a delicious curry sauce made with 16 spices. It's served with a side of kamote sweet potato mash for a good balance of texture and flavor. I'm a seafood man through and through but this beef curry dish was my favorite from the night. It was so damn good.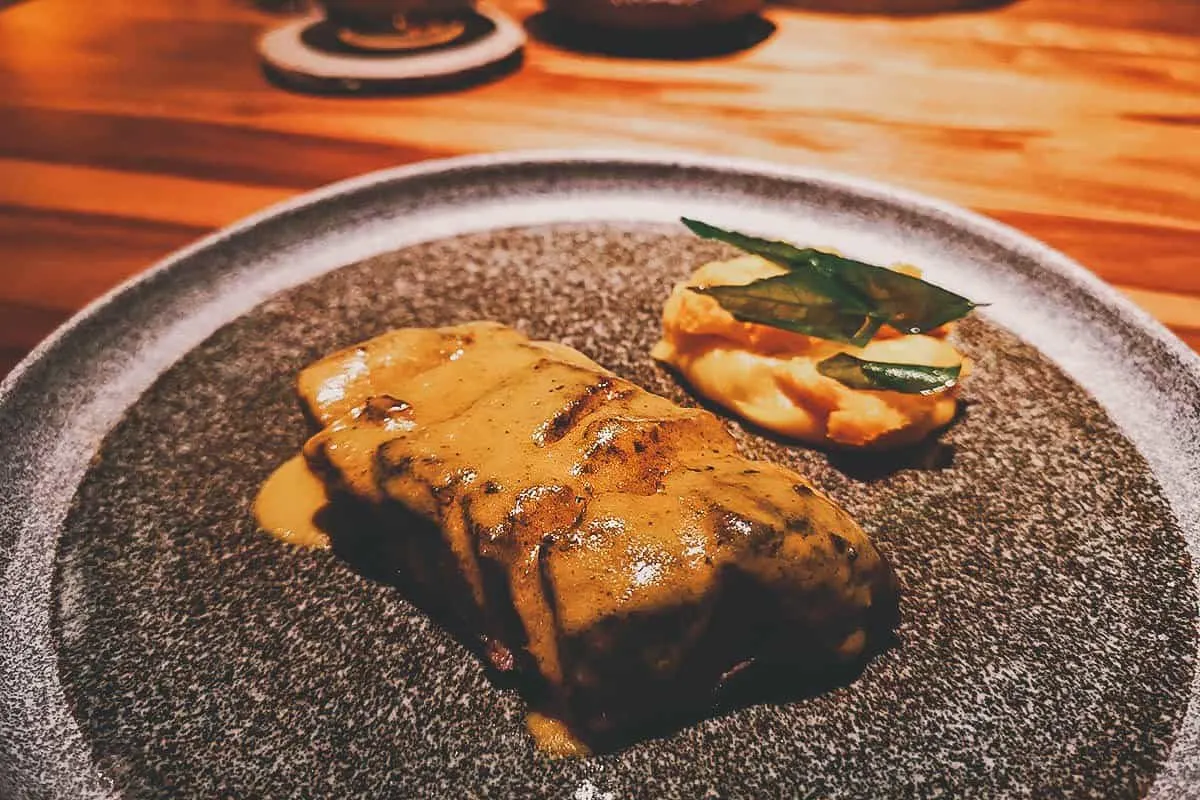 Finishing Course
As a finishing course, right before dessert, we were served this dish which looks to be a soupier version of Chef Chele's famous adlai caldo. A play on arroz caldo, adlai is a chewy native grain often used in the Philippine highlands instead of wheat and rice. Also known as "Job's Tears", this gluten-free grain looks like broken rice, but when cooked, it has a texture reminiscent of barley or al dente pasta. It's delicious and hearty and a wonderful end to the savory portion of our meal.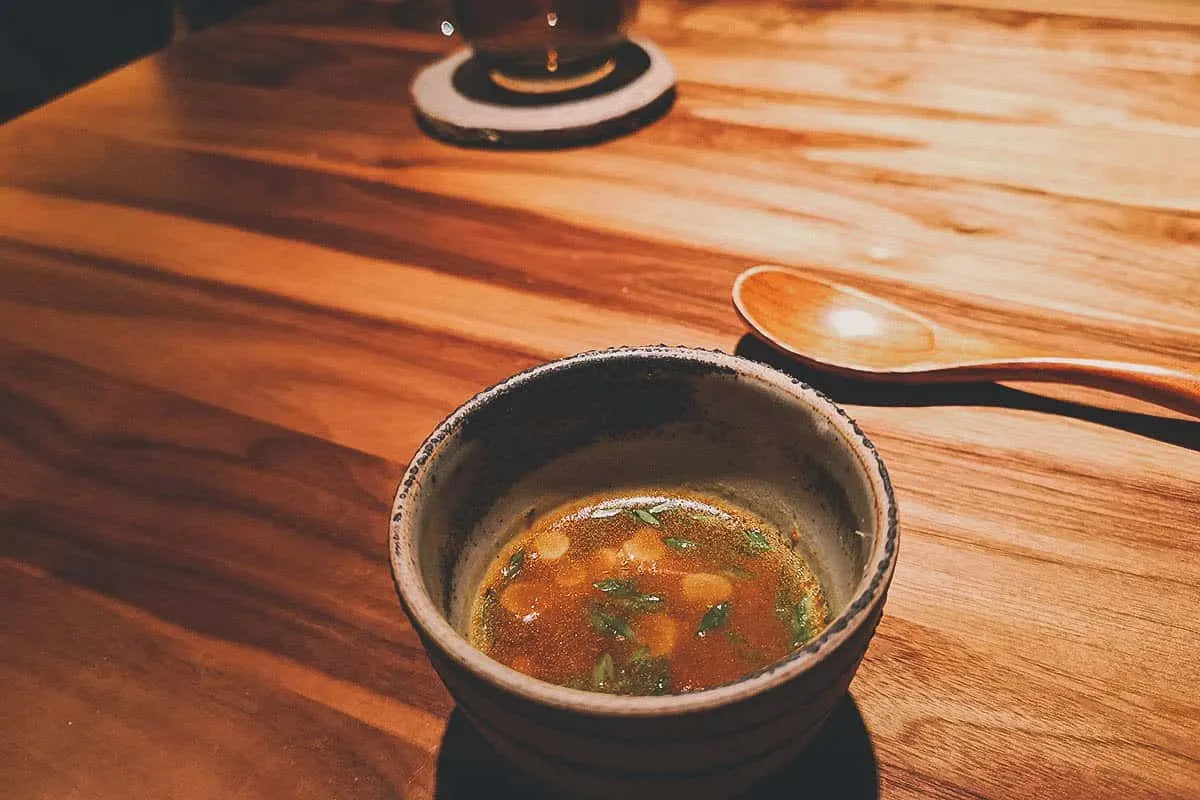 Desserts
I got two desserts with my tasting menu, the first being this Coco-Nuts (jackfruit, pomelo, kaffir lime) dish made with jackfruit (langka) and pomelo (suha). You can see the bits of pomelo there but I believe the jackfruit may have been infused into the ice cream or turned into those chips sitting on top. Either way, it ws delicious and refreshing and my favorite dessert from the three we got to try tonight.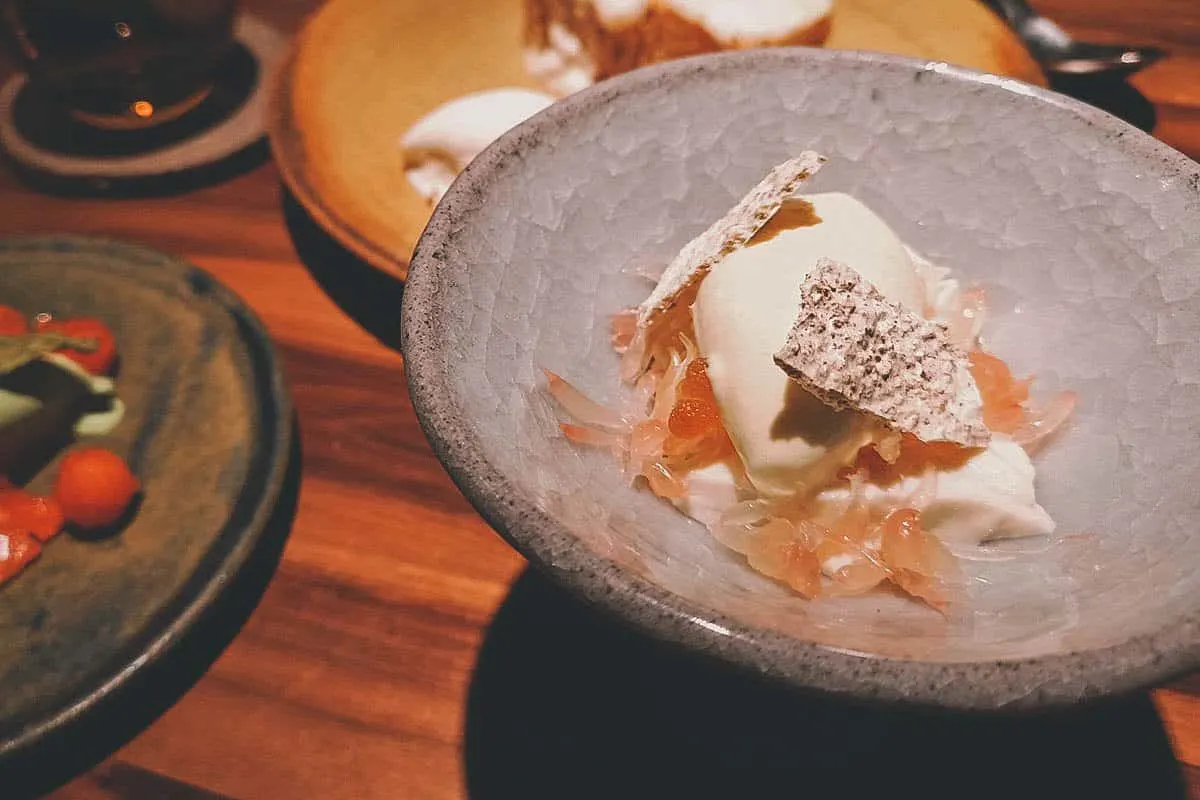 This Pa-yaya (mustard leaves, papaya) was the most interesting and exotic-tasting from the three desserts. It was refreshing with an aromatic, almost spicy flavor, perhaps from the mustard leaves.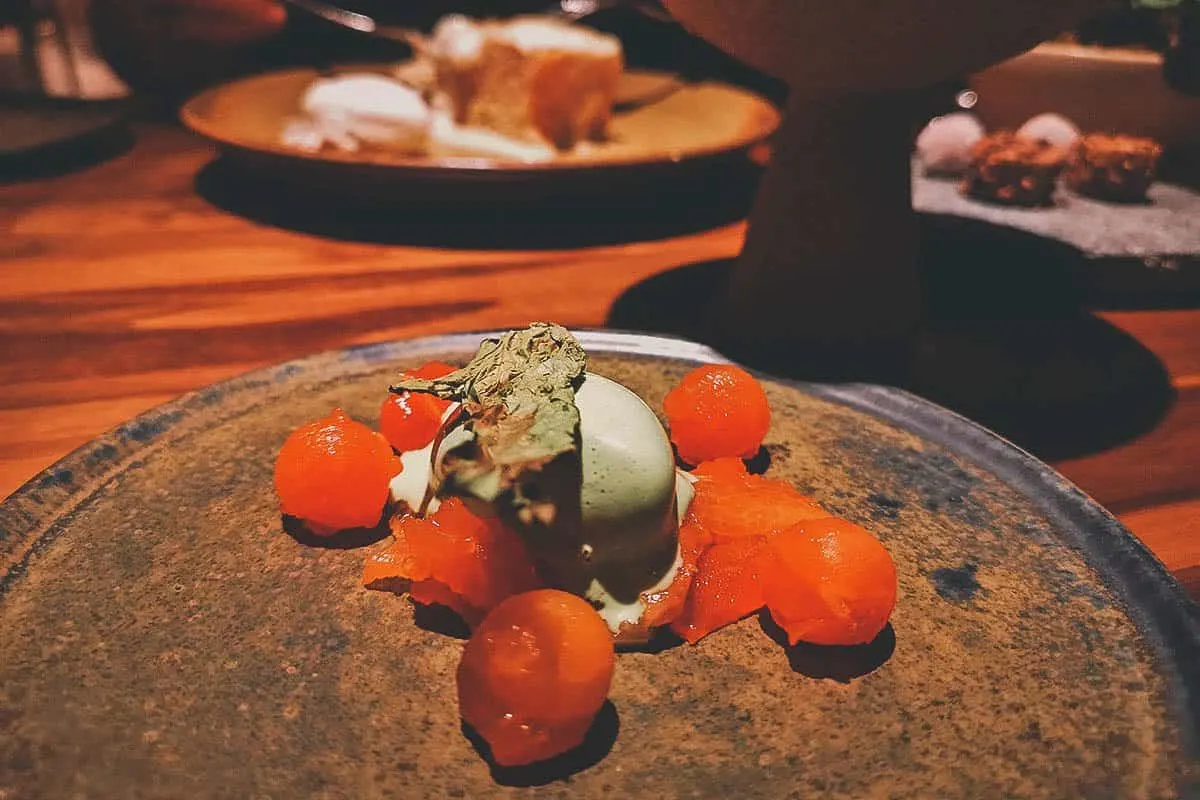 Petit Fours
Aside from my two desserts, we were each given this pair of petit-fours as well. One was made with durian and the other with ube.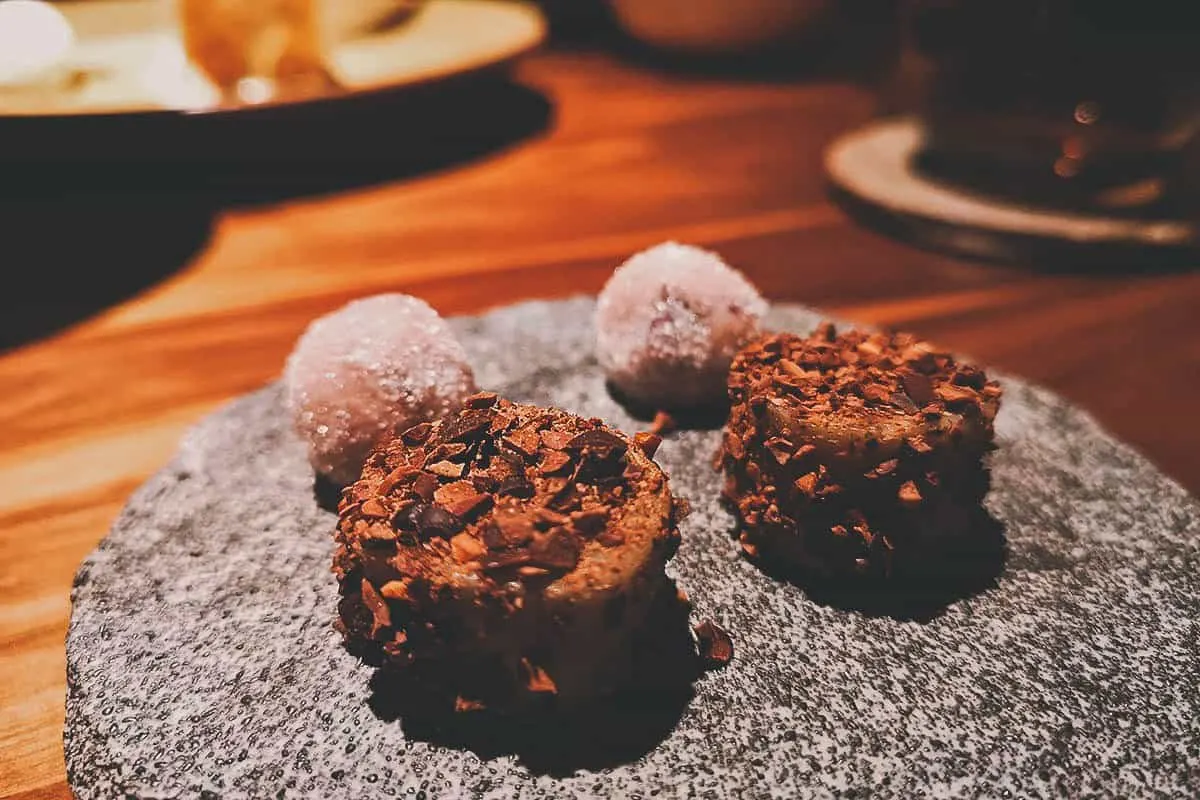 A La Carte
Ren didn't want to go with a tasting course so she ordered from their a la carte menu instead. She began with the 6-pc Bites Omakase described above along with the following dishes.
This is what I meant when I said that any of the bites are available as whole orders. You're given five pieces instead of one. Ren got this beautiful bite called Breakfast (longganisa, pickles, quail egg), which is Gallery by Chele's whimsical take on longsilog. Housed in a crunchy adlai shell is a quail egg with longganisa, pickled papaya, and garlic. Pretty isn't it?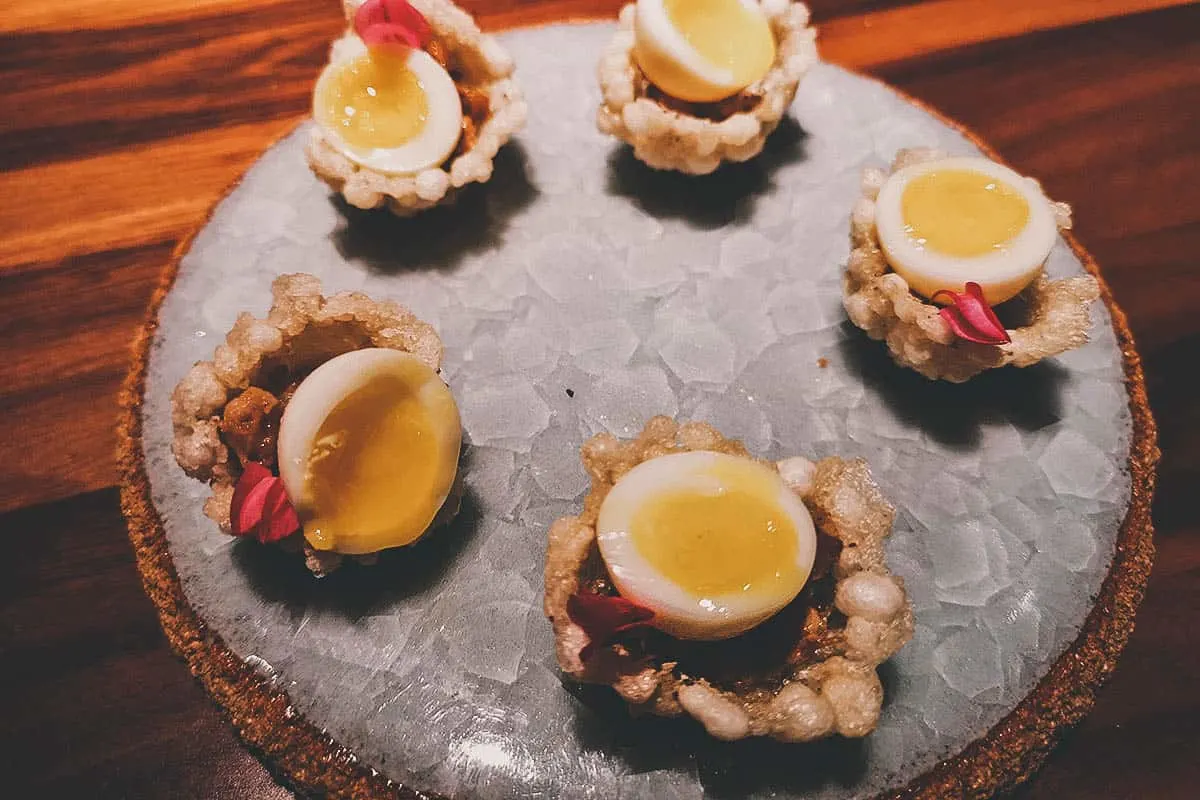 For her main, she ordered this dish called Silly Too Na (belly, malunggay pesto, red wine cherry) which she described as one of the best fish dishes she's ever had. It consists of the most succulent, perfectly cooked slab of tuna belly served with a side of moringa pesto and red wine cherries with ricotta. If you prefer fish over beef, then you may want to go with this one. It's delicious.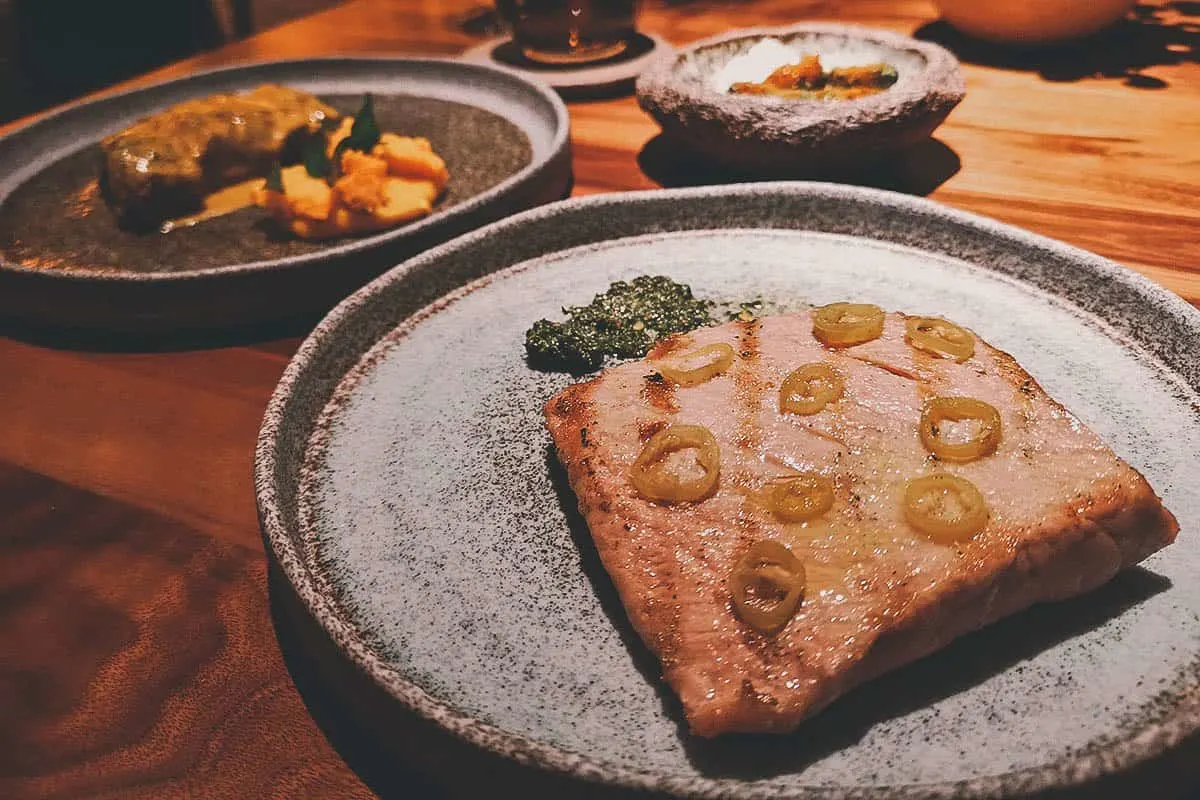 For dessert, Ren went with the Ube Torrija (coconut, rum, brioche). The brioche was soft and delicious and you could really taste the coconut, ube, and rum in the dessert. This was Ren's favorite among the three.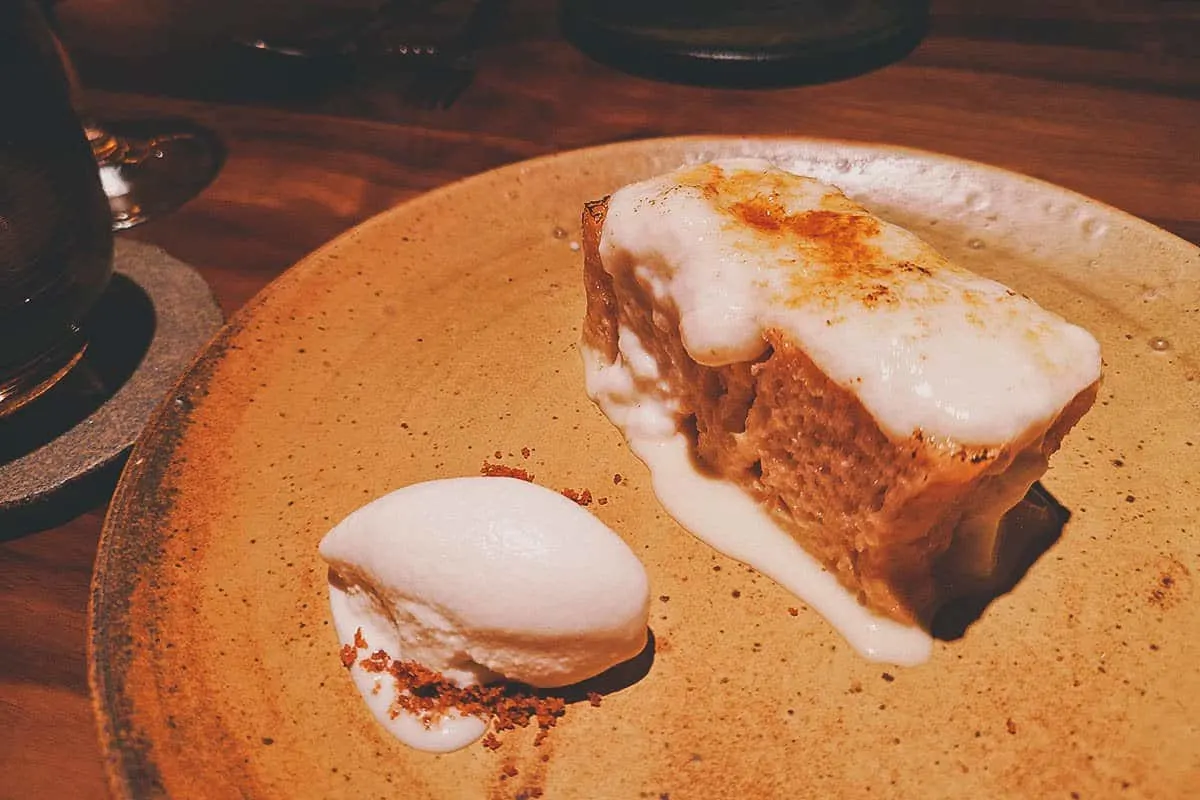 Conclusion
When something builds up so much, especially over a long period of time, it usually doesn't end well. You wind up over-expecting and setting yourself up for disappointment. Not so with Gallery by Chele.
This place was as good as we thought it would be, perhaps even better. I felt it was on par with RAW, but Ren thought it was definitely better. The food is innovative, the environment is ideal, and the prices are irresistible. For a place that's basically an updated version of the 35th best restaurant in Asia, the tasting menus at Gallery by Chele are a steal.
In keeping with the spirit of bistronomy, it's my guess that Chef Chele and Chef Carlo want to make the best food available to the widest audience possible. In my opinion, they've succeeded.
Gallery by Chele
5F Clipp Center, 11th Ave corner 39th St, Bonifacio Global City, Taguig, Metro Manila, Philippines
Tel: +632 218 3895
Mobile: +63 917 546 1673
Website: gallerybychele.com
Facebook: gallerybychele
Instagram: gallerybychele
Email: [email protected]
Operating Hours: 5-6PM, 10:30PM-12:30AM (bites and cocktails) / 6-10:30PM (dinner service)
Tasting Menu Prices: PHP 1,500 (3-course) / PHP 1,950 (5-course) / PHP 2,900 (8-course)
HOW TO GET THERE: Gallery by Chele is located on the corner of 11th Ave and 39th St. If you aren't driving, then the easiest way to get to the restaurant is by Grab. You can set "Clipp Center BGC" as your destination. Gallery by Chele is on the fifth floor.