It's remarkable how popular this place is, even after three years. The restaurant scene in Manila is so competitive that most places tend to shutter their doors within a year or two. Not Wildflour though. If anything, they've gotten even more popular.
A favorite amongst locals and expats alike, Wildflour has expanded to three branches since opening its first in BGC in 2012. They opened a second at the Podium Mall near ADB, and a third in Salcedo Village in Makati, their biggest and best one yet. Have you tried getting a table there around noon? Fat chance getting seated right away if you don't have any reservations. The place is spilling over with people. What makes it doubly impressive is that they aren't the only restaurant on that strip. Flanked on either side by two or three perfectly good but half empty restaurants, it's apparent that people would rather endure their hunger than eat somewhere else. That's how good this place is.
Home to one of the most beloved brunches in Manila, it's clear that Wildflour Cafe + Bakery is here to stay.
Wildflour Cafe + Bakery
Good Morning Sunshine Smoothie – PHP 240 – Strawberry, pineapple, mango, yogurt
Iced Cubano – PHP 115 – Espresso, cinammon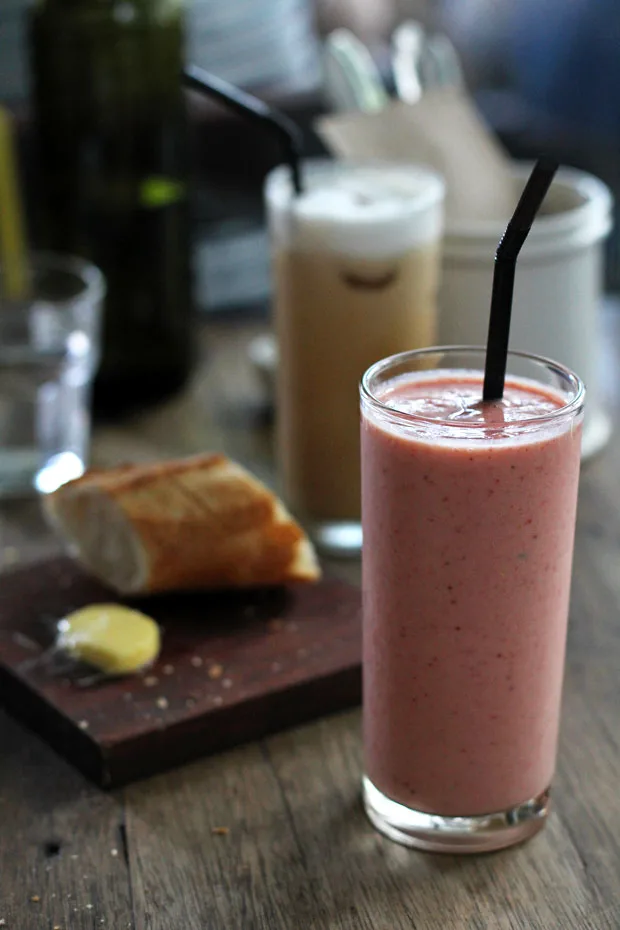 Kimchi Fried Rice – PHP 495 – Braised beef brisket or steak, poached eggs
Ren follows Jin from Jin Loves to Eat on Instagram and she called this her favorite dish at Wildflour. Considering how popular Wildflour is, we thought that was a bold statement so we had to try it.
With a choice of either braised beef brisket or steak (we chose the steak), this is a spicy, bracingly tart dish that every kimchi lover will enjoy. We both liked it, though I'm not ready to call it my favorite Wildflour dish just yet. There are too many delicious things to eat here. Surprisingly, this is classified as a breakfast dish as well, which goes to show just how international their clientele is.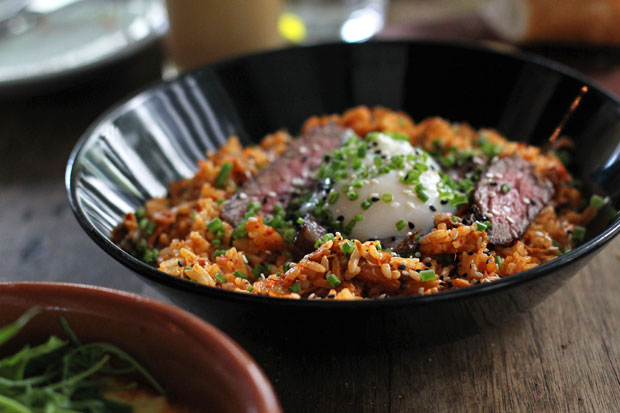 Chorizo Fondido – PHP 380 – Mexican chorizo, mozzarella cheese, fried egg, arugula
I'm a fan of cumin and chorizo so I really enjoyed this, even more than the kimchi fried rice. You could really taste the cumin. It's satisfying and delicious, and as you can see in the next picture, it's fun to eat too. A Mexican-inspired dish that's yet another testament to the diversity of their menu.

Almost like a dip or spread, you can either dunk your bread or smear on the fondido with a knife. Wildflour makes some of the best breads in the city — crunchy on the outside, soft and pillowy on the inside. So so good.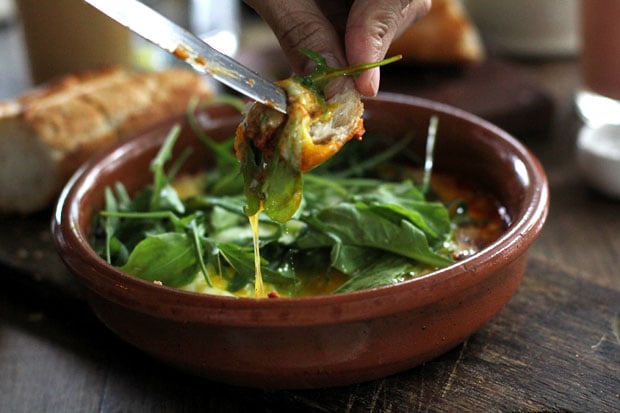 As mentioned above, Wildflour makes killer bread so feel free to bring home a loaf or two after your meal. Don't these look awesome?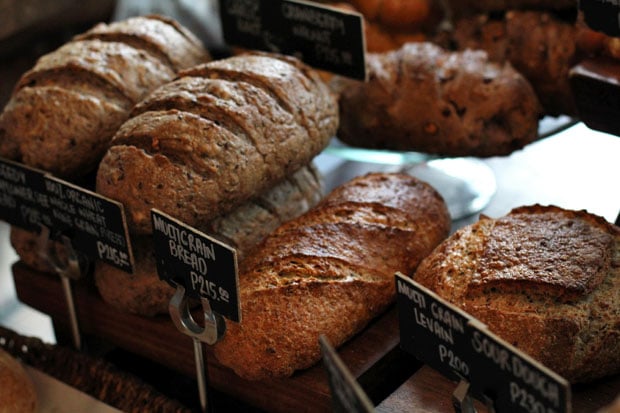 Aside from the bread, they have a diverse collection of freshly baked pastries as well. For the quality, everything is reasonably priced.

Though Wildflour is a favorite brunch place, they're equally popular for dinner. Apart from traditional breakfast items like pancakes and eggs on toast, they're known for their sandwiches and savories as well. You can check out their full menu HERE. You'll see that they have a pretty good selection of desserts too. Ren and I had their strawberry chiffon cake and it was heavenly.
It doesn't matter whether you're a local, an expat, or a traveler just passing through Manila. You need to eat at Wildflour.
Wildflour Cafe + Bakery BGC
G/F Net Lima Bldng, 4th Ave. corner 26th St., Fort Bonifacio, Global City, Taguig
Tel: 856-7600
Twitter: wildflourmanila
Instagram: wildflourmanila
Email: [email protected]
Operating Hours: Mon-Thurs, 7AM-10PM / Fri-Sat, 7AM-11PM / Sun, 8AM-4PM
Expect to Spend: At least PHP 600 per person with drinks
Reservations: Not required but recommended
Wildflour Cafe + Bakery The Podium
G/F The Podium Mall, 18 ADB Ave., Mandaluyong
Tel: 571-8588
Operating Hours: Mall Hours
Expect to Spend: At least PHP 600 per person with drinks
Reservations: Not required but recommended
Wildflour Cafe + Bakery Salcedo Village
G/F V Corporate Tower, 125 LP Leviste St., Salcedo Village, Makati
Tel: 808-7072
Operating Hours: Mon-Thurs, 7AM-10PM / Fri-Sat, 7AM-11PM / Sun, 8AM-4PM
Expect to Spend: At least PHP 600 per person with drinks
Reservations: Not required but recommended