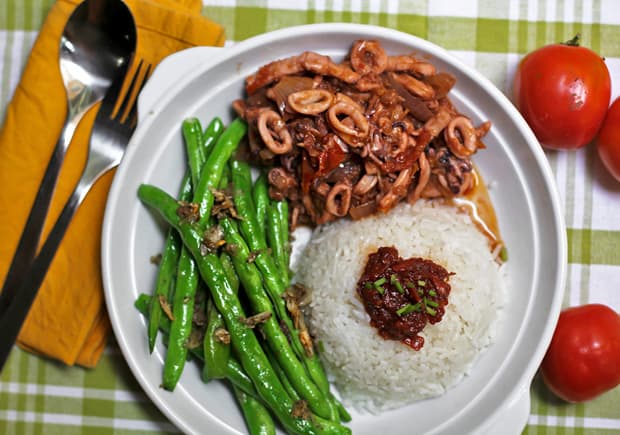 Sambal Sotong (Cuttlefish, Squid, or Octopus)
NOTICE: Your health and safety come first. Please adhere to the WHO recommendations and avoid any non-essential travel at this time. If travel is unavoidable for you, then please refer to these advisories on COVID-19 coverage from our friends at World Nomads and SafetyWing. Please be advised that all information on this website is for travel pre-COVID-19. We'll update the information soon as new travel guidelines become clearer.
DISCLOSURE: Some of our articles contain affiliate links. The ones that do will have a disclosure statement at the bottom. You can refer to our privacy policy and terms of use for more information.
Ren and I are getting more and more excited the closer we get to our Langkawi trip. It's still a couple of months away, but as quickly as time's been flying lately, it'll be here before you know it, which is why Ren's been busily prepping our taste buds with one Malaysian dish after another. This delicious plate of sambal sotong with nasi lemak and stir-fried green beans is her third in a row.
With our trip still 58 days away, I'm comforted to know that it won't be her last. Enjoy. 🙂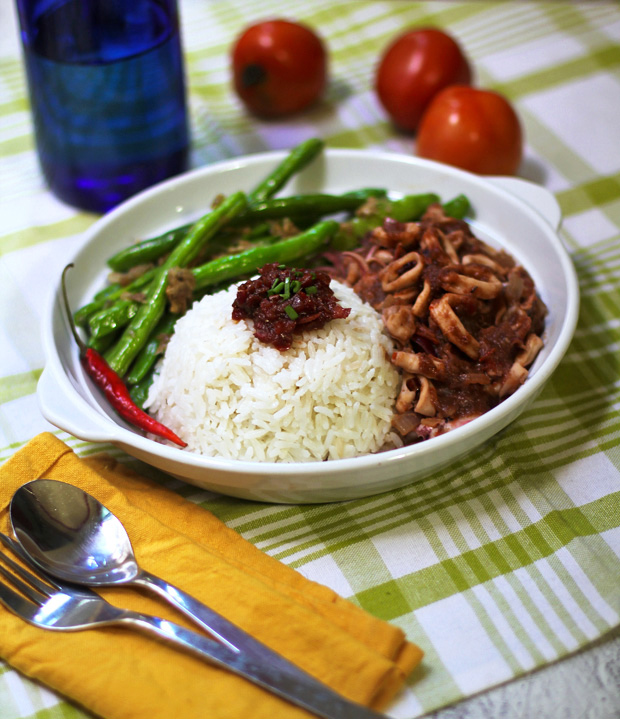 Cephalopods are my absolute favorite proteins in the world. When cooked correctly and seasoned with flair, like they were here, nothing comes close for me.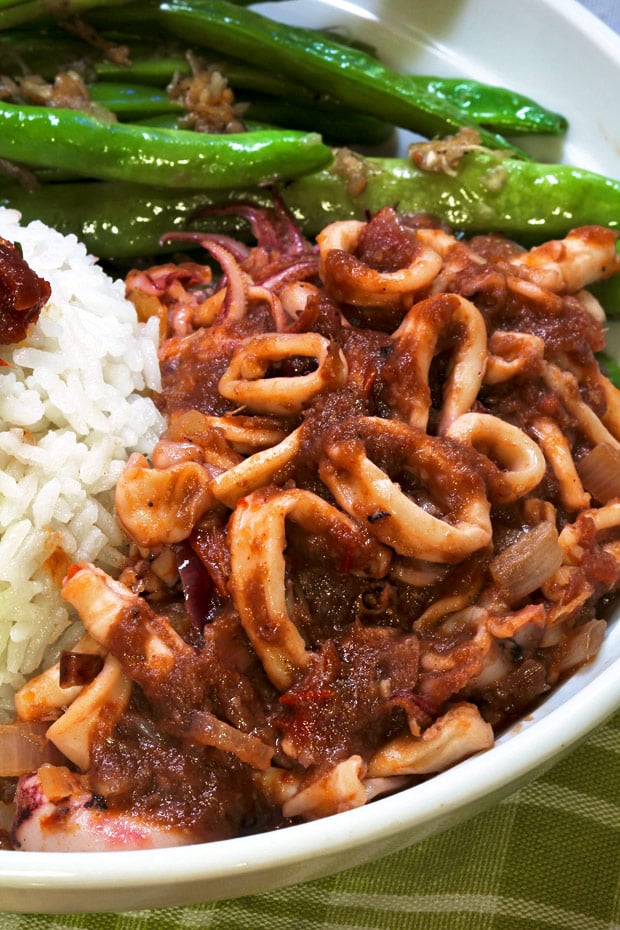 As happy as I've been with the progress I've made with my photos, it's becoming apparent to me that I've gone about as far as I can go with my cheap lighting setup. I think I'm ready to invest in a pair of softboxes, but we unfortunately don't have the space right now. 🙁

Ingredients
500g (1 lb) small squid
1 stalk of lemongrass, peeled and sliced
1/2 inch pc ginger
4 garlic clove, crushed
4 dried red chilies, soaked and drained
4 candlenuts (I used macadamia nuts)
1 tsp belachan (dried shrimp paste)
4 shallots
2 Tbsps peanut oil
1 onion, sliced
2 ripe tomatoes, quartered
1 Tbsp tamarind paste
1 cup water
2 tsps palm sugar or brown sugar
Salt, to taste
Directions
Clean squid, then do one of following:
Cut bodies lengthwise, then with tip of knife, lightly score crisscross pattern on surface without cutting through. Cut into 5 cm squares and set aside, with tentacles.
Cut the squid into small rings.
Combine tamarind paste and water until fully mixed, then set aside.
Grind lemongrass, ginger, garlic, drained chilies, shrimp paste, nuts, and shallots together into paste.
Heat wok until hot before adding oil. When oil is hot, add paste and stir-fry for 2 minutes. Add onion and tomatoes and cook until softened. Add tamarind water, salt, and sugar, then cook until starting to thicken. Add squid and stir-fry over high heat until just cooked, but still tender. (around 2 minutes) DO NOT OVERCOOK!
Serve with with nasi lemak (click on link for recipe) and stir-fried green beans.