I visited three cities in India with A Chef's Tour and Mumbai was easily my favorite. It had interesting attractions unique to the city, like the dabbawalas at Churchgate Station and the huge outdoor laundry area known as Dhobi Ghat. I stayed in the Fort business district and was fascinated by its blend of gothic and art deco architecture, something I didn't expect at all from a city in India. Walking from Kala Ghoda to the Queen's Necklace, I felt like I started in Oxford but somehow ended up in Miami. It was bizarre, but inexplicably cool.
After spending the morning braving the trains and exploring the city, I made my way back to the Fort area to meet up with Shailesh from A Chef's Tour. He'd guide me on a four-hour culinary journey through Mumbai, taking me to a few of the city's most interesting neighborhoods while sampling some of its best heritage stalls and Indian street food.
As always, I do a fair amount of research before a trip so I had already visited a few internet-recommended stalls that morning. But there's only so much Google can tell you. Insider knowledge, especially when it comes to food, is always best, which is why I think it's so important to experience a new city with a local. Shailesh, a third-generation Mumbai resident, was about to give me my first real taste of this city.
Save This on Pinterest!
No time to read this now? Click on the red save button and pin it for later!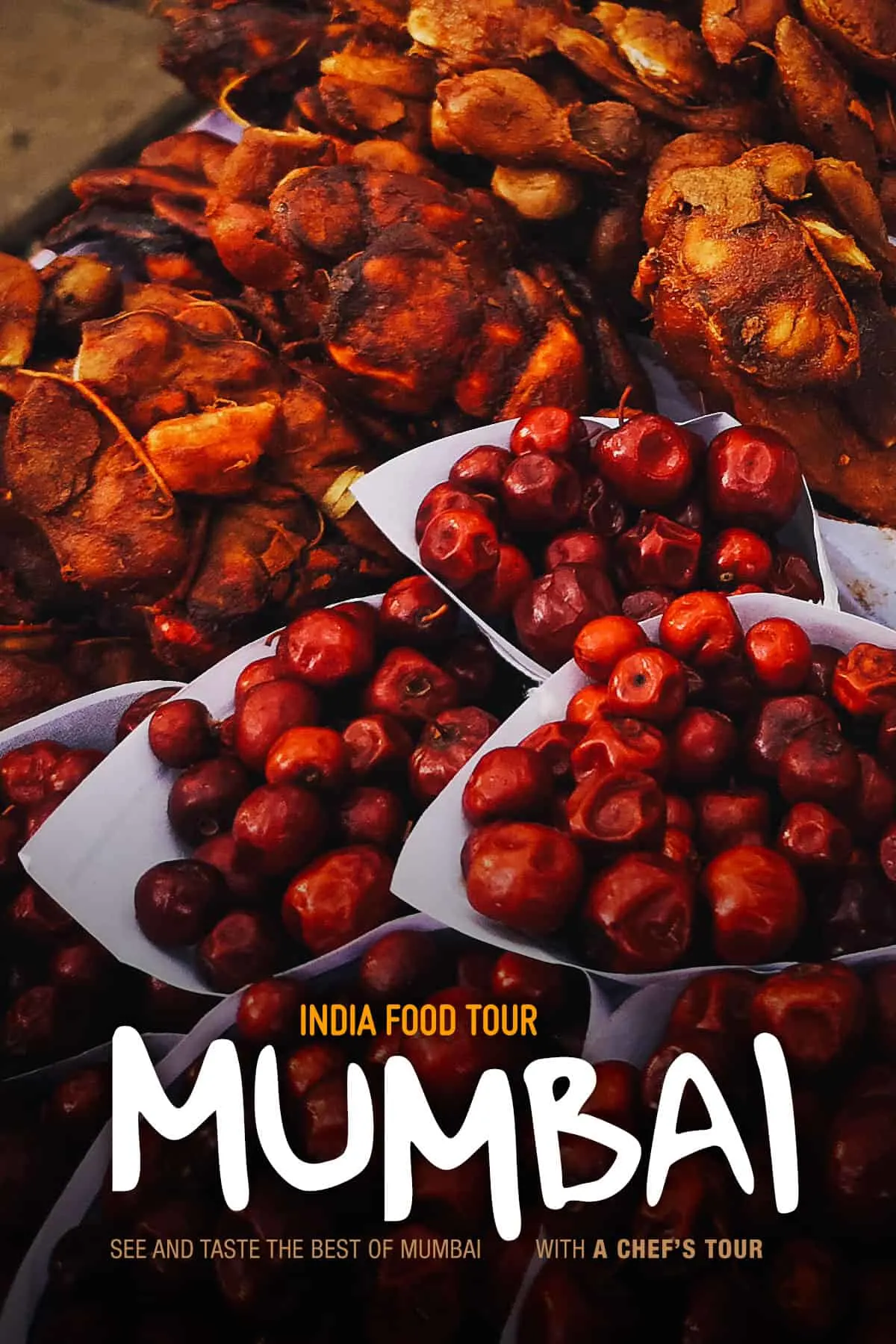 Mumbai Secret Street Eats
A Chef's Tour is a tour provider that offers these really interesting food-focused tours in Thailand and India. I've been on their tours in Bangkok, Chiang Mai, Pai, and Phuket in Thailand and all three of their tours in India. Aside from this Mumbai tour, they offer food tours in Delhi and Kolkata as well.
This is Shailesh, Mumbai's man about town. He knows India's financial capital better than anyone and was tasked to show me the best this city had to offer. This Mumbai Secret Street Eats tour costs USD 49 per person and includes all food and drink, as well as transportation during the tour. It's possible to book it directly with A Chef's Tour but you may get a discount if you book it through Get Your Guide. Let's traveleat!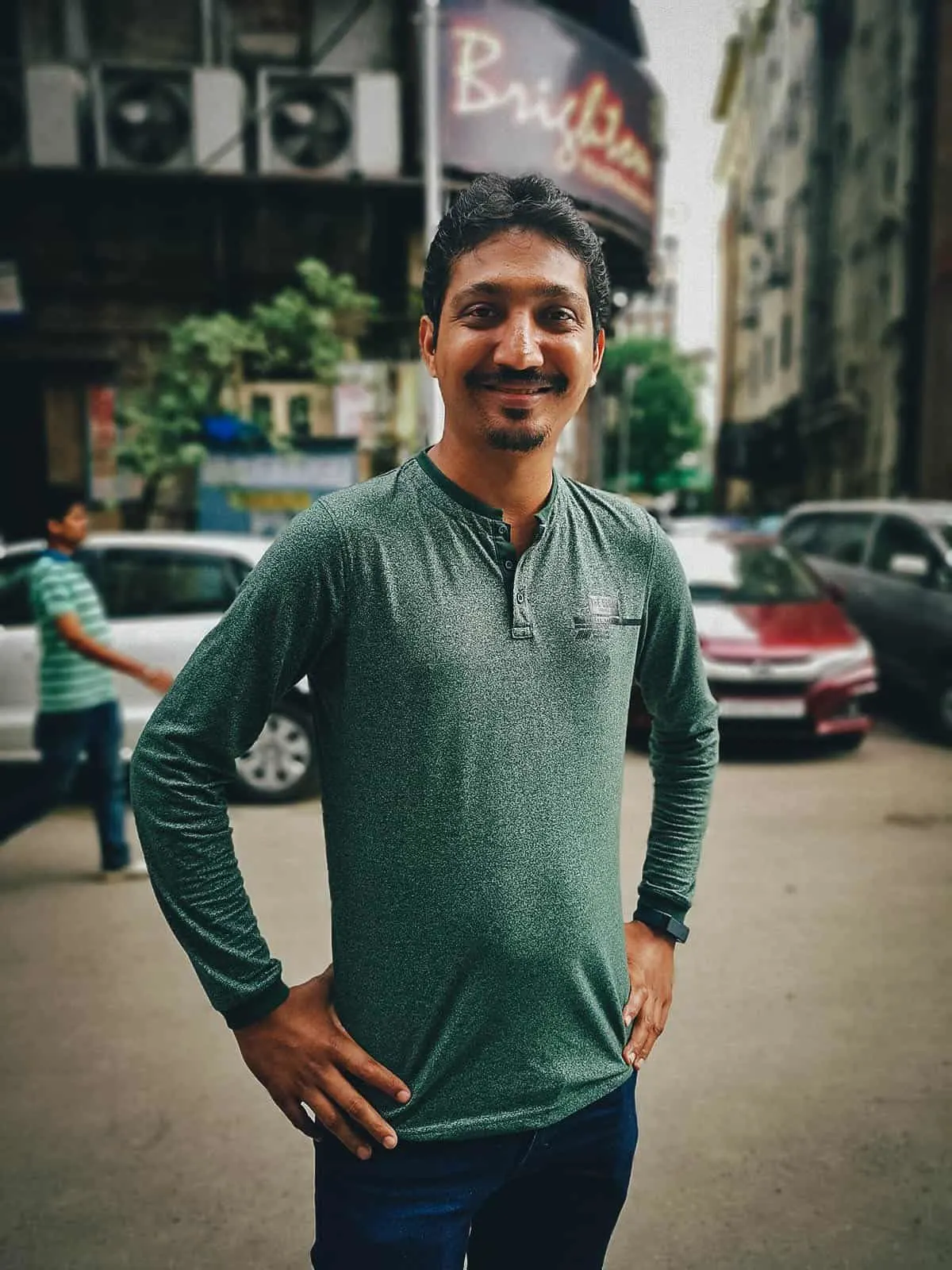 Fort
After meeting up with Shailesh in the Fort district, he took me to this masala lime soda stand. He explained that the masala soda would prep my stomach and help me eat more food. Sounds good!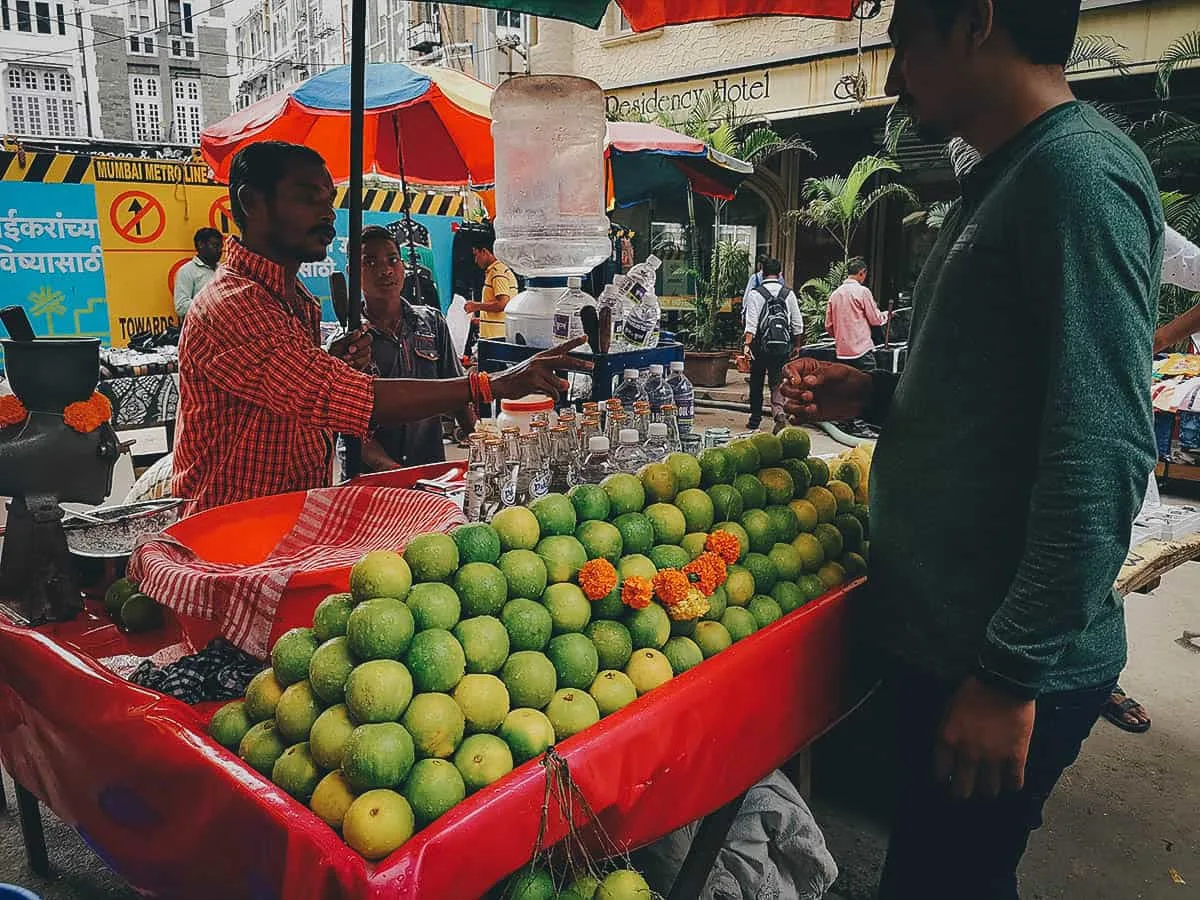 Masala lime soda is basically lime juice and soda water mixed with black salt, cumin, and masala spices. You can get it with or without the spices but I suggest getting it with. It makes for an interesting blend of sweet, sour, savory, and spicy that I never imagined I could have in one drink.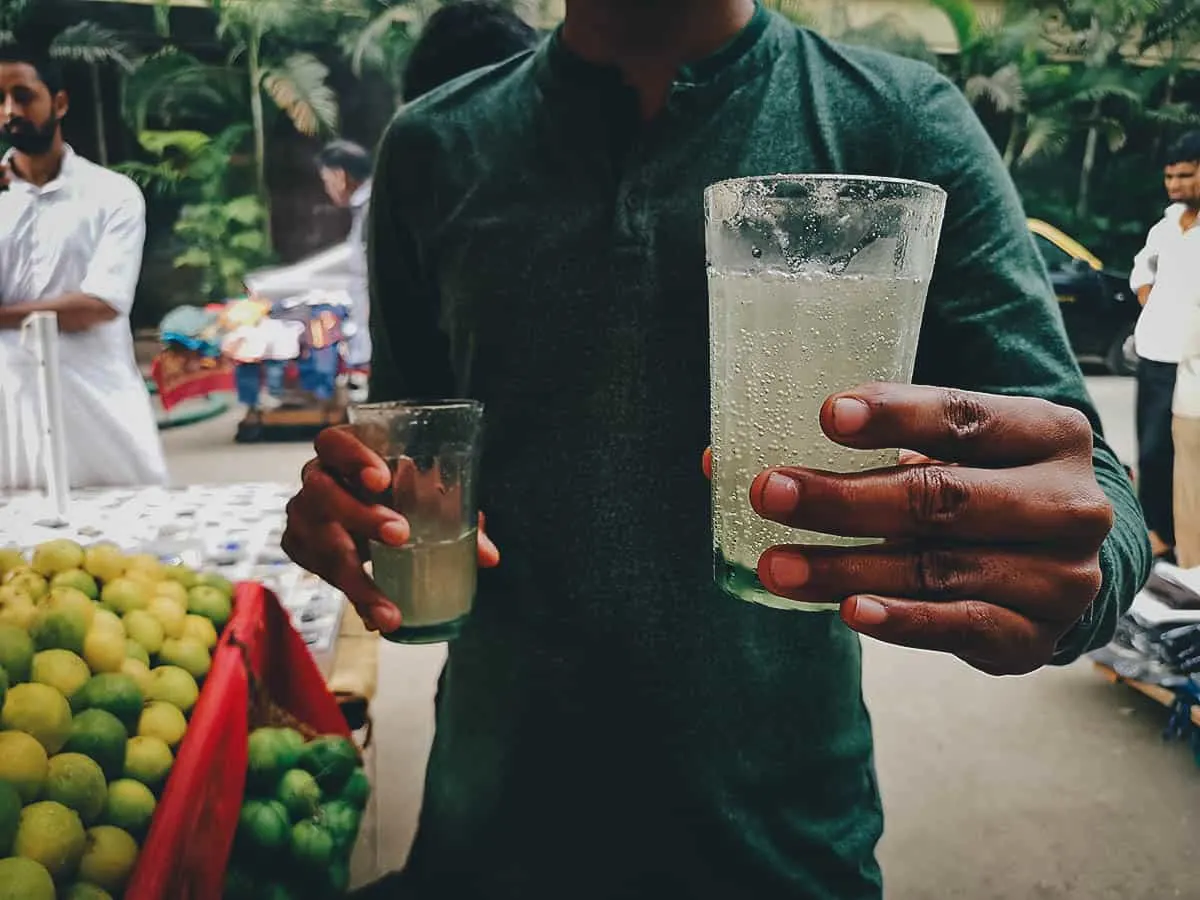 After my stomach was prepped, Shailesh took me to this famous Kerala restaurant to try sadhya. Sadhya is a spread of traditional vegetarian dishes served on a banana leaf. A typical sadhya consists of 24-28 dishes, but on special occasions, it can have as many as 64 or more! My feast of 8-10 small dishes consisted of rice, papadum, and a variety of vegetarian curries, all of which you're traditionally meant to eat by hand. I did and it was delicious.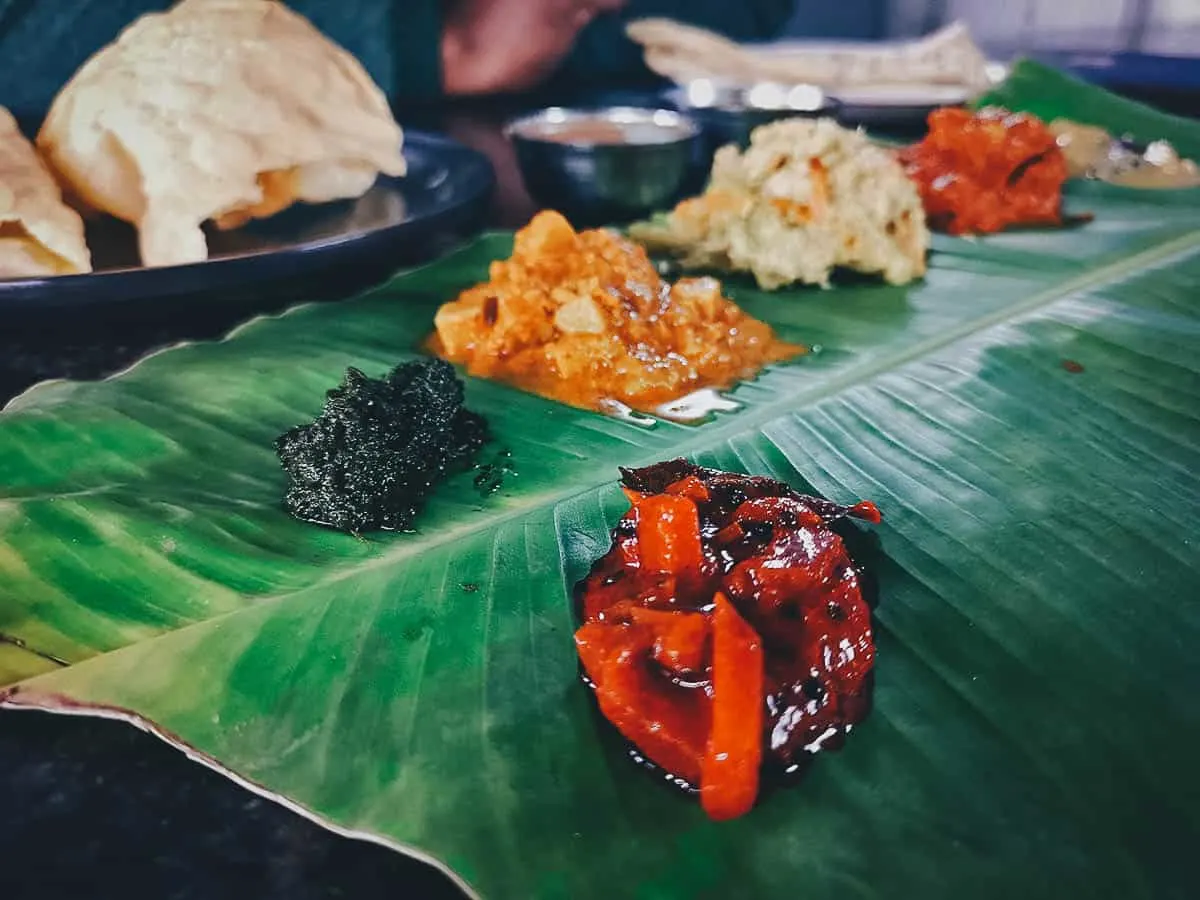 After eating as much of that sadhya as I could, while leaving room for all the food still coming my way, Shailesh took me to this heritage building to enjoy Indian apple pie and chai tea. This bakery was established in 1950 while the building it's in has been around for well over a hundred years. It's one of the oldest and most beloved bakeries in Mumbai.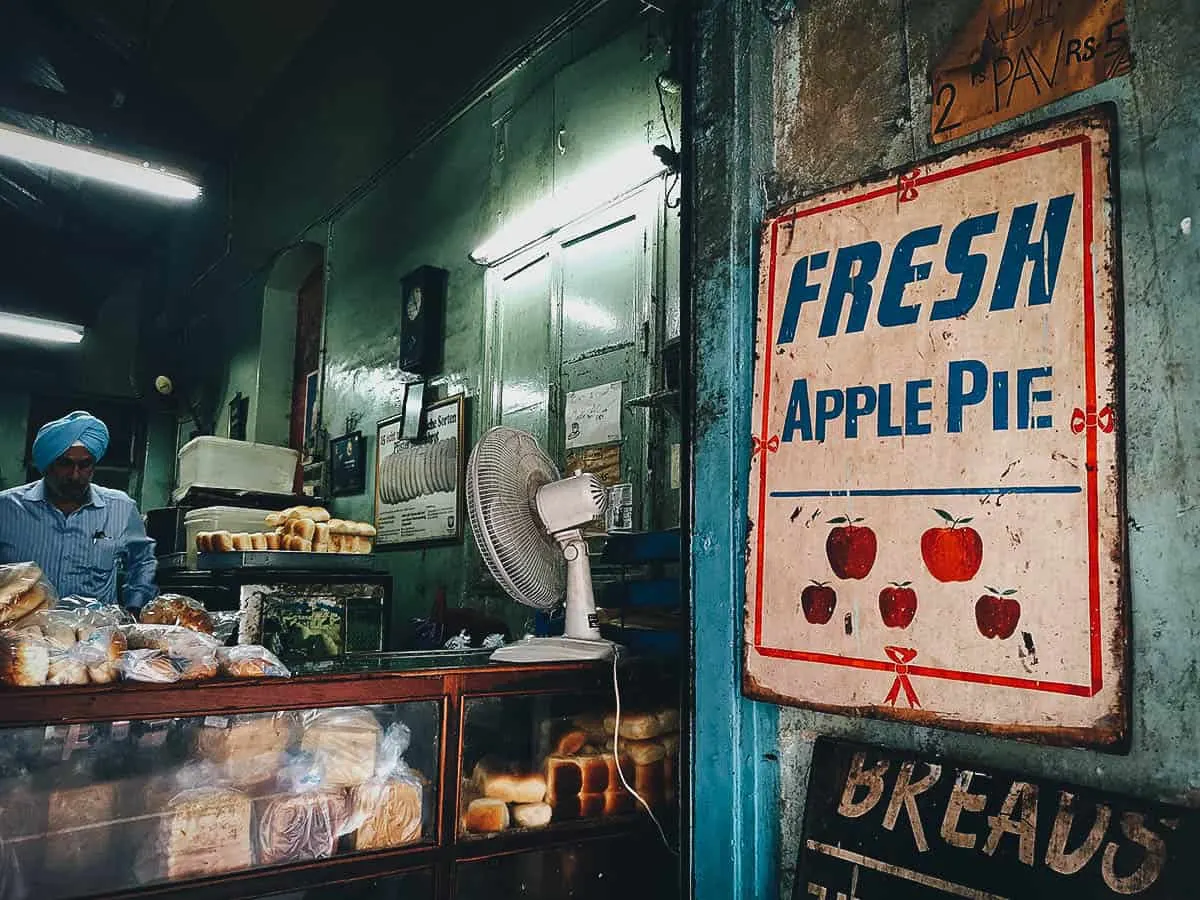 Have you ever seen apple pie like this? Unique right? According to Shailesh, an Iranian family has been running this bakery for generations which is the only place in the city that serves this type of apple pie.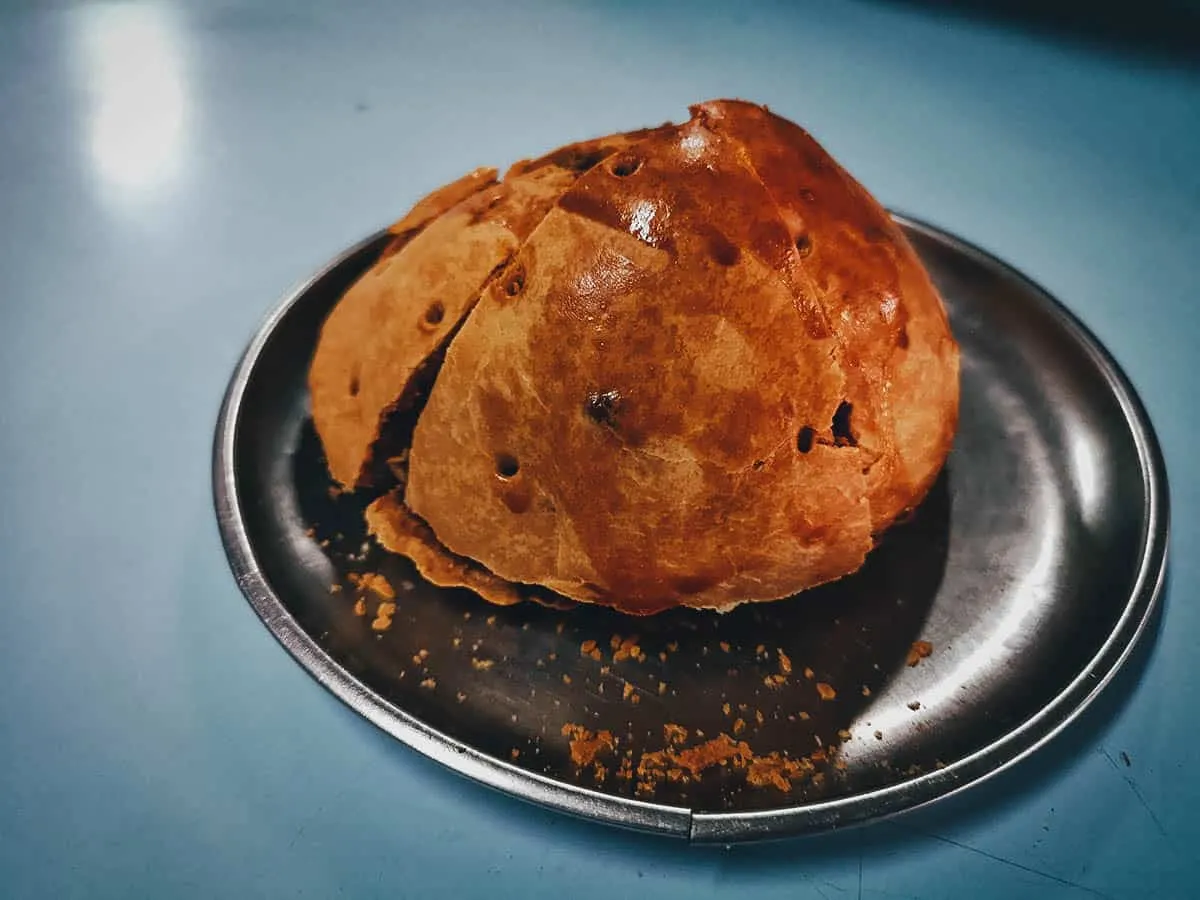 Here's what it looks like inside. Apart from its unusual shape, it differs from any apple pie I've ever had in its crust and ingredients. It's hard, almost like a biscuit, and it contains raisins. You break pieces off with your hands then soften them up by dunking in the chai tea. It was delicious, not too sweet and quite different from western apple pie. Like the sadhya, I had to pace myself and stop at half lest I not get through this entire tour.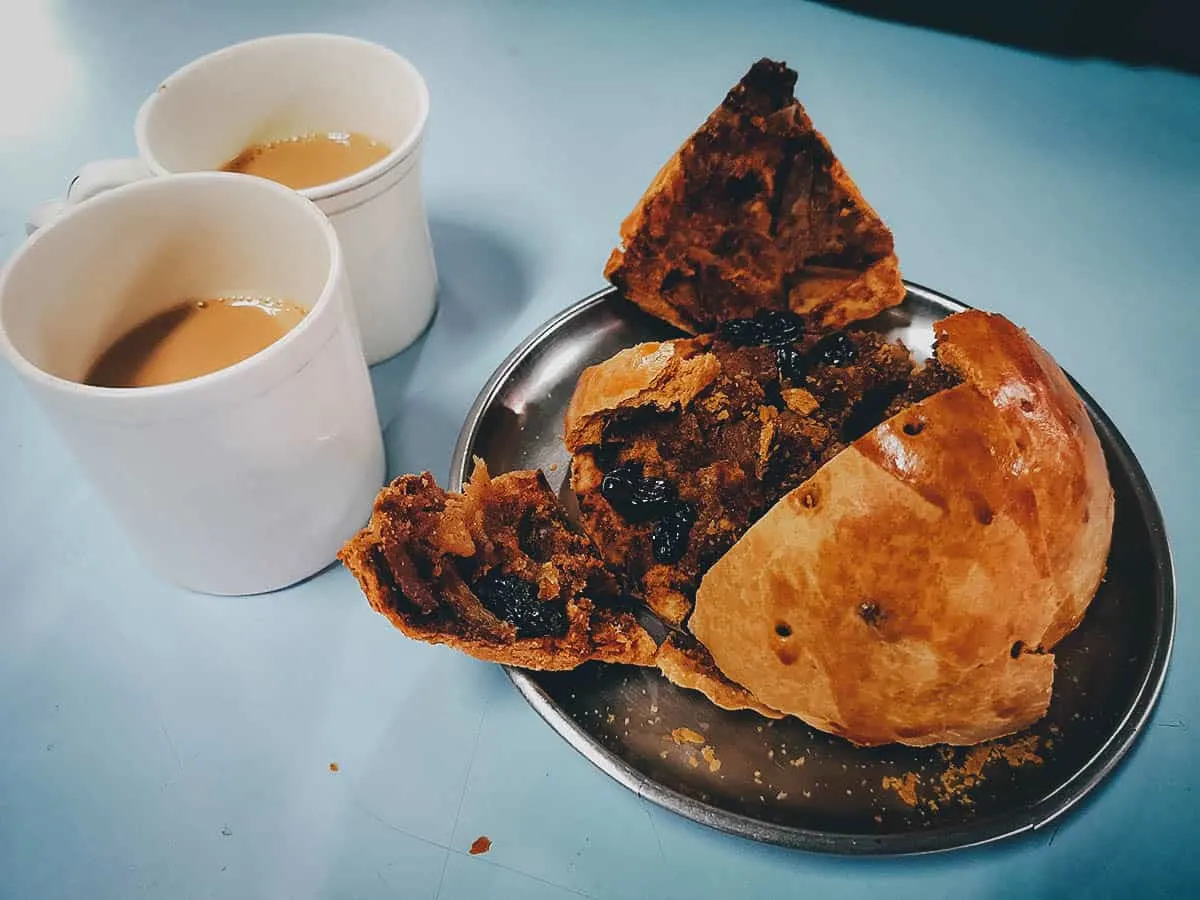 Next up I got my very first taste of paan, which is one of the most interesting dishes I had in India. Paan is a popular street food snack made by topping betel leaf with a mound of exotic ingredients like rose petal preserves, seeds, nuts, banana syrup, coconut shavings, and spices. It's then rolled up so you can eat it in one bite.
I didn't know what to make of this unusual dish at first but I was blown away the instant I put it in my mouth. It's packed with so much flavor! Sweet, savory, spicy, and everything else in between, it's like all the flavors of the Indian subcontinent packed into one bite. Most people spit out the remnants in the end but I wound up swallowing mine. Shailesh said it's fine.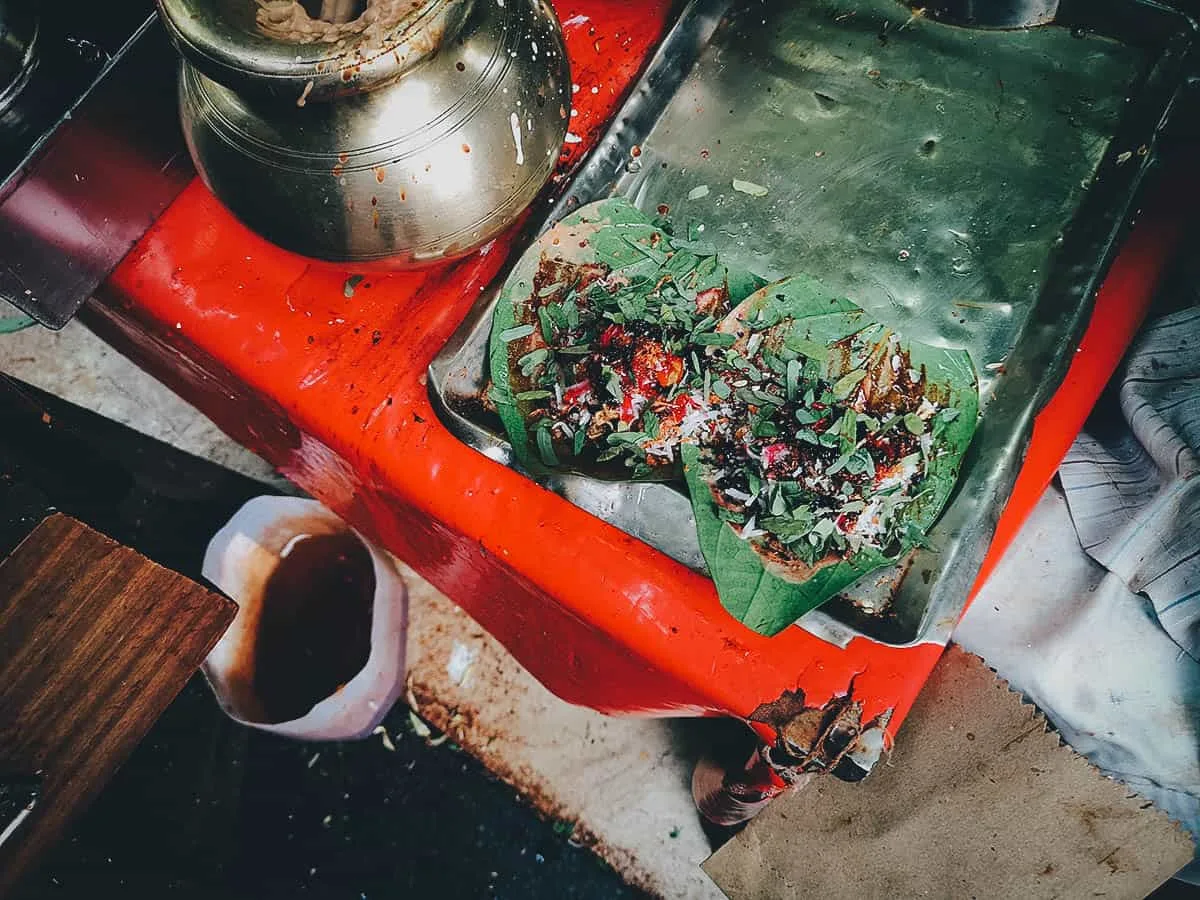 Aside from being a food tour, this was also a transportation tour with Shailesh taking me to choice parts of the city using different means of transportation. We were walking towards Churchgate train station when we stopped at this street food vendor selling different types of sticky preserved fruit. We had a cone of the sweet and sour tamarind which we ate on our way to the station.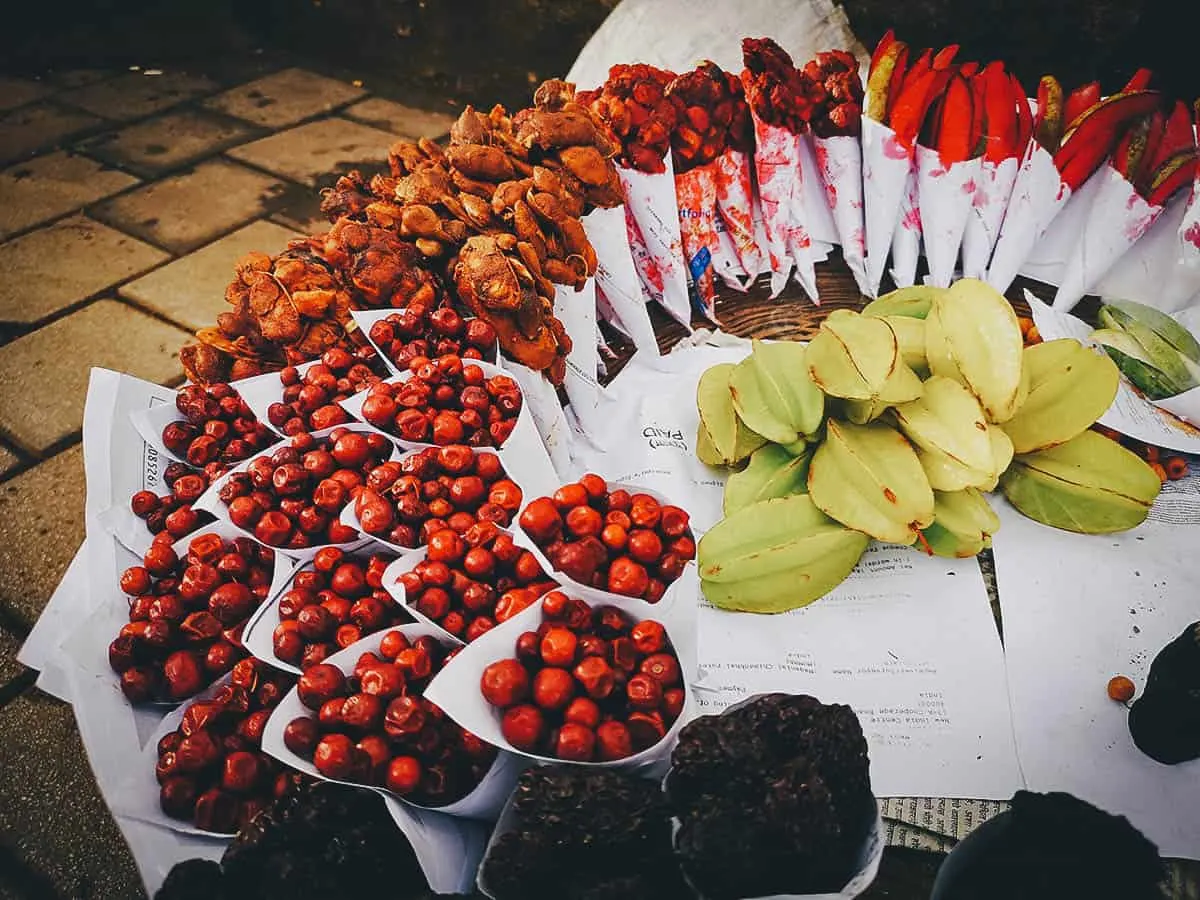 Chowpatty Beach and Ganesh Chaturthi
We made our way by train to this section of Chowpatty Beach along Marine Drive, also known as the Queen's Necklace. It's a picturesque C-shaped road along the coast which looks like a sparkly necklace when viewed from the air at night. Shailesh explained that the word chowpatty means "beach", so Chowpatty Beach literally means "beach beach". I thought that was funny.
I didn't know this until I arrived in Mumbai but I was lucky to be here during Ganesh Chaturthi, one of the biggest and most celebrated festivals in the city. It's an annual 10-day festival that celebrates the birth of Ganesha, one of the most important gods in the Hindu religion. During the festival, Ganesha idols of all sizes are paraded on the streets and brought to this beach where they're left to sink and disintegrate in the ocean. On our way here, we passed several throngs of people dancing to the beat of drums while transporting Ganesha idols to the beach. Fun!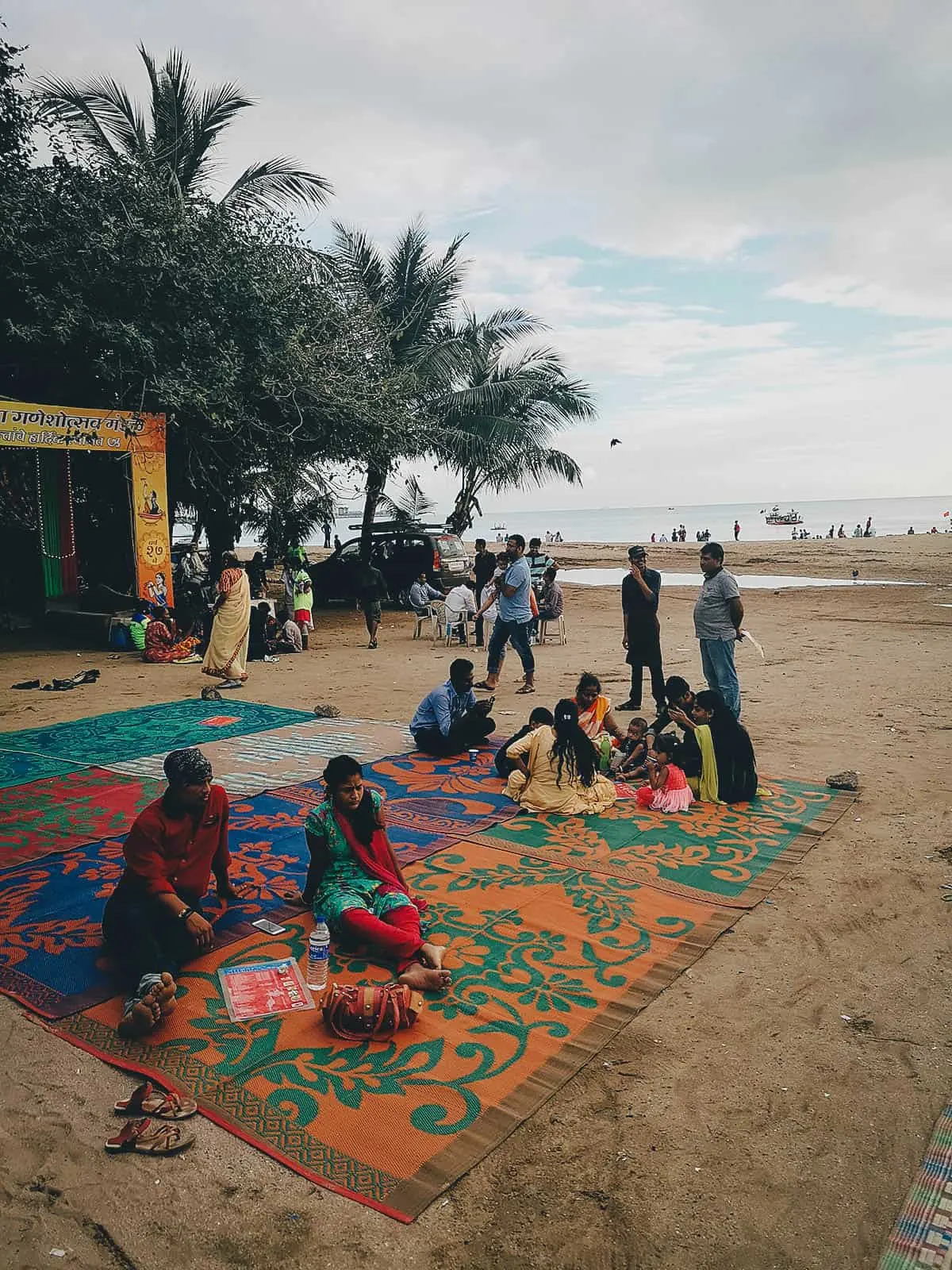 Here are examples of Ganesha idols both big and small. Can you believe idols this large are carried and brought to the beach? Crazy! They're made of plaster of paris which is supposed to melt away harmlessly in the ocean.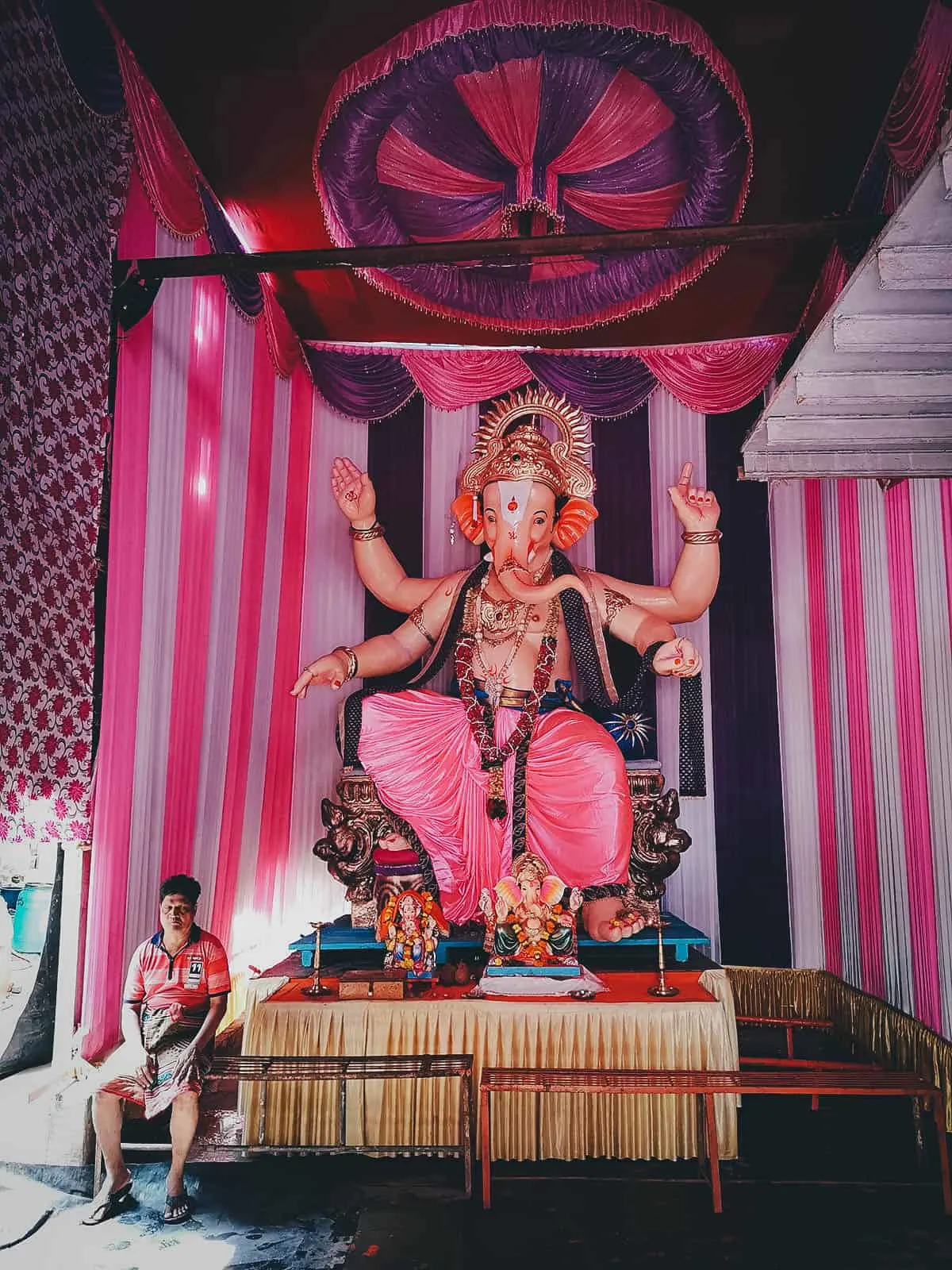 But we weren't at Chowpatty Beach just to enjoy the views, we were here to eat so Shailesh took me to this stall serving his absolute favorite food in the world – phav bhaji. Phav bhaji is a popular dish that originated in Mumbai in the 1850s. It started off as an easy-to-make lunchtime dish for the city's textile mill workers, before eventually being offered on restaurants menus throughout the city and country.
Phav bhaji consists of a thick vegetable curry which is fried and mashed before being served with a soft bread roll, chopped onions, and a wedge of lime. This is what it looks like before it's mashed to a paste.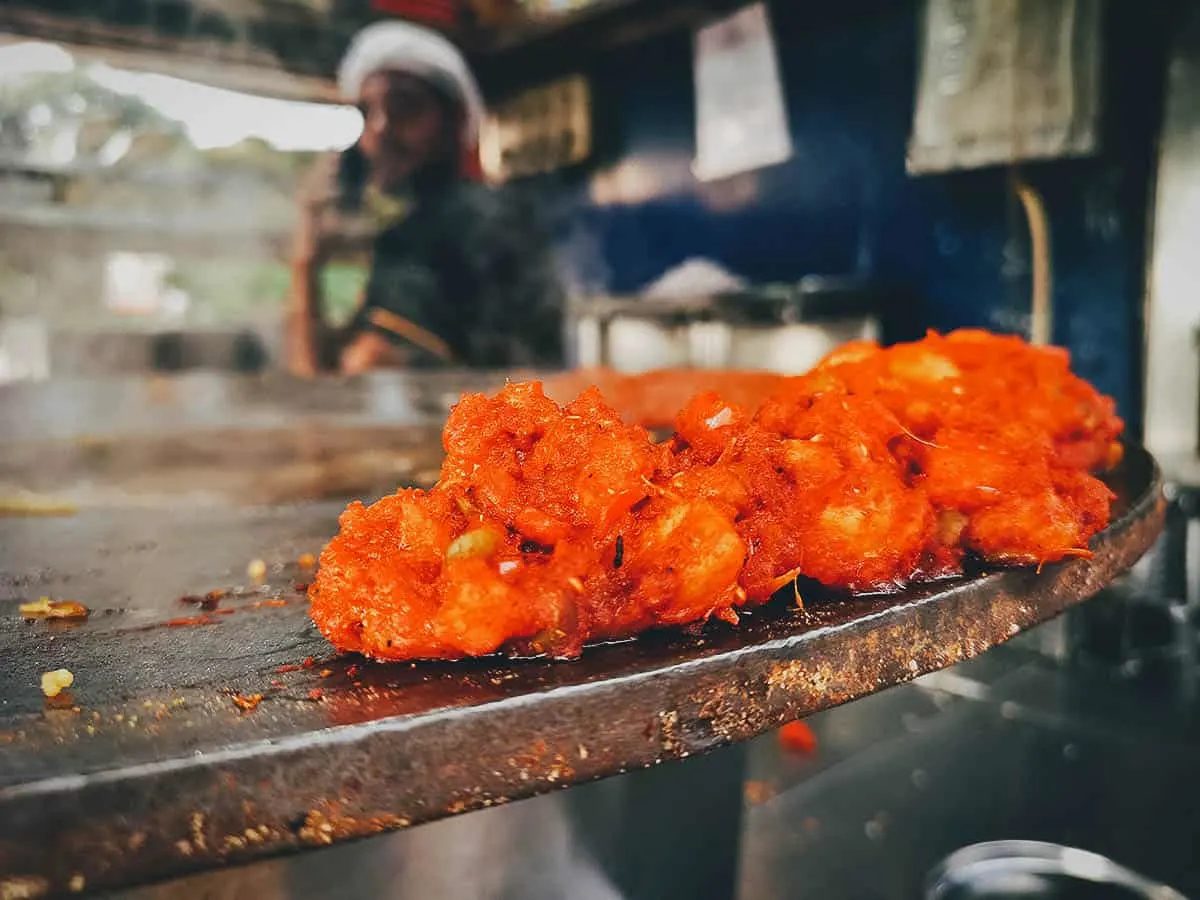 Our tasty phav bhaji topped with grated cheese. For me, dunking any type of Indian bread in curry is one of life's great pleasures. I really enjoyed this. So simple yet so delicious.
I asked Shailesh what his hypothetical last meal would be and he said, without hesitation, his mother's phav bhaji. I asked how this one compares to his mother's, and he just smiled and gave me that Indian side nod. It was clear what he meant. This phav bhaji was delicious but nothing can ever compare to mom's.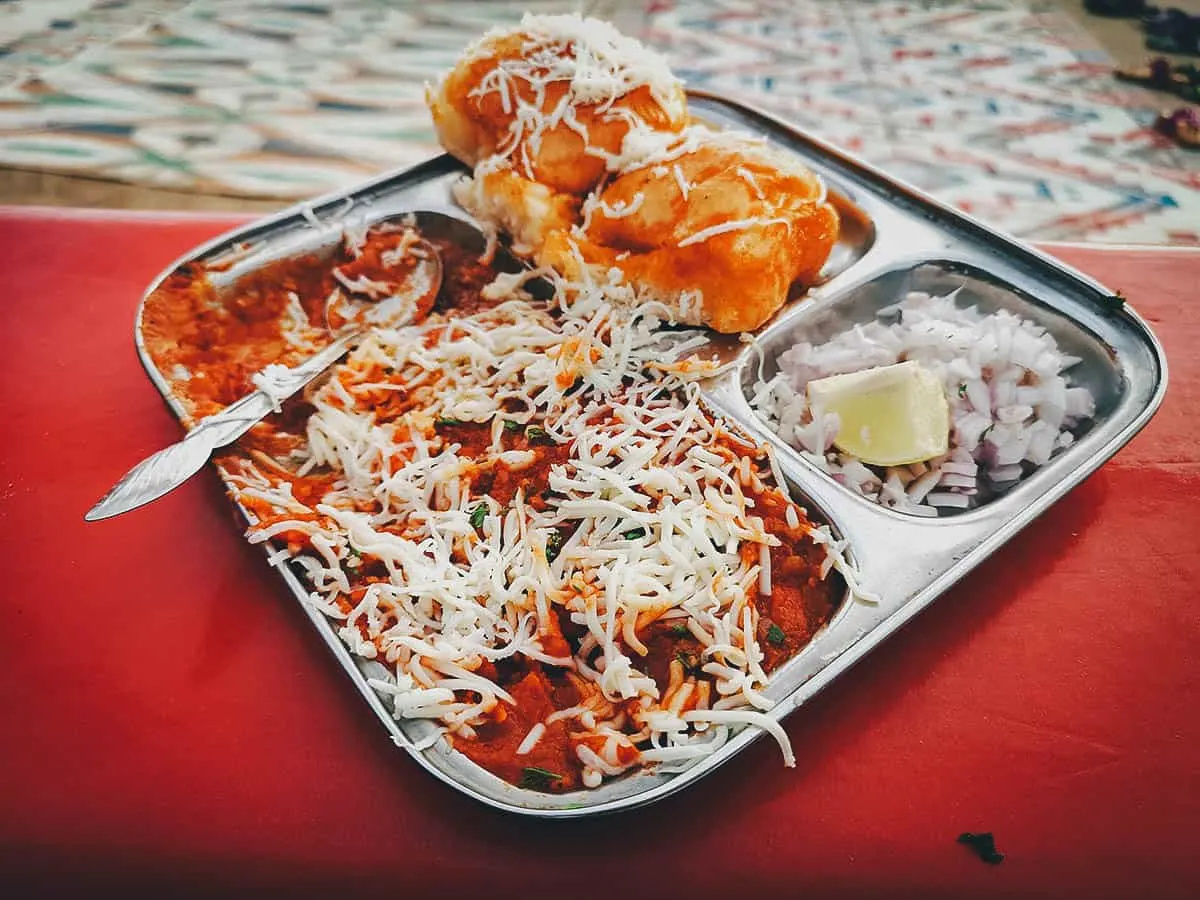 Chor Bazaar
From Chowpatty Beach, we hopped into a taxi and proceeded to Chor Bazaar, one of the largest flea markets in India. There you can find all kinds of new and used goods like antiques, tools, mobile phones, branded clothing overruns, even car and motorcycle parts. According to Shailesh, you can find pretty much anything there.
Interestingly, Chor Bazaar in Hindi literally means "thieves' bazaar". Legend has it that Queen Victoria once had her violin stolen on a visit to Mumbai (formerly Bombay). It was later found at this market which earned it its present day name. In fact, there's a saying that if you lose something in Mumbai, then you can buy it back at Chor Bazaar. Some people think the Queen Victoria story is true, others think it's complete bullshit, but one thing's for sure. There do seem to be stolen goods here, like "used" mobile phones, so be extra vigilant with your belongings.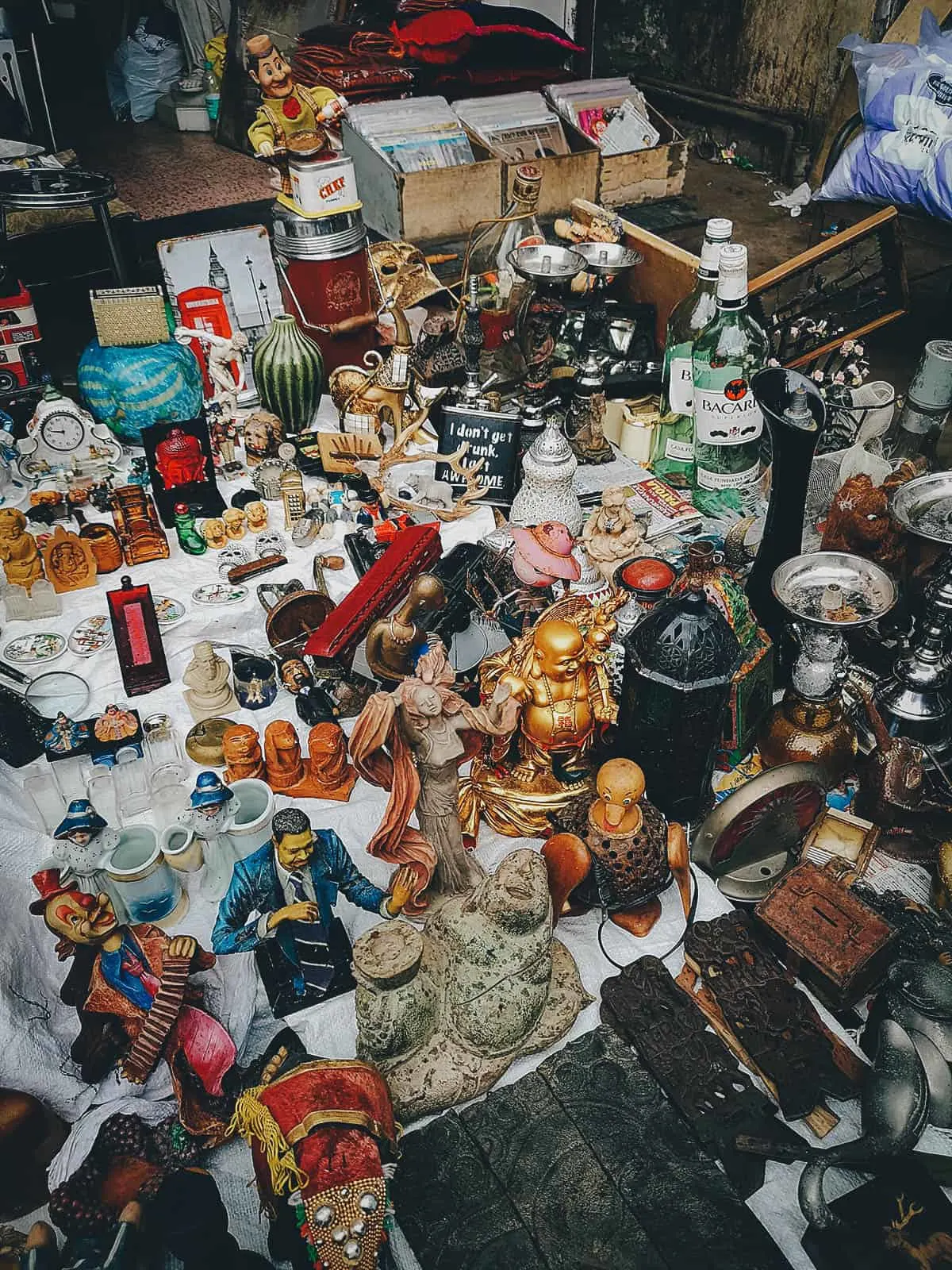 We walked through a fresh produce and spice market on our way to the Muslim Quarter.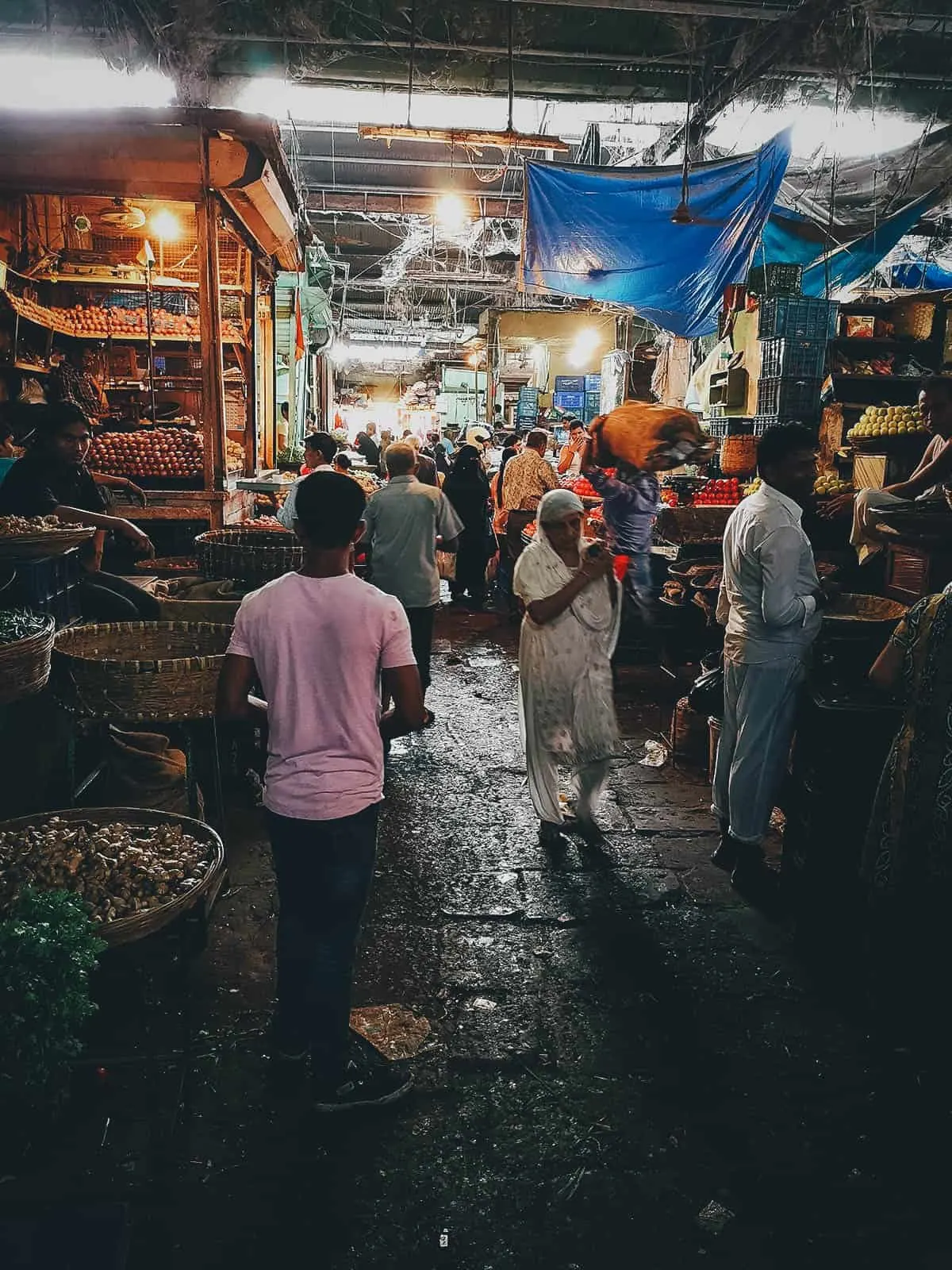 Muslim Quarter
Shailesh took me to this stall selling different types of grilled kebabs. He was looking for a specific type of chicken kebab, which this stall was unfortunately out of tonight. Thankfully, another shop around the corner had it.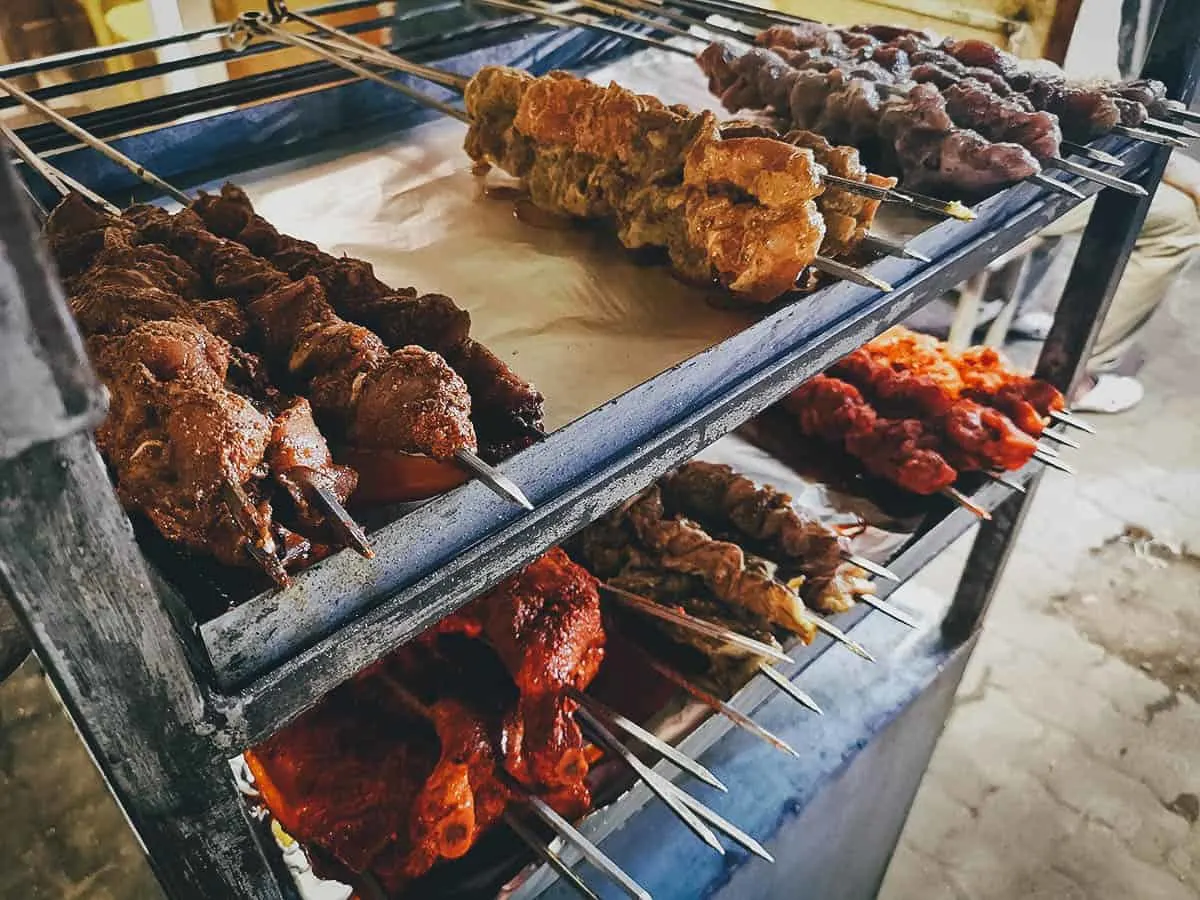 These are the grilled chicken kebabs Shailesh wanted me to try. The kebabs are made with ground chicken meat, herbs, and spices before being grilled over coals and served with a side of raw onion and lime wedges. It was delicious – soft, smokey, and very tasty – especially when spritzed with the lime and eaten with the sweet, crunchy raw onion.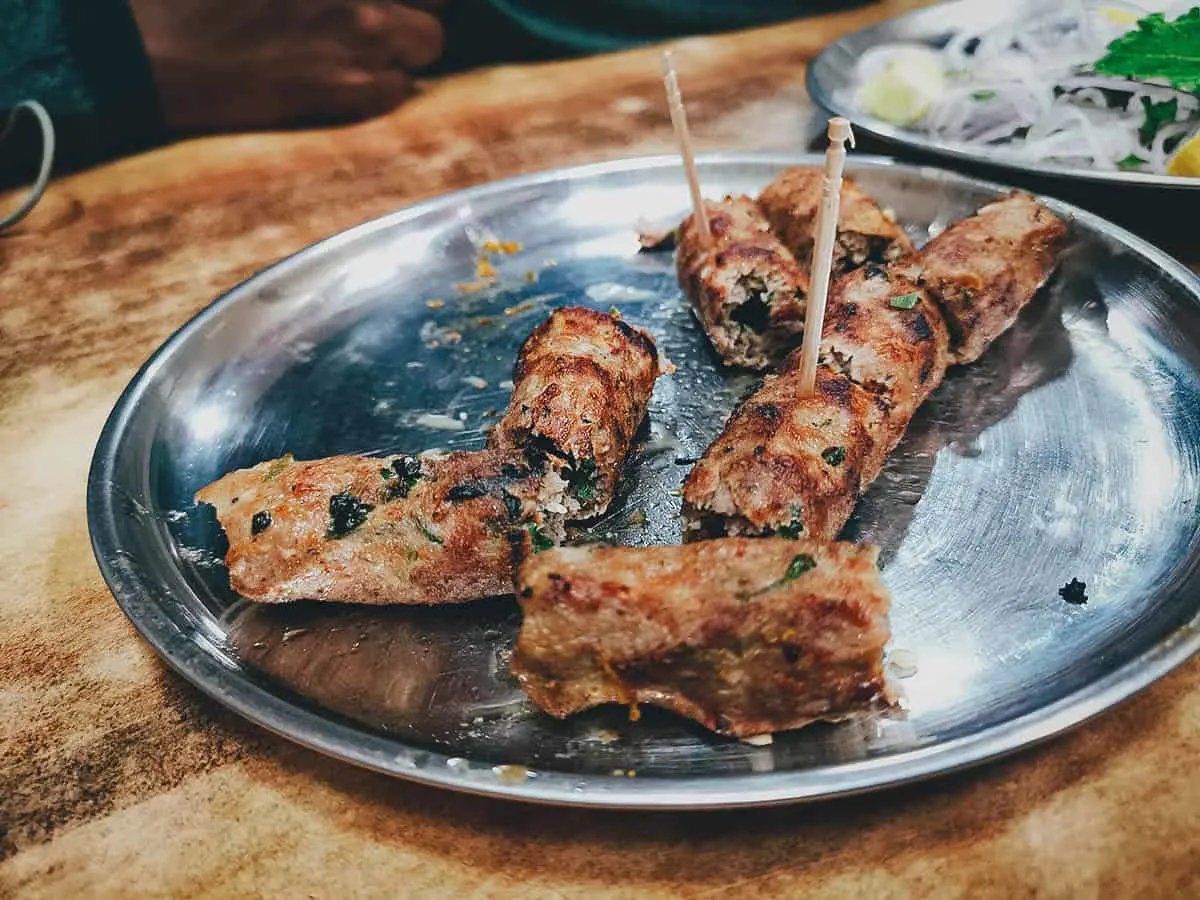 Not too far from the kebab stall was our last food stop on this tour – a heritage ice cream stall owned by this dignified-looking man. According to Shailesh, this shop is famous for its sancha ice cream which they've been churning by hand since 1887. That's over 130 years!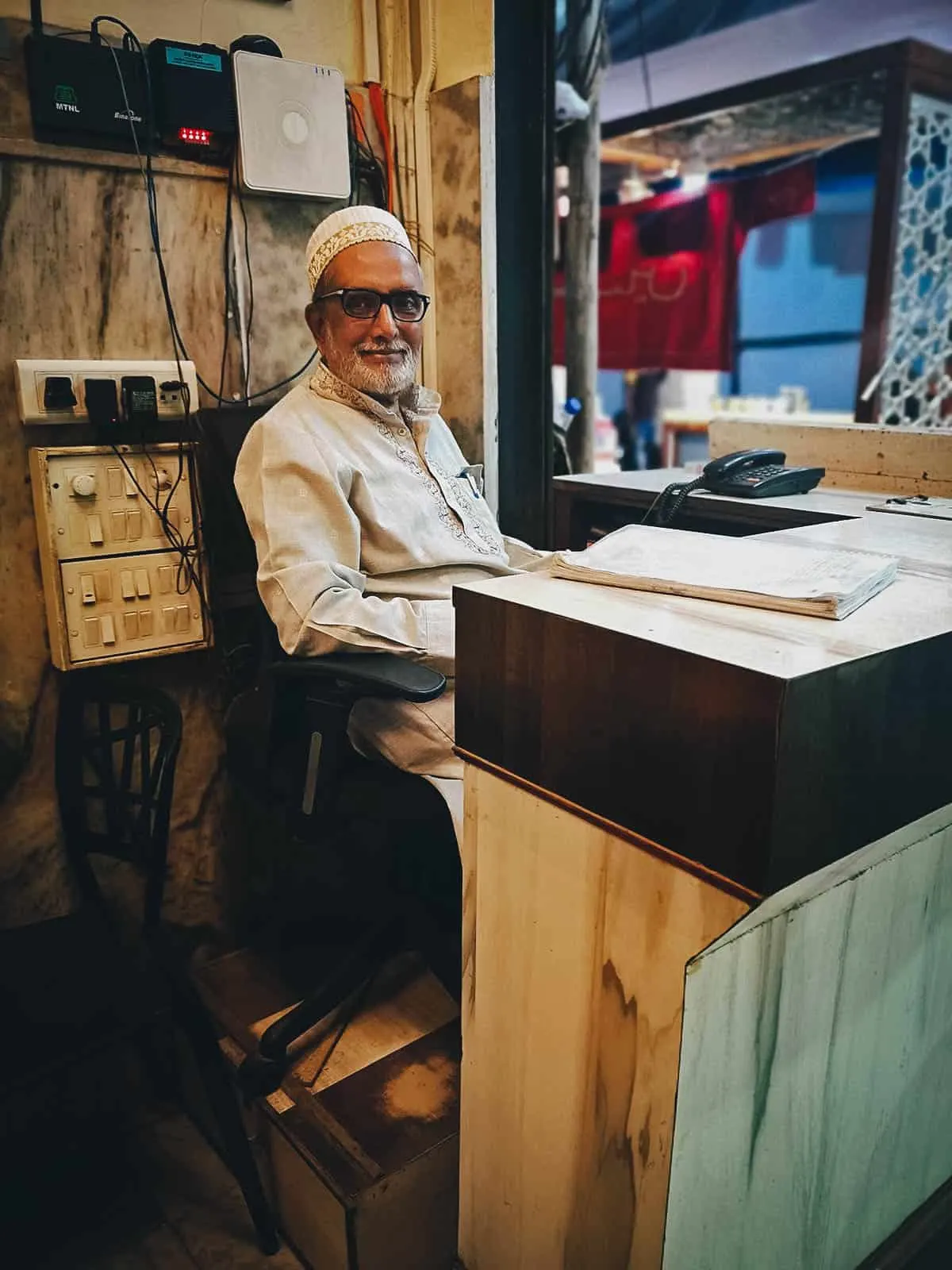 This type of ice cream gets its name from this contraption – a sancha. When fresh milk has been cooked then cooled, it's poured into a copper sancha like this one along with fruits, nuts, and other ingredients. Mixed with ice, the ingredients are hand-churned for 2-3 hours till the ice cream is firm and ready to eat.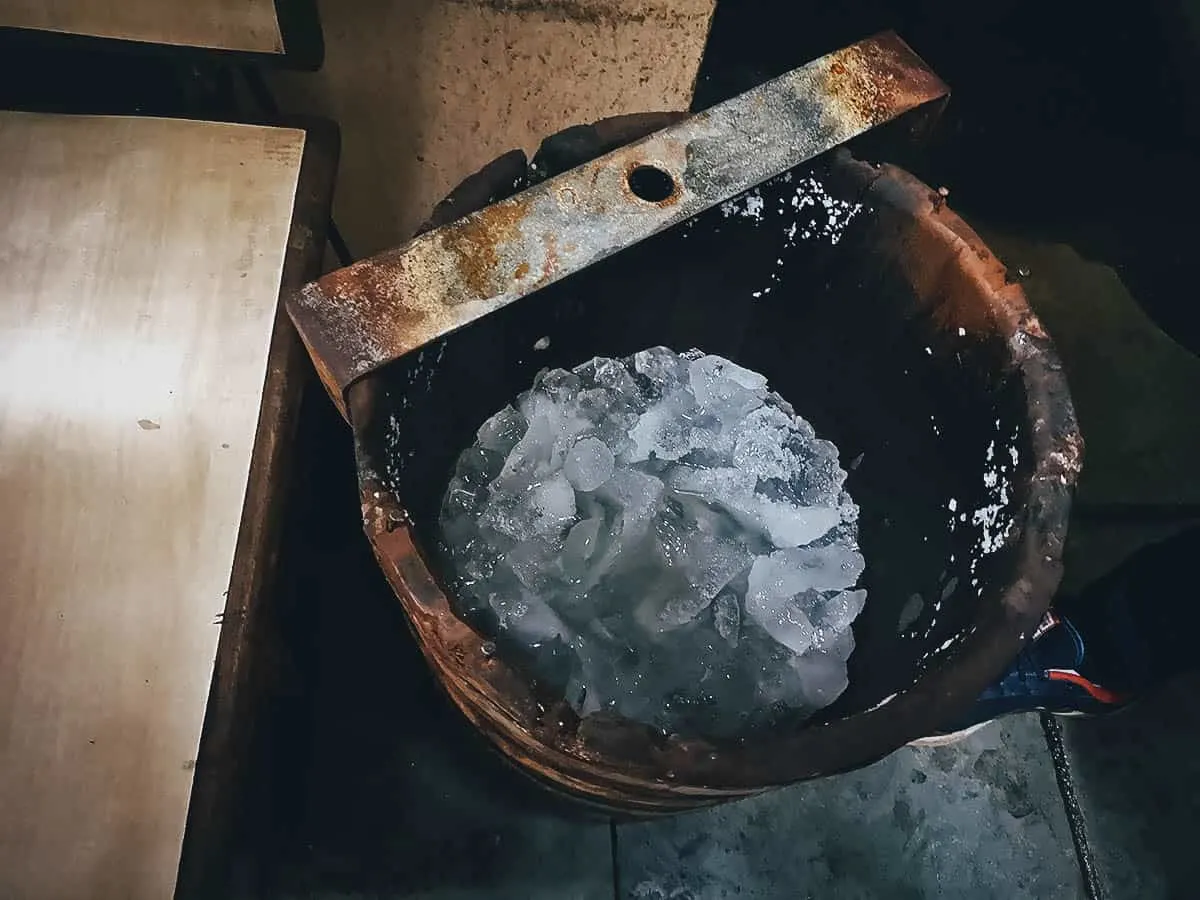 Here's our delicious sancha ice cream. We tried two flavors, one made with fresh Alphonso mango and another with custard apple, two of my favorite fruits. Both were outstanding, different in texture but equally delicious.
I've never had ice cream made with custard apple before so I really enjoyed that. It contained whole pieces of custard apple which I imagine must have taken some work to de-seed. I had never heard of Alphonso mangos before but they're apparently one of the best and most expensive types of Indian mango. It was delicious, rich and nectar-y with a firmer texture.
Shailesh noticed how much I was enjoying the ice cream so he let me finish both cups. What a great end to an awesome food tour!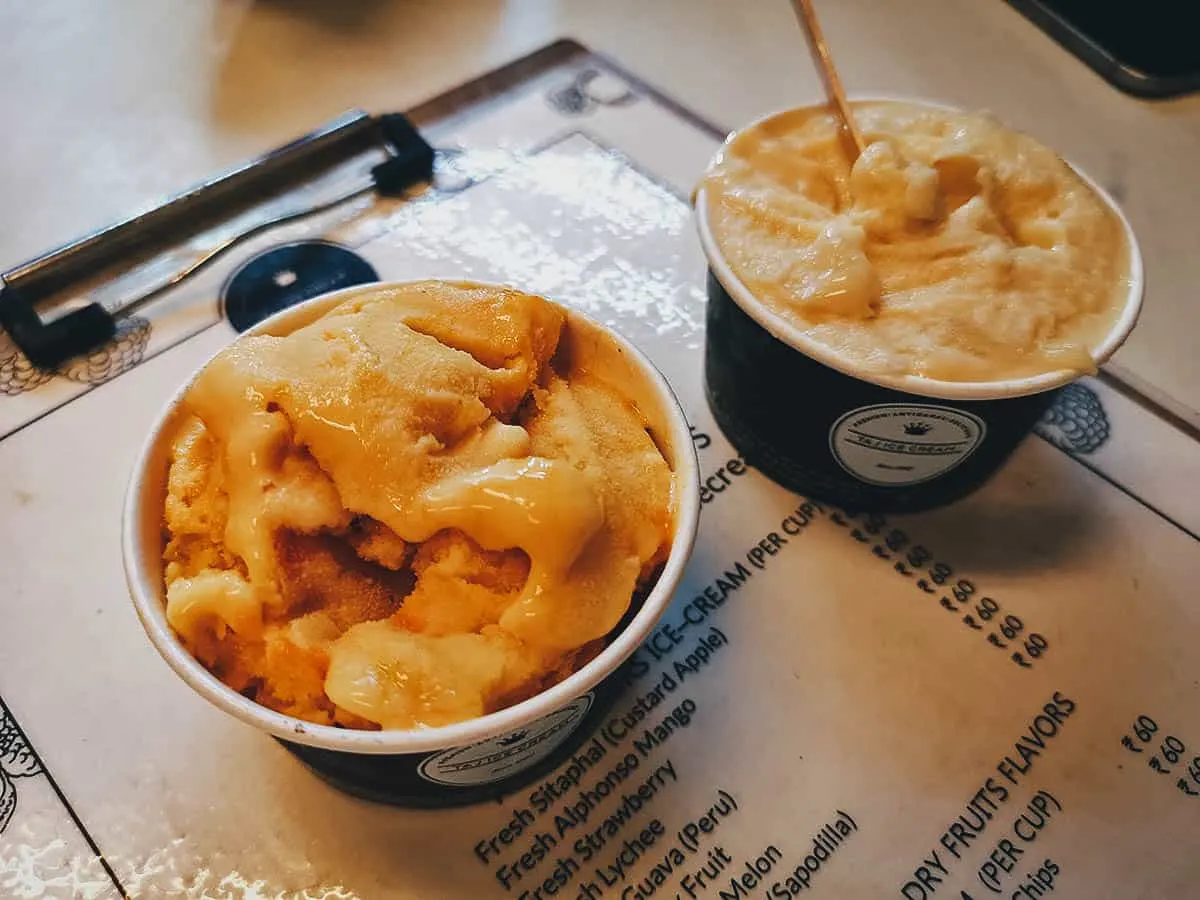 Chhatrapati Shivaji Maharaj Terminus
After finishing our ice cream, we hopped on a public bus and rode it back to the Fort district and this magnificent building. Called Chhatrapati Shivaji Maharaj Terminus, or CSMT for short, this UNESCO World Heritage Site is Mumbai's main railway station and the heart of its metro system. It's gorgeous during the day, but at night, when it's lit up like this, it looks absolutely spectacular.
Shailesh and I parted ways at the Terminus but I must have spent a good 30 minutes to an hour just photographing and taking videos of this building. He told me that in celebration of Independence Day, it was lit up in the colors of the Indian flag. How stunning it must have been!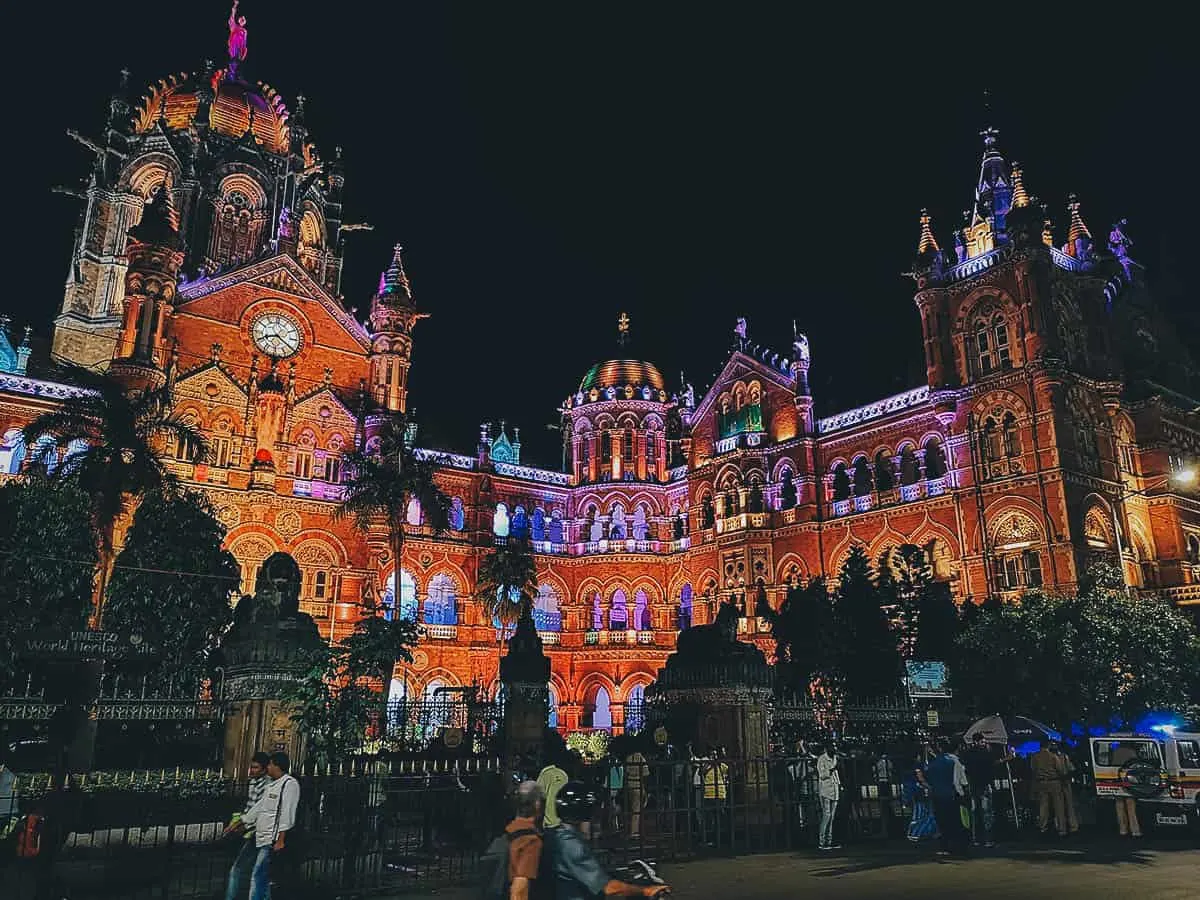 Across the street from the Terminus is this equally striking structure, Mumbai's Municipal Corporation Building. The Fort area is home to many beautiful Gothic buildings like these.

Conclusion
I've been on many of their tours and A Chef's Tour always creates the most interesting itineraries. They do a good job in bringing you deep local food experiences thanks to knowledgeable foodie guides like Shailesh.
I enjoyed this Mumbai Secret Street Eats tour, though it didn't seem to have as many dishes as previous tours from A Chef's Tour. I've gotten used to being fed a surprising amount of food and drink on their tours, maybe 12-13 dishes on average, so I was surprised to try only 8 on this one. That's still a lot of food but short of A Chef's Tour's often gluttonous food romps. I checked their website (scroll down to sample menu) and saw that there were 5 dishes listed that I didn't get to try today. I realized that it may have had something to do with Ganesh Chaturthi.
As described, I was here under special circumstances because of the festival so traffic in the city was much worse than usual. Shailesh himself got caught up in traffic before meeting me and we had a very difficult time getting a taxi and catching a bus. To compensate, it looks like Shailesh cut a few stops out to make up for lost time. If you go on this tour, then expect more dishes than what's pictured above. As I've learned from previous tours, it's wise to go on an empty stomach and pace yourself during the tour.
There are many things to love in Mumbai, not least of all is its food. As described, there's only so much independent research can tell you so having a local foodie like Shailesh showing you around is invaluable, especially if you're out to try the very best examples of local food.
If you're planning a trip to Mumbai, then I highly recommend going on this tour. It typically costs USD 49 per person if you book directly with A Chef's Tour, but you may get a discount if you book it through Get Your Guide.
A Chef's Tour
Website: achefstour.com
Facebook: achefstour
Twitter: achefstour
Instagram: achefstour
Pinterest: achefstour
Email: [email protected]
Cost: USD 49 per person (inclusive of food and transportation during the tour)
For travel tips to Mumbai, check out our The First-Timer's Travel Guide to Mumbai, India.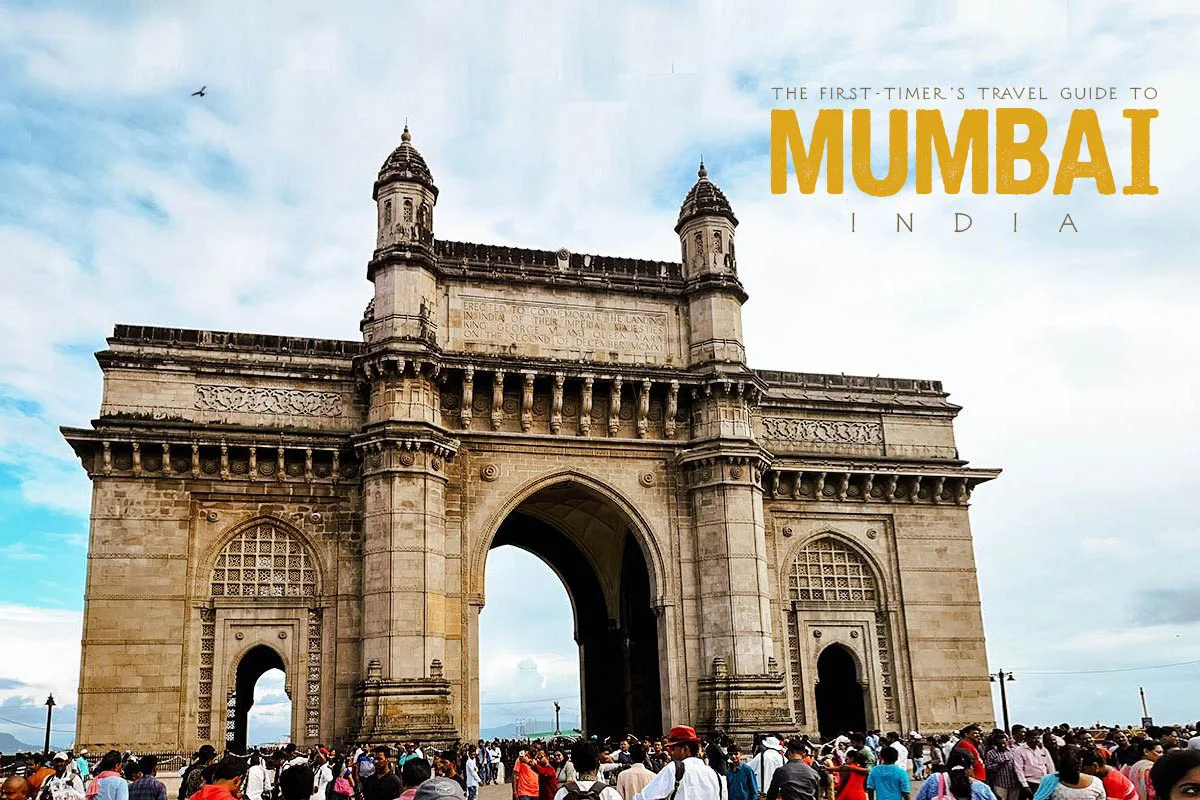 Disclosure
A Chef's Tour flew me to India to cover their food tours in Kolkata, Mumbai, and Delhi. They covered my airfare and accommodations and gave me complimentary tours in exchange for an honest account of the experience. As always, all words, thoughts, and opinions expressed in this post are mine and mine alone.
Some of the links in this guide are affiliate links, meaning we'll get a small commission if you make a purchase at NO extra cost to you. We only recommend products and services that we use ourselves and firmly believe in. We really appreciate your support as this helps us make more of these free travel guides. Thank you!