George Town in Penang is one of my favorite cities in Southeast Asia. It has a unique blend of architecture, street art, and hawker food that I haven't seen anywhere else in the region.
Whenever you visit a new city, you typically go from one attraction to the next but here, it feels like the entire city IS the attraction. You can get lost in its maze of heritage houses without any real agenda and still feel like you had an eventful day.
We had often heard Penang described as the street food capital of Malaysia so it was only a matter of time before we travel-ate our way here. The food is reason enough to go, but if you appreciate interesting architecture and urban art, especially from behind a lens, then you're going to LOVE George Town and Penang.
VISIT PENANG QUICK LINKS
This Penang travel guide is long and detailed. For your convenience, I've compiled links to hotels, tours, and other services here.
HOTELS
Top-rated hotels in George Town
TOURS
OTHER SERVICES
Save This on Pinterest!
No time to read this Penang travel guide now? Click on the save button and pin it for later!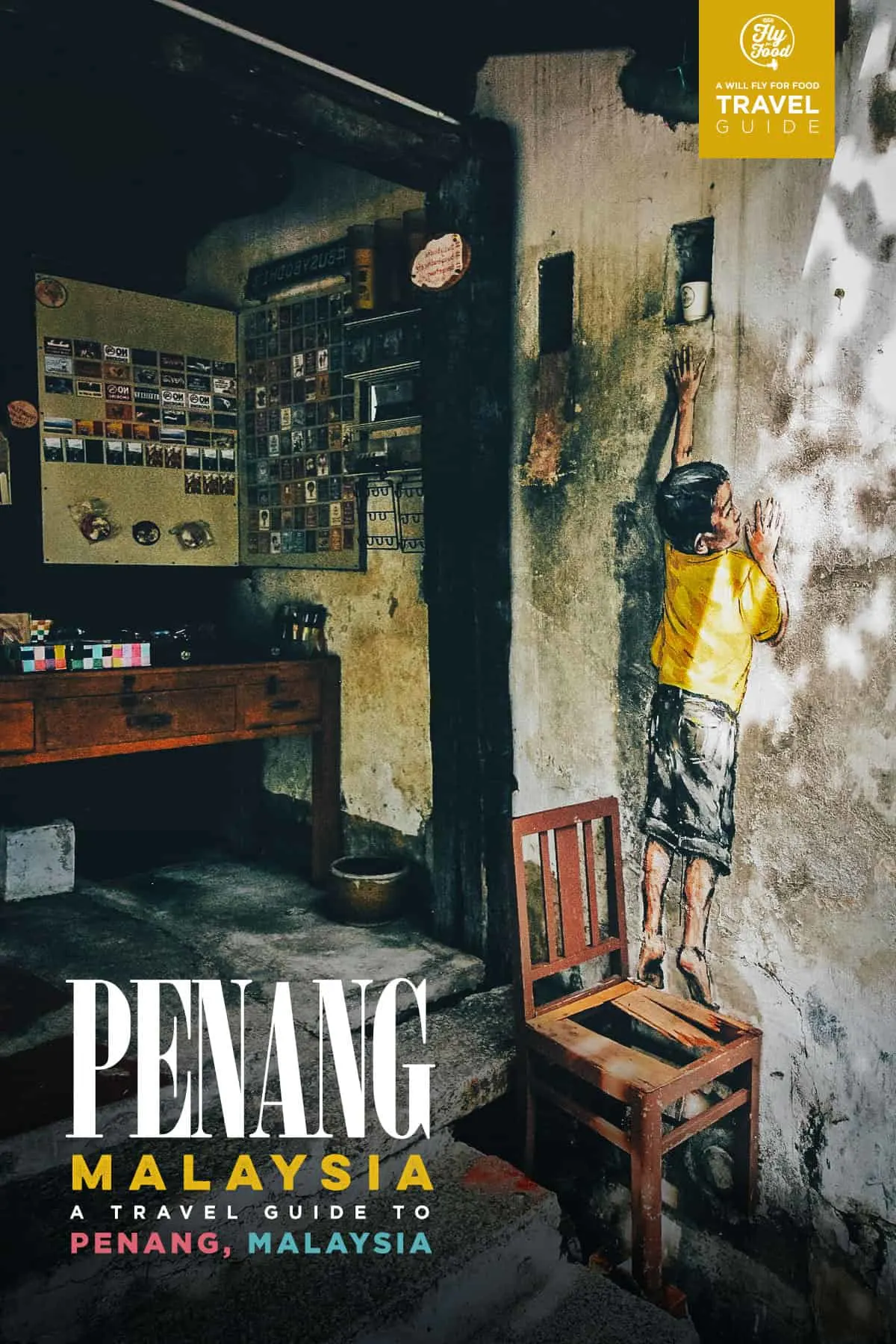 GUIDE TABLE OF CONTENTS
PENANG TRAVEL RESTRICTIONS
Because of the current global situation, travel guidelines have been changing regularly. Our friends at Booking.com have created a website that contains detailed information on travel restrictions around the globe.
Before planning a trip to Penang, be sure to check Booking.com for information on travel restrictions to Malaysia. If you do decide to visit Penang, then you may want to seriously consider getting travel insurance with COVID coverage.
MALAYSIA VISA
Depending on what type of passport you carry, you may need to acquire a visa and other travel documents before visiting Penang and Malaysia. Check out iVisa.com to learn about the requirements and to apply for a visa (if necessary).
PENANG AT A GLANCE
Penang is an island state off the northwestern coast of Peninsular Malaysia. It's comprised of two sections – Penang Island, where the capital city of George Town is located, and Seberang Perai, an area on the mainland formerly known as Province Wellesley. Though the Seberang Perai half is twice as large, the majority of travelers spend most of their time on Penang Island.
When people think of Penang, one of the first things that come to mind is George Town and its heritage houses. George Town is a UNESCO World Heritage site and home to the biggest collection of pre-Second World War houses and shophouses in Southeast Asia.
Like Melaka to the south, George Town's strategic location along the Straits of Malacca made it an important trading hub for Europe, the Middle East, India, and China for over 500 years. This centuries-long cultural exchange between east and west has endowed the city with a distinct multicultural heritage that's unlike anywhere else in East and Southeast Asia.
BEST TIME TO VISIT PENANG
Like many Southeast Asian destinations, Penang is generally hot and humid year-round with average temperatures hovering around 28°C (82.4°F). It's hottest around early March with temperatures reaching 32°C (89.6°F). In terms of rain, Penang's wettest months are September and October, followed by April, May, and November.
Weather-wise, December to early February is considered the best time to go. However, this is also high season so expect the most number of tourists with the highest prices for accommodations. If you prefer low season and don't mind braving a little rain, then June to August would be a good time as well.
We went in late June and it didn't rain once. It was nice and sunny everyday, though the heat in the early afternoon did get a little much.
DEC-FEB: As described, this is the best time to visit Penang in terms of the weather. It doesn't get much cooler but it's the driest time of the year.
MAR-MAY: This is a quieter time to visit Penang though it does get rainier in April and May.
JUN-AUG: If you don't like crowds and can stand a little rain, then this is probably the best time to go to Penang. We went in late June and the weather was pleasant. It did get hot in the early afternoon but that's how Penang is throughout the year.
SEPT-NOV: This is the wettest time of the year in Penang so you may want to avoid these months if you don't like too much heat and humidity.
Climate: Annual Monthly Weather in Penang
To help you better understand the weather in Penang, I've included average temperature and annual rainfall graphs below. Suggested months to visit are indicated in orange.
Average Temperature

Annual Rainfall

TRAVELING TO PENANG
Unless you're already in Malaysia, then most international visitors to Penang will be arriving by plane. There are several ways to get to your hotel in George Town which is about 30-40 minutes from Penang International Airport. You can check the Penang Airport website for more information on transfers.
BY BUS: If you're on a budget, then the cheapest way to get to George Town from the airport is by bus. Rapid Penang Bus lines 401, 401A, and 401E operate between the airport and George Town. The fare is around RM 3 each way so be sure to have small bills handy since the driver can't give you change. Buses run every 30 minutes and take about an hour to get you to the main bus terminals at KOMTAR or the jetty. From there you can either take a taxi or Grab, or walk to your hotel.
BY TAXI / GRAB: The fastest way to get to George Town from the airport is by taxi or Grab. The terminal stand is just outside the arrival area and a taxi to George Town will run you around RM 40. If you have a wifi connection, then you can also use Grab. I heard taxi operators in Penang are territorial and don't like these ride-sharing services so you'll need to go upstairs and wait outside the departure terminal for your Grab car. That's what we did.
BY PRIVATE TRANSFER: This is the most comfortable option but also the most expensive. If you'd like to arrange for a private transfer from the airport to your hotel, then you can book it through Klook.
We flew to Penang but there are other ways to get there depending on where you are. I suggest checking Bookaway to find route options available to you. You can click on the link or use the widget below.
WHERE TO EXCHANGE CURRENCY
The unit of currency in Penang is the Malaysian Ringgit (RM).
The best places to exchange currency in Penang are at licensed money changers. If you're arriving by plane, then you can change a small amount at the airport to get you into George Town. There's a currency exchange booth on the second floor in the departure terminal. We arrived after 9PM and it was still open.
Once you get into town, you can change a larger amount at one of the currency exchange offices around Komtar shopping mall and bus terminal. You'll also find a few along Chulia, Pitt, and Beach Streets. Rates at banks or hotels typically aren't as favorable.
You can also use your ATM card to withdraw RM. The exchange rates are pretty good. For some reason though, I had trouble with several Maybank machines both at the airport and in George Town. My card kept getting rejected. I notified my bank before leaving that we were going on a trip so that wasn't the issue.
I only got it to work at this one ATM machine outside a 7-Eleven along Penang Road. I don't know the reason for the trouble so be sure to bring some cash or credit cards in the event that your ATM card doesn't work.
NOTE: Some ATMs may ask if you'd like to proceed "with or without conversion". Always proceed WITHOUT conversion. Otherwise, you'll be authorizing the foreign bank to do the conversion for you, usually at terrible rates. According to this article, the difference in rates can be as high as 10%.
BEST AREAS TO STAY ON PENANG ISLAND
This Penang travel guide focuses mainly on George Town but I've included other areas to stay in as well in case you'd like to explore more of Penang Island.
Listed below are some of the most convenient areas to stay on Penang Island, along with a color-coded map to help you better understand where each of these areas are. Click on the link for a live version of the map. (Please note that marked areas are approximations only)
BLUE – George Town
RED – Batu Feringghi
GREEN – Tanjung Bungah
ORANGE – Bayan Lepas
I'll provide targeted links under each description but you can book accommodations in Penang through Booking.com or Agoda.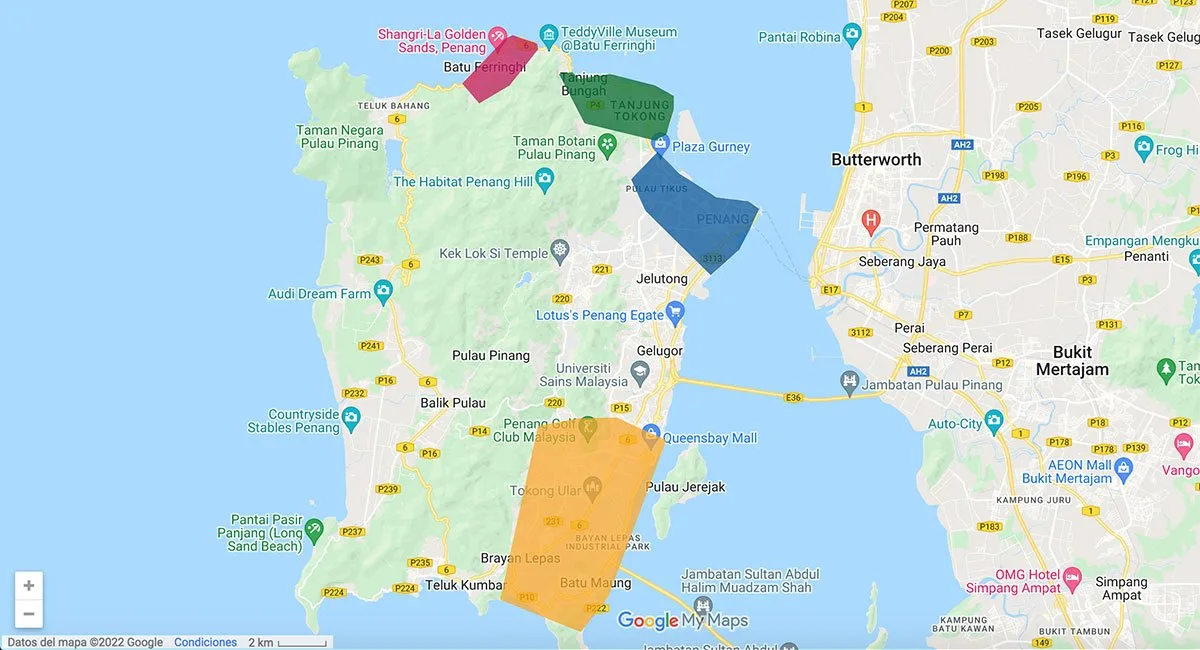 GEORGE TOWN
Unless you want to lounge on the beach, then George Town is the best place for you to stay in Penang. It's the capital city of Penang and a UNESCO World Heritage Site. It's home to the island's famed heritage houses and street art, not to mention some of the island's best hawker stalls and street food.
Because of the city's large collection of pre-war buildings, many of the guesthouses in George Town are brimming with character. We stayed on Muntri Street near Love Lane where many of the heritage houses have been turned into cute boutique hostels. They were so interesting I wanted to go inside every guesthouse to take pictures!
Ryokan Muntri, which is just a block away from the main thoroughfare of Chulia Street and its night hawker market, is an excellent choice. They offer both private rooms and dorm room beds.
You can book at room at Ryokan Muntri on Booking.com or Agoda. If you don't think Ryokan Muntri is the right place for you, then you can check out these links for alternative listings in George Town: Booking.com | Agoda.
Check out some of the top-rated hotels in George Town:
BATU FERINGGHI
Batu Feringghi is considered the second most popular place to stay in Penang. It's in the northernmost part of the island and is home to a long stretch of white sandy beach with plenty of hotels, dining options, and a vibrant nightlife.
If you're into water sports and want to spend most of your time on the beach, then Batu Feringghi is a good place to consider. Check these sites for a list of accommodations in Batu Feringghi: Booking.com | Agoda.
Listed below are some of the most recommended hotels in Batu Feringghi:
TANJUNG BUNGAH
Tanjung Bungah is another place to consider if you enjoy water sports and lounging around on the beach. It's the area between George Town and Batu Feringghi in the northern part of the island. Tanjung Bungah is said to be quieter than Batu Feringghi, so you may want to stay here if a calmer beach atmosphere is what you're after. Check these sites for a list of accommodations in Tanjung Bungah: Booking.com | Agoda.
Here are some of the top-rated hotels in Tanjungn Bungah:
BAYAN LEPAS
Penang International Airport is located in the town of Bayan Lepas. It's located in the southern part of the island so it's a little far from George Town and the other two areas which are in the north.
Bayan Lepas is home to many popular attractions like the Snake Temple, Penang War Museum, and Penang Aquarium, so if you've already visited George Town and are keen on exploring the southern half of the island, then Bayan Lepas is a good place to stay. Check these sites for a list of accommodations in Bayan Lepas: Booking.com | Agoda.
Here are some of the most recommended hotels in Bayan Lepas:
You can also book hotels and homestays in Penang using the handy map below.
THINGS TO DO IN PENANG
1. Go Street Art Hunting in George Town
The entire city of George Town has become a gallery for street art in recent years. Done in different sizes, styles, media, and subject matter, it's interesting to see all the art juxtaposed against the canvas of pre-war heritage houses.
The artworks are scattered throughout the city — some tucked away in alleys and behind buildings — so finding and photographing as many as you can makes for a fun treasure hunt. Check out my post on George Town's street art for more pictures and information.
Penang is hot, especially early in the afternoon, so a more comfortable way of looking for street art is by hiring a trishaw or cycle rickshaw. Just ask the driver to take you to all the major mural sights if you don't feel like looking for them yourself. There are many trishaws in George Town so you can hire one on the spot.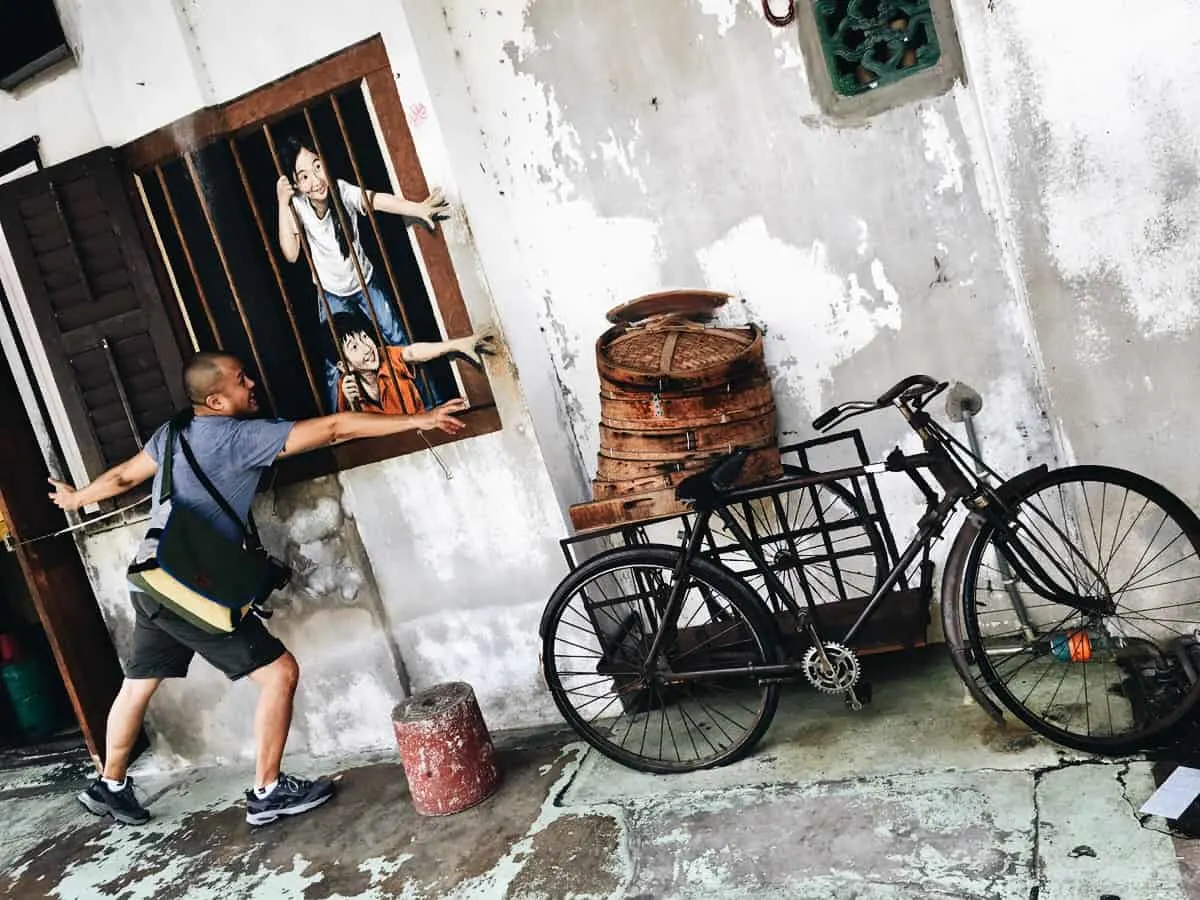 2. Explore the Heritage Houses of George Town
As described, George Town is a UNESCO World Cultural Heritage City and home to the largest collection of pre-war buildings in Southeast Asia. Walking around town, you'd think you were in a different era if it weren't for the cars!
Many of the heritage houses are dilapidated and in need of restoration but it's a gorgeous city nonetheless and fun to get lost in. If you enjoy doing street photography, then you'll love it here. Check out my post on George Town's heritage houses for more pictures and information.
As described above, the afternoon heat in Penang can be oppressive so you may want to hire a trishaw to take you around town. It's the easiest way of seeing the city's most interesting heritage houses and attractions.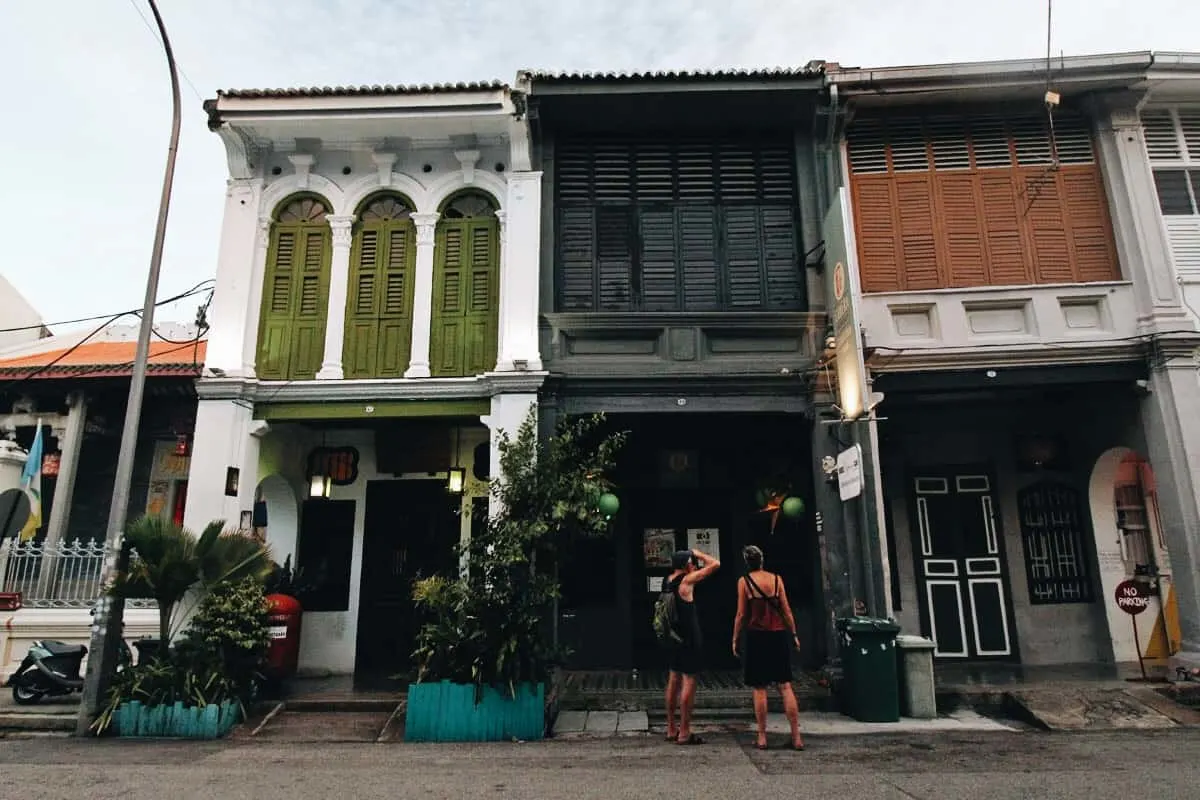 3. Visit Pinang Piranakan Mansion
This mint green mansion on Church Street is one of the best-preserved examples of affluent Peranakan living in Penang. It was once the home of Chung Keng Kwee, a self-made tin mining magnate who became the richest man in Penang in the late 19th century.
If you were to visit just one heritage house museum in George Town, then it should probably be this one. Check out my post on George Town's museums for more pictures and information. It covers other museums included in this Penang travel guide as well.
It's easy enough to visit Pinang Piranakan Mansion on your own, but if you'd like to learn more about its history, then you can go on a guided tour. Klook's George Town heritage tour will take you to several historical sights in George Town, including Pinang Piranakan Mansion.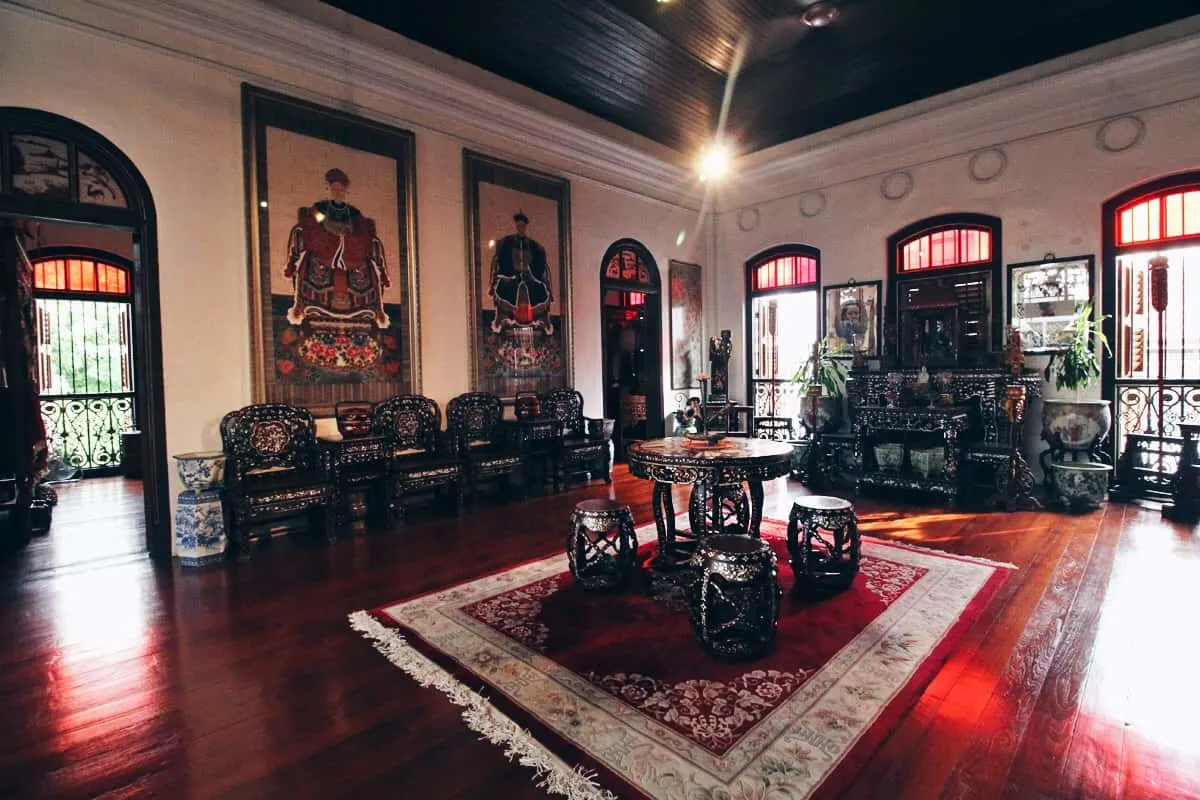 Estimated Time to Spend: About 30 mins – 1 hr
Admission: RM 25
4. Explore Chew Jetty
This place is interesting. Chew Jetty is an example of a clan jetty. A clan jetty is a Chinese waterfront settlement comprised of wooden houses built on stilts.
They were built more than a century ago by poor Chinese immigrants who moved to Penang from Fujian province and worked near the port. They couldn't afford to live on the mainland so they built their homes over water.
This one is called Chew Jetty because it's inhabited by members of the Chew clan, who still live here. It's the largest of six surviving clan jetties in Penang today.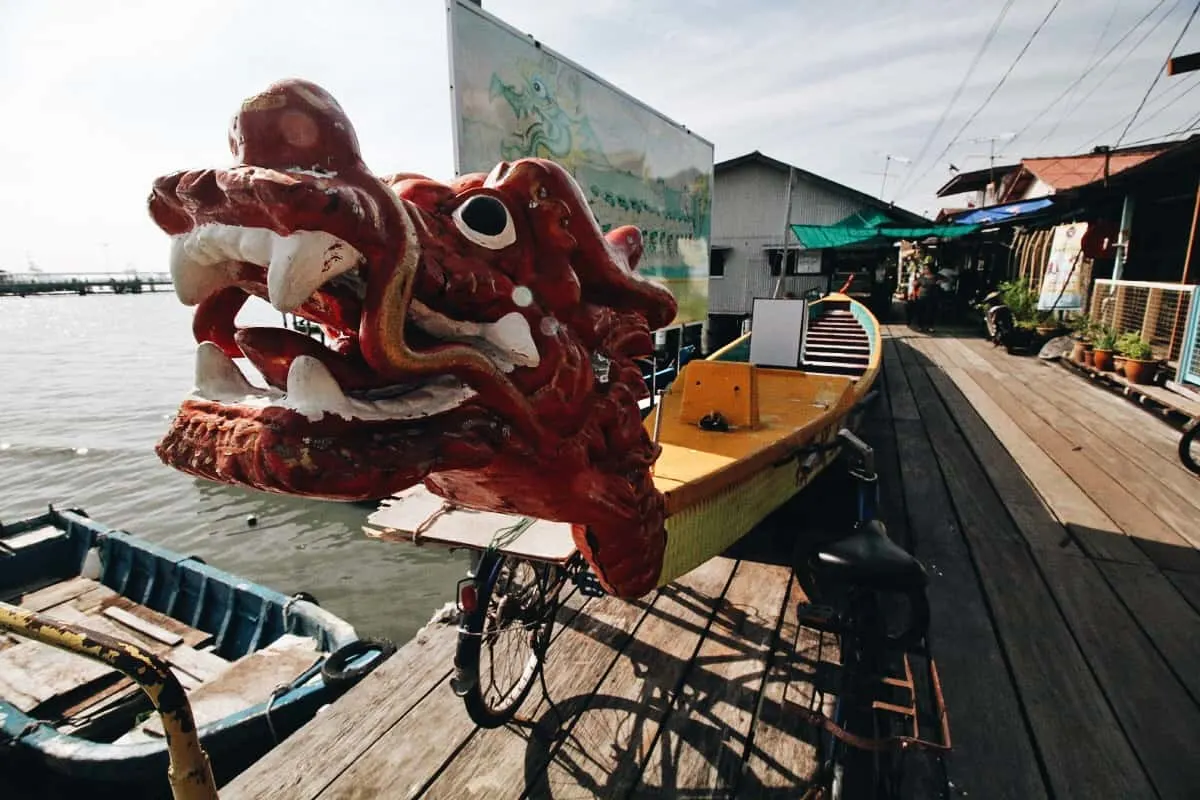 Estimated Time to Spend: About 30 mins
Admission: FREE
5. Check Out the Khoo Kongsi Clan House
Khoo Kongsi is the grandest clan temple in Penang one of George Town's most visited attractions. A kongsi is a clan house so Khoo Kongsi refers to the clan house of the Khoo family. The Khoos were among the wealthiest Chinese traders in Penang and built this temple in 1906 at the height of their wealth and eminence.
If you're interested in learning more about Khoo Kongsi, then you can visit on a guided tour. It's one of the stops on the aforementioned George Town heritage tour. It's also one of the stops on these trishaw tours from Klook. Riding around in a trishaw may be one of the most fun ways of seeing George Town's top historical attractions.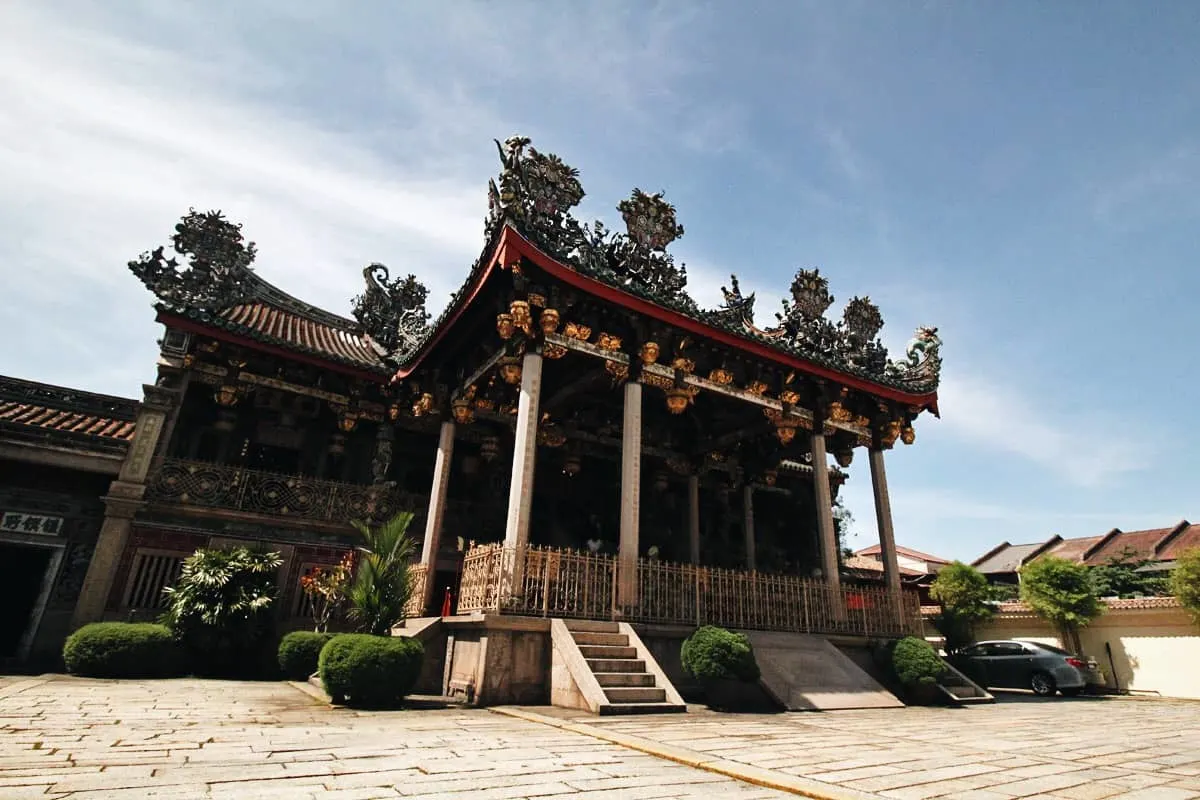 Estimated Time to Spend: About 30 mins – 1 hr
Admission: RM 10
6. Visit Sun Yat-sen Museum – Temporarily Closed (May 2022)
This museum was once the home of Dr. Sun Yat-sen who was the first president and founding father of the Republic of China. It's the first stop on the Sun Yat-sen Heritage Trail which links more than a dozen heritage sites associated with Sun Yat-sen and his supporters.
The Sun Yat-sen Museum is small so you can quickly breeze through it in less than 30 minutes.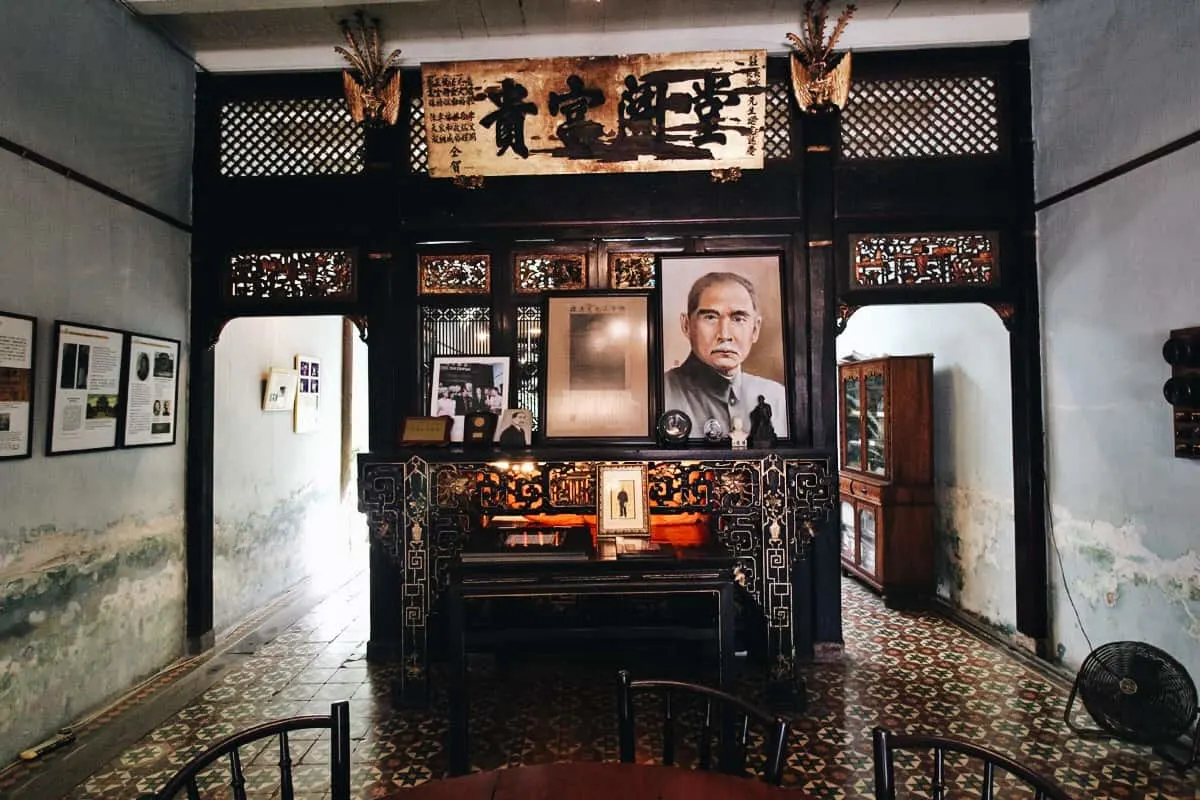 Estimated Time to Spend: About 30 mins
Admission: RM 5
7. Take a Cooking Class
Cooking classes are fun, even when you have limited experience in the kitchen like me. We've taken cooking classes in Vietnam, Indonesia, Thailand, Japan, Mexico, and Morocco and they've all been a blast. It's just a fun, hands-on way of getting to know the local cuisine.
Penang is famous for its street food so this is a great place to take a cooking class. I suggest searching for one on Cookly. They're a travel booking platform that focuses solely on cooking classes so in my opinion, they're the single best resource for one-day cooking classes around the world. They don't have that many in Penang yet but I expect them to add more soon. Check out their list of available cooking classes in Penang.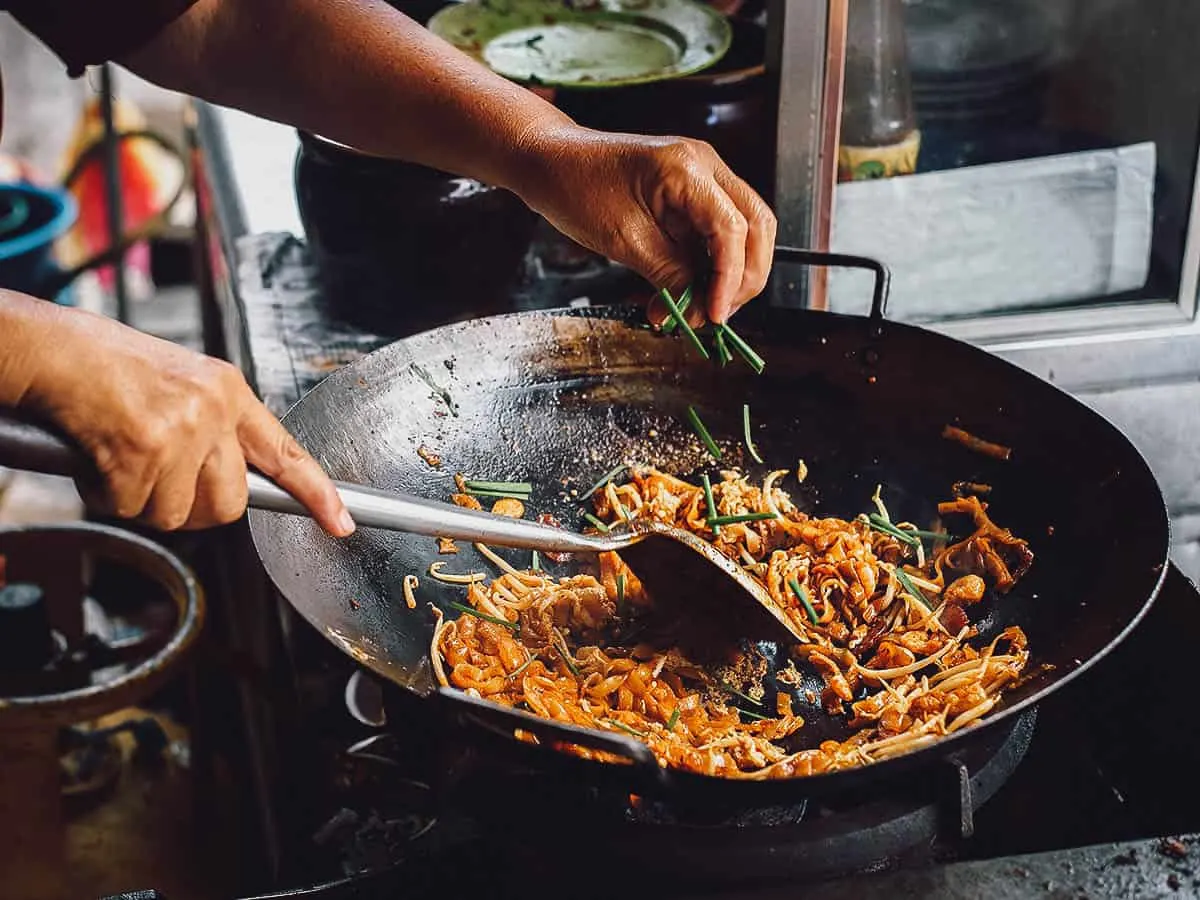 Photo by kaykhoon via Shutterstock
DAY TRIPS FROM GEORGE TOWN
1. Kek Lok Si Temple
Ren and I aren't avid temple-goers but Kek Lok Si is one of the biggest and most important Buddhist temples in Southeast Asia. It makes for a good day trip from George Town if you enjoy visiting temples. If you fly for food like we do, then it should definitely be on your itinerary. Two of Penang's most legendary hawker stalls — Sister Curry Mee and Air Itam Asam Laksa — are located in this area.
Check out my post on Kek Lok Si Temple for more pictures and information. If you'd like to visit the temple on a guided tour, then you can do so through Klook. Click on the link to book a Kek Lok Si Temple tour through Klook.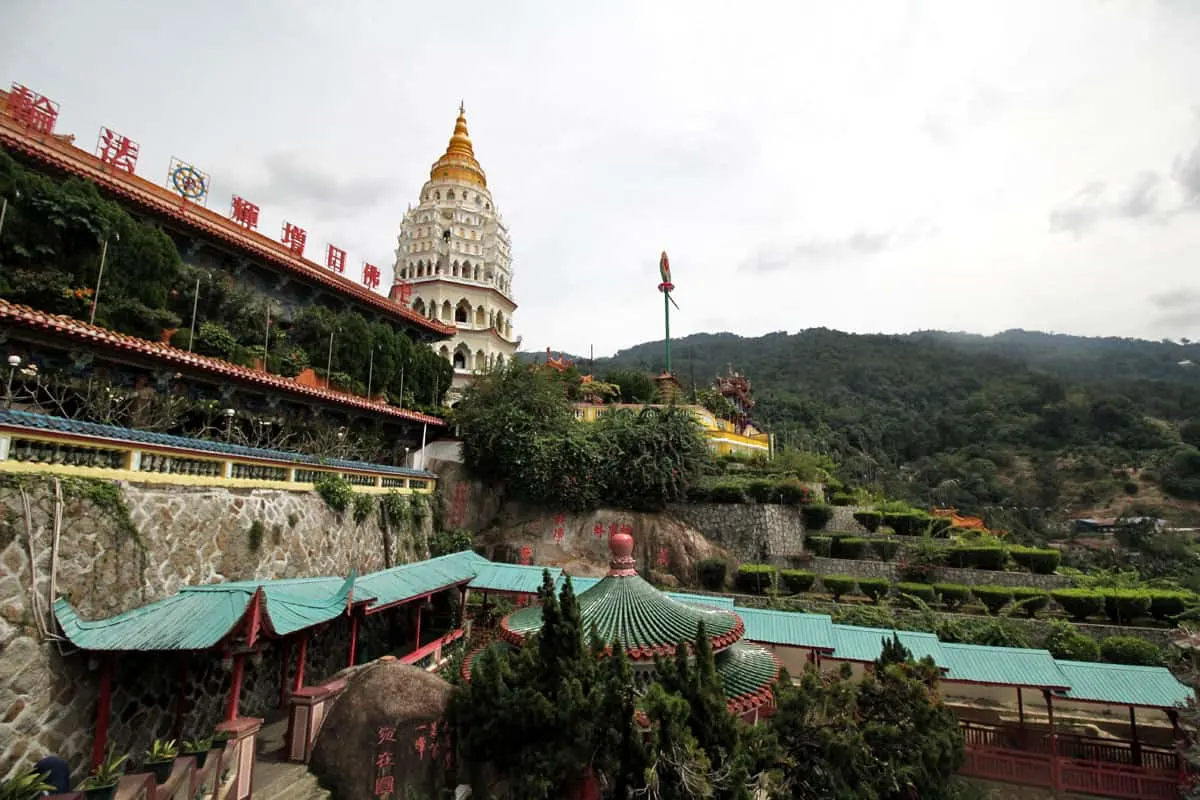 Estimated Time to Spend: Around 2-3 hrs
Admission: FREE (Temple) / RM 2 (Pagoda) / RM 3 (Inclined lift each way)
2. Tropical Spice Garden
We were planning on visiting this place but decided against it in the end. Located in Batu Feringghi, Tropical Spice Garden is an eight-acre oasis with over 500 different species of tropical flora.
The price of admission comes with an audio guide so you're free to wander along the different trails and learn about local spices and medicinal plants. There's a cooking school and restaurant there as well. You can check the Tropical Spice garden website for more information.
Admission to Tropical Spice Garden is RM 28 per person, but you may get a discount if you purchase it in advance through Klook. Follow the link for more information and to buy Tropical Spice Garden tickets through Klook.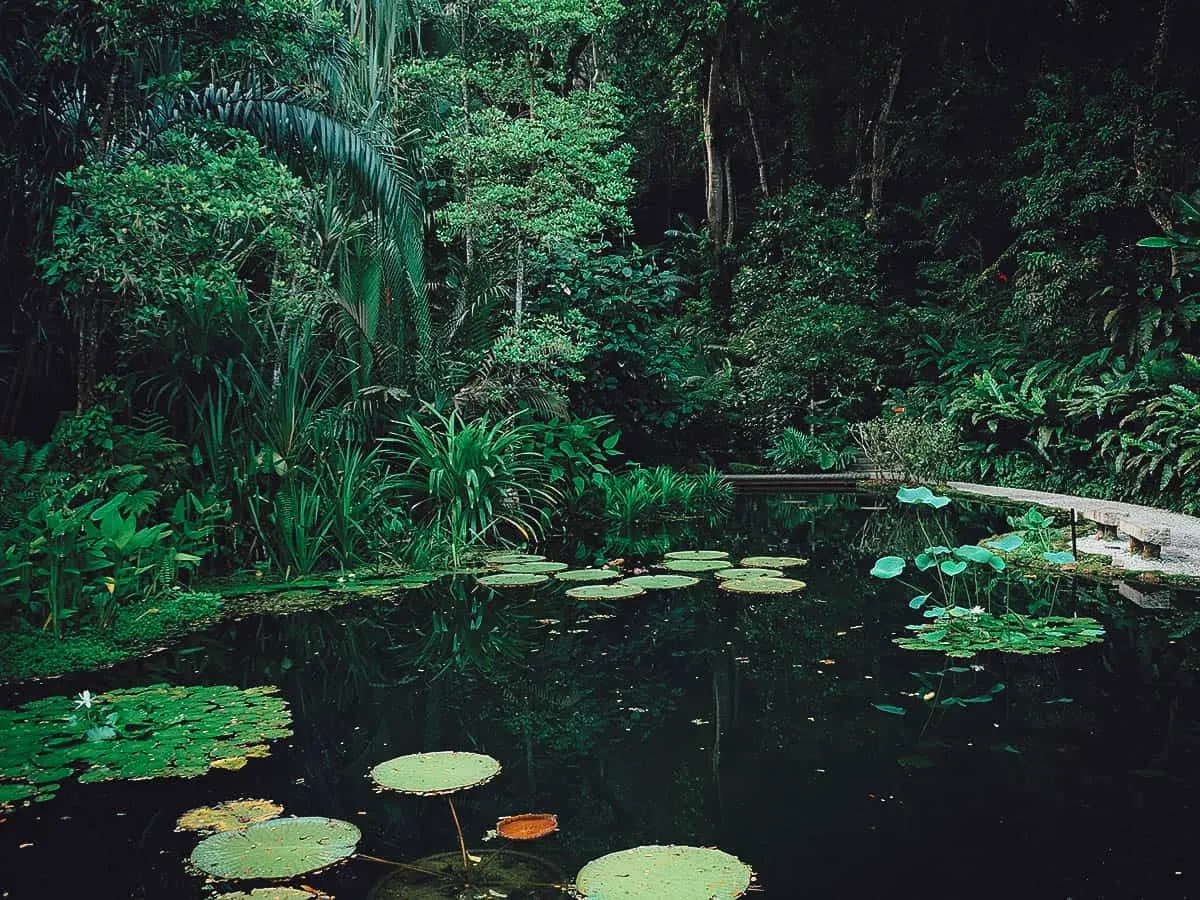 Photo by Attila JANDI via Shutterstock
Estimated Time to Spend: At least half a day
Admission: RM 28
MALAYSIAN FOOD GUIDE
If you'd like to try some of the best dishes in Malaysian cuisine, then be sure to check out our Malaysian food guide for a list of 35 must-try dishes in Malaysia.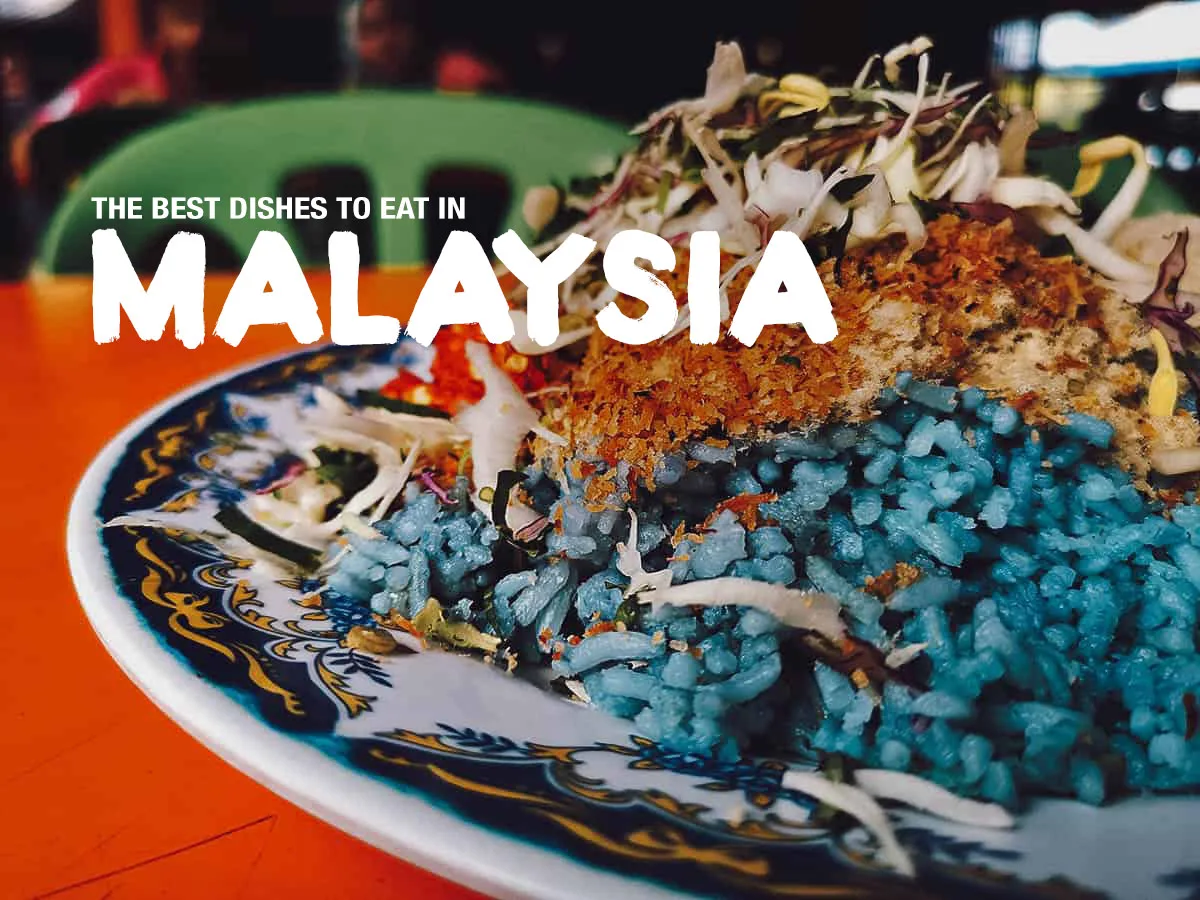 MALAYSIAN DESSERTS
If you have a sweet tooth, then you'll definitely want to check out our list of the most delicious Malaysian desserts.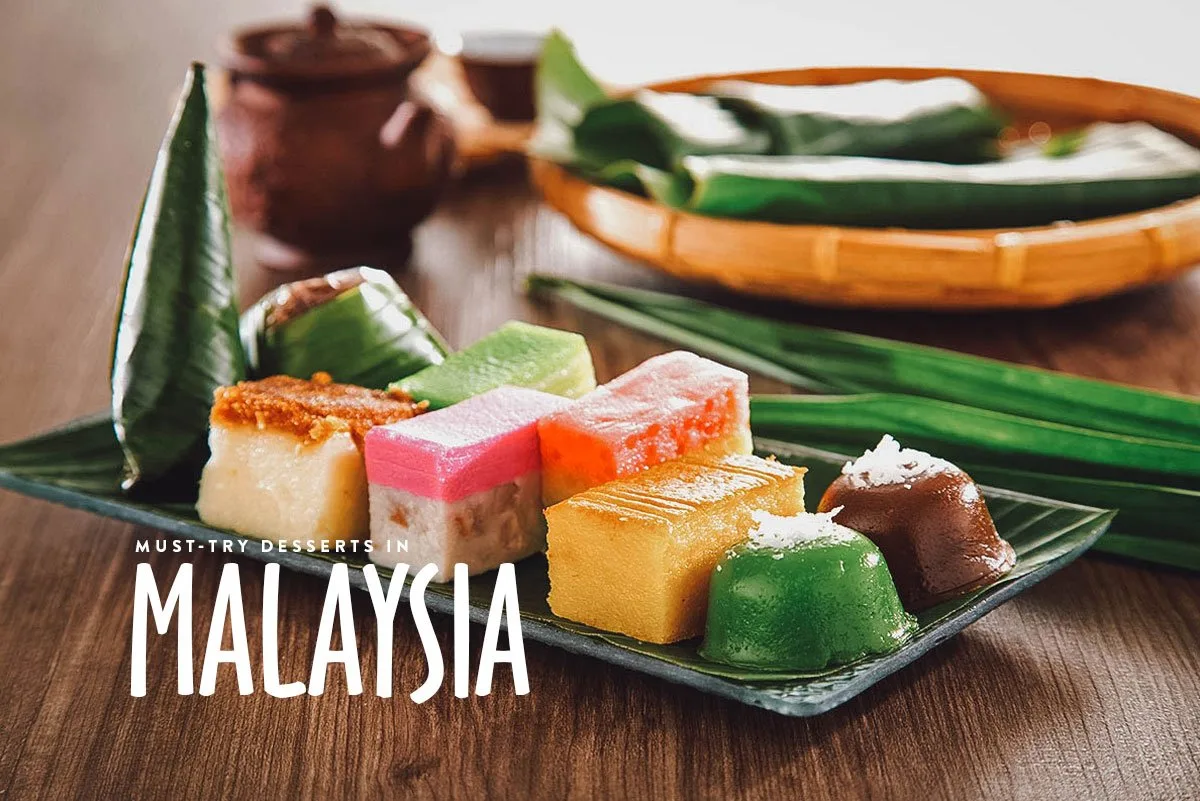 WHERE TO EAT IN PENANG
We went to Penang primarily to eat, but we didn't want to eat at just any old hawker stall. In a place with Penang's street food cred, we wanted to find the best, so I consulted trusted Malaysian and Singaporean blogs to find out exactly what dishes we should eat and more importantly, where we should try them. This list of Penang food guide is what I came up with.
Many of the hawker stalls mentioned in this list have been run by the same family for generations. If you fly for food like we do, then I suggest going to as many of them as you can.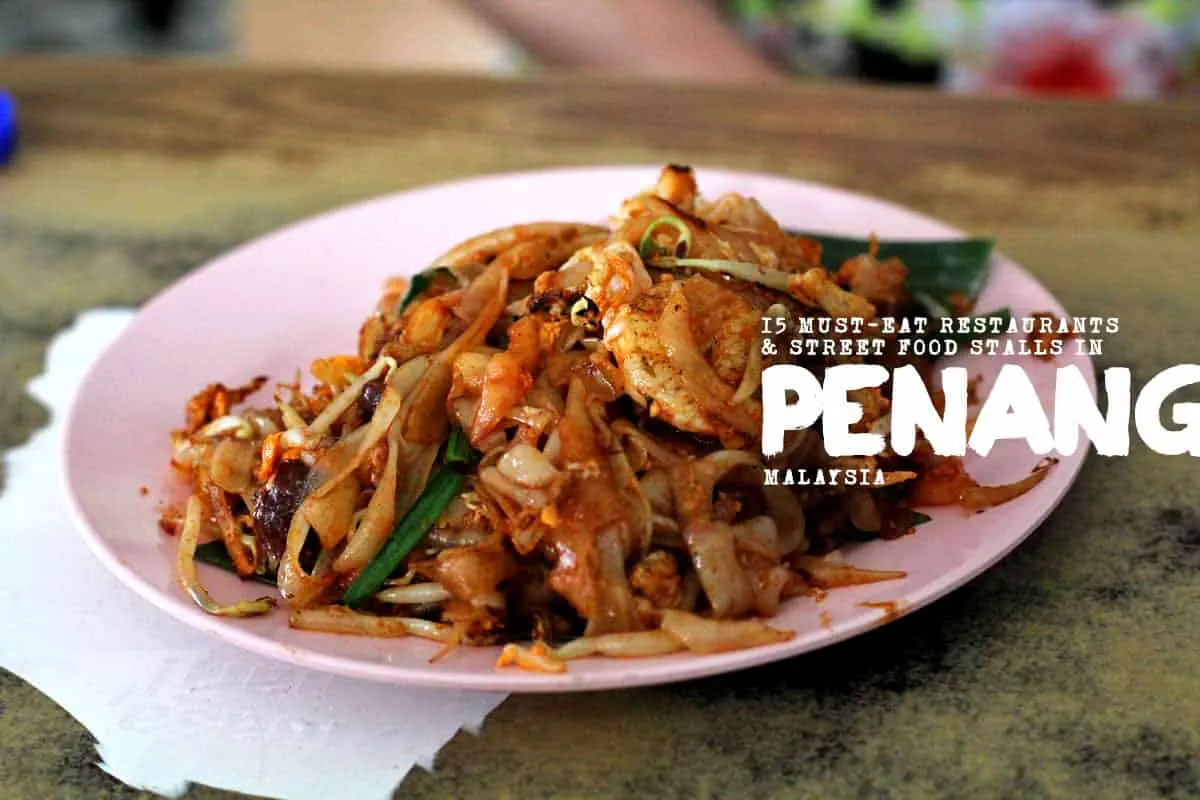 Borrowing a line from KF Seetoh, these are "the most desperately delicious" dishes we had in Penang. Not everyone has the luxury to visit all 15 places on our list so if you don't have the time (or stomach space), then these are the ones you shouldn't miss.
These 7 dishes are "die die must try" and something we would look for on every return trip to Penang. To help you narrow your choices down even more, I've ranked them in order starting with our mutual favorite.
1. Koay Teow Th'ng @ Pitt Street Koay Teow Th'ng (Carnarvon Street)
This bowl of fish ball noodle soup was hands down our favorite thing to eat in Penang. We both agreed it was number one. I wasn't expecting a colorless dish like this to be anything special but it was.
Koay teow th'ng is a dish made with flat rice noodles served in a clear soup broth topped with fish balls, pork slices, chicken, browned garlic bits, and chopped scallions. This version served at Pitt Street Koay Teow Th'ng on Carnarvon Street is considered by many locals to be the best, and I can understand why. It's so damn good. We had another bowl from a different hawker stall and the difference was like night and day.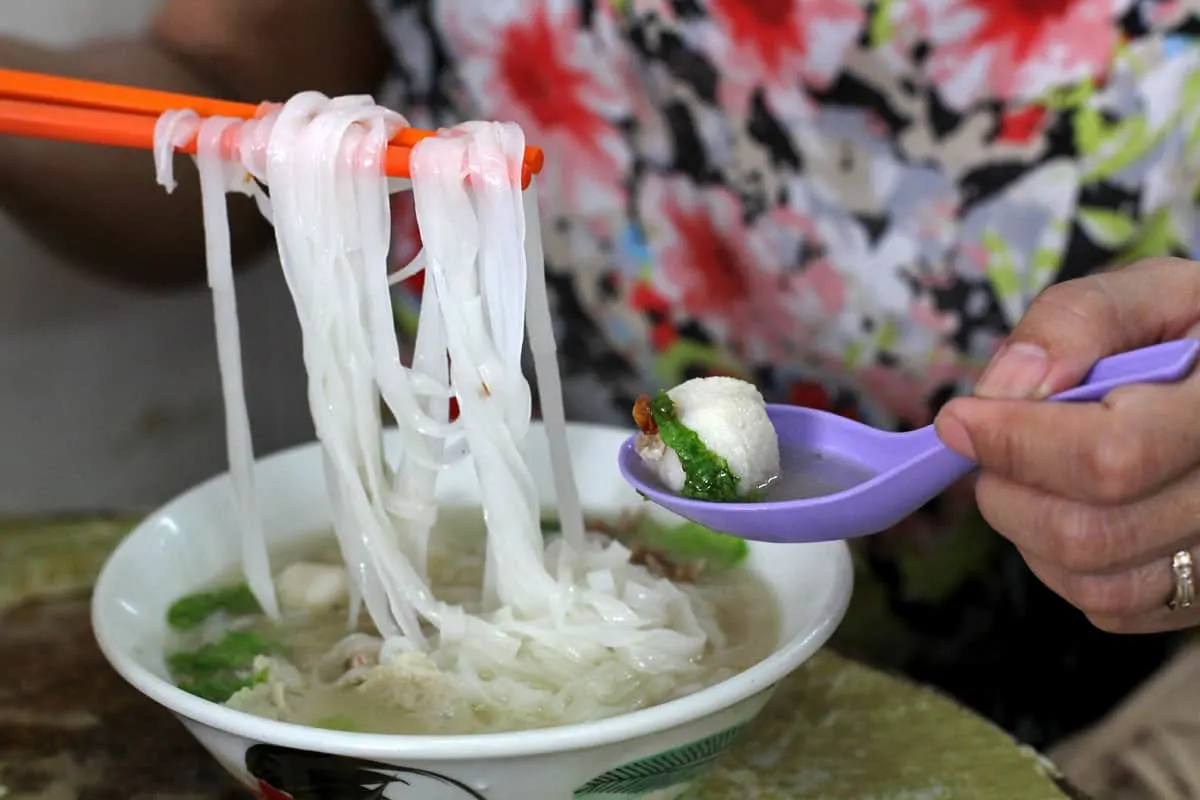 What We Paid: Around RM 7.50 with drinks
2. Curry Mee @ Sister Curry Mee
Along with the koay teow th'ng above, this bowl of curry mee from Sister Curry Mee was one of my two favorite dishes in Penang. Spicy and redolent with flavor and texture, it's to die for.
Known as curry laksa in Singapore, curry mee is a dish made with egg noodles in a coconut-based curry soup that's typically filled with bean curd puffs, bean sprouts, pig's blood curd, cuttlefish, shrimp, and cockles.
This particular bowl of curry mee was made by two legendary sister at a roadside stall by the foothills of Kek Lok Si Temple. They've been serving these bowls of curry mee for over 70 years now. With all that practice, no wonder it's so good!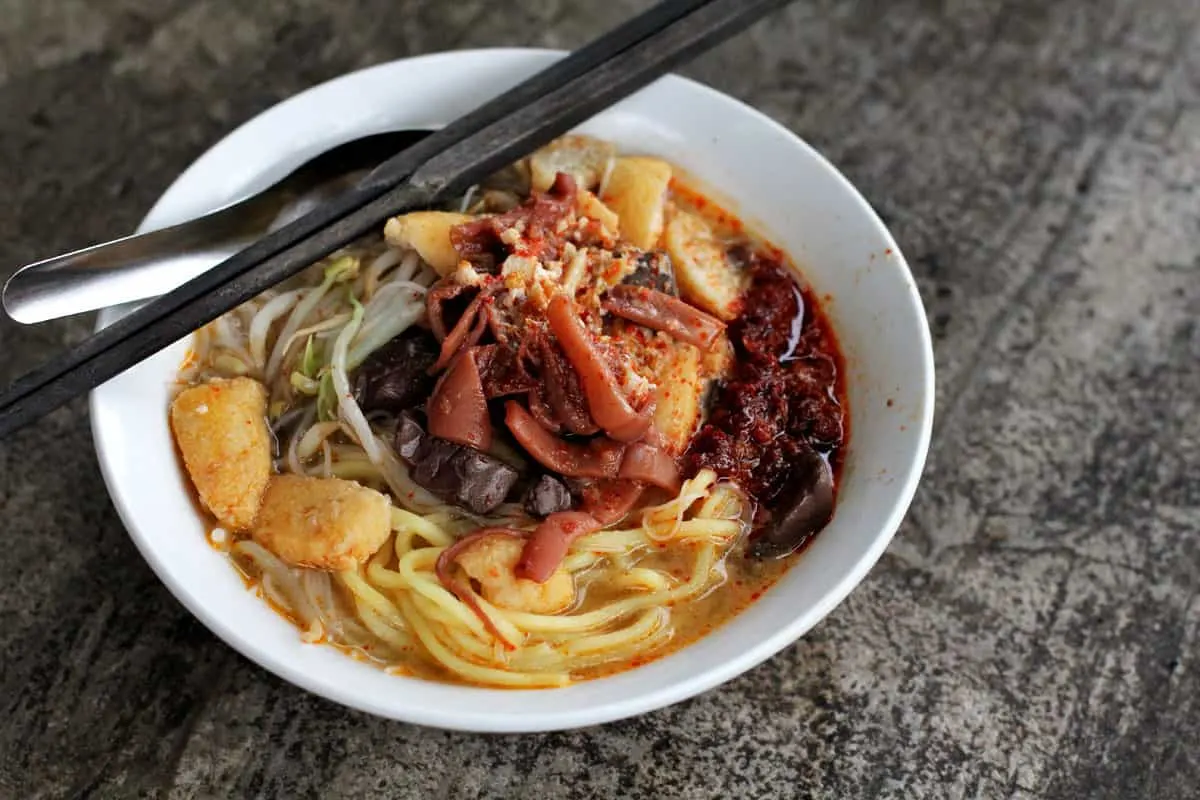 What We Paid: Around RM 5 per bowl
3. Tiger Char Koay Teow @ Ping Hooi Coffee Shop
Char Koay Teow is considered by many to be Penang's most iconic street food, and Ping Hooi Coffee Shop has been serving some of the island's best for three generations now.
Char koay teow literally means "stir-fried rice cake strips", and it consists of flat rice noodles stir-fried in pork fat with light and dark soy sauce, chili, belachan (fermented shrimp paste), blood cockles, prawns, chopped Chinese chives, bean sprouts, and egg.
Ping Hooi calls their version "Tiger Char Koay Teow". It's made with duck eggs and contains some of the juiciest, most succulent prawn I've ever tasted. It's sooo good and located just a few doors down from Pitt Street Koay Teow Th'ng @ Carnarvon Street.
What We Paid: Around RM 10 with drinks
4. Duck Koay Chap @ Restoran Kimberly
This was the second of Ren's two favorite dishes in Penang. It's a hearty dish brimming with all kinds of duck and pork goodness.
Koay chap is a Teochew noodle soup made with flat wide rice noodle rolls served in a dark soy sauce broth and filled with a variety of ingredients like pork, duck, offal, fishcakes, vegetables, and hard-boiled egg.
So many components go into one bowl of duck koay chap and Restoran Kimberly has been preparing all the ingredients in-house for the past 30 years. They take no shortcuts which is why their version is so tasty.
Restoran Kimberly only opens at night around 6:30PM so be sure to come early because the line can get pretty long. Check out my post on Restoran Kimberly for more pictures and information.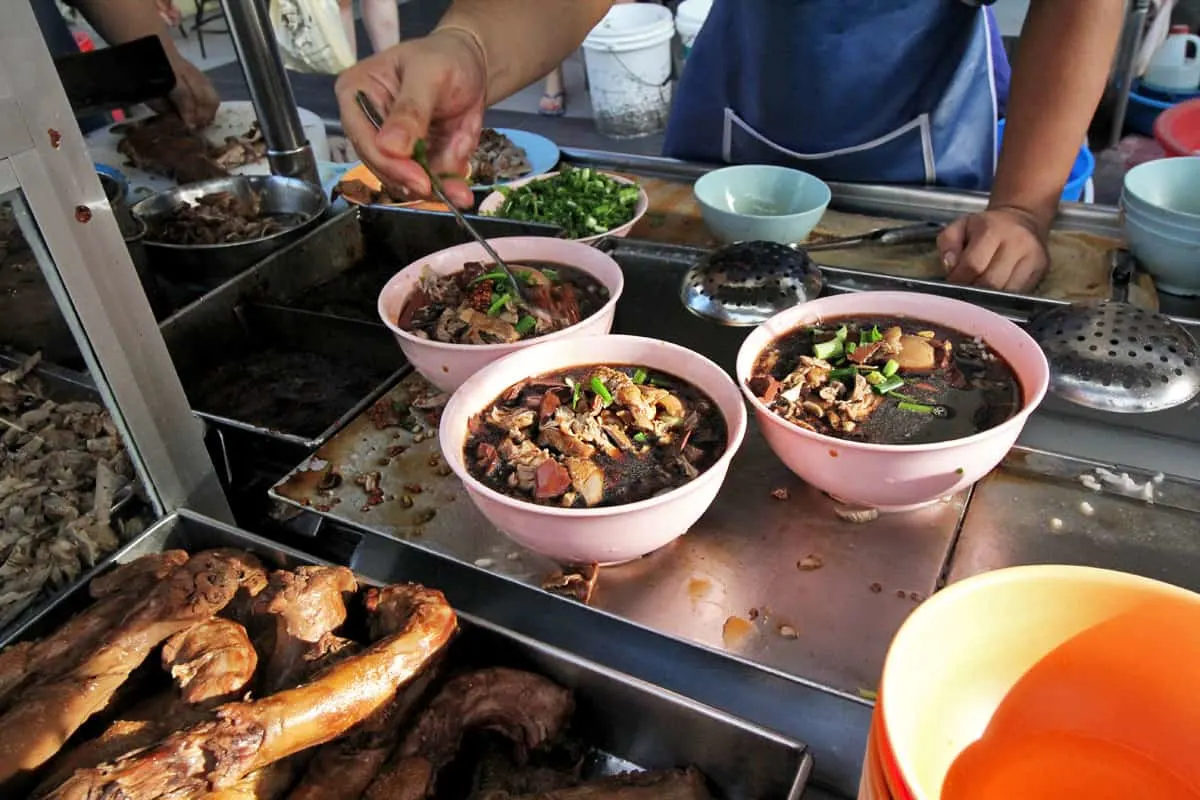 What We Paid: Around RM 8 per bowl
5. Teochew Chendol @ Lebuh Keng Kwee
I'm not a dessert person but I fell in love with this teochew chendol. It's a popular dessert made with shaved ice, coconut milk, jelly noodles, and palm sugar, and topped with other ingredients like red beans, glutinous rice, grass jelly, and creamed corn. Milky with bursts of caramel flavor, it's a godsend on a hot Penang day!
Conveniently, two of Penang's best Teochew chendol vendors are located directly opposite each other in the same alley. Penangites are divided as to who's chendol is better, so we did what any reasonable glutton would do and tried both.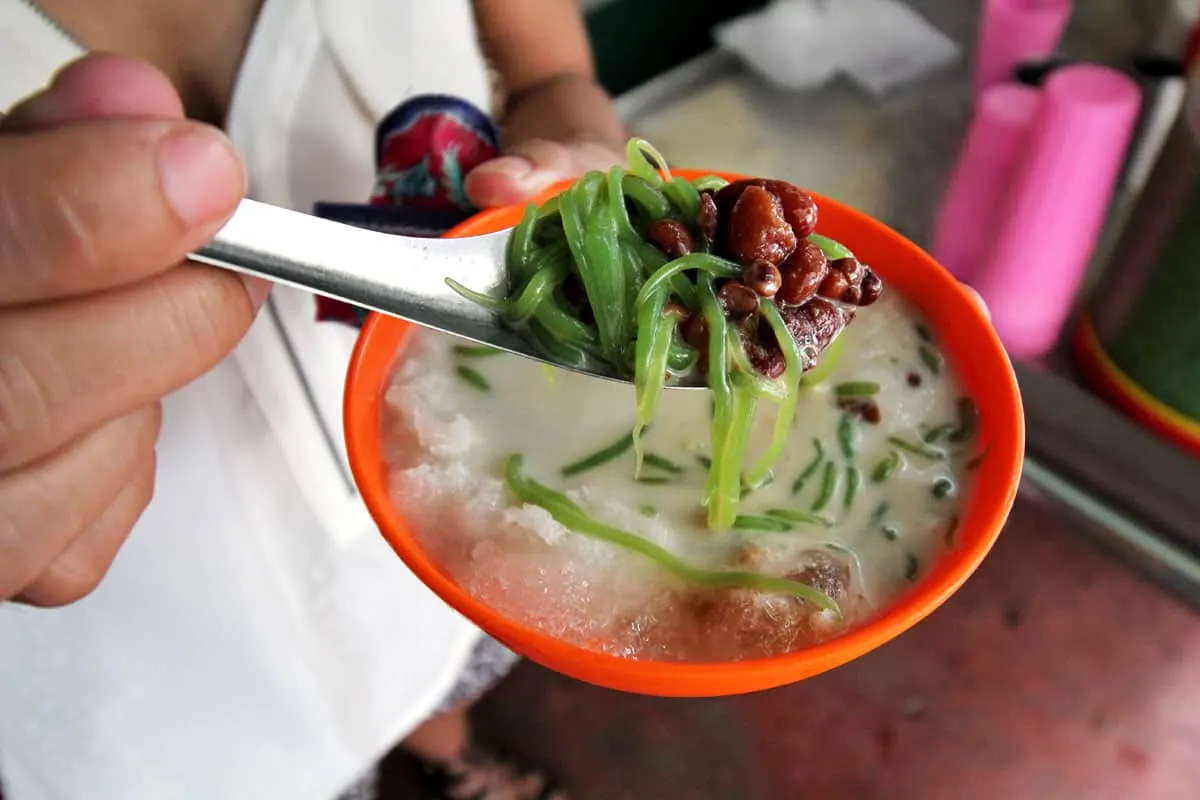 What We Paid: Around RM 2.50 per bowl
6. Asam Laksa @ Air Itam Asam Laksa
Asam laksa is one of the island's signature dishes and the reason why curry laksa is referred to as curry mee in Penang. It's made with tamarind so it's more sour than curry laksas. It's made with mackerel, lemongrass, galangal, and chili, and garnished with mint, pineapple, onion, a sweet prawn paste, and torched ginger flower.
Air Itam Asam Laksa, by the foothills of Kek Lok Si Temple and just a short walk from Sister Curry Mee, has been serving some of Penang's best asam laksa for over 30 years. Being such an important dish, you can't visit Penang without trying this.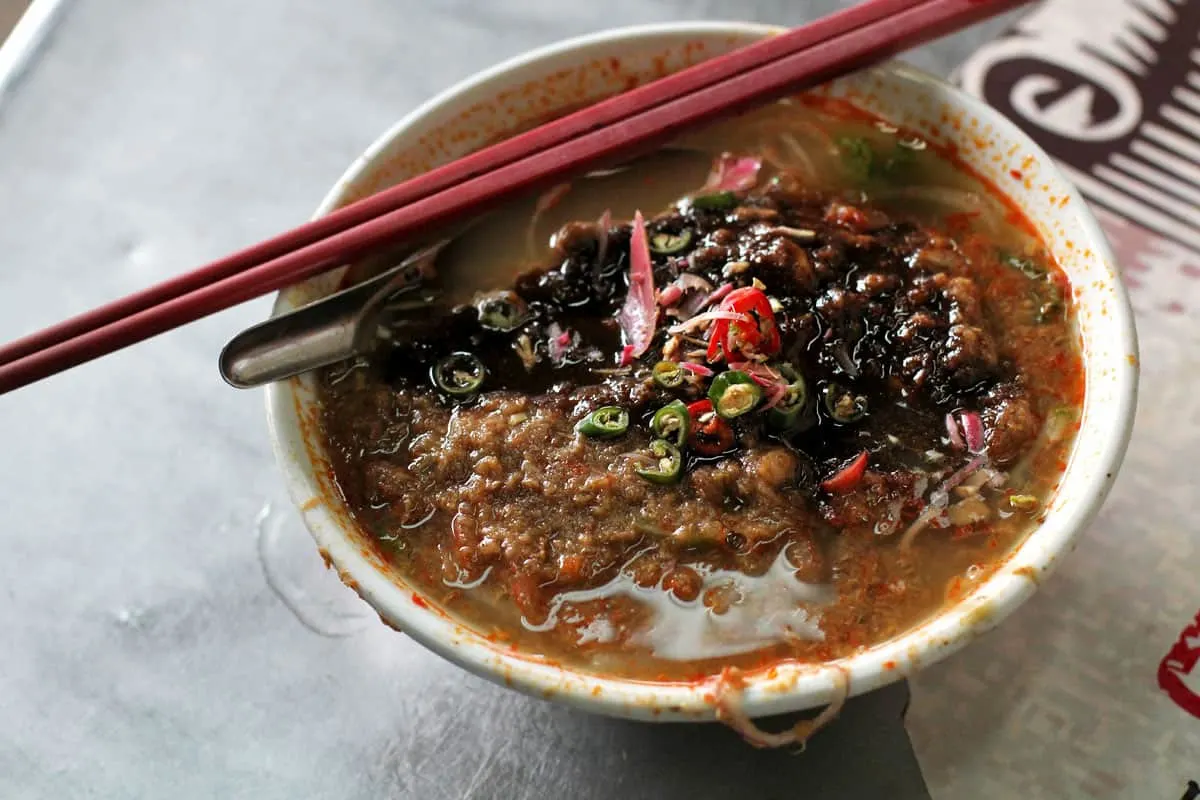 What We Paid: Around RM 4.50 per bowl
7. Lok Lok @ Gerai Gerai Padang Brown
This was the most fun meal we had in Penang. It basically combines the concept of a hot pot and a kaiten-zushi restaurant.
Lok lok is a type of communal steamboat wherein skewered sticks of food are placed around a central pot of boiling water. A variety of ingredients are typically offered like seafood, meatballs, fish cakes, dumplings, and offal. Diners just grab whatever they want and dunk it in the pot to cook!
Sticks are labeled with different colors to indicate price, all of which are totaled at the end of your meal. We had a seafood feast but our bill for two came out to just RM 17.70. Lok lok rules!
There are many places in Penang that offer lok lok but we had it at Gerai Gerai Padang Brown. Check out my post on Lok Lok at Gerai Gerai Padang Brown for more pictures and information.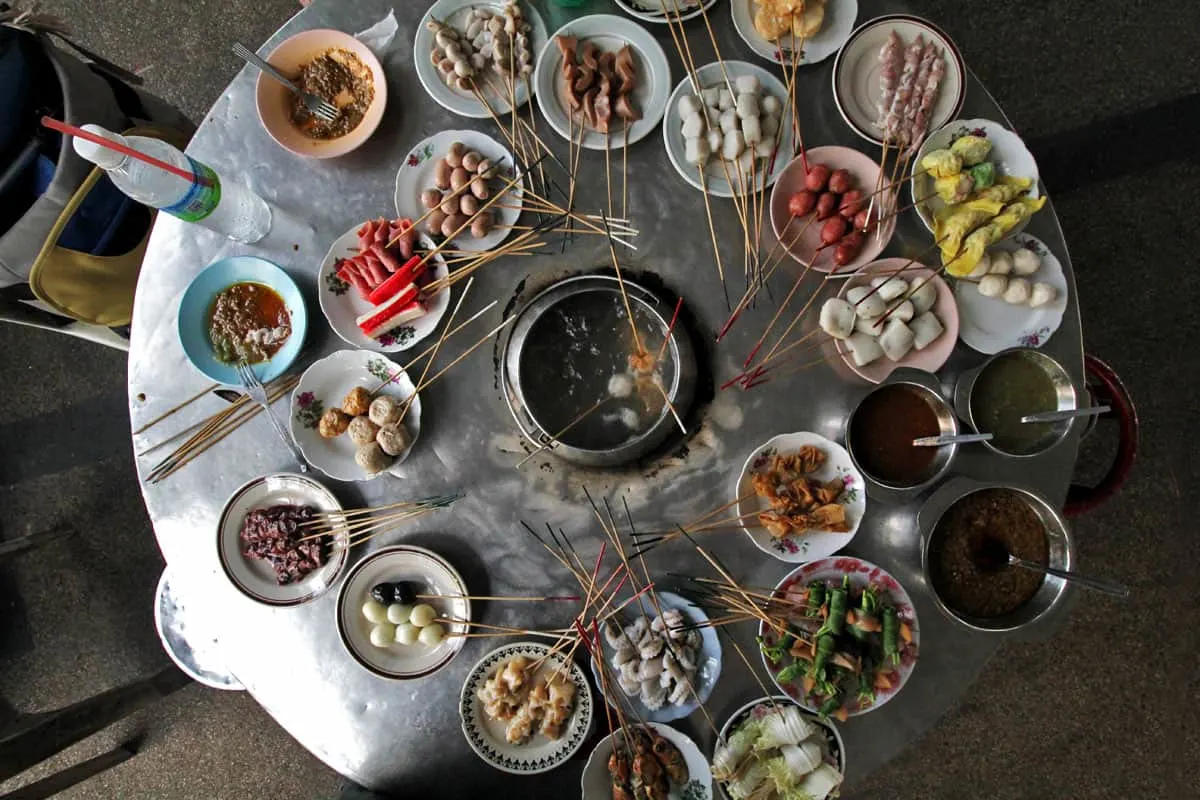 What We Paid: Around RM 10-15 per person
NOTE: In our EAT-inerary, you'll find a list of backup hawker stalls / restaurants. One of them is Joo Hooi Cafe which is known for their asam laksa and koay teow th'ng.
We already had our hearts set on the places mentioned above so we didn't go to Joo Hooi Cafe, but you may want to check it out as well. It's highly recommended by many blogs and is conveniently located right next to Lebuh Keng Kwee where the Teochew chendol stalls are.
POINTS OF INTEREST IN PENANG
I made the map below to give you a better sense of where everything is. Most of the places recommended in this guide are pinned on this map. Click on the link for a live version of the map.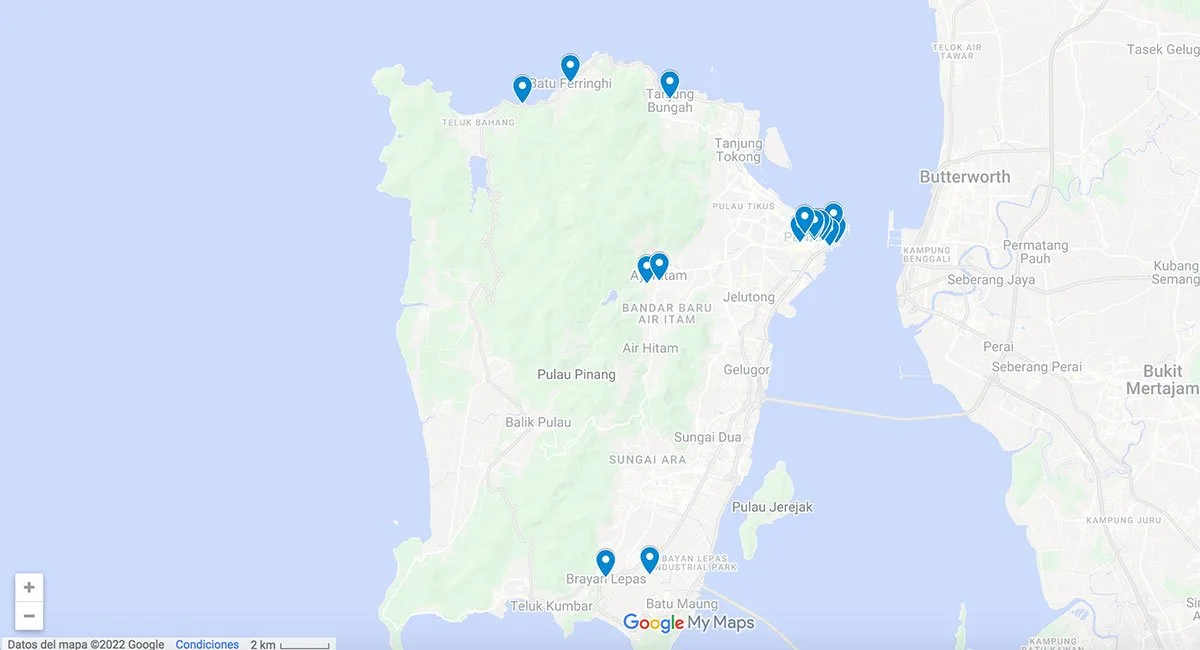 HOW TO GET AROUND IN PENANG
George Town isn't that big so it's possible to make your way between attractions and hawker stalls on foot. With that said, Penang does get hot, especially around noon, so you may want to consider other means of transportation as well.
Rental bicycles and trishaws are popular forms of transport around George Town. Trishaw drivers will take you on a tour around the city — showing you its street art, heritage houses, and other points of interest — for around RM 50 an hour.
If your destination is farther away, then you can use Grab. We used Grab a few times and it was pretty cheap, just RM 5-10 around the city. If you don't have a smartphone or wifi connectivity, then you can always take a taxi.
Buses are the most inexpensive way to travel longer distances in Penang. We used it once to go from the KOMTAR bus terminal in George Town to Kek Lok Si Temple. The ride was about half an hour each way and the fare was just RM 2 (at the time).
HOW MANY DAYS TO STAY / PENANG ITINERARY
We stayed 3 full days in Penang and this gave us enough time to visit many of its major attractions. We were able to cram over 15 hawker stalls / eateries in those 3 days and see much of its street art.
We stayed mainly in George Town but there's more to the island than that like beaches and natural parks so staying longer wouldn't be a bad idea. Here's a sample 3-day itinerary to help you plan your trip. If all you're interested in is George Town, then you could realistically do it in just 2 days.
DAY ONE
• Explore George Town
• Heritage Houses
• Street Art
• Pinang Piranakan Mansion
• Chew Jetty
• Khoo Kongsi
• Sun Yat-sen Museum
DAY TWO
• Tropical Spice Garden
• Explore Batu Feringghi
DAY THREE
• Kek Lok Si Temple
• Explore Tanjung Bungah
PENANG TRAVEL TIPS
1. Plan your Trip with Sygic Travel
I've been using this free trip planning app to come up with all our itineraries since 2014. It just makes it so much easier. It allows me to visualize all the places we want to go to on a map so I can easily group things together by day. That way I can come up with the most efficient itinerary possible. Check out my full post on the Sygic Travel app for more information.
2. Rent a Pocket Wifi Device
Having a steady connection to the internet is a must when traveling these days. It makes the trip less stressful and more enjoyable. You'll need it to do research, convert currencies, use ride-sharing apps, navigate with GPS, etc. We never go anywhere now without renting a pocket wifi device first.
We always rent pocket wifi devices but getting a sim card is fine too. It's actually cheaper. If you'll be traveling to Penang via Kuala Lumpur, then you can rent a 4G pocket wifi device or buy a 4G sim card through Klook. You can pick them up at Kuala Lumpur International Airport.
3. Go to the Hawker Stalls Early!
If you check out our Penang food guide, then you'll find operating hours for every stall we recommend. However, just because a hawker stall advertises opening hours until 3PM doesn't mean they'll have food until 3PM!
Most of the eateries in our guide are hugely popular so it isn't uncommon for them to run out of food early. If you can, then I suggest going as early as possible to make sure there's still food when you get there. Otherwise, you'll need to go back the following day.
4. Say "Yes" to the Drink
I'm not sure how it works exactly, but every hawker stall we went to seemed to be part of some restaurant space or hawker centre. Soon as you sit down, someone will come up to you asking if you'd like a drink. We said yes all but once.
The one time we said no we got nasty looks so I think it's pretty much obligatory in Penang to get a drink if you sit and eat in that space. It's a good idea to do so anyway since many places offer just one kind of drink which we found goes very well with that hawker stall's specialty. Drinks are cheap too so don't worry about cost.
5. Get Travel Insurance
To get or not to get travel insurance? In our case, we'll get it if we plan on doing physical things like skiing or ATV riding. But all we'll be doing is traveleating for a couple of days in a city like Seoul or Osaka, then we probably won't get it. It depends on the trip so it's really up to you.
We buy travel insurance from SafetyWing or Heymondo. They're travel insurance companies often used by many digital nomads. Follow the links to get a free quote from SafetyWing or Heymondo. Will Fly for Food readers get 5% off on Heymondo when using our link.
6. Check for Penang Travel Deals
I buy travel vouchers from several websites, but for destinations in Asia, my favorites are Klook and Get Your Guide. They almost always have the widest selection at the best prices.
If you're looking for deals on tours, transfers, and other activities, then you may want to search through these lists of Penang attractions on Klook and Get Your Guide. Even if I don't wind up getting anything, I often learn about cool activities I wouldn't have known about otherwise, so it's always fun to look.
7. Bring the Right Power Adapter
Malaysia has Type G electrical outlets so be sure to bring the right power adapters for your devices. Electrical voltage is 240V and the standard frequency is 50Hz.
Have Fun!
By no means am I an expert on Penang but I do hope that you find this guide useful. I'm only sharing some of the things I learned from our trip. If you have any suggestions, then please let us know in the comment section below. You're welcome to join our Facebook Travel Group as well.
Thanks for stopping by and have a delicious time in Penang!
OUR GEAR
These are some of the things I brought with me to Penang. Have a look inside our backpack to see what other gear we use. (NOTE: The following links are Amazon affiliate links.)
Disclosure
Some of the links in this Penang travel guide are affiliate links, meaning we'll earn a small commission if you make a booking or purchase at no extra cost to you. We only recommend products and services that we use ourselves and firmly believe in. We really appreciate your support as this helps us make more of these free travel guides. Thank you!