The Gateway of India may be in Mumbai, but Kolkata was my gateway to India. I had never been to India before and Kolkata was my entry point to the country, the first city I'd visit on a three-city food tour with A Chef's Tour.
Having never been to this country, I really didn't know what to expect outside of the promise of great food. Indian cuisine has long been one of my favorites and it's been a dream of mine to have it in India. Apart from being a gastronomic trip, I expected this to be a spiritual journey as well with India being the birthplace of yoga and home to tens of millions of gods. Many people, friends of mine included, describe it as a life-changing experience.
Life-changing indeed it was, and for reasons I never would have expected. And it all started here in Kolkata.
Save This on Pinterest!
No time to read this now? Click on the red save button and pin it for later!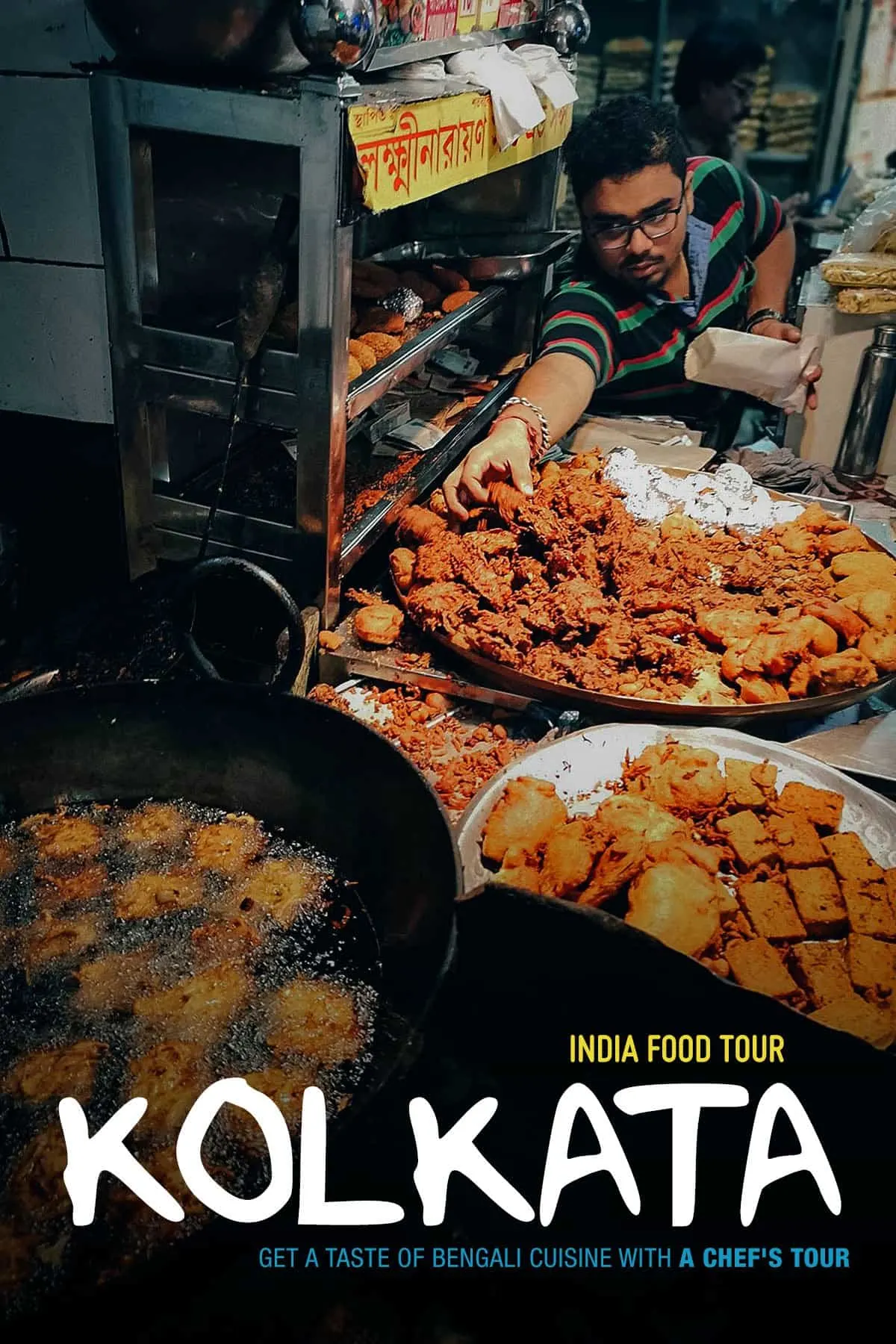 Kolkata Uptown Food Tour
A Chef's Tour is a tour provider that offers these fascinating food-focused tours in India and Thailand. I've been on their tours in Bangkok, Chiang Mai, Pai, and Phuket in Thailand, and all three of their tours in India. Aside from this Kolkata tour, they offer food tours in Mumbai and Delhi as well.
This Kolkata Uptown Food Tour costs USD 49 per person and includes all food, drink, and transportation during the tour. It's possible to book it directly with A Chef's Tour but you may get a discount if you book it through Get Your Guide.
Tonight's tour started at Esplanade Station where I met Avik, my cerebral and enthusiastic guide. A proud Kolkatan since birth, he guided me through some of the city's most interesting neighborhoods while making our way from heritage stall to heritage stall. Many of the places we visited tonight can't be found on Google but have been local favorites for generations. Through him I got my first taste of Bengali cuisine and learned that Kolkata is considered the intellectual center of India. We talked about a wide variety of topics ranging from local politics to the universality of the English language, all the while tantalizing my taste buds with some of the best flavors this city had to offer.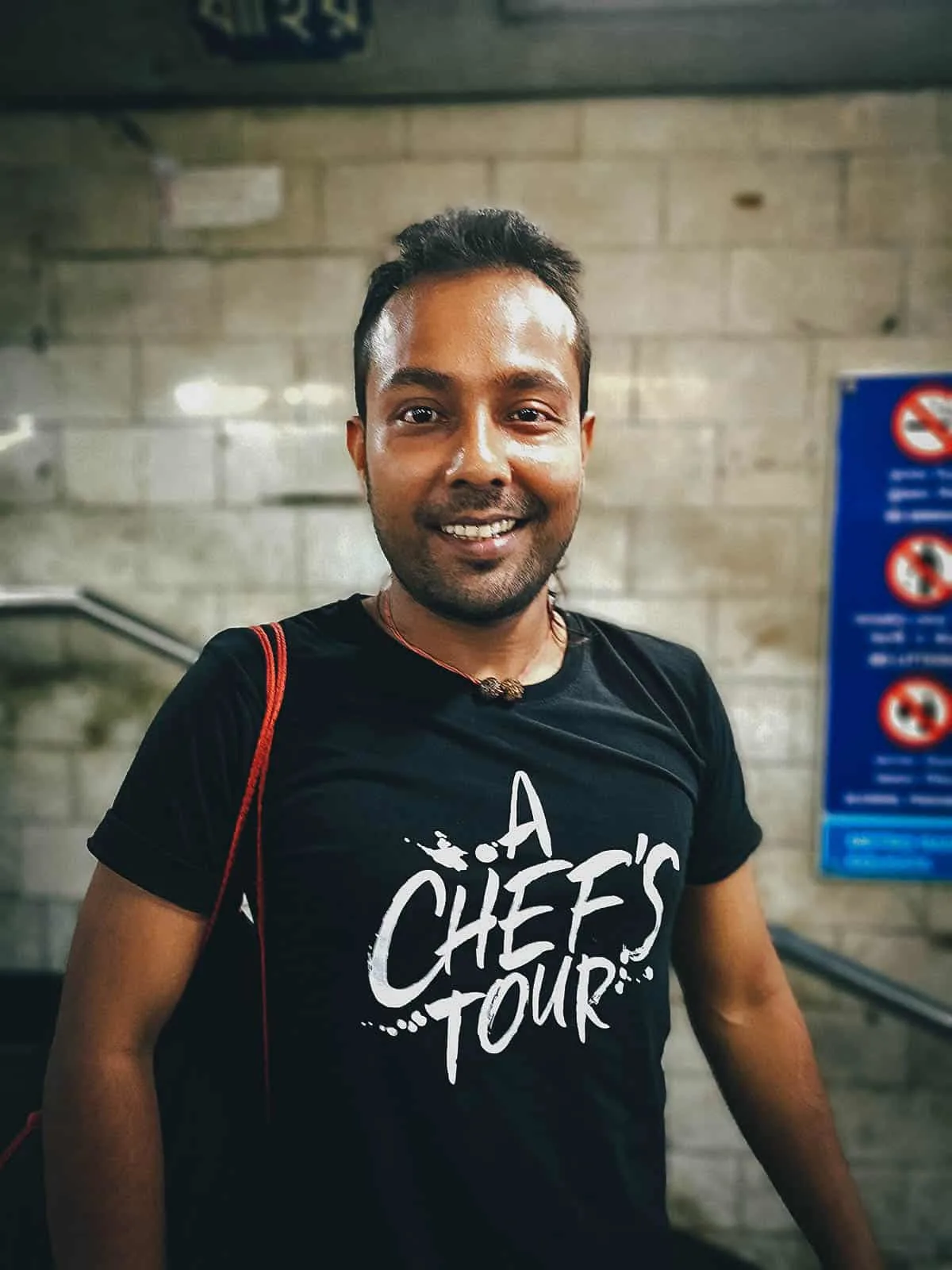 A Blessing from the Monkey God
Shortly after meeting up with Avik, he took me to this small temple to get a blessing from this man. Behind him is a statue of Panchmukhi Hanuman, a five-faced representation of the monkey god Hanuman, one of 33 million gods in the Hindu religion. From here we'd get tilakas before proceeding to our next stop.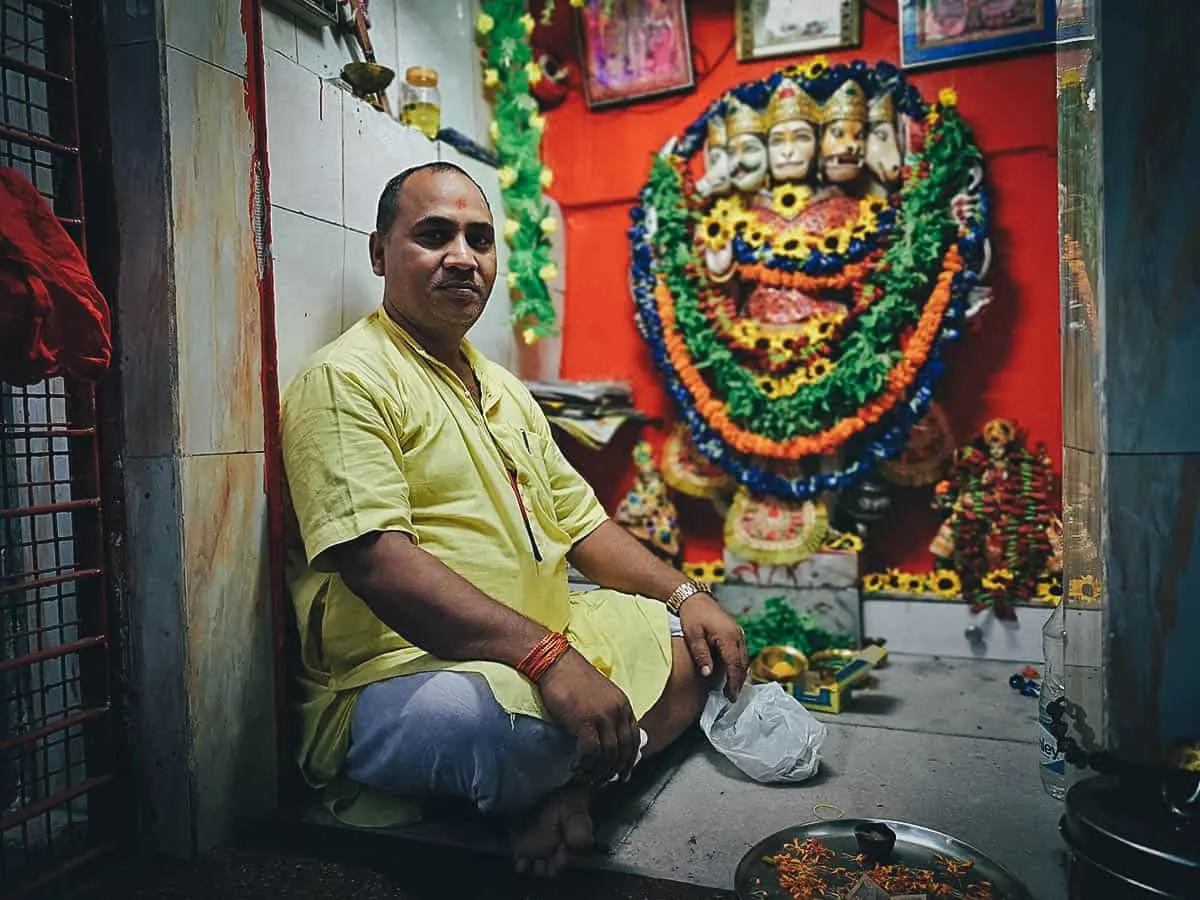 Is this Vision in Kolkata, or a traveleater with a tilaka? I know next to nothing about Hinduism but from what I understand, a tilaka is given to guests as a sign of welcome or expression of honor. I honestly couldn't have asked for a more fitting way to start this tour (and this journey through India) than with a tilaka.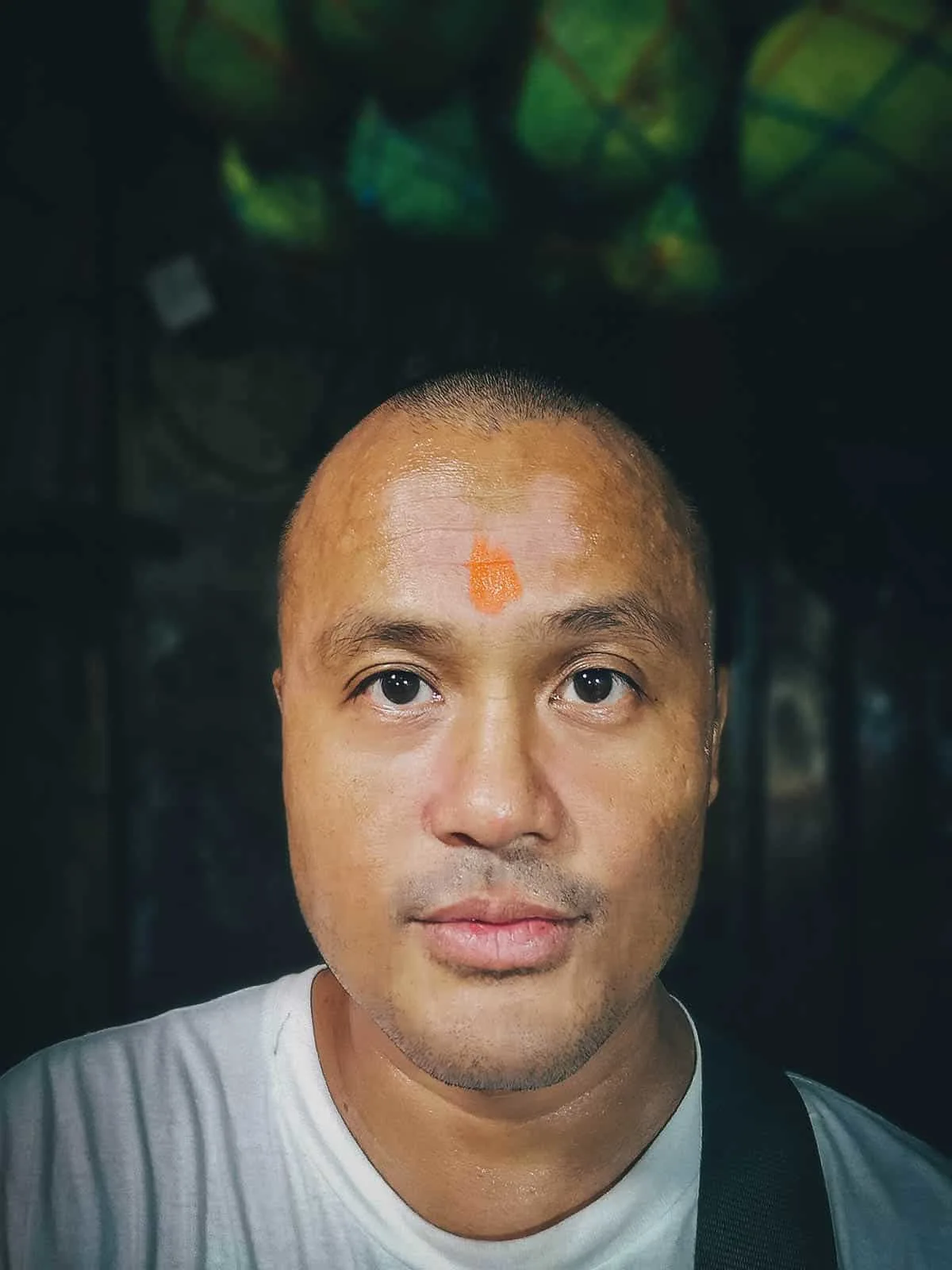 Subas Chandra Bose
We took the Kolkata metro to Shyambazar and this five-point crossing, at the center of which is a statue of Subas Chandra Bose. Bose was a Bengali revolutionary fighter whose attempt to rid India of British rule made him a hero. His statue stands here because Shyambazar and the neighboring Sovabazar are two areas in the city where the revolutionary movement was strong.
According to Avik, Subas Chandra Bose enjoyed far more popularity in these parts than Mahatma Gandhi. Clearly, Kolkata was a city of revolutionaries, not pacifists.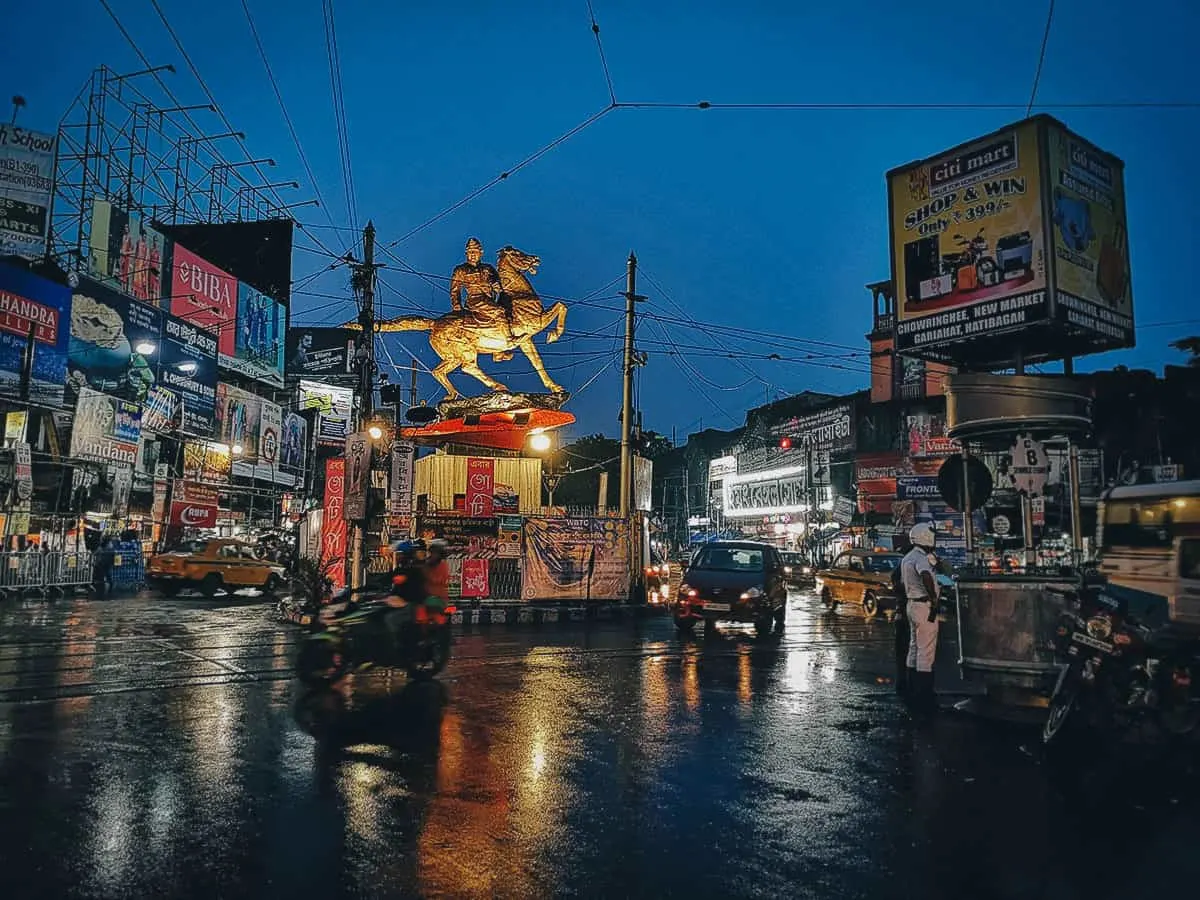 On Lassi, Street Food, and Bengali Cuisine
Not far from the five-point crossing was this lassi stall, our first food stop on the tour. According to Avik, this stall has stood at this same spot for three generations. A lassi is a drink made with yogurt, sugar, and spices. It can be served on its own or flavored with fruit like mango or pomegranate.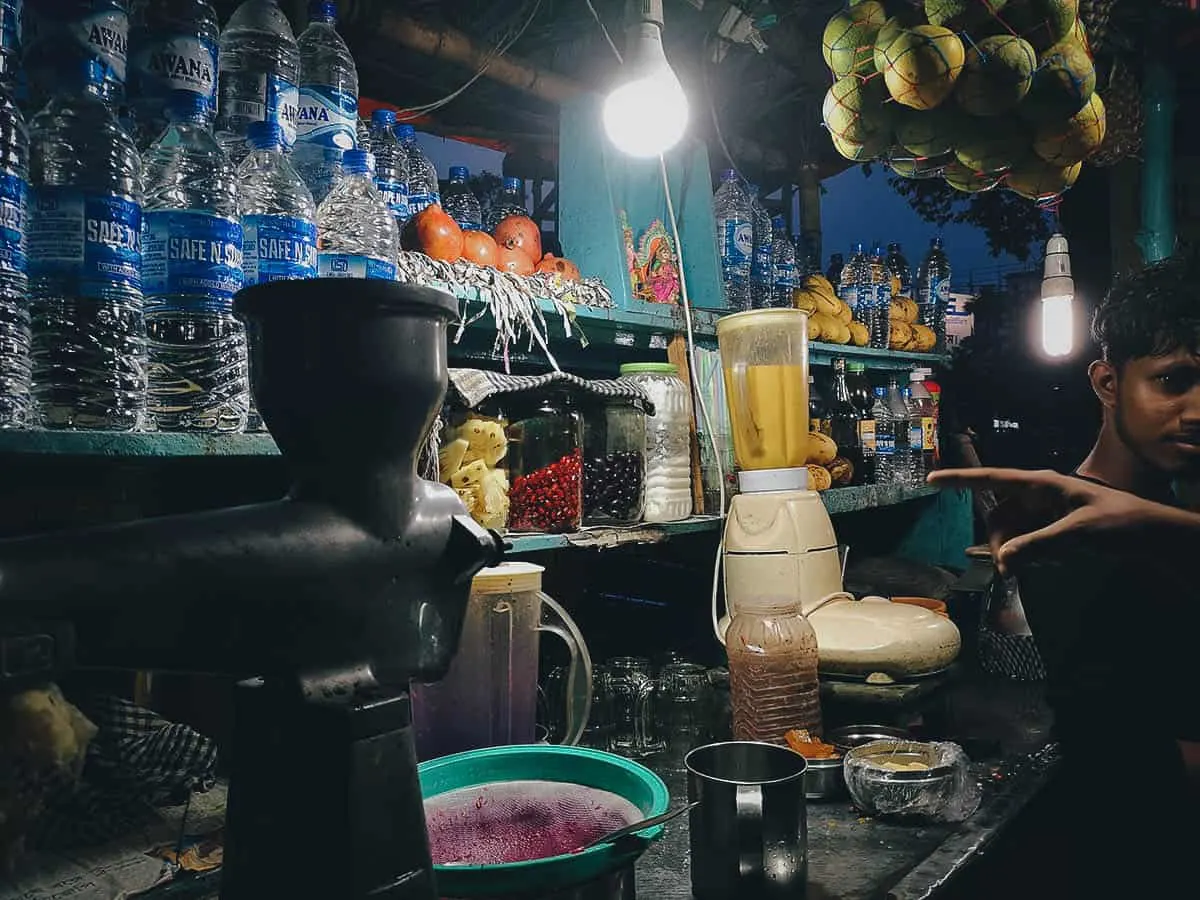 Avik offered me mango, pineapple, or pomegranate lassi. I went with the pomegranate as it was the most exotic-sounding for me. A probiotic-rich drink like lassi seems the perfect way to start any food tour in India.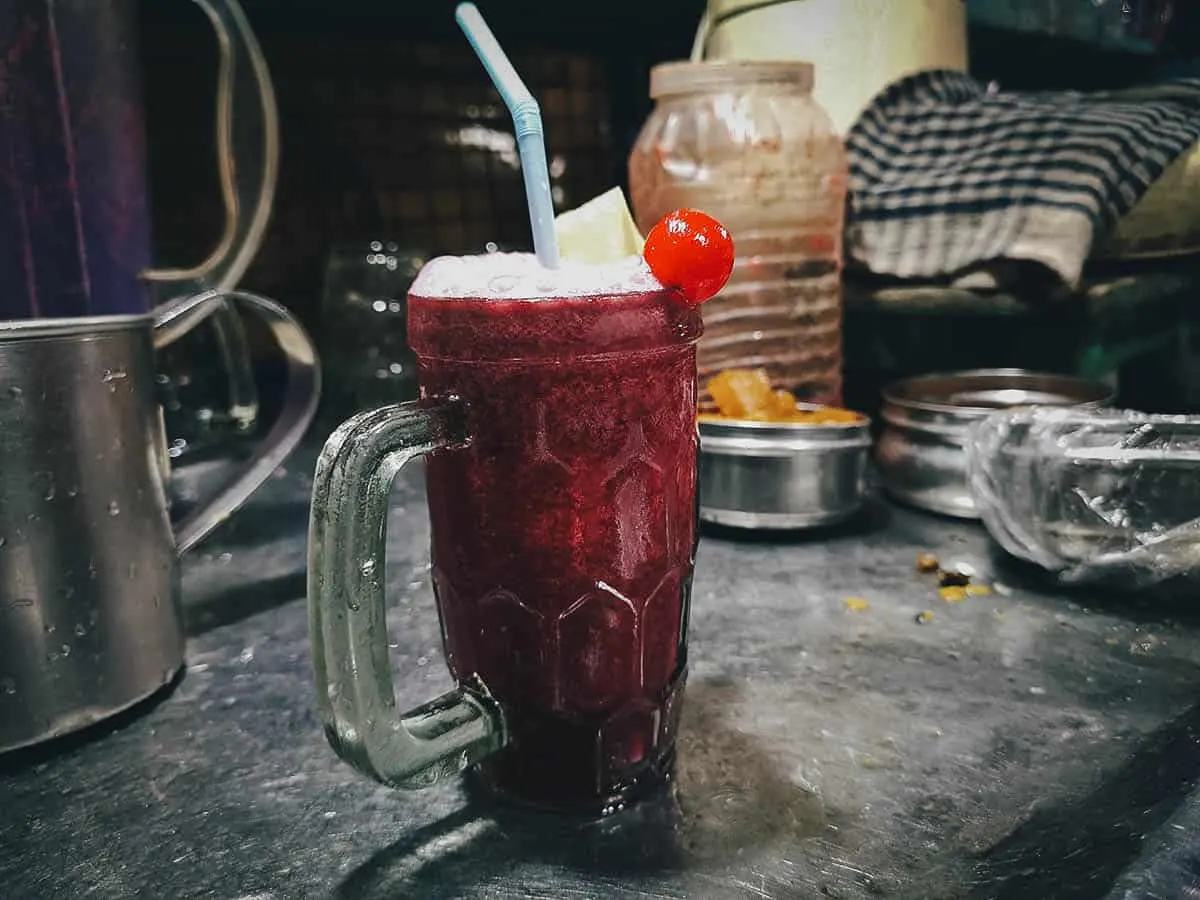 For our first meal, Avik took me to this tiny heritage restaurant that's been around for over a hundred and fifty years. It's remained a nondescript hole in the wall in spite of its longevity, with a narrow entrance opening up to a space not much larger than a hotel bathroom. In the space are stools and counter tables where we sat down to this deliciously dark, slow-cooked mutton curry made with cinnamon and other spices. It was served with flatbread, a side of pickled onions, and a tangy spicy dip made from tamarind, coriander, and chili.
A Chef's Tour offers a lot of food on their tours so I've learned to pace myself, but not here. Curry is my weakness so any semblance of discipline flew out the window the moment I saw this. Avik explained that the dish gets its deep dark color from being slow-cooked in its juices over a long period of time. Rich, tender, and complex in flavor, it was exquisitely delicious and a promising start to our tour.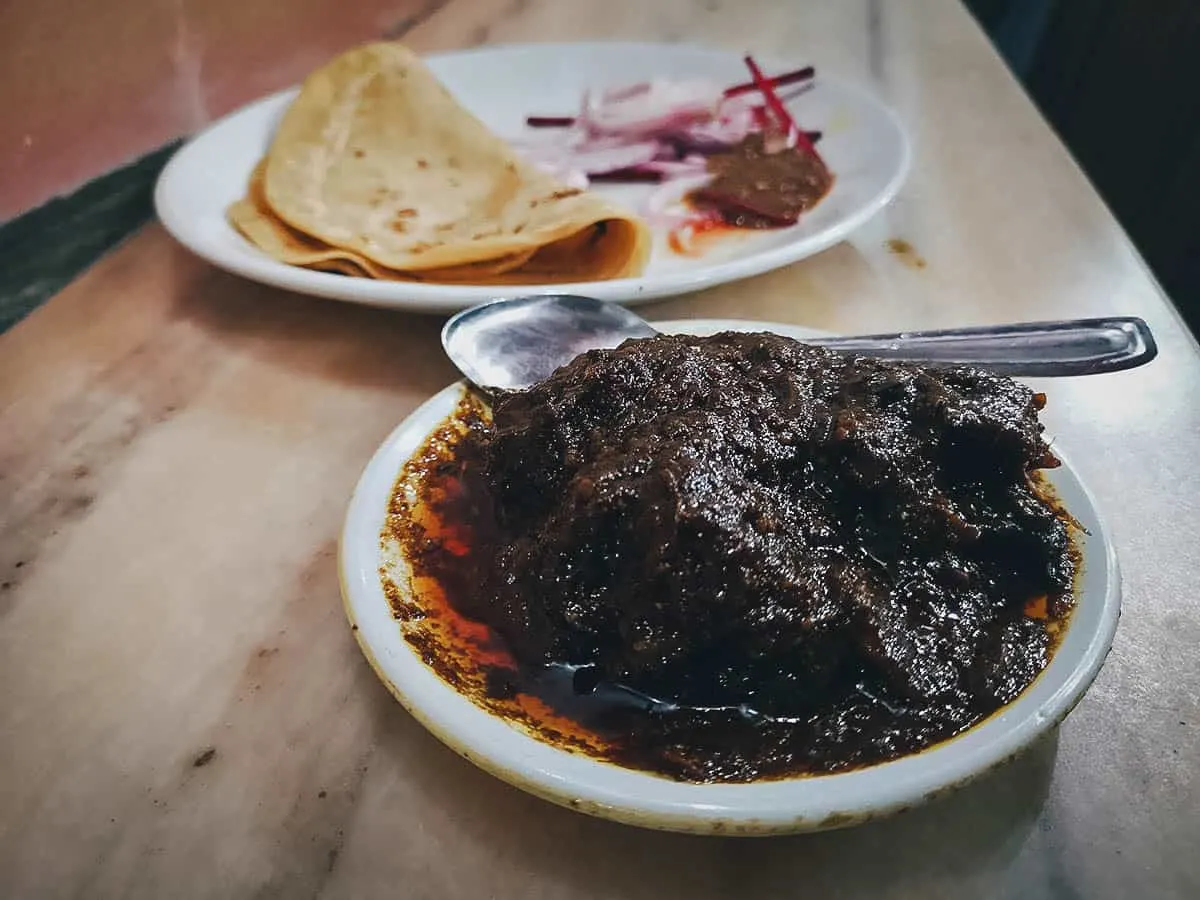 Up next was the nicest restaurant we'd visit on this tour, a more upscale establishment known for serving aristocratic Bengali cuisine typical to this region in India, particularly Kolkata. Here we'd try two types of the most interesting Bengali fish curry. Fish is the dominant protein in Bengali cuisine, cultivated in ponds and fished from the fresh waters of the Hooghly River.
The dish below was made with one of the most uniquely flavored curries I've ever tasted. It consists of hilsa or ilish fish cooked in a potent curry made with kashundi or Bengali mustard. It tasted buttery and pungent, its mustard flavors much more pronounced in taste than your typical western condiment. To me, it tasted almost like horseradish. It's delicious but very strong, so it's best to temper it with some rice. Watch out for the tiny fish bones too.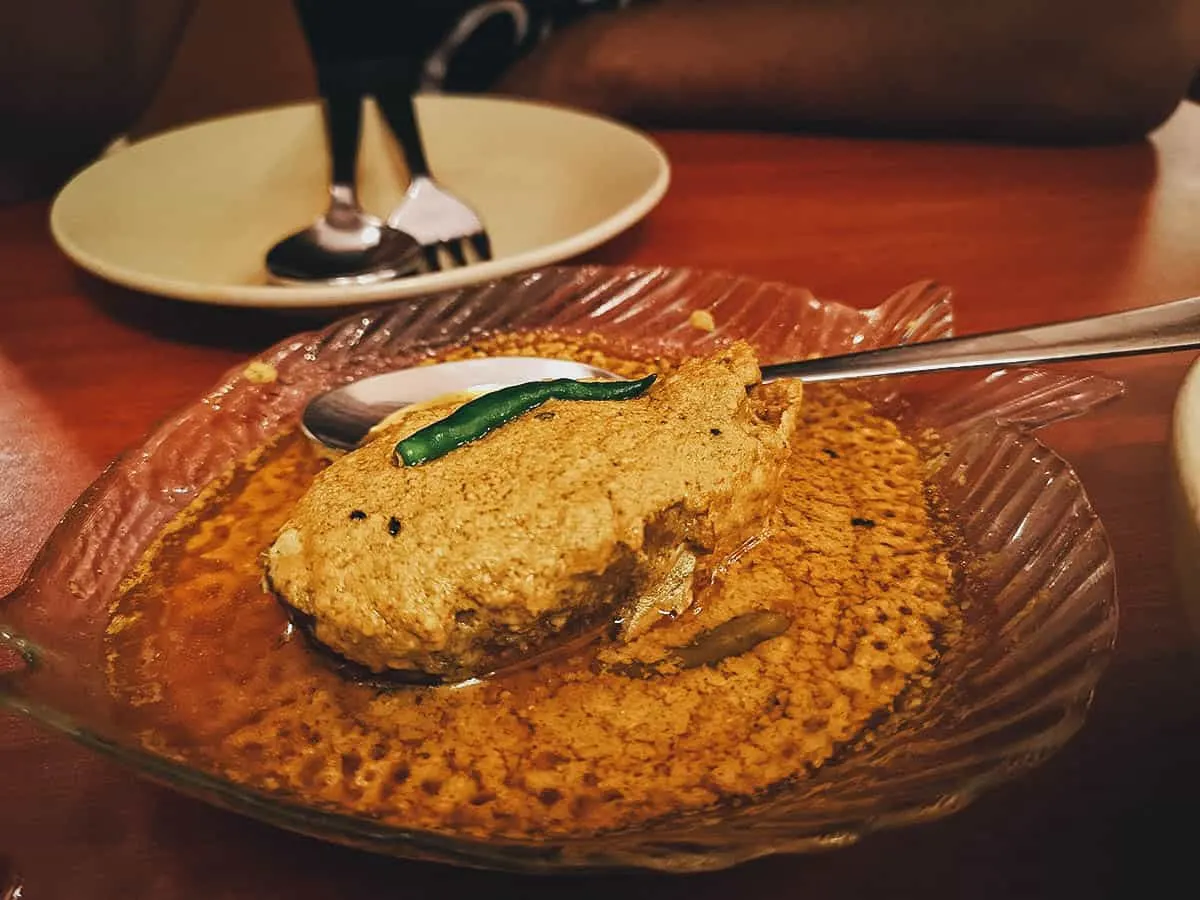 Unlike the mustard curry fish, this one was boneless. I'm not sure what type of fish they use, but it's steamed and cooked in spices and curd in such a way that in Avik's words, "it absolutely melts in your mouth like cake". It isn't nearly as strong in flavor as the mustard fish curry but it's very rich, and as Avik said, it really does disintegrate the moment you put it in your mouth. Delicious.
Had it not been for the fact that we still had a whole evening of eating ahead of us, I would have loved to stay here and explore more of this restaurant's menu. Apart from its heavy use of fish, I read that Bengali cuisine differs from the rest of the subcontinent in how its food is presented. Instead of bringing out the dishes all at once, dishes are served course by course in the modern service à la russe style of French cuisine. Aristocratic indeed!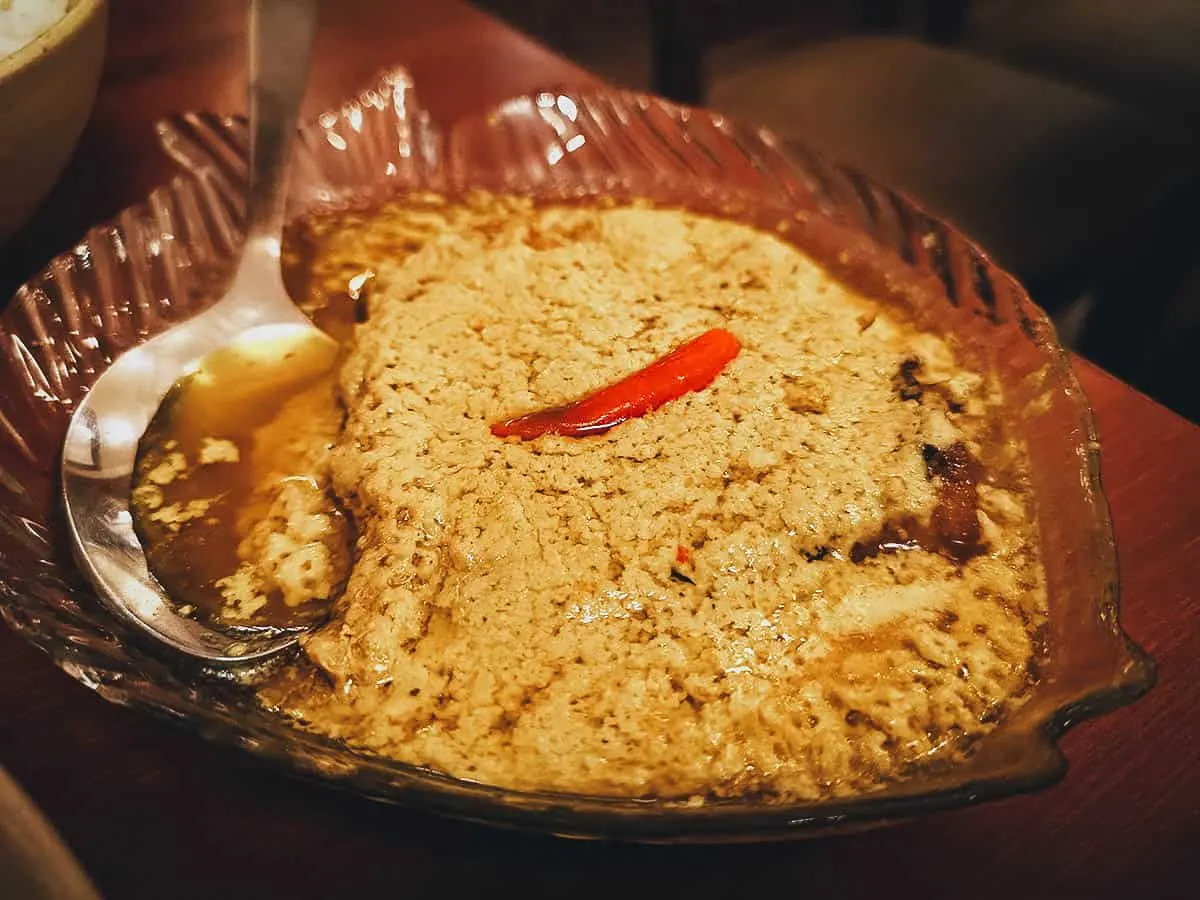 From aristocratic Bengali cuisine to the grittiest of street foods, what an experience in contrast this tour was shaping up to be! Not far from the restaurant was a pair of street food vendors selling chaat by a liquor store. Chaat is a general term used to describe a family of Indian street food snacks made from ingredients like aloo (potato), dal (chickpeas), puri (unleavened deep-fried bread), and vadas (fried flour balls).
The word chaat in Hindi comes from the verb chaatna, which means "to lick". Finger-licking good indeed.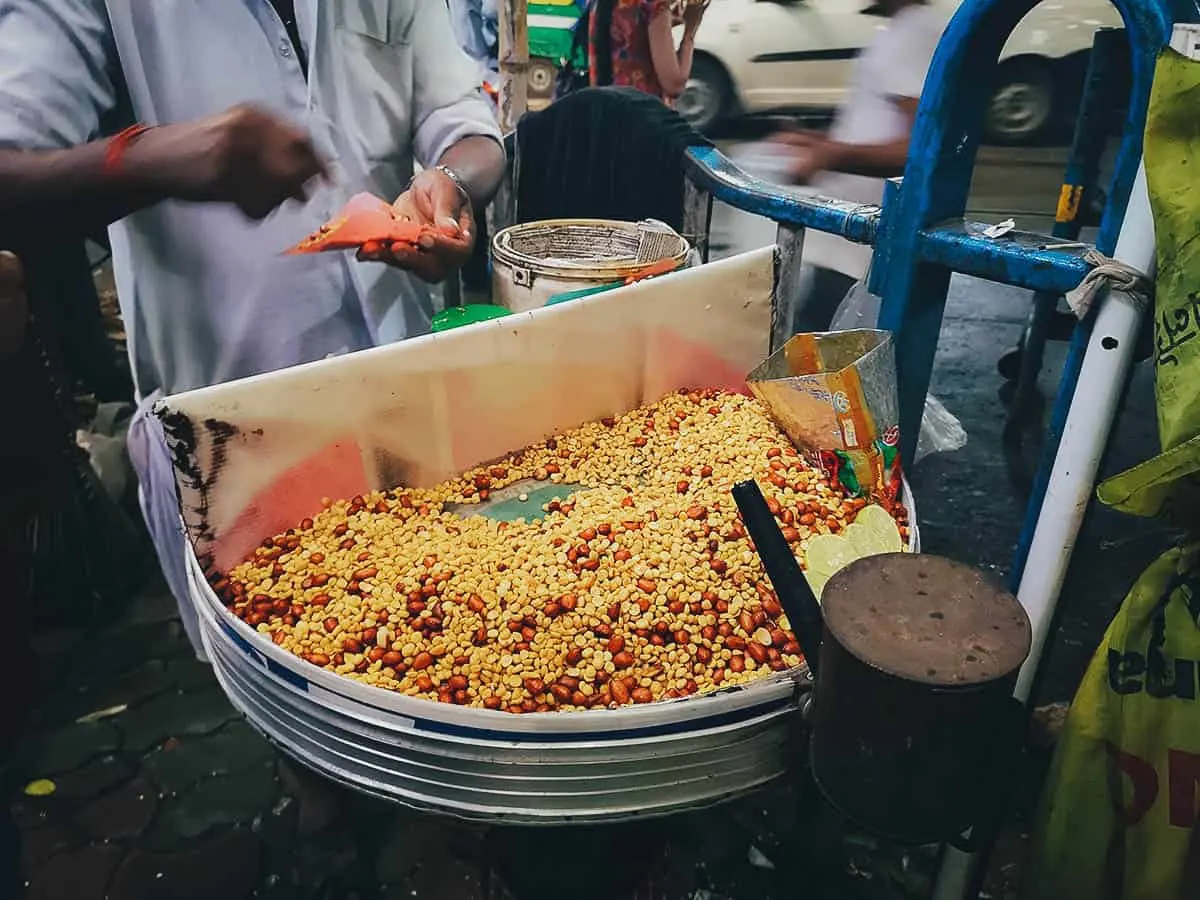 Unless I'm mistaken, this particular type is called chana dal chaat and consists of split baby chickpeas mixed with other ingredients like peanuts, chopped onion, coriander, spices, and lime.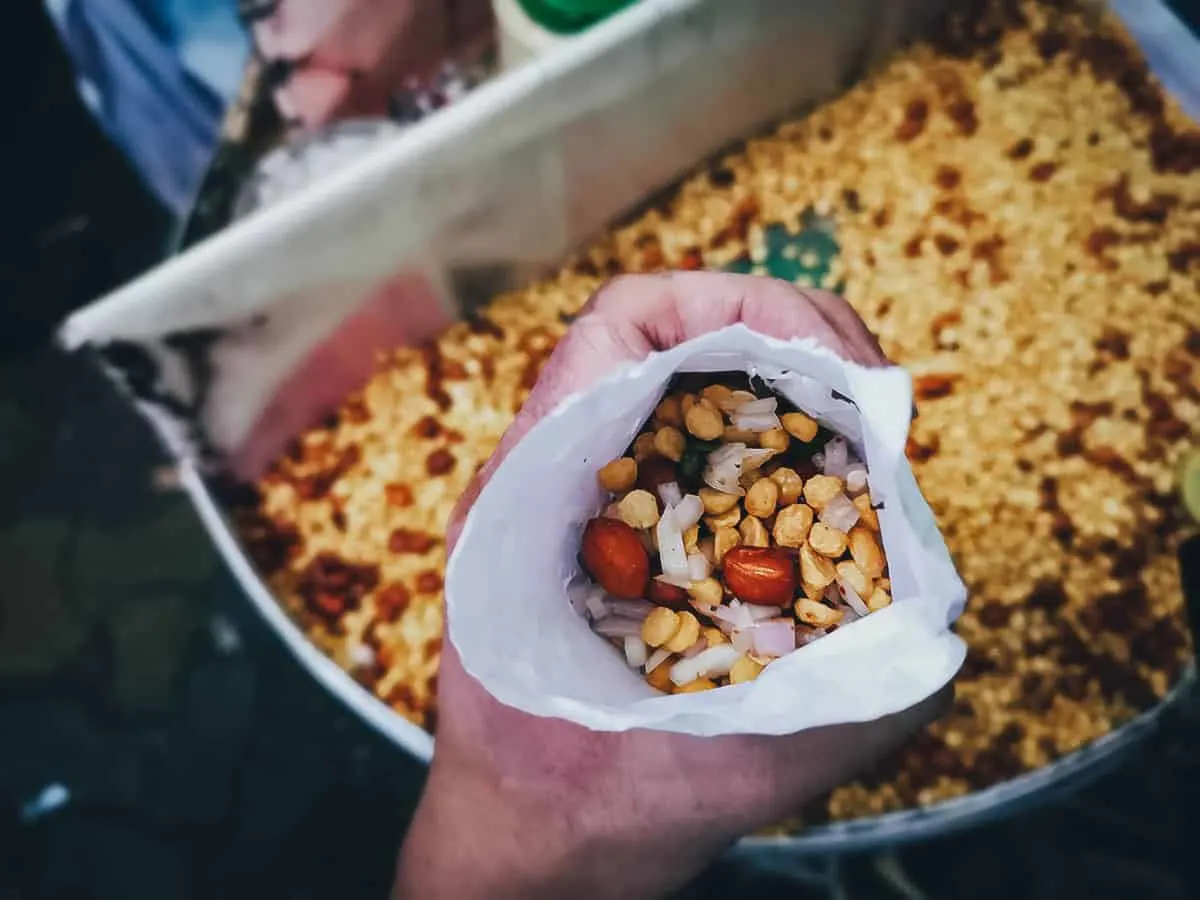 I believe this one is called aloo chana chaat. It's similar to the previous bag but with the addition of potato. As you can probably tell, chaat goes very well with beer hence these vendors' close proximity to the liquor store. Location location location!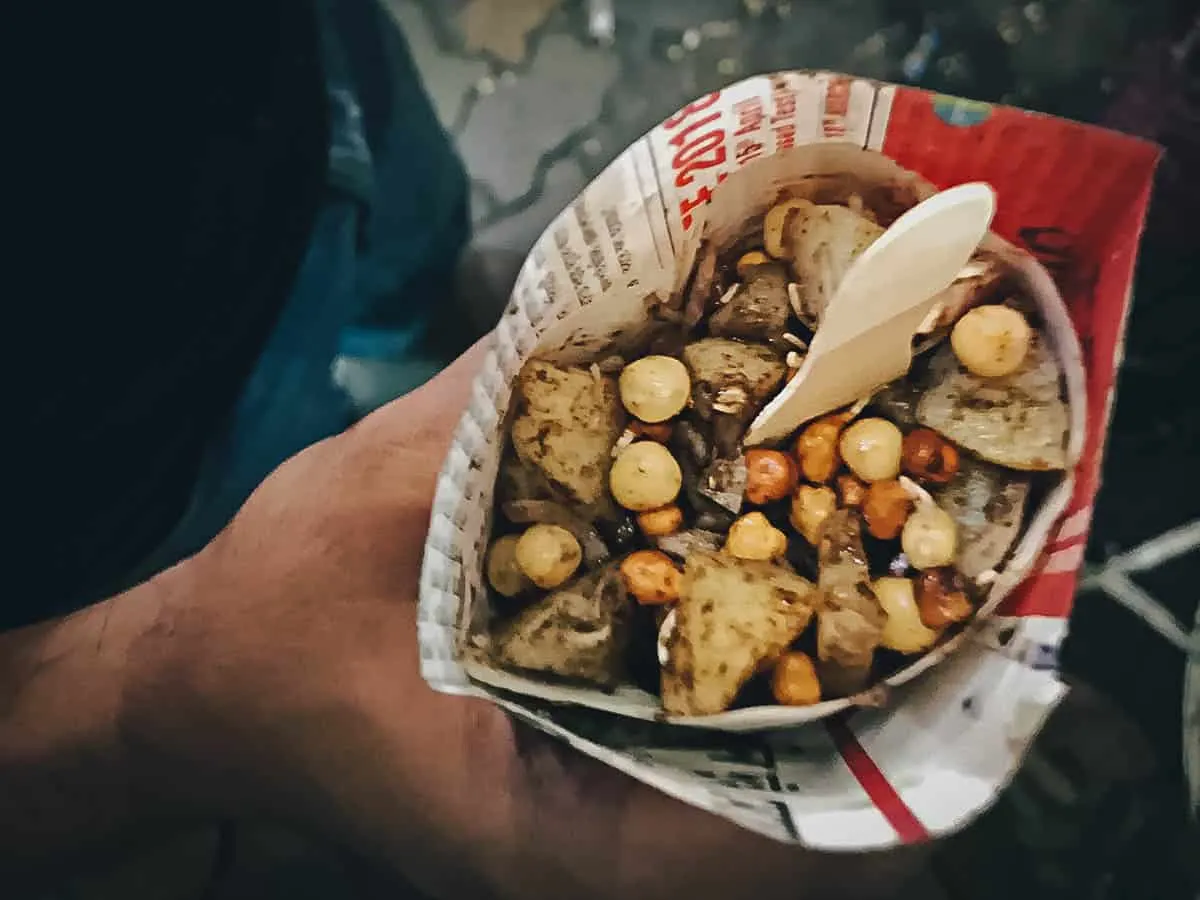 This was one of the most interesting things I ate in India. Called puchkas, it's a popular street food snack consisting of a round crispy hollow puri filled with a mixture of boiled gram, mashed potato, and tamarind water.
In my hand below is the golf-ball sized puri before one of its sides is cracked and filled with the stuffing mixture and water. Puchkas can be found throughout India under different names. In Delhi and Mumbai, it's called pani puri and varies from puchkas in its contents.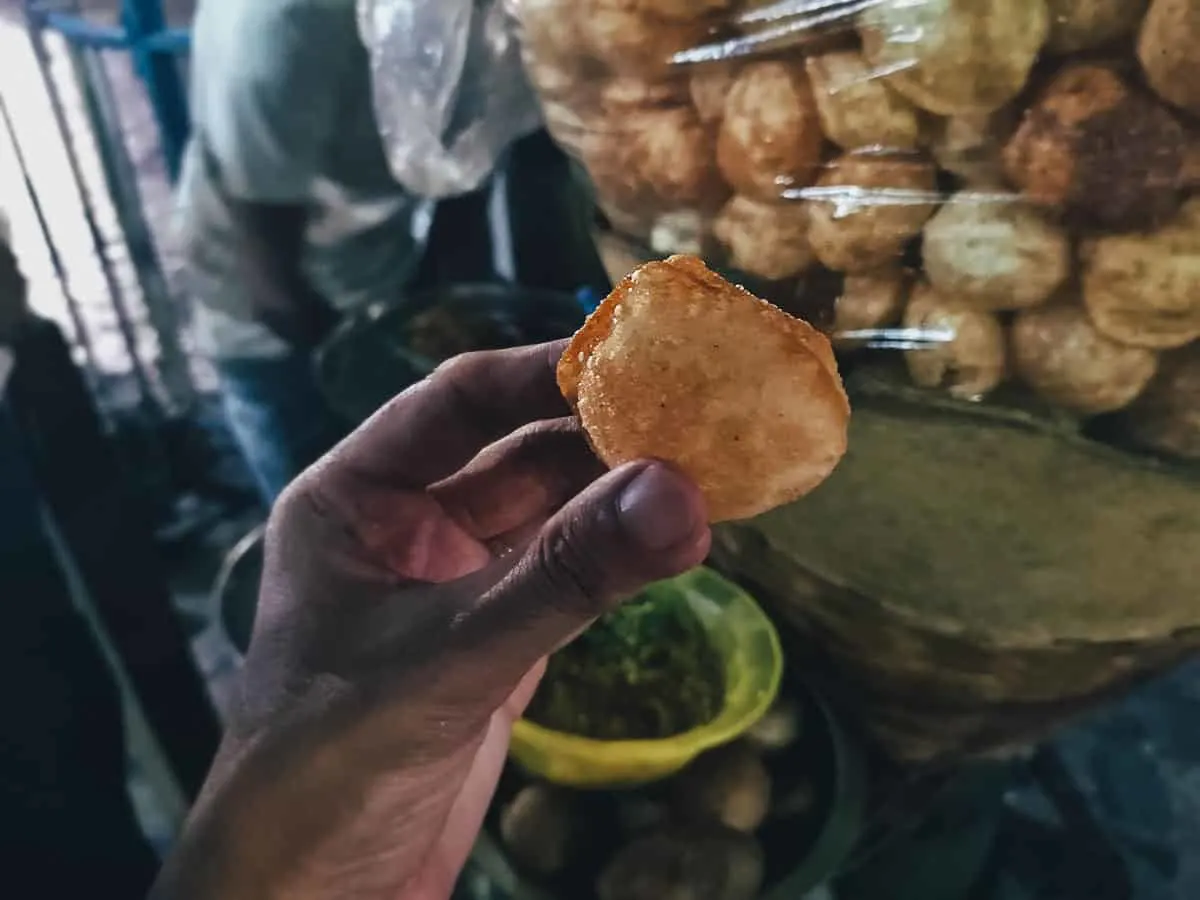 Pictured below is what the puchka looks like when stuffed with the filling. I had these in Kolkata and Delhi and both times, my guides told me to eat one after the other as quickly as I could, which is why I couldn't take any of my own pictures.
The reason why you have to eat it quickly is because the puri is delicate, like a potato chip. Once it's filled with the mixture and dunked into the flavored water, you have to eat the whole thing in one bite before it disintegrates. They hand you an empty leaf plate to use as a vessel to catch any flavored water that spills out of the puri. The vendor will pass you piece after piece until you tell him to stop. Both times, I stopped at five but Avik told me that women can easily eat between ten and twenty in one sitting. Apparently, Indian women love this snack.
Puchkas and panipuris are like crunchy little flavor bombs and a must-try street food snack in India. Just be careful where you eat them because they do contain water. Avik knew where to take me so I had less to worry about, but eat them at a stall using suspect water and you could wind up with a case of Delhi belly (traveler's diarrhea).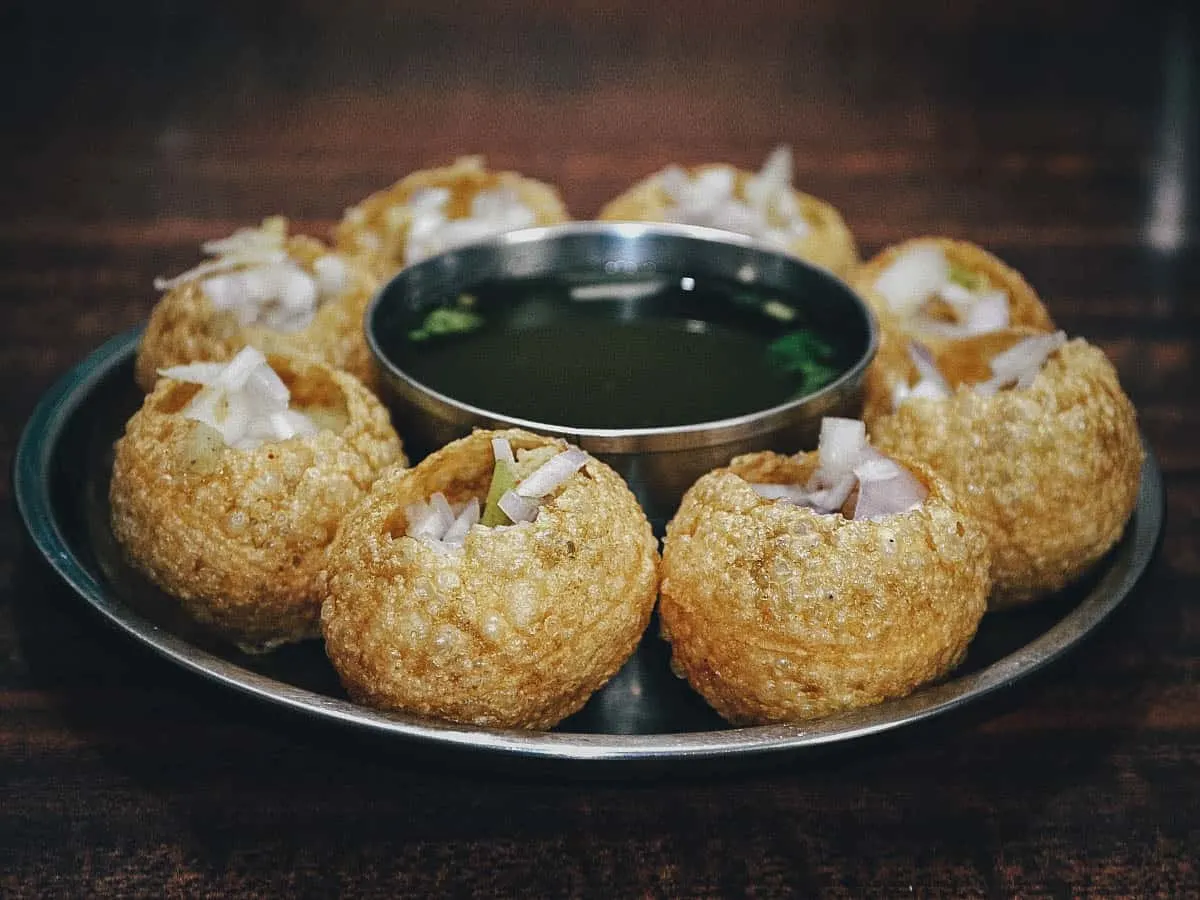 Rupamdas75, CC BY-SA 4.0, via Wikimedia Commons
After downing my puchkas, Avik took me to this heritage restaurant that's been open for over a hundred and thirty years. Like many of the places we visited tonight, the space is small and unadorned, just big enough to fit 10-15 people. They specialize in these succulent and juicy prawn cutlets fried in ghee.
Prawn cutlets are a popular dish in Bengali cuisine but according to Avik, not many places make it the way this restaurant does. In fact, he can only think of two. Served with a side of chopped salad and kashundi (Bengali mustard), this prawn cutlet is considered by many to be the very best in the city. It was delicious.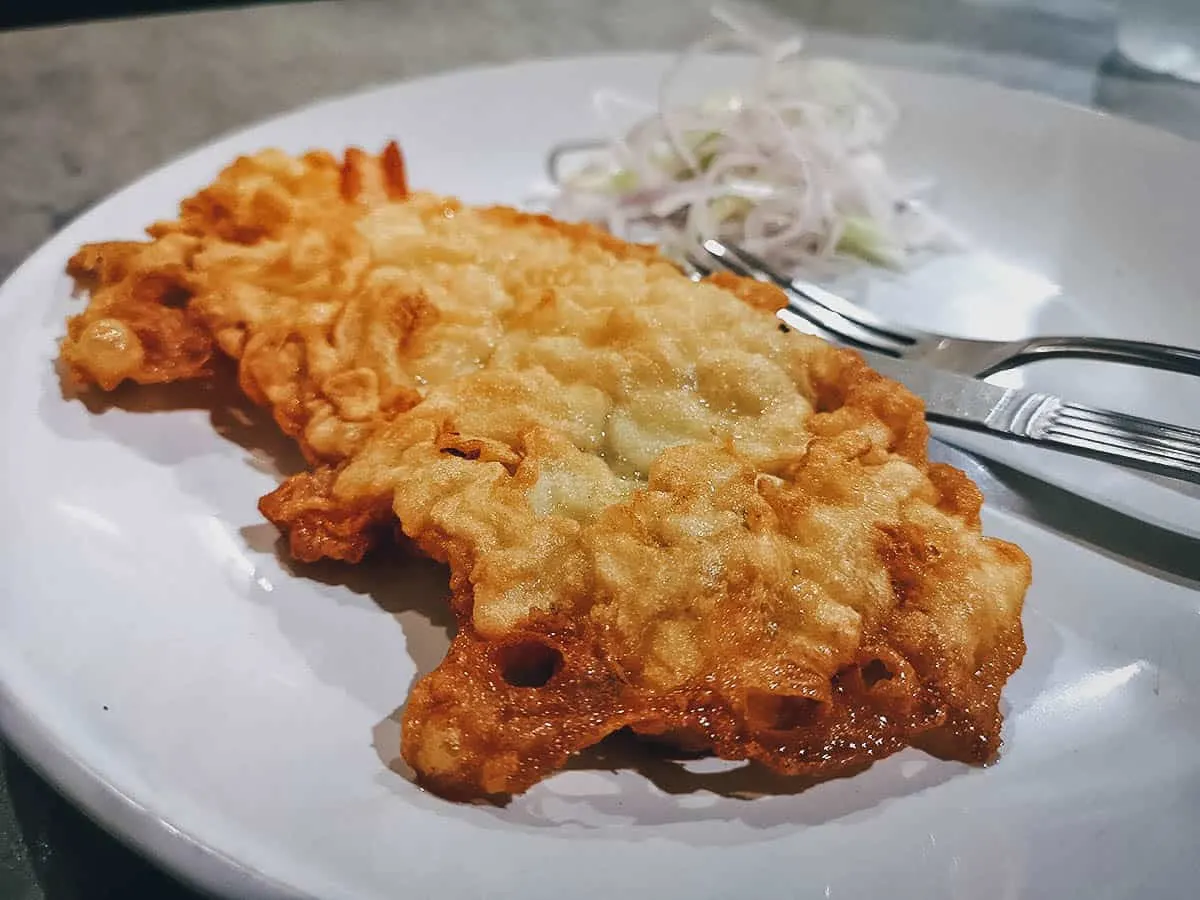 We just had prawn cutlets from a 130 year old restaurant. Earlier this evening, we had mutton curry from a restaurant that's been open for 150 years. Both have exhibited incredible longevity but they're still young compared to this one. According to Avik, this vegetarian street food stall has been thriving for over 180 years. That's nearly two centuries!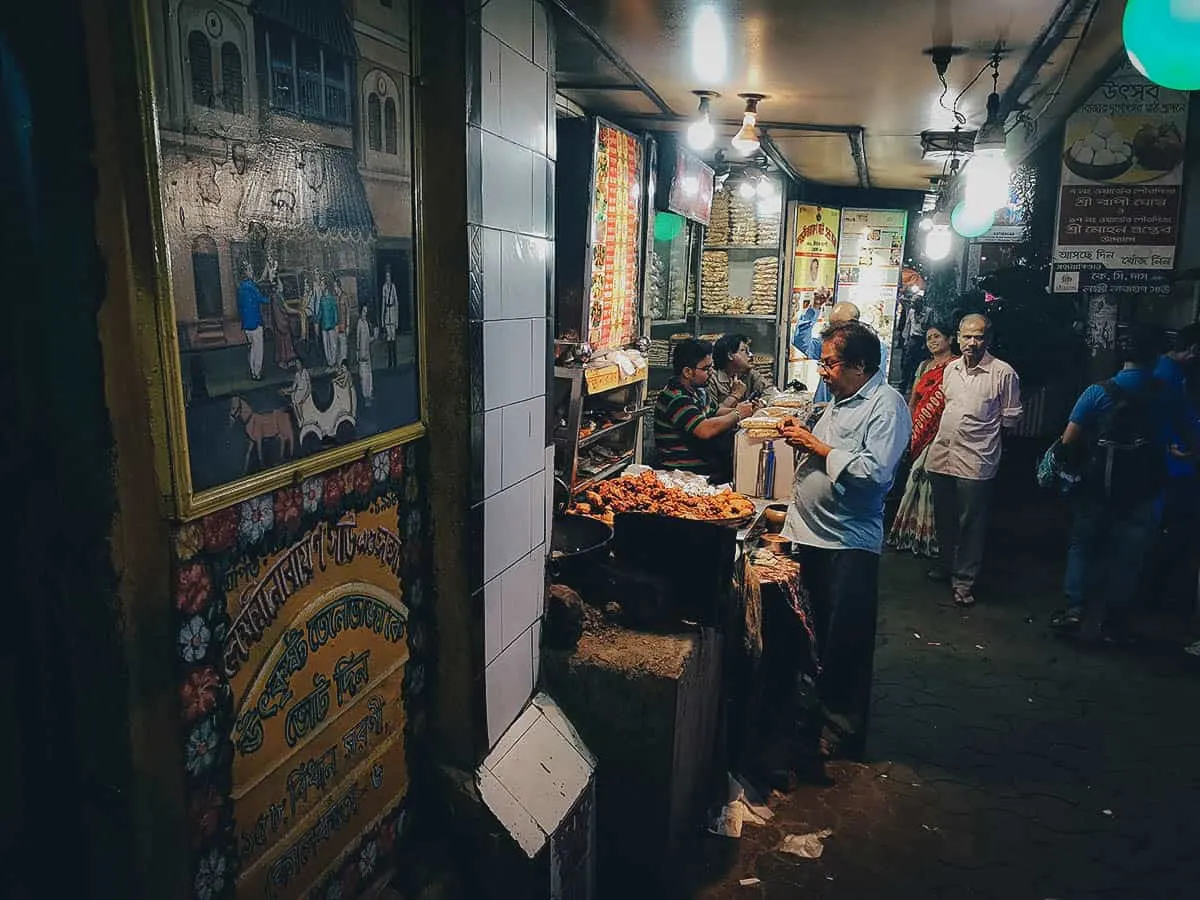 Not only was this stall the oldest, but it was also the most popular. There seemed a never-ending flow of customers waiting to pick up bags of their vegetable fritters made with clarified butter.
Avik told me that Subas Chandra Bose himself was a regular customer of this shop. I'm not sure if the tradition carries on to this day, but in his honor, the shop would distribute free telebhaja for the entire day on his birthday. Telebhaja are fritters made with gram flour batter and onion deep-fried in mustard oil.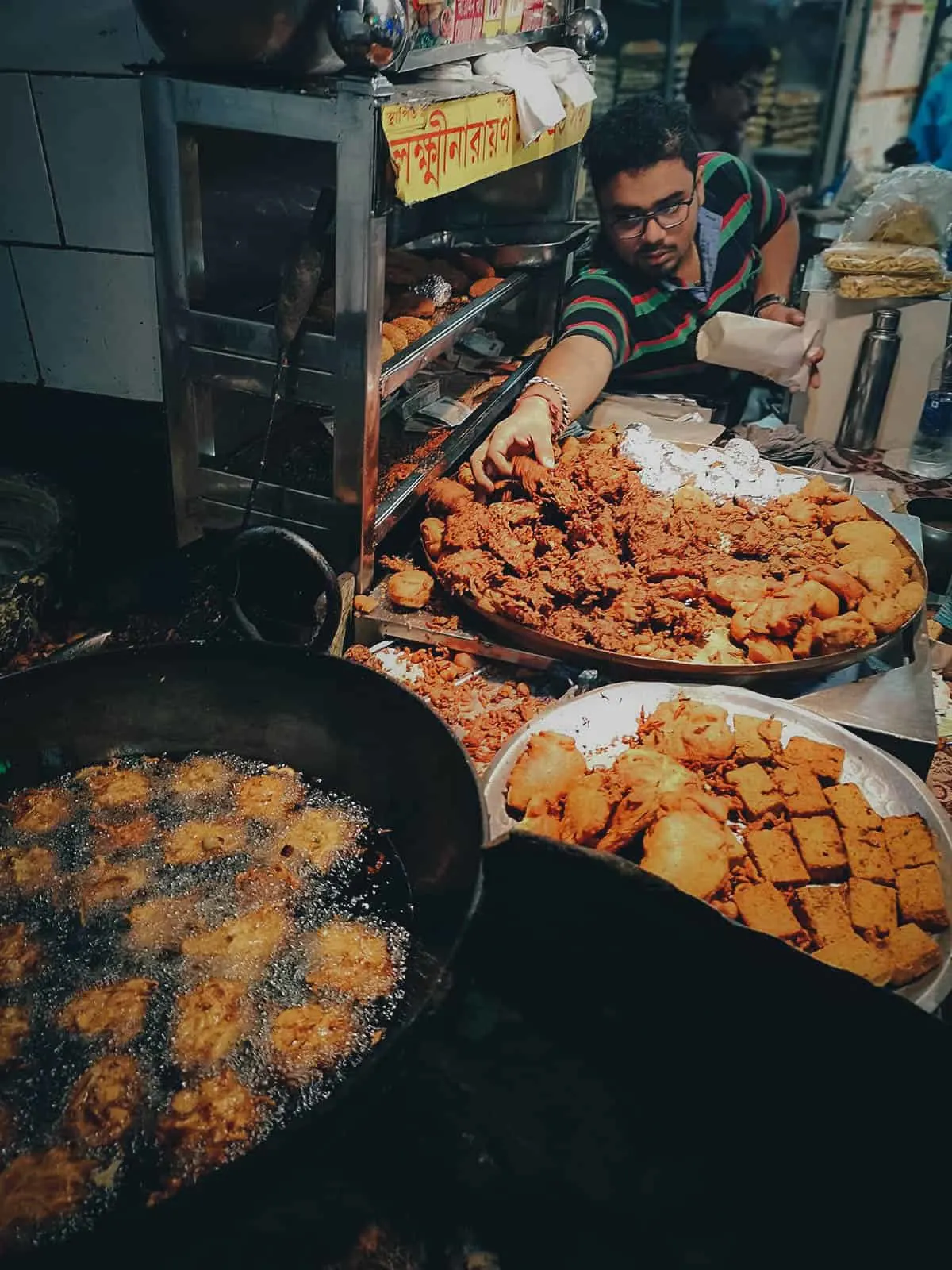 Tonight, Avik had me try kanda bhaji which is a type of deep-fried onion fritter made with gram flour and spices.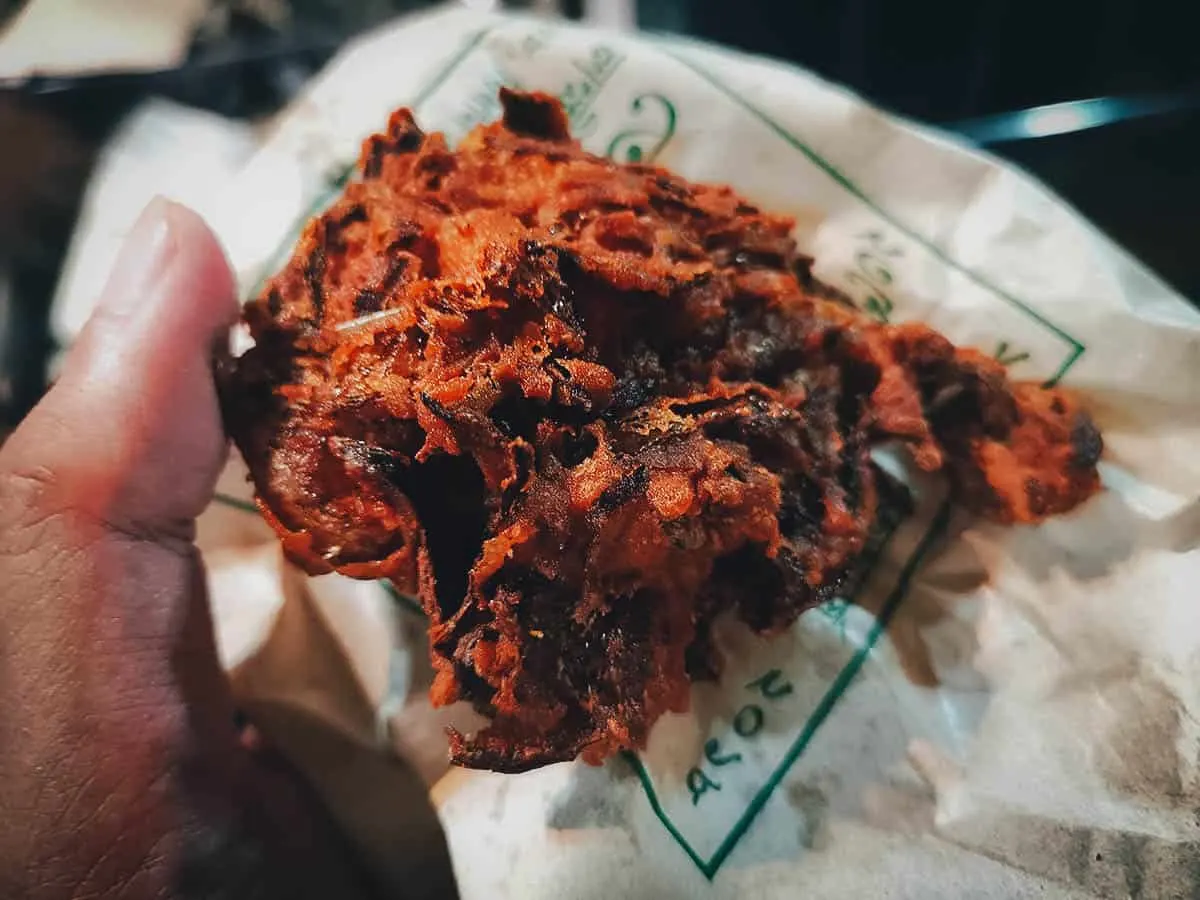 He had me take bites of the kanda bhaji between handfuls of jhal muri, another popular Bengali street food snack. Jhal muri is made with crispy puffed rice mixed with an assortment of ingredients like sev (chickpea noodles), nuts, vegetables, and spices.
The combination of the two was terrific. Both were crunchy but the kanda bhaji was soft and juicy inside while the jhal muri was dry with a strong taste of cumin. Avik was kind enough to give me a bag of jhal muri to bring back home to Renee, which I'm munching on right now as I write this post! It's still crunchy even after three weeks.

We had been walking and eating for over three hours at this point, so I knew we were nearing the finish line when we stopped for this cup of chai tea. Masala chai is a flavored tea made by brewing black tea with a mix of aromatic herbs and spices.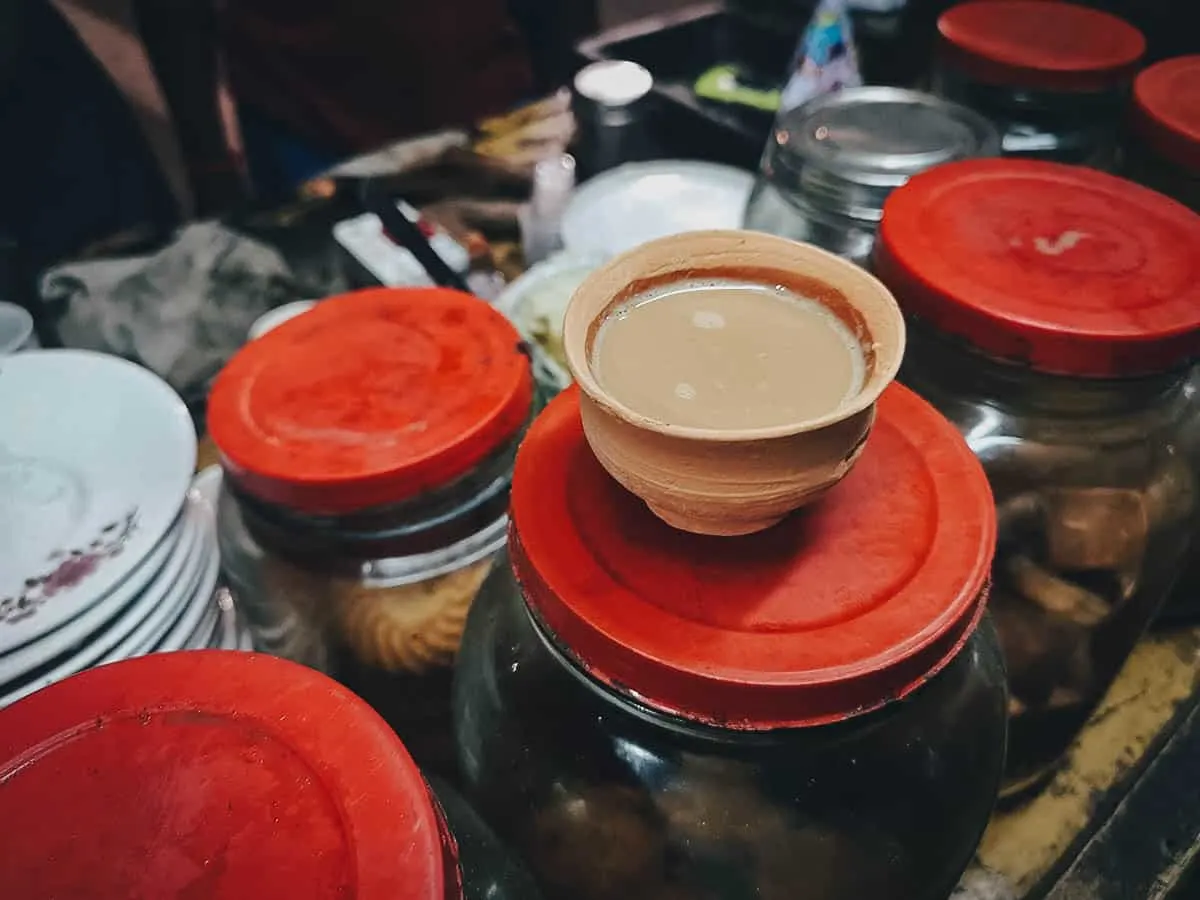 We were meant to catch one of the city's vintage trams to get to an area near the university. However, we had gotten wrapped up in conversation during the tour and ran way behind schedule. Trams were few and far between at this time so we hopped on a bus instead and proceeded to this historic coffee house on College Street. Unfortunately, it was already closed, but I did get to go inside and snap this one picture.
Situated in the academic hub of Kolkata, this coffee house is a favorite hangout for university students, office workers, and the city's intellectual elite. It has a history dating back 300 years, being the former residence of Bengali philosopher and social reformer Keshab Chandra Sen. It was quiet now, but you could almost hear the conversations that have taken place within its walls throughout its long history. What a provocative, historic space.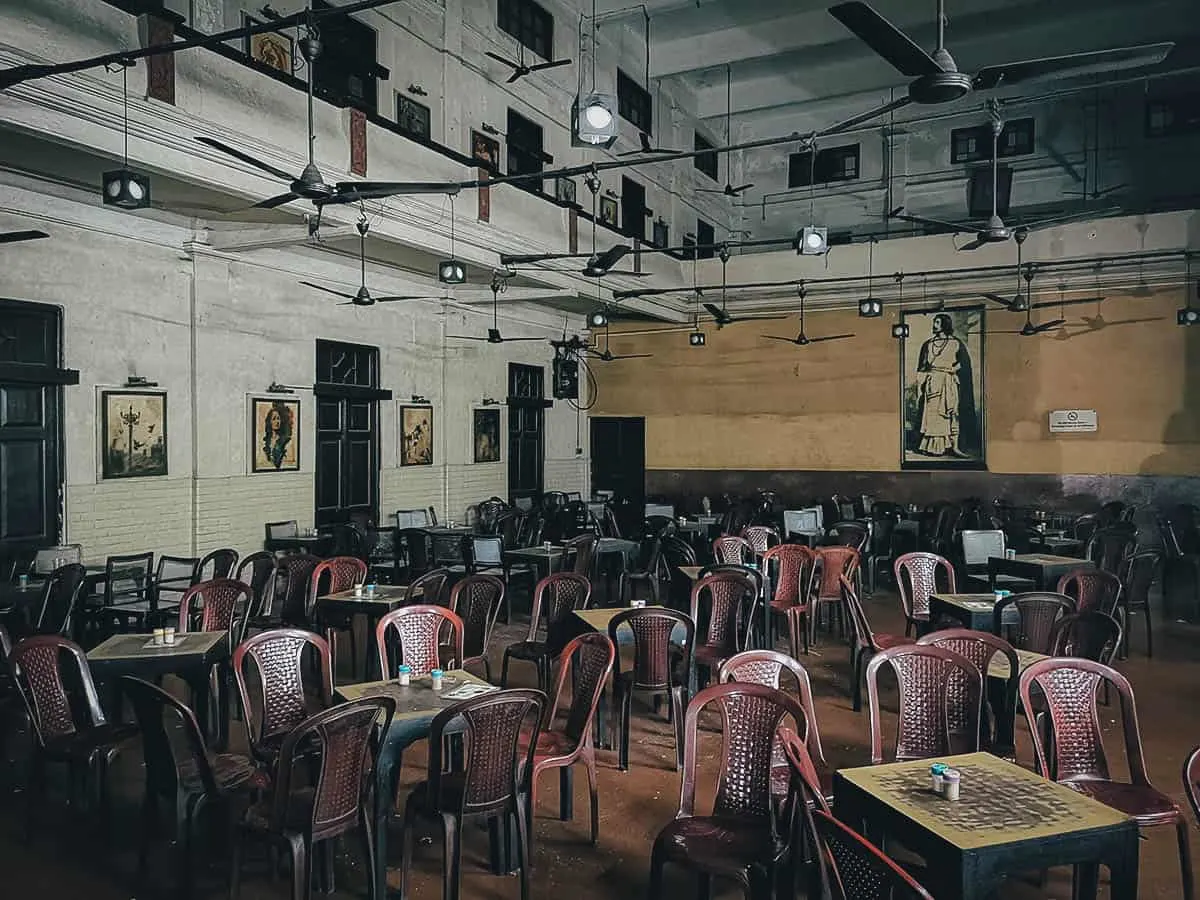 Disappointed but undeterred, we rushed to this stall to console ourselves with a refreshing glass of fresh coconut water. After a long night of walking and eating savory food, it was like discovering an oasis. This would be the final course on tonight's menu as the dessert shop Avik had in mind for us had just shuttered its doors. Oh well.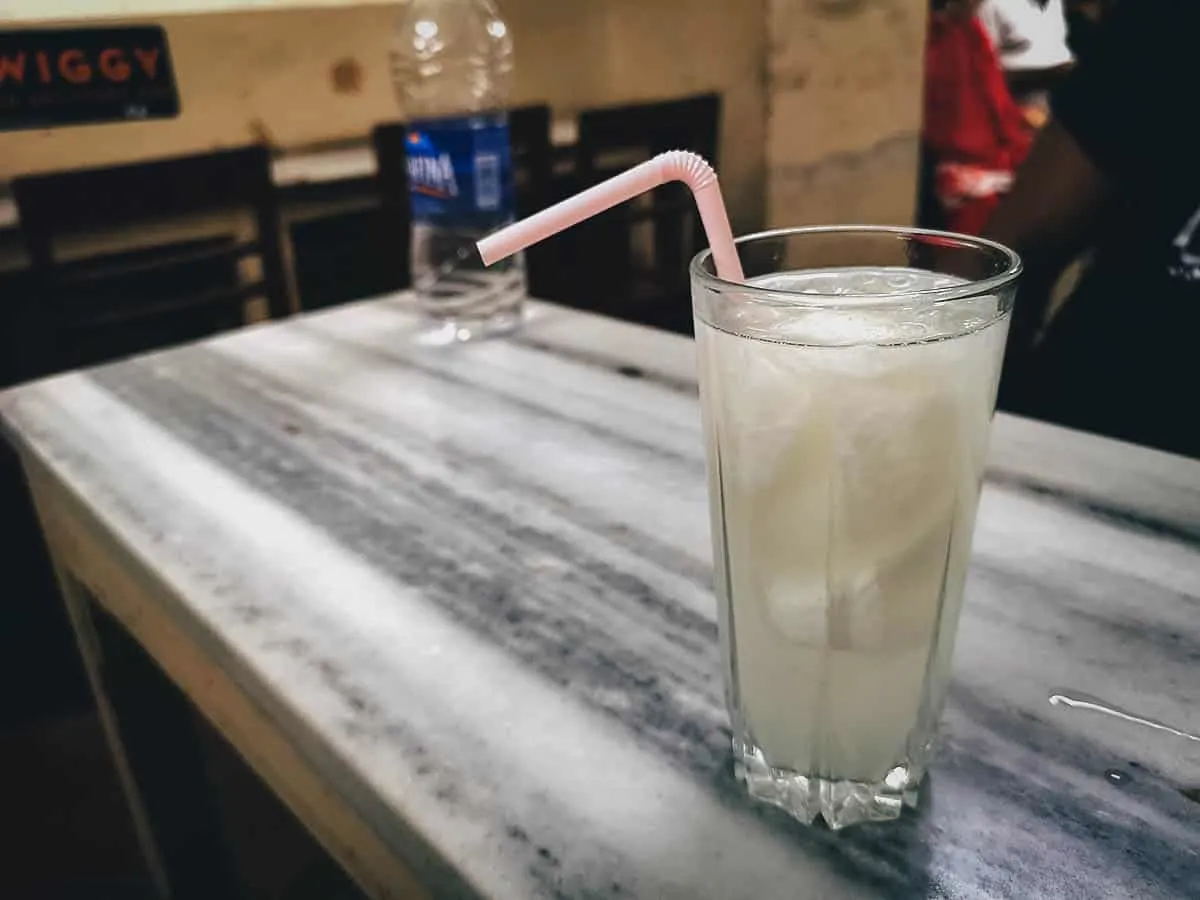 Exploring Kolkata Like a Local
Between food stops, Avik would take me through some of Kolkata's most interesting residential neighborhoods. We went off the main thoroughfare and ducked into alleyways while making our way from stall to stall. Without a local like him showing me the way, I would never have ventured into these areas on my own. It was great to see a quieter, more intimate side of Kolkata, one that seemed far removed from the chaos I had grown weary of during the day.
One of my favorite parts of the tour was hopping on this hand-pulled rickshaw. I read that Kolkata is one of the last remaining cities that still use these rickshaws as a means of transportation. I wanted to ride one earlier in the day but I wasn't sure if it was a form of exploited labor. Within minutes of hopping on, Avik answered that question without me even asking.
He explained that these rickhaw pullers are farmers who do this as a supplementary means of income. Without it, they'd have no way of earning a living during the off season. The job looks hard to us, and I'm sure it is, but these men are strong and hardy and barely break a sweat. In fact, our driver must have pulled our rickshaw for a good twenty minutes, and he wasn't even breathing hard at the end of it! Soon as planting season rolls around, they leave Kolkata and return to their villages to farm.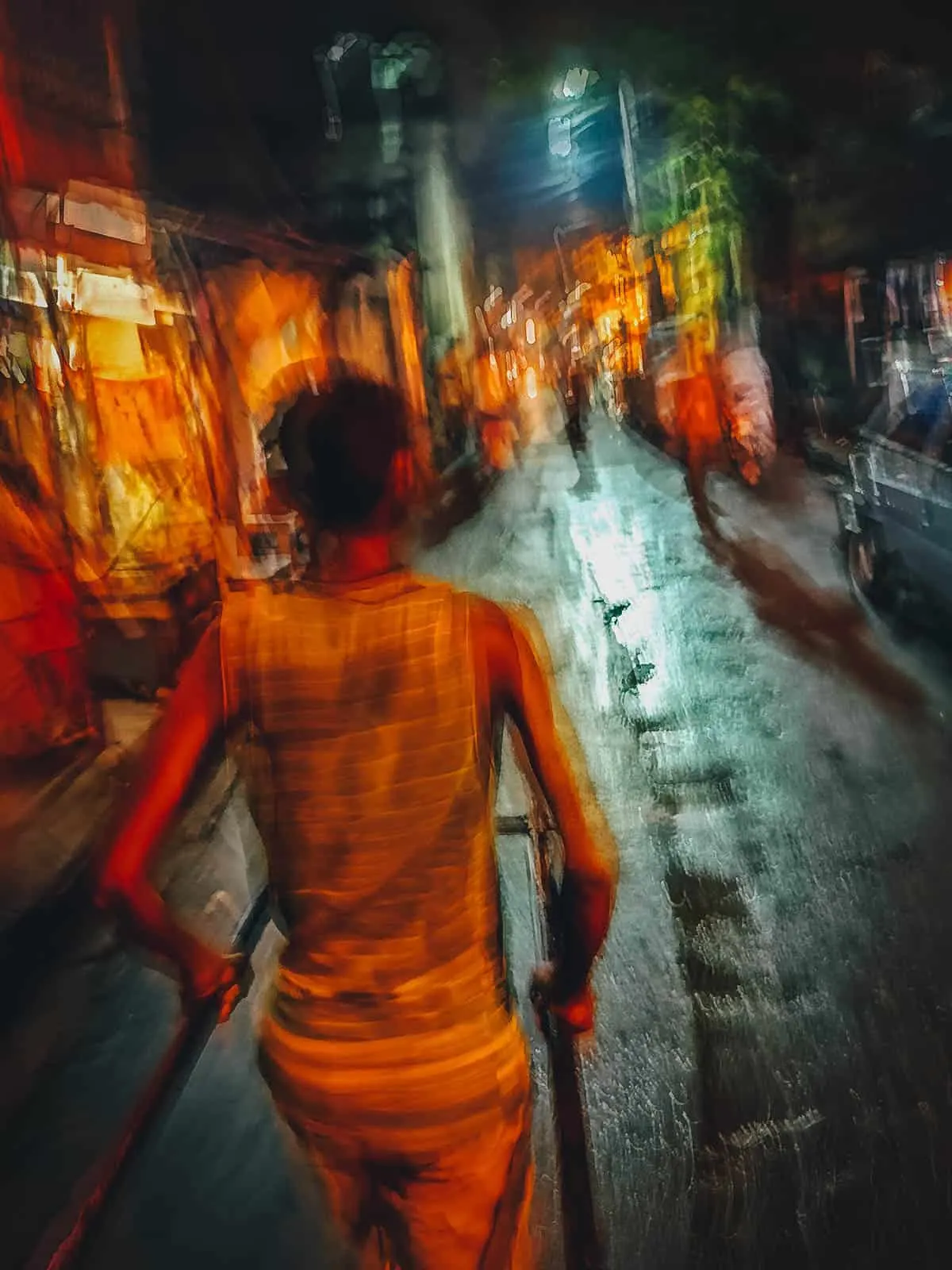 Based on the sheer number of temples we passed by tonight, Kali seems to be the most popular deity in Kolkata, which makes sense considering the city's revolutionary spirit. Kali is the Hindu goddess of death and is often associated with sexuality and violence. As grim as that may sound, she's also considered a strong mother figure and symbol of motherly love.
I've forgotten the name of the book, but I once read a novel set in India that described Kali as an inspiring, nurturing goddess. The author described a battle worn and weary Kali still finding the energy to nurse her children from withered breasts. It was a powerful depiction that I never forgot.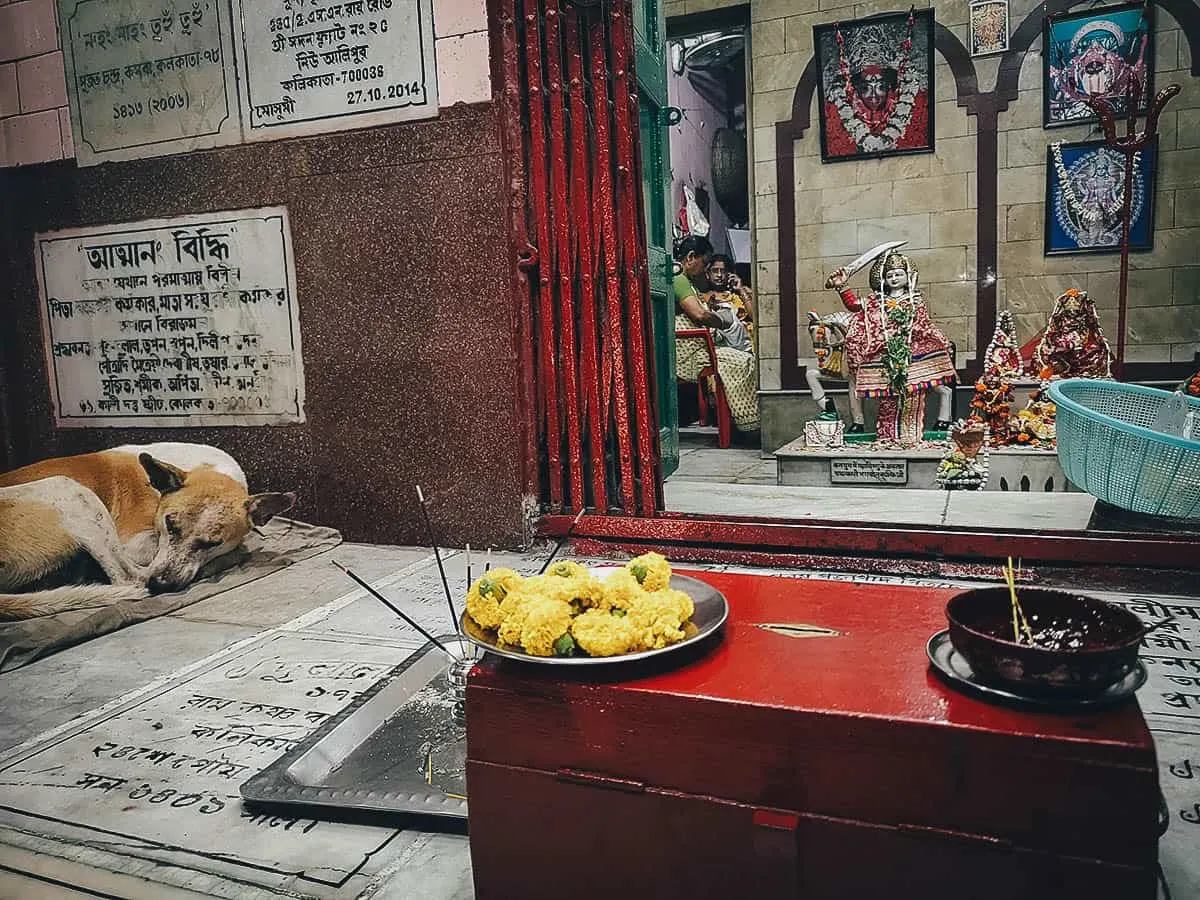 Avik told me that Kolkata is a dying city. You can see it all around. Its historic tram system is a deficit enterprise and many buildings, like this haveli (traditional townhouse or mansion), are in need of restoration. Unfortunately, there aren't enough opportunities in Kolkata so many people, particularly the youth, move to other cities like Mumbai in search of greener pastures. Who knows what the future holds for this city?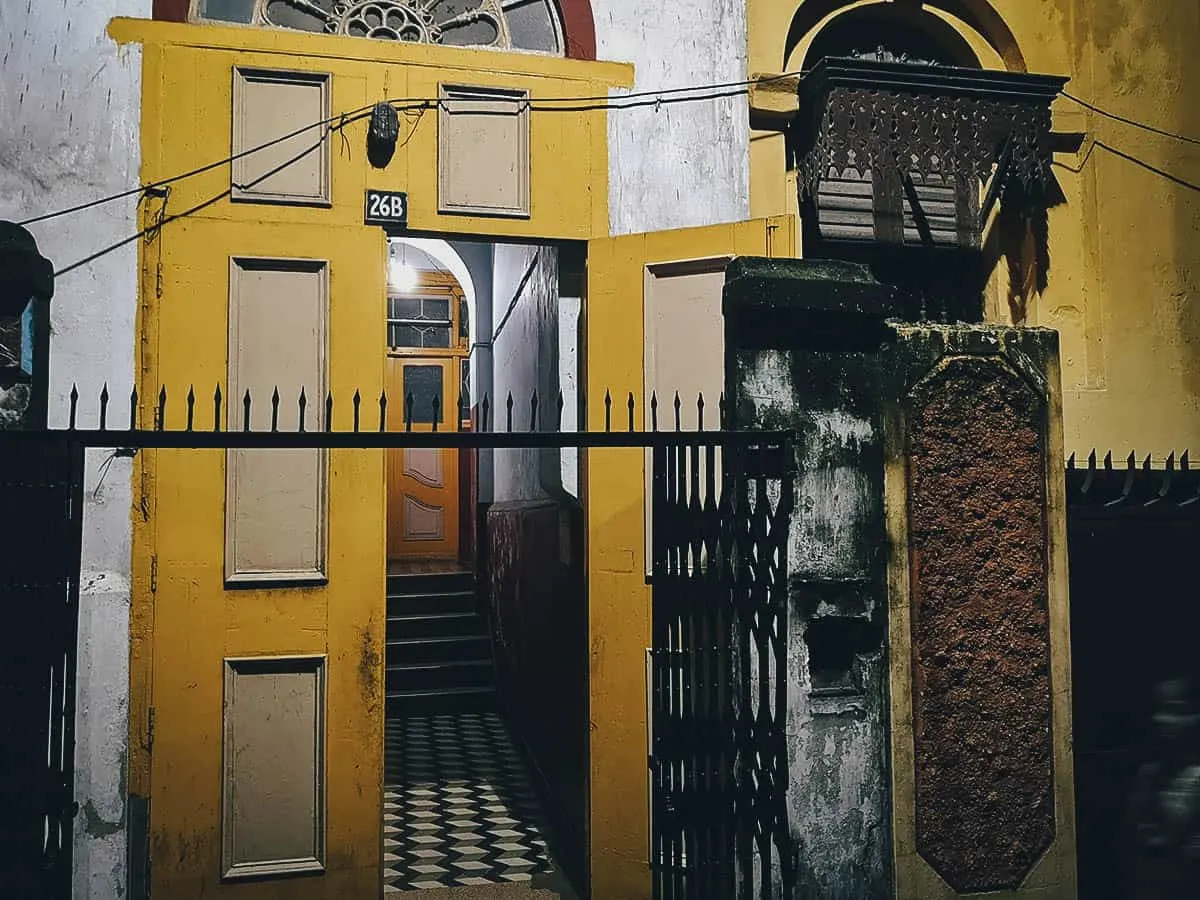 Jewelers plying their trade at night.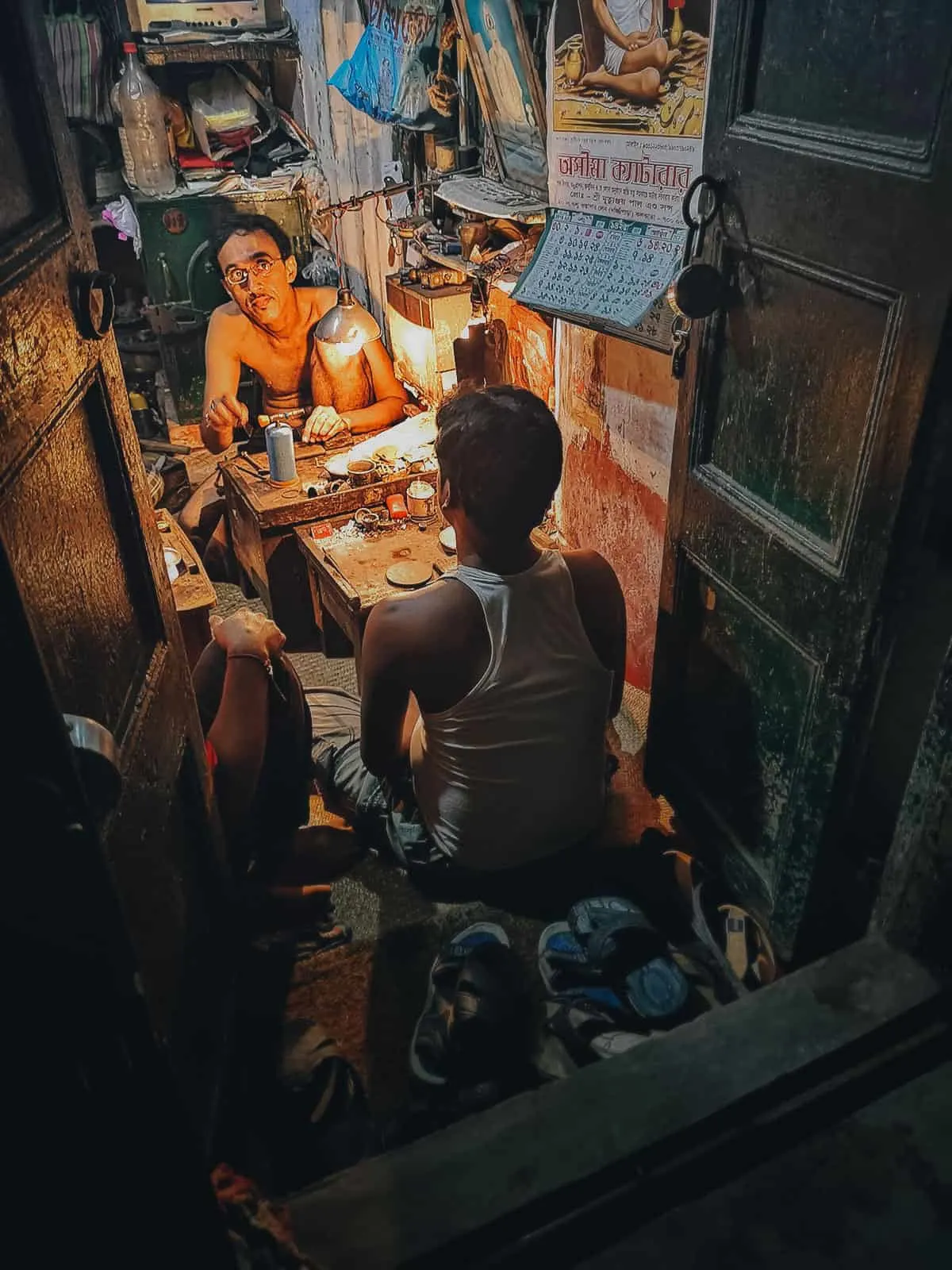 Murals adorning old, decaying walls.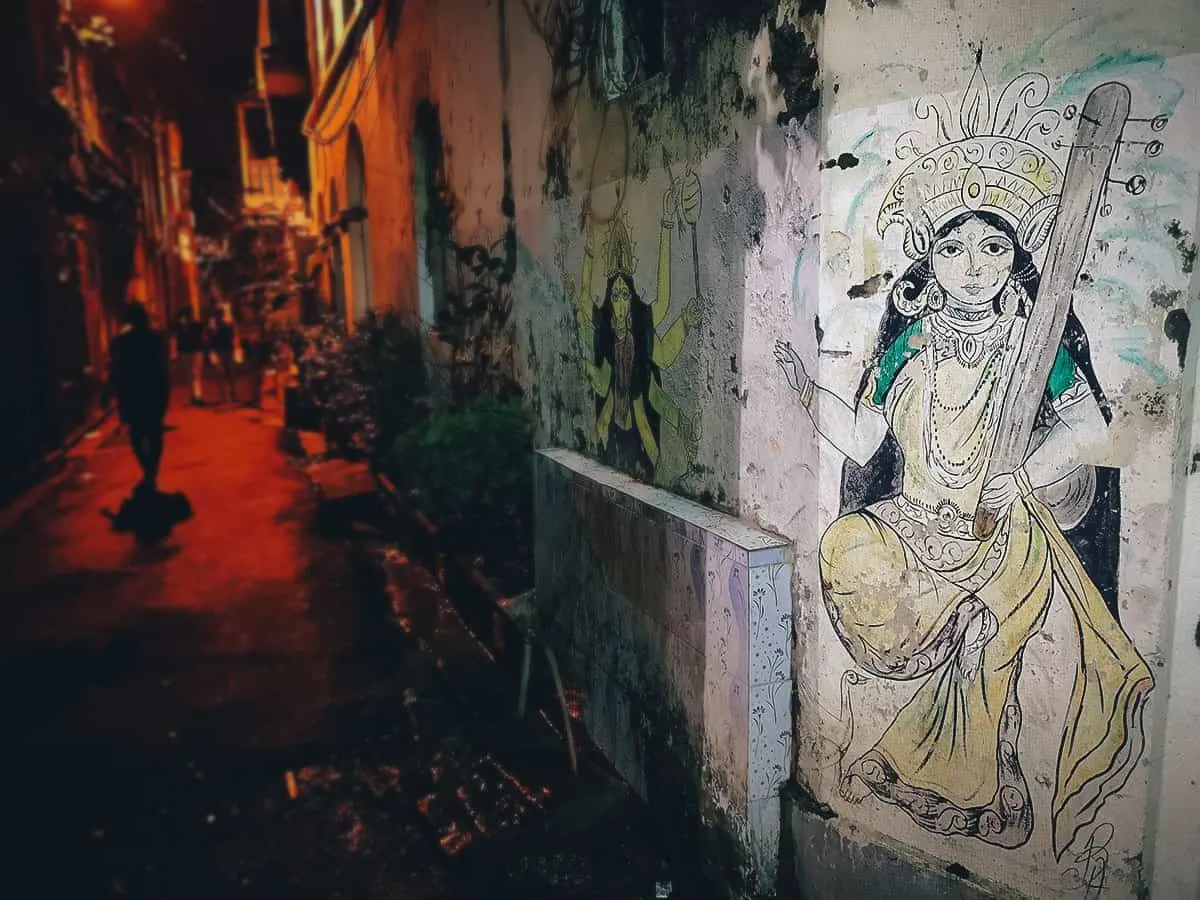 Do you see that dark, somewhat phallic structure inside the temple? Those are Lingam and Yoni structures representing male and female energies in nature. The lingam represents the Hindu god Shiva while the yoni symbolizes the goddess Shakti.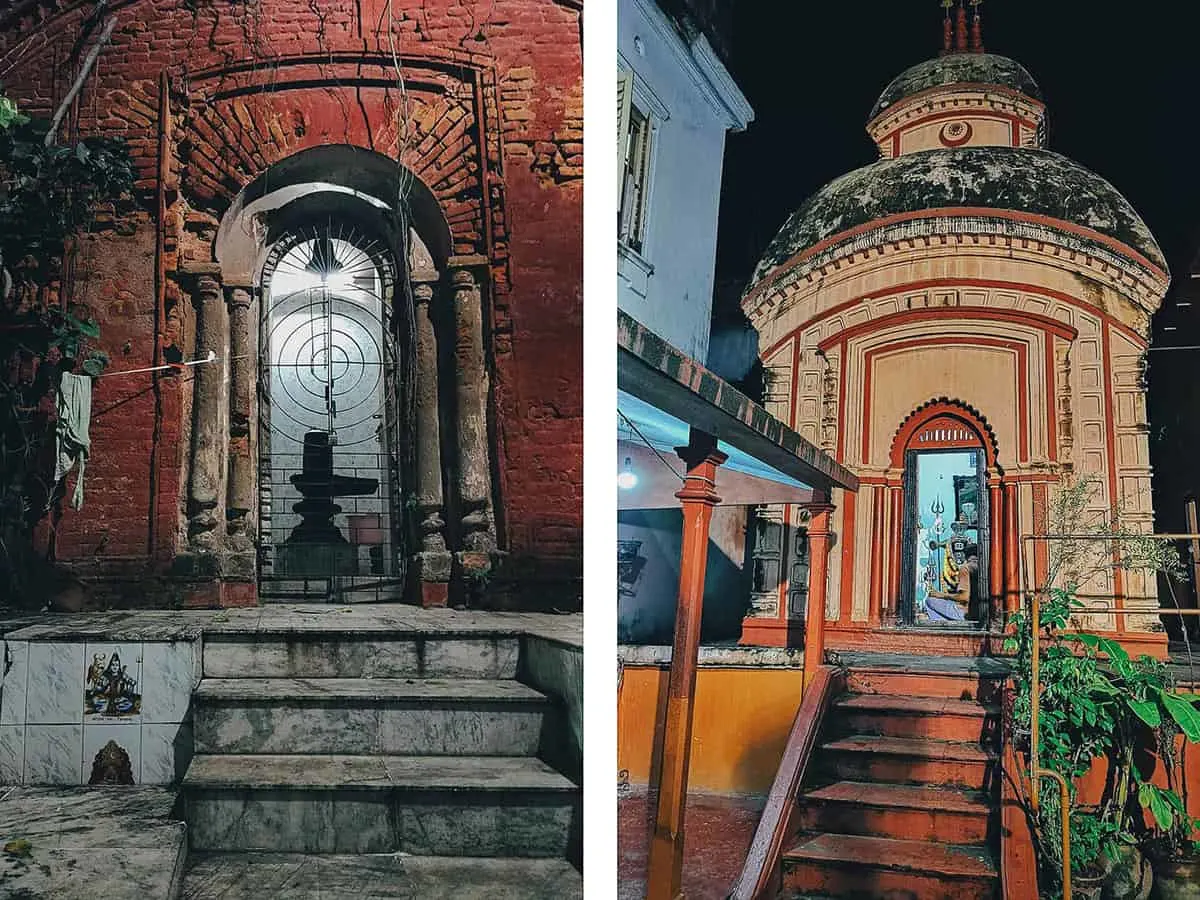 Conclusion
As described at the top of this post, this trip was life-changing in many ways. As much spirituality as there is in this country, there's much poverty as well, especially in this city. It was different from Mumbai and Delhi. Sure, there was poverty in those cities too, but not like here. Coming from a third-world country like the Philippines, I didn't think I'd be shocked by the sight of poverty, but I was, mainly because I wasn't expecting to find so much of it.
Some people may struggle with the poverty in Kolkata, and that's fair. It's one of the first things you'll notice, especially if you come from a first-world country and aren't used to it. But don't let that distract you. Kolkata may suffer from higher poverty levels but it isn't defined by it. There is so much more to this city than what you see on the surface.
As described, Kolkata is the center of the intellectual universe in India. Home to poets, writers, and painters, it may be its artistic heart as well. I visited the CSMVS museum in Mumbai and was blown away by the work of one contemporary artist named Jayashree Chakravarty. I read her bio and wasn't surprised to learn that she lives and works out of Kolkata. There is a gritty rebellious spirit to this city that many people may find captivating, even inspiring.
Spend a few hours exploring this city with Avik and you'll see that. He is an energetic, opinionated, and fiercely intelligent young man with big dreams and much to say about his city. Clearly, he loves Kolkata. He's smart enough to find greener pastures elsewhere but he chooses to be rooted here, in spite of its lack of opportunities. In his words, it's difficult to leave when there's so much to love.
I asked him how he came into contact with A Chef's Tour and he admitted to approaching them. Kolkata wasn't initially on their radar but he convinced them to set up a tour here. It looks like he isn't waiting for opportunities, he's creating them.
That energy, that grit, that revolutionary spirit and love for Bengali food. That for me, is what defines Kolkata.
If you're visiting this city and want to go on this food tour with Avik, then you can book it on A Chef's Tour or Get Your Guide. Be sure to check both links as one or the other may be offering a discount. It typically costs USD 49 per person and includes all food, drink, and transportation during the tour.
A Chef's Tour
Website: achefstour.com
Facebook: achefstour
Twitter: achefstour
Instagram: achefstour
Pinterest: achefstour
Email: [email protected]
Cost: USD 49 per person (inclusive of food and transportation during the tour)
For travel tips to Kolkata, check out our The First-Timer's Travel Guide to Kolkata, India.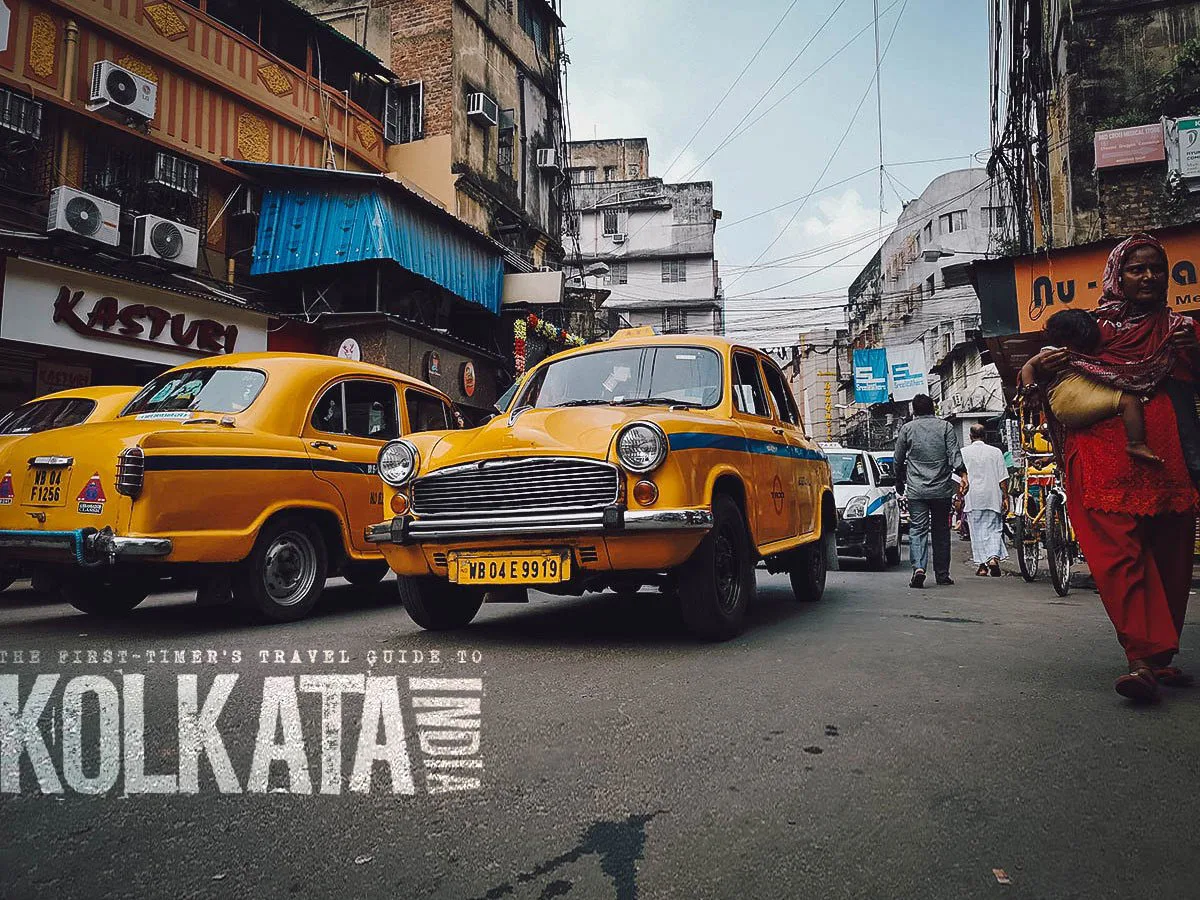 Disclosure
A Chef's Tour gave me a complimentary tour in exchange for an honest account of the experience. As always, all words, thoughts, and opinions expressed in this post are mine and mine alone.
Some of the links in this guide are affiliate links, meaning we'll get a small commission if you make a purchase at NO extra cost to you. We only recommend products and services that we use ourselves and firmly believe in. We really appreciate your support as this helps us make more of these free travel guides. Thank you!