I fell in love with Indian food after my first taste of butter chicken and naan bread over twenty years ago. I was attending university in Washington DC at the time, and my friends and I would have dinner at this small Indian restaurant called Aditi along M Street at least once or twice a month. It was our favorite restaurant in DC and we would always order the same thing – butter chicken, naan bread, and basmati rice. We'd wash it down with Kingfisher beer and finish our meal with a cup of coffee, maybe an order of gulab jamun. Good times.
I didn't know it then, but the type of Indian food I came to love actually hailed from a specific part of the country – the north. Only years later did I learn that the rich buttery curries and charred puffy flatbreads that left me with so many delicious college memories were staples of north Indian cuisine. It had become a dream of mine to enjoy authentic curry in northern India, which is why this stop at Delhi was the one I was most excited about on this three-city India food tour with A Chef's Tour. I looked forward to eating butter chicken at its birthplace and learning more about this regional Indian cuisine that had become one of my all-time favorites.
Thanks to A Chef's Tour and this fantastic Old Delhi Food Crawl, my dream finally came true.
Save This on Pinterest!
No time to read this now? Click on the red save button and pin it for later!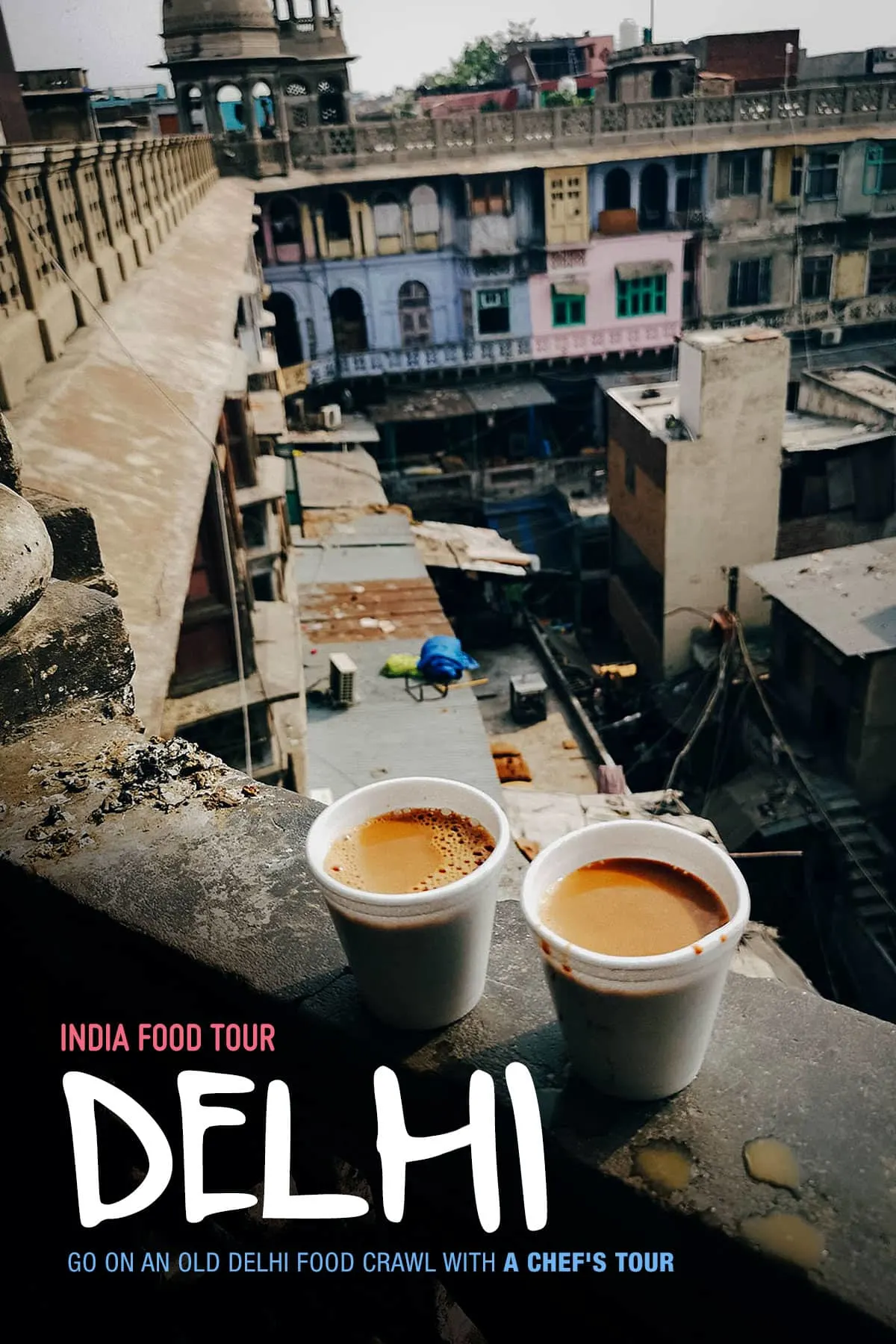 Old Delhi Food Crawl
A Chef's Tour is a tour provider that offers these fascinating food-focused tours in India and Thailand. I've been on their tours in Bangkok, Chiang Mai, Pai, and Phuket in Thailand and all three of their tours in India. Aside from this Delhi tour, they offer food tours in Mumbai and Kolkata as well.
As you'll see below, they're known for offering a surprising, even shocking amount of food representing the best each city has to offer. If you traveleat like we do and enjoy exploring local cuisine, then you're going to love A Chef's Tour.
This is Gajendra, my exceedingly knowledgeable guide on this Old Delhi Food Crawl. He's originally from the northern Indian state of Rajasthan but has been calling Delhi his home for nearly a decade now. He knows Old Delhi like the back of his hand and led me to some of the area's best restaurants and street food stalls, many of which have been lining up customers for generations.
The Old Delhi Food Crawl costs USD 49 per person and lasts over four hours. You can book it directly on A Chef's Tour.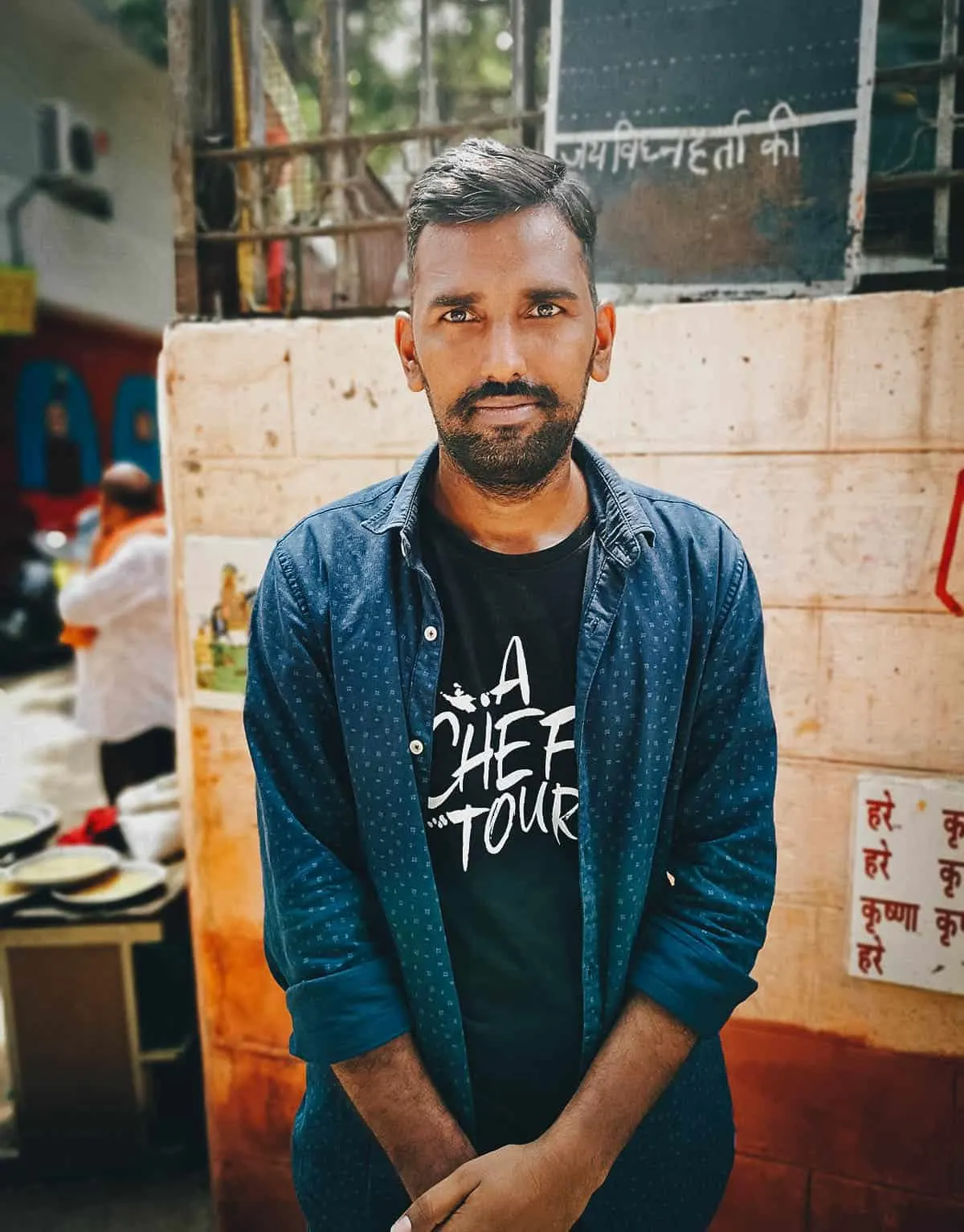 The Best of North Indian Street Food
Shortly after meeting up with Gajendra at Chandni Chowk station, we received tilakas from a holy man before proceeding to this vada stall. A vada is a type of savory fried snack made from legumes, sago, or potatoes. They're similar to fritters or doughnuts and can be prepared in a number of ways. In Mumbai, I had it in sandwich form as well, like a vegetarian burger.
What I tried today were dahi vadas, which are vadas made from deep-fried lentil batter soaked in yogurt then topped with pomegranate seeds and spices. Tangy and savory, it was a curious mix of flavors with the vadas themselves having the texture of soaked soppy doughnuts. According to Gajendra, this vada stall is one of the best and most popular in the city.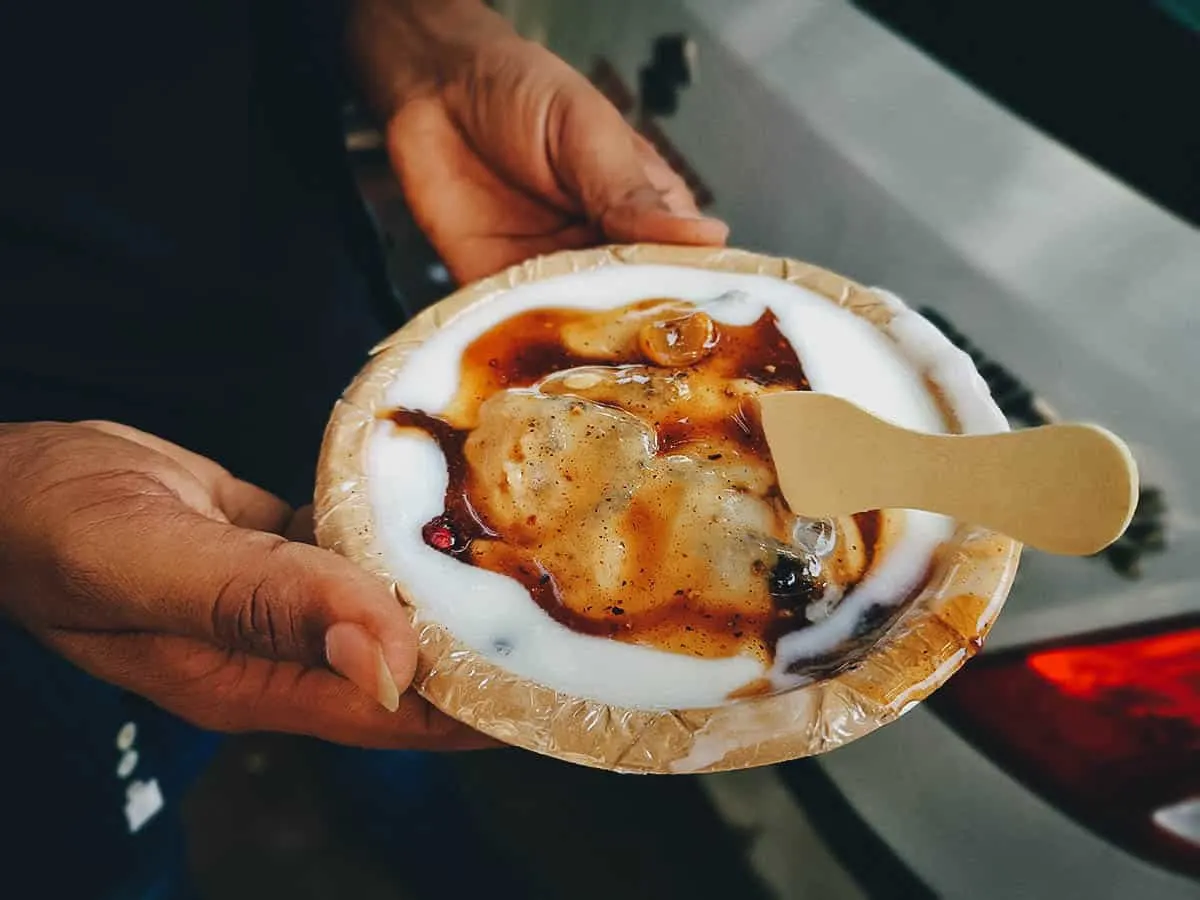 Gut-loading with probiotics seemed a good way to start a food tour in India, so next up were these lassis served in traditional clay pots. A lassi is a drink made with yogurt, sugar, and maybe some spices. It can be flavored with fruit like mango or pomegranate but what we had today were traditional lassis.
I've had lassis many times before but never served in clay pots like these! Gajendra explained that these are single use pots which are shattered then recycled after each use. They're more expensive than lassis served in typical glasses or cups, but the experience of drinking them in traditional clay pots is worth it.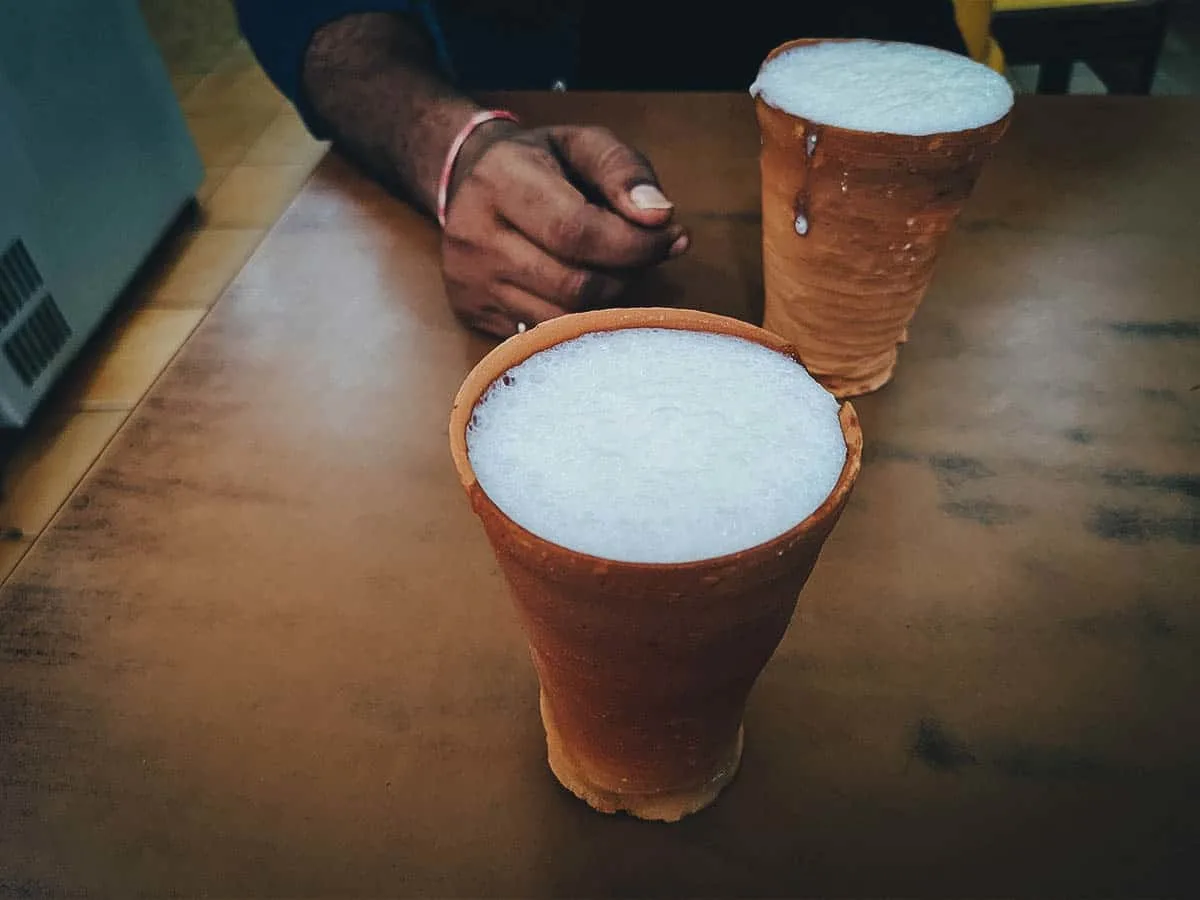 Flip through a book of Indian street food and these tasty-looking orange spirals will surely catch your eye. I've been wanting to try jalebis for the longest time so I was excited to have them here at this heritage stall, which according to Gajendra, is the very best in Delhi.
A jalebi is a popular street food snack made by deep-frying maida flour batter into spiral shapes, then soaking them in sugar syrup. Gajendra explained that the jalebis from this stall are popular not just for their taste, but for their size. Apparently, they're considerably bigger than your typical jalebi.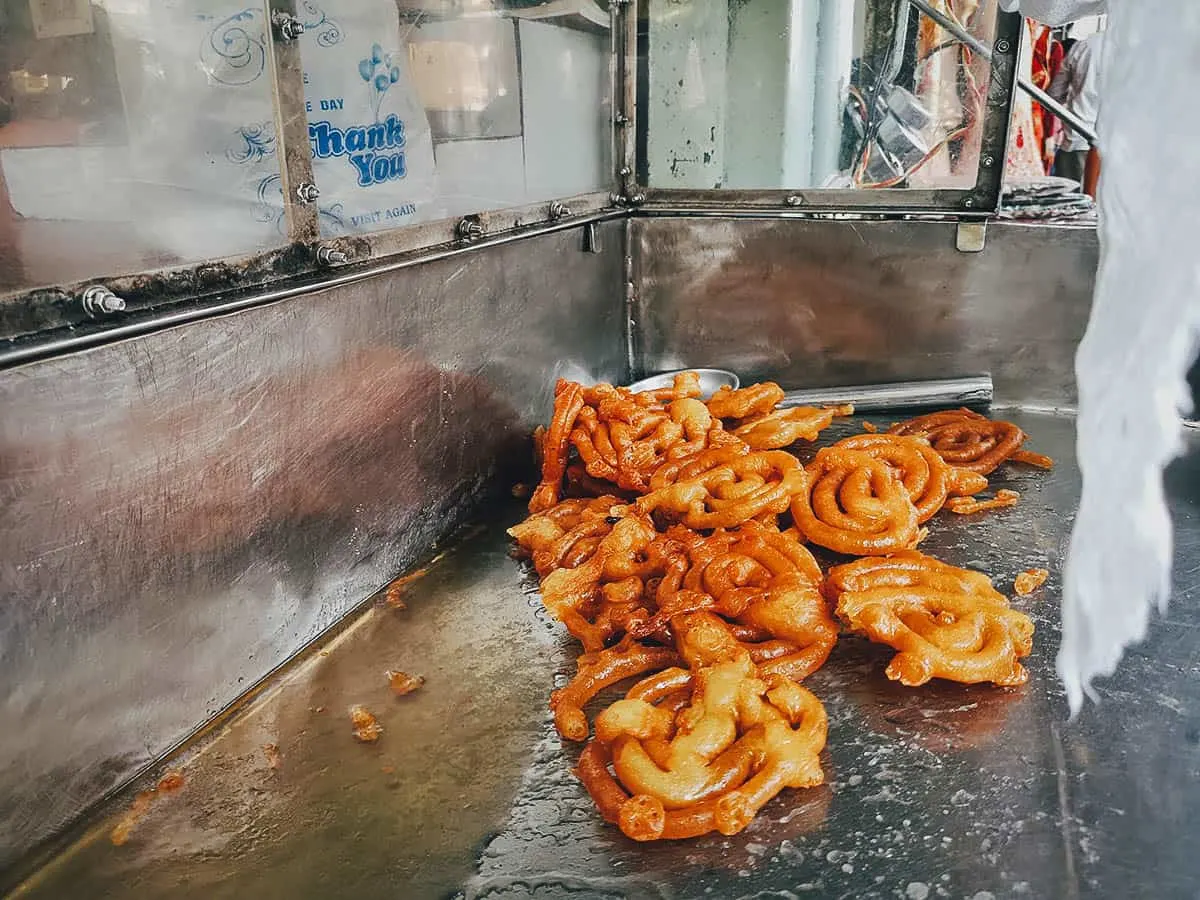 As you'd expect from its appearance, jalebis are syrupy sweet with a crisp but delicate crystallized coating that practically melts away in your mouth. Think of them as the Indian equivalent of funnel cakes. They're delicious but very rich and sweet, so much so I had to stop after a few bites.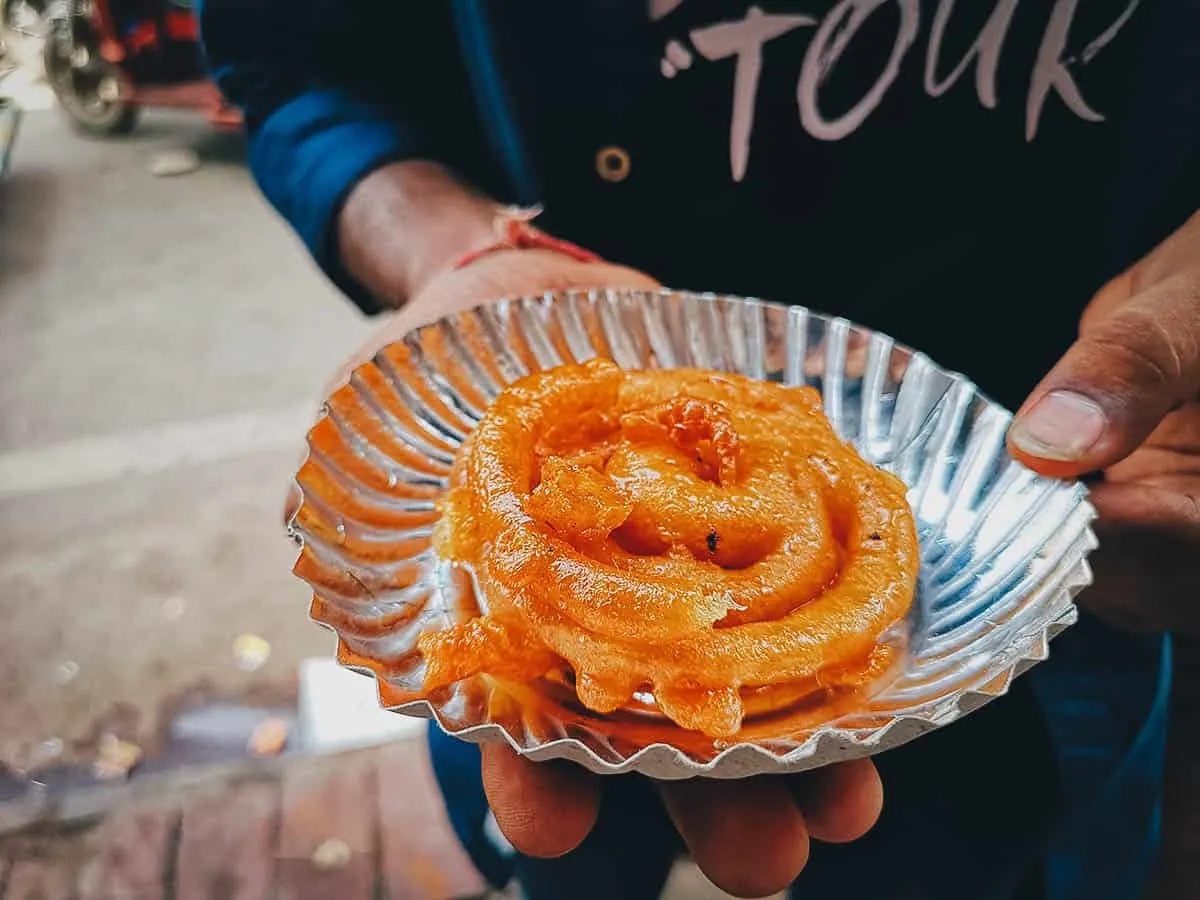 One of the things I love most about Indian food is the bread. I'm most familiar with naan, roti, and papadum but there's a whole spectrum of bread to be enjoyed in India. This shop, open since 1872, has been serving some of Delhi's very best paratha for six generations. Paratha is a popular type of unlevened flatbread made by baking whole wheat dough on a pan, then finishing it off with shallow frying. You can see them frying the parathas in the picture below.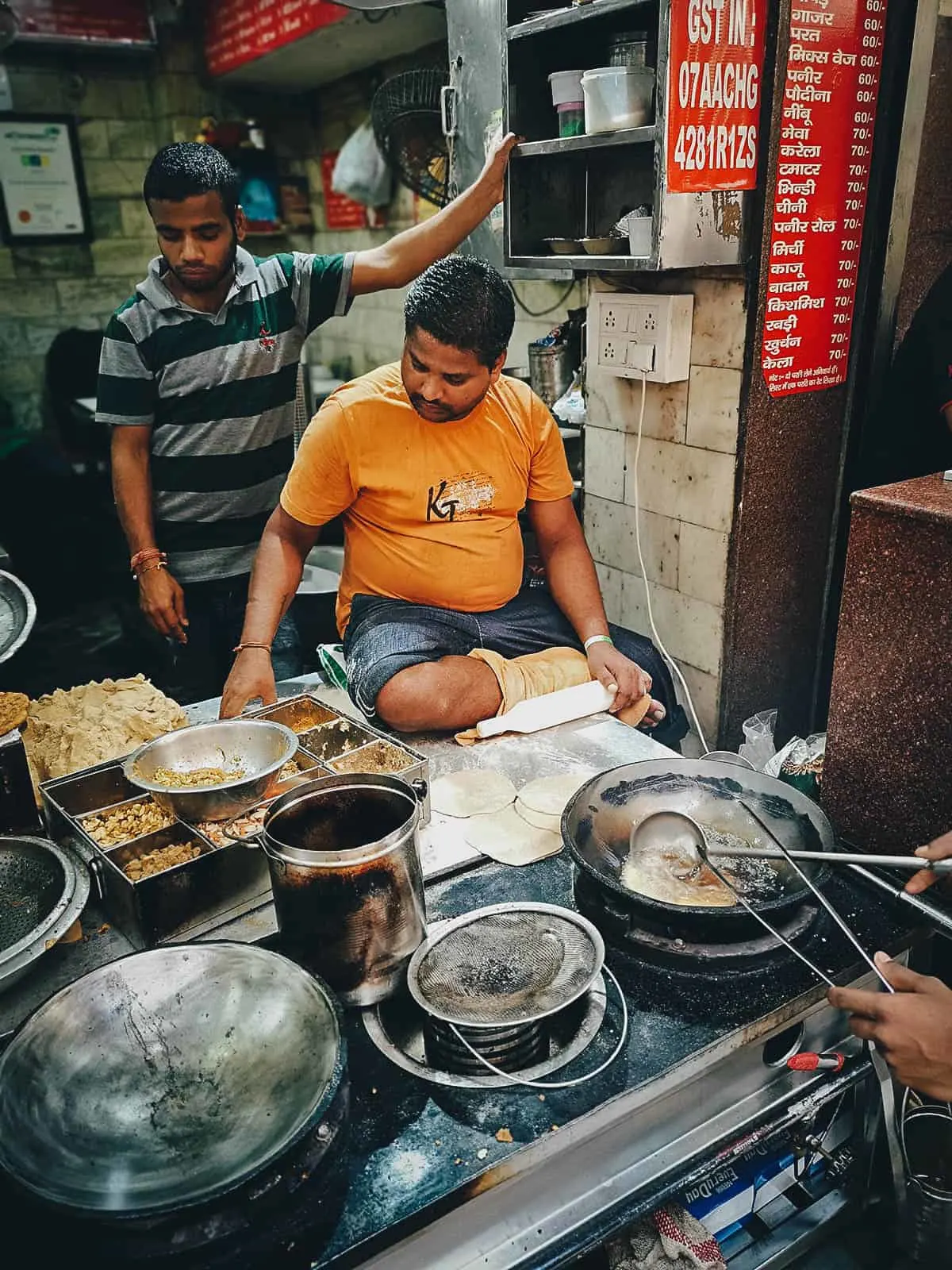 This stall offers many different types of savory and sweet paratha, all of which are served with three curries and two sauces as dips. Gajendra ordered us parathas stuffed with paneer, a type of fresh cheese common in India. For me, dipping any type of Indian flatbread into a rich curry sauce is one of life's great culinary pleasures.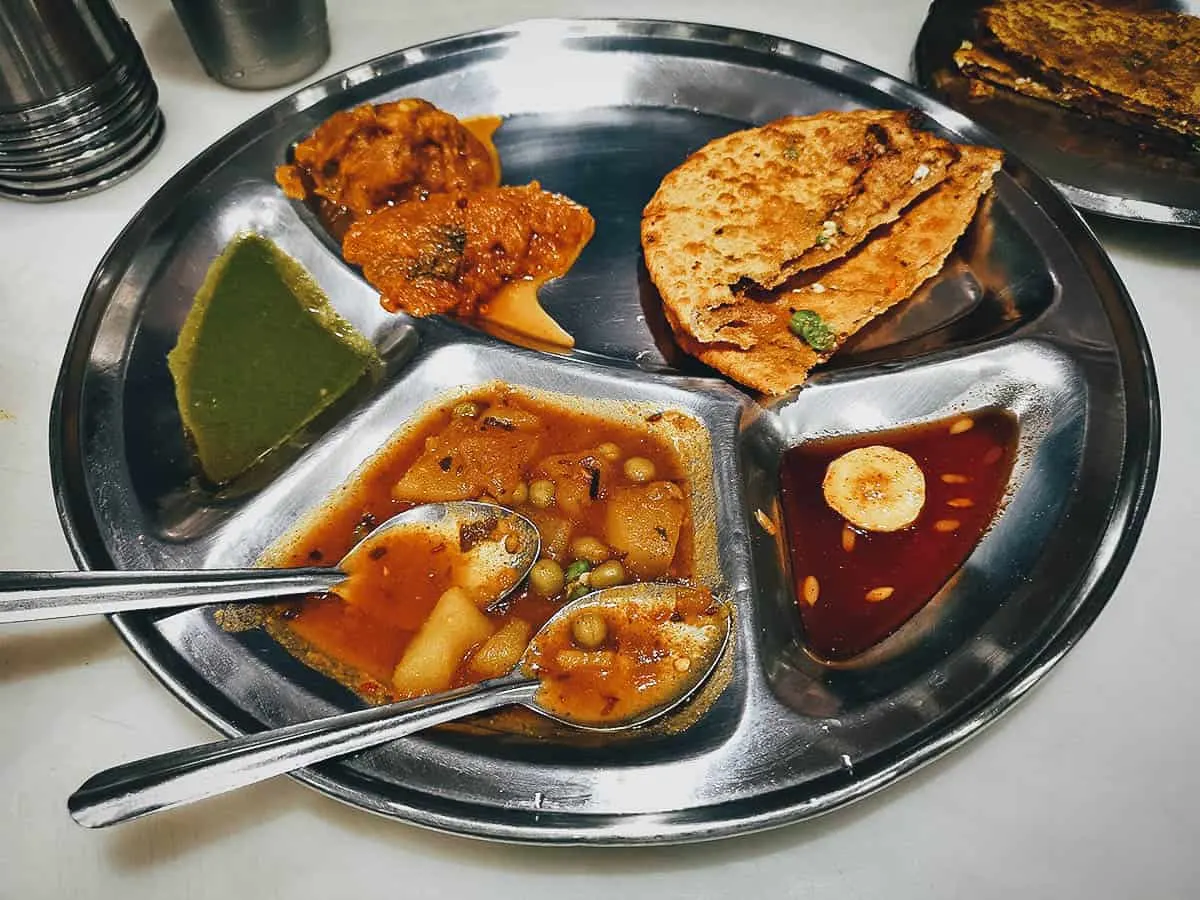 This was one of the most interesting things I ate in India. Called pani puri, it's a popular street food snack that consists of a round crispy hollow puri filled with a mixture of flavored water, tamarind chutney, chili, chaat masala, potato, onion, and chickpeas. I read about it on many must-try street food lists and found the concept to be rather intriguing.

Pictured below is what pani puri looks like when stuffed with the fillings. I had these in Delhi and Kolkata and both times, my guides told me to eat one after the other as quickly as I could, which is why I couldn't take any of my own pictures.
The reason why you have to eat it quickly is because the puri is delicate. Once it's filled with the mixture and flavored water, you have to eat the whole thing in one bite before it disintegrates. They hand you an empty plate to use as a vessel to catch any flavored water that spills out of the puri. The vendor will pass you piece after piece until you tell him to stop. Both times, I stopped at five but my guide in Kolkata told me that women can eat up to twenty in one sitting! Apparently, Indian women love it.
Pani puri can be found throughout India under different names. In Delhi and Mumbai, it's called pani puri but in Kolkata and east India, it's called puchka. Apart from its name, puchka varies from pani puri in its contents. Instead of chick peas, puchkas contain a mixture of boiled gram and mashed potatoes and are filled with a spicier tamarind water. I enjoyed both versions but puchkas were indeed noticeably spicier.
Puchkas and panipuris are like crunchy little flavor bombs and a must-try street food snack in India. Just be careful where you eat them because they do contain water. Gajendra knew where to go so I didn't have to worry about anything, but eat them at the wrong stall and you could wind up with a case of Delhi belly (traveler's diarrhea).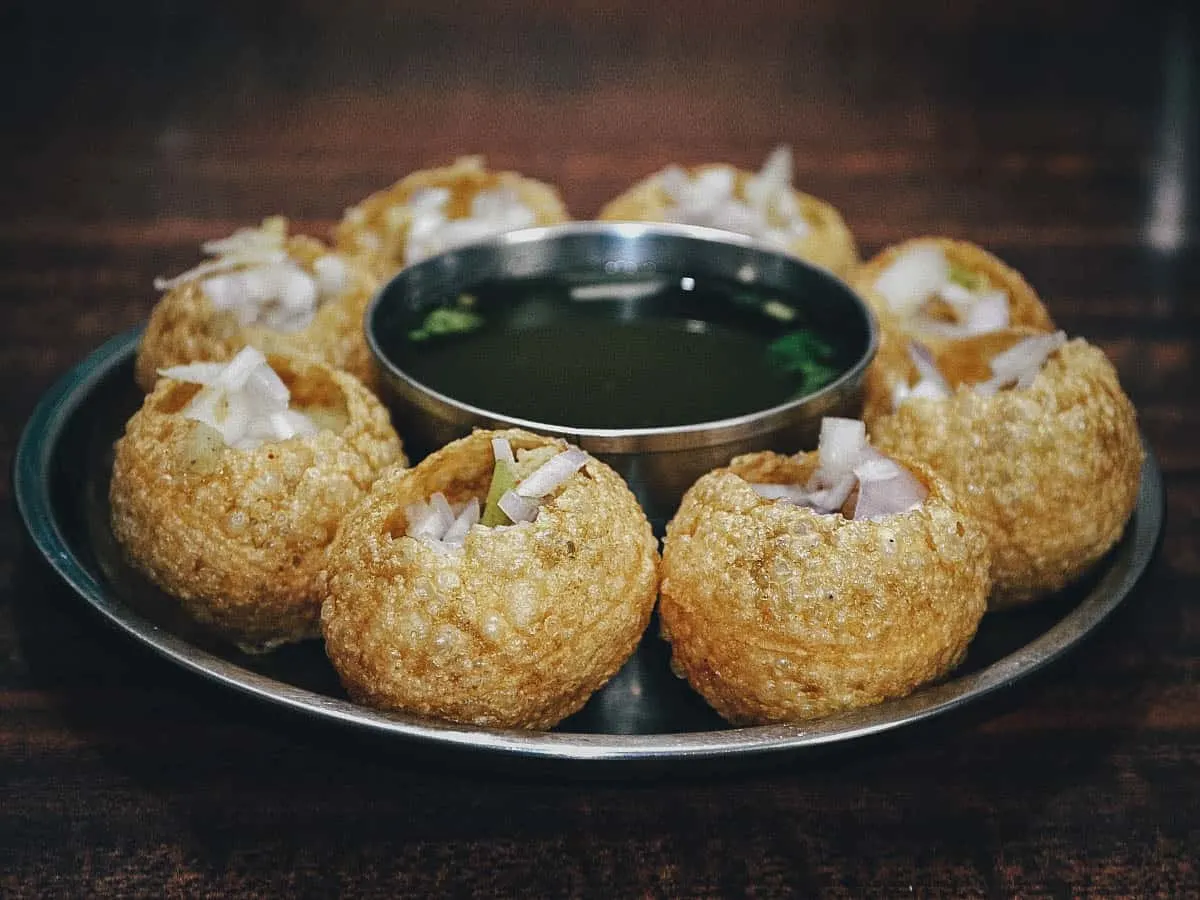 Rupamdas75, CC BY-SA 4.0, via Wikimedia Commons
Next on the menu were these pakoras sold by this jolly street food vendor. Pakoras are basically vegetables that have been dipped in gram flour batter then deep-fried. Think of them as Indian fritters. Some of the more common ingredients used to make pakoras include eggplant, potato, onion, paneer, and cauliflower, but even sandwiches can be dipped in batter and deep-fried into pakoras. See the triangular shaped pieces on the right side of the bowl below? Those are sandwich pakoras.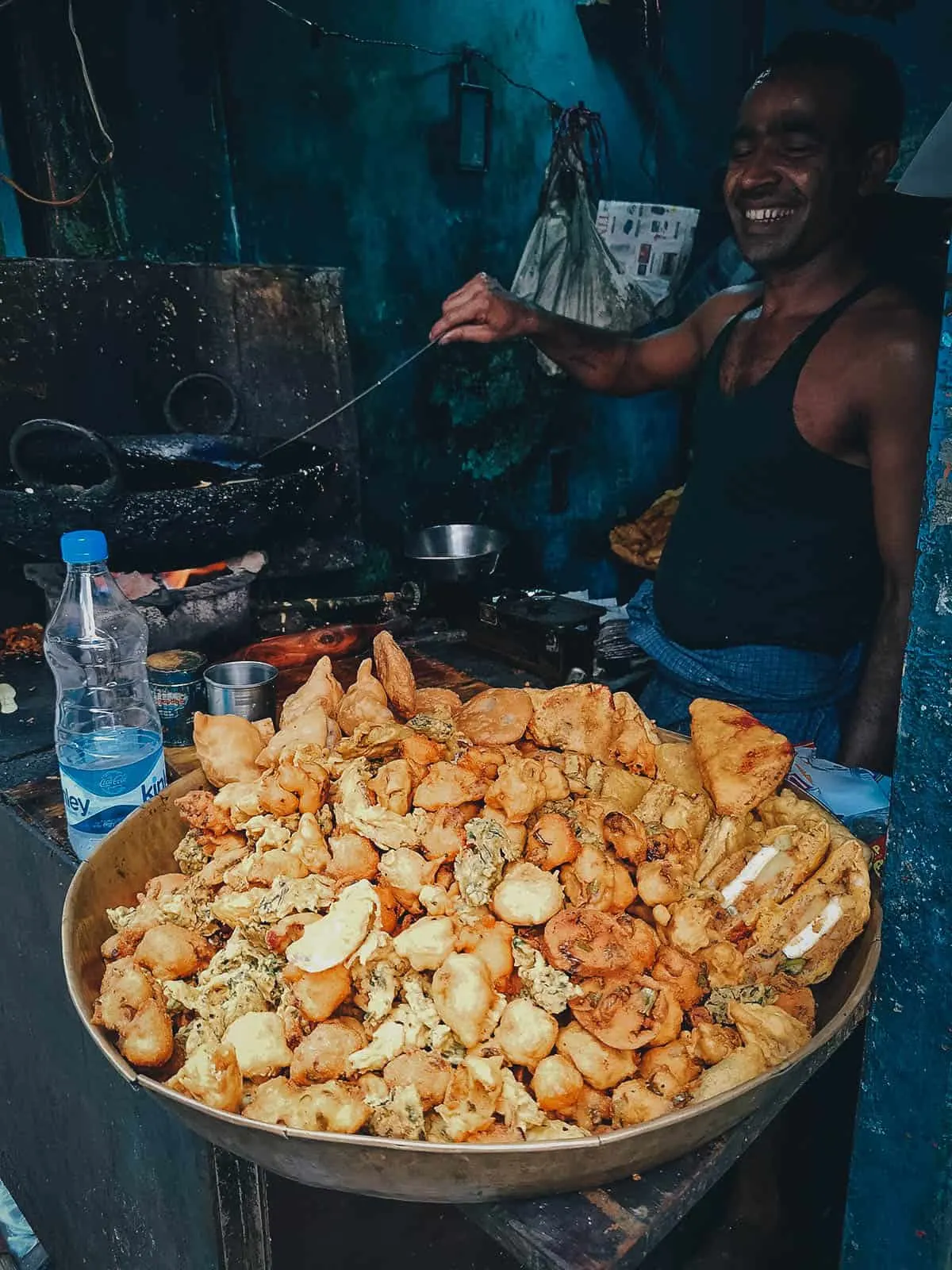 Gajendra had me try a chili pepper pakora today, which I believe is called mirch pakora. It was delicious, not too hot, and served with a tasty coriander chutney. Yum!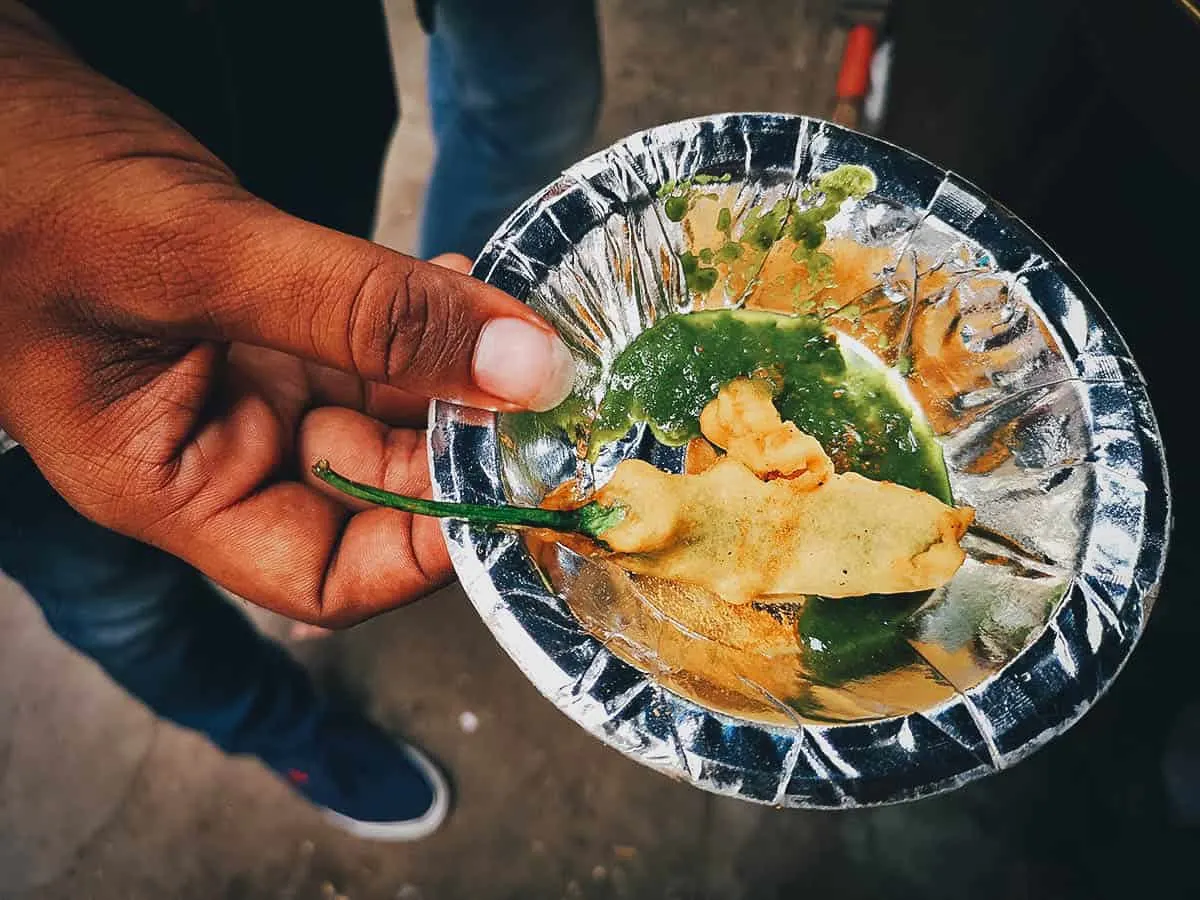 Like many of the eateries on this tour, this stall is famous for making one thing very well – kachori. Kachori is a deep-fried puff pastry made with a spiced lentil and gram flour stuffing. It's somewhat similar to a samosa but differs in shape and fillings used. Gajendra explained that this stall, which had a small army of customers gathered around it, is known for serving some of the very best kachori in Delhi.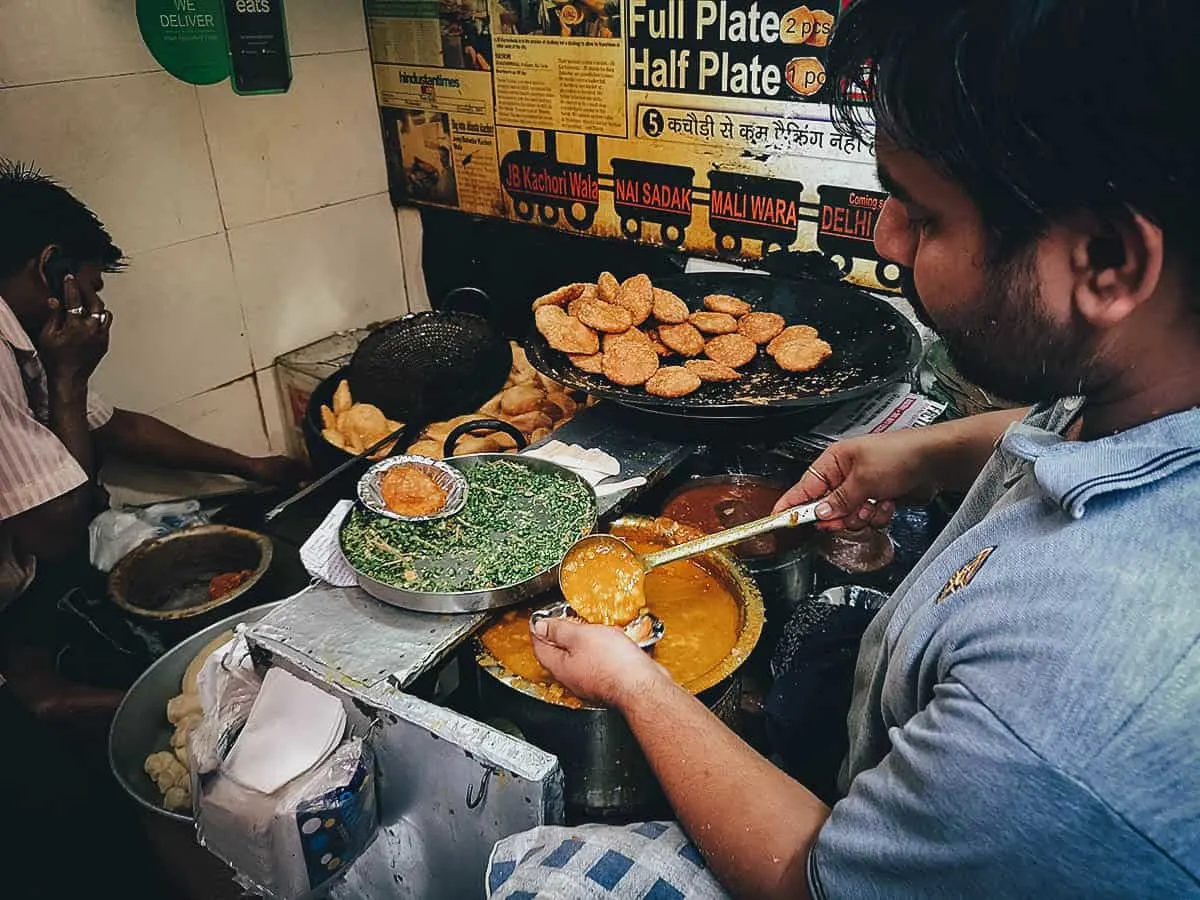 From what I understand, this stall offers various types of kachori and gravy. What we had I think was kachori topped with aloo ki sabzi, which is a type of spicy potato curry. It was spicy indeed and incredibly tasty.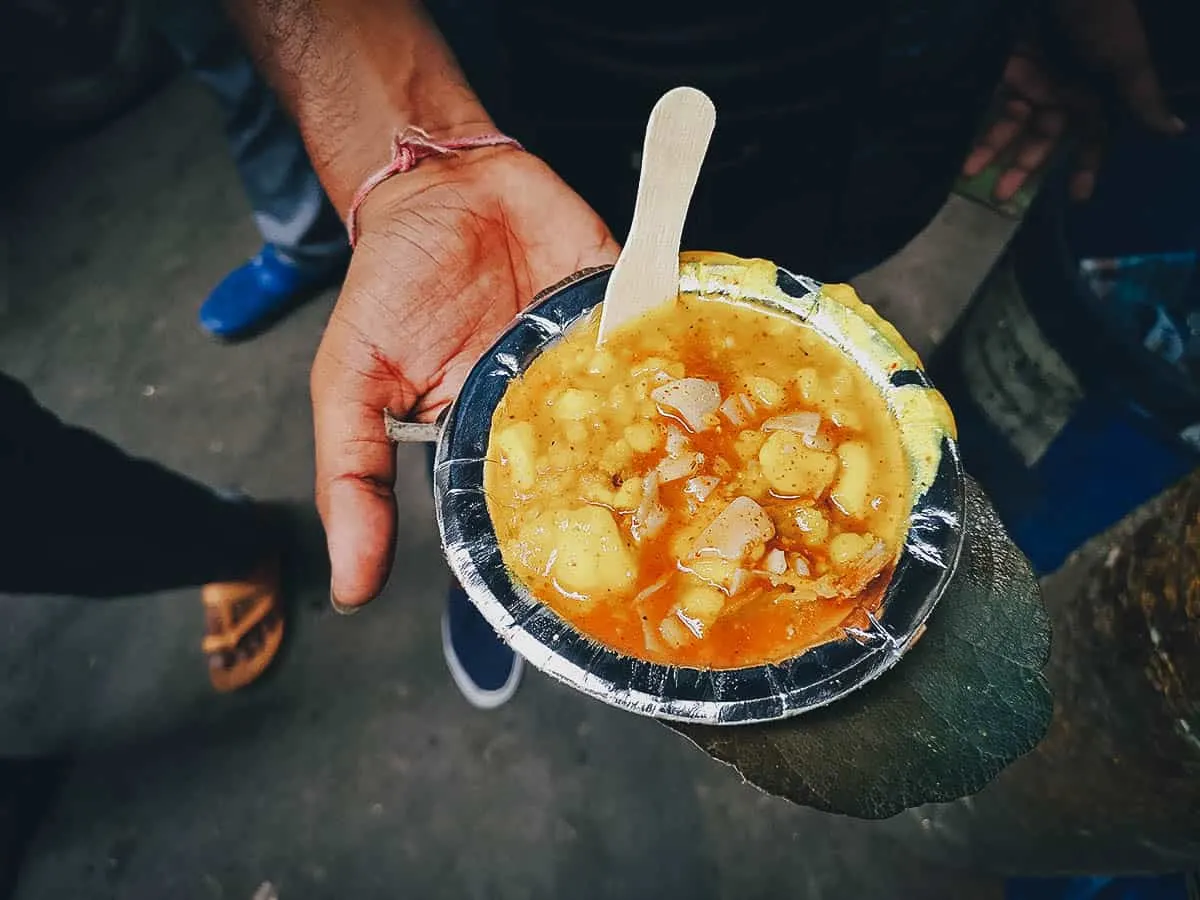 Up next was this interesting secret restaurant. According to Gajendra, it's known only to locals because there's hardly a sign outside. Between two storefronts is a narrow open door with stairs leading up to the second floor. There you'll find this restaurant which makes fresh tandoori naan and some of the best curry I enjoyed on this entire trip.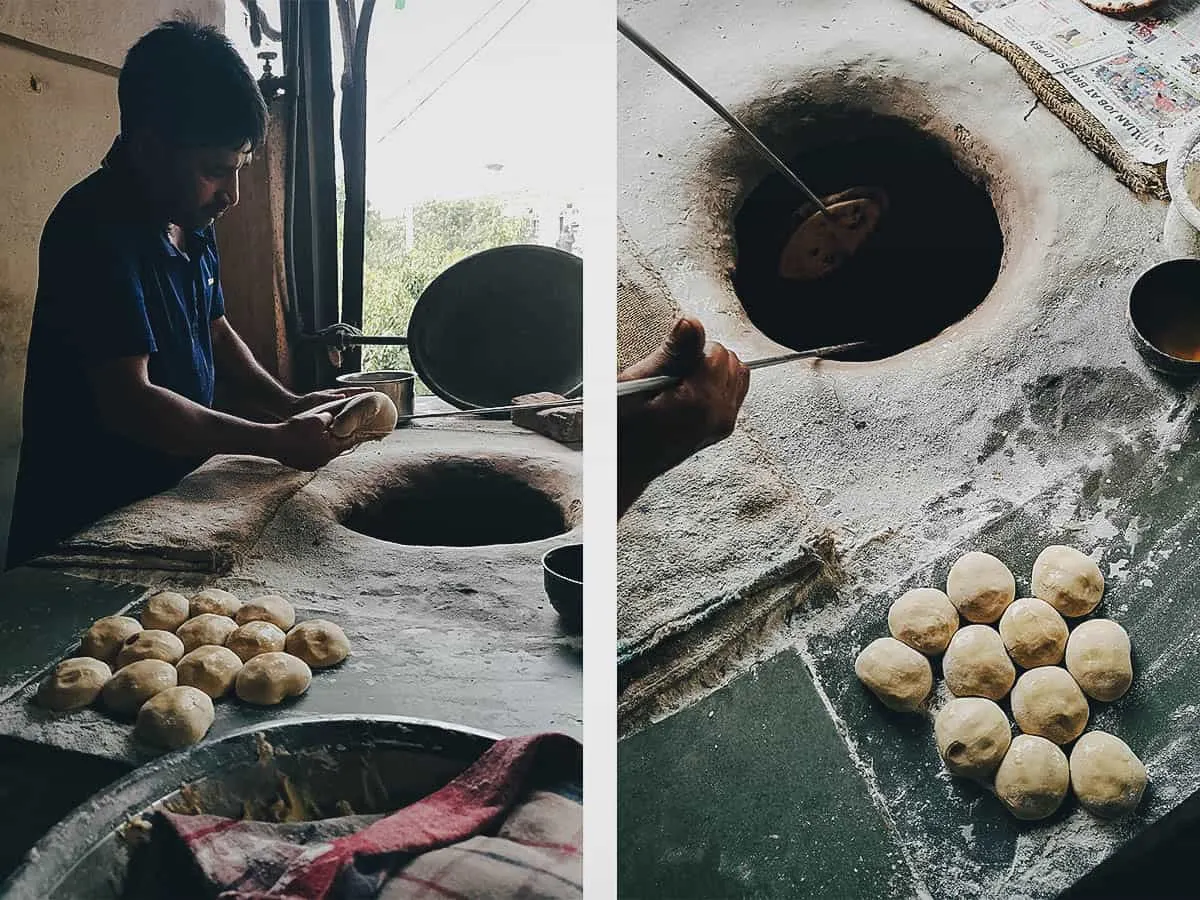 I love naan bread so I've always been fascinated with how its made. I just think these cylindrical tandoor clay ovens are so cool! Flattened pieces of leavened dough are slapped onto the sides of the oven by hand. Almost instantly, they start to bubble up and form those charred air pockets characteristic of naan bread. You'd think the bread would fall off but the sides of the oven are usually smeared with ghee or spices to help keep the naan in place. After a few minutes, they're pried off using those two metal rods. Awesome!

This paneer masala curry with butter naan bread was absolutely delicious and easily my favorite thing to eat on this tour. In fact, it was one of the best things I ate during this entire trip to India! It was rich and buttery and super flavorful. To this point, I had been pacing myself to get through this tour but any restraint I may have been exhibiting flew out the window after tasting this. THIS is why I was in India.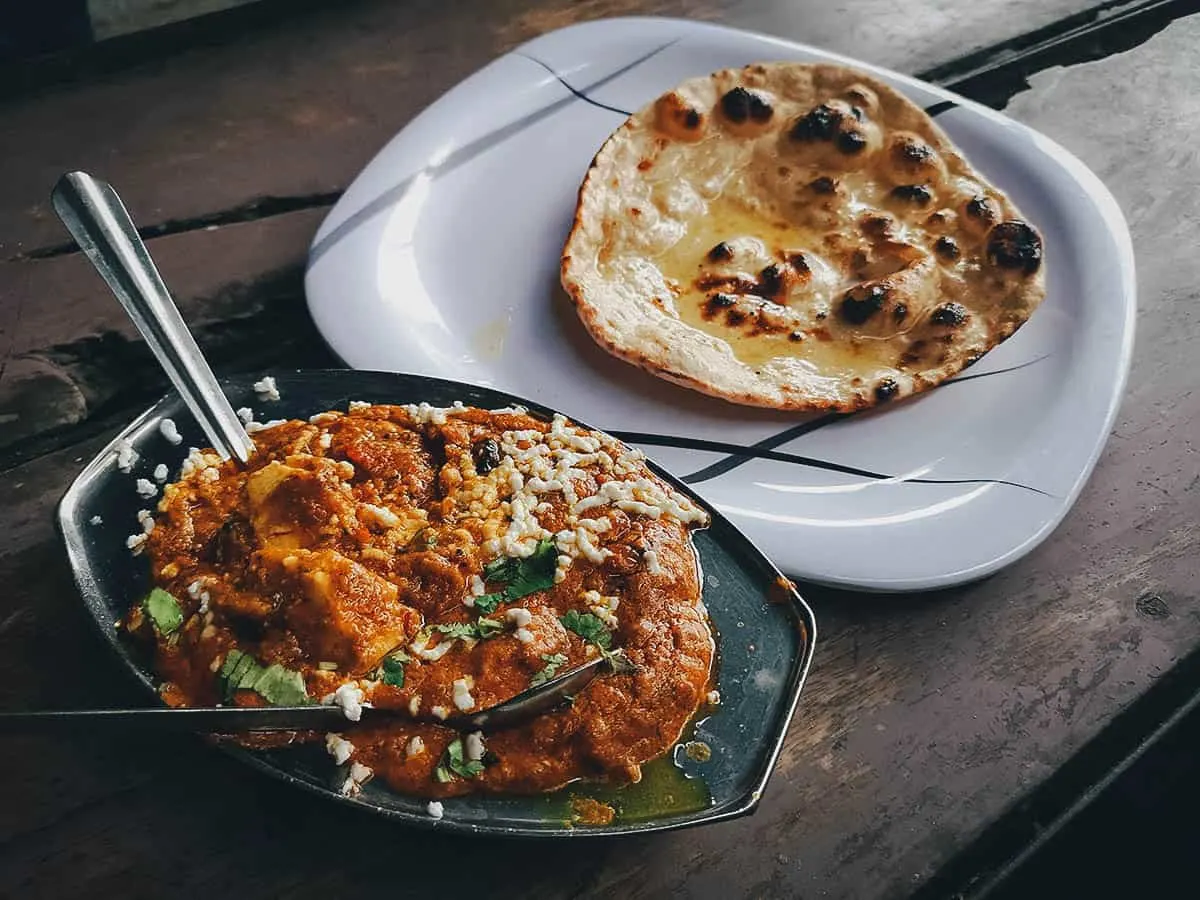 After polishing off the curry and naan by myself, Gajendra took me to this stall to wash it all down with some masala lime soda. It's basically lime soda mixed with black salt, cumin, and masala spices. It's an interesting blend of sweet, sour, savory, and spicy that I never imagined I could experience in one drink.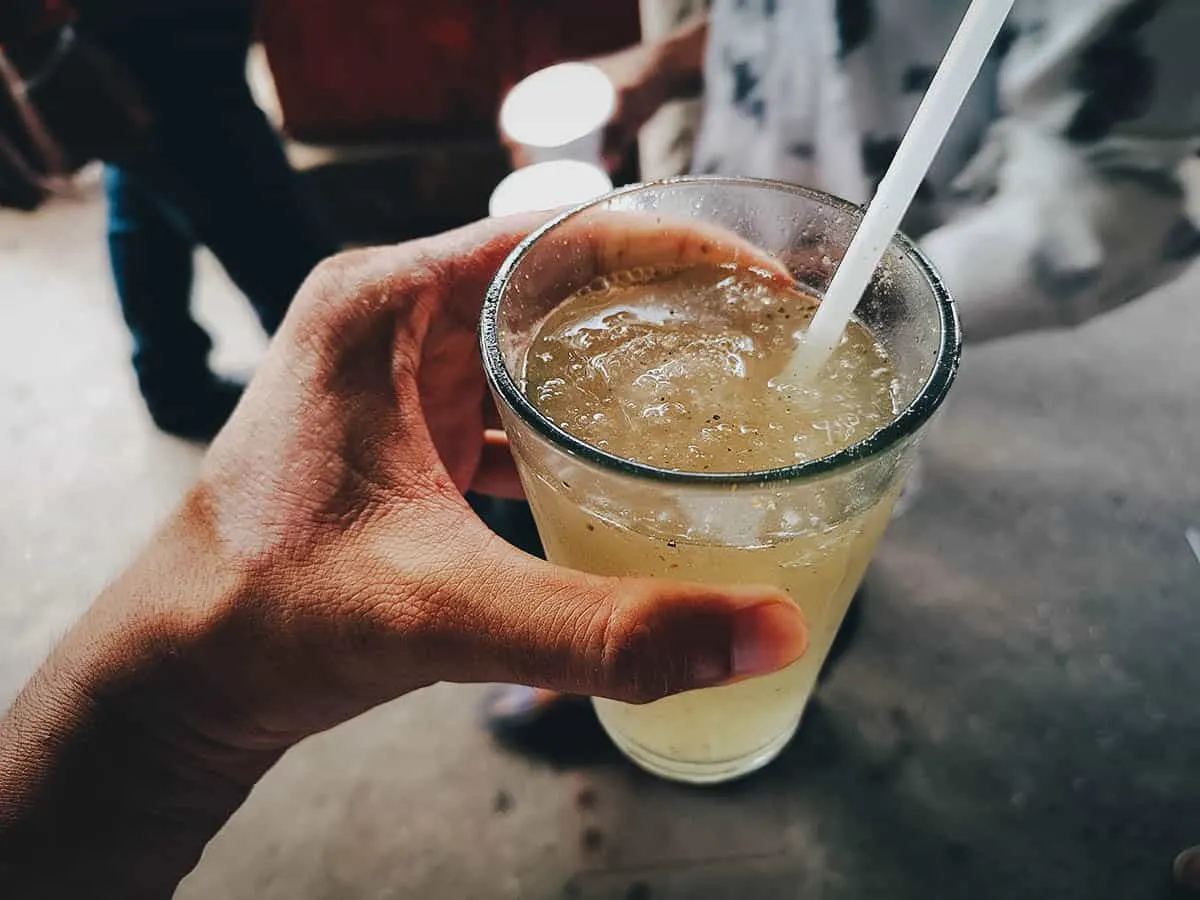 For the first of our two desserts, Gajendra took me to this stall to have this dessert which I believe is called doodhpak. It's basically a type of rice pudding made from milk, rice, saffron, and nuts. The milk is slow-boiled until thick, then sweetened and garnished with almonds.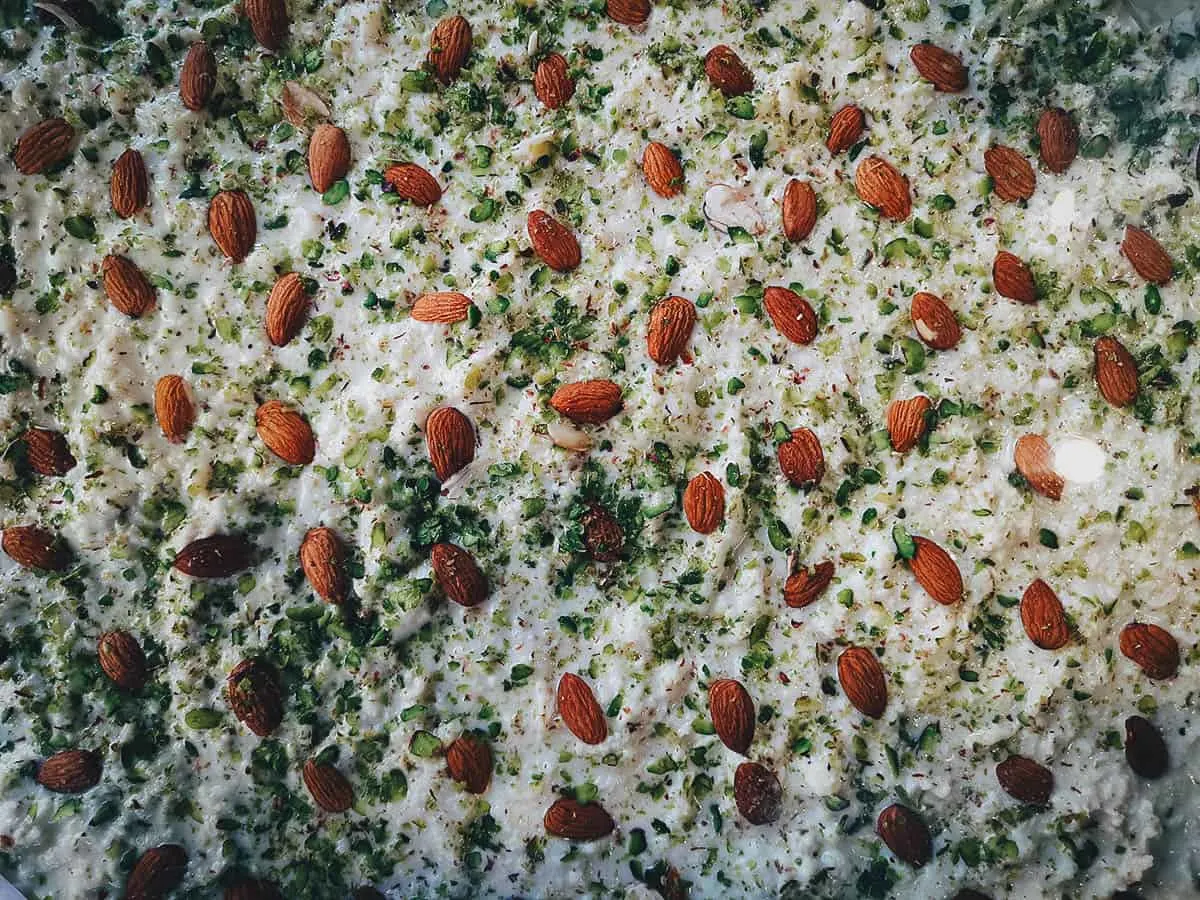 I like rich and creamy milk-based desserts so I really enjoyed this. It's delicious.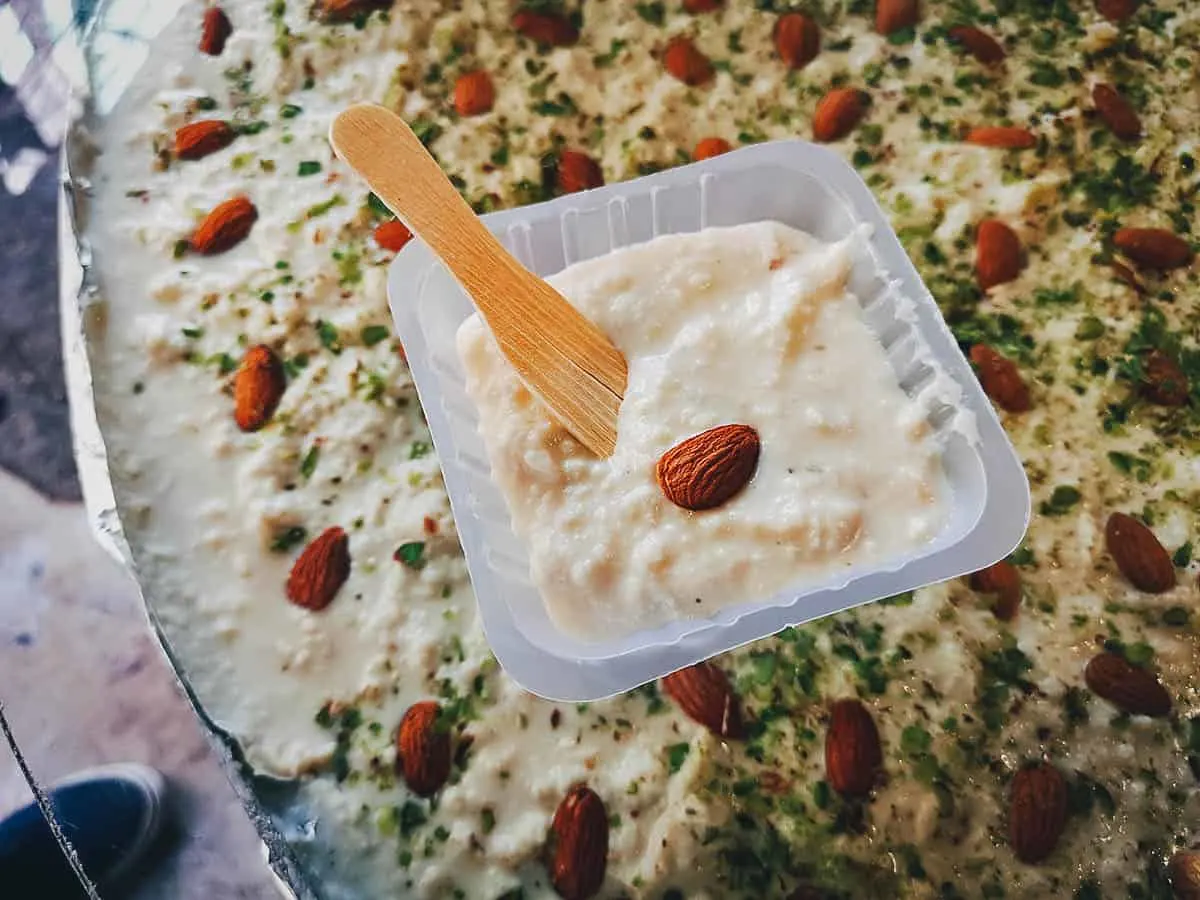 For our second dessert, we went to this kulfi stall which according to Gajendra, is a favorite amongst some notable Bollywood celebrities. Kulfi is a frozen dairy dessert similar in appearance and taste to ice cream, except its creamier and more dense. Unlike ice cream, kulfi isn't whipped, which leads to a solid dense frozen dessert that takes a longer time to melt than regular ice cream. This place makes pomegranate, orange, apple, and mango kulfi. We had the mango.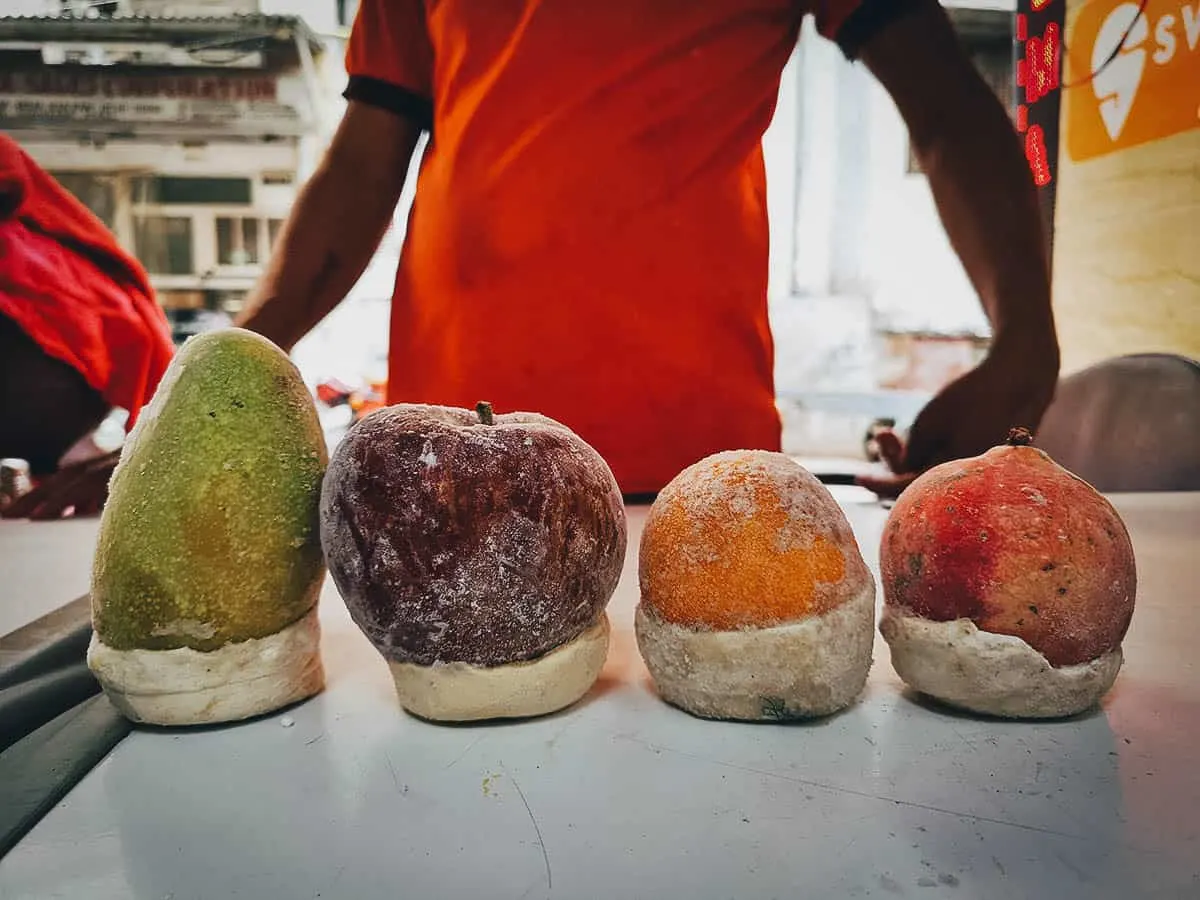 I don't know how they do it but the kulfi is somehow stuffed back into the fruit and kept frozen. When ready to serve, the entire fruit with kulfi stuffing is sliced up so each bite gives you mouthfuls of frozen kulfi and fruit. It really is denser than regular ice cream, retaining its shape in spite of the Delhi heat. Sweet and creamy and bursting with mango flavor, this mango kulfi was absolutely delicious and the perfect dessert to end a satisfying food tour.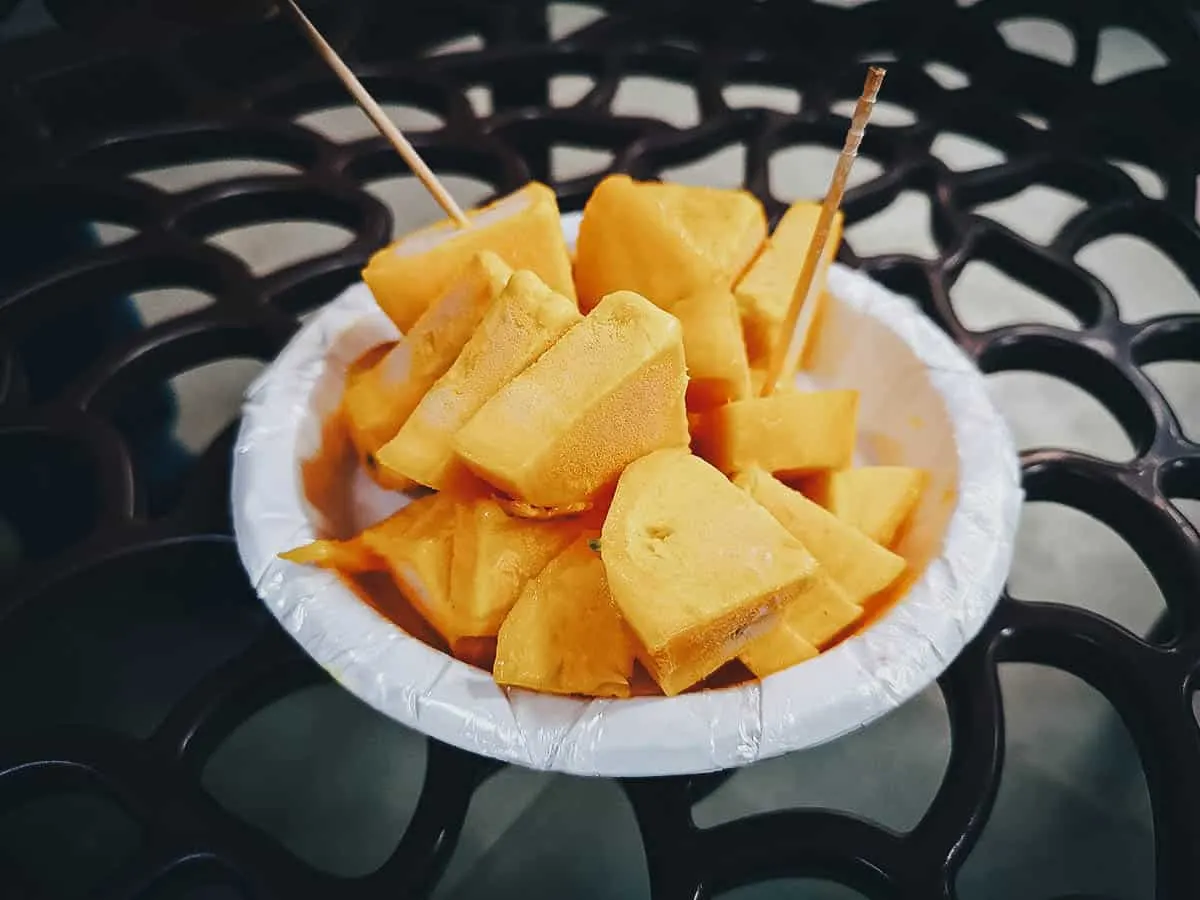 Stuffed and happy, I thought the mango kulfi would be our last dish but it wasn't. This paan was. Like panipuri, paan was one of the most interesting dishes I had in India. Paan is prepared by topping betel leaf with a mound of exotic ingredients like rose petal preserves, seeds, nuts, fruits, and spices. It's then rolled up so you can stuff the entire thing in your mouth.
Indian paan is packed with so much flavor I can't even begin to describe it. Sweet, savory, spicy, and everything else in between, it's like all the flavors of the Indian subcontinent packed into one bite. It's intoxicating and delicious, much like this country.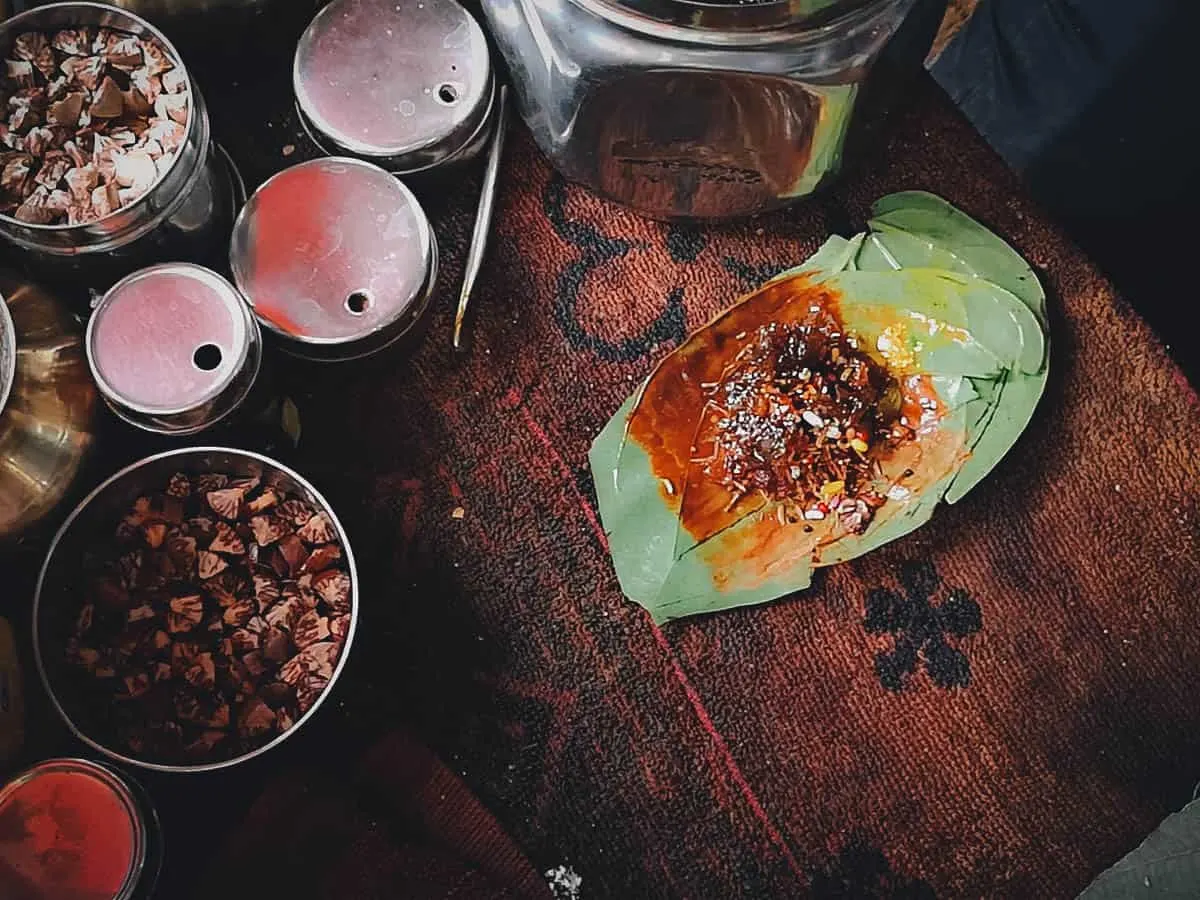 Around Old Delhi
This may have been a food-focused tour but Gajendra did take me to a few historical and cultural sites in Old Delhi. Between dishes, we'd stop at these interesting spots that helped me better understand what life was like in this part of the city. I was an outsider looking in, but having a local explain its story to me in much detail made me feel like I was part of the community.
Another thing, Old Delhi can be terribly chaotic. I took a rickshaw ride before this tour and I saw how overwhelming it can be. It's easy to get lost in its maze of alleyways and heavy foot traffic so I appreciated having a guide like Gajendra showing me the way.
Havelis
This row of houses called havelis belong to a prominent jewelry-making family. A haveli is a traditional townhouse or mansion in India, usually with historical or architectural significance. According to Gajendra, these havelis were passed on by the father to his children, some of whom still live here to carry on the family business.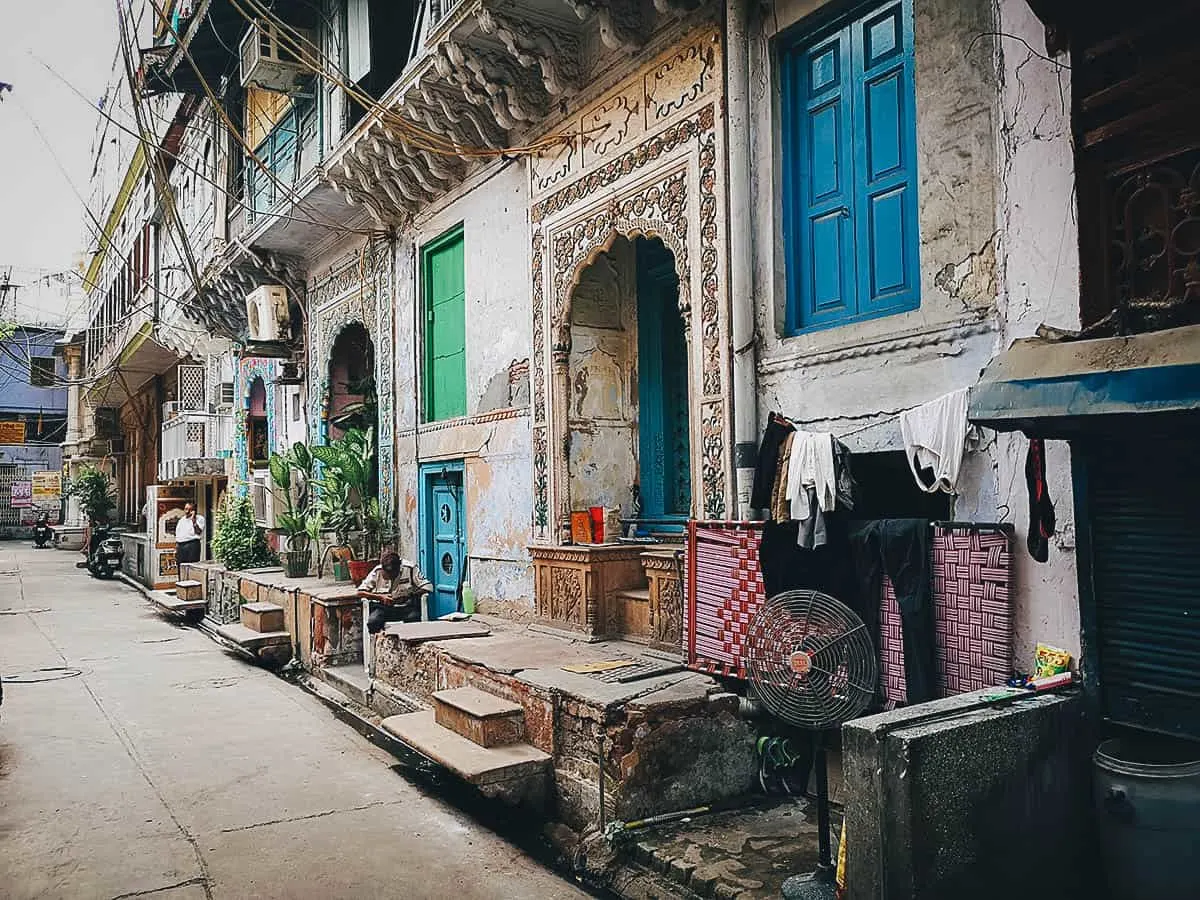 I love these old heritage houses so I wish I could have gone inside to do some exploring. They may look old and dated from the outside, but Gajendra explained that the insides are actually quite modern. If I understood correctly, the owners aren't allowed to alter the facade so as to preserve the building's historical value. Makes sense.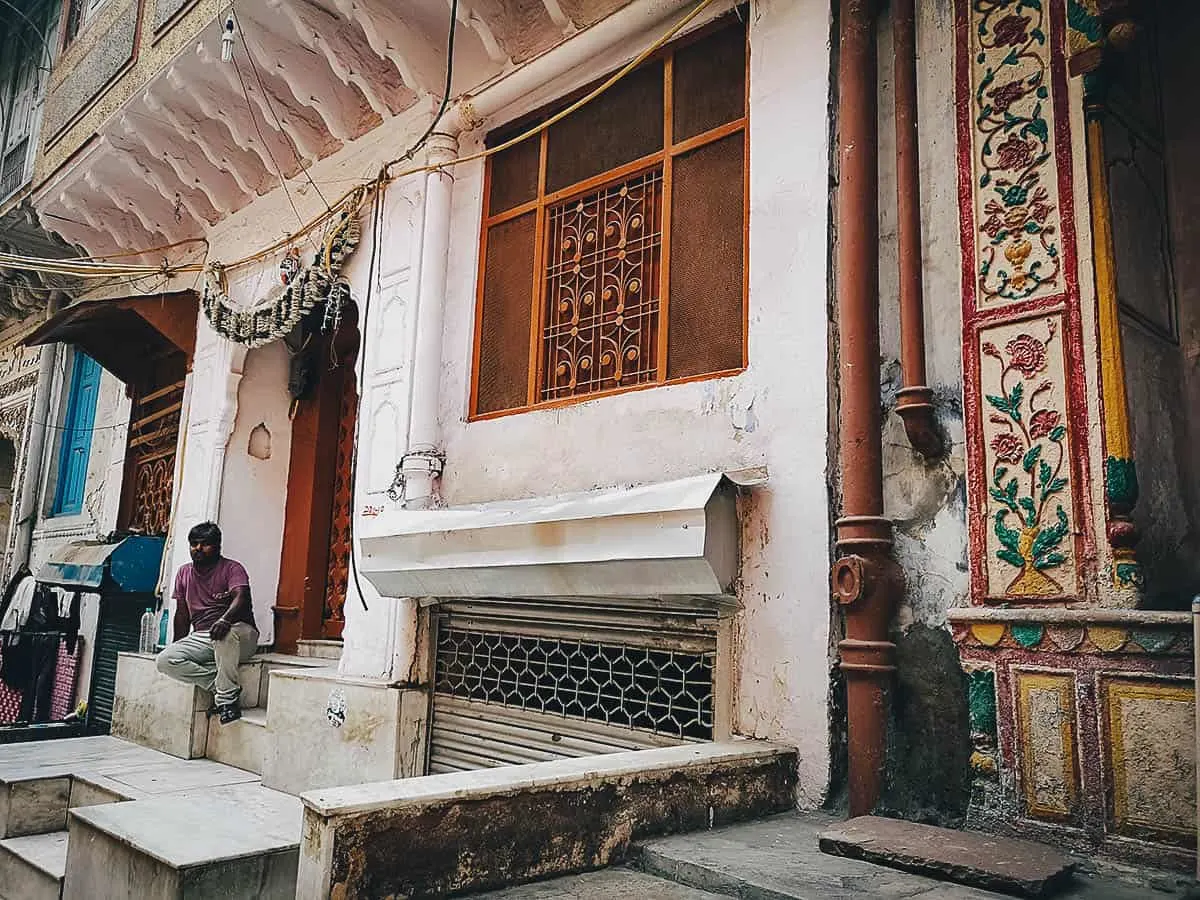 Gurudwara Sis Ganj
This may not be directly related to food but it was one of my favorite parts of the tour. Gurudwara Sis Ganj is one of nine historical Sikh houses of prayer in Delhi. I had never been inside a Sikh temple before so the experience was eye-opening for me.
Sikhism is a monotheistic religion that originated in the Punjab region of India. It's still one of the youngest major religions in the world but already the fifth largest. Have you ever seen fully bearded Indian men wearing turbans? Chances are, they're Sikhs. Cutting of hair is prohibited in Sikhism which is why they wear turbans.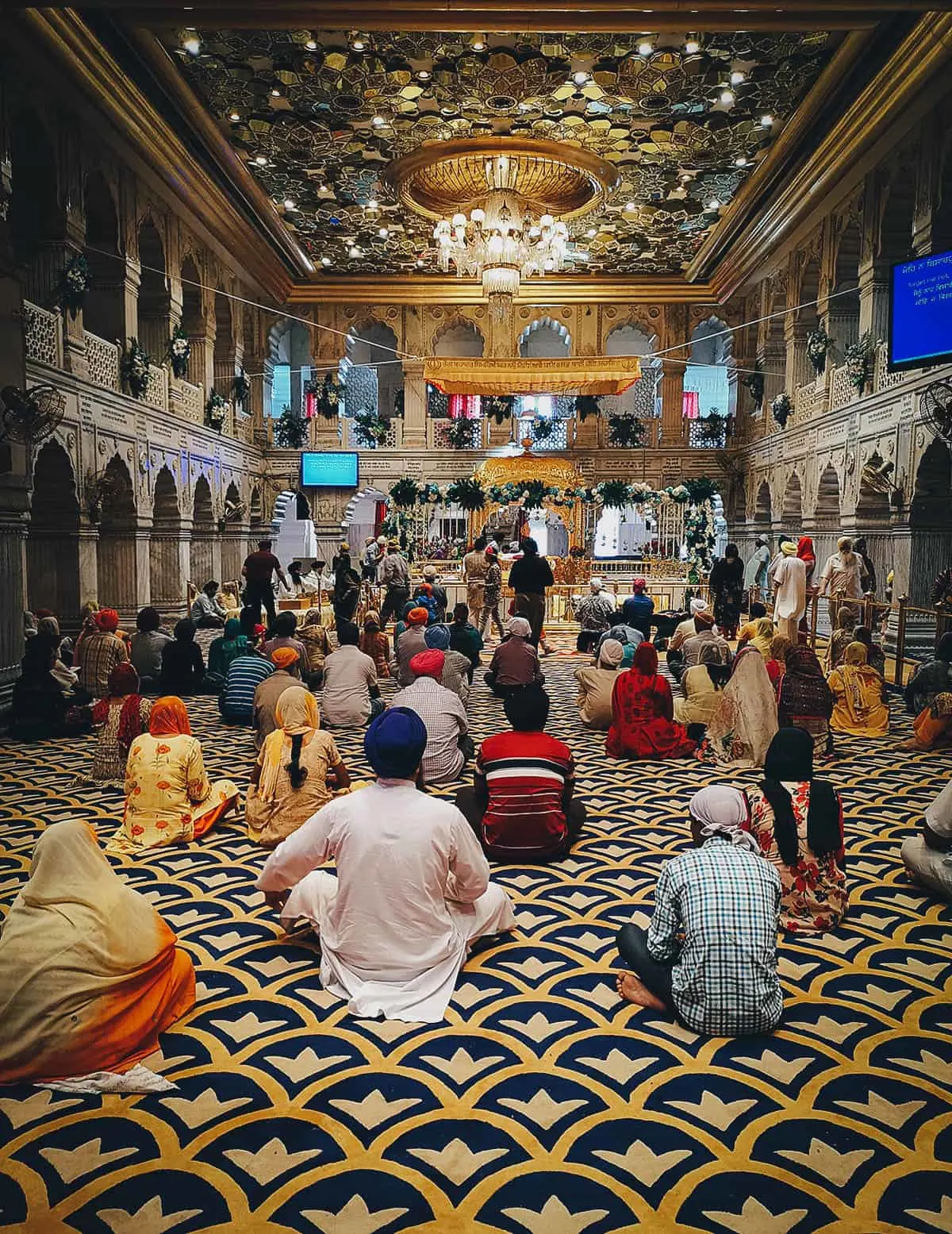 This was taken at the darbar sahib or main prayer hall. The Sikh men on the left were playing instruments and chanting through microphones. I don't know what it was, but I felt so at peace in this room. It may have been the music, it may have been the atmosphere, but I could have stayed here for hours.
Gajendra explained that the Sikh scripture is a book called the Guru Granth Sahib. Interestingly, this holy book is viewed and treated like a living guru. During the day, it's kept on that raised platform under the golden canopy, but at night, at around 9-10PM, it's taken to another room and ceremoniously put to rest until the following morning, much like an actual human being.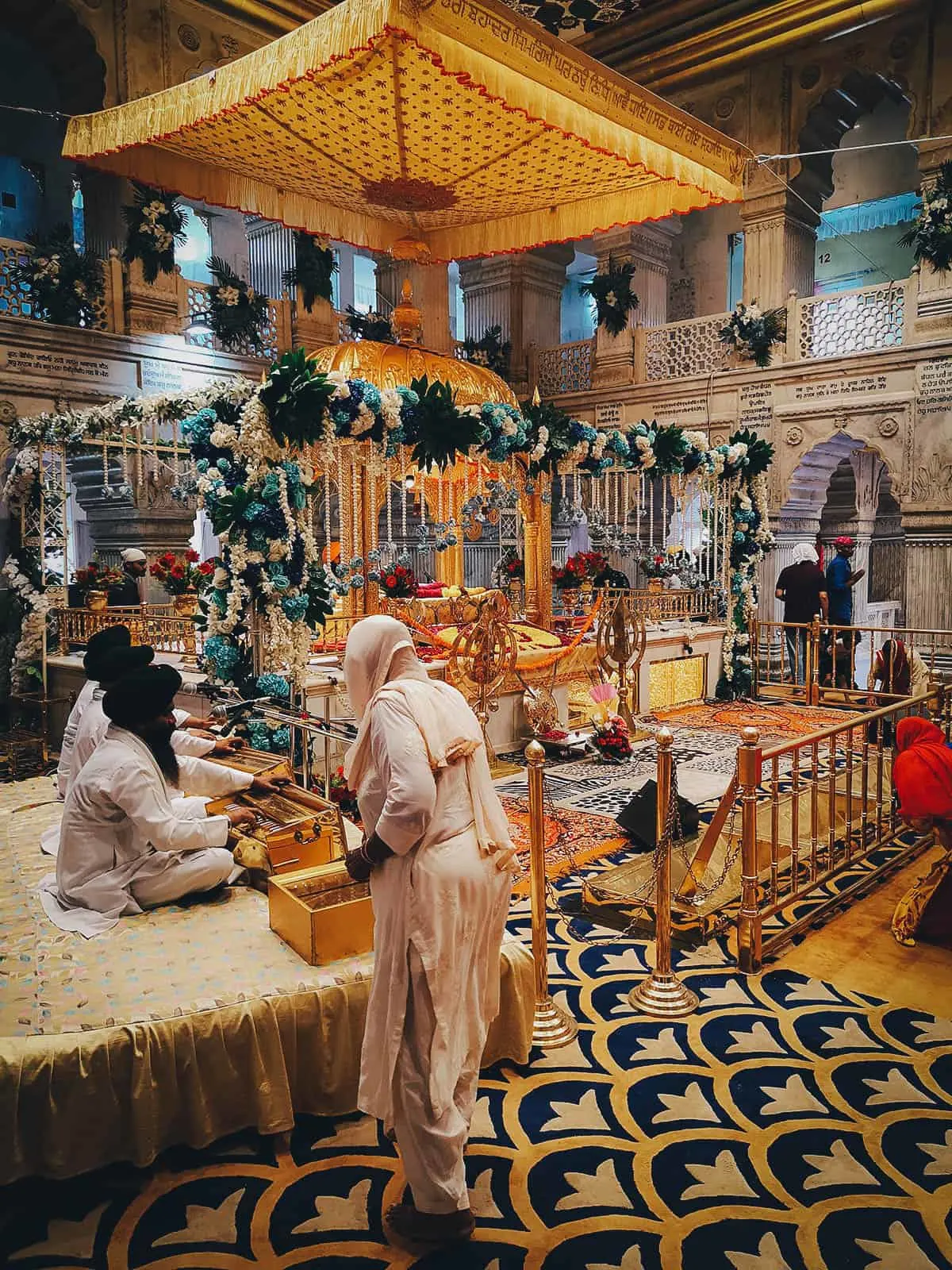 As hypnotic as the darbar sahib was, what really impressed me was the temple's kitchen. I didn't know this but all Sikh temples run kitchens that offer free food to anyone who walks through their doors. Rich or poor, Sikh or non-Sikh, everyone is welcome to daily free meals funded by donations from temple visitors.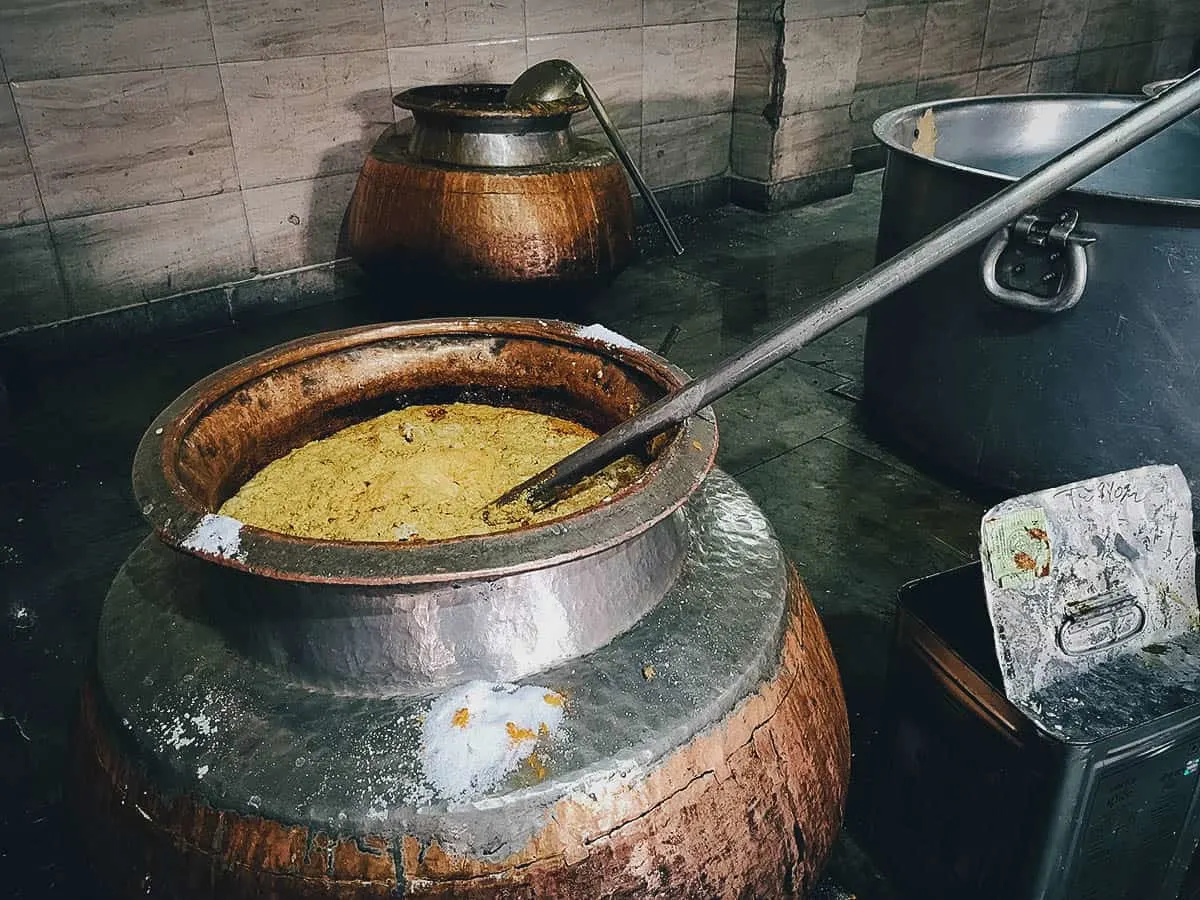 Pictured below are volunteers preparing flatbread for grilling.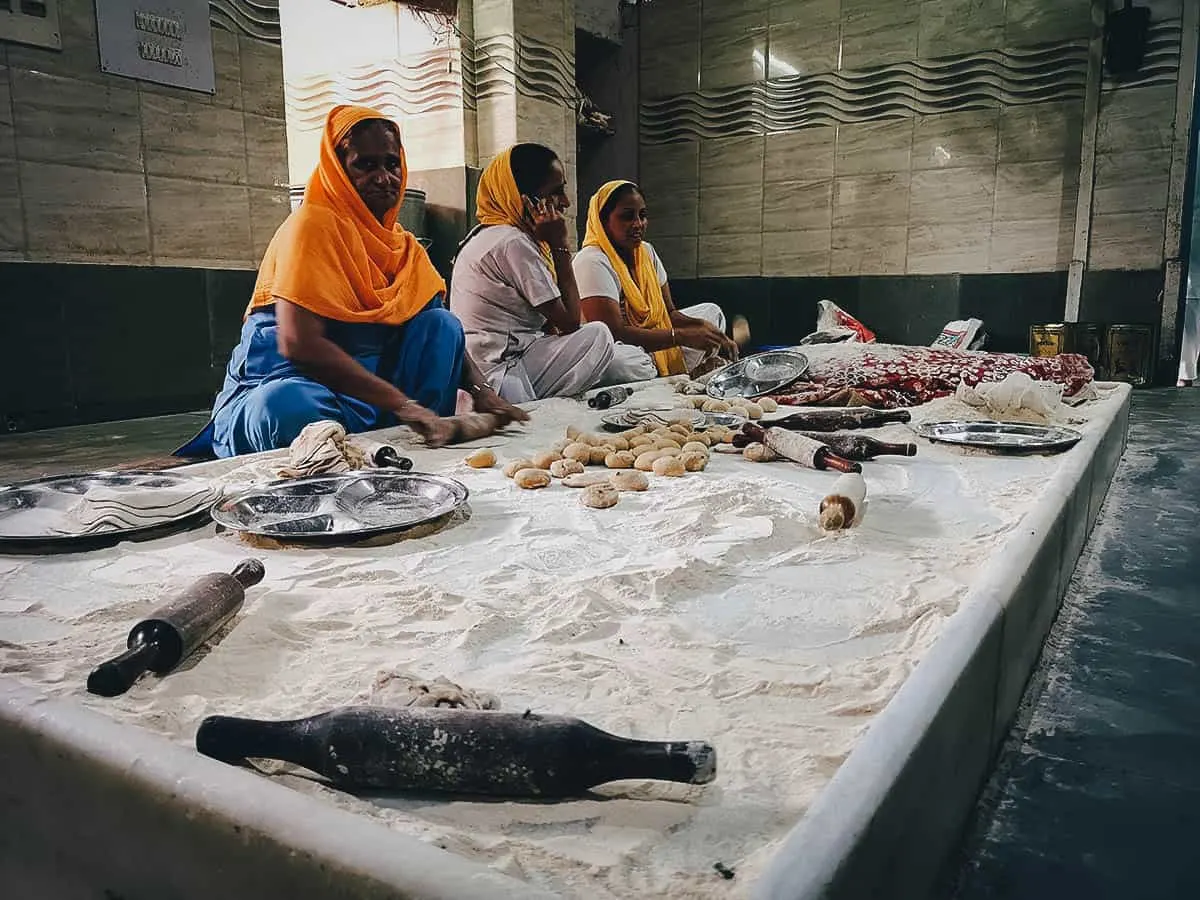 Here they are grilling the bread before serving them in another room to diners. From what I understand, people can stay for as long as they want and have as much food as they can eat. Gajendra explained that beggars are also welcome, though they're fed separately outside for security reasons and to prevent theft.
This may have been my first visit to a Sikh house of prayer but it won't be my last. I found their attitude of acceptance, equality, and service towards others to be humbling and genuine. Tenets to remember and strive for in my own life.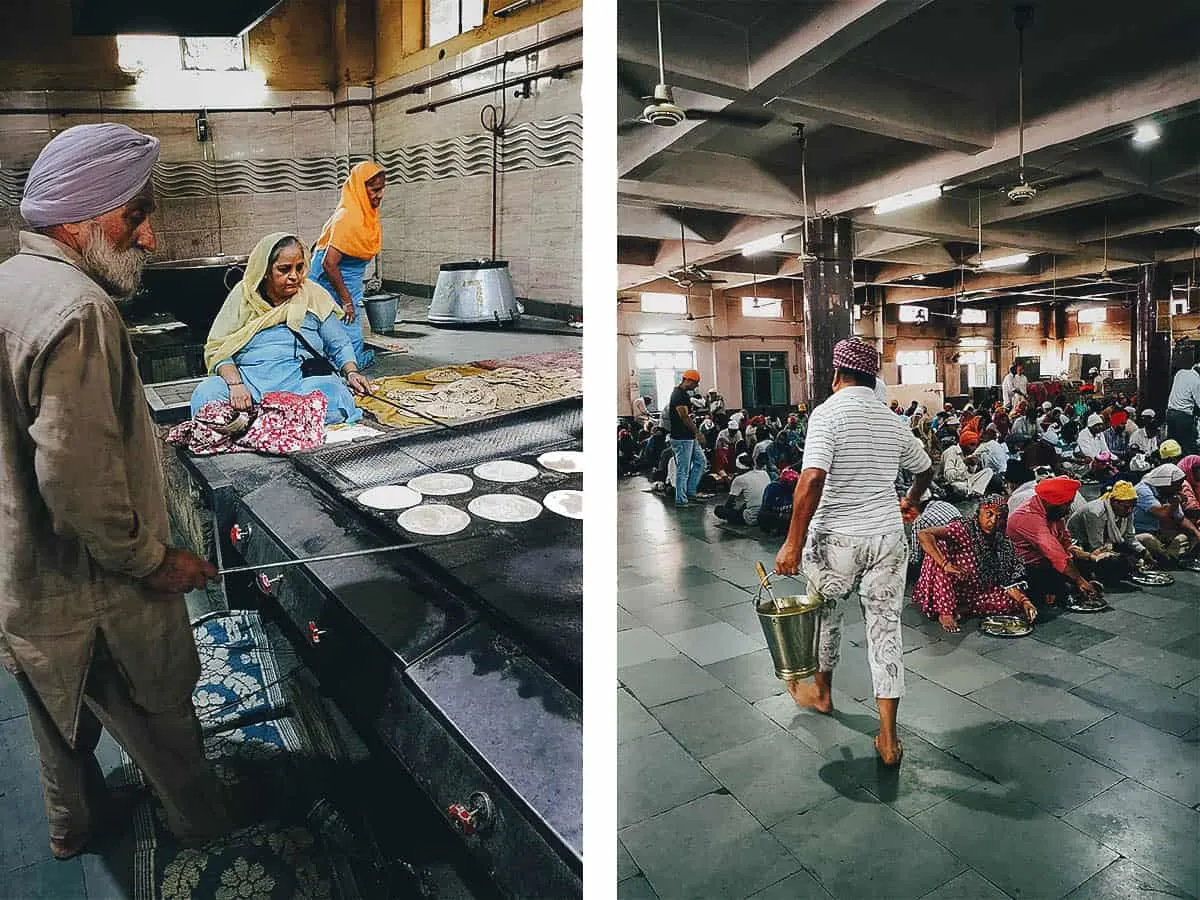 Spice House
Towards the end of our tour, we explored the spice market and climbed to the rooftop of this building known as the spice house. From what I understand, the first floor houses shops while the upper floors serve as storage and distribution spaces for the mountain of spices that go through here on a daily basis. The air here is so thick with spice particles that you can't help but cough walking through its corridors.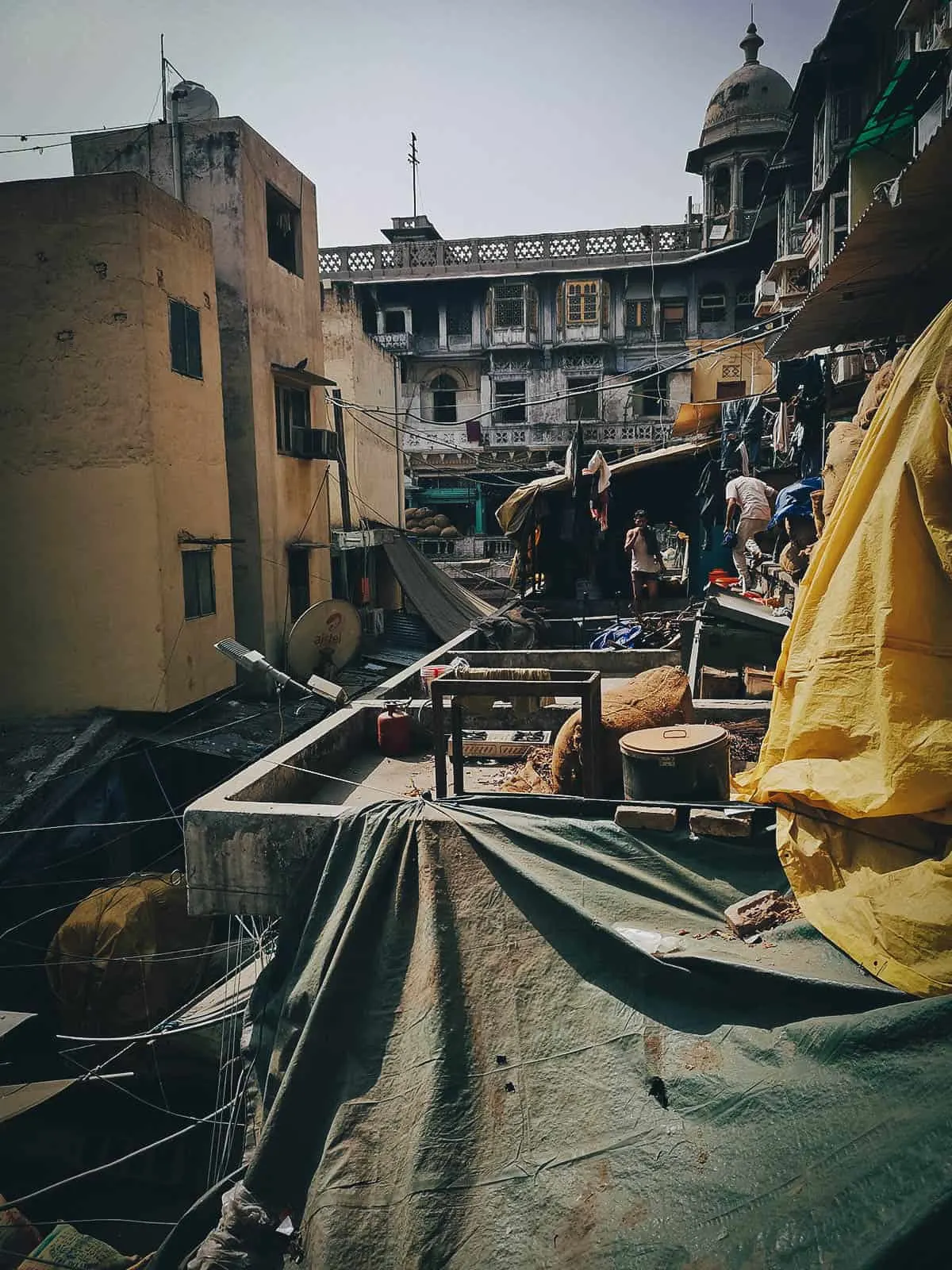 There were sacks of spices everywhere you looked.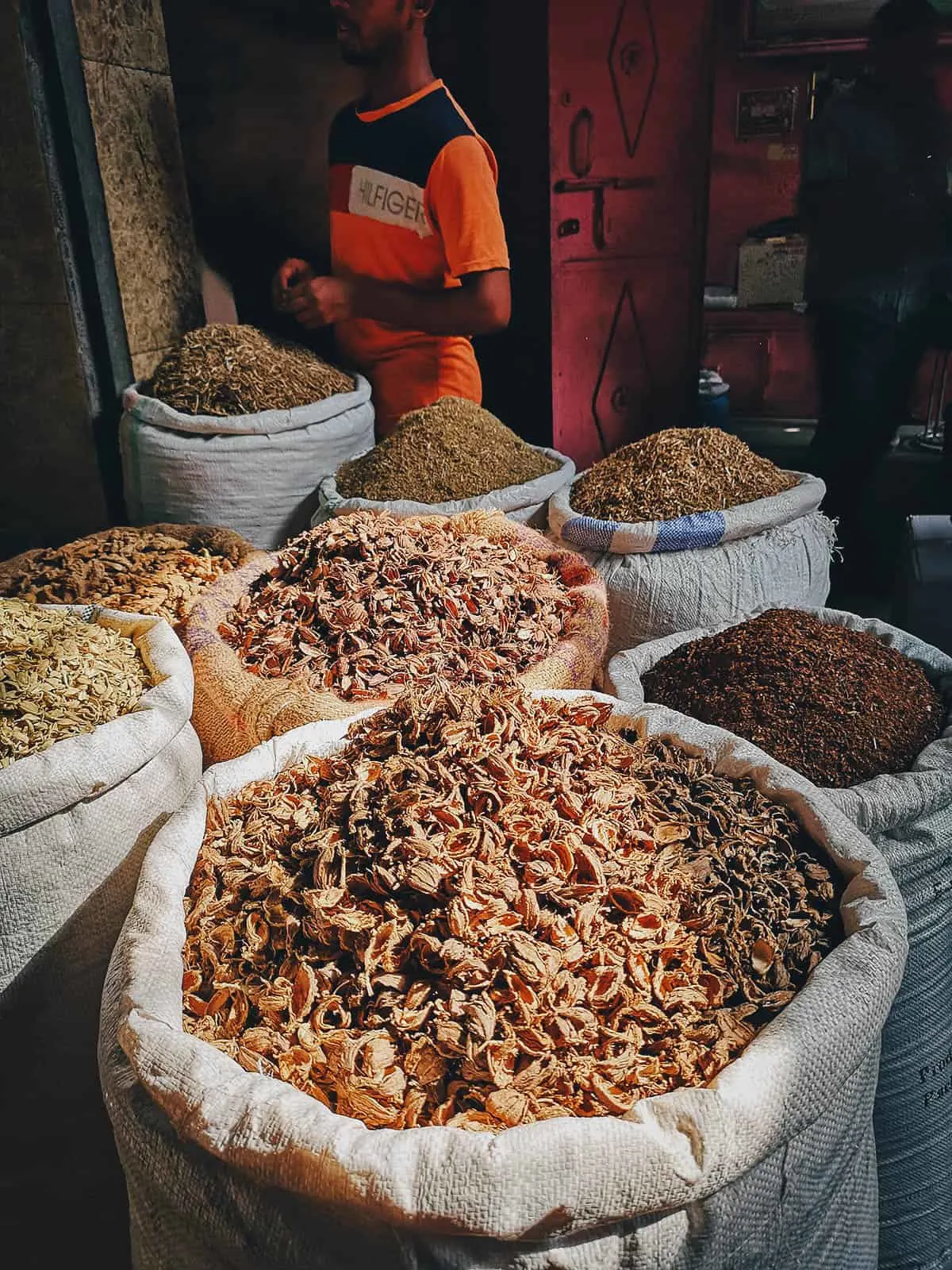 We make our way to the rooftop which I believe is the fifth floor of the building. From up here we could look down into the neighboring mosque's courtyard.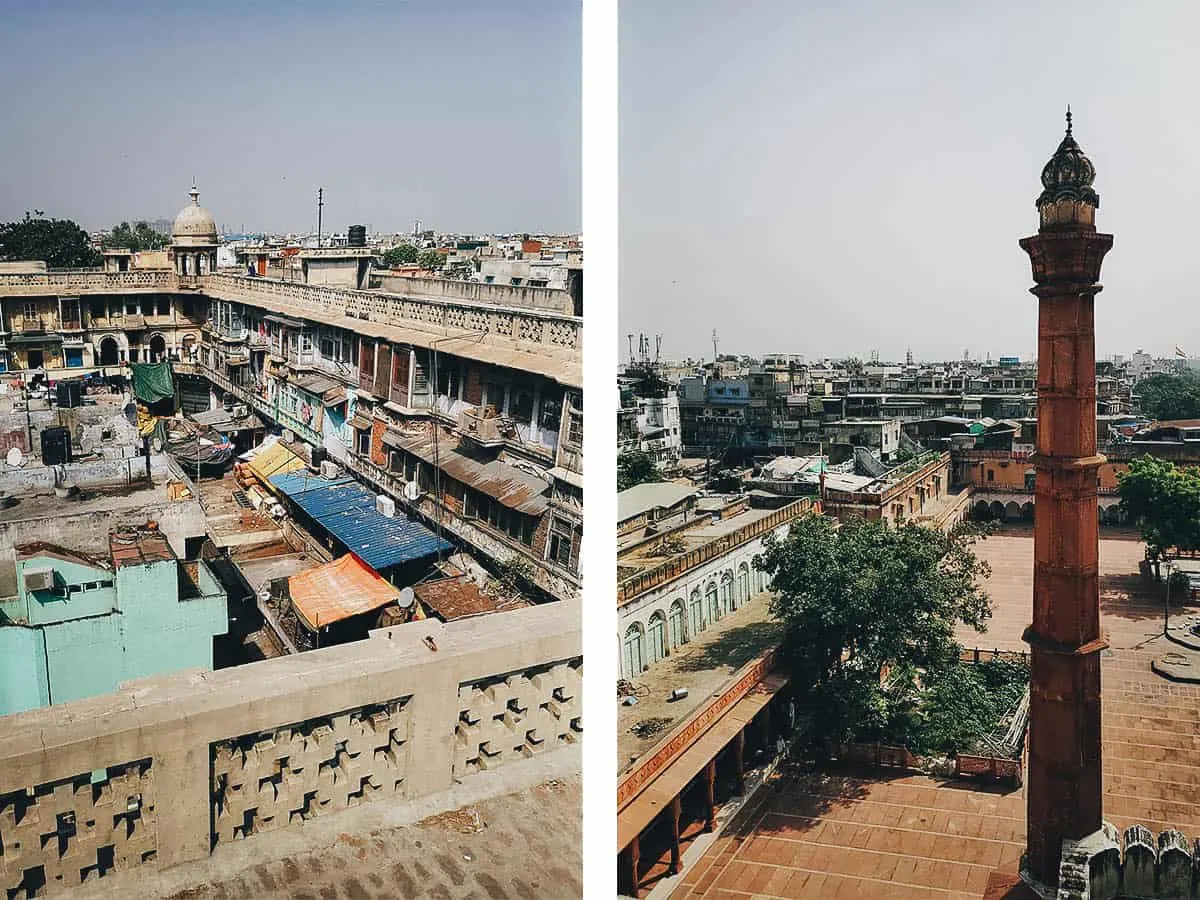 Here we enjoyed cups of hot chai far removed from the chaos of the spice market. Old Delhi is frenetic so it was nice to have a quiet moment to sip tea and let all that delicious Indian food digest in my belly.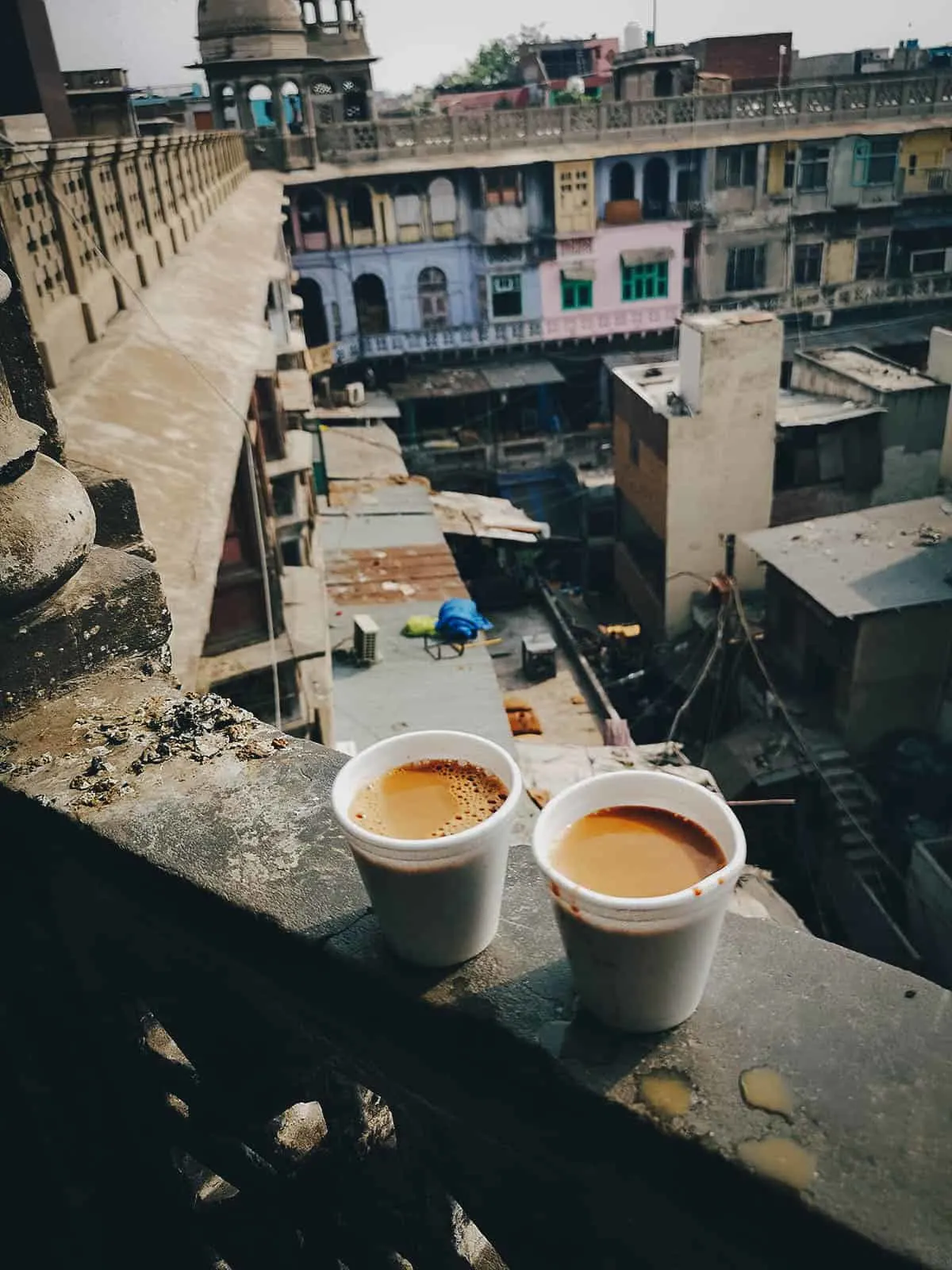 Conclusion
As described, I've been on many of these food tours from A Chef's Tour and the amount of food they give you never fails to amaze me. Just when you think it's over, two or three more dishes are dangled in front of your mouth! In fact, I had plans of visiting two restaurants in the area after this tour, but there was no way that was happening, not after all that food. I was so full I wound up going back to my hotel and taking a nap instead.
Aside from the volume and variety of food, what I love most about A Chef's Tour is that they present you with deep local food experiences. Most of the eateries we visited are heritage stalls that have been around for generations, many too obscure to be found on Google. They're known largely to locals only, which are exactly the type of places we seek out when we travel. Authenticity and longevity are important to us which is why I love going on these tours.
A word of caution though. Ren and I are usually pretty daring when it comes to street food. We'll try anything and everything but I had to exercise more restraint in India. Before my trip, people warned me about Delhi belly which I can now tell you is a very real thing. The water in this country isn't always safe to consume for foreigners. Eat the wrong thing at the wrong stall, and you could find yourself scrambling for a toilet!
Thankfully, I had the comfort of being with a local guide like Gajendra who knew what he was doing and where to take me. We ate only at established food stalls so I had less to worry about. Sure, the panipuri with flavored water still worried me, but guess what? No Delhi belly even after consuming five.
I thoroughly enjoyed this food tour and would happily recommend it to anyone visiting Delhi. It costs USD 49 per person, inclusive of all food and drink and transportation during the tour. As described, you can book it directly on A Chef's Tour.
A Chef's Tour
Website: achefstour.com
Facebook: achefstour
Twitter: achefstour
Instagram: achefstour
Pinterest: achefstour
Email: [email protected]
Cost: USD 49 per person (inclusive of food and transportation during the tour)
For travel tips to Delhi, check out our The First-Timer's Travel Guide to Delhi, India.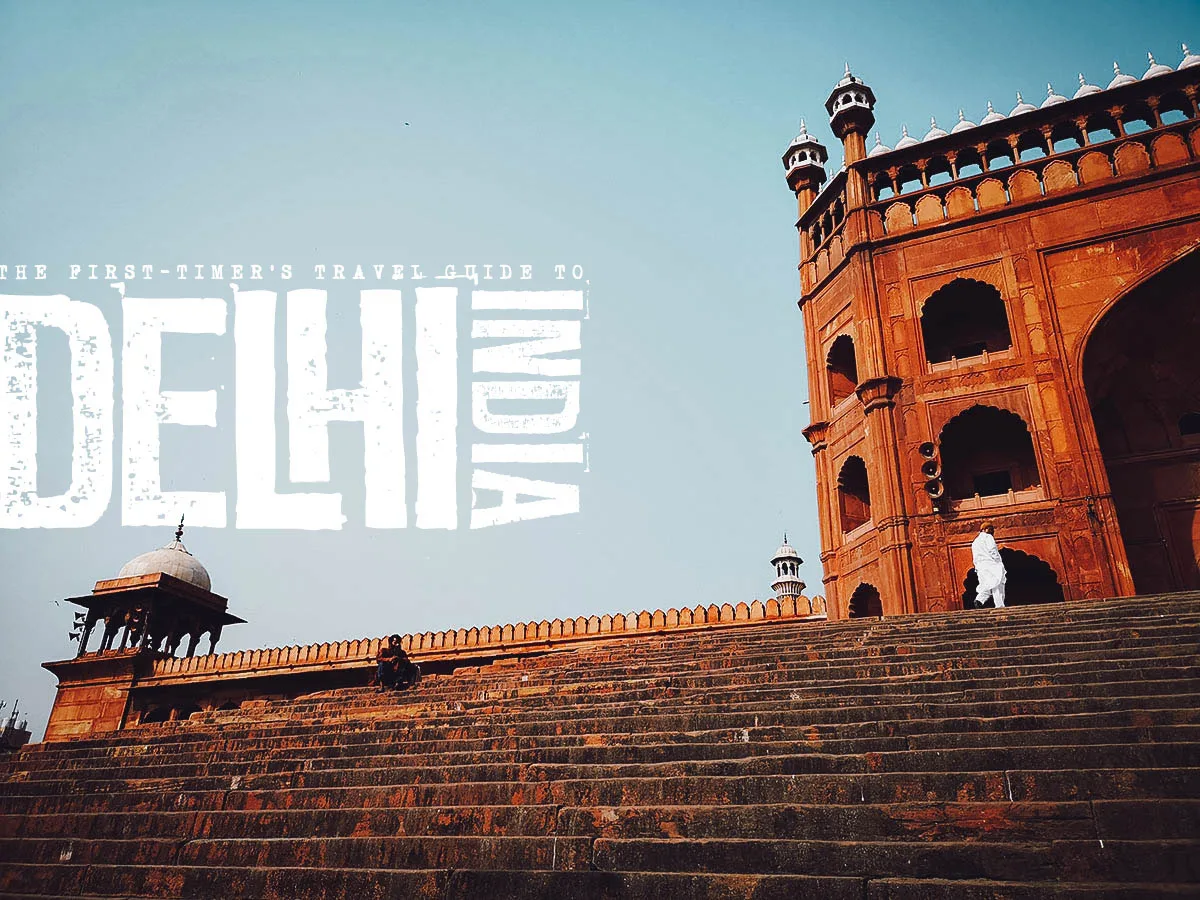 Disclosure
A Chef's Tour gave me a complimentary tour in exchange for an honest account of the experience. As always, all words, thoughts, and opinions expressed in this post are mine and mine alone.
Some of the links in this guide are affiliate links, meaning we'll get a small commission if you make a purchase at NO extra cost to you. We only recommend products and services that we use ourselves and firmly believe in. We really appreciate your support as this helps us make more of these free travel guides. Thank you!