I had heard about websites like Inspitrip, sites that connected travelers to local hosts or guides. Tourists can have local experiences that go beyond the usual travel agency tours, things like enjoying a home-cooked Vietnamese meal at someone's home or going bar-hopping in Saigon with locals. With more and more people looking for authentic local experiences, these peer-to-peer websites have been gaining much traction in recent years.
I've considered going on these local tours before. After all, no one knows local food better than a local. The problem is, I have social anxiety so I tend to keep interactions with strangers to a minimum. There's no way around it on these one-on-one experiences which is why I've shied away from them until now. When Alex, the founder of Inspitrip, contacted me a few weeks before our Vietnam trip and offered to give us a free tour of Saigon, I saw it as a sign. I'm big on signs and the timing on this one was too much of a coincidence to ignore. It was something we had to do.
Ren and I love finding local eateries on our trips, the kind of places that forgo style for substance and have been serving the same iconic dish for decades. So when Alex asked me what we wanted to do in Saigon for our personalized tour, I knew right away what to tell him.
Saigon Central Post Office
We met up with Alex at the entrance of the Saigon Central Post Office at 6PM. According to him, local experiences like this typically last around three hours. Next to the post office is the Notre Dame Cathedral.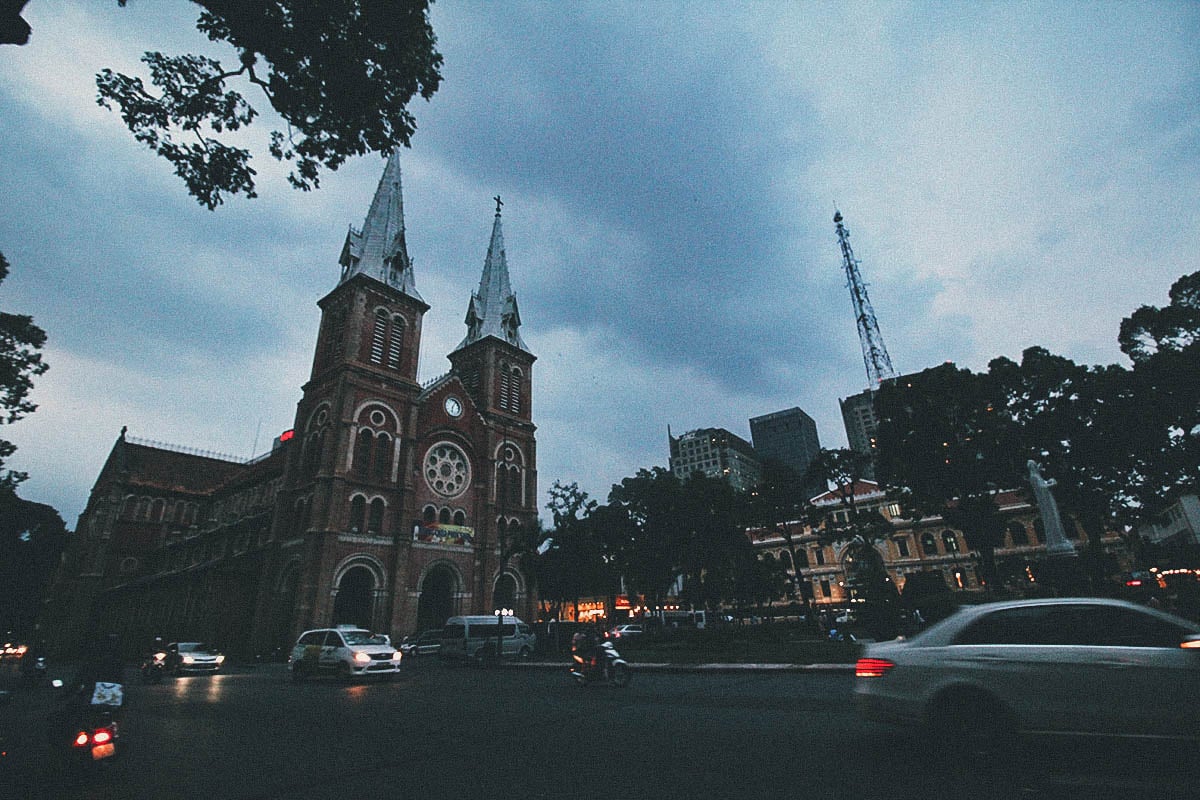 Crossing the street in Vietnam feels a bit like a game of Frogger – try not to get squished. 😆 According to Alex, you just have to cross like a boss and let the motorcycles avoid you. It's scary, but it works. He added that motorbike drivers in Vietnam never look to the left or right. Everyone looks straight ahead so they can quickly react to whatever obstacle is in front of them.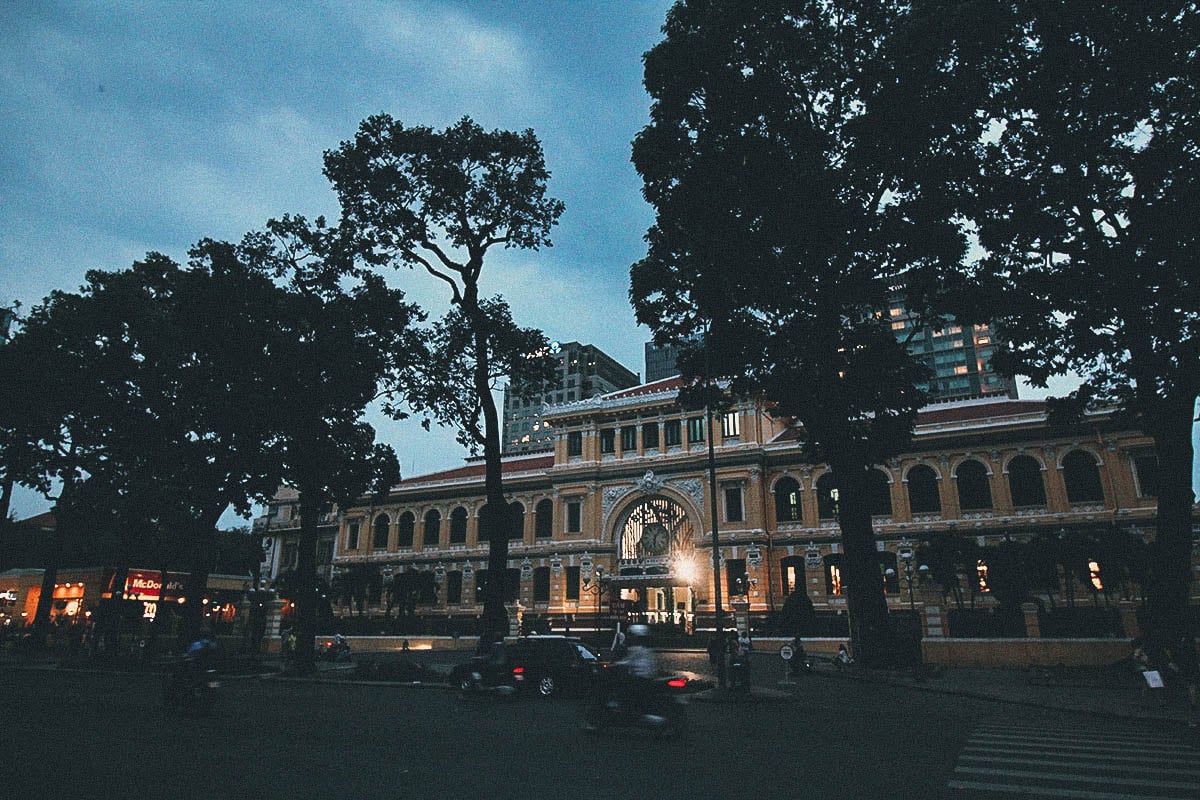 Behold the Saigon Central Post Office, one of the most beautiful examples of french colonial architecture in Saigon. It was designed by Gustave Eiffel, the renowned engineer who also designed the Statue of Liberty and the Eiffel Tower.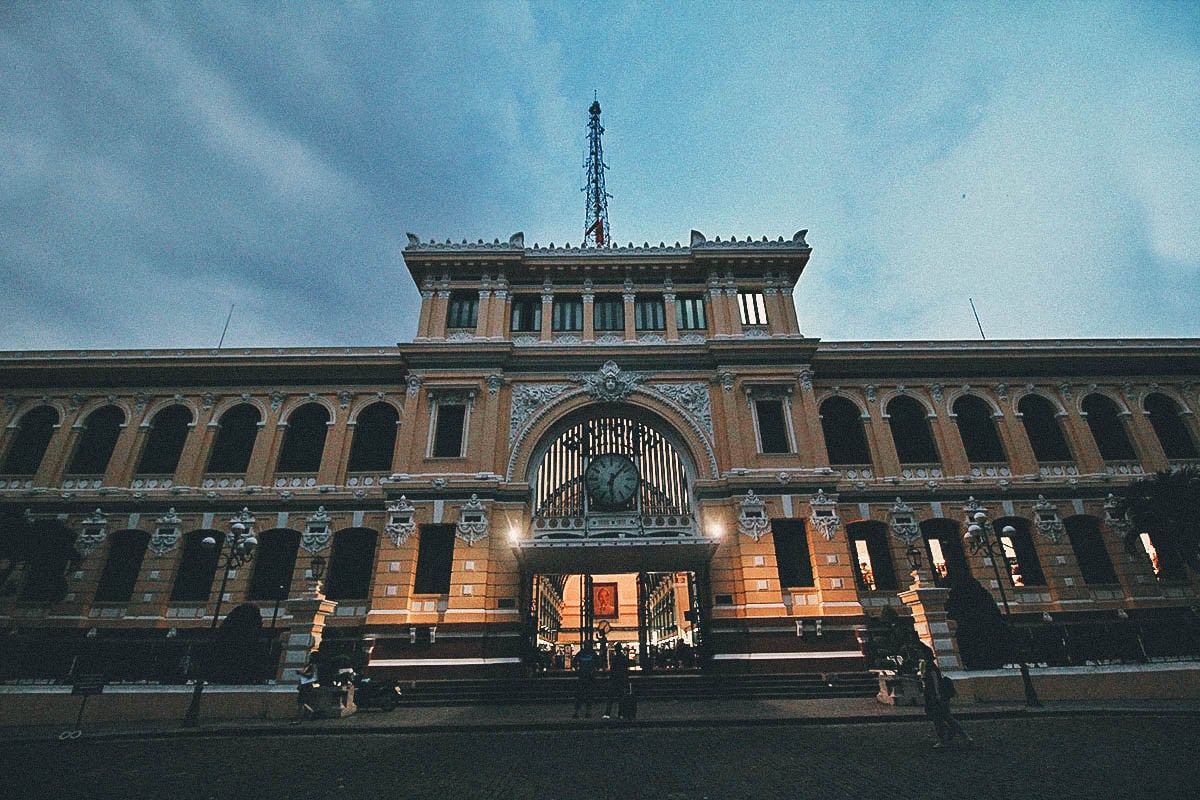 Before hopping into an Uber with Alex to go to our first stop, he pointed out that rooftop through the trees. See the red arrow? The last American helicopter out of Saigon evacuated from there on 29 April 1975, shortly before the city fell to advancing North Vietnamese troops.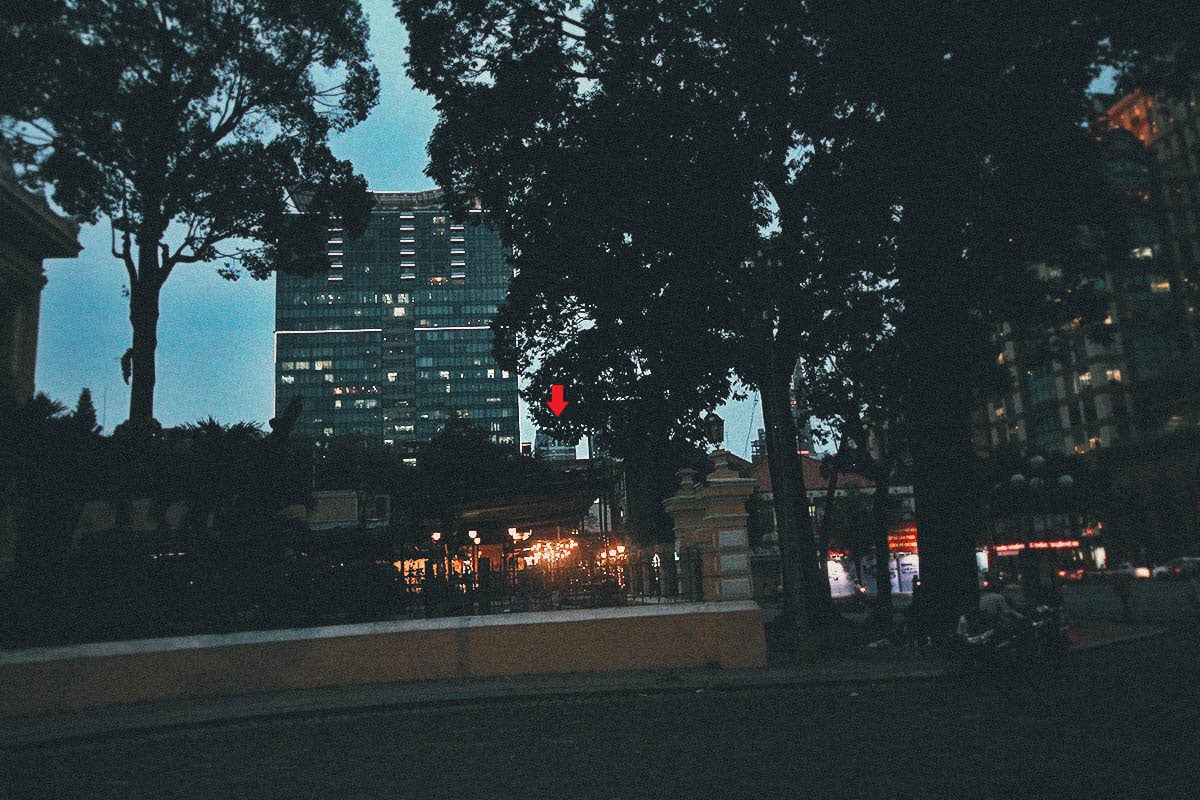 Vo Van Tan St., District 1
Our first stop was Vo Van Tan Street in District 1. According to Alex, many of the eateries on this street have been around for 30, 40, even 50 years. Just the kind of restaurants we look for on our trips! And coincidentally, it's a short walk from our AirBnB rental as well so whatever places we couldn't visit tonight, we went back to the following day. Coolness!
Bột Chiên Đạt Thành
This was the first restaurant we tried. They're known for their bot chien, which is a crispy fried rice flour dish made with egg and green papaya.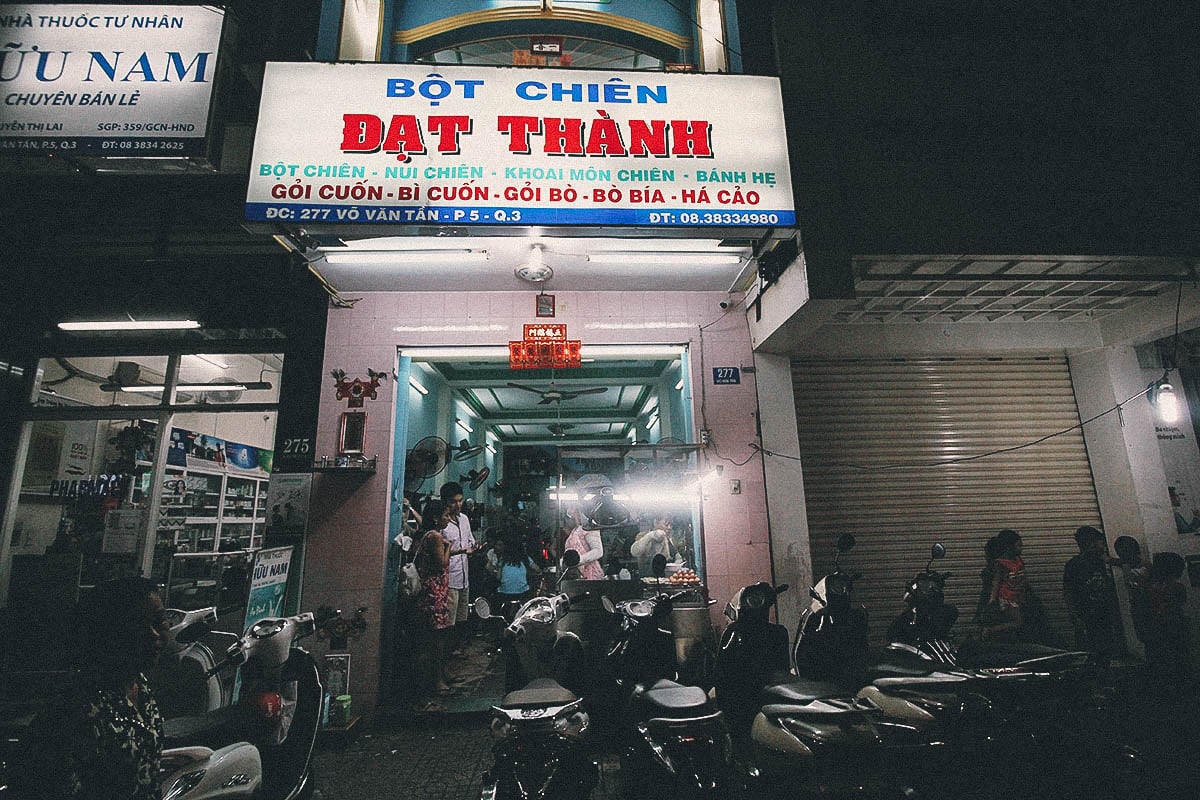 Crisping up those rice flour cubes for our bot chien.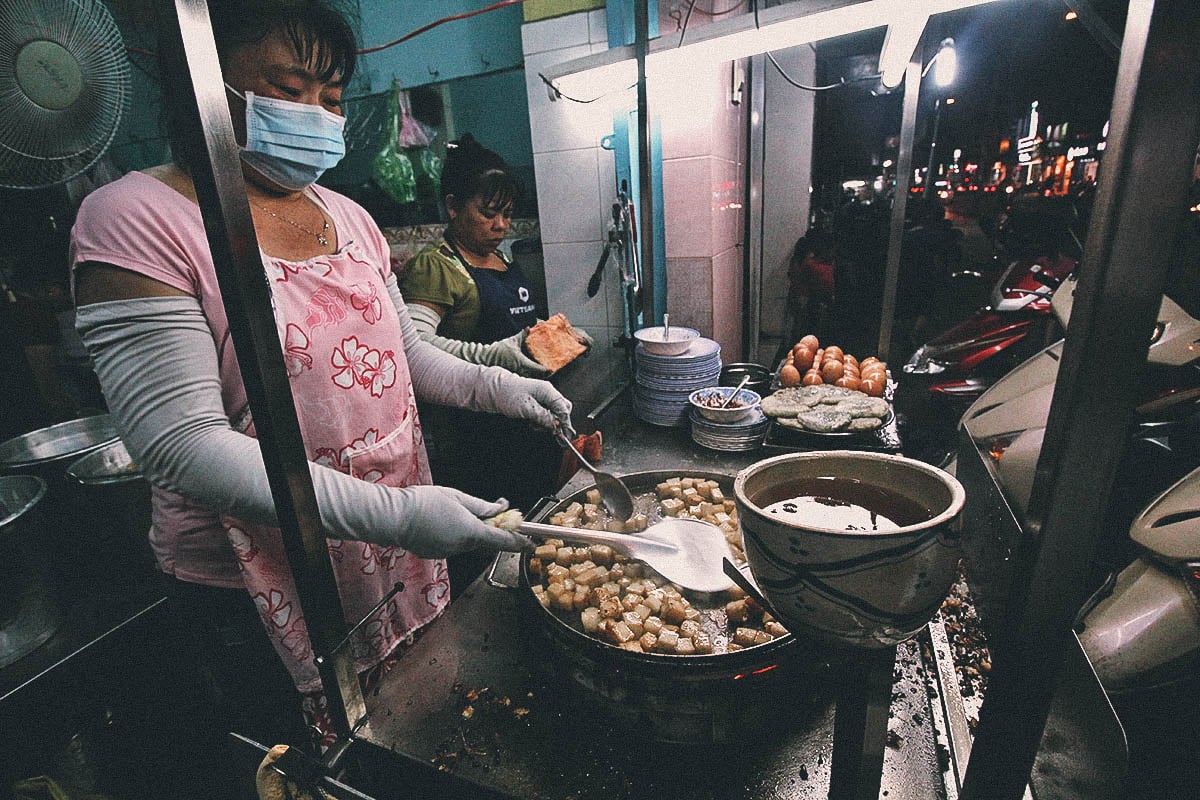 If you're familiar with Singaporean or Malaysian food, then you'll find that bot chien is similar to a dish known as "carrot cake" or chai tow kueh in Singapore, and char koay kak in Malaysia. But unlike the Singaporean or Malaysian versions that contain daikon radish, the Vietnamese version is made with just rice flour and tapioca starch. The cubes are then fried in lard with egg until golden brown and crisp.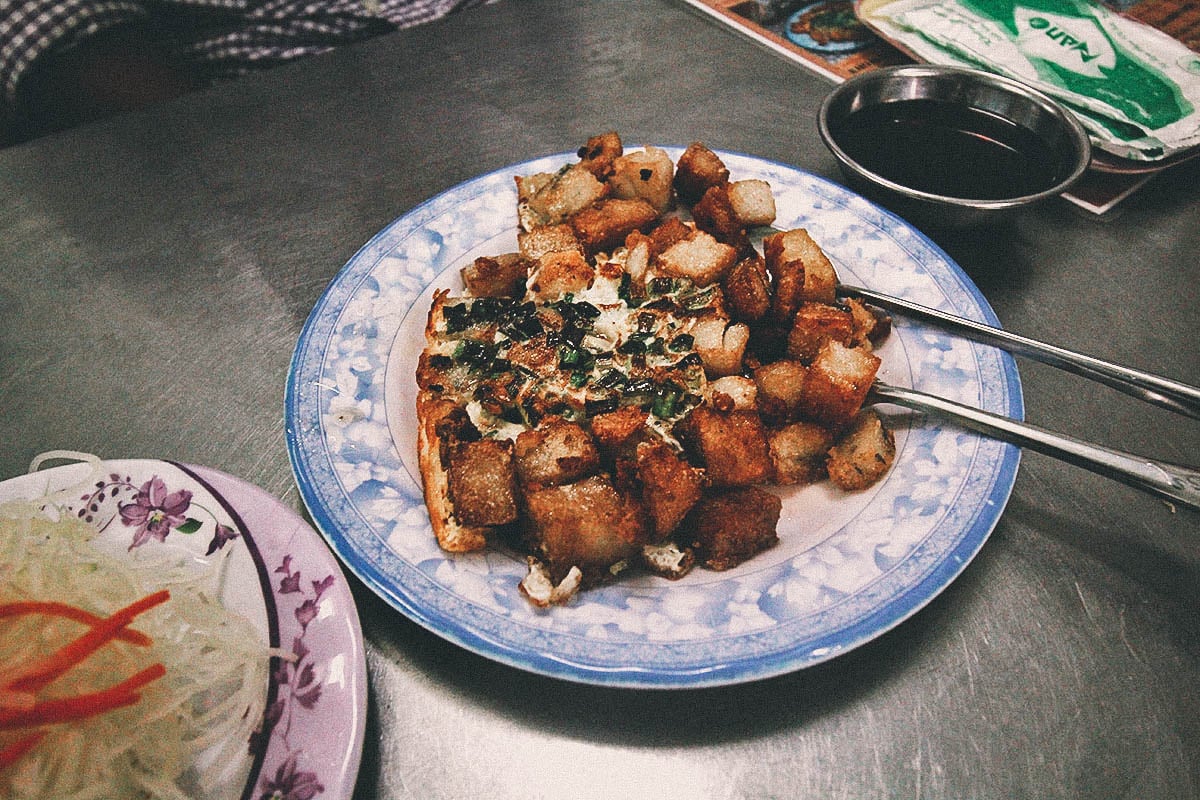 Cơm tấm Trần Quý Cáp
Alex pointed to that restaurant across the street – Cơm tấm Trần Quý Cáp – as being one of the best places to get cơm tấm or broken rice in Saigon. It's been open for decades and was a favorite of both his father and grandfather! The dish is referred to as "broken rice" because it's made with fragments of rice grains that were broken in the field, during drying, during transport, or by milling.
With several stops to make on tonight's tour, cơm tấm was too heavy to have now so Ren and I went back to this restaurant for lunch the following day. They serve a mean com tam suon nuong which is grilled pork chop with broken rice. I'll describe it in more detail in an upcoming Vietnamese food guide.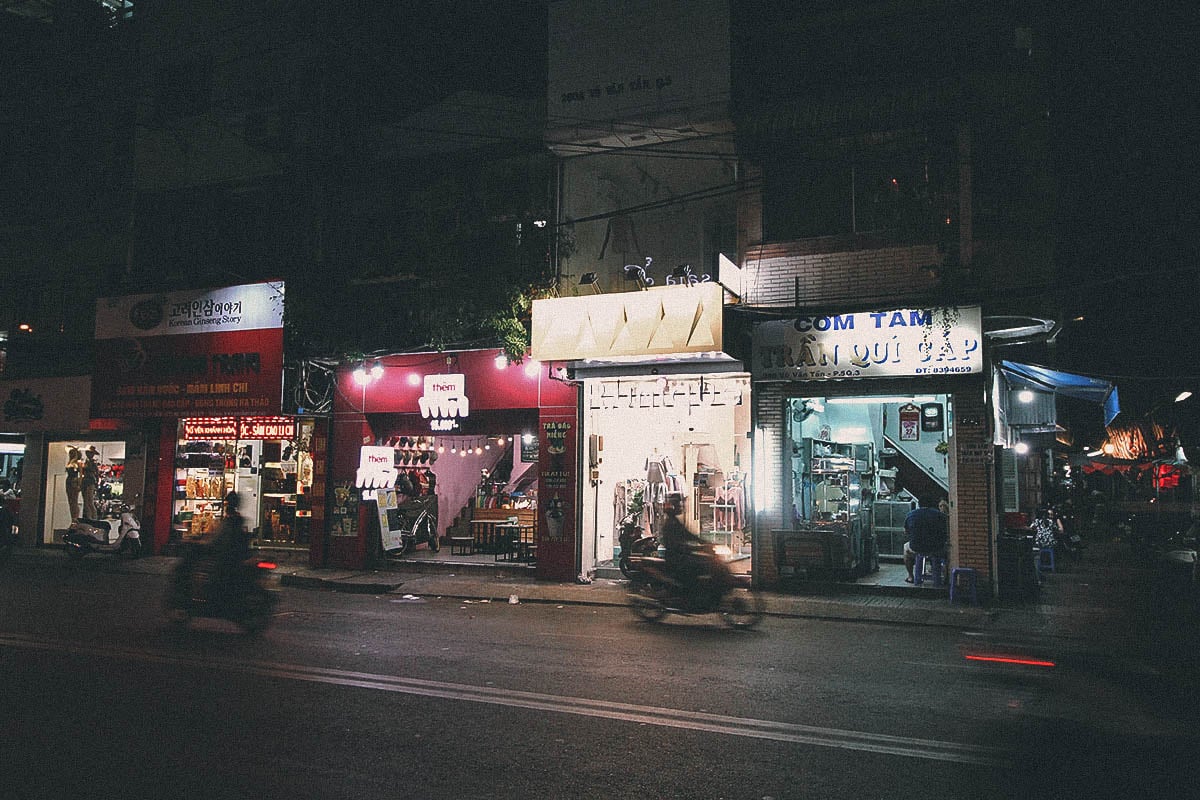 Phở Lệ
Phở is a Vietnamese national dish so we had to find a good restaurant in Saigon that served it. By coincidence, the owner of our AirBnB rental recommended this place too. Two locals recommending the same place for pho pretty much guaranteed that this place would be awesome.

Preparing our bowls of pho with beef tendon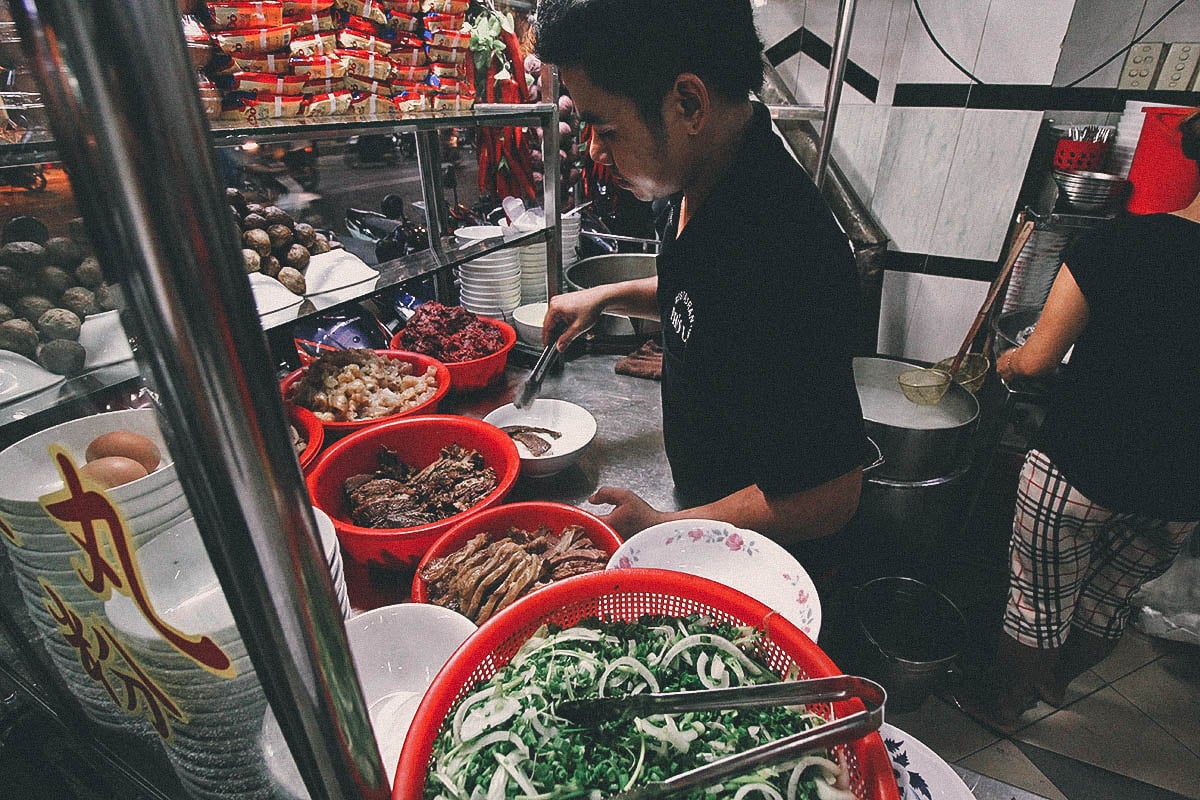 To be honest, I'm not the biggest fan of pho because I prefer my noodles to be thicker and with more bite, like banh canh. But this bowl of pho was unbelievably good. The beef tendon was delicious and the broth supremely flavorful. If you like pho, then you have to try this beef tendon pho at Phở Lệ in Saigon. It has the ringing endorsement of two locals.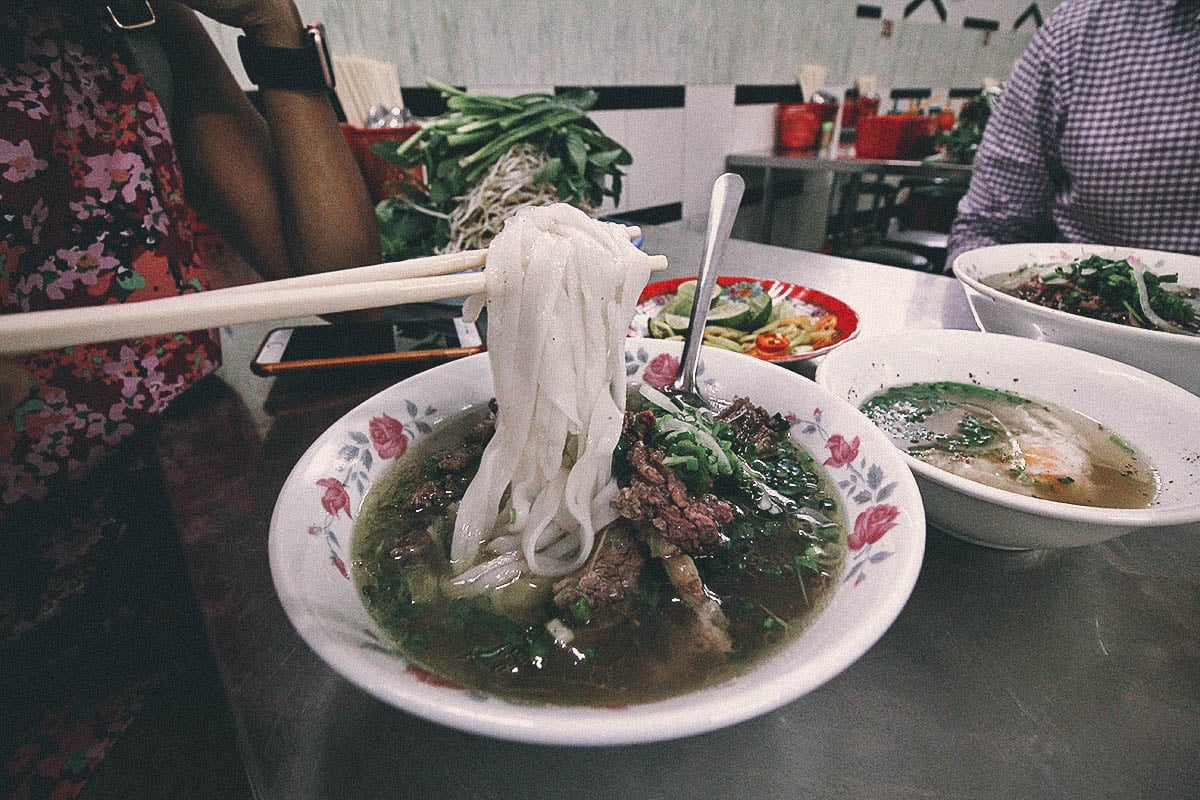 Served with the pho was this bowl of broth with an egg dropped into it. According to Alex, it's something the locals always enjoy with their pho.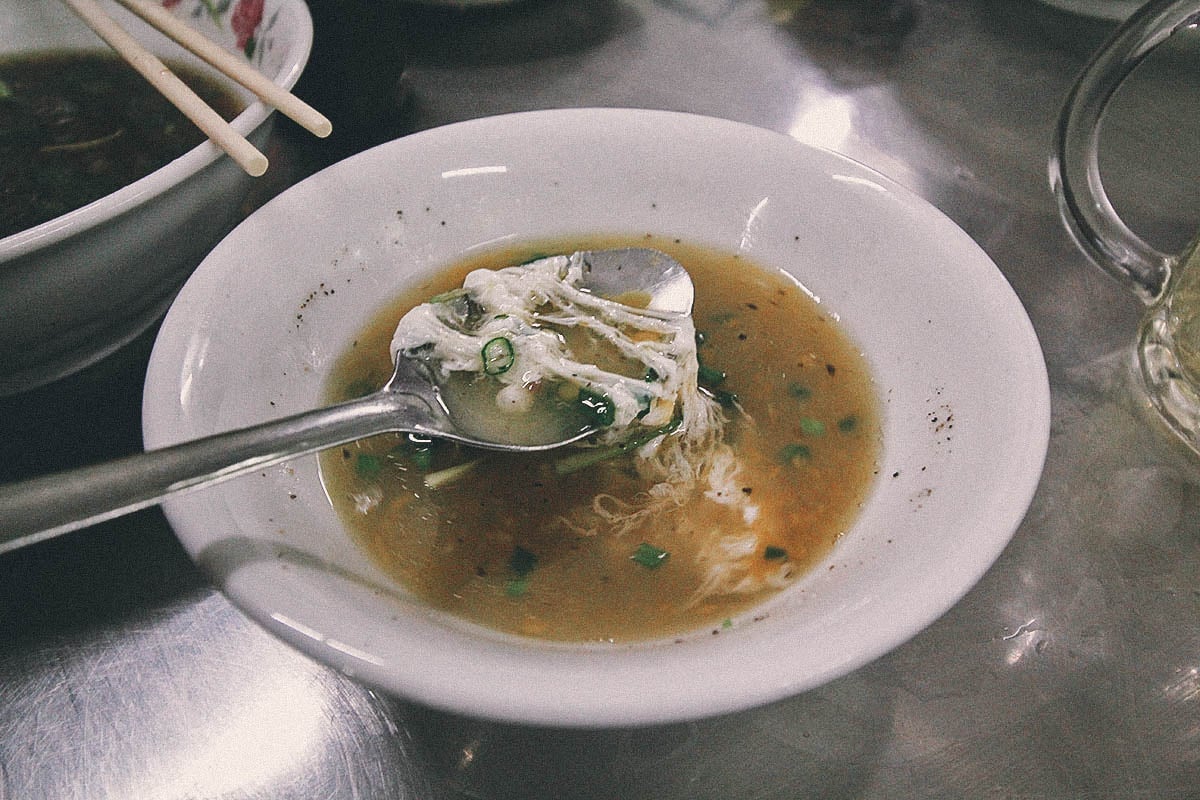 Vinh Khanh St., District 4
After polishing off our bowls of pho, we took an Uber to Vinh Khanh Street in District 4. Sometimes referred to as "Seafood Street", Vinh Khanh Street is known for having some of the best street seafood in Saigon. We enjoyed this place so much that we wound up going back on our own the very next night.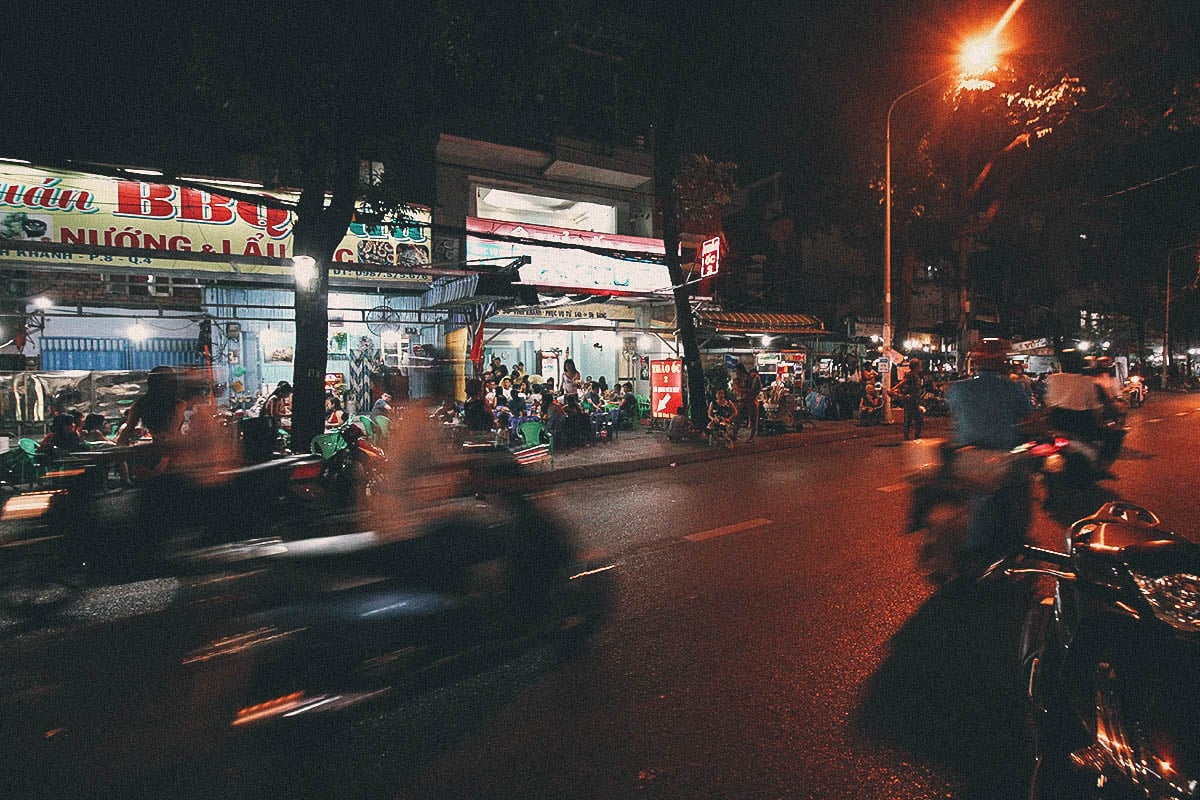 Both sides of the street are packed with seafood restaurants.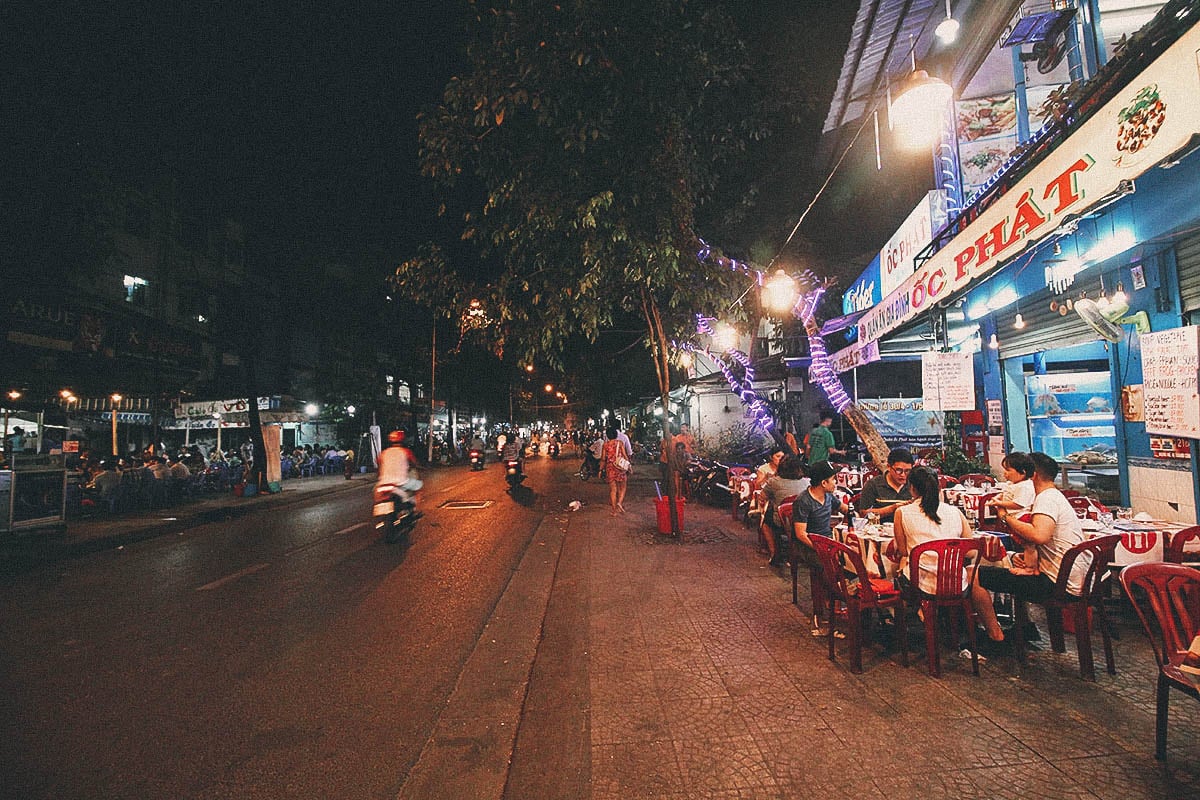 Ốc Oanh
Alex took us to Ốc Oanh which is one of the most famous eateries on this street. It was packed with people the two nights we were here.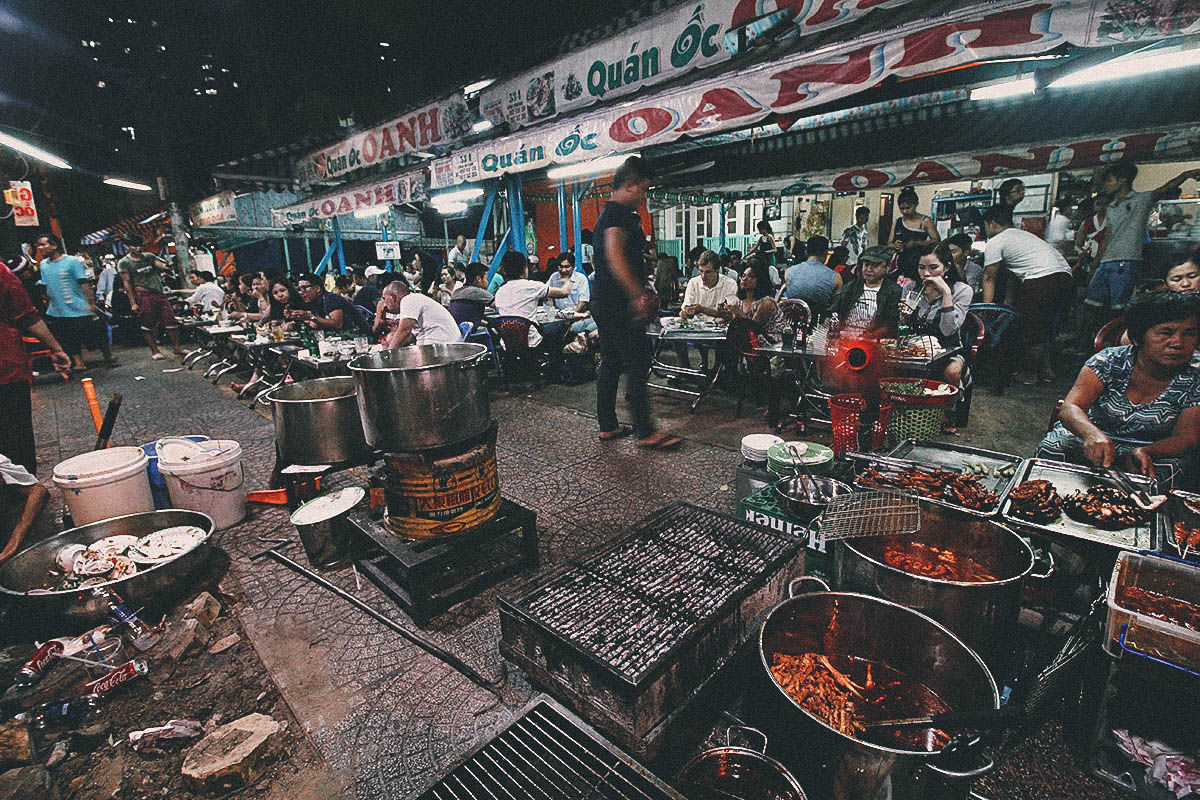 Octopus grilling on the bar-b. We didn't order this with Alex but Ren and I did the following night. It was spicy and super delicious.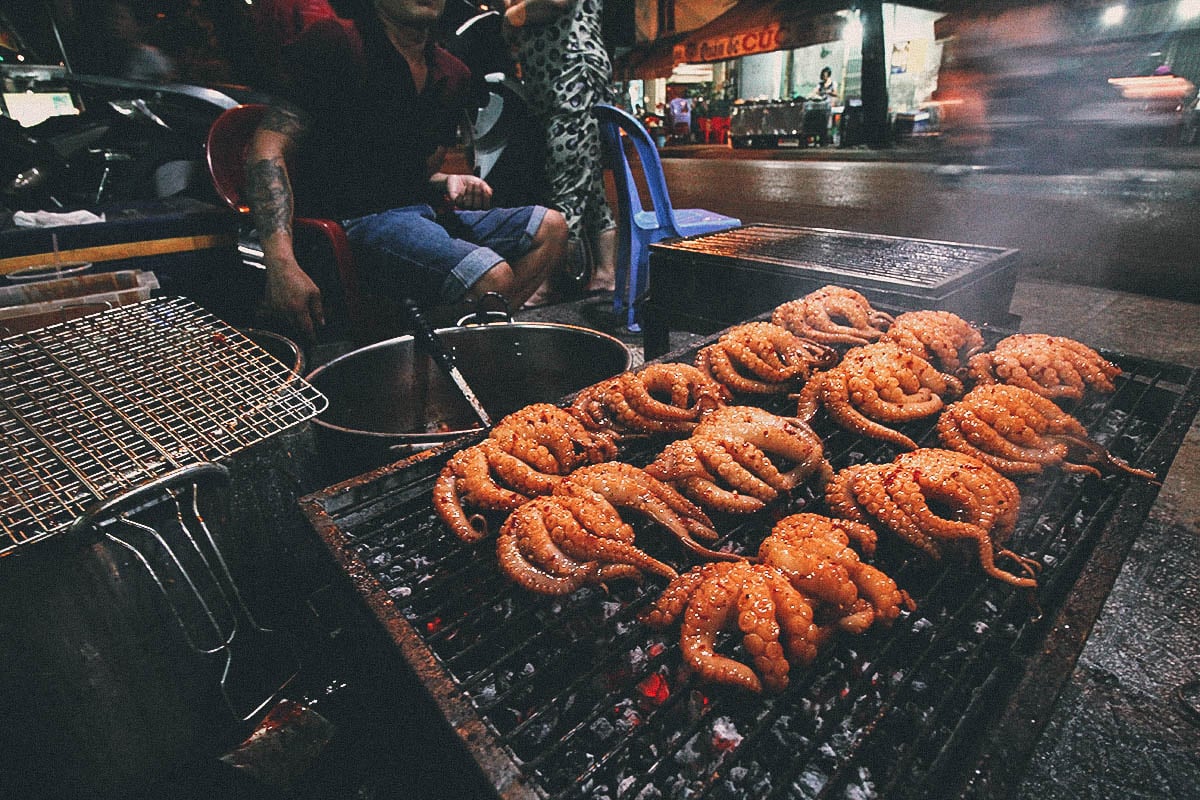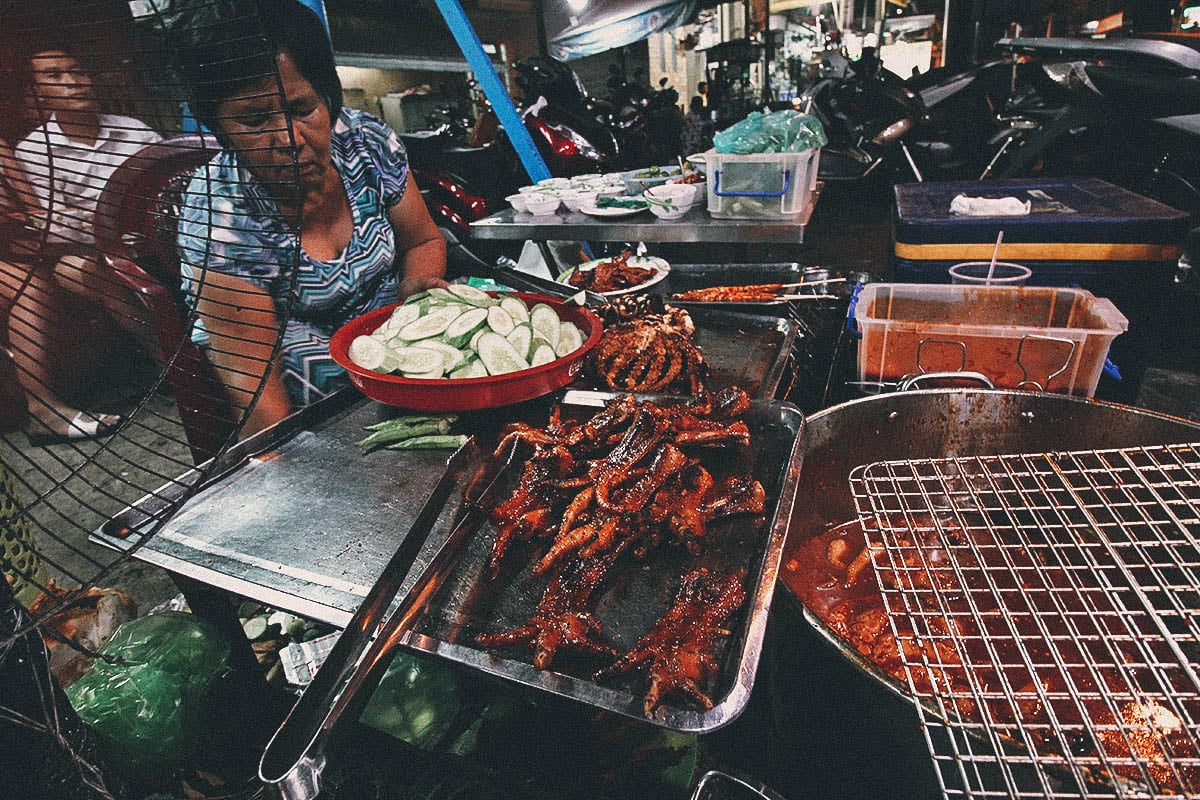 Eating on the sidewalk with a view of the motorcycles whizzing by made for a fun and electric environment. It was so much fun!

There's Ren and Alex toasting to great seafood! We asked Alex what the story was behind Vietnam's short plastic stools. I tried doing research myself but I couldn't find anything definitive other than "Vietnamese people are short", which doesn't really tell me much since that applies to pretty much all Asians.
Alex said he had never thought about it before so he didn't really know, but he did offer a couple of interesting theories. One, it may have been a way for the French to keep the Vietnamese subservient by keeping them low. And two, Vietnamese people were accustomed to using their low-lying beds as tables. They'd put a sheet of wood over it during the day so these short stools may have evolved from that.
It looks like we had piqued Alex's curiosity because he emailed me a few months later with a definitive answer. With much excitement, he offered this explanation:
"The chair is so low because of the history of Vietnamese street food. In the past, the street vendors carried food around with the stick and the foods on the 2 ends. They also carried a small chair for their customers to eat. The chairs are as low was the food to make it easy to serve food and eat. So the Vietnamese still keep this way when they open food stalls".
Mystery solved!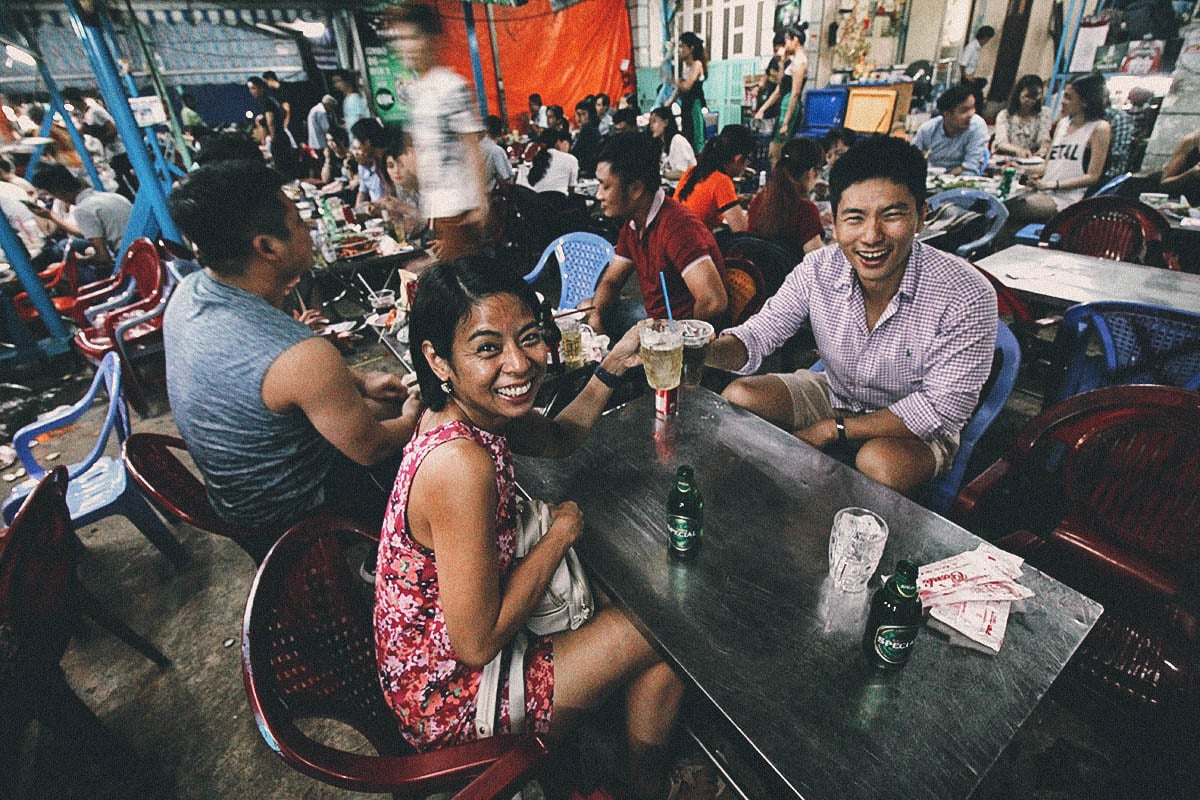 Chili crab claws were popular at Ốc Oanh. Here they are before being coated with chili.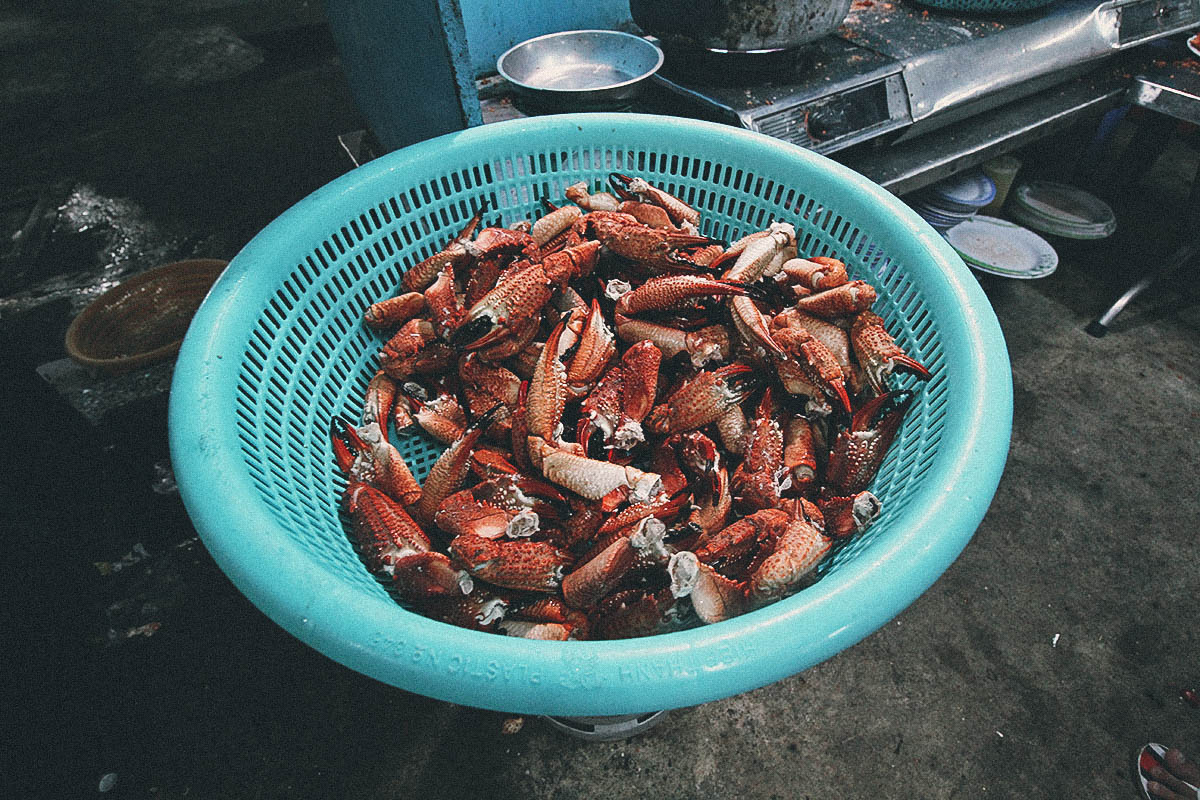 Here's the crab man vigorously coating the claws with chili. He was really digging into that pot, making sure those crab claws were imbued with chili.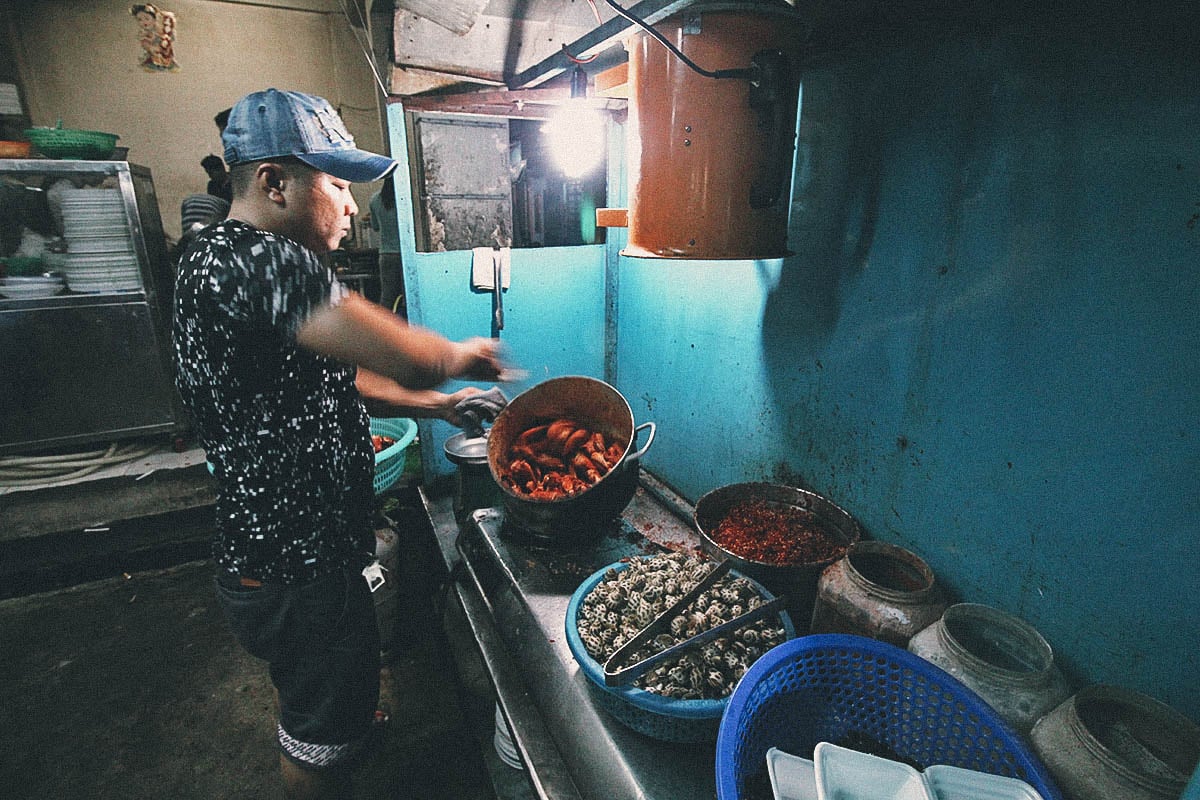 The result? A devilish-looking plate of spicy crab claws. Ren and I ordered this the following night and it tasted every bit as hot as it looks!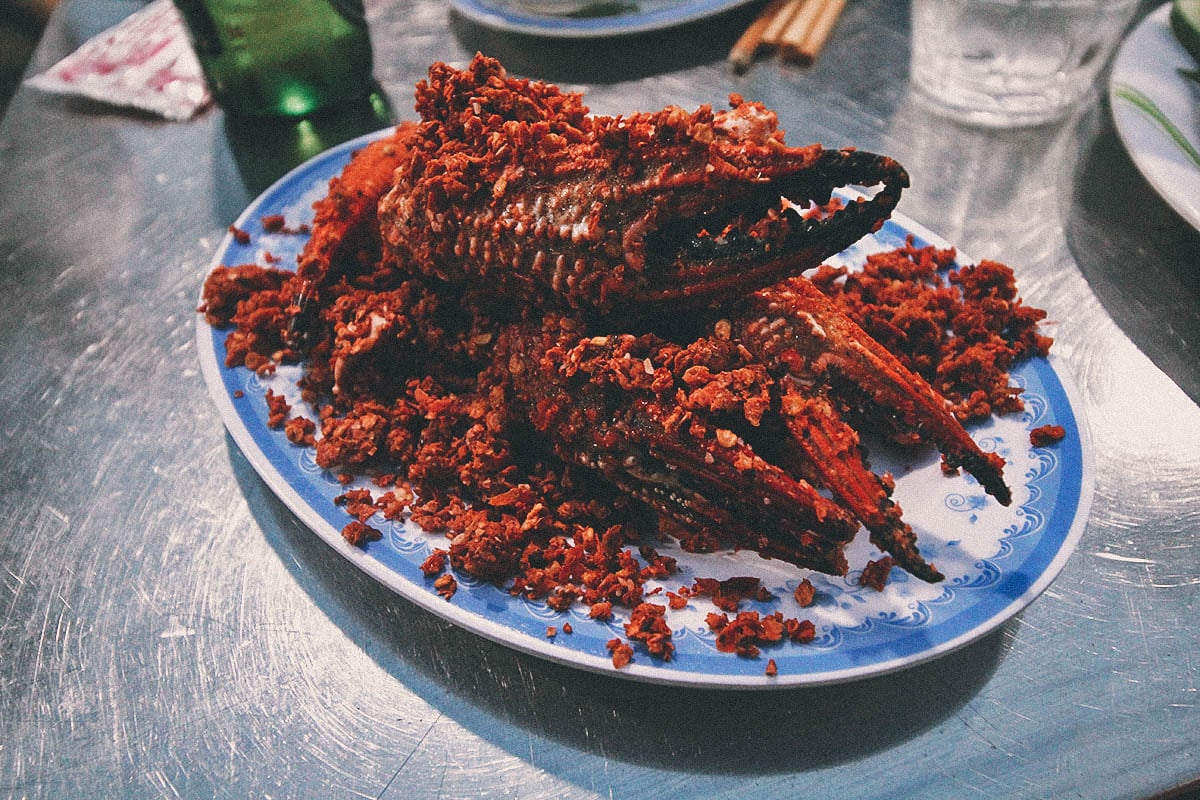 Here's a similar dish made with snails.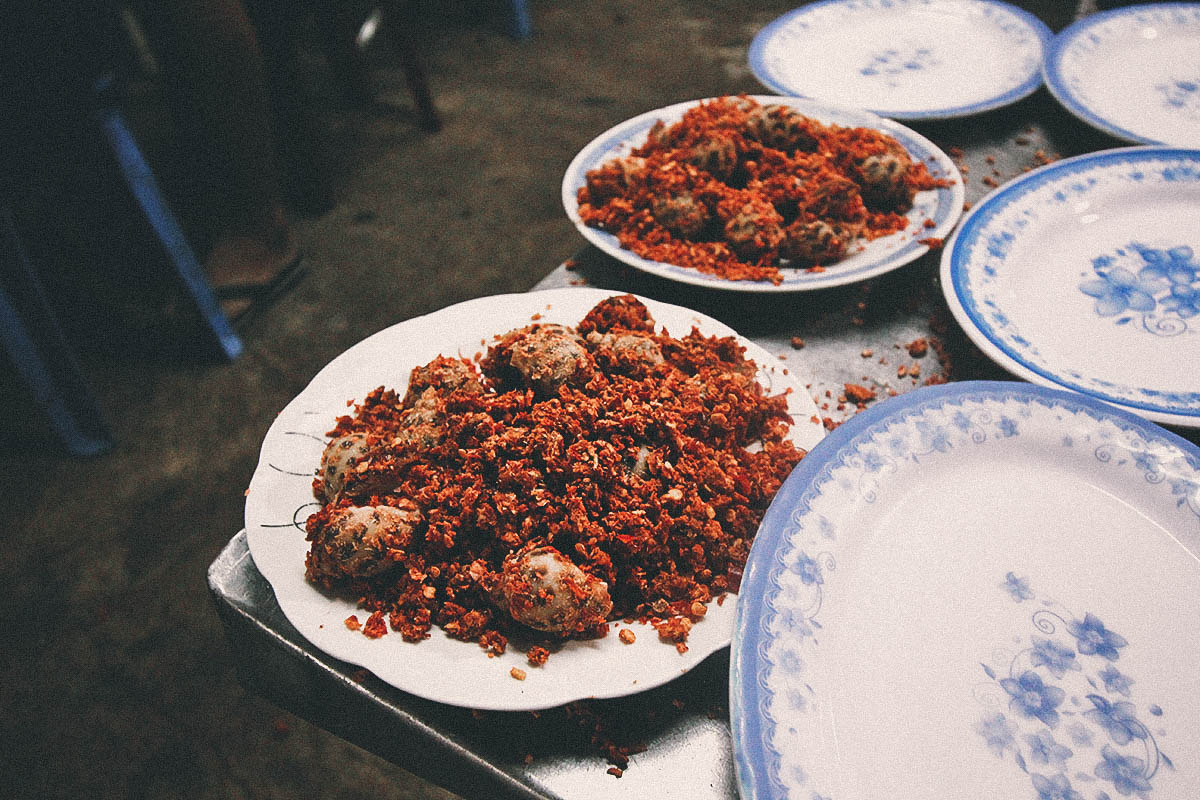 According to Alex, Vietnamese people love eating snails but they're difficult to prepare which is why almost every eatery here serves them. The snails pictured here were cooked in a creamy coconut-based sauce. They were so good that we ordered them again the next night.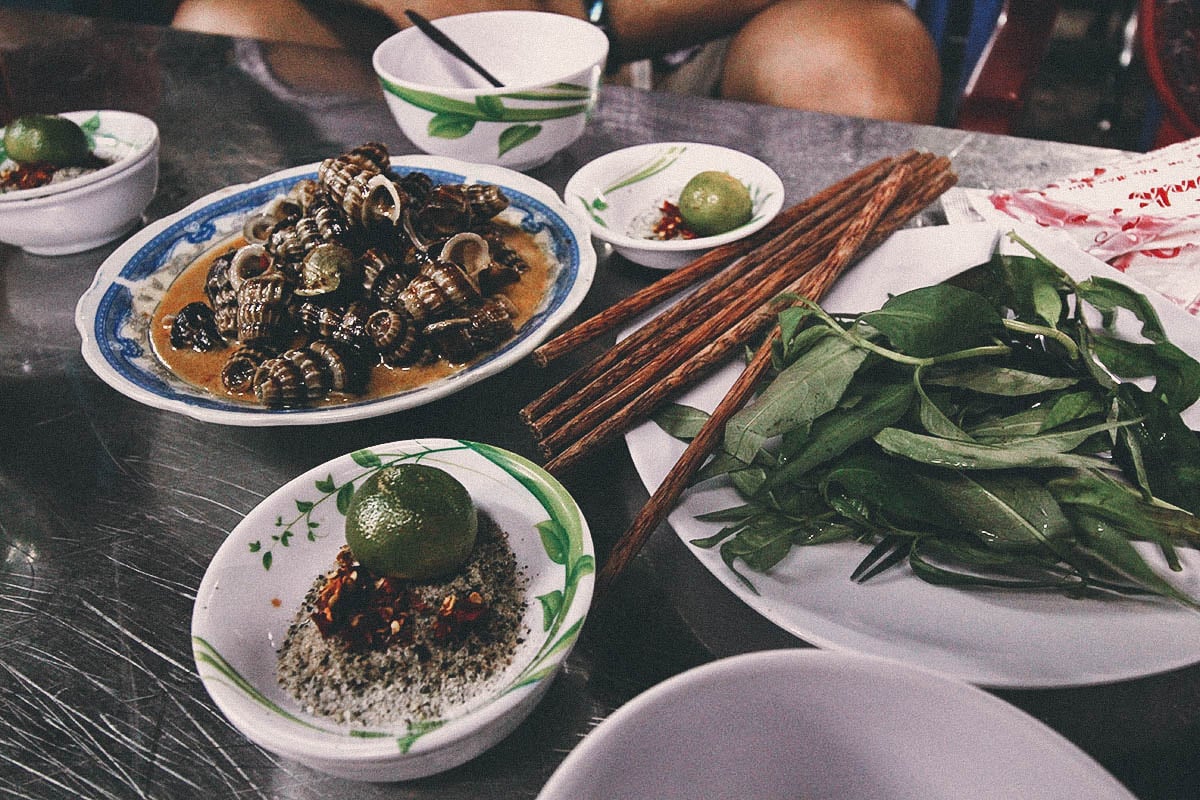 Here's another type of snail cooked with morning glory vegetables.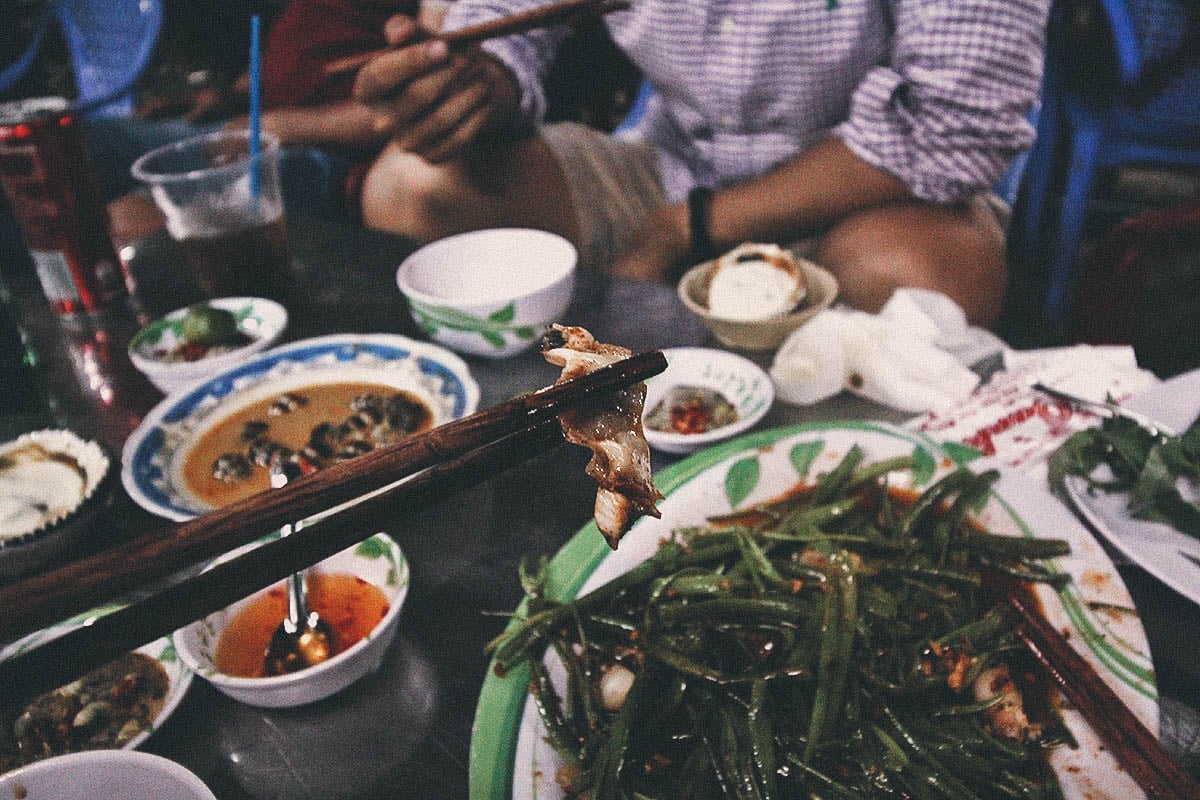 Baked scallops with green onions, peanuts, and chili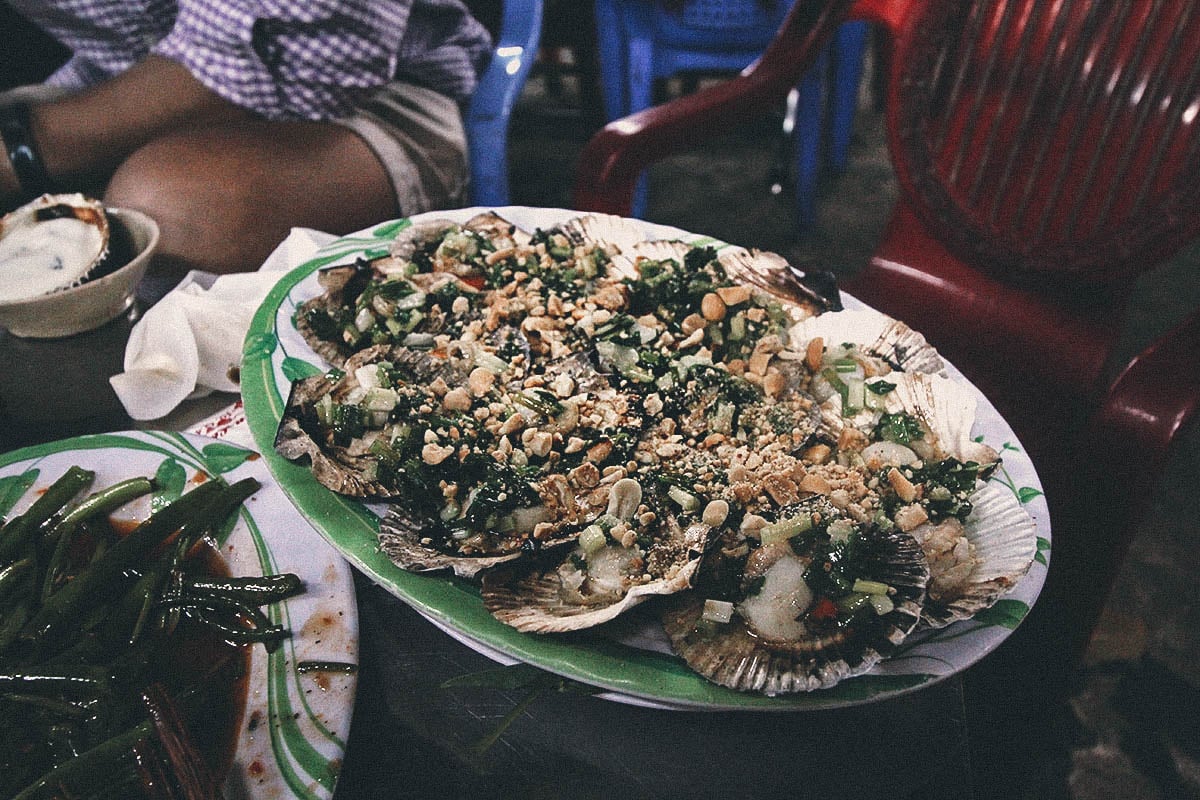 A closeup of that beautiful scallop. Ren loves asking people what their hypothetical last meal would be so it was only a matter of time before she asked Alex. Without giving it much thought, he said grilled salmon with the skin crisped and still attached. Good choice. 🙂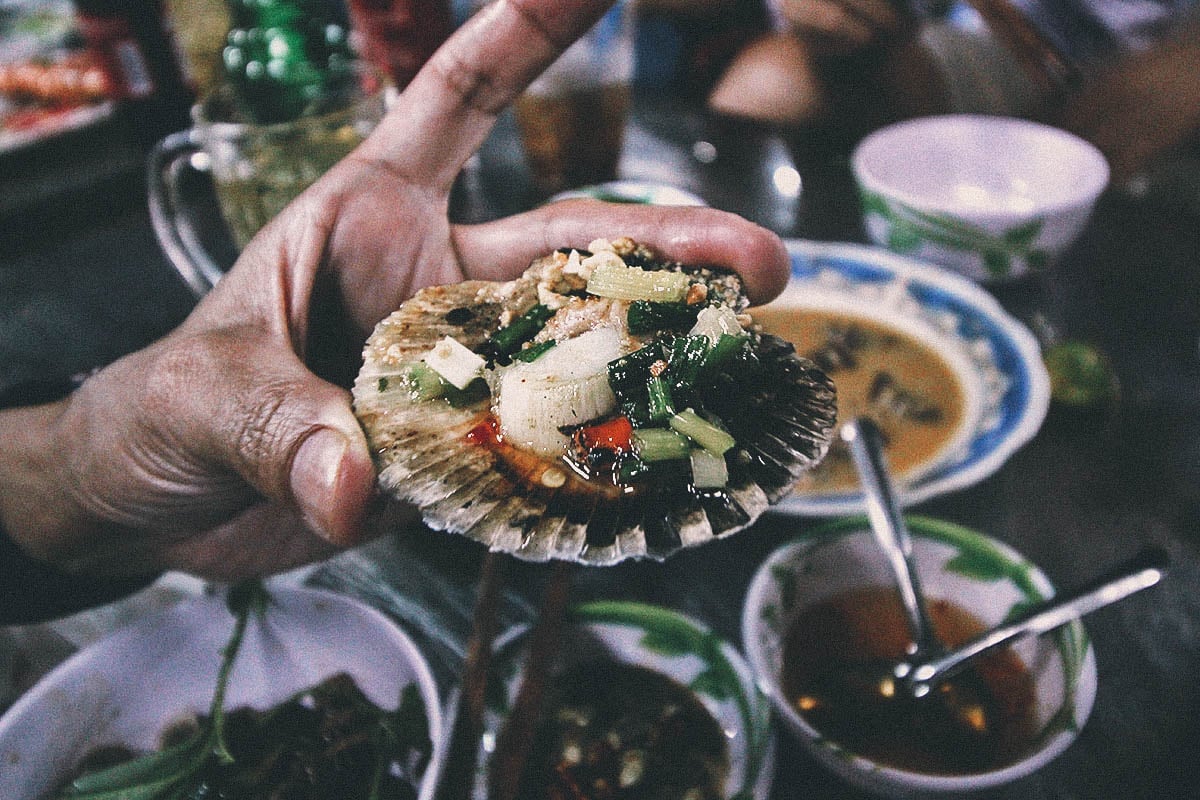 Here's a clam drenched in a cream-based sauce, like oyster motoyaki.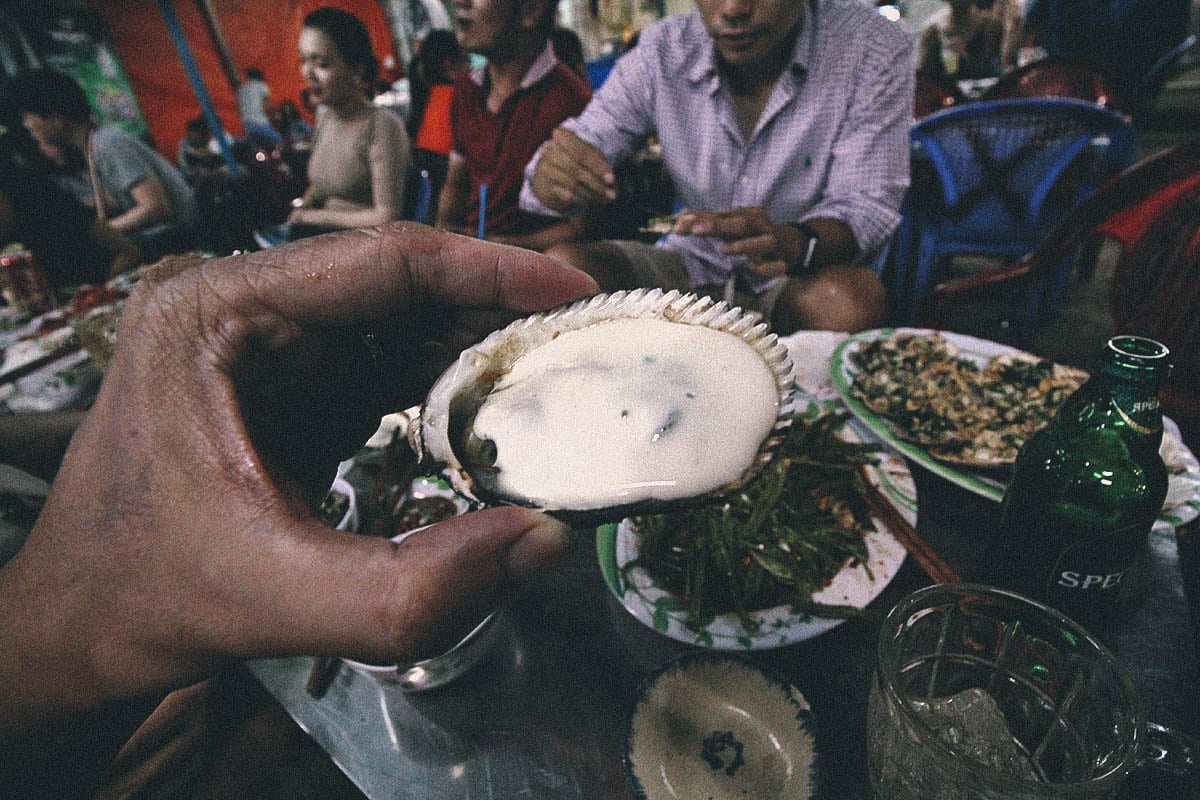 The clam was huge and super delicious!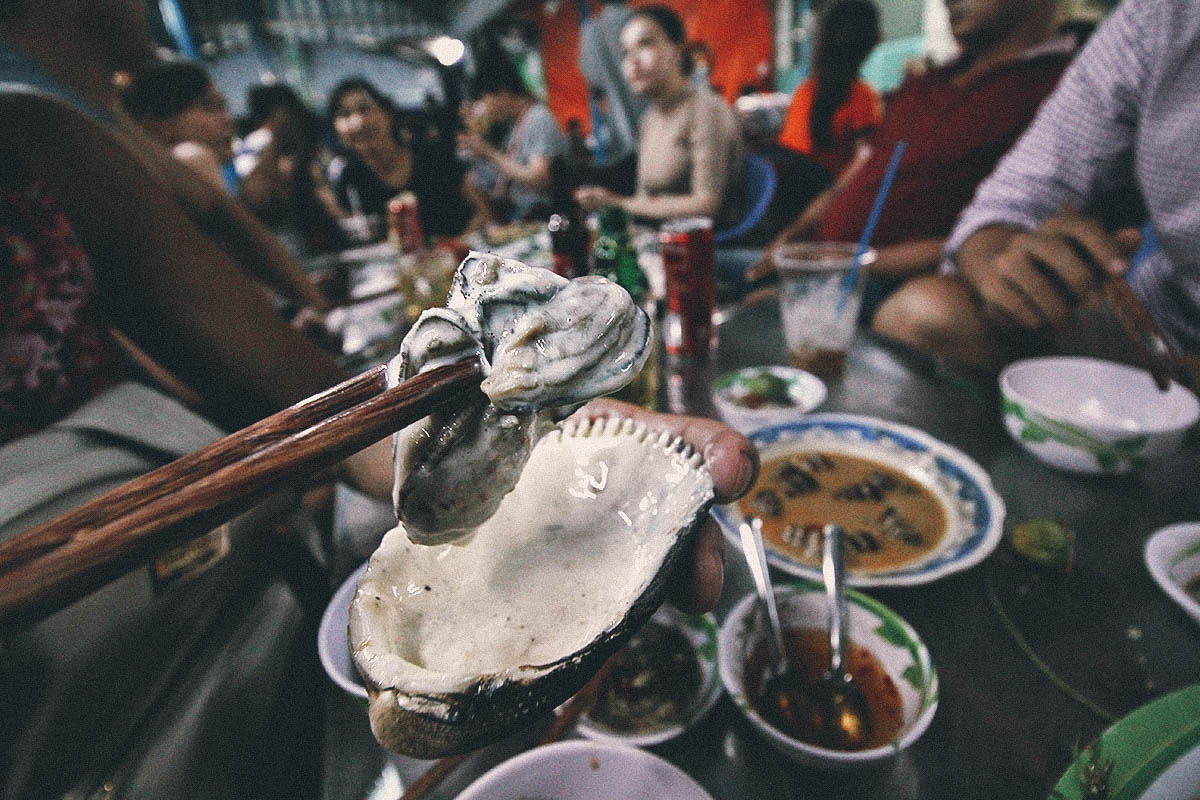 Inspitrip HQ
We were having a great time so unbeknownst to us, we had already gone past the 3-hour estimate for the tour. But before calling it a night, Alex offered to take us up to the Inspitrip office to show us one of the best views of Saigon. This was taken on their balcony from which you had unobstructed panoramic views of the city. Pretty awesome eh? Had I not been as tipsy as I was at this point, I would have remembered to take a time-lapse from here. 😆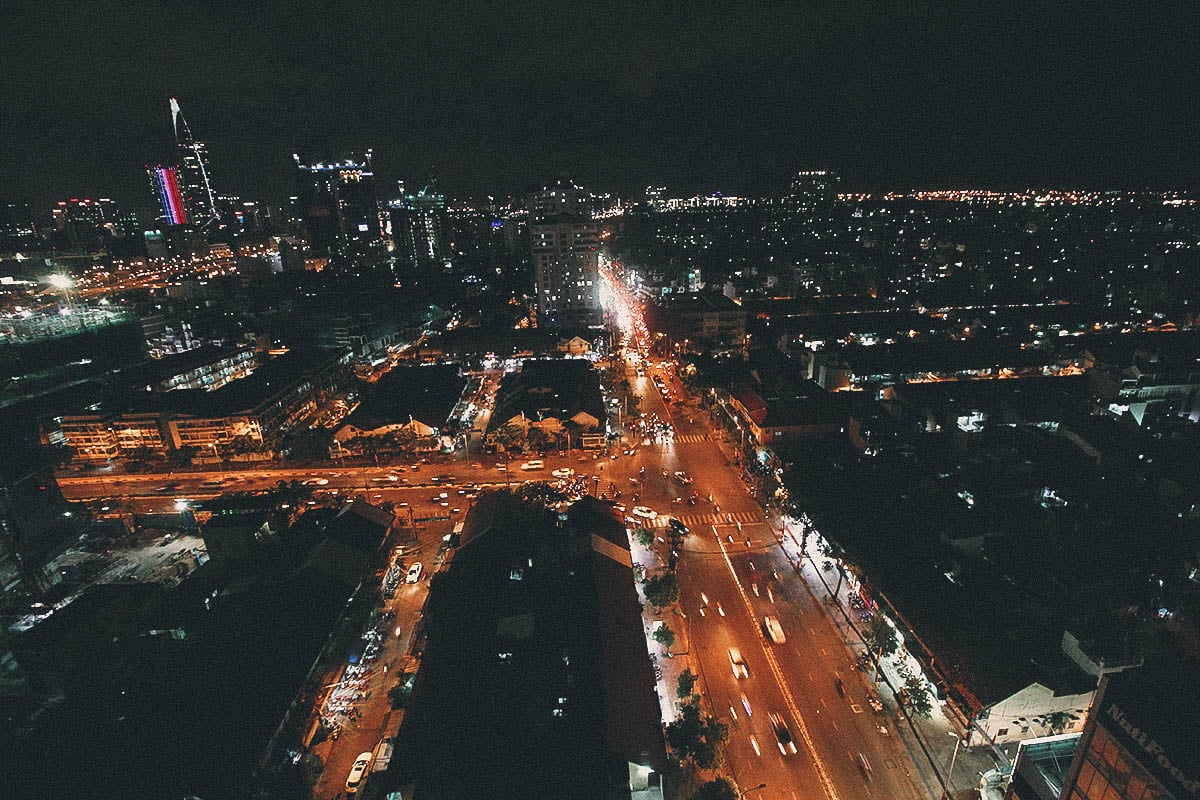 At Ốc Oanh, Alex explained to us what inspired him to start Inspitrip. Born in Vietnam, Alex grew up in Australia and worked for many years in finance. While vacationing in Vietnam, he was on a guided trek and was shocked to learn that a very small percentage of what he paid actually went to his guide. I don't remember the exact amount he said but it was something like 10% of the total tour cost. A paltry number and hardly enough compensation for the amount of work his guide had put in!
He wanted to create a marketplace that put travelers directly in contact with local tour guides. By eliminating the middle man, in this case the travel agencies, the lion's share of the tour fees would go to the tour guides as it should. And so Inspitrip was born.
One of the things that struck me most about Alex was his idealism. A soft-spoken young man, I could tell from the way he spoke and talked about the tourism industry in Vietnam that he sincerely wanted to help, and Inspitrip is his way of doing so. At present, they offer tours in Ho chi Minh City (Saigon) and Hanoi in Vietnam, as well as in Bangkok, Thailand. Inspitrip is a young company with much promise. If you're visiting any of these cities and want a more local experience, then I suggest checking out the tours on their website.
As for me, getting over my social anxiety and popping my peer-to-peer cherry seems to have gotten the ball rolling. Similar companies have contacted me since then so we'll be going on local experiences in Thailand and in our native Philippines soon. As they say, things really do happen for a reason.
Inspitrip
Website: inspitrip.com
Instagram: inspitrip
Twitter: inspitriphq
Disclosure
We were invited by Alex to go on an Inspitrip tour of Ho Chi Minh City. We didn't pay for the tour but we did split the cost of the food and drinks with Alex. As always, all thoughts and opinions expressed in this post are mine and mine alone.
For travel tips to Ho Chi Minh City, check out our First-Timer's Travel Guide to Ho Chi Minh City (Saigon), Vietnam