If you drink wine, then port tasting is one of the best things you can do in Porto. After all, port wine is one of Portugal's most famous exports, one that gets its name from the city of Porto.
There are many port wine cellars to choose from in Vila Nova de Gaia. I was hoping to find an established winery that didn't just offer tastings, but had a reputation for bottling great port as well.
Being such a popular activity, I wanted to avoid any tourist traps so I did my research and found Taylor's Port (aka Taylor Fladgate), one of the largest and oldest port wine houses in Porto.
Founded in 1692, Taylor's Port has been producing some of the best vintage port wines in Portugal for over three centuries. Clearly, this was the right place to go.
Save This on Pinterest!
No time to read this now? Click on the red save button and pin it for later!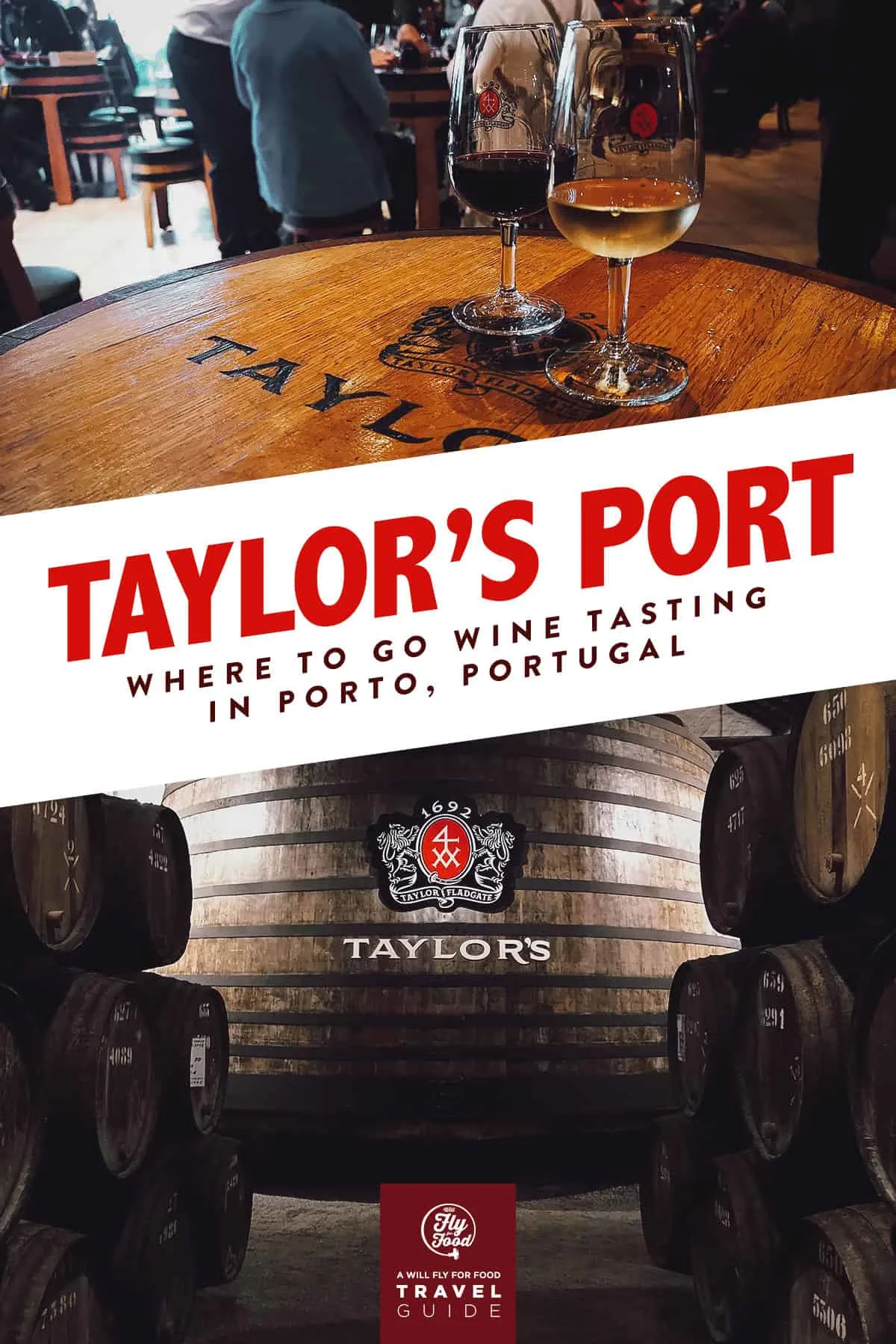 WHAT IS PORT WINE?
Port wine, also known as vinho do Porto, is a Portuguese fortified wine produced exclusively from grapes grown in the Douro Valley in northern Portugal. It's made by adding brandy to the wine as it ferments, giving it its characteristic sweetness.
Port is typically made from red grapes though it does come in white varieties as well. It's traditionally served with cheese at the end of Portuguese meals as a dessert wine, though some styles – like white port – can also be enjoyed as an aperitif.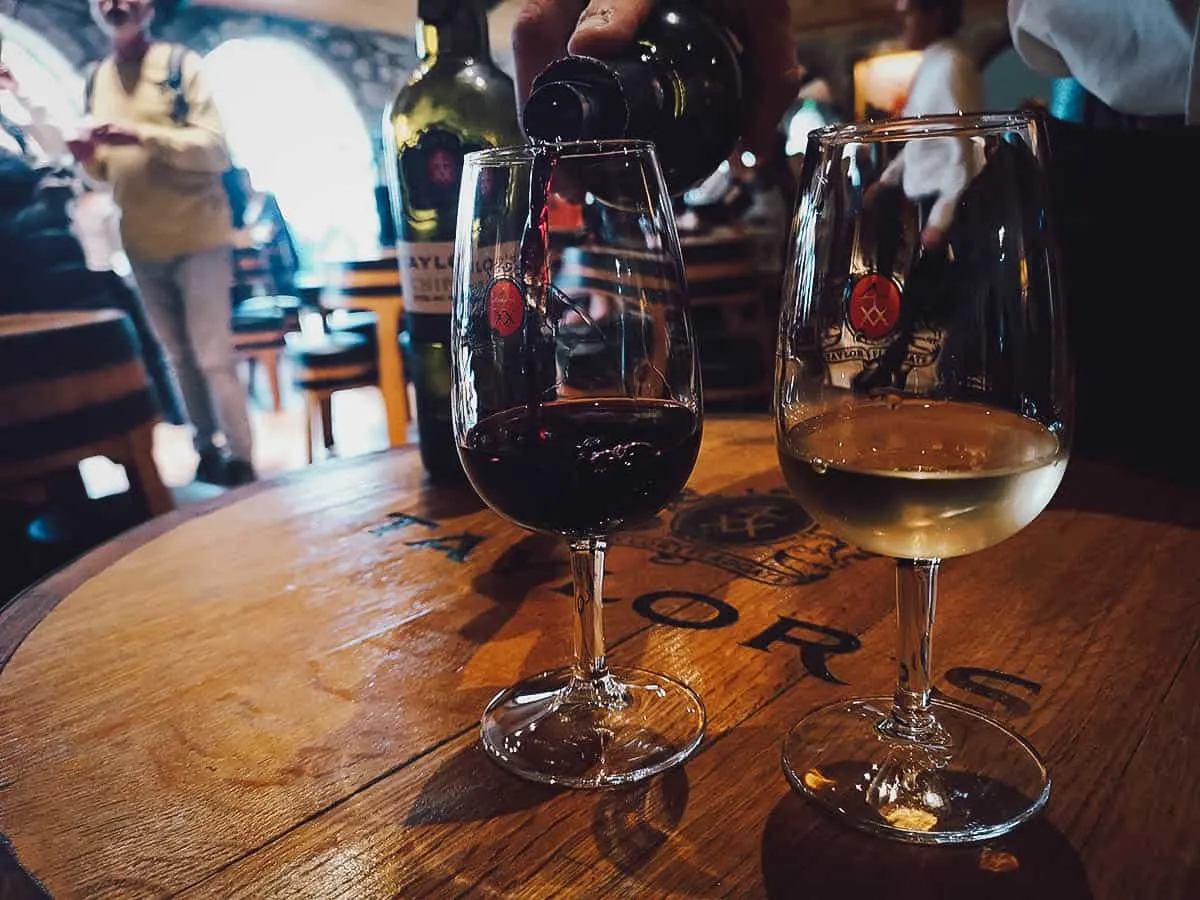 Though similar styles of wine are produced in other parts of the world, wines need to be produced in Portugal from grapes grown in the Douro Valley to be labeled as "port". This is due to the EU's Protected Designation of Origin (PDO) guidelines.
The Douro Valley is a protected region with the name "Douro" being an official appellation, so any wines labeled as "port" but produced outside of this region are not true port wines.
HOW IS PORT PRODUCED?
Port is made from about thirty varieties of grape native to the Douro Valley. The best known varieties include Touriga Francesa, Touriga Nacional, and Tinta Roriz, most of which produce small thick-skinned berries. They're harvested by hand around mid-September and taken to the winery for crushing.
After being inspected and de-stemmed, the grapes are placed in granite treading tanks known as "lagares" where they're trodden by foot. The grapes are thoroughly crushed before the fermentation process begins.
When about half of the grape juice's natural sugars have been turned into alcohol, brandy is poured into the wine to begin the fortification process. About 115 liters of 77% alcohol brandy is added to 435 liters of fermenting wine.
The fermentation process is stopped before all the juice has been turned into alcohol, thereby preserving some of the natural sweetness of the grape. This is what gives port its distinctive sweetness.
Wine is kept at the winery in the Douro Valley for several months before being shipped to Porto's Vila Nova de Gaia in the spring of the following year. It used to be shipped on the Douro River on special boats called "barcos rabelos", but all shipments are now done over land.
Although port wine is produced in the Douro Valley, it gets its name from Porto because this is where the wine is aged in casks or vats before being blended, bottled, and exported.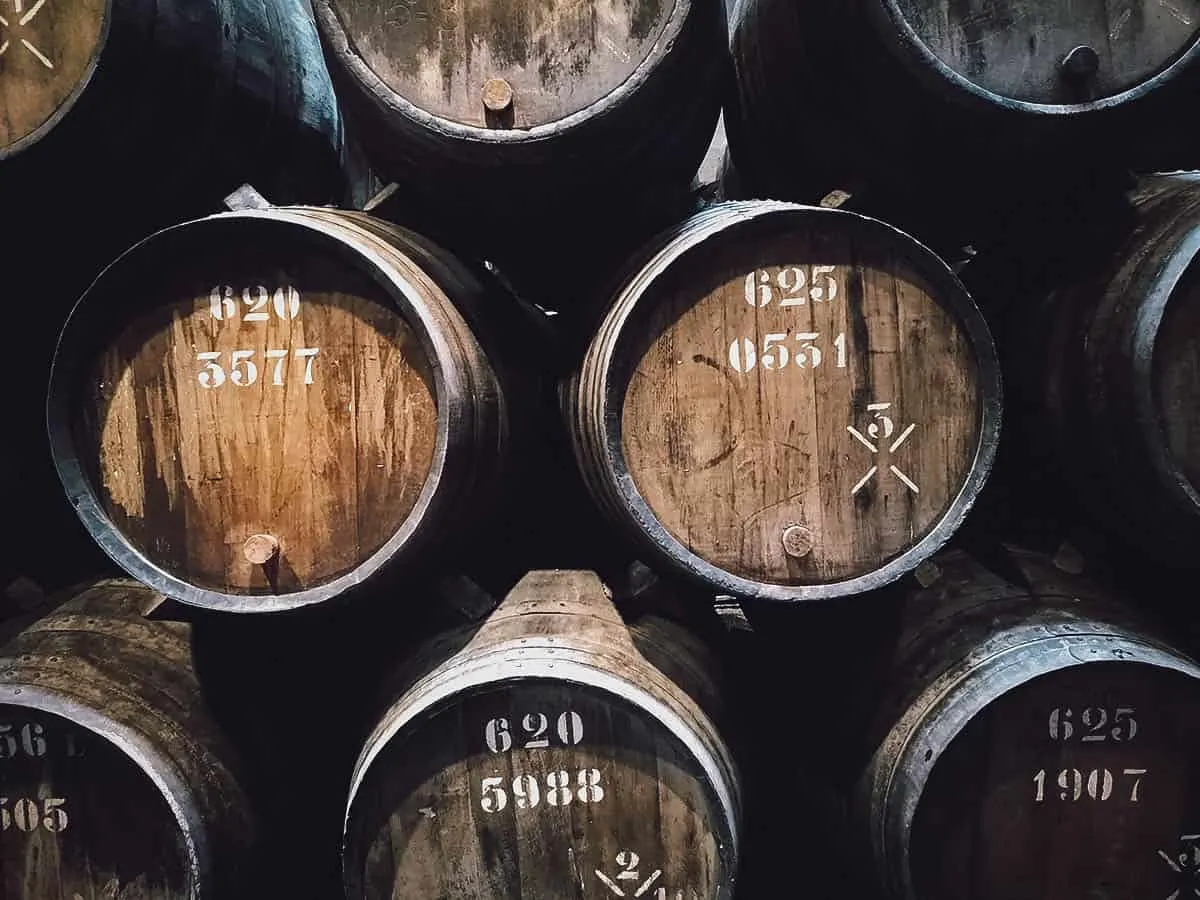 AGEING & STYLES OF PORT
Because of its ageing potential, there are many different styles of port. Port aged in wooden casks for example, will mature more rapidly than port kept in bottles.
When left long enough, port wine loses its deep red color and becomes the amber-hued style of port known as tawny. All port wine will eventually lose its color but the speed in which it does so is determined by how its aged.
Depending on the ageing process, port can be classified into two basic types – wood-aged port and bottle-aged port. There are three styles of wood-aged port – red, tawny, and white – and two styles of bottle-aged port – vintage and crusted.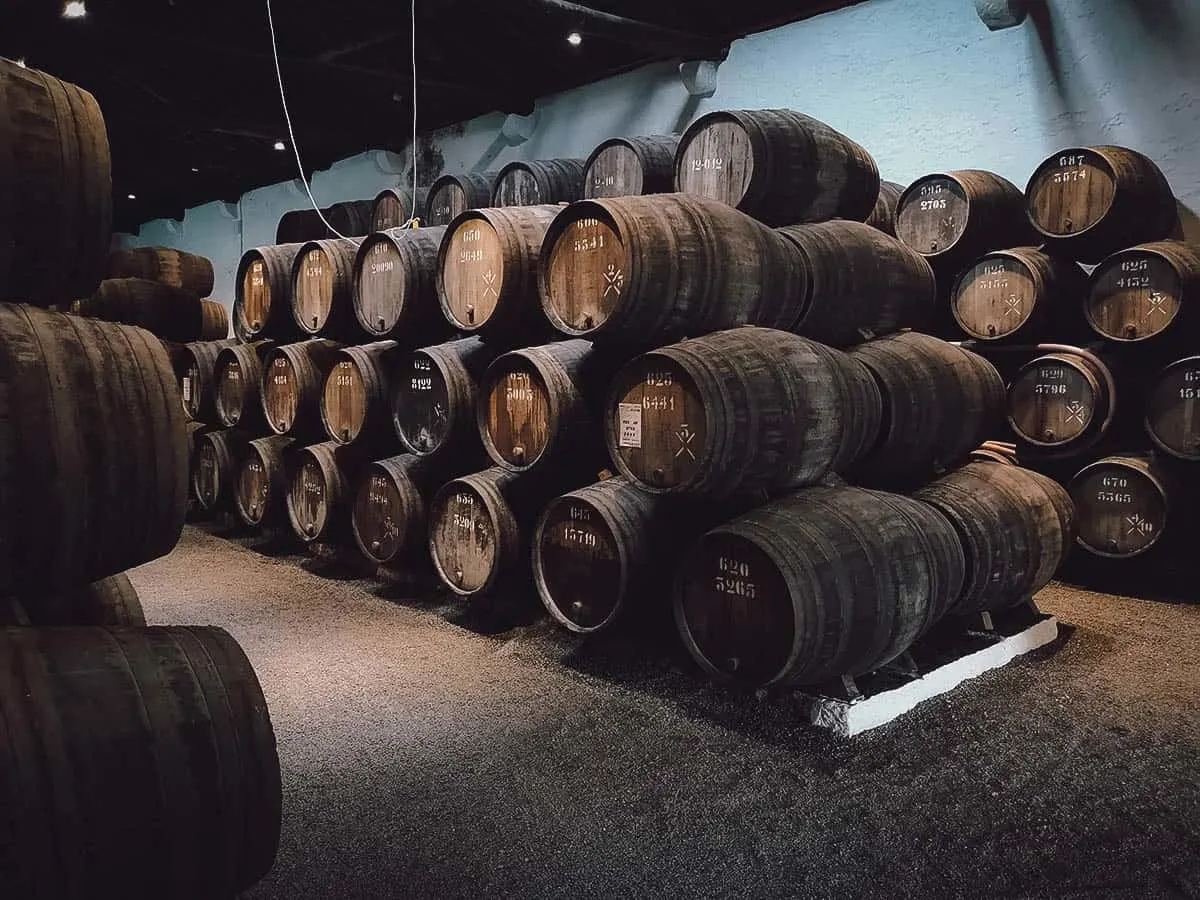 Wood-aged Port
RED PORT – Full-bodied and fruity, red port is aged for a relatively short amount of time in large oak vats. This includes ruby port (aged for 2-3 years), reserve port (aged for slightly longer), and late bottled vintage port (aged 4-6 years).
TAWNY PORT – Tawny port is aged for longer periods in oak casks, anywhere between 10-40+ years.
WHITE PORT – Made from white grapes, white port is typically aged for 2-3 years in large vats and is available in sweet or dry varieties.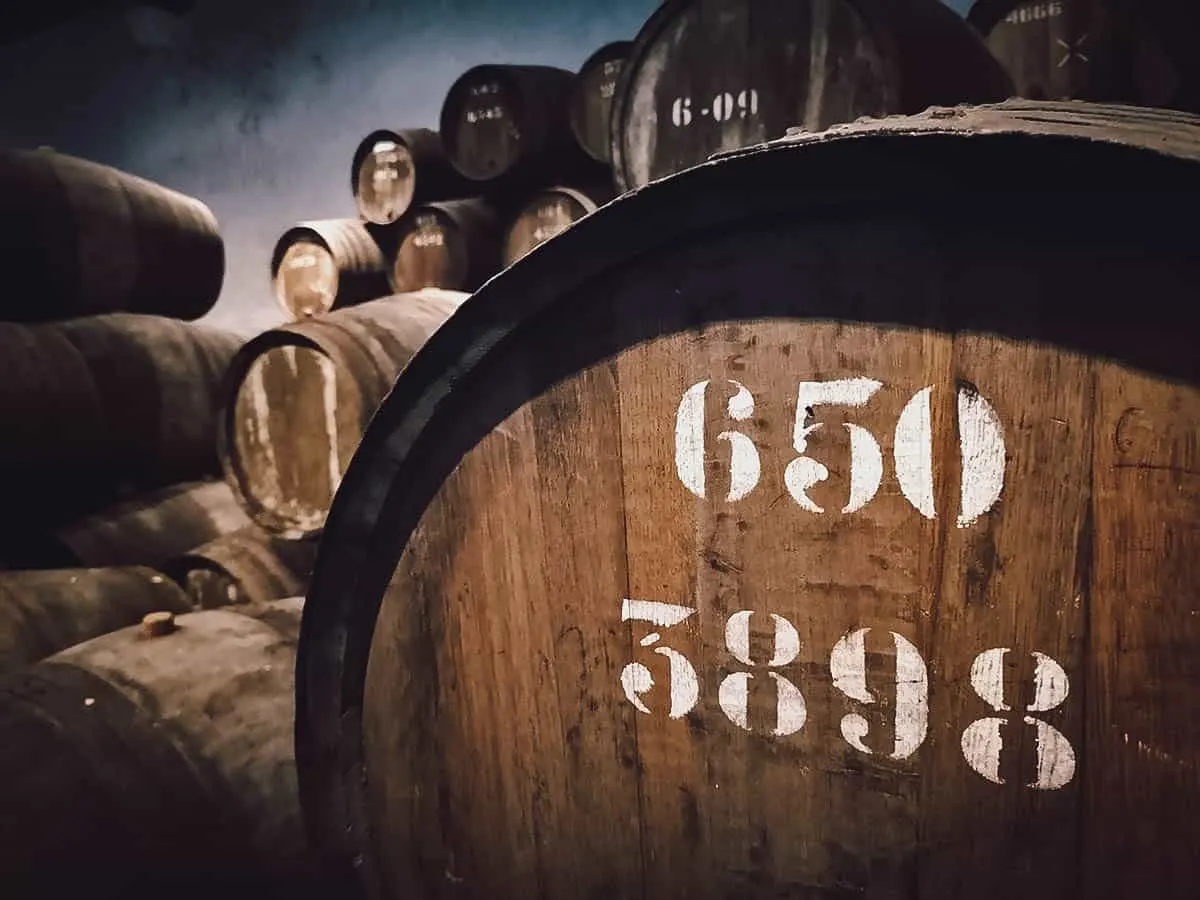 Bottle-aged Port
VINTAGE PORT – The best wine produced in a season is labeled vintage port. It's unfiltered and aged in vats for only about two years before being bottled. Vintage port will mature and improve with age for decades and is considered one of the most long-lasting of all wines.
CRUSTED PORT – Crusted port refers to port made from wines from different seasons. It's unfiltered and left to age in bottles, eventually forming a natural sediment or "crust" over time.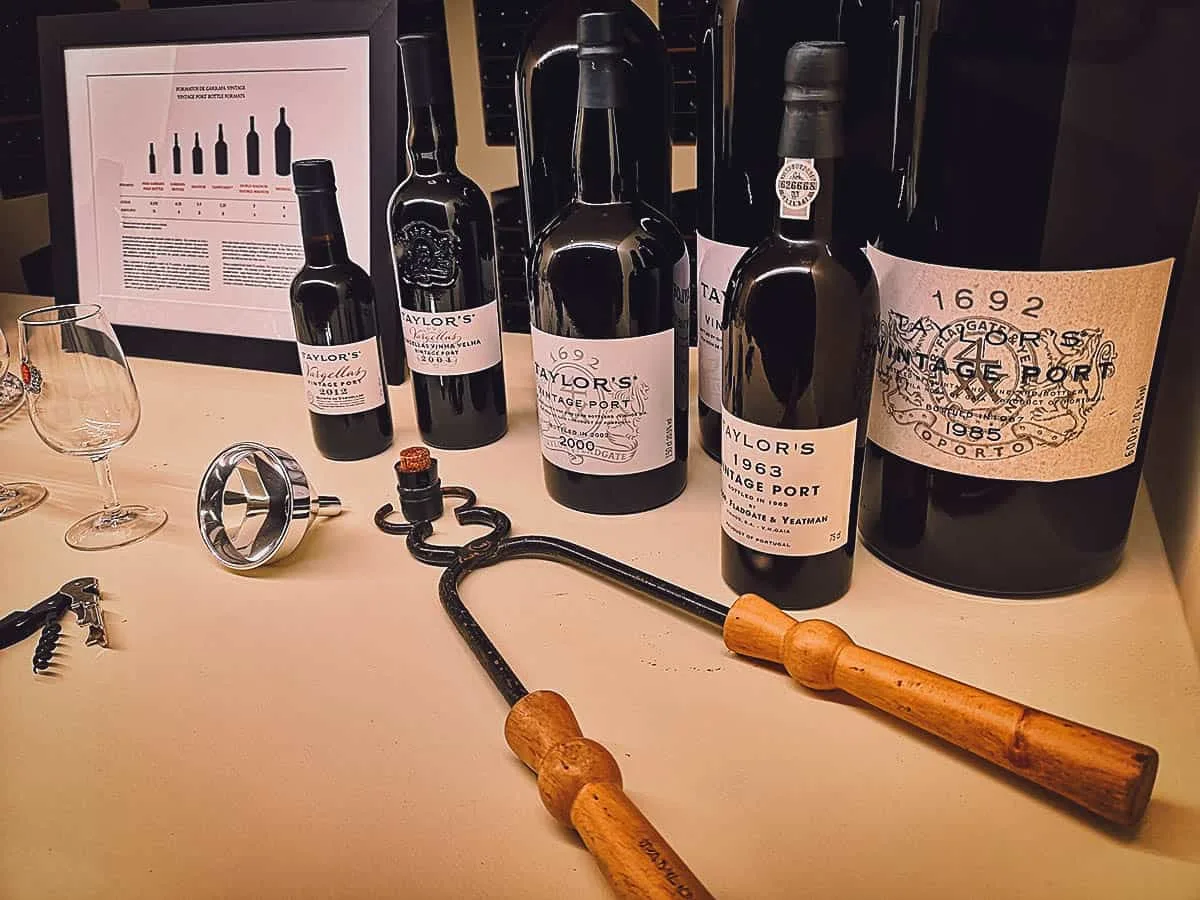 TAYLOR'S PORT AUDIO TOUR
As described, there are many port houses you can choose from in Vila Nova de Gaia but I went with Taylor's Port because it's one of the oldest and largest. It's also one of the highest-rated. Taylor's Port is a TripAdvisor Certificate of Excellence awardee with a 4.5-star rating and over 2,750 reviews.
Another reason I chose Taylor's Port is because of their self-guided audio tours. For EUR 15, you can tour the facilities with an audio guide (available in twelve languages) at your own pace. There's no schedule so you can come at any time, and it includes two port tastings.
You can purchase tickets at the gate, which is what I did, or buy them in advance online. You can also arrange for private tours via their website.
The Taylor's Port winery is situated on a hill in Vila Nova de Gaia so it isn't as easy to get to. It's quite a walk from Dom Luis I Bridge so I suggest plotting your trip using Google Maps. Just input your starting point for directions on how to get there using public transportation.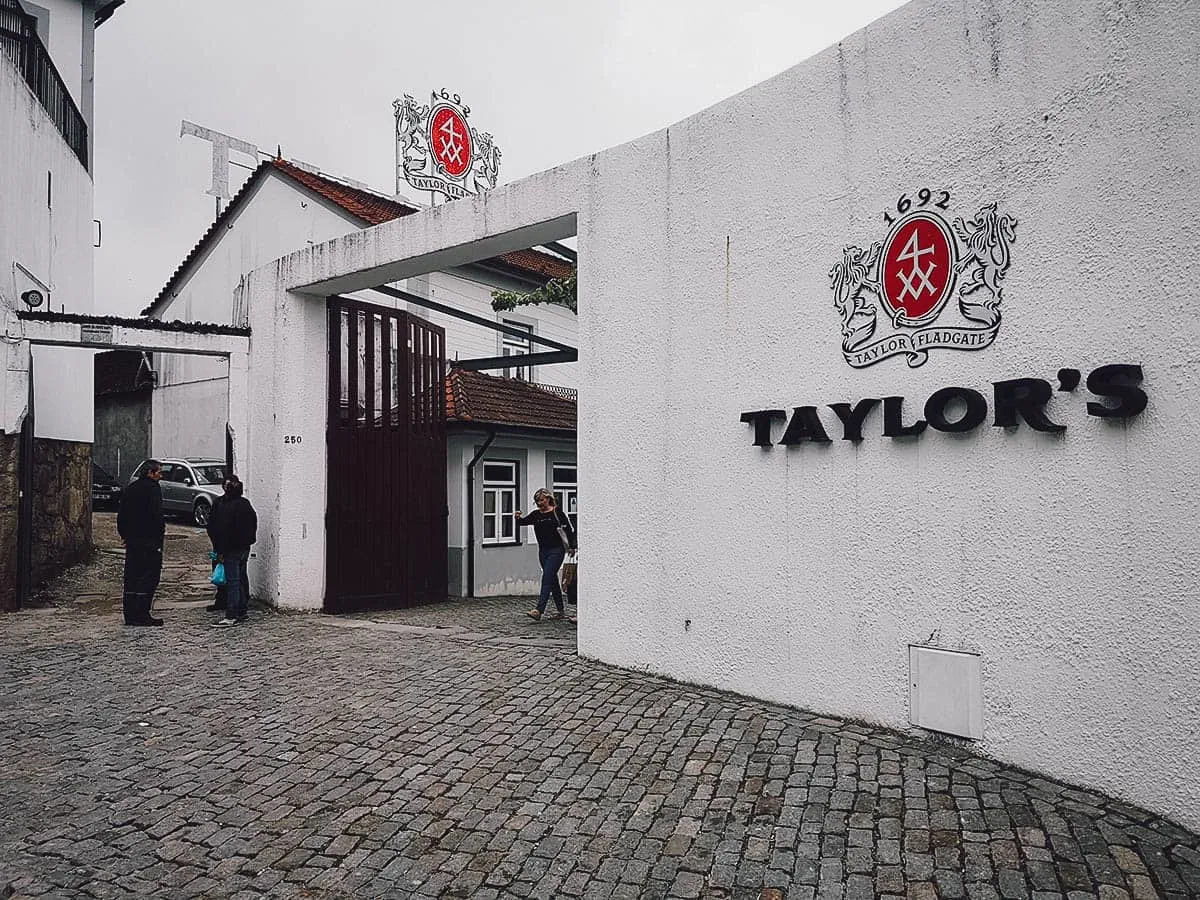 After paying for the tour, you'll be given an audio guide and led to this large port wine cellar. The first half of the tour happens here and the second half in a museum-type space with a few exhibits. This for me was the more fascinating part.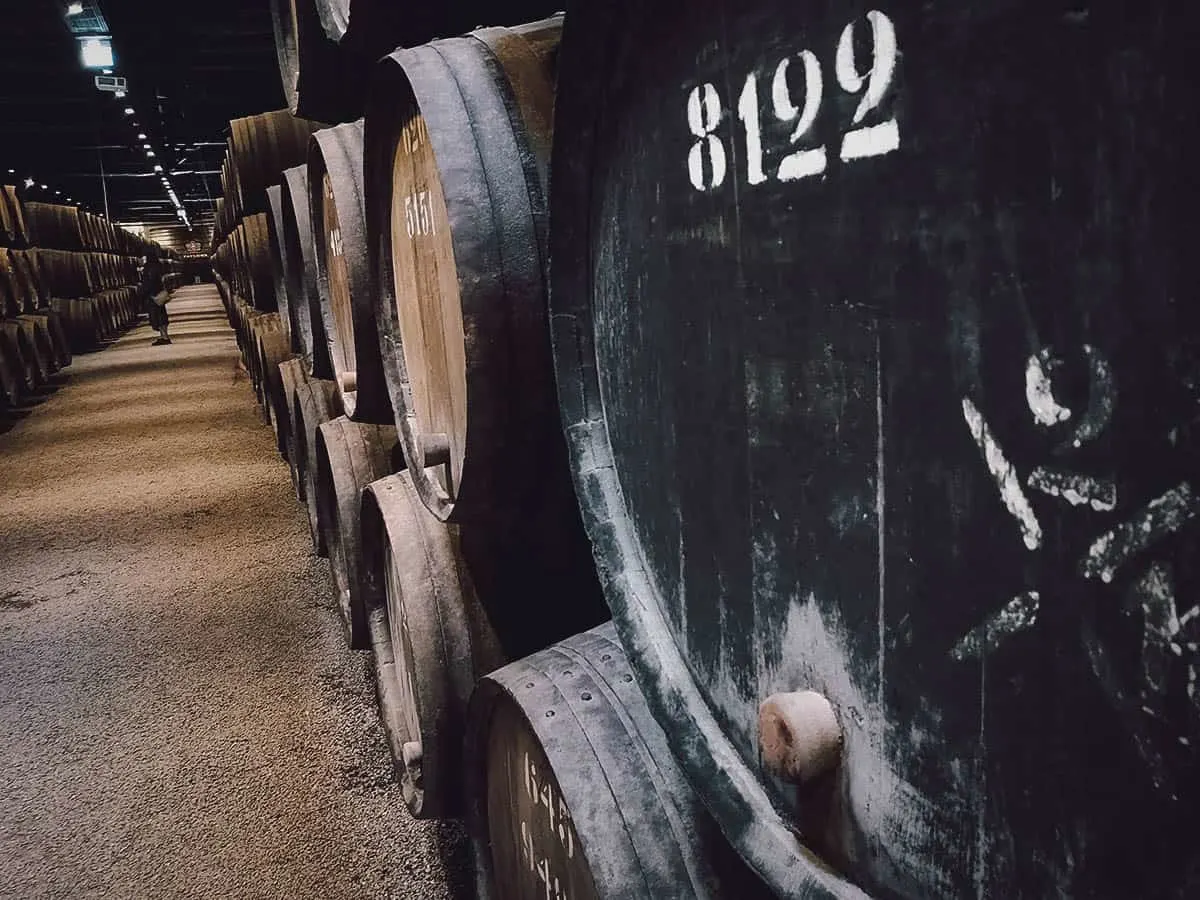 At one end of the cellar is this gigantic oak vat. If I remember the audio guide correctly, it's the largest vat they have at the port house.
You can have your picture taken in front of this vat using an automated camera system. Just key in your email address on a touch screen monitor and the picture will arrive in your inbox within minutes.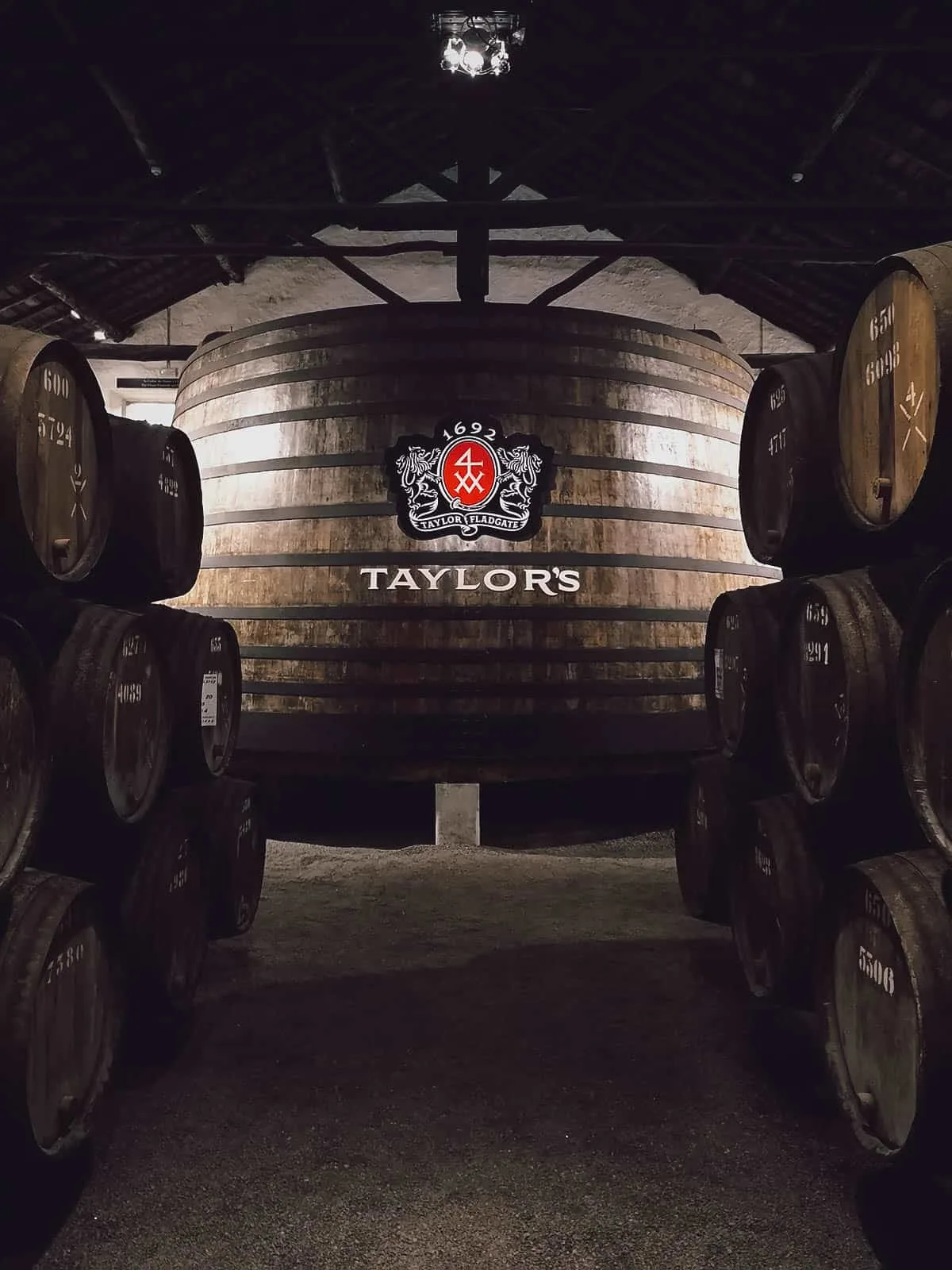 The "angel's share". I've heard that phrase before but it wasn't until this tour that I learned what it meant. The angels's share refers to the portion of wine that naturally evaporates during the ageing process.
During the first few years, the amount of wine that evaporates can be as much as 2%. The portion that doesn't evaporate – aromatic compounds, sugars, and acids – becomes more concentrated over time and gives the wine its unique character.
After decades of evaporation, the tiled roofs of port houses are often blackened by a sooty growth known as "angel's share fungus".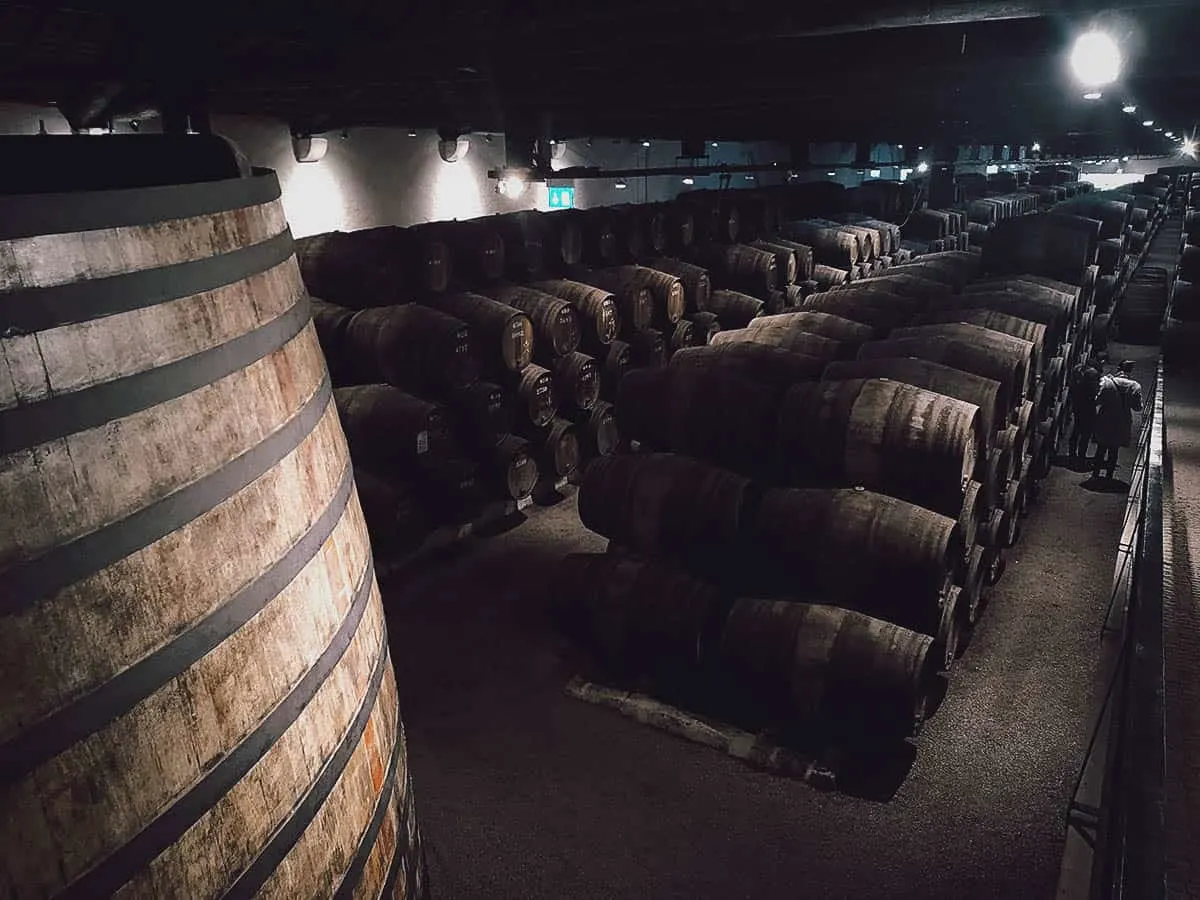 How keen is your sense of smell? Each of those barrels against the wall has a hole where you can stick your nose to try and identify what you're smelling. Port aroma ranges from fruity and berry-like to leathery and nutty.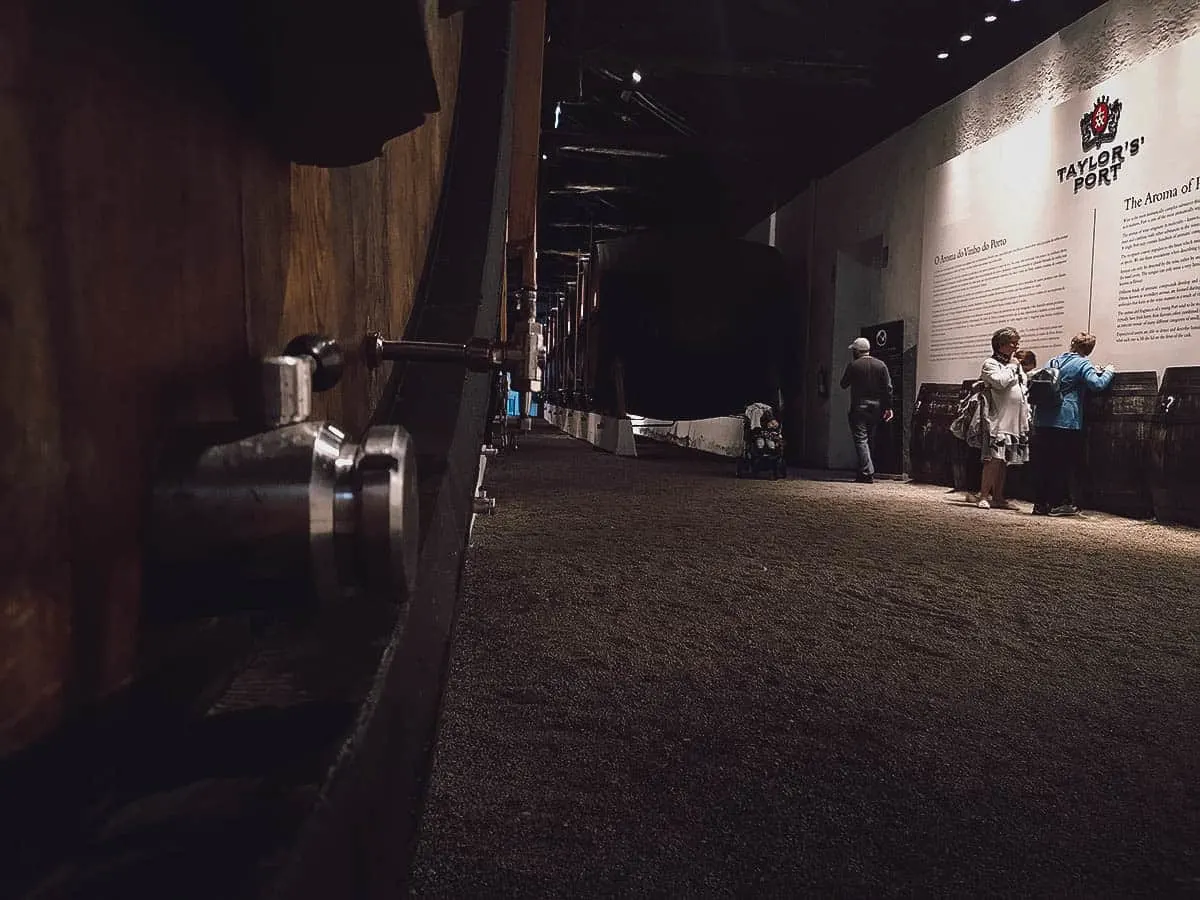 PORT WINE TASTING
When you're done with the tour, you can proceed to the wine tasting room. You get two port tastings with your tour, one red and one white. The red port is a Late Bottled Vintage (LBV) while the white port is a Chip Dry – Extra Dry White.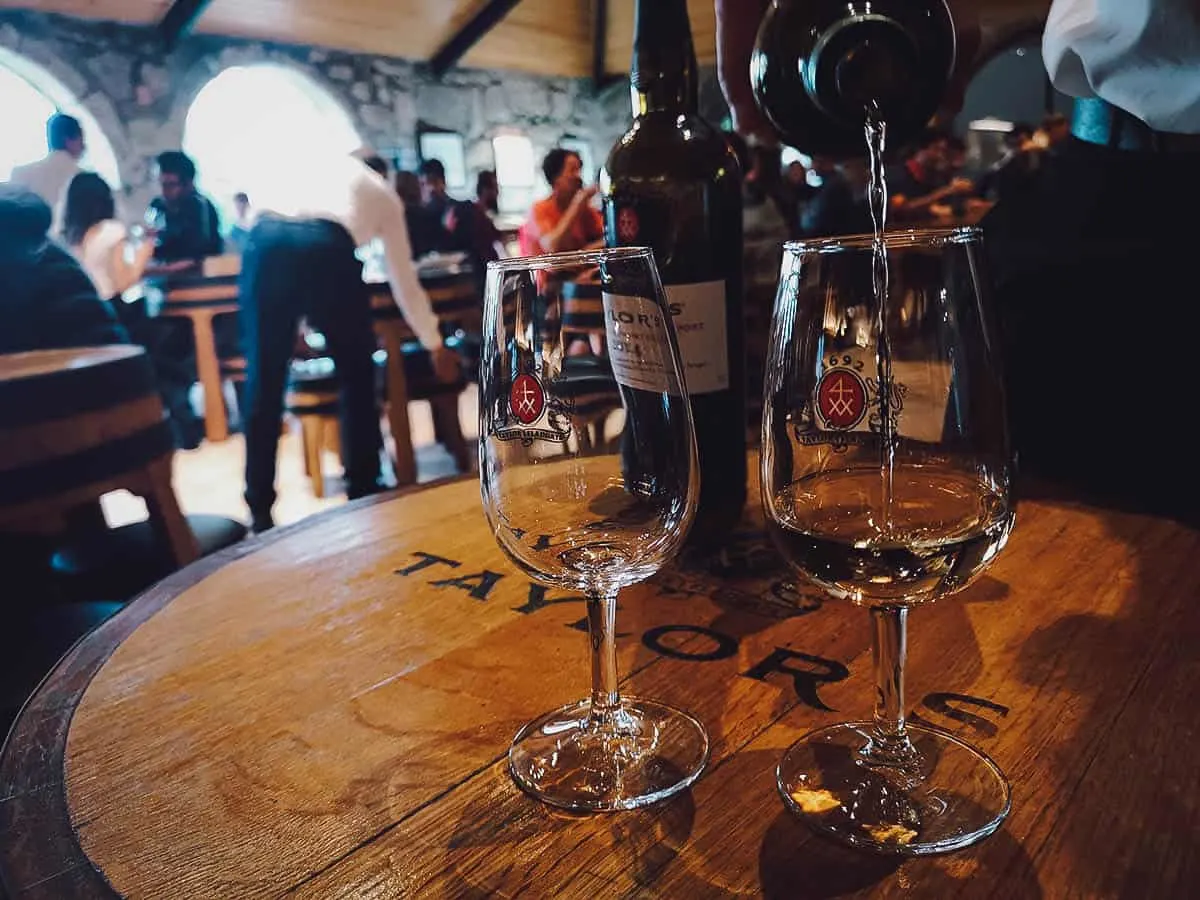 I'm not an expert on wine so I'm not going to attempt to describe how they tasted, but I enjoyed them both. If I'm looking at the right bottles on Vivino, the Late Bottled Vintage has a rating of 4.0 (out of 5) while the Chip Dry White is lower at 3.5.
If you've never had port before, it's much sweeter than red wine. It tastes rich and sweet, almost berry-like or caramel-y in flavor.
It doesn't come with your tastings but you can order ala carte off the menu to pair with your port. Bread and cheese go very well with port as it helps cut the wine's sweetness.
I didn't take a picture of it but there's a shop right next to this tasting room where you can buy souvenirs and bottles of port. I brought home this handsome 20-yr old tawny which has an impressive 4.3-rating on Vivino.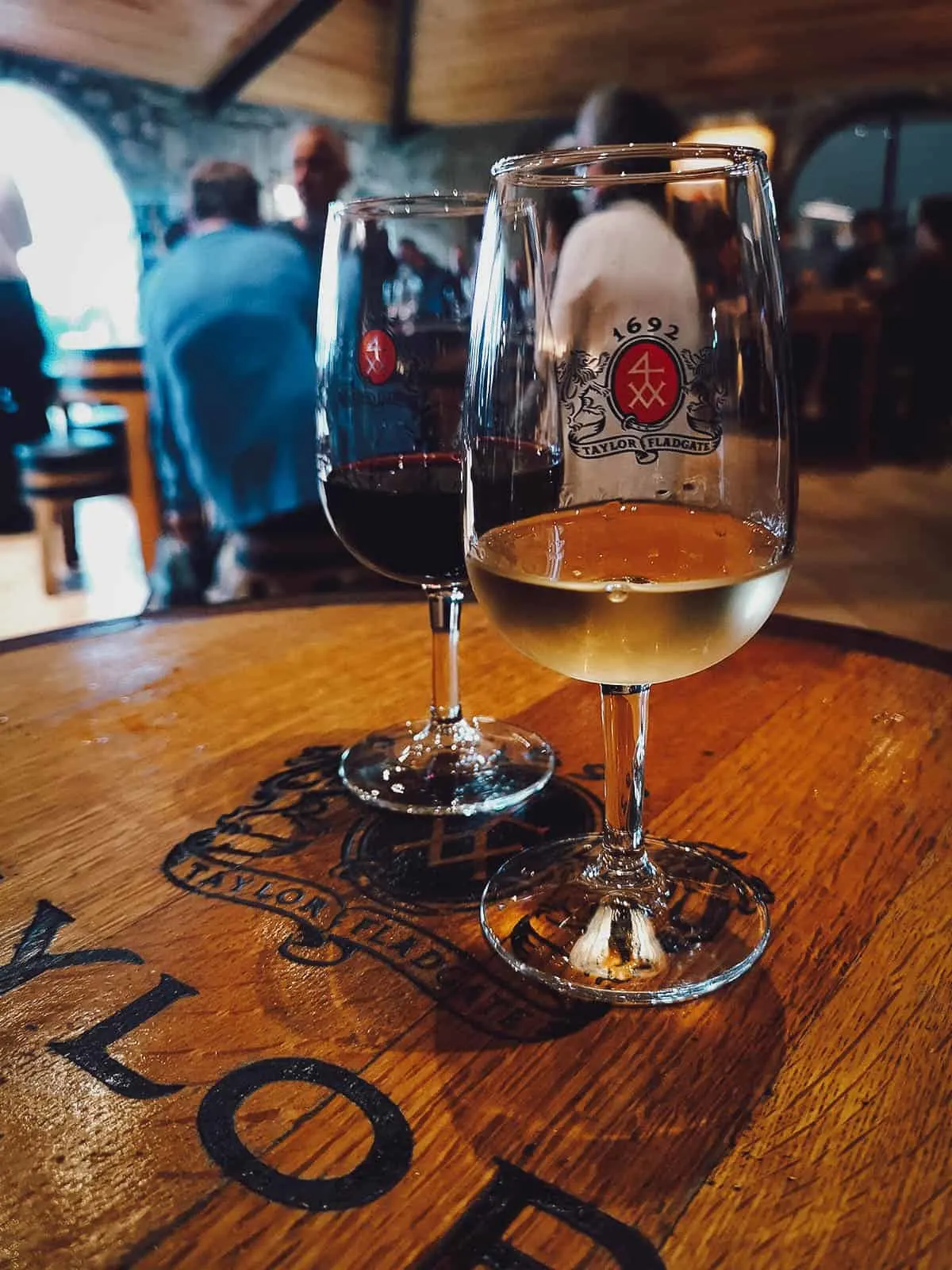 FINAL THOUGHTS
With port wine being one of Portugal's most well-known exports, I think port tasting is something you need to do in Porto. But you shouldn't go to just any port house, lest you don't mind walking into a tourist trap.
We were in Porto with friends and they had their own port tasting experience. It was part of a hop on hop off sightseeing tour and they were taken to a place that claimed to be the oldest port house in Porto.
I knew right away it was bullshit when they told me the date. It was sometime in the mid-1700s. How can that place claim to be the oldest when Taylor's Port was established in 1692?
I'm sure there are snake oil salesmen in Vila Nova de Gaia so if you want to have an authentic port tasting experience, one at an established and respected winery, then Taylor's Port is definitely one to consider.
The fact that they have a bottle on virtually every "best port wine" list pretty much speaks for itself.
Taylor's Port
Rua do Choupelo 250, 4400-088 Vila Nova de Gaia, Portugal (map)
Website: taylor.pt
Operating Hours: 10AM-6PM, daily (cellars) / 10AM-7:30PM (tasting room and shop)
Disclosure
The TripAdvisor link in this guide is an affiliate link, meaning we'll earn a small commission if you make a booking at no extra cost to you. We only recommend products and services that we use ourselves and firmly believe in. We really appreciate your support as it helps us make more of these free travel guides. Thank you!