Lisbon was the last stop on our 5-week trip through Europe. It was the stop I was most excited about, mainly for three delicious reasons – Cervejaria Ramiro, Ponto Final, and Time Out Market.
Time Out Market Lisbon is a modern Portuguese food hall located in the historic Mercado da Ribeira in Cais do Sodre.
We enjoyed this food market so much we wound up going back three times on our trip. Popular amongst locals and tourists alike, it's a must-visit for every first-time traveler to the city.
Housed under this landmark building's roof are over two dozen restaurant stalls representing some of the country's top chefs. If you travel for food like we do, then you're going to love what you'll find here.
Time Out Market Lisbon has been carefully curated so you can't go wrong with any of the stalls there, but listed below are the six we visited on our three trips.
LISBON FOOD TOURS
To help you plan your trip to Lisbon, we've compiled links to top-rated hotels, tours, and ther travel-related services here.
HOTELS
Recommended hotels in Baixa/Chiado, one of the best areas to stay for people visiting Lisbon for the first time.
TOURS
OTHER SERVICES
LISBON TRAVEL GUIDE
If you're visiting Lisbon for the first time, then be sure to check out our detailed Lisbon travel guide. It'll have all the information you need – like when to go, where to stay, which restuarants to visit, etc. – to help you plan your trip.
Save This on Pinterest!
No time now to read this article on Lisbon's Time Out Market? Click on the save button and pin it for later!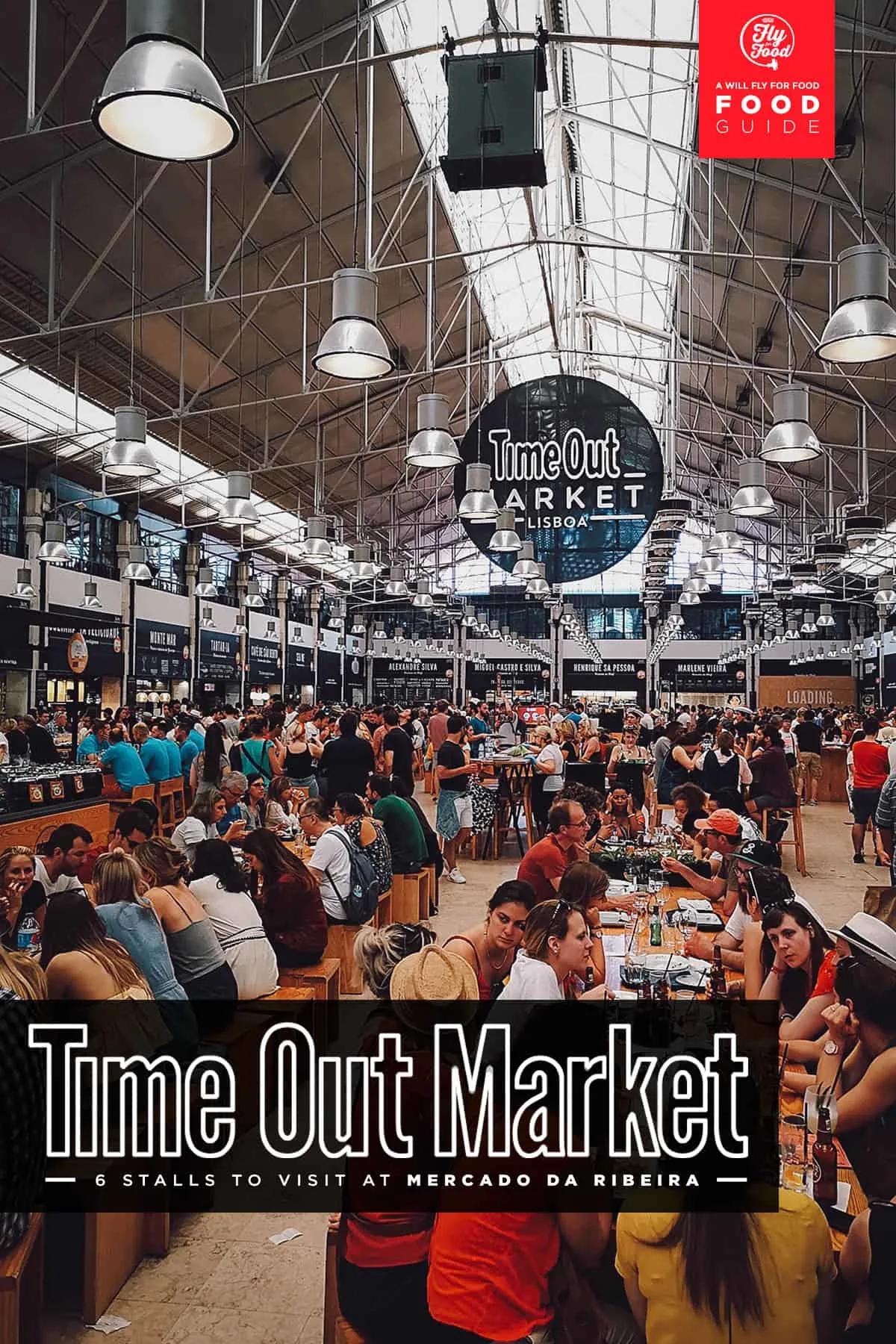 WHAT IS TIME OUT MARKET LISBON?
Time Out Market is a Lisbon food market located inside the historic Mercado da Ribeira, a traditional market hall built in the 1890s in Lisbon's now trendy Cais do Sodre waterfront district.
Opened in 2014, Time Out Market Lisbon is the first of several planned food halls by the Time Out Group, a global media and entertainment company best known for their Time Out city guides.
The market presently houses over four dozen bars, restaurants, and shops representing some of the best Lisbon food experiences in the city.
A few of the stalls are run by top chefs from different parts of Portugal, some of the most notable being Michelin-starred chefs Alexandre Silva and Henrique Sá Pessoa, and northern-born chefs Marlene Vieira and Miguel Castro e Silva.
What they've basically done is taken some of the city's best food experiences – like their best steak, best burgers, best pastel de nata, and best conservas – and put them all conveniently under one roof.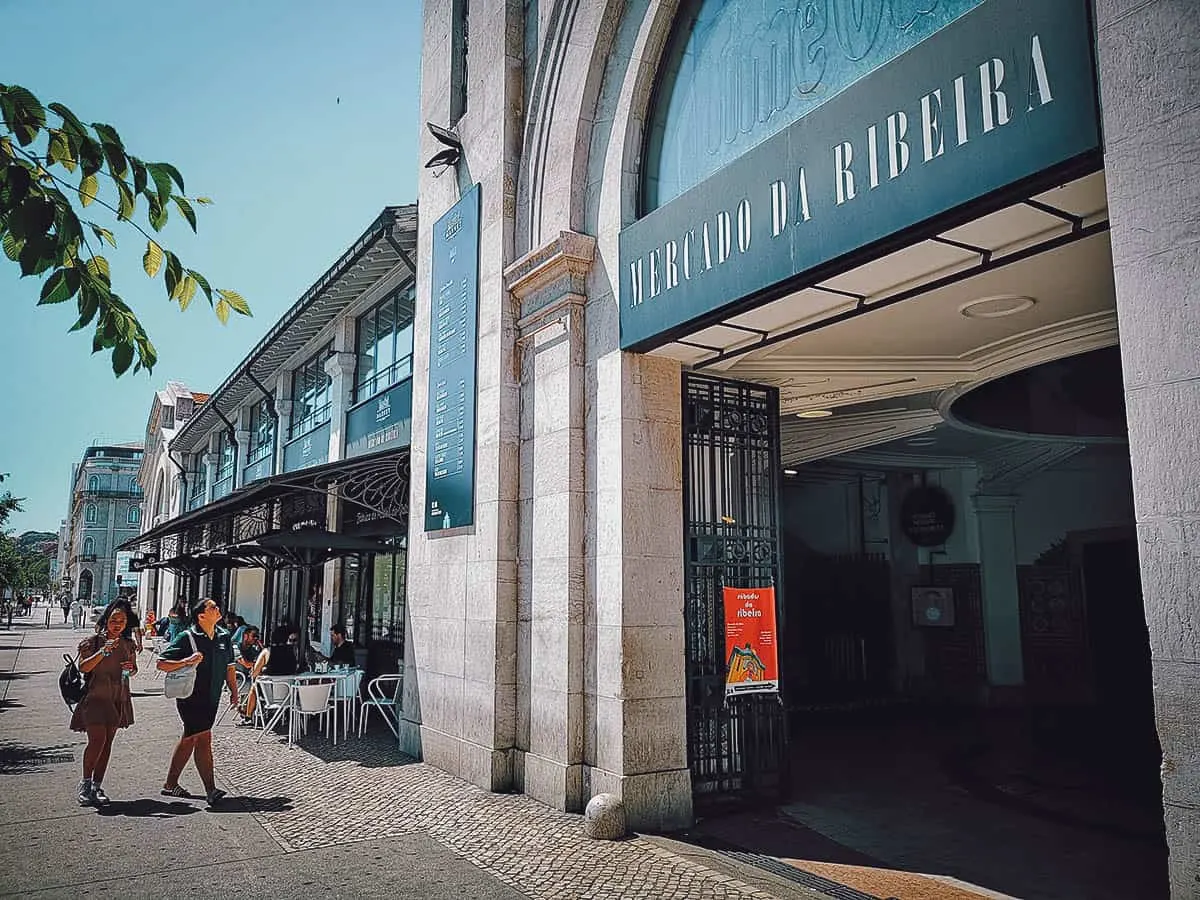 As you can tell from the picture below, Time Out Market Lisbon is a roaring success. It was packed with people the three times we were there.
It takes up just half the space with the other half still being occupied by traditional market stalls selling fresh produce like fish, fruit, and vegetables.
In 2019, the Time Out Group opened markets in New York, Miami, and Boston, and will be opening a few more in the coming years.
Targeted cities include Chicago, Montreal, Dubai, London, and Prague. You can check the Time Out website for updates.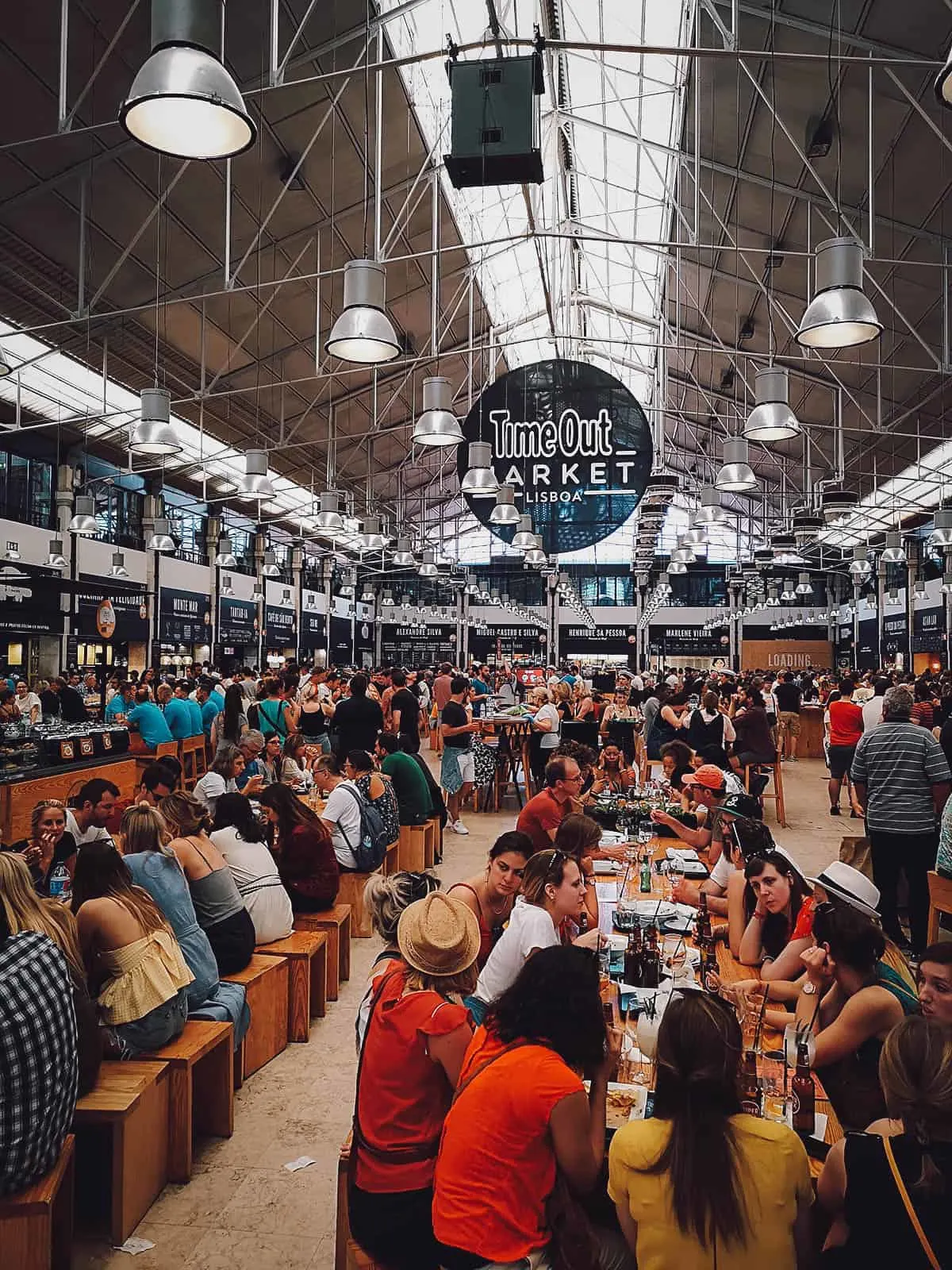 Time Out Market Lisbon
Address: Mercado da Ribeira, Av. 24 de Julho 49, 1200-479 Lisboa, Portugal
Operating Hours: 10AM-12MN, daily
Hot to Get There: Take the metro to Cais do Sodre station. Time Out Market will be across the street.
MUST-VISIT STALLS AT TIME OUT MARKET
It's fun to go to a food market and just let your instincts lead you. The wealth of choices is part of the appeal and not knowing where you'll wind up is half the fun.
However, we had limited time in Lisbon so I needed to know exactly where to go. What better resource to learn which dishes to try at Time Out Market than Time Out Lisbon?
Most of the dishes we ordered were recommended in their list of 21 dishes to try at Time Out Market Lisbon.
1. Miguel Castro e Silva
Miguel Castro e Silva is a Porto-born chef who according to his bio, is the chef behind the most famous restaurant ever in Porto – Bull & Bear.
Being from northern Portugal, I read that he makes a mean francesinha but we were here to try something else.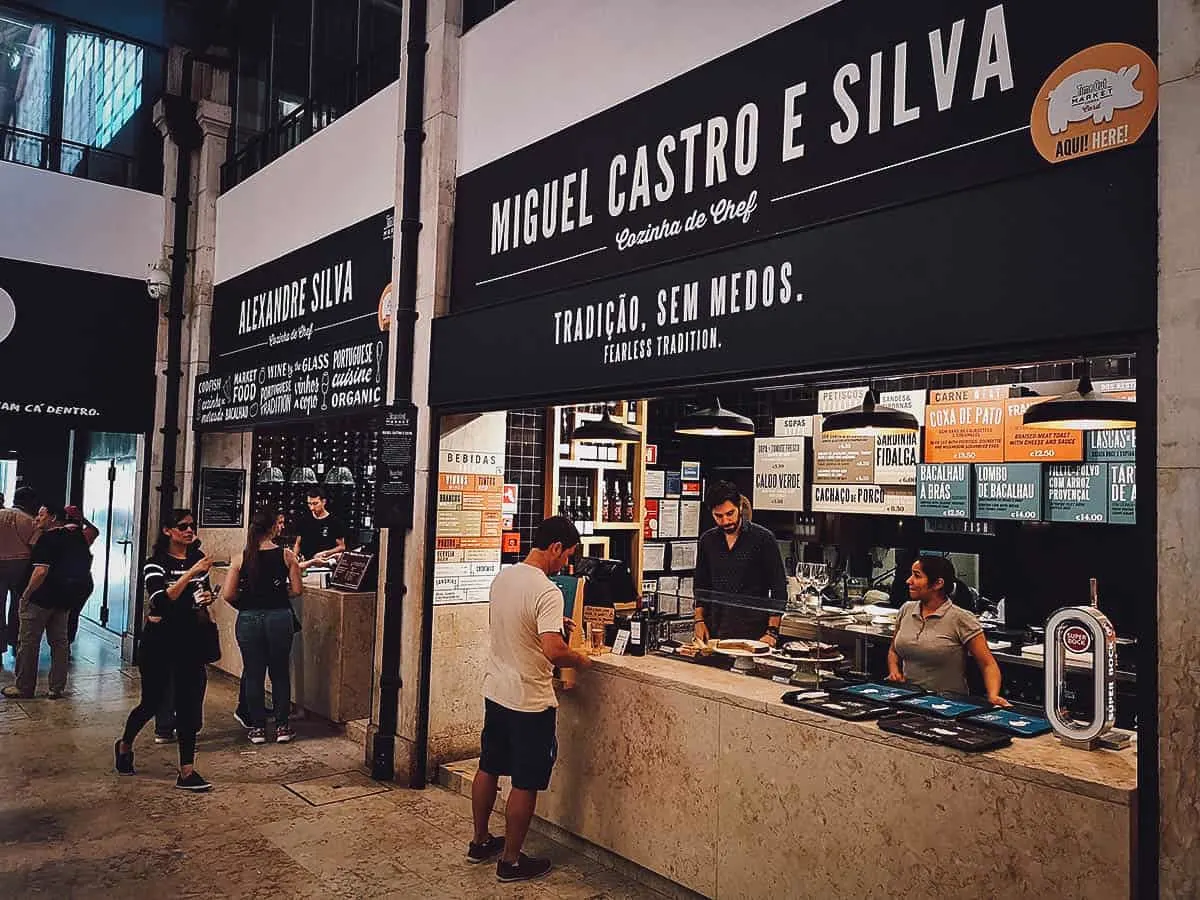 This bacalhau à brás from Miguel Castro e Silva was probably the one dish I was most excited to try at Time Out Market Lisbon.
Bacalhau or dried and salted cod is a Portuguese national dish and the one thing that best represents this country's cuisine.
Bacalhau à brás is a beloved bacalhau recipe made from shreds of salted cod, onions, and hand-cut french fries cooked with scrambled eggs.
It was rich and creamy and absolutely delicious. It was also very filling so it's best to share one order between two or three people so you can taste as many dishes as you can.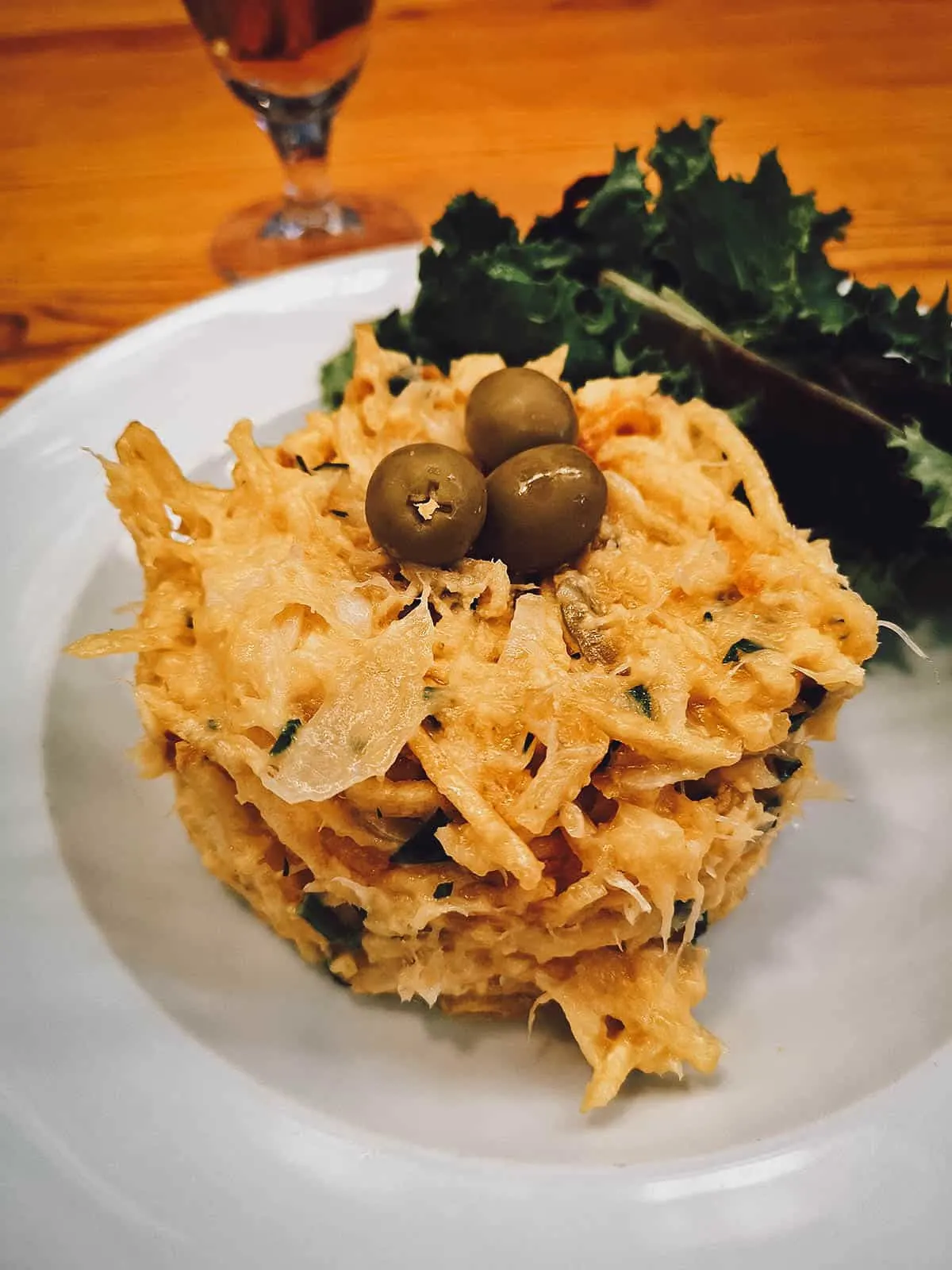 2. O Surf & Turf
As its name suggests, every dish at O Surf & Turf is made with something from the land and sea, even their desserts. As recommended by Time Out Lisbon, we were here to try their roasted octopus and smoked duck with black tapioca.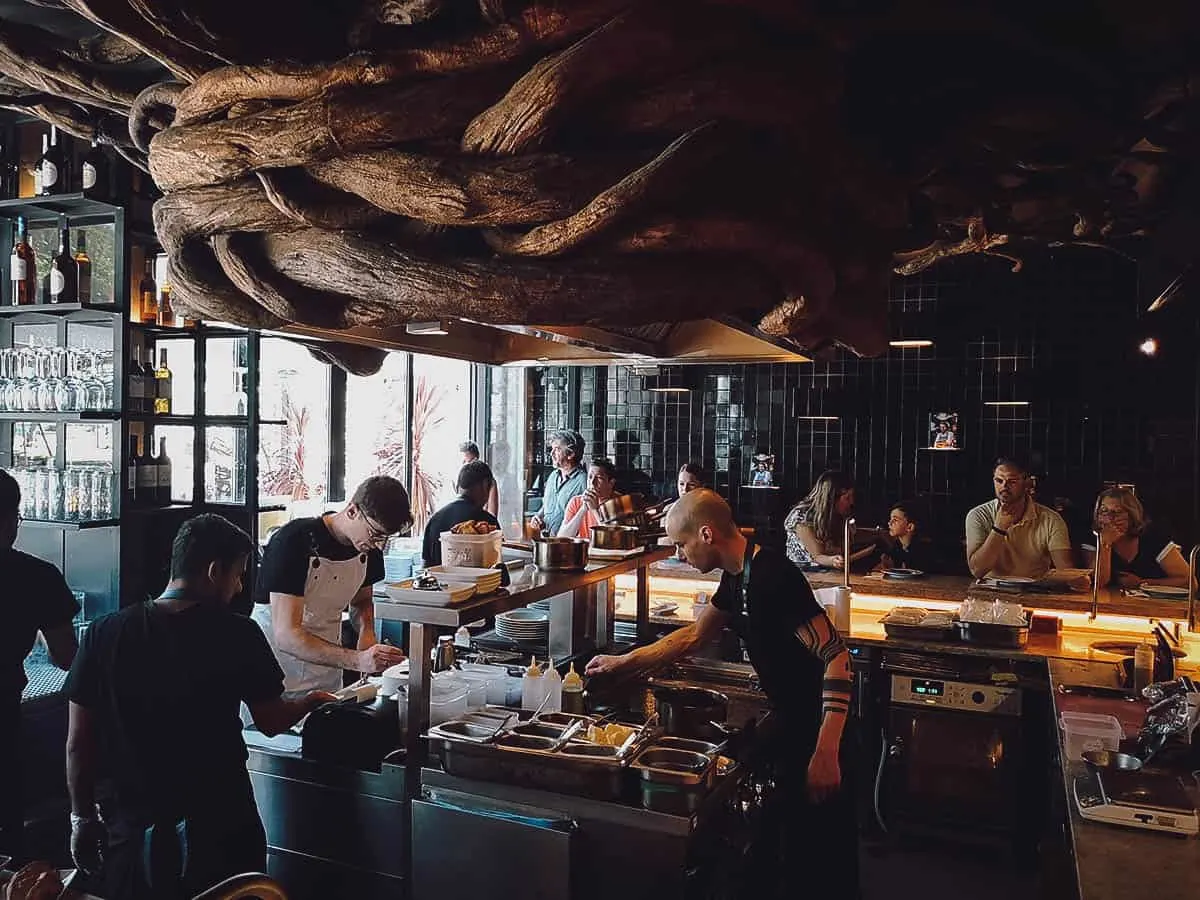 Time Out Market Lisbon is comprised of a large central hall with food stalls and banquet type seating. On one side is this lane of restaurants with counter seats. Along this lane is where you'll find O Surf & Turf.
Shortly after being seated, we were served an unsolicited set of appetizers like bread, cheese, and cold cuts. This seems to be common practice in Lisbon as it happened to us at Ponto Final as well.
If you don't want them, then don't be afraid to send them back. We did. Otherwise, they'll charge you for it.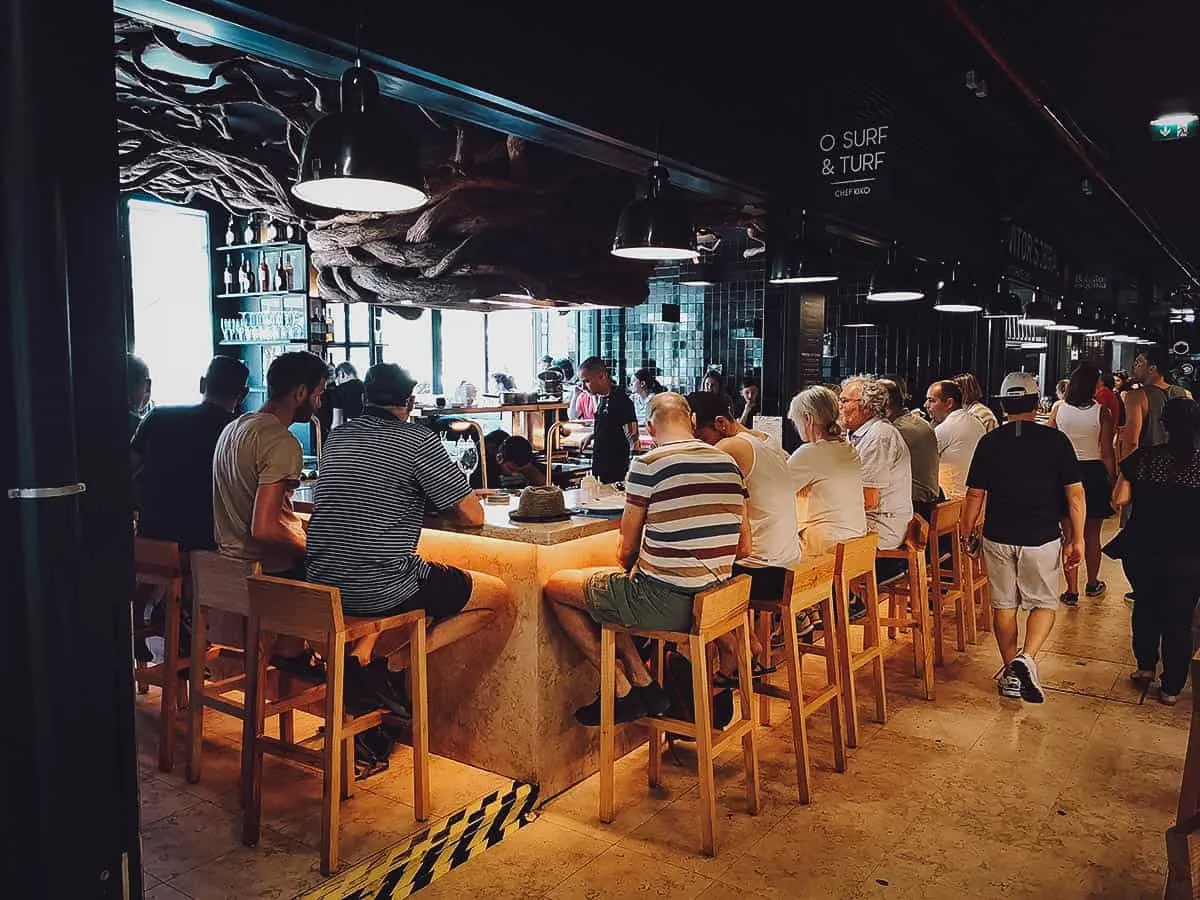 We started off with this platter of cozido a Portuguesa croquettes and anchovies. Going with the surf and turf theme, they're croquettes made with cocido meats and served with an anchovy mayonnaise. Very tasty!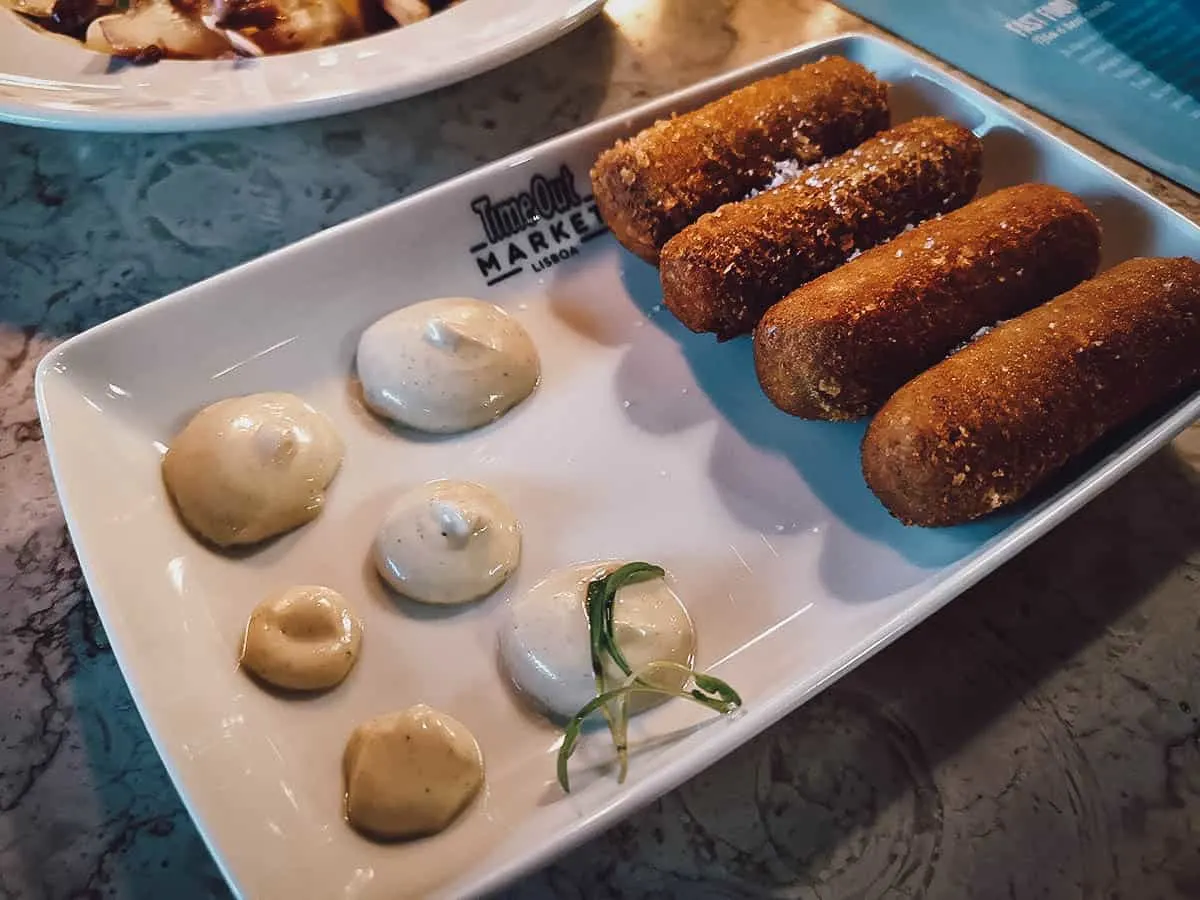 This is what we came for – marinated octopus and smoked duck with black tapioca. The Time Out Lisbon article recommended roasted octopus but it looks like Chef Kiko Martins has since tweaked his dish.
It was delicious – tender and smokey with an interesting mix of textures. That puree in the middle may have been a romesco sauce.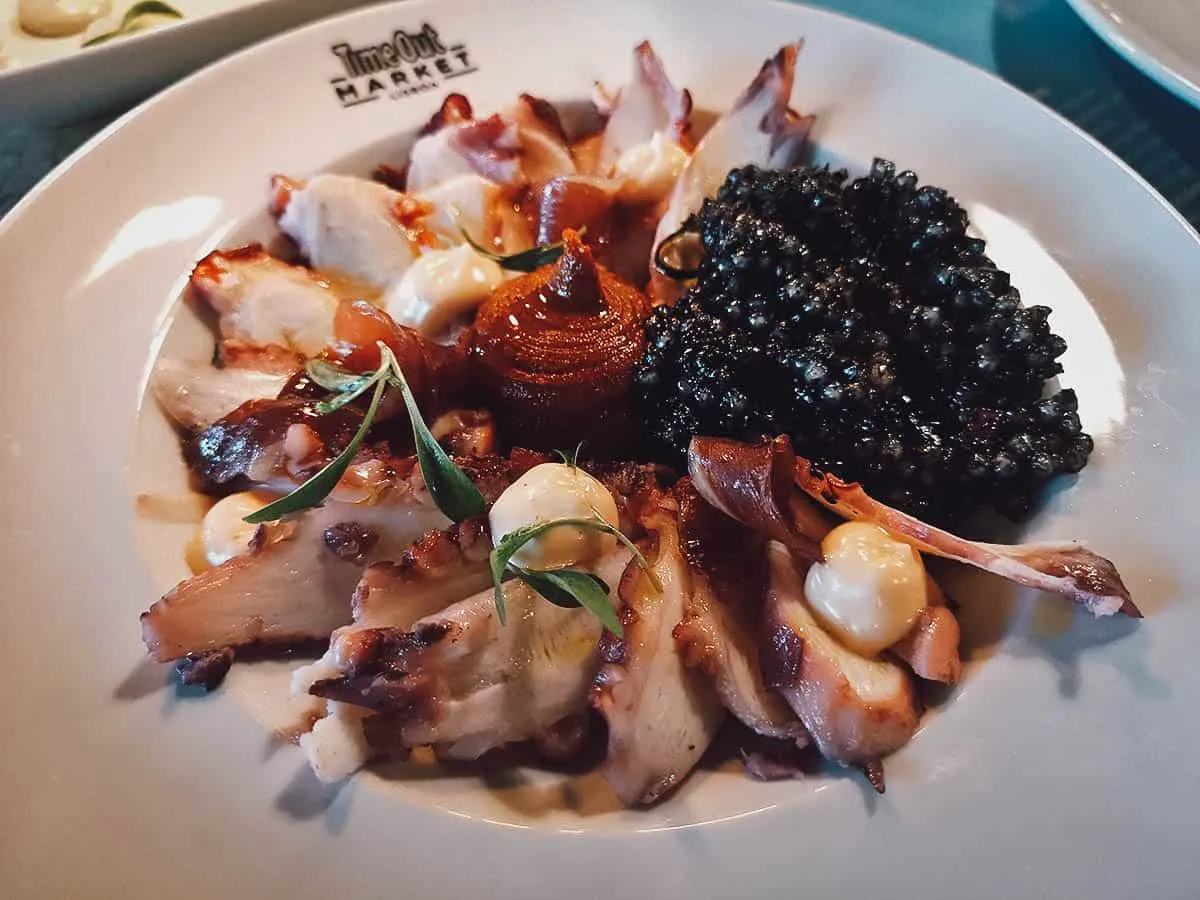 3. Croqueteria
Tucked away on the opposite side of O Surf & Turf is this humble stall called Croqueteria. It's easy to miss isolated like this, but that doesn't stop customers from forming long lines to get a taste of their Portuguese croquettes.
From what we could see, this was one of the most popular stalls at Time Out Market Lisbon.
Portuguese croquettes can be filled with any number of ingredients but the most popular is still the croquete tradicional de carne made with beef and pork (left). I love squid ink so I tried the choco com tinta or cuttlefish with ink as well.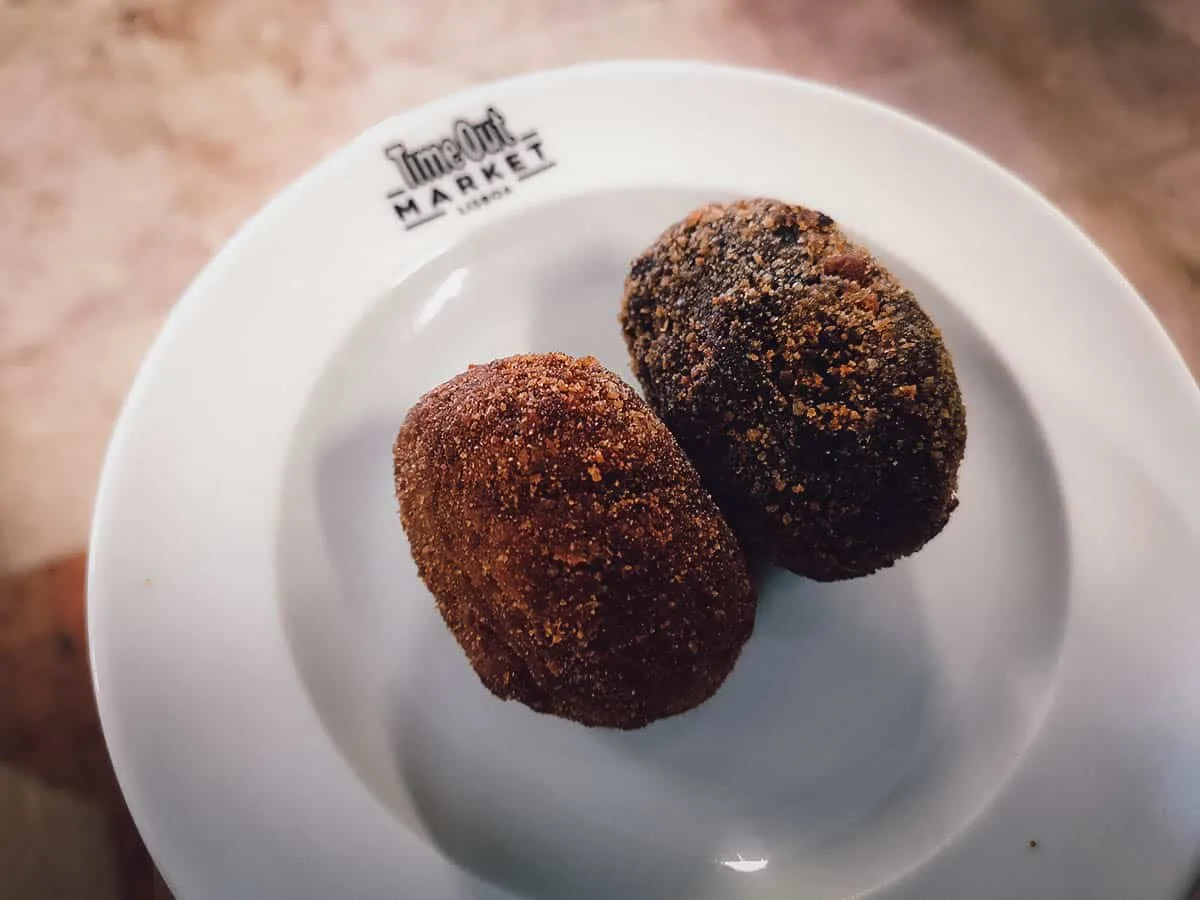 The anatomy of a Portuguese meat croquette. This croquette had a shredded-meat-like consistency, similar to ragout.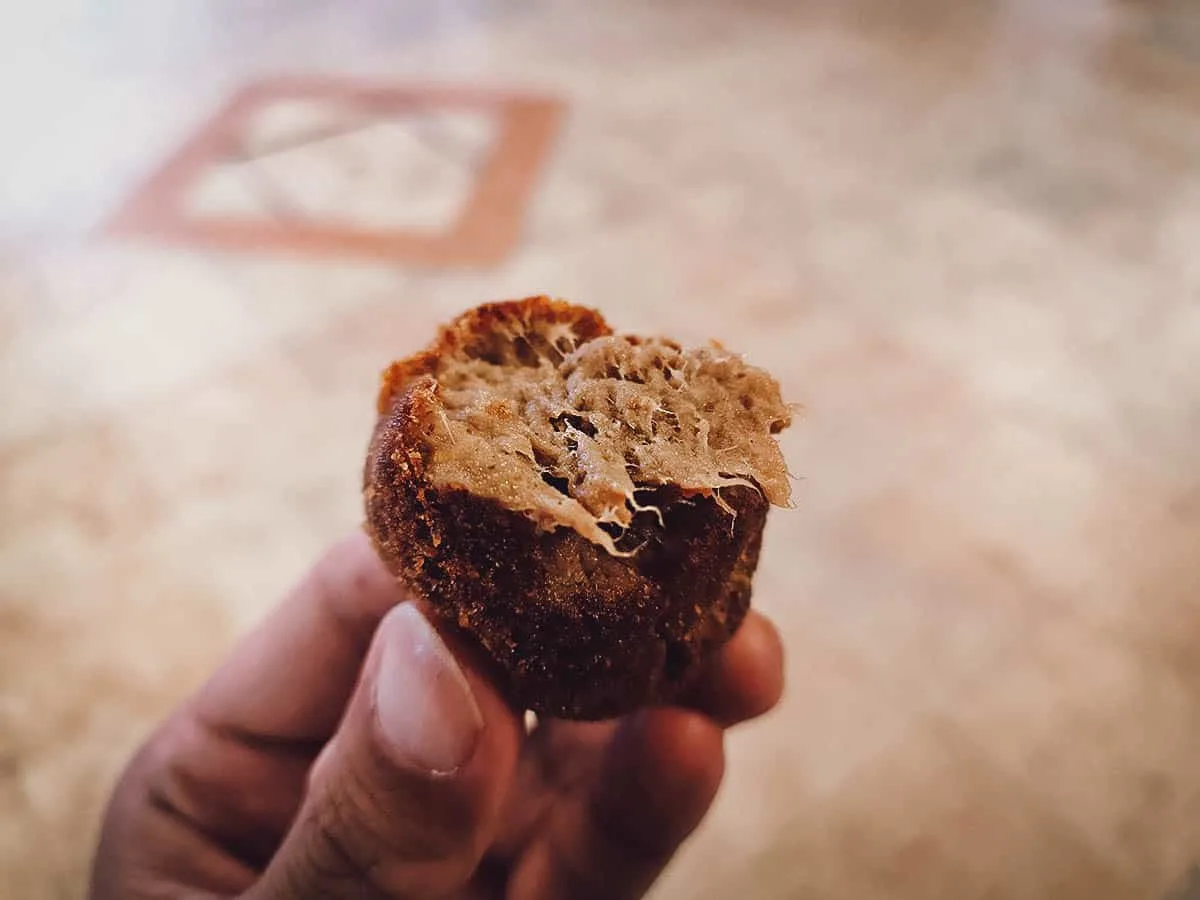 A look inside the cuttlefish with ink croquette. This was tasty but Time Out Lisbon was right, the traditional croquettes are still the best!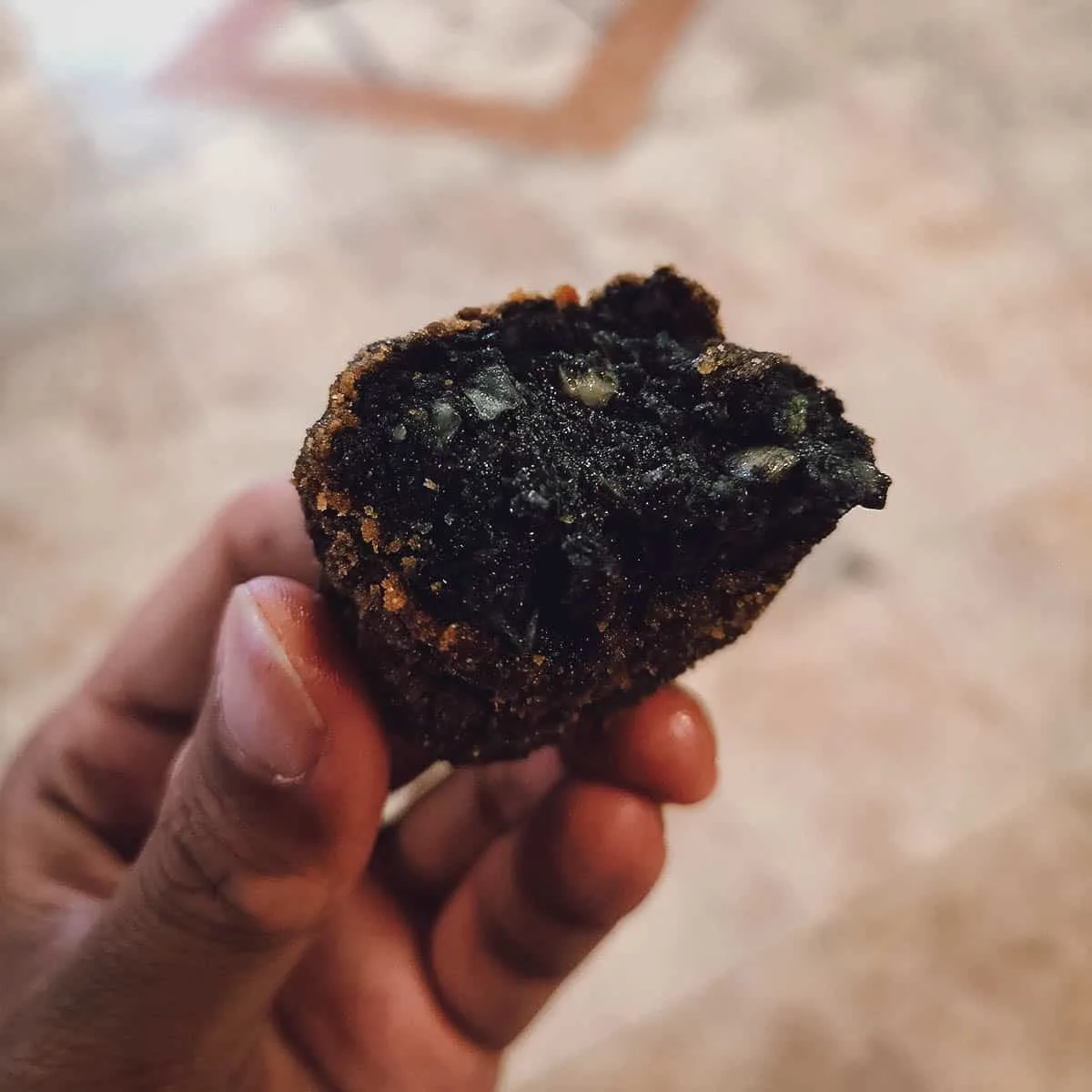 4. Manteigaria
You can't come to Lisbon without enjoying pastel de nata at least once…a day.
I think we had these scrumptious custard tarts at least once a day every day during our entire stay in Portugal. Like bacalhau, they're a culinary symbol of the city and country.
Manteigaria was recommended by Time Out and featured on the Lisbon episode of Somebody Feed Phil. As you can tell from the long line of people, Manteigaria's pasteis de nata could very well be among the best in Lisbon.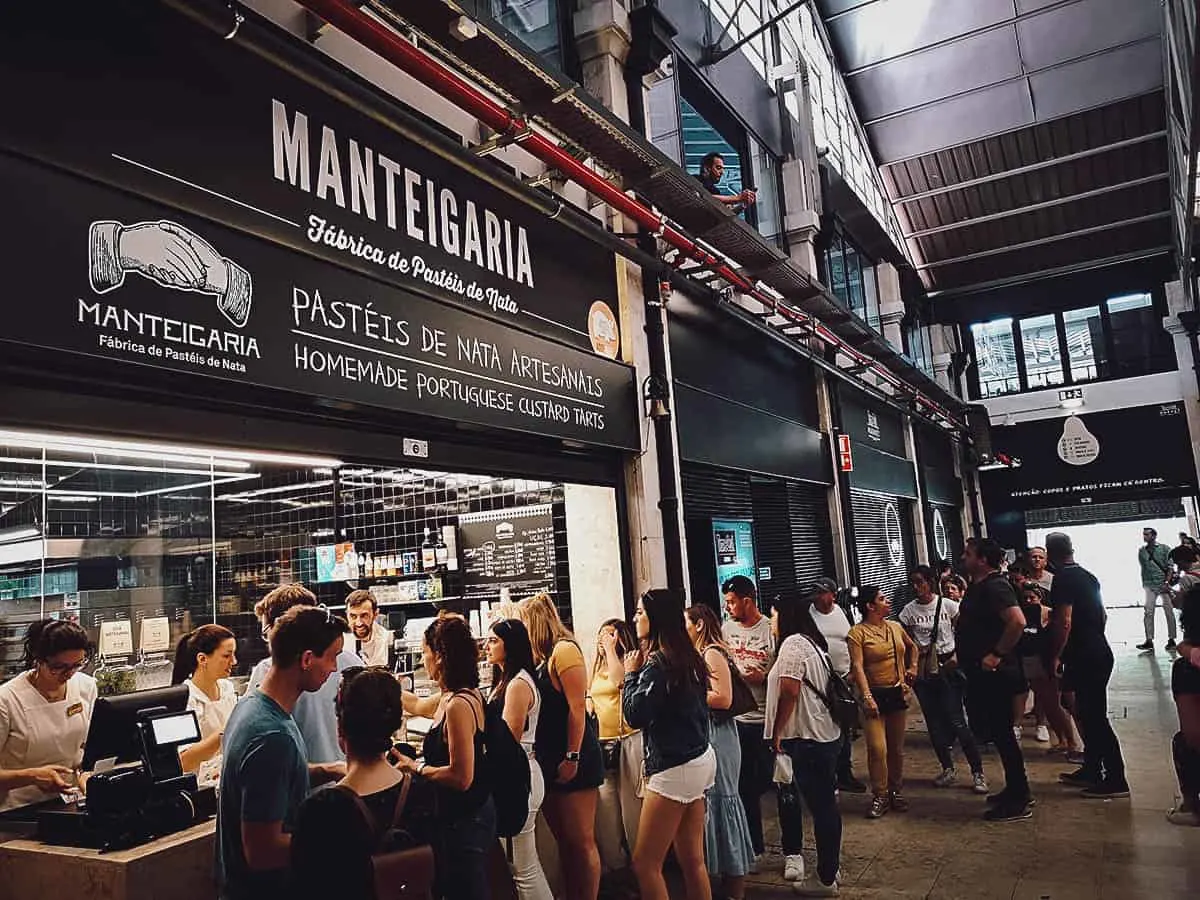 One custard tart is known as a pastel de nata, while two or more are referred to as pasteis de nata. Rich and custardy in a crisp buttery pastry shell, I dare you to eat just one. These are fantastic in the morning with coffee.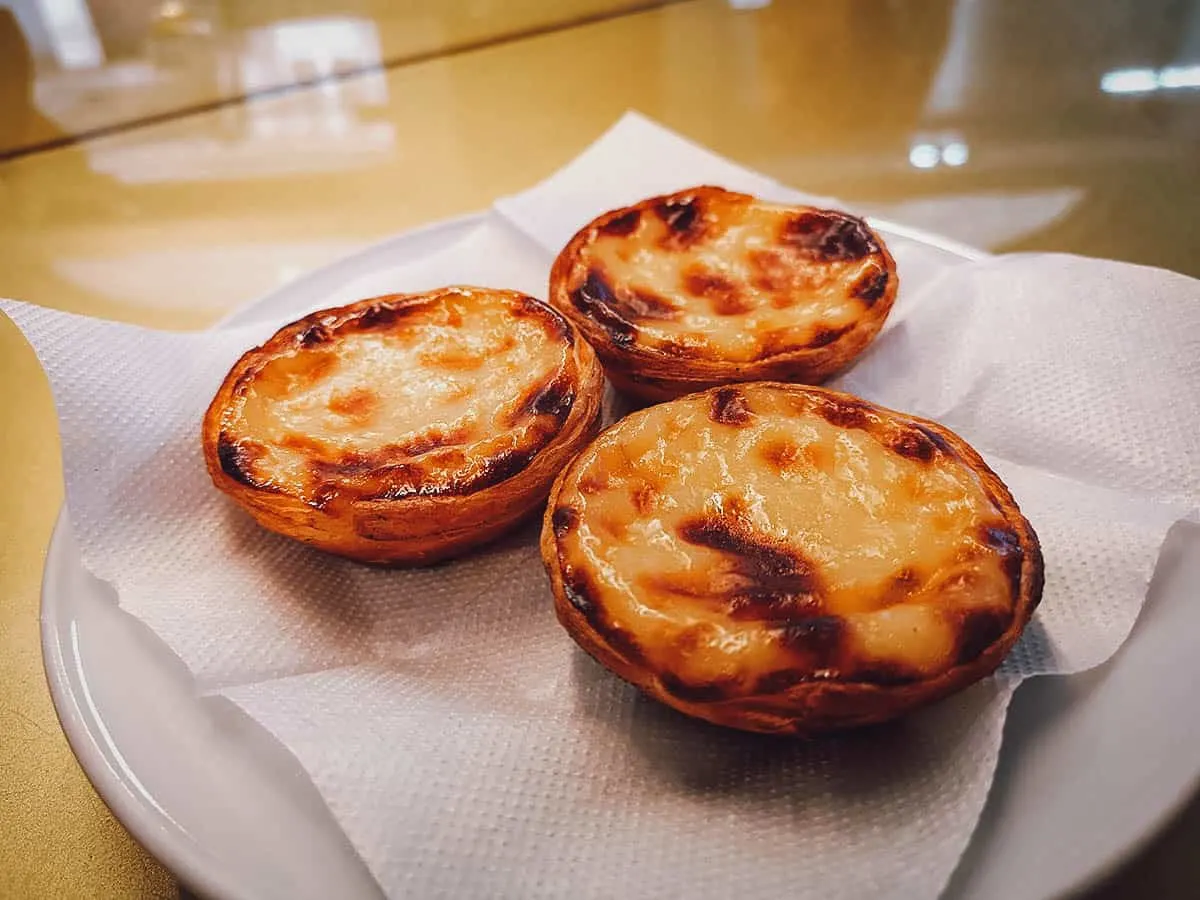 5. L'Éclair
We love choux pastries so we couldn't resist this kiosk selling the most beautiful artisanal eclairs. According to Time Out, L'Éclair is the most international vendor at the market.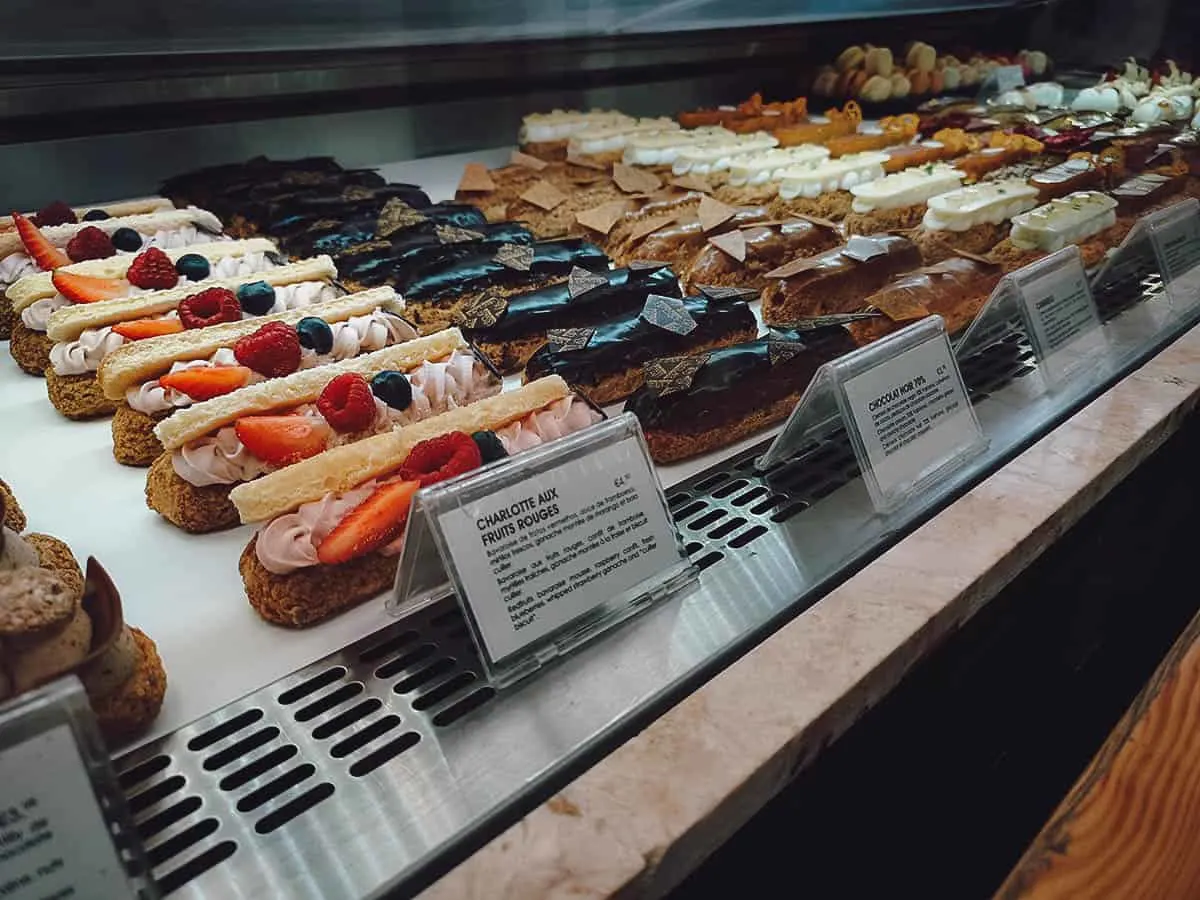 Time Out recommends the salted caramel but we got the cafe eclair, no doubt bedazzled by the flecks of gold leaf shimmering on its surface. I never understood the need for gold leaf in food, which is why I wanted to try it.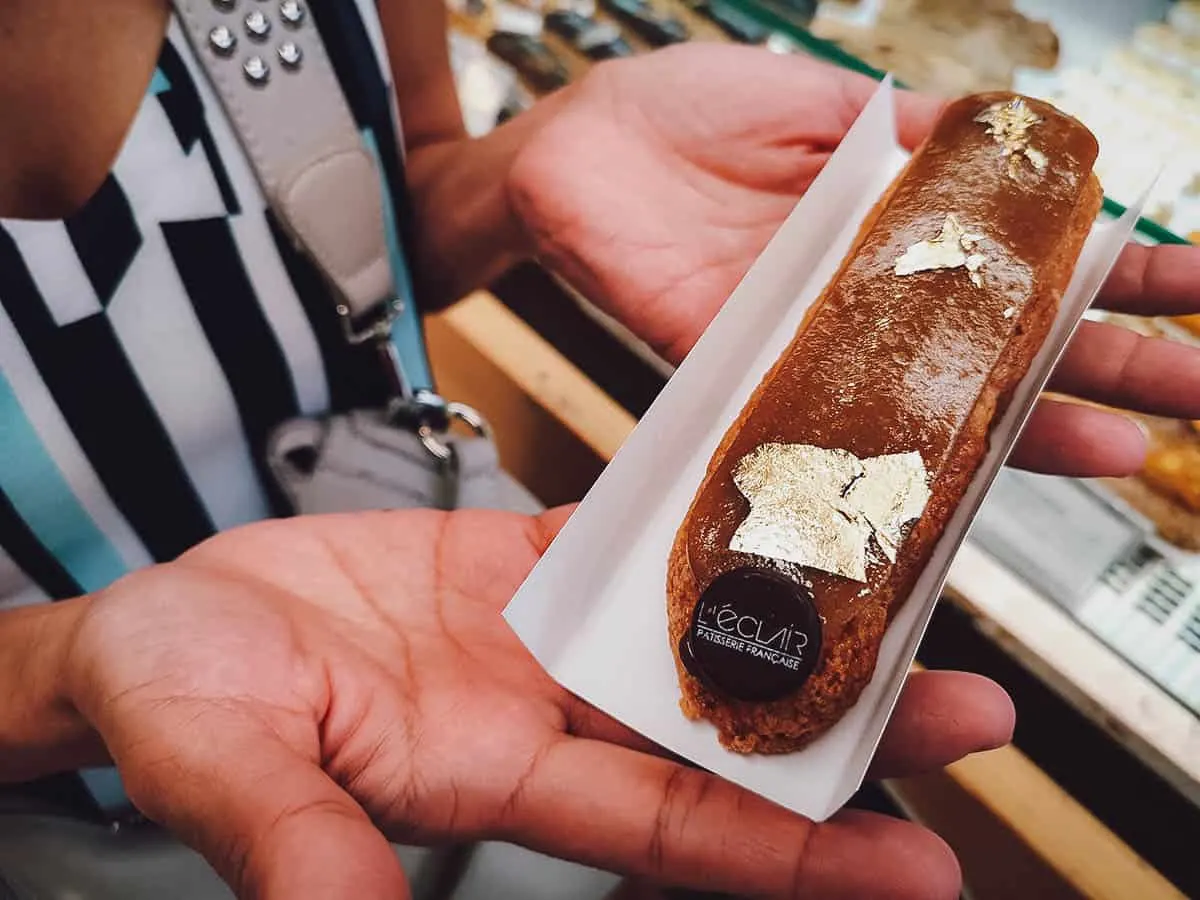 After getting my first taste of gold leaf, I can confidently say that I still don't get it. It doesn't taste like anything but the eclair itself is fantastic. It had a robust coffee flavor and that wonderful moist and chewy choux pastry texture that I love.
With more time in Lisbon, we would have happily sampled every flavor at L'Éclair.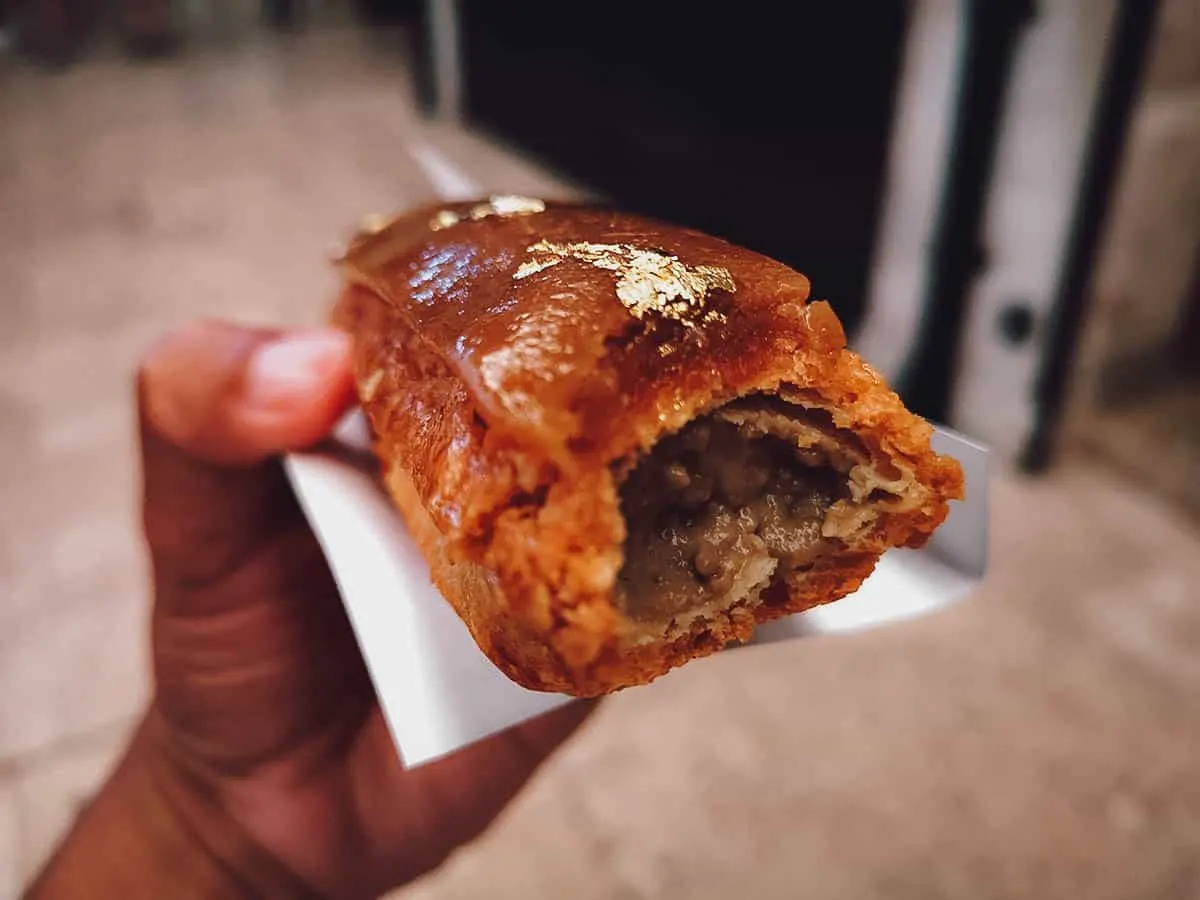 6. Conserveira de Lisboa
Conservas refers to different types of canned or jarred seafood popular in Portugal and Spain. Conserveira de Lisboa is one of Lisbon's most famous conservas shops. They were also featured on the Lisbon episode of Somebody Feed Phil.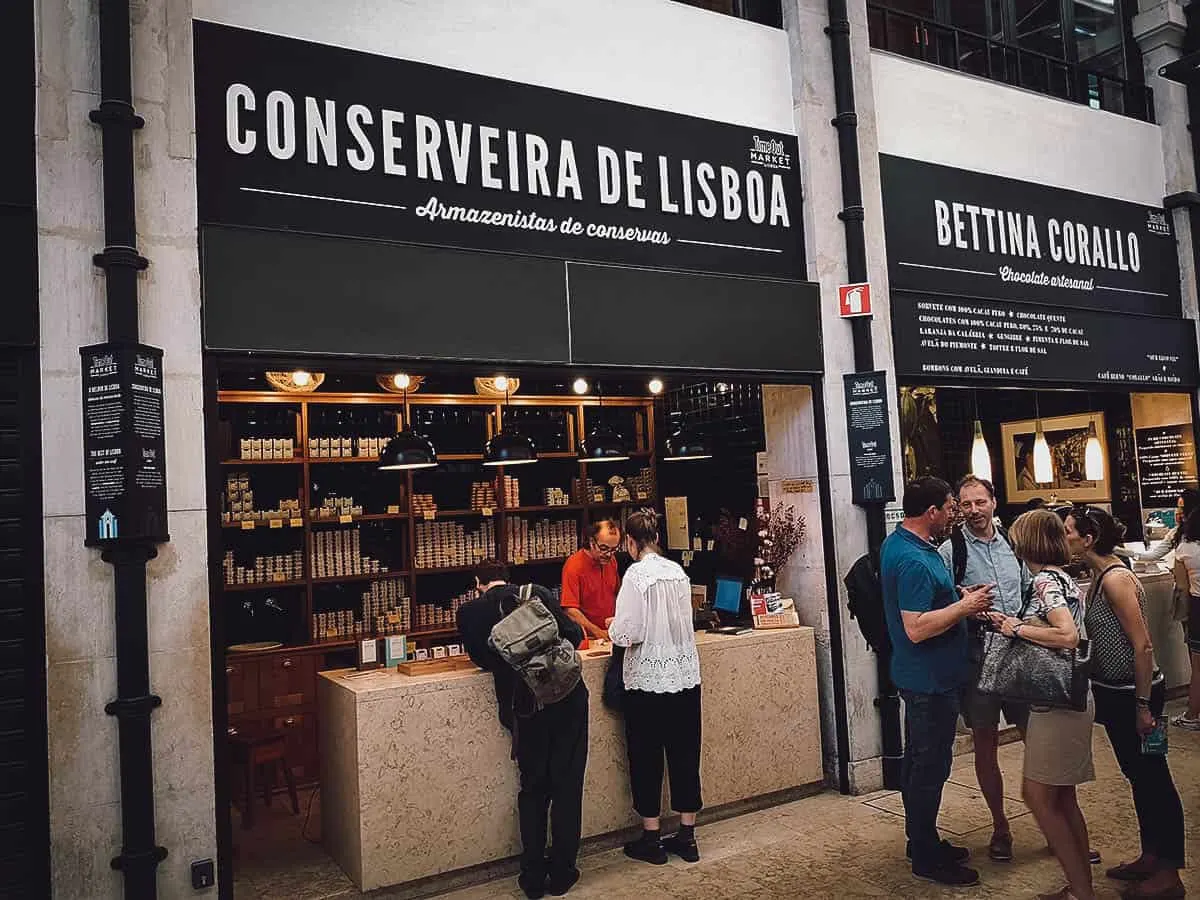 There are many different types of conservas like bacalhau (salted cod), mejillones (mussels), pulpo (octopus), and navajas (razor clams). In my opinion, there's no better food souvenir to bring back from Lisbon than conservas.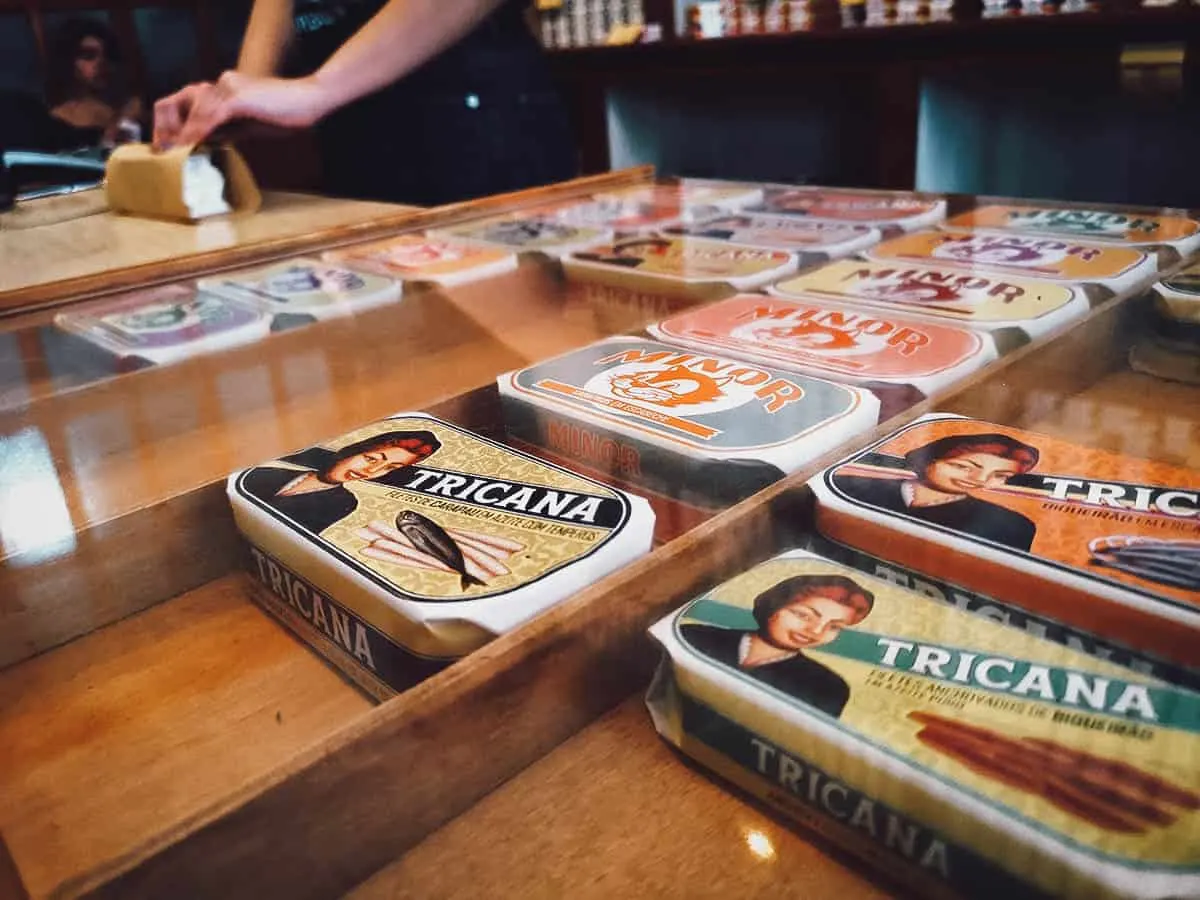 I brought back a can of pota de caldeirada or squid stew and bacalhau l'Portuguesa. Here's a look at the squid stew. Terrific with wine, I wish I brought back more!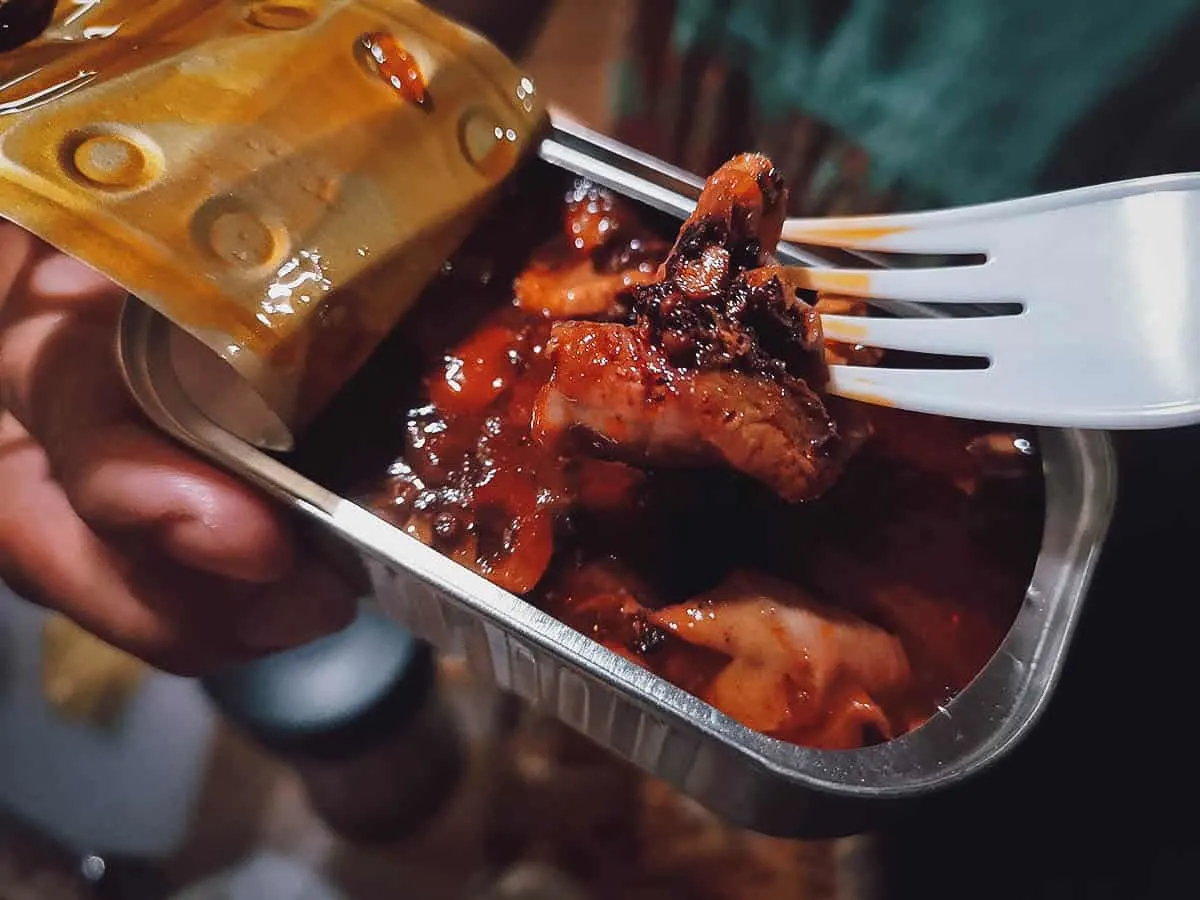 FINAL THOUGHTS ON TIME OUT MARKET LISBON
Simply put, Time Out Market Lisbon is what every food hall should be – a collection of the city's best food and drink concepts. This place is fantastic and a place we'll definitely be returning to on every return visit to Lisbon.
If you're traveling with a group of people, then it can be hard to decide on a restaurant. But at a food hall like Time Out Market, there's something for everyone, and all are at a very high standard.
As you can imagine, Time Out Market Lisbon is exceedingly popular, making it difficult at times to find a table. I went here on my own once and I walked around the dining hall for several minutes like a schoolboy with no friends looking for someplace to sit!
There simply weren't any seats in that gigantic food market so I wound up eating my food standing next to a stack of used trays waiting to be taken away.
The food market is thriving and packed at almost any time of the day so keep that in mind when you visit. Go early if you can.
It seems easier to get seated at places with their own seating like O Surf & Turf, but for me, it's best to sit in the main hall. You'll have a wealth of stalls to order from, which is a big part of what makes these food markets so appealing – the choices.
As described, Time Out has already opened markets in New York, Boston, and Miami, with more to come in the following years. Time Out Lisbon didn't invent the food hall concept, but they've definitely raised the bar.
Disclosure
Some of the links in this article on Time Out Lisbon are affiliate links, meaning we'll earn a small commission if you make a booking at no extra cost to you. We really appreciate your support as it helps us keep this website going. Obrigado!