EDITOR'S NOTE: Traveleater Caroline Harsch shares with us her experiences in exploring Óbidos in Portugal and sampling its unique handmade sour cherry liqueur.
I spent September traveling through Portugal, visiting both the Algarve and Amoreira, which is close to Peniche. Unfortunately, the weather in Amoreira wasn't that great, with thick fog covering the coast for most of my time there! However, the inland climate was much better, so we spent plenty of time exploring the many picturesque villages that Portugal's Estremadura region has to offer. We visited the surfer capital of Peniche, spent a day in Sintra and the surrounding Parque da Pena, and went on a half-day trip to Óbidos. As the name suggests: the latter is where I tried Ginja de Óbidos!
Save This on Pinterest!
No time to read this now? Click on the red save button and pin it for later!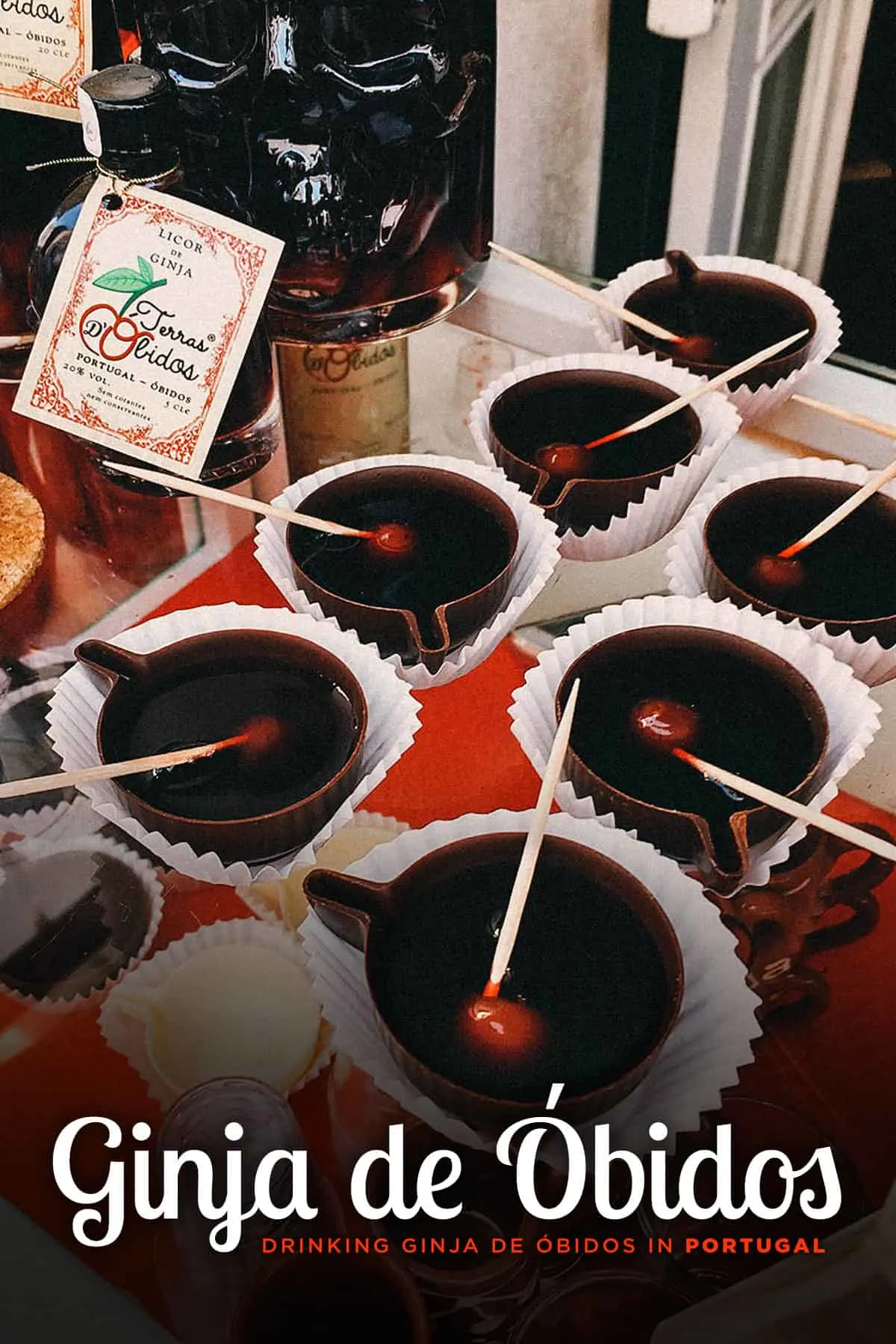 WHAT IS GINJA DE OBIDOS?
Ginja is a very sour, almost bitter, type of cherry. It grows particularly well in the valley region of Sobral da Lagoa in the council of Óbidos. It began to be used for liquor production in Lisbon in the 19th century, but it wasn't until 1987 that Dário Pimpão created the recipe that is still famous in Óbidos today. He also introduced chocolate cups as the best way to serve Ginja de Óbidos, describing the drink as "mild and aromatic, with a balanced alcohol content and velvety texture". I can only agree!
I'm not normally a fan of brandy or liquors, but this one was totally different! The liquor itself is quite strong (approx. 20% ABV), but the sweet chocolate cup and the sour cherry inside make it a well-rounded drink, which I quickly came to enjoy during my Portugal trip!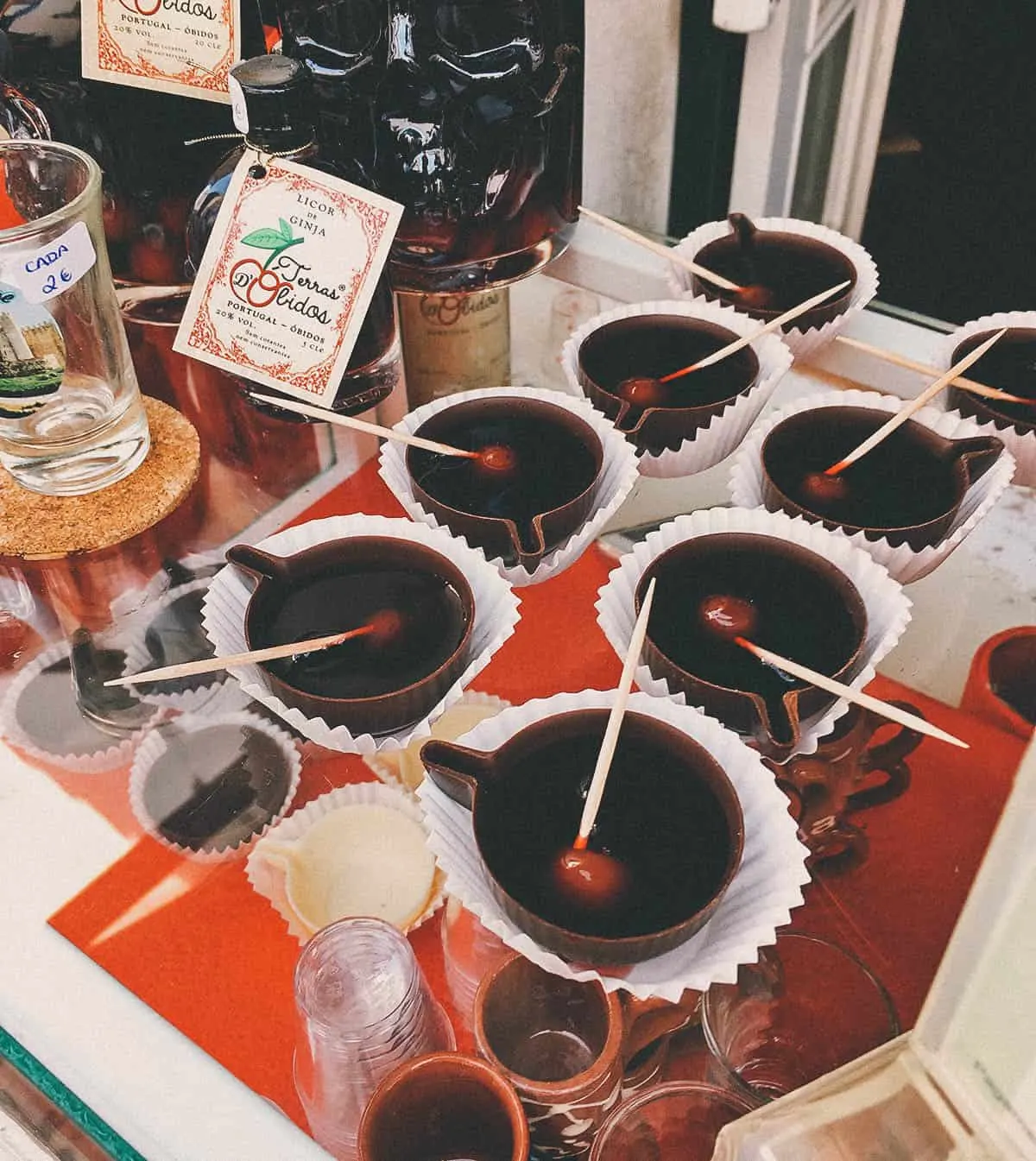 Explore the Quaint Town
Believe it or not, there is more to Óbidos than getting tipsy on cherry liquor! The town is quite small, with around 3,000 inhabitants, and can easily be explored in two to three hours. I'd recommend planning your visit in the morning, before the tour coaches arrive, or in the evening, once they've left.
Óbidos is a great example of a truly traditional Portuguese village, with medieval architecture, narrow, cobblestone streets, where cars are completely banned, a town wall, and quaint whitewashed houses. Porta da Vila is the main gate into the town and the first sight you'll probably lay eyes on. The gate is home to a chapel, which is tiled with the iconic blue and white tiles (Azulejo) that can be found all over Portugal.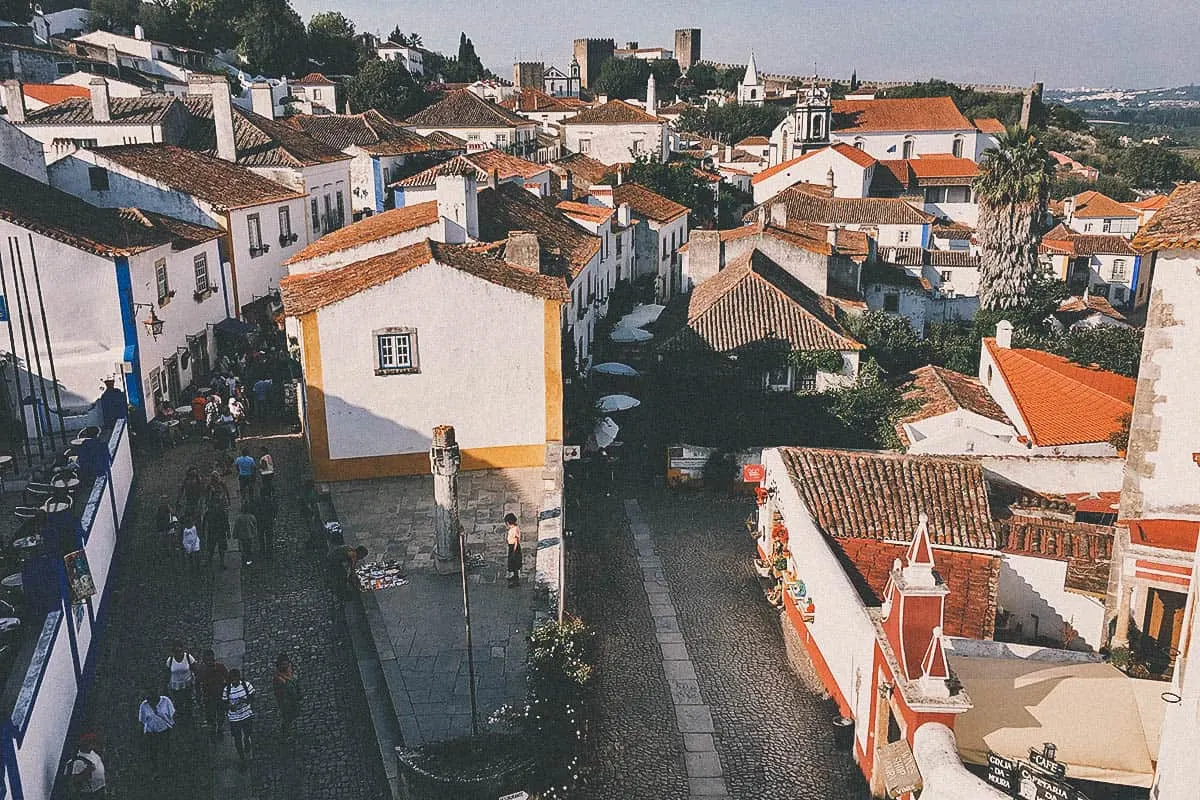 Bird's-Eye View
I'd recommend starting your day in Óbidos with a walk on top of the old city walls! They're about five meters high, half a meter wide, and very uneven. One side of the walkway is protected by a stone wall, but the other side offers no barrier, so this might not be the best activity if you're afraid of heights, or don't have a great balance! Those who are brave enough will be rewarded with great views over both the surrounding rural region and the village itself.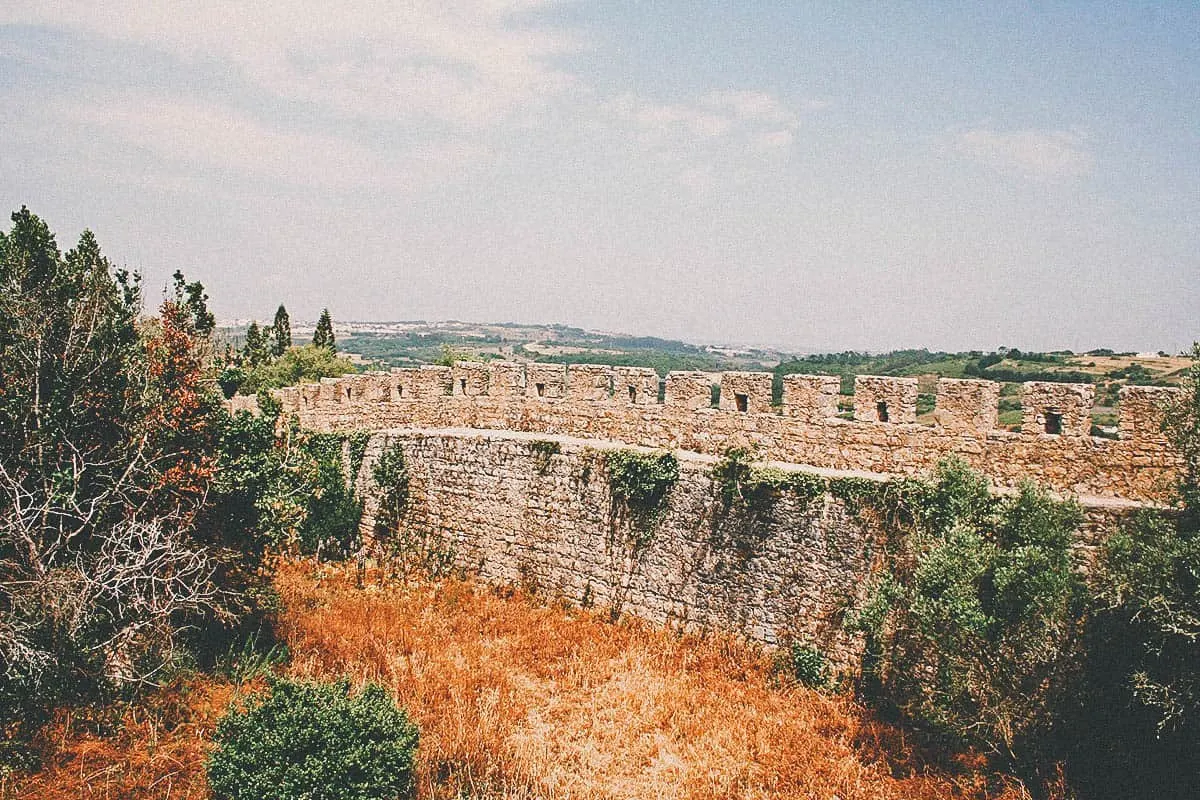 Explore the Old Town
After walking along the walls, you should get back to ground level and stroll around the village center. Rua Direita is Obidos' main street filled with small shops, bars, and restaurants offering traditional Portuguese food, alongside many vendors who will sell you a chocolate cup full of Ginja de Óbidos. Be sure to explore some of the calmer backstreets, too! These are less crowded, granting you some peace and quiet to really enjoy the town's beautiful houses.
One of the town's main sights is the Church of Santa Maria, where King Afonso V. and his cousin D. Isabel were married. When the wedding took place, he was only ten years old, while she was just eight!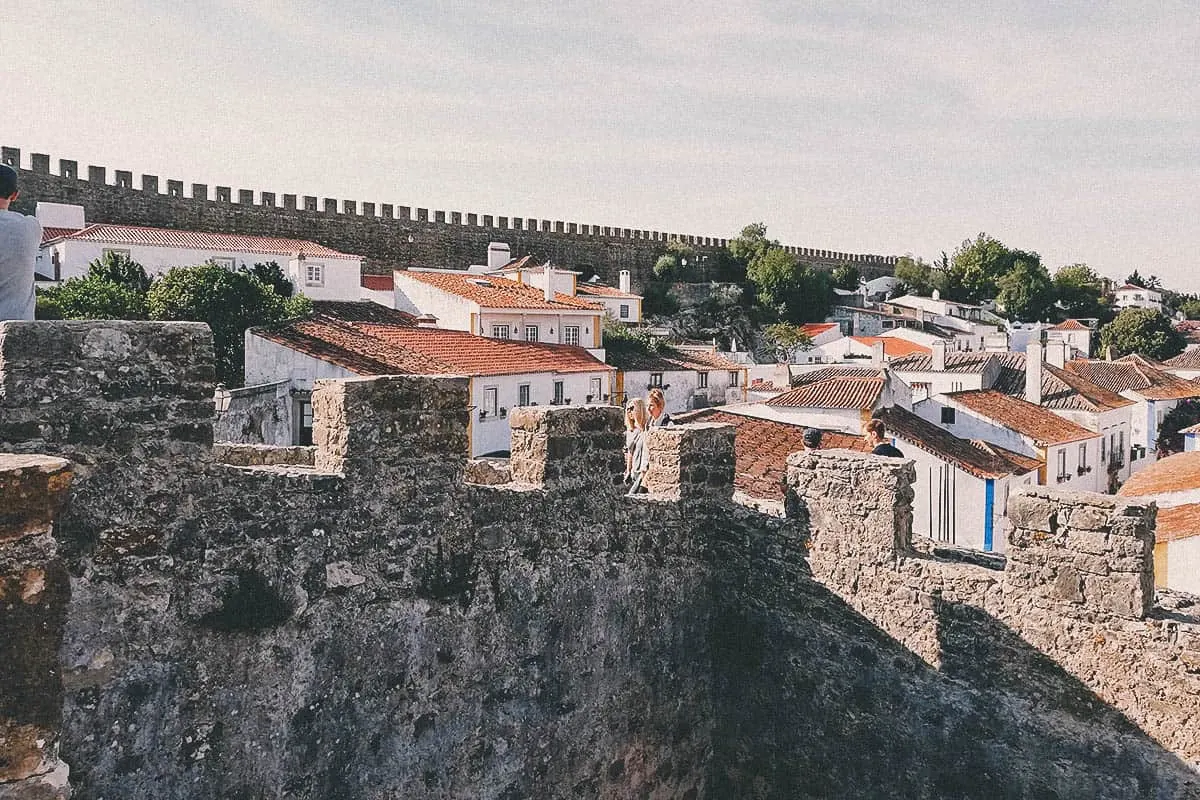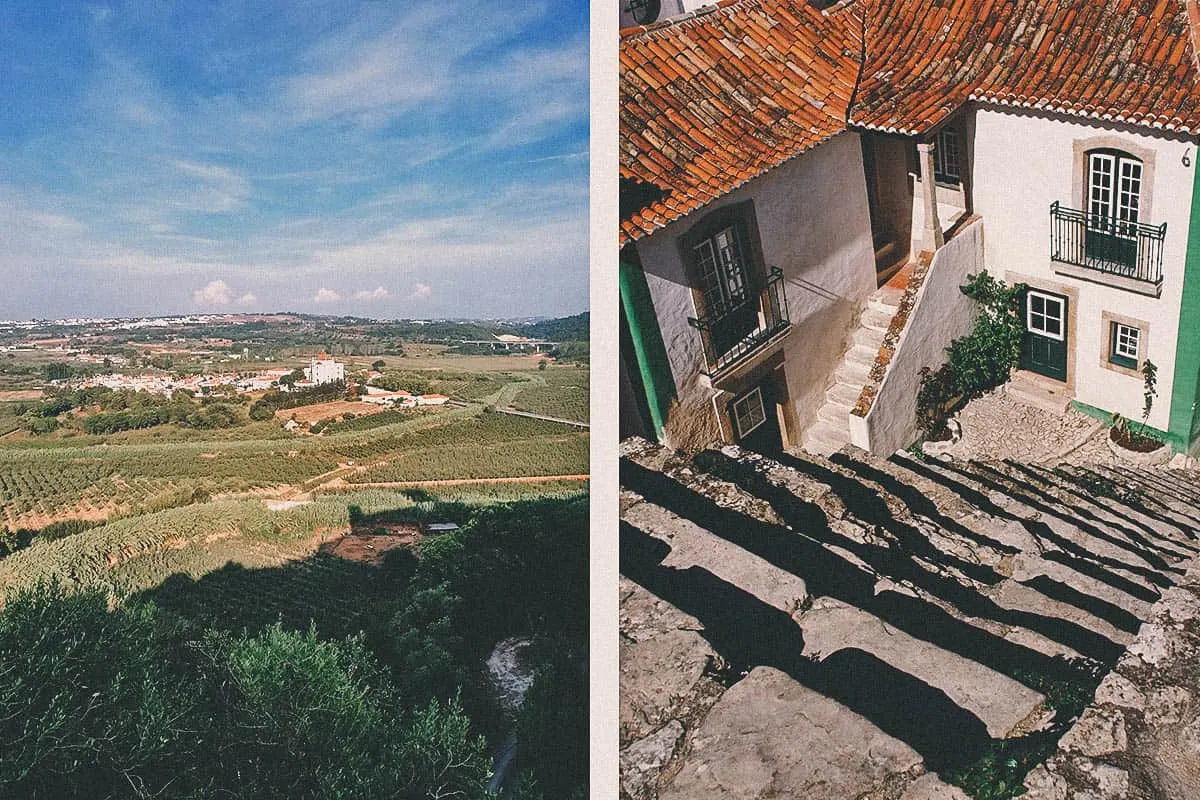 Be a Royal for the Night
Óbidos Castle dates back to the 12th century, but is now a luxury hotel! It's very well-preserved and open to the public. We didn't spend the night, but if you're looking for accommodation in Óbidos, this is probably the best place to stay. After all, who wouldn't want to feel like a king or queen for a night?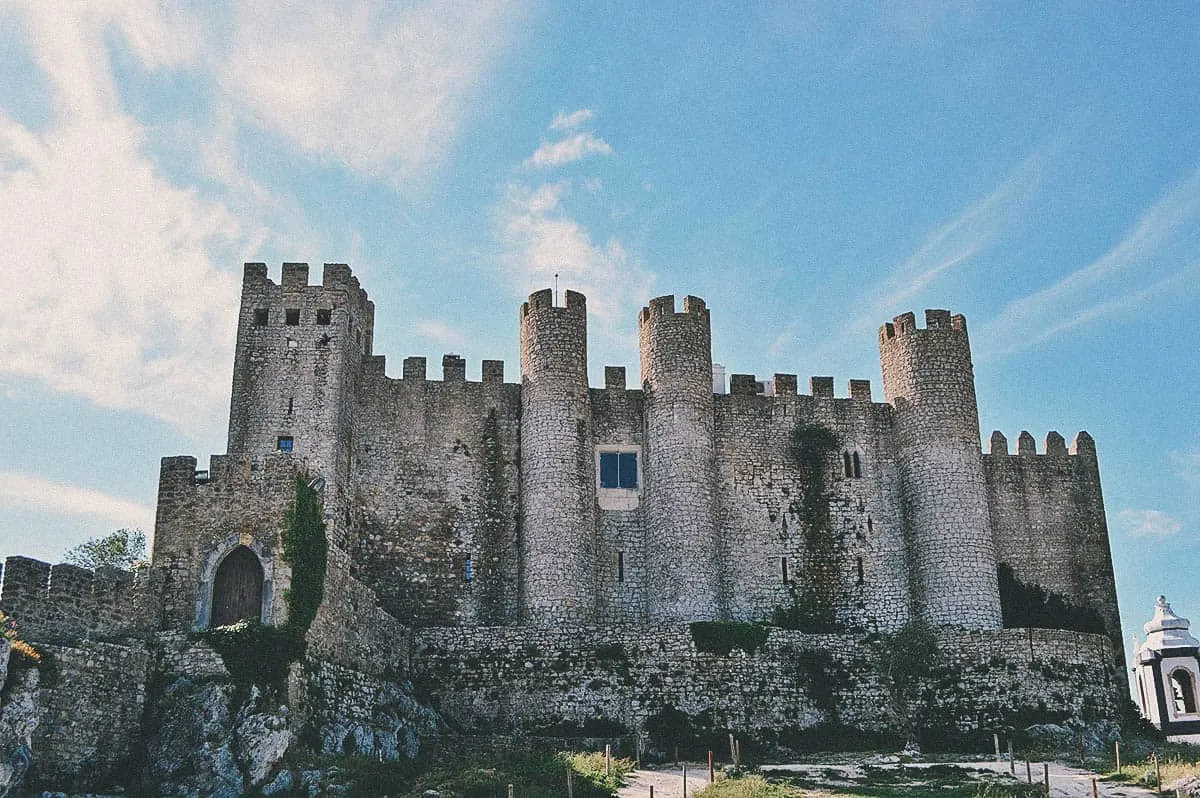 Photos by Caroline Harsch