I've seen a few travel food shows on Lisbon, and this legendary marisqueira has been featured on every single one of them. It almost felt like a rite of passage for any seafood-obsessed traveler visiting this city.
Open for over sixty years, Cervejaria Ramiro is a Lisbon institution. It's a family-run restaurant known for serving some of the city's very best seafood in a pleasant but unpretentious environment. The space is loud and convivial, not the type of place where you're expected to gingerly shell your prawns with a knife and fork. Here, you're free to enjoy them with your hands and wash it all down with an ice-cold pint of ale. Feel like sucking the fat out those shrimp heads? Go ahead! Everyone does.
We spent five weeks in Europe and had well over a hundred restaurants on our itinerary. I love seafood and down-to-earth dining so it only followed that Cervejaria Ramiro would be the one restaurant I was most excited about.
It did not disappoint.
Save This on Pinterest!
No time to read this now? Click on the red save button and pin it for later!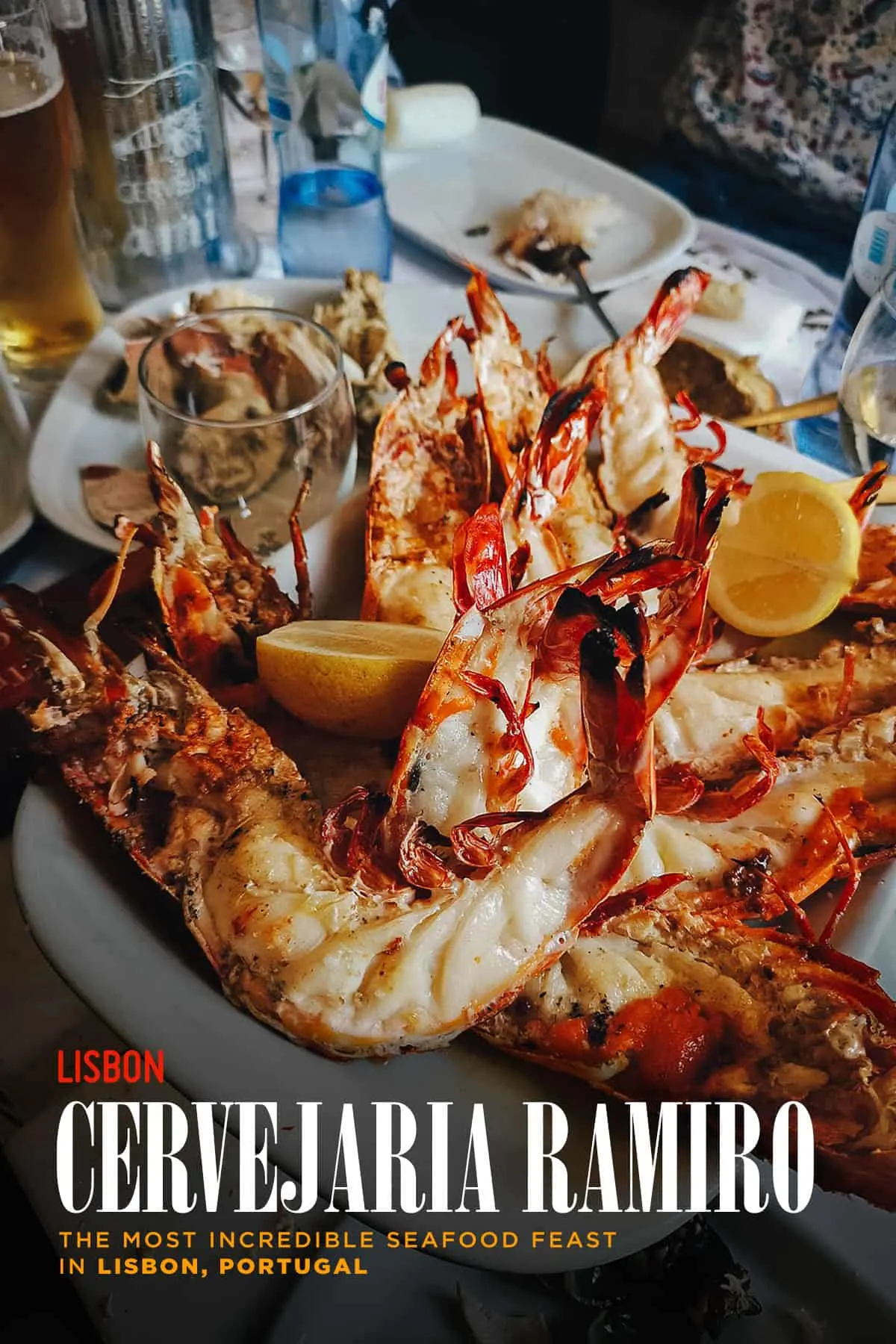 CERVEJARIA RAMIRO
As its name suggests, Cervejaria Ramiro is a beerhouse. To be more specific, it's what's called a "cervejaria-marisqueira" which is a type of old-fashioned beer and seafood restaurant. They've been open since 1956, presumably around the time when cervejaria-marisqueiras were popping up around the city. It's said that the concept was brought to Lisbon by Galician migrants who fled to Portugal in droves after the Spanish civil war.
Today, there are plenty of beer and seafood houses throughout the city, though none are more popular than Cervejaria Ramiro. In fact, the Uber driver who took us here proclaimed that it's still one of the best restaurants in Lisbon, in spite of it being overrun by tourists in recent years.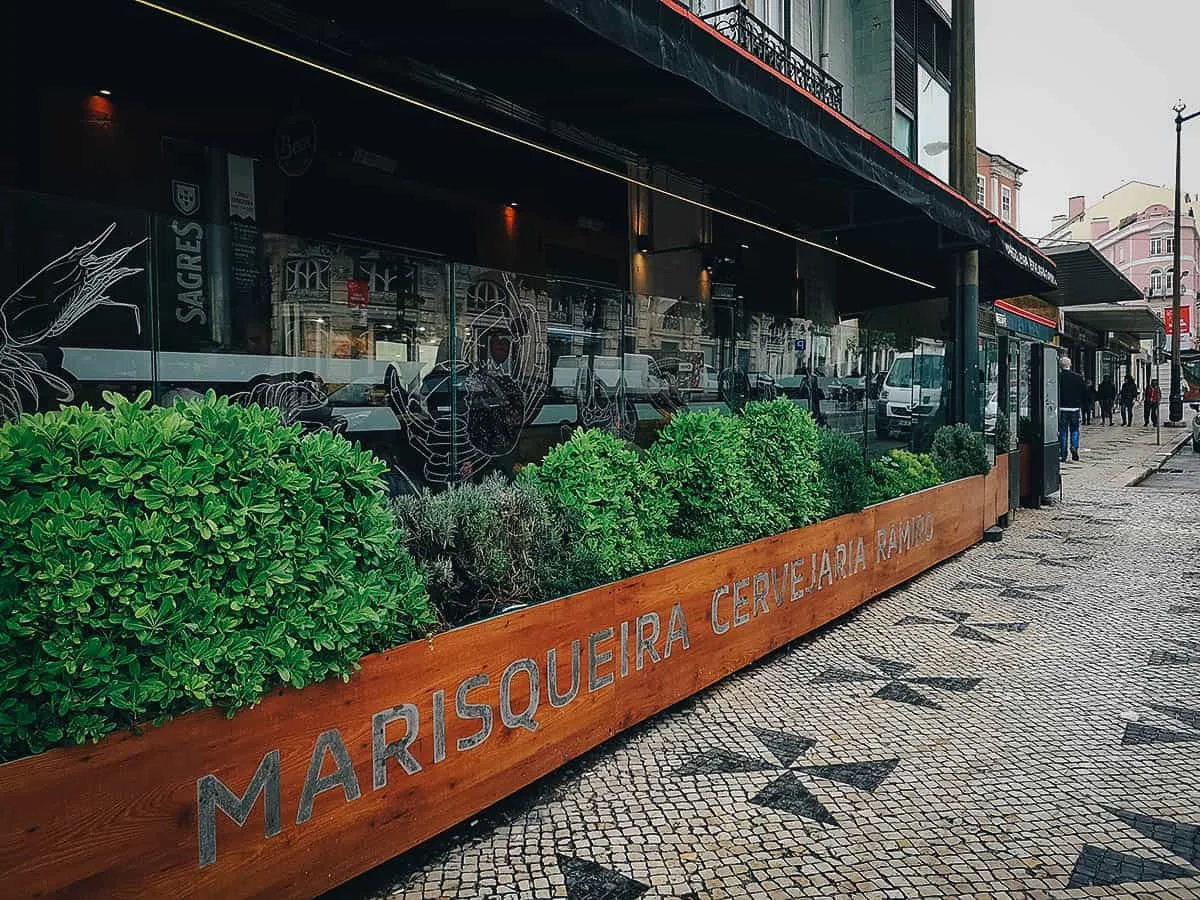 The Wait
With all the love its been getting from the international press, Cervejaria Ramiro has become extremely popular so be prepared for a long wait if you come at peak times like lunch and dinner. They do take reservations so it's strongly suggested that you make them before going (details at the bottom of this post). Otherwise, you'll need to get a number from this machine.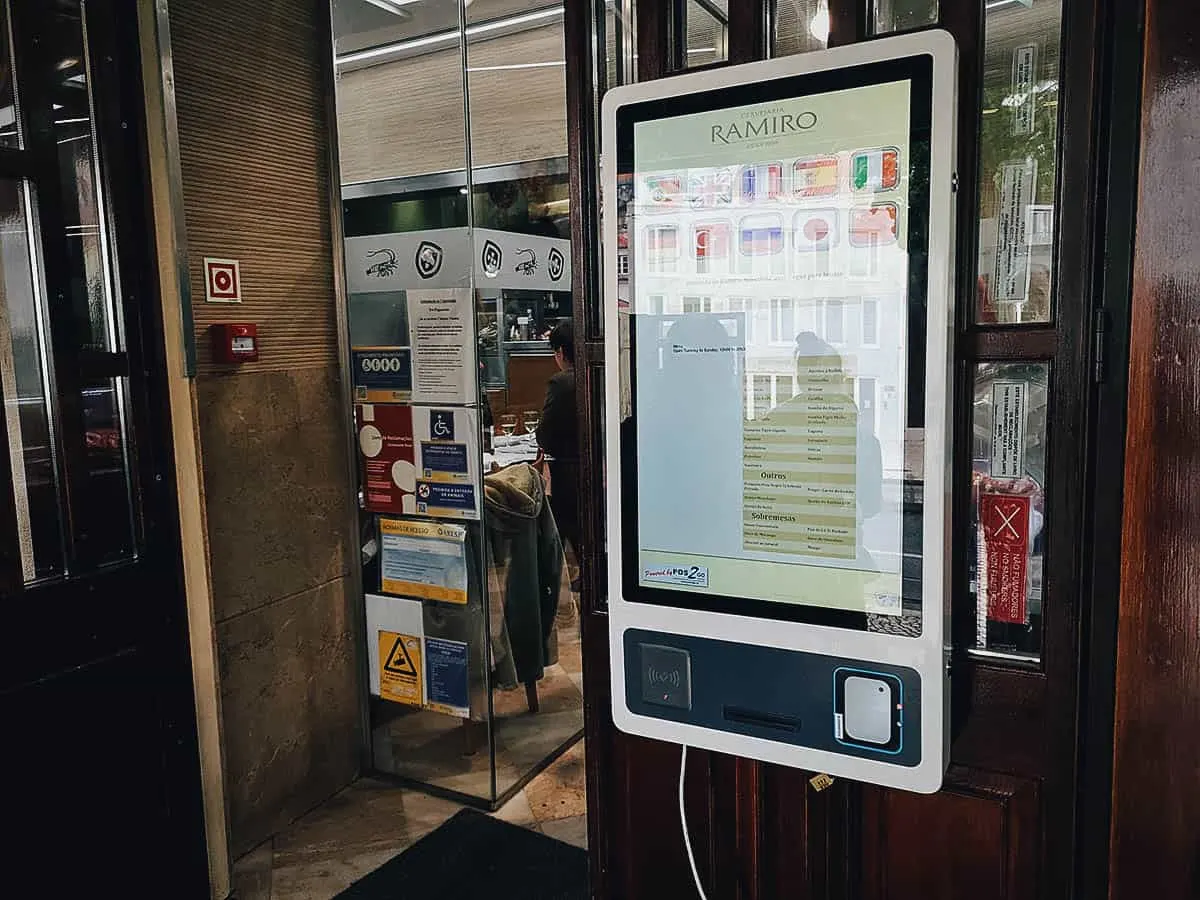 We tried to make a reservation for 3PM but they told us we didn't need one at that time, so we just went and got a ticket number.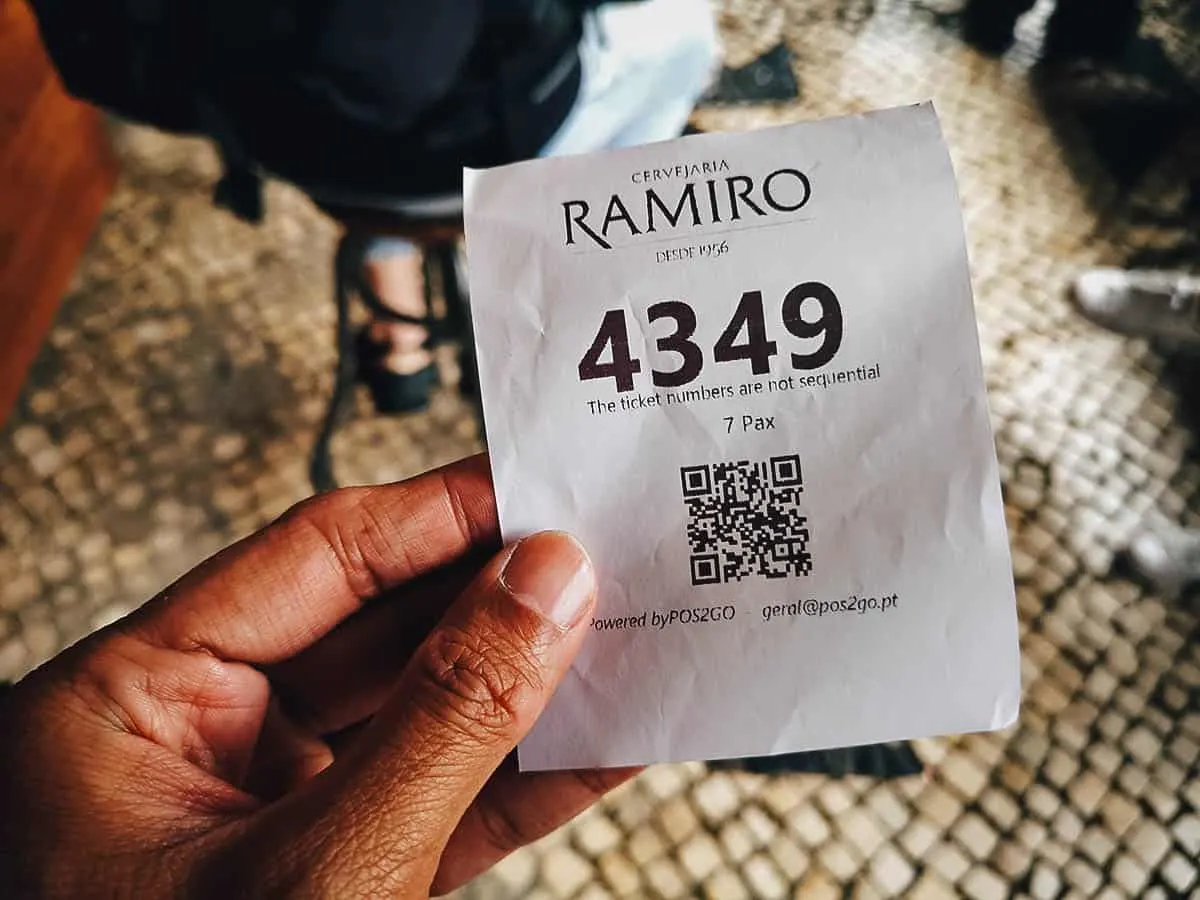 As you can see in this picture, they couldn't seat us immediately even at an odd hour like 3PM. This place is that popular so expect a wait at any time of the day.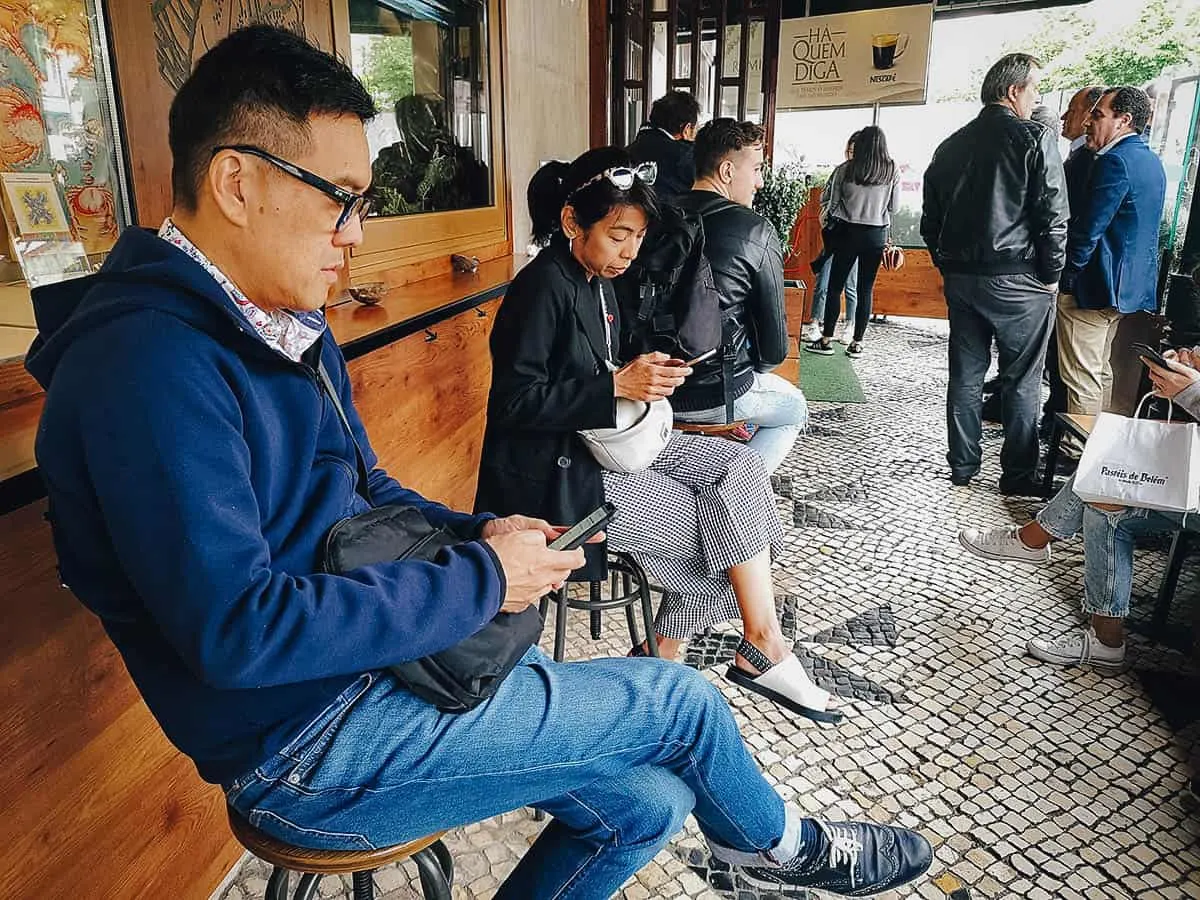 Thankfully, they had this beer vending machine in the waiting area to keep would-be diners entertained. Genius!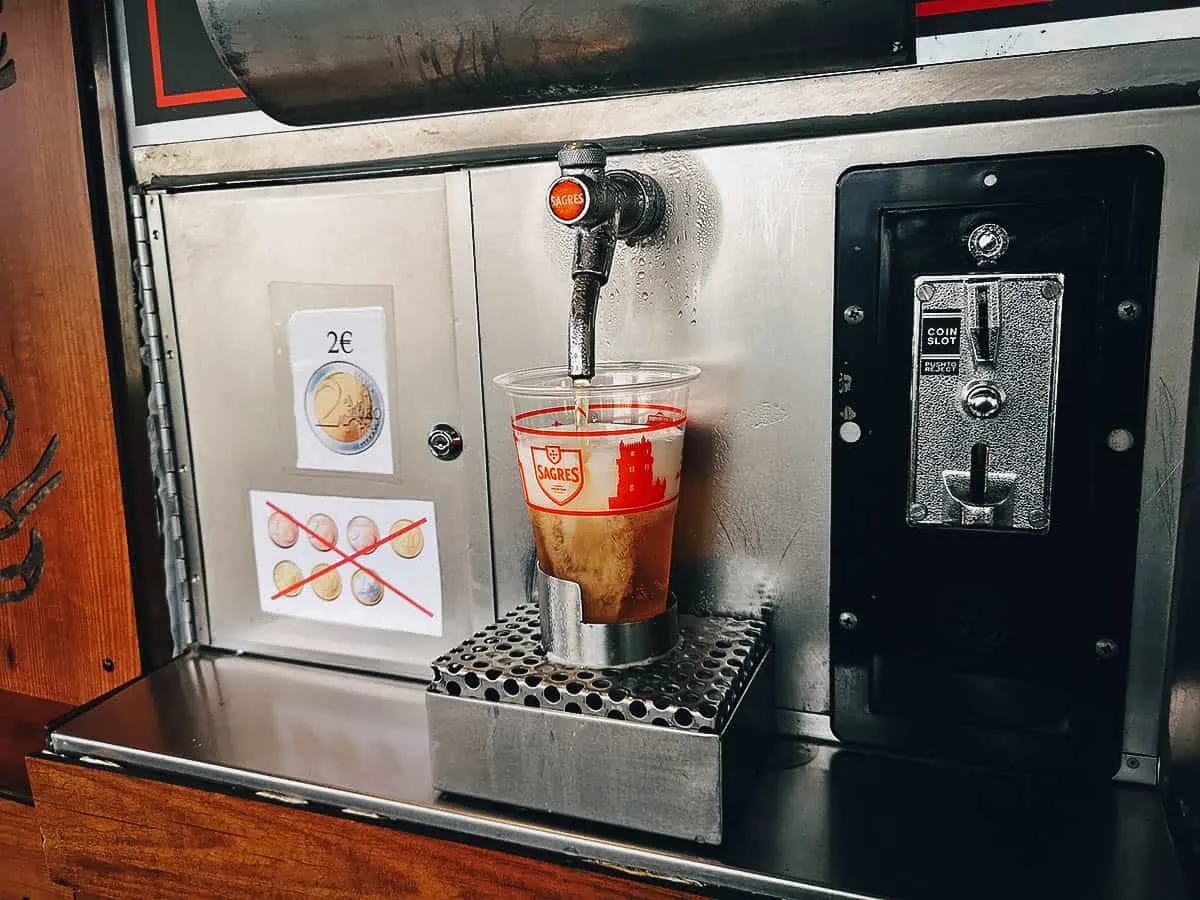 I popped my head in and saw this vitrine of fresh seafood just inside the door. Luckily, we didn't have to wait too long, maybe ten minutes or so.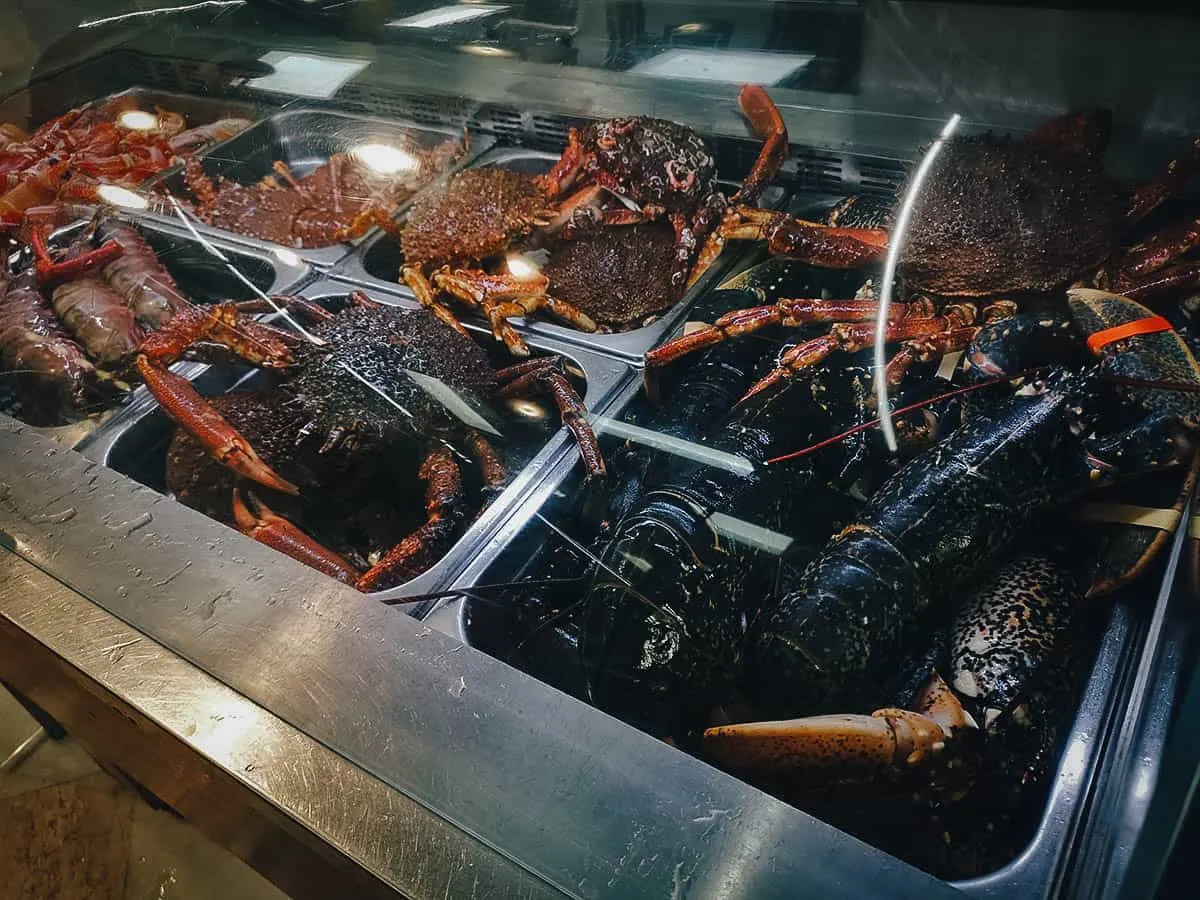 Dining Areas
Cervejaria Ramiro consists of two floors. The first floor was full so we were led up to the second floor. Again, this was at 3PM!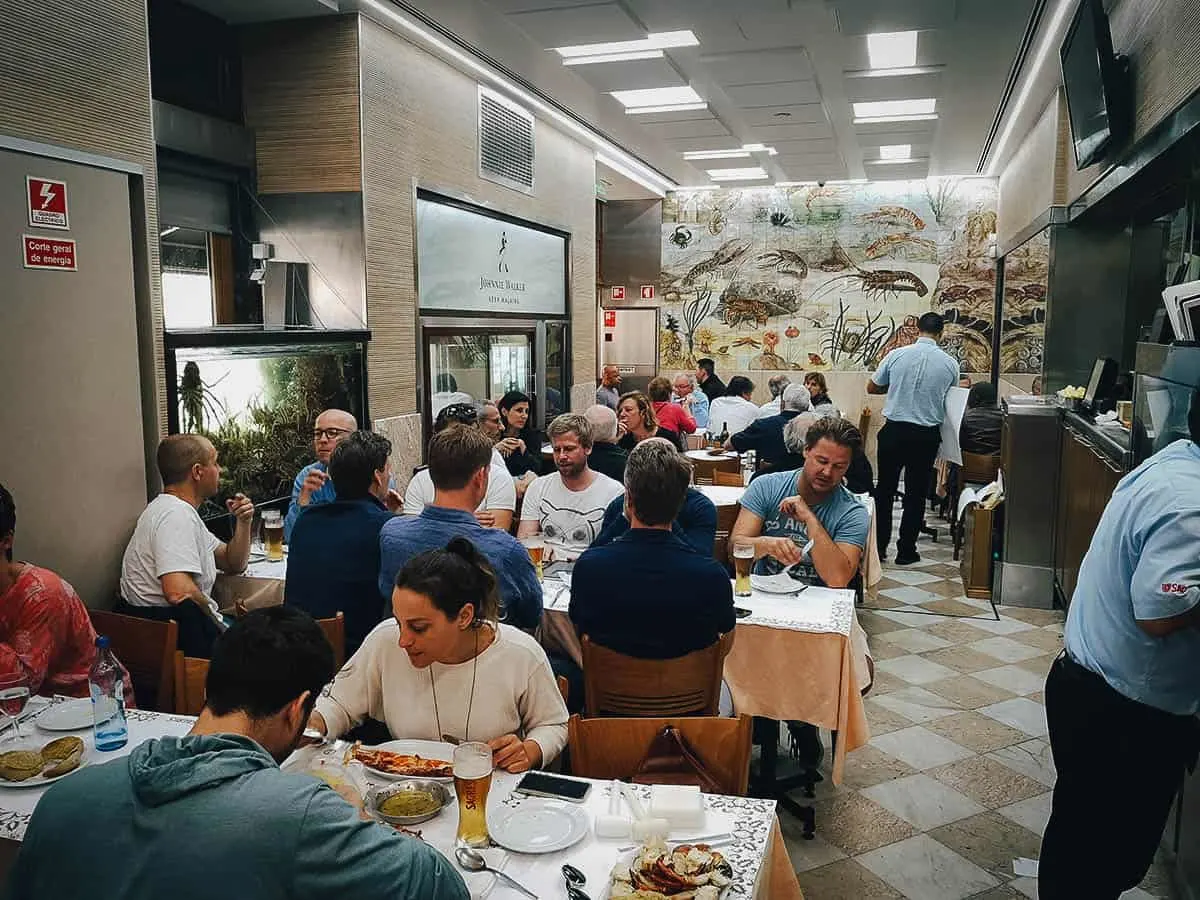 The second floor was nearly full too. It had a nicer interior than the first floor but it was still homey and rustic in feel. No need to dress up to get a table here.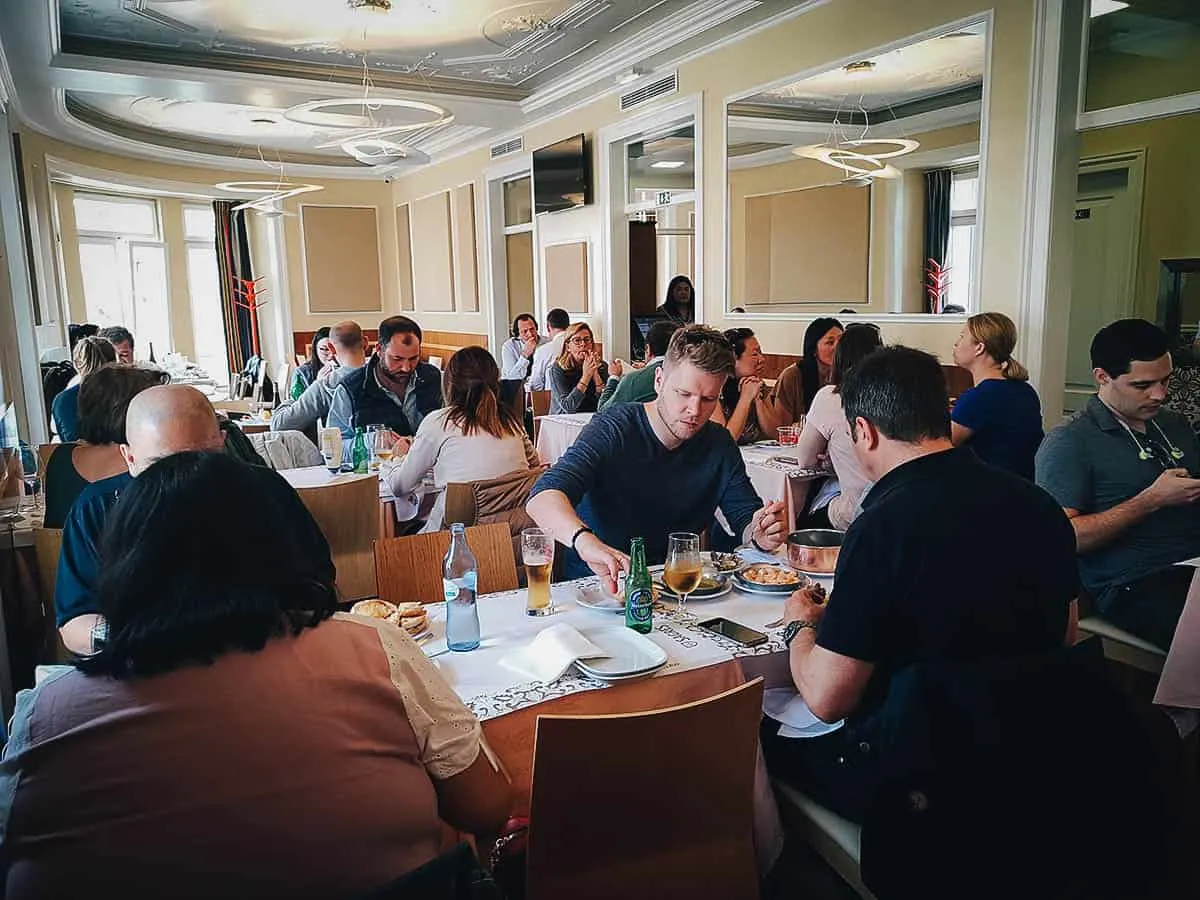 Seafood Feast
They'll start you off with the most delicious rolls of soft buttered bread. They bring them to your table irresistibly warm so we wound up finishing ours within the first few seconds! They're fantastic so we ordered a second plate (EUR 2.76 per order, EUR 1.84 per half-order) to save for the onslaught of seafood that was coming our way.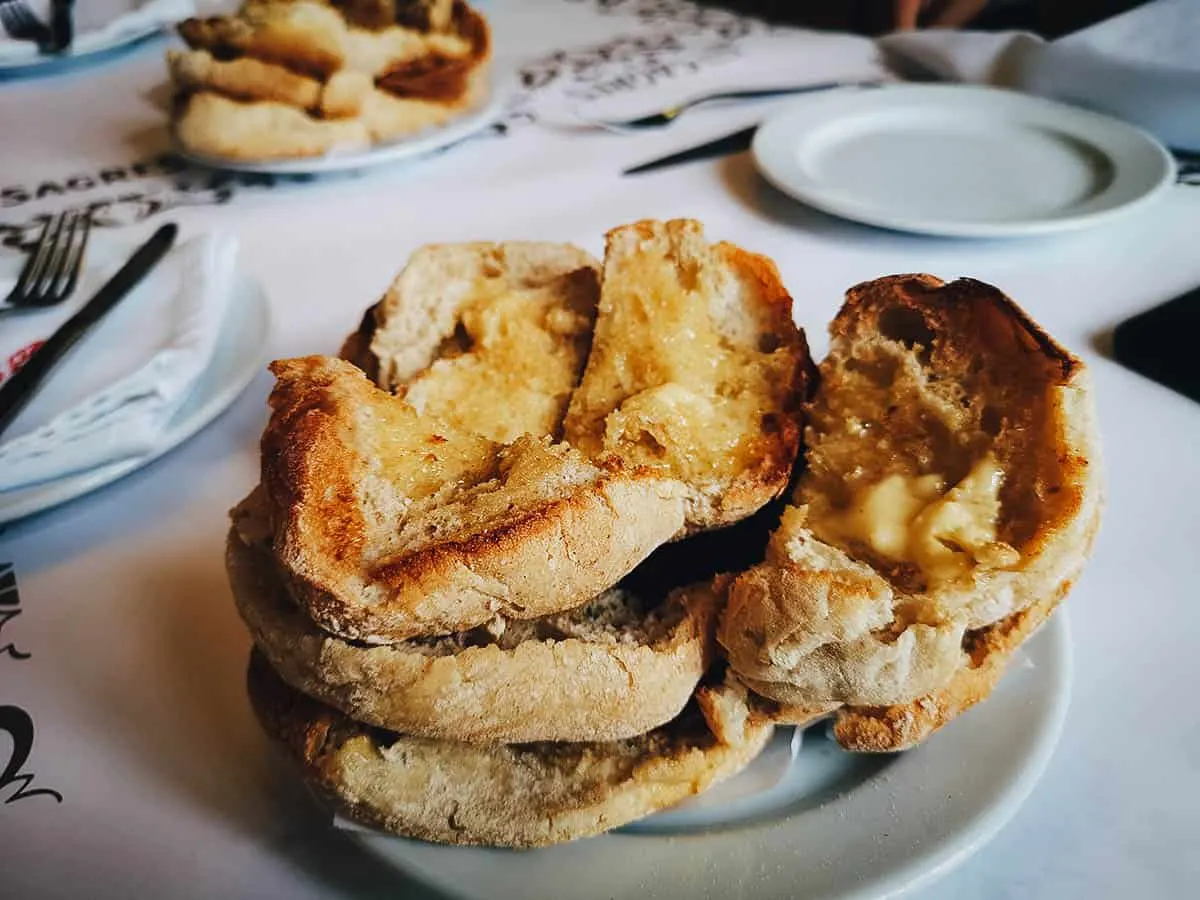 And an onslaught it was, the first wave coming in the form of clams in garlic (EUR 11.62 per order). They were garlicky and absolutely perfect with the buttery bread which we'd dunk directly into the broth. Like the bread, we enjoyed these clams so much we wound up getting a second order.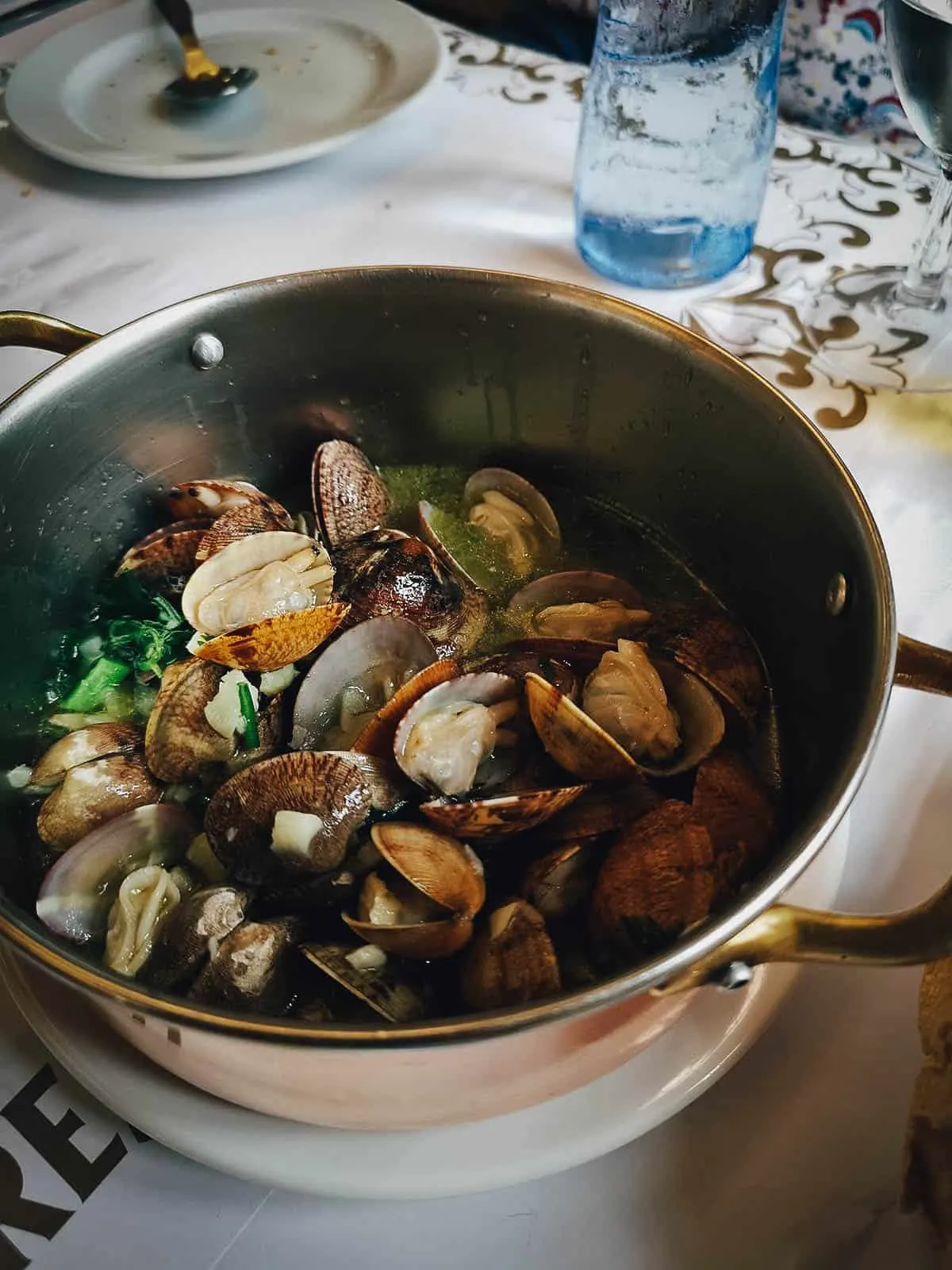 The next round of flavor bombs came in the way of this stuffed stone crab (EUR 23.17 per kilo), a Lisbon classic known locally as sapateira. Crab is one of my absolute favorite foods in the world so I was pleased to find that it was relatively inexpensive compared to other types of seafood on the menu. This was sensational, one of the best parts of the crab you'll see more closely in the next picture.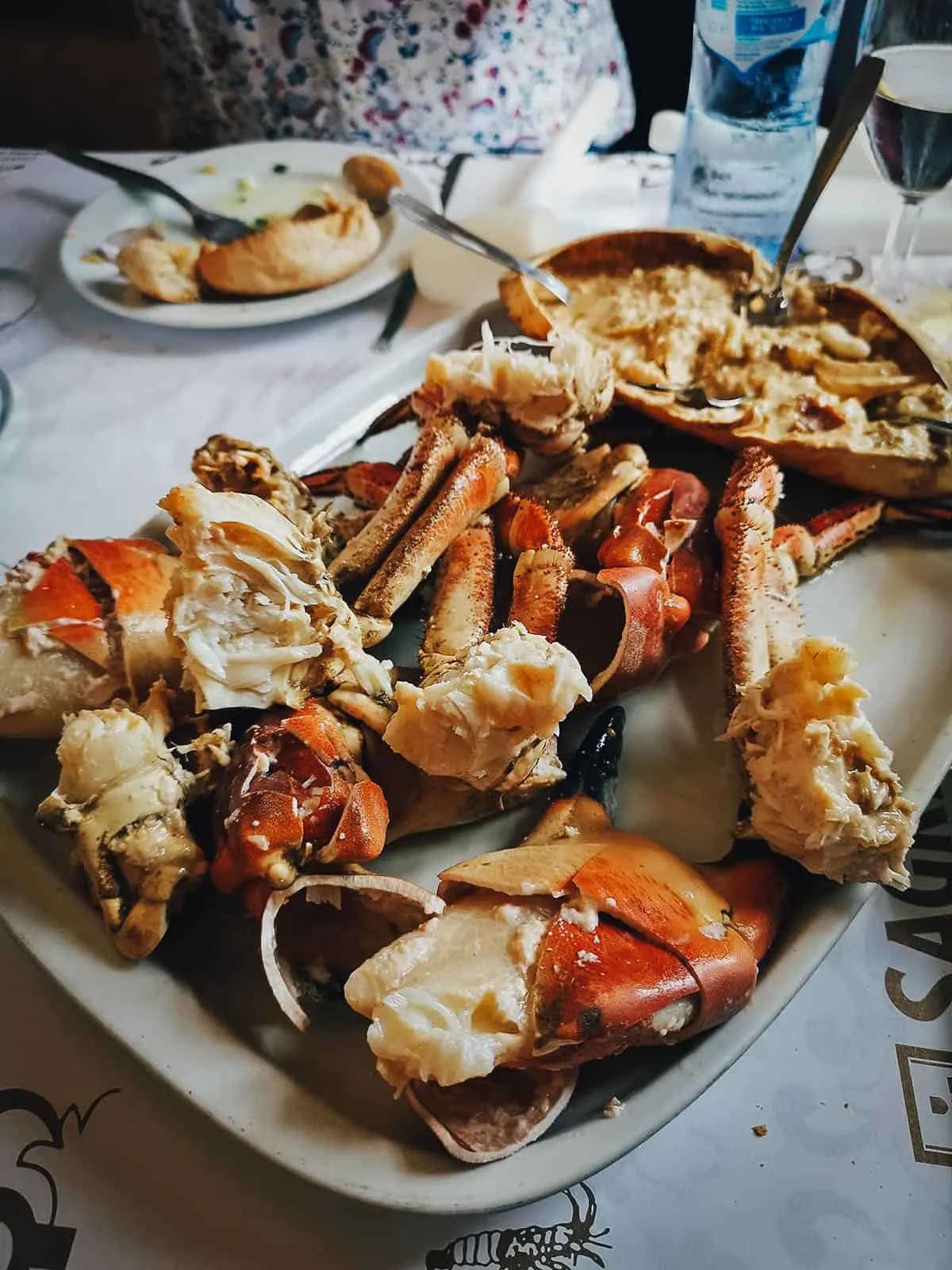 That crab shell looks like a boatful of roe! I looked up a recipe for Portuguese stuffed stone crab and it's actually a mixture of crab meat and roe, shallots, egg, capers, beer, mayonnaise, mustard, and paprika. It's rich, creamy, and perfect with the soft rolls of buttery bread.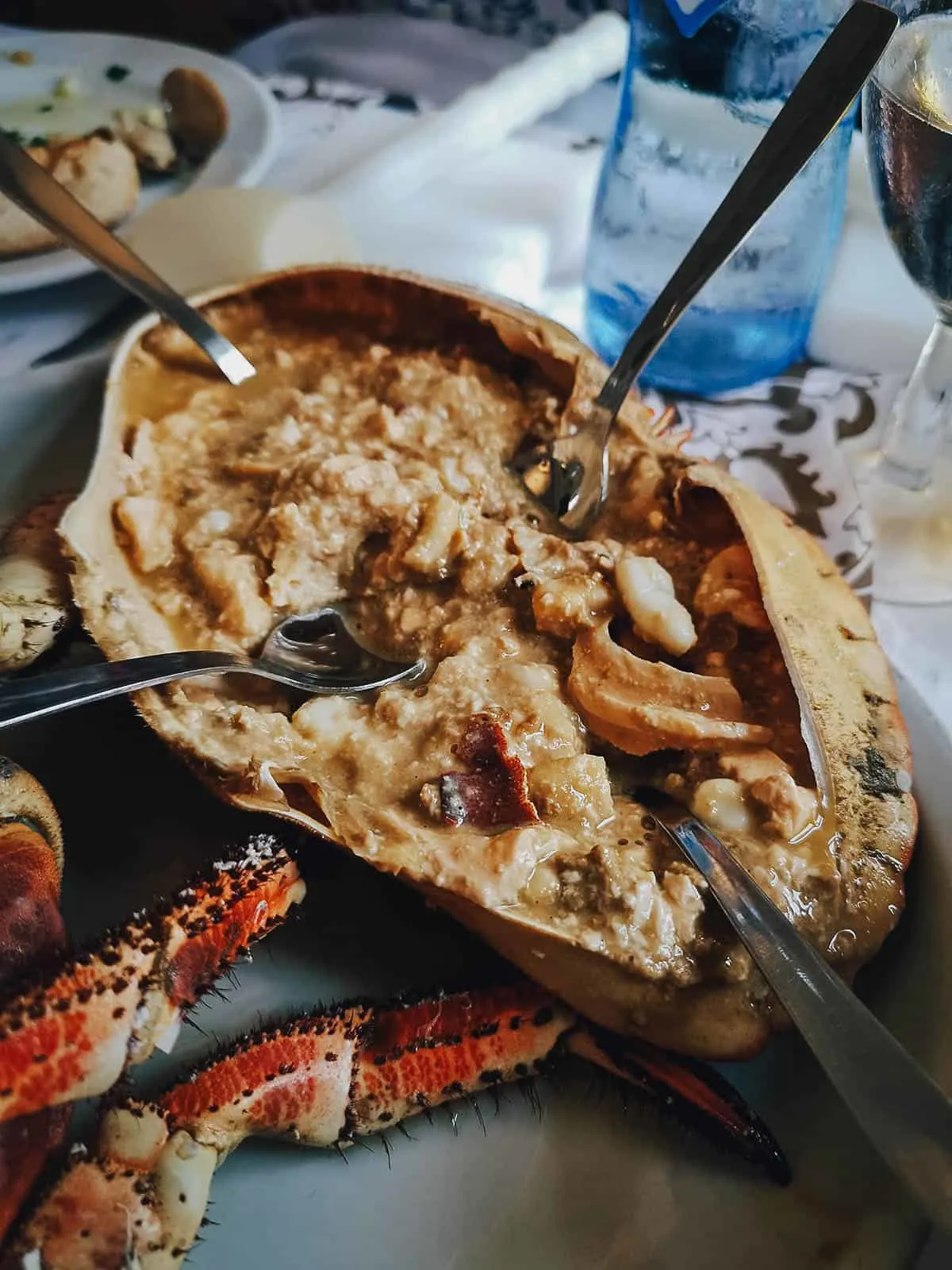 If Cervejaria Ramiro was the one restaurant I was most excited about in Europe, then these alien-looking things was the single dish I was most excited to try. What you're looking at is a plateful of boiled gooseneck barnacles (EUR 55.17 per kilo), otherwise known as percebes or "Lucifer's Fingers".
Percebes are ominously nicknamed not just because of their devilish appearance, but because they're difficult and dangerous to harvest. They thrive on craggy rocks in the ocean's intertidal zone where crashing waves feed them with plankton. They can't be farmed so percebes divers often risk life and limb to harvest them.
I read that percebes are common in Vila do Bispo in Southern Portugal and in the Galician region of Spain, but you can find them here in Lisbon as well. We had already tried them in Santiago de Compostela a couple of times on this trip, but these specimens at Cervejaria Ramiro were by far the biggest and best.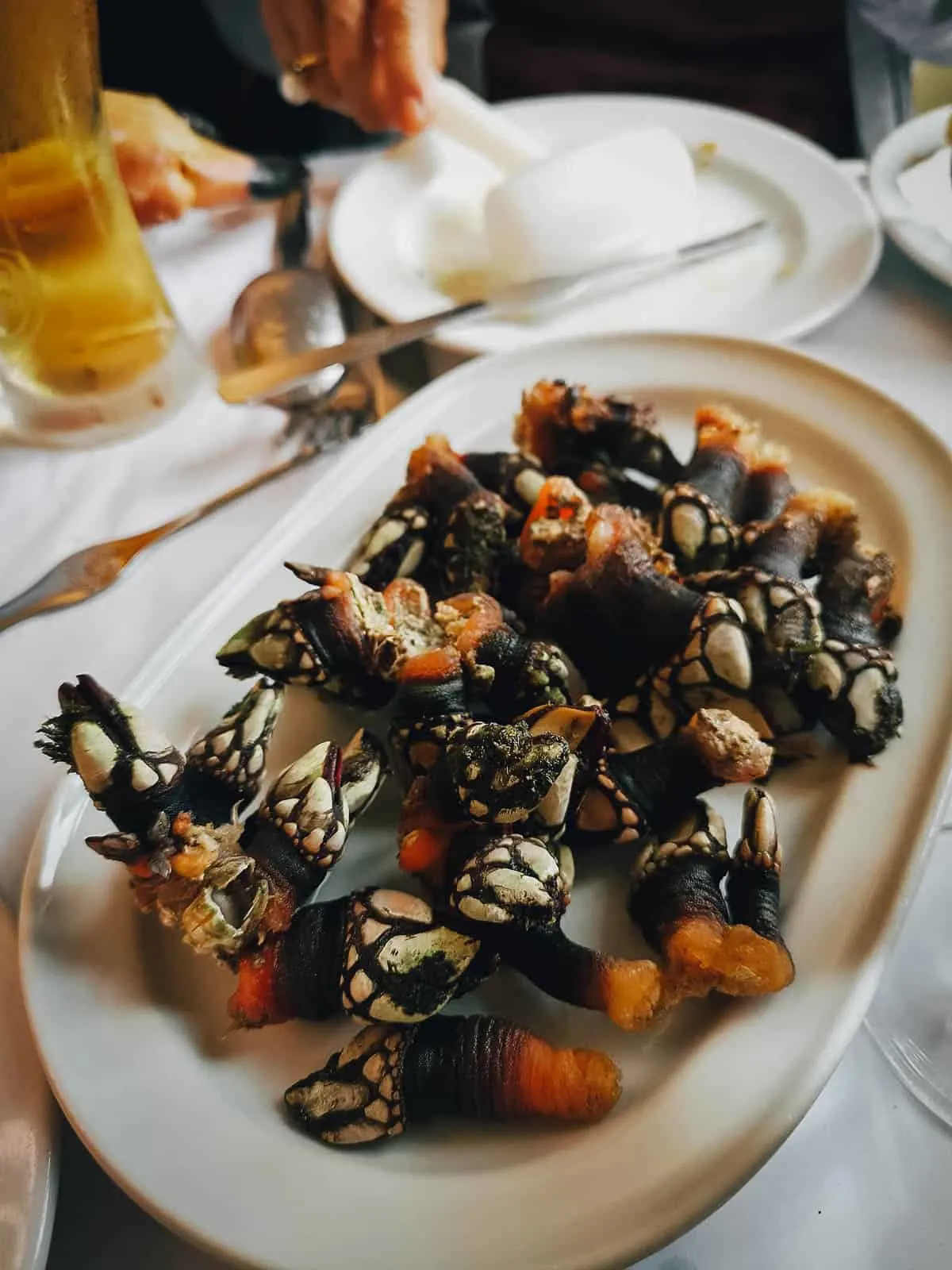 Percebes are prepared simply, by boiling them in seawater. To eat, you squeeze the bottom so it comes out in one whole piece at the top. They're briny and taste similar to sea snails, but with a firmer texture. They're delicious.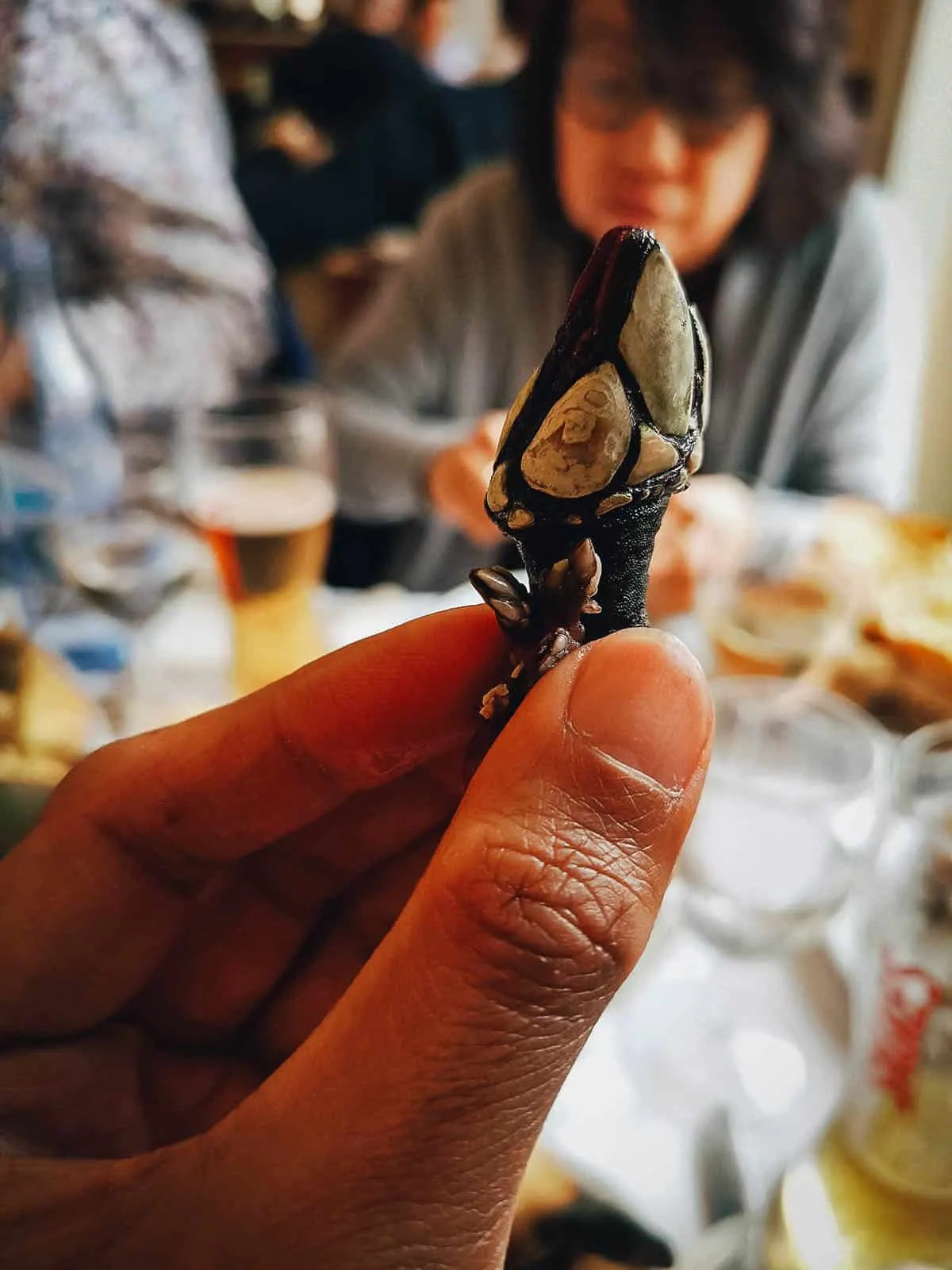 I thought the crab would be the star of today's meal but as it turns out, it was these giant tiger prawns (EUR 67.21 per kilo). These were the biggest prawns I have ever seen in my life. I never thought of shrimp or prawns as filling but these were incredibly meaty and muscular, like you were eating prawn steaks.
We ordered one each which in hindsight was a mistake. As sensational as these were – buttery, meaty, and with a natural sweetness – half a prawn would have been enough for each of us as it would have allowed us to order other dishes.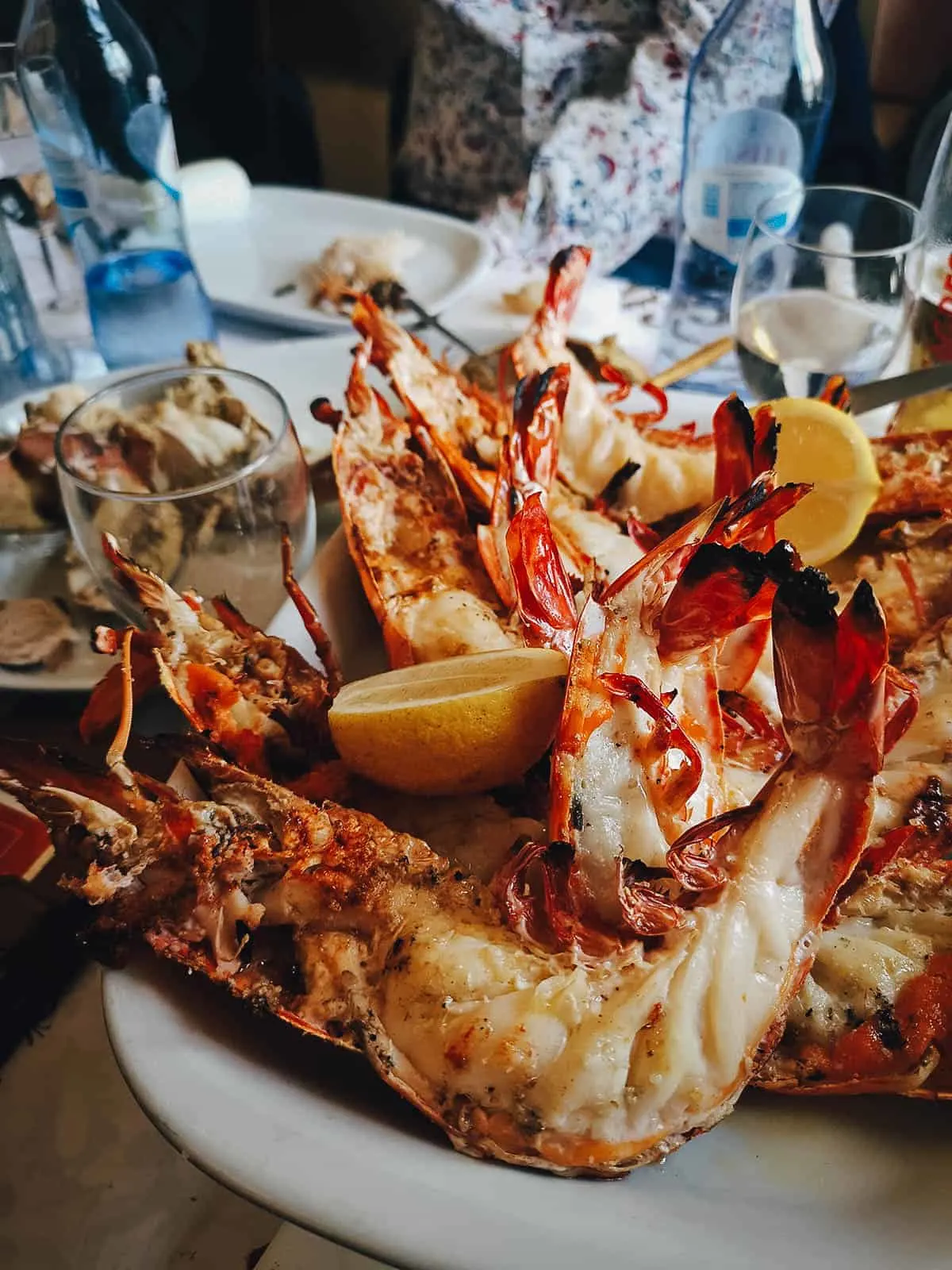 They weren't kidding when they called these things "giant". It's as big as my forearm! See what I mean by half a prawn being enough for one person? Had we done that, then we may have had room for some scarlet prawns or carabineros which are another specialty at Cervejaria Ramiro.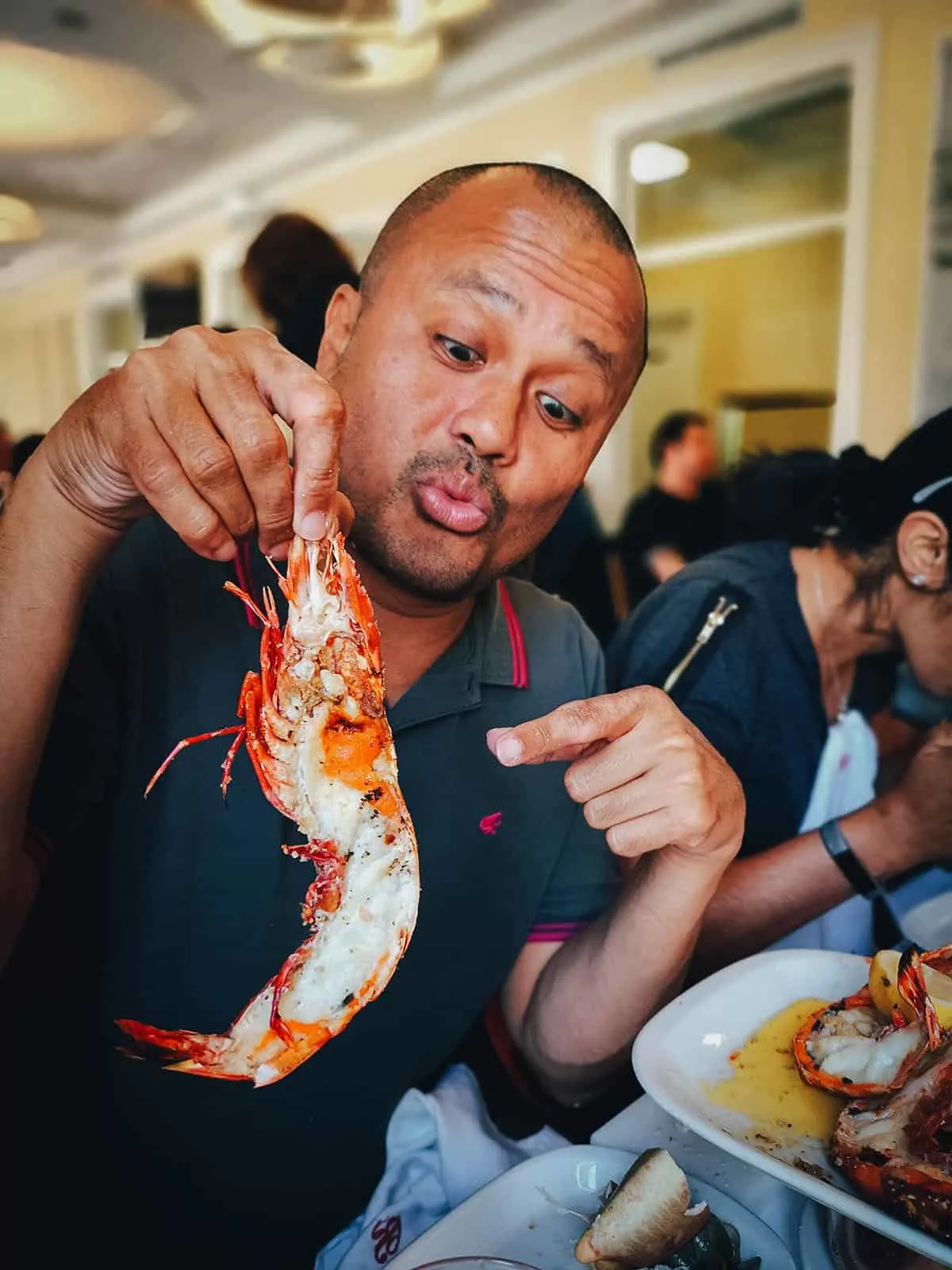 Ordering seafood often makes me nervous because prices are usually marked as "per kg" or "market price". The bill can sometimes be surprising, even shocking, so we were speculating how much our bill would amount to after this seafood feast. EUR 500? EUR 1,000??
As it turns out, not nearly as high as I thought – EUR 394.69. And keep in mind that there were six people in our group. Pictured above are dishes for just three people, so this bill is actually for twice the amount of food. That comes out to about EUR 66 per person, which certainly isn't cheap, but not bad at all considering how much seafood we had. We were all stuffed to the gills!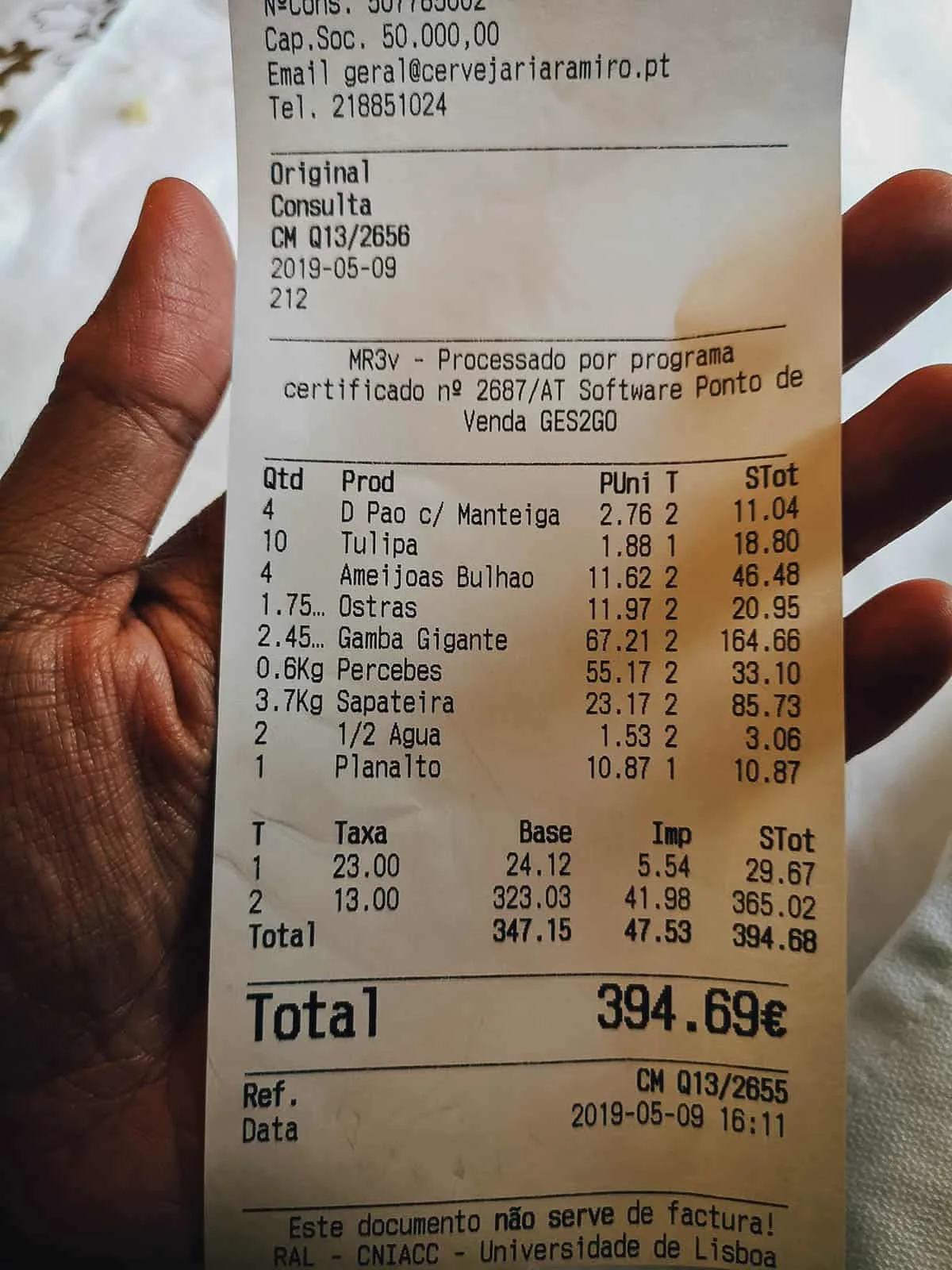 Prego
If you think percebes are a little unconventional, then how about having a steak sandwich for dessert? Yes, that's right. At cervejaria-marisqueiras, it's customary to end a seafood meal with this Portuguese food favorite known as the prego or Portuguese steak sandwich.
The concept may seem odd to foreigners, and the reason why they do it isn't exactly clear, but some locals believe it's to soak up all the alcohol you're bound to drink at a cervejaria. Others think it's to fill you up if an expensive seafood meal wasn't enough to completely satisfy your hunger, which makes sense because they do something similar in Japan when they offer you a bow of rice or porridge at the end of a kaiseki meal. In any case, whoever said that obviously didn't order the giant tiger prawns!
But whatever the reason, a prego sandwich is delicious. The steak is juicy and tender and sandwiched between two halves of soft crusty bread, the same kind they give you at the start of your meal here.
The prego was actually one of my favorite things to eat in Portugal, which I had twice in Porto. Unfortunately, I didn't get to try it at Cervejaria Ramiro because we were just too stuffed from the giant tiger prawns. Boo!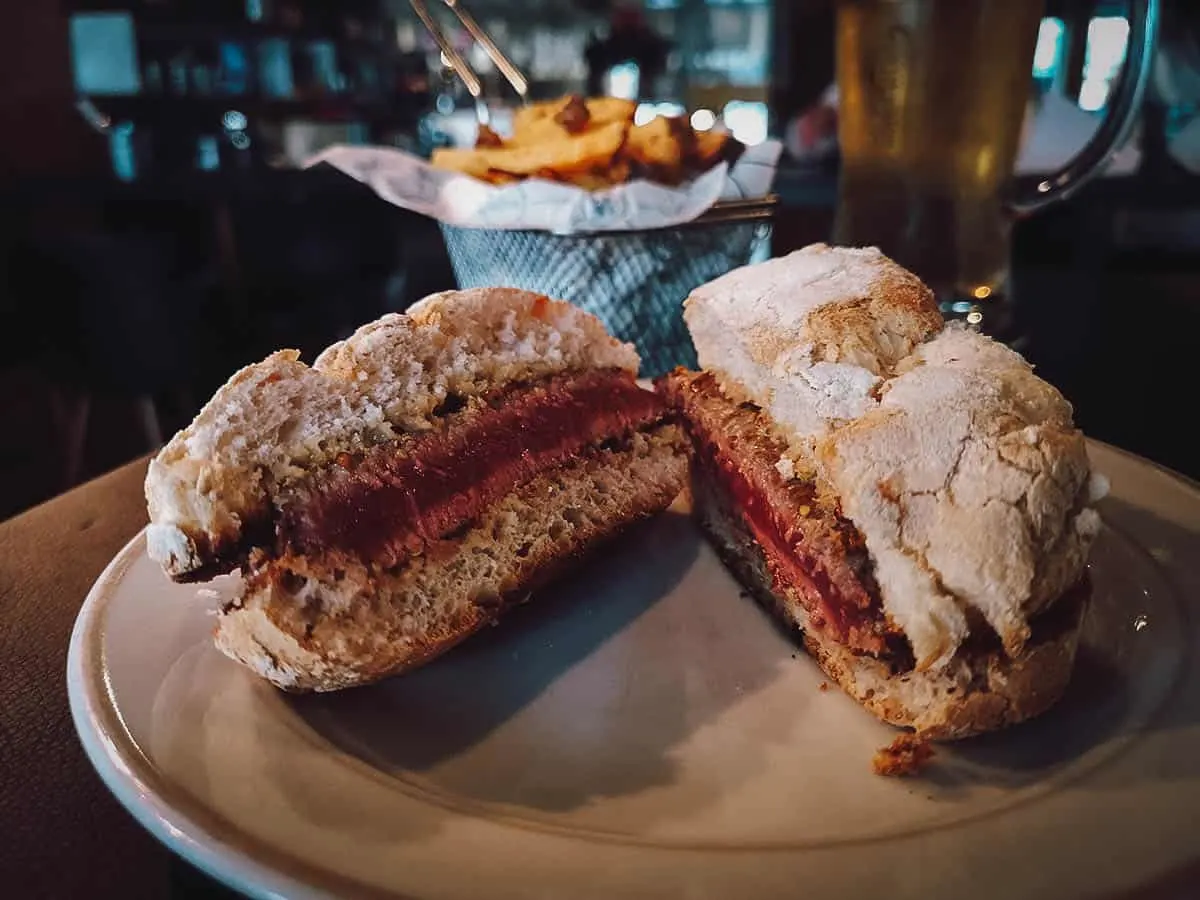 CONCLUSION
To be honest, I don't think I even needed to write anything for this post. The pictures are enough to illustrate just how incredible this seafood feast was.
I lived in San Francisco for a few years and my most epic seafood memories have always been intertwined with the Thanh Long restaurant (or Crustacean). I won't get into details about what that restaurant is and why it's so special, but if you've eaten there, then you'll know what I mean.
This seafood experience at Cervejaria Ramiro rivals that, if not surpassing it. It was hands down the best meal I had not just in Lisbon, but all throughout our stay in Europe. It was unbelievable.
If you're visiting Lisbon and love seafood as much as I do, then you absolutely must eat here. And don't forget to leave room for the prego.
Cervejaria Ramiro
Av. Alm. Reis nº1 – H, 1150-007 Lisboa, Portugal
Tel: +351 21 885 1024
Operating Hours: 12NN-12:30AM, Tue-Sun (closed Mondays)
Expect to Pay: Around EUR 50-60 per person
HOW TO GET THERE: Take the Lisbon metro to Intendente station. Exit the station then walk south along Av. Alm. Reis. The restaurant will be on your right on the corner of Av. Alm. Reis and R. Nova do Desterro.
Disclosure
The TripAdvisor link in this post is an affiliate link, meaning we'll earn a small commission if you make a purchase or booking at no extra cost to you. We really appreciate your support as this helps us keep this website going. Thank you!