There's a lot to love about Lisbon.
It's a beautiful city with a passion for the arts and good Portuguese food. In fact, so delicious is the food in Lisbon that National Geographic readers declared it the world's top foodie hotspot in 2019.
We had been wanting to eat our way through Lisbon for many years, but all the more so after watching the Portugal episode of Somebody Feed Phil. We visited six eateries featured on that episode and added six more of our own to come up with this list of the best places to eat in Lisbon.
If you're visiting Lisbon and looking for some amazing Portuguese food experiences, then I hope this Lisbon food guide points you in the right direction.
FOOD IN LISBON QUICK LINKS
To help you with your Lisbon trip planning, we've put together links to recommended hotels, tours, and other travel-related services here.
HOTELS
Top-rated hotels in Baixa/Chiado, one of the best and most convenient areas to stay for first-time visitors to Lisbon.
TOURS
OTHER SERVICES
LISBON TRAVEL GUIDE
If you're planning a trip to Lisbon, then be sure to check out our detailed Lisbon travel guide. It'll give you all the information you need – like where to stay, which attractions to visit, when to go, etc. – to help you plan your trip.
Save This on Pinterest!
No time to read this Lisbon food guide now? Click on the save button and pin it for later!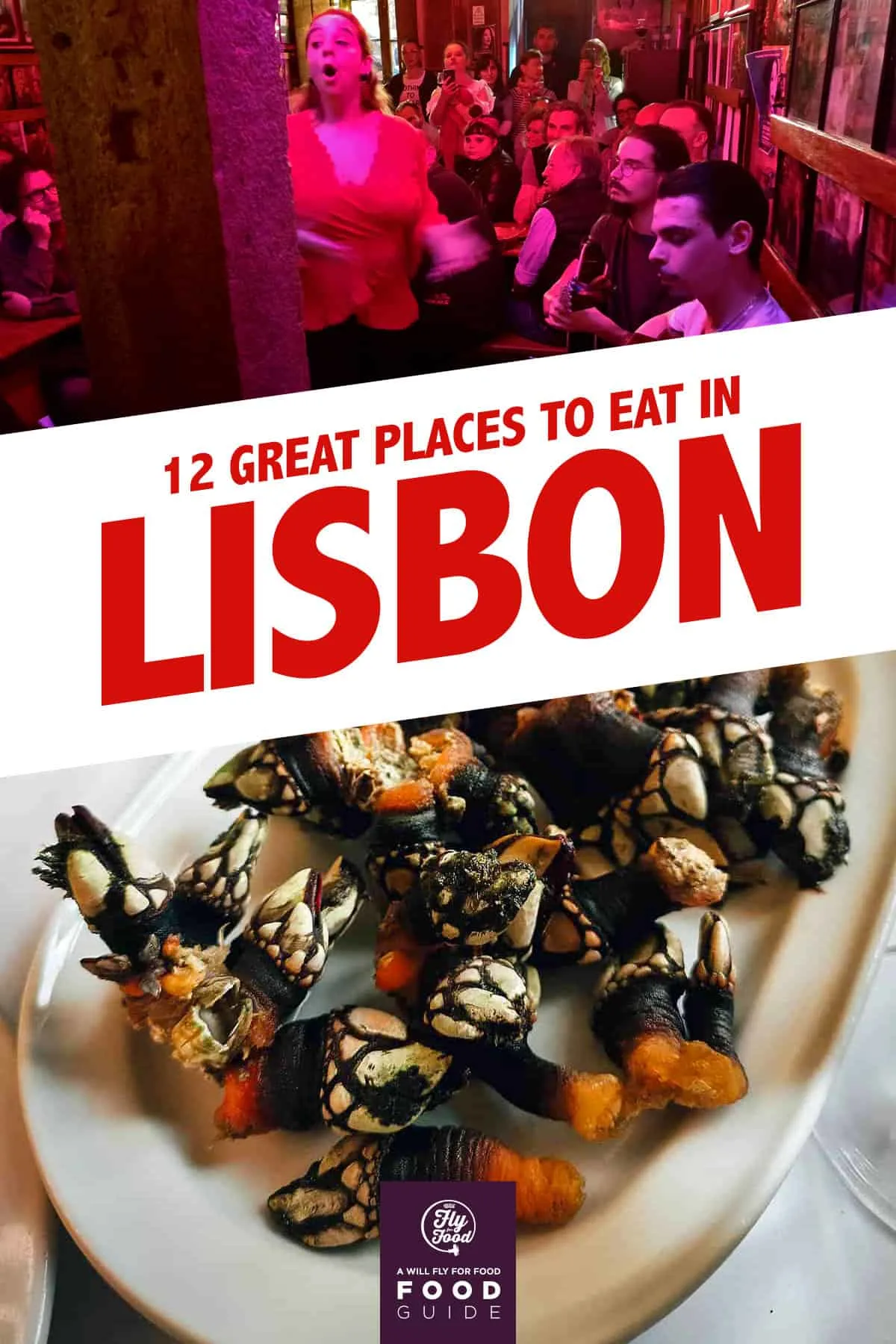 WHERE TO EAT IN LISBON
1. Miss Can
Miss Can is a small petiscaria (like a tapas restaurant) located in Lisbon's beautiful and historic Alfama neighborhood. They offer just a few Portuguese delicacies on a focused menu headlined by their own line of conservas.
Conservas are small cans of gourmet seafood popular in Portugal and Spain. They've been an important part of Portuguese food heritage since the 1850s. Packaged in colorful tins, they make for a great souvenir food item or a tasty on-the-spot snack.
Different types of preserved seafood like bacalhau, squid, sardines, and mackerel fillets are packaged in these attractive tins wrapped in decorative paper. You can get them to go or eat them here at the shop.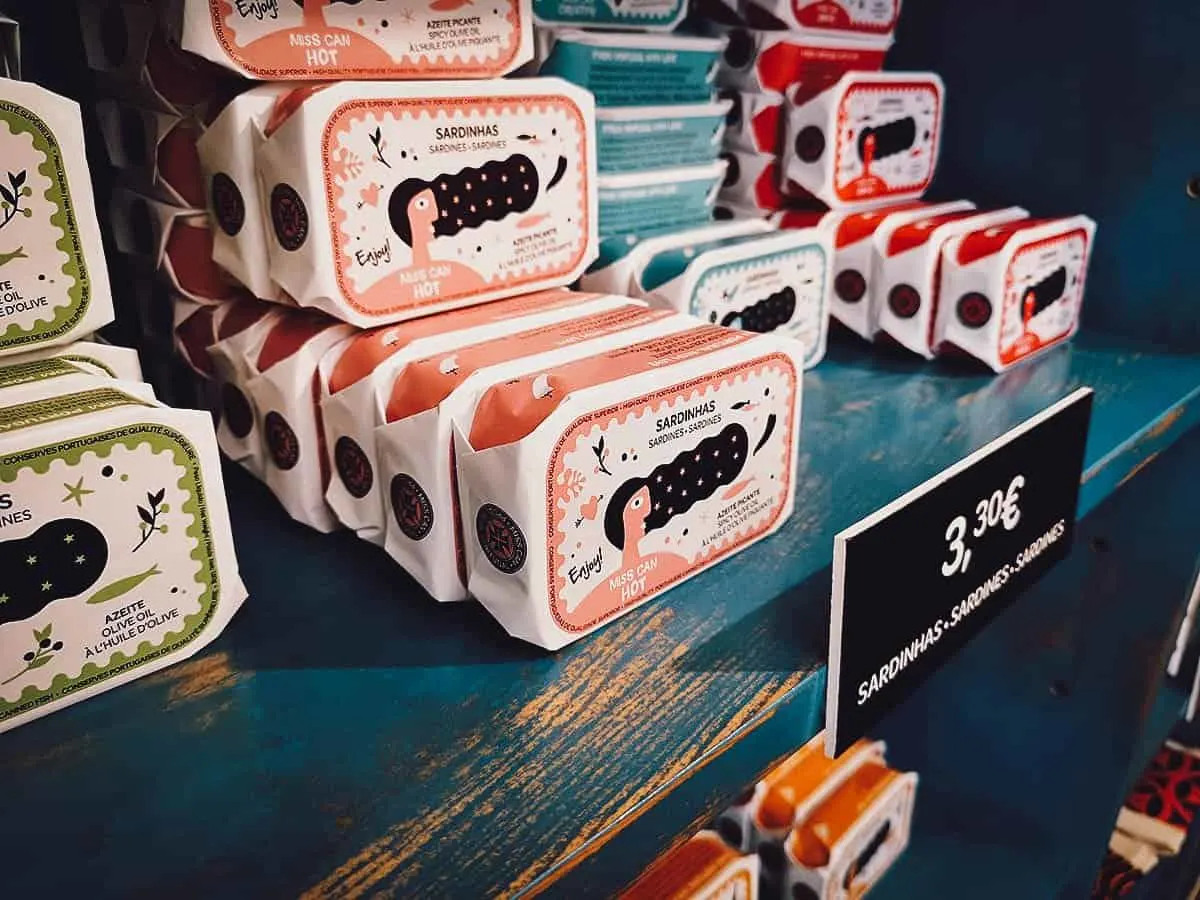 We were still full from a big lunch at Time Out Market so we just enjoyed a light snack of sardine conservas at Miss Can. You can get them seasoned with olive oil, spicy olive oil, spicy olive oil with pickles, or tomato sauce.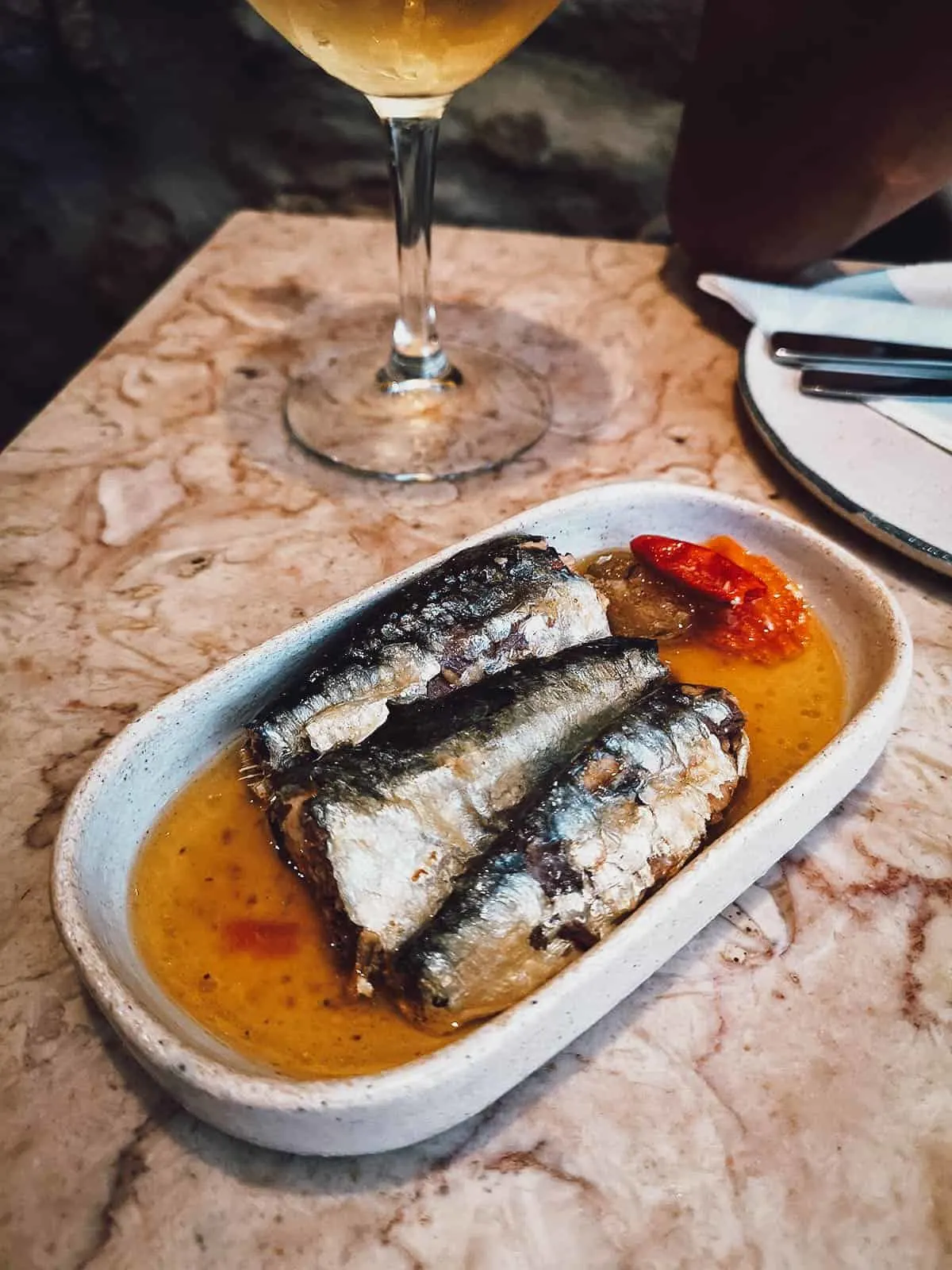 Upon the recommendation of our server, we washed down our conservas with glasses of a dry white port mixed with tonic water. Saúde!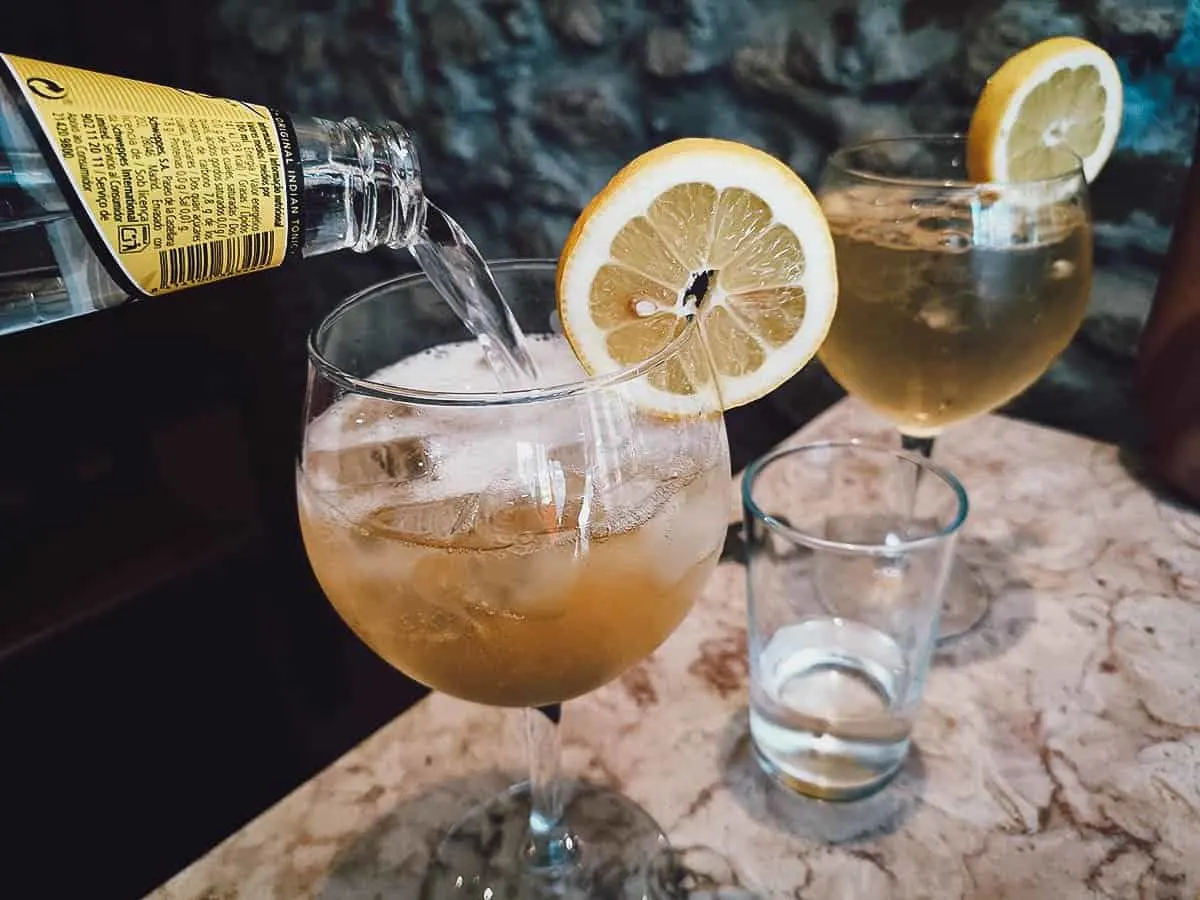 Alfama is a popular tourist spot so it's always crowded. We were lucky to find Miss Can by accident when we were searching for a quiet place to escape the crowds and midday heat.
The shop is located in a lovely sloped courtyard that's partially hidden and away from the main tourist areas so it doesn't get as much foot traffic. It's a nice quiet place to enjoy conservas and wine in beautiful but busy Alfama.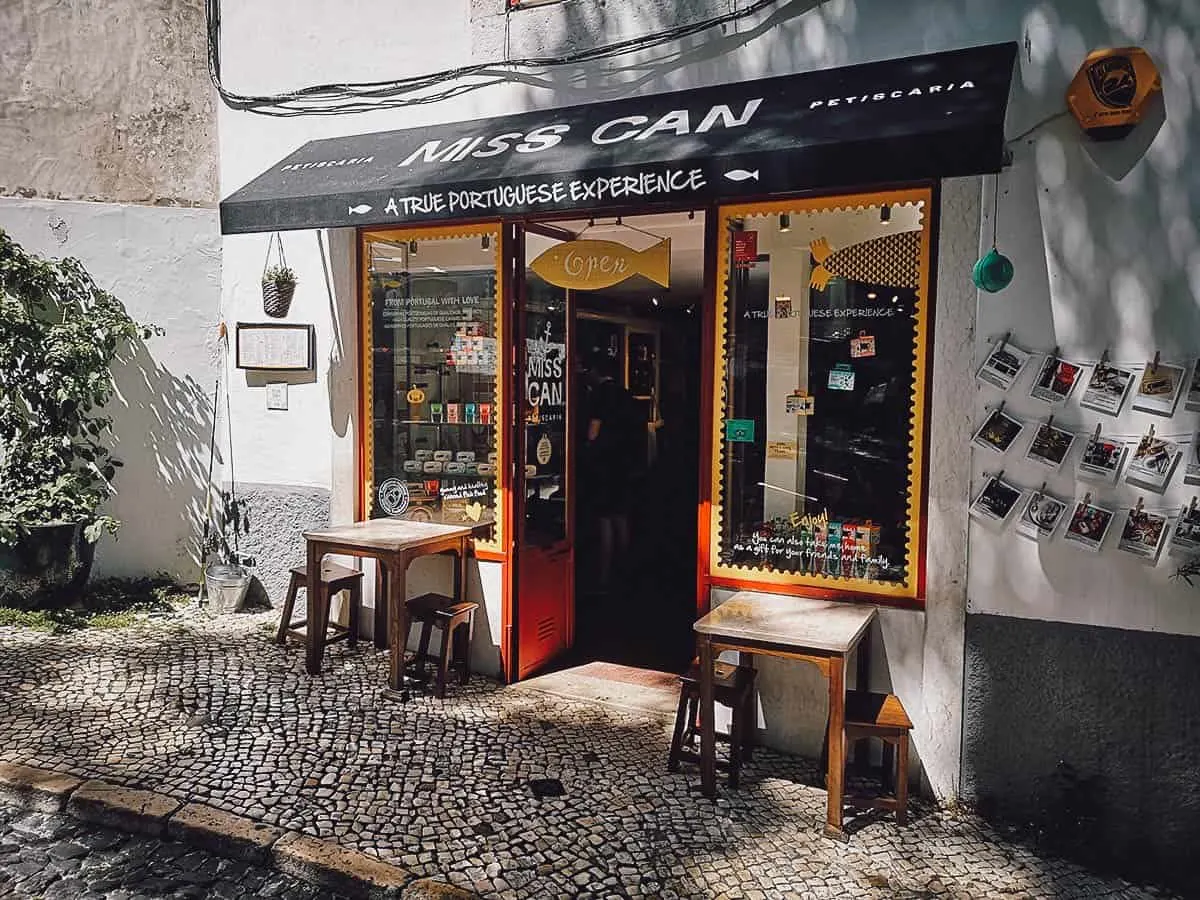 Miss Can
Address: Largo do Contador Mor 17, 1100-160 Lisboa, Portugal
Operating Hours: 11AM-7PM, daily
What to Order: Conservas
Expect to Pay: About EUR 4 per can
2. Tapa Bucho
What's your favorite part of any restaurant's menu? For us, it's the appetizer section, which is why we love going to tapas bars. Instead of limiting ourselves to just two entrees, we get to sample 5-6 smaller dishes.
We found Tapa Bucho on TripAdvisor when we were searching for a highly-rated tapas restaurant in the Bairro Alto District. The restaurant's rave reviews spoke for themselves.
We tried about eight different types of tapas, all of which were excellent. Pictured below is a trio of croquetas or Portuguese croquettes made with alheira (Portuguese sausage), jamon (ham), and squid cooked in its own ink.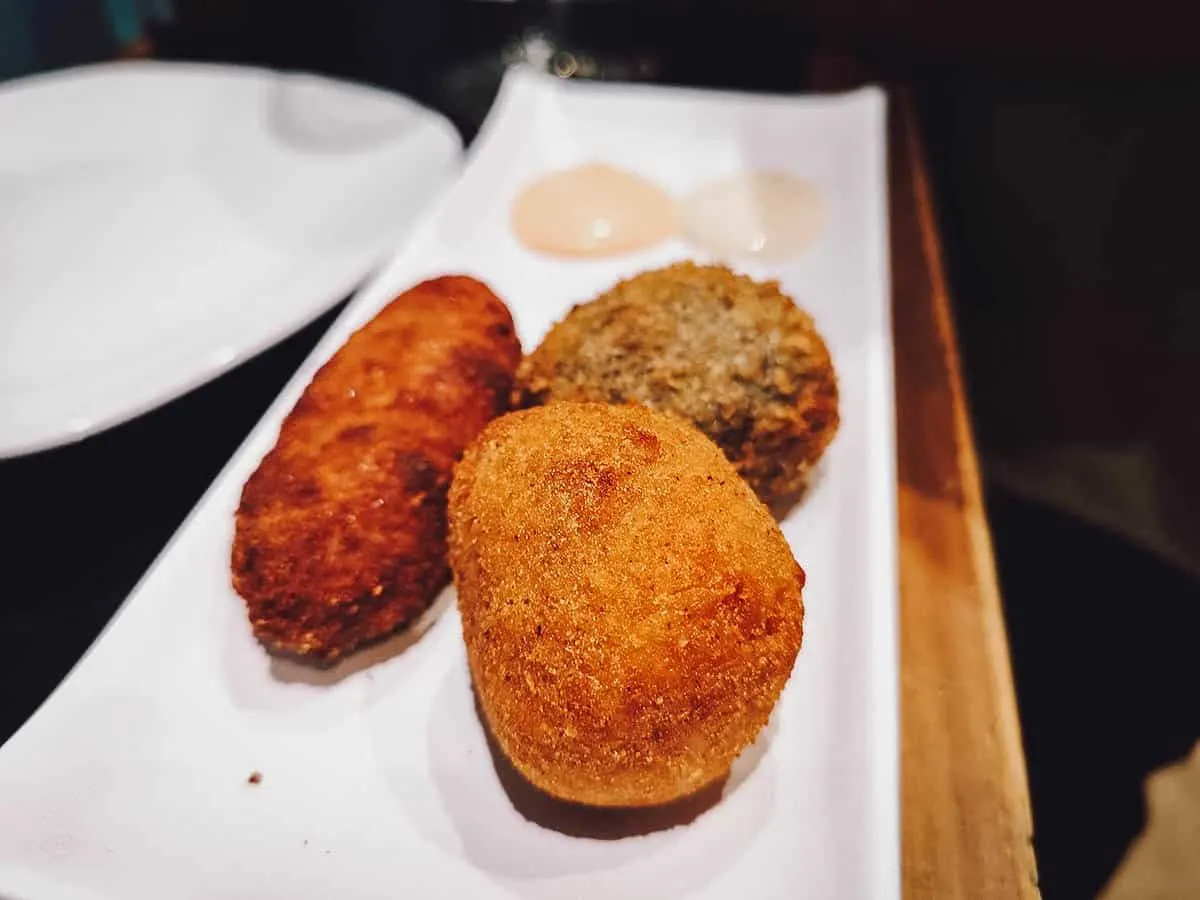 We had these a few times in Spain. Padron peppers are a type of pepper grown in the Galicia region of Spain.
Padron peppers are a popular tapas dish that's customarily fried in olive oil and served with a sprinkling of coarse salt. Tapa Bucho serves theirs with salsa brava, a mildly spicy sauce made with pimenton, olive oil, and flour.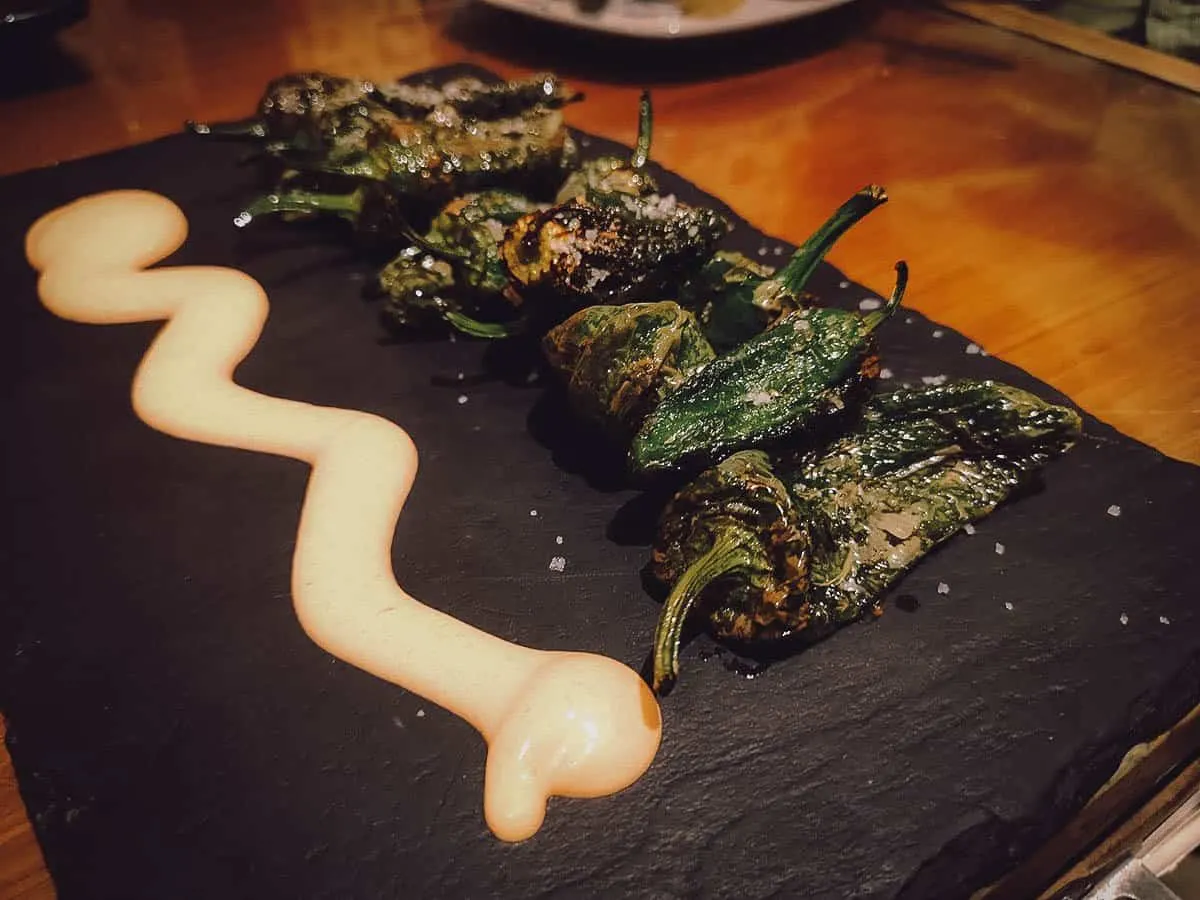 This may have been my favorite dish from tonight. What you're looking at is a pair of oxtail tacos made with caramelized onion, bacon, mushroom, cheam cheese, cilantro, and some type of dark sauce or savory jam. Saboroso!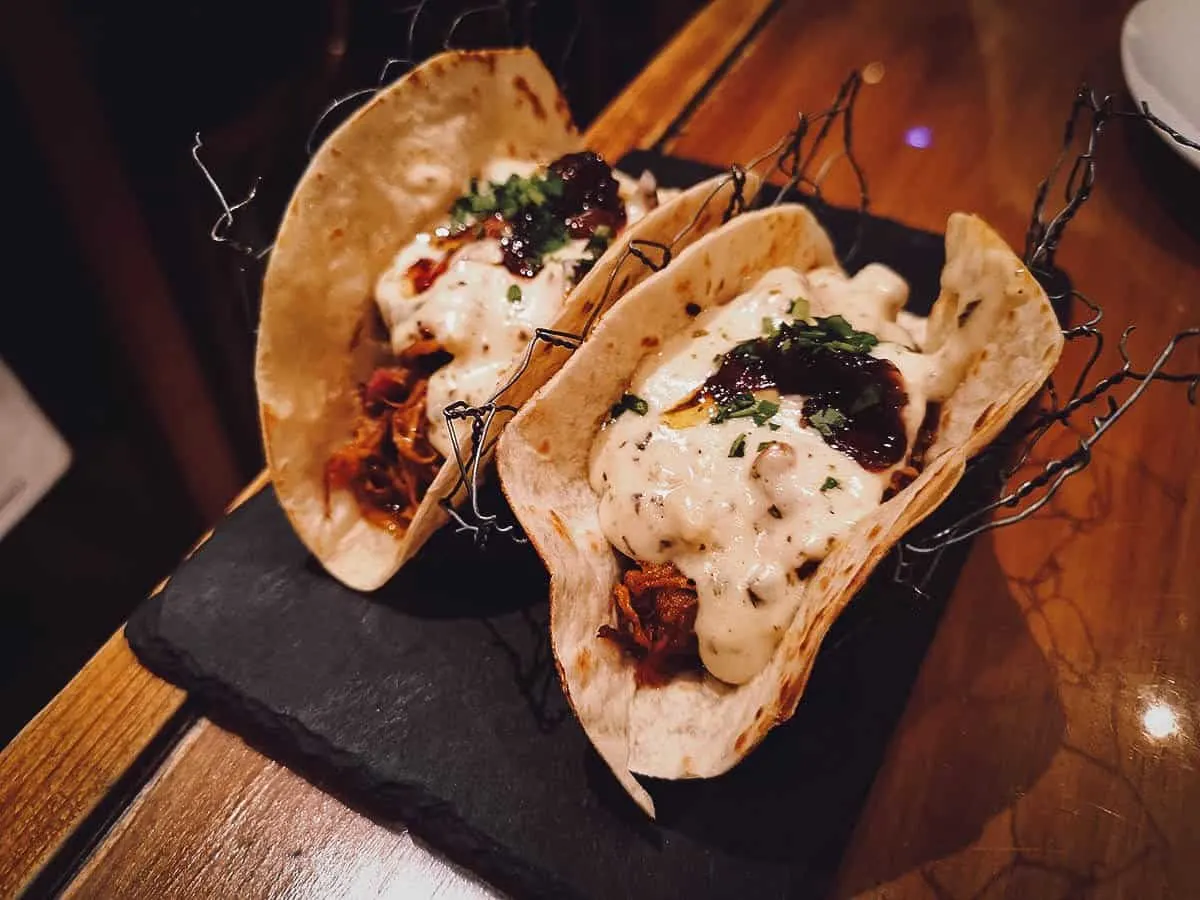 It doesn't seem like it in this picture but Tapa Bucho is a popular Lisbon restaurant. It was packed when we were there so we had to wait several minutes for a table.
Tapa Bucho is a TripAdvisor Certificate of Excellence awardee with a near-perfect 4.5-star rating and over 1,000 reviews.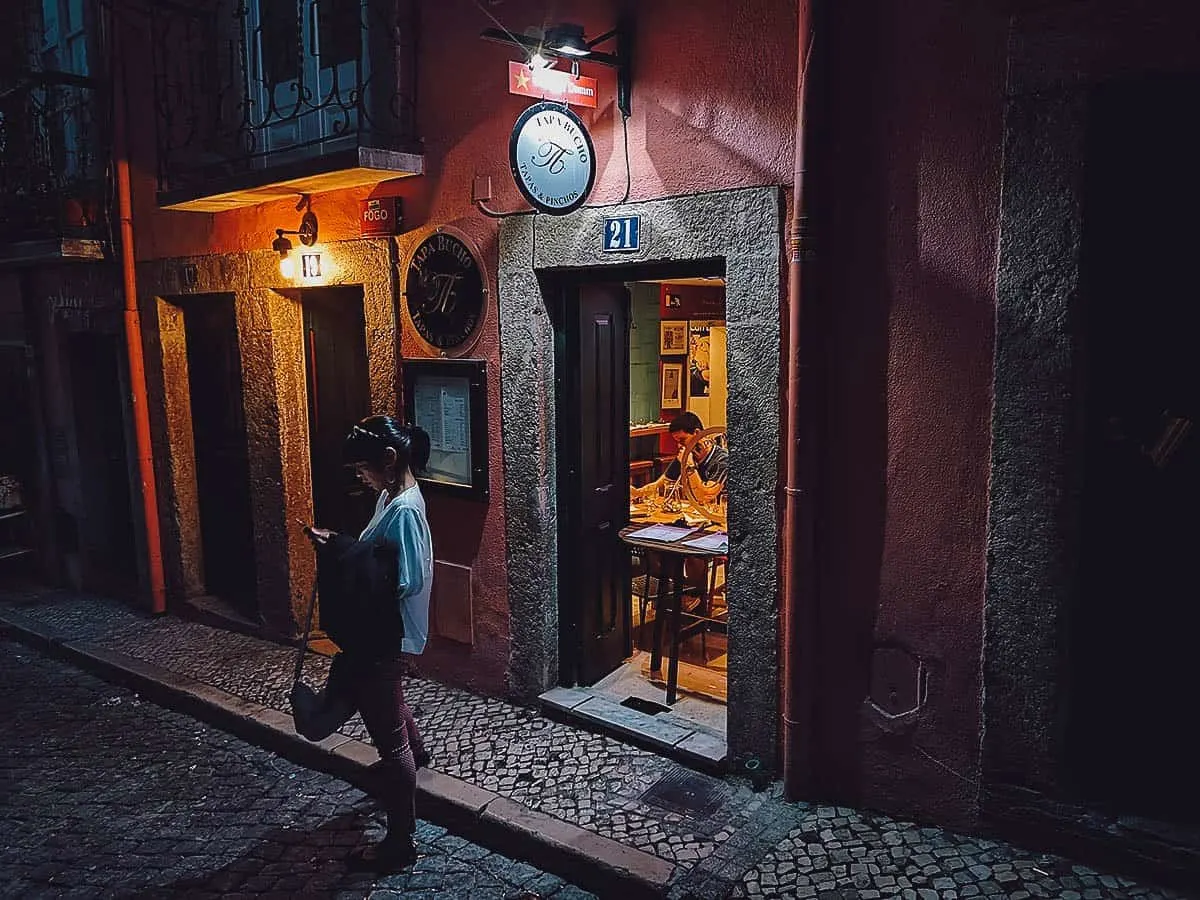 Tapa Bucho
Address: R. dos Mouros 19, 1200-141 Lisboa, Portugal
Operating Hours: 7-11:30PM, Mon-Thu / 7-11:45PM, Fri-Sat (closed Sundays)
What to Order: Tapas
Expect to Pay: About EUR 6-8 per order of tapas
3. Leve Leve Tapas Bar
Around the corner from Tapa Bucho is Leve Leve, another popular tapas bar in Bairro Alto. They have an even more focused menu with only about a dozen tapas dishes and a few salads and desserts.
We were already pretty full after Tapa Bucho so we ordered just two dishes at Leve Leve, starting with this delicious board of Portuguese sardines served with fried tomato and onion on crusty bread.
Sardines fished from the Atlantic are among the most popular dishes you can have in Lisbon. Fresh sardines can be enjoyed between June and October but locals eat canned sardines (conservas) throughout the year.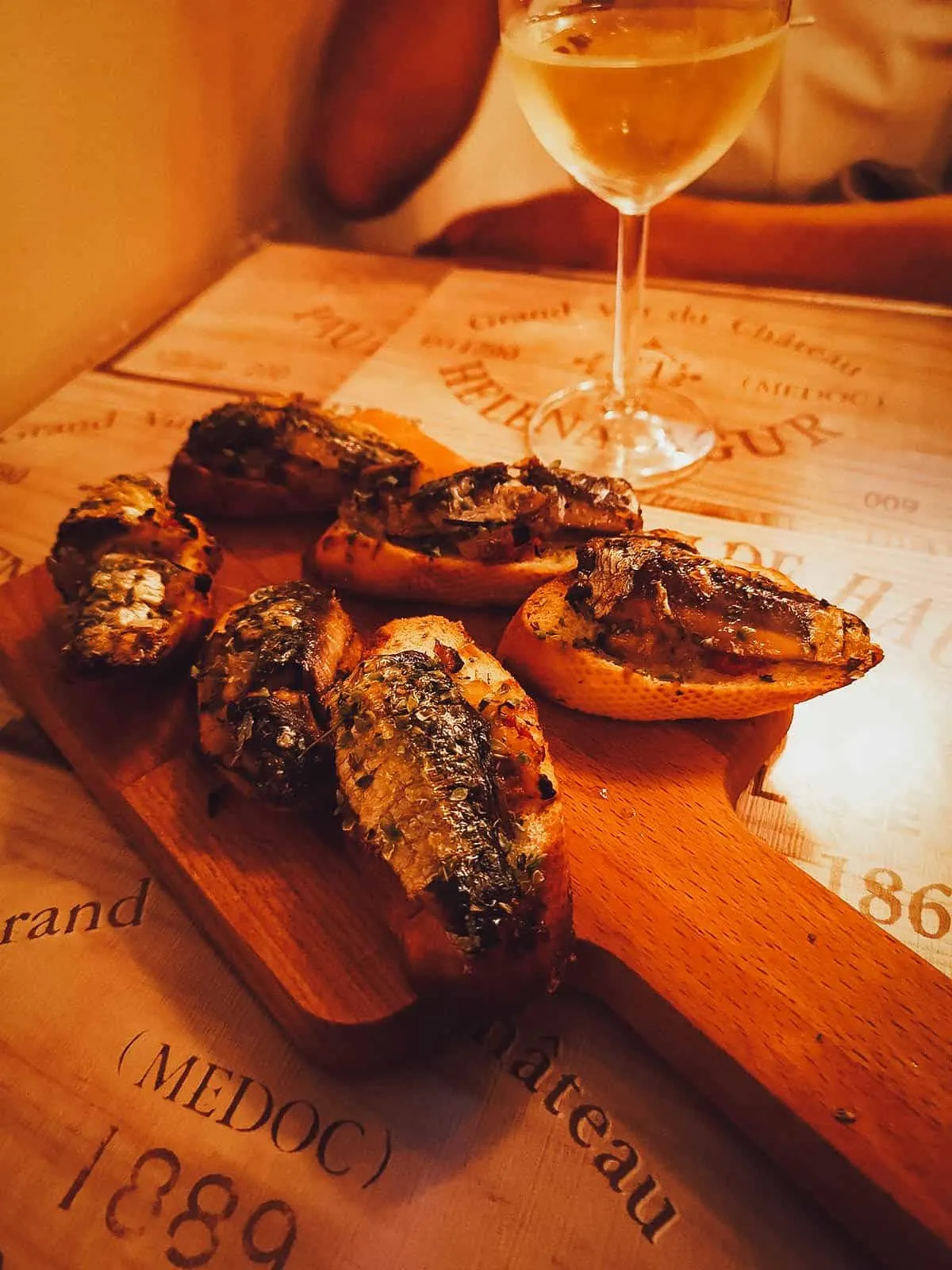 Our second dish was this fanstastic roasted sausage listed on their menu as the "Sausage from Hell". Don't let its fiery moniker scare you. It's spicy but not too spicy.
Smokey with snap and served on a bed of arugula, it's got a nice firm texture and probably gets its name from the use of copious amounts of pimenton. It was very tasty.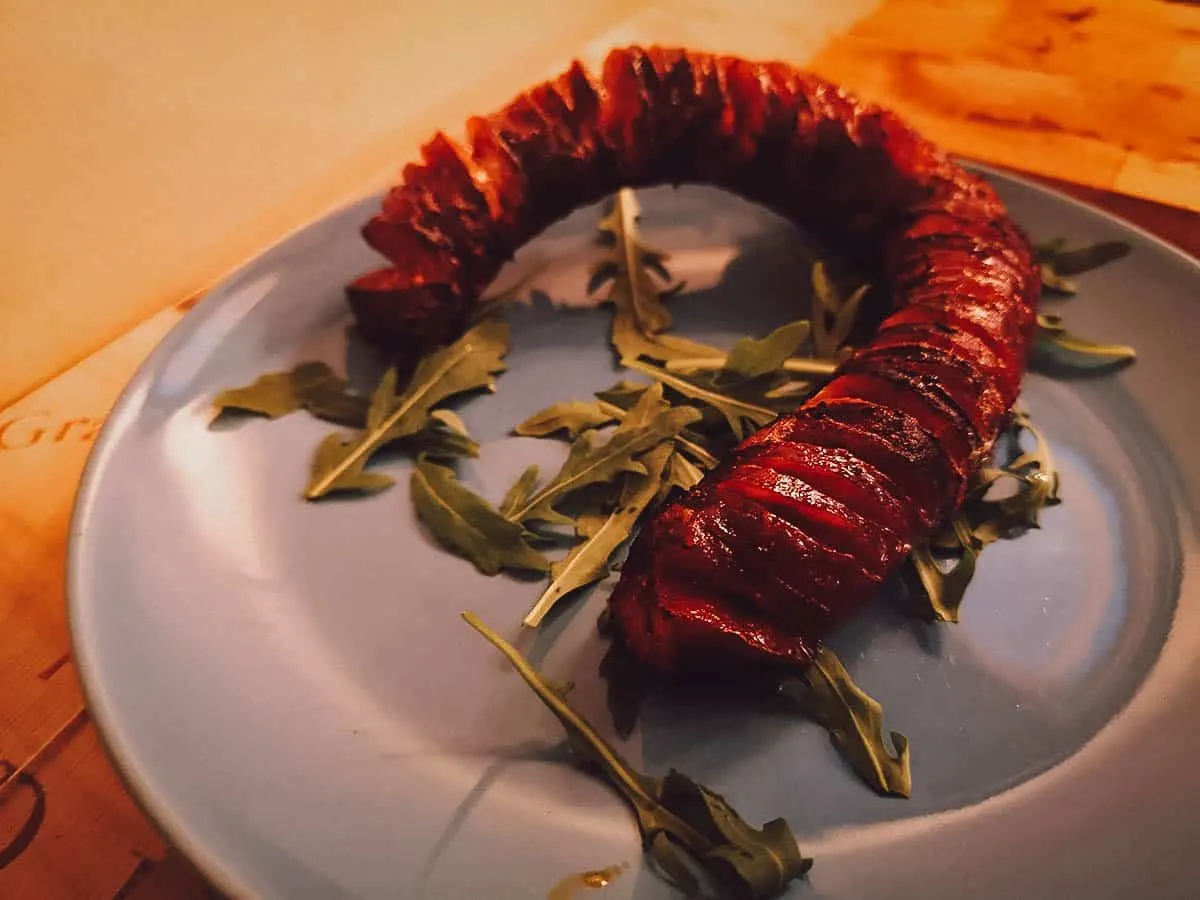 Leve Leve Tapas Bar was one of the busiest Lisbon restaurants we visited. It's popular and not that big so be prepared for a wait. It's definitely worth it.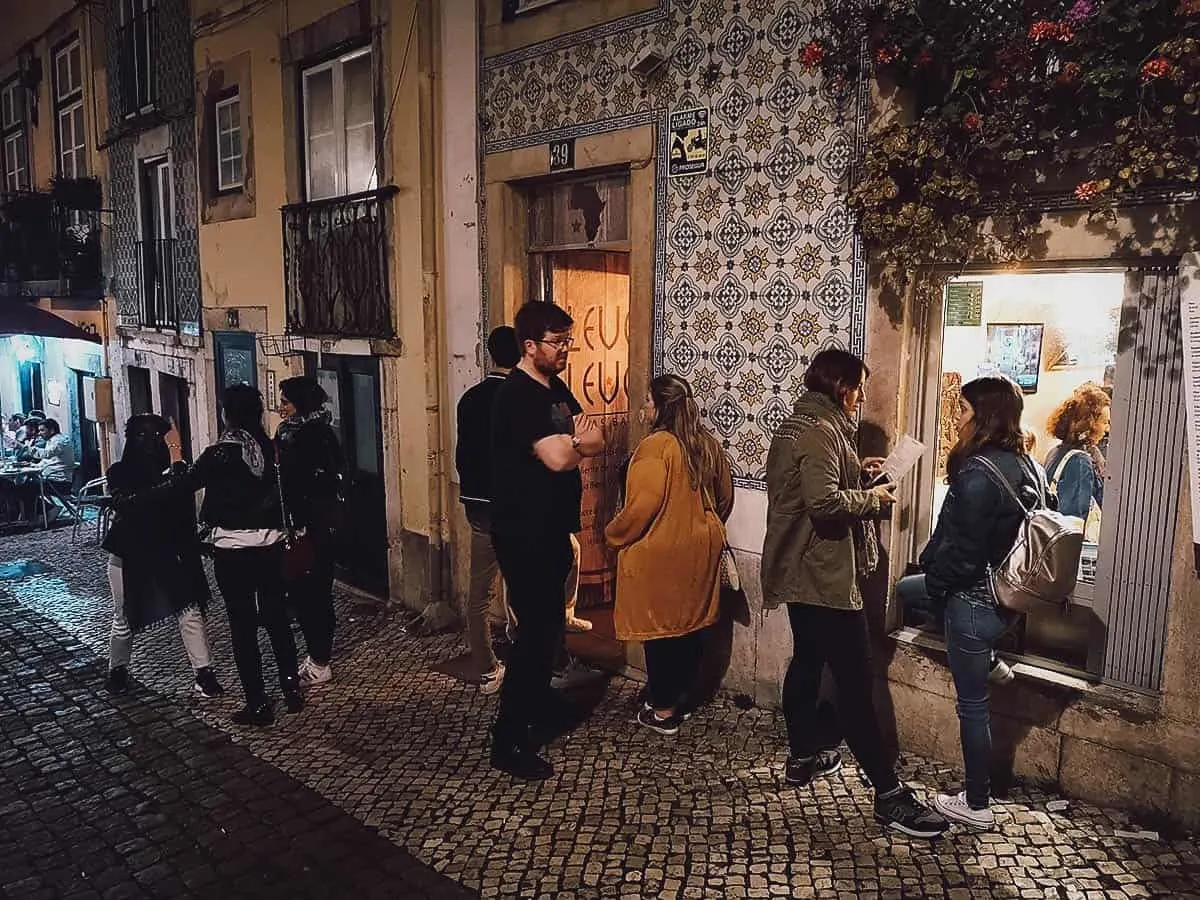 Leve Leve Tapas Bar
Address: Tv. da Boa Hora 39, 1200-011 Lisboa, Portugal
Operating Hours: 4PM-12MN, Mon-Sat (closed Sundays)
What to Order: Tapas
Expect to Pay: About EUR 5 per order of tapas
4. Casa da India
Our friend Luke from A Chef's Tour saw we were in Lisbon so he sent me a message recommending this place. He described it as one of the best places to eat in Lisbon.
In spite of its name, Casa da India doesn't serve Indian food. Instead, it's a restaurant that offers traditional Portuguese food. They're known for serving an extensive menu of grilled meat and seafood.
As you can probably tell from this picture, Casa da India is a popular Lisbon restaurant with an old-fashioned neighborhood feel. It gets its name from the organization that administered the Portuguese Empire's colonies in India, Africa, and the rest of Asia between the 15th and 19th centuries.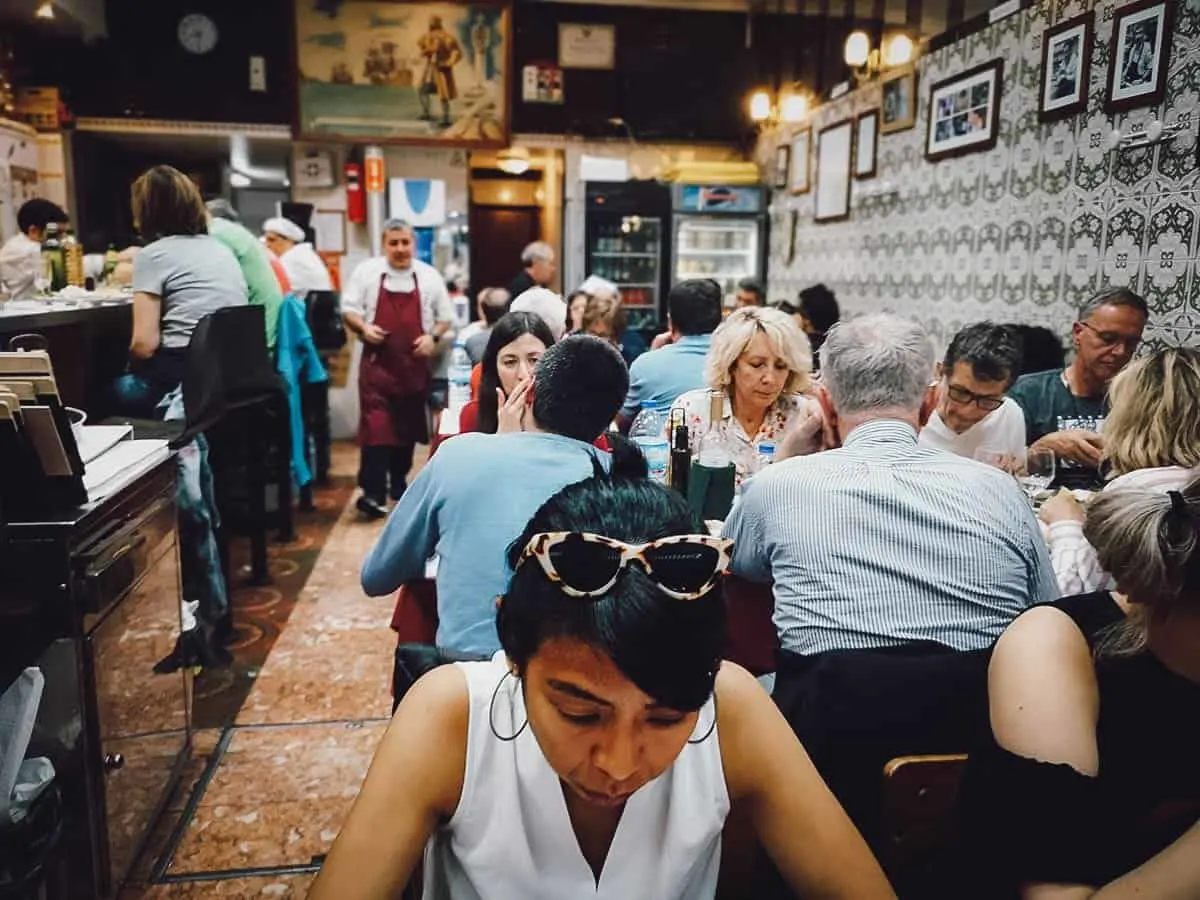 The person seated next to me was diving into this tasty-looking bowl of soup so I requested the same.
Called acorda alentejana, it's a classic Portuguese soup/stew made with bread soaked in broth and served with a generous helping of cilantro and a poached egg. It hails from the Alentejo region of Portugal and is known for being one of the most popular soups in Portuguese cuisine.
Hearty and supremely tasty, it's almost a meal in itself. It's an interesting dish because of its heavy use of coriander. I didn't know this at the time but Portugal is the only European country to use cilantro as a fresh herb.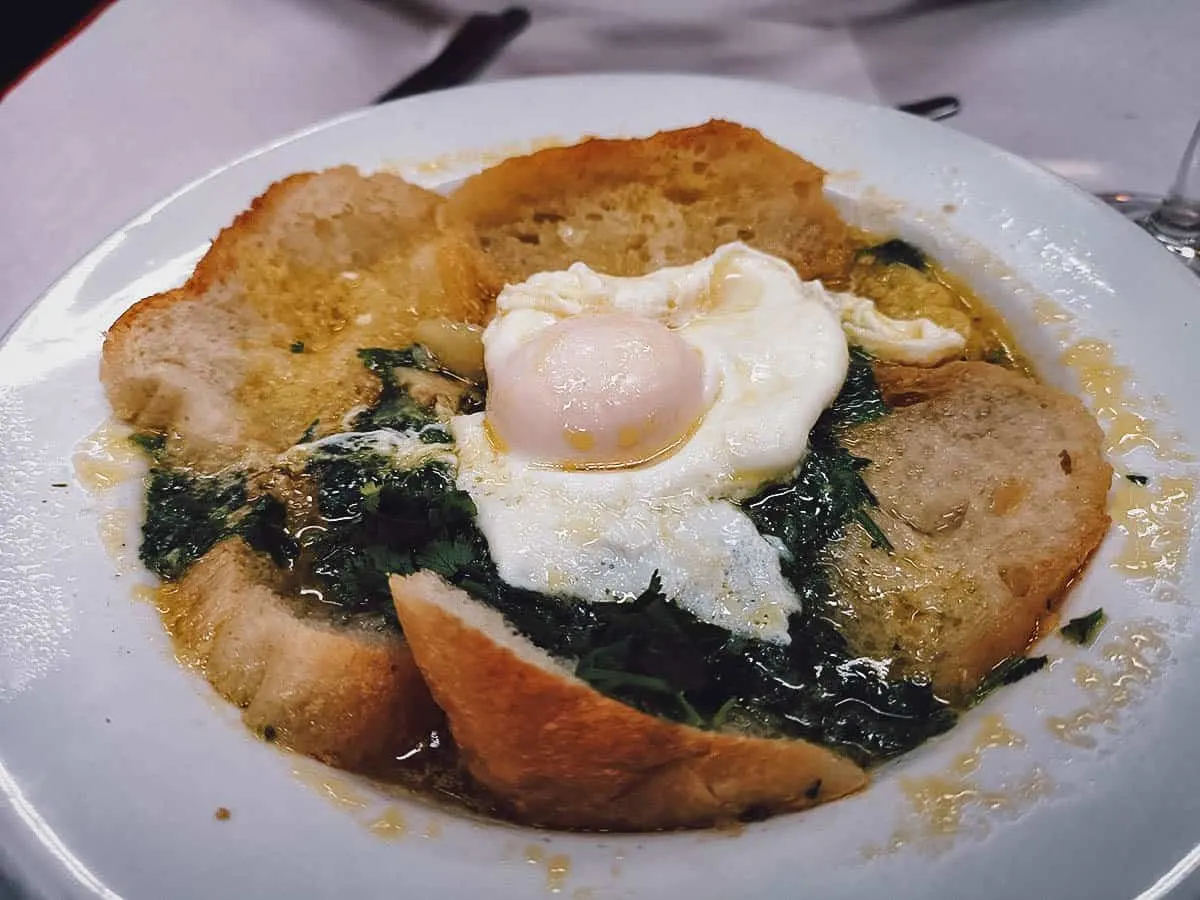 Luke recommended we get the prawns so we did. I asked our server to recommend a prawn dish and he suggested this platter of grilled jumbo prawn with fries and salad. It's a simple dish, but fresh and delicious, which is pretty much what you can expect from Casa da India.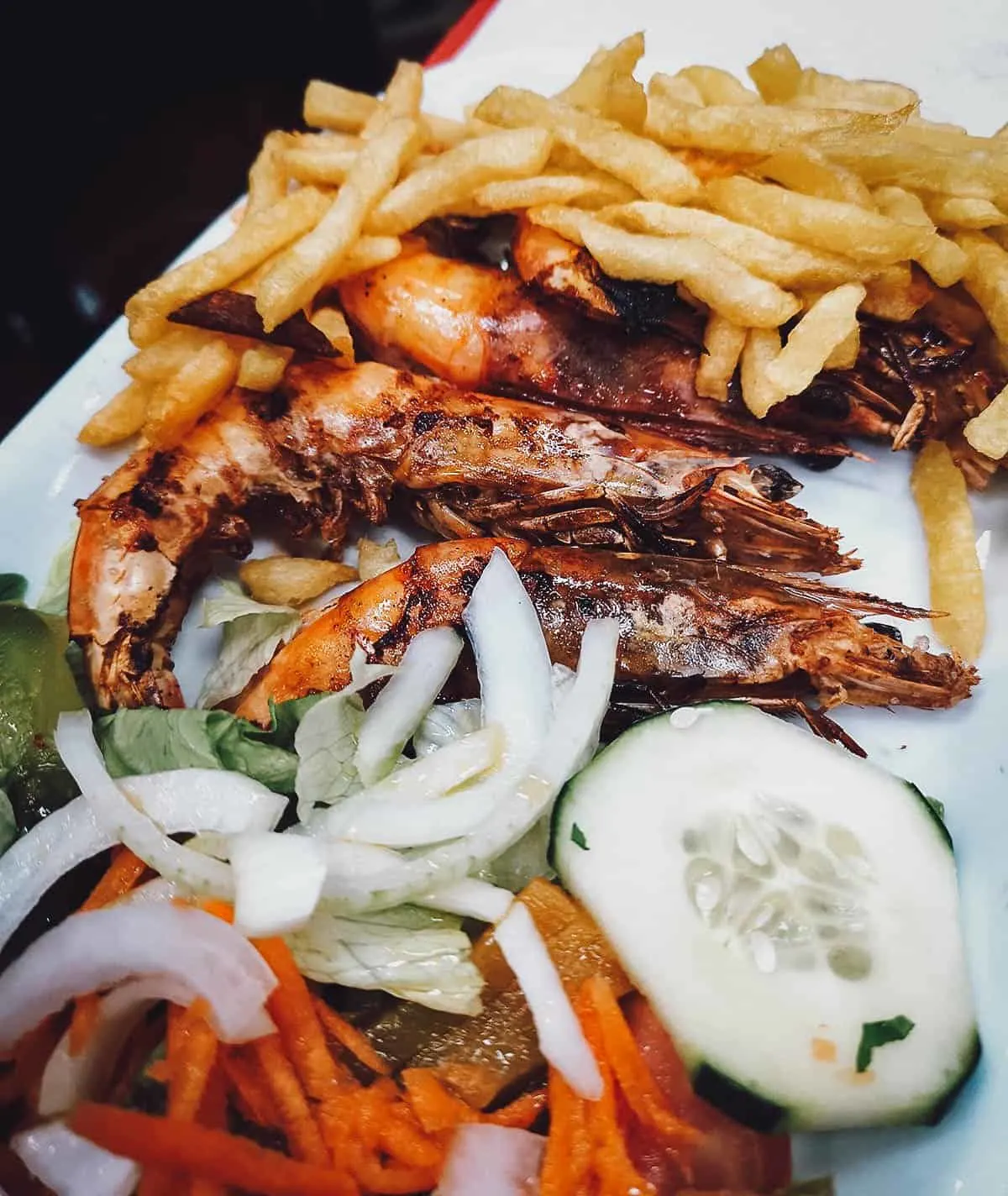 Casa da India is located on the outskirts of Bairro Alto, in front of a tram line on Rua do Loreto. It's a popular place so expect a bit of a wait.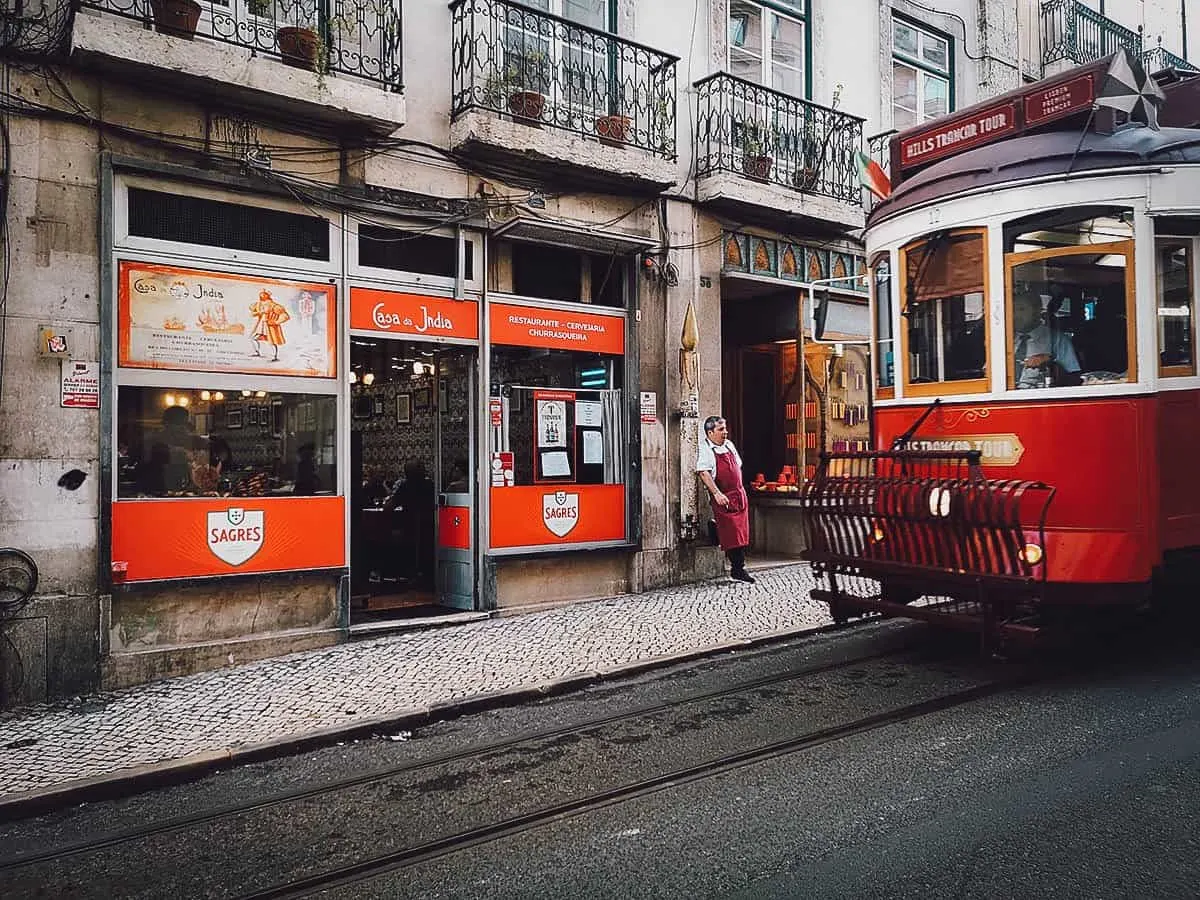 Casa da India
Address: Rua do Loreto 45, 1200-086 Lisboa, Portugal
Operating Hours: 12NN-12MN, Mon-Sat (closed Sundays)
What to Order: Grilled prawns, piri piri chicken
Expect to Pay: About EUR 8-10 per dish
5. Cervejaria Ramiro
If you've been doing research on where to eat in Lisbon, then you've probably heard of this place.
Cervejaria Ramiro is one of the most popular seafood restaurants in Lisbon. It's featured on nearly every television program touting Lisbon as a foodie destination.
Open since 1956, Cervejaria Ramiro is what's called a "cervejaria-marisqueira", which is a type of beer and seafood restaurant believed to have been popularized in Portugal by Galician immigrants.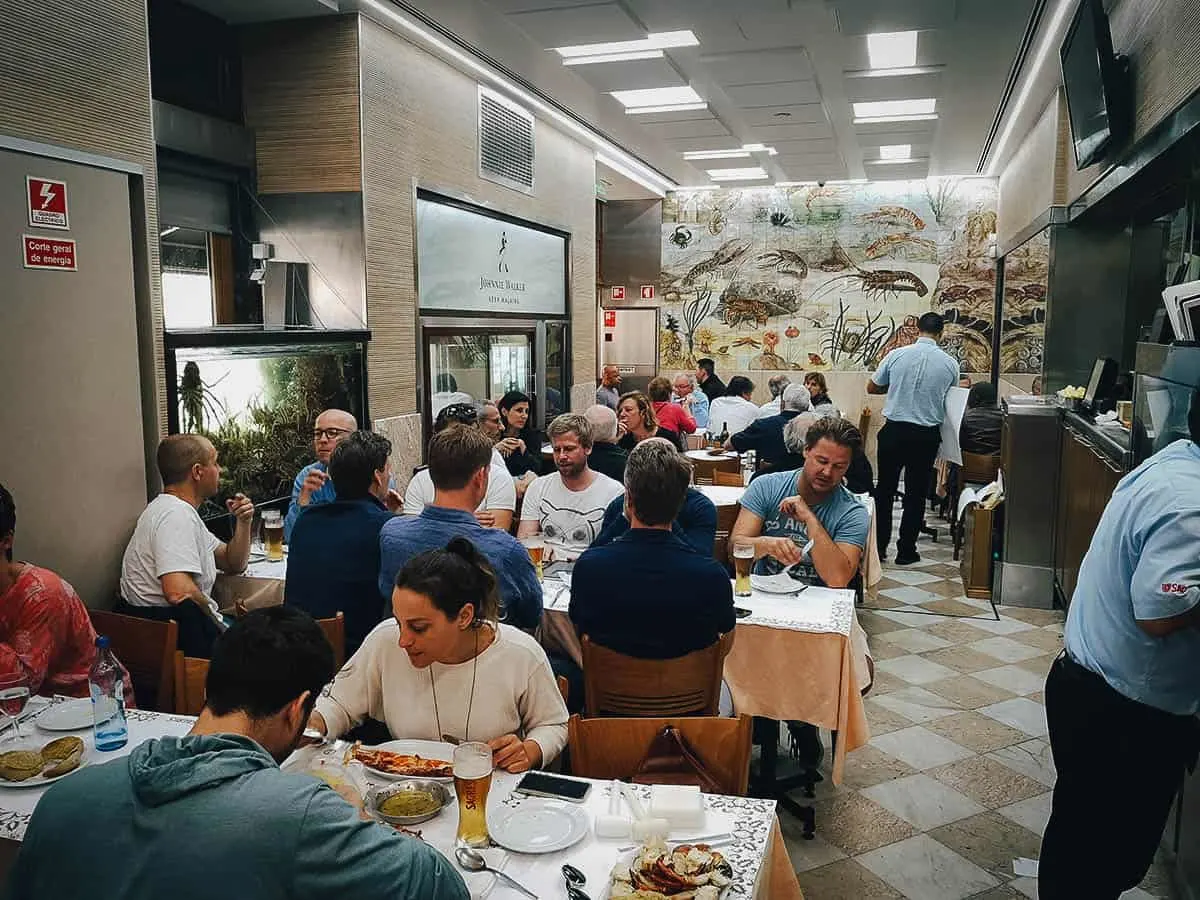 I love seafood so this was easily my favorite meal not just in Portugal, but perhaps in all of Europe.
What you're looking at is the shell of a stone crab dish called sapateira recheada. Swimming in the crab's shell is a mixture of crab meat, crab roe, egg, mayonnaise, paprika, and other ingredients.
Rich and creamy, it was incredibly delicious, especially when eaten with soft rolls of buttery bread. We enjoyed the pairing so much that we wound up asking for an additional basket of bread! My god was this good.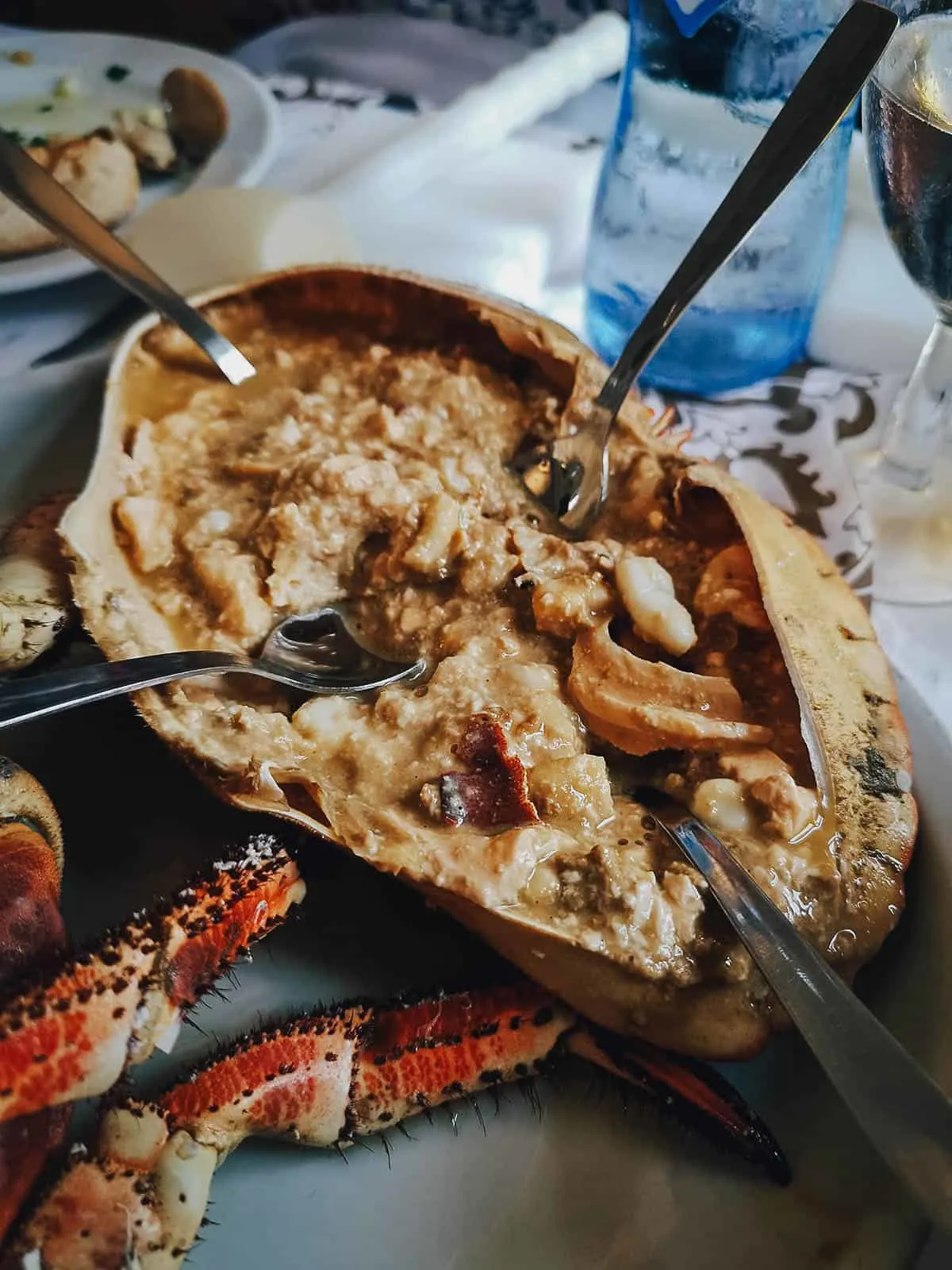 Is this the strangest seafood dish you've ever seen? These alien-looking things are called percebes or goose barnacles. I was super excited to try these after learning about them on a television program.
Percebes are nicknamed "Lucifer's Fingers" not just because of their devilish appearance, but because of how difficult they are to harvest. They thrive in the ocean's intertidal zone where waves are constantly crashing into craggy rocks. Divers risk their lives to harvest them which is why they fetch such a high market price.
Boiled in seawater, they're briny and have a similar taste and texture to sea snails. Follow the link to read more about percebes and the other fantastic seafood dishes we had at Cervejaria Ramiro. Wait until you see the giant tiger prawns!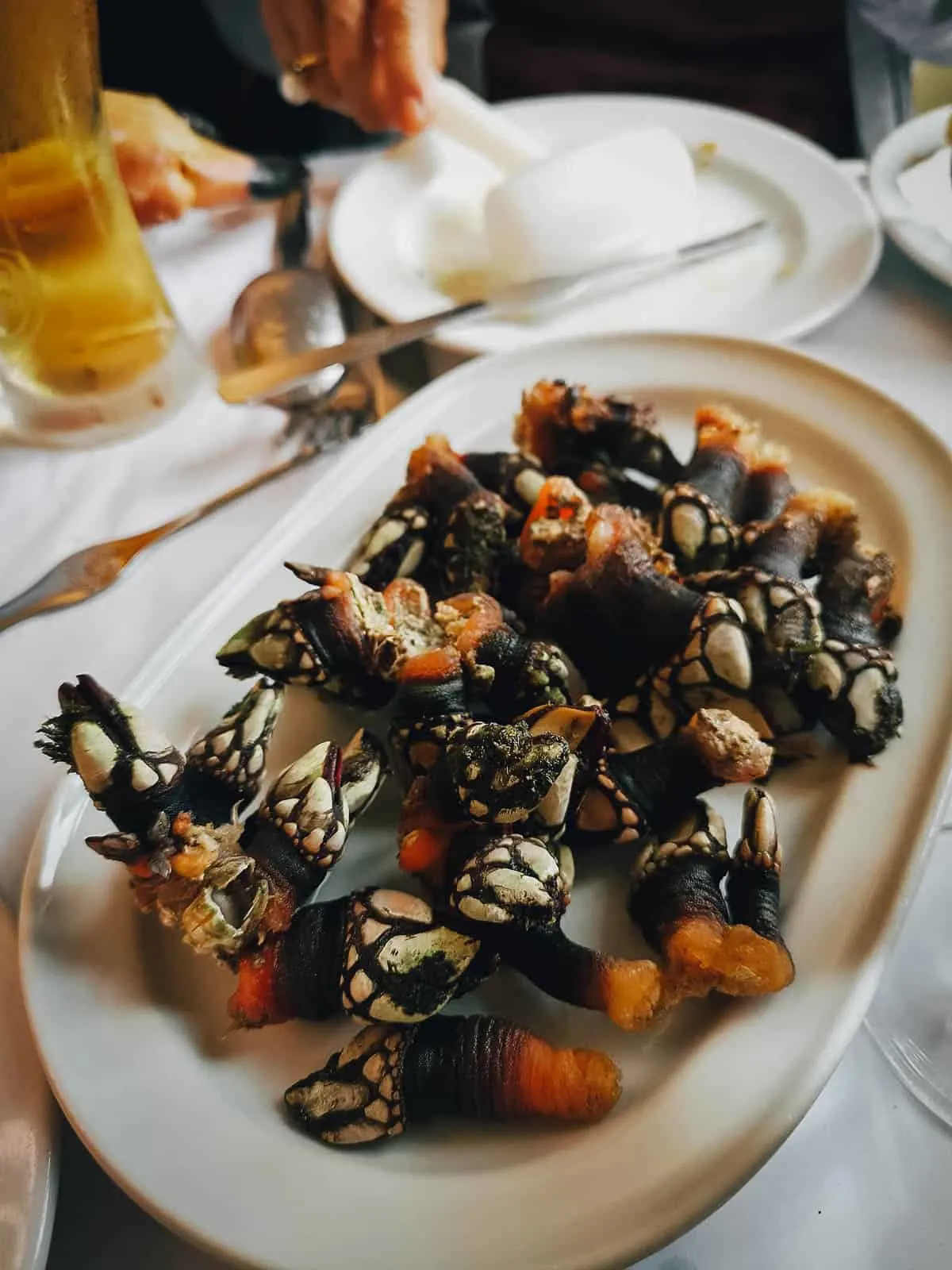 Crevejaria Ramiro is an incredibly popular Lisbon restaurant so it's best to go during off hours. If I remember correctly, were were there at around 3PM but we still had to get a number from a ticketing machine.
But not to worry, Cervejaria Ramiro is accustomed to having long lines of hungry customers so they've installed a coin-operated beer tap in the waiting area. Genius!
Cervejaria Ramiro is a TripAdvisor Certificate of Excellence awardee with an incredible 4.5-star rating even after close to 10,000 reviews. This place is an institution and regarded by many as one of the best places to eat in Lisbon.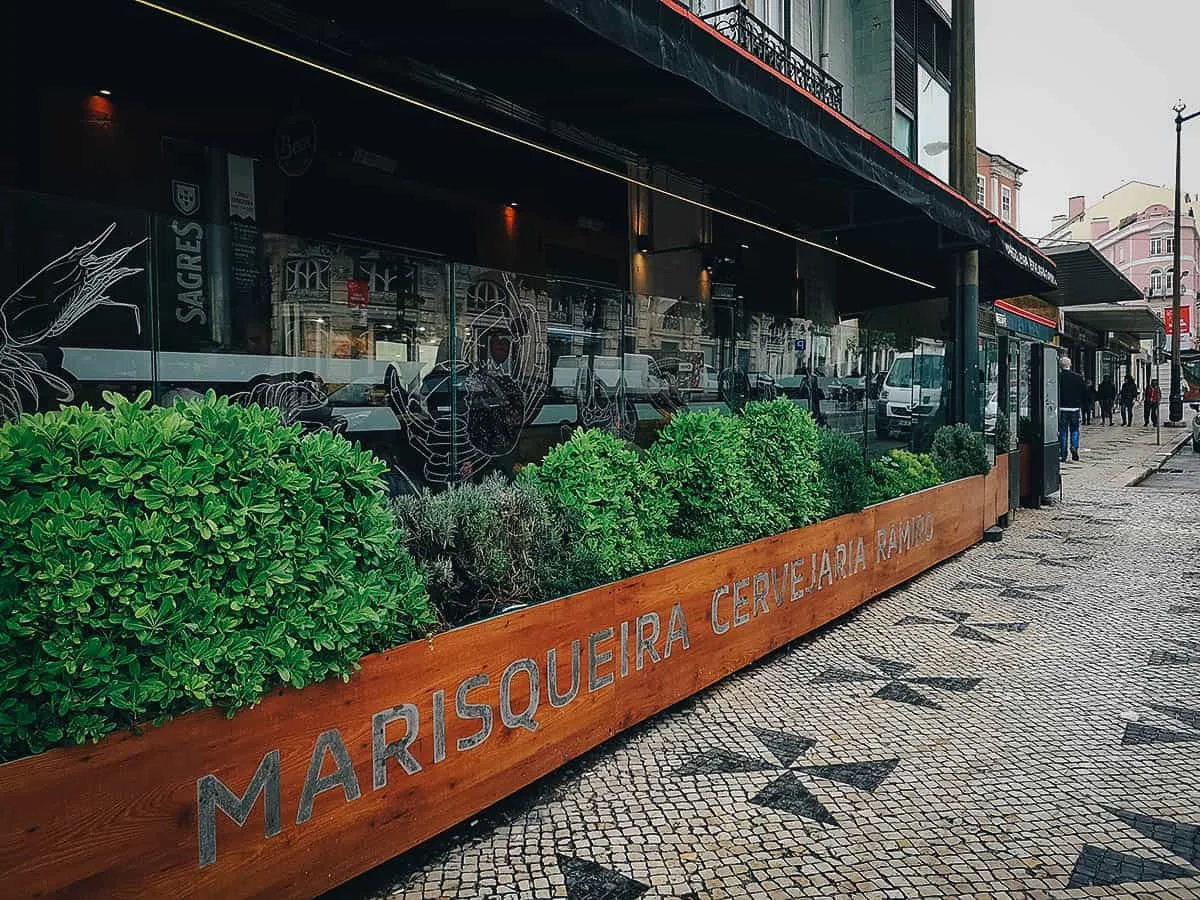 Cervejaria Ramiro
Address: Av. Alm. Reis nº1 – H, 1150-007 Lisboa, Portugal
Operating Hours: 12NN-12:30AM, Tue-Sun (closed Mondays)
What to Order: Seafood, prego
Expect to Pay: About EUR 50-60 per person
6. Ponto Final
There are waterfront restaurants in Lisbon, and then there's Ponto Final.
I was mersmerized by this restaurant when I saw it on Somebody Feed Phil. Situated at the end of a concrete pier overlooking the Tagus River and the 25 de Abril Bridge, it was one of the most beautiful and unique restaurant settings I had ever seen.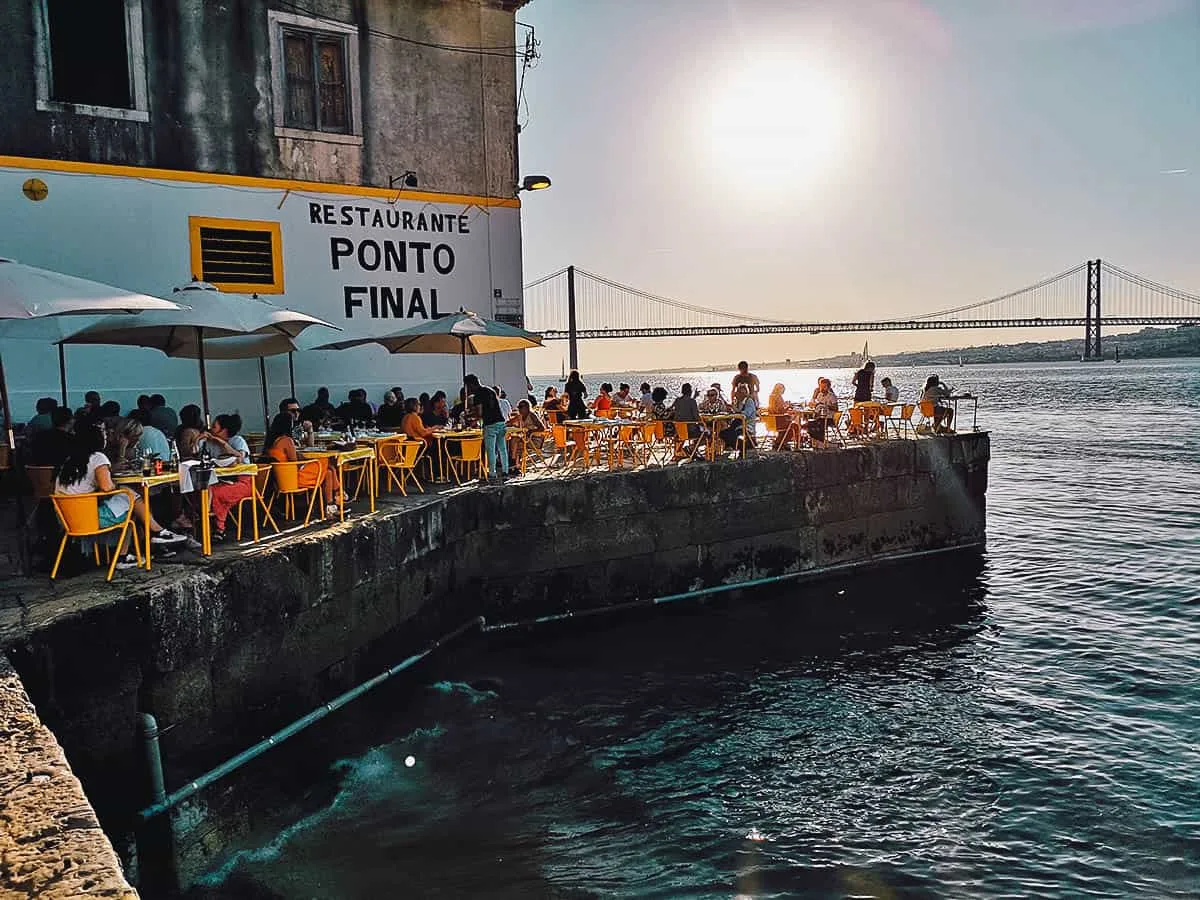 I still vet every restaurant featured on these travel food shows because I want to know how locals feel about them. Based on its reviews, Ponto Final is hit or miss so I wanted to make sure we ordered the right dish.
According to the show and many people's online reviews, the dish to get is the arroz de tamboril or monkfish stew with rice. They were right.
Arroz de tamboril is a traditional Portuguese dish made with monkfish, rice, tomato, coriander, and other ingredients. It's a hearty and comforting stew made with meaty chunks of monkfish.
This was my first time trying monkfish and I loved it. Texturally, it's somewhere between fish and lobster – it's meatier and less flaky. It's absolutely delicious and one of the best things I ate in Lisbon.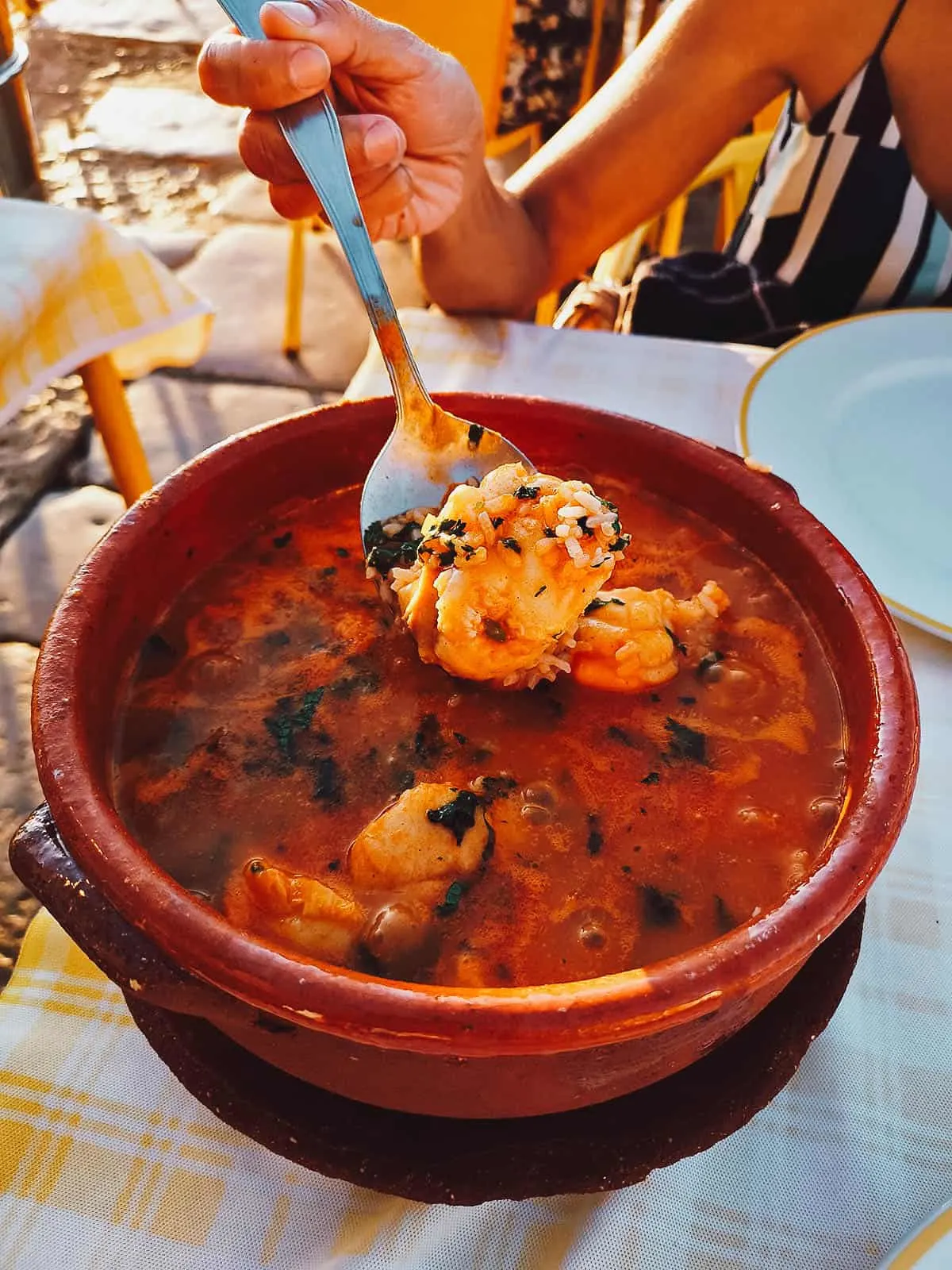 This is what makes Ponto Final's platform seating so interesting. There's no railing so you're literally sitting within inches of the platform's edge. Turn the wrong way and splash! You're in the drink.
Ponto Final is located in Almada which is across the Tagus River from Lisbon. To get there, you'll need to take a 20-minute ferry ride from Cais do Sodre to Cacilhas.
Ponto Final is very popular so reservations are a must. You can refer to my article on Ponto Final for more pictures and information.
Ponto Final
Address: R. do Ginjal 72, Almada, Portugal
Operating Hours: 12:30-4PM, 7-11PM, Wed-Mon (closed Tuesdays)
What to Order: Monkfish stew with rice
Expect to Pay: About EUR 41.50 for the monkfish stew (good for two)
7. Tasca do Paulinho
We arrived early in Almada so we could explore the area before proceeding to Ponto Final. There doesn't seem to be much in Almada but we did find this strip with a few restaurants serving traditional Portuguese food.
We were saving our appetite for Ponto Final so we wanted to find a place where we could sit and listen to music over light tapas and beer. A quick google search led us to Tasca do Paulinho.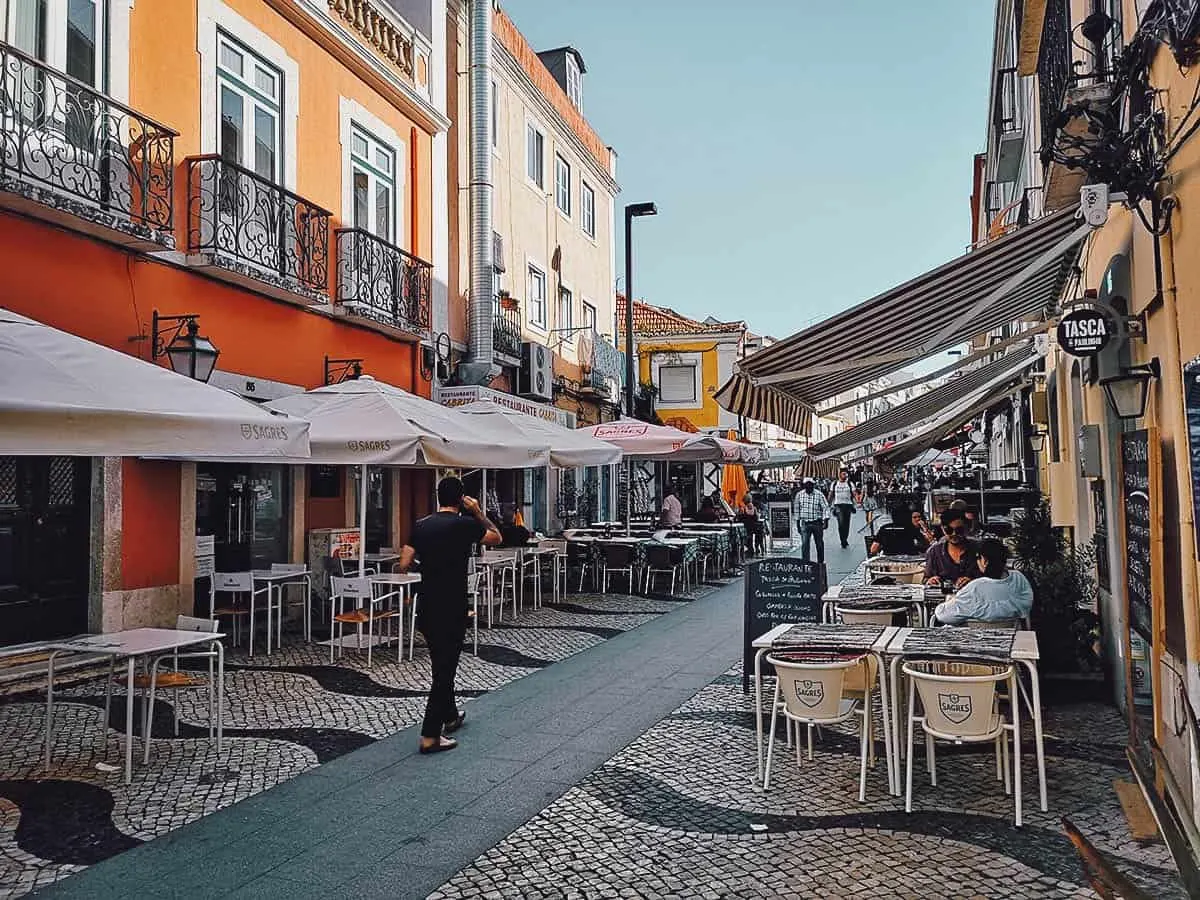 Tasca do Paulinho is a traditional restaurant that serves Portuguese food favorites like caldo verde, bifana, and prego. We didn't want to have anything too heavy so we ordered a couple of tapas dishes, starting with this bowl of seasoned olives.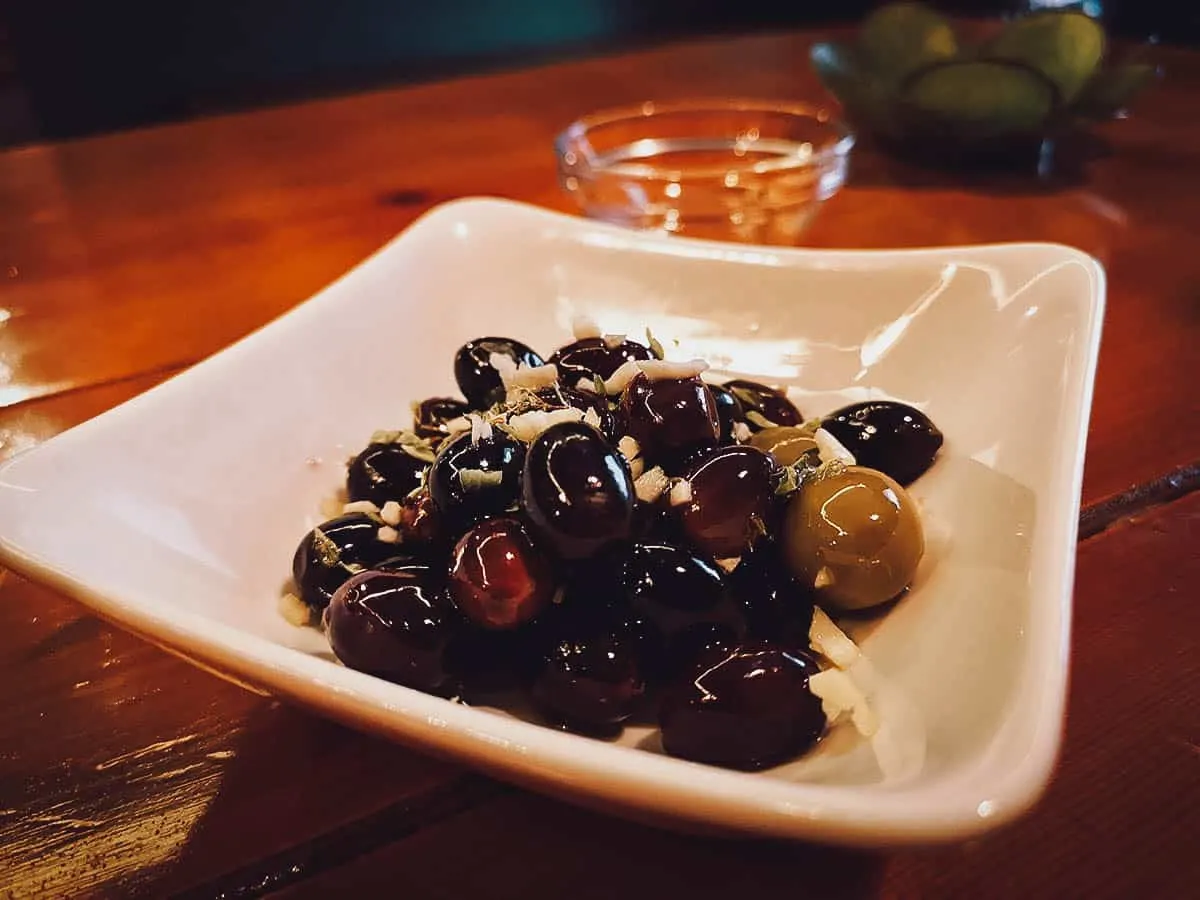 Our second tapas dish was this tasty personal pan of Bulhão Pato mushrooms. It's the vegan take on a Portuguese dish made with clams and white wine.
The original version of this dish is called "ameijoas a Bulhão Pato". It's named after the 19th-century Lisbon poet Bulhão Pato, a well-known gourmand who often mentioned this dish in his writings.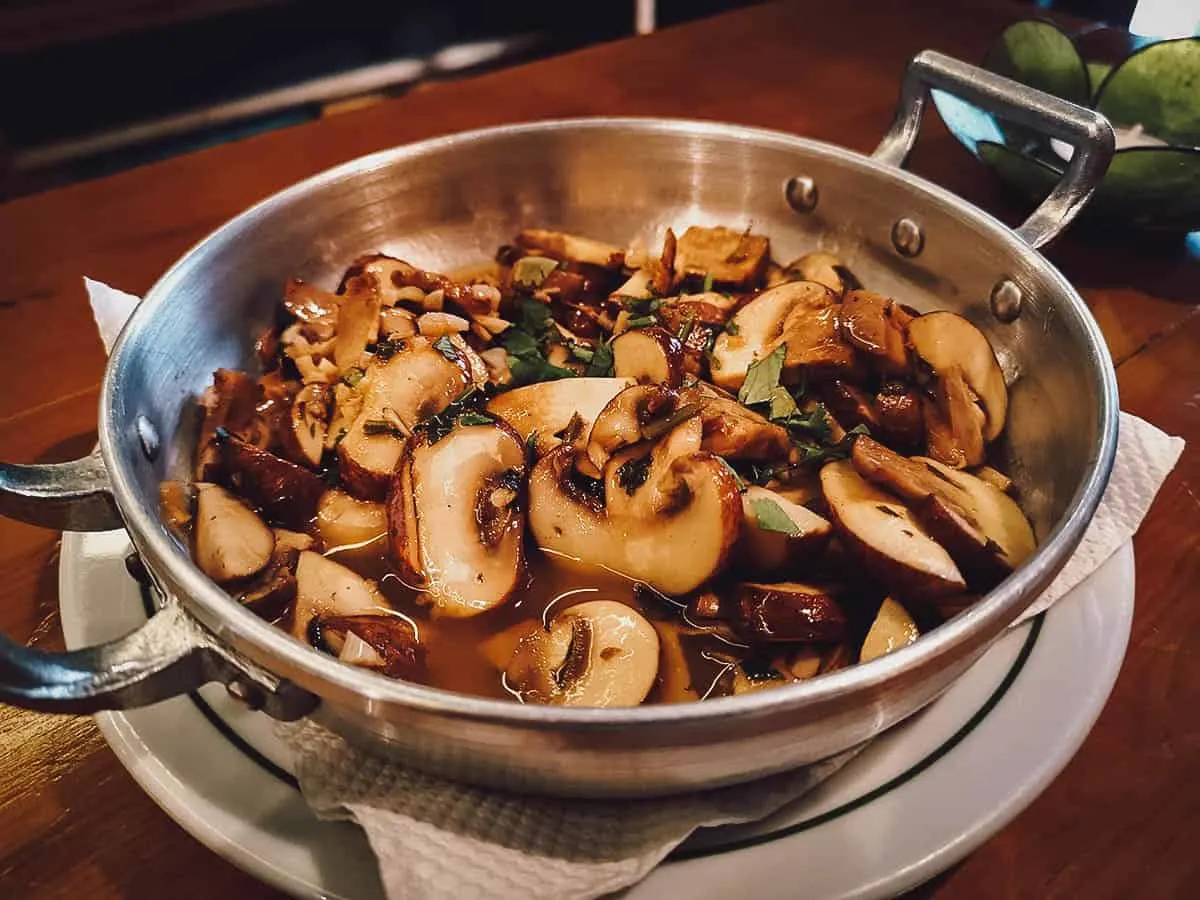 Tasca do Paulinho
Address: R. Cândido dos Reis 96, 2800-600 Almada, Portugal
Operating Hours: 3PM-2AM, Fri-Sun / 3PM-12MN, Mon / 7PM-12MN, Wed-Thu (closed Tuesdays)
What to Order: Bulhão Pato mushrooms, fried cuttlefish, sardines
Expect to Pay: About EUR 5-7 per tapas dish
8. Ginginha do Carmo
Phil Rosenthal getting tipsy on ginjinha was one of the funnier segments on the Lisbon episode of Somebody Feed Phil.
Ginjinha or ginja is a sour cherry liqueur made with ginja berries, sugar, and other ingredients. It was invented in Lisbon and typically served in a small glass or an edible chocolate cup, often with a piece of cherry in the bottom.
Ginja is a popular Portuguese drink that you can find anywhere in Lisbon. I was exploring the Alfama District one afternoon and many houses had tables with homemade ginja for sale just outside their front doors.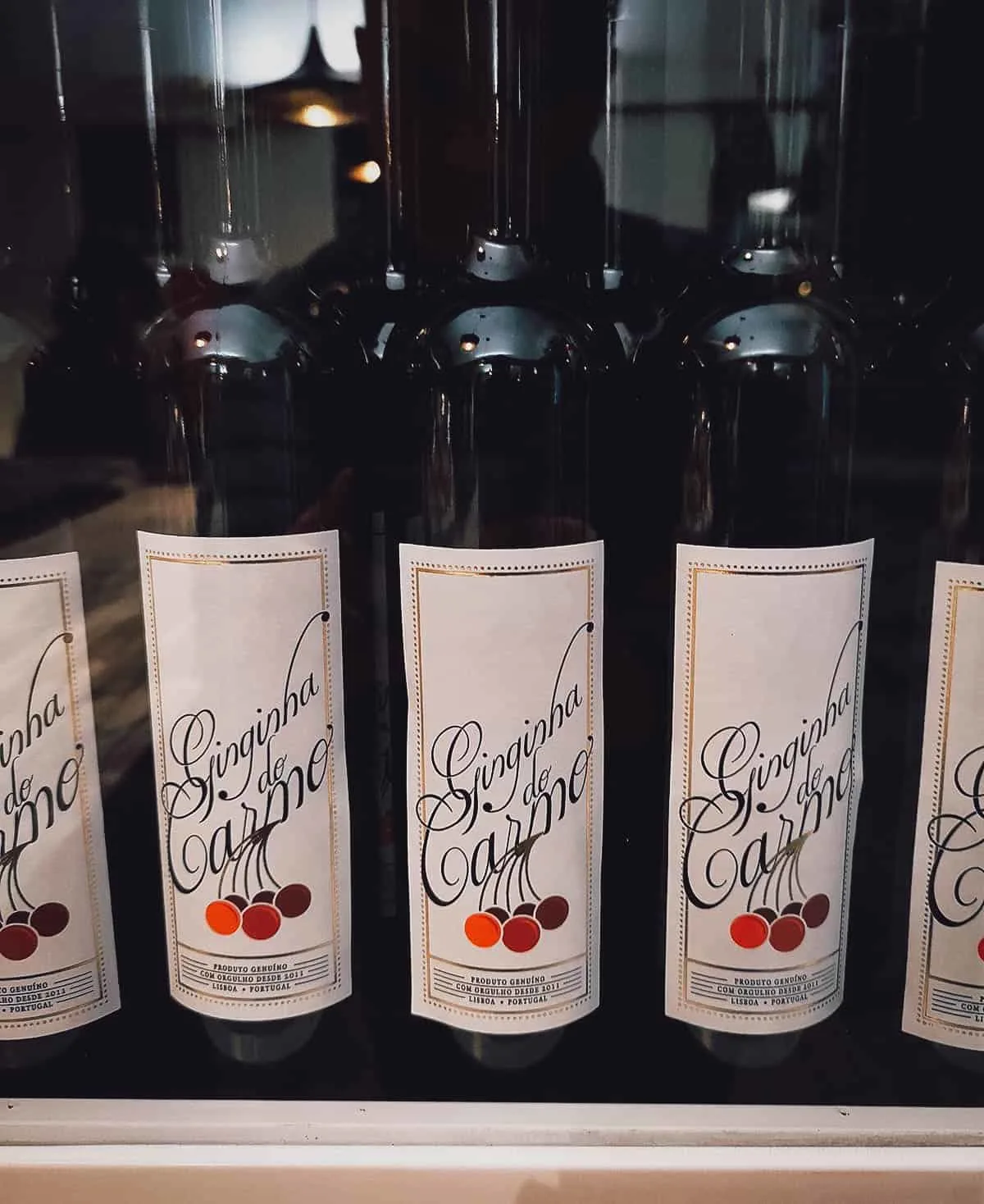 Chocolate and cherry go exceptionally well together so we always had our shots in chocolate cups. Ginja is delicious. It's tart and sweet and makes for a great after dinner liqueur.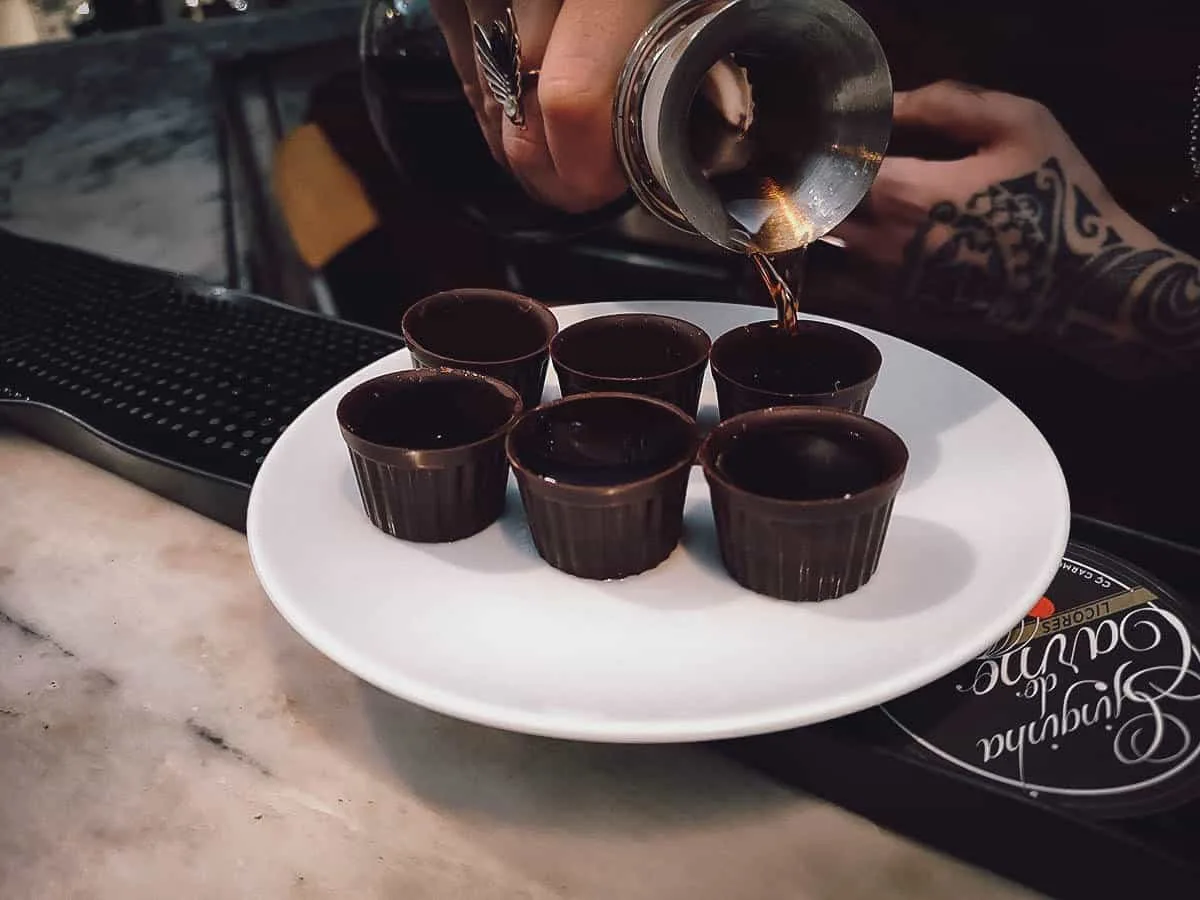 Ginginha do Carmo is a tiny standing room only bar offering shots of ginja and other spirits. It's located just south of Rossio railway station at the base of a flight of steps.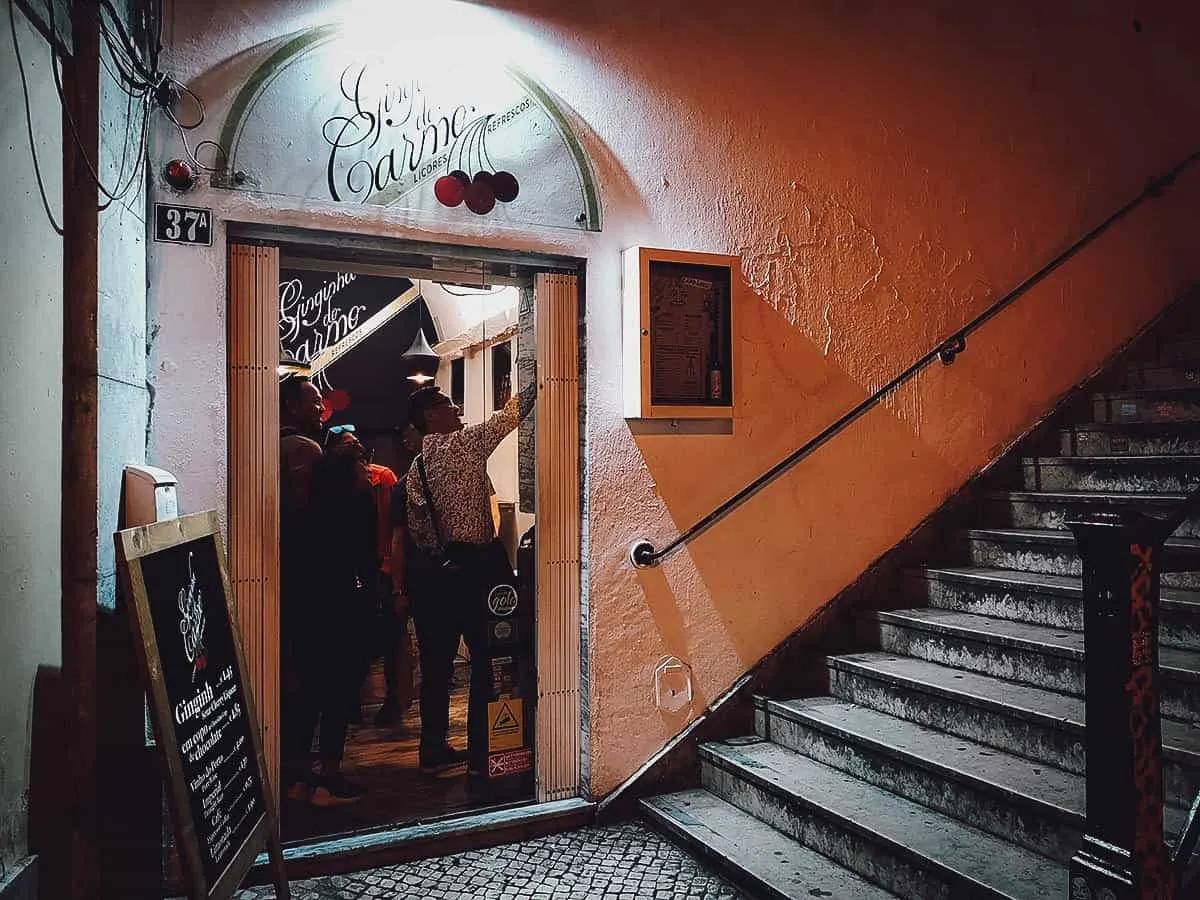 Ginginha do Carmo
Address: Calçada do Carmo 37 A, 1200-090 Lisboa, Portugal
Operating Hours: 12NN-12MN, daily
What to Order: Ginjinha
Expect to Pay: About EUR 1.45 – 1.85 for a shot of ginja
9. Gin Lovers Bar & Restaurant
Gin Lovers Bar & Restaurant is located inside Embaixada, one of the coolest spots we visited in Lisbon.
Embaixada is a unique shopping gallery residing in a 19th century Arabian palace in the trendy Principe Real neighborhood. It consists of over a dozen boutiques featuring shoes, fashion, furniture, jewelry and other products made by Portuguese designers.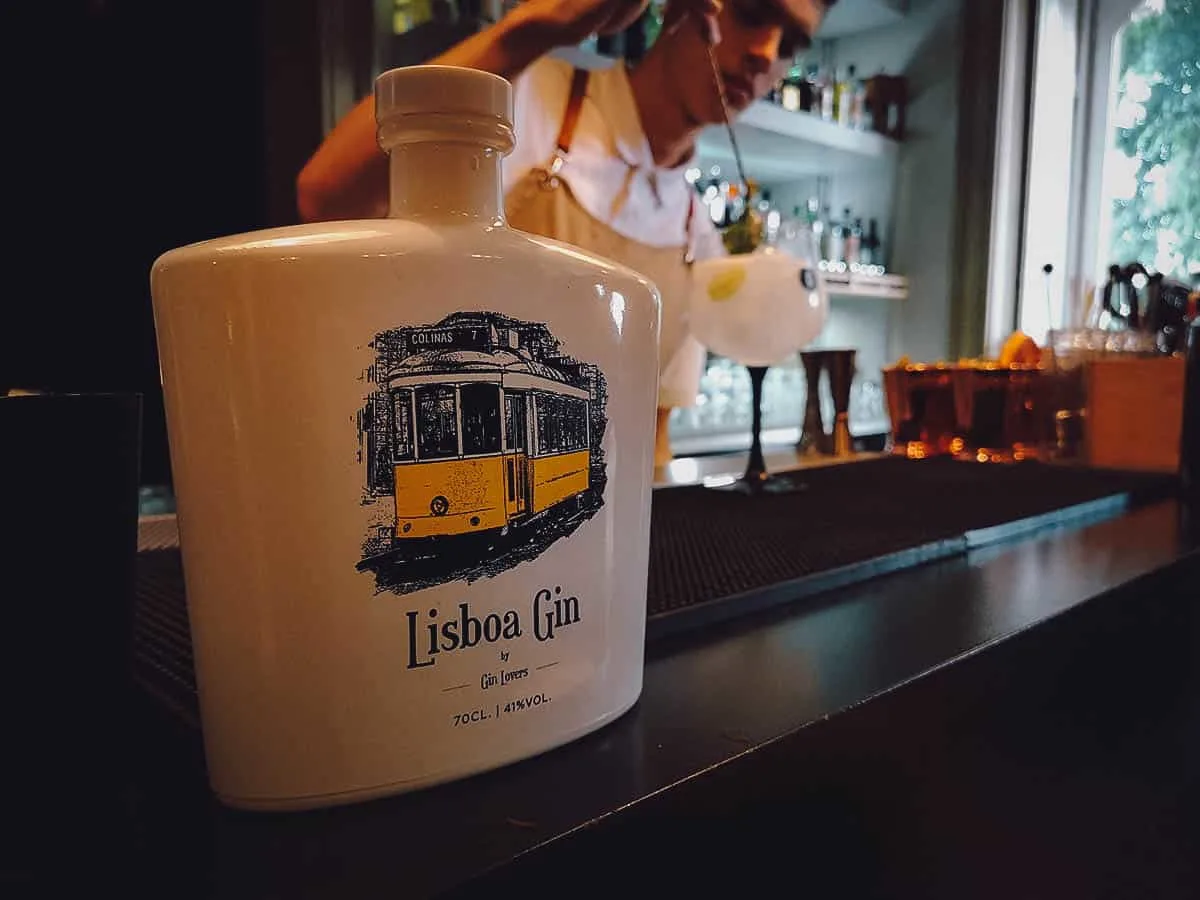 We had drinks and desert at Gin Lovers twice during our stay in Lisbon. They have over sixty brands of gin along with wine, cocktails, and a full menu of Portuguese food created by Chef Fernando Semedo.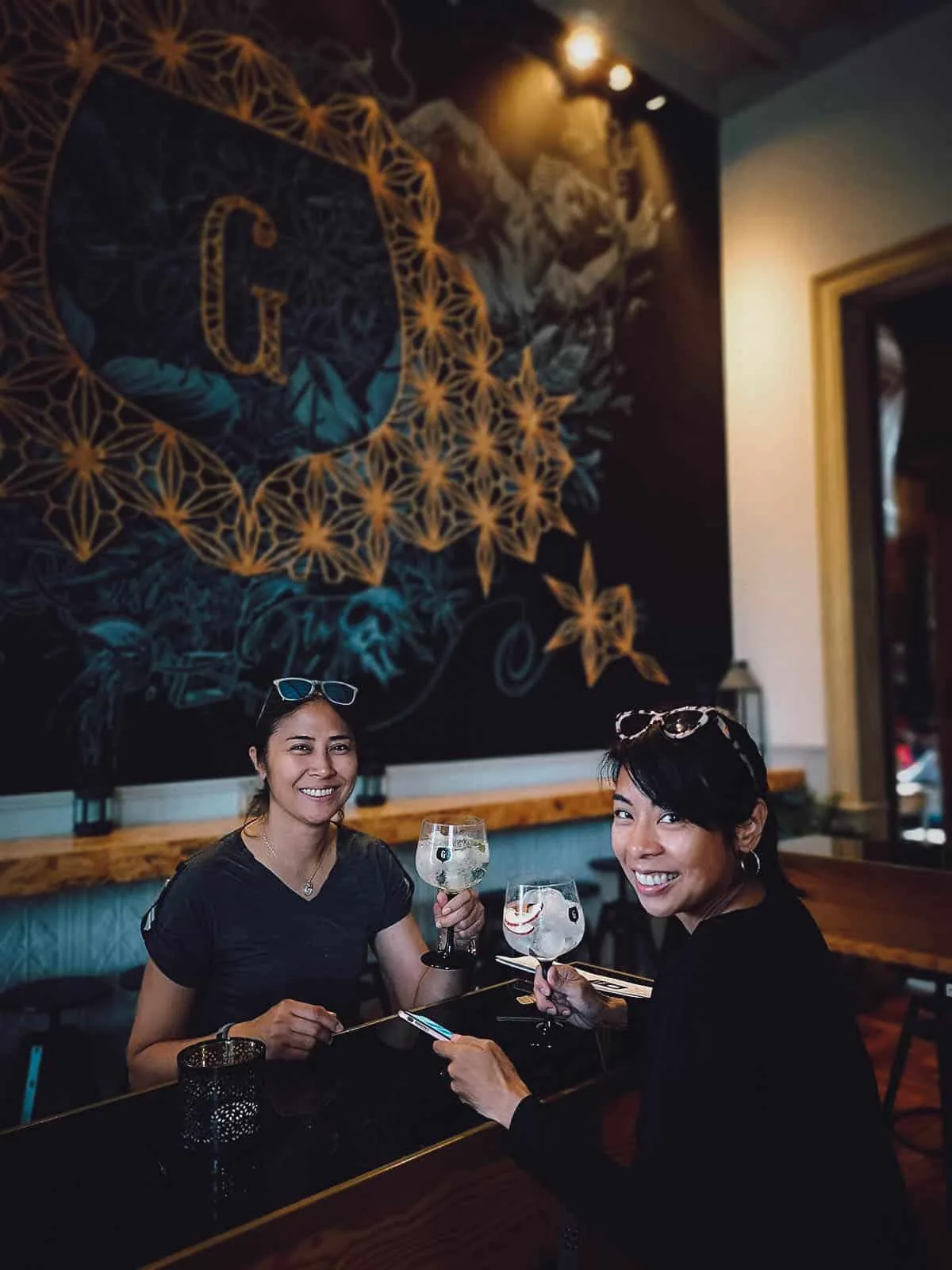 This is what the inner courtyard of Embaixada looks like. Gin Lovers Bar & Restaurant has a seating area inside the bar and here in the courtyard. They're a TripAdvisor Certificate of Excellence awardee with an excellent 4.5-star rating.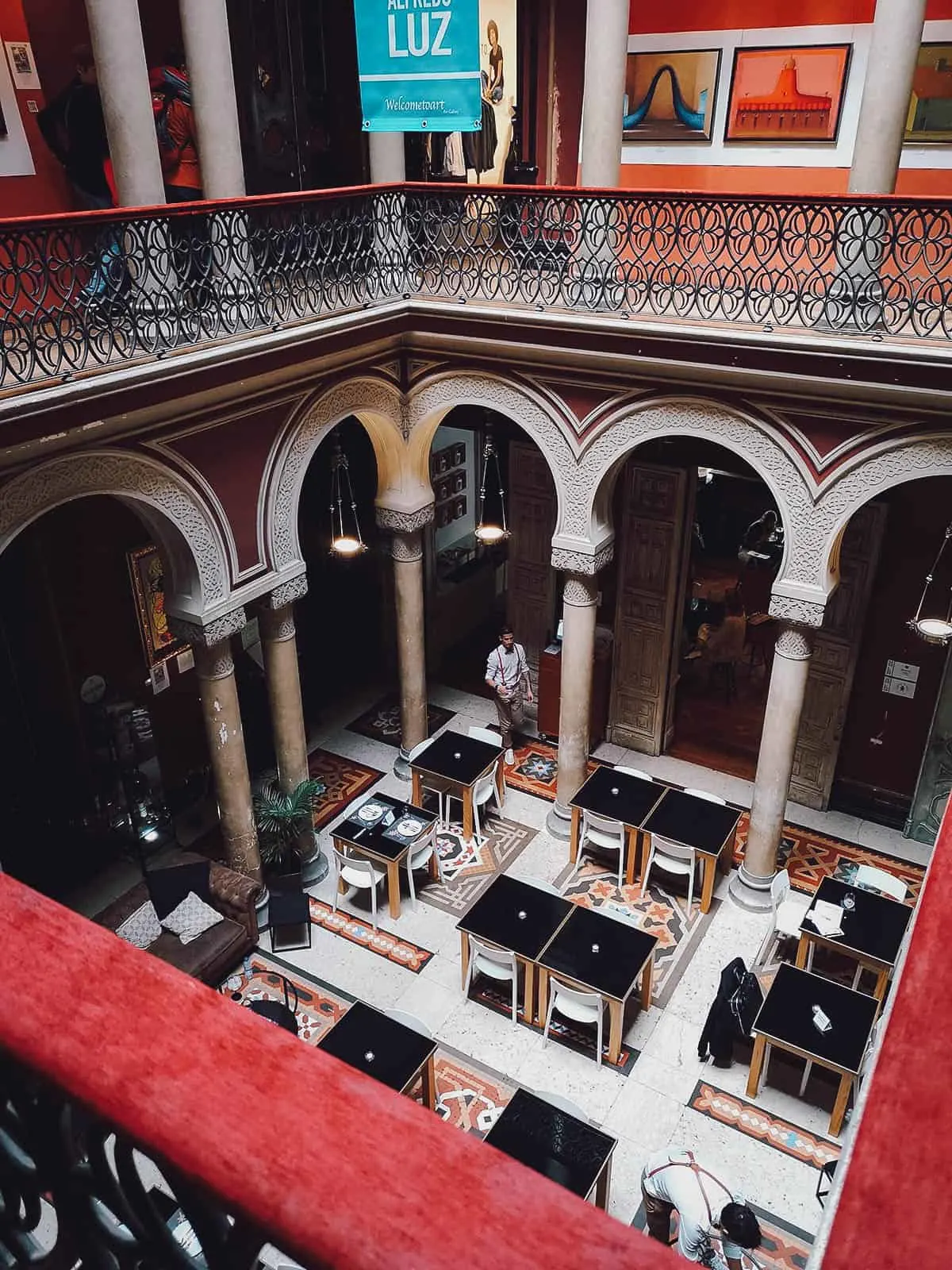 Gin Lovers Bar & Restaurant
Address: Embaicada, Praça do Príncipe Real 26, 1250-184 Lisboa, Portugal
Operating Hours: 12NN-12MN, daily
What to Order: Gin and tonic
Expect to Pay: About EUR 12-15 per cocktail
10. Pasteis de Belem
Pasteis de Belem is unquestionably the most famous pastelaria in Lisbon. They're credited for inventing this delicious Portuguese egg tart pastry known as pastel de nata.
Pastel de nata was invented before the 18th century by monks at the Jeronimos Monastery in Lisbon. At the time, they used egg whites to starch clothing which left them with a surplus of egg yolks. They used these leftover yolks to make cakes and pastries and one of the pastries they developed was the pastel de nata.
To earn extra revenue, the monks started selling their pasteis de nata at a nearby sugar refinery. The monastery closed in 1834, after which the monks sold their recipe for pastel de nata to the sugar refinery.
The Fabrica de Pasteis de Belem was opened in 1837, and it's still owned by the same family to this day. Even after 180 years, the monks' recipe for pastel de nata remains unchanged and is a well-guarded family secret.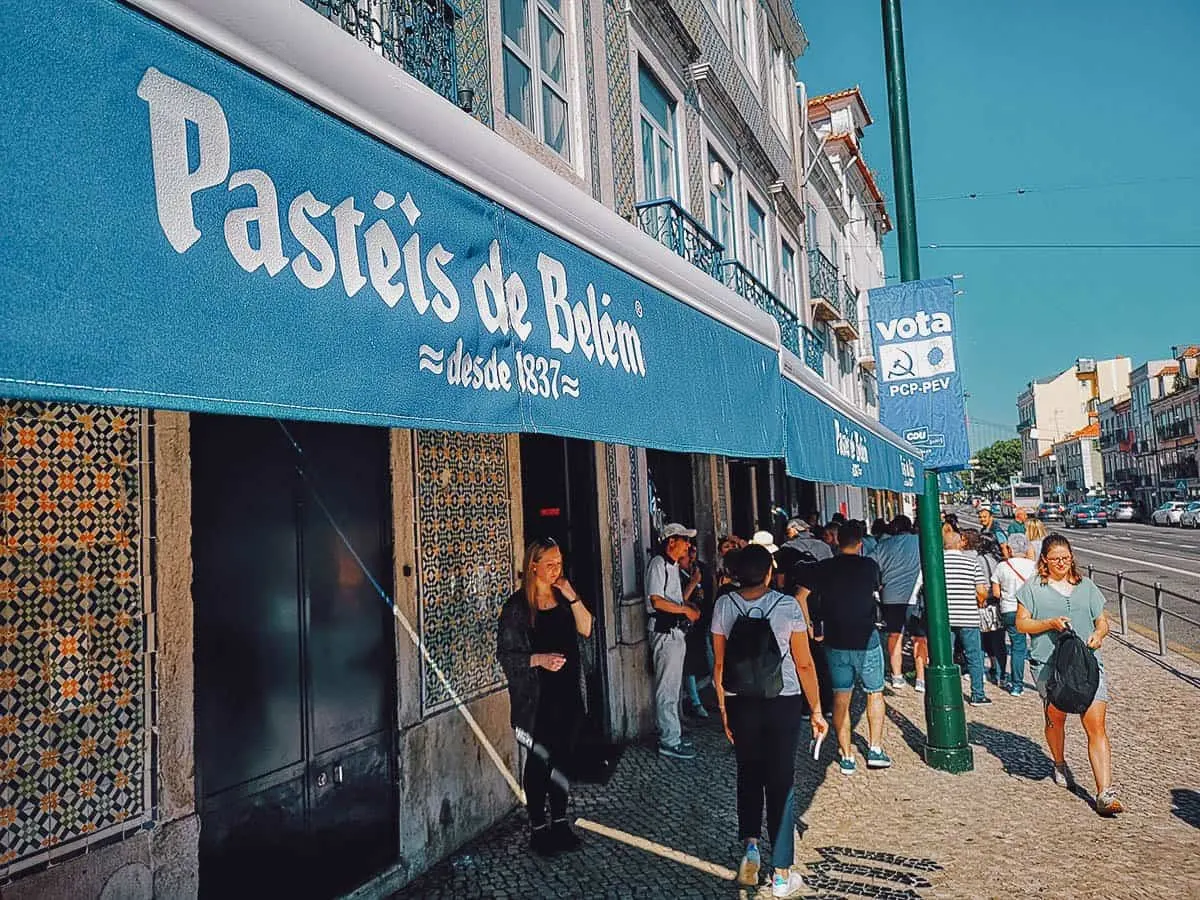 I had pastel de nata at several different shops in Lisbon and Porto. Differences between shops were subtle, except here at Pasteis de Belem.
The custard tastes about the same, but what really makes their pastel de nata stand out is the crust. It's ultra crisp but also very delicate, unlike the others which are softer and flakier like a croissant. It was like having thin crisps at the bottom of your pastel de nata.
Among all the pasteis de nata I tried in Portugal, I enjoyed the offerings at Manteigaria and Pasteis de Belem the best. You can try Manteigaria's pastel de nata at Time Out Market.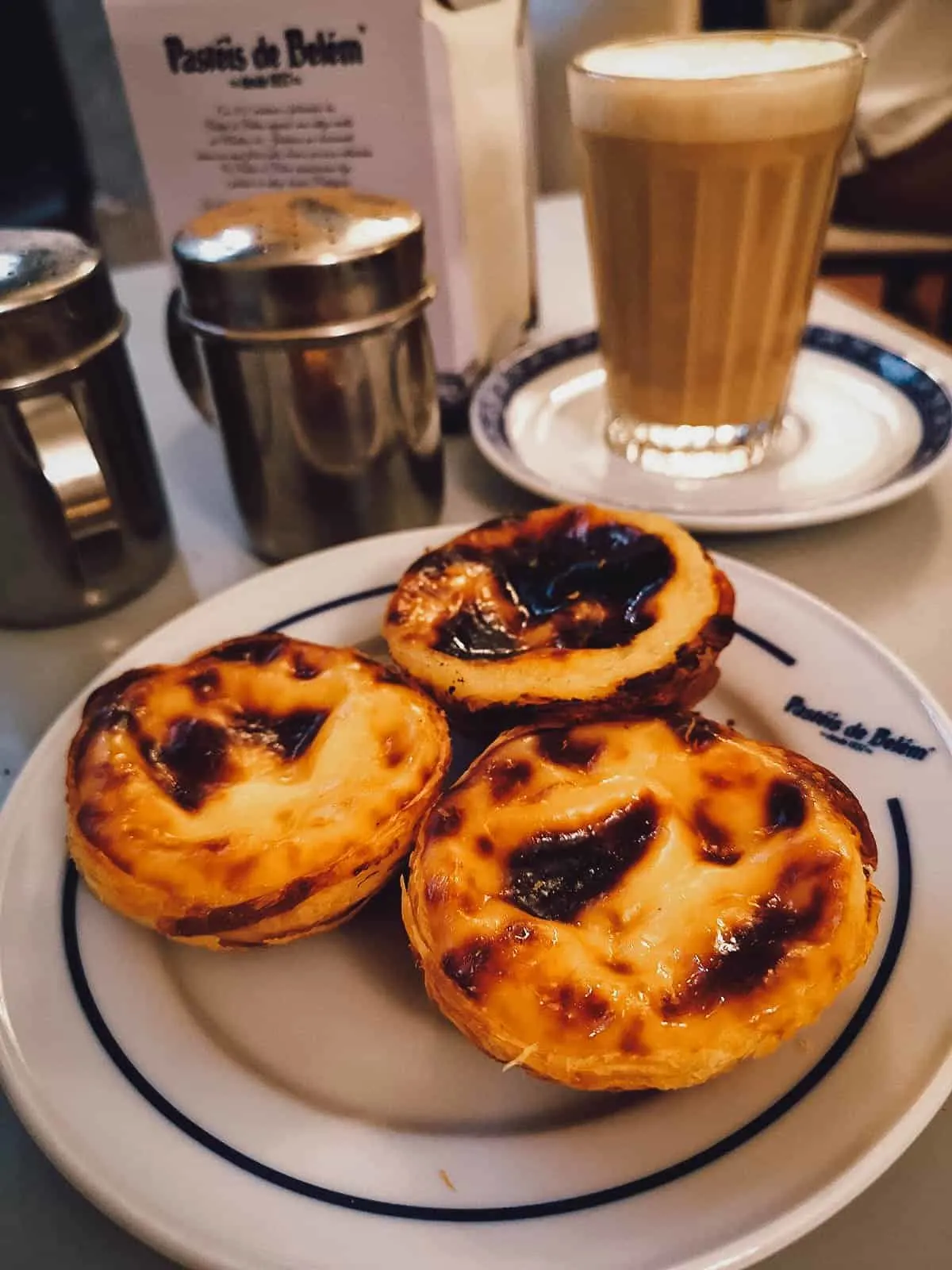 Pasteis de Belem is a TripAdvisor Certificate of Excellence awardee with a stellar 4.5-star rating and a staggering 52,000 reviews. They make and sell about 20,000 of these pastries a day. Like Cervejaria Ramiro, you'll find it on many articles listing the best places to eat in Lisbon.
It's obviously extremely popular but you don't have to worry about getting a seat. The place is big so tables free up quickly and you can even get them in boxes of six to go. When we were there, the line for takeaway was actually longer.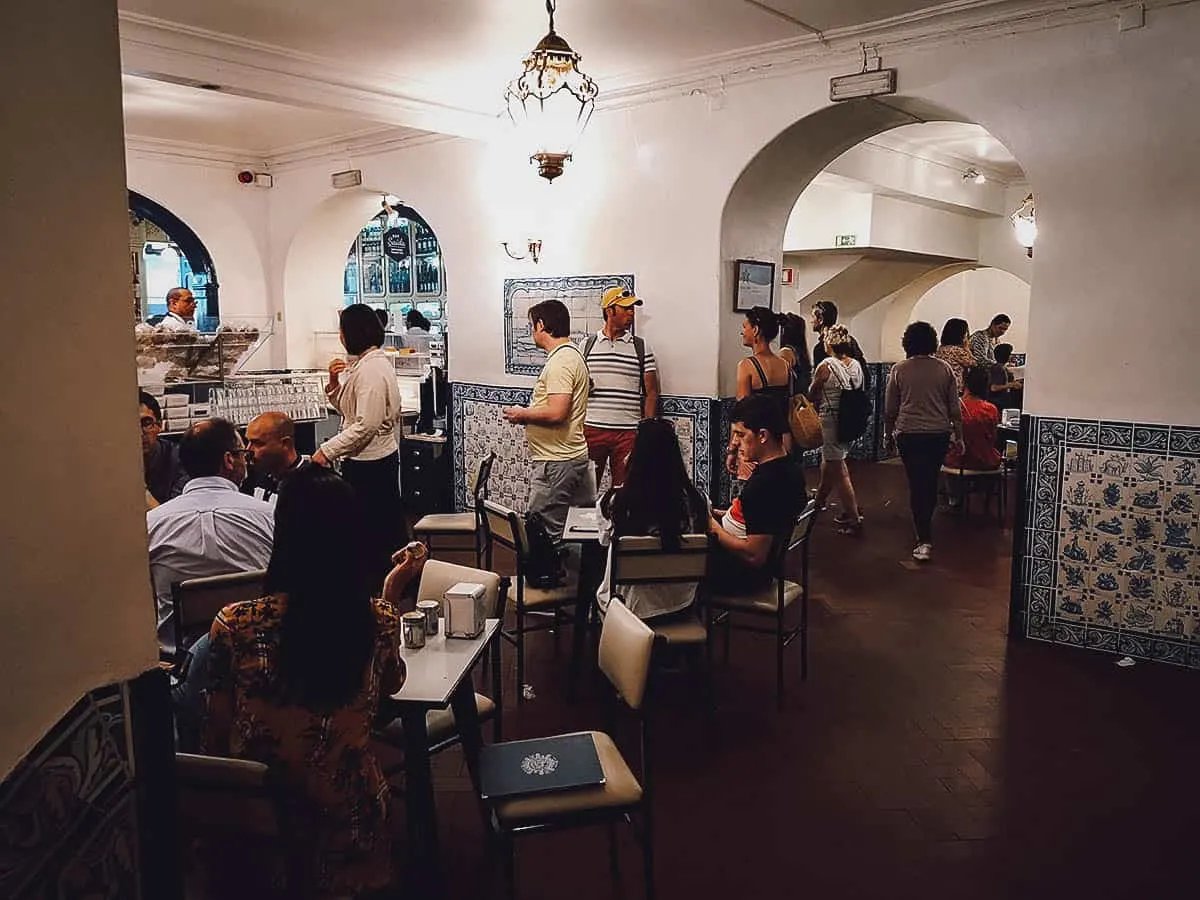 Pasteis de Belem
Address: R. de Belém 84 92, 1300-085 Lisboa, Portugal
Operating Hours: 8AM-11PM, daily
What to Order: Pastel de nata
Expect to Pay: About EUR 1.15 for one, EUR 6.90 for six
11. Niva Gelato
For me, there are two things you should never feel guilty about while on holiday. One, drinking beer at 10 in the morning. And two, eating copious amounts of gelato.
We chanced upon Niva Gelato on our way back to our AirBnB from Bairro Alto. Their gelato is amazing. It's thick, gooey, and intensely flavored. It's definitely worth the calories!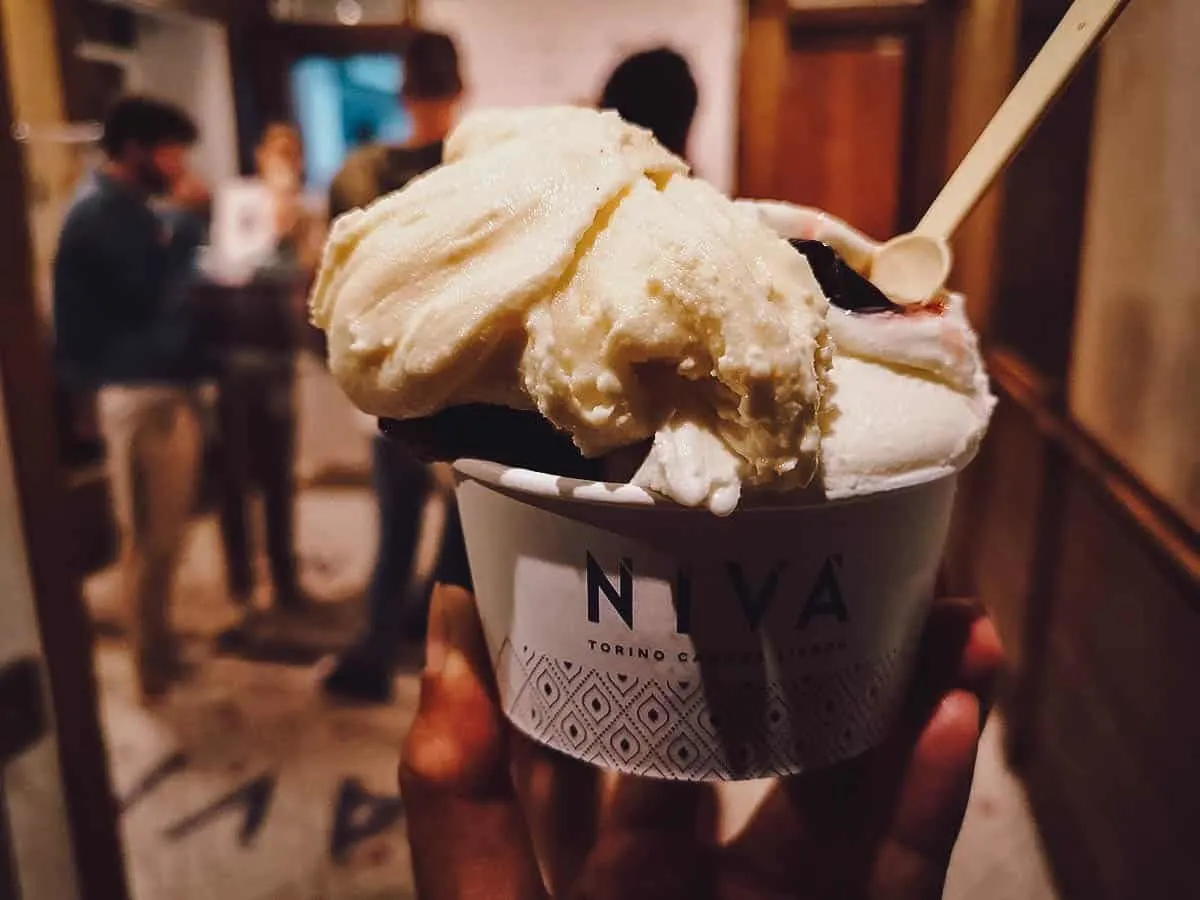 Niva Gelato has a perfect 5-star rating on TripAdvisor. According to some reviewers, their gelato is on par with the gelato in Italy.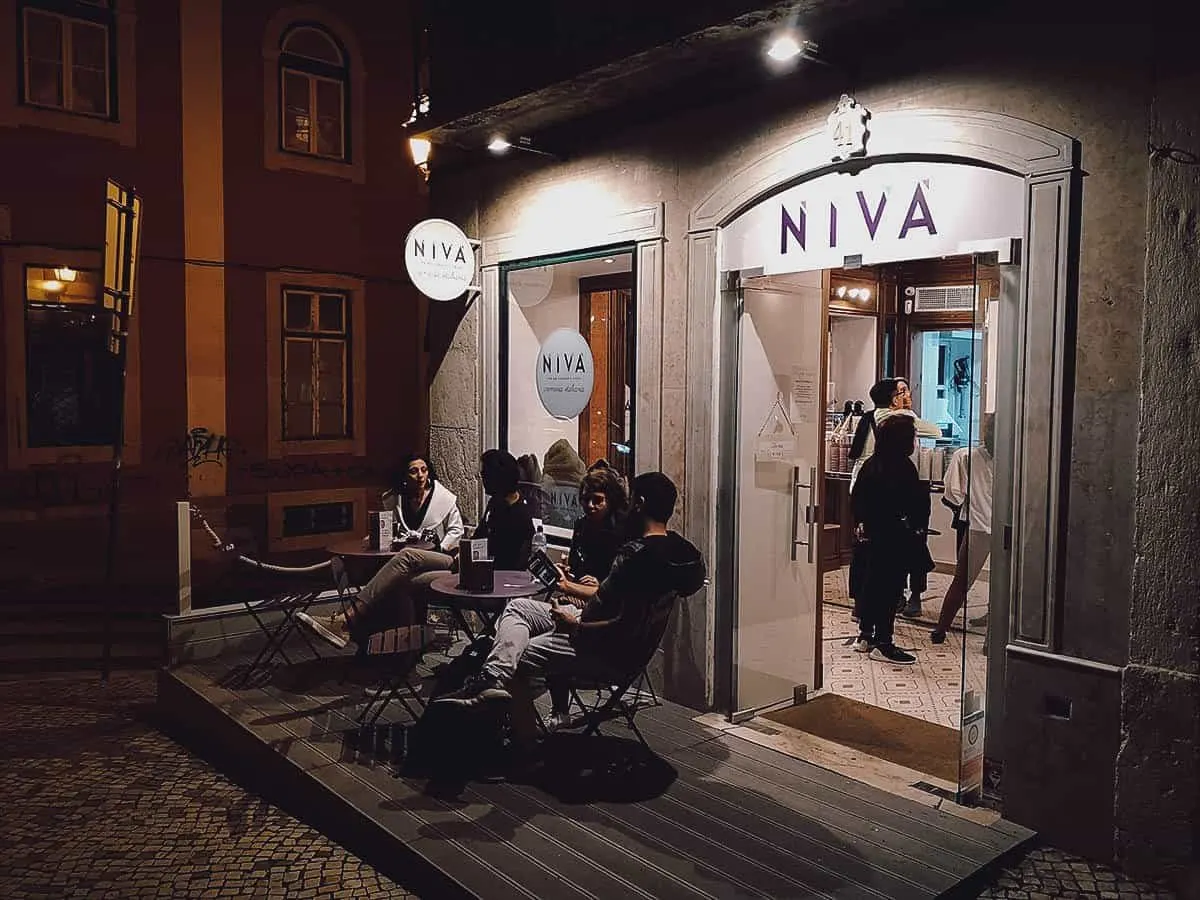 Niva Gelato
Address: R. da Escola Politécnica 41, 1250-099 Lisboa, Portugal
Operating Hours: 11AM-11PM, Mon-Thu / 11AM-11:30PM, Fri / 10AM-11:30PM, Sat / 10AM-11PM, Sun
What to Order: Gelato
Expect to Pay: About EUR 3.50-8.50 per cup
12. Time Out Market
This place is amazing. Time Out Market is a trendy food hall located inside the historic Mercado da Ribeira, a traditional market hall in Lisbon's trendy Cais do Sodre waterfront district.
Opened in 2014, it consists of about four dozen bars, restaurants, and shops representing some of the best Portuguese food and drink Lisbon has to offer. It's a carefully curated food hall that puts the best food in Lisbon – ie the best conservas, the best pastel de nata, the best croquettes and more – under one roof.
We enjoyed Time Out Market so much we wound up eating here three times during our stay in Lisbon. The only thing we didn't like? It's always crowded and difficult to find a seat!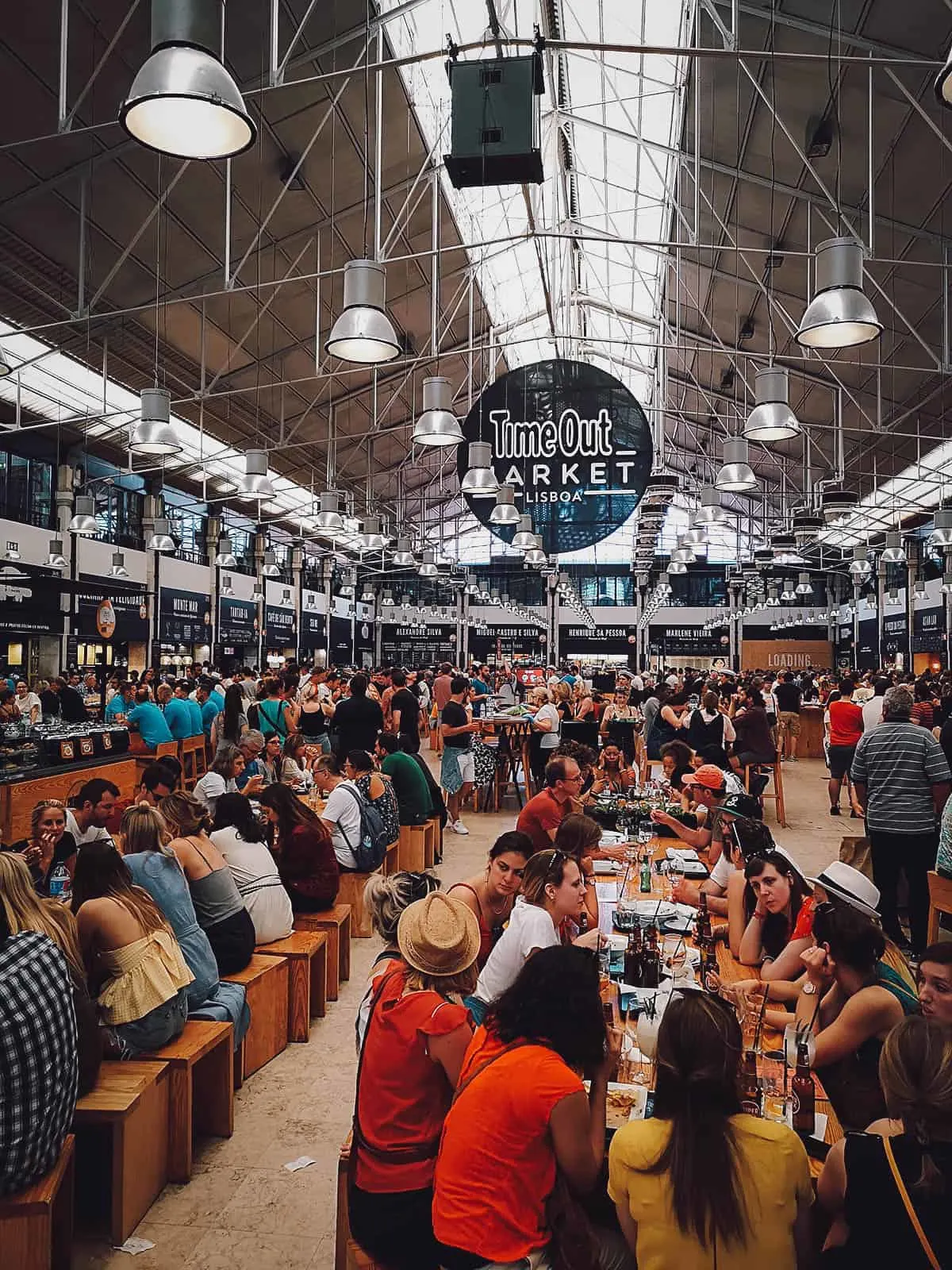 Check out my article on Time Out Market for suggestions on which stalls to visit. There is so much good Portuguese food to be had here, one of the highlights being this bacalhau a bras from Chef Miguel Castro e Silva.
Bacalhau a bras is a Portuguese food favorite of shredded salted cod with onions and hand-cut french fries cooked with scrambled eggs. It's rich, creamy, and absolutely delicious.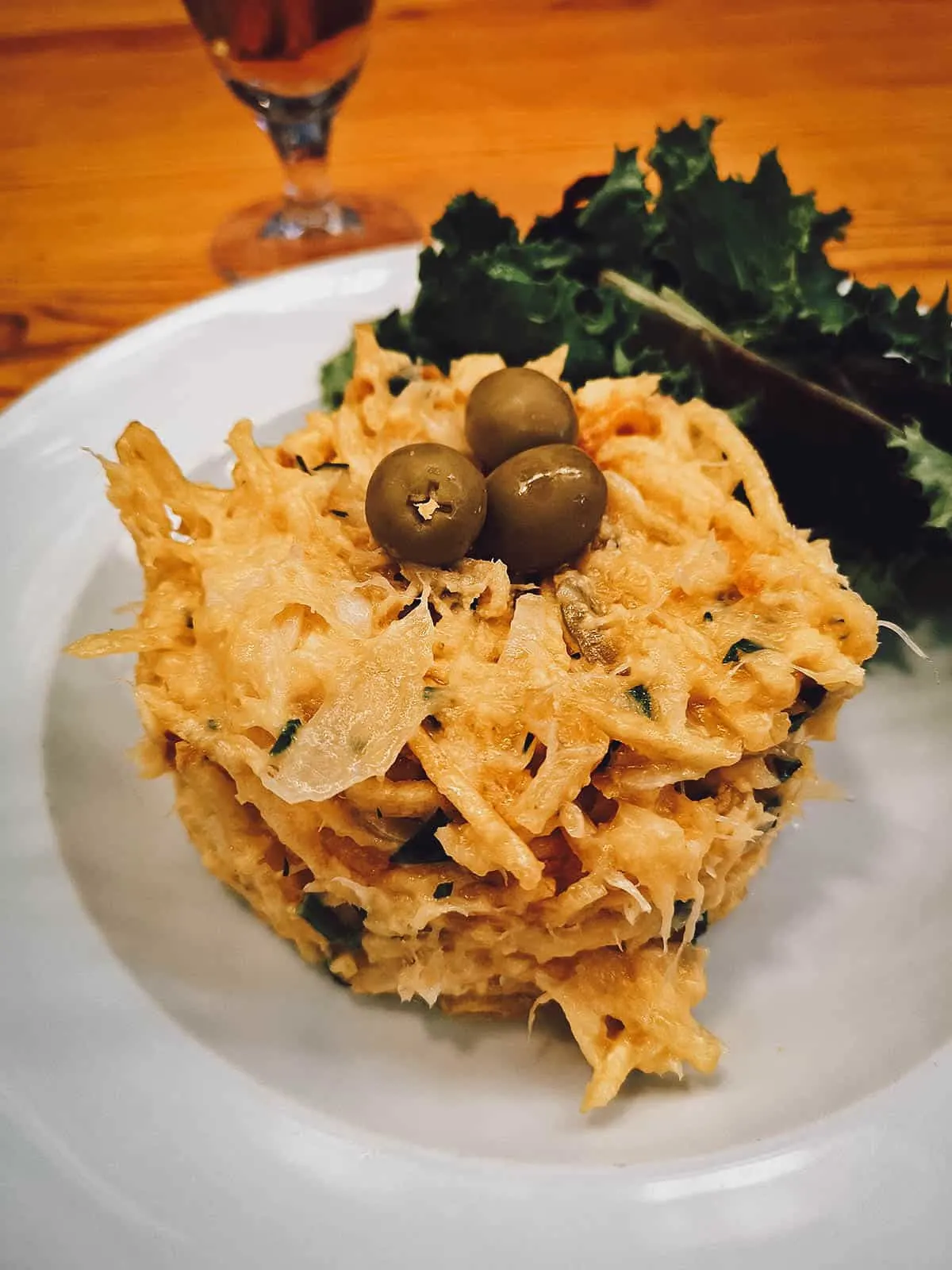 This beautiful plate of marinated octopus and smoked duck from O Surf & Turf was fantastic as well.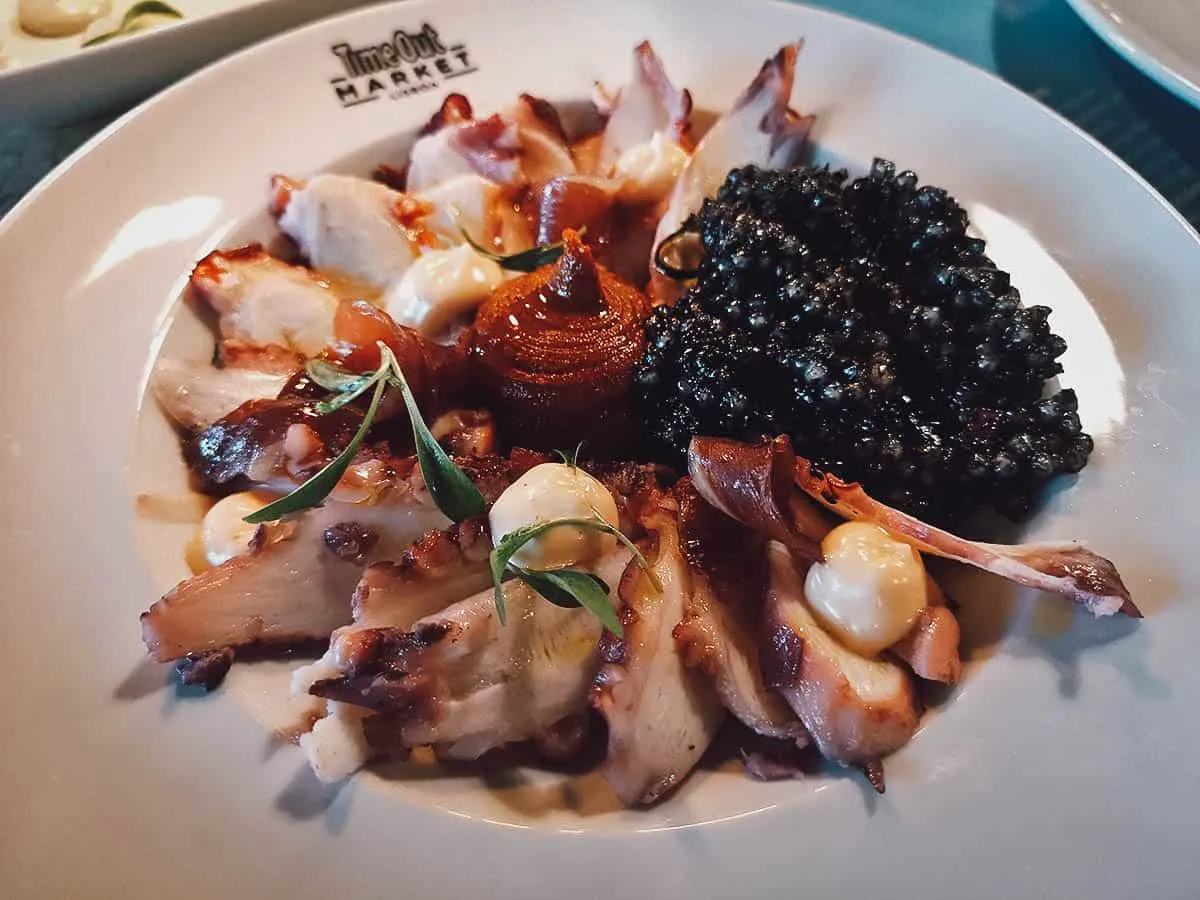 As described, Manteigaria has a stall here at Time Out Market. Many locals will tell you that the pastel de nata at Manteigaria are the best in Portugal, and they may be right. Manteigaria's pasteis de nata are noticeably silkier with a pronounced taste of cinnamon. They're fantastic.
If you're pressed for time and want to try some of the best food in Lisbon in one place, then Time Out Market is the place to go.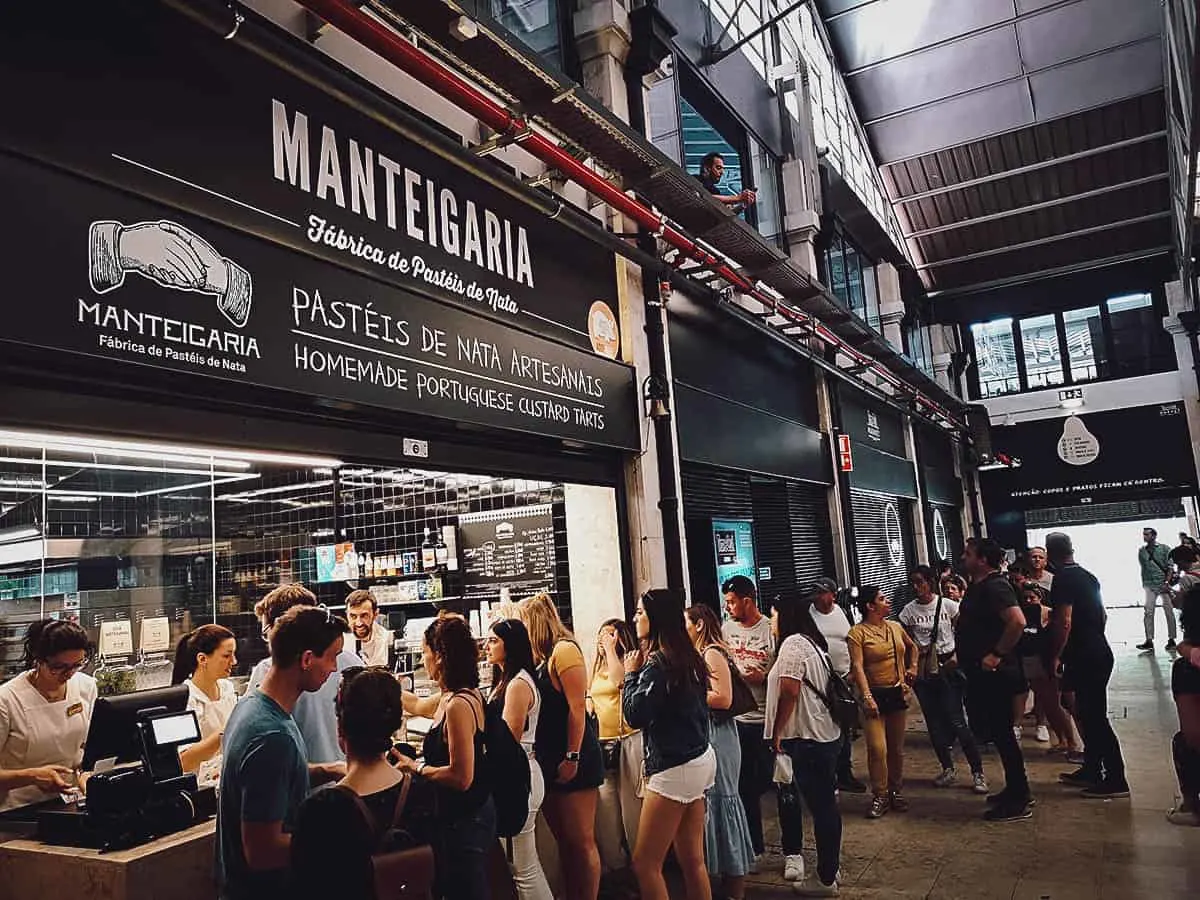 Time Out Market
Address: Mercado da Ribeira, Av. 24 de Julho 49, 1200-479 Lisboa, Portugal
Operating Hours: 10AM-12MN, daily
LISBON FOOD TOURS
No one knows the food in Lisbon better than a local, so what better way to experience Lisbon's cuisine than by going on a food tour? A food-obsessed local will take you to the best restaurants in Lisbon and explain all the Portuguese dishes to you in more detail. Check out Get Your Guide for a list of Lisbon food tours.
LOCATION MAP
To help you find these Lisbon restaurants, I've pinned them all on an interactive map. It includes many others as well that we either saved as backups, or just couldn't get to.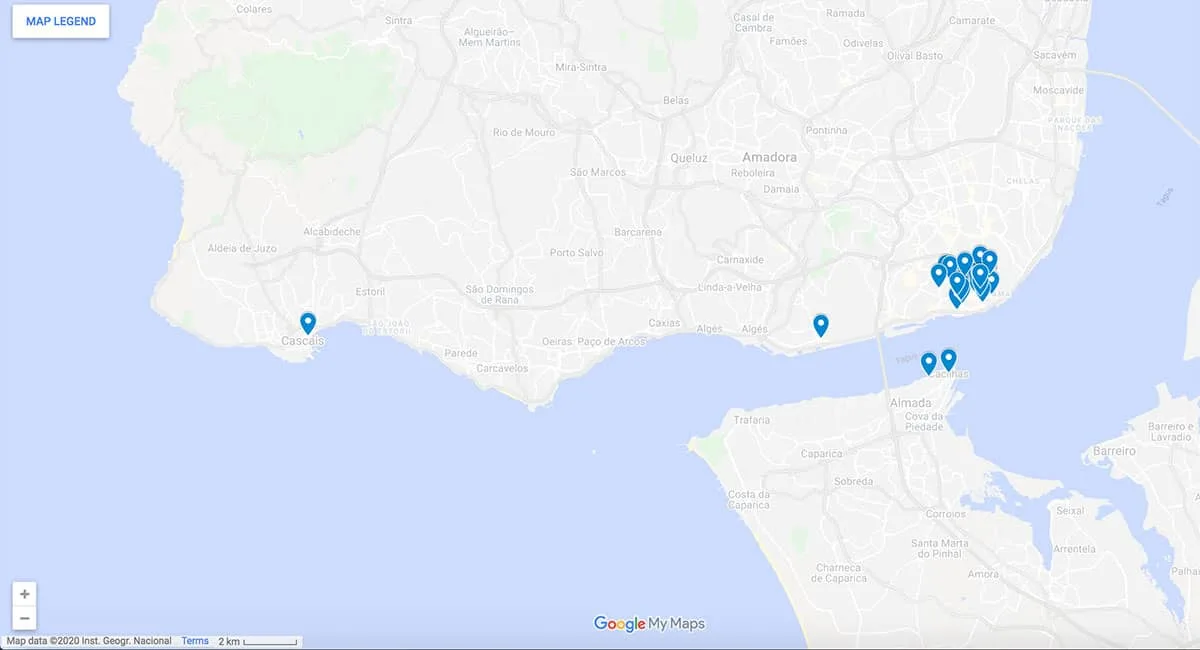 FINAL THOUGHTS ON THE FOOD IN LISBON
It's no secret that food is why we travel. We've visited many incredible cities over the years, but unless it has great food, then it won't completely resonate with us.
Good food is the one thing that keeps us coming back. That's why we visit countries like Japan and Vietnam often, to experience and learn more about the food. We can't get enough of it.
Lisbon is that type of destination.
It's an achingly beautiful city that celebrates the arts, welcomes diversity, and has a passion for excellent food. We will definitely be back.
Disclosure
Some of the links in this Lisbon food guide are affiliate links, meaning we'll get a small commission if you make a purchase at no additional cost to you. As always, we only recommend products and services that we use ourselves and firmly believe in. We really appreciate your support as this helps us make more of these free travel guides. Obrigado!