Porto was our gateway into Portugal. It was our introduction to Portuguese culture and served as our primer on Portuguese food.
Before arriving in Porto, we had little experience with Portuguese food except for what we'd seen in travel food shows. I knew the Portuguese ate a lot of seafood, especially bacalhau or salted cod, and were the inventors of those delicious eggy custard tarts known as pastel de nata. We looked forward to enjoying both as often as we could along with other delicacies like francesinha, prego, and tripe stew.
As always, I did a lot of research before our trip and asked our homestay host for local recommendations to come up with this list of fifteen of the best restaurants in Porto.
Bom apetite!
FOOD IN PORTO QUICK LINKS
To help you plan your trip to Porto, we've compiled links to top-rated hotels, tours, and other travel-related services here.
HOTELS
Recommended hotels in Porto's city center, the most convenient area to stay for first-time visitors to the city.
TOURS
OTHER SERVICES
PORTO TRAVEL GUIDE
If you're planning a trip to Porto, then be sure to check out our detailed Porto travel guide. It'll have all the information you need – like when to go, what to do, where to stay, etc. – to help you plan your trip.
Save This on Pinterest!
No time to read this Porto food guide now? Click on the save button and pin it for later!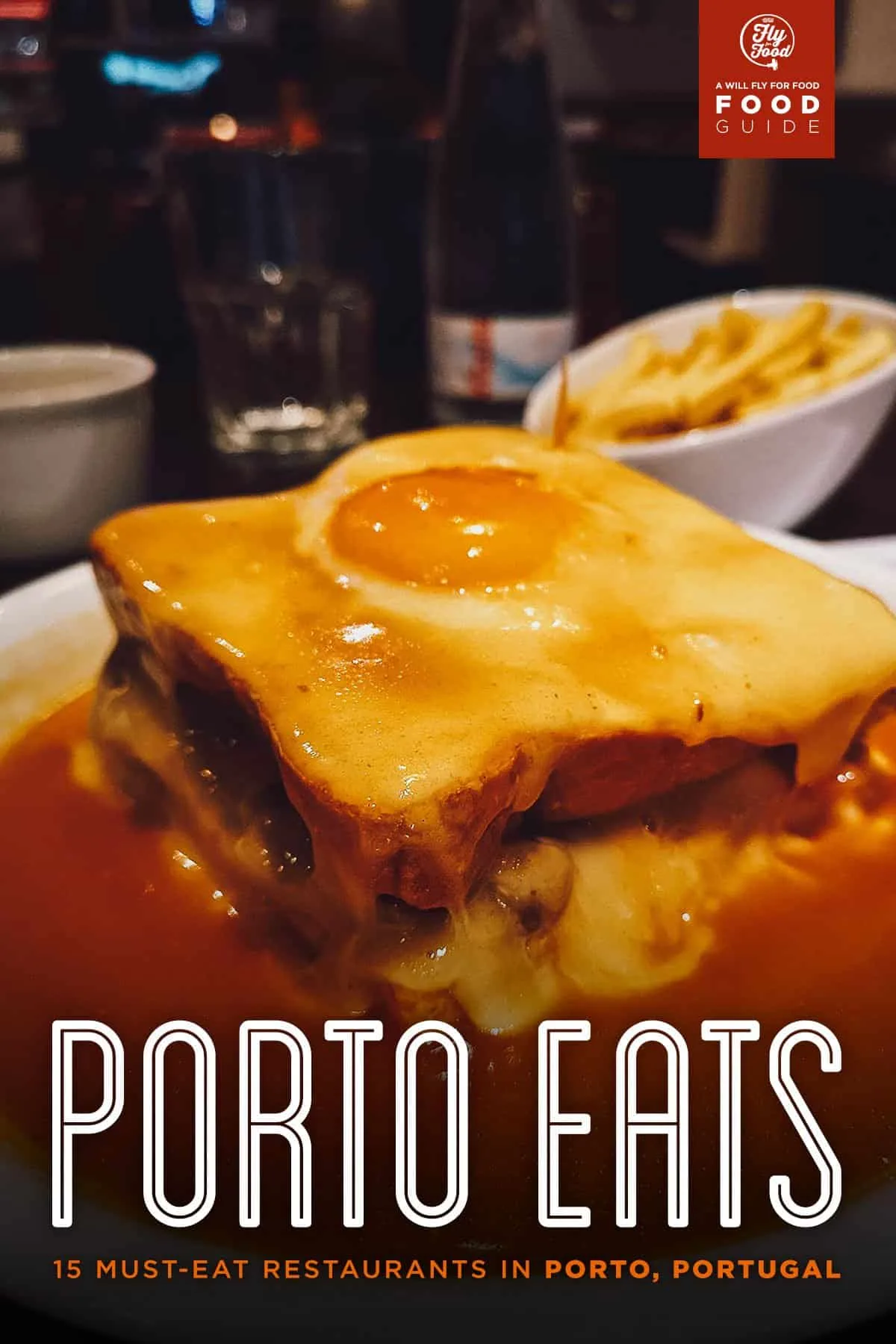 THE BEST PORTO RESTAURANTS
This wasn't intentional but it looks like I had zeroed in on the same types of dishes during our stay in Porto. We visited several restaurants and cafes that featured pasteis de nata, sandwiches, and family-style meals prominently on their menu.
To organize this list, I've grouped them according to the type of dish, beginning with the lightest to the heaviest. In this guide you'll find Porto restaurants serving pastries, sandwiches, and family-style meals, along with a great food food hall I was lucky to discover by chance.
PASTRIES
By "pastries", I really mean pastel de nata because three of the fours pastry shops I visited specialized in those custard-y treats.
However, I read an article suggesting there was a lot more to Portuguese pastries than just pasteis de nata, so I made time to visit a fourth pasty shop, one that specialized in eclairs.
1. Fabrica da Nata
Walk into any of the most popular shops and you'll be greeted with this beautiful sight – freshly baked pasteis de nata just waiting to be scooped up and enjoyed with a cup of coffee.
A pastel de nata is a Portuguese egg tart pastry that's crispy and flaky on the outside and creamy and not too sweet on the inside. It was invented before the 18th century by monks at the Jerónimos Monastery in Lisbon.
At the time, egg whites were used to starch clothing, leaving them with a surplus of egg yolks to be used in desserts. One of the pastries they developed was the pastel de nata.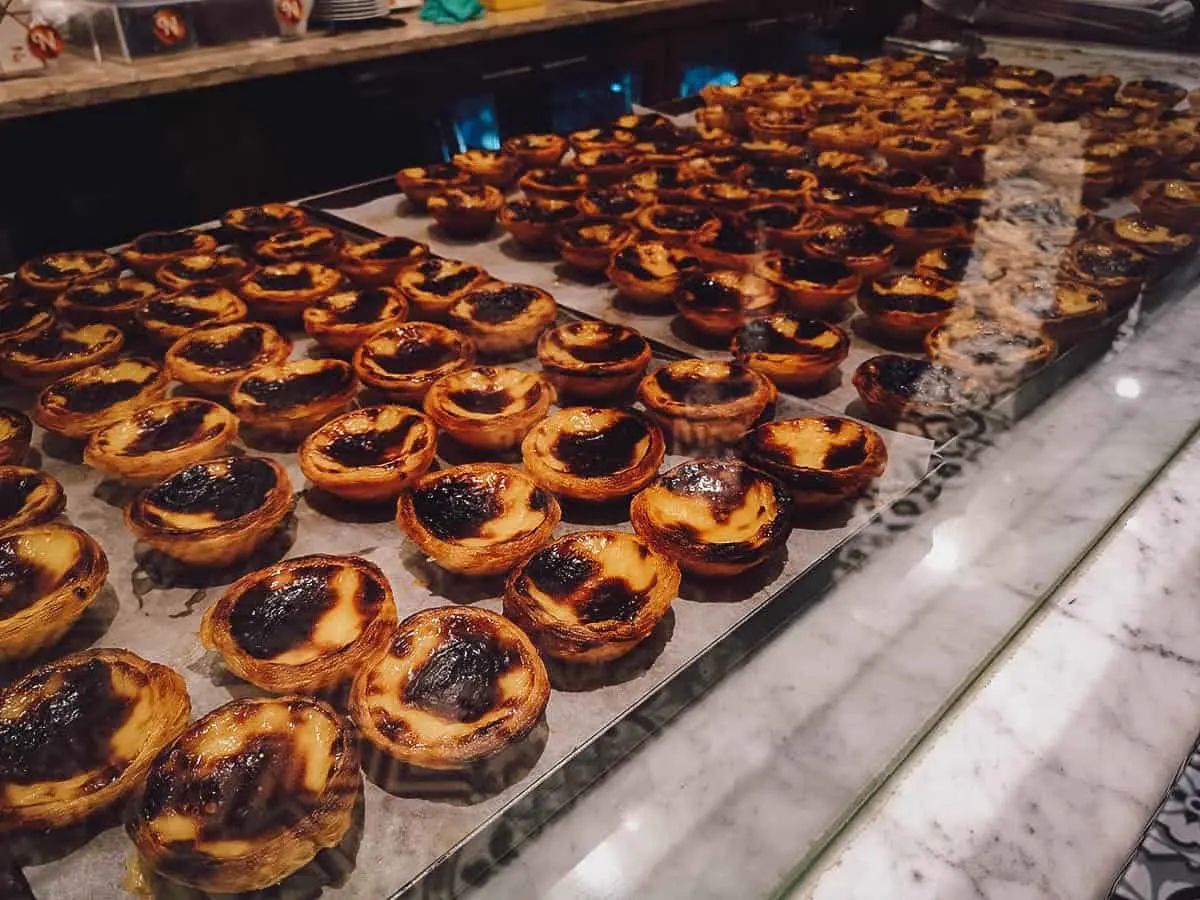 Golden yellow with these distinct brown-black splotches, these pasteis de nata were such a beautiful sight and something I was happy to wake up to everyday during our stay in Portugal. One tart is called a pastel de nata while two or more tarts are referred to as pasteis de nata.
The pasteis de nata are freshly baked daily so they're always flaky and delicate. The custard filling is nice and warm with a velvety texture that's somewhere between runny and firm. Not too sweet or eggy, they're absolutely delicious when paired with a freshly brewed cup of coffee.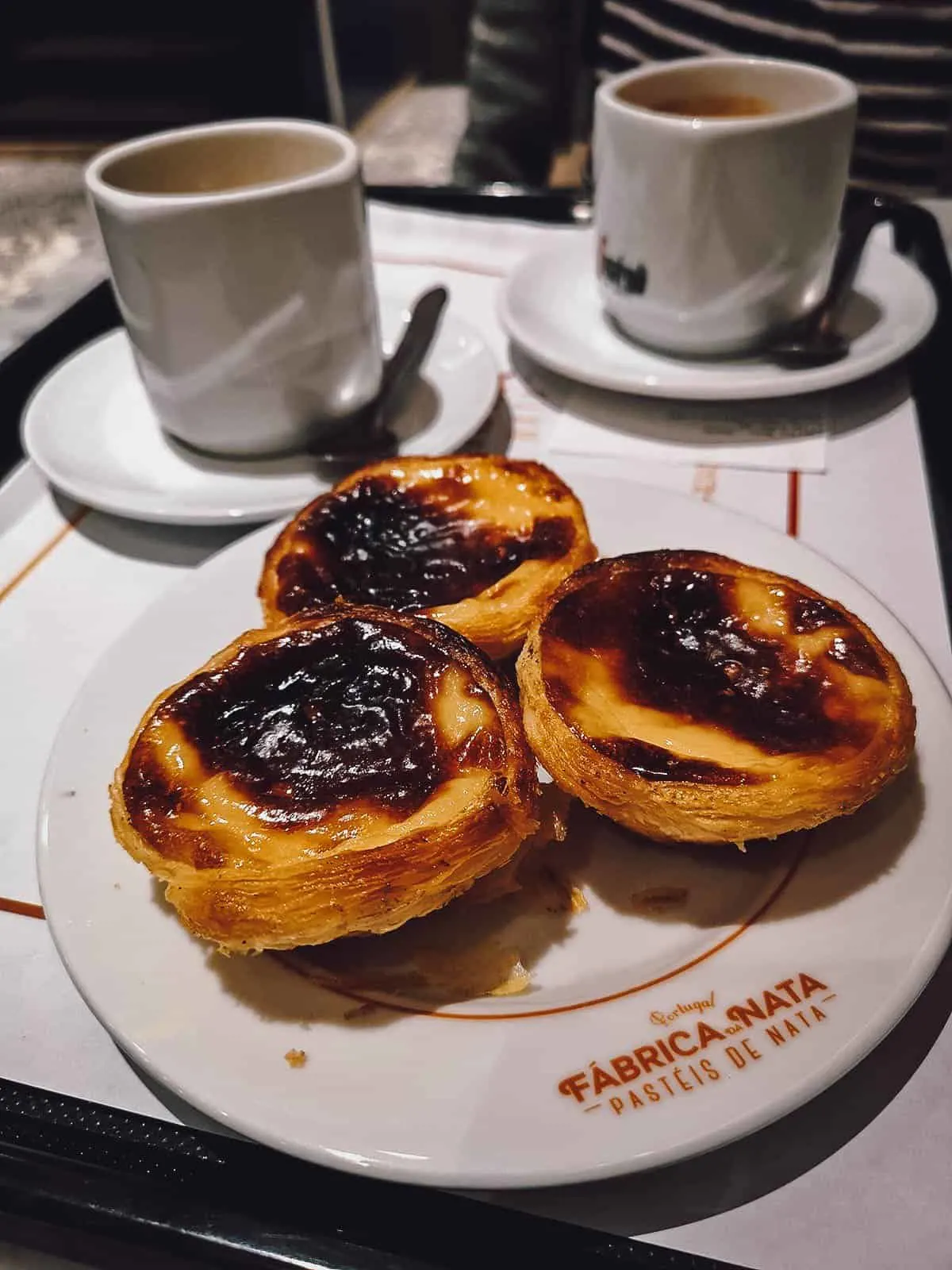 Fabrica da Nata is located along Rua de Santa Catarina. They have two branches in Lisbon as well.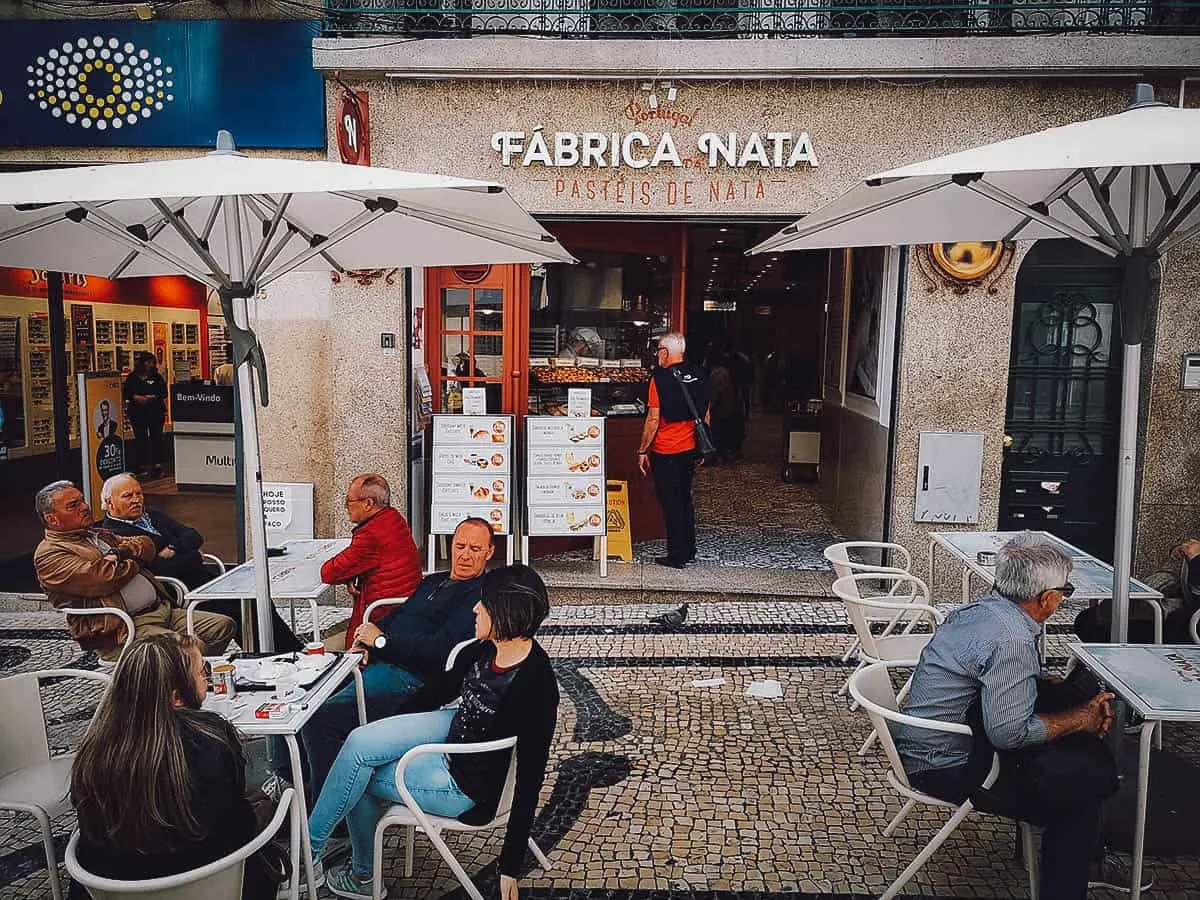 Fabrica da Nata
Address: Rua de Santa Catarina 331/335, 4000-451 Porto, Portugal
Operating Hours: 8AM-11PM, daily
What to Order: Pastel de nata
What We Paid: EUR 1 per piece
2. Manteigaria
Based on what I've read, ask most locals where to find the best pastel de nata and half of them will point you to Manteigaria. In fact, their branch at Time Out Market Lisbon was the shop featured on the Lisbon episode of Somebody Feed Phil on Netflix. By many accounts, it's the best pastel de nata in Portugal.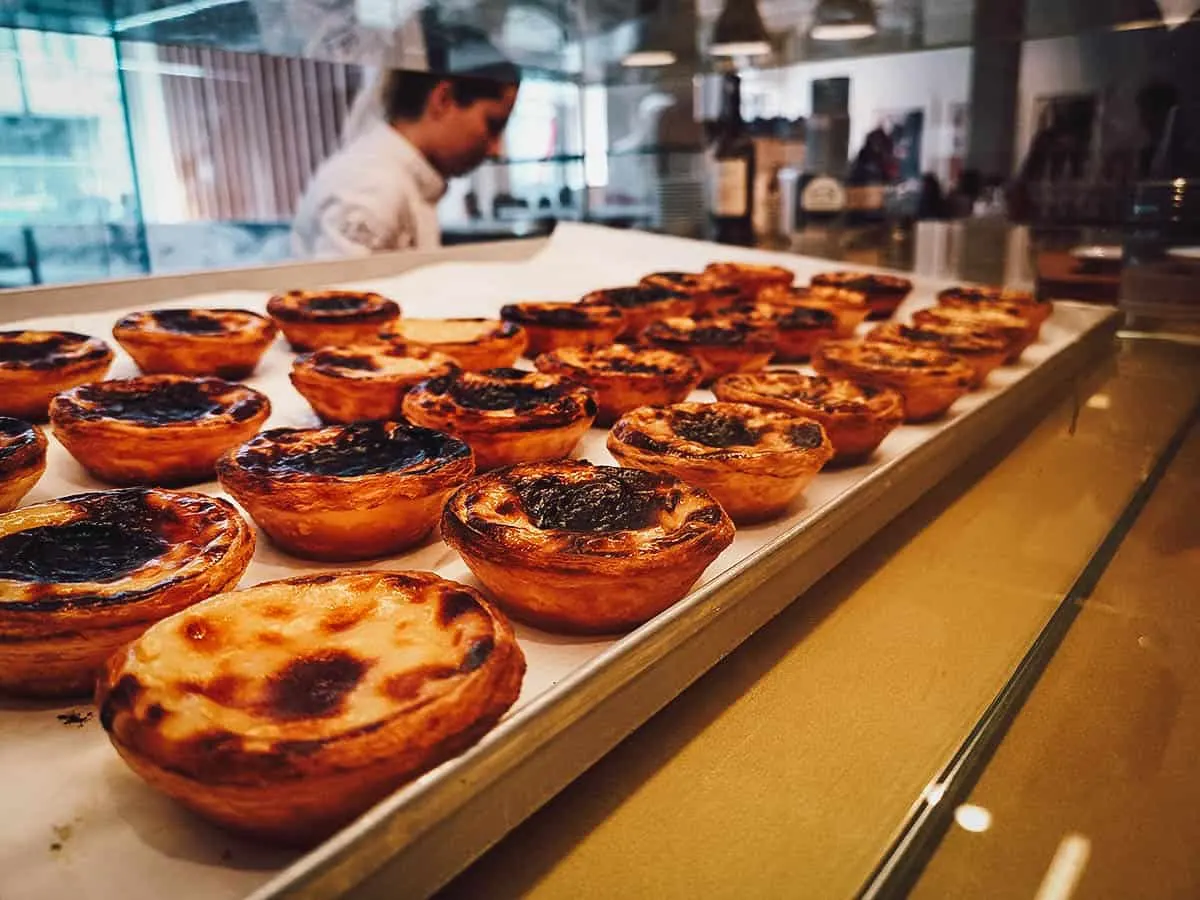 Manteigaria's tarts were silkier than the offerings at Fabrica da Nata with perhaps a more pronounced taste of cinnamon. Without me even telling her that Manteigaria was preferred by most locals, Ren declared their pasteis de nata to be her favorite in Portugal.
We had pasteis de nata at nearly every famous place in Porto and Lisbon and the differences to me were barely noticeable. The most discernibly different were the tarts at Pasteis de Belem, but that didn't necessarily make them better, just different.
To be honest, I don't think you'll be disappointed by any of these often-recommended pastel de nata shops. In my limited experience, they were all delicious and something I would gladly have right now.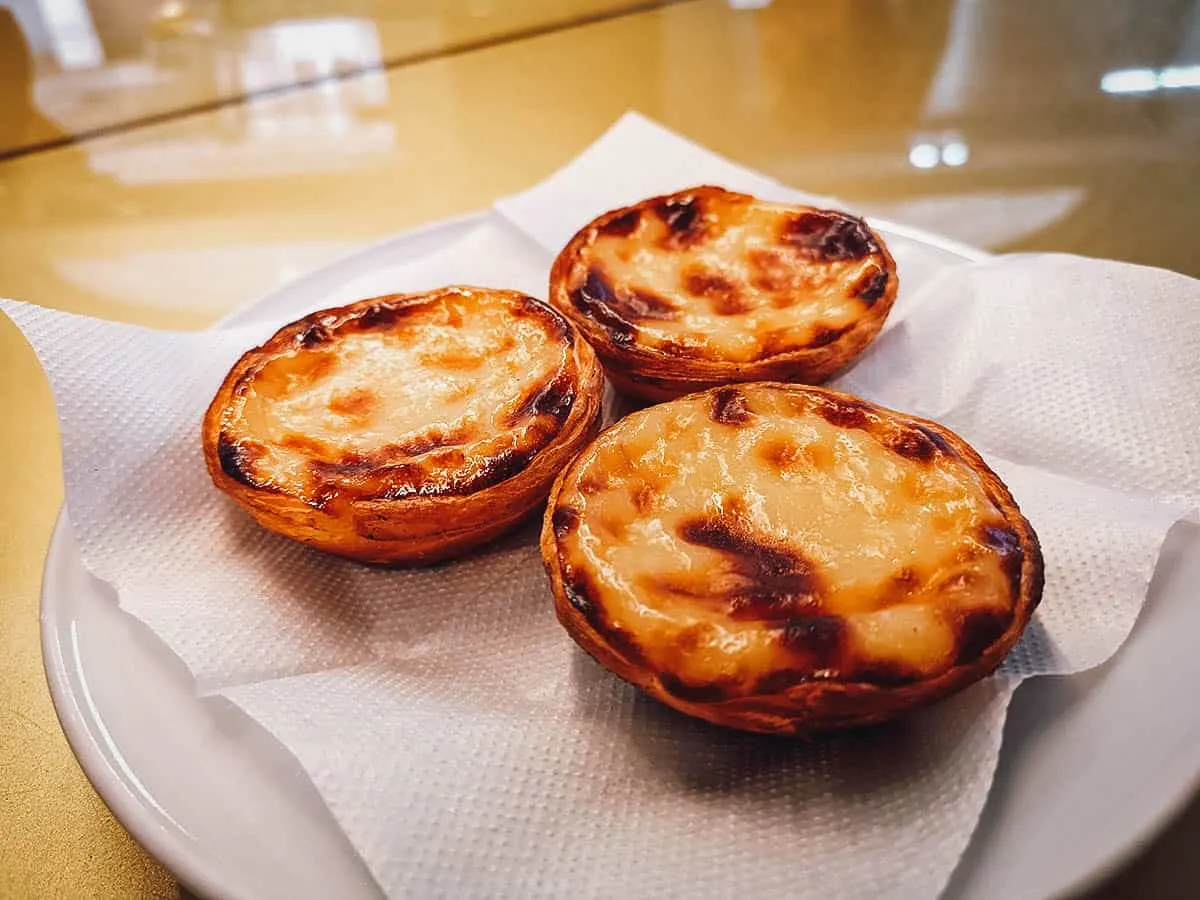 Manteigaria has two branches in Porto and another two in Lisbon. The branch we went to along Rua de Alexandre Braga is close to Fabrica da Nata so you can easily visit both on the same day.
Manteigaria is easy to spot. Just look for their shaking hands logo.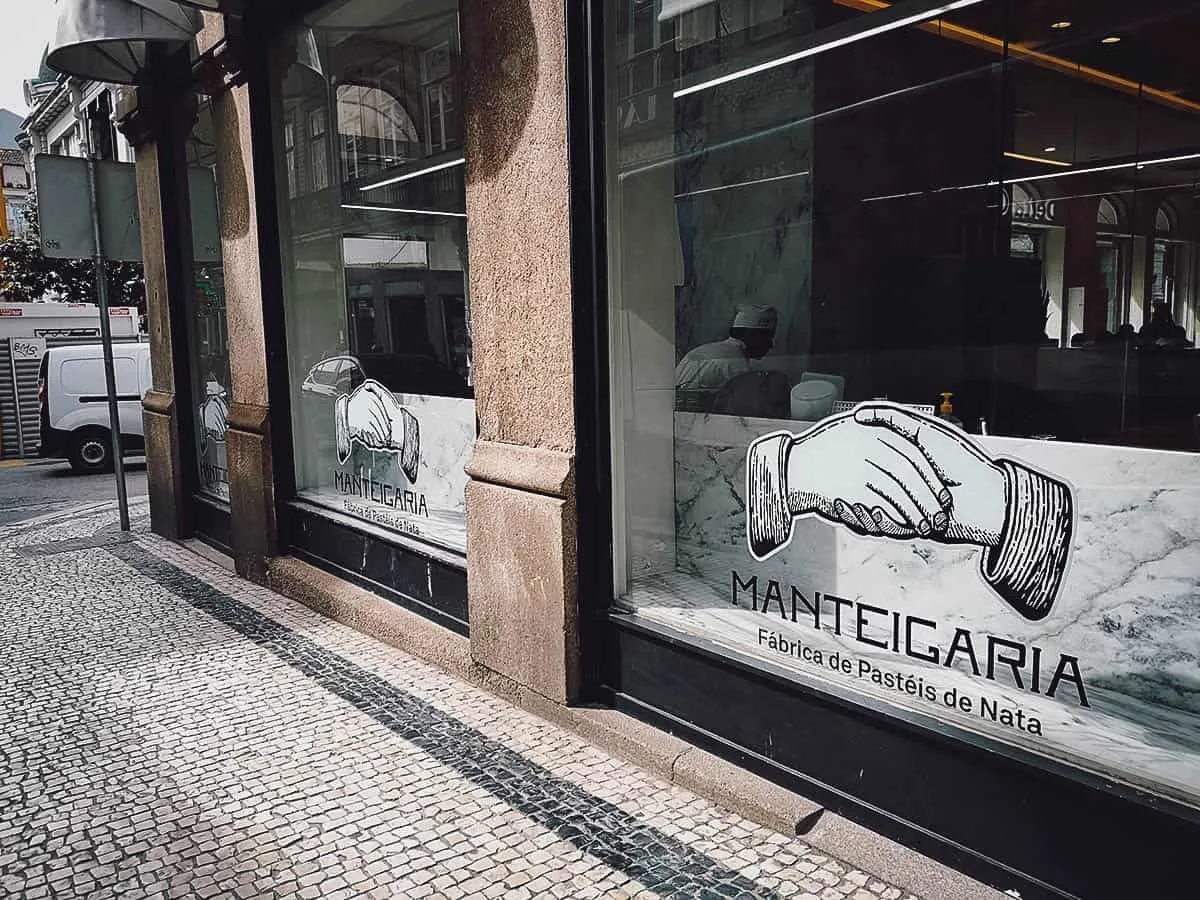 Manteigaria
Address: R. de Alexandre Braga 24, 4000-049 Porto, Portugal
Operating Hours: 8AM-9PM, daily
What to Order: Pastel de nata
What We Paid: EUR 1 per piece
3. Nata Lisboa
Nata Lisboa was the third pastel de nata shop we visited in two days. Nothing much to add here except their offerings are about as good as the previous two, closer in taste perhaps to Fabrica da Nata.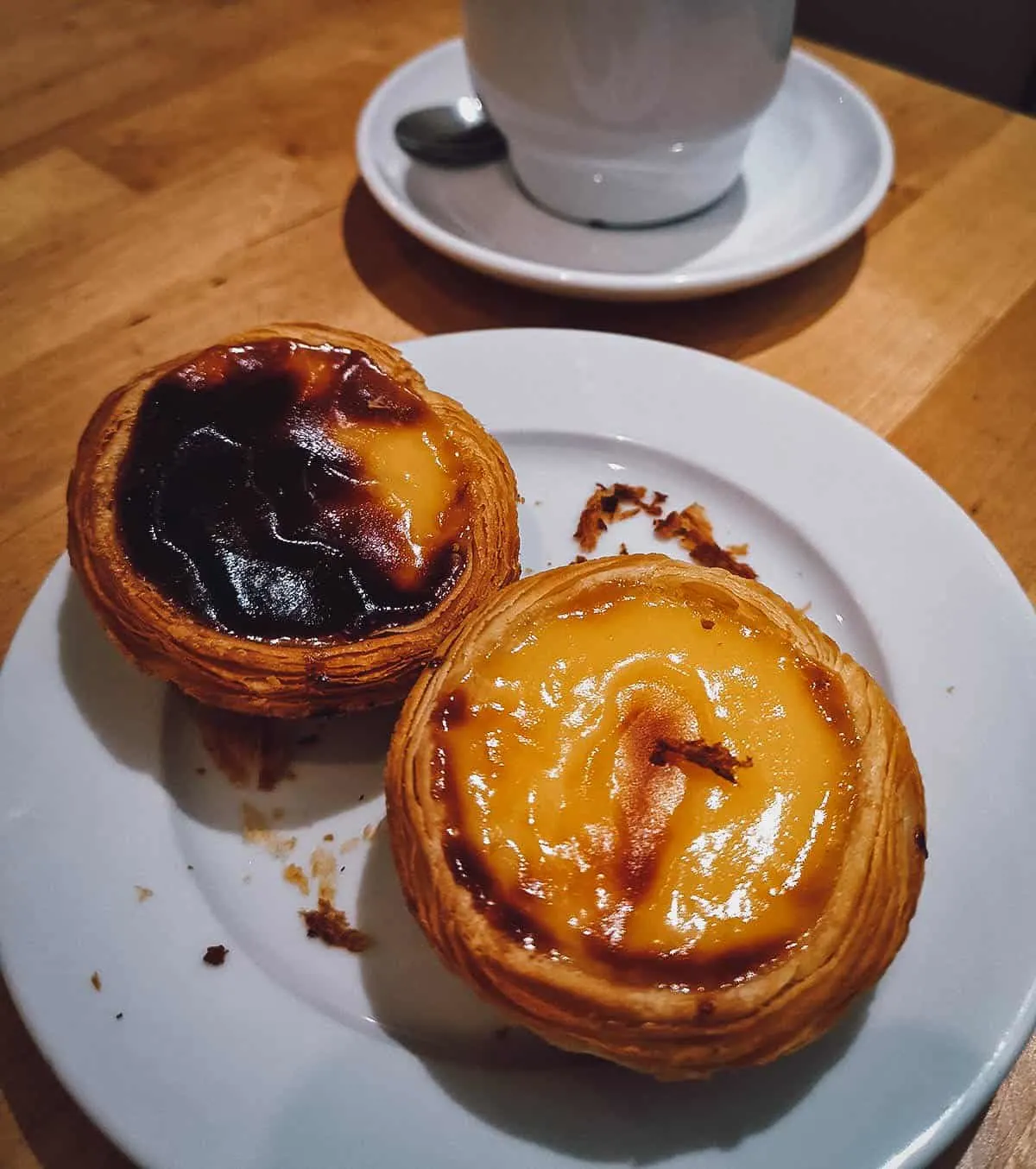 Of the three, Nata Lisboa is the most established brand with at least 25 outlets in Portugal and 8 more in Europe, Angola, and the UAE.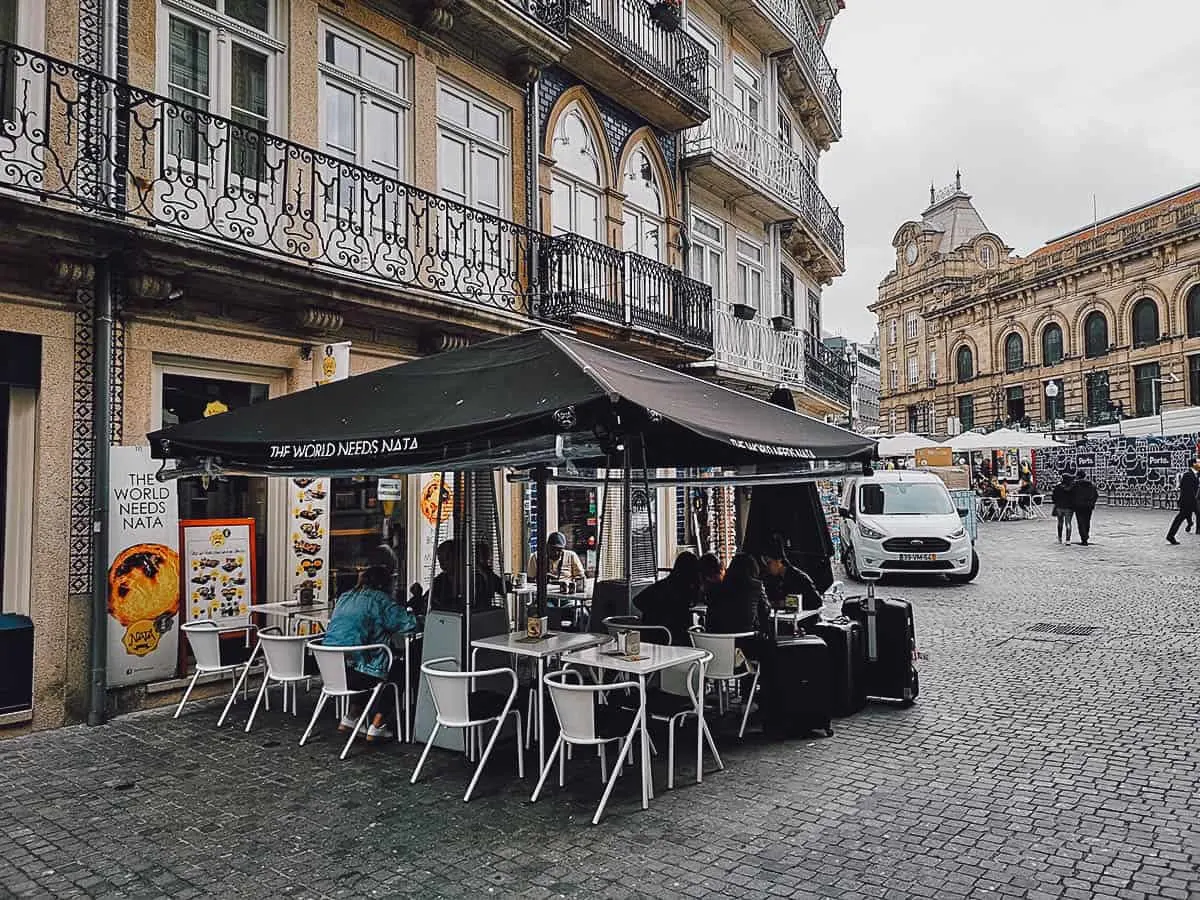 Nata Lisboa
Address: Rua de Santa Catarina 499, 4000-452 Porto, Portugal
Operating Hours: 8AM-8PM, daily
What to Order: Pastel de nata
What We Paid: EUR 1.10 per piece, EUR 6 for a half-dozen
4. Natas D'Ouro
Natas D'Ouro is a strange one. They have two outlets in Porto – one along Rua de Sa da Bandeira and this one overlooking the Douro River.
Check the reviews for both and you'll find that the former is much more highly regarded. Unfortunately, I ate at the branch by the river and can understand the less than favorable reviews.
I think more of it has to do with the uninspired service than the pastries themselves. My pasteis de nata were served cold and had clearly been sitting for a while. They weren't flaky or silky at all which was a shame because they tasted good.
Aside from the traditional version, Natas D'Ouro is known for a few interesting takes on this classic, like pasteis de nata made with chocolate, orange, even port wine.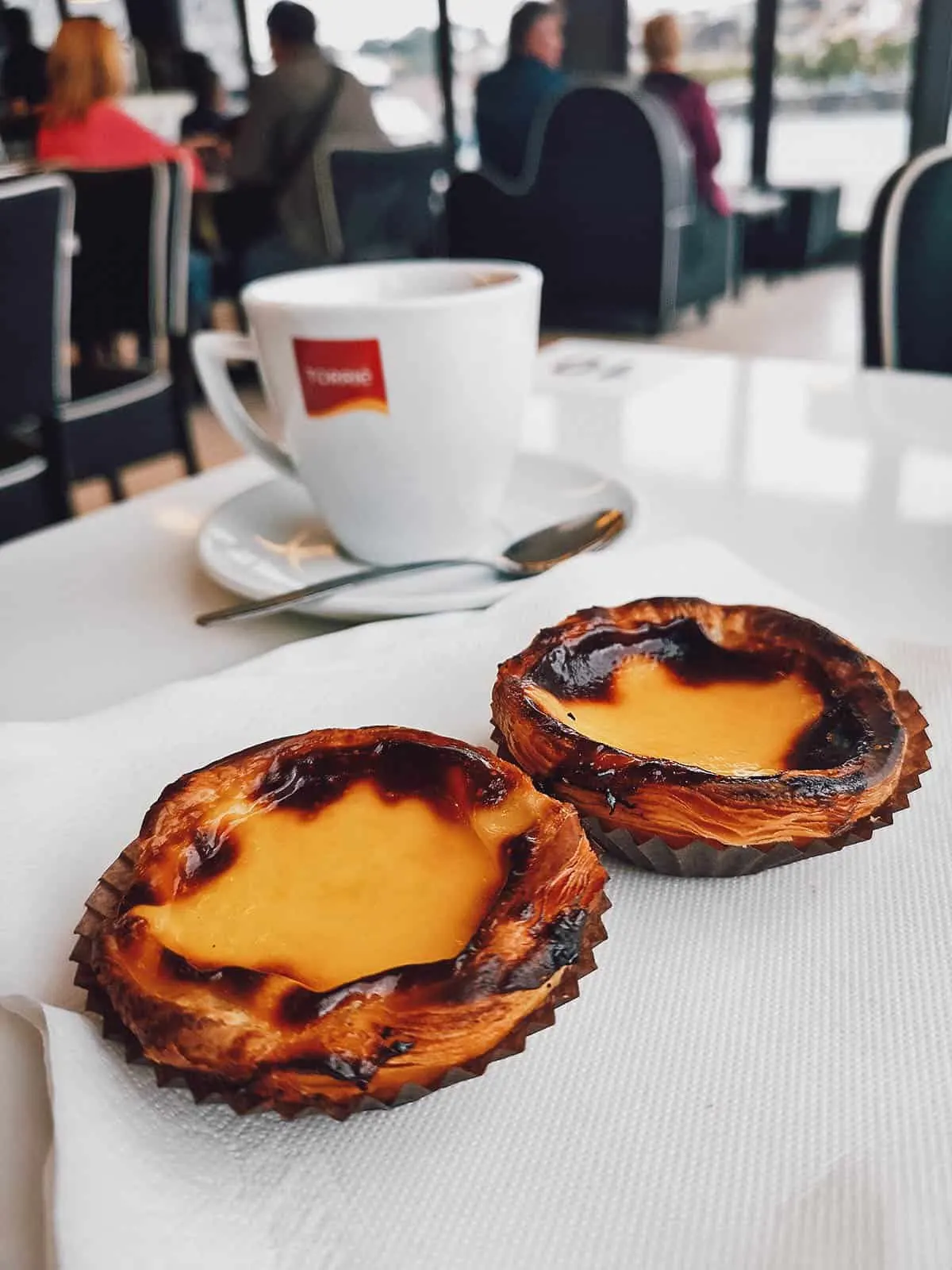 Forget this branch. If you'd like to try the pastel de nata at Natas D'Ouro, then go to their outlet along Rua de Sa da Bandeira instead. It's a TripAdvisor Certificate of Excellence awardee with a near-perfect 4.5-star rating.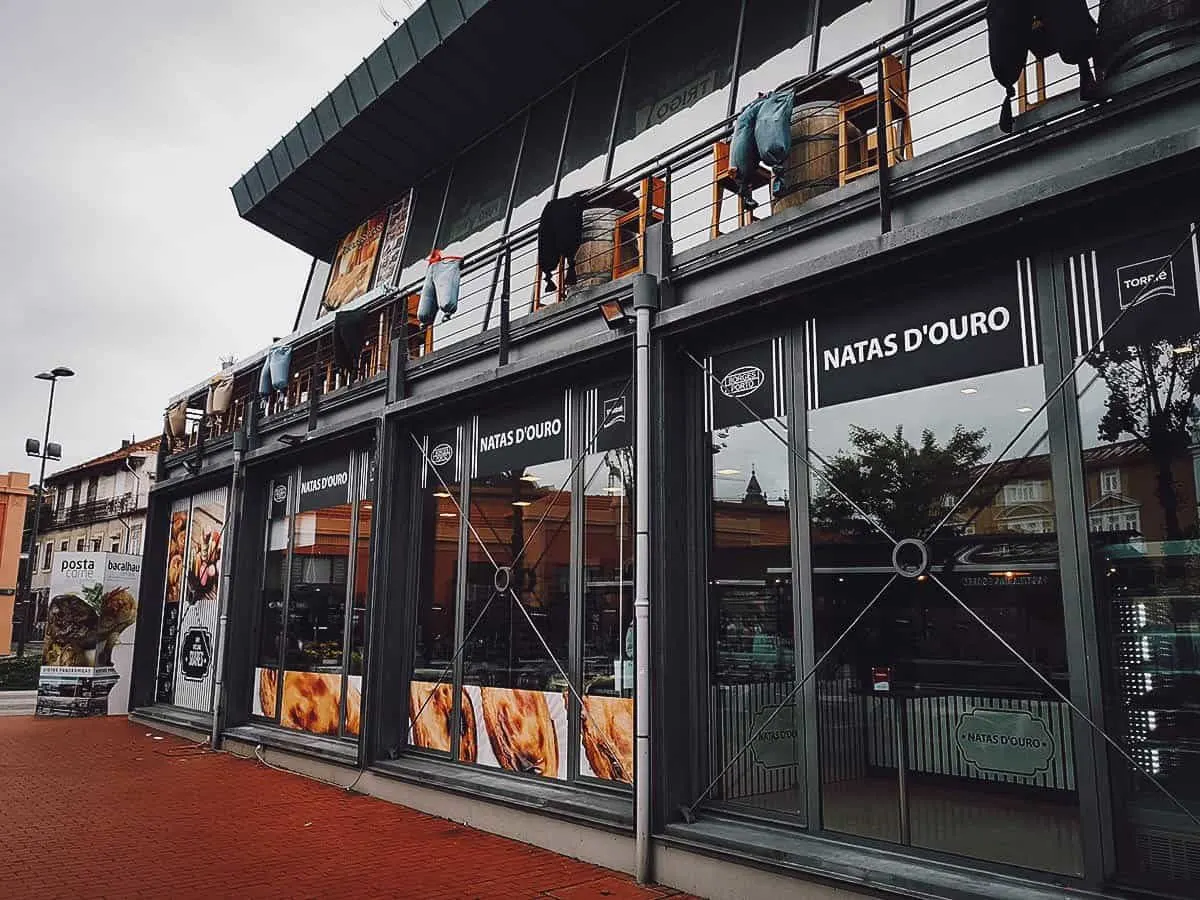 Natas D'Ouro
Address: R. de Sá da Bandeira 115, 4000-427 Porto, Portugal
Operating Hours: 8:30AM-10PM, daily
What to Order: Pastel de nata
What We Paid: EUR 0.90 per piece, EUR 4.50 for a half-dozen
5. Leitaria da Quinta do Paco
I read that the Portuguese are proud of their pastries, so much so that it upsets them when tourists zero in only on the famed pastel de nata and ignore everything else.
I don't really have much of a sweet tooth but I thought I should try at least one more pastry so I went to Leitaria da Quinta do Paco, a pastry shop famous for their eclairs.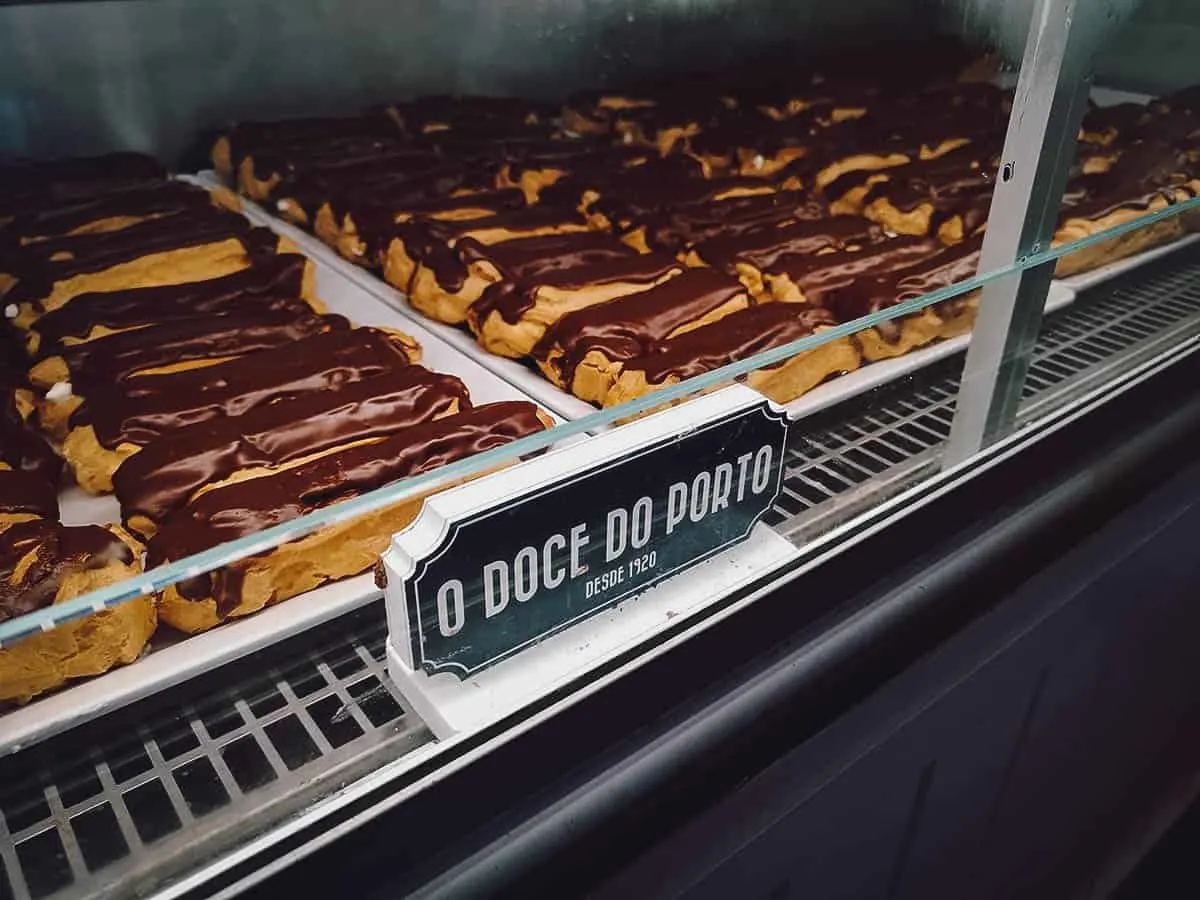 Leitaria da Quinta do Paco is a former milk producer now known for offering many types of eclair. Their classic eclair topped with dark chocolate is the most popular, but they do have plenty of other flavors like toffee, lemon, banoffee, salted caramel, and passion fruit.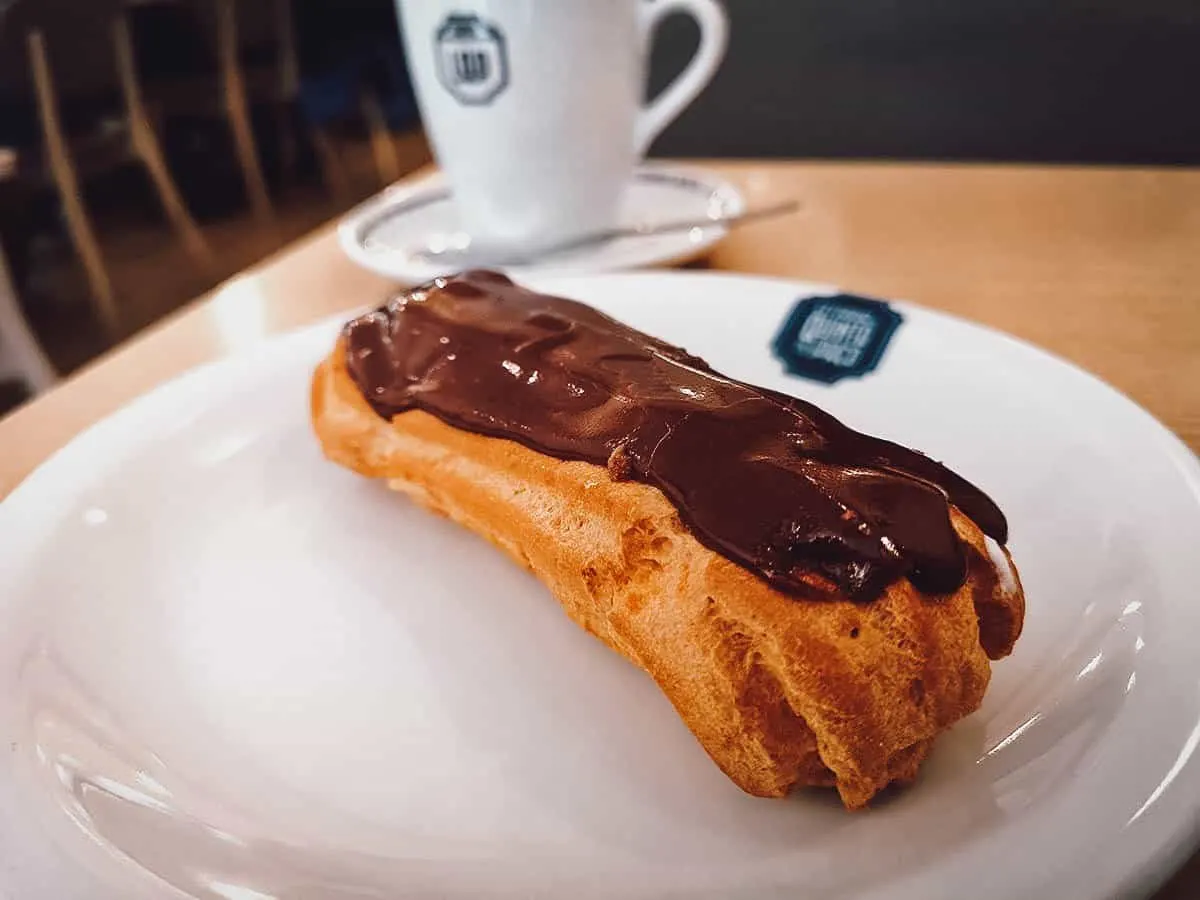 I read that Portuguese versions differ from French eclairs in that they're filled with doce de ovos, a type of sweet egg cream. However, the eclairs here are filled with a type of house-made artisanal whipped cream.
It's nice and light though I found it to be a little too sweet. Many people seem to like it though.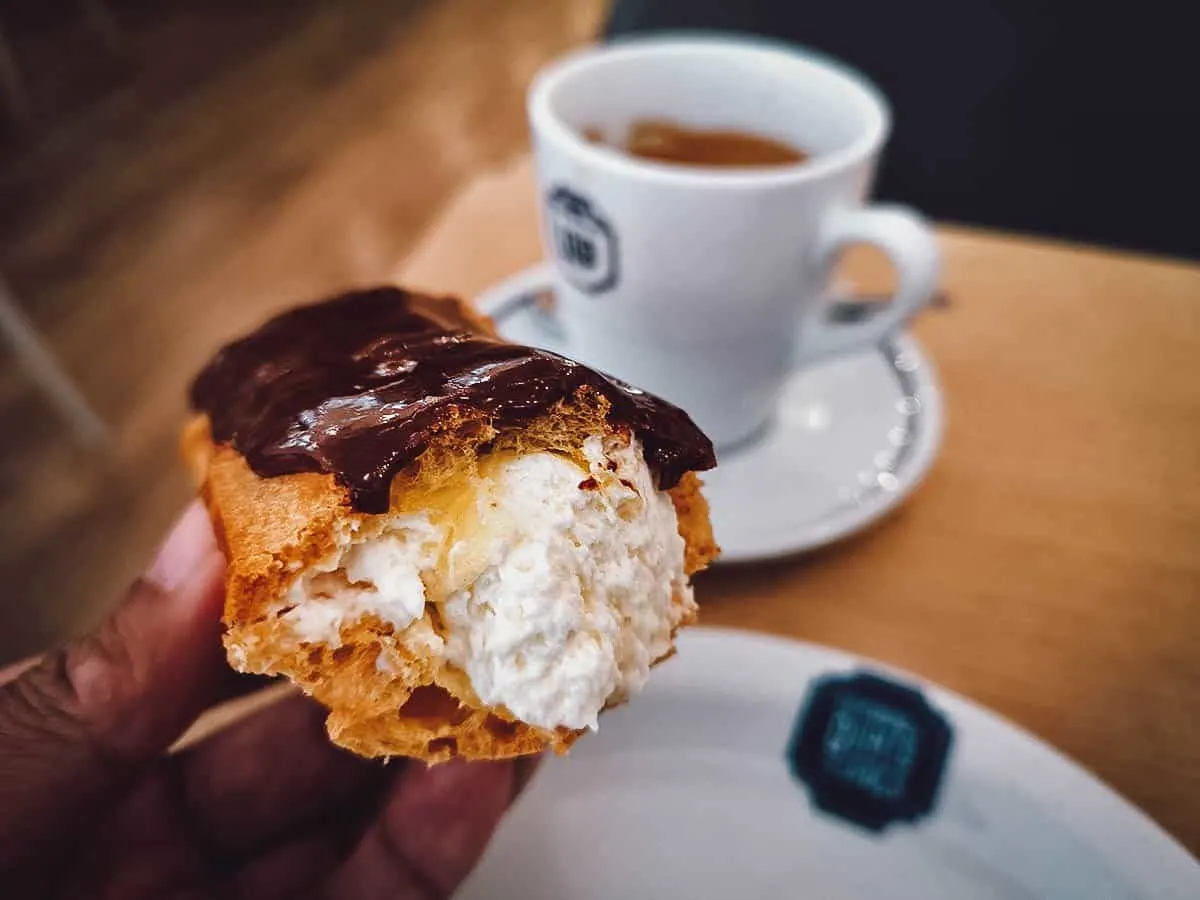 Aside from eclairs, Leitaria da Quinta do Paco offers many different types of pastries and cakes so you may want to give them a try if you're fond of dessert. It seems to be popular with both locals and tourists alike.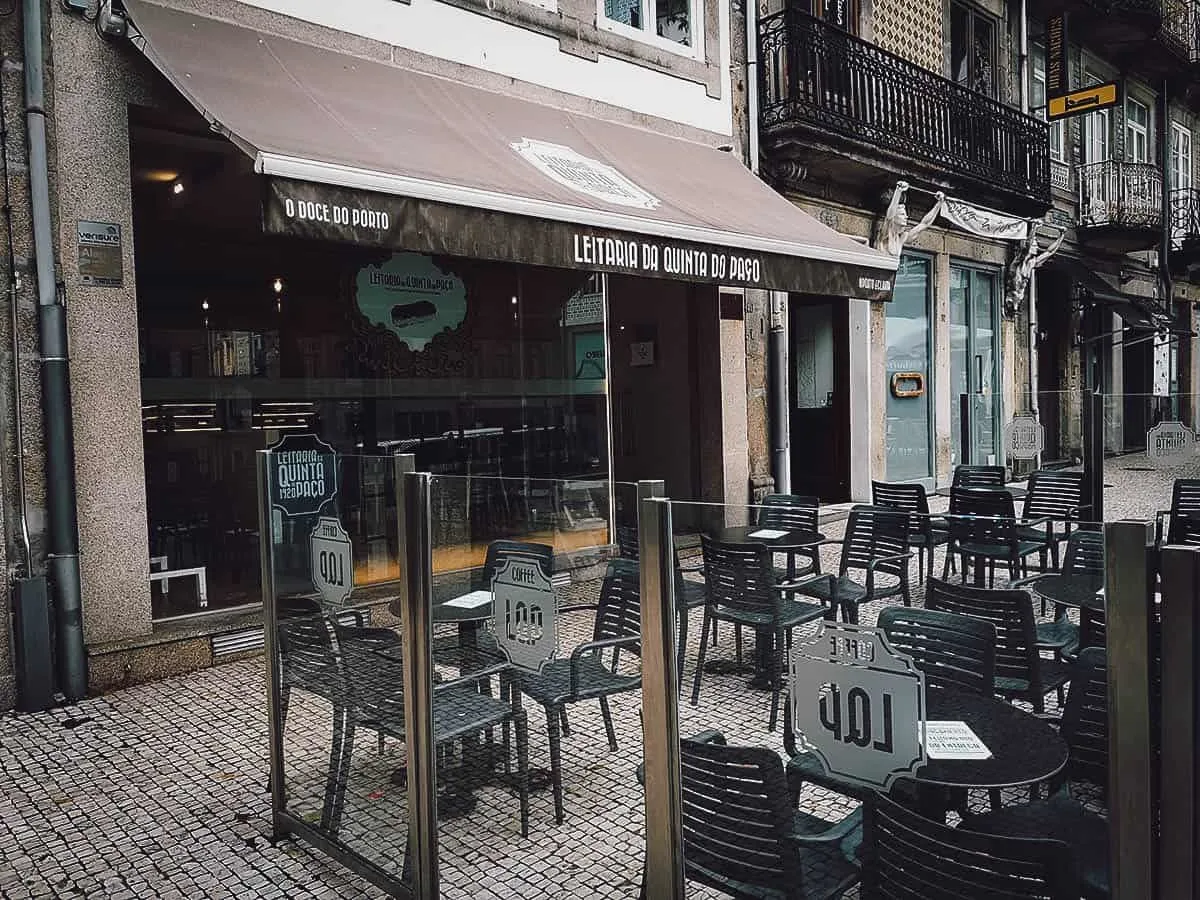 Leitaria da Quinta do Paco
Address: Praça Guilherme Gomes Fernandes 47, 4050-293 Porto, Portugal
Operating Hours: 9AM-8PM, Sun-Thurs / 9AM-9PM, Fri-Sat
What to Order: Classic eclair
What We Paid: EUR 1.10 (regular), EUR 1.50 (large)
SANDWICHES
Sandwiches seem to be a big part of Portuguese comfort food. The prego is like a national sandwich while the francesinha is arguably Porto's most iconic dish. Which is fine by me because like many people, I love a good sandwich.
I didn't realize it until I started writing this article, but I visited seven sandwich shops in Porto. That's almost half this list!
If you enjoy a good sandwich like I do, then you're going to love this city. Listed below are some of the most recommended sandwich shops and restaurants in Porto.
6. Gazela Cachorrinhos da Batalha
This little sandwich shop was the first place we visited in Porto. They're one of the best restaurants in Porto to have cachorrinhos, which are sandwiches made with crusty bread, sausage, and cheese brushed with a spicy sauce. You can think of it as a type of Portuguese hot dog.
Gazela has been making cachorrinhos for over fifty years and sell about 300 hundred of these sandwiches every day. The bread is buttery and crunchy but still soft in the middle. The spicy sauce is more flavorful than hot and the sausage is juicy with snap.
What really makes this sandwich special for me though is definitely the bread. I've never had a hot dog with this type of bread before. We loved it.
Apparently, so did the late great Anthony Bourdain who featured Gazela in the Porto episode of Parts Unknown. Like many places he puts on the map, his framed picture was hanging proudly on the shop's wall.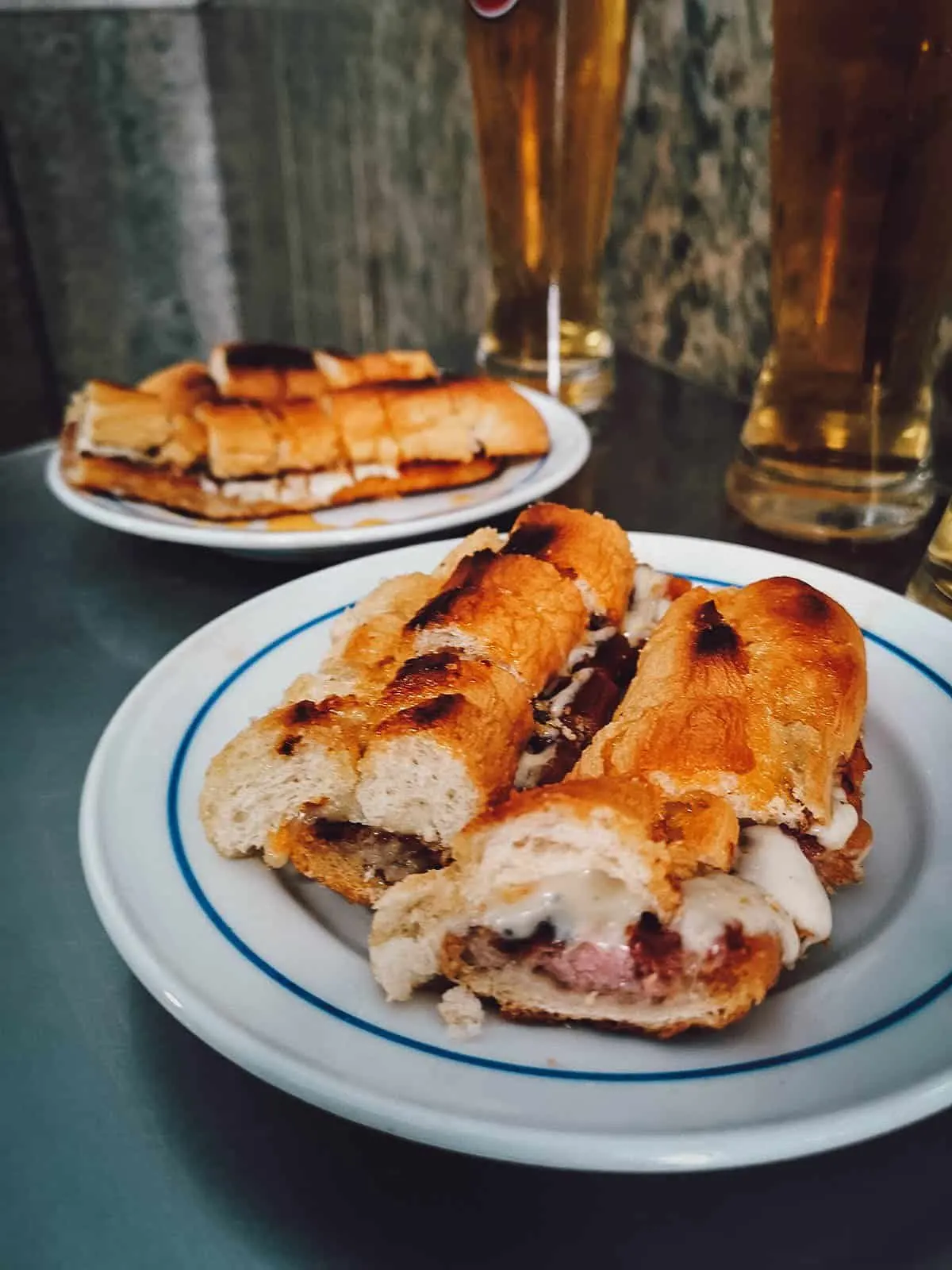 Gazela Cachorrinhos da Batalha is a tiny place with just counter seating so be prepared to stand, even outside. The sandwich was delicious and easy to eat – sliced into bite-sized pieces – so we didn't mind at all.
This was our one and only experience with cachorrinhos but I would have loved to try more. This TimeOut article lists several more shops in the city, all of which look amazing. Some are served dry like Gazela's while others are drenched in sauce, like a francesinha. Yum!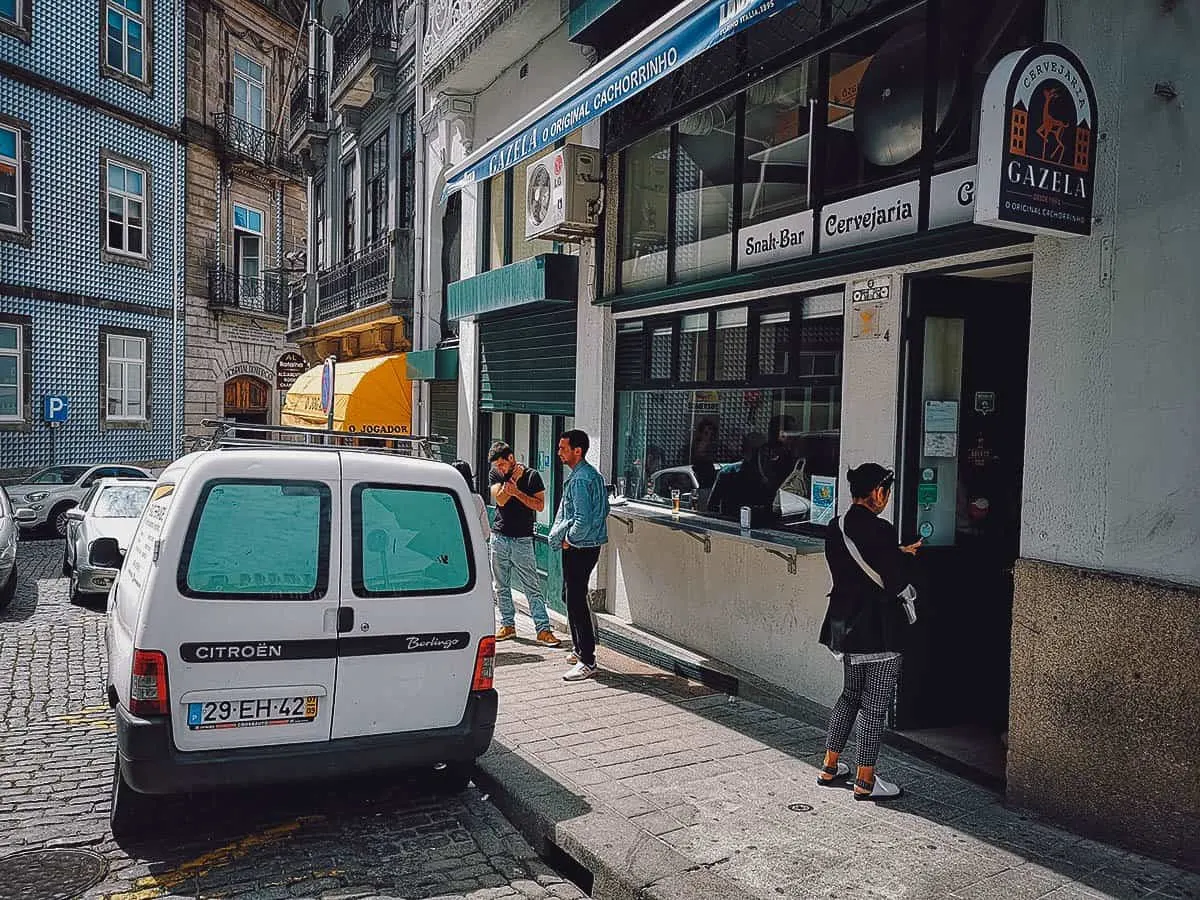 Gazela Cachorrinhos da Batalha
Address: Tv. Cimo de Vila 4 10, 4000-171 Porto, Portugal
Operating Hours: 12NN-10:30PM, Mon-Sat (closed Sundays)
What to Order: Cachorrinho
What We Paid: EUR 3.50
7. Casa Guedes
By all accounts, Casa Guedes is Porto's most iconic sandwich shop. They've been around since the seventies and have served countless sandwiches made with their signature roast pork – a creation Culinary Backstreets calls "the best sandwich in Porto – arguably in the country".
On the left below is the sande de pernil, Casa Guedes' signature roasted pork sandwich. Next to it is their sande de paio de porco preto alentejano, or cured black pork sandwich. Both were made with a generous serving of pork stuffed between warm, lightly toasted bread.
The bread of the sande de pernil was nicely soaked through with the juices of the roasted pork. According to the owner, it's made with a sauce that contains a secret Brazilian component.
We made the mistake of ordering the sande de pernil plain. Instead, be sure to get it with the sheep's milk cheese (sande de pernil com queijo de ovelha).
Casa Guedes uses a gooey and creamy cheese from the mountains of Serra da Estrela that's said to really elevate the sandwich. The roasted pork was tasty on its own but it needed something to make it more exciting.
Flanking the Super Bock behind the sandwiches are two glasses of vinho rosado Casa Guedes, or house rosé wine. Many people seemed to be ordering it so we tried it as well.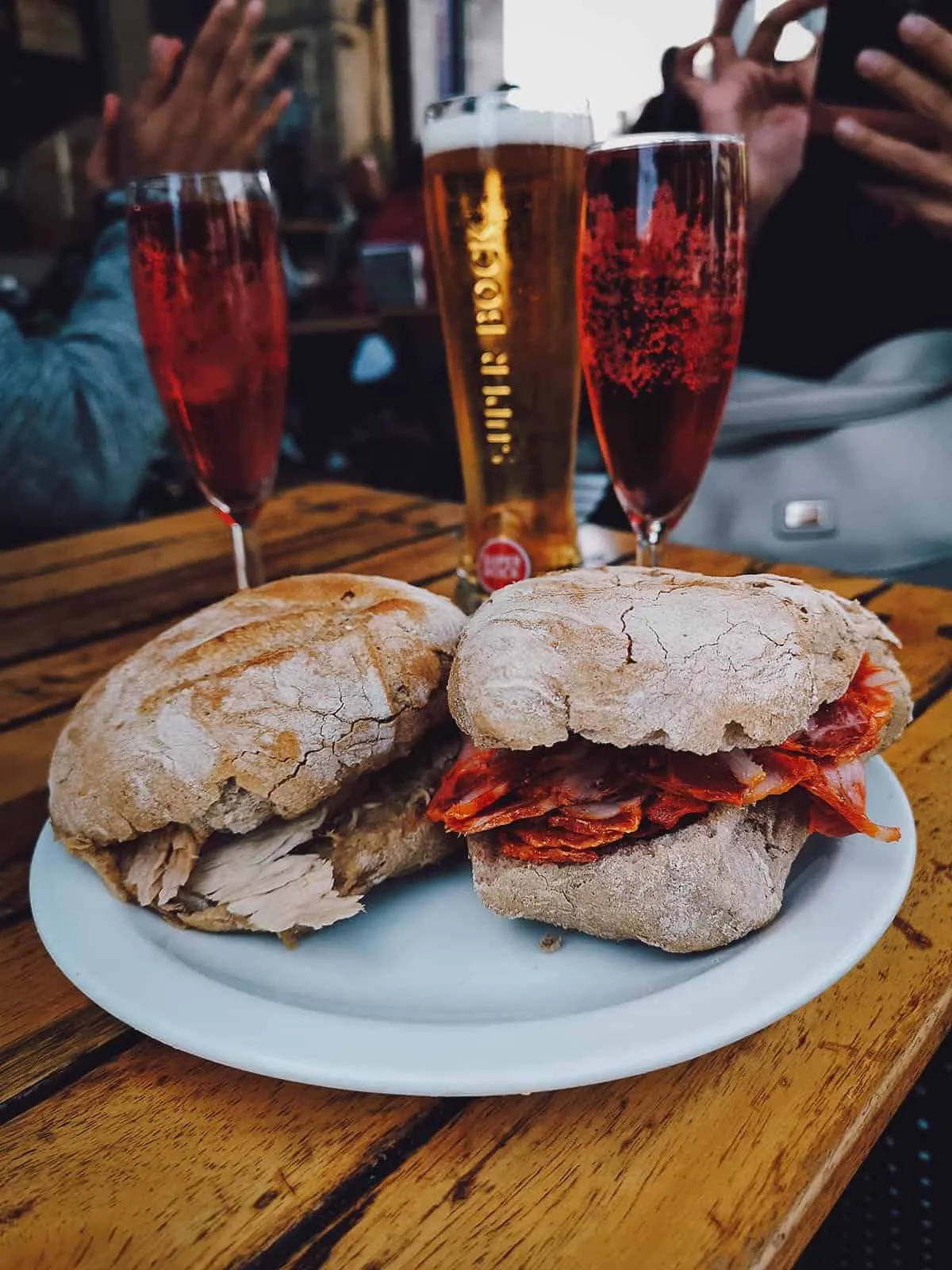 Of all the Porto restaurants we visited, Casa Guedes was by far the most popular so expect a line. We waited maybe half an hour to get to the counter and order our sandwiches. Luckily, we were able to find a table right away but you may have to stand depending on how busy they are.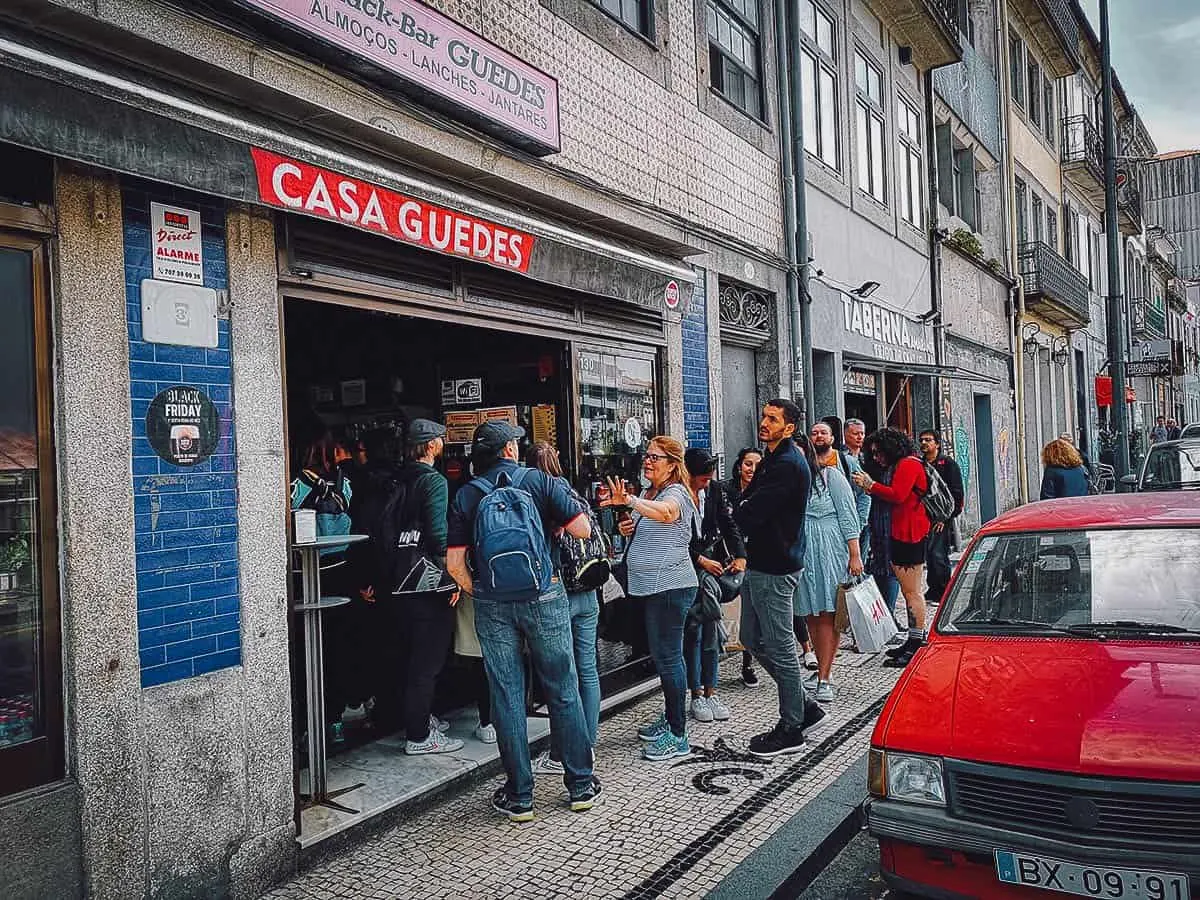 Casa Guedes
Address: Praça dos Poveiros 130, 4000-393 Porto, Portugal
Operating Hours: 10AM-12MN, Mon-Thurs / 10AM-1AM, Fri-Sat / 11AM-9PM, Sun
What to Order: Sande de pernil com queijo de ovelha (roasted pork and soft cheese sandwich)
What We Paid: EUR 3.50-4.50 per sandwich
8. Lareira
I tried several different sandwiches in Porto, but my clear-cut favorite was the prego. It's a sandwich made with thinly-sliced grilled beef slathered in a garlicky marinade and served in a papa seco or Portuguese bread roll.
I absolutely loved this sandwich which oddly enough, is enjoyed as much as a snack as it is for dessert. It's typically the last thing people eat after a heavy seafood meal.
Lareira offers two types of prego, one served with vinaigrette and another with a fried egg. I had the former and it was perfect, made with juicy, thinly-sliced beef and slices of ham and cheese in a nice crusty roll.
You can order prego two ways in Portugal – the first in sandwich form like this (prego no pão) and the second on a plate without bread (prego no prato).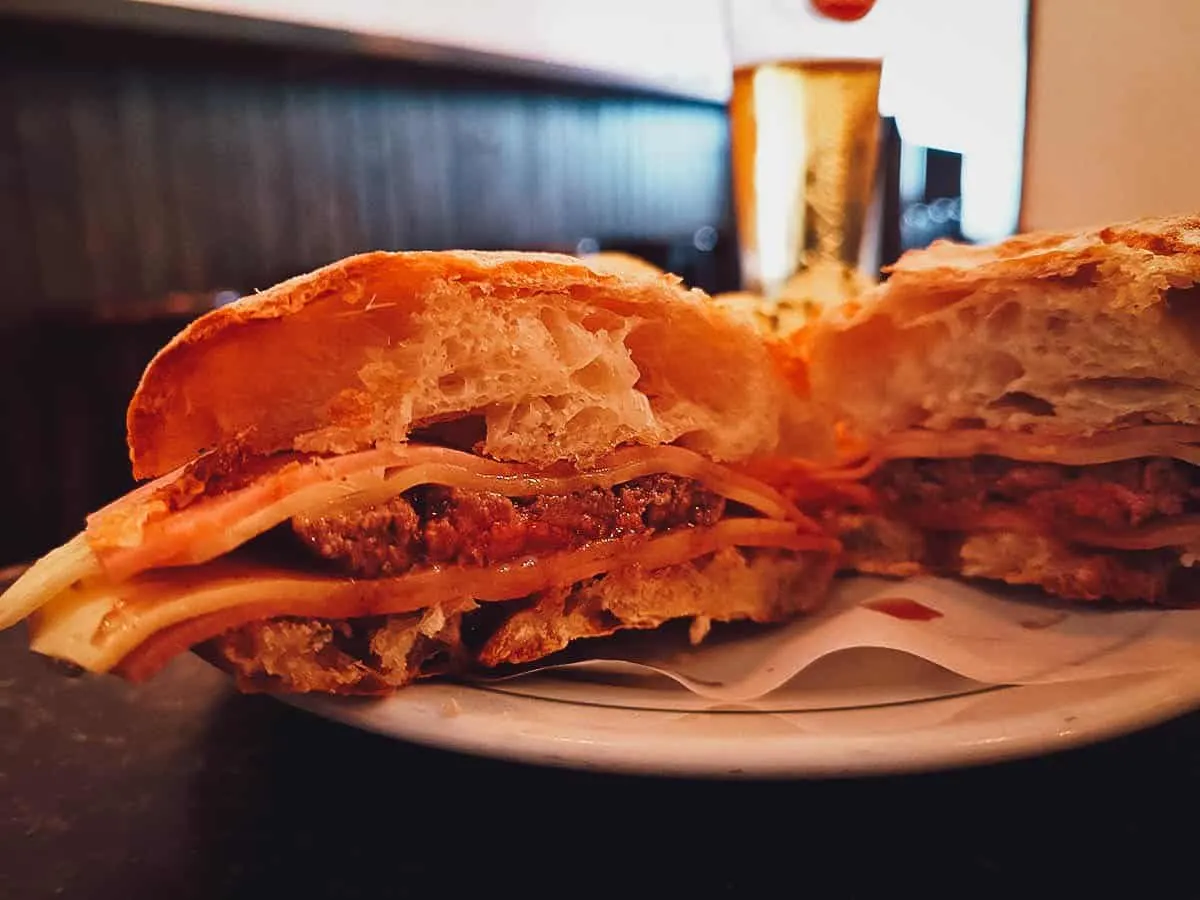 Check out how juicy and delicious that beef looks! Prego sandwiches are perhaps the one thing I miss most about Portugal.
I read that the key ingredient in prego is garlic. Restaurants vary in their beef marinade but a prego without garlic isn't really a prego. It's just a steak sandwich.
Interestingly, the word prego means "nail" in Portuguese, and figuratively refers to the way garlic is hammered into the beef. Chopped garlic is placed on top of the beef and "nailed" into the meat using a tenderizing mallet before being grilled.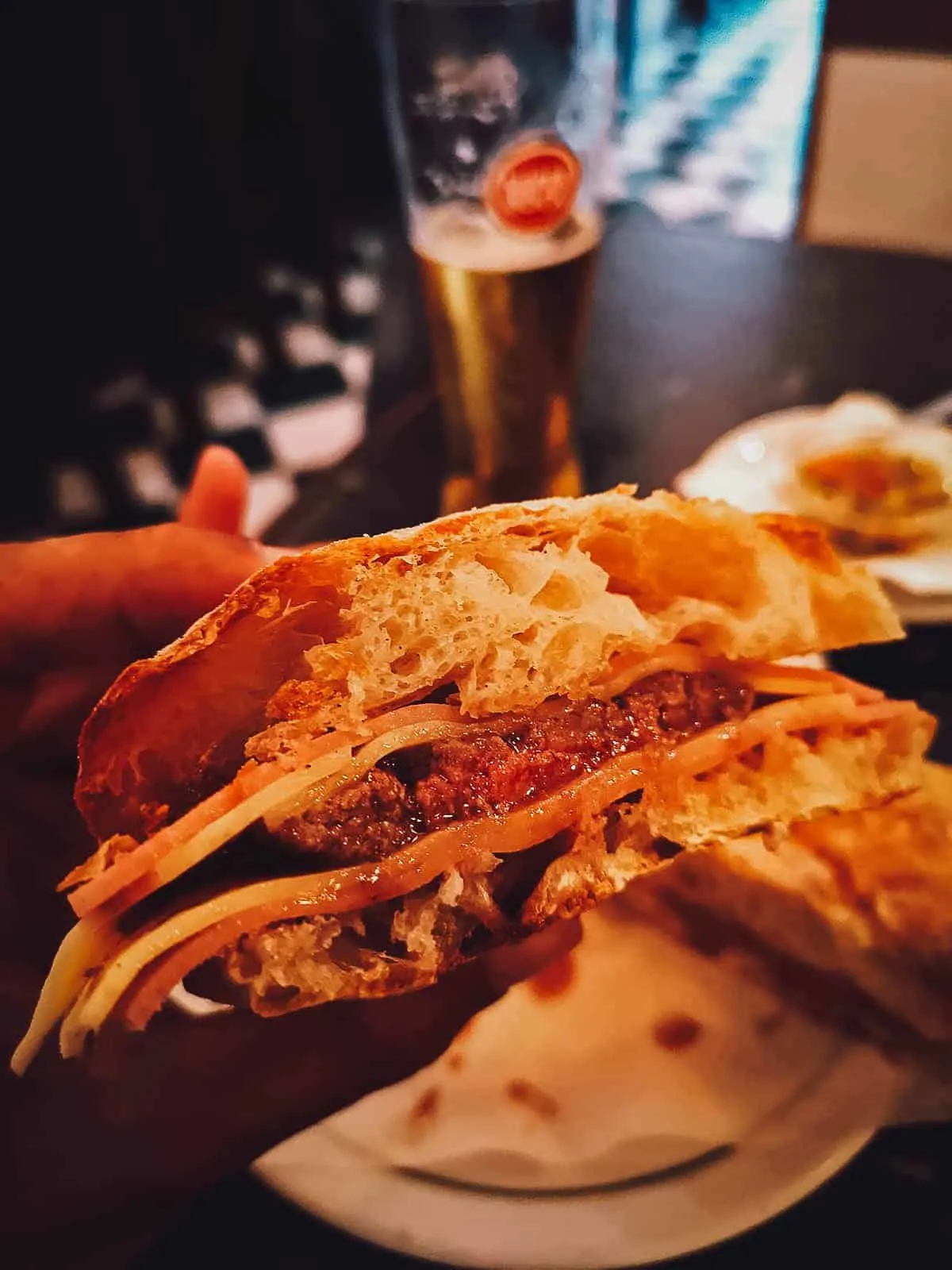 The prego I ordered came with a side of vinagrete, or what I know of as relish or salsa. It added texture and zing to the sandwich, though I thought the prego was already perfect on its own. So good.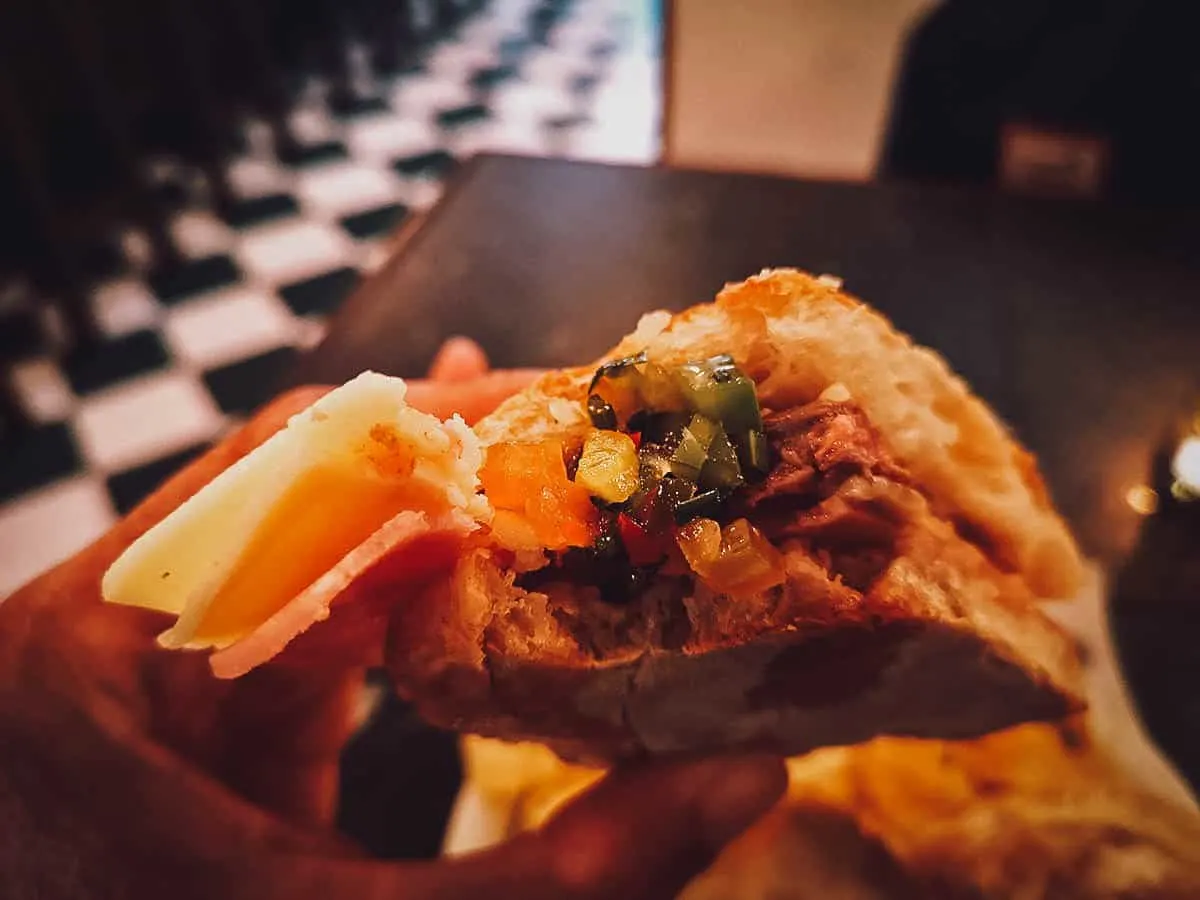 I often came across Lareira when searching for the best restaurants in Porto to have prego. They're a TripAdvisor Certificate of Excellence awardee with a near-perfect 4.5-star rating.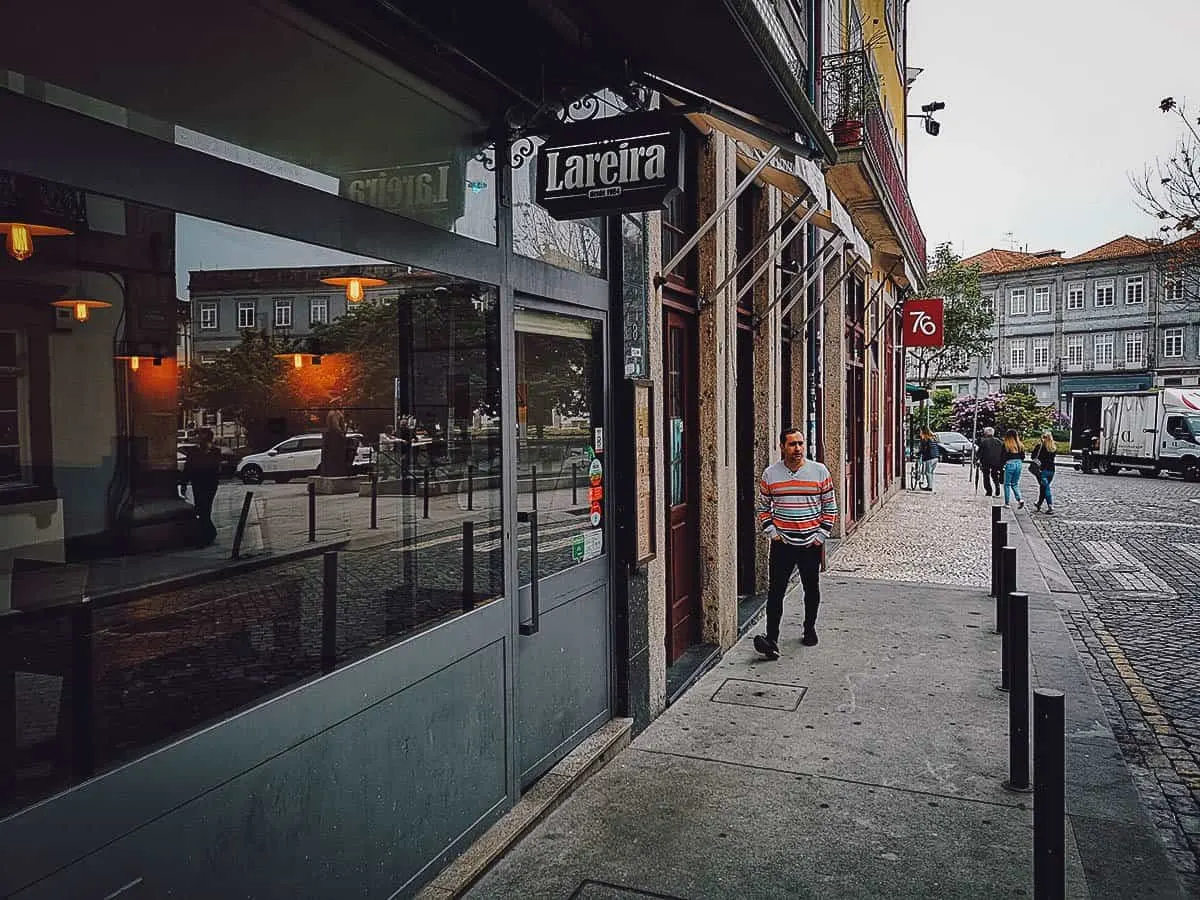 Lareira
Address: R. Das Oliveiras 8, 4050-159 Porto, Portugal
Operating Hours: 12NN-11PM, Mon-Thurs / 12NN-1AM, Fri-Sat (closed Sundays)
What to Order: Prego
What We Paid: EUR 4.90 (prego no pão), EUR 5.90 (prego no prato)
9. Pregar
Pregar was the second prego shop I visited in Porto, and as you can see, their sandwich looks noticeably different from the prego at Lareira.
The slice of beef is considerably thicker (hence the higher price) and the bread is denser and more crumbly. Seriously, how good does all that beefy redness look? The steak was thick and juicy and oh so tender.
Pregar offers different variations of their prego sandwiches but I got the one made with mustard. I read that most places will have mustard bottles on the table so you can add it yourself, but Pregar offers a version with what I presume to be their own housemade mustard. I loved it.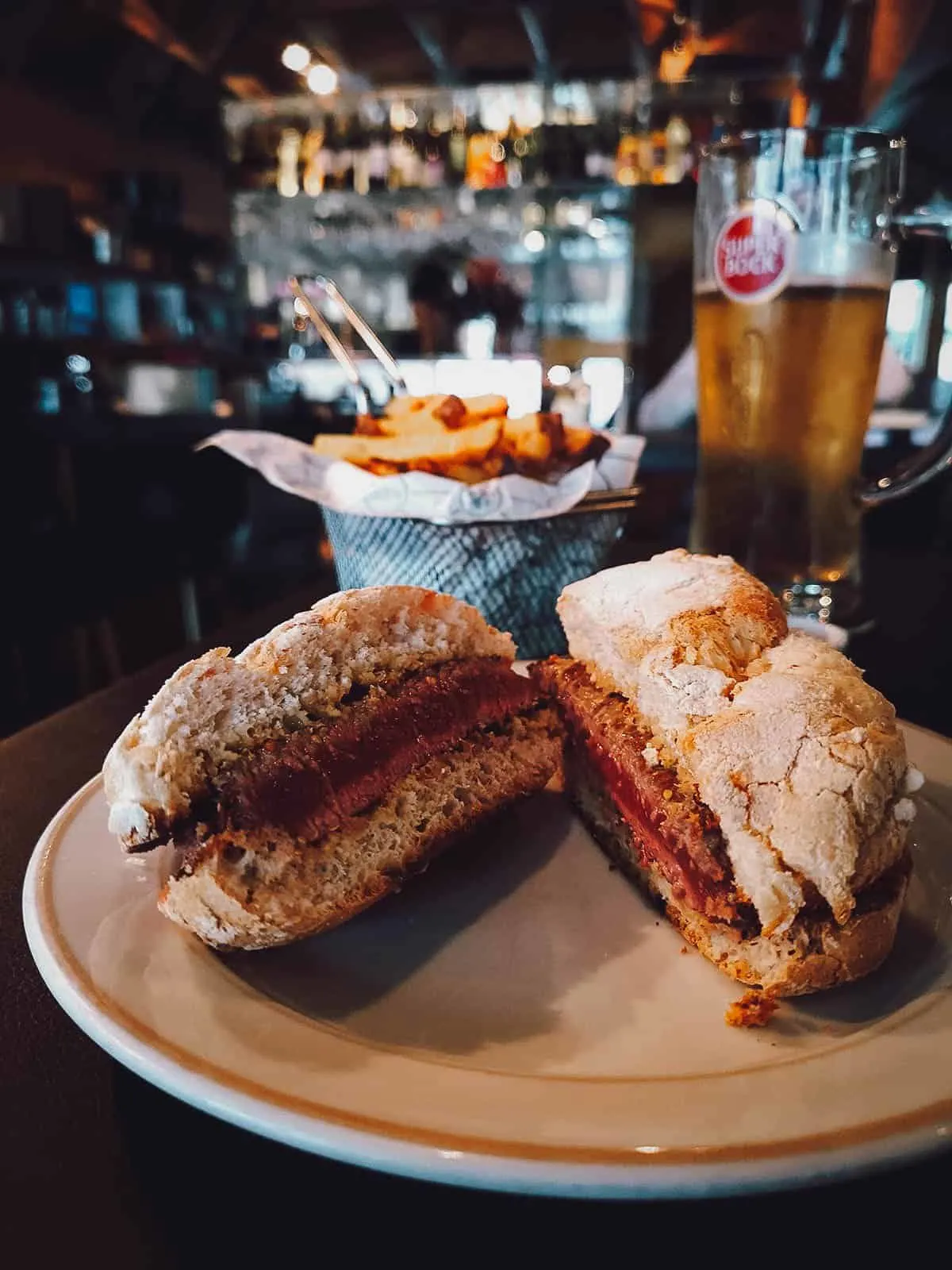 I loved how they used these old wooden crates to decorate the ceiling.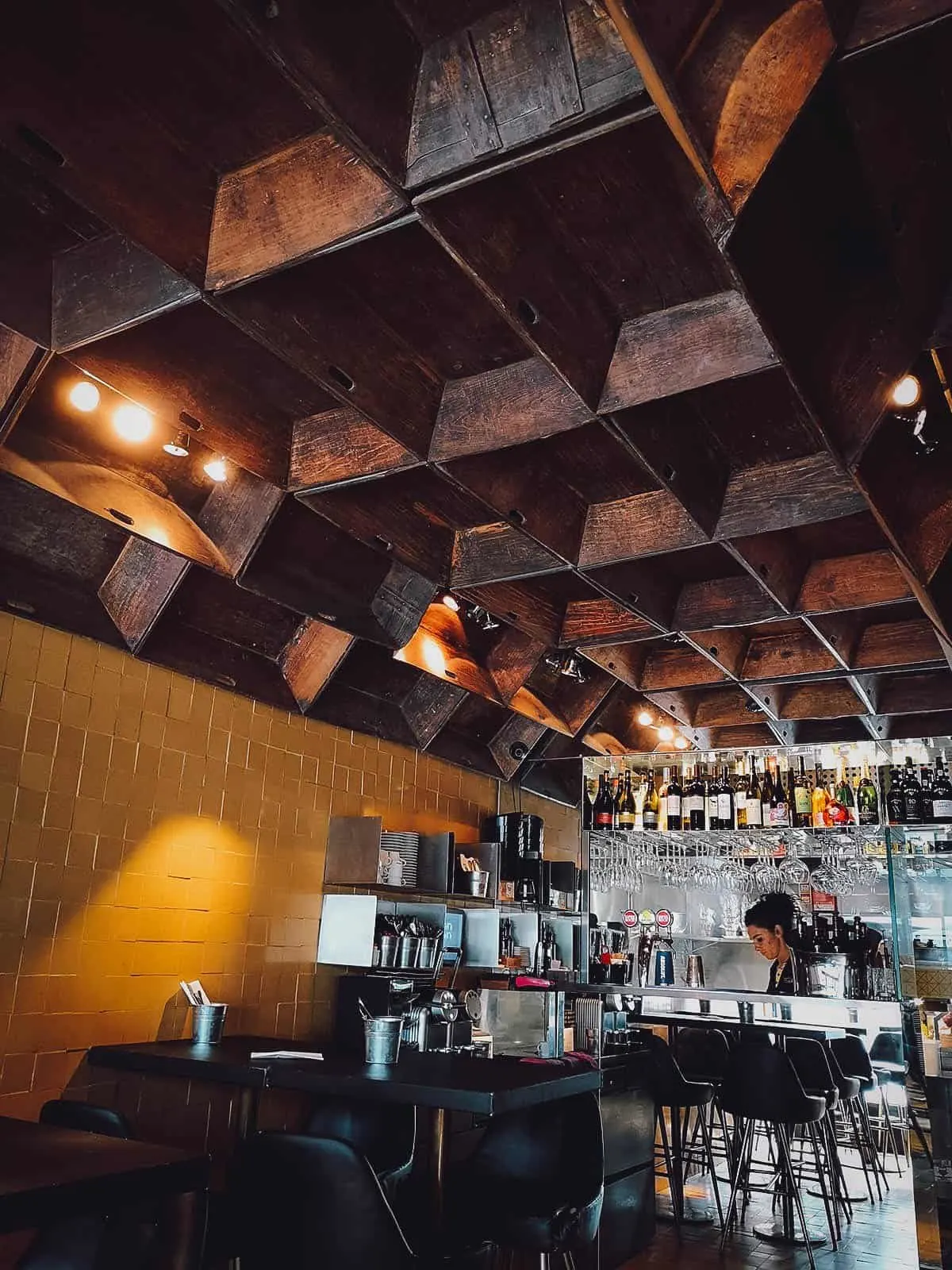 Like Lareira, Pregar often came up in my search for the best Porto restaurants for prego. They're also a TripAdvisor Certificate of Excellence awardee with a stellar 4.5-star rating.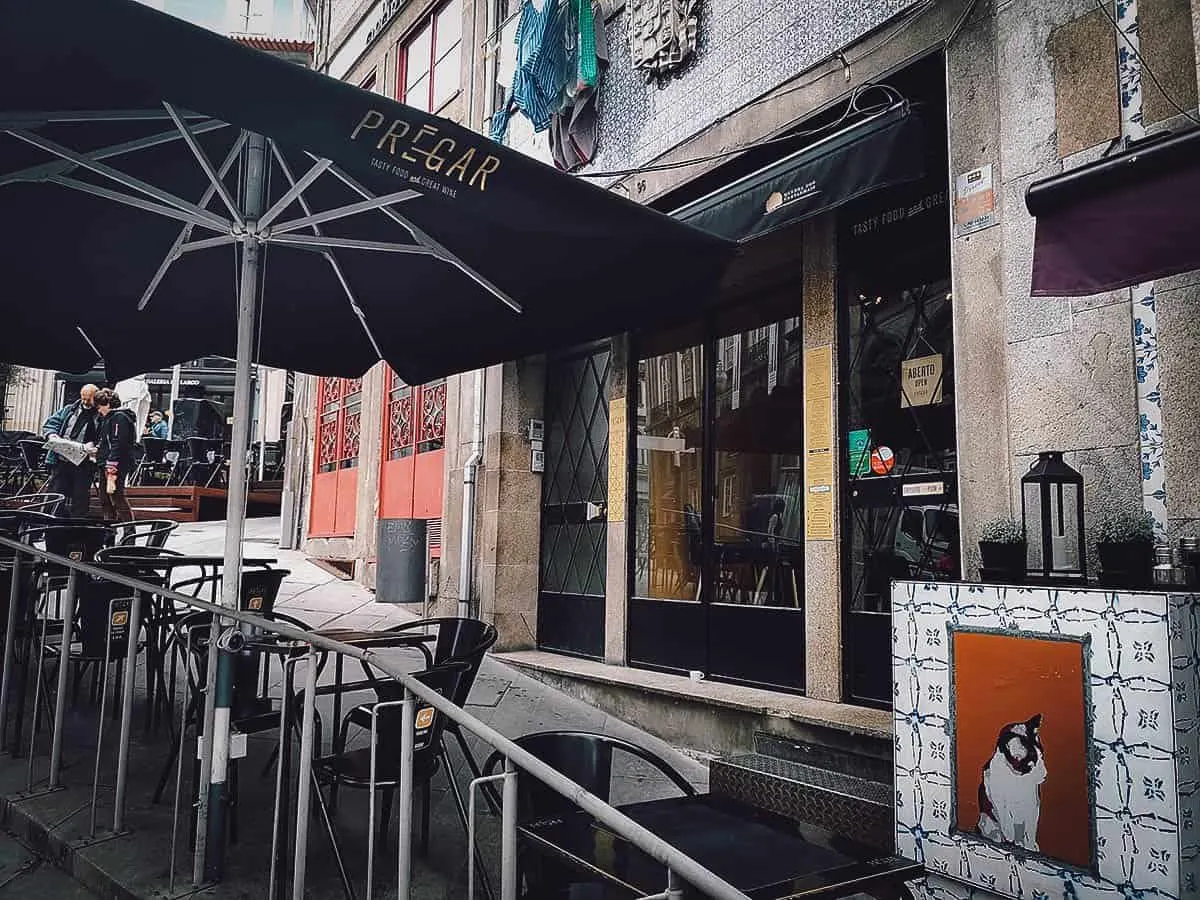 Pregar
Address: Largo São Domingos 96, 4050-253 Porto, Portugal
Operating Hours: 12NN-12MN, daily
What to Order: Prego
What We Paid: EUR 8.70
10. Lado B
If there were one dish to carry the culinary flag for Porto, then it would probably be the francesinha. It's such an important part of Porto's culture that no visit to this city can ever be complete without enjoying this belly-busting sandwich.
A francesinha is a sandwich made with bread, wet-cured ham, linguiça (Portuguese sausage), and steak or roast beef which is then covered with melted cheese and drenched in a thick tomato and beer sauce.
And if that weren't filling enough, the sandwich is often served with a fried egg on top and a side of french fries!
Looking at this soppy beast now, I can't believe I finished this thing by myself after a cachorrinho, a sande de pernil, and a couple of pasteis de nata!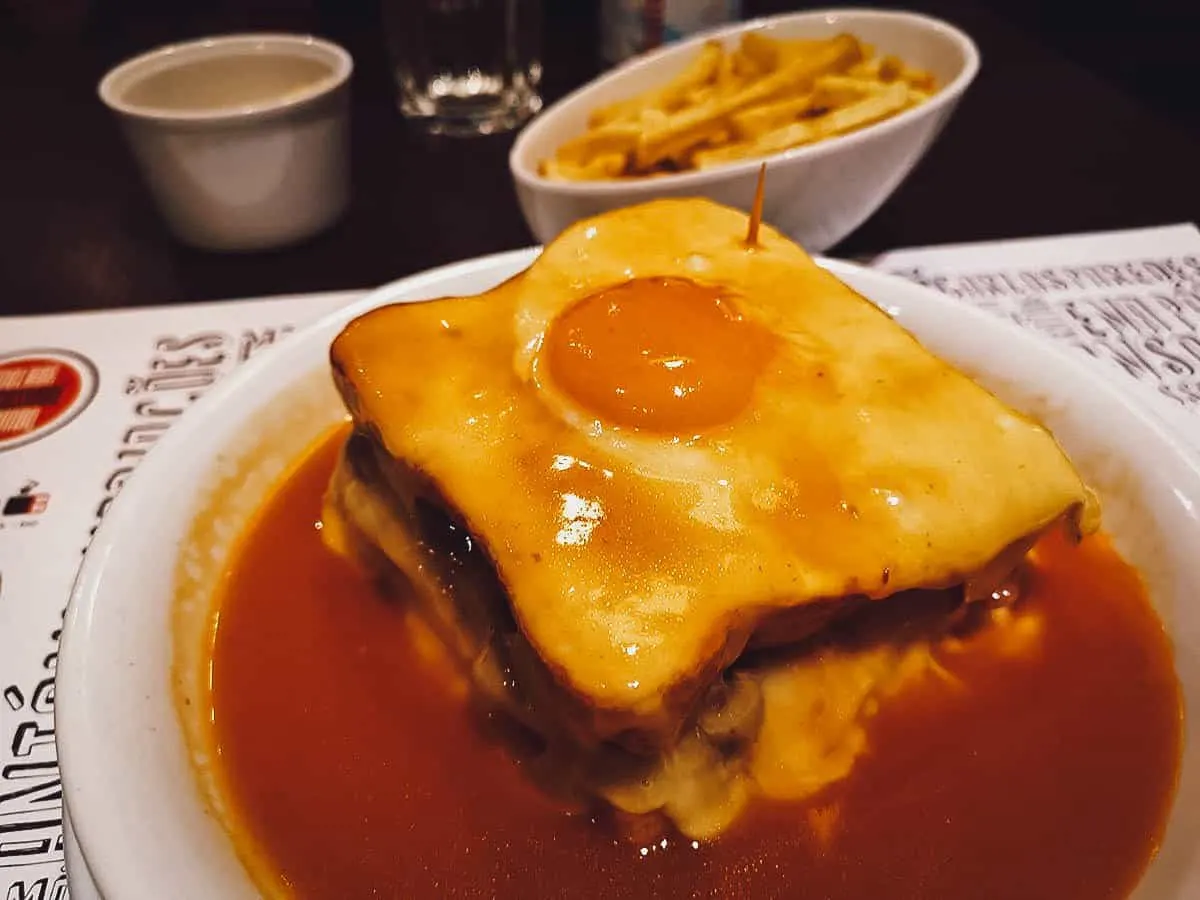 The word francesinha literally means "little French woman" or "frenchie" in Portuguese. It was inspired by the French croque-monsieur and adapted to Portuguese tastes. It quickly became very popular and has since become deeply associated with the city of Porto.
This was my one and only experience with the sandwich so I have no basis for comparison, but I read that the secret to a good francesinha is in the sauce. It's what separates an average francesinha from a great one.
Lado B was often cited in articles listing the best Porto restaurants for francesinha. In fact, they're so confident they serve the best that they named their signature sandwich A Melhor Francesinha do Mundo, which literally means "The Best Francesinha in the World"!
The sauce was rich and tomato-ey and the sandwich a beautiful layered mess of soaked bread, rump steak, two types of sausage, mortadella, ham, and gooey cheese. It was delicious but also very filling, so be sure to go hungry or share a sandwich between two people.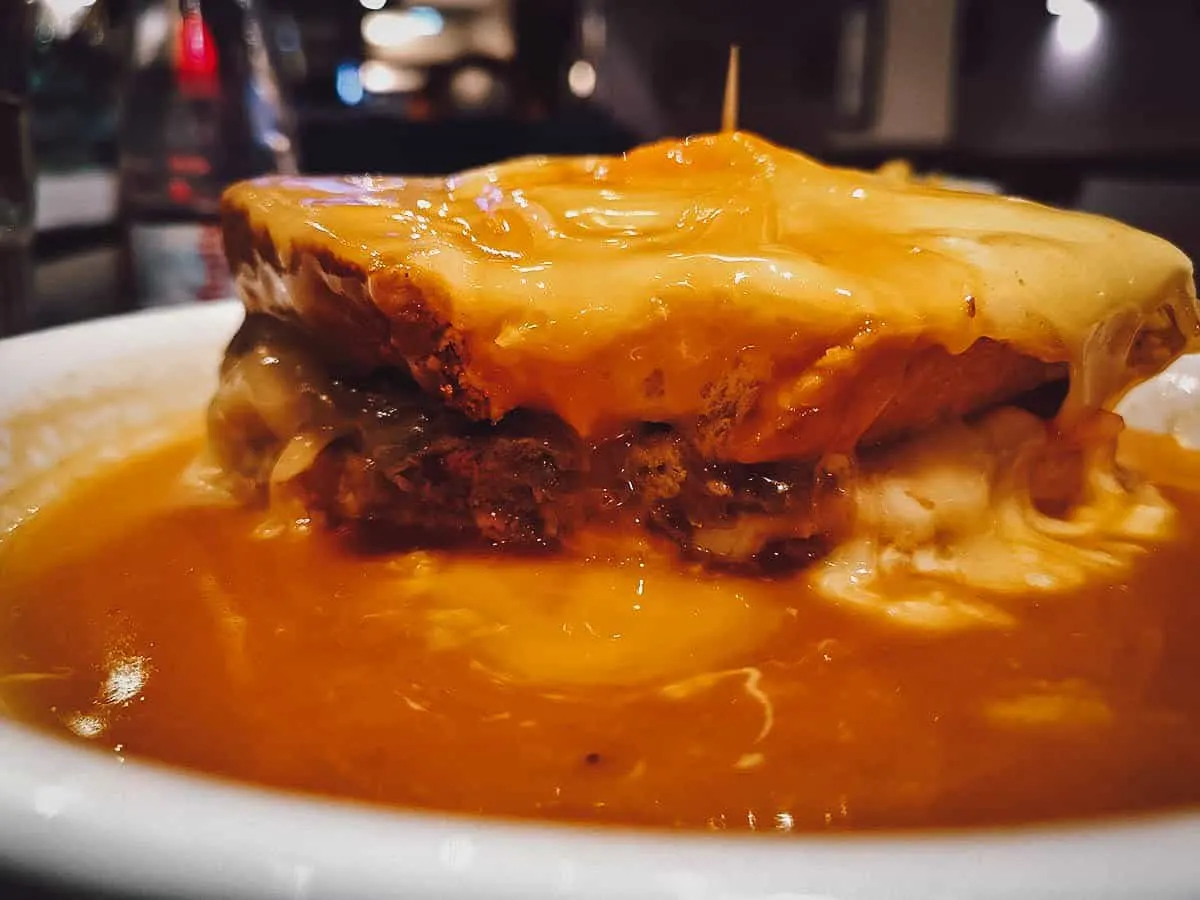 Like many of the places on this list, Lado B is a TripAdvisor Certificate of Excellence awardee with a superb 4.5-star rating.
Lado B
Address: R. de Passos Manuel 190, 4000-382 Porto, Portugal
Operating Hours: 12NN-11:30PM, Mon-Thurs / 12NN-1AM, Fri-Sat (closed Sundays)
What to Order: A Melhor Francesinha do Mundo
What We Paid: EUR 8.50
11. Peebz
This isn't Portuguese food but I spent one morning in Foz and found this highly-rated hamburger joint called Peebz. Burgers are my comfort food so I couldn't help but sneak one in between Portuguese meals.
I had the classic hamburger made with lettuce, tomato, grilled red onion, and cheddar cheese. It was a good juicy burger served on a soft roll. I wish they had toasted the bread to make it warmer and a bit firmer.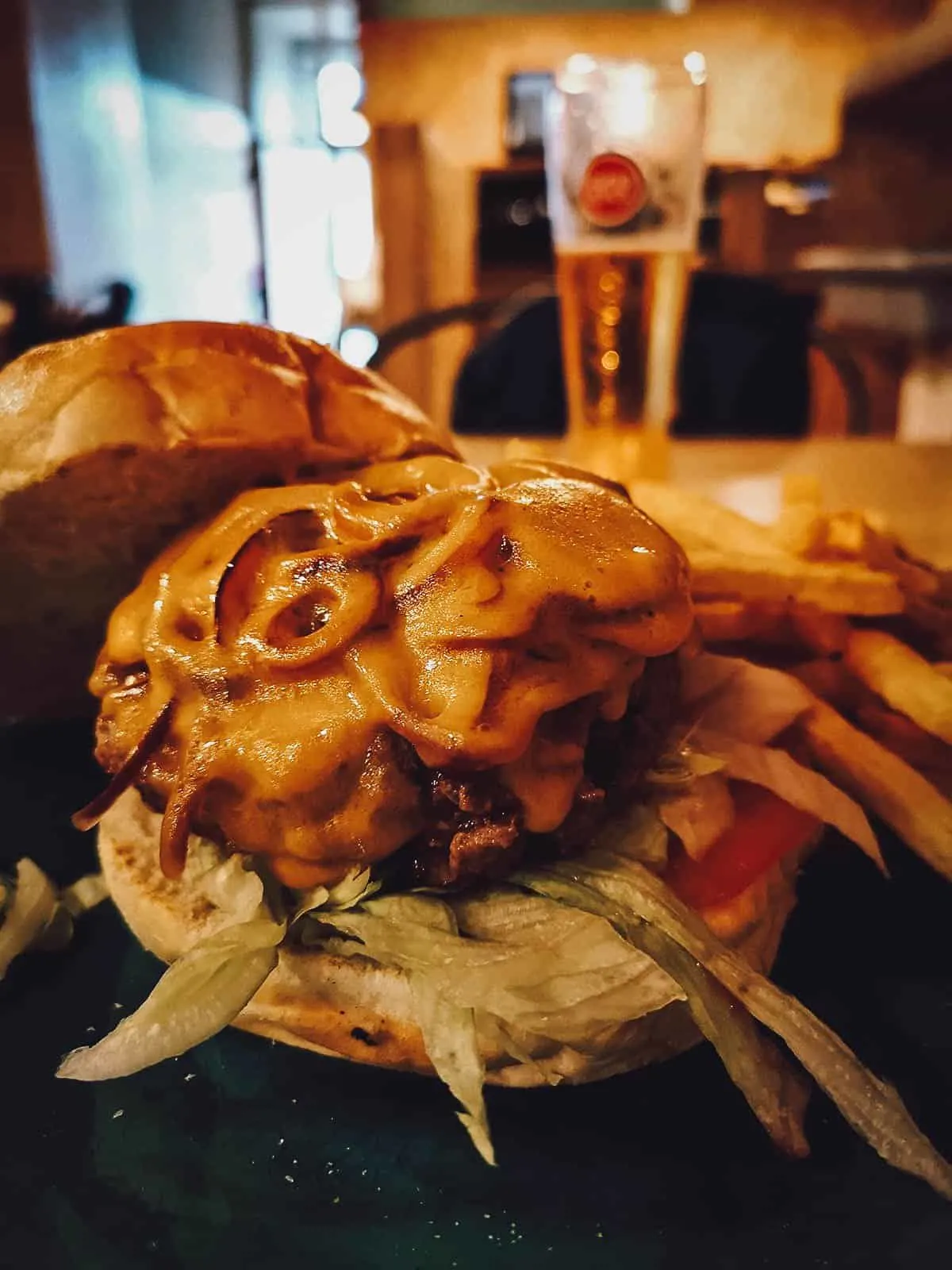 I arrived shortly before closing so the place had emptied by the time I was done, but it was filled with young Portuguese customers when I first got there. It seems to be popular with the locals.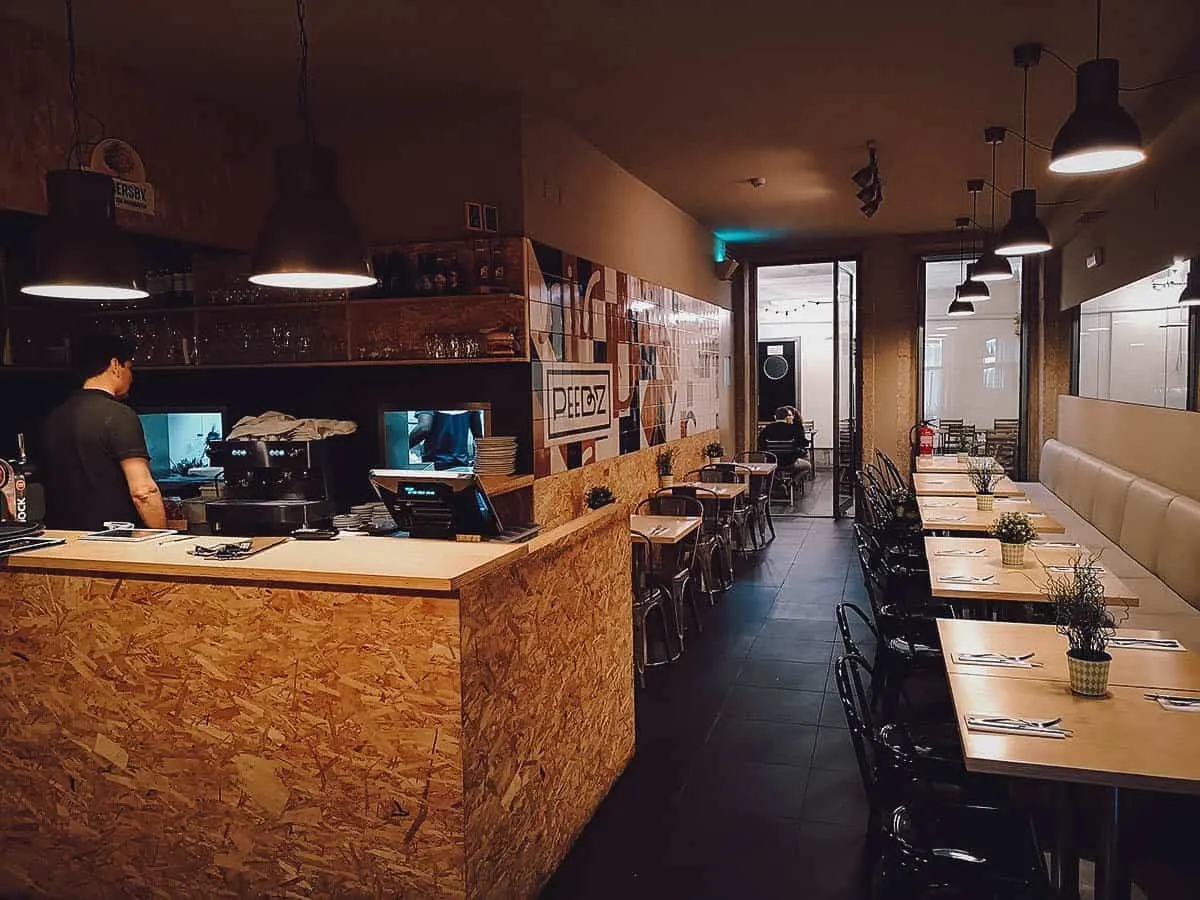 Not to sound like a broken record, but Peebz is yet another TripAdvisor Certificate of Excellence awardee with a 4.5-star rating. If you're in the Foz area and want a good burger, then you may want to check this place out.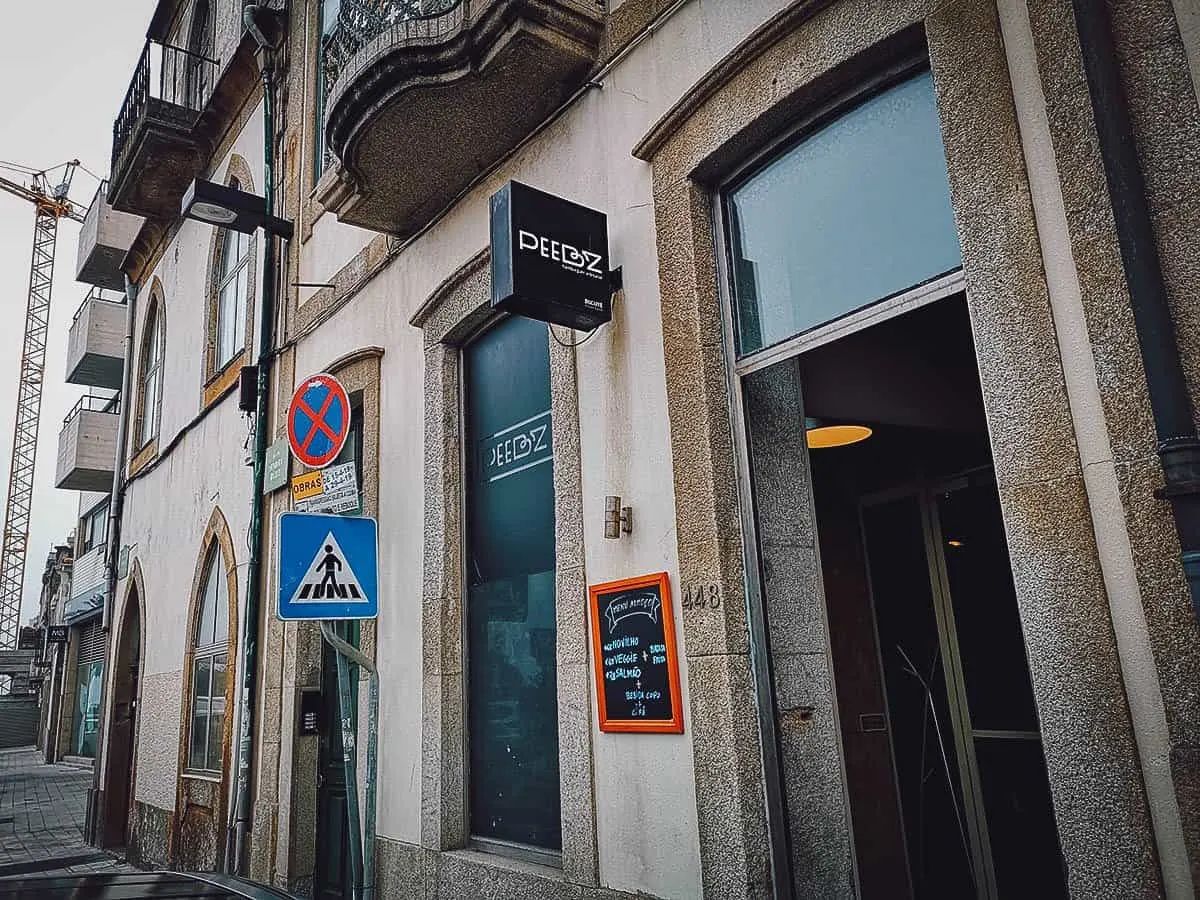 Peebz
Address: R. da Sra. da Luz 448, 4150-695 Porto, Portugal
Operating Hours: 12NN-3PM, 7-10:30PM, Tue-Fri / 12:30-3:30PM, 7-10:30PM, Sat / 12:30-3:30PM, Sun (closed Mondays)
What to Order: Hamburgers
What We Paid: EUR 6.60-9 per hamburger
TRADITIONAL PORTUGUESE RESTAURANTS
Portuguese cuisine seems to have its fair share of hearty dishes like cocido a Portuguesa, monkfish rice stew, and tripas a moda do Porto. Often served with fries or potatoes, many come in hefty portions that are probably meant to be shared between two or more people.
12. Adega Vila Mea
We asked our homestay host to recommend a good traditional Portuguese restaurant for dinner and he pointed us to this place, a family-style Porto restaurant called Adega Vila Mea that serves mostly pork and seafood dishes.
Pictured below are Minho-style chunks of pork served with potato crisps. They were on the specials board and sounded interesting so we tried it. I didn't know what "Minho-style" meant so I googled it.
Minho is apparently a region in northern Portugal known for a dish called rojoes, which consists of small chunks of marinated lean pork cooked on a stove.
The meat is marinated in a mixture of white wine, lemon juice, cumin, garlic, bay leaf, and salt and pepper before being browned and cooked till tender.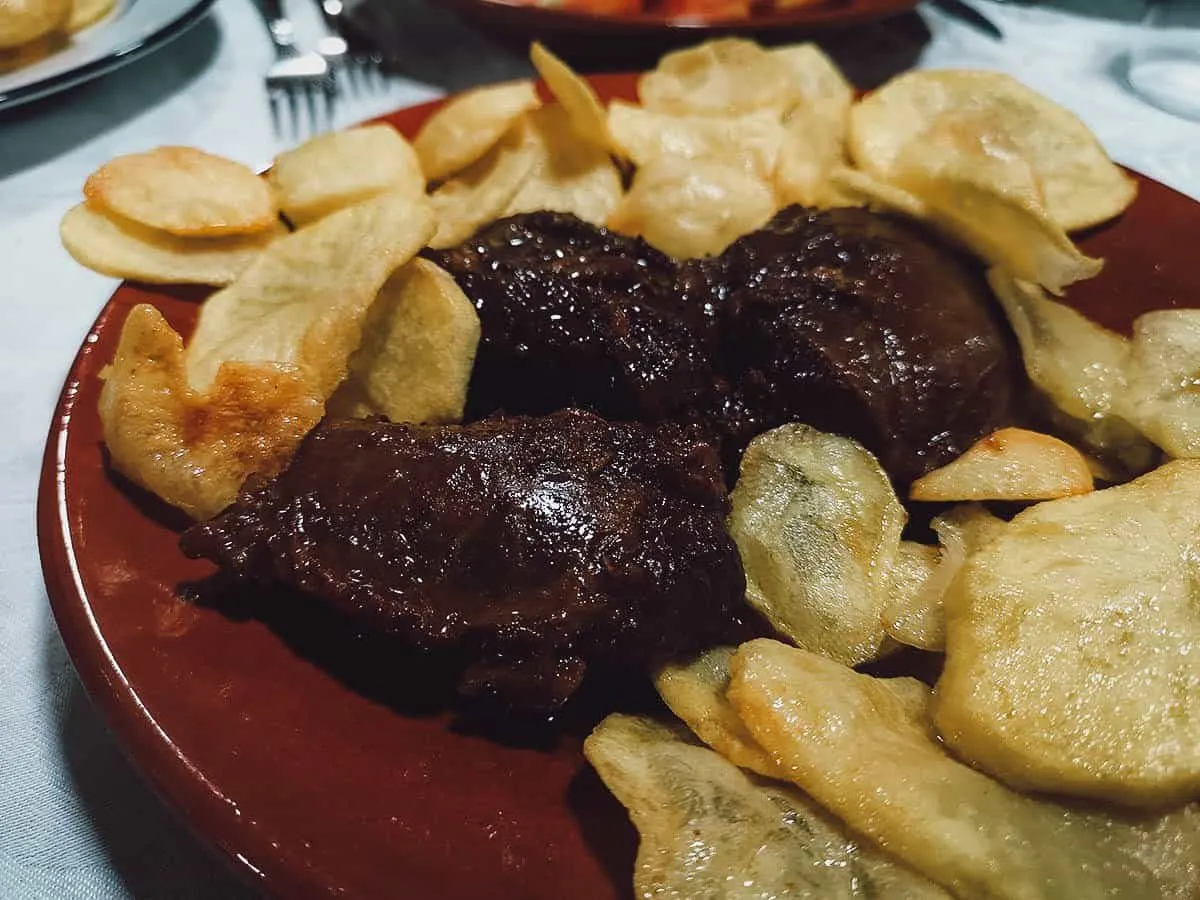 This was another interesting pork dish that's somewhat similar to the Minho-style pork above. If I remember correctly, it's listed as Tras-os-Montes style chunks of pork on their menu. Tras-os-Montes is the region in northern Portugal east of Minho.
I don't know exactly what cuts of pork are on this plate and how they were cooked, but based on what I've read, they're made from black or black-spotted Bisaro pigs reared in the Tras-os-Montes region.
Minho is also known for its Bisaro pigs, but the breed is slightly different, white white spots. All Bisaro pigs are fed on a diet of chestnuts.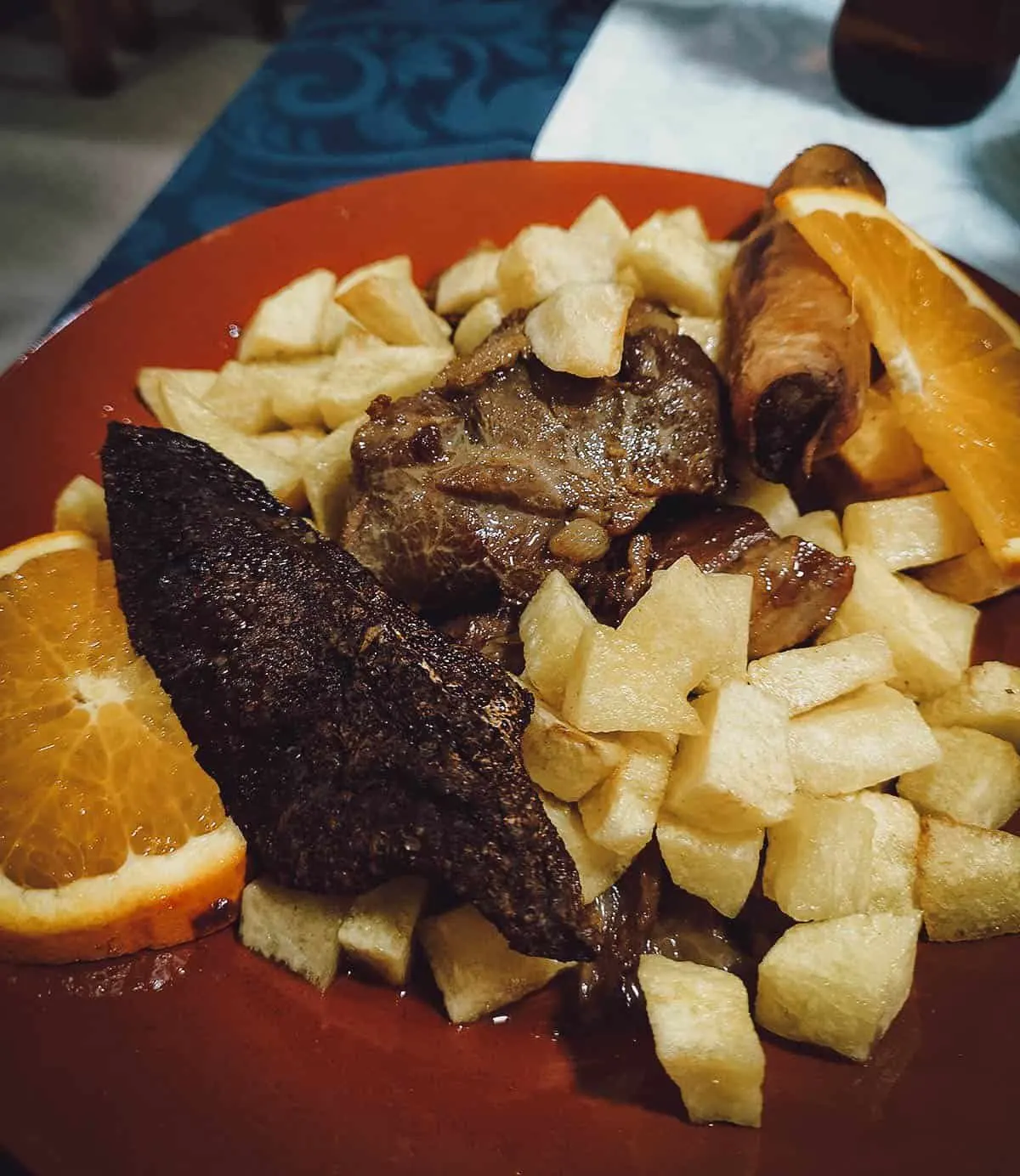 Of course, no traditional Portuguese meal can be complete without ordering bacalhau or salted cod. It's a Portuguese national dish and by far the most commonly eaten type of fish in the country.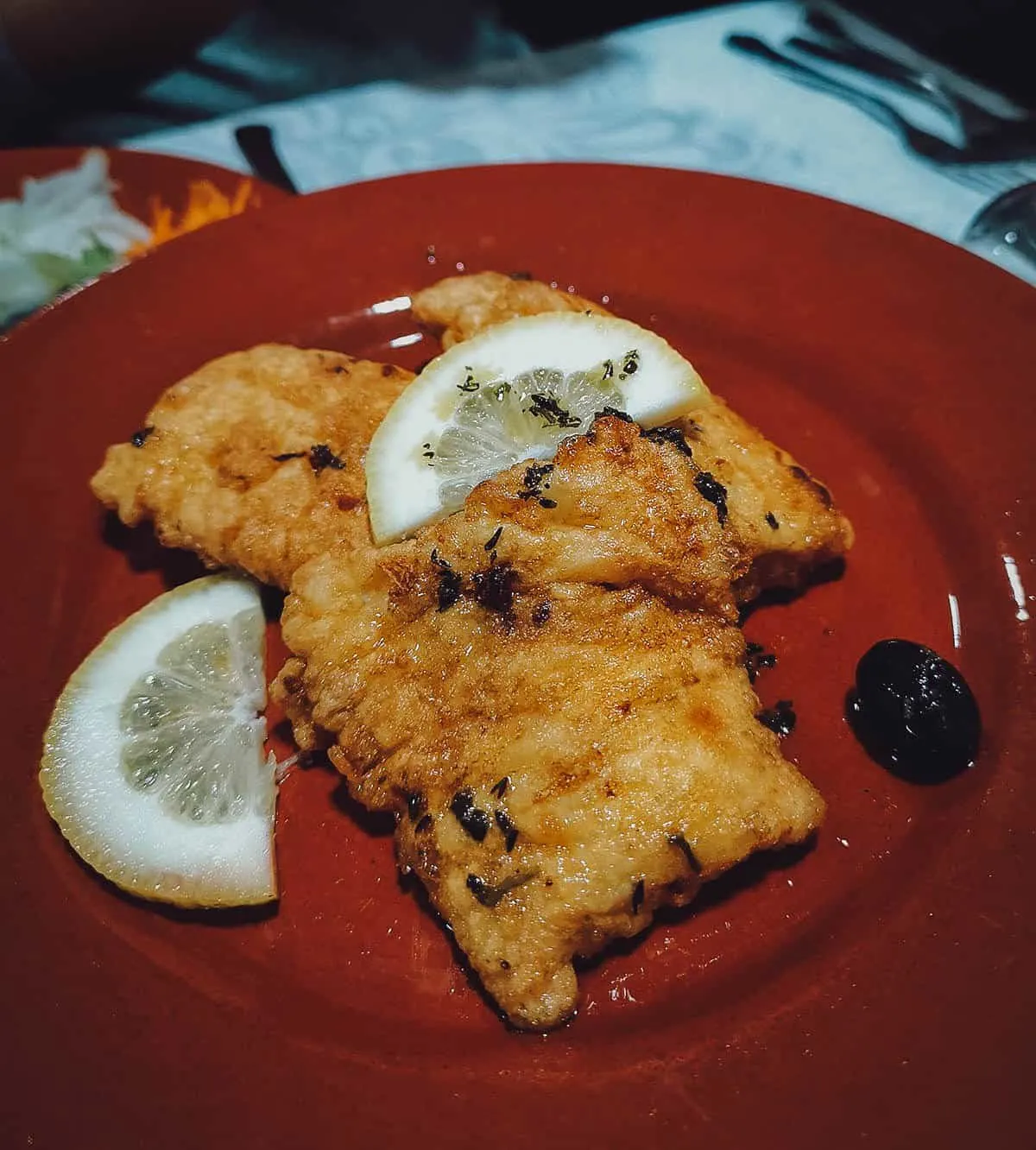 The interior at Adega Vila Mea matches its food – very rustic and homey. It felt like we were having dinner in someone's living room, which was sort of what happened.
Seated at that far table is the family that owns the restaurant. They were in the middle of dinner when we walked in, so the matriarch seated us, took our orders, then proceeded to cook our food before returning to her own meal. Thank you!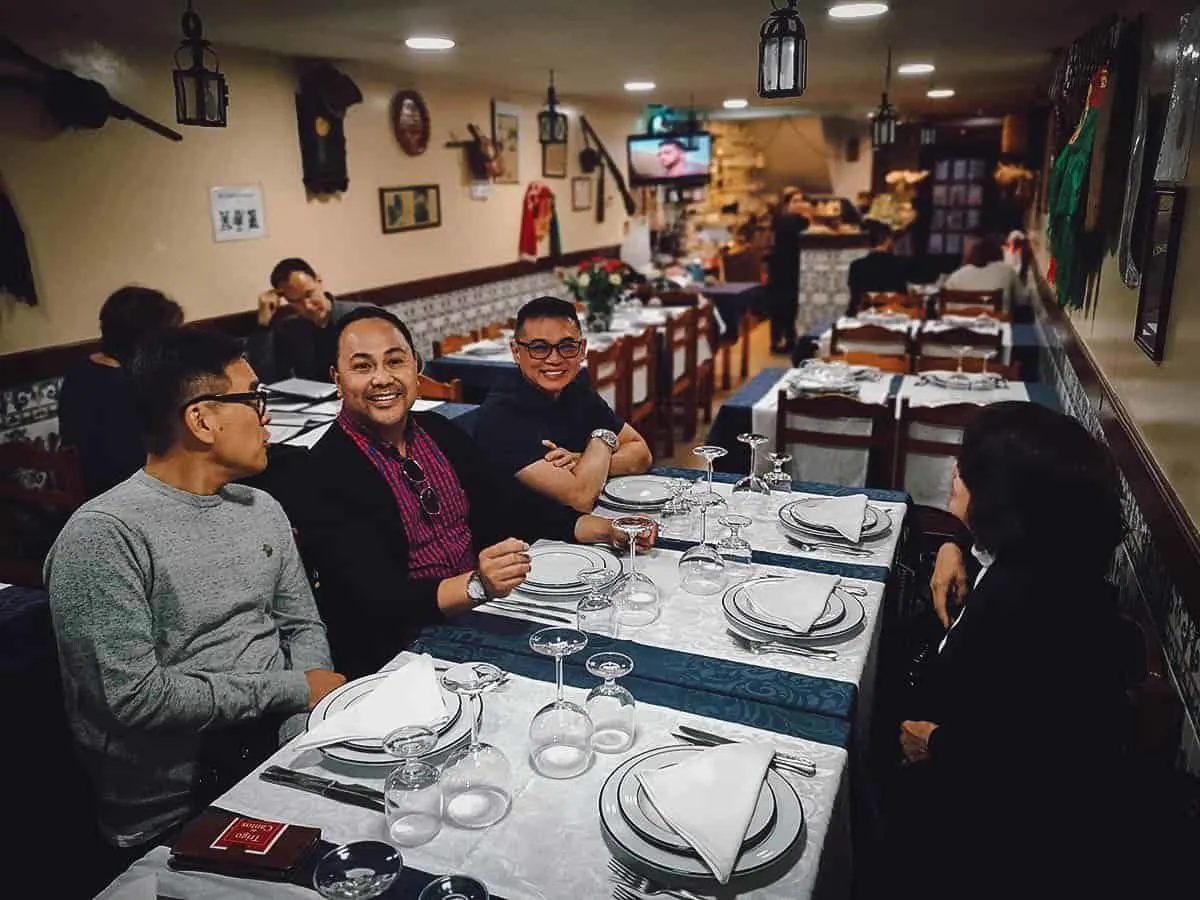 Adega Vila Mea is yet another TripAdvisor Certificate of Excellence awardee with a slightly lower 4-star rating.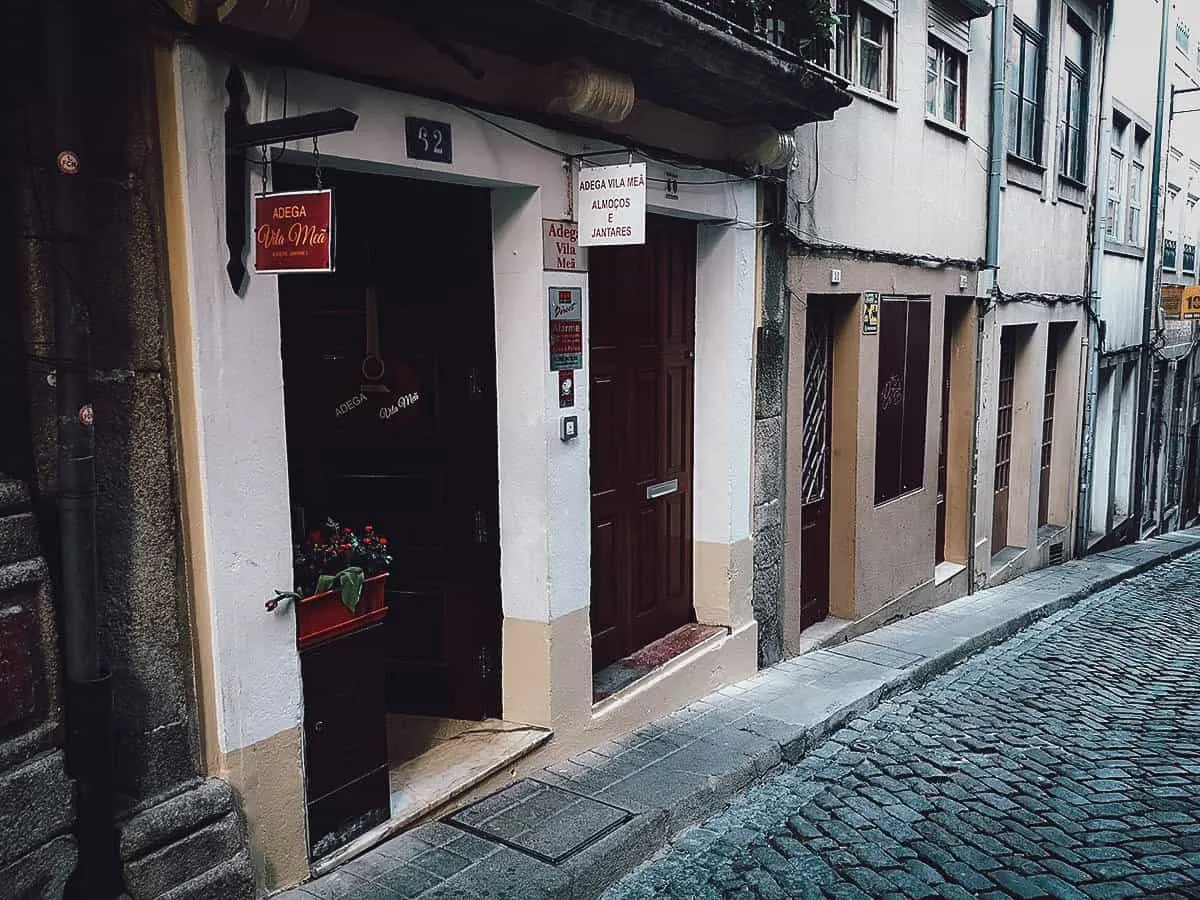 Adega Vila Mea
Address: Rua dos Caldeireiros 62, Porto, Portugal
Operating Hours: 12NN-3:30PM, 7:30-10PM, Tue-Sun (closed Mondays)
What to Order: Pork, seafood
What We Paid: Around EUR 10-25 per entree (available in half or full orders)
13. Restaurante Abadia do Porto
This restaurant was recommended to us by our Uber driver. He described it as one of the best Porto restaurants to try traditional Portuguese dishes so we decided to give them a try.
Pictured below is the aforementioned tripas a moda do Porto which is a type of tripe stew specific to Porto. It's made with a variety of meats like tripe, veal shank, sausages, ham, and chicken stewed in a pot with white navy beans and vegetables like carrots and onions.
When I think of Portuguese families sitting down to a hearty meal in the middle of winter, this is exactly the type of dish I think of. It was delicious and perfect with bread and/or white rice.
There's an interesting backstory to this dish. According to legend, this dish is considered a symbol of the generosity of the people of Oporto.
When Henry the Navigator was preparing his ships to conquer Ceuta in 1415, he asked the citizens of Oporto to donate supplies to stock the Portuguese navy. They did to such an extent that they were left with little more than tripe.
They used what they had to create the recipe for tripas a moda do Porto, which earned them the nickname tripeiros or "tripe eaters".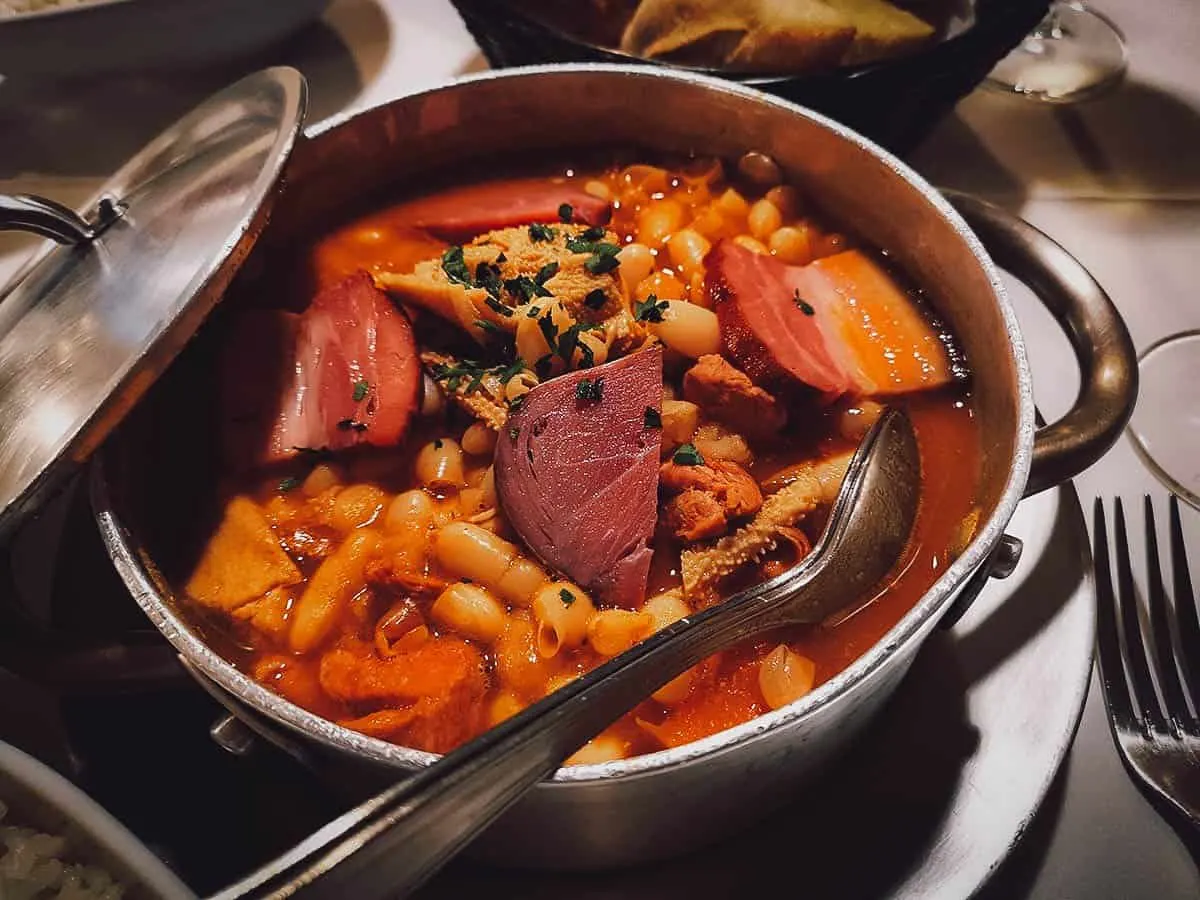 As we suspected, Restaurante Abadia do Porto is a great place to have bacalhau. This grilled codfish "a Lagareiro" was delicious. Lagareiro refers to a style of grilling or roasting fish or octopus, then generously dressing it with extra virgin olive oil.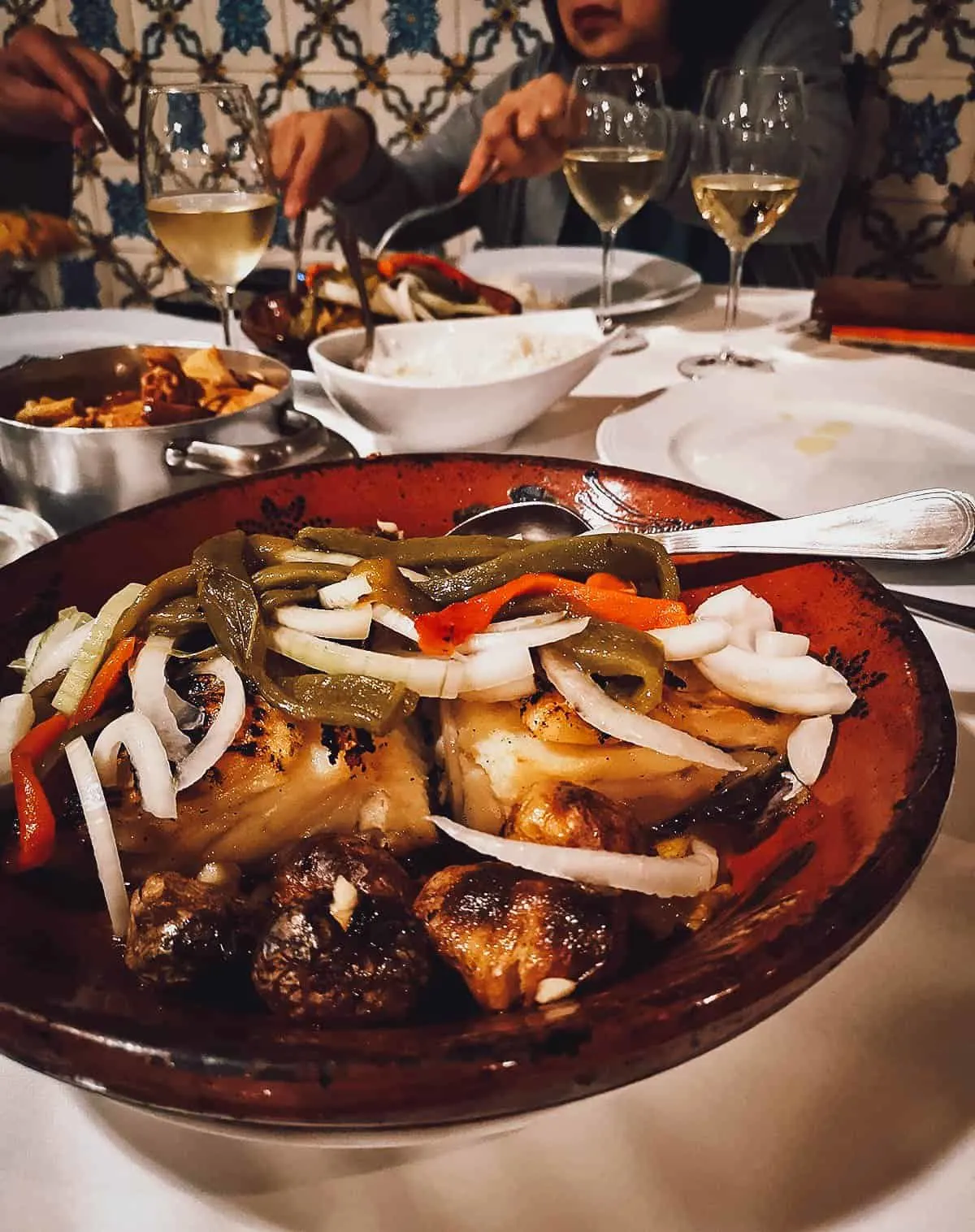 When I first walked in, I wasn't sure what to make of it because the restaurant was huge and looked like the type of tourist trap we try to avoid on every trip. The big bus outside didn't help either.
But I googled them and found that they had excellent reviews, especially from Portuguese customers, so I knew they were the real deal. They're a TripAdvisor Certificate of Excellence awardee with, you guessed it, a 4.5-star rating.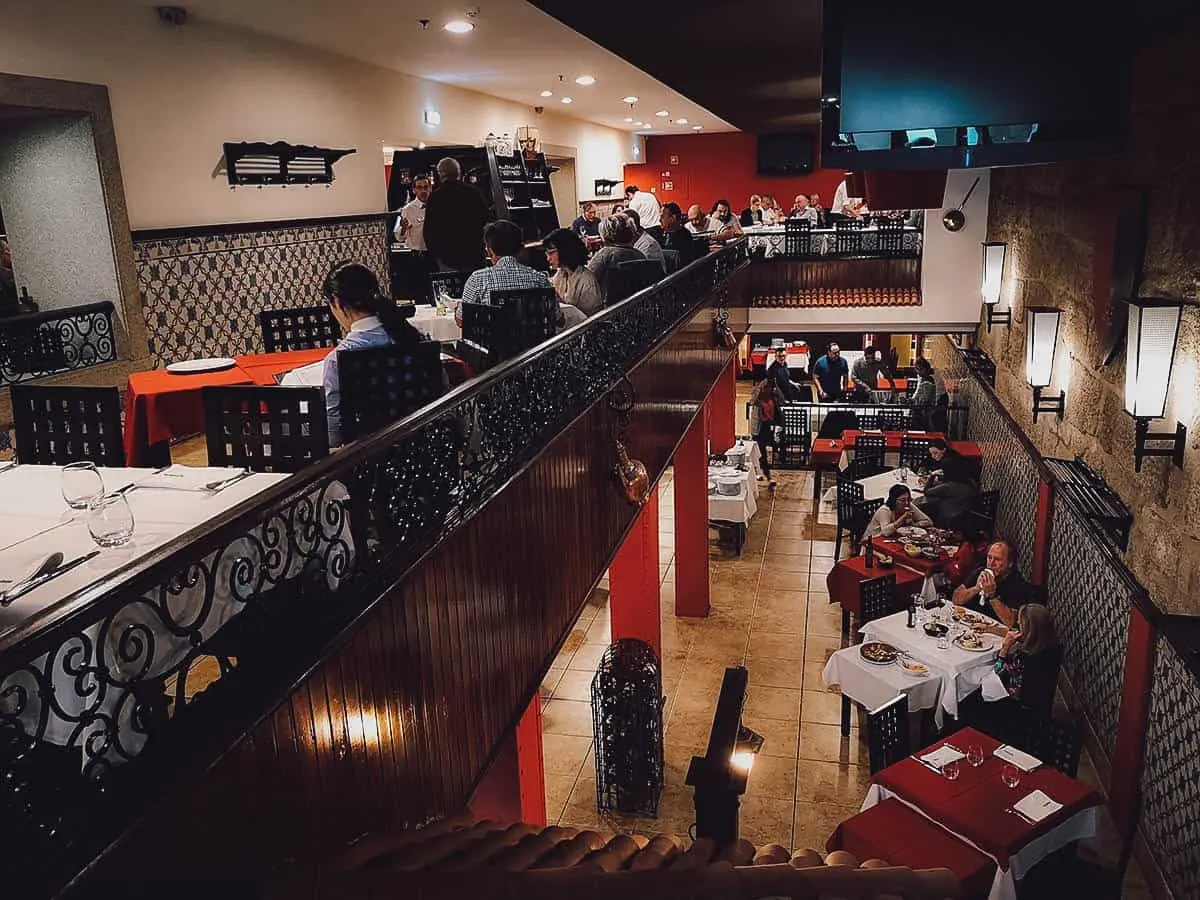 Restaurante Abadia do Porto is not the type of restaurant I would randomly walk into but I'm glad we did because their food is delicious.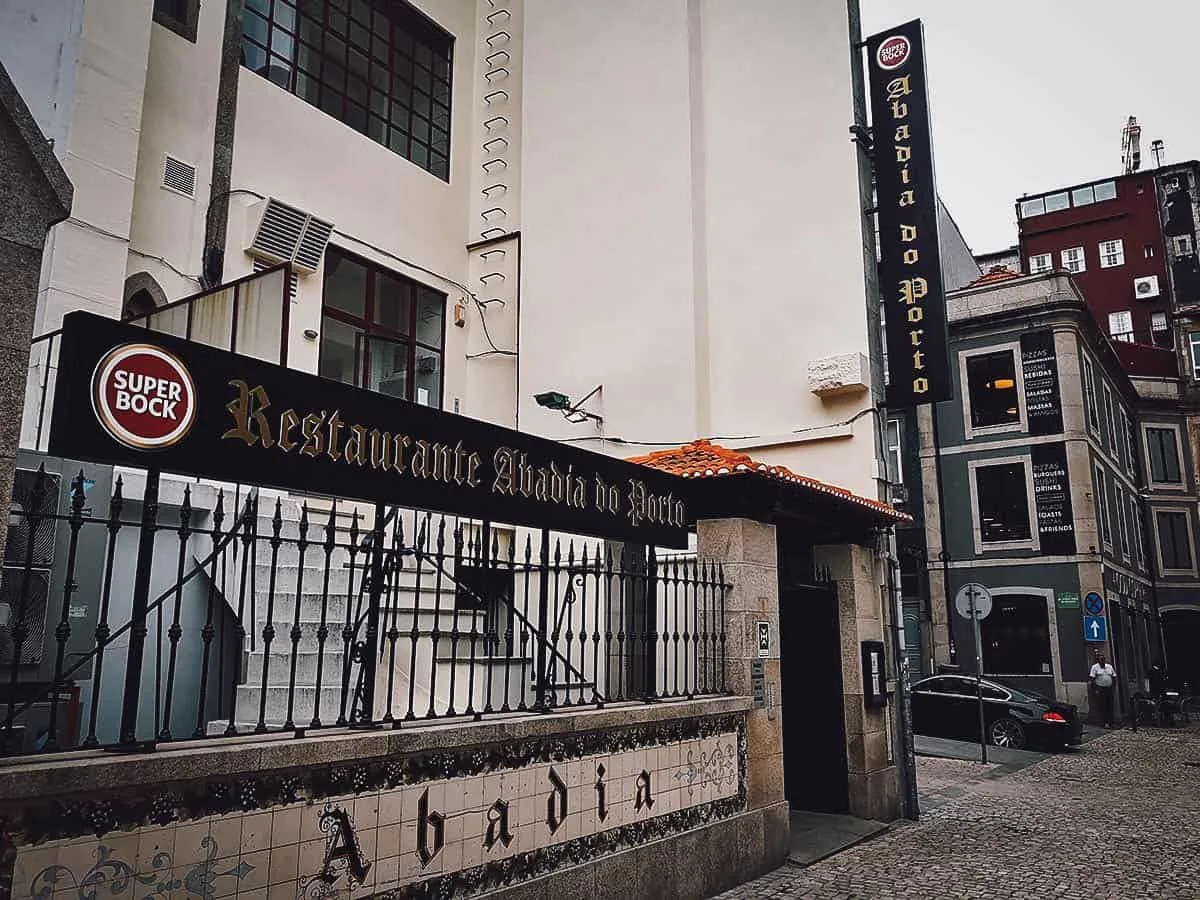 Restaurante Abadia do Porto
Address: R. do Ateneu Comercial do Porto 22, 4000-380 Porto, Portugal
Operating Hours: 12NN-3:30PM, 6:30-10:30PM, Tue-Sat / 6:30-10:30PM, Monday (closed Sundays)
What to Order: Tripas a moda do Porto, bacalhau, seafood
What We Paid: Around EUR 15-30 per entree (available in one- or two-person orders)
14. Taberna Folias de Baco
This tiny restaurant was interesting and more my style than the previous one. They produce their own wine in the Douro Valley and are known for interesting dishes like torricados, meat pies, and these homemade Portuguese sausages.
They offer three types on their menu, but I went with the alheira which are smoked sausages from northern Portugal made with bread and different types of meat like pork, chicken, duck, or veal.
These were delicious and unlike any type of sausage I've had before. They were soft and filled with a shredded meat mixture that was savory, smokey, and a little tangy.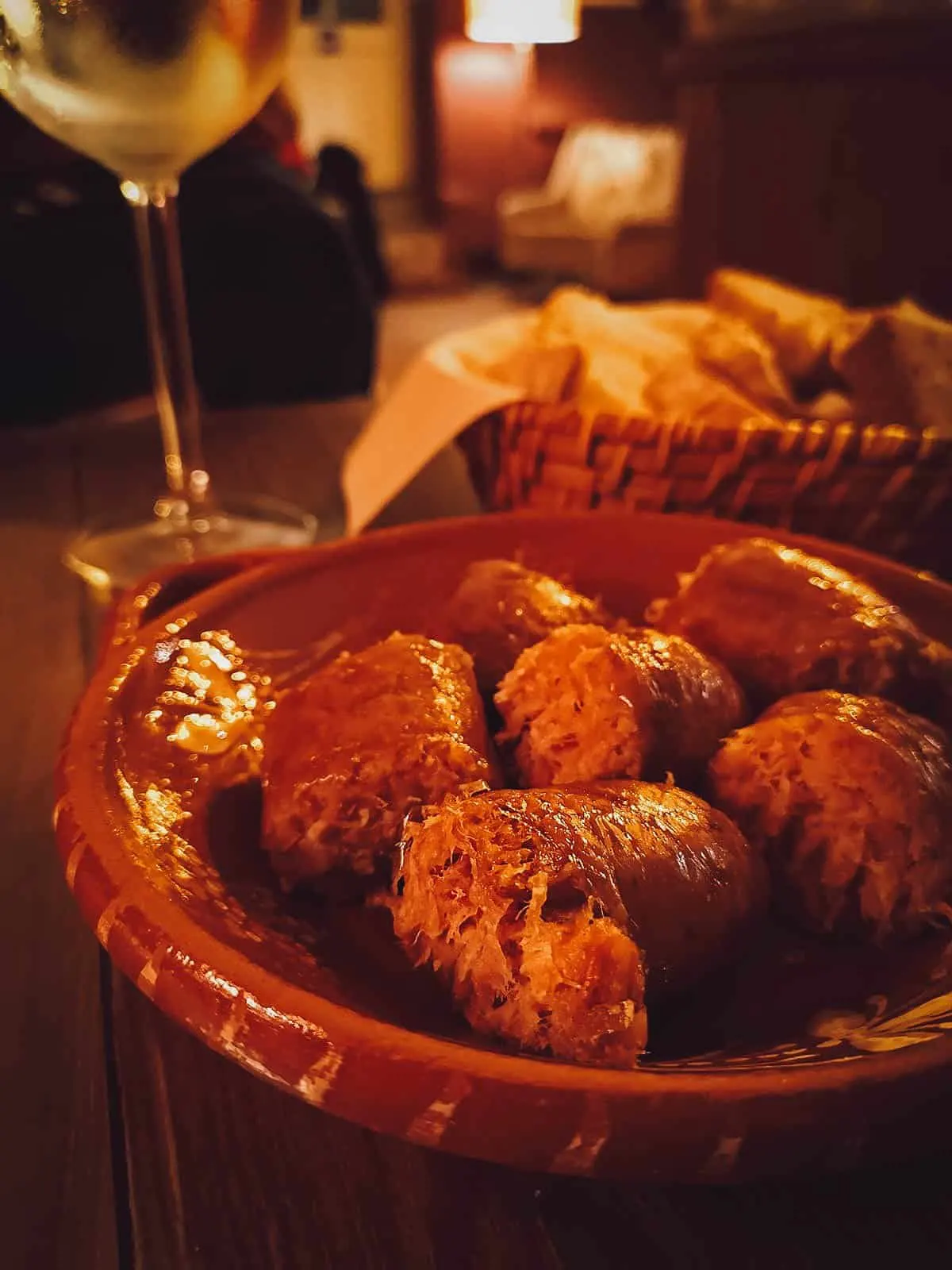 A torricado is a specialty from the Ribatejo region in central Portugal. It consists of slices of bread toasted over charcoal and soaked in olive oil before being brushed with garlic and salt. It's then topped with any number of ingredients like bacalhau, sardines, and pork.
They offer several on their menu so I asked my server to choose for me. On the left is roasted beetroot with apple and a Portuguese-style ricotta cheese dressed in an orange/ginger reduction sauce, while on the right is mushroom with goat and sheep cheese, garlic, honey, thyme, and oregano. Both were crunchy, smokey, and very tasty – one sweet and the other earthy.
Folias de Baco is an intimate dimly-lit space with just five or six small tables. If you're looking for an interesting and romantic restaurant in Porto that isn't too expensive, then I think Folias de Baco is a good choice.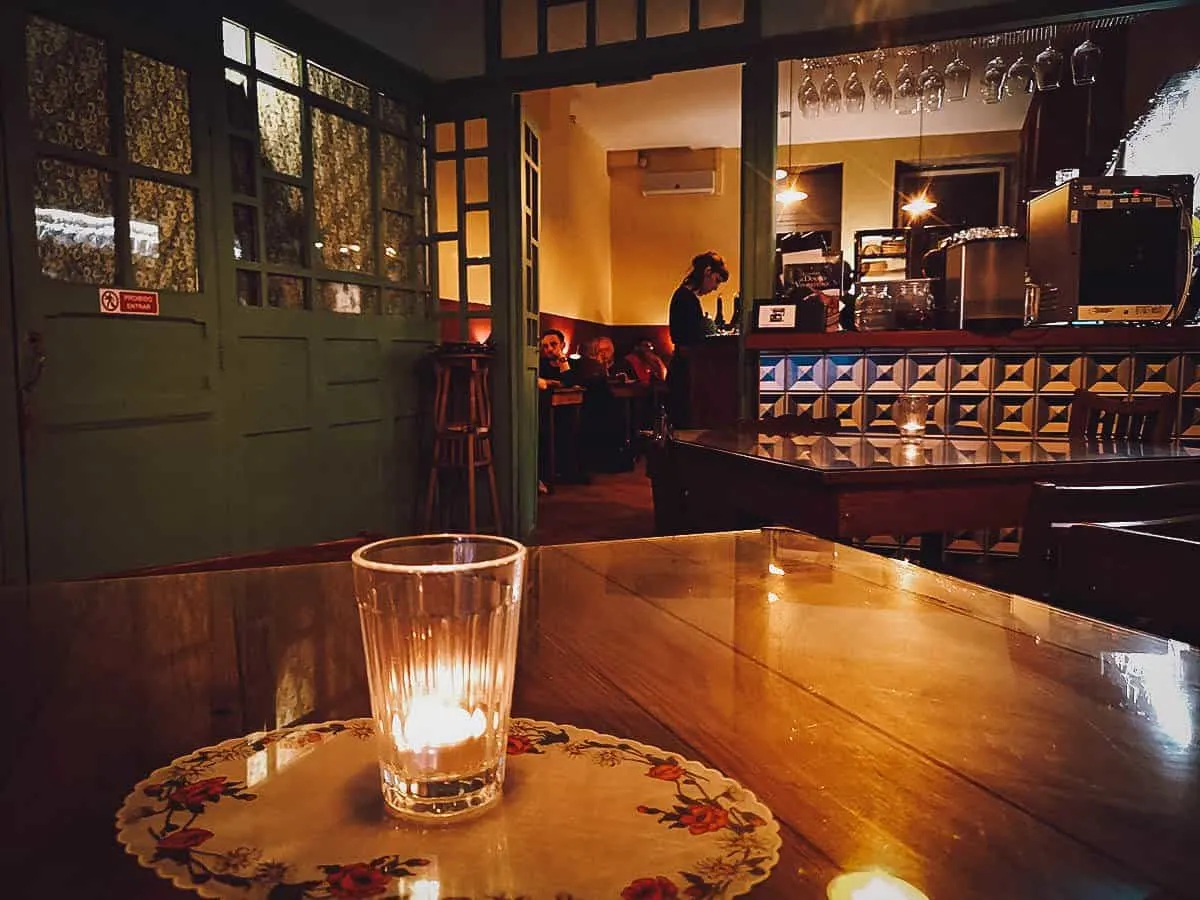 Folias de Baco wasn't my favorite but it's one of the most memorable restaurants I visited in Porto. It's about a couple of blocks away from Clerigos Church.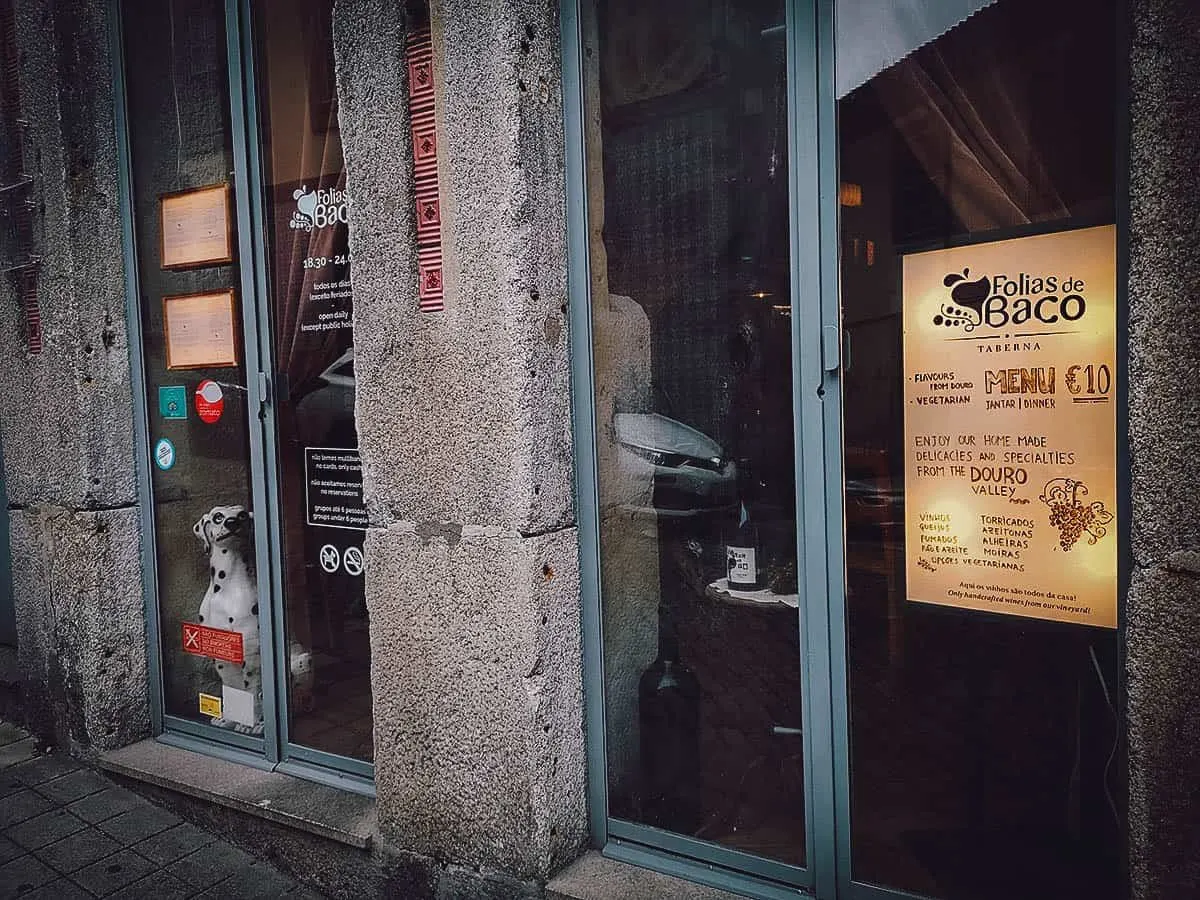 Taberna Folias de Baco
Address: Rua dos Caldeireiros 136, Porto, Portugal
Operating Hours: 6:30PM-12MN, daily
What to Order: Torricados, grilled sausages, wine
What We Paid: About EUR 3-5 per dish
FOOD MARKETS
I love food markets because they're inexpensive and offer so much variety. When you're traveling in a large group, it can be hard to settle on a restaurant but food halls offer something for everyone. Plus, they give you a chance to sample many dishes from different purveyors.
We visited many food halls or mercados in Spain and Lisbon, but not so much in Porto. I was happy to randomly find this one when I was walking back from Taylor's Port in Vila Nova de Gaia.
15. Mercado Beira-Rio
What a fun find this was. I was walking on a street behind the food market when I noticed tables set up around its perimeter. I took a peek inside and was surprised to find a food hall with maybe two dozen or so stalls offering both local and international food.
Known as "the market in a box", this is what Mercado Beira-Rio looks like from the front. It faces the Douro River along Avenido Ramos Pinto so it isn't hard to spot.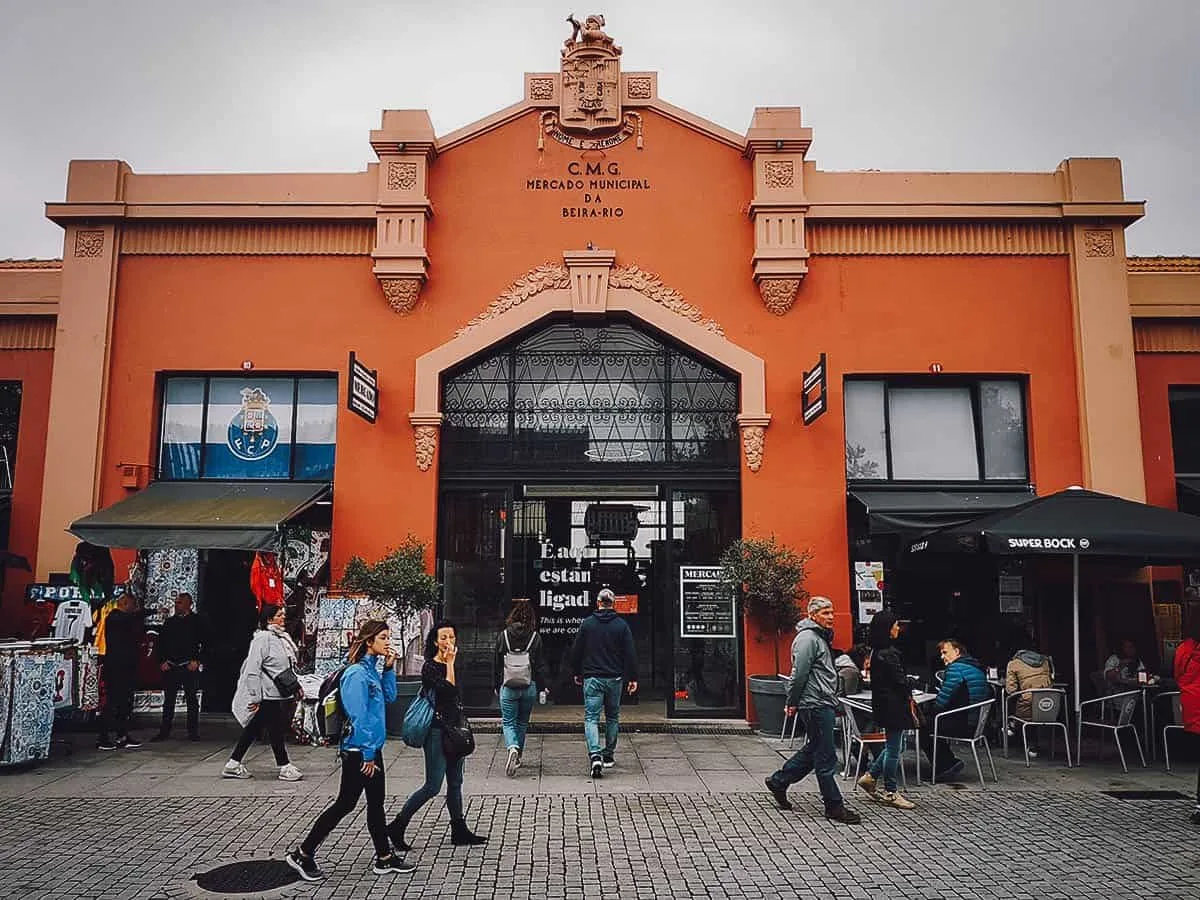 Like I said, I LOVE food markets for the sheer volume of choices they give you. I was here mid-afternoon so it wasn't as busy, but I read the place gets packed with both locals and tourists at lunchtime.
It's a big space with two levels of seating so it shouldn't be a problem finding a table no matter how crowded it gets.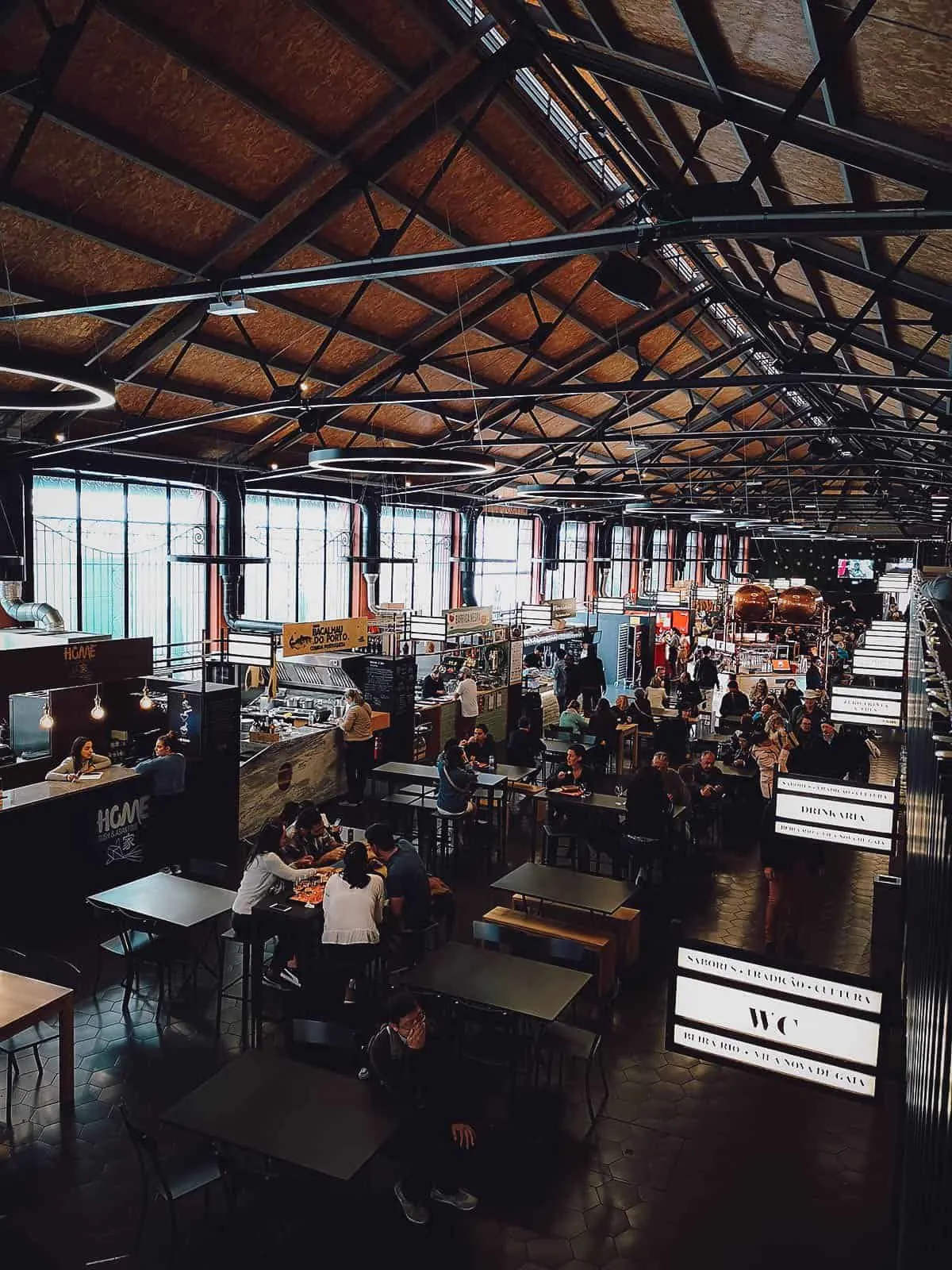 I wasn't hungry at this point so I didn't have much interest in food, but there was a stall with brewing tanks in the middle of the mercado that caught my attention. They were offering flights of beer for EUR 5.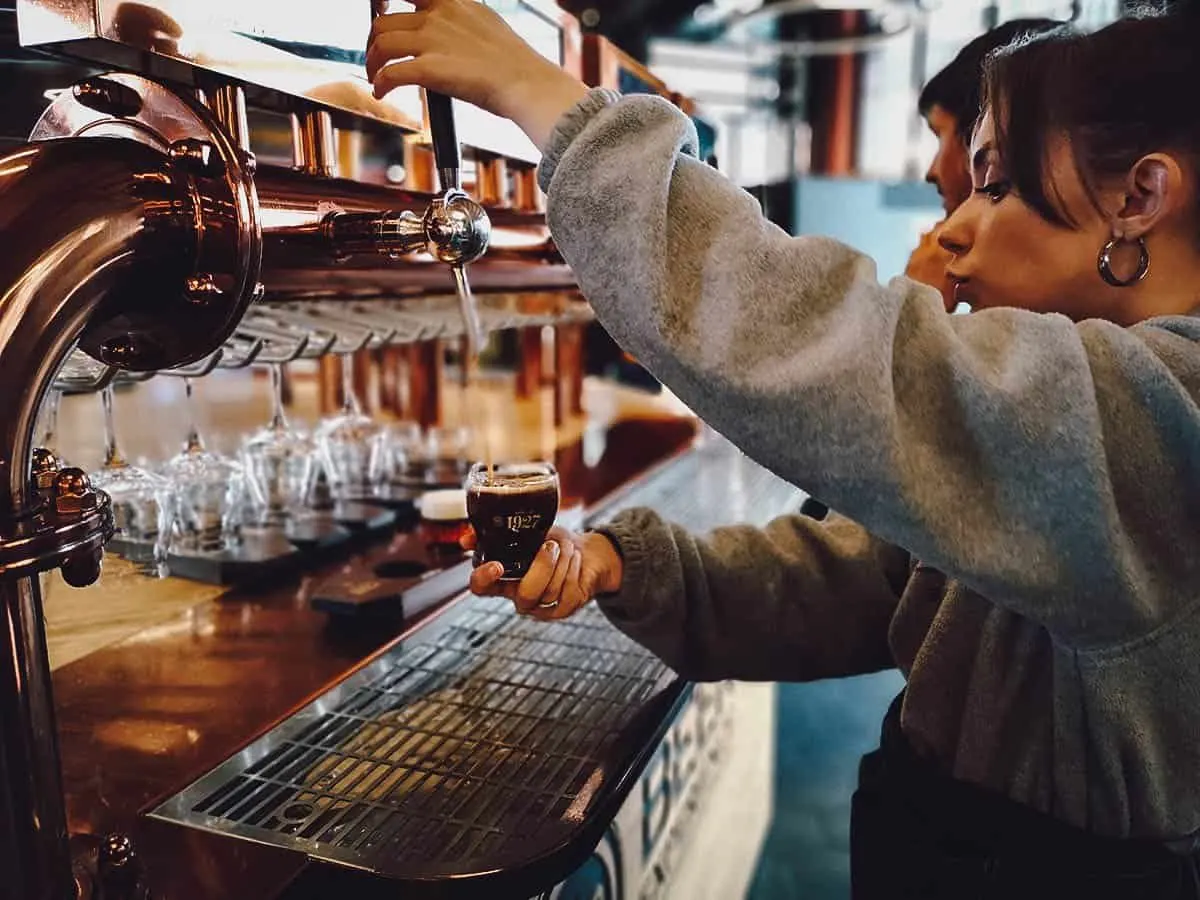 My flight of four beers featuring Munich Dunkel, Bavaria Weiss, Bengal Amber IPA, and Thames Porter. Have you ever seen anything so beautiful?
I was wondering why they call these beer tastings "flights", so I googled it. Based on what I've read, it's a figure of speech referring to a series that increases in progression, like a flight of stairs.
In this case, you start with the lightest beer then work your way up to the darkest and heaviest, with each beer representing a step up in the flight.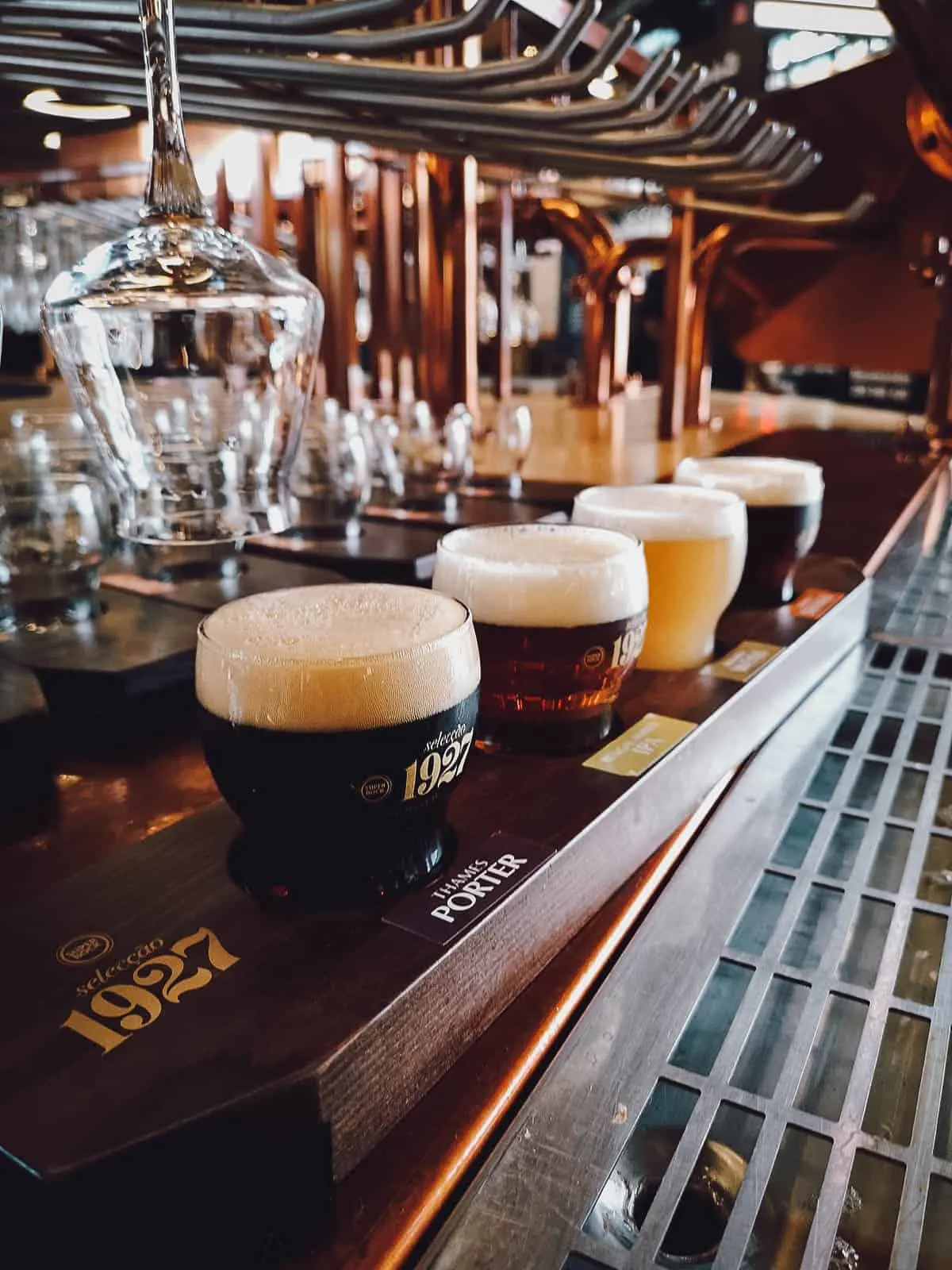 Here's to health, wealth, and all the delicious Portuguese food you'll be eating on your next trip to Porto. Saúde!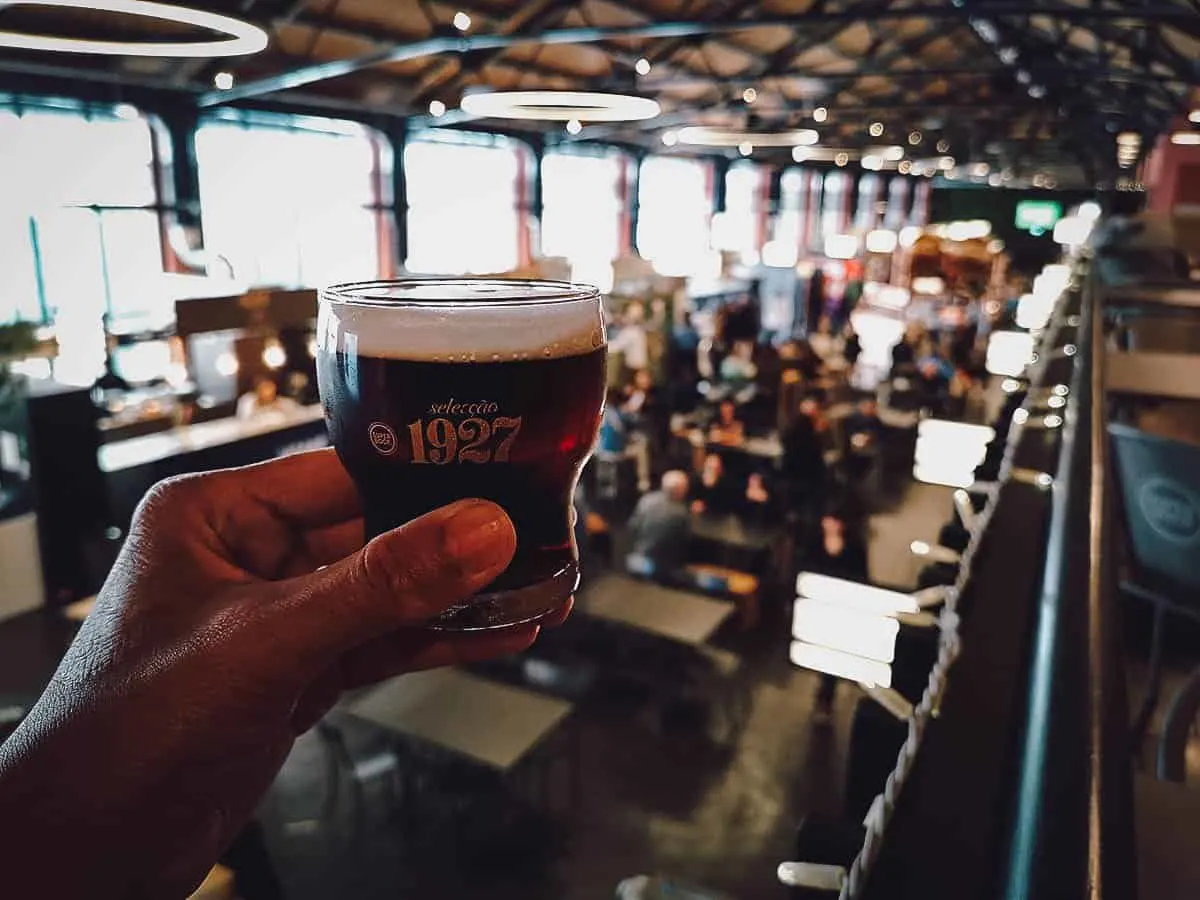 Mercado Beira-Rio
Address: Avenida Ramos Pinto 148, Vila Nova de Gaia 4400-266, Portugal
Operating Hours: 10AM-12MN, daily
LOCATION MAP
To help you navigate, I've pinned the Porto restaurants recommended in this guide on this map, including many others that we wanted to go to but couldn't find the time for. Click on the link to view an interactive version of the map.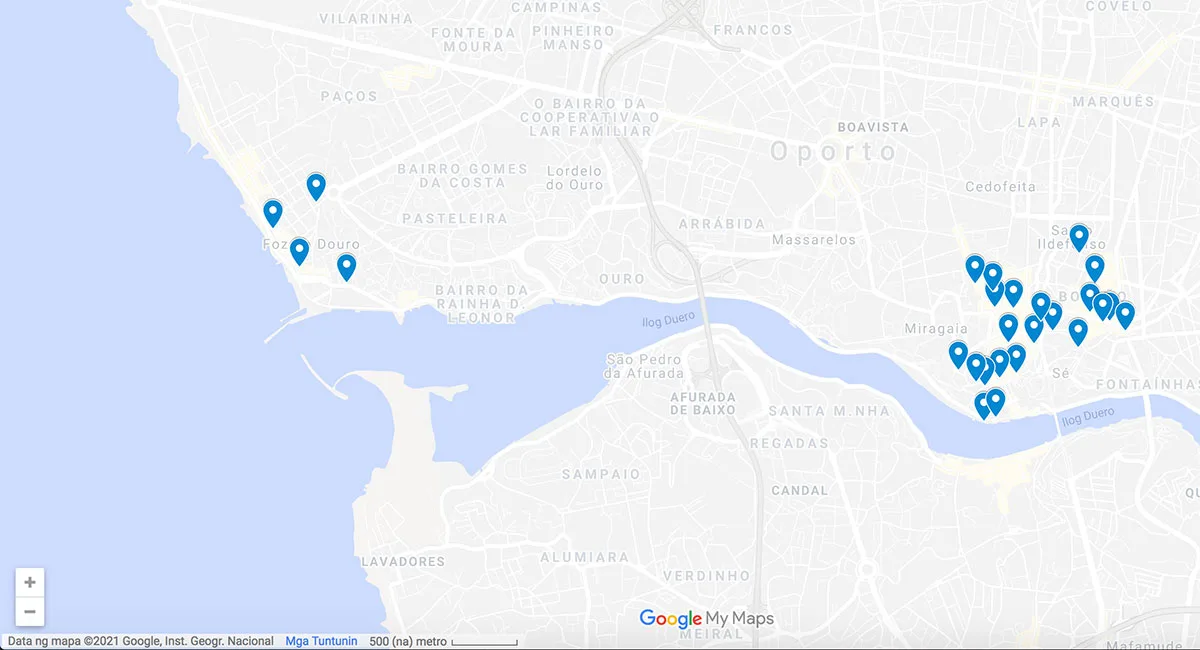 FINAL THOUGHTS ON THE FOOD IN PORTO
On the way to the train station, we were chatting with our Uber driver about the differences between Porto and Lisbon. According to him, both are great cities though he felt that Lisbon was the more international of the two.
Porto is a cosmopolitan city on par with Lisbon but it was more traditionally Portuguese in its culture and way of thinking.
We spent less than a week in each city so I can't offer an educated opinion on the subject, but if what he said were true, then it probably extends to the food as well.
The food in Lisbon did seem more international while Porto felt more traditionally Portuguese. Based on the restaurants we wound up visiting in Porto, that did seem to be the case.
Either way, we loved the food in Porto. If I could sum it up in one word, it would be "comforting", the kind of food that makes you feel welcome and provides a sense of well-being.
If that's the kind of food you enjoy, then you're going to love Porto.
Disclosure
This Porto food guide contains affiliate links, meaning we'll earn a small commission if you make a purchase or booking at no extra cost to you. We really appreciate your support as it helps us keep this website going. Obrigado!