Port wine, the Douro River, francesinhas and cachorrinhos; there is so much to love about Porto, especially for first-time visitors.
After spending a few days exploring the cobblestone streets of Porto, we were in an Uber on our way to Campanha Railway Station when our driver began describing to us the differences between Porto and Lisbon.
According to him, Lisbon is more contemporary and exciting. It's more of a party city and a melting pot of different cultures while Porto remains relatively homogenous and unchanged. Being a Porto native, he said it in a way that didn't sound flattering to Lisbon.
I wasn't in the position to agree or disagree but what he said seemed largely true. Lisbon did seem like the more exciting melting pot while Porto was like its older, more fastidious sister. As the local saying goes: "Coimbra sings; Braga prays; Lisbon shows off; and Porto works."
Porto may not have the flair of Portugal's capital but what it lacks in panache it more than makes up for with character and charm.
I found Porto to be an exceedingly fascinating city, steeped in history and culture and proud of an identity uniquely its own.
VISIT PORTO QUICK LINKS
This travel guide to Porto is long. For your convenience, I've compiled links to hotels, tours, and other services here.
HOTELS
Top-rated hotels in the city center, the most convenient area to stay for first-time visitors to Porto.
TOURS
OTHER SERVICES
Save This on Pinterest!
No time to read this Porto travel guide now? Click on the save button and pin it for later!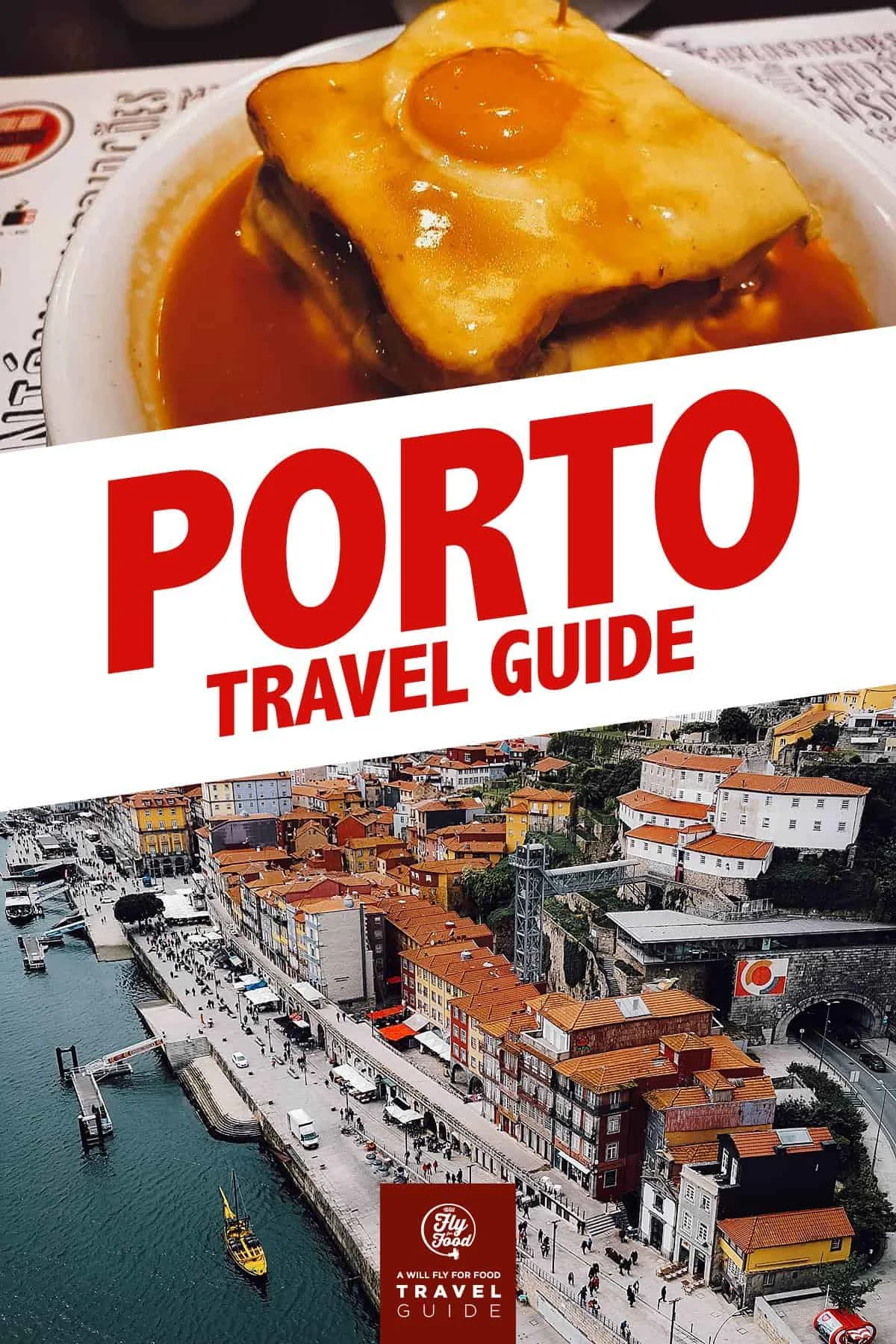 GUIDE TABLE OF CONTENTS
PORTO TRAVEL RESTRICTIONS
Because of the current global situation, Porto travel guidelines have been changing on a weekly basis. Our friends at Booking.com created a website that lists detailed information on travel restrictions around the globe.
Before planning a trip to Porto, be sure to check Booking.com for information on travel restrictions to Portugal. If you do decide to visit Porto, then you may want to seriously consider getting travel insurance with COVID coverage.
PORTUGAL VISA
Depending on your passport, you may need a visa and other travel documents to enter Portugal. Visit iVisa.com to learn about the requirements and to apply for a visa (if necessary).
PORTO AT A GLANCE
Porto is the second largest city in Portugal and the capital of its Northern Region. The name Porto refers to both the city and the greater metropolitan area which is home to over 2.4 million people.
Located along the Douro River, Porto's historical center is a UNESCO World Heritage Site. The city is characterized by hilly cobblestone streets, centuries-old churches, and beautiful azulejo tiles. Wrought with detail, Porto is a city that begs to be explored on foot.
Francesinha and tripas (tripe) are two of its most sought-after dishes while port wine, a fortified wine grown exclusively in the Douro Valley, is one of its most prized exports.
BEST TIME TO VISIT PORTO
The best time to visit Porto is from May till September when days are sunny and the weather is warm. However, July and August are peak tourist months so you may want to shoot for May, June, or September. There are fewer tourists and the weather is still ideal.
MAY-SEPT: This is the main tourist season in Porto. The weather is perfect and there are several popular festivals during this time. As described, July and August are the busiest months so aim for May, June, or September if you can.
OCT-APR: The rainy season in Porto begins in late September and lasts till April. It's described as one of the wettest major cities in southern Europe so if you don't like the rain, then this may not be the best time to go.
We were in Porto in early May just as the April rains were tapering off. It was still overcast and a bit chilly on most days but it didn't rain. The end of May would have been better.
Climate: Annual Monthly Weather in Porto
For more on Porto's weather, check out these climate graphs from holiday-weather.com. I've also created the average temperature and annual rainfall graphs below with the most ideal months to visit marked in orange.
Average Temperature

Annual Rainfall

TRAVELING TO PORTO
Porto is an easily accessible city. We traveled to Porto by bus from Santiago de Compostela in Spain but there are many ways to get there depending on where you are.
By Plane
There are regular flights to Porto from many cities in Europe. You can do a search on a flight aggregator like Skyscanner to find cheap flights to Porto (Francisco Sá Carneiro) Airport (OPO).
Porto Airport is about 11 km north of the city center. You can make your way to downtown Porto in one of the following ways.
METRO: This is usually our preferred method of transfer but it may not be as ideal in Porto because of how hilly the city center is. But if you aren't traveling with a lot of luggage, then the Porto Metro is an efficient and inexpensive way of getting to your hotel from the airport. Travel time will be between 30-45 minutes and the fare will cost you EUR 2.60 (EUR 2 for the fare + EUR 0.60 for the Andante Card). Trains operate from 6AM till midnight.
BUS: Get Bus offers eight daily departures from Porto Airport to the city from 10AM till 6:25PM. However, the last stop is at Campo 24 de Agosto bus station which is about 1.4 km from the city center. Depending on where you're staying, you may still need to book an Uber to get to your hotel. The bus trip takes 25 minutes and costs EUR 2.80.
PRIVATE/SHARED TRANSFER: If you'd like to book an airport transfer in advance, then you can do so through Bookaway. A private transfer should cost about the same as a taxi.
UBER: We didn't need it as much in Porto, but we used Uber a lot in Lisbon. It was reliable and super convenient. The journey from the airport to downtown Porto should take between 20-30 minutes and cost around EUR 15-20.
TAXI: We rarely use taxis these days thanks to Uber. I read that taxis in Porto are a bit more expensive than Uber with the same airport trip costing between EUR 20-30. To keep yourself from getting scammed, be sure that the driver switches on the meter as they're required to use it by law.
By Train
If you're somewhere in Portugal or in a nearby city in Spain, then traveling to Porto by train may be the better option. Trains are fast, comfortable, and relatively inexpensive.
We took the Alfa Pendular from Porto to Lisbon and a tourist class ticket cost us EUR 31.20. The journey took about 2 hrs 40 mins.
If you'd like to explore the option of traveling to Porto by train, then you can check train routes on the Comboios de Portugal website. This is Portugal's official rail website and where we bought our Porto-Lisbon tickets. Another popular transportation website you can look at is Bookaway.
From the train station, you can then book an Uber to your hotel.
By Bus
As described, we traveled to Porto from Santiago de Compostela. There were no direct trains so we took a 3 hr 15 min Alsa bus instead. It was comfortable and on time and cost just EUR 23 each.
Like trains, traveling to Porto by bus may be a good option if you're somewhere in Portugal or in a nearby city in Spain. You can check bus routes and purchase tickets on Bookaway. From the bus station, you can then catch an Uber to your hotel.
By Car
Traveling by car is perhaps the best way of exploring Portugal and many parts of Europe. We drove from San Sebastian to Santiago de Compostela and unlike public transportation, it gave us the freedom to stop wherever and whenever we wanted.
If you're looking to rent a car and driving to Porto, then you can rent one on Rentalcars.com.
WHERE TO EXCHANGE CURRENCY
The unit of currency in Portugal is the Euro (EUR). I withdrew EUR from an ATM so I didn't have to exchange currency in Porto. This seems to be the best option in Portugal and in many other European countries these days.
ATM rates are competitive and you don't have to bring as much foreign currency with you. Plus, I read that the exchange rate given at cambios (currency exchange offices) typically aren't as good.
If you plan on using your ATM card abroad, then it's best to inform your bank beforehand. That way you don't run into any problems. In my experience, my ATM card works in most machines but not in all.
NOTE: Some ATMs may ask if you'd like to proceed "with or without conversion". Always proceed WITHOUT conversion. If you proceed with conversion, then the foreign bank operating the ATM will do the conversion for you, usually at terrible rates.
BEST AREAS TO STAY IN PORTO
The city center is the best place to stay in Porto. It refers to an area north of the Douro River and Dom Luis I Bridge. It's actually comprised of several smaller neighborhoods and districts but to keep things simple, let's just call it Porto City Center.
If you jump to the points of interest map at the bottom of this guide, you'll see that most of Porto's attractions are located in the city center. If it's your first time in the city, then this is the best area for you to stay.
The area marked in blue in the map below represents Porto City Center. The area colored in red is Boavista, the best area to stay if you have a rental car. I'll explain why below. Click on the link for a live version of the map. (Please note that marked areas are approximations only)
BLUE – Porto City Center
RED – Boavista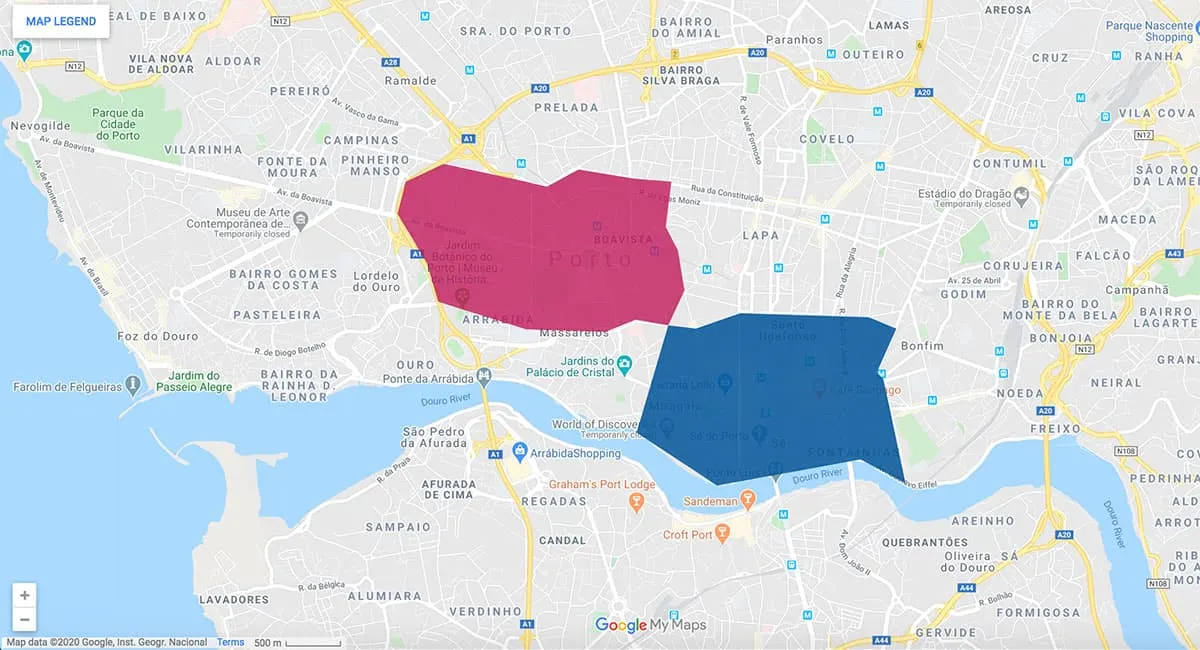 PORTO CITY CENTER
Almost all of Porto's tourist attractions are located within an area north of Dom Luis I Bridge. We stayed near Clerigos Church and I only had to take public transportation once, to go to Foz do Douro. Almost everything else I could easily walk to from our hotel, including Vila Nova de Gaia which is the area across the bridge.
We stayed at this colorful inn called Victoria Studios. It's a modern boutique inn with just eight rooms along Rua de Tras. Clerigos Church is a 3-minute walk away while Praca da Liberdade and Sao Bento Railway Station are just six minutes down the hill. Livraria Lello, often called the world's most beautiful bookstore, is just a quick four minutes away on foot.
Victoria Studios is situated near the apex of a hill so we had terrific views of the city from our room's balcony. You can book a room at Victoria Studios on Booking.com or Agoda.
If you don't feel that this is the right place for you, then follow these links to do a search for alternate listings in Porto City Center: Booking.com | Agoda. Check out some of the top-rated hotels in the area:
BOAVISTA
At first, I was only going to recommend the city center until I read that hotels in the Boavista area are the only ones with car parking. If you're driving to Porto, then this is probably where you'll want to be.
Boavista is a quieter area that's home to bigger international hotel chains. If you can, try to find a hotel on the eastern side of Rotunda da Boavista. That way you won't have to go so far to reach the tourist attractions in the downtown area.
You can search for accommodations in the Boavista area on Booking.com. If you need a hotel with parking, then you can filter results by ticking on the "Parking" box under "Facilities". Check out these top-rated hotels in the Boavista area:
You can also book hotels and home stays in Porto using the handy map below.
PLACES TO VISIT IN PORTO
1. Livraria Lello
Open since 1906, Livraria Lello is one of the oldest bookshops in Portugal. It's frequently cited as one of the world's most beautiful and is rumored to have inspired Hogwarts Castle in the Harry Potter series.
The interior of Livraria Lello is stunning. The shop isn't that big but you could spend an hour just admiring it's many decorative details. Among its most notable features include a stained glass window ceiling, intricate wooden carvings, and a forked spiral staircase that appears to be a favorite selfie spot.
Livraria Lello is one of Porto's most popular attractions so expect a long line and (annoyingly) heavy crowds at any time of the day. Do note that you'll need to purchase tickets and check your bag at a shop next door before lining up.
It's easy enough to visit Livraria Lello on your own, but if you'd like to go on a guided tour, then there are a few you can choose from on Get Your Guide (Option 1 | Option 2 | Option 3).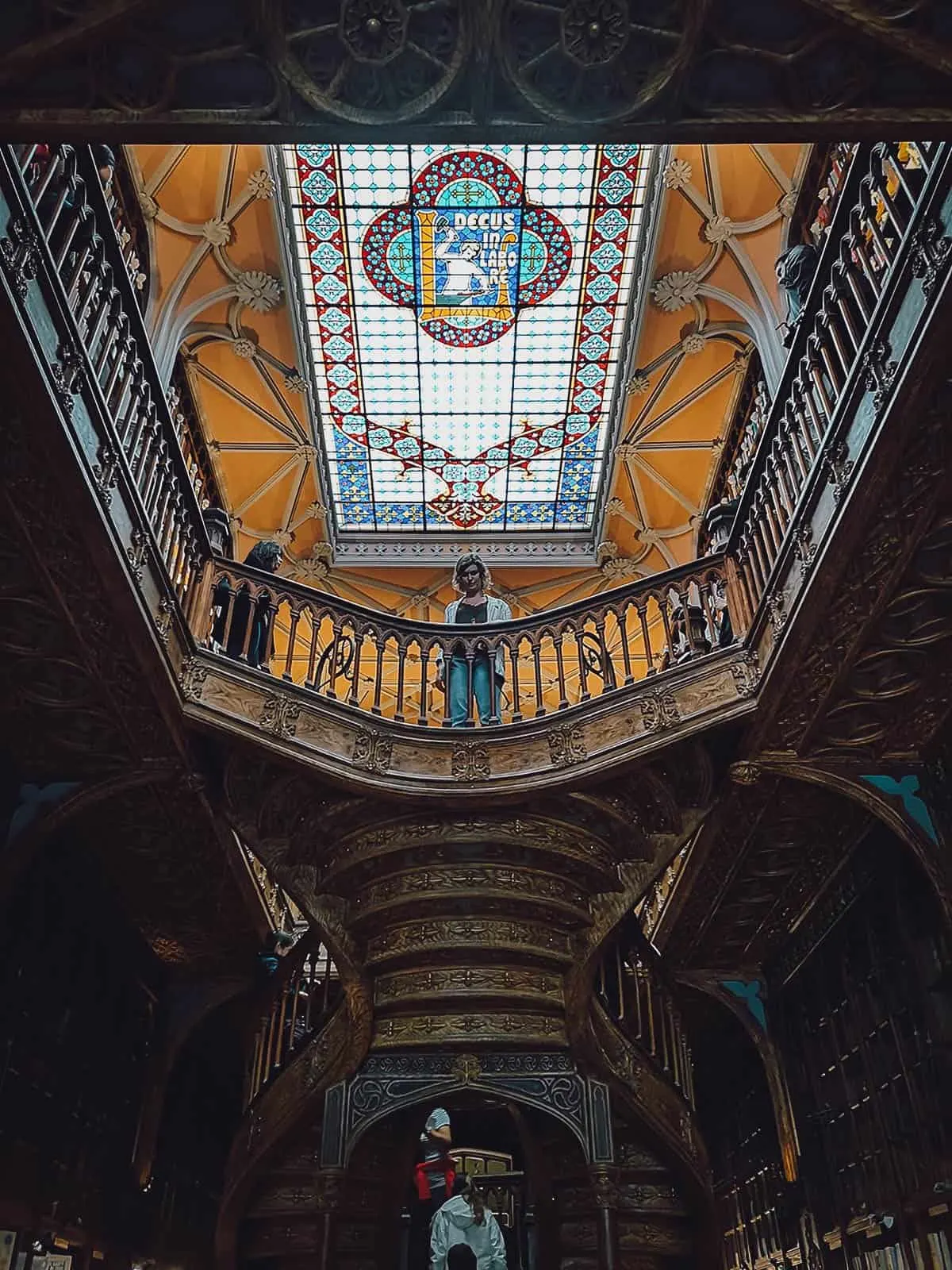 Operating Hours: 9:30AM-7PM, daily
Admission: EUR 5
Estimated Time to Spend: About 1 hr
2. Clerigos Church / Tower
There are a few notable churches in Porto though Clerigos Church is perhaps the most well-known. Built in 1750, it's a Baroque church featuring a 75.6-meter high tower that's become one of the most recognizable symbols of the city.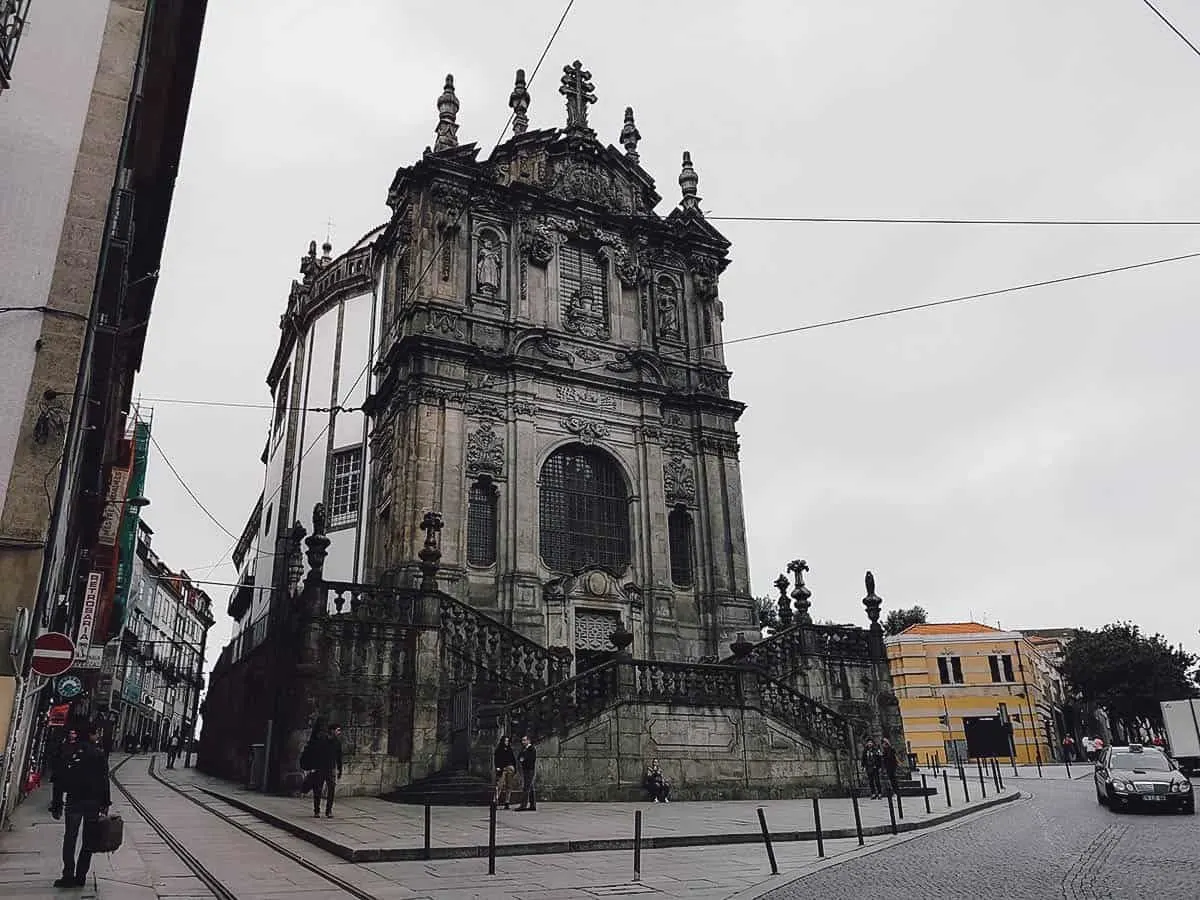 Entrance to Clerigos Church is free but you'll need to pay EUR 6 to climb the 240 steps to the top of Clerigos Tower. You can purchase tickets at the gate or get them in advance through Get Your Guide.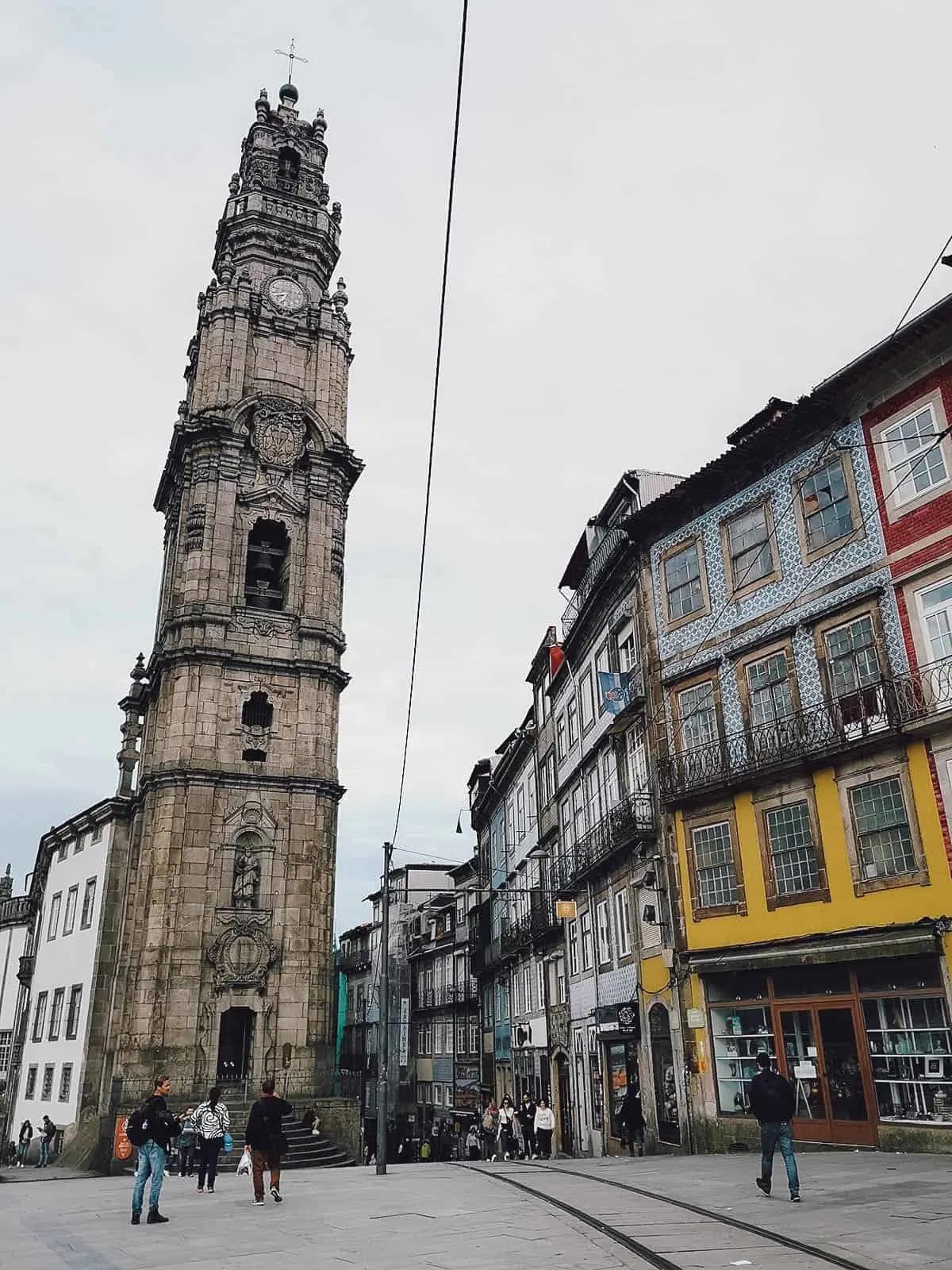 Operating Hours: 9AM-7PM, daily
Admission: FREE (Clerigos Church), EUR 8 (Clerigos Tower)
Estimated Time to Spend: About 1 hr
3. Sao Bento Railway Station
Not far from one of the world's most beautiful bookshops is one of its most stunning railway stations. Sao Bento Station isn't just one of Porto's busiest train stations, it's also its most breathtaking.
Sao Bento Station features over 20,000 azulejo tin-glazed ceramic tiles depicting key moments in Portugal's history. The station was built in 1900 with the blue and white tiles being put in place over a period of eleven years (1905–1916).
Together with Igreja do Carmo, Porto Cathedral, Igreja de Santo Ildefonso, and Casa da Musica, Sao Bento Station is one of the most popular places to see azulejo tiles in Porto.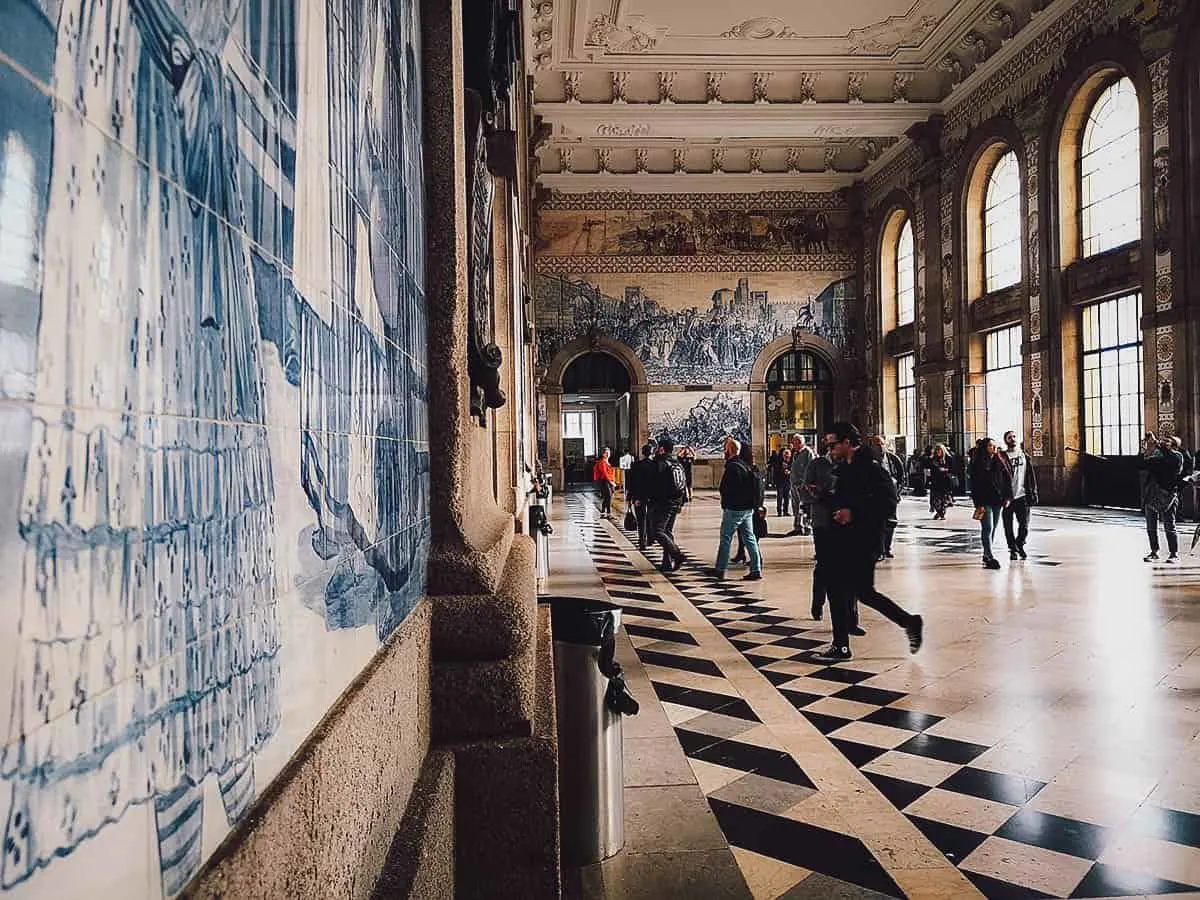 Operating Hours: 9AM-6PM, daily
Admission: FREE
Estimated Time to Spend: About 30 mins – 1 hr
4. Praca da Liberdade
When people say "Porto city center", they're perhaps referring to Praca da Liberdade or Liberty Square. It's the most important square in Porto and serves as a boundary between the old town and the more modern parts of the city.
Situated between Clerigos Church and Sao Bento Station, the square features a 10-meter bronze equestrian statue of King Peter IV and what's been called the most beautiful McDonald's in the world.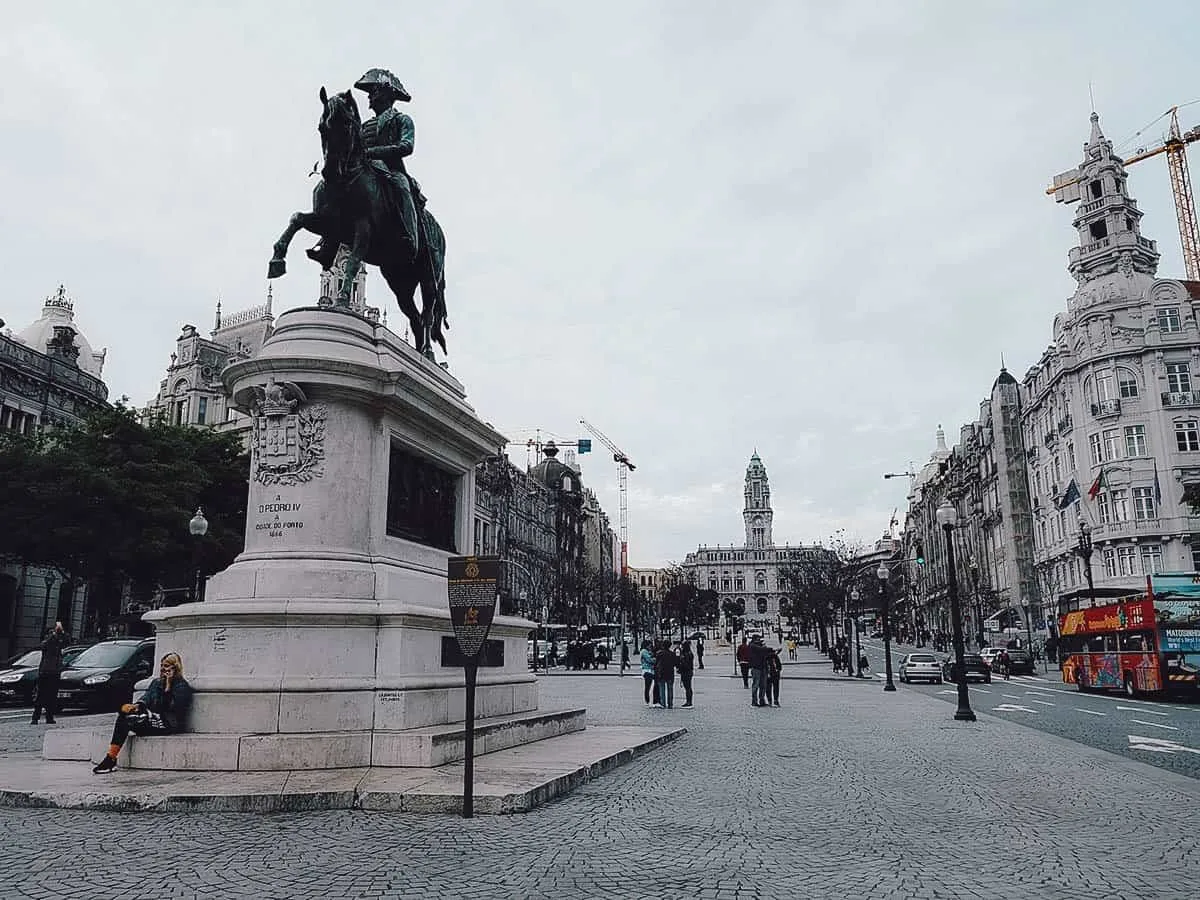 5. Palacio da Bolsa
The Palacio da Bolsa or Stock Exchange Palace is a 19th century Neoclassical building that once served as the headquarters of Porto's Chamber of Commerce. It's a Portuguese National Monument that looks even more impressive from the inside.
Unfortunately, I was too cheap to pay the EUR 11 entrance fee so I could only go as far as the library. But they do conduct daily tours every half hour if you're interested. It's a 45-minute guided tour that takes you to different rooms in the palace, including the magnificent Moorish revival Arab room.
You can purchase tickets at the gate though it's probably best to make reservations in advance through the Palacio da Bolsa website.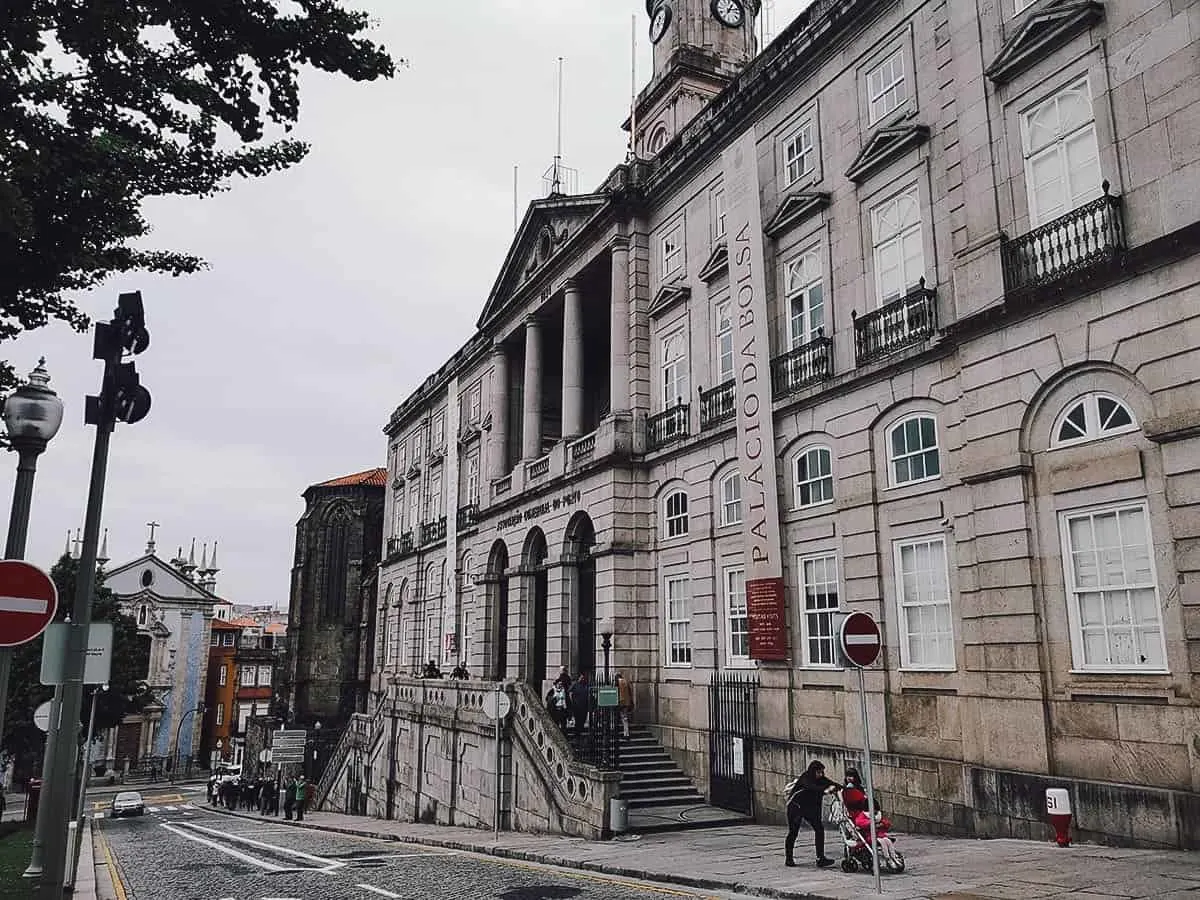 Operating Hours: 9AM-6:30PM, daily
Admission: EUR 12.50
Estimated Time to Spend: About 1 hr
6. Muralha Fernandina
Muralha Fernandina had me stumped. I was at the exact place my map told me to go but I couldn't find anything that looked like a castle. Only when I stepped back and looked at the wall I was leaning against did I realize I had already found it.
Muralha Fernandina or the Fernandine Walls are medieval fortifications built in the 14th century to protect the city. It's basically a series of walls that you can appreciate from different parts of the old town.
The walls are so well-integrated that you often don't notice them. It doesn't seem to have a focal point so it isn't something you need to seek out. Just appreciate it when you see it.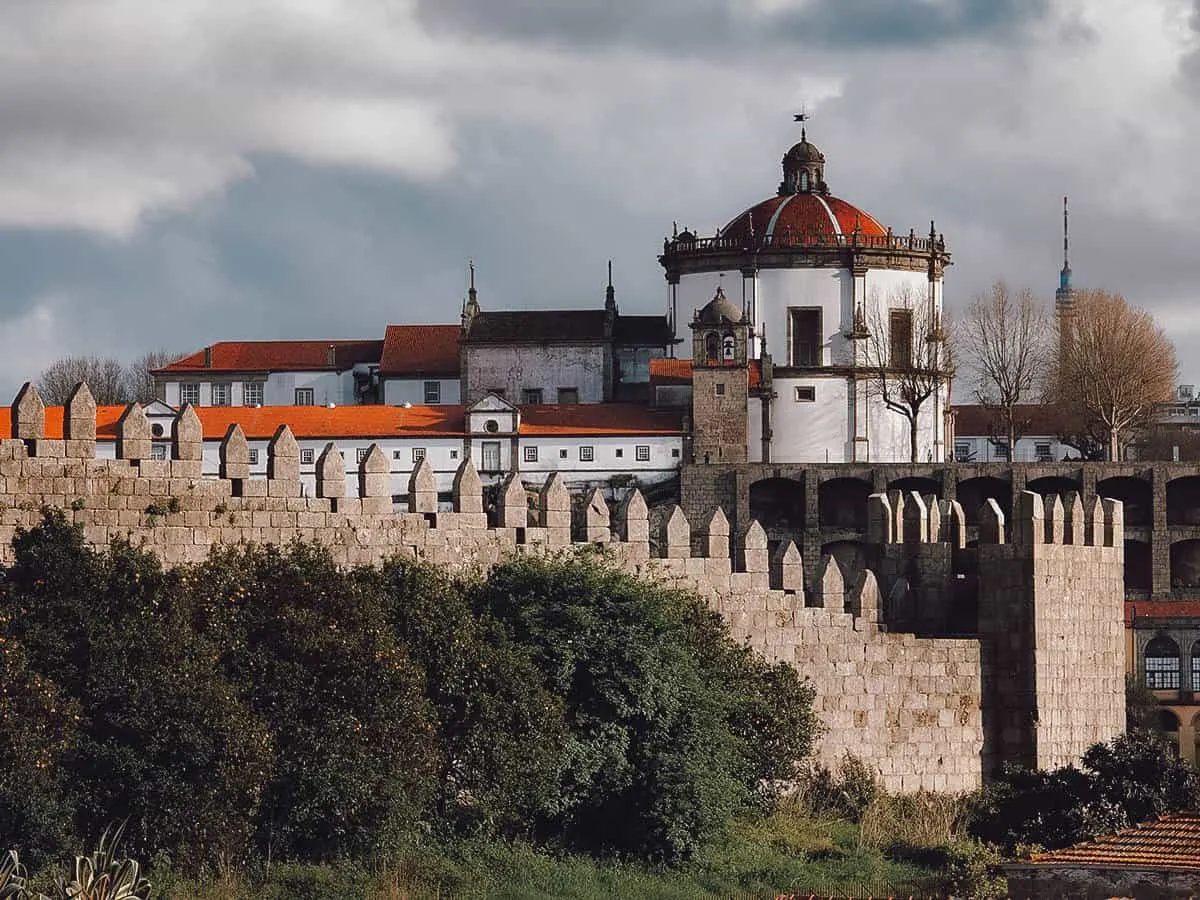 Photo by Artur Bogacki via Shutterstock
7. Casa da Musica
Our bus from Santiago de Compostela dropped us off not too far from this striking building.
Opened in 2005, Casa da Musica is a concert hall in the Boavista area designed by renowned architect Rem Koolhaas. It stands in stark contrast to the historical attractions that characterize much of Porto.
We didn't go inside but tours in English are offered daily at 11AM and 4PM starting at EUR 12. Inside is a VIP Room which has some of the best examples of azulejo tiles in Porto.
You can refer to the Casa da Musica website for more details.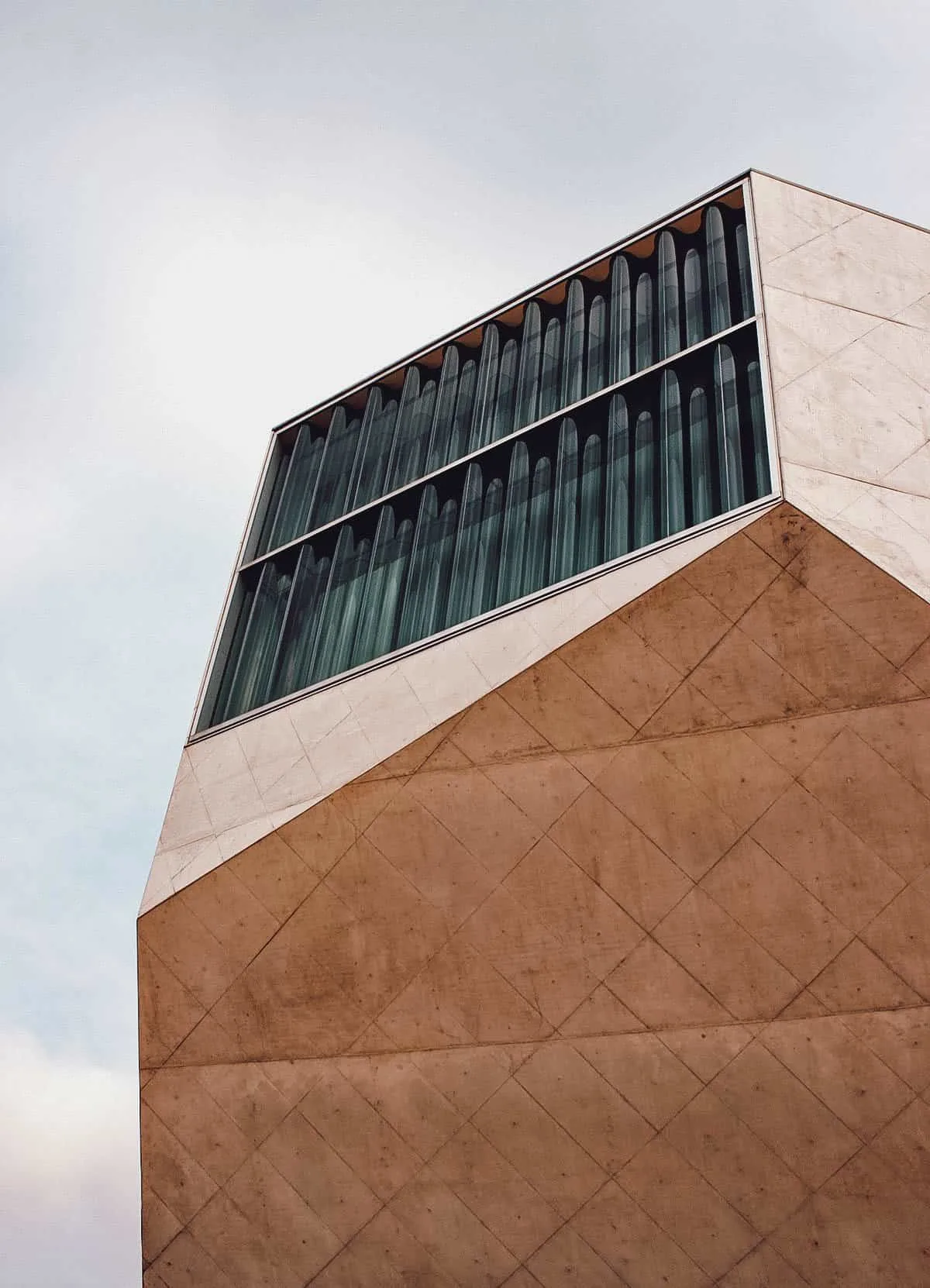 Photo by Nestor Noci via Shutterstock
Operating Hours: 9:30AM-7PM, Mon-Sat (till 6PM on Sundays)
Admission: EUR 12
Estimated Time to Spend: About 1 hr
8. Serralves
Like Casa da Musica, Serralves is one of the few modern attractions in Porto. Comprised of a contemporary art museum, an 18-hectare park, and an Art Deco villa, Serralves is a cultural institution that ranks among the top 100 most visited museums in the world.
If you have an interest in contemporary art or would like to take a break from Porto's historical attractions, then you may want to visit Serralves. Tickets cost EUR 20 which you can purchase at the gate or in advance through Get Your Guide.
Serralves is located about 30 mins west of downtown Porto. You can easily go there on your own using public transportation.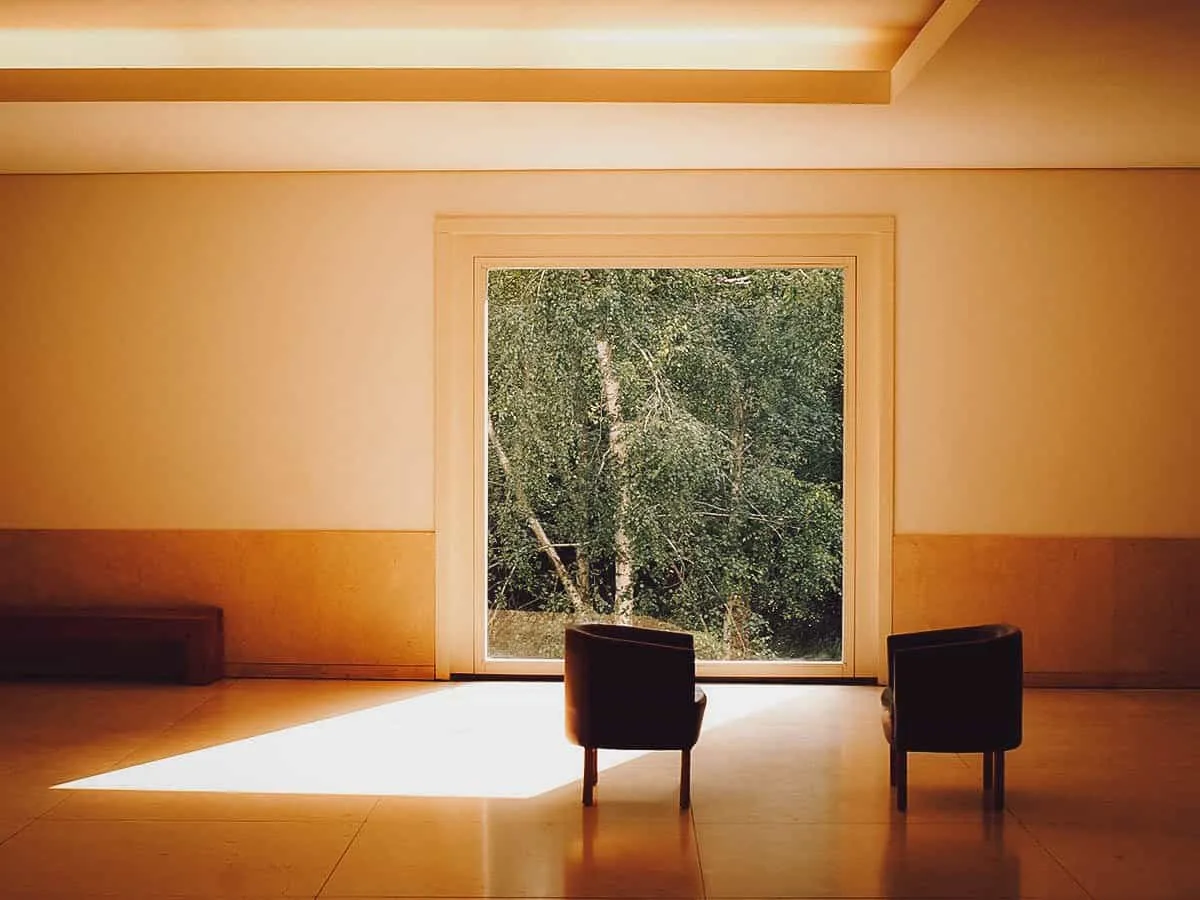 Photo by Davide Pedone via Shutterstock
Operating Hours: 10AM-7PM, Mon-Fri (till 8PM on weekends)
Admission: EUR 20
Estimated Time to Spend: About 2-3 hrs
NOTABLE CHURCHES IN PORTO
1. Clerigos Church
This is what it looks like inside Clerigos Church. It isn't that big, with a seating capacity for maybe 150-200 people.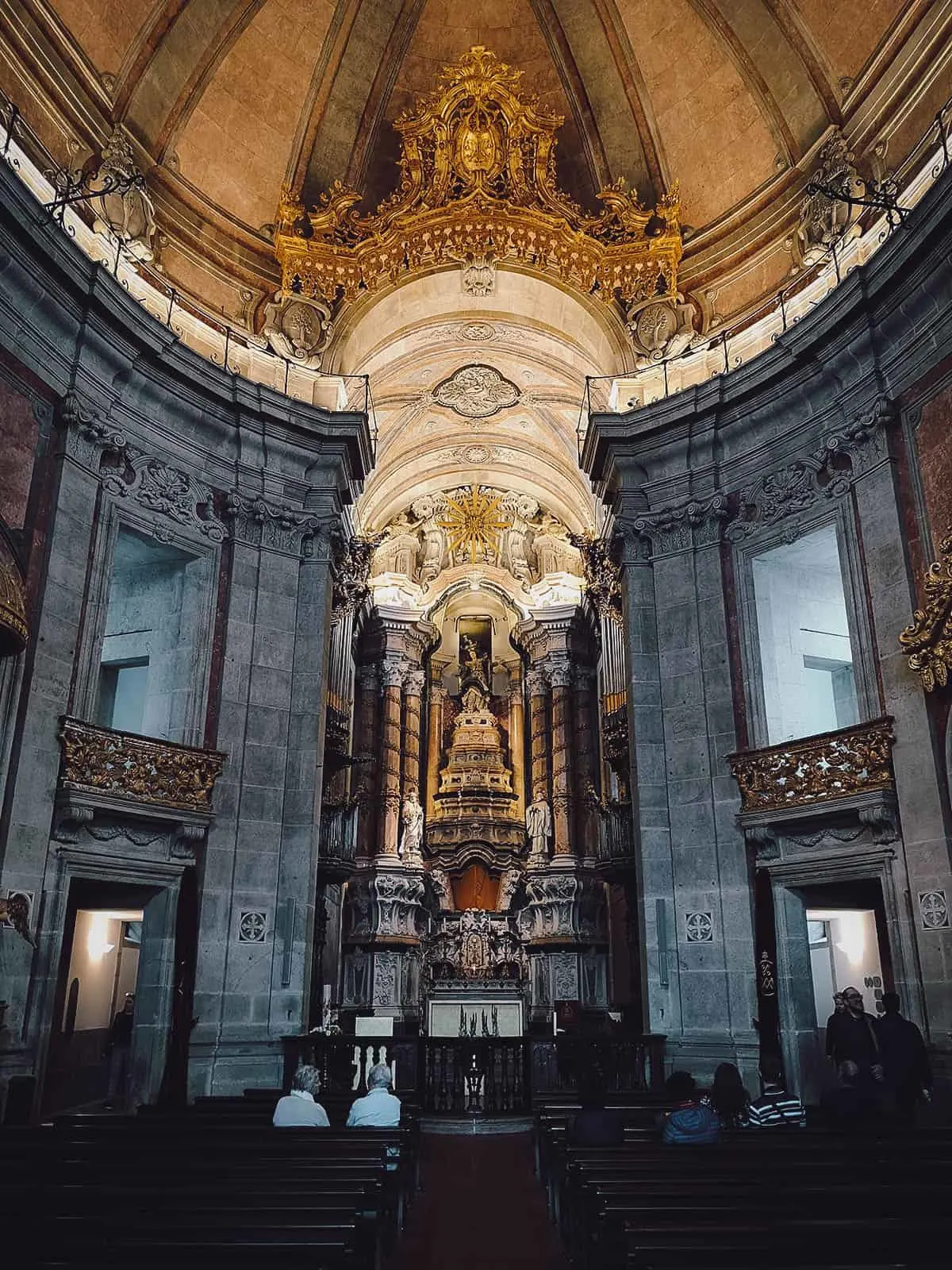 Operating Hours: 9AM-7PM, daily
Admission: FREE
2. Igreja do Carmo
About a 2-minute walk from Livraria Lello is Igreja do Carmo, a Rococo-style church built in the 18th century.
I didn't know this at the time but when you're standing in front of the church, you're actually looking at two churches. On the right is Igreja do Carmo and on the left is Igreja dos Carmelitas. The two churches are separated by a comically narrow one meter wide house that was inhabited until the 1980s.
The house was built so the two churches wouldn't share a common wall, thereby helping to prevent any relations from forming between the nuns of Igreja dos Carmelitas and the monks of Igreja do Carmo. Ha!
Igreja do Carmo's most distinguishable feature is this exterior wall covered in azulejo tiles. They depict scenes from the founding of the Carmelite Order.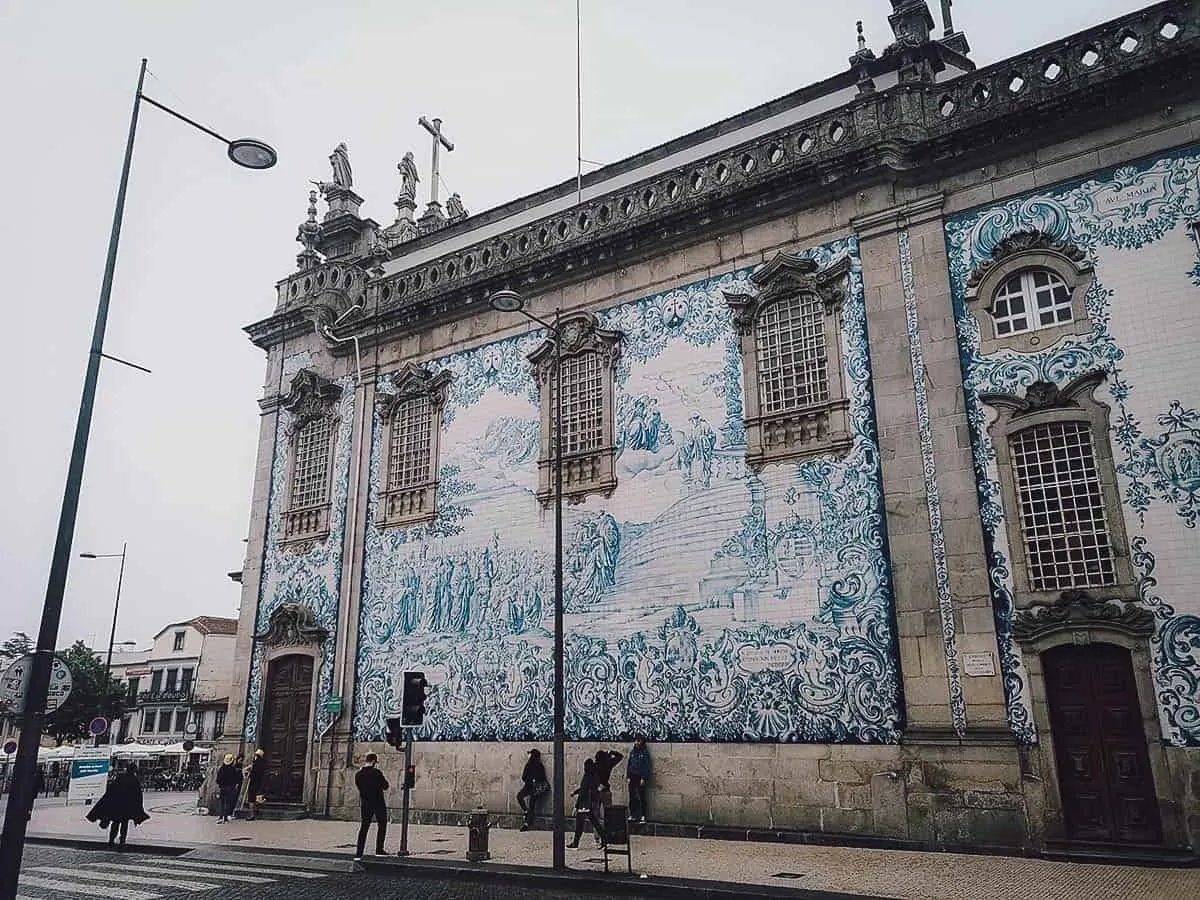 Operating Hours: 10AM-6PM, Tue-Sun (opens at noon on Mondays)
Admission: FREE
3. Porto Cathedral (Se Cathedral)
Located in Batalha, at the highest point in the city, Porto Cathedral or the Se Cathedral is one of the oldest monuments in Porto. It's a Portuguese National Monument and considered the most important religious landmark in the city.
Apart from its age, what makes Porto Cathedral interesting is its mix of architectural styles. Construction began in the 12th century but the church was renovated and rebuilt a number of times, resulting in a structure that's part Romanesque, part Baroque, and part Gothic.
I know little about architecture but looking at the cathedral's facade, it's clear that it was built using a mix of different styles.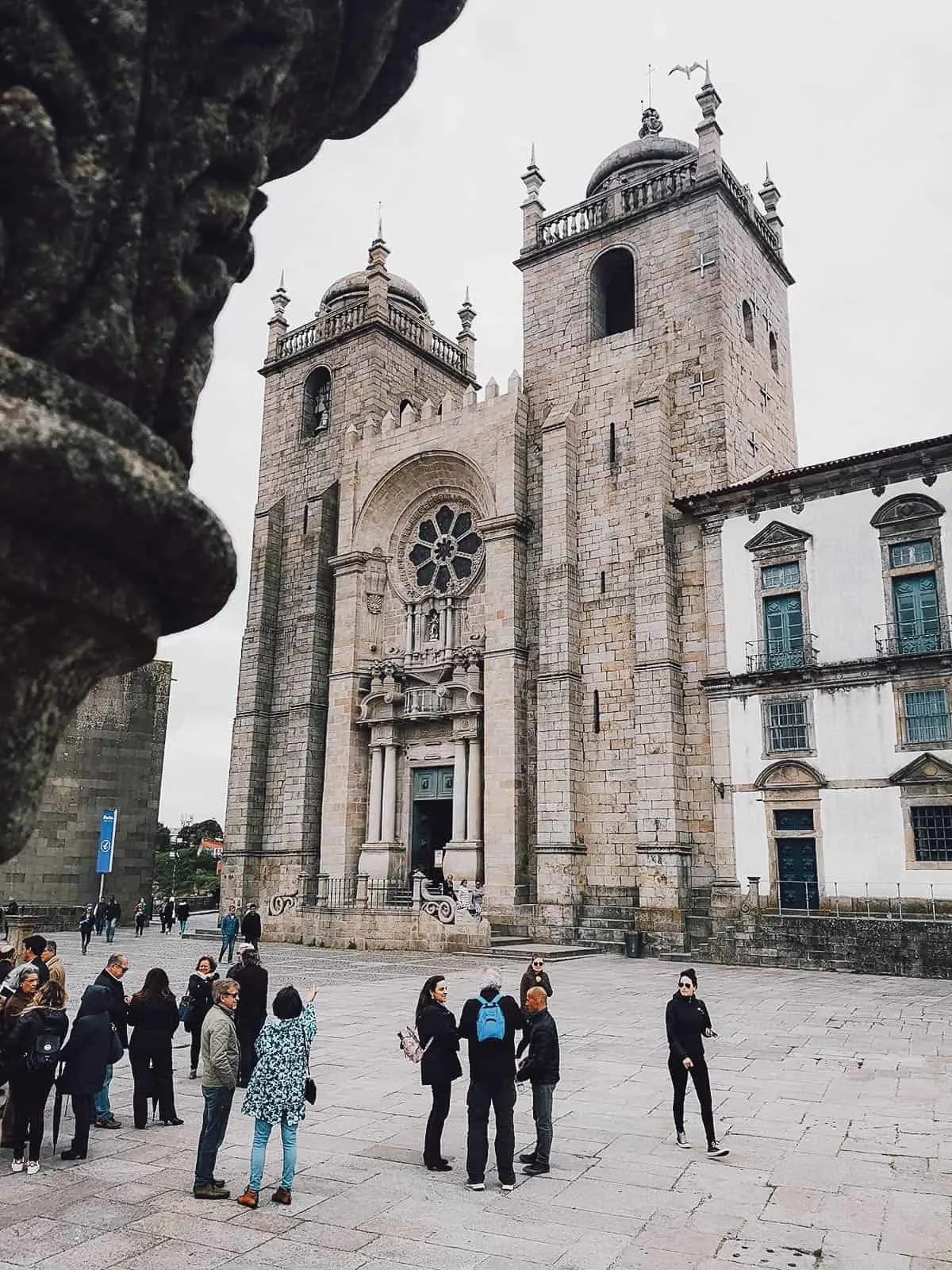 Operating Hours: 9AM-5:30PM, daily
Admission: FREE (church), EUR 3 (inner sections)
4. Church of Sao Francisco
The Church of Sao Francisco is considered one of the most prominent examples of Gothic architecture in Porto. I didn't go inside but its inner decoration is described as being Baroque in style, with an alleged 300 kg of gold dust used to adorn its interior.
I wasn't aware of this then but under the church lie the catacombs where the remains of Franciscan monks and members of Porto's wealthiest families are buried. It houses an ossuary with thousands of human bones that you can see through a glass floor. Had I known that, I would have definitely gone inside!
The Church of Sao Francisco is located right next to Palacio da Bolsa. A fire had destroyed part of the church in 1832 and in its place was built the Stock Exchange Palace.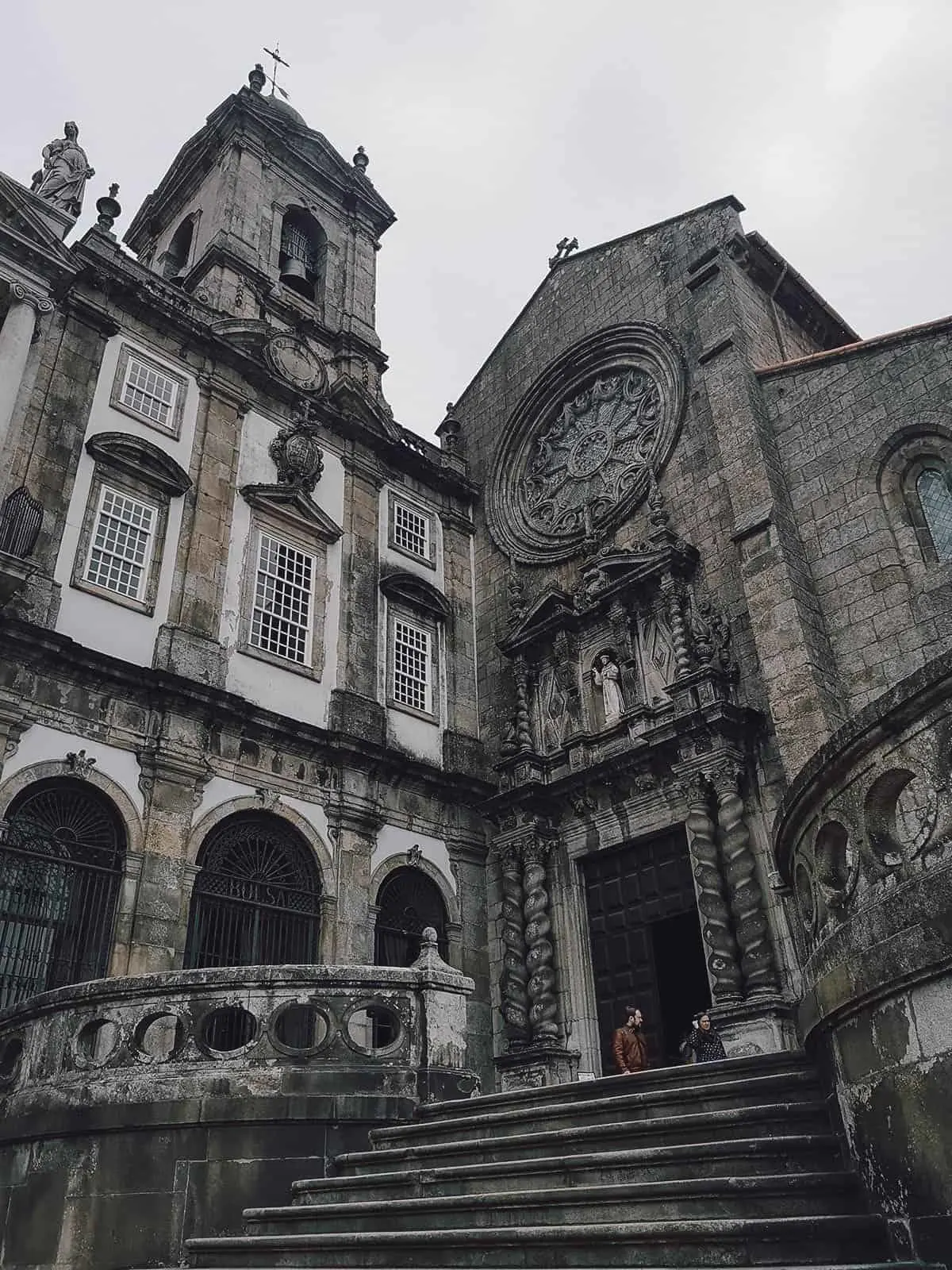 Operating Hours: 9AM-8PM, daily
Admission: EUR 7.50
5. Igreja de Santo Ildefonso
Less than a 10-minute walk from Porto Cathedral is Igreja de Santo Ildefonso, an 18th century Baroque church featuring a facade of 11,000+ azulejo tiles depicting the life of Saint Ildefonso and figurative imagery from the Gospels.
Igreja de Santo Ildefonso was designed by the same Italian architect responsible for Clerigos Tower and the loggia of Porto Cathedral.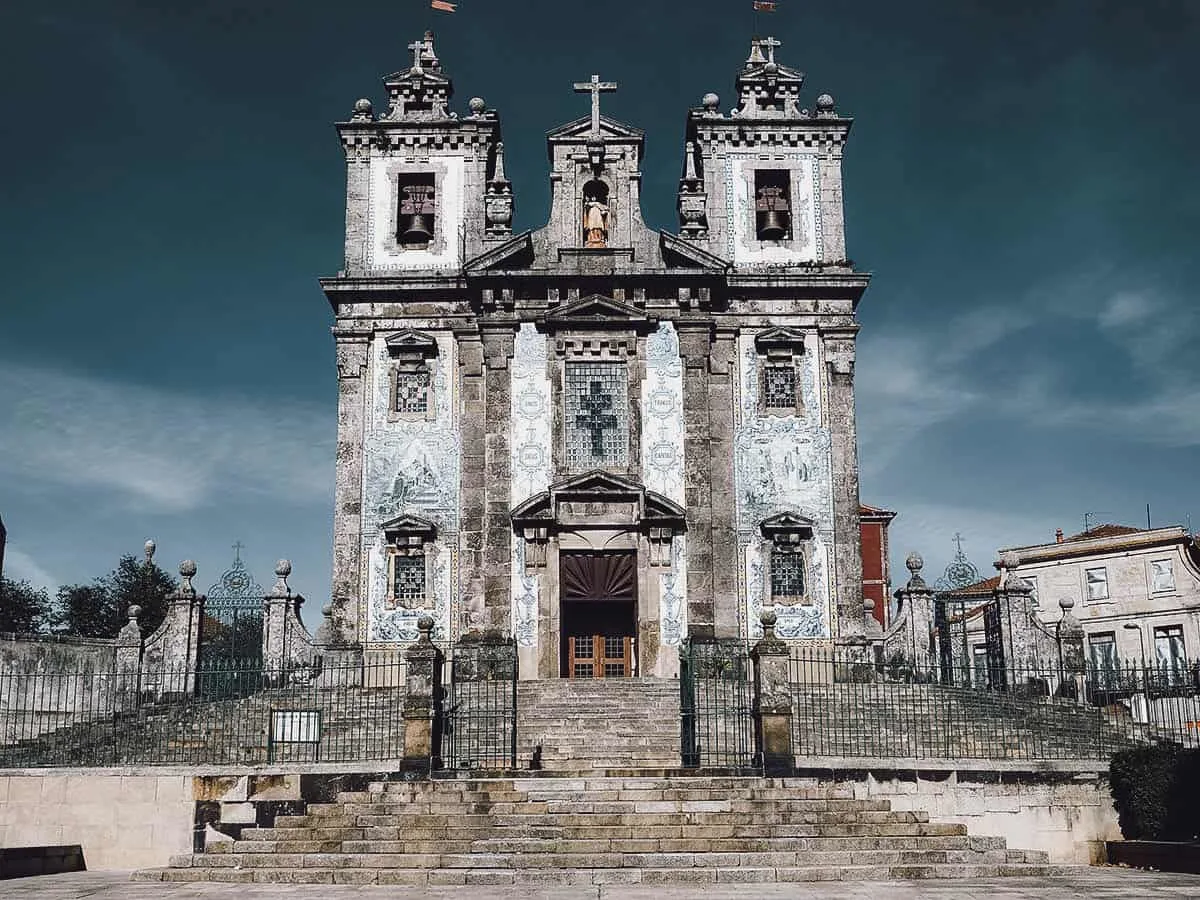 Photo by JPF via Shutterstock
Operating Hours: 3-6:30PM (Mon), 9AM-12NN, 3-6:30PM (Tue-Sat), 9AM-1PM, 6-8PM (Sun)
Admission: FREE
6. Mosteiro da Serra do Pilar
Mosteiro da Serra do Pilar is a former monastery in Vila Nova de Gaia, on the other side of the Douro River just past Dom Luis I Bridge. Unlike the other religious landmarks on this list, it's shaped like a circle which isn't common in Portugal.
The monastery is located on a hill offering spectacular views of the city and the Douro River. You can enjoy the view for free but you'll need to pay EUR 1-3 to go inside, which according to many reviewers, isn't worth it.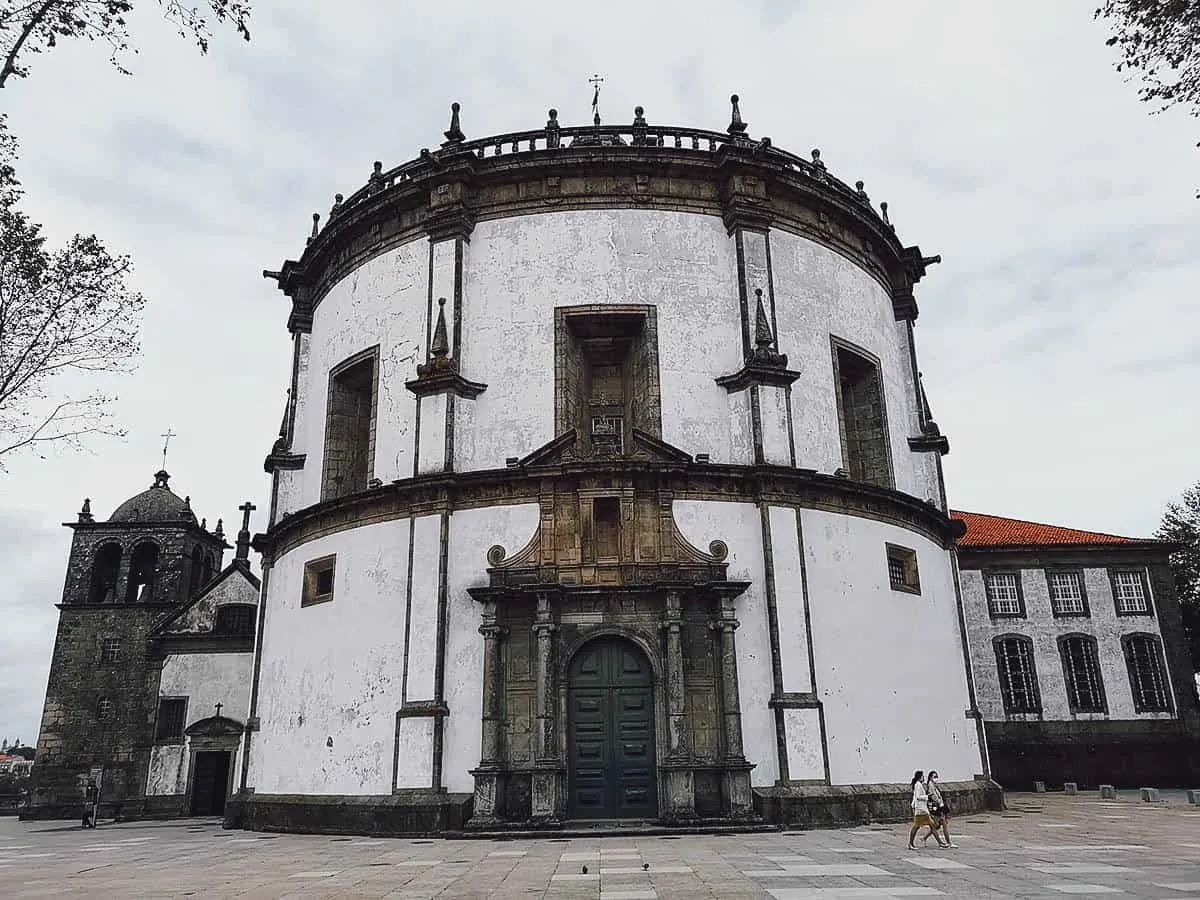 Operating Hours: 10AM-5:30PM, Tue-Sun (closed Mon)
Admission: FREE (view), EUR 1-3 (cloisters)
THINGS TO DO IN PORTO
1. Enjoy the View from Dom Luis I Bridge
The Dom Luis I Bridge is a double-deck metal arch bridge that spans the Douro River and connects Porto with Vila Nova de Gaia. It's an impressive bridge that offers some of the best views in Porto.
I walked on the lower deck going to Vila Nova de Gaia then walked on the upper deck going back. The lower deck is about 172 meters (564 ft) long while the upper deck is over twice as long at 395 meters (1,297 ft).
This is what it looks like from the upper deck. The views are spectacular.
You're walking at a height of about 85 meters (279 ft) so it can trigger your fear of heights, especially when the wind is blowing.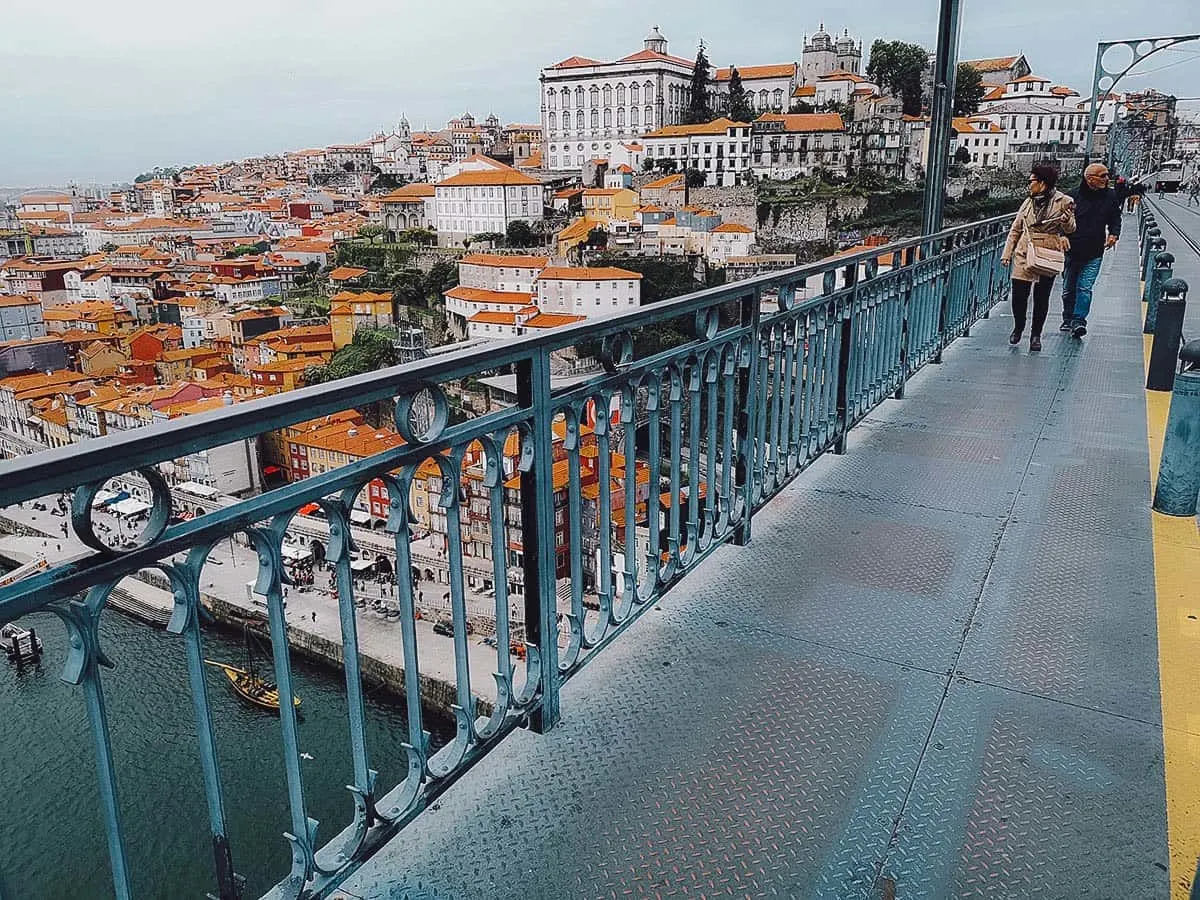 2. Go Port Tasting in Vila Nova de Gaia
Crossing the Dom Luis I Bridge and the Douro Rover takes you to Vila Nova de Gaia, a city and municipality in Porto District. It's famous for its many cellars where port wine has been kept and aged since the 17th century.
Port wine is a fortified wine made exclusively from grapes grown in northern Portugal's Douro Valley. It's shipped to Vila Nova de Gaia to age in casks before being bottled. Shipments today happen over land but the wine used to be sent down the Douro River in these traditional boats called "barcos rabelos".
If you drink wine, then going on a port wine tasting tour is one of the best things you can do in Porto. It's one of Portugal's most famous exports, one that gets its name from the city of Porto.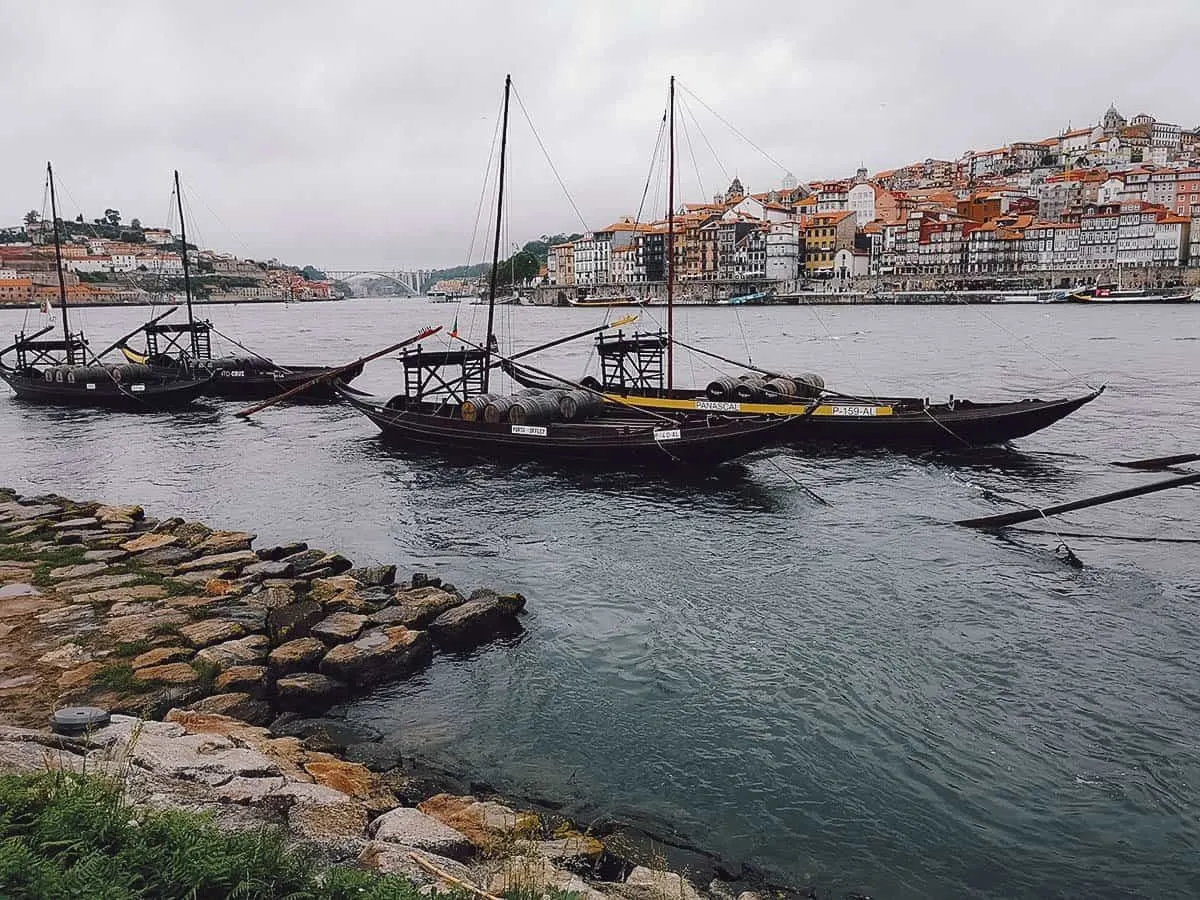 I went on a self-guided audio tour at Taylor's Port Winery but there are many organized tours you can join as well (Option 1 | Option 2 | Option 3).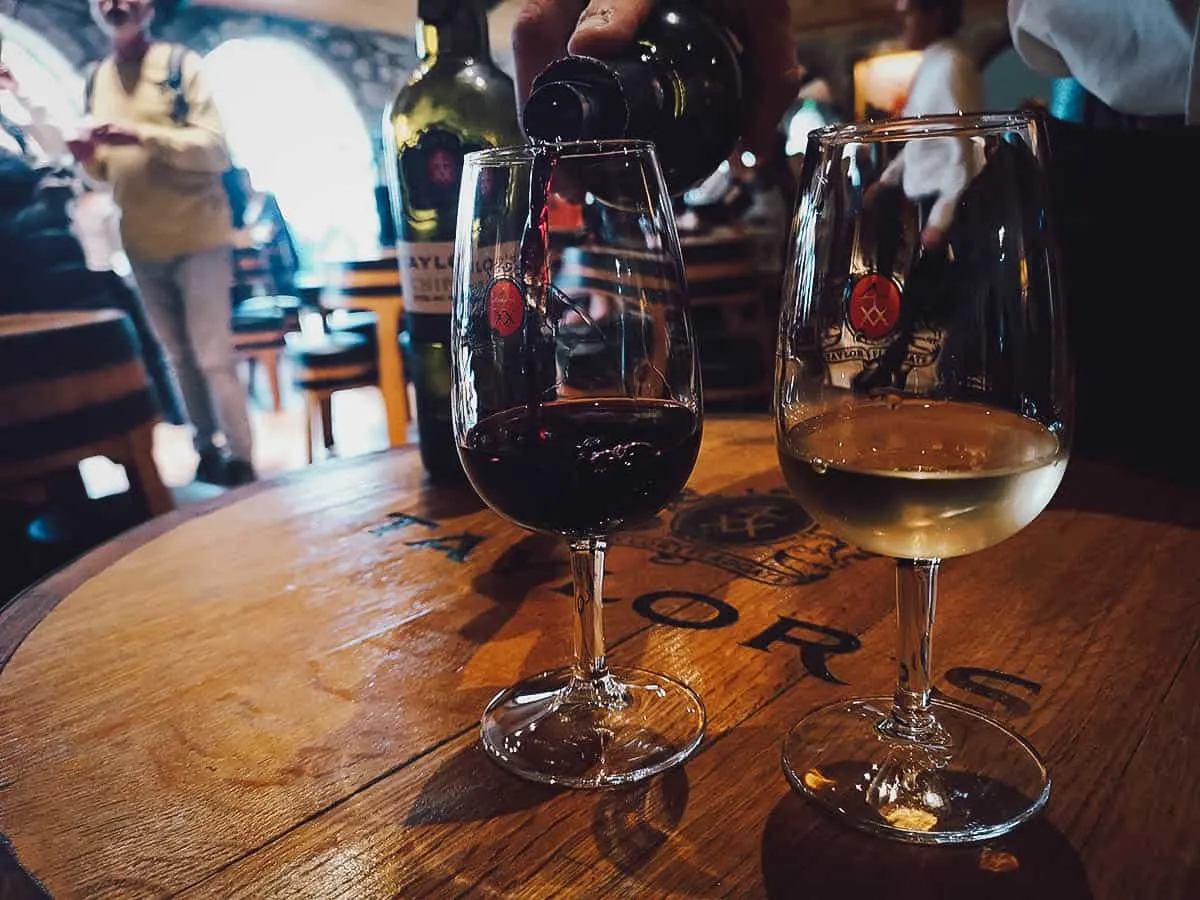 3. Go on a 6 Bridges Cruise
Porto is described as the only city in Europe with six bridges. That isn't entirely true. Vila Nova de Gaia holds the same distinction, because it shares the exact same bridges as Porto City!
Known as "The City of Bridges", there are a few ways you can explore Porto's bridges, but none more fun perhaps than on a Douro River cruise. After all, the Douro River is why these bridges exist in the first place.
You can book a 6 Bridges Cruise on Get Your Guide (Option 1 | Option 2).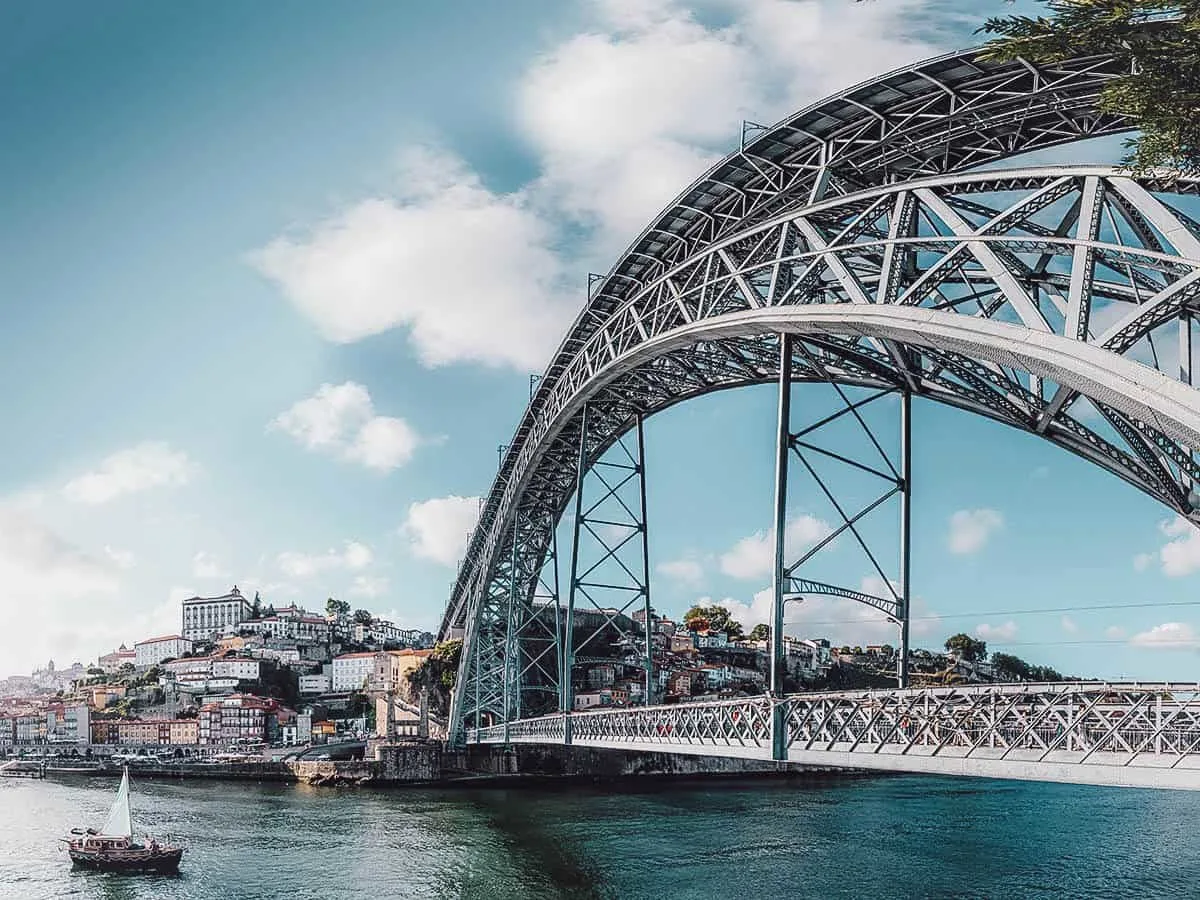 Photo by Aranami via Shutterstock
4. Go on a Segway Tour
If a river cruise isn't your thing, then perhaps a Segway tour is. I often saw small tour groups cruising around Porto on Segways. It seems a great way of navigating the city's hilly neighborhoods.
Get Your Guide offers a few Segway tours in Porto. They offer other interesting sightseeing tours as well, like biking tours, electric car tours, and tuk tuk tours.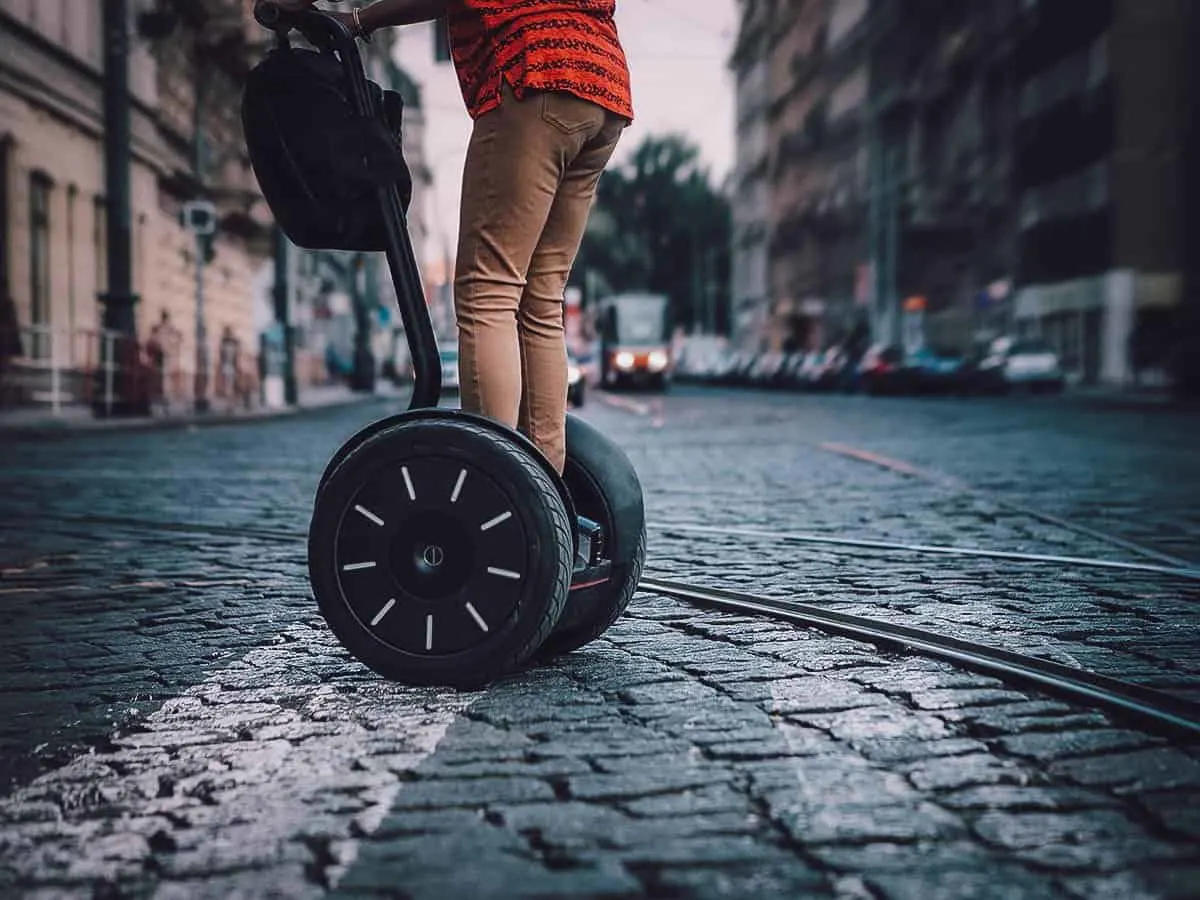 Photo by Soloviova Liudmyla via Shutterstock
5. Have Coffee at Majestic Cafe
If you're a fan of the Harry Potter books, then you may want to have a cup of coffee at Majestic Cafe. It's where JK Rowling spent much of her time working on her debut novel – "Harry Potter and the Philosopher's Stone".
It's a beautiful cafe and restaurant for sure, but quite pricey. A cup of cafe americano will set you back EUR 6. A francesinha? A whopping EUR 22. Yeesh.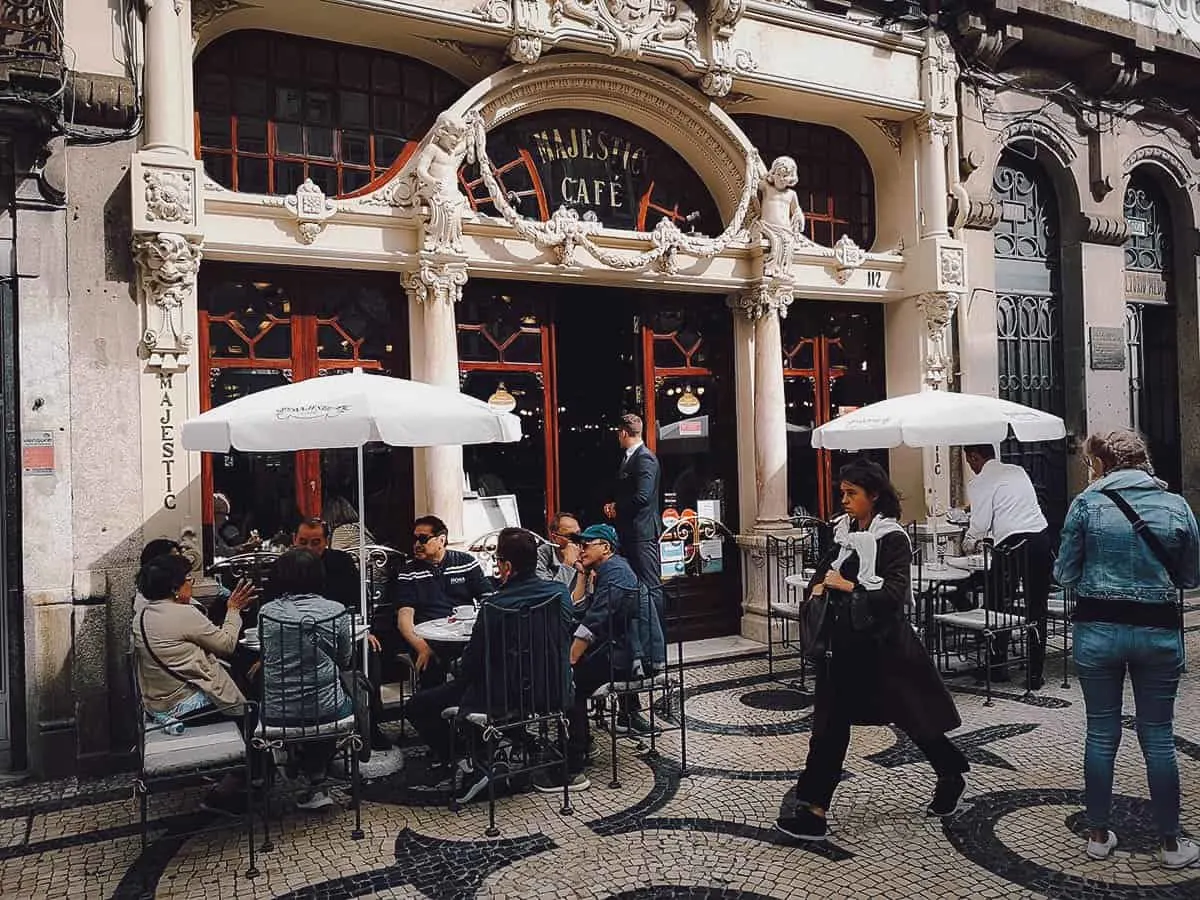 6. Have a Big Mac at McDonald's Imperial
Not to be outdone by Livraria Lello or Sao Bento Station, this McDonald's claims to be the most beautiful place in the world to grab a Big Mac. It occupies the former Imperial Cafe in Praca da Liberdade and boasts chandeliers, ornate ceilings, and a large stained glass wall.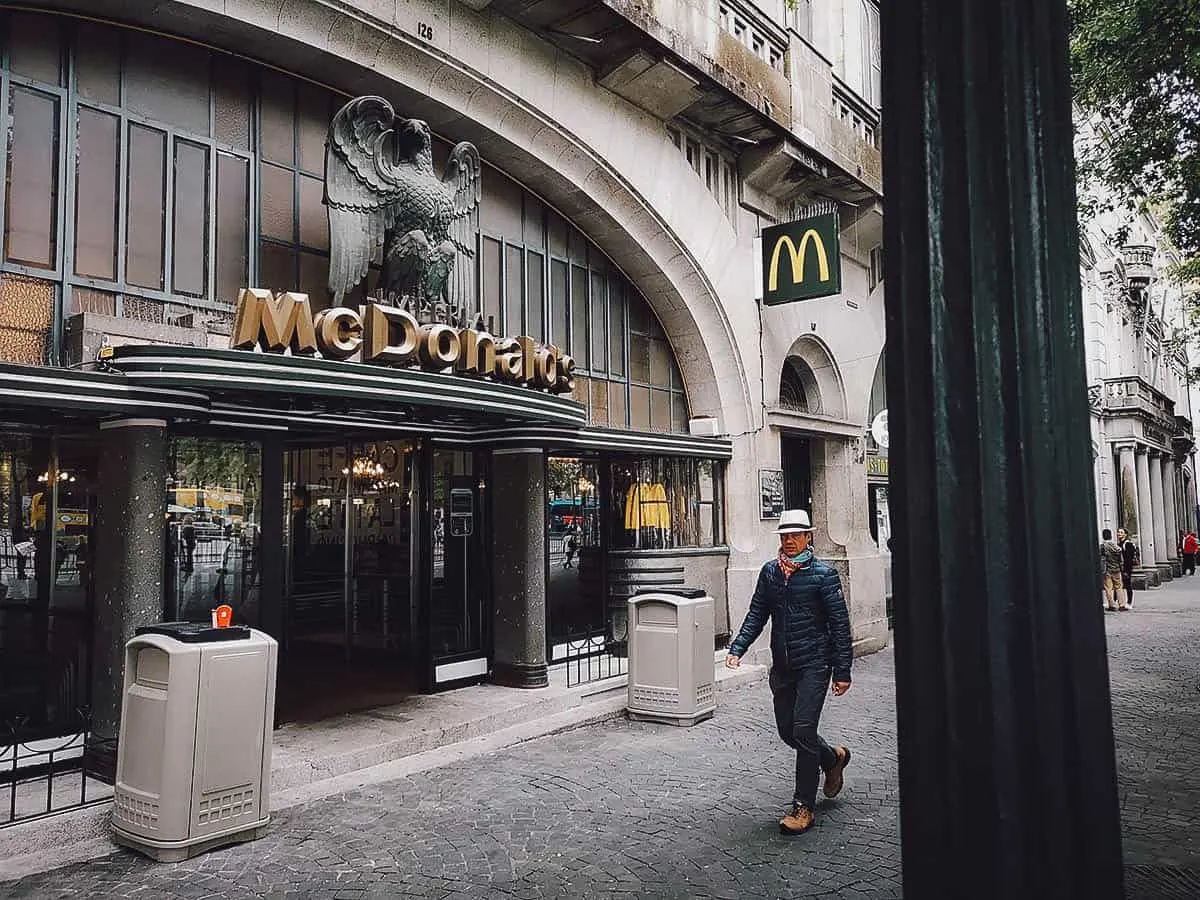 7. Enjoy Ocean Views in Foz do Douro
Foz do Douro is a coastal area situated in the western part of Porto, where the Douro River meets the Atlantic Ocean. It's a lovely neighborhood that's said to be one of the most expensive in Porto.
Foz do Douro is less than half an hour west of the city center and easily accessible by public transportation. It isn't nearly as crowded as downtown Porto and makes for an easy escape from the city.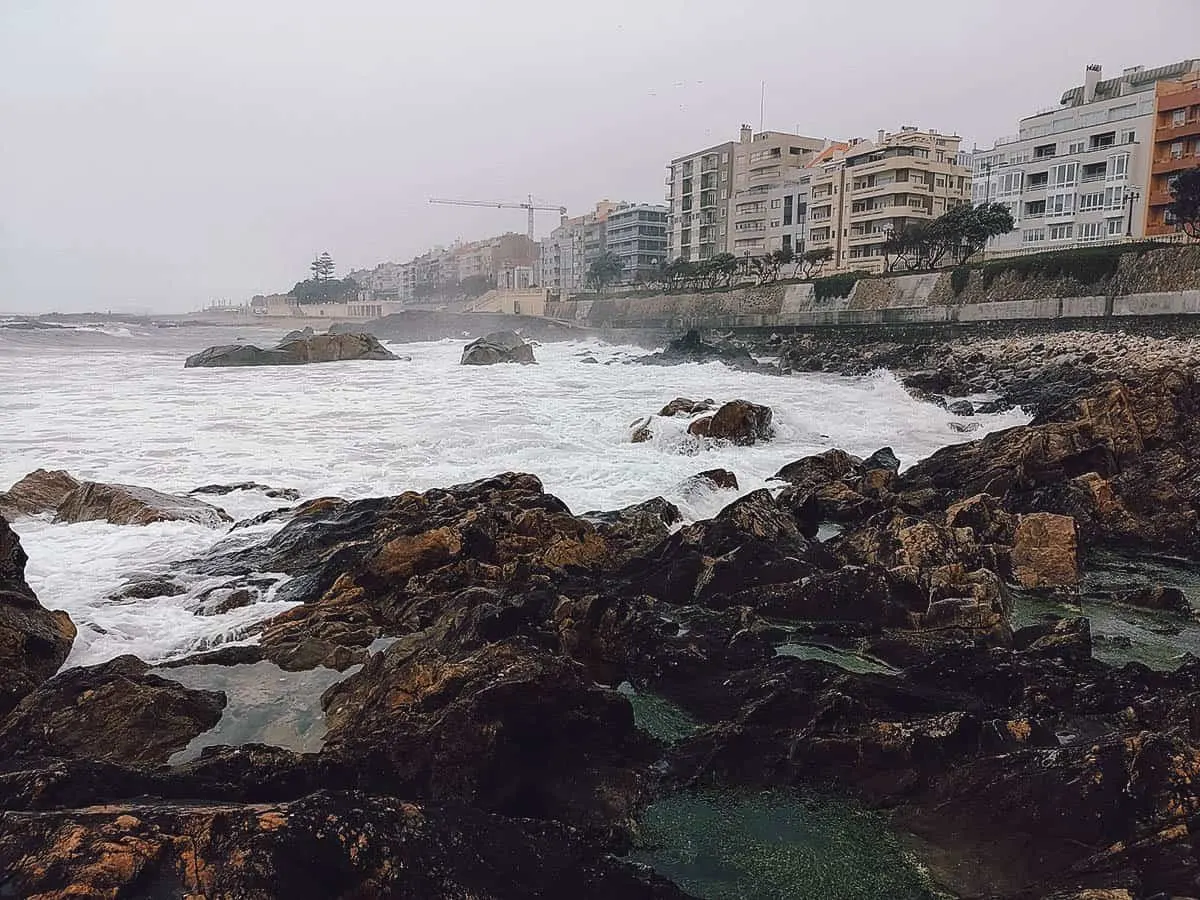 At the end of a jetty where the Douro River and the Atlantic Ocean intersect is Farolim de Felgueiras, a 19th century lighthouse and popular vantage point for the Porto sunset.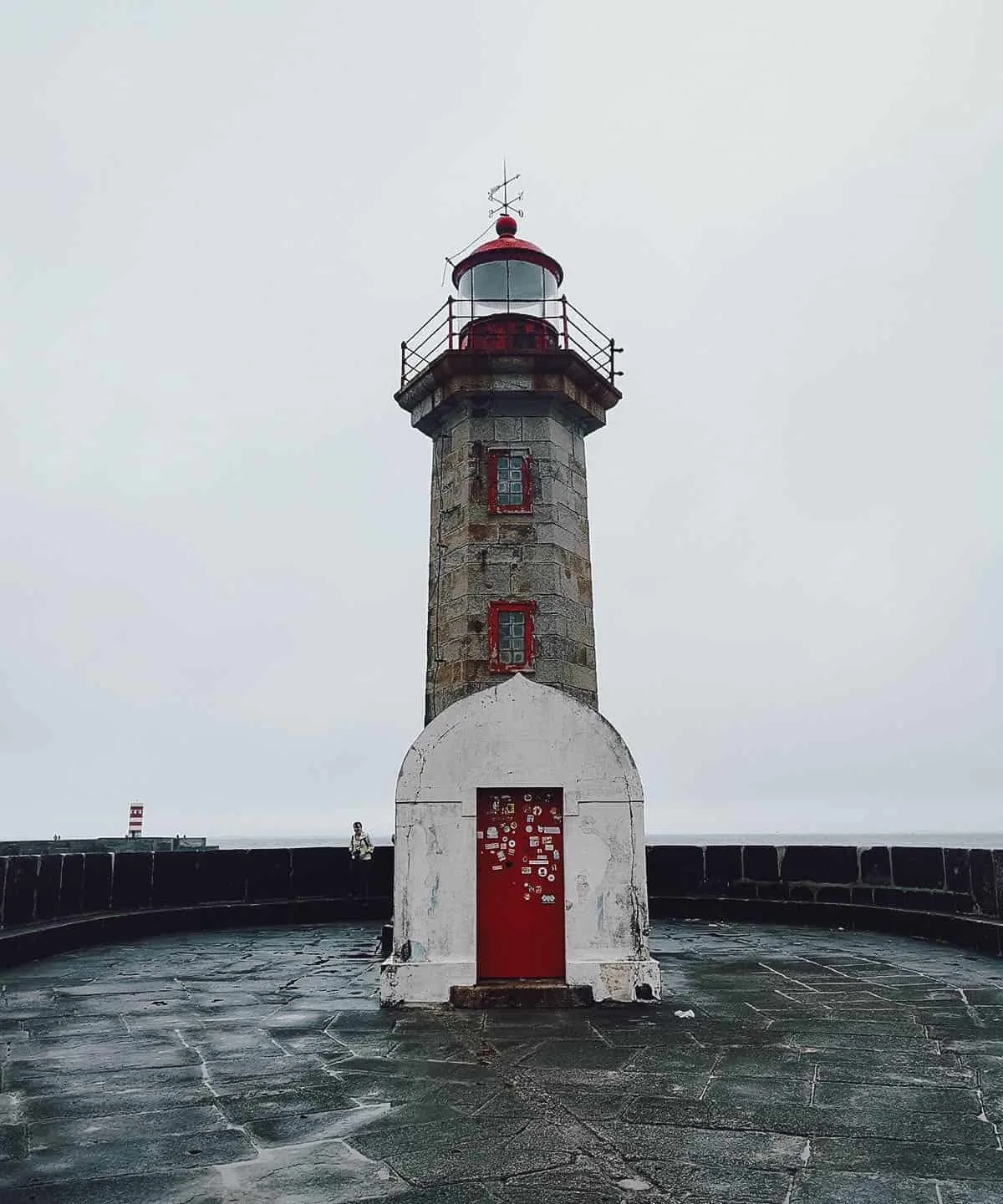 8. Go on a Food Tour
We love going on food tours. It's a great way of finding authentic hole-in-the-walls that only locals would know about. Diligent research can get you far, but sometimes you need the help of locals to find the most obscure places. Get Your Guide offers a variety of local-led food tours in Porto.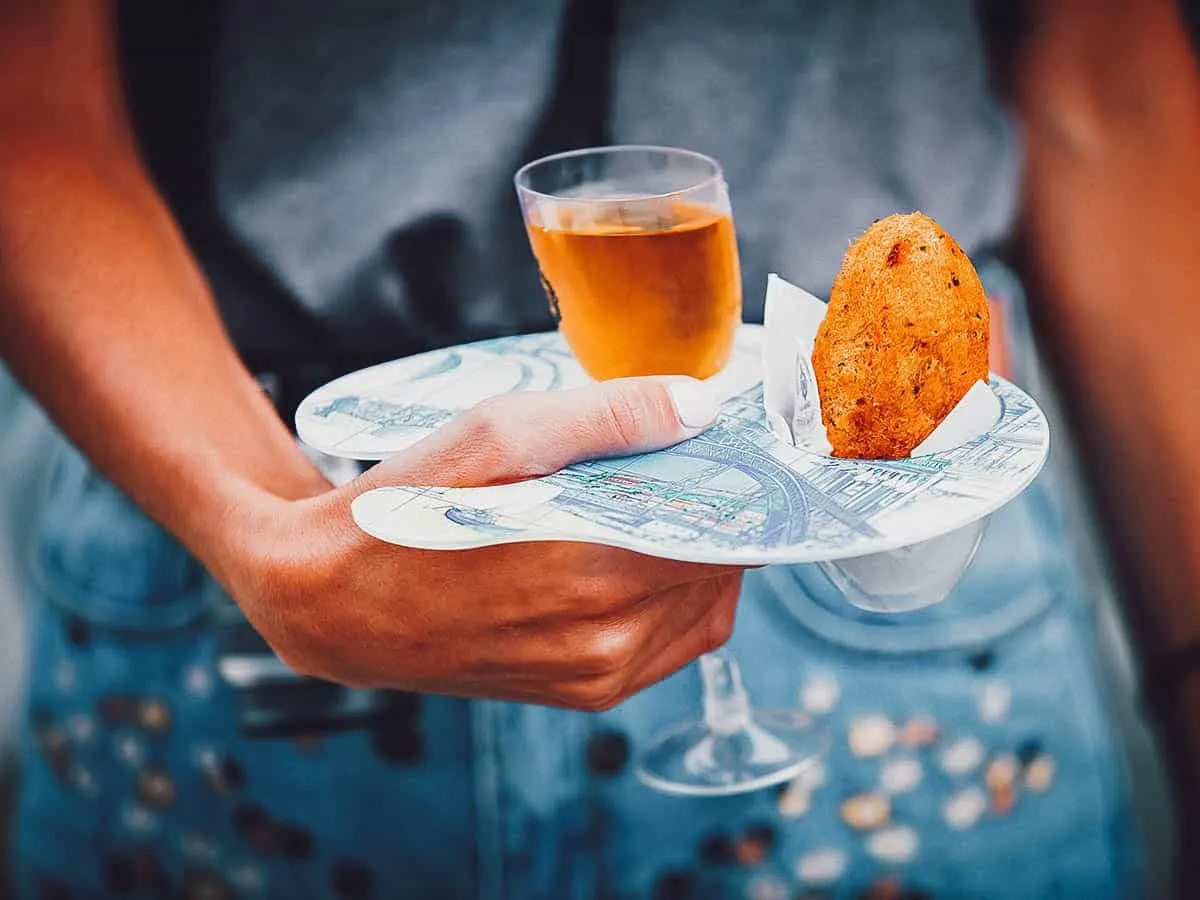 Photo by Tsuguliev via Shutterstock
9. Take a Cooking Class
Food tours are great for finding obscure eateries, but if you really want to learn about Portuguese cuisine, then there's no better way to do that than by taking a cooking class.
Like food tours, taking a cooking class is something we try to do at least once on every trip. You can search for one-day cooking classes in Porto on Cookly.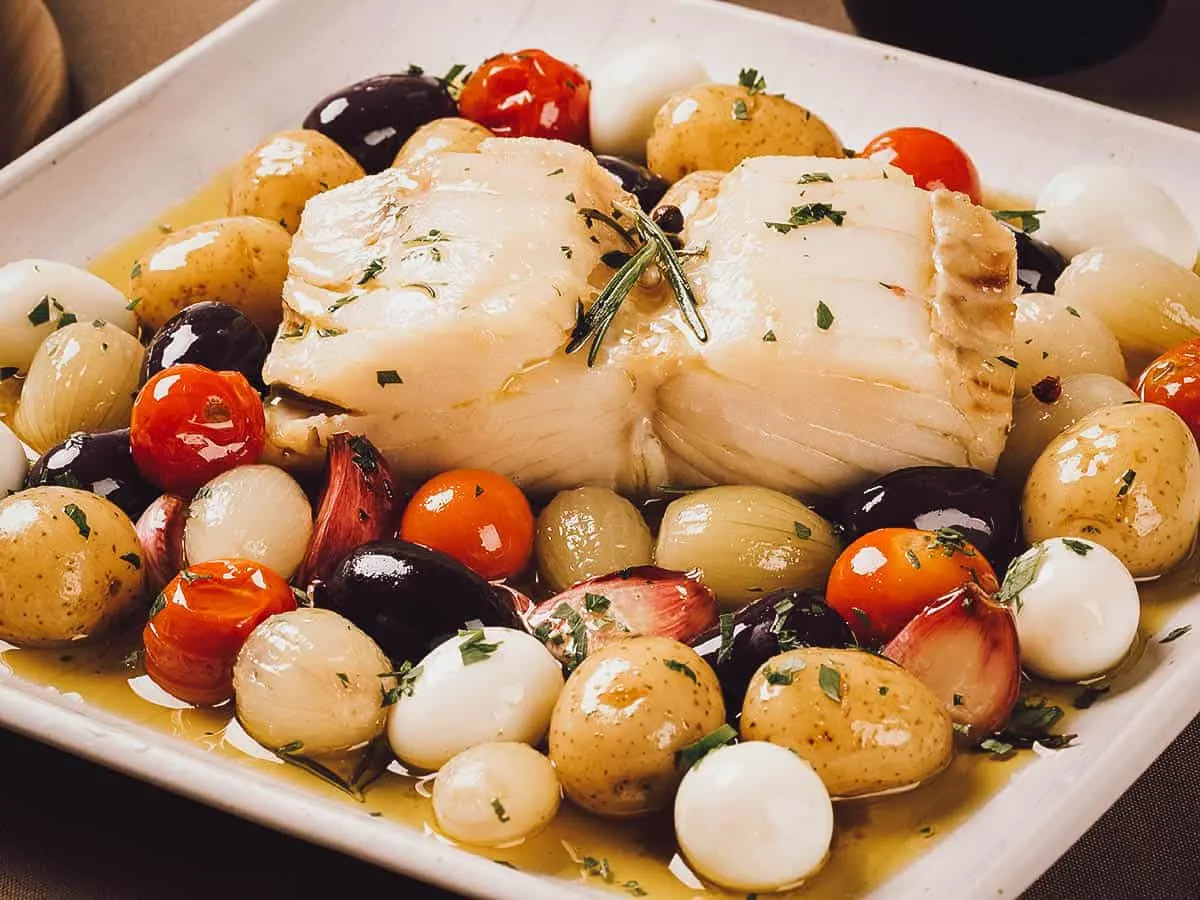 Photo by Paulo Vilela via Shutterstock
10. Photograph the Tiles
I had a lot of fun doing this in Portugal. Porto is known for its tiles and all throughout the city – from the old town to Foz do Douro – are tiles of different shapes, sizes, colors, patterns, and designs.
I photographed azulejo tiles in Lisbon as well for a coffee table book I'll be publishing called "A Tile of Two Cities". Sorry.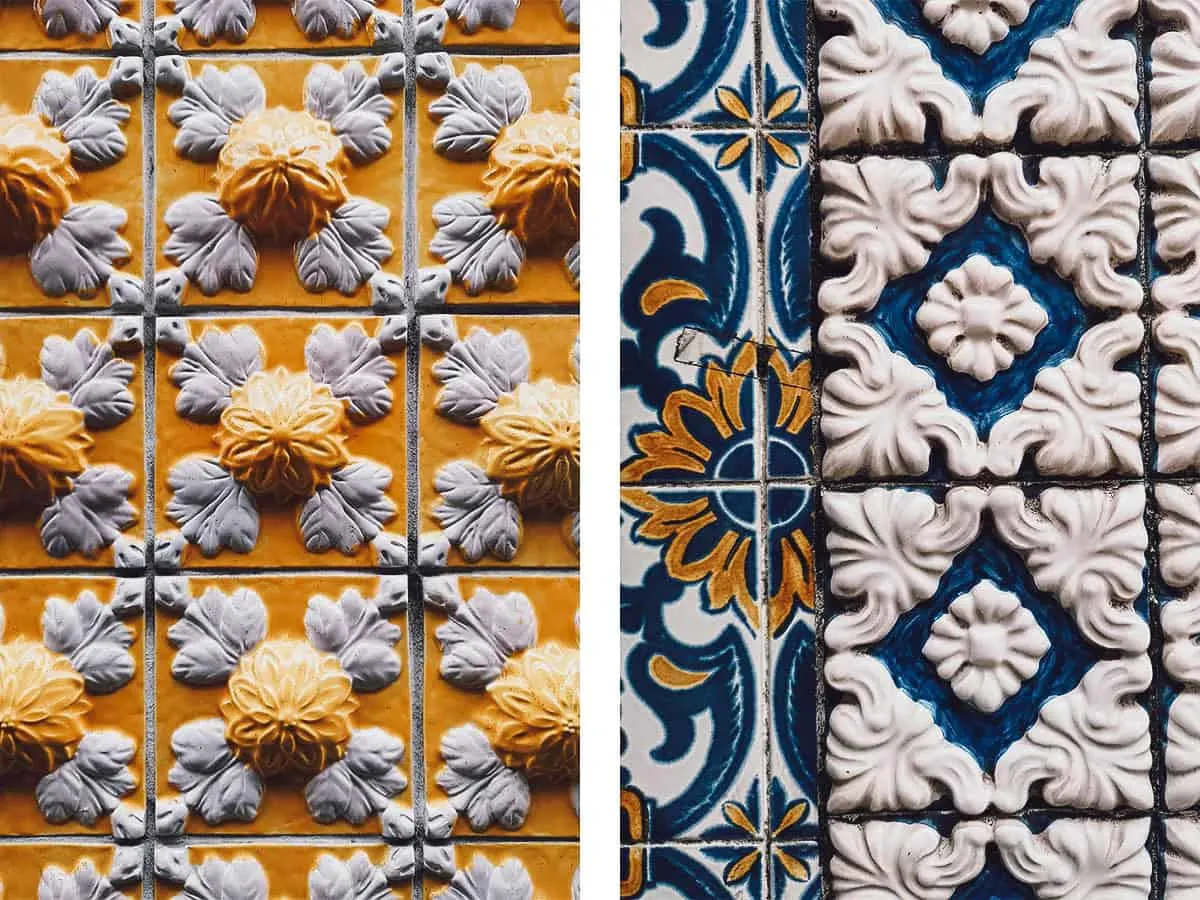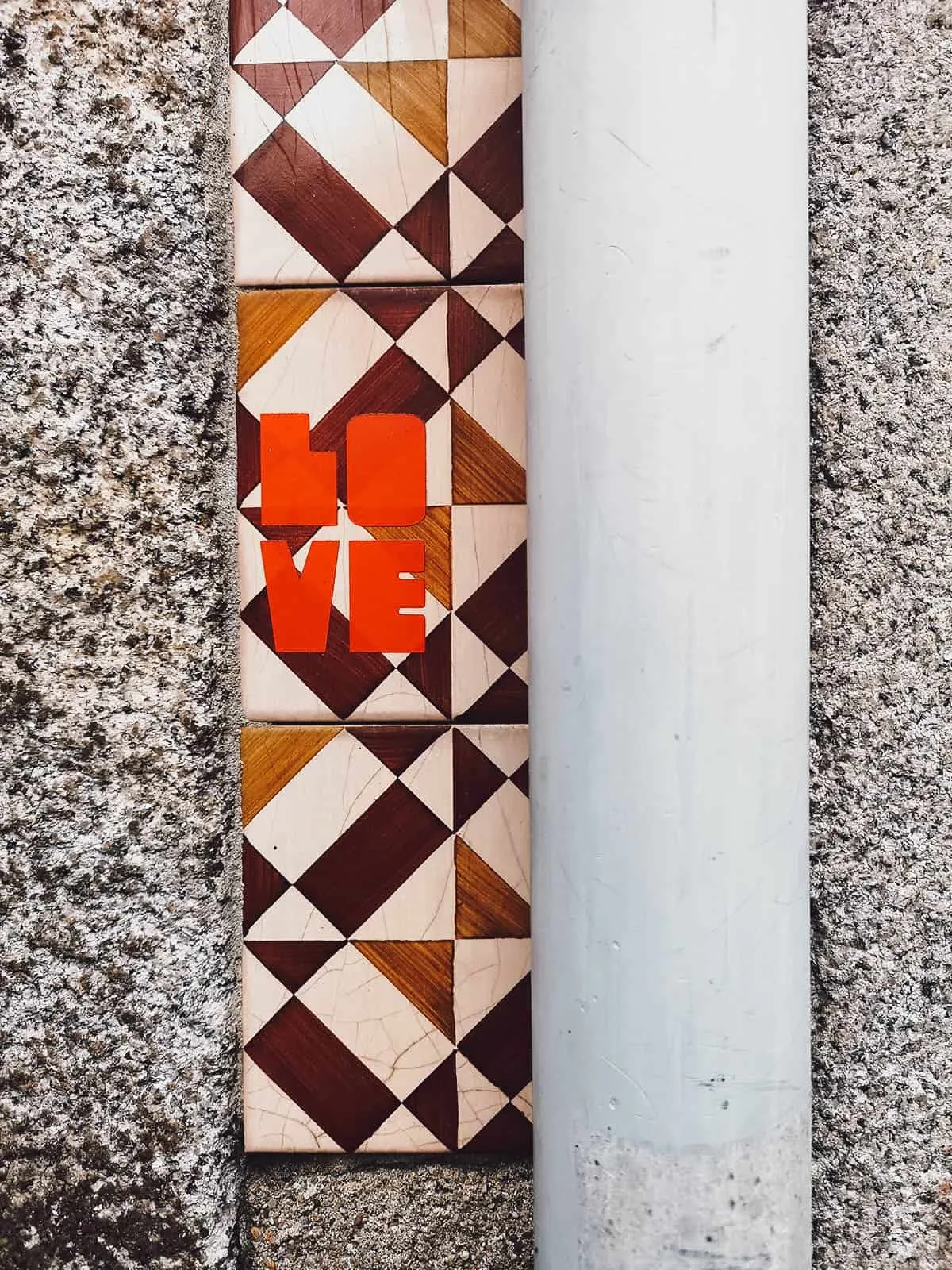 DAY TRIPS FROM PORTO
1. Douro Valley
As described, port wine is one of Portugal's most beloved exports. It's produced using grapes grown exclusively in the Douro Valley. If port wine tasting in Vila Nova de Gaia isn't enough for you, then perhaps you'd like to go on a day tour of the Douro Valley.
Located about 100 km (62 miles) east of Porto, the Douro Valley is a UNESCO World Heritage Site and a protected region. It's characterized by terraced vineyards and picturesque rolling hillsides shaped over the centuries by the Douro River.
If you'd like to explore and go wine tasting in the Douro Valley, then there are several day tours you can choose from (Option 1 | Option 2 | Option 3).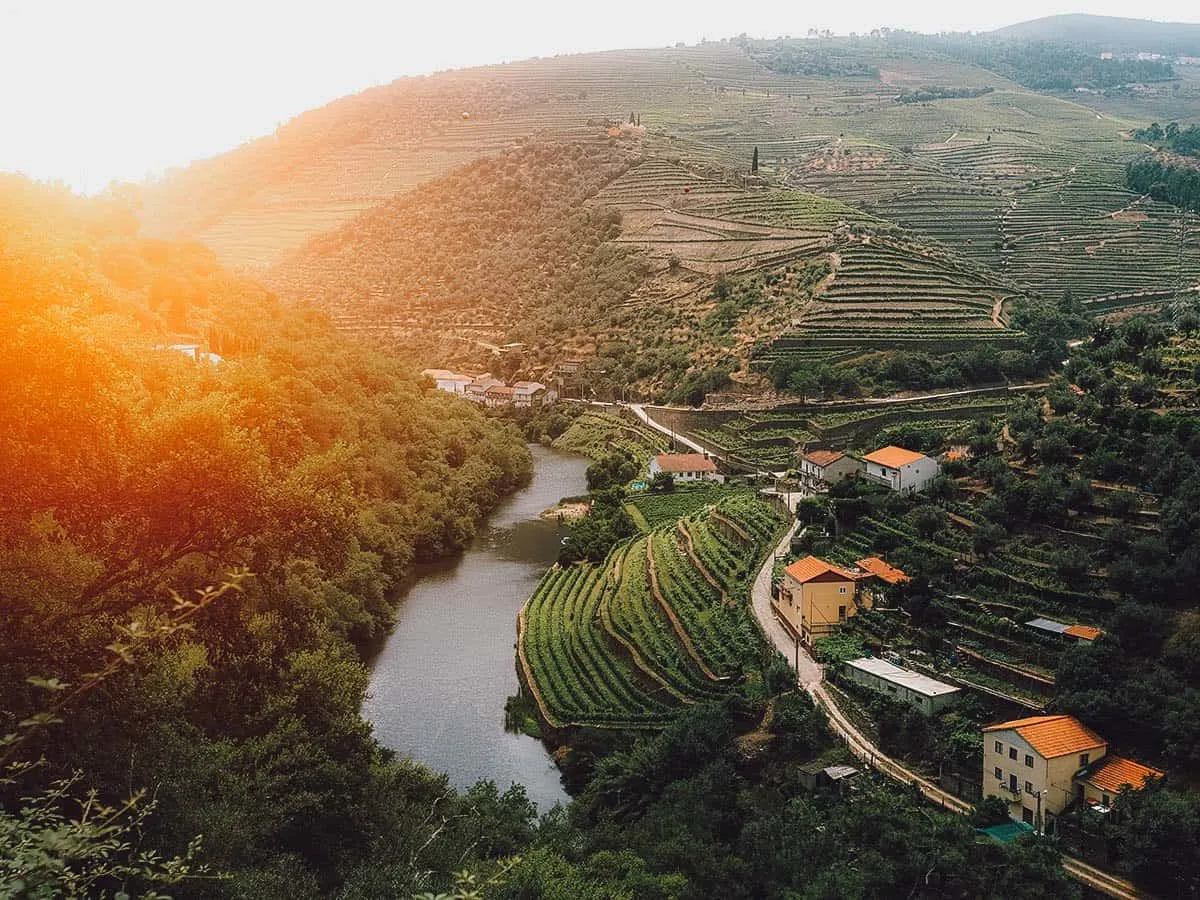 Photo by De Visu via Shutterstock
2. Fatima
Fatima is a town and parish in central Portugal, about 200 km south of Porto. It's home to the Sanctuary of Our Lady of Fatima, one of the most important Catholic pilgrimage sites in the world.
Fatima's prominence is attributed to apparitions of the Virgin Mary. Multiple apparitions were reported by three shepherd children between May and October in 1917, events that the Catholic Church later recognized as "worthy of belief".
You can check Get Your Guide for day tours to Fatima from Porto.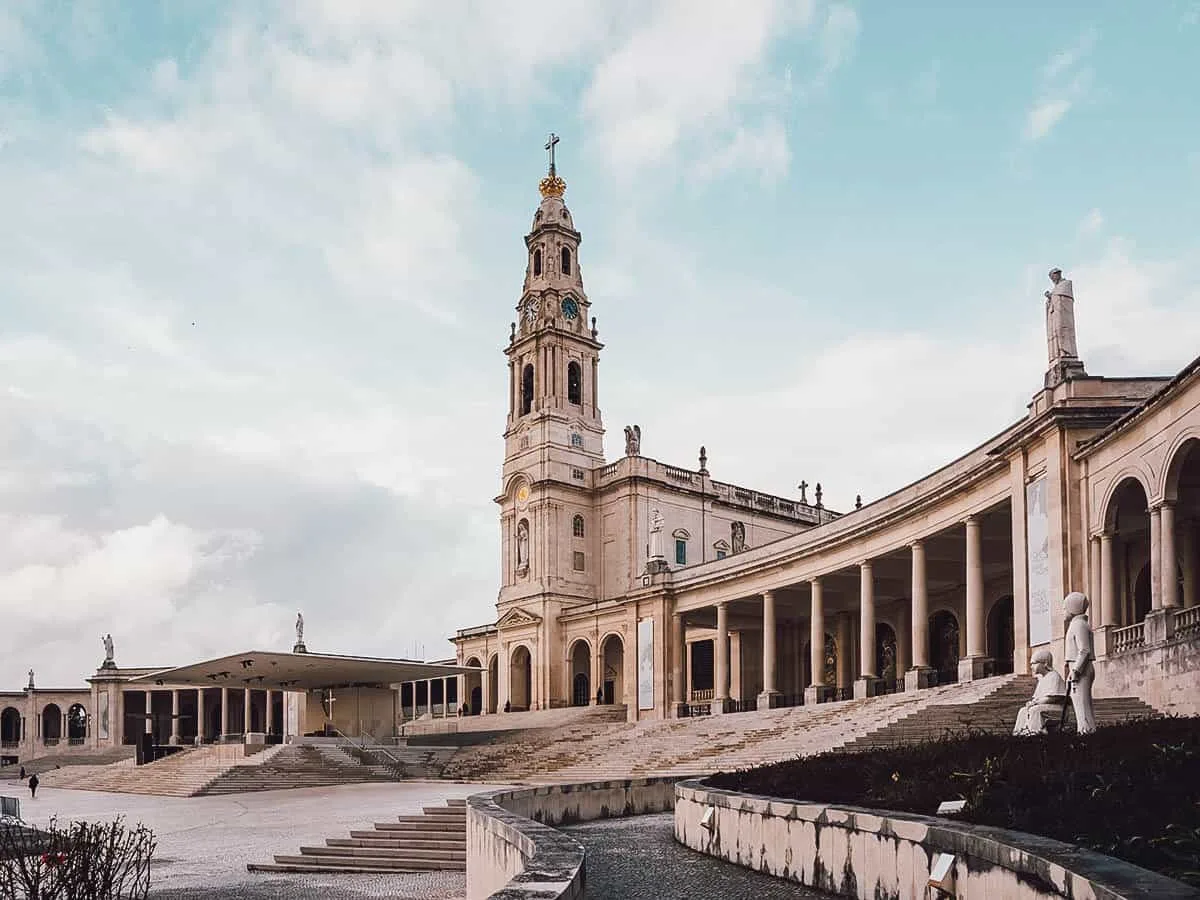 Photo by KazT via Shutterstock
3. Braga
Braga is a city in northern Portugal, less than an hour north of Porto. It's recognized by some as the religious center of Portugal, home to its oldest archdiocese and one of its oldest cathedrals.
Pictured below is the striking Bom Jesus do Monte, a beautiful church famed for its Baroque 116-meter (381 feet) stairway that represents the ascent to heaven.
Get Your Guide offers several day tours to Braga and Guimaraes from Porto (Option 1 | Option 2).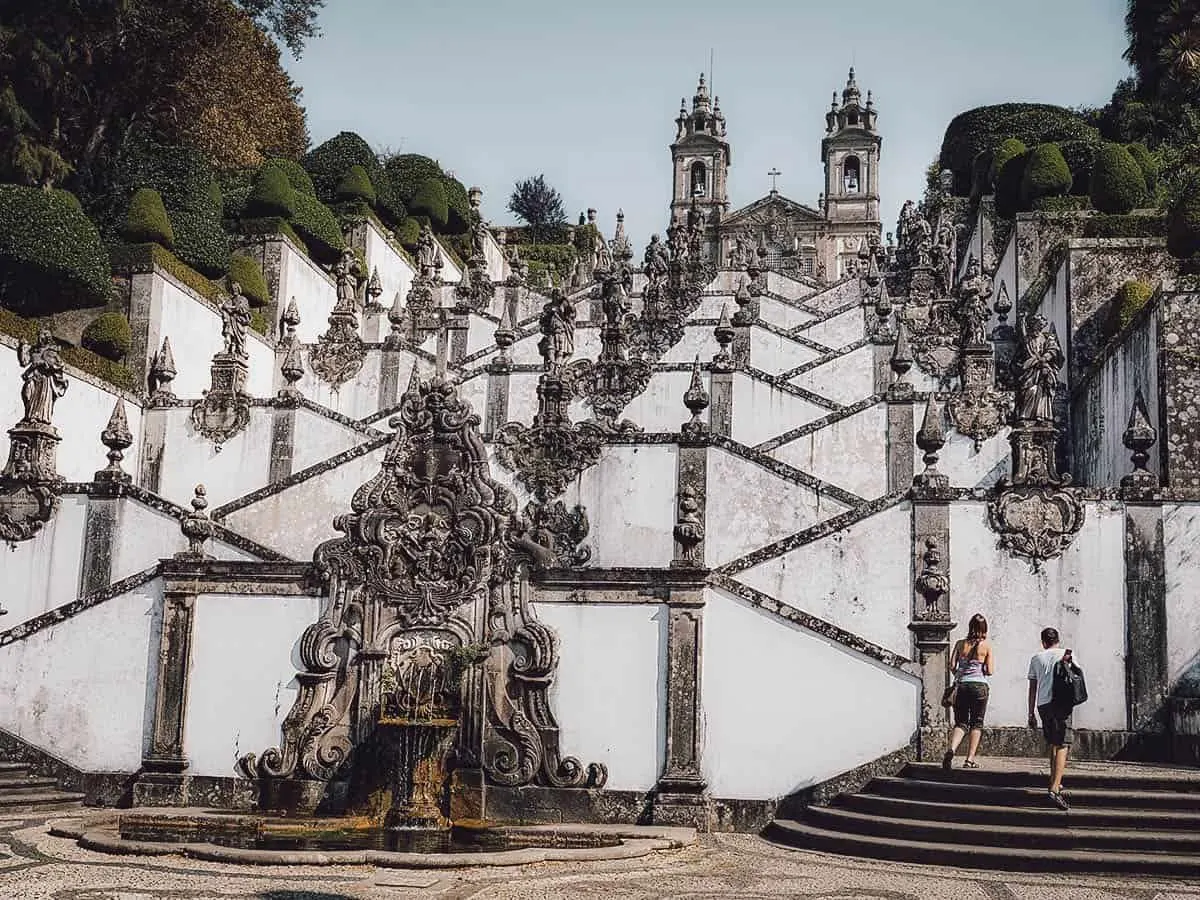 Photo by Cortyn via Shutterstock
4. Guimaraes
Located about 25 km southeast of Braga is Guimaraes, an historic city famous for its castle and medieval architecture. It's a UNESCO World Heritage Site that's often regarded as the "birthplace of Portuguese nationality" or "the cradle city".
Because of its proximity to Braga, Guimaraes is often visited on the same day trip (Option 1 | Option 2).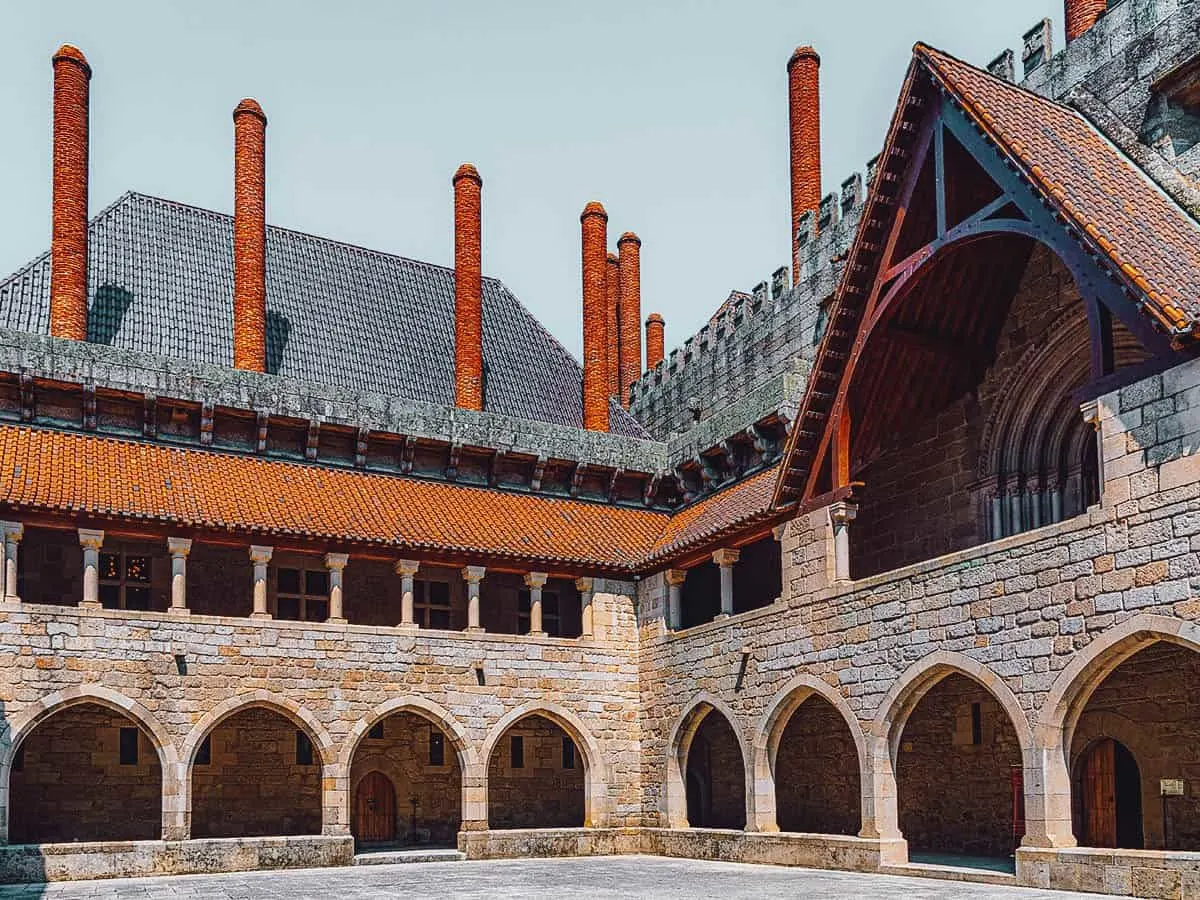 Photo by trabantos via Shutterstock
5. Peneda-Geres National Park
Geres is the only national park in Portugal. It's located about 100 km north of Porto and covers an area of over 270 square miles. It features picturesque hiking trails through valleys, lush forests, and waterfalls with remote granite villages that have changed little since the 12th century.
If you'd like to have a day of hiking and kayaking from Porto, then you may want to visit Peneda-Geres National Park. (Option 1 | Option 2 | Option 3).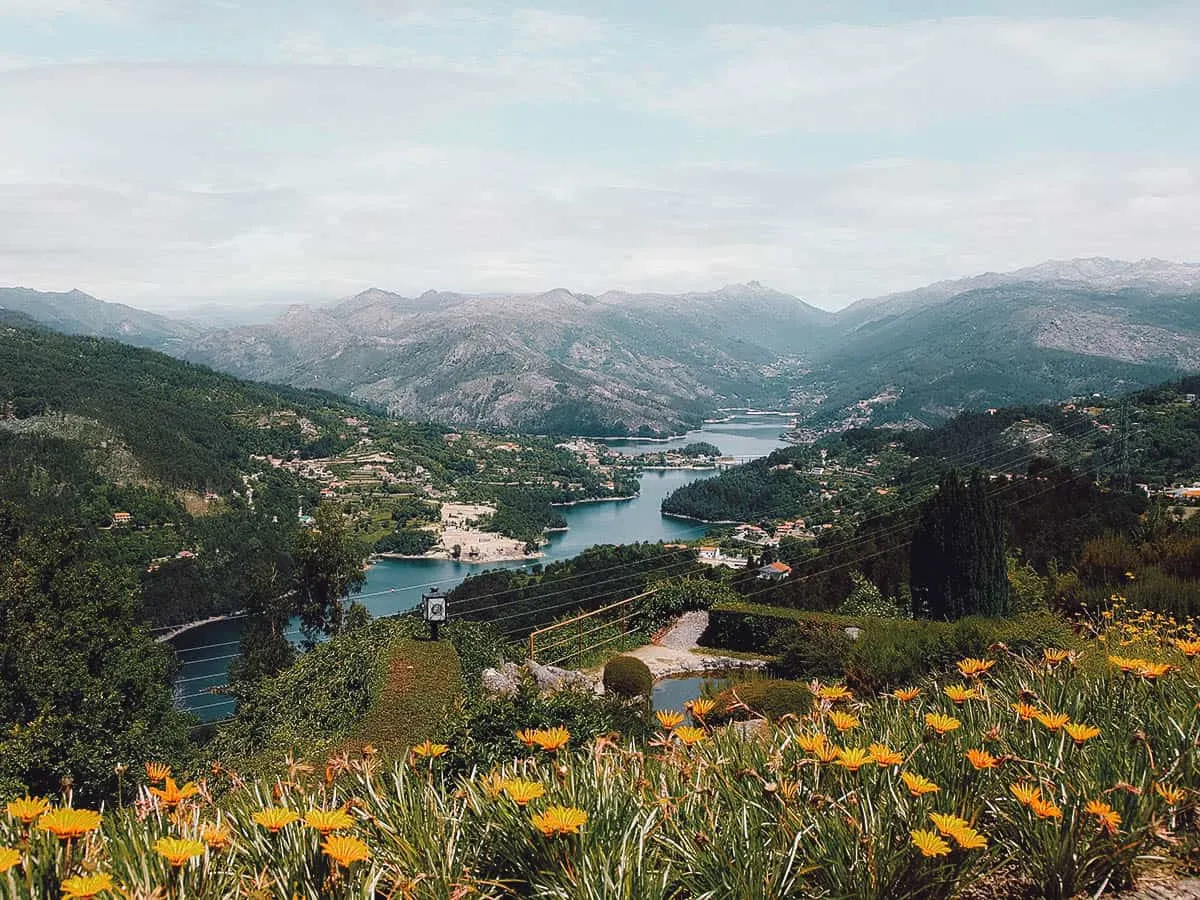 Photo by jorisvo via Shutterstock
PORTUGUESE FOOD GUIDE
Portuguese cuisine is characterized by rustic and hearty fare like cozido a portuguesa, rojoes, arroz de tamboril, and tripas a modo do porto. If you'd like to eat like a local in Porto, then check out our Portuguese food guide for 25 of the best dishes to eat in Portugal.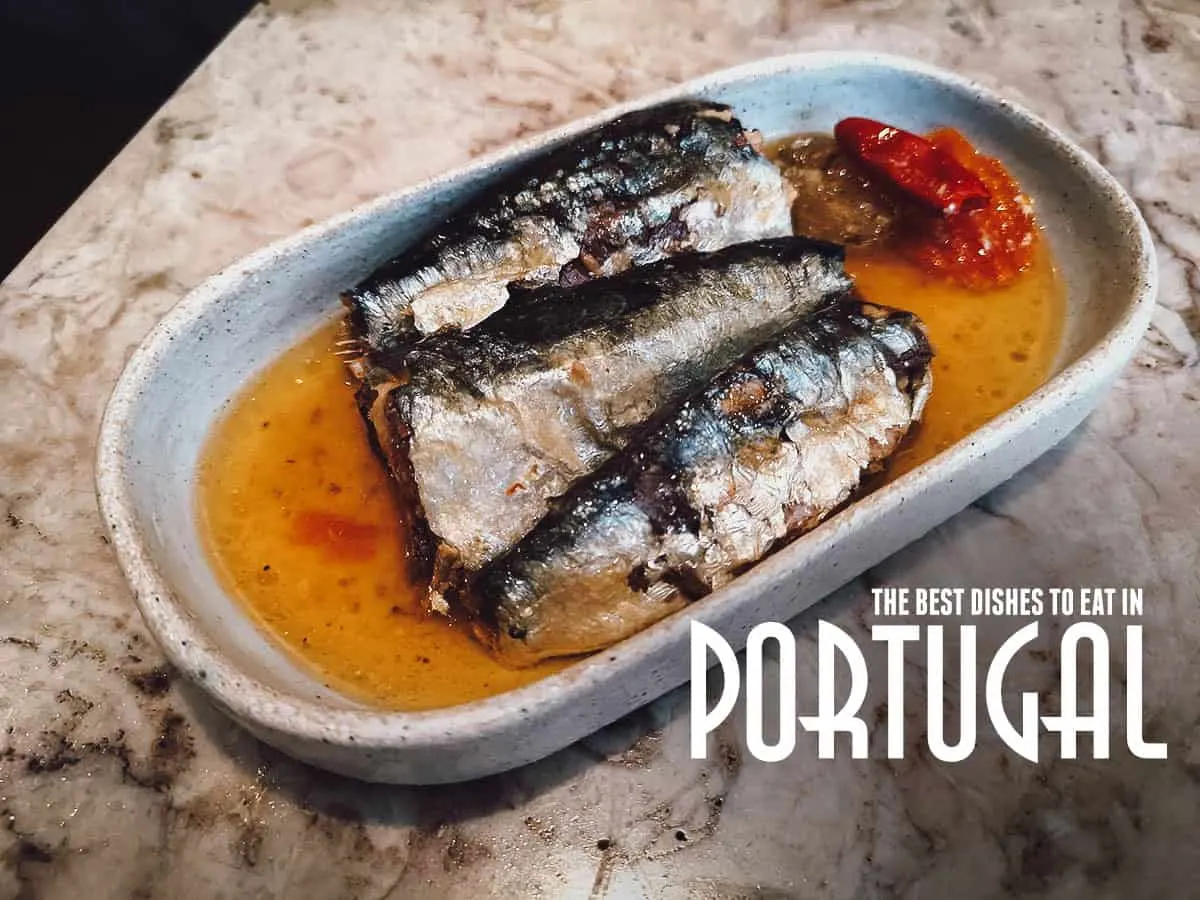 PORTUGUESE DESSERTS
Got a sweet tooth? Pastel de nata may be the most famous but there are so many more delicious desserts to try in Portugal. Check out our guide on traditional Portuguese desserts for the lowdown on all things sweet and delicious in Portugal.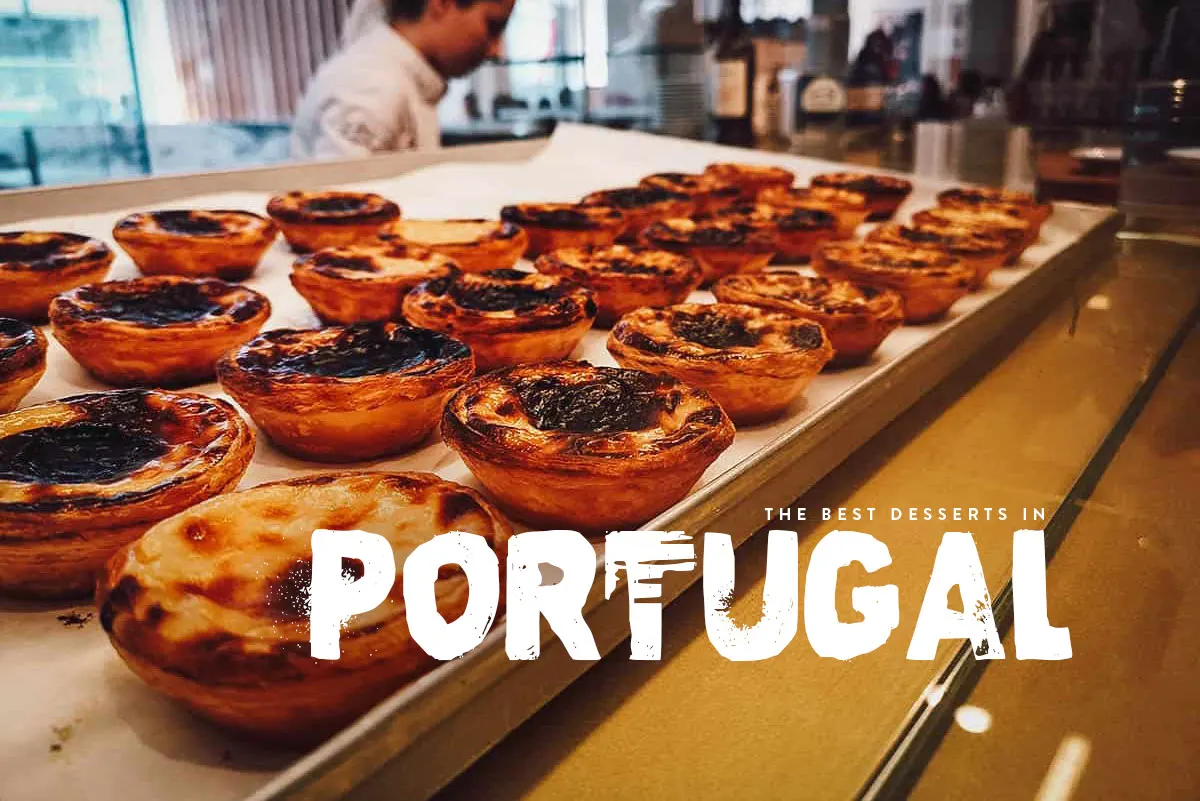 WHERE TO EAT IN PORTO
Our Portuguese food guide offers suggestions on what dishes to look for in Portugal. This Porto food guide suggests which restaurants to visit for some of the best food experiences in Porto.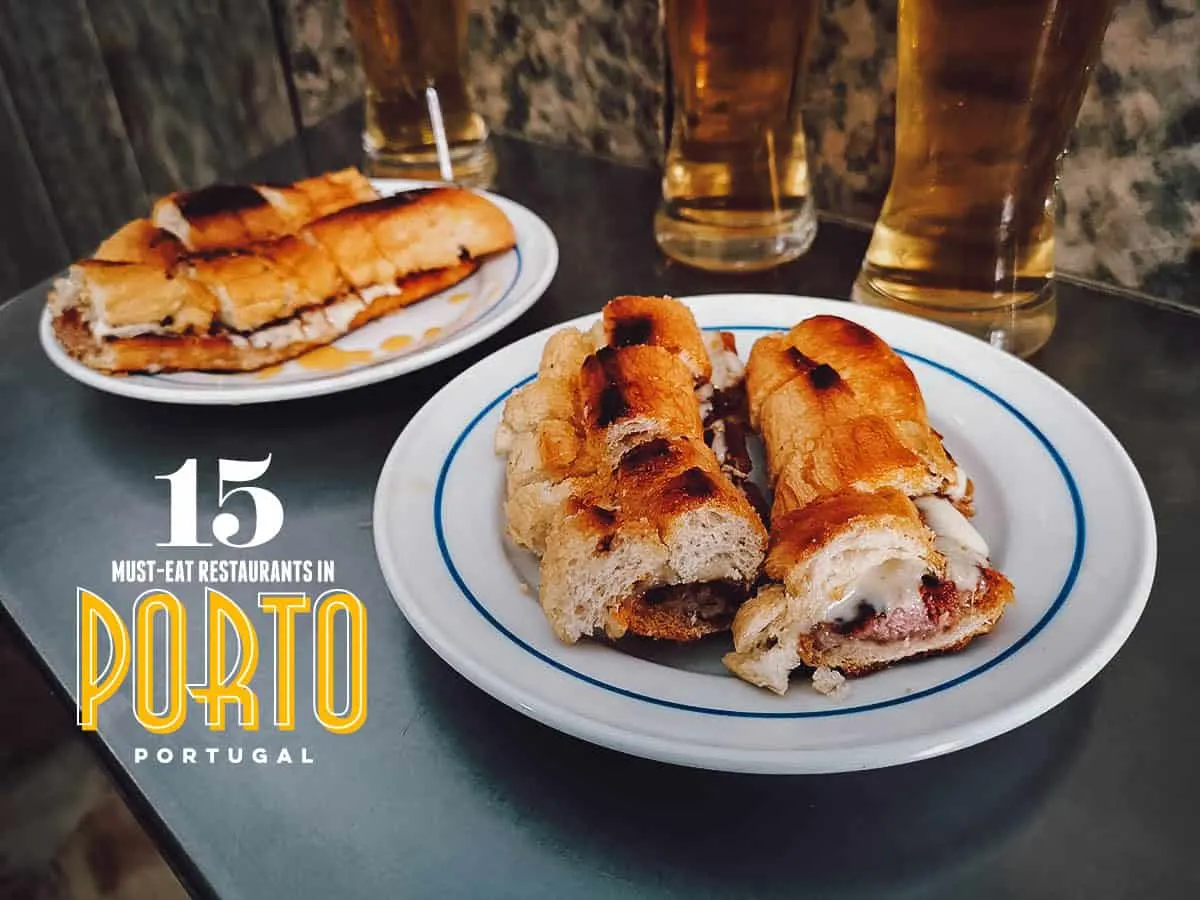 Fifteen may be too many for most people so I've listed five of our favorites below. Be sure to click through to the full food guide for more pictures and information.
1. Casa Guedes
Casa Guedes is a Porto institution. They've been around since the 1970s and have long been considered Porto's most iconic sandwich shop.
Be sure to get the sande de pernil com queijo de ovelha (roasted pork sandwich with sheep's milk cheese). According to Culinary Backstreets, it's the "the best sandwich in Porto – arguably in the country".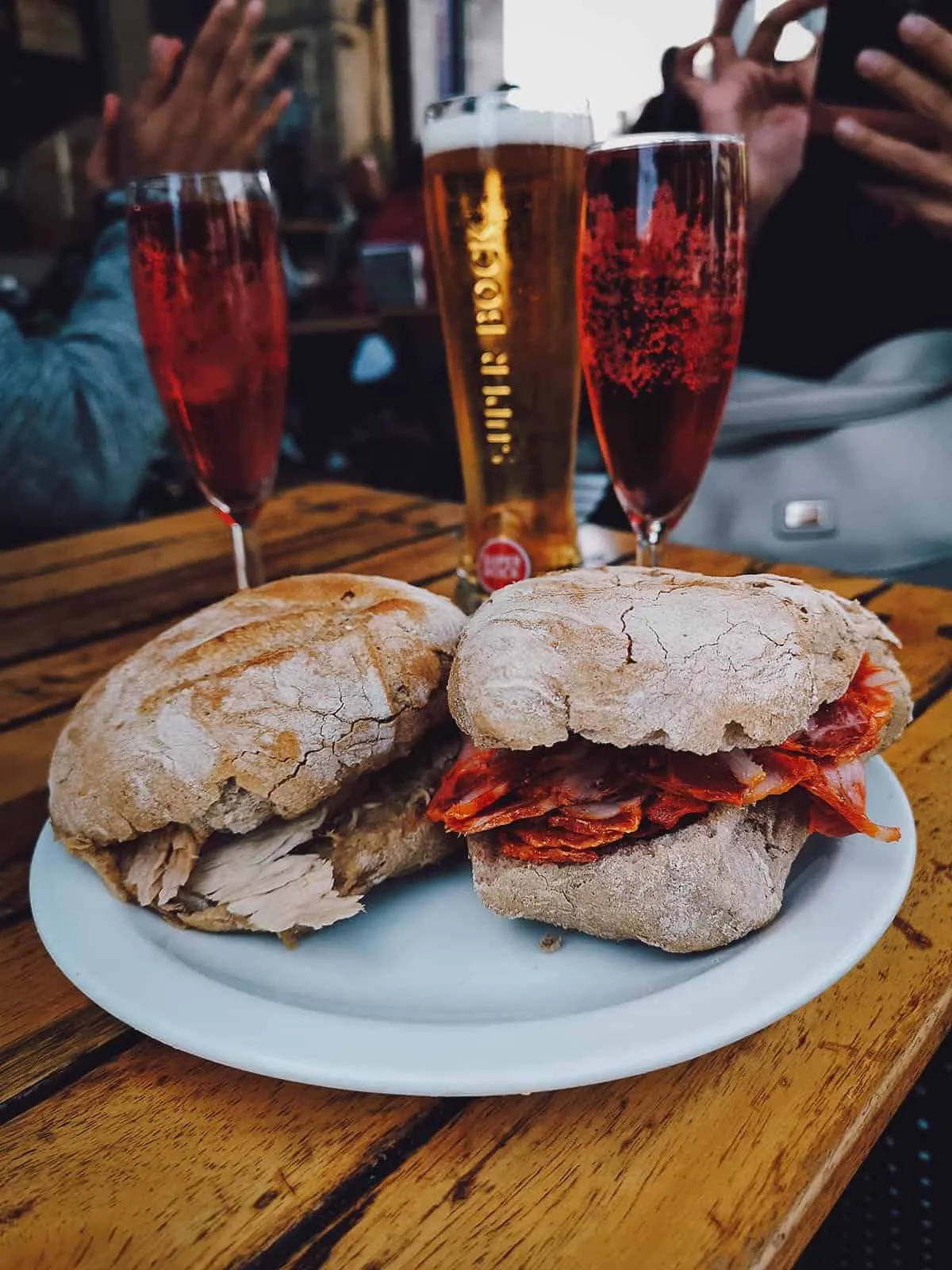 2. Gazela Cachorrinhos da Batalha
We loved this place. Gazela Cachorrinhos da Batalha is a little sandwich shop that serves some of the best cachorrinhos in Porto. Cachorrinhos are like Portuguese hot dogs made with crusty bread, sausage, and cheese brushed with a spicy sauce.
Gazela has been making cachorrinhos for over fifty years and sell about 300 hundred of these hot dog sandwiches every day. Take a bite and you'll understand why.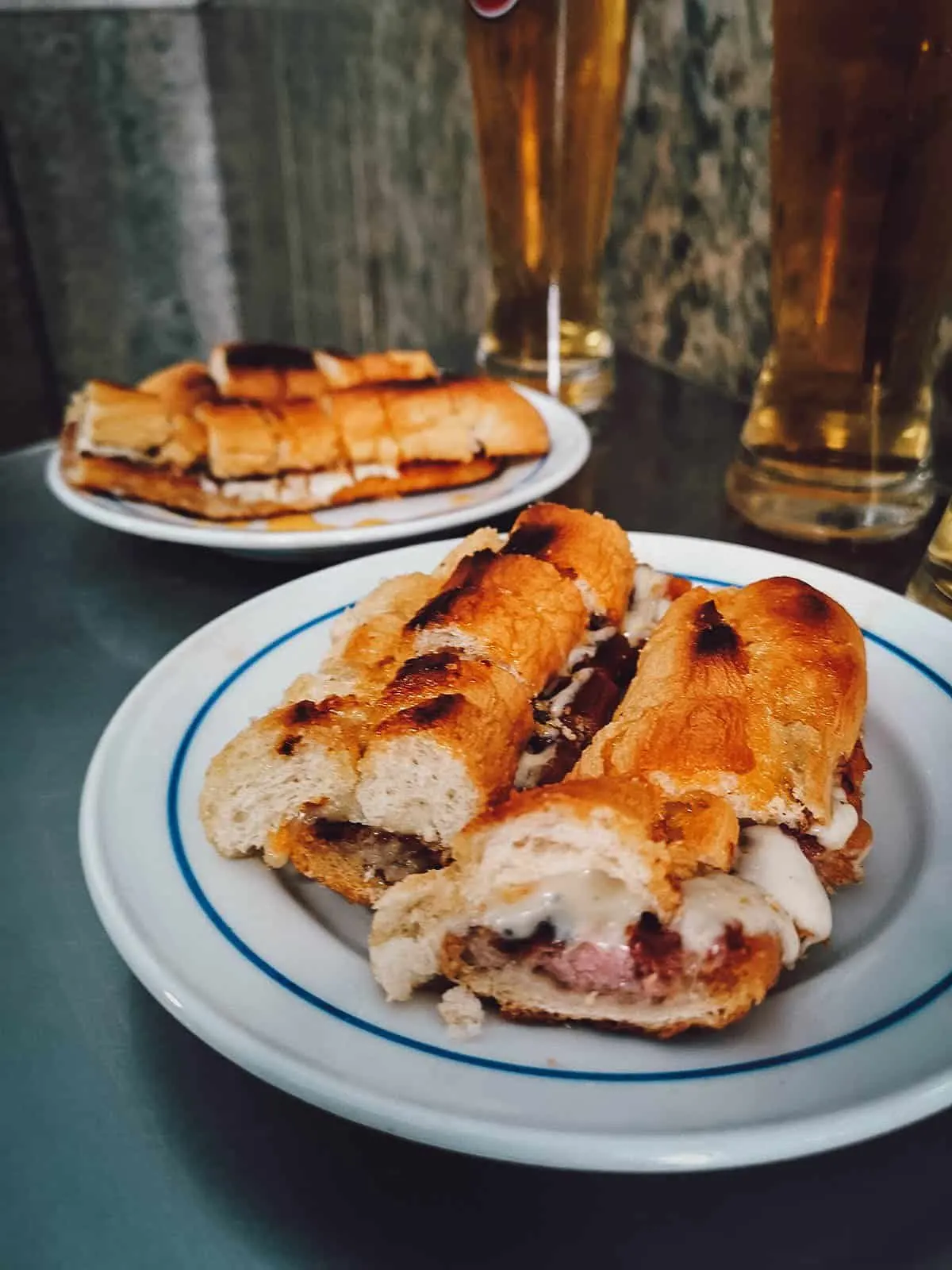 3. Lado B
If you were to east just one dish in Porto, then it should be a francesinha.
A francesinha is a sandwich made with bread, wet-cured ham, Portuguese sausage, and steak or roast beef. It's then covered with melted cheese and drenched in a thick tomato and beer sauce before being topped with a fried egg and served with a side of french fries.
It's Porto's flagship dish and something every first-time visitor should try. Everyone has an opinion as to who makes the best francesinha in Porto. Lado B is in that conversation.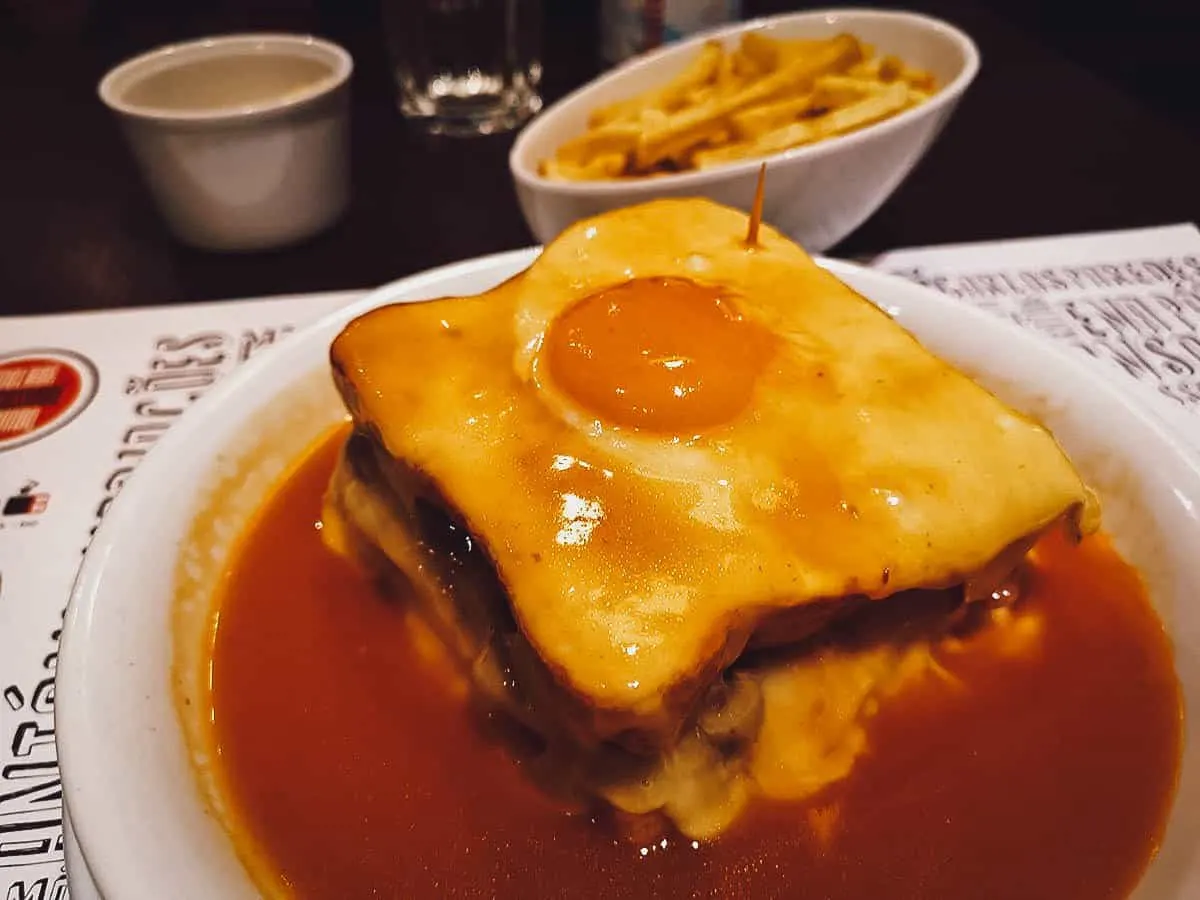 4. Pregar
As you can probably tell, I enjoyed many different types of sandwiches in Portugal. The prego was one of my favorites.
A prego is a simple but delicious sandwich of thinly-sliced grilled beef slathered in a garlicky marinade and served in a papa seco or Portuguese bread roll. It's something the Portuguese enjoy as a snack, and oddly enough, at the end of a heavy seafood meal.
I had prego twice in Porto. Both were excellent but I may have to give the slight nod to Pregar.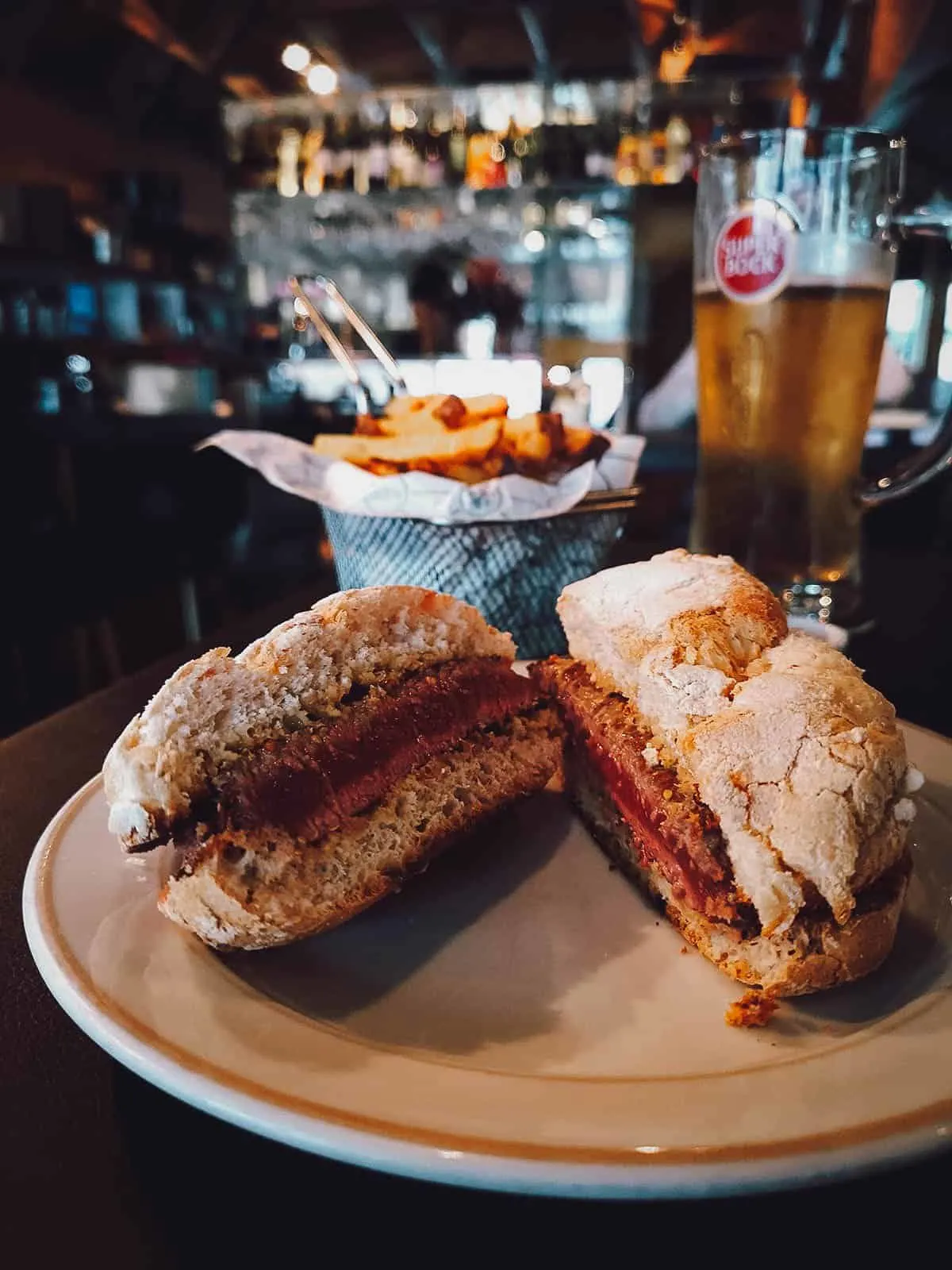 5. Manteigaria
The pastel de nata is one of Portugal's most iconic and beloved dishes. It's a Portuguese egg tart pastry that's crispy and flaky on the outside and creamy on the inside. It's something every visitor to Portugal has to try at least once.
I had pastel de nata at four popular places in Porto and Manteigaria was the best of them all. Theirs was silkier than the others with a pronounced taste of cinnamon. Absolutely delicious!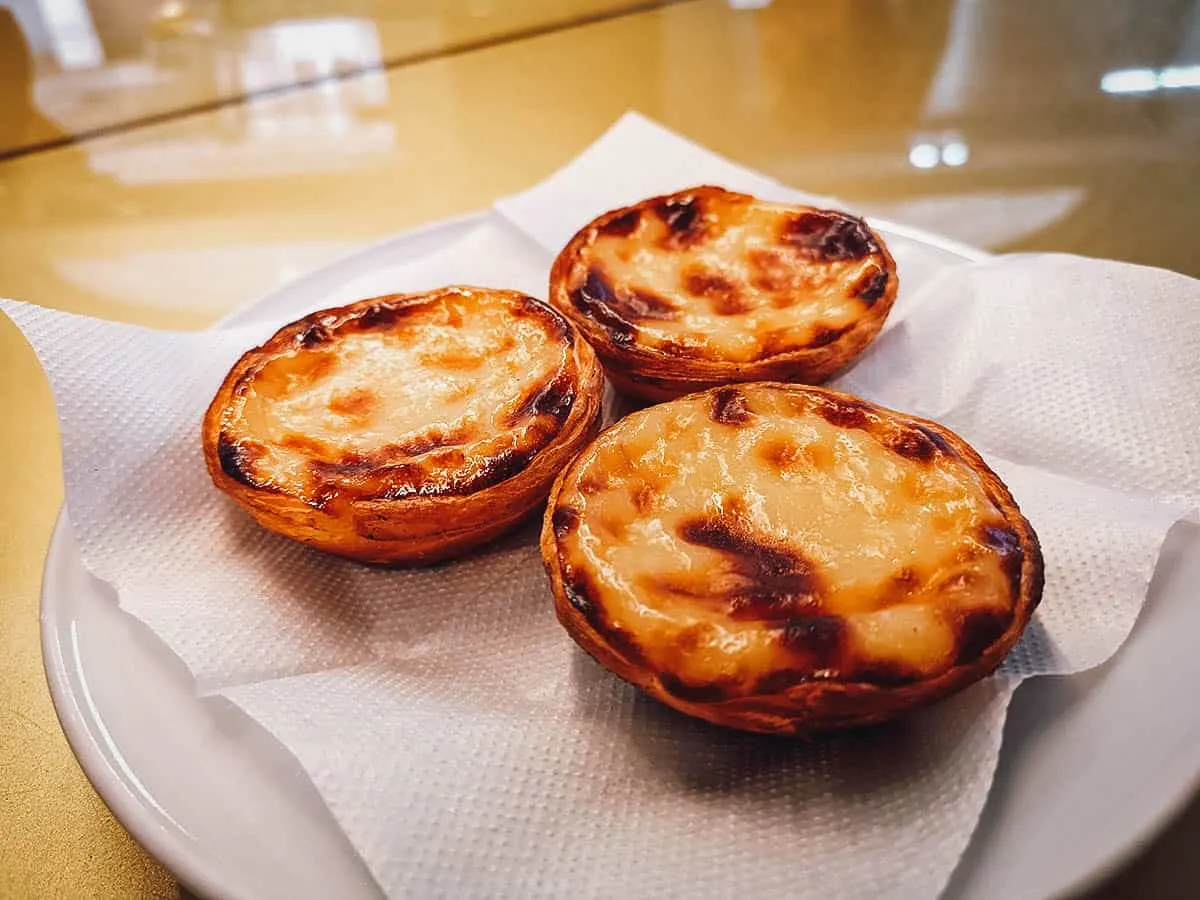 POINTS OF INTEREST IN PORTO
To help you visualize where everything is, I've pinned the places recommended in this guide on this map. Click on the link for a live version of the map. As you'll see, the vast majority of them are located within the Porto city center.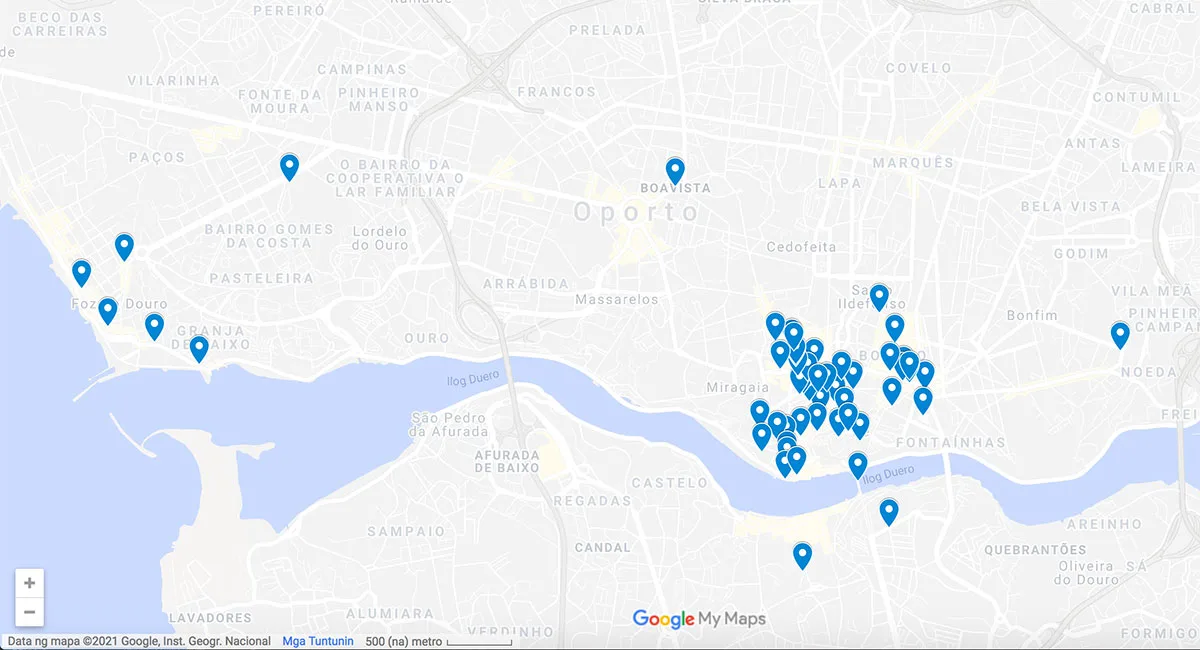 HOW TO GET AROUND IN PORTO
Porto has an extensive and efficient public transportation system so it shouldn't be a problem getting around. But if it's your first time in the city and all you're interested in are the attractions within the city center, then you may not need it much.
I enjoy walking so I got around almost exclusively on foot. The only time I used public transportation was to take the bus to Foz do Douro, then the tram to go back.
If you find that you do need to use public transportation (ie from Porto Airport to the city center), then you'll need to get either an Andante Card or a Porto Card. Click on the link to learn the differences between the two.
Andante cards can only be purchased in Porto but you can buy Porto Cards in advance through Get Your Guide.
No matter how you get around, I suggest downloading the Google Maps app (iOS | Android) if you haven't already. It'll tell you all the different ways to get from point A to point B using public transportation. It's accurate and reliable and something we use on every trip.
Be sure to have Uber installed on your phone as well in case you need to book a ride. We only needed it twice, to go from the Boavista-Casa da Musica bus stop to our hotel when we arrived, and to go to Campanha Railway Station when we left.
HOW MANY DAYS TO STAY / PORTO ITINERARY
Thanks to Porto's top attractions being clustered within a relatively small area, you can see them all in two days. You can then add one more day for the attractions located away from the city center.
Here's a sample 3D/4N Porto itinerary to help you plan your trip.
DAY ONE
• Livraria Lello
• Igreja do Carmo
• Clerigos Church / Tower
• Praca da Liberdade
• Sao Bento Railway Station
• Cafe Majestic
• Igreja de Santo Ildefonso
DAY TWO
• Porto Cathedral
• Dom Luis I Bridge
• Mosteiro da Serra do Pilar
• Taylor's Port Winery
• Palacio da Bolsa
• Church of Sao Francisco
DAY THREE
• Casa da Musica
• Serralves
• Foz do Douro
PORTO TRAVEL TIPS
1. Plan your Trip with Sygic Travel
There are two types of people in this world – those who enjoy trip planning and those who don't. The ones who do will like the Sygic Travel app. I've been using this free trip planning app for many years now. It allows me to pin points of interest on a map then group them together by location to create as efficient an itinerary as possible. You can download it for free on iOS or Android.
2. Stay Connected in Portugal
Having a reliable wifi connection is a must when traveling. You'll need it to convert currencies, translate menus, and google "best francesinha in porto". Having access to Google Maps alone justifies the cost.
We own Pokefi pocket wifi devices so we didn't need to rent one in Europe. But if you want to stay connected in Portugal, then you can purchase an eSIM through Klook.
3. Buy Tickets First Before Lining Up
As previously mentioned, you'll need to purchase tickets before entering Livraria Lello. You don't want to get to the front of the line after waiting over an hour and NOT have tickets!
Tickets cost EUR 5 and can be purchased at this shop on the corner, to the left of Livraria Lello. If you have large bags, then you'll be asked to store them inside free lockers at the shop.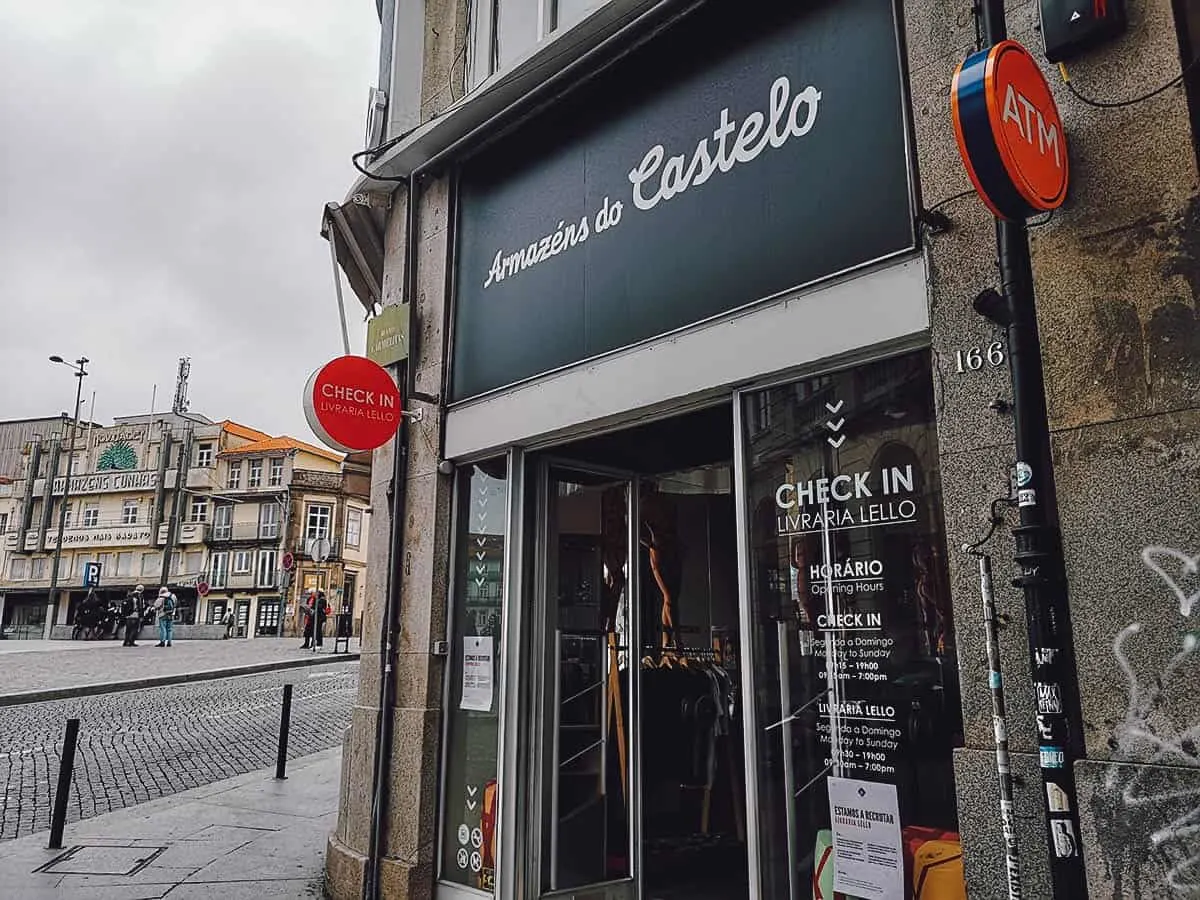 4. Prepare for the Hills
Much of downtown Porto is hilly with narrow winding streets paved with cobblestone. It's lovely to look at but it might make walking a bit difficult for some.
Segway tours could make sightseeing easier, but this is something you should consider if you have mobility problems. Maybe choose a hotel that isn't on an incline.
5. Save Fado for Lisbon
Fado is a musical genre that can be traced to 1820s Lisbon. Watching a fado performance is one of the best things you can do in Lisbon so I considered catching a show in Porto as well. Thanks to this TripAdvisor thread, I learned that I shouldn't.
According to two locals, there is very little fado tradition in northern Portugal. In Porto, fado is for tourists so it's best to wait until Lisbon if you want the real thing.
6. Bring Home Conservas
Conservas refers to gourmet canned seafood popular in Portugal and Spain. They've been an important part of Portuguese culture and its culinary heritage since the 1850s.
Preserved seafood like anchovies, octopus, eel, and bacalhau packaged in attractive tins and wrapped in paper make for the perfect Portuguese food souvenir.
Loja das Conservas may be the better option but if you want the most artistic-looking tins, then check out O Mundo Fantastico da Sardinha Portuguesa. Their prices are considerably higher than other shops but they have by far the most exquisitely designed tins.
At these prices, these conservas are probably more for keeping than for eating. They even have tins marked with your birth year.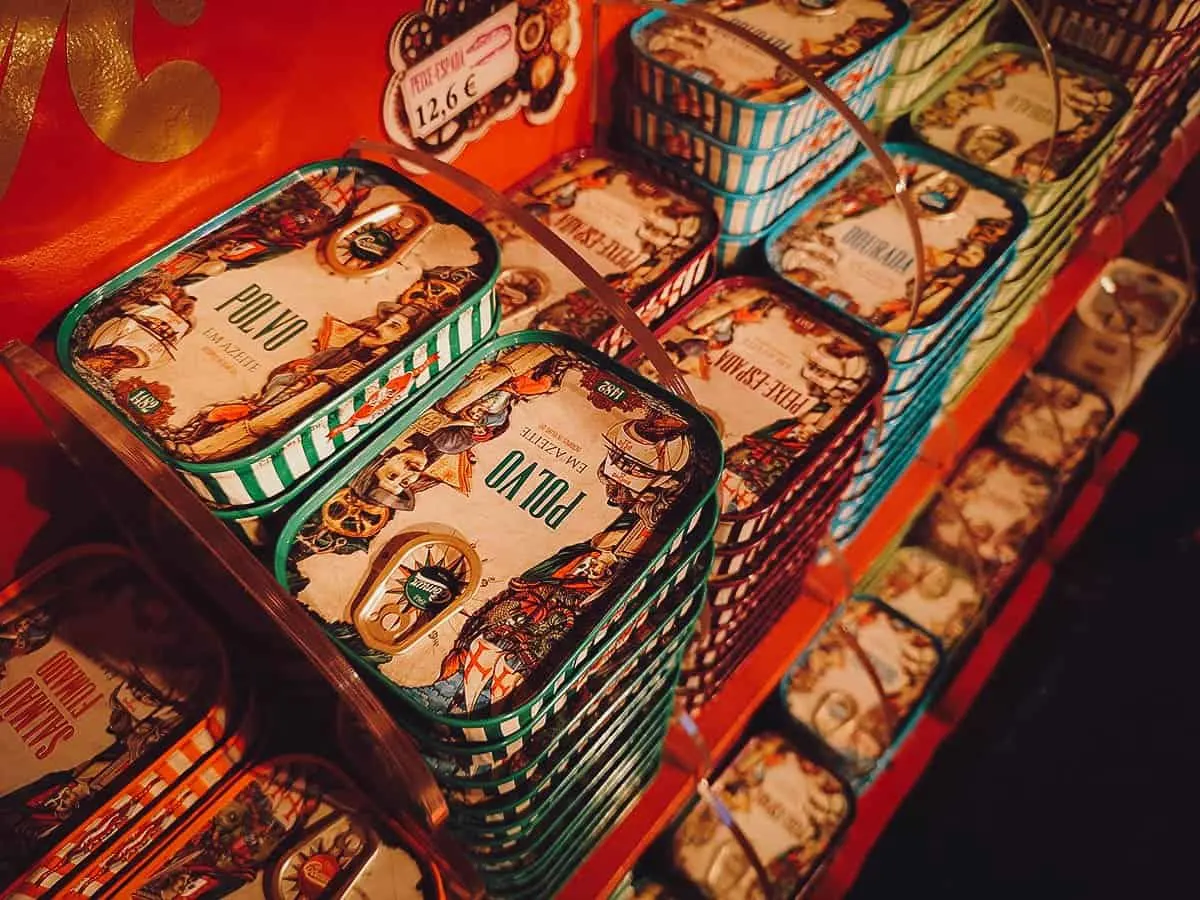 7. Store Your Luggage
With the increasing popularity of AirBnB, a safe place to store your luggage is becoming more of a necessity. We didn't need it in Porto but there were a few cities in Europe where we had to store our luggage in lockers while waiting to check in to our AirBnB.
If need a secure place to store your luggage for a few hours, then you can check Luggage Hero for available storage options in Porto.
8. Check for Porto Travel Deals
There are many websites where you can buy vouchers to tours and other travel-related services. In Porto, I suggest going through Get Your Guide and Klook. They're both leading travel ecommerce websites that offer a good selection of deals on tours, airport transfers, show tickets, and more.
9. Rent a Car
Renting a car is one of the best ways to experience Europe. It just gives you so much more freedom.
We didn't rent one in Portugal but we did rent cars in Santorini and Spain. It gave us the freedom to go wherever we wanted, whenever we wanted.
If you're considering renting a car in Portugal or anywhere else in Europe, then you can do so through Rentalcars.com.
10. Get Travel Insurance
Whether or not to get travel insurance is something we consider before every trip. It depends on where we're going and what we'll be doing. If we plan on doing any physical activities, anything that could get us hurt, then we'll definitely get it.
Whenever we do feel the need for insurance, we get it from SafetyWing or Heymondo. They're popular travel insurance providers used by many long-term travelers. Click on the links to get a free quote from SafetyWing or Heymondo. Will Fly for Food readers get 5% off on Heymondo if you use our link.
11. Bring the Right Power Adapter
Portugal has Type C or Type F electrical outlets so be sure to bring the right power adapters for your devices. Electrical voltage is 230V and the standard frequency is 50Hz.
Have Fun!
I'm not an expert on Porto but I do hope that you find this guide helpful. I'm only sharing some of the things I learned from our trips.
If you have any questions or comments, then please feel free to leave them in the comment section below. You're welcome to join our Facebook Travel Group as well.
Thanks for reading and have an amazing time drinking port wine in Porto!
OUR GEAR
These are some of the things we brought with us to Porto. See what's in our backpack for a complete list of our gear. (NOTE: The following links are Amazon and other affiliate links.)
Disclosure
Some of the links in this Porto travel guide are affiliate links, meaning we'll earn a small commission if we make a sale at no added cost to you. We only recommend products and services that we use ourselves and firmly believe in. We really appreciate your support as this helps us make more of these free travel guides. Thank you!