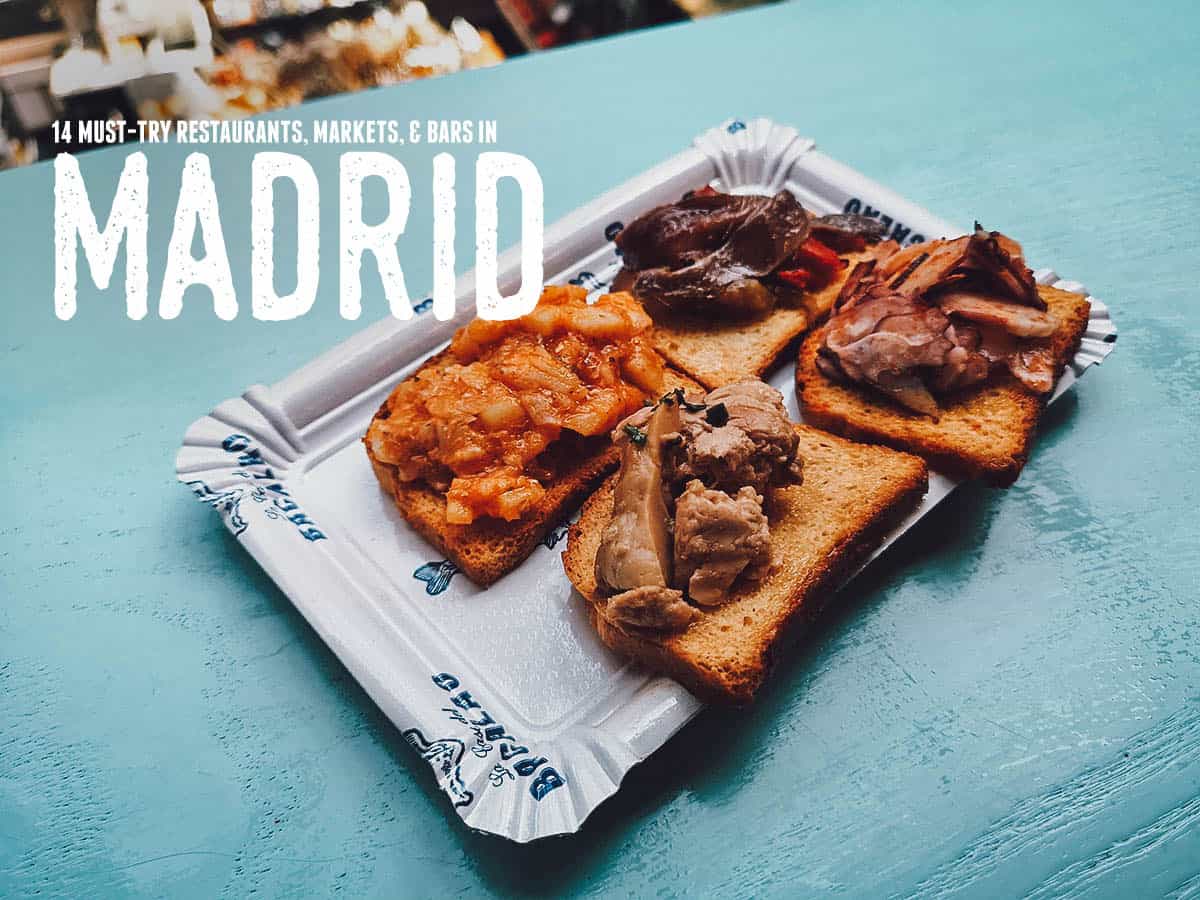 Madrid Food Guide: 14 Must-Try Restaurants, Bars, and Markets
NOTICE: Your health and safety come first. Please adhere to the WHO recommendations and avoid any non-essential travel at this time. If travel is unavoidable for you, then you can check the Flatten the Curve website for information on global travel restrictions.
DISCLOSURE: Some of our articles contain affiliate links. The ones that do will have a disclosure statement at the bottom. You can refer to our privacy policy and terms of use for more information.
Aperitivos, pintxos, tapas, txokos. If there's anything we learned from our three weeks in Spain, it's that Spanish people really know how to celebrate life. And often, they celebrate it with food.
Everywhere we went, we enjoyed fantastic food. We loved the pintxos and sidrerias in San Sebastian and the free tapas in Granada. The cremini mushroom and shrimp pintxos in Logroño were to die for while the fabada asturiana in Oviedo was the best we've ever tasted.
Barcelona has calcots and bombas while Santiago de Compostela offers excellent Galician seafood like polbo a feira and perecebes. Madrid has its share of iconic dishes as well like cochinillo and bocadillo de calamares, but more than any one dish, what I enjoyed most about this city was its diversity of food experiences.
Of all the cities we visited in Spain, we had the most well-rounded culinary experience in Madrid, which is something you can expect I guess from the country's capital and its biggest and most diverse city.
From aperitivos to mercados to Michelin-starred restaurants, I hope our food guide leads you to some terrific meals in Madrid.
WHERE TO EAT IN MADRID
Fourteen isn't a lot but we were lucky to experience a range of culinary experiences in Madrid. To help organize this list, I've divided it into the five categories below. Click on a link to jump to any section.
BARS
1. La Venencia
According to Culture Trip, Madrid has more bars per capita than any other city in Europe. But if you were to visit just one, then it should probably be La Venencia. It's an historic bar and local favorite that hasn't changed much since the days of the Spanish Civil War.
Known for its time-worn interior of dusty barrels and faded posters, La Venencia offers just one drink on their menu – Sherry wine. Sherry or Vino de Jerez is a type of Spanish fortified wine made from white grapes grown in the Jerez-Xeres-Sherry DOP region of Andalusia.
For a bottle of wine to carry the "Sherry" label, it must be produced within the Sherry Triangle which is an area in Cadiz consisting of Jerez de la Frontera, Sanlucar de Barrameda, and El Puerto de Santa Maria.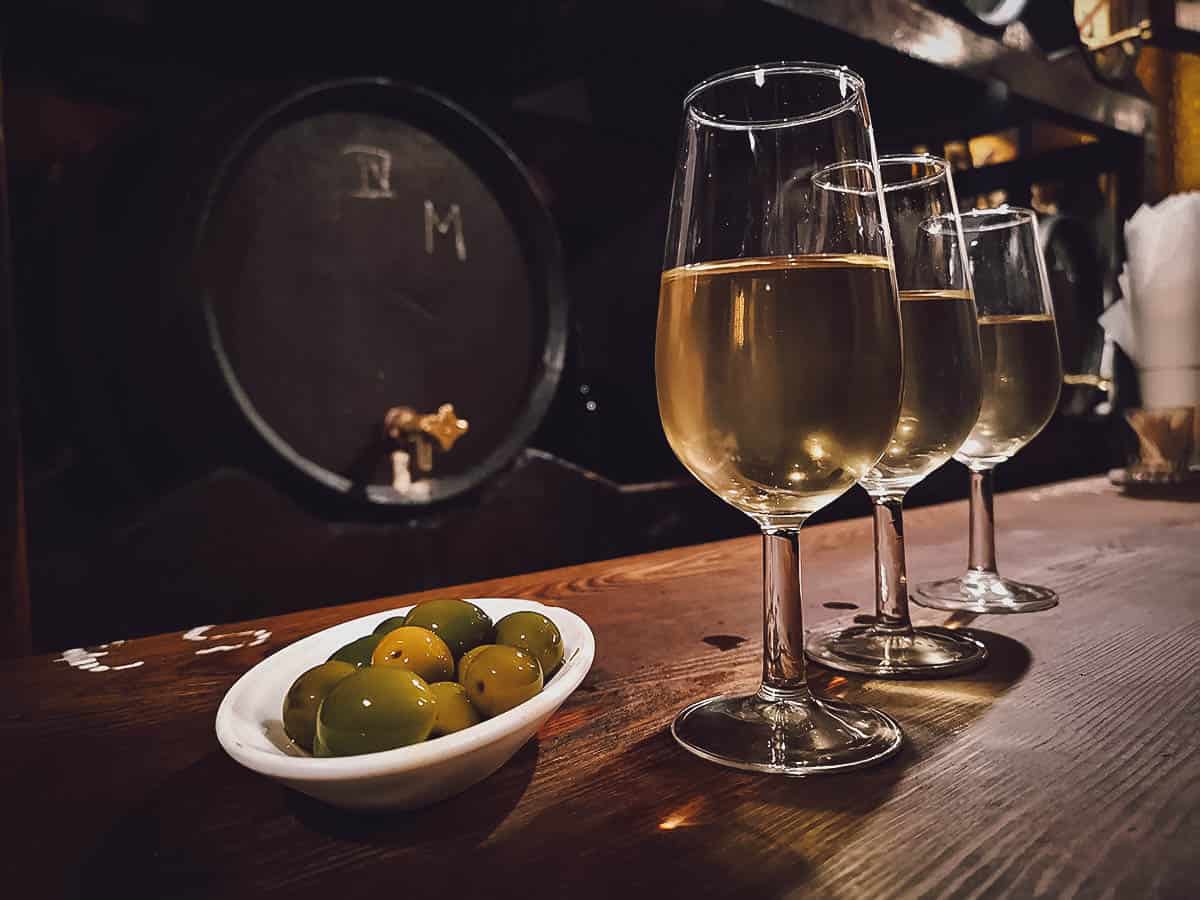 La Venencia offers five types of Sherry wine – Manzanilla, Fino, Amontillado, Palo Cortado, and Oloroso – and almost twice as many tapas dishes. Pictured below are plates of salsichon (cured sausage), anchovies, roquefort, and green olives to go with one of their lighter Sherry wines.
See those chalk marks on the bar? The bartender keeps track of your orders by writing them down on the wooden bar. They've been doing it that way for over seventy years.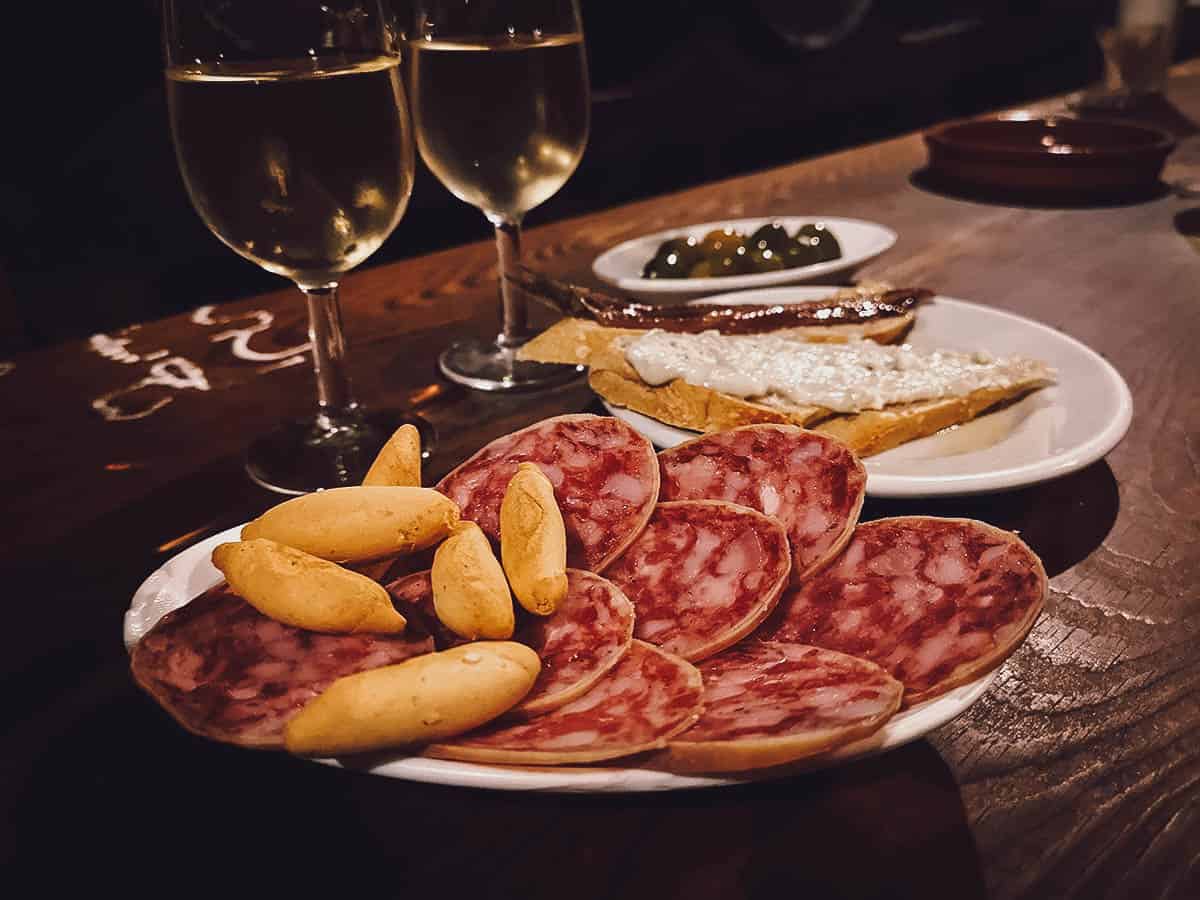 With just five types of Sherry available, it was easy for us to try all their wines. As you can see below, they ranged from light and crisp to dark and rich.
I'm not a seasoned wine drinker but I enjoyed the experience immensely, and part of that had to do with the bar itself. Drinking Sherry at La Venencia isn't just about good wine, it's about taking part in history. Ernest Hemingway was said to be a frequent customer here.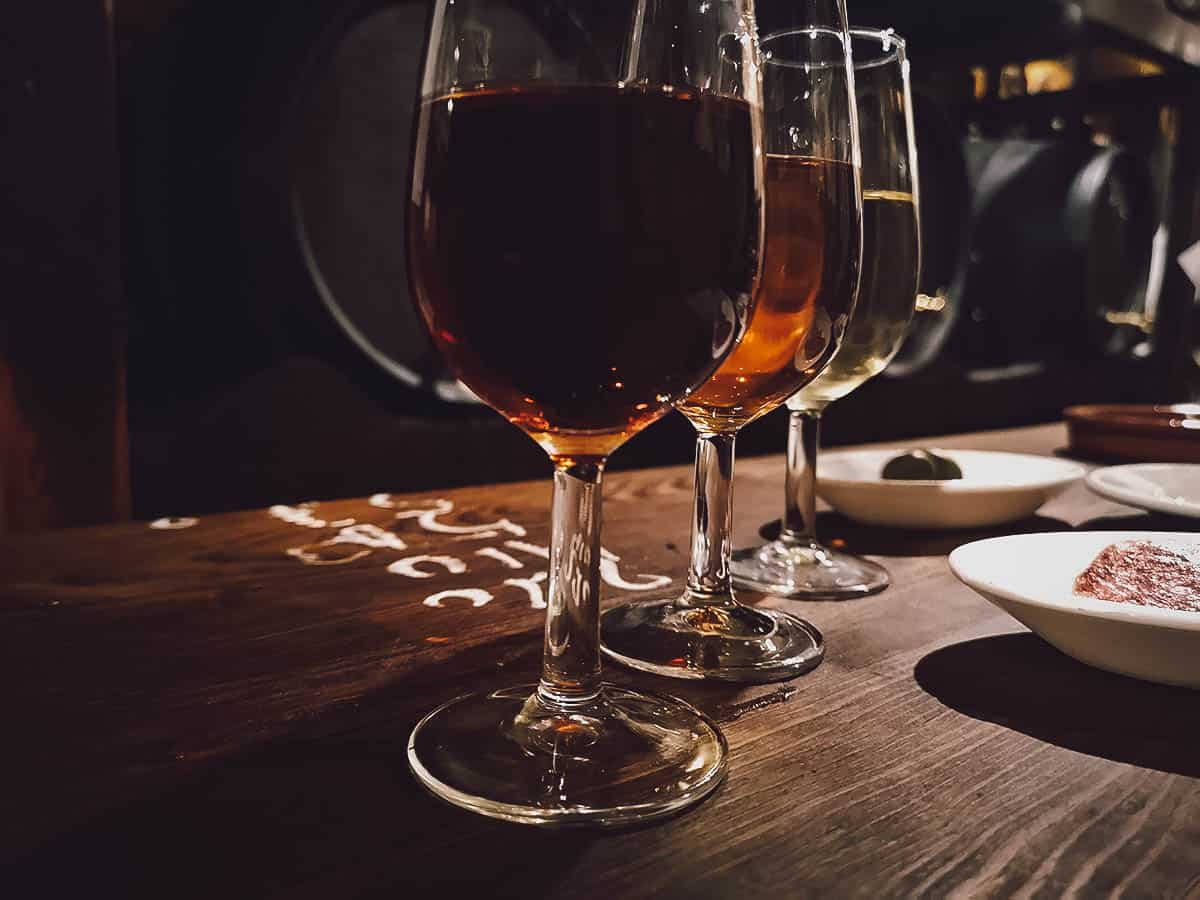 Located along Calle de Echegaray, La Venencia is a simple bar that's rich in history and tradition. If you enjoy drinking wine and going to authentic establishments, then a glass or two of Sherry wine at La Venencia is a must.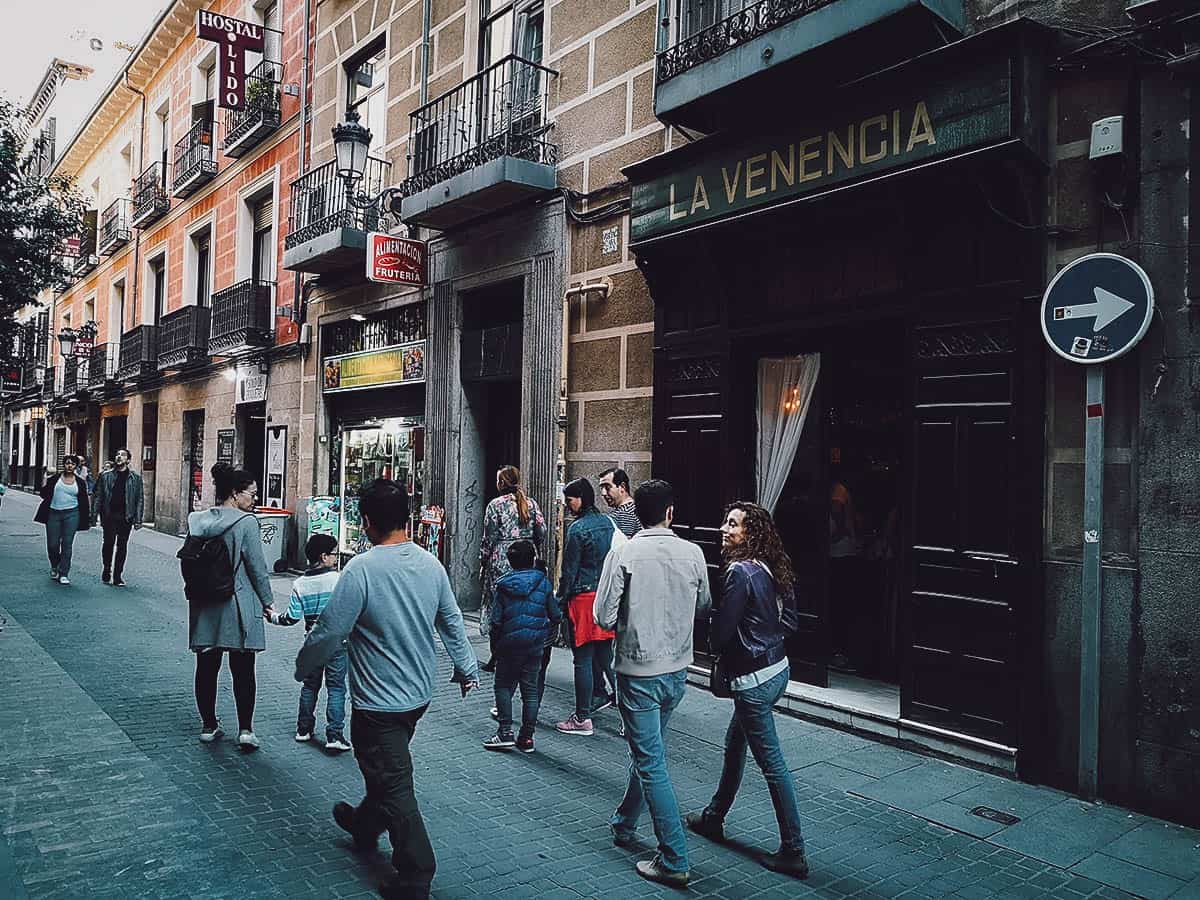 La Venencia
Address: Calle de Echegaray, 7, 28014 Madrid, Spain
Operating Hours: 12:30-3:30PM, 7:30PM-1AM, Mon-Thurs / 12:30-4PM, 7:30PM-1:30AM, Fri-Sat / 12:30-4PM, 7:30PM-1AM, Sun
What to Order: Sherry, tapas
Expect to Spend: About EUR 2 per glass of Sherry, EUR 2 per small plate of tapas
2. Taberna de Angel Sierra
Over the weekends in Spain, Spanish people enjoy aperitivo time (drinks with tapas) from around 1:30PM onwards. Friends and family meet at bars for drinks and tapas before moving to lunch.
A range of alcoholic drinks are consumed like beer, Sherry, white wine, and gin and tonic, but at historic Taberna de Angel Sierra, the drink of choice is vermut (vermouth).
Vermut refers to an aromatized, fortified white wine flavored with caramel and a range of botanicals like roots, herbs, flowers, and spices. It's a sweet and slightly bitter drink that's typically enjoyed as an aperitif. In Spanish culture, it's the most socially acceptable drink to have before noon on a Sunday.
The most famous vermut comes from the small Catalonian town of Reus. It's best served de grifo or on tap which is exactly the type of vermut you can expect at Taberna de Angel Sierra.
We were here on a Sunday and the standing-room-only space was packed with locals enjoying vermut and green olives. It was one of our favorite food/drinking experiences in Spain.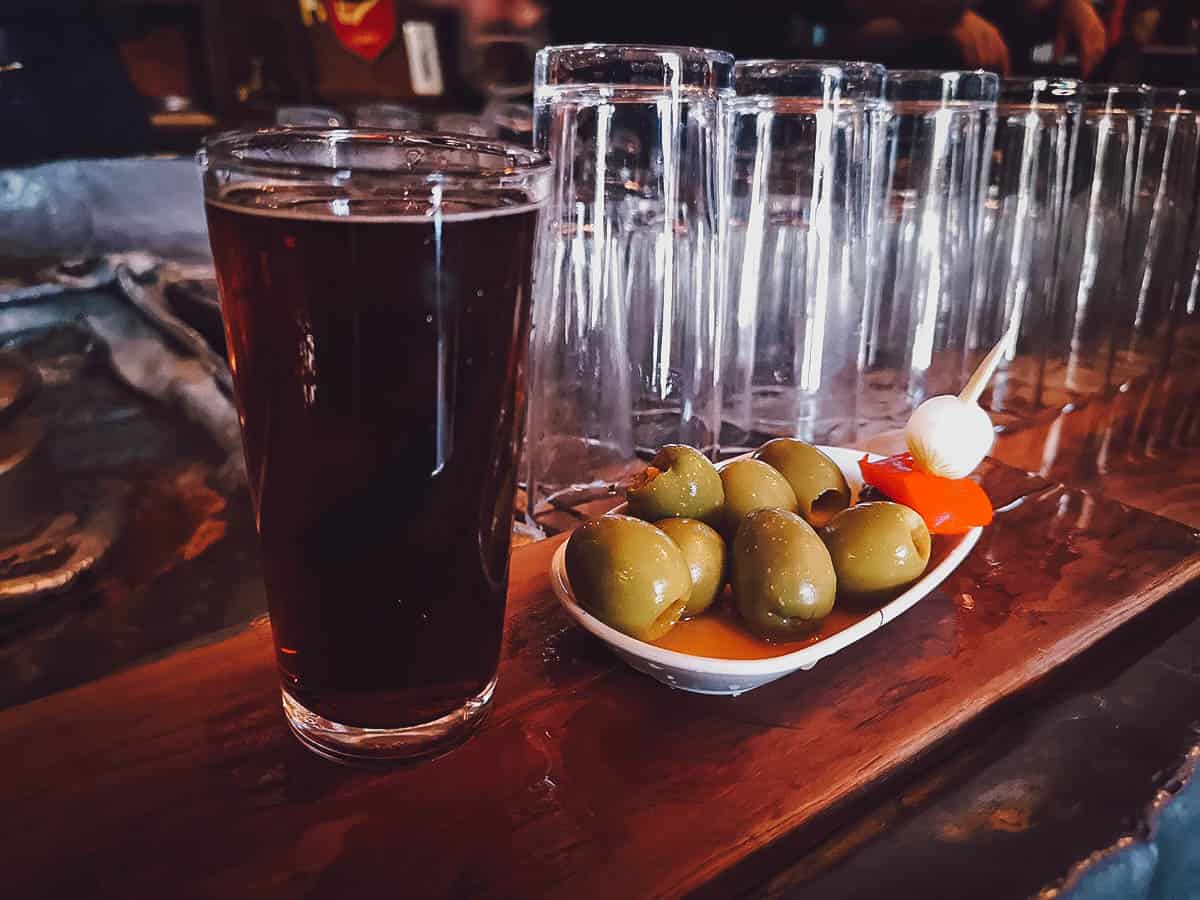 Located in Plaza de Chueca, Taberna de Angel Sierra has been open since 1917. It's a great place to get a drink on any day of the week, but especially on weekends when it gets so busy that crowds often spill out onto the street.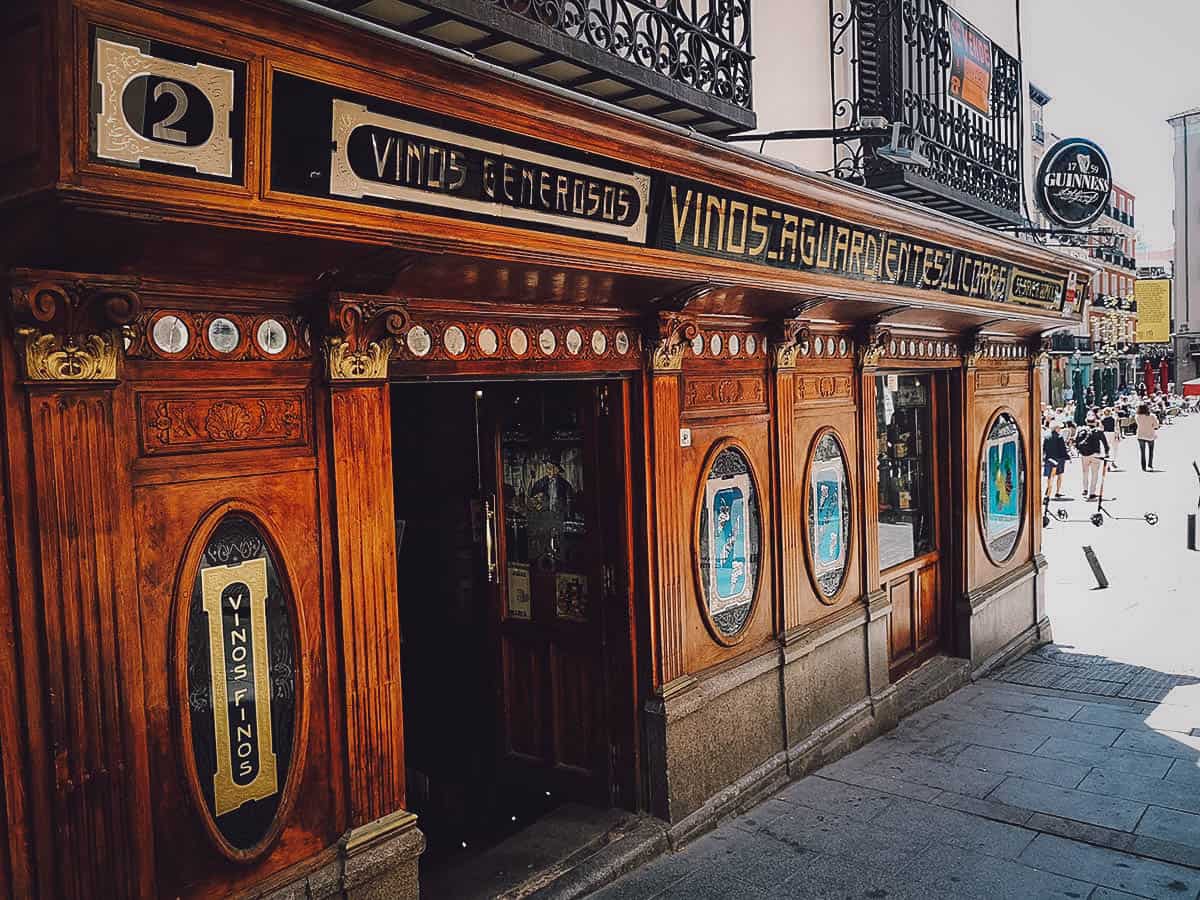 Taberna de Angel Sierra
Address: Calle San Gregorio, 2, 28004 Madrid, Spain
Operating Hours: 12NN-2:30AM, Mon-Sat / 12NN-1:30AM, Sun
What to Order: Vermouth
Expect to Spend: About EUR 1.70 per glass of vermut
3. Viva Madrid
On our list of things to try in Madrid was gin and tonic. Based on what I've read, the Dutch invented gin while the British added the tonic but it was the Spanish who perfected the garnish and elevated it to an art form.
According to more than one source, you can't find a better gin and tonic in the world than in Spain. Madrid has been experiencing a gin and tonic craze in recent years so bars offering their own spin on G&Ts are easy to locate.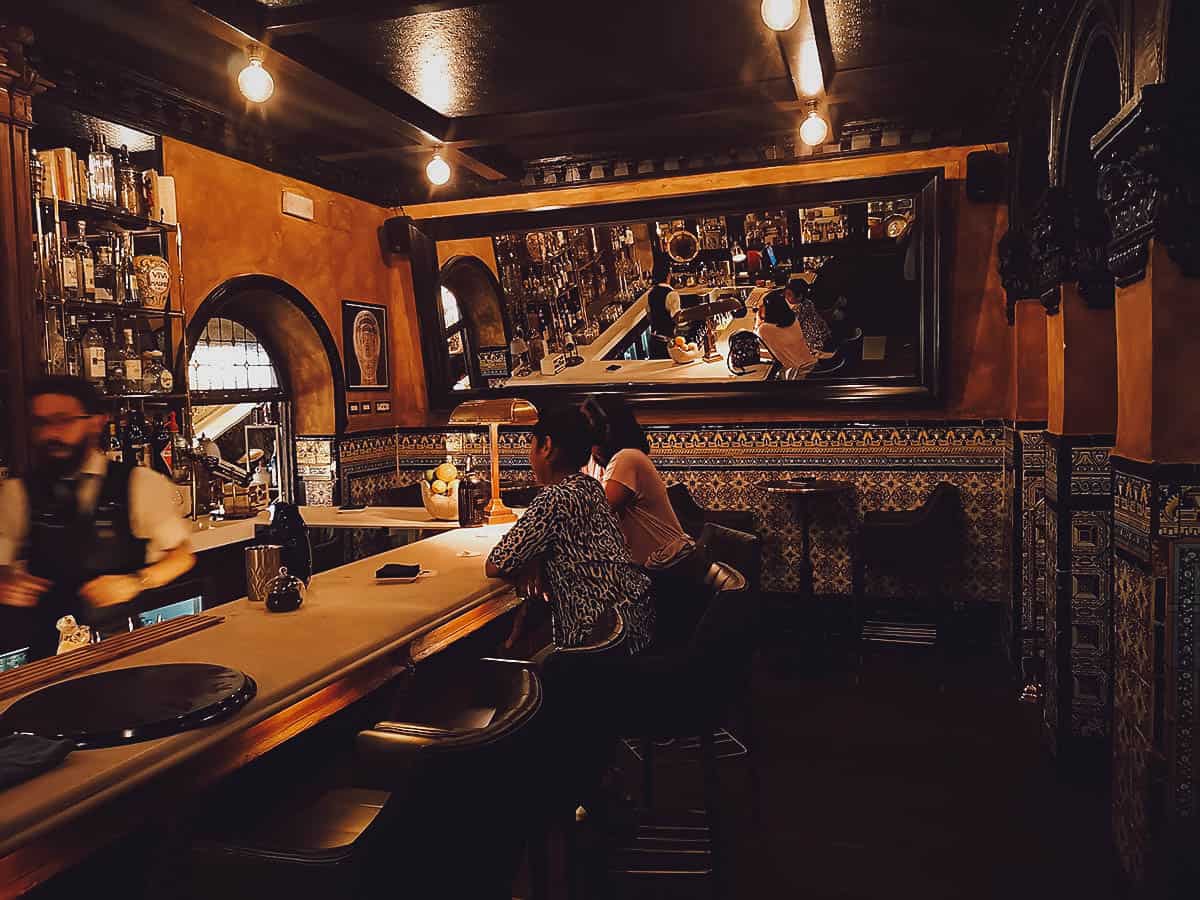 I'm not a seasoned G&T drinker so I did some research to learn what made Spanish gin and tonics so special. Aside from using premium gin and tonic water, a lot of it has to do with the garnish.
Based on what I've read, there's no classic recipe for a Spanish G&T but they do get pretty imaginative with their garnishes. The Spanish have been experimenting with their garnishes for years so many bars will offer a variety ranging from citrus fruits, roots, berries, and herbs and spices.
This wasn't the case at Viva Madrid but many bars in Spain will serve G&Ts in a large balloon glass. I don't remember if they did it here but bartenders often pour tonic water down a spoon and into the drink. Whether this has actual benefits or is done purely for show is unclear.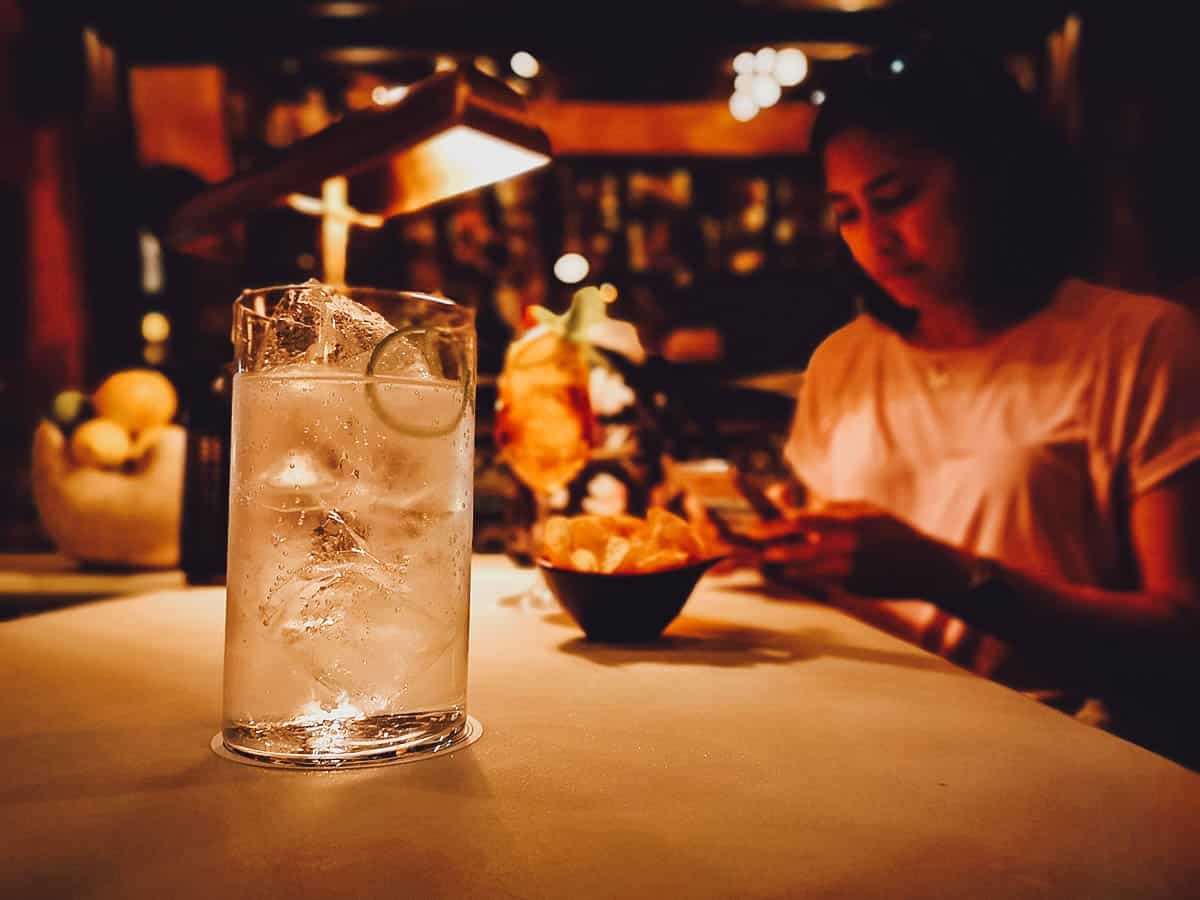 Unlike most of the places on this list, we found Viva Madrid by chance. Located just off Calle de Echegaray, we had G&Ts here before proceeding to La Venencia.
Known for serving good cocktails and tapas in a lovely space adorned with glazed ceramic tiles, Viva Madrid is a TripAdvisor Certificate of Excellence with a near-perfect 4.5-star rating.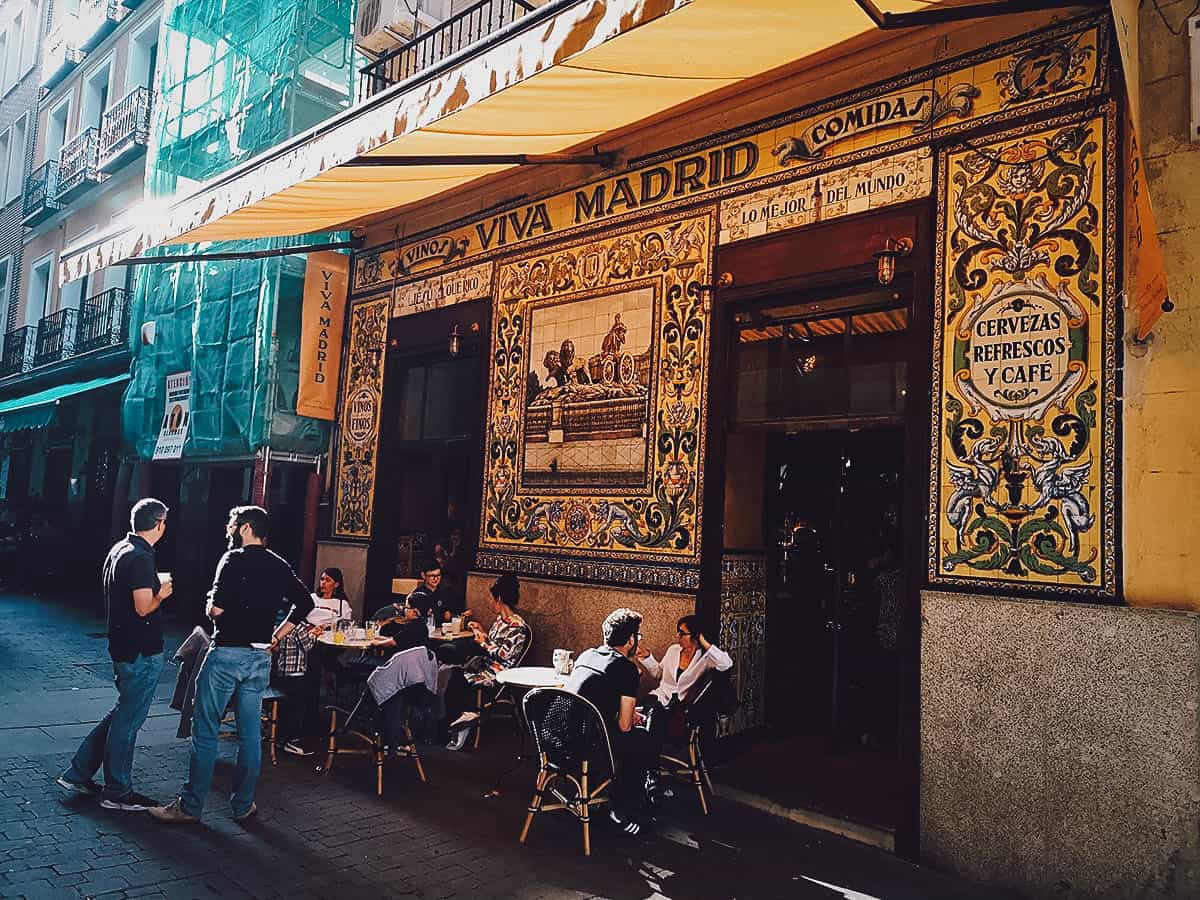 Viva Madrid
Address: Calle de Manuel Fernández y González, nº 7, 28014 Madrid, Spain
Operating Hours: 12NN-2AM, Tue-Thurs, Sun / 12NN-2:30AM, Fri-Sat (closed Mondays)
What to Order: Cocktails, beer, tapas
Expect to Spend: About EUR 10 per cocktail
4. Bodega de la Ardosa
I went to Bodega de la Ardosa twice. The first time I went was over the weekend and the place was practically bursting at the seams with customers. Open since 1892, it's been a local favorite for over 125 years!
It was too crowded to stay the first time so we went back on a Monday afternoon and had the entire bar to ourselves. Known for its wall of dusty liquor bottles and excellent tapas, an institution like this was too good to miss. It's exactly the type of place I seek out on trips.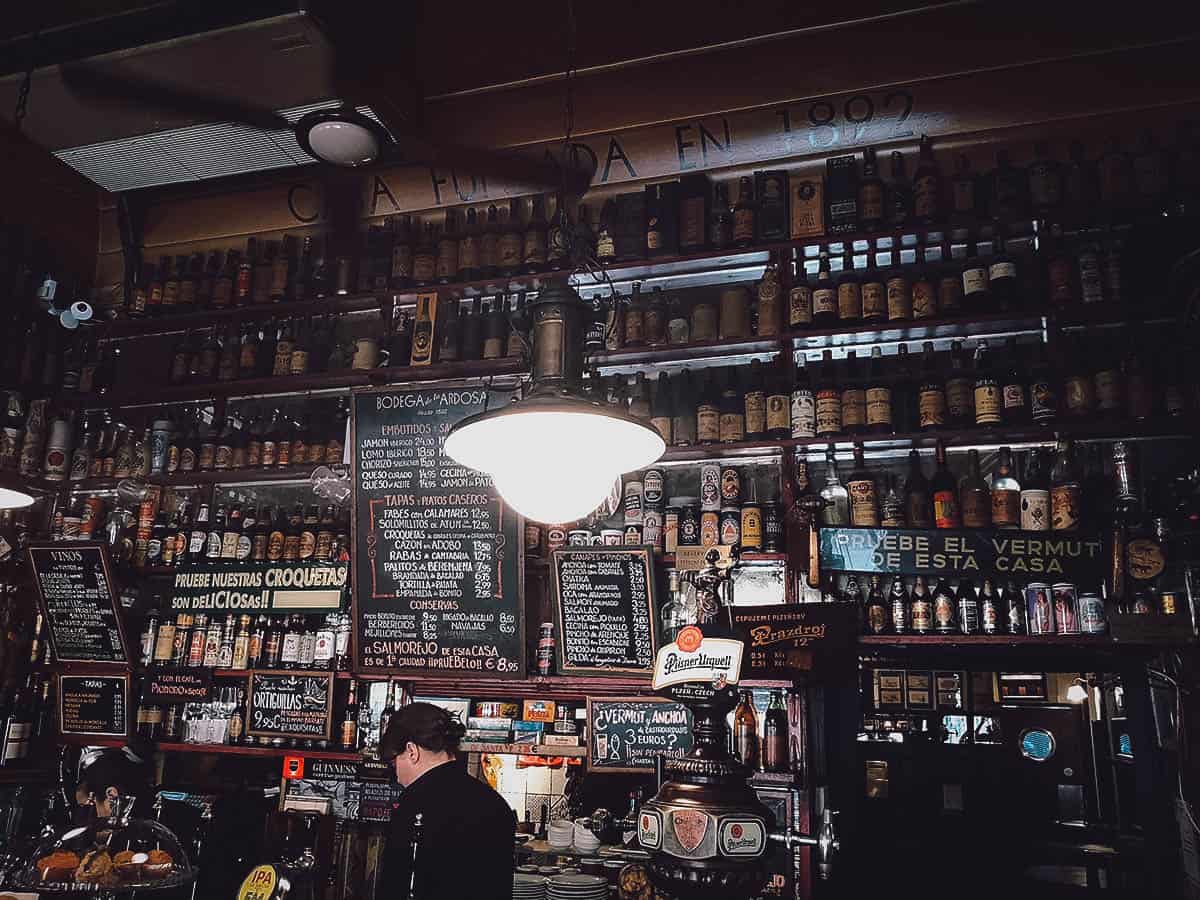 Some of the recommended dishes at Bodega de la Ardosa include salmorejo and tortilla de patata, but we went instead with this fantastic plate of alcachofas or grilled artichokes sprinkled with sea salt.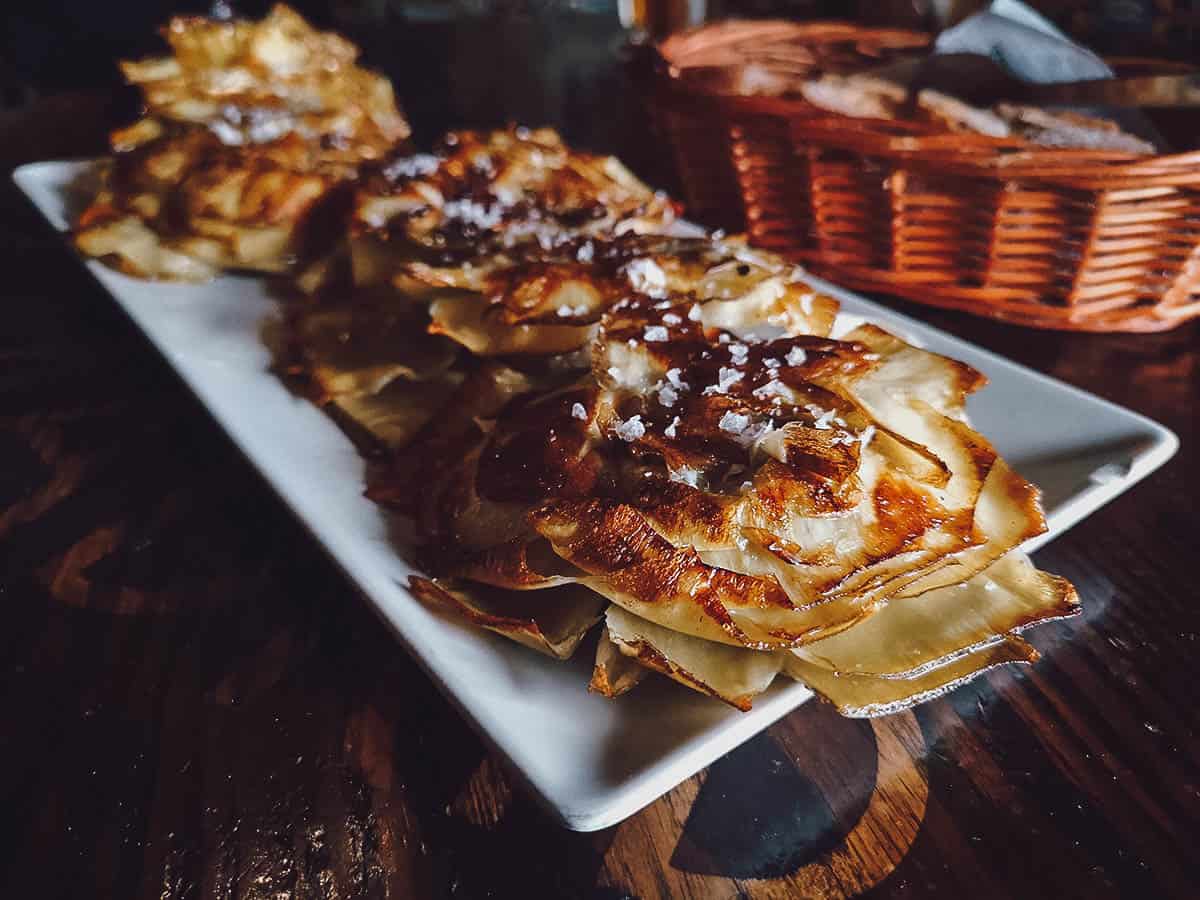 Callos a la madrileña is a classic Spanish dish that you need to try in Madrid. A dish of humble origins, recipes vary from region to region but the Madrid-style of callos is made with tripe, chorizo, serrano ham, and morcilla. It's rich and tomato-ey with a good punch of paprika.
Callos is one of my absolute favorite Spanish dishes and something I could have almost everyday. The version at Bodega de la Ardosa was delicious, especially when paired with crusty bread.

Bodega de la Ardosa is located on the outskirts of the Chamberi district. Surrounded by trendy hipster bars, it's a Madrid institution and local favorite that's survived decades of urban gentrification.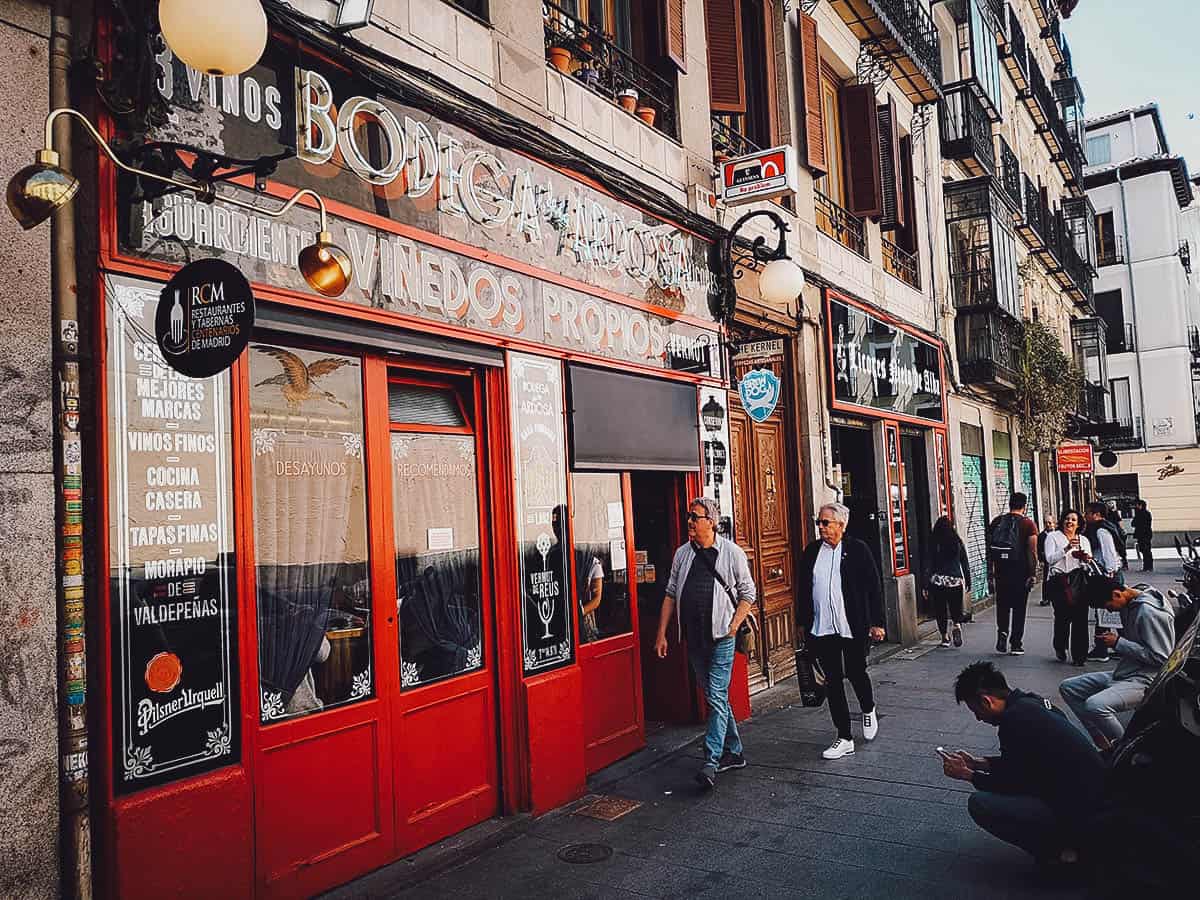 Bodega de la Ardosa
Address: Calle de Colón, 14, 28004 Madrid, Spain
Operating Hours: 8AM-2AM, Mon-Thurs / 8AM-2:30AM, Fri / 10AM-2:30AM, Sat / 10AM-2AM, Sun
What to Order: Salmorejo, alcachofas, tortilla de patata, callos a la madrileña
Expect to Spend: About EUR 3 for tapas, EUR 10 per entree
RESTAURANTS
5. El Cisne Azul
If you have a taste for mushrooms, then you have to visit El Cisne Azul. Located in Chueca, they specialize in mushrooms and are a favorite destination for Madrileños craving morels and chanterelles.
El Cisne Azul offers an interesting array of dishes made with wild mushrooms like grilled boletus with foie gras and Caesar's mushroom carpaccio.
We had these chanterelles with scrambled eggs and black truffles, and another dish of tricholomas with lamb sweetbreads. Both were every bit as delicious as they sound.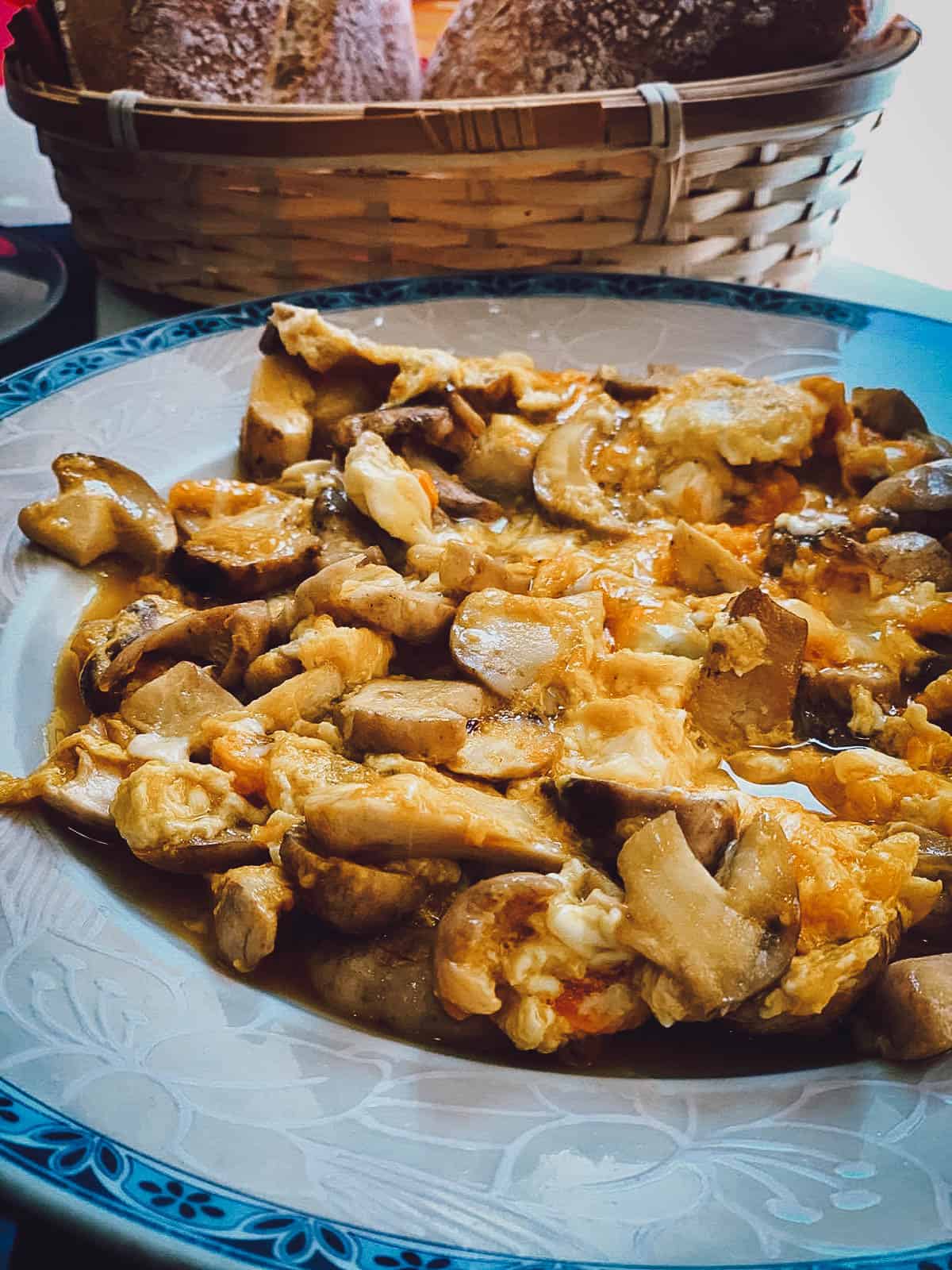 El Cisne Azul is known for their mushrooms but they offer grilled meats and other dishes too, like this tasty grilled octopus with aioli. They offer an extensive wine list as well.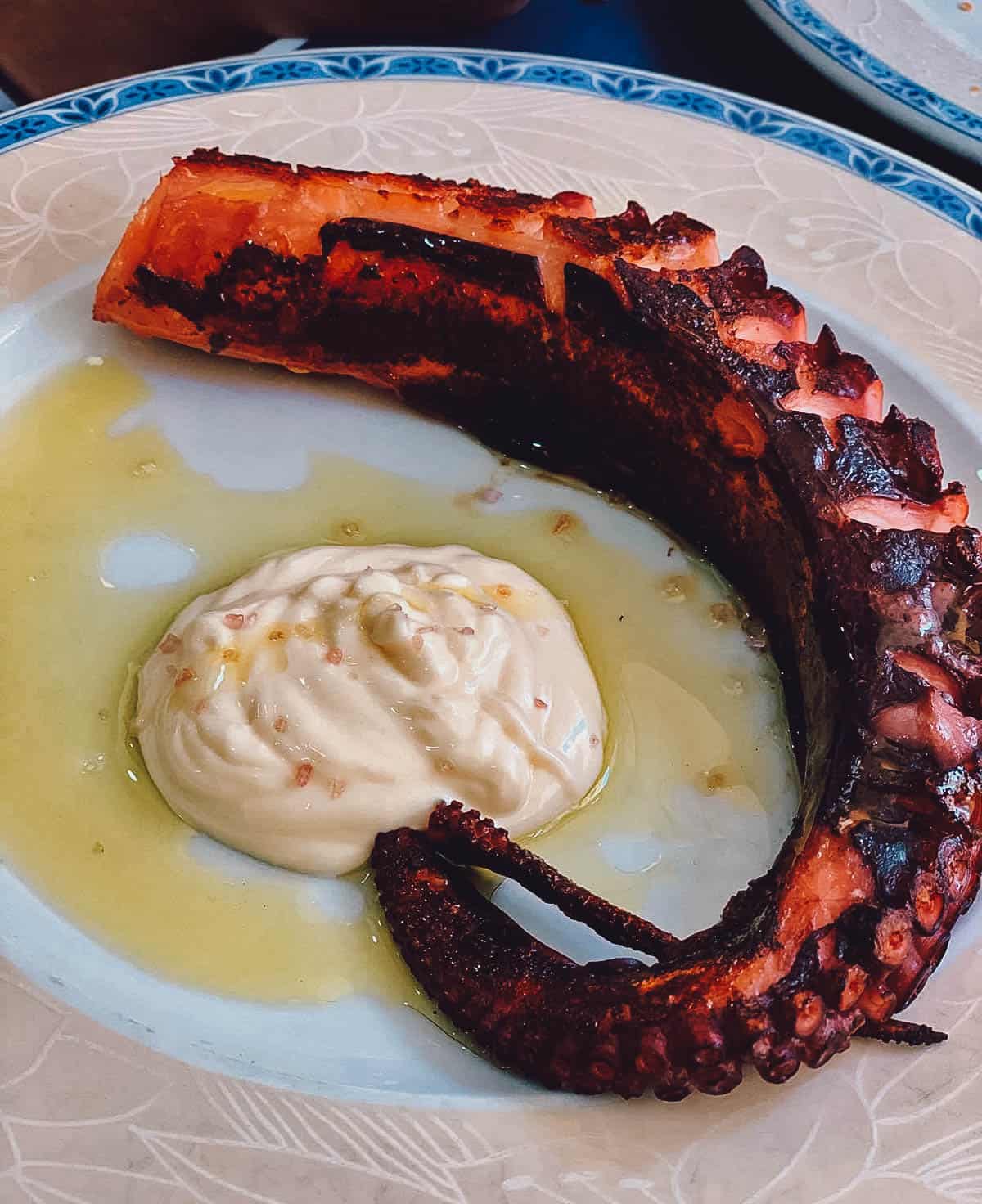 El Cisne Azul
Address: Calle de Gravina, 19, 28004 Madrid, Spain
Operating Hours: 1-4:30PM, 8-11:30PM, Mon-Sat / 12NN-5PM, Sun
What to Order: Anything with mushrooms
Expect to Spend: About EUR 18 per dish
6. El Meson del Boqueron
El Meson del Boqueron gave me my first taste of callos in Madrid. My search for good callos a la madrileña led me to this tasty bowl overflowing with tripe, morcilla, and chorizo.
I had callos three times in Madrid and none of the restaurants made it with garbanzo beans. I'm used to having chickpeas in callos but I guess it isn't a traditional ingredient in the Madrid version of the dish.



You can probably tell from these first few entries what type of restaurants I gravitate to on trips. I like hyper local establishments that have withstood the test of time.
I don't know when El Meson del Boqueron first opened but based on its interior, I'm guessing they've been around for a while.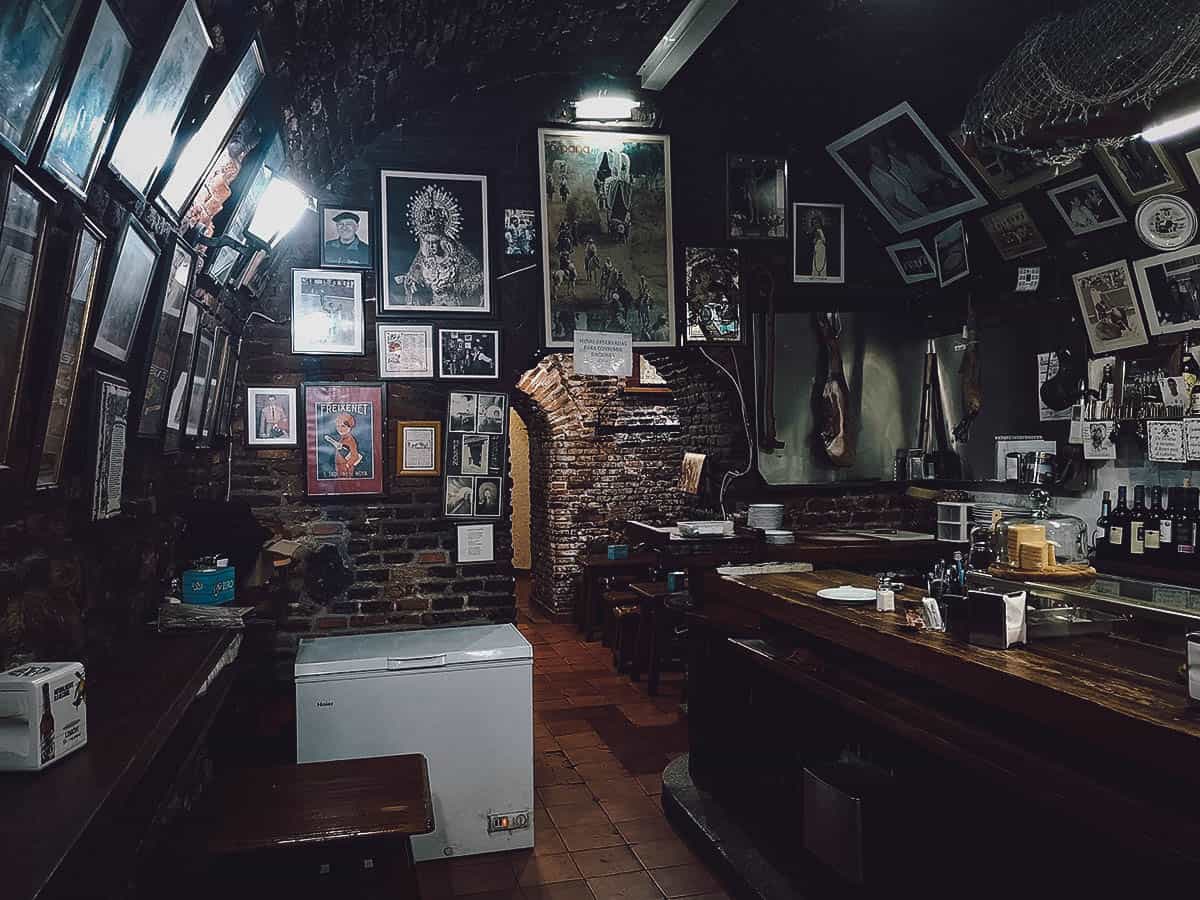 El Meson del Boqueron is conveniently located just off Plaza Mayor. It's a great place to enjoy a meal after visiting the city's main square.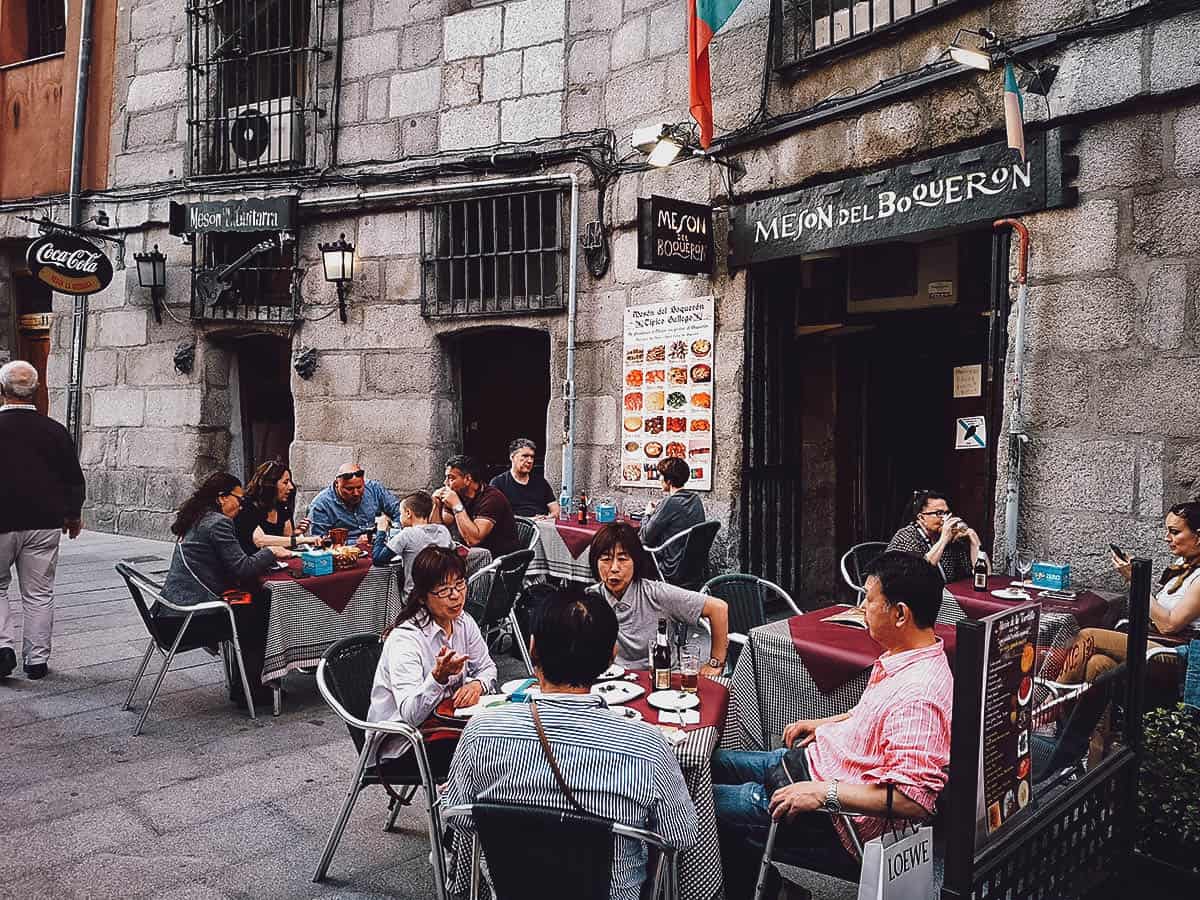 El Meson del Boqueron
Address: Cava de San Miguel, 14, 28005 Madrid, Spain
Operating Hours: 1-5PM, 8PM-12:30AM, Wed-Mon (closed Tuesdays)
What to Order: Callos a la madrileña, tapas
Expect to Spend: About EUR 15 for callos, EUR 8 for tapas
7. La Tasqueria de Javi Estevez
I love street food and hole-in-the-walls, but I also enjoy the occasional fine dining experience. We try to go to at least one nice restaurant on every trip, and in Madrid, that restaurant was La Tasqueria de Javi Estevez.
A recipient of one Michelin Star, what makes La Tasqueria interesting is its menu of offal-inspired dishes. They offer tapas with different types of offal like lamb sweetbreads, pork cheek, and beef tongue as the main ingredients. It's cool enough to find a restaurant that features offal so prominently but even more so when it's received a Michelin Star!
Pictured below is a beautiful and delicious dish of pork cheek and red prawn tacos. They serve them with the scarlet prawn heads so you can suck out all that delicious umami.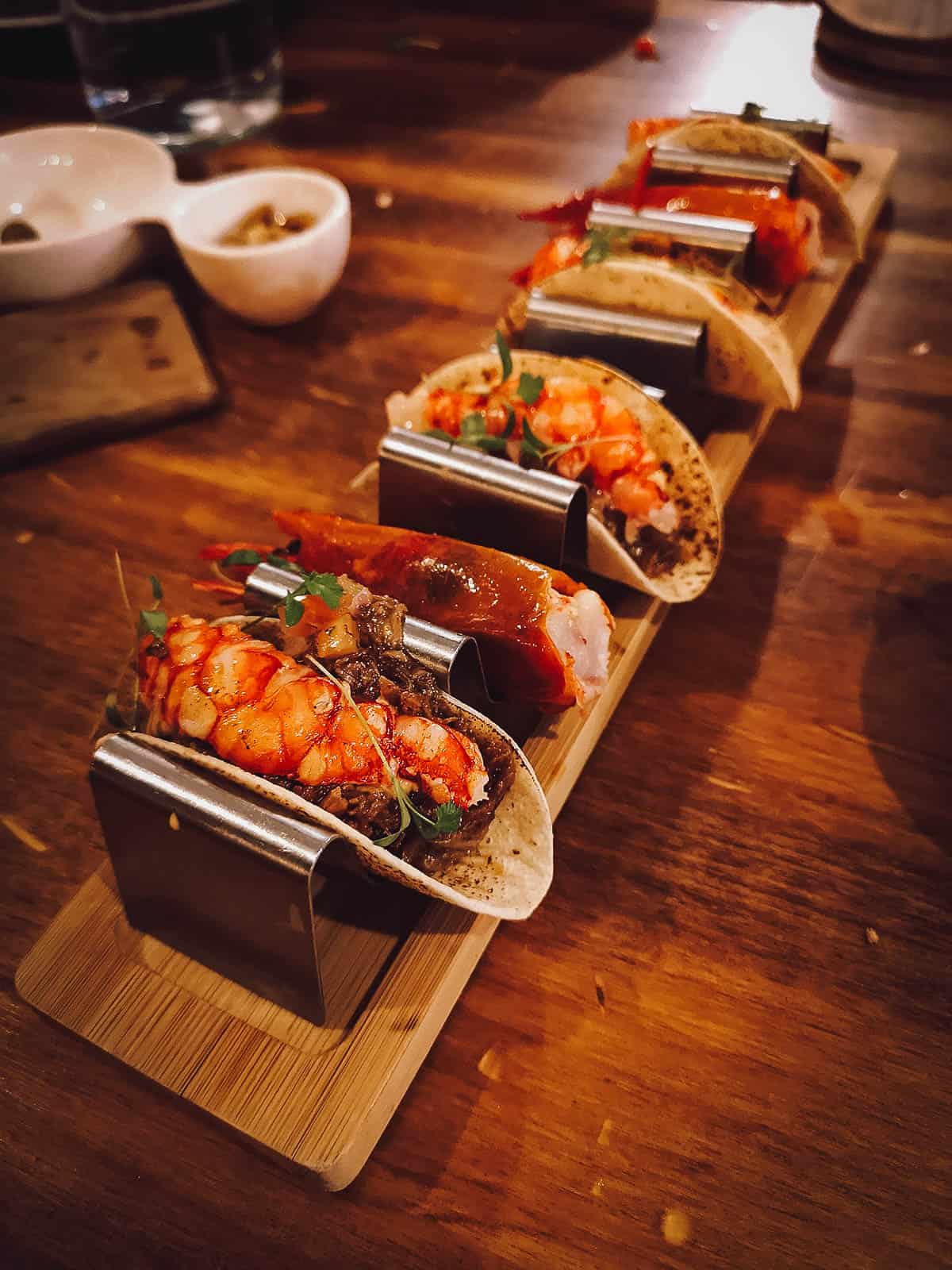 Can you guess what these are? (Clue: We had the same offal at El Cisne Azul.) What you're looking at are lamb sweetbreads with prawn and garlic on melba toast.
These are just two of the many delicious dishes we had at La Tasqueria. Check out my article on La Tasqueria de Javi Estevez for more pictures and information.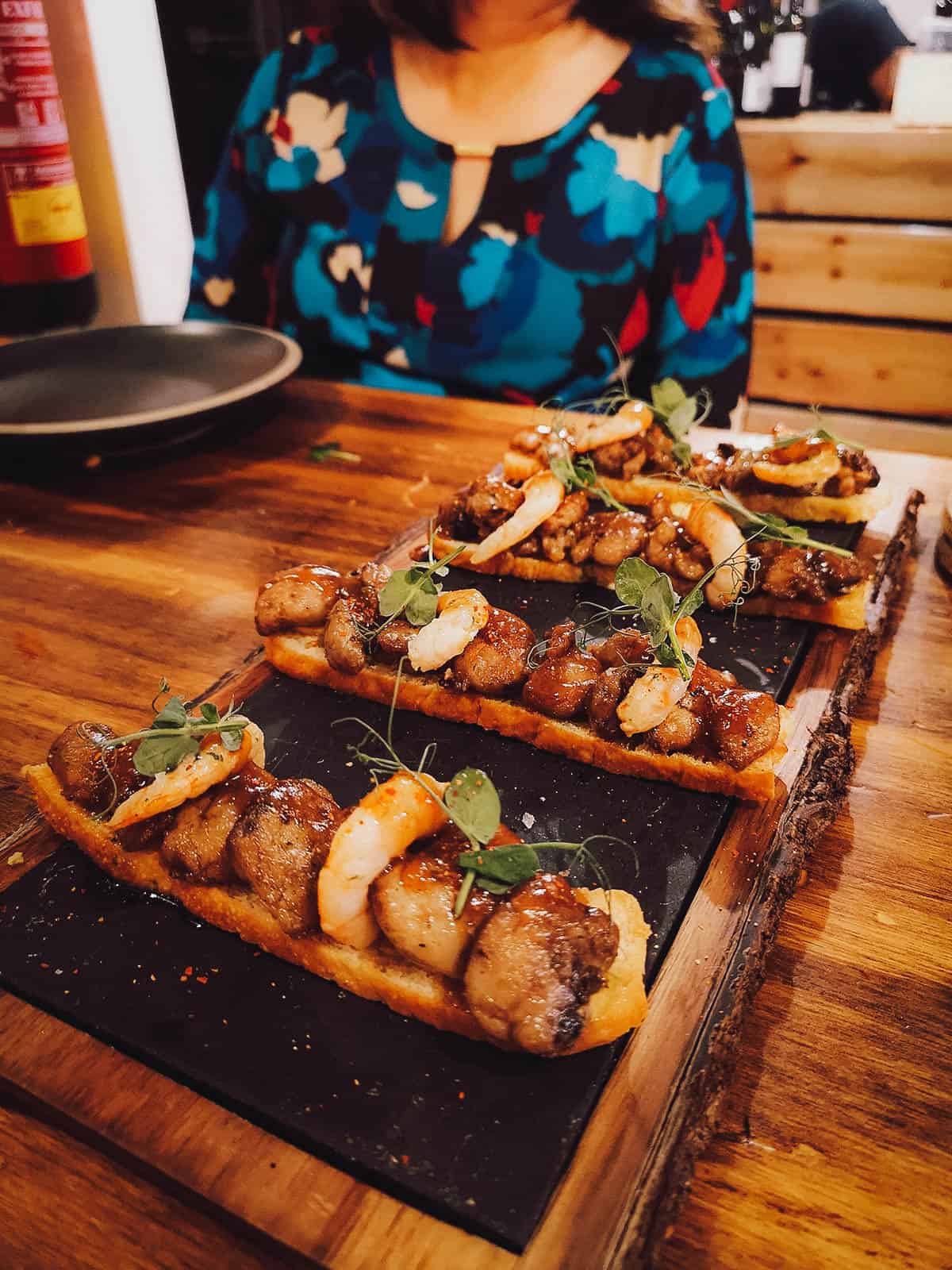 La Tasqueira de Javi Estevez is located along Calle Duque de Sesto in the trendy Chamberi district. It was one of the most interesting and unique restaurants we visited in Spain.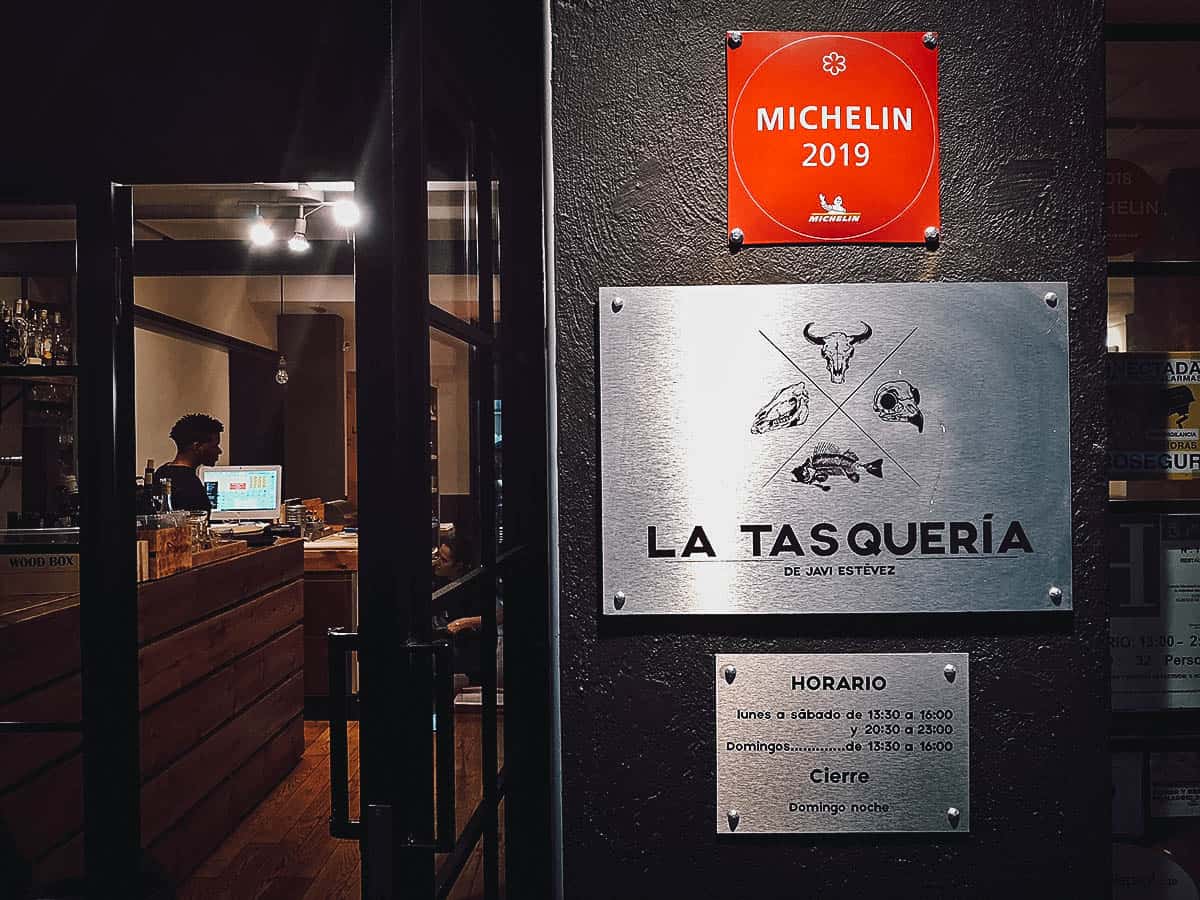 La Tasqueria de Javi Estevez
Address: Calle Duque de Sesto, 48, 28009 Madrid, Spain
Operating Hours: 1:30-4PM, 8:30-11PM, Mon-Sat / 1:30-4PM, Sun
What to Order: Callos, lamb sweetbreads, pork cheek and red prawn tacos
Expect to Spend: About EUR 15 per dish
PASTRIES
8. Chocolateria San Gines
Chocolateria San Gines is the most iconic restaurant on this list. Open since 1894, it's the oldest and most famous chocolateria in Madrid.
San Gines has been serving churros con chocolate – one of Spain's most beloved breakfast and snack combinations – for over 125 years. Like Lisbon's Pasteis de Belem, it's a chocolateria that's become more than just a restaurant. It's a Madrid landmark.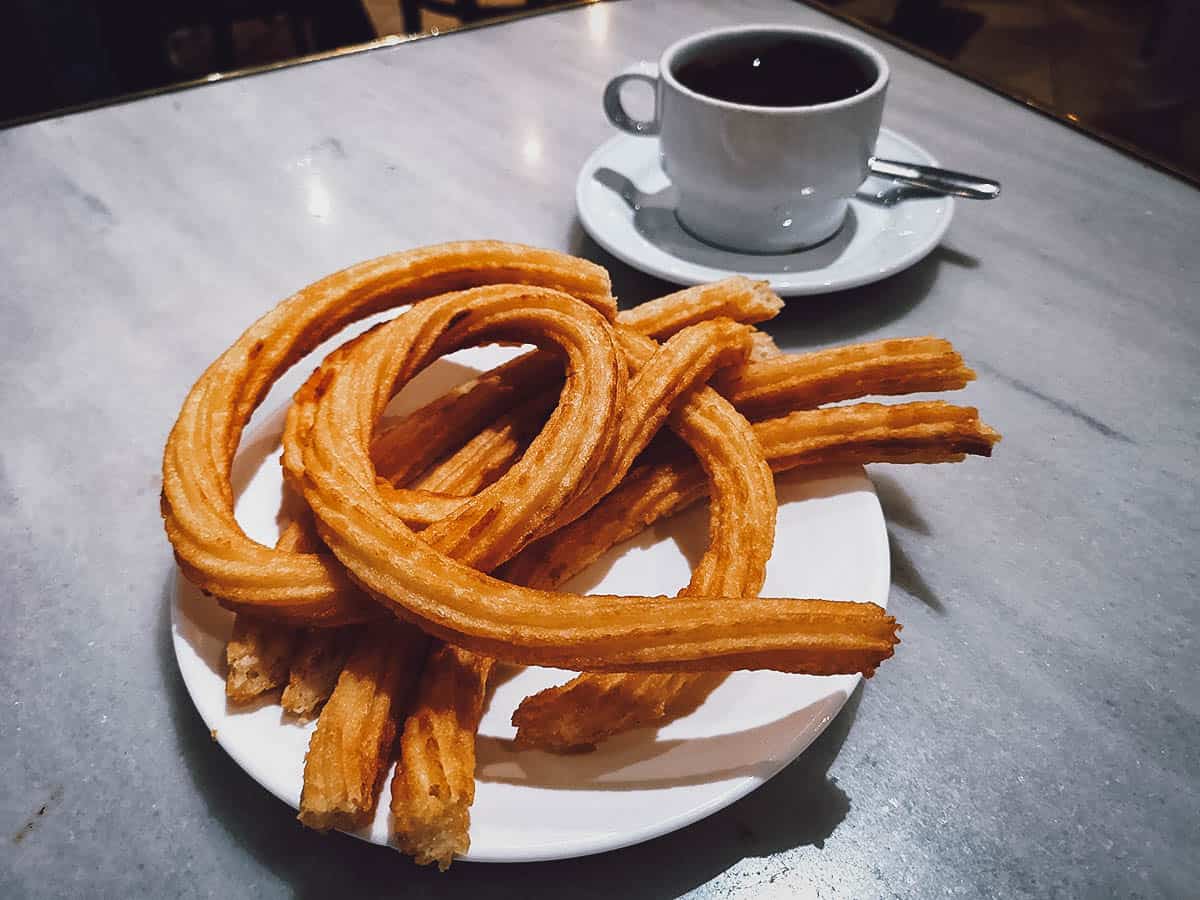 Dipping these Spanish-style doughnuts into a supremely dark and thick cup of chocolate is one of Spain's great pleasures. If you were to have churros con chocolate just once in Madrid, the it should probably be at Chocolateria San Gines.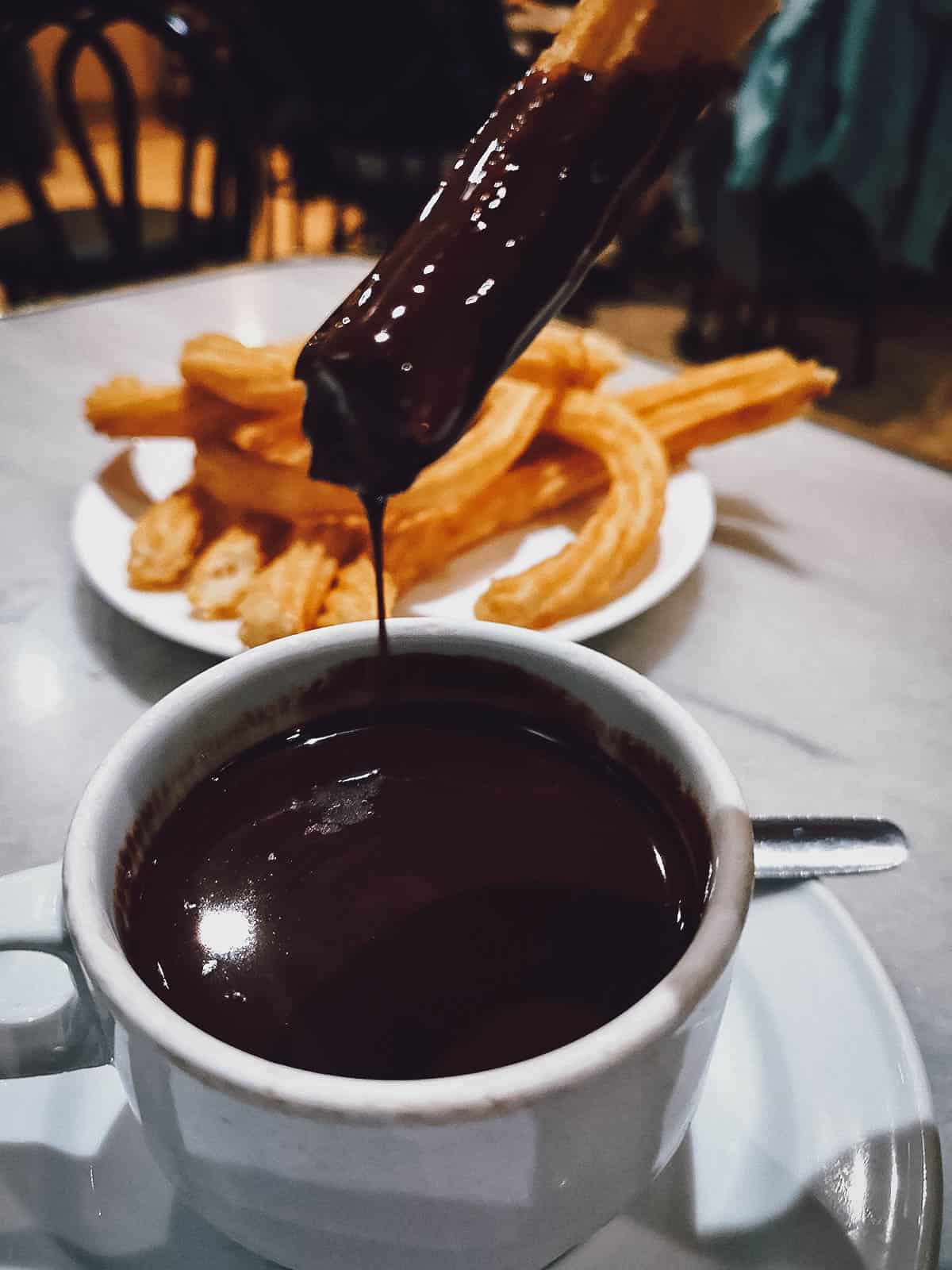 Chocolateria San Gines is located just outside San Gines Church. I was expecting to fight for a table when I got there but luckily, I was seated right away.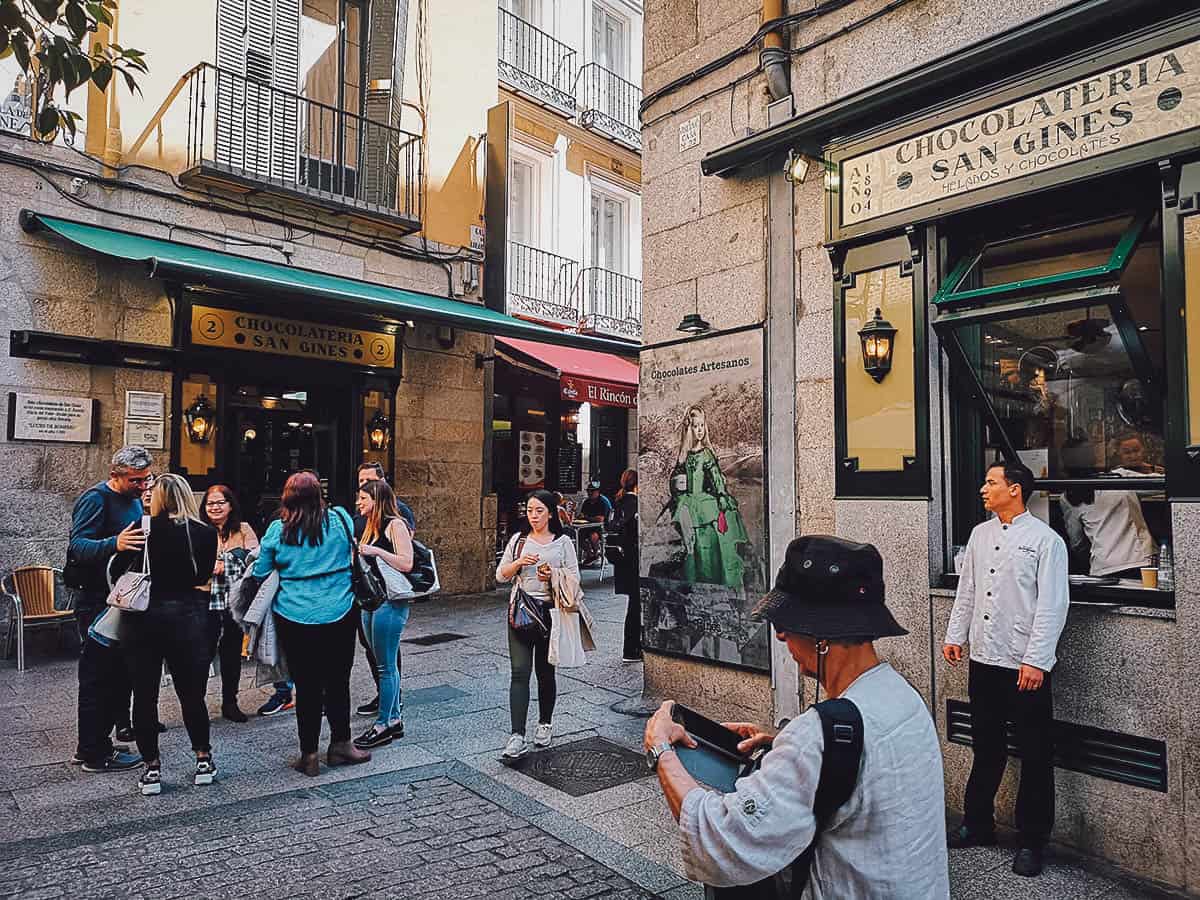 Chocolateria San Gines
Address: Pasadizo de San Ginés, 5, 28013 Madrid, Spain
Operating Hours: 8AM-10PM, daily
What to Order: Churros con chocolate
Expect to Spend: About EUR 4.20 for churros con chocolate
9. La Mallorquina
La Mallorquina is another example of my proclivity for restaurants that have been around for decades. Open since 1894, La Mallorquina has been serving some of Madrid's best napolitanas and ensaimadas for over 125 years.
Pictured below is their famous napolitana de crema and some type of cream cake. I prefer cream over chocolate but I've read that La Mallorquina's napolitana chocolate is the best in Madrid.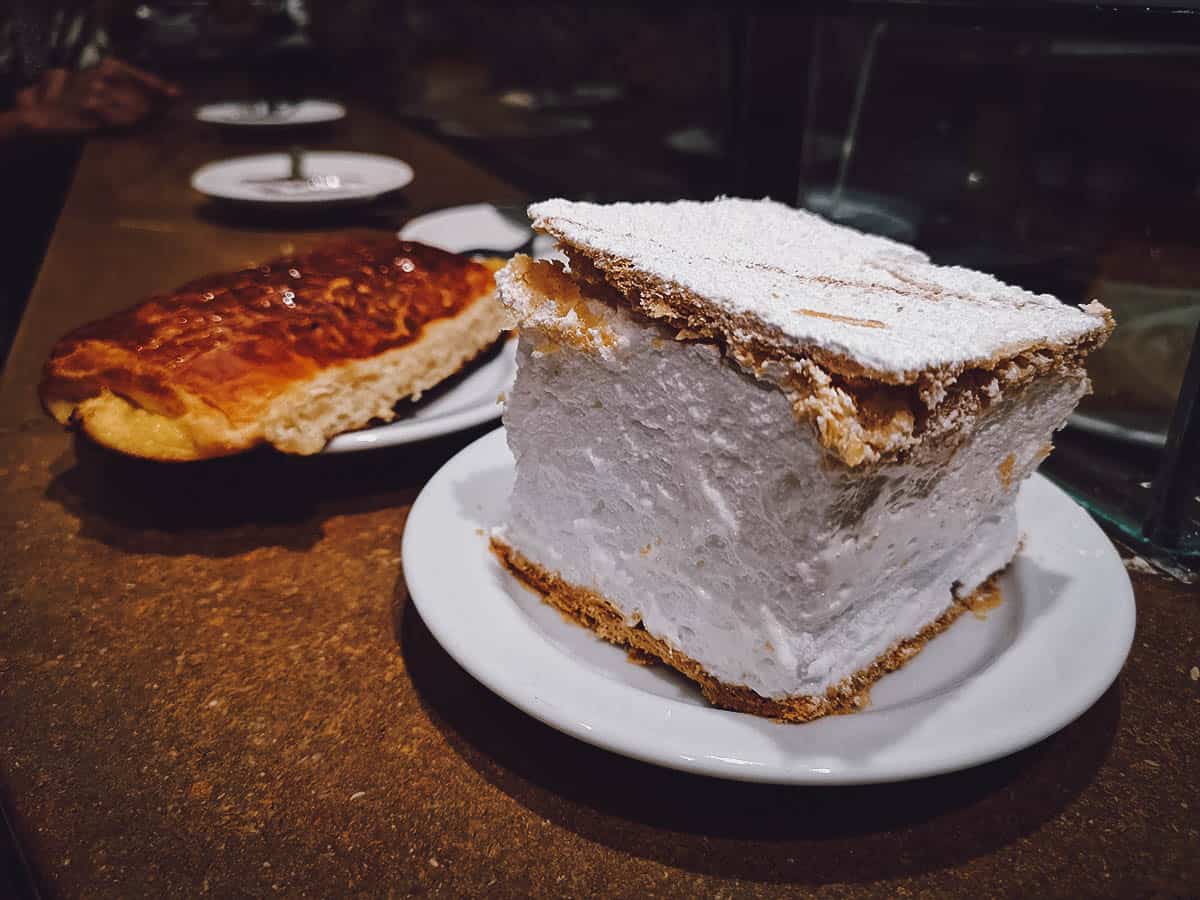 La Mallorquina is located in Madrid's famed Puerta del Sol. You'll find yourself at this busy public square at some point so why not stop by for a quick pastry and a cafe con leche?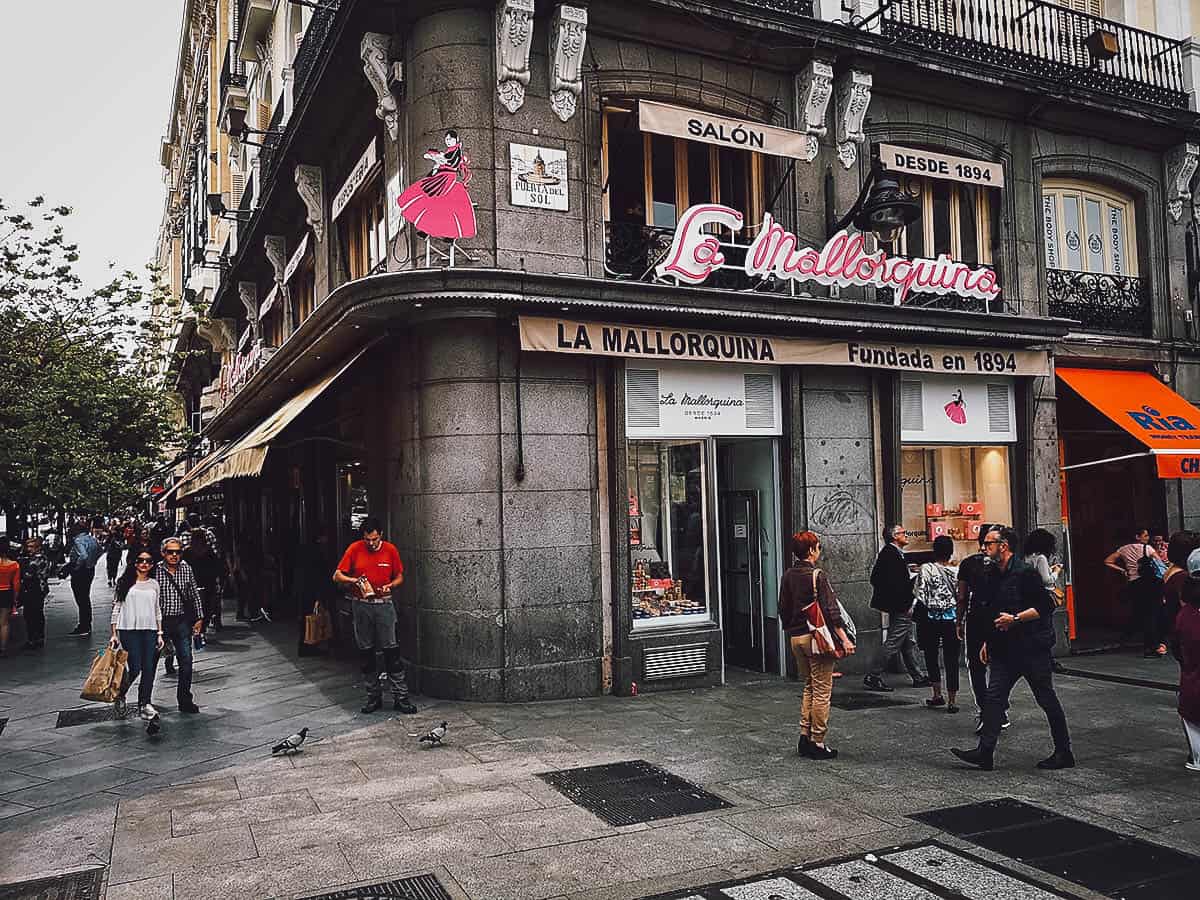 La Mallorquina
Address: Puerta del Sol, 8, 28013 Madrid, Spain
Operating Hours: 8:30AM-9:15PM, daily
What to Order: Napolitanas, ensaimadas, bandejas, croissants
Expect to Spend: About EUR 3 per pair of pastries
JAMONERIAS
A jamoneria is a shop/deli that sells Spanish ham, sausages, cheese, and other cured meats. You'll find them everywhere in Spain. In some parts of Madrid, there seems to be a jamoneria on every block.
10. Museo del Jamon
Museo del Jamon is a chain of jamonerias with about a dozen or more shops in Madrid. Walk by a Museo del Jamon on the street and it's hard not to be enticed by its dozens of dangling ham legs and displays of ready-to-eat bocadillos.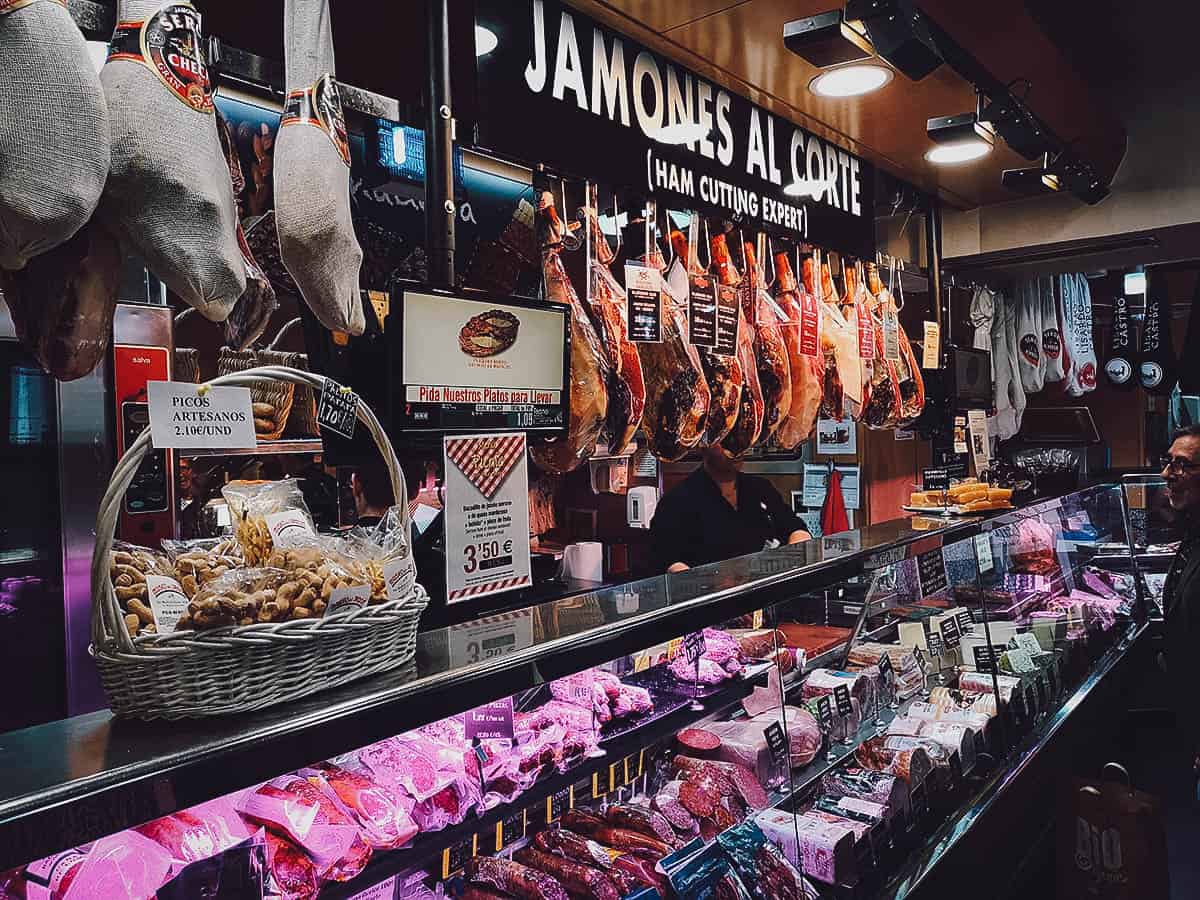 I rarely lingered inside a jamoneria because I always knew what to get – a bocadillo de jamon. Pictured below is a bocadillo de jamon iberico de bellota, a specimen of a sandwich made with the finest grade of Spanish dry-cured ham.
Give me a bocadillo de jamon and a cerveza everyday and I'm a happy man.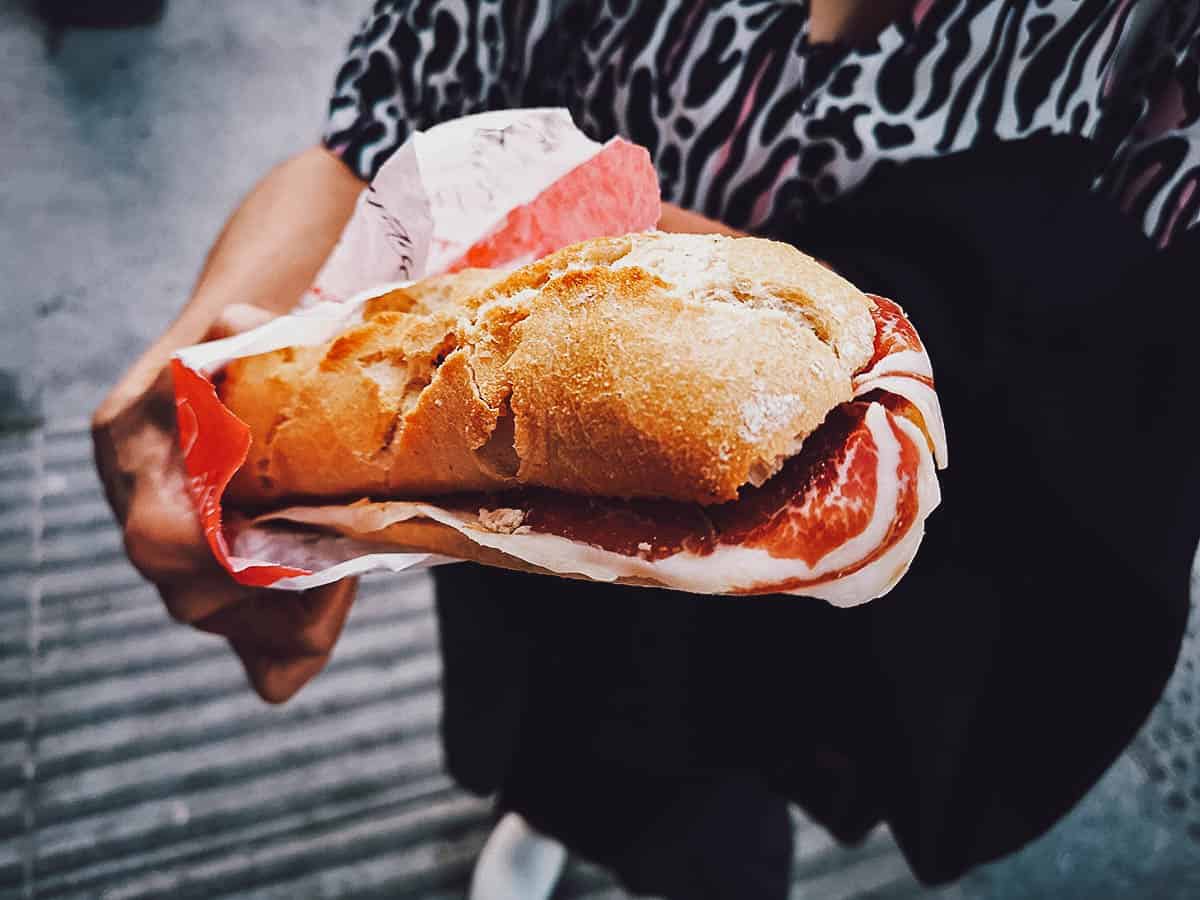 Open since 1978, there are several Museo del Jamon shops in central Madrid. You can check Google Maps to find a shop near you. Chances are, you'll walk by one on the street.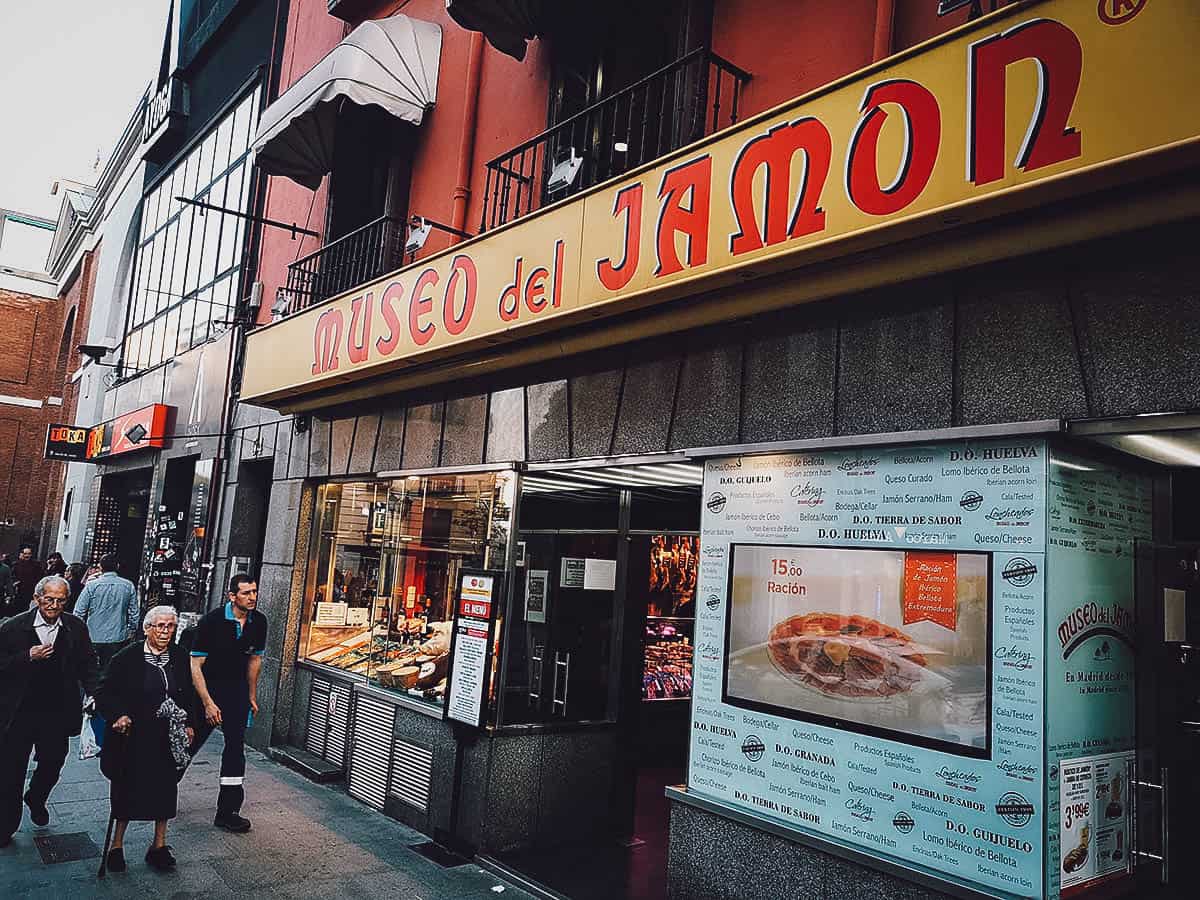 Museo del Jamon
Branches: Google Maps
Operating Hours: Varies per branch
What to Order: Bocadillo de jamon, charcuterie
Expect to Spend: About EUR 4 per bocadillo de jamon
11. Mercado Jamon Iberico
We found Mercado Jamon Iberico by chance. Located less than 500 meters from Plaza Mayor, it's a family-run shop that's described as one of the best places to buy jamon iberico in Madrid.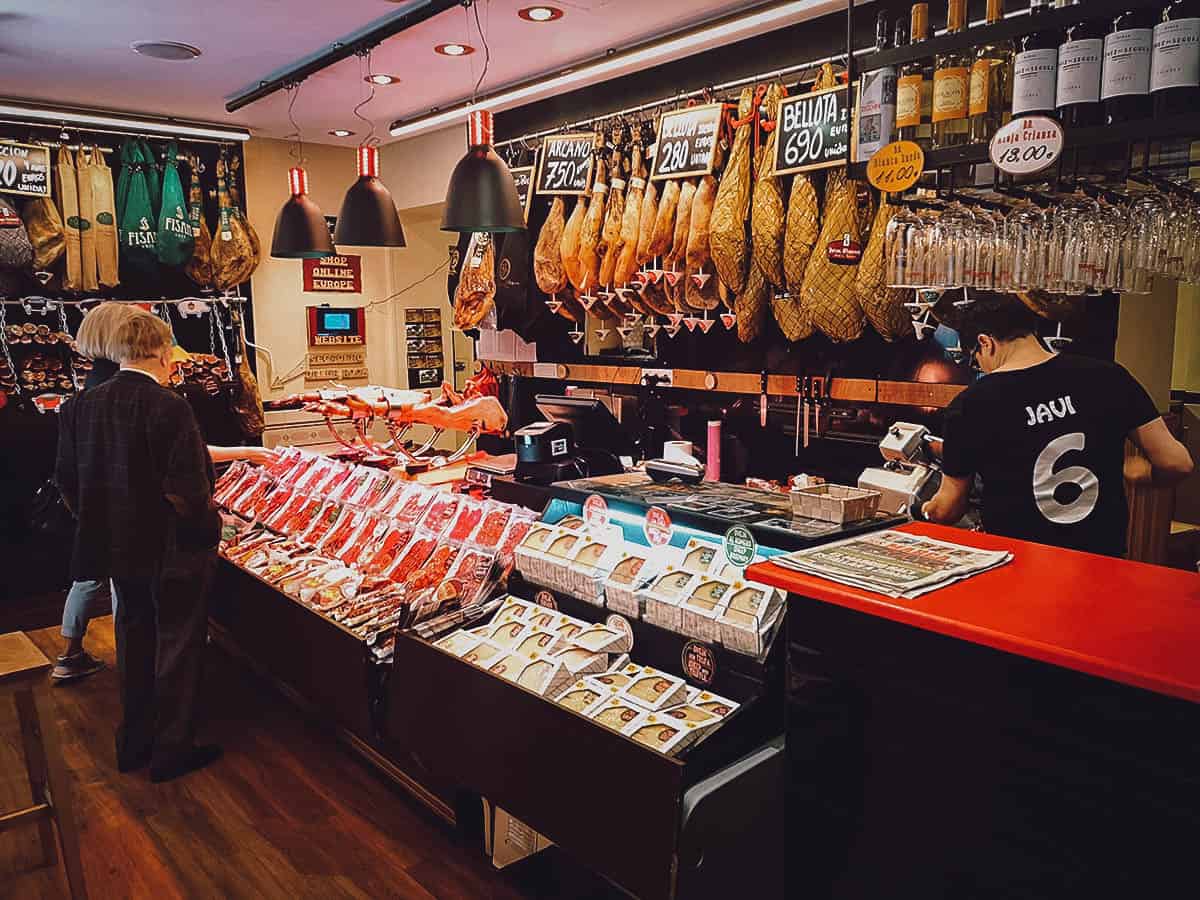 As described, I would usually just pick up a bocadillo to go but we actually sat and enjoyed charcuterie and a bottle of wine at this jamoneria. It's run by a lovely family who were eager to help with any questions we had.
One of the owners had me sample different types of iberico and I enjoyed this one the best. It's a jamon iberico de bellota puro which is an acord-fed iberico cured for four years.
Sweet, savory, nutty, and fatty, these have to be some of the most delicious slices of jamon we've ever tasted in our lives. I love bocadillos but eating the jamon on its own like this makes you appreciate it even more.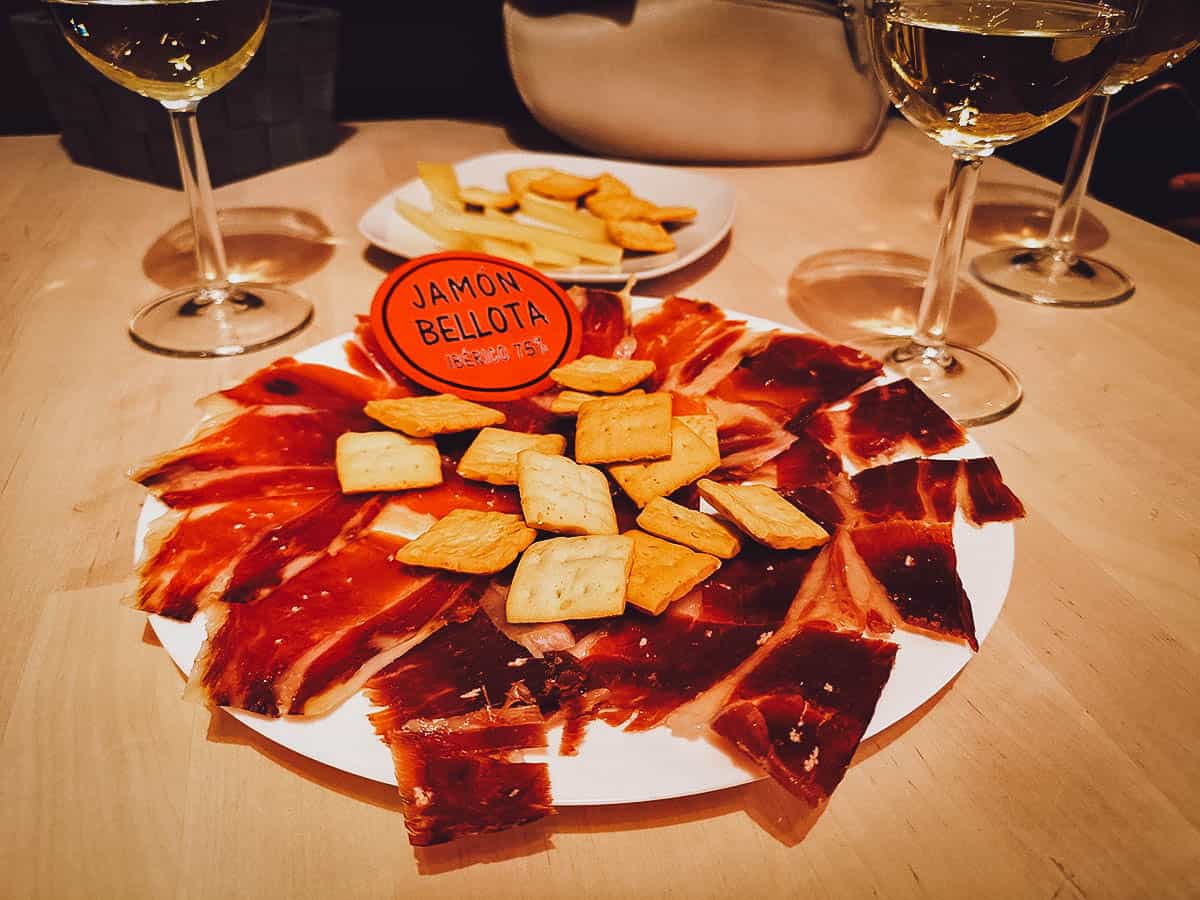 We also had the salchichon de bellota, truffled manchego, and a bottle of white wine. Everything was fantastic and made for a memorable afternoon in Madrid.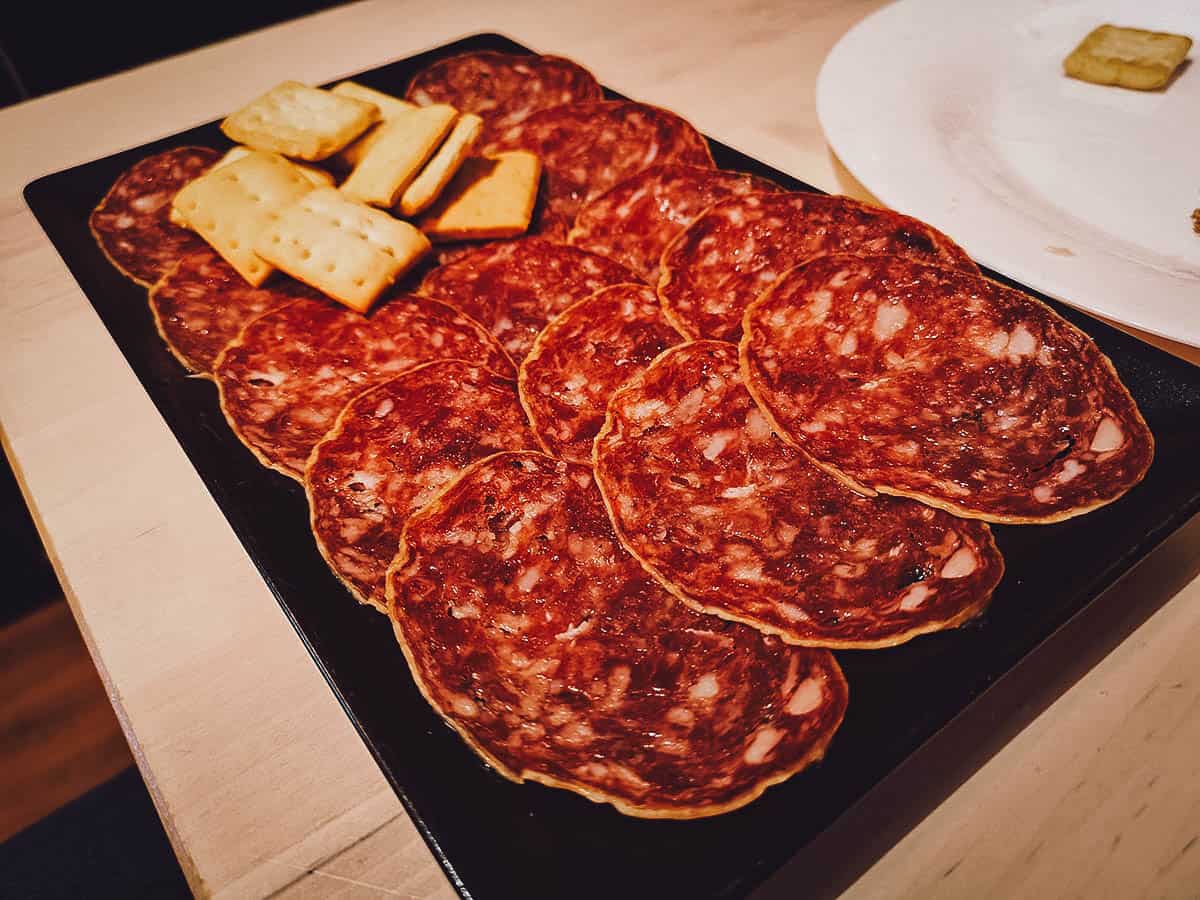 Mercado Jamon Iberico is located along Calle Mayor, less than 500 meters from Plaza Mayor. Being so close to one of the city's most famous landmarks, it's one of the most conveniently located jamon iberico shops in Madrid.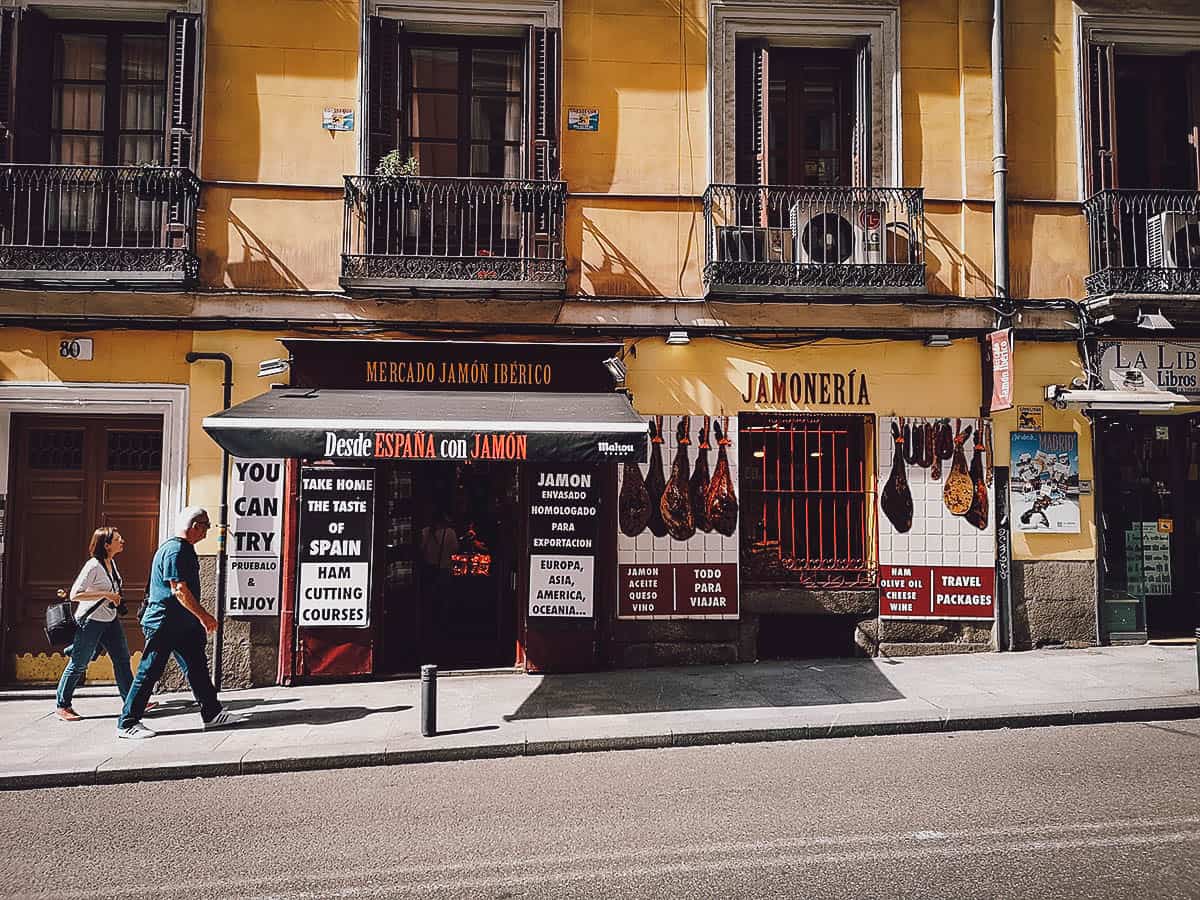 Mercado Jamon Iberico
Address: Calle Mayor, 80, 28013 Madrid, Spain
Operating Hours: 10AM-9PM, daily
What to Order: to follow
Expect to Spend: About EUR 15 for jamon iberico, EUR 7 for salchichon, EUR 8 for cheese, EUR 10 for a bottle of wine
MARKETS
Visiting Spain and not going to a mercado is like traveling to France and not enjoying a baguette. It's a gastronomic sin.
Historic Mercado de San Miguel off Plaza Mayor is the obvious choice but it's also the busiest. Like Barcelona's La Boqueria, I walked in and walked right out.
If you'd prefer a more local, less touristy mercado, then there are others to choose from in Madrid.
12. Mercado de San Fernando
Mercado de San Fernando is one of five markets in Madrid's Centro district. It's located in the Embajadores/Lavapies neighborhood which was one of the most colorful and multicultural areas we visited in Madrid.
Like any modern Spanish mercado, Mercado de San Fernando is a mix of traditional tapas bars and more international stalls offering a range of dishes like sushi, pastries, and burgers. There's even a second-hand bookshop that sells used books by the pound.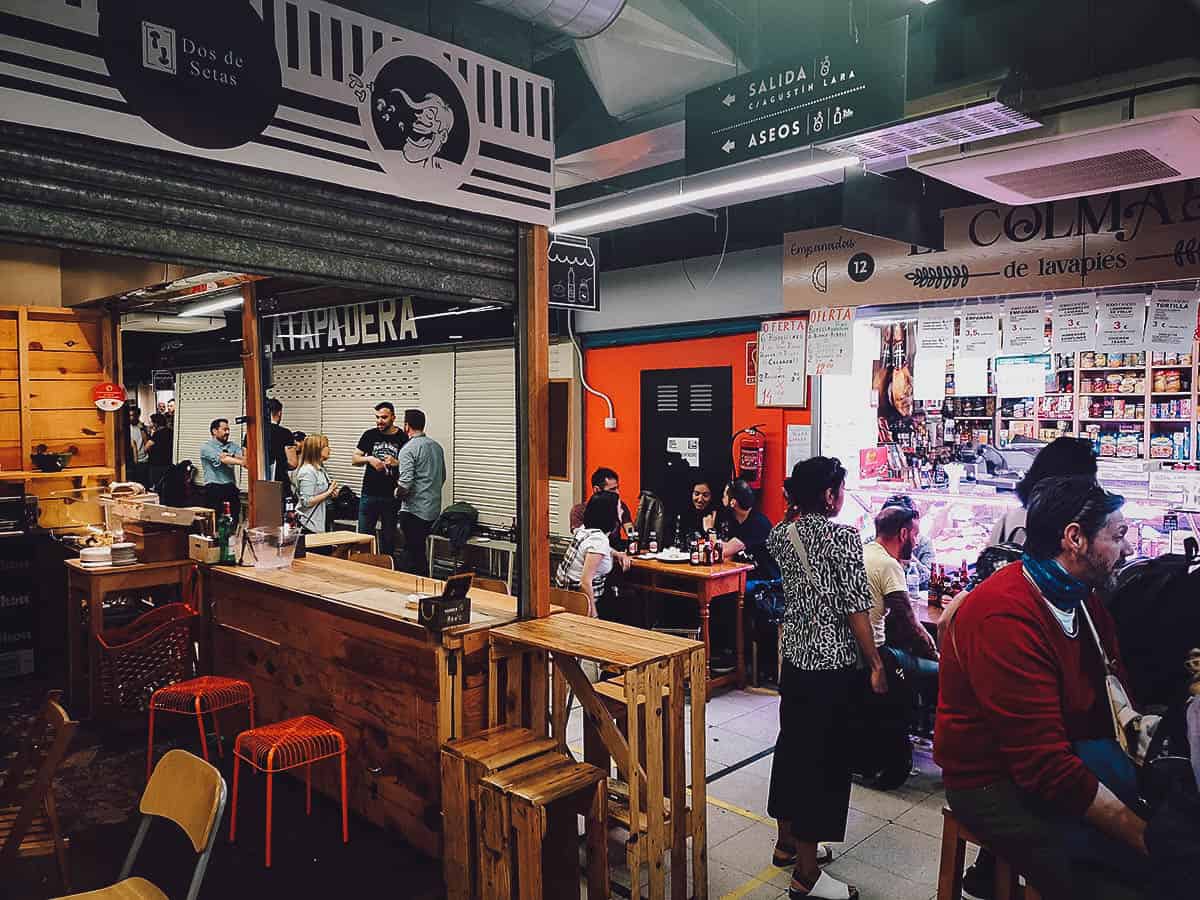 We wanted traditional Spanish fare so we went with dishes like chorizo and lomo to go with our beers.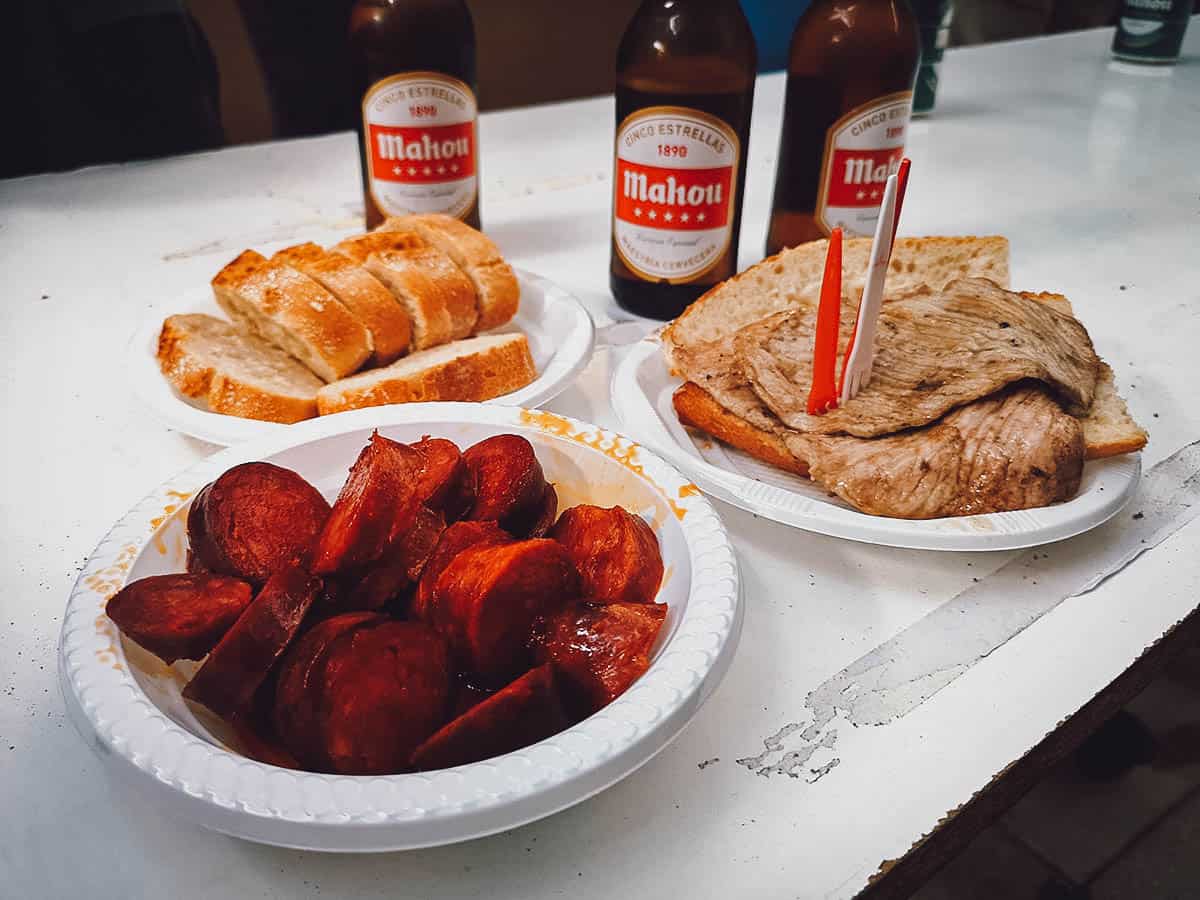 Slivers of manchego cheese and crusty bread to enjoy with our Spanish Mahou cervezas.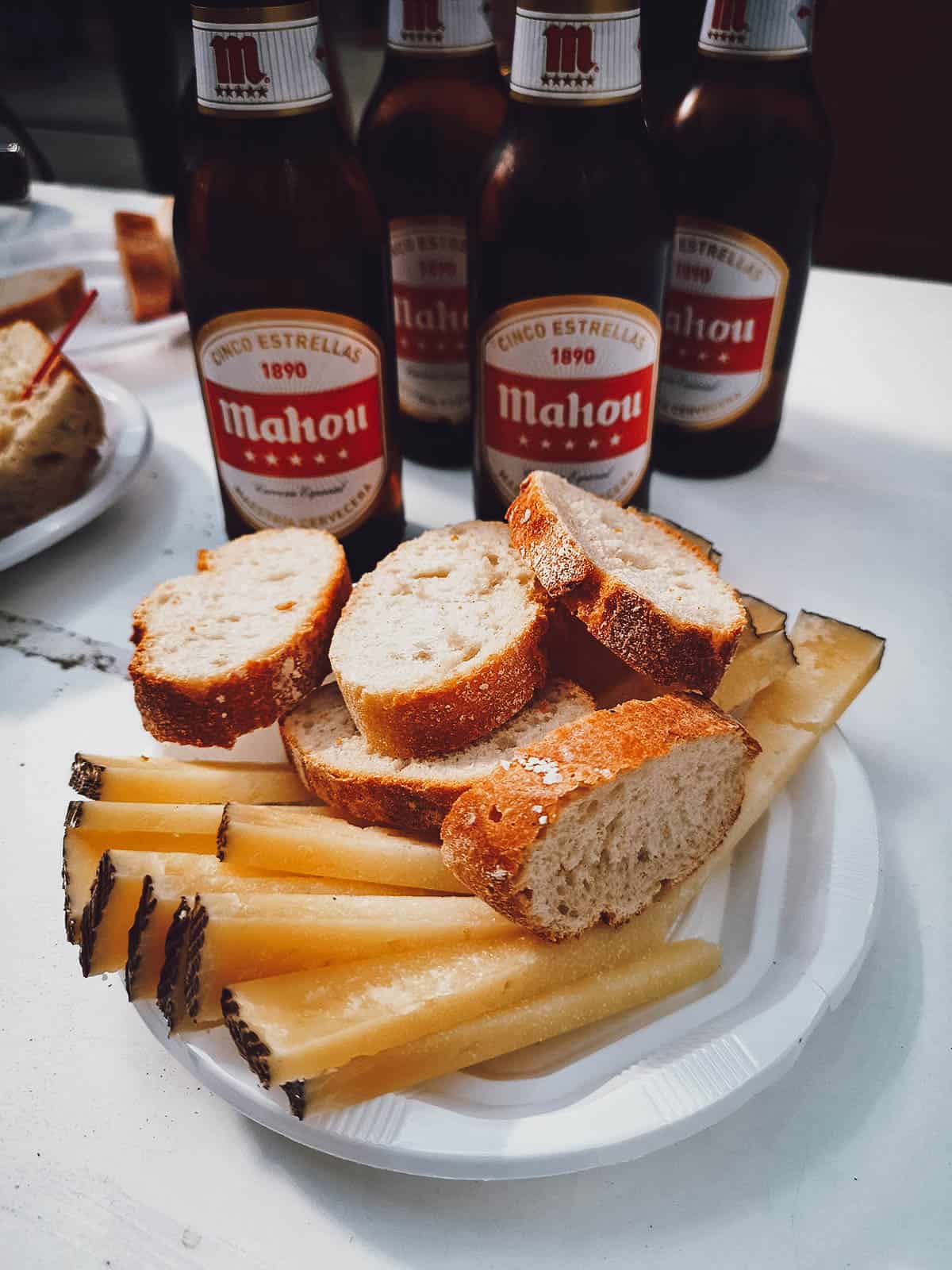 I didn't include them all in this list but of all the mercados I visited in Madrid, Mercado de San Fernando was my favorite.
It was the least polished and one of the most crowded, but it also felt the most authentic. I felt like I was in a real Spanish mercado with locals and not a bunch of tourists.
Embajadores/Lavapies is a gritty but interesting neighborhood. There seems to be a lot of Afrian and Indian restaurants in the area (and barber shops offering EUR 5 haircuts!). It's a place I would have loved to really explore with more time in Madrid.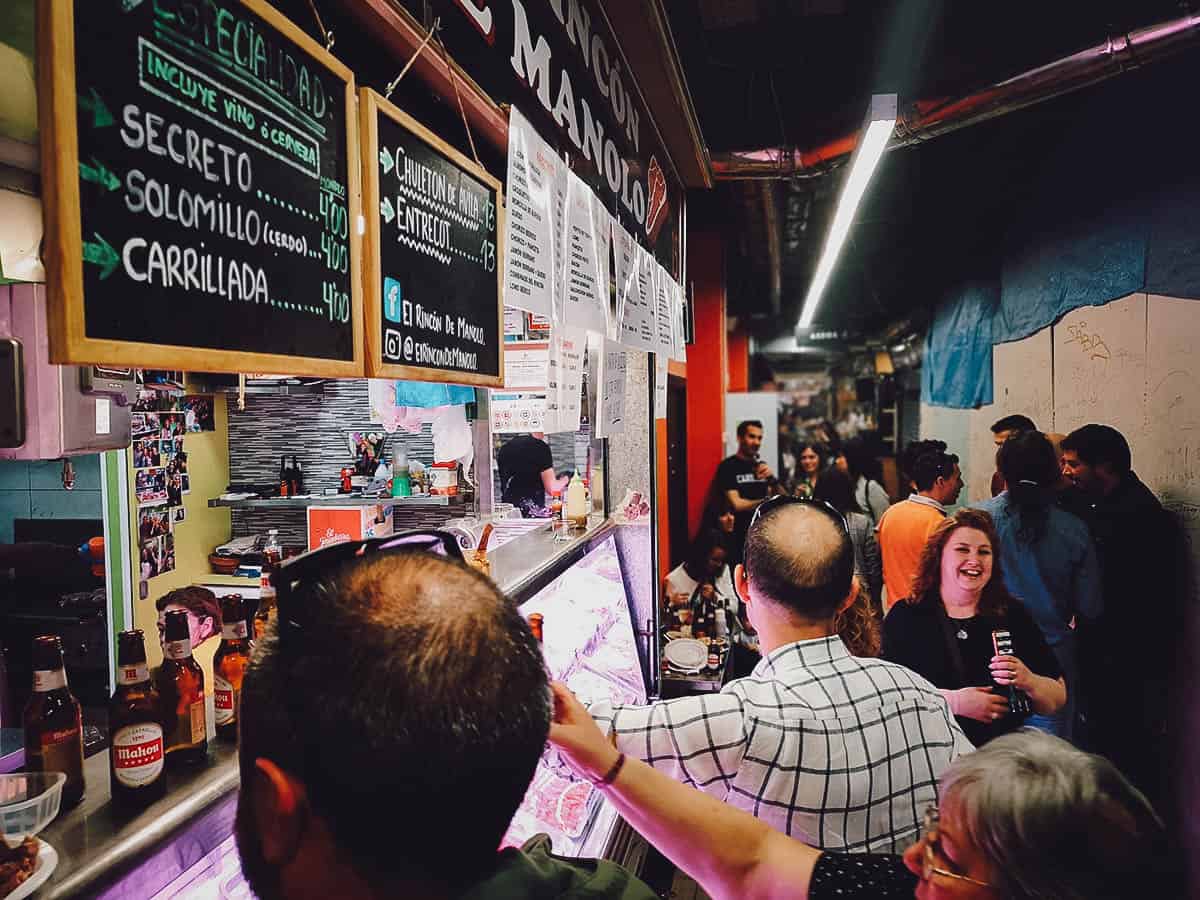 Mercado de San Fernando
Address: Calle de Embajadores, 41, 28012 Madrid, Spain
Operating Hours: 9AM-9PM, Tue-Thurs / 9AM-11PM, Fri-Sat / 11AM-5PM, Sun / 9AM-3PM, 5-9PM, Mon
13. Mercado de San Anton
As you can probably tell from the picture below, Mercado de San Anton is more modern and much more polished than Mercado de San Fernando. It's located in the Chueca neighborhood and offers an even more international range of cuisine.
The market was originally built in 1945 but it went through a complete renovation in 2002 so it looks brand new. The first floor is a mix of fresh produce and takeaway food stalls. The second has a wine bar and about ten stalls offering an international range of cuisine.
If you'd like to dine at a proper restaurant, then you can go up to the third floor which is occupied by La Cocina de San Anton. It's a restaurant and cocktail bar that offers a full menu of Spanish and international dishes.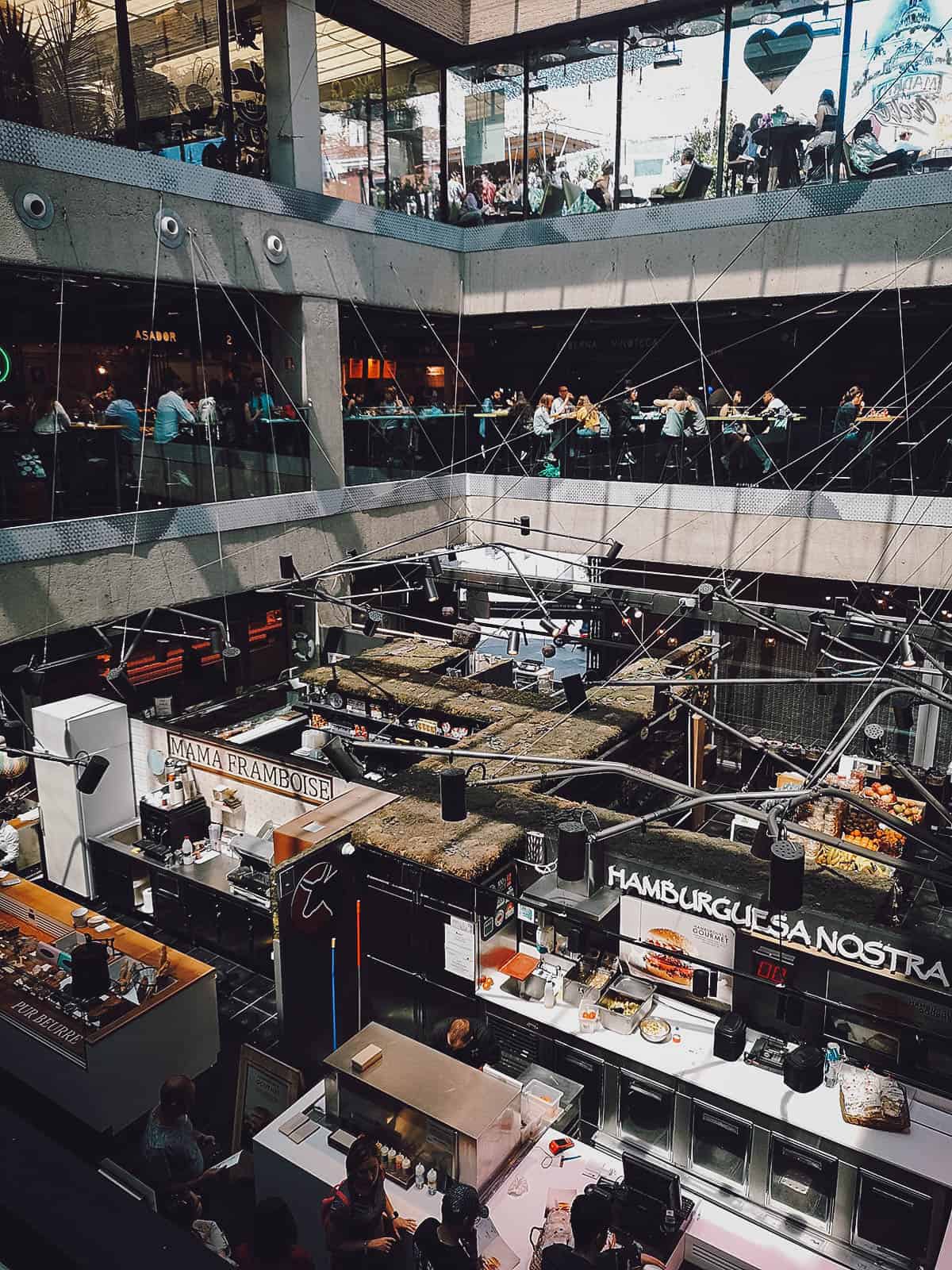 A tempting display of pintxos. San Sebastian would be our next stop after Madrid so I waited to have them there.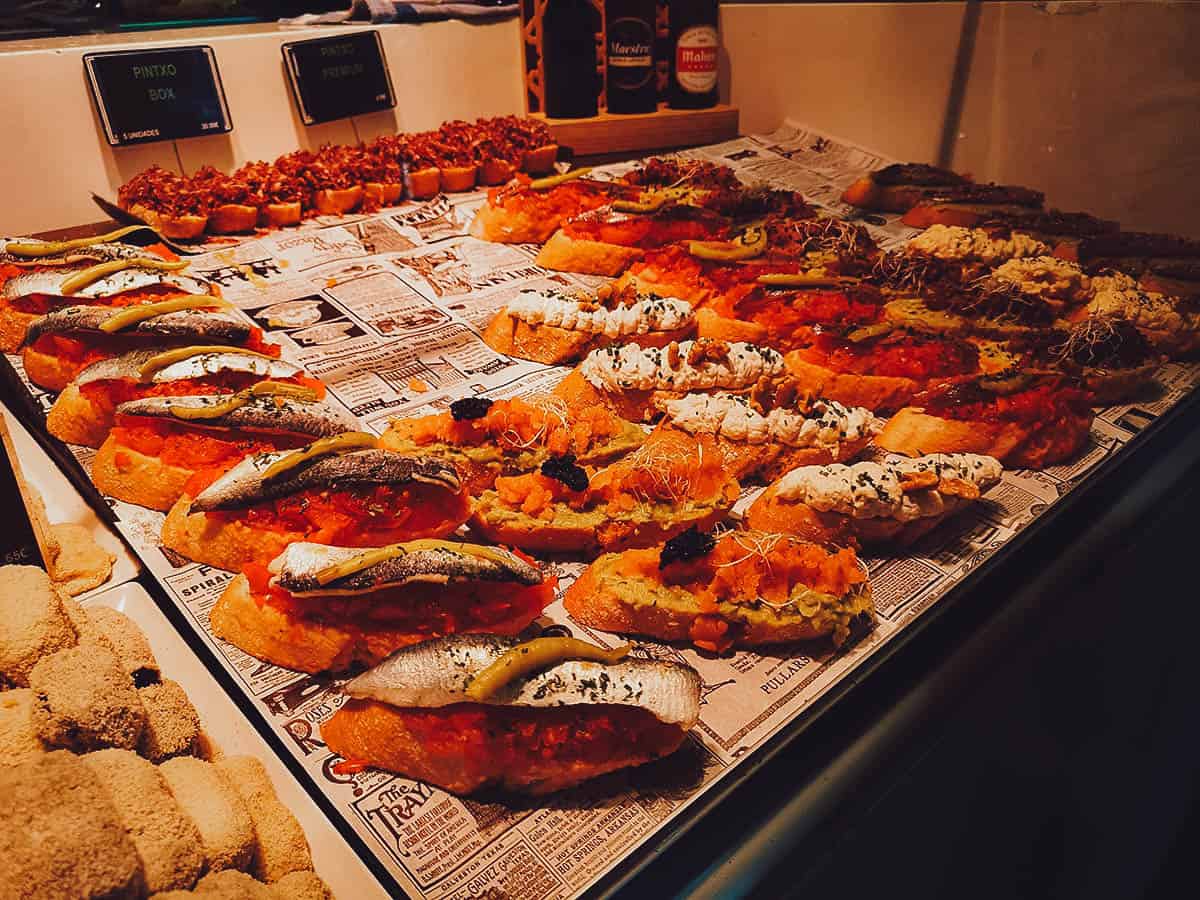 You can never go wrong with this classic Spanish dish – tortilla de patata. Like callos and bocadillos de jamon, it's one of my favorite Spanish dishes and something I could have almost everyday.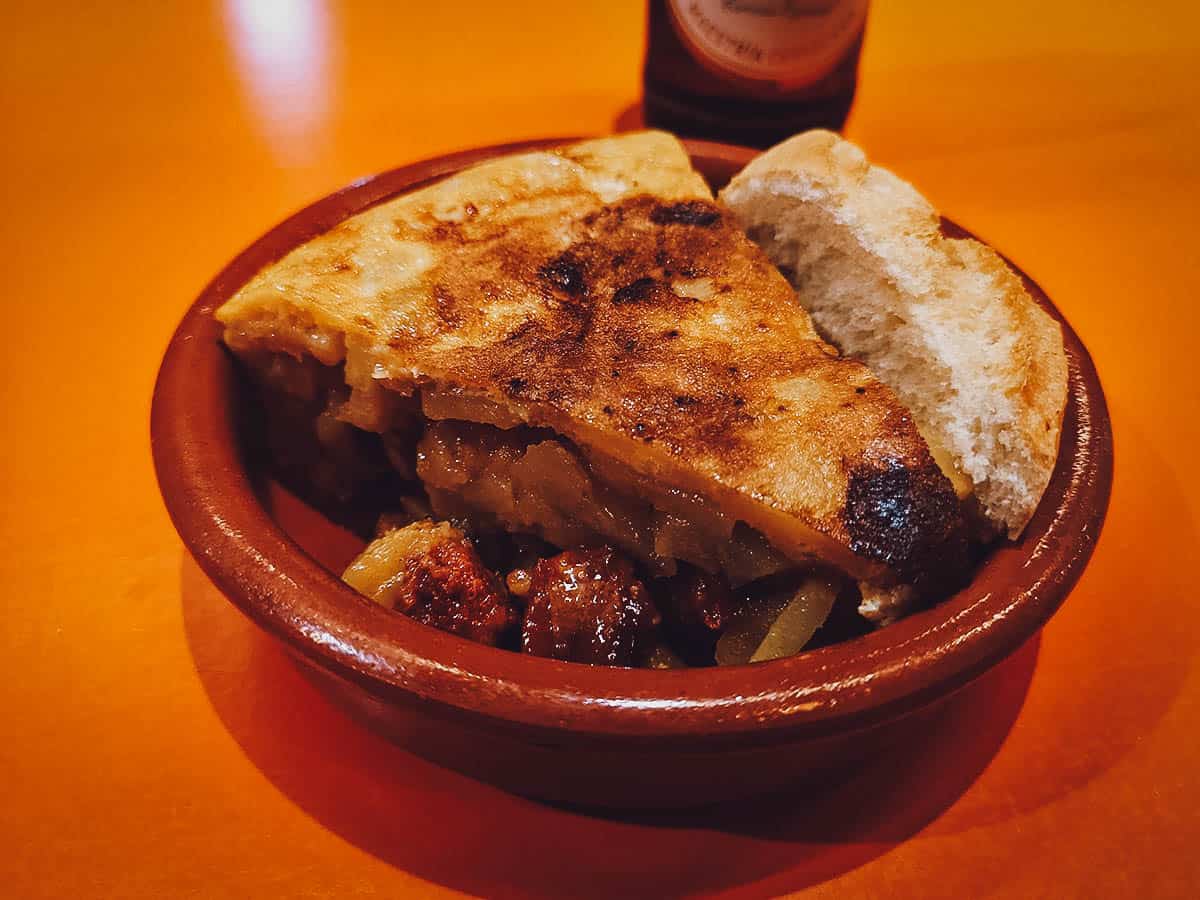 I don't know what you call these but they're like pintxos served on melba toast. Clockwise from the upper left are bacalao ajoarriero, anchovies with pimientos, pulpo a la gallega, and Icelandic smoked codfish liver.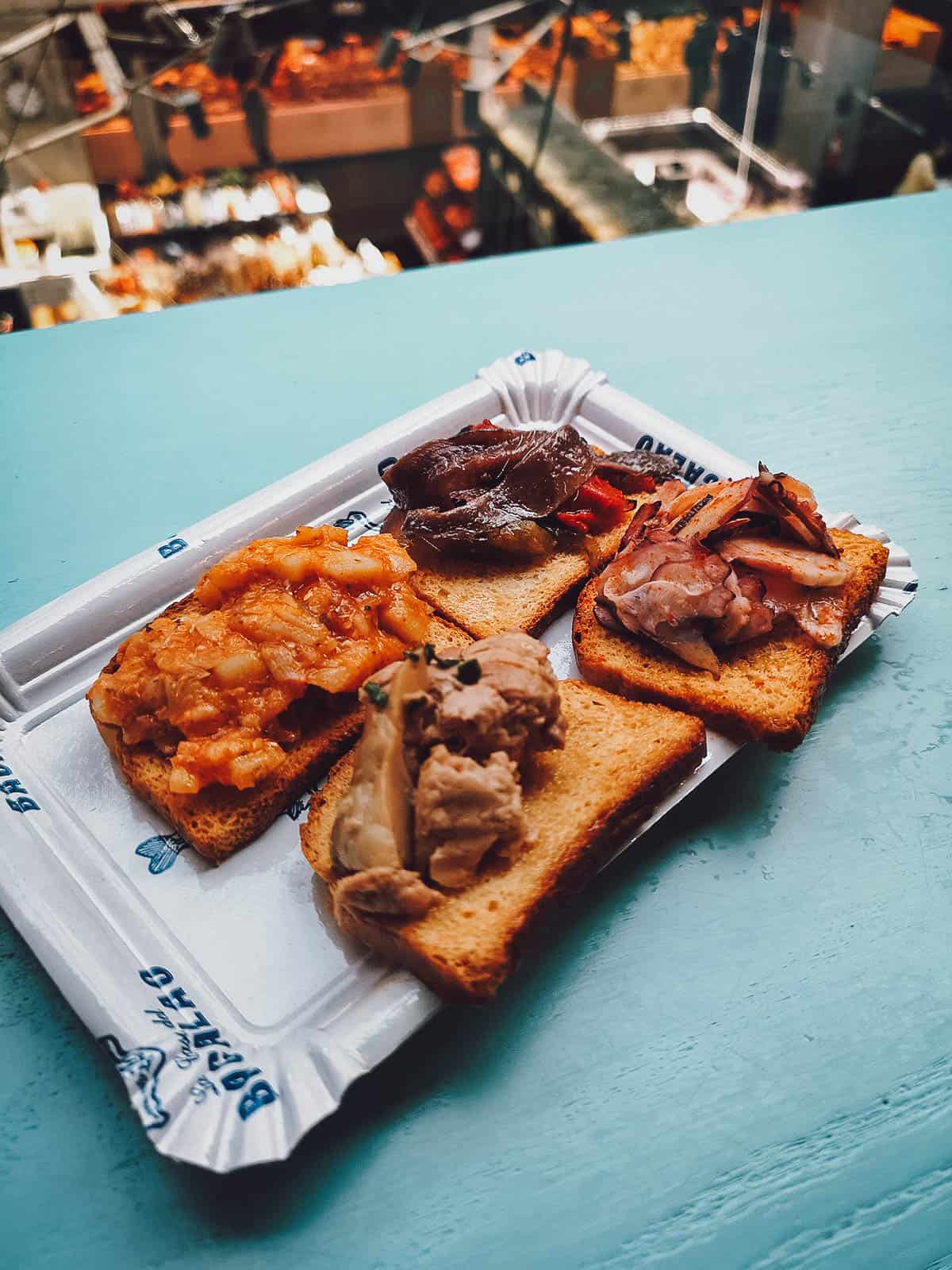 Mercado de San Anton is located in the heart of the Chueca neighborhood, just a block away from Taberna de Angel Sierra. It's a great place to have lunch after downing a few glasses of vermut.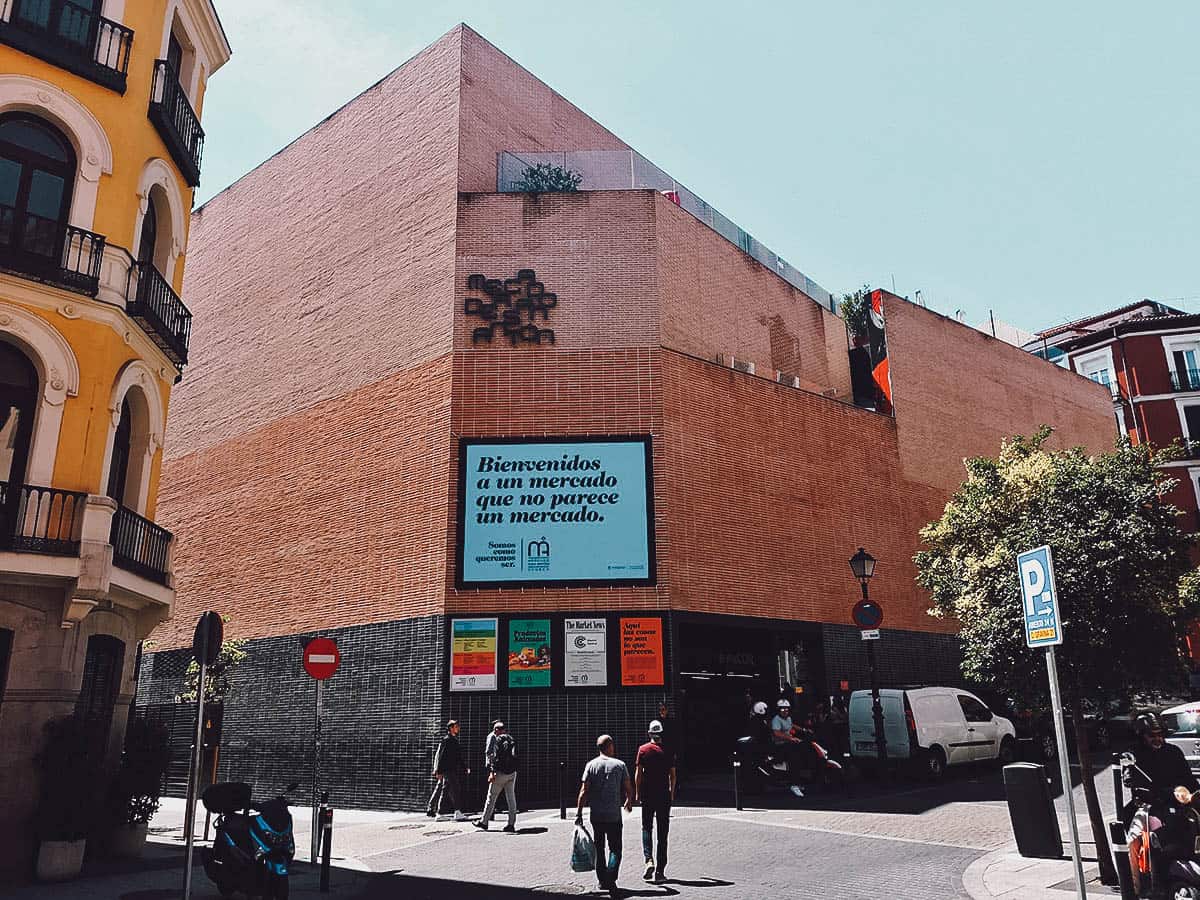 Mercado de San Anton
Address: Calle de Augusto Figueroa, 24, 28004 Madrid, Spain
Operating Hours: 10AM-8PM, Mon-Sat (closed Sundays)
14. Matadero Madrid Farmer's Market
We were very fortunate to visit this market. Matadero Madrid is a former slaughterhouse in the Arganzuela district that's been converted into an arts center. It's an ever-evolving creative space that reminded me of Taiwan's creative parks.
Matadero Madrid is interesting enough on its own, but on the last weekend of every month, it hosts the Mercado de Productores which is a farmer's market offering traditional food and produce grown around Madrid.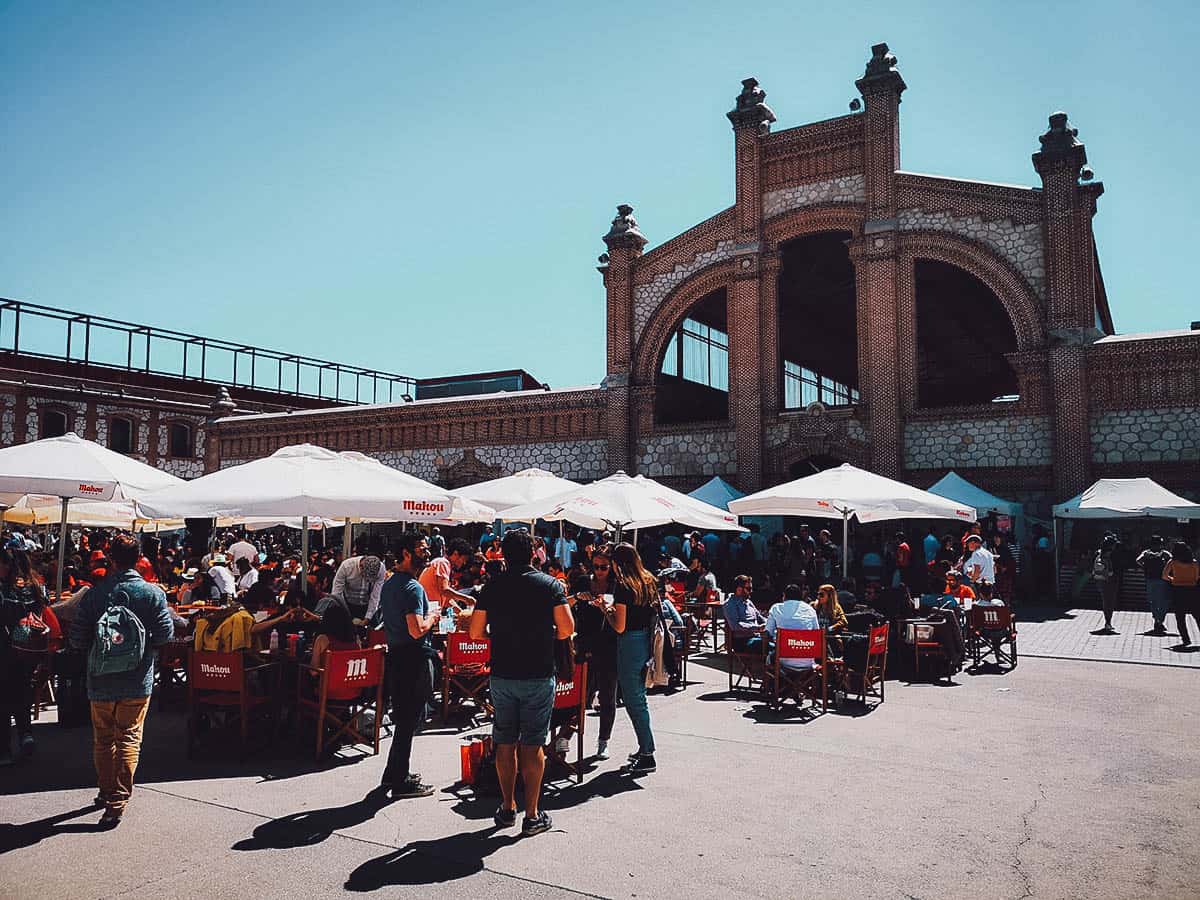 The market features over fifty producers selling a wide range of food products like fresh vegetables, mushrooms, sausages, and canned food. This vendor is selling cecina which refers to salted and dried meat typically made from beef, horse, or rabbit meat.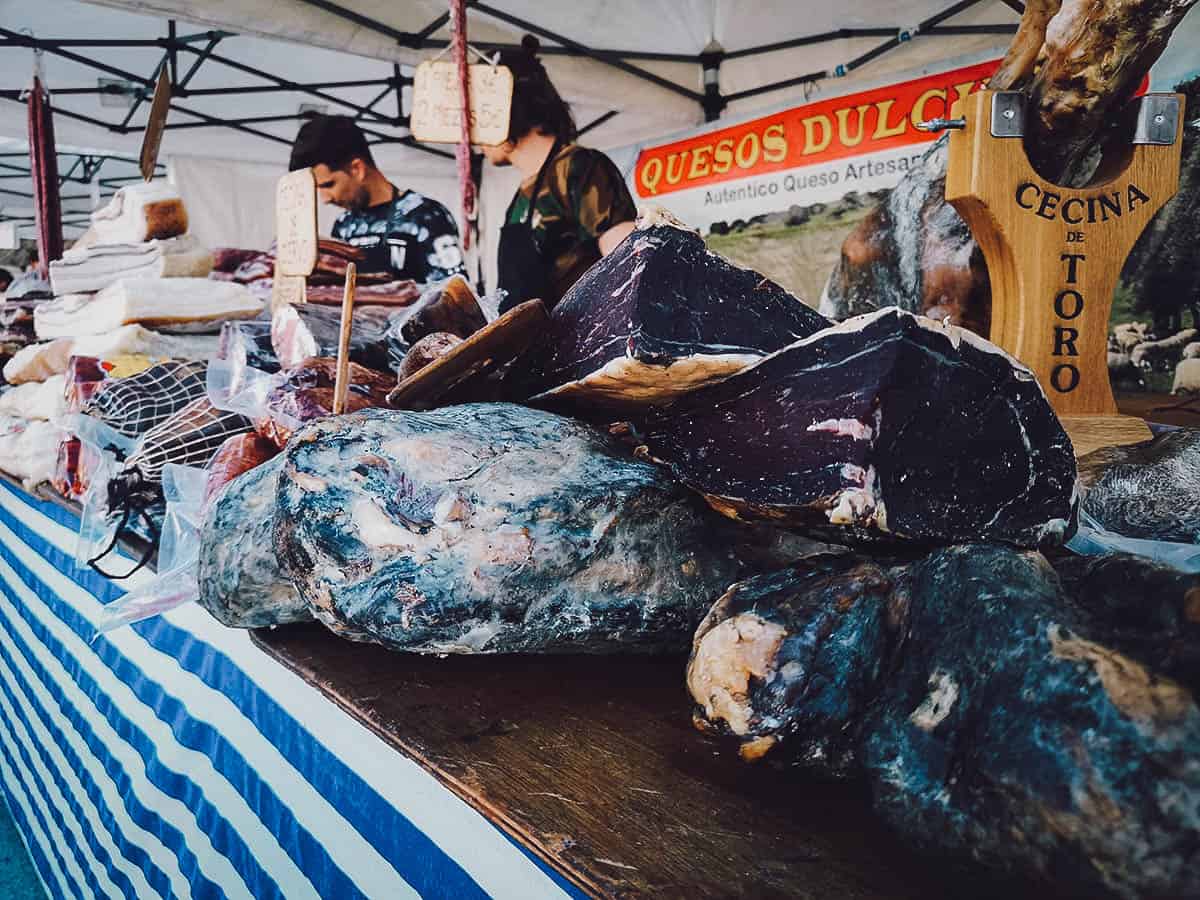 Blocks of queso de cabra or goat's cheese. You can get free tastings here which is part of the reason why it's so much fun visiting these types of markets.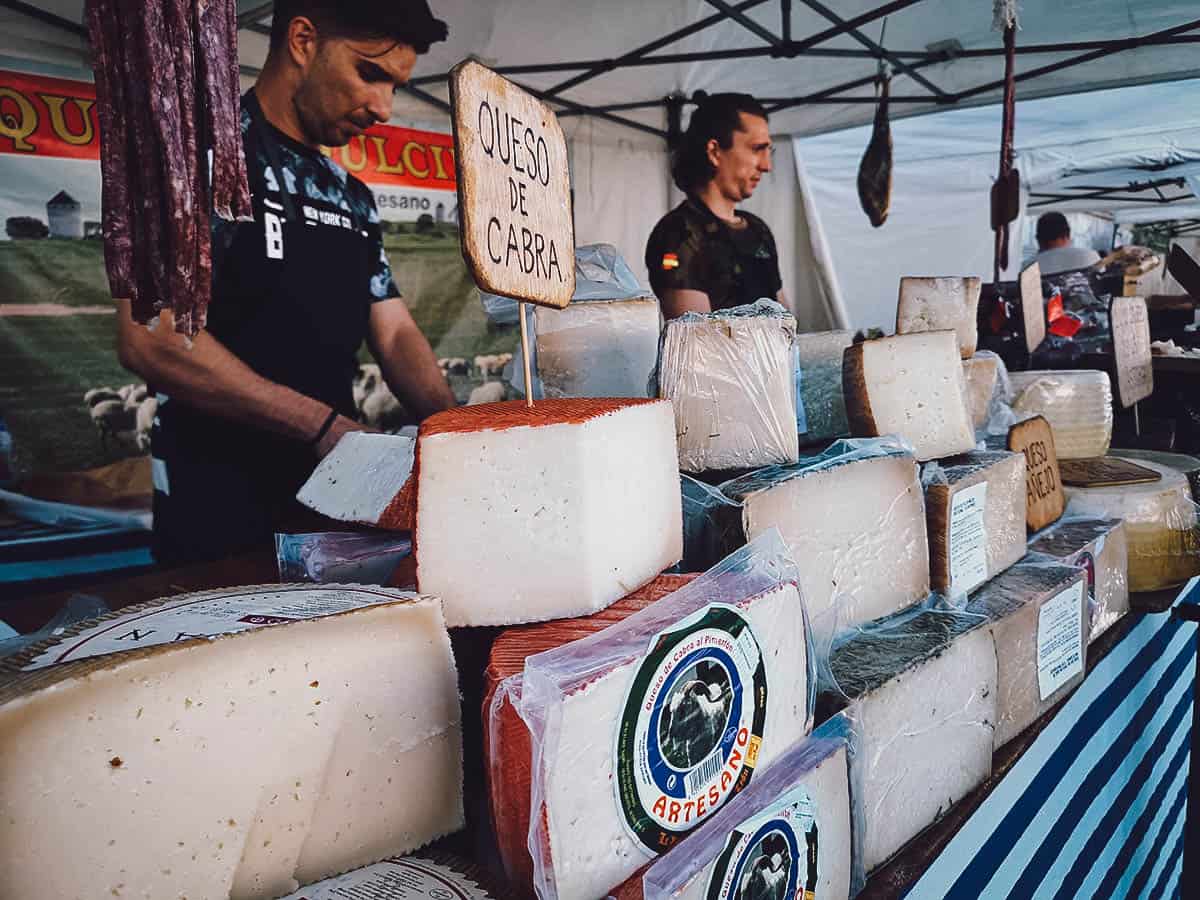 Aside from fresh produce and meat stalls, there are plenty of cooked food vendors at the market as well. Pictured below is Madrid's classic bocadillo de calamares or squid sandwich.
It's made with deep-fried calamares served in a bun. It's a popular Madrid snack that can be found in many bars throughout the city, especially around Plaza Mayor.
If you like experiencing local food, then you need to have a bocadillo de calamares in Madrid.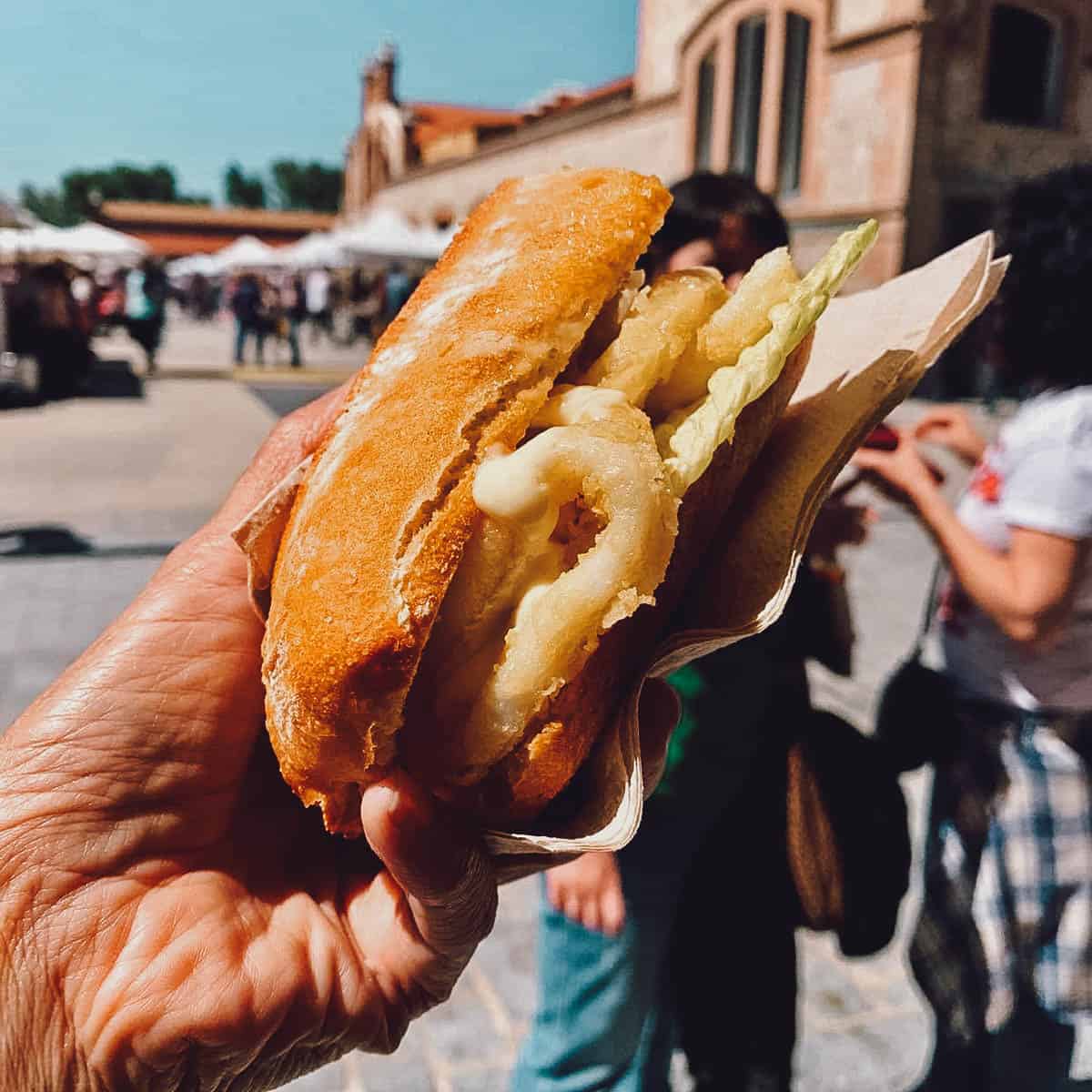 Not only were we lucky with the timing, but we were lucky with the location as well. Our AirBnB was located directly across the street from the Matadero Madrid complex.
If your stay falls on the last weekend of any month, then the Mercado de Productores is a great place to experience something truly local in Madrid.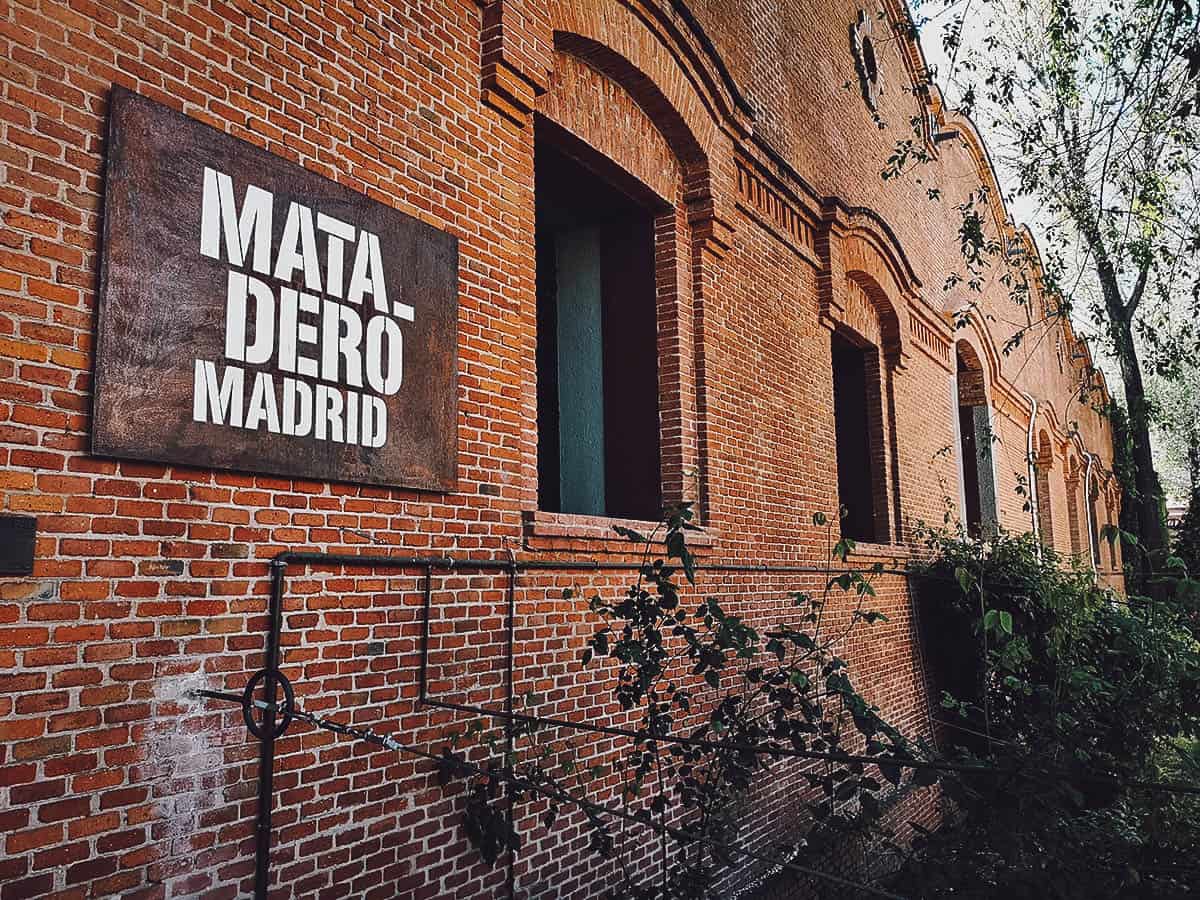 Matadero Madrid
Address: Plaza de Legazpi, 8, 28045 Madrid, Spain
Operating Hours: 11AM-7PM, Sat / 11AM-5PM, Sun (last weekend of every month)
LOCATION MAP
To help you find these pintxos bars, I've pinned them all on an interactive map. It'll have a few more that aren't included in this guide. Click on the link to open the map in a new window.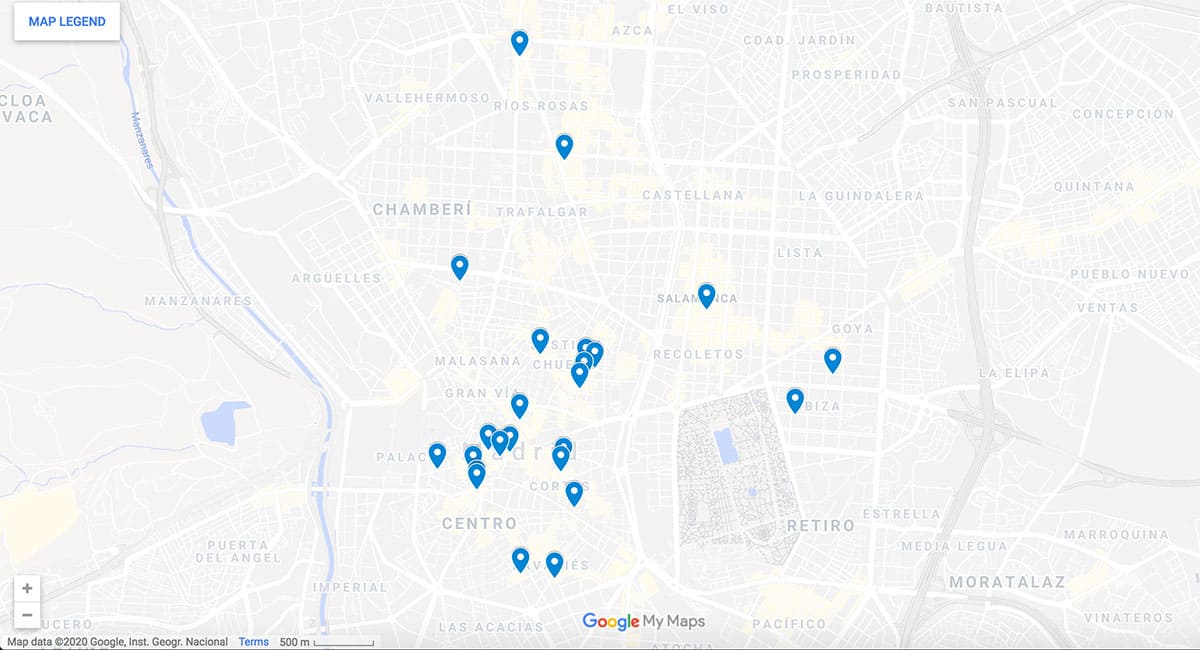 FINAL THOUGHTS
It usually takes me at least two visits to really fill out a food guide but I was happy with how this one started out. It features a range of culinary experiences that give first-time visitors a well-rounded taste of Madrid.
Of course, this is just a first attempt so there's plenty of room for improvement. We absolutely loved Madrid, even more so than Barcelona, so we'll definitely be back. And we'll stay for a month next time.
I love going to decades-old restaurants but conspicuously absent from this list is Sobrino de Botin, a restaurant that specializes in cochinillo de asado. Founded in 1725, it's the oldest operating restaurant in the world at almost 300 years old!
I did consider going but someone told me that it's touristy and not worth the effort, but that's just one person's opinion. Many of its TripAdvisor reviews say otherwise. It's history alone merits a visit so it's a restaurant we'll definitely be visiting on our next trip to Madrid.
Disclosure
Some of the links in this guide are affiliate links, meaning we'll get a small commission if you make a purchase at NO extra cost to you. We only recommend products and services that we use ourselves and firmly believe in. We really appreciate your support as this helps us make more of these free travel guides. Thank you!