UPDATE (16 September 2022): Fujiya 1935 had 3 Michelin stars when we ate there in 2014 but it looks like they've since lost one. At present, they have 2 Michelin stars.
Michelin stars are a big deal. For chefs, getting one is like bringing home an Oscar. It's THE hallmark for fine dining quality. In fact, so coveted are these stars that when the Michelin Guide stripped Gordon Ramsay's New York restaurant of its two-star rating, citing his food as "erratic", Chef Ramsay cried and likened his loss to "losing a girlfriend." 😆
For a restaurant to have one Michelin star is impressive enough, but to have three puts it in elite company. Just how elite might you ask? According to The Daily Beast, only 104 restaurants worldwide held three Michelin stars in 2013. Fujiya 1935, an innovative restaurant in Osaka helmed by Chef Tetsuya Fujiwara, is one of them.
For me and Ren, dining at a three Michelin-starred restaurant is something that we've been wanting to do for a very long time. We don't normally spend this much on food, but seeing as how this was my 40th birthday trip and with no Michelin-starred restaurants in the Philippines, we decided to live a little and just go for it on this trip to Osaka.
As you'll soon see below, I'm grateful that we did.
Save This on Pinterest!
No time to read this now? Click on the red save button and pin it for later!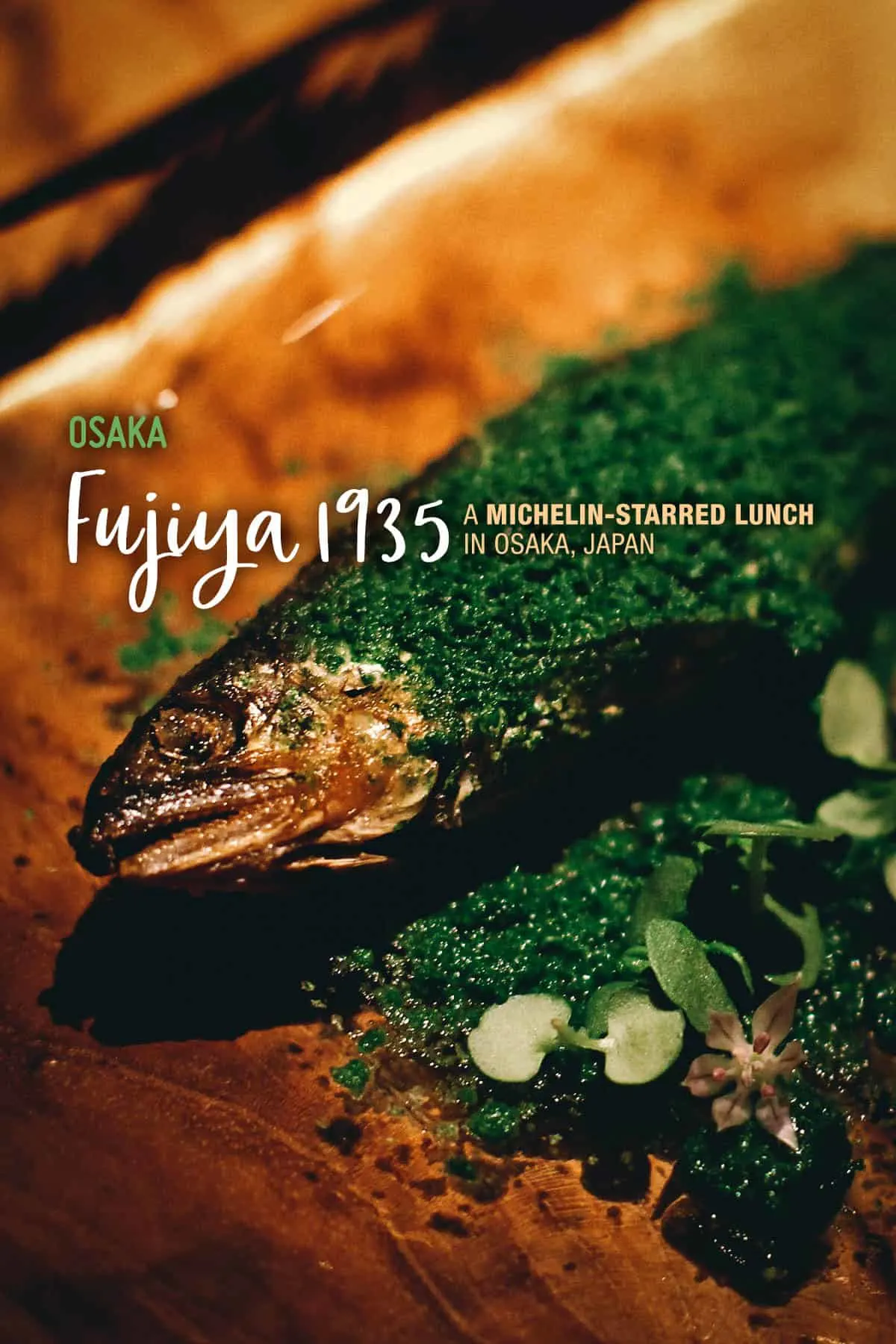 Lunch at Fujiya 1935
L: Dark, zen-like ante room where customers wait while their table is being prepared. R: While waiting, they served us this most extraordinary cup of water. If I understood correctly, it was drawn from shirakaba (birch) trees, giving it an earthy fragrance and sweetness that was unlike anything I've ever tasted. In awe, my Japanese friend Tom noted that it smelled like sake but tasted like water. Nothing short of remarkable, it was a sign of good things to come.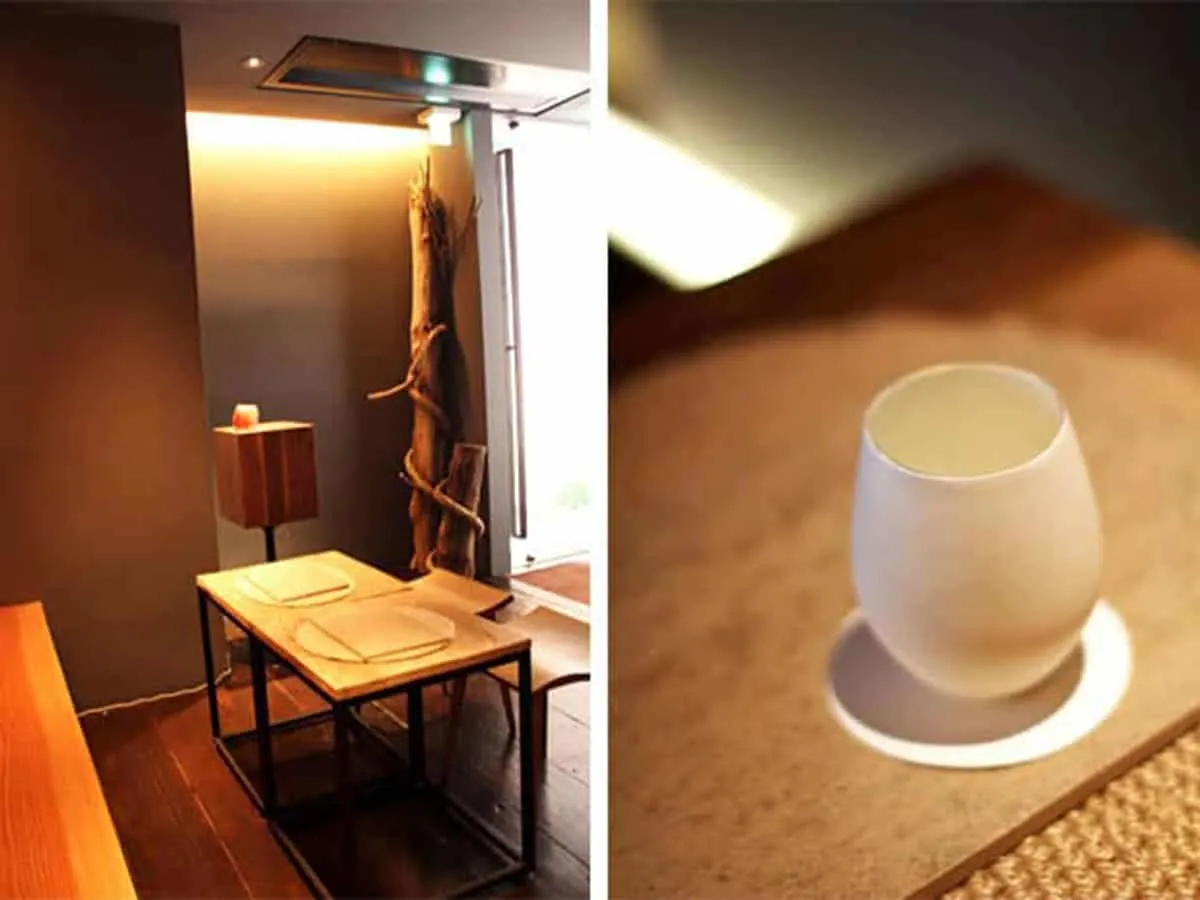 APPETIZERS: Once we were seated, they started us off with a trio of appetizers. Here are the freshest, crunchiest baby radishes served over the soil they were grown in.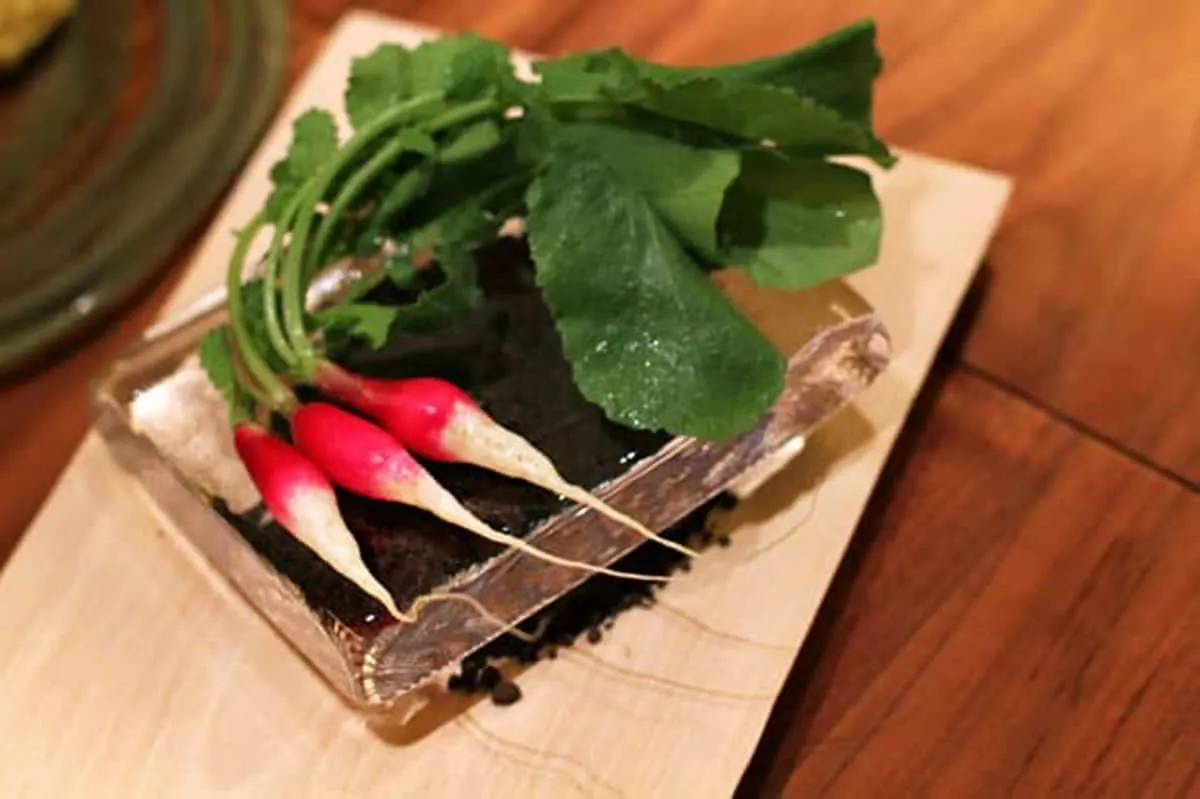 Soft, open-textured sponge bread topped with ricotta cheese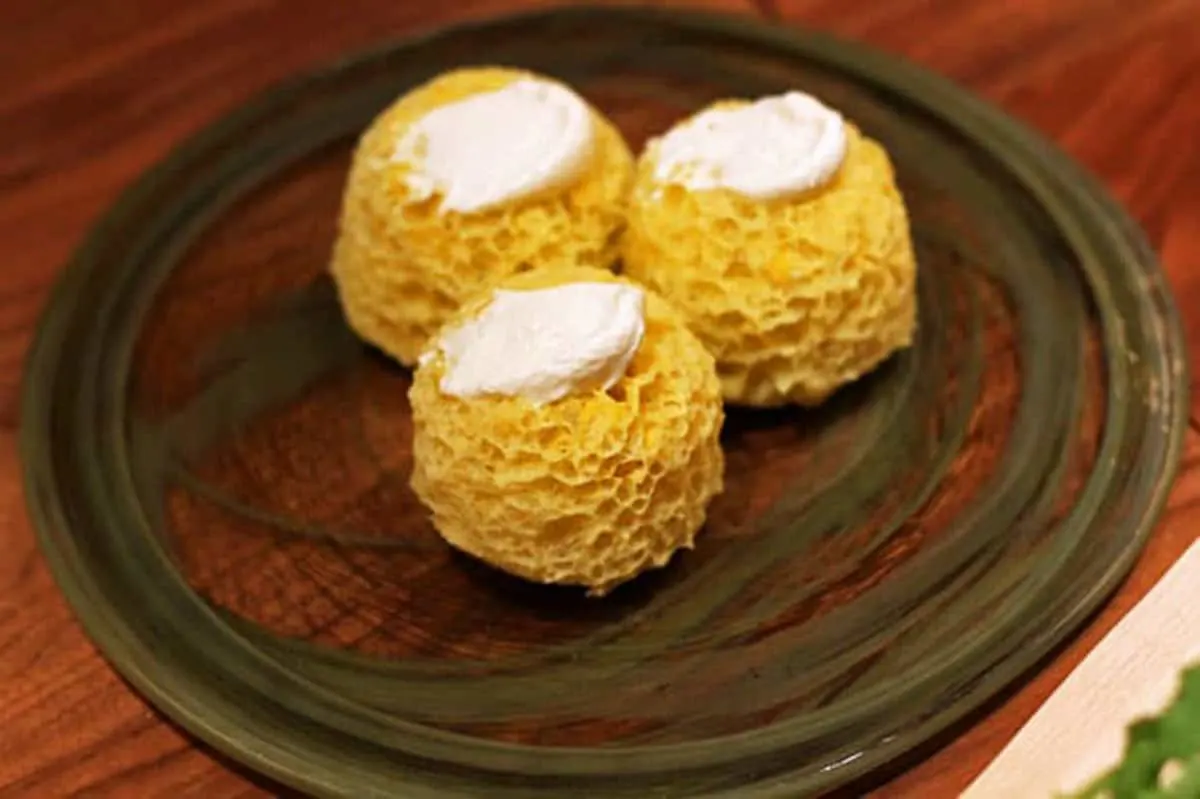 Light, fluffy, and cake-like with kernels of corn inside. Fun!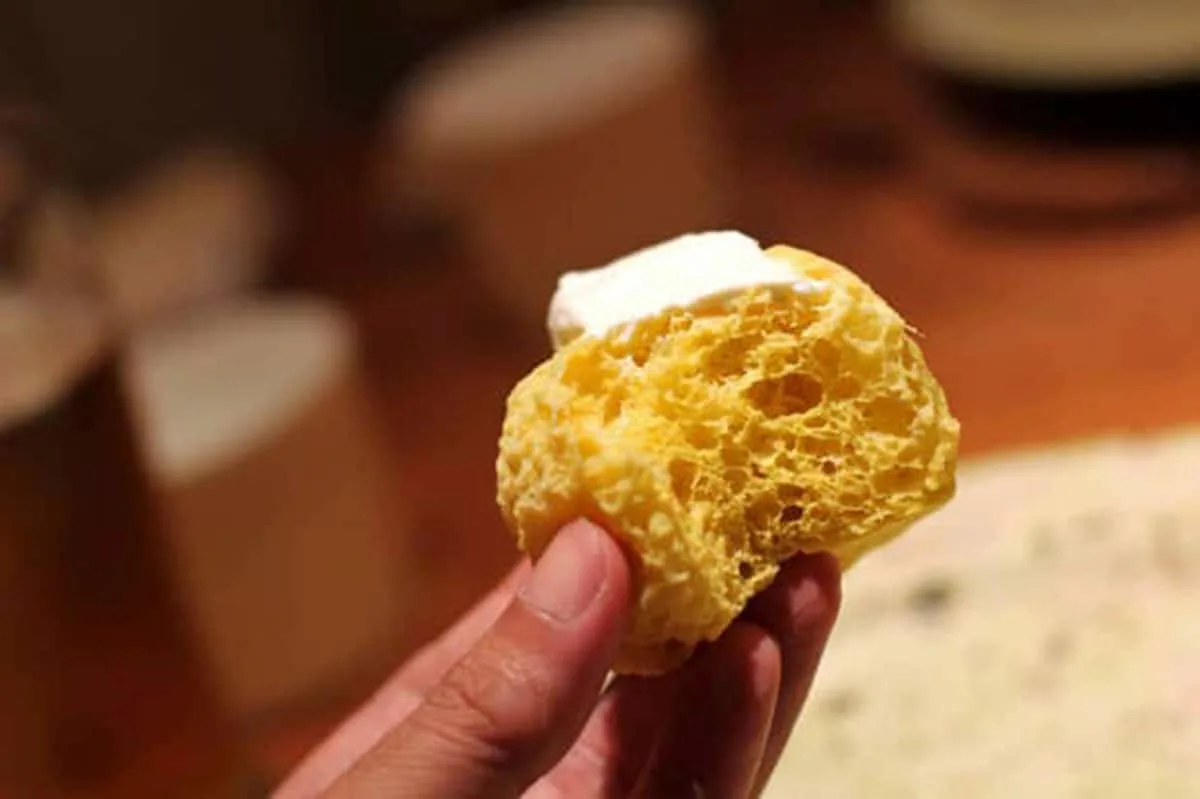 Cheese balls served in a bassinet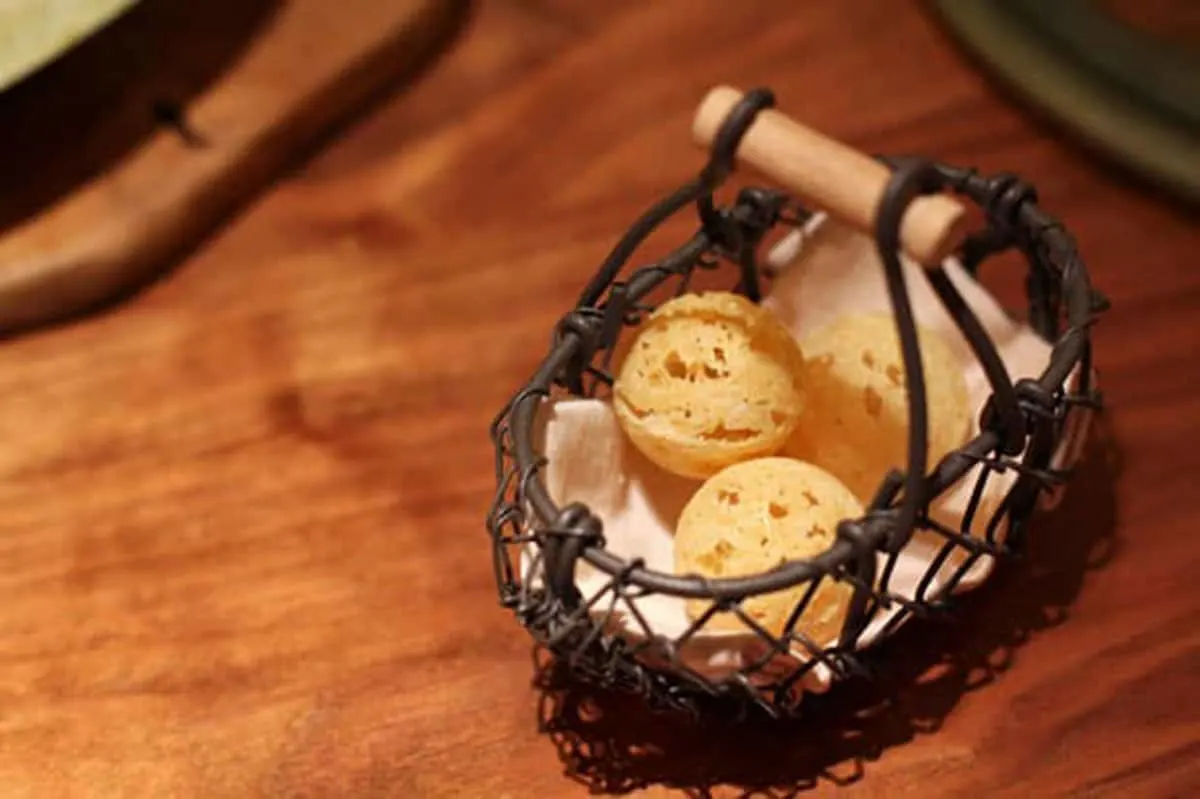 Freshly baked bread served in a lidded box, and kept warm by a slab of hot stone at the bottom. Cool huh?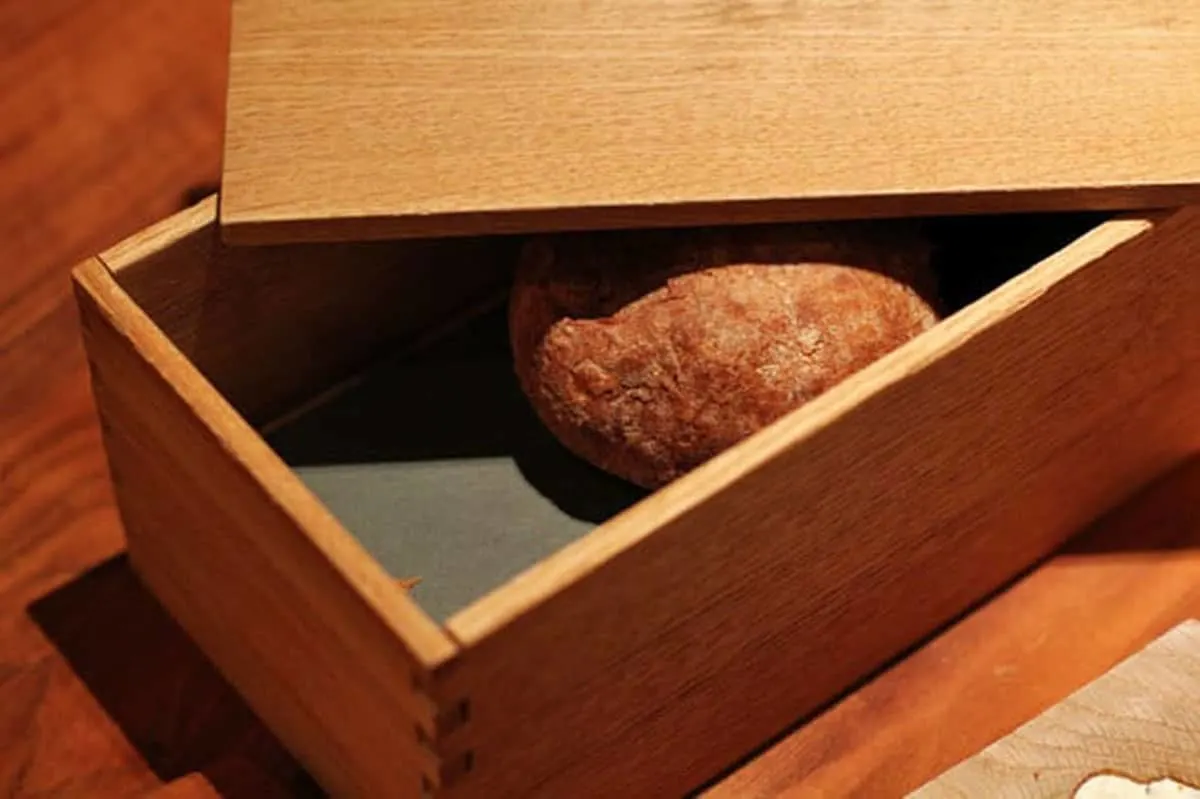 A duo of spreads. The one on the left was made with sesame butter I think. I don't recall what the other one was, but I remember it tasting milky.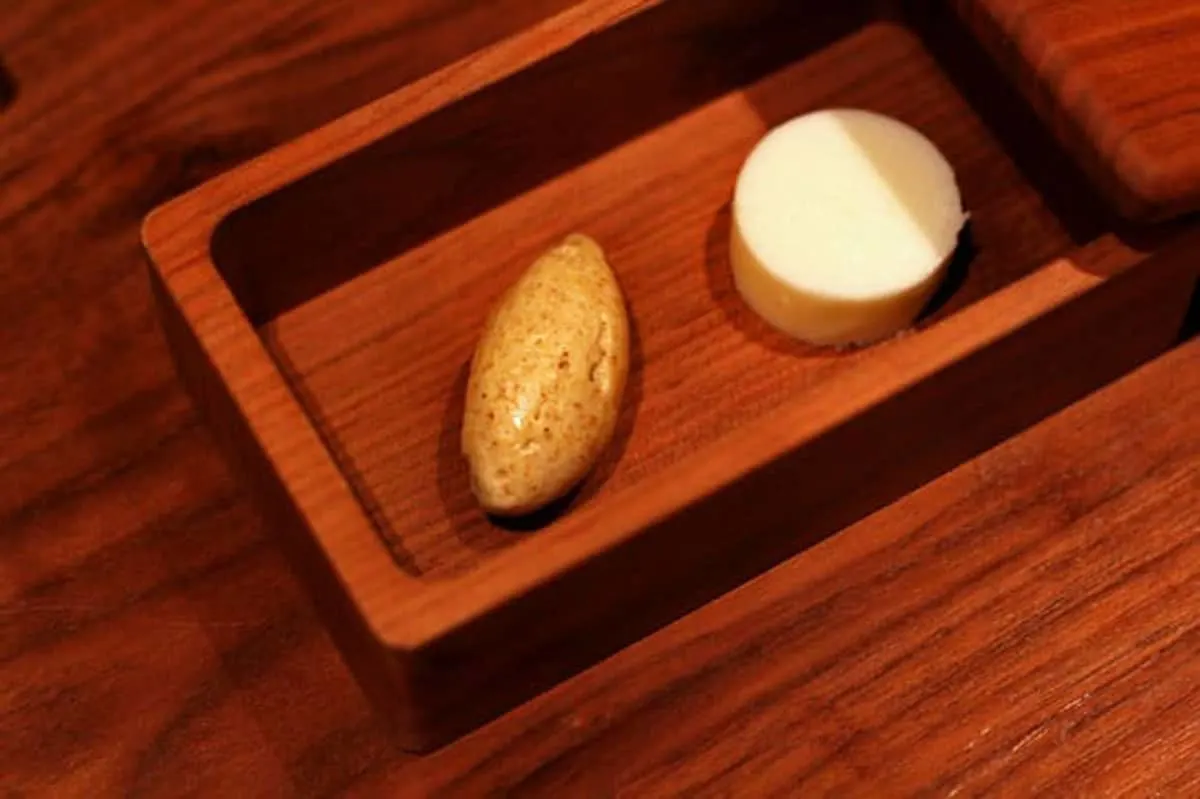 FIRST COURSE: Warm uni and snapper(?) with seasonal vegetables and edible flowers. Isn't it gorgeous?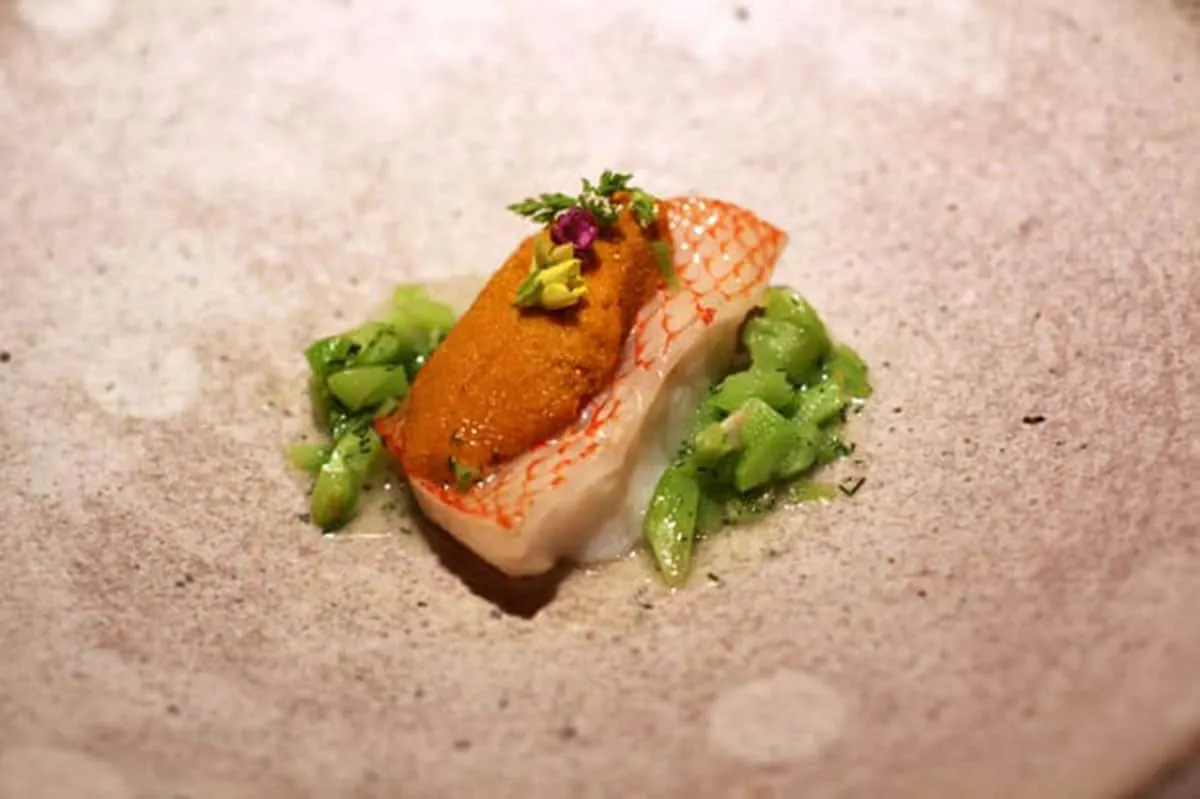 SECOND COURSE: Ayu (river fish) with pureed shiso (perilla). I've been wanting to try ayu after seeing it as a secret ingredient on Iron Chef, and today I got my wish. So good, especially the head!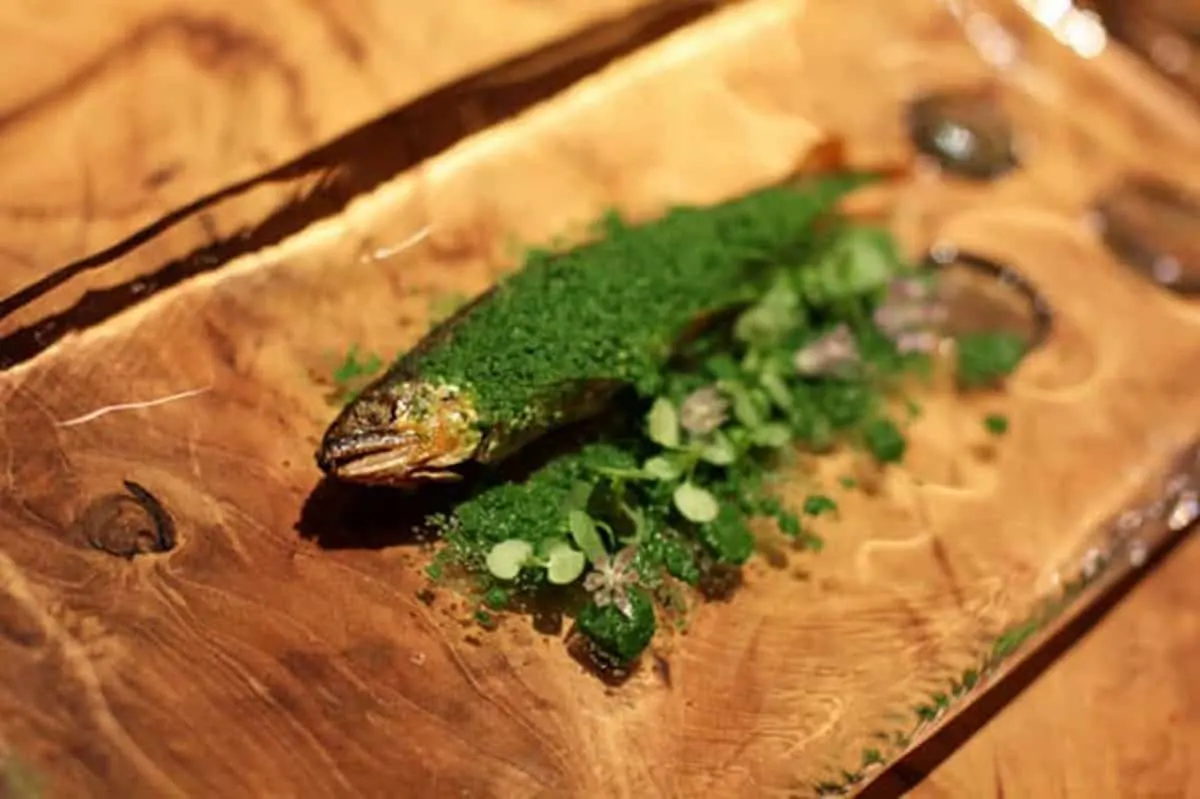 THIRD COURSE: One of my favorite courses from today, this was firefly squid on fresh pasta with seasonal vegetables and edible flowers. I love the texture of firefly squid. They're tender with pop, oozing with an intense, briny liquid the moment you bite into them. Really, really good.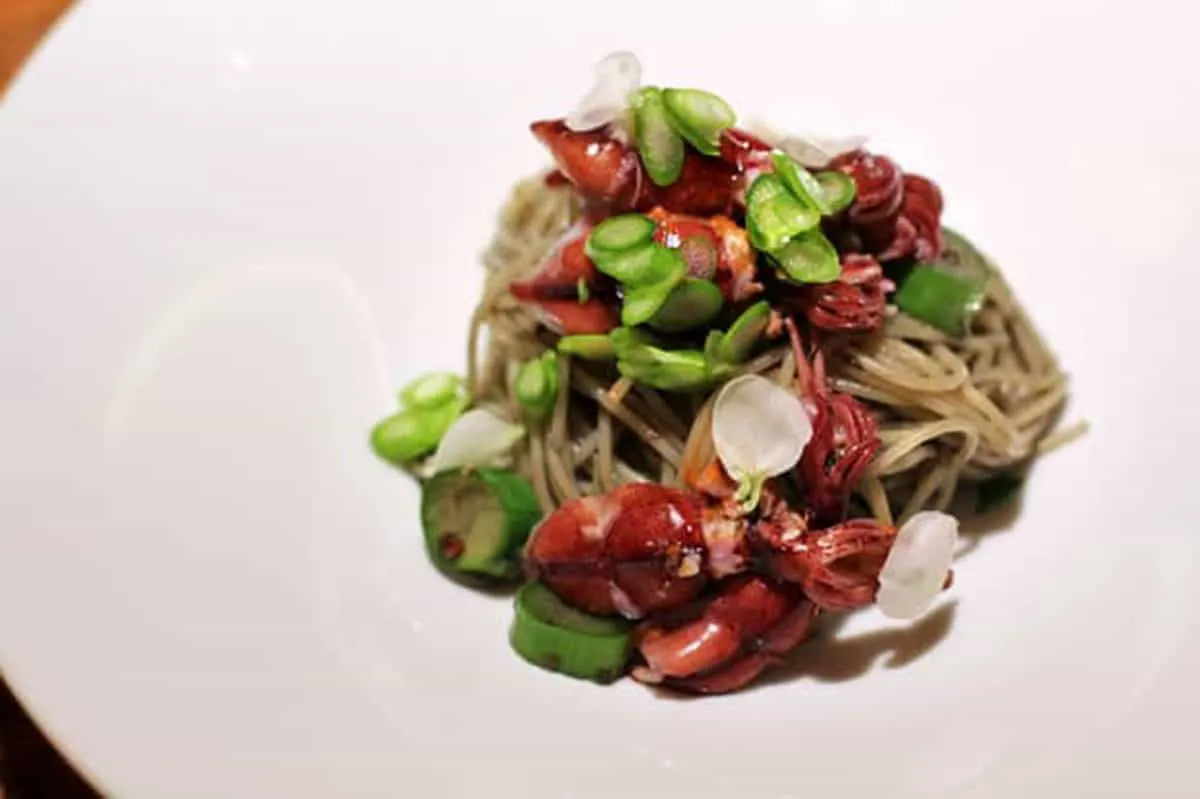 You can always judge a restaurant by the quality of its cutlery. Working closely with Chef Fujiwara, these knives were hand-forged exclusively for Fujiya 1935 by one of Japan's top knifemakers.
Set before us in preparation for the next course, this clued us in on the meaty awesomeness that was to follow. 🙂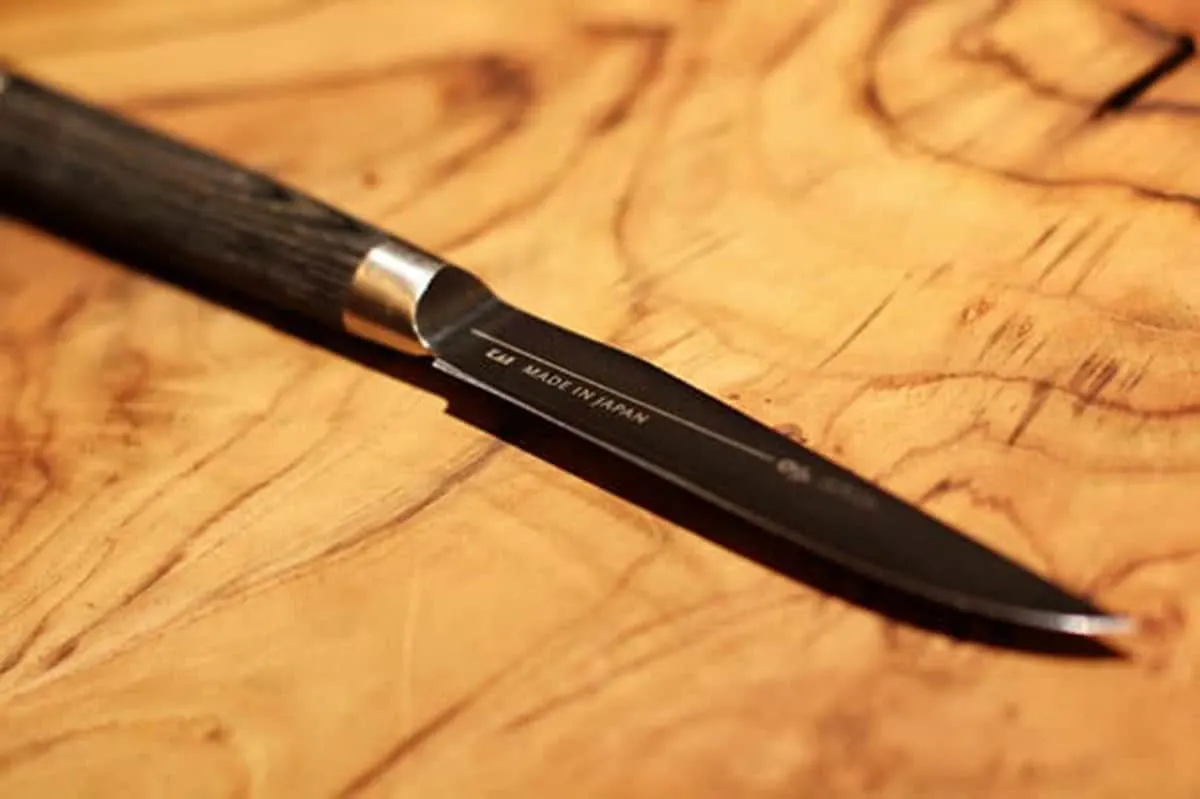 FOURTH COURSE: Seared duck breast with wasabi leaves. Moist and tender, you would never have known that this was duck meat. Tom thought it was beef! He also remarked how he had never seen wasabi leaves before.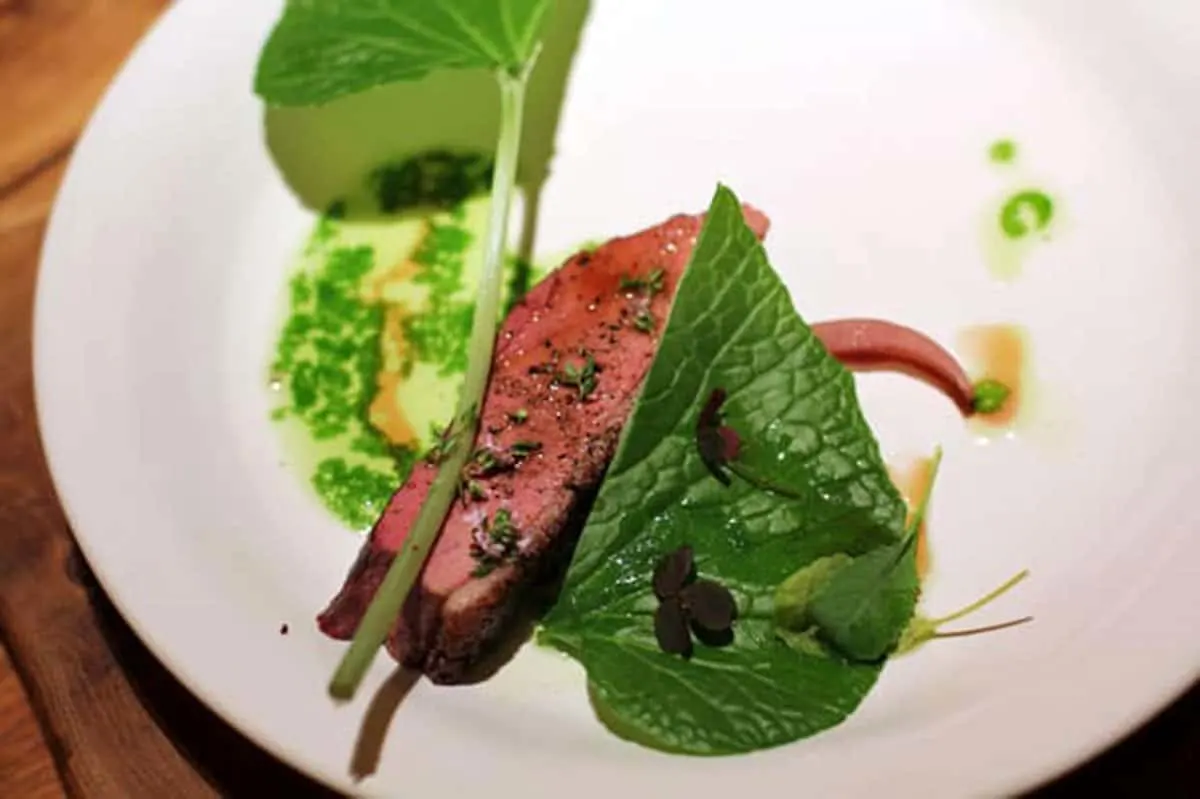 FIFTH COURSE: The first of two desserts, this citrus-inspired dish had shaved ice topped with pulp bits, a smear made from the white pith of the fruit, and a quenelle of coconut ice cream. Sweet, cold, creamy, tart, and at times harshly bitter from the pith, this dish had a remarkable contrast of texture, temperature, and flavor. I had never tasted anything like this before today.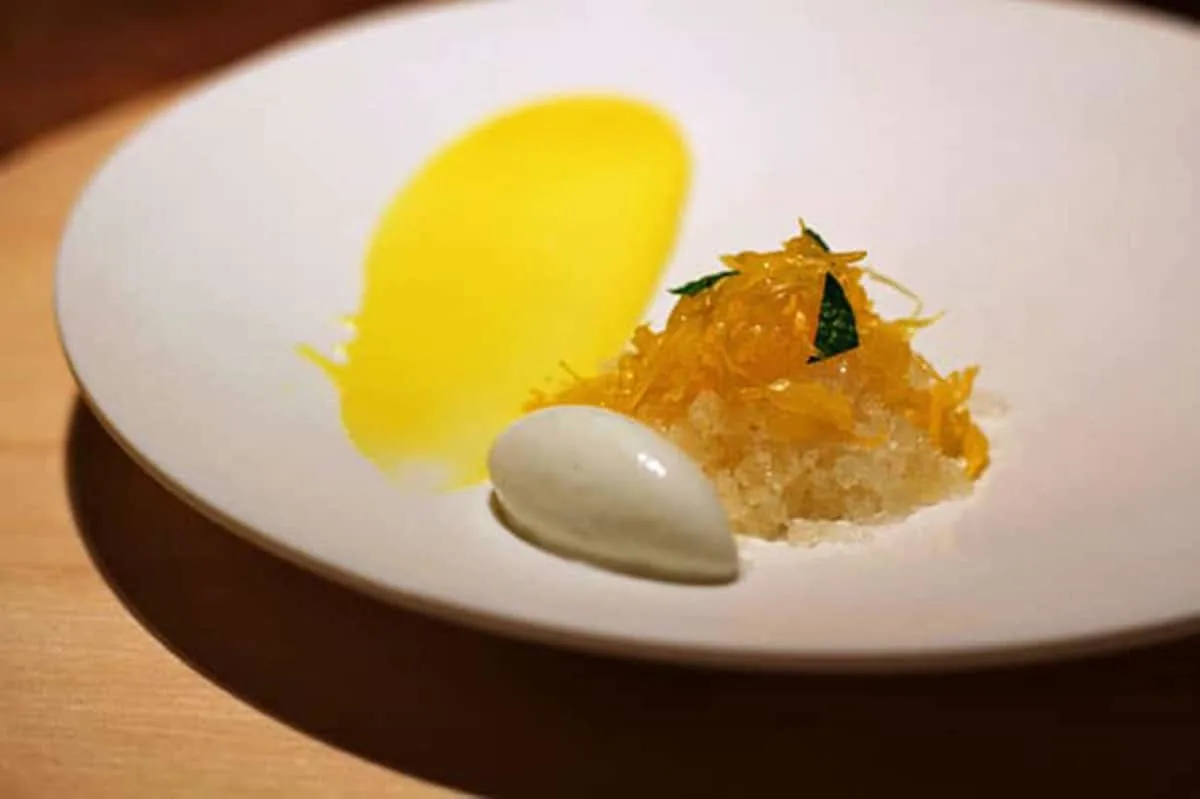 SIXTH COURSE: As interesting as the previous dessert was, we much preferred this one. A stunningly presented dish of fresh berries, two types of cream (vanilla and caramel maybe?), a quenelle of matcha (green tea) ice cream, crystallized sugar, and matcha powder, this was one of the single best dishes that we had during our entire stay in Japan, and I don't even consider myself a dessert person. It was pure bliss.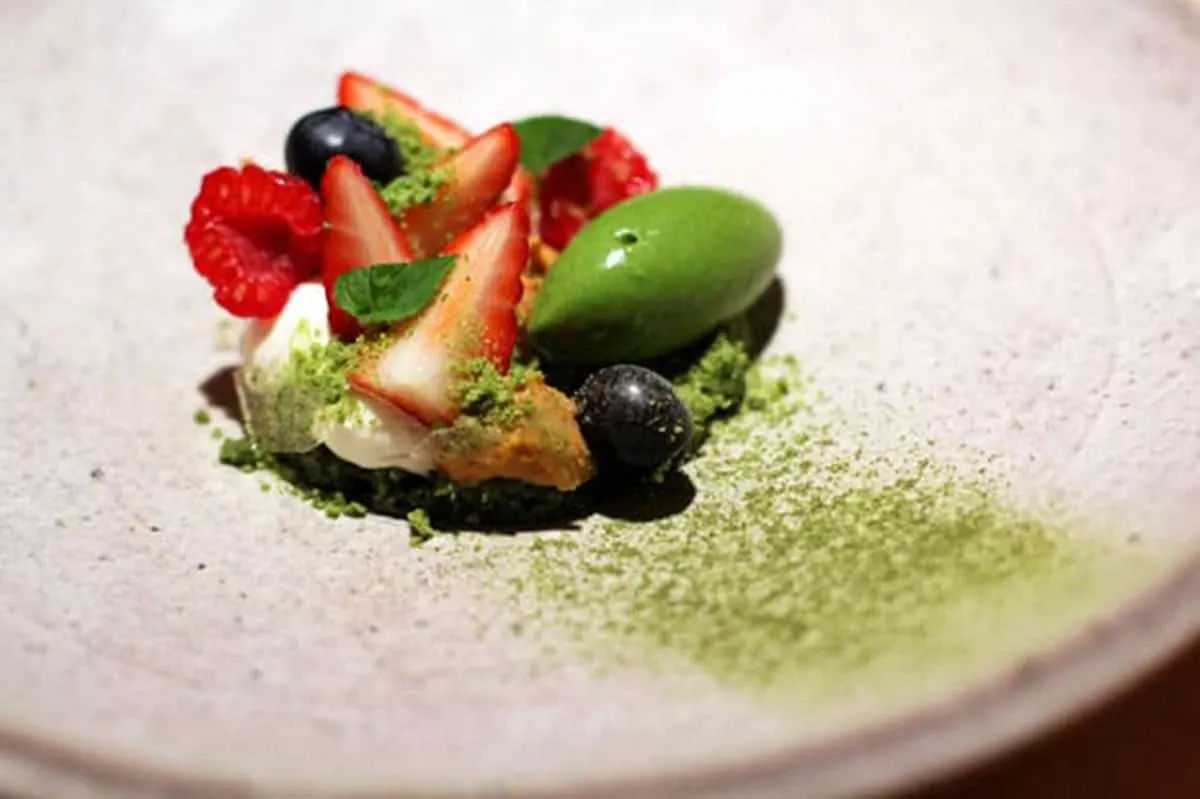 Black coffee to end an extraordinary meal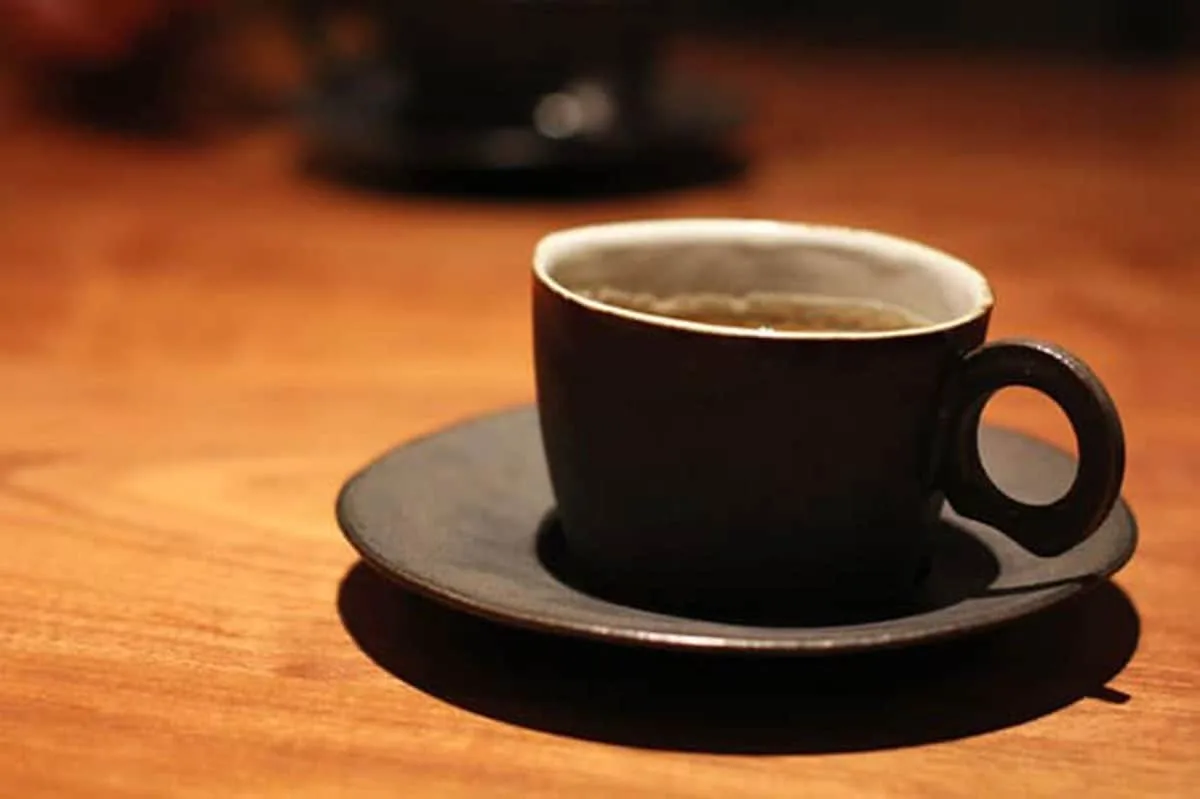 There we are with Chef Fujiwara, who according to Tom, really impressed him with his humility and polite demeanor. Nice to see a chef still grounded even after 3 Michelin stars. 🙂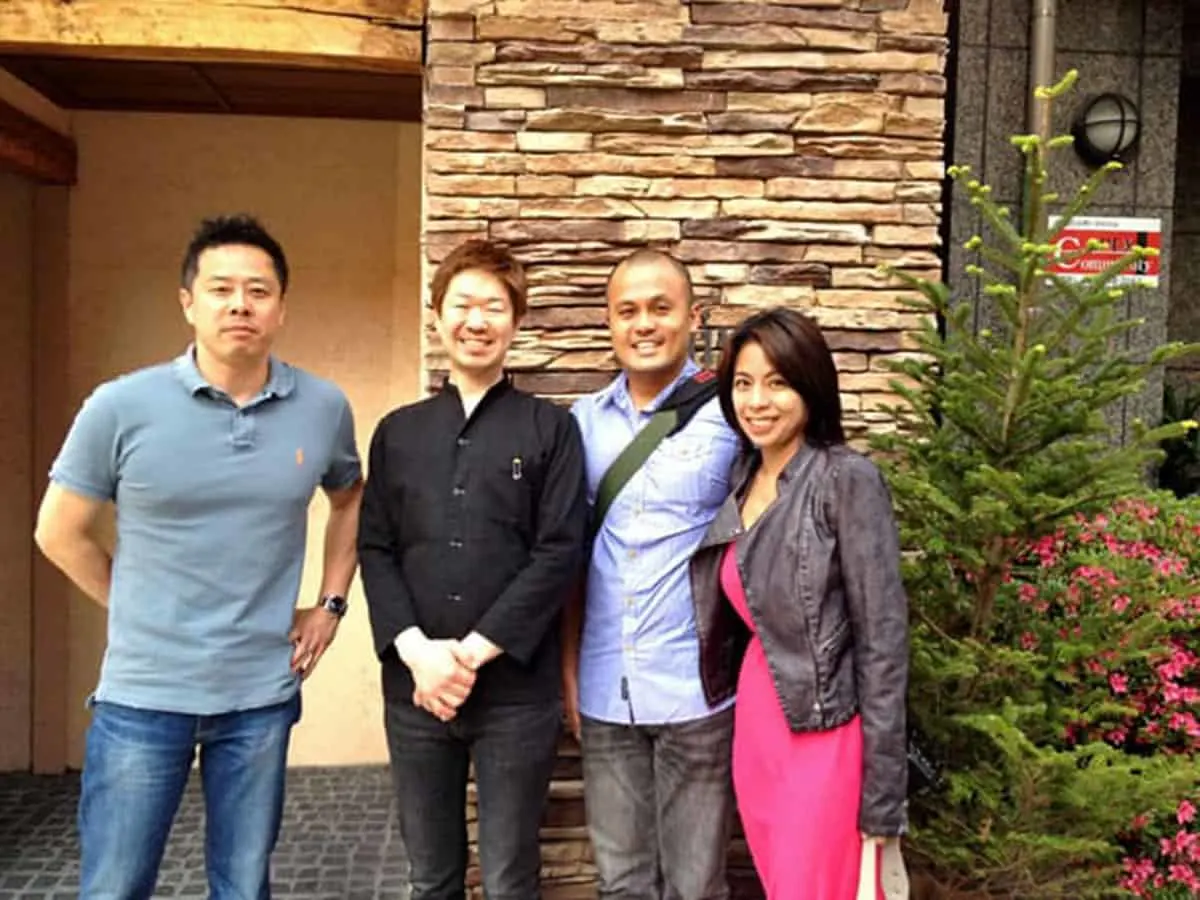 All in all, our bill after taxes and drinks came out to just under ¥9,000 each. Pricey yes, but for a 3 Michelin-starred experience at one of the world's 50 best restaurants, it was a steal. One of the most enjoyable, most visually stunning meals I have ever had, I think I'll be savoring this experience for a long time to come.
Thank you Fujiya 1935! 😀
Fujiya 1935
2-4-14 Yariyamachi, Chuo-ku, Osaka2-4-14 Yariyamachi, Chuo-ku, Osaka, Japan
Tel: +06-6941-2483
Website: fujiya1935.com
Operating Hours: Mon-Sat, 12NN-1PM (lunch) / 6PM-8PM (dinner)
Expect to spend: ¥9,000 per person for lunch with drinks / ¥17,000 per person for dinner with drinks