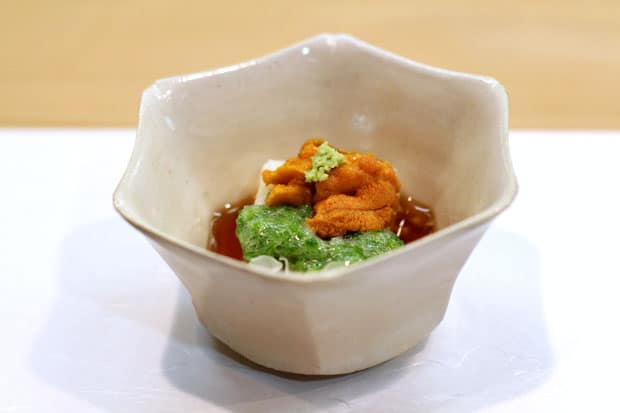 NOTICE: Your health and safety come first. Please adhere to the WHO recommendations and avoid any non-essential travel at this time. If travel is unavoidable for you, then you can check the Flatten the Curve website for information on global travel restrictions.
DISCLOSURE: Some of our articles may contain affiliate links and sponsored brand mentions. Any affiliate partnerships or sponsorships are disclosed at the bottom of the article.
DISCLAIMER: You are reading the information on this website at your own free will and any reliance you place on said information is strictly at your own risk. You can refer to this website's terms of use for more information.
To be honest with you, I was nervous going in to this. I had seen Jiro Dreams of Sushi after all, so I was aware how important tradition and etiquette were to the Japanese. Seated so close to the chef like this with my unwieldy DSLR hanging from my neck, I didn't want to unwittingly do anything that would offend him and get us booted out. "No sushi for you!"
Only the sous chef could speak any English, so I sheepishly pointed at my camera and asked if I could take pictures of our meal. Instead of getting the reassuring thumbs up I was hoping for, he turned to chef/owner Masatoshi Yoshimoto and relayed my question to him, making me even more nervous. Eyes widening, Chef Yoshimoto emphatically threw his arms up in an "X" and said "NO!" In that instant, my heart jumped into my throat and I expected the worst, when all of a sudden he and his kitchen staff burst out laughing. Apparently, my Japanese friend Tom had called in earlier to tell him that I was a designer looking to take pictures for my website, so he was expecting it. Whew! 😆
My nerves settled, I could now enjoy (and take pictures of) what would turn out to be the most sublime meal that either Ren or I have ever experienced. A kaiseki meal by a top Japanese chef and dinner at a Michelin-starred restaurant are two of the many things that make up my bucket list. Thanks to my brother Erwin who surprised me with this impeccable dinner as a 40th birthday present during our recent trip to Osaka, I get to scratch both off on the same night.
Save This on Pinterest!
No time to read this now? Click on the red save button and pin it for later!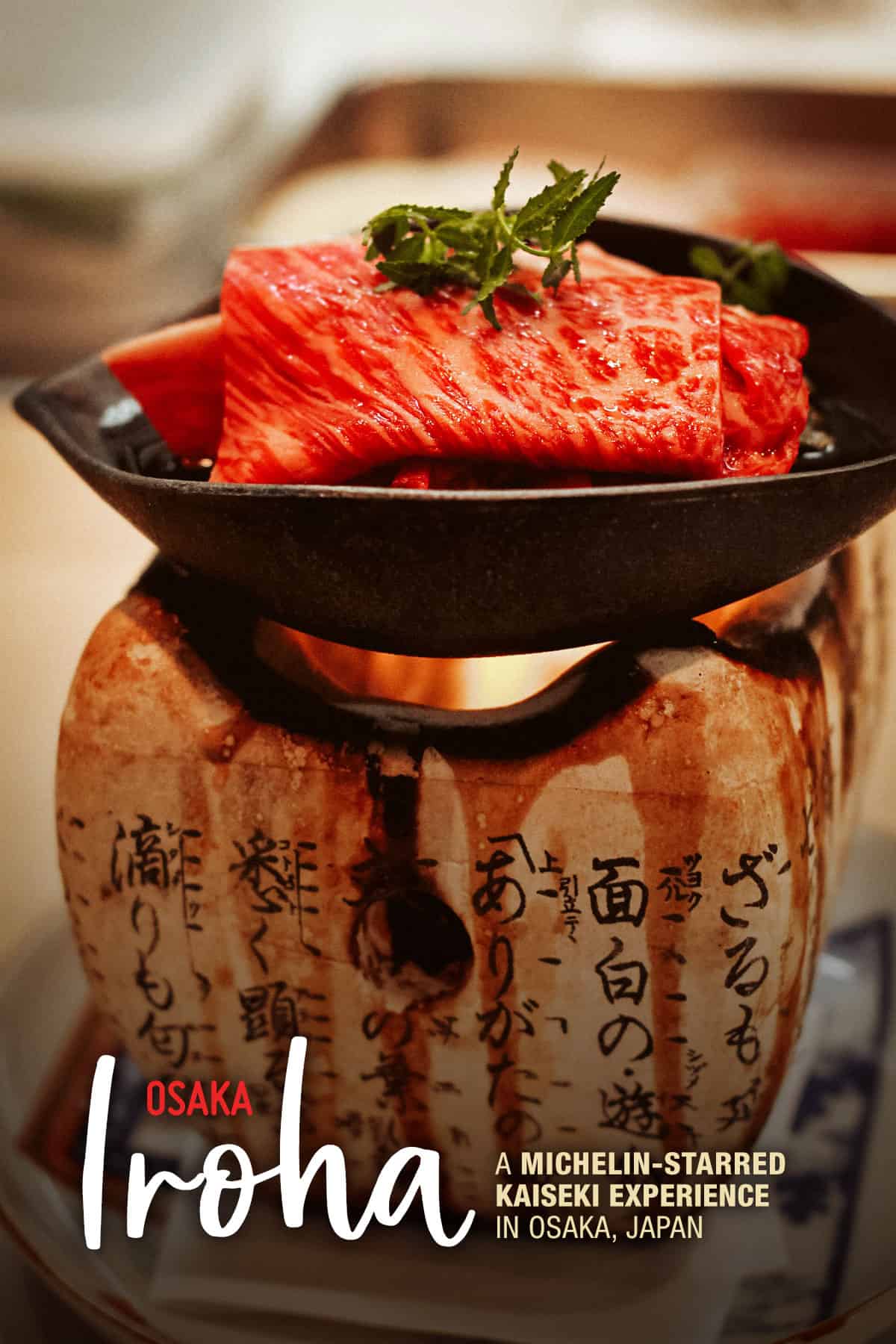 Kaiseki at Iroha
Blank canvas…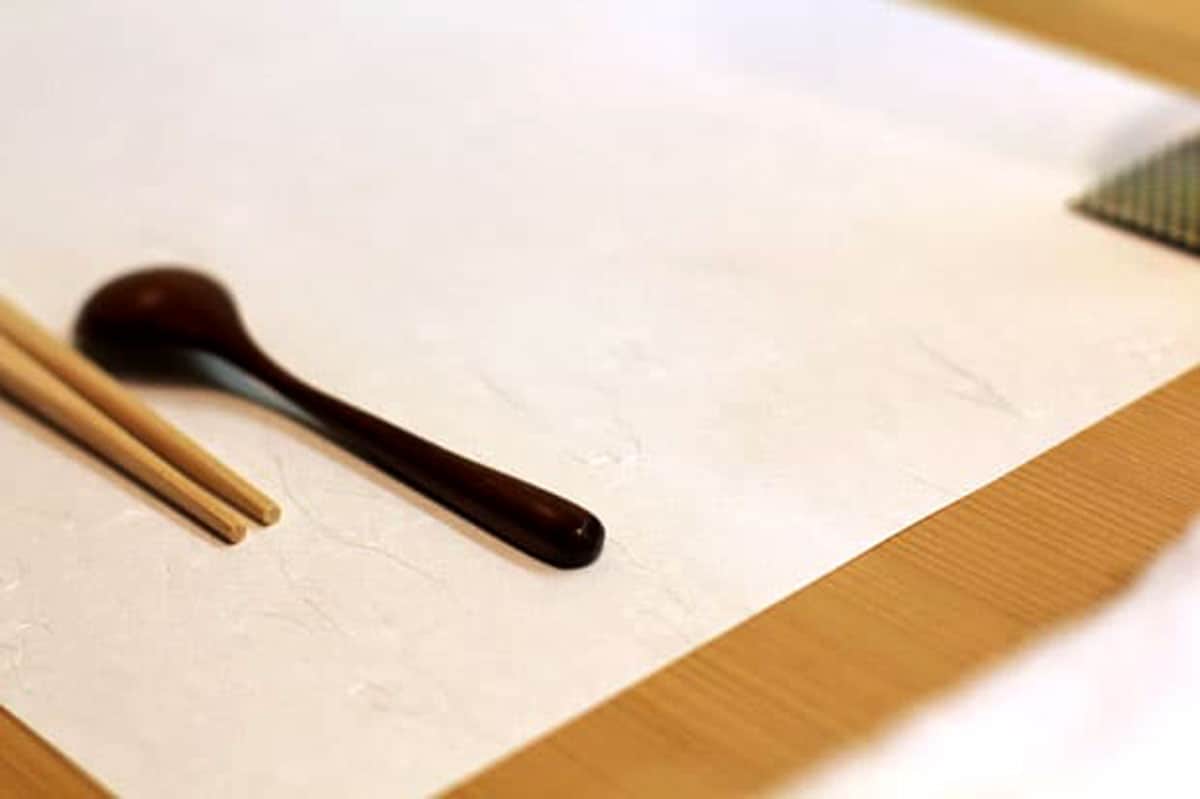 FIRST COURSE: Uni on a bed of unidentified vegetables – some slimy, some crunchy. That green stuff appeared to be some type of seaweed or kelp. Really nice dish with an interesting contrast in textures and flavors.



Chef Yoshimoto deftly preparing our second course. Can you guess what it is? I'll give you a clue: it's harvested in shark-infested waters.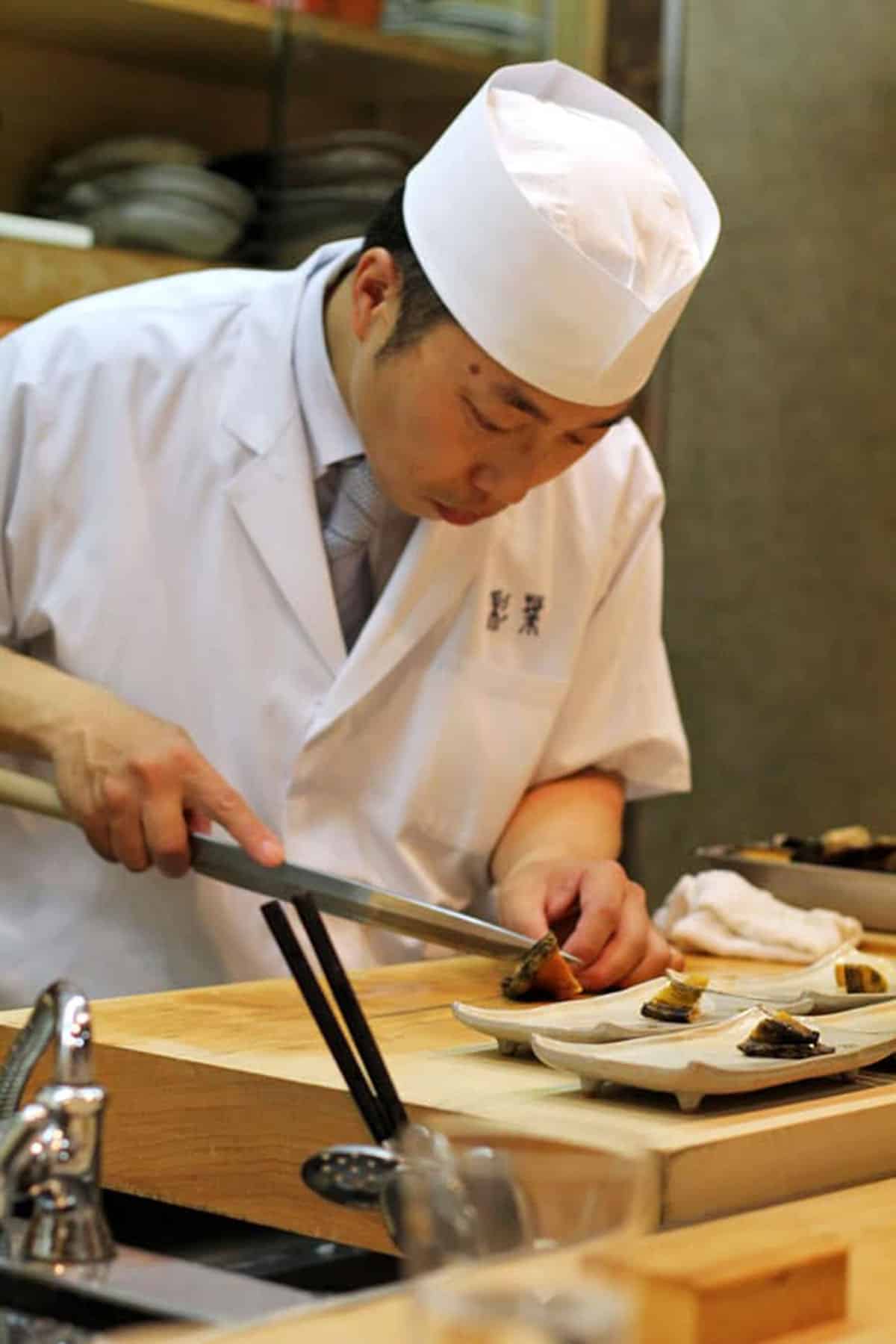 SECOND COURSE: Awabi! (abalone) Did you guess it correctly? Unbelievably fresh, that awabi changed Ren's life. 😆 Interestingly, that orange, translucent sphere is a piece of Toyama glass shrimp that was marinated in a light soy sauce. So good!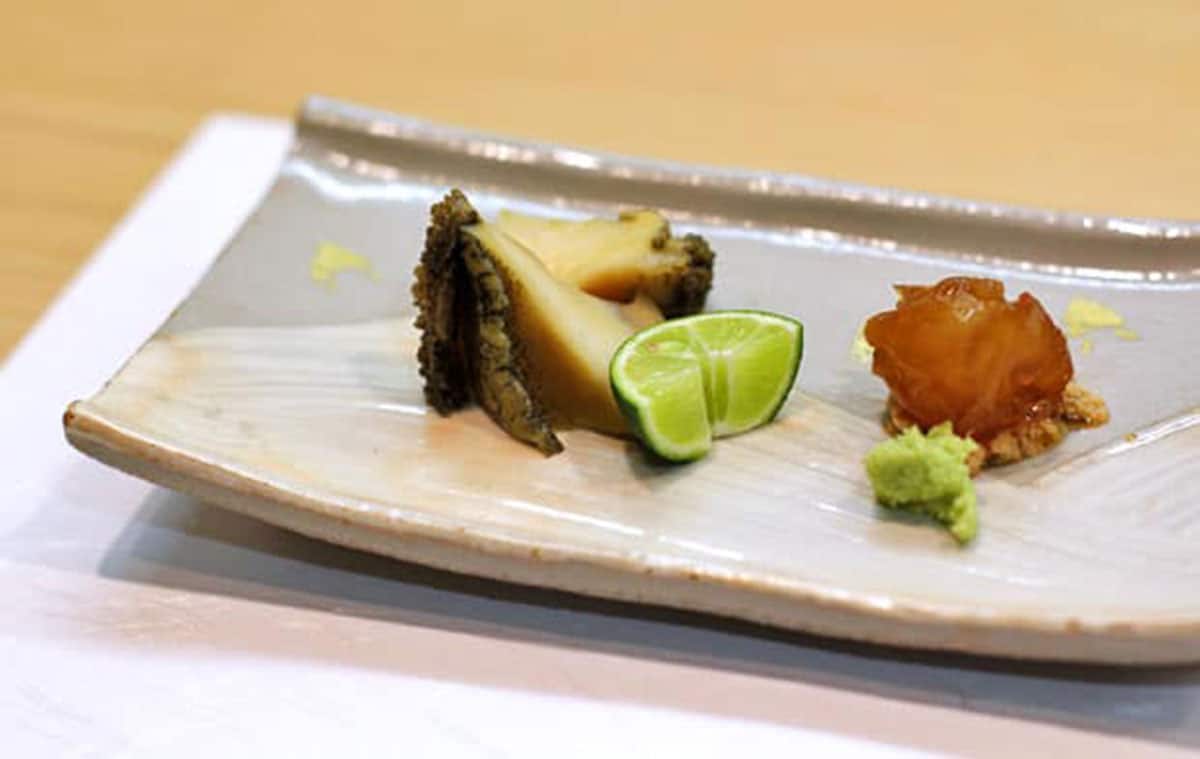 THIRD COURSE: Clams and spring onions on a bed of tofu skin!



Here's Chef Yoshimoto again carefully plating our next course. Open for six years now, Chef Yoshimoto worked for ten years as head chef at a kappo in Shinchi before venturing off on his own. A holder of one Michelin star to date, Iroha is named after his daughter.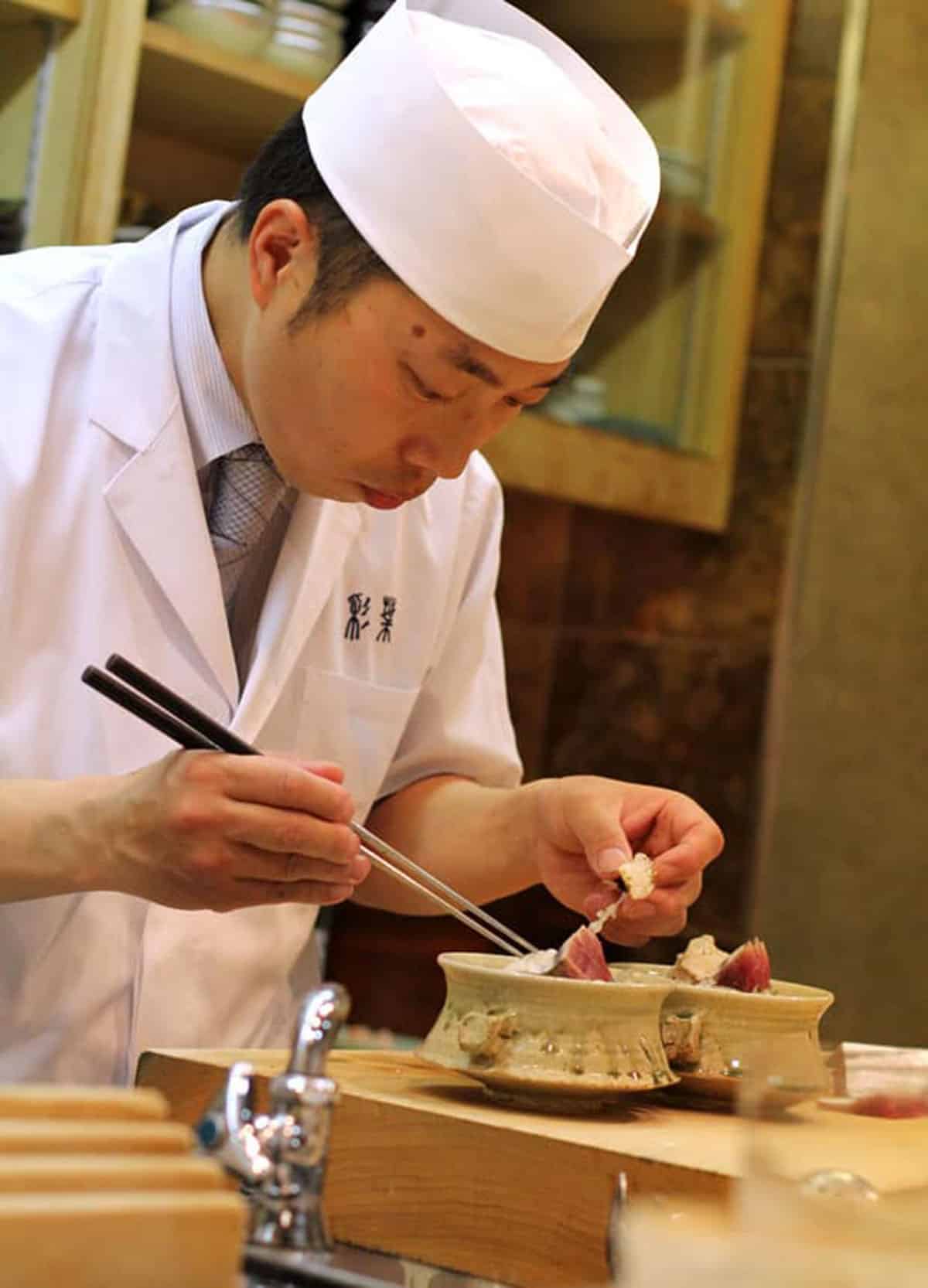 FOURTH COURSE: Two types of fish – I think katsuo (bonito) and broiled tai (snapper) – served with a green vegetable on a bed of ice. I don't know what kind of vegetable that was, but it was very crunchy with an interesting, honeycomb-like structure. It was fascinating – watching them meticulously score that white fish showed me just how important texture is to Japanese cuisine.
Funny side story, this dish was laid down before us in the manner that you see here – wasabi to the front, bowl handles to the sides. Because that green vegetable was covering the katsuo though, I tried to turn the bowl for a better shot. Soon as I did, Chef Yoshimoto turned it right back and said that this was how it was supposed to be. Oops! 😳 Not wanting to commit any more gaijin faux pas, I didn't dare try it again. 😆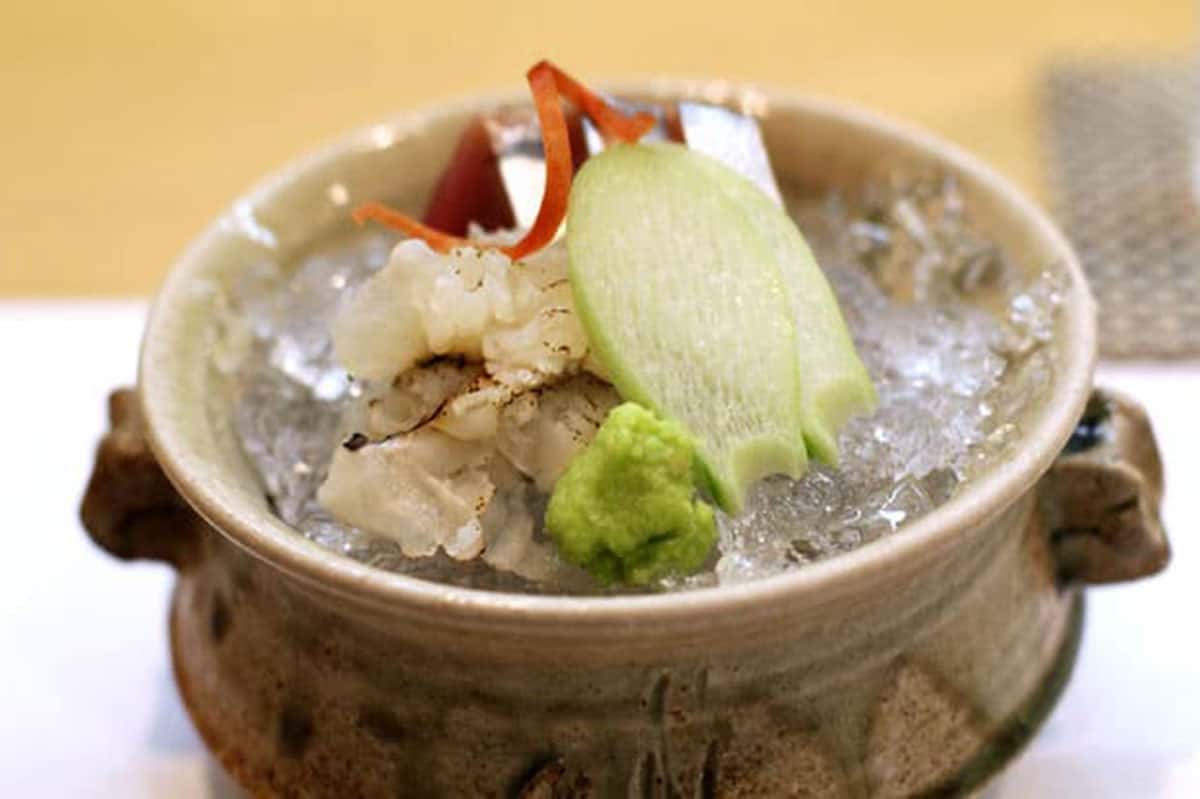 FIFTH COURSE: Shrimp and asparagus in a nutty, earthy, black sesame sauce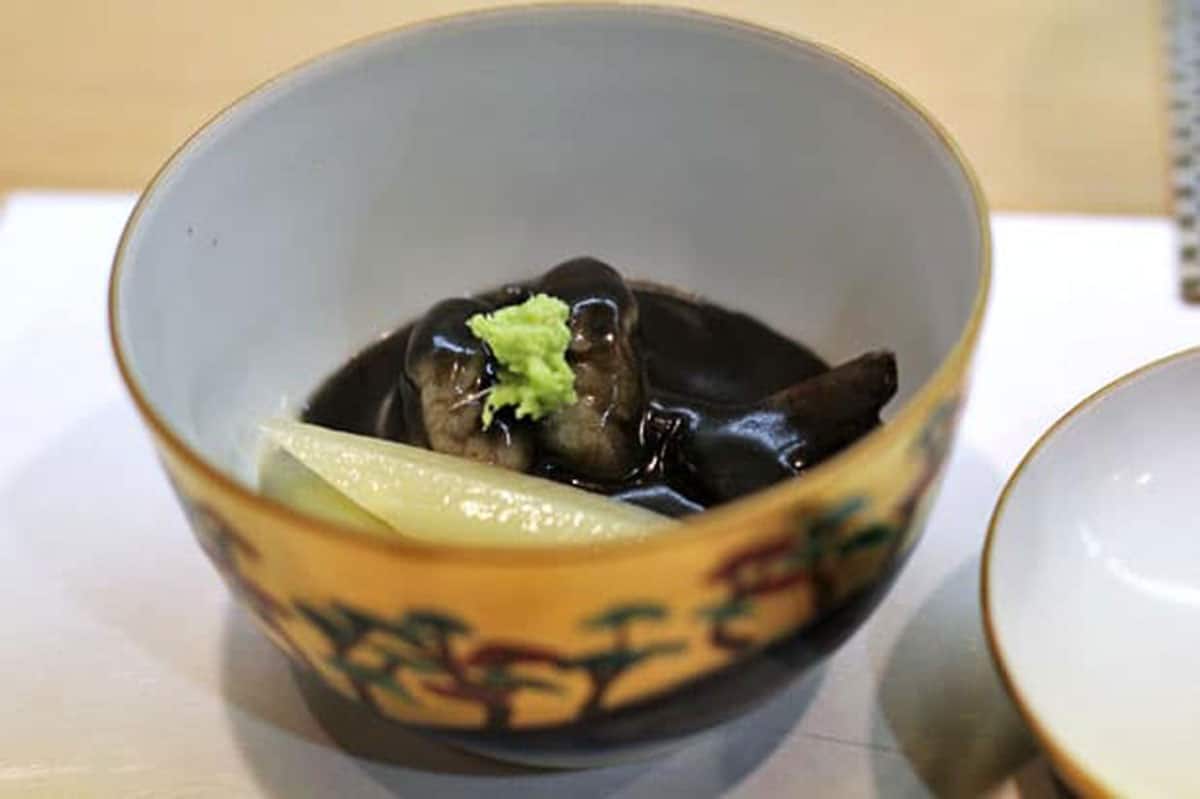 SIXTH COURSE: Some type of black seaweed. A little sweet and served cold midway through our meal, I think this was meant to be a palate cleanser.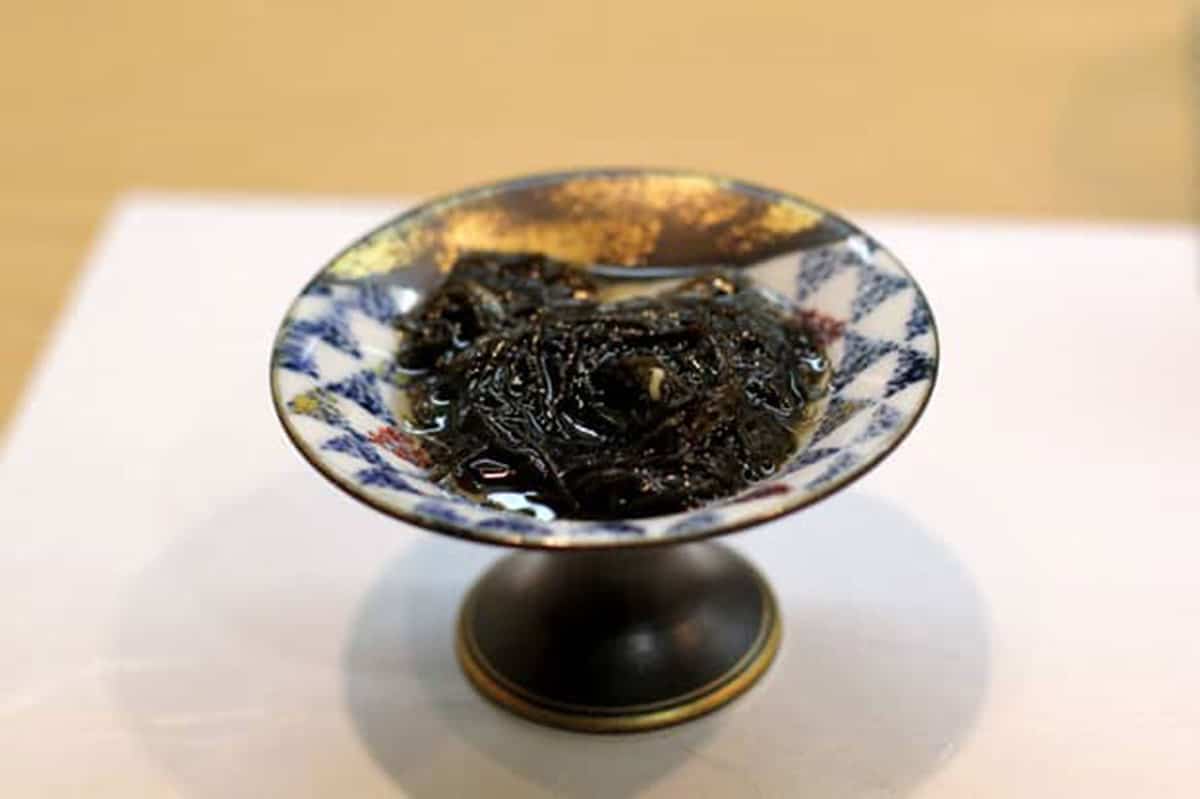 SEVENTH COURSE: A perfect piece of what appears to be katsuo sushi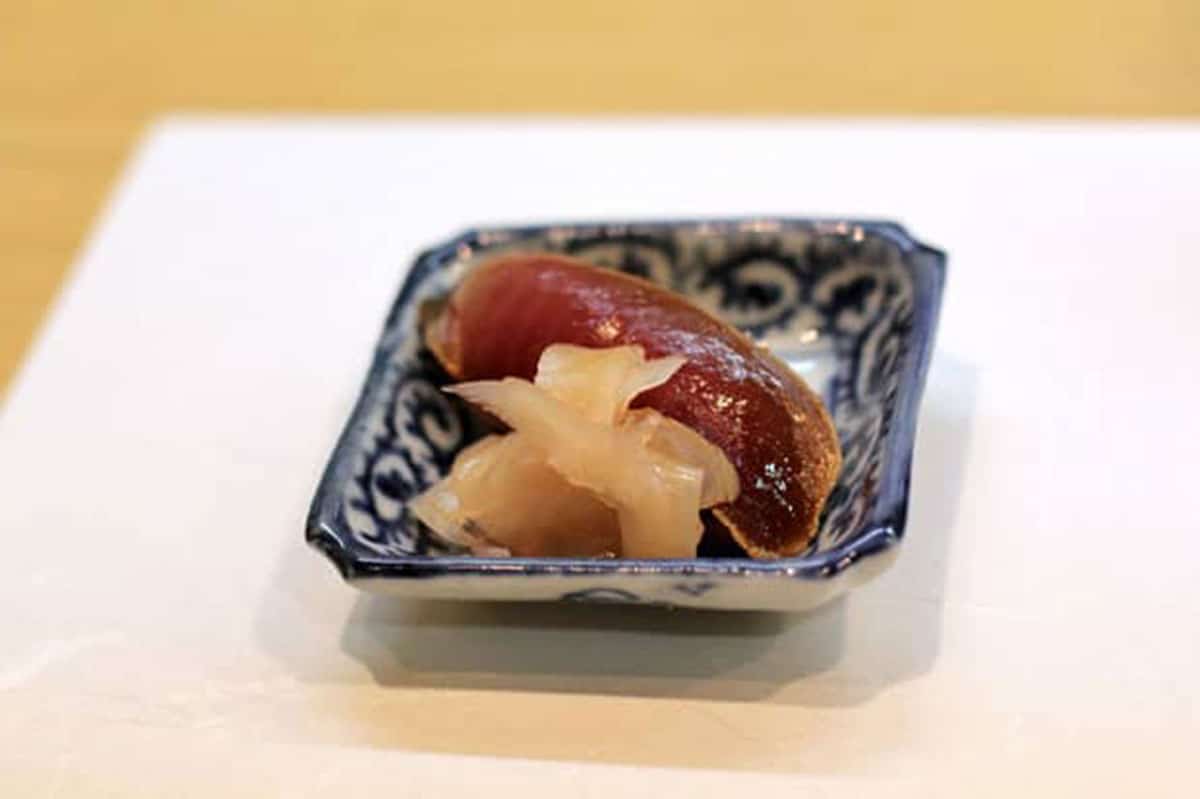 EIGTH COURSE: Grilled white fish, ginger, fragrant sticky rice, and a ground cherry. So cool!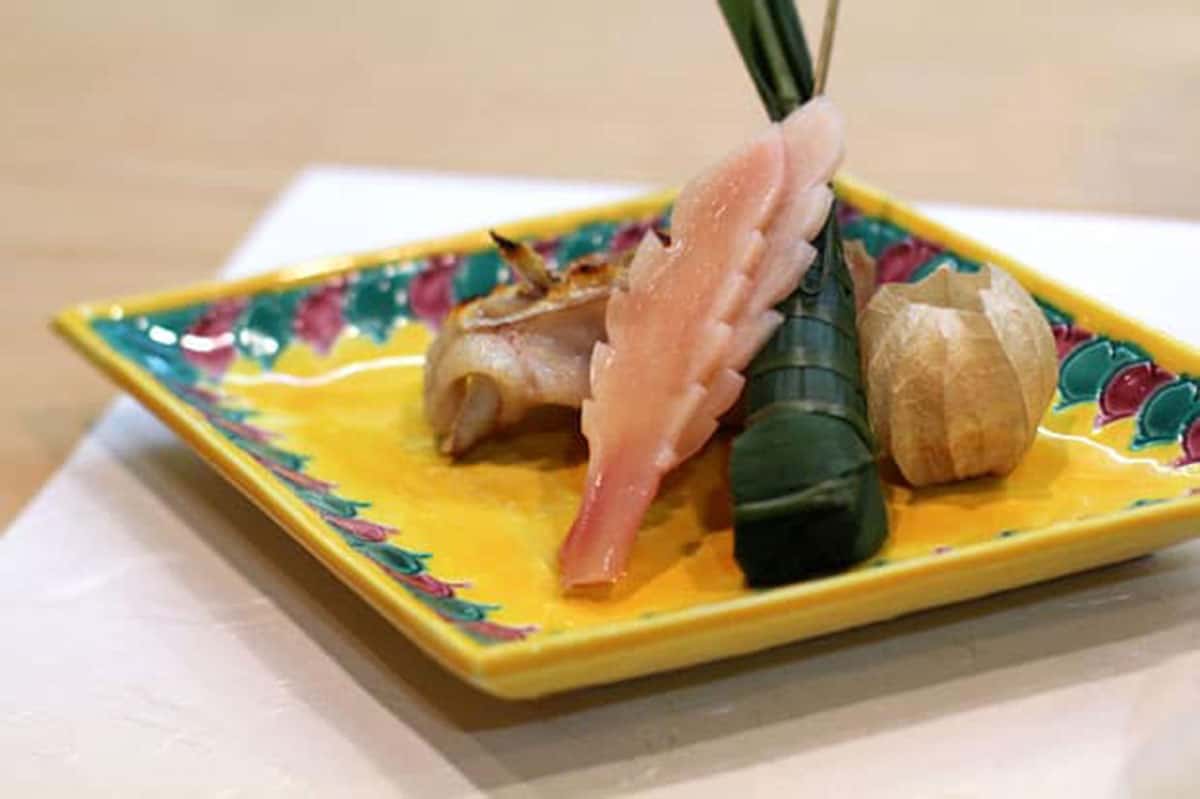 NINTH COURSE: Japanese corn soup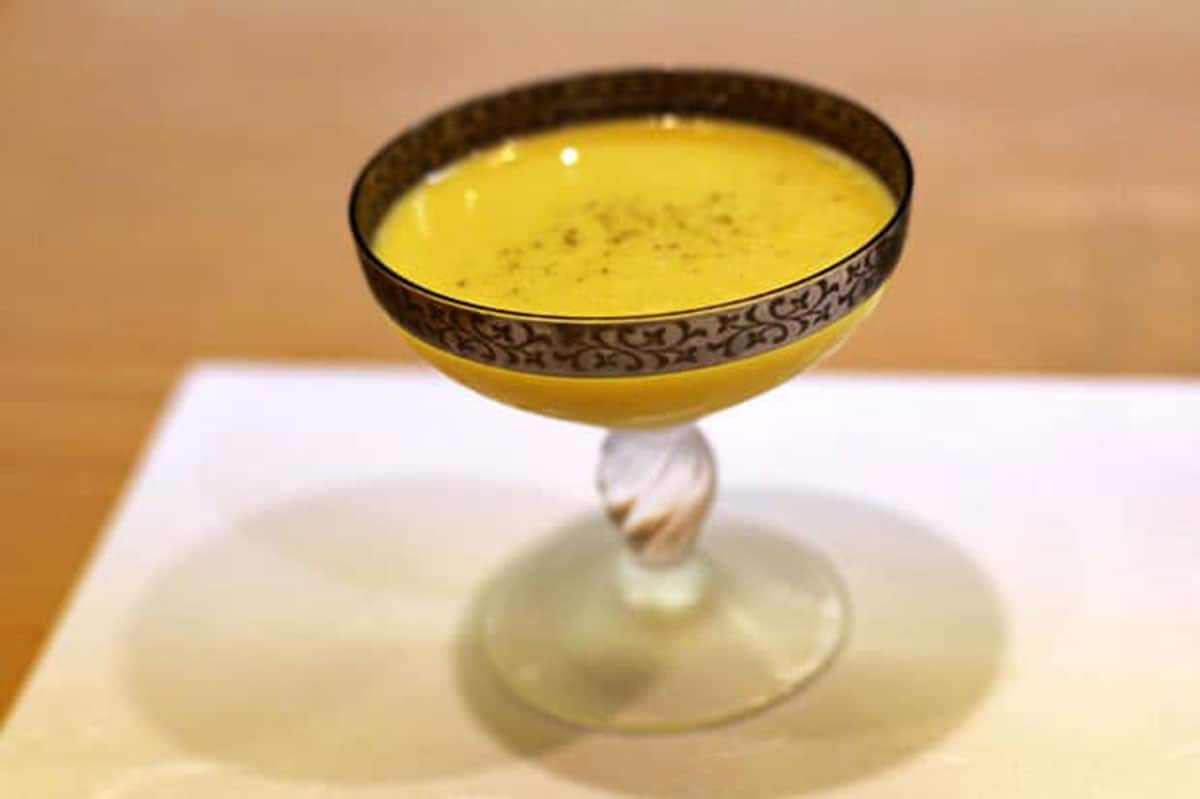 TENTH COURSE: Saga wagyu beef sukiyaki. As exquisite as this meal was from start to finish, this had to be my favorite course of the evening. Together with Kobe and Matsuzaka, Saga is recognized as one of the finest beef brands in Japan.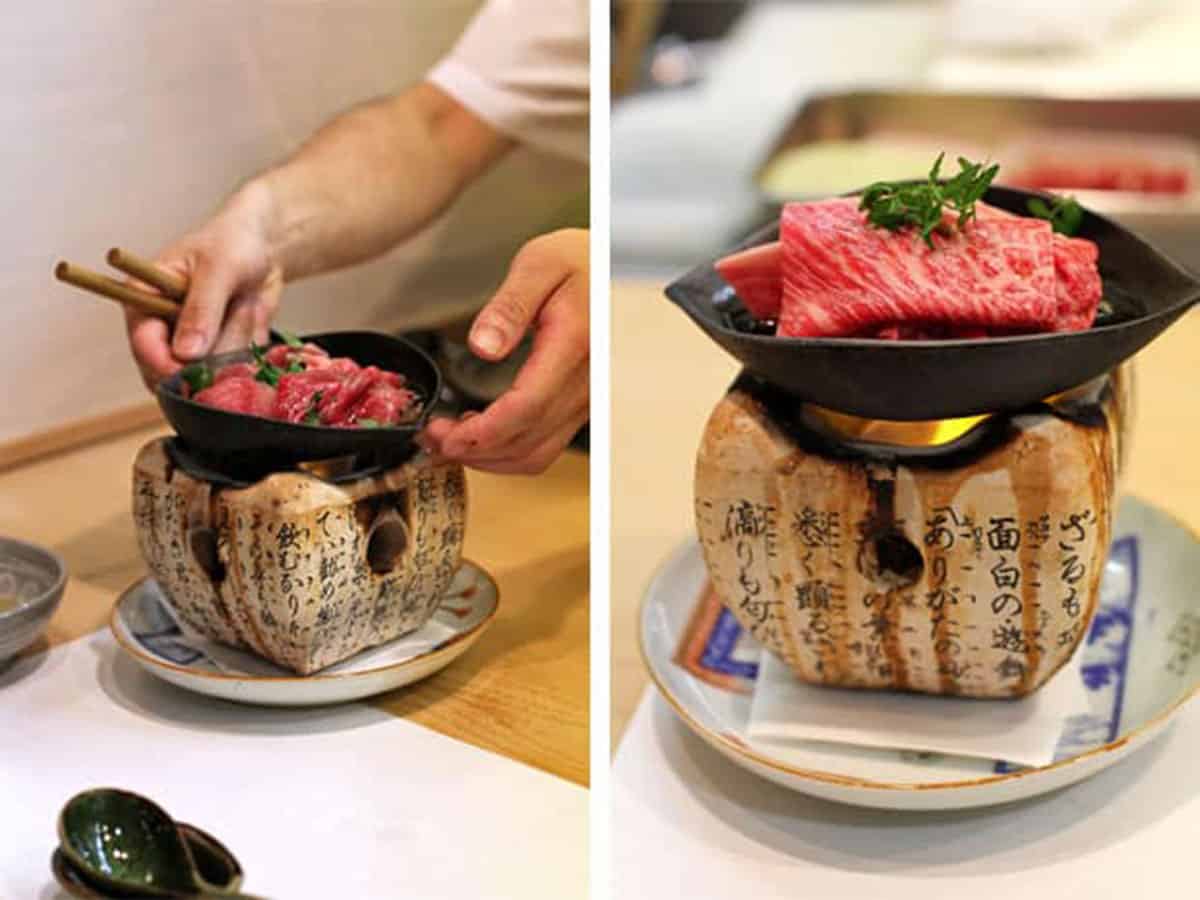 Sliced thinly, the Saga beef literally melted in your mouth. Unreal.



ELEVENTH COURSE: A white fish that was firmer and gummier in texture than the previous fish courses. Really good.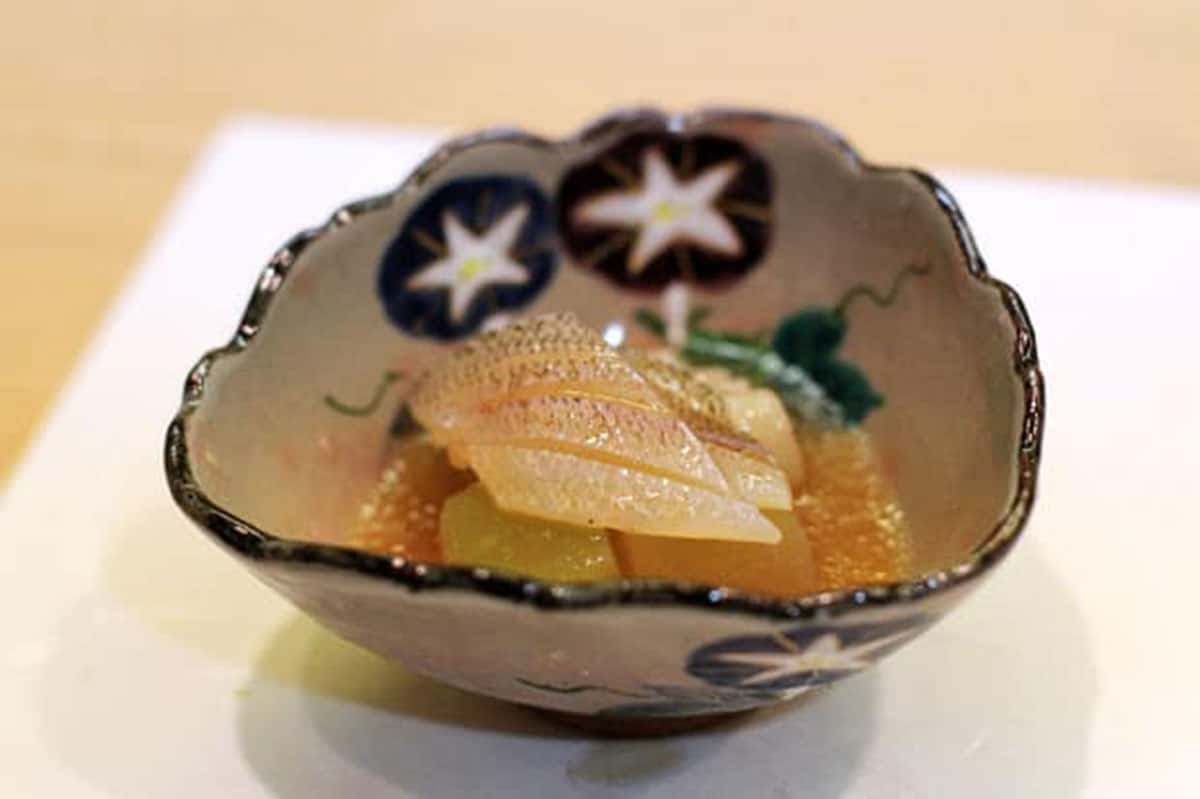 TWELFTH COURSE: For the finishing course, they gave us a choice of either noodles or rice. Ren chose these noodles…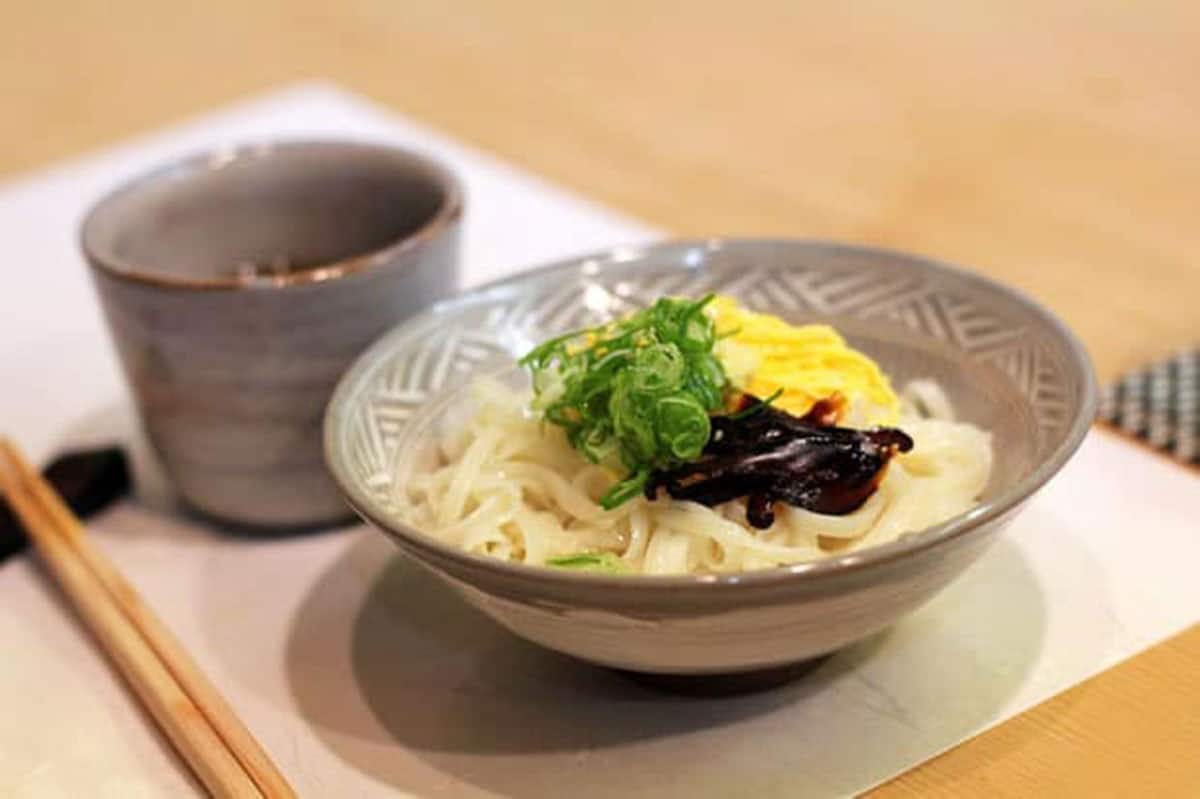 TWELFTH COURSE: …while I went with the rice in broth with a side of pickled vegetables. We were both full at this point so these dishes came at just the right time.



THIRTEENTH COURSE: For dessert, we had pears and tofu in simple syrup. A perfect ending to a truly bucket-list worthy meal.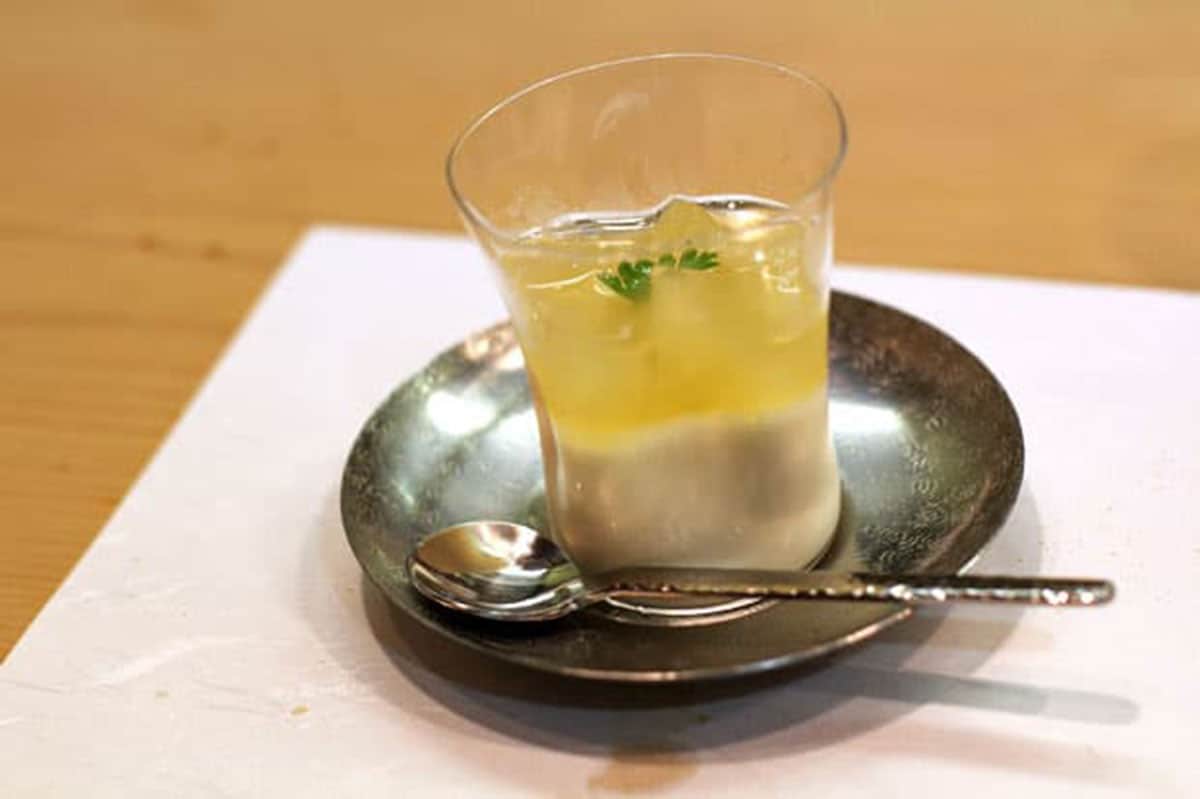 Again, I can't thank my brother enough for arranging this, and all the way from California too. You couldn't have given me a better birthday gift Erwin, so from the bottom of our hearts, thank you! 😀 A big thank you to Tom too for calling in and making sure we were taken care of tonight. 😉
For anyone interested in dining here, a typical kaiseki dinner will run you around ¥12,000, but be prepared to pay ¥15,000 if you plan on having drinks. Pricey yes, but for a thirteen-course Michelin-starred experience as perfect as this, it was absolutely worth every cent.
Iroha
5F, Kitashinchi Bldg, 1-3-19 Sonezakishinchi, Kita-ku, Osaka, Japan
Tel: +06-6344-7355
Expect to spend: ¥15,000 per person for dinner with drinks
Operating Hours: Mon-Sat, 5:30PM-10:30PM (dinner only)
Reservations: Required