At my high school graduation, we were told to wear dark blazers, either black or navy blue, for the sake of uniformity. Of course, being the obstinate dufus that I am, I wore rusty orange instead, standing out like a sore thumb in all our yearbook photos. Back then, I thought I was being the cool non-conformist. Mr. anti-establishment. An easy-riding, leather-clad, rebel without a cause. But in reality, I was just being an idiot. 😆
In retrospect, my life seems to be filled with such episodes. As my mom aptly puts it, "JB marches to the beat of a different drum", sometimes for good reason, other times, not at all. My previous take on the wildly popular Yabu, before I was so humbly put in my place just a few days ago, belongs squarely to the latter.
For the past year, conversations about new restaurants have been dominated by Yabu. From blogs, to balikbayan friends, to Facebook status updates, it's been nothing but Yabu this, Yabu that. My resistance to conformity heightened by all the hoopla, I decided to go against the grain yet again, and NOT eat at Yabu. I was never too big on tonkatsu anyway, thinking that all breaded pork dishes are created equal, so I simply refused to believe the hype.
That is of course, until a few days ago, when Ren's parents took the entire family out to Yabu to celebrate her birthday. I was pretty sure that I wouldn't like it, but I was wrong. Forced to eat my words, one bite was literally all it took to convince me that the hype, as overstated as it may have been at times, was actually well-deserved. Their katsu, in a word, is DELICIOUS.
Imagining all the I-told-you-so's raining down on me from the Yabu faithful, I found myself sticking out once again amidst a sea of dark blazers, the sheepish smile on my face belying a discomfort for wearing what I now know to be a very unhip, ill-fitting, rusty orange jacket.
What a fucking idiot. 😆
Apart from serving the quintessential katsu, another thing that makes Yabu appealing is the process of mixing your own katsu sauce. Grind the toasted sesame seeds with this mortar and pestle, then mix in 2-3 scoops of that dark, goopy, katsu sauce. Stir well, and you'll be katsu-dipping in no time.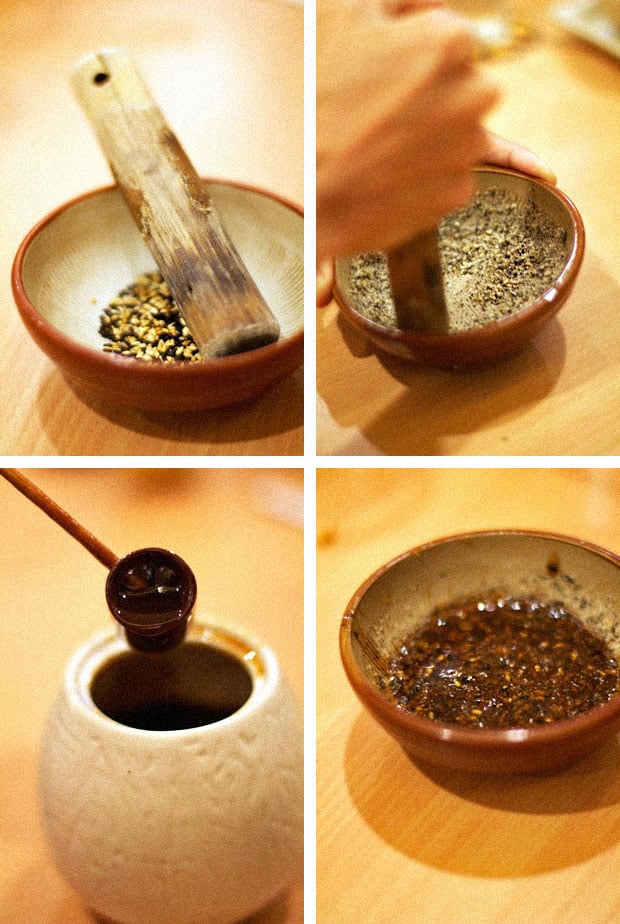 Kurobuta Pork Set – PHP 515 (90g) / PHP 575 (120g) – 3/4 inch cutlet made from "rosu", or pork with a trimming of fat. Served with unlimited Japanese rice, miso soup, Japanese pickles, unlimited cabbage with sesame dressing and a bowl of fruit.
Contrary to what I believed at first, not all katsu dishes are created equal. One bite from this Kurobuta pork set will convince you of that.
Also known as the Black Berkshire pig, Kurobuta is the world's finest, often referred to as the "Kobe beef" of pork due to its rich marbling, softness, and flavor. As I was with Yabu at first, I was skeptical as to how much better Kurobuta pork could actually be, but it really was noticeably superior. I'm not the biggest fan of pork, so for me to be blown away by a pork dish says a lot. A cut above in taste, texture, and tenderness to any pig I've ever tried, it's status as the Kobe beef of pork is, without question, well-deserved.
On their menu are a few pages explaining what makes their katsu so special. Aside from sourcing only the choicest pork, they also make their panko (Japanese breadcrumbs) fresh daily, as well as using Koshikihari, which is the finest Japanese rice. Their cuts of pork are no less than half an inch thick, resulting in the perfect ratio of pork and panko. Cooked at precisely 165ºC and allowed to rest before serving, their katsu is always crisp and golden brown on the outside, juicy and tender on the inside.
As with all their set meals, you're entitled to all the rice and cabbage you can eat. The medley of flavors and textures is truly sensational. From the tender Kurobuta pork, to the crunchy panko breading, to the hot zingy mustard, to the crisp cabbage, to the piquant katsu sauce. Everything is so so good.
As much as I can keep going on and on about it, describing this dish will never do it justice. You really do have to try it for yourself to understand. 😉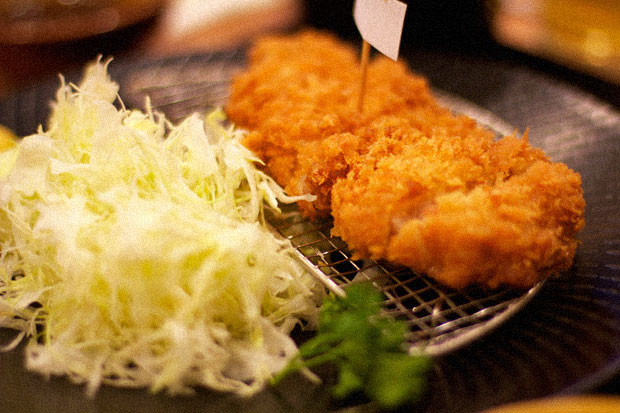 Seafood Katsu Set 1 – PHP 485 – Black tiger prawn, scallop, cream dory, oyster, and squid. Served with unlimited Japanese rice, miso soup, Japanese pickles, unlimited cabbage with sesame dressing and a bowl of fruit.
Always the seafood man, I drooled when I saw this on the menu, especially after learning that they use large Hokkaido scallops. Deliberating between this and the soft shell crab set, I chose this one because of its variety. Nothing makes me happier than a plate filled with all kinds of seafood, which is why I become ecstatic over dishes like cioppino, seafood jambalaya, and paella marinara. This was no exception.
Like the Kurobuta pork set above, the combination of flavors and textures on this plate was astounding. Everything was so succulent and perfectly cooked, especially the scallop, which literally fell apart in your mouth. Tender and sweet as the scallop was, my favorite would have to be the oyster. If I'm not mistaken, they stuffed several oysters in a panko ball, resulting in a mouthful of crunchy panko with juicy, briney oyster flavor.
Eating the different types of seafood with all the condiments truly made this a feast for the senses. Absolutely delicious.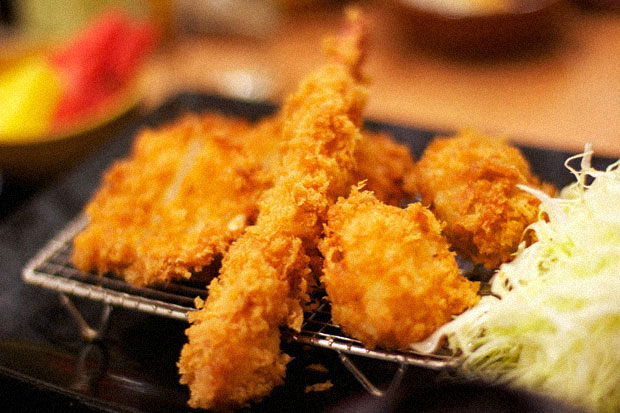 Because it was Ren's birthday, they gave her this complimentary serving of chocolate cake topped with a scoop of creamy, strawberry ice cream. I didn't care much for the cake, but the ice cream was really good. Thanks Yabu! 😀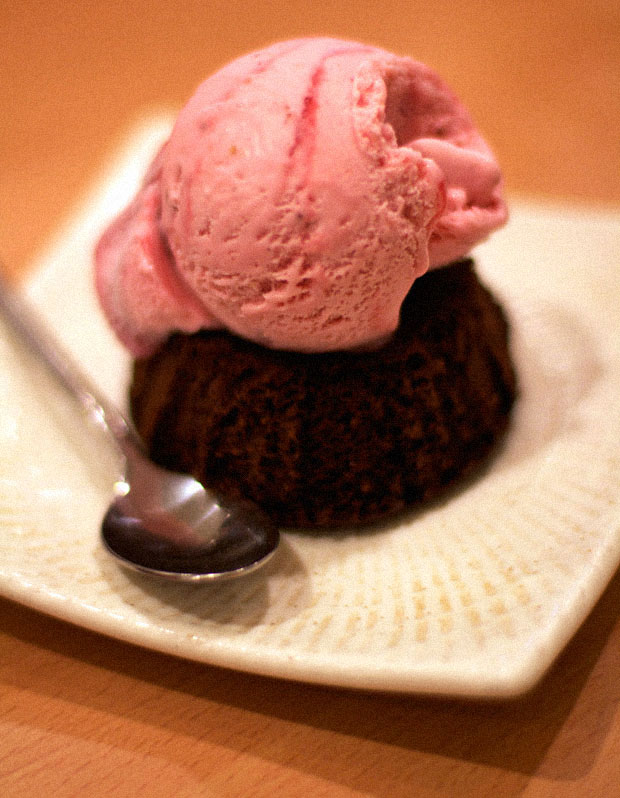 In parting, I was struck by something that I saw on their menu. In a small square, tucked away at the bottom corner of a page, was this Yabu promise:
"A true master focuses on perfecting one thing, and one thing only. At Yabu, we think of nothing else but creating perfect katsu for you. If you are not happy with the quality or flavor of the food, we will gladly replace it, or return your payment."
Humbled by your confidence, Sensei Yabu, you've made a follower out of me.
Yabu: House of Katsu Robinson's Magnolia
G/F Robinsons Magnolia, Aurora Blvd corner Doña M. Hemady Avenue, Valencia, Quezon City
Tel: 961-4975
Facebook: yabuhouseofkatsu
Email: [email protected]
Operating Hours: Mon-Thurs, 10AM-9PM / Fri-Sat, 10AM-10PM / Sun, 10AM-9PM
Yabu: House of Katsu SM Mall of Asia
2/F SM Mall of Asia, Main Mall Atrium, South Arcade, Pacific Drive, Manila Bay Reclamation Area, Pasay
Tel: 511-7202
Yabu: House of Katsu SM Megamall
2/F SM Megamall, Julia Vargas Avenue, Wack Wack, Mandaluyong
Tel: 631-1192
Yabu: House of Katsu SM Southmall
SM Southmall, Alabang-Zapote Road, Almanza Uno, Las Piñas