I'll give you three reasons to visit Hoi An – banh mi, com ga, and cao lau. They're three of the best things you can eat in this central Vietnamese town, which is saying a lot because there's plenty of good food to be had here.
When we first visited Hoi An in 2017, we were smitten with both the town itself and its food. We didn't know what to expect so our first night in the ancient town made us feel like we had woken up in a dream. The multi-colored paper lanterns zig-zagging between rows of crumbling shophouses looked like something out of a fairy tale.
But as striking as the town is at first sight, you get used to it pretty quickly. The novelty fades and by the second or third night, we found the crowds of tourists in the ancient town to be an inconvenience, even a nuisance.
But one thing that definitely doesn't get old is the food. Hoi An is one of our favorite culinary cities in Vietnam, which is why I focused solely on food on my most recent trip. No sightseeing, no guided tours. Just coffee and the best central Vietnamese street food I could find.
The result is this Hoi An food guide of twenty eateries offering many must-try dishes, including a few places to have some of the best banh mi, com ga, and cao lau in town. If you travel for food like we do, then you're going to find this guide very useful.
WHAT & WHERE TO EAT IN HOI AN
There are many delicious dishes to be had in Hoi An but for me, the holy trinity is comprised of com ga, banh mi, and cao lau, with mi quang being the fourth wheel. Being such important dishes, I made sure to seek out at least three of the most recommended restaurants to try each of these dishes.
For ease of navigation, I've grouped these twenty restaurants according to the dish they specialize in. You can use the menu below to jump to specific sections within this guide.
Being a non-Vietnamese, I don't claim to be an expert on any of these dishes. I can only tell you what tastes good to me. Taste is subjective so we won't always agree, but I've listed my personal favorites below. You can click on the links to jump down to pictures and information about that specific restaurant.
BANH MI: Madam Khanh – The Banh Mi Queen
COM GA: Long Com Ga
CAO LAU: Cao Lau Khong Gian Xanh
MI QUANG: Ong Hai (Mr. Hai)
BANH MI
Banh mi and pho are two of the most well-known Vietnamese dishes outside of the country. Strictly speaking, term banh mi means "bread" but people use it to refer to the sandwich. A small French baguette is split lengthwise and filled with any number of ingredients like liver pate, cold cuts, pickled vegetables, cucumber slices, and cilantro. It's a light sandwich that's typically eaten as a snack.
You can find banh mi pretty much anywhere in the country but the best sandwiches are said to come from Hoi An, and it's all because of the bread. No one really knows for sure why the bread in Hoi An is better, but some say it may be because of recipes left by the French in the mid-1800s. It could also be because of the type of flour used.
Whatever the reason, you'll notice that the bread in Hoi An is indeed better than in most other parts of the country. It's lighter and crisper and superior to any banh mi I personally tried in Hanoi or Saigon, which is saying a lot because nearly every banh mi I had in Vietnam was amazing.
1. Banh Mi Phuong
Banh Mi Phuong is recognized by many, most importantly by locals, as one of the two best banh mi shops in Hoi An. It was the stall recommended by the late great Anthony Bourdain in a Vietnam episode of No Reservations. He ordered one with everything on it and called it a "symphony of a sandwich".
We ordered this banh mi with pork, ham, and pate and it was indeed phenomenal. The bread is so light and crusty on the outside and soft and pillowy on the inside that it sort of crumbles in on itself when you take a bite. The bread truly is the star here so for me, it almost doesn't matter what's inside. It'll be delicious regardless.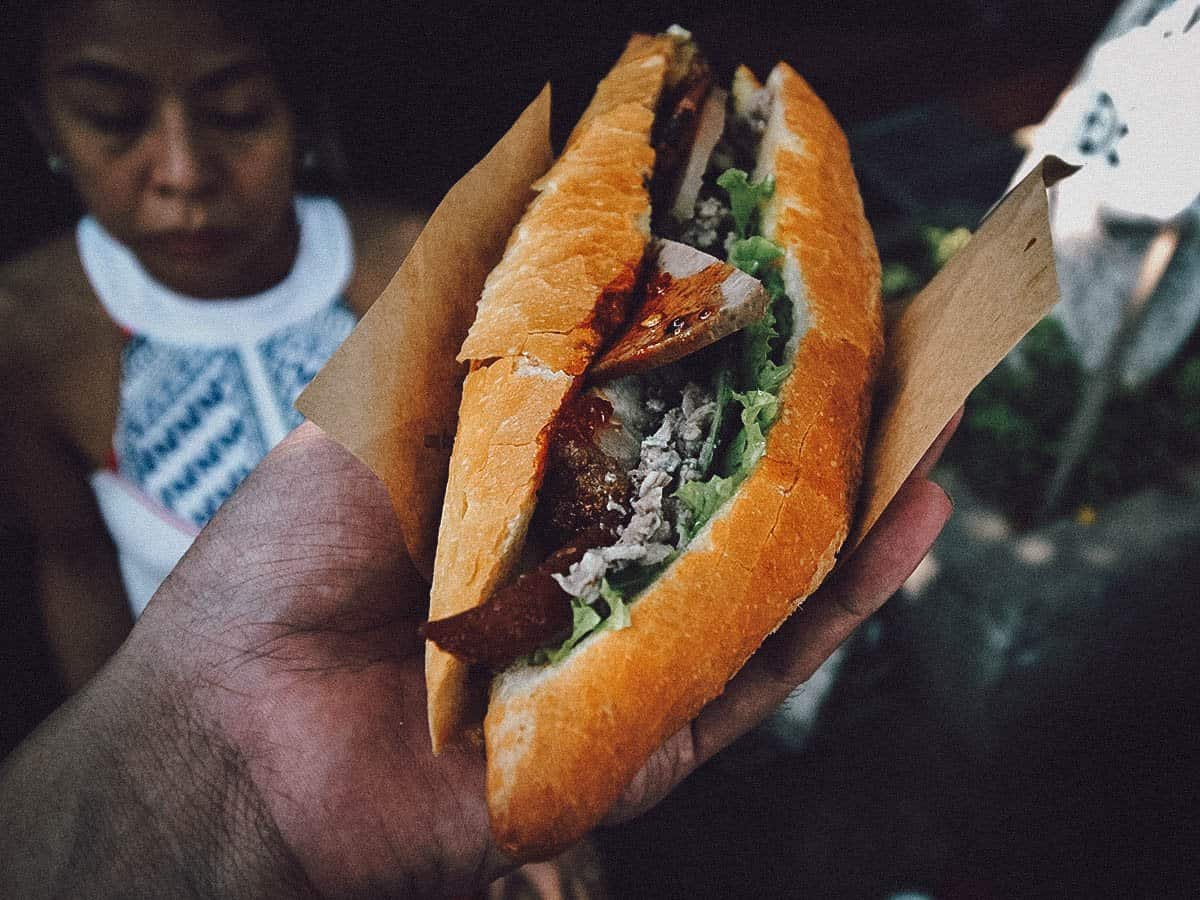 2. Phi Banh Mi
Phi Banh Mi has been open only since 2013 but judging from their perfect 5-star rating on TripAdvisor, they've already become a serious contender for the best banh mi in Hoi An.
If it's my first time eating at a restaurant, then I'll always go for the special. I ordered this Phi Special made with cheese, egg, pork, pate, cucumber, pickles, herbs, and copious amounts of avocado. It was good – the bread was terrific – but I sort of wished I had ordered something simpler. There was too much avocado in this one and it was pretty much all I could taste.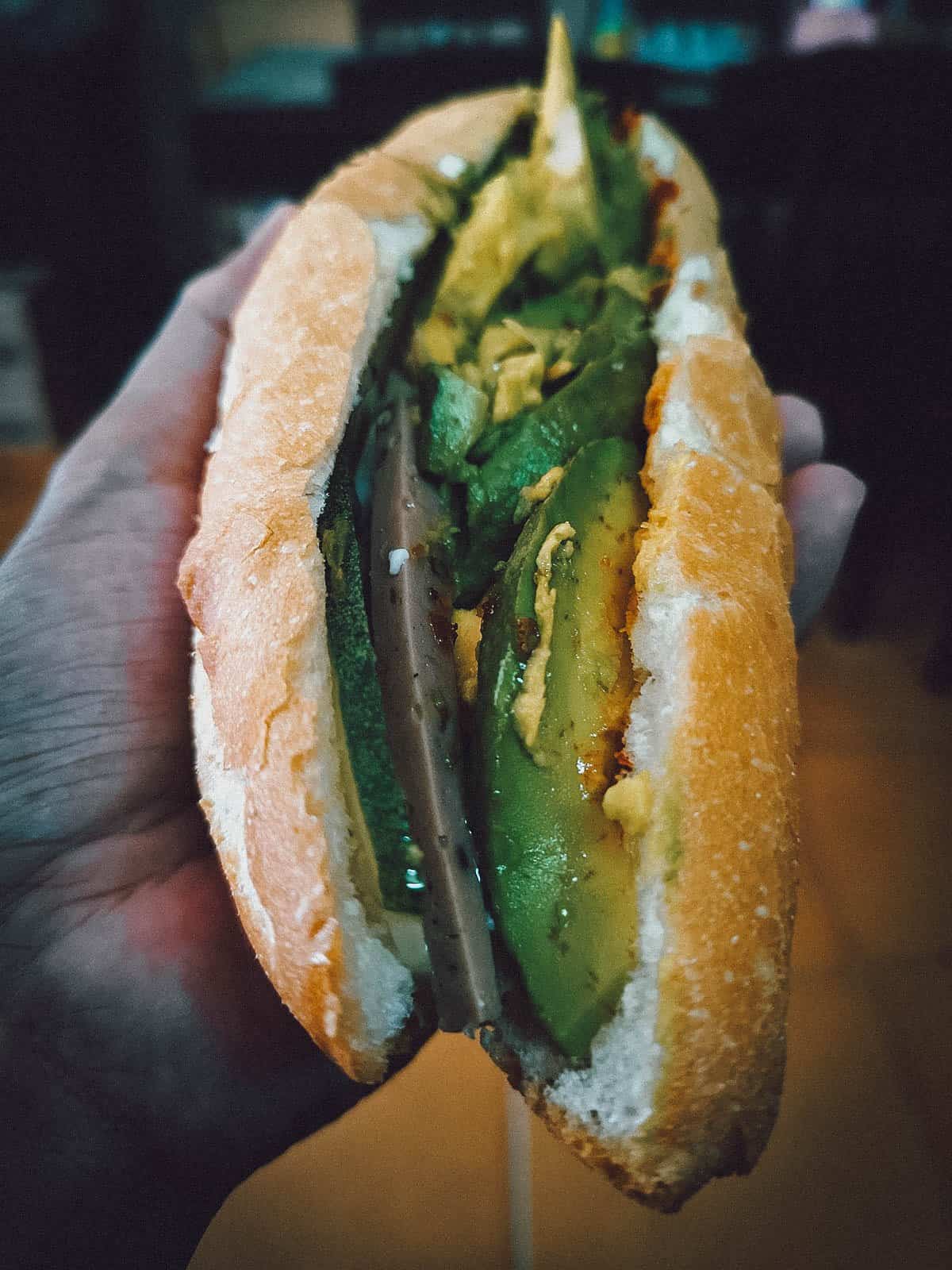 3. Madam Khanh – The Banh My Queen
Madam Khanh, aka The Banh Mi Queen, is the second shop with a reputation for serving the best banh mi in Hoi An. I ordered the mixed banh mi with vegetables, pork, ham, pate, egg, pickles, and cucumber. You can have your banh mi spicy, medium spicy, or not spicy. I had mine spicy.
Take a good look at the sauce on this banh mi. Aside from the bread, it's what sets this sandwich apart. One bite sent me into pure banh mi bliss. This sandwich was phenomenal and a worthy rival to Banh Mi Phuong. It's tough choosing between the two but I'd probably give the slight nod to Madam Khanh because of the sauce. It was spicy, savory, and a little sweet. It's what made this sandwich really sing.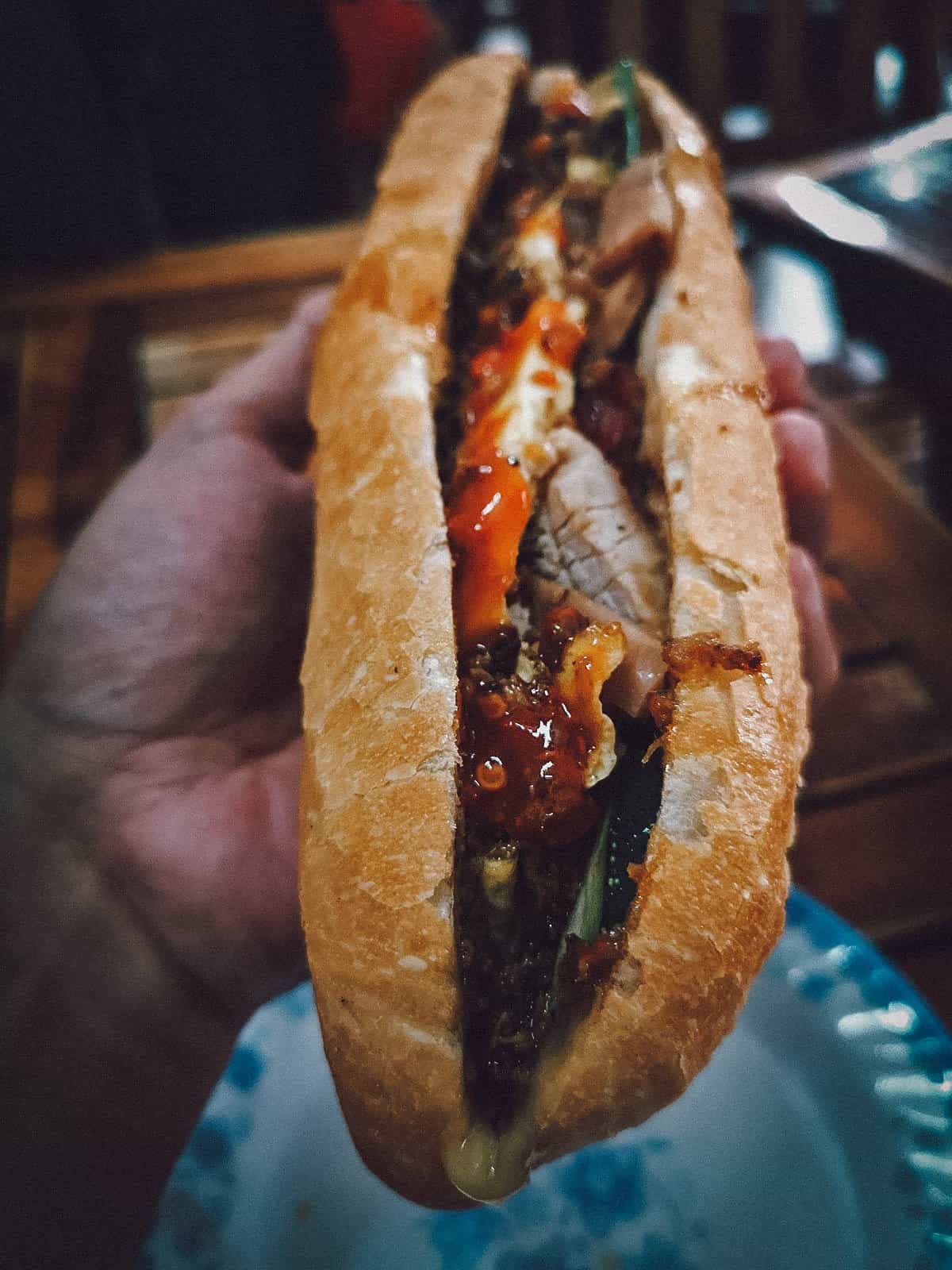 COM GA
Com ga is the Vietnamese version of Hainanese chicken rice. Originally from China, it found its way to Hoi An by way of Chinese traders who settled in Quang Nam Province. Many of these traders were from Hainan which is less than 450 km northeast of Hoi An.
Com ga is a dish of shredded poached chicken served with seasoned pilaf rice, shredded green papaya and carrot, fresh herbs, and a bowl of chicken broth that may or may not contain offal and cubes of congealed blood. It's one of those deceptive dishes that looks tasteless but is absolutely packed with flavor.
We made the mistake of skipping com ga in 2017 so I made sure to visit as many places as I could on this trip. It's one of the best Asian food experiences I've had not just in Hoi An, but in all of Vietnam. Don't miss it.
4. Com Ga Ba Buoi
Com Ga Ba Buoi has been around since the 1950s and is one of the most popular places to have chicken rice in Hoi An. And rightfully so – their com ga is delicious.
Isn't their presentation pretty? The red on the plates adds color to what would otherwise look like a plain and visually unappealing dish. But boring and bland this isn't. The combination of flavors and textures is wonderful. It achieves a balance that I've come to expect from many Vietnamese dishes.
I've had Singaporean chicken rice many times and one of the differences is that com ga is served with more stronger-tasting herbs like Vietnamese coriander and mint. This is presumably to help temper the richness of the rice which is cooked with the poached chicken broth. It's also made with turmeric which is what gives it that lovely golden yellow color.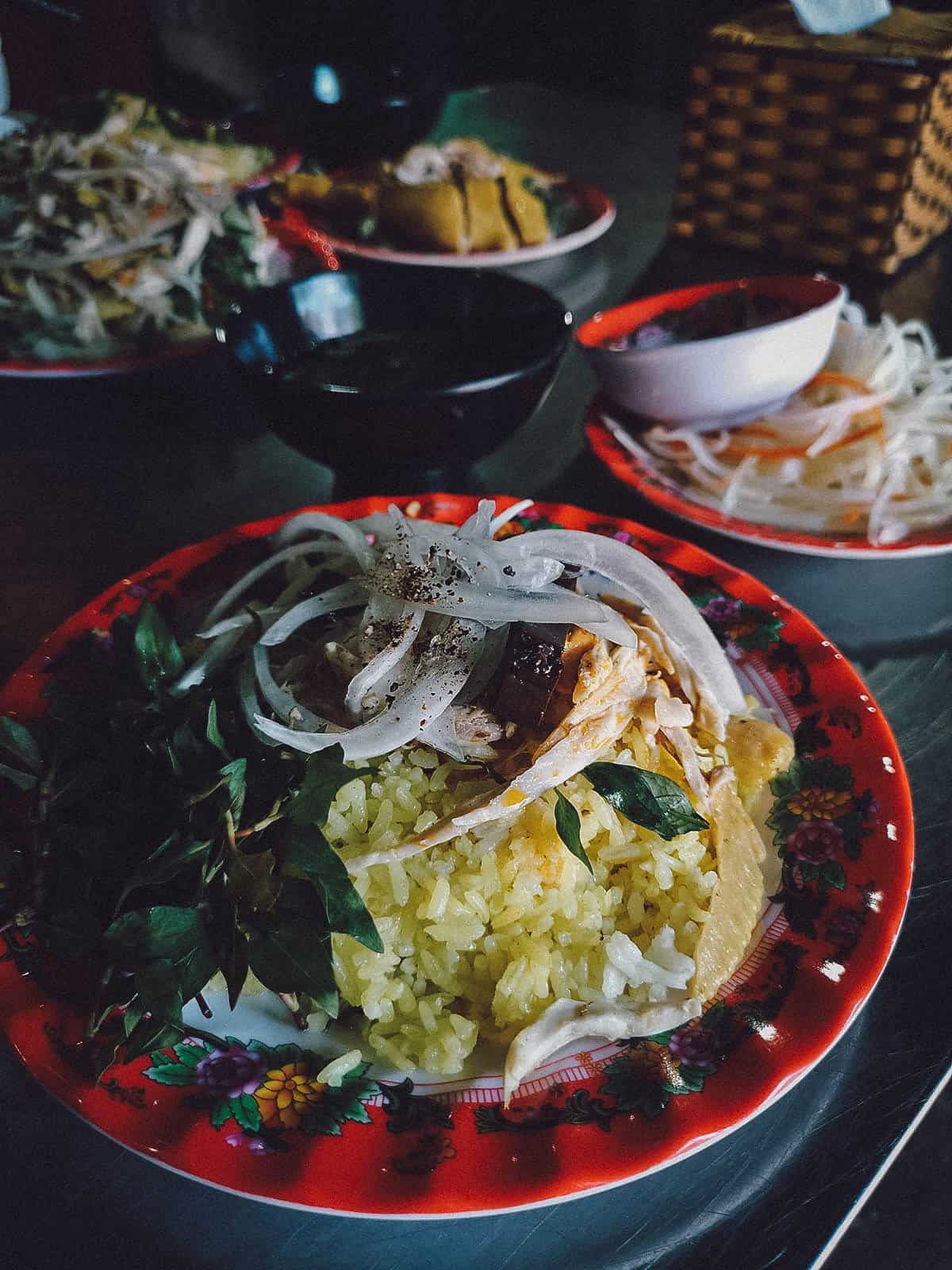 Com Ga ba Buoi pairs their soft succulent shreds of chicken with a few cubes of congealed blood. If you've never had congealed chicken or pork blood before, it's like a softer, less gritty version of liver. I'm drawn to dishes with lots of different textures which is one of the reasons why I enjoyed com ga so much.

5. Com Ga Hien
This was one of the restaurants I was most excited to visit in Hoi An, mainly because of its opening hours. They're open only from 6PM to around 8:30PM everyday, which told me that it's the type of place visited mostly by locals, the kind you need to get to early before they run out of food.
Com Ga Hien's chicken rice was tasty as well but it was my least favorite of the three. I'm not exactly sure why, but it didn't make me as wide-eyed as the other two places on this list. The rice felt heavier and there seemed to be less going on overall. They didn't serve nearly as much offal and congealed blood either – just a few pieces in my soup and none on the rice.
I read that tourists in Hoi An are often given a tamer version of com ga, because locals feel they'd be put off by the offal. I believe it because servers in Hanoi restaurants would often try to take my mam tom (Vietnamese shrimp paste) away. I always had to wrestle it back from them. I'm Asian dammit! I like the funky stuff! Ha!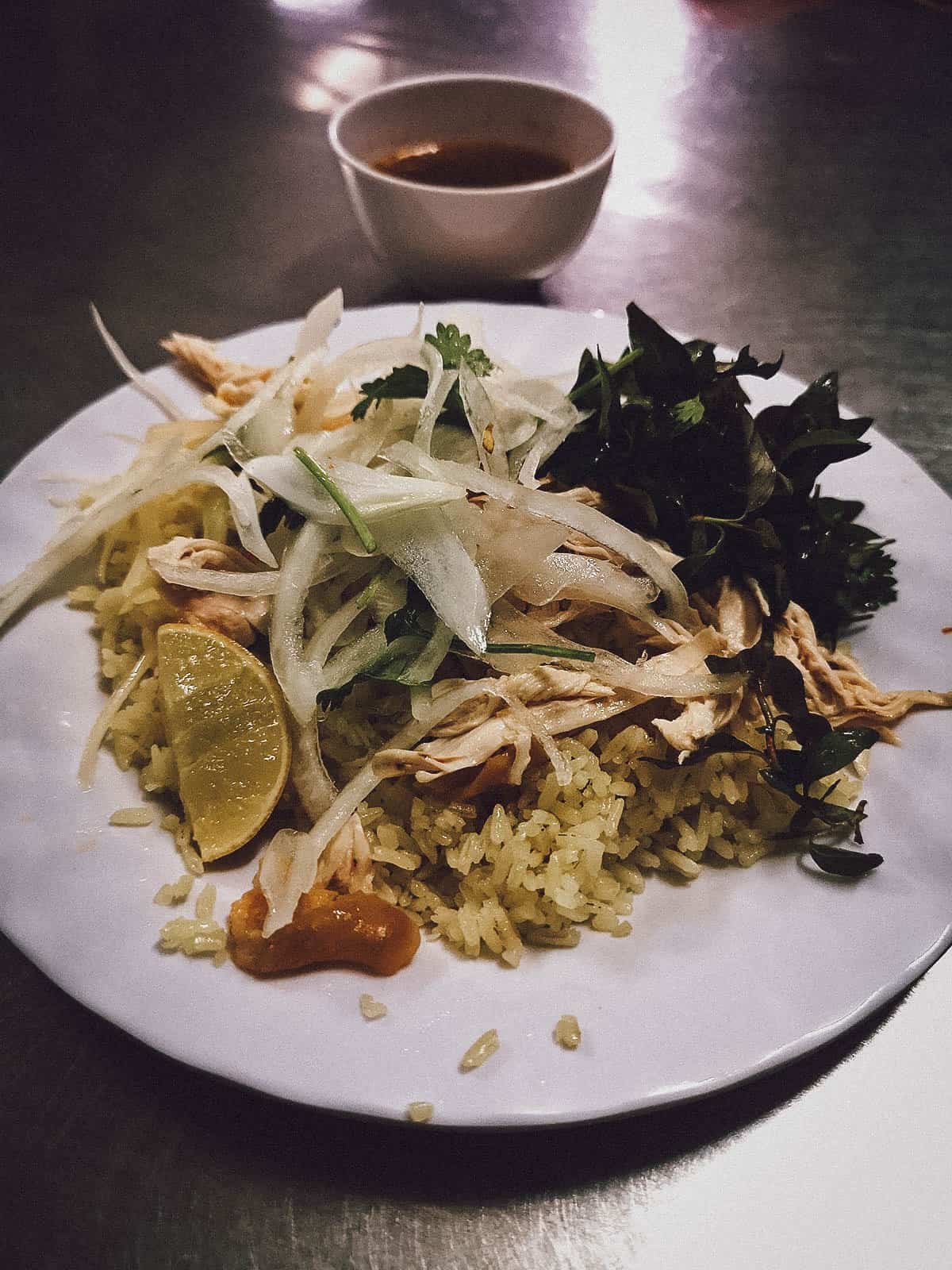 One of the best and most surprising things about chicken rice is how soft and tender the shredded chicken pieces are. You can almost taste its juiciness just by looking at this picture. The poaching process makes it super tender and incredibly tasty.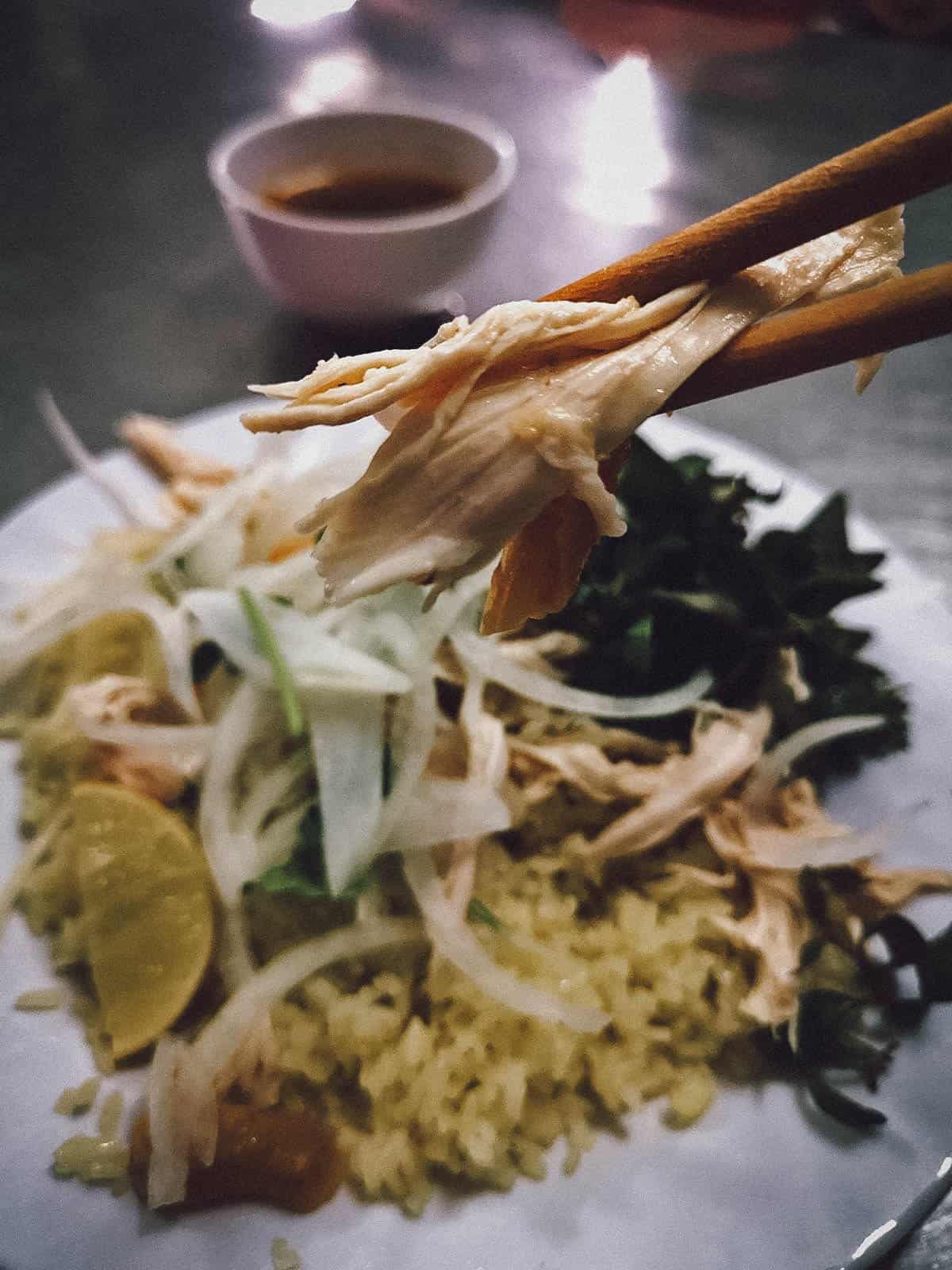 6. Long Com Ga
This was the best com ga I had in Hoi An. Com Ga Ba Buoi was terrific but Long Com Ga gets the nod based on serving size, amount and variety of offal, and overall flavor. Just look at all that delicious offal and congealed blood on the plate. There's even more in the soup.
Long Com Ga's version had perfectly cooked rice – soft and fluffy without being greasy – and the best balance of flavors and textures. On top of all the offal, they give you an immature chicken egg as well. Immature eggs are unlaid eggs which are harvested after the chicken is slaughtered. If you've never had it, it's like a smooth, somewhat rubbery hard-boiled egg yolk.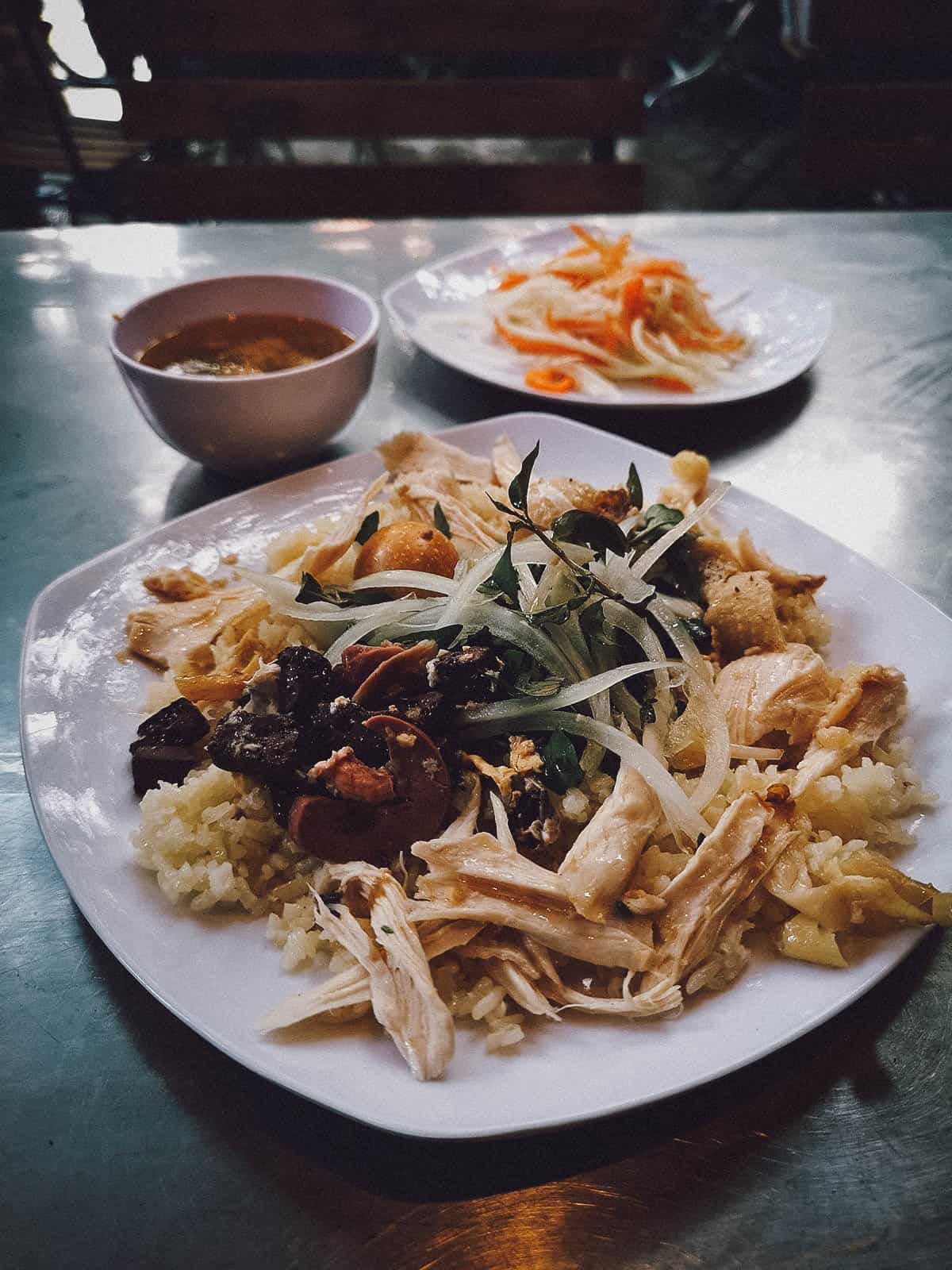 Feast your eyes on that juicy piece of chicken and cube of congealed blood! This was the first com ga place I visited and the first bite made me regret not having it in 2017. What were we thinking?! I was in chicken rice heaven the whole time I was eating this plate of com ga. The fluffiness of the rice, the softness of the chicken, the crunch of the onions, the snap of the offal, the freshness of the herbs – everything was just perfect.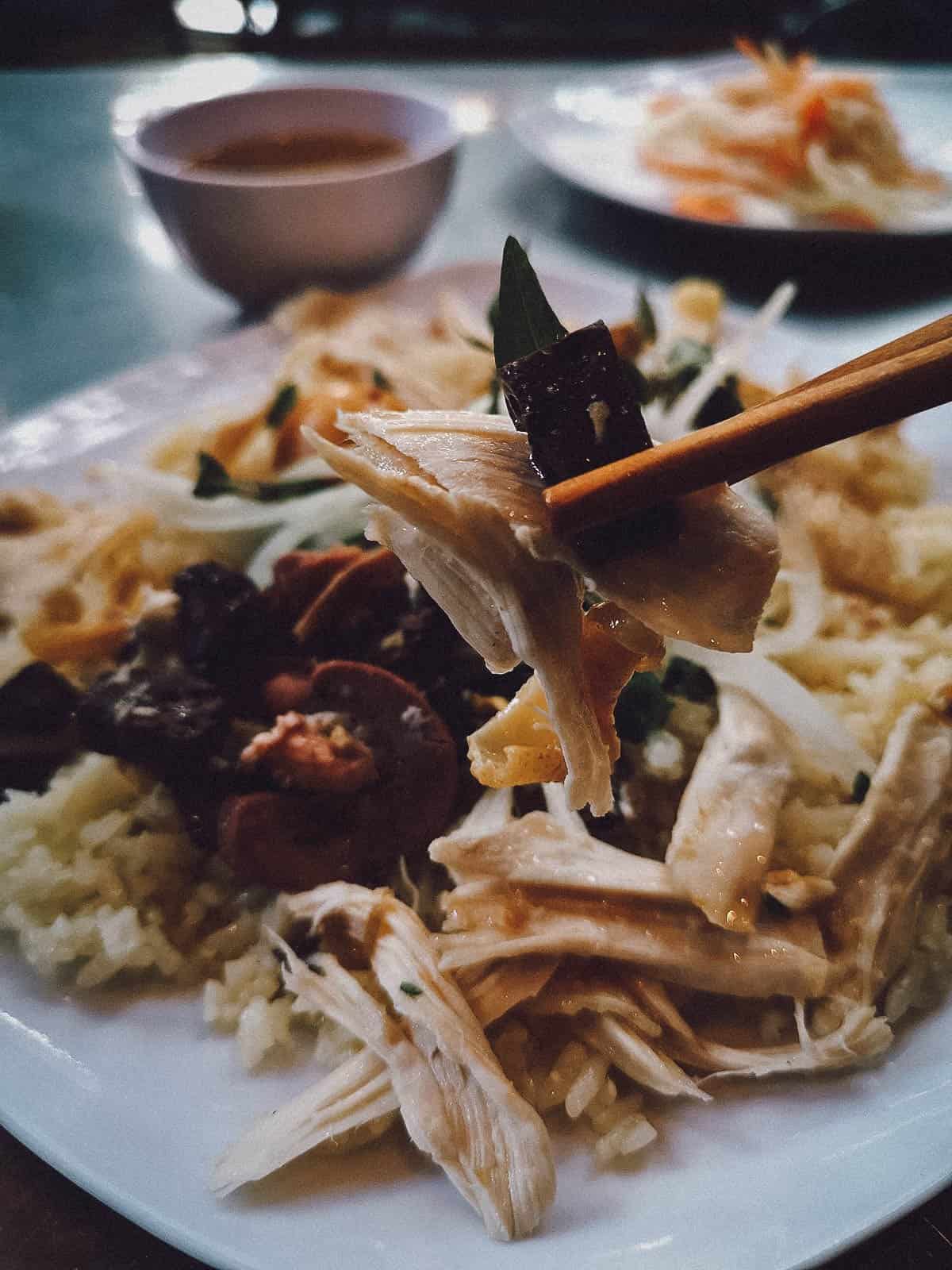 I wasn't exaggerating when I said they give you even more offal in the soup. This small bowl of tasty chicken broth was swimming in offal. I'm not sure what organs these bits were from (gizzard, intestines?) but they were delicious and tasted very clean. Some had a mushroom-like softness like the congealed blood while others had more crunch and snap, like gizzard.

CAO LAU
Cao lau is the third dish that forms the holy trinity of Hoi An's must-eats. It's a rice noodle dish topped with cha siu pork, fresh herbs, bean sprouts, rice crackers, and deep-fried squares of pork skin. What makes cao lau a quintessential Hoi An dish are the noodles. Or more specifically, the water used to make them.
To create authentic cao lau, the water must be drawn from an ancient Cham well called the Ba Le Well. Wood ash from trees that grow on Cham Island is mixed with the well's alkaline water to create a lye solution used to pre-soak the noodles. This is what gives cao lầu noodles its distinctive yellow tinge and chewier texture. After soaking in the lye solution, the noodles are then smoked over an ash-burning furnace to give them a smoky flavor.
Needless to say, authentic cao lau needs to be enjoyed in Hoi An. You'll find cao lau restaurants everywhere in town but these next five are among the most recommended. Honestly, it was hard to pick a favorite because they were all delicious.
7. Cao Lau Khong Gian Xanh
It was tough to choose, but this was probably the best cao lau I had in Hoi An. As described, they were all good so I'm basing that more on overall experience and value for money. The cao lau portions at Khong Gian Xanh seemed bigger than the rest, with thicker and fattier cuts of roast pork.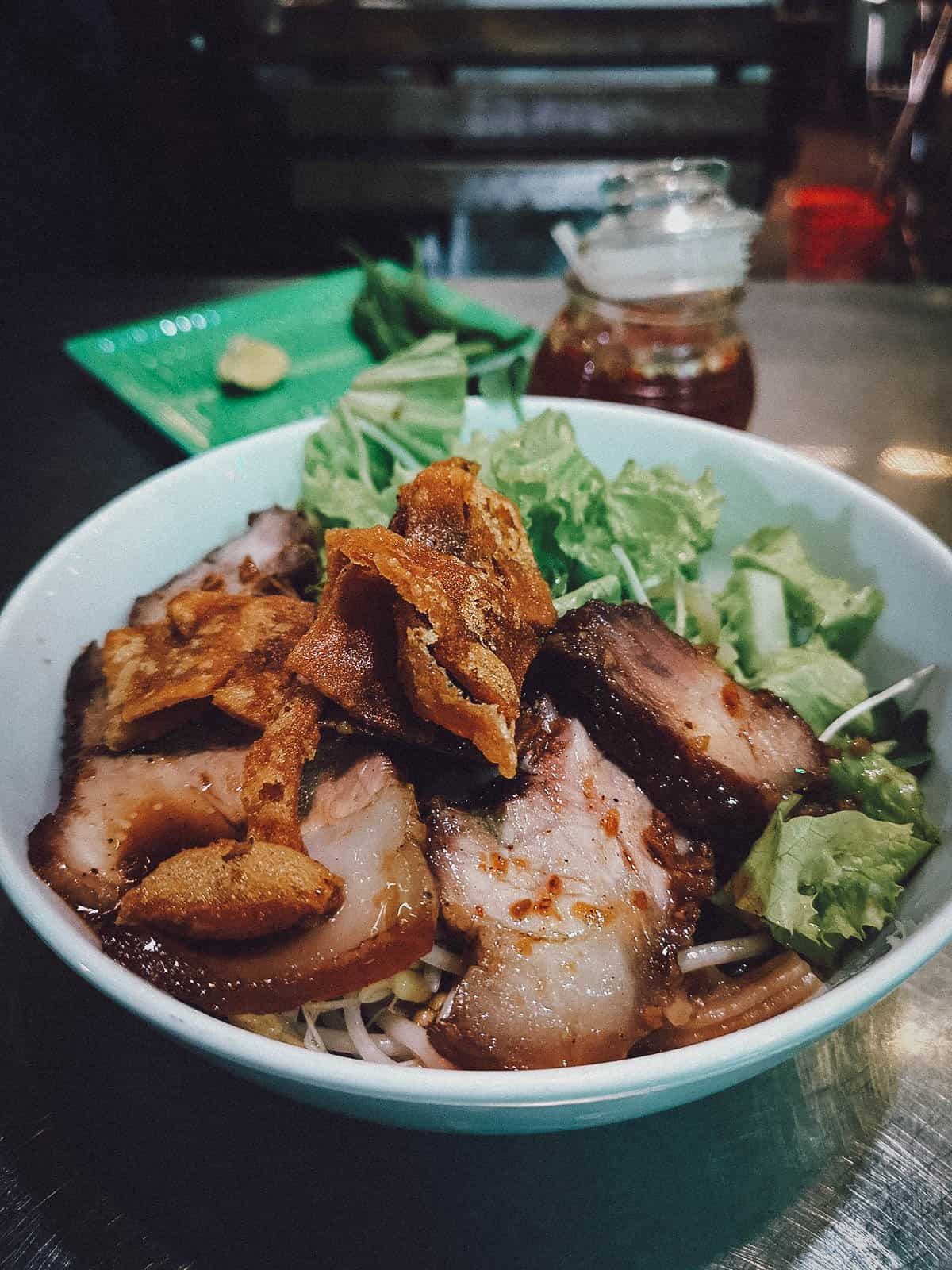 Here's a closer look at the fatty slices of roast pork and those deliciously chewy cao lau noodles. Chewy, crunchy, soft, smokey, fatty – the contrast in taste and texture in a bowl of cao lau noodles is to die for.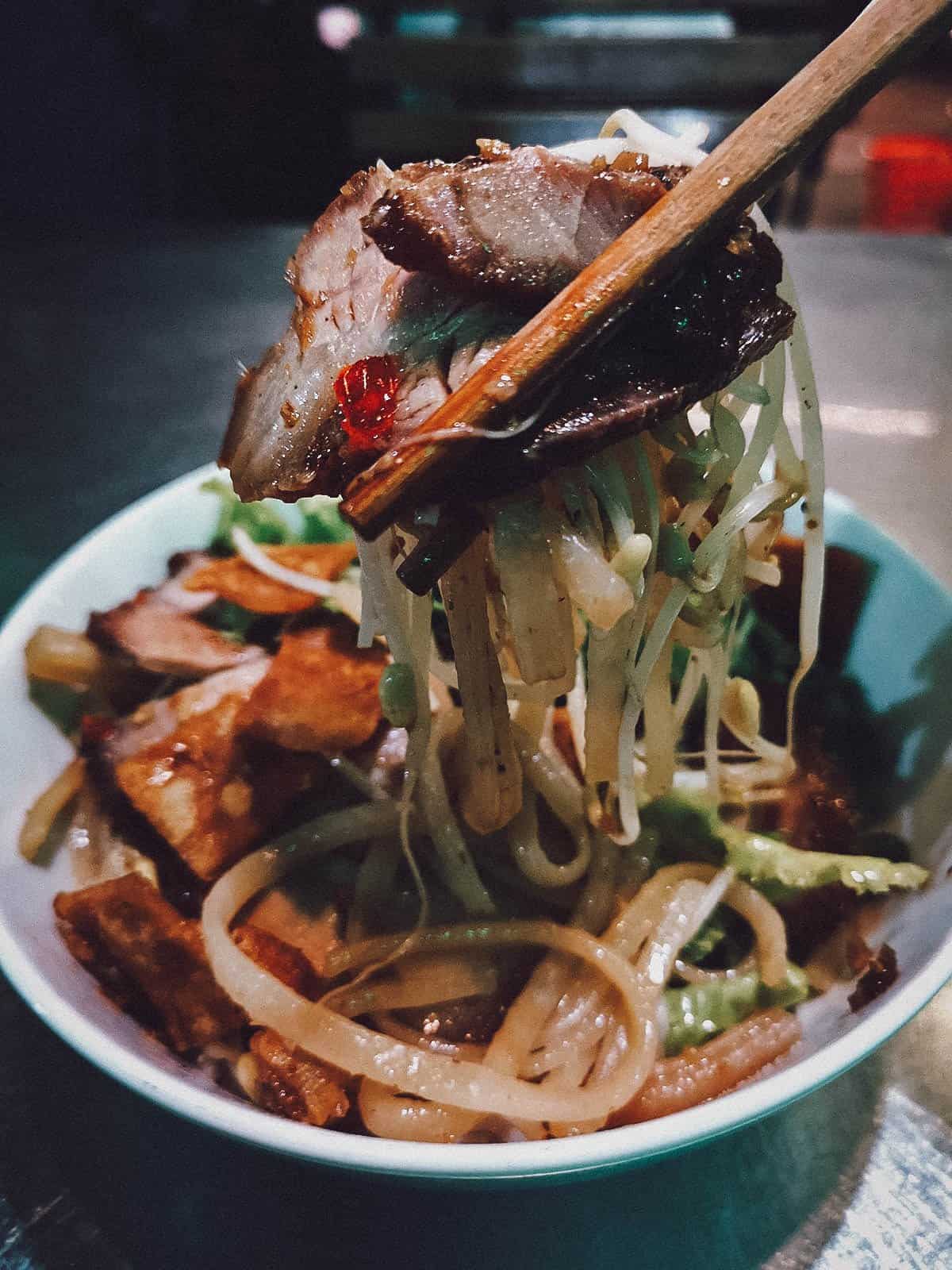 8. Cao Lau Thanh
Like Com Ga Hien, I think Cao Lau Thanh is one of those very local places that stays open only until its food runs out. I went here twice, the first time around noon but the place was already closed. I'm not sure if they were just closed that day or had already run out of food, but I made sure to come back the following morning when they opened at 7AM. The place was already teeming with locals by then but thankfully, I was able to score this beautiful bowl of cao lau.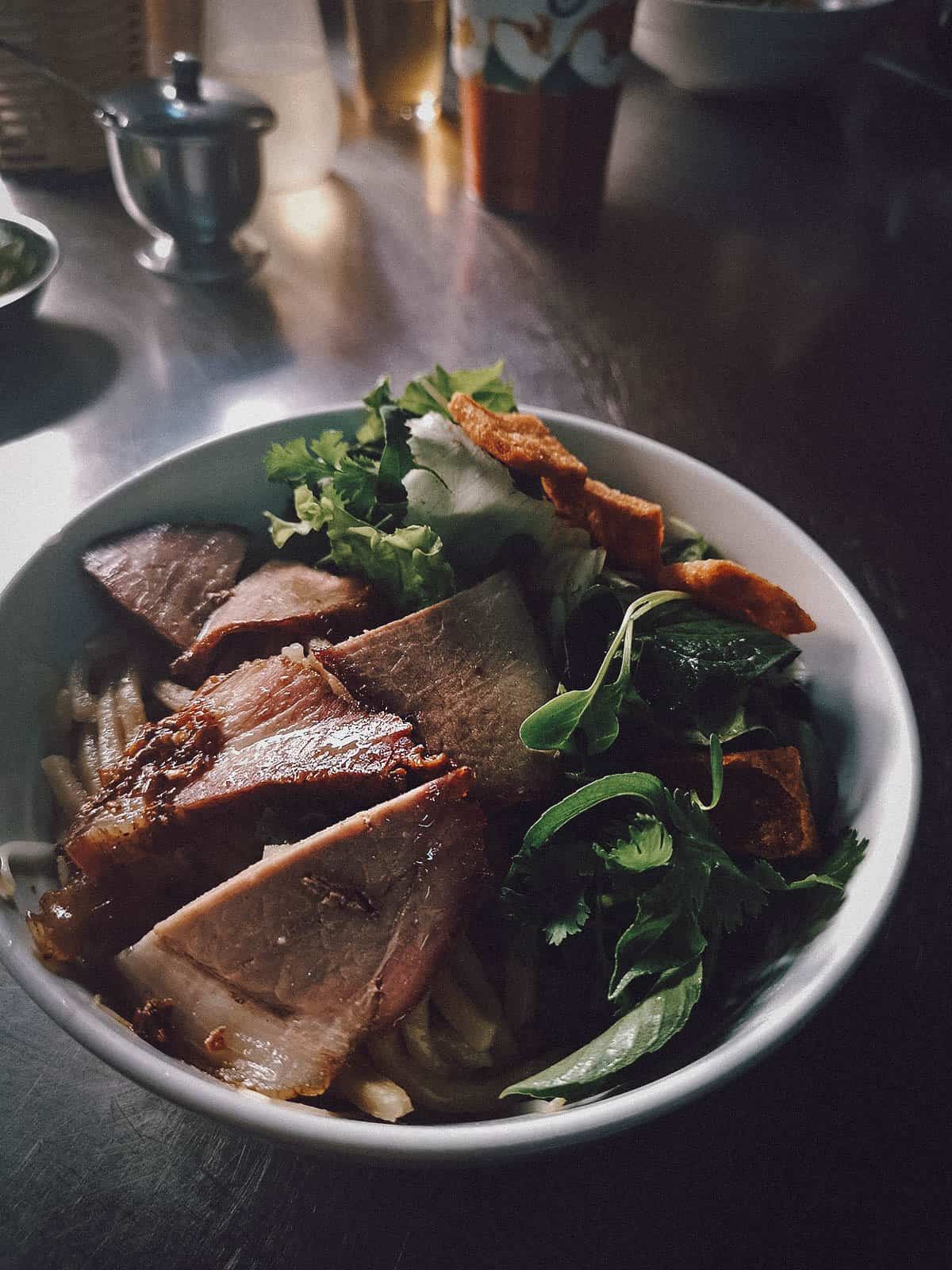 This place only serves cao lau so you know they make it well. But as delicious as it was, it had this funky, somewhat off-putting fishy taste that I didn't like. I couldn't put my finger on it then but I'd later find out that the fishy taste was from an herb called fish wort. It's one of many fresh herbs often served as a side to Vietnamese dishes.
Also known as fish leaf or fish mint, it's a pungent herb that tastes similar to what it's named after – fish. Just be aware of it should you get a taste of something herby and fishy in your cao lau or in any other dish in Vietnam.

9. Morning Glory
Morning Glory is the nicest restaurant on this list. Located in a prime spot in the heart of the ancient town, it's one of the most popular restaurants in Hoi An. It's owned by celebrity chef, restaurateur, and cookbook author Ms. Trinh Diem Vy who's credited for creating the cooking course that launched all Hoi An cooking schools.
We ate here in 2017 and had two dishes, the first being this beautiful bowl of cao lau. It was absolutely delicious and one of the best versions of cao lau I've had in Hoi An. However, it's also very expensive, more than double the price of any other restauarant on this list. Morning Glory is a more upscale restaurant in a prime spot so you aren't just paying for cao lau, you're also paying for the ambiance.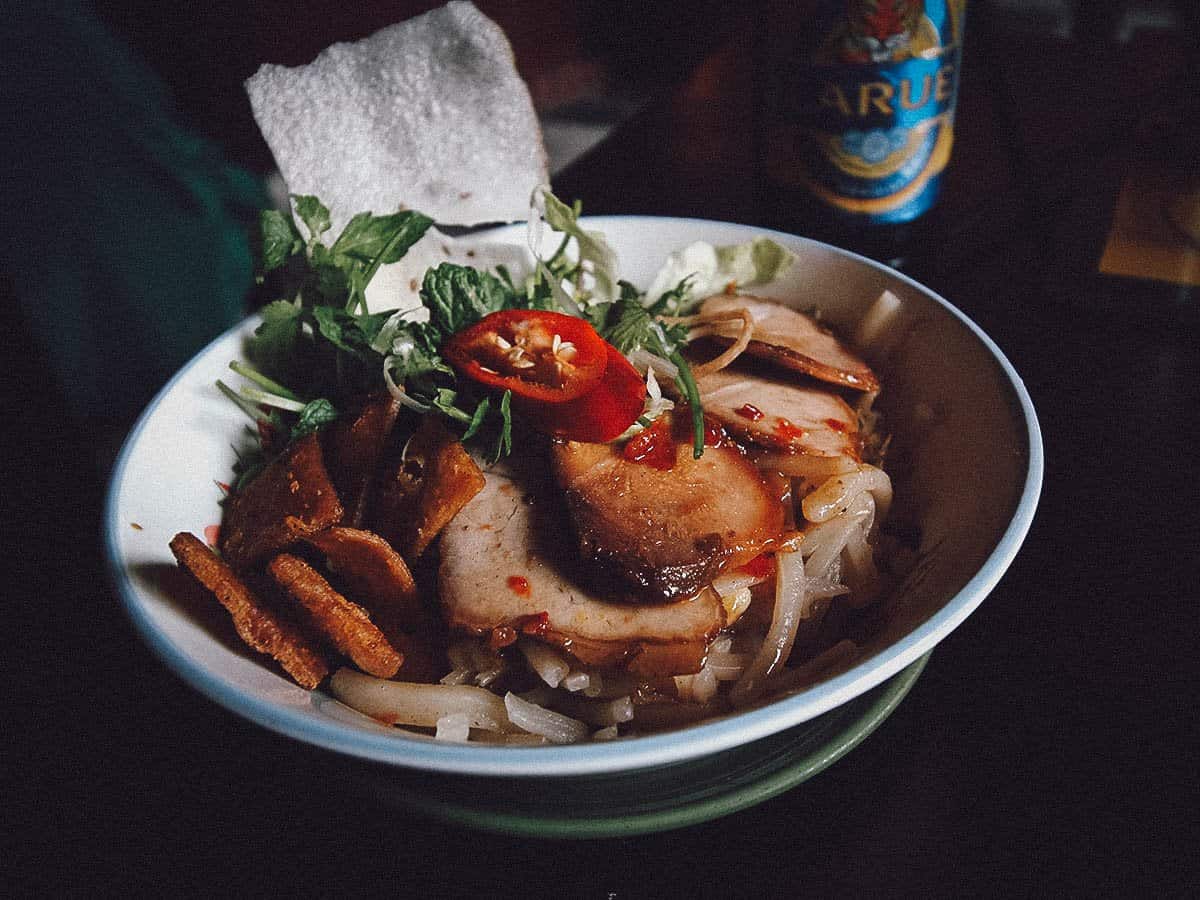 Morning Glory is known for many dishes, not just cao lau, so you may want to eat here if you're looking for a nicer restaurant in Hoi An.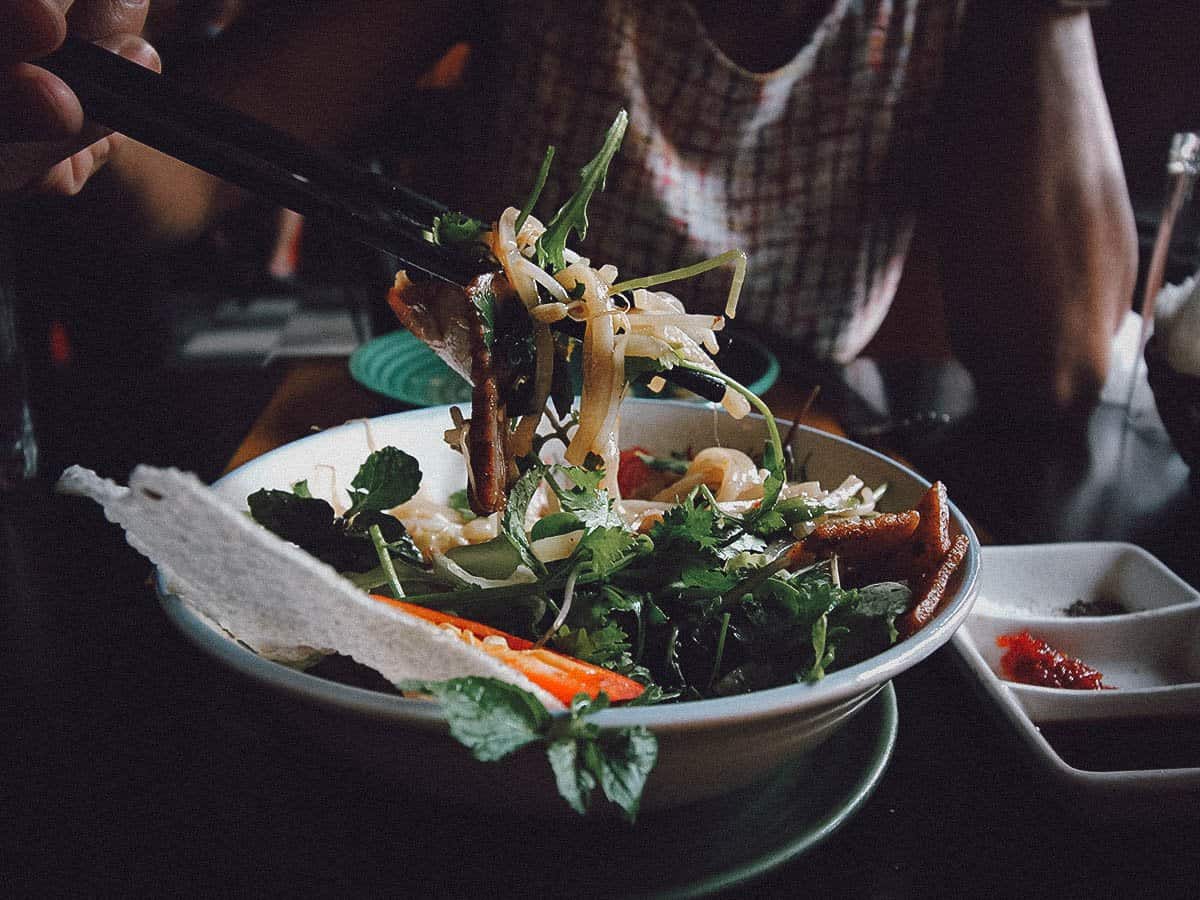 The second dish we ordered was banh xeo, a crispy crepe made with fried rice flour batter filled with pork belly, shrimp, and bean sprouts. Its name literally means "sizzling cake" because of the sound it makes when the rice batter is poured into the hot skillet.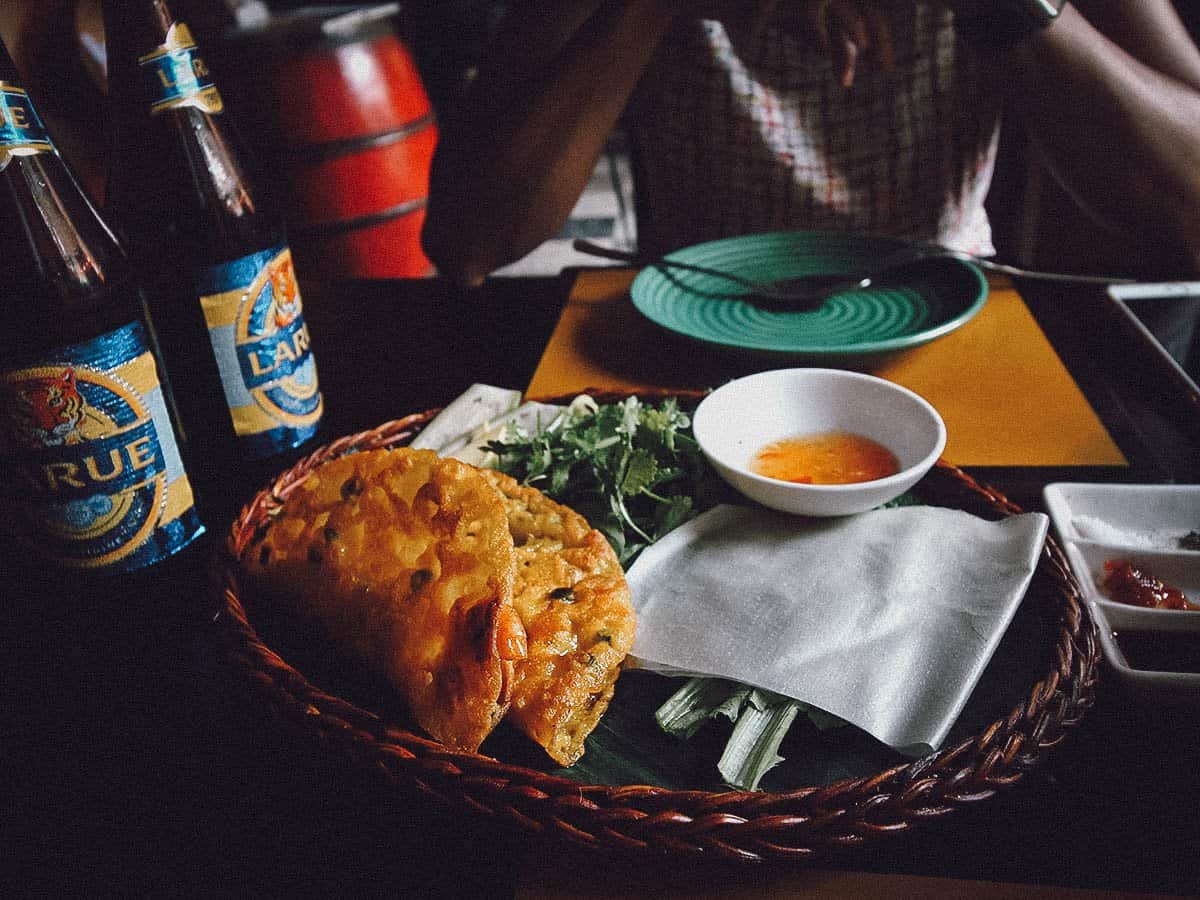 To eat, you wrap pieces of banh xeo with fresh greens in rice paper before dipping into the nuoc mam sauce (Vietnamese fish sauce). Crunchy, savory, sweet, and tasting of fresh herbs, banh xeo is another popular dish and a must-try in Hoi An. It was one of the dishes we learned to make at Thuan Tinh Island Cooking School.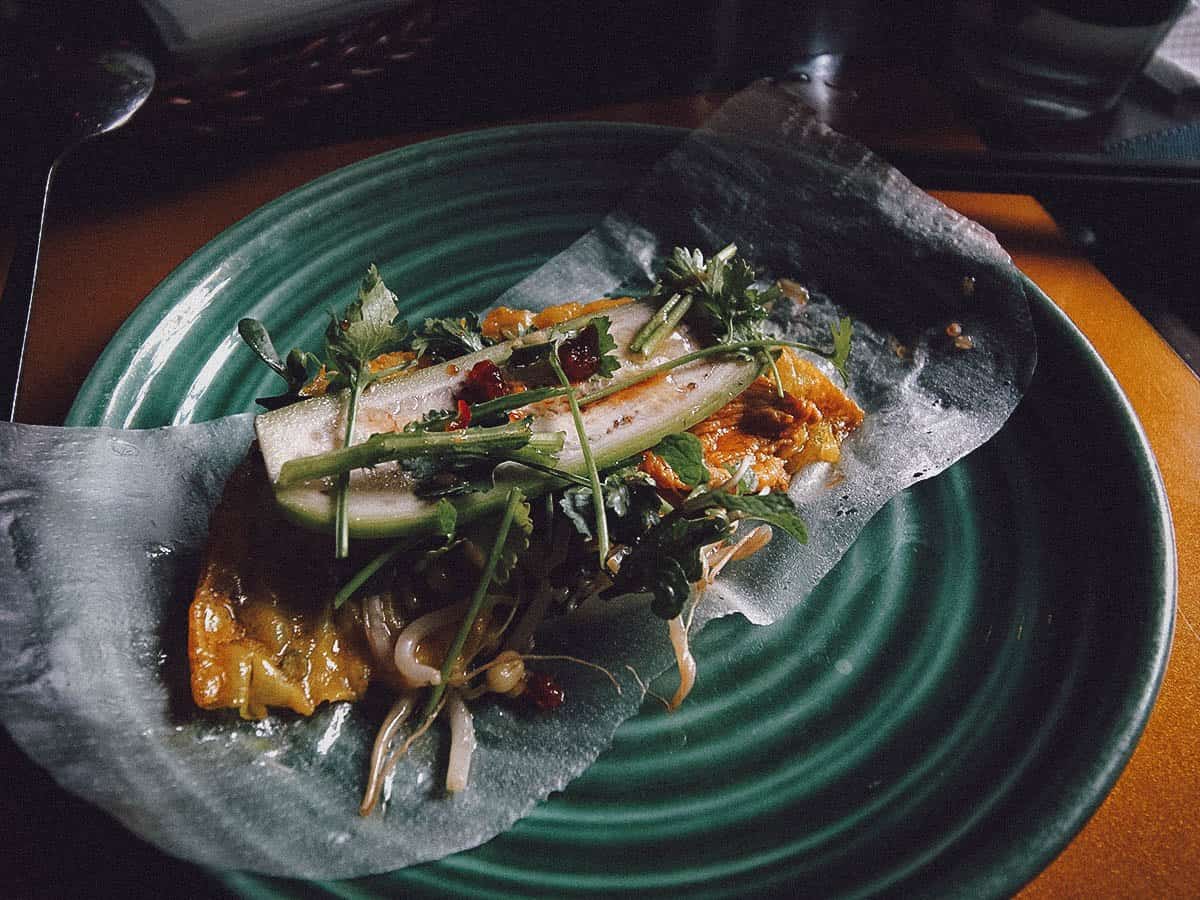 I was a little apprehensive when I first saw Morning Glory. It looked like the type of restaurant we try to avoid on trips. It's in a big beautiful heritage house right in the heart of a tourist hotspot. That usually meant two things: A) it's pricey; and B) the restaurant caters to tourists so the food isn't authentic. I'm not an expert but in my opinion, only the first is true.
10. Quan An Ty Ty
Quan An Ty Ty is another of those hidden in plain slight restaurants. Located at the end of an alley in the ancient town, they're known for a few dishes including cao lau.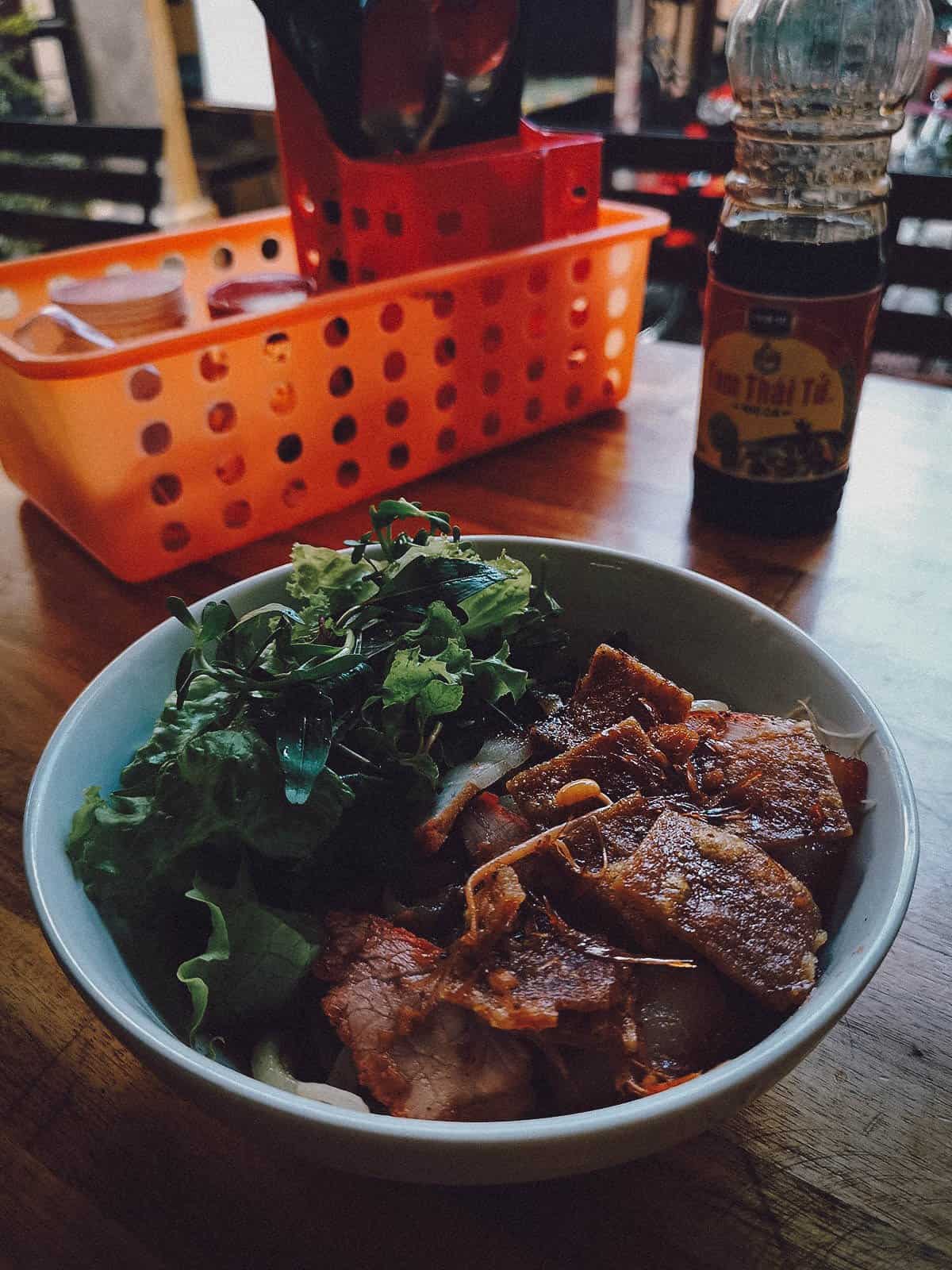 The cao lau at Quan An Ty Ty was good but the slices of cha siu pork seemed thinner and not as fatty as the other places. Not the best I had but still a solid bowl of cao lau.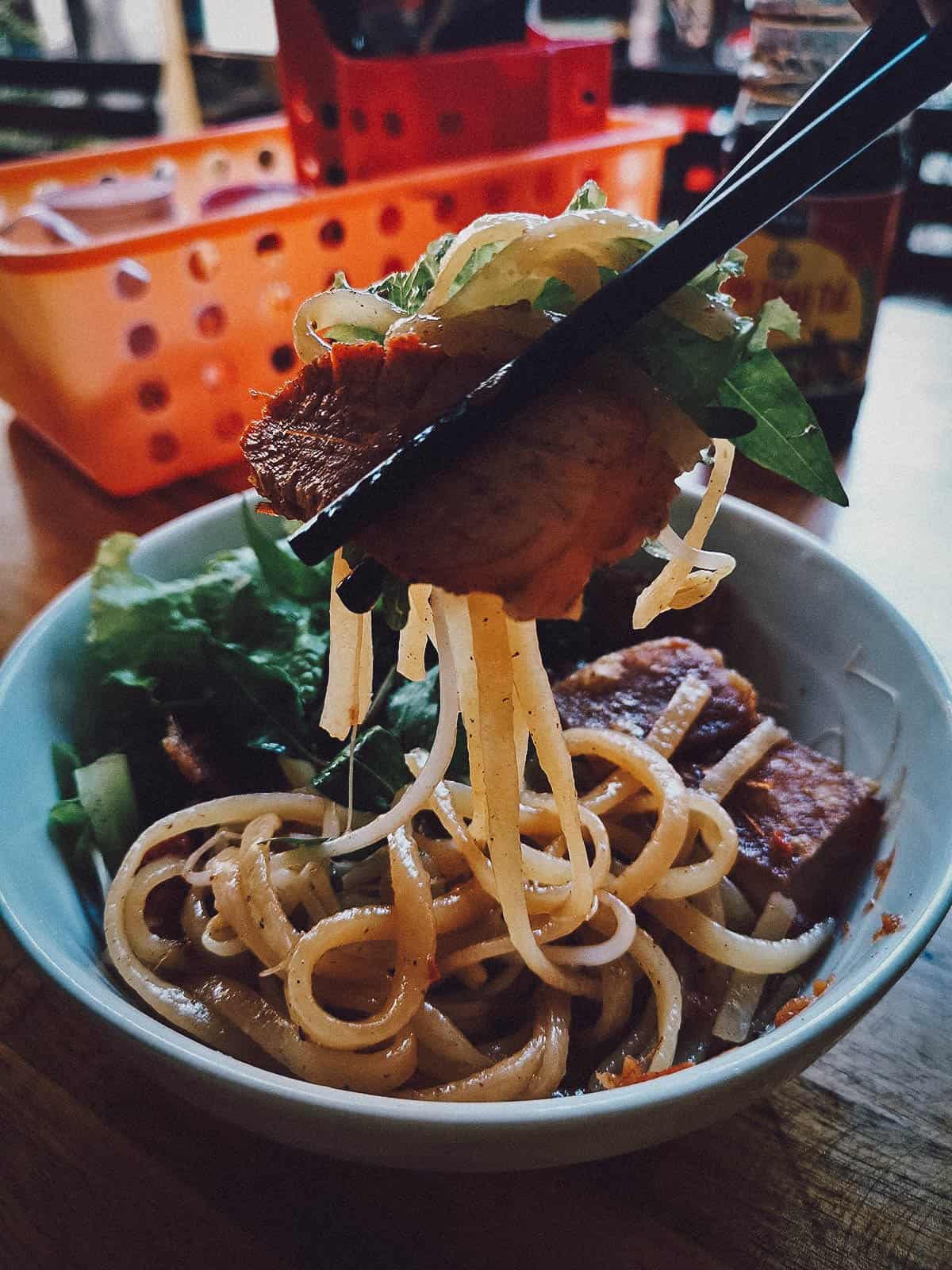 11. My Quang Bich
If you're feeling adventurous and want to go beyond the ancient town, then you may want to check out this place. Located about 2.5 km west of the ancient town, My Quang Bich is a restaurant known for their cao lau and mi quang. We borrowed bicycles from our hotel and rode out here one afternoon to try both. They were terrific and well worth the effort.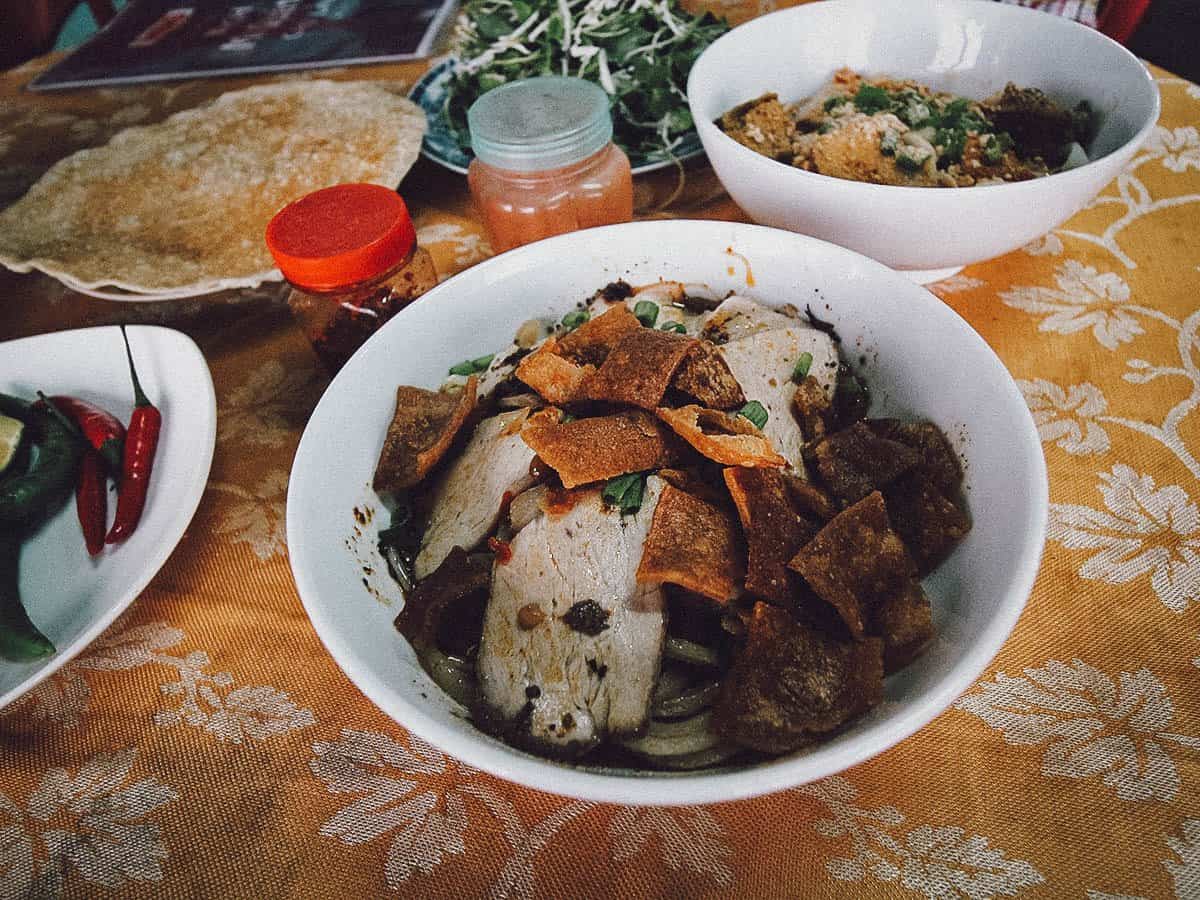 The owner of the restaurant seemed genuinely thrilled to have foreigners eating at his place. Because of its location, I don't imagine it getting a lot of foreign tourists. He couldn't speak any English so he took out his iPad and proudly showed us all the positive reviews he's received on TripAdvisor and Google. Well deserved!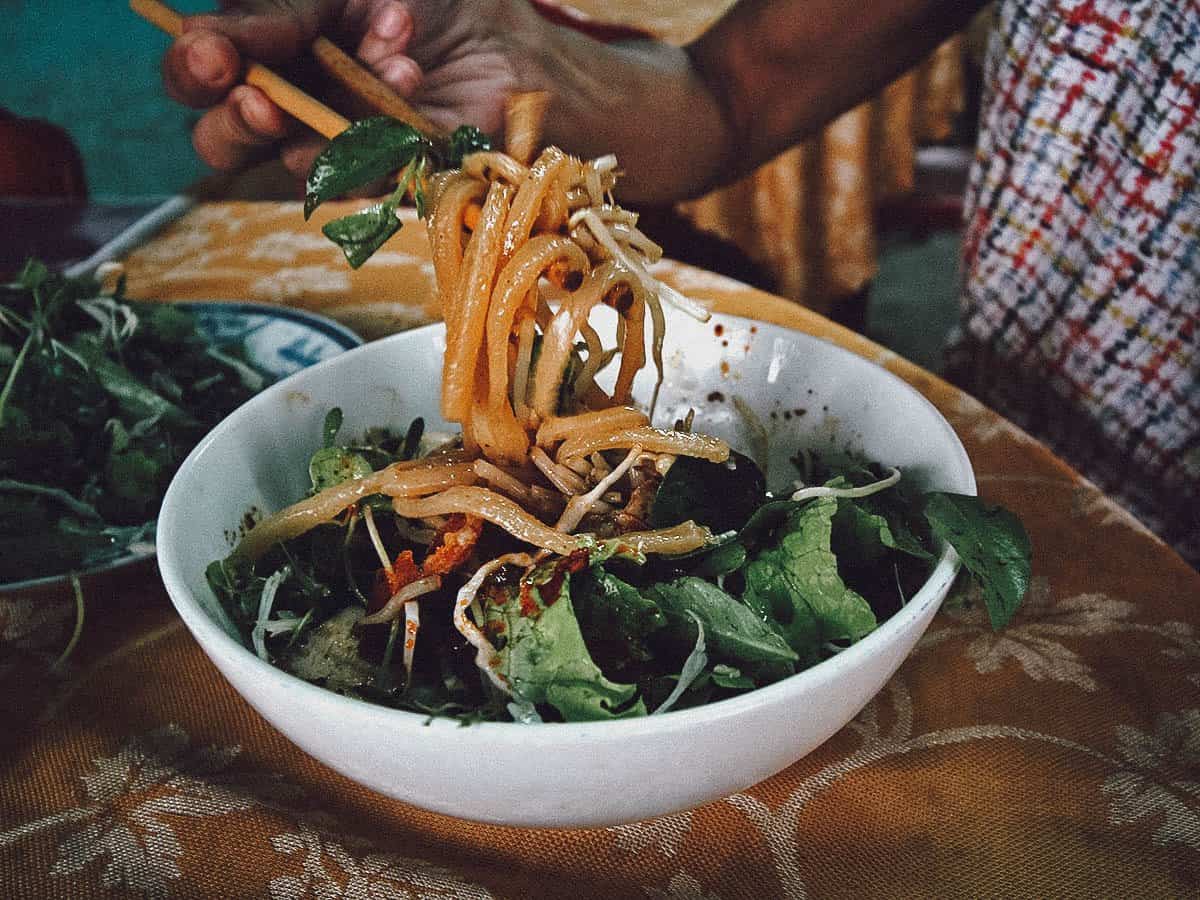 MI QUANG
Mi quang seems as ubiquitous in Hoi An as cao lau. In fact, every restaurant specializing in cao lau seems to offer mi quang as well. One could argue that mi quang is another must-try dish in Hoi An. The reason I don't give it as much weight as the previous three is because it's a dish that's more closely associated with nearby Da Nang. It's my belief that it's best to have a dish at the source which is why I think the best mi quang will probably be in Da Nang, not Hoi An.
Nonetheless, mi quang is popular enough and Da Nang near enough that the mi quang in Hoi An probably doesn't lag far behind, if at all. If you aren't making a stop in Da Nang, then it's a dish you should definitely have in Hoi An.
Mi quang is a noodle dish that's slightly soupier than cao lau and made with a wider type of rice noodle. Its broth is made by simmering meat (typically chicken or pork) in water or bone broth before seasoning with fish sauce, black pepper, shallots, and a pungent, garlic-type vegetable known as cu nen. This produces a concentrated broth that's ladled about 1-2 cm deep into a bowl of noodles topped with pork, shrimp, or chicken.
Aside from the proteins, a host of other ingredients are added like hard-boiled egg, peanuts, rice cracker, and fresh herbs. Toppings may vary but it's said that lemon or lime, green chili, peanuts, and rice cracker must be present for a mi quang to be considered authentic.
11. My Quang Bich
As you can tell from its name, My Quang Bich is just as known for its mi quang as it is for its cao lau. We had both when we went and while I preferred cao lau, Ren enjoyed mi quang more. Both are excellent Vietnamese dishes so it's really a matter of personal preference.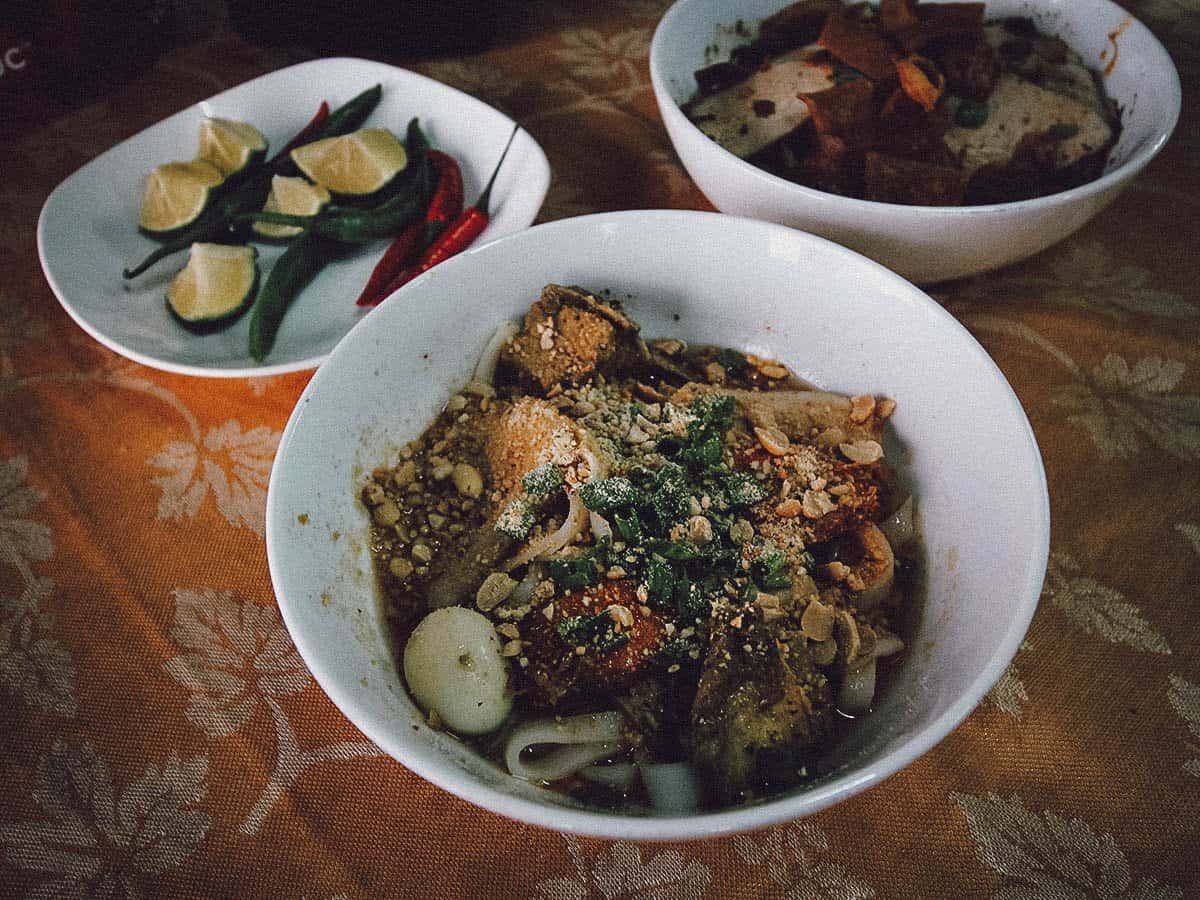 Like cao lau, mi quang noodles are nice and chewy. They seem to be served with more fresh herbs so it feels like you're having noodle soup and a salad all at once.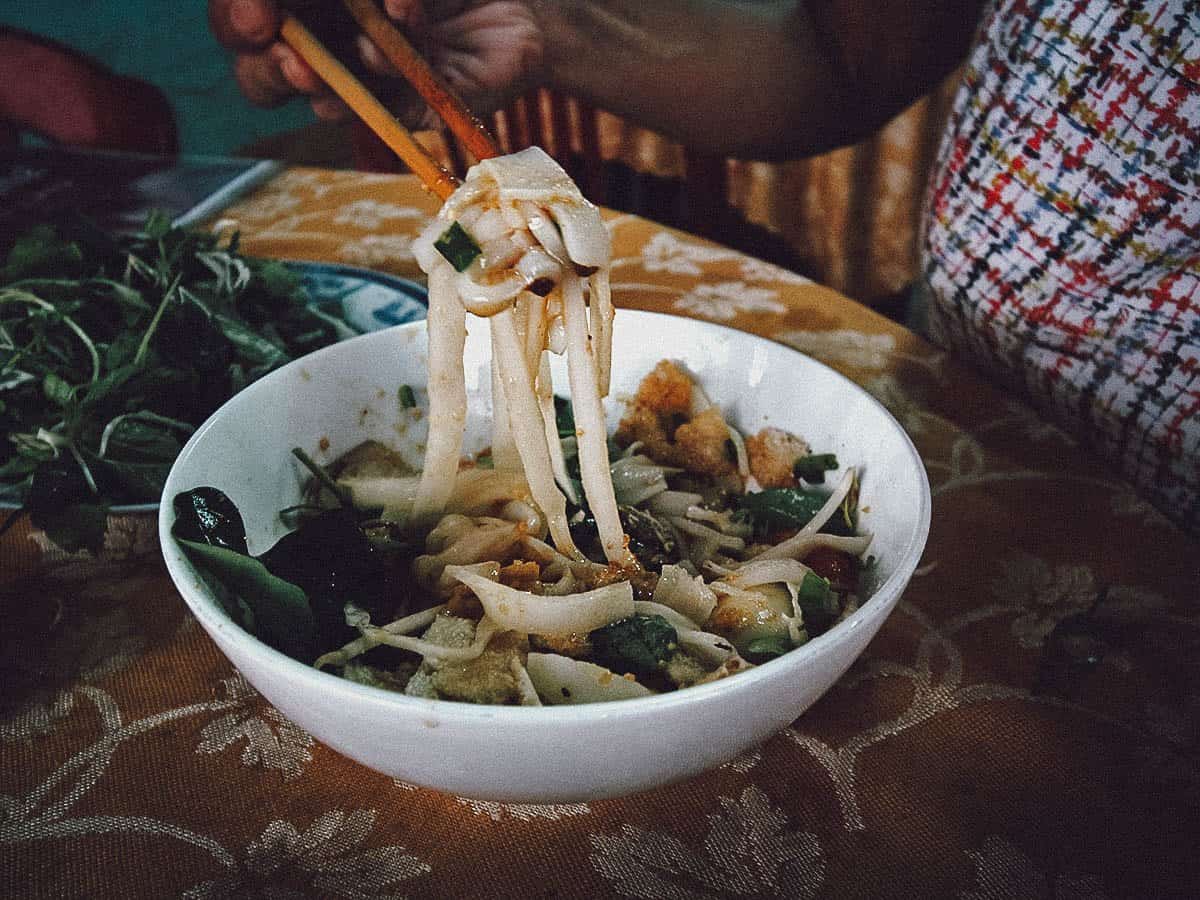 12. Pho Xua
Pho Xua is another popular restaurant in the ancient town. Like Morning Glory, it doesn't specialize in any one dish but is instead known for many dishes like nem ran, fried wontons, and mi quang. If you're looking for a highly-regarded restaurant with a wider menu, then Pho Xua is a great place to go.
Pictured below is their version of mi quang topped with shredded chicken, crushed peanuts, fried shallots, and banh da nuong which is grilled rice paper with sesame seeds.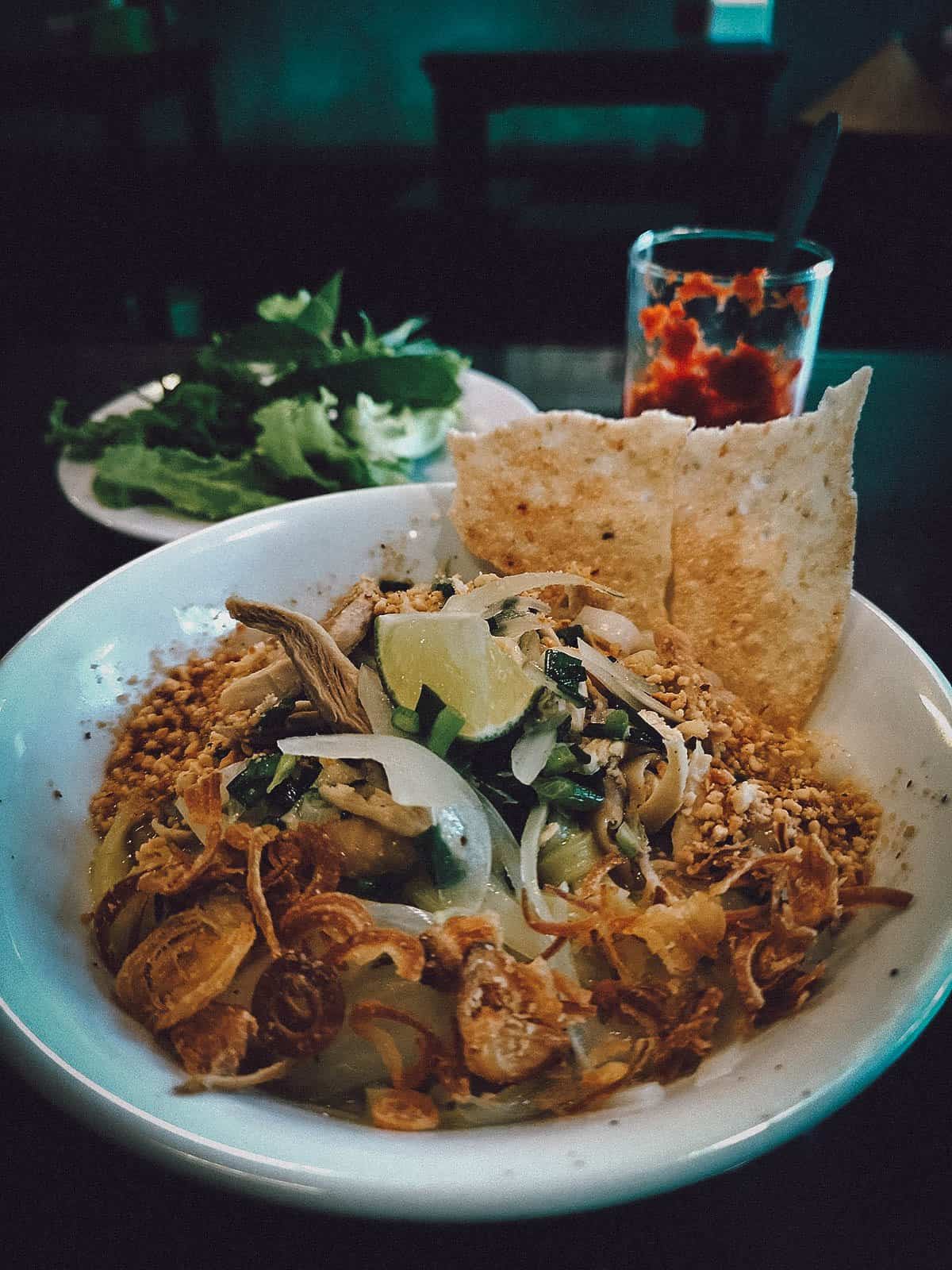 Delicious chewy noodles with fresh herbs and chili in a robust, flavorful broth. There are many reasons to visit Hoi An, none more enticing perhaps than its food.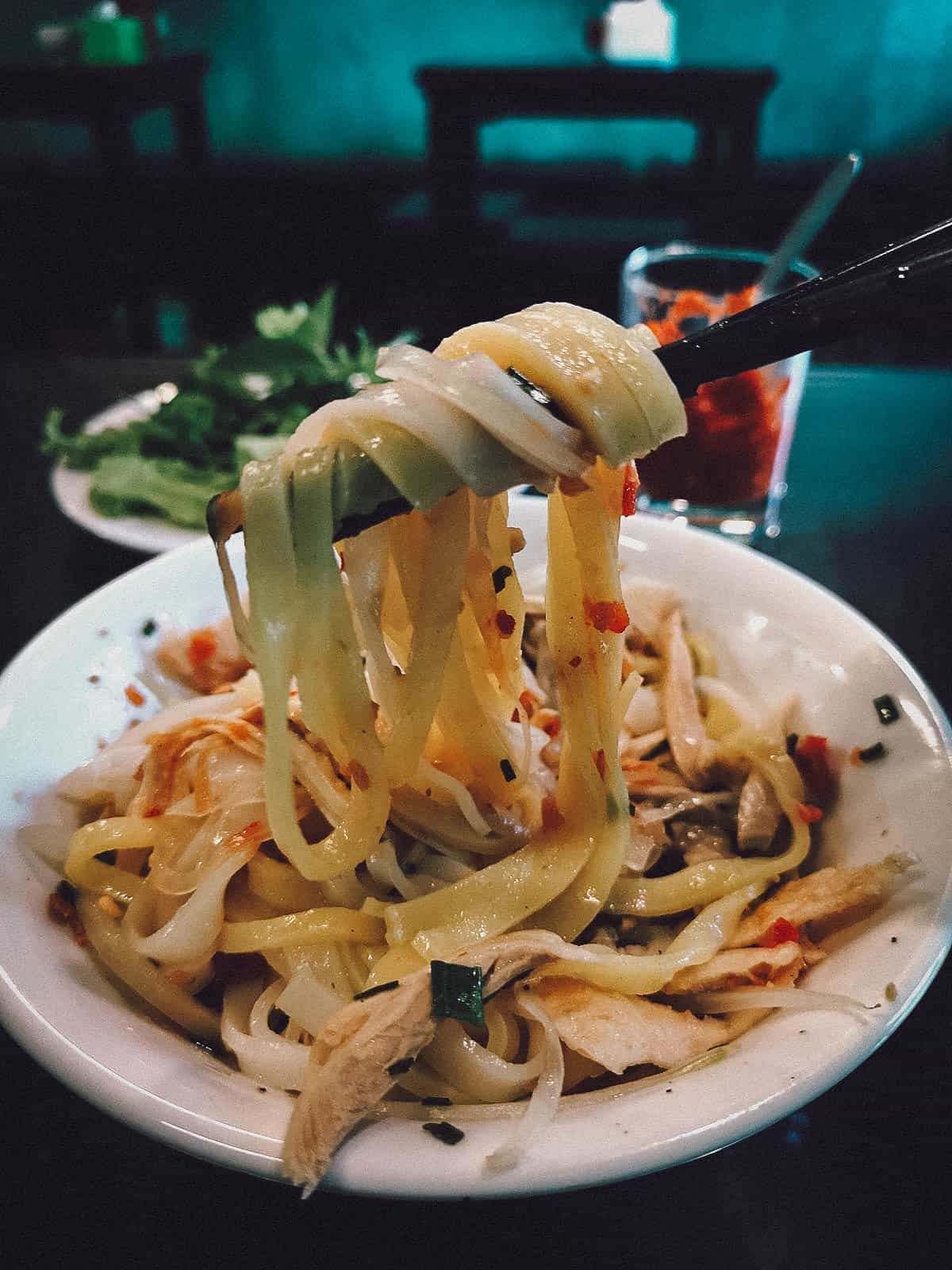 13. Ong Hai (Mr. Hai)
This was the best bowl of mi quang I had in Hoi An. Ong Hai serves just two dishes – cao lau and mi quang – but we had just finished a bowl of cao lau at Morning Glory so we only tried the mi quang here. As delicious as it turned out to be, I wish we had tried the cao lau as well.
Ong Hai tops their mi quang with shrimp, roasted peanuts, keropek, quail egg, and slices of roast pork. Do you see those orange bits? I'm not sure what they were but they packed loads of flavor and would stain the noodles orange. Shrimp paste with garlic perhaps? I don't know but it was delicious.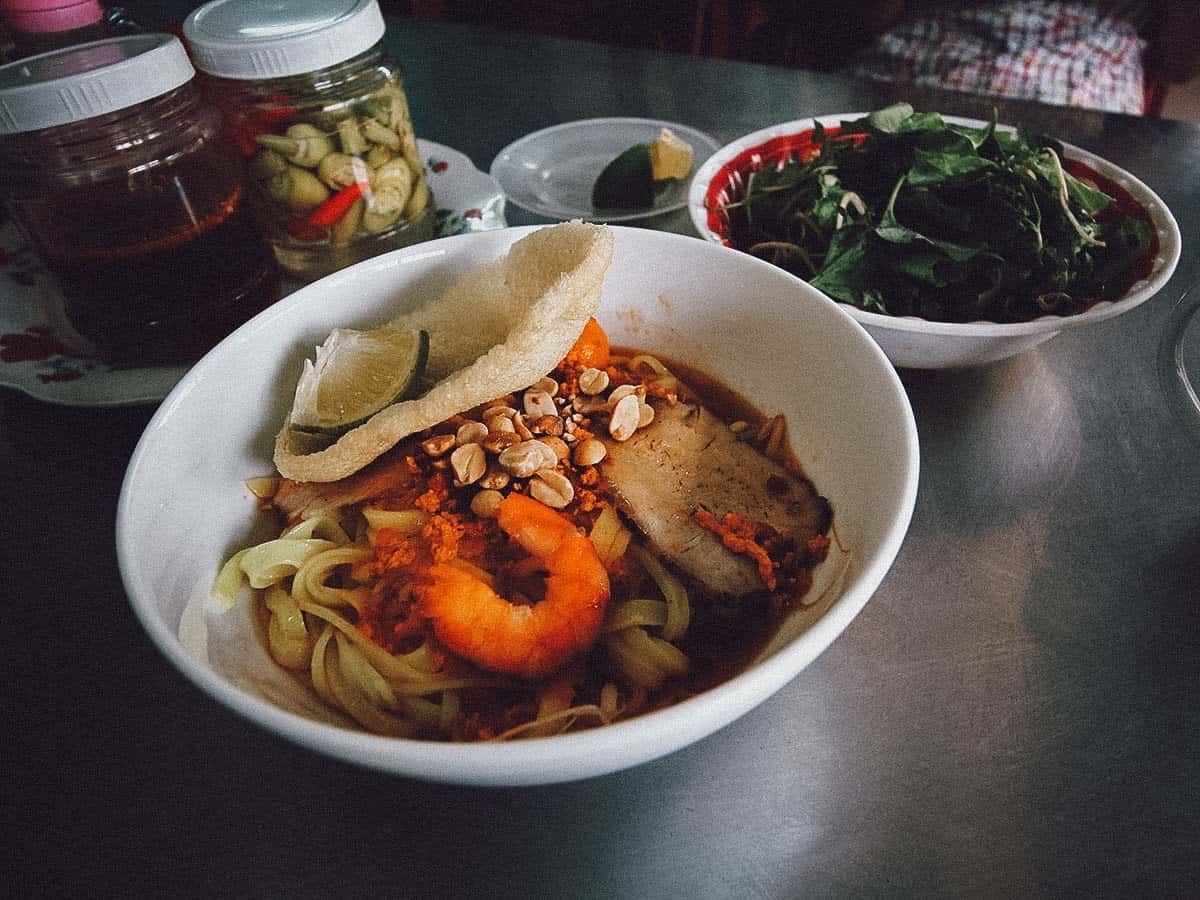 See what I mean? Mix up all the ingredients and your mi quang noodles turn into this tasty shade of orange. I prefer cao lau but looking at this picture is making me yearn for this bowl of mi quang all over again.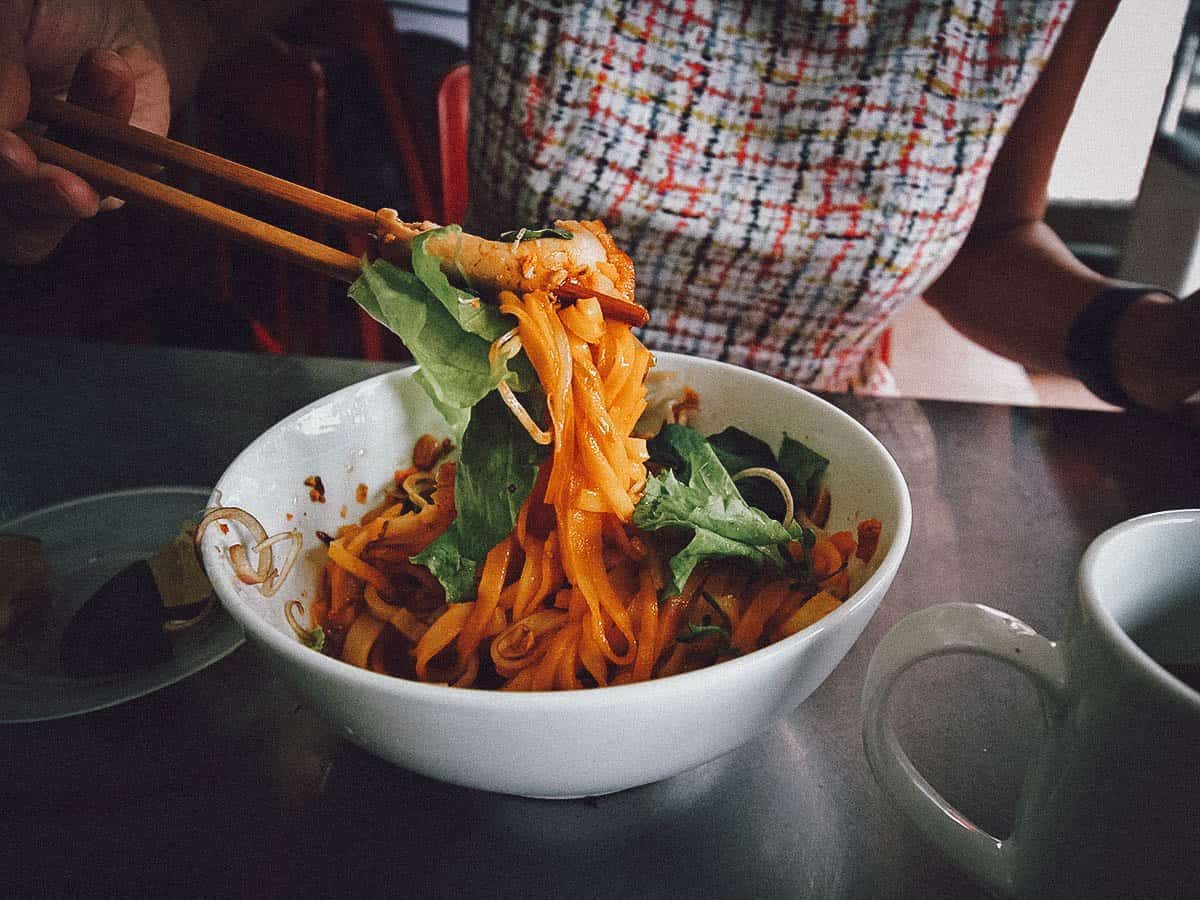 OTHER DISHES & RESTAURANTS
The dishes above may be the most important but there are plenty of other interesting things to eat in Hoi An. Be sure to try some of these places and dishes as well.
14. Banh Canh Ba Quyt
This place was recommended to us by our My Son Sanctuary tour guide. He got excited after we started swapping stories about Vietnamese food so he took us here after our tour.
Ba Quyt specializes in a tasty dish called banh canh. Meaning "soup cake", it's a soup dish with thick noodles made from either tapioca flour or a mixture of rice and tapioca flour. The "cake" refers to the thick sheet of uncooked dough from which the noodles are cut.
Depending on its ingredients, there are many types of banh canh, but I believe the one we had was banh canh cha ca, which is a version made with pork and fish cake. It was delicious and it quickly became one of my favorite types of Vietnamese noodle soup.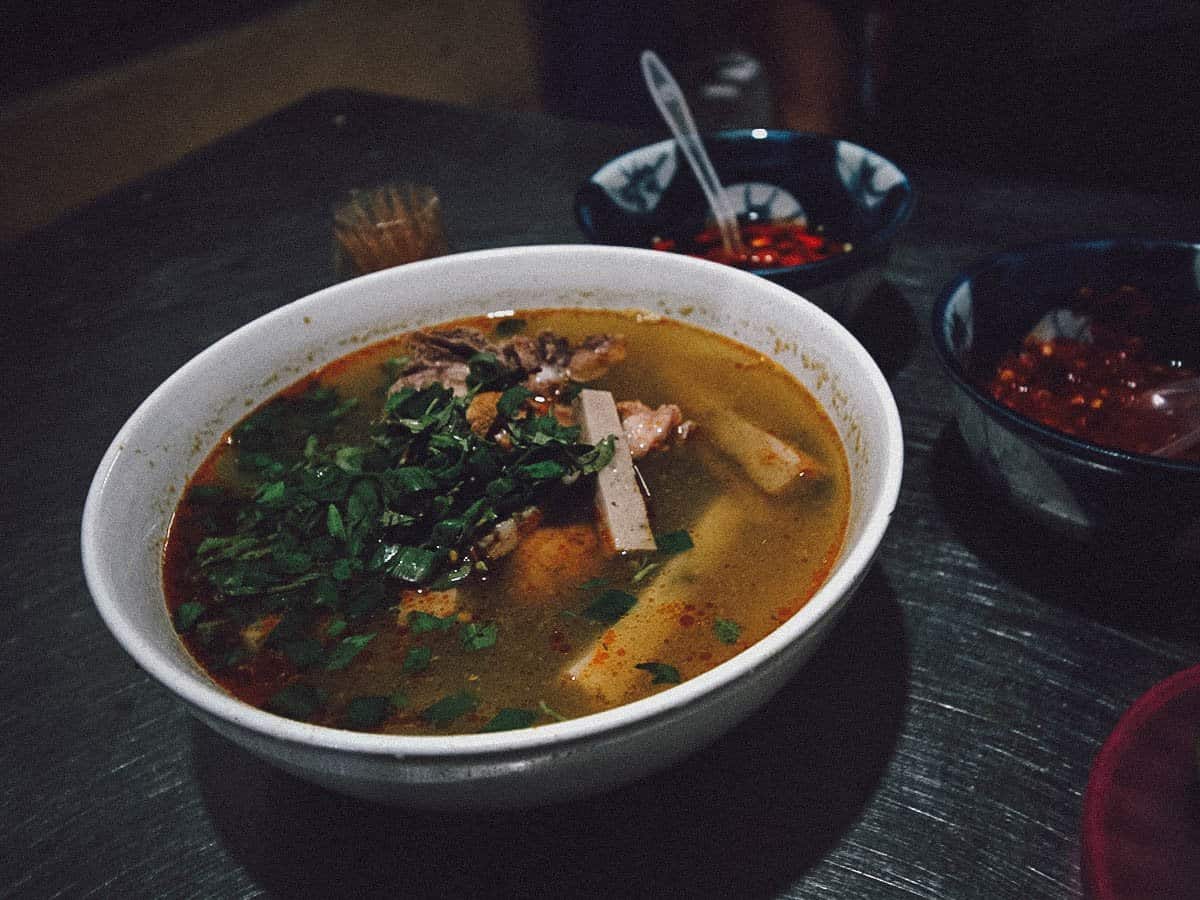 One of the reasons I enjoyed banh canh so much is because I prefer thicker, chewier noodles. These noodles are very similar to Japanese udon. The fish cakes and cha lua (Vietnamese pork sausage) were nice and springy and the broth was intensely flavorful.
We were supposed to share just one bowl but after Ren took a bite and passed it on to me, she never got it back so she had to order another one. Ha! I pretty much smashed my face into this bowl of noodle soup.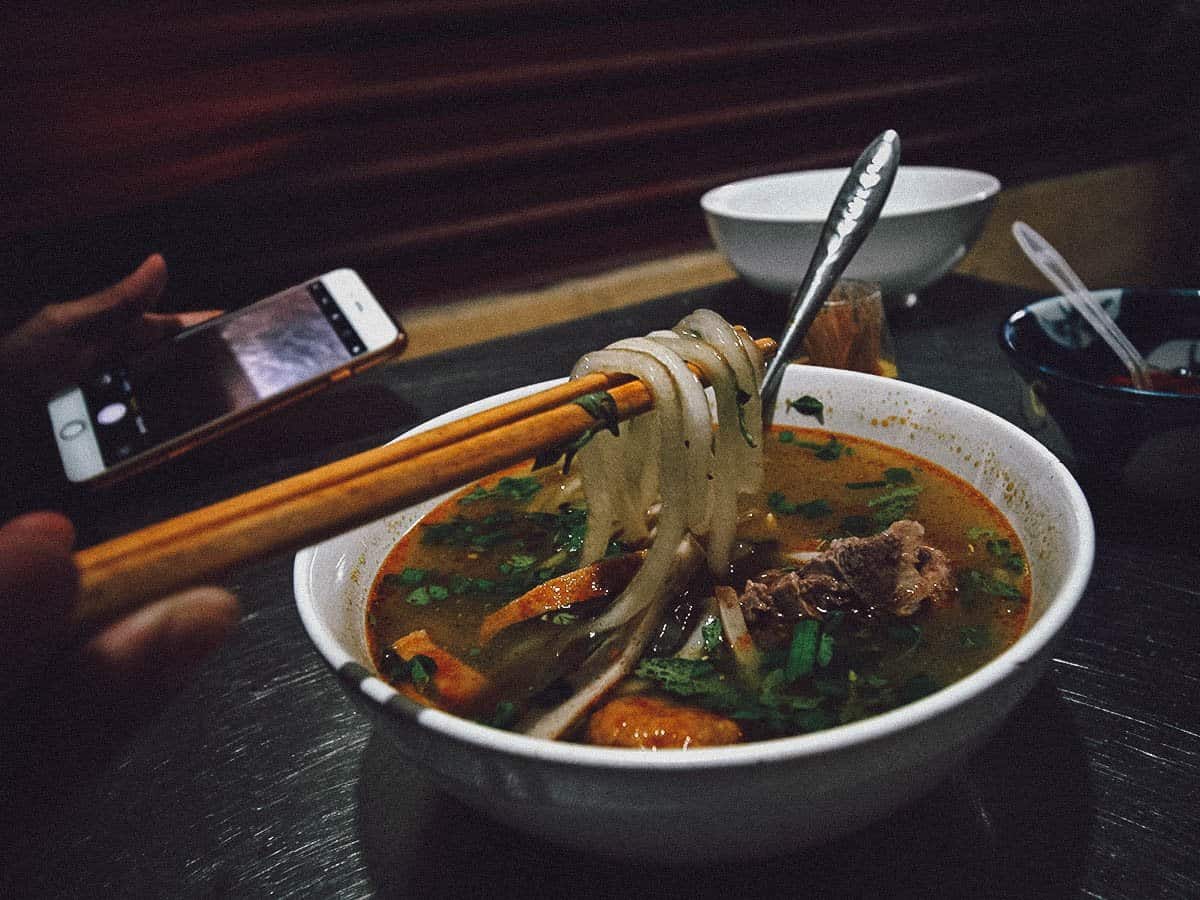 15. White Rose Restaurant
White Rose Restaurant is a Hoi An institution. They're known for a dish which they invented and popularized called white rose dumplings (banh bao banh vac). It's just one of two dishes they offer on their menu. Like cao lau and mi quang, white rose dumplings are unique to the region and another must-try in Hoi An.
As you can see below, the dumplings are made with translucent white dough filled with spiced minced shrimp or pork that's been bunched up to resemble flowers, hence the English name. They're topped with crispy fried shallots and served with a special dipping sauce made with shrimp broth, chilies, lemon, and sugar.
When you take a bite, the first thing you'll notice is the firmer and chewier skin. I read that the dough is made with water drawn from the Ba Le well. It's the same alkaline water used to make cao lau noodles so that may have something to do with its chewier texture. The water is filtered and purified 15-20 times before being mixed with the rice paste to form the airy dough.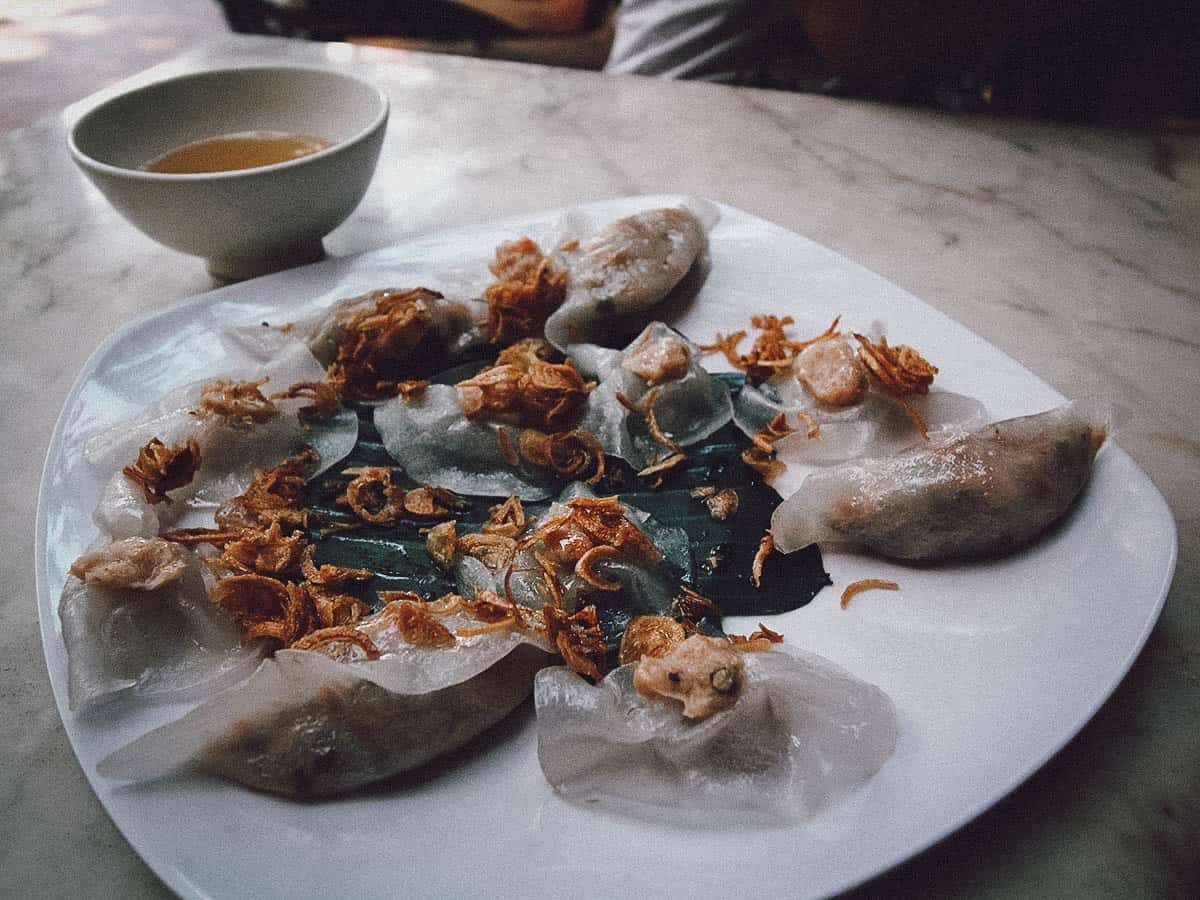 The second dish they offer are these fried wontons aka "Hoi An pizza". They're large tortilla-shaped wontons topped with shrimp, vegetables, herbs, and a tomato sauce. The wontons are crisp but very light and the sauce tomatoe-y, tangy, and a little sweet. They're good, though not as interesting perhaps as the white rose dumplings.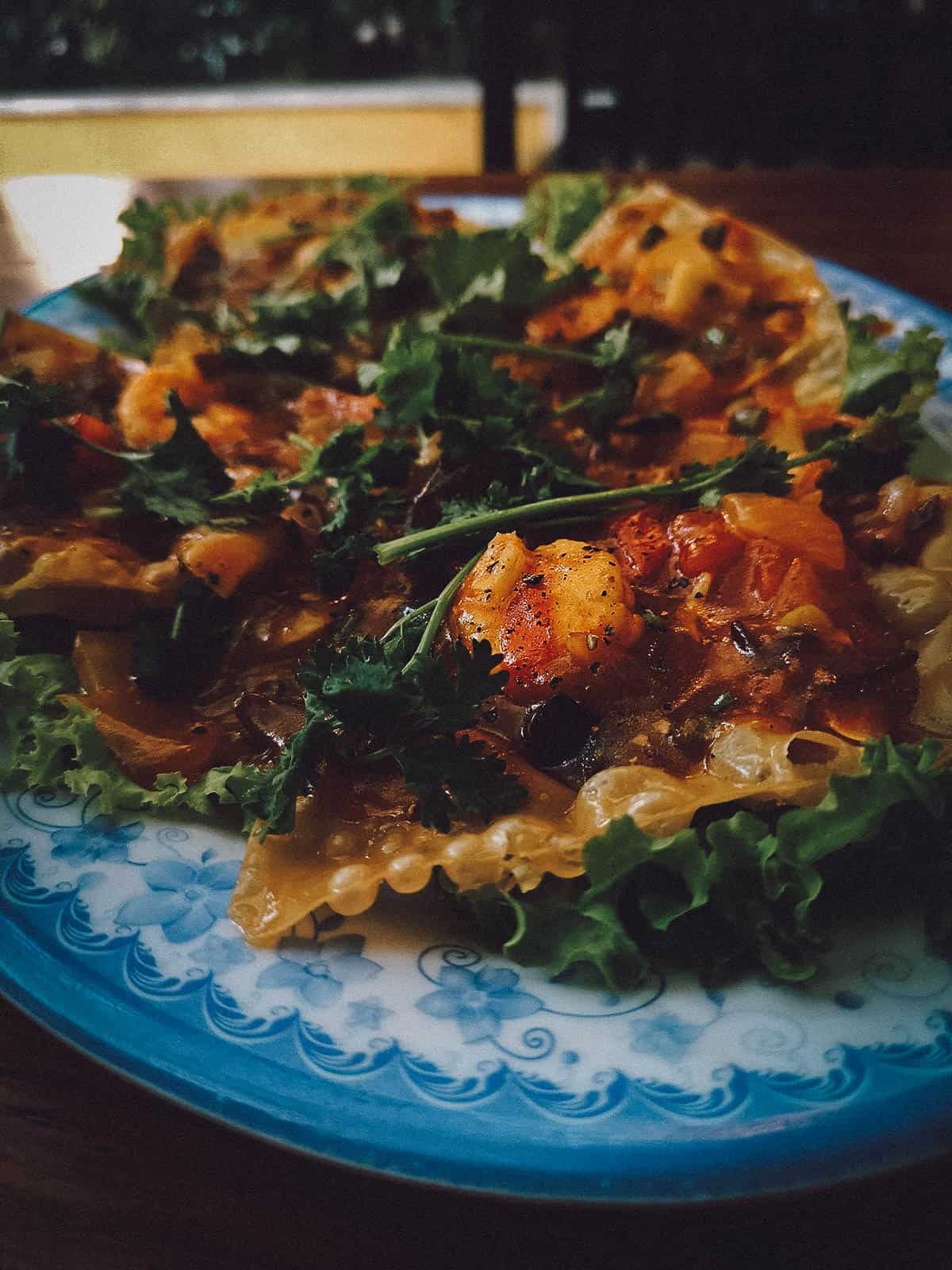 White Rose Restaurant is about a 10-15 minute walk from the ancient town. However, they're available in other restaurants as well, even at the prepared food stalls inside the central market.
16. Bale Well Restaurant
Bale Well is one of Hoi An's most famous restaurants. They're known for these all-you-can-eat spreads featuring skewered barbecued meat, cha gio (spring rolls), banh xeo, and vegetables. We weren't sure what to make of this place at first because people seemed to either love it or hate it based on their reviews. After eating here, I finally understood why.
Within minutes of sitting down, this deluge of food came rushing to our table. There's no ala carte menu here. Everyone eats the same thing.
Some people didn't seem to mind the restaurant's aggressiveness but others hated it. I can't say I blame them because they were practically shoving food down your throat. It was almost like they wanted to get that first bite of food into your mouth so you didn't have time to change your mind and leave. It was a little off-putting, and had we not expected it, I probably would have been bothered by it too.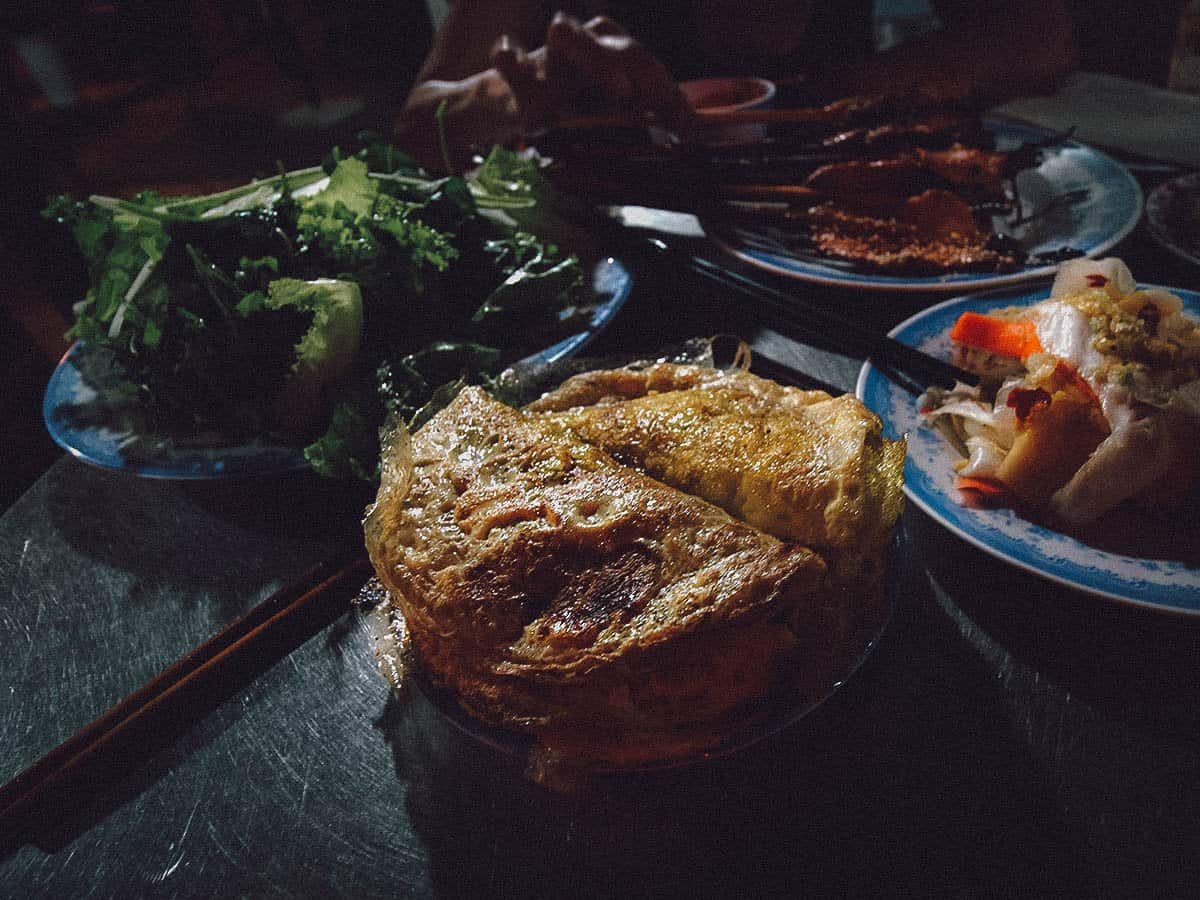 On the positive side, this place does serve you a LOT of food. Just look at that spread! They give you so much to begin with already but if for some reason this initial serving isn't enough, then you can still ask for more. You'll get two types of skewered pork – nem nuong (grilled pork meatballs) and thịt nuong (grilled pork).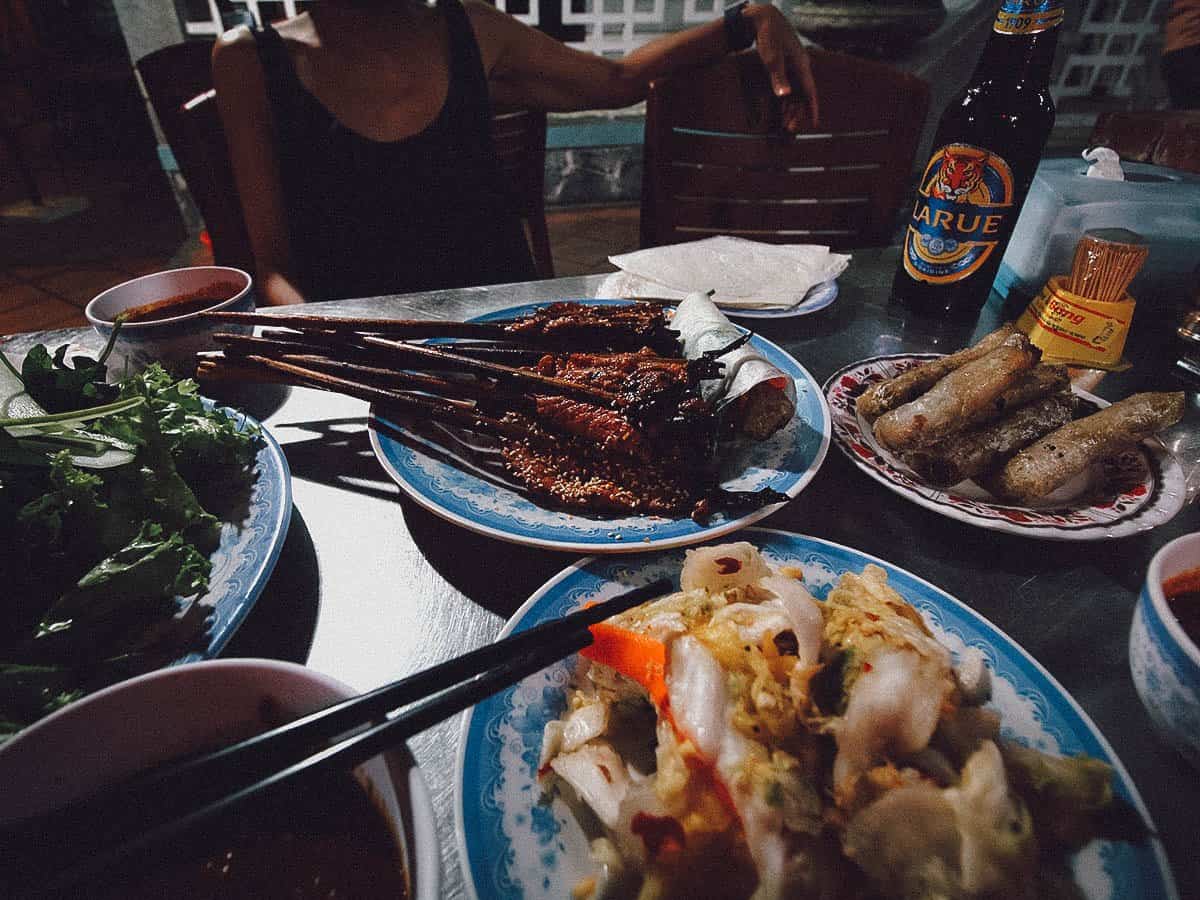 Soon as all the components have been laid out on your table, your server will start assembling one to show you how it's done. You take a stick of pork and spring roll and put it on a sheet of Vietnamese rice paper. You then top it with fresh greens and a few spoonfuls of sauce before rolling it up to eat. You basically eat it in the same way that you would banh xeo.
To be honest, the food here isn't great. Much of it actually seemed like it had been precooked and sitting out for some time waiting for customers. The quality of the food is average but they do give you great value for your money. If you're a big eater and aren't overly concerned about finding the best, then you're going to enjoy Bale Well restaurant.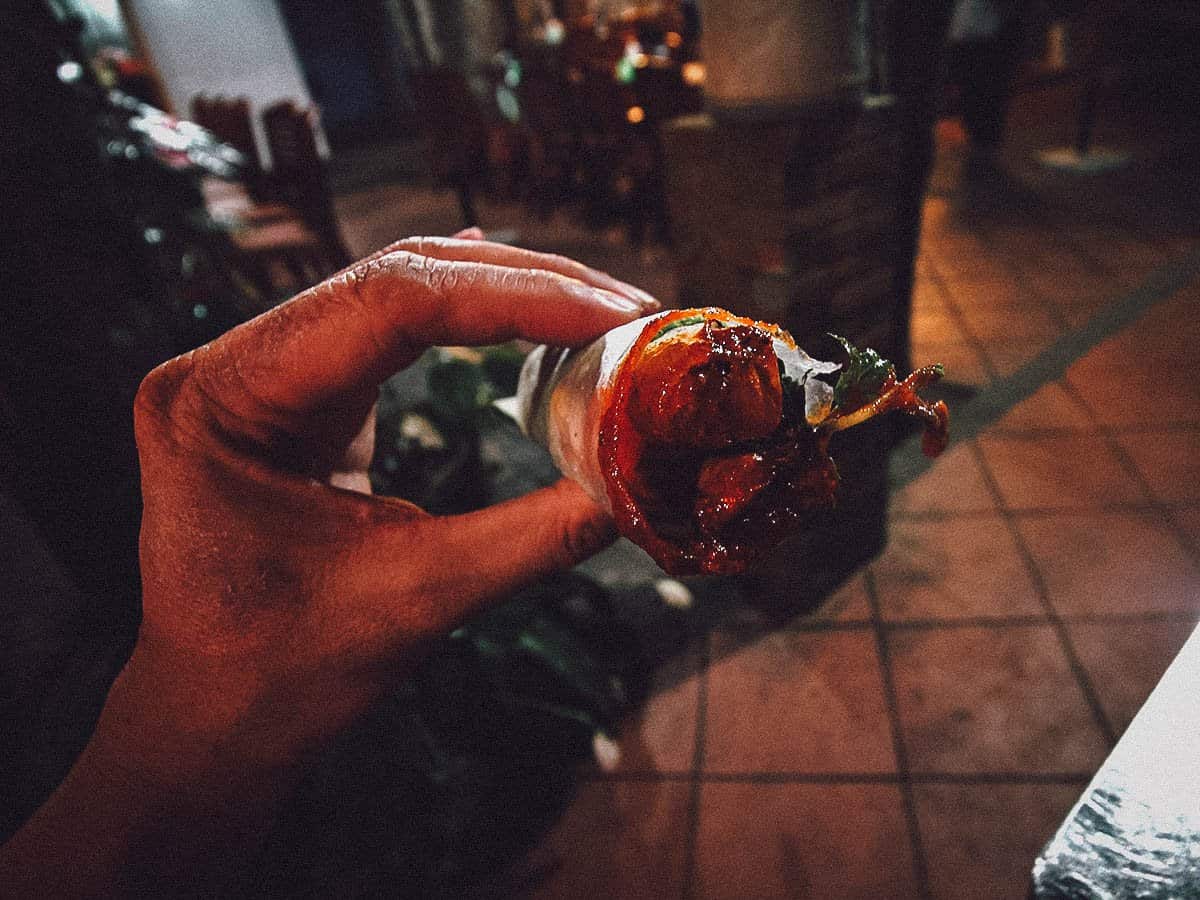 17. Bun Dau Mam Tom Dau Bac
This is perhaps the most polarizing dish on this list. Bun dau mam tom is a platter of bunched up rice noodles, deep-fried tofu, sliced cucumber, and fresh herbs. If you get the version with meat, then you can expect things like fish balls and steamed pork as well. Seems innocuous enough right?
What makes bun dau mam tom off-putting for many is the dipping sauce. Known as mam tom, it's a sauce made with finely crushed shrimp or krill that's been fermented for weeks. We're used to it because we have something similar in the Philippines called bagoong, but if you aren't as adventurous with food or have a sensitive nose, then you may want to skip this one. It's EXTREMELY pungent.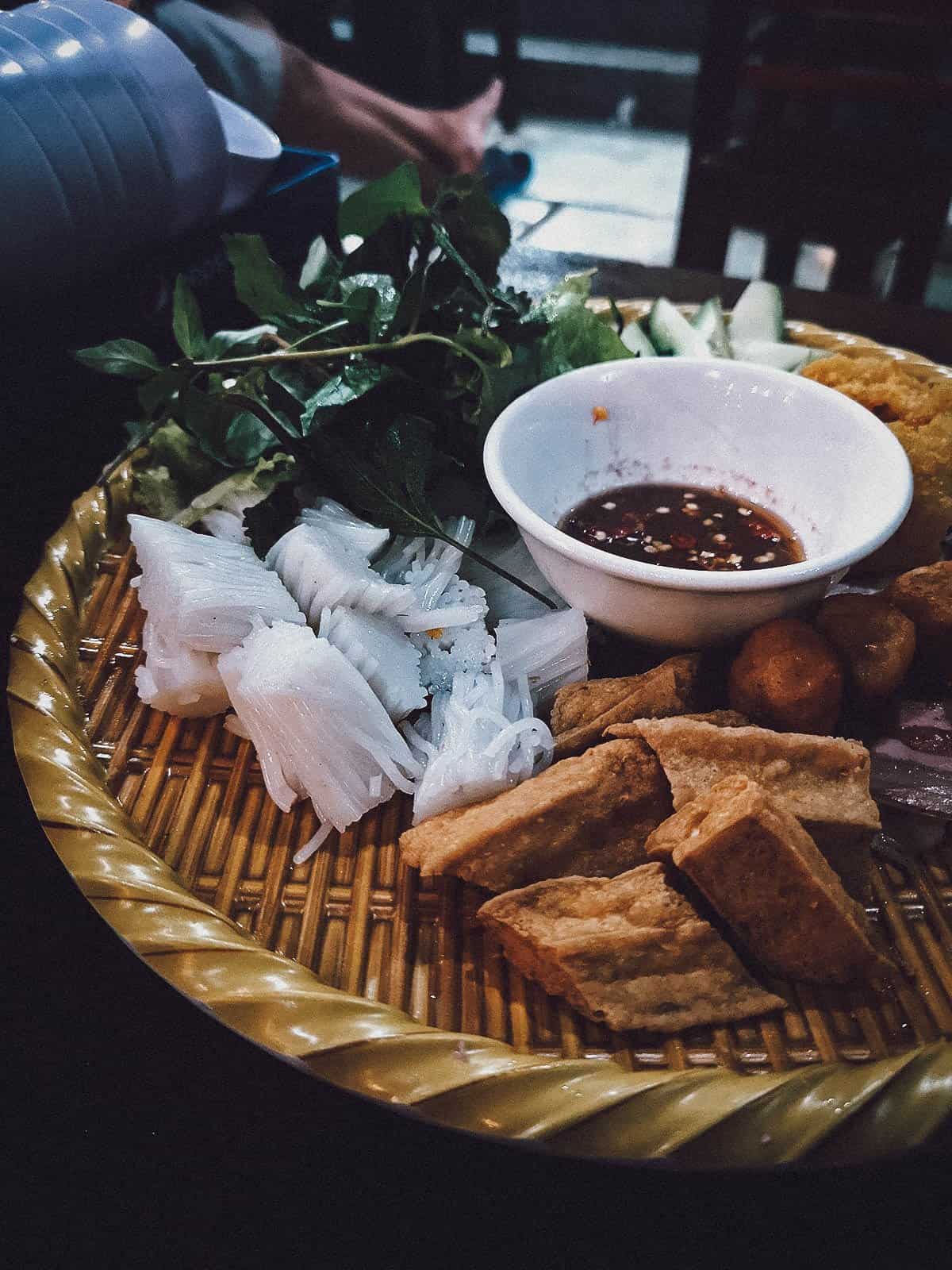 If you're afraid of the mam tom, then perhaps you can enjoy the rice noodles and other components on their own. I do suggest giving it a try though because I'm pretty sure you've never had anything that tastes quite like it. It's definitely an acquired taste, even for some locals. But once you develop a taste for it, then it's something you'll look for again and again.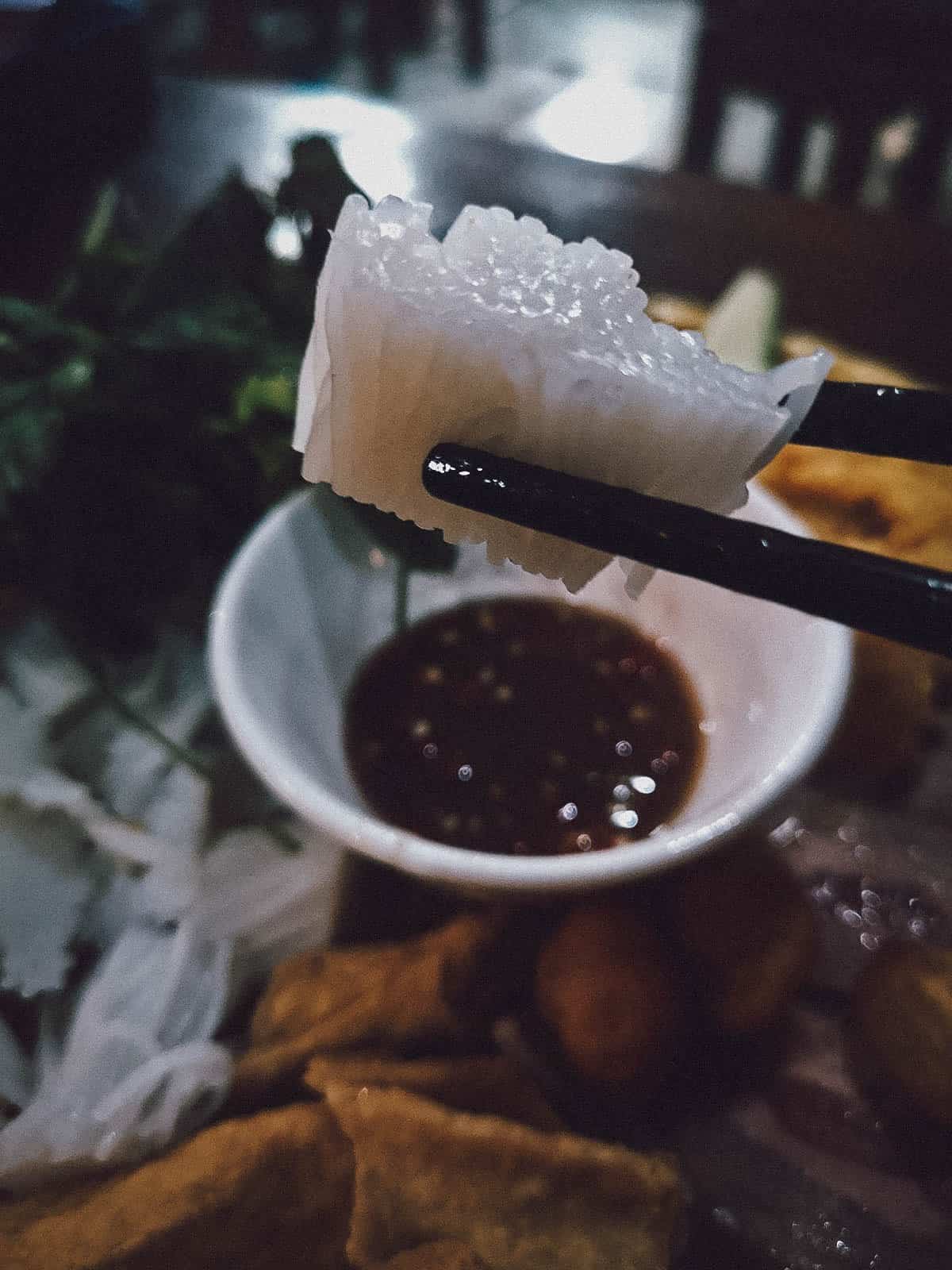 18. Moi – BBQ & Hot Pot
This open-air BBQ and hot pot restaurant was near my hotel. I'd walk by it every night and get a whiff of the delicious smells wafting from everyone's tableside grills. Even with a full stomach, it would make me stop and look at the menu, planning on when I could fit this in to my already full food itinerary.
I decided to eat here on my last night in Hoi An. Moi offers hot pot and BBQ. I had been enticed to this place by the smells of meat and seafood cooking on charcoal grills so I went with the BBQ. I asked my server for recommendations and I whittled down her suggestions to this platter of seafood, enoki mushrooms wrapped in beef, and an appetizer of stir-fried water spinach.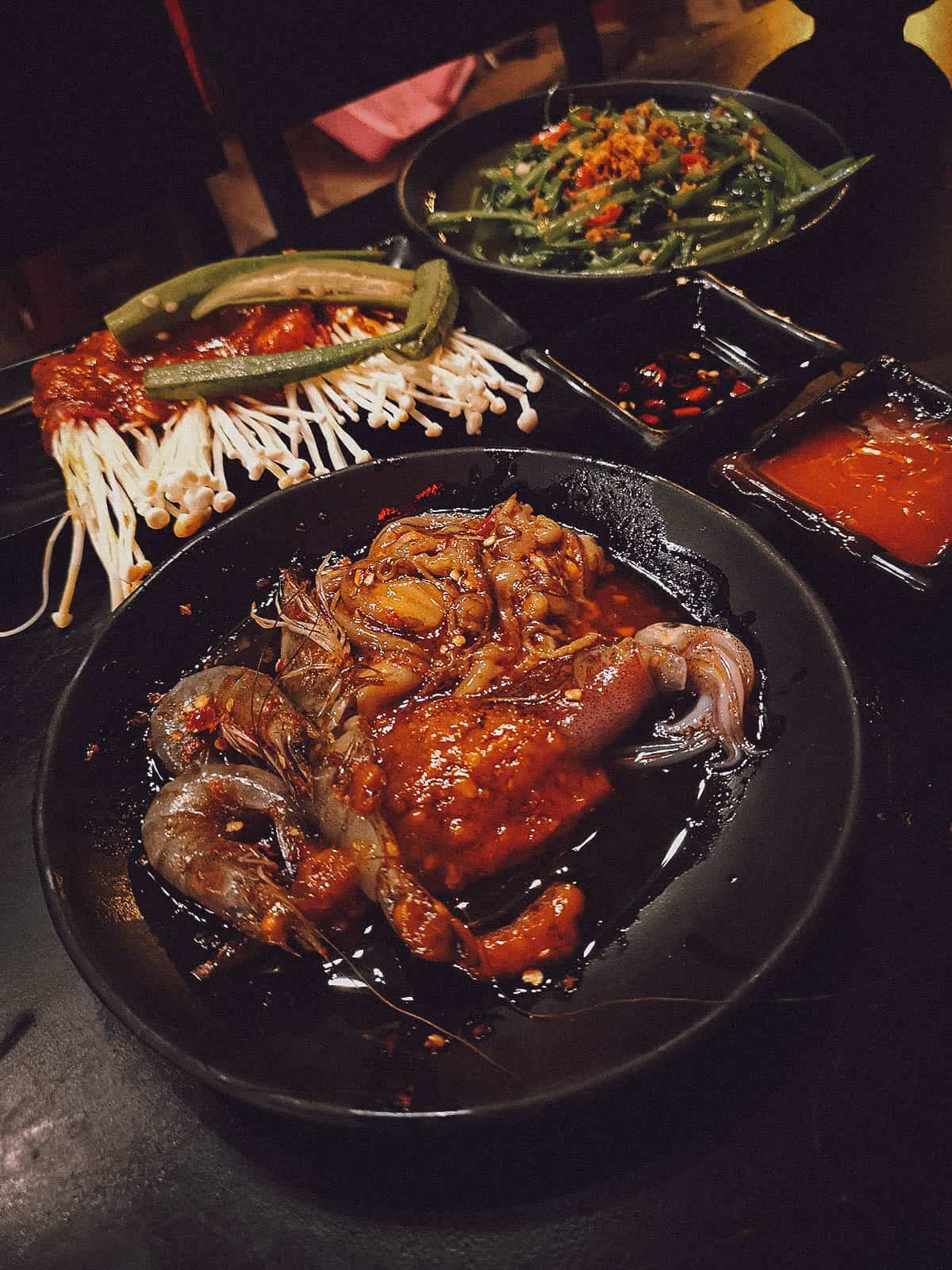 The seafood platter I chose had squid, octopus, and shrimp. They were fresh and swimming in a tasty, mildly spicy marinade.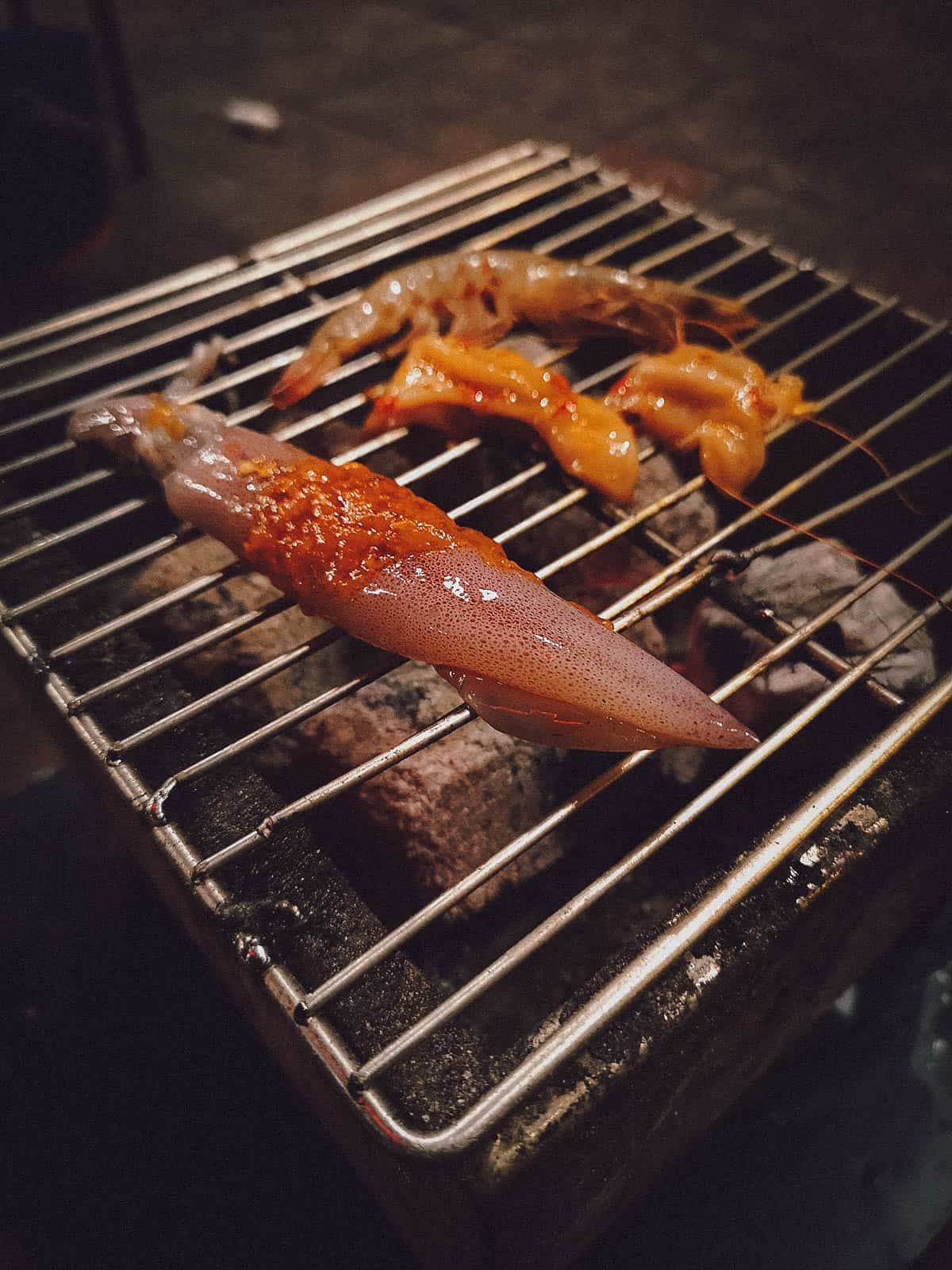 The seafood was nice but the beef-wrapped enoki mushrooms were great. I think they use the same marinade for all their grilled dishes.
The few dishes I had were good but what I really liked about Moi was the environment. It was fun sitting outside and grilling my own food while drinking bottle after bottle of Vietnamese beer. Grilled food makes for great bar chow so if you're traveling to Hoi An in a group, then this is a great place to have dinner and a few drinks.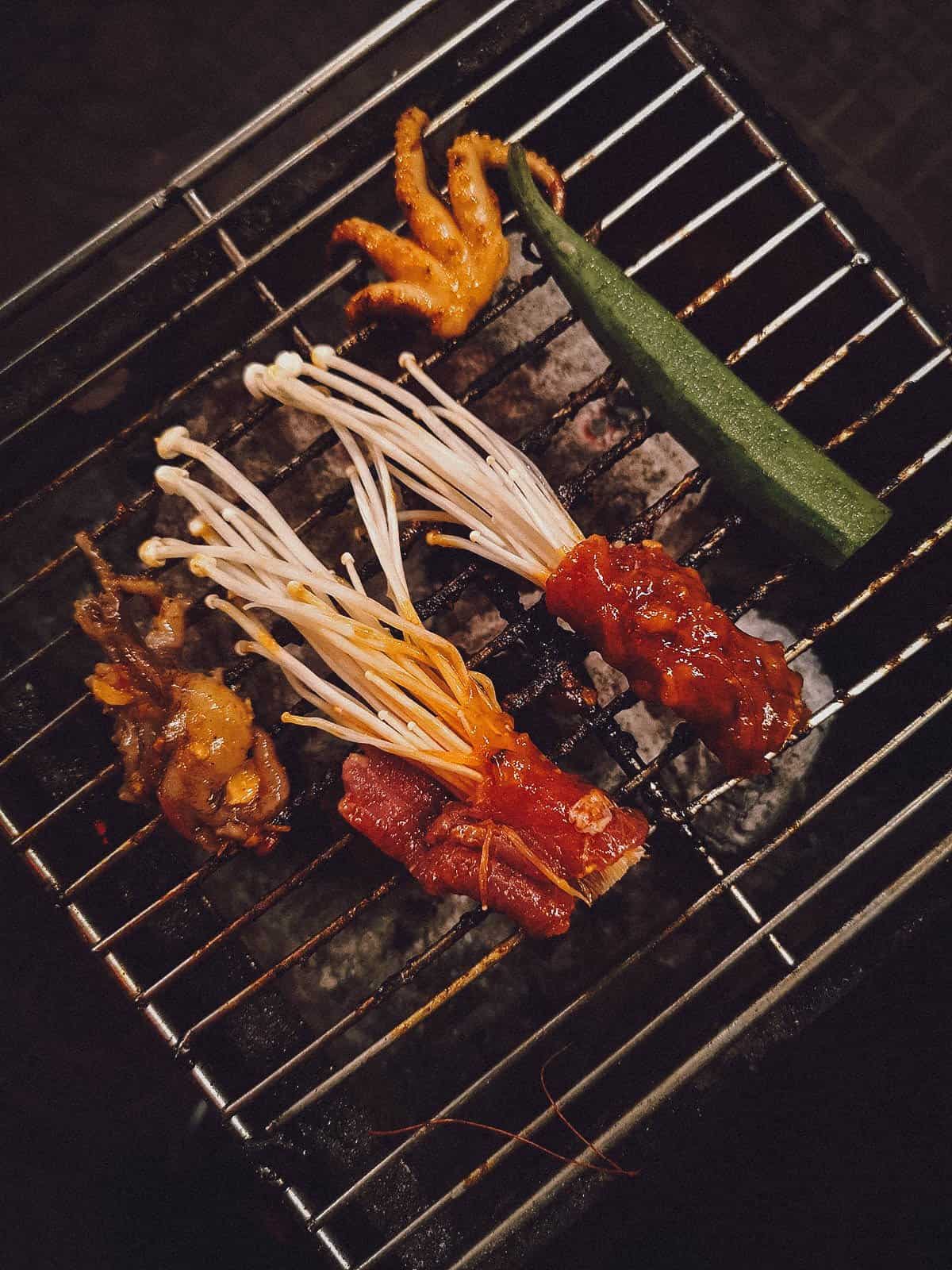 19. Quan Ben Tre
Ren and I spent a day exploring Cam Nam Island. You can get there on foot or by bicycle via Cam Nam Bridge which is near the central market. We wanted to have lunch on the island and our research led us to this place – Quan Ben Tre. They offer a few Hoi An specialties like cao lau, banh dap, and hen tron.
Pictured below is the hen tron which is a minced baby clam salad. Clams are boiled then fried with different vegetables and other ingredients like onion, pepper, chili, ginger, and peanuts. They're typically served with rice crackers that are used to ladle the dish in bite-sized portions.
Hen or baby clams seems to be a popular food item in central Vietnam as I often had it in Hue as well.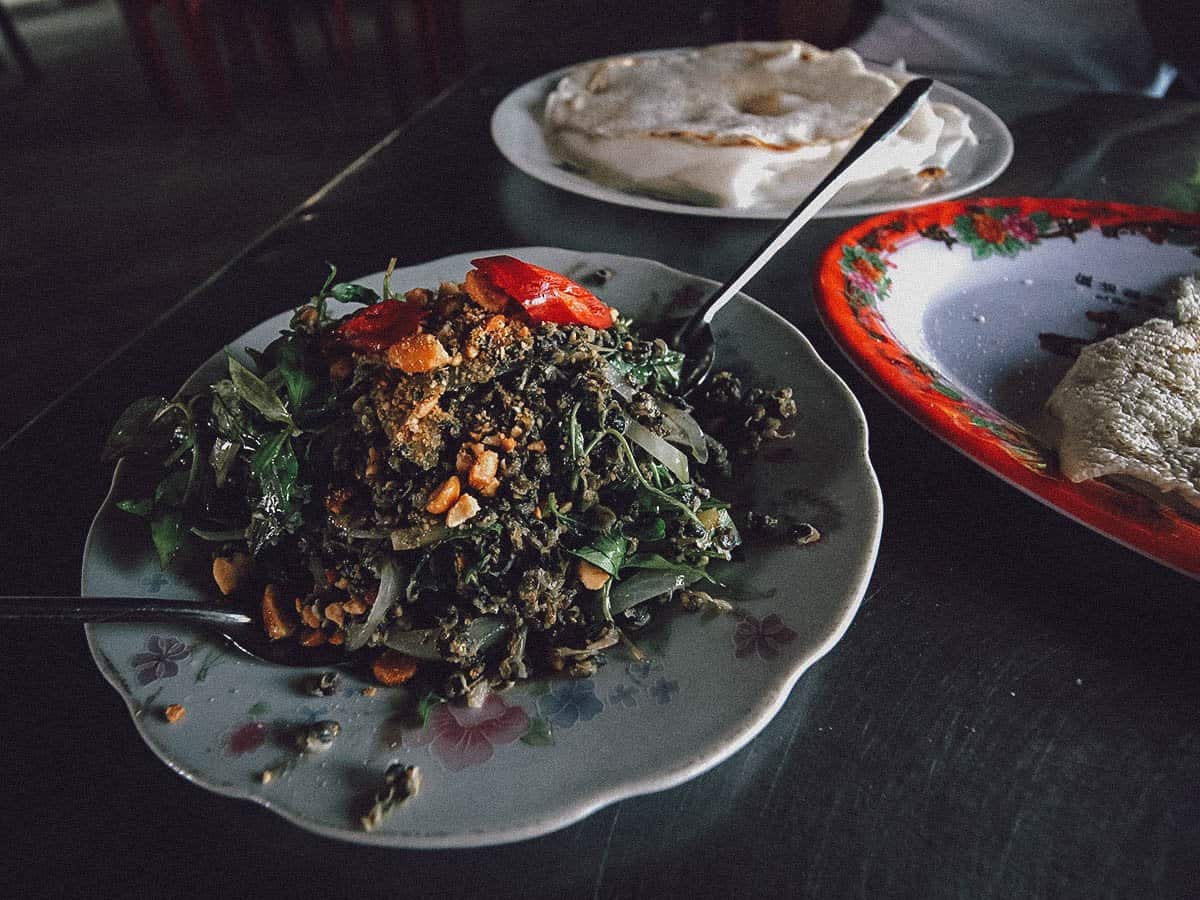 This is banh dap or smashing rice paper. I wondered why it's called "smashing rice paper", but then our server answered that question for me without saying a word. After setting it down on our table, he made it crack by pressing down on it with his open palm. It wasn't a faint crack either. It was a surprisingly loud audible CRACK!
Sandwiched between two sheets of crisp rice cracker is a sticky, steamed rice pancake. The dish is called "smashing rice paper" because you need to press down on the layers to bind them together, which is what our server did. You then break pieces off to eat. Crunchy, chewy, and a little sweet, I really enjoyed its taste and texture.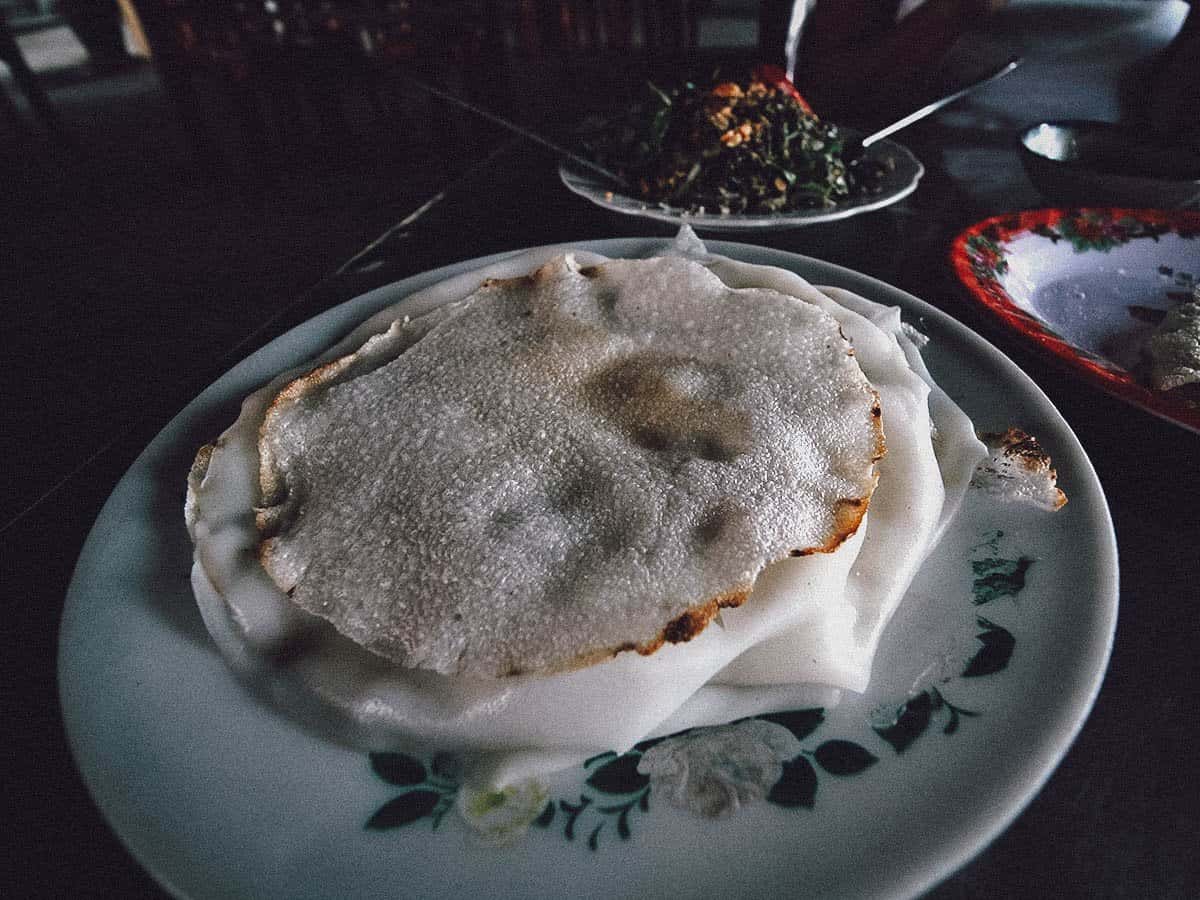 You're meant to eat the hen tron with plain rice crackers but I wanted to try it with the banh dap. I topped a piece with some hen tron, chili, and fish sauce. They went very well together. The clams were briny and paired nicely with the sweet, gooey, crunchy rice cracker.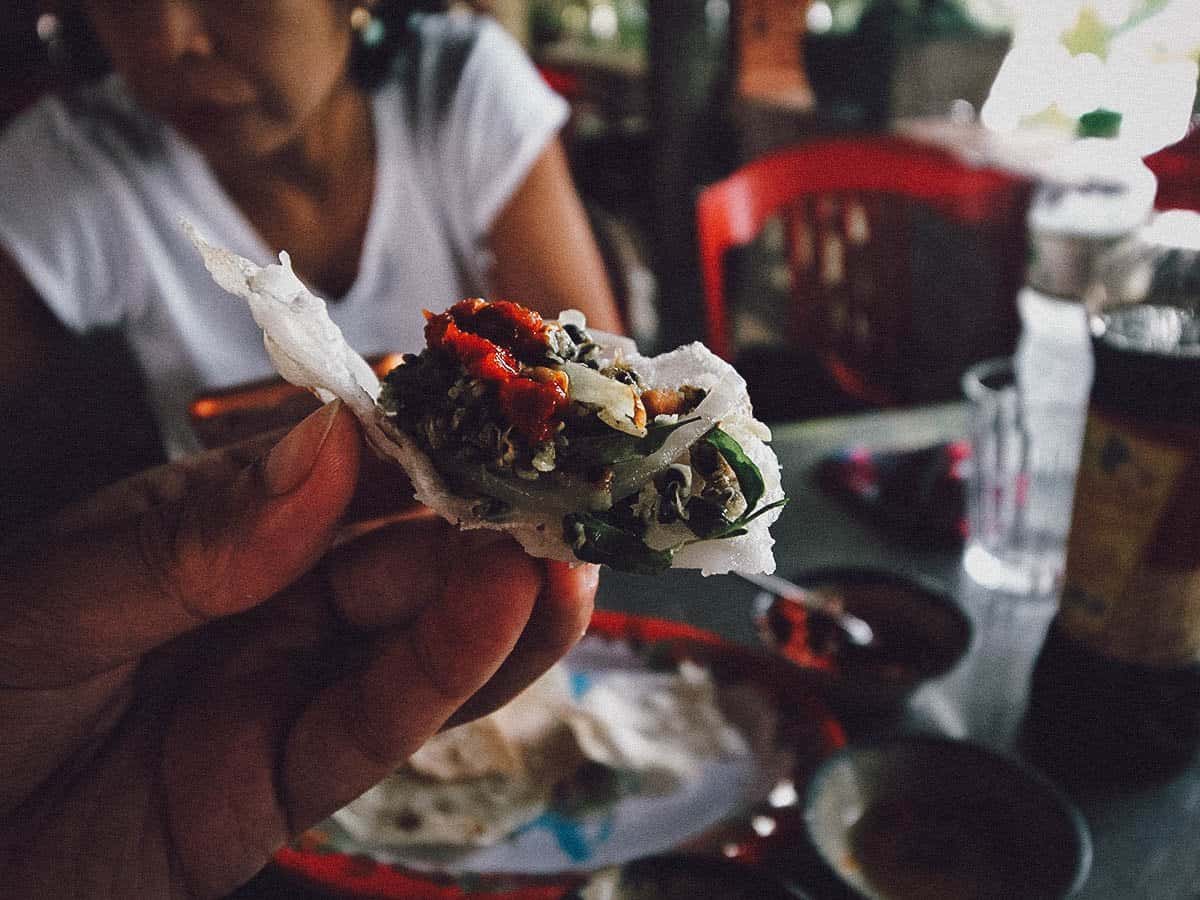 20. Aunt Bay's Banh Beo
Aunt Bay is a street food vendor who sells just one thing – banh beo. It refers to small steamed rice cakes topped with savory ingredients like dried or fresh shrimp, scallions, roasted peanuts, mung bean paste, fried shallots, and fish sauce. Though more commonly associated with Hue, you can find them in Hoi An as well.
I was excited to try banh beo because they sounded similar to Singaporean chwee kueh. Like chwee kueh, they were soft and silky and loaded with umami, though not as intensely flavorful. They're interesting and very tasty and another dish you should definitely have in Hoi An if you don't plan on going to Hue.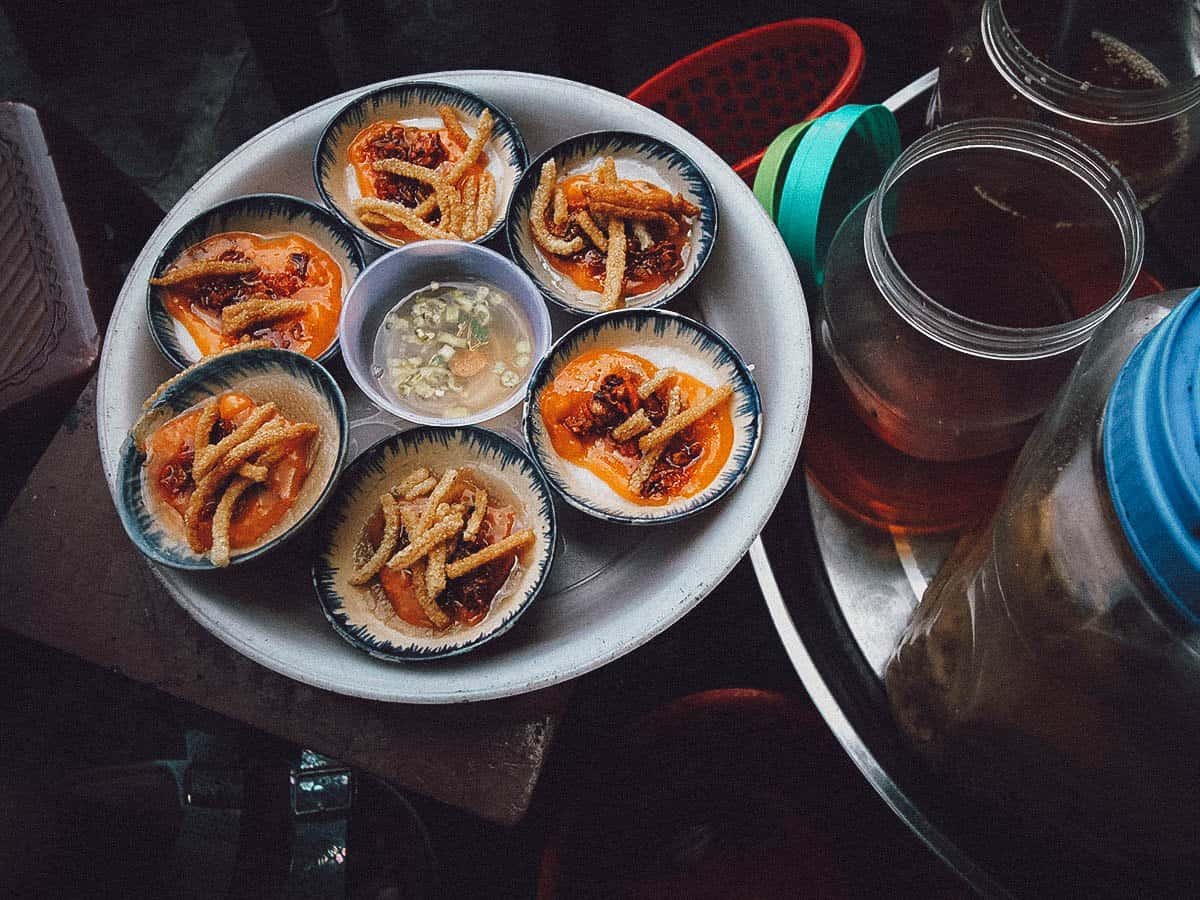 Toppings can vary and Aunt Bay tops hers with an orange shrimp-and-pork-based sauce containing bits of local river shrimp, fried shallots, chopped chilies, and deep-fried cao lau noodles. Yum!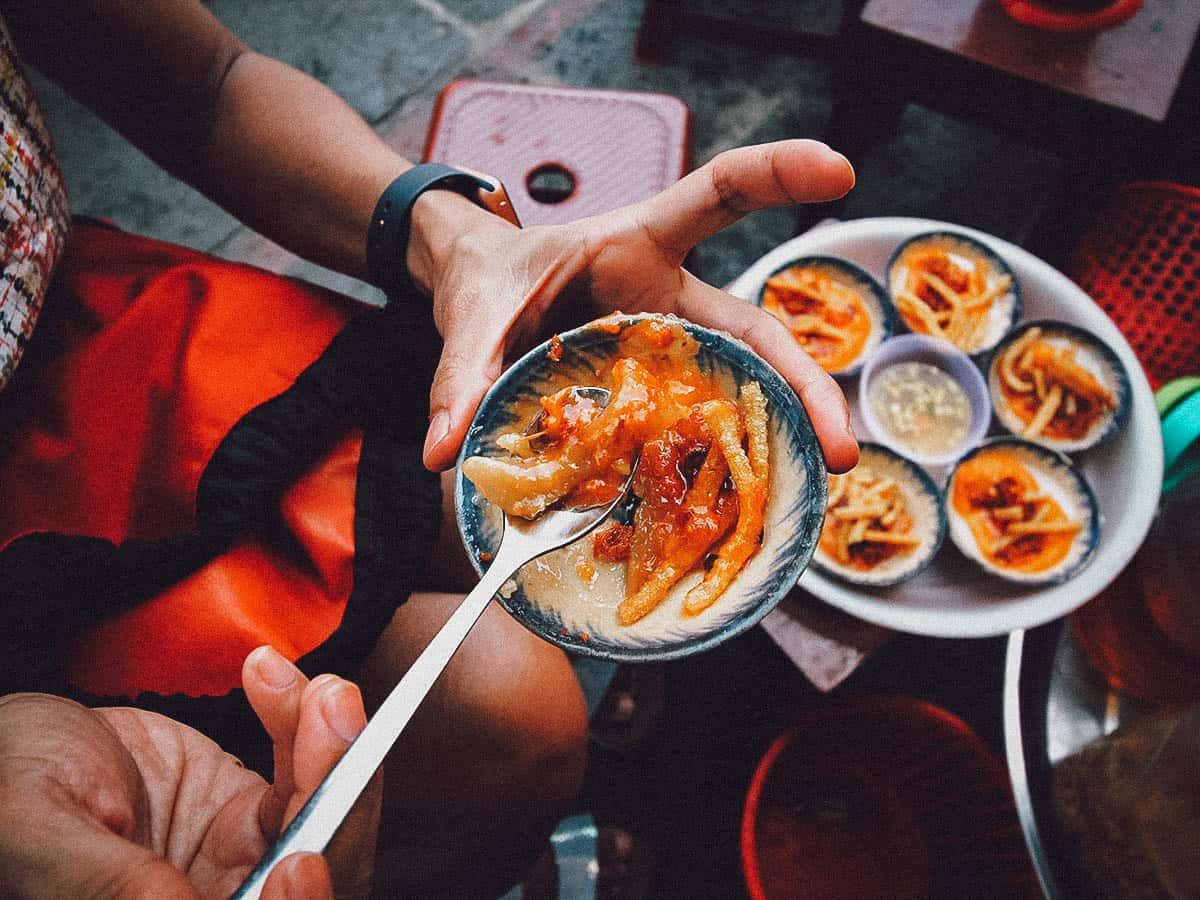 FINAL THOUGHTS
This Hoi An food guide started with nine eateries but it's more than doubled to twenty. I'm proud of this list but I still don't feel I've delved deeply enough into Hoi An's cuisine which is one of the most colorful and delicious in Vietnam. I feel there's still so much good food to be discovered here so we'll definitely be back.
If you're traveling to Hoi An and it's important for you to find the best local food experiences, then I hope this food guide puts you on the right track. Thanks for reading and have an amazing time eating your way through Hoi An!