UPDATE (7 JULY 2022): Backstreet Academy appears to have ceased operations till further notice.
What better way to end a great coffee tasting tour in Hanoi than with an equally great Vietnamese street food tour?
I went on this popular Coffee Lovers Walking Tour in Hanoi with Backstreet Academy. It takes you to three of the city's most historic cafes to try interesting coffee creations like egg coffee, yogurt coffee, and cinnamon coffee. It's a three-hour tour with multiple time slots but I made sure to start as early as possible, at 7:30AM, so it ends right when this Hanoi Street Food Tour begins.
Ca phe trung and ca phe den followed by pho ga, banh goi, and bun dau mam tom. What a great day this was in Hanoi.
Save This on Pinterest!
No time to read this now? Click on the red save button and pin it for later!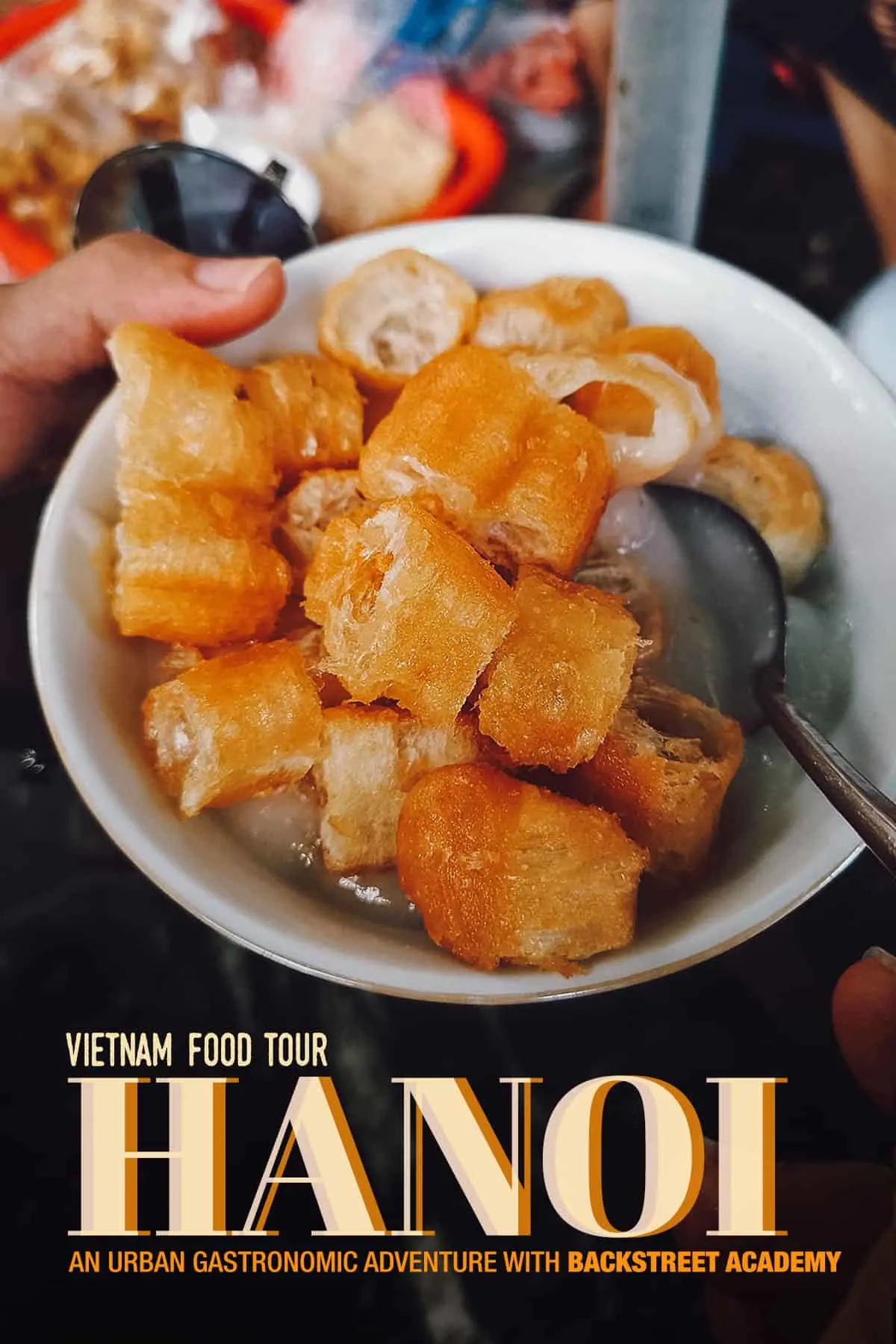 What is Backstreet Academy?
Backstreet Academy is a tour provider with a focus on impact travel, a movement that aims to provide tourists with authentic experiences while leaving a lasting social impact on local communities.
This street food tour isn't one of them but they offer many tours giving travelers a chance to learn local trades – like fishing from an actual fisherman or forging knives from a blacksmith. They do this to give local tradesmen a way to supplement their income, with up to 80% of tour revenues going back into the communities.
When Backstreet Academy invited us to join their Ambassador Program, they sent me a link to this video explaining their mission and vision. If you have a moment, then I suggest watching it as it tells the story of how skilled but struggling tradesmen can earn additional income by providing tourists with immersive, authentic experiences.
Hanoi Street Food Tour
This Hanoi Street Food Tour by Backstreet Academy is a 2.5-hour eating binge that takes you to some of the best local spots in Vietnam's capital. It costs just USD 19 per person and gives you a taste of about a dozen Vietnamese street food dishes.
I met my guide David at the last cafe on my coffee tour. He whisked me away to this street food stall on the north side of Hoan Kiem Lake. To be honest, my head was buzzing at this point from all the strong coffee so I was half-regretting booking back-to-back tours, but the very first bite I took of this papaya salad convinced me I had made the right decision.
I didn't catch the names of a few of the dishes from this tour but I'll do my best to describe them as well as I can.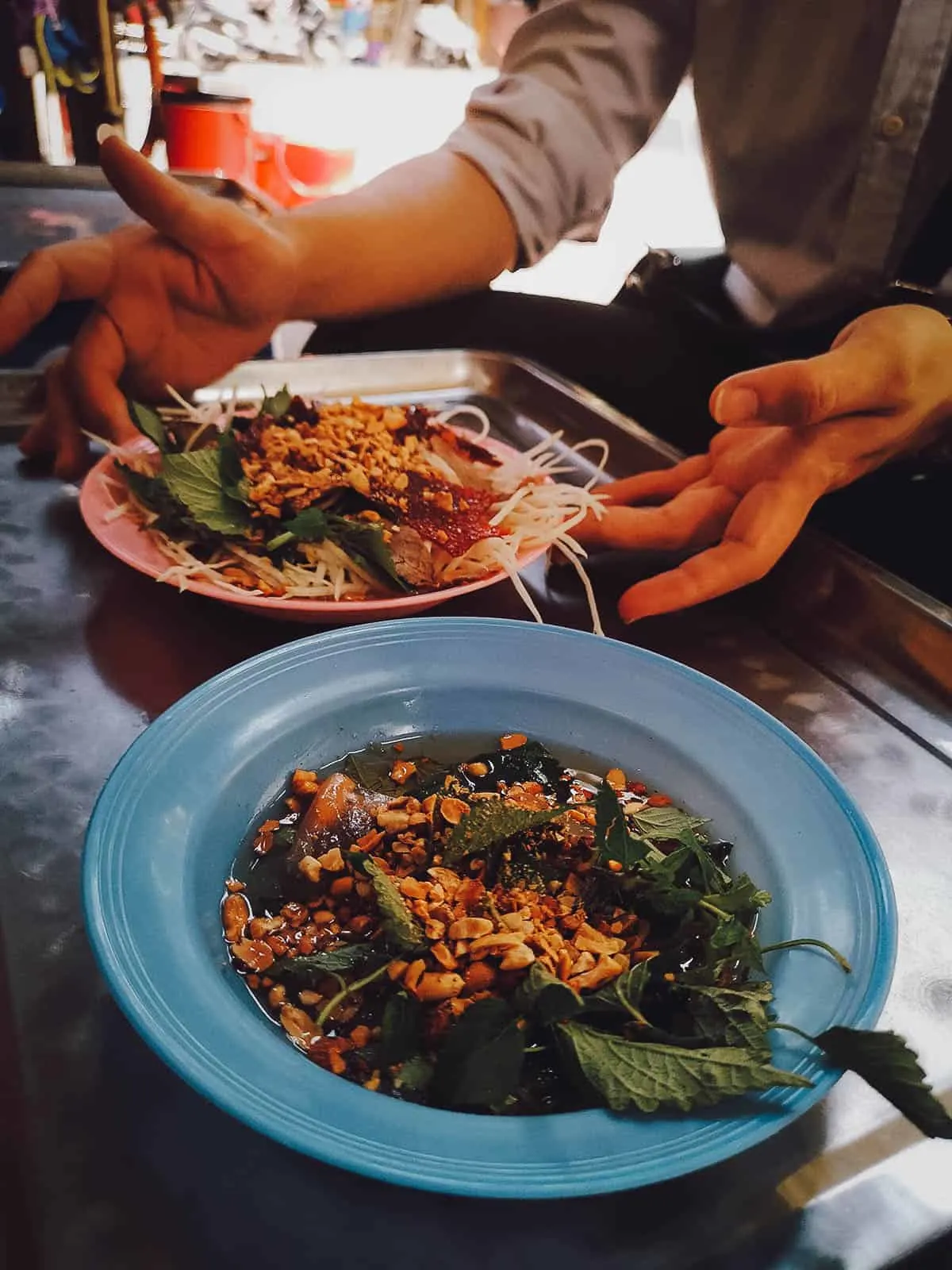 As described, I took my first bite of this dish and it made me wide-eyed with excitement, not just because it tasted good but because it tasted differently from what I was expecting. This was my third trip in Vietnam so I had already tried many different dishes, but this was my first time having this one.
It's basically a Vietnamese green papaya salad with fresh herbs, crushed roasted peanuts, and Chinese-style beef jerky. Sweet, crunchy, watery, and nutty, I've had green papaya salad before but never with beef jerky. If you haven't tried Chinese-style beef jerky, it's considerably sweeter and more tender than western-style beef jerky.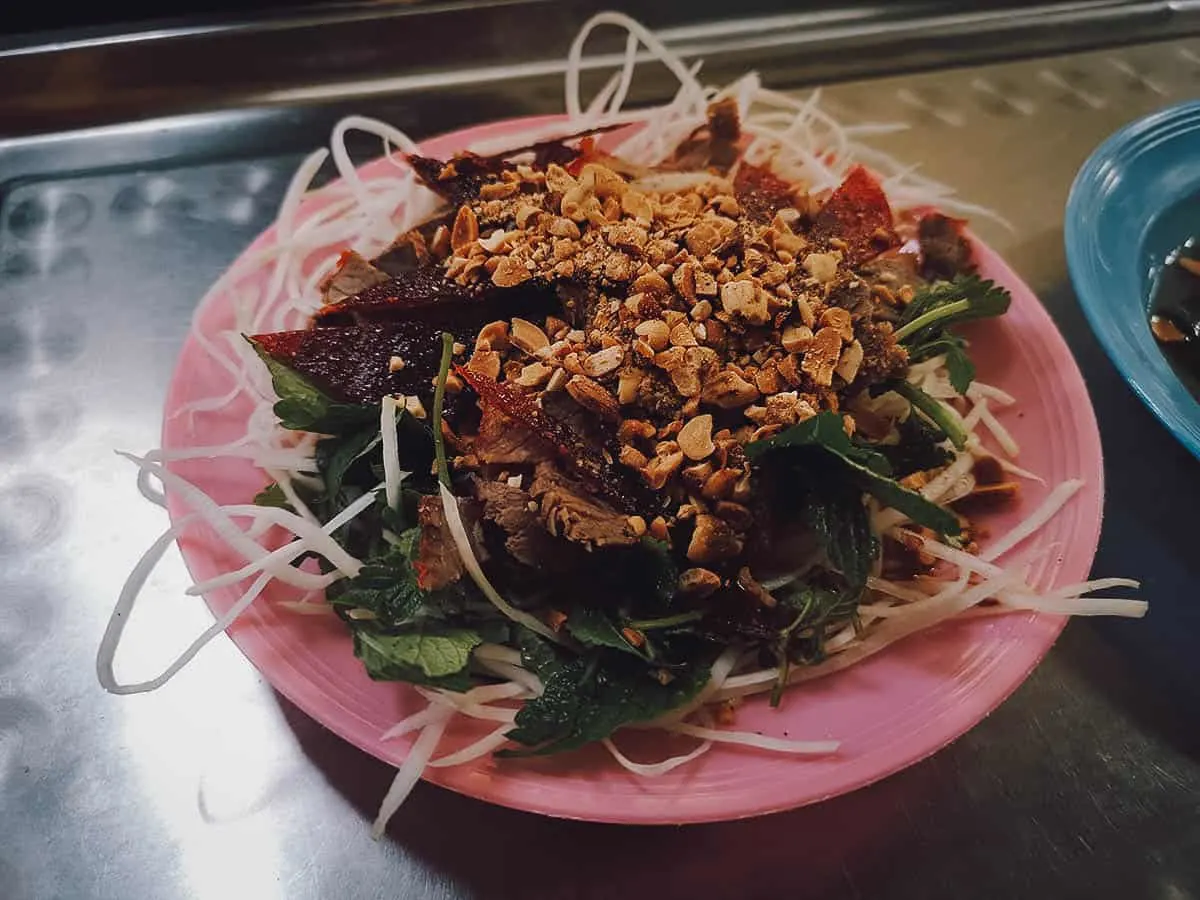 Notice how thin and translucent this piece of beef jerky is. That's why it's so tender. We used to have this a lot as kids back home and we called it Chinese tapa or "sweet meat". It added a nice sweet meatiness to the papaya salad. It was delicious and perhaps my single favorite dish from today's tour.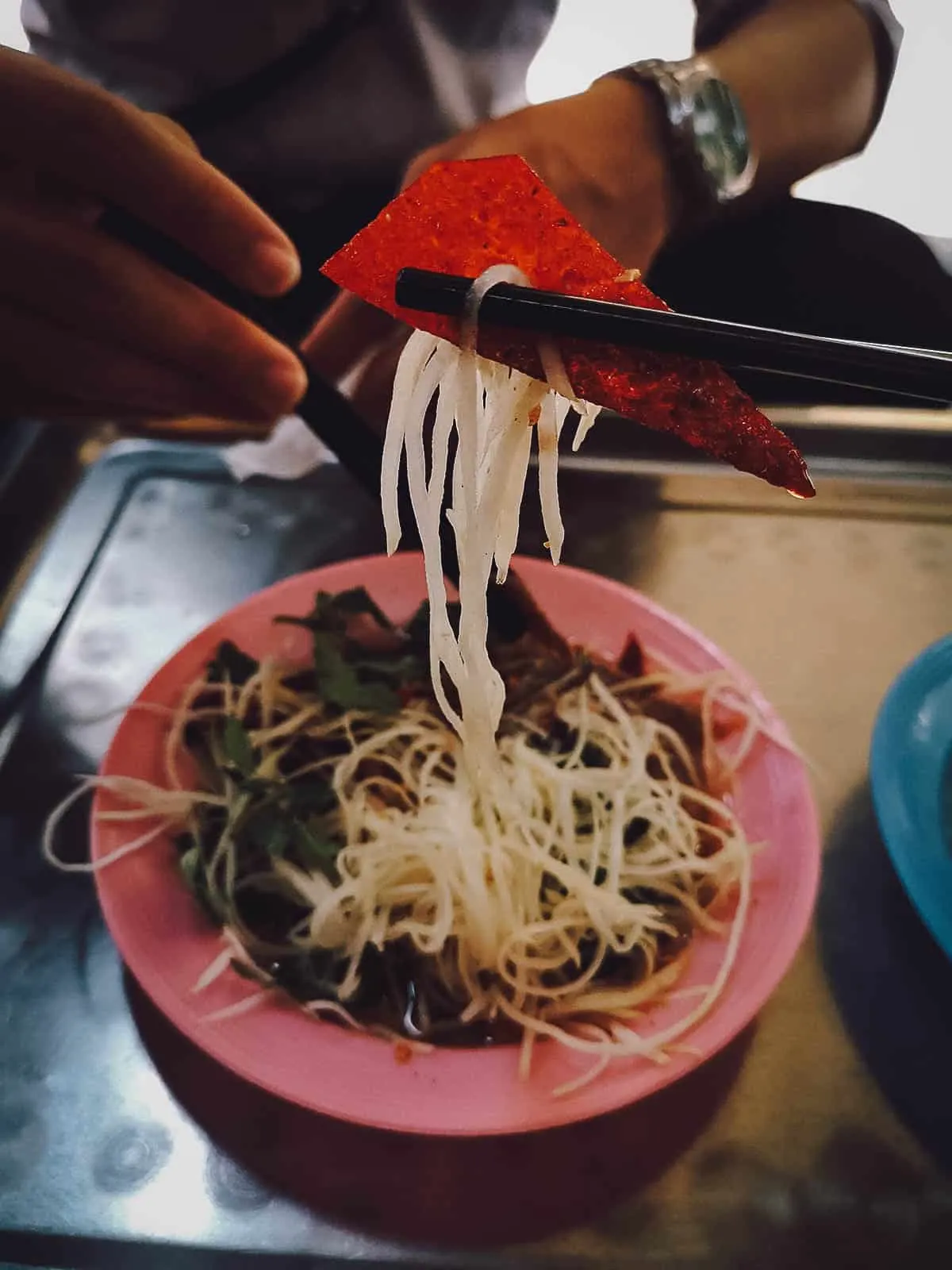 You can't see them buried underneath all the crushed peanuts and herbs, but this second dish consisted of translucent Vietnamese dumplings similar to the ones you'd find in Hue.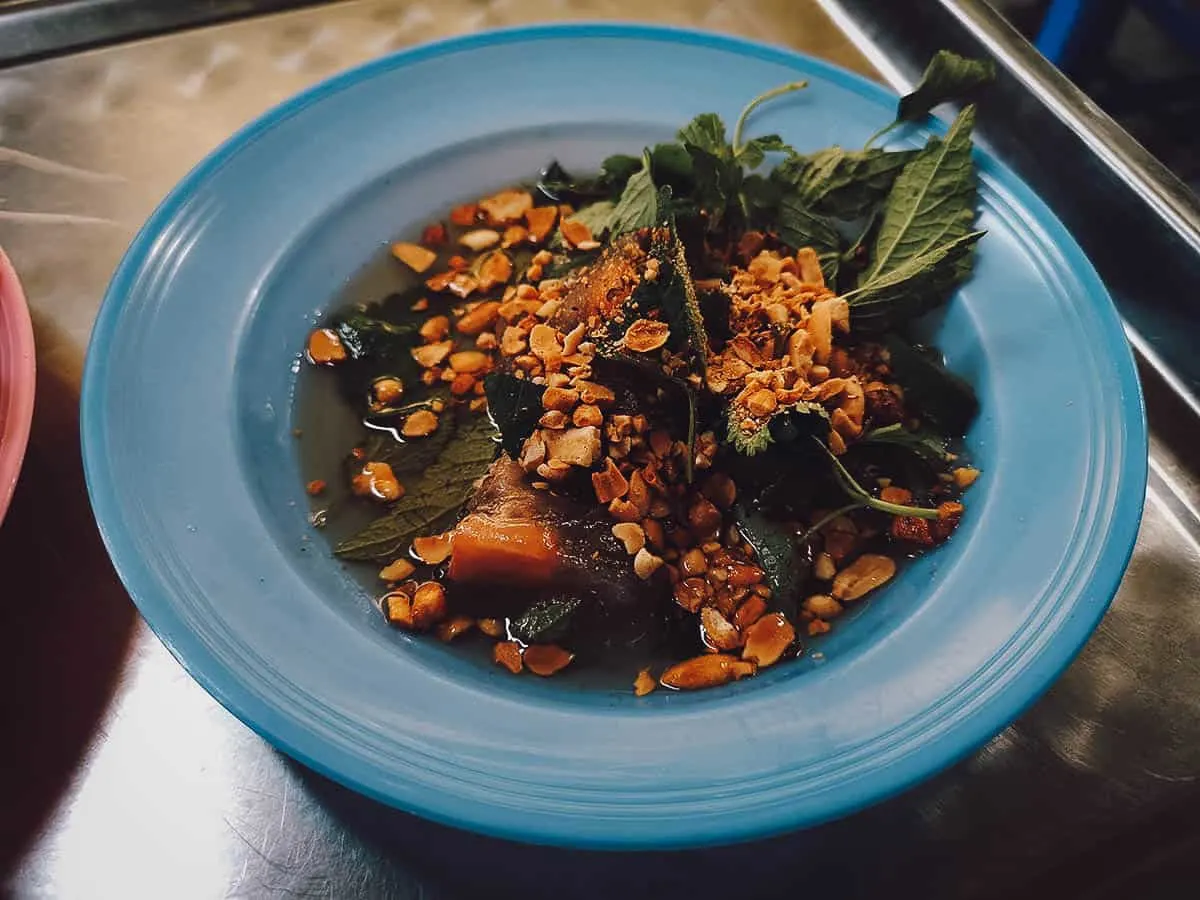 You can see the dumpling much better in this picture. I'm not sure but these may be a type of banh bot loc, one of several dumplings associated with Hue in central Vietnam.
Notice the translucent skin? Made with tapioca flour, banh bot loc is typically filled with shrimp and pork before being steamed in banana leaves. This turns the wrapper chewy and translucent so you can see the fillings inside.
The banh bot loc I had in Hue was served dry with a side of nuoc cham (fish-based dipping sauce), but these were drenched in sauce and topped with fresh herbs and crushed peanuts. I'm not sure if these were indeed banh bot loc but that's what they reminded me of. They were chewy, sweet, and savory with good crunch from the peanuts and fresh herbs.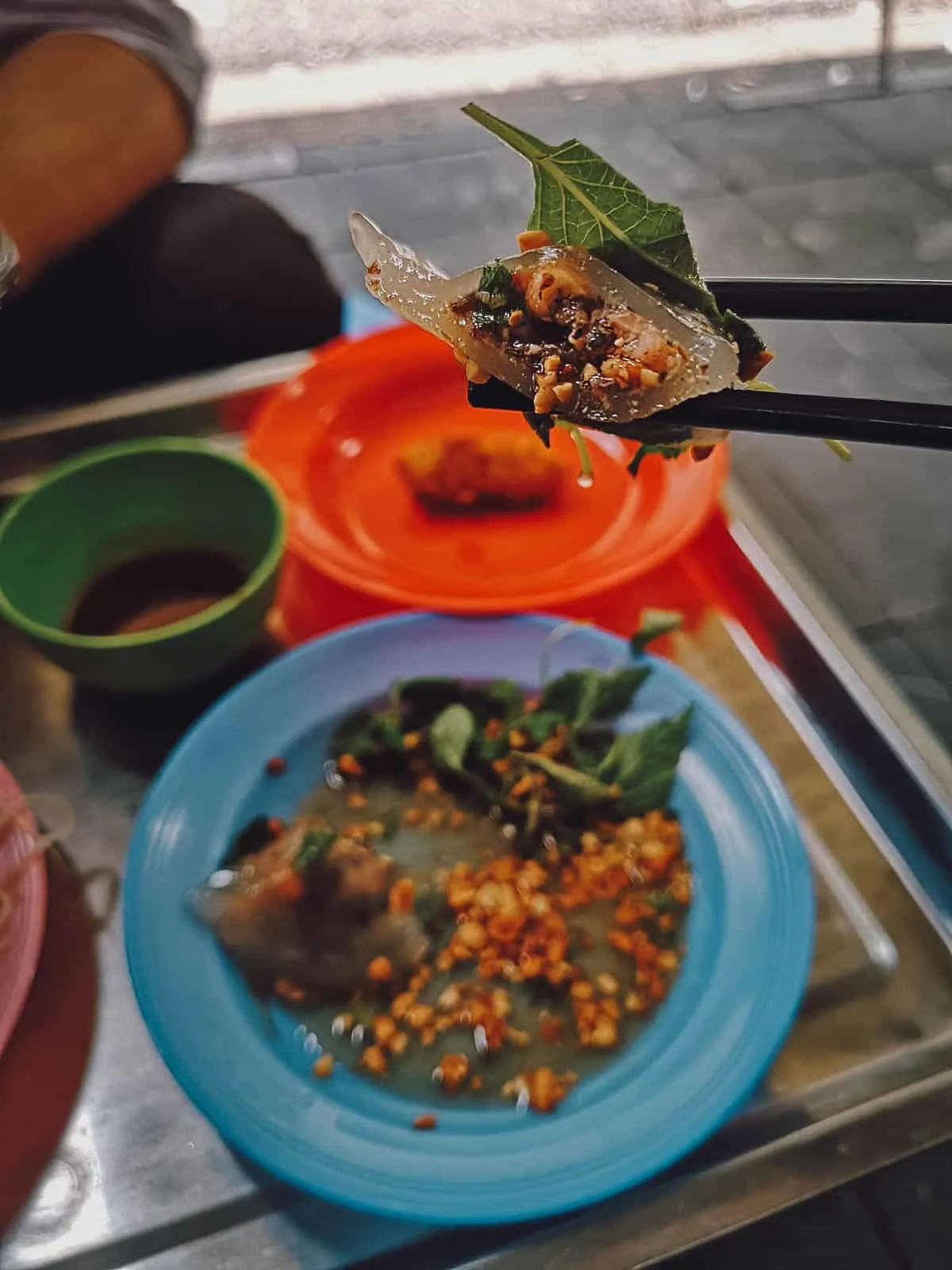 The third dish we had at this stall was nem chua ran or deep-fried fermented pork rolls. I don't know if the Vietnmaese version is prepared in exactly the same way, but we had naem in Chiang Mai on a previous trip. They preserve pork by mixing it with cooked sticky rice, chili pepper, garlic, sugar, salt, and potassium nitrate, then allowing it to undergo lactic acid fermentation.
I like the sourness of naem or fermented pork so I enjoyed these pork rolls. Deep-fried in flour, they have a soft and chewy texture similar to sausage or fish cake with a crunchy coating like cheese sticks. This roll looks like its glistening because I dipped it in a sweet and spicy chili sauce.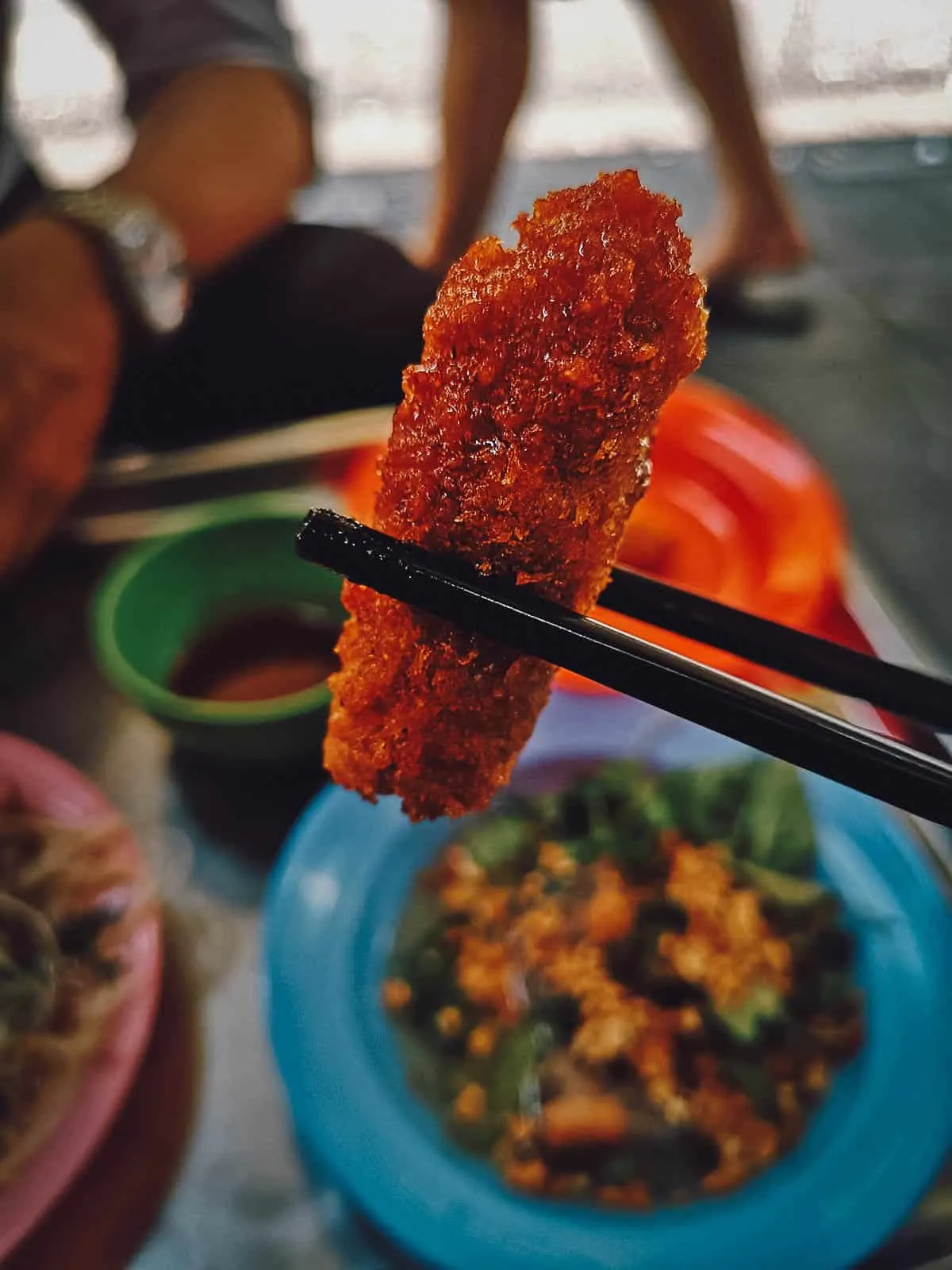 David and I moved to our next stop, this street food cart offering perhaps the most polarizing dish on this tour – bun dau mam tom or fried tofu and rice vermicelli with fermented shrimp paste sauce. I describe it as polarizing because non-Vietnamese tourists either love it or hate it. Personally, we love it because we have a similar fermented shrimp paste back home called bagoong.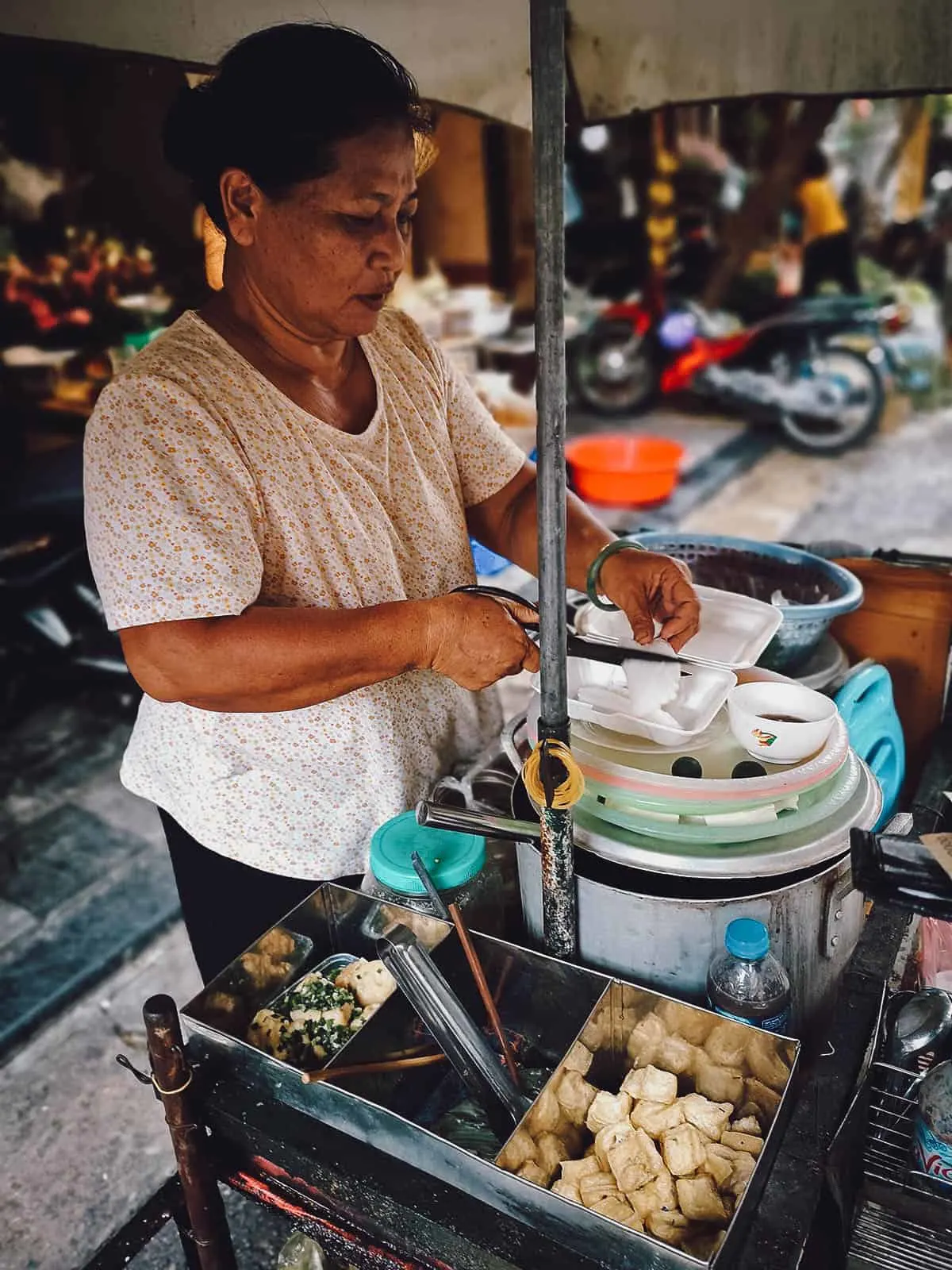 A closer look at our to-go package of bun dau mam tom. What makes this dish polarizing aren't these cubes of deep-fried tofu or clumps of rice vermicelli. These are innocuous enough.
What's offensive to many is the side of mam tom or fermented shrimp paste sauce. It's a funky and extremely pungent sauce made from a mixture of fermented shrimp paste, fresh crushed garlic, water, and lemon juice. If you aren't used to its taste and smell, then you probably won't like it.
It's funny, every time I was alone at a restaurant and mam tom was on the table, my server would immediately try to take it away. Most foreigners probably hate it so they assume I didn't want it either. I'd have to wrestle it back and tell them that I love the stuff. "We have this in the Philippines!"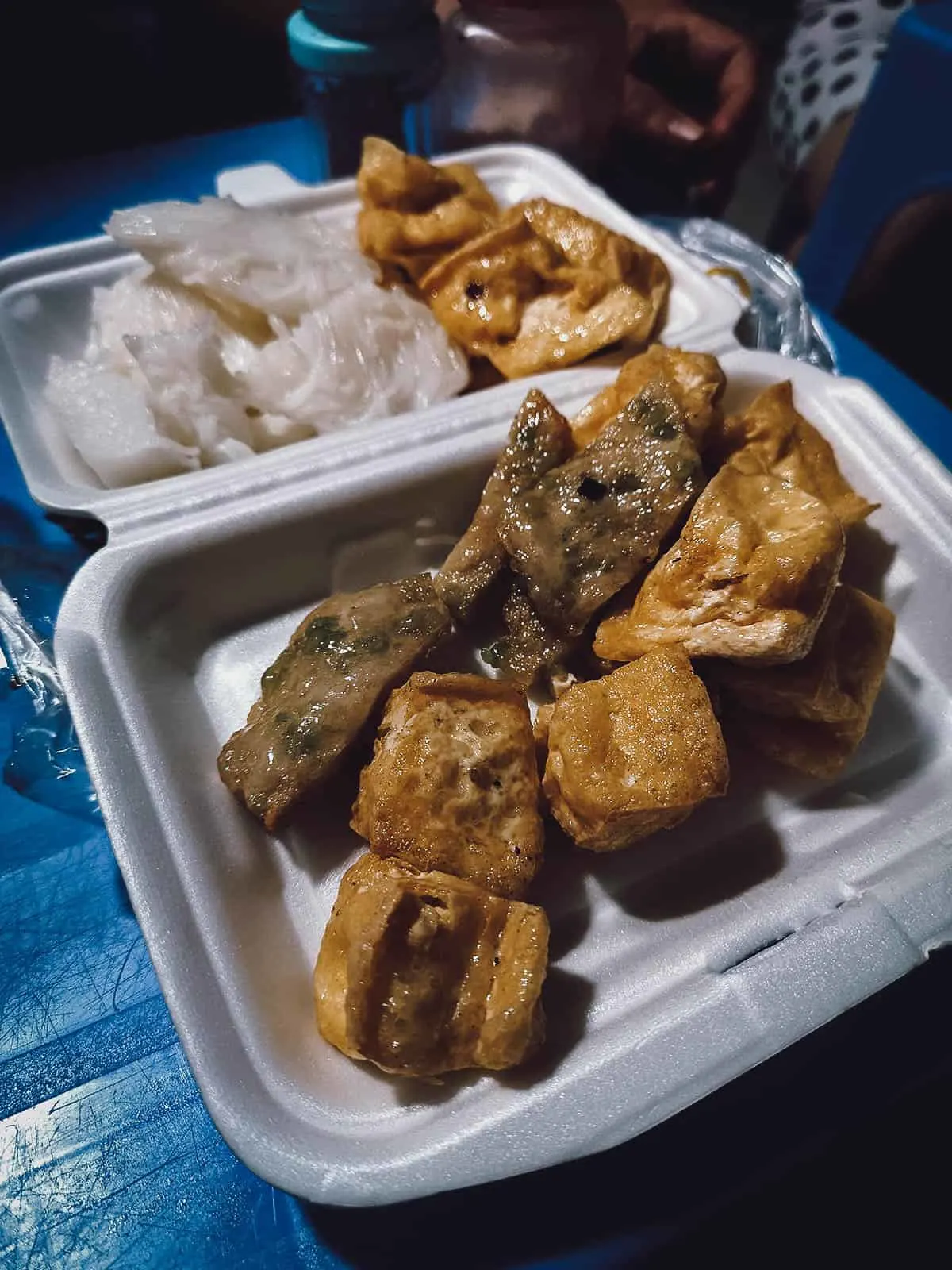 The place where we sat down to eat our bun dau mam tom are known for their ca cuon, which are deep-fried stuffed fish croquettes.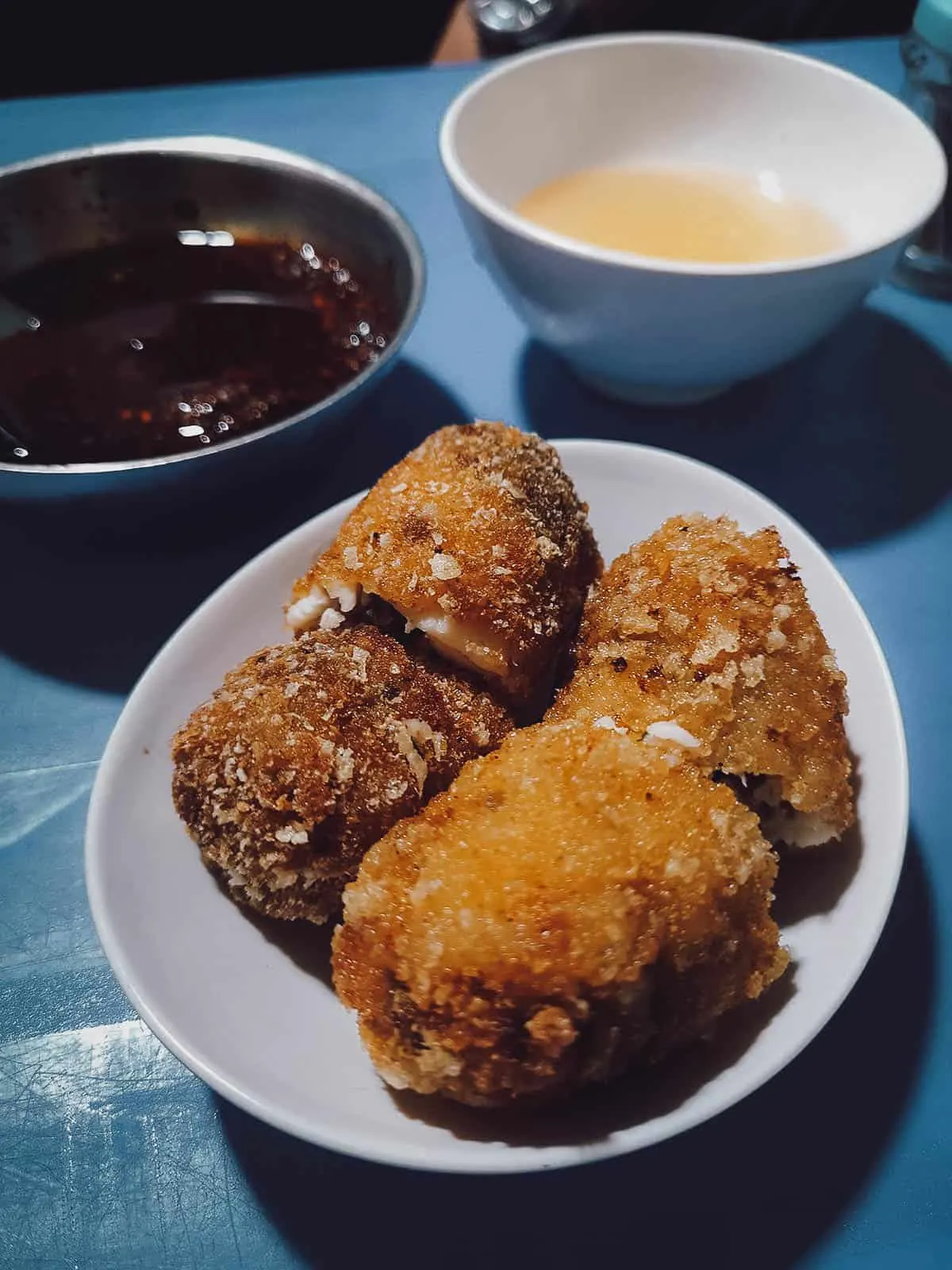 A look inside my ca cuon, also known as ca cuon thit. The croquettes are made with filleted fish wrapped around a paste of ground pork and wood ear mushrooms (similar to banh cuon filling), which is then sealed and coated with breadcrumbs before being deep-fried.
We didn't have it today but I read that ca cuon is often served as a side dish to bun ca or fried fish noodle soup. That's probably what the other customers at this shop were having with their ca cuon.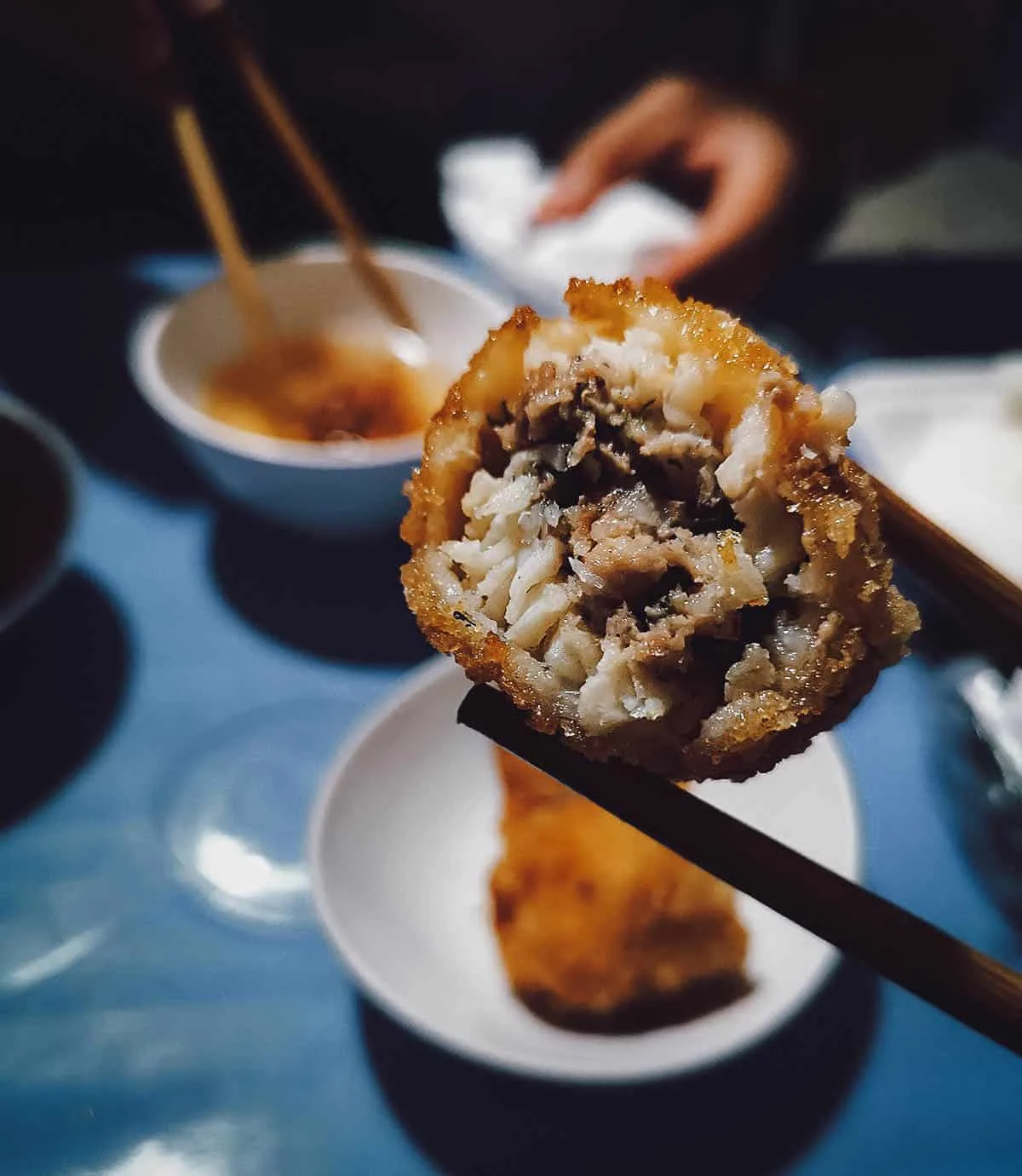 This next dish with flat noodles and clear soup needs no introduction. It's a bowl of pho ga or chicken pho. Like banh mi, pho is a Vietnamse national dish and one of the most well-known and beloved dishes in Vietnamese cuisine. It's made with four basic ingredients – a clear stock, soft and silky rice noodles, beef or chicken, and fresh herbs. I've had it more often with beef (pho bo) but I think I may prefer it with chicken.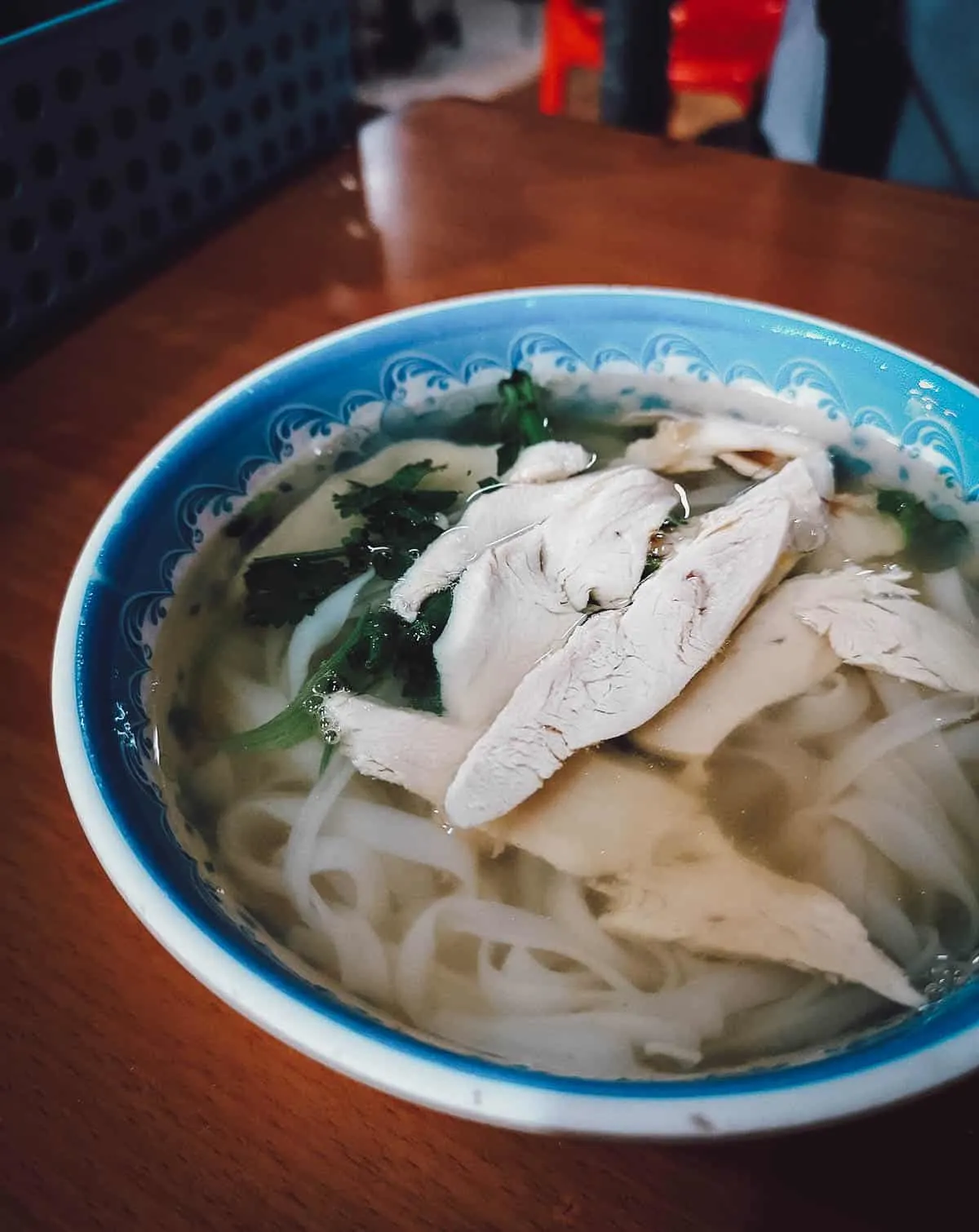 I'm not the biggest fan of boiled beef texture which is probably why I prefer pho ga. Delicate and clean-tasting, pho is relatively mild in flavor so you're welcome to add condiments like chili sauce, pickled vegetables, fish sauce, and chopped chilis to spice things up a bit.
I had David put the condiments in mine so I'd have a better sense of how locals take their pho. He was fairly conservative with them, adding just a little bit of each so as not to drown out the natural flavors of the broth.
If you love pho, then you can check out our food guide to find some of the best restaurants in Hanoi.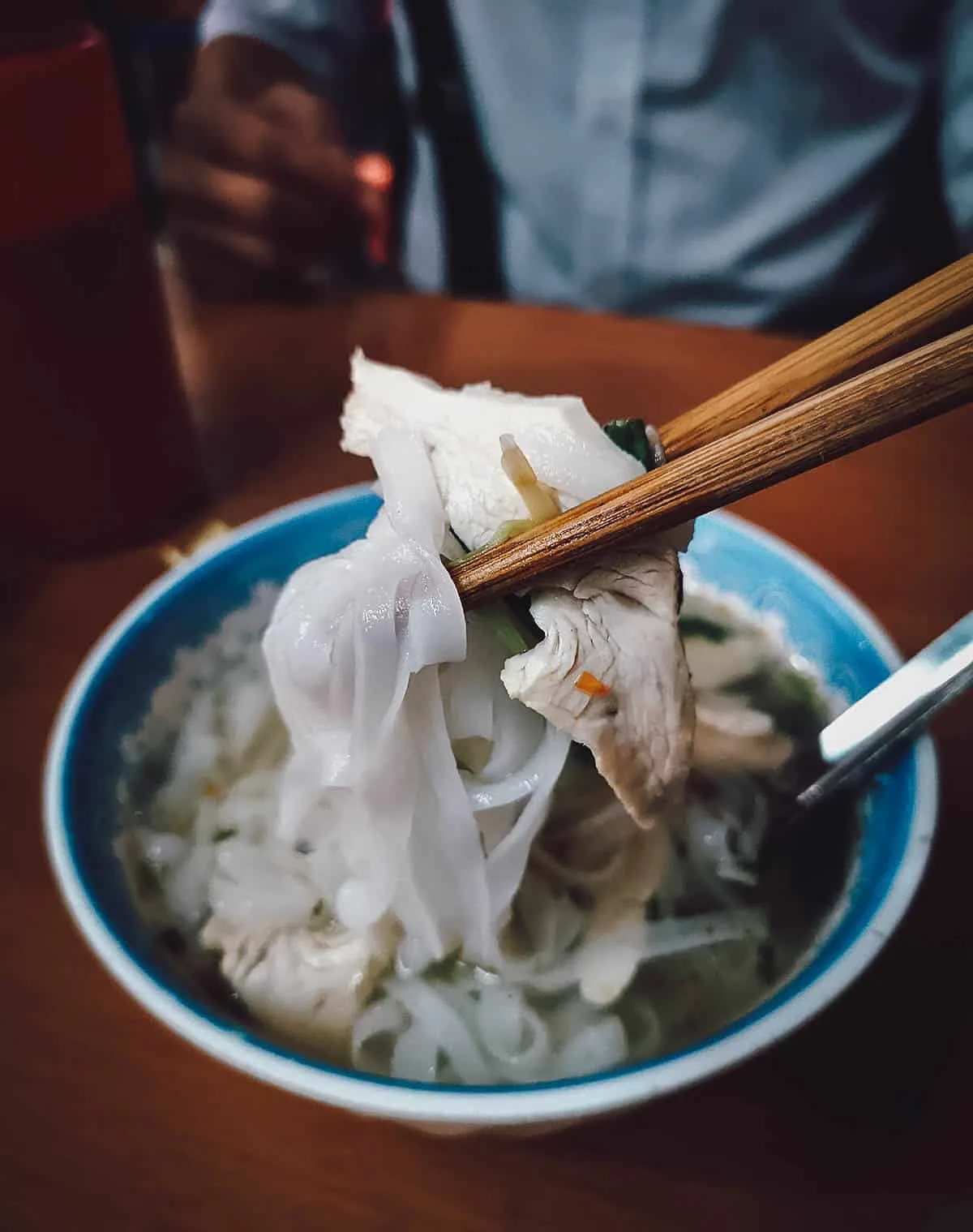 For our next stop, David took me to this street food restaurant near St. Joseph's Cathedral. Ren and I found this place on our first trip to Hanoi two years ago so it was nice to be taken here by a local. It confirmed that this restaurant was indeed the real deal and known for serving some of the best Vietnamese fritters in the city.
On this plate are banh goi, pho cuon, and banh ran ngot with a basket of fresh greens and a bowl of nuoc cham.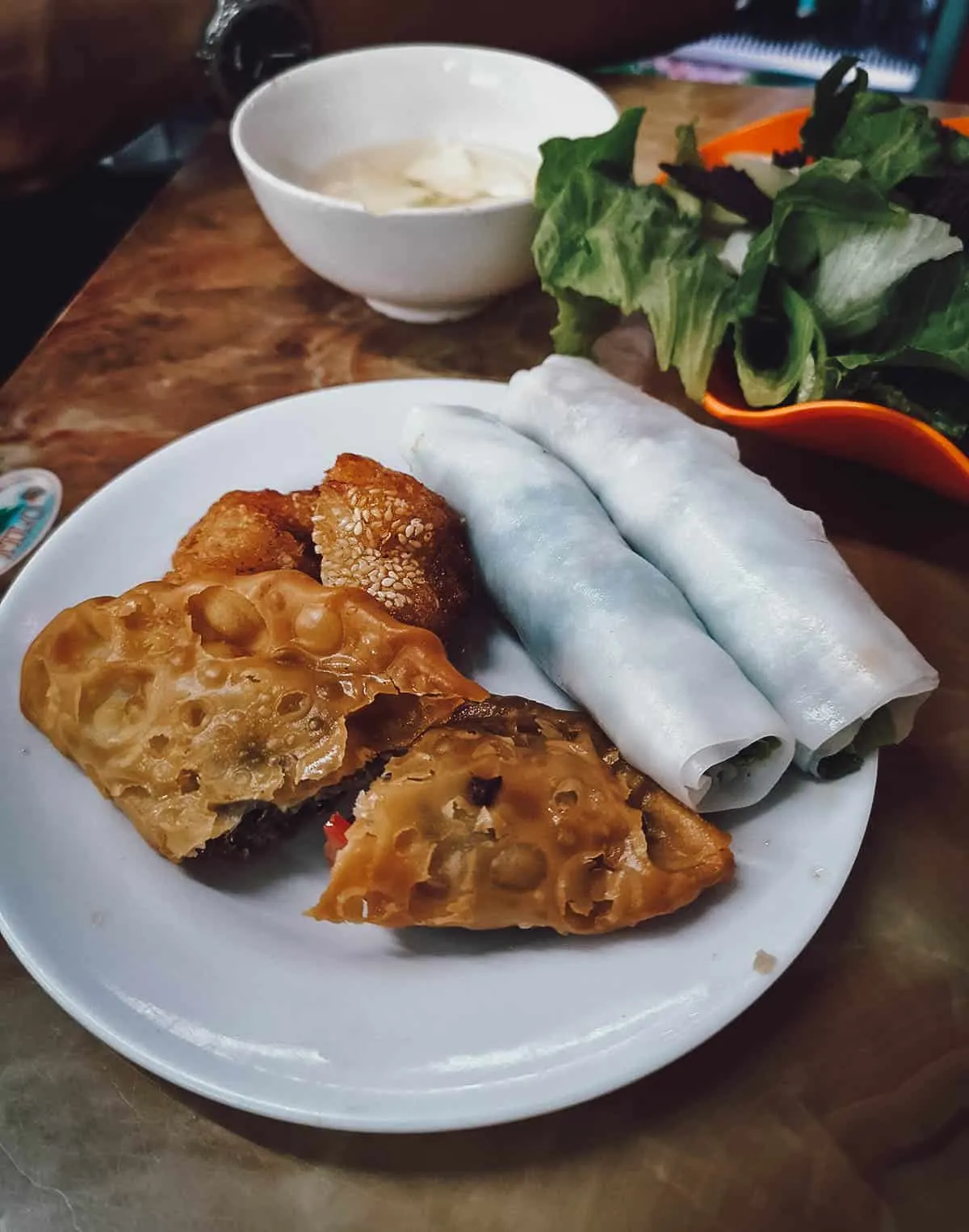 This is what the insides of a banh goi look like. A banh goi is like a deep-fried Vietnamese empanada filled with minced pork, mushroom, glass noodles, and a quail egg. The name literally means "pillow cake" because of it's pillow-like shape.
When you eat these fritters, you'll understand how important balance is to Vietnamese cuisine. Deep-fried and oily, they're meant to be eaten with the fresh greens and sweet and sour dipping sauce to neutralize the oiliness. Fried, oily, and fatty is tempered with fresh, raw, and acidic. Deep-fried food is unctuous on its own but you can eat this forever thanks to its wonderful balance of flavors and textures, even temperatures.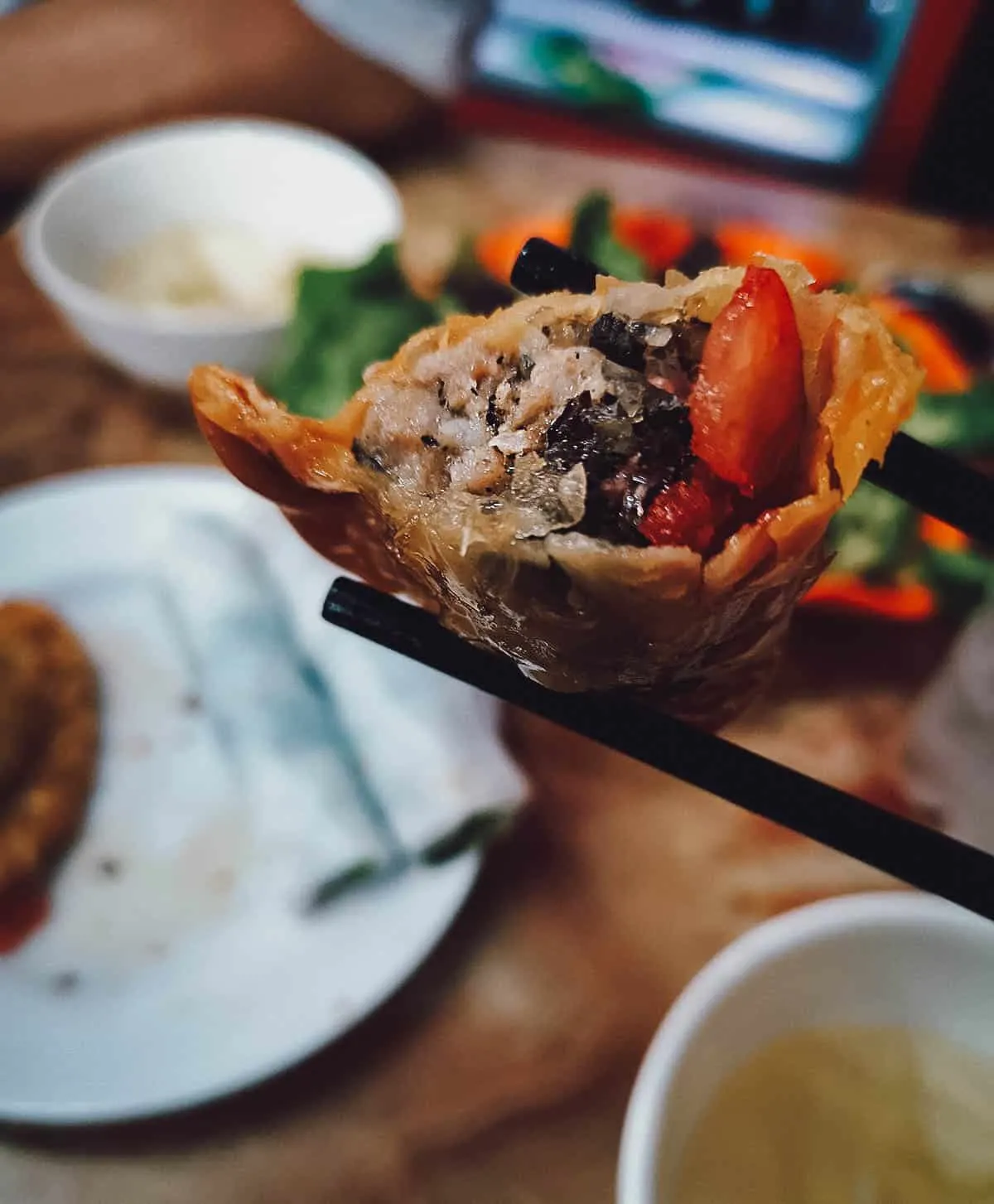 Pho cuon are rice noodle rolls similar to banh cuon. They're made with sheets of pho noodles wrapped around beef and fresh herbs.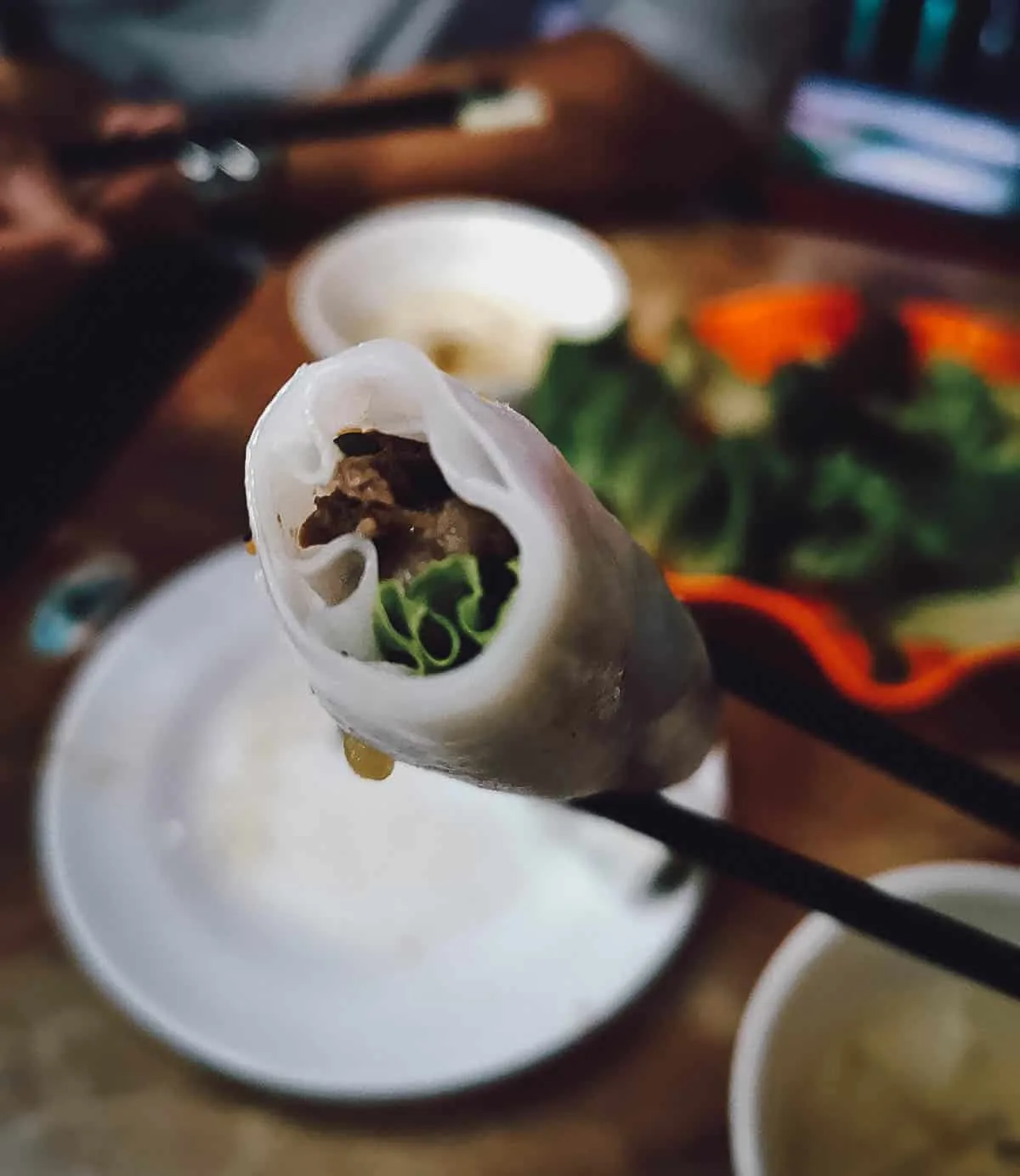 For dessert, we had the banh ran ngot which are sesame-covered glutinous rice balls filled with a sweetened mung bean paste. They're basically the same thing as buchi balls served at Chinese dim sum restaurants.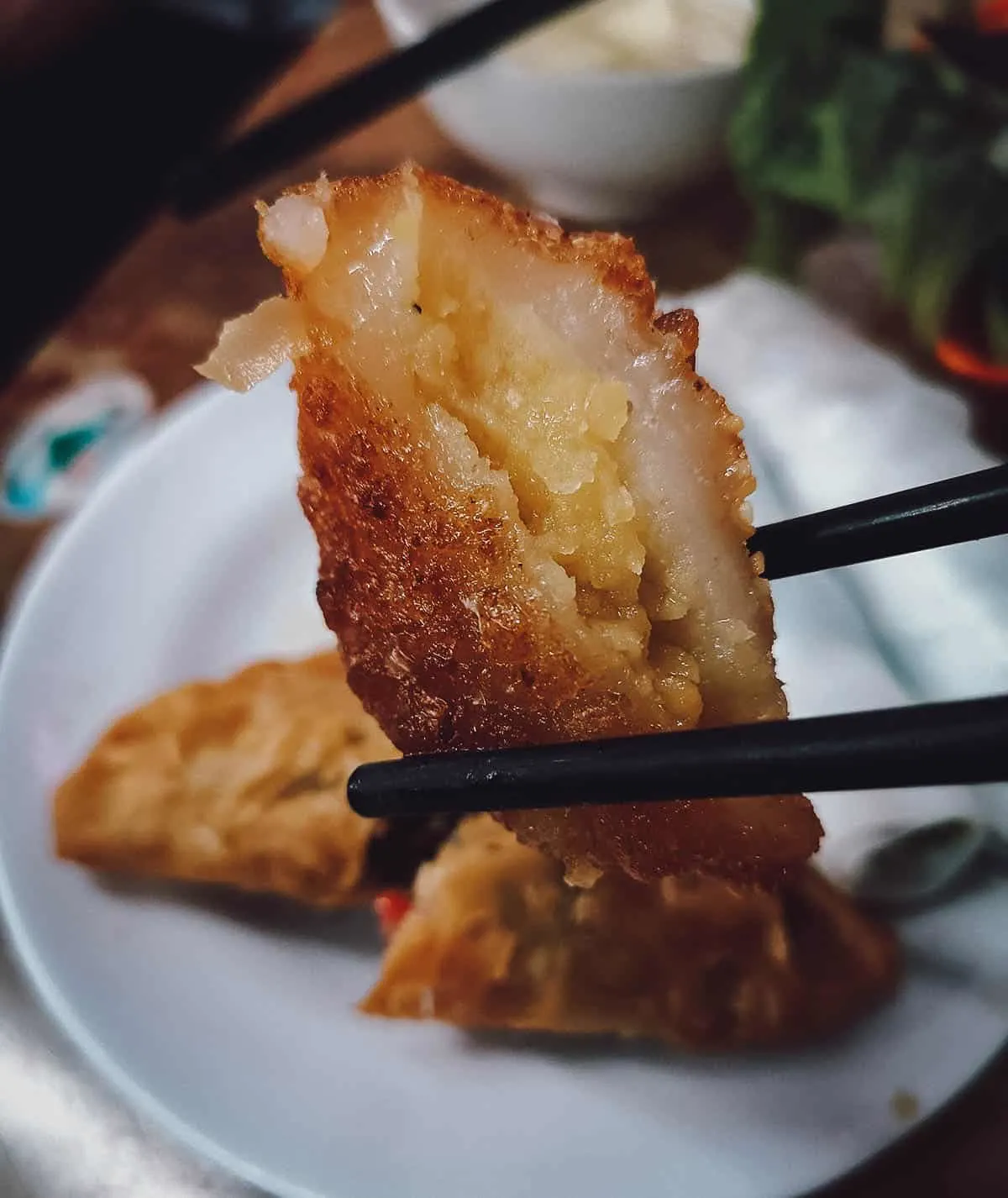 For our next stop, David walked me to this street corner where you'll find this lovely woman. She's been selling her famed congee or rice porridge at this very spot for many years. Don't let her sweet smile and calm demeanour fool you. This woman knows how to make a wicked congee.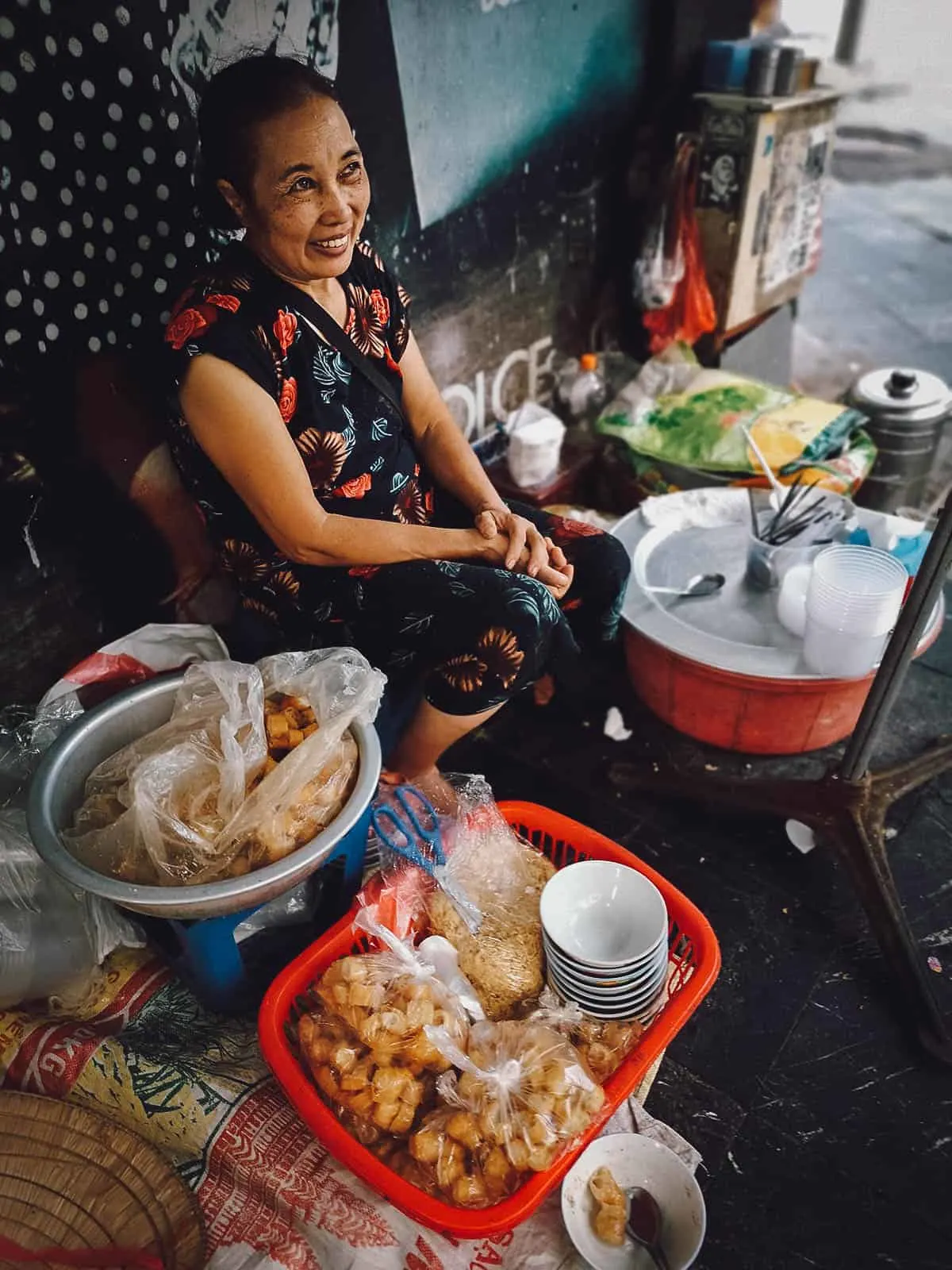 My beautiful bowl of chao ga with quay, or Vietnamese rice porridge with Chinese crullers. It was nice and thick and great to eat with the pieces of quay. They're crunchy on the outside but soft and airy in the middle so they kind of just dissolve in your mouth with the congee.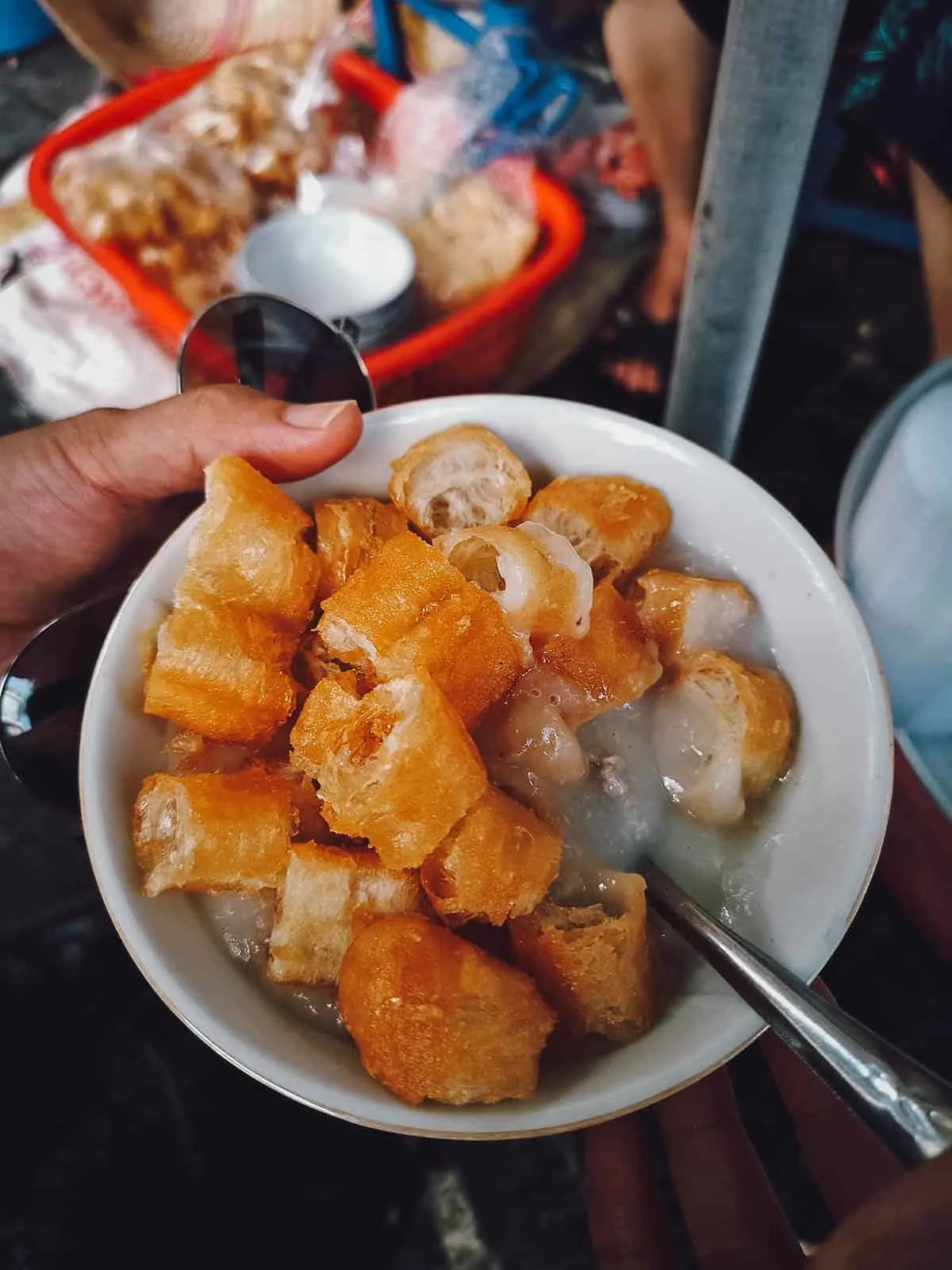 Congee is filling so we moved to the last stop on our tour, this stall selling different types of che. Che refers to a family of Vietnamese dessert soups or pudding made with coconut milk and any number of ingredients like tapioca, seeds, beans, fruit, jelly, and glutinous rice.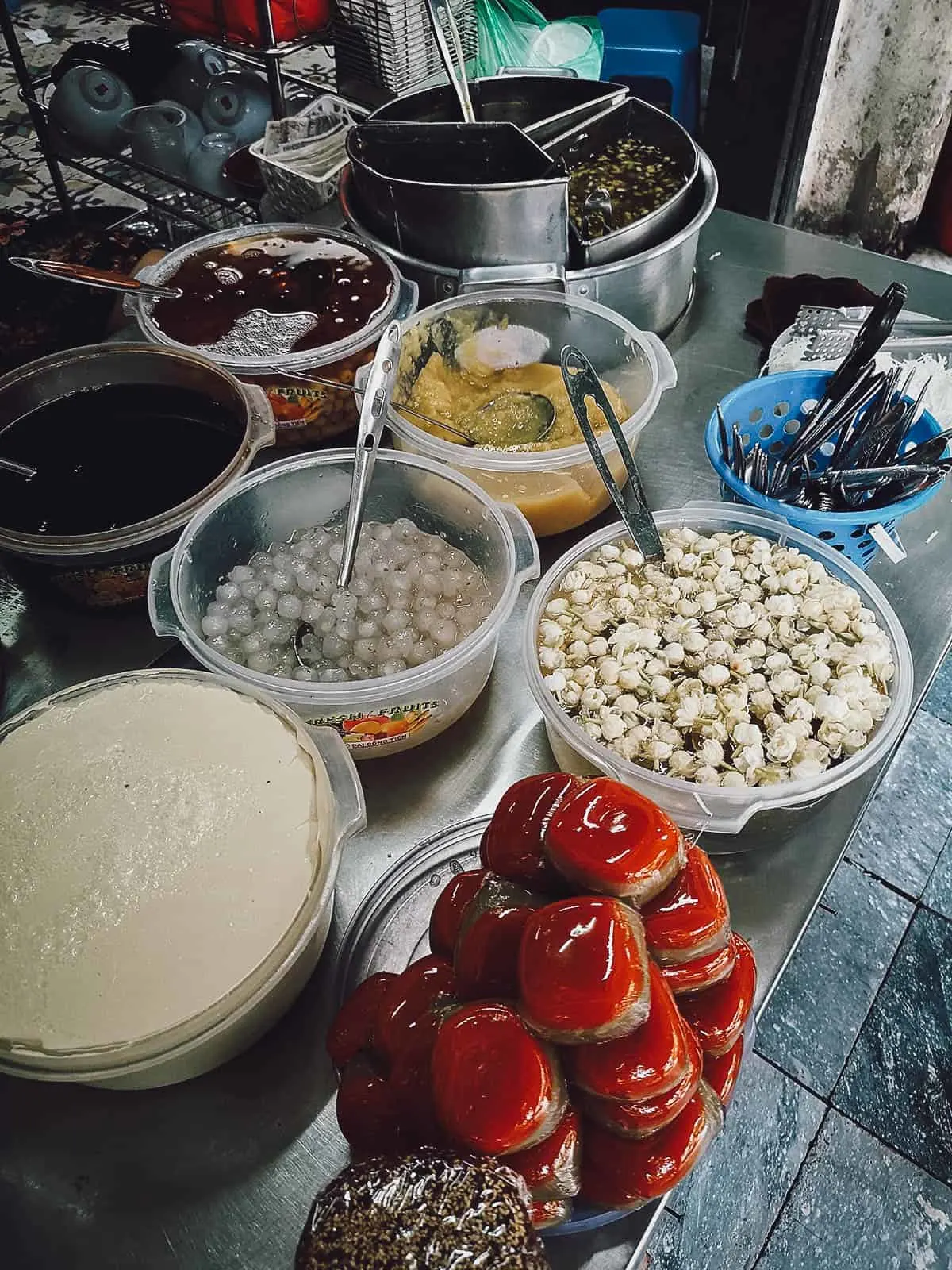 David did the ordering and got me this che with sweet beans, black and white jelly, and shredded coconut. I think it may have contained some jasmine essence as well. It was fragrant and refreshing and couldn't have come at a better time. I was stuffed!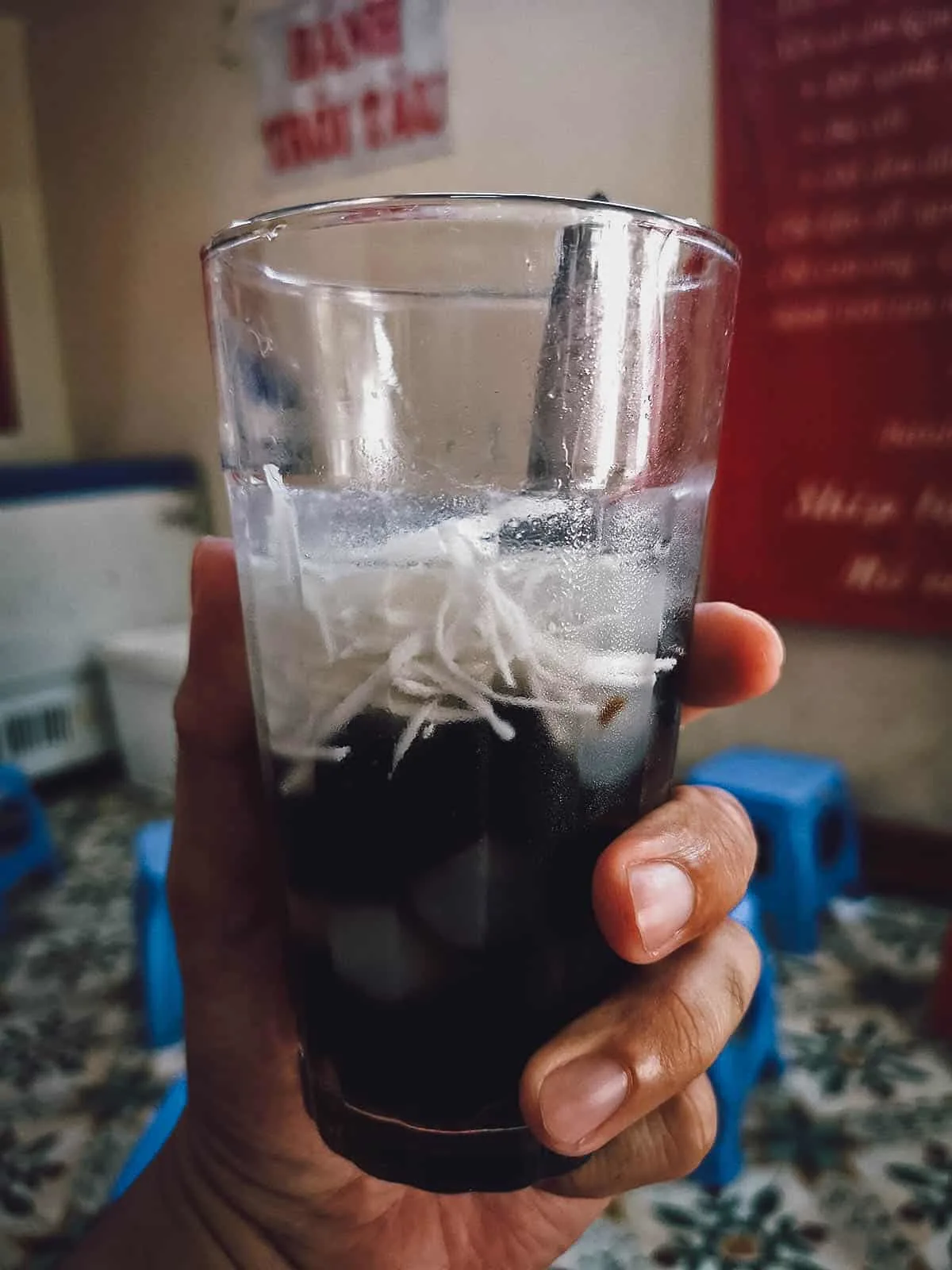 Final Thoughts
I like going on food tours because I often learn about places and dishes that aren't so easy to find on your own. A lot of the eateries you visit are smaller and more obscure so they don't always show up on Google searches. Take the first shop selling that delicious papaya salad with beef jerky for example. I often walked by that stall and not once did I give them a second look.
On top of that, I'm a firm believer that unless you've been eating a dish for a long time – like your whole life – then you won't really know how it's supposed to taste. It may taste good to you, but that doesn't necessarily mean it's the best and most authentic version of that dish.
It's for this reason why I like going on food tours with locals passionate about food. They take you to the best places and give you the clearest idea of how something is supposed to taste.
For me, unassuming and down-to-earth eateries frequented by locals are the best places to eat. They're all about good food and nothing else, and those are exactly the types of places you can expect to find on this tour.
As described, this Hanoi Street Food Tour costs just USD 19 per person and can be booked on Backsreet Academy.
Backstreet Academy
Facebook: backstreetacademy
Instagram: backstreetacademy
Twitter: The_Backstreets
Pinterest: backstreetacad
Disclosure
We're Backstreet Ambassadors so Backstreet Academy gave me a complimentary tour in exchange for an honest account of the experience. As always, all words, thoughts, and opinions expressed in this post are mine and mine alone.
This post contains affiliate links, meaning we'll earn a small commission if you make a booking or reservation at no extra cost to you. We really appreciate your support as it helps us keep this website going. Thank you!